Bill Peckmann &Books 06 Mar 2010 08:46 am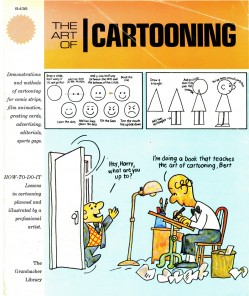 - It seems like ages ago that I posted the first half of this book. It was written by art director/designer, Jack Sidebotham who had a large presence in the making of the original Piels Bros. campaign done by UPA NY. He also was closely involved with the Scholastic Rock films.
As mentioned in the first post, Sidebotham used the Piels Brothers as characters to waltz through the varied uses of cartooning for this book published by Graumbacher in the 70s.
The book was something I remembered from the period but never purchased for myself. When Bill Peckmann reminded me of its existence, I found a copy on line and bought it to add to my collection and to share with you.
This second half of the book covers the aspects of cartooning that might be more interesting to an audience of animatoin fans. Here it is: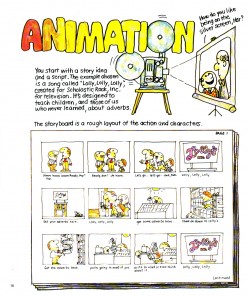 18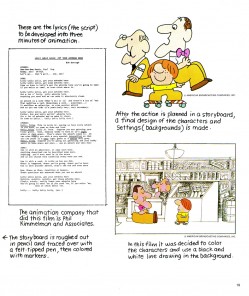 19
(Click any image to enlarge and read.)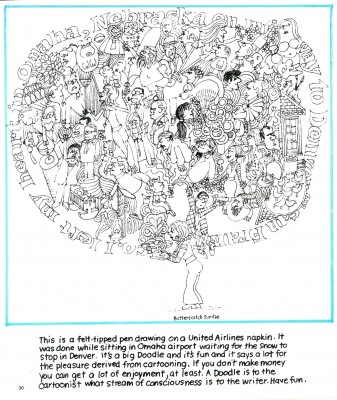 30


.
Animation Artifacts &Books &Disney 26 Feb 2010 08:42 am
Ignacio Carlos Ochoa is an animator in Argentina. (Check out his site; his work is extremely good.) He recently wrote to tell me that he found a book at his mother's house – El Sastrecillo Valiente/The Brave Little Tailor. (Oddly enough, I had just begun scanning the Frank Thomas scene from this film that started posting last Monday.)
Ignacio sent scans of the book, and it appears to be the Spanish edition of the Whitman book, originally published in English in 1939. He guessses this edition to date from the 50′s and published by PEUSER LTD. ("On the back cover is writed 'Peuser Ltd.' in a very small size.") At the first page we can read that the book was printed by "Librería Hachette" .
I'm grateful to Iganacio for sending these great scans, and I hope you like the book: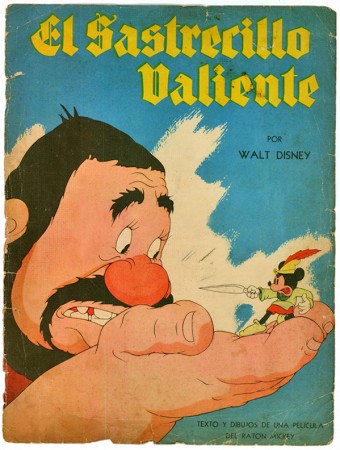 (Click any image to enlarge.)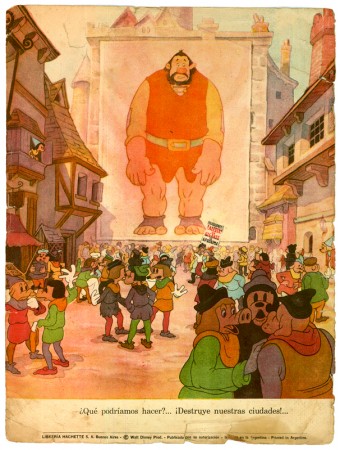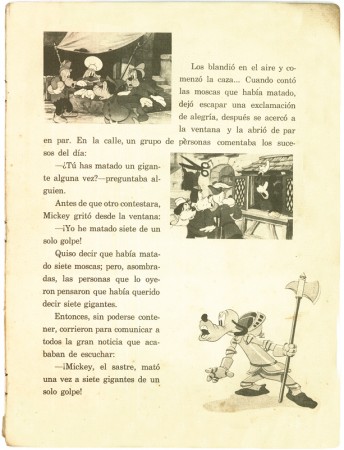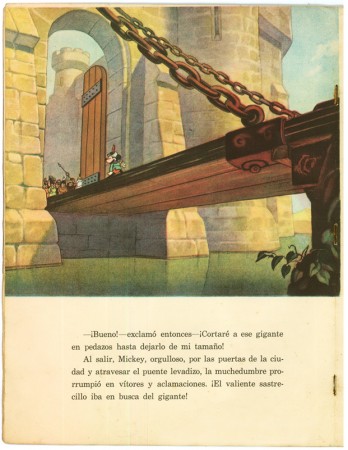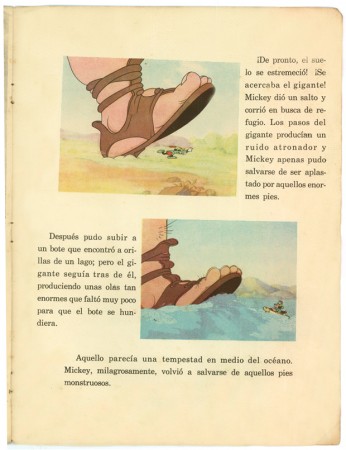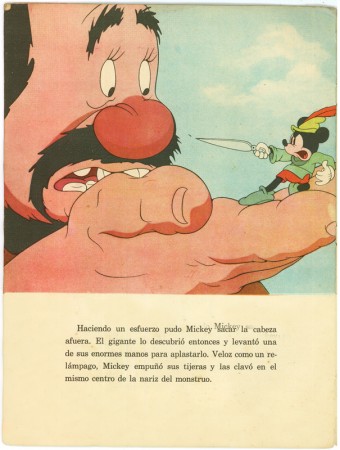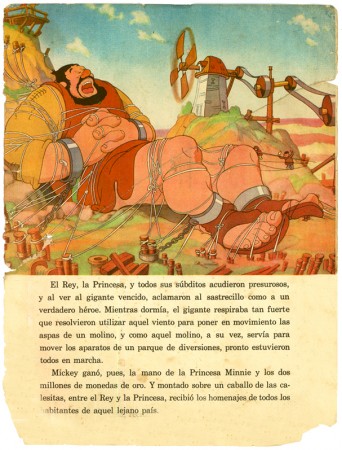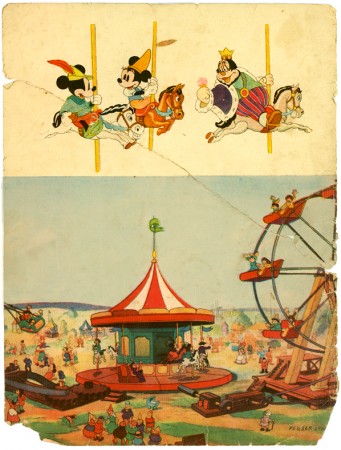 Bill Peckmann &Books 20 Feb 2010 09:24 am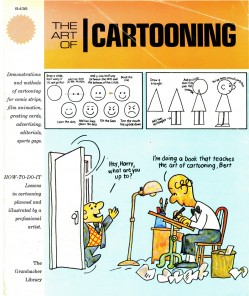 - Bill Peckmann reminded me of a "how to" book that was published in the '70s called, "The Art of Cartooning." It was written by art director/designer, Jack Sidebotham. He worked at a number of agencies and had a lot to do with the Piels Brothers and Scholastic Rock.
For this "Art of" book, he brings back the Piels Brothers without the wit and charm of their great voices, comedians Bob and Ray, to escort the reader through a few lessons in cartooning and a sample of a number of different jobs in the field.
I think the book was originally published by Grumbacher, along with several others on art and painting techniques, to compete with the cheap and successful books published Walter T. Foster. They were all sold in art stores for very little money, and if you hit on a Preston Blair book, you'd found gold.
here's the first half of the book. Next week, I'll start with the four-page chapter on animation.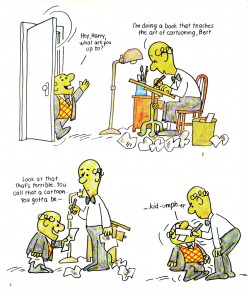 1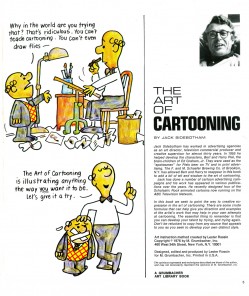 2
(Click any image to enlarge.)
Books &Illustration 18 Feb 2010 09:03 am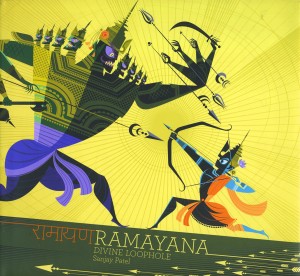 - Nina Paley has been very successful in adapting the Ramayana in her feature film, Sita Sings the Blues. She not only gives a shortened version of the Indian folklore but uses the tale to comment on her personal story of betrayal and estrangement and divorce. Her film is highly styled, beautifully animated, and well received.
So soon after the success of her film comes this book by Sanjay Patel. He is a supervising animator and storyboard artist at Pixar. someone I didn't know about until I'd received an unsolicited copy of his artbook from Chronicle Books. Ramayana, Divine Loophole.
The book is a beautifully produced work full of strongly designed graphics illustrating the Ramayana. The text gives an indication of the story, but it doesn't fully go into the lengthy text of the original tale. We're offered a synopsis; it's really just an excuse to hang the illustrations, and it's a good one.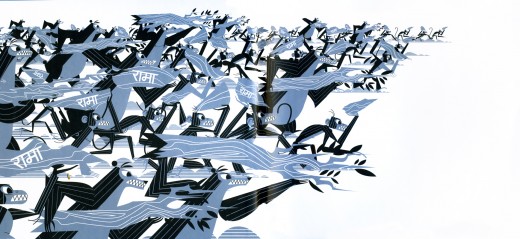 (Click any image to enlarge.)
It's tempting to compare some of the graphics between this book and Nina Paley's film, but there's a distinct difference between the two. They're both a sort of "cartoon modern" adaptation of Indian art. Nina has a feminine turn in her drawings, lots of circles and arcs, whereas Sanjay takes an angular approach with a very masculine line that feels somewhat near the CalArts style which is obviously popular in LA and has permeated the animation syling these days.
Sanjay Patel also states on his site that he was initially inspired by Nina Paley's film.
Both artists create attractive works that glisten in both film and book versions. Personally, my taste runs marginally more toward Nina's work, but I'm impressed with the depth and detail in the book's illustrations.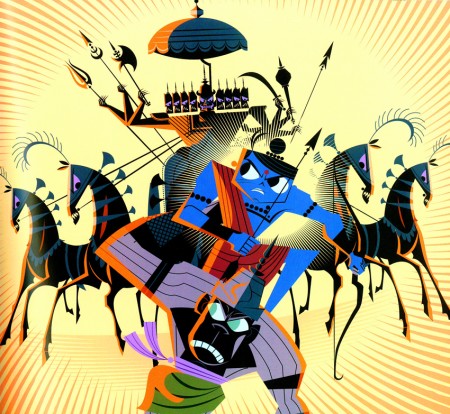 Every once in a while, you feel as though you're
looking at something out of Samurai Jack.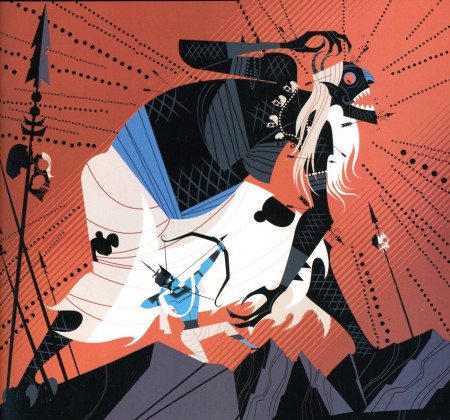 The author has a keen eye for character design, but it doesn't always feel unique. There are infrequent times when it looks like something out of Cartoon Network. Undoubtedly, this comes from his CalArts background and the strong influences he's felt in the animation industry in California. However, more of the time it feels totally Sanja Patel, as in the exceptional illustration above.
Often there's a beautiful sense of color and design that makes the images sparkle. His compositions are also sterling, so you give him lots of grace for any of his lesser influences.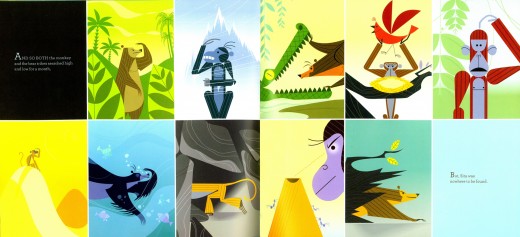 Most of the book is composed of two-page spreads with the text
enveloped in the illustration. Not always easy to read, but pleasant
to view. (Also hard to scan with the breaks in the middle.)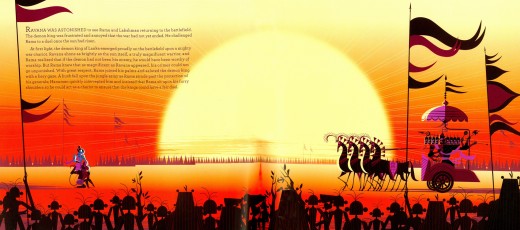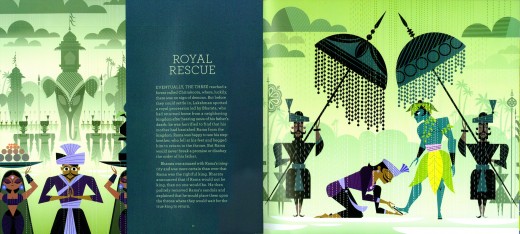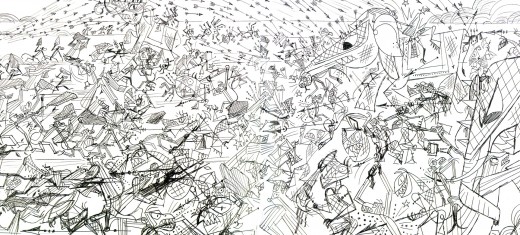 Toward the rear of the book there are a number of
complex drawings which are amazingly alive.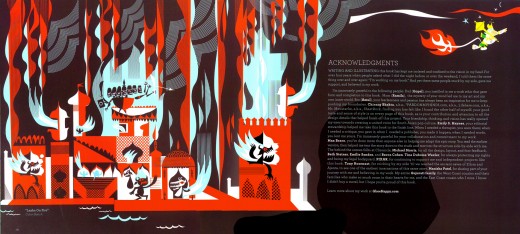 I'd encourage anyone interested to get a copy of this book. The book is enormously attractive and the art is well worth the visit.
There's an excellent demonstration of author, Sanjay Patel's process in creating an illustration in a PDF from his publisher, Chronicle Books. As a matter of fact they have a complete Q&A with the author here in which he discusses his creative process.
Sanjay Patel's blog is located here.
Chronicle is the publisher of this attractive book. They seem to be doing consistently attractive art books. The first notice I had of them was with Amid Amidi's Cartoon Modern, a book that still stands strong among those that were published in the past couple of years. They've also done a number of the "Art of . . . " books for Pixar and Disney.
Animation &Books 06 Feb 2010 09:15 am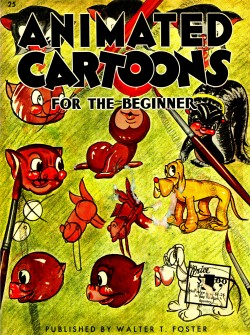 - – Last week I posted the first part of this Walter T. Foster art book: Animated Cartoons for the Beginner. Here's the second half of the book done in a very retro style. I'm surprised it survived the 1960s, when I first got a copy of it. The artwork looks like it comes from the 1930s and could hardly have survived the War (never mind been drawn after it.) The book was first published in 1946.
The animation in the book is certainly odd, not least because the pages are out of order and the flip book imagery doesn't properly flip. I've placed the images in the correct order and have made a small QT movie of the piece for your entertainment if not your edification.
Here are the pages of remaining: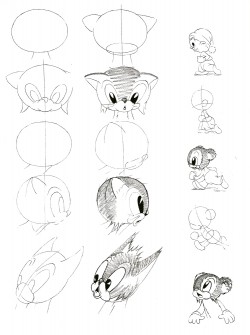 16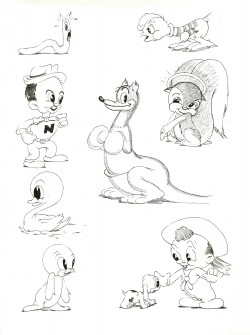 17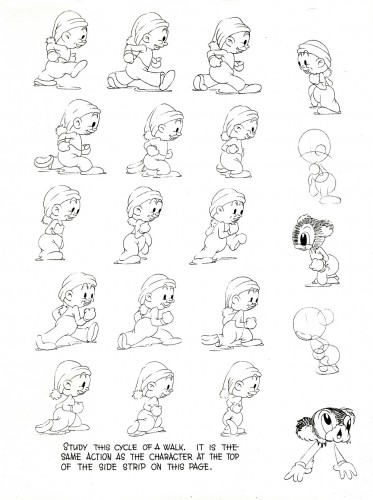 20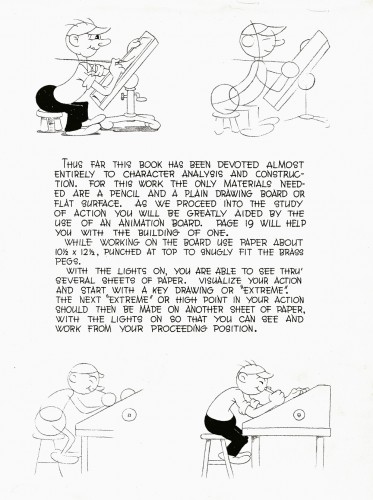 25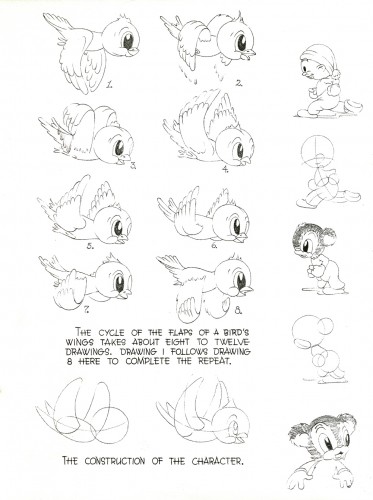 30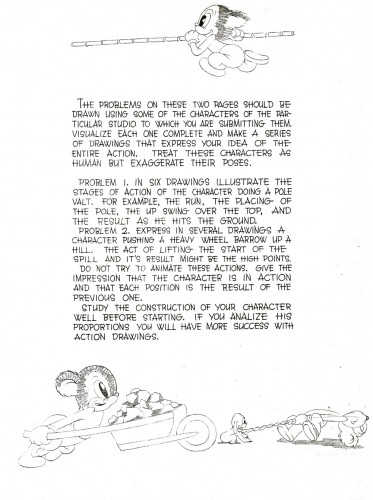 33
Here is the flipbook that rests on the outer edge of every other page.
I've maneuvered them a bit to make it work properly. Registration is
impossible given the size shifts and placement of the drawings on the pages.
i've done what I could.
Click left side of the black bar to play.
Right side to watch single frame.
Books 28 Jan 2010 09:34 am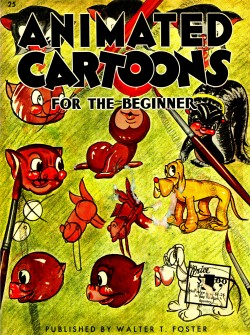 - We all know that Walter T. Foster art books published the grandaddy of modern How-To-Animate books, Preston Blair's Animation. But there was another book from the same publisher, and I don't know, to this day, who put it together. I think it might have been Walter T. Foster, himself.
Animated Cartoons for the Beginner.
When I was young – 10 or 11, somewhere in there – a guy who lived in my building, Norman (I don't remember his last name), worked for NY's largest art store at the time, Art Brown. My father broached him and told him of my obsession for animation and asked if the guy, who was an "artist," could help me. Norman came down to my apartment and spent a lot of time talking with me and encouraging me. He gave me a copy of both Walter T. Foster books on animation, and he won a fan forever. He soon moved out of the building but was replaced by a woman, who I guess took over his apartment, Norma
(I don't know her last name either.)
She brought some colored pencils, watercolors and a 5×7″ drawing pad with rough surface. She wanted me to draw/paint a story. I filled that book with illustrations of a Russian fairy tale called "The Prince and the Dragon." I liked the dragon part. As I did it, she spent time guiding me in using the materials.
There's nothing good or notworthy in that pad (which I still have), but it put me on a path after spending so much time whining about wanting to be an animator. The kindness of strangers.
Anyway, that other book, Walter T. Foster's Animated Cartoons for the Beginner, was always a poor and distant cousin to the Blair book. Even when I was 12, I looked down on it. I mean who draws like that? Except Nat Falk and Walter T. Foster. When I pulled the book out to show my guys in the studio, Matt Clinton's first comment was, "Who draws like that anymore?"
I guess they used to draw like this. Connie Rasinski and the folks up at Terrytoons perfected it, and copyists like Walter T. Foster turned it into something else.
But looking at the book today, it sure is something. It always irked me that the drawings on the right hand side (the even numbers, below) included walk cycles and movement that could be flipped. But the pages of the book weren't correctly assembled, so the animation doesn't flip without some big problems. It's crazy.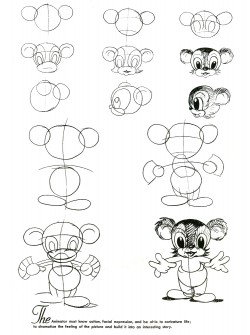 1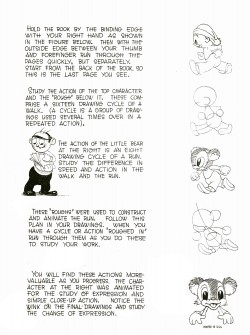 2
(Click any image to enlarge.)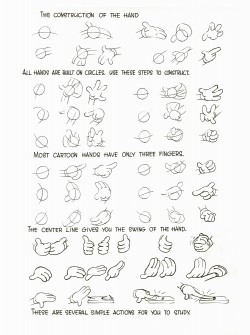 15

Next week, I'll post the other half of the book and try to make some QT movie flipbooks of the pages – those I'll have to put into proper flipping order.
Books &Photos 17 Jan 2010 08:50 am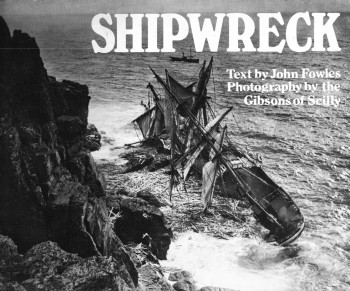 - By far one of my favorite writers was the British author, John Fowles. I enjoyed The Magus, but with The French Lieutenant's Woman he had me as more than a fan. His language, his intellectual arguments, his absolute respect for his reader all brought me back again and again to follow his every word. I spent time with a specific retailer in New York who specialized in Fowles' books to make sure that I wasn't missing anything that he published.
In 1985, on a vacation in London, I found a translation Fowles did of a French play, Martine by Jean Jacques Bernard, playing at the National theater. I hastily bought a couple of tickets to the show at the last preview, just prior to the play's opening. Arriving early, there was an hour to kill before going into the theater. Fortunately, some vendors had set up book stalls selling used books, and I pleasantly sorted through the wares. Looking up from a book of Edmund Dulac's illustrations, I saw John Fowles an aisle away. I was too timid back then to introduce myself and shake his hand. I just gloried in the knowledge that he was a brush away. The play was not memorable, but the evening was.
For a short while, Fowles wrote the text for a number of books which were really photographic essays. One of my favorites of these is one called Shipwreck. Featured throughout the book are historic photos of ships that crashed on the coasts of the Scilly Islands and West Cornwall. (Fowles was always dedicated to his home town of Lyme Regis.)
Here, I'm posting a few of the photos in the book because they are inordinately interesting to me, and I think you may also find them such. The text is by Fowles.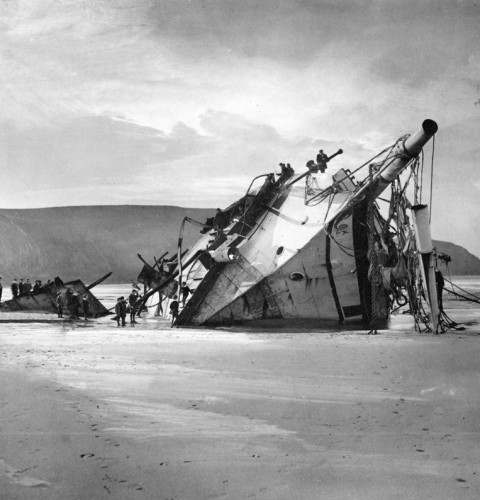 Seine
Ran ashore in Perran Bay (Perranporth), December 28th, 1900.
This beautiful ship was a French 'bounty clipper' – so called because
a government subsidy to French ship-owners allowed them to build
for elegance rather than more mundane qualities. The crew got off
in heavy seas. By dawn the next day she was dismasted and on her
beam-ends, and broke up on the next flood-tide. Two weeks later the
hulk of this celebrated barque was bought for only £42.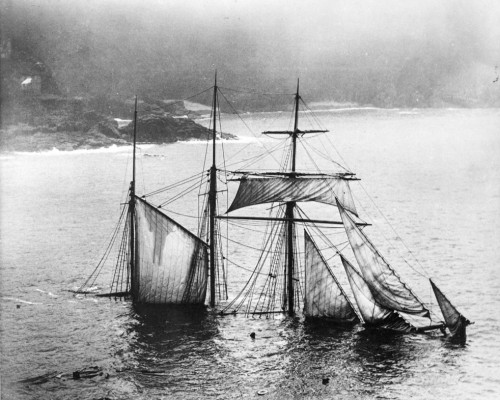 Mildred
Struck under Gurnard's Head in thick fog at midnight, April 6th, 1912.
She was carrying slag from Newport to London. When she began to
pound broadside on, the captain and crew launched a boat and rowed
along the cliffs to St Ives. The Mildred, Cornish built and owned,
was launched in 1889.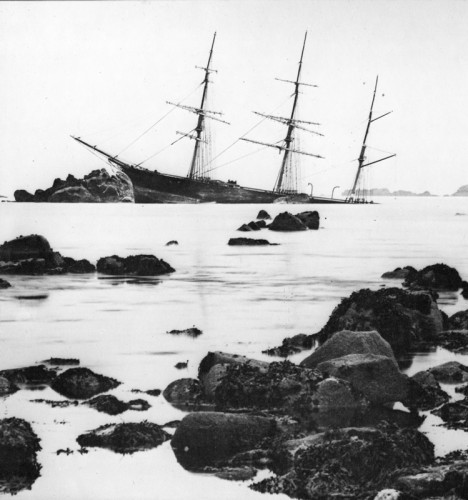 River Lune
Struck in fog and at night just south of Annet (Scillies), July 27th, 1879 –
the same day as the Maipu. The master later blamed a faulty
chronometer, since he had believed himself fifteen miles to the west.
The ship heeled and sunk aft in the first ten minutes. The crew took
to their boats, but returned in daylight to collect their belongings.
This barque was only eleven years old. She broke up soon afterwards.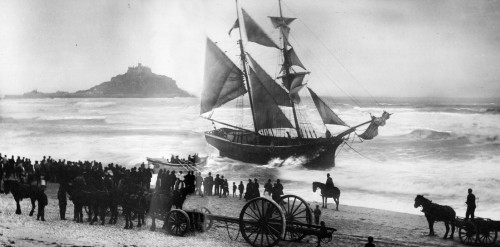 Jeune Hortense
Stranded near St Michael's Mount, May lyth, 1888. The foreground
carriage is for the Penzance lifeboat. This sturdy brigantine lived
to sail another day.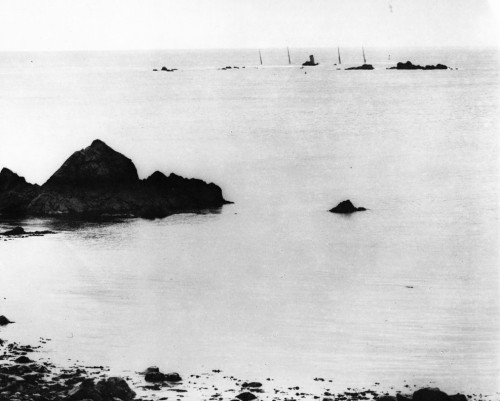 Mohegan
Struck the Manacles, October 14th, 1898. One of the most dreaded of all reefs,
the Manacles (from the Cornish 'maen eglos', rocks of the church, a reference
to the landmark of St Keverne's tower) stand east of the Lizard promontory,
in a perfect position to catch shipping on the way into Falmouth — and before
Marconi 'Falmouth for orders' (as to final North European destination) was
the commonest of all instructions to masters abroad. But the Mohegan was
outward bound, and hers is one of the most mysterious of all Victorian sea-disasters.
She was a luxury liner on only her second voyage, from Tilbury to New York.
Somewhere off Plymouth a wrong course was given. A number of people on shore
realized the ship was sailing full speed (13 knots) for catastrophe; a coastguard
even fired a warning rocket, but it came too late. The great ship struck just as
the passengers were sitting down to dinner. She sank in less than ten minutes,
and 106 people were drowned, including the captain and every single deck officer,
so we shall never know how the extraordinary mistake, in good visibility, was made.
The captain's body was washed up headless in Caernarvon Bay three months later.
Most of the dead were buried in a mass grave at St. Keverne.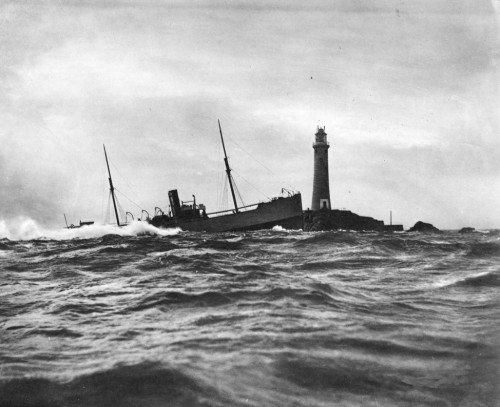 Blue Jacket
Stuck fast – and surely a classic example of the expression-on the
Longships lighthouse rocks off Land's End, December 9th, 1898. This
tramp was in ballast from Plymouth to Cardiff. The captain went below
to his cabin – and his wife – at 9.30 p.m., leaving the mate on watch.
He was woken near midnight by a tremendous crash, and came on deck
to find his listing ship brilliantly illuminated by the lighthouse only a few
yards away. Captain, wife and crew took to their boats and were picked
up by the Sennen lifeboat. How the mate managed to play moth to this
gigantic candle-the weather was poor, but provided at least two miles'
visibility-has remained a mystery. The Bluejacket sat perched in this
ludicrous position for over a year.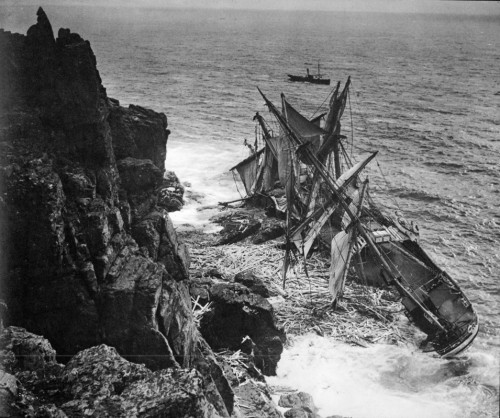 Hansy
Wrecked in Housel Bay near the Lizard Point, November 13th, 1911.
Sailing from Sweden to Melbourne with timber and pig-iron, she missed stays
while trying to come about in a gale. The crew were brought ashore by
breeches-buoy. Two days later a salvage party boarded – to find a pair of
goats lying happily in a seaman's bunk. Local fishermen did a thriving trade
in timber for weeks afterwards; and the iron pigs are fished up for ballast
to this day. The Scottish-built Hansy (formerly Aberfoyle) had had an
unhappy history. In 1890 the bulk of the crew jumped ship in Australia,
after a bad voyage out – only to be returned on board following a fortnight
in jail. Jail must have been more agreeable, for eight men jumped ship again
at the next port of call. In 1896 a steamer found the Aberfoyle drifting helplessly
off Tasmania. The captain had been swept overboard, the first mate had
committed suicide by leaping into the sea and the rest had given up hope.
Similar stories of low morale – and often of insane bitterness between
officers and crew – are manifold.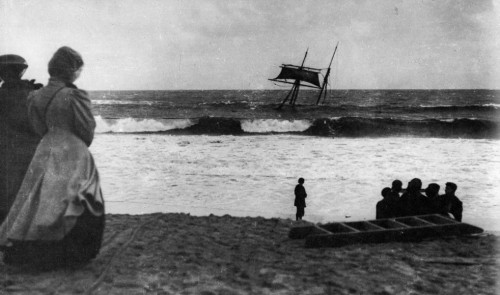 Susan Elizabeth
Driven ashore at Porthminster Beach (St Ives), October 17th, 1907.
A gale blew this collier's sails out off the Mumbles. Less than three months
later the Lizzie R. Wilce and the Mary Barrow also had to beach here.

Bill Peckmann &Books &Comic Art &Illustration 15 Jan 2010 09:00 am
- Last week I posted the first part of this display of comic book covers (front and back) drawn by the inimitable Walt Kelly in his pre-Pogo days.
As he completed the series of Fairy Tale covers, he moved into Mother Goose and then The Brownies. There's a charge I get looking at the brilliant draftsmanship on display here. The man could draw. We knew this from the quality of the art in Pogo, but these covers give us a different light in which to view this artist. It's a great trip to waltz through the years 1942 – 1948 with Walt Kelly seeing the progression of his comic art.
As I mentioned last week, these covers were copied in the 1980′s by Bill Peckmann from the great collection of John Benson. Bill has loaned them to me, and I'm sharing.
Front cover__________________________ Back cover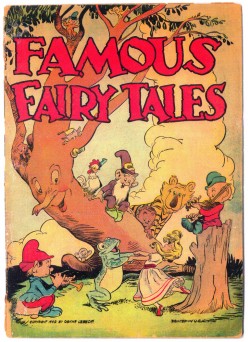 1a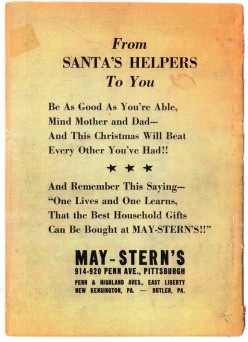 1b
(Click any image to enlarge.)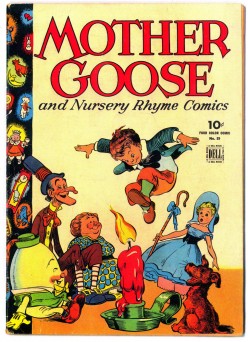 2a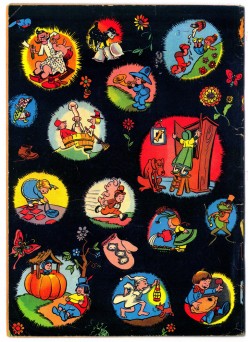 2b
Mother Goose develops after the Fairy Tale comics.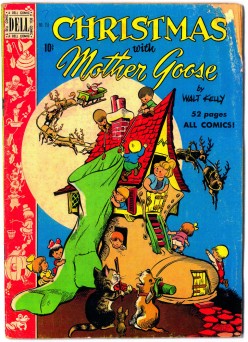 4
Mother Goose becomes a holiday item.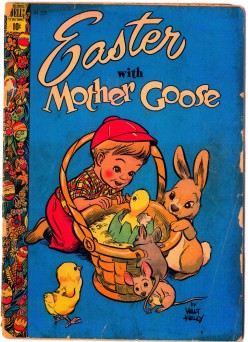 6a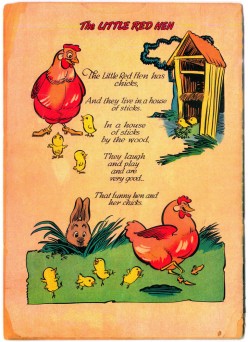 6b
An Easter version of Mother Goose
Books &Errol Le Cain &Illustration 09 Jan 2010 09:33 am
- I've not paid much attention to Errol LeCain lately, so I thought it might be amusing to revisit a book that I only touched on in the past. Le Cain illustrated two books out of T.S. Eliot's book of poems, Old Possum's Book of Practical Cats. See the first post here.
In one of the two books, Growltiger's Last Stand, three of the poems are illustrated. In my initial post, I only offered the illustrations from one of the the three. To amend for that, this post will include illustrations from the other two.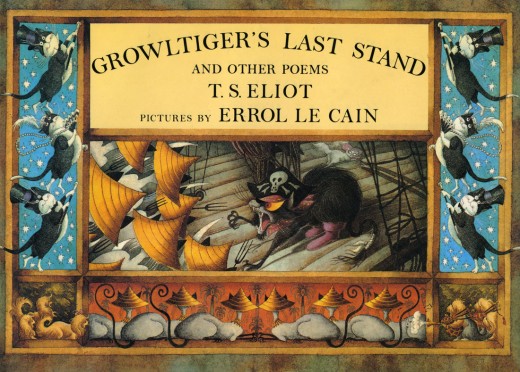 (Click on any image to enlarge.)
.
Of the Awful Battle of the Pekes and the Pollicles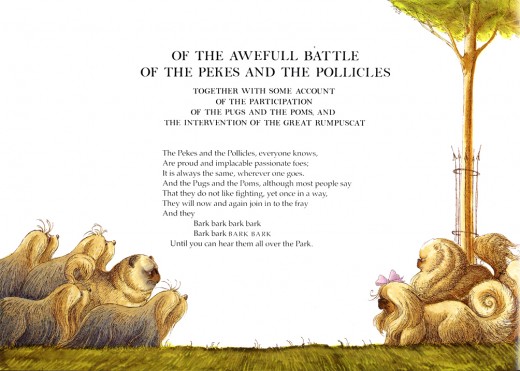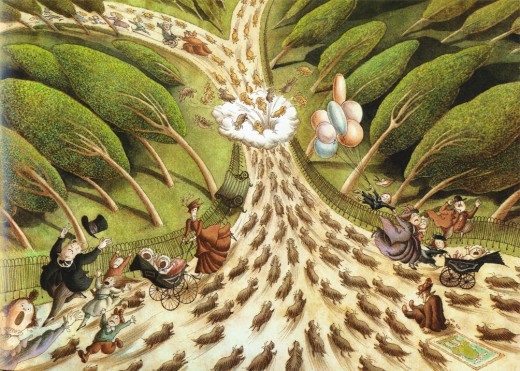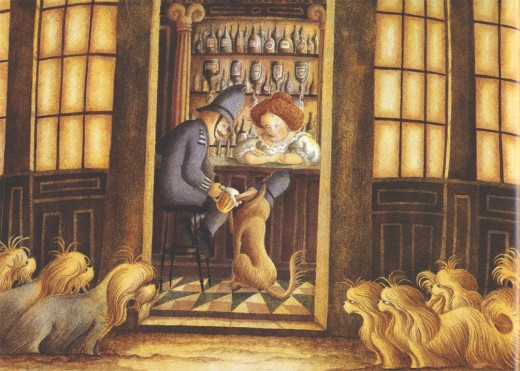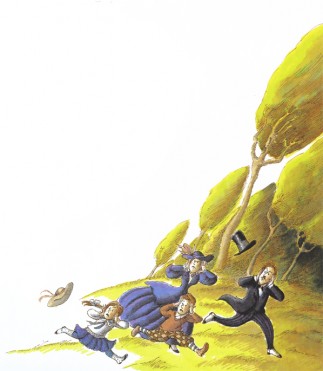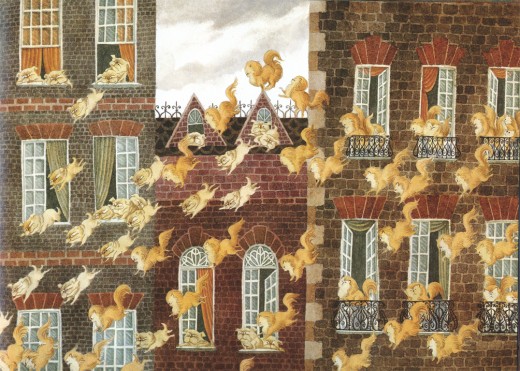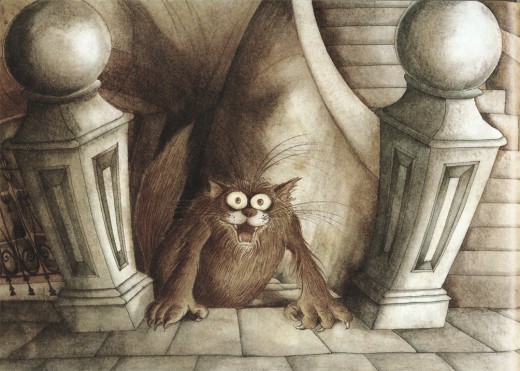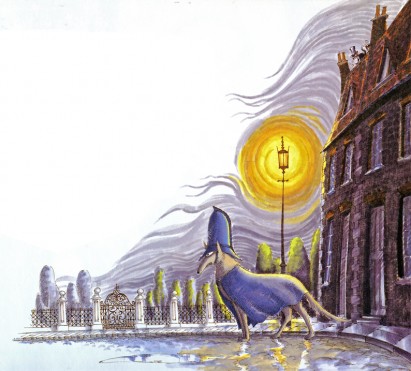 The Song of the Jellicles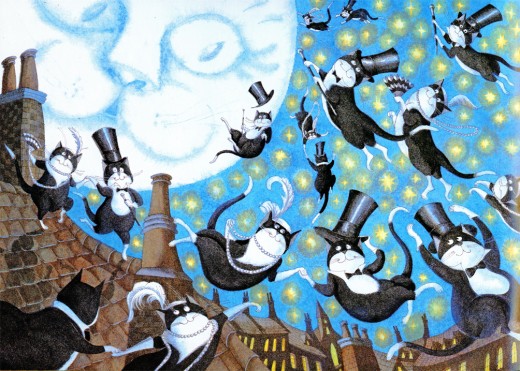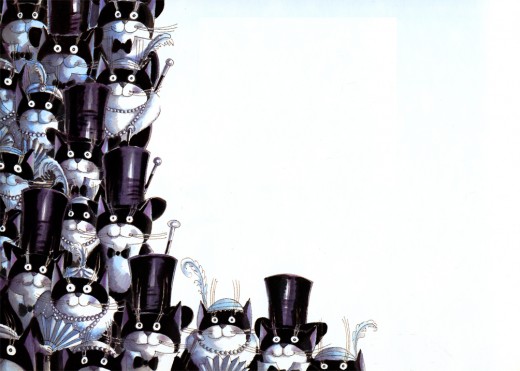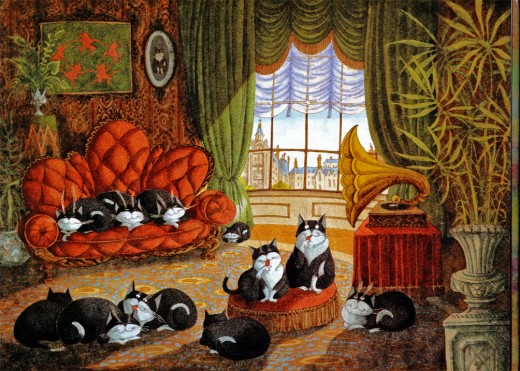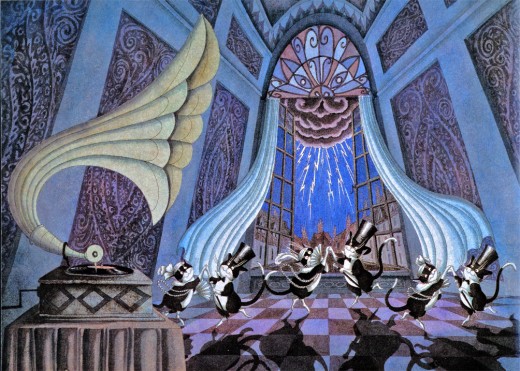 Articles on Animation &Books &Illustration 05 Jan 2010 09:03 am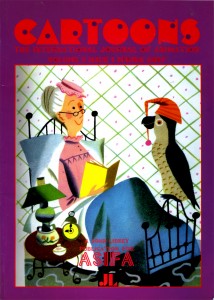 - Last week I posted the first part of a two-part article written by John Canemaker for the magazine, Cartoons, the International Journal of Animation published by ASIFA Int'l. The two part article appeared in the Winter 2006 and Spring 2007 issues. (See Part 1 here.)
John Parr Miller worked at the Disney studio from 1934 to 1942 as part of the Character Model Department run by Joe Grant. After Miller's service in WWII, he designed and illustrated many children's books and he continued in that field for the remainder of his life.
This is an extraordinarily well-researched article by John Canemaker, and I'm pleased to post it here for all those who don't have access to the magazine, Cartoons. Thanks go to John for his permission to post both parts of the article.
With more of a focus on his children's books, this is part 2: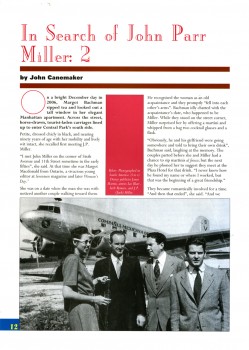 1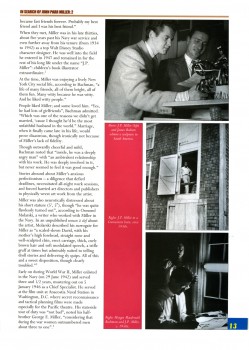 2
(Click any image to enlarge.)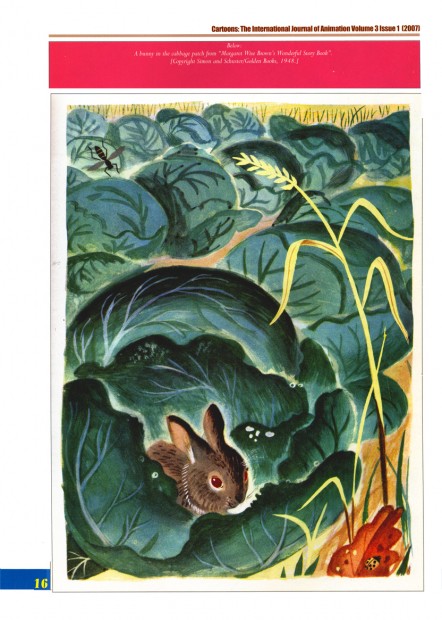 5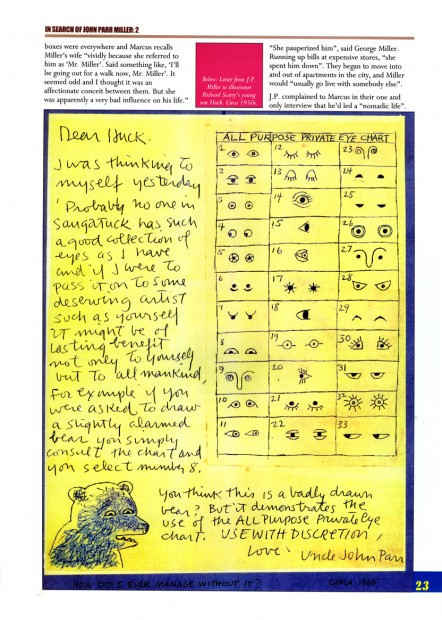 12