Daily post 15 Sep 2013 08:57 am
In the past couple of weeks I've taken advantage of the new marvelous book by Tod Polson, a stunning publication for Chronicle Books on the design work done for animation. The Noble Approach, Maurice Noble and the Zen of Animation Design.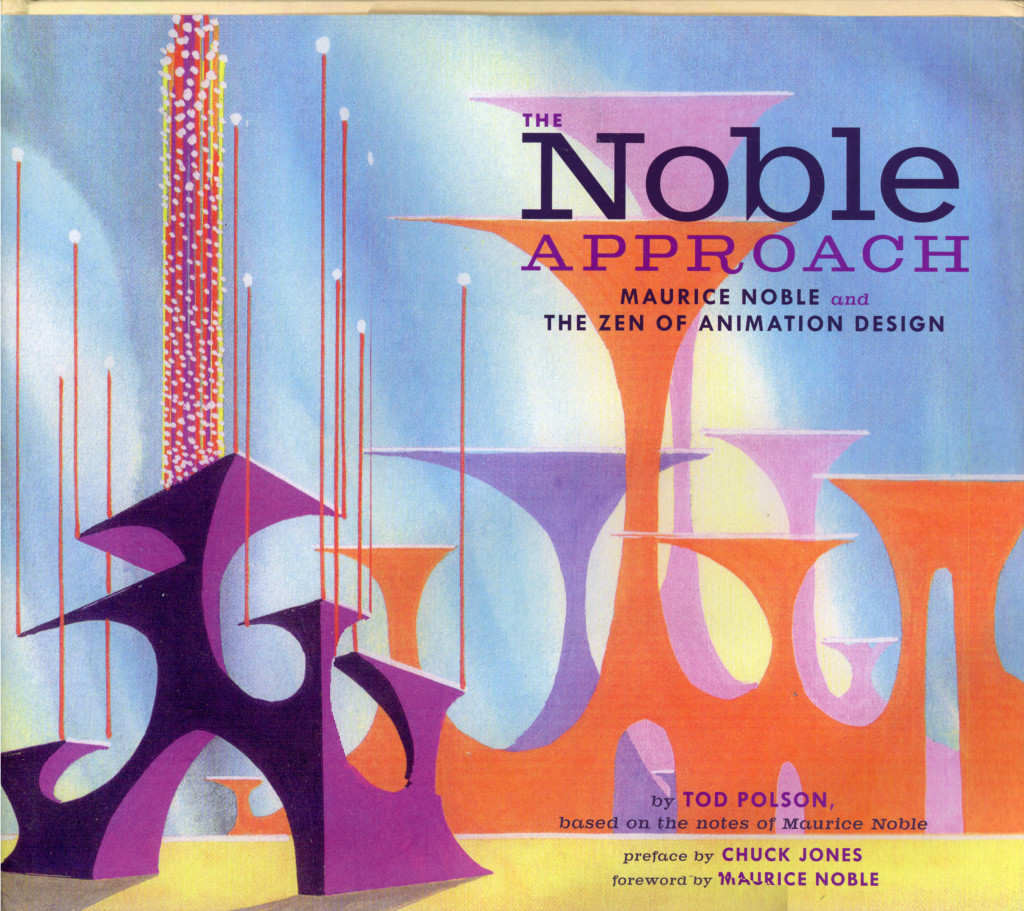 I gave some of the book's many illustrations center stage and have enjoyed doing that. One day, I even posted art that came from J. B. Kaufman's two books on Snow White, The Fairest of them all and The Creation of Snow White and the 7 Dwarves. Can there be two more beautiful works of animation art than the throne on which the wicked Queen sits?
In the up coming week I hope to continue on through the Noble book, to take a deeper look at the book while more thoroughly giving critical attention to the films. I've barely touched on the work he did for WB, bypassing the tentative approach to the dominating final work. At the same time, I hope to look at Chuck Jones' artwork and his dependence on others while allowing himself to break through a number of strong animation barriers. It will be fun for me – that is, until it isn't.
Once we get to MGM and Tower 12 Productions things have changed and Noble spent a lot of time bringing those films to life. The two did dominate a wing of the studio with the Road Runner films making some of them among the great films of history.
I'd also started a series of posts on others. There's one ongoing series featuring Ralph Steadman and over-sized material in his book. Steadman has such a large output of brilliant work it was purely by chance that we went to Alice. My wife, Heidi, is currently directing a theatrical production of Alice in Wonderland. Her research has forced open quite a few books on Dodgson's thinking process. Top of the heap, open to a sublime image, I found myself an acolyte standing in a master's garden wholly helpless in improving to match this genius of an artist.
So, I did start to post Alice images from that one book (and that's the only well from which I'll draw from. There's a lot there, all in the raw waiting to be seen by you.
The Chronical book, Sketchbook of the Independents Animators it is also entirely encouraging and improvisational. However, I'm not sure that meets my needs for animation art. I see it more as a way of getting back to the drawing board. Unfortunately, I don't find these artists as great as many others though there is brilliance among the mundane, I will try not to miss any if that great work.
I had started to write about The Quay Brothers. These twins come from Philadelphia and have worked out of Europe. There life's work is on display at the Museum of Modern Art, and it is greatness desplayed in all its glory.
Finally, there is Sassek. Bill Peckmann sent me a book he did, and then another. Both were overloaded children's which made for some fin multi-post selections. I loved Paris and had to reveal some wonderful pieces. What a treat. It feels as though Sassek was inspired by the earnest, brilliant artist, Ben Shahn. Recently, critics have taken apart Shahn's work – he's suddenly too political. That, to me, is the backbone and cause célèbre of Shahn's paintings. Someone not demanding, along the whims of many others all fits together and helps create the 20th Century in Art.
Perhaps a couple of small posts I can offer will give some indication of that art. I hope it all will work as a schema. I think it will. Starting with some of the work I've already offered. Now to the meat.
Leave a Reply