Animation Artifacts &Daily post 23 Mar 2006 08:07 am
- Well, it's official. The last two weeks of this blog are gone for good, but my "Web Host" tells me they're more efficient since upgrading their cables. For some reason, a number of links to my site on others seem to have broken. Thank you for your patience with this nonsense.
- There were three particular items that I want to repost since I thought them valuable. I know that's unusal for a blog, but what the hell – this is a Splog.
I had posted some Letterman art, 3 pages of Pinocchio production drafts, and art from a couple of my films by Bridget Thorne. I'll start today by putting up the Pinocchio drafts (which are at the end of this page.) I'll use Saturday to post the Letterman material, and I'll post Bridget's art and backgrounds next week.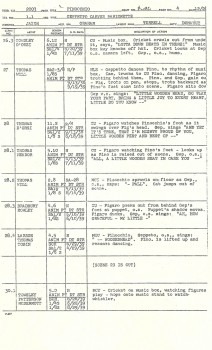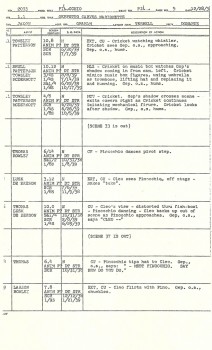 (Click on any item to enlarge.)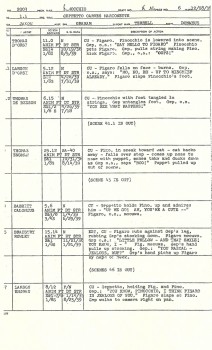 - These three pages of the Production Drafts for Pinocchio finish off the "Little Woodenhead" sequence and have Gepetto introducing the puppet to Figaro and Cleo.
I have the sheets for this film through the Blue Fairy sequence and will post more of them next week.
- I'm still waiting for Disney to release a "Platinum" edition of Pinocchio. It's arguably Disney's best crafted film – certainly, it's the highlight of the "Golden" era. It deserves extras up the kazoo. Unfortunately, these days the extras they offer from Disney don't include the valuable commentary tracks of past DVDs. They offer games and puzzles for children. It's sad for the collector to have to know what can be offered and accept what will be offered.
As I pointed out recently (lost to the archives) the Disney Rarities DVD is not the gem it should have been. Bad transfers, inadequate extras and no commentaries – other than the one for A Symposium On Popular Song by Richard Sherman which was added in a clumsy fashion making it pointless.
- Mark Kennedy has been posting some invaluable notes on color and composition by the late, Rowland Wilson. All you artists out there should take a look at these documents. I first met Rowland back at Phil Kimmelman's studio on "Conjunction Junction" for Schoolhouse Rock. Dick Williams then introduced him to me years later at Raggedy Ann & Andy. The guy was a consummate artist and a powerhouse of knowledge about his craft. You'll have no doubt about it once you look at these notes.
Mark has a interesting, very informative site. I look forward to visiting it every day.
2 Responses to "It's Official"
on 23 Mar 2006 at 2:24 pm 1.Hans Perk said …

Also, the STEREO tracks to A Symposium On Popular Song have been un-earthed a few years ago – but the version on the Disney Rarities DVD is in MONO!
Leave a Reply