Search ResultsFor "fantasia"
Commentary 25 Oct 2013 03:58 am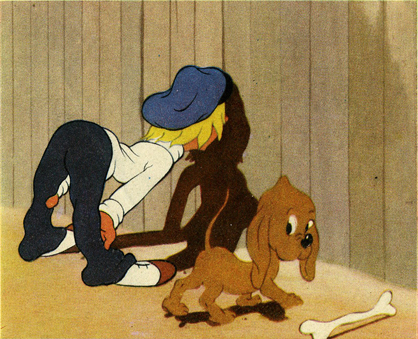 Disney was beginning to experiment artfully with his colors and shapes if not with his stories. He gave his designers a lot of free reign, and they slowly started taking it. The Silly Symphony films allowed them to push new areas in storytelling and the animators went for With films like Fantasia and Bambi that experimentation bled over into the feature films and excited the new guys enormously.
Walt had set up departments for story and designing, and newer artists like Joe Grant brought a verve to the stuffiness that had been settling into the artwork. Grant was a cartoonist – caricaturist who took a job at Disney doing caricatures and art for Mickey's Gala Night Out and Mother Goose Goes Hollywood. Grant did a lot of great caricatures which leave us laughing through today. He went from starring artist of those two films to designing plenty of others whether they needed caricatures or not. His color work was every bit as good as anyt hing he'd done, and he kept the films rolling. Grant arrived as an artist and ended up being a star, taking full control over the newly devised Character Models department. While he was one of the better artists in the Thirties story department, he worked closely with Bill Cottrell as his storyboard partner. Cottrell didn't do much drawing for his part of the partnership. The two were often also joined by Bob Kuwahara, a sketch artist, in doing the boards. The trio was inordinately successful (including the very fine films Who Killed Cock Robin? and Pluto's Judgment Day); when they mined theeir work for shortsl they had a peculiar method to their madness in the making of the boards something that workekd well for them.
aaai, omn tr othrt hsnf, nrrf domrtning lrdr to fo thr job1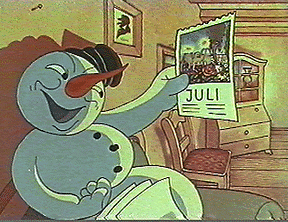 This was a peculiar way, for these Hollywood artists, to create their stories.
Meanwhile, overseas the Europeans were predominantly influenced Fleischer – or so they've often been quoted. Seeing the first Danish animated feature: The Tinderbox, one of my favorite fairy tales and it's by Hans Christian Andersen, it carries so many of his they definitely do try to get into the heads Fleisher animators – Fleisher during Gulliver. The characters can't hold their own lines. They distort, come back together and seem, always, to be living in a land of "takes.
"However, it's not quite completely true. You have a film like The King and the Chimneysweep (done in France by Grimault) and they're definitely modelling their work after Disney. Distribution to the Far East is covered by Ghibli, Miyazaki's company. Miyazaki also controls rights to Kirikou et les hommes et les femmes by Michel Ocelot. They also have several of the 2D films done by Trnka in the late forties early fifties. Trnka didn't follow the guidelines of Disney, but he was escorting himself. He had a style all his own found under the animation camera. He stuck with the original,
The man did great work.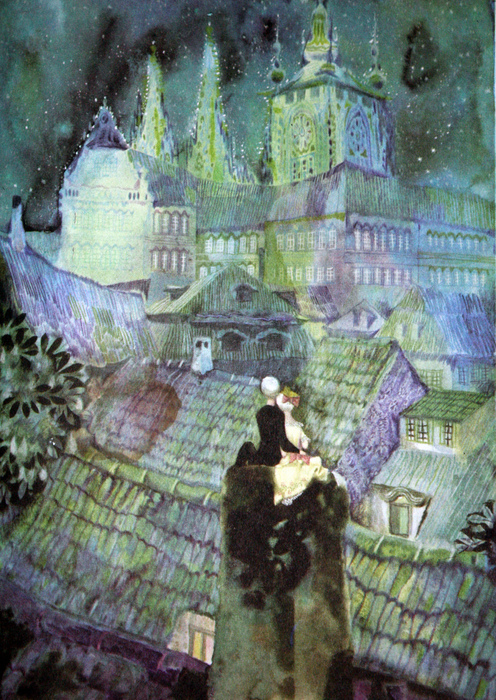 When the Nazis stepped in and took over the Fischerkoesen Studio they gave orders that their studio should emulate Disney. And that's what they did. They tried to supersede some of the most brilliant multiplane work done by Disney. In fact they did an exxcellent job excpt for the muddy movement.
You can show how animated films were influenced by others but you also have to show the results. In the case of all the Disney tied work, the working layout is stunning, but the animation left a lot to be desired. The needed a dominating animator who could get the artists to express themselves. This, of course, was also true of the Fleischer-inspsired work. The films are really lacking for good animation.
David Hand tried this in England just following WWII when he set up a studio outside London and tried to train new workers to the medium. The Ginger Nutt series was born, and didn't last long. But quite a few animators grew out of this system. Harold Whitaker was probably the foremost animator, and. I know Gerry Potterton made it through this system. His look is far from Disney, ever farther from Fleischer. Maybe that's why he was successful.)
So it started when Fleischer went to Hollywood/Disney where it got slicker. Europeans and Japanese picked up what they wanted from those cherry-picking from Europe. I hope soon to write about the "moderne" art of Russia.
Miyazaki has his own style which is different from other Japanese animation studios. Like his aircraft and air battles, it's more European than Japanese and more Japanese than any other'
European. It's his style, though. That's to be sure.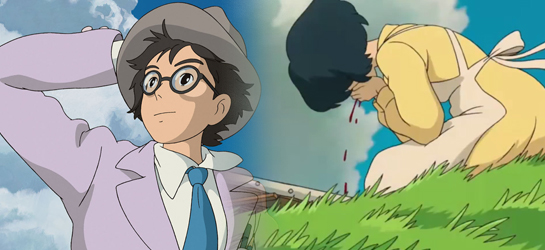 Commentary &Daily post 23 Oct 2013 08:02 am
This is a week for 2D animation. Last Sunday I watched the 1991 film ONLY YESTERDAY. That was a brilliant film, and it was so quiet and delicate and touchingly perfect. Directed by Miyazaki's partner, Isao Takahata. What a gentle and near-perfect movie. It's probably too quiet for most people, but I loved it. I have to thank Nat who left the comment on my blog about it.
Last night, there was John & Faith Hubley's 1962 feature, OF STARS AND MEN. This was the first Hubley film I saw in a theater. I was only 17 at the time. It was a little bit of genius living around the corner from me. It's a feature, a great one, without having all the low wit you'd usually see these days.
It was the first film by the Hubleys that I ever saw in a theater. Only 53 mins, it takes your breath away. It's very much an adaptation of Dr. Harlowe Shapely's book, "Of Stars and Men." This is a pure and unadulterated look at the science as studied by Dr. Shapely. Every inch of glorious painting and remarkably strong animation layout is used with the 2D animation camera. As many as 10 passes through the camera are used for every frame.
John definitely went for the abstract, where he found a beauty that couldn't have been replicated any other way – including in the pre-historic sequences of the original Fantasia. I'll try in an upcoming blog post to post some of the frame grabs from this movie, gorgeous as it is in all its delicate motion.
Talk Session for "Of Stars & Men"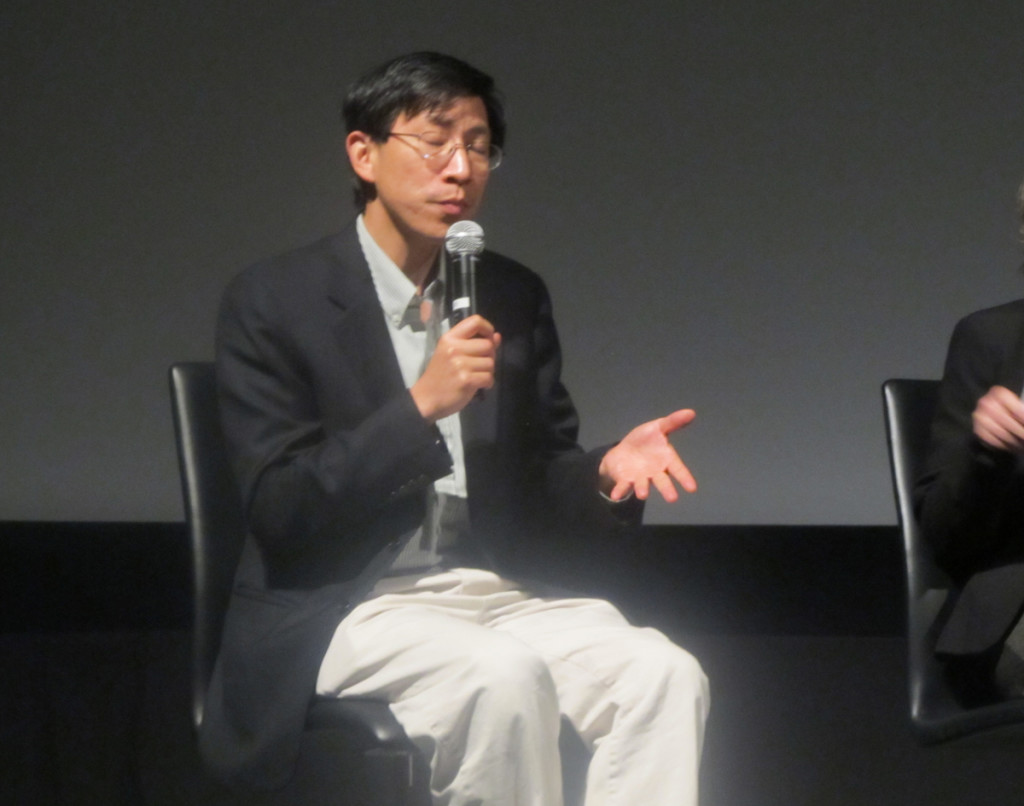 1
Dr. Charles Liu, a scientist supporter of Dr. Harlow Shapely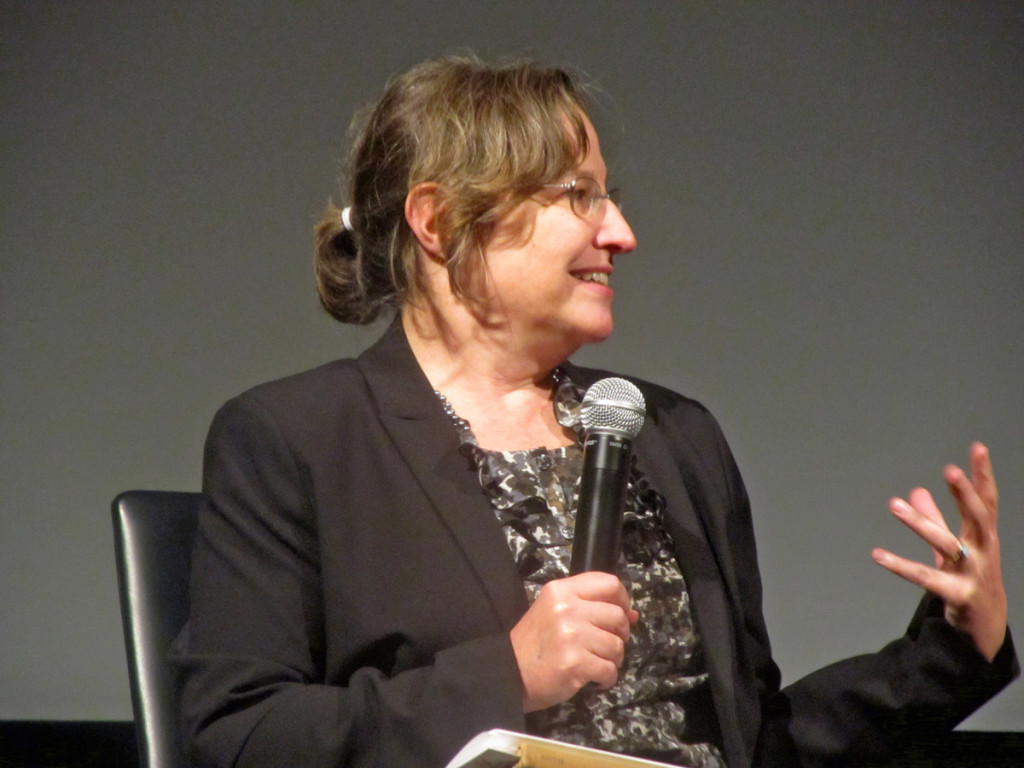 2
Emily Hubley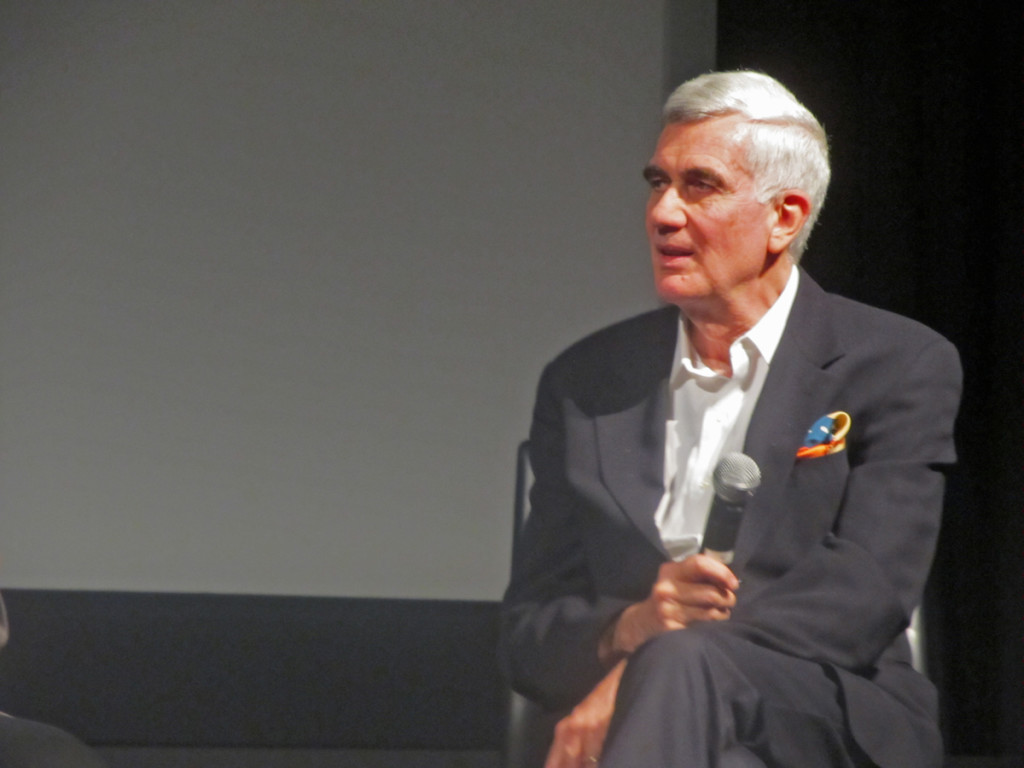 3
John Canemaker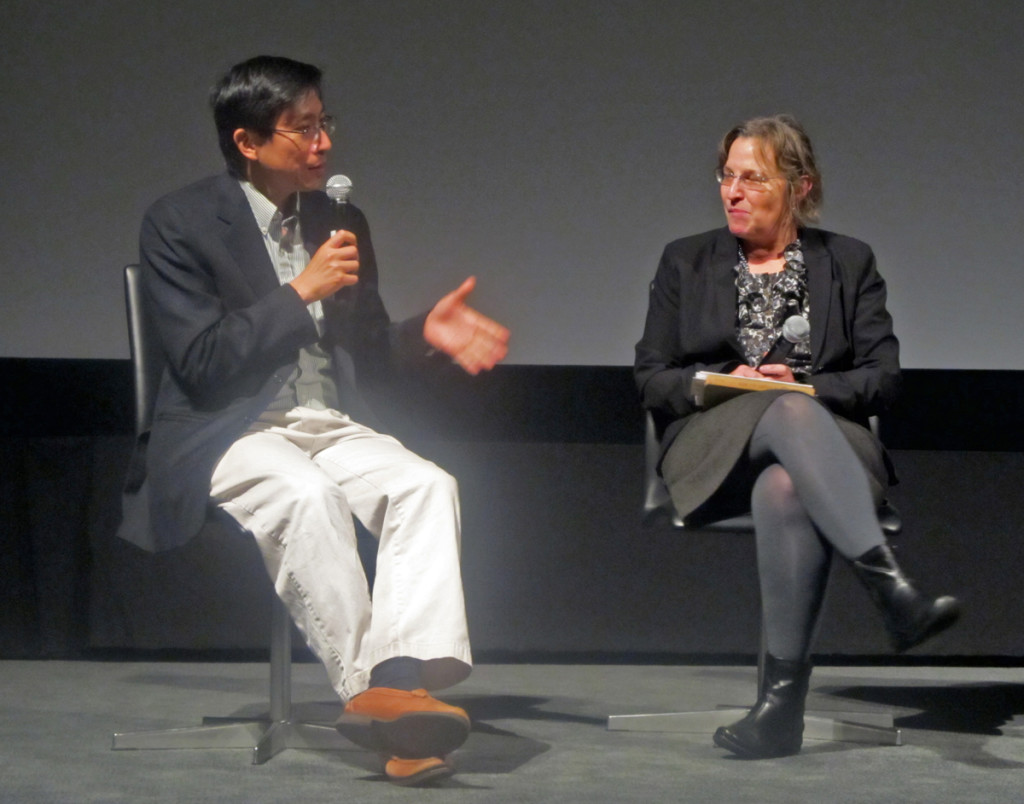 4
Dr. Charles Liu and Emily Hubley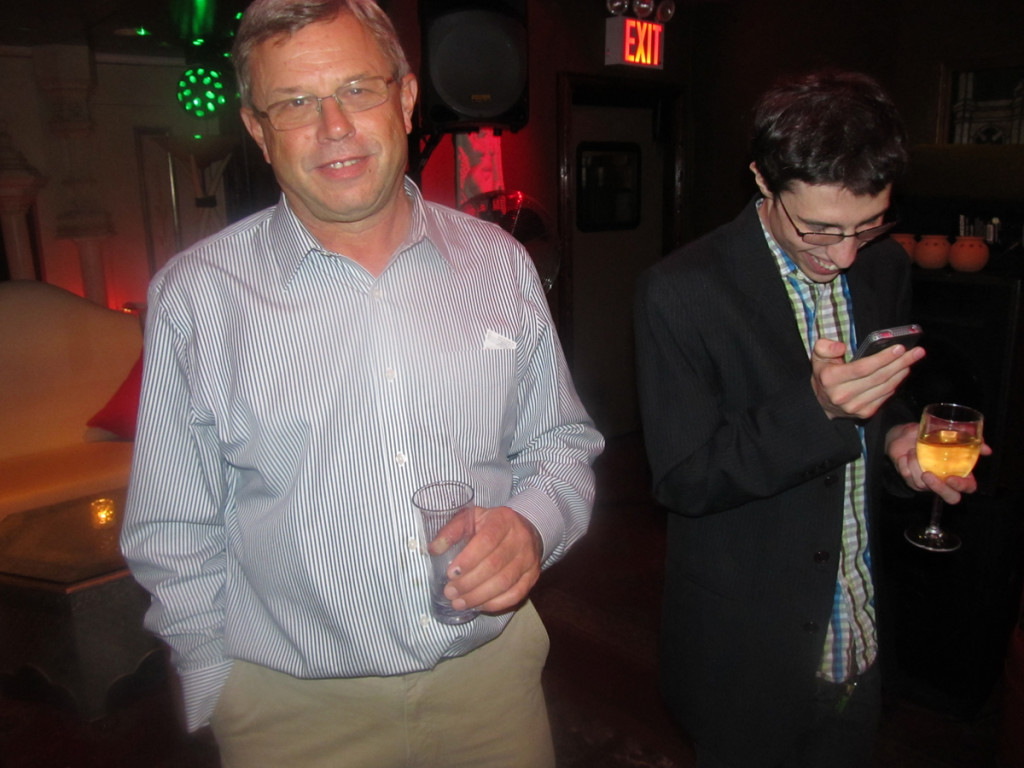 5
Mark Hubley and nephew, Max Hubley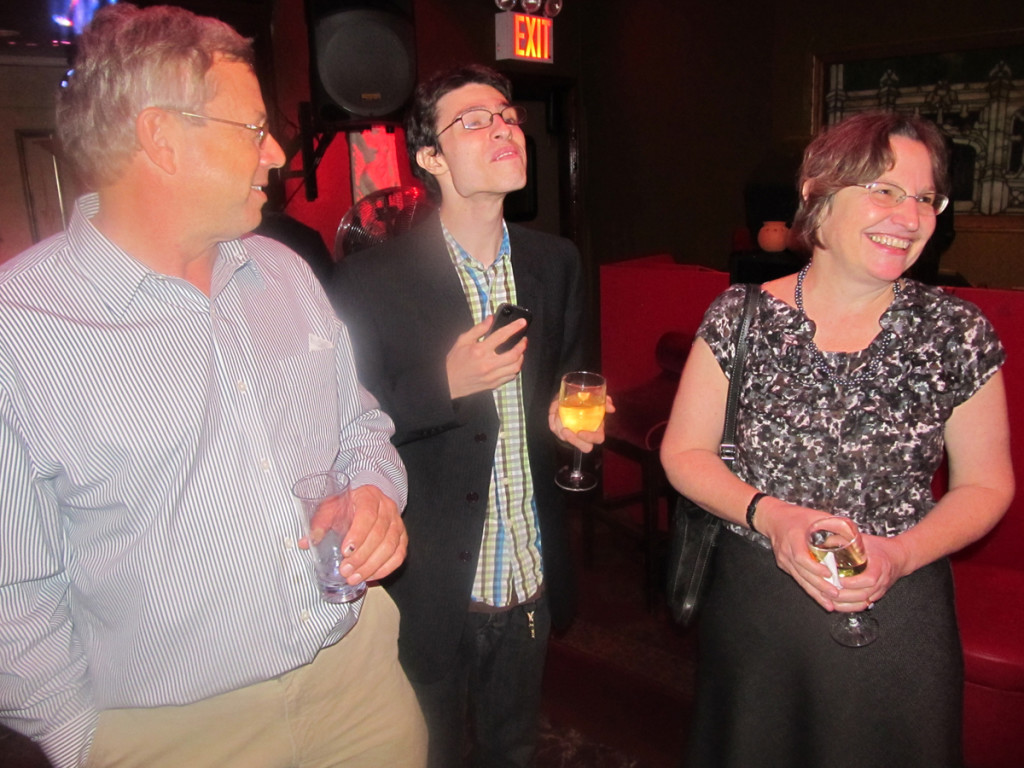 6
Mark, Max and Emily Hubley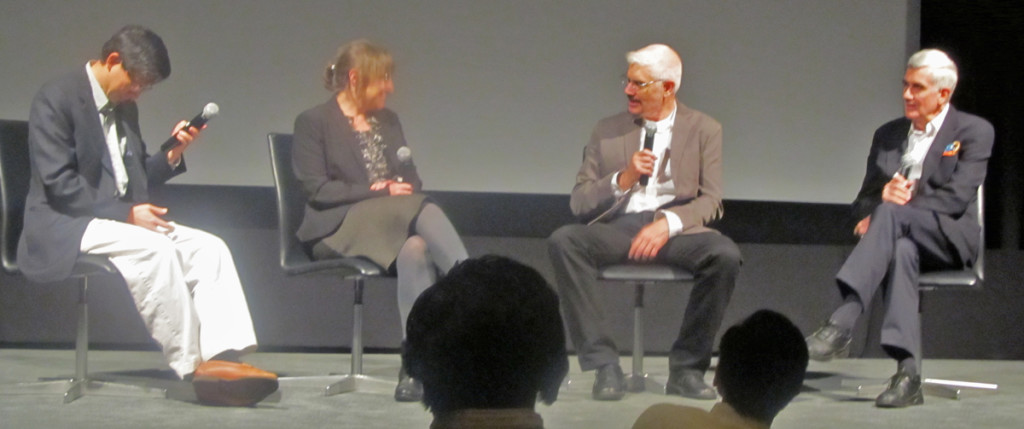 7
Dr. Charles Liu, Emily Hubley, curator, Ron Magliozzi, and John Canemaker.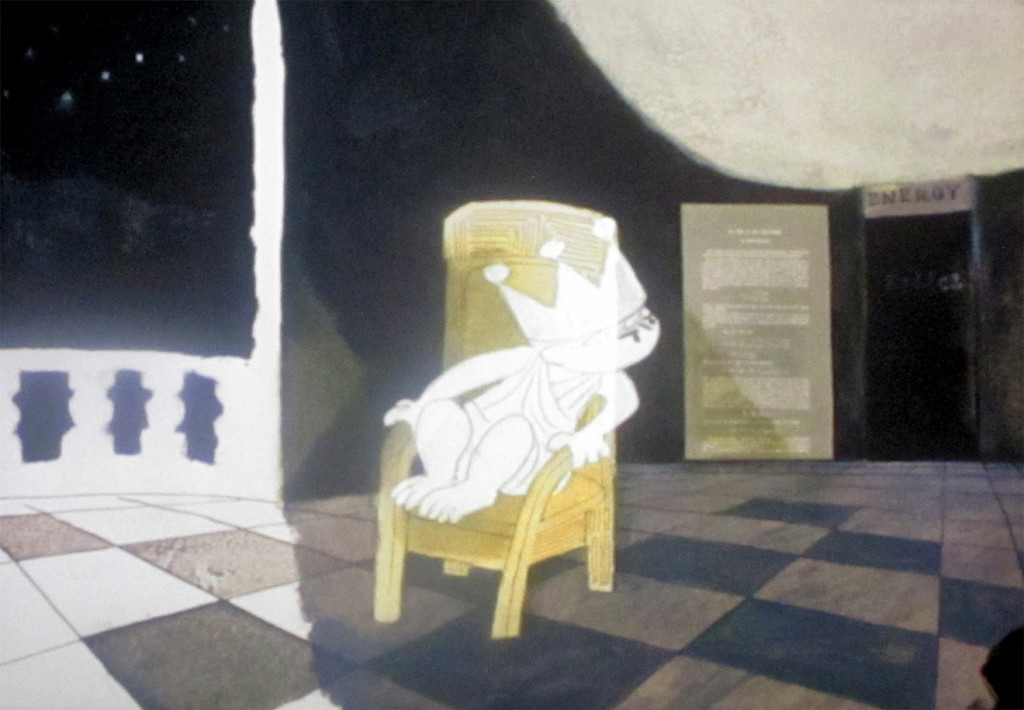 8
Will Rosenthal, Emily's husband and Ira Kaplan Georgia's husband were also there.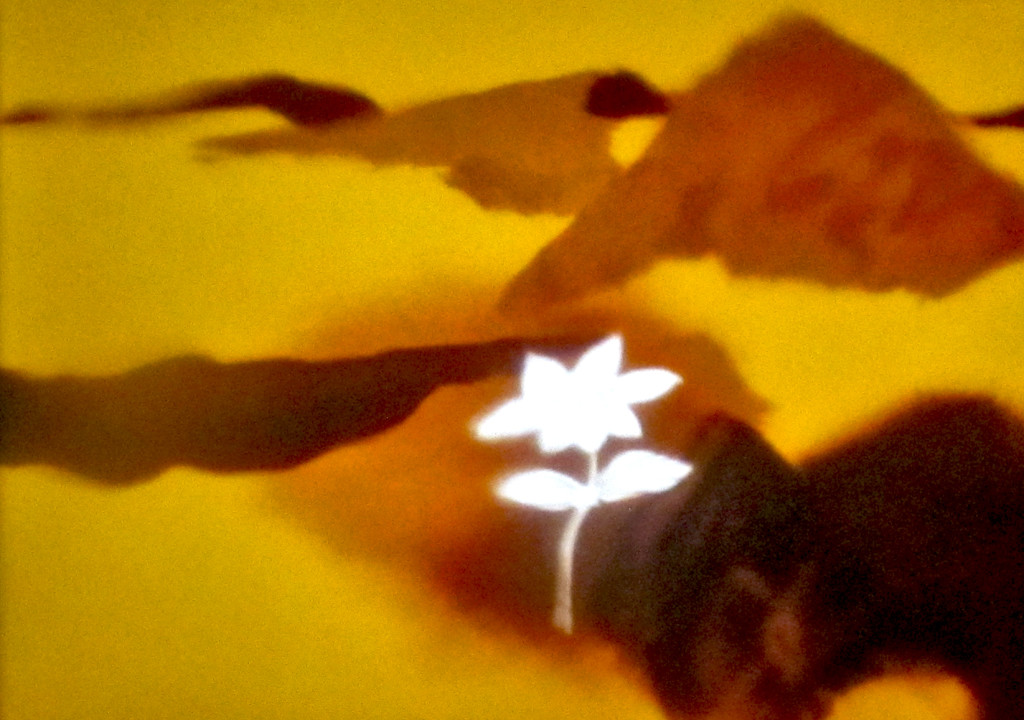 9
On screen flower
Also iin the audience were Candy Kugel, Jannet Benn, Joe Kennedy
Biljana Lobovic and Jeremiah Dickey.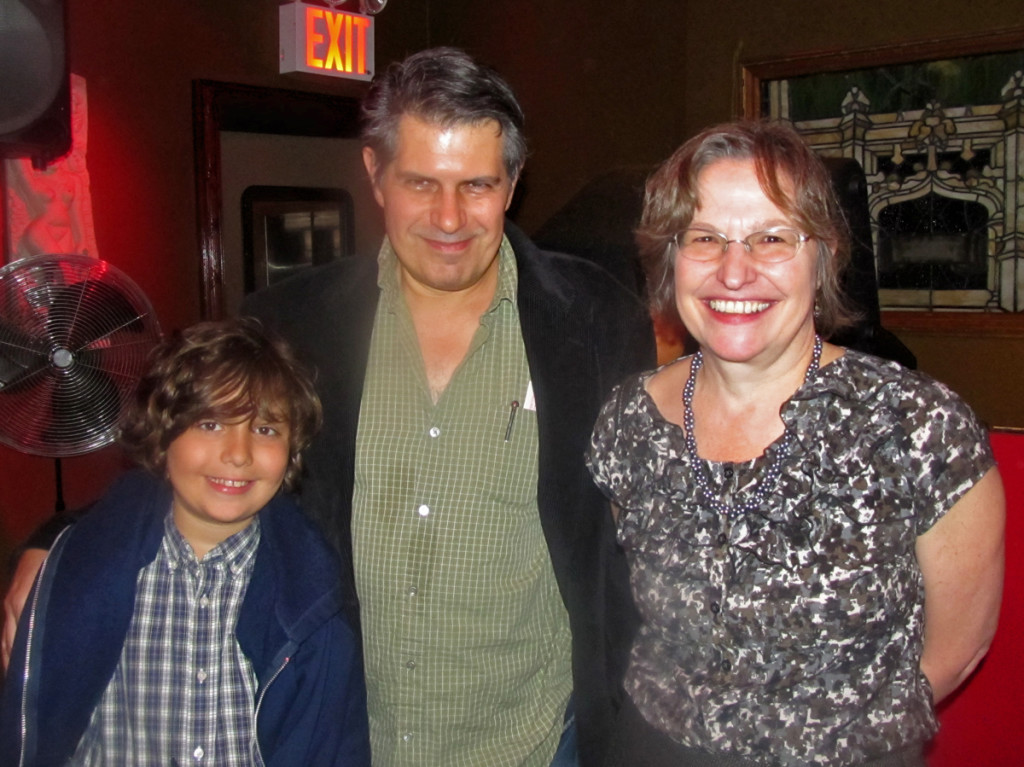 10
Oscar and Jeff Scher, and Emily Hubley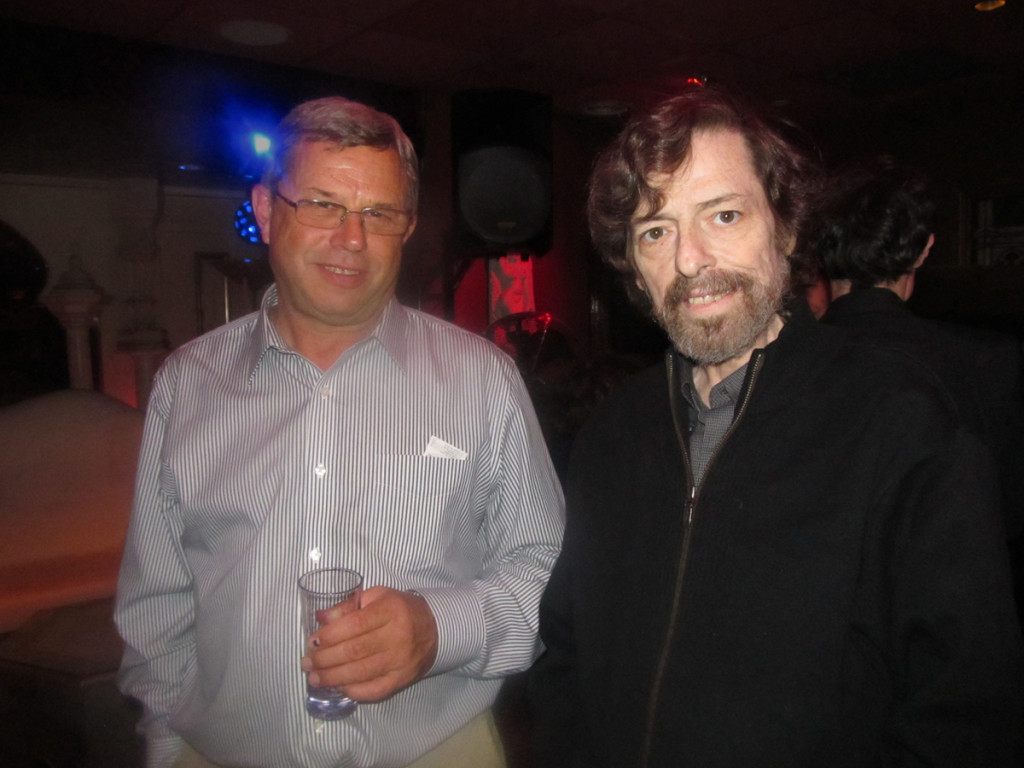 11
Mark Hubley and me.
At the end of the film, my wife, Heidi, asked where the credits were. She'd forgotten those were
at the film's start. The entire crew amounted to 15 people.
Harlow Shapley Harlow Shapley
Mark Hubley Mark Hubley
Ray Hubley Ray Hubley
Produced by
Faith Hubley producer
John Hubley producer
Cinematography by
Film Editing by Faith Hubley (as Faith Elliott Hubley)
Animation Department
Pat Byron … background artist (as Patricia Byron) / rendering artist (as Patricia Byron)
Nina Di Gangi … background artist / rendering artist
Faith Hubley … background artist / rendering artist
John Hubley … background artist / rendering artist

Bill Littlejohn animation director (as William Littlejohn)
Gary Mooney … animation director
Music Department
Roy Friedman music recordist
Walter Trampler … musical director
THAT'S IT!
Thursday we see Miyazaki's The Wind RIses, and on Sat & Sun we see all of the AMPAS entered animated shorts. Mine eyes hold up.
Articles on Animation &Commentary &Richard Williams 01 Oct 2013 08:00 am
And do you believe it! They closed the government. Only Chris Matthews can handle it from here upon out!
Tweedledee and Tweedledum
Tweedlededum, can you please introduce yourselves to the court?
Tweedledee
That's just the problem.
Court
Gasp!
Tweedledum
That's just the problem; we can't.
We don't know who we are anymore!
Believe it or not. They shut down the government.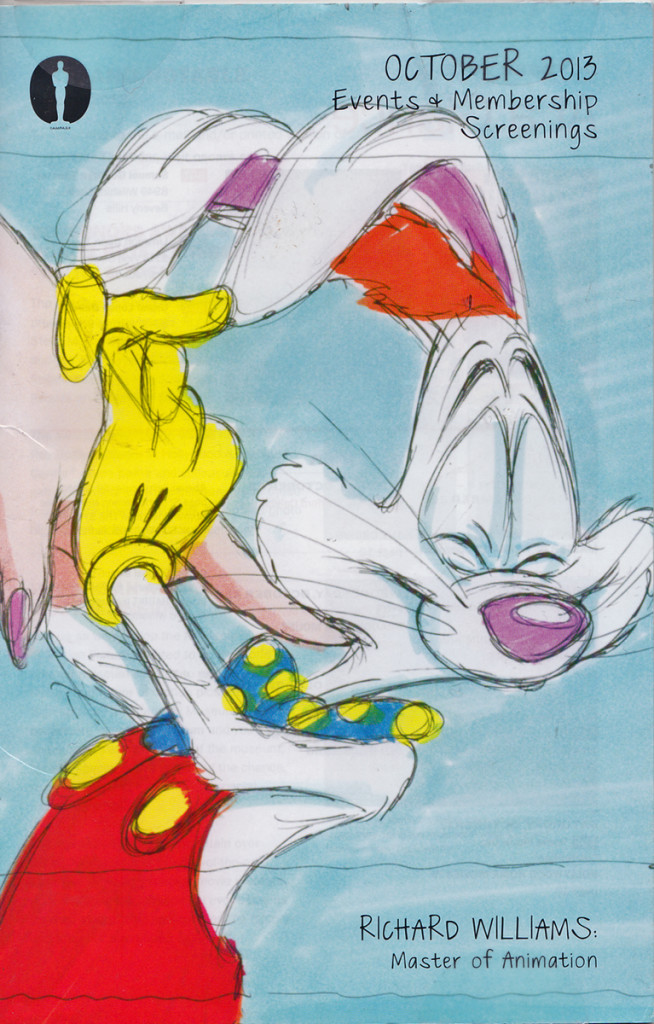 This coming Friday, Oct. 4th, the MP Academy will hold a special screening featuring Richard Williams. Williams will discuss the work that has inspired him and the people who have influenced him. Some of his favorite clips will be shown to illustrate the artistic and emotional range of the medium. From the charm of Snow White and the imagination of Fantasia to the stylization of Rooty Toot Toot and the "subtlety of expression of Toy Story W illiams will also enlighten audiences about his own work through clips from The Little Island, The Charge of the Light Brigade a Christmas Carol and The Thief and the Cobbler (inlcuding its first theatrical trailer, as well as a preview of his work-in-progress, Circus Drawings.
Tickets are $5 for Gen'l Admission and $3 for Academy members. (I've just learned that the event is, of course, sold out.
From Oct 4th thru Dec 22nd there will be a gallery showing at the Academy theater, and that can be seen when your schedule permits.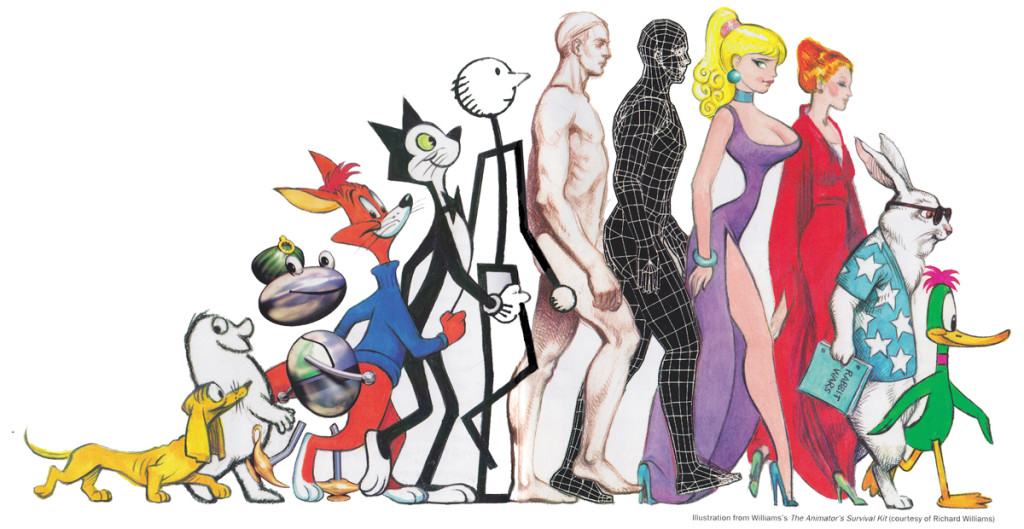 Go here to see three of these vids. Very entertaining.
Animation Artifacts &Articles on Animation &Books &Commentary 23 Sep 2013 08:00 am
Maurice Noble began his art career at Chouinard's Art Institute. He and Mary Robinson (Blair) followed similar paths at the school. They both moved on to jobs decorating windows of Robinson's Department Store. Their design styles were in no way similar, but their approaches to the art were. This was during the Great Depression, and there was no chance of getting a raise of salary there to match what ould be earned at Disney, They both moved on to working at Disney's Studio.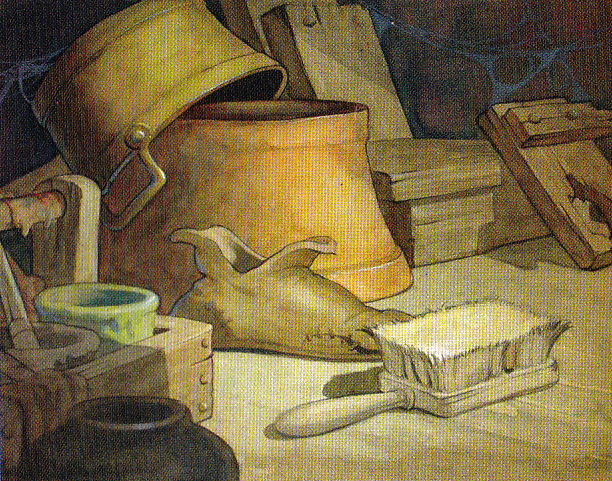 His first assignments were in painting backgrounds for some Silly Symphony cartoons such as Elmer Elephant, Water Babies, The Old Mill and The Country Cousin. All of these were "A" list Symphonies and were certainly plumb assignments within the studio, yet it took Maurice a short bit of time to appreciate the move he'd made toward animation. He soon found himself painting backgrounds on Snow White and designing on Bambi, Pinocchio, Fantasia and Dumbo. On Dumbo he helped to design the Pink Elephants sequence. He developed his personal approach to animation design.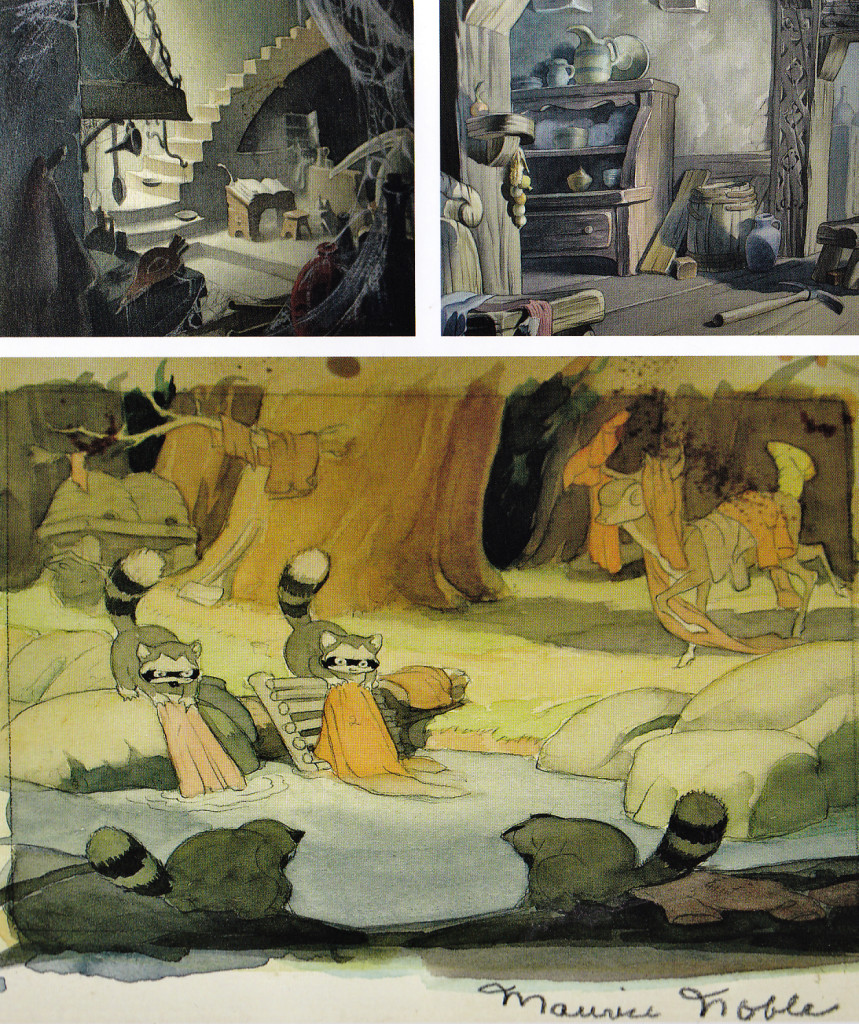 Selected art by Noble from Snow White
There was also a legendary screening, set up by Frank Lloyd Wright, attended by many at the Disney design group, of a Russian animated film called The Tale of Czar Durandai. This 1934 short film was directed by the famous Ivan Vanov-Vano. John Hubley also used thisfilm as an example of inspirational work for the animation he was to do.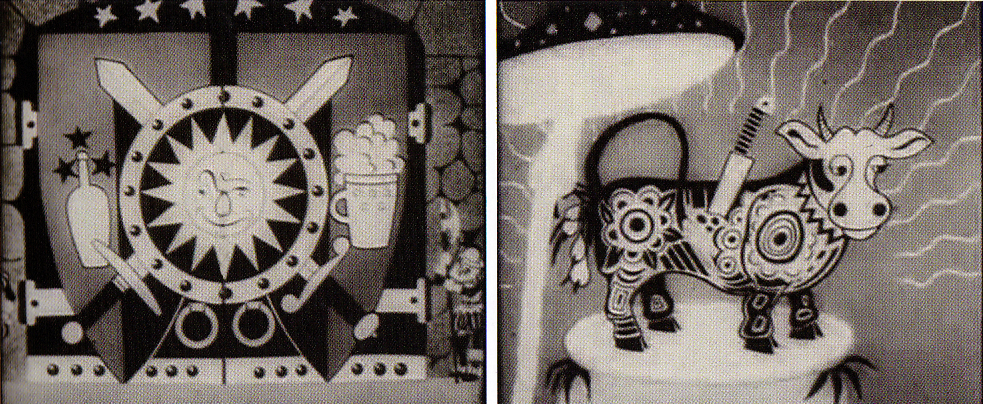 The Tale of Czar Durandel

Maurice Noble had also participated in the strike at Disney's. When it was over, he was given a second-rate office, and it was obvious he was no longer in high demand at the Studio. He sat doing nothing for quite some time before receiving severance pay. He then joined the Signal Corps to work for the Army. The aggregation of artists who had joined the group was a top-notch selection of excellent designers all of whom were committed to 20th Century Art in animation. Animation had joined the Modernist movement, and was on its way to producing "adult" fare.


A Few Quick Facts About Fear was a short produced/directed by Zach Schwartz
which took complete use of the new approach to artwork in animation.
Noble worked with Zach Schwartz on a film which led the way to the new approach to animation art. The film was done purposefully in B&W using a bold approach to the art.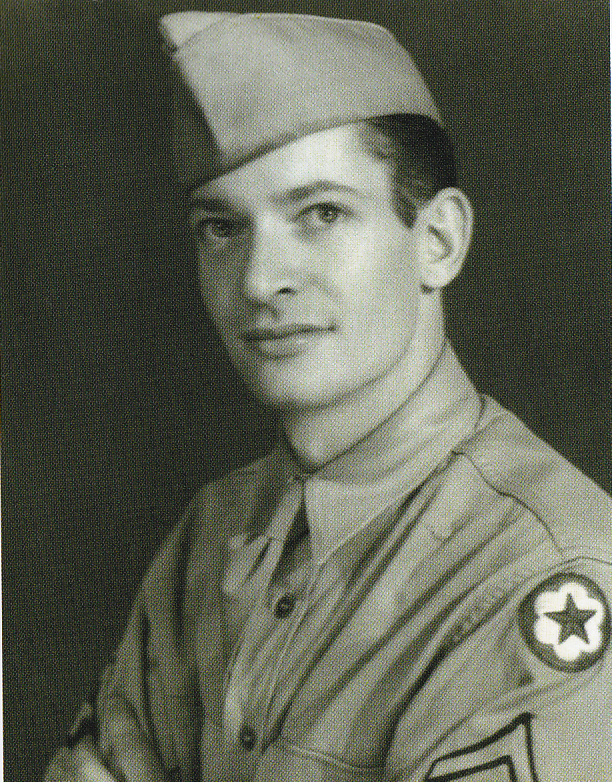 Maurice Noble in the SignalCorps.
Animation &commercial animation &Illustration &John Canemaker 19 Sep 2013 01:05 am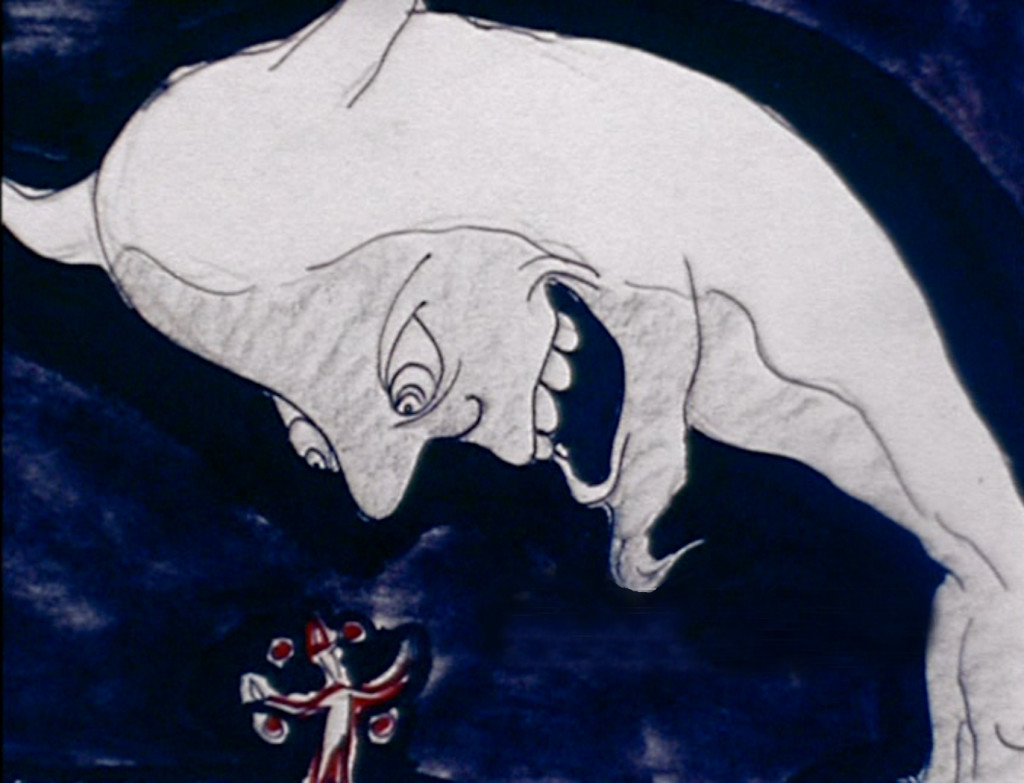 John Canemaker has been making animated movies for ever. I know because we both started at about the same time. Somewhere in the late Seventies we exchanged our early films to get a look at what each other was doing when we were younger. Leslie was tuning out a lot of footage imitating sequences I'd sen in the movies: a couple of dogs (certainly not Lady or Tramp) eating lunch, a limited animation vizier climbing pillars in imitation of 1001 Arabian Knight not with Mr. Magoo.
John didn't do much in the way of limited animation; he told me he wasn't able to figure it out. My own work was definitively derivative. I'd redone the Flintstones opening – my own version. Gay Purr-ee led to my attempt at animating the impressionists. I saw something in a theater or on TV and would immediately immitate it. I did a lot of live action/animation combinations. I was fascinated by the modern work. Title sequences to Saul Bass' films led to my versions. Once I'd seen UPA – the Gerald McBoing Boing Show, I did my own variant. There was a comedy album called The First Family.Vaughn Meador and other comedians impersonated the First family – the Kennedys – singing song parodies of the time. I did my parody of these sung-through albums that quickly lost synch. But you could see the effort that had been taken.
Whereas John worked only in 2D cel animation, I brought out lots of other wares. Clay was easy to animate and allowed me to turn out footage fast.
When we screened them for each other, we were both impressed even though we had to trade off the films and watch them privately. We both did great work; we both did horrible work. My father and brother-in-law constructed a multiplane set with about 16 levels of glass (easily 18″x24″) with about 8000 watts of light. I had my take on Fantasia to work out.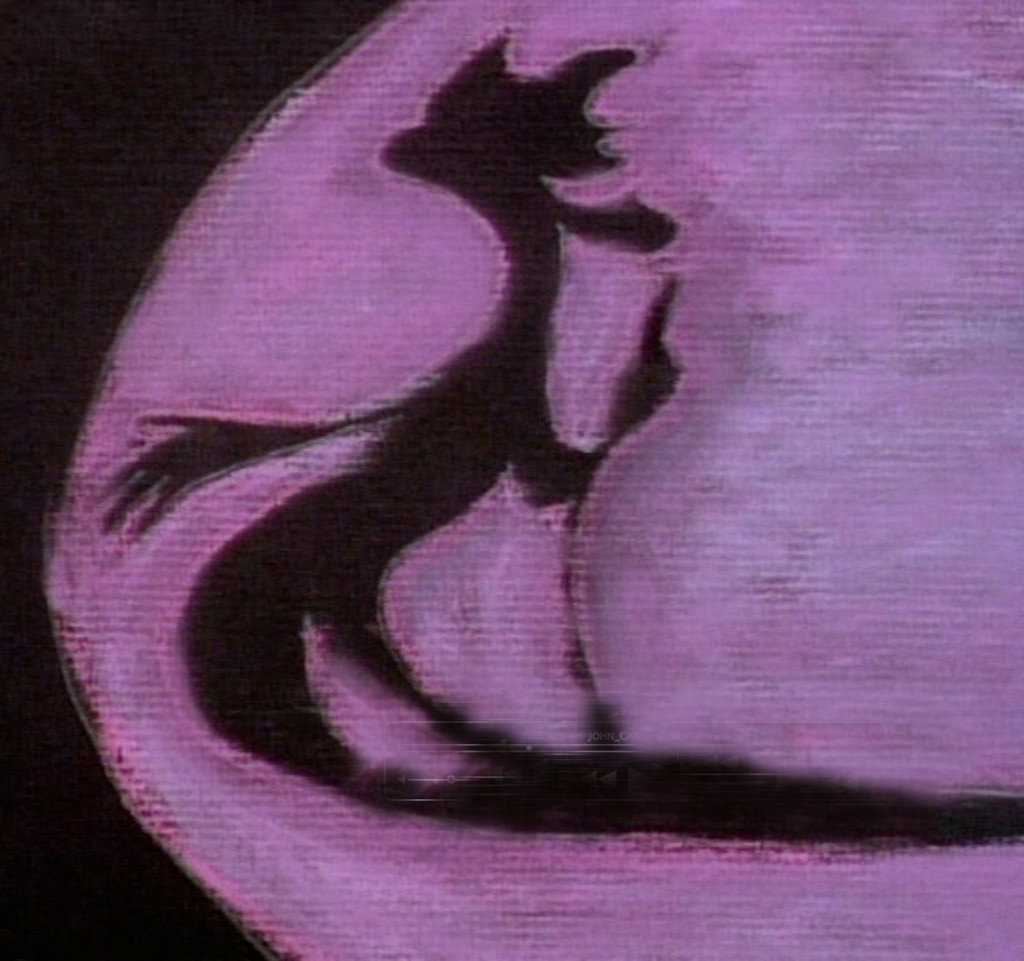 John's early films – not those we'd shared with each other, but his more professional work – now have a DVD all their own, and I'd
like to talk about these pieces. The DVD, John Canemaker – Marching to a Different Toon will permanently act as a good sampling of one artist's view of the world. It presents a multiplicity of styles with a wide range of subject matter.
Bottom's Dream feels like a sketch out of Fantasia as we see a short piece derived from Shakespeare's "Midsummer's Night Dream." Once Titania has turned Bottom into an ass there is a dance wherein he's trying to escape from the curse. Composer, Ross Care brings Mendelsohn's music to life as the film's backdrop.
Confessions of a Star Dreamer features the actress, Diane Gardner, expressing the problems and joys of becoming an Actress. Confessions of a Comic did the same for an aspiring young stand-up comic. Several sequences froom some of the excellent documentaries are also incuded:Break the Silence: Kids Against Child Abuse (TV Movie documentary) (animator), 1988 You Don't Have to Die (Documentary short), The World According to Garp's animated seqeunces are also included.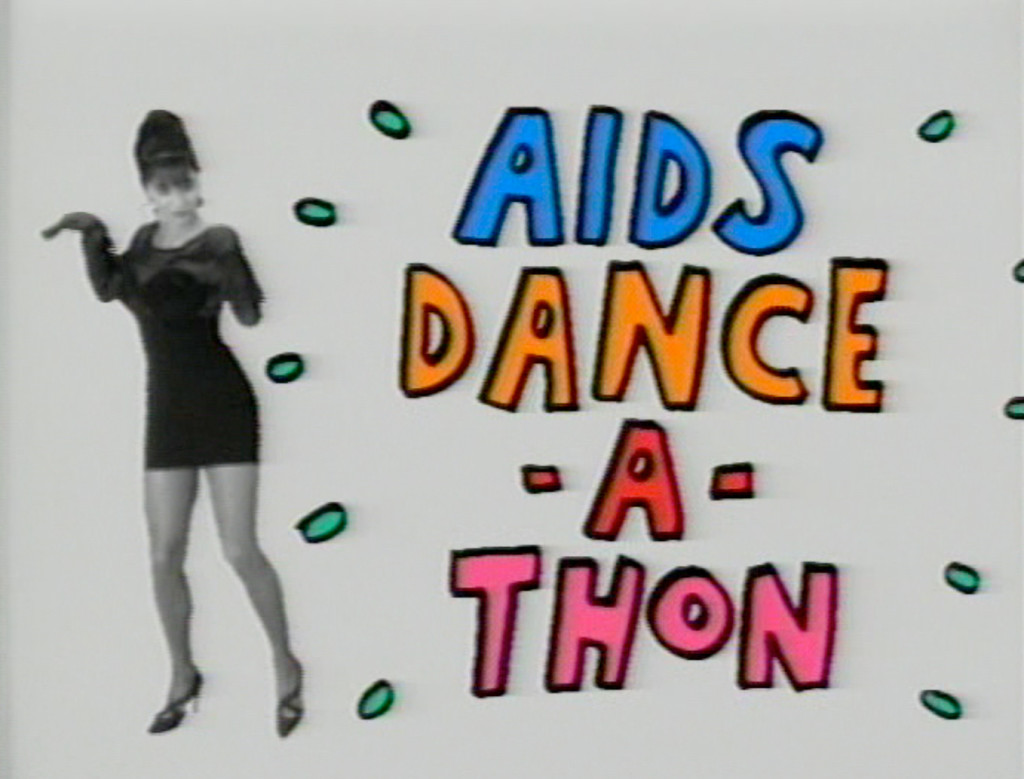 I love the short Bridgehampton, which animates the beautiful garden John and his companion Joe Kennedy, hae developed over the years (see some photos of the actual garden here.) It's a wonderful little spot on the earth and how joyful for John to make a film paying tribute to his own little bit of nature.
These films were all done just prior to John's Oscar winning short, The Moon and the Son: An Imagined Conversation, which is featured on its own DVD.
This is a rare collection of shorts and one you'll enjoy if you want to know more about the fame animation historian/animator.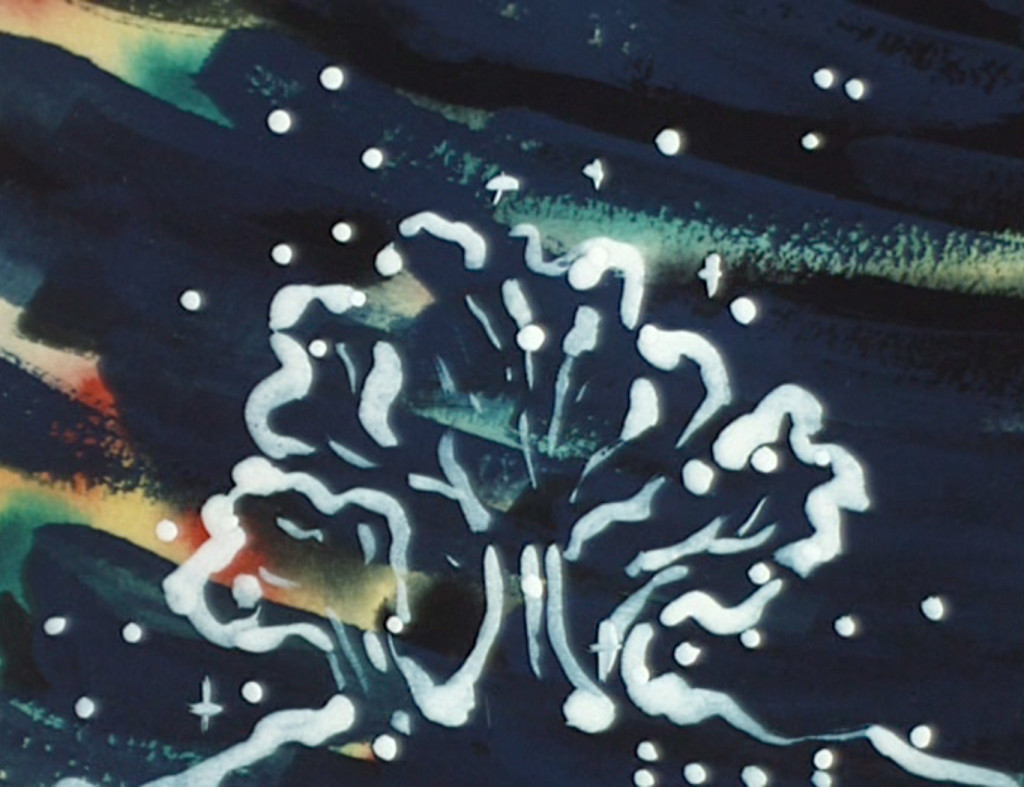 Daily post 22 Aug 2013 06:04 am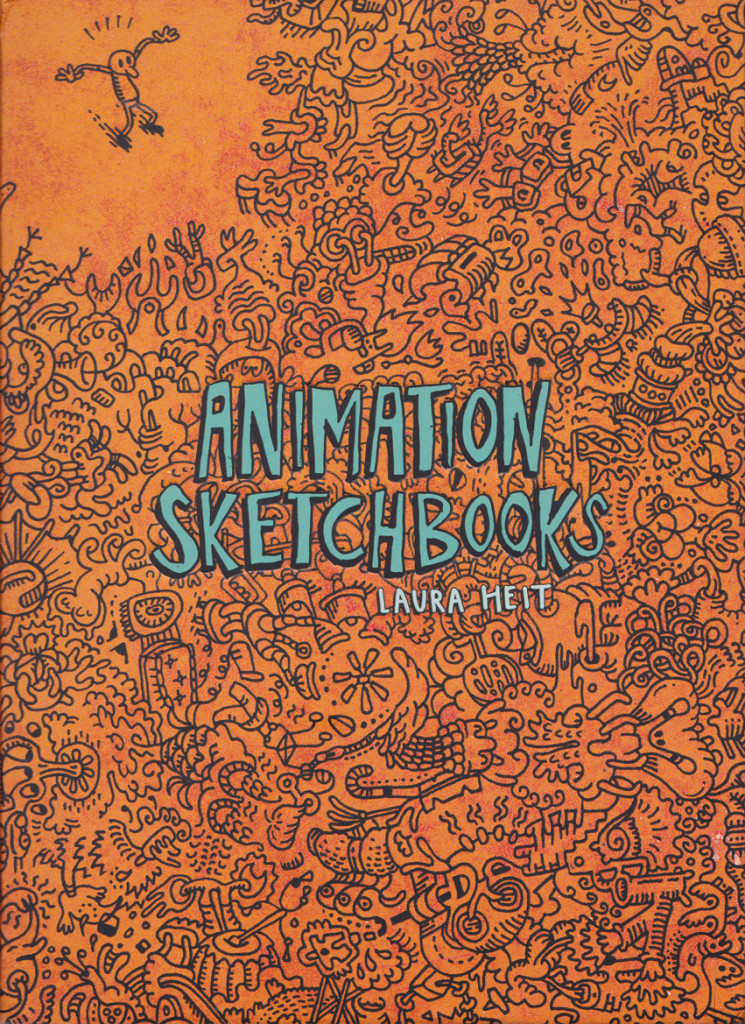 Animation Sketchbook, cover
Back in the 60′sm when I first saw Richard Williams' work and then when I went to work for Williams, I noticed there was something new and wonderful afoot. Williams did a lot of the storyboard work himself, and these were often sequences that he he, himself animated. The same, mind you, was true of sections of the storyboard that Ralph Bakshi took great pride in doing. Even Don Bluth put qte a bit into his storyboard work and took great pride in what sections he'd done. Like Williams, he espoused the urgency of the great of animation, but he seem to take more personal pleasure from those storyboard sequences he did on is own.
Chronicle Books recently sent me a beauty of a book to take a look at. Called Animation Sketches, there's no doubt this book was done to be sold at the current San Diego Comic-con. It's a virtual feast of art by new, young animation film makers. In the old days, ou'd have a collection of artworks which were made to piece together some scene from Dumbo, Bambi or the like. Nowadays, because the artwork is built on original free-form work, each artist's sketches are designed to stand on their own, and they do.
I'd like to present a fair share of the many drawings and sketches in this book, but it'll take time, so expect more than the one post I offer here. This book offers a new tye of stlizing which formidabl attempts to chnage the look of animation. It is certainly not designed for two dozen people to be working on the same show, but for now, at least, this method seems to to be working.
Most board artists who were doing long sequences, did their omplete boards. When a key short was in process, that one board artist did it all. From Lambert the Sheepish Lion to Eric Goldberg's Genie in Aladdin or his Nutcracker Suite short for Fantasia 2000 there can be no denying that the individual was leading the way through some of these very personal films.
This book of art edited and collected by Laura Heit shows the other – the most personal of film work. Here's some of it.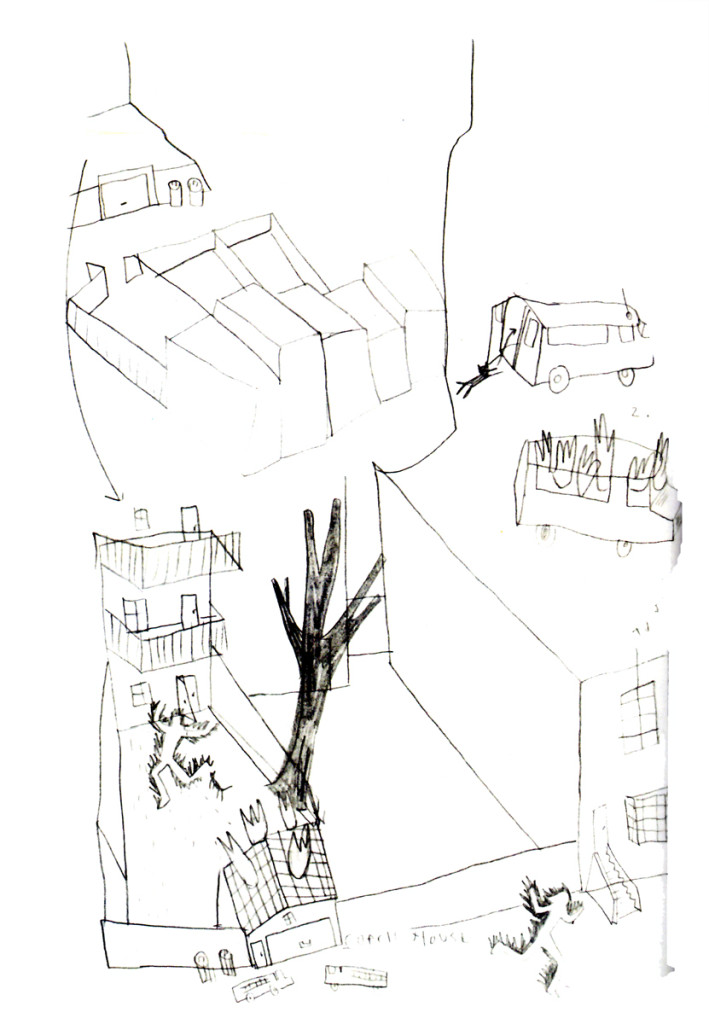 1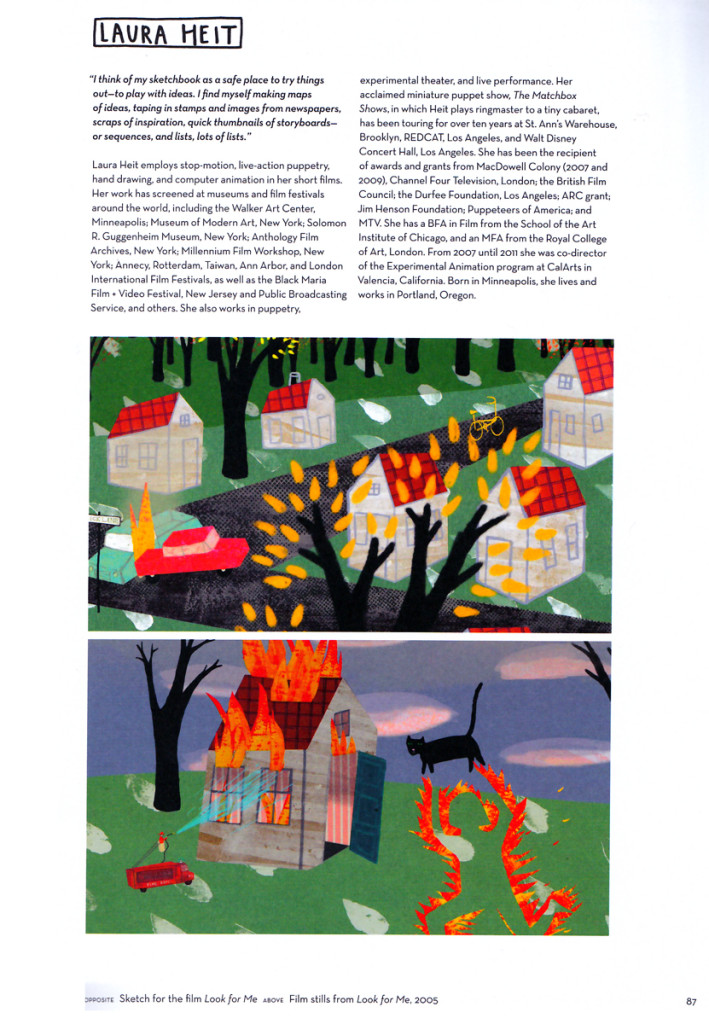 2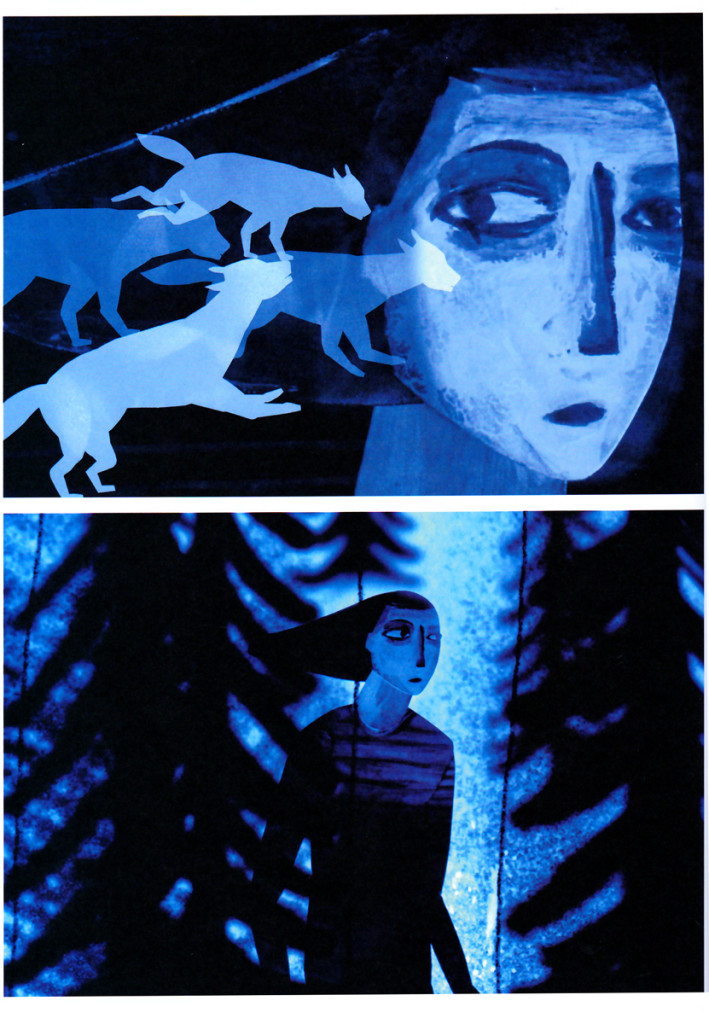 3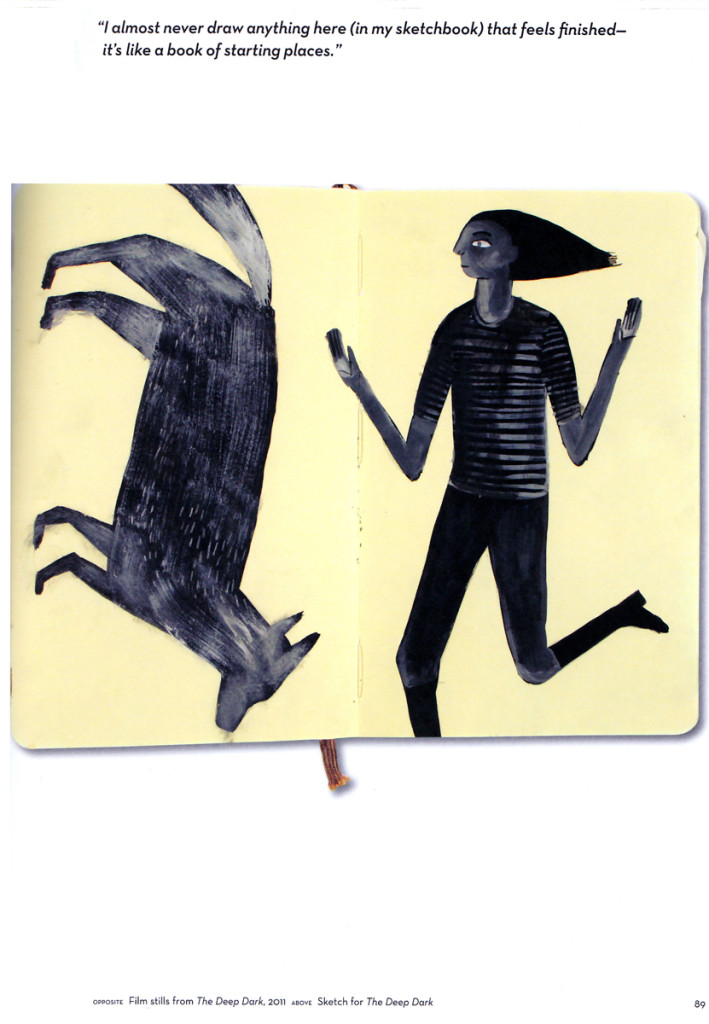 4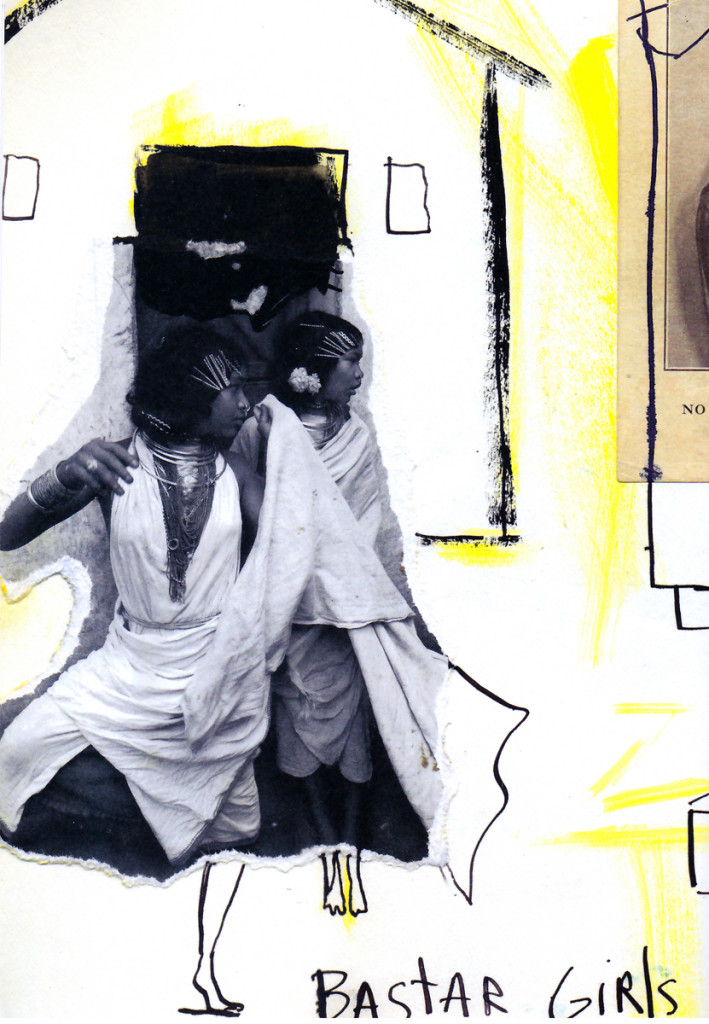 5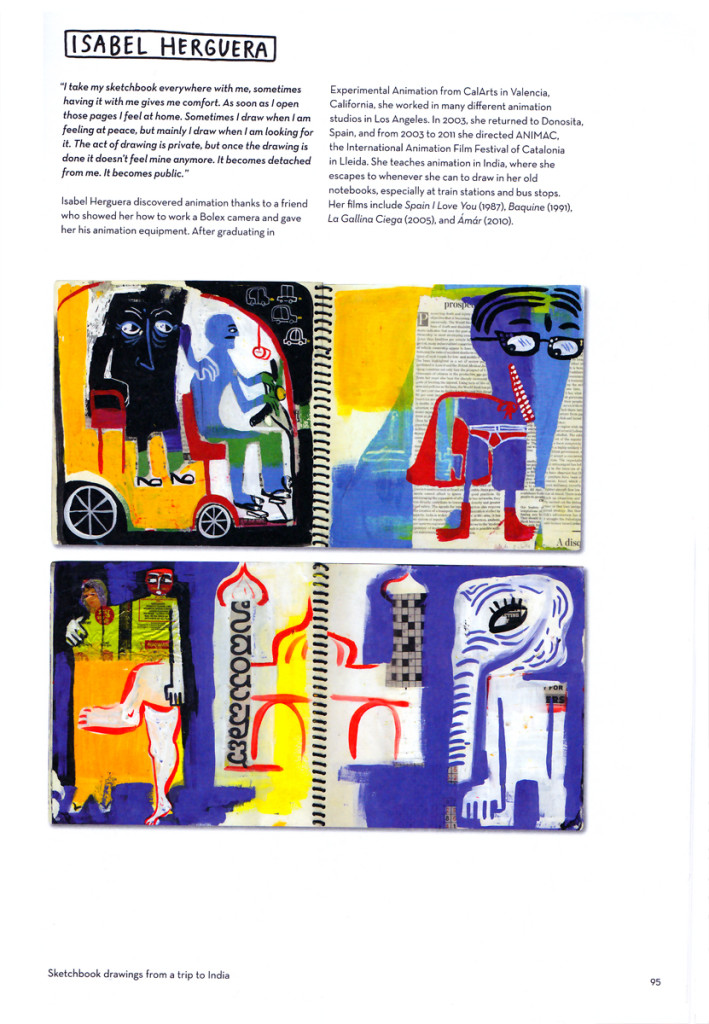 6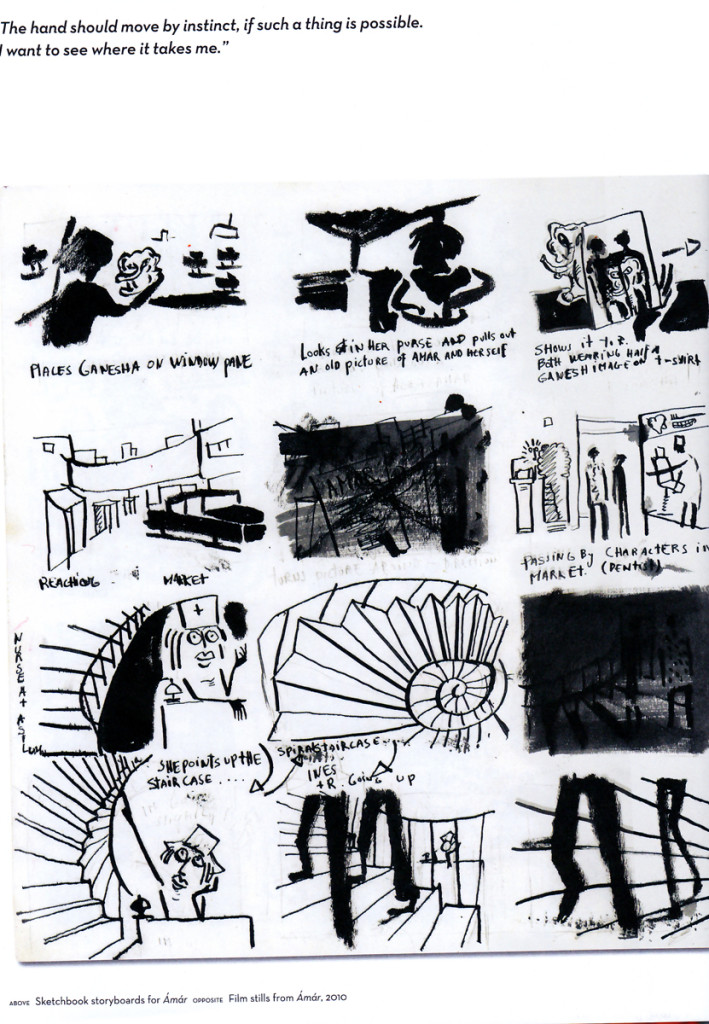 7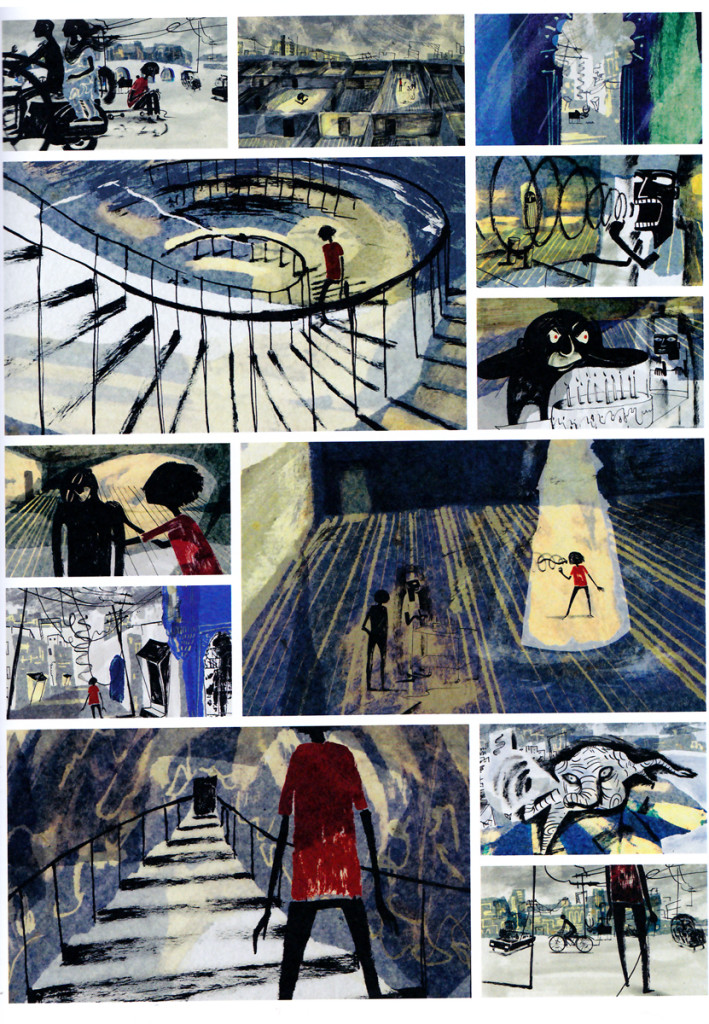 9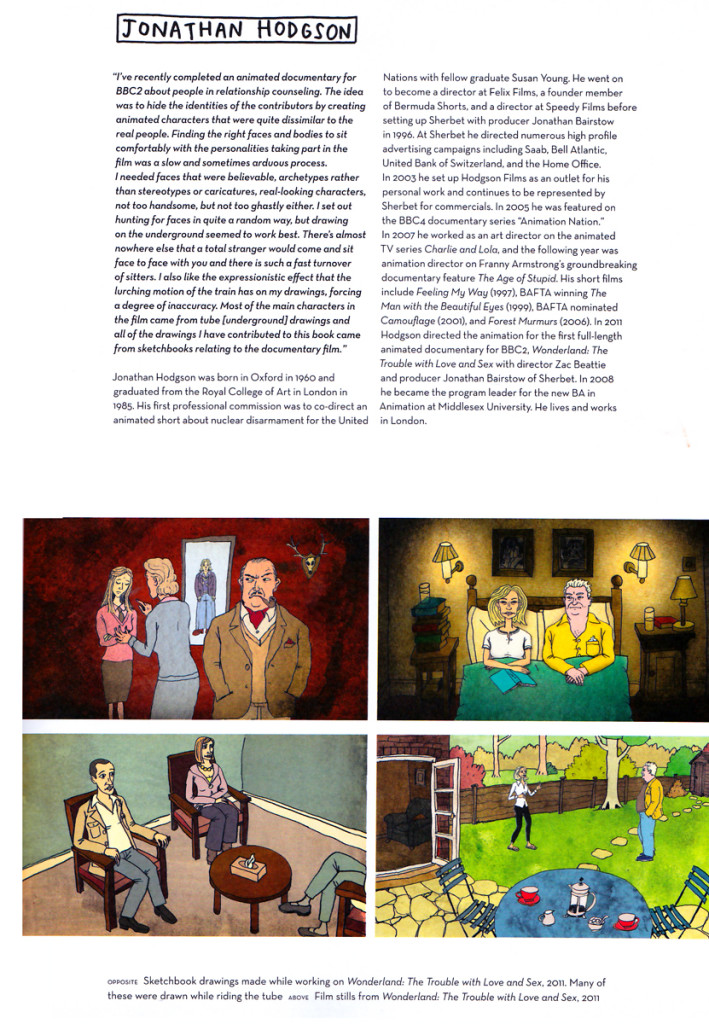 10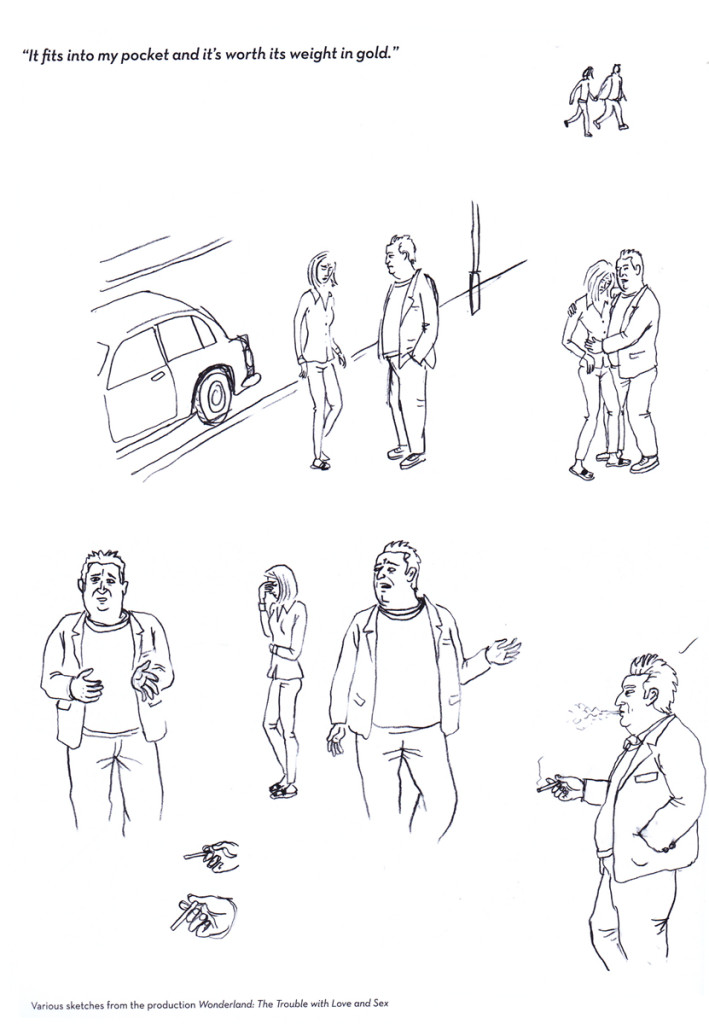 11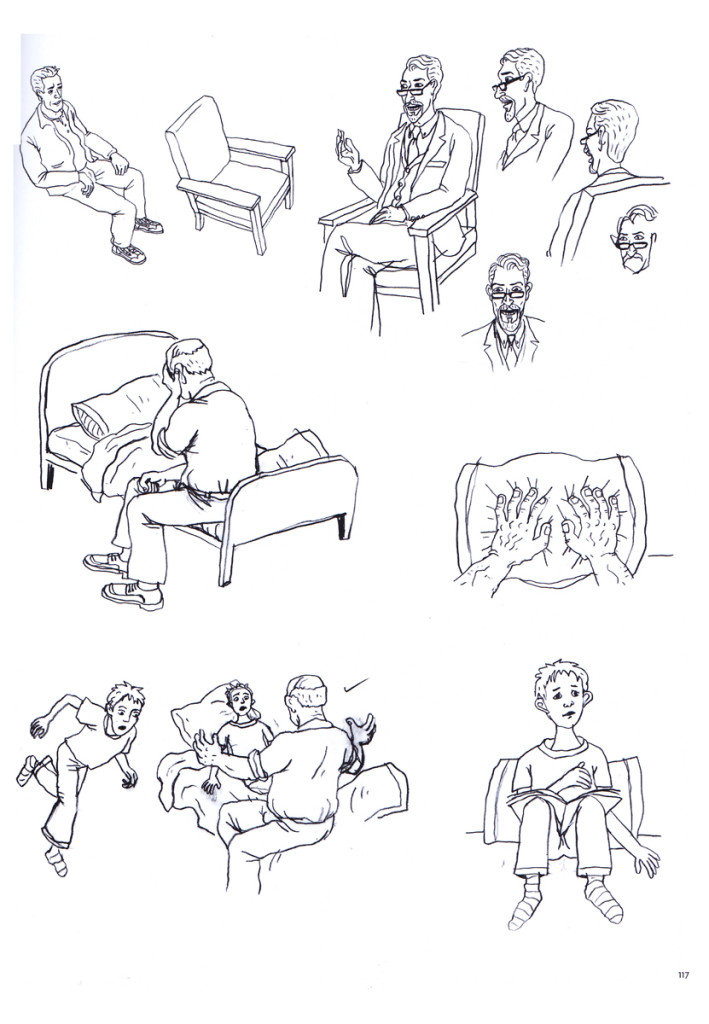 12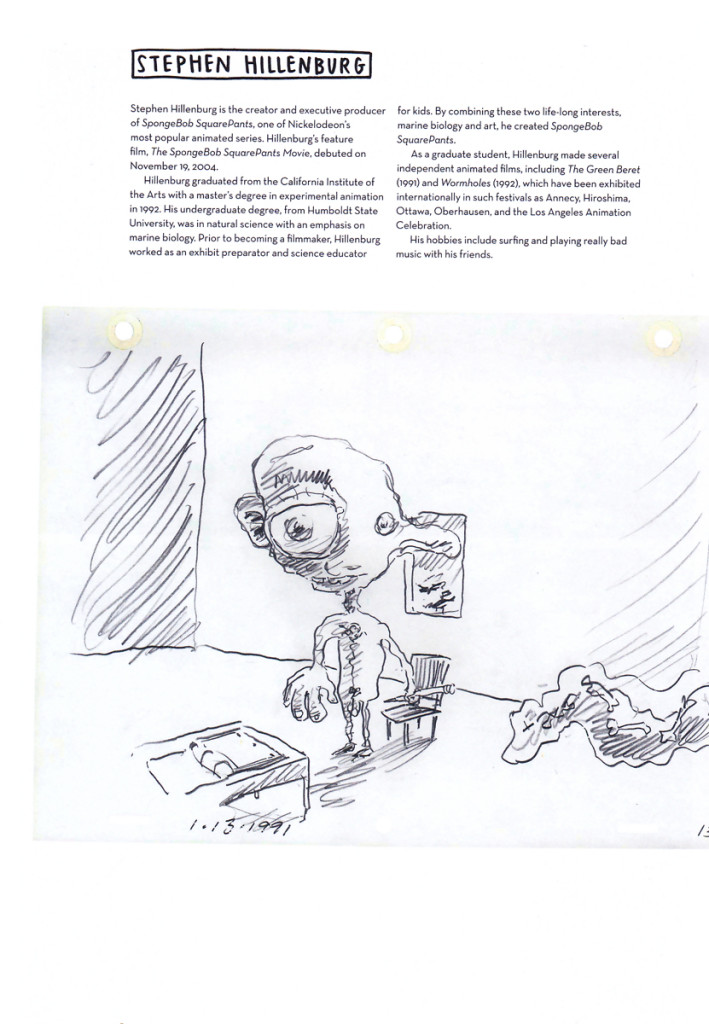 13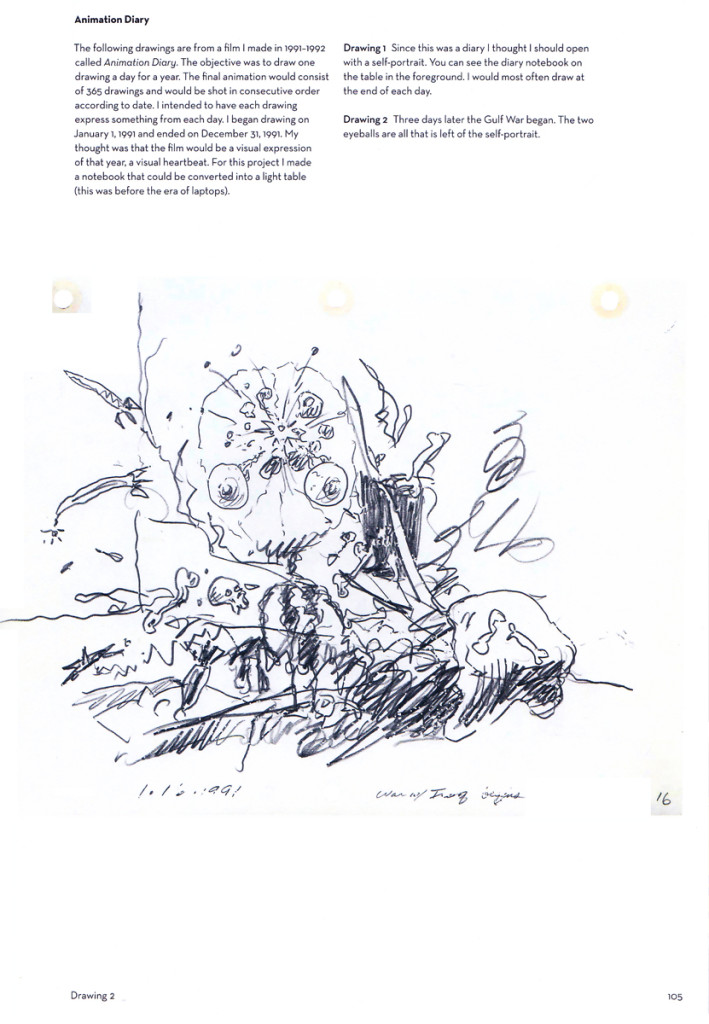 14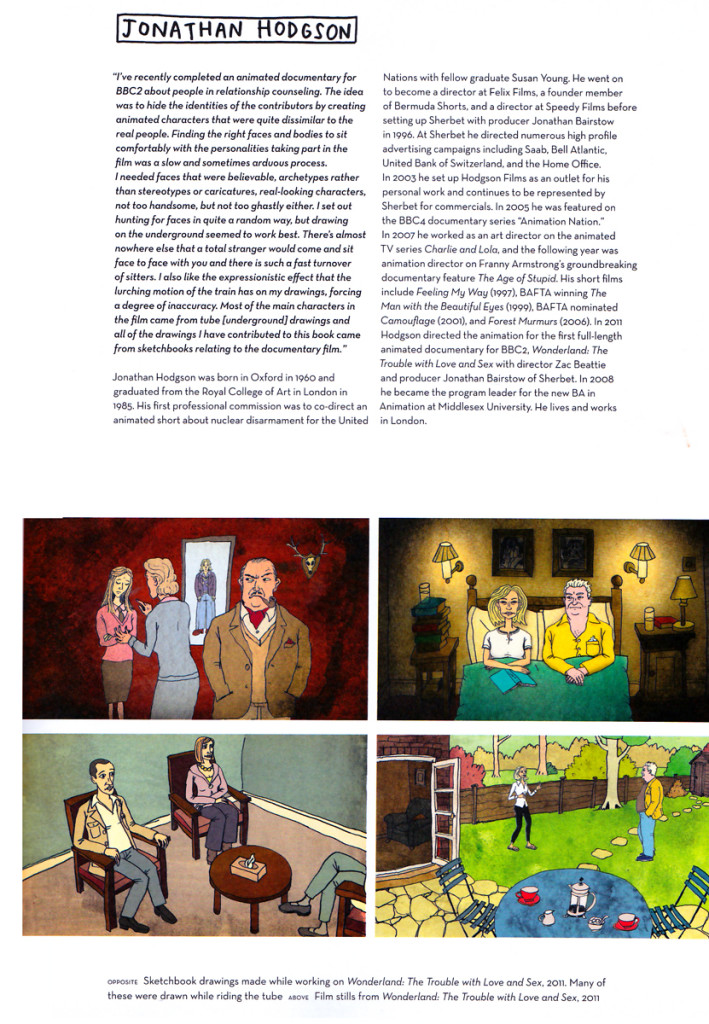 15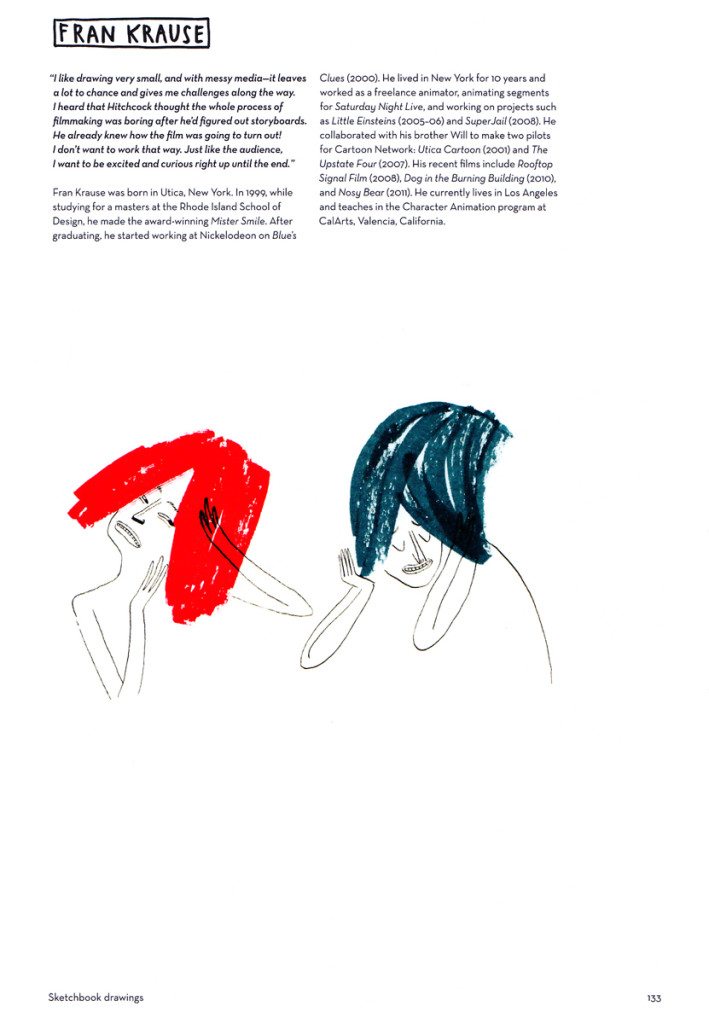 16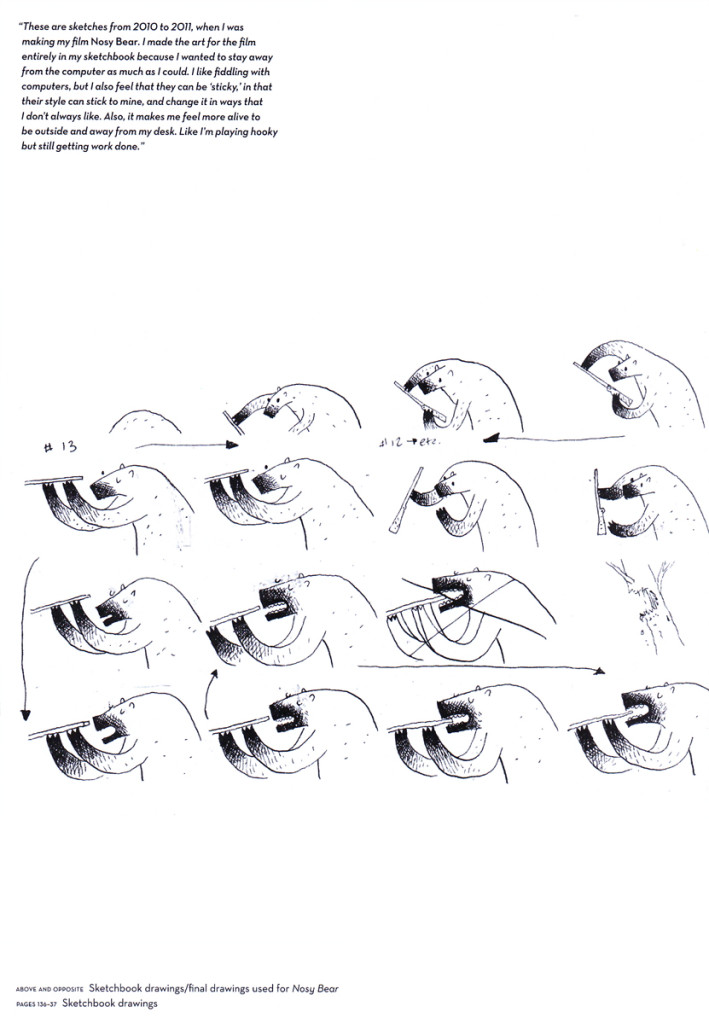 17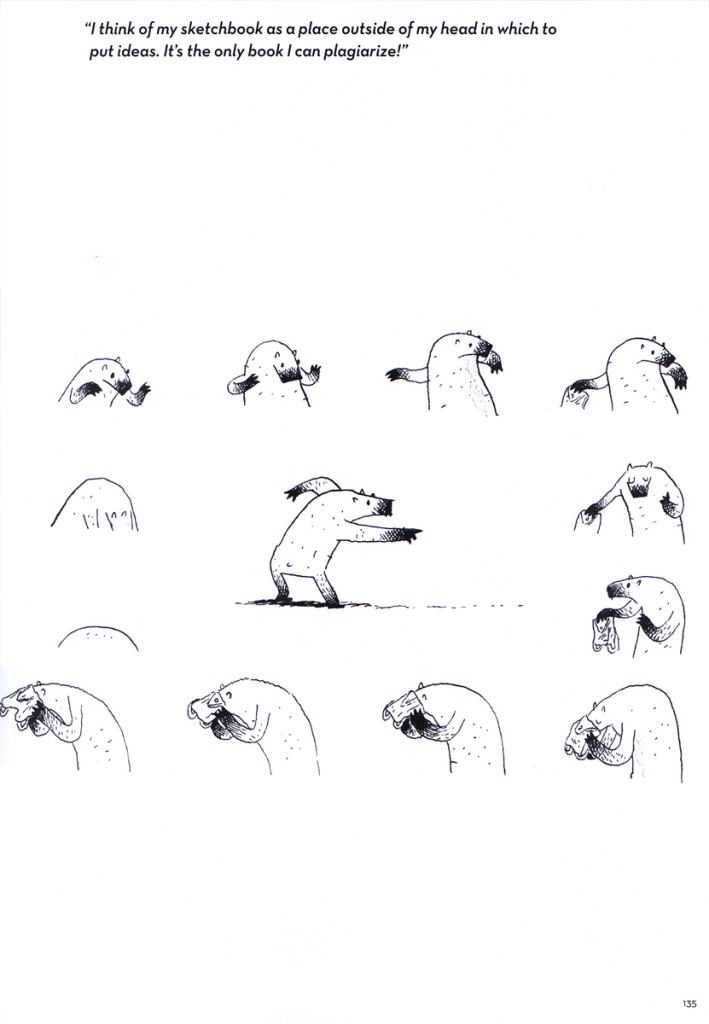 18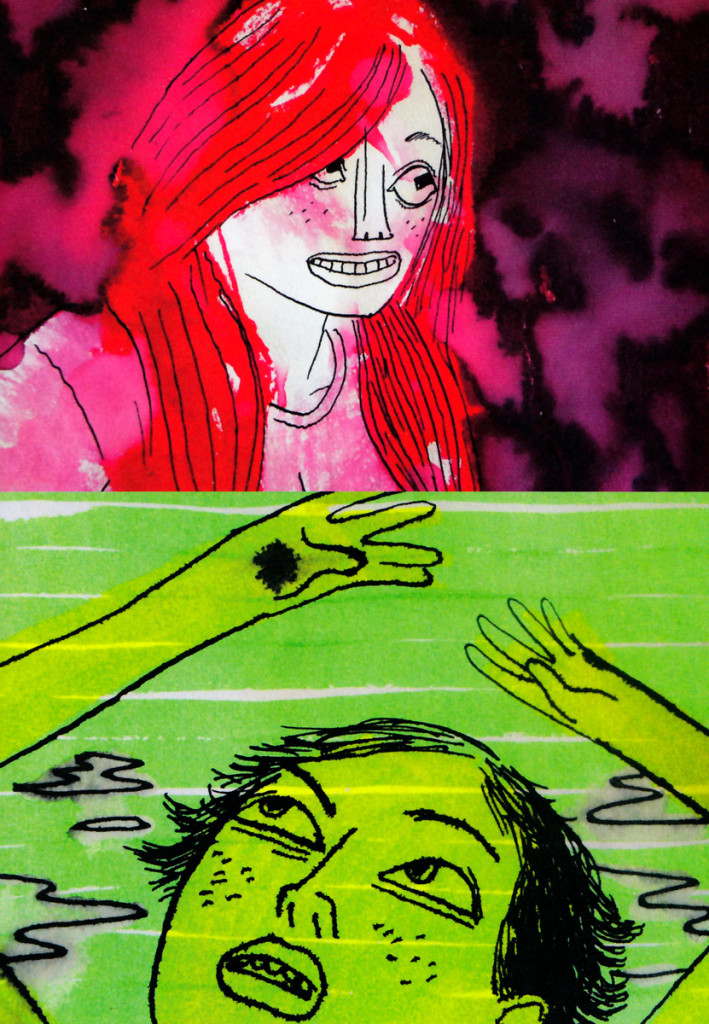 19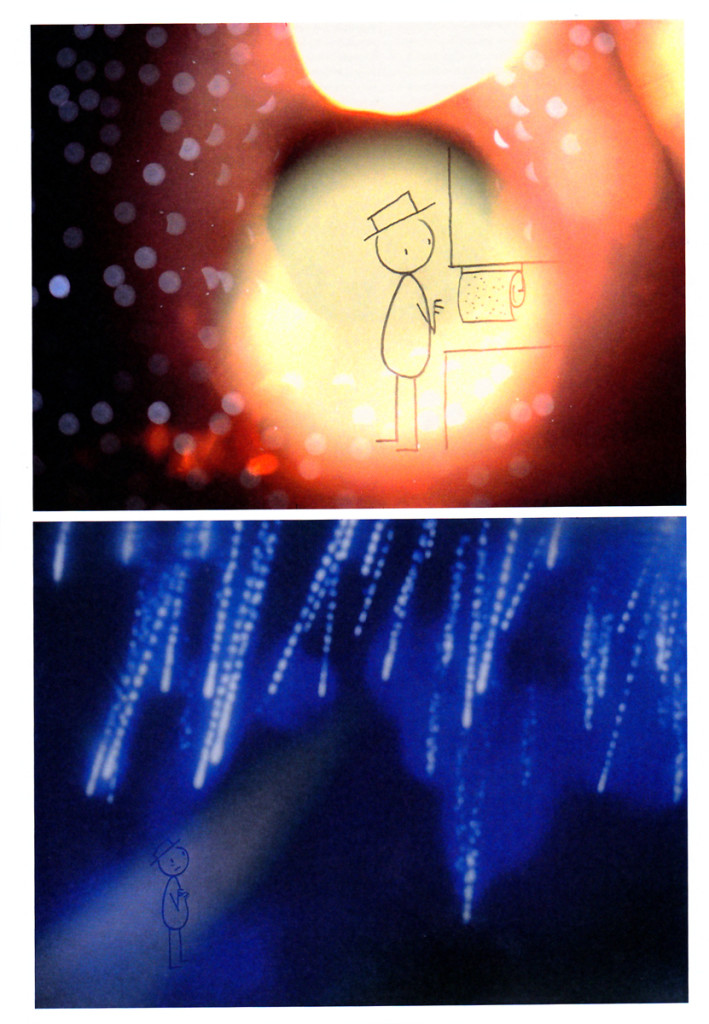 22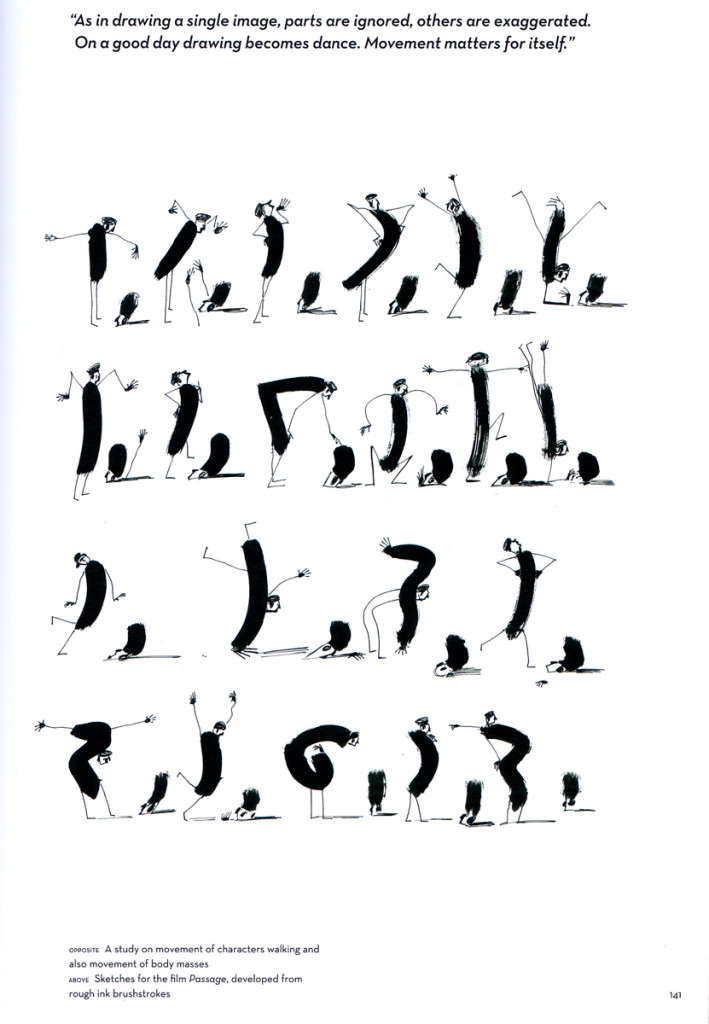 23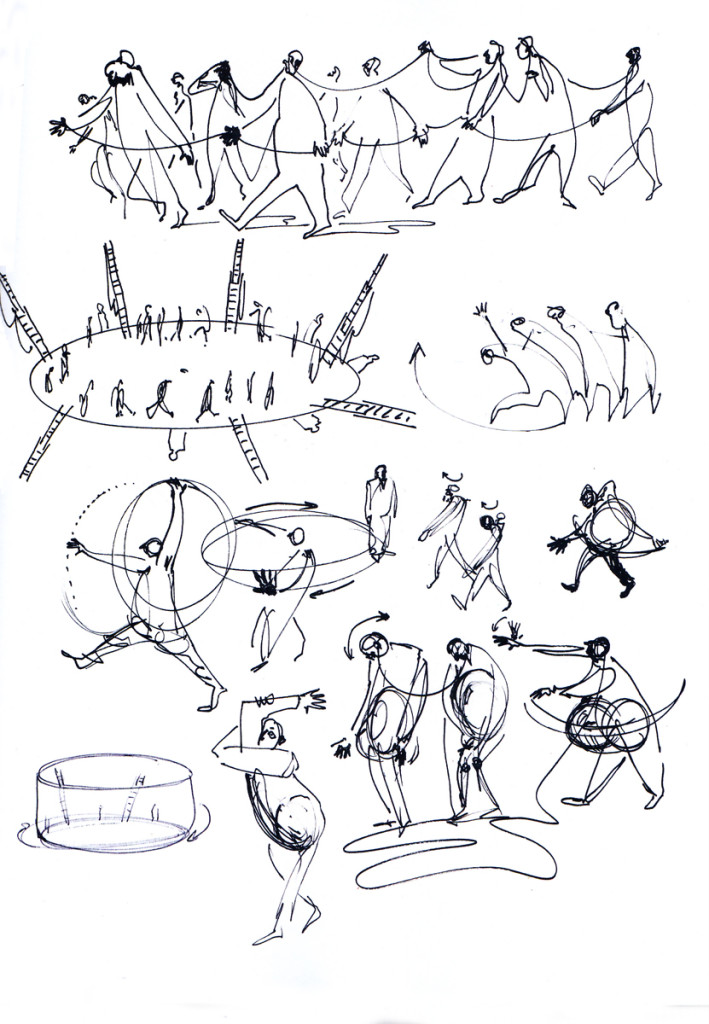 24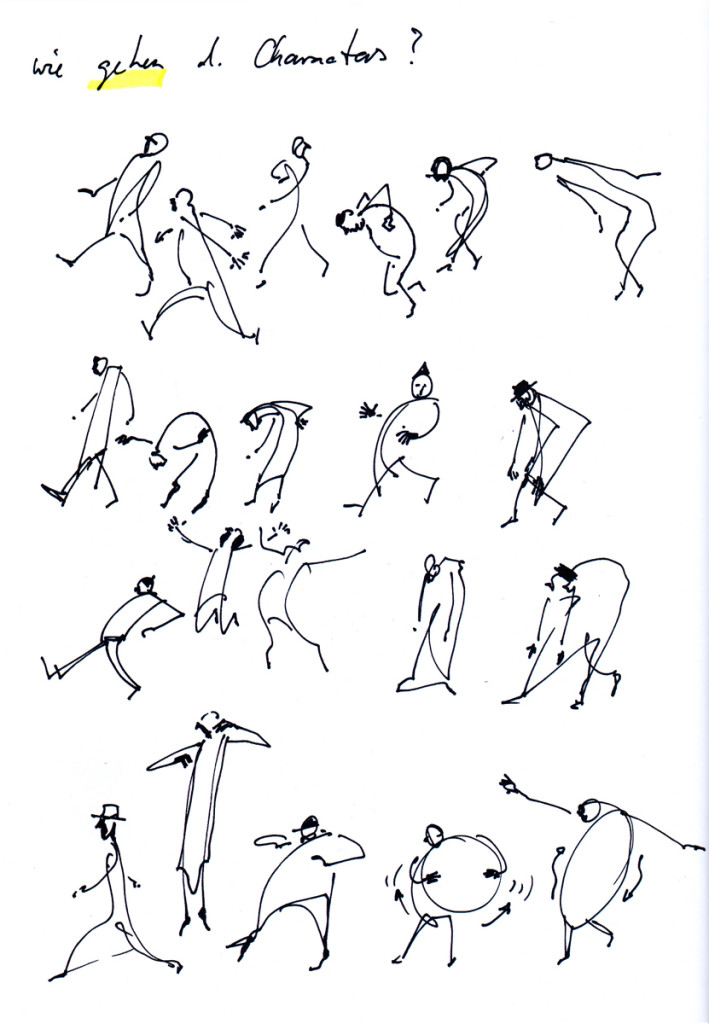 25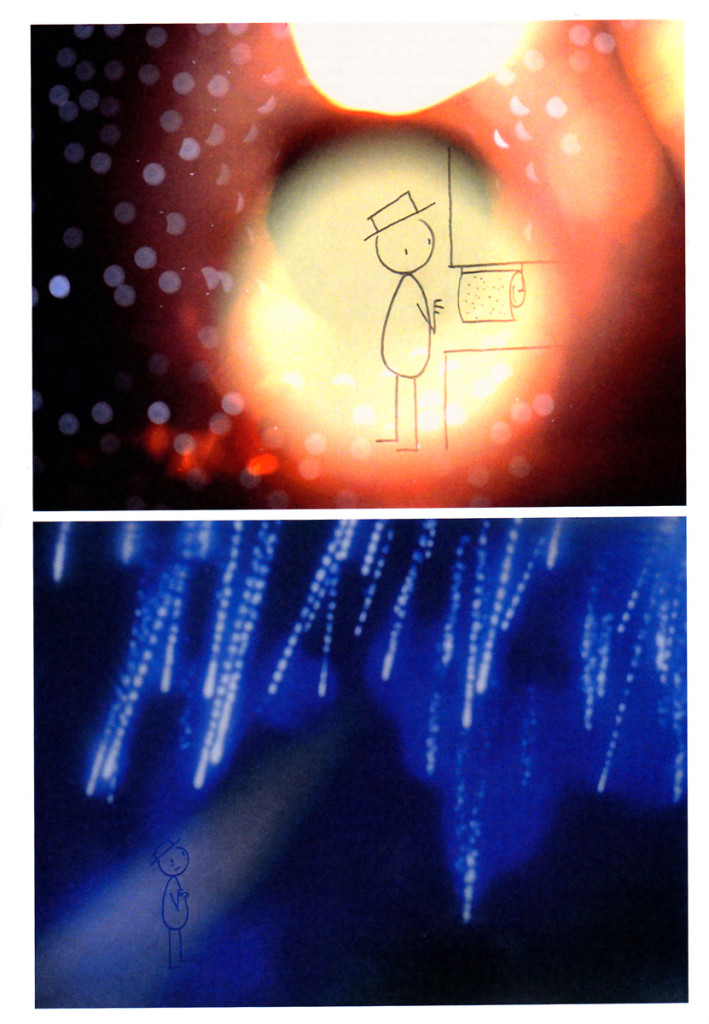 26

Daily post 24 Jun 2013 06:58 am
I've recently been reading John Canemaker's excellent book, Paper Dreams: The Art & Artists of Disney Storyboards. This book not only examines the history of the Disney storyboard but the artists who drew them, as well. We get tp examine the lives of people like Tee Hee and Ted Sears, Webb Smith and Pinto Colvig, Roy Williams, Bianca Majolie, Carl Barks, and, of course, the great Bill Peet.
Along the way we see shorts like Elmer Elephant, Playful Pluto (fly paper sequence), Brave Little Tailor, Mother Goose Goes Hollywood, The China Shop, and Donald's Lucky Day develop. Fetures like Snow White, Fantasia, 101 Dalmatians, Pinocchio and Lady & The Tramp all took shape.
I've pulled some of the great art from these films for you to take a look at.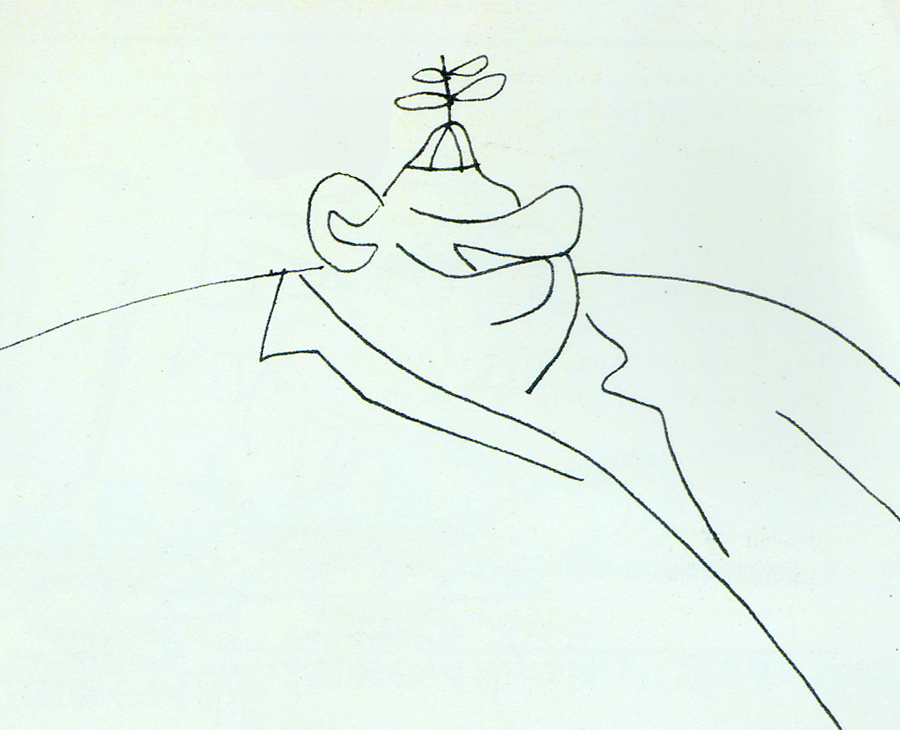 Don Williams (the "old Mousketeer" self-portrait)

Snow White gags.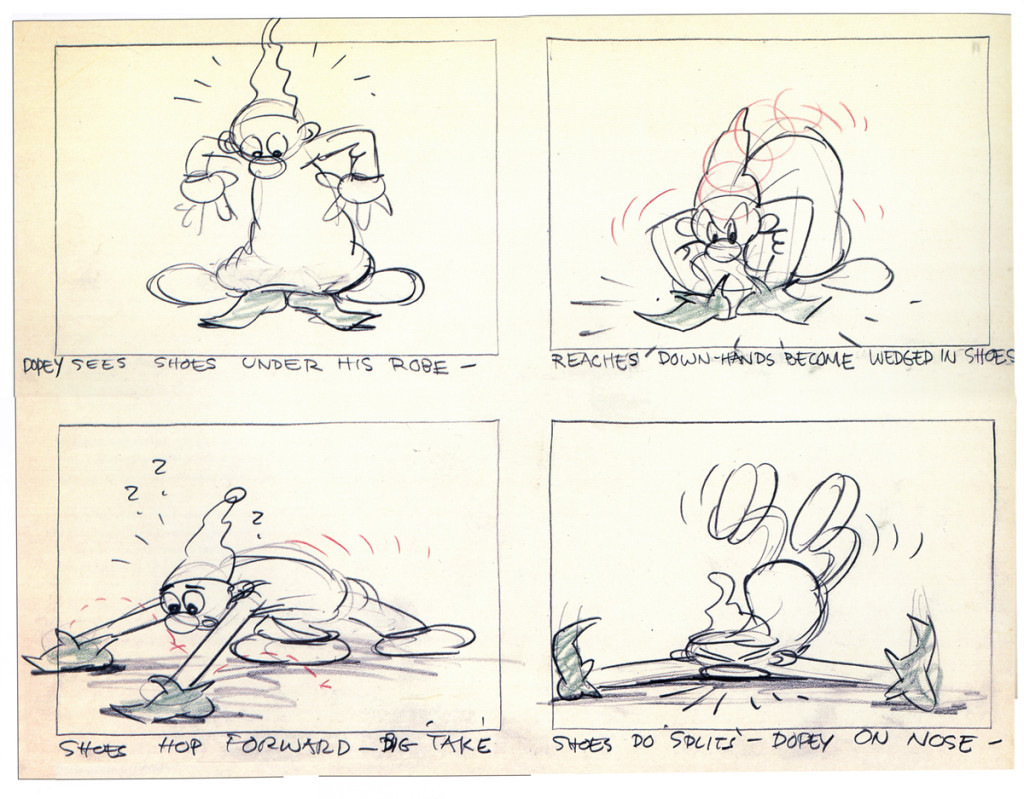 1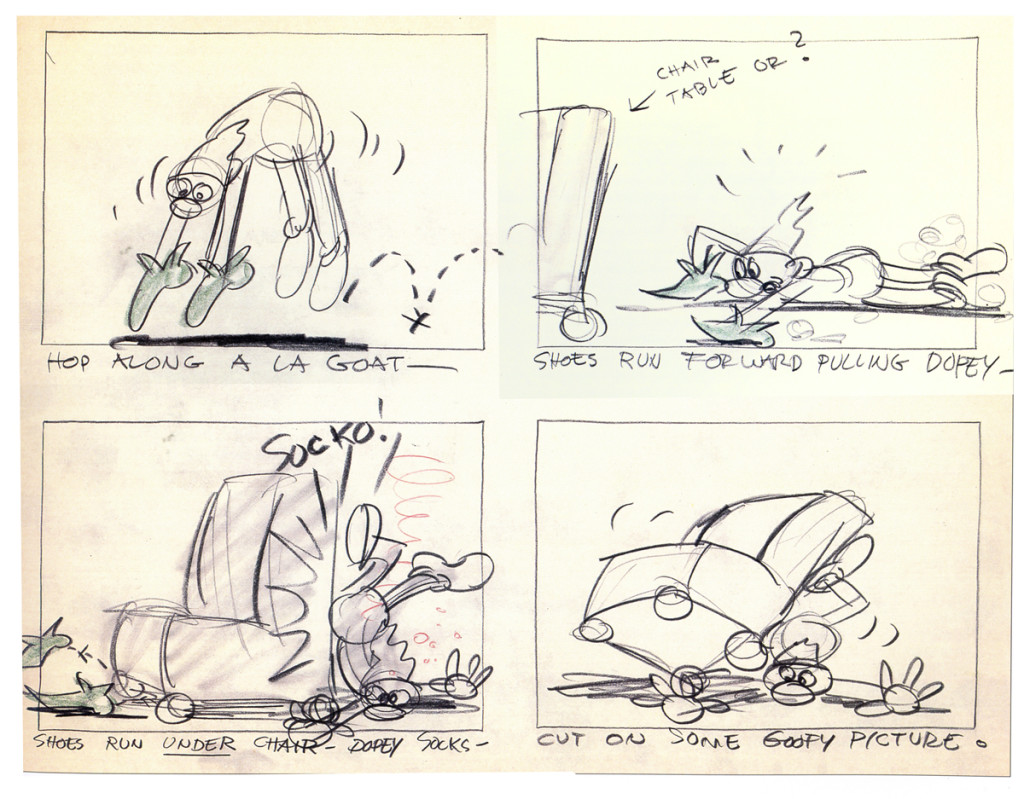 2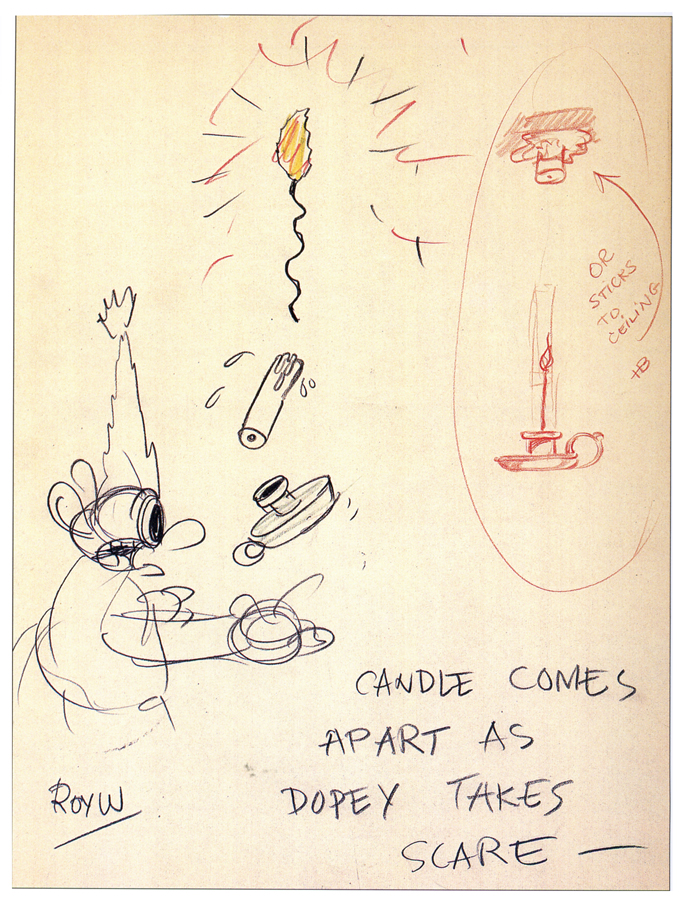 3
Elmer the Elephant
The board for this Silly Symphony is attractive.
The Western Publishing book edition is a gem, as well.
Beautiful W/C illustrations.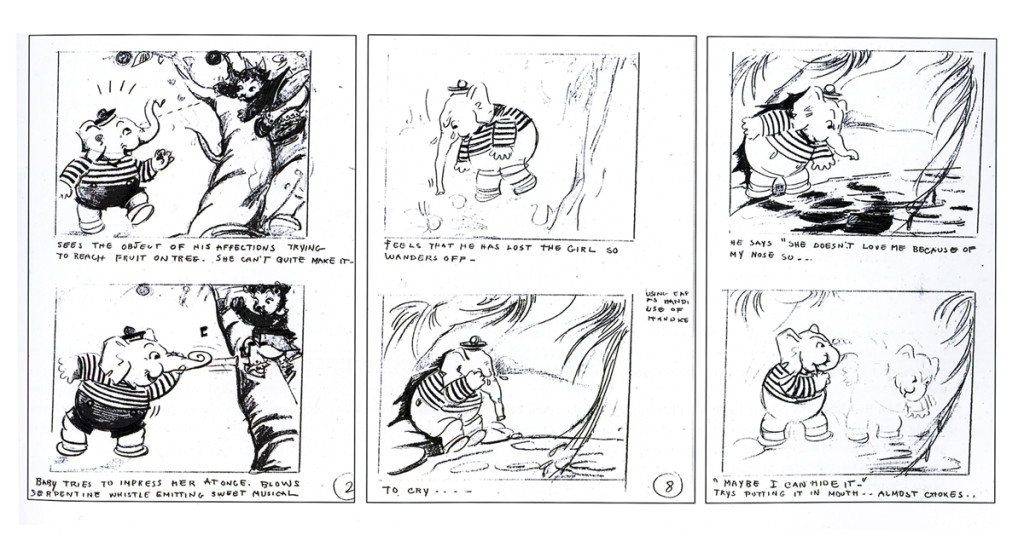 4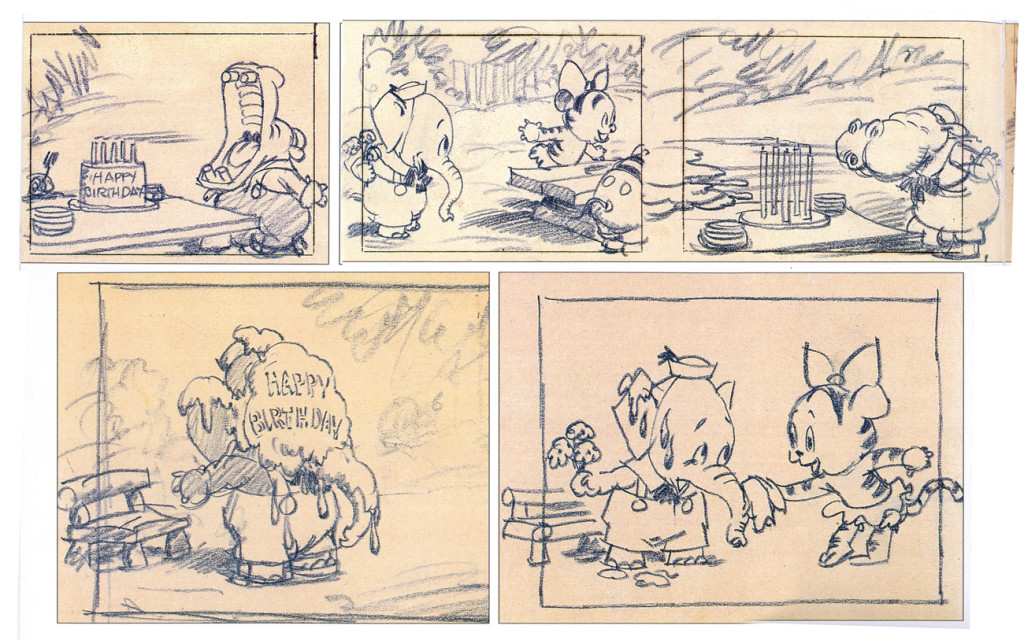 5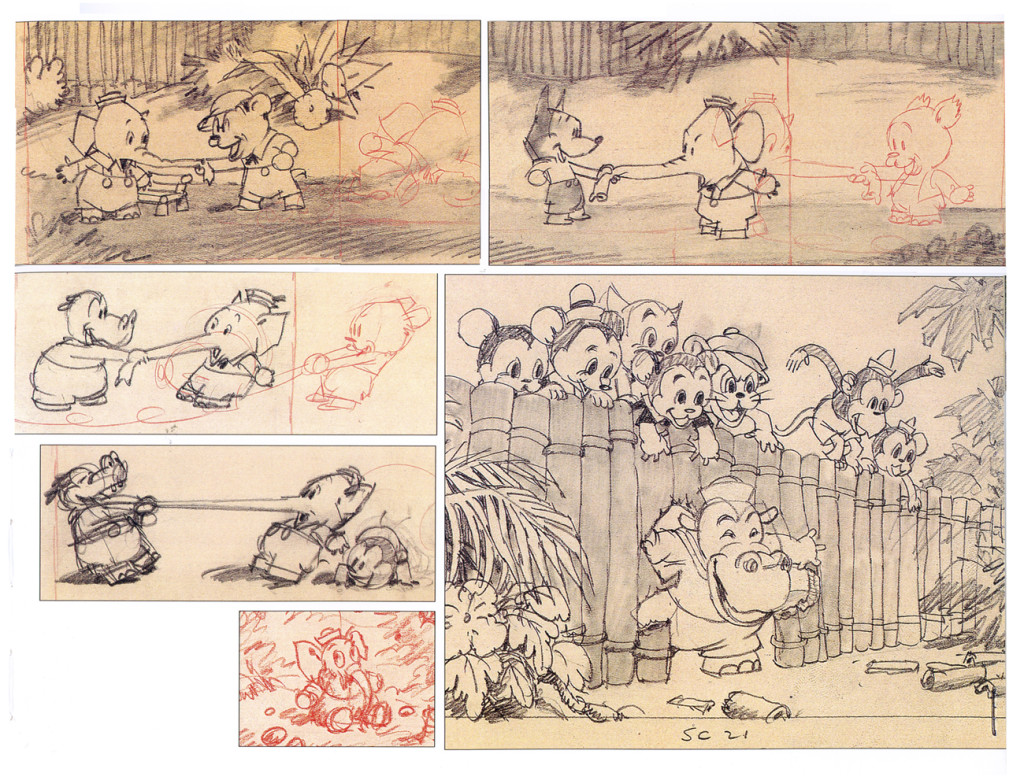 6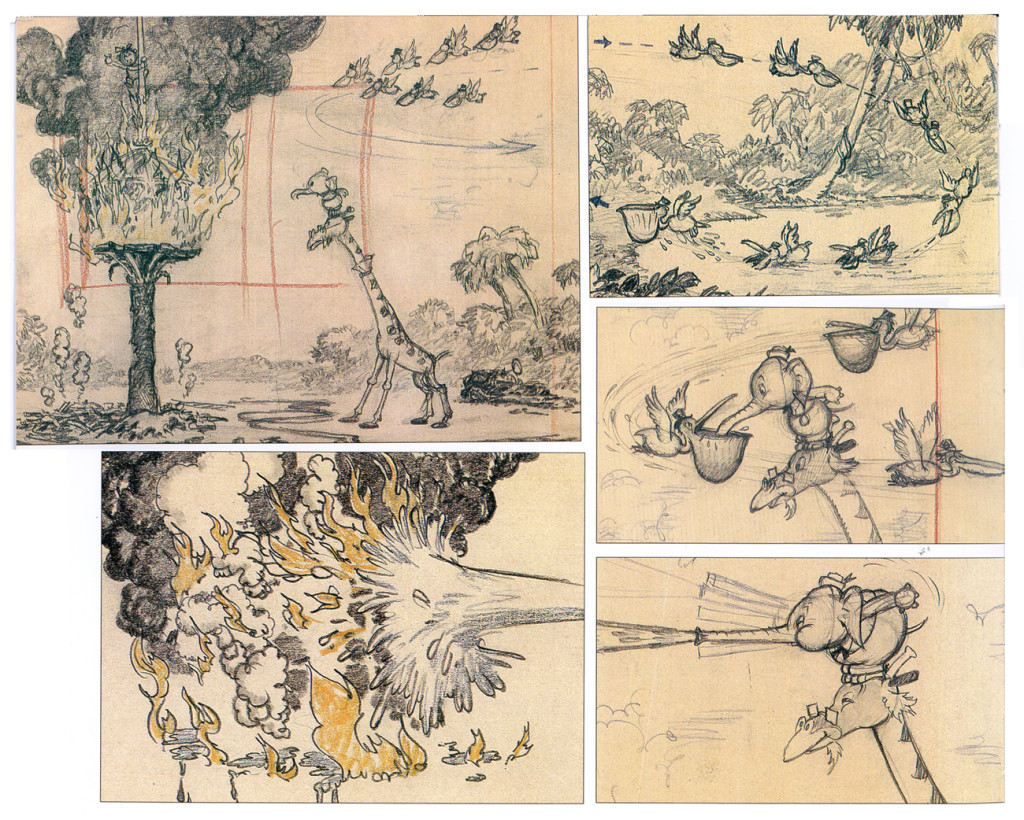 7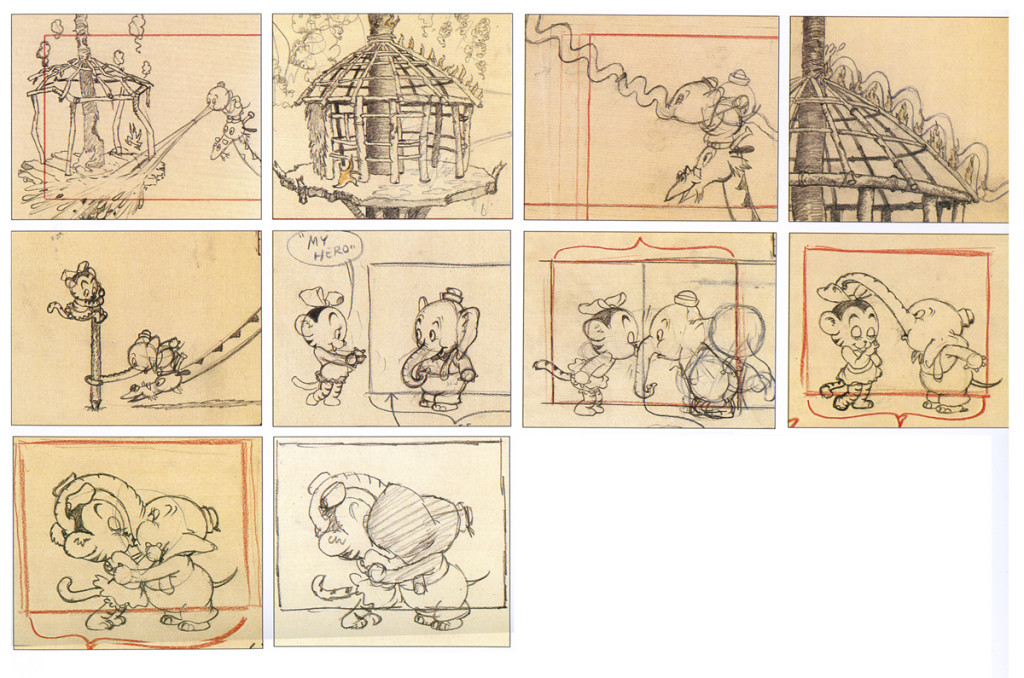 8
Flowers and Trees
Done in 1932, it was the first animated short done in Technicolor.
Still, the board is a beauty.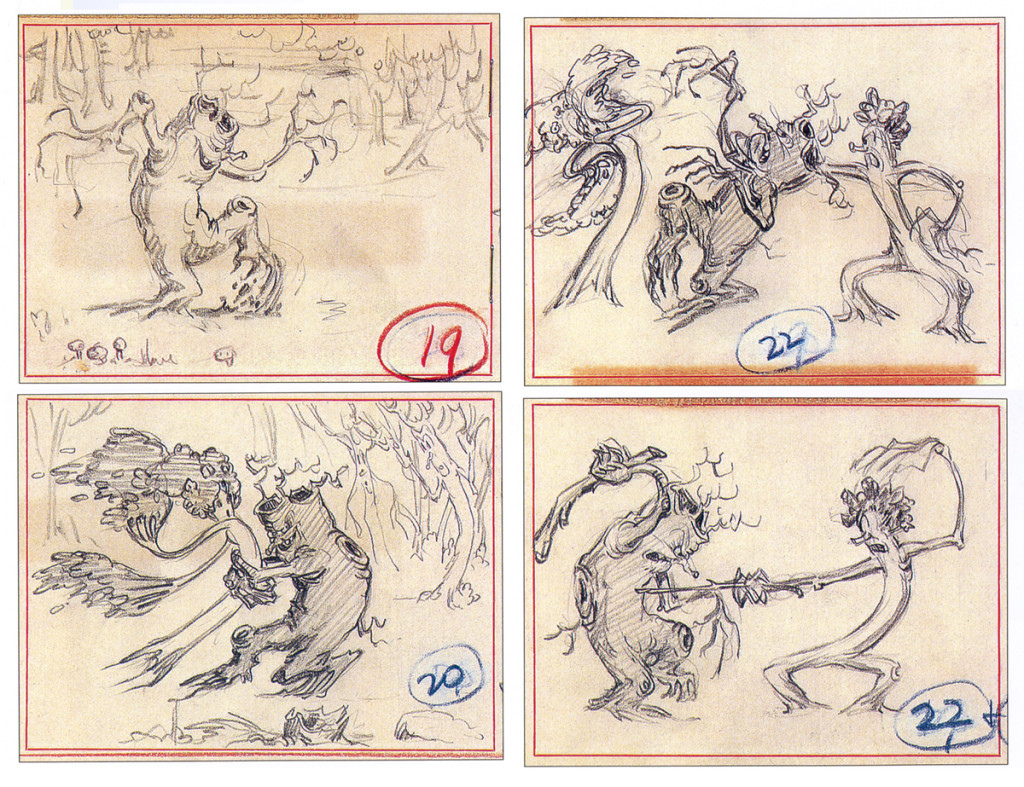 9
The Old Mill
An Oscar Winner done just prior to Snow White. It acted, in a way,
as a test for ther feature and its effects. The film's a beauty, yet
the board looks not too distant from Flowers and Trees.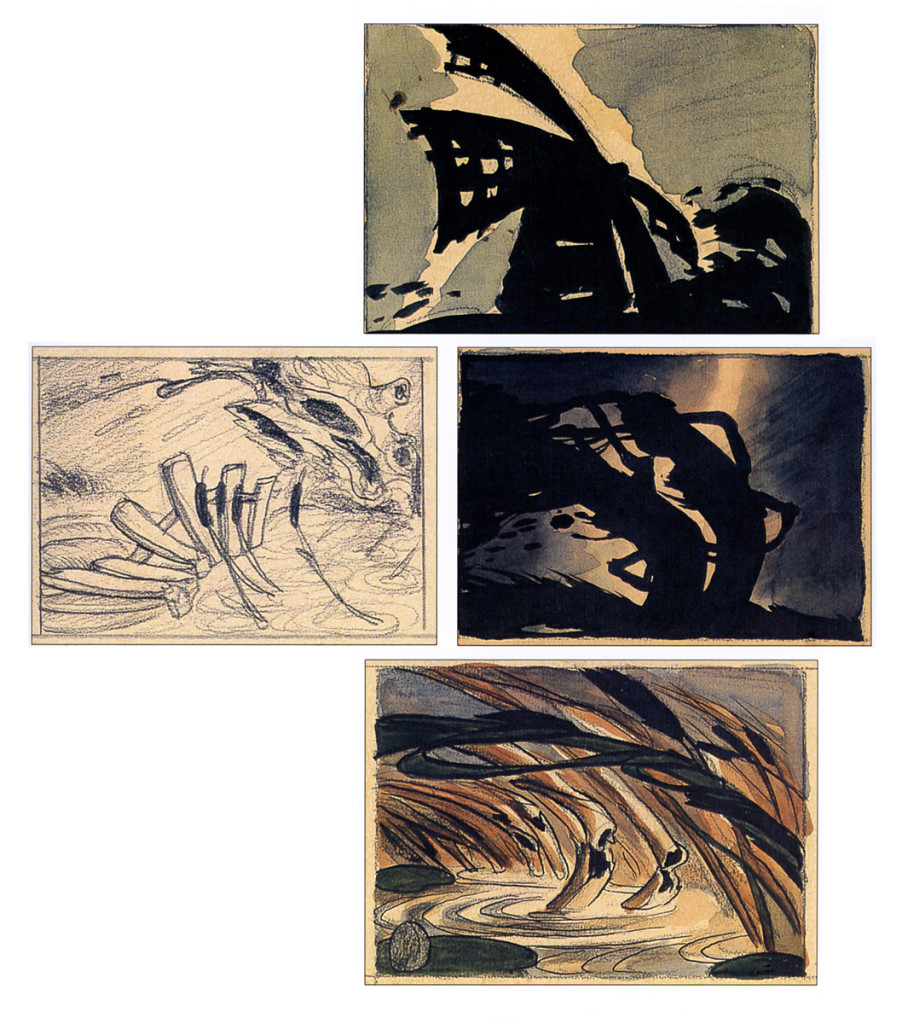 10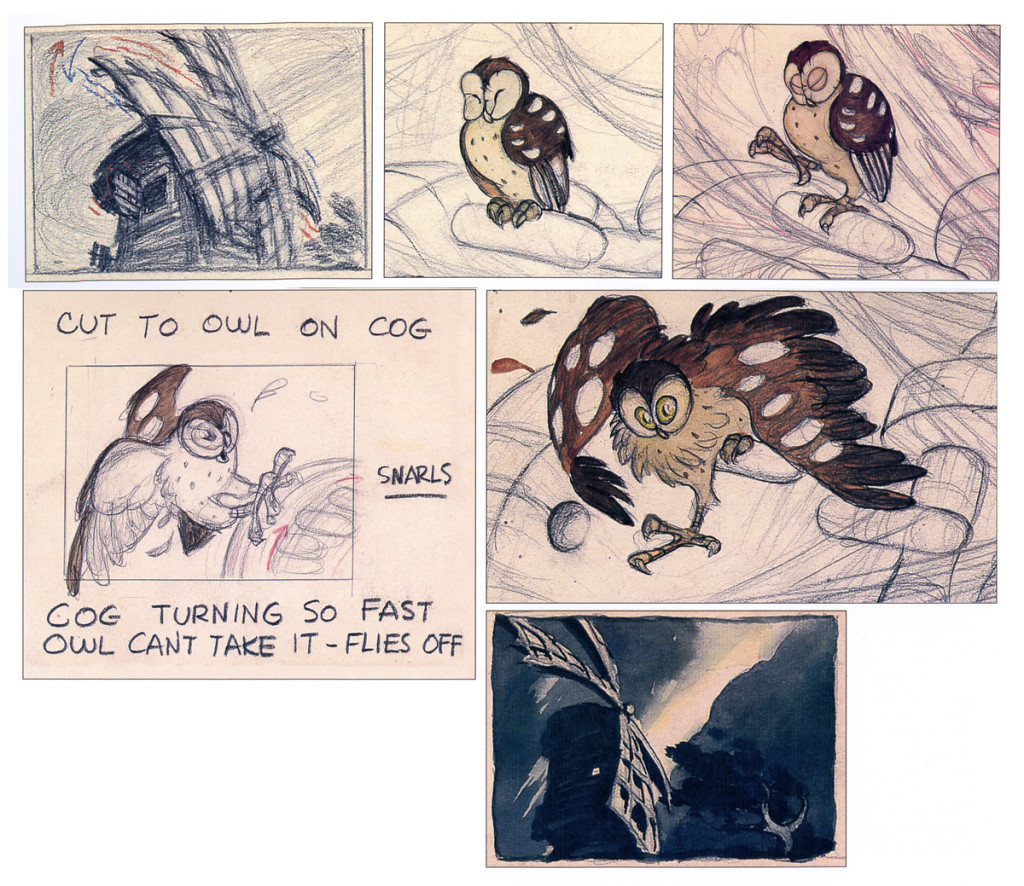 11
Commentary 14 Jun 2013 11:17 pm
.
I received this note from the "Wise Old Man" of Holland, Borge Ring, after I posted my piece about the Disney studio in the last days of the "Nine Old Men" – just before the new guys took ownership:
hi MICHAEL
For you to add, share or ditch:

You touch upon top Walt Disney animators relaxing and losing their (story)mind
after Walt Disney died on them
I asked Marc Davis if Walt Disney's death was followed by a period of
interregnum among the Nine Old Men.
Marc's face turned sour
"Oh yes. There was no orderliness of production – Everybody did as they
pleased. Frank would go upstairs and take scenes that should'nt have been done
by HIM."

greetz
Borge
_________________________

Auto Boarded
.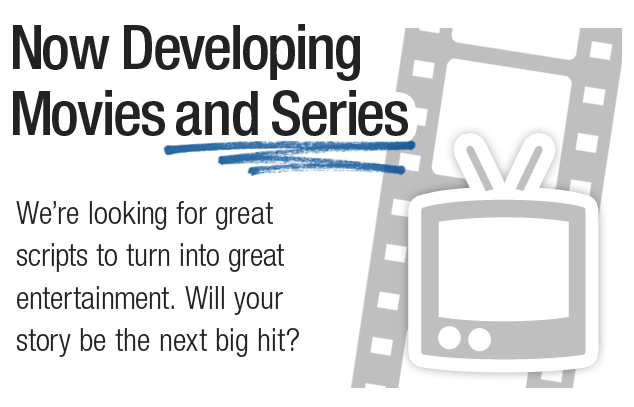 I must be getting old. I've gotten so tired of drawing storyboards, after all these years, that it came as a great relief to read that I no longer have to do all that arduous labor.
Now thanks to Amazon Storyteller (and the short description given by Amid Amidi from Cartoon Brew) the computer program will do the drawing for me. As the Amazon ad for the piece reads, "A storyboard can be 10 panels, or 100." Once you place your "original script" into the program, designed and previously drawn characters will act out your script. All you have to do is add the script.
In a few days, Amazon Storyteller will rate your storyboard and tell you how good it is. (Just what I need, another boss.) This could be the start of something good.
All I need is Amazon Animator, so I don't have to do that work either. I can just hire the machine to move my storyboard drawings with previously-animated scenes.

______________________

Movies
The films this week came fast and furious. It started with Sofia Coppola's latest film called The Bling Gang. Based on a true story, it's about a group of teenagers in LA who sneak into and rob the houses of celebrated girls, such as Paris Hilton and Lindsay Lohan. Though we see alarms record the break ins and robberies, it takes a while for the police to investigate any of them. Eventually, all the teens are captured and end up in jail. You people living in LA can feel safe that they're not out there to search your apartments for the latest in Laboutin shoes. Paris Hilton actually loaned her real home for the shooting.
The film feels a bit disinterested in the characters, and the whole thing feels a bit passive-aggressive. The best part of the film was that it ran quickly through its short 90 minute length.
Unfortunately, I forgot to bring my camera to photograph Sofia Coppola who came prepared to answer questions and whipped through those from moderator Brian Rose, a local film historian. Ms. Coppola does have a large and beautiful head, in the way of most stars. she reminds me a bit of Sophia Loren. Her interview will be on=line soon.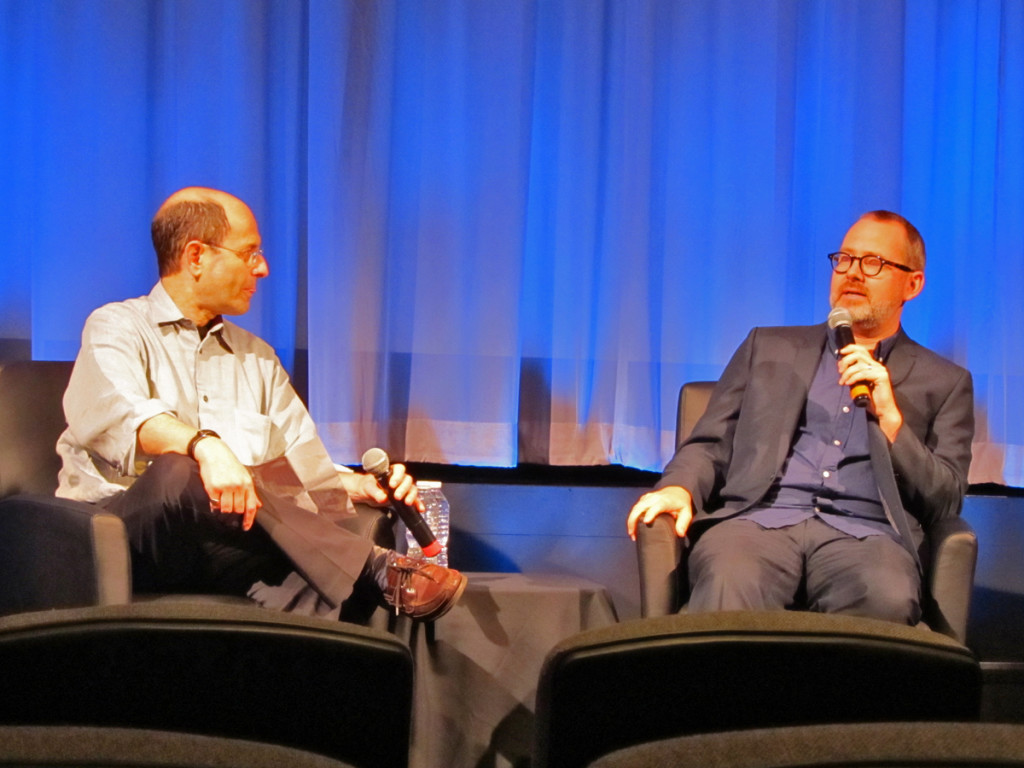 The next night brought a different kind of documentary, Twenty Feet from Stardom. It sounds like some kind of horror film, but it's really about back-up singers. Their talent is obviously enormous, but stardom seemed to resist most of those on screen. It was nice to hear Bruce Springsteen and Sting talk about their back-up singers. Of course, the film was full of melody and had us dancing in or seats. Darlene Love is part time focus in the movie. Only after she's working cleaning houses, does she gain respect for herself and her talent. She moves to New York where her career takes off, and she was a success story. She's become a staple on the David Letterman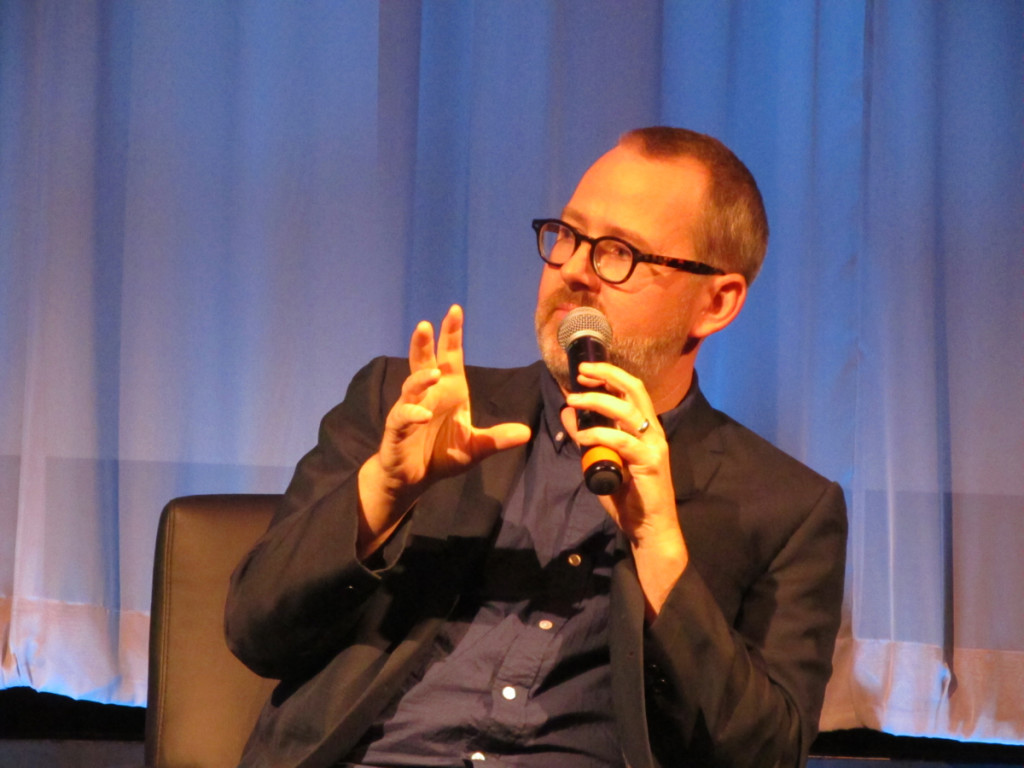 show every Christmas where she sings her hit, "Christmas (Baby, Please Come Home)." A very entertaining 90 minutes, the movie zipped along and told its story well. One wonders how the producers of this film were able to secure the rights to many of the songs that played out on the soundtrack, everything from "Space Oddity" to "Walk on the Wild Side" to "Lean on Me." The post screening interview between director, Morgan Neville and Brian Rose also moved quickly.
The Man of Steel was screened on Thursday evening. The latest adventures of Superman deal with his having to shave on Earth and his difficulties in getting a job prior to work at the Daily Planet.
There was no post-screening interview, but I'm not sure how interested I would've been in one.

______________________

Conversations
I've been talking about these post screening conversations for the pat few weeks, since the NY chapter of the Academy started scheduling them. These conversations have been placed on line and can be viewed if you're interested. They've just posted the interview with Chris Wedge for his film, Epic. The virtual leader of Blue Sky talks about his film here.

______________________

RIP – Murray Rosen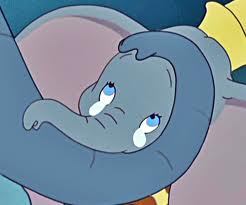 Cartoonist, Murray Rosen passed away this past week. Murray attended schools in New York City. Graduating from Pratt Institute, he went on to work for Walt Disney on Dumbo as a Cartoonist. He then returned to New York and worked for Famous Studios on Little Lulu and Popeye cartoons.
After marrying his wife, Shirley Binder on May 27, 1956, they moved to Maine where Murray operated an installation company for a friend's storm window firm, remaining in the storm window business for 20 years. On May 8th, following a brief illness, he died with with his wife Shirley and friends at his side.

______________________

Current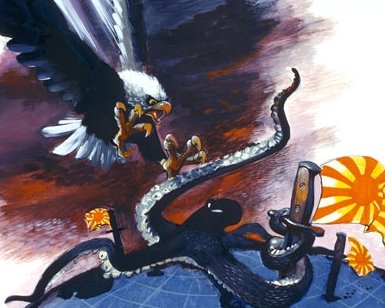 Recently, in response to Andreas Deja's comment – on his own blog – he called the animation for 101 Dalmatians an excellent example of "Modern Anmation." I commented on this use of "Modern Animation", and was challenged by one of my readers. Andrea K. Haid wrote: "The reason that Andrea Deja calls 101 Dalmations "modern" is because it is set in a contemporary environment with contemporary music. It was the first story told in an animated feature by Disney to be placed in a modern setting with modern artwork."
To this I began to think back on animated features that were more current than others and came away with a bit of surprise for myself.
Viewing the Disney features in chronological order:
Snow White, of course, operates within a Fairy Tale land.
Pinocchio also oerates within that world.
Fantasia is all over the place, so I ignore that one.
Bambi, however, is absolutely current. We see no clothing or hear no coversation, but it can be without doubt that the film takes place when it was made, 1942.
Dumbo, however, is very current. The people are dressed for 1942, the action takes place then. Even the fringes of the civil rights movement attest to the date of the story.
Victory Through AirPower takes place during WW2 and is immediate in its action. The film, itself, is an attempt to sell the idea of using aviation to help win the War.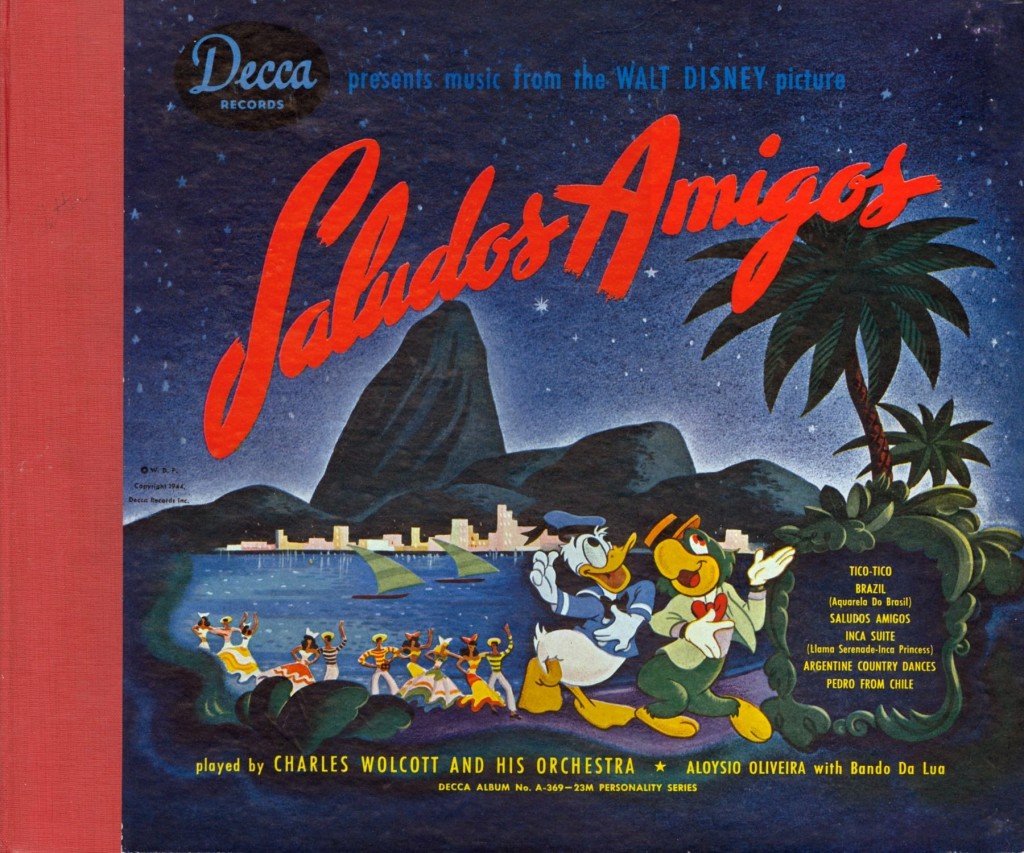 Of the package features, Saludos Amigos and Three Caballeros both take place currently. There could be no other approach in an attempt to melt the international curtains between North and South America.
For the sake of this essay, I won't analyze the shorts in the rest of the packaged films. The Headless Horseman, The Wind in the Willows, are probably dated. While other shorts like Little Toot, Trees and Bongo are all current. They're not worth defending.
Cinderella was 18th Century fairy tale land.
Peter Pan and Alice In Wonderland were 19th Century.
Sleeping Beauty, to the 17th Century fairy tale world.
Lady and thte Tramp back to the early 20th Century.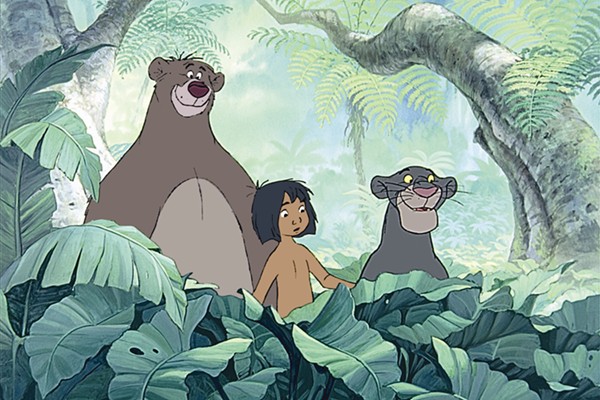 That brings us to 101 Dalmatians. Modern humans and dogs in modern dress.
Sword in the Stone was 16th Century England.
The Jungle Book was 19th Century, per Rudyard Kipling.
The Aristocrats was early 20th Century. (There were cars.)
Robin Hood was 17th Century England.
Let's skip to the new generation of animators:
Toy Story 1, 2, & 3 were all today.
As was The Rescuers and The Rescuers Down Under. The UN is there, for pete's sake.
Basil of Baker"s Street dated. The Fox and the Hound, current.
Beauty and the Beast, Aladdin, Hunchback of Notre Dame and Pocahontas were all hundreds of years old.
I don't think I need go on. We are into "Modern Animation" and I think it has nothing to do with what period the film is set in.

______________________

CitiBikes
You step out onto the street on Monday, and you're greeted by a hundred blue bikes. Sort of the same color as the lines on this page. I wasn't expecting it. No double-parked cars.
The Citi decided that it'd be better for me if I took a bike. Rent the bikes for 2 minutes, then roll to the next check-in point. You pay some bucks and you take the biks. (They don't offer bike-helmets for the softer-brained, accident-prone people. There's just a lot of info about the fines you'll pay if you go over the twenty minute rental time.
Last weekend everybody wanted a bike. (Aren't they all girls' bikes? What's up with that?) They were all rented by couples speaking non-English. (A tourist thing, undoubtedly.) Only two gone so far this weekend. Meanwhile, no one has a parking space. At first I thought they were mopeds, like in Europe. We'd be hearing buzzing all day long in conjunction with the square jeep-type taxis.
We'll see how it goes, though. No buzzing, a crash of cerulean blue, and lots of tourists reading the signs in groups of about eight.

______________________

Jerry's Visit and a Great Film Program
This is a note I received from Jerry Beck. It doesn't take place until the end of July, but thought you'd like some advance notice, now.
I don't know if you usually attend the Animation Block Party in Brooklyn,
but this year I'm going to come back to New York and introduce
a screening of Oscar winning shorts on Sunday night July 28th at 7pm

Munro / Gene Deitch / 8:20 min / 1960
Ersatz (The Substitute) / Dušan Vukotić / 10 min / 1961
The Hole / John Hubley and Faith Hubley / 15 min / 1962
The Critic / Ernest Pintoff / 4 min / 1963
The Pink Phink / Friz Freleng and Hawley Pratt / 6:38 min / 1964
Dot and the Line: Romance in Lower Mathematics / Chuck Jones & Maurice
Noble / 10 min /1965
Herb Alpert & the Tijuana Brass Double Feature / John Hubley / 6 min / 1966
The Box / Fred Wolf / 9 min / 1967

After the films I'm hoping to lead a 15-20 minute panel discussion about these films, and the Oscars, and the filmmakers… etc. I do not know who Animation Block Party are asking to be a part of it, but I thought I'd reach out to you myself – as an actual Oscar nominee, you'd be a great addition to the discussion.

I completely understand if you cannot attend, but I thought it was worth a shot.

Event is at Brooklyn Academy of Music (BAMcinématek) located at 30 Lafayette Ave, Brooklyn.
Books &Commentary 13 May 2013 05:36 am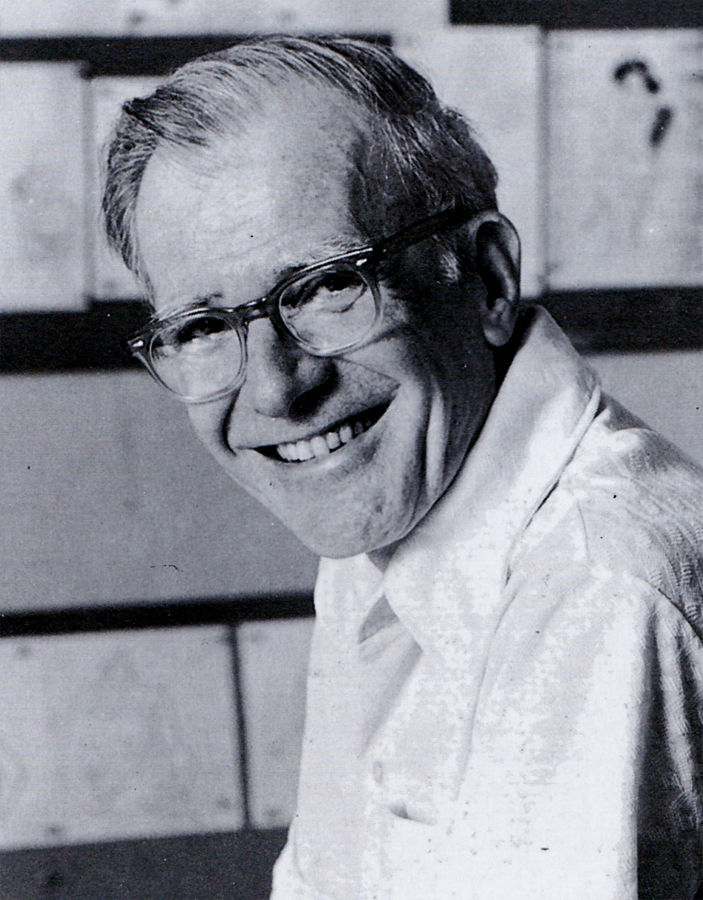 - The Illusion of Life by Frank Thomas and Ollie Johnston was first published in 1981. The book came out with a large splash and overwhelming acceptance by the animation community. It's since remained the one bible that animation wannabees turn to as a source of inspiration and an attempt to learn about that business.
I admitted a couple of weeks back that though I must have been one of the very first to have bought the book, I'd never actually read it. I spent hours poring over the many pictures and the extensive captions, but the actual book – I didn't read it. I can't say why, but this was my reality.
Then not too long ago, Mike Barrier wrote that he was not a supporter of the book and its theories, I wondered about that writing and decided to reconsider reading it. I knew I had to go back to find out what I'd stupidly ignored, so I started reading.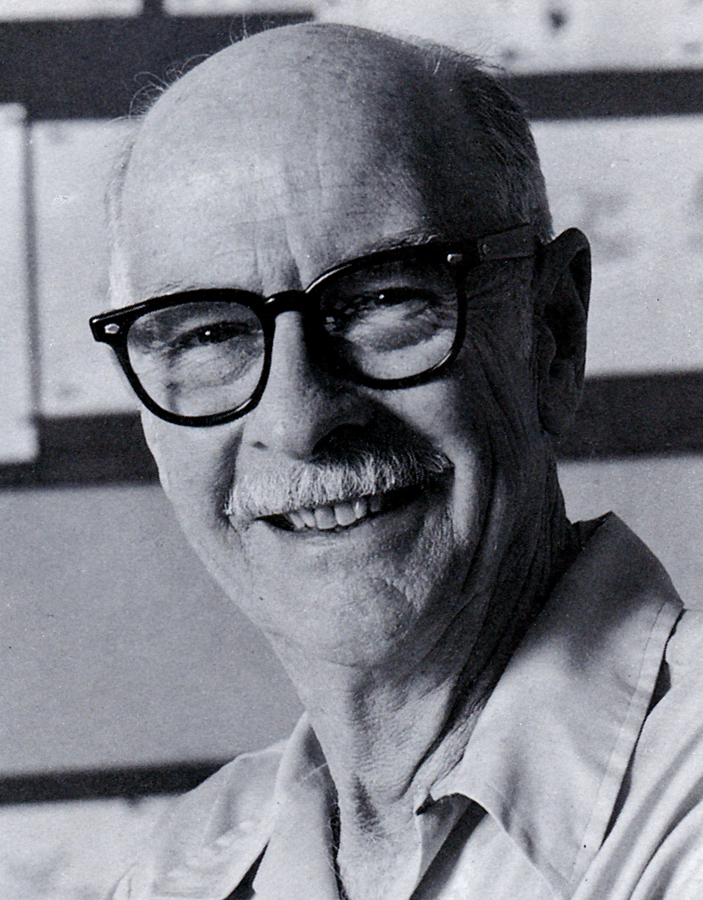 The book starts out with a lot of history of animation, something routine and expected from the two animators that lived through a good part of the story. As a matter of fact Thomas and Johnston were at the center of the history. It didn't take long for the animation "how-to" to kick in. For the remainder of the book, using that history, the two master animators explained how and why Disney animation was done, in their opinions. They write about processes and systems set up at Disney during their tenure there. They write about theories and methods of fulfilling those theories. There's a lot for them to tell and they've succinctly organized it into this book, as a sort of guide.
However, at two points they go wildly into a divergent path from the one that they started building. Their methods altered and, to me, seemed to be about the finances of doing the type of animation they did, rather than the reason. Impractical as those original theories were, I'd believed in the myth all those years to start changing now. So I want to review these two stances instead of outwardly reviewing the book. Besides it's too long since the book has stood in its own royal space for me to pretend that I could properly review it.
The growth of animators at the Disney studio relied on a system wherein each of the better animators was assigned one character. Unless there was a minimal action by some external character, the one animator ruled over the character.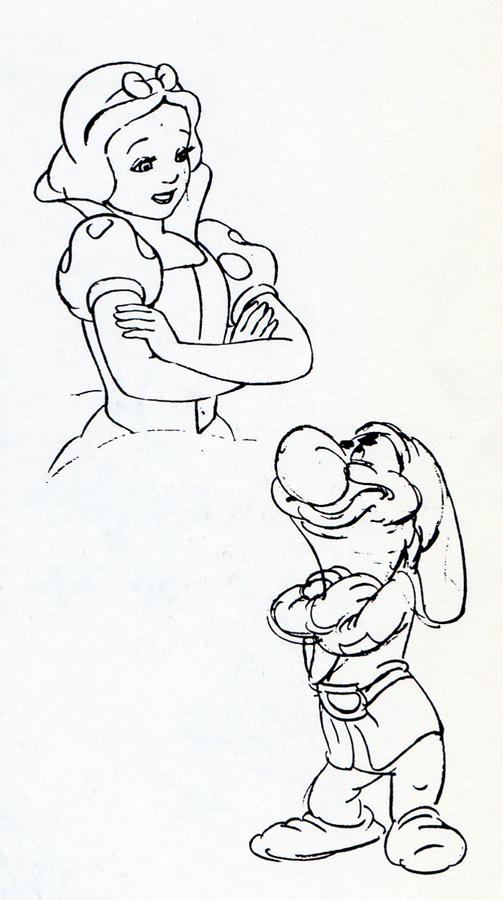 - Bill Tytla did Stromboli in Pinocchio. He did principal scenes of Dumbo in that film. He handled the Devil in Fantasia (as well as all his twisted mignons within those scenes.) Tytla worked on the seven dwarfs but was the principal animator of Grumpy.
- Fred Moore also did the dwarfs in Snow White but seemed to focus on Dopey. He did Lampwick in Pinocchio and Mickey in The Sorcerer's Apprentice.
- Marc Davis started as an assistant under Grim Natwick on Snow White. He became the Principal artist behind Bambi, the young deer. He did Alice in Alice in Wonderland, Tinkerbell in Peter Pan, Maleficent in Sleeping Beauty and Cruella de Ville in 101 Dalmatians.
- Frank Thomas did Captain Hook in Peter Pan, the wicked Stepmother in Cinderella, Bambi and Thumper on the ice in Bambi.
- Ham Luske and Grim Natwick did Snow White. The two sides of her personality came about because of conflicts between the two animators. This was a way for Walt to complicate Snow White's character; he employed two animators with different strong opinions about her movement. By putting Ham Luske in charge, he was sure to keep the virginal side of Snow White at the top, but by having Natwick create the darker sides of the character, Disney created something complex.
Many animators fell under these leaders' supervision and tutelage, also working on one principal character in each film. This system was something they swore by and broadcast as their way of working at the studio. It would allow the individual characters to maintain their personalities as one animator led the way.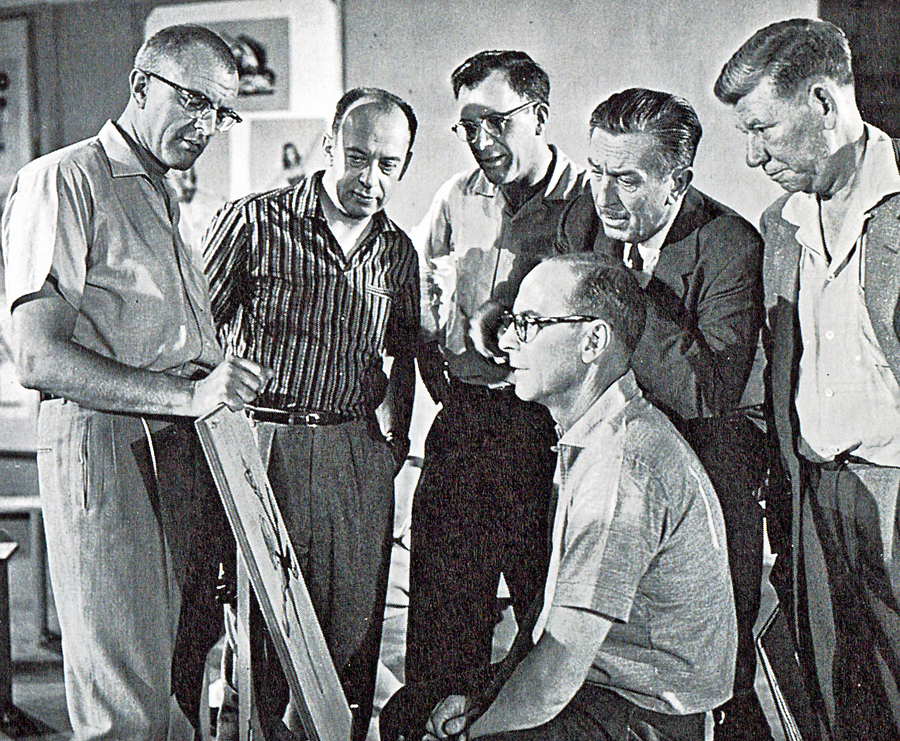 But as Walt grew more involved with his theme park and his television show and the live action movies that were doing well for the studio, things changed at the animation wing of the studio. It became clear, with the over budgeted spending on Sleeping Beauty and the new demands for a different look once xerography entered the picture in 1959. The rhythm and personality of the productions changed, and their methods of animation changed. Walt also sorted out nine loyalists to be his "Nine Old Men" thus dividing the animators into groups, a hurtful way of setting up competition among the animators. ________________________Kahl, Davis, Thomas, Walt, Jackson, Johnston seated
Thomas and Johnston get to justify this
in their book.
Let me read a section from the book to you:
"Under this leadership, a new and very significant method of casting the animators evolved: an animator was to animate all the characters in his scene. In the first features, a different animator had handled each character. Under that system even with everyone cooperating, the possibilities of getting maximum entertainment out of a scene were remote at best. The first man to animate on the scene usually had the lead character, and the second animator often had to animate to something he could not feel or quite understand. Of necessity, the director was the arbitrator, but certain of the decisions and compromises were sure to make the job more difficult for at least one of the animators.

"The new casting overcame many problems and, more important, produced a major advancement in cartoon entertainment: the character relationship. With one man now animating ever character in his scene, he could feel all the vibrations and subtle nuances between his characters. No longer restricted by what someone else did, he was free to try out his own ideas of how his characters felt about each other. Animators became more observant of human behavior and built on relationships they saw around them every day."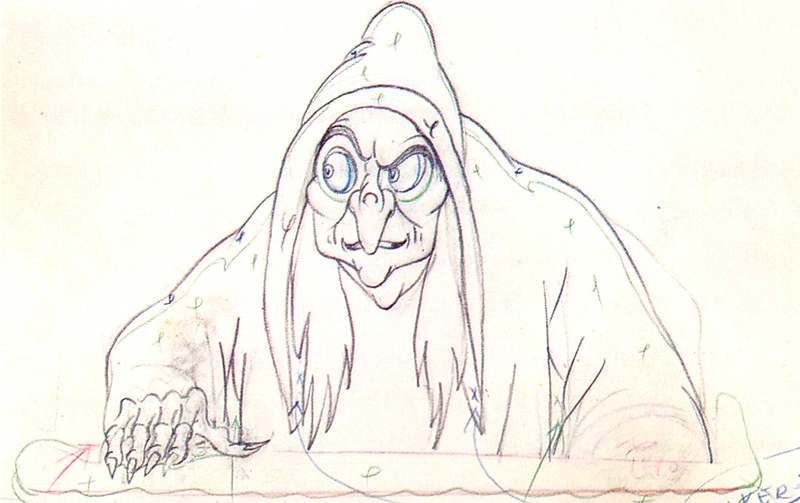 The question is, now, what are we to make of this statement? Do Thomas & Johnston mean for us to believe that they do more than the single character per film? Does it mean that, like all underprivileged animators everywhere, they now receive scenes rather than characters? Are they trying to tell us that the old, publicized method of animation they did during the "Golden Days" no longer exists?
To be honest I don't know. Also when are they talking about? At the start of the Xerox era? In the days since Woolie Reitherman has been directing? Do they mean ever since they've retired and started writing this book?
Let's go back a bit.
- In 101 Dalmatians, Marc Davis did Cruella de Vil. That's it. That's all he was known for in that film. Oh wait, there were a couple of scenes where he did the "Bad'uns," Cruella's two sidekicks. He did these ging into or out of a sequence. In Sleeping Beauty (if we're going back that far) Davis did Maleficent. Oh, he also did her raven sidekick.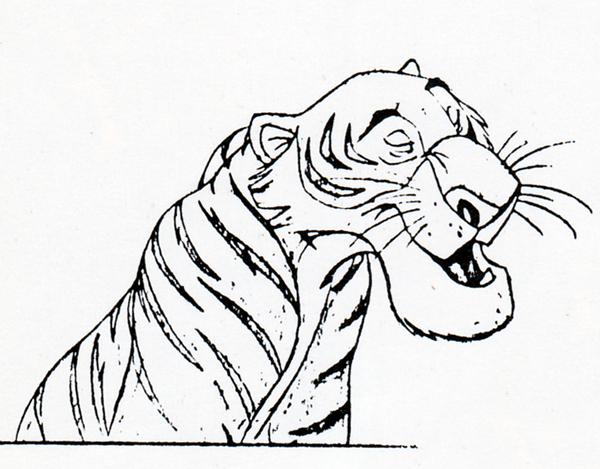 - Milt Kahl did Prince Philip in Sleeping Beauty – and every once in a while his father. He did key Roger and Perdita scenes in 101 Dalmatians. He did Shere Khan in The Jungle Book.
Kahl also seems to be the go-to-guy when they're looking to have the character defined. The closest thing to Joe Grant's model department in the late Thirties. If you weren't sure how Penny might look in a particular scene, you might go to Kahl who'd draw a couple of pictures for you. But that was Ollie Johnston's character. You'd probably go to him first, but Johnston would go to Kahl if he needed help.
Kahl also did Robin and some of Maid Marian in Robin Hood. I could keep going on, but let's take a different direction.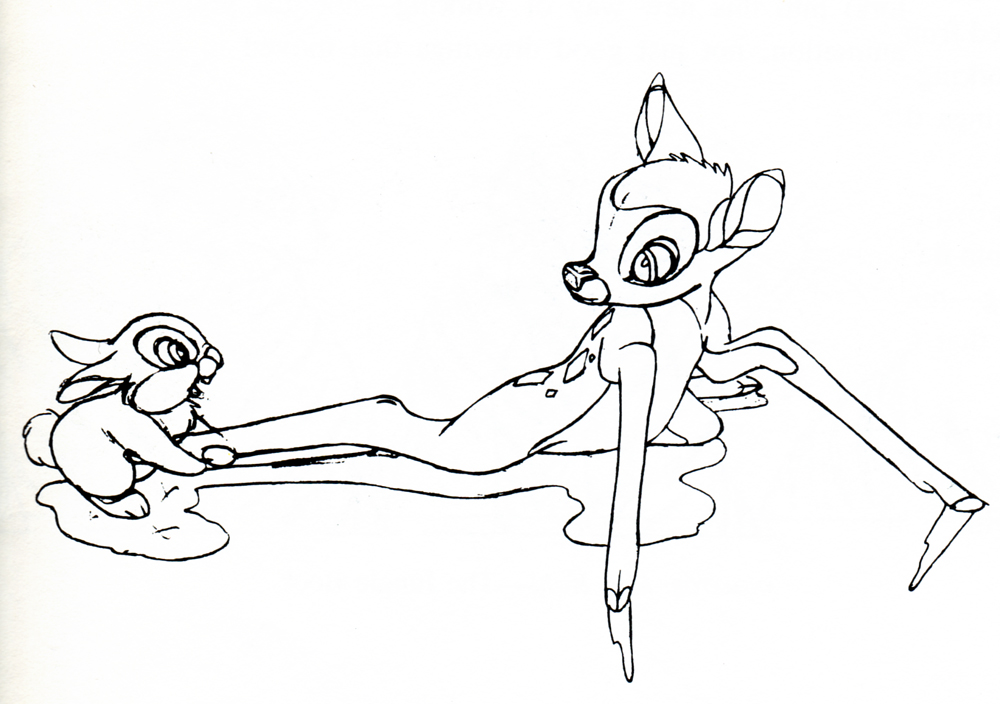 Look at one of Thomas' greatest sequences, the squirrels in the tree. Starting with Seq.006 Sc.23 and almost completely through and ending with Seq.06 Sc.136 Frank Thomas did the animation. That's a lot of footage. Yes, that represents four characters: Merlin and Wart as squirrels, as well as the older and younger female squirrels. He did the whole thing (and it's one of the most beautifully animated sequences ever.)
But when he was done with that and needed work, he didn't stop on this film; he also did a bunch of scenes in the "Wizard's Duel" between Merlin and Mad Madame Mim. Another big chunk.
Hans Perk has done a brilliant service for all animation enthusiasts out there. On his blog, A Film LA, he's posted many of the animator drafts of feature films. You can find out who animated what scenes from any of the features.
However as Hans posts the batches of sequences, he gives little notes about what we'll find when we open the drafts. In my view, Hans' notes are also a treasure.
You can read remarks such as, "Masterful character animation by Milt Kahl and Frank Thomas, action by John Sibley and a scene by Cliff Nordberg." That seems to tell us everything.
In Sleeping Beauty we can read, "This sequence shows, like no other, the division between Acting and Action specialized animators. Or at least it shows how animators are cast that way. We find six of the "Nine Old Men", and such long-time Disney staples as Youngquist, Lusk and Nordberg, each of them deserving an article like the great one on Sibley by Pete Docter."
Or in The Rescuers we read, "Probably the most screened sequence of this movie, the sequence where Penny is down in the cave was sequence-directed by frank and Ollie. They would plan their part of this sequence in rough layout thumbnails, then continue by posing all scenes roughly as can be seen in this previous posting.
"They relished telling the story that Woolie told them the animatic/Leica-reel/work-reel was JUST the right length, and when they posed out the sequence and showed it to Woolie, he said: "See? Just as I said: just the right length!" They kept to themselves that the sequence had grown to twice the length!"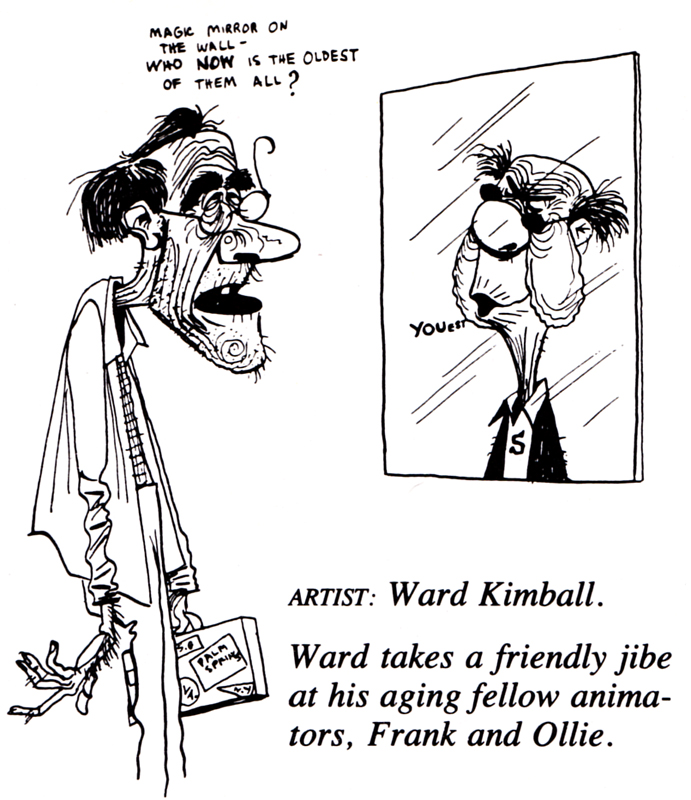 The work, right to the retiring of all of the "Nine Old Men," would seem to me to prove that these guys, regardless of whether they added one or two other characters to the scenes, did, in fact, take charge of the one starring character.
This continues past the retirement of all the oldsters: Glen Keane animated the "beast" in Beauty and the Beast. He animated Tarzan in Tarzan, Aladdin in Aladdin, Ariel in The Little Mermaid, and Pocahontas in Pocahontas. Andreas Deja animated Jafar, the Grand Vizier in Aladdin, Scar in The Lion King, Lilo in Lilo and Stitch, and Gaston in Beauty and the Beast. Mark Henn animated Belle in Beauty and the Beast (from the Florida studio), Jasmine in Aladdin, young Smiba in The Lion King, and Mulan and her father in Mulan.
Need I go on? What are Frank Thomas and Ollie Johnston talking about in their book? I'm confused.
I have a lot left to say about this book, much of it good, but next time I want to write about something else that confuses me with another somewhat contradictory statement in the book.
This has gotten a bit long, and I have to cut it here.
Action Analysis &Animation &Animation Artifacts &Commentary &Disney &Peet &Tytla 08 Apr 2013 05:05 am
Boleslavski was a great admirer of Stanislavsky and his acting techniques. When he, Boleslavsky, came to the United States, he taught the Stanislavsky technique to his students. These included Lee Strasberg, Stella Adler and Harold Clurman; all were among the founding members of the Group Theater (1931–1940). The Group Theater was the first American acting ensemble to utilize Stanislavski's techniques, and its members all went off to espouse their own versions of the "method." American acting had taken some real turns into the creation and development of a true system for getting the best performance out of the actor.
In animation, there was animation technique and styles. These rarely had anything to do with acting. However, there were a number of animators at the Disney studio who wanted to put the focus on their acting and actually studied Stanislavsky and Boleslavsky so that their characters would give a great performance. Tytla was certainly a leader among the animators to do this.



Whereas in Pinocchio, while working with such a flamboyant and
eccentric character, Tytla stretched and distorted Stromboli to
get the necessary and sudden emotional mood shifts desired.



With Dumbo, Tytla modeled the character after his own son,
and he animated this scene wholly on the two characters
given to him on the strong storyboard by Bill Peet.



He didn't use distortion, because it wasn't the character he was animating.
Dumbo was gentle, all truth. The honest performance meant keeping everything
above board and on the table. That is undoubtedly the performance Tytla drew.



In my opinion, it has to be one of the greatest animation performances
ever drawn for a film. It's quite extraordinary and cannot be undercut
in any possible way.


(Click any image to enlarge.)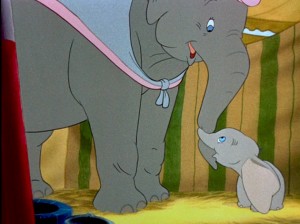 .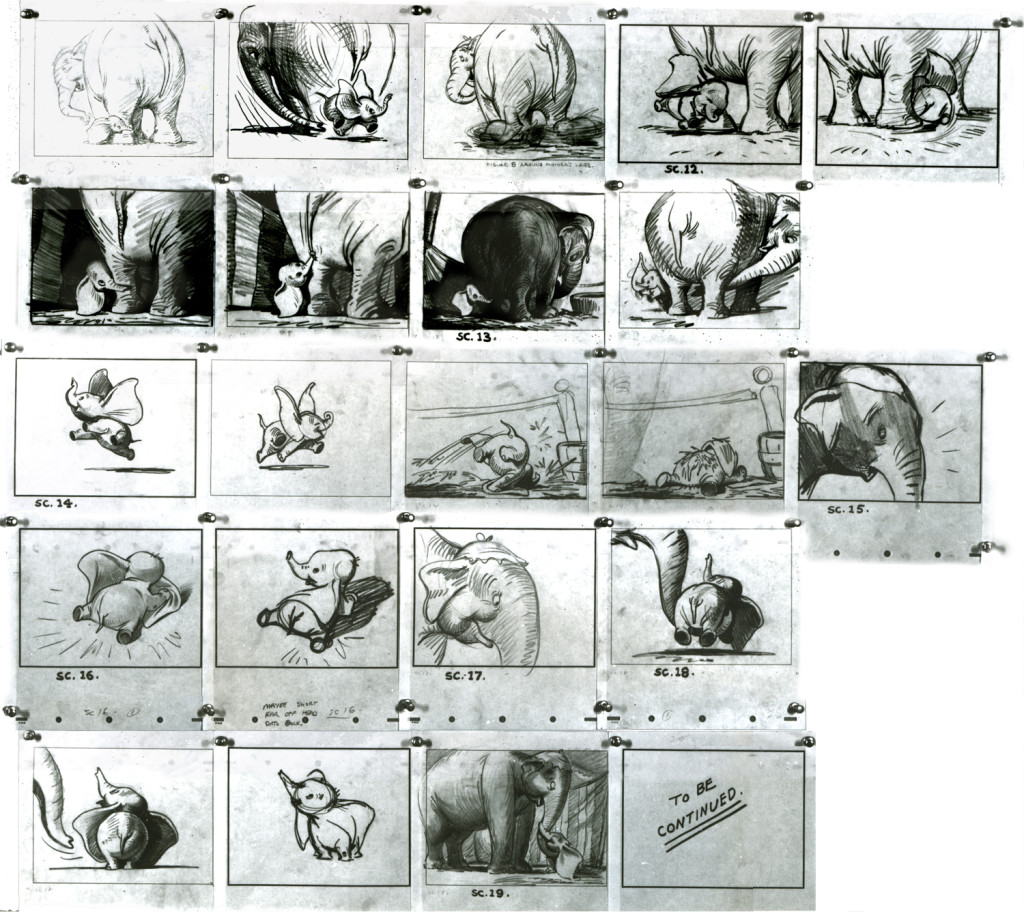 You can see that Bill Peet's storyboard was certainly an inspiration,
at the least, for Tytla to follow, if not to equal.

Let's move to another film. Fantasia.
Vladimir Tytla worked on the devil in Mussorgsky's – Night On Bald Mountain.
Here are some drawings for the scene. They're part Tytla and part clean up by his assistant.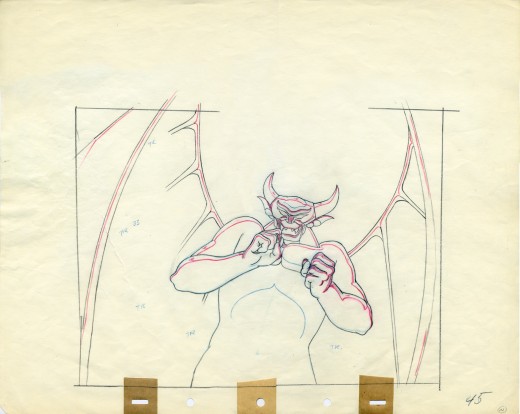 A good example of a Tytla drawing.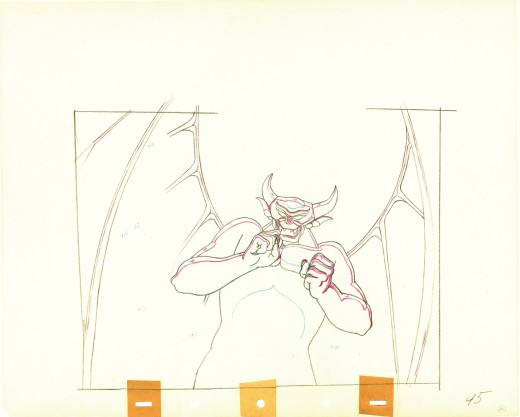 Here's the clean up of the same drawing.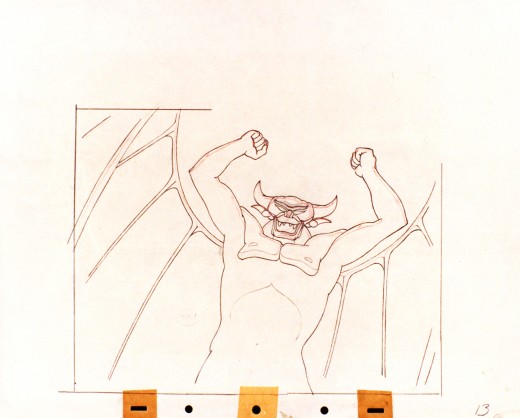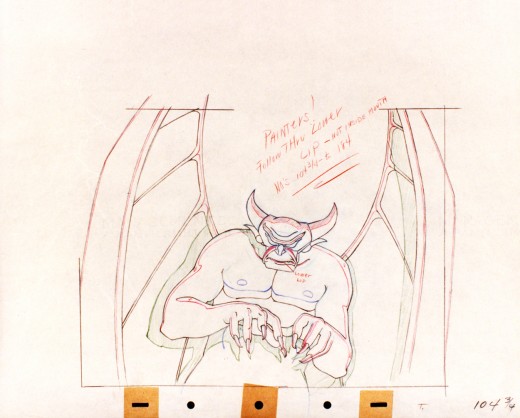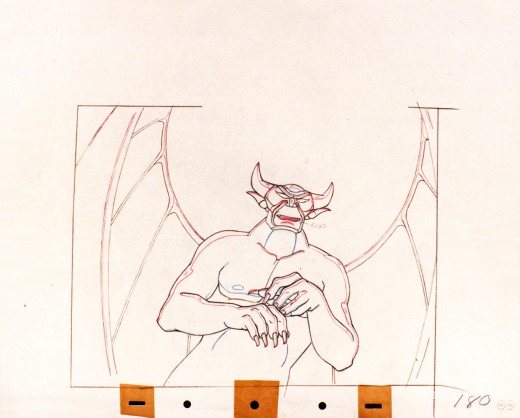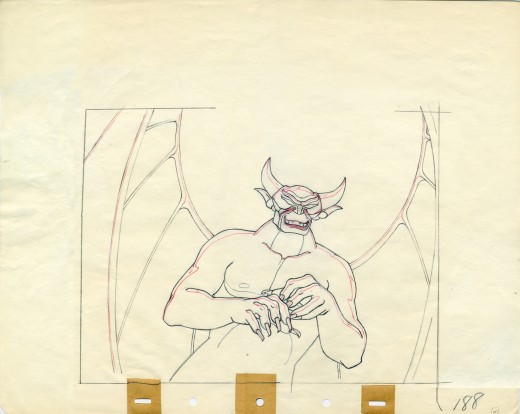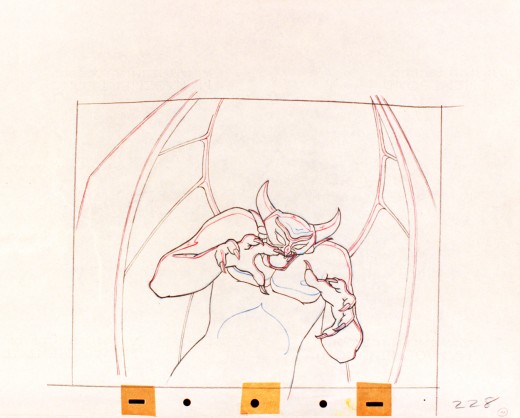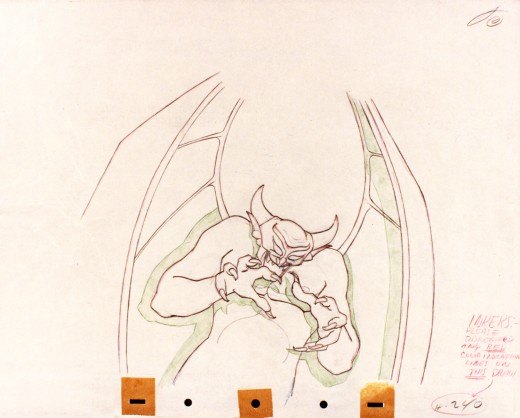 They're pretty damned impressive drawings. If there is any distortion,
it comes from making a body builder's shape stronger. There's no violent
flexing of those muscles, just the natural thing on display in the middle
of a dance sequence. Strong and forcefully beautiful drawings. The
distortion is done by the other spooks floating out of their graves on
the way up to their leader.

The devil's motion throughout this piece is very slow, tightly drawn images of the devil lyrically moving through the musical phases. It's pure dance. Any distortion is done via the tight editing that Tytla has constructed. Very close images of the hands with the flame shaped dancers moving about in tight close up as Chernobog's large face with searing eyes closely watching the fallen creatures dancing in his hands. It's distortion enough.
Tytla has constructed the most romantic sequence imaginable, and the emotion of the dance acts as the climax for all of Fantasia, and it succeeds in spades. All hoisted by the animation, itself. No loud crushing peak, just a dance done in a tightly choreographed number completely controlled by Tytla. It's the ultimate tour de force of animation, and we'll never see the likes of it again.
So essentially I'm pointing out that Tytla used distortion in the animation drawings to execute his acting theories, but as he grows, he not only uses his animation (and animation drawings) to "Act", he uses his abilities as an Animation Director. The cutting and the movement of the scenes is used for the Acting, as well.