Search ResultsFor "sleeping beauty"
Daily post 31 Oct 2013 12:24 am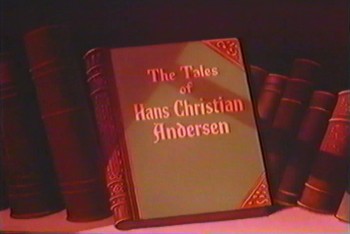 - Back in 1959 Sleeping Beauty wasn't the only animated feature to hit theaters. Universal had adapted The Snow Queen, a 1957 Soyuzmultfilm production, adding the voices of Tommy Kirk, Sandra Dee and Patty McCormick to the English language version. (Dave Fleischer got credit for "Technical Director" whatever that was.) A new score by the excellent composer Frank Skinner was added including a couple of key songs.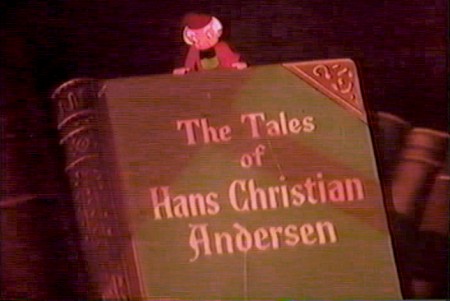 The original Russian film was directed by Lev Atamanov
a significant figure in the history of Russian animation. Several of his films
had been adapted and distributed to American television, including
The Golden Antelope which had received an award of merit at Cannes.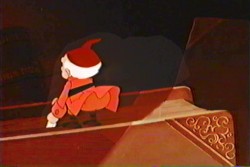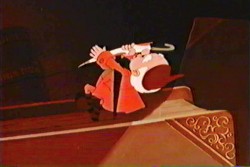 The odd bit about The Snow Queen is that it included an introduction
by a narrator which was voiced by Paul Frees in the English version.
This narrator, calld "Dreamy," walks around a statue of Hans Christian Andersen
and is flanked by a number of books.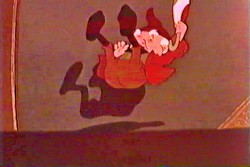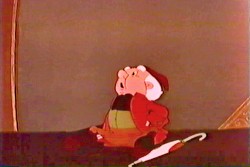 He tells of two umbrellas he used to give Andersen his tales via dreams.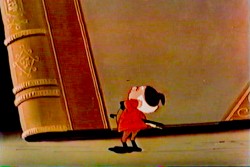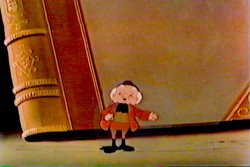 If "Dreamy" waves a black umbrella, Andersen doesn't dream; if he waves
a colorful umbrella, the dreams are big ones.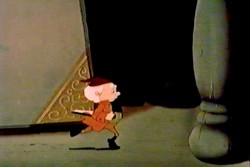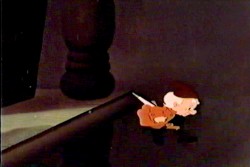 This leads us into the very big dream, "The Snow Queen."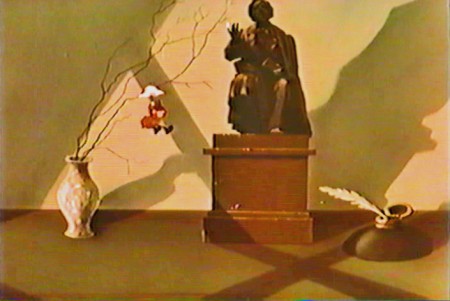 The overall feel of the lethargic and talky piece is that it is very similar
to Jiminy Cricket's appearance in Pinocchio.
a href="http://www.michaelspornanimation.com/splog/wp-content/Q/26pan.jpg">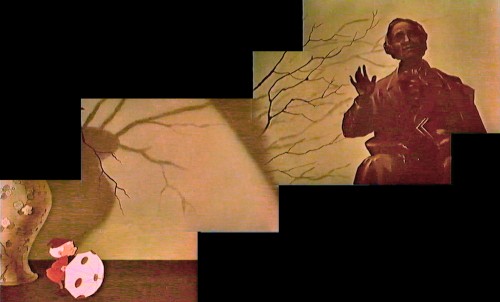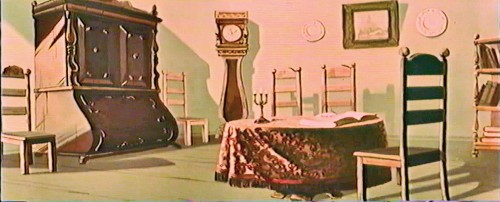 The animation of "Dreamy" was very slow and, I guess, "dreamy."
You can feel Paul Frees trying to mouth the character's limited mouth actions
and get all the words into the time allotted. It couldn't make for a good performance.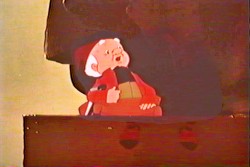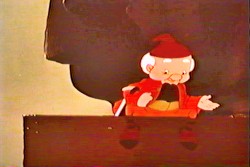 Comparing this to the excellent reading of Cliff Edwards, who mouthed Jiminy Cricket,
the acting in Pinocchio had to, and did, come off better.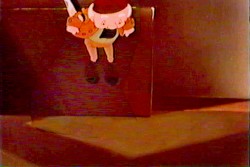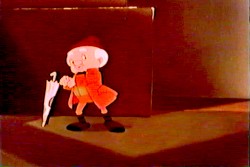 Yet, in saying all this, I have to admit a fondness for "Dreamy." I think it
may be that the film hit me at a very susceptible period in my young life.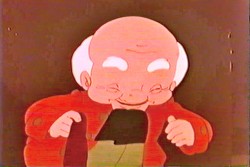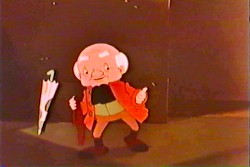 Animated features I saw in this period – I was 12ish – stuck with me.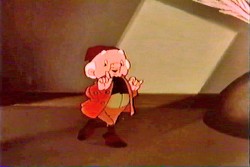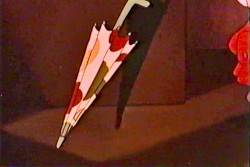 Sleeping Beauty, 1001 Arabian Nights with Mr. Magoo, 101 Dalmatians. They all mean a lot to me and have deeply affected my tastes.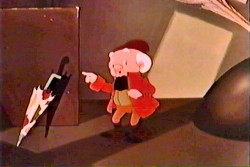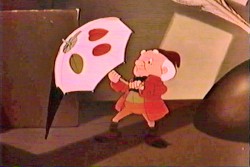 Somehow, even "Dreamy" comes off in a good light.
Now let's take a look at Jiminy's entrance in Pinocchio.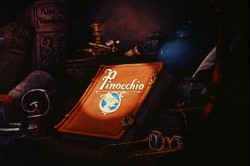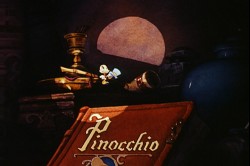 The masters at Disney, by the time they'd made Pinocchio, knew what they had to do.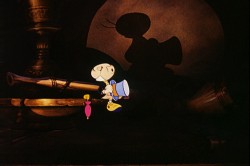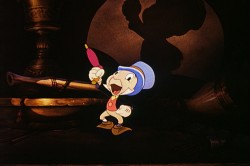 A beautiful song, a great voice with a perfect performance
even though he only had one umbrella.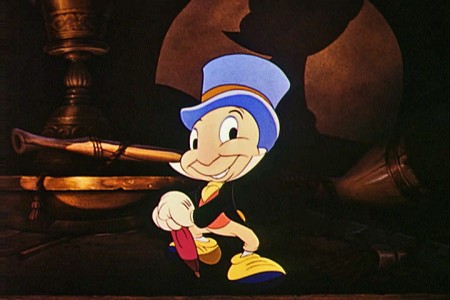 A real character introduced up front in all his glory.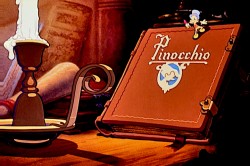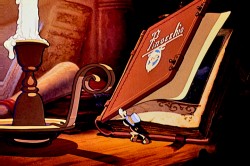 They knew how to keep things . . .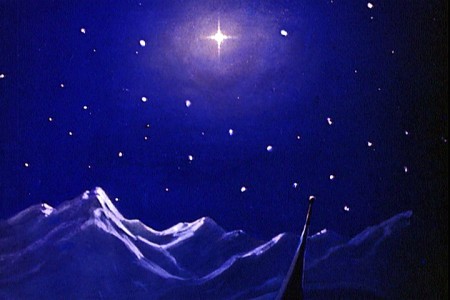 . . . "dreamy."
Now it's all cgi for worse or worser.
Books &Commentary 11 Oct 2013 06:40 am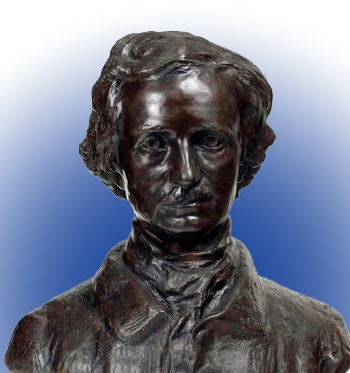 The Writer, the Man and Evermore; this is the subtitle given to Charles McGrath's recent article about the newly opened, exhibit celebrating the work of author Edgar Allan Poe. Having written a bit about this yesterday, I decided to go further. Of course I am excited by this news, having worked on Poe's biography these past six years, with the purpose of creating a low budget animated feature. Poe led a very difficult life, completely impoverished, with almost all the women in his lifetime dying during on him – his wife, much younger than he, died of Tuberculosis. His mother also died of TB when Poe was just 3 yrs old. He was left an orphan of the State and was given to Thomas Allan and wife as surrogate parents. They abandoned Poe during his college years and he spent much of the rest of his life searching for funds to write. He lived with his aunt and married his cousin 27 years his younger. It was assumed they were more a brother-sister relationship rather than husband-wife. Since all three were inches away from pure penury, it made sense for them to live together with his acting as the family support. And, indeed, it was much of the writing that did give them financial aid. Several times he attempted to start a literary magazine, but was more often likely to be writing for one. Graham's Reader was one such paper for which he wrote some strong material, including The Murders in the Rue Morgue.
Presumably, according to Mr. McGrath a lot of manuscripts, letters, and the life are on display. Given the extensive work that several other organizations have done, it's helpful to have this material preserved for public consumption. (I keep promising to get myself to the Poe House up in the Bronx but I've missed that train for too often to not feel the guilt of my actions.) We have in the script for the feature a short sequence wherein two well know ladies – friends of the Poes – visit. They play some sort of early football in the yard only to end when Edgar's shoe completely dissolves after smashing the ball. Since he had no other shoes, the guests chipped in to buy him a new pair.
Please, don't mind me. I've gotten so addicted to Edgar Allan Poe's work that I have a hard time not talking about it. I thnk, in some ways, I see a lot of similarities in our lives. That money thing was always the patch blocking the middle of the road. I need a lot more than he did to get my "art" going, but in the end it ma as well be the same thing.
I also recognize that unwittingly I have the same sense of arrogance about mine own artform. I so fussy about wanting what I want that I can be hard to put up with after screenings. I'll tell you after seeing "Tangled" I was hard to live with. I hated the film and was upset with all those who'd worked on it. It was stupid; I'd seen a lot worse and even enjoyed a lot worse. I just couldn't deal with those lead characters and, though I liked the horse, I couldn't help but see Prince Phillip's horse (Milt Kahl's character in Sleeping Beauty) in cg. It just never made the grade for me.
Boy, am I looking forward to the day when I can give my full support to that POE film. It really will be some kind of adult film, but today, I can only visit the art exhibit planted so nearby my own home. Even that's a pricey affair, so getting in to see it will take some financial maneuvering. But I wouldn't miss it.
Animation &Animation Artifacts 28 Aug 2013 06:14 am
Given the holiday celebration of Martin Luther Kings' elloquent statement re this subject, I've opted to post these images from Dick Kelsey. Richard Kelsey was one of those visual poets of the Disney studio. He'd probably have been the only one who could successfully tackle Joyce Kilmer's poem, Trees. He also brought Hiawatha to life with his strong beautiful watercolor and in sketches. (Needless to say, the sketches of one film often end up mixed in with the Hiawatha pictures.) Unfortunately, the film never completed production. We ;sten to third rate rate newcsasters give thier own fourth rate unditry of the day. Ricard Kelsey couldn't offer much better than these images.
Trees was a seqment of the 1948 package film, Melody Time and blended in with a never-completed piece based on Longfellow's poem. Hiawatha was never complete but was an amazing gift for sore eyes.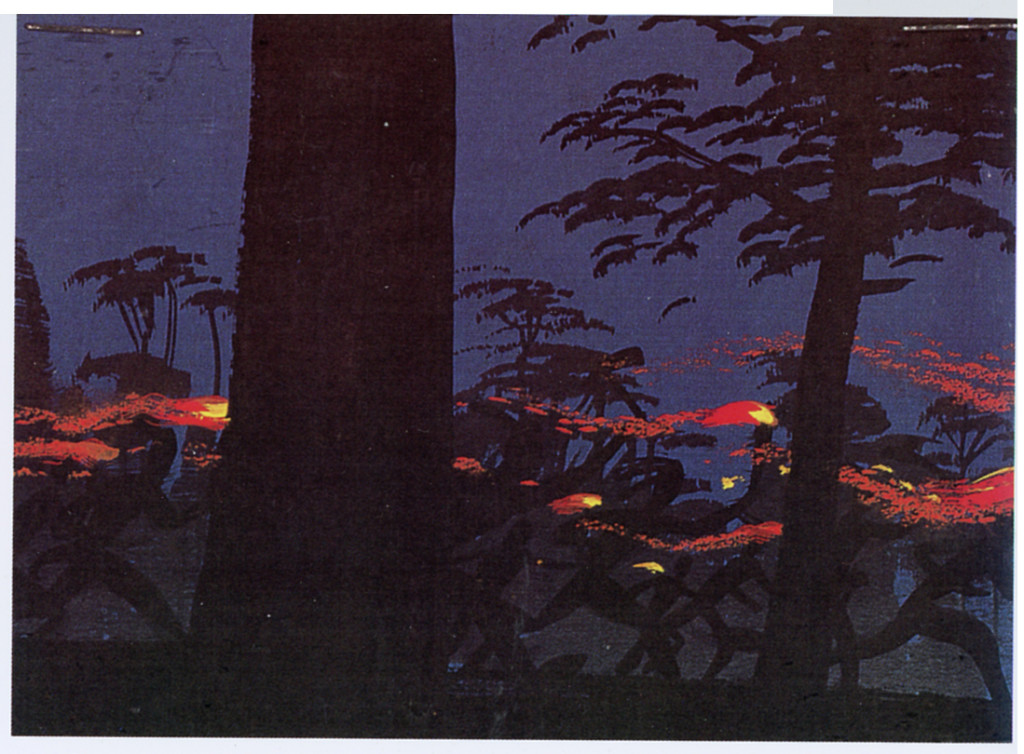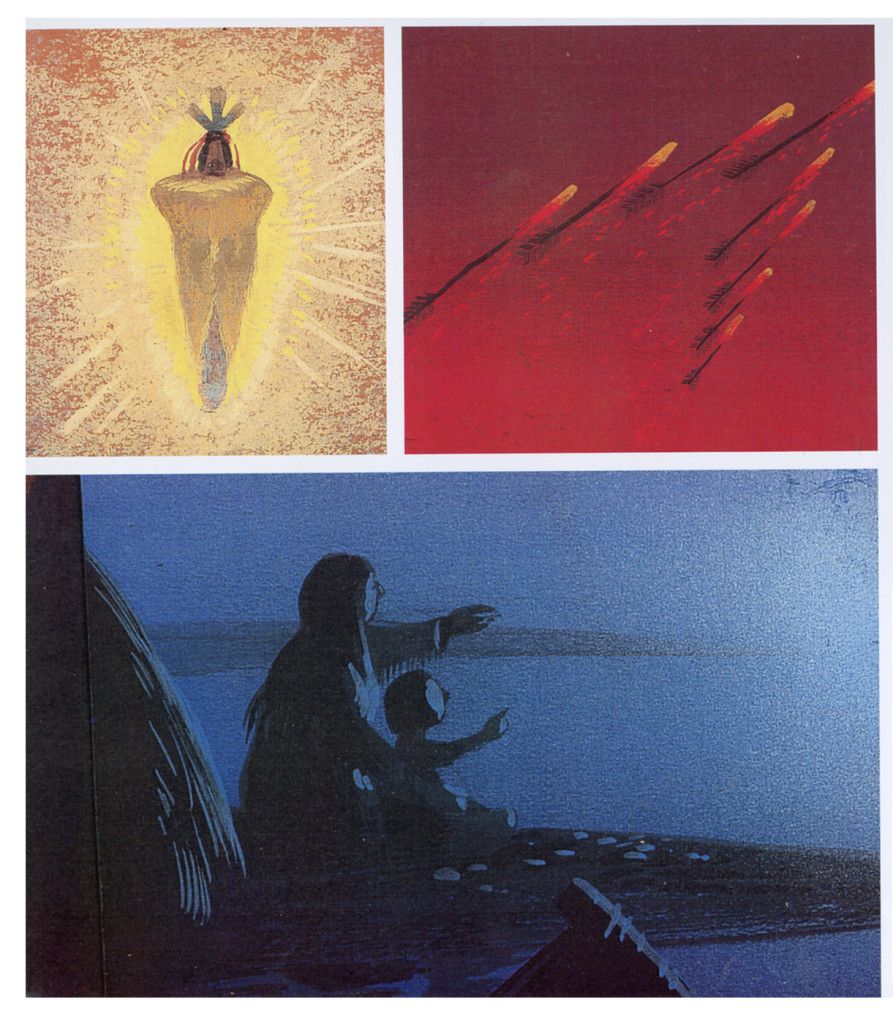 9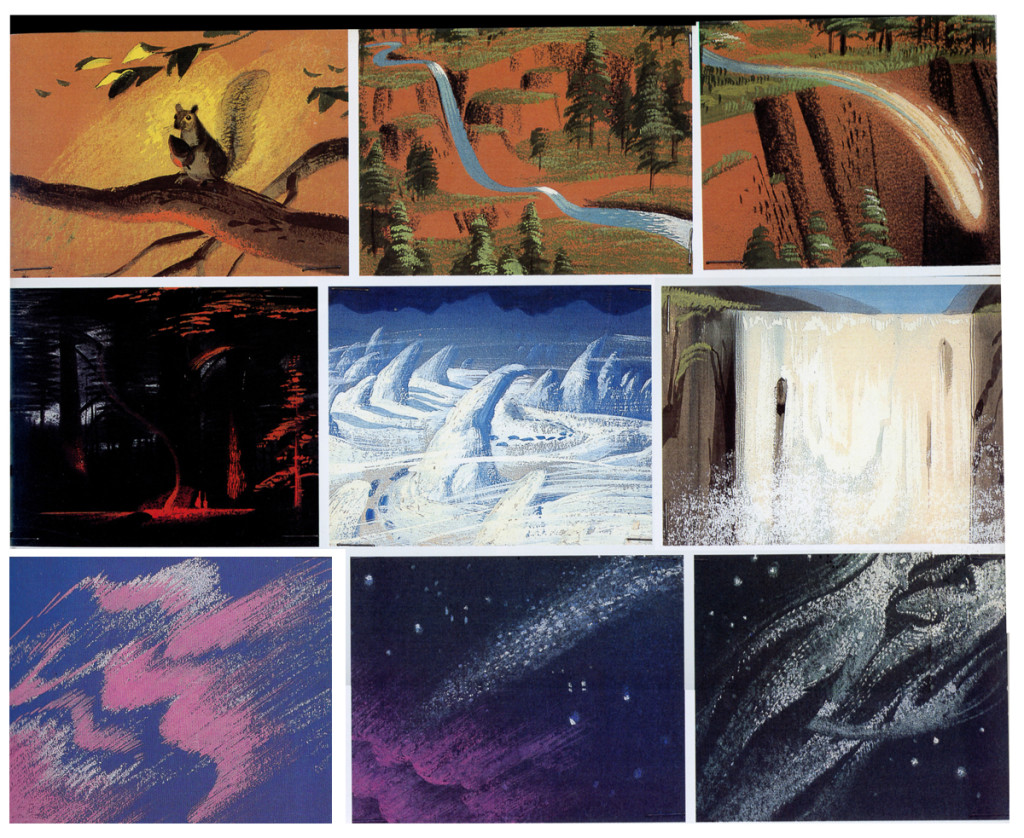 10-21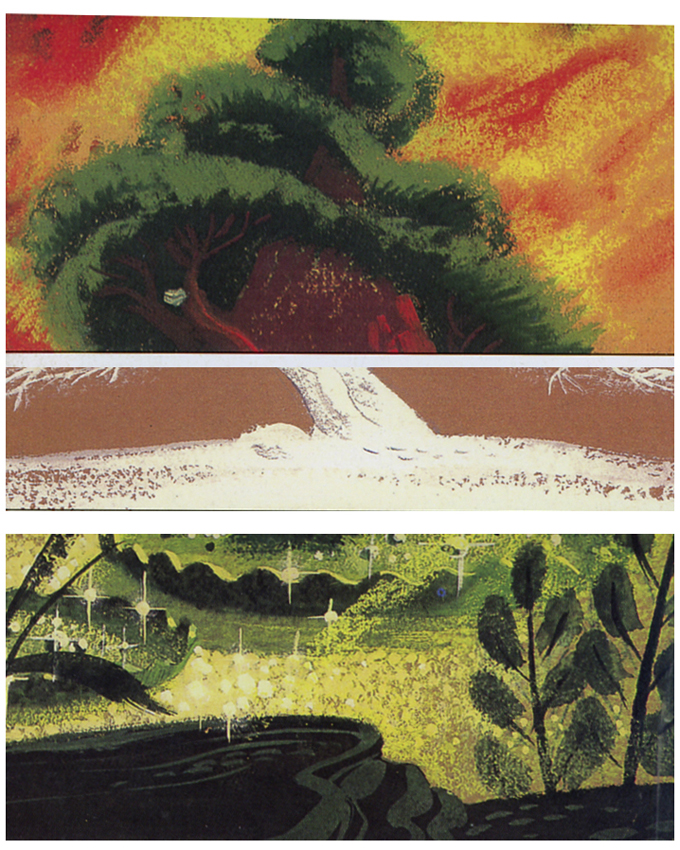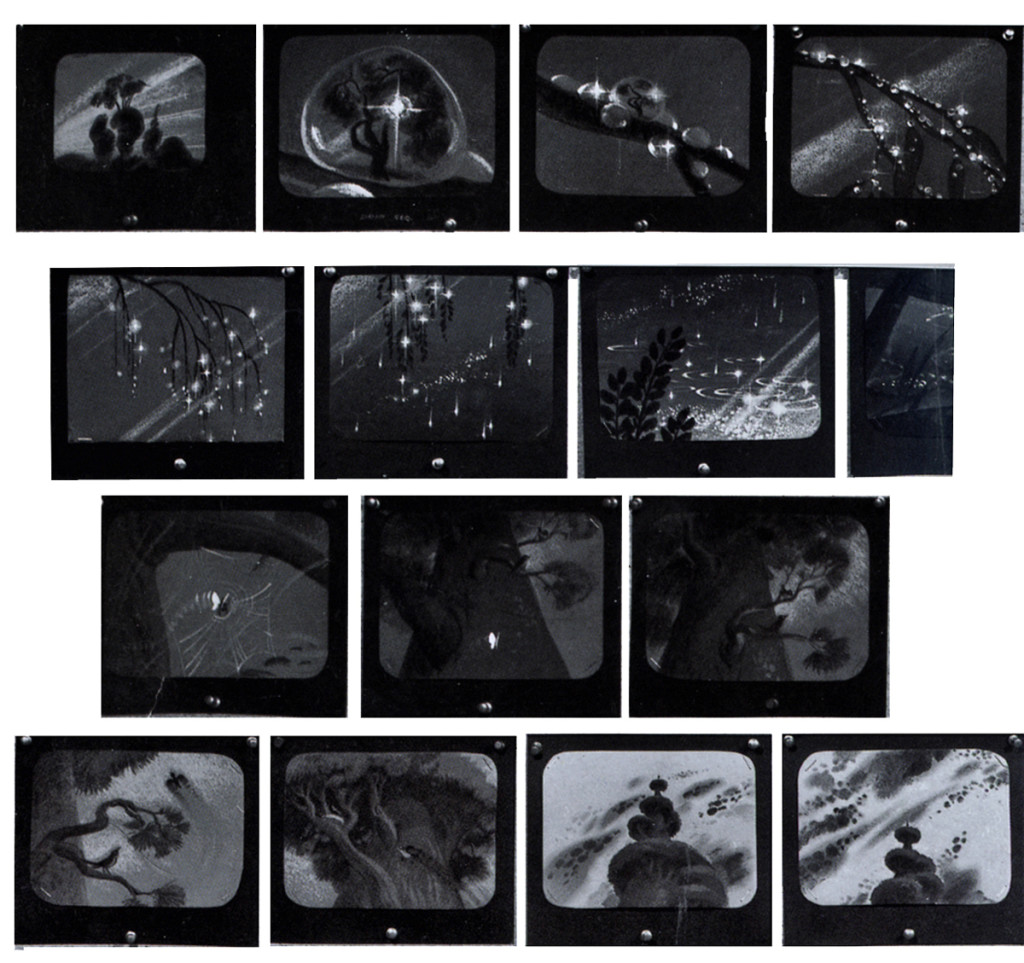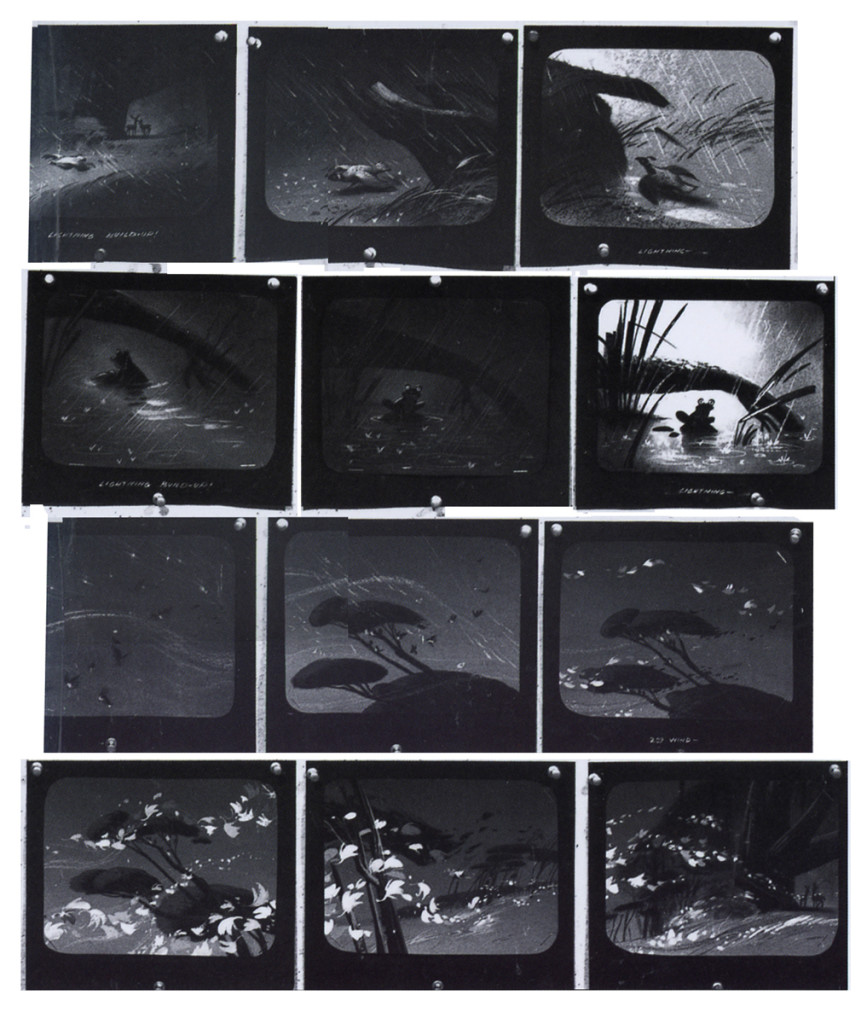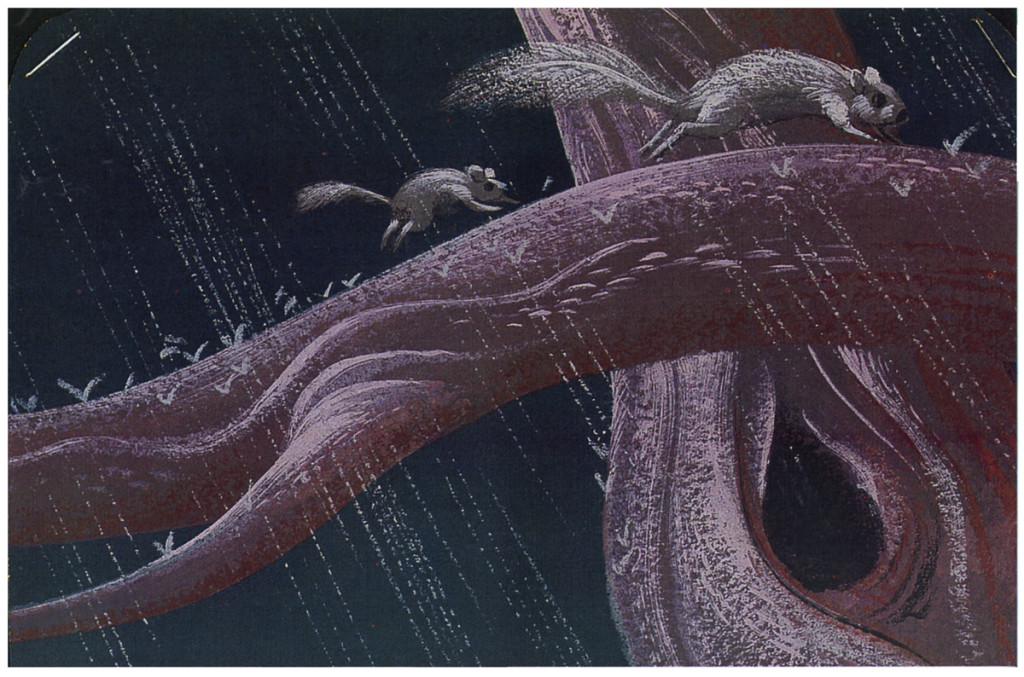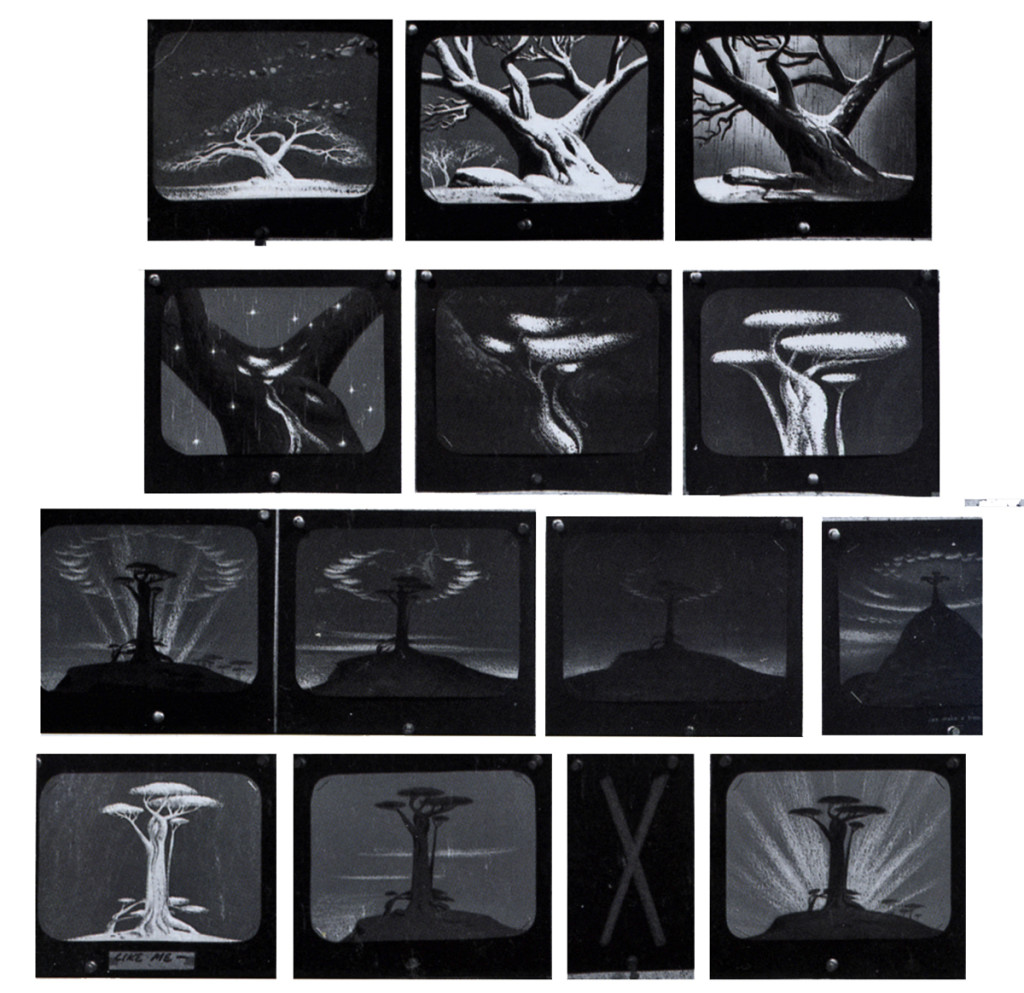 20-7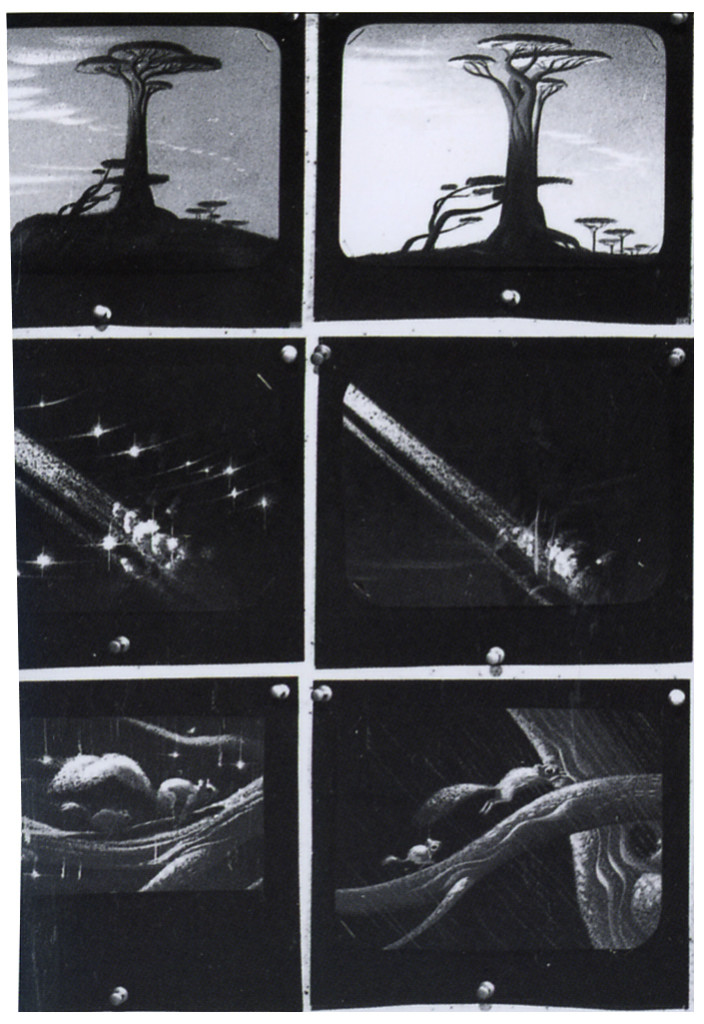 1-6

The art in these two pieces is often as touching as Eyvind Earle's majestic work for Sleeping Beauty. You can see how some slight grace and a more assured pen would have brought the backgrounds to Pocahontas closer to Sleeping Beauty.
They certainly had artists of character working for Disney back then (as do they do today; it's just that today everyone seems to smell of fear. You also have to know how to keep the beauty of the art from dissipating after a few shallow and solo comments.
Commentary 14 Jun 2013 11:17 pm
.
I received this note from the "Wise Old Man" of Holland, Borge Ring, after I posted my piece about the Disney studio in the last days of the "Nine Old Men" – just before the new guys took ownership:
hi MICHAEL
For you to add, share or ditch:

You touch upon top Walt Disney animators relaxing and losing their (story)mind
after Walt Disney died on them
I asked Marc Davis if Walt Disney's death was followed by a period of
interregnum among the Nine Old Men.
Marc's face turned sour
"Oh yes. There was no orderliness of production – Everybody did as they
pleased. Frank would go upstairs and take scenes that should'nt have been done
by HIM."

greetz
Borge
_________________________

Auto Boarded
.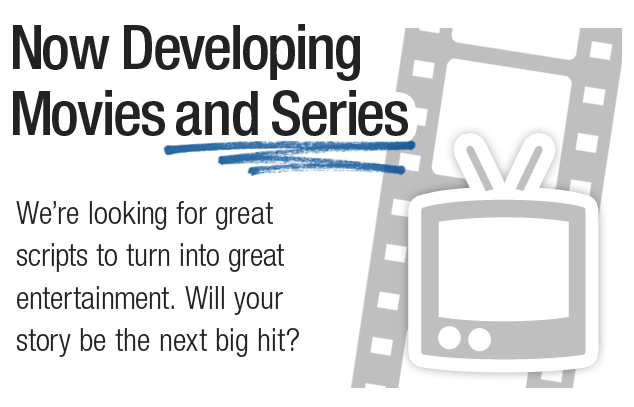 I must be getting old. I've gotten so tired of drawing storyboards, after all these years, that it came as a great relief to read that I no longer have to do all that arduous labor.
Now thanks to Amazon Storyteller (and the short description given by Amid Amidi from Cartoon Brew) the computer program will do the drawing for me. As the Amazon ad for the piece reads, "A storyboard can be 10 panels, or 100." Once you place your "original script" into the program, designed and previously drawn characters will act out your script. All you have to do is add the script.
In a few days, Amazon Storyteller will rate your storyboard and tell you how good it is. (Just what I need, another boss.) This could be the start of something good.
All I need is Amazon Animator, so I don't have to do that work either. I can just hire the machine to move my storyboard drawings with previously-animated scenes.

______________________

Movies
The films this week came fast and furious. It started with Sofia Coppola's latest film called The Bling Gang. Based on a true story, it's about a group of teenagers in LA who sneak into and rob the houses of celebrated girls, such as Paris Hilton and Lindsay Lohan. Though we see alarms record the break ins and robberies, it takes a while for the police to investigate any of them. Eventually, all the teens are captured and end up in jail. You people living in LA can feel safe that they're not out there to search your apartments for the latest in Laboutin shoes. Paris Hilton actually loaned her real home for the shooting.
The film feels a bit disinterested in the characters, and the whole thing feels a bit passive-aggressive. The best part of the film was that it ran quickly through its short 90 minute length.
Unfortunately, I forgot to bring my camera to photograph Sofia Coppola who came prepared to answer questions and whipped through those from moderator Brian Rose, a local film historian. Ms. Coppola does have a large and beautiful head, in the way of most stars. she reminds me a bit of Sophia Loren. Her interview will be on=line soon.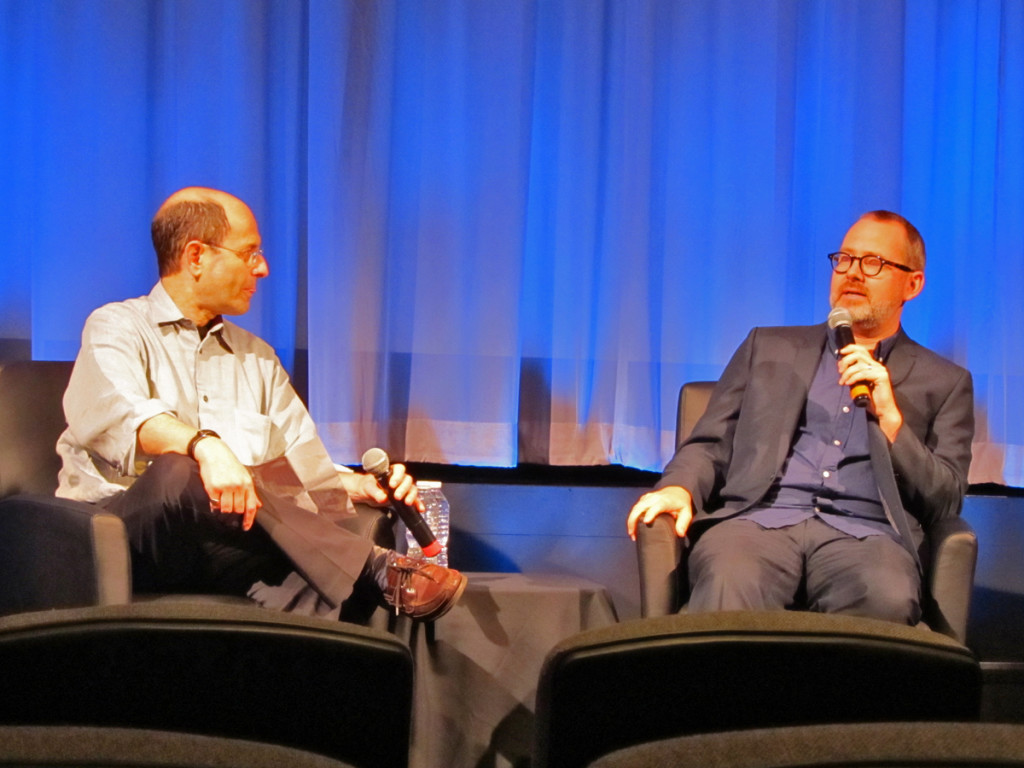 The next night brought a different kind of documentary, Twenty Feet from Stardom. It sounds like some kind of horror film, but it's really about back-up singers. Their talent is obviously enormous, but stardom seemed to resist most of those on screen. It was nice to hear Bruce Springsteen and Sting talk about their back-up singers. Of course, the film was full of melody and had us dancing in or seats. Darlene Love is part time focus in the movie. Only after she's working cleaning houses, does she gain respect for herself and her talent. She moves to New York where her career takes off, and she was a success story. She's become a staple on the David Letterman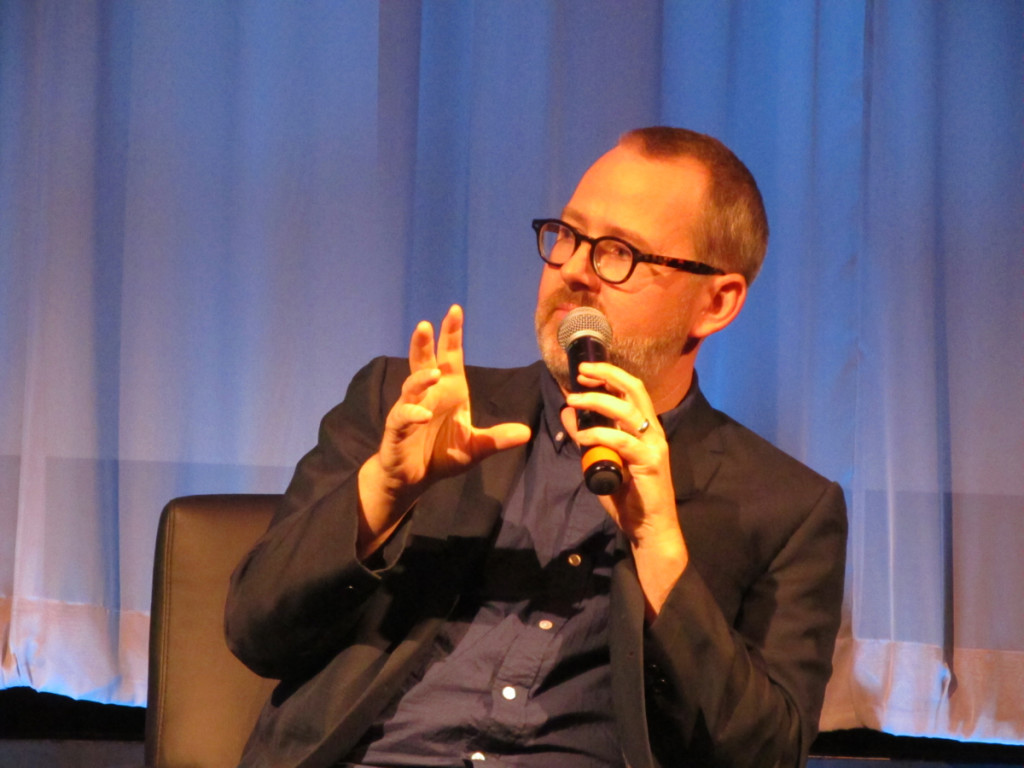 show every Christmas where she sings her hit, "Christmas (Baby, Please Come Home)." A very entertaining 90 minutes, the movie zipped along and told its story well. One wonders how the producers of this film were able to secure the rights to many of the songs that played out on the soundtrack, everything from "Space Oddity" to "Walk on the Wild Side" to "Lean on Me." The post screening interview between director, Morgan Neville and Brian Rose also moved quickly.
The Man of Steel was screened on Thursday evening. The latest adventures of Superman deal with his having to shave on Earth and his difficulties in getting a job prior to work at the Daily Planet.
There was no post-screening interview, but I'm not sure how interested I would've been in one.

______________________

Conversations
I've been talking about these post screening conversations for the pat few weeks, since the NY chapter of the Academy started scheduling them. These conversations have been placed on line and can be viewed if you're interested. They've just posted the interview with Chris Wedge for his film, Epic. The virtual leader of Blue Sky talks about his film here.

______________________

RIP – Murray Rosen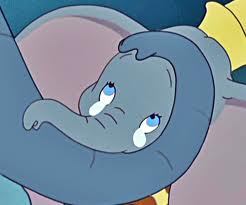 Cartoonist, Murray Rosen passed away this past week. Murray attended schools in New York City. Graduating from Pratt Institute, he went on to work for Walt Disney on Dumbo as a Cartoonist. He then returned to New York and worked for Famous Studios on Little Lulu and Popeye cartoons.
After marrying his wife, Shirley Binder on May 27, 1956, they moved to Maine where Murray operated an installation company for a friend's storm window firm, remaining in the storm window business for 20 years. On May 8th, following a brief illness, he died with with his wife Shirley and friends at his side.

______________________

Current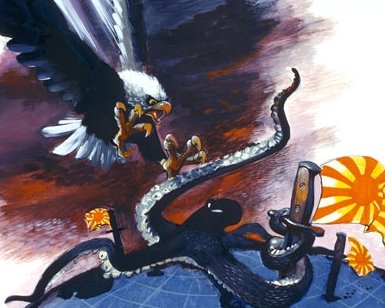 Recently, in response to Andreas Deja's comment – on his own blog – he called the animation for 101 Dalmatians an excellent example of "Modern Anmation." I commented on this use of "Modern Animation", and was challenged by one of my readers. Andrea K. Haid wrote: "The reason that Andrea Deja calls 101 Dalmations "modern" is because it is set in a contemporary environment with contemporary music. It was the first story told in an animated feature by Disney to be placed in a modern setting with modern artwork."
To this I began to think back on animated features that were more current than others and came away with a bit of surprise for myself.
Viewing the Disney features in chronological order:
Snow White, of course, operates within a Fairy Tale land.
Pinocchio also oerates within that world.
Fantasia is all over the place, so I ignore that one.
Bambi, however, is absolutely current. We see no clothing or hear no coversation, but it can be without doubt that the film takes place when it was made, 1942.
Dumbo, however, is very current. The people are dressed for 1942, the action takes place then. Even the fringes of the civil rights movement attest to the date of the story.
Victory Through AirPower takes place during WW2 and is immediate in its action. The film, itself, is an attempt to sell the idea of using aviation to help win the War.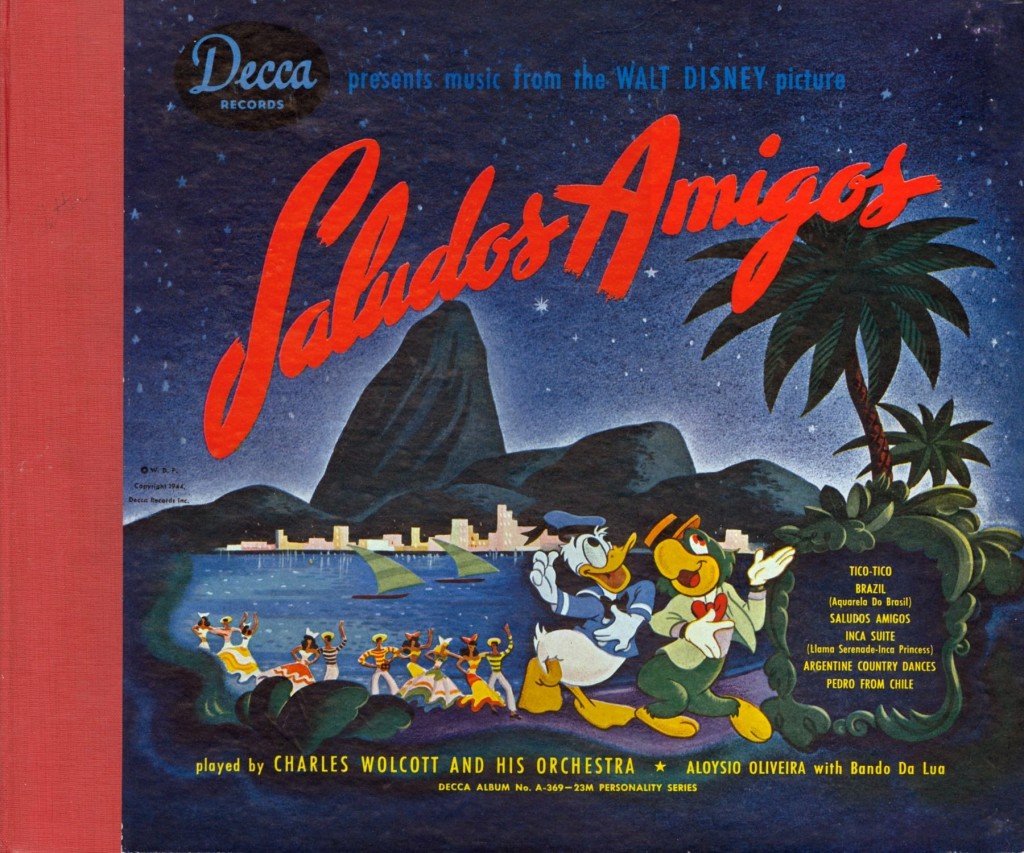 Of the package features, Saludos Amigos and Three Caballeros both take place currently. There could be no other approach in an attempt to melt the international curtains between North and South America.
For the sake of this essay, I won't analyze the shorts in the rest of the packaged films. The Headless Horseman, The Wind in the Willows, are probably dated. While other shorts like Little Toot, Trees and Bongo are all current. They're not worth defending.
Cinderella was 18th Century fairy tale land.
Peter Pan and Alice In Wonderland were 19th Century.
Sleeping Beauty, to the 17th Century fairy tale world.
Lady and thte Tramp back to the early 20th Century.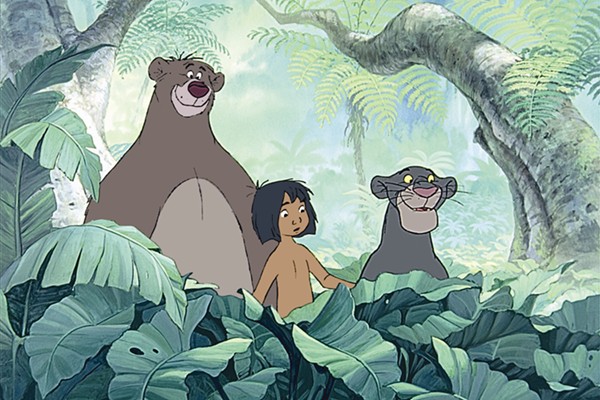 That brings us to 101 Dalmatians. Modern humans and dogs in modern dress.
Sword in the Stone was 16th Century England.
The Jungle Book was 19th Century, per Rudyard Kipling.
The Aristocrats was early 20th Century. (There were cars.)
Robin Hood was 17th Century England.
Let's skip to the new generation of animators:
Toy Story 1, 2, & 3 were all today.
As was The Rescuers and The Rescuers Down Under. The UN is there, for pete's sake.
Basil of Baker"s Street dated. The Fox and the Hound, current.
Beauty and the Beast, Aladdin, Hunchback of Notre Dame and Pocahontas were all hundreds of years old.
I don't think I need go on. We are into "Modern Animation" and I think it has nothing to do with what period the film is set in.

______________________

CitiBikes
You step out onto the street on Monday, and you're greeted by a hundred blue bikes. Sort of the same color as the lines on this page. I wasn't expecting it. No double-parked cars.
The Citi decided that it'd be better for me if I took a bike. Rent the bikes for 2 minutes, then roll to the next check-in point. You pay some bucks and you take the biks. (They don't offer bike-helmets for the softer-brained, accident-prone people. There's just a lot of info about the fines you'll pay if you go over the twenty minute rental time.
Last weekend everybody wanted a bike. (Aren't they all girls' bikes? What's up with that?) They were all rented by couples speaking non-English. (A tourist thing, undoubtedly.) Only two gone so far this weekend. Meanwhile, no one has a parking space. At first I thought they were mopeds, like in Europe. We'd be hearing buzzing all day long in conjunction with the square jeep-type taxis.
We'll see how it goes, though. No buzzing, a crash of cerulean blue, and lots of tourists reading the signs in groups of about eight.

______________________

Jerry's Visit and a Great Film Program
This is a note I received from Jerry Beck. It doesn't take place until the end of July, but thought you'd like some advance notice, now.
I don't know if you usually attend the Animation Block Party in Brooklyn,
but this year I'm going to come back to New York and introduce
a screening of Oscar winning shorts on Sunday night July 28th at 7pm

Munro / Gene Deitch / 8:20 min / 1960
Ersatz (The Substitute) / Dušan Vukotić / 10 min / 1961
The Hole / John Hubley and Faith Hubley / 15 min / 1962
The Critic / Ernest Pintoff / 4 min / 1963
The Pink Phink / Friz Freleng and Hawley Pratt / 6:38 min / 1964
Dot and the Line: Romance in Lower Mathematics / Chuck Jones & Maurice
Noble / 10 min /1965
Herb Alpert & the Tijuana Brass Double Feature / John Hubley / 6 min / 1966
The Box / Fred Wolf / 9 min / 1967

After the films I'm hoping to lead a 15-20 minute panel discussion about these films, and the Oscars, and the filmmakers… etc. I do not know who Animation Block Party are asking to be a part of it, but I thought I'd reach out to you myself – as an actual Oscar nominee, you'd be a great addition to the discussion.

I completely understand if you cannot attend, but I thought it was worth a shot.

Event is at Brooklyn Academy of Music (BAMcinématek) located at 30 Lafayette Ave, Brooklyn.
Action Analysis &Animation &Articles on Animation &Books &Commentary &Disney &Illustration &Richard Williams &Rowland B. Wilson &SpornFilms &Story & Storyboards &Tissa David 10 Jun 2013 03:31 am
I've written two posts about Frank Thomas and Ollie Johnston's book, The Illusion of Life the last couple of weeks. I came to the book only recently and realizing that I'd never really read the book, I thought it was time. So in doing so, I've found that I have a lot to write about. The book has come to be accepted almost as gospel, and I decided to give my thoughts.


There were two major complaints I've had with what I've read in their book so far, and I spent quite a bit of time reviewing those.
First out of the box, I was stunned to read that these two of Disney's "nine old men" said that they'd originally believed that each prime animator should control one, maybe two characters in the film. Then, later in life they decided that an animator should do an entire scene with all of the characters within it. This is not what I'd seen the two (or the nine) do in actual practice. post 1

Secondly, they argue for animating in a rough format, and they give solid reasons for this. As a matter of fact, it was Disney, himself, in the Thirties who demanded the animators work rough and solid assistants who could draw well back them up. Then much later in the book the two author/animators suggest that it's better for an animator to work as clean as possible with assistants just doing touch-up. This helped out the Xerox process, but didn't necessarily help for good animation. post 2
The book starts out sounding like it's going to be a history of Disney animation, but then starts getting into the rules of animation (squash and stretch, overlapping action and anticipation and all those other goodies) exploiting Disney animation art in demonstration. Soon the book moved into storytelling and how to try to keep the material fresh and interesting. It all becomes a bit obvious, but you keep hoping that some great secret will be revealed by the two masterful oldsters.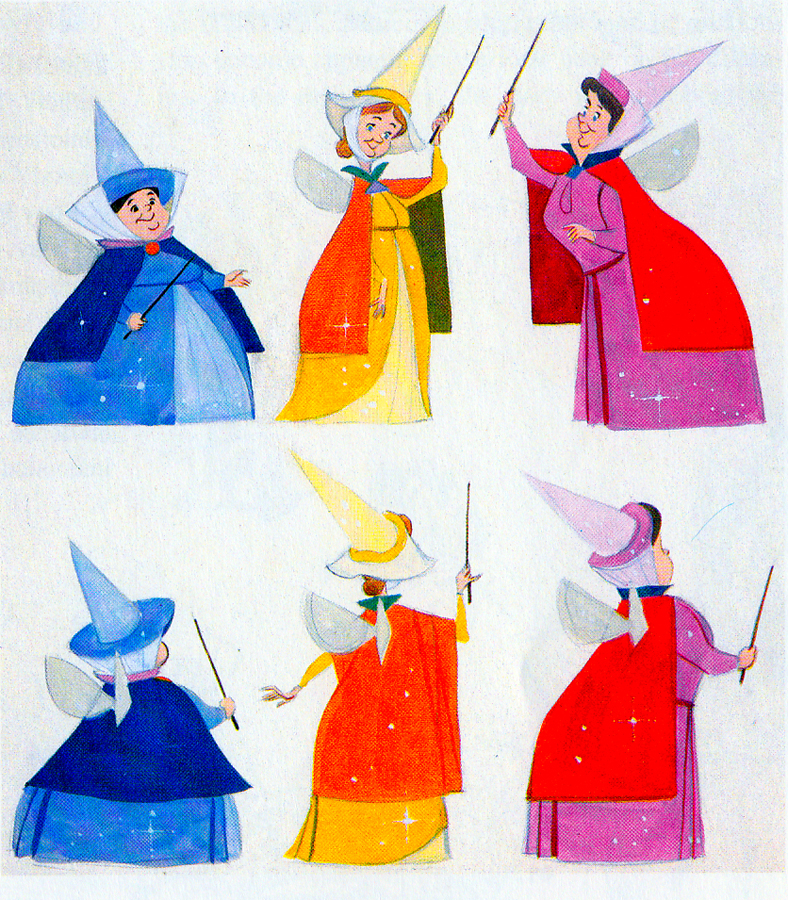 They do go into depth about how to develop characters when making animated films. They offer lots of examples from Orville, the albatross in The Rescuers to the three fairies in Sleeping Beauty, but their greatest attention goes to Baloo the Bear in The Jungle Book. They were having a hard time with this guy; they had been trying to do an Ed Wynn type character, until Walt Disney, himself, suggested Phil Harris. Once they auditioned Harris, they knew they were on the right track, and the character kept grabbing more screen time and grew ever larger. In the end, audiences just loved him.
Personally, I've always hated Phil Harris' performance in this film. What was it doing in Rudyard Kipling's book? When I was a kid, Harris and Louis Prima were the perfect examples of my father's entertainers. He loved these guys and spent a lot of time in front of the family TV watching the Dinah Shore Show______Tom Oreb designs for Sleeping Beauty.
and other such entertaining Variety Shows with
lots of little 50′s big-band jazz-type acts. I hated it; this was my parent's kind of music and humor and had nothing to do with me. I was the kid who paid his quarter to see the Walt Disney movies (that was the children's price of admission in 1959.)
In their book they say they knew he was perfect because generations of kids later (who have no idea who Phil Harris was) still take joy from Baloo. What they forgot is what I knew all along. This was The Jungle Book. If they had been truly creative, they would have developed a character in line with Kipling's material that would have been an original, not an impersonation of Doobey Doobey Doo, Phil Harris. The same is true of Louis Prima as a monkey. (There was a time when Disney said that they should never animate monkeys because monkeys are funny on their own, in real life. Animation wouldn't make them funnier.) Sebastian Cabot, as Bagheera, works as does George Sanders as Shere Khan.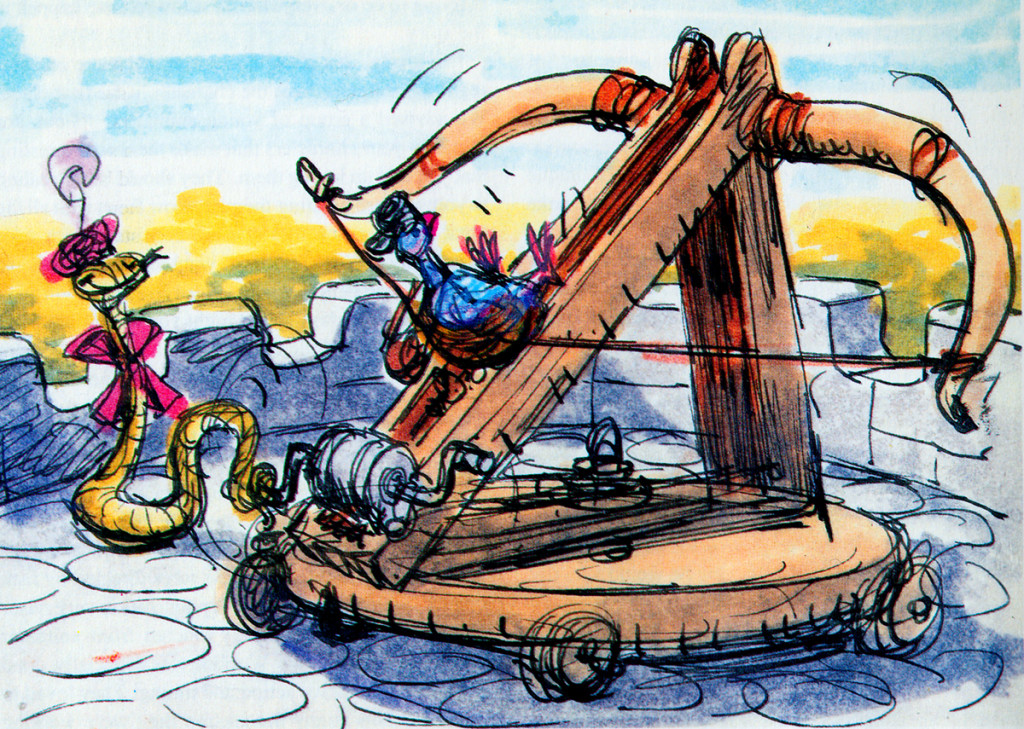 Right: A discarded sequence from Robin Hood showed a messenger pigeon so fat and heavy he had to be shot into the air. This gave the animators the beginnings of The Albatross Air Lines in The Rescuers.
Phil Harris was so successful, they dragged him into Robin Hood as well. Robin Hood. The very same character from The Jungle Book is now Little John! All those cowboy voices in Robin Hood don't work either, especially when you mix them up with Brits like Peter Ustinov and Brian Bedford. When these two thespians work against Pat Buttram, Andy Devine and George Lindsey, it's one thing. Throw in a Phil Harris, and you have something else again. Where are we, the audience, supposed to be? Is it "Merry Ol' England"? Or is it the lazy take on character development by a few senior animators who have taken license to jump away from the story writers for the sake of easy characters of the generation they're familiar with. Robin Hood is a mess of a story – even though it's a solid original they're working from, and I find it hard to take written advice from these fine old animation pros who take an easy way out for the sake of their animation; shape shifting classic tales to fit their wrinkles.
At least, that's how I see it – saw it. And perhaps that's why it's taken me so long to read this book. I felt (at the age of 14 when these films came out) that the Disney factory had turned into something other than the people who'd made Snow White and Bambi and Lady and the Tramp.
They had, in fact, become the nine old men.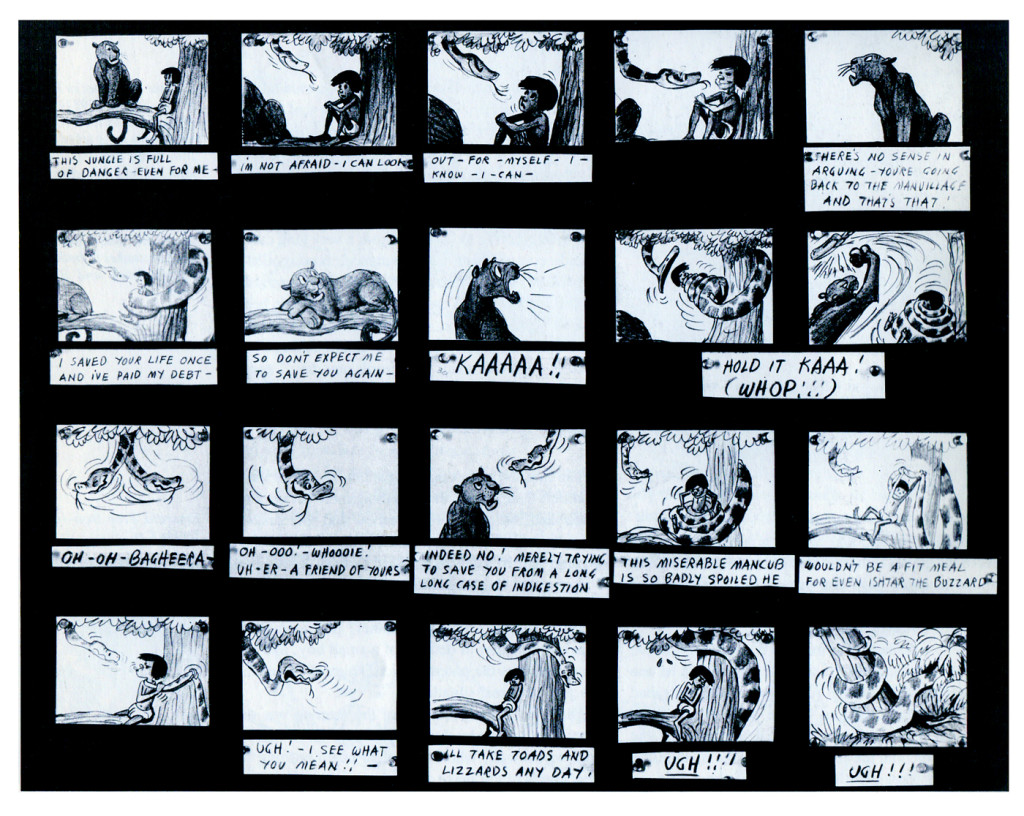 The Jungle Book was the last film Bill Peet worked on. He left
before the film was done. He'd had a long, contentious relationship
with Disney. He never felt he'd gotten the respect he deserved.

They were incredibly talented animators, and they certainly knew how to do their jobs. The animation, itself, was first rate (sometimes even brilliant as Shere Khan demonstrates), but try comparing the stories to earlier features. Even Peter Pan and Cinderella are marvelously developed. Artists like Bill Peet and Vance Gerry knew how to do their jobs, and they did them well. When Peet quit the studio, because he felt disrespected, Disney's solid story development walked out the door.
The animators were taking the easy route rather than properly developing their stories. The stories had lost all dynamic tension and had become back-room yarns. Good enough, but not good.
Today was Nik Ranieri's last day at Disney's studio. He's definitive proof, in the eyes of Disney, that 2D animation is dead as an art form. This is the end result of some of the changes Thomas and Johnston suggest in their book. The medium took a hit back then; it just took this long for the suits to catch up. Good luck to Nik and the other Disney artists who no longer work steadily in what is still a vitally strong medium.
Commentary 08 Jun 2013 04:20 am
Dirty War
This week's films included the documentary, The Dirty Wars. This is the film taken from Jeremy Scahill's book of the same title. It's about the wars America is pulling secretively atacking whomever they choose without proof of reason.
The film centers on Ayman al Zawahri, an American who protested the workings of the U.S. in the past tseveral years. He was assassinated by a drone after having been called the #1 enemy of the U.S. after the murder of Bin Laden.
Scahill presents and argument and gets no response of proof of al Zawahri's guilt. He is beyond belief when Zawahri is killed by a drone. The film makes its point and has a strong theme. It's quite a good documentary.
THe NY chapter of the Academy had Jeremy Scahill and Richard Rowley present to answer questions from the Academy's Patrick Harrison.
These Q&A sessions are going to be on the Academy's website soon. When Chris Wedge's session is up, I'll let you know.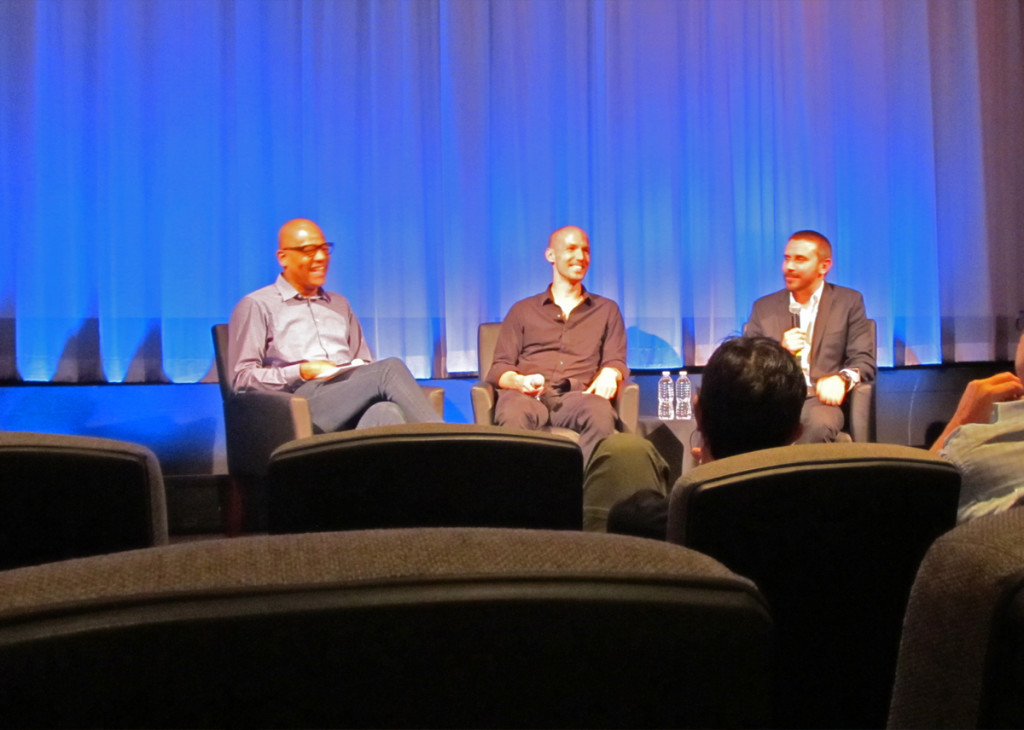 1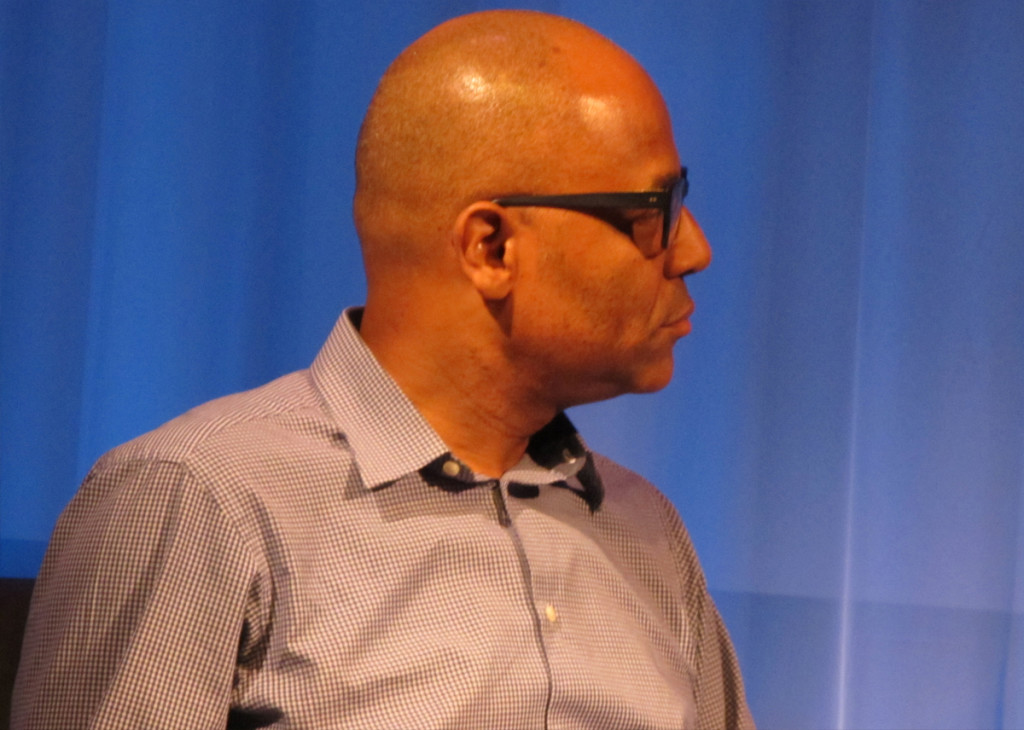 2
1) L-R: Harrison, Rowley, Scahill . . | . . .2) Harrison

Here's a NYTimes interview with Mr. Scahill.
There was a second Academy film to see this past week. On Thursday the Pedro Almadovar film was a real bust. Seventies disco meets an Hispanic airline, from the point of view of the cockpit. Absolutely dreadful is about all I can say for it. Since I'm a big fan and waited patiently to see this one, it was very disappointing. That's about all I can say.

______________________
Frozen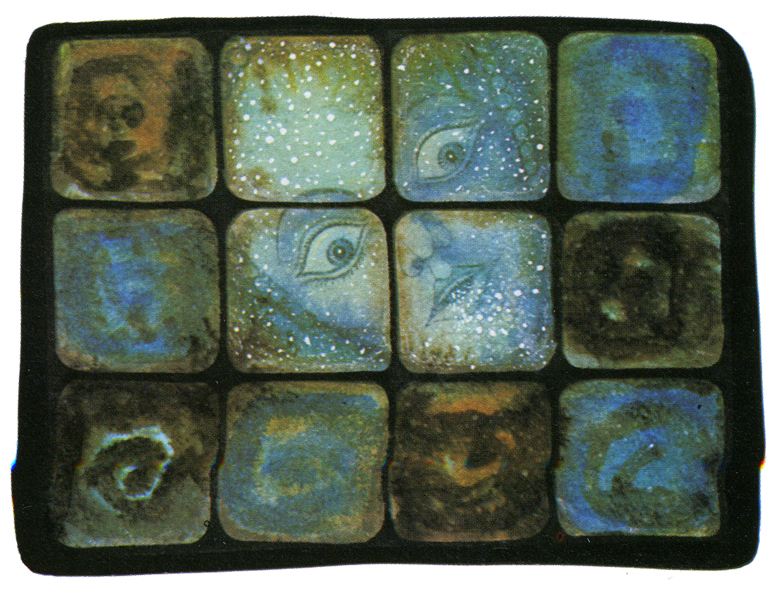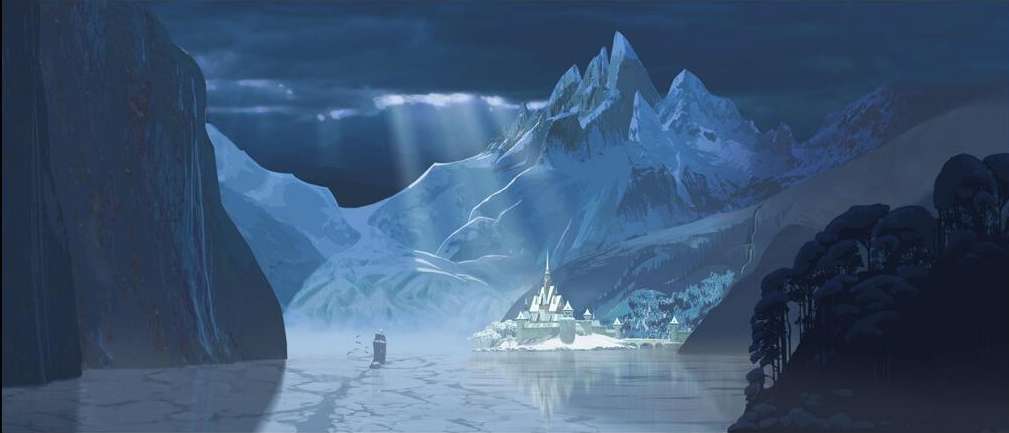 The Disney kingdom of Arendelle trapped in eternal winter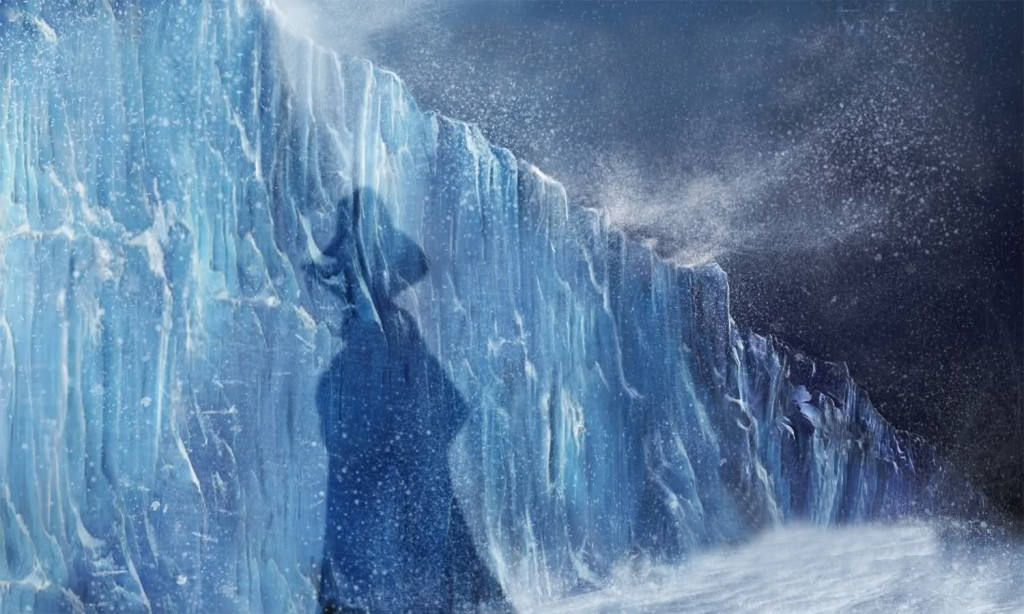 More of the Disney "Frozen".
Let's hope that that shadow does not belong to the following character.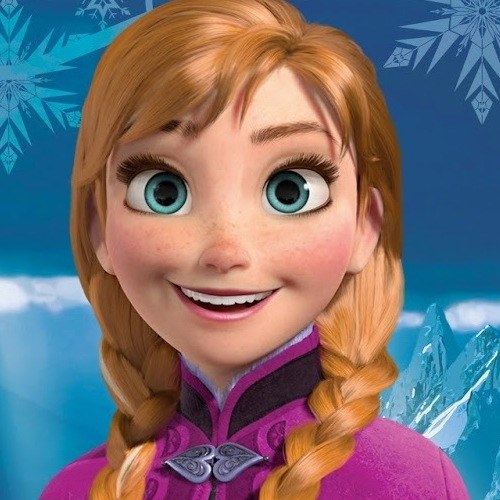 Trouble
It's like being trapped in a little doll shop that
both my sisters would have rejected.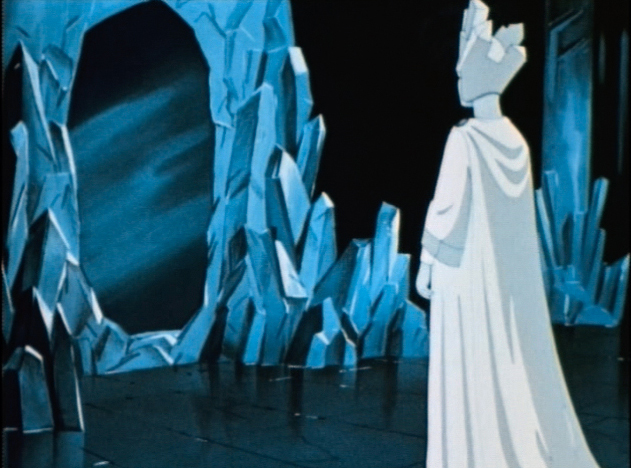 In comparison, how less pretentious and more beautiful in its
simplicity, was the Russian feature.
___________________________

His Line?
Speaking of Frozen, it's too bad that this clip isn't s much fun as I had expected. It's nice, though to see Disney in his natural state. Just thought I'd share.

___________________________

Draft Notes
Part of the treat of gathering the drafts from Hans Perk's site, A Film LA is that he leaves notes about what he's read on those animators' drafts. Here are some samples from just the Peter Pan and the Lady & the Tramp notes:During the posts of Peter Pan:
My MOST important reason for posting these is to give recognition to those many animators whose names are forgotten since the iconic status of the "Nine Old Men" has overshadowed them all. Mind you, I revere the Nine as the next man, but there were so many more great artists.
Today we find e.g Marvin Woodward who was with Disney since September 1930. Jack Campbell started in 1933 and did such memorable scenes as the ones with the Blue Fairy in Pinocchio. Don Lusk started just a year later – and more memorable scenes. As a matter of fact, except for Art Stevens, all animators mentioned above started at Disney in the mid 1930′s, excepting Fergie and Woodward, so they had between some 15 and 22 years of experience at this time, not counting their time before they got to Disney's studio.
And there were many more animators working on Peter Pan that should be recognized. Cliff Nordberg, Hal Ambro, Jerry Hathcock, Eric Cleworth, Hugh Fraser, etc. etc. It is to recognize the skills and talents of ALL the animators that I post these drafts.
On the drafts for Lady andthe Tramp, Hands commented:
As I wrote before: I find this film incredibly well drawn and very well animated – less occasional "fumbling" than on the previous couple of films. It is a step up from Peter Pan, and on it's way to the meticulousness of Sleeping Beauty. The inking is SEVERAL steps up! The inking of the ending of lines in Pan was at times erratic – here it is under FULL control! It is a beautifully drawn film, with beautiful layouts, backgrounds and inking. Also, it is a nicely told story with a few surprises (though after seeing it for the umpteenth time, I am not all that surprised anymore) and especially fun side characters, like Jock, the beaver, the pound dogs and the Siamese cats. And then Milts marvelous scenes – Frank's (Thomas) spaghetti with-a da meat-sa balls… This film is truly a classic.
___________________________

Last Laps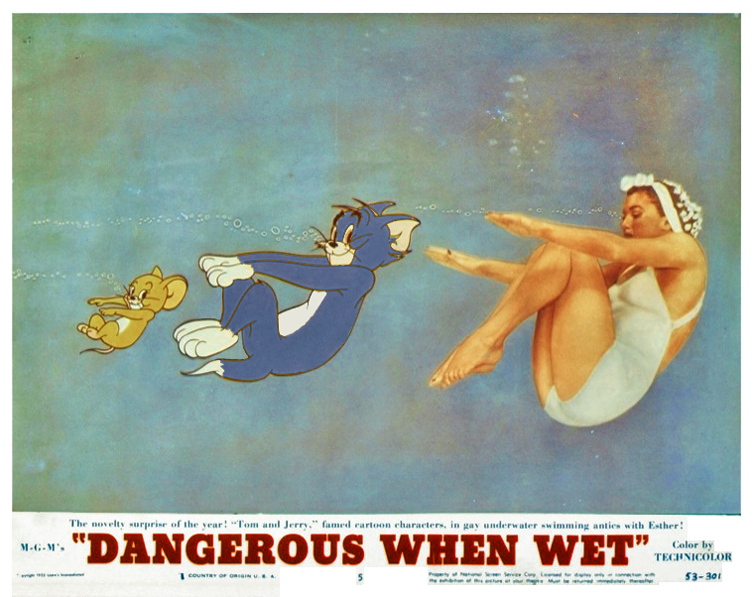 Actress, Esther Williams died this past Thursday at the age of 91. At the age of 17 she won the Olympic gold medal for swimming and this led to a good film career. Her swimming sequences in the films became Busby Berkeley-type numbers with dozens of swimmers surrounding her in large pools. Apparently, she burst her ear drums some nine times in the making of these sequences, over the course of her career.
She swam with the Hanna-Barbera characters, Tom and Jerry, in the film Dangerous When Wet. A very colorful sequence that isn't terribly wonderful in its animation, but it certainly suits the film. She started as a gymnast and ended as a bone fide movie star.

___________________________

creepy Eyes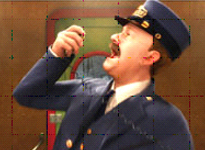 Tom Hanks was on David Letterman last night, and he came with his big moustache direct from his Broadway part in Lucky Guy.
Letterman cut in mid sentence during a conversation with Hanks to say, "Now I remember who you remind me of, with that moustache." Hanks was somewhat surprised but said, "Who?"
Letterman responded, ". . . that conductor from The Polar Express." Hanks asked, without a second's break, "Are my eyes creepy enough?"
Animation &Commentary 06 Jun 2013 06:24 am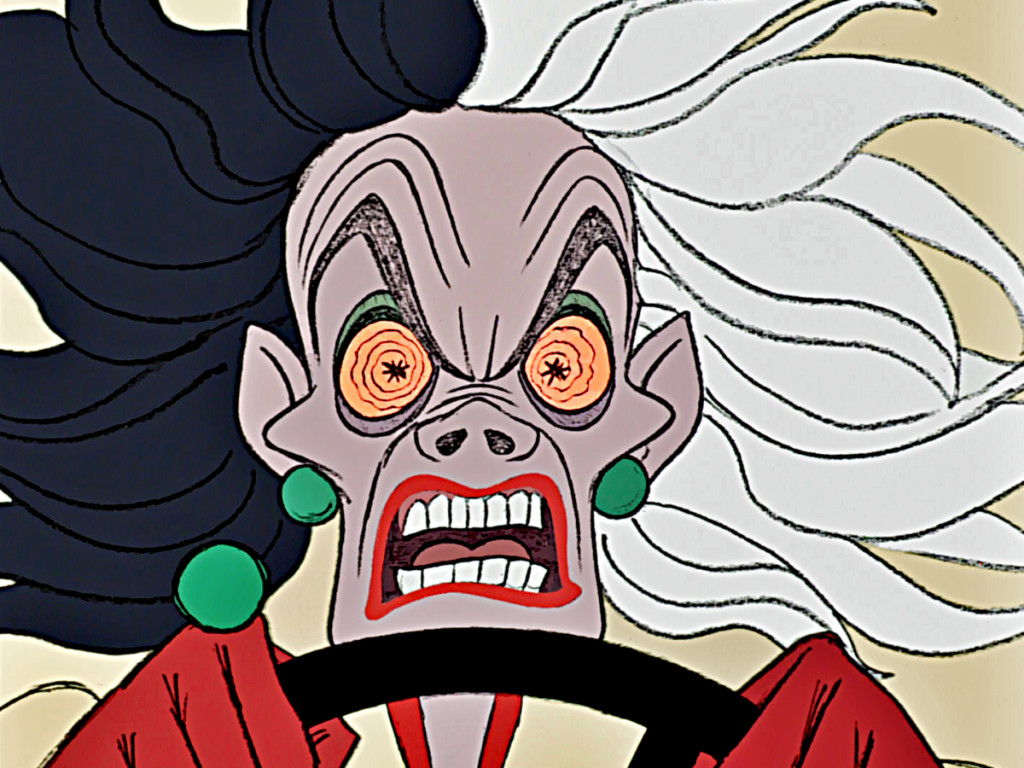 Andreas Deja has a recent post which begins with Cruella de Vil in bed, in curlers, reading the newspaper. She is annoyed by a phone call from Jasper, one of her henchman. Andreas reports her half of the conversation, "'Jasper!' she pauses in anger, then 'Jasper, you idiot!'"
Andreas, finishing up his comment on Marc Davis' beautiful animation, writes,"Everything is top notch here, her body composition, wonderful grotesque expressions – those cheekbones are priceless – and of course subtle, controlled animation.
Modern animation as good as it gets."
That last phrase really got me thinking, "Modern animation as good as it gets." How astute of him. It's something I'd thought about before, but here it's actually articulated by Mr. Deja, one of the most important of the 2D feature film animators. (To me, he's probably the finest of all current animators.)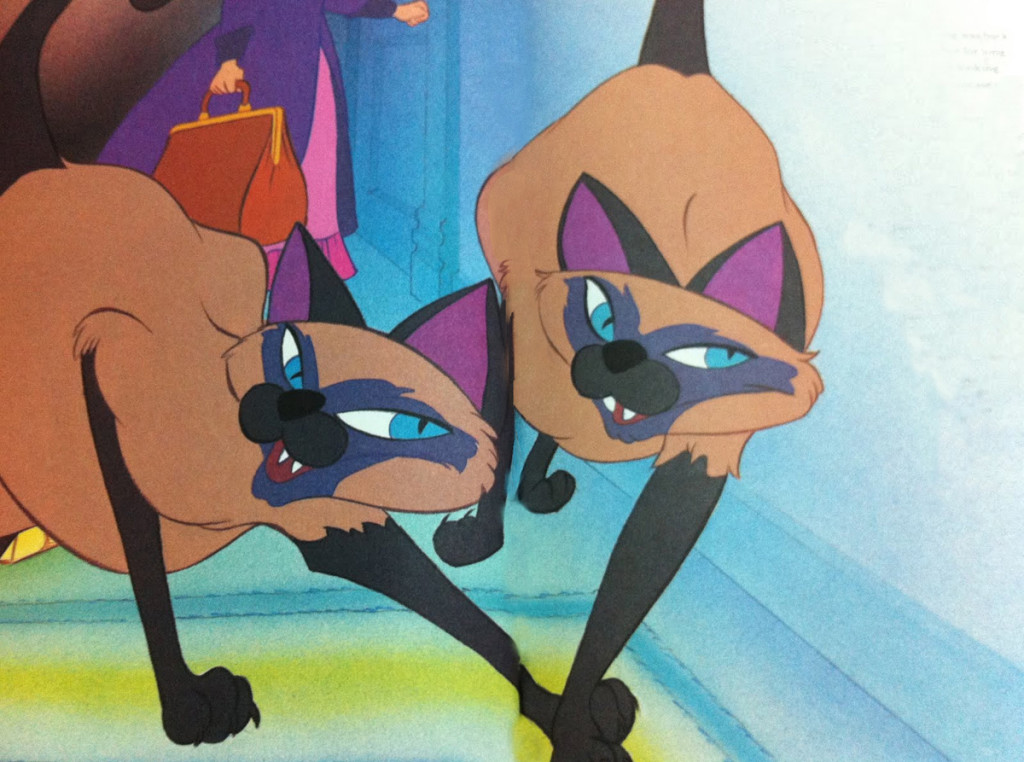 I'd placed the break in animation from Richard Williams onward. Dick had studied all the masters, imitated and reworked many of their best moves. He turned his thriving studio in the seventies and eighties into the pinnacle of the medium, teaching animation to many gifted artists and producing commercials, predominantly, had trained a small army to go out into the world and make good, strong theatrical style animation of the highest caliber. Rules were reworked and made to work to get the richest form of the medium.
Animation was reborn in the style of Richard Williams and his influences such as Art Babbitt, Ken Harris. and Milt Kahl.
Hans Perk on his blog, A Film LA, publishes the drafts of the animators working on the Disney features allowing us to know who did what scenes. These are usually very informative. Hans recently completed posting the drafts to Lady and the Tramp. In among these drafts, Hans made this comment:
Again, very serviceable animators, no masterpieces…
I like the CinemaScope note for sc. 28: "Lady will have to be alive throughout scene."
Then if you notice other scenes on this page there are some that dictate "held cels" of other characters to the left or right of screen. They were certainly trying to control the animation for the wide, Cinemascope screen. See if you can find a note like that on any feature done today. See if you can find ANYTHING held on any feature done today.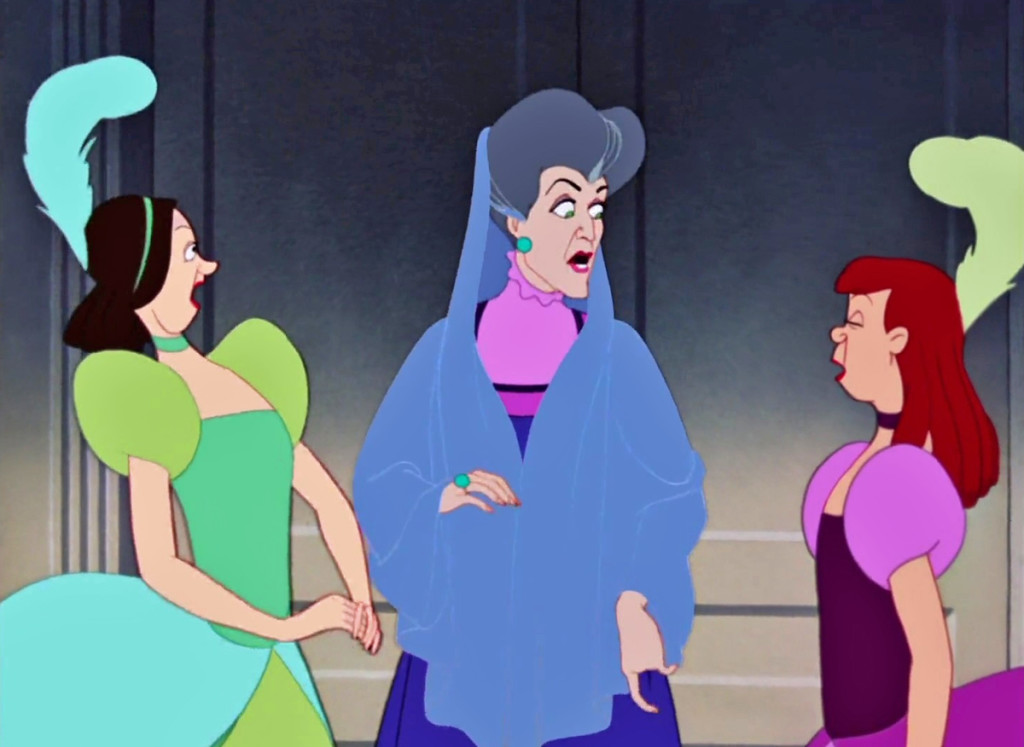 Of course, I'm talking principally of 2D animation – Disney (or Dreamworks) 2D features.
Andreas is writing about animation features done from Cinderella forward. I believe he's considering the changes that the live action reference work to make Cinderella, Alice and Peter Pan led to Sleeping Beauty and later films. 101 Dalmatians was the big change with the human animation, led by Milt Kahl, Marc Davis, and to a great extent Frank Thomas.
This was the big change. This was the model followed by animators that came after the "Nine old men." With a couple of films, such as Beauty and the Beast and Aladdin, a cartooning style entered the work and stayed there. The genie in Aladdin almost turns that film into a reworked Warner Bros cartoon. But a couple of the animators: Andreas Deja, Glen Keane, Mark Henn, Duncan Marjoribanks, Ruben Aquino and several other prominent among this generation went directly to the Milt Kahl model. Interestingly, this is also Dick Williams' model.
Of course, Milt Kahl is perfect to place at the center as an ideal.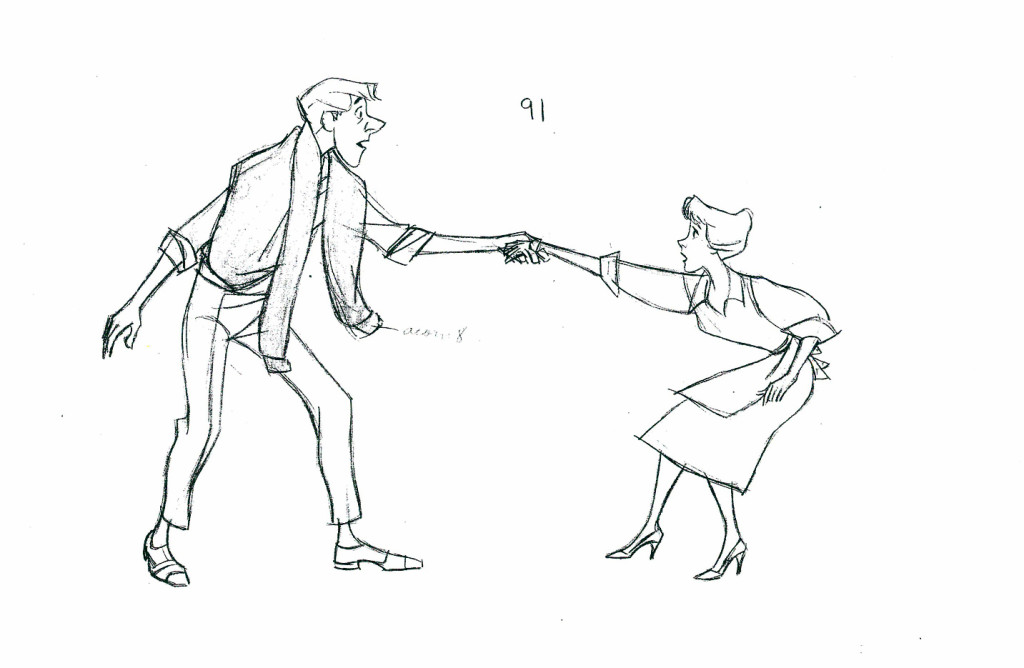 Just as Snow White and Pinocchio were a step up from the Silly Symphonies, so too, 101 Dalmatians and Sword In The Stone were a step up from Cinderella and Peter Pan. Tarzan, The Lion King, and The Prince of Egypt were remarkable changes from The Little Mermaid, Beauty and the Beast, and Aladdin.
Given the work on Lilo and Stitch, Mulan, Spirit and several of the later features, it seems like a major change – a new growth period was due. Yet it was cut short by the financial success of some of the cgi features. 2D animation stopped.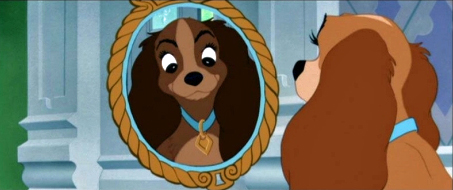 Modern animation was stilled for the moment.
Books &Commentary 13 May 2013 05:36 am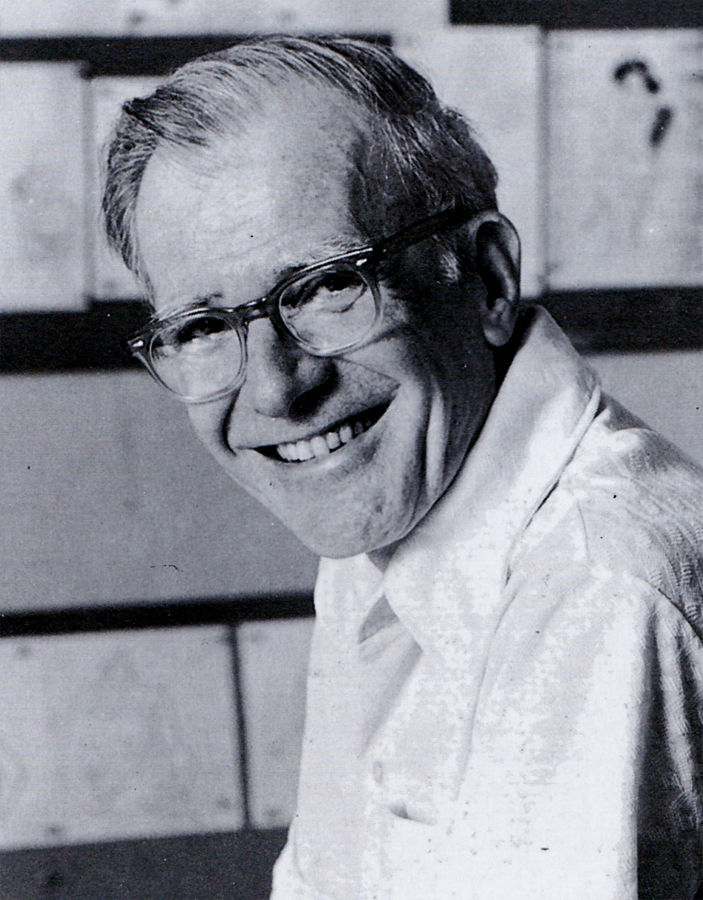 - The Illusion of Life by Frank Thomas and Ollie Johnston was first published in 1981. The book came out with a large splash and overwhelming acceptance by the animation community. It's since remained the one bible that animation wannabees turn to as a source of inspiration and an attempt to learn about that business.
I admitted a couple of weeks back that though I must have been one of the very first to have bought the book, I'd never actually read it. I spent hours poring over the many pictures and the extensive captions, but the actual book – I didn't read it. I can't say why, but this was my reality.
Then not too long ago, Mike Barrier wrote that he was not a supporter of the book and its theories, I wondered about that writing and decided to reconsider reading it. I knew I had to go back to find out what I'd stupidly ignored, so I started reading.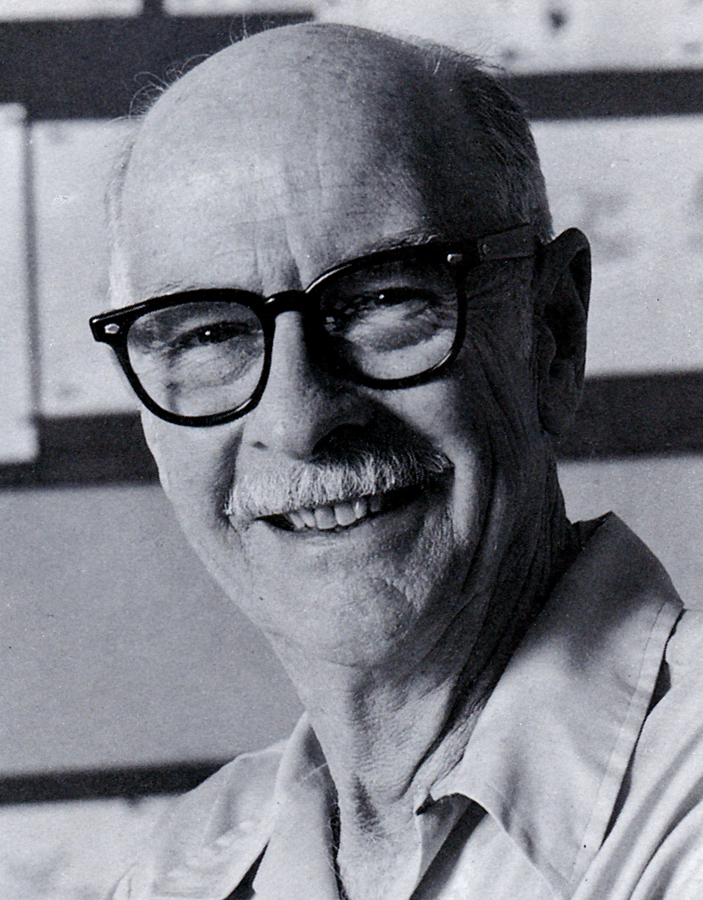 The book starts out with a lot of history of animation, something routine and expected from the two animators that lived through a good part of the story. As a matter of fact Thomas and Johnston were at the center of the history. It didn't take long for the animation "how-to" to kick in. For the remainder of the book, using that history, the two master animators explained how and why Disney animation was done, in their opinions. They write about processes and systems set up at Disney during their tenure there. They write about theories and methods of fulfilling those theories. There's a lot for them to tell and they've succinctly organized it into this book, as a sort of guide.
However, at two points they go wildly into a divergent path from the one that they started building. Their methods altered and, to me, seemed to be about the finances of doing the type of animation they did, rather than the reason. Impractical as those original theories were, I'd believed in the myth all those years to start changing now. So I want to review these two stances instead of outwardly reviewing the book. Besides it's too long since the book has stood in its own royal space for me to pretend that I could properly review it.
The growth of animators at the Disney studio relied on a system wherein each of the better animators was assigned one character. Unless there was a minimal action by some external character, the one animator ruled over the character.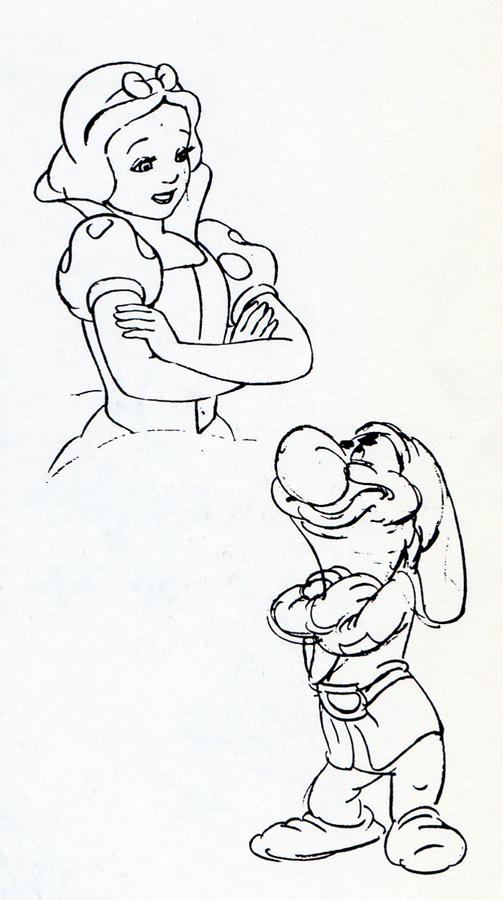 - Bill Tytla did Stromboli in Pinocchio. He did principal scenes of Dumbo in that film. He handled the Devil in Fantasia (as well as all his twisted mignons within those scenes.) Tytla worked on the seven dwarfs but was the principal animator of Grumpy.
- Fred Moore also did the dwarfs in Snow White but seemed to focus on Dopey. He did Lampwick in Pinocchio and Mickey in The Sorcerer's Apprentice.
- Marc Davis started as an assistant under Grim Natwick on Snow White. He became the Principal artist behind Bambi, the young deer. He did Alice in Alice in Wonderland, Tinkerbell in Peter Pan, Maleficent in Sleeping Beauty and Cruella de Ville in 101 Dalmatians.
- Frank Thomas did Captain Hook in Peter Pan, the wicked Stepmother in Cinderella, Bambi and Thumper on the ice in Bambi.
- Ham Luske and Grim Natwick did Snow White. The two sides of her personality came about because of conflicts between the two animators. This was a way for Walt to complicate Snow White's character; he employed two animators with different strong opinions about her movement. By putting Ham Luske in charge, he was sure to keep the virginal side of Snow White at the top, but by having Natwick create the darker sides of the character, Disney created something complex.
Many animators fell under these leaders' supervision and tutelage, also working on one principal character in each film. This system was something they swore by and broadcast as their way of working at the studio. It would allow the individual characters to maintain their personalities as one animator led the way.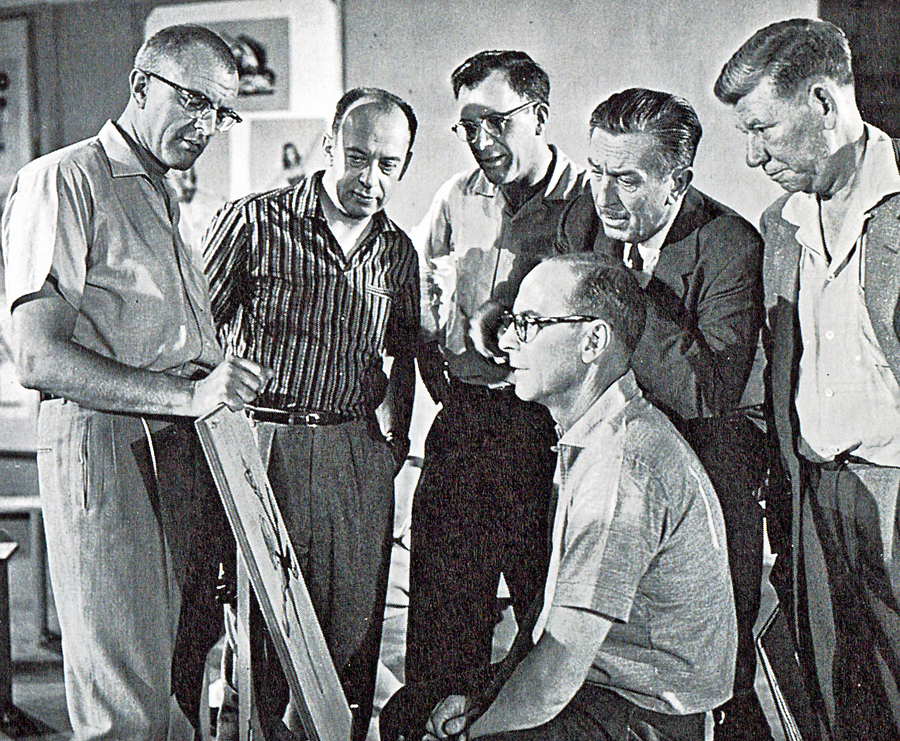 But as Walt grew more involved with his theme park and his television show and the live action movies that were doing well for the studio, things changed at the animation wing of the studio. It became clear, with the over budgeted spending on Sleeping Beauty and the new demands for a different look once xerography entered the picture in 1959. The rhythm and personality of the productions changed, and their methods of animation changed. Walt also sorted out nine loyalists to be his "Nine Old Men" thus dividing the animators into groups, a hurtful way of setting up competition among the animators. ________________________Kahl, Davis, Thomas, Walt, Jackson, Johnston seated
Thomas and Johnston get to justify this
in their book.
Let me read a section from the book to you:
"Under this leadership, a new and very significant method of casting the animators evolved: an animator was to animate all the characters in his scene. In the first features, a different animator had handled each character. Under that system even with everyone cooperating, the possibilities of getting maximum entertainment out of a scene were remote at best. The first man to animate on the scene usually had the lead character, and the second animator often had to animate to something he could not feel or quite understand. Of necessity, the director was the arbitrator, but certain of the decisions and compromises were sure to make the job more difficult for at least one of the animators.

"The new casting overcame many problems and, more important, produced a major advancement in cartoon entertainment: the character relationship. With one man now animating ever character in his scene, he could feel all the vibrations and subtle nuances between his characters. No longer restricted by what someone else did, he was free to try out his own ideas of how his characters felt about each other. Animators became more observant of human behavior and built on relationships they saw around them every day."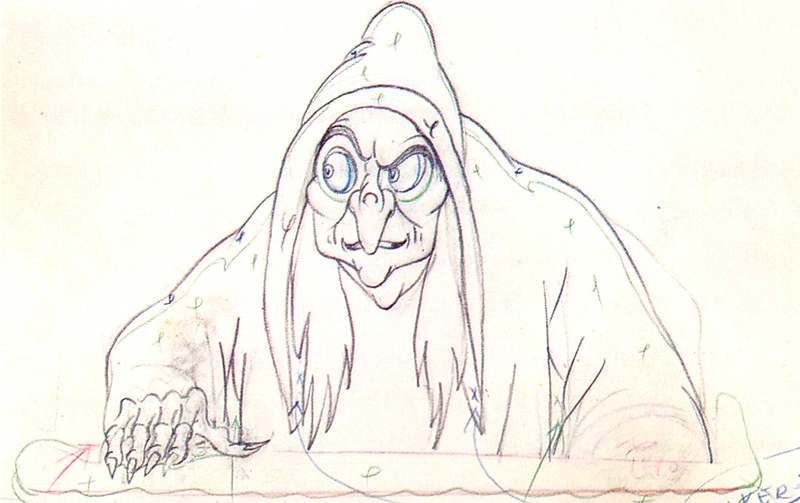 The question is, now, what are we to make of this statement? Do Thomas & Johnston mean for us to believe that they do more than the single character per film? Does it mean that, like all underprivileged animators everywhere, they now receive scenes rather than characters? Are they trying to tell us that the old, publicized method of animation they did during the "Golden Days" no longer exists?
To be honest I don't know. Also when are they talking about? At the start of the Xerox era? In the days since Woolie Reitherman has been directing? Do they mean ever since they've retired and started writing this book?
Let's go back a bit.
- In 101 Dalmatians, Marc Davis did Cruella de Vil. That's it. That's all he was known for in that film. Oh wait, there were a couple of scenes where he did the "Bad'uns," Cruella's two sidekicks. He did these ging into or out of a sequence. In Sleeping Beauty (if we're going back that far) Davis did Maleficent. Oh, he also did her raven sidekick.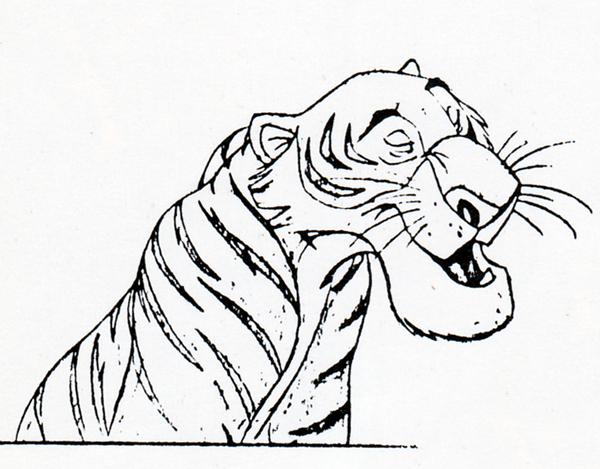 - Milt Kahl did Prince Philip in Sleeping Beauty – and every once in a while his father. He did key Roger and Perdita scenes in 101 Dalmatians. He did Shere Khan in The Jungle Book.
Kahl also seems to be the go-to-guy when they're looking to have the character defined. The closest thing to Joe Grant's model department in the late Thirties. If you weren't sure how Penny might look in a particular scene, you might go to Kahl who'd draw a couple of pictures for you. But that was Ollie Johnston's character. You'd probably go to him first, but Johnston would go to Kahl if he needed help.
Kahl also did Robin and some of Maid Marian in Robin Hood. I could keep going on, but let's take a different direction.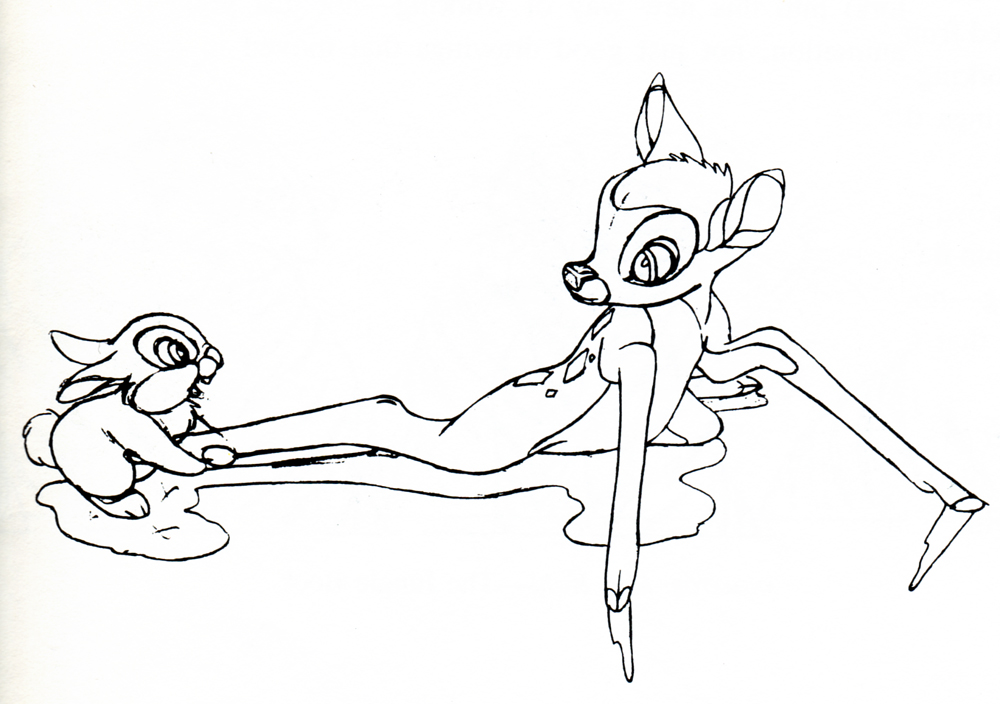 Look at one of Thomas' greatest sequences, the squirrels in the tree. Starting with Seq.006 Sc.23 and almost completely through and ending with Seq.06 Sc.136 Frank Thomas did the animation. That's a lot of footage. Yes, that represents four characters: Merlin and Wart as squirrels, as well as the older and younger female squirrels. He did the whole thing (and it's one of the most beautifully animated sequences ever.)
But when he was done with that and needed work, he didn't stop on this film; he also did a bunch of scenes in the "Wizard's Duel" between Merlin and Mad Madame Mim. Another big chunk.
Hans Perk has done a brilliant service for all animation enthusiasts out there. On his blog, A Film LA, he's posted many of the animator drafts of feature films. You can find out who animated what scenes from any of the features.
However as Hans posts the batches of sequences, he gives little notes about what we'll find when we open the drafts. In my view, Hans' notes are also a treasure.
You can read remarks such as, "Masterful character animation by Milt Kahl and Frank Thomas, action by John Sibley and a scene by Cliff Nordberg." That seems to tell us everything.
In Sleeping Beauty we can read, "This sequence shows, like no other, the division between Acting and Action specialized animators. Or at least it shows how animators are cast that way. We find six of the "Nine Old Men", and such long-time Disney staples as Youngquist, Lusk and Nordberg, each of them deserving an article like the great one on Sibley by Pete Docter."
Or in The Rescuers we read, "Probably the most screened sequence of this movie, the sequence where Penny is down in the cave was sequence-directed by frank and Ollie. They would plan their part of this sequence in rough layout thumbnails, then continue by posing all scenes roughly as can be seen in this previous posting.
"They relished telling the story that Woolie told them the animatic/Leica-reel/work-reel was JUST the right length, and when they posed out the sequence and showed it to Woolie, he said: "See? Just as I said: just the right length!" They kept to themselves that the sequence had grown to twice the length!"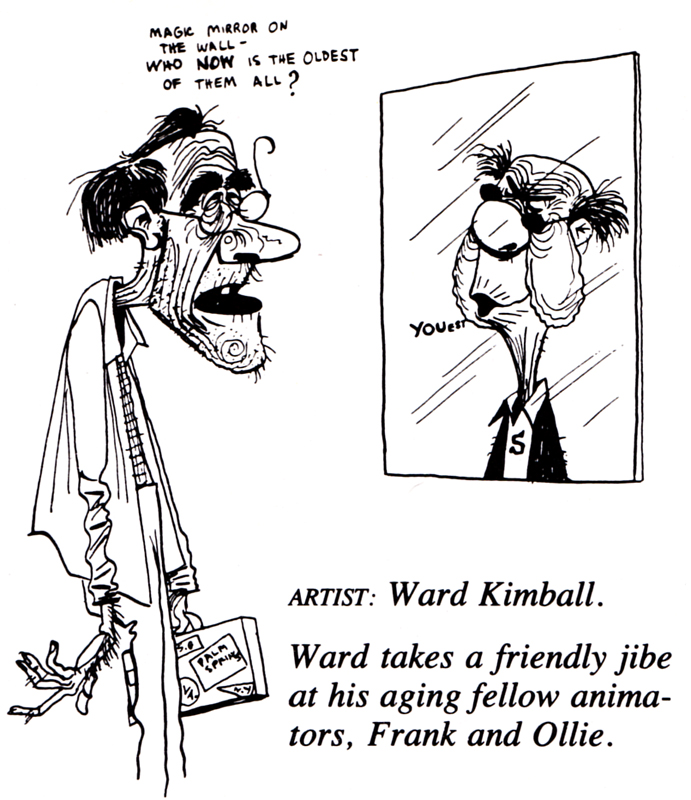 The work, right to the retiring of all of the "Nine Old Men," would seem to me to prove that these guys, regardless of whether they added one or two other characters to the scenes, did, in fact, take charge of the one starring character.
This continues past the retirement of all the oldsters: Glen Keane animated the "beast" in Beauty and the Beast. He animated Tarzan in Tarzan, Aladdin in Aladdin, Ariel in The Little Mermaid, and Pocahontas in Pocahontas. Andreas Deja animated Jafar, the Grand Vizier in Aladdin, Scar in The Lion King, Lilo in Lilo and Stitch, and Gaston in Beauty and the Beast. Mark Henn animated Belle in Beauty and the Beast (from the Florida studio), Jasmine in Aladdin, young Smiba in The Lion King, and Mulan and her father in Mulan.
Need I go on? What are Frank Thomas and Ollie Johnston talking about in their book? I'm confused.
I have a lot left to say about this book, much of it good, but next time I want to write about something else that confuses me with another somewhat contradictory statement in the book.
This has gotten a bit long, and I have to cut it here.
John Canemaker &Layout & Design &Models &Photos &Rowland B. Wilson 05 May 2013 05:55 am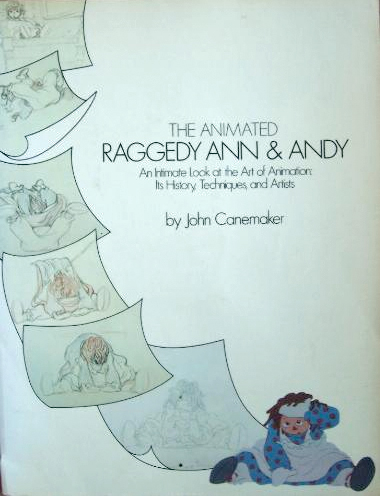 - Last week, I posted a stash of photos taken by John Canemaker for the book he wrote called, "The Animated Raggedy Ann and Andy."
John Canemaker took all the photos, himself, which led to a more intimate look at an animated film. There were no photo decisions by committee; it was decided to use a photo if it told the story John was trying to relay. For that reason, the book really is one of the best "Art of . . ." type books on the market. (I'm not just saying that because there were photos of me in there – though that would be a good reason, too.)
The book was as exciting – in the making – as was the film. Too bad at the last minute the train of a film ran wildly off the tracks. In a way, I wish the book were written after the film was completed so that we could read the true story of what happened in those last six months of chaos.
The decision was slow in growing and fast when it finally fell, that the movie was enormously over budget. I was in on all the morning production meetings where managers and supervisors and directors would all meet. Those had started off nicely, at the beginning of the film, and went insanely wrong before long. There was the time when I was ordered to fire – that day – two inbetweeners. I was told that we had to give the staff a lesson that they had to work harder. (That might have been hard to do since everyone was giving it their all.) It so happened that one new inbetweener, on her first scene, ignored my instructions (and her immediate supervisor's) by erasing all of Jack Schnerk's drawings. She felt she could animate the scene better, and she set out to prove that.
One down. The second person to fire was someone I was told (by Dick Williams, himself,) that I had to fire. It was obvious that there was a personality conflict since the guy was a great artist and definitely someone who should have stayed on. I was able to arrange for him to be switched to the BG department, thus fired by me from doing inbetweens and hired by them, in the same day, to do watercolors. He continues on, even today, working at a top position in design at Blue Sky. I don't know about the woman, but I hope she gained a little humility that day 30-something years ago. That story didn't make it into the book.
What there was in the production was a great first year of production where the art of animation was treated in its highest form. We were all out to make the greatest film of all time and bring it to the big screen. We had some of animation's finest animators gathered to work on it. Assistants and Inbetweeners in New York were offered classes, after hours, which tried to teach animation to the new. With teachers like Tissa David and Art Babbitt and more experienced Assistants; a lot was conveyed. I was usually too busy to make it to many of these classes, but I always kept a close eye on what was taught. It really was fun and incredibly valuable to many of us.
At some point along the way, the LA studio was closed and key people from there came here. All of our space was overcrowded and uncomfortable. The Xeroxing in NY, a sweet grey line that took a while to construct, was replaced by a thick back line, when management sent work to Hanna-Barbera to outsource the xerography and some of the painting. Shadows were eliminated. Color copiers were rented. Scenes that had been animated in a non-photo blue pencil on 16 fld paper were being copied and reduced, at the same time, in B&W so that they could use 12 fld cels to color the art. A penny saved is a penny gained; I guess. This meant that a number of my inbetweeners were used to put 4 sets of crosses on the animation drawings so that there'd be some form of registration on the reduced artwork. Certainly the registration went all to hell in the process, thus allowing the latter half of the film to have a lot of slippage on the big screen. Lots of weaving animation in scenes that were rushed.
Emery Hawkins' amazing taffy pit took a big hit when it was animated more like a limited animation movie. All that beautiful rolling motion Emery had created on the cinemascope screen suddenly hits the wall and stasis sets in. The film was never going to be a classic of he silver screen, but it should have been a hell of a lot better.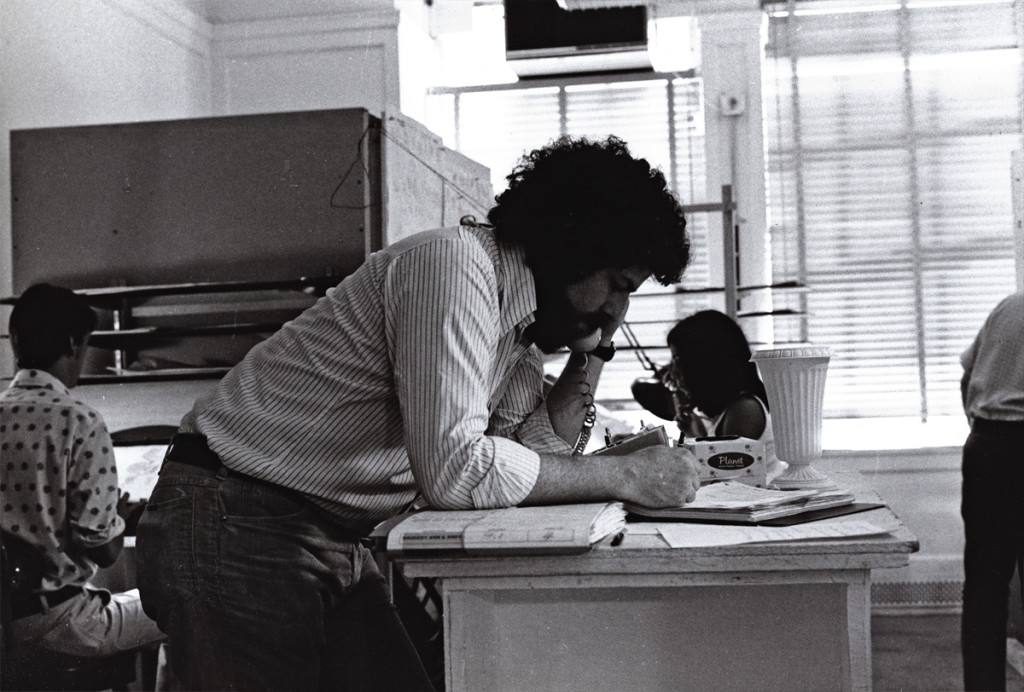 1
Here I am doing what I did most of the day.
I talked on the phone. Ennervating stuff.
A young Kevin Petrilak is in the rear left. He was an inbetweener
in the Taffy Pit. Dan Haskett ran that group of people.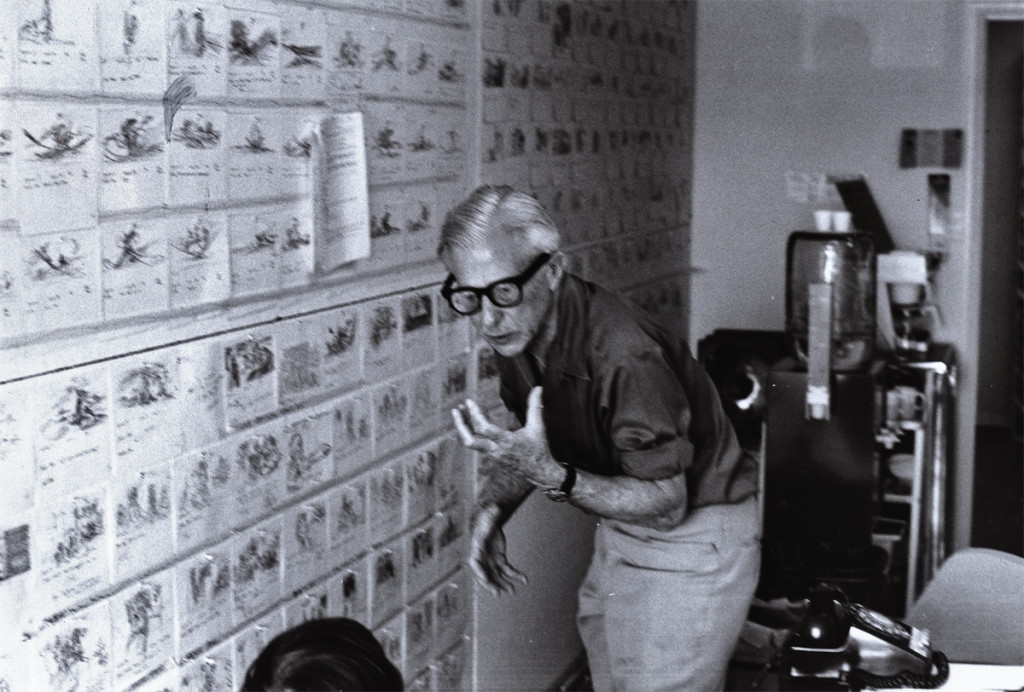 2
Here's Art Babbitt teaching. He loved doing that. Dick tried to
recreate the classes he'd had in London a couple of years earlier. We – all New York -
sure appreciated the two weeks of lessons. I have Dick's notes from these sessions.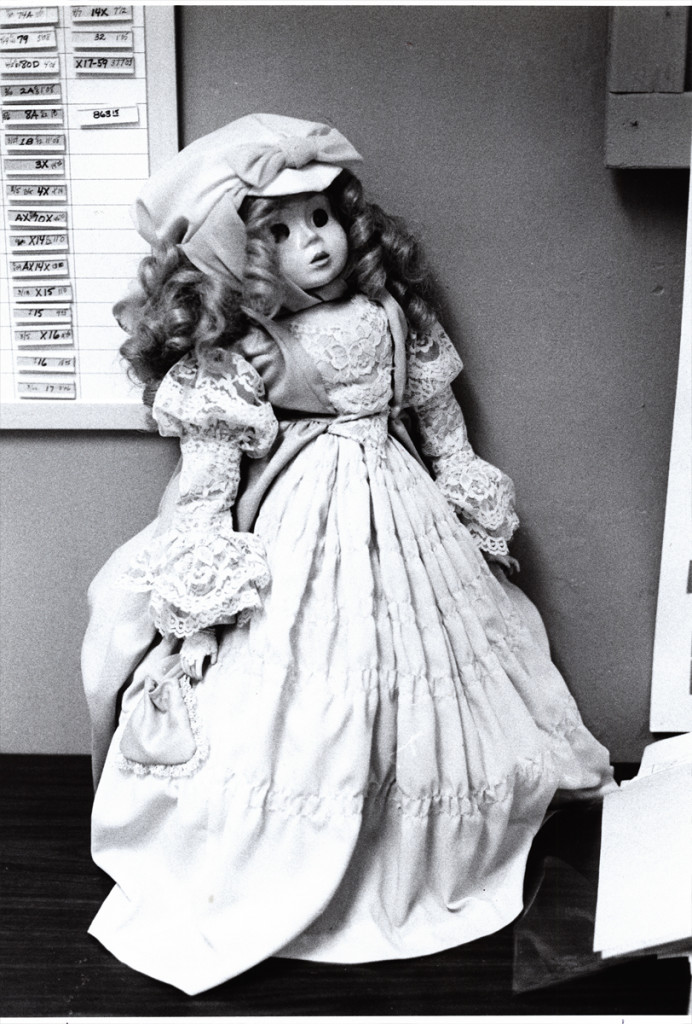 3
This is a beautiful doll. Babette. She was at the film's center.
The Pirate kidnaps her and takes her to sea. Raggedy Ann & Andy
take off in pursuit of her to bring her back to the playroom.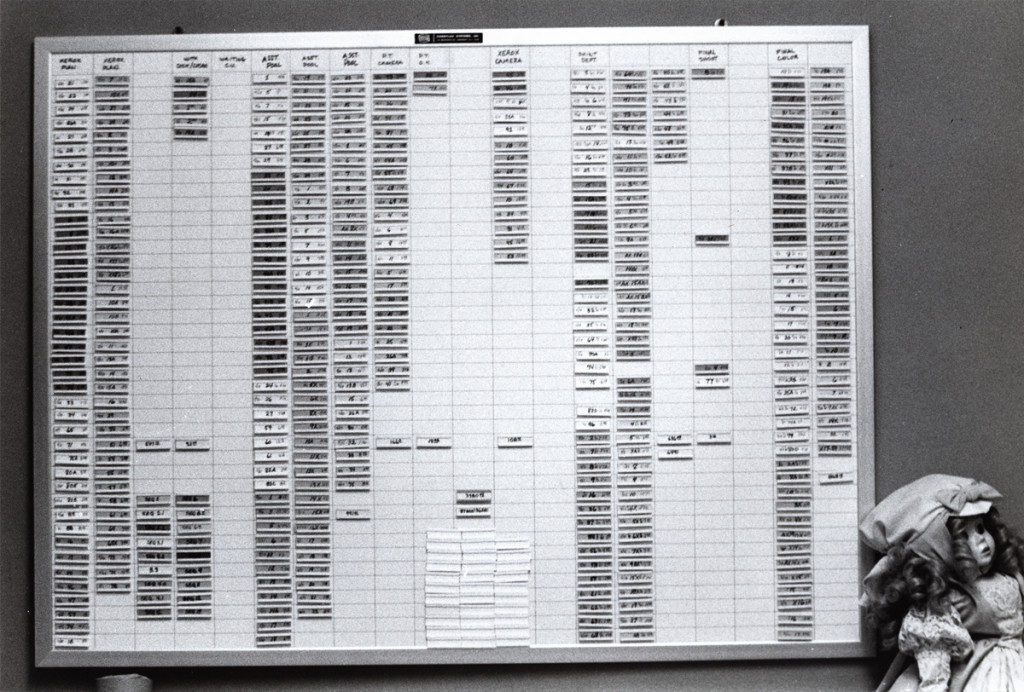 4
This is a wall of stats. It represents footage counts produced in
every department working on the film. This hung in Mike Sisson's office.
He was the production manager who tried to usurp the entire production.
A couple of weeks before everything changed, managerially, on Raggedy, Sissons
approached Cosmo Anzilotti and me at lunch. He saw us at the restaurant and came
over to us. He wanted to lead a take over cutting Dick out of the film and
putting Cosmo in to finish directing the film. I'd be made Cosmo's assistant.
I had no intentions of being another Iago, and said as much.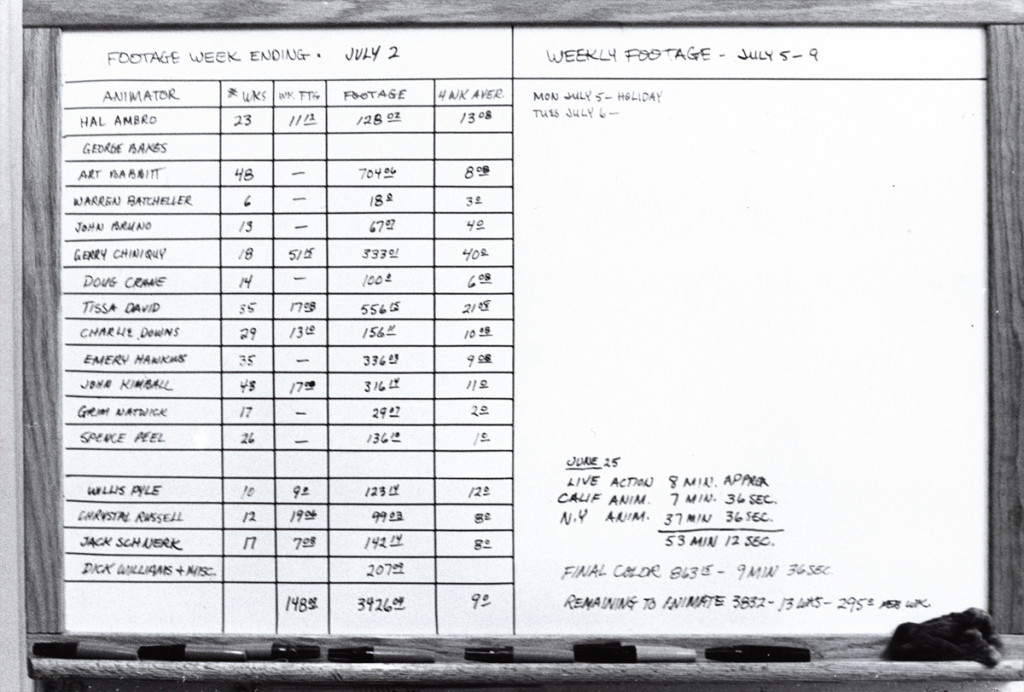 5
This chart covered the animators footage counts. A running record.
I told Cosmo that Dick had brought me onto the film, and I'd do anything for
him. If it meant leading a large group to quit the show, I'd do that. Cosmo
seemed relieved. He wanted to do the same and we both told Sissons how we
felt. He greeted our news with an ass' smile and thanked us. We were no
longer on the winners' side, and I watched closely to know when to exit.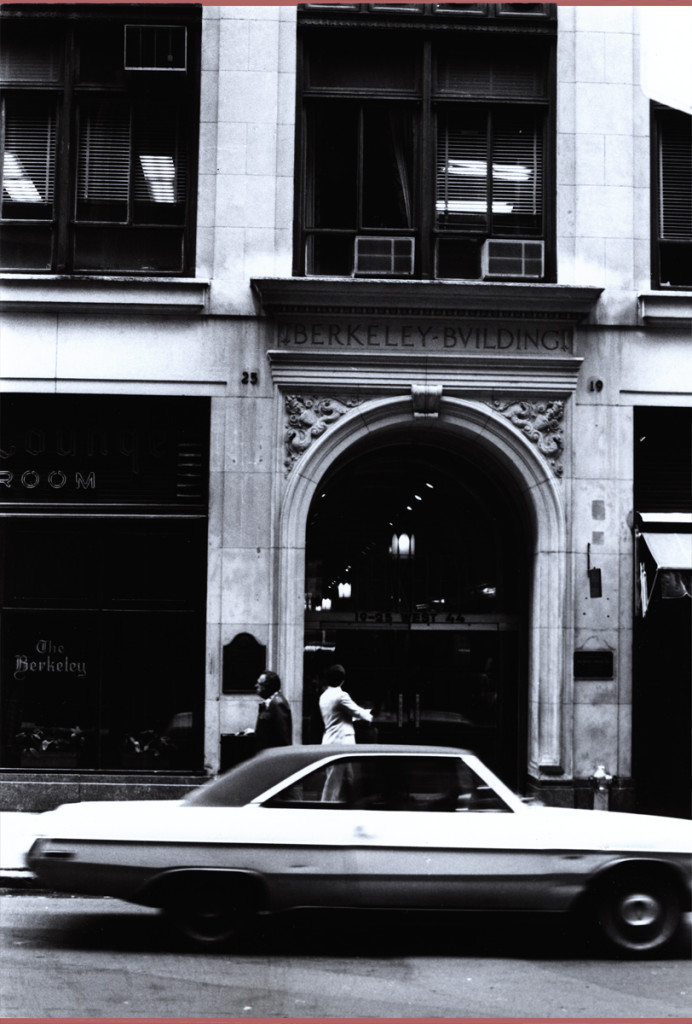 6
This was where the NY headquarters were planted. In the middle of 45th Street.
Most studios in the forties and fifties had places on 45th Street. Paramount,
Hal Seeger's studio, lots of other smaller studios such as Pablo Ferro or Ray Seti's.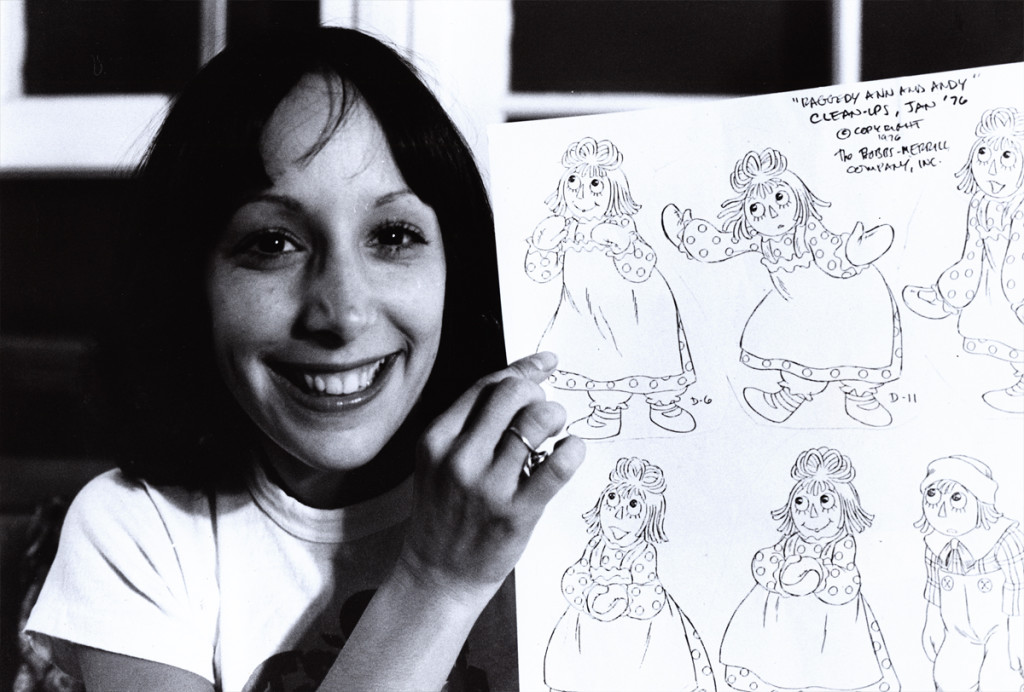 7
Didi Conn was the actress who voice Raggedy Ann. When the VOs were coming
to an end, Didi worked late and her mother was with her. They needed help
getting home (Long Island.) The mother was afraid to drive. I volunteered
and drove them home. I took the Long Island Rail Road back to the City.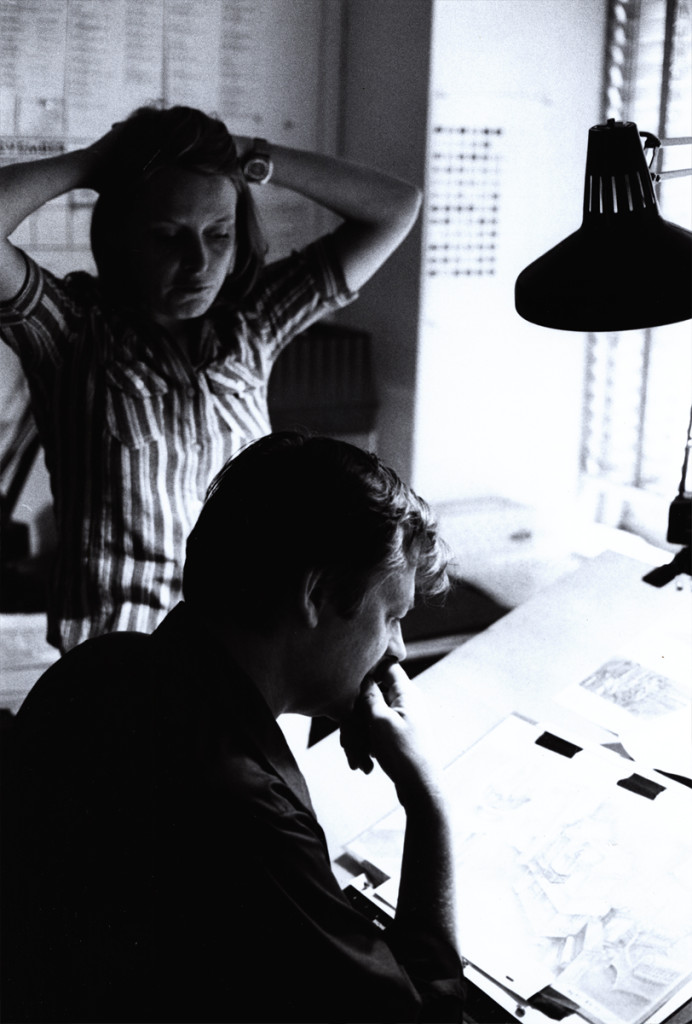 8
This is Sue Butterworth with Dick Williams. She was the watercolorist who
led the BG department and designed the wc style of the film. I thought her
work a bit inconsistent and often lacked the dynamic look good BGs require.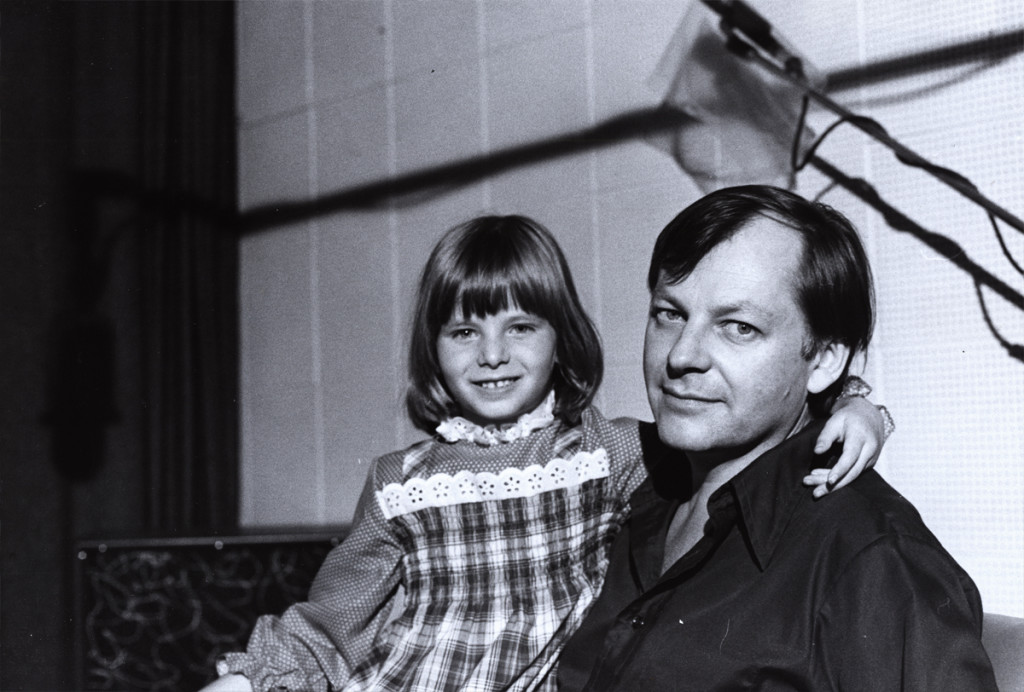 9
Here's a picture of Dick Williams with his daughter,Claire.
Claire played the part of Marcella, the little girl at the film's start.
They shot the live action in Boonton, NJ during the first days of the
production. All those hours they were out filming, I watched the shop.
Alone in an enormous darkened most of the time in the enormous office,
I could only spend time reading and rereading the script and sketching
my idea of some of the characters.Infrequently, the financial manager
of Lester Osterman Prods., the production company, would pass through.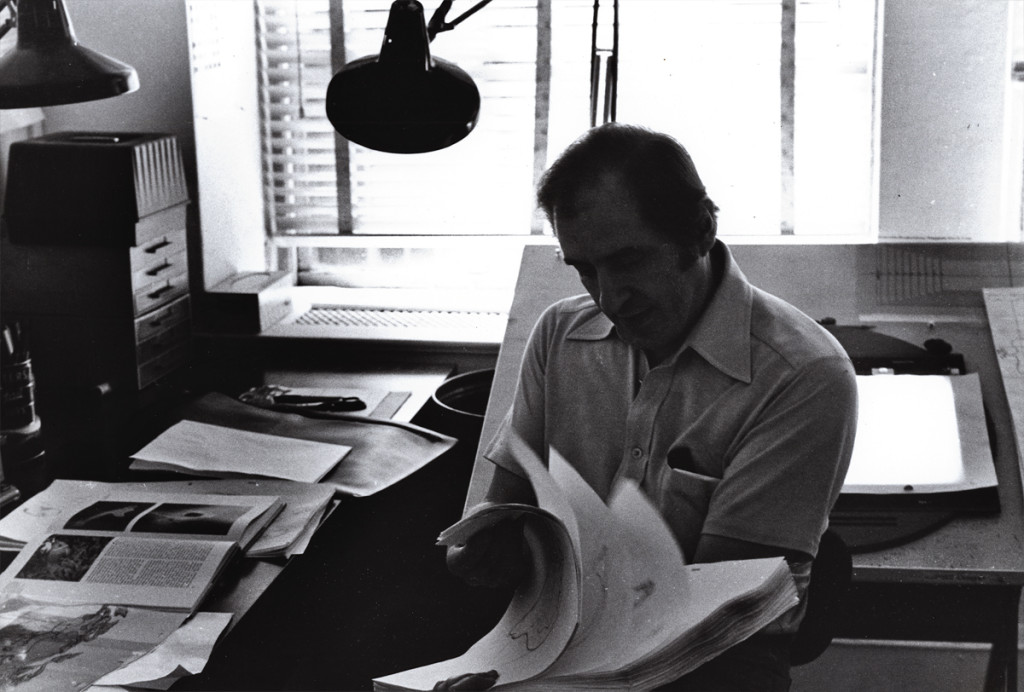 10
George Bakes was a fiercely independent animator who worked a short
while on the film. He must have started at Disney on Sleeping Beauty. He'd often
show a lot of Milt Kahl drawings he'd had from that film.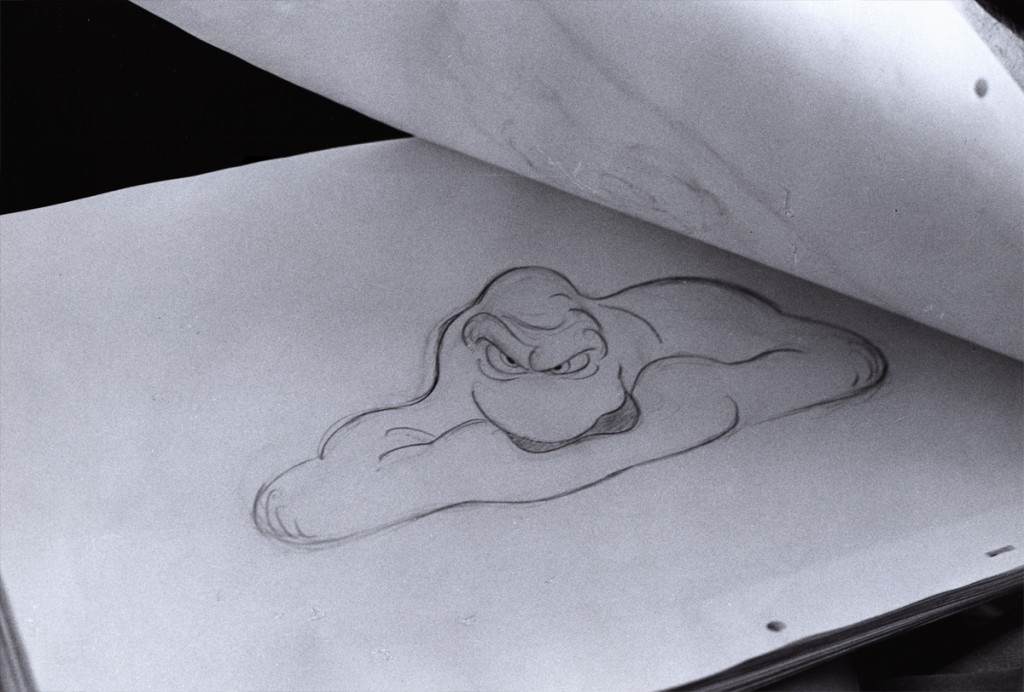 11
Baskes animated many of the cereal commercials of the day -
Trix, Honey Bee, Sugar Crisp bear, etc. For Raggedy he did the "gazooks."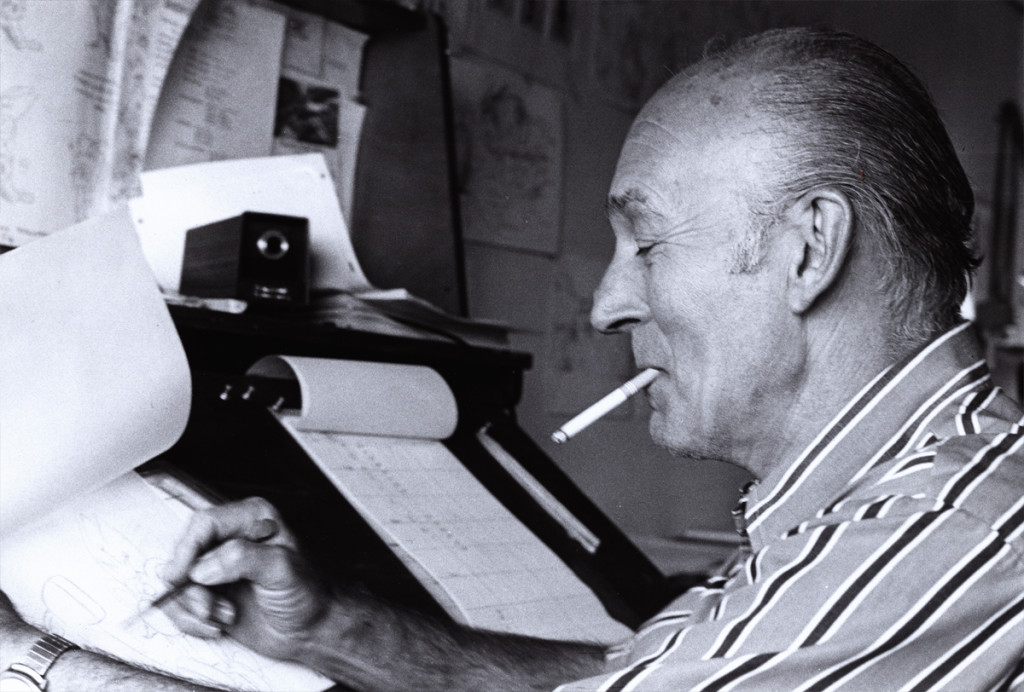 12
Gerry Chniquy was a brilliant animator straight out of WB.
He'd done a lot of Yosemite Sam animation for Friz Freleng.
It wasn't far to go to cast him as the blowhard of a King, King Coo Coo.
Marty Brill voiced the character. Gerry Chiniquy,of course, did a fine job,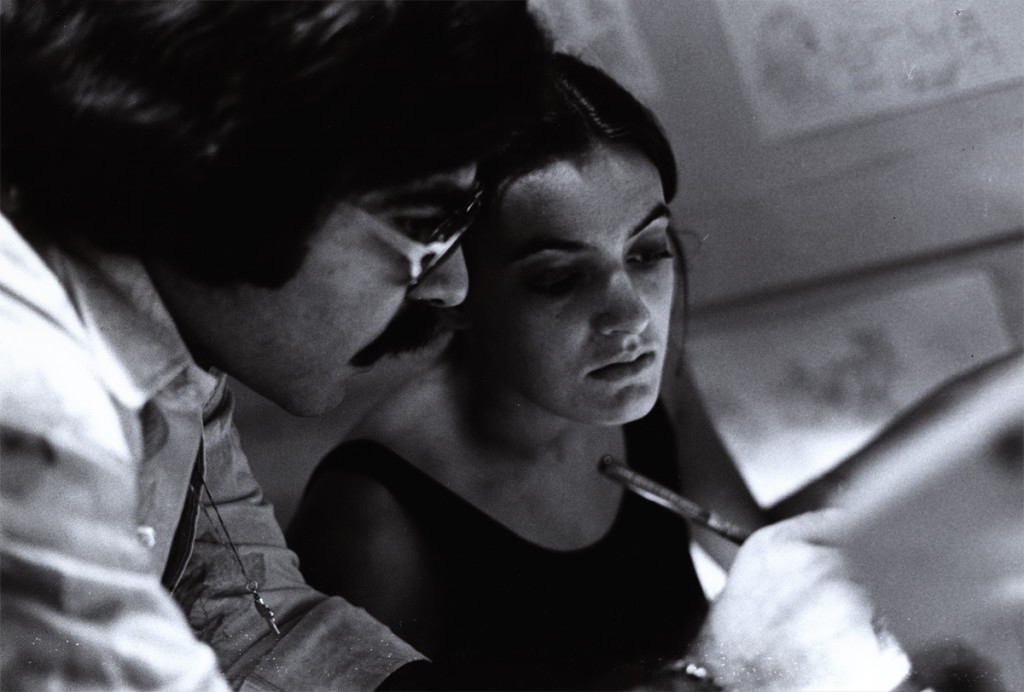 13
John Celestri had a style all his own although he idolized Bill Tytla.
Not a bad person to pick for a role model. John was an Assistant on
the film. Here he's working with inbetweener, Amanda Wilson. Amanda was
the daughter of the great cartoonist and animation designer, Rowland Wilson.
The last of these photos will come next week. Many thanks to John Canemaker for the loan of the images. Any opinions tossed about here, are all mine and John is not to blame for them.
Animation &repeated posts &Story & Storyboards 30 Apr 2013 06:38 am
My apologies, I should have included this page among those from the Sleeping Beauty battle which I'd posted yesterday. This concludes the dragon fight.
- This is the final photo/page of the Ken Anderson board for Sleeping Beauty. John Canemaker loaned me the series (which I'd posted in June of 2006) that includes Sequences 18 & 19 of the film. They're the climax of the film – Prince Phillip's battle with the thorns and the dragon, ultimately killing off Maleficent.
This is the whole photo as is: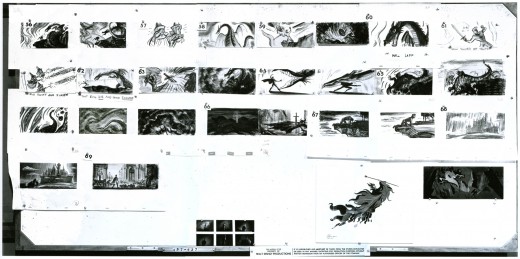 (Click any image to enlarge.
Here, I've broken the photo into rows cutting the rows in half. This way I can post them as large as possible for viewing.

1a

1b

2a

2b

3a

3b

4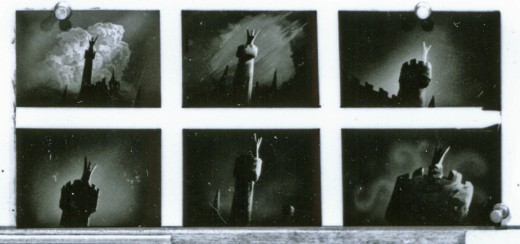 These last are tiny thumbnails at the base of the photo.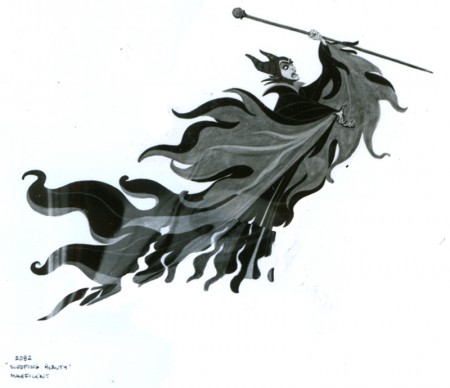 These two basic setups are also pinned to the board.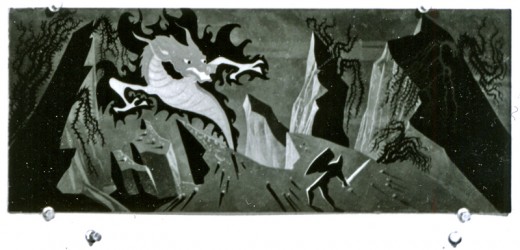 Here are the pages of the animator's draft to inform you as to who animated the scenes of sequence 19: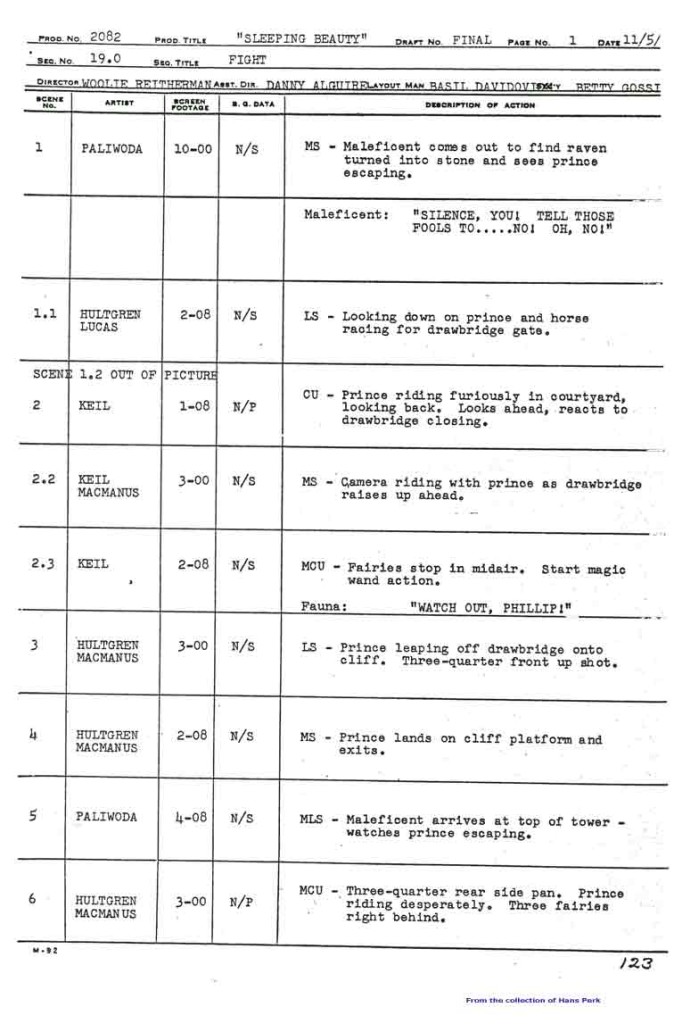 1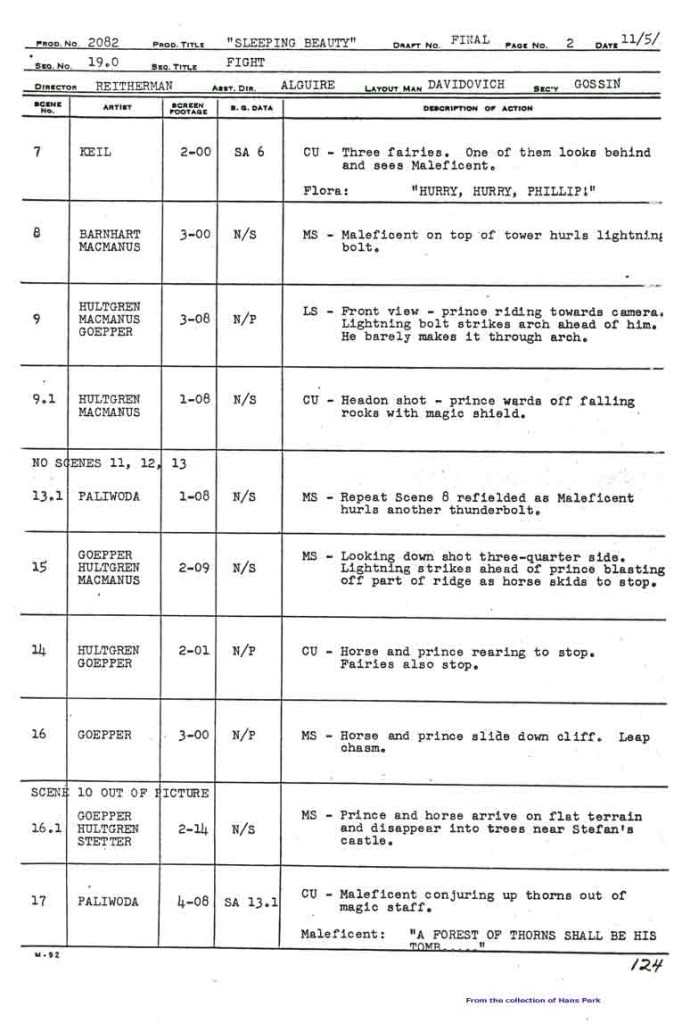 2
Many thanks also to Hans Perk who, on his blog A Film LA, has posted the animator drafts of this film (like so many others he's shared with his readers). None of this work could have been done without that reference.