Daily post &Photos 25 Mar 2007 10:00 am
- So let's talk about something boring. What I do everyday is walk to and from work. That's about a two mile stretch from 30th Street on the East side of NY to the West Village. (And back.) Everytime I walk it I see a lot of the same things, but those things are always varied and interesting.
I see a lot of taxis. Taxis used to come in two forms: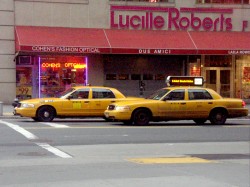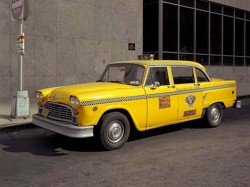 the normal kind of everyday-looking-car type; and the Checker Cab.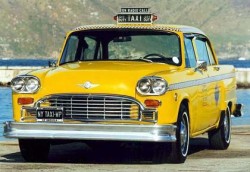 These cabs were vehicles that could seat six people comfortably, or if there were just one or two of you, it left a lot of leg room. Somehow even the look of the bubbled Checker Cab was pleasant, and it was specific to NYC.
However, for some reason a couple of years back, the wise NYC officials decided to outlaw the Checker Cab. I suppose it was time for them (in their minds) to modernize the look of the NYC taxicab. So an institution left our city streets and was replaced by these:
This is all an attempt to turn New York City into the largest suburban shopping mall in the world. It's working.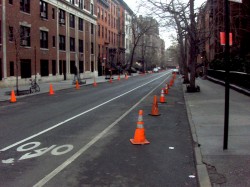 However, there is something else that is specific to New York (and probably Los Angeles).
Everyday – I mean it every single day – I come upon a block (always a different one on that two mile walk) that is "coned off," meaning you're not allowed to park there. Sometimes they even block off access to pedestrians. This can only mean one thing:
They're shooting a movie.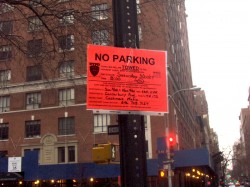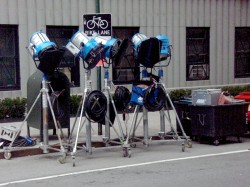 There are always signs telling you what film or commercial they're shooting and there are always bits of movie paraphernalia being set up.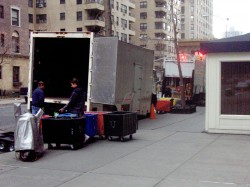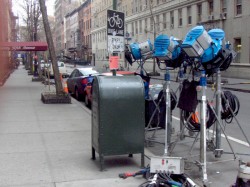 Usually it stretches around a couple of blocks as guys unload trucks of equipment.
.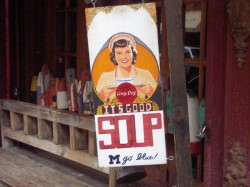 This is New York, so you expect to see a lot of signage. I don't mind that; I've always found it entertaining.
As a matter of fact, I've sometimes played a game (with myself) incorporating words in my sightline into conversations I'm having with people. I try to get away without their knowing it. As you may imagine this annoys some of those who know what nonsense I'm up to.
However, on their own, signs are interesting. They reveal a bit about the person who created them.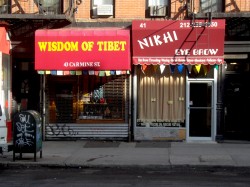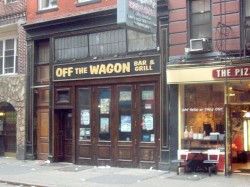 Many are unwittingly entertaining, others are tittering jokes.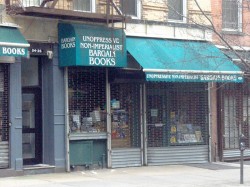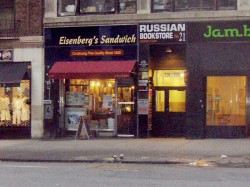 Still others are just downright intellectually amusing. The book store, of course, pulls me in every time (it's a great shop for remaindered books). Eisenberg's Sandwiches makes me smile. Without my presence would Heisenberg's Principle even exist?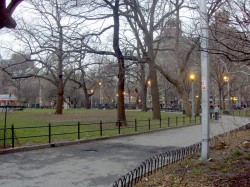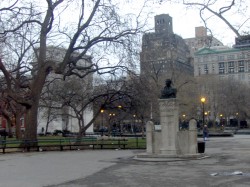 As I get through Washington Square Park, my walk starts winding down. I'm getting closer to my studio.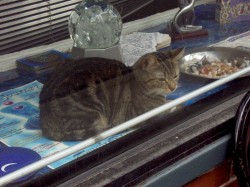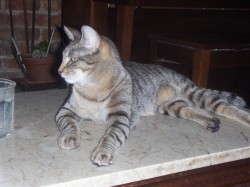 Oh look, the storefront gypsy palmreader above me has gotten a cat. He's a couple of years old. He reminds me a bit of Alex, my new boy, who's almost a year old.
Enough with the photos; I'm at the studio. Oh, yeah, all of the pictures enlarge by clicking them.
3 Responses to "Another Photo Sunday"
on 25 Mar 2007 at 8:57 pm 1.B. Baker said …

"However, for some reason a couple of years back, the wise NYC officials decided to outlaw the Checker Cab."

Michael, I'm not sure the city actually outlawed the Checker. I believe the friendly, roomy, reliable cab disappeared from NYC streets because Checker ceased production of automobiles back in 1982. [It was a durable car, but even a Checker would have a tough time lasting much over 25 years in Gotham climes.]

on 27 Mar 2007 at 12:33 am 2.Eddie Fitzgerald said …

Wow! What an interesting meditation on the city, a real nice contrast with the other posts. Nice work!

on 18 Apr 2010 at 1:42 pm 3.Christel Bartko said …

Pretty insightful post. Never thought that it was this simple after all. I had spent a good deal of my time looking for someone to explain this subject clearly and you're the only one that ever did that. Kudos to you! Keep it up
Leave a Reply