Monthly ArchiveJanuary 2008
Animation Artifacts &Disney &Models 31 Jan 2008 08:59 am
- These are the four models for The Little Whirlwind. They were drawn by Freddie Moore. I'd posted one of them in the past and was asked if I had the rest of them, so it doesn't hurt to post them again. They were xeroxed copies of copies, and they've faded over the years. I had to do some reconstruction and work to get them presentable.
Mark Mayerson posted all four on his blog back in June/2006, and he did a mosaic of the film then, as well. Hans Perk posted the drafts on his site, also in June/2006.
The cartoon is on the Mickey Mouse In Living Color (Vol.2) dvd.
________________________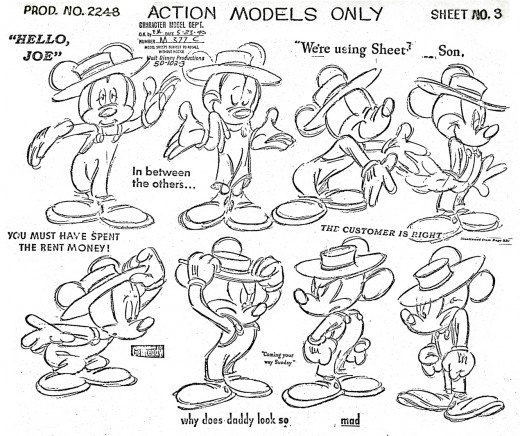 ______________ This model sheet was posted previously with a number
__________________________ of drawings by Ward Kimball.
________________________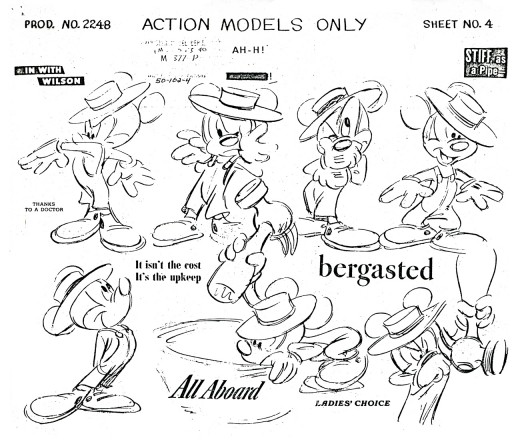 ________(Click any image to enlarge.)
________________________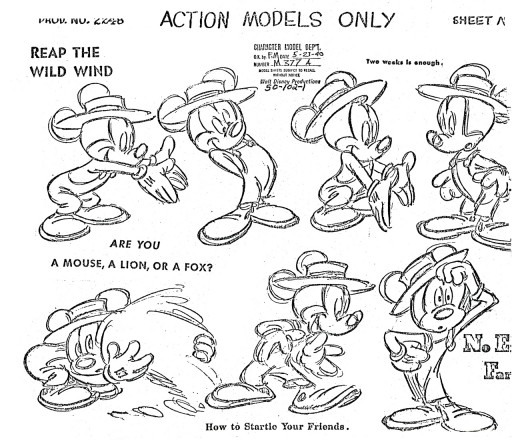 ________________________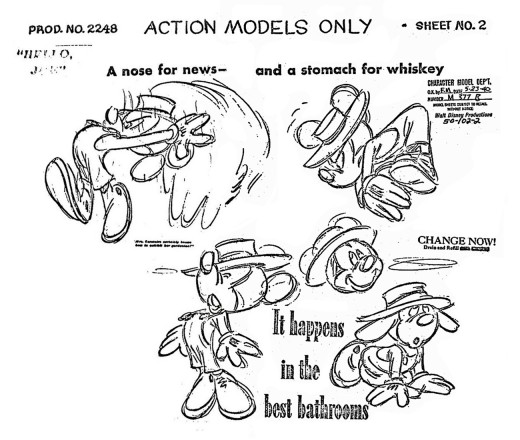 ________________________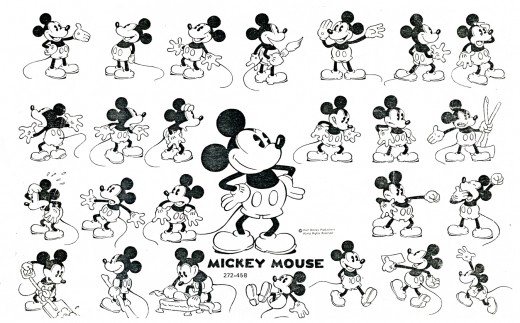 ______________ I had to add this sheet. Some of the poses are nice,
____________________ and obviously I like the early Mickey.
______________ This looks like it might have been for print – not animation.
Comic Art &Commentary 30 Jan 2008 09:25 am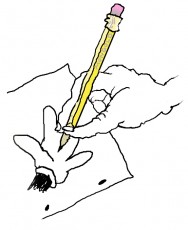 - I had thought I'd comment on the Will Finn / Michael Barrier fracas, but it's pointless. I think there's been a bit of misunderstanding on Will's part. His original thought about Chuck Jones' later years is spot on, and I think Mike said as much. I do understand that Mike had to respond to Will's nasty volley, and I thought his response was finely measured. It seems moot for me to comment on it further. However, the original thought about aging animators is something that interests me. Several of my key influences, here in New York, are older artists, and it's interesting to watch how aging affects them all differently.
I would have liked to have seen how John Hubley would have changed as he got older. I'm sure his interests would have been more about the story than the drawings. That's where he was going at the time. Faith Hubley's solo films got richer as she got older.
Their two brilliant key animators, Tissa David and Ed Smith are still going strong. Their output is probably less than in the past, but they've had less to work on. Having worked closely with both in the last year, I have to say that both are just as strong.
Finally, I think of myself and how it's affecting me as I grow older. I'm a little lazier as far as animating goes, but just as excited by the medium (or my version of it) as I was 20 years ago. Story and design have grown even more so in importance, while the world's view of animation has gotten slicker. We'll see what a few more years brings.
- To continue this theme, I'd like to post something I'd put up back in November of 2006. James Stevenson did a brilliant cartoon about a comic strip artist who was losing it. The piece appeared in his book, Something Marvelous Is About To Happen. It's a great take on comic strip cartoonists and the relationship they have to their strips.
Here it is, The Last Days of Tootie and Fred.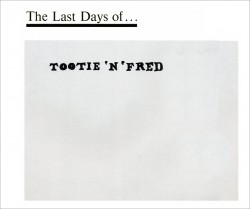 1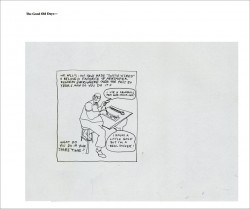 2
______(Click any image to enlarge.)
Animation Artifacts &Books &Disney &Mary Blair &Peet &Story & Storyboards 29 Jan 2008 09:08 am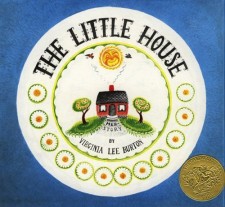 – Following up yesterday's posting, here's the last of the phographed storyboards loaned to me by John Canemaker. It was a board done by Bill Peet and Bill Cottrell. Since Cottrell, Disney's brother-in-law, didn't draw, he undoubtedly did a script adaptation from the Virginia Lee Burton book.
Don't forget to look at John Canemaker 's book The Art and Flair of Mary Blair. This book goes well into the design of this film with lots of illustrations.
Here are links to the other 4 parts of this
Little House storyboard fiesta:
______Part 1 ______Part 2 ______Part 3 ______Part 4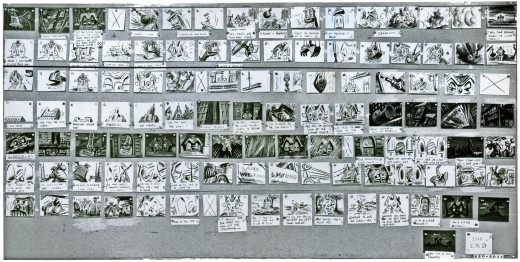 This is the 5th photo of the storyboard as it stands. To allow you to see the images larger, I've split the board up into sections.

1a
___Click any image to enlarge.

1b

2a

2b

3a

3b

4a

4b

5a

5b

6a

6b

7a

7b

8
Animation Artifacts &Disney &Peet &Story & Storyboards 28 Jan 2008 09:16 am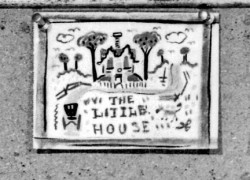 - As I noted, when I first started posting these storyboards by Bill Peet, which were loaned to me by John Canemaker, there are a total of five oversized photographs. I've displayed and broken down three of them in the past weeks.
This is the fourth, and possibly the largest of the boards. It seems to be a reworking of the entire film. There may be a bit of repetition from other boards.
The fifth, and final, board is the conclusion of this version. I'll try to post it tomorrow. (It takes a lot of time to break it down so that you can see the images slightly larger.)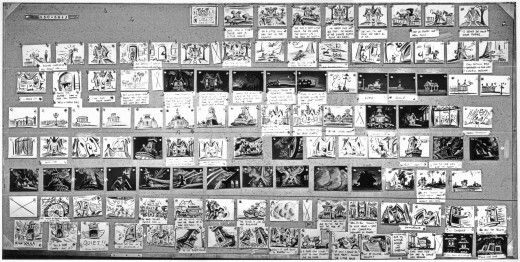 This is the full storyboard. You'll see below that I've broken up so that it enlarges a bit more than this original.

1
(Click any image to enlarge.)

2a

2b

3a

3b

4a

4b

5a

5b

6a

6b

7a

7b

8a

8b
Daily post 27 Jan 2008 10:58 am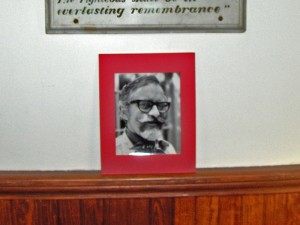 - Yesterday, I was pleased to get a ride from Candy Kugel and companion, Chuck Hunnewell, to a memorial service for Jack Zander held in Pound Ridge NY. It was about an hour's drive to the event, and we ended up being the first to arrive. The first sight on entering the Patterson Memorial Church was this photo of Jack (to the left) posted on the wall.
I'd expected one of those services wherein people seated listen to friends and family tell stories about the bereaved. It turned out to be a bit more of a party atmosphere.
There was a band preparing when we entered the room. They were set on a small stage to the rear of the room. It turns out that Jack had paid them to play at his 100th birthday party, and he died a bit short of that mark. So the band played for Jack at this event.
_____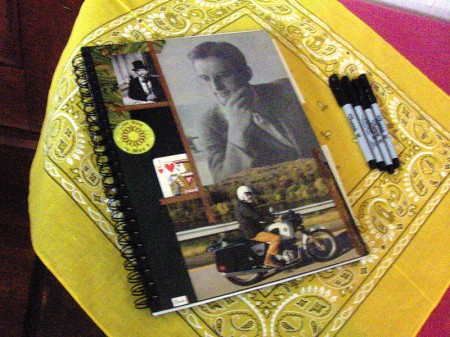 In the adjoining room, there was a table set aside for a number of photos and a scrapbook which must have been presented to Jack at his 90th birthday. It was signed by all his friends and family. The book had a marker for the 95th birthday and another for the 98th.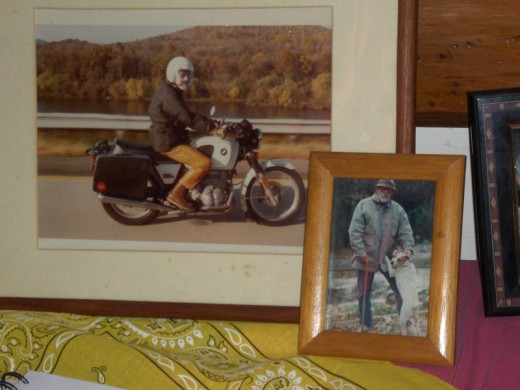 The photos were good ones of Jack at some happy moments in his life. The motorcycle was obviously an important part of his life.
_____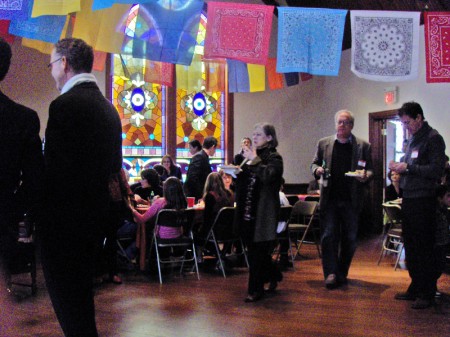 I was a bit surprised to find relatively few animation people in attendance. It was predominantly family, and he had a large family. Lots of siblings and kids and grand kids. It was nice to see. However, it was the first time I met most of them, and it made me a bit shy about taking photos. I kept it to a minimum and tried not to act like an interloper.
_____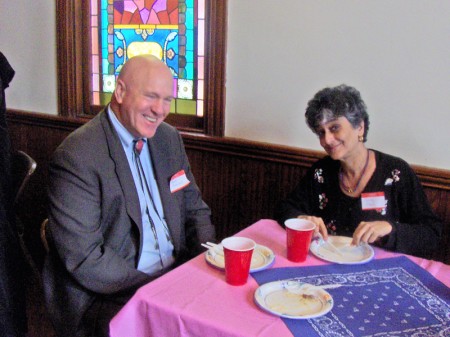 As I said, Chuck and Candy were kind enough to allow me to tag along with them. The only other animation people we saw were producer Buzz Potamkin, producer J.J. Sedelmeir, animator Doug Crane, and animator/instructor Donald Poynter.
This is a shot of the band, above.
To the left, Mark Zander (back to us) chats with animator Doug Crane.
_____
_____
We had to get back to the city for the second of the documentary features being screened for Academy members to vote. We made it just at the last moment. I'm glad I went to the event to see such a large and close family honoring Jack. I really didn't know him well, but I felt obligated to pay my respects.
Animation Artifacts &Disney &Models 26 Jan 2008 09:24 am
- Today, I'm heading north to attend a memorial for Jack Zander. Presumably, I'll be filled with something to tell about tomorrow.
For today's post, I was asked yesterday if I had any other Mickey models. So I thought I'd post a few. I also have a couple of the Kimball models, but they're faded xeroxes, and it'd take a bit of time to pull out the images. I'll save that chore for some future time. As for those below, my favorite is the first. I think it must have been some kind of lobby card. It's a Hi glossy image.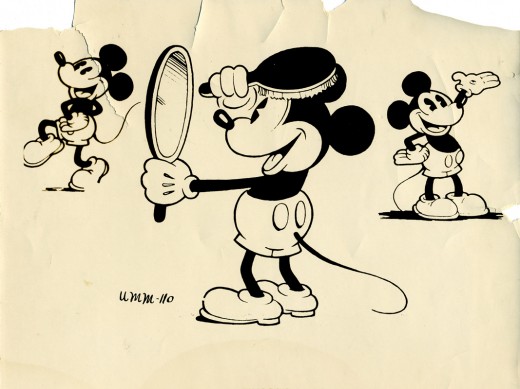 __________(Click any image to enlarge.)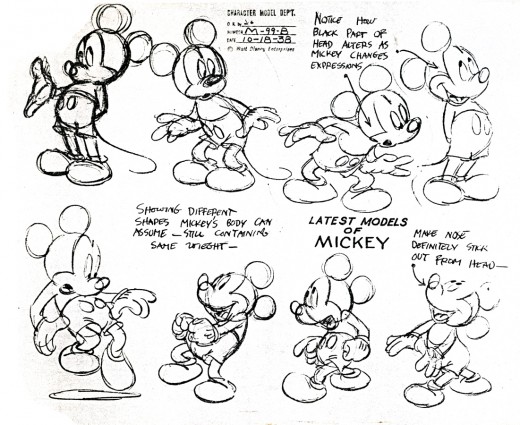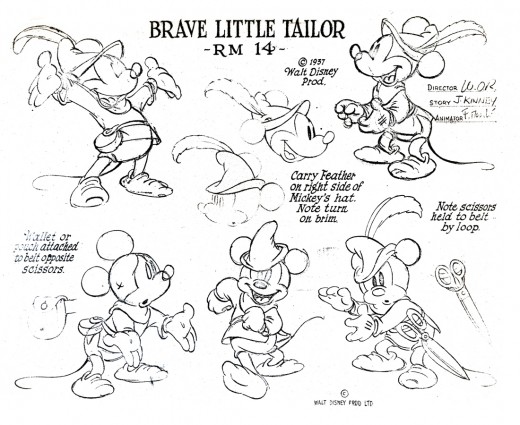 This is my favorite color Mickey. It's probably also my favorite animation of him. Need I say the film is a gem?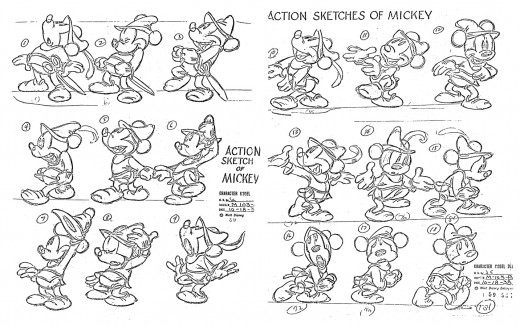 This model was xeroxed in two parts, and I reassembled them. The lines of the 30 year old copies were fading, so I had to pump them up a bit in photoshop.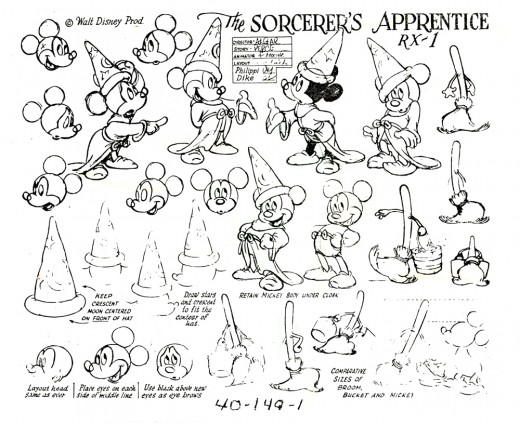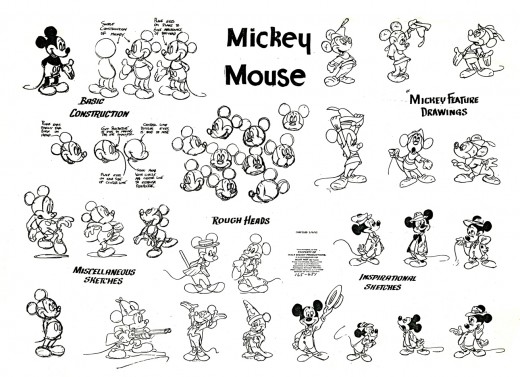 I don't know what this model was for; I assume publicity. It includes parts of many other models.
Books &Frame Grabs &Illustration 25 Jan 2008 08:54 am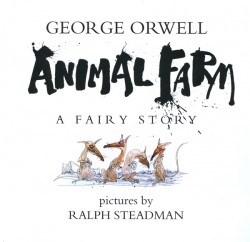 - I saw Halas & Batchelor's Animal Farm at a seminal point in my animation development, so I guess you could say I was struck over the head at just the right time. The same is true of Lady and the Tramp, Sleeping Beauty or Magoo's Christmas Carol. They, and a number of other films from that period, have enormously affected how I see animated cartoons and what it is that I like. Somehow, I think I've mentioned this before.
I am also a big fan of Ralph Steadman's work. For some inspiration, I was looking over his illustrations for Orwell's book. The story vibrates in his hands. I thought it might be interesting to post some of these and find relative images from the film to see how they compare.
Make no bones about it, I think Steadman is as close to an artist an illustrator can become, and I have no similar thoughts about the artwork for the Halas & Batchelor film. I am interested, however, in how different people view images they get from the same text.
_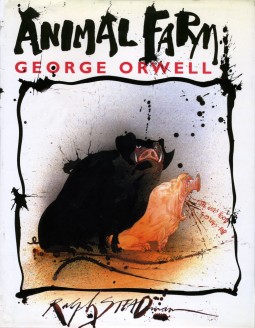 _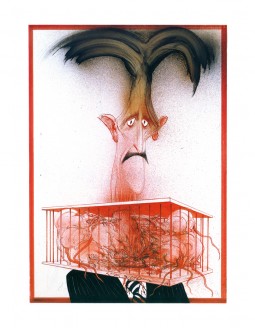 ___On the left, we have the book's dust jacket, cover. On the right, Steadman offers a
___caricature of George Orwell holding rats in a cage. A reference out of "1984."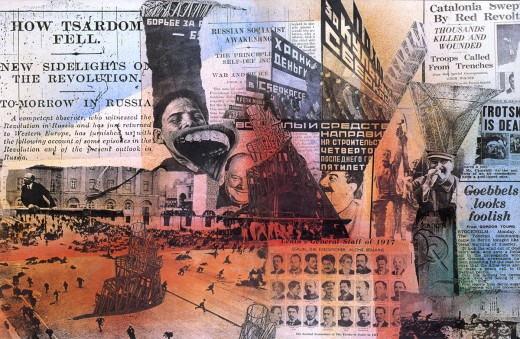 ___The inner cover of the book's front features this double page collage/painting by
___Steadman. Politics of Orwell's time is put front and center.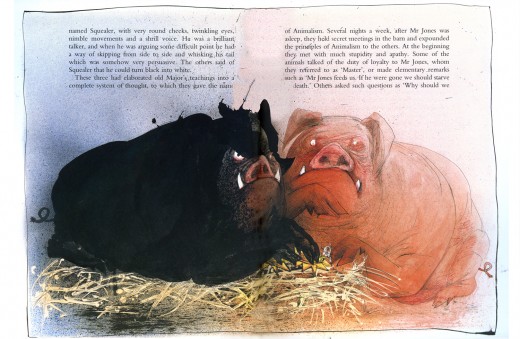 ____Napoleon and Snowball closely align with each other and give each other support.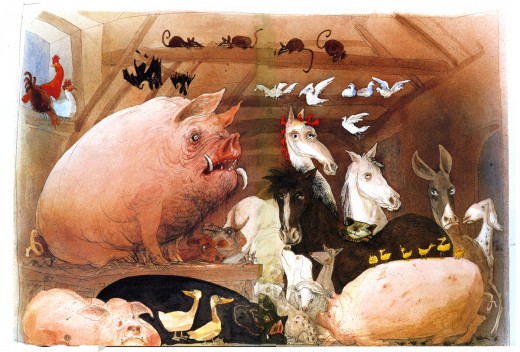 _______All the animals meet in the barn to create a plan. The pigs take the lead.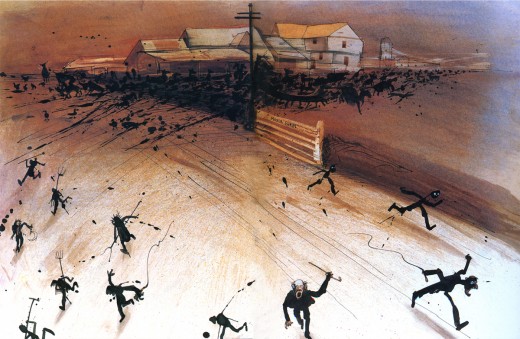 ___The major battle with the humans ends with the farmers running away from the
___animals who have joined together to take over the farm.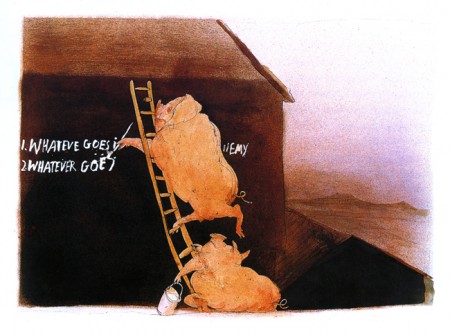 The pigs post new rules that they've created.
_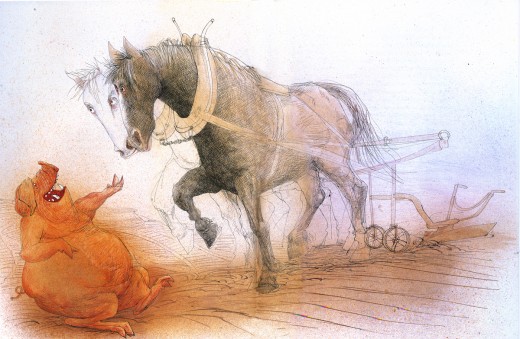 ________________The horse, Boxer, is the strongest and most loyal worker.
_________________________________

The Halas & Batchelor Film
_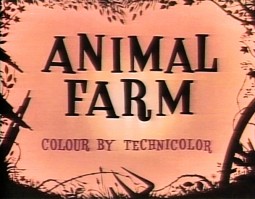 _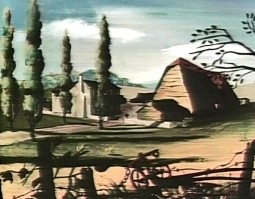 __________The Halas and Batchelor film starts out with master shots of the farm.
__The animals push the farmer and his drinking buddies off the farm and end the
__sequence with a rousing animal song around a fire.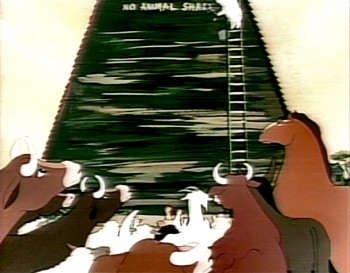 __
__
__
The rules are written on the barn wall while cross cutting to Napoleon hiding newborn puppies in the hayloft. We'll later learn that he's trained these dogs to grow into attack guards for him when he takes over the farm. It's interesting that the French version of the book calls this pig Caesar.
__
__
______(As ever, click any image to enlarge it.)
Books &Illustration 24 Jan 2008 09:24 am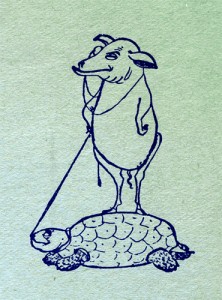 - I have two books of chilldren's verse written by Hilaire Belloc. I've been a fan of these poems and have prized the books. I thought it worth sharing.
After graduating from Oxford, Hilaire Belloc served in Parliament. After two terms, thoroughly disatisfied with public office, he left the House of Commons. He wrote extensive commentaries during the first World War. His first son was killed in that conflict; his second son during the second World War.
He was a very opinionated political writer, which didn't help his reputation during his life. He also refused to be pigeon-holed writing in many different styles and forms. Hence he was barely accepted by the cogniscenti of the time. Many of his children's poems are whimsical but quite dark. Victoriana lives on in his mood and attitude. His poems are all on line (none of the illustrations are there).
B.T.B. was properly named Basil Templeton Blackwood, the third son of the Marquess of Dufferin. He met Belloc when they were both students at Oxford. He became a Lieutenant in the Grenadier Guards in WW I and was killed in action in 1917.
Blackwood became a solicitor, but he illustrated several of Belloc's books. These include:
The Bad Child's Book of Beasts (1896)
More Beasts (1897)
The Modern Traveller (1898)
A Moral Alphabet (1899)
Cautionary Tales for Children (1907)
More Peers (1911).
Here we have selected pages from the first two of these books which were combined into one volume I own. It was last published by Duckworth in 1971. A "Bestiary", of course, is an alphabetical listing of animal poems originally designed to teach children the alphabet. (Sorry that I post these pages out of alphabetical order.)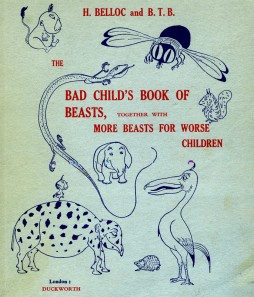 _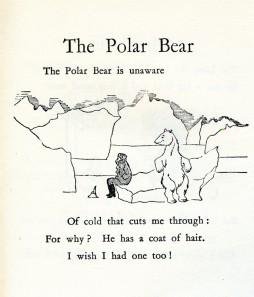 ______(Click any image to enlarge.)
Articles on Animation 23 Jan 2008 08:56 am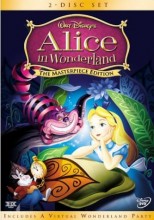 - For years, I've been intrigued by the two Alice In Wonderland animated features that were released almost simultaneously.
I first saw the Disney feature in B&W on the Disneyland television show when I was a child. It appeared in a truncated form edited down to the one hour format (which was probably around 54 minutes at the time.) They repeated this TV version several times, even after the show moved from ABC to NBC.
I didn't get to see it in a theater in color until the mid 70′s.
I saw the Lou Bunin version one Sunday afternoon on local NY television in an unadvertised presentation. It took a very different approach. The live action opening was severely edited in that TV version. I saw it projected once in the Museum of Modern Art.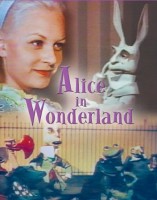 (There's an excellent site that I located about this film which features lots of color stills.)
I had a conversation with animator, Jack Schnerk, during the Raggedy Ann production. He'd worked on Bambi as an assistant and told me that they rushed the last half hour of that production to get it out within the final six months. We were talking about Disney features when he told me that Alice was the last Disney feature he saw. He sat through half of it, he said, before walking out. All he could think was what a waste of talent and effort. All those drawings!
He then said, he saw the Bunin version of Alice soon thereafter (they did open within a week of each other) and felt that THAT's what Disney should have done!
I did a little reading this week and came upon this article from the NY Times, October 8, 1946.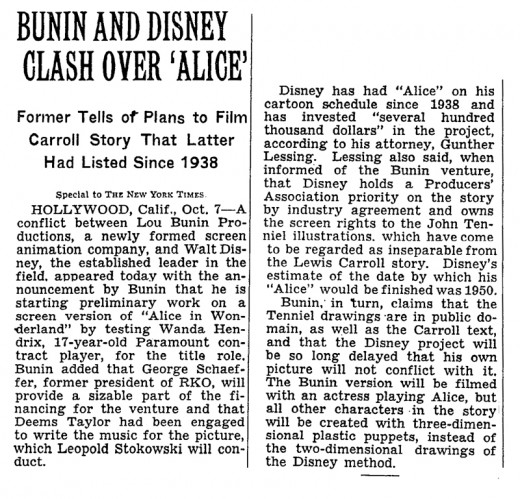 ____________(Click any image to enlarge.)
There was another article from 1953 that I'm not posting. Disney took the Bunin film to court trying to suppress the film's release. The article seems to side with Disney, but the judge didn't. He lost the attempt to block the puppet film.
Then I decided to look at reviews. Both films had negative reviews from Bosley Crowther. Both were in the same week's issues.
First the Bunin film reviewed July 27, 1951.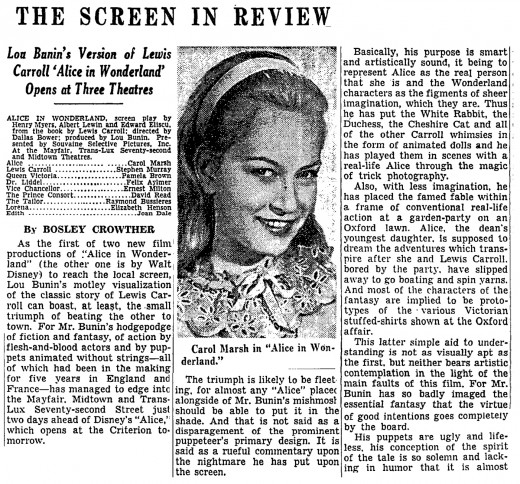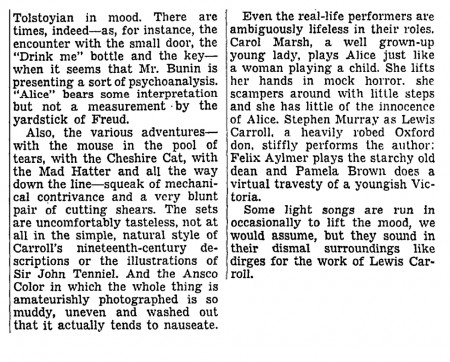 Here's the negative review of Disney's film from July 30, 1951.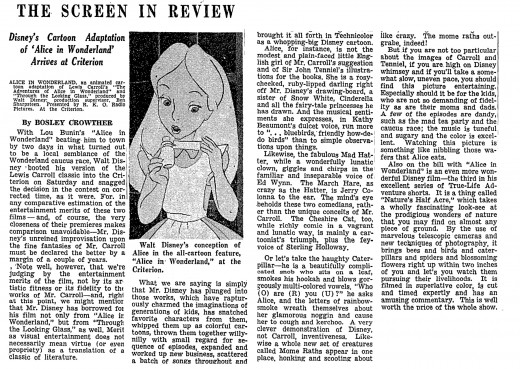 Commentary &Puppet Animation 22 Jan 2008 09:13 am
- Lou Bunin was born in Russia near Kiev. He received his early art training at the Chicago Art Institute and followed up studying with the sculptor Bourdelle in France at the Academie de la Grande Chaumiere. In 1930 he returned to the US with a one man show at Chicago's Younge Gallery. This was followed by a year in Mexico where he served as an assistant to the painter, Diego Rivera.
He started a marionette theater in Chicago with the author, Meyer Levin. they produced a version of Eugene O'Neill's The Hairy Ape and Marlowe's Doctor Faustus.
In 1938 he collaborated with Charles Bowers on his first film with "stringless" puppets. Petroleum Pete and His Cousins (sometimes known as Pete-roleum and His Cousins). This was a 30 min. movie commissioned by the Petroleum Industry for the 1938 World's Fair and was directed by Joseph Losey. 12 mins. of the film were animated.
During World War II, he was involved in the production of another stop-motion animated film, Bury The Axis. This film is available in dvd from Steve Stanchfield on his Cartoons For Victory. (I highly recommend this disc. A great collection of truly rare WW II films.) I found this film on YouTube and thought I'd share to celebrate this animator's beginnings.
____________________________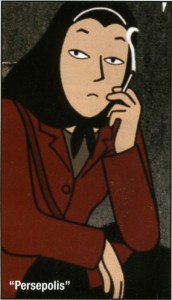 – The Oscar nominees were revealed this morning.
The animated features were excellently chosen:
Persepolis
Ratatouille
Surf's Up
I think you know which one I'd like to see win. A hint – it's 2D.
Those nominated for animated short include:
I Met the Walrus
Madame Tutli-Putli
Meme Les Pigeons Vont au Paradis (Even Pigeons Go to Heaven)
My Love(Moya Lyubov)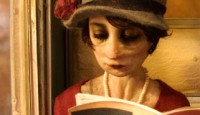 Peter & the Wolf
I'm quite disappointed that Jeu didn't make it. Georges Schwizgebel's film was brilliant, but the voters didn't get it, I guess. I'm also a bit surprised the The Pearce Sisters wasn't nominated. Instead the insipid My Love made it. One could have predicted that, but then I already wrote about this film.
Congratulations to them all, and also to Brad Bird and Jim Capobianco, Jan Pinkava for the nomination for Best Screenplay for Ratatouille. If they win, Jan Pinkava could win after being replaced by Brad Bird.