Category ArchiveIndependent Animation
Books &Commentary &Independent Animation 24 Sep 2013 08:14 am
I love the early Warner cartoons. I'm particularly fond of the late thirties and early forties when they were finding their design style, and. in fact, were probably being the most daring in the US with their graphic choices. John McGrew along with the husband and wife team of Gene Fleury and Bernyce Polifka were doing magnificent and, even, daring work. When Maurice Noble entered the scene his was the final wrench to tighten the bolts.
It's for this reason that I am spending so much time on the opening section of Tod Polson's book, The Noble Approach from Chronicle books. Here are some magnificent images from that section of the book. You should go to YouTube and look at A Few Quick Facts About Fear. It's a magnificent work that was done for the Signal Corps (although it was done by UPA in its very earliest days.)
Operation SNAFU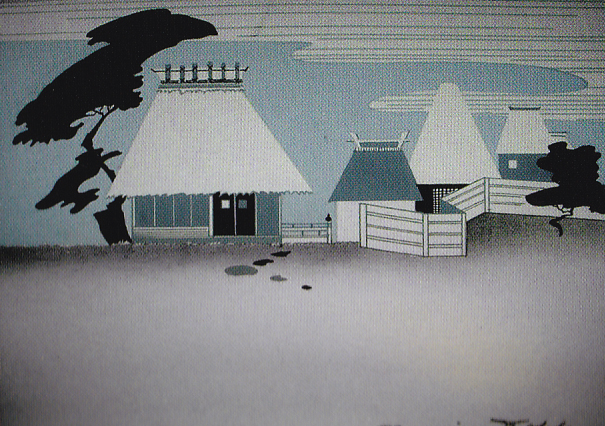 Desert Designs by Noble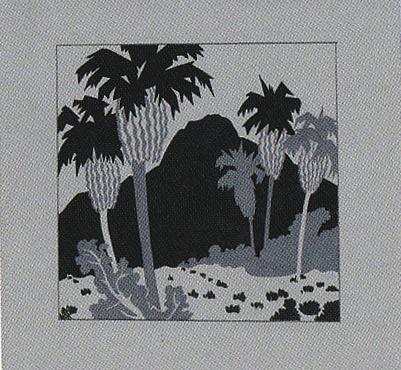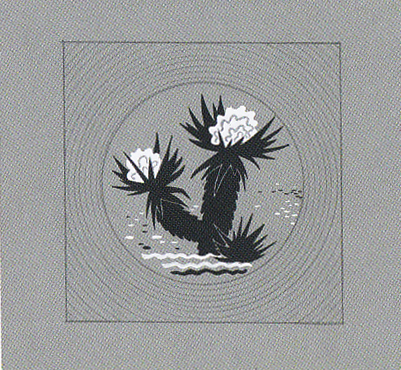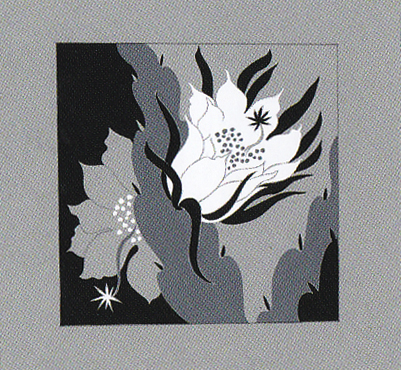 John McGrew's BG designs for The Unbearable Bear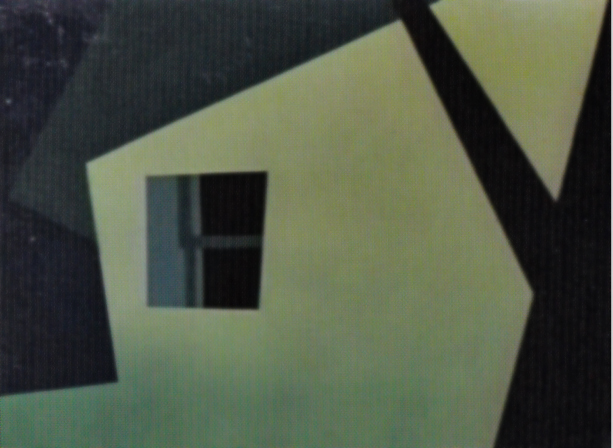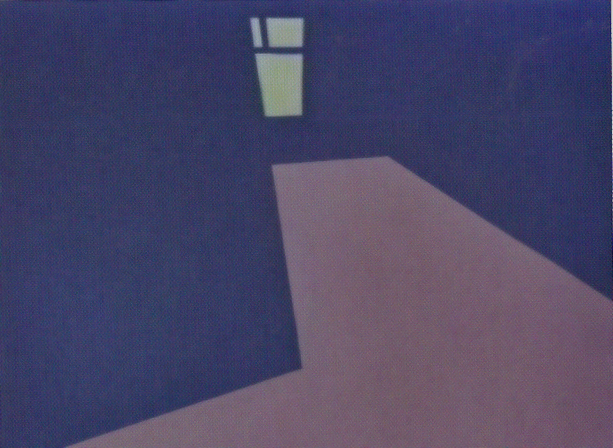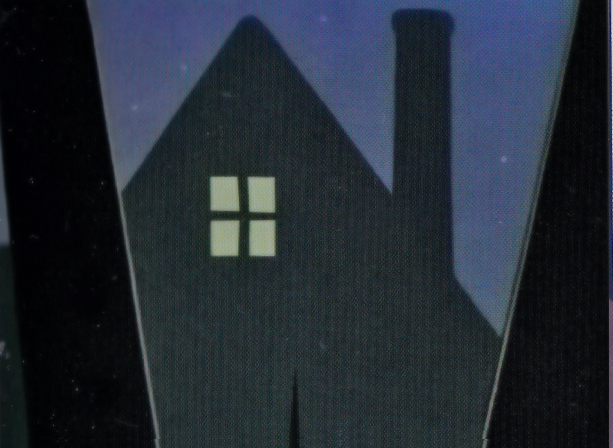 Animation &Animation Artifacts &Commentary &Illustration &Independent Animation 31 Aug 2013 08:27 am
You see the problem is that when you get older, priorities change. Take a look at Mike Barrier's blog. He knows what's important amd surely it's the ghsts of the past. Yes, we want to know who did what and when and where, and we move heaven and earth to get that part right. For the most part it is.
Then you have to look for and preserve those beautiful drawings of our youth. We get all the help we can, and we get it right. But there's still so damned much work to do.
I've been digging into the archives, and lord knows most people aren't ready to admit they've already viewed these drawings a half dozen times before. It's not like saving Savannah or moving some extraordinary pictures. So they were moved on, then 0n again, before being devoured,
I love this work; I love animating it even more. When some semblance of life shows up in those drawings.
Getting older means it's harder to get the point across. The message engines more seriously, and people all about watch for the brim of your head. They want to see you, too, so you're on display like as not. The cartoon you planned has turned into some kind of "Art" and you try harder.
Then you really get tired. But you go on,god bless you. You try hard.
Commentary &Independent Animation 30 Jul 2013 02:08 am
- I have to admit I was more than a litte disappointed with the program held this past Sunday in Brooklyn.BAM Cinematek hosted a program of anmated shorts that head won the Oscar for animation back in the 60′s. It was an ineresting idea for a program and was pulled together by the indomitable Jerry Beck.
The films included he following list of thoughtful films:
Munro from Feiffer's book as directed by Gene Deitch (1960).
Ersatz from Eastern Europe's Zagreb film as directed (in a slow-moving, sexist way) by Dusan Vuctic (1961).
The Hole whcih has alsways seemed a bit overlong to me, as directed by John Hubley (1962). There is no lack for creativity in this film, though, and I have to give full credit where it's due.
The Pink Phink didn't have the same lustre that the original film titles had, and it wasn't the most exciting pilot to reach the theaters as directed by Friz Freleng & Hawley Pratt (1964). It remains the dud it was, although the two Richard Williams directed title sequences make up for it.
Herb Alpert & The Tijuana Brass Double Feature as directed by John Hubley had a lot of life even in the dated score. The marker drawn non-cel approach made it seem young.
The Box directed by Freddy Wolf was the slimmest of all the films despite its long, slow, 60-ish pace. (1967)
The program was moderated by Jerry Beck. Things started off with his comments trying to get us to open up about the wit of some of the films (as opposed to what was being done by studios at the time.)

Animation &Commentary &Independent Animation 22 Jul 2013 04:25 am
- I've been thinking a lot about my friend, Lou Scarborough, this past week. So why not write about him? That's what I'm going to do. Just random thoughts, good and bad, I guess. All just random. I'm sure I'll have other posts to add to this, eventually.
I met Lou years ago the same way I met a whole core of NY friends and folk.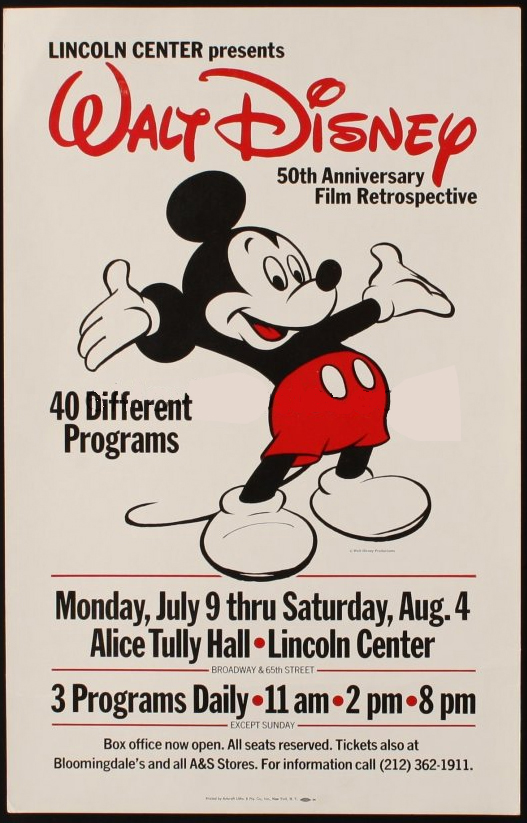 Back in 1978, Disney celebrated the 50th anniversary of Mickey Mouse's creation. History for a lot of us – I mean, here, the celebration not the creation. The MoMA had a retrospective of all 50 years of Mickey cartoons in chronological order. They started with a bunch of silent Alice in Cartoonland followed by Oswald the Rabbit cartoons. They were shown silent. I mean SILENT – no audio, not even an organ. They ended that first program with Steamboat Willie. Now there was the invention of sound. You could hear it, you could feel it, you knew a new era had begun. Soundies.
Up at Lincoln Center, they were showing all the feature films, animated as well as live action films. Things like Pollyanna and Treasure Island as well as Lady and the Tramp and Dumbo.
The best part, though, was around the corner, daily, at the Library of the Performing Arts. Speaker/Guests included Animators: Frank Thomas, Ollie Johnston, Woolie Reitherman, Designer: Eric Anderson, and John Culhane moderated a bunch of it. They showed clips of a lot of the feature animated films; they told famous stories for the millionth time, they told stories we hadn't heard before. (e.g. Reitherman wanted the disco ball and the changing colors as the cats of the Aristocats played jazz in the attic. His was not something others wanted in the film. The director got what he wanted including a lot of reuse animation. Reitherman learned something about Xerography other than inking stories during 101 Dalmatians.
Anyway, to get into this series of programs (I'm sure there were four of them) you'd sit on the ground in the hot sun waiting for the doors to open when they handed out tickets. I was working for John Hubley at the time. A lot of the others: Dan Haskett, Tom Sito, Pat Sito, John Lopez, Kevin Petrilak, Bob Lusk, and, of course, Lou Scarborough, all worked at a place called Tele-Tactics where they were paid horrible wages as animators working on something called The Days of Liberty.
Over time, a lot of those people went to Raggedy Ann in a direct route uptown once that studio opened. I was teh first hired there, so I got to watch the influx as animation began.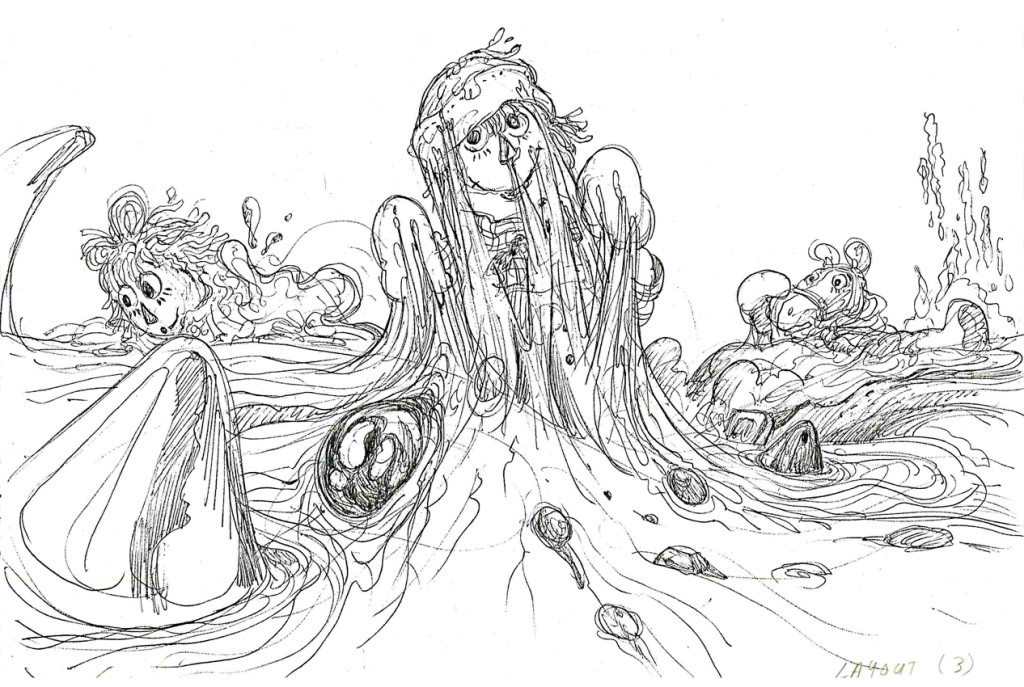 Lou went with a whole group directly into the Taffy Pit to clean up and inbetween the elaborate and gutsy drawings of the master, Emery Hawkins. Exhausting work but they were all friends and had a group all their own during Raggedy's world. A new era of sorts had begun – the taffy pit folk. Ultimately, they all moved out to LA, worked at Disney for a bit and at a bunch of other feature studios for a bit.
- I also remember during the late 70′s and early 80′s that Lou Scarborough was closely involved with Wendy and Richard Pini's fantasy characters from Elf Quest.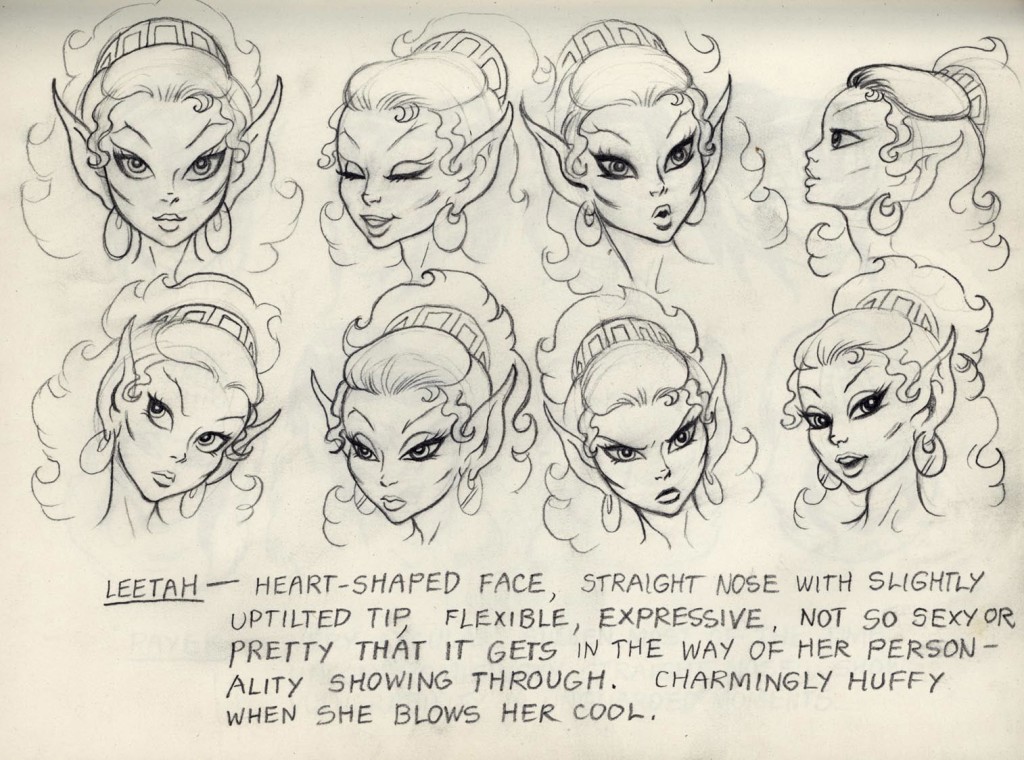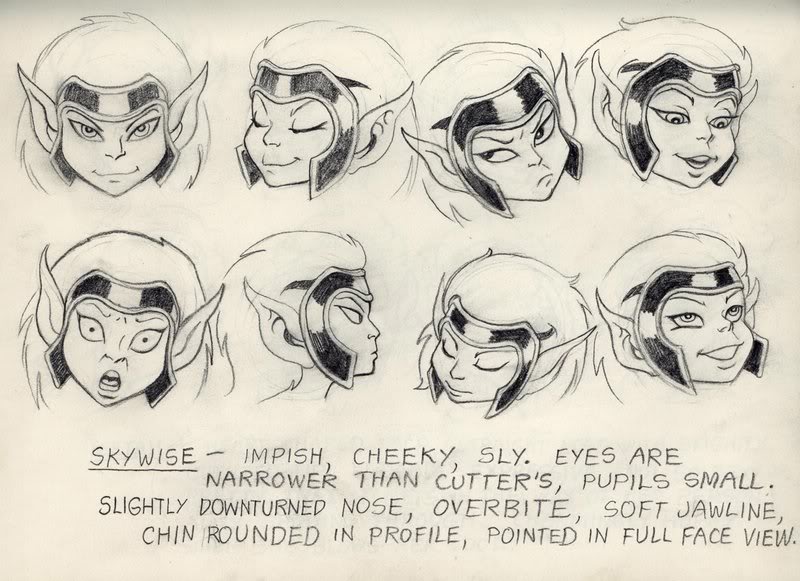 A sample of the Elf Quest art
Along with Dan Haskett and other friends he helped build model sheets and tried desperately to get the comic books animated. I don't believe much happened with the work, especially after it moved to cgi. In my opinion it lost any magic it had in the 2D cartoon drawings and completely lost everything in the clumsy cgi artwork.
In a way, it seems to me that this art style seriously affected Lou. Though I was certainly not a fan, I did appreciate the hard work all the artists did in putting it together. The whole enterprise, though, seemed like too many other fantasy pieces that were out there.

__________________
Lou was one of the last to leave New York City for the West Coast. He did a couple of jobs for me before he left. There were some Sesame Street spots, dances, that he animated. Then there were a couple of episodes of a show called Brain Games done before Sheila Nevins moved in and took over at HBO. I did about 45 minutes of the six half hour shows Sheila produced with Jeff Schon as co-producer. . It was all fun work. Lou animated a centurian and oddly he had the guy move wildly from the forth pose to the fifth. There was an enormous surprise when this character moved, so traditionally drawn, and moved beautifully. The large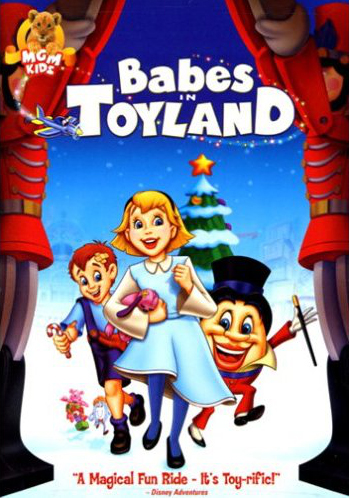 arc worked for the character and found me imitating Lou's move more than once in future scenes. A peculiar layout that worked so well. I was the only one who noticed it and the only one who worried about it. No problema, it worked.
Lou moved to LA and worked on various business out there. He did a number of MGM musicals for home video. Things like Babes in Toyland, The Quest for Camelot, as well as The Adventures of Sonic the Hedgehog.
In the end, Lou ended up without money but still a lot of dreams. Now he's fighting cancer in a hospital at a young age. Life's tough, and I'm watching my friend closely. I hope his luck gives him a couple of good breaks.
Bill Peckmann &Illustration &Independent Animation &Layout & Design 06 Jul 2013 06:55 am
Bill Peckmann sent scans of this glorious and beautiful children's book by Martin Provenson. There really, as far as I'm concerned, is no reason necessary. The illustrations are just beautiful, and I find myself staring at them for long periods of time. It's a great book.
Bill writes the accompanying note:
The reason I have this book is because when George Cannata Jr. was our Animation Design teacher at Visual Arts in 1960, he recommended that his students buy it because it was known as the "animation designers bible" in those days.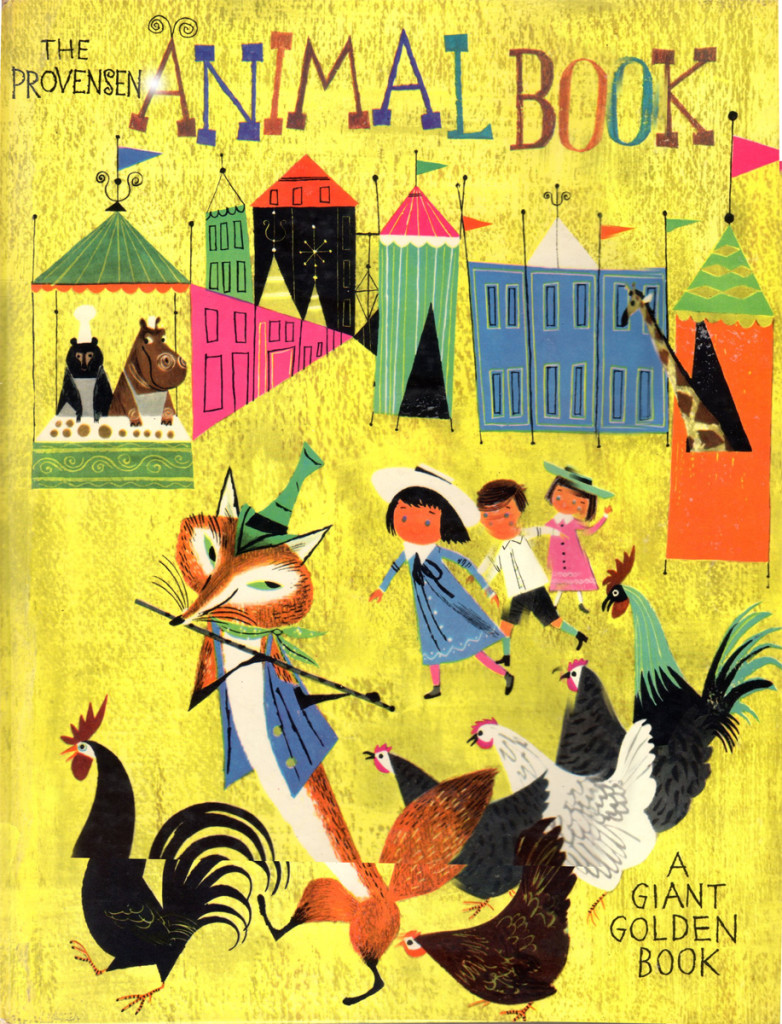 The oversized book cover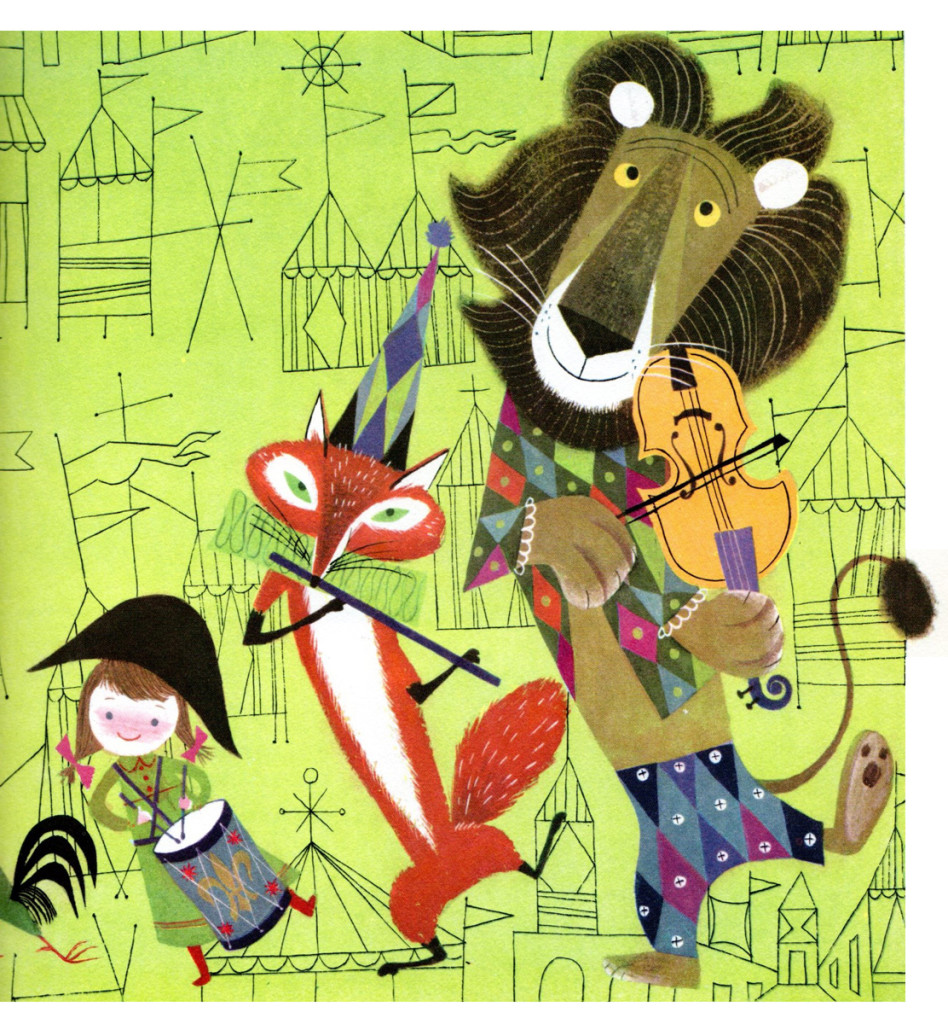 1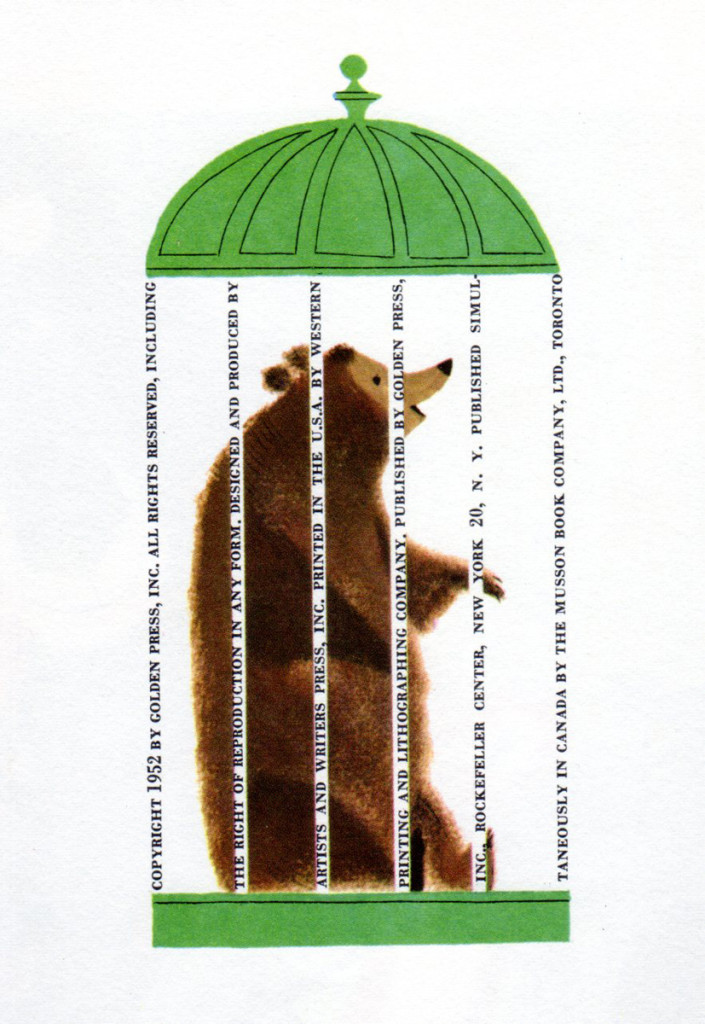 2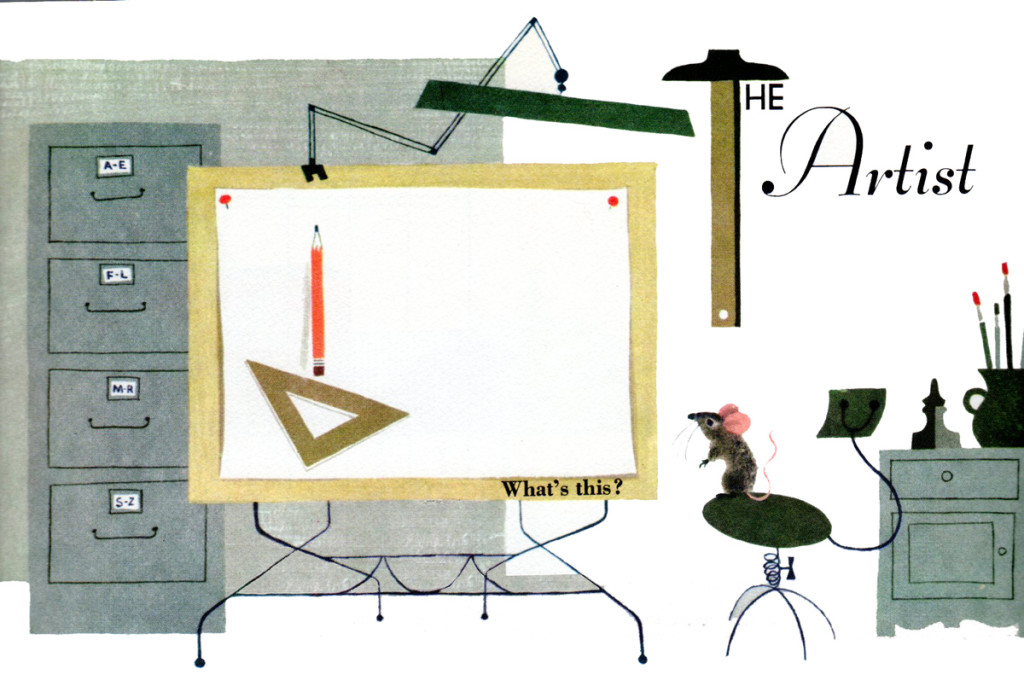 3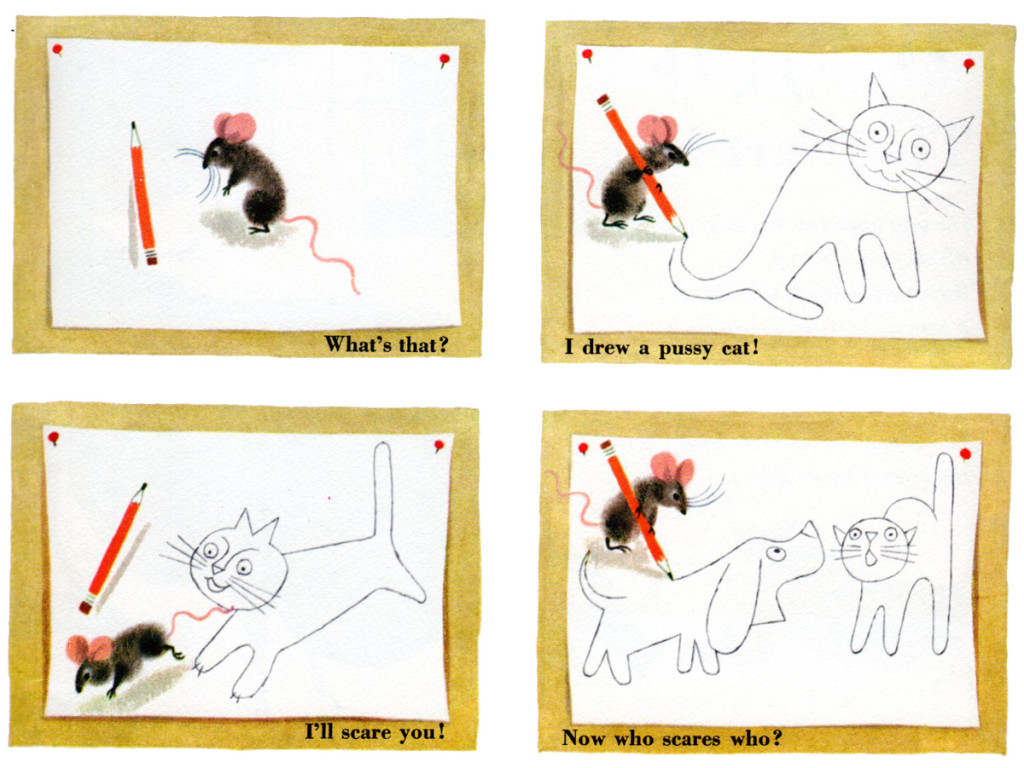 4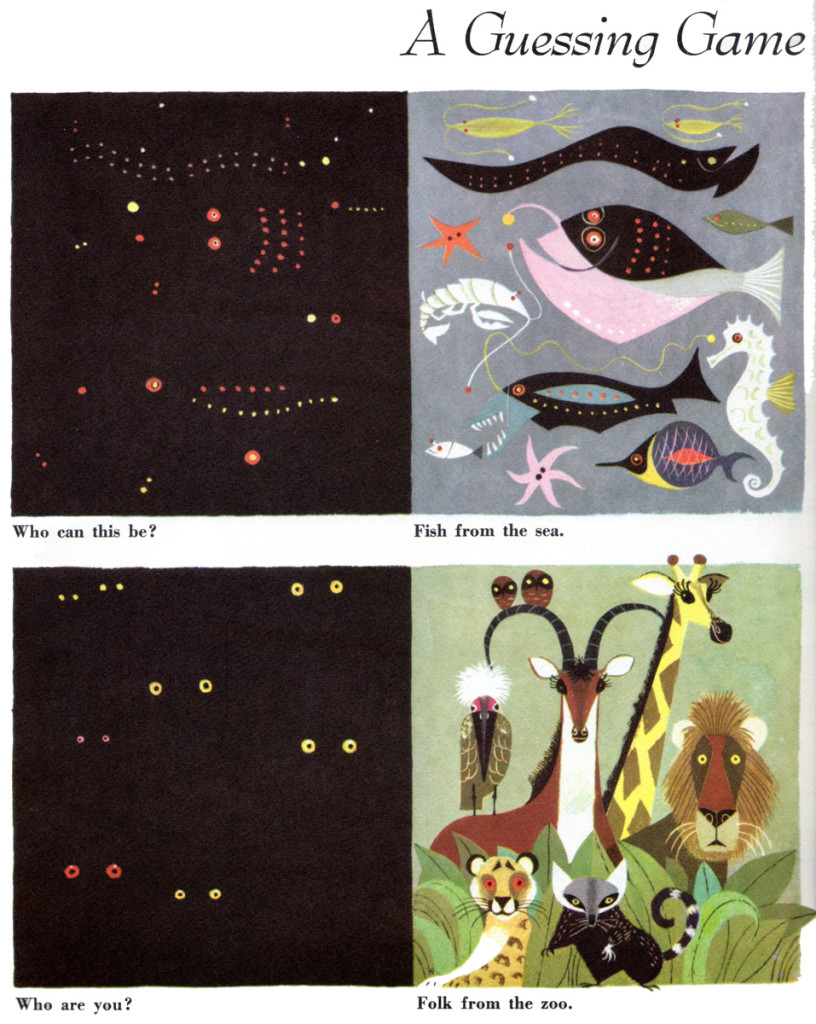 5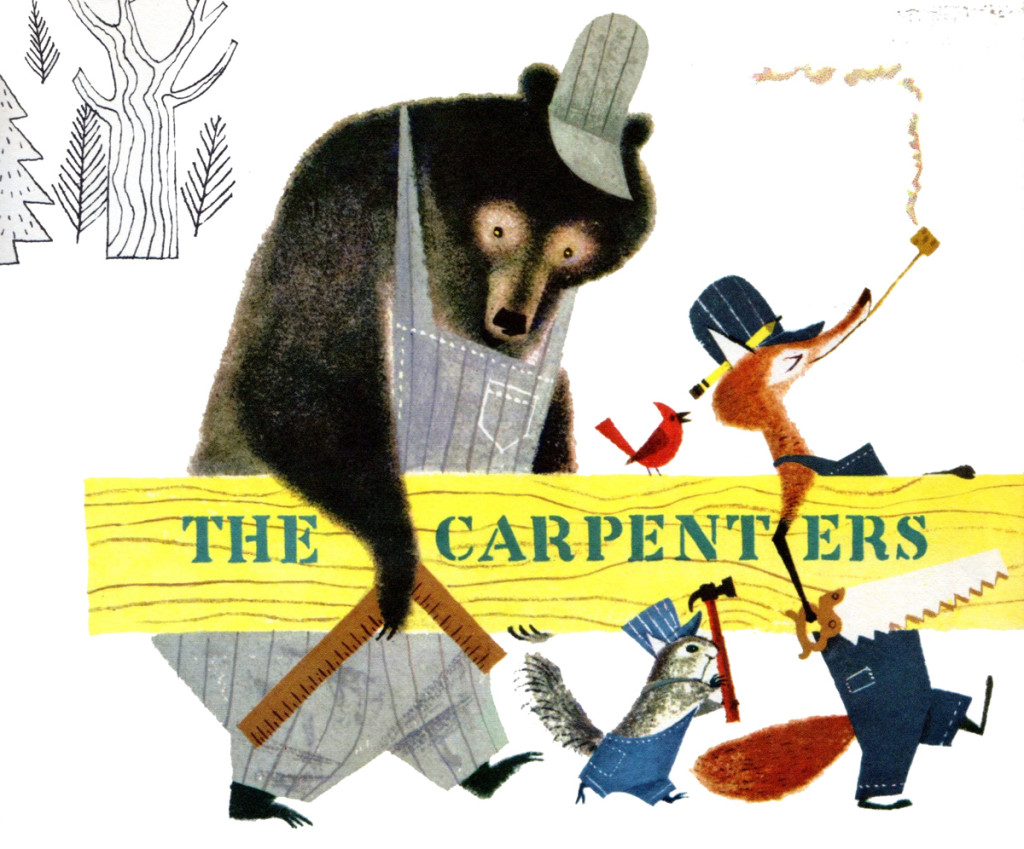 6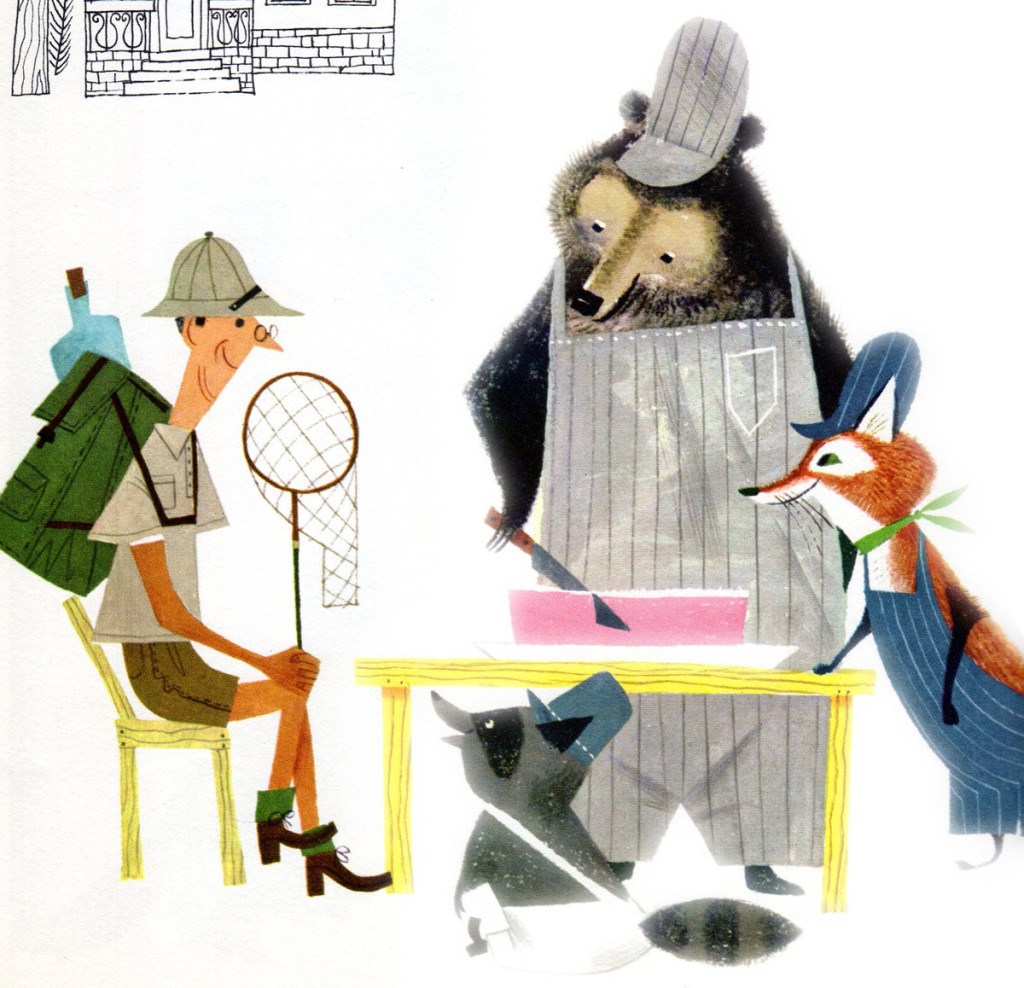 7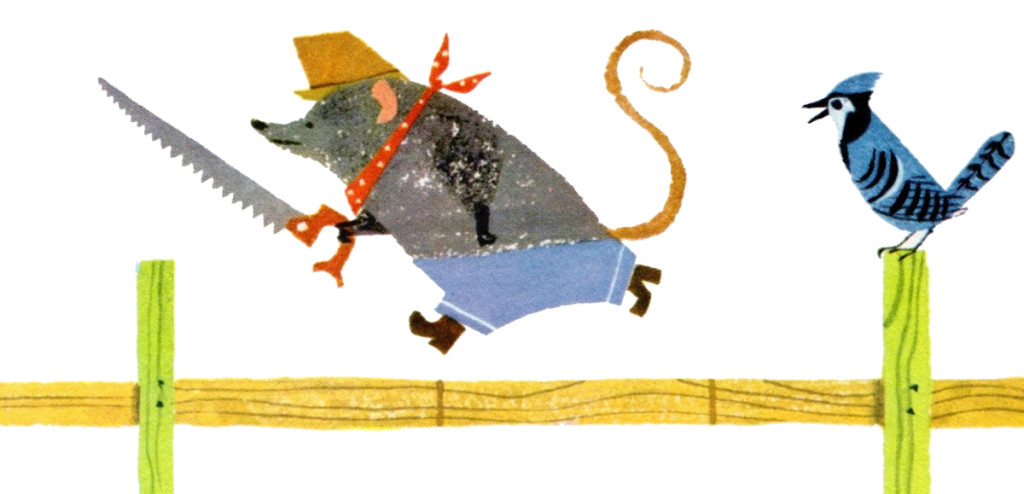 8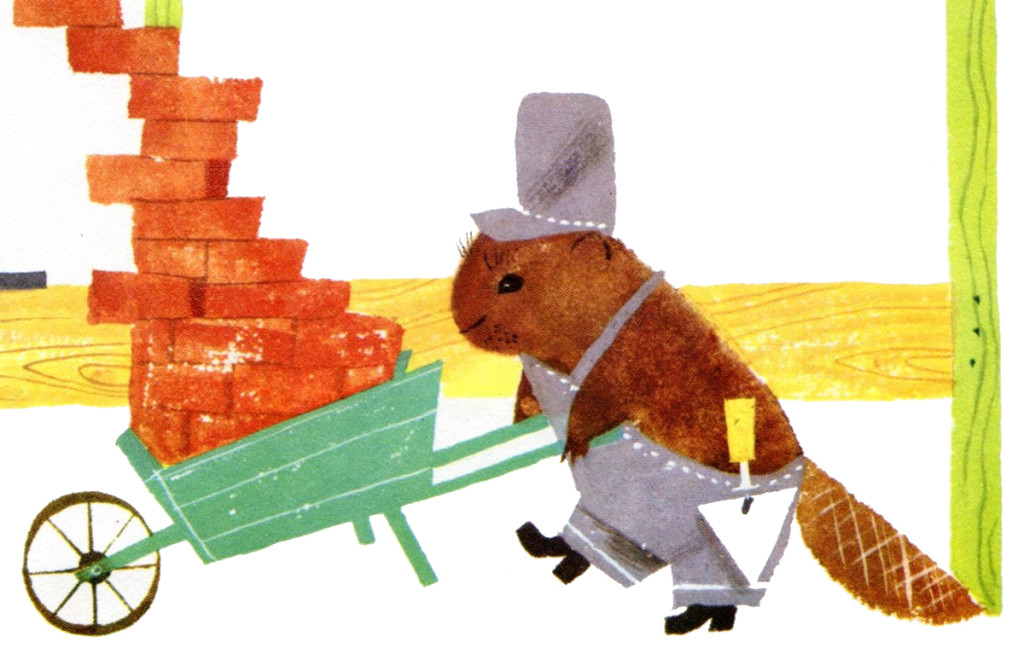 9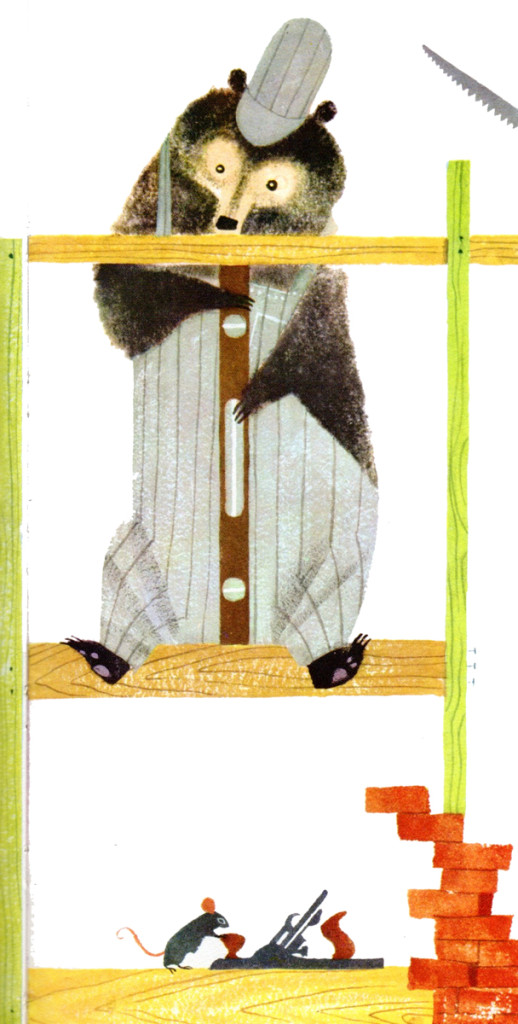 10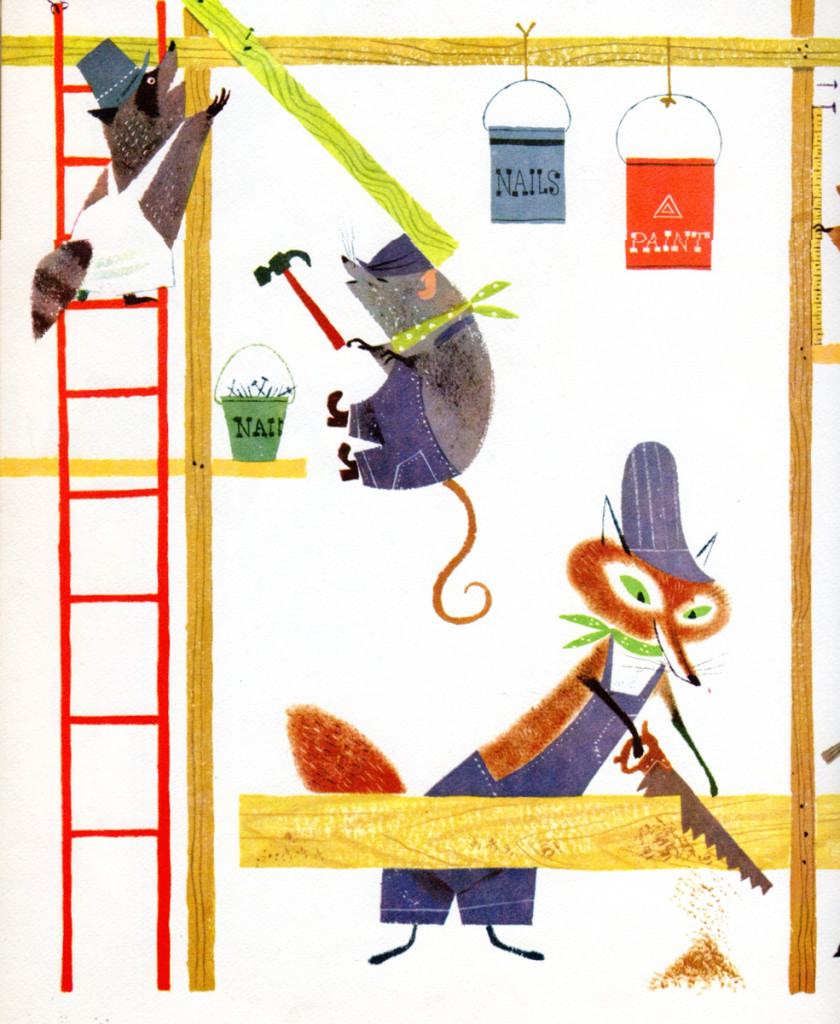 11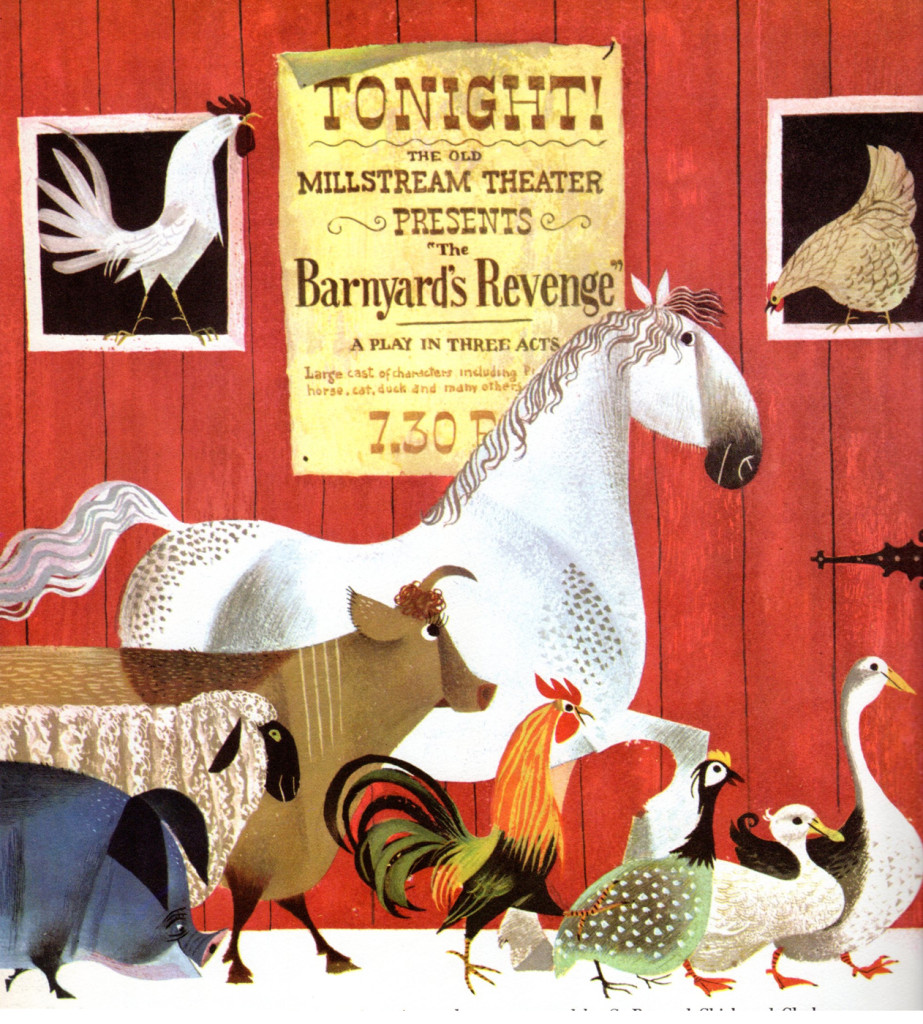 12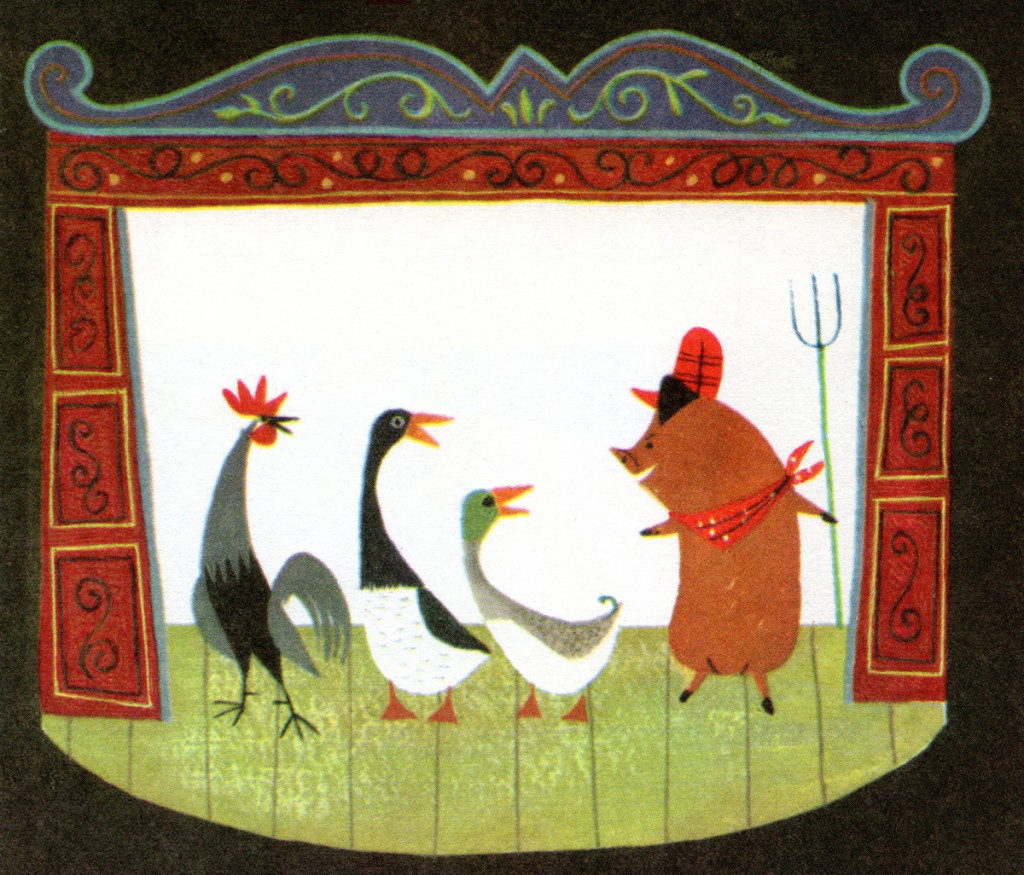 13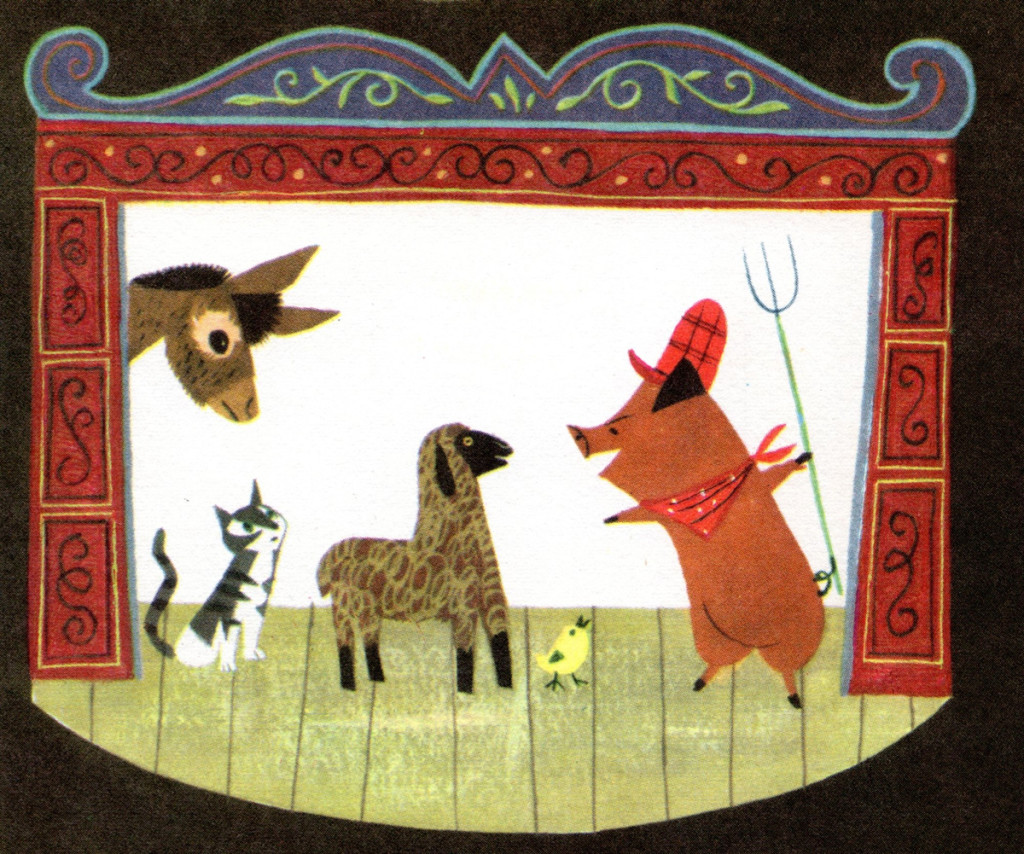 14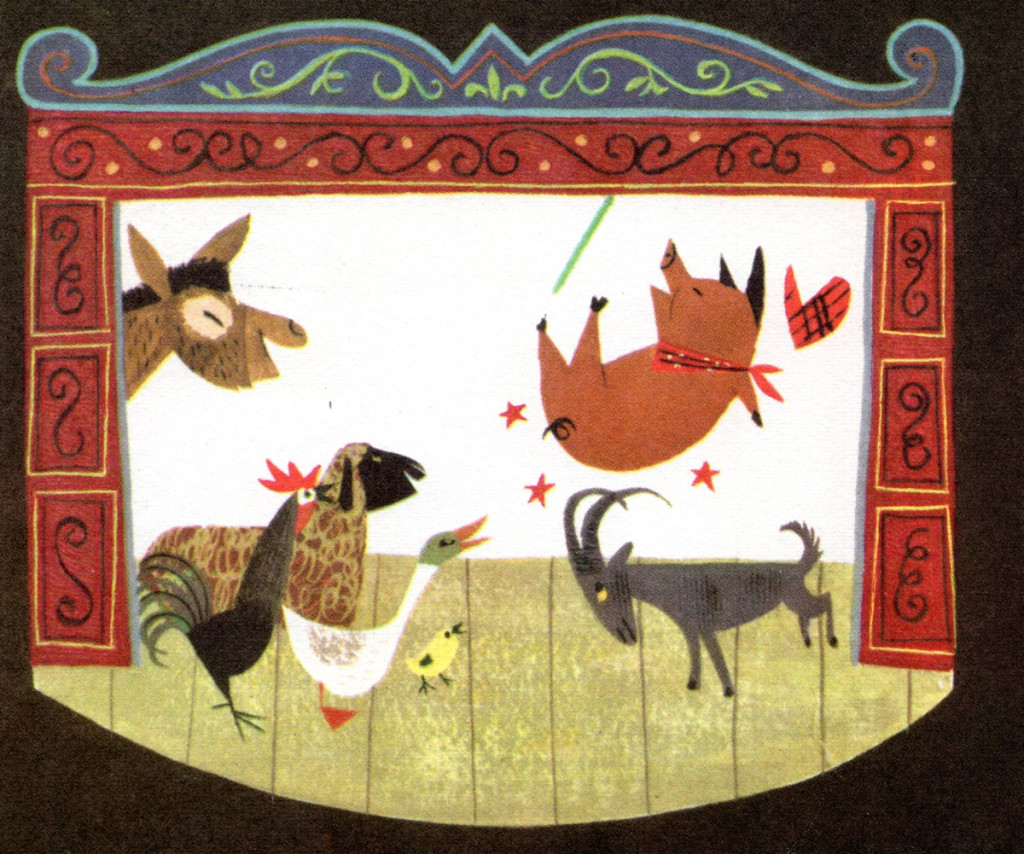 15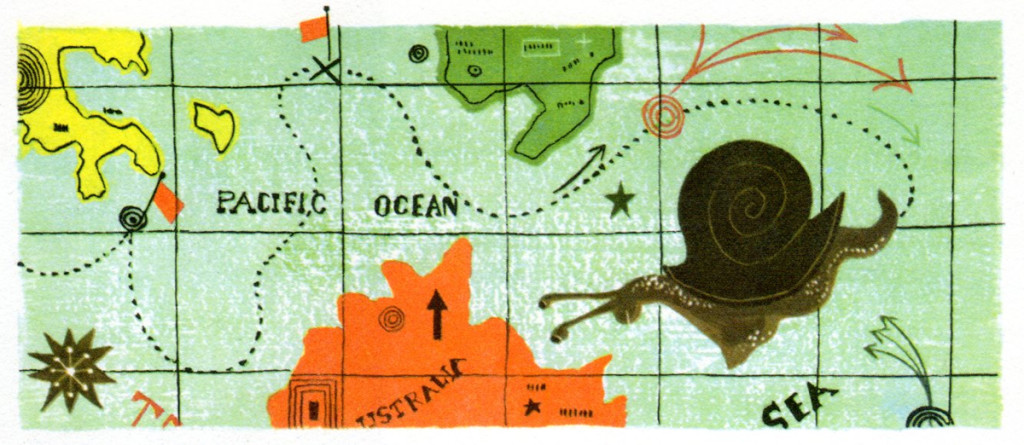 16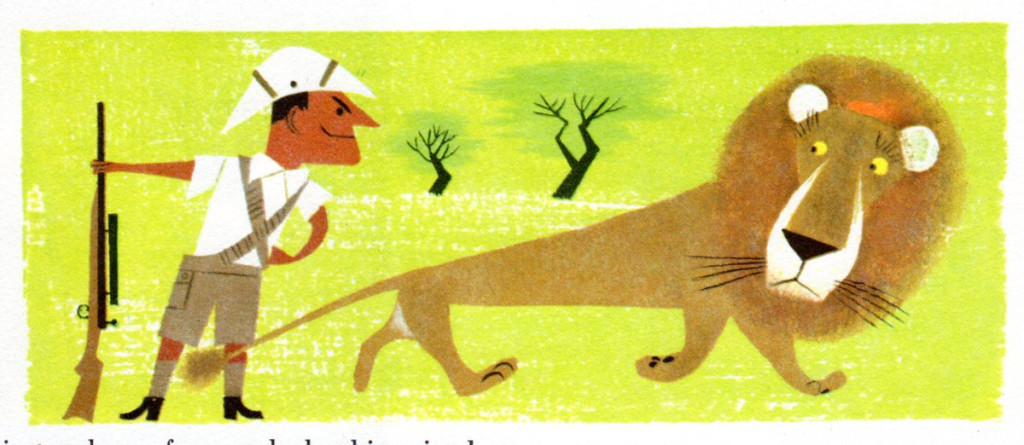 17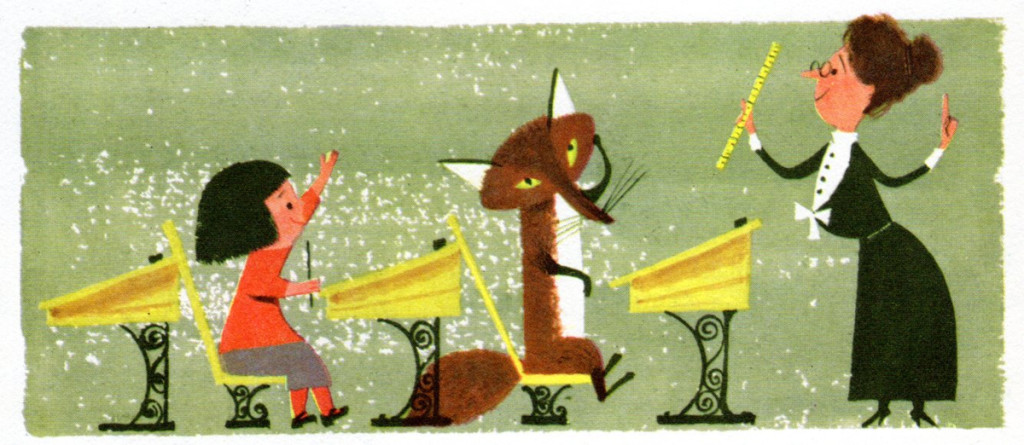 18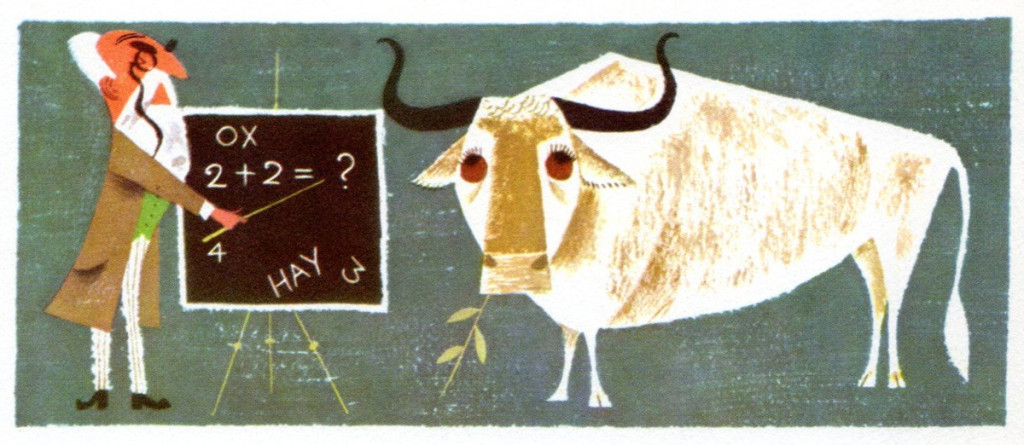 19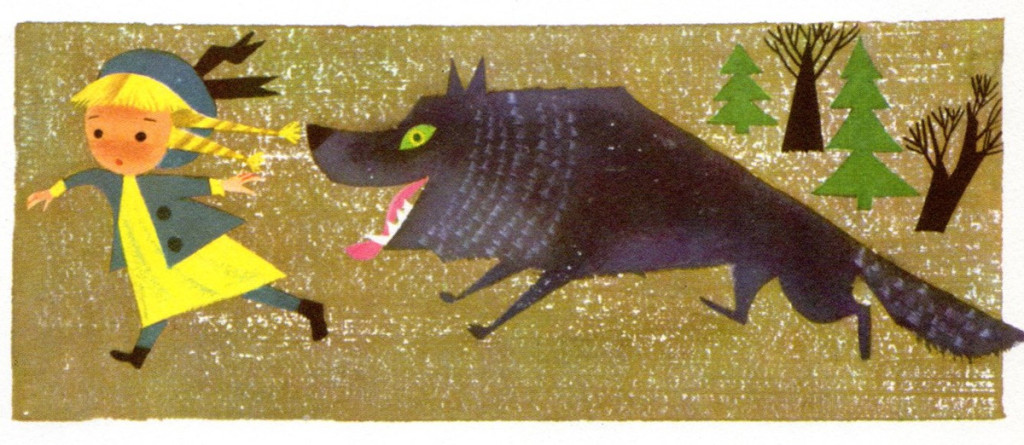 20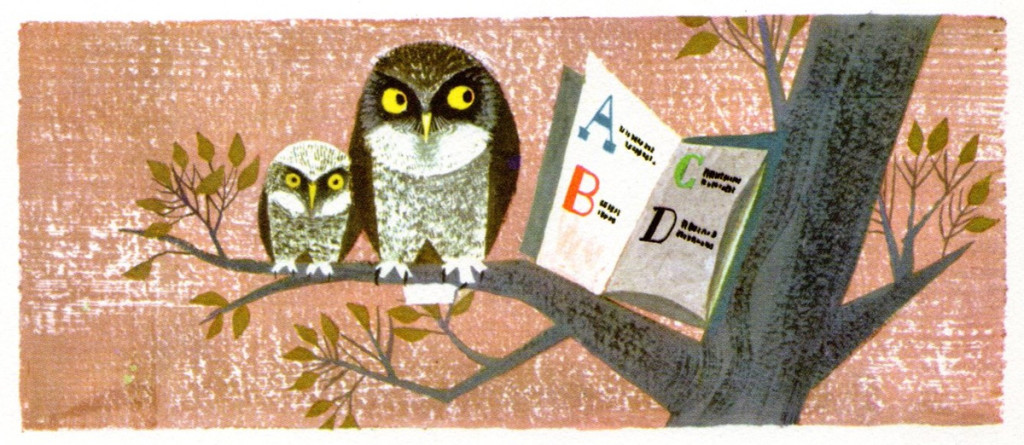 21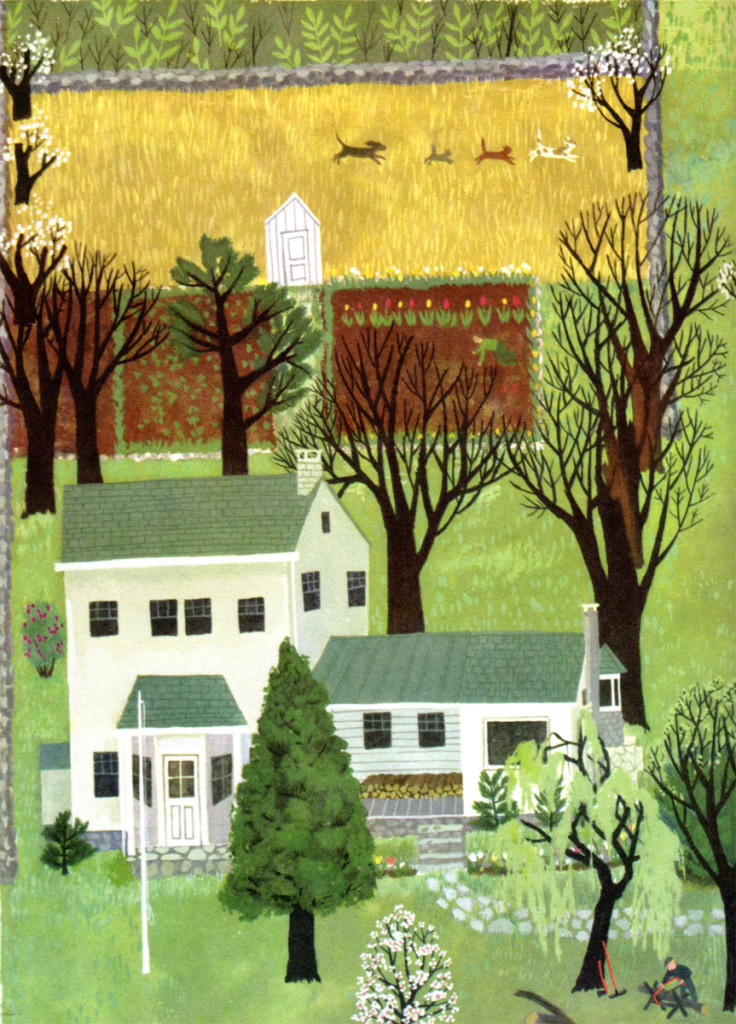 22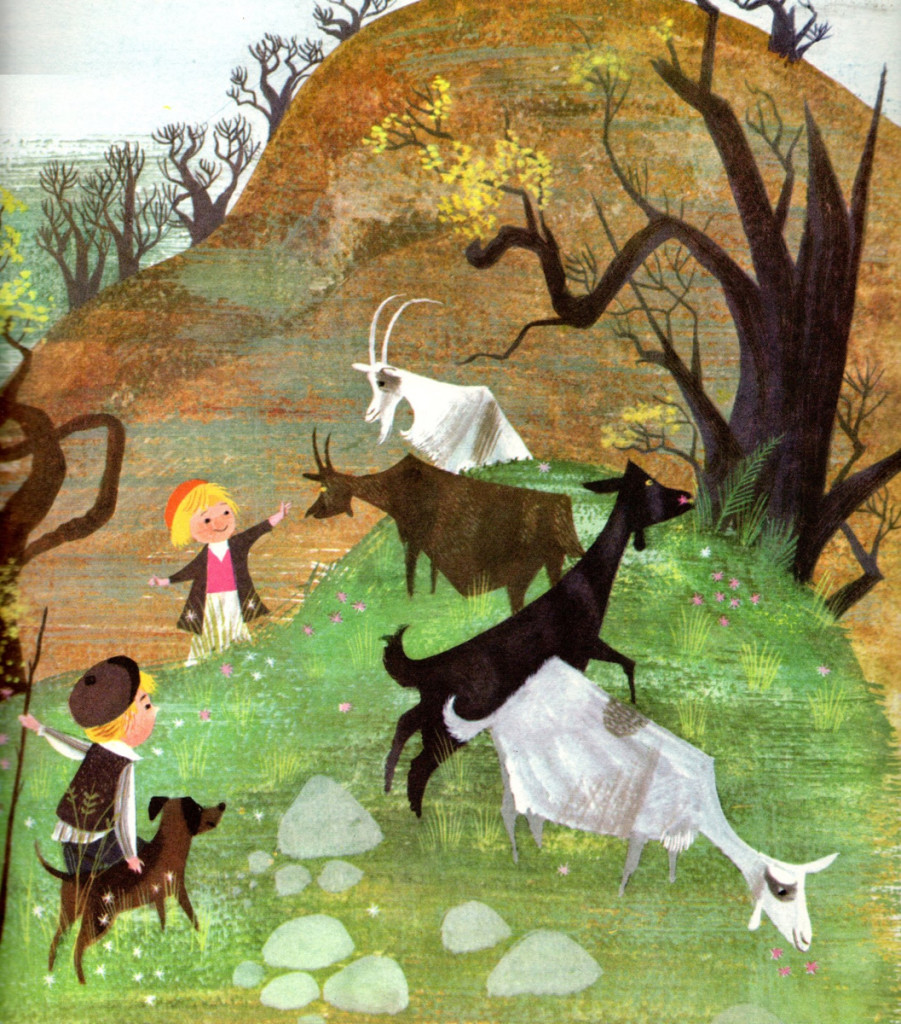 23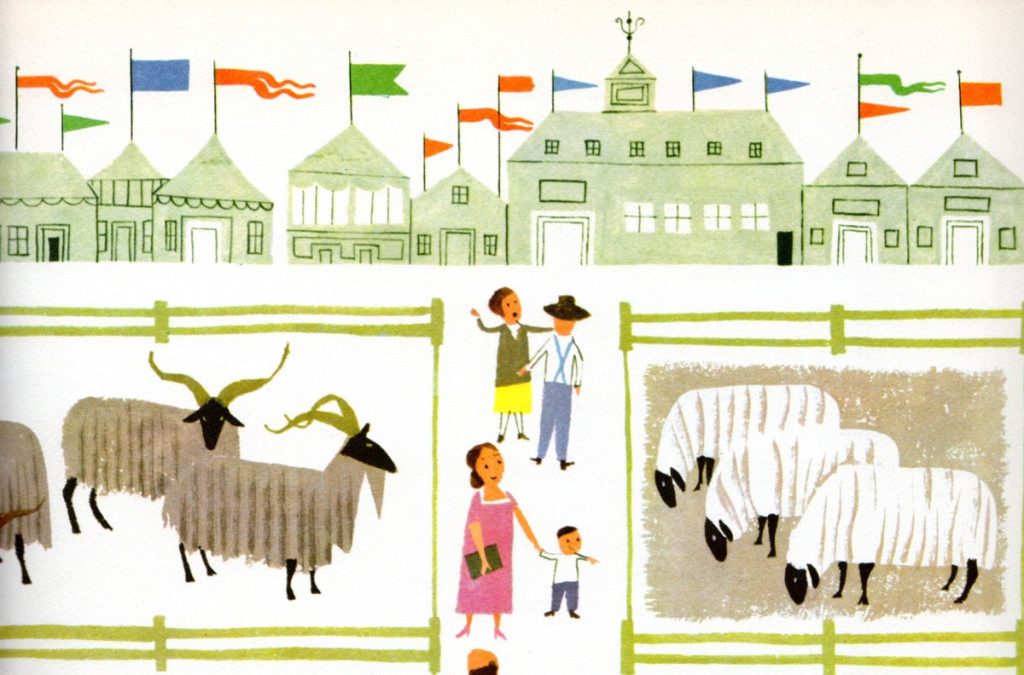 24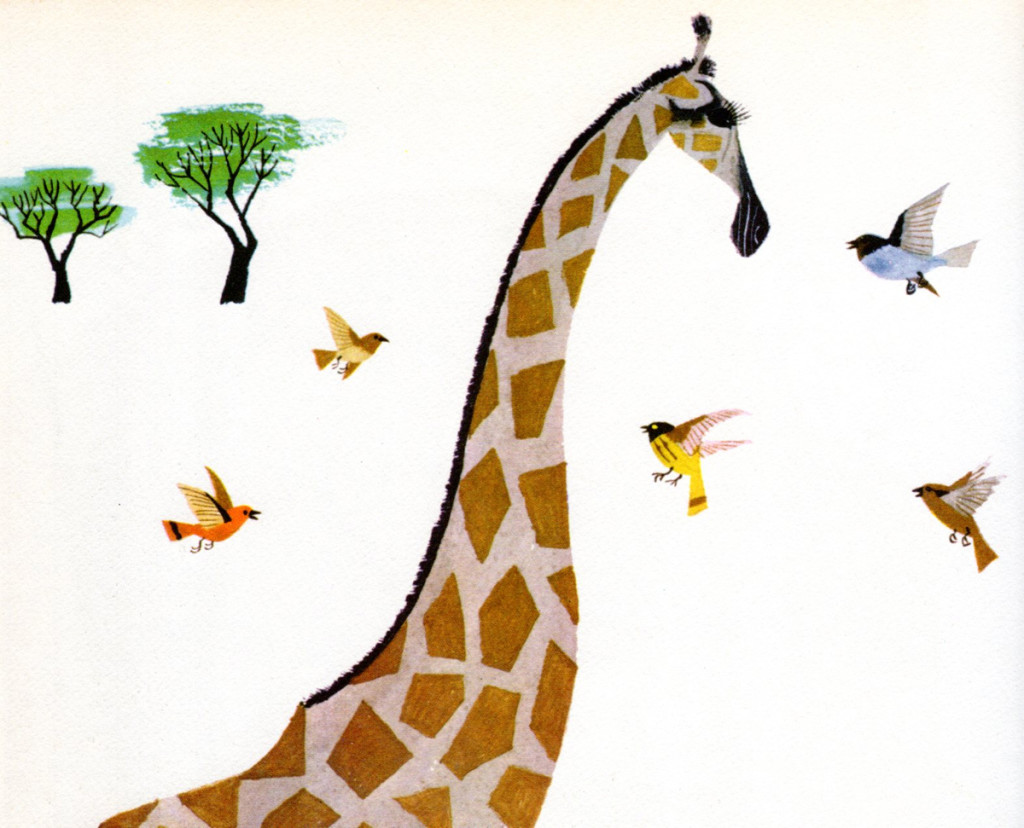 25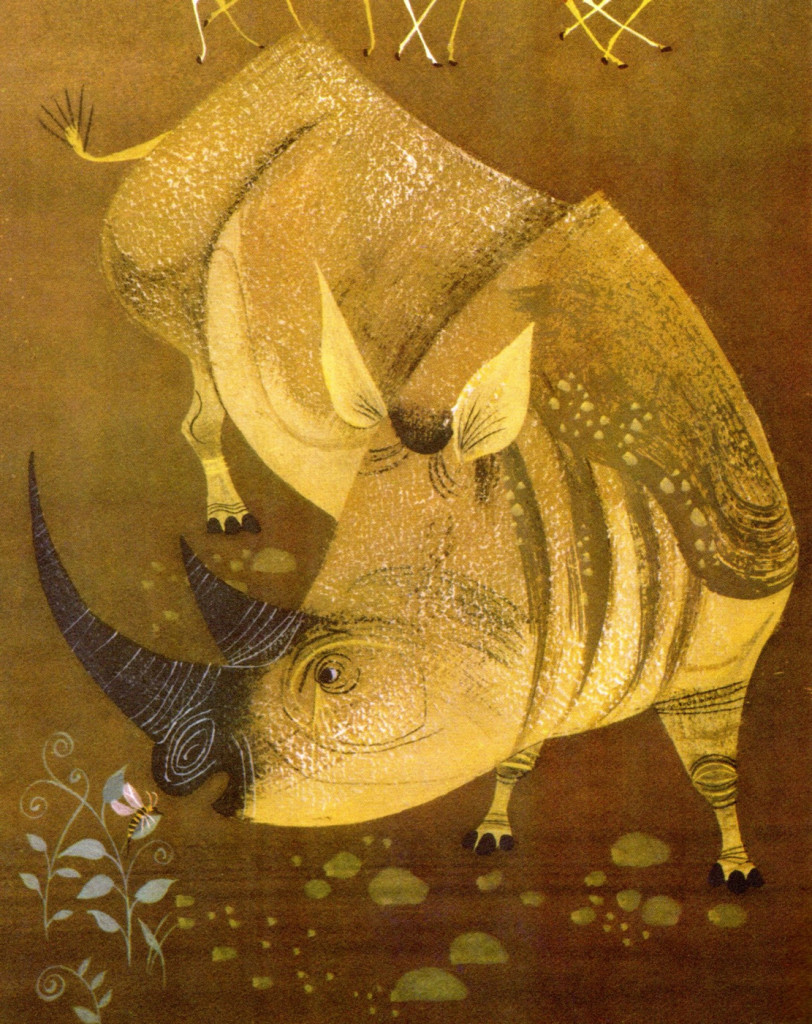 26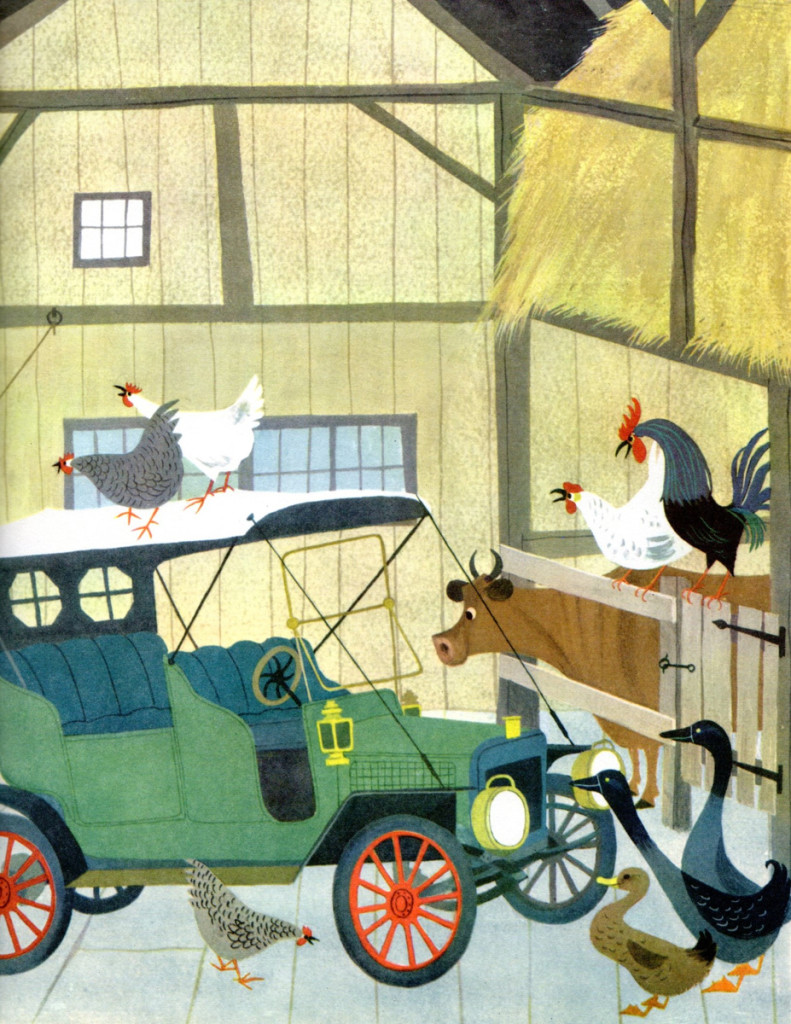 27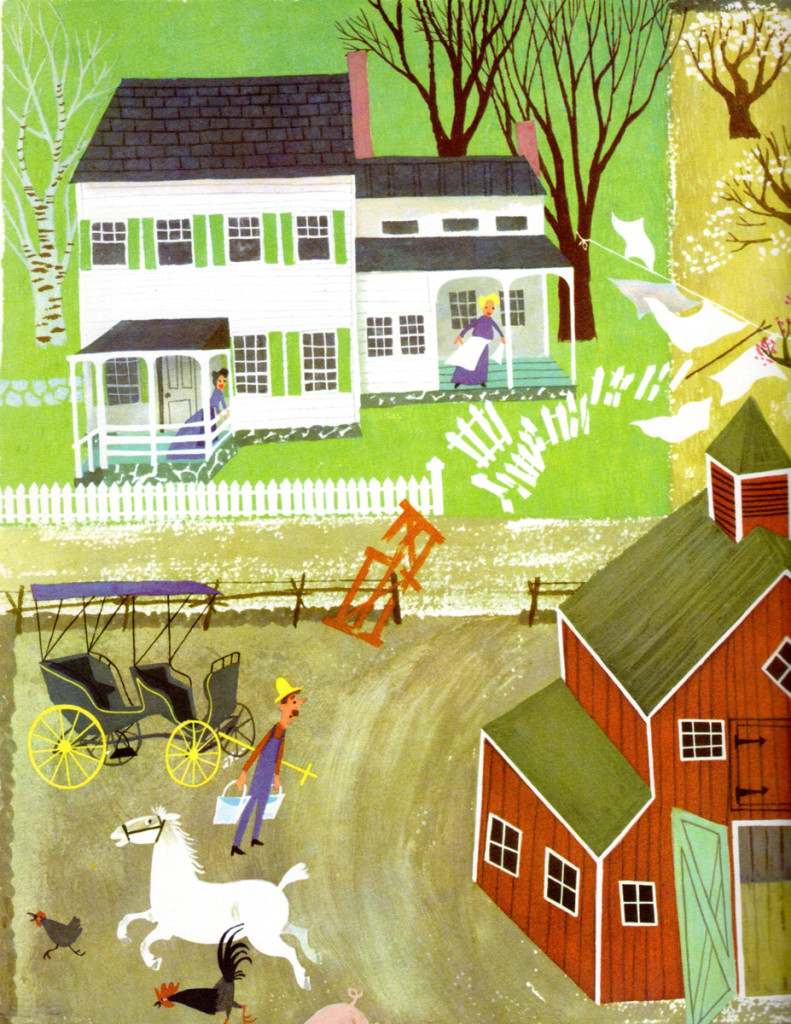 28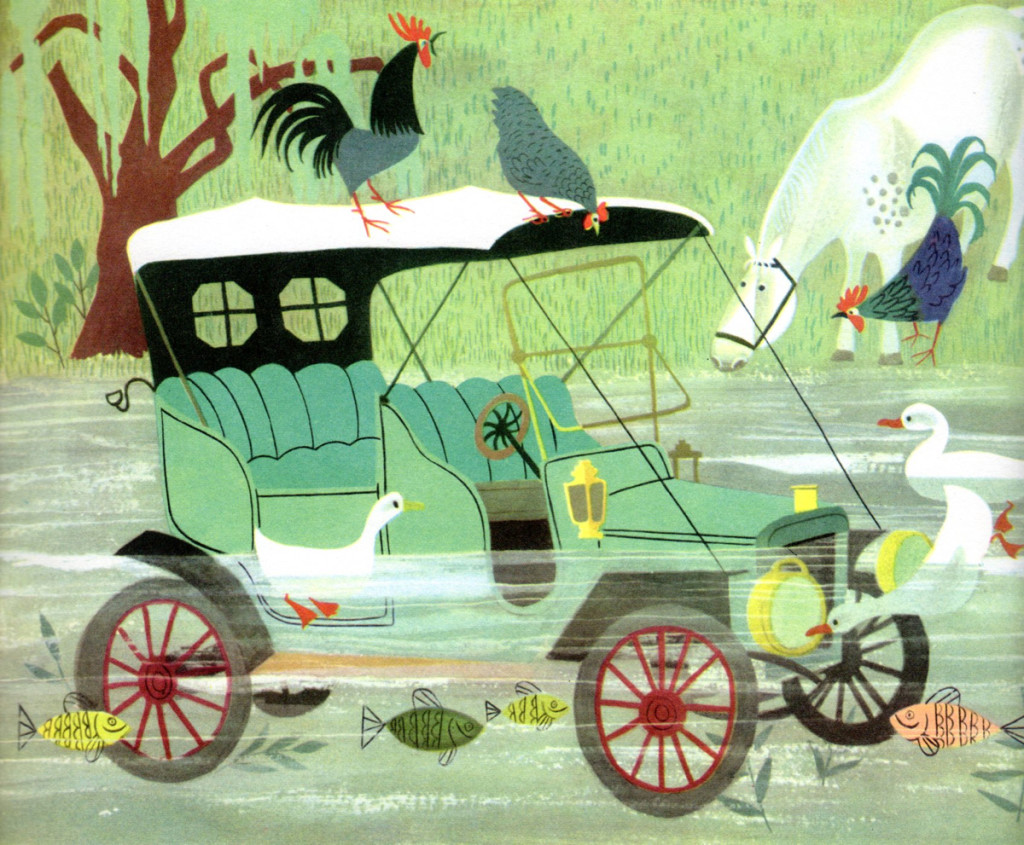 29
Animation &Animation Artifacts &Articles on Animation &Commentary &commercial animation &Independent Animation &Layout & Design 22 Jun 2013 05:13 am
A number of years ago I'd made a short trip to LA. During that visit, a man came up to introduce himself. It was John Wilson. He told me that he had just nominated me for an ASIFA Hollywood Award because he'd loved my work. I'd learned so much from watching Mr. Wilson's films that it was wonderful to see that the mutual admiration society ran both ways.
John Wilson died yesterday. His son, Andrew, wrote to tell me of it. My feelings go out to the family and am enormously sorry that animation loses another one of its masters.
He was a director, designer and animator about whom I'd done a series of posts on his career. Out of respect for Mr. Wilson, I'd like to post all of those articles together (and hold them there for the entire weekend.)
Hope you'll enjoy.
1.
Let me start by sharing some bio information about John Wilson and his company Fine Arts Films.
- John Wilson was born in Wimbledon in 1920. He attended the Royal College of Art and was working by age 18 as a commercial artist with Willings Press Service. In WWII he served with the London Rifle Brigade in African where he was seriously wounded. Recuperating in hospital, he drew many cartoons of which several were printed. Eventually he would recover and get work at Pinewood Studios in the art department where he worked on GREAT EXPECTATIONS and THE THIEF OF BAGHDAD, among other films.
By the time he was 25, he was working in animation at Gaumont-British Animation, a newly formed division of J. Arthur Rank's studio, working under the direction of David Hand on the "Animaland" series starring "Ginger Nut."
In 1950 he moved to the United States working in layout and animation at UPA. He found himself working with Bobe Cannon, Pete Burness, Jules Engel, and Paul Julian. Eventually he left for the Disney studio working in Les Clark's 'Tinkerbell' unit on PETER PAN and with Ward Kimball on TOOT WHISTLE PLUNK & BOOM.
He tried to sell Disney on the film Tara, the Stonecutter, but they weren't interested. He completed it himself in 1955 using a Japanese style to tell the story. Wilson was impressed with the UPA style of modern art in animation, and that's the route he took for his personal film. Thus his studio was born, called Fine Arts Films, in 1955. Tara had some success playing theatrically with the successful Japanese feature film, GATE OF HELL by Kinugasa (which had won the Oscar for Best Foreign Film.)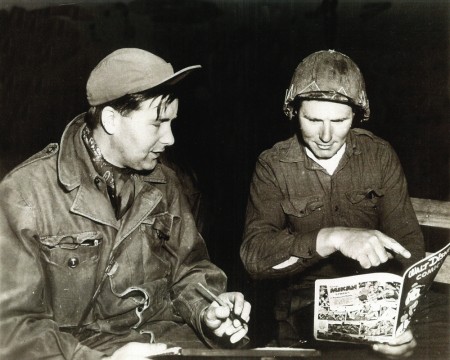 Wilson in Korea with the Bob Hope Tour to entertain the troops.
This film led to his producing a verion of Stravinsky's Petroushka for NBC which aired in 1956 as part of The Sol Hurok Music Hour. Notably, Stravinsky, himself, arranged and conducted the shortened version of the score suing the LA Philharmonic Orchestra. The film was designed by John Wilson and Dean Spille with anmation by Bill Littlejohn, Art Davis, and Phil Monroe. Chris Jenkyns, Dean Spille and Ed DeMattia designed the 16 minute show from Wilson's storyboard.
Fine Arts Films had produced 'Journey to the Stars', a project for the 1961 World's Fair, an animated voyage through space for NASA, which was seen in 70 mm Cinerama by ten million visitors to Seattle.
Billy Wilder employed Wilson to do the titles for Irma La Douce after which they did a six-minute trailer for this Jack Lemmon, Shirley McLaine feature. It was all about Parisian prostitutes romping about in Montmartre, and animation could apparently make it acceptable. Artists Ron Maidenberg, Sam Weiss, Sam Cornell and Bob Curtis caught the vivid nightlife of Paris in a sexually charged animated short. It was a huge success in promoting the feature.
In 1970 Wilson flew to Chicago to see Carol Channing and Eddie Bracken appearing in "archy and mehitabel in Shinbone Alley". On the basis of this theatrical musical, Wilson bought the screen rights to the book "archy and mehitabel" by George Herriman and began work on an animated feature which was released by Allied Artists in 1971.
Fine Arts Films was also responsible for many animated commercials as well as weekly music video segments for the weekly CBS-TV series "The Sonny and Cher Show." The songs included Joni Mitchell's "Big Yellow Taxi" and Jim Croce's "Leroy Brown."
Here are some storyboard sketches by John Wilson for his initial short film, Tara, the Stonecutter. This film started it all for Wilson.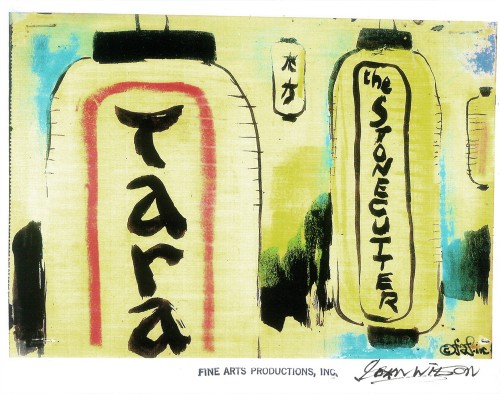 1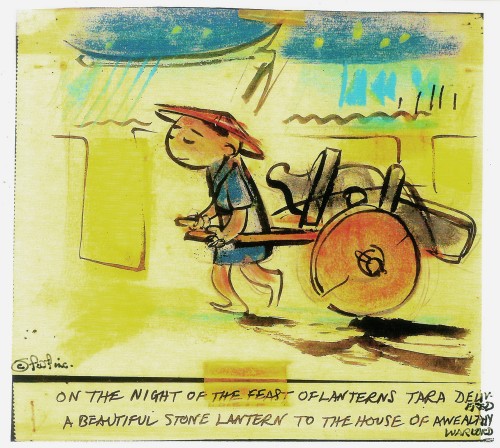 2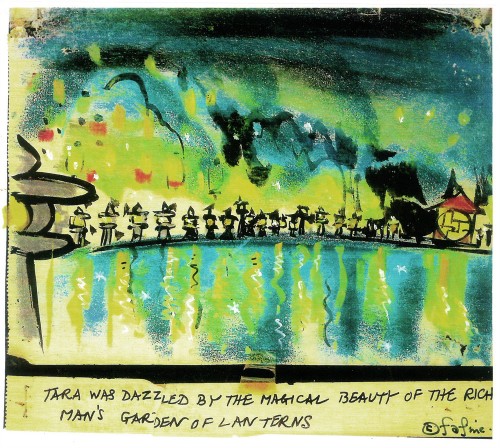 3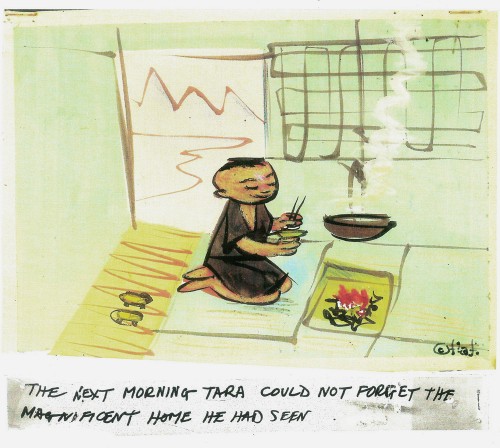 4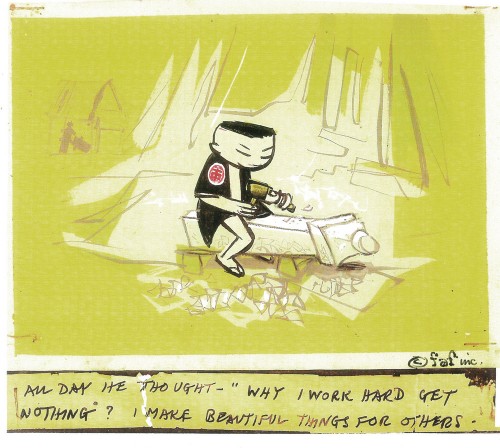 5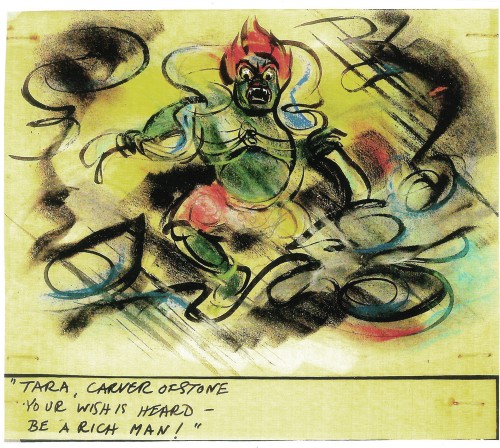 6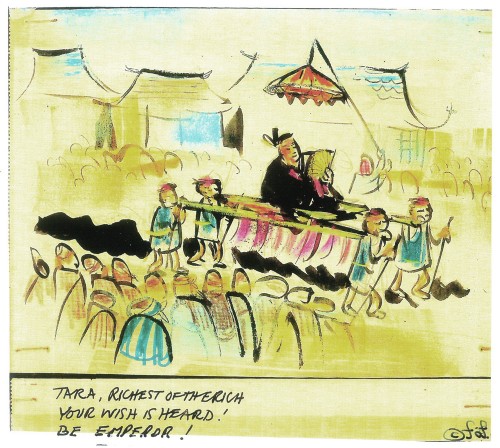 7

I haven't seen the finished film, but I understand that Japanese decorative papers were used in the backgrounds and costumes of the characters.
Here are two press clippings for this film from California papers.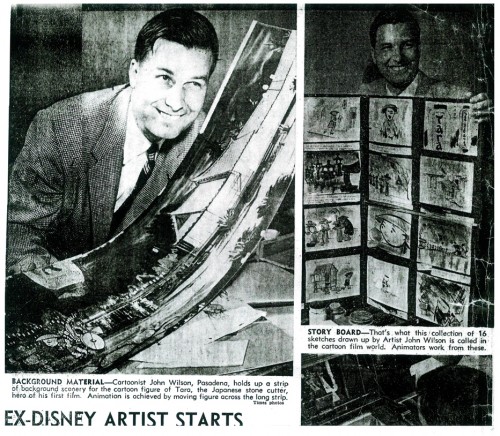 (Click any image to enlarge.)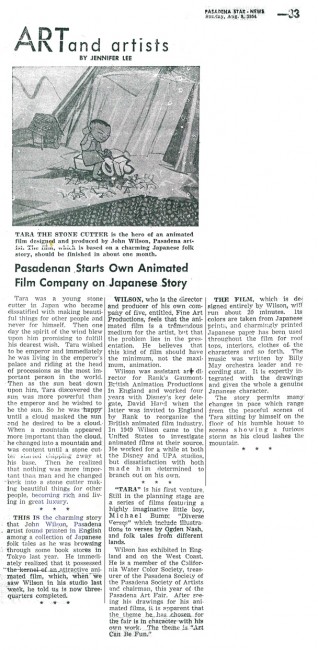 2.
- After completing the film, Tara the Stone Cutter in 1955, John Wilson and his newly formed company,Fine Arts Films, was able to sell the idea of an animated version of Stravinsky's Petroushka to NBC. They aired the 16 min. film in 1956 as part of The Sol Hurok Music Hour. Stravinsky, himself, arranged and conducted the shortened version of the score using the LA Philharmonic Orchestra.
The film was designed by John Wilson and Dean Spille; animation was done by Bill Littlejohn, Art Davis, and Phil Monroe. Chris Jenkyns, Dean Spille and Ed DeMattia designed the show from Wilson's storyboard. This is considered the first animated Special ever to air on TV.
Here are some stills from that film and its artwork.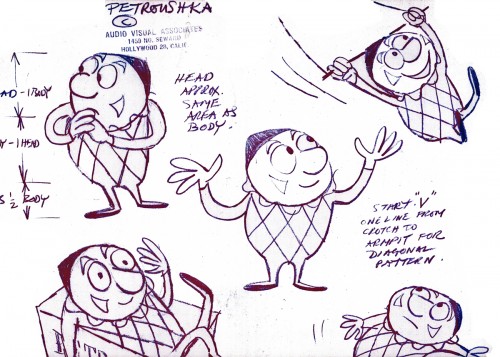 1
Petroushka – model 1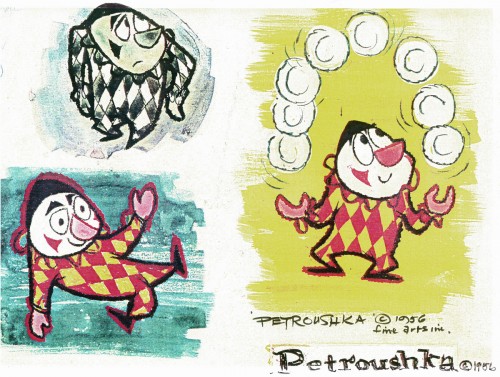 2
Petroushka – model 2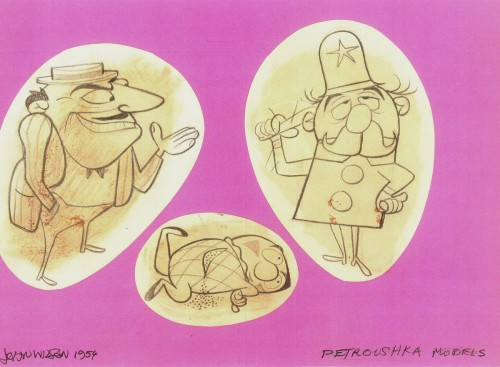 3
Petroushka – model 3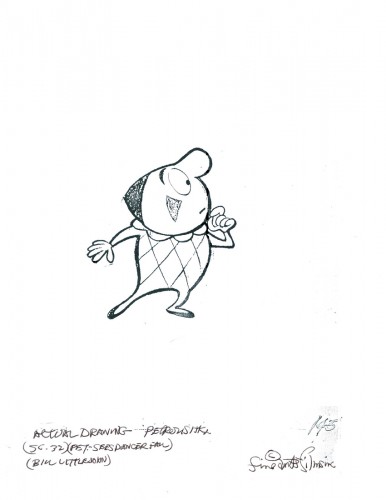 4
Bill Littlejohn drawing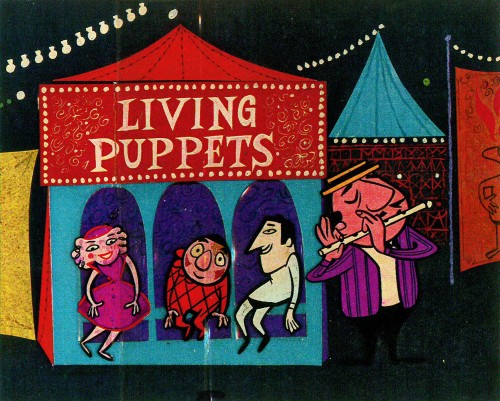 5
film still #1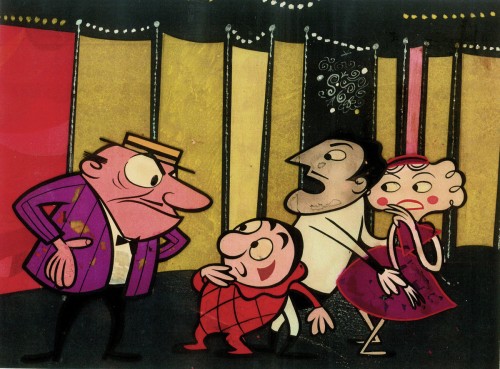 6
film still #2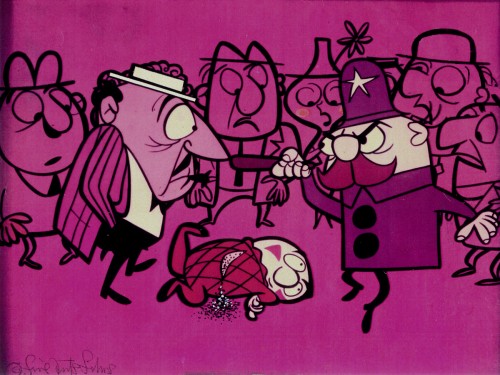 7
film still #3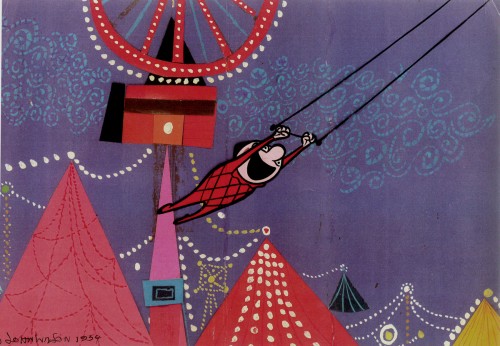 8
film still #4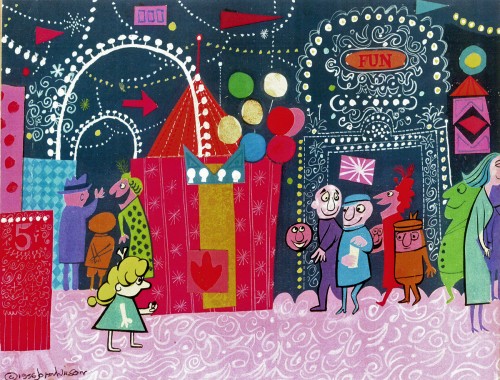 9
film still #5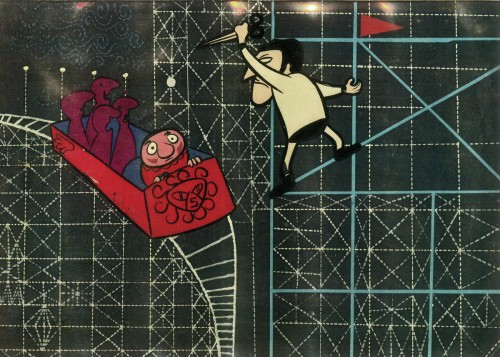 10
film still #6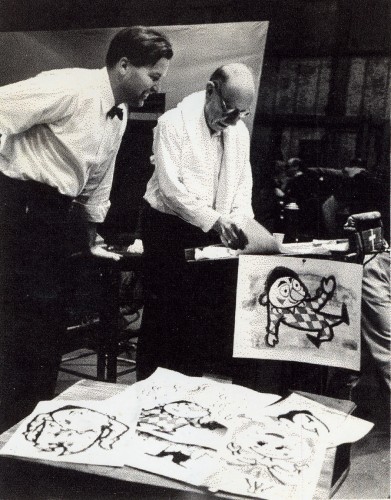 11
John Wilson and Igor Stravinsky preparing for recording of Petroushka
with the Los Angeles Philharmonic Orchestra (1955).

Here are copies of two reviews: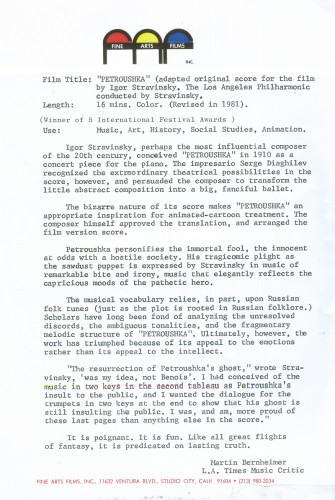 Los Angeles Time review (1956)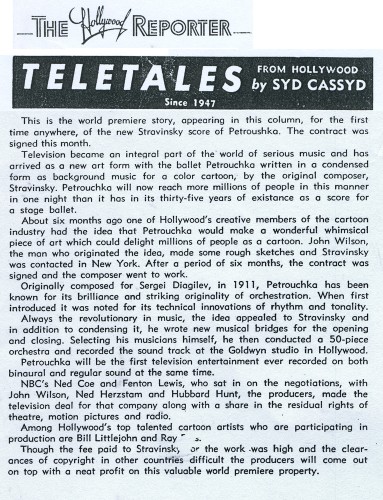 Hollywood Reporter review )1956)
(Click any image to enlarge.)

Petroushka was released on VHS tape combined with a number of the song pieces he did for the Sonny and Cher program. This tape, John Wilson's Fantastic All Electric Music Movie, can still be found on Amazon but is pricey.
Thanks to Amid Amidi for the loan of this material.
3.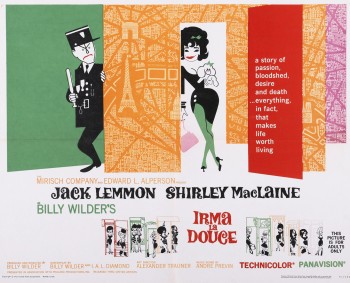 Irma La Douce was a racy film written and directed by Billy Wilder that starred Shirley MacLaine as a Parisian prostitute and Jack Lemmon as a French policeman who falls in love with Irma (Shirley MacLaine.) The film, for its time was daring, and came up with (heaven forbid) a "C" for Condemned rating from the Catholic church. This made it off limits for anyone under the age of 18. I was determined to go see the film, so I ignored the ban and went by myself. Naturally enough, no one tried to stop me. I wasn't jaded by the movie anymore than I had been disturbed by the violence in all the Warner Bros. cartoons I'd seen. Looking back on Irma La Douce, it really is an innocent film, hardly risqué in any way shape or form.
The film started with some nicely drawn animated credits which were done by John Wilson's studio. Until recently I hadn't known that Wilson also produced an animated short promoting the feature for the Mirisch Company. I have some preproduction art from that short as well as the color storyboard. The board is large enough that I've decided to break it into two parts. We'll see part one today and the second part next week.
Each section of three images is long enough that unless I post one drawing at a time, it'll be too tiny to see unless enlarged. I'd like to post each storyboard sketch a nice viewing size and still give you the option of enlarging it.
Let's start with some production and post production stills so you can see what it looked like.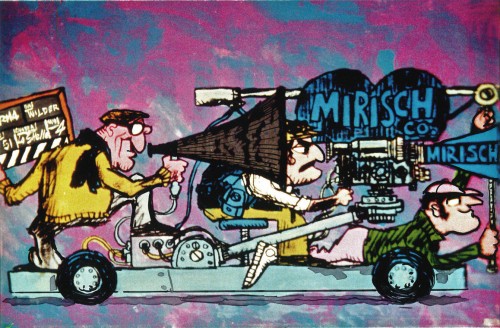 1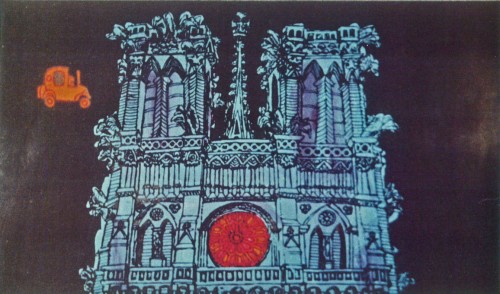 2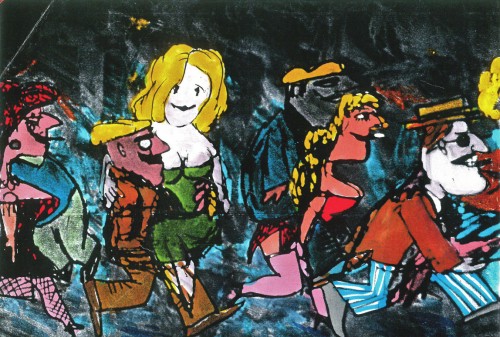 3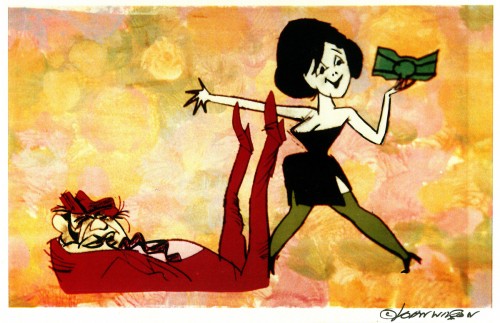 4
A couple of pre-production drawings: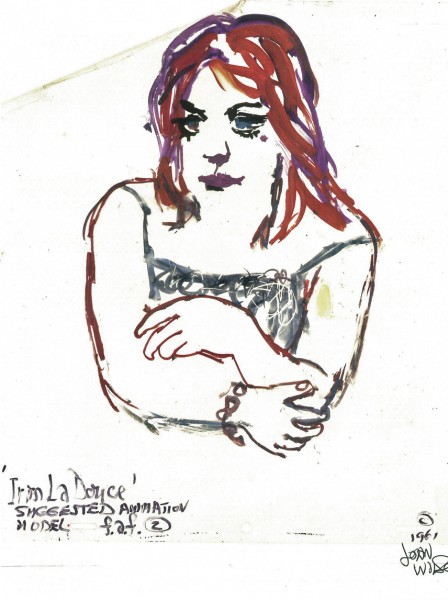 1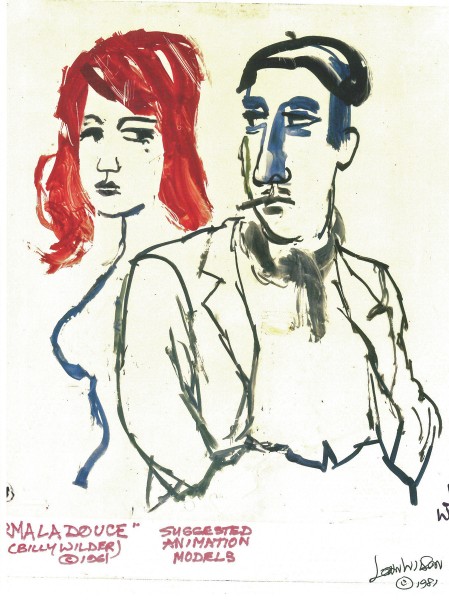 2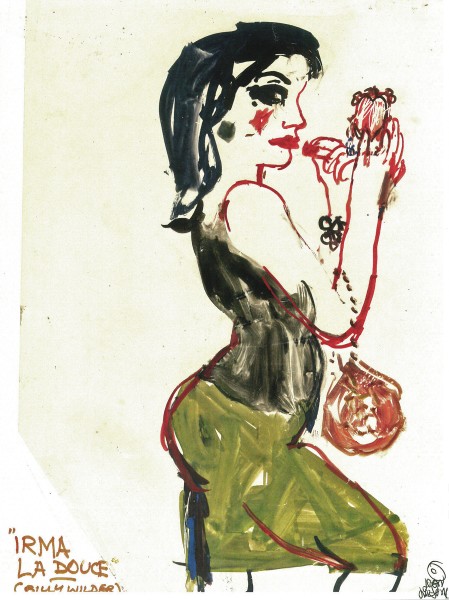 3

Then, there's the storyboard. I'll give an example of the three panel pull out and follow that with each individual image.


You can see why I've decided to enlarge the images.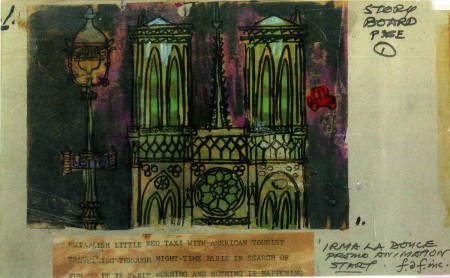 1a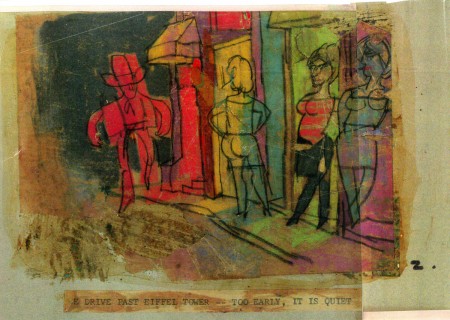 1b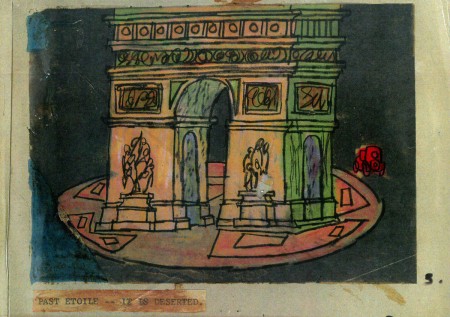 1c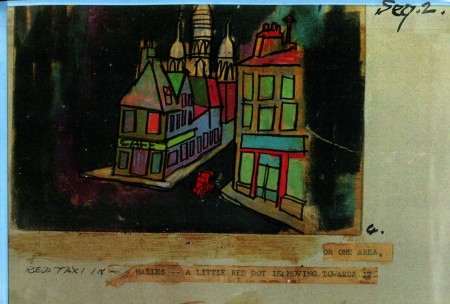 2a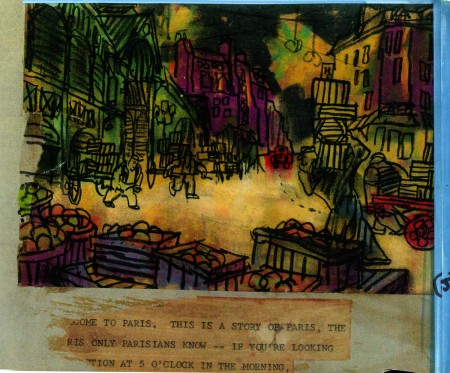 2b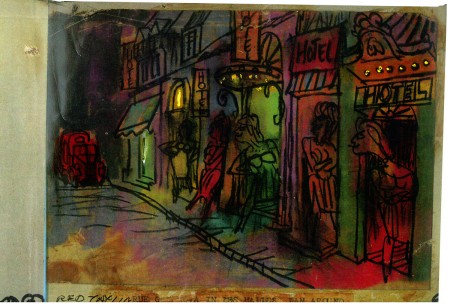 2c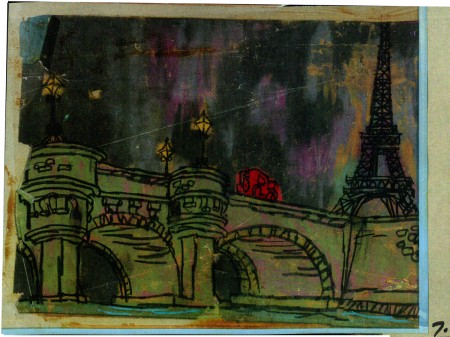 3a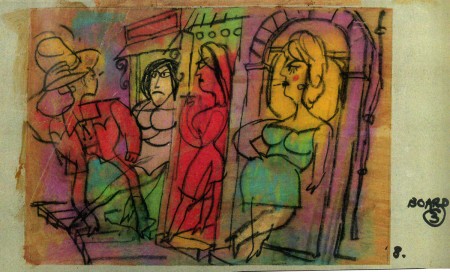 3b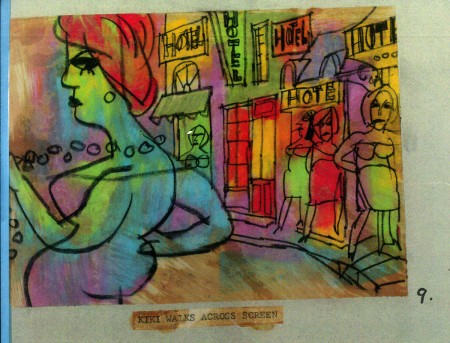 4a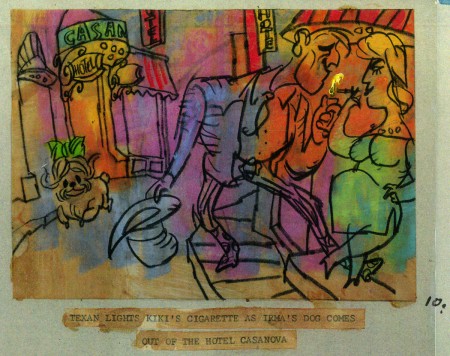 4b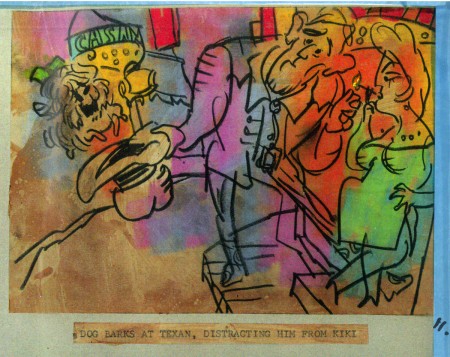 4c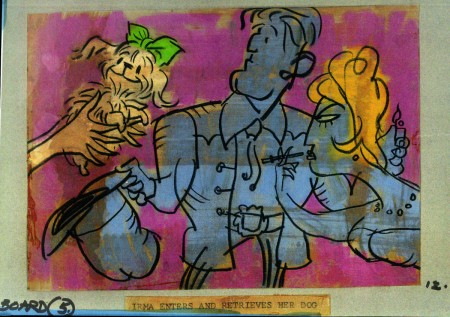 5a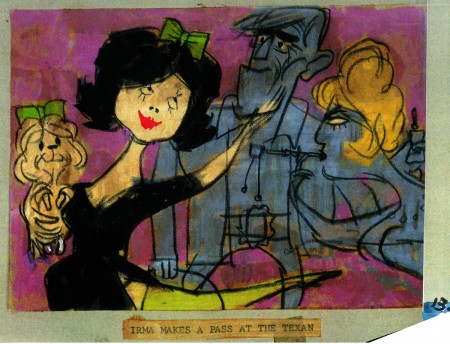 5b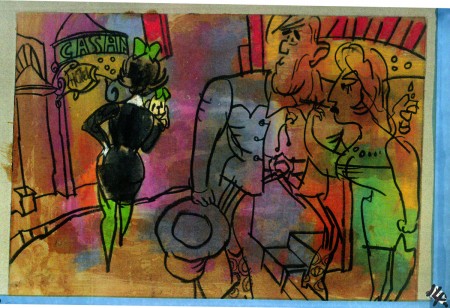 5c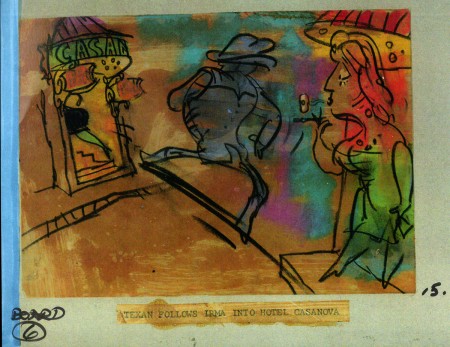 6a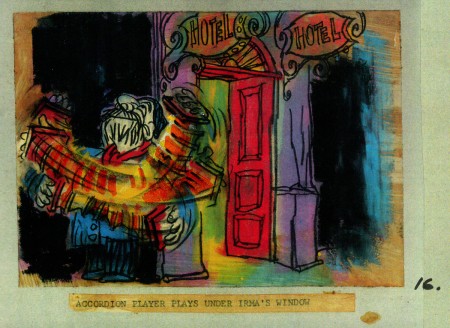 6b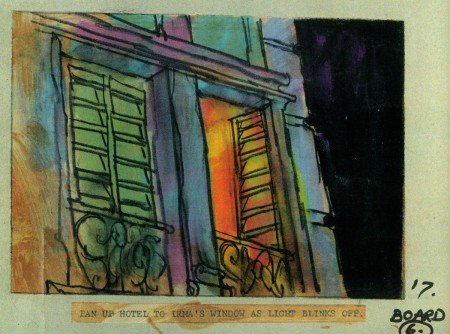 6c

4.
John Wilson created this storyboard for the Mirisch Corp. It was an animated trailer to promote Billy Wilder's coming film, Irma La Douce. The board comes in 18 pages of three storyboard drawings. Rather than post the sets of three images (and only being able to show them at a smallish size) I've taken each individual drawing and have blown them up to see them better on this blog.
Again, these were for a lengthy trailer for the film not the opening credits. The film's credits do not use animation.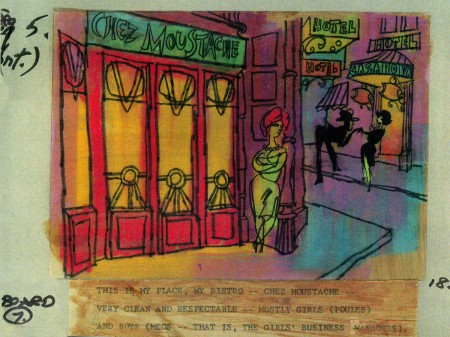 7a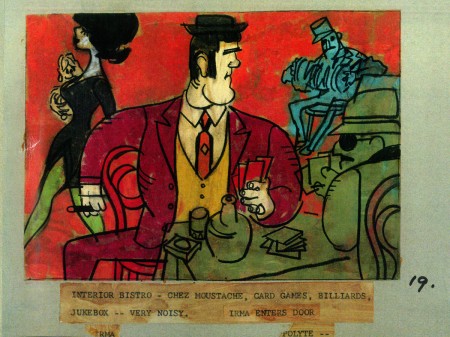 7b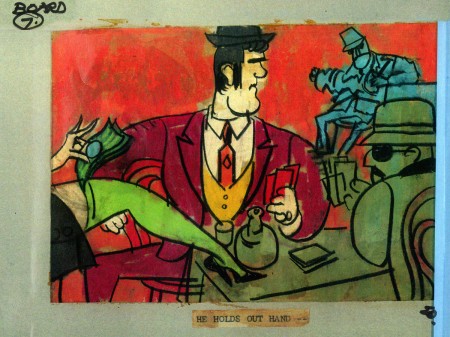 7c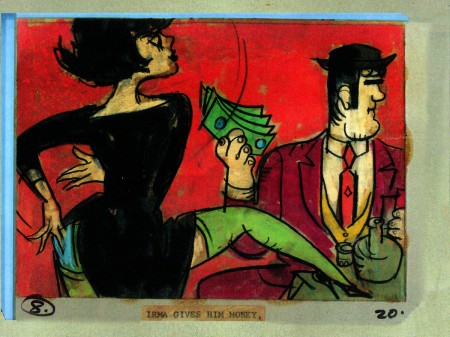 8a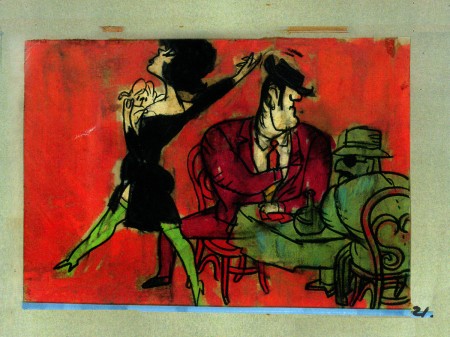 8b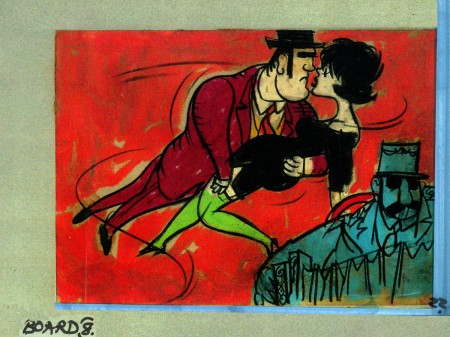 8c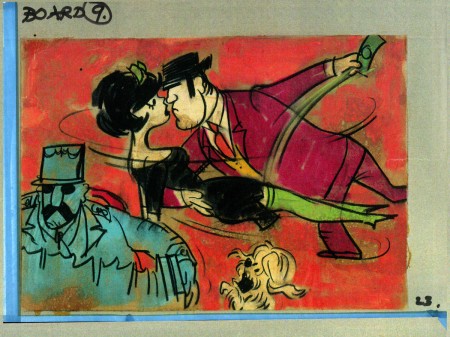 9a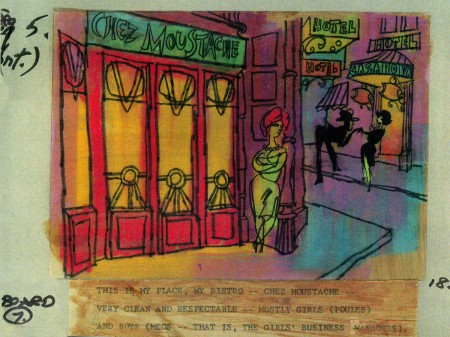 9b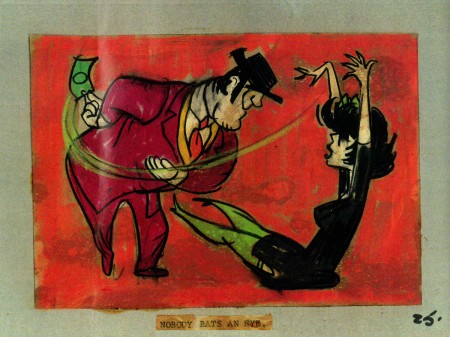 9c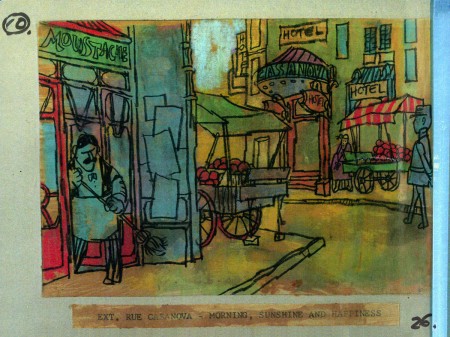 10a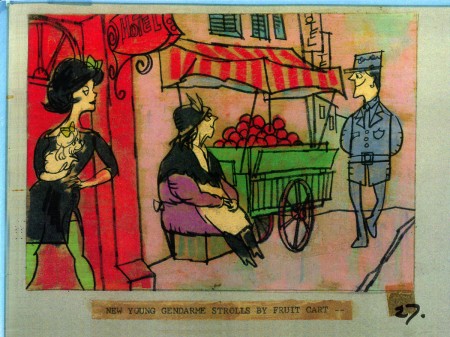 10b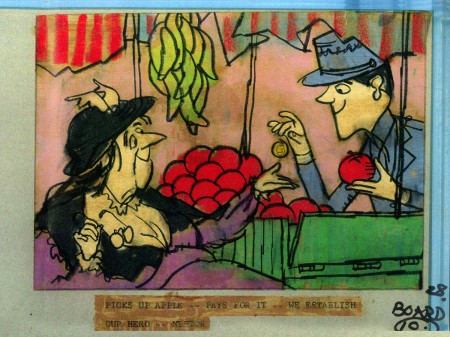 10c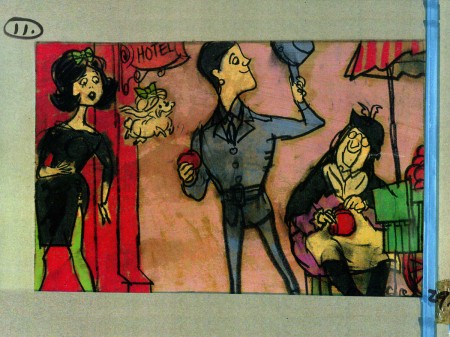 11a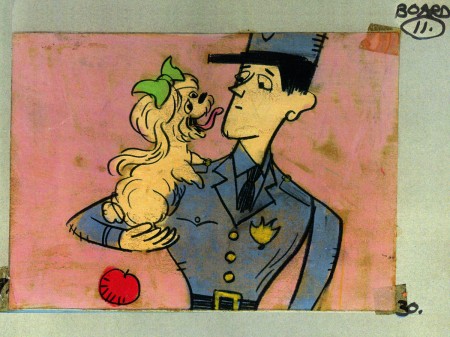 11b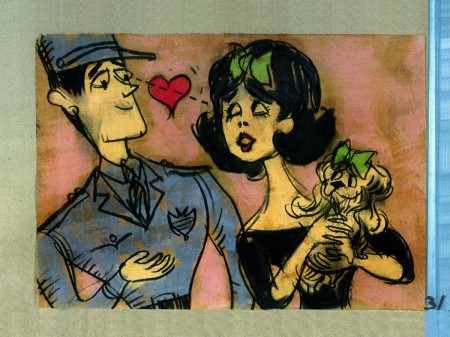 11c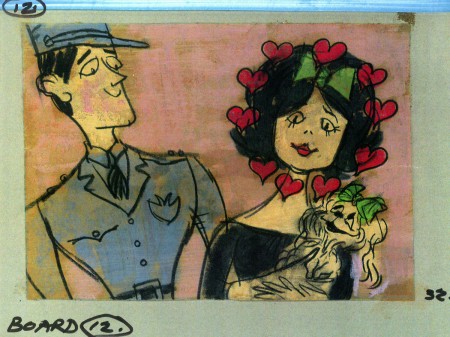 12a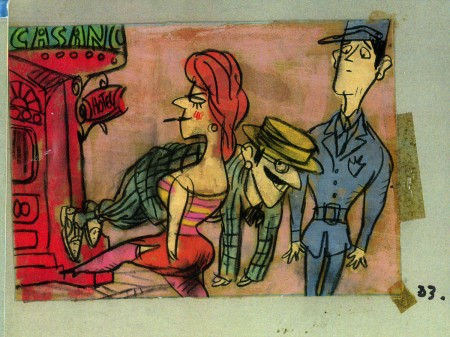 12b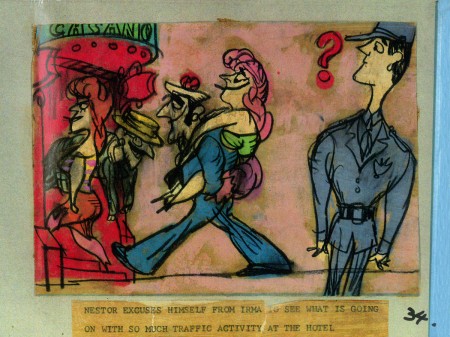 12c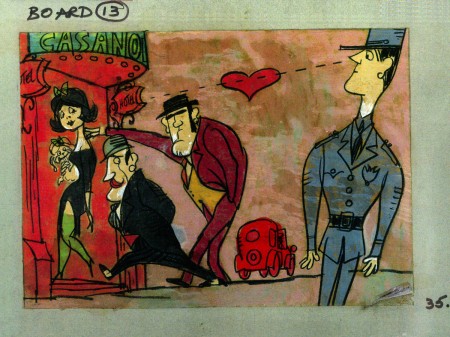 13a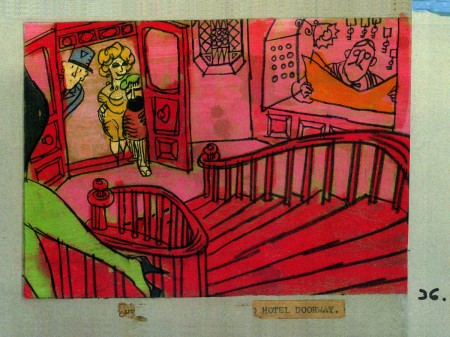 13b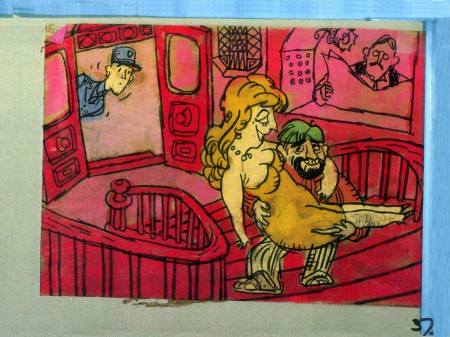 13c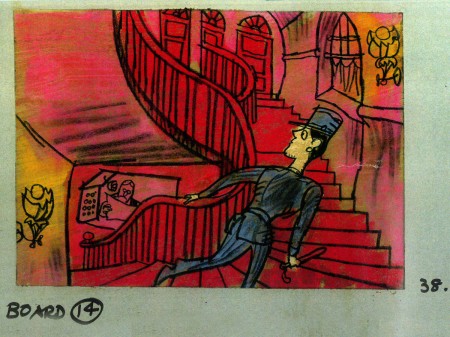 14a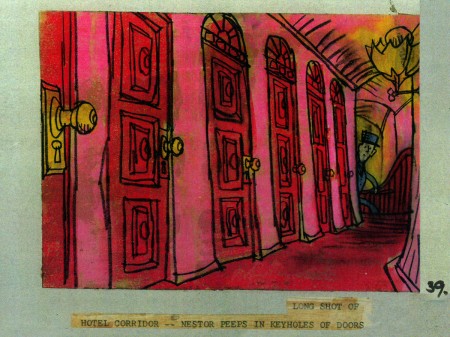 14b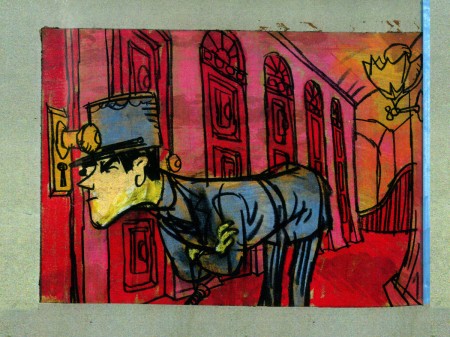 14c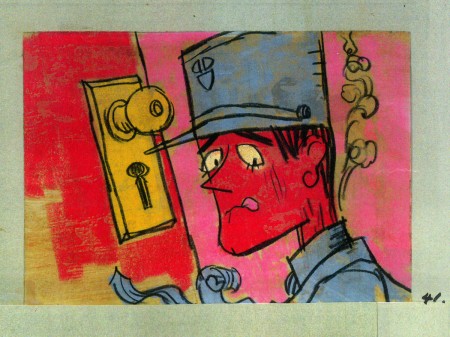 15a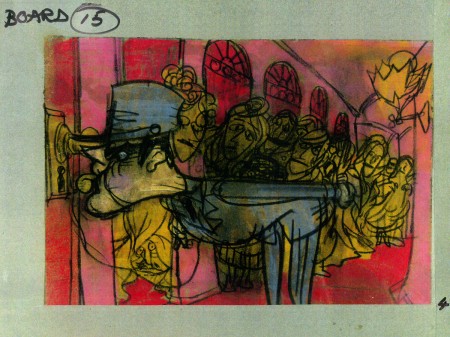 15b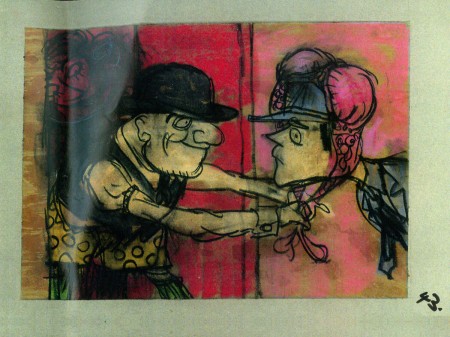 15c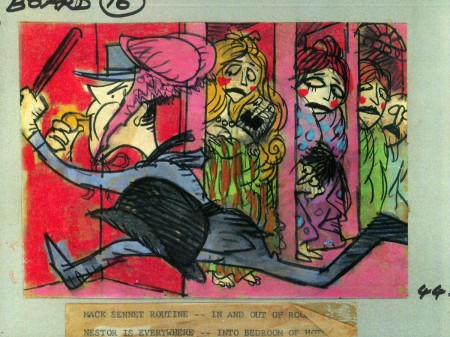 16a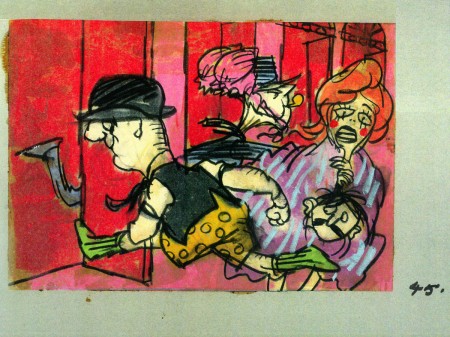 16b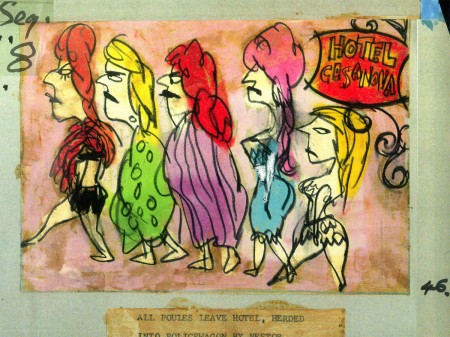 16c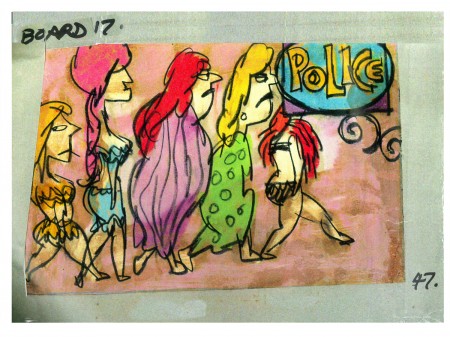 17a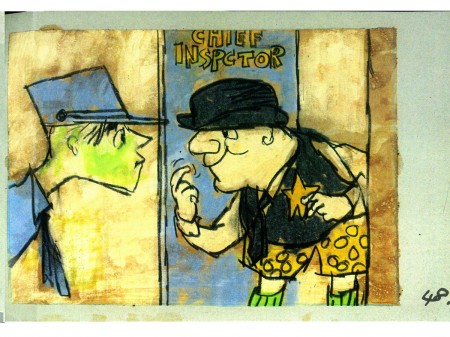 17b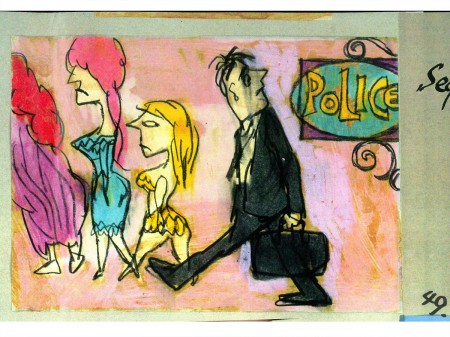 17c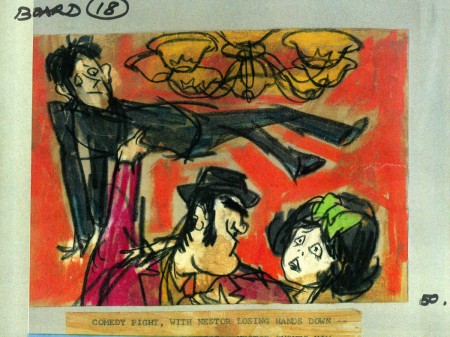 18a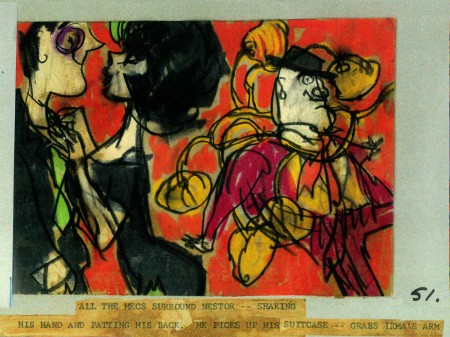 18b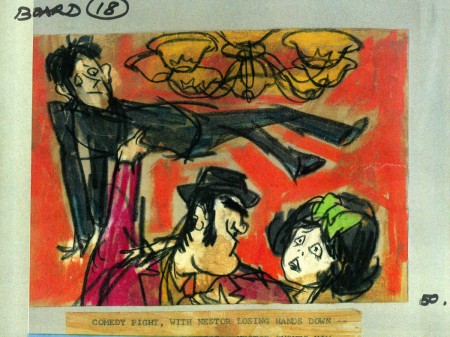 18c

___________________________


Here's a YouTube version of the trailer. Not the brightest quality, but you can see it.



5.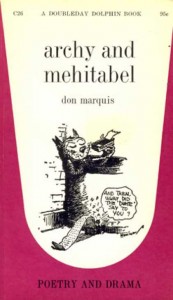 - Don Marquis' book, Archy and Mehitabel, garnered fame quickly and not least because of the extraordinary illustrations of George Herriman, the creator of Krazy Kat.
The first book was published in 1927 and others followed in 1933 and 1935. It wasn't until the third book that Herriman took over the characters created by Marquis in his book of short stories, developed mostly, in poetry. An on-again off-again love affair, the story had two principal characters: a cat, Mehitabel, and Archy, cockroach. (You can read these poems on line here.)
In 1953, writer Joe Darion along with composer George Kleinsinger (the creator of Tubby the Tuba) wrote a musical theater piece. Tenor Jonathan Anderson played Archy and soprano Mignon Dunn was Mehitabel. At about the same time a recording of the showtunes was recorded with Carol Channing as Mehitabel and Eddie Bracken as Archy. The record was a success.
With the help of the young writer, Mel Brooks, they were able to get their show to Broadway in 1957, but it was now named Shinbone Alley. After 49 performances, the show closed, but the original cast album was recorded that same year. The songs stayed in the permanent repetoire of Carol Channing and Eartha Kitt.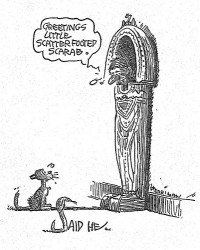 In 1971, John Wilson directed an animated feature starring the voices of Channing and Brackett and using the songs from the musical. The love affair between Archy and Mehitabel was penned by Archy, the cockroach; his poems tell their story.
The film suffers from its music. The songs are simple and sound as if they're written for children, but the lyrics pull from the poems which are definitely designed for adults. It gets a bit confusing, as a result, and is a bit picaresque; the poems are short and illustrating them in animation would take more adaptation than seen here.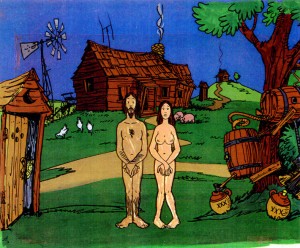 John Wilson had developed his studio, Fine Arts Films, on the back of the weekly, animated, music videos he did for The Sonny and Cher Show, an enormous hit in the early 70s.
These music videos were loose designs animated quickly and lively around the songs Sonny & Cher would schedule each week. There would always be one or two of these pieces, and they were highlights in the weekly one-hour musical/variety program.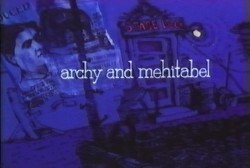 The graphics of Shinbone Alley aren't too far from these Sonny & Cher videos. Loose design and animation with a design style not too far from the Fred Wolf's made-for-ABC feature, The Point. This was the first feature made for television and featured the songs and story of Harry Nilsson, although Shinbone Alley featured a wilder color pallette.
Jules Engel, Corny Cole and Sam Cornell all worked in design on the film. The long list of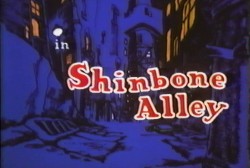 animators included Barrie Nelson, John Sparey, Spencer Peel, Eddie Rehberg and Jim Hiltz. Mark Kausler was an assistant on the show.
The film wasn't an enormous success, but that was probably explained much by the limited distribution and the poor marketing of the film. I saw the film when it came out; I was living in Washington DC at the time (in the Navy). I was very disappointed. The animation is very limited and the style was a real let-down having known the George Herriman illustrations from the Don Marquis book. We'd already seen those limited animation Krazy Kat cartoons from King Features, so I knew the style could be done adequately – even on a budget. The style in this film just seemed a little too Hollywood cute, at the time, and it felt dated when it came out. I don't feel too differently about it watching the VHS copy I own.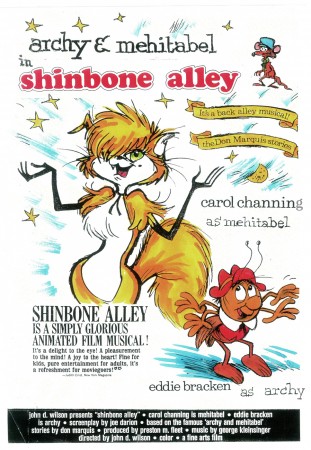 the film's poster
Here are some frame grabs from the first 1/4 of the film: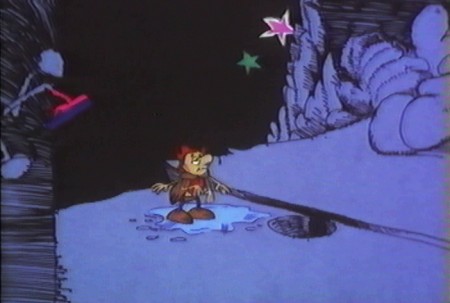 We're introduced to Archy right off the bat as he
flies out of the river onto the dock. He realizes that he,
the poet, tried to kill himself and was sent back as a cockroach.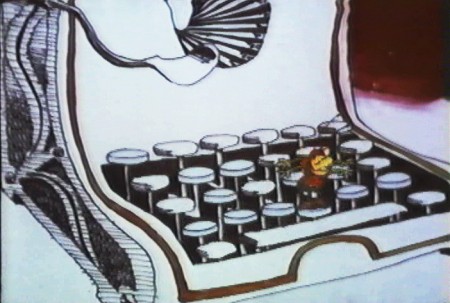 He soon finds a typewriter and goes straight back to work.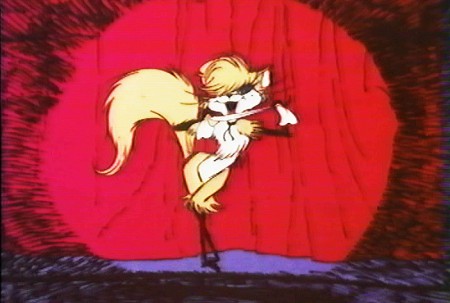 Mehitabel is a performer – with Carol Channing's voice.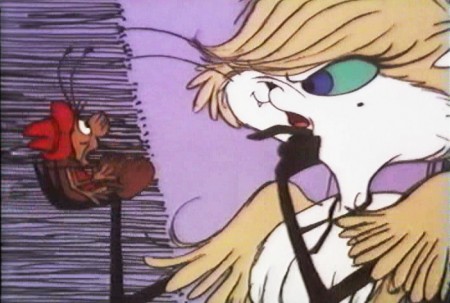 The two meet cute.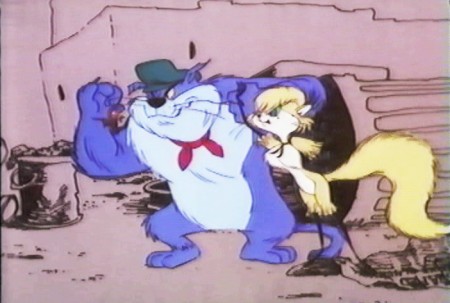 She has another boyfriend, voiced by Alan Reed,
who is also the voice of Fred Flintstone.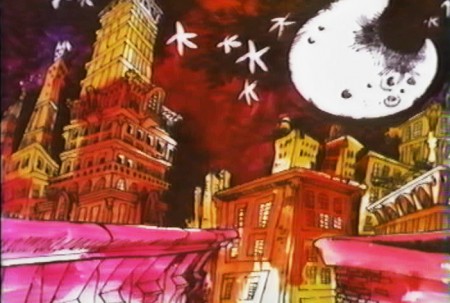 A song video takes us outside.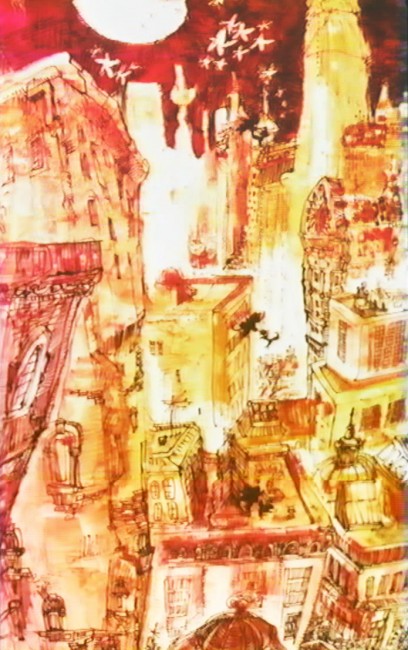 pan down.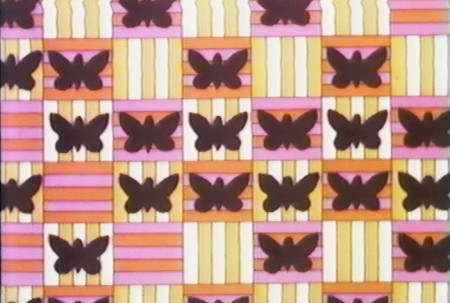 Another music video brings us into Peter Max's style.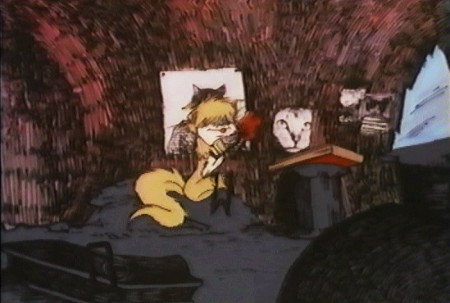 Life in Shinbone Alley.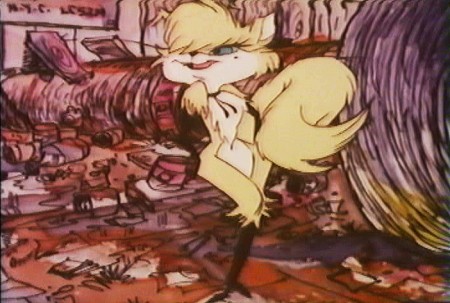 6.
- This final post featuring the work of John Wilson and his company, Fine Art Films, covers many varied film projects. Unfortunately, I found relatively few images available for posting especially considering the amount of film done.
The Sonny and Cher Show was a long running Variety program on television in the 70s. Most weeks featured an animated music video as done by John Wilson. Some examples of this include: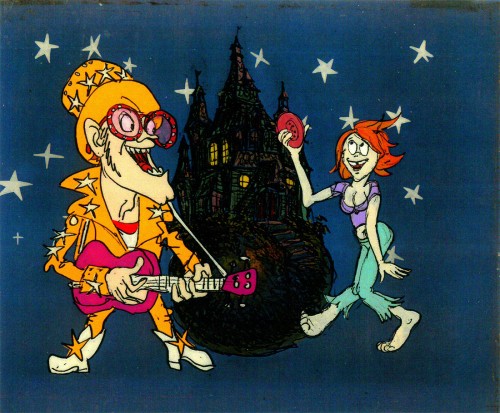 Helen Reddy's song "Angie Baby"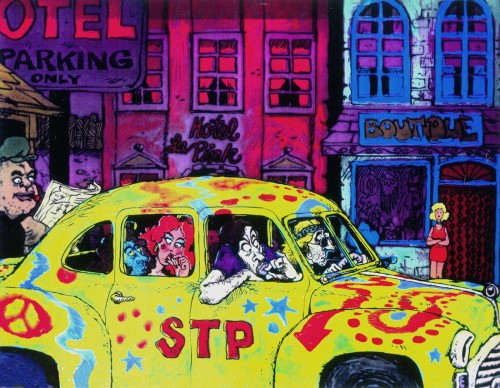 Joni Mitchell's "Big Yellow Taxi"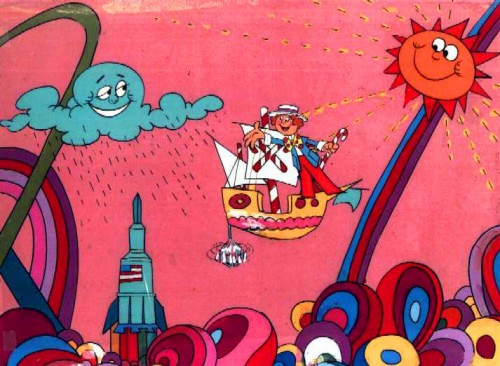 Sonny Bono's version of "The Candyman"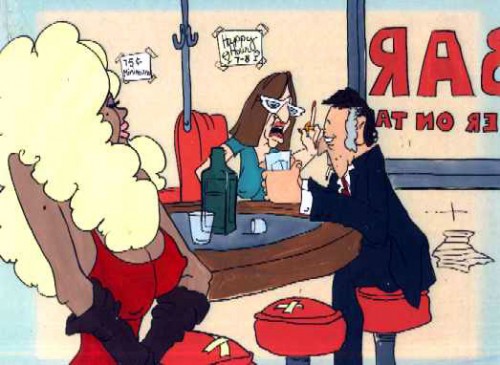 The Kinks song "Demon Alcohol"
Fine Arts Films
also did some movie titles and trailers. We saw, recently, the long theatrical trailer done for
Irma La Douce
. Here are a few stills done for the main title sequence for the 1978 musical,
Grease
.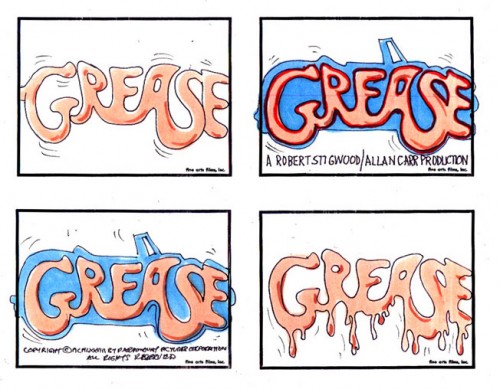 storyboard sketch for Grease.
Produced and Directed by John Wilson
Story and Layout by Chris Jenkyns
Music by Barry Gibb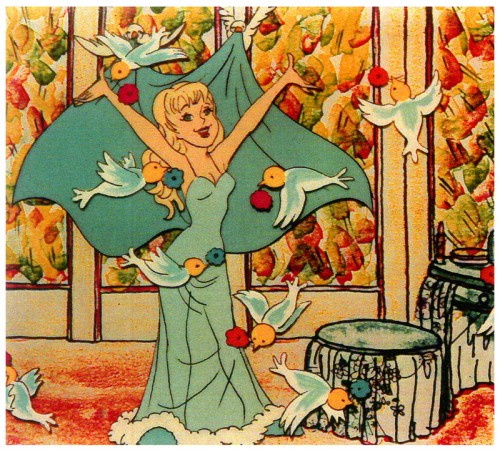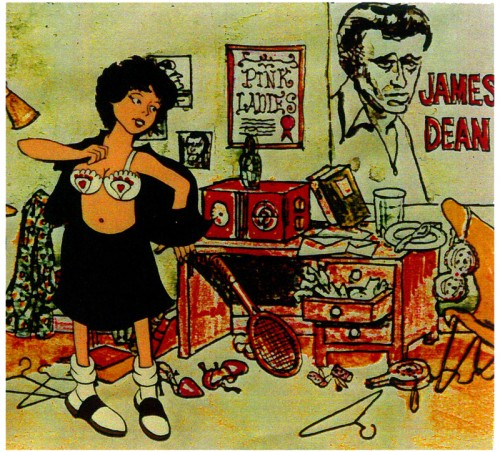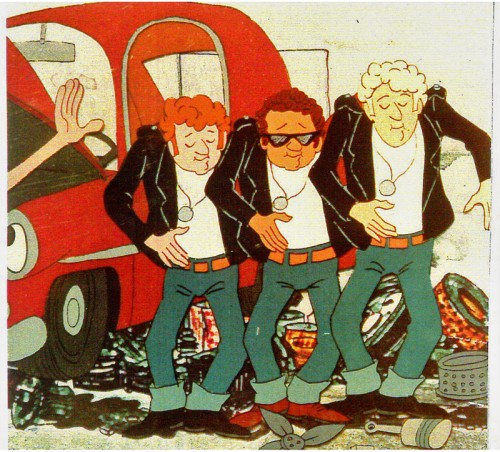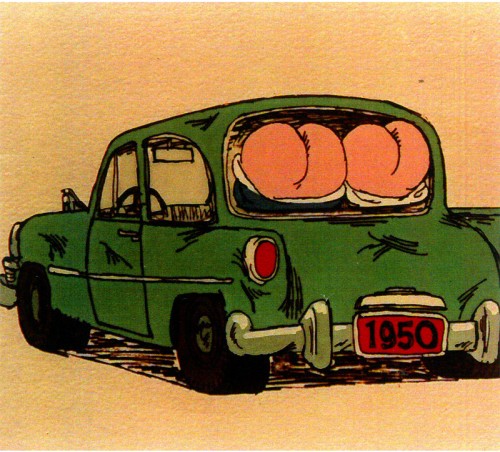 John Wilson also directed a number of short films which appeared on television on the NBC program, "Exploring" between 1964-1966.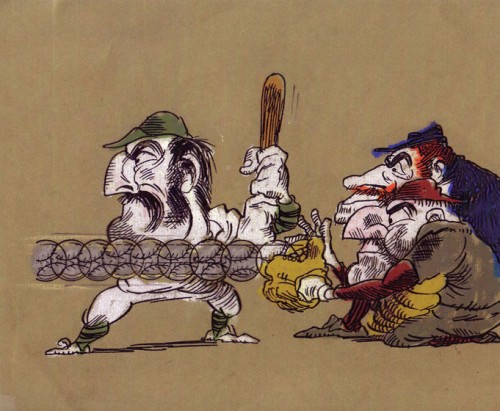 "Casey At the Bat"
Narrated by Paul Frees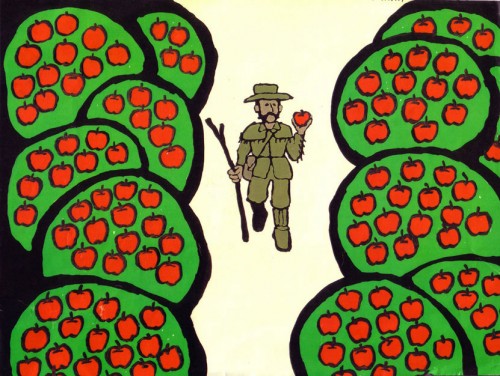 "Johnny Appleseed"
Narrated by Dan Blocker
Finally, for MTV's "Liquid Television" in 1992 John Wilson directed some of the 10 episodes of a series called "The Specialists."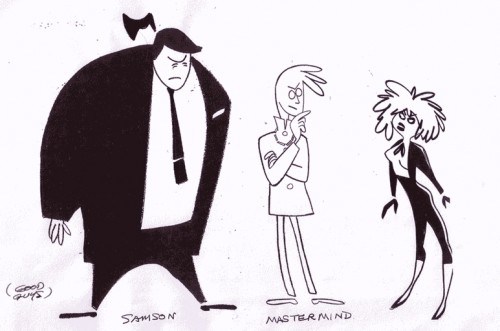 1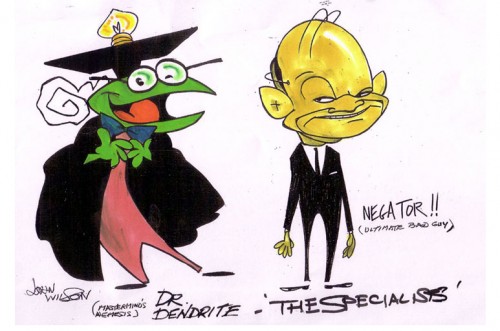 2
Go here to see other episodes.
Animation Artifacts &Articles on Animation &Hubley &Independent Animation &John Canemaker 16 Jun 2013 04:53 am
This article by John Canemaker is, to me, one of the most important pieces I've ever posted. I want to continue to give it some fresh air time, and I think today's the day to post it anew. It's one of the great articles ever printed in Print Magazine and a brilliant piece of historic recreation by John Canemaker. I've read it a couple dozen times, and am about to read it again, now. (Yesterday, I heard Duke Ellington perform "Tenderly" on the radio and that was enough to prompt me to repost it. I'd intimately known the Oscar Peterson/Ella Fitzgerald version of the song. Here was Ellington's version which literally took the song apart and reconstructed it. Art was performed in front of me thanks to local radio.)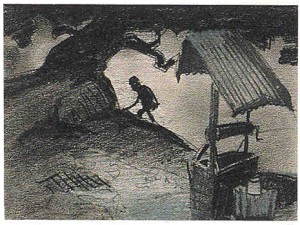 - A treasure of a piece, John Canemaker wrote an article for the March/April 1993 edition of Print magazine an article about Finian's Rainbow. This was an animated feature well under way in 1953 to be directed by John Hubley. It was to be an adaptation of the successful Broadway musical by Burton Lane and E.Y. Harburg. The film about racism twisted into a fantasy story about love and leprechauns would have been the first official adult film done by a team of brilliant animation artists. The soundtrack would have featured songs sung by Frank Sinatra, Ella Fitzgerald, Louis Armstrong, Oscar Peterson and Jim Backus.
I remember hearing stories about animation in production at the Bill Tytla studio, with Tytla animating on it. In Hollywood, Art Babbitt and Bill Littlejohn were animating, with Paul Julian, Aurelius Battaglia and Gregorio Prestipino art directing. Maurice Binder had assembled a LEICA reel.
Senator Joseph R McCarthy and the HUAC investigation brought the entire project down to ground and set back the history of animation some 30 years.
John Canemaker has generously allowed me to post this article again; I wanted to celebrate the artist and director,John Hubley.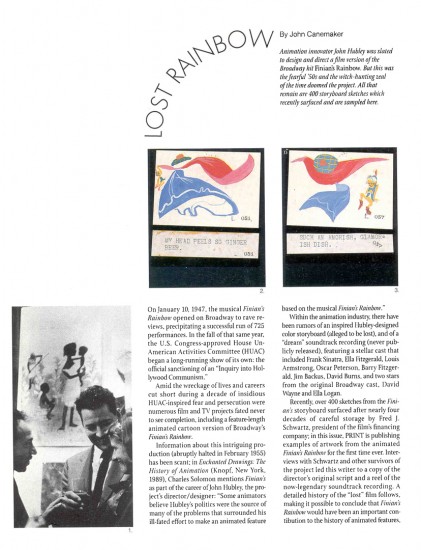 1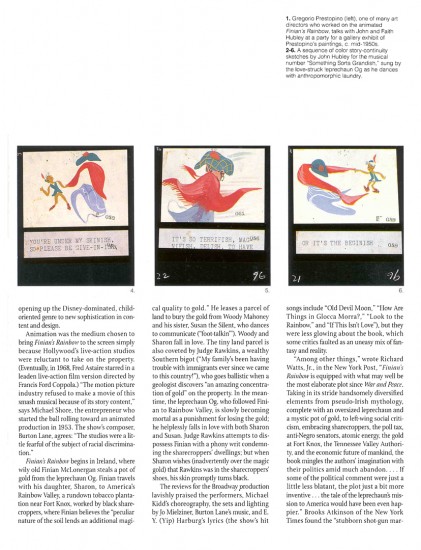 2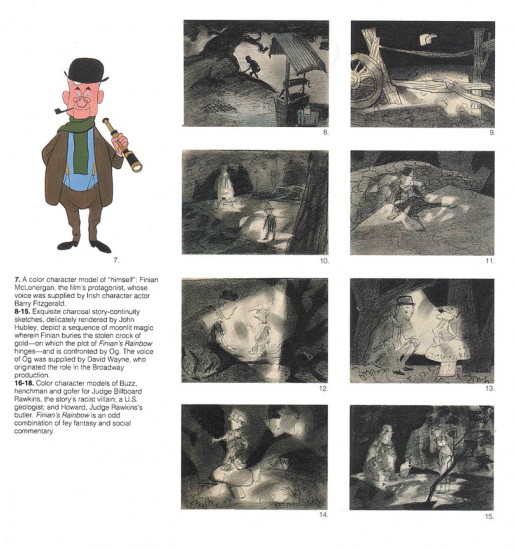 3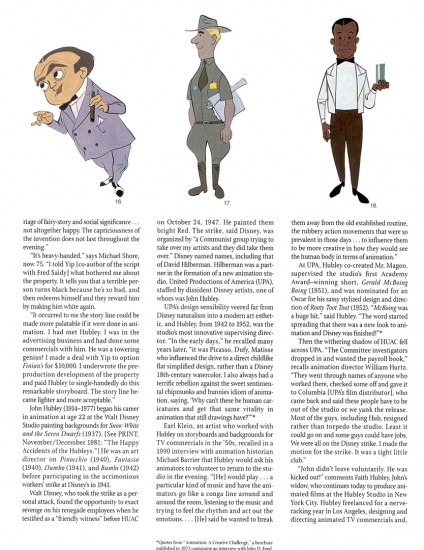 4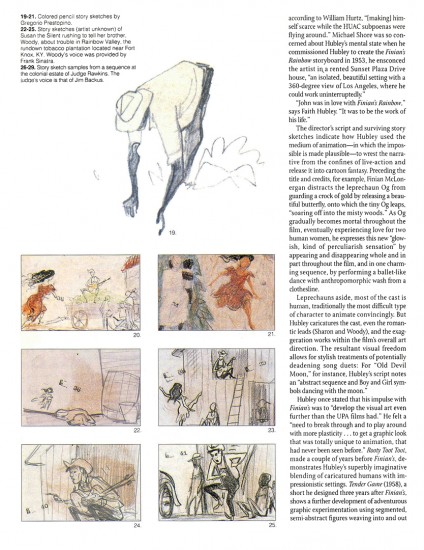 5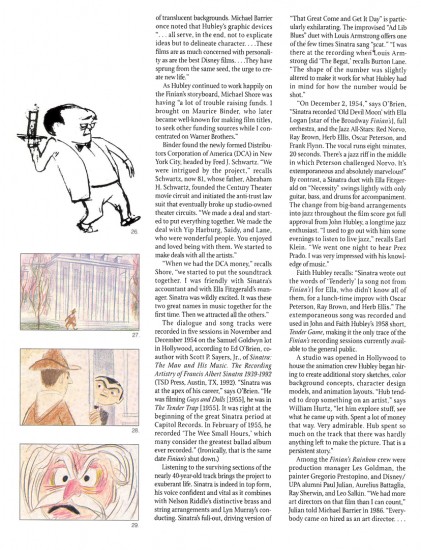 6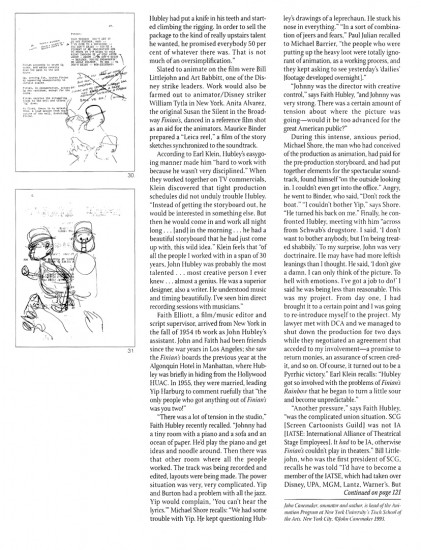 7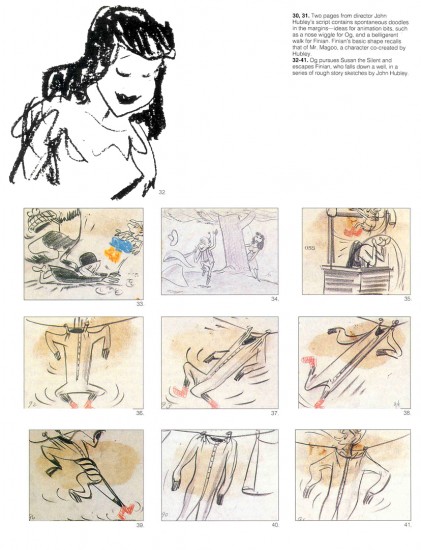 8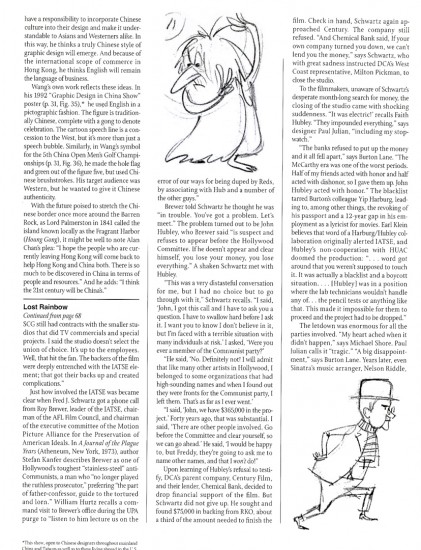 9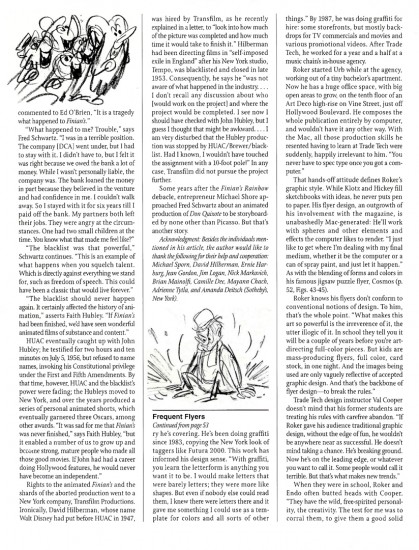 10

The story told to me by several people came most faithfully from Jim Logan, a long-time Asst. Animator working for Bill Tytla and sitting at a desk nearest Tytla's office. Within his office there was a wall of mirrors. Tytla was in the middle of a hand out of a scene from Finian's Rainbow. He was acting as an animation director for Hubley. He wanted the animator to practice the dance steps with him in front of the mirror. The animator was embarrassed to be asked to roll up his pants legs so he could better see how the move should animate.
Tytla was in his element. This was the first time since he'd left Disney's that he was really being asked to do animation, get animation out of his staff for this eccentric and thoroughly adult animated feature. It was about Racism in 1956, and it was a serious attempt to do something serious and political and funny – all at the same time. Within days the animated scene had been collected by the producers who lost all their financing because of a ridiculous anti-communist comment thrown Tytla's way. Tytla wasn't the only one who lost; Hubley did as well. As a matter of fact, the entire industry lost. A second rate journalist made easy accusations, and the only thing to be done was to shut the production down.
Years later a young Francis Ford Coppola directed a young Petulia Clark with another Brit, song and dance man, Tommy Steele, playing the mischievous leprechaun. Needless to say, that film is a minor effort from Coppola's resume.
Animation &Animation Artifacts &Commentary &Independent Animation 21 May 2013 05:11 am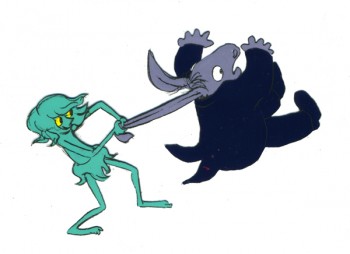 - From 1983-85, Tissa David teamed with three other friends in Holland to begin work on an animated version of Mendelssohn's Midsummer's Night Dream.
This film would introduce several animated characters from Shakespeare's play over a live action orchestral performance of Mendolssohn's music. These characters chased each other around the orchestra until, eventually, the animation took over, and the orchestra melted away. The tympanist, himself, melded into Bottom.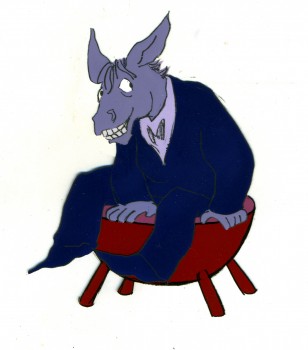 This film was completely animated by Tissa, including all inbetweens and layouts. She was the film's director, though in all the time she worked on this film, she never once described her role to me as such. She was just making a film she loved with several extraordinarily talented friends.
Kalman Kozelka was a brilliant cameraman who shot the entire film in a home built multiplane camera. It's unjust to call it simply photography, because every scene involved seven to ten exposures with mattes and special lighting. Half of the scenes combined live action with the animation, and all of the scenes involved multiple levels with back and front lighting.
Ida Kozelka-Mocsary, Kalman's wife, designed all the character coloring and colored all the cels . She worked closely in helping Kalman to prepare everything for the photography including mattes.
Richard Fehsl was the brilliant designer who colored and, in many cases, animated the Bg's. All of these Bg's were painted with dyes on frosted cels under rather delicate inking.
All four took story credit.
I have a good handful of the overlarge cels and artwork from the film. Here are a few of those cels along with a number of representative frame grabs from the film.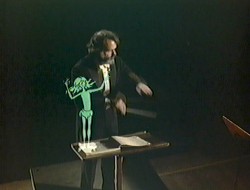 __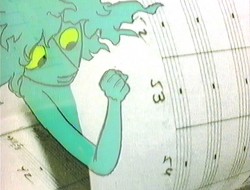 __________________(Click any image to enlarge.)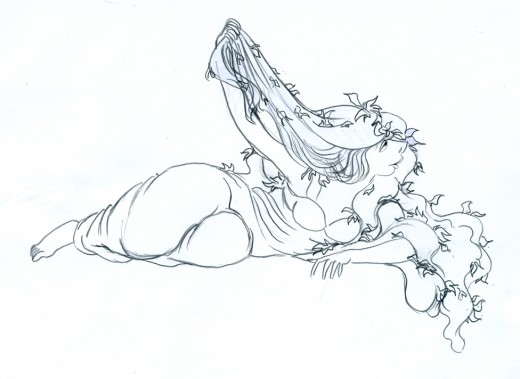 __________________Titania, the drawing and the cel.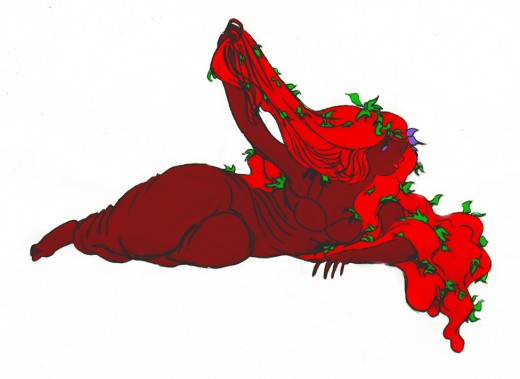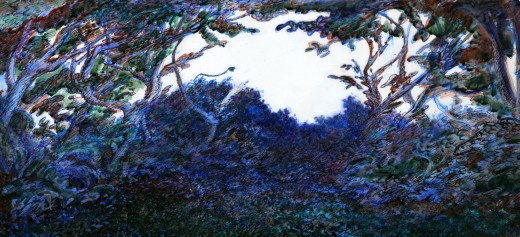 __________________Three of Richard Fehsl's Bg elements. These were back lit
__________________and front lit and combined with other Bg levels.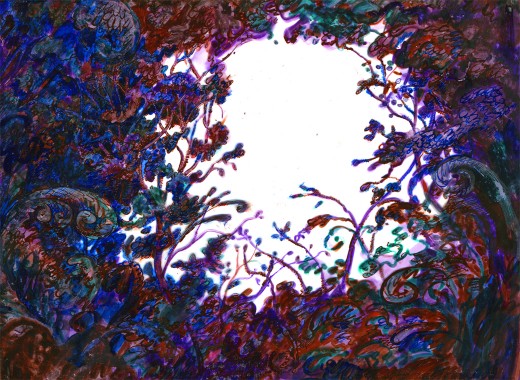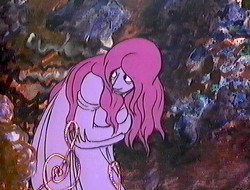 __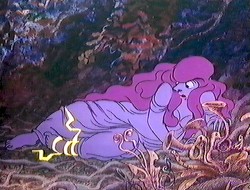 At times, Fehsl's Backgrounds animated.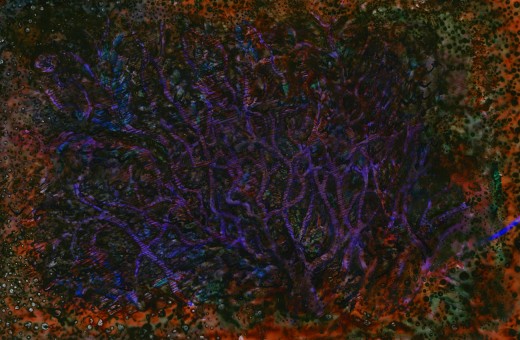 ___I have so much more art from this film, that there'll surely be more posts to come.
This video (vhs) can still be located – used copies – on Amazon here.
The film features a live-action orchestra with Shakespeare's characters running wild over the footage. Eventually, the picture opens to an animated woods. It was photographed by Kalman Kozelka, color styled by Ida Kozelka-Mocsary, and Bg designs by Richard Fehsl.
The film aired on the BBC in 1983 and was released on VHS by Goodtimes Video.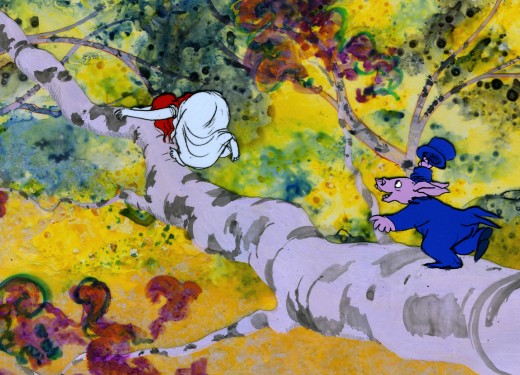 (click any image to enlarge.)
Bottom chases Titania in the woods.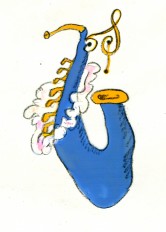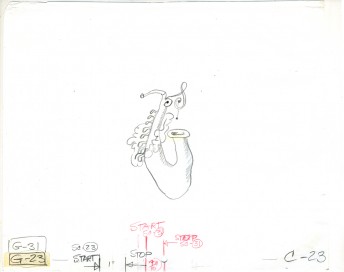 At one point the instruments of the orchestra take on an animated life of their own.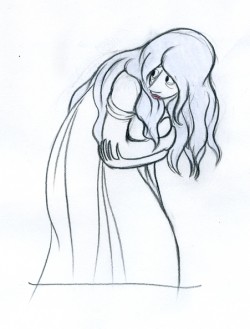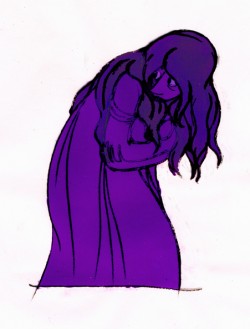 The dark coloring loses some of the emotional delicacy of the drawing,
but is appropriate within the context of the film.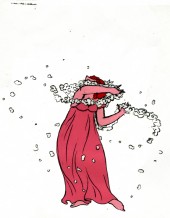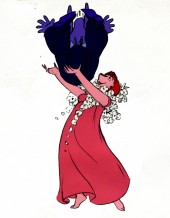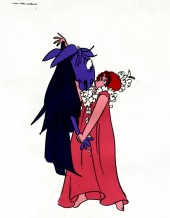 Titania catches Bottom in her arms.
Three cels from a sequence.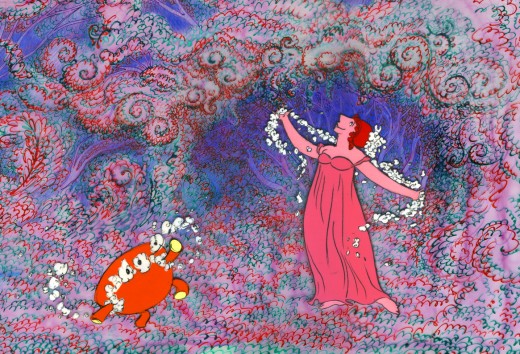 Titania dances with Bottom's stool. (He's brought it into the woods
when he transformed from the tympanist to the animated character.)
Independent Animation 16 May 2013 05:56 am
- Among Vince Cafarelli's saved animation material, there was an issue of the newsletter from ASIFA Canada, dated August 1987. The entire issue was dedicated to Norman McLaren who had just died. I've scanned it all and will post it here.
You'll have to click on any of the pages to make them legible, particularly two that weren't translated into English and remain in French. I've left those two pages smaller than the others.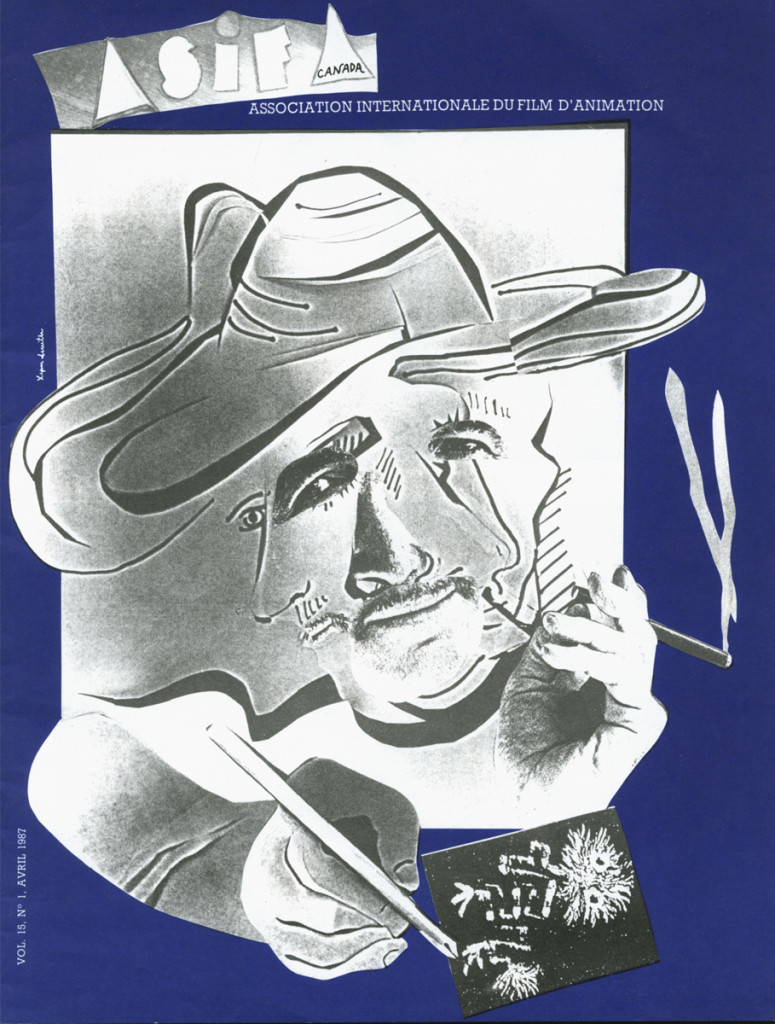 1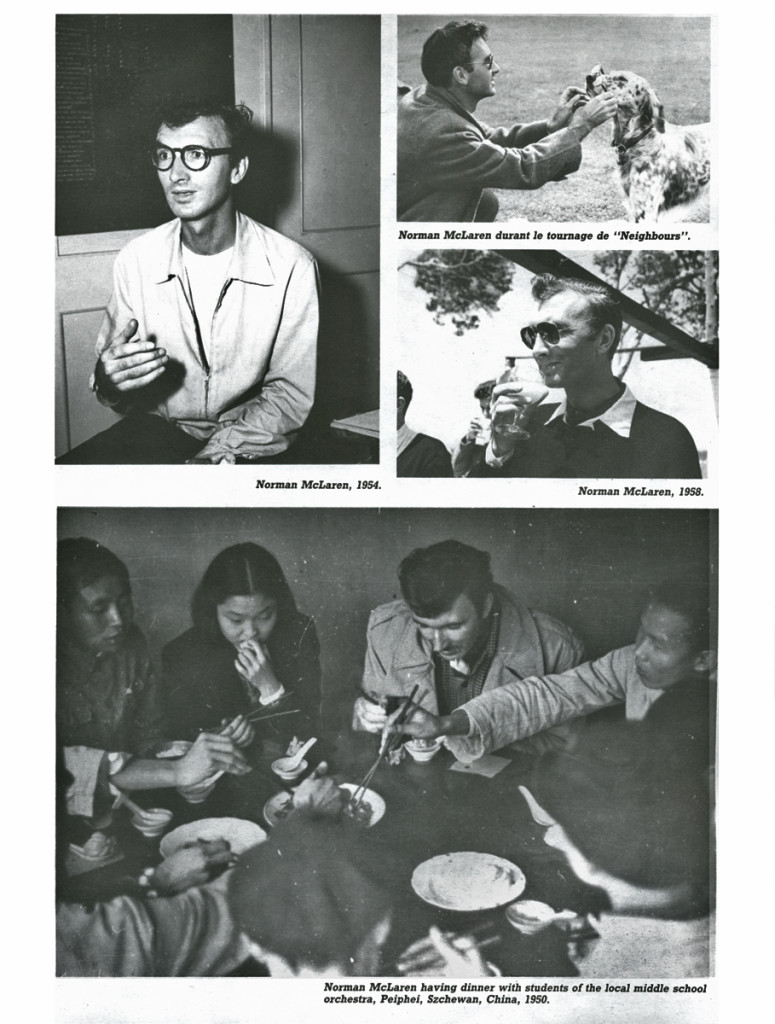 2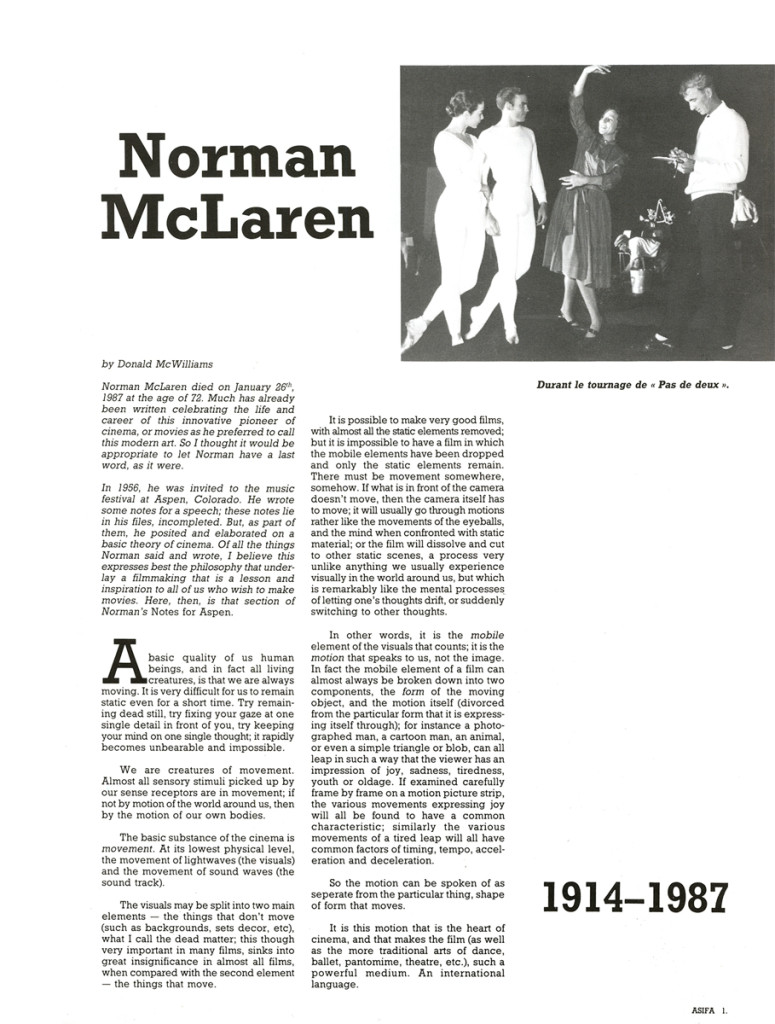 3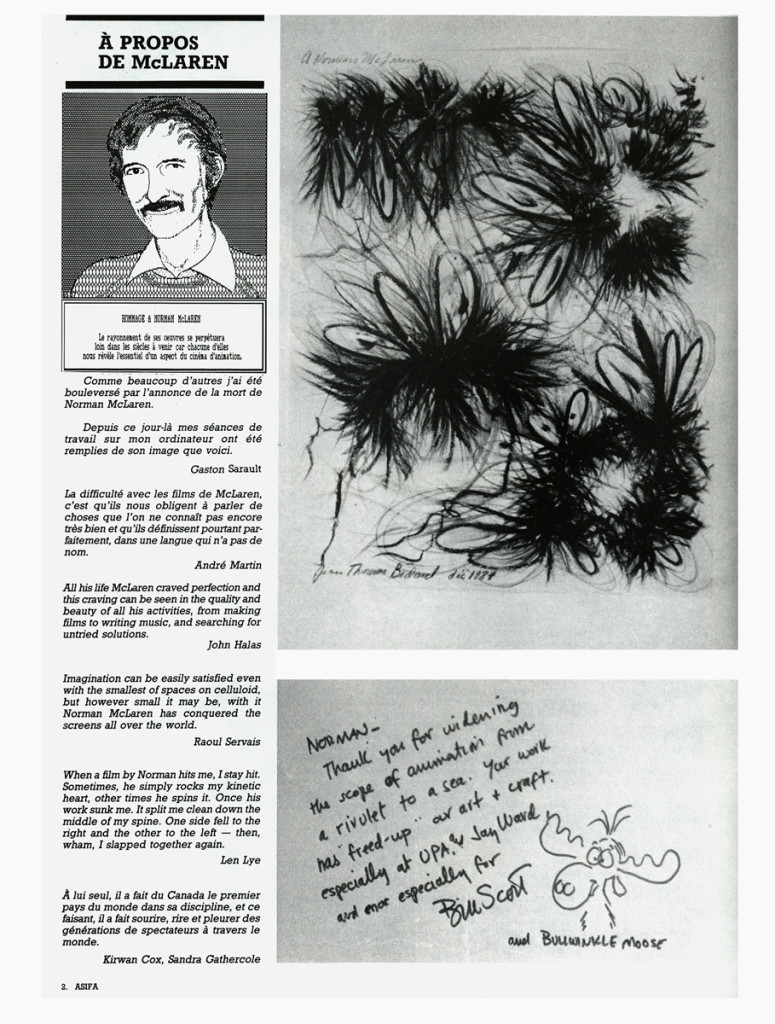 4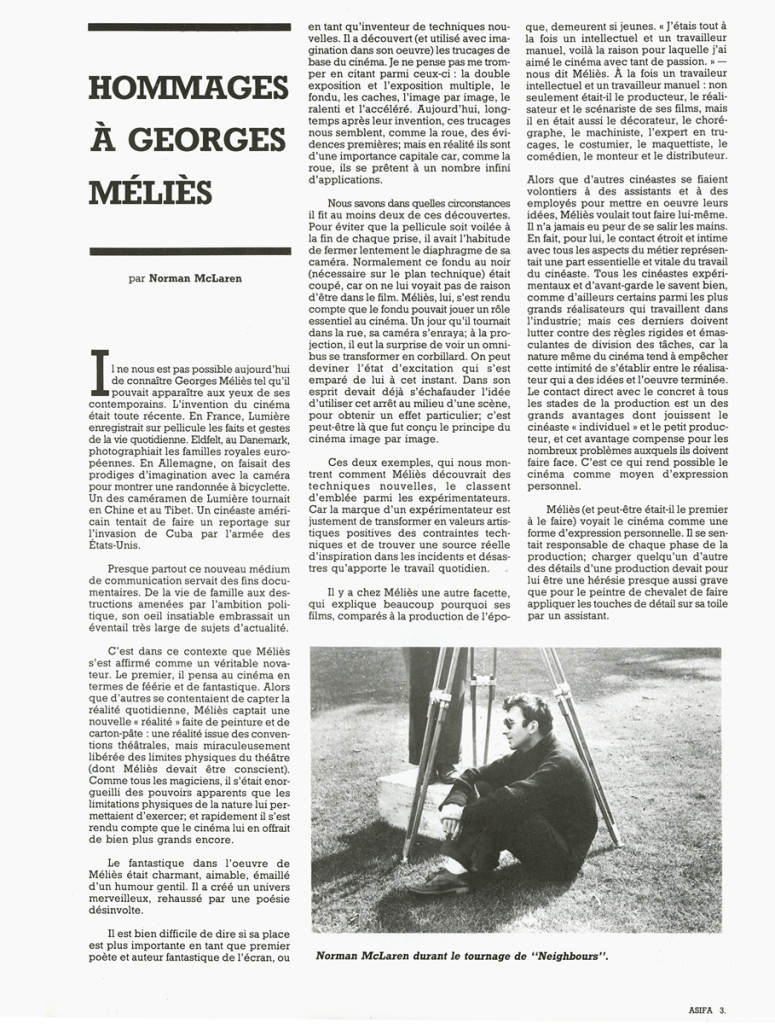 5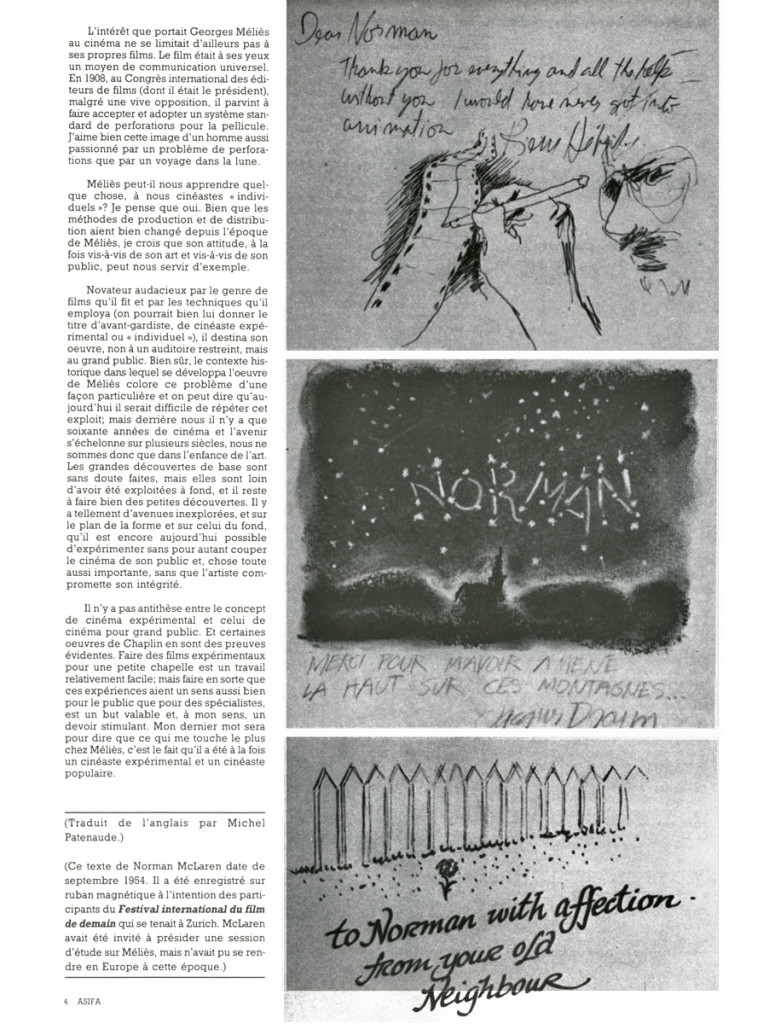 6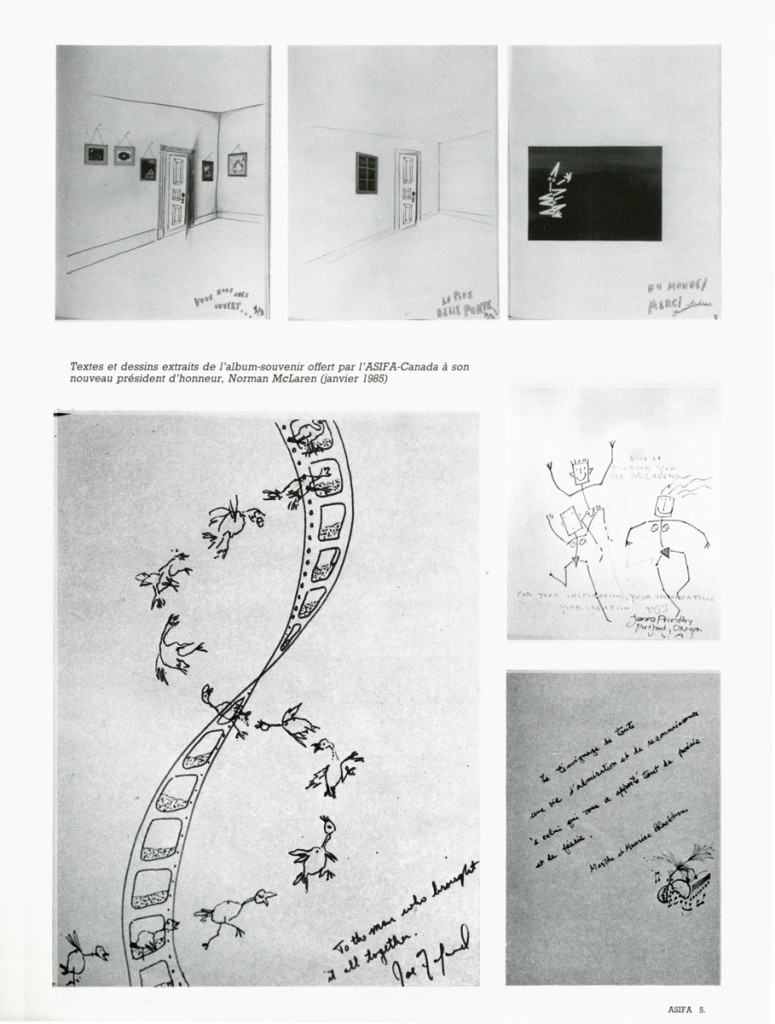 7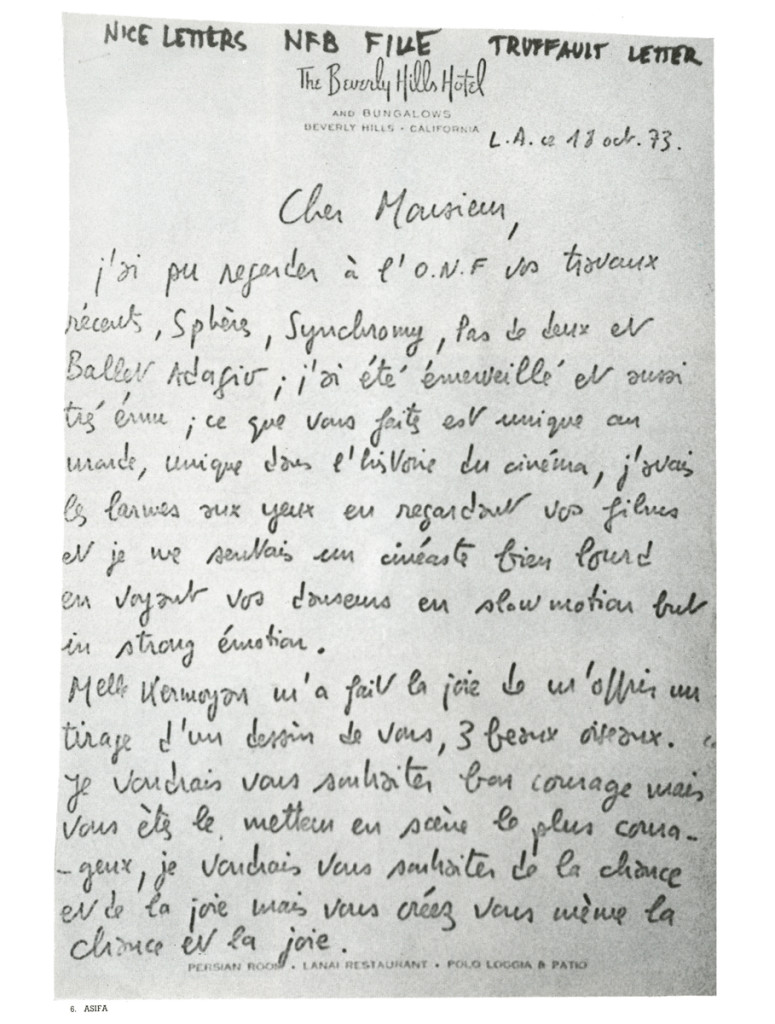 8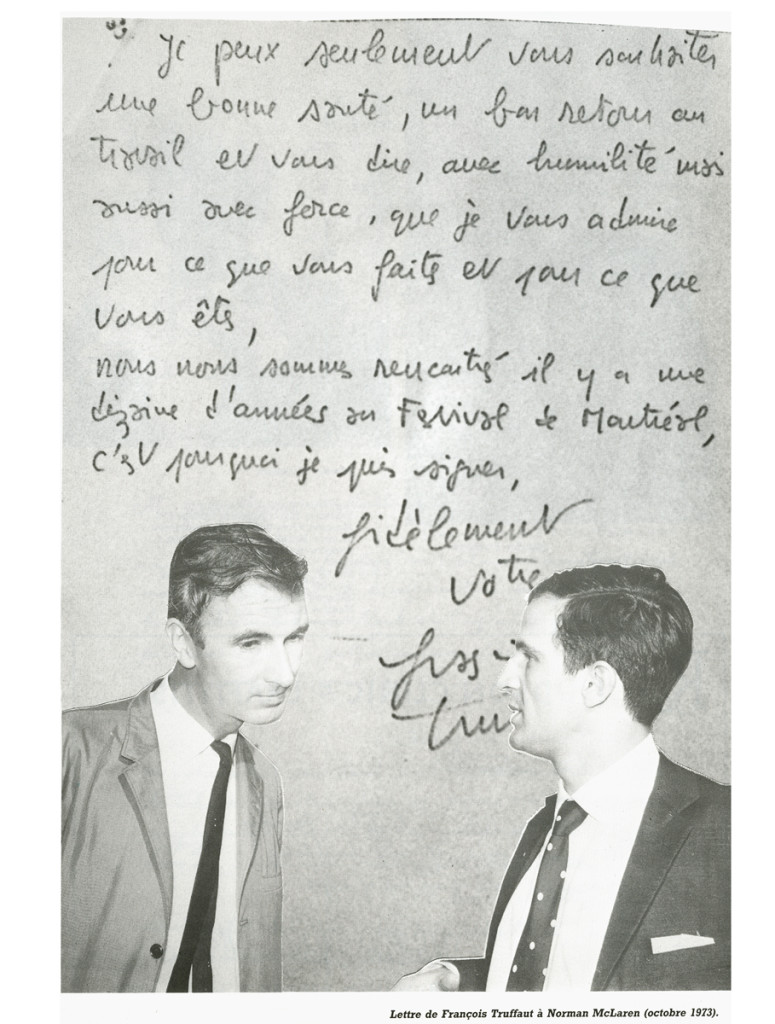 9
A letter to Norman McLaren from Francoise Truffaut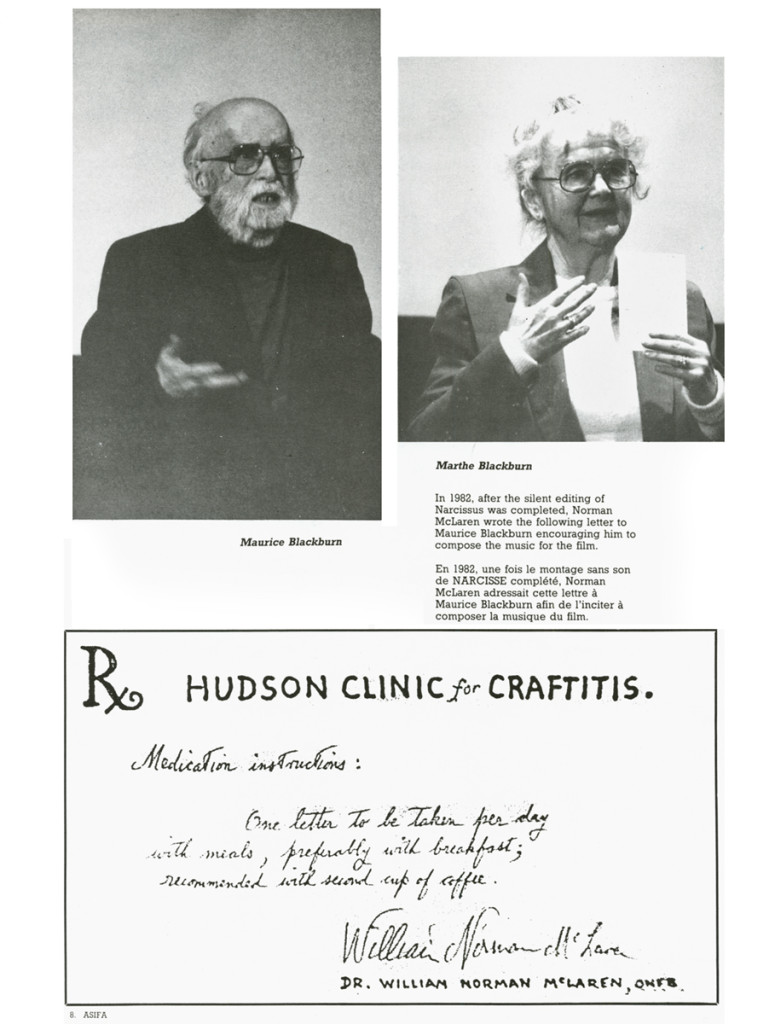 10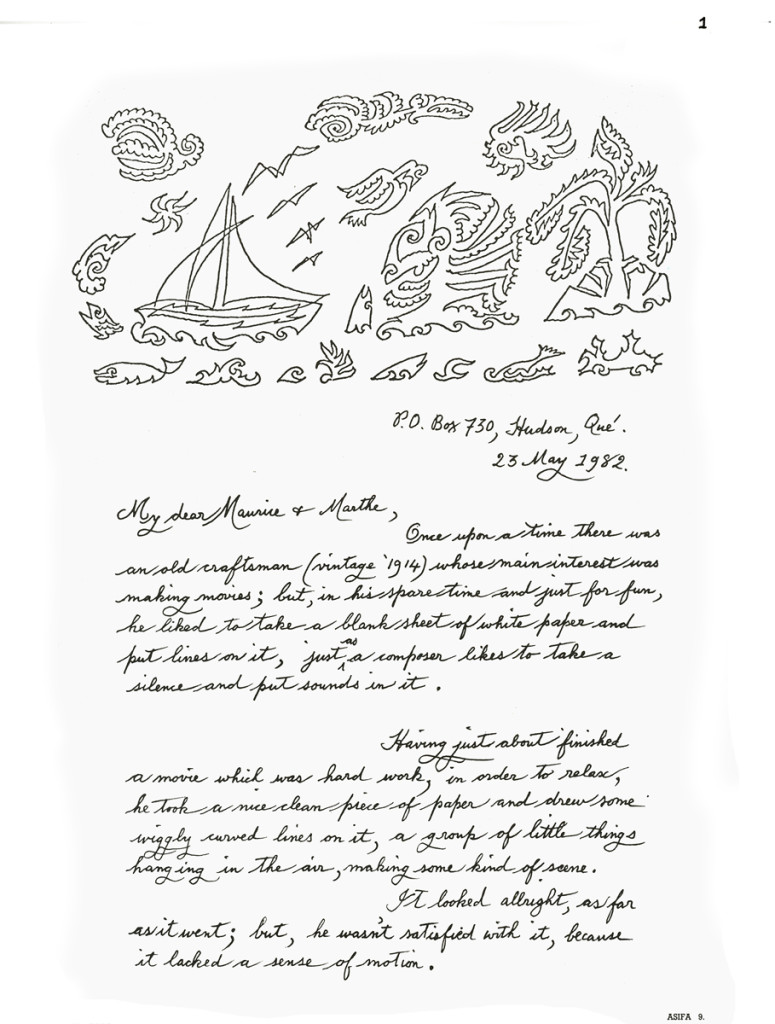 11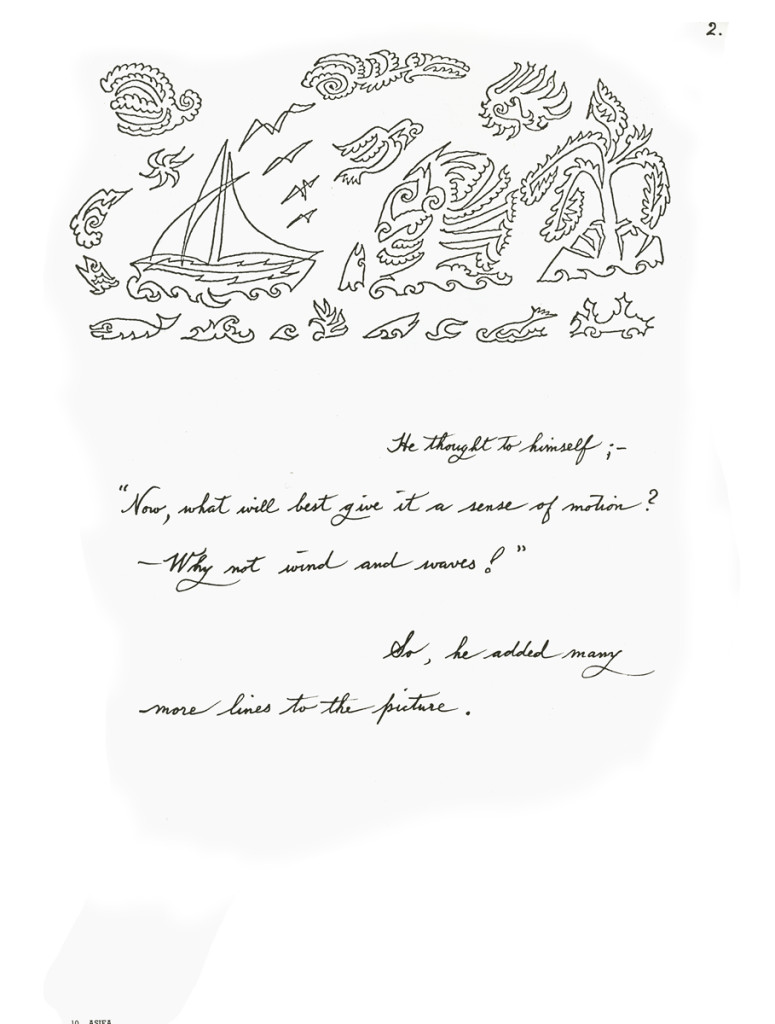 12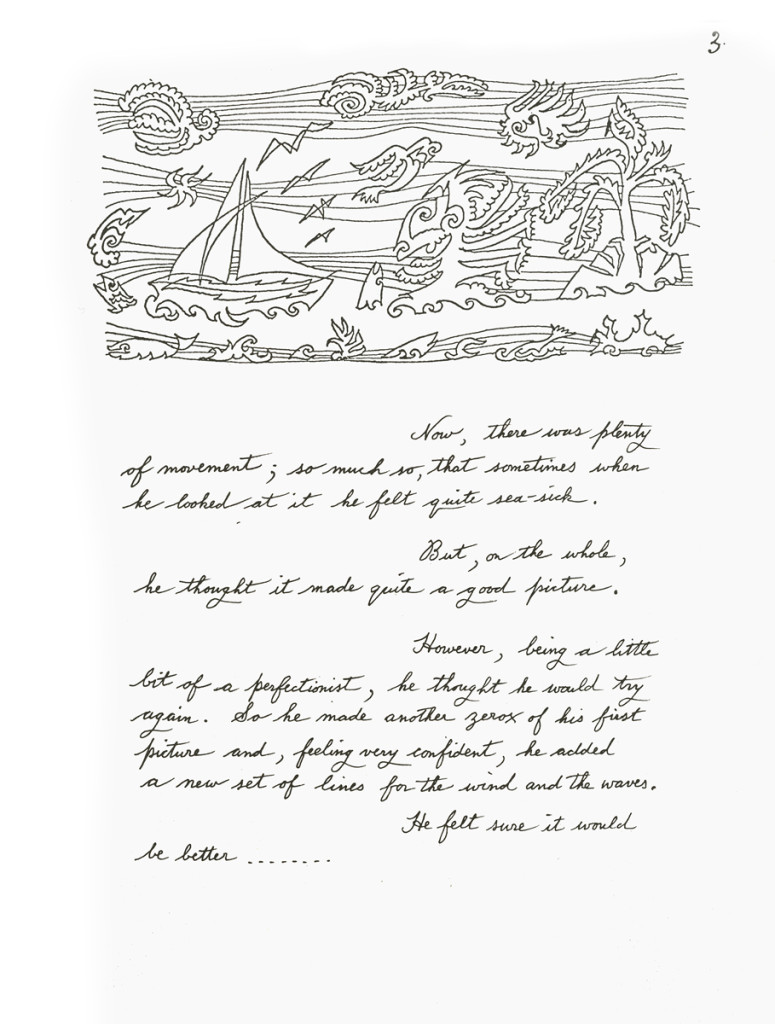 13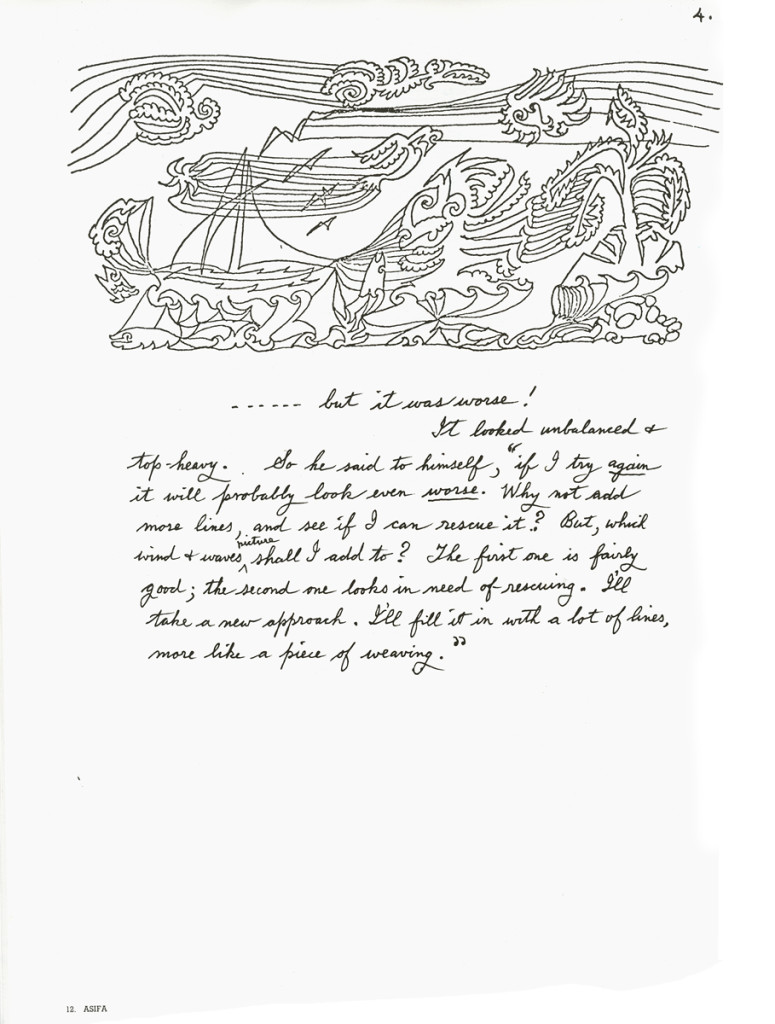 14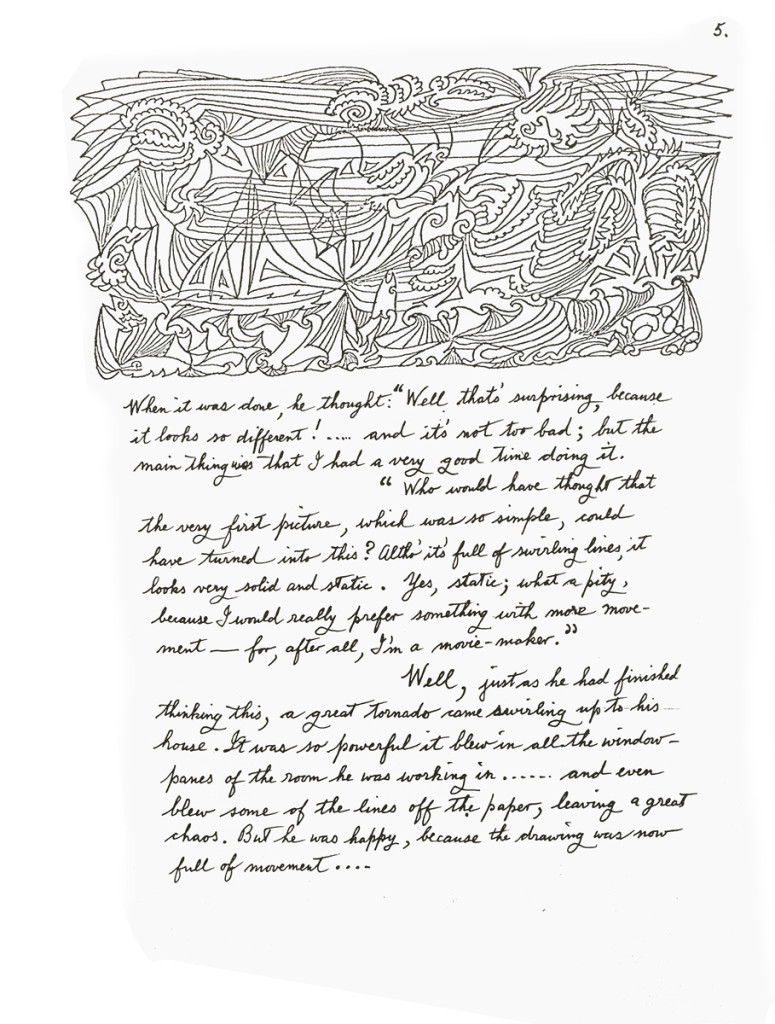 15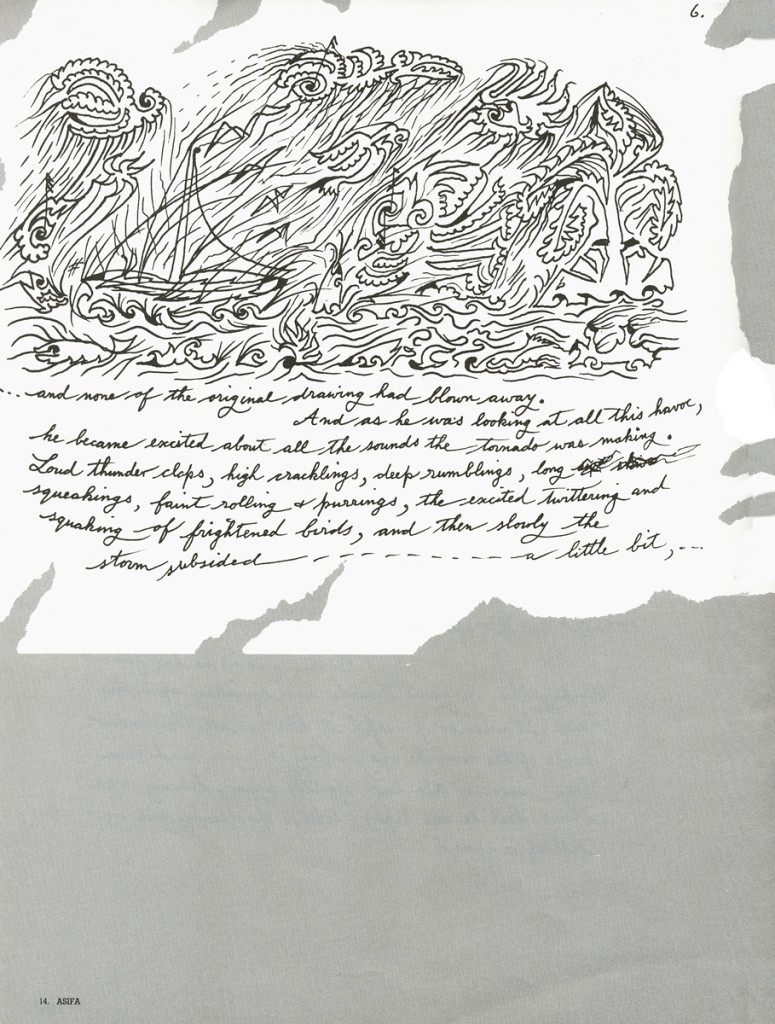 16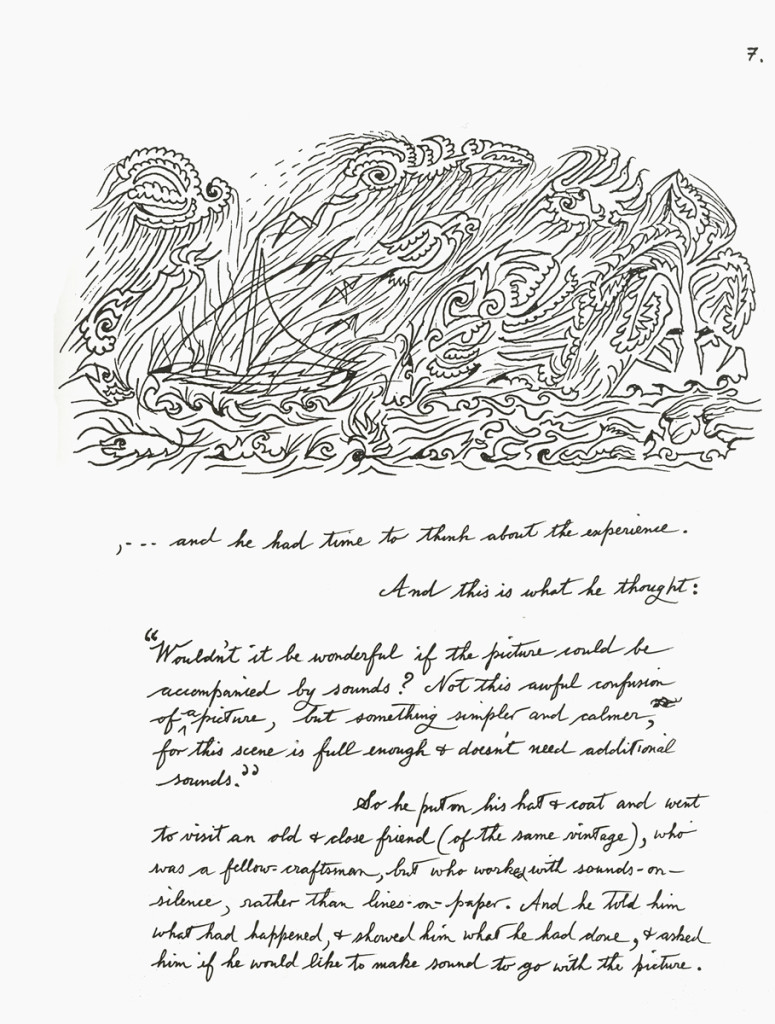 17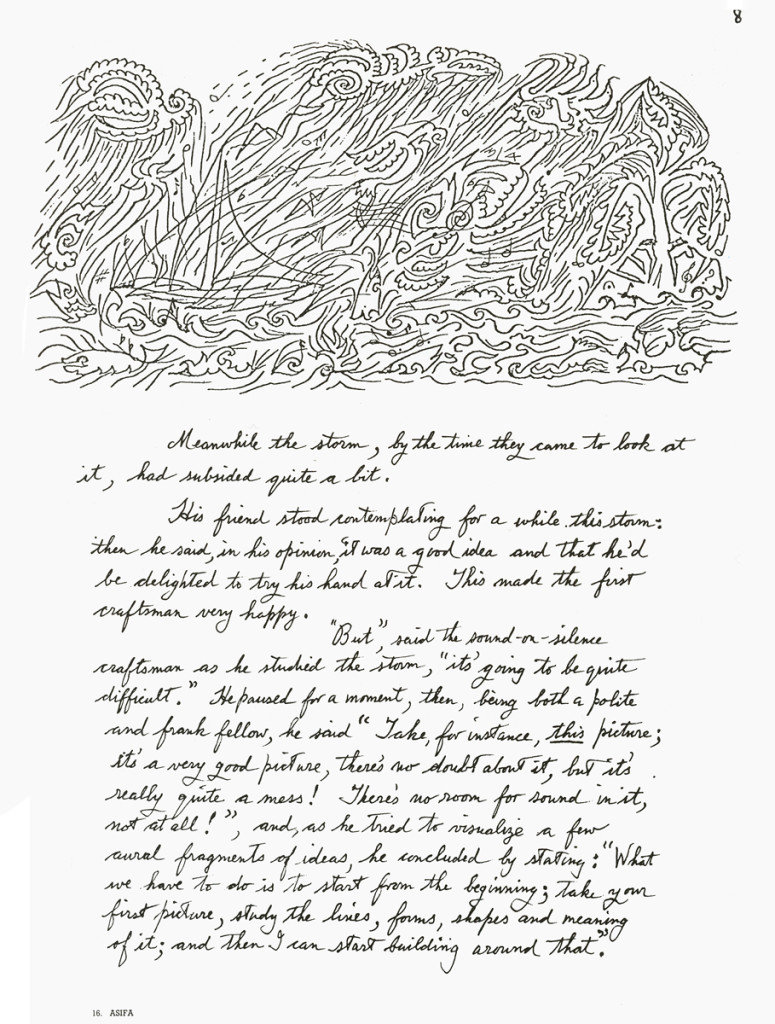 18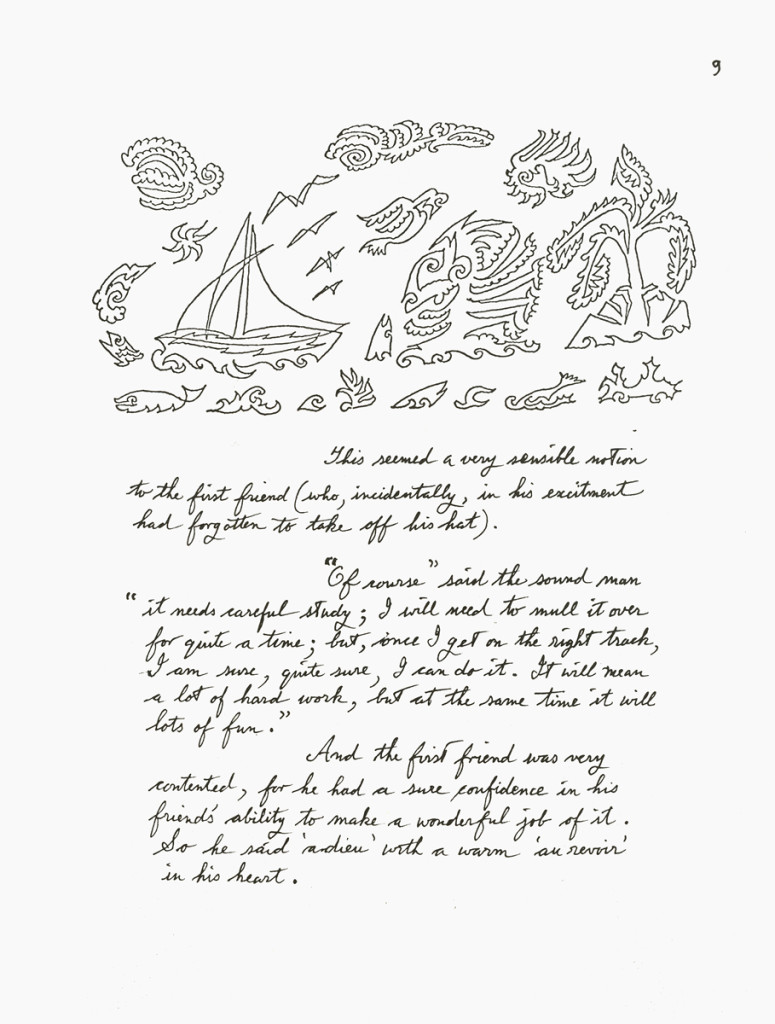 19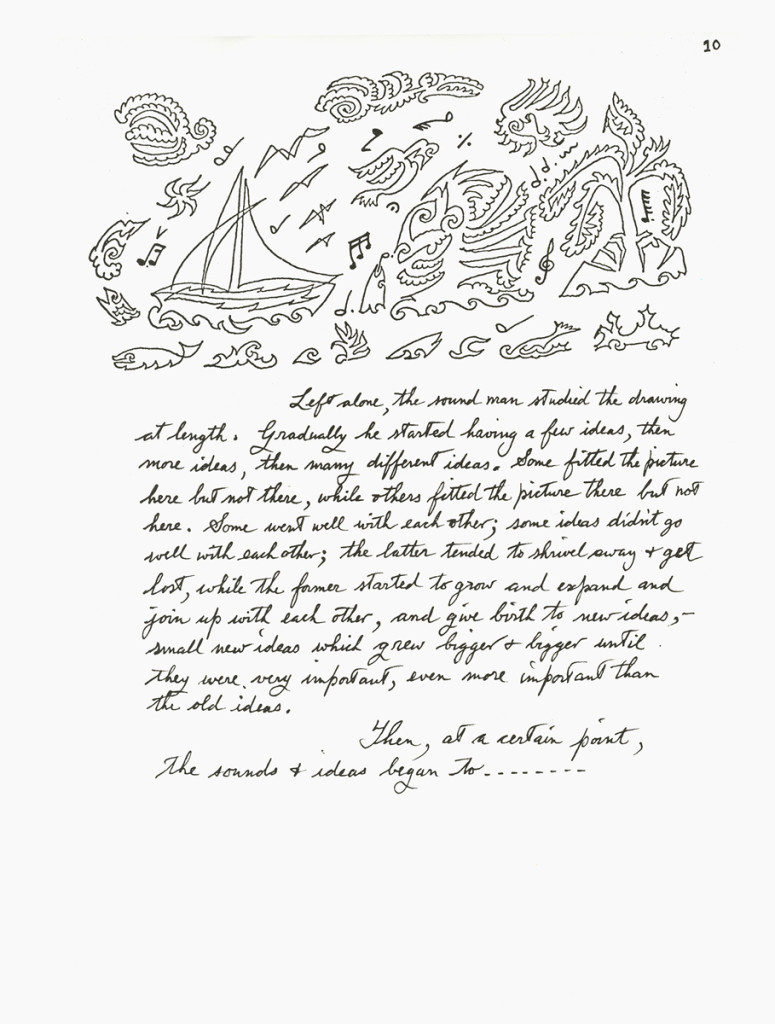 20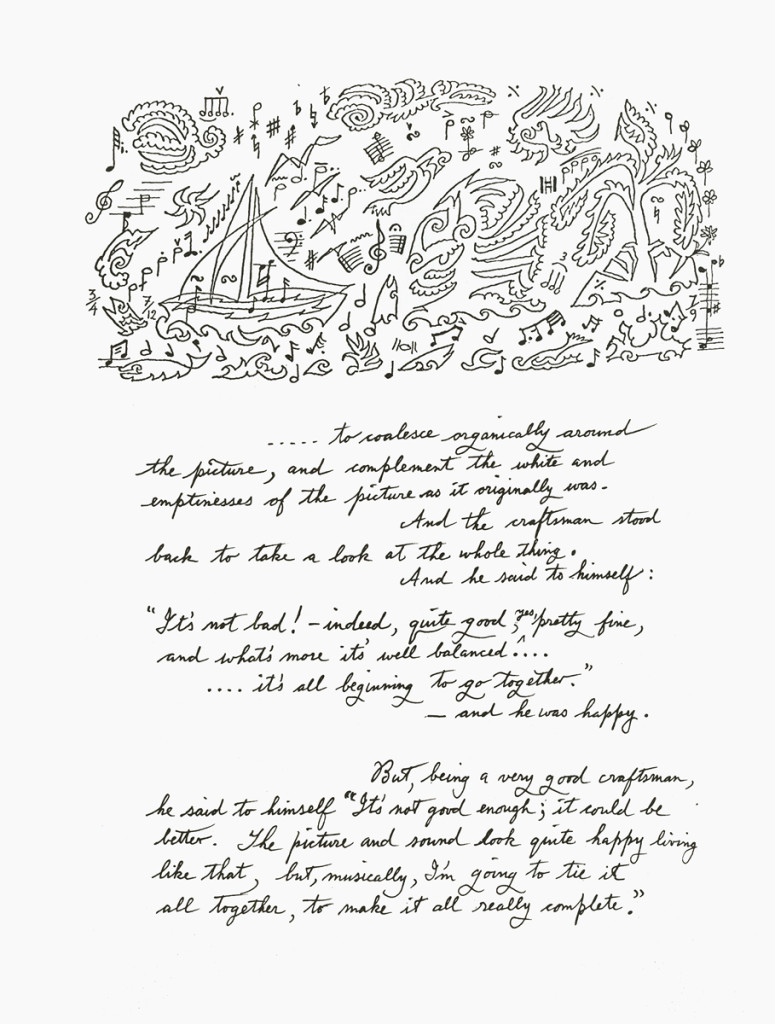 21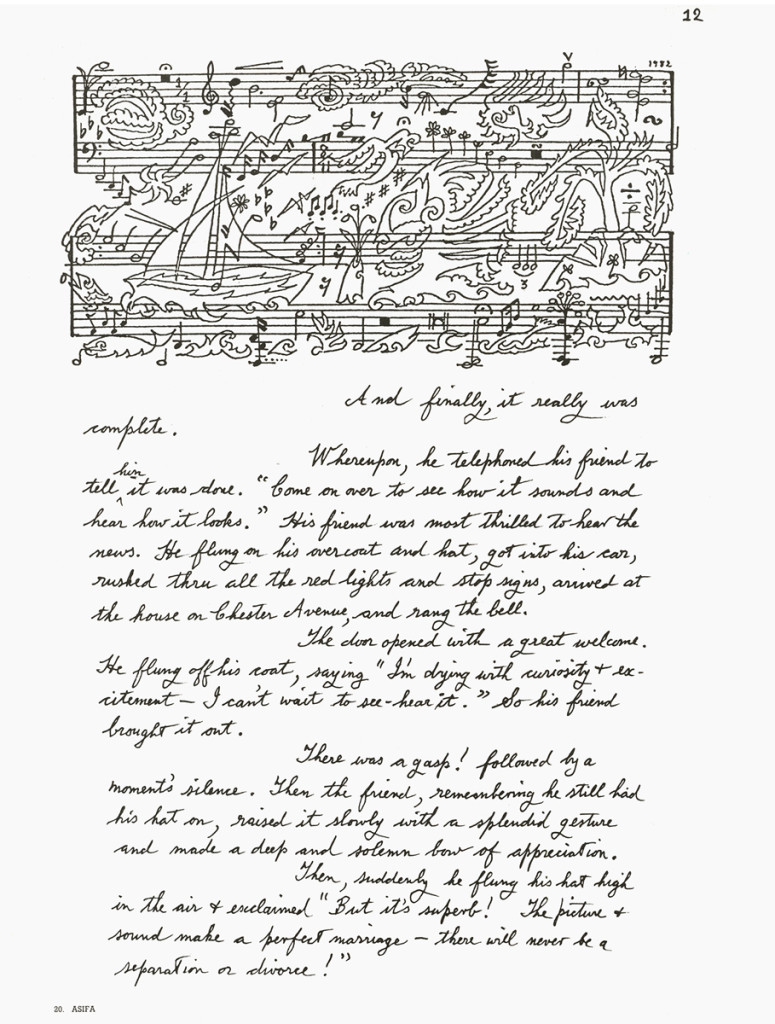 22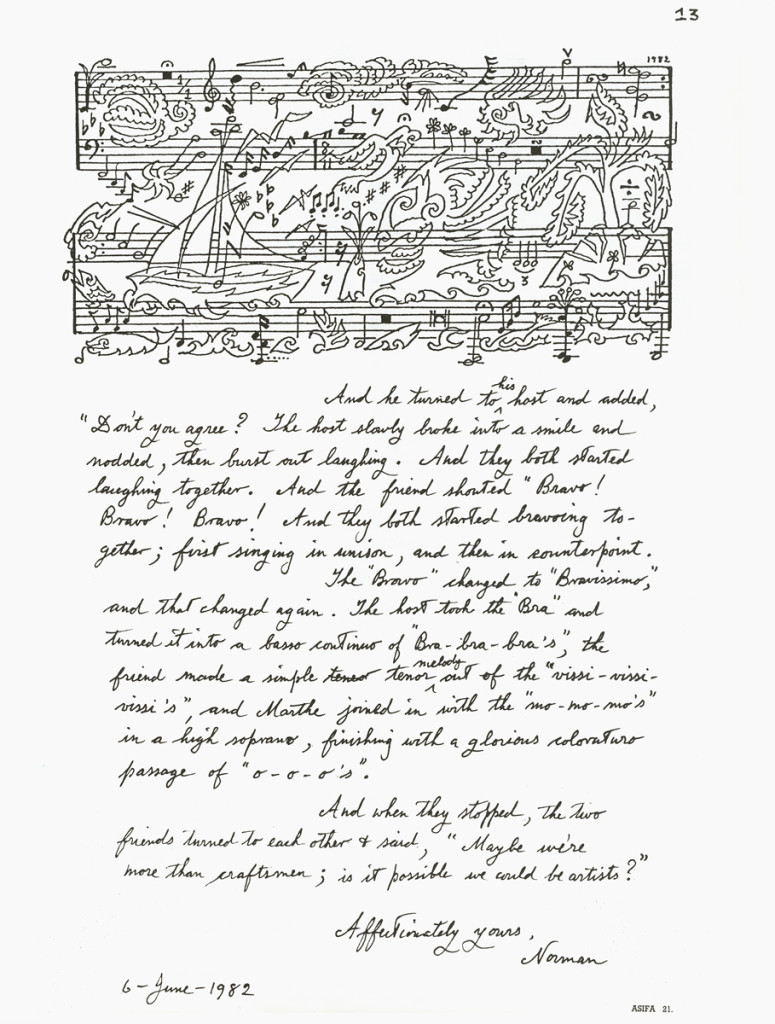 23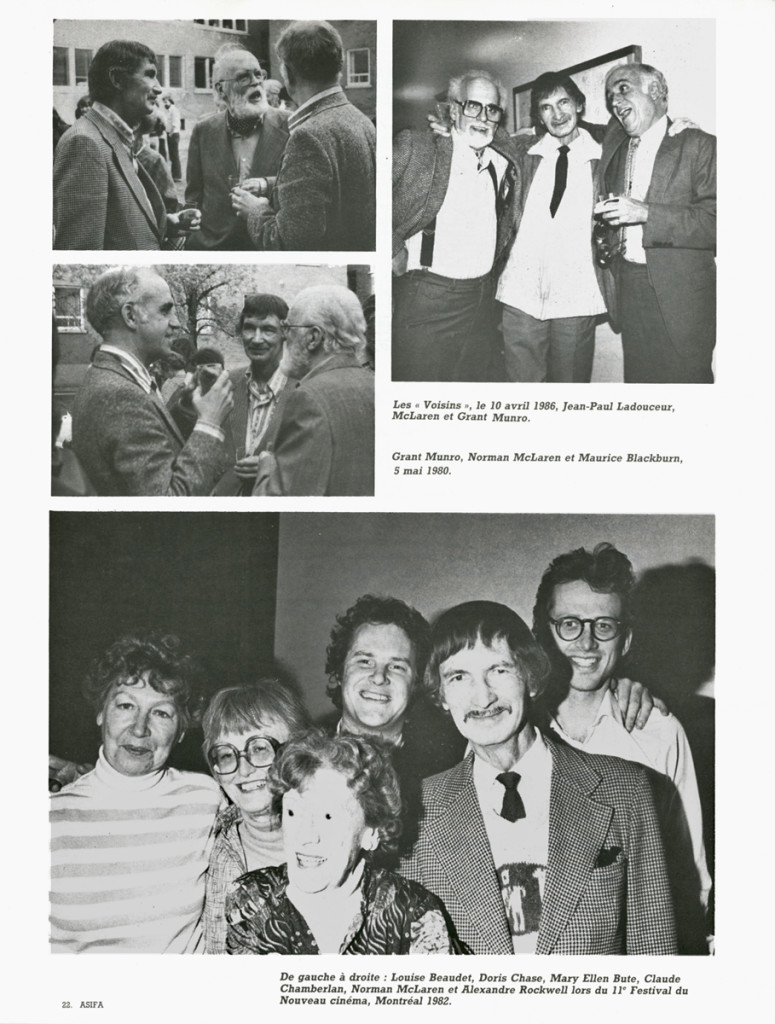 24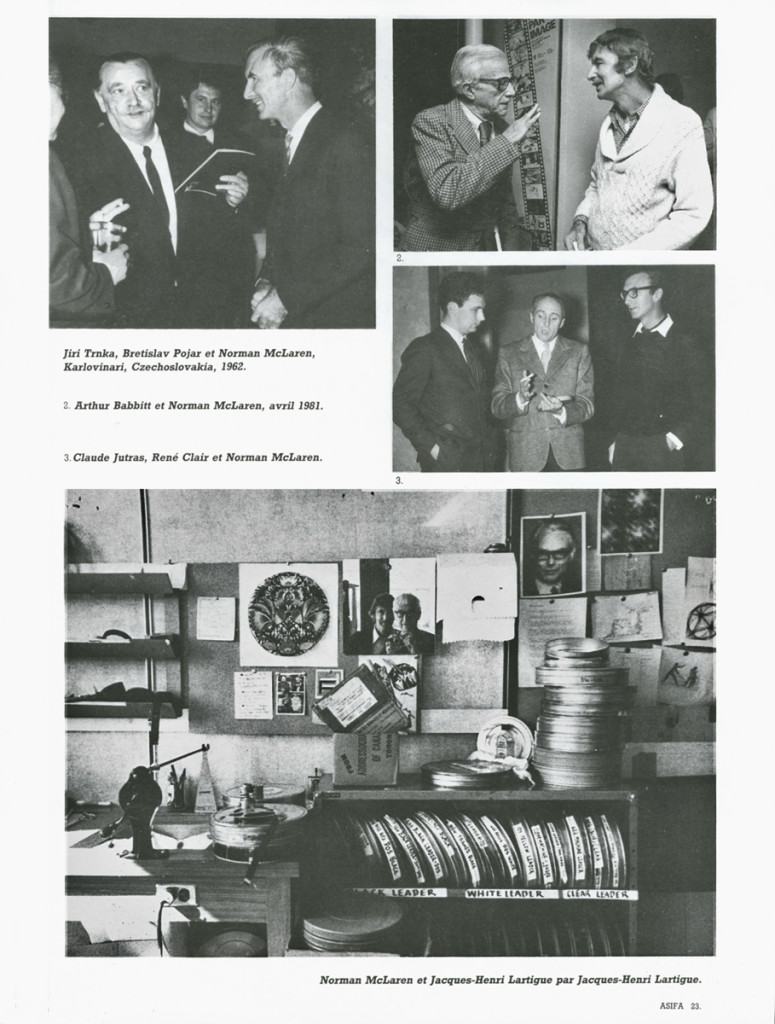 25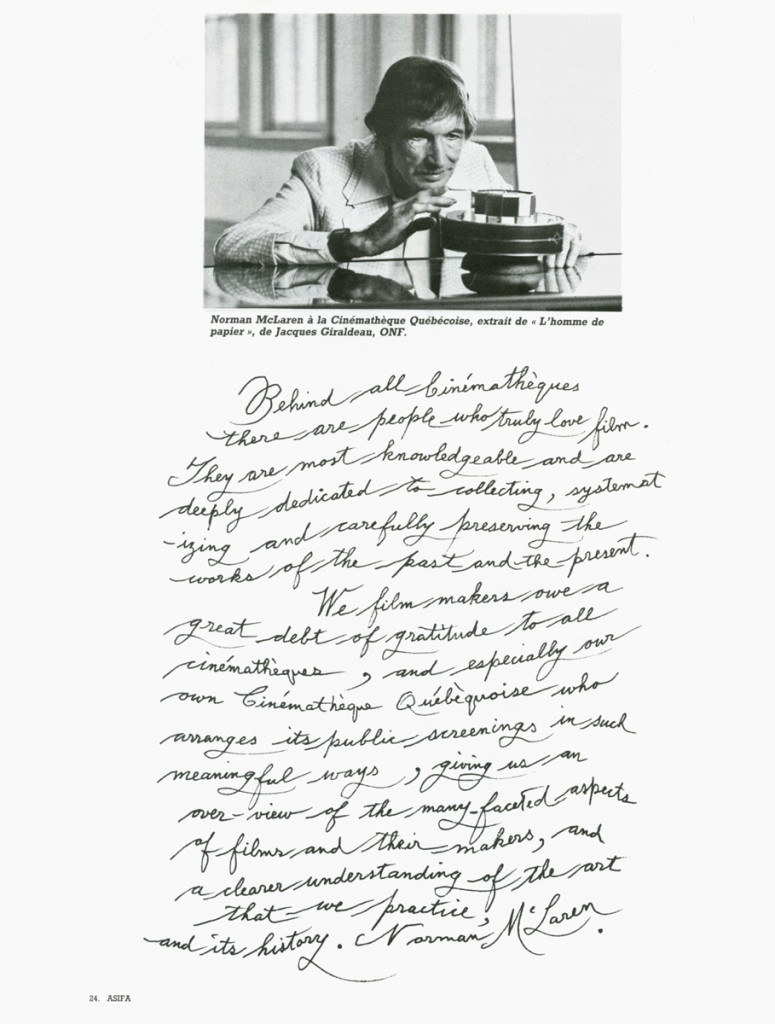 26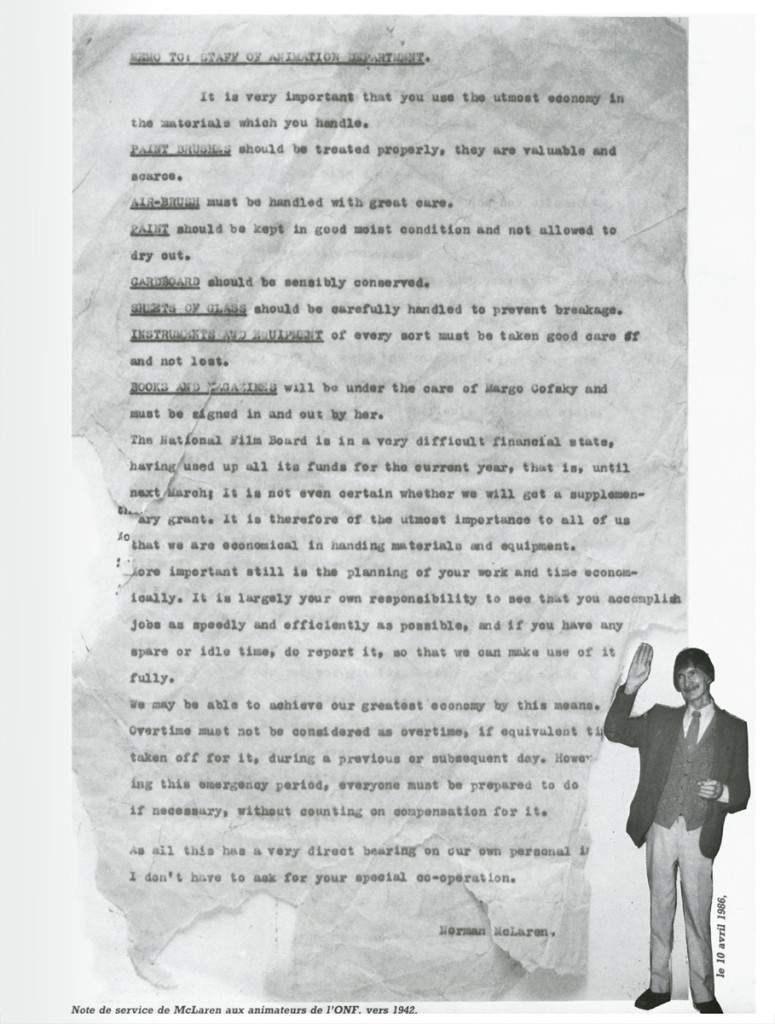 27
Inner Back cover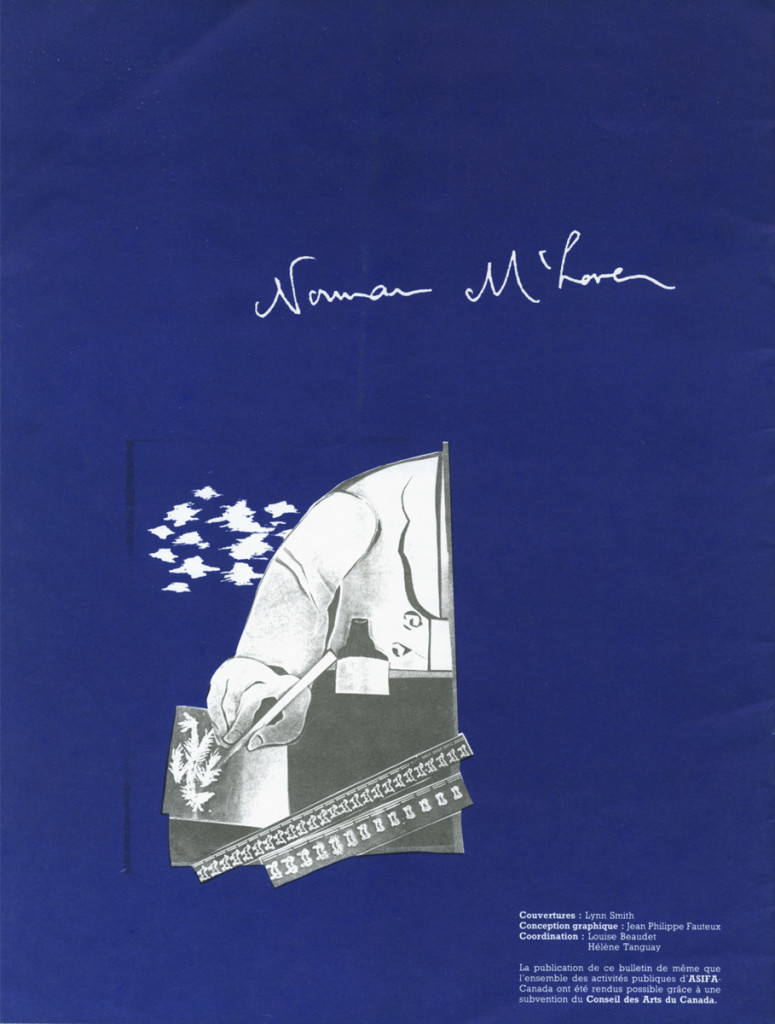 28
Back cover
.
Here are three of Norman McLaren's lesser known films on YouTube.

Spook Sport
.

La Merle (The Blackbird)
.

C'est l'aviron
(Some of McLaren's more famous and usual fare can be found on YouTube as well:
Hen Hop, Blinkety Blank, Fiddle De Dee, Neighbours. There are many more.)

Commentary &Independent Animation &Photos 11 May 2013 06:04 am
Idlewilding Gatsby
- I've been trying to think of what the new version of The Great Gatsby reminds me of, and in a conversation with Heidi, she smack dab put her finger on it. There was a film, called Idlewild, done in 2006 by hip hop artists, Andre 3000. That was it. I was in love with that film and wrote an exuberant review. See here.
Idlewild was a rich looking, spirited film about the mob in the 1920s. The screen burst with rhythm and excitement frame after frame. Animated objects appeared everywhere in George Pal like additions.
The difference between the two films – Ixdlewild and Gatsby – other than about $100 million, and the throng of "AAA" celebrities like Leonardo DiCaprio is that Idlewild has a hell of a lot more imagination. The two equal each other in exuberance and style, and Gatsby is adapted from one of the great books of the 20th Century. I suggest you rent a copy of this 2006 film from Netflix or whoever before or after or instead of seeing Gatsby. As a matter of fact it's time for me to see Idlewild again; I'll rent it, myself.

___________________________

Camp Levy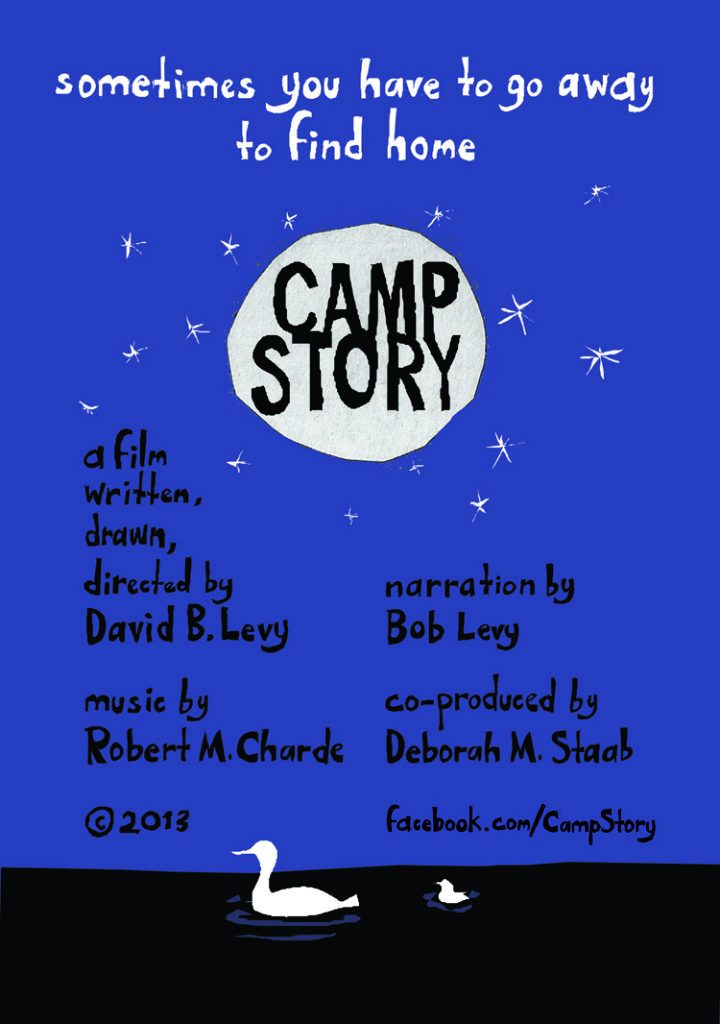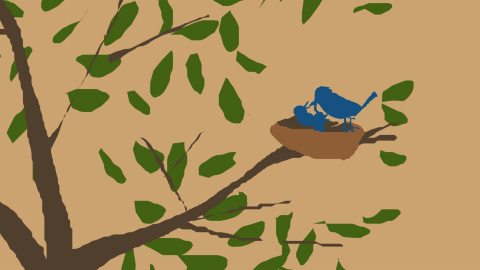 David Levy recently announced to the world that he'd completed a new film. This time it's a half hour movie animated to the narrated storytelling of Bob Levy's (Dave's father) story of his trip to camp. This was a service for inner city poor children. Dave's father actually received supprt to go for several summers, and tells the story of those Camp outs. He had a full $8 to spend for the first summer, and plays it to the max.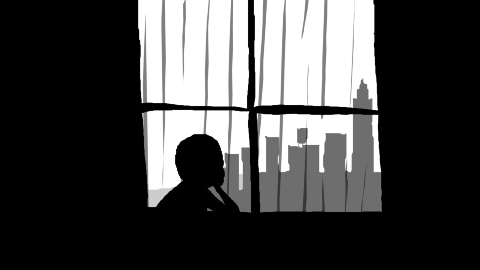 The film is the third, done in a strong graphic style and uses material from the memory of Dave's father.The other two films David animated: "Grandpa Looked Like William Powell," and "Turning a Corner," both made an impression. This short, "Camp Story," exploits the father's narrative without taking too many animation curves. Howard Beckerman used to say there was full animation and "Limited" animation, but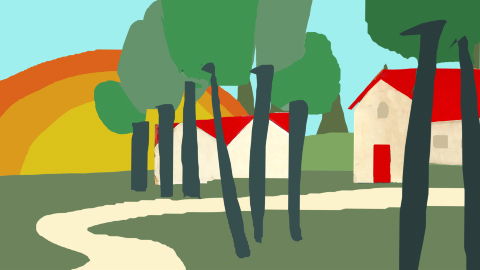 he'd discovered a third style – "Enough" animation. "Limited" when it can be and full when it has to be. This film is "Enough" animation. More of an iconic graphic trip, often depending on silhouttes to relay the story. Using bold colors and large solids, it uses its Flash animation to the max. (I'm pretty sure it's Flash though it might have been done on Toon Boom.)
The sound track is a solo guitar that's played pretty low on the track, so it's particularly unimposing. I don't hear many effects if there are any, so the track is somewhat simple. This helps put a focus on Bob Levy's voice as he narrates the qiet story.
The film will succeed in many festivals. The story roams a bit telling of many summers he'd experienced. There are times when it takes a bit too long to get there, so my preference is the last of the shorts David did, "Turning a Corner." But this is a fine addition to Dave's library. He's found his metier. I just wonder if the story supports the length. I have to give him credit, though. It takes some kind of fortitude and determination to come home from work daily only to start work on your animated film.
And to keep it up. As a matter of fact, Dave has me questioning my own enthusiasm. It's time for me to put some energy out there as well.
Keep your eyes open for this movie; it's a truly Independent film and needs support.

___________________________

Daily Motion and The Congress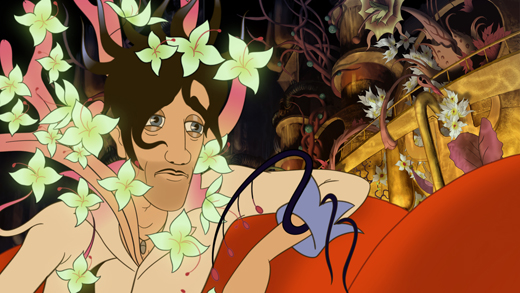 The last time I felt such inspiration was when I contemplated Yoni Goodman's daily animated pieces for his blog, the Dailymotion. Perhaps you'll remember my excitement for Mr. Goodman's daily animated tests which he offered us. Anyway, his output was so inspiring it actually had me doing some personal animation. Unfortunately that didn't last long enough to be productive.
I wondered what has happened to Yon Goodman's "Daily Motion" pieces, so I went back.
He was the animation director for the Israeli feature, Waltz with Bashir. His blog was a way for him to keep it going for himself. It turns out, Mr. Goodman has been the animation director for another feature film, The Congress. This film will make its debut at Cannes this coming weekend. You can see some stills and get some information here.
It's half animated and half live action. Stars include Robin Wright, Paul Giamatti, Jon Hamm and Harvey Keitel. It's an animated adaptation of Stanislaw Lem's novel "The Futurological Congress". (From thte short synopsis I've read, this sounds like a very imaginative idea for a film.)
It's another good film to watch for; one that was done in 2D. (Only in America are they afraid of that medium.)

___________________________

A Public Reading of an Unproduced Screenplay
About the Death of Walt Disney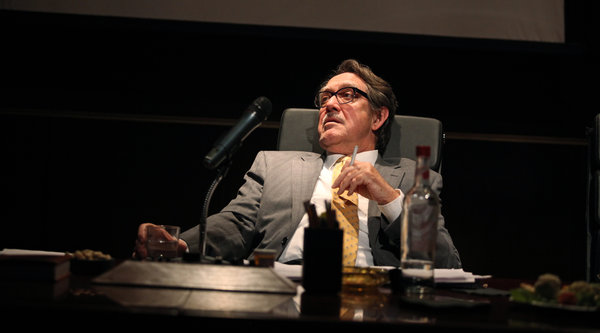 Yes, that is the title of the play which opened yesterday at the Soho Rep. A Public Reading of an Unproduced Screenplay About the Death of Walt Disney was written by Lucas Hnath and the play was directed by Sarah Benson, the artistic director of the Soho Rep. The show stars Larry Pine as Walt Disney. The actor has performed in many films and plays, usually as a positive role model of a character. Yesterday's review in the NYTimes, by Charles Isherwood, takes the play to task for re-imagining Walt as someone impatient to prop himself up into someone more important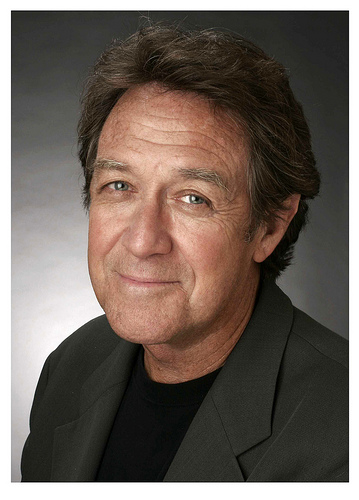 than he is. ". . . Walt is not "one of the most important people who ever lived," as he grandiosely aspires to be, but just a mortal like anyone else. While apparently devoting his public life to bringing pleasure to millions, Mr. Hnath's Walt Disney had a horror of being considered one of them."
The show is completely sold out for its limited run (likely these are subscribers who knew of the show in advance and pre-bought tickets as part of a package.
It'll be interesting if they do a filmed version of this play. I wonder what the rights are to such a thing. There's a book I always thought would make a good film about Walt: The Oranging of America by Max Apple.
Larry Pine as "Walt"
More information about the play can be found here.

___________________________

Coming Soon

I thought I'd give you an idea of what I'm planning for the coming week.
- We'll complete the Raggedy Ann photos which finish John Canemaker's collection of images he shot for this book, The Animated Raggedy Ann and Andy
- We revisit Norman McLaren with some odds and ends that he wrote in the last years of his life. Of course, he was a smart erudite guy right up to the end, and I believe that comes across in this writing.
- We'll also look back at the career of Lilian Friedman Astor, the first woman to have animated in a major U.S. studio. From 1933-1939 she worked for the Fleischer studios, and we have a list of all the scenes she did. Perhaps we can showcase some of them.
- And we'll begin to look at the Frank Thomas & Ollie Johnston book, The Illusion of Life. Bo do I have a couple of problems to discuss with these two masters.
- And of course there will be some surprises in store for both of us.