Monthly ArchiveMarch 2010
Animation &Books 31 Mar 2010 09:37 am
- On Saturday last, I spoke briefly about Harald Whitaker"s book Timing for Animation. (Recently updated with some additional information from Tom Sito. Unfortunately, I don't have the updated version, so these pages came from the original printing.)
After writing that, I decided to try making QT movies of a couple of the cycles in the book. It's one thing to see how a master animates actions in place via the drawings; it's another to see how it actually moves.
Hence, I've taken three of the pages from the book, broken down the drawings and dragged them through AfterEffects putting all of the motions on twos.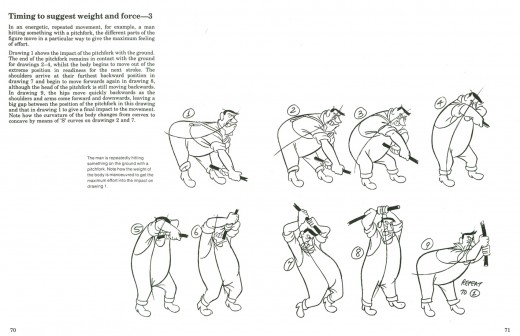 This beautiful action perfectly and simply breaks down a
difficult motion. It's quite alive and masterful, if you ask me.

The following motion was exposed on twos.

Click left side of the black bar to play.
Right side to watch single frame.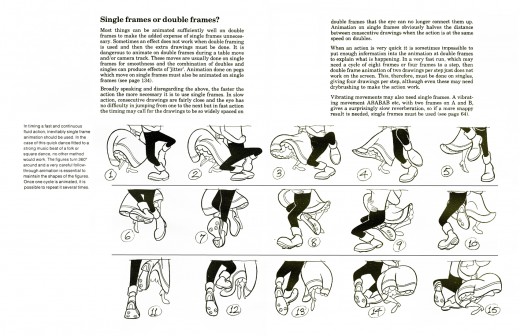 The second motion is a dance. Whitaker uses it as an example of why things are exposed on ones or twos. I went against his lesson
and did the QT on twos. I wanted you to see the movement more
clearly (there's a small jump from the last drawing back to the first.
The following motion was exposed on twos.
Click left side of the black bar to play.
Right side to watch single frame.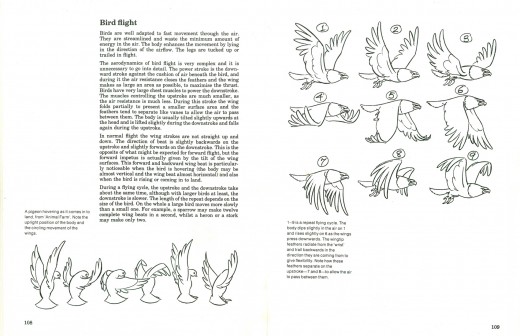 This third lesson is about a basic bird flight pattern.
He's animated a larger bird. If it were smaller the body
of the bird would also be moving up and down.
The following motion was exposed on twos.
Click left side of the black bar to play.
Right side to watch single frame.
This is an excellent book. If you don't own it, it's worth every cent of it's price. Buy it.
Articles on Animation 30 Mar 2010 07:21 am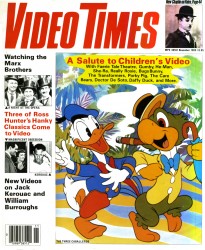 - The following interview with Mel Blanc appeared in the Nov, 1985 issue of Video Times Magazine. By this time, Mel Blanc was on automatic pilot. He'd answered these same questions hundreds of times, so there may not be much original information here. I think it's informative and entertaining just the same.
The Man of
A Thousand Voices
Mel Blank Croons a Looney Tune
Editor's Note: We could think of no better way to end our special report on children's video than to chat with the one man whose name has become synonymous with some of the most-beloved cartoon characters: Mel Blanc, better known as the voice of Bugs Bunny, Porky Pig, Daffy Duck, and many other zany cartoon characters. Gregory Cat-sos recently caught up with this 77-year-old Tasmanian devil (who is still working a full schedule) for a short conversation.
VIDEO TIMES.- Who is your favorite cartoon character?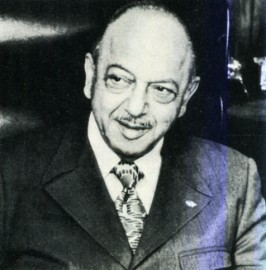 Mel Blanc: Bugs Bunny. Bugs is the closest to me. He's my favorite character because, without him, I don't know what might have happened. He's been more or less my main leading character. Not long ago, Warner Brothers conducted a poll among 10,000 children to determine what cartoon characters they liked best. Bugs Bunny came out number one. That made me realize how popular this "cwazy wittle wabbit" is. I hope it continues on that way.
VT: What character that you do is your real voice closest to?
MB: I'd say Sylvester, the cat, is the closest to my straight voice. I almost sound like him in real life.
VT: Each cartoon character you 've created is different from the other.
MB: I always tried to make each character different or unusual. These characters have their own peculiarities, their own unique personalities. Like Daffy Duck's crazy laugh, Bugs Bunny's style of talking, Porky Pig's stuttering, and the "spraying" sound of Sylvester when he talks.
VT: Warners has released a series of classic cartoons on videotape: Bugs Bunny's Wacky Adventures, Daffy Duck: The Nuttiness Continues, A Salute to Mel Blanc, and others. How do you feel about this?
MB: I'm happy about it. People with video machines can now collect some of their favorite cartoons. The Salute to Mel Blanc tape contains some of my personal favorites: "The Rabbit of Seville" (1950), "Robin Hood Daffy" (1958),
"Ballot Box Bunny" (1951), and "Bad O1* Putty Tat" (1949).
VT: How many cartoon voices have you provided these past 50 years?
MB: For Warner Brothers alone I did about 700 different voices. I can also do 400 more different voices and dialects. So when they call me, The Man of 1000 Voices, they're not kidding.
VT: Besides Warner's cartoons, who else have you worked for?
MB: I've done the voices of Barney Rubble and Dino the Dinosaur in The Flintstones. I'm doing voices again for The Jetsons, with Penny Singleton. I also provided the original voice of Woody Woodpecker in 1936. Walter Lantz had asked me to create a voice for his woodpecker character. 1 did a few cartoons for his studio. But I had to stop doing Woody's voice when I signed an exclusive contract with Warner Brothers. After that, a woman named Grace Stafford did the voice. I guess Walter Lantz didn't want to lose her, so he wound up marrying her (laugh).
VT: Are there any voices that you Haven't provided in the Warners' cartoons?
MB: I did practically everybody except Granny (in the Sylvester and Tweety Pie cartoons). And in the beginning, I didn't do Elmer Fudd. His voice was done for many years by Arthur Q. Bryan. After Bryan died in 1958, I began doing Elmer. But I didn't want to imitate Bryan's voice. 1 did my own interpretation of Elmer's voice. I don't like to imitate. I'm a creator of voices, not an impersonator.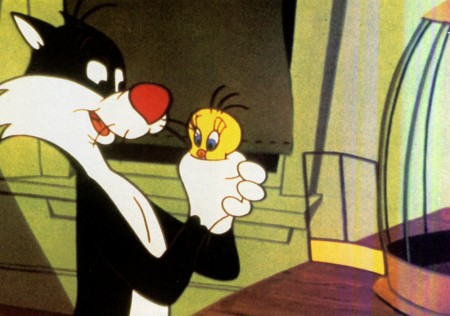 .
VT: When did you start doing cartoon voices?
MB: In 1936. I did a drunken bull character in a cartoon called "Picador Porky." Initially, I had some difficulty getting into the cartoon business. I tried many times to get an audition at Warner Brothers, but I was always told, "Sorry, but we have all the voices we need." I kept going back for over a year and a half, but the man in charge still said, "No." Finally, this man died. So I went over to Treg Brown, who was the head of the sound-effects department of animation, and asked for a job.
Treg listened to my audition and liked it. He even had me audition for some directors and producers at the studio. One director, Tex Avery, said to me, "Can you do a drunken bull?" I said, "I think so." And Tex asked, "What would he sound like to you?" So 1 did my impression of what I considered to be a loaded bull, hiccuping and slurring my speech. He said, "That's perfect! What are you doing next Tuesday?" Well, I wasn't doing a damn thing. But I said, nonchalantly, "Oh, I think I can make it" (laugh). That's how it all started.
VT: Did you also do Porky Pig's voice in "Picador Porky"?
MB: No, I didn't do Porky Pig at the time. The studio had a man there named Joe Dougherty, who actually stuttered in real life, who was then doing Porky. But this guy had problems coming in on cue and doing the dialogue properly. So the studio asked me if 1 could stutter on cue, to do Porky's dialogue with the right timing, I did my interpretation of Porky's voice for them, and they liked it.
VT: What was the first cartoon in which you did the voice of Porky Pig?
MB: 1 think I did Porky's voice for the first time in "Porky's Romance" in 1937.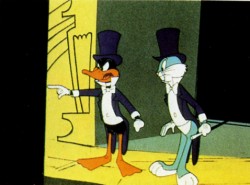 VT: Did you have scripts for the cartoons?
MB: Absolutely, but first the writers showed me the storyboard. Through a series of pictures, the storyboard showed what the cartoon was about and what the characters would say and do. Then I created the voices.
VT: How long did it take the animators to make one cartoon?
MB: It would take 125 people about 9 months to make one 6-1/2 minute cartoon. Of course, they all worked on more than one cartoon at a time. These animators were all specialists. One would draw Bugs Bunny; another would create Daffy Duck; another would do the backgrounds, and so on.
VT: How long did it usually take you to do the voices for one cartoon?
MB: About an hour per voice. Originally it would take me about a day and a half to do all the voices. The voice is done first, you know. From the voice the animator draws pictures to fit the mouth movements. The animator looks in the mirror and copies his own mouth movements on the character and captures the right facial expressions. My dialogue is also timed with the footage.
Eventually, I suggested to the directors, "Why don't you record each character individually? Let me do each voice first!" This way, I didn't have to jump back and forth anymore. So they recorded each character's lines individually. It saved a lot of time and money for the studio, and it was a lot easier for me this way.
VT: How much freedom did you have in contributing to the characters or the dialogue?
MB: I was given a lot of freedom with the cartoon characters, especially in contributing to their dialogue. I sat in on the story conferences and gave the writers and directors some of my own ideas. In many of the cartoons, I more or less ad-libbed a lot. My ad-lib was timed to the exact second. If I didn't feel that certain dialogue was appropriate for Bugs Bunny, I ad-libbed something better or more in character for him, or I suggested substituting another line. And 99 times out of 100, the director agreed that my ad-lib or change in dialogue was better than what was in the script. For example, they were originally going to have Bugs say, "Hey, what's cooking?" in all the cartoons. I said, "Instead of that corny expression, can't we use a funny expression that's been going around, What's up, Doc?" The writers agreed that sounded better, and we used that catchphrase instead. I also ad-libbed something in "Knighty Knight Bugs" (1958). King Arthur sent out Bugs Bunny, the court jester, to take away a singing sword from the Black Knight (Yosemite Sam). After recapturing the sword, Bugs was supposed to say, "So this is the singing sword? How do you like that?" But instead, I said, "So this is the singing sword? Big deal!" 1 ad-libbed, "big deal!" It sounded better than the original line, and Friz Freleng, the director, kept it in.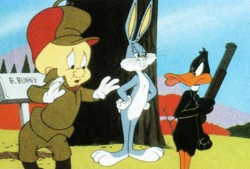 VT: When Bugs Bunny chews on a carrot and says, "What's up, Doc?" are you really chewing on a carrot?
MB: Yes, I actually chewed on a carrot. We had originally tried potatoes and celery but discovered the only-things that made the sound of a carrot was me chewing on a real one. But when 1 got a mouthful of carrot, I couldn't swallow it all in time and then talk like Bugs. So, we'd stop recording for a moment, and I'd spit the carrot out in the wastebasket. Then, I would go on with the rest of the dialogue. I used to fill a few waste-baskets a day in order to do a little dialogue.
VT: Why does Bugs Bunny kiss Elmer Fudd on the lips in many cartoons? What's that all about?
MB: The writers had put it in to get some more laughs in the cartoon. They thought this would be funny. At the time, we didn't think anything of it. It was just an unexpected thing for Bugs to do. Elmer Fudd is pointing his shotgun at Bugs. Instead of being afraid, Bugs grabs Elmer and kisses him! Now, a rabbit kissing a man, in itself, was ridiculous. It got a good laugh and they kept using the gag. Warners had some marvelous and inventive writers in those days. They experimented with a lot of gags for Bugs that would look absurd. This was one of them, When I talk at colleges, some students will ask, "How come you never know what Bugs is? He keeps kissing Elmer and the other guys." And 1 answer, "Bugs is not gay." It's just a gag that worked, and the writers used successful gags over and over. VT: What other gags were used a lot? MB: They had several running gags. Like the funny little signs Bugs or Daffy held up saying, "Funny isn't he?" In one Road Runner cartoon, "Gee Whiz-z" (1956), the coyote falls off a cliff and holds up a sign saying, "How about ending the cartoon before I hit?" Another gag is, Bugs opens a door and finds another door behind it, followed by another door, and so on. Or Elmer Fudd points his shotgun at Bugs. Then, Bugs bends the barrel of the shotgun back the other way, so now it's pointing at Elmer instead.
VT: When was Daffy Duck introduced?
MB: Daffy Duck was introduced in "Porky's Duck Hunt" (1937). The cartoon was very funny and ended with Daffy hopping up and down, laughing over the "That's all, folks" title card.
VT: When were Tweety and Sylvester introduced?
MB: In two separate cartoons. Tweety, the canary bird, was introduced in "Birdy and the Beast" (1944). Sylvester, the cat, made his debut in "Life with Feathers" (1945).
VT: How did they come up with Tweety Bird's expression, "I taw a puttytat"?
MB: I said that phrase at one of the meetings—one of our story conferences. The writers thought it was a catchy line, and we used it in the Tweety cartoons. The same thing happened for Sylvester's expression "suffering succotash." We developed all these kinds of lines at our meetings.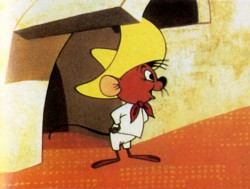 VT: How about Pepe le Pew, foghorn Leghorn, Yosemite Sam, and Speedy Gonzalez? When were they introduced? MB: Pepe le Pew made his first appear-ance in "Odor-able Kitty" in 1945, Foghorn Leghorn in "Walky Talky Hawky" in 1946, and Yosemite Sam in "Hare Trigger" in 1945. Speedy Gonzalez's first cartoon was "Cat Tails for Two" (1953). That shows you how long these characters have been around.
VT: How about the Road Runner and Wile E. Coyote?
MB: The Road Runner and the Coyote made their first appearance in "Fast and Furry-ous" (1949). This was the first time the Coyote chased the Road Runner in the desert. Chuck Jones was responsible for creating this series. I didn't do the voice in the first Road Runner cartoon. The studio used a Klaxon horn to make the beep sound. I started doing the cartoons after the first one was made. One day, the studio couldn't find their Klaxon and asked me to do the sound.
VT: What kind of director is Chuck Jones?
MB: Chuck Jones is a great director. When Chuck directed me he told me exactly what he wanted to convey in the cartoon. He'd also do some of the dialogue beforehand to demonstrate what he wanted me to do with the lines, the voice inflection, and the pauses between the lines. All of Chuck's cartoons are well structured. In his Bugs Bunny cartoons, Chuck usually showed a reason for Bug's mischievous behavior. Bugs Bunny is usually minding his own business in the rabbit hole. Then Elmer Fudd or somebody else comes along and bothers him. So Bugs says, "Of course, you know this means war!" and fights back. VT: What, in your opinion, are Chuck Jones' funniest cartoons? MB: I think many of his Road Runner cartoons are very funny, such as "Zoom and Bored" (1957) and "Hook, Line, and Stinker" (1958). Warner Brothers has released a videotape titled, A Salute to Chuck Jones. On it are some of his greatest cartoons: "Duck Dodgers in the 24′/2 Century" (1953), "For Scentiment-al Reasons" (1949), and "What's Opera, Doc?" (1957).
VT: Musical backgrounds are prominent in Warners cartoons, aren't they?
MB: Yes, music was an important ingredient. Carl Stalling—and later on, Milt Franklyn—musical directors, used many popular melodies to advance the plot of the cartoons. They tried to make the melodies fit the situations. For example, if there was a lady in a red dress, their orchestra played "The Lady in Red." If a character was leaving on a trip, you'd hear "California, Here I Come." Something about Hollywood or movie stars would be "You Oughta Be in Pictures" or "Hooray for Hollywood," and so on.
VT: Bugs Bunny and Daffy Duck do a lot of singing in the cartoons. Why?
MB: The studio knew I could sing pretty well and that I was also a musician. So the directors asked me to do some singing in the different voices I did. In Bugs and Daffy's voices I sang bits and pieces of songs like "Someone's Rocking My Dreamboat" or "Singing in the Bathtub." In the "Rabbit of Seville" (1950), 1 had Bugs sing "Figaro." In fact, Carl Stalling even wrote a special song for Bugs to sing called "I'm Glad I'm Bugs Bunny."
VT: Do you get residuals when your cartoons are shown on TV?
MB: Yes, I do. It's in my contract with Warner Brothers.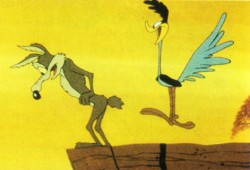 VT: For most of your career not many people knew it was Mel Blanc doing ait those cartoon voices. Did that bother you?
MB: Yes, 1 kind of felt bad because the cartoon characters themselves had become so popular. When I finally did the American Express commercial a few years ago, people became aware of who I was. But I used to go to restaurants and nobody recognized me. Now, 1 can't walk down the street or into a restaurant without somebody asking me, "Hey, have you got your American Express card with you?" And I answer, "Yes, I don't leave home without it!"
VT: What's next for Mel Blanc?
MB: All I can say is, "That's not all folks!"
— GREGORY J. M. CATSOS
Animation &Animation Artifacts &Disney 29 Mar 2010 08:11 am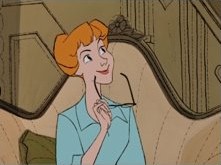 - Here's a Milt Kahl scene of Anita from 101 Dalmatians. These are the extremes without inbetweens. In the scene, Anita is humming along with the tune Roger is playing, then says "What clever . . ." She finishes with, ". . . lyrics," in the next scene.
The image at the left comes from Mark Mayerson's excellent breakdown Mosaic of this film.
This is another scene graciously on loan to me from Lou Scarborough, and I couldn't be more appreciative and thankful.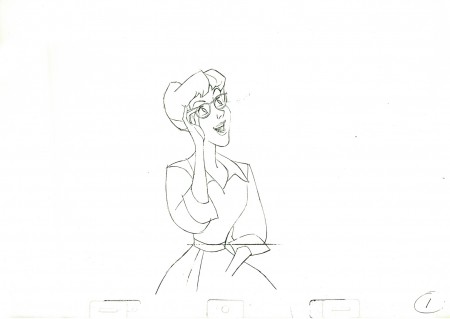 1
(Click any image to enlarge.)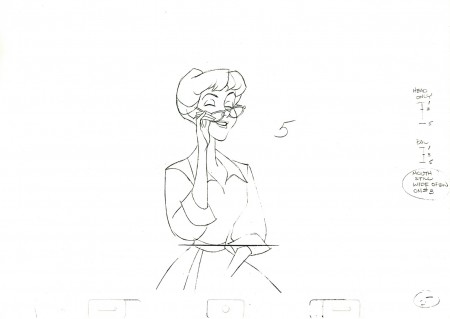 5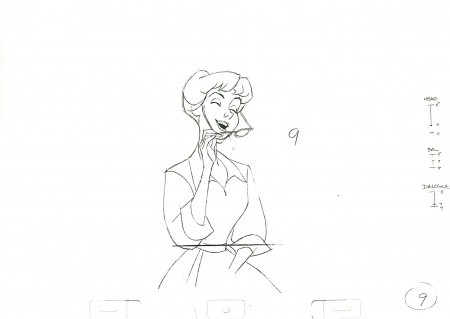 9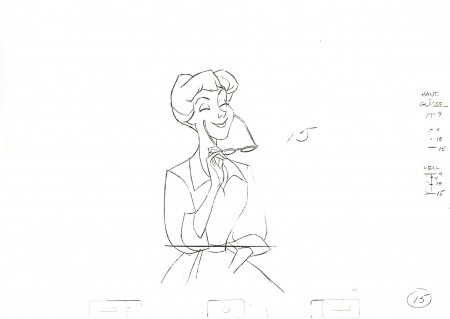 15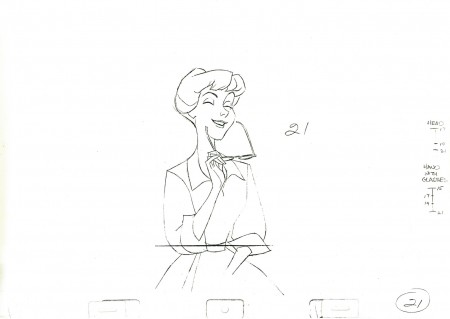 21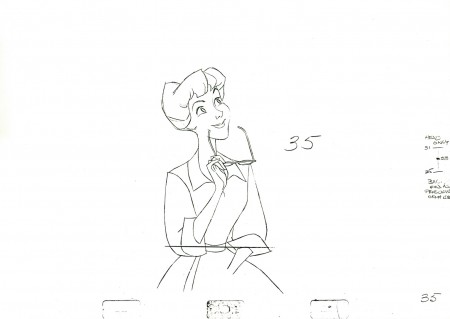 35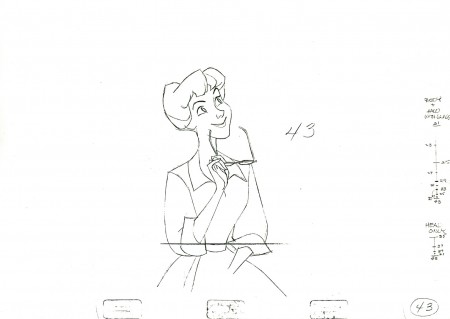 43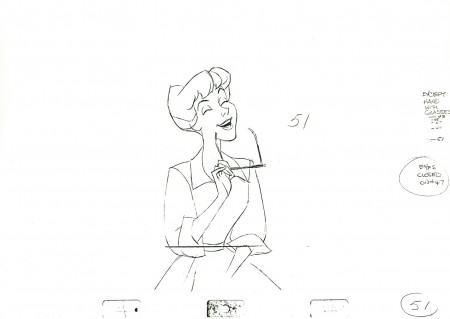 51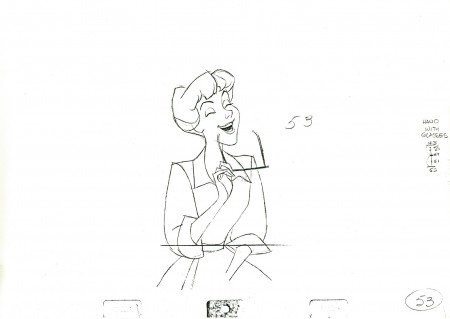 53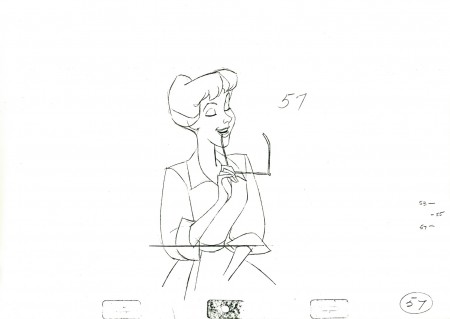 57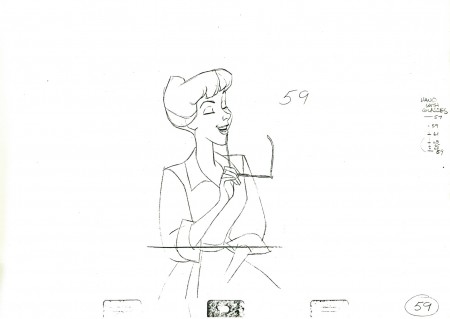 59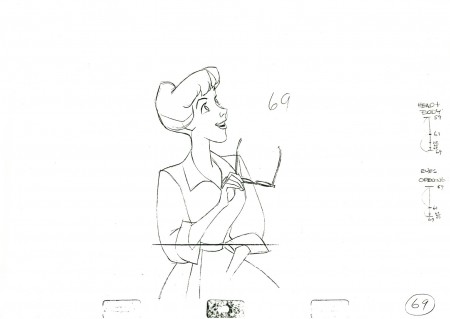 69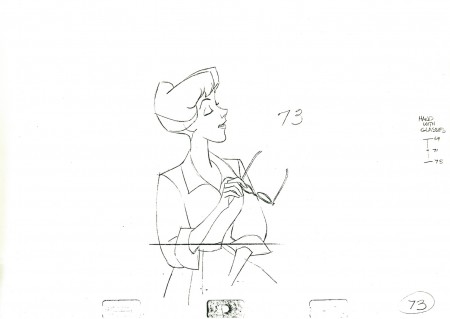 73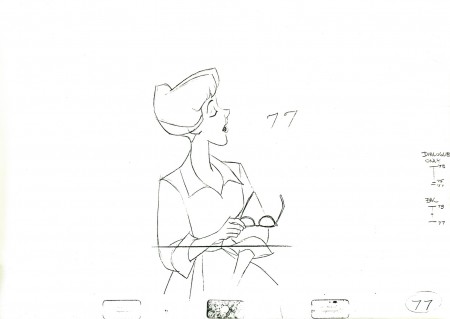 77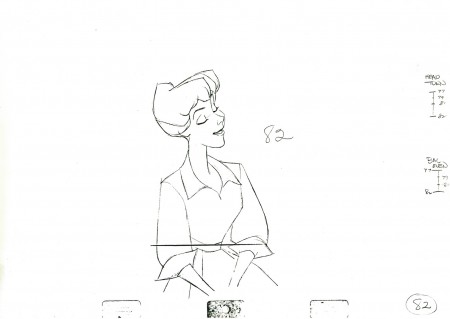 82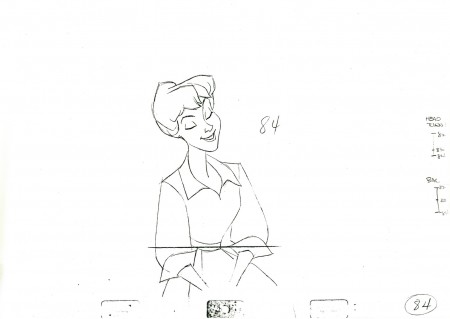 84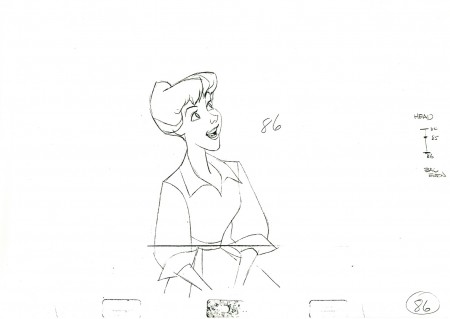 86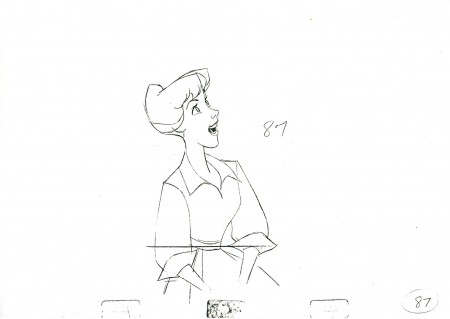 87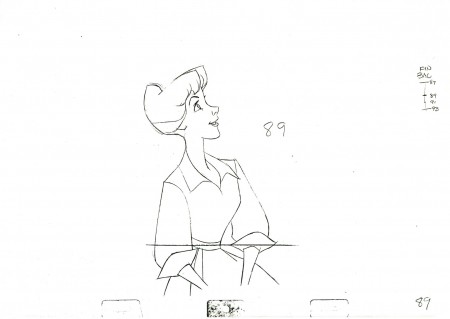 89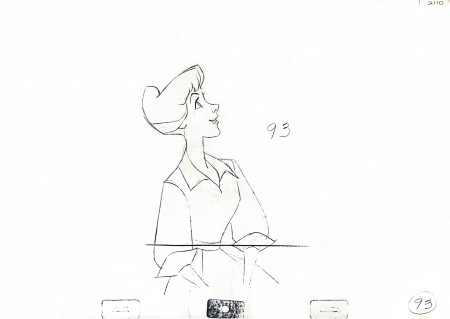 93
The following QT represents the drawings above. Each
extreme was held for the appropriate number of frames requested.
Click left side of the black bar to play.
Right side to watch single frame.
Photos 28 Mar 2010 08:03 am
These photos first appeared here in July 2007. All of the statues stand proudly in the same places. Spring's in the air.
- Like most cities, New York is rich in statues. There are plenty of them in the parks, but there are others on the streets and outside buildings.
On my daily excursion from home to studio I see a lot of the same statues, and I thought today I'd feature some of these. For the most part they all fall into the same school, what I'll call early twentieth century representational. They all honor some hero or other.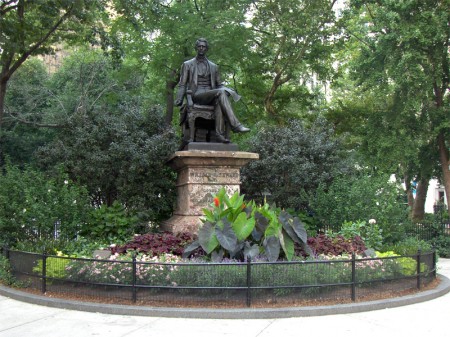 The entrance to Madison Square Park, at 23rd Street and Broadway, has a
large statue celebrating William Steward. He was Lincoln's Secretary of
State, a former Senator and anti-slavery advocate. He was part of Booth's
conspiracy to kill off Lincoln and other members of his cabinet and was___
stabbed in the throat that same night. ______________________________
He eventually recovered to serve under Andrew Johnson._______________
_______________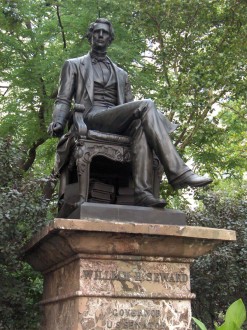 __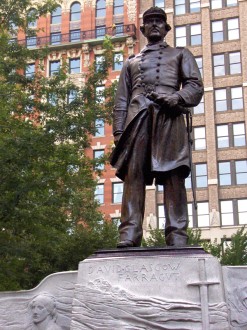 left: William Seward ___ right: David Glasgow Farragut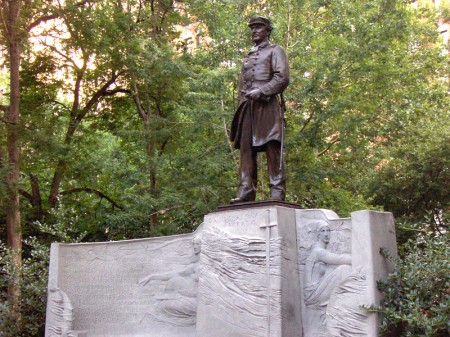 David G. Farragut was one of the most colorful naval commanders of the
Civil War. Though he was unsuccessful in early naval operations against
Vicksburg, Farragut's success at New Orleans and Mobile Bay secured his
place in history as one of America's most celebrated heroes.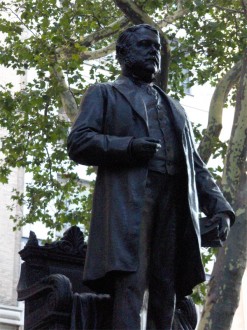 __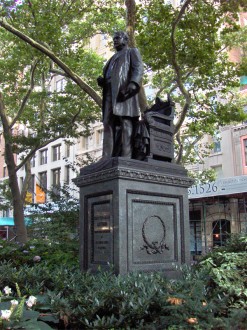 Chester K. Arthur, the twenty-first President of the United States (1881-1885)
He stands at the Madison Avenue, 26th Street entrance to the park.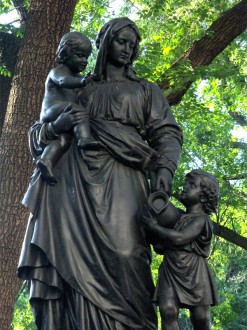 __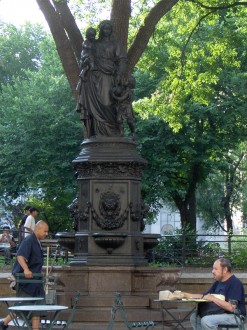 The east side of the park at 16th Street features this large and beautiful statue which is surrounded by tables where people can carry treats from the open market and rest. I haven't yet found a plaque telling what the statue represents, but it looks to be
derivative of Daumier's beautiful painting of a mother with her children. __________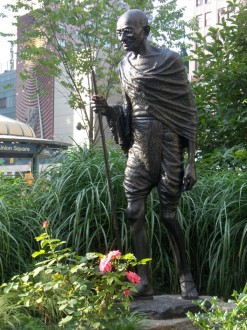 __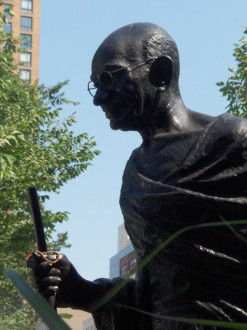 Gandhi stands, almost hidden, at a side entrance to
the Park at 15th Street and University Place.
___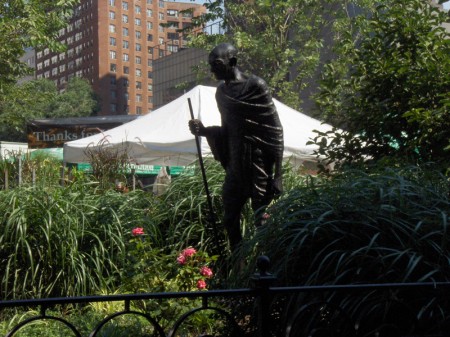 You can see that he stands almost hidden among the grass, flowers and weeds.
Articles on Animation 27 Mar 2010 08:13 am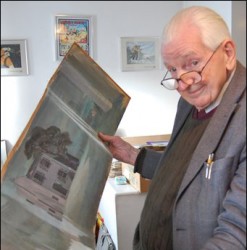 - I wasn't aware that Harold Whitaker was still alive and kicking until I'd received this note from Animal Farm aficionado, Chris Rushworthy:
I came across this BBC online article the other day. It has some very interesting images of Harold Whitaker and some of his Animal Farm collection. I salivated over the original background shown for the Old Major speech scene of which I have most cels and camera sheets.
Go here to see the pictoral piece.
Whittaker, of course, was the leading animator at the Halas & Batchelor studio for many years. After retiring from H&B, he wrote the book on Animation Timing that, to me, is one of the finest books available on animation production. The book, Timing for Animation, was recently updated by Tom Sito and is widely available. Everything in the book is explained in a deceptively simple way, yet it beams with clarity few other animation books achieve. I haven't seen the updated version of the book, though I'm sure it stays true to Whitaker's original.
Many thanks to Chris for directing me to this piece from the BBC; the photos are first rate.
Go here to visit Chris Rushworthy's excellent site built around his collection of Animal Farm artwork.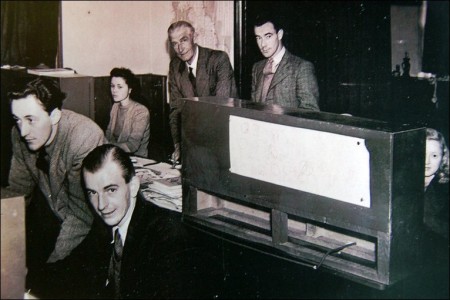 Whittaker (front center) at the Anson Dyer studio.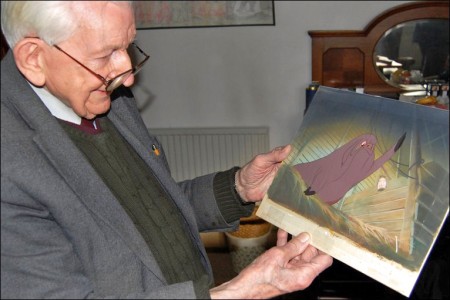 ____________________
– With the opening yesterday of Waking Sleeping Beauty, there's a timed interview with Don Hahn in the Onion's AVClub. It's a long and excellent read with some pointed questions asked and answered. Here, for example, is one that caught my eye:
AVC: The story the film is telling changes throughout the film. It starts out being about the animators, and it ends up being about the executives. Did you always start out with that arc? Did it change as you got access to some of these people?

DH: We had access from the beginning. Some of the earliest talks we did were with some of the executives. I think what we wanted to do though, was—I didn't want to create class distinctions between executives and artists. I didn't want to create a good-guy/bad-guy scenario from the very beginning. I think that's a little simplistic. The truth is, without the executive boldness and the artistic achievement, it wouldn't have happened. I don't think we even use the word "executive" in the movie. We talk about these people. We talk about who they are and what they do, but it was important to show that everybody had a role at the table, and if you pulled one of those people out, the checks and balances would be thrown off a little bit.

So the arc of the story was somewhat determined by what literally happened. It was a group of lost boys, a group of people right out of school with big dreams that couldn't be expressed yet. And then having Wells and Eisner and Katzenberg come into the studio—at the same time Howard Ashman comes in—and you have this tremendous renaissance, a change in the approach, outsiders coming in, Roger Rabbit happening, and this huge growth in the potential of animation that culminates in great financial success, that culminates in some egos getting in the way. Then Frank Wells' death is the domino that pushes over and starts to unravel a lot of those situations, which culminates in the end of the movie.
The film is a must-see for anyone connected with animation who takes Disney films seriously. It's a strong entertainment and a producer's vision of what he saw while living through it. Currently it's at the Landmark Sunshine Theater in New York.
____________________
Animation Artifacts &Bill Peckmann &Rowland B. Wilson 26 Mar 2010 07:42 am
- I have a few models by Rowland Wilson that I haven't yet posted. I'm ganging them up, even though they come from several different projects. All of these come courtesy the collection of Bill Peckmann. Many thanks to Bill.
This first series comes from a spot Rowland designed for Phil Kimmelman & Associates. It featured a mountie and his trusty sidekick.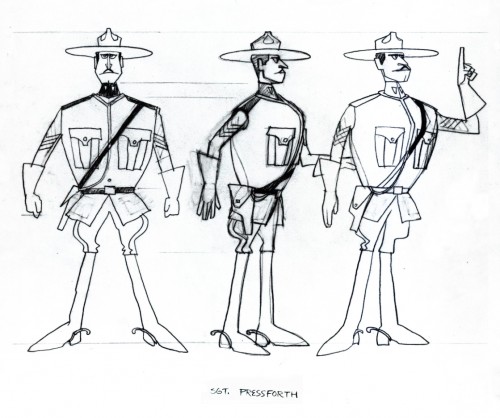 1
(Click any image to enlarge.)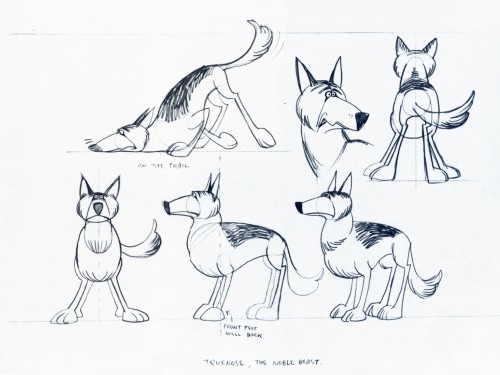 2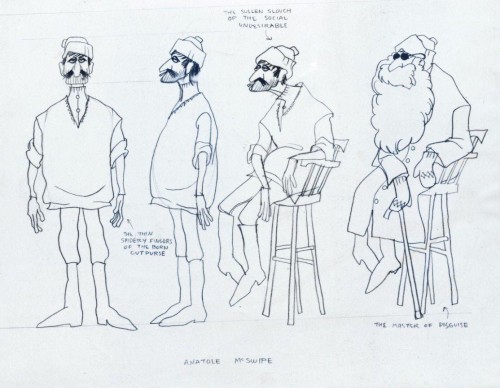 3

The following two layouts came from the 2nd TV spot Rowland did for 'Utica Club Beer', featuring a Knight and a fiery Dragon.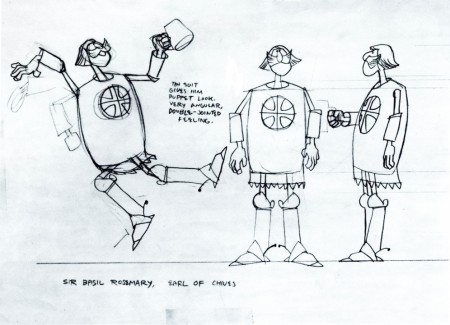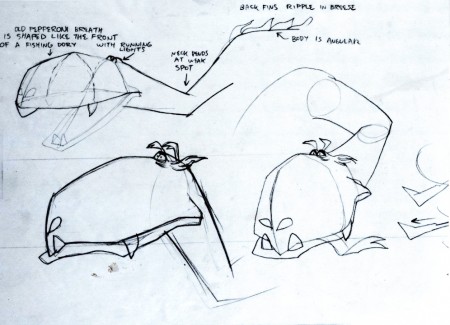 This is a rough that RBW did for a dog food animatic. It was a take off of Bogart's 'Casablanca', hence the 'play it again Sam' scene with Bogie Basset.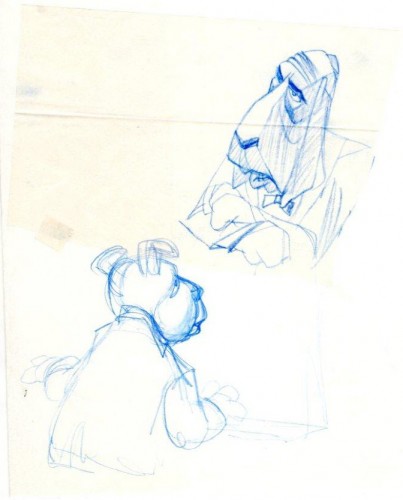 This is a LO rough for what's probably a TV Guide illustration: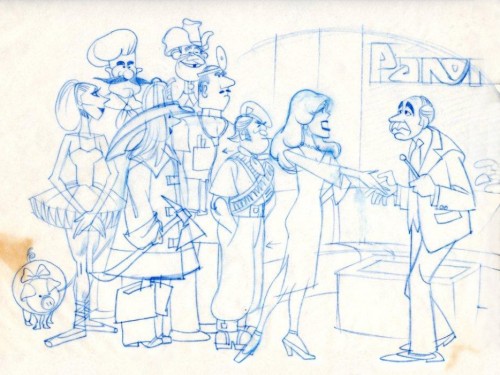 This is a painting by Rowland Wilson for
The Hunchback of Notre Dame "All Fools Day".
Here is the same thing broken in two for better viewing.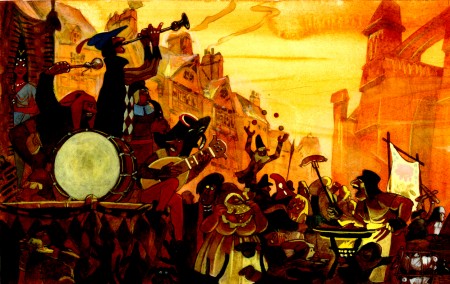 Left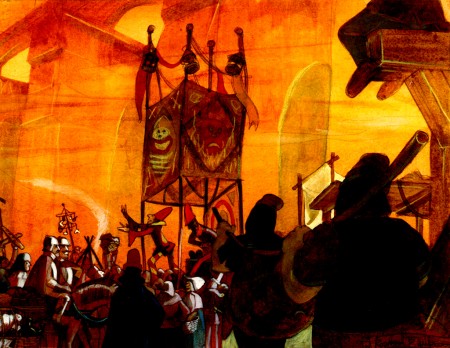 Right

Here's a group of Christmas Cards Rowland did. This is the note that Bill Peckmann included with the cards: "Years ago Rowland had an old school friend ('Pete the Greek', I've forgotten his last name) in Dallas (their home town) who owned the 'Drawing Board' greeting card company. Rowland did these professional (dentists, doctors, cpa's etc.) Christmas cards for Pete. He loved doing them because Pete let him run with the ball, none of the usual looking over your shoulder advertising art direction."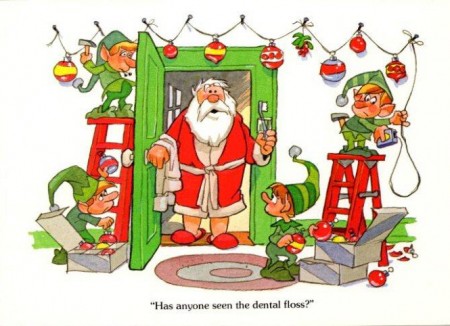 1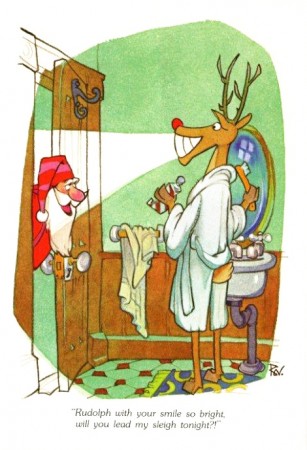 2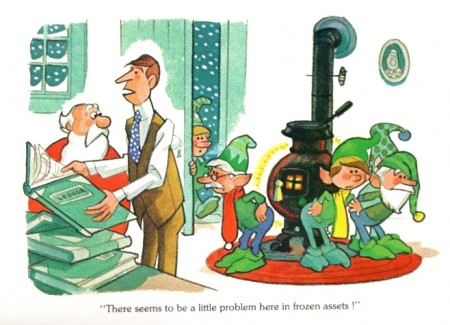 3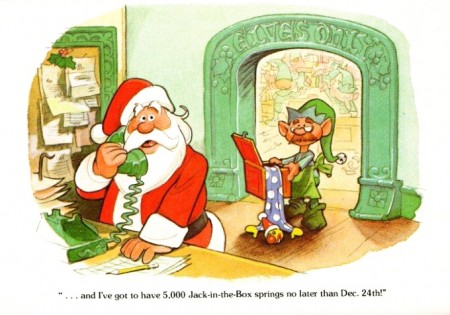 4

And here are two cards that were sent out by Rowland and Suzanne.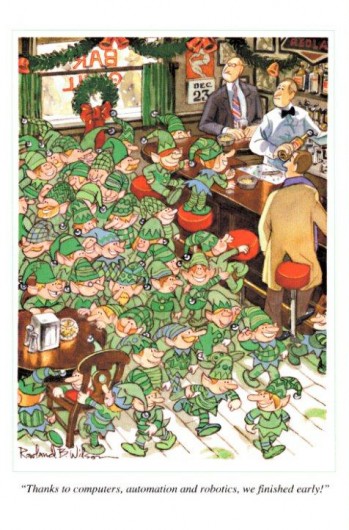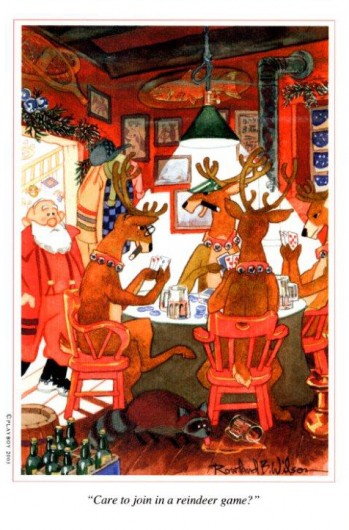 Here's a caricature Rowland did of Grim Natwick and himself: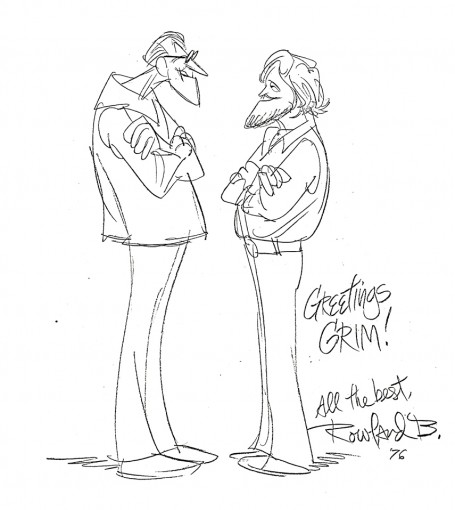 Finally, here's a cartoon Bill Peckmann did of the staff at Focus, a company in NY just prior to Phil Kimmelman's forming PK&A. Here's a note Bill included with the drawing: "This was done by me when we were working on RBW's second animated spot which was Vote Toothpaste's "Combs & Plotzen." His first was a Flying "A" gasoline spot animated by Lu Guarnier. Both circa '68-'70. Of cours this pre-dated the Utica Club "Mountie"strong> caricatures."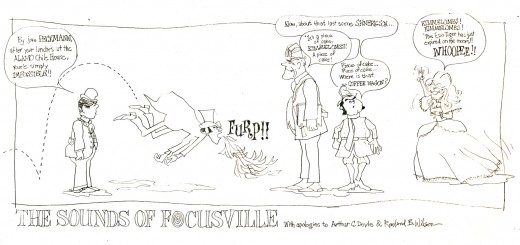 The caricatures pictured above are from left to right:
asst animator Victor Barbetta, designer Bill Peckmann, animator Jack Schnerk, owner Phil Kimmelman, designer Agnes Cannata.
Animation 25 Mar 2010 07:34 am
- Two weeks ago I posted the other side of this flipbook. In 1949, the Walter Lantz studio had a promotion going where they gave a number of flipbooks free to consumers of Grape Nuts Flakes.
The pages were double-sided. This side features Andy Panda taming a lion. Andy is in full color, whereas the flip side – Oswald – was just line work, so you know which one was still a "star" in 1949. See the Oswald book here.
The registration wasn't very good on the printed page, and I had to adjust a bit to make it work. The paper it was printed on is newsprint and the color registration is also off. The images in the thumbnail are about twice the size of the original.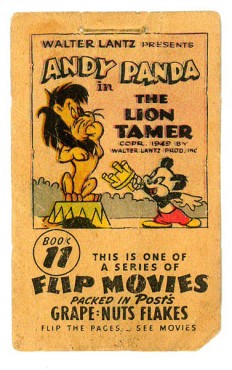 1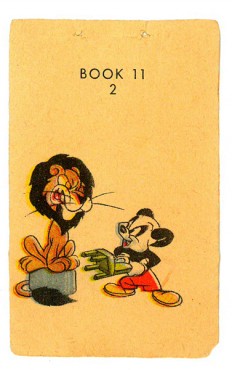 2
(Click any image to enlarge.)

">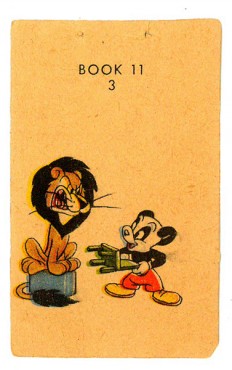 3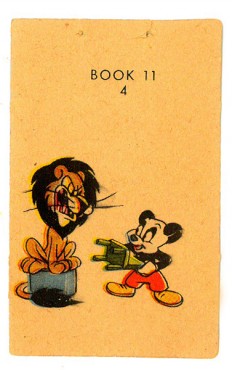 4

">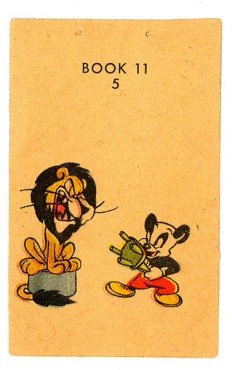 5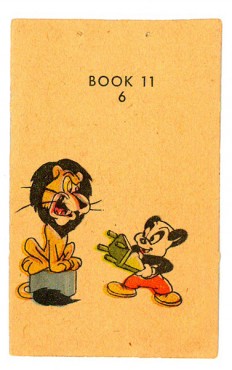 6

">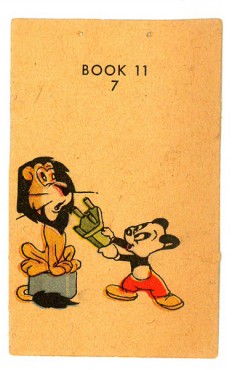 7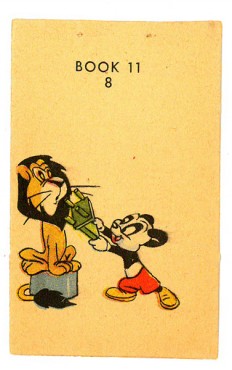 8

">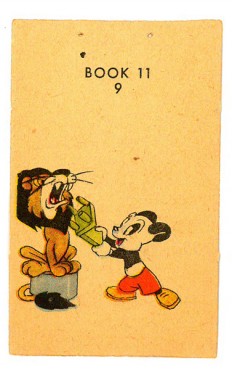 9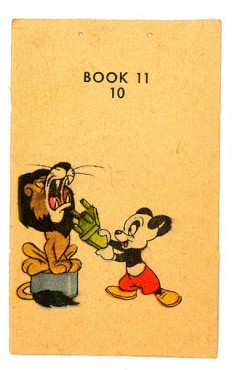 10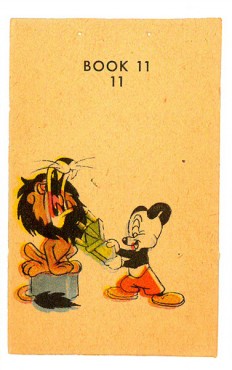 11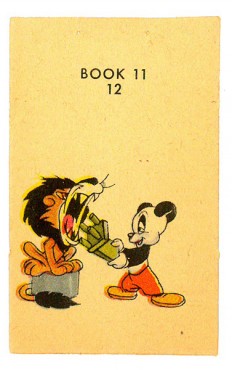 12

The drawings of the following QT movie were exposed
on threes to best make the action work.

Click left side of the black bar to play.
Right side to watch single frame.

Commentary &Daily post 24 Mar 2010 08:14 am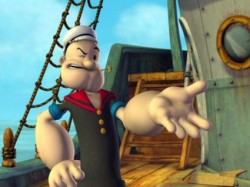 - Good news for Segar lovers! Variety reports that Popeye is going cgi and Sony is about to make the film. Naturally, it'll be in 3D so that when Bluto gets smashed out of the audience he can fly over our heads. The film will be directed by a relative neophyte, Mike Jones. He'd written a film called Eventland and another The Minotaur Takes a Cigarette Break which is now in production.
He doesn't quite have the experience of theatrical director Des McAnuf who did The Adventures of Rocky and Bullwinkle or Peter Hewitt (Bill and Ted's Bogus Journey) who did Garfield, but he brings plenty of enthusiasm. It should be fun, but I'm not sure if it'll be better than Bob Altman's Popeye. Then again, it will be 3D.
The good news is that the great compilation DVDs of the Fleischer years is still available from Amazon. Even after you've seen the cgi 3D Popeye you can come home to clear your palate with these first class copies of the original shorts.
________________
.
- Then again, the other animated feature announced this past week sounds heavenly. According to the March 18th
Nikki Finke
article,
Tim Burton
's going to do a 3D puppet animated version of
The Addams Family
with Chris Meladandri producing. Sounds like an ideal marriage. However, the next day, according to
Screen Rant
, the Burton people adamantly denied the project had anything to do with the director. Let's hope that Nikki Finke is correct – as she often is.
Johnny Depp and Helena Bonham Carter would make an original Morticia and Gomez.
________________
.
- Years ago children's television wasn't quite the slick wonderland that it is now. It was less of a babysitter, but on a local level tv stations tried a lot harder often depending on flamboyant actors to develop characters. These were usually voice over announcers who put on costumes and let 'er rip.
In New York, you had the Sunday shows that included Wonderama on ch. 5 – before it had anything to do with Fox – and you had the Chuck McCann show on ch. 11 – before it had anything to do with the WB (or whatever they call themselves today.) McCann was a crazy kinda guy who read the comic strips in funny voices and wigs and entertained us all silly.
During the week, there were Johnny Jellybean, starring Joe Bova. He shared his lunch with us during the day and starred in Once Upon a Mattress on Broadway at night. The morning shows were mostly B&W cartoons with hosts like Cap'n Allan Swift – replaced by Cap'n Jack McCarthy – introducing Popeye and Officer Joe Bolton who gave us the Three Stooges.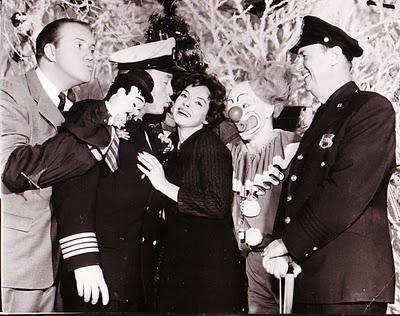 The ch. 11 roundup: Chuck McCann (with Laurel & Hardy puppets),
Captain Jack McCarthy, Gloria Okon, Bill BOZO Britten, and
Officer Joe Bolton.
The mornings belonged to Sandy Becker. He was a manic kinda guy who seemed to be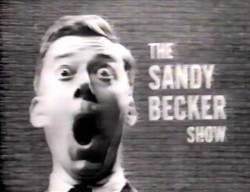 talking to kids but really playing for the grown ups using kids toys and games. I remember well how he did his best to destroy a Mr. Machine robot as he demonstrated the host, Mattel's product. The robot kept walking off the desk. I remember another show where Sandy didn't show up at the beginning of the program and they kept running B&W WB cartoons. Mid show he appeared somewhat breathless, and advised us kiddies that if we happened to see a red Volkswagen with such and such a license plate, could we call the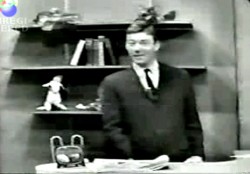 police because his car had disappeared that morning.
You can see some of the nastier bits here.
I guess he had a one hour special in those years: Sandy Becker's Christmas Carol. It featured a lot of the puppets and characters that appeared on his show. I'd received an email from Craig Marin of Flexitoons who is trying to "reimagine" the show for DVD. Here's how they state it in their press release:
The program starred Sandy's entire ensemble of puppets – most memorably Geeba Geeba as Scrooge, Sir Clive as Bob Cratchit, and Marvin Mouse as Tiny Tim.

For Millions of Baby Boomers, who grew up with Sandy as a vital member of their "TV-family", it was their first introduction to Charles Dickens ghostly tale of greed and redemption. To this day, Sandy's production lives warmly in their hearts and fondly in their memories. Unfortunately, as was the case with many live programs of the time, the tapes – to the best of anyone's knowledge – were destroyed or erased or taped-over. 
 


In the 1990's Sandy and Flexitoon partner Craig Marin – who as a child was greatly influenced by Sandy and later became his friend as an adult – often talked about and planned to remake his Christmas Carol. But sadly, when Sandy passed away those plans were put on hold.

Now, through the power of Kickstarter, the Holiday special is back on track. FLEXITOON, one of America's premier puppet production companies on television, film and stage is ready to produce a re-imagining of Sandy Becker's Christmas Carol, using all the original puppets he bequeathed to them upon his passing.
You can see a video presentation here.
You can go to their Facebook page here.

________________
.
- I've waited patiently for
Mike Barrier
to give his thoughts on the passing of
Fess Parker
. He didn't disappoint with the excellent piece and companion interview that appears today on his blog. Mike showed us the man, Fess Parker, as opposed to the memorabilia which appeared in many other obituaries. (Come to think of it, Mike did the same for
Walt Disney
with his book,
The Animated Man
.) If you have any interest in the star of a Disney series that rocked the world for 15 minutes in the 1950′s, then head on over to his site.
Animation Artifacts &Bill Peckmann &Comic Art &Illustration 23 Mar 2010 08:31 am
- It's nice to know that there's some playing at the top.
In designing an Underoos commercial for Phil Kimmelman and Associates, Alex Toth sent funny cards to Bill Peckmann, he responded with paintings of his own. Thanks to Bill, I have some of that material, and will post it here.
First this short note from Bill about what follows:
". . . about 30 years ago PK&A was lucky enough to do a TV "Under-Roos" spot with Alex Toth (since I was and am a HUGH Toth fan, I probably badgered Phil and the Ad agency into using Alex to do the super hero character designs and LO's of the spot) and with that, I also became the lucky recipient Alex's many missives. These came in the form of letters and postcards, which were wonderfully illustrated with doodles and sketches. One doodle that he used quite a bit was his cigarette smoking, signature alter ego "Grumpy Duck" (see attached).
And with that, I did some riffs on his Duck character showing the history of aviation (we were both airplane buffs) and photography (we both appreciated good photos). These were done with xerox and cel paint. Happy to say, Alex seemed to get a kick out of these."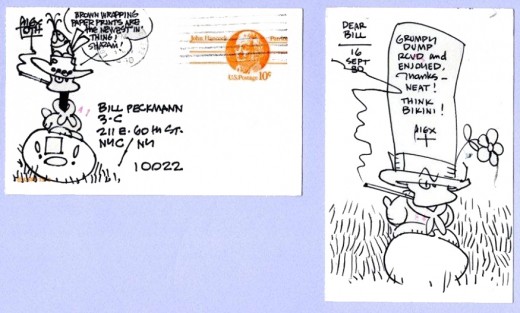 An example of one of Alex Toth's mailings to Bill.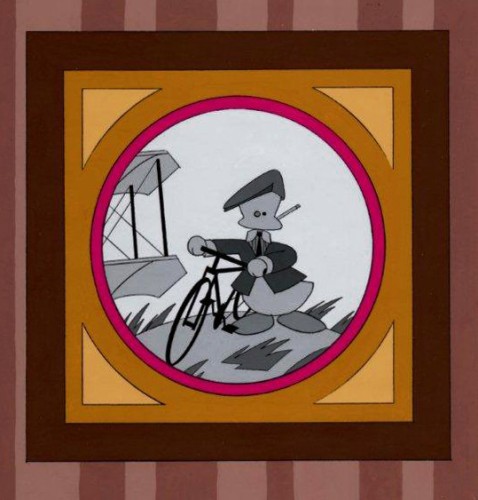 1
Here's the series of ducks that Bill painted for Alex.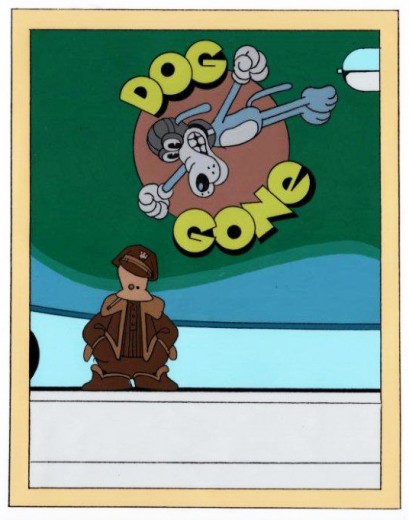 2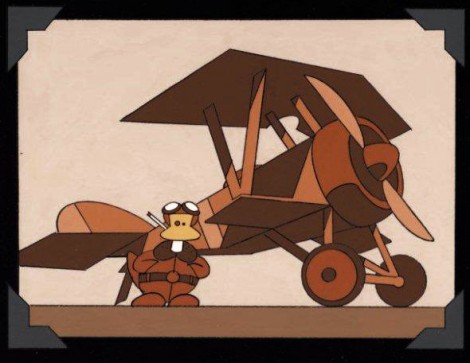 3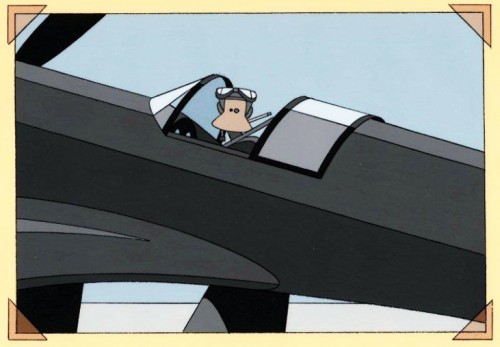 4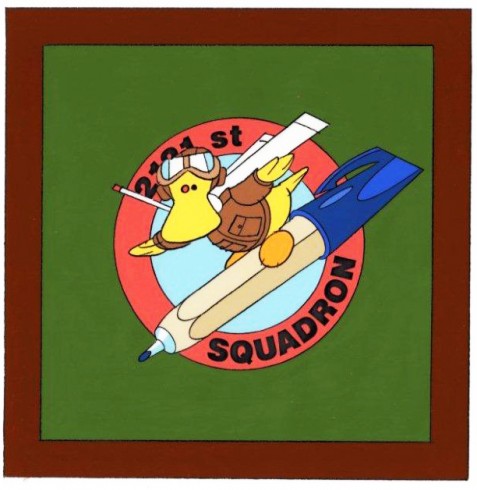 5
"Here are some setups that Alex Toth did for the 'Underoos' spot for us. Since Superman and Spiderman came from rival companies, very seldom or never did they appear together. You might have a Toth fan or two in your audience, mebbe we'll make you one. At end of s'heros is a doodle, one of his many."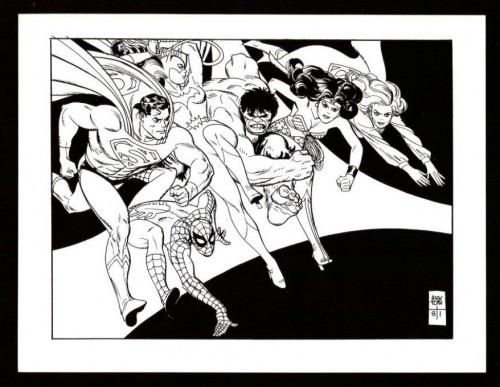 1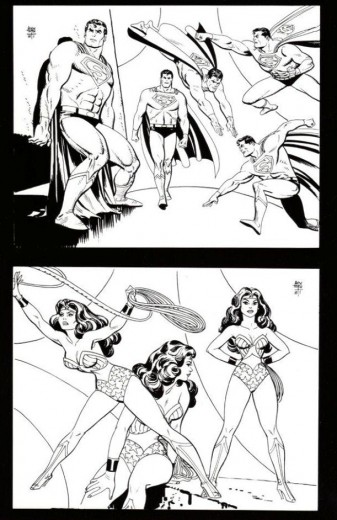 2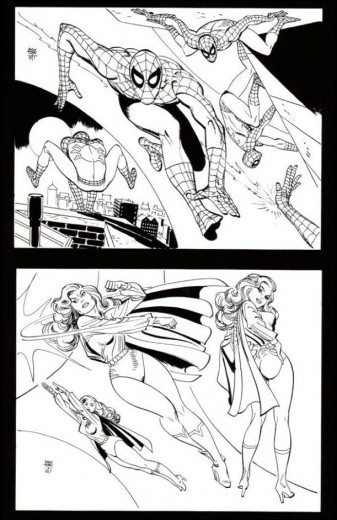 3
Finally, a thank you note (the original was in color) that Alex did for Rowland Wilson, they were big mutual fans. The two were friends: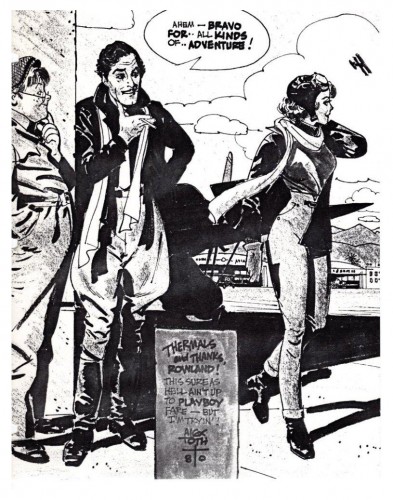 5
Enlarge to read the panel bottom center.
Animation &Animation Artifacts 22 Mar 2010 08:01 am
- Here's a scene all of 29 drawings in length, but if you check it out in the film it's enormous. Everything's moving – the wago they're standing in, the pots & pans, things on the table and most definitely Stromboli who in one enormous drawing changes the scene, Pinocchio's world and the mood in the audience. "Quiet!" is all the dialogue shouted in the scene. It"s frightening.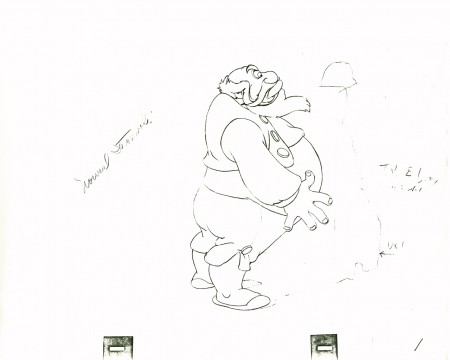 (Make sure you click to enlarge every drawing here.)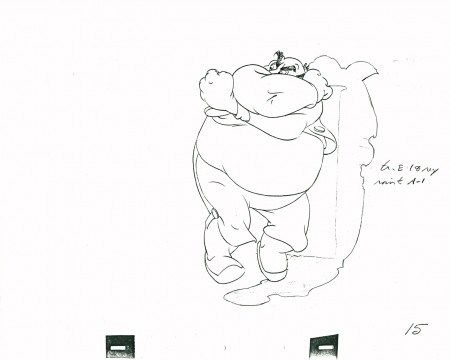 15
Closed position starting to open his body – legs first.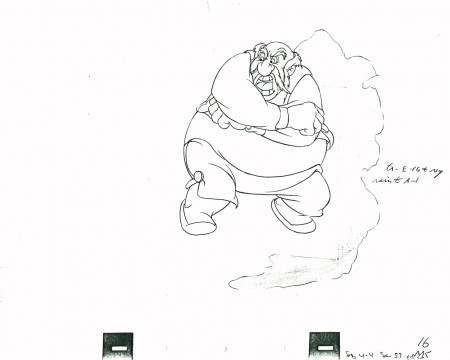 16
Pulling it all into a ball,
he shouts, "QUIET" – the dialogue for the scene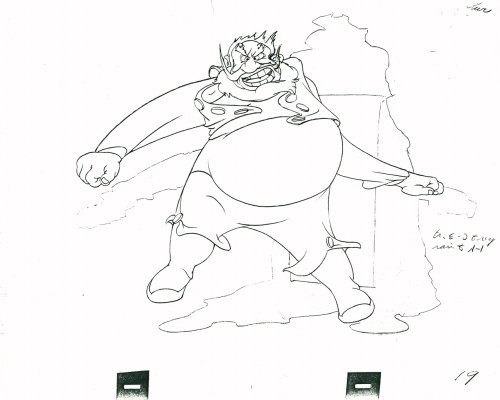 19
Couldn't open up more than this.
Just look at the distortion in this drawing. Magnificent.
Open, loud, ready to burst. One frame only.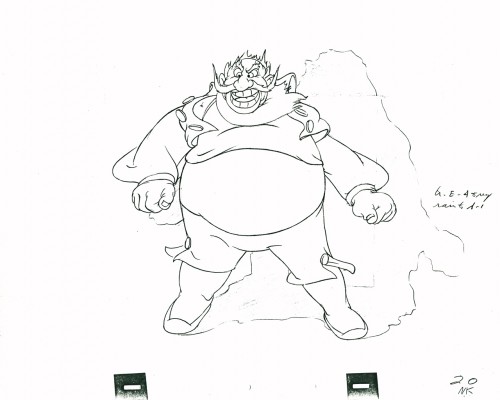 20
Next frame he's landed and gathered himself.
Only the secondary action – vest, pants, beard –
echo the outburst.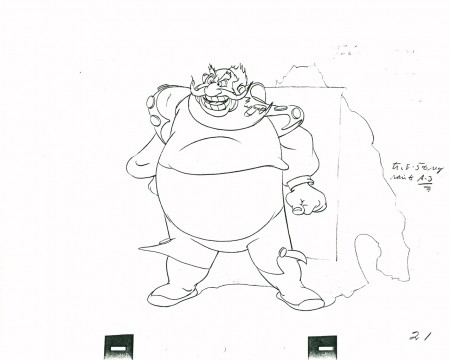 Quickly he starts to turn.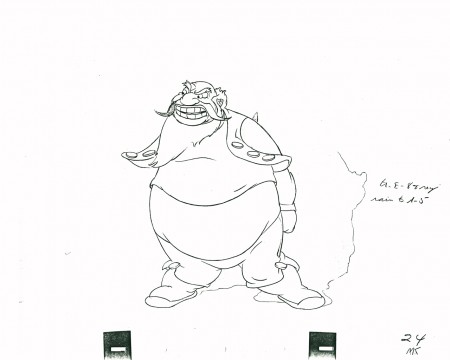 24
His clothes lag behind in pulling themselves together.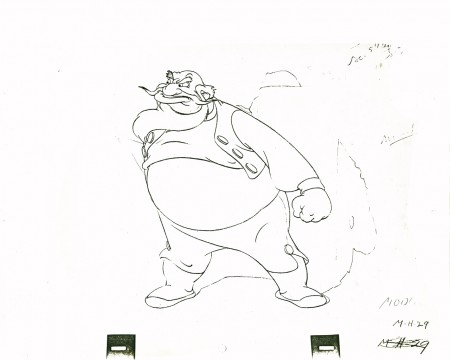 29
He's set to give the demand and end the scene.
The following QT movie represents the entire scene from Pinocchio.
Click left side of the black bar to play.
Right side to watch single frame.

Here are frames from the actual scene: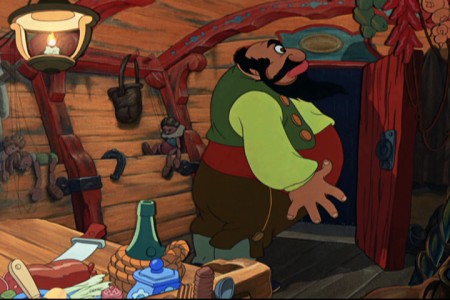 1
.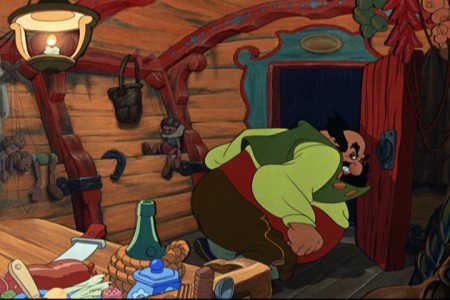 8
.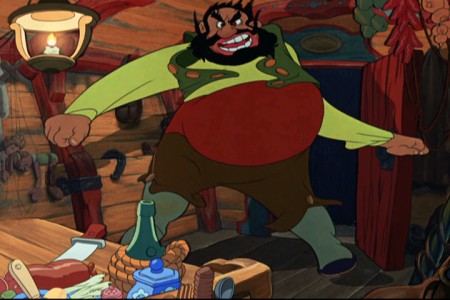 19
.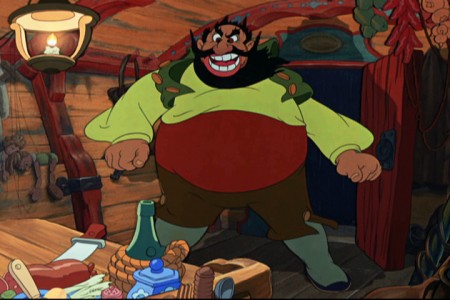 20
.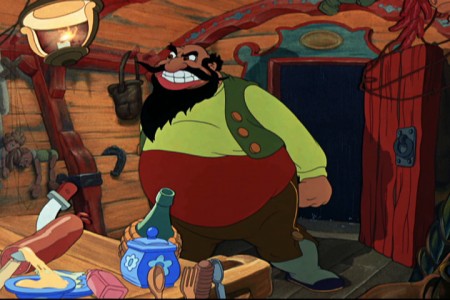 26

What a difference the shake of the coach and the
bounce of the hanging utensils make to the scene.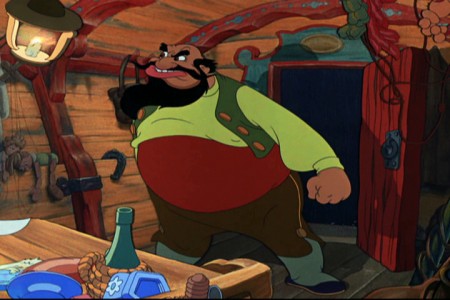 29
There's danger everywhere, here.
It's scary.

Many thanks to my friend, Lou Scarborough, for the loan of this scene.