Monthly ArchiveApril 2012
Frame Grabs &UPA 30 Apr 2012 06:14 am
- Of all the pleasures I've gotten from the recently released UPA dvd Jolly Frolics the Backgrounds of Paul Julian are a particular enjoyment. His most famous and greatest achievement is, of course, the work he did on The Tell Tale Heart. This is his film. Ted Parmelee directed it, but I'm certain that he pretty much set the camera moves and timing, leaving all the design work for Julian.
I'm trying to feature Paul Julian's work in a number of posts here, so today it's The Tell Tale Heart.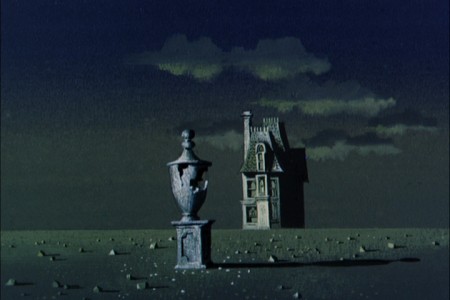 1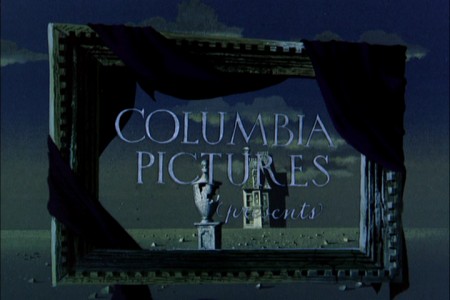 2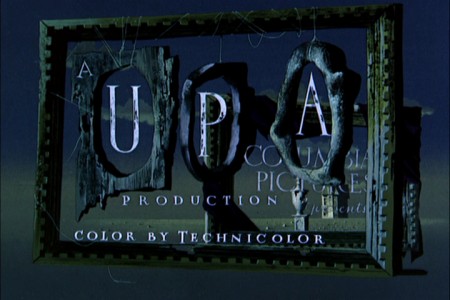 3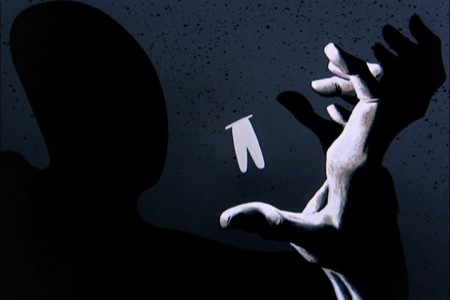 4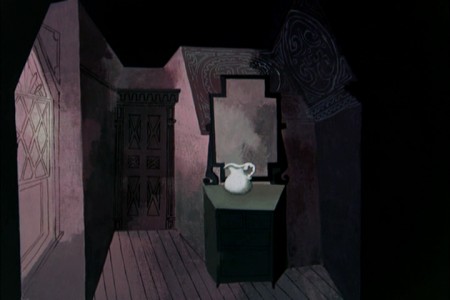 5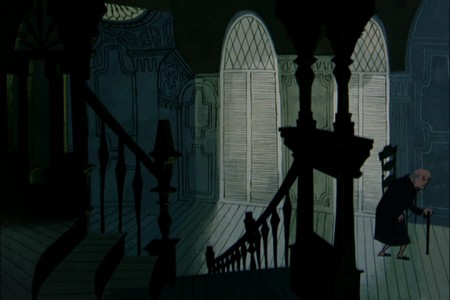 6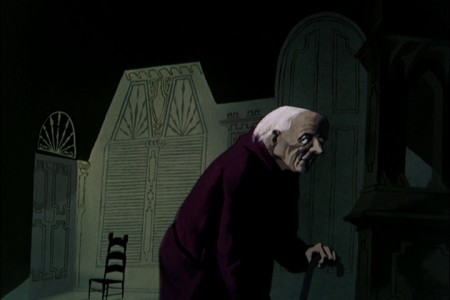 7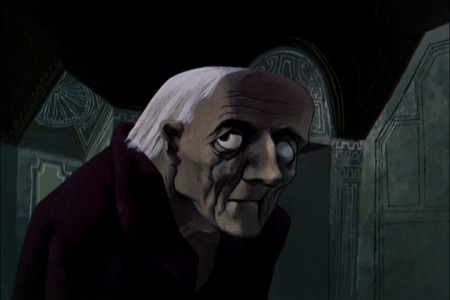 8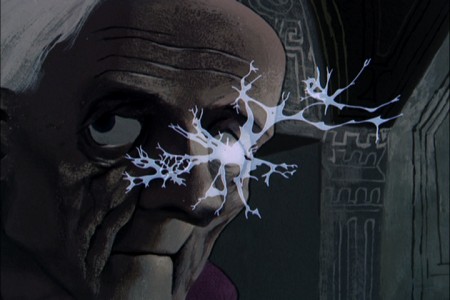 9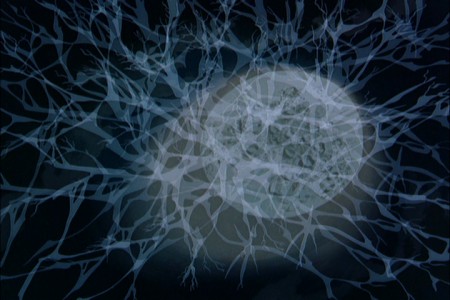 10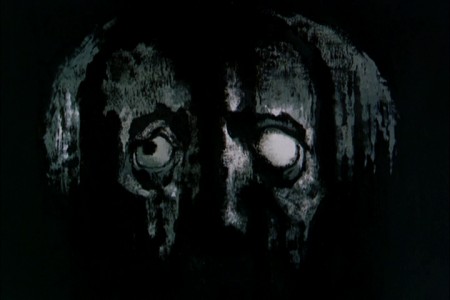 11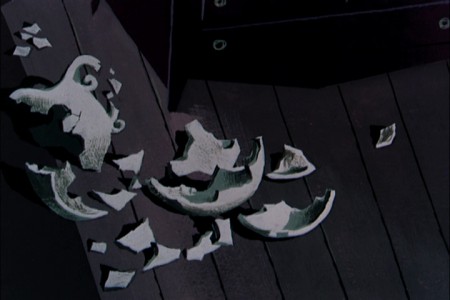 12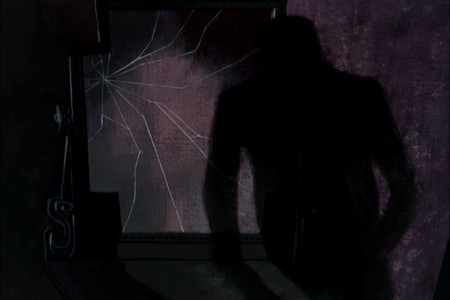 13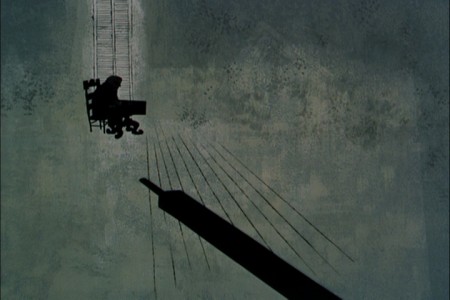 14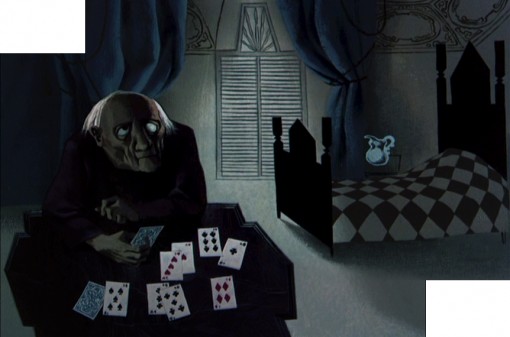 15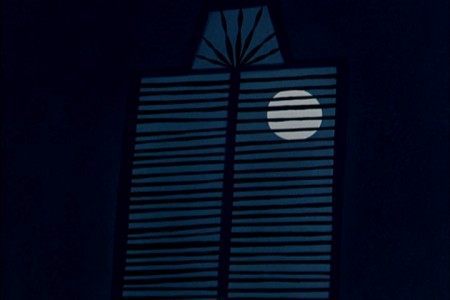 16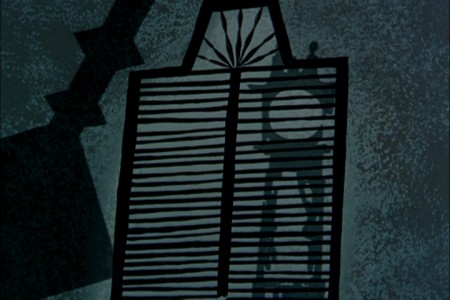 17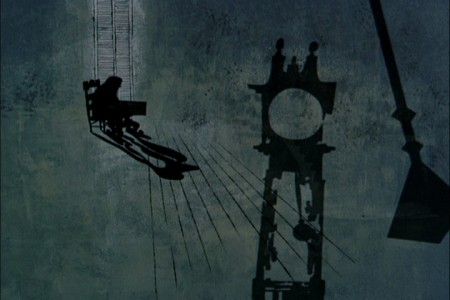 18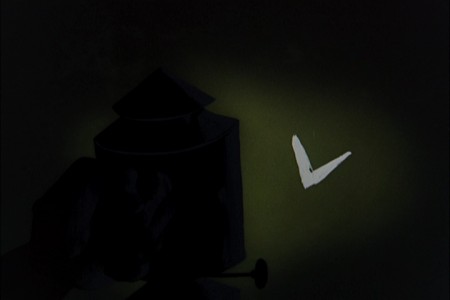 19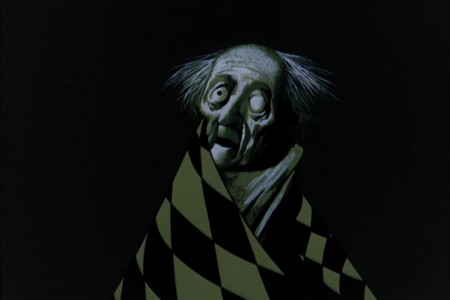 20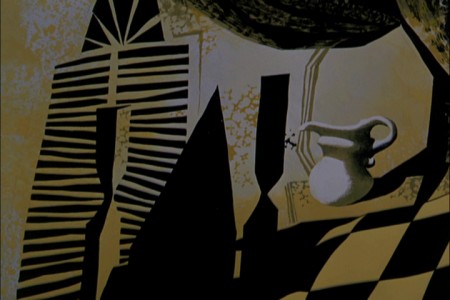 21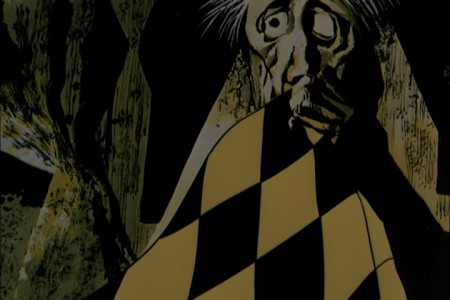 22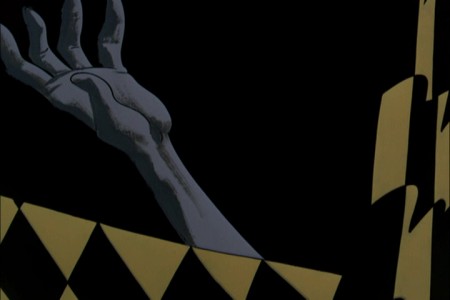 23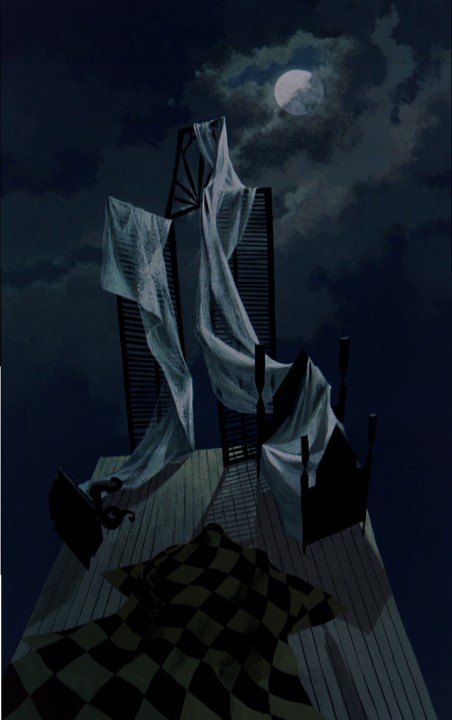 24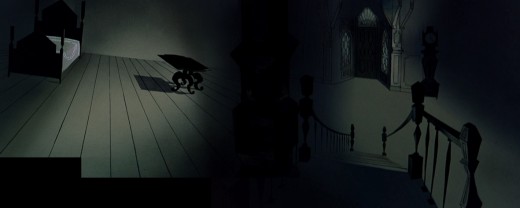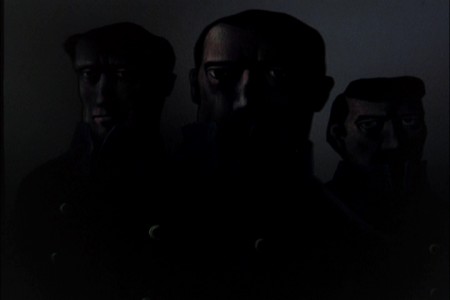 27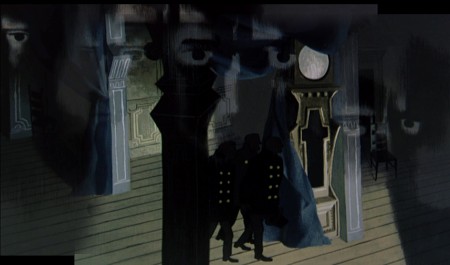 28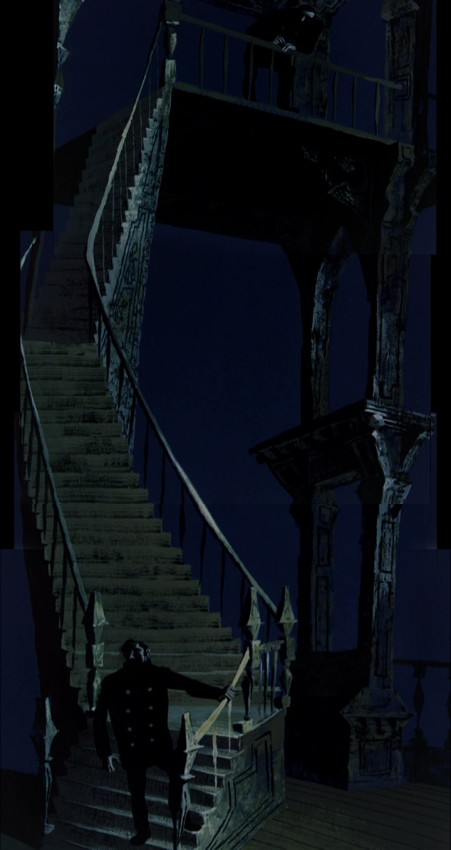 29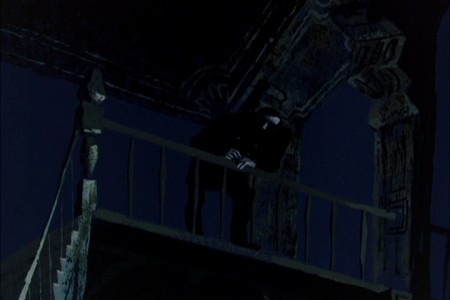 30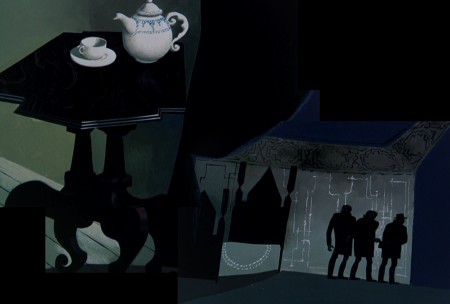 31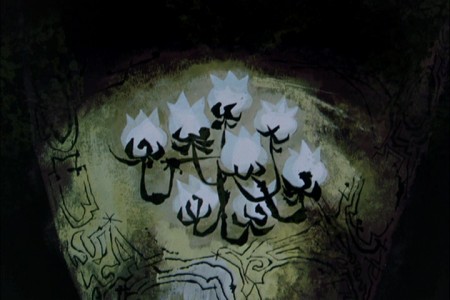 32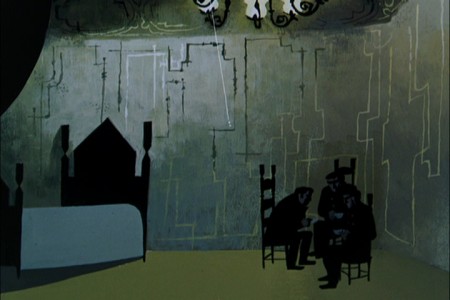 33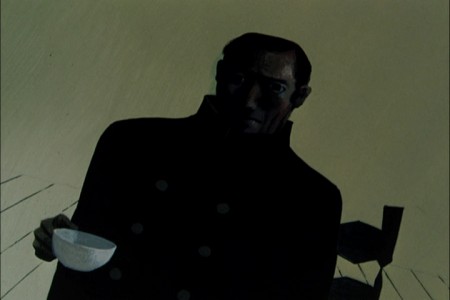 34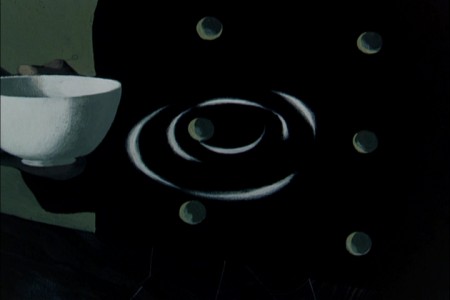 35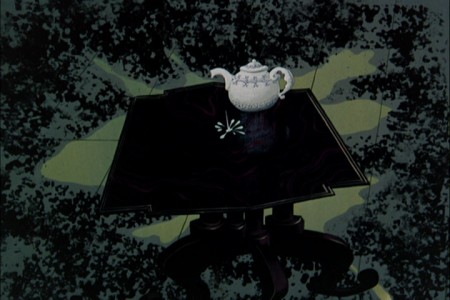 36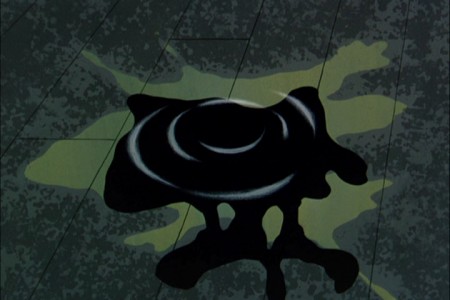 37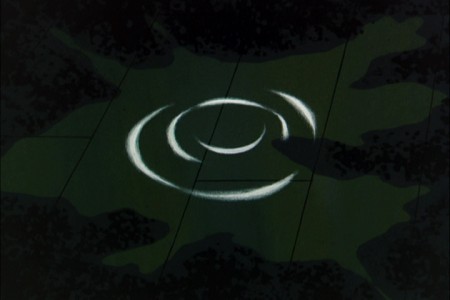 38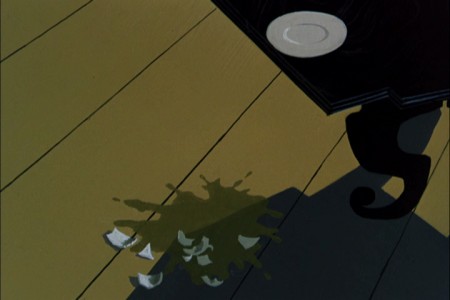 39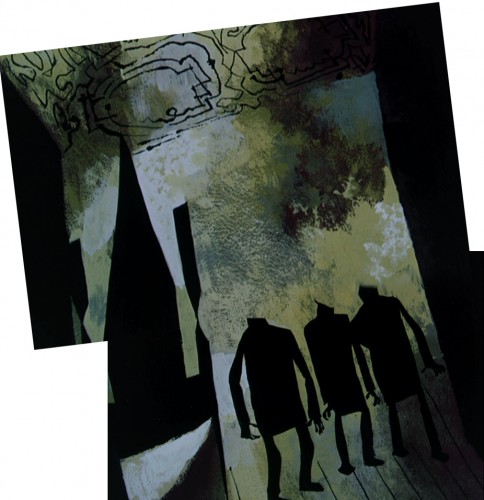 40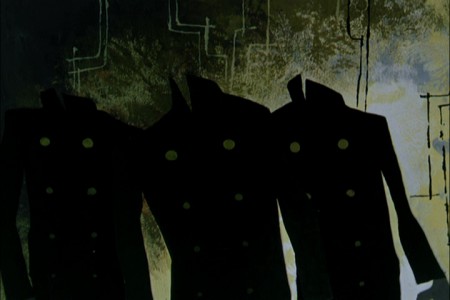 41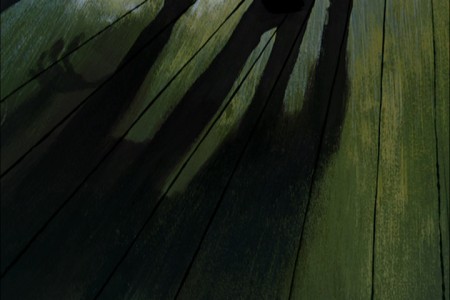 42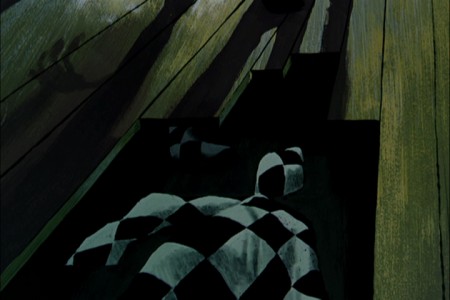 43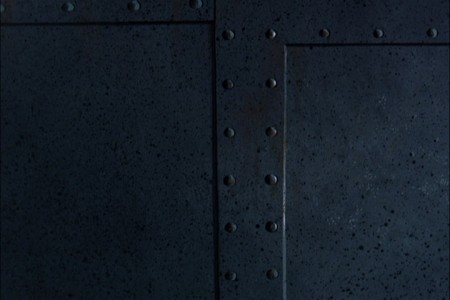 44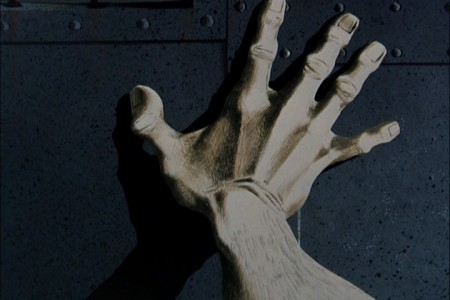 45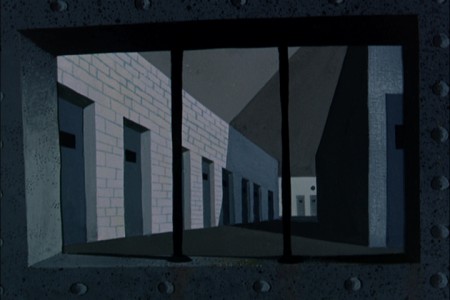 46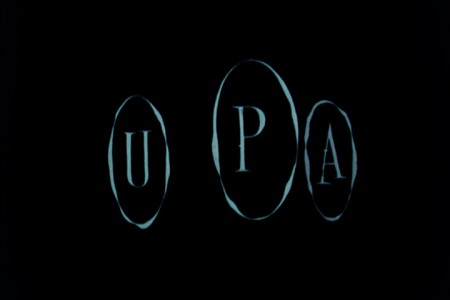 47
Commentary &SpornFilms 29 Apr 2012 05:04 am
Indiegogo POE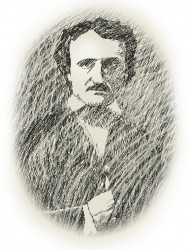 - Well, we're up and running.
The POE Project has resettled at the Indiegogo site and can be reached here. Things will be a bit different this time. Basically, for the moment, it looks similar to the old Kickstarter piece.
However, we intend to make changes in the coming days and weeks to keep the site active.
- I plan on posting some videos, talking about the film in progress.
- I intend to inform you about some funding that's in discussion.
- I've already set up a Facebook page for POE, to work in conjunction with my Poestory site. Both of these link to the Indiegogo page.
- More pictures will continue to be posted in the coming weeks for the sites.
- Finally, every Sunday, during the Indiegogo process, I'll write about Edgar Allan Poe, the person, and his small family.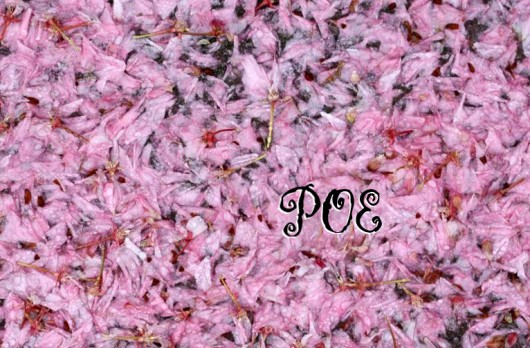 Photo by Steve Fisher
Commentary 28 Apr 2012 07:57 am
Poe & Indiegogo
- Tomorrow, we will be opening our new Indiegogo page reintroducing the Poe Project to you. We'll start with much the same offering we did for the Kickstarter run. However for the length of time this is up, we'll be writing about the film and Edgar Allan Poe on our site on Sundays. Our goal is about half of what we aimed for last time, but we're encouraged that we'll be able to get there this time and will be working on POE soon.
___________________________

Stark Raven Mad
- The Raven makes its way into theaters this week, and I saw it last Tuesday. This is a film starring John Cusack as Edgar Allan Poe. He's pulled into service consulting with the police on a serial murderer's killing of numerous people using ideas copied from Poe's own stories. If Poe wants to save his young fiancée, he has to work hard at producing several new stories built on ideas he gets from the work of the killer. The flilm is ridiculous and tries to be a variant of the Robert Downey jr. Sherlock Holmes movies. Action, action, action with erroneous snippets about Poe and his life.
The film starts with an inaccuracy and goes wildly from there. The title card reads that Poe was found dying on a park bench. In fact, he was found acting wildly outside of a tavern known as Gunner's Hall or Ryan's Tavern. With this false premise the film is allowed to end with E.A.Poe dying, in the fresh snow, on a park bench, alone. In fact, he died another four days later after being placed in a pauper's hospital where he wasn't allowed visitors.
I noticed the Rotten Tomatoes average of 20% positive reviews for this film. Not good at all, but I'd expect that's accurate.
The death of Poe has become a real mystery thanks to the poor reporting of his biographer, Rufus Wilmot Griswold. He had published a couple of Poe's poems, received a very negative review from Poe, and the two became strong rivals. Griswold later published the first biography of Poe picturing him as a depraved drunkard and a drug-addicted madman. Despite objections from those who knew the truth, this negativ image of Poe remains even to this film in 2012.
Poe spent the evening of his death having dinner with three friends, during which he did not drink alcohol. He then went to the train station where he bought a ticket for a later train to Philadelphia, which he was to catch that evening. From this point to that, when he was found delirious on the streets outside Gunner's Hall, there is nothing known for sure.

___________________________

Pirates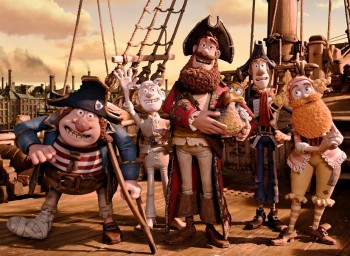 - On the Academy's double bill with The Raven was the new Aardman animated feature, The Pirates: Band of Misfits. The film is well executed; the models are attractive, the detail in the sets is exceptional, and the animation is first rate (although there was something odd going on at times which made me wonder if they'd shot it at the European gauge of 25 fps.). Just the same, it was nice to see 3D puppets as opposed to 3D cgi. The look of this film was so much better than the slick Arthur's Christmas. One can only hope that Aardman sticks to what they do best – stop motion.
The film is funny. In fact, that was a bit of a complaint I had. It was gag, gag, gag, so that you end up laughing fewer and fewer times. Yet, the big story was inconsequential and felt, to me, as though it had no real drive. The film revolves around the "Pirate Captain" (that's his name) who wants to win the "Pirate of the Year" award and has to meet a self-imposed challenge to win the award. (Sort of like wanting to win an "Oscar" and making a film with that goal in mind.) This makes for too small a story to keep me captivated, and I felt outside the film for the entire time watching. I checked my watch often enough for this 90 minute movie. Essentially, I found the film is OK, but not necessary. Not quite as strong as Chicken Run.

___________________________

ASIFA East Fest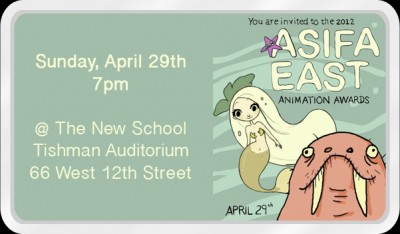 Tomorrow, April 29th, Sunday 7pm, ASIFA-East presents
The 43rd ASIFA-East Animation Awards
The Awards will be presented, followed by a free food & drink reception.
Again, the admission is FREE! And it's open to all!
The New School
Tishman Auditorium
66 W. 12th Street
(bet. 5th/6th Aves)
NYC

___________________________

UPA On Line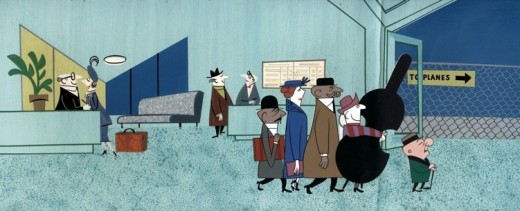 - Adam Abraham is the author of the new and brilliant book, When Magoo Flew, the history of UPA. He wrote me to introduce his new site, also named When Magoo Flew. The site acts as an archive of his UPA research material, and it's a new an attractive addition to the animation net. I've added a link to my blogroll on the right.

___________________________

Honor
RIchard O'Connor of Ace and Son sent me this link to a film they just completed and which debuted this week at the Tribeca Film Festival. Richard wrote this about the animation:
It was an interesting project and we were pretty much given a video edit of the talking head footage and left to our devices to make it work. There was a need to have a "historical" look countered with the need for fluidity/looseness and I think we came up with a good middle ground. Everything is painted on paper with the line on a separate level (I wanted to do it all on one piece of paper but we ran out of Ingram bond and the cheap stuff caused horrible bleeding AND Cartoon Colour took a month to get us another shipment). You can see where sometimes the tracebacks aren't there for the paint level.
The coloring looks more like marker on cel, to me, than color on paper. Quite a difficult look to pull off. I'd be curious to see what it looks like on the big screen.
An ArtsEngine, Inc. Production
EDITED BY – Gabriel Rhodes
MUSIC COMPOSED BY – John Kimbrough
ANIMATION BY – Ace & Son Moving Picture Company
ANIMATION DIRECTOR – Richard O'Connor
DESIGN/LEAD ANIMATOR – Kelsey Stark
ADDITIONAL ANIMATION – Liesje Kraai
PRODUCTION ARTIST – Dee Mackey
CAMERA – William Rexer II
SOUND – John Zecca
RESEARCHER – Danielle Varga
PRODUCTION ASSISTANT – Justine Pierce
SPECIAL THANKS – Kwame Anthony Appiah
Bill Peckmann &Books &Comic Art &Disney 27 Apr 2012 05:11 am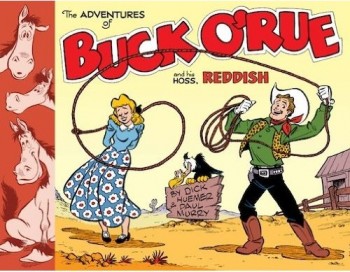 - With great excitement and anticipation, comic lovers learned this week that Paul Murry and Dick Huemer's Buck O'Rue comics compilation would be available in June. Bill Peckmann sent me the following note and material:
Buck O'Rue was a short lived comic strip I didn't know about; it was done by two Disney greats, Dick Huemer and Paul Murry. The new book is a real labor of love by the author, good friend Germund Von Wowern, and in celebration of the new book due to come out soon, I thought I'd send you a small 21 page, Whitman Sampler box of some of Murry's comic book work.

Perhaps best known for his wonderful Mickey Mouse comic book adventure stories, he also deftly handled any assignment that Dell Comics threw his way. Here are some outside the adventure story box examples of single page gags, a Donald Duck story and a Disney film adaptation. All of his pages are always bursting with well designed and drawn life!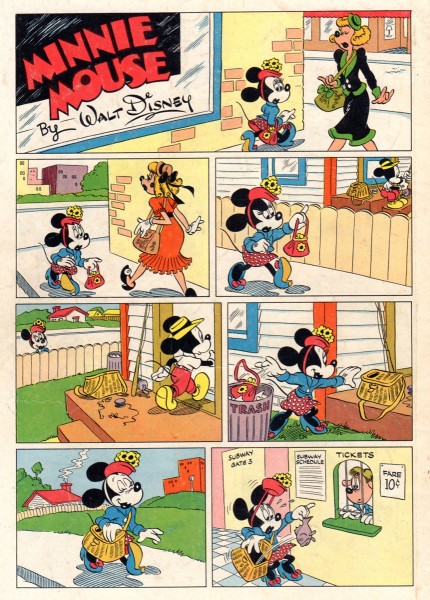 1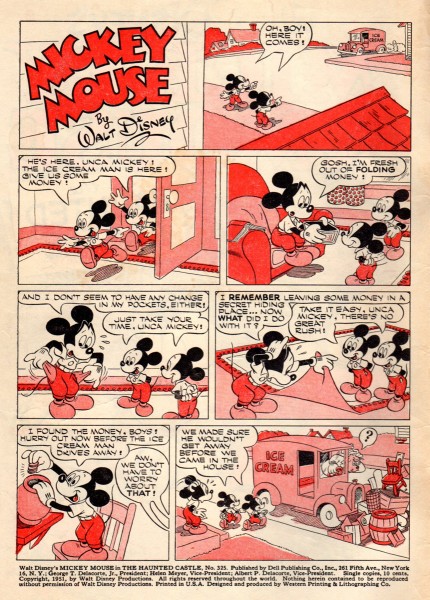 2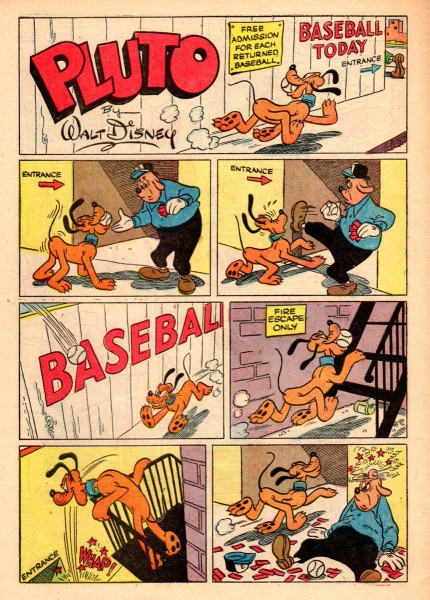 3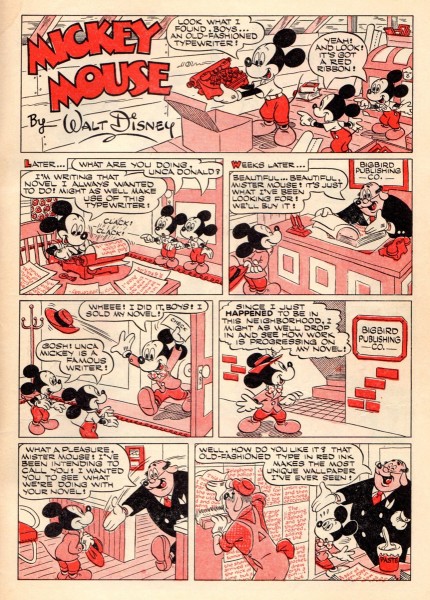 4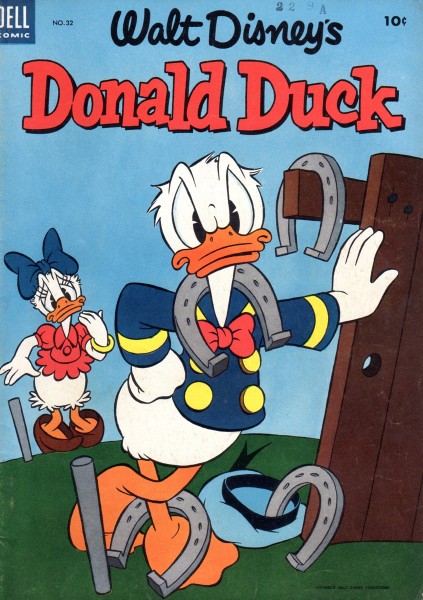 5
This Donald Duck comic contained
the following stories.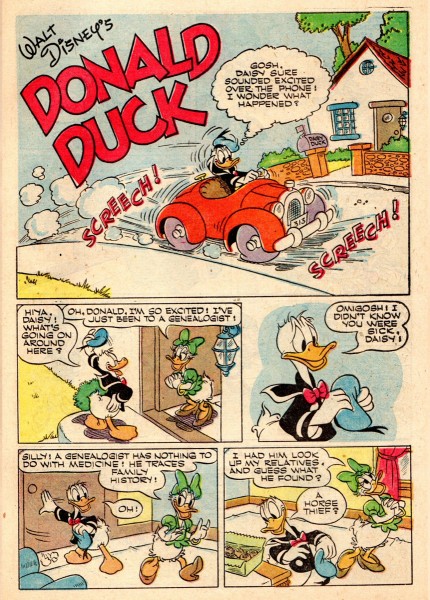 6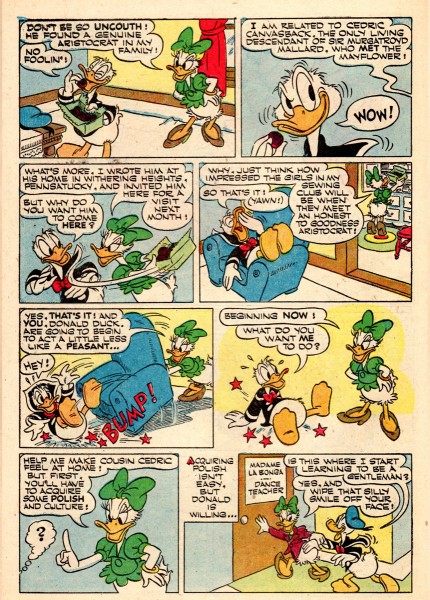 7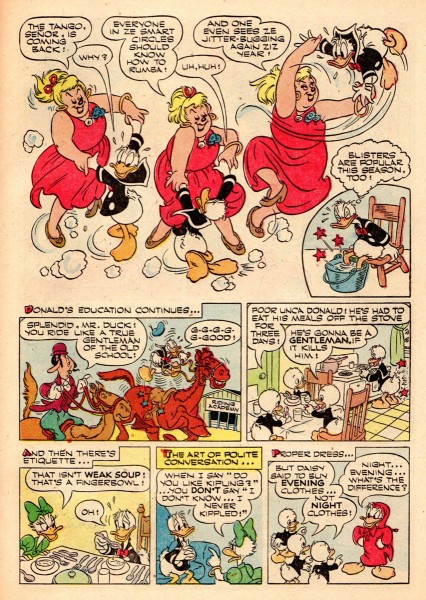 8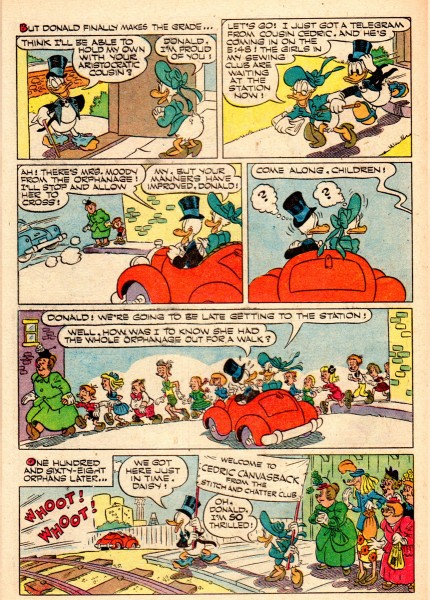 9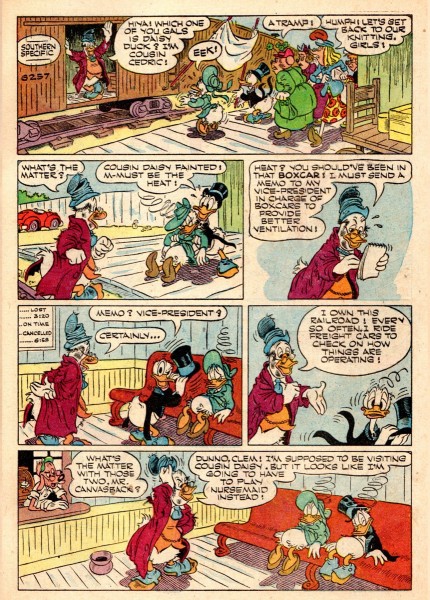 10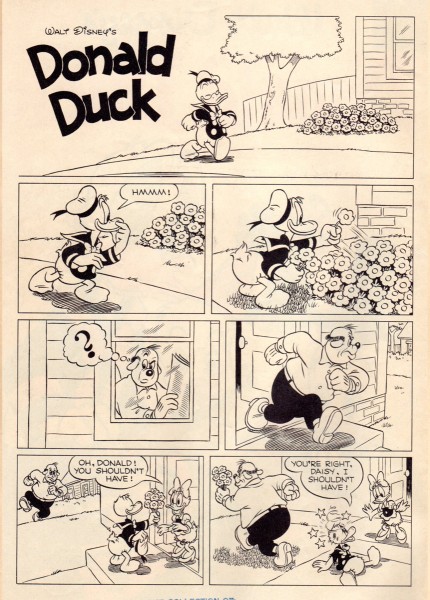 11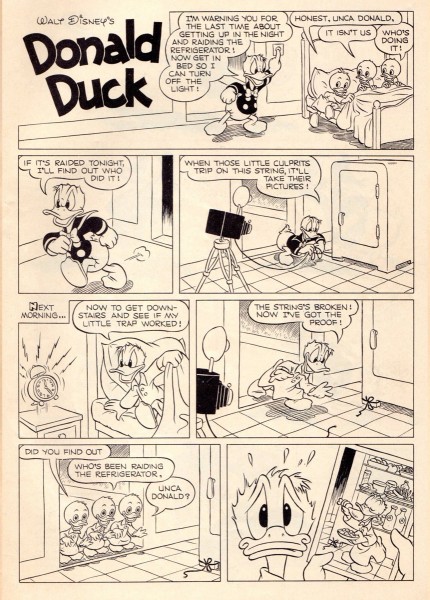 12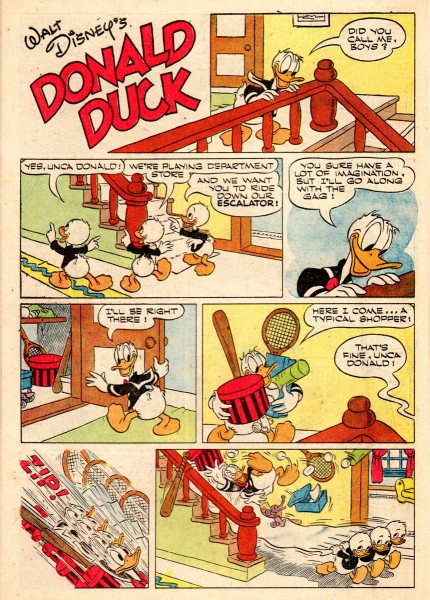 13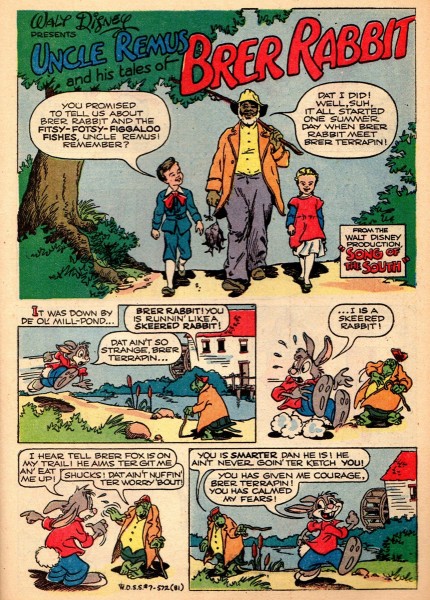 14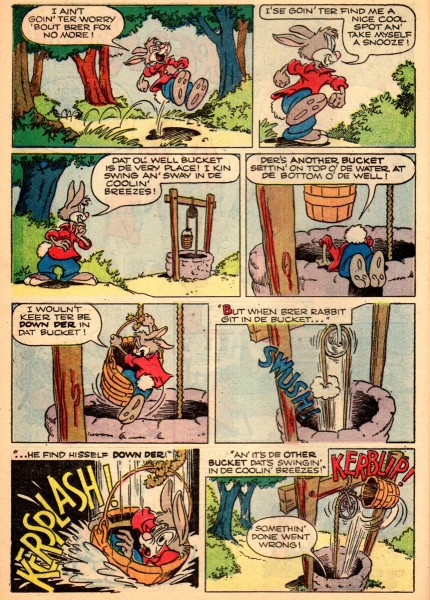 15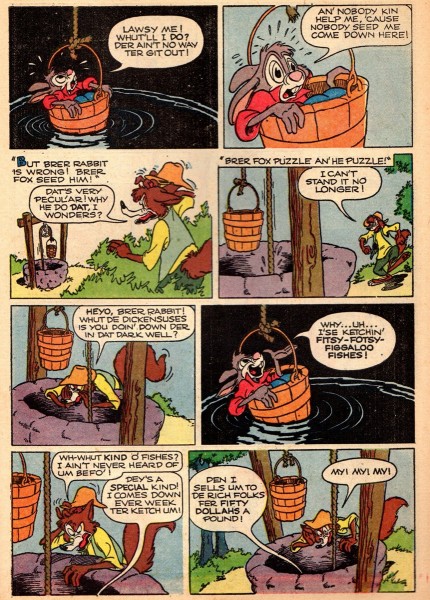 16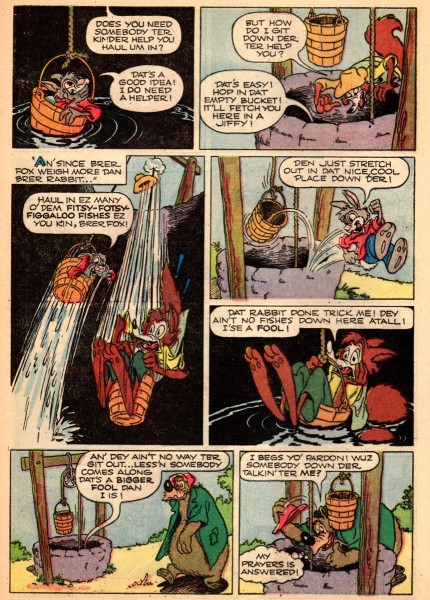 17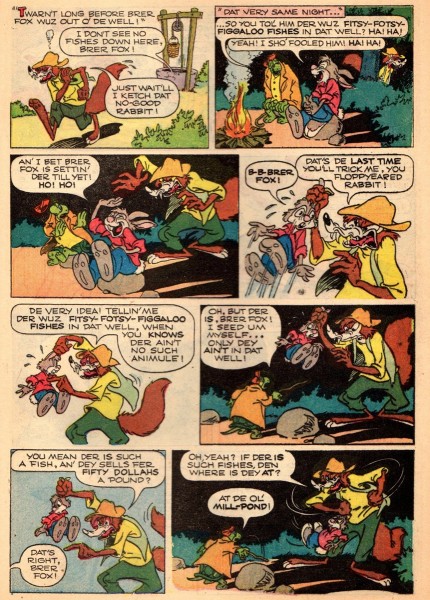 18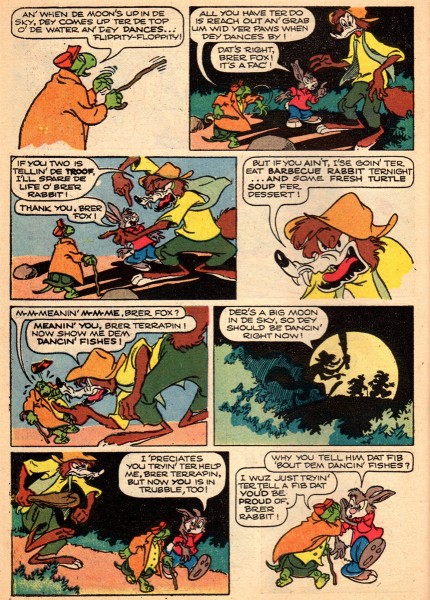 19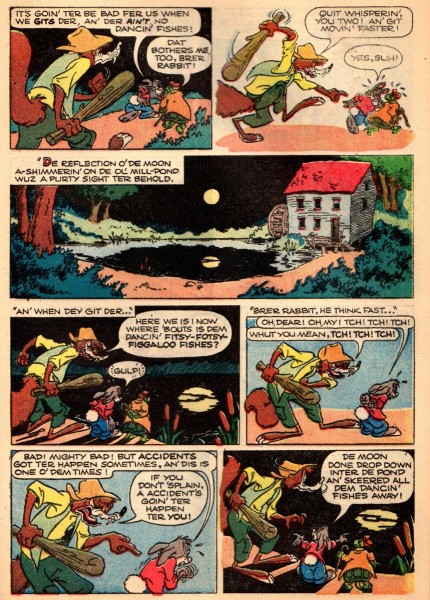 20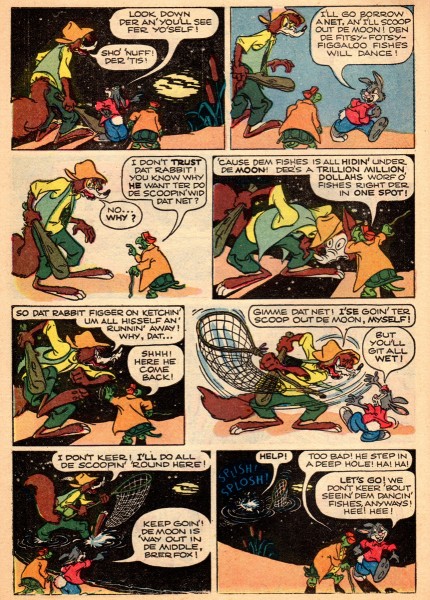 21
Animation Artifacts &Bill Peckmann &Illustration &Layout & Design &Rowland B. Wilson 26 Apr 2012 05:49 am
- Last week, we offered some pages from the scrapbook of Rowland B. Wilson. This was graciously loaned to the Splog by Suzanne Wilson, and we have a treat this week. A second installment. these pages were a source of inspiration for Rowland, and the clippings, for us, are also a remarkable view of the animation and illustration product of the time.
Many thanks to Bill Peckmann for initiating this and to Suzanne for sending it.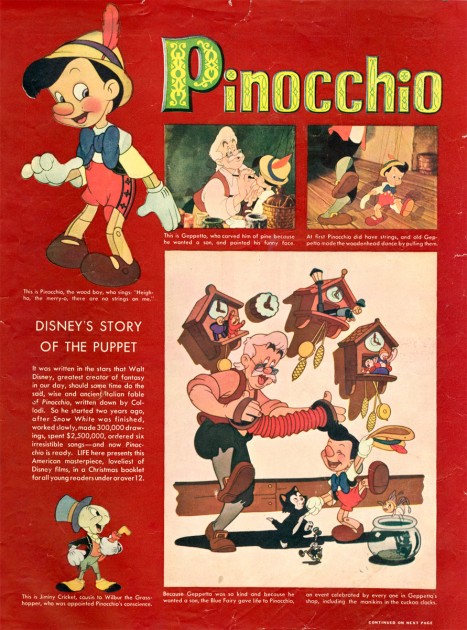 21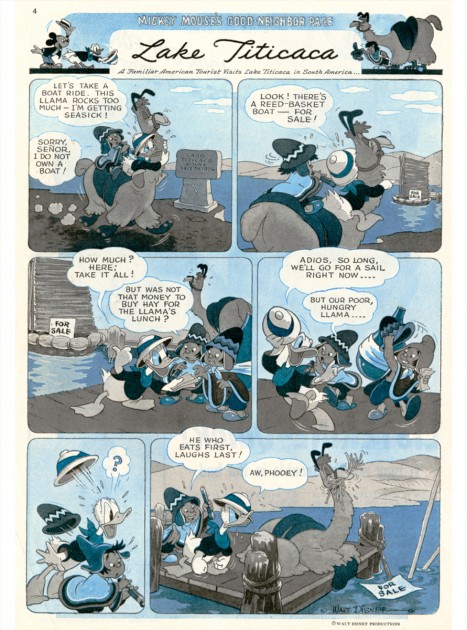 22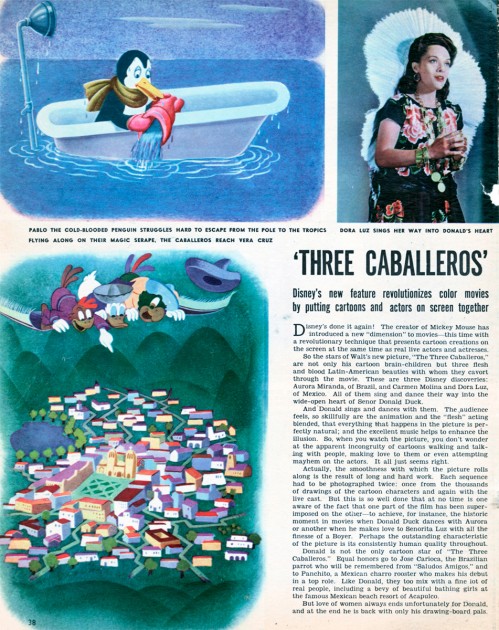 23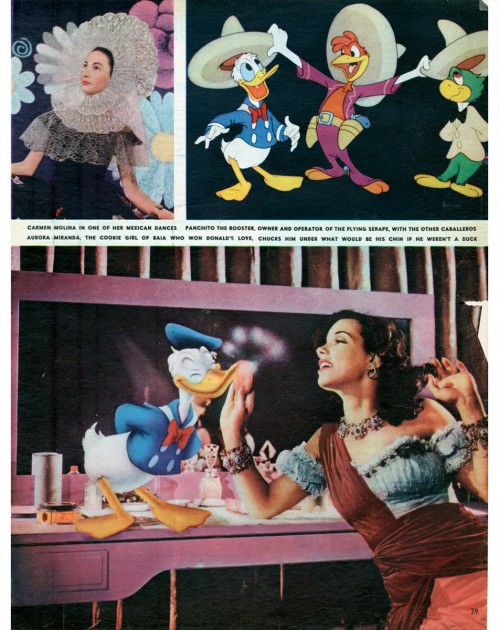 24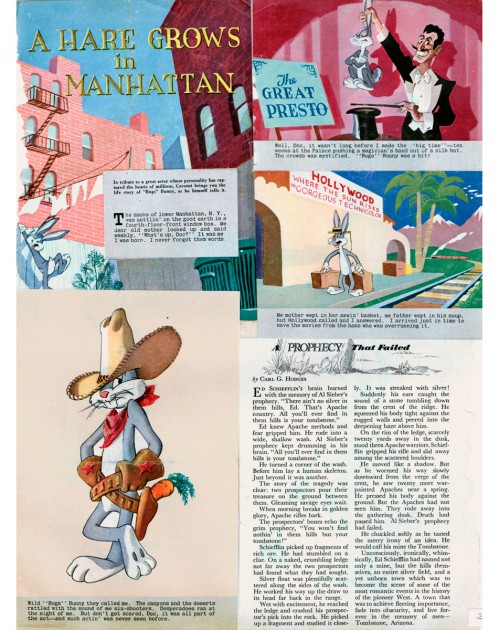 25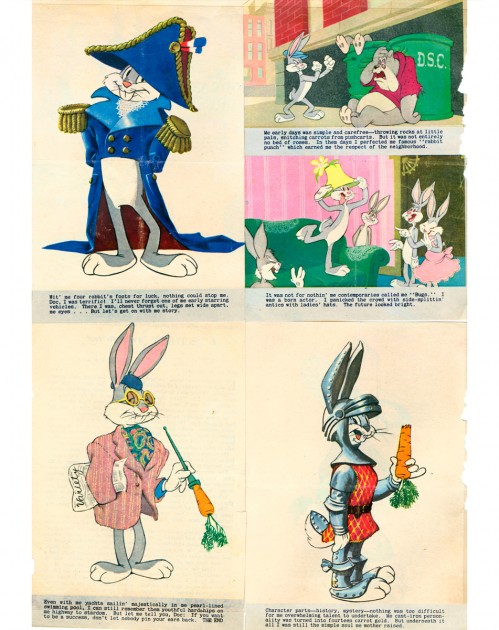 26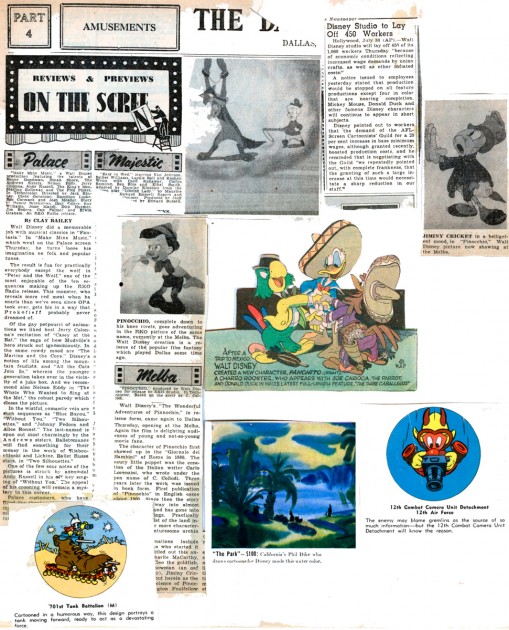 27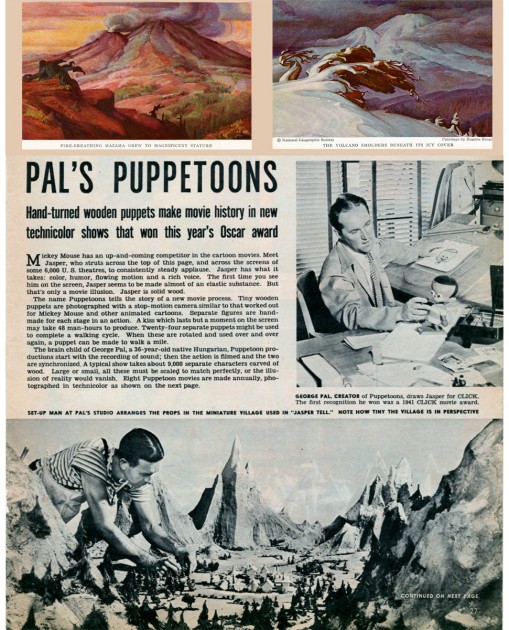 28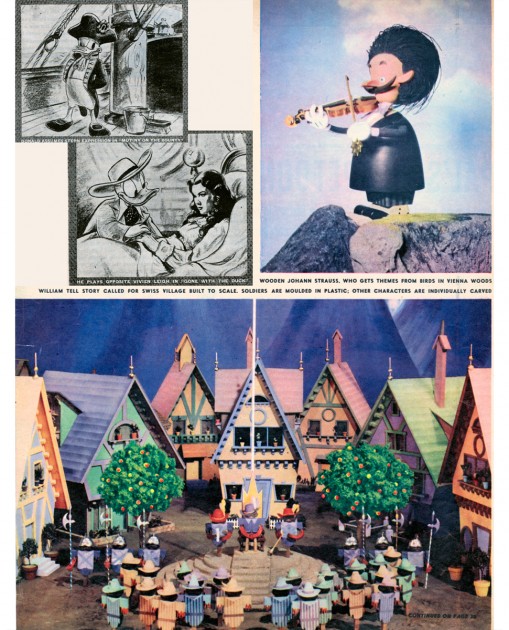 29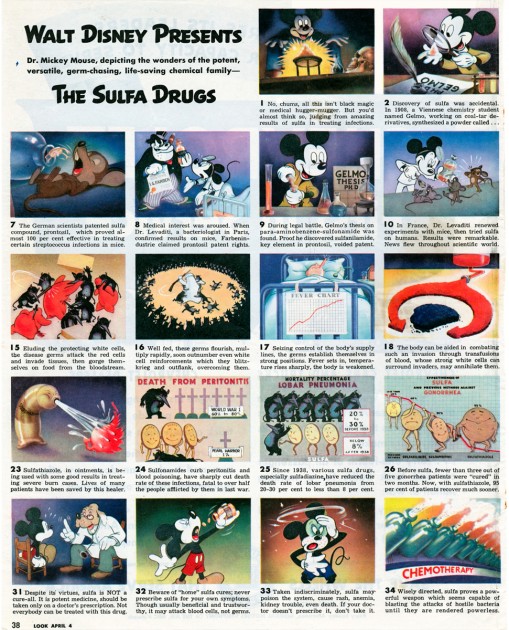 30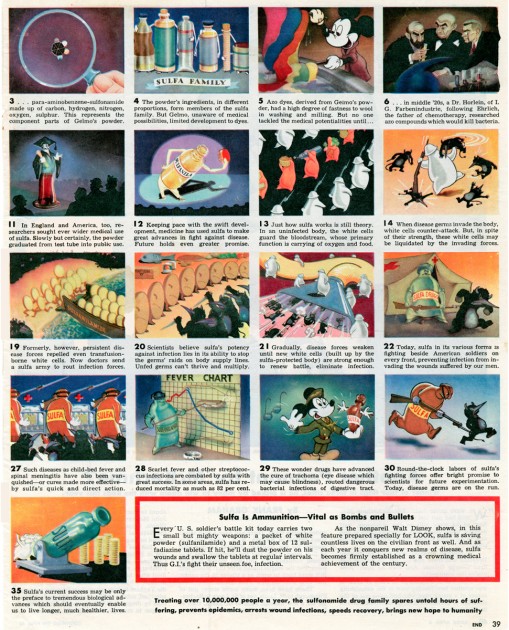 31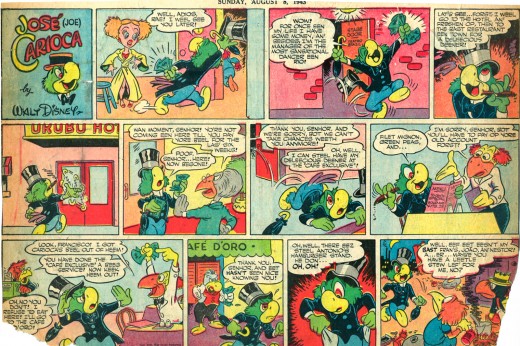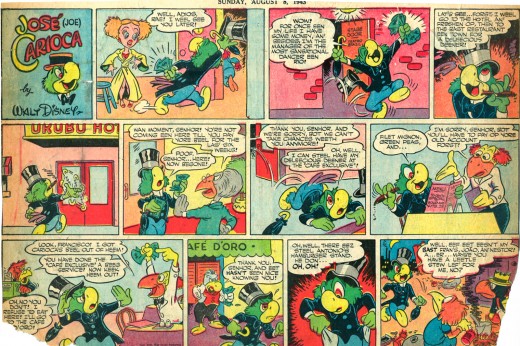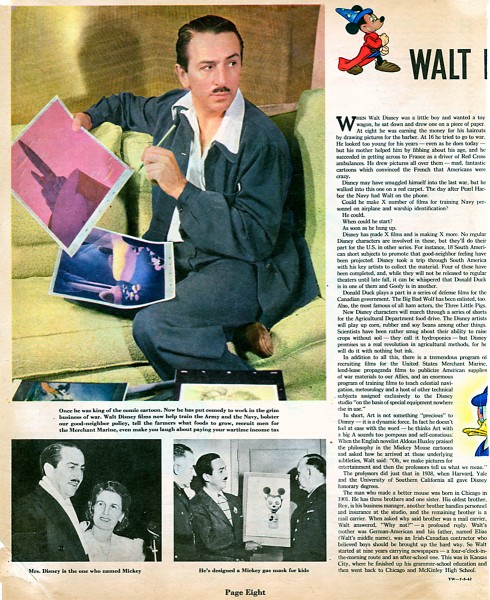 34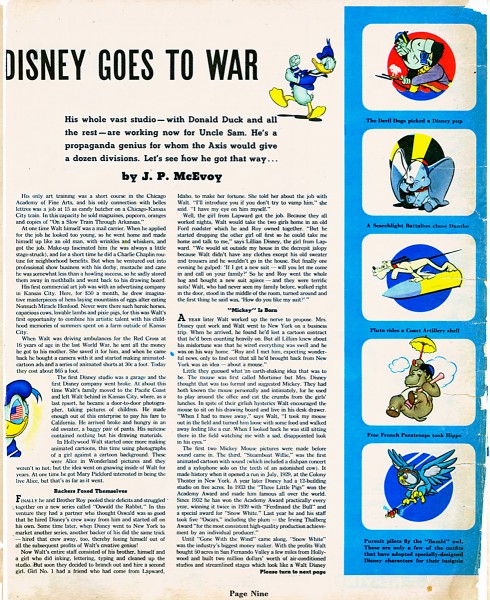 35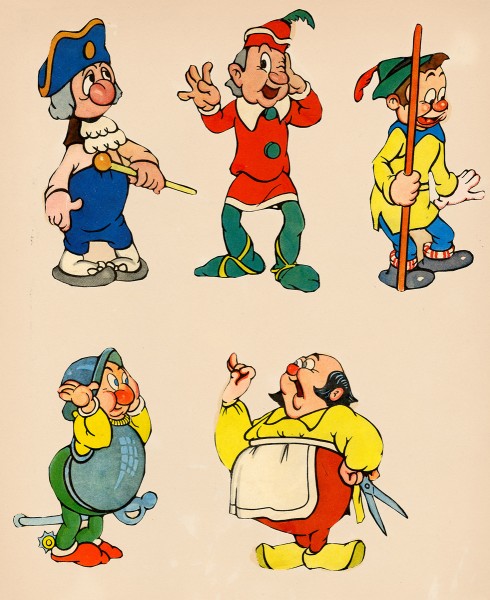 36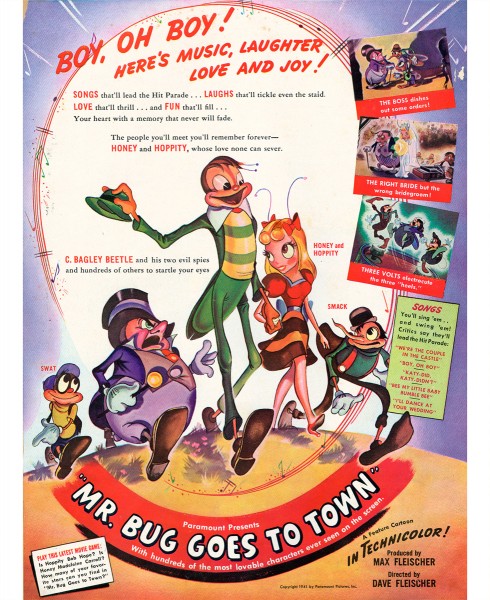 37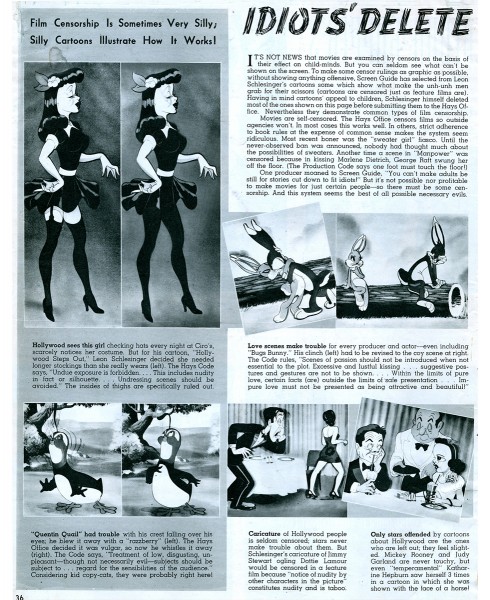 38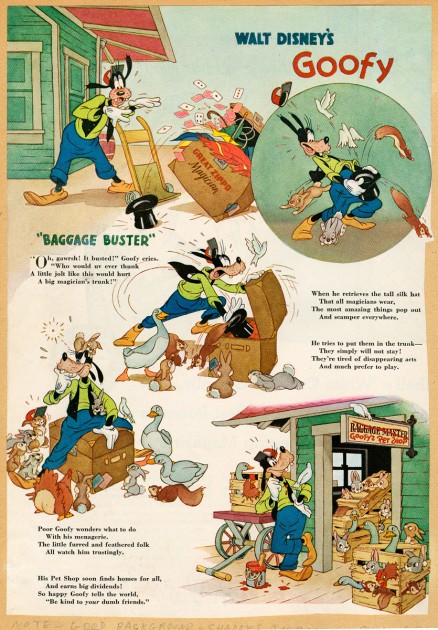 39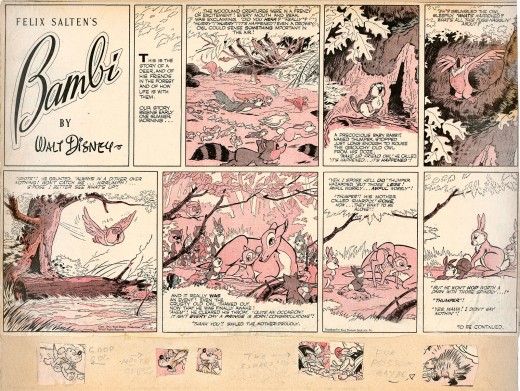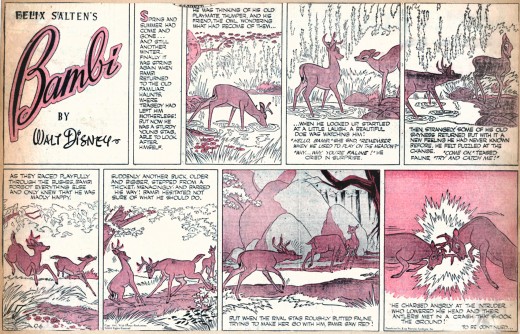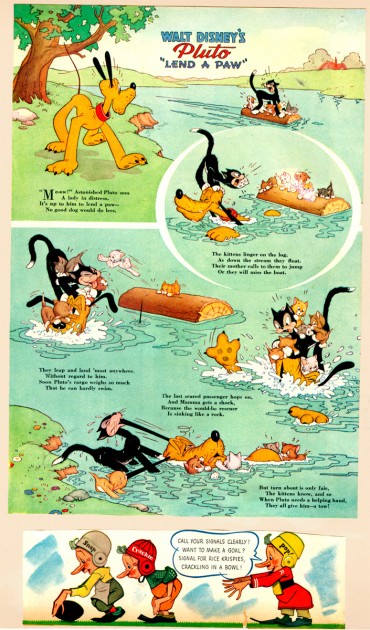 42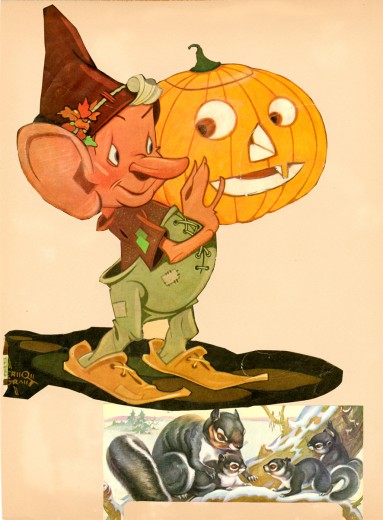 43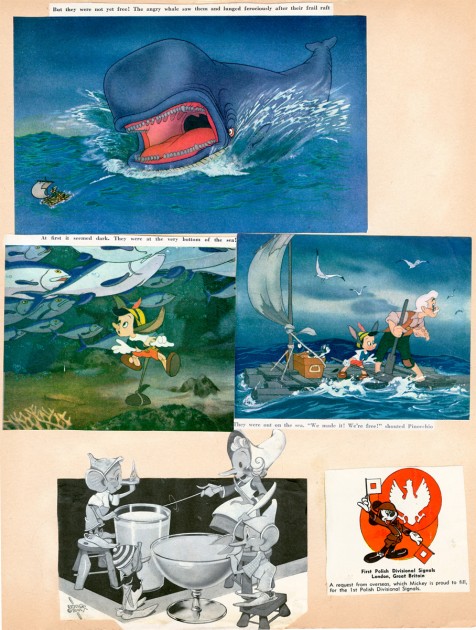 44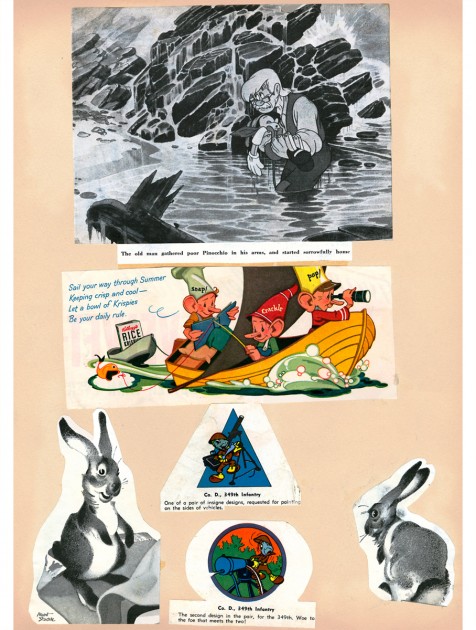 45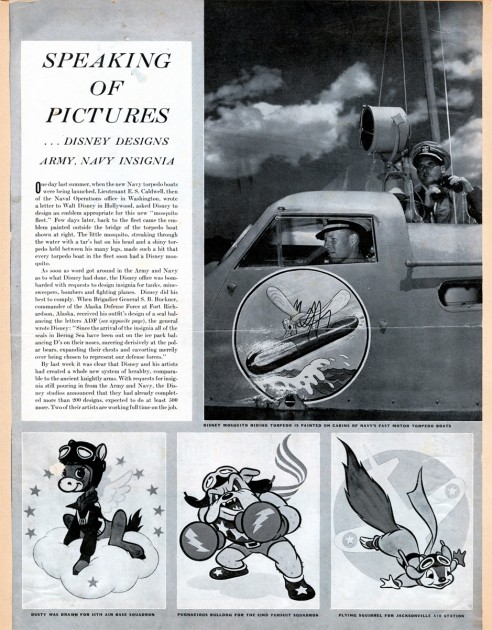 46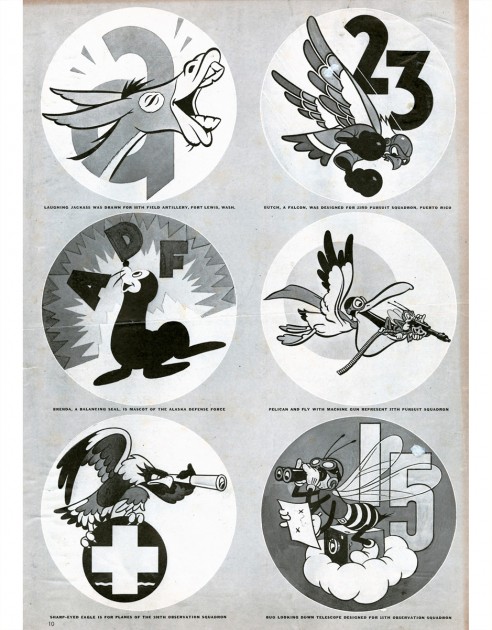 47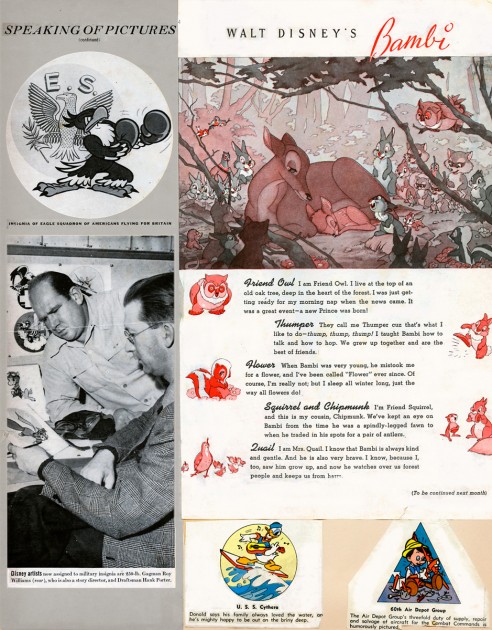 48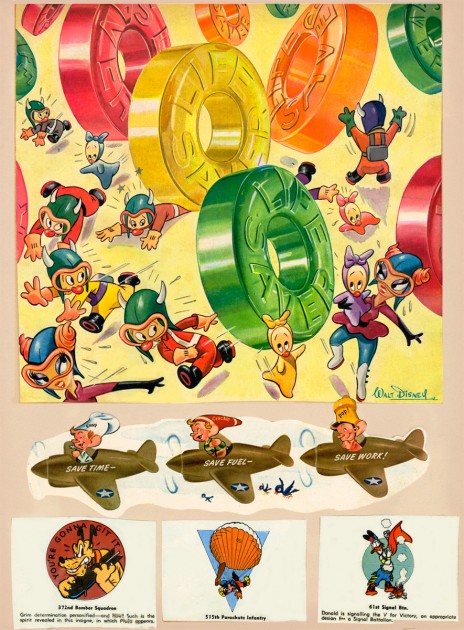 49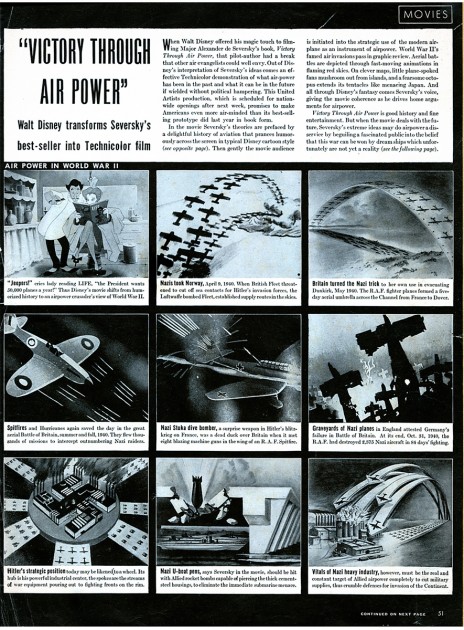 50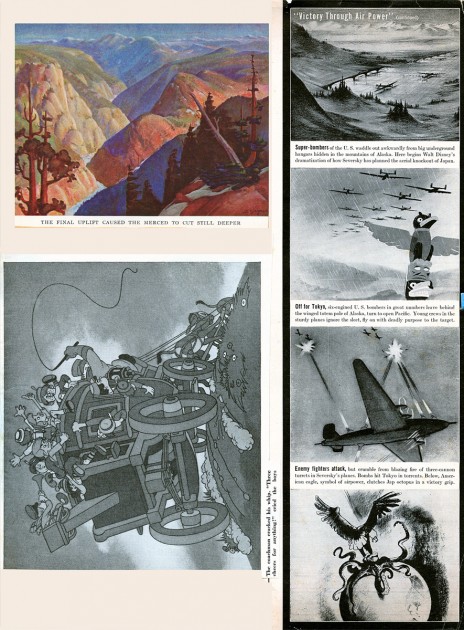 51
Animation &Animation Artifacts &Disney 25 Apr 2012 06:44 am
- Here's the last of the scenes I have from 101 Dalmatians. Roger, singing the "Cruella de Vil" song, pulls Anita to the dance floor and does a quick step with her. She's reluctant but moves along with him. It's a complex scene full of character – actually, two characters, and Milt Kahl handles it brilliantly, as expected.
Here's sequence 2, scene 91.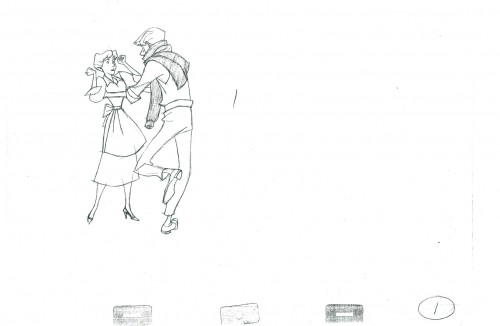 1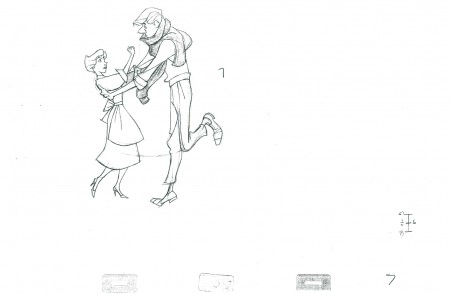 7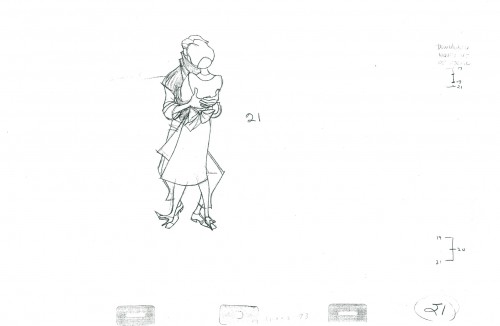 21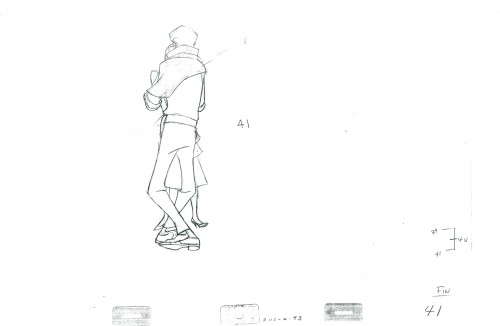 41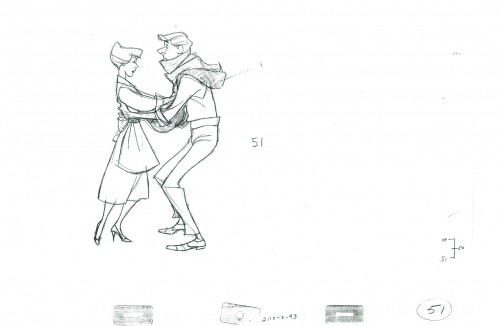 51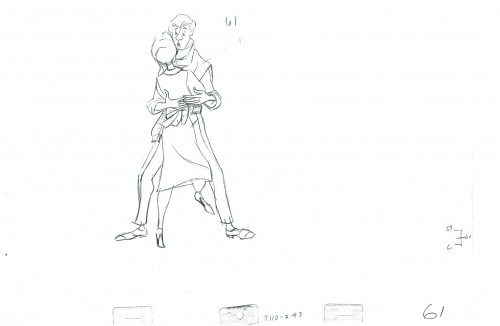 61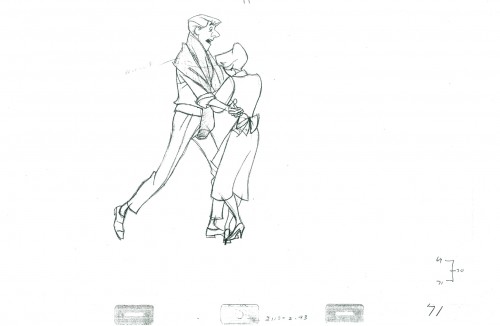 71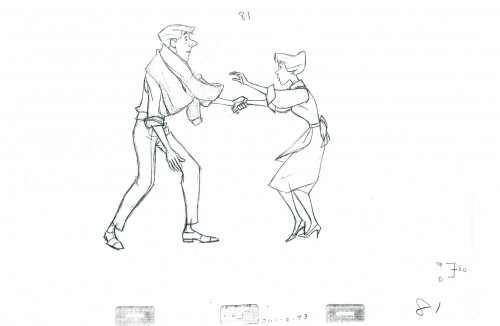 81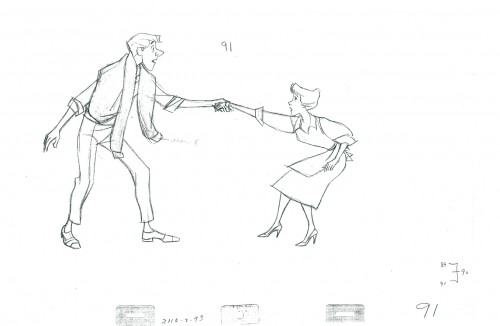 91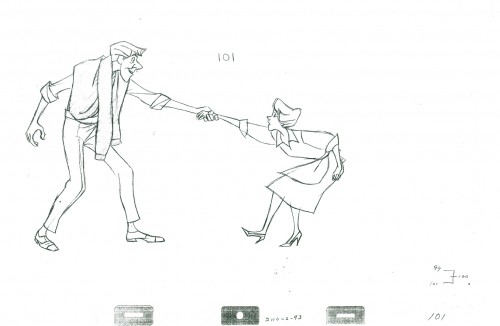 101
From here on inbetweens are left for the Asst.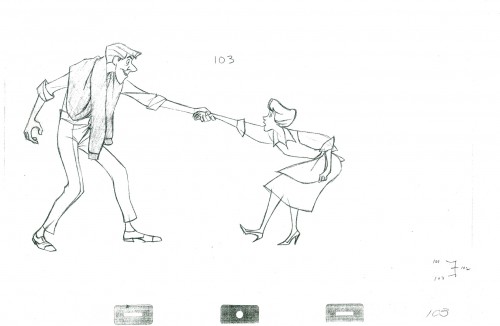 103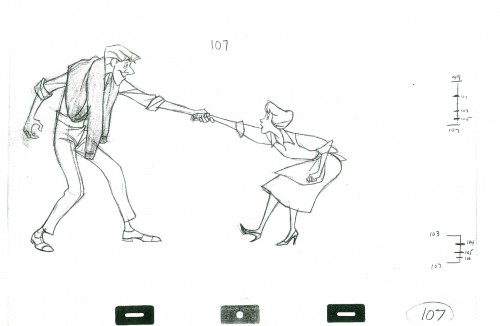 107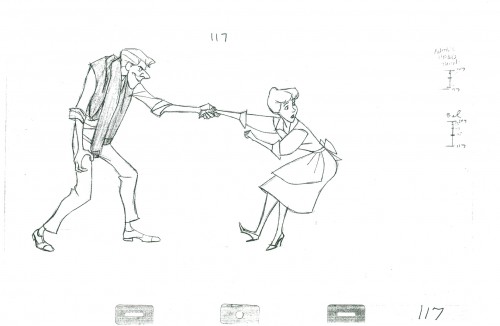 117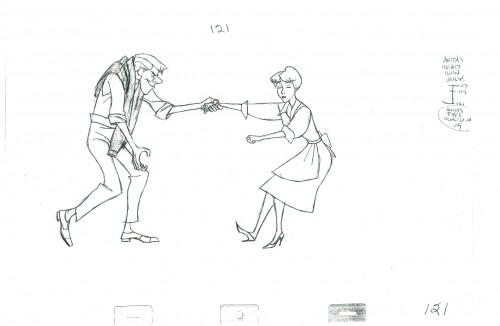 121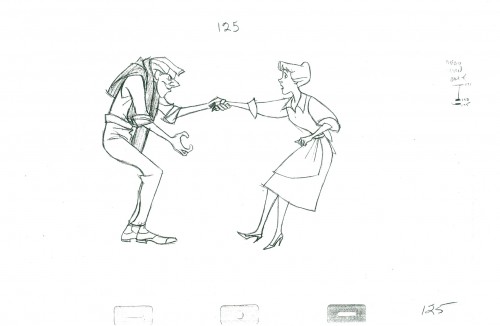 125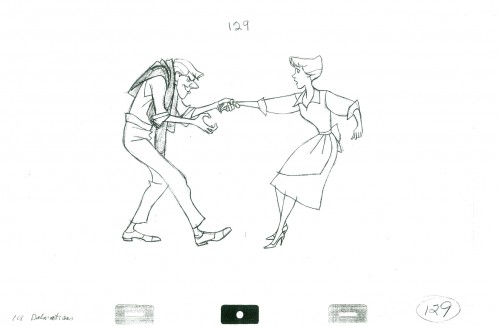 129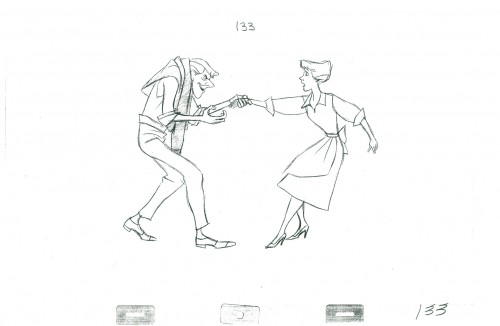 133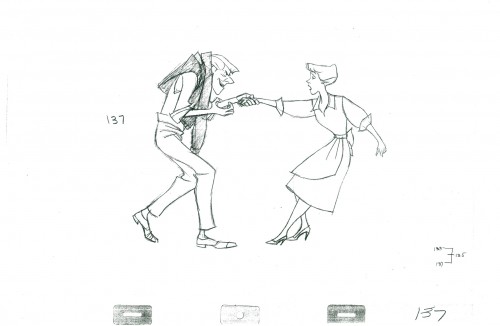 137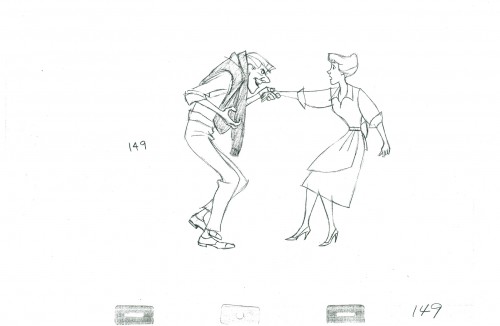 149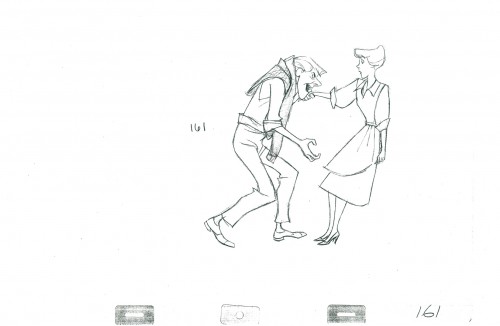 161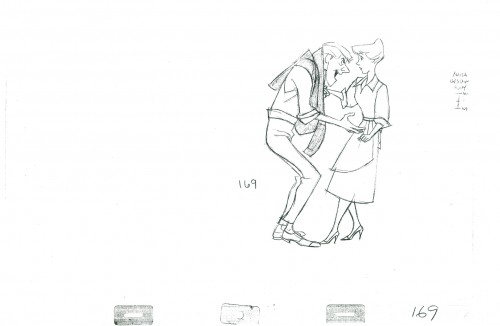 169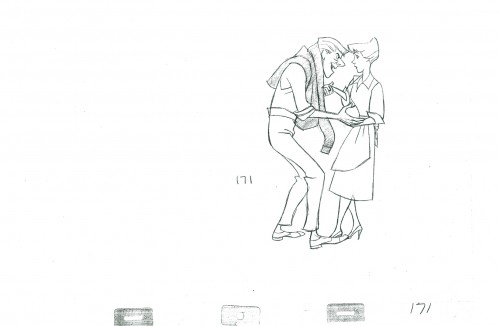 171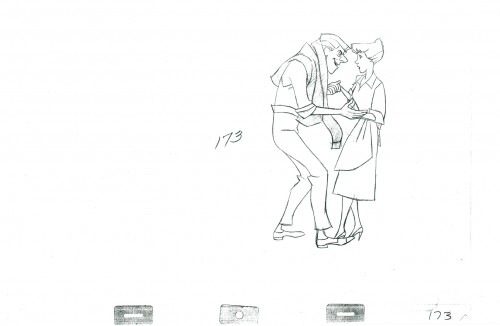 173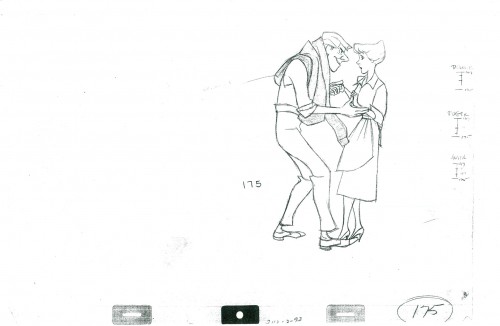 175

______________________
The following QT includes all the drawings posted above.
There's a bit of distortion in the Xerox copies
so the registration goes in and out. Click on the right side of the lower bar to watch it one frame at a time.
Bill Peckmann &Books &Illustration 24 Apr 2012 06:36 am
- Wallace Tripp has to have been the source of inspiration for many an animator in the last fifty years. His artwork is so rich and round, his characters so full of life, and his watercoloring so masterful. No one can tell me that Ken Anderson's style, from "Robin Hood" on, didn't emanate from Tripp's illustrations. I know back in the seventies, many in animation talked about him and bought his books. Those calanders were everywhere.
Bill Peckmann reminded me of this by sending me the following illustrations. Here's Bill:
Two difficult tasks. Task number one, of all of Wally Tripp's exceptionally wonderful books, pick your favorite one, and then task number two, pick your favorite pages. Hopefully these pages from Wally's Granfa' Grig Had a Pig will fill the bill on both counts for your readers new and old to Mr. Tripp's mastery of pen and paint brush.

(Sorry to leave out the real blockbuster pages of the book, the double page spreads, unfortunately my puny scanner will not do these pages justice.)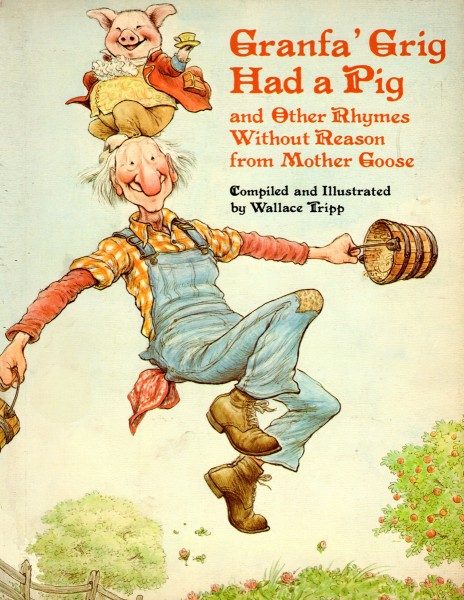 Book cover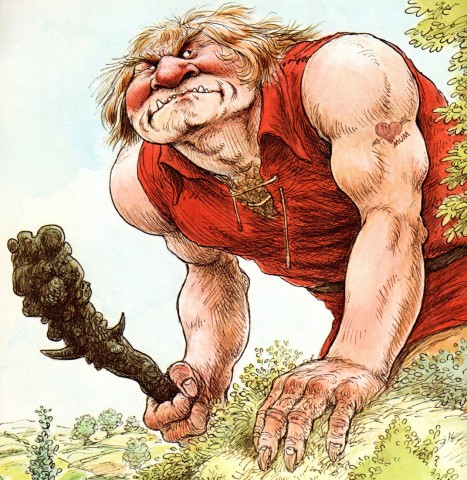 1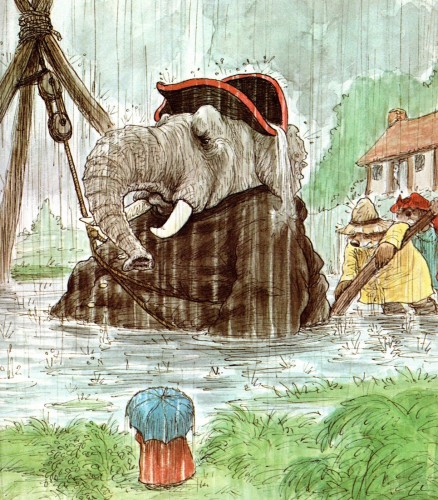 2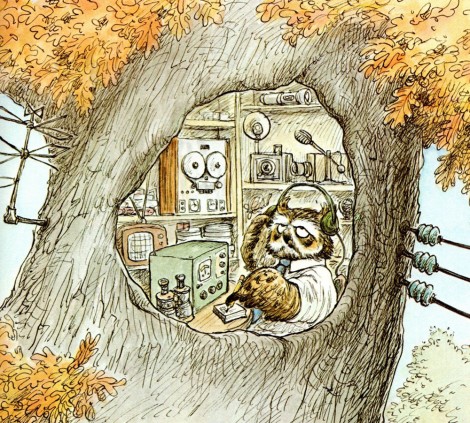 3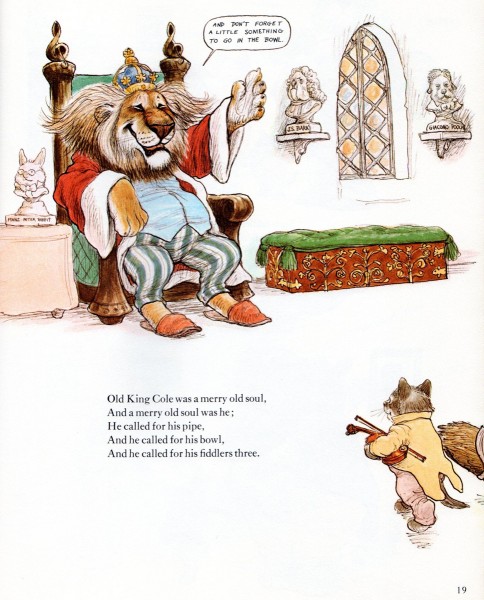 4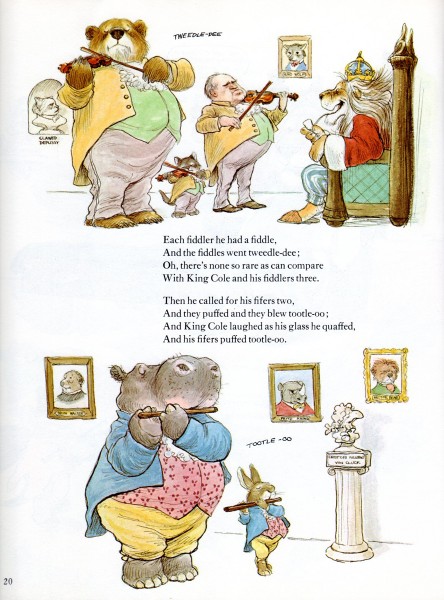 5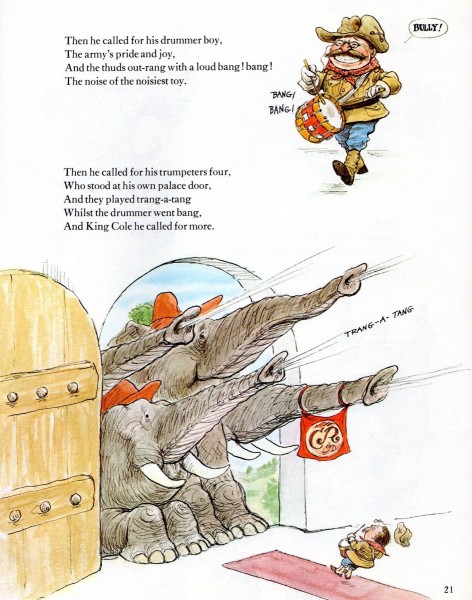 6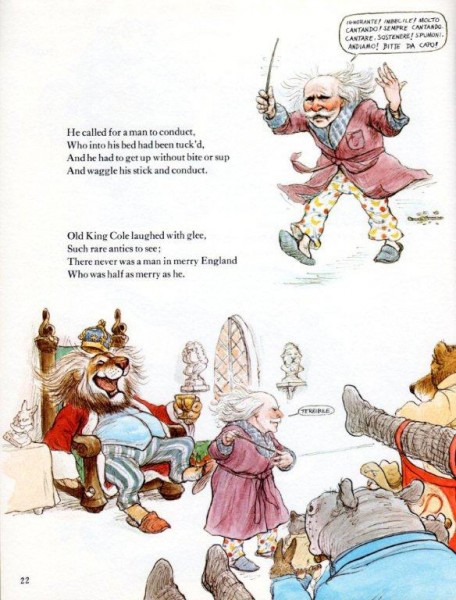 7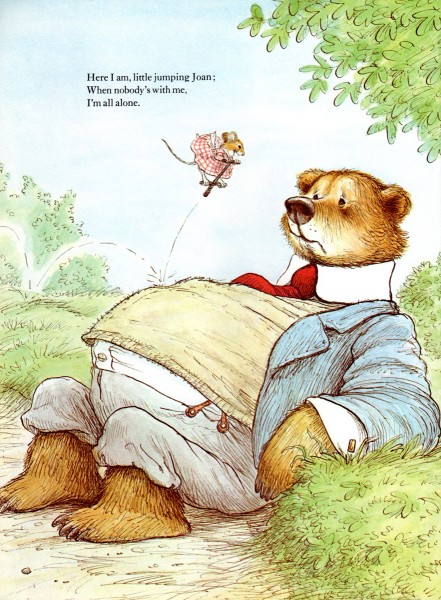 8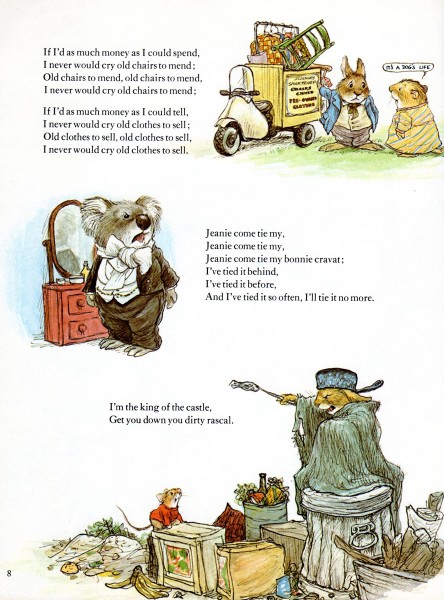 9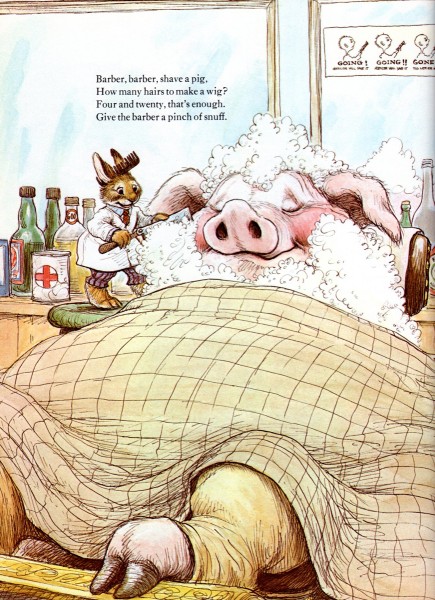 10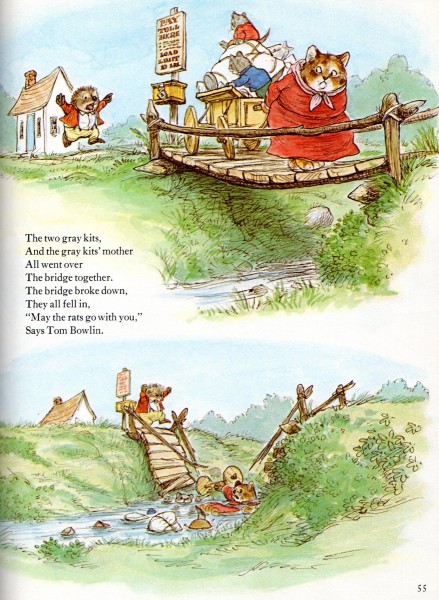 11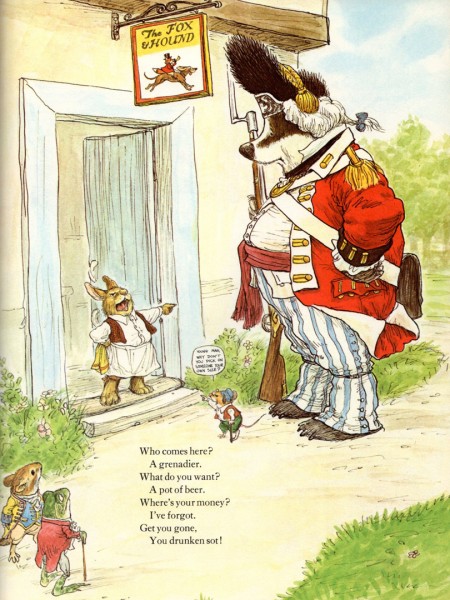 12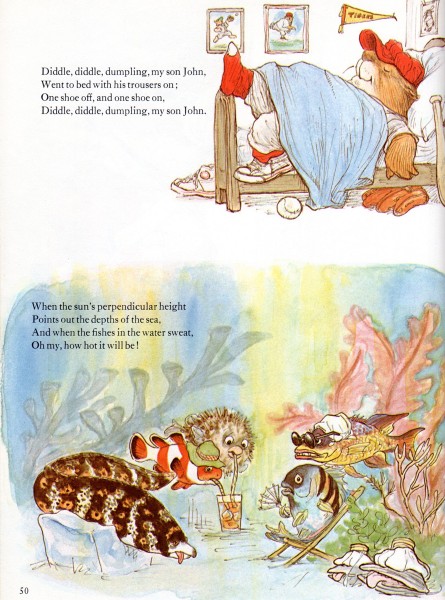 13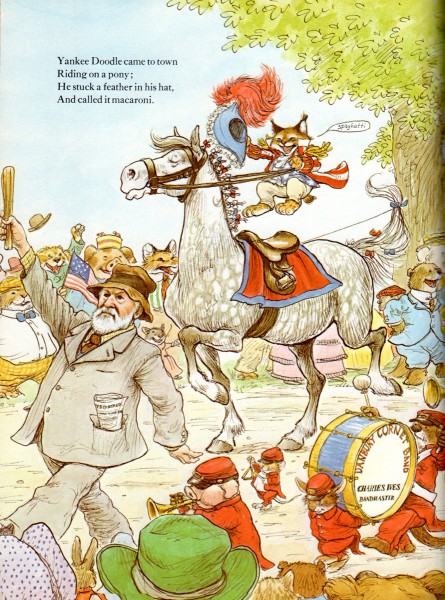 14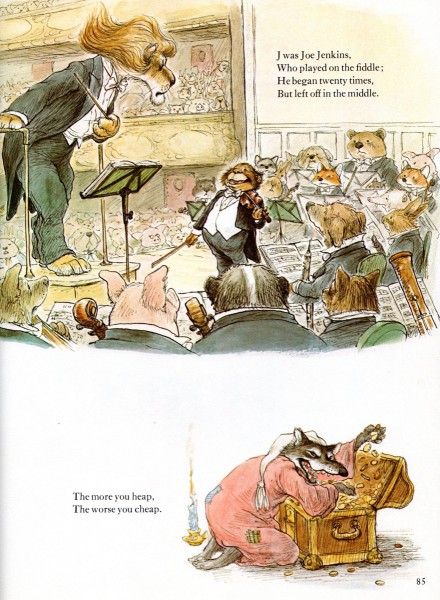 15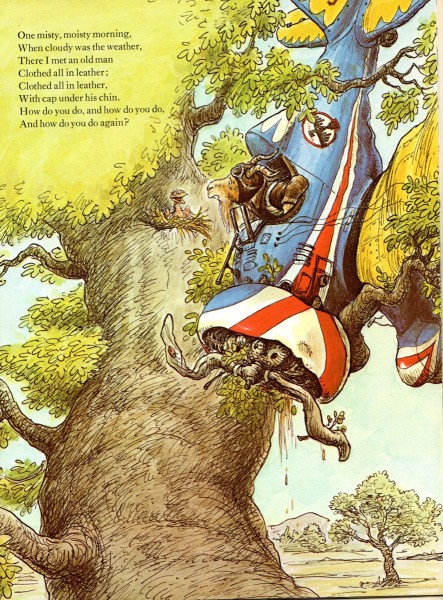 16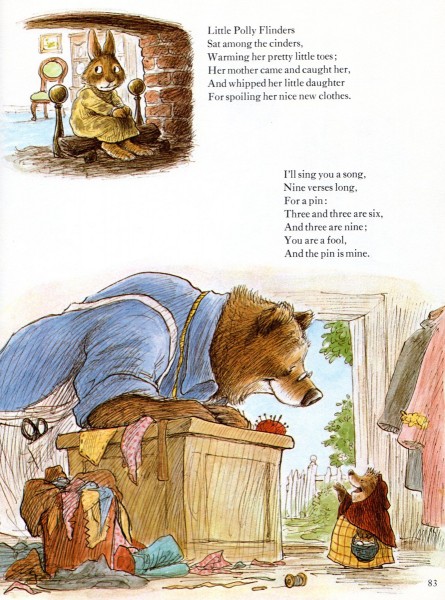 17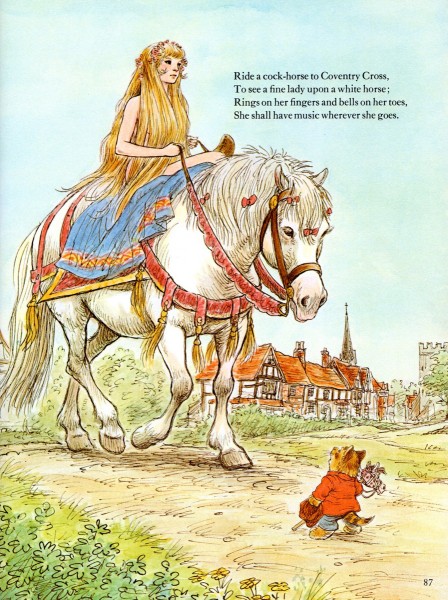 18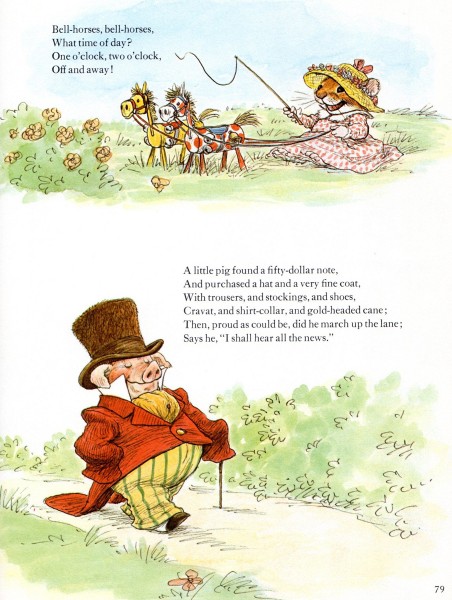 19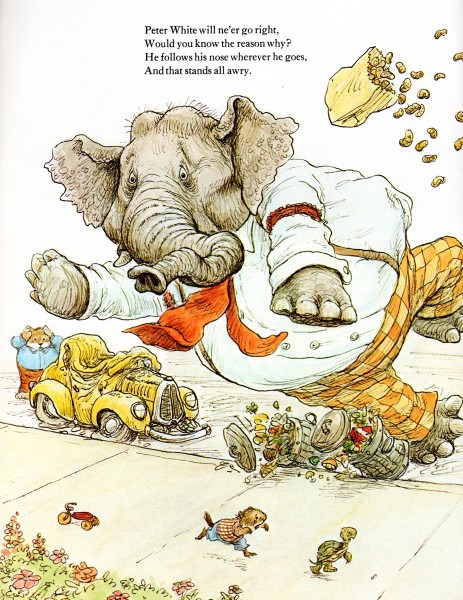 20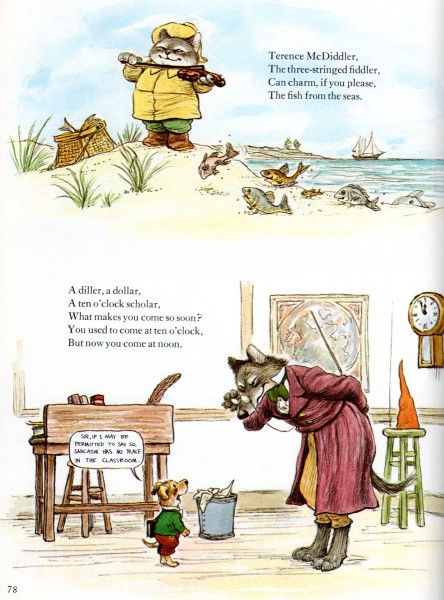 21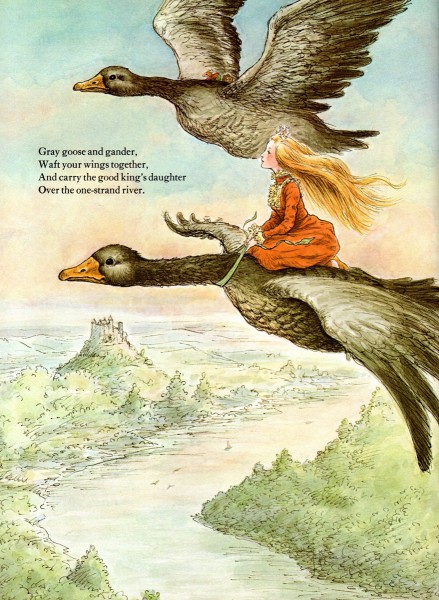 22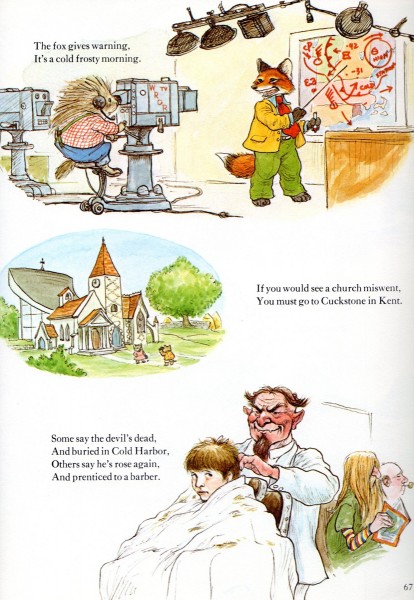 23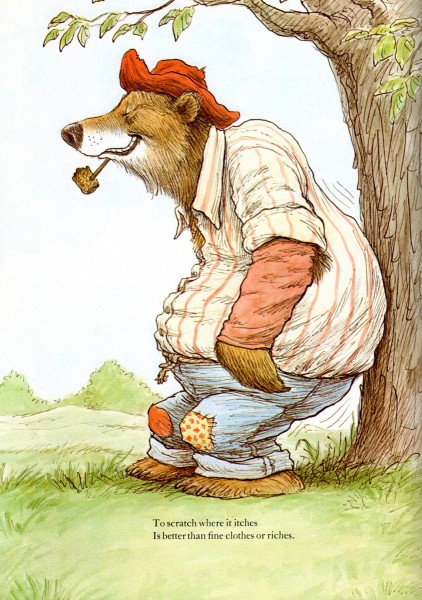 24

And here's a page of one of popular the calendars that came out annually.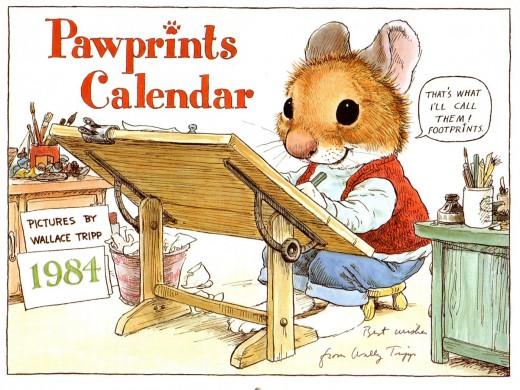 commercial animation &Layout & Design &UPA 23 Apr 2012 05:15 am
- Here is the 2nd half of the frame grabs of the UPA film, The Man on the Flying Trapeze. As I said, last week, the film is not the best of UPA. However, Paul Julian's work, to me, is always sterling, and that's my reason for putting some focus on the film. Julian did the design and backgrounds.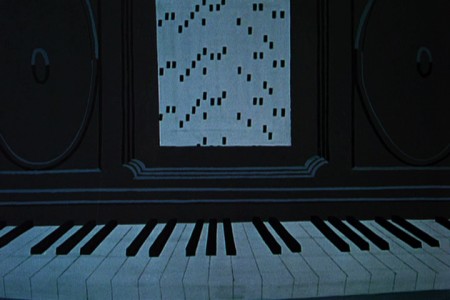 34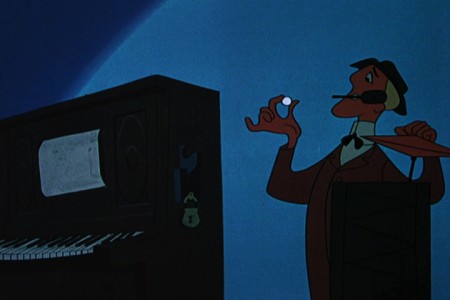 35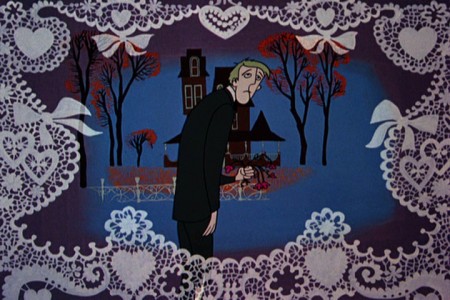 36
36-39 is an interesting transition.
The guy walks through all types of weather
as the fleur du lis framing device falls away.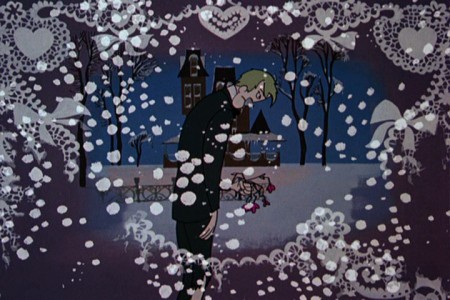 37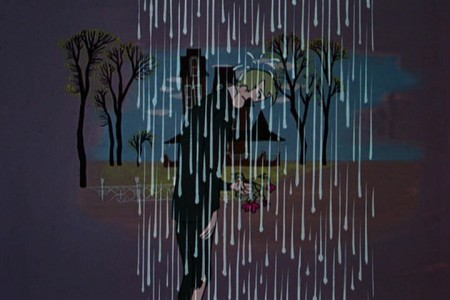 38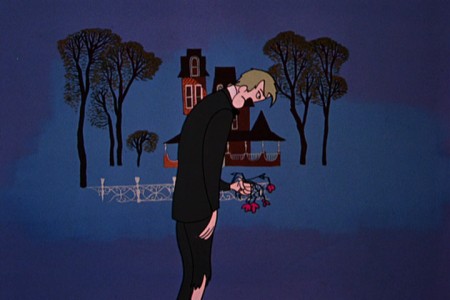 39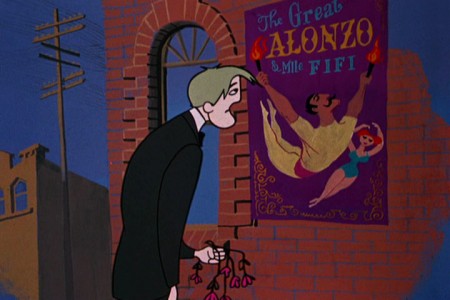 40
39 dissolves to 40 and moves in.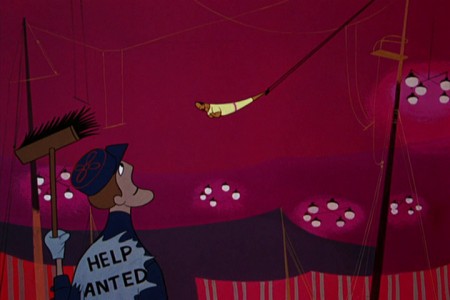 41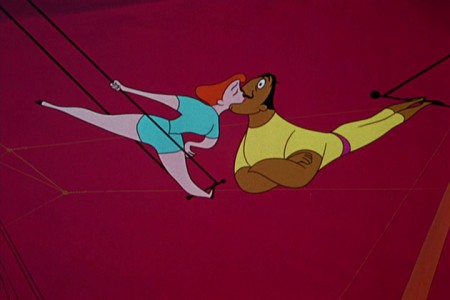 42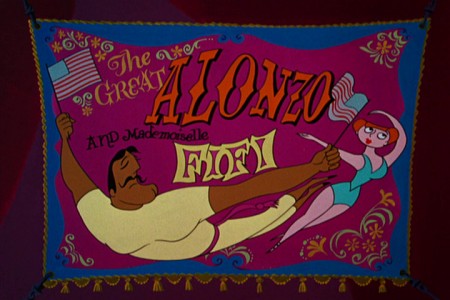 44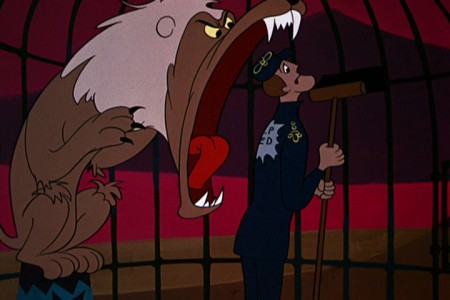 45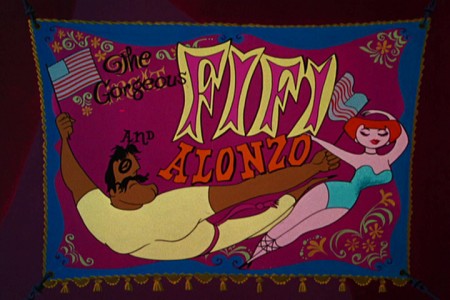 46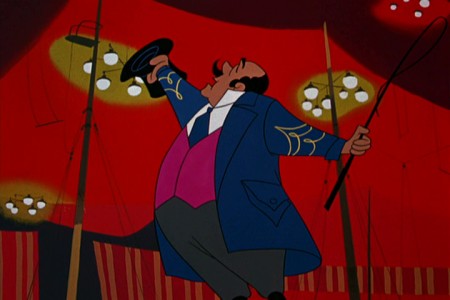 47
A beautiful layout and setup.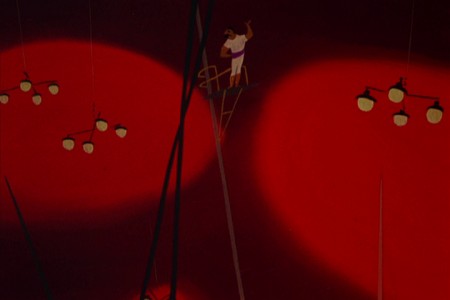 48
47-49 pans down while revoving while pulling out.
It was impossible to try to hook up the artwork,
so I left it apart.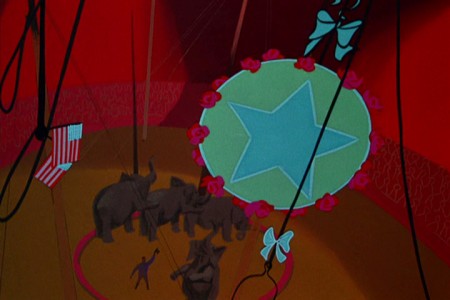 49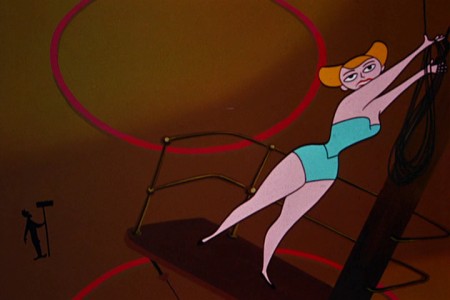 50

51
Start at the bottom and quickly pan up.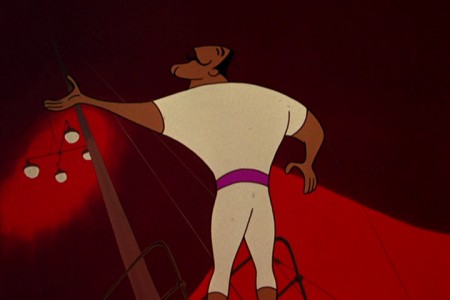 52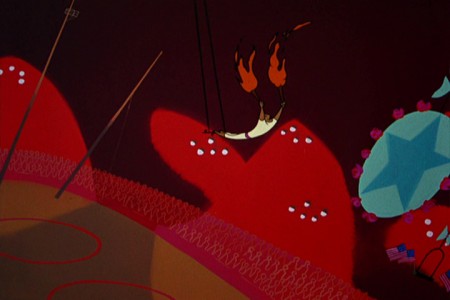 53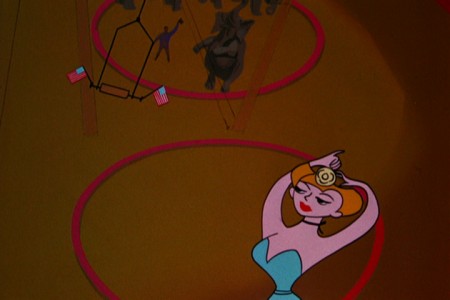 54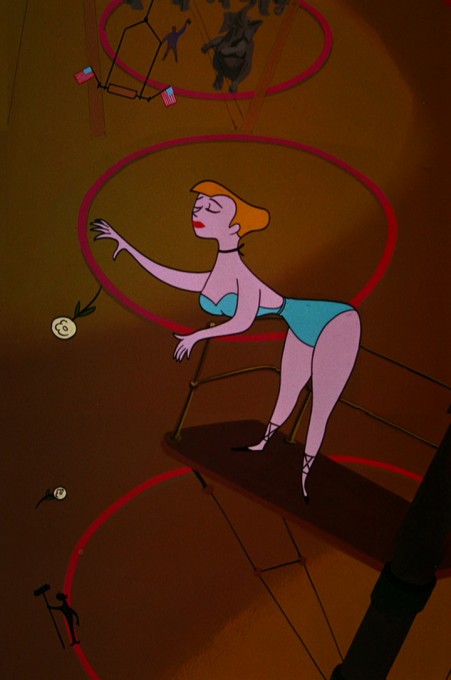 55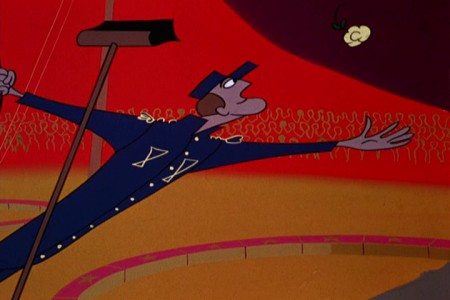 56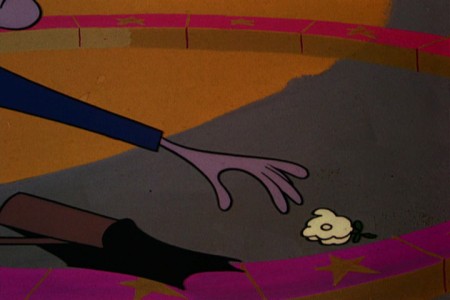 57
He reaches for the flower -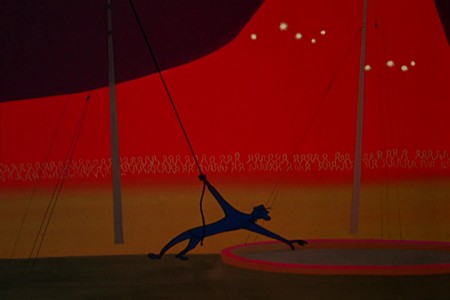 58
– just out of reach.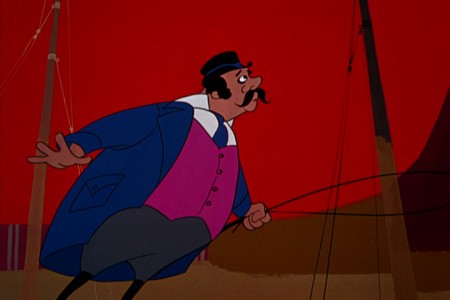 59
The ringmaster sees what is happening.


The Trapeze Artist tumbles and twirls and flies to the end of the routine.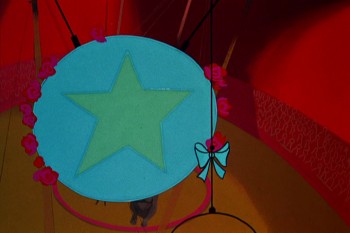 61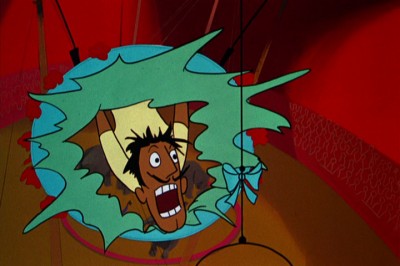 62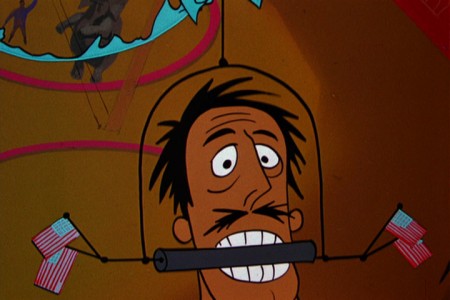 63
Crash !


He lets go og the cord at the end of the pan.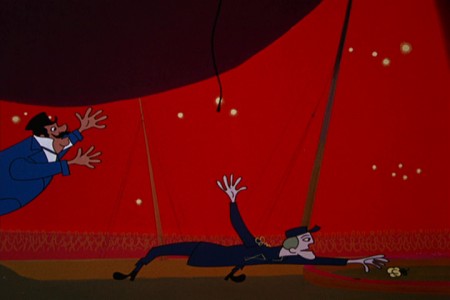 65
The ringmaster jumps to get it.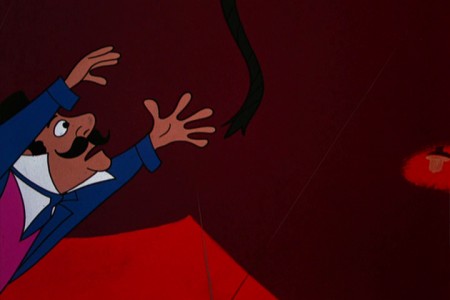 66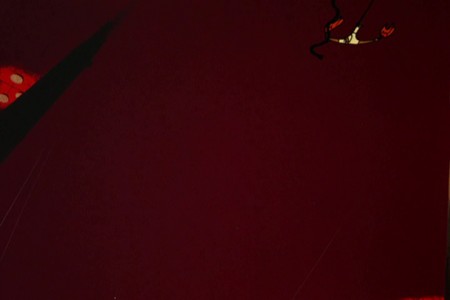 67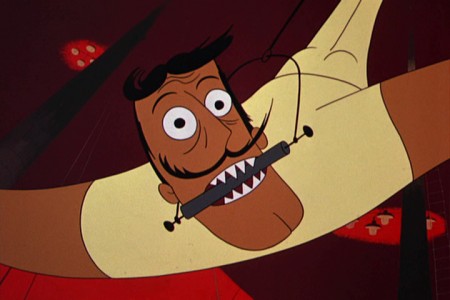 68
The end of the Trapeze Artist.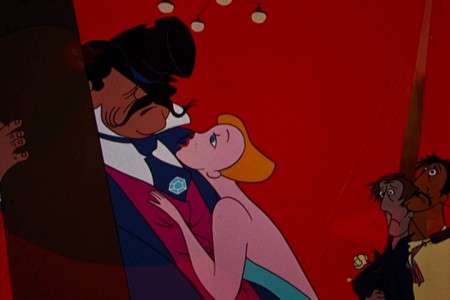 69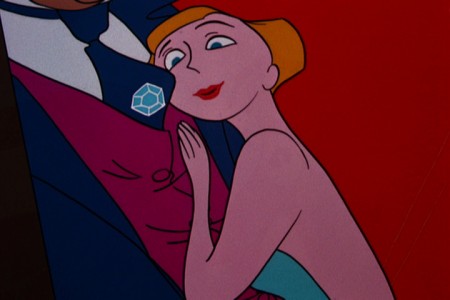 70
Diamonds are a girl's best friend.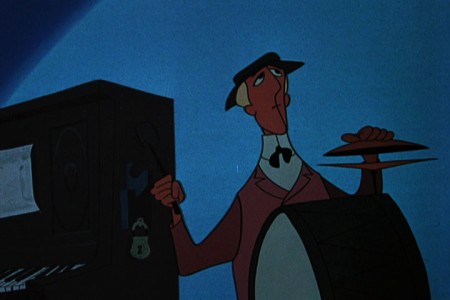 71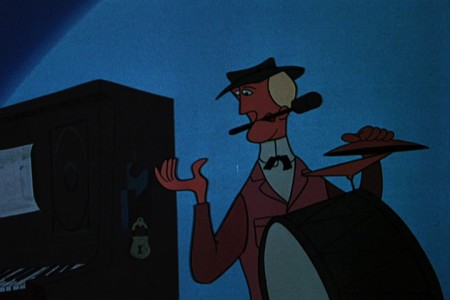 72
No more coins to put in the player piano.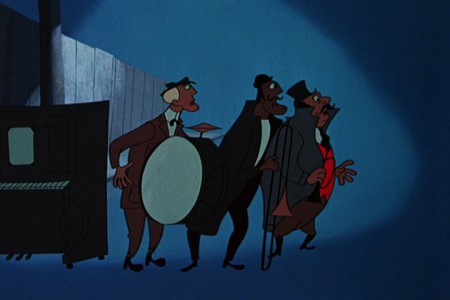 73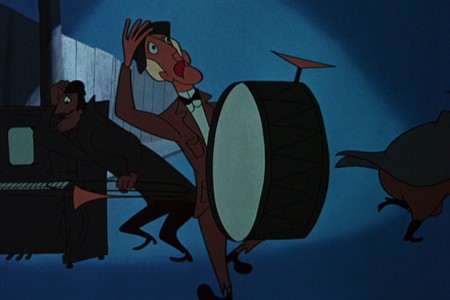 74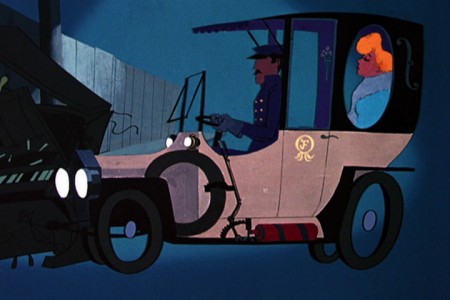 75
A car chauffering the girl comes crashing through the piano.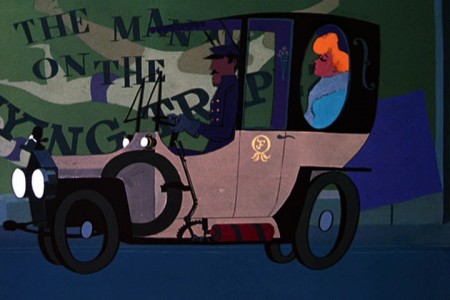 76
It passes across the main title card.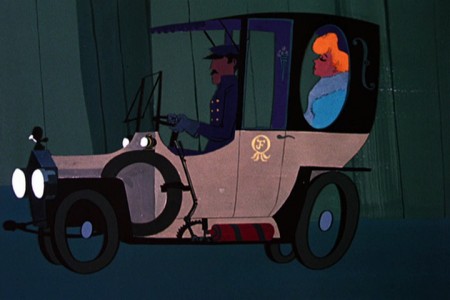 77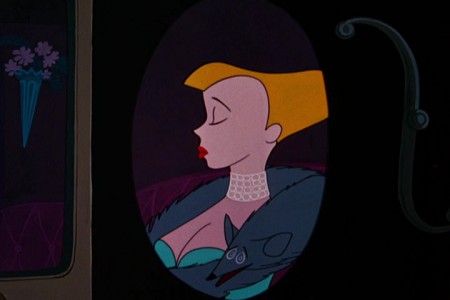 78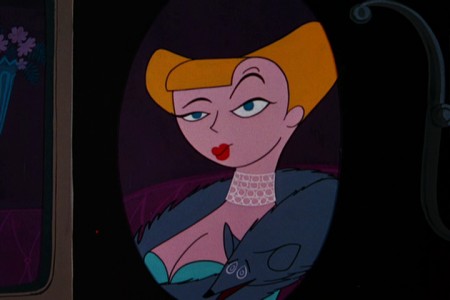 79
A knowing wink.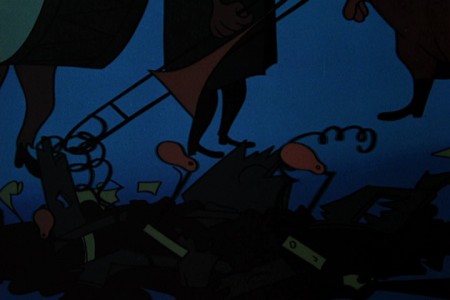 80
The last scene should start at the feet and move up
to the full band, beaten. (There's a hint of a move on
the DVD.) But it cuts off here to the End card.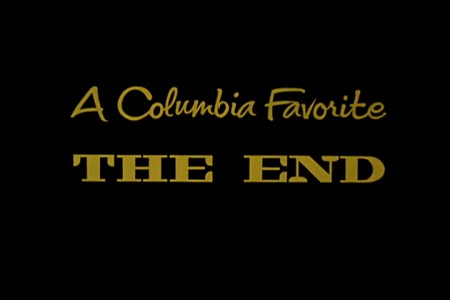 81
Commentary &Photos &Steve Fisher 22 Apr 2012 06:30 am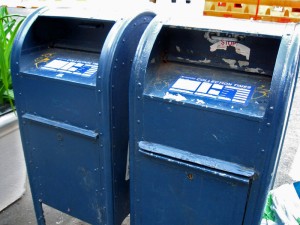 - I handed a "Forward-to-the-new-address-card" to the Post Office and knew it would take weeks to get my mail. Well, surprise! Surprise! It took exactly one day. And it keeps on coming. Who says you can't trust the post office?
In honor of the noble institution, I've decided to repost this 2009 group of pictures of mailboxes. It seems a bit fitting.
Mailboxes, both brown and and blue, they exist in droves holding onto the snailmail still out there. One might wonder how many more postage rate increases it can withstand before we depend allmost exclusively on internet communication.
These days many of the boxes have been decorated with graffiti of different sorts. All of it seems to be some kinda message to the world.
Nice and clean with dozens of coats of paint
Given that it's probably a federal offense, one would expect such graffiti to be limited. But I'd say that that's not the case.
I can remember walking down the street with John Leguizamo and his director David Bar Katz as he was about to open in Freak on Broadway. Al around town his face was stenciled on sidewalks and walls promoting the show.
We passed a mailbox and John saw his image/ad. He got upset. He knew that it was a federal offense to mark up the mailbox and he asked his director to see if he could look into stopping such practices. The show opened and I suspect there was no such inquisition from the feds.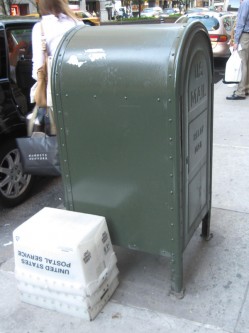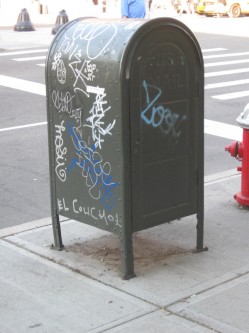 (Click any image you want to enlarge.)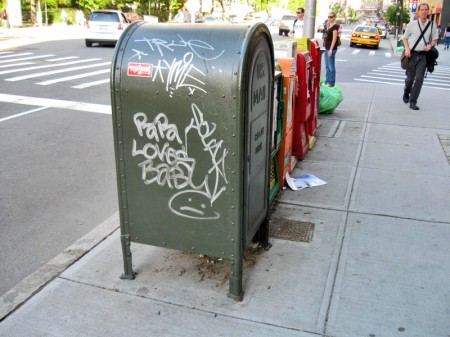 One graffiti writer wanted the world to know that "Papa Loves Baby"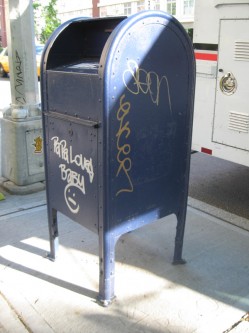 . . . so scrawled it up and down Houston St. in the Village – both sides of the street – on all of the mailboxes.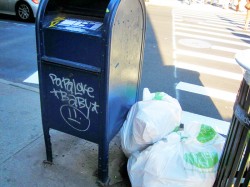 It certainly got the point across to "Baby".

.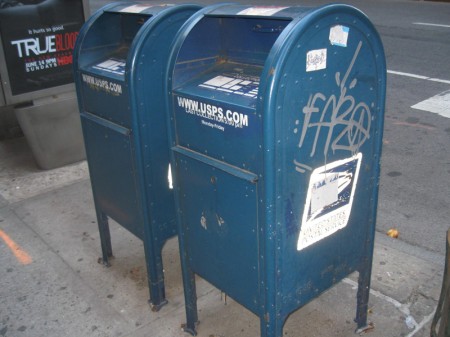 "Faro" is someone who's been out there for quite awhile.
(S)he doesn't just cover mailboxes. Subway walls and posters
are also fair game for this scribbler.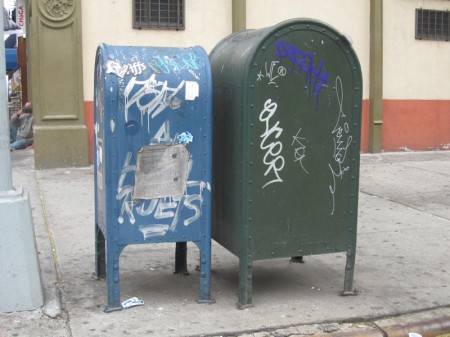 They can get pretty gritty.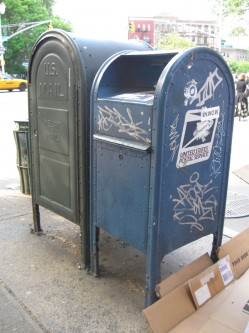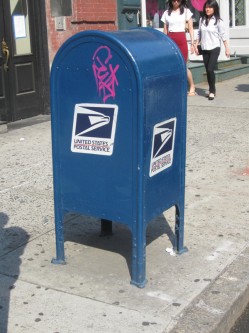 or some get newly painted with just a touch of pink.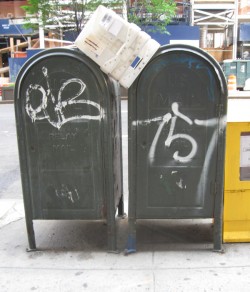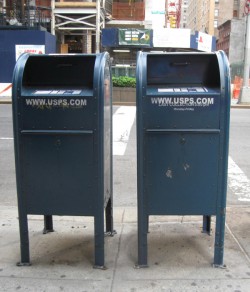 Sometimes they come in pairs – brown or blue.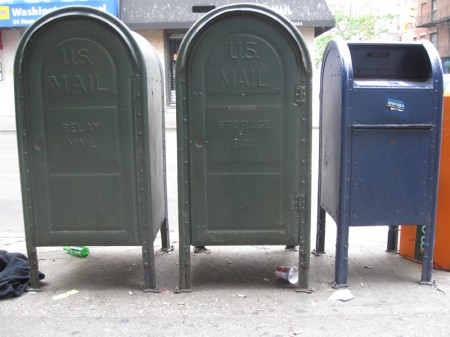 or threes. (newly painted)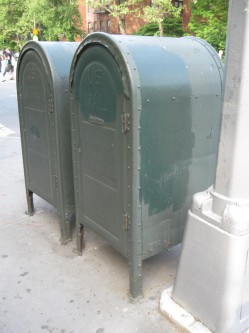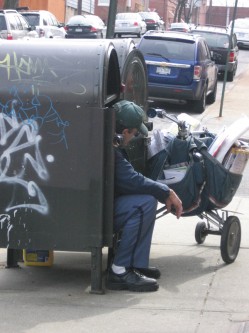 Unfortunately, clean up painting things don't get much better. Splotchy coats
of paint that don't match the undercoat don't always improve things.
It's exhausting when you think about it.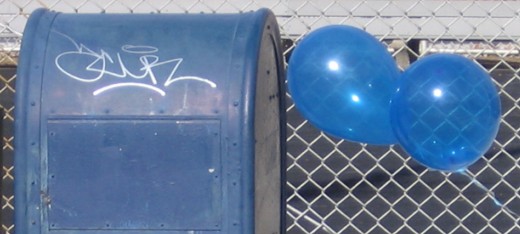 These last two photos are by Steve Fisher,
a better eye for the humorous than I.
Commentary 21 Apr 2012 06:46 am
Indiegogo POE
- Our new Indiegogo campaign for the Poe Project will be up and running this coming week. (Just when you thought you were done with that!) Of course we'll be shouting the news as loud as we can, so you'll know when. I just want to add a video of me talking about the film, and it'll be ready for prime time.
_______________________
The Fleischers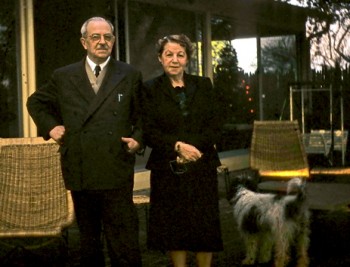 Max and Essie Fleischer at
Dick Fleischer's house in LA, 1956.
on the Fleischer Studios site.
- There is a nice collection of photographs on display at the Fleischer Family website. For the most part, these are photos that haven't been seen, predominantly of Max, that will certainly be of interest to any Fleischer fan.
However if it's artwork you want to see, I suggest you look at Ryan & Stephanie Englade's Fleischer site. He has quite a collect of Fleischer art on display (though there are plenty of rare and precious Disney pieces toward the end of the scroll.)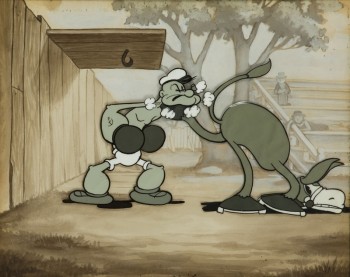 Here's an original Popeye B&W cel from the Englade site.
You can see that the Bg is done in sepias while the
Ink & Pt of the cel is done in cold greys.
It all comes out B&W&grey on film.

_______________________
Funk & Wagnell
- After I'd completed work on Raggedy Ann & Andy, I found myself an "Assistant Director" on R.O. Blechman's hour PBS show, Simple Gifts. This was a compilation of six short pieces about Christmas. Each had a different designer: Maurice Sendak, Seymour Chwast, Charles B. Slackman, James McMullan, Blechman and Fontaine Fox's Toonerville Trolley.
However, before Bob could raise the money for the show, I was pulled into working on a stack of commercials where I acted more as producer and all around artist (inker, painter, assistant animator, animator, movieola operator, etc.) Here's a commercial from that period that I did with think it was 1978(?). I just found it on YouTube. (It's a pretty dark version of the spot.) Ed Smith animated the Van Gogh & Modigliani and Tissa David did Michelangelo & Picasso. Sara Calogero did the painting and I did all the rest of the production art. I also represented the studio on the live action to make sure it would work with the animation.
_______________________
GIRAF Animation Festival
I received the request to post this piece for the Giraf Animation Festival in Calgary, Canada. Why not? Often, it's a festival like this that can find some of the gems that otherwise wouldn't be seen.
GIRAF Animation Festival

CALL FOR SUBMISSIONS

Deadline: August 1, 2012

The 8th annual GIRAF (or the Giant Incandescent Resonating Animation Festival) is looking for Animation submissions, in all styles, genres, lengths, and mediums. Our programs are a strong eclectic mix of animation, representing the best of the medium from Claymation to CG.
We focus on presenting indie, experimental, and underground animations that push boundaries through new techniques, unique visions, and stimulating subject matter. Our 2011 program featured visiting artist David O'Reilly, and 3 of the 5 Academy Award nominees for Best Short Animation!

We DO NOT CHARGE A SUBMISSION FEE, and encourage short and feature length local, national, international, and student submissions.

Animators can submit online at: www.giraffest.ca
_______________________
Maureen Selwood
- On Monday, April 30, 2012 at 8:30 PM, Beyond Enchantment: The Imaginary Voyages of Maureen Selwood be screened at The Roy and Edna Disney/CalArts Theater (Redcat), 631 West 2nd Street, LA.
From the program:
"Selwood grapples with notions of dislocation, grief and loss…The result is indeed akin to poetry, in its piercing sadness that is at once palpable and ephemeral." Holly Willis

Maureen Selwood's animations take us into the strange, beautiful, and sometimes terrifying lands of the mind. For her first solo show at REDCAT, she presents a selection of more recent pieces including the premiere of A Modern Convenience (2012), in which the machine becomes a substitute for intimacy against the backdrop of Niagara Falls. The piece will be accompanied by live performance. In Hail Mary (1998) a centuries old prayer morphs into a humorous black and white memoir. The expressively rendered Drawing Lessons (2006) sublimates a meditation on drawing and nature. I Started Early (2007), based on a poem by Emily Dickinson, explores sexual awakening. As You Desire Me (2009), the single-channel version of an installation inspired by her residence at the American Academy in Rome at the beginning of the Iraq War, confronts sorrow and catastrophe. The program concludes with the hallucinogenic trip of How Much Better if Plymouth Rock Had Landed on the Pilgrims (2009), and Mistaken Identity (2001), Selwood's alluring deconstruction of 1955 noir classic Kiss Me Deadly.
A looped silent version of Rules of the Universe (2009, QT Digital) will be projected on the wall over the exit to the parking lot.
Maureen Selwood will present, in person, a selection of recent films and works with live performance.
The premiere of A Modern Convenience with a live performance by Archie Carey and Odeya Nini.
Mistaken Identity will also be performed with a live performance by Clarissa Romano and The Cathlene Pineda Trio.

_______________________
Consuming Spirits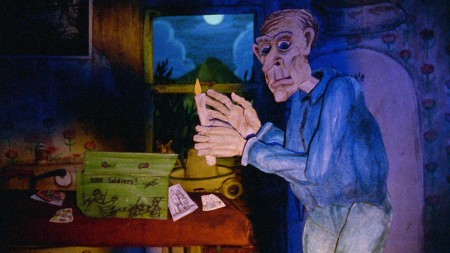 As promised, I'm reminding you that Chris Sullivan's Independenty produced feature Consuming Spirits is premiering at the Tribeca Film Festival this week.
The times for the screenings are:
_____Mon 4/23 6:00PM Clearview Cinemas Chelsea 7
_____Tue 4/24 4:00PM AMC Loews Village 7 – 2
_____Wed 4/25 7:00PM Clearview Cinemas Chelsea 5

_______________________
Gertrude's Follies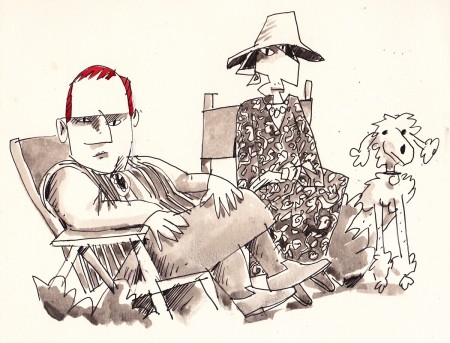 - Finally, Tom Hachtman's great comic strip is back on sale. Gertrude's Follies has been reprinted and is once again on sale at Amazon and Barnes and Noble. Buy it, you won't be disappointed if you love great comic strips.