Monthly ArchiveDecember 2006
Commentary &Daily post 31 Dec 2006 09:26 am
- I can't find a better thing to say than Oscar Grillo has posted on his site. A brilliant drawing set against a brilliant soundtrack, with words to match. Go.
_________________________________________
- Taking a quick tour of a lot of sites this morning, I found that the griping about promotion for animators is high on the list on a number of blogs. It all started with George Miller's insensitive comments in the New York Times about his animation staff. Miller got a bit of promotion in the Times article on dancer/choreographer, Savion Glover. He was trying to help Glover and a lot of animators got slapped as a result.
Mark Mayerson suggests that animators need more promotion for themselves to counteract some of this public image. Keith Lango follows this with other thoughtful comments agreeing with Mark. Of course, the problem starts entering when a number of the comments on these blogs react by swiping at Miller in an even less sensitive display. They respect him, even less that he respects animators.
I don't think Miller, like any good director, thinks any less of his animation crew than he does his electrical crew. He believes that they are all in service to him. And they are. At least, this is true using Motion Capture.The "animators" are no longer the actors. They're technical service personnel. Special Effects wizards with computers who transfer the dances of Savion Glover into penguins dancing. The delicate movements of the characters perfectly capture the motions of Glover so that it looks like Glover dancing.
(Actually, I've seen Glover on stage and in film so many times, that I'd probably prefer seeing him dancing rather than 100 versions of him as a penguin dancing.)
I enjoyed watching the film Happy Feet, but probably won't see it again. Yet, I've watched Dumbo at least 100 times. Just yesterday I watched Ward Kimball's dance sequence from that film. I have no doubt it was choreographed, shot on film for him to study and, finally, animated by him. All those drawings cannot be captured by the MoCap technology. I think that's the message we have to talk about in 2007.
Until we take back the creating part of these films, we can't blame others for taking and handing out credit.
Art Art &Theater 30 Dec 2006 08:18 am
Prescott Wright died on December 28th. He was one of the founders of ASIFA-San Francisco, the producer of The Tournee of Animation for many years and a founder of the Ottawa Animation Festival. Jerry Beck has some good comments on Cartoon Brew.
______________________________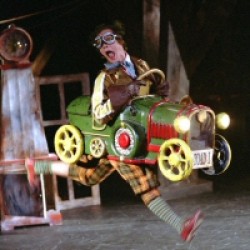 - The
Quay Brothers
are currently represented on the London theater scene. The dance program of
The Wind In The Willows
is playing to good reviews.
Time Out London
reports, Will "Tuckett and his designers, the Quay brothers (who are not just siblings but identical twins), turn those memories into a journey of the imagination that comes spilling out of an old chiffonier. A length of silk pulled from its drawers becomes a rippling river, a dusted-off rocking horse pulls a Gypsy caravan, an upturned spindle-backed chair turns into Toad's jail cell, a toy train is his means of escape from prison."
David Benedict wrote in Variety, "All of them are in the childlike world of the Brothers Quay, whose set designs cunningly echo the way children turn everything at hand to imaginative advantage. Thus, attic furniture plays multiple roles. One minute, a flowing blue tablecloth is being pulled from a drawer in the bottom of a wardrobe to become the river; the next, the wardrobe is wheeled around to become a gypsy caravan driven by a rocking-horse. The giant wooden chair that Toad flings himself about in is overturned to form the bars of a cage when he's imprisoned."
Sarah Frater in This Is London says, "Willows owes much of its success to the excellent sets by The Quay Brothers and the sensational costumes by Nicky Gillibrand."
John Percival in his review in The Stage says, "Absolutely brilliant are the Quay Brothers' settings, objects which transform almost miraculously from one purpose to another."
You can see about 2 minutes of the rehearsal here.
______________________________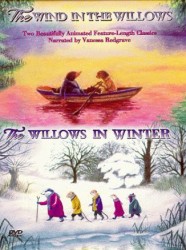 Last night STARZ ran the
Dave Unwin
directed version of
The Wind In The Willows
. This was a beautifully animated feature version done in 1995 and followed up by
The Willows In Winter
. Mr. Unwin had directed a number of the films produced by
John Coates
at
TVC London
.
It's unfortunate that this company folded in 1997 after producing the stunningly beautiful Beatrix Potter series. They were one of the few dependable production companies out there. Coates had been one of the founders along with George Dunning. He was also one of the producers of The Yellow Submarine. After Dunning died, Coates carried the studio into a wholly new future.
Alan Bennett voiced the Mole in both of these shows. He had written a play adaptation of the book at about the same time and appeared in his own play as the Mole. There have many and varied versions of the Kenneth Grahame book. (If you haven't read this book, or haven't read it in a while, I suggest you do. It's one of the greats. There can be no wonder that there are so many adaptations.)
______________________________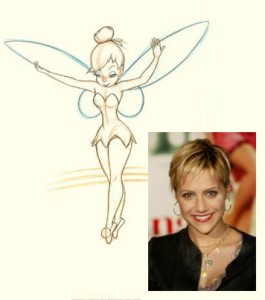 -
Brittany Murphy
, voice of Luanne in
King of the Hill
and Gloria in
Happy Feet
will soon be the voice of Tinkerbell. The character was designed by the author
J.M. Barrie
to be silent and captured that way in animation – for the past fifty years – by the
MASTERS
at Disney.
Now she'll talk, she'll be redesigned as a MoCap character, and it sounds like she'll look a bit like her new voice. Here's a bit of an interview with Murphy:
"One of the oddest happy things I've seen in my life was seeing this face that I was raised with and this feisty personality, which is the character of Tink, who is an icon, with my voice coming out of her mouth," Murphy said. "And she looks how we all know she looks, but she has my facial expressions. That was very odd to see. All of a sudden her eyes grow to half of her face. She does little things that I do, and, really, it's very strange."
Strange, indeed.
Animation Artifacts 29 Dec 2006 07:57 am
- Hans Perk followed up my coments on Mickey's Good Deed with the breakdown drafts for the film. I like seeing the visual breakdowns that Mark Mayerson has been doing off these drafts. Since I suspect this is not a film Mark would break down, I decided to do it. I thought it a good way to study some of the animation (drawn a bit crudely, but well timed), so it was fun doing it. Thanks Hans for the drafts, and thanks Mark for the format.
The animators here include: Johnny Cannon, Ben Sharpsteen, Les Clark, Frenchy de Trémaudan, Tom Palmer, Hardie Gramatky, Dick Lundy, Gerry Geronimi, and the last scene is by Norm Ferguson. As Hans points out, Ben Sharpsteen covers a lot of scenes. Since he's the film's director it probably means he's supervising some younger animators.
(note: Hardie Gramatky is the same guy who wrote and illustrated the famous book, Little Toot, which eventually became a Disney short.)
(Click on any of the images below to enlarge.)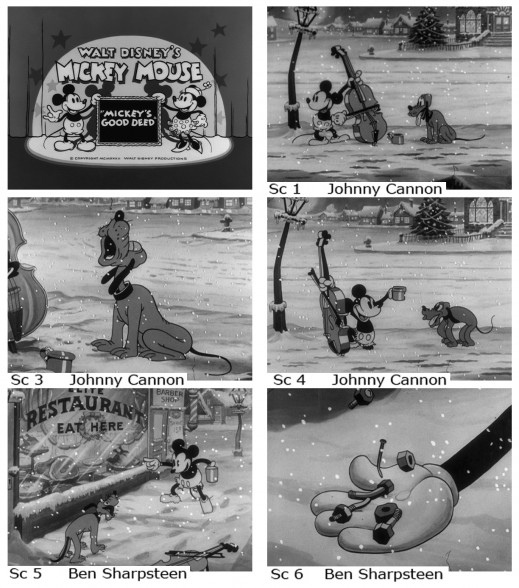 1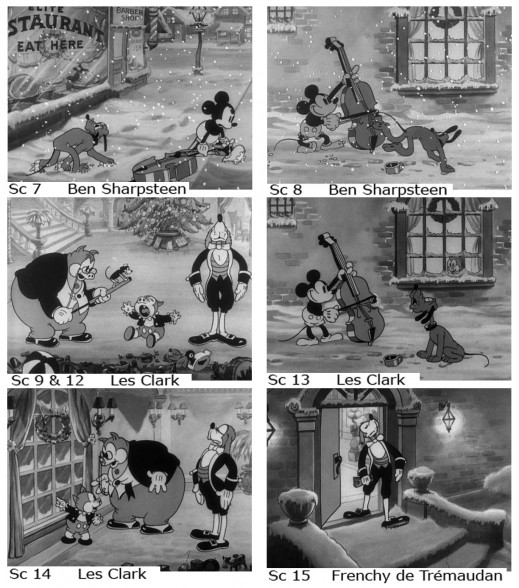 2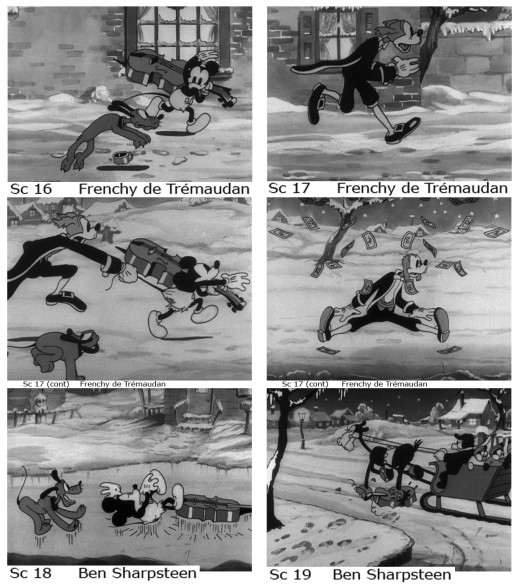 3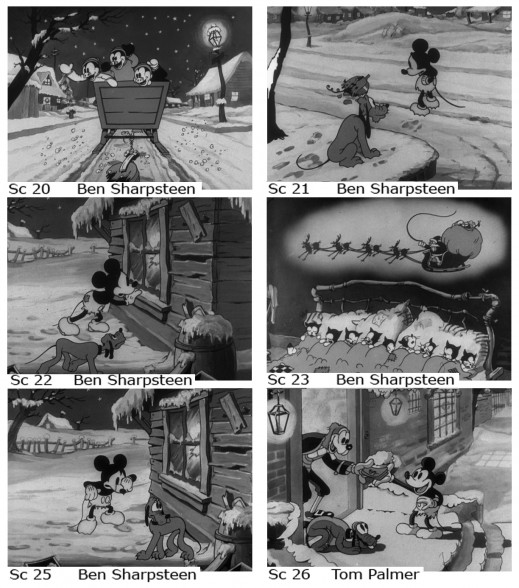 4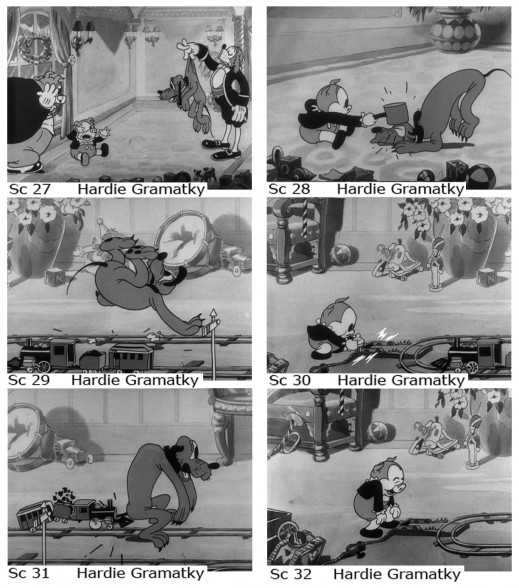 5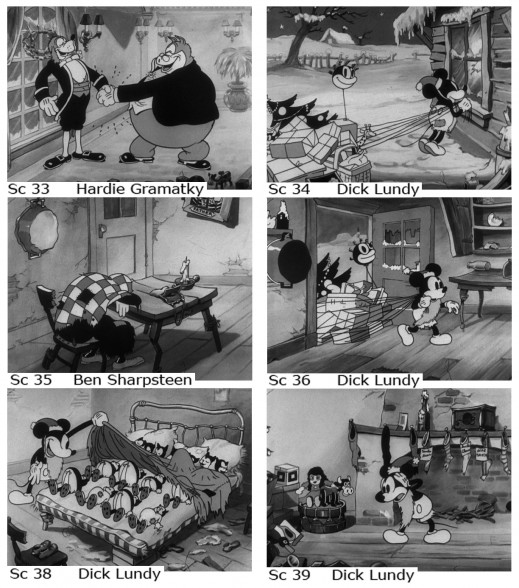 6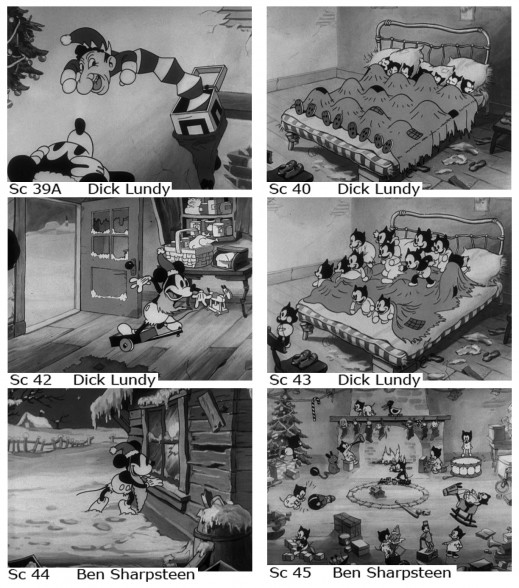 7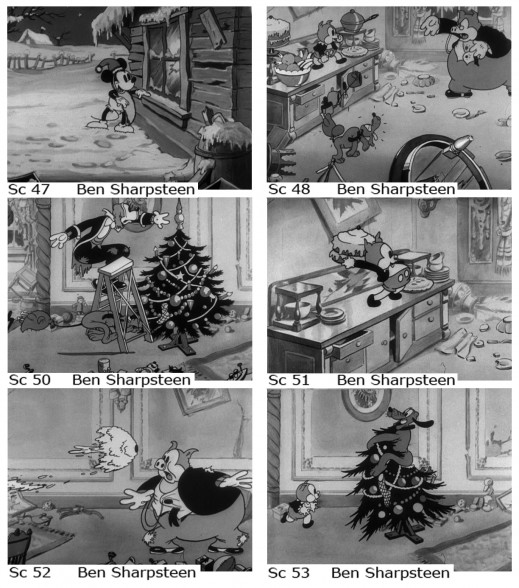 8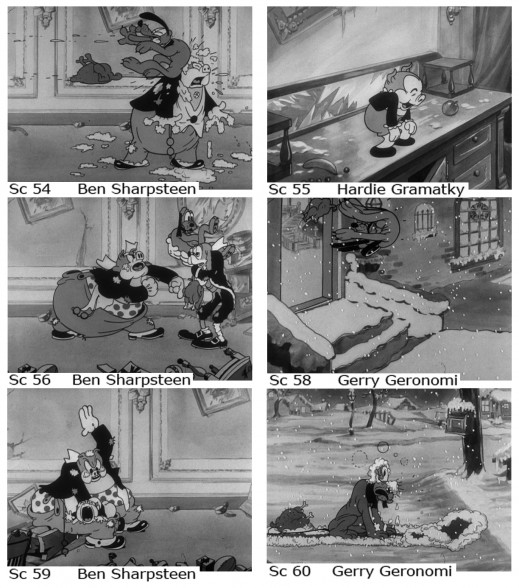 9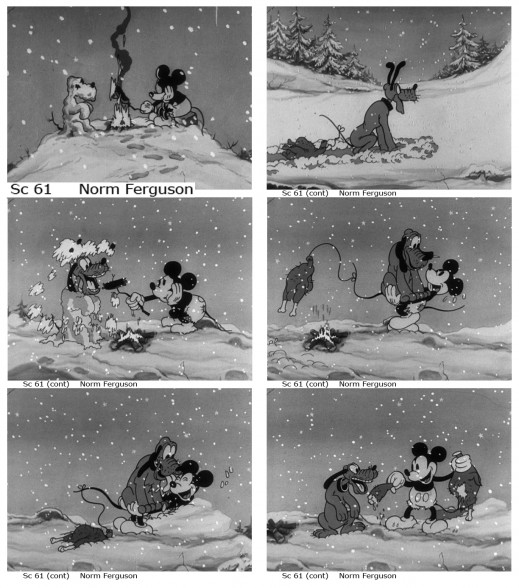 10


11
Commentary 28 Dec 2006 09:02 am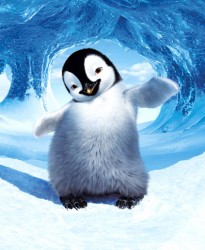 - Last night, I watched the Academy screener of Happy Feet. I'm sorry I hadn't seen it initially in a theater, and I know I'll go back to see it on a big screen soon.
There's no doubt this is the best of the films on the short list in the animated feature category. I've made myself obvious about my dislike of MoCap, but this is a good film. Regardless of whether it was done 2D, keyframe, live action or MoCap, it's a well made film. It is a musical in the truest sense of the word; it thrives on the music.
I believe animation should be tied tightly to music (even the absence of music in animation is a critical choice that has sometimes worked.) This film is dependent on and in love with the music constantly remixing on its soundtrack; there is no possibility of separating the action, camera moves or story from the music.
They use a lot of songs from the 70′s-90′s to accent a tempo, but the score by John Powell is one of the best film scores of the year. Listen to the underscoring of a couple of the opening numbers; it's amazing. Powell scored my short for HBO, Goodnight Moon, back in 1999. He was just starting back then, but he came fully developed. He went on to Disney where he scored The Emperor's New Groove; then to Robots and Ice Age II. He's written many other excellent film scores. Here, in Happy Feet, he is at the top of his game.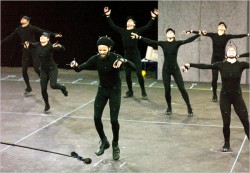 I think of MoCap as more a form of digital puppetry than animation, and the movement in this film is fine. Savion Glover can be seen in all the dancing, but the acting is expressive – especially given the lack of expression on a penguin's face. I thought there were some scenes with the father character (voiced by Hugh Jackman) that were just excellent. Equally interesting is Nicole Kidman, though her character has no stand-out action.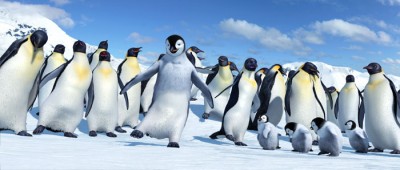 The same is true for Brittany Murphy; she's extraordinary, though her part doesn't require enormous depth. She also does most of her own singing, and she does it well. After all those years at King of the Hill, she certainly has proven herself, and displays her talent well in this film.
Actually, all of the voice work is good – though I sometimes had trouble telling some of the males apart. None of the voices are star turns that dominate the film. They all sound appropriate for the roles.
I liked the use of live action in the end, and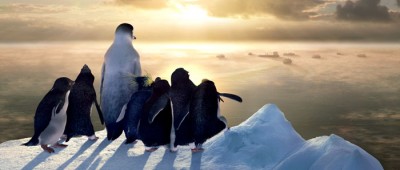 thought it would have been the only real way to get their point across. It, like everything else in this film, was done well. A delicate mix of live action embedded into the MoCap drawn world. It was just good ol' plain, film making know how. George Miller is a director who knows how.

______________________________
Today's
NYTimes
features an article on
Savion Glover
's dancing for this film.
I also suggest you read Mark Mayerson's comment today about this and other articles. Mark has some excellent thoughts worth digesting.
______________________________
To see artwork from another animal film, the
ASIFA Hollywood Animation Blog
has posted some beautiful pieces from
Mark Kirkland
's collection of artwork from
Bambi
.

(Click any image to enlarge.)
Animation Artifacts &Daily post 27 Dec 2006 08:38 am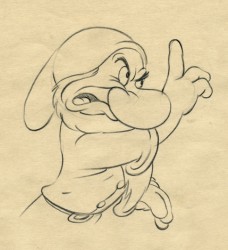 – In 1994 John Canemaker organized an exhibit for the Katonah Museum of Art. It showcased in great detail the work of animation's, Bill Tytla. The Hollywood Animation Archive Blog now posts the catalog for that show in the first of two parts.
I remember the show as quite remarkable. Any enormous respect I had had for Bill Tytla's work was magnified exponetially.
Viewing the catalog again reminds me of the fabulous work that John Canemaker had done in organizing the show. Thanks, yet again, to the work of Stephen Worth in making this available at the site.
A Tytla drawing from my collection.
(click on image to enlarge.)
______________________________
- This list of the Best Children's films of 2006 includes my film, The Man Who Walked Between The Towers, and the feature Monster House as the only two animated films on their list of "bests."
To show how ridiculous this list from Scripps Howard News Service is, the new dvd of Dumbo is on their "worst" of 2006 list. They describe one of my favorite Disney features as, "a relic, with a number of racist and stereotyped characters and overwrought emotion."
The scene Tytla animated of Dumbo playing in the legs of his mother is, in my opinion, one of the best scenes ever animated. Every child should be made to watch this scene and this film. John Canemaker's commentary for the dvd is, as I've said several times on this blog, one of my favorites. It's the premiere example, to me, of what all commentary tracks should be.
- For those who haven't yet seen it, David Nethery has posted on his site a 1966 Christmas Bumper R.O. Blechman did for CBS. It's a beautiful, music card of a piece that shows all the poetry Blechman got into his films. Ed Smith animated this rich, short film.
______________________________
- Finally, today, I'd like to quote a paragraph from
Michael Musto
's lookback-at-2006 column in today's
Village Voice
. He reviews most of the animated features, and I thought it amusing:
We pause now for a brief rant: Much as I adore animated films, the plethora of them
that came out this year with inspiring messages about how critters (or vehicles) are
good and people are bad made me feel their ka-chinging creators should be forced
to live by their own patronizing idealism or die. Cars should have been dumped onto
DVD with no hoopla whatsoever (it's more important to be a good soul than to
succeed, remember?); the Ant Bully people should find their houses infested with
bugs and then be made to join them to learn the importance of community; and the
Barnyard bunch, who preached that responsibility is superior to having a messy good time, should never be allowed to make another movie. Otherwise we're destroying
our children with hypocrisy and lies!

But how dare anyone suggest that: Happy Feet ripped off March of the Penguins:
It ripped off Billy Elliot!
Animation Artifacts &Commentary &Daily post 26 Dec 2006 08:37 am
Happy Kwanzaa
______________________________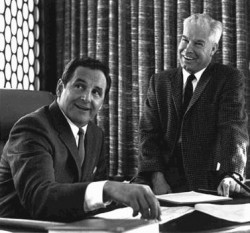 – On Google video you can see a seven part interview with Joe Barbera done in 1977 for the TV Academy.
Leonard Maltin starts the interview, parts 1-4.
Sunny Perish (?) concludes parts 5-7.
Part 1. Here
Part 2. Here
Part 3. Here
Part 4. Here
Part 5. Here
Part 6. Here
Part 7. Here
There's an accurate commentary of Barbera's career on Harry McCracken's site. This is followed by an even darker comment by Mark Mayerson and a defense of Barbera by Thad Komorowski.
I have to say that when Barbera died I had no feeling whatsoever. I still don't. That last Tom & Jerry which has his name attached was as horrendous as anything he's done since the second year of The Flintstones.
I saw few Tom & Jerry's growing up in New York. In theaters, we were always treated to Terrytoon, Paramount and infrequent Disney shorts. I don't think I saw a Tom & Jerry projected until I went to animation programs at MOMA. Finally, in my college years all those Tom & Jerry shorts were thrown into syndication, and they ran in NY on channel 11, a station once owned by The NY Daily News, at 5:30pm.
I had to rush home from school nightly to see these programs – 3 shorts each. After weeks of viewing, I was blown away. My initial reaction was that I had spent 17 years trying to see any and every piece of animation and had found this trove of fully animated shorts – lots of lives spent – on films that I hadn't seen. If there were that many films that I hadn't seen, what did that say about the work of so many other animators whose work lived in limbo?
My second reaction was horror. These films were violent to the point of horrific. The animation was superb, the music was brilliant, but the violence was upsetting. These are the only cartoons ever to have caused me to flinch. Seeing – I think it was – the Oscar winning, The Two Mouseketeers where Jerry runs the course of a table past a turkey that has a knife sticking out of its side – which lies just over his head. Tom pursues. He's taller. The violence takes place off screen (as H&B did for years to save animation). Tom is cut and I flinched. I didn't like that and still don't. Another cartoon had an axe cut off Tom's tail. It hurt. The characters I never cozied up to were being mangled by their creators. Not like the funny stuff that was going on at WB; it was different here. The directors hurt them, and then hurt them some more.
After MGM, H&B opened. Even before those Tom & Jerry shorts made it to TV, RUff & Reddy, Huck Hound, Yogi and The Flintstones brought new style to limited animation TV. I enjoyed it as a kid (in B&W), and I even felt I could guess-count the drawings in a scene. Timing was good and the design was excellent. The Hoyt Curtain music wasn't my favorite – it seemed to be playing without regard to what was on screen, but still, I liked these shorts.
Then came the rest. With Johnny Quest I started not liking H&B. I didn't like Scooby Doo or so many of the rest of the titles I couldn't name for you. The mechanics were always showing, but now there was no string of good design, good timing, good anything to hold it together. Crap was what H&B produced. That crap provided a lot of jobs – even more to Asia, but it was not good film making.
Their first feature, "Hey There, It's Yogi Bear," was ridiculous. I thought that I even saw the edge of a pan cel move through a scene. Colors popped, animation was mediocre at best, and the story was tedious. It didn't get better with "Charlotte's Web" or "Heidi."
So now, Hanna and Barbera have died. Their studio died when Turner bought them out and Cartoon Network rolled over them. After MGM, they made some interesting shorts that was about quantity not quality. They were the type of animators more interested in the dollars they could bring home than the films they were making. I don't blame them for it, but I can't glorify their work either. They were who they were, and I give them credit for the long and elaborate careers they had.
______________________________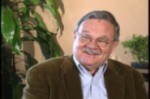 – Last Sunday, there was a NY Times review of Neal Gabler's Disney book.
The review as well as Gabler's book seems to have riled some people, and John Culhane responded with a letter that was printed in this past Sunday's NY Times.
.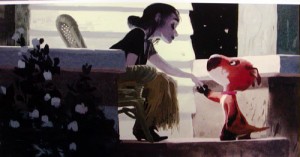 - Chuck Oberleitner has a detailed commentary here on the ousting of Chris Sanders and his American Dog project from Disney's animation department.
The article comes off as quite accurate without painting villains the way we animators are want to do. Of course, there's no way any of us will really know what the truth is, and it almost doesn't matter at this point. Animation history moves on. Maybe Chris Sanders will return to 2D animation; Lilo & Stitch was the last decent film from the Disney (non-Pixar) studio.
Daily post &Photos 25 Dec 2006 08:09 am
As I was taking this picture, someone on the street behind me said, "Baby Jesus is born with a full head of hair." This is the manger scene at St Anthony of Padua church in Greenwich Village. I posted the rest of this scene last week and said the crib wouldn't get the very old looking baby until Christmas. Actually, it arrived last night when I took these pictures.
Have yourself a Merry Christmas.
Animation Artifacts 24 Dec 2006 08:06 am
- Years ago, Lu Guarnier, an older Warner Bros animator who relocated to NY after WWII and has been working here ever since, offered me a photostat of a christmas card from the WB studio back in 1937.
He came back two days later to say he was heading out to LA, and he'd see if he could get any of those pictured to sign it for me. Imagine my surprise when he came back with the card covered with signatures. Even some of those not in T.Hee's drawing signed it. (Unfortunately, not T.Hee). They'd all met at a local watering hole. (I guess animators drank together back then.)
Though the card has been seen on line before, I thought it a good image to put up for Christmas eve, and I've identified a lot of the people in the picture. My favorite is Henry Binder; he stands out in his stiffness. The lord overseer. And the only one shorter than him is Friz.

Have a Merry Christmas.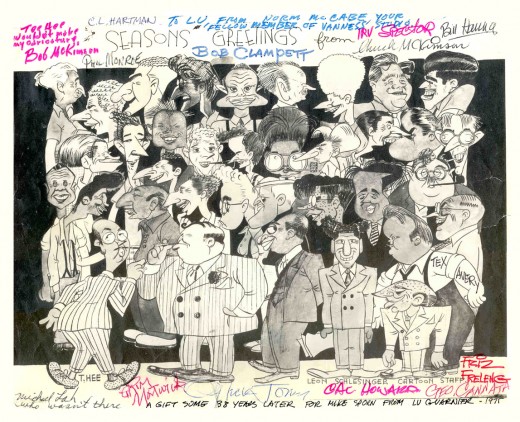 Below is the key to I.D. most of T. Hee's caricatures.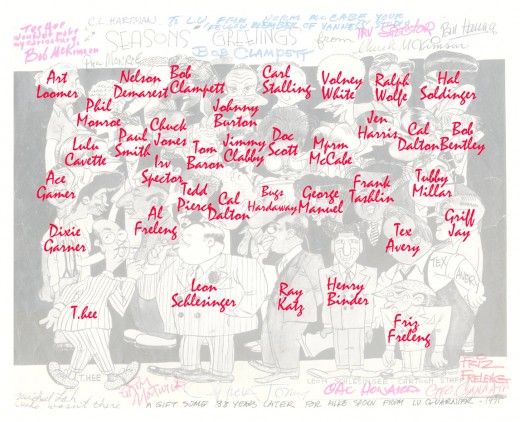 (Click on either image to enlarge.)
Daily post 23 Dec 2006 08:15 am
- You can see an interesting asssortment of Christmas cards sent to Dick Huemer and family over the years by going here.
-You can see another set sent to Ken Harris by going here.
Speaking of Ken Harris, the Richard Williams Christmas Carol can be seen in its entirety here on Google video.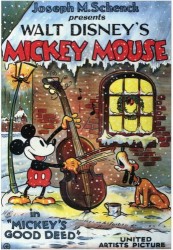 - My favorite Christmas cartoon of the pre-TV era has got to be Mickey's Good Deed. This film gets me laughing every time. Every bit of it is funny, from the constantly turning story to the witty animation. How hilarious when Mickey has to sell Pluto for a Christmas present !
That's not on YouTube, but it is on the dvd compilation, Walt Disney Treasures – Mickey Mouse in Black and White, Volume Two. This is a good set of shorts (I like the early Mickey's more than the later ones in color.)
- There are a couple of good Christmas shorts available on YouTube now. I'm only pointing to some early cartoons, because I like them. They seem less devisive and more innocent. (Hurry, before copyright holders wake up and pull them from the site.)
The Night Before Christmas from Disney 1933:

Tom & Jerry in The Night Before Christmas

The Little King in Christmas Night

Disney's 1932 Santa's Workshop

- Finally, there's the card Tom Sito pointed me toward. Here. It shows a VO recording starring Santa, and it's pretty funny.
Animation Artifacts 22 Dec 2006 10:22 am
- I make no bones about the fact that I have been a fan of Ub Iwerks' work as long as I've been a fan of animation.
The first 8mm short that I owned (at age 12) was a Castle Film version of Iwerks' Jack and the Beanstalk. I studied that film frame by frame by frame, over and over again. Of course, it was directed by Grim Natwick with whom I discussed the film in the 70′s.

When I saw this issue of a 1968 Film Fan Monthly available, I had to buy it for the Mark Kausler article about Iwerks. (I have this desperate need to own things I love.) So, with apologies to Mr. Kausler, I'm posting the short, three page article. Since the magazine is long out of print – I felt it something worth sharing.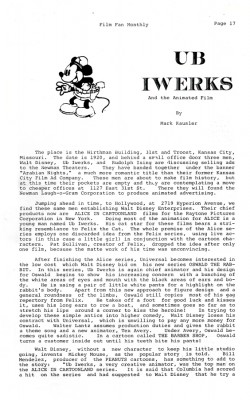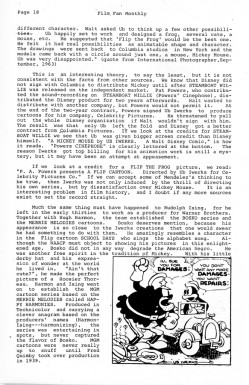 (Click any image to enlarge to a readable size.)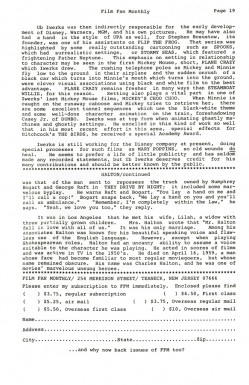 - I no sooner posted this article than I thought that perhaps I would put up the Film Dope piece on Iwerks as well. This Briish publication, as I mentioned before on this site, was a favorite of mine. I've tried to collect as many issues as I could locate. I've posted this once before in June, but it doesn't hurt to connect the two articles.
The four page entry for Ub Iwerks follows: