Category ArchiveCommentary
Articles on Animation &Commentary &commercial animation &Disney 22 May 2013 04:35 am
Among the remains of the material saved by Vince Cafarelli, there was this newspapaer, The News World, dated Tues. May 23, 1978. On the same page, there were two articles about animation.
Once was a piece about Disney's Jungle Book, which was just about to be released. The second was an article about Perpetual Motion Pictures. This, of course, was the company where Vinnie and Candy worked with Buzz Potamkin producing and Hal Silvermintz designing.
Below, I post first the two parts of the Disney article (I've also singled out just the type in case you want to read at a larger scale.)Then I follow with the two parts of the Perpetual Motion article.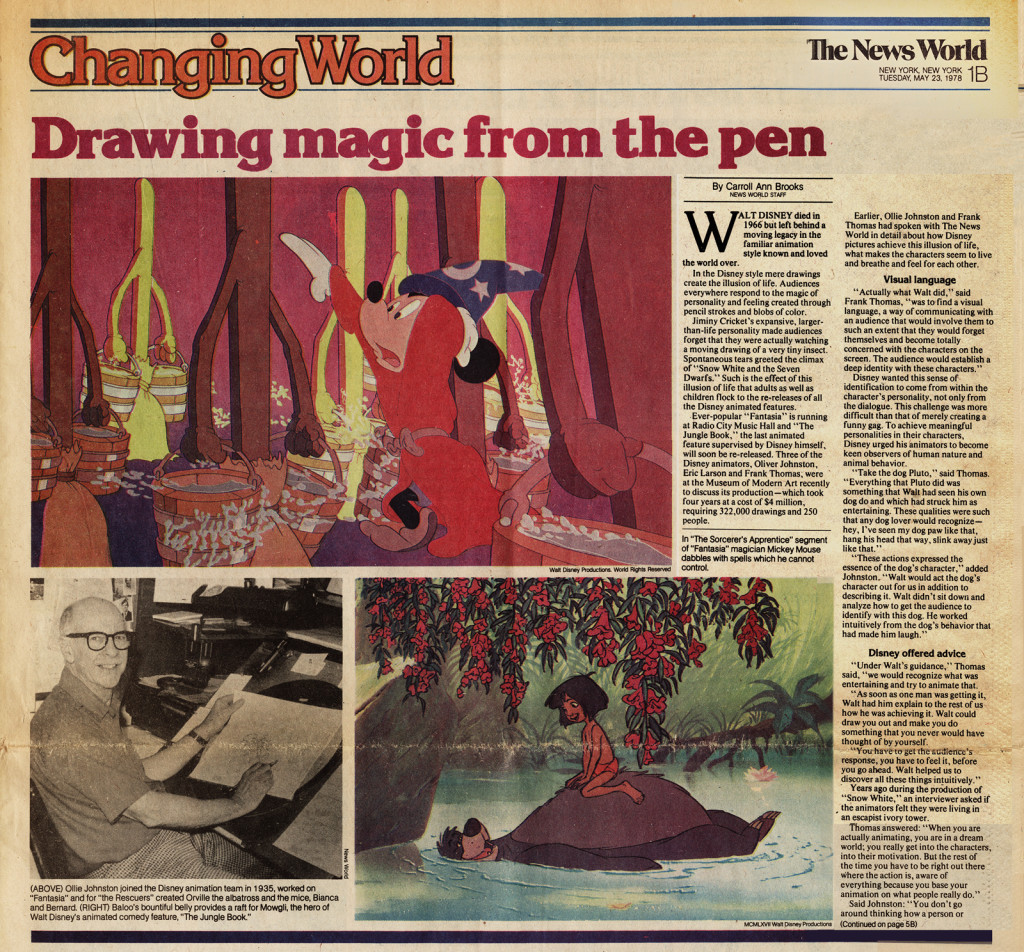 The Disney article (part 1)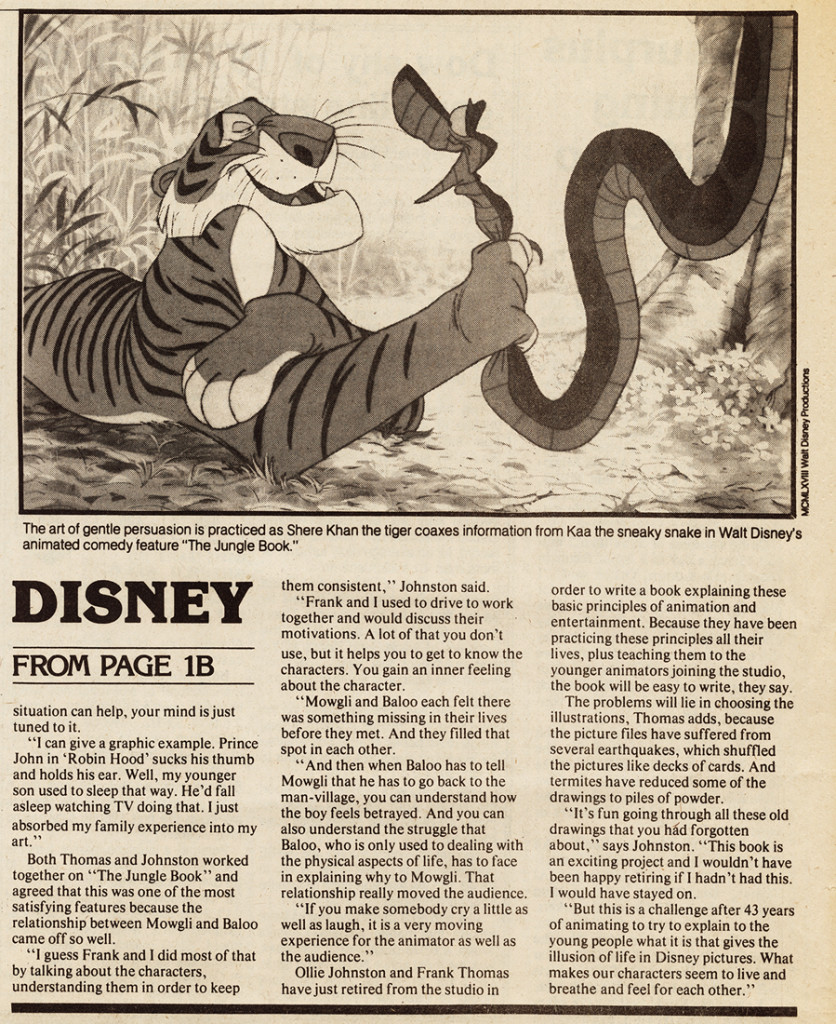 The Disney article (part 2)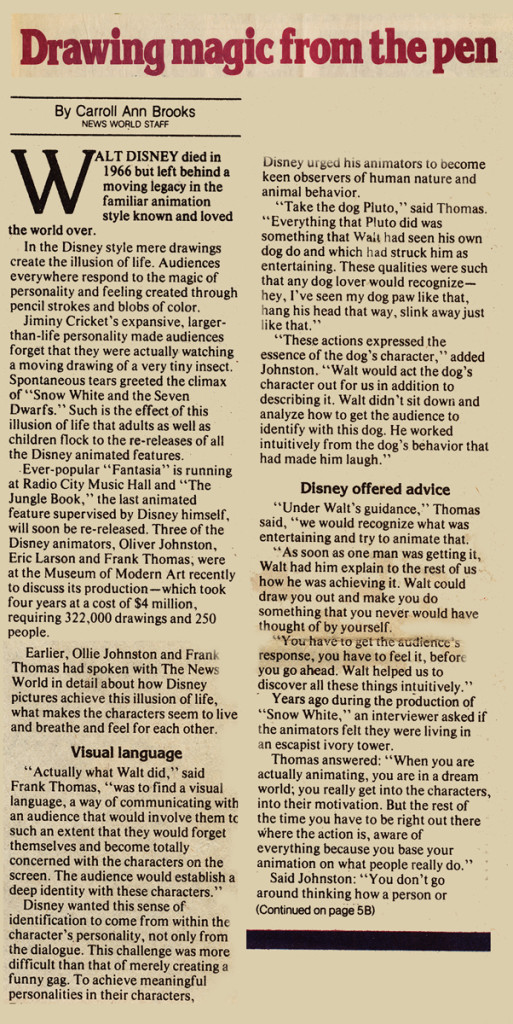 (The Disney article (Type only/part 1)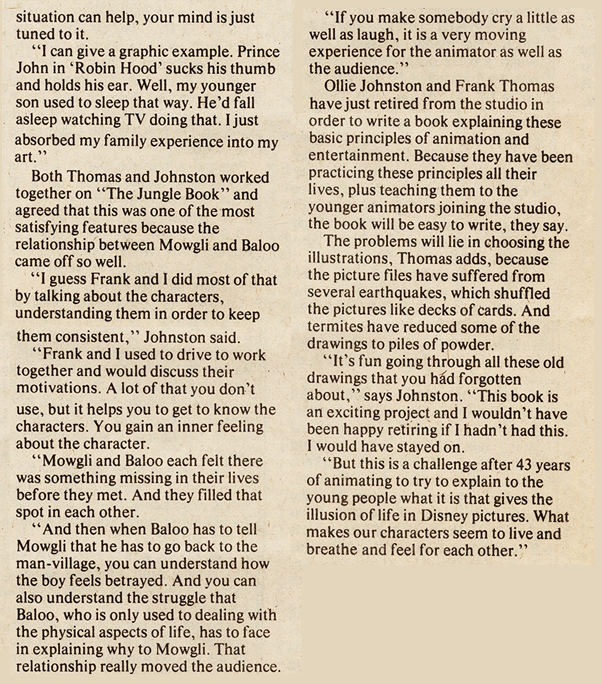 (The Disney article (Type only/part 2)
The following is the article about Perpetual Motion Pictures: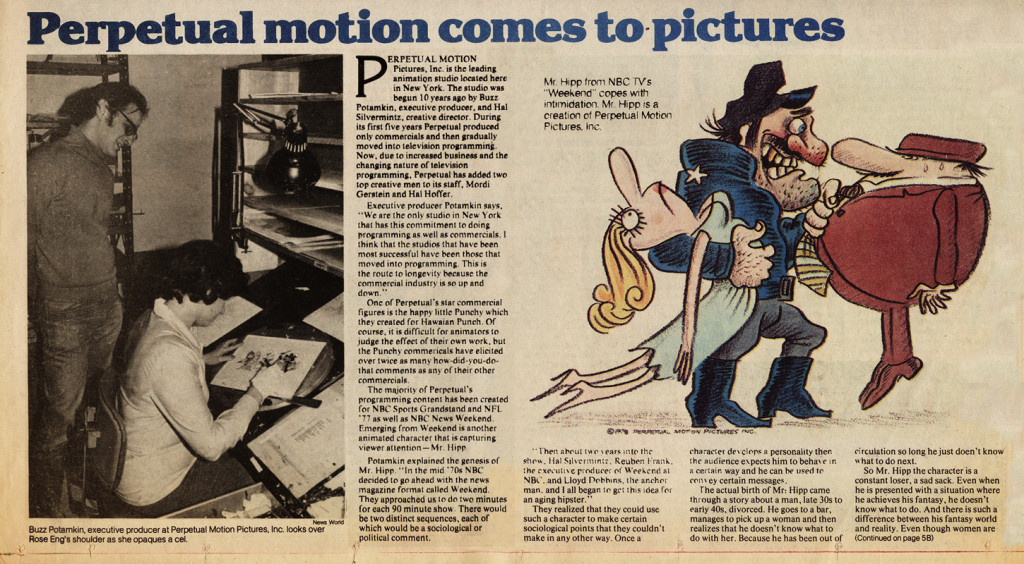 Perpetual article (Part 1)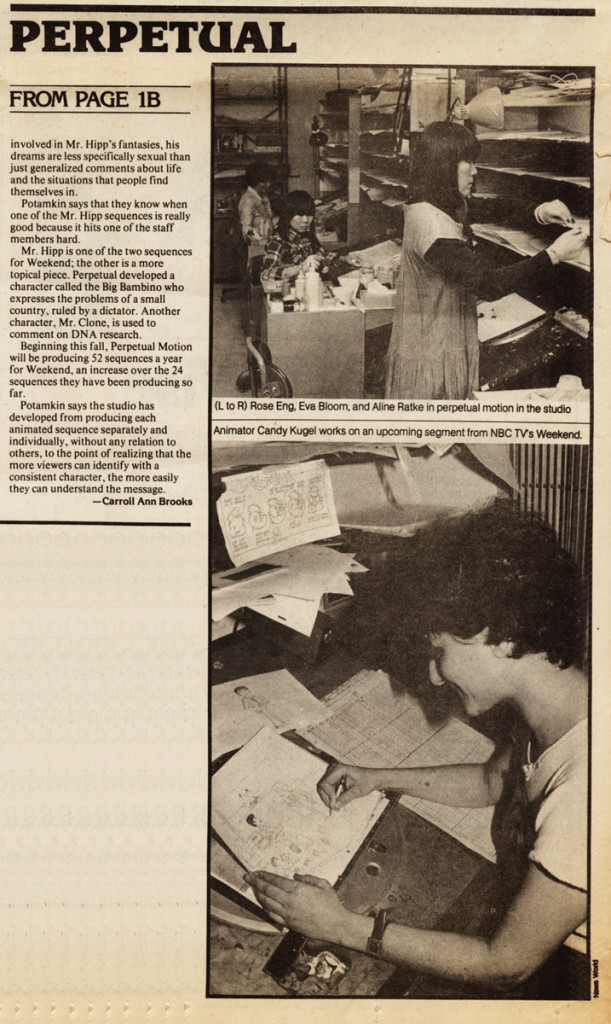 Perpetual article (Part 2)
Animation &Animation Artifacts &Commentary &Independent Animation 21 May 2013 05:11 am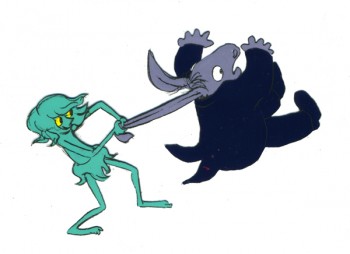 - From 1983-85, Tissa David teamed with three other friends in Holland to begin work on an animated version of Mendelssohn's Midsummer's Night Dream.
This film would introduce several animated characters from Shakespeare's play over a live action orchestral performance of Mendolssohn's music. These characters chased each other around the orchestra until, eventually, the animation took over, and the orchestra melted away. The tympanist, himself, melded into Bottom.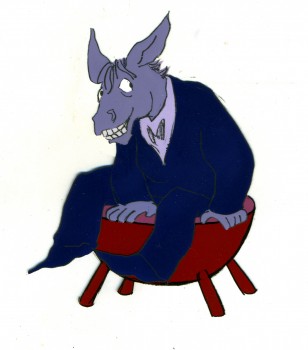 This film was completely animated by Tissa, including all inbetweens and layouts. She was the film's director, though in all the time she worked on this film, she never once described her role to me as such. She was just making a film she loved with several extraordinarily talented friends.
Kalman Kozelka was a brilliant cameraman who shot the entire film in a home built multiplane camera. It's unjust to call it simply photography, because every scene involved seven to ten exposures with mattes and special lighting. Half of the scenes combined live action with the animation, and all of the scenes involved multiple levels with back and front lighting.
Ida Kozelka-Mocsary, Kalman's wife, designed all the character coloring and colored all the cels . She worked closely in helping Kalman to prepare everything for the photography including mattes.
Richard Fehsl was the brilliant designer who colored and, in many cases, animated the Bg's. All of these Bg's were painted with dyes on frosted cels under rather delicate inking.
All four took story credit.
I have a good handful of the overlarge cels and artwork from the film. Here are a few of those cels along with a number of representative frame grabs from the film.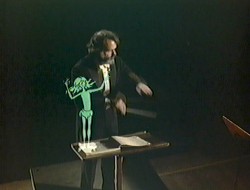 __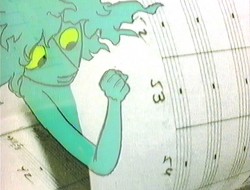 __________________(Click any image to enlarge.)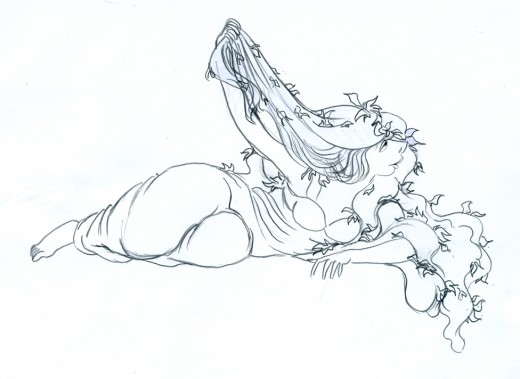 __________________Titania, the drawing and the cel.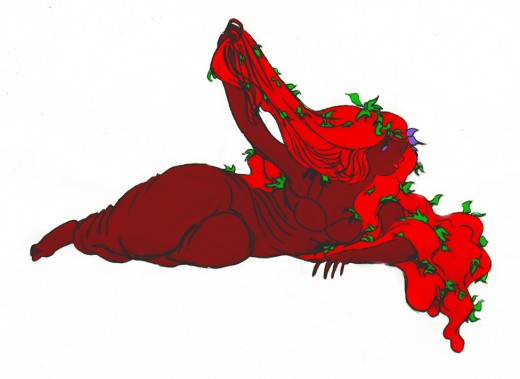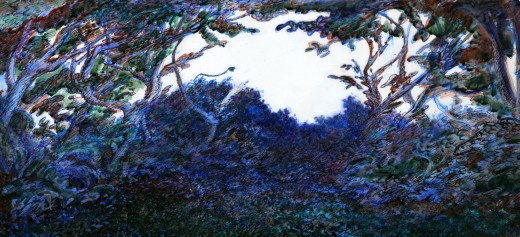 __________________Three of Richard Fehsl's Bg elements. These were back lit
__________________and front lit and combined with other Bg levels.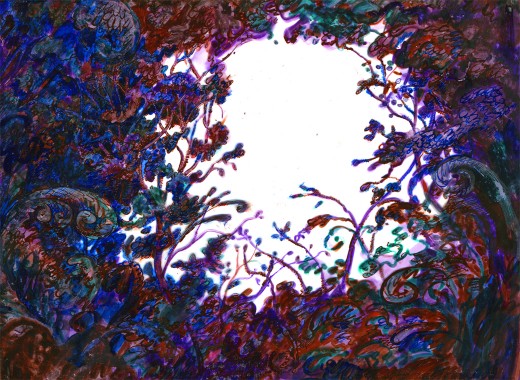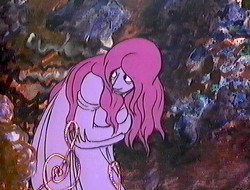 __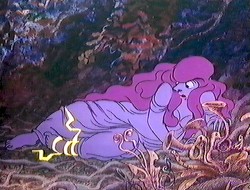 At times, Fehsl's Backgrounds animated.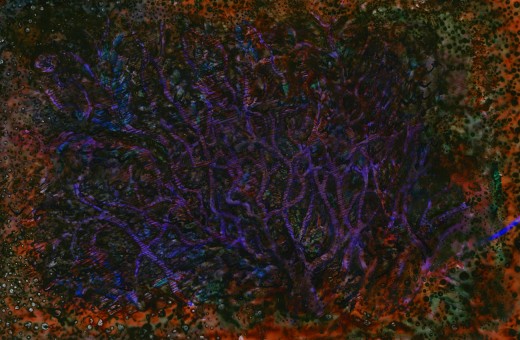 ___I have so much more art from this film, that there'll surely be more posts to come.
This video (vhs) can still be located – used copies – on Amazon here.
The film features a live-action orchestra with Shakespeare's characters running wild over the footage. Eventually, the picture opens to an animated woods. It was photographed by Kalman Kozelka, color styled by Ida Kozelka-Mocsary, and Bg designs by Richard Fehsl.
The film aired on the BBC in 1983 and was released on VHS by Goodtimes Video.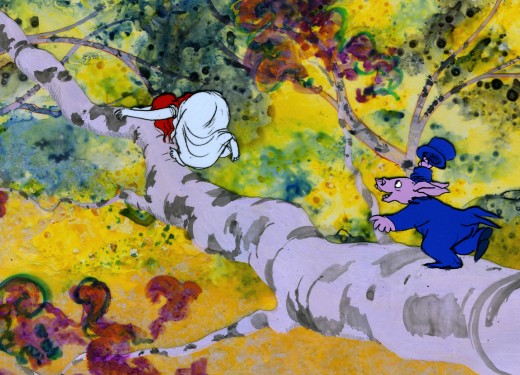 (click any image to enlarge.)
Bottom chases Titania in the woods.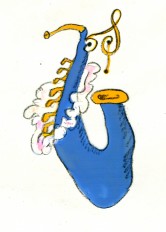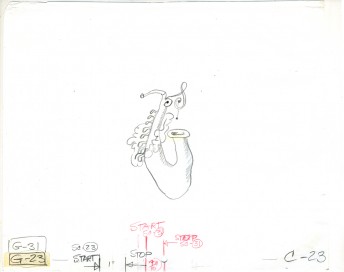 At one point the instruments of the orchestra take on an animated life of their own.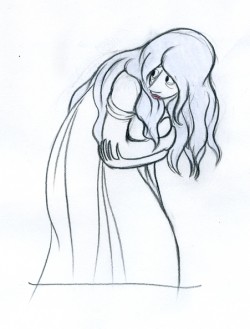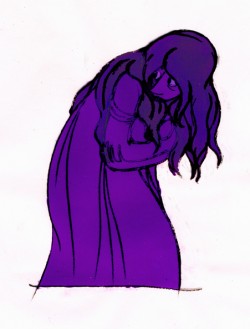 The dark coloring loses some of the emotional delicacy of the drawing,
but is appropriate within the context of the film.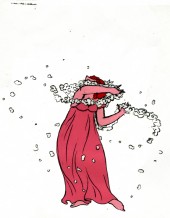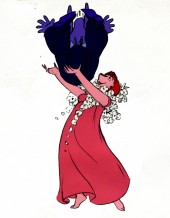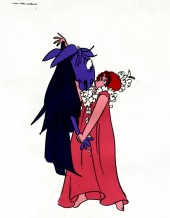 Titania catches Bottom in her arms.
Three cels from a sequence.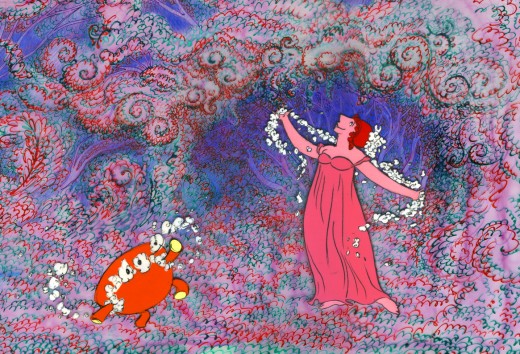 Titania dances with Bottom's stool. (He's brought it into the woods
when he transformed from the tympanist to the animated character.)
Action Analysis &Animation &Books &Commentary &Disney 20 May 2013 05:54 am
I started discussing some of the thoughts put forward in The Illusion of Life, the book by Frank Thomas and Ollie Johnston. I had some major problems with some of the discrepancies in that book. Here's the second, a continuation of that post.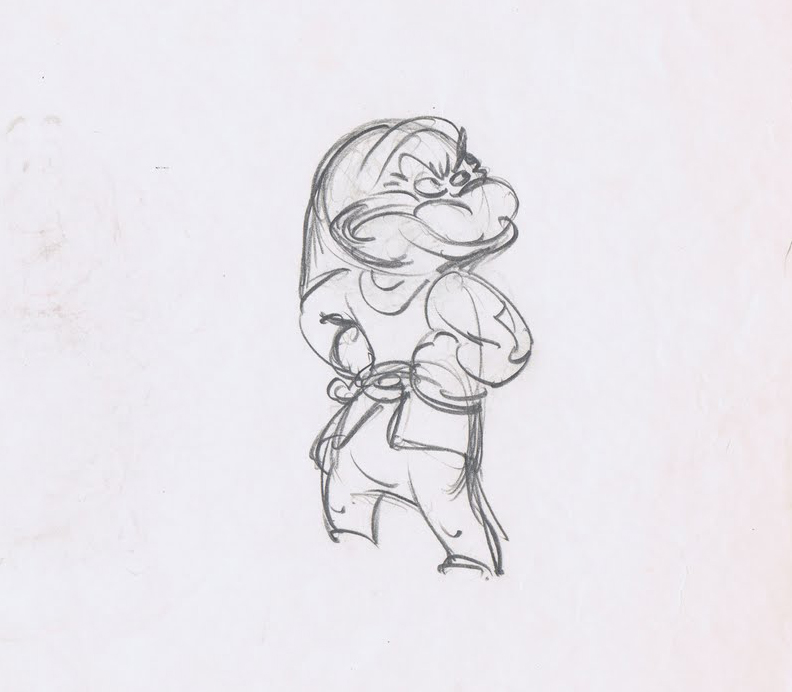 It cannot be doubted that without the speedy roughs, there would never have been the brilliance of Tytla's best work or Ferguson's great comic animation.
- On page 39 of the book, we read, "Walt introduced two procedures that enabled the animators to begin improving. First, they could freely shoot tests of their drawings and quickly see film of what they had drawn, and, second, they each had an assistant learning the business who was expected to finish off the detail in each drawing. Walt was quick to recognize that there was more vitality and imagination and strength in scenes animated in a rough fashion, and he asked all animators to work more loosely. The assistant would 'clean up' these drawings that looked so sloppy, refining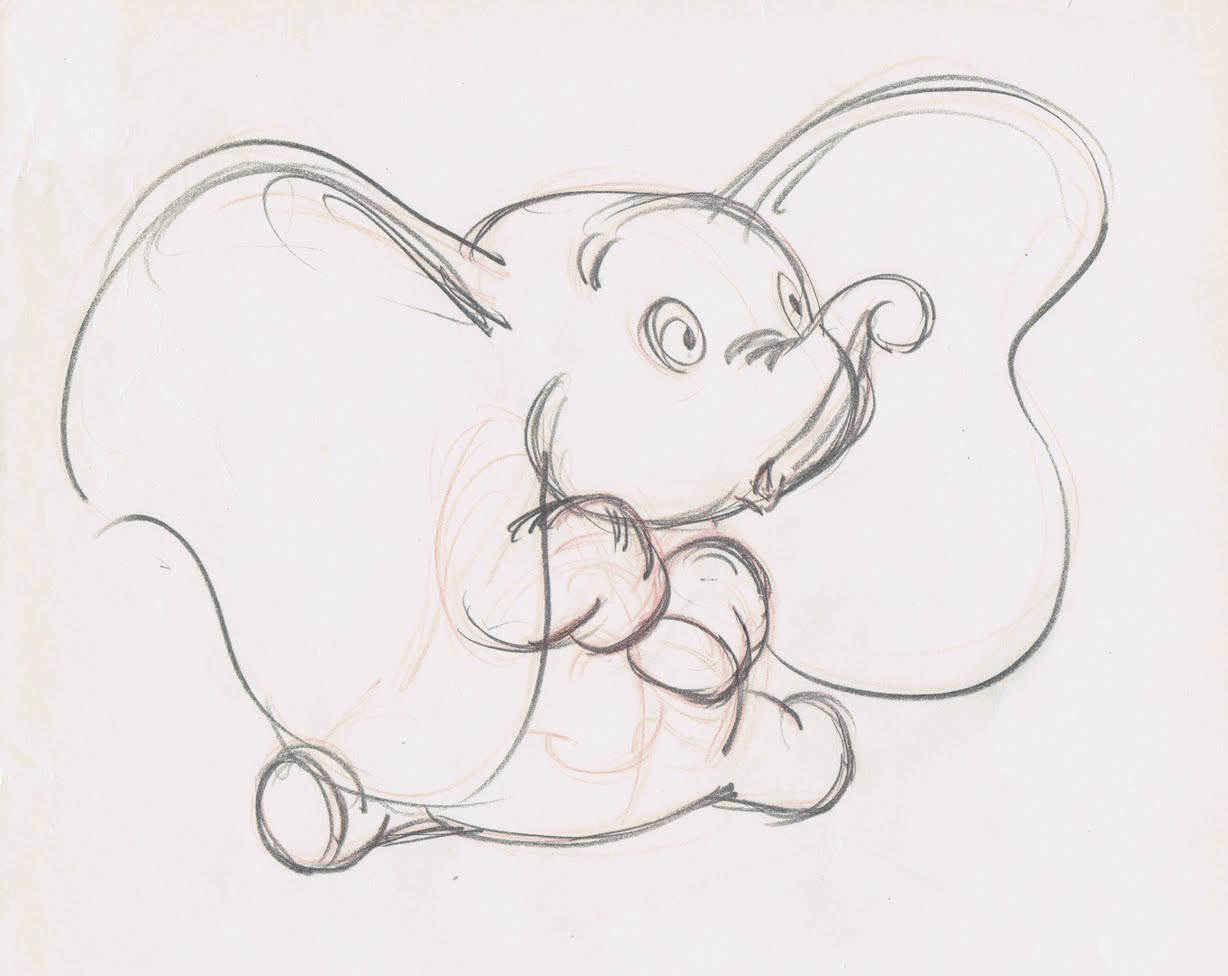 them to a single line that could be traced by the inkers onto celluloid. The assistants became known as 'clean-up men,' and the animators developed one innovation after the other, achieving effects on the screen that no one had thought possible. In some cases, the drawings were so rough it was difficult to find any cartoon figure inside the tangled swirl of lines, and the men who made a duck or a dog out of smudges and scratches had to have a very special type of knowledge.
Shooting tests of scenes while they were still in the rough enabled the animators to check what they had done before showing it to anyone. Any part that was way off could be corrected quickly and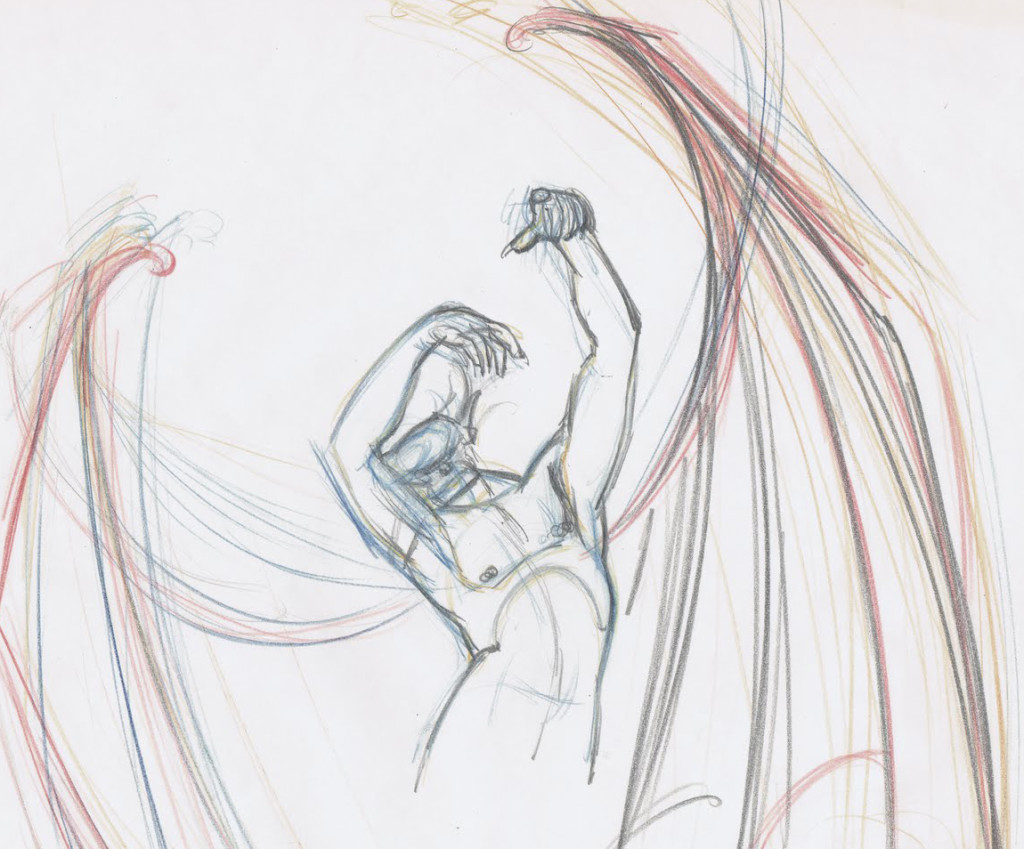 shot again. This encouraged experimentation, exploration, and imagination, quickly promoting a closer bond among the animators.
- Yet on page 229 the authors turn to side with management when they suggest that ". . . a new procedure called 'Touch-up' was instigated. It asked that the animator draw slowly and carefully enough so that the assistant need only touch up the drawings here and there to make them ready for the Ink and Paint Department. By this time all of our animators had become more skillful and were able to adjust to the new idea without noticeable damage to the product. Top quality clean up work is needed on only a handful of scenes in any sequence, and a great variety_____________Three Tytla ruffs
of shortcuts can be used on the balance
to make them acceptable."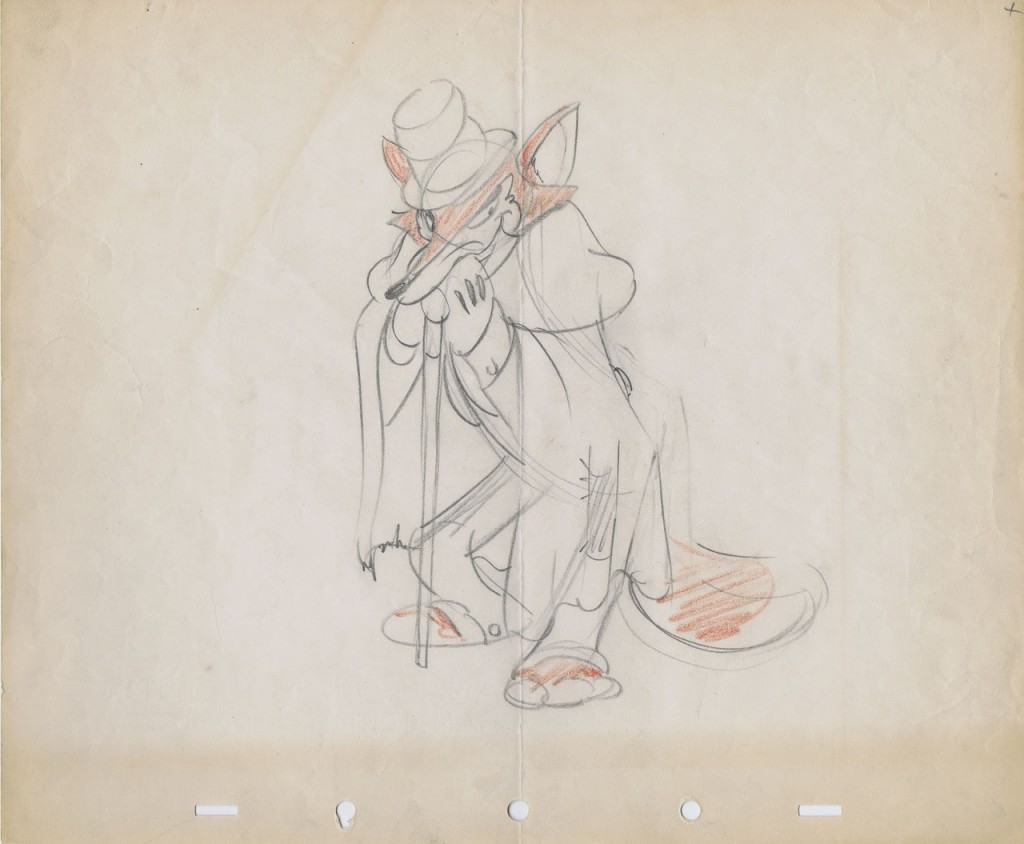 In short, this means that the older nine men and some of the other more seasoned veterans could work clean because they were already brilliant at the animation thing. Whereas Walt had demanded that animators, in the 1930s, work rough so as to keep the animation as loose and free and alive as possible.
It also veered toward Milt Kahl's pleasure at seeing hos own lines used in the newly developed Xerox outline in the final ink & paint. If the assistants would indiscriminately erase only some of the animators' lines leaving many other key lines (including, at times, construction lines for the face and body parts). Kahl's ego wanting to see his own beautiful line meant superseding color inking – as had been done in the past._______A relatively clean drawing by Norm Ferguson
Using this new procedure would mean a need for fewer clean-up artists who could work faster and with fewer problems, thus speeding up the footage rates. It also depended on the animators, such as Thomas and Johnston who worked fast enough, that the footage rates were now closer to what they could turn out.
One wonders if this new found speed would also cut into the imagination of the scenes these men animated. (By they way, I use the term "men" because Johnston and Thomas do not once in this book consider the possibility of a female animator. It's always"men" or "he" or "him". Old prejudices die hard; though I suspect the two had no problem with the idea of a female animator. In fact they always bowed low in front of Tissa and her abilities. And I'm certain they were not patronizing her in any way.
One wonders if a chink in the armor hadn't developed then and there in the animation production. Younger people would do all they could to work clean, thus handicaping the animation they turned out.
As a long-time assistant, I know that my animation has been tight to the extreme, annd more than once Jack Shnerk advised me to start working rough when I animated. However, as management (I am the boss of my own company and controller of my own films), I sought to turn out the largest output and eliminated any assistant or inbetween working on my material. I sacrificed good animation for speed and production. It has not only hurt my work but my films, and I know it.
Animation &Animation Artifacts &Commentary &SpornFilms &Theater 19 May 2013 06:09 am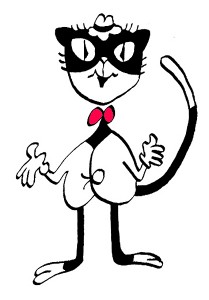 – I've posted a couple of pictures from Woman of the Year (called WOTY by those in the know) in the past but thought I go a touch deeper now.
Woman of the Year was a project that came to me in the very beginning of my studio's life – 1981. Tony Walton, the enormously talented and fine designer, had gone to Richard Williams in search of a potential animator for WOTY (as we got to call the name of the show.) Dick recommended me. But before doing WOTY, there were some title segments needed for Prince of the City, a Sidney Lumet film. (I'll discuss that film work some other day.)
Tony Walton designed the character, Katz, which would be the alter-ego of the show's cartoonist hero, played by Harry Guardino. Through Katz, we'd learn about the problems of a relationship with a media star, played by Lauren Bacall. (All images enlarge by clicking.)
.
It turned out to be a very intense production. Three minutes of animation turned into twelve as each segment was more successful than the last. There was no time for pencil tests. I had to run to Boston, where the show was in try-outs, to project different segments weekly;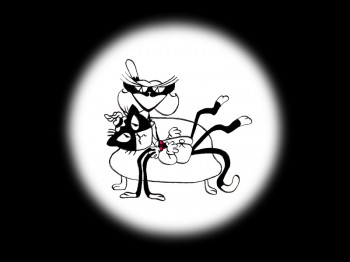 these went into the show that night – usually Wednesdays. I'd rush to the lab to get the dailies, speed to the editor, Sy Fried, to synch them up to a click track that was pre-recorded, then race to the airport to fly to the show for my first screening. Any animation blips would have to be corrected on Thursdays.
There was a small crew working out of a tiny east 32nd Street apartment. This was Dick Williams' apartment in NY after he;d finished Raggedy Ann. He was rarely there, and when he did stay in NY, he didn't stay at the apartment. He asked me to use it as my studio and to make sure the rent was paid on time and the mail was collected. Since we had to work crazy hours, it was a surprise one Saturday morning to find that I'd awakened elderly Jazz great, Max Kaminsky, who Dick had also loaned the apartment for a night. Embarrassed, at the awkward confrontation, I ultimately moved to a larger studio – my own – shortly thereafter. Dick was convinced I was upset at him and the two of us didn't talk for years afterward.
Here are a couple of photos of some of us working on WOTY: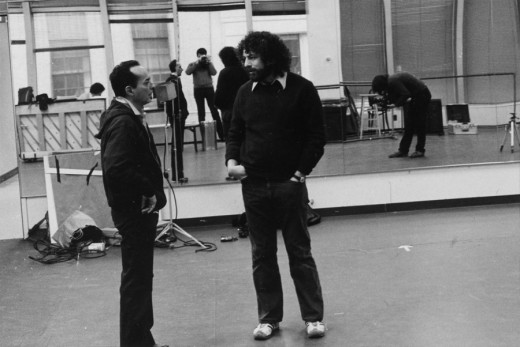 Tony Charmoli was the show's choreographer. He worked with me in plotting out the big dance number – a duet between Harry Guardino and our cartoon character. I think this is the only time on Broadway that a cartoon character spoke and sang and danced with a live actor on stage. John Canemaker is taking this photograph and Phillip Schopper is setting up the 16mm camera.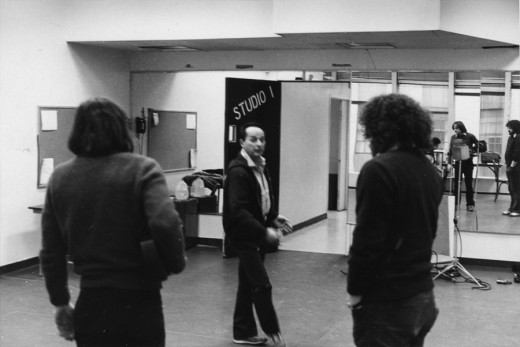 Here Tony Charmoli shows us how to do a dance step. Phillip Schopper, who is filming Tony, figures out how to set up his camera. We used Tony's dancing as reference, sooting Tony's dancing in 16mm, but our animation moves were too broad for anyone to have thought they might have been rotoscoped.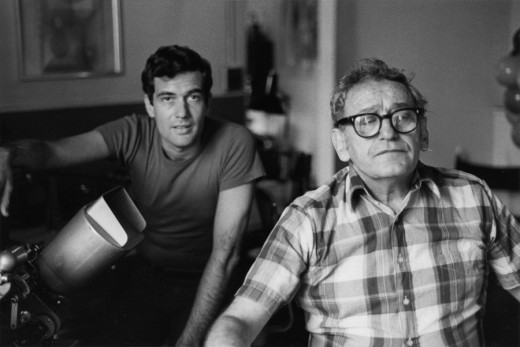 John Canemaker worked with Sy Fried, our editor. John did principal animation with me on this one big opening number. Here they're working with the click track and the live footage of Tony Charmoli to plot out the moves.
At one point I asked John to have the character, Katz, flick his tale at Harry Guardino, tripping the live actor mid-dance. It got a laugh at every performance.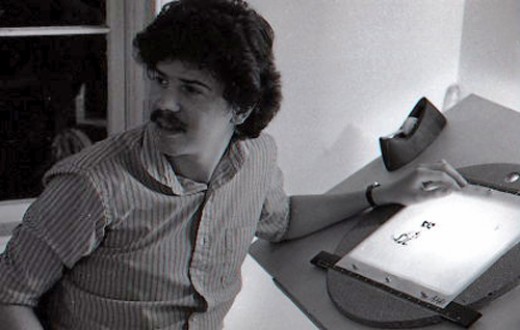 Steve Parton supervised the ink and paint. To get the sharpest lines, we inked on cels and didn't color the drawings. It was B&W with a bright red bow-tie. A spotlight matte over the character, was bottom-lit on camera by Gary Becker. It was shot almost like a pencil test with high contraxt to get those very sharp lines.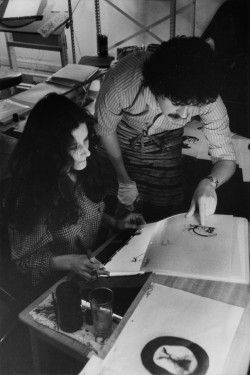 5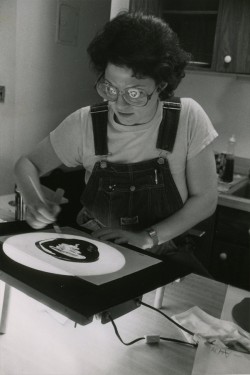 6
5. Steve Parton works with painter Barbara Samuels
6. Joey Epstein paints with fire in her eyes.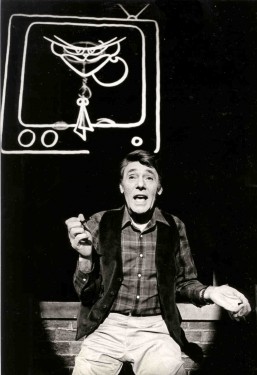 8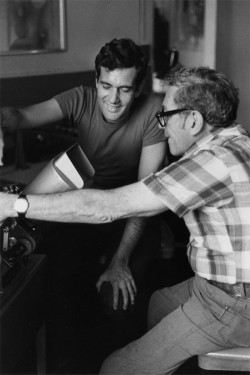 9
8. Harry Guardino on stage with the creation of "Tessie Kat" developing on screen behind him. This was Harry's first big solo.
The filmed segment was shot backwards so the matte would develop as the song sang on.
The entire seqeunce took about 2½ minutes.
9. John Canemaker gets to see some of his animation with Sy Fried, editor.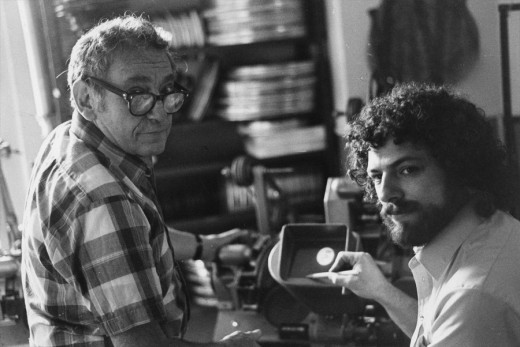 One of my quick stops from the lab on the way to Boston? No, I think this is a posed photo.
All together we had more than 12 minutes of animateion song duets between Harry Guardino and Katz. It was originally supposed to be three pieces totaling about five minutes. The animation was so successful in the tryouts in Boston that they kep adding more material. Finally the last song added – about 1½ minutes never made it to New York. Harry never properly learned it in Boston and he was too nervous for the Broadway opening to learn it for the big Opening. So the number was cut.
Lately there's been more animation on Broadway and off-Broadway. Things are done with digital screens, and the technical aspect has gotten easier. One version of Sunday In the Park with George had painted backgrounds developing via animation as the characters sang their songs. Too bad the show didn't offer the heart that was in the original Sondheim gem, when here wa no animation involved. Hopefully, eventually there will be something more. We did a show that was very successful (the show wasn't successful; the animation was.) I'd love to try again. The only other try I had was to do musical scenics for the Overture to Meet Me In St. Louis on Broadway. The producers were irritants and didn't help move things forward. I did get to meet the songwriter, Hugh Martin, before he passed away. That was my treat in that project.
Commentary &Daily post 18 May 2013 05:30 am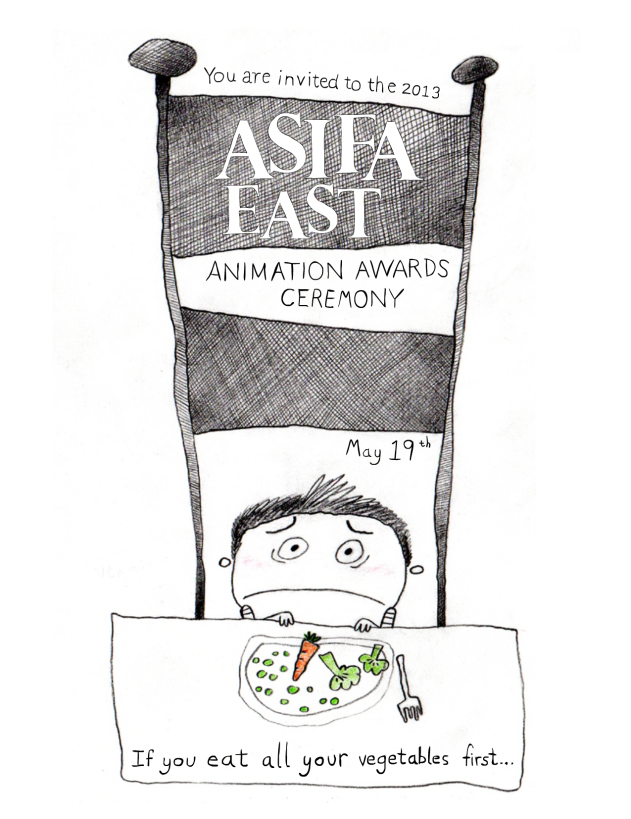 ASIFA East is preparing for their annual festival which will take place tomorrow evening, Sunday, May 19th.
The program will take place at Tishman Auditorium at The New School (66 West 12th Street, NYC) from 6:00 pm – 11:00 pm.
Following the program and the small party upstairs (open to everyone)
there will be a party at Fiddlesticks, located at 56 Greenwich Ave starting at 11:30pm.
This is just downtown a couple of blocks from the New School.
A cash bar will be in operation for this party.
The Awards Ceremony and Reception afterwards are free and open to the public.
We would appreciate the donation of $5 from non-members to help us
continue serving the animation community in New York area and beyond.
.
_________________________

Frances Ha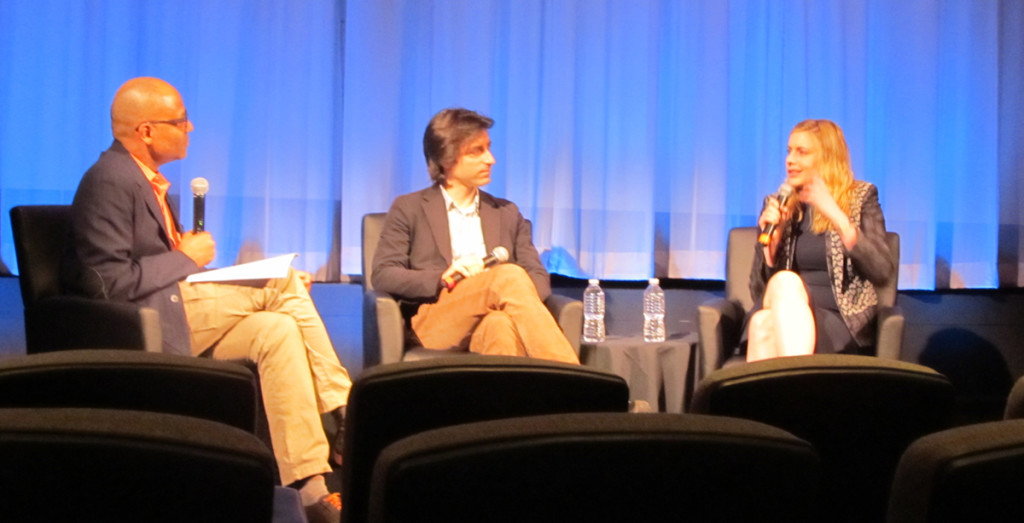 Patrick Harrison, for the Academy – Noah Baumbach – Greta Gerwig
- The NY chapter of the MP Academy has recently added something new to about half of their screenings. After some of the films they've offered a Q&A session with some of the film makers.
Last week we saw Baz Luhrmann and Catherine Martin discuss their work on The Great Gatsby. This past Monday, Sarah Polley discussed her documentary, Stories to Remember. Thursday night Noah Baumbach and Greta Gerwig answered questions about their film Frances Ha.
It was a pleasure to see Noah Baumbach and learn how shy he is, yet how he controls the stage when he takes it. To hear him talk about his obsession with Woody Allen, or to hear Greta Gerwig talk about finding her character in co-writing the script and then having to find it anew after handing the script over to a director, made for interesting talk.
Having enjoyed the film very much, I was really involved in their responses. Naturally, that made for a good evening, for me, at least.
Here are some of the photos I took before I decided to forget the camera and pay more attention to the conversation.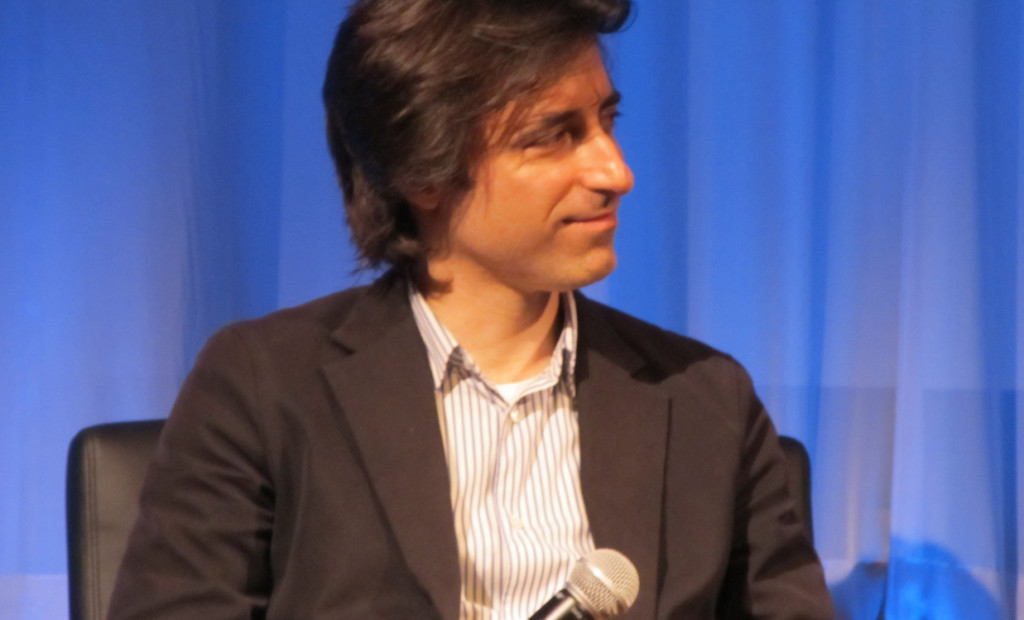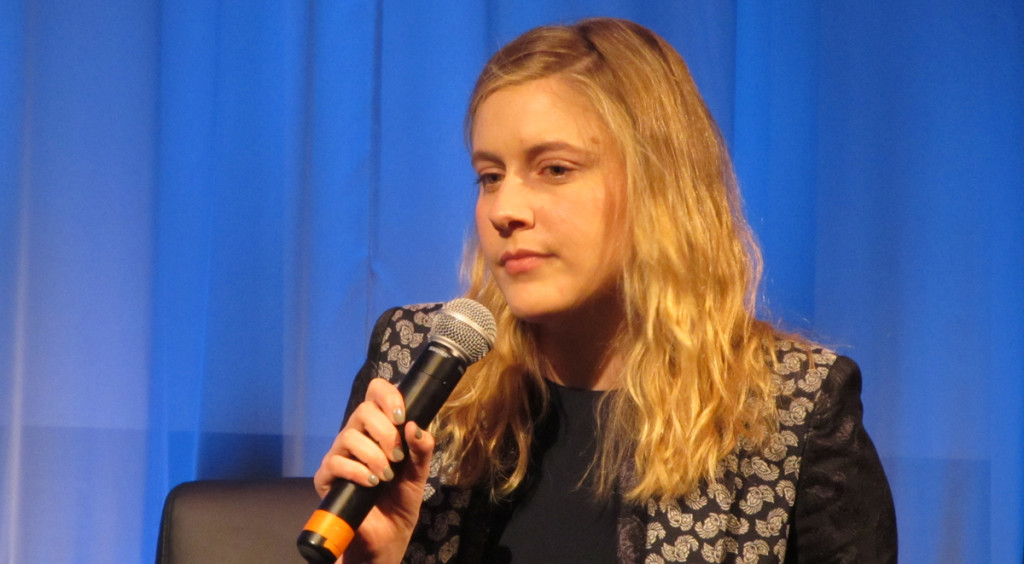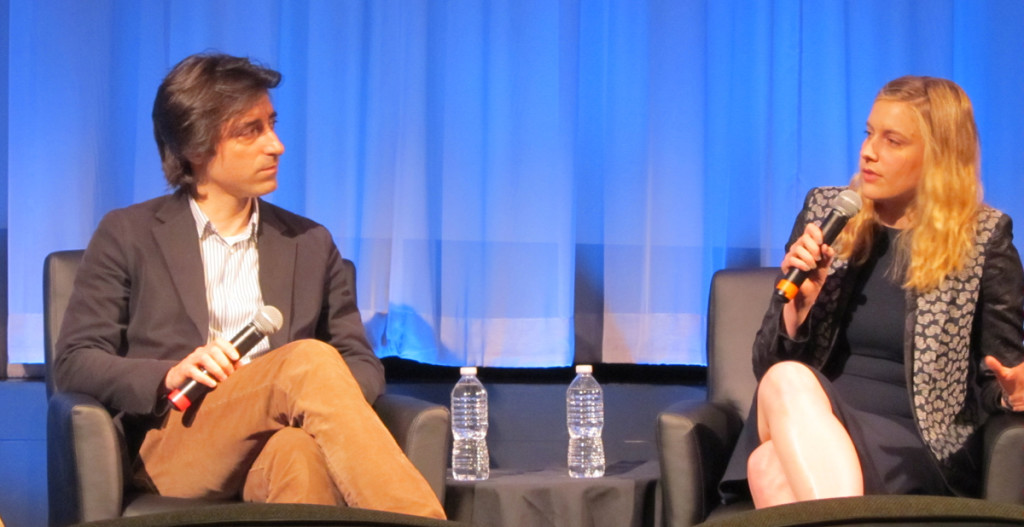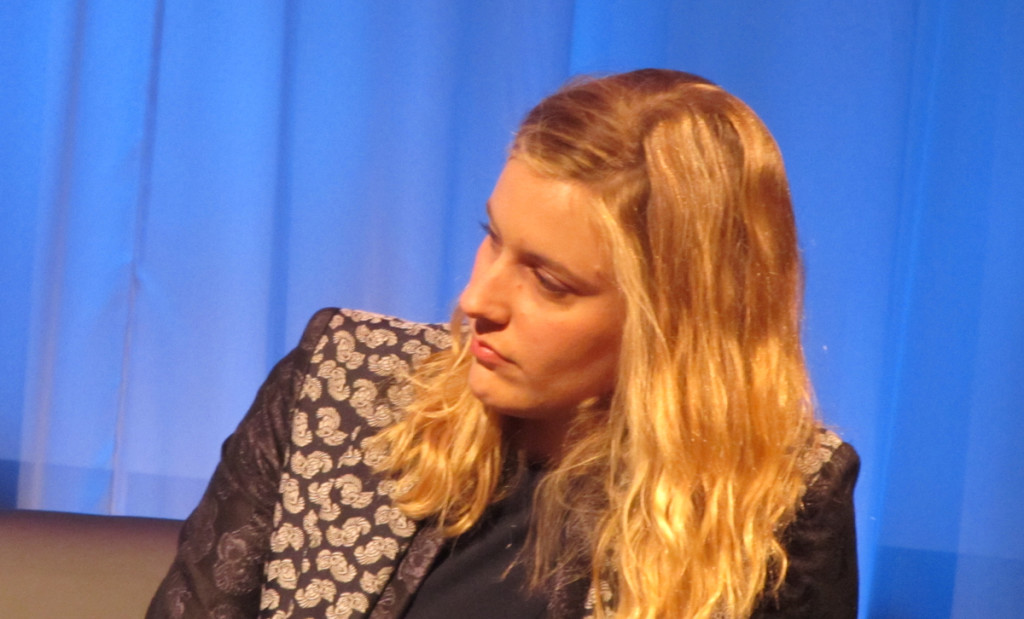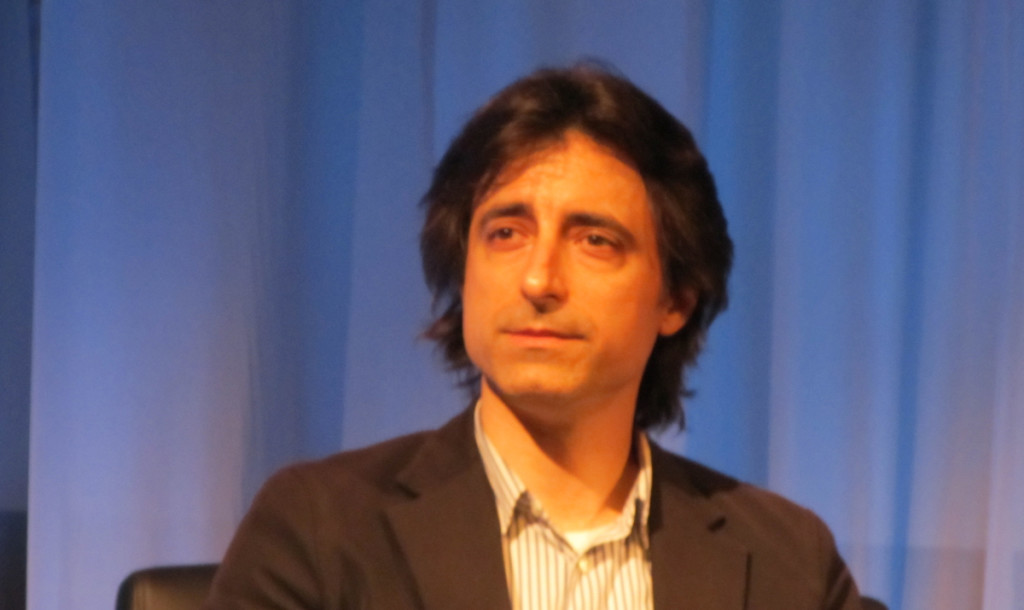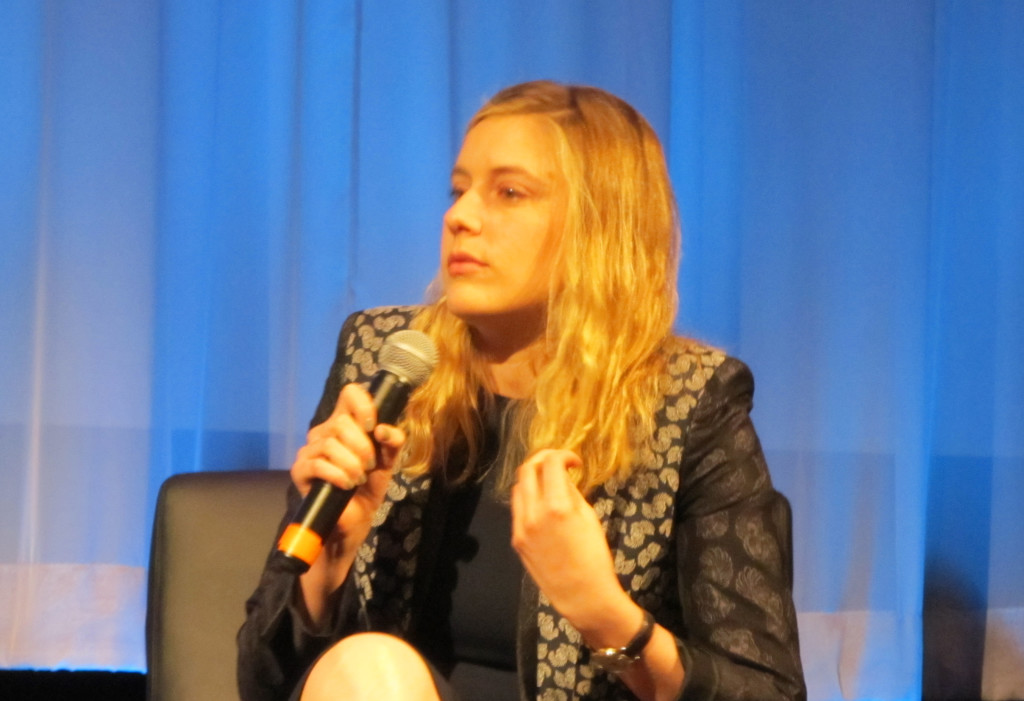 _____

Epic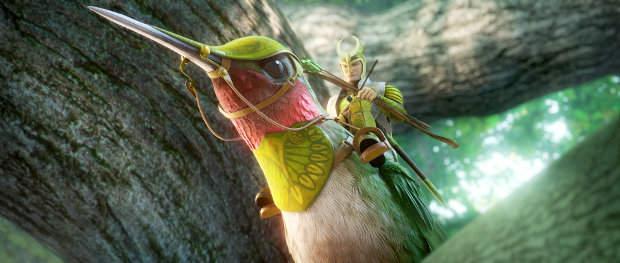 On Tuesday next week the Academy is screening Epic.
Yet there's no Q&A. We've asked and the Academy said they offered, but Blue Sky said no. A chance for Chris Wedge to reach out to the Oscar voters, and he says no. Just the same, I'm curious about the film. I know nothing of what to expect. It looks action/adventure, shrunken people. Doesn't sound like me.
A cgi Arietty with boys doing boy college prank things. We'll see. I'll let you know what I think on Wednesday or Thursday.
Addendum change: Chris Wedge has offered to talk
after the screening. This event is open to non-Academy voters.
Just say you saw it on this blog.
_________________________

School O' Monsters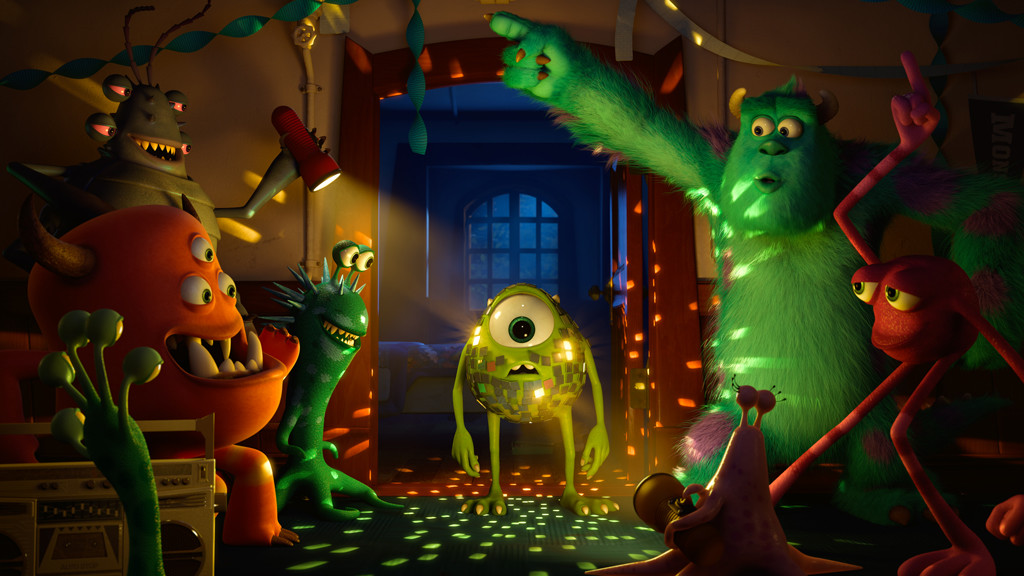 - Of course the big animated package to be dumped on us this summer will be Pixar's sequel to their 2001 hit, Monsters Inc. The original audience for this is twelve years older. Will it be the same audience returning for more or will it be the same audience looking for an add-on, or will it be an older audience looking to share with their kids?
From every indication I've seen, it looks like Lassiter and friends is hedging their bets and going to cover ALL the bases. I don't know if that's a workable strategy . . . everything.
_________________________

A Small Step Backwards
After seeing Baunbach's film, Frances Ha, I read a piece in the New Yorker. Within the article there's a sort exchange about some work both he & Gerwig are doing in writing for a Dreamworks Animated film. I thought you might like to see the short section from that article:
Baumbach was still on the phone—"No, not her. Not for this"—when the van stopped in midtown, in front of a building where DreamWorks has an office, and moments later he and Gerwig were in a bare, well-lit room, videoconferencing with executives in California about whether or not cartoon dogs should be seen in hats.

This is Baumbach's third animated film. He co-wrote Wes Anderson's "Fantastic Mr. Fox" (2009), based on the Roald Dahl novel. For a children's film, it has unusually strong notes of melancholy: at one point, Mrs. Fox tells her husband, "I love you, but I never should have married you." A year later, he rewrote "Madagascar 3: Europe's Most Wanted" for DreamWorks—a lighter assignment, encouraged by Stiller, who plays the franchise's lion hero. Baumbach and Gerwig's screenplay, not yet fully green-lit, is about a Brooklyn mutt, Freddy, who becomes separated from a young girl named Heidi when her parents divorce. Artists in California had sketched a few sequences and showed this material to Baumbach and Gerwig, who were delighted. Baumbach, who plans to direct the film, gave notes, including "The squirrel seems . . . not necessary" and "I love the mustache." He wondered if it was still realistic to show home delivery of newspapers. Gerwig said, gently, "It's pretend. Dogs also don't talk."

Baumbach and Gerwig then read aloud from a scene that was soon to be storyboarded. Freddy has set off to look for Heidi, who may be in Manhattan, and he has met a guide called Wise Dog, who imagines himself to be sophisticated. Together, they reach the top of a building under construction in Brooklyn. "A blinding light comes through the door," Baumbach said. "They would approach the edge of the building, and, as their eyes adjust to the light, you'd see Manhattan in the background and the little dogs looking at it."

Gerwig read Wise Dog's line: "Every time, it takes my breath away. This, and side two of Rod Stewart's 'Every Picture Tells a Story.' " (Baumbach later said, "Let's see if that line makes it into the multiplex.")

Baumbach continued, "Then Wise Dog says to Freddy, 'So that's where you want to go, huh? Manhattan?' "

Gerwig read Freddy's line: "That's where Heidi is. That's where I need to be. I know I'm meant to be with her again. I feel her love all around me. And, with every step and every breath, I love her more."
_________________________

Kathy Rose Continues Dancing
An e-mail from Kathy Rose is always a welcomed treat:
Hi,
Here are two new videos:

An excerpt from "The Rite of Spring" for the group collage for the Festival International Videodanse de Bourgogne:


"Rite of Spring" excerpt from Kathy Rose on Vimeo.

Greg Boyer's "No More Worry, No More Blue"

Thanks,
Kathy Rose

_________________________

Giraf

The GIRAF Animation Festival has come a callin' for submissions.
Their Deadline being August 15, 2013 so you have ample time to prepare.

The 9th GIRAF (or the Giant Incandescent Resonating Animation Festival) is looking
for Animation submissions, in all styles, genres, lengths, and mediums.

Our programs are a strong eclectic mix of animation, representing the best of the medium from
Claymation to CG. We focus on presenting indie, experimental, and underground animation that pushes boundaries through new techniques, unique visions, and stimulating subject matter. Our 2012 program featured visiting artist Nick Cross!

We DO NOT CHARGE A SUBMISSION FEE, and encourage short and feature length local, national, international, and student submissions.

Animators can submit online at: http://giraffest.ca/submissions/


_________________________

St. Louis
I'm pleased to note that I will be presenting two programs of films (one for oldsters, one for youngsters) this coming August at the St. Louis Kids Children's Film Festival this coming summer. As part of the program I will be leading a workshop for kids introducing them to the art of animation.
The filled weekend will extend from from August 2nd-4th.
Looking forward to it.
Books &Commentary 13 May 2013 05:36 am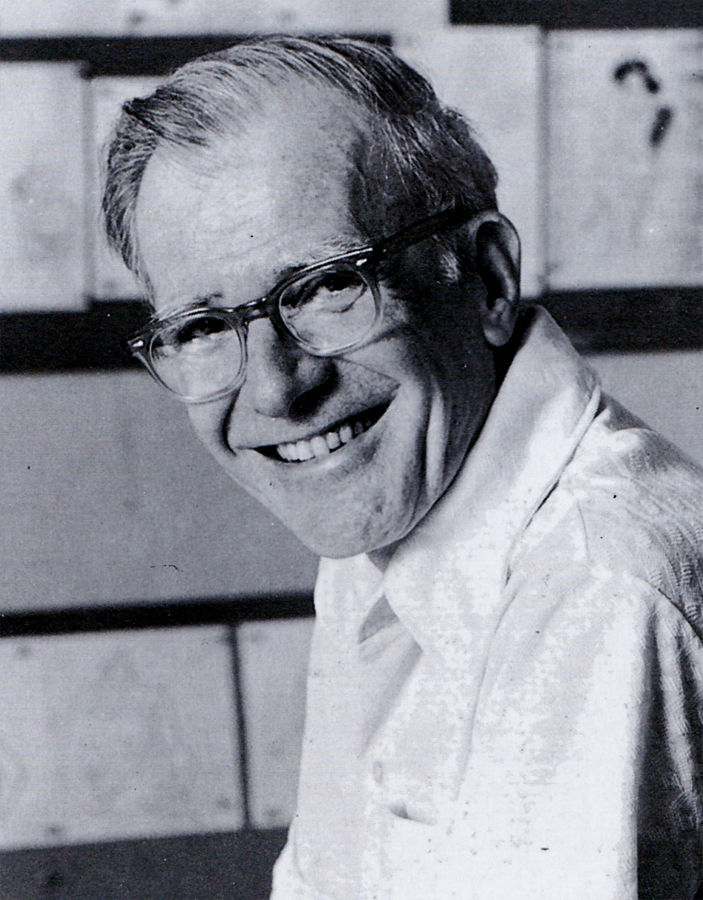 - The Illusion of Life by Frank Thomas and Ollie Johnston was first published in 1981. The book came out with a large splash and overwhelming acceptance by the animation community. It's since remained the one bible that animation wannabees turn to as a source of inspiration and an attempt to learn about that business.
I admitted a couple of weeks back that though I must have been one of the very first to have bought the book, I'd never actually read it. I spent hours poring over the many pictures and the extensive captions, but the actual book – I didn't read it. I can't say why, but this was my reality.
Then not too long ago, Mike Barrier wrote that he was not a supporter of the book and its theories, I wondered about that writing and decided to reconsider reading it. I knew I had to go back to find out what I'd stupidly ignored, so I started reading.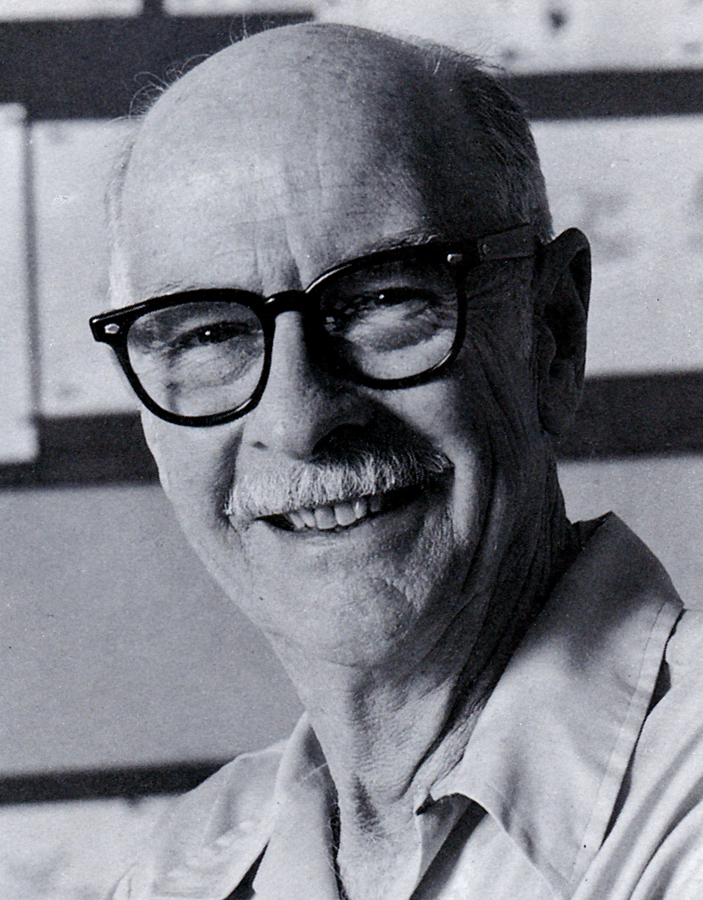 The book starts out with a lot of history of animation, something routine and expected from the two animators that lived through a good part of the story. As a matter of fact Thomas and Johnston were at the center of the history. It didn't take long for the animation "how-to" to kick in. For the remainder of the book, using that history, the two master animators explained how and why Disney animation was done, in their opinions. They write about processes and systems set up at Disney during their tenure there. They write about theories and methods of fulfilling those theories. There's a lot for them to tell and they've succinctly organized it into this book, as a sort of guide.
However, at two points they go wildly into a divergent path from the one that they started building. Their methods altered and, to me, seemed to be about the finances of doing the type of animation they did, rather than the reason. Impractical as those original theories were, I'd believed in the myth all those years to start changing now. So I want to review these two stances instead of outwardly reviewing the book. Besides it's too long since the book has stood in its own royal space for me to pretend that I could properly review it.
The growth of animators at the Disney studio relied on a system wherein each of the better animators was assigned one character. Unless there was a minimal action by some external character, the one animator ruled over the character.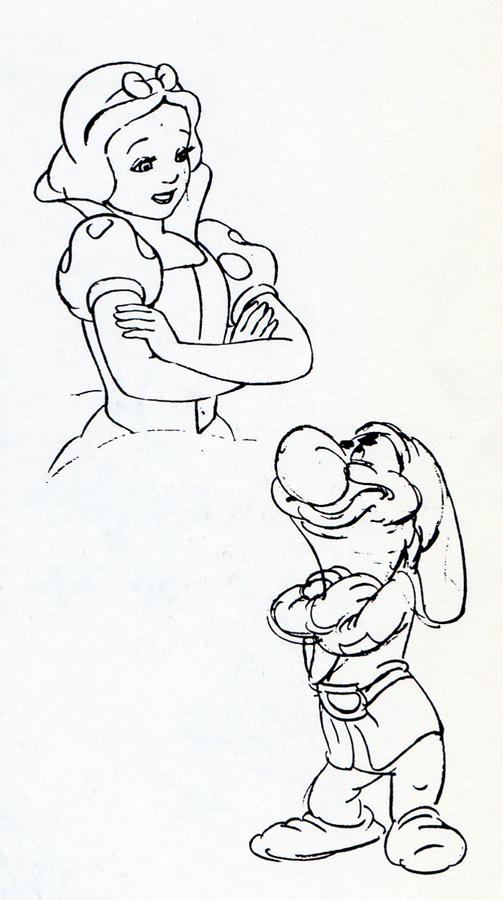 - Bill Tytla did Stromboli in Pinocchio. He did principal scenes of Dumbo in that film. He handled the Devil in Fantasia (as well as all his twisted mignons within those scenes.) Tytla worked on the seven dwarfs but was the principal animator of Grumpy.
- Fred Moore also did the dwarfs in Snow White but seemed to focus on Dopey. He did Lampwick in Pinocchio and Mickey in The Sorcerer's Apprentice.
- Marc Davis started as an assistant under Grim Natwick on Snow White. He became the Principal artist behind Bambi, the young deer. He did Alice in Alice in Wonderland, Tinkerbell in Peter Pan, Maleficent in Sleeping Beauty and Cruella de Ville in 101 Dalmatians.
- Frank Thomas did Captain Hook in Peter Pan, the wicked Stepmother in Cinderella, Bambi and Thumper on the ice in Bambi.
- Ham Luske and Grim Natwick did Snow White. The two sides of her personality came about because of conflicts between the two animators. This was a way for Walt to complicate Snow White's character; he employed two animators with different strong opinions about her movement. By putting Ham Luske in charge, he was sure to keep the virginal side of Snow White at the top, but by having Natwick create the darker sides of the character, Disney created something complex.
Many animators fell under these leaders' supervision and tutelage, also working on one principal character in each film. This system was something they swore by and broadcast as their way of working at the studio. It would allow the individual characters to maintain their personalities as one animator led the way.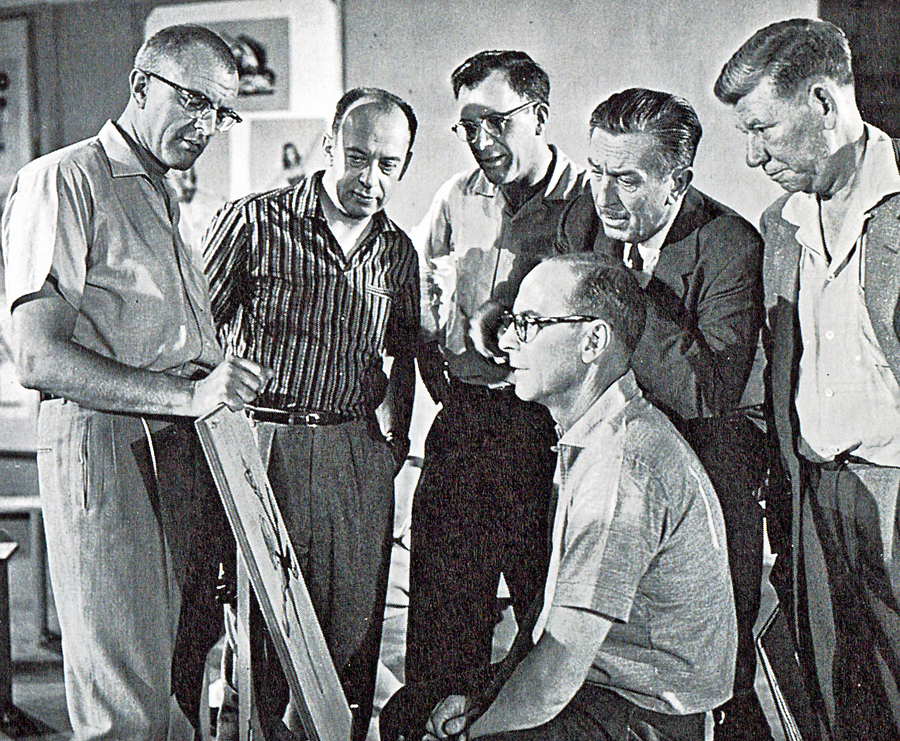 But as Walt grew more involved with his theme park and his television show and the live action movies that were doing well for the studio, things changed at the animation wing of the studio. It became clear, with the over budgeted spending on Sleeping Beauty and the new demands for a different look once xerography entered the picture in 1959. The rhythm and personality of the productions changed, and their methods of animation changed. Walt also sorted out nine loyalists to be his "Nine Old Men" thus dividing the animators into groups, a hurtful way of setting up competition among the animators. ________________________Kahl, Davis, Thomas, Walt, Jackson, Johnston seated
Thomas and Johnston get to justify this
in their book.
Let me read a section from the book to you:
"Under this leadership, a new and very significant method of casting the animators evolved: an animator was to animate all the characters in his scene. In the first features, a different animator had handled each character. Under that system even with everyone cooperating, the possibilities of getting maximum entertainment out of a scene were remote at best. The first man to animate on the scene usually had the lead character, and the second animator often had to animate to something he could not feel or quite understand. Of necessity, the director was the arbitrator, but certain of the decisions and compromises were sure to make the job more difficult for at least one of the animators.

"The new casting overcame many problems and, more important, produced a major advancement in cartoon entertainment: the character relationship. With one man now animating ever character in his scene, he could feel all the vibrations and subtle nuances between his characters. No longer restricted by what someone else did, he was free to try out his own ideas of how his characters felt about each other. Animators became more observant of human behavior and built on relationships they saw around them every day."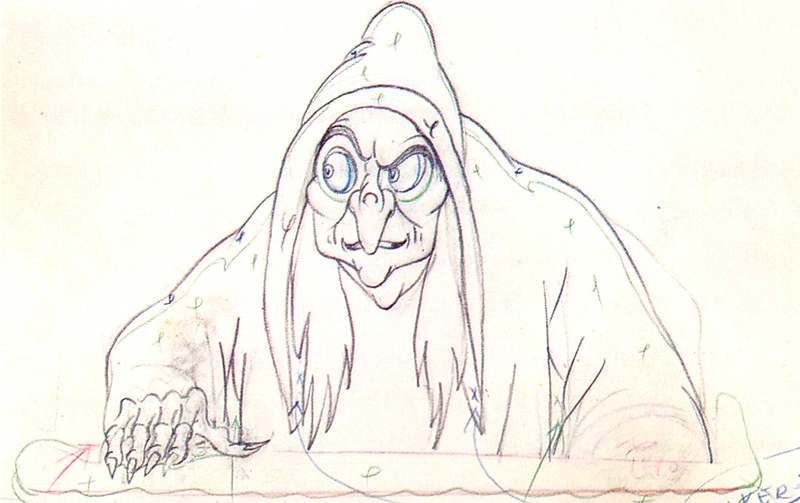 The question is, now, what are we to make of this statement? Do Thomas & Johnston mean for us to believe that they do more than the single character per film? Does it mean that, like all underprivileged animators everywhere, they now receive scenes rather than characters? Are they trying to tell us that the old, publicized method of animation they did during the "Golden Days" no longer exists?
To be honest I don't know. Also when are they talking about? At the start of the Xerox era? In the days since Woolie Reitherman has been directing? Do they mean ever since they've retired and started writing this book?
Let's go back a bit.
- In 101 Dalmatians, Marc Davis did Cruella de Vil. That's it. That's all he was known for in that film. Oh wait, there were a couple of scenes where he did the "Bad'uns," Cruella's two sidekicks. He did these ging into or out of a sequence. In Sleeping Beauty (if we're going back that far) Davis did Maleficent. Oh, he also did her raven sidekick.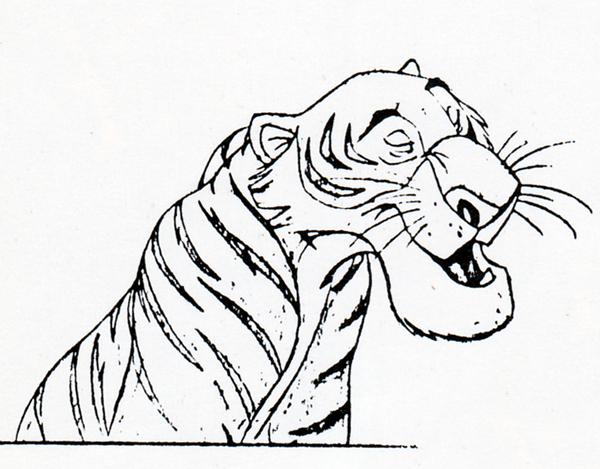 - Milt Kahl did Prince Philip in Sleeping Beauty – and every once in a while his father. He did key Roger and Perdita scenes in 101 Dalmatians. He did Shere Khan in The Jungle Book.
Kahl also seems to be the go-to-guy when they're looking to have the character defined. The closest thing to Joe Grant's model department in the late Thirties. If you weren't sure how Penny might look in a particular scene, you might go to Kahl who'd draw a couple of pictures for you. But that was Ollie Johnston's character. You'd probably go to him first, but Johnston would go to Kahl if he needed help.
Kahl also did Robin and some of Maid Marian in Robin Hood. I could keep going on, but let's take a different direction.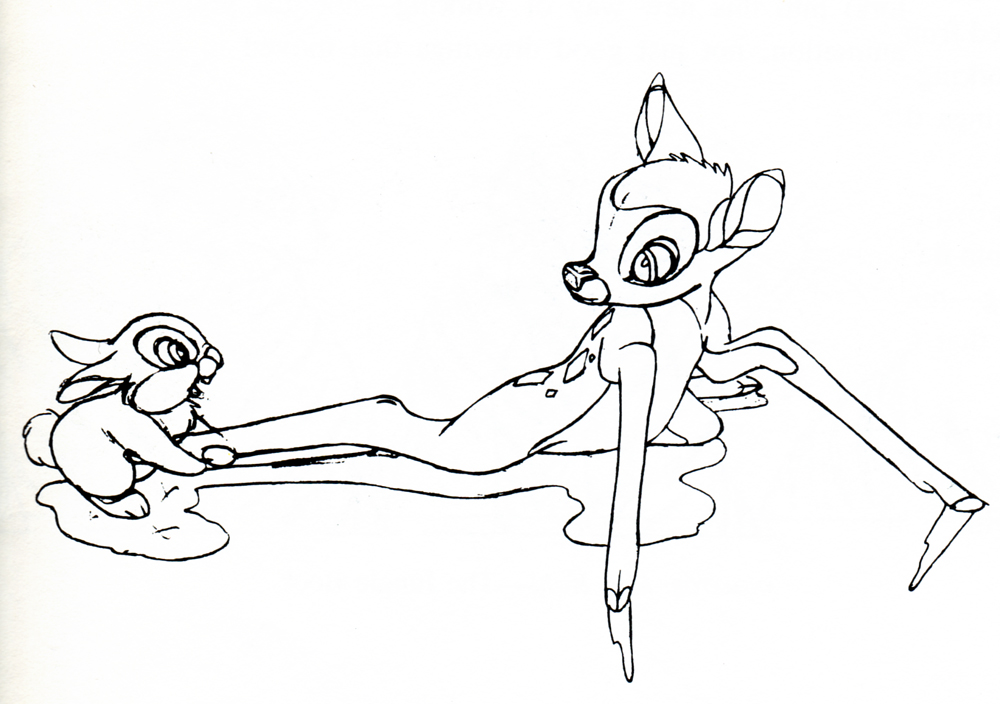 Look at one of Thomas' greatest sequences, the squirrels in the tree. Starting with Seq.006 Sc.23 and almost completely through and ending with Seq.06 Sc.136 Frank Thomas did the animation. That's a lot of footage. Yes, that represents four characters: Merlin and Wart as squirrels, as well as the older and younger female squirrels. He did the whole thing (and it's one of the most beautifully animated sequences ever.)
But when he was done with that and needed work, he didn't stop on this film; he also did a bunch of scenes in the "Wizard's Duel" between Merlin and Mad Madame Mim. Another big chunk.
Hans Perk has done a brilliant service for all animation enthusiasts out there. On his blog, A Film LA, he's posted many of the animator drafts of feature films. You can find out who animated what scenes from any of the features.
However as Hans posts the batches of sequences, he gives little notes about what we'll find when we open the drafts. In my view, Hans' notes are also a treasure.
You can read remarks such as, "Masterful character animation by Milt Kahl and Frank Thomas, action by John Sibley and a scene by Cliff Nordberg." That seems to tell us everything.
In Sleeping Beauty we can read, "This sequence shows, like no other, the division between Acting and Action specialized animators. Or at least it shows how animators are cast that way. We find six of the "Nine Old Men", and such long-time Disney staples as Youngquist, Lusk and Nordberg, each of them deserving an article like the great one on Sibley by Pete Docter."
Or in The Rescuers we read, "Probably the most screened sequence of this movie, the sequence where Penny is down in the cave was sequence-directed by frank and Ollie. They would plan their part of this sequence in rough layout thumbnails, then continue by posing all scenes roughly as can be seen in this previous posting.
"They relished telling the story that Woolie told them the animatic/Leica-reel/work-reel was JUST the right length, and when they posed out the sequence and showed it to Woolie, he said: "See? Just as I said: just the right length!" They kept to themselves that the sequence had grown to twice the length!"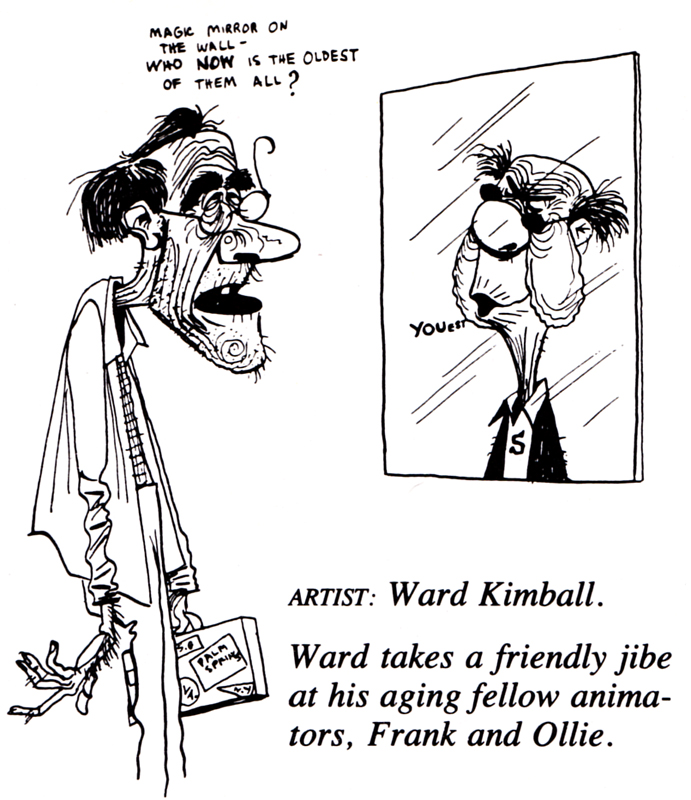 The work, right to the retiring of all of the "Nine Old Men," would seem to me to prove that these guys, regardless of whether they added one or two other characters to the scenes, did, in fact, take charge of the one starring character.
This continues past the retirement of all the oldsters: Glen Keane animated the "beast" in Beauty and the Beast. He animated Tarzan in Tarzan, Aladdin in Aladdin, Ariel in The Little Mermaid, and Pocahontas in Pocahontas. Andreas Deja animated Jafar, the Grand Vizier in Aladdin, Scar in The Lion King, Lilo in Lilo and Stitch, and Gaston in Beauty and the Beast. Mark Henn animated Belle in Beauty and the Beast (from the Florida studio), Jasmine in Aladdin, young Smiba in The Lion King, and Mulan and her father in Mulan.
Need I go on? What are Frank Thomas and Ollie Johnston talking about in their book? I'm confused.
I have a lot left to say about this book, much of it good, but next time I want to write about something else that confuses me with another somewhat contradictory statement in the book.
This has gotten a bit long, and I have to cut it here.
Commentary &Independent Animation &Photos 11 May 2013 06:04 am
Idlewilding Gatsby
- I've been trying to think of what the new version of The Great Gatsby reminds me of, and in a conversation with Heidi, she smack dab put her finger on it. There was a film, called Idlewild, done in 2006 by hip hop artists, Andre 3000. That was it. I was in love with that film and wrote an exuberant review. See here.
Idlewild was a rich looking, spirited film about the mob in the 1920s. The screen burst with rhythm and excitement frame after frame. Animated objects appeared everywhere in George Pal like additions.
The difference between the two films – Ixdlewild and Gatsby – other than about $100 million, and the throng of "AAA" celebrities like Leonardo DiCaprio is that Idlewild has a hell of a lot more imagination. The two equal each other in exuberance and style, and Gatsby is adapted from one of the great books of the 20th Century. I suggest you rent a copy of this 2006 film from Netflix or whoever before or after or instead of seeing Gatsby. As a matter of fact it's time for me to see Idlewild again; I'll rent it, myself.

___________________________

Camp Levy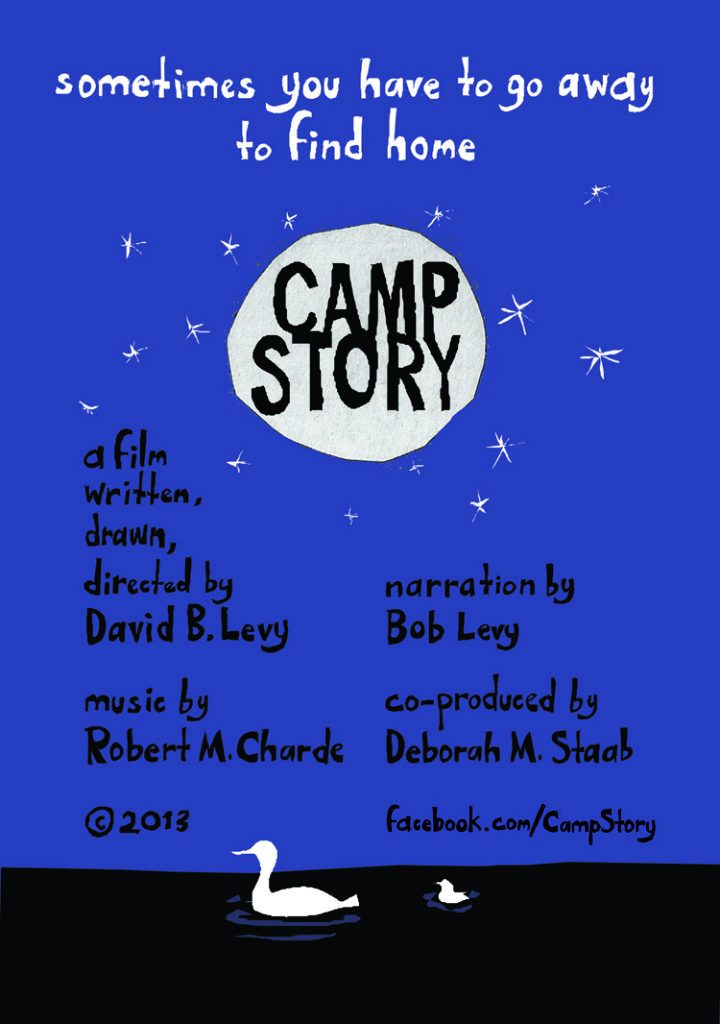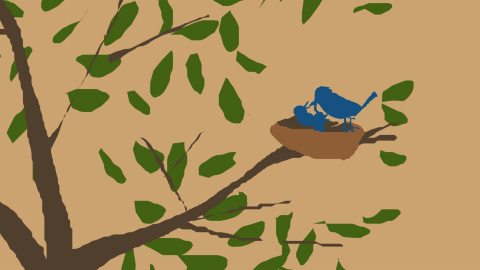 David Levy recently announced to the world that he'd completed a new film. This time it's a half hour movie animated to the narrated storytelling of Bob Levy's (Dave's father) story of his trip to camp. This was a service for inner city poor children. Dave's father actually received supprt to go for several summers, and tells the story of those Camp outs. He had a full $8 to spend for the first summer, and plays it to the max.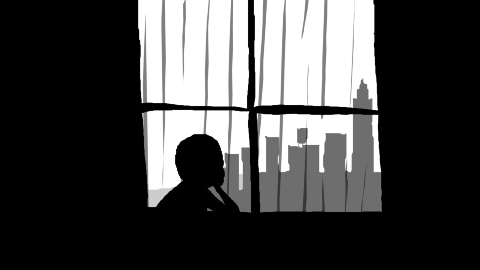 The film is the third, done in a strong graphic style and uses material from the memory of Dave's father.The other two films David animated: "Grandpa Looked Like William Powell," and "Turning a Corner," both made an impression. This short, "Camp Story," exploits the father's narrative without taking too many animation curves. Howard Beckerman used to say there was full animation and "Limited" animation, but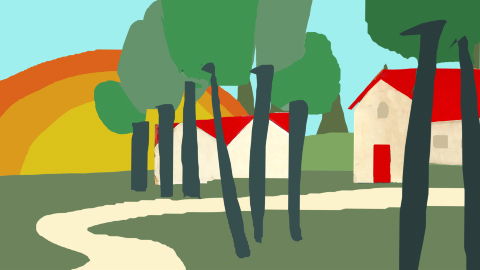 he'd discovered a third style – "Enough" animation. "Limited" when it can be and full when it has to be. This film is "Enough" animation. More of an iconic graphic trip, often depending on silhouttes to relay the story. Using bold colors and large solids, it uses its Flash animation to the max. (I'm pretty sure it's Flash though it might have been done on Toon Boom.)
The sound track is a solo guitar that's played pretty low on the track, so it's particularly unimposing. I don't hear many effects if there are any, so the track is somewhat simple. This helps put a focus on Bob Levy's voice as he narrates the qiet story.
The film will succeed in many festivals. The story roams a bit telling of many summers he'd experienced. There are times when it takes a bit too long to get there, so my preference is the last of the shorts David did, "Turning a Corner." But this is a fine addition to Dave's library. He's found his metier. I just wonder if the story supports the length. I have to give him credit, though. It takes some kind of fortitude and determination to come home from work daily only to start work on your animated film.
And to keep it up. As a matter of fact, Dave has me questioning my own enthusiasm. It's time for me to put some energy out there as well.
Keep your eyes open for this movie; it's a truly Independent film and needs support.

___________________________

Daily Motion and The Congress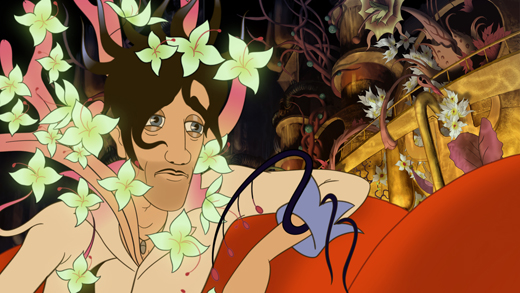 The last time I felt such inspiration was when I contemplated Yoni Goodman's daily animated pieces for his blog, the Dailymotion. Perhaps you'll remember my excitement for Mr. Goodman's daily animated tests which he offered us. Anyway, his output was so inspiring it actually had me doing some personal animation. Unfortunately that didn't last long enough to be productive.
I wondered what has happened to Yon Goodman's "Daily Motion" pieces, so I went back.
He was the animation director for the Israeli feature, Waltz with Bashir. His blog was a way for him to keep it going for himself. It turns out, Mr. Goodman has been the animation director for another feature film, The Congress. This film will make its debut at Cannes this coming weekend. You can see some stills and get some information here.
It's half animated and half live action. Stars include Robin Wright, Paul Giamatti, Jon Hamm and Harvey Keitel. It's an animated adaptation of Stanislaw Lem's novel "The Futurological Congress". (From thte short synopsis I've read, this sounds like a very imaginative idea for a film.)
It's another good film to watch for; one that was done in 2D. (Only in America are they afraid of that medium.)

___________________________

A Public Reading of an Unproduced Screenplay
About the Death of Walt Disney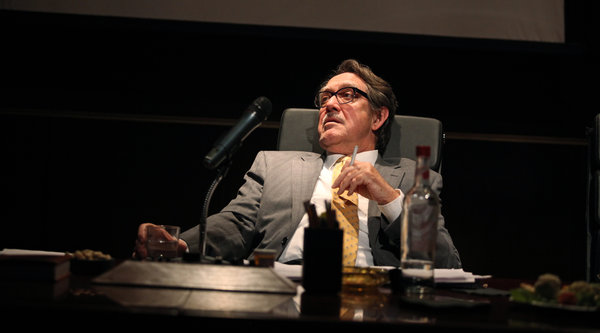 Yes, that is the title of the play which opened yesterday at the Soho Rep. A Public Reading of an Unproduced Screenplay About the Death of Walt Disney was written by Lucas Hnath and the play was directed by Sarah Benson, the artistic director of the Soho Rep. The show stars Larry Pine as Walt Disney. The actor has performed in many films and plays, usually as a positive role model of a character. Yesterday's review in the NYTimes, by Charles Isherwood, takes the play to task for re-imagining Walt as someone impatient to prop himself up into someone more important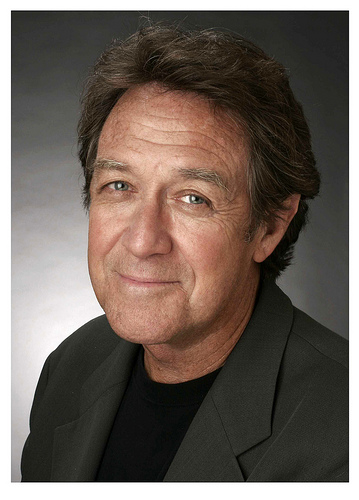 than he is. ". . . Walt is not "one of the most important people who ever lived," as he grandiosely aspires to be, but just a mortal like anyone else. While apparently devoting his public life to bringing pleasure to millions, Mr. Hnath's Walt Disney had a horror of being considered one of them."
The show is completely sold out for its limited run (likely these are subscribers who knew of the show in advance and pre-bought tickets as part of a package.
It'll be interesting if they do a filmed version of this play. I wonder what the rights are to such a thing. There's a book I always thought would make a good film about Walt: The Oranging of America by Max Apple.
Larry Pine as "Walt"
More information about the play can be found here.

___________________________

Coming Soon

I thought I'd give you an idea of what I'm planning for the coming week.
- We'll complete the Raggedy Ann photos which finish John Canemaker's collection of images he shot for this book, The Animated Raggedy Ann and Andy
- We revisit Norman McLaren with some odds and ends that he wrote in the last years of his life. Of course, he was a smart erudite guy right up to the end, and I believe that comes across in this writing.
- We'll also look back at the career of Lilian Friedman Astor, the first woman to have animated in a major U.S. studio. From 1933-1939 she worked for the Fleischer studios, and we have a list of all the scenes she did. Perhaps we can showcase some of them.
- And we'll begin to look at the Frank Thomas & Ollie Johnston book, The Illusion of Life. Bo do I have a couple of problems to discuss with these two masters.
- And of course there will be some surprises in store for both of us.
Animation Artifacts &Articles on Animation &Commentary &Puppet Animation &repeated posts 08 May 2013 12:49 am
- Greg Kelly, a good friend of this blog, wrote to tell me that Ray Harryhausen has died. You can read about it here, in Time Out or here in the NY Times or here at Jerry Beck's Animation Scoop.
Thanks, Greg, for the alert.
In honor of Mr. Harryhausen's brilliant career, I'm re-posting this article about Jason and the Argonauts which I once posted. The piece features Jason and the Argonauts. There was a chapter from Mr. Harryhausen's 1972 book, Film Fantasy Scrapbook, about that film. I'd like to show it again. The book is written in the first person singular and collects B&W images like a scrapbook.
Here it is:
____________
Of the 13 fantasy features I have been connected with I think Jason and the Argonauts pleases me the most. It had certain faults, but they are not worth detailing.
Its subject matter formed a natural storyline for the Dynamation medium and like The Seventh Voyage of Sinbad strayed far from the conventional path of the "dinosaur exploitation film" with which this medium seemed to be identified.
Taking about two years to make, it unfortunately came out on the American market near the end of a cycle of Italian-made dubbed epics based loosely on the Greek-Roman legends, which seldom visualized mythology from the purely fantasy point of view. But the exhibitors and the public seem to form a premature judgment based on the title and on the vogue. Again, like Sinbad, the subject brewed in the back of my rnind for years before it reached the light of day through producer Charles Schneer. It turned out to be one of our most expensive productions to date and probably the most lavish. In Great Britain it was among the top ten big money makers of the year.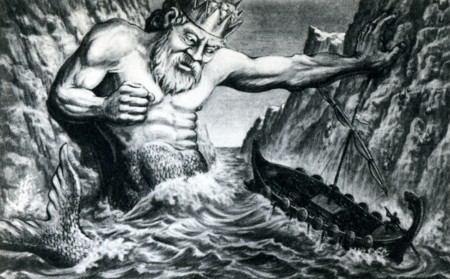 A preproduction drawing (above) compares favorably with a film still (below.)
The drawing is quite a bit more dynamic. (After all, it is Dynamation!)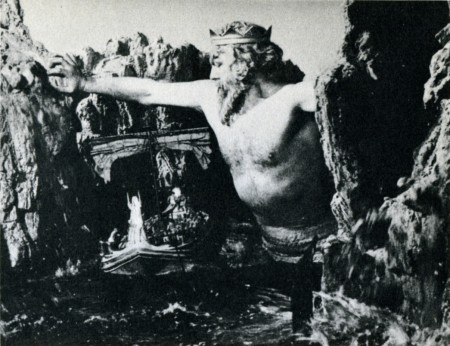 (Click any image to enlarge a bit.)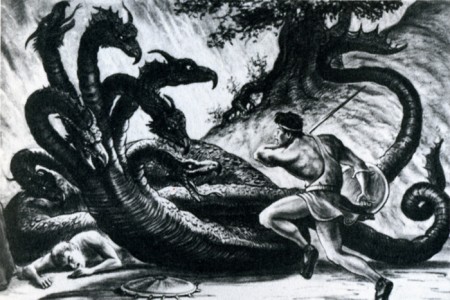 Likewise, a drawing of the hydra (above) film still (below.)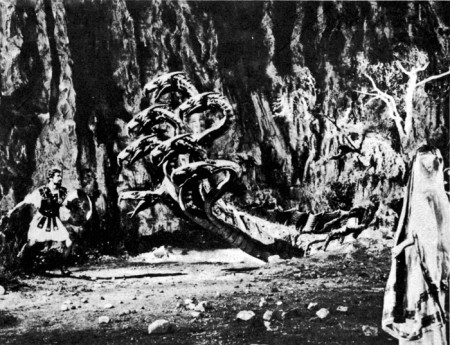 Harpies (Above & Below)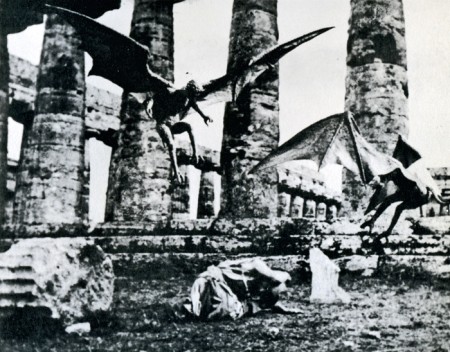 Some of the difference in basic composition between the pre-production sketches I made for Jason and the counterparts frames of the production is the direct result of compromising with available locations.
For example, the ancient temples in Paestum, southern Italy, finally served as the background for the "Harpy" sequence. Originally we were going to build the set when the production was scheduled for Yugoslavia. Wherever possible we try to use an actual location to add to the visual realism. To my mind, most overly designed sets one sees in some fantasy subjects can detract from, rather than add to the final presentation.
Again, it depends on the period in which it is made as well as on the basic subject matter. Korda's The Thief of Bagdad was the most tastefully produced and designed production of any film of this nature but unfortunately the budget that was required would be prohibitive with today's costs.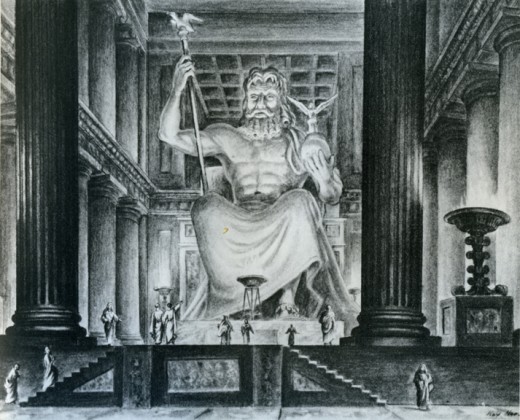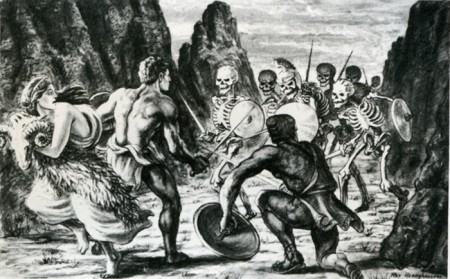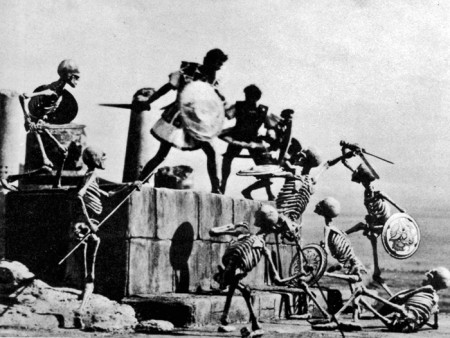 The Skeleton Sequence was the most talked-ahout part of Jason. Technically, it was unprecedented in the sphere of fantasy filming. When one pauses to think that there were seven skeletons fighting three men, with each skeleton having five appendages to move each frame of film, and keeping them all in synchronization with the three actors' movements, one can readily see why it took four and a half months to record the sequence for the screen.
My one regret is that this section of the picture did not take place at night.
Its effect would have been doubled.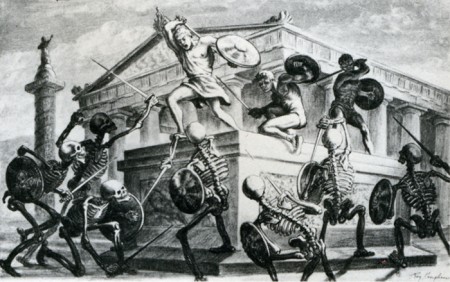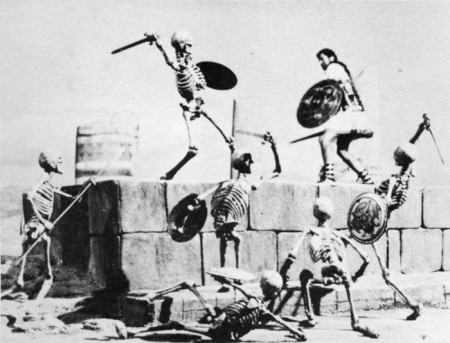 Certain other time-consuming technical "hocus-pocus" adjustments had to be done during shooting to create the illusion of the animated figures in actual contact with the live actors. Bernard Herrmann's original and suitably fantastic music score wrapped the scenes in an aura of almost nightmarish imagination.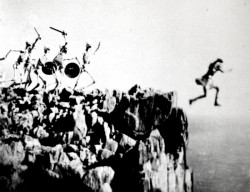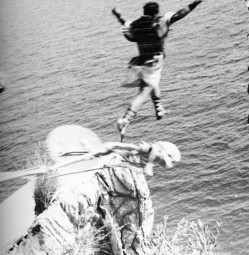 In the story, Jason's only way of escaping the wild battling sword wielding "children of Hydra's teeth" is to leap from a cliff into the sea. (Above left) A stuntman, portraying Jason for this shot, leaps from a 90-foot-high platform into the sea closely followed by seven plaster skeletons. It was a dangerous dive and required careful planning and great skill. It becomes an interesting speculation when dealing with skeletons in a film script. How many ways are there of killing off death?
(Above right) Another angle with the real Jason jumping off a wooden platform into a mattress a few feet below. The skeletons and the rocky cliff were put in afterwards while the mattress was blotted out by an overlay of sea.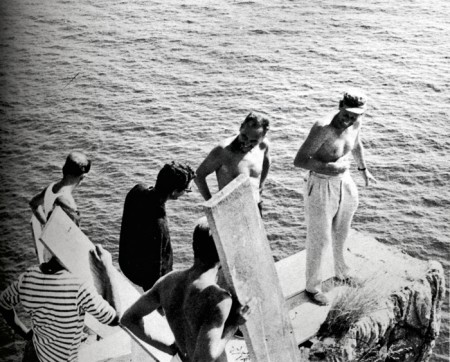 Director Don Chaffey and Ray Harryhausen discuss the leap
with Italian stunt director Fernando Poggi.
When transferring published material to the screen it is almost always necessary to take certain liberties in the work in order to present it in the most effective visual terms. Talos, the man of bronze, did exist in Jason legend, although not in the gigantic proportions that we portrayed him in the film. My pattern of thing in designing him on a very large scale stemmed from research on the Colossus of Rhodes.
The actor: his blocking the only entrance to the harbor stimulated many exciting possibilities. Then too, the idea of a gigantic metal statue coming to life has haunted me for years, but without story or situation to bring it to life. It was somewhat ironic when most of my career was spent in trying to perfect smooth and life-like action and in the Talos sequence, the longest animated sequence in the picture, it was necessary to make his movements deliberately stiff and mechanical.
Most of Jason and the Argonauts was shot in and around the little seaside village of Palinuro, just south Naples. The unusual rock formations, the wonderful white sandy beaches, and the natural harbor were within a few miles of each other, making the complete operation convenient and economical. Paestum, w its fine Greek temples, was just a short distance north. All interiors and special sets were photographed in a sm studio in Rome.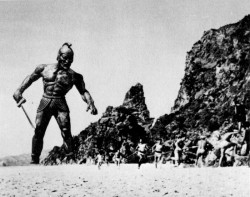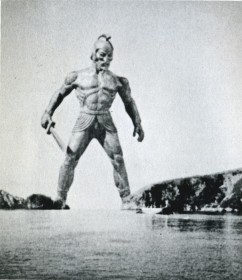 (Above left) Talos, the statue of bronze, pursues Jason's men.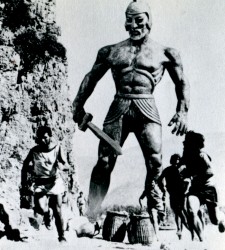 (Above right) Talos blocks the Argo
from the only exit of the bay.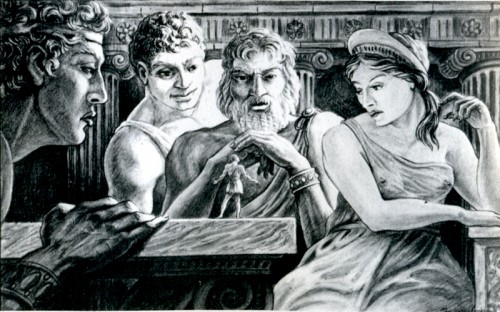 Pre-production drawing of Jason speaking to the Gods of Greece.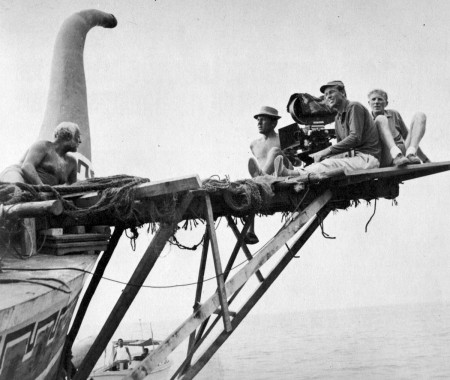 For the second unit operation a special platform had to be fitted to the Argo in order to achieve certain camera angles. Although it looks precarious it was far more convenient than using another boat for the shots.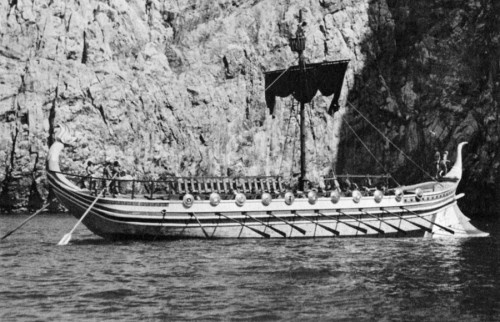 The Argo had to be, above all, practical in the sense that it must be seaworthy as well as impressive. It was specially constructed for the film over the existing framework of a fishing barge. There were twin engines for speed in maneuvering, which also made the ship easily manipulated into proper sunlight for each new set-up.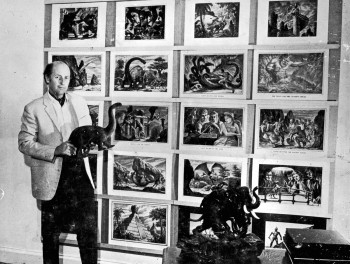 Harryhausen off the book's back cover
to give an idea of scale of drawing sizes.
Commentary 04 May 2013 06:26 am
The Rich and the Richer
This week we saw a couple of excellent entertanment pieces that weren't too taxing on either my fanny or my brain.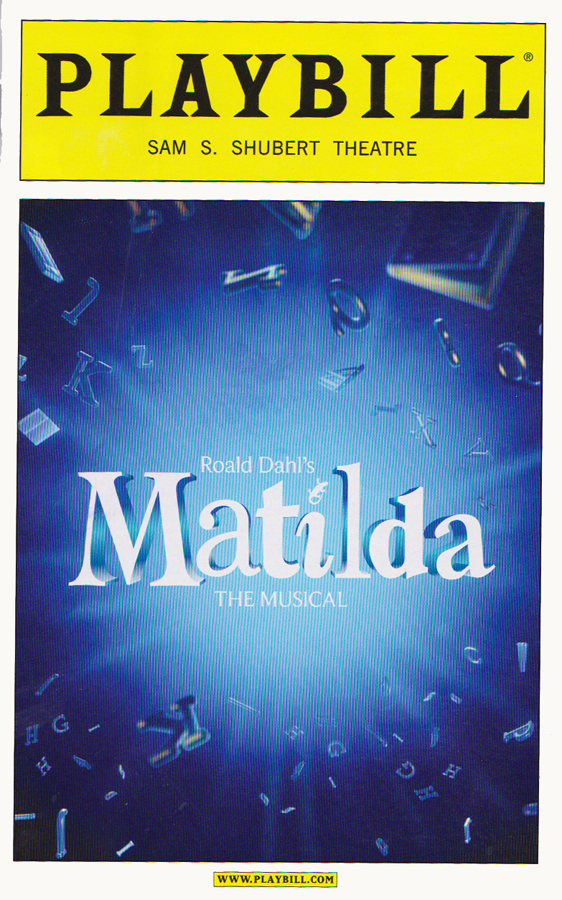 We went to see the hottest ticket in town last Tuesday, Matilda. It's a theatrical musical which adapts Roald Dahl's great children's novel. Years ago, when the book had just come out, I contacted Dahl's agent trying to get the rights to make an animated film out of it. It turns out we were competing with a "Hollywood" company which was Danny DeVito's company, Jersey Films. Naturally and expectedly, Jersey Films won the rights. I loved in Quentin Blake's glorious illustrations and would have animated the film in his style.
Eventually, Danny DeVito directed the cartoon of a live-action movie. It was built to be nasty and unpleasant. The film wasn't a very good version of Roald Dahl's words, at least not in my eyes. The film wasn't a flop, but it wasn't very good either. It was more about her family and the school teacher and the gym teacher-villain, Mrs. Trunchbull.
The stage musical is better, but not brilliant storytelling, either. Both the film and the play are more interested in characters other than Matilda. They're all exotic, and it's easier to write for them than for the little girl who is the center of the story. In the play, Bertie Carvel, plays the part of the villain, Miss Trunchbull. The actor is the one person who has been reaping all the awards – whether in England or the US. He had won the Olivier Award in London and was nominated for the Tony, here.
In the musical, the dialogue whether in the songs or out, is hard to understand despite being miked. I found myself uninterested in the show which was long, at more than two hours forty minutes. I was certainly unimpressed given all the awards.
There is a major problem with theater seats lately. They've tightened the aisles, so one's knees are smack up against the row in front of you, and your legs go numb before the first act ends. That was NOT the case with this theater. I repeat, that was not the case with this theater seat. It was ALMOST comfortable. For me to say that is saying a lot. Not its money's worth ($132 per ticket), but at least no physical pain.

____________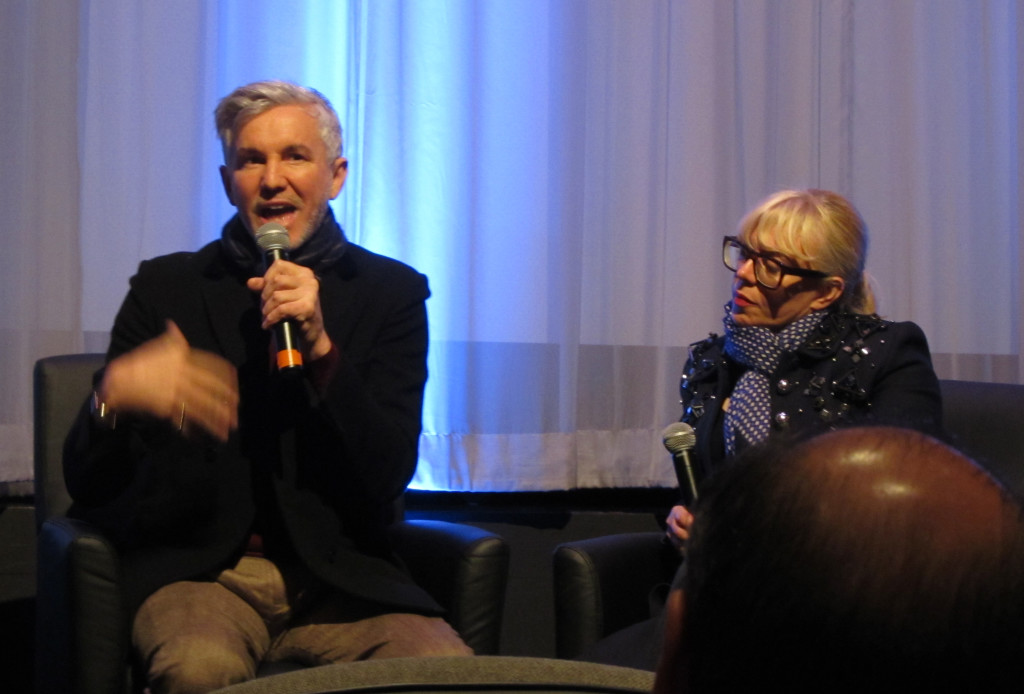 Then on Thursday night there was an Academy screening of The Great Gatsby as directed by Baz Luhrmann. You'll remember that he was the director/writer of Moulin Rouge a few years ago. Many people loved it, I did not. As a matter of fact, I truly disliked it. On Thursday we were to see the film and attend an after screening Q&A with Luhrmann and his wife, costume designer, Catherine Martin.
The film was a long two hours and thirty minutes (not quite as long as Matilda but certainly a more attractive movie.) ___________________Baz Luhrmann & Catherine Martin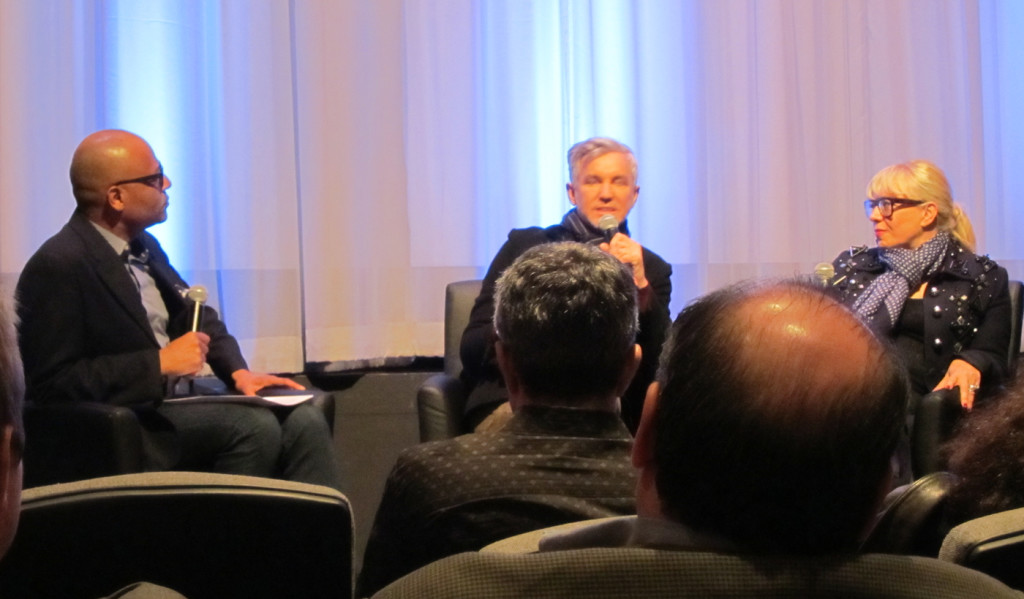 Leonardo DiCaprio played Jay Gatsby, and he did well in the part. The choices all seemed to be good ones. The film is done in 3D, and is enormously attractive. Just as Life of Pi seemed to have found the need for the 3D camera, so, too, does The Great Gatsby.
Mind you I was bored silly for moments, but there were also so many other moments that were extraordinarily gorgeous or tautly rigged that the energy was just wonderful often. ____________Patrick Harrison, Baz Luhrmann & Catherine Martin
It's quite the movie.
We were told that the Q&A would last between 20-30 minutes. But Luhrmann and his wife were both so compelling and wanted to talk about this work of art that they'd just completed – the talk went on for almost an hour. It was compelling, to say the least.
There are a number of films coming this month that I'm looking forward to. The Iceman stars Michael Shannon as the cold-blooded version of Tony Soprano. This time a mobster who actually existed. There will also be Sarah Polley's new documentary, Stories We Tell. Ms. Polley will be there to tell us some stories in person Epic is the new film from Blue Sky, which was directed by Chris Wedge. Perhaps Mr. Wedge will join us for a Q&A.
_____________________________

Aardman's Winter Trees
- Aardman Animation teamed with the group, The Staves, to create a truly fine animated music video. This company, Aardman, has famously produced technically excellent work, consistently and reliably. This video was created using a mix of Flash and CGI.
The video was directed by Karni and Saul from the song by the British group The Staves, three sisters, Emily Staveley-Taylor – vocals, Camilla Staveley-Taylor – vocals and ukulele, Jessica Staveley-Taylor, vocals and guitar. There is an interview with Karni and Saul, who made the imagery, directed and animated it. Essentially they here talk about the making of.
This video seems to have been inspired by many of the recent bouts of weather we've been having over the planet. Episodes such as Hurricane Sandy are going to become more and more prevalent, and this video seems to take it as the natural course of things. The film work is not only a remarkable technical achievement but an an intellectual one as well.
Congratulations to both Aardman and The Staves.

_____________________________
Gepetto's Namesake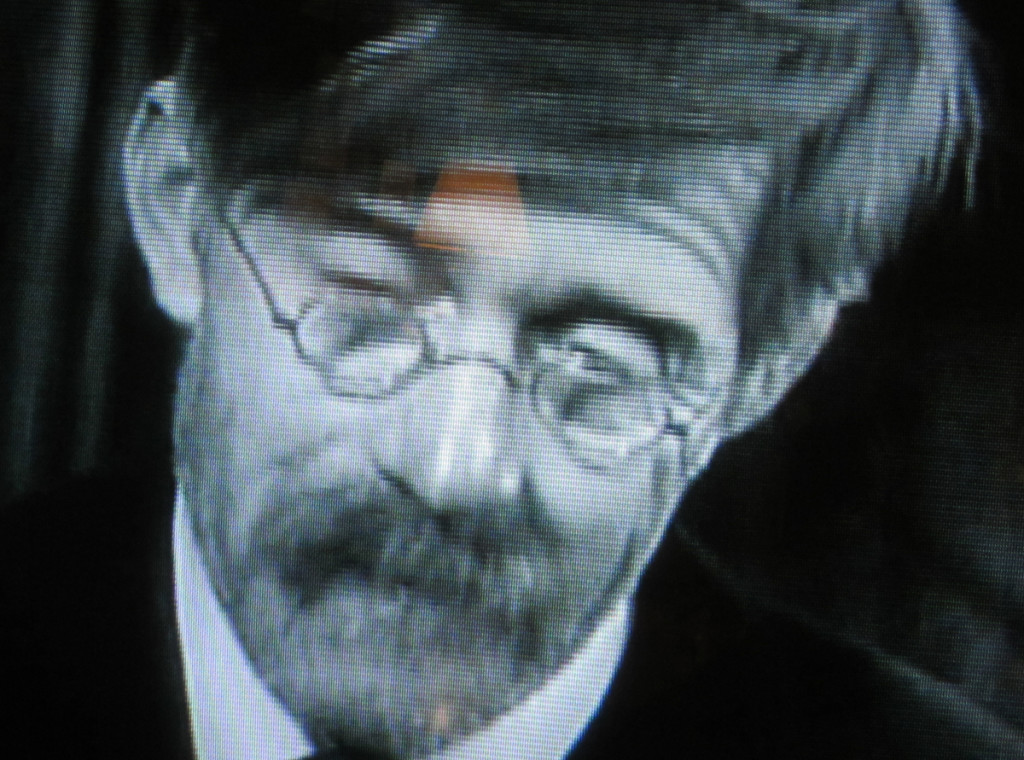 Last night TCM aired a film called, For the Greater Glory, which was directed by Frank Borzage. It was a post WWI drama where some children defend their home-turf, a vacant lot, with a gang they've formed. In the cast, playing a watchman who should be watching the vacant lot, is the actor, Christian Rub.
When making Pinocchio, after a difficult start with a VO that wasn't working as "Gepetto", Disney hired Christian Rub, and he became the voice of Gepetto. It was a problem which was resolved at the start of the film.
You'll see from the image above that Christian Rub actually looked like Gepetto. The designers solved the problem. Not only the voice but the appearance of the character changed overnight.
Animation &Animation Artifacts &Commentary 01 May 2013 06:52 am
Here's the last of the three posts I've been able to cull from the drawings left behind in Vince Cafarelli's things. The 60 second spot was animated by Lu Guarnier and clean-up and assisting was by Vinnie.
Within this post there are drawings from two separate scenes. If you look at the storyboard (I'd posted the entire board in another post, but I've pulled the particular frames from the board to show again here), you can see what it is the characters are saying. I don't have all the drawings for these two scenes; just those I've posted.
I'm also going to use these drawings of Lu's to write about his style of animation. I was taught from the start that this was completely done in an incorrect way. I don't mean to say something negative about a good animator, but it is a lesson that should be learned for those who are going through the journeyman system of animation.

Right from the get-go I had some difficulty assisting Lu's scenes. He started in the old days (early-mid Thirties) at Warner Bros, in Clampett's unit, and moved from there to the Signal Corps (Army); then to New York working at a few studios before landing at UPA's commercial studio. After that, he free lanced most of his career, as had so many of the other New York animators. They'd work for six months to a year at one studio then would move on to another.
I suspect the problems in Lu's animation all generated from the training he'd gotten at WB. Lu worked in a very rough style. No problem there. An animator should work rough. These drawings posted aren't particularly rough, but in his later years (when I knew him) there was hardly a line you could aim for in doing the clean-up. His style was done in small sketchy dashes that molded the character. Rarely was it on model, and always it was done with a dark, soft leaded pencil. There were others who worked rougher, Jack Schnerk was one, but Lu's drawing was usually harder to clean up.
There was a rule that came out of the Disney studio, and, as both an animator and an assistant, I've followed it closely. When doing the breakdown charts (those ladders to the right of the drawing) all inbetween positions had to be exactly half way between drawing "A" and drawing "B". If the animation called for it to be 1/4 of the way, you'd indicate that half-way mark then indicate your 1/4. If a drawing had to be closer or farther away – say 1/3 or 1/5th of the way – the animator should do it himself. This, as I learned it, was the law of the land. However, Lu would rarely adhere to it, and an assistant's work became more complicated. The work was too easily hurt by a not-great inbetweener. I'll point out an example of Lu's breaking this rule as we come to it).

The First scene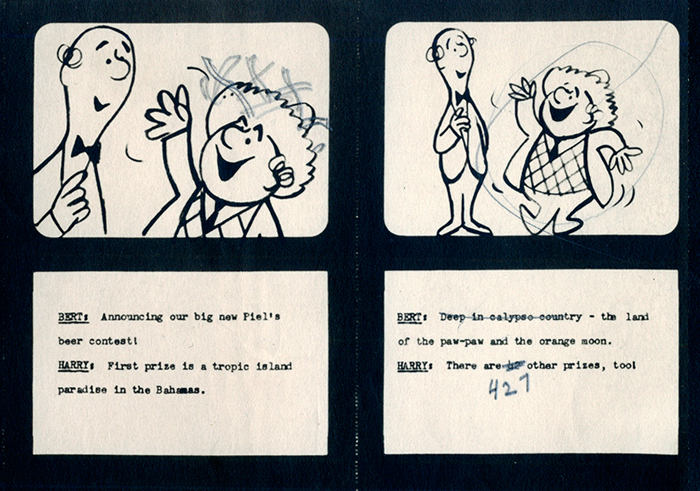 bd.1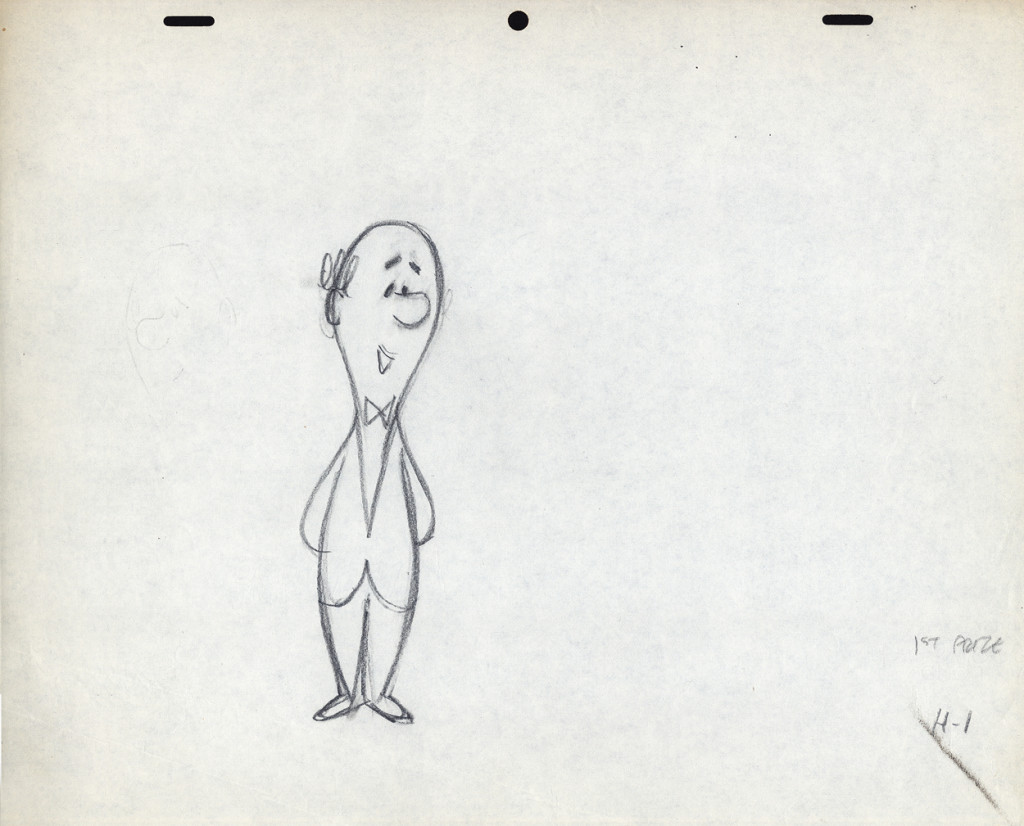 H1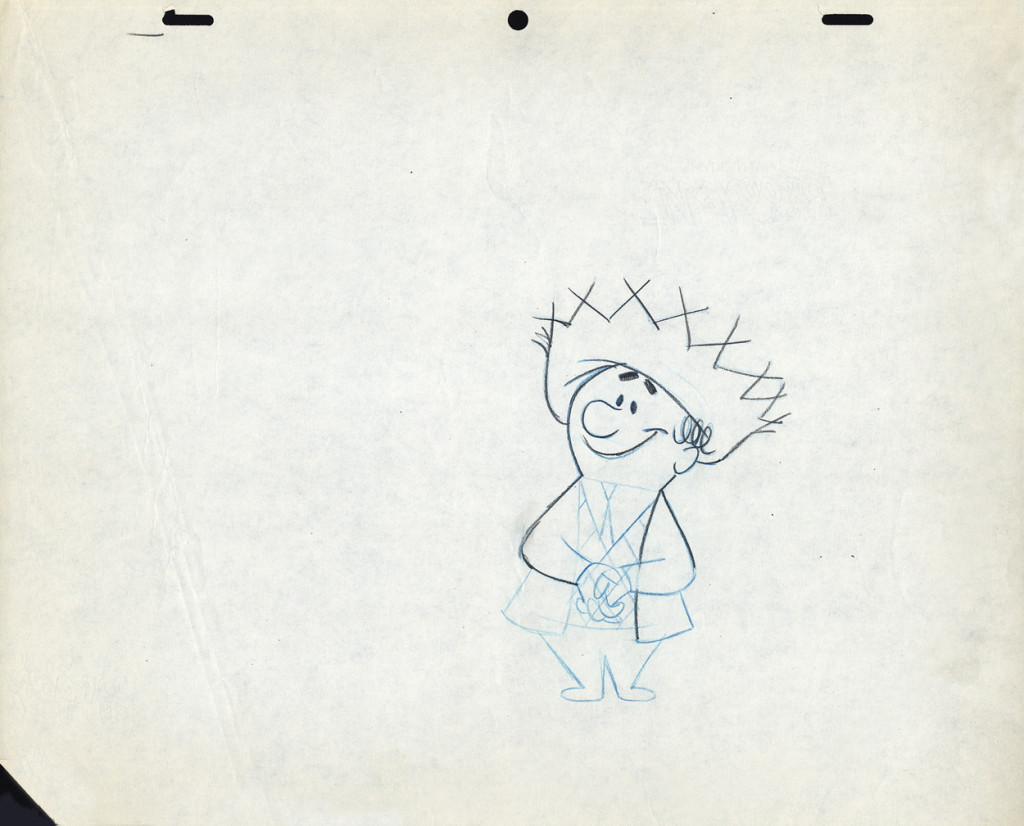 B7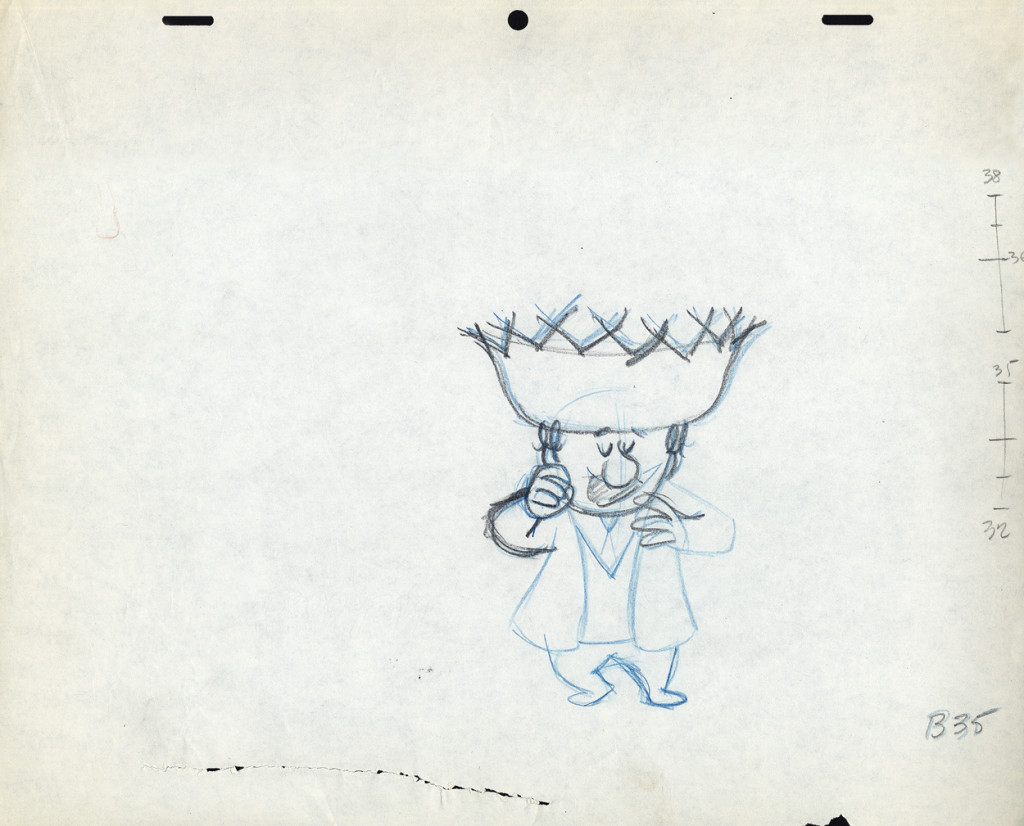 B35
These ladders are done correctly, per the Disney system.
#34 is half way between #32 & #35;
#33 is half way between #32 & #34.
#36 is half way between #35 & #38;
#37 (the 1/4 mark) is half way between #36 & #38.
However, Grim Natwick told me
- demanded of me –
that all ladders should appear on the lower numbered drawing.
The ladder here should be on drawing #32 for all art
going into the upcoming extreme, #38.
Lu never followed this rule, which means the
assistant generally had to search for the chart.
The Second scene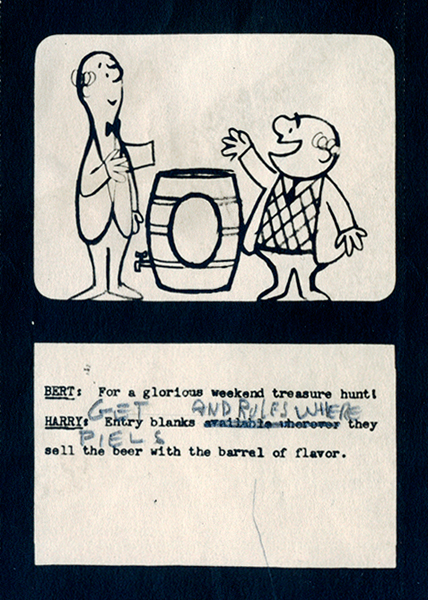 bd.2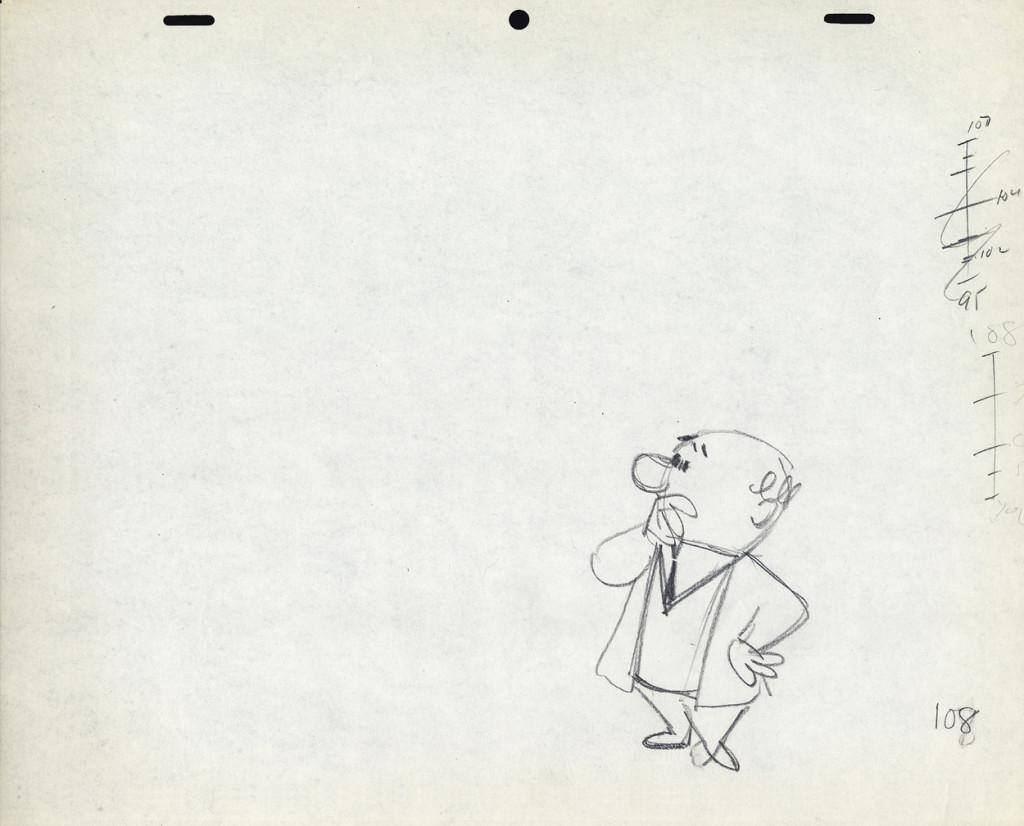 B108
This ladder is typical of Lu's animation.
It would seem that #106 is 1/3 of the way between #108
and #105 is half way between #106 and #109.
and it also looks like #107 is 2/3 of the way between #108 and #109.
Because the numbers come on the last of the extremes, here,
more confusion is allowed to settle in.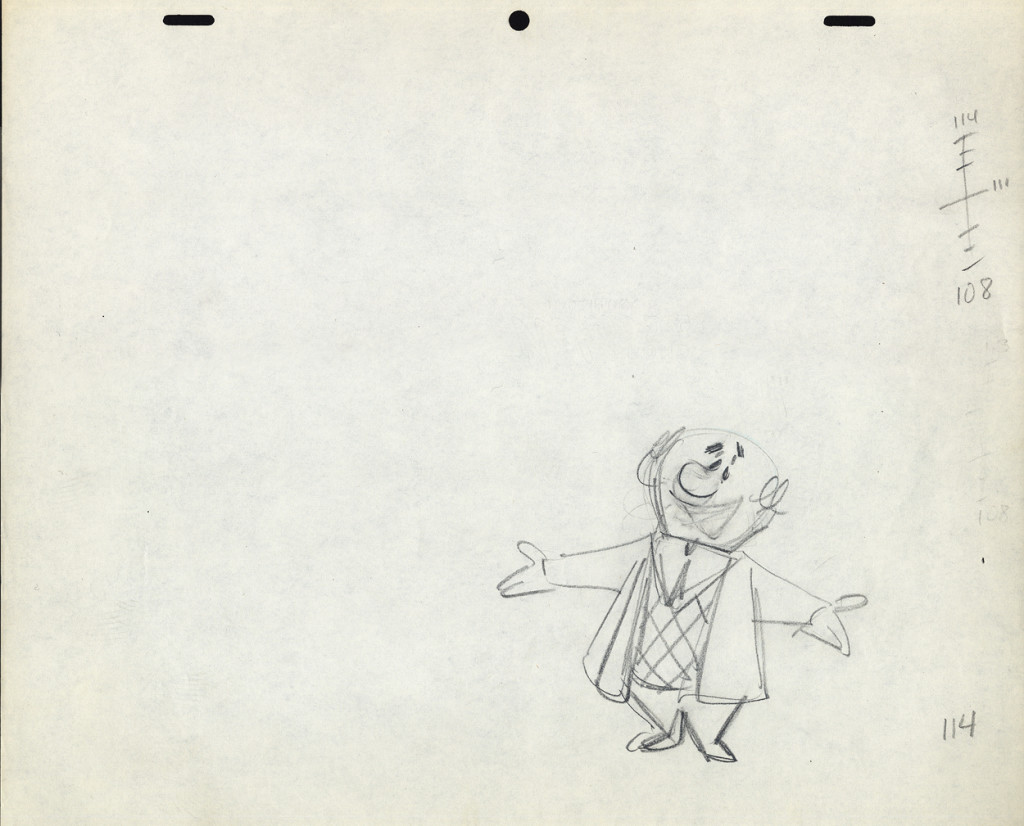 B114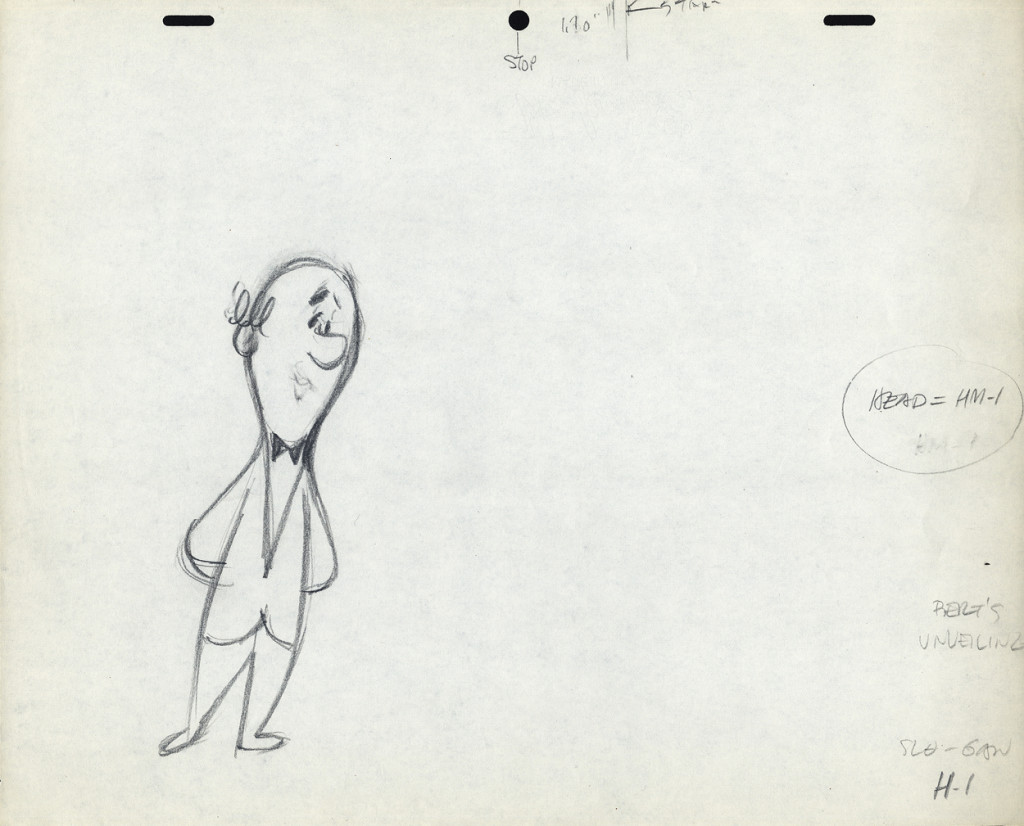 H1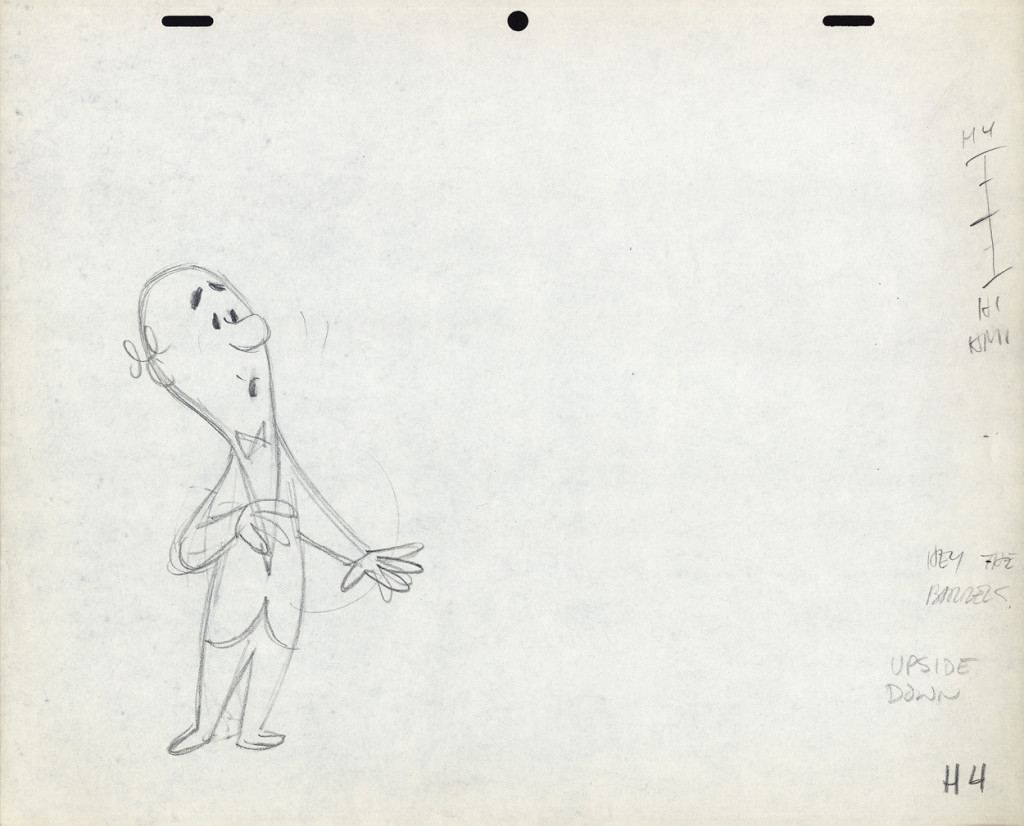 H4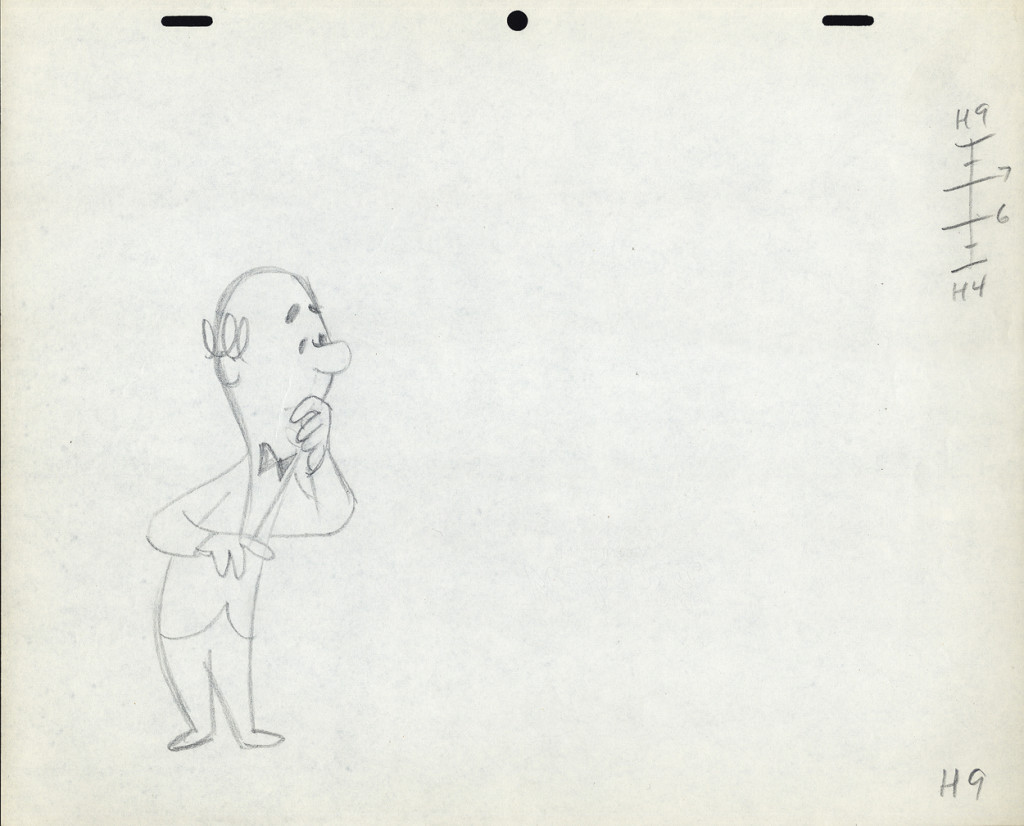 H9
Again, the ladder appears on the later extreme. The assistant
shouldn't have to go looking for it. The ladder should be on
the first drawing involved in the breakdown.
Again, the breakdown drawings are on 1/3′s, and
the inbetweens are 1/2′s of that. It makes it harder on the
people following up on the clean-up & inbetweens.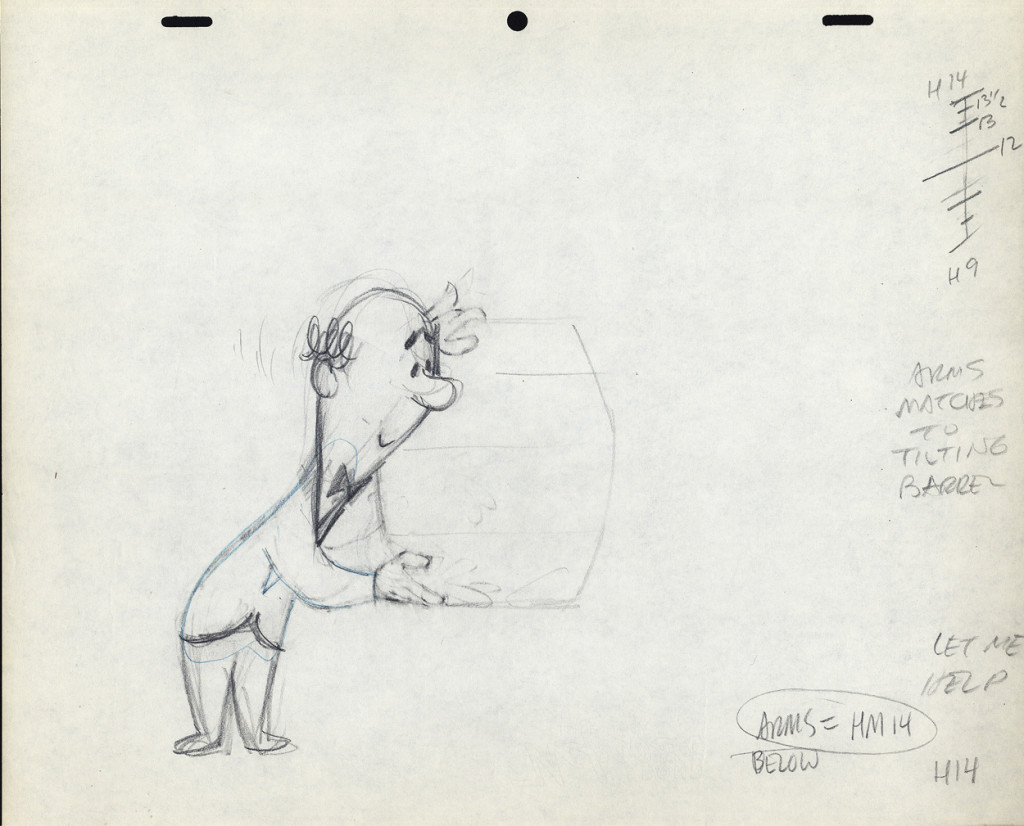 H14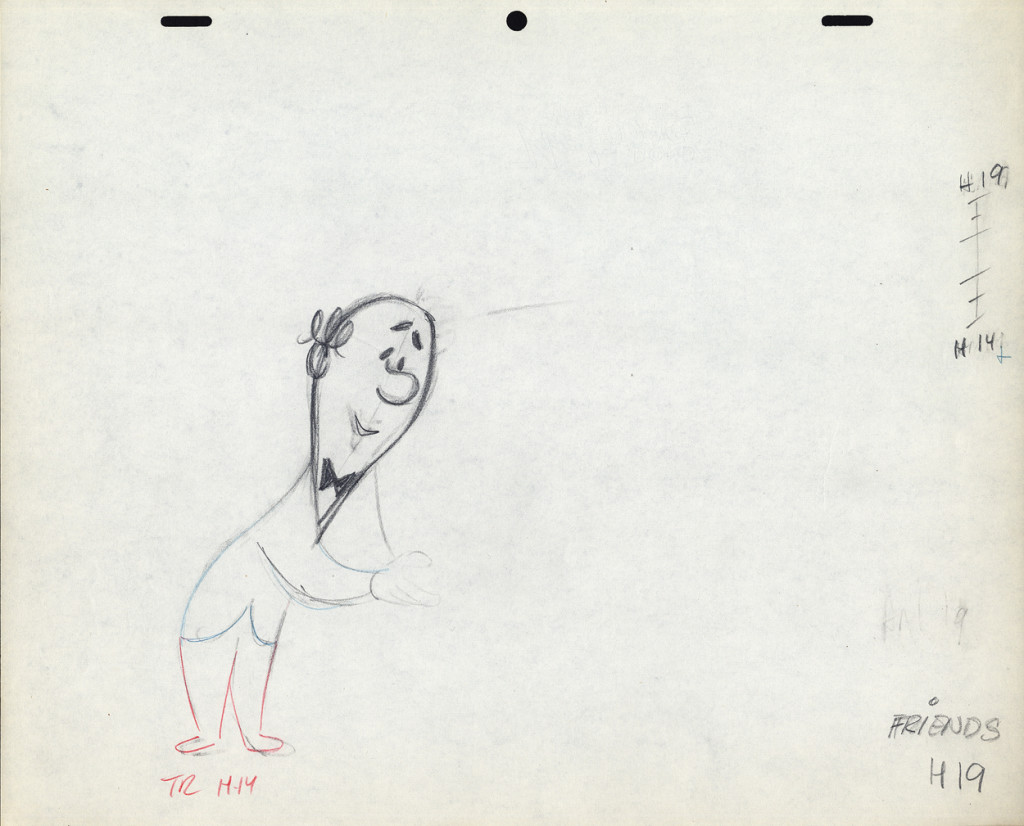 H19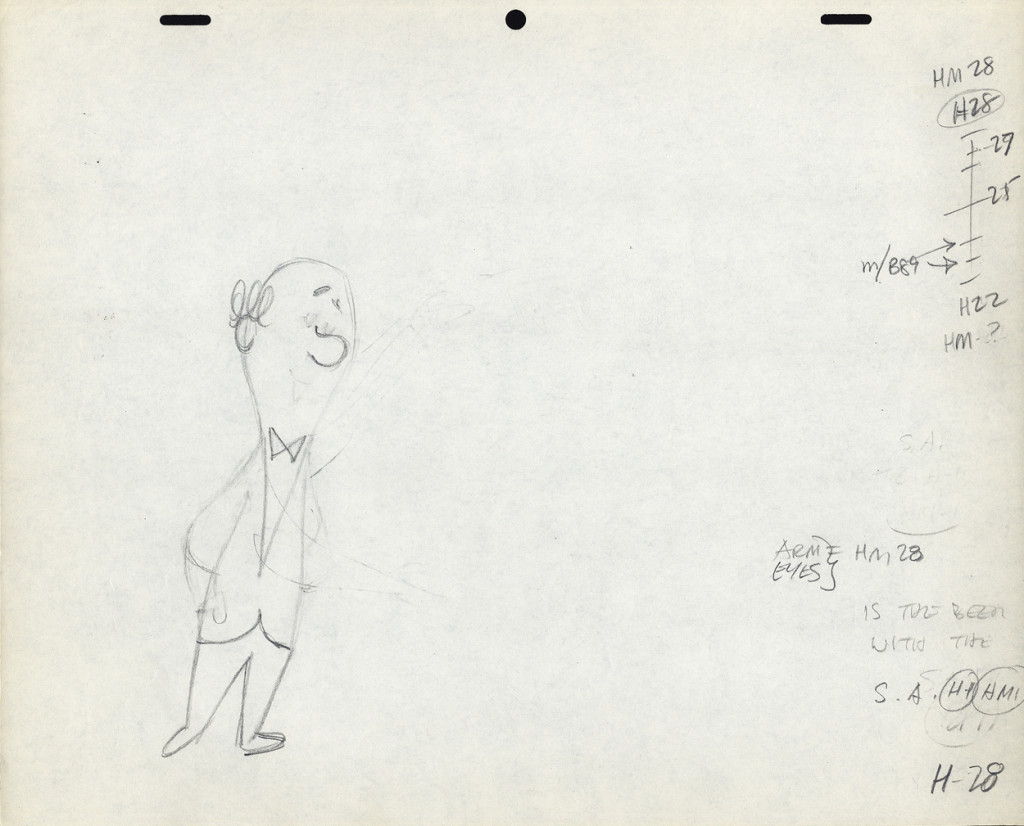 H28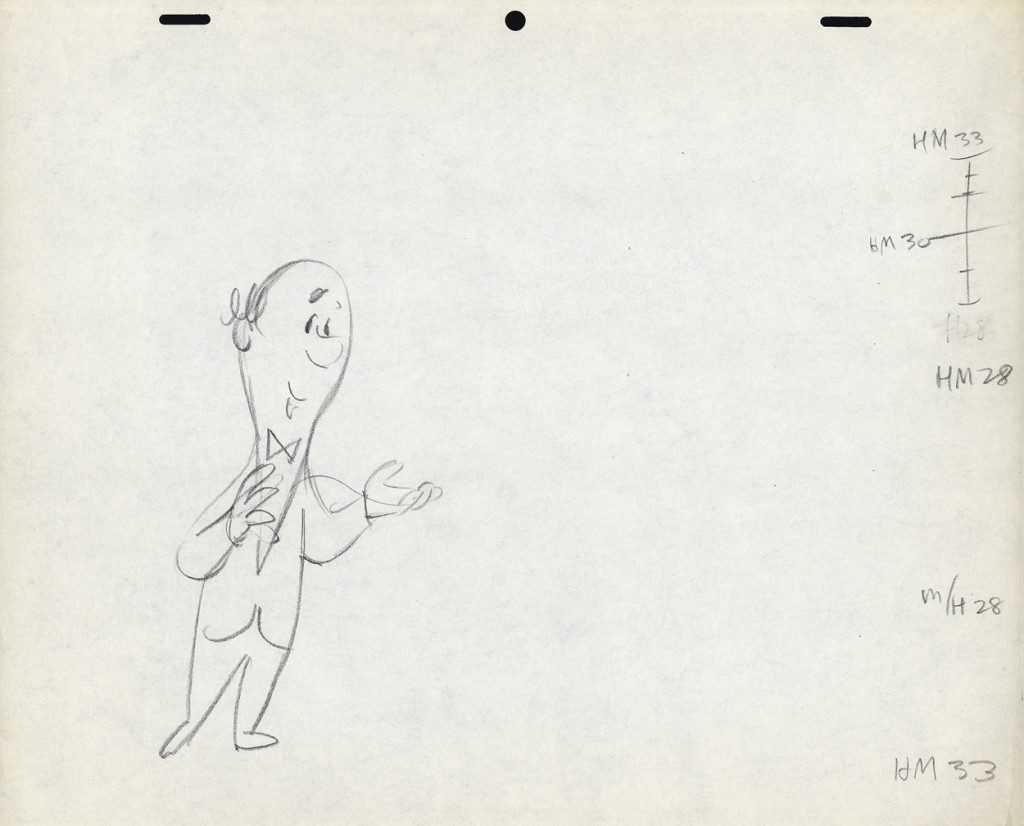 H33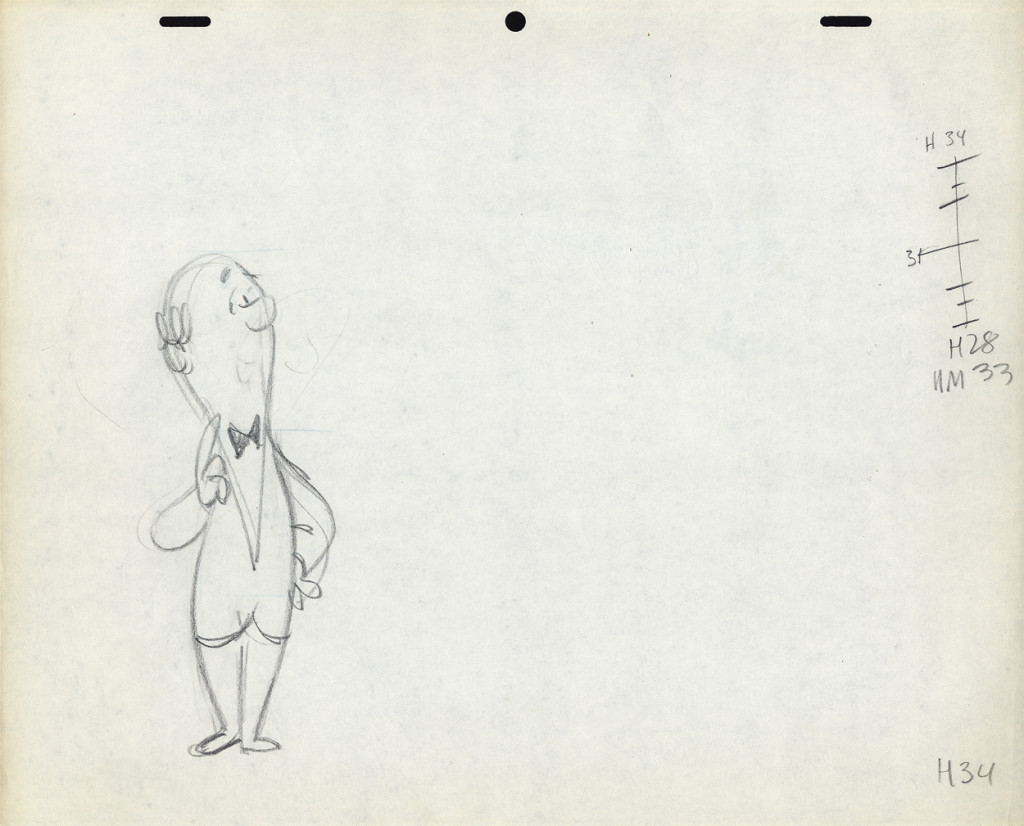 H34

I don't know if this style of Lu's was a product of where he learned to animate or not.
Jack Schnerk
, a comparable animator – whose work I loved (even though he had a rougher, harder to clean up drawing style) – always broke his timing in halves and halves again. There were times when his animation went to one's and he did most of all the drawings. I assumed he had an unusual timing, and he didn't want to burden the Assistant with his schema. He also always carried the breakdown charts on the earlier numbered drawing – per Grim Natwick's comment. In some way I felt that Lu was rushed to get on with the scene, and whatever method he used would be to get him there more quickly. (It was the assisting that was slowed down.) This may have been a product of his attempts to devise some type of improvisation in the animation. Lu's work, on screen, was usually excellent, so he didn't much hurt anything in his method.
It might also have been his method of trying to put SNAP into the animation. This was a WB trait from the mid-late Thirties. It was certainly in Lu's animation. No doubt a hold-over from Clampett's early days of directing.
The final thing to note is that Lu usually worked on Top Pegs. Animating on Top Pegs makes it impossible to "roll" the drawings and check on the movement of more than 3 drawings. You can only "flip" the three, checking the one inbetween, but it didn't give you a good indication of the flow of the animation. This is obviously necessary in animating on paper. It also made it difficult for the cameraman as well as those following behind the animator. If there were a held overlay, this would have to be on bottom pegs since the animation is on top pegs. That requires extra movement of the expensive cameraman to change all the animation cels after lifting the bottom pegged overlay. It also risks the possible jiggling of the overlay as it's continually moved for the animating cels.