Category ArchiveCommentary
Commentary 12 Nov 2013 04:48 am
It is three in the morning and I'm in great pain.
Yesterday I met someone who is going to allow me to work on her film. It is a genius of an earth shattering film, and I am desperate to start on it. I hurt myself waking in the middle of the night banging my leg against the coffee table. Two hours later and it still hurts. I went to bed with this woman's notion of an idea in my head, and it hasn't stopped ringing in. I will kill myself to make this film now, soon, quickly. It needs to be made. Immediately. Now.
I cried because I thought the audience wouldn't give it the necessary third round of applause. But they did. Again and again and again and more. They saw the film we had made in my dream.
I am going to make an 11 minute short film with Mimi Brennan and praise god she came to me with it. It is the film I was made to make – with her, of course. I didn't know you yesterday; today you have changed my life.
No, I won't write about it again. But I will make sure every eye who sees me in the future will see this movie. Thank you god for giving me the time and the space. Thank you Mimi Brennan for coming to see me with your brilliant, great movie idea.
Thank you Heidi for supporting me. You took me back into the bed, though I was soaking wet and you understood my desperate need to make great a little piece of Art.
Commentary 11 Nov 2013 03:43 am
I tried hard, no, very hard to watch A Letter from Momo at the DVD box nearest me. This is an animated feature that G Kids, an organization that has taken on the task of distributing more adult-like film geared, now, toward children and has put films into running for nomination for the Oscar in recent year's competition. Unfortunately,it wasn't probable as my eyes see it, saw it and hope not to have to view it again. Momo is a good example of what they're trying to put forward as intelligent prototype, but instead is more tedious.
I, on the otherhand, respect MOMO but wonder about its notion of excellence.
Ageless and not happy, the slow moving Anime-inspired animation they choose continues forward. Though there's so little to say in some of these films. It's tiresome and might I say tedious.
I sat through the film twice and actually considered a third viewing, but no, that wouldn't have helped it for me; a lot of competent and tireless work moves ever forward. There's too little to take with it. This is certainly uninteresting for children and I can't imagine, many adults entertained, either. I wish I could say more for a film that puts so much work into its heart.This film should have started in live action and stayed that way. Any effects might have been more effective.
As one who prefers his animation straight (when Princess Mononoke over Tex Avery or The Illusionist over – god help us – Wall-E.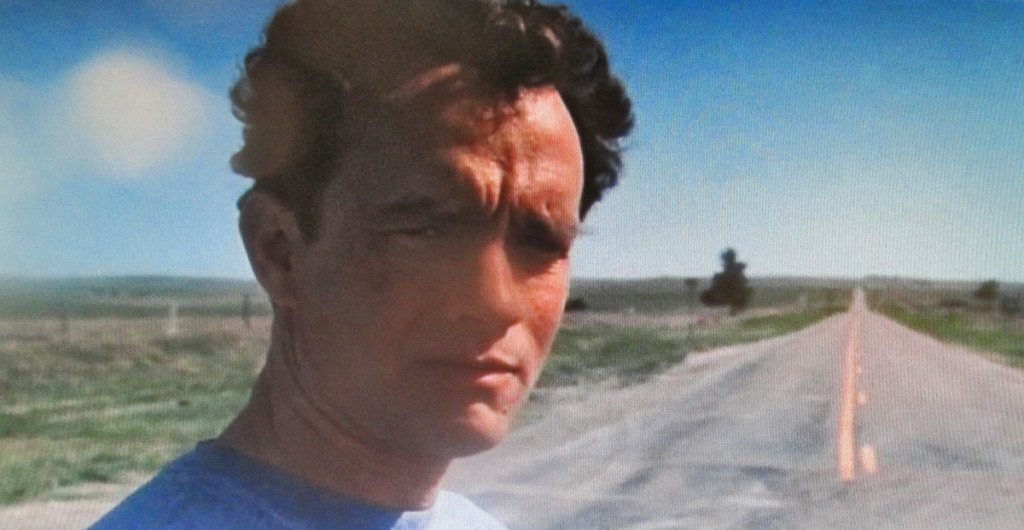 As long as we're making odd comparisons, let's continue for a bit more fun:
When the young Bob Hoskins overtakes his own performance as a live actor to compete with his own alter ego, that of that Hollywood's biggest star and in Who Framed Roger Rabbit? and makes much less of him for the future in film. From Back to the Future to Piranha 3D to attracts as many people as Angels in the Outfield and even the brilliant Buckaroo Banzai Across the 8th Dimension. Only Christopher Lloyd could take a live action version of his animated self and be bigger. This is Hollywood with a capital STARDOM.

Well, back to that visit with Momo. Please send me a counter commentary if you have anything to say about it.

Here's to Lloyd and Hoskins and other true geniuses who could understand what a Zemeckis wanted in these waters. A brilliant director who creates a four-way pass for Tom Hanks to break your heart. And he moves onto trash like Scrooge or Death Becomes Her to shed a tear for Hollywood.

God Bless that director who gives us a four-way crossing for Tom Hanks to break our collective hearts over the loss of Hollywood – now just another place for FedEx to stop and recall the dearth of Hollywood.
Commentary 06 Nov 2013 01:20 am
I saw Miyazaki's last film again last night. The Rising Wind is a quiet movie. A film full of desperate change, man doing his worst in the name of good. An Earthquake takes a train and a town, illness covers even the film's heroine (not unlike Camille' Scarlet Fever – but here the romanticism is kept to a quiet dignity. Planes are sent out to War chock-c-block full of bombs to rape even the most quiet village. It's a film that keeps its torment below the tears, and an animated movie deals with serious adult subject matter. One would think the animator would go for the roiling climax, but that just what this film does not do. It's a tempest in a teapot, indeed. This time the tea is naught but background for many character decisions. It's an unorthodox movie, and I don't want to give it ALL away, so I'll stay there.
I loved the film. The opposite of Ponjo. No hysterics or comedy out of misery. I'd recommend it highly. Not Frozen or Crood or Despicable. Just humanity and reality.
The principal problem with the film's lead character is that actions of his cause problems, they don't resolve them. He should be using his brilliance to correct problems. Instead, it might be said that he is the problem. He's a genius but for the wrong side.
Tonight I see Nebraska and am looking forward to the after party. There was one at this location last year for David Chase's movie. All the Sopranos hung together. James Gandolfini left an impression of being healthy despite the girth. It didn't work that wau. This should be more proof that Harvey Weistein throws some of the best parties. … I hope.

____________________________
I know that we had a stupendous couple of days on the Mad Tea Party and I think they were just excited, and I was very clear that when any of the directors are speaking, we need everyone's respect.
Soon Coming to the Splog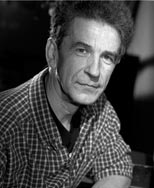 I've just spent a lot of time transcribing a lengthy interview I did with the wonderful Jacques Drouin talking about the Pin Screen device; after all he is now the world's foremost authority on the device and it felt good to record some of his comments. His, following the work of Alexander Alexeïeff (1901-1982) and Claire Parker (1906-1981), is the foremost spokesman for the utensil which allows people to draw with more than a million pins, utilizing the shadow of t he pins as the medium of the drawings. Ever since reading about this device in Halas and Manville's book, "Animation", I have been intrigued and I remain fascinated.
The interview, as I said, is extensive – Mr. Drouin is a natural spokesperson for the pin screen, and it didn't take much to get him to talk so intelligently and at length about it. The principal problem is that I am a poor reporter, and it'll take me a bit of time to accurately and properly report what he had to say. I'll have that ready sometime this week. For some reason I've taken to Mr. Droin despite the fact that this was our first meeting. I did look forward to it for quite some time. We were to have met via phone a couple of years back, but it didn't happen. My fault entirely. I was glad to have met him here in person. He's a gentleman.

____________________________

Oscar Toons
Yes it's Oscar time. I've already commented a bit about the short films seen and how I missed half of them after getting quite ill midway through the lot of them. Sorry I can't properly report but not sorry I missed most of them.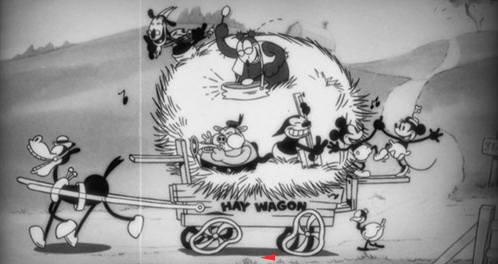 One of the more interesting of the batch in contention that I'd seen comes from Disney. Get A Horse is a short which does little more than play on 3D. It has the 2930′s Mickey drawn from that era and brought to life in 3D when Peg Leg Pete tries to hold things up. He and his horse pop out of the B&W world into 3D with color and there's some gamesman'sship as the duo go back and forth competing with Pete for the fair damsel, Minnie. The short falls too clever for its own good and has nothing really to say except that movies exist on their own level whether 3D color or 2D B&W.
I know a lot of the younger voters were more captivated by the tricks of the trade exhibited in this short. If one there was something for the film to say. It felt that it had more ot offer thn FROZEN, but that still isn't saying much.
Commentary 29 Oct 2013 11:46 pm
I apologize. I'm getting older and animation has turned from its simple little roots of magic. From those simple glories to where the one blow hard driving the car can cause such difficulties. But the response couldn't have been – not for Mickey, Donald, Goofy, or the nephews – it couldn't have been to react with an automatic aid button from the very unwacky world of 3D computer animation. That's not even "Deux Ex Machina" that's "Cartoonist ex machina". (Aid from above, anyone.)
OK,it's been done once, now what? Having Bugs torture Daffy is one thing; saving the day is another.
And what about FROZEN? Everything seems to have some kind of magical spell to save the day. Push hair away from eyebrows, close your eyes real tight and say "Magic words of Poof Poof Piffles; make me just as small as sniffles." Wallah! You're tiny too, and can do what ever you up to doing.
Sometimes the calico remains on your body sometimes it doesn't. How are you really textured?
Or are you just some chamois piece of material that'll make right with the world.
Does anyone get the point? There can be no danger if it all just happens and then comes undone. You see, Everything has to have rules . . . everything, or there is no danger. And then, what's the point?
Goofy and Donald and Mickey can jump into the world where things are browner, blacker or yellower, even more purple. And they can't wash away their thought sm – not so easily, at least, had they had their way Mr. Boehner or Mr. Cruze or even Mr. Obama.
Let's think about the things we're showing our kids. Magical worlds in twisters … OK. Worlds where real hate and hurt abound, let's think a bit about it. OK?


Now the film begins.
Anything with Bugs, Mickey or Daffy can't be too bad -
You can pretty well believe in that theorem.
CARS 2 bottom to the lowest.
MONSTER UNIVERSITY – OK it's just middling fantasy)
WRECK IT RALPH – No need, Thanks. Someone's just out to make bucks

RAPUNZEL/TANGLED - OK, but it's totally irrelevant

Should I go on?

Can't we make our lives and our literature of some value?

Elliot, I was sick all weekend. So what else is new these days? I can handle it,
and if it means seeing ONLY YESTERDAY or The RISEN WIND.
Protecting the kids' minds is everything.
Watch what they watch and if you can't take it, stop them.
Friday is a good day for Johnson's muck ups.
We have to take notice.
We have to be aware.
Commentary &Daily post 27 Oct 2013 05:10 am
I have to say that the new WordPress is not easy for me. If there are slip ups, my apologies it's all my fault. If there are typos, it's my haste in getting something out…. I do have the option of writing fewer posts, and I just may do that. For now,though, nothing is changing.
Saturday just went whizzing by. I was sick all day while trying to screen some 40 short films. There were some obvious great films in among the bunch, but a large majority of them remain as mediocre. Things like the Pixar short where they follow some umbrellas with eyes through a rushing rain storm. Tedious is about the only word I can come up with for that. There were others which were enormously delicate and had lost none of their political themes.
The typical film by Your Head creator, Bill Plympton. It's hard to imagine using drunk jokes at this point in history. There was the cgi version of Courage the Cowardly Dog. It was as funny as all the other episodes of Courage despite the cgi makeover. I'm obviously prone to the hand drawn version, but I can't take too much away. The show probably got less whacky for the cg elements. Perhaps John Dilworth will get his oats in doing it cgi soon.
Lots of flying children and floating monkeys.
The last half comes today. Can't wait and hope for the best. It's still a damn hard job making a film short or long…..
I give all these filmmakers courage.
I look forward to the second half of the program today and hope several films will stand out.
Bill Peckmann &Chuck Jones &Comic Art &Commentary &commercial animation 25 Oct 2013 10:39 pm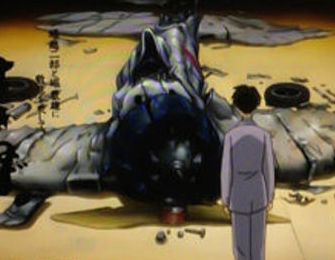 Jumping in to Miyaakii's most recent feature – to cross the seas, we find a very complex film with an aggressive approach to ward the telling of a love story. The architect of a bomb designed to destroy lives in fighting that war is the precise subject behind this longish film. It is not endearing (though that would be questionable in discussing these masters of violence for their country.
An horrendous look straight down the nose of a blistering work of nature, the Hurricane, as lovers are brought together afterward she gets ill and suffers from the pangs of war without having been near the font lines of the tumult wherever it is.
From therre to the end is a military mission wherein the architect shoots at the world. A scientist who accomplishes his mission while killing more people than the earthquake he met at the film's start. This is one fine movie from a thinking man. He's seen enough sorrow to want a peaceful ending for his children. It isn't coming.
Animation, you wait and beg to do it, but in your heart you want to do brave things with positive things to say. I want so desperately to do the good stuff. At this point I'll take the mediocre, with some sadness.

______________________
I wish . . . I wish . . . I wish . . .
Theree were only good and responsible pieces of animation anymore. But no they just grow Mickey and his private parts larger and larger in Flash until the money doesn't sow and then they blow them up.
Just like that SCTV show they blowed him up real good.
Noone knows what will happen. It hurts you know. Croods and Monsters and Incredible him. He was incredible; he made a big success and now the second one. Incredible Him. I guess those turkeys should be big too, a holiday out of Thanksgiving. What do you know? Maybe one or two of the shorts will be fun. Not umbrellas making eyes at each other. We need some Prince Valiant to come along and save us all. Maybe that's me.
Commentary 25 Oct 2013 03:58 am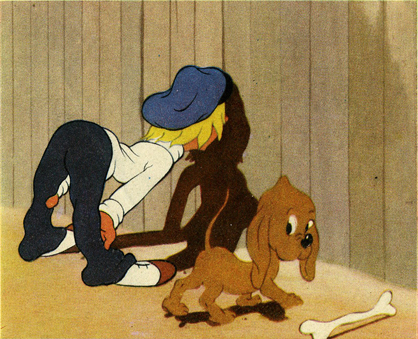 Disney was beginning to experiment artfully with his colors and shapes if not with his stories. He gave his designers a lot of free reign, and they slowly started taking it. The Silly Symphony films allowed them to push new areas in storytelling and the animators went for With films like Fantasia and Bambi that experimentation bled over into the feature films and excited the new guys enormously.
Walt had set up departments for story and designing, and newer artists like Joe Grant brought a verve to the stuffiness that had been settling into the artwork. Grant was a cartoonist – caricaturist who took a job at Disney doing caricatures and art for Mickey's Gala Night Out and Mother Goose Goes Hollywood. Grant did a lot of great caricatures which leave us laughing through today. He went from starring artist of those two films to designing plenty of others whether they needed caricatures or not. His color work was every bit as good as anyt hing he'd done, and he kept the films rolling. Grant arrived as an artist and ended up being a star, taking full control over the newly devised Character Models department. While he was one of the better artists in the Thirties story department, he worked closely with Bill Cottrell as his storyboard partner. Cottrell didn't do much drawing for his part of the partnership. The two were often also joined by Bob Kuwahara, a sketch artist, in doing the boards. The trio was inordinately successful (including the very fine films Who Killed Cock Robin? and Pluto's Judgment Day); when they mined theeir work for shortsl they had a peculiar method to their madness in the making of the boards something that workekd well for them.
aaai, omn tr othrt hsnf, nrrf domrtning lrdr to fo thr job1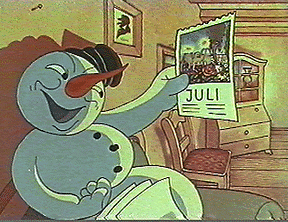 This was a peculiar way, for these Hollywood artists, to create their stories.
Meanwhile, overseas the Europeans were predominantly influenced Fleischer – or so they've often been quoted. Seeing the first Danish animated feature: The Tinderbox, one of my favorite fairy tales and it's by Hans Christian Andersen, it carries so many of his they definitely do try to get into the heads Fleisher animators – Fleisher during Gulliver. The characters can't hold their own lines. They distort, come back together and seem, always, to be living in a land of "takes.
"However, it's not quite completely true. You have a film like The King and the Chimneysweep (done in France by Grimault) and they're definitely modelling their work after Disney. Distribution to the Far East is covered by Ghibli, Miyazaki's company. Miyazaki also controls rights to Kirikou et les hommes et les femmes by Michel Ocelot. They also have several of the 2D films done by Trnka in the late forties early fifties. Trnka didn't follow the guidelines of Disney, but he was escorting himself. He had a style all his own found under the animation camera. He stuck with the original,
The man did great work.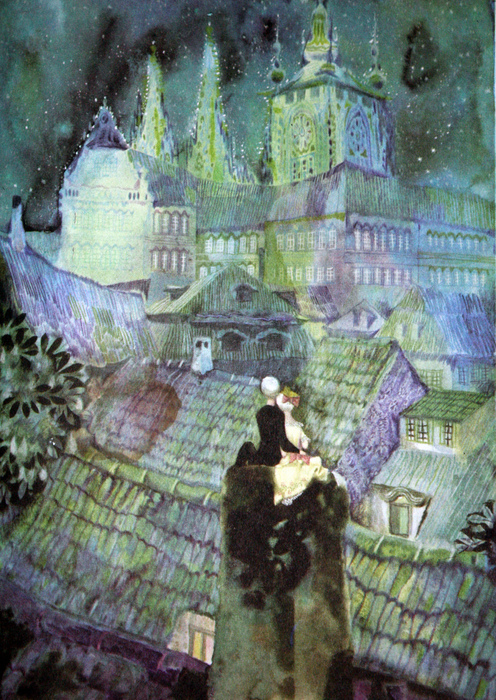 When the Nazis stepped in and took over the Fischerkoesen Studio they gave orders that their studio should emulate Disney. And that's what they did. They tried to supersede some of the most brilliant multiplane work done by Disney. In fact they did an exxcellent job excpt for the muddy movement.
You can show how animated films were influenced by others but you also have to show the results. In the case of all the Disney tied work, the working layout is stunning, but the animation left a lot to be desired. The needed a dominating animator who could get the artists to express themselves. This, of course, was also true of the Fleischer-inspsired work. The films are really lacking for good animation.
David Hand tried this in England just following WWII when he set up a studio outside London and tried to train new workers to the medium. The Ginger Nutt series was born, and didn't last long. But quite a few animators grew out of this system. Harold Whitaker was probably the foremost animator, and. I know Gerry Potterton made it through this system. His look is far from Disney, ever farther from Fleischer. Maybe that's why he was successful.)
So it started when Fleischer went to Hollywood/Disney where it got slicker. Europeans and Japanese picked up what they wanted from those cherry-picking from Europe. I hope soon to write about the "moderne" art of Russia.
Miyazaki has his own style which is different from other Japanese animation studios. Like his aircraft and air battles, it's more European than Japanese and more Japanese than any other'
European. It's his style, though. That's to be sure.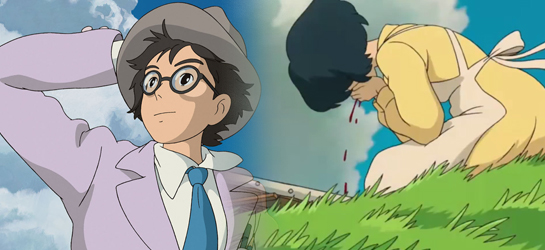 Commentary &Daily post 23 Oct 2013 08:02 am
This is a week for 2D animation. Last Sunday I watched the 1991 film ONLY YESTERDAY. That was a brilliant film, and it was so quiet and delicate and touchingly perfect. Directed by Miyazaki's partner, Isao Takahata. What a gentle and near-perfect movie. It's probably too quiet for most people, but I loved it. I have to thank Nat who left the comment on my blog about it.
Last night, there was John & Faith Hubley's 1962 feature, OF STARS AND MEN. This was the first Hubley film I saw in a theater. I was only 17 at the time. It was a little bit of genius living around the corner from me. It's a feature, a great one, without having all the low wit you'd usually see these days.
It was the first film by the Hubleys that I ever saw in a theater. Only 53 mins, it takes your breath away. It's very much an adaptation of Dr. Harlowe Shapely's book, "Of Stars and Men." This is a pure and unadulterated look at the science as studied by Dr. Shapely. Every inch of glorious painting and remarkably strong animation layout is used with the 2D animation camera. As many as 10 passes through the camera are used for every frame.
John definitely went for the abstract, where he found a beauty that couldn't have been replicated any other way – including in the pre-historic sequences of the original Fantasia. I'll try in an upcoming blog post to post some of the frame grabs from this movie, gorgeous as it is in all its delicate motion.
Talk Session for "Of Stars & Men"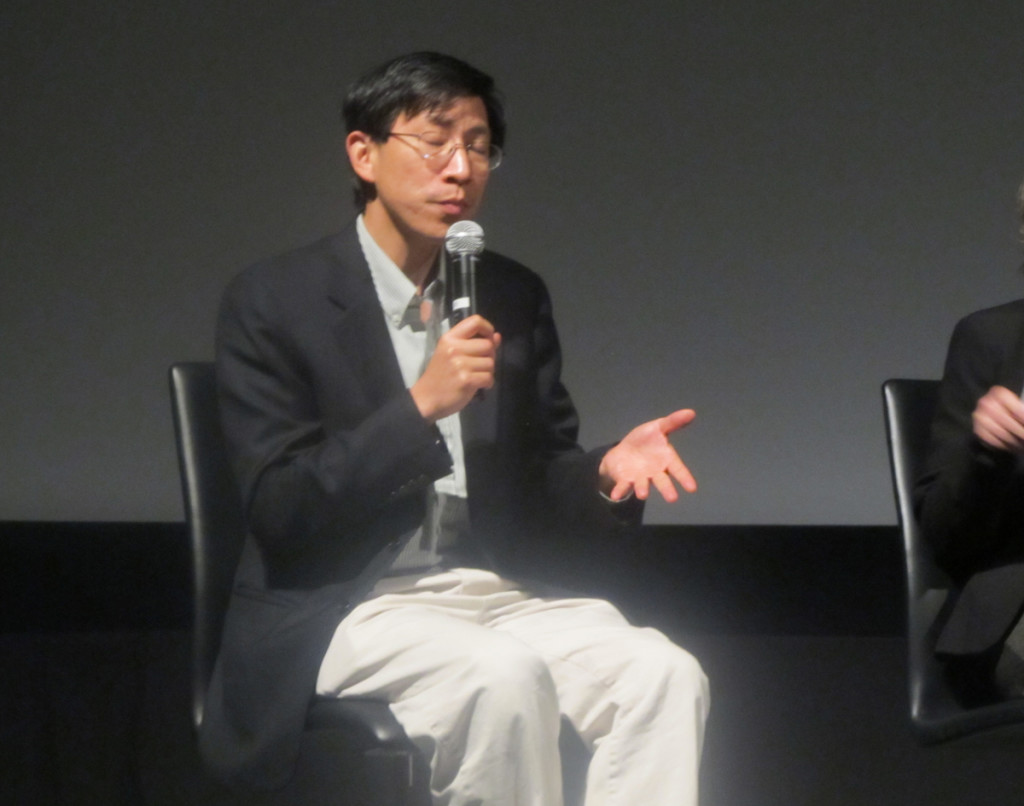 1
Dr. Charles Liu, a scientist supporter of Dr. Harlow Shapely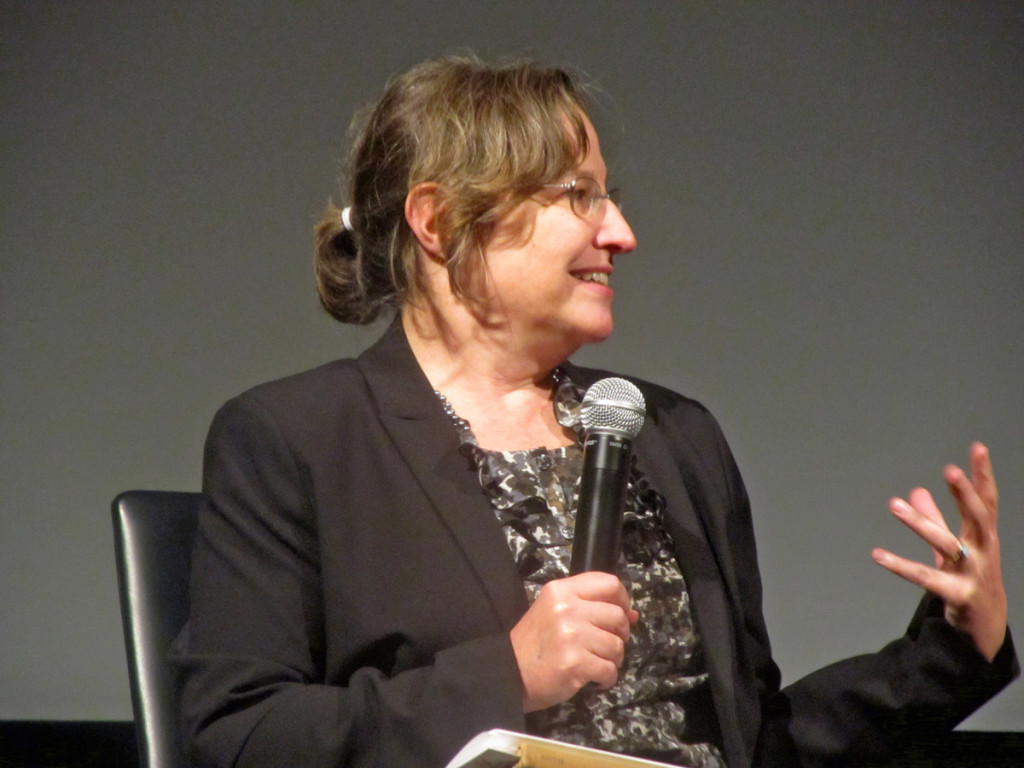 2
Emily Hubley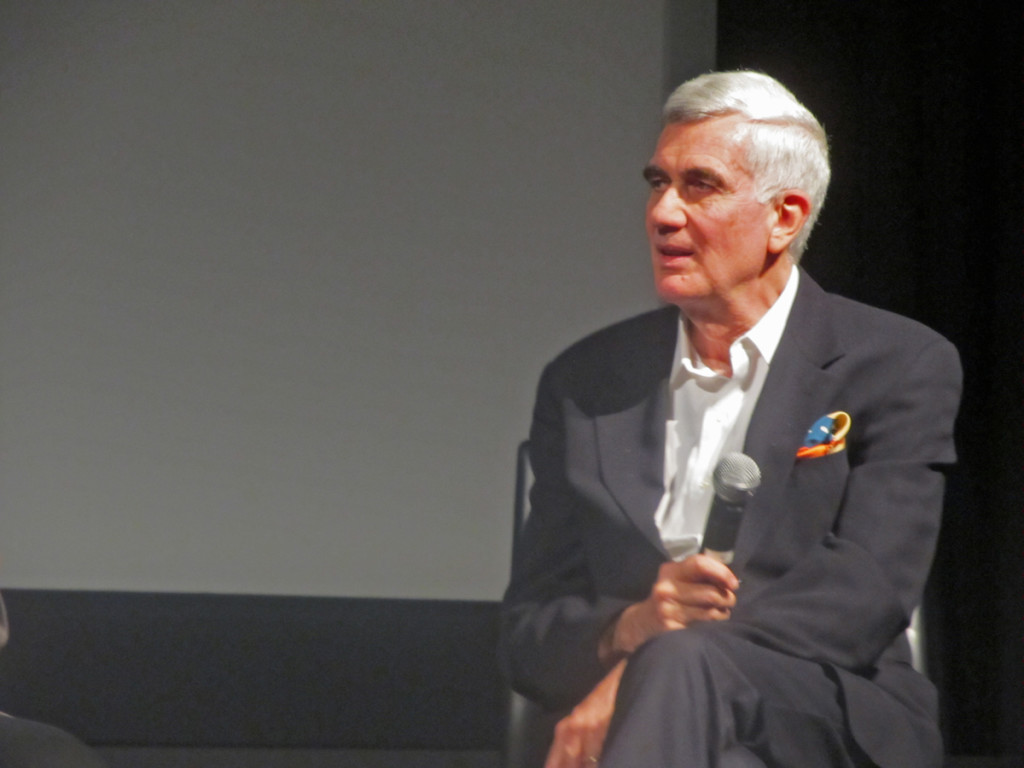 3
John Canemaker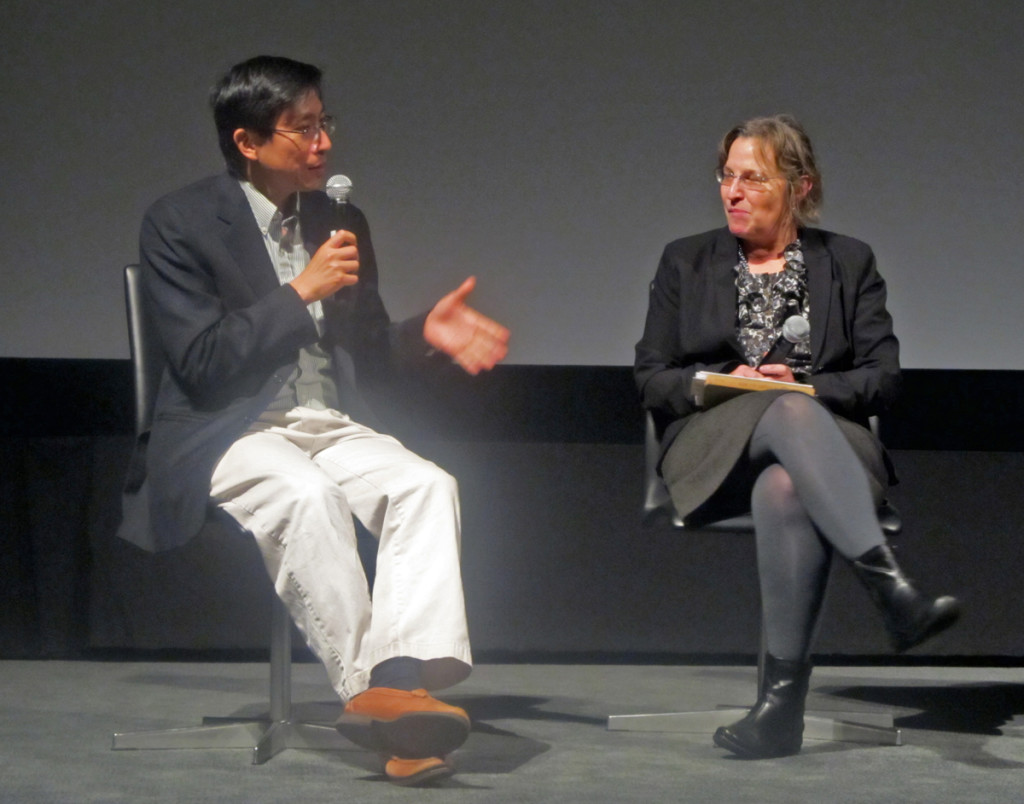 4
Dr. Charles Liu and Emily Hubley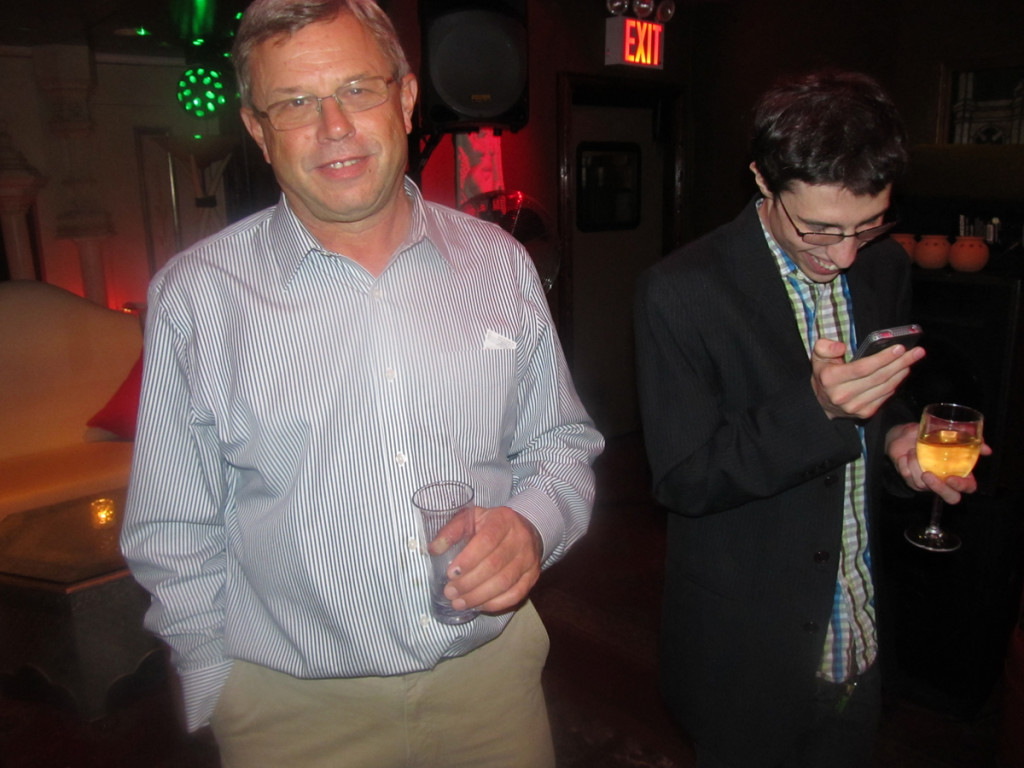 5
Mark Hubley and nephew, Max Hubley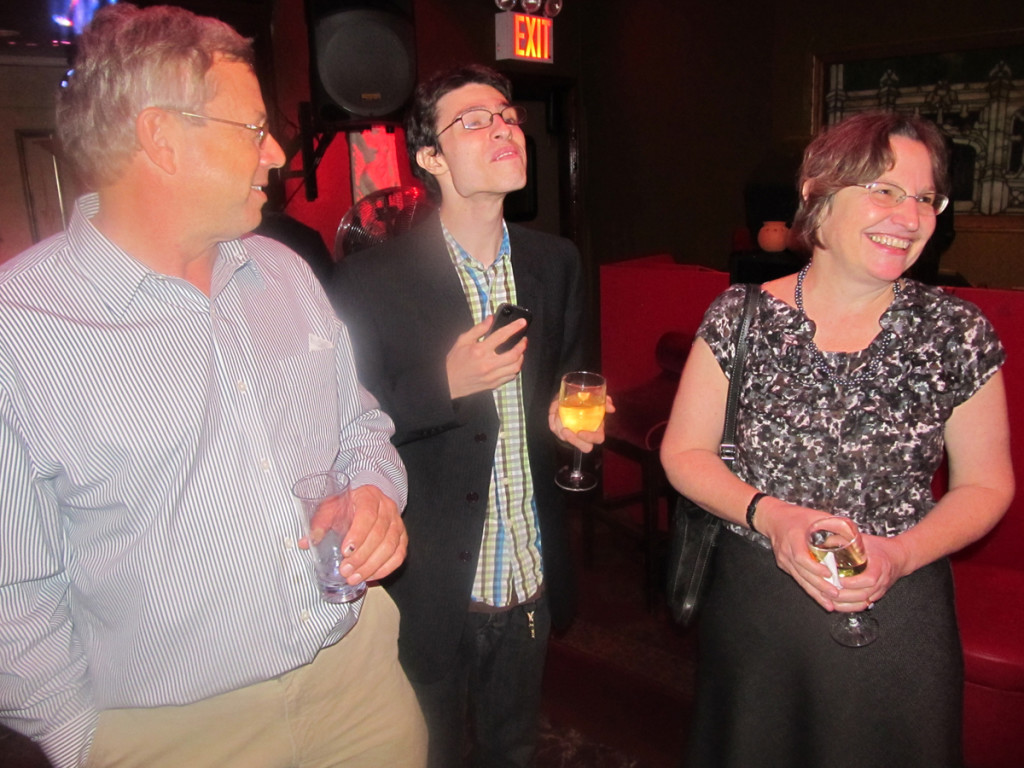 6
Mark, Max and Emily Hubley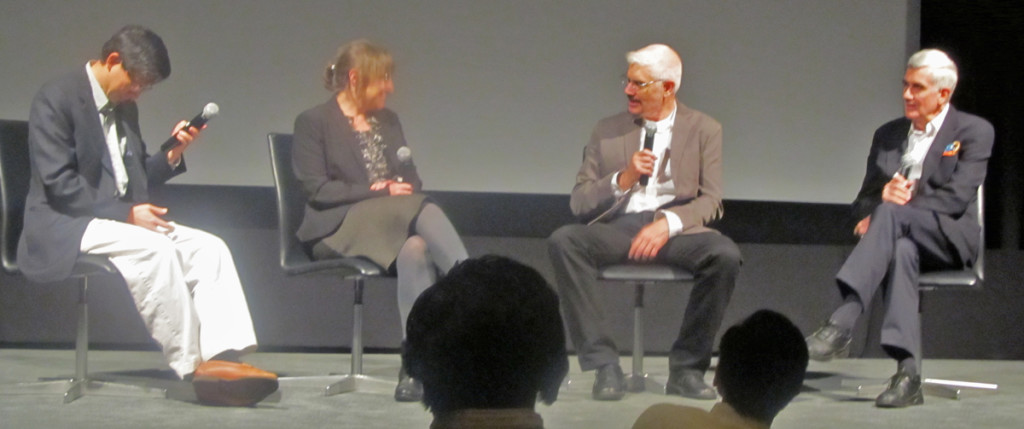 7
Dr. Charles Liu, Emily Hubley, curator, Ron Magliozzi, and John Canemaker.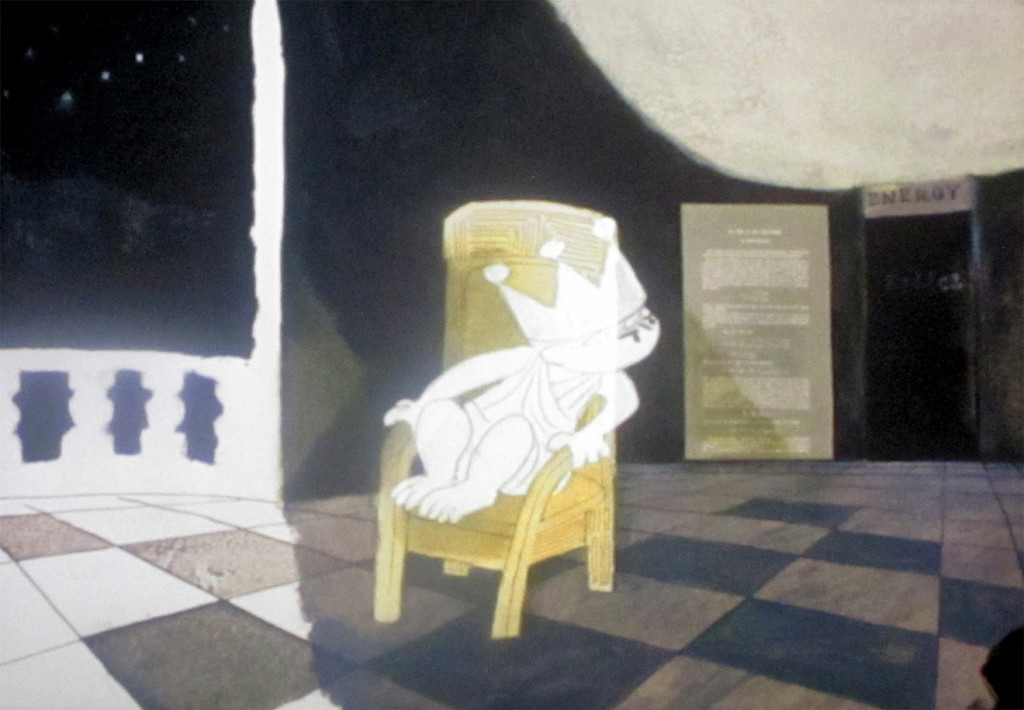 8
Will Rosenthal, Emily's husband and Ira Kaplan Georgia's husband were also there.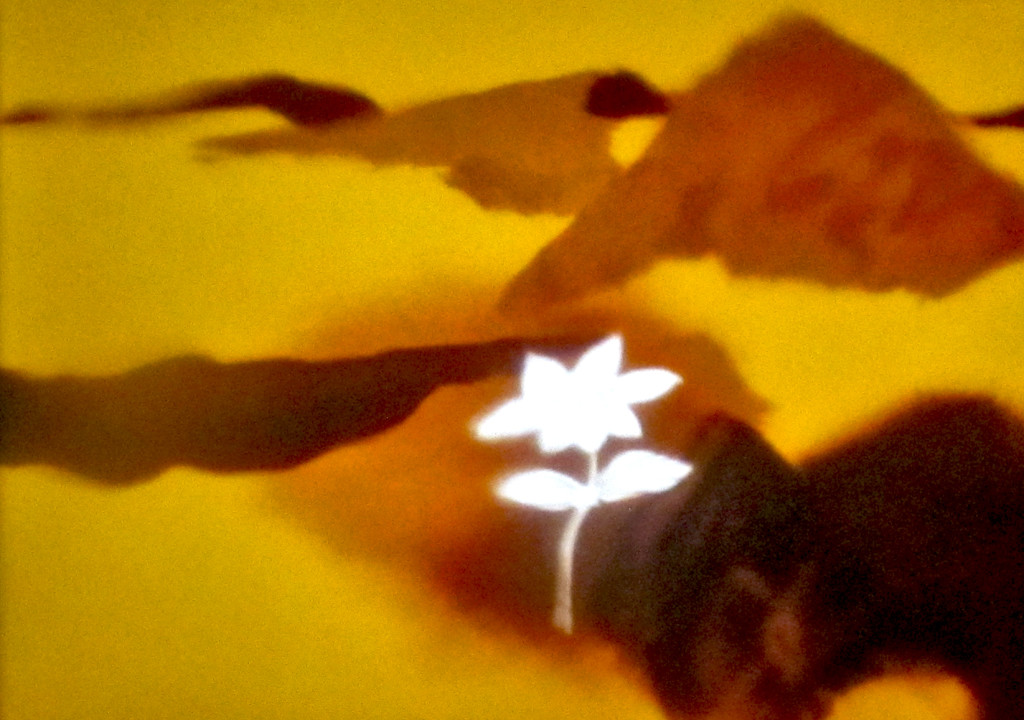 9
On screen flower
Also iin the audience were Candy Kugel, Jannet Benn, Joe Kennedy
Biljana Lobovic and Jeremiah Dickey.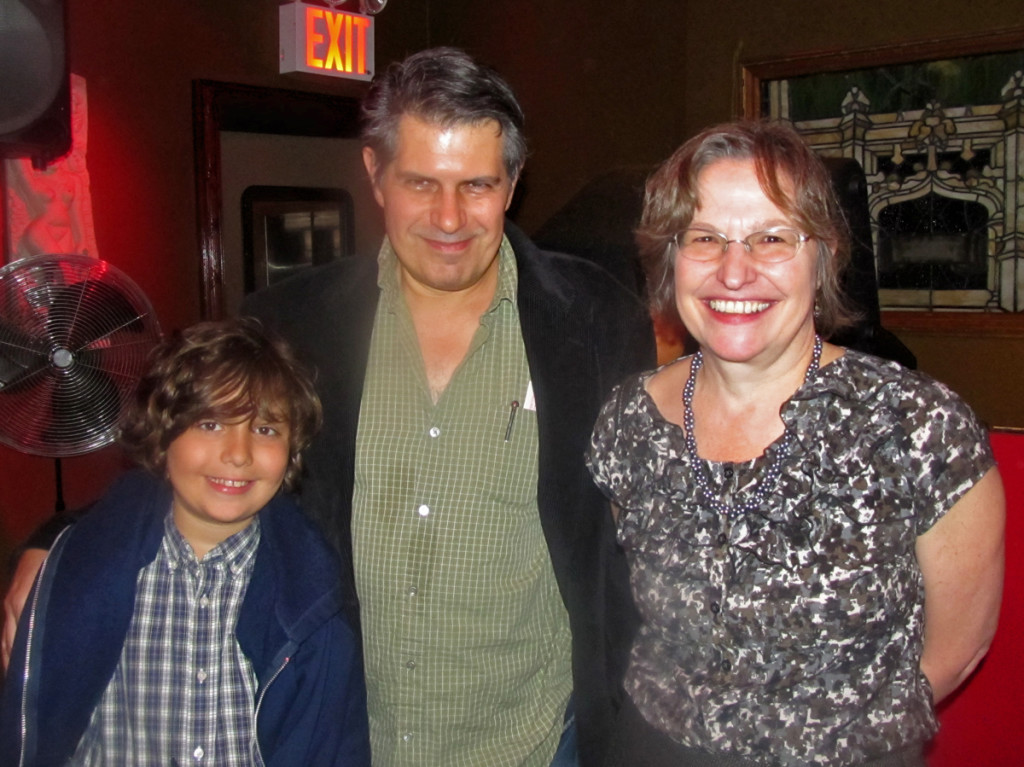 10
Oscar and Jeff Scher, and Emily Hubley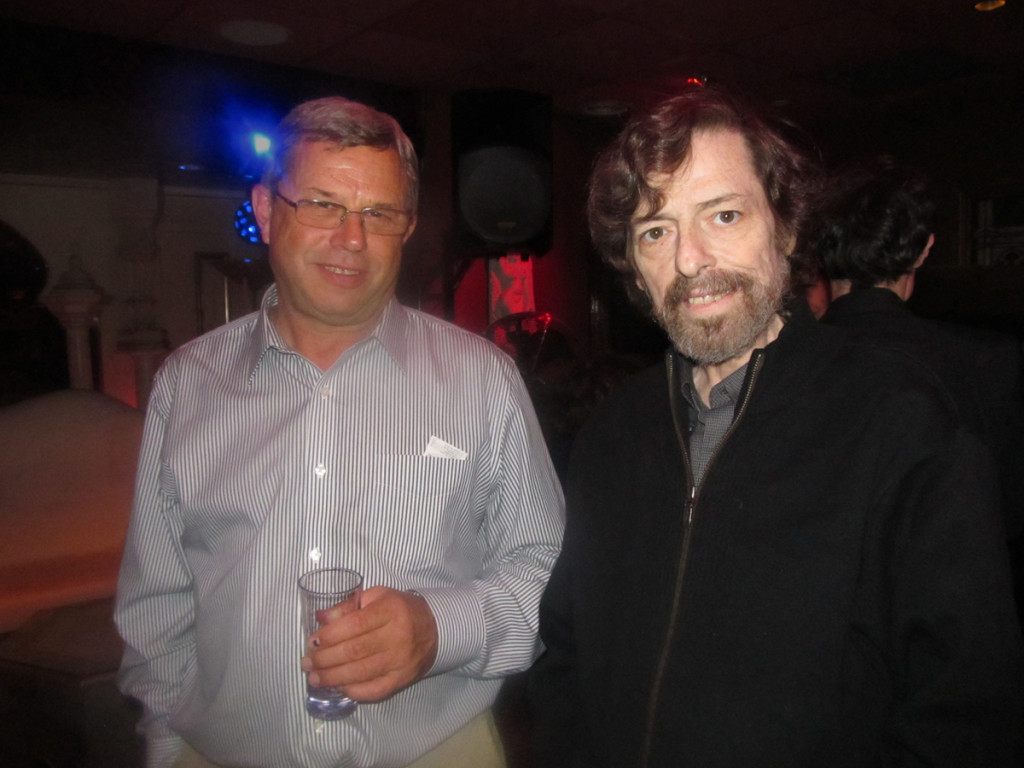 11
Mark Hubley and me.
At the end of the film, my wife, Heidi, asked where the credits were. She'd forgotten those were
at the film's start. The entire crew amounted to 15 people.
Harlow Shapley Harlow Shapley
Mark Hubley Mark Hubley
Ray Hubley Ray Hubley
Produced by
Faith Hubley producer
John Hubley producer
Cinematography by
Film Editing by Faith Hubley (as Faith Elliott Hubley)
Animation Department
Pat Byron … background artist (as Patricia Byron) / rendering artist (as Patricia Byron)
Nina Di Gangi … background artist / rendering artist
Faith Hubley … background artist / rendering artist
John Hubley … background artist / rendering artist

Bill Littlejohn animation director (as William Littlejohn)
Gary Mooney … animation director
Music Department
Roy Friedman music recordist
Walter Trampler … musical director
THAT'S IT!
Thursday we see Miyazaki's The Wind RIses, and on Sat & Sun we see all of the AMPAS entered animated shorts. Mine eyes hold up.
Books &Commentary &Illustration 22 Oct 2013 06:20 am
Ralph Steadman has reached the White Knight, who gets to recite Jabberwocky for the first time.
It's a brilliant delight, of course, and the illustrations are completely up to the task. But this is from a wholly different book. (It's published out of order within this volume. If it weren't out of order it'd be too long to fit dramatically, here.) I believe I may have once posted Jabberwocky or some of it, anyway. I can't find it just now. I also have the version by QUentin Blake which I know I didn't post. (THAT book is a rarity.) I really do love Lewis Carroll's work.
Soon after the White Knight is defeated by the young, imbalanced Red Knight (don't ask, read it), the Red Knight tries to recite his poem but has a bit of difficulty. He has to keep time with his right hand while trying to stay in balance on his horse.
However, he keeps falling off the horse when his isn't reciting. The man has a problem.
Tell me, don't you think the Red Knight looks a bit like a young Prince Charles? My thought, of course. Would Steadman be that rude to treat his royalty so?
Here, uninterrupted, are the illustrations: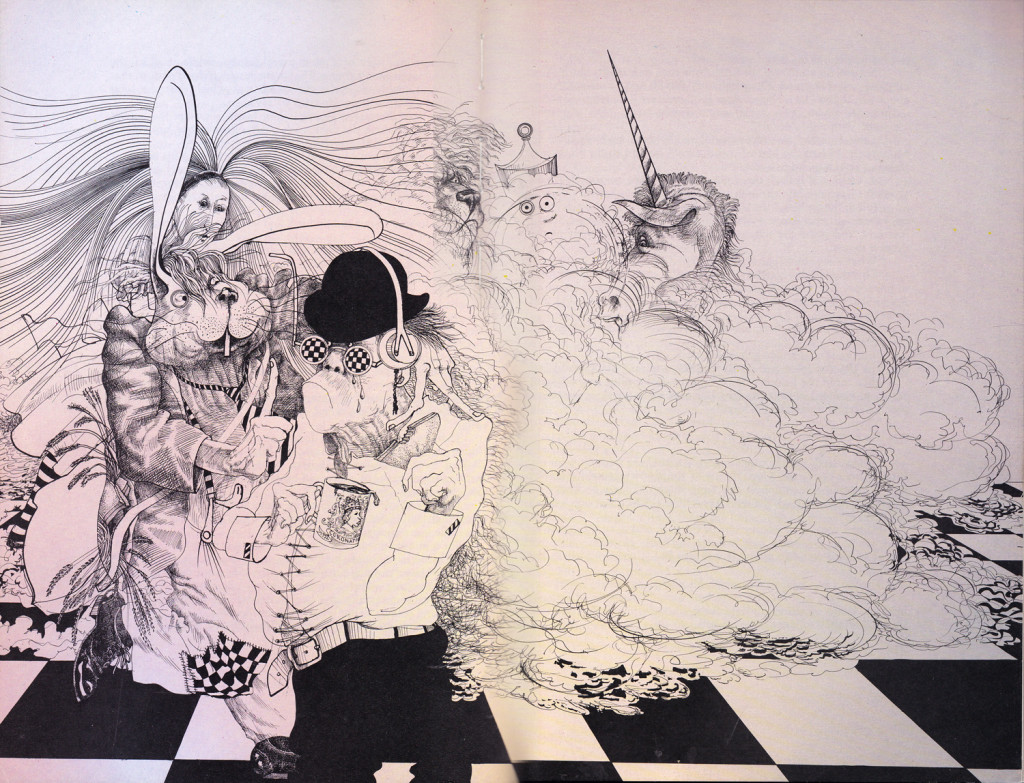 1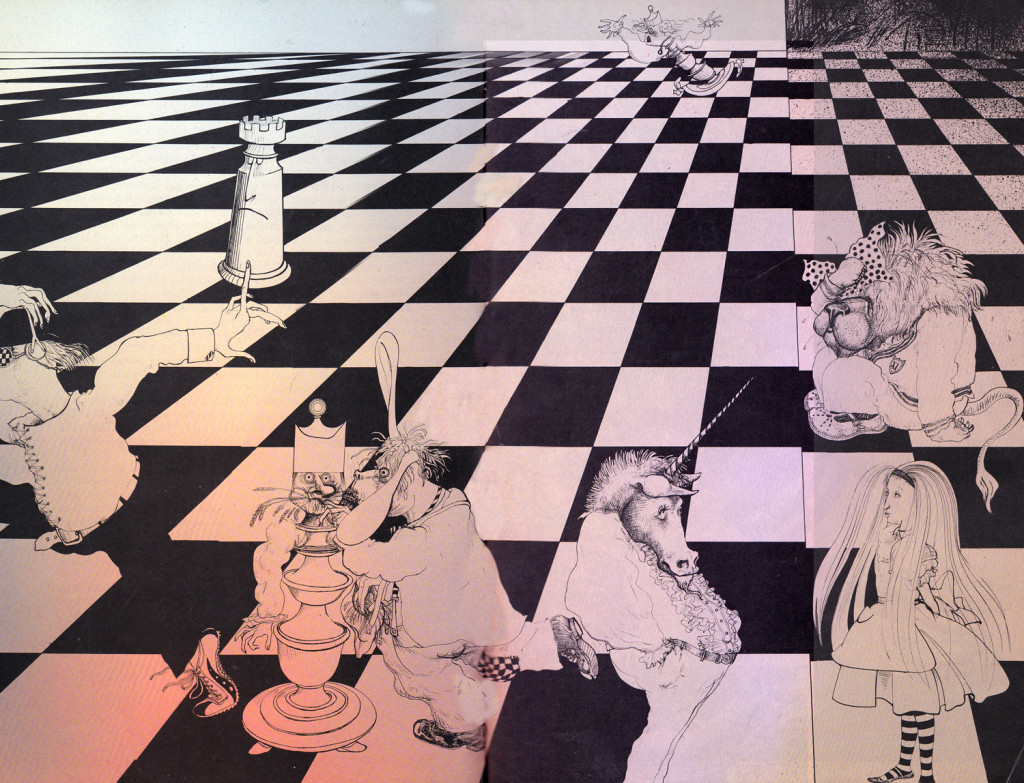 2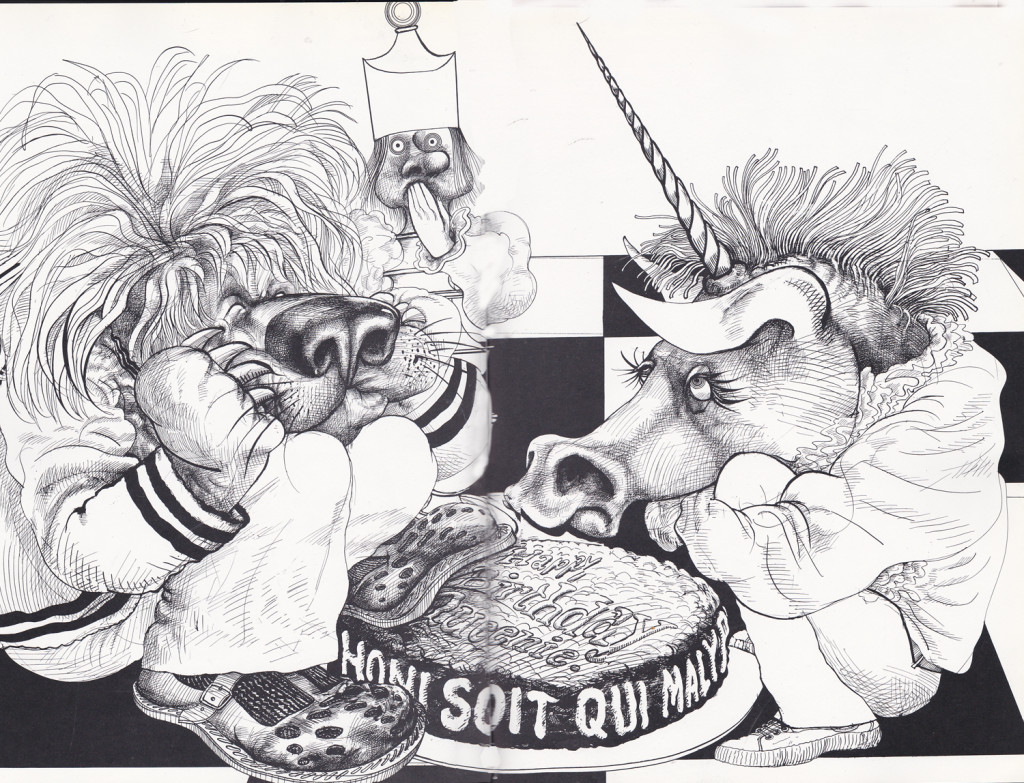 3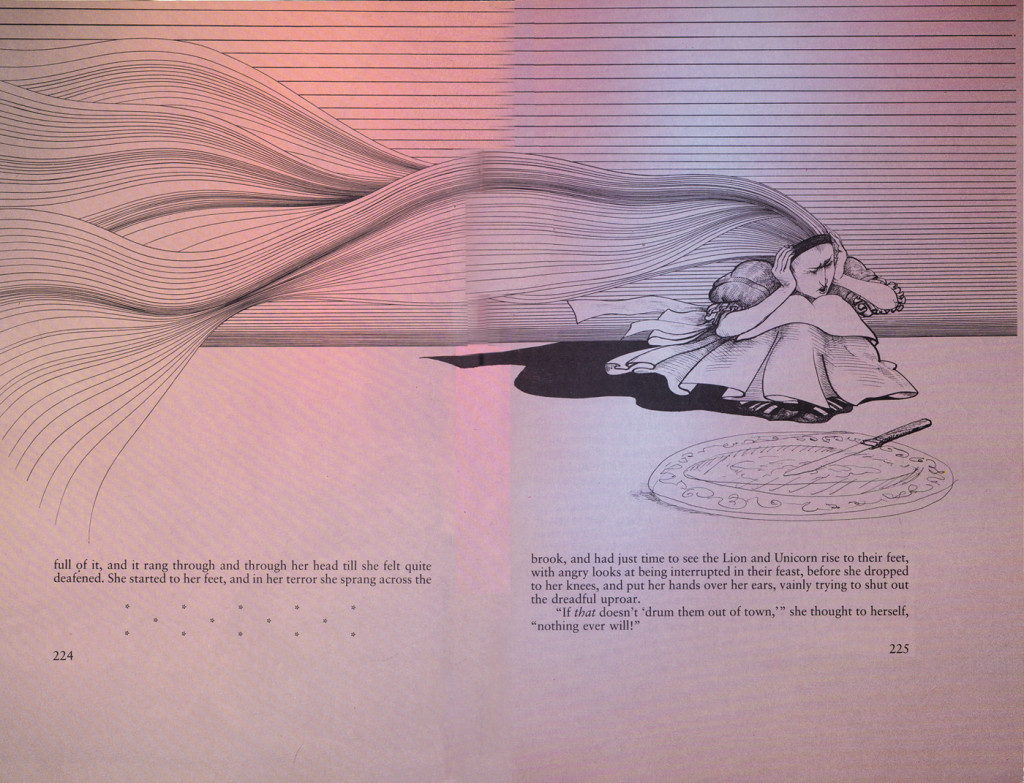 4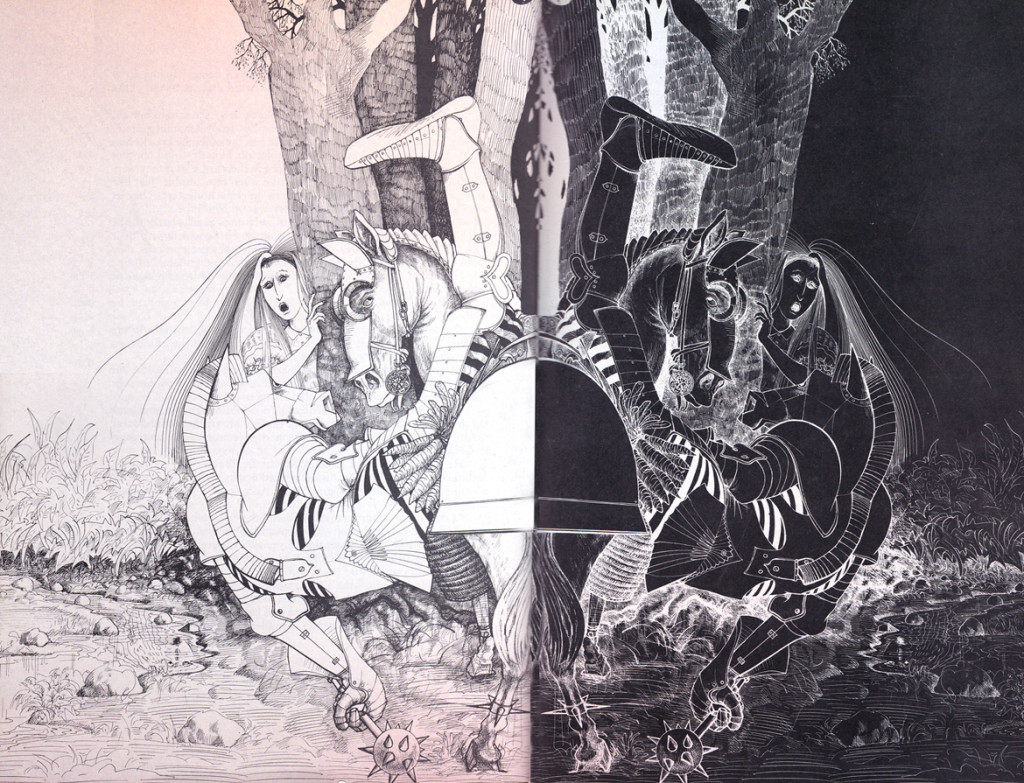 5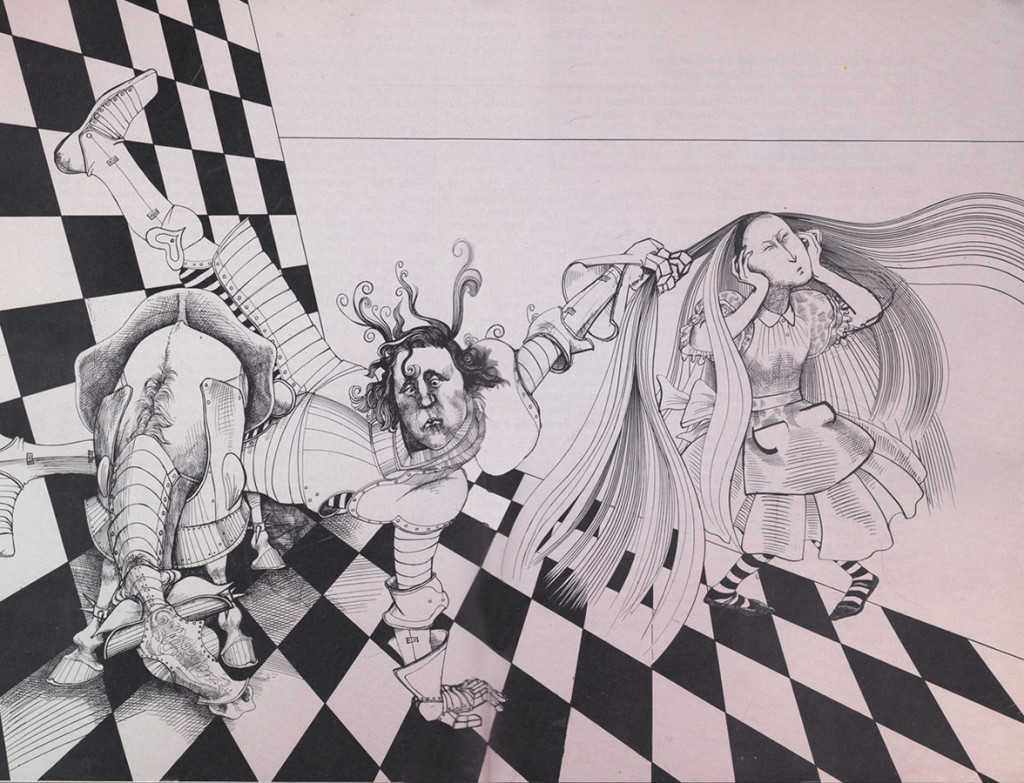 6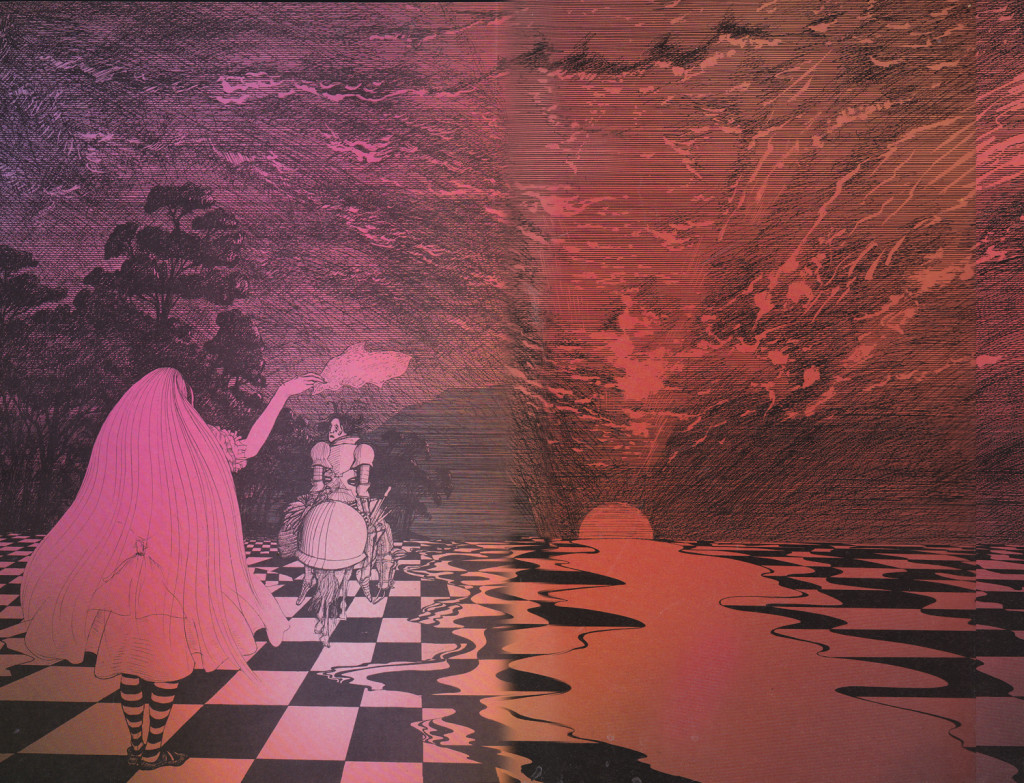 7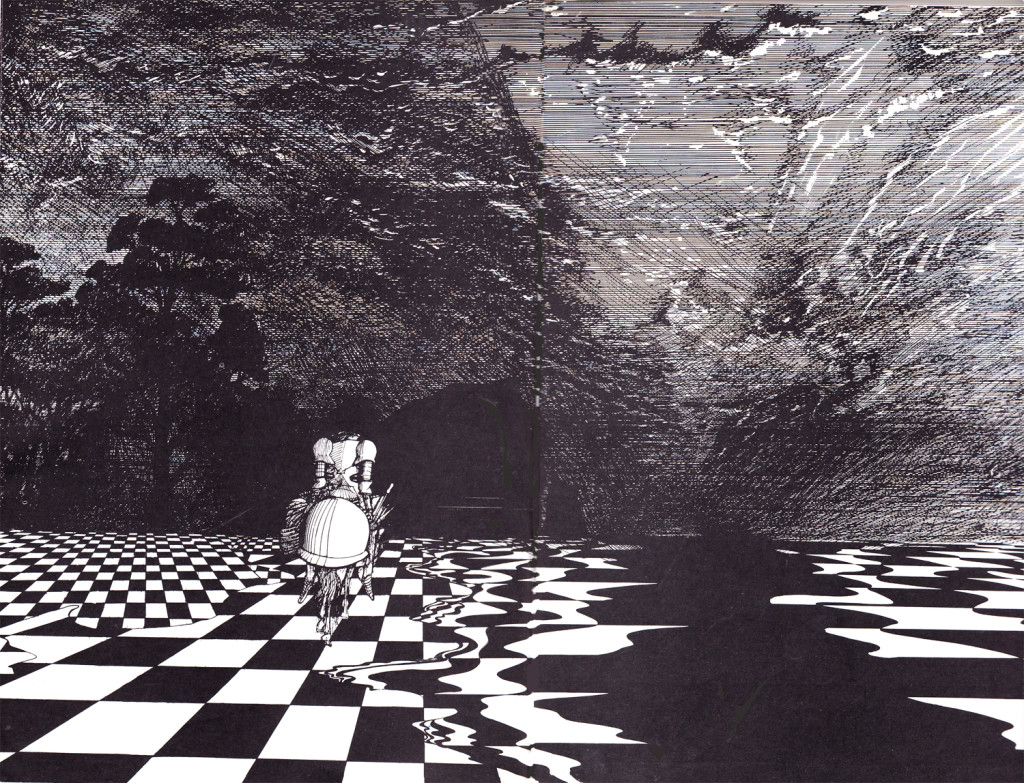 8

Starting today, I'm going to end a lot of my posts with images from Michael Sporn Animation Inc films. I have to say, in all the years of making so many films, too infrequently have I posted pictures of the work we've been doing. It's about time.
Michael Sporn



Sporn images
from
The Hunting of the Snark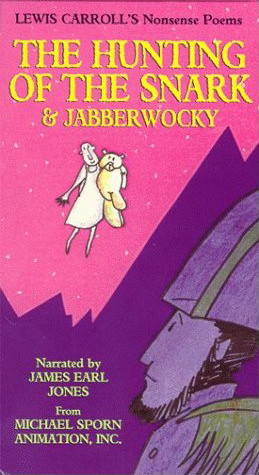 The individually wrapped video box from First Run Features 1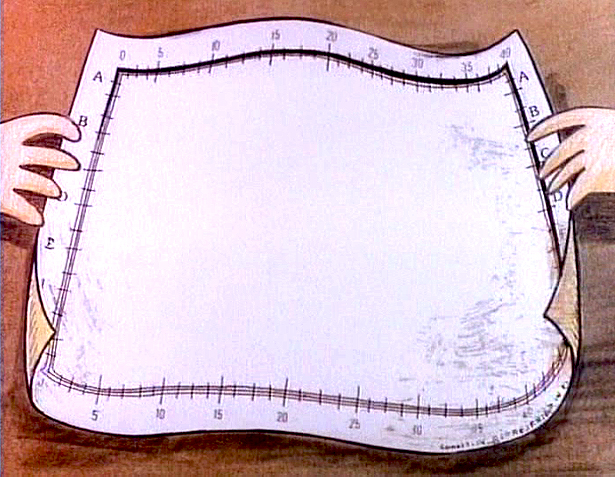 2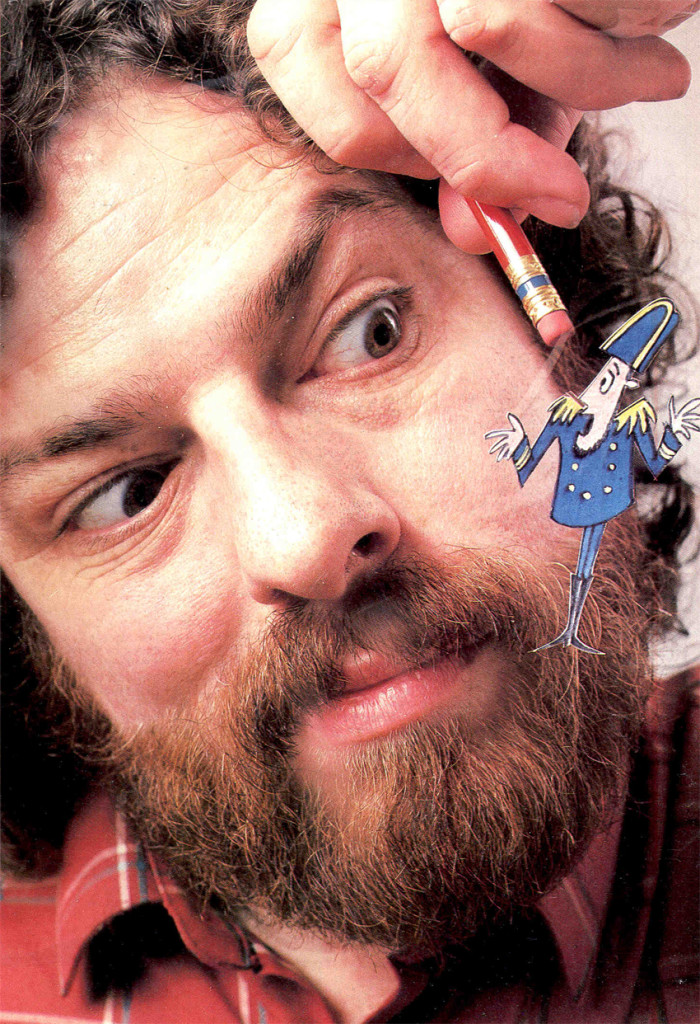 3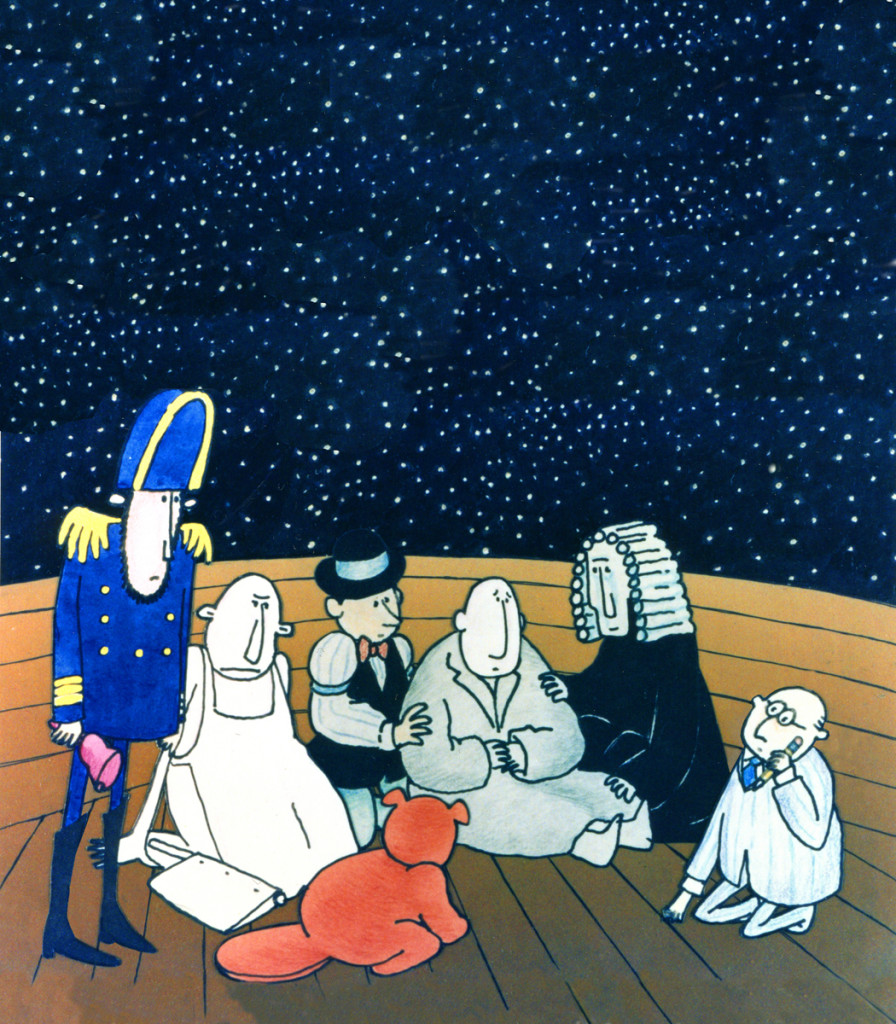 4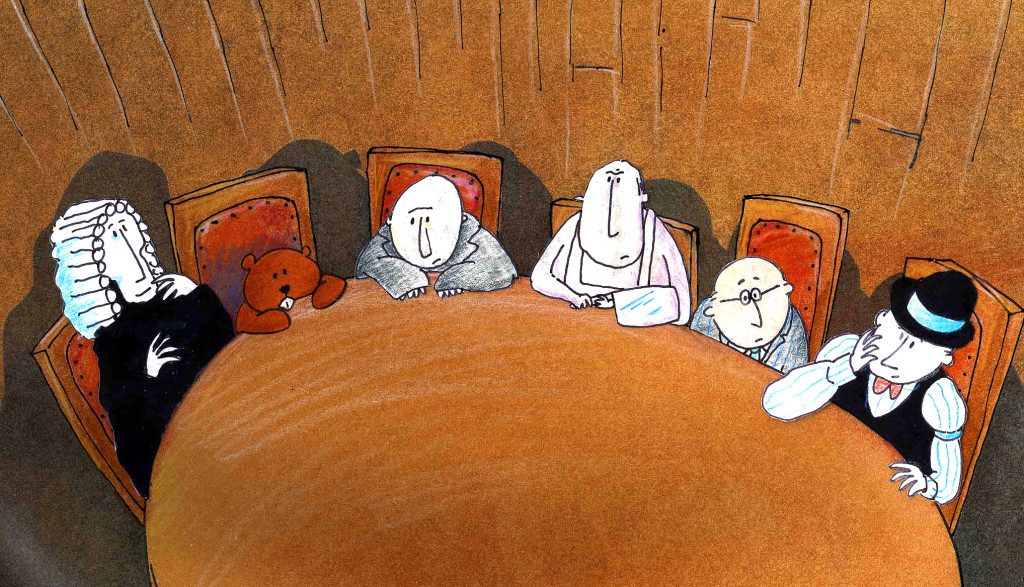 5
Action Analysis &Animation &Commentary &Disney &Guest writer 21 Oct 2013 06:13 am
I can't believe all this nonsense I've been reading about what Joanna Quinn might have said about this Disney film or that. She's right and anyone who argues with her has to be a real dullard and a total fake. If she says it's easy or hard to animate women, take her word for it. (Not just because she knows how to animate women better than anyone on the planet, these days, but because what she's saying is common sense.
Women are people, too, not just insipid cartoon characters the way the Disney people draw them. If a male is easy to animate, it's because they've figured out how to design them as the cartoons they're making. If women are hard to animate, it's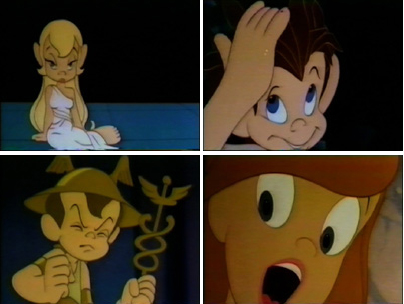 because the lead character in FROZEN looks like every other generic female these guys can draw. Give it up. Hire a few good women who can animate, and we'll see what we see. (I expect nothing different unless the woman drawing the figure is a good animator (not just great, like Joanna Quinn) and knows how to draw well (not even great, as JQ can do). But the character they're animating is well designed (unlike the lead in FROZEN).
It reminds me of the in-house joke around the film METAMORPHOSIS. The principals didn't have names, and the model sheets read: "Lead Boy" and "Lead Girl". The animators usually read their names as "Led Boy" and "Led Girl" because they looked generic and they could only make them move like "lead."

________
As long as we're talking about drawing and designing and animating women let me repeat a segment of an older post. It includes storyboard from Disney's The Adventures of Ichabod and Mr. Toad. Of course, the original of this was The Wind in the Willows by Kenneth Grahame.
My reason for repeating it has more than a touch upon Joanna Quinn's fine comments. I received a letter from the great Borge Ring who pointed out who the artist was of this storyboard. An excerpt from his letter:
hi Michael

Re Give me a Drawing
Daan Jippes who worked on The Prince and the Pauper saw the storyboard of "The Wind in the Willows" and said:
"The story sketches of that opening sequence look exactly like the finished scene. How can they give an animator credit for something that has already been done ?"
The draft said the scenes were animated by Frank Thomas, and I asked Thomas:
"Frank,who drew the storyboard of the sequence?"

"I did – I am not sure I did much else"

greetings
from
Borge 92

PS
You mention Oscar Wilde
He is supposed to have said:
"Sexual gratification is so useful to us humans. Because it enables us to think
of other things too"
So here, then, is a bit of that storyboard – more from the end rather than the beginning.
Talented those men were (they could even draw men, a toad and a horse, dressed as women pretending to be women – with very little success.

________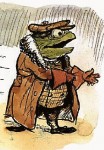 – Probably my favorite children's book is The Wind In The Willows. There have been many animated adaptations of this book since it became a public domain item, but for years there was only one version, Disney's Mr Toad half of The Adventures of Ichabod and Mr. Toad. The loudest most raucous parts of Kenneth Grahame's delicate novel, blared their way onto this animated compilation feature.
We all know that the book was planned as a feature way back when Disney, in the late 30s, was buying up titles of famous children's books to prevent other competing studios from turning them into animated features. Work began on adapting the book. They never quite broke it as they hoped, and it ultimately became a featurette with its primary focus on the loose cannon, Mr. Toad.
. . . .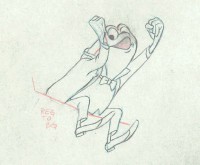 The film, as it exists now, has some positive elements and some fun animation, but the story was always a bit too quiet and British to successfully survive a proper adaptation in the Disney canon.
When John Canemaker loaned me his copy of the Pinocchio boards, he also brought The Wind In The Willows (not titled Mr. Toad). There are few captions here, but this obviously is designed for a full-out feature not an abbreviated featurette. The images on his original stats are small, so I've blown them up a bit and tried to marginally clean them up.
As suggested by Michael Barrier, this board was probably assembled to produce a preliminary Leika reel. The giveaway is the lack of dialogue and commentary underneath the drawings. The assembly was made to be photographed.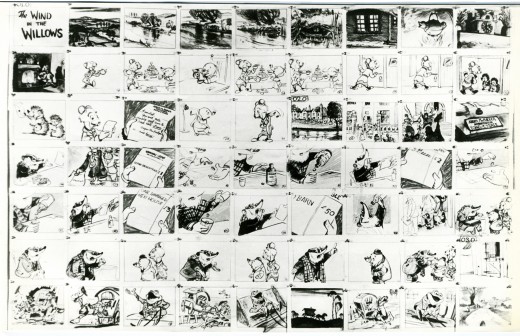 1
(Click any image to enlarge.)

2

b

3

b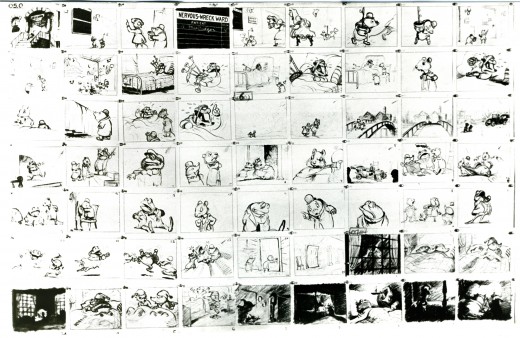 4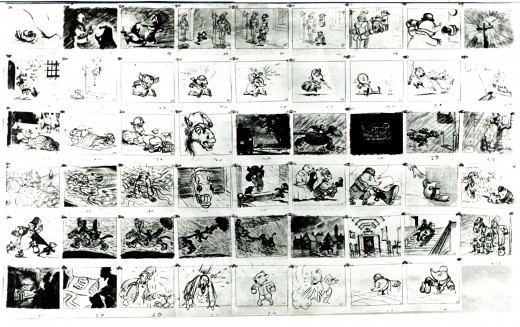 5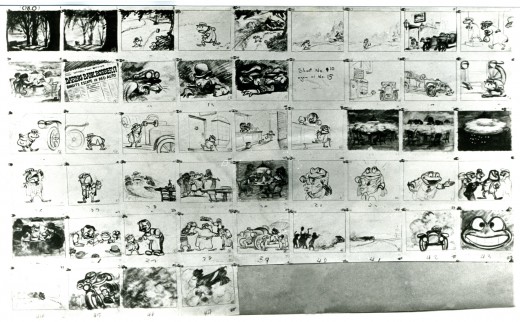 6
Disney's Mr. Toad first aired on the Disneyland television program on February 2, 1955. You can buy the dvd of Ichabod and Mr. Toad on Amazon among other places.
If you're interested you can read the entire book of Kenneth Grahame's work (minus the beautiful Shepherd illustrations) here.
You can buy the book here.
Dave Unwin's version is my favorite adaptation in that it retains some of the flavor of the original book and isn't afraid of being quiet at times.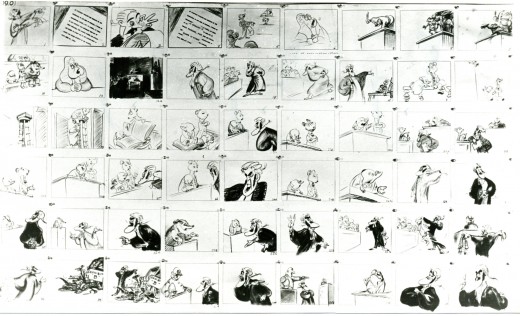 7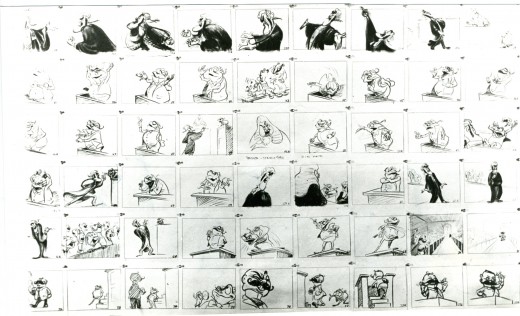 8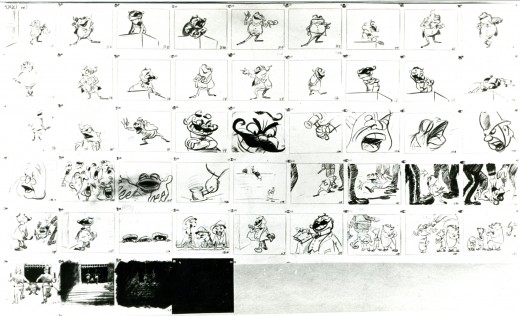 9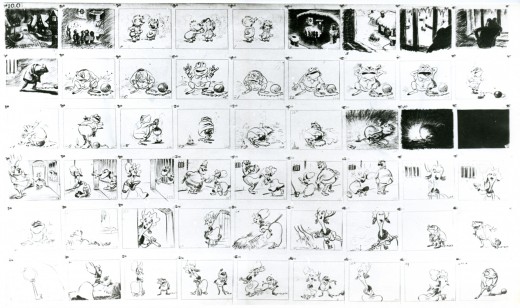 10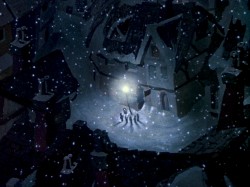 . .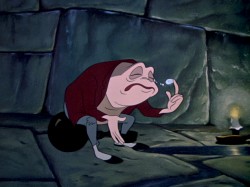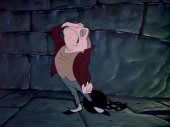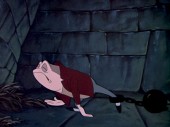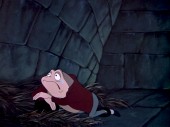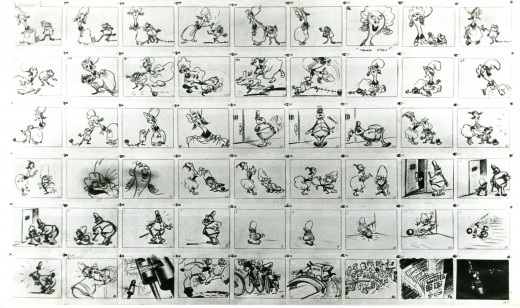 11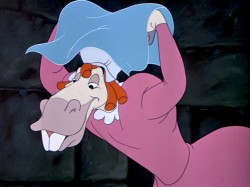 . .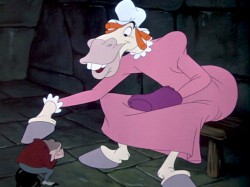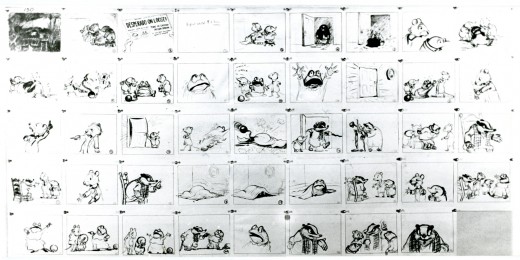 12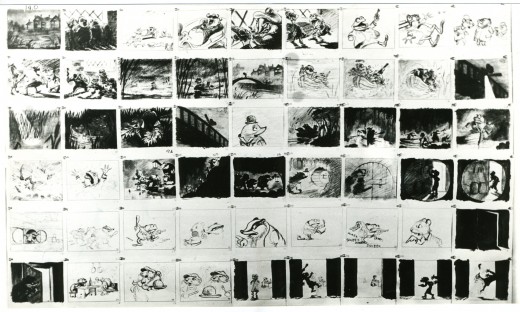 13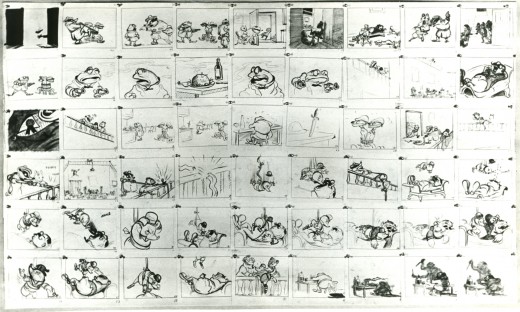 14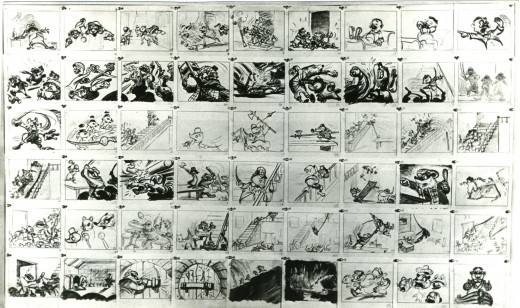 15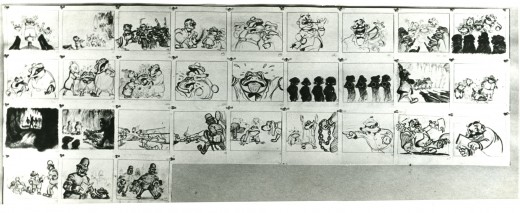 16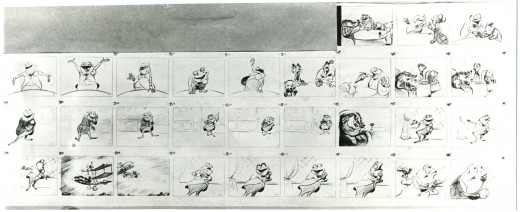 17