Category ArchiveStory & Storyboards
Disney &Peet &Story & Storyboards 15 May 2013 05:54 am
- In yesterday's post, we saw artwork that Bill Peet had done. It was obviously art that was prepared for a book. Whether he was doing this for himself or the studio I can't say. I do know for sure that it didn't become a book, but I do know it did develop as a film completed in 1951.
That film was directed by Clyde Geronomi.
The Layout was by Don Griffith and Hugh Hennesy.
The animation was by Bob Carlson, Ollie Johnston, Hal King and Cliff Nordberg.
The backgrounds were by Ralph Hulett.
The music was composed by Paul Smith.
Thanks again to John Canemaker, I have the storyboard by Peet for this short Disney film.
As in the past I've broken the board down so that I could post it as large as possible so that you can read it when the images are enlarged. Enjoy.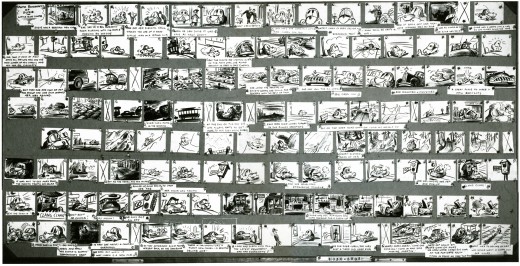 This is the complete board. I've broken up each individual row, they appear below.

A1a
(Click any image to enlarge.)

A1b

A2a

A2b

A3a

A3b

A4a

A4b

A5a

A5b

A6a

A6b

A7a

A7b

A8a

A8b

The following seem to be LO drawings and don't appear to be part of the storyboard. Perhaps it was prepared for a Leica reel? Regardless, the drawings are interesting, though I doubt Bill Peet did them all.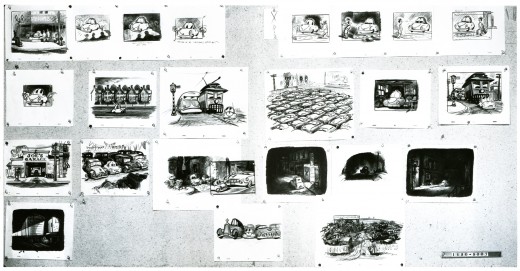 As with other recent posts of storyboard material, I've
broken it up and repositioned the images so that you can
enlarge them for better viewing. The above image represents
what the photo given me looks like.

1a

1b

2a

2b

3a

3b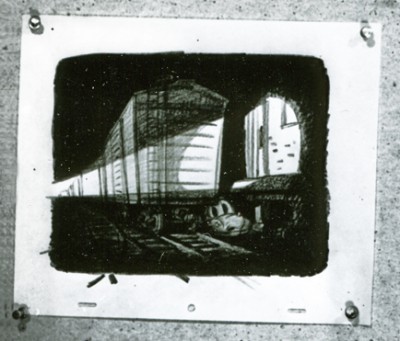 4a

4b
Finally, I wanted to give an indication of the film's color, so
I've gone back to John Canemaker's book,
The Art and Flair of Mary Blair,
and have taken this color sketch she did in styling
to represent the film as a whole.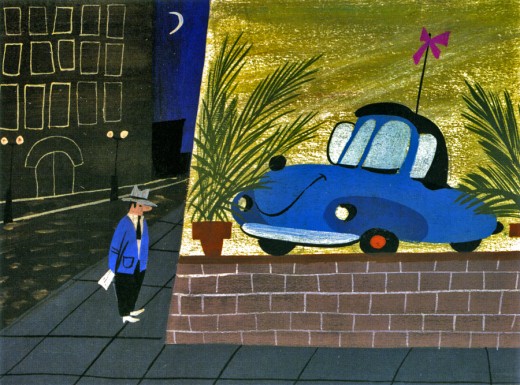 Animation &repeated posts &Story & Storyboards 30 Apr 2013 06:38 am
My apologies, I should have included this page among those from the Sleeping Beauty battle which I'd posted yesterday. This concludes the dragon fight.
- This is the final photo/page of the Ken Anderson board for Sleeping Beauty. John Canemaker loaned me the series (which I'd posted in June of 2006) that includes Sequences 18 & 19 of the film. They're the climax of the film – Prince Phillip's battle with the thorns and the dragon, ultimately killing off Maleficent.
This is the whole photo as is: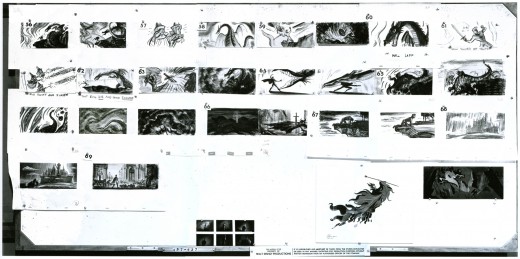 (Click any image to enlarge.
Here, I've broken the photo into rows cutting the rows in half. This way I can post them as large as possible for viewing.

1a

1b

2a

2b

3a

3b

4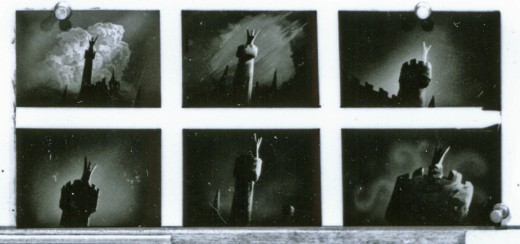 These last are tiny thumbnails at the base of the photo.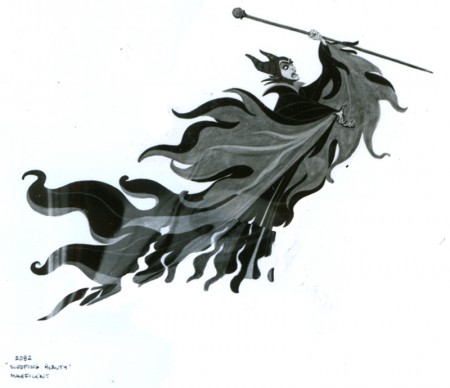 These two basic setups are also pinned to the board.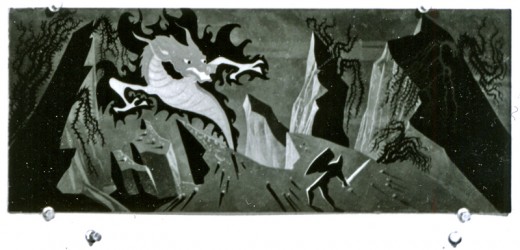 Here are the pages of the animator's draft to inform you as to who animated the scenes of sequence 19: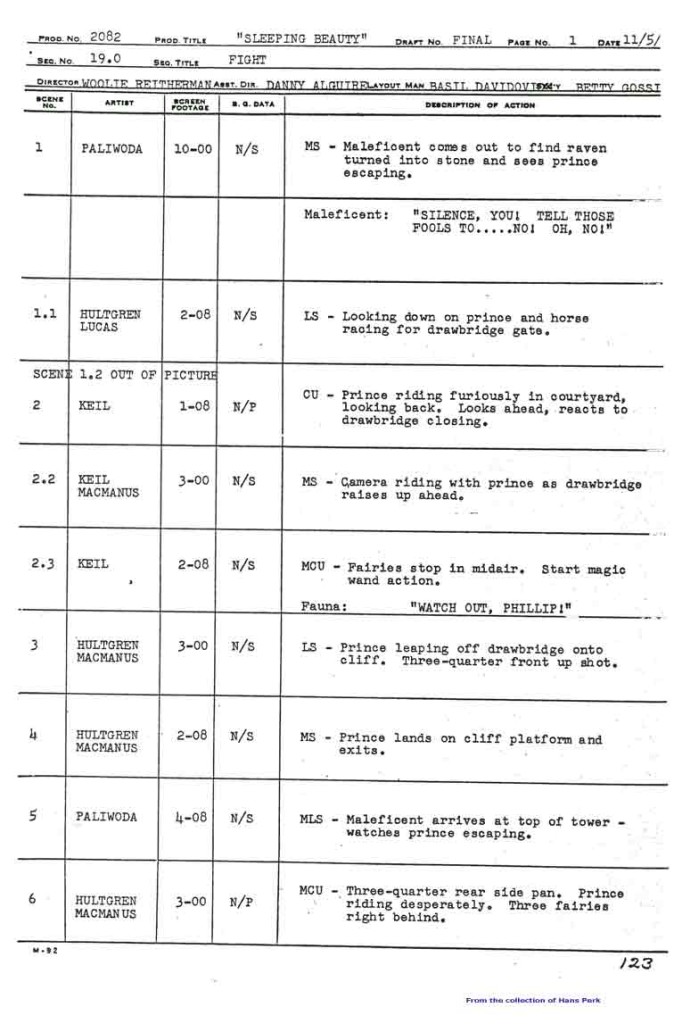 1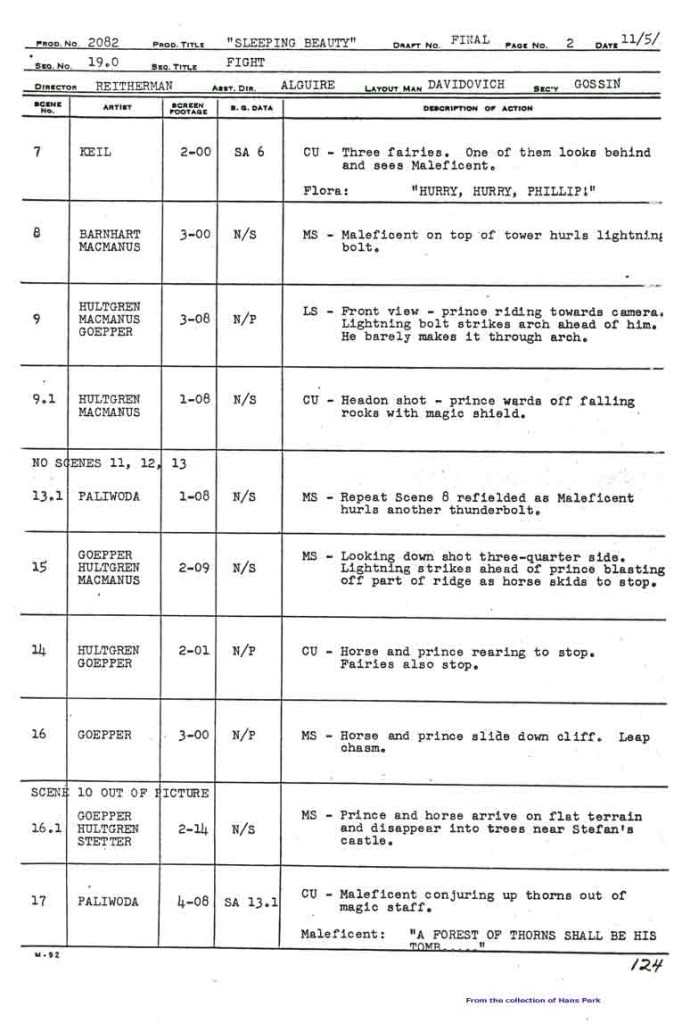 2
Many thanks also to Hans Perk who, on his blog A Film LA, has posted the animator drafts of this film (like so many others he's shared with his readers). None of this work could have been done without that reference.
Animation Artifacts &Articles on Animation &Disney &Illustration &John Canemaker &Story & Storyboards 29 Apr 2013 06:19 am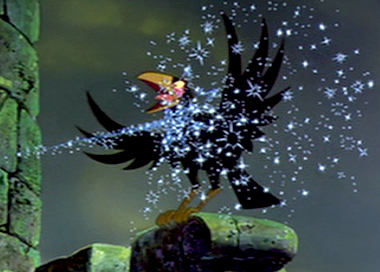 - John Canemaker had loaned me the final sequences of the storyboard to Sleeping Beauty, detailing the dragon fight and climax of the film. I originally posted this in three parts. I've combined them all here, making for one long post.
I'm not sure who did the artwork, but there's a good chance it's Ken Anderson's work.
As with past boards, I'll post the whole photograph as is, then take it apart row by row so that you can enlarge them as much as possible. Here's the storyboard sequence #19 from Sleeping Beauty.
The full board follows below: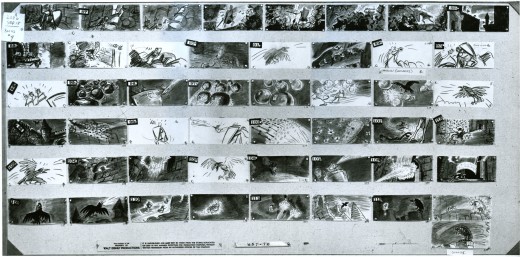 (Click any image to enlarge.)
The breakdown of that full board follows:


1a

1b

2a

2b

3a

3b

4a

4b

5a

5b

6a

6b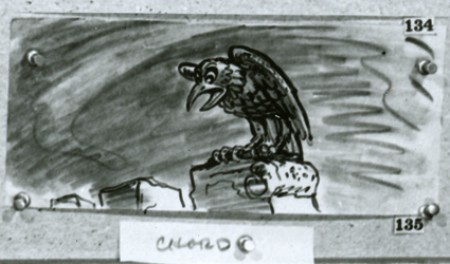 7
Here's the next full page of storyboard as is: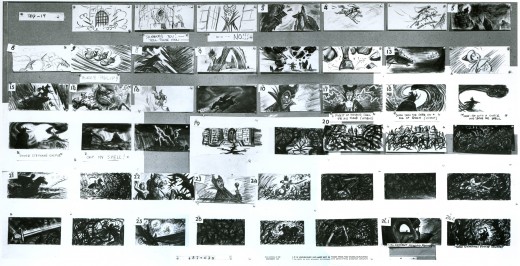 (Click any image on the page to enlarge.)
Again, I follow with the board broken up into segments, half a row at a time.


1a

1b

2a

2b

3a

3b

4a

4b

5a

5b

6a

6b
This is this photo of the next page of the board as it came to me: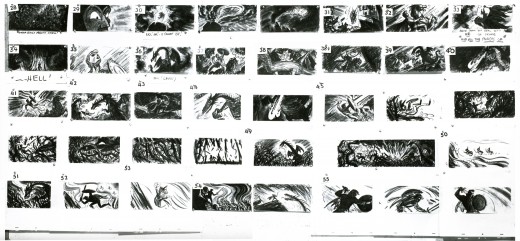 (Click any image to enlarge.)____________

Here are the rows of the board broken into two so that I can post them a bit larger.

1a

1b

2a

2b

3a

3b

4a

4b

5a

5b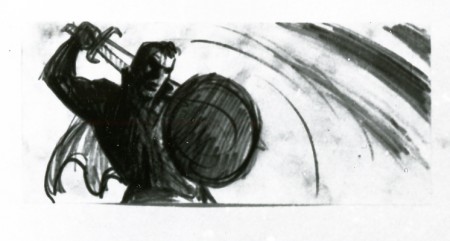 If only he knew what he was going to face next.
I've decided to get the frame grabs for the sequence and post them as well. I thought the comparison of board to actual film would be interesting.
__________
These images come from the "Special Edition" of the dvd, not the "Platinum Edition" now on the market. Using Hans Perk's posts of the drafts for these scenes, on his blog A Film LA, I was able to identify the animators' names.



sc 82 (L) Milt Kahl – sc 82.1 (R) Frank Thomas


sc 82.2 (L) Kahl & Thomas – sc 82.3 (R) George Nicholas & Jerry Hathcock


sc 82.4 (L) Nicholas – sc 82.5 (R) Nicholas & Hathcock


Nicholas & Hathcock (L) sc 82.6


Nicholas & Hathcock (L) sc 83


sc 84 (L) Ken Hultgren – sc 85 (R) Nicholas & Hathcock


sc 87 (L) Nicholas & Sibley – sc 88 (R) Nicholas & Hathcock


(L) Nicholas & Hathcock – sc 89.1 (R) Hultgren


sc 89 (L) Nicholas & Hathcock – sc 91 (R) Hathcock


sc 91 (L) Hathcock – sc 92 (R) SA sc 49 seq 8


sc 95 (L) Hathcock – sc 93 (R) Hathcock


sc 96 (L) Hathcock – sc 97 (R) Dan MacManus


(L) MacManus – sc 97.2 (R) Hathcock


sc 98 (L) Hathcock – sc 99 (R) Sibley


sc 100 MacManus


sc 100.1 (L) Hathcock – sc 101 (R) Les Clark & Fred Kopietz


sc 102 (L) Hultgren & Kopietz – sc 104 (R) Hathcock


sc 107 (L) Hathcock – sc 108 (R) Hultgren


(L) Hutlgren – sc 109 (R) Hathcock


sc 110 (L) Ollie Johnston & Blaine Gibson – sc 110.1 (R) Gibson


sc 110.2 (L) Johnston – sc 110.3 (R) Johnston & Gibson


sc 110.4 (L) Johnston – sc 111 (R) Johnston & Gibson


sc 112 Johnston & Gibson


sc 112 (cont) Johnston & Gibson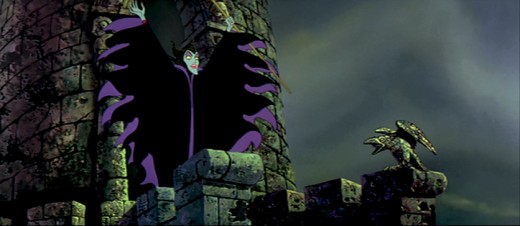 - Let's end this post from Sleeping Beauty by posting a couple of drawings I have for the "Skumps" sequence. Again, Hans Perk on his blog A Film LA, posted the animator drafts for this sequence and I was able to I.D. the animators. (I have to say I guessed correctly in three out of four shots, so I'm pleased with myself.)
I'm posting closeups of the drawings. By clicking on any of them you'll see the full sized animation paper. I'm also posting frame grabs beneath the drawings so you can see how they looked in the film.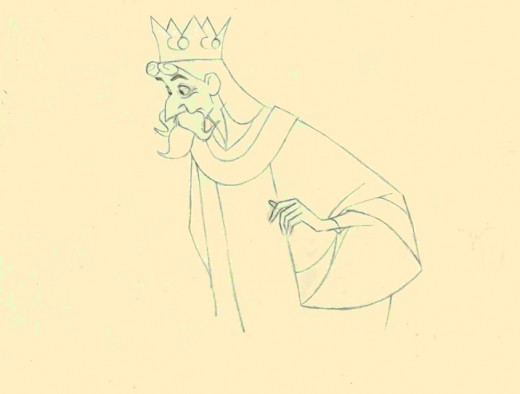 This is a Milt Kahl scene, seq 13 sc 8. This drawing is undoubtedly a clean up,
so it's not one of Kahl's drawings – just his pose. It's an extreme.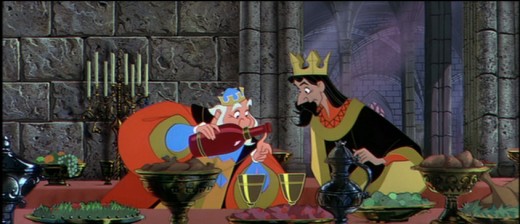 It is interesting that Kahl animated both characters.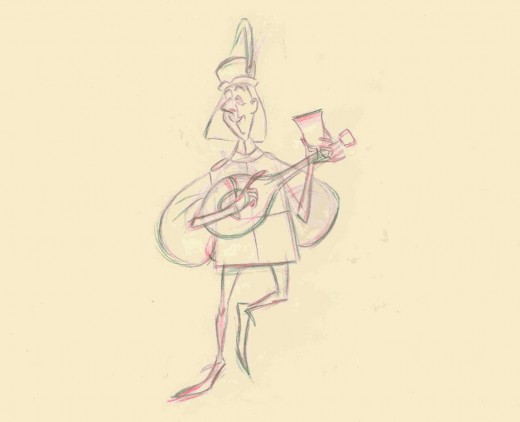 This is a John Sibley ruff. Seq 13 sc 17.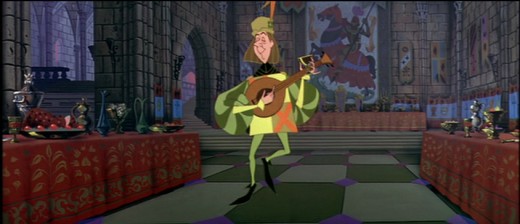 It's a very odd, uncoordinated dance number by the drunk lackey.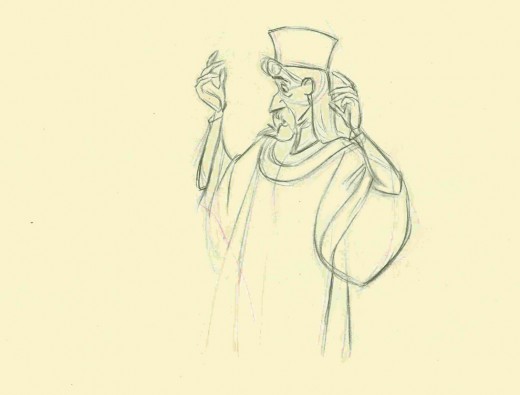 This is my favorite of these four. It's a John Lounsbery ruff of King Stefan.
Another extreme from seq 13 sc 26.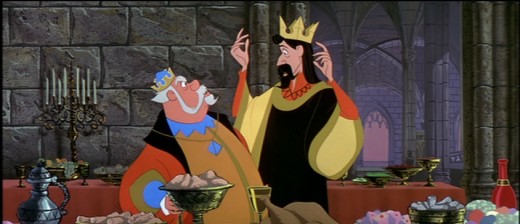 I like this character.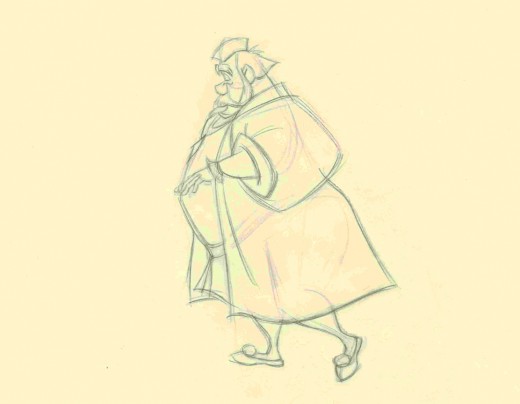 This is also another beautiful ruff by John Lounsbery. It's King Hubert in the
very last scene of seq 13, sc 57.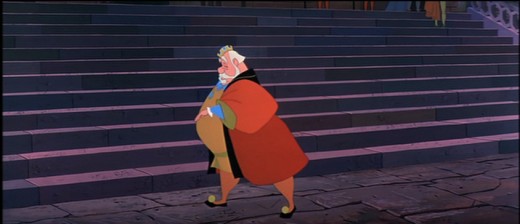 it comes just prior to Hubert's turning and sitting on the palace steps.


___________________
Animation Artifacts &Disney &repeated posts &Story & Storyboards 22 Apr 2013 05:04 am
I've spent a lot of recent posts writing about the animation of some of the earlier features. I thought I'd give a little focus on the storyboard of Dumbo. The variety and styles of the images is impressive. I've culled a lot of storyboard drawings from various sources and present in somewhat chronological order.
This was the first feature Bill Peet worked on. You can see his entire "Dumbo washing" sequence storyboard here.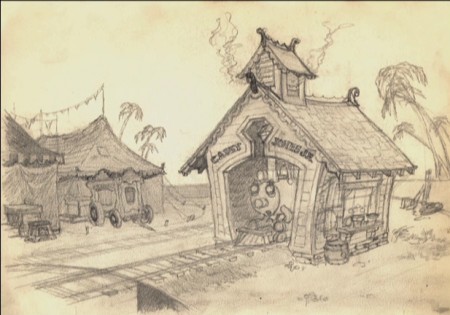 1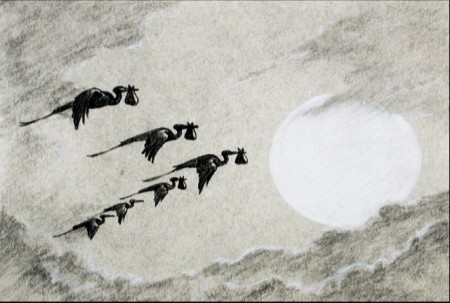 2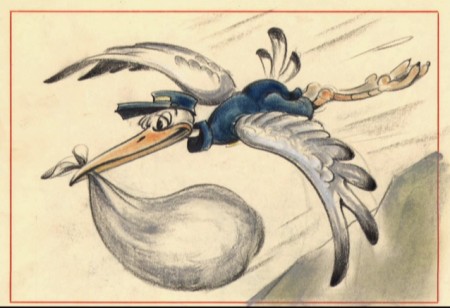 3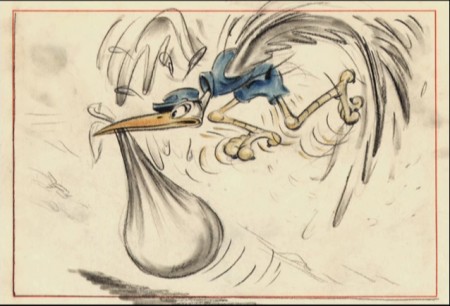 4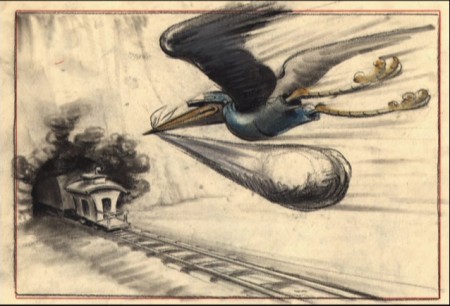 5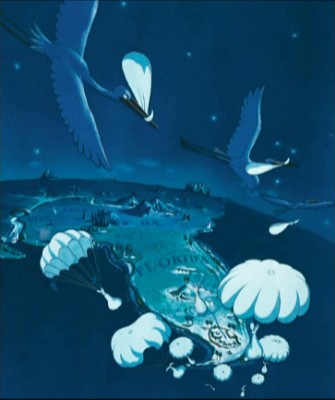 6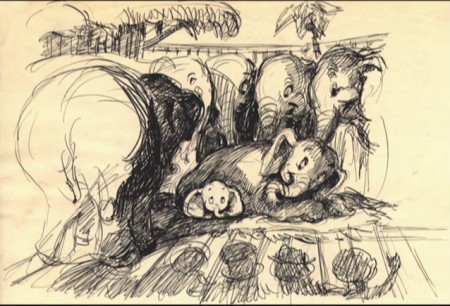 7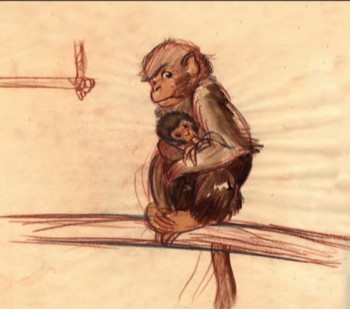 8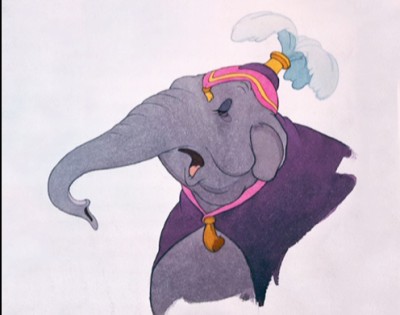 9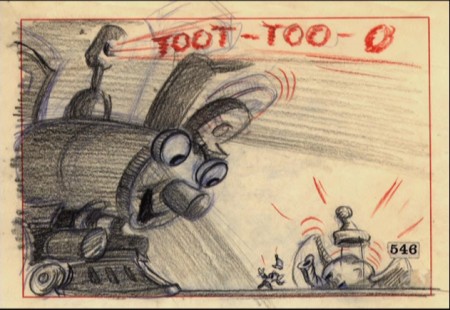 10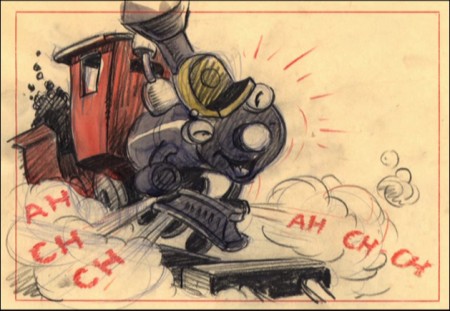 11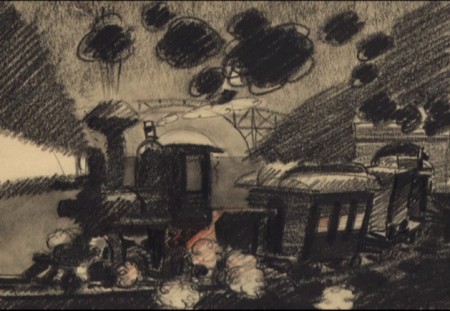 12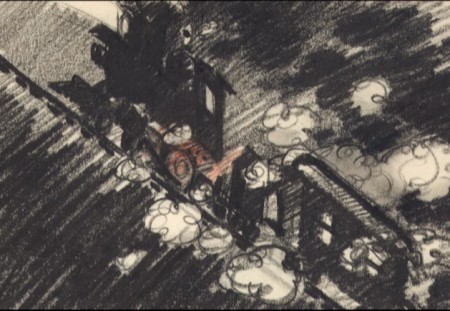 13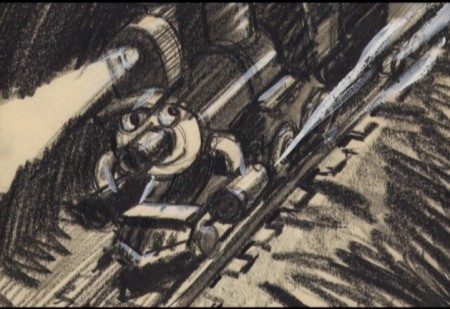 14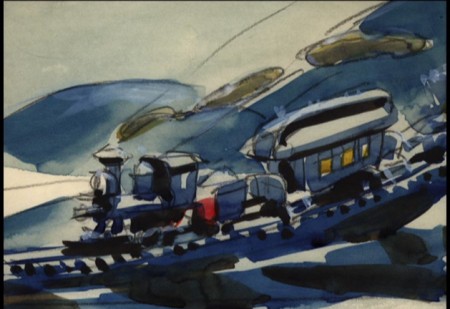 15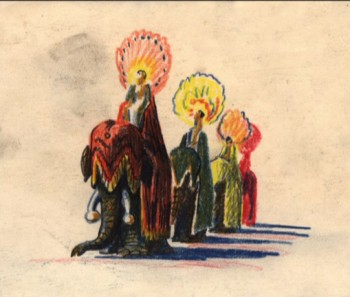 16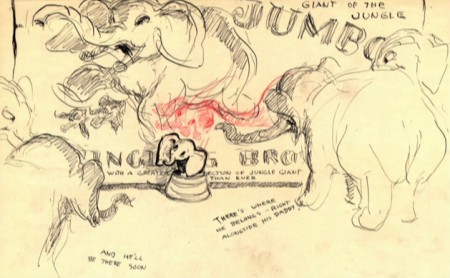 17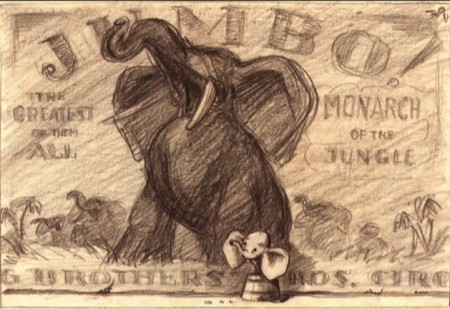 18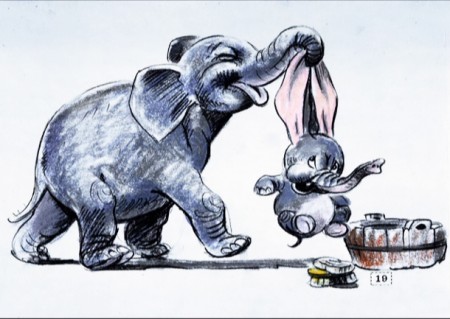 19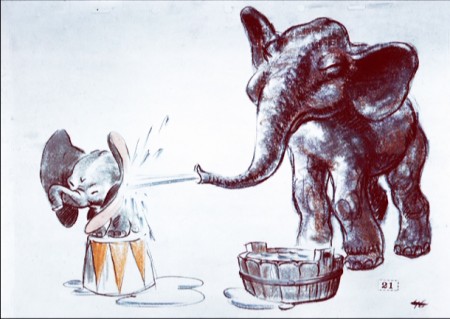 20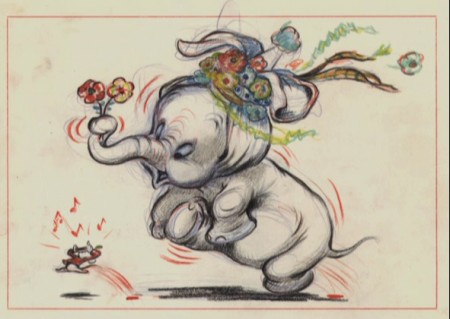 21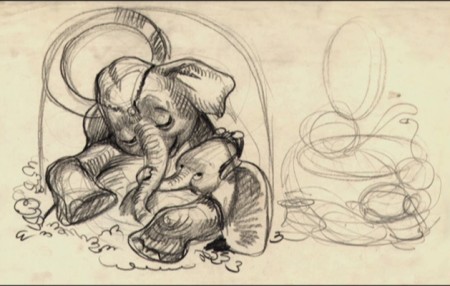 22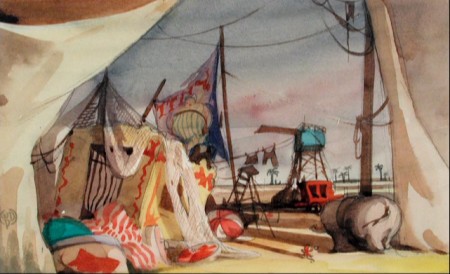 23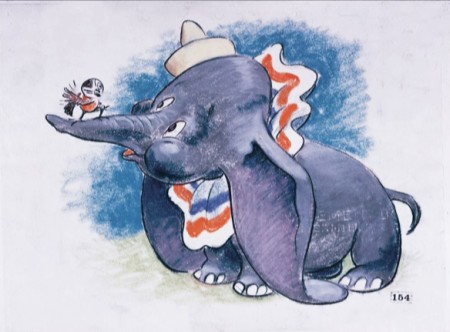 24
Yes, that's a bird on Dumbo's trunk – not Timothy.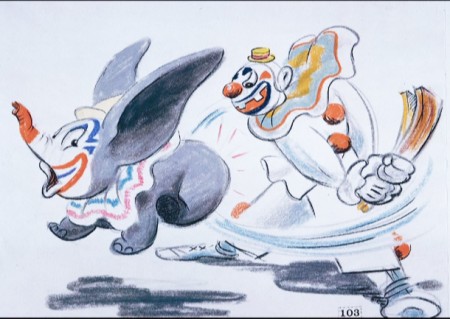 25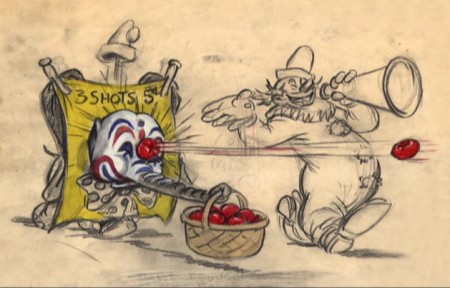 26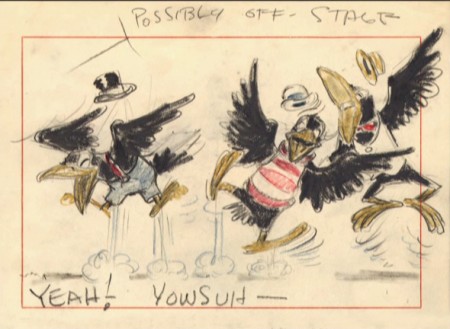 27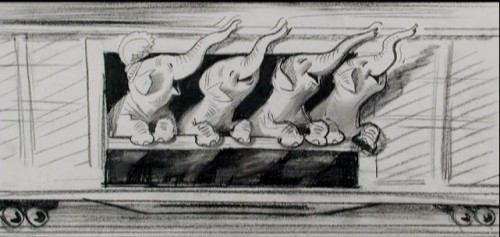 28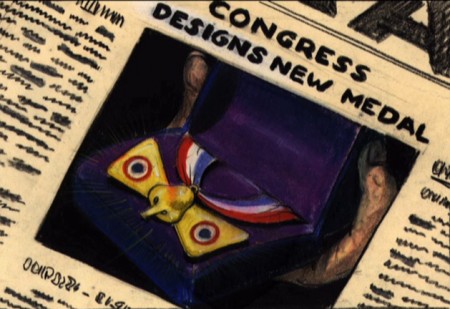 29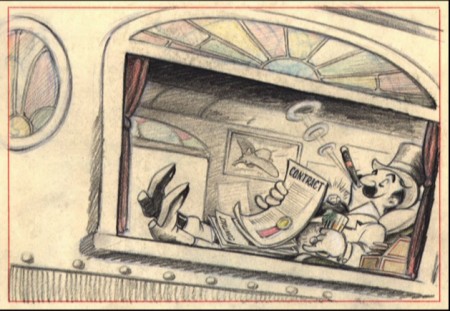 30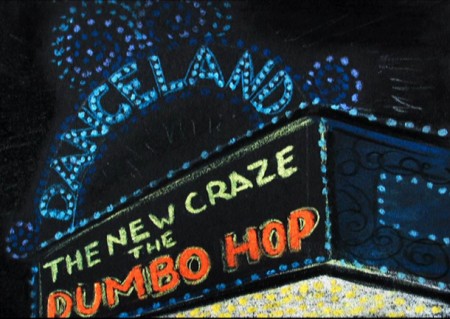 31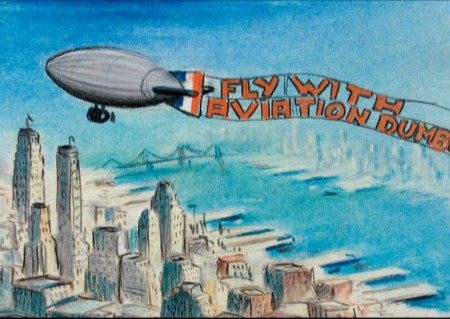 32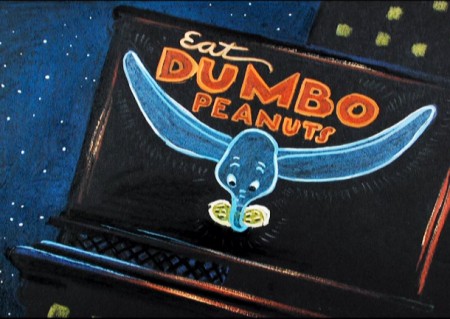 33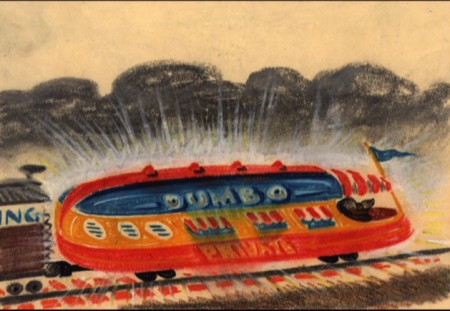 34

Disney &Peet &Story & Storyboards 21 Feb 2013 06:46 am
- Back in Oct 2007, I posted Bill Peet's excellent storyboard for the Tar Baby sequence from Song of the South.
Given yesterday's post of color sketches and storyboard drawings from this film, and given that the original posting of these boards was done relatively small, I thought it time to put them up again, but I've taken the time to break them down and post them in a slightly larger form, making them a bit more legible.
As with other recent boards loaned me by John Canemaker, I first display them in the original size of the stats as they came to me.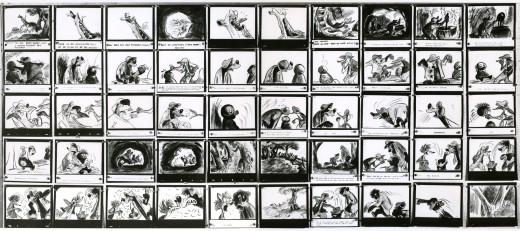 1
(Click to enlarge images so you can read them.)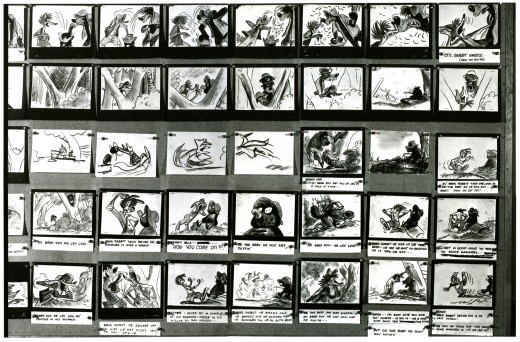 2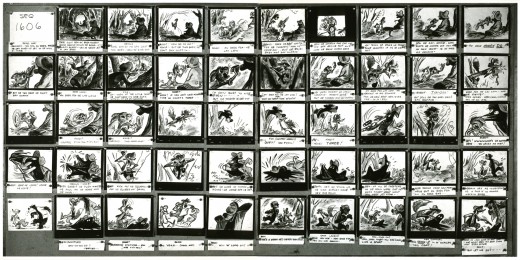 3

4
Here is my breakdown of the boards:

1a

1b

2a

2b

3a

3b

4a

4b

5a

5b

21a

21b

22a

22b

23a

23b

24a

24b

25a

25b

31a

31b

32a

32b

33a

33b

34a

34b

35a

35b

41a

41b

42a
I just love the drawings from this section.

42b

43a


There are another two pages of the storyboard
which I'll break down and post tomorrow.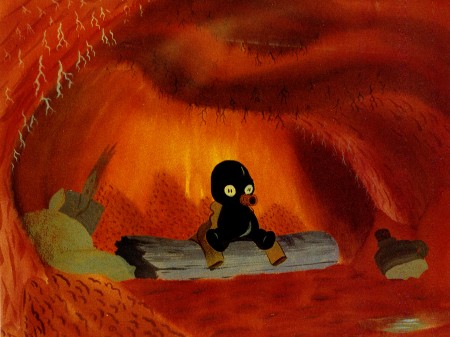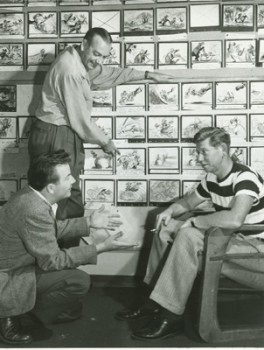 .
.- Here's the conclusion to the storyboard by Bill Peet that I began yesterday. It's the Tar Baby sequence from Song of the South.
I first posted this in October 2007, but I hadn't broken up the board so that it could be enlarged enough. I've done that.
Many thanks go to John Canemaker for initially lending this material for me to post.
.
.
.
This picture comes from the Bill Peet website, worth a visit.
Here are the two remaining original boards: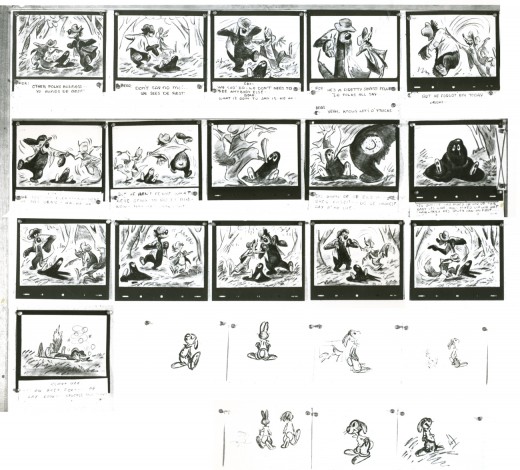 5
(Click images to enlarge.)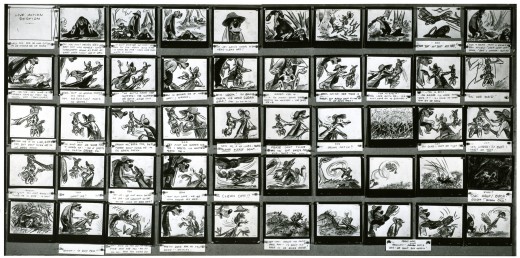 6
And here are the same two boards broken down by rows:

51

52

53

54

55

61a

61b

62a

62b

63a

63b

64a

64b

65a

65b

Animation &Animation Artifacts &Bill Peckmann &commercial animation &Illustration &Models &Story & Storyboards 30 Jan 2013 08:26 am
- Still left in the Vince Cafarelli collection of drawings from commercials he did, most probably, at Goulding-Elliott-Graham (for the moa part) are the drawings below. We know through some small bits and pieces of information what a couple of the sponsors were. (The wording of dialogue the professor speaks that the sponsor is Nabisco Shredded Wheat; the lion and the mouse ad is obviously for Vicks – drops or vap-o-rub.) However, too many other bits leave us empty handed. I can recognize cartoonist, Lou Myers' work anywhere, but no clue what they're for. Candy Kugel and I were also able to delineate Lu Guarnier's drawing style (Vinnie was his assistant for years), and I know Jack Schnerk's great work. I recognize the brilliant and great hand of George Cannata from similar work that Bill Peckmann had recognized (see here) in a past post. So it is great to learn as much as we can, even though there's a lot of guesswork in it.
The following are three storyboard drawings by cartoonist Lou Myers for some spot: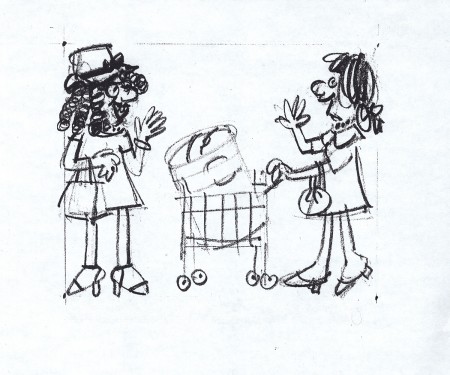 1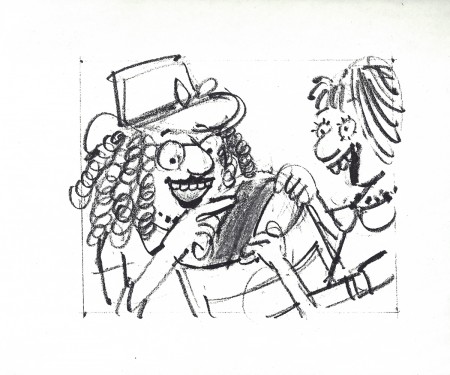 2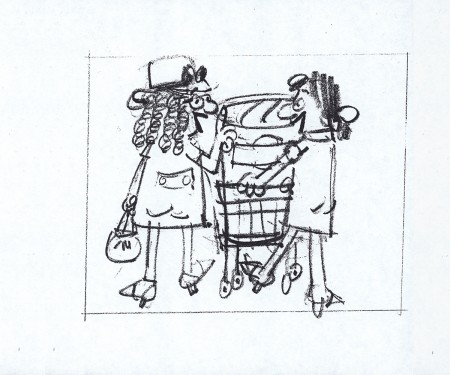 3
The following drawings are for
Nabisco Shredded Wheat
. They're animation drawings/ruffs by
Lu Guarnier
. The delicate pencil lines of these years turned into dark rougher ones in his later years. The timing charts were always the same right out early wB years. You'll notice a lot of quarters and thirds in the breakdowns. This is something you'd never see from Disney. There, everything is broken into halves and halves again and again.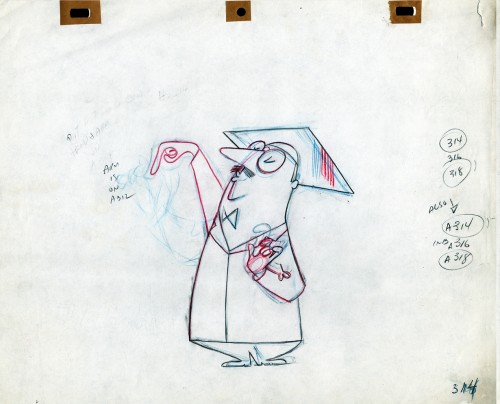 1A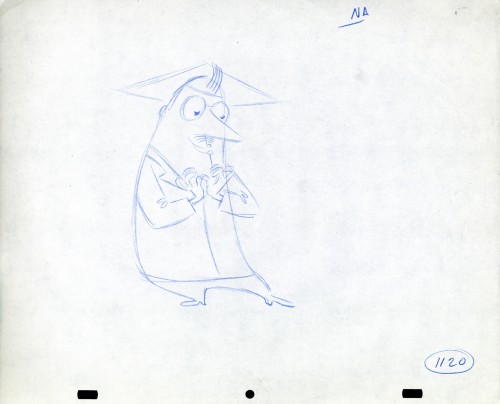 1B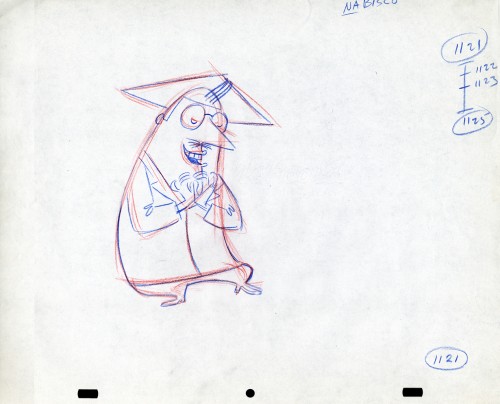 1C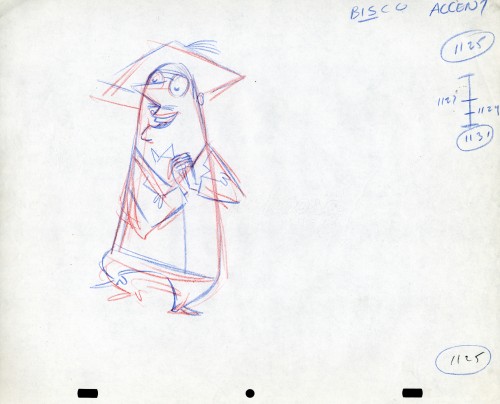 1D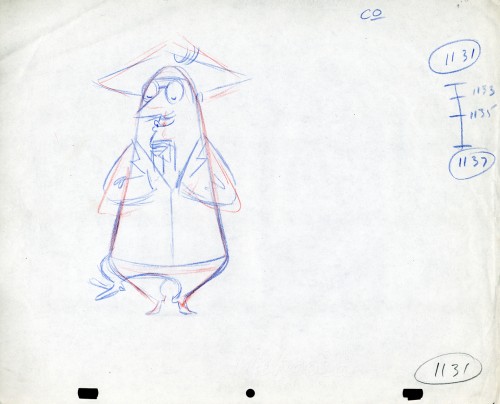 1E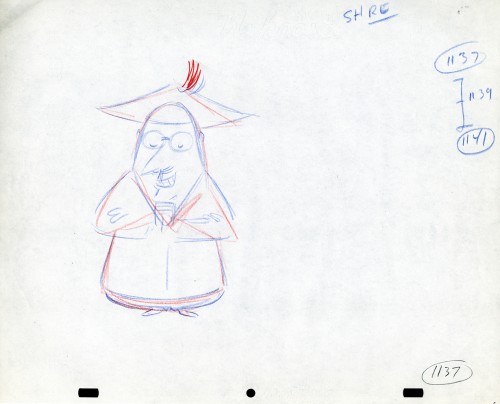 1F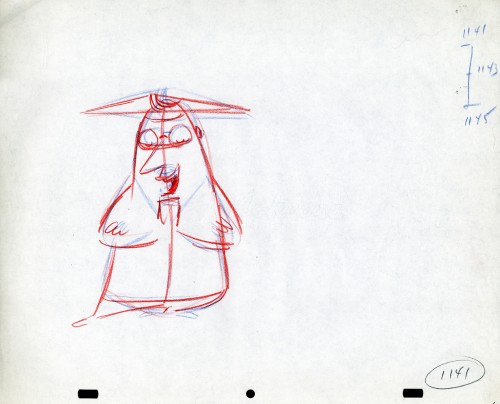 1G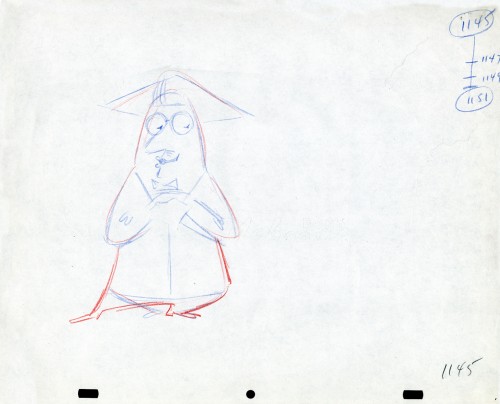 1H

- The following lion is designed and animated for a Vick's commercial. (Note the second model sheet.) There were quite a few commercials during the period that reworked this great Aesop tale for the sponsor's use. The lion obviously has a cold. Rather than pulling out the thorn, the mouse introduces him to Vicks' cough drops and the lion feels a whole lot better.
What has been left behind of this ad includes a couple of model sheets of the lion as well as a couple of animation drawings. I don't know who the designer is, but the animation drawings are most definitely the work of Jack Schnerk. I suspect all the drawings here are by Jack. He probably kept reworking the model sheet until he got the character in his hand. I can remember him lecturing me on the quality of my drawings. Unless my drawings became roughs, rather than tight clean ups, he was convinced I couldn't get good animation in my pencil. Jack's work was rough. and it became much more rough than this, certainly by the time I knew him and was assisting him. He also had a peculiar style of roughness; very choppy angular lines chiseling out the fine drawings. You can get a good example of that with drawing labeled "2D".
The last four drawings are all animation drawings. "2D" is a rough, "2E" is a clean-up by Jack. The last drawing is a beauty and probably the final look he hit upon.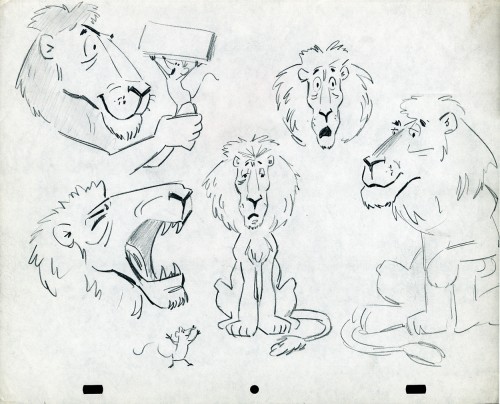 2A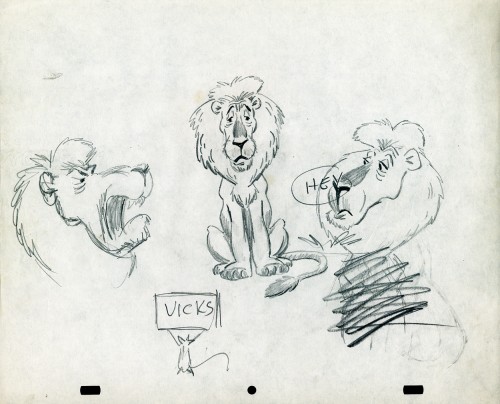 2B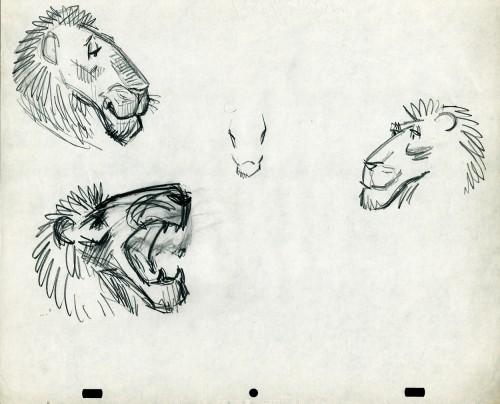 2C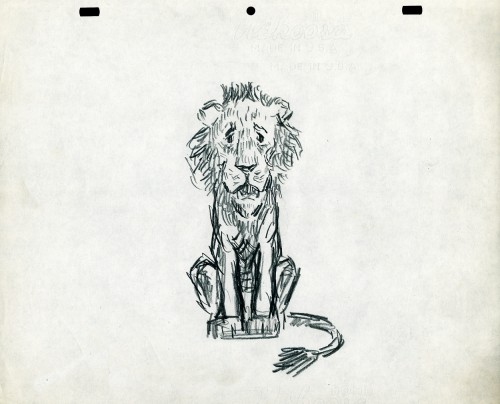 2D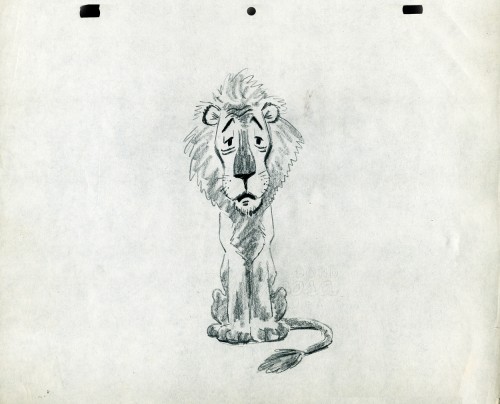 2E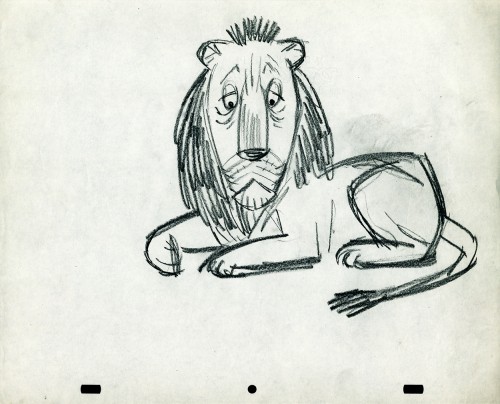 2F

Here we have some drawings by a designer. I suspect that it's the work of George Cannata. I did a couple of posts on a designer at Robert Lawrence Studio a few weeks back. Bill Peckmann identified the primary designer whose work screamed out to me. Since then, I'd recognize that line anywhere, and it's most definitely below.
The Groundhog below is obviously a character with a southern drawl. The first step was to try the obvious making him a cowboy ("3A"). But that soon changed. and the character got plenty more sophisticated ("3B & C"). After that the line got juicy and the color got bold. There's really so much to a character like this who just about animates himself.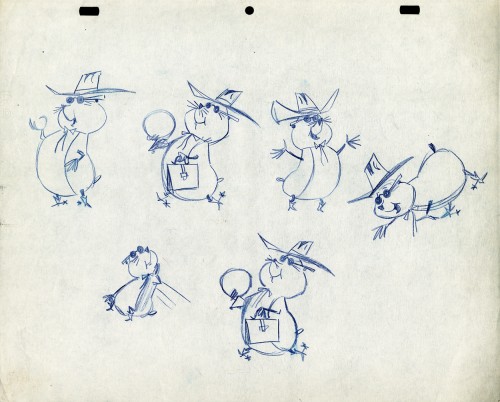 3A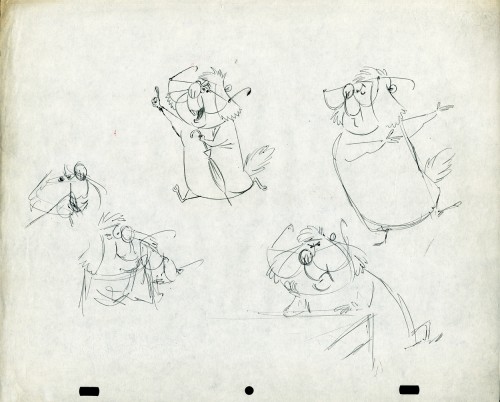 3B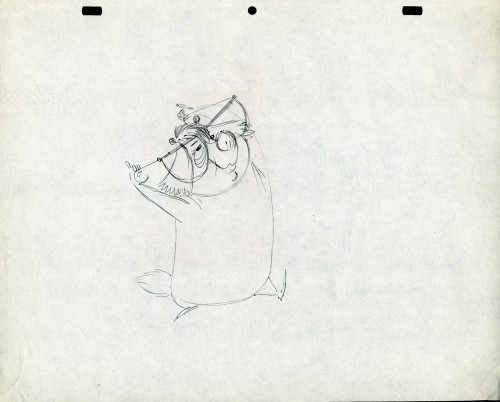 3C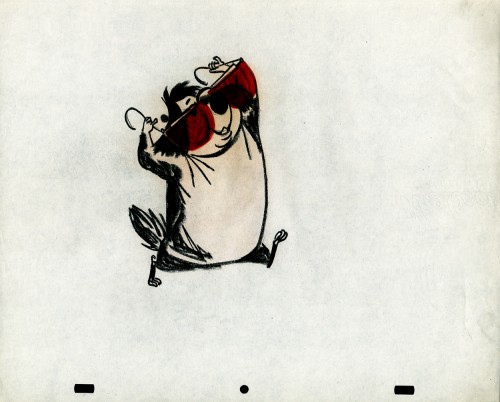 3D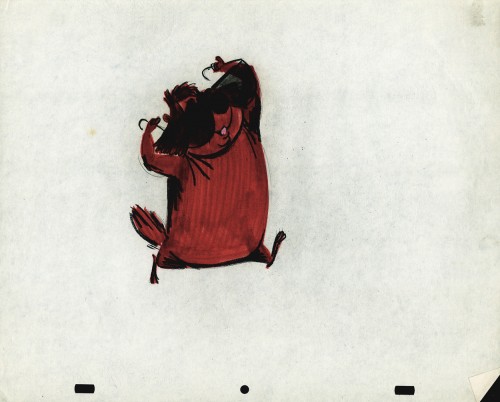 3E

The following five drawings are for a WISK commercial. There are two model drawings and three animation ruffs. The primary model indicates that the spot is done for Screen Gems which was a viable studio in the early 60s and 70s. However, I don't know who the animator was. Neither Lu Guarnier nor Jack Schnerk fill the bill.I know that Irv Dressler was at Screen gems for many years, but am not sure about this time especially since IMDB has him free lancing for King Features and other entertainment studios. The drawswing style of these animation drawings is right out of the Paramount/Terrytoons mold. Many animators' work looked like these. People such as Johnny Gentilella, Marty Taras et alworked in a very similar style, though these are a little harder lines than either of those two.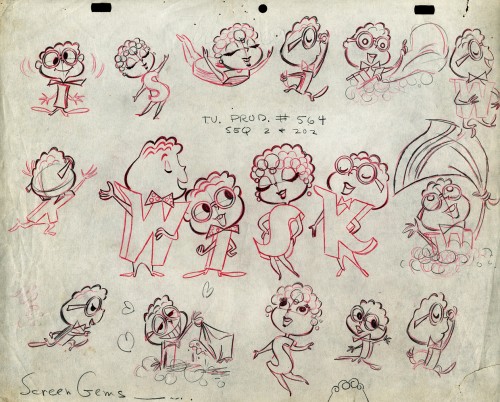 A
This is the primary model for the entire family. It's a
beautiful drawing, and the characters have a lot of play
in them despite being connected so obviously.
Just look at the father's hair. Beautifully done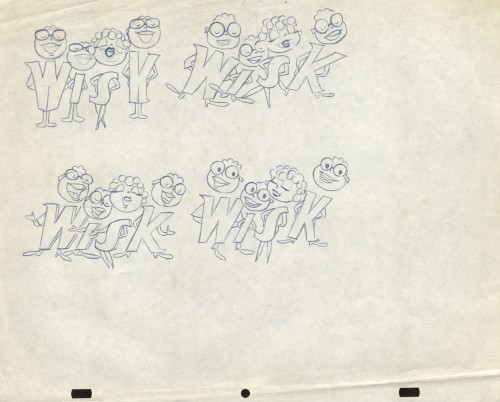 B
Here's a secondary model. I suspect this is the animator
tracing off the characters and seeing what he can do with them.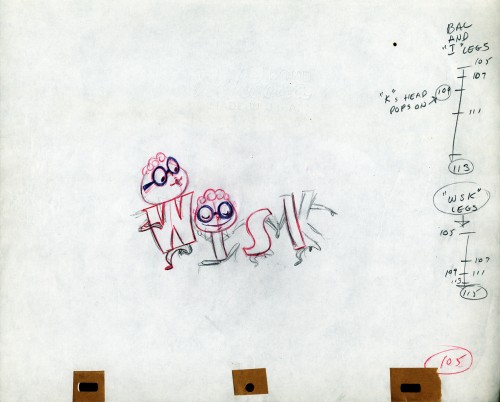 C
Animation drawing #105. Those breakdown charts are something.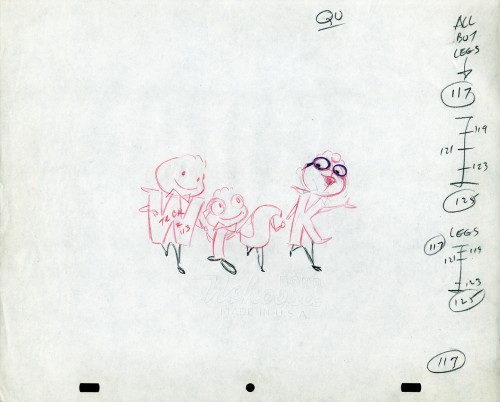 D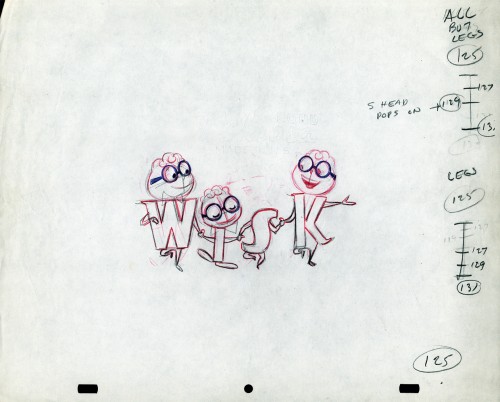 E

The Buffalo Bee for Honey Nut Oats is also a model sheet from Screen Gems. With it come an animation model sheet for the walk cycle of the character. These drawings look like Lu Guarnier's to me, but there's no official way I could confirm that, of course.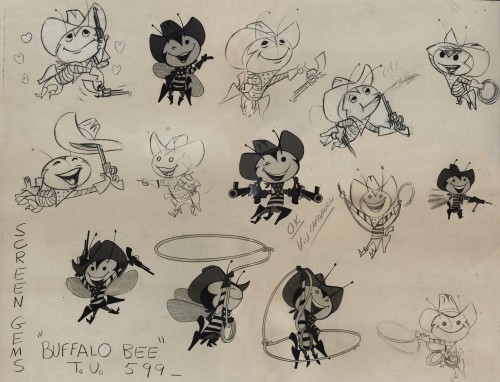 Model sheet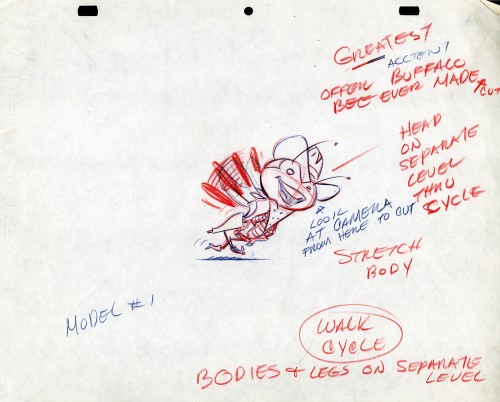 1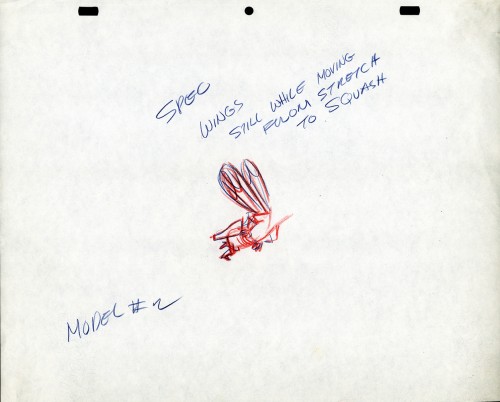 2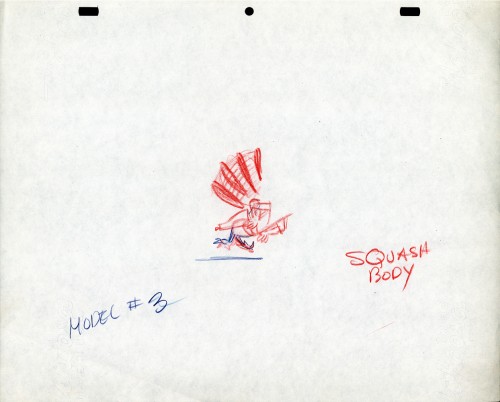 3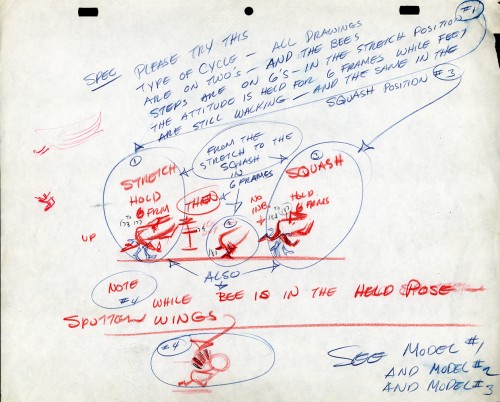 4
Bill Peckmann &Comic Art &commercial animation &Story & Storyboards &Toth storyboard 24 Jan 2013 07:10 am
- Alex Toth did storyboards, too. Here's one he did for Hanna-Barbera, and it shows the visceral strength of the "SuperFriends" project. More than the original comic book and greater than the final outcome. It's a class act, and great thanks to Bill Peckmann and Manual Auad who brought it to him. To Bill:
Many thanks to illustration art publisher, historian, fan extraordinaire, Manuel Auad, we are able to post 28 pages of a Hanna-Barbera "Super Friends" storyboard done by Alex Toth.

Even though the pages are Copies of Copies, they are nice clean copies that haven't been covered with down-the-line production notes yet.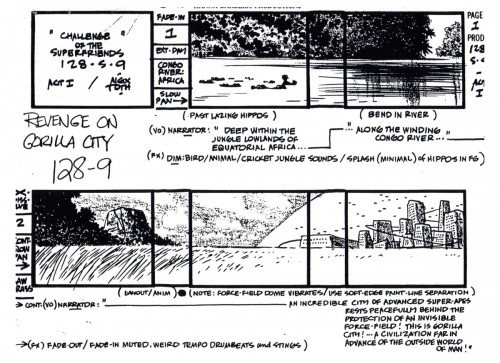 1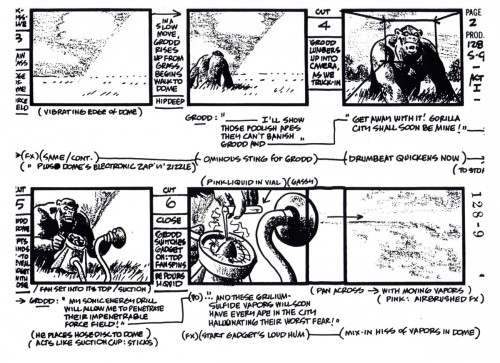 2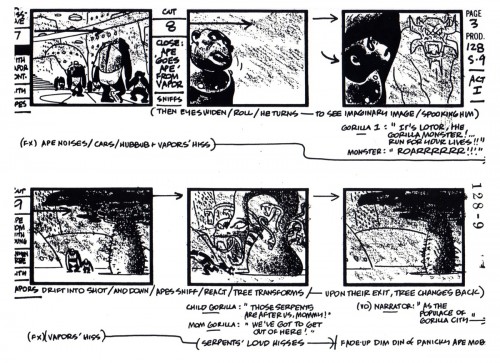 3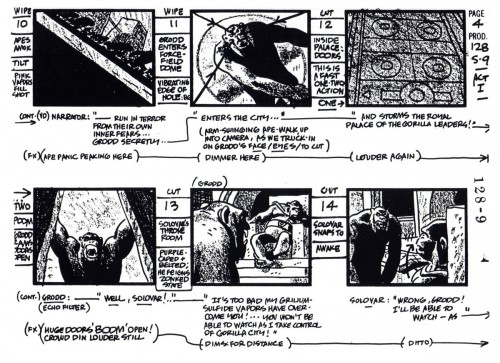 4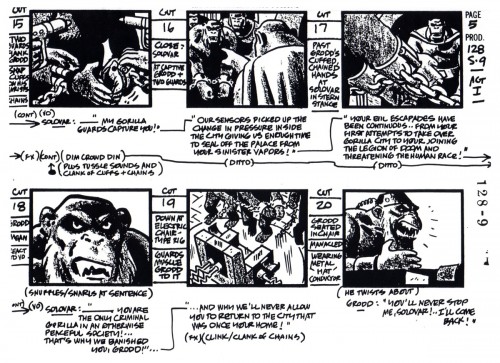 5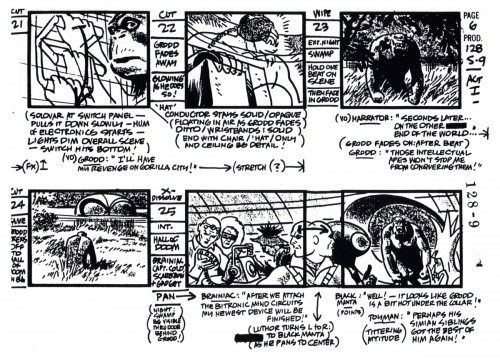 6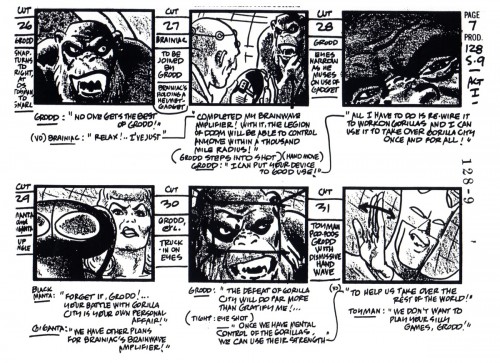 7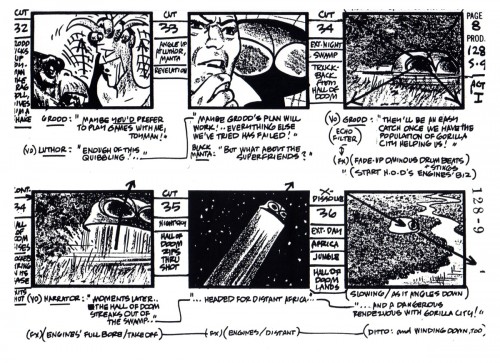 8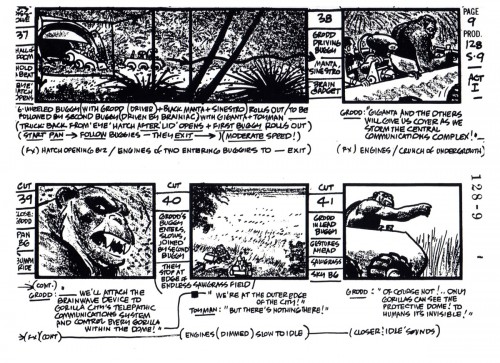 9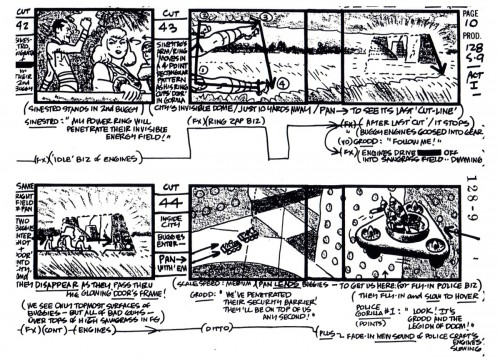 10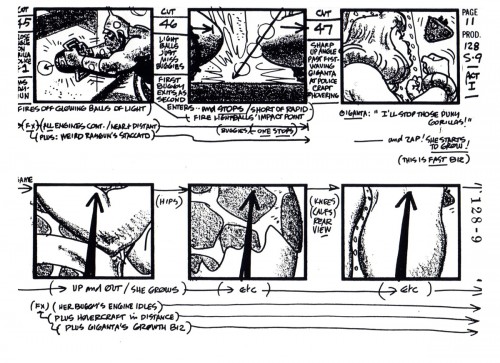 11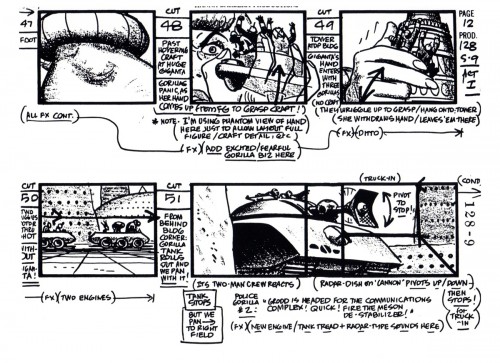 12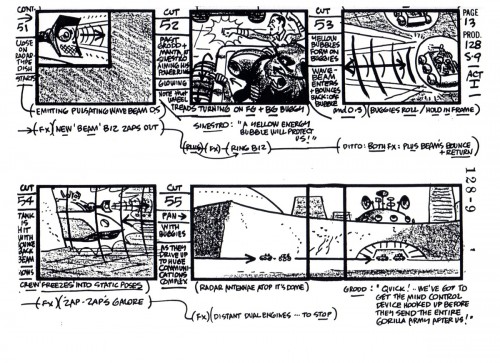 13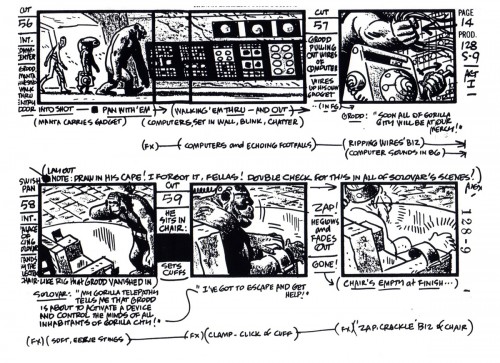 14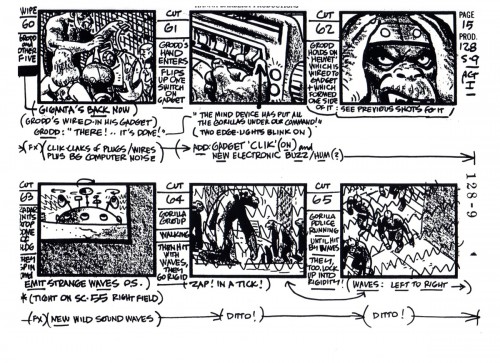 15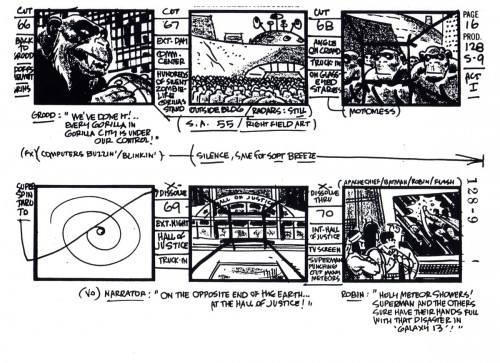 16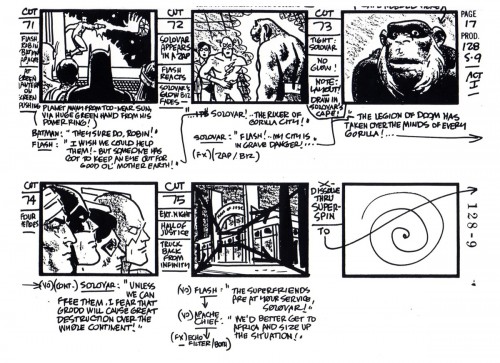 17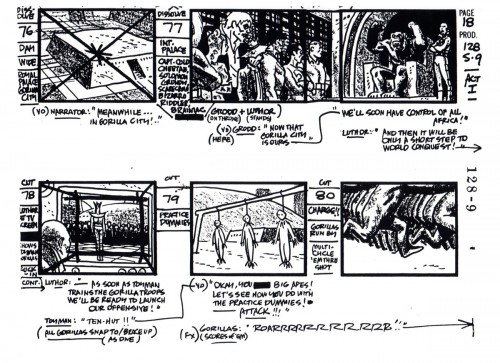 18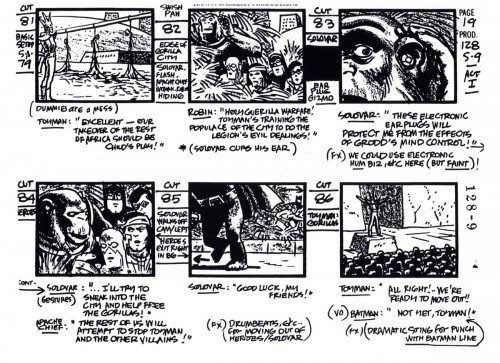 19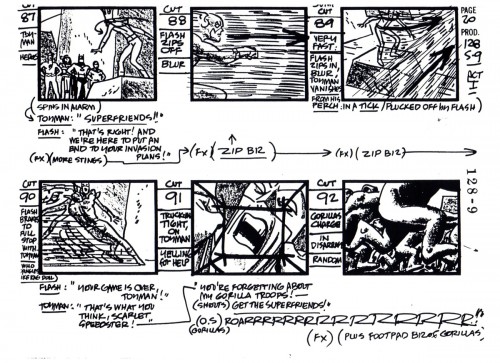 20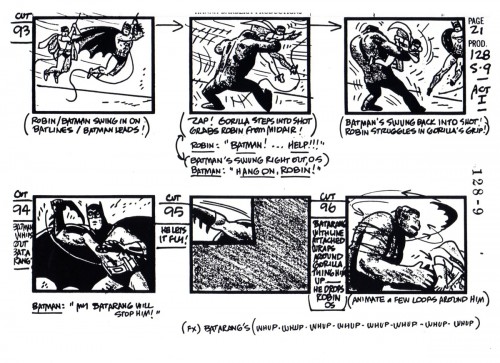 21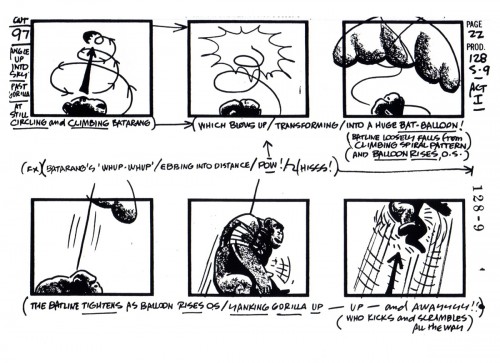 22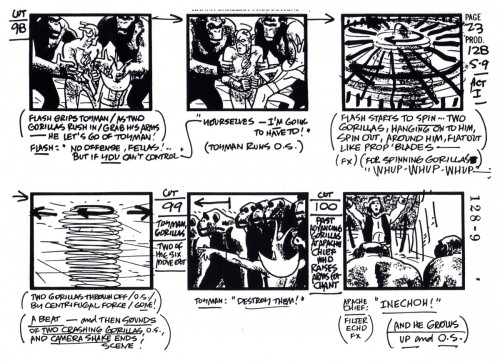 23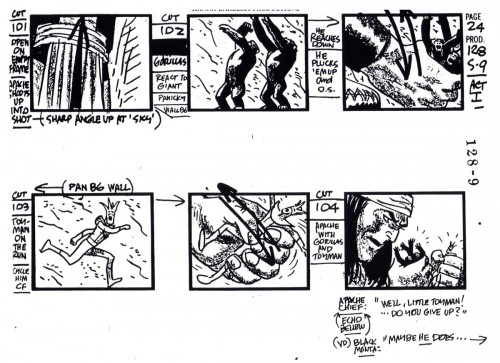 24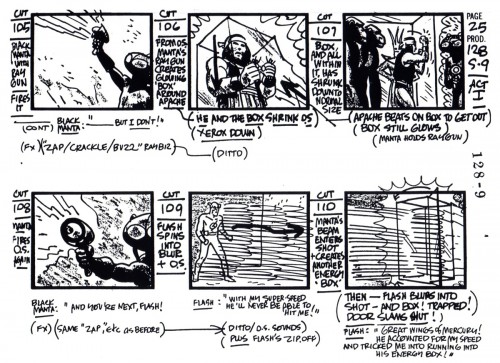 25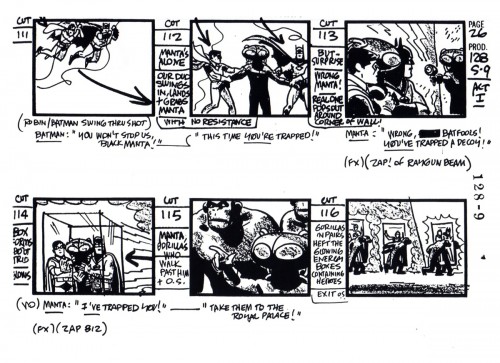 26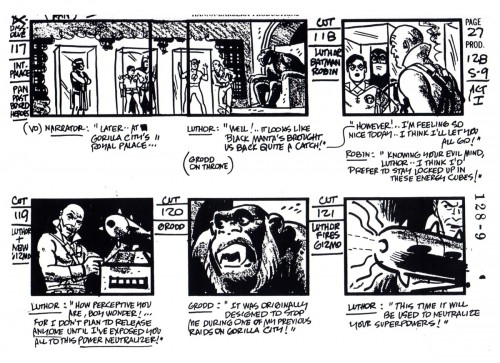 27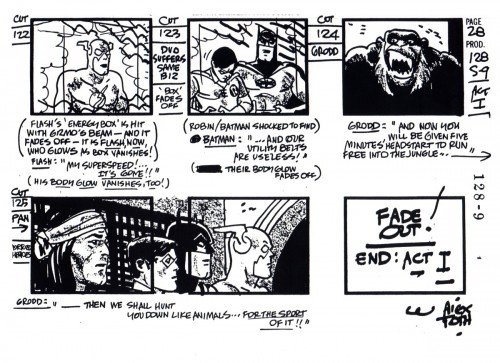 28
Here's another board he did which we posted a while back.
Animation Artifacts &commercial animation &Story & Storyboards 24 Oct 2012 06:13 am
- Goulding, Elliott, Graham was a company made up of comedians, Ray Goulding and Bob Elliott ("Bob & Ray") and designer/director, Ed Graham. After the Piels Bros beer account did so well, Bob and Ray realized that they should have a larger piece of the pie, so they set up their own studio to produce commercials that featured their voices and their writing talents. This was an instant success which soon dissipated until the studio closed only two years later.
But they had a nice run. Vincent Cafarelli, obviously, had a good time at the studio (he'd left assisting at UPA to work there). In his collection of animation artifacts, there's a folder of storyboards for commercials they'd made. I've put together a number of these boards and will show them here. I do notice that the writing is interesting (compared to any commercial on the air today) and the design is often exceptional. I hope you agree.

Anderson's Pea Soup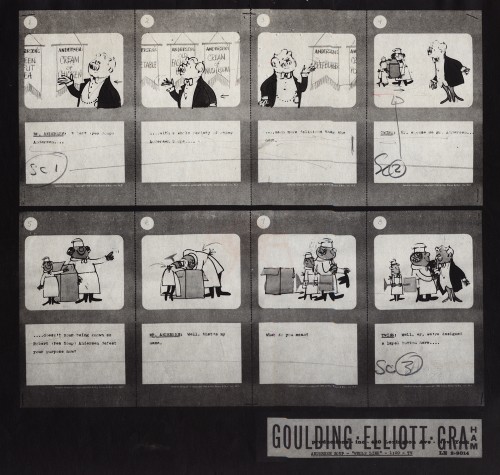 1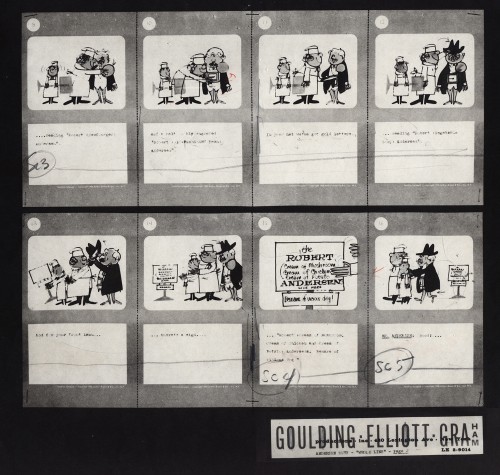 2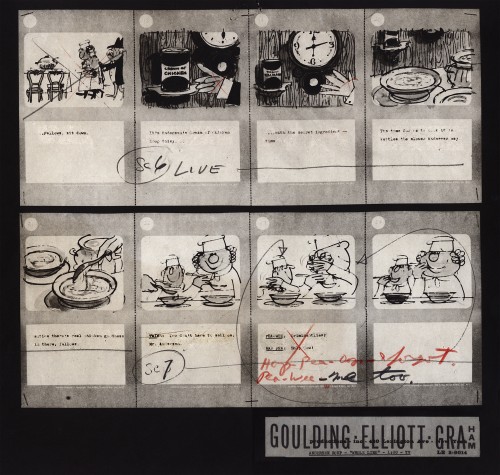 3
Fechtenberger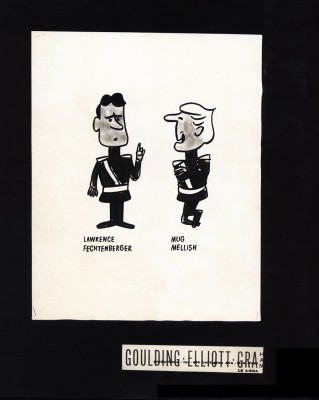 A model of the two characters in this spot.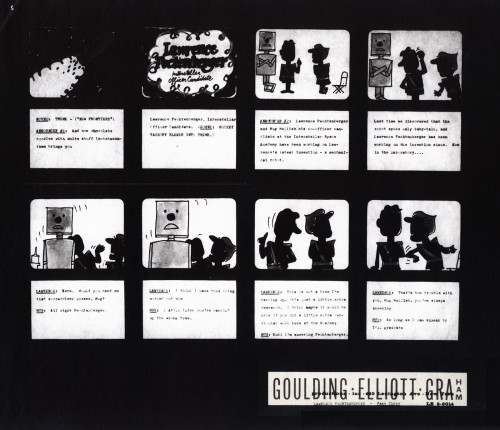 1
I can only assume this is an ad for some kind of
"Oreo"- like cookie. The sell is so soft that I can't
even figure out the client. Doesn't sound successful.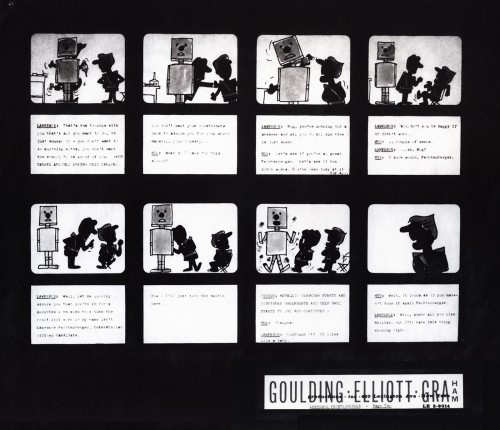 2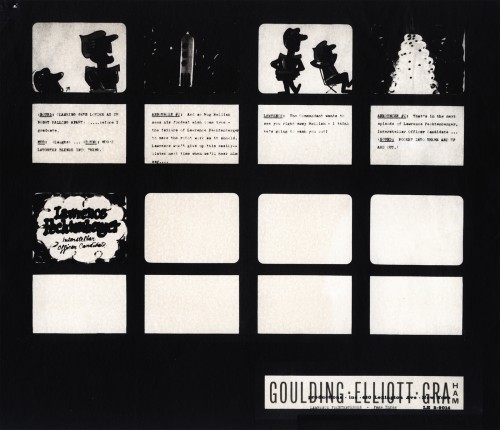 3
Labatt Ale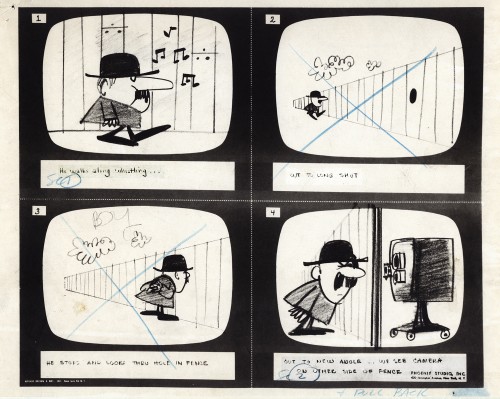 1
There's no doubt that Len Glasser designed this.
It looks just like a character he later did for Ernie Pintoff.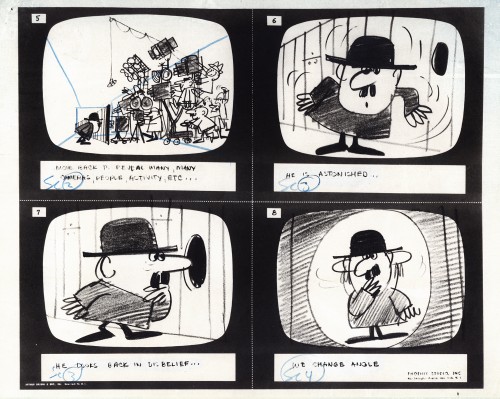 2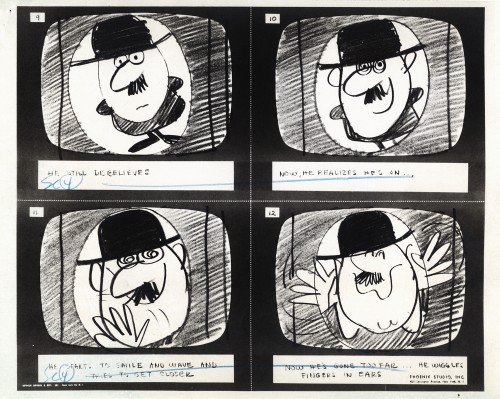 3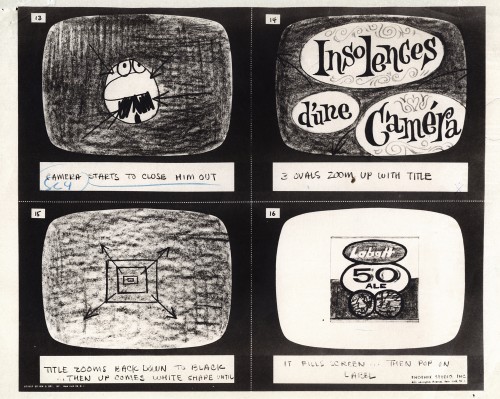 4
Piels Bros. Beer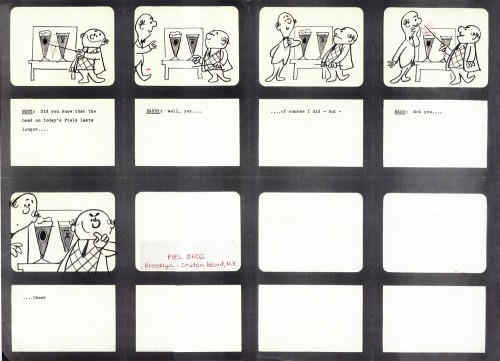 The only spot for Piels, in the collection, is obviously
this short ID – probably 10 secs. long.
Tip-Top Bread 1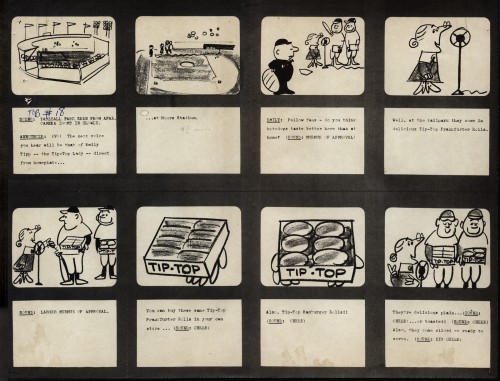 1
We've seen a number of these Tip-Top Bread spots.
They were certainly a primary client for the company.
These boards were in with the Goulding-Elliott-Graham material,
actually was done at Gifford Studios (Lou Gifford & Paul Kim).
Vince has a lot of these folders in his collection improperly labeled.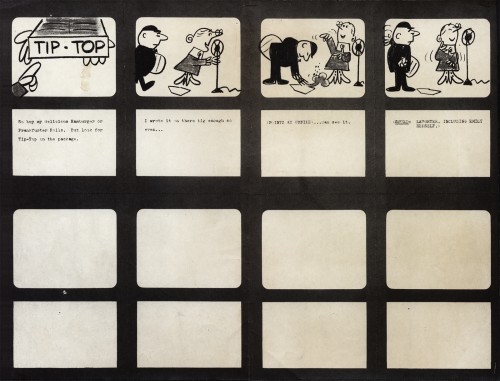 2
Tip-Top Bread 2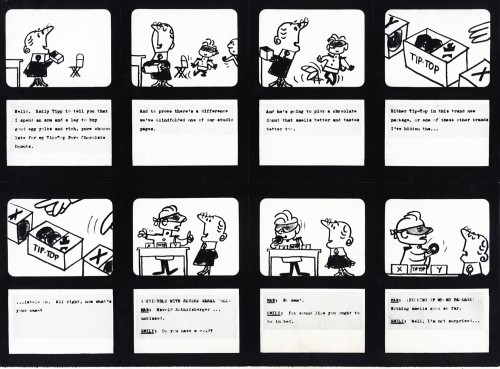 1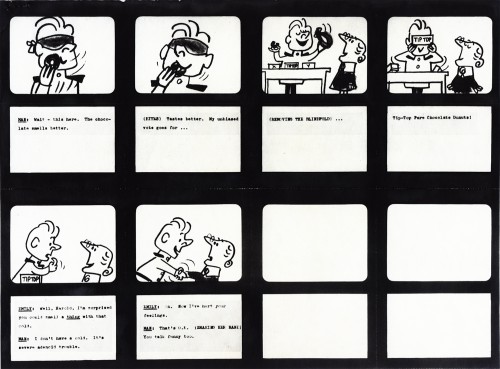 2
Animation &Commentary &Models &Story & Storyboards &Tissa David 22 Oct 2012 05:19 am
When we completed The Marzipan Pig, the author of the origianl book, Russell Hoban, came to NY from his home in London. He had originally come from Philadelphia to be an art director at an agency in NYC. He eventually moved to England where he became one of our most famous children's book authors. We arranged a theatrical screening for him of The Marzipan Pig after which Tissa David, he and I went to lunch. In his very dry way, he told me that he was pleased with the film. As I do with all authors, I asked for criticism not compliments, and he told me there was only one complaint. We didn't get the bridge quite right at the end of the film. Of course he was right, and it's hard for me to watch those final scenes, now, without thinking about that damned bridge. But he did say he loved the movie, so I held onto that memory as well.
I've read every book of Hoban's I could, including at least 60 of the children's books and all of his adult novels. In film, I know only of the work we've done and The Mouse and His Child. Unfortunately, that feature film stopped midway through the book's story. It's a brilliant book and what they did of the story carries whatever is happening on the screen.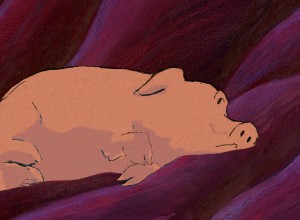 For The Marzipan Pig DVD we included a copy of a section of the animatic. This includes the actual film superimposed over the stills so you can make a comparison as the film runs. Film in film. I like this format; you can really take in the animation and layout of the piece when both are on the split screen.
I thought I'd post here some of the storyboards and the animatic for that section. Of course, this is in a low res version; more can be discovered in the dvd version.
Tissa David did the storyboard and animated the entire film by herself. This film is a beauty, if I do say so myself. It's a truly adult film, though it was sold as a family film. It deals with love in all its forms, albeit, obviously, through metaphor. It was adapted from a brilliant children's book; one of Russell Hoban's finest.
Quentin Blake illustrated the original book, and we didn't purchase the illustrations. Hoban told us that it wasn't how he'd imagined the pig to look, so he drew it for us. He was once an art director in an ad agency, so he was able to draw. This is the pig we used.
Hoban had hated what was done with his book, The Mouse and His Child, so demanded that all the spoken dialogue in the film be found among his words. We wrote a script; Maxine Fisher went to London to work with him in revising it. Finally, when it came to recording the actor Tim Curry, I threw out the script and had him read the book – with the exception of one line. It was a good decision, and it made for a great performance from a great actor.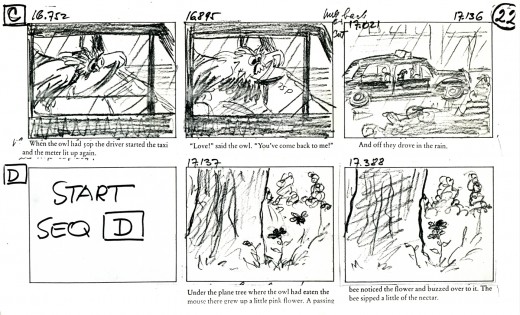 _____________(Click any image to enlarge.)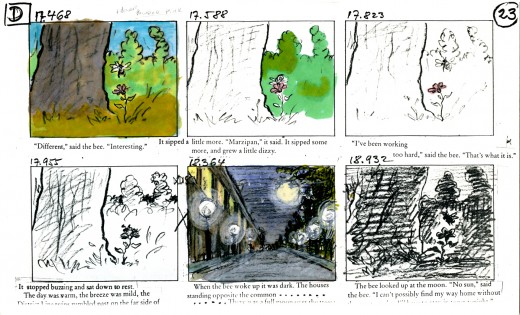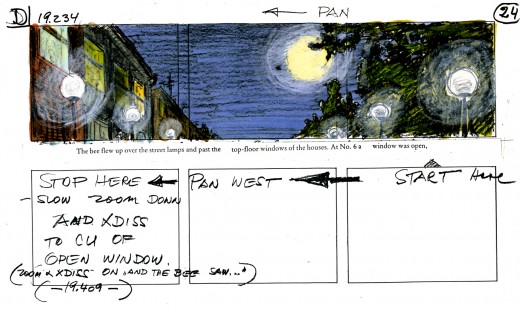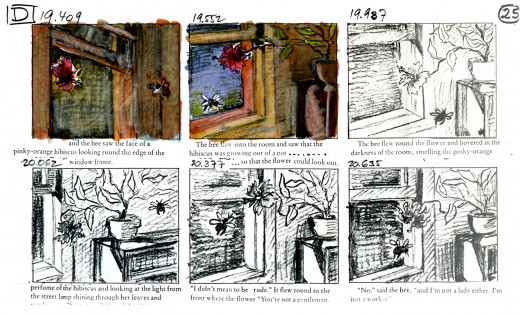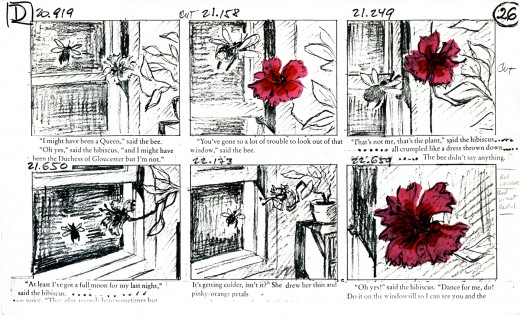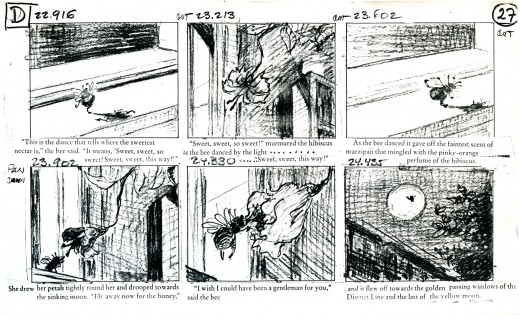 The animatic for Seq. D with the final film superimposed.
You'll notice that some changes were made
in scenes and scene cuts as the animation progressed.
This is typical.
________________________
Here are two films we did for a home video of children's poems. The first is a poem by Russell Hoban. The animation is by Mark Mayerson, and the design is by Jason McDonald. The music is by Caleb Sampson. I think all of these artists did brilliant work, but then Hoban's thoughts and words always pull out the best.


Russell Hoban's The Tin Frog

This second poem of Hoban's also brought out the best in the artists, Jason McDonald who designed and storyboarded the whole piece. The excellent animation was by Sue Perrotto..


Russell Hoban's Jigsaw Puzzle
Click left side of the black bar to play.
Right side to watch single frame.
Bill Peckmann &Story & Storyboards 28 Sep 2012 05:54 am
Alex Toth worked at Hanna Barbera in their story department. Bill Peckmann told me he had some boards from Toth's stay there, and I asked him to send them on. The board presented here is far from complete. It's missing many pages and whole segments. But the images, as might be expected are terrific. So look for the drawing and forget the storytelling.
Here are some comments from Bill:
I've come across some Toth storyboards (copies) from his Hanna-Barbera days. One incomplete set is really neat. This is a live action board that Alex did for Hanna-Barbera in 1978. Unfortunately all we have are these Xeroxed 28 random panels from the original board. (I wonder if that still exists anywhere?) At least it gives us a rare peek at how Alex handled a live action film assignment instead of his H-B Saturday morning cartoon fare. With this sparse sampling of pages, the continuity will not make much sense but the individual panels are a pleasure to look at.

The title of movie that Alex did this live action storyboard for, it's a 1979 film called "C.H.O.M.P.S."
Here is it's listing in HALLIWELL'S FILM GUIDE.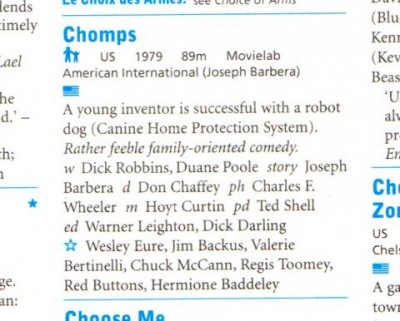 .
And here is the board: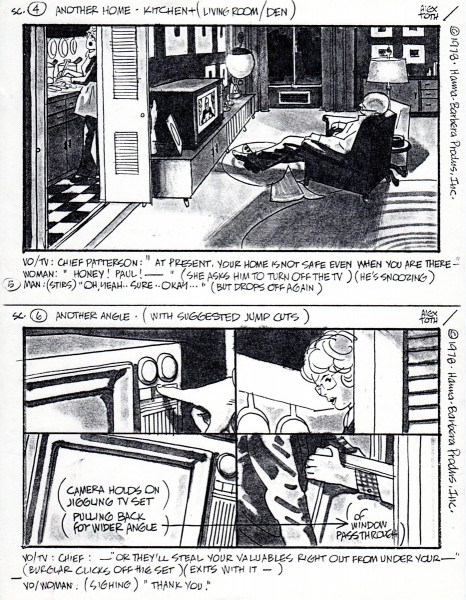 1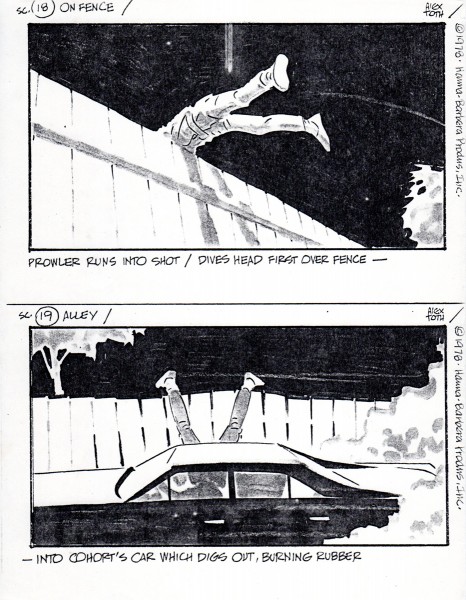 2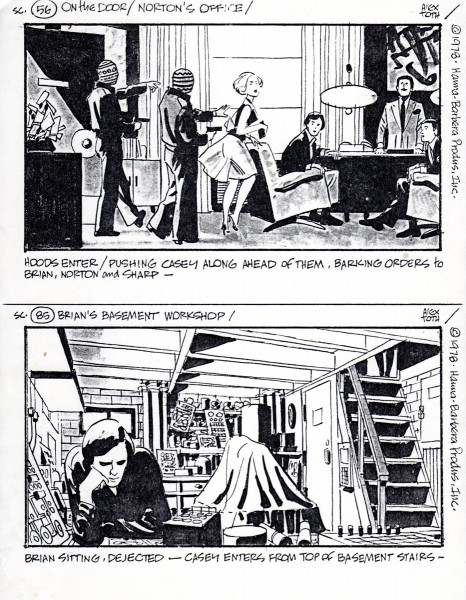 3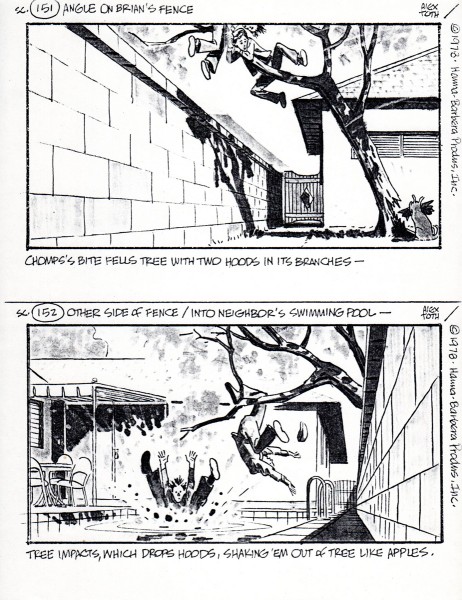 4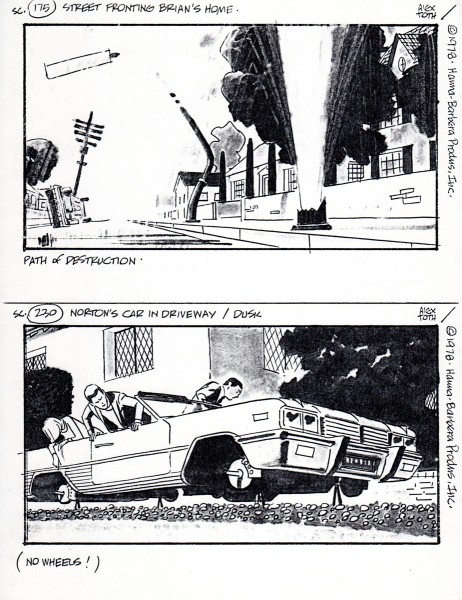 5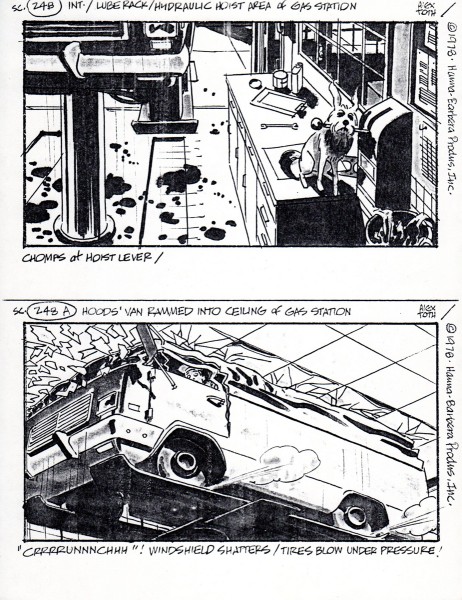 6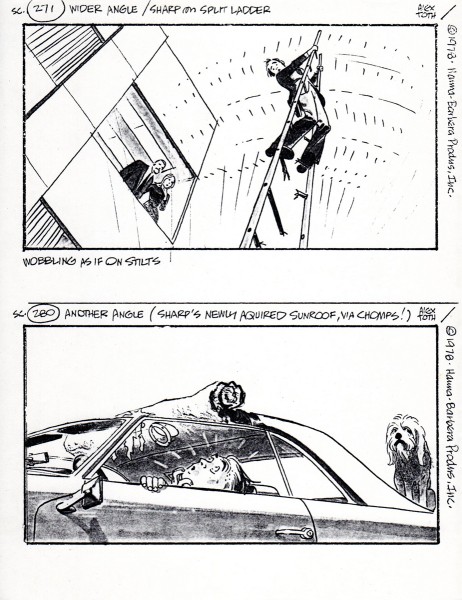 7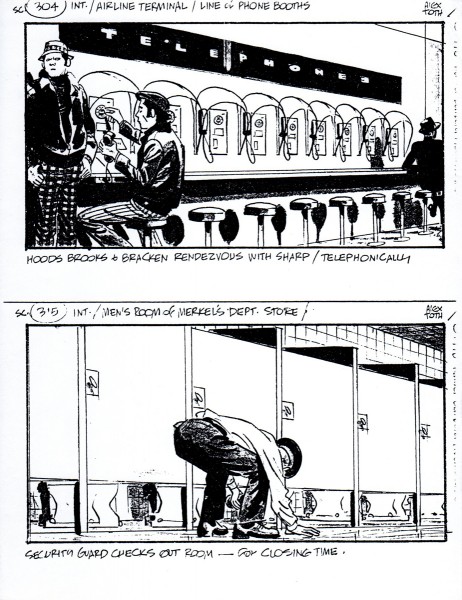 8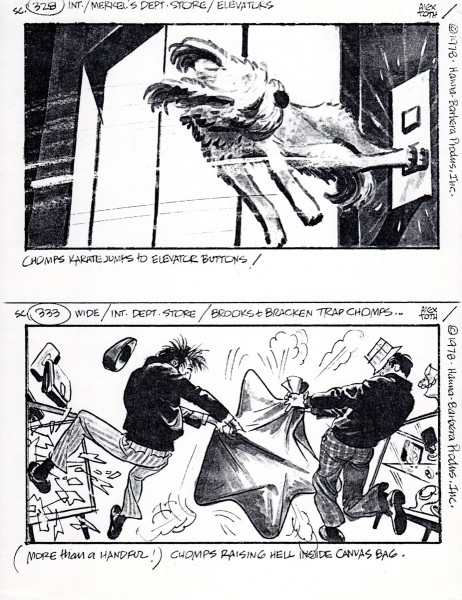 9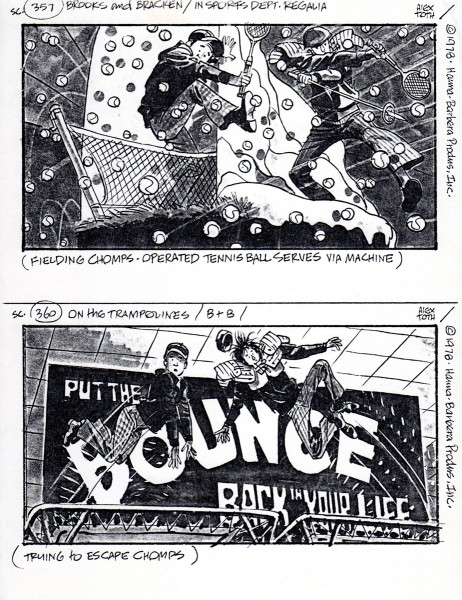 10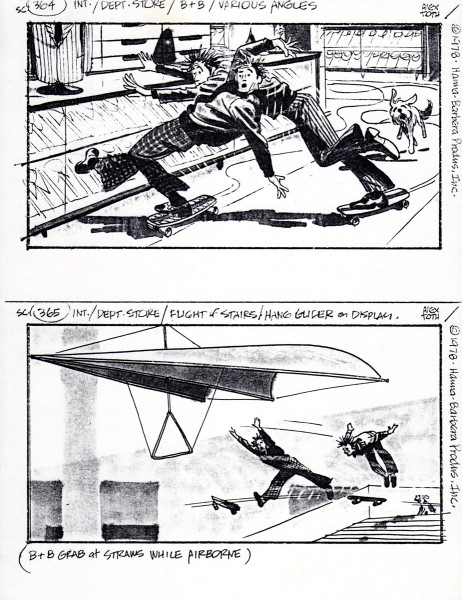 11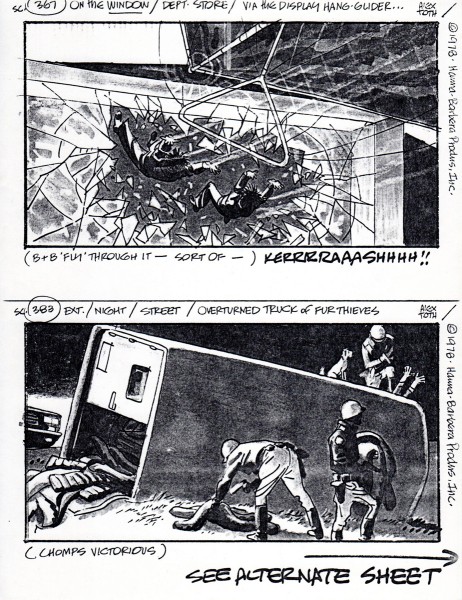 12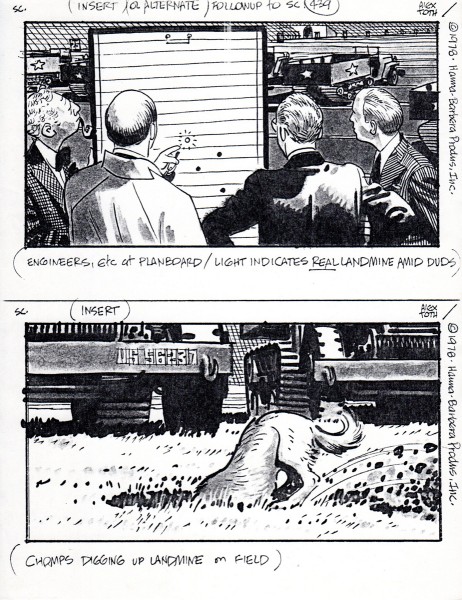 13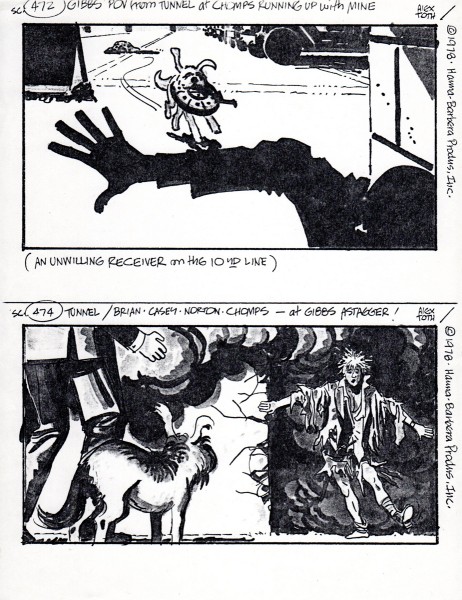 14