Monthly ArchiveApril 2008
Daily post 30 Apr 2008 08:35 am
- I recently received an email from Sky-David. He has a a small animation company in Carlsbad, California. He'd written that he enjoyed my blog and particularly liked one quote from an old interview with me.
"I like a pencil dragging across a piece of paper and the problems you get with that." That is largely what my business does, it is just me and one computer assistant. I got the degree in animation from Cal Arts 1972 – 74 and later got a degree in Physical Therapy and Life Sciences my second loves. That gave a firm financial base to keep my first love, animation going. By circumstance I got animation jobs for the bio-information technology sector, that pays very well. Not anything to see in a film festival yet it opened doors. Then an educational animation THE LUMINOUS RADIANCE OF THE LYMPH SYSTEM. And then a client asked me to do naturalistic animation of the development of the human embryo as seen from inside the womb. Then a woman who wrote a story with 4 animals saw two of my early 1970′s films, AURA CORONA and SONOMA and hired my company to animated her short story THE WOLF AND THE SNOW OWL because my early films are in the same style as the drawings for the original story. _____________(Click any image to enlarge.)

And my animated documentary, FIELD OF GREEN: A SOLDIER'S ANIMATED SKETCHBOOK that is based on a sketchbook diary that I made during the late 1960′s in combat won the grand prize for animation at the 2008
Black Maria Film Festival.
After reading this letter and doing a small bit of reading, I realized I'd known Sky-David as Dennis Pies back in the early 80′s when he was teaching animation at Harvard. Actually, I'd known his films and was a strong admirer, though we met only a couple of times back then.
His earlier films felt like beautiful, animated landscapes though they were distinctly abstract. His absence was felt when they stopped appearing on the festival circuit, and I often wondered where he'd gone. One of these films, Ace of Light, can be found on YouTube. This is a film that was animated with light, shot on an Oxberry using an arial image projector.
Newer films are shown on the Sky-David site.
Other older film titles include: Nebula (1972), Merkaba (1973), Aura Corona (1974), Luma Nocturna (1974), Sonoma (1977), Surface Work (1978), Hand Piece (1979), A Hard Passage (1981), Ace of Light (1984), Dissolve in Light (1984), Sky Heart (1988), and The Green Child (1992).
There's plenty of information and movies on his studio's site Sky David Studio. Here are some stills he sent me.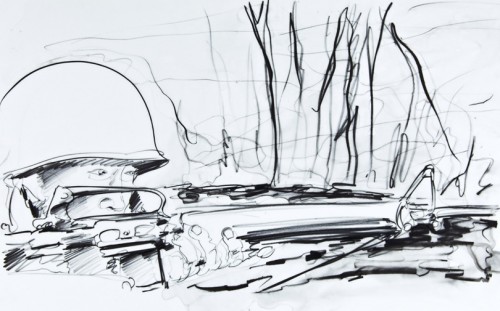 _____________Field of Green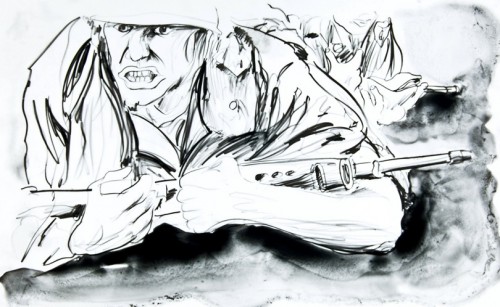 _____________Field of Green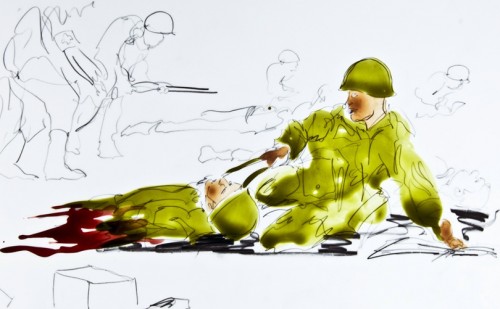 _____________Field of Green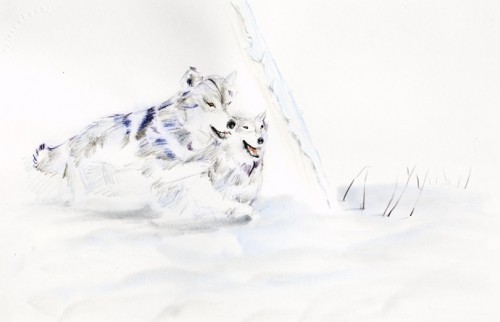 _____________Wolf – Snow Owl
Animation &Books &Disney 29 Apr 2008 08:18 am
- With the Frank Thoomas/Ollie Johnston book, Bambi: the Story and the Film, an elaborate flipbook came as an extra added attraction. This owl sequence, animated by Eric Larsen, was part of that flipbook. I've exposed it on "two's" for the QT movie at the bottom.
This is the centerpiece for the "twitterpated" sequence which I wrote about in a post last week. It's quite clever animation; it just feels like it belongs in another film.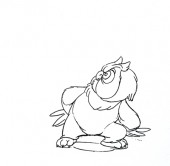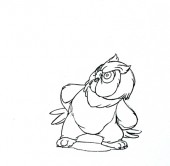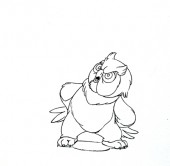 3
______________(Click any image to enlarge.)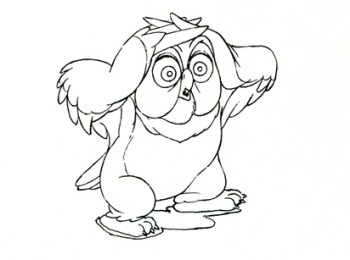 46
The Owl describes being "twitterpated."
Animation Artifacts &Disney &Models &Story & Storyboards 28 Apr 2008 08:04 am
Robert Cowan, a major collector of animation art and materials, has sent some images from Bambi, which come from his collection, to add to the theme of the art I've been posting.
The first is a cel setup from the "twitterpated" sequence. It's a beauty of Thumper after he first finds love. Take a look at that stunning background, the beautiful, multicolored crowquill inking around the characters, and the refined airbrushing of the artwork. It's a stunning cel. To think there were thousands just like it. There's nothing comparable today.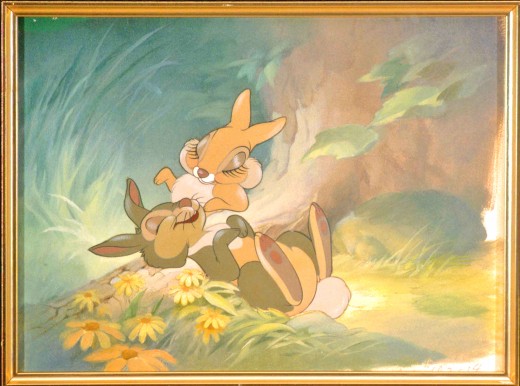 ___________________(Click any image to enlarge.)
The following storyboard drawing shows Bambi when he first sees Faline's reflection in the water. "Twitterpated!"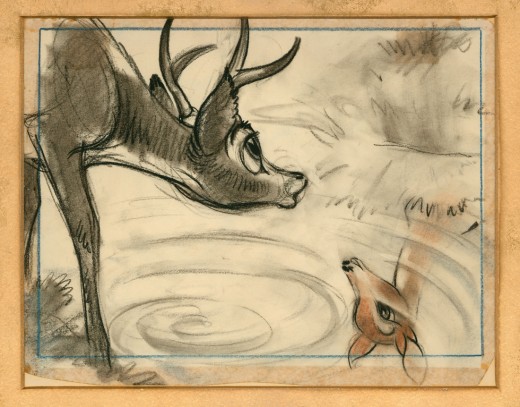 This storyboard drawing shows Bambi, the young doe, being led to the meadow, for the first time, by his mother. A great drawing.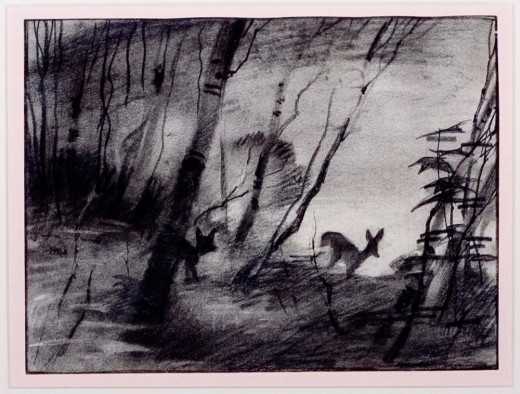 Here's another beautiful concept painting from Bambi.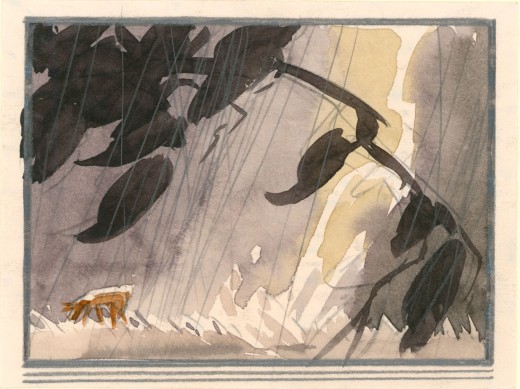 To be honest, I think these images are better than some that are printed in the Frank Thomas & Ollie Johnston book, Bambi: The Story and the Film. It's obviously an enormous and important collection Mr. Cowan has gathered, and I thank him for sharing these images.
Mr. Cowan has recently released the book, Working for Disney: 1936-1937 – The Ingeborg Willy Scrapbook, which looks interesting in itself.
Photos 27 Apr 2008 09:07 am
- The thing about New York is that there are an awfully large number of Gypsy fortune tellers. They seem to be nicely hidden, part of the fabric of their street front locations. Oftentimes, they occupy store front locations, but sometimes they take up space on the second floor of buildings.
It's hard to tell how they make enough cash to pay the somewhat high rents they have to cover. I'd always assumed that it had something to do with illegitimate betting or drugs or something. Then I read a New Yorker article several years ago which revealed the answer – crystals.
I decided to photograph all that I saw on my walk from home to the studio. The first thing I came upon, on Park Avenue and 29th Street, was this posterboard for an out-of-sight store. I looked, somewhat cursorily but couldn't immediately locate it.
______(Click any image to enlarge.)_________They turned out to be hidden behind
______________________________._________some construction. The shop was on the
_second floor of a small building undergoing a face lift. No wonder they felt the need for a _street placard, half a block away.
_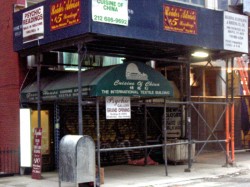 __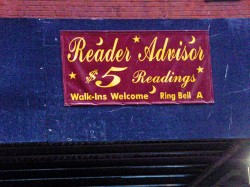 _They were forced to use the construction work to advertise their business. This has to be _hard for them.
_
_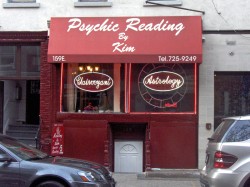 __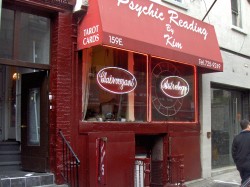 _This space is located between Lexington & Third Avenues on 29th Street. It sits adjacent _to an excellent Thai restaurant.
_
_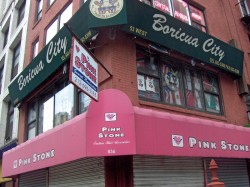 __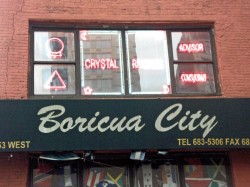 _Farther west, on the corner of 29th Street and Sixth Avenue, there's one on the third floor.
_A business with plenty of neon advertising; you could mistake it for a nail salon if you
_weren't looking for it.
_
_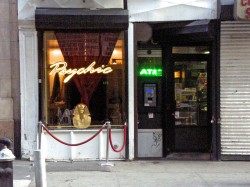 __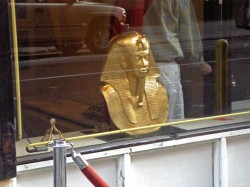 _This space was on 21st Street between 5th and 6th Avenues. The pharoah head seems
_to be a familiar that appears in seveal of the windows. It obviously means something I _don't understand. "Mummies welcome."
_
_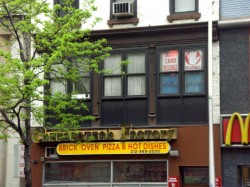 __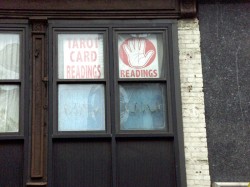 On Sixth Avenue just off 14th Street there's this second floor shop. They're closed this morning, consequently it's hard to tell if they have neon lighting as well. The windows, this morning seem to be closed off; they're probably still asleep. (Of course, the "fortune tellers" usually live in these spaces.)
_
_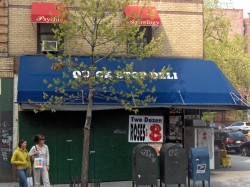 __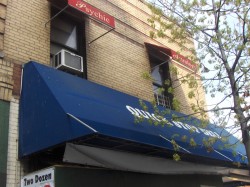 _A block away from the studio, on Houston and Bedford Streets, there's this
_space just above the "Quick Deli." The awnings are the only announcement of their _location. It's a one-floor walkup.
_
_____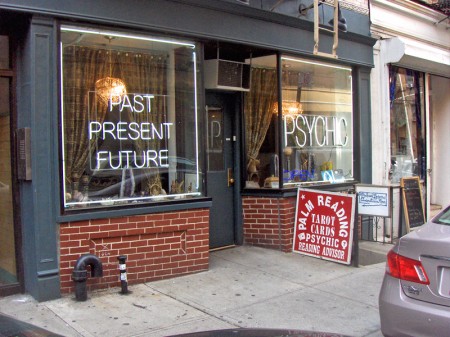 ____This storefront sits just above my studio. It helps me identify where the studio is.
____I just tell people to walk down the stairs just beneath the "Psychic."
_
_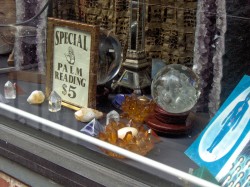 __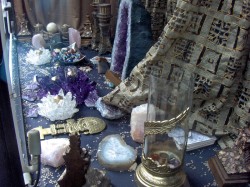 _These are the artifacts to be found in the window of the "Psychic" storefront above me.
_As I said, the New Yorker article suggested that they sold crstals. If they found two or
_three customers a year who would come back regularly for new and more helpful crystals,
_it would cover the year's rent. It's an alien world to me. I can't imagine even walking
_into the stores.
_
_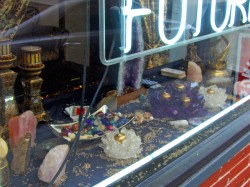 __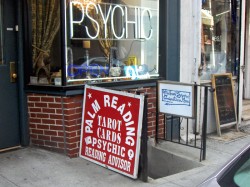 _I've also noticed three or four used cars irregularly parked on the street. They all have the
_"For Sale" signed painted on the rear windows. The seller is this store's operator.
_When I moved in, four years ago, my landlord told me that he was paid every month, on
_time, in cash. Those crystals must be selling.
_
_____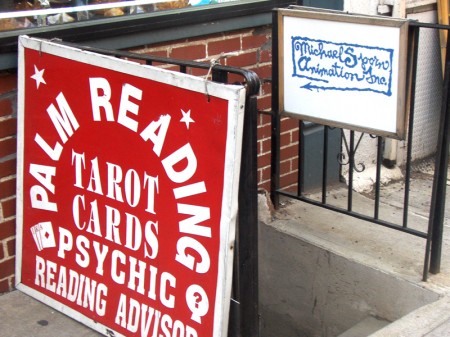 _____This, of course, is the entrance to the walkway to my studio. Très discrete.
_____I'm supposed to have exclusive use of the wrought iron fence for signage, but
_____as soon as I put something up, their placard arrived. Why argue? For some
_____reason everyone notices my sign, and some curious visitors have turned into
_____clients. Usually it's someone wanting to know what an animation studio does
_____or they're looking to buy a cel. (Maybe I should sell them.)
These were the shops most obvious to me. I'm sure I walked past others without noticing. There are many, many more of these store front places. I don't think they wander much beyond the second floor, since they have to be there for the curious person looking to have their fortune told, tarot done, or buy those crystals.
Animation &SpornFilms &Story & Storyboards &Tissa David 26 Apr 2008 09:37 am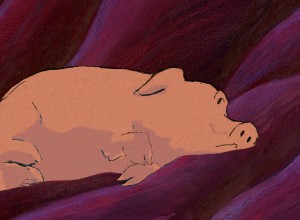 - As I stated recently, we're currently preparing for the release of four more of our films on DVD this coming June. Each of two disks will hold two films. Included among the extras will be lots of stills including sequences worth of the storyboards.
For The Marzipan Pig we've including a copy of a section of the animatic. This we'll offer with the actual film superimposed over the stills so you can make a comparison as the film runs. I like this format; you can really take in the animation and layout of the piece when both are on the split screen.
I thought I'd post here some of the storyboards and the animatic for that section. Of course, this is in a low res version; more can be discovered in the dvd version.
Tissa David did the storyboard and animated the entire film by herself. This film is a beauty, if I do say so myself. It's a truly adult film, though it was sold as a family film. It deals with love in all its forms, albeit, obviously, through metaphor. It was adapted from a brilliant children's book by Russell Hoban, one of my favorite authors.
Quentin Blake illustrated the original book, and we didn't purchase the illustrations. Hoban told us that it wasn't how he'd imagined the pig to look, so he drew it for us. He was once an art director in an ad agency, so he can draw. This is the pig we used.
Hoban had hated what was done with his book, The Mouse and His Child, so demanded that all the spoken dialogue in the film be found among his words. We wrote a script; Maxine Fisher went to London to work with him in revising it. Finally, when it came to recording Tim Curry, I threw out the script and had him read the book. It was a good decision, and it made for a great performance from a great actor.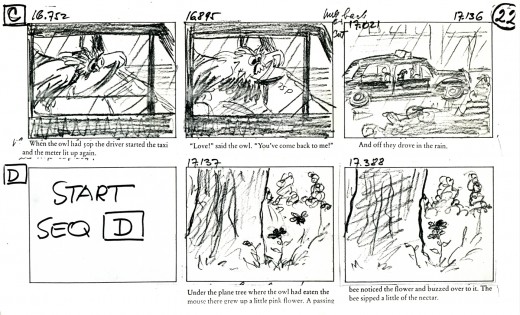 _____________(Click any image to enlarge.)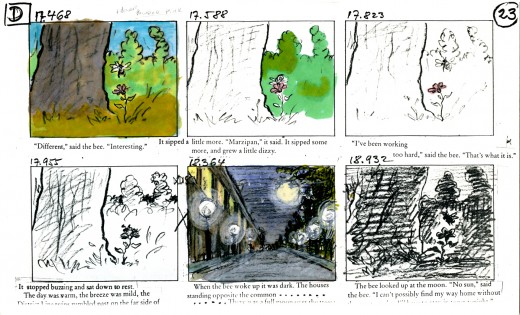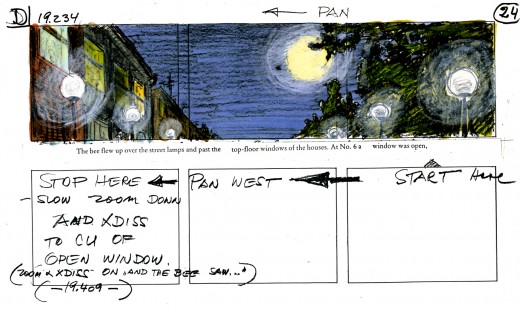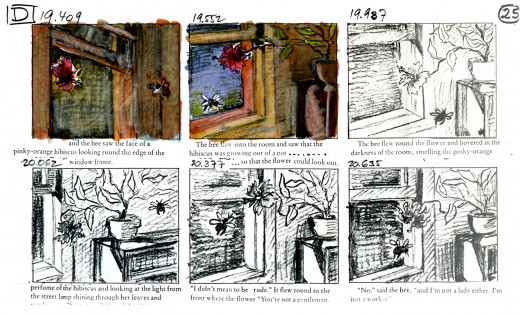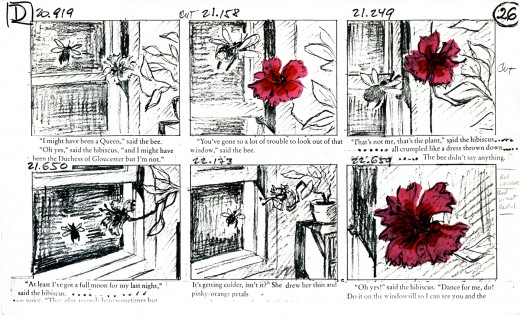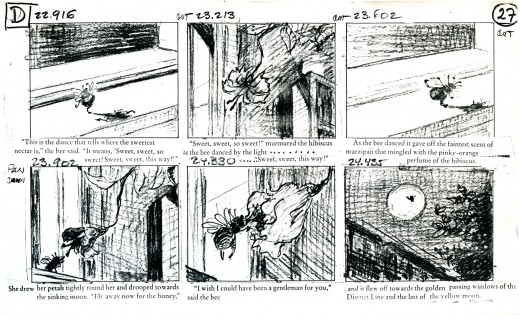 The animatic for Seq. D with the final film superimposed.
You'll notice that some changes were made
in scenes and scene cuts as the animation progressed.
This is typical.
Events &Hubley 25 Apr 2008 07:56 am


- Tuesday night, the Museum of Modern Art had an event to celebrate the Wednesday opening of a new exhibition devoted to Jazz film Scores. This is what the invitation looked like.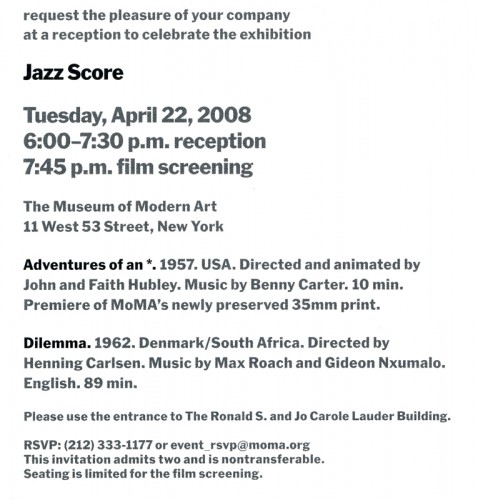 You can see from this that a main feature of the summer long exhibit of films will be Hubley shorts. The standout film is Adventures of an * in a brilliantly reconstructed print of the film. (I saw the film in 1963 in a theater, and I don't remember the colors, even back then, looking as good as this print.)
With the film screenings is an exhibit of outstanding posters and a wall of artwork from Adventures of an *, including the start of the storyboard for the film.
The wall looks like this:


_____(Click any image to enlarge.)
I shot the image in parts and reconstructed it in photoshop. There's some distortion due to the size and the fact that I was taking these pics on the sly; I don't think photography is allowed.
Above this is the storyboard which feels somewhat like this (though I'm missing parts here.)


The board was near the ceiling so was hard to see, never mind photograph. Lots of light bouncing off it.
Here are some closer shots of the wall. Lighting was at its best, but it gives you an idea of what was there. The images here start to the left of the wall and move right.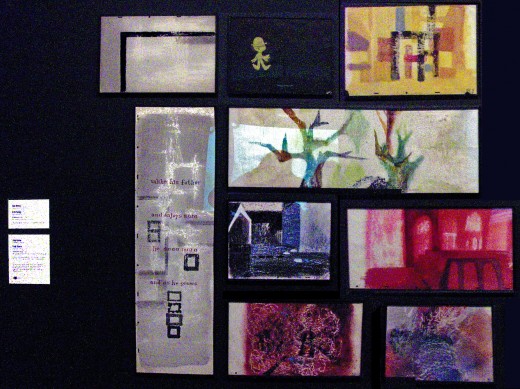 A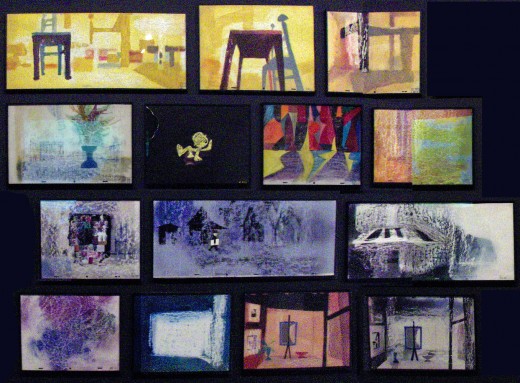 B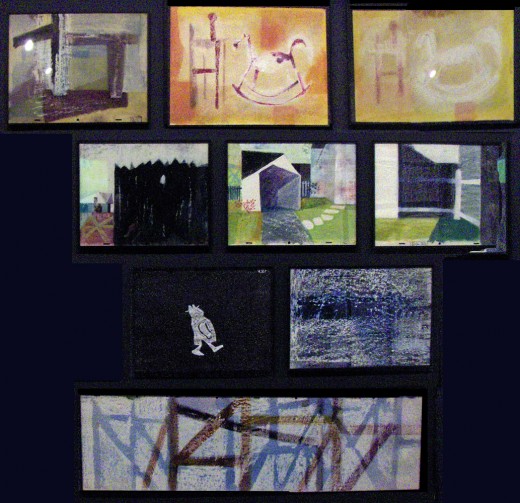 C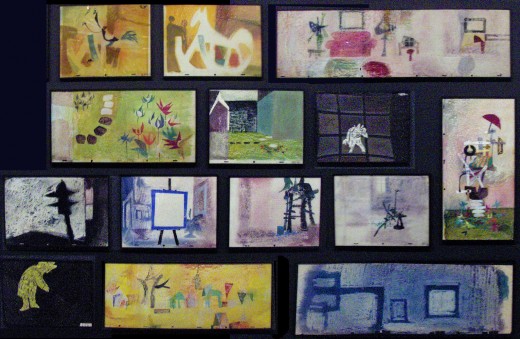 D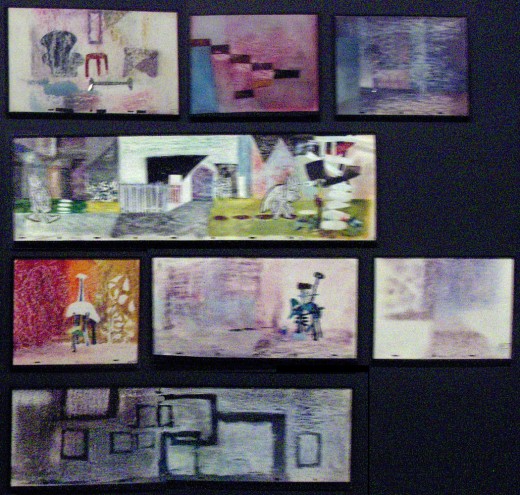 E
Here are a couple of the images shot separately.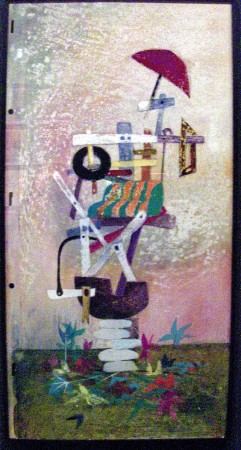 Quite a few of the backgrounds and setups from this film were framed and hung around the walls of the Hubley Studio, while I worked there. That alone made for glorious days just gawking at the stunning artwork.
Needless to say, I was a Hubley fanatic before starting work there. I remember vividly that first day of opening the elevator door to be face to face with the beautiful blue rocking chair from Moonbird framed there in all its glory. I think it took me about five minutes to finally ring the doorbell, I was so entranced with John's painting.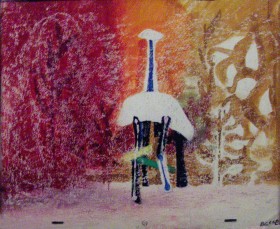 Part of the exhibitiion in the lobby is artwork from John Canemaker's beautiful short film, Bridgehampton. A sequence of paintings, that look like they emerged from an Oskar Fischinger film, grace the wall across from the Hubley images.
There's also a very large video screen playing clips of both films in a loop. The quality, naturally, isn't as good as the film print. Here's the wall of John's artwork, as well as a closeup of one of the images and a photo of him with me against the wall.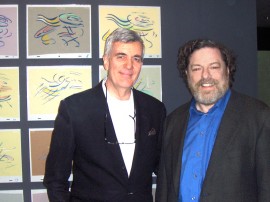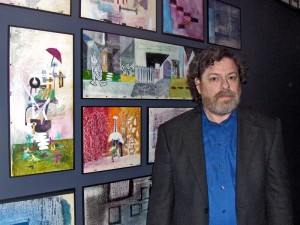 Here's a photo of me up against the wall of Adventures of an *.
There's also a reconstructed print of Tender Game whidch will play later in the summer. And, finally, below is the schedule for the animated shorts that will be playing through April and May.
The film exhibition runs through September, so you should keep up on the film programs.
I'll try to update the schedule when I can.
Playing with the feature Dilemma is
Adventures of an *. 1957. USA. Directed and animated by John and Faith Hubley. Music by Benny Carter, with vibraphone solos by Lionel Hampton. 10 min.
____Friday, May 9, 2008, 8:15 p.m.
____Saturday, May 10, 2008, 3:00 p.m.
____Sunday, May 11, 2008, 2:30 p.m.
____Monday, May 12, 2008, 8:15 p.m.
____Wednesday, May 14, 2008, 8:15 p.m.
____Thursday, May 15, 2008, 6:15 p.m.
Playing with The Man With The Golden Arm is
The Three Little Bops. 1957. USA. Directed by Friz Freleng. Music by Shorty Rogers. A classic Looney Tunes cartoon. 8 min.
____Saturday, April 26, 2008, 2:30 p.m.
____Sunday, April 27, 2008, 4:45 p.m.
Playing with Odds Against Tomorrow is
Tal Farlow. 1950s/1980. New Zealand. Directed by Len Lye. Lye's last cameraless scratch film, posthumously completed by Steven Jones, with a jazz guitar solo by Tal Farlow. 2 min.
____Sunday, April 20, 2008, 4:00 p.m.
Playing with Paris Blues is
Begone Dull Care. 1949. Canada. Directed by Norman McLaren, Evelyn Lambart. Award-winning abstract animation, with music by the Oscar Peterson Trio. 8 min.
____Saturday, April 19, 2008, 5:00 p.m., Theater 1, T1
____Wednesday, April 23, 2008, 6:15 p.m
Books &Disney &Models &Story & Storyboards 24 Apr 2008 08:10 am
- Given the article that appeared in yesterday's NYTimes re Disney's nature films, including and highlighting Bambi, I have to say that it's the naturalistic sections of that film that I most love. Of course, it's not because of the "nature" part but because of the poetic approach that was designed and overseen by Tyrus Wong.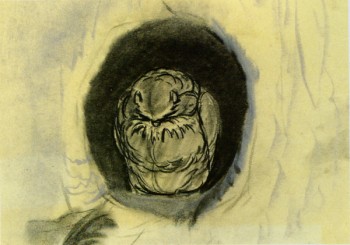 - On Monday, I posted some color sketches from Disney's Bambi by Ty Wong, and I'd like to continue with some attractive sketches that appear in the Bambi Sketchbook and/or Frank Thomas & Ollie Johnston's Bambi: The Story and the Film.
These sketches are very informative. How wide the gulf between storyboard and animator. I find Bambi a somewhat schizophric film. It has the absolute finest Disney has to offer, and it also has some of the most obvious and cloying work. I find most of the owl sequences fall into the latter category.
The owl is quite nice at the film's start, but once we get to the "twitterpatin'" sequence things turn dreadfully cute and, for me, it's a real let down. Preston Blair's animation is good of a sort, but I think it belongs in another film. I can't say I've ever spoken about this, so I don't know if anyone else feels the same or is now convinced that I'm an idiot.
Here are some owl design sketches; they are beautiful. It's a shame the underlying beauty of these drawings didn't make it to the screen, just the surfaces.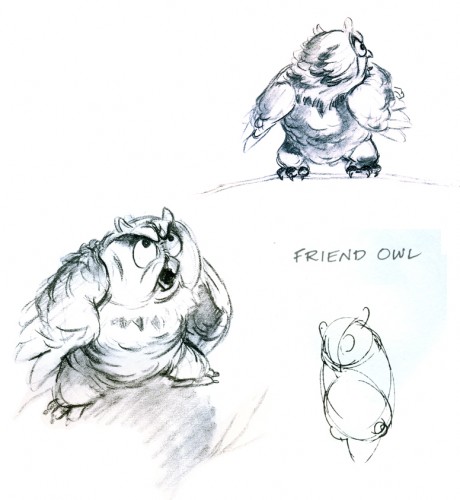 (Click any image to enlarge.)_______________________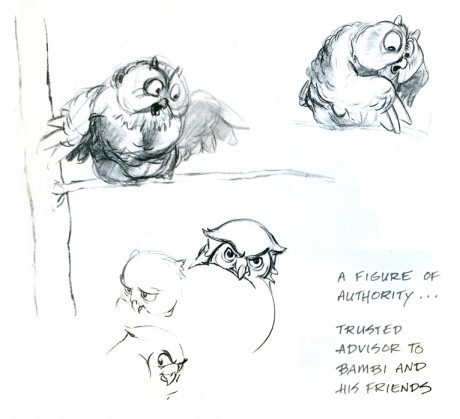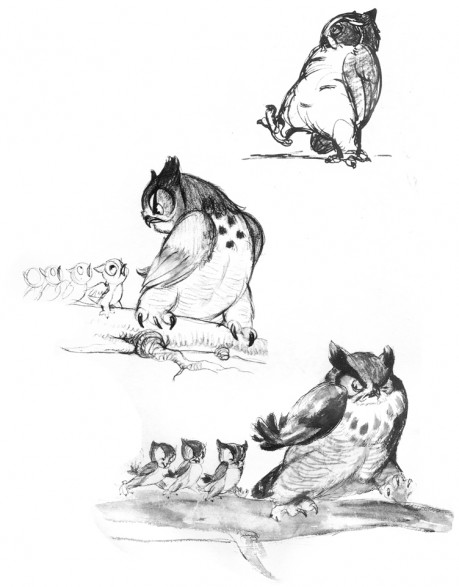 And here's the board for the owl's "twitterpatin'" sequence. It leads out of and into two of the great sequences of this film – the death of Bambi's mother, and the battle of the stags.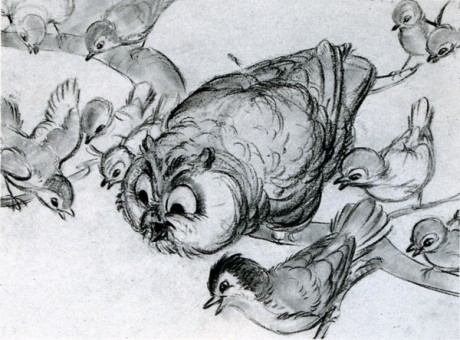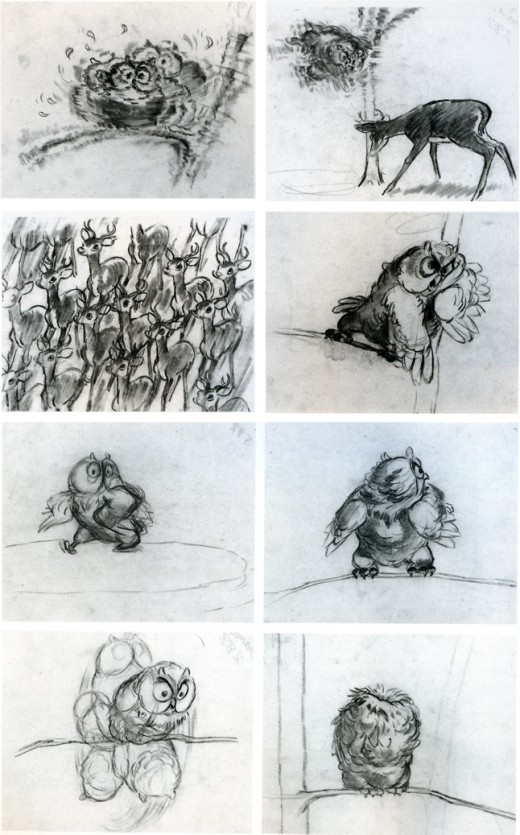 Animation &Daily post 23 Apr 2008 08:34 am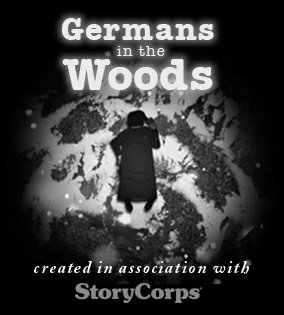 - I'd like to call some attention to a new production blog by Tim Rauch. He, together with brother Mike Rauch, created an animated short, Germans In The Woods. They started with a piece of pre-edited sound cut from a 40 minute interview in which a World War II veteran recalls his "saddest memory".
As Tim says, "This piece had aired on NPR and was included in the recent StoryCorps book. . . There was incredibly strong emotion in the voice and yet we knew there had to be something we could add with animation."
The blog gives some stills and clips from the film. I've been hearing from Tim for a while now and have seen several developing versions of the film. I'm quite impressed with the level of the animation and the graphics employed. I hope the film will be a success for them and encourage you to look into this blog.
You can see a teaser for the film here.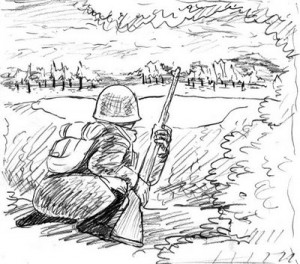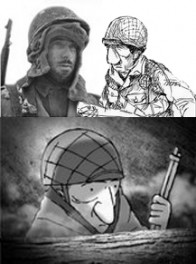 Some images from Germans In The Woods off Tim Rauch's blog.
The brothers also have an artists' demo site which includes information about other films they've done. These guys are artists in the making, and you should be aware of them.
_______________________________
- Michael Barrier's site has a letter from Borge Ring which details the LEICA reel experience, as it properly should be understood. Naturally enough, it involves the inestimable Hans Perk who comments on the experience. By the way, continuing the 101 Dalmatians study (started by Hans on his site, elaborated on by Mark Maryerson on his site, and with some small additions on this site) Hans is posting Bill Peet's original script for the feature.
Animation &Articles on Animation &Disney &walk cycle 22 Apr 2008 09:23 am
Today's Wall Street Journal includes an excellent piece by John Canemaker about Ollie Johnston.
______________________________
- I've been enjoying analyzing the walk cycles in 101 Dalmatians. I particularly liked the last one I posted "girl with french poodle."
Here's the young child with her puppy. She not only walks, but she licks her lollipop. The pup is just an absolute innocent. It's another great walk by Blaine Gibson.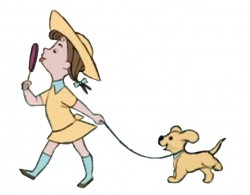 1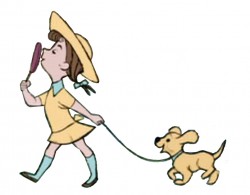 2
_______(Click any image to enlarge.)
The "little girl with puppy" walks on ones.
The piece, in the film, includes a zoom into the cycle. I've tried to adjust for it but don't think I was wholly successful. There's a marginal enlargement of the drawings as it goes on – noticeable only in motion. It's actually interesting in the walk.
Animation Artifacts &Books &Disney &Models 21 Apr 2008 08:24 am
- Bambi has to be one of the most stunning of all animated films, nevermind Disney films, and the preliminary artwork that went into it is probably even greater than what made it to the screen. The Bambi Sketchbook series book and the Ollie Johnston/Frank Thomas' Bambi book supports this with lots of beautiful artwork.
I can't resist posting some of these images, so decided to go for it. It's inspiration for me and may be for some of you as well.
From the Sketchbook, these are sketches by Tyrus Wong. His artwork really shaped this movie and give it the amazing integrity it has.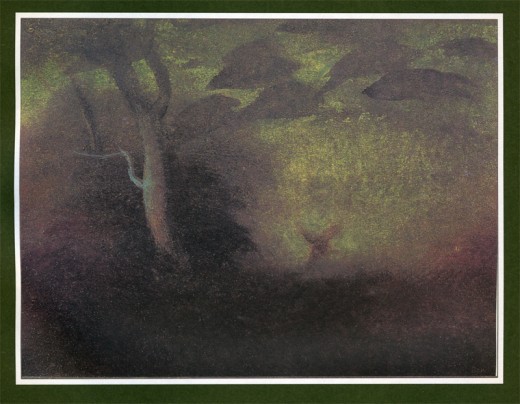 ___________(Click any image to enlarge.)