Category Archiverepeated posts
Animation Artifacts &Articles on Animation &Commentary &Puppet Animation &repeated posts 08 May 2013 12:49 am
- Greg Kelly, a good friend of this blog, wrote to tell me that Ray Harryhausen has died. You can read about it here, in Time Out or here in the NY Times or here at Jerry Beck's Animation Scoop.
Thanks, Greg, for the alert.
In honor of Mr. Harryhausen's brilliant career, I'm re-posting this article about Jason and the Argonauts which I once posted. The piece features Jason and the Argonauts. There was a chapter from Mr. Harryhausen's 1972 book, Film Fantasy Scrapbook, about that film. I'd like to show it again. The book is written in the first person singular and collects B&W images like a scrapbook.
Here it is:
____________
Of the 13 fantasy features I have been connected with I think Jason and the Argonauts pleases me the most. It had certain faults, but they are not worth detailing.
Its subject matter formed a natural storyline for the Dynamation medium and like The Seventh Voyage of Sinbad strayed far from the conventional path of the "dinosaur exploitation film" with which this medium seemed to be identified.
Taking about two years to make, it unfortunately came out on the American market near the end of a cycle of Italian-made dubbed epics based loosely on the Greek-Roman legends, which seldom visualized mythology from the purely fantasy point of view. But the exhibitors and the public seem to form a premature judgment based on the title and on the vogue. Again, like Sinbad, the subject brewed in the back of my rnind for years before it reached the light of day through producer Charles Schneer. It turned out to be one of our most expensive productions to date and probably the most lavish. In Great Britain it was among the top ten big money makers of the year.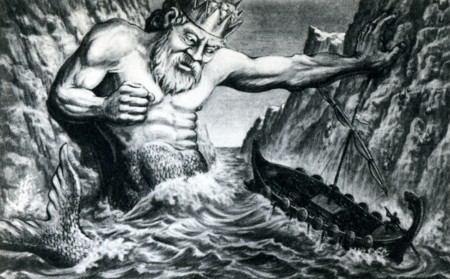 A preproduction drawing (above) compares favorably with a film still (below.)
The drawing is quite a bit more dynamic. (After all, it is Dynamation!)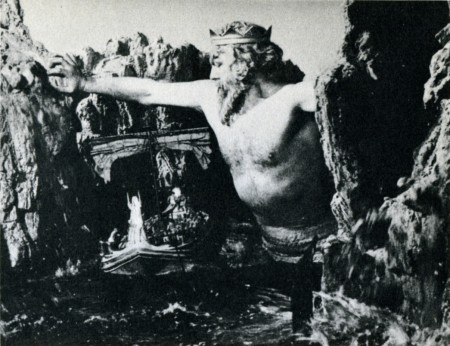 (Click any image to enlarge a bit.)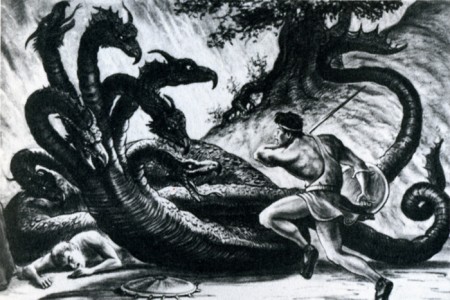 Likewise, a drawing of the hydra (above) film still (below.)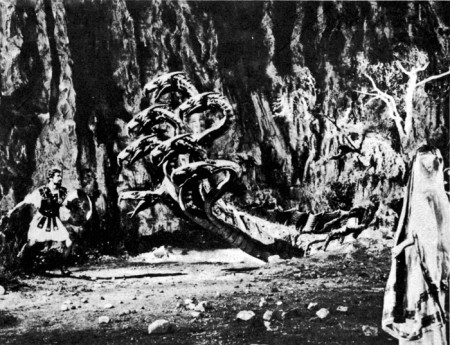 Harpies (Above & Below)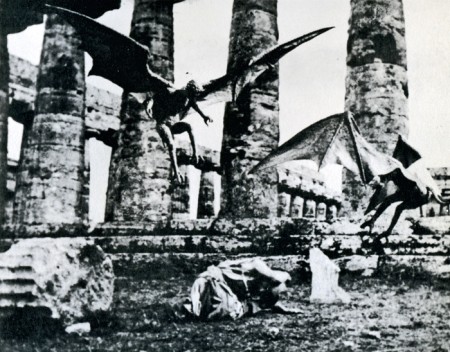 Some of the difference in basic composition between the pre-production sketches I made for Jason and the counterparts frames of the production is the direct result of compromising with available locations.
For example, the ancient temples in Paestum, southern Italy, finally served as the background for the "Harpy" sequence. Originally we were going to build the set when the production was scheduled for Yugoslavia. Wherever possible we try to use an actual location to add to the visual realism. To my mind, most overly designed sets one sees in some fantasy subjects can detract from, rather than add to the final presentation.
Again, it depends on the period in which it is made as well as on the basic subject matter. Korda's The Thief of Bagdad was the most tastefully produced and designed production of any film of this nature but unfortunately the budget that was required would be prohibitive with today's costs.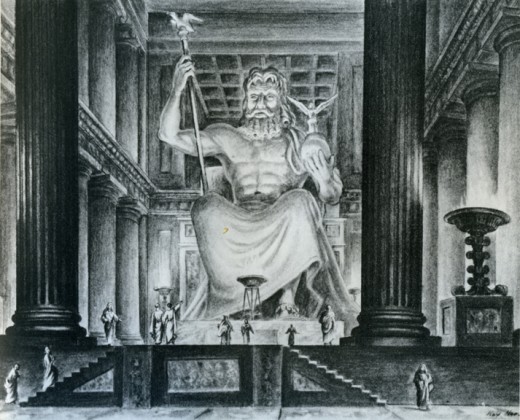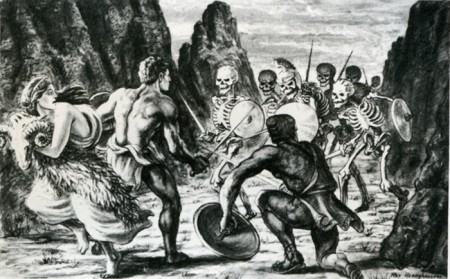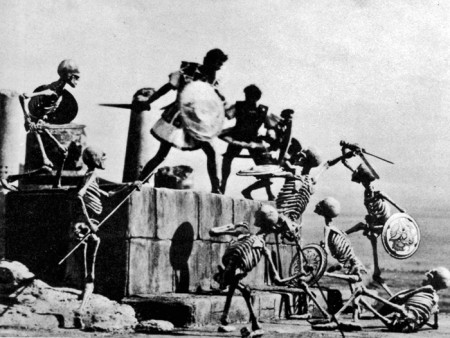 The Skeleton Sequence was the most talked-ahout part of Jason. Technically, it was unprecedented in the sphere of fantasy filming. When one pauses to think that there were seven skeletons fighting three men, with each skeleton having five appendages to move each frame of film, and keeping them all in synchronization with the three actors' movements, one can readily see why it took four and a half months to record the sequence for the screen.
My one regret is that this section of the picture did not take place at night.
Its effect would have been doubled.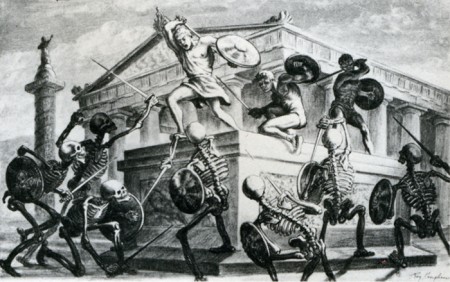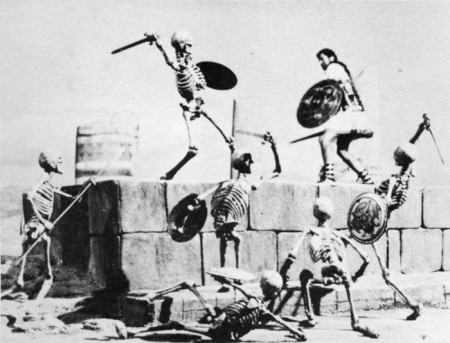 Certain other time-consuming technical "hocus-pocus" adjustments had to be done during shooting to create the illusion of the animated figures in actual contact with the live actors. Bernard Herrmann's original and suitably fantastic music score wrapped the scenes in an aura of almost nightmarish imagination.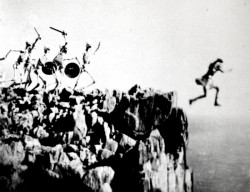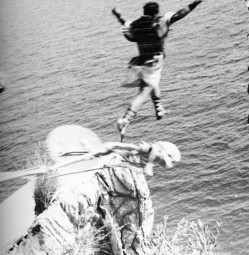 In the story, Jason's only way of escaping the wild battling sword wielding "children of Hydra's teeth" is to leap from a cliff into the sea. (Above left) A stuntman, portraying Jason for this shot, leaps from a 90-foot-high platform into the sea closely followed by seven plaster skeletons. It was a dangerous dive and required careful planning and great skill. It becomes an interesting speculation when dealing with skeletons in a film script. How many ways are there of killing off death?
(Above right) Another angle with the real Jason jumping off a wooden platform into a mattress a few feet below. The skeletons and the rocky cliff were put in afterwards while the mattress was blotted out by an overlay of sea.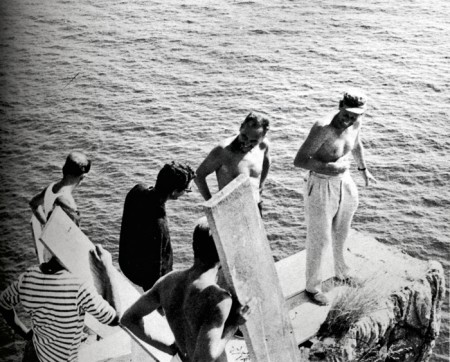 Director Don Chaffey and Ray Harryhausen discuss the leap
with Italian stunt director Fernando Poggi.
When transferring published material to the screen it is almost always necessary to take certain liberties in the work in order to present it in the most effective visual terms. Talos, the man of bronze, did exist in Jason legend, although not in the gigantic proportions that we portrayed him in the film. My pattern of thing in designing him on a very large scale stemmed from research on the Colossus of Rhodes.
The actor: his blocking the only entrance to the harbor stimulated many exciting possibilities. Then too, the idea of a gigantic metal statue coming to life has haunted me for years, but without story or situation to bring it to life. It was somewhat ironic when most of my career was spent in trying to perfect smooth and life-like action and in the Talos sequence, the longest animated sequence in the picture, it was necessary to make his movements deliberately stiff and mechanical.
Most of Jason and the Argonauts was shot in and around the little seaside village of Palinuro, just south Naples. The unusual rock formations, the wonderful white sandy beaches, and the natural harbor were within a few miles of each other, making the complete operation convenient and economical. Paestum, w its fine Greek temples, was just a short distance north. All interiors and special sets were photographed in a sm studio in Rome.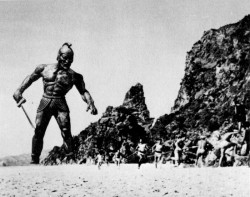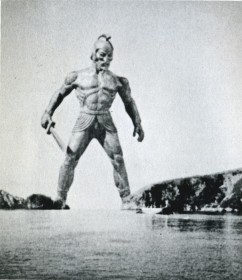 (Above left) Talos, the statue of bronze, pursues Jason's men.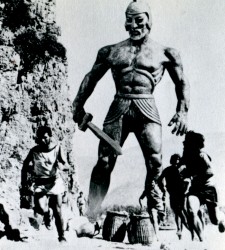 (Above right) Talos blocks the Argo
from the only exit of the bay.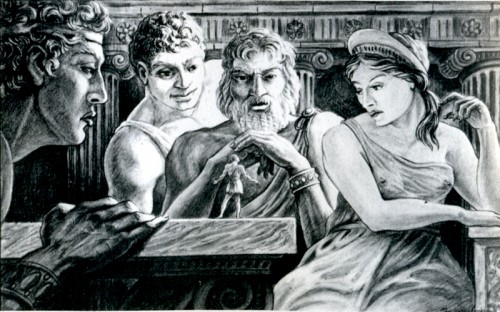 Pre-production drawing of Jason speaking to the Gods of Greece.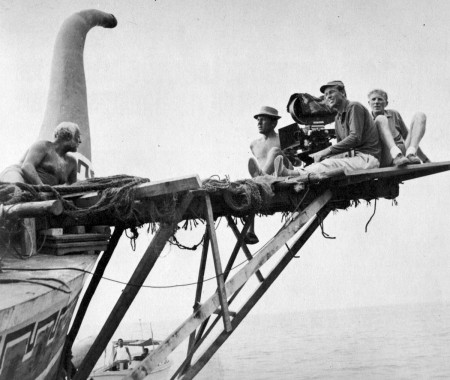 For the second unit operation a special platform had to be fitted to the Argo in order to achieve certain camera angles. Although it looks precarious it was far more convenient than using another boat for the shots.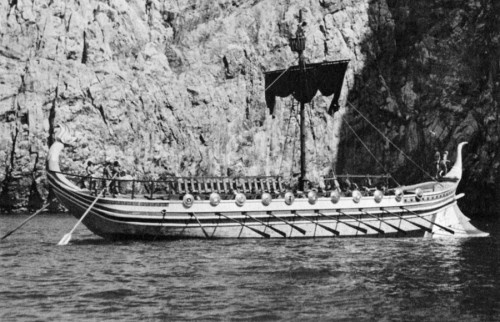 The Argo had to be, above all, practical in the sense that it must be seaworthy as well as impressive. It was specially constructed for the film over the existing framework of a fishing barge. There were twin engines for speed in maneuvering, which also made the ship easily manipulated into proper sunlight for each new set-up.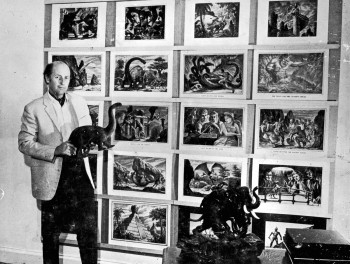 Harryhausen off the book's back cover
to give an idea of scale of drawing sizes.
Models &Puppet Animation &repeated posts 02 May 2013 04:26 am
As you can tell, from some of my recent postings, I have always had a love affair with puppet animation. There's something extraordinary about that medium that has drawn me in. I've always demanded a tactile approach to animation, including all of the 2D work I've done.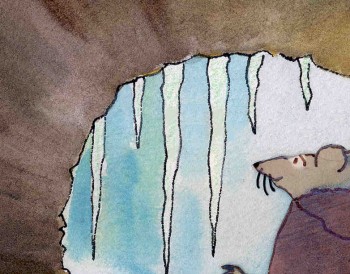 I remember seeing Lady & The Tramp in 1955, on its first release (I was nine.) It was then that I consciously noted that one of the backgrounds in the "Bella Notte" sequence (I can now see that it was an Eyvind Earle BG) had texture in its paper. The board it was painted on came through the animation photography and reached out to me. The human hand became evident in the film.
Perhaps, this was what I loved so much about animation in the first place. Humans did it, and it was self-evident. Being reminded of it, in the subtlest ways – usually unintentional, added to my joy.
Perhaps this is what brought me to John Hubley's films. Those films were so obviously painted: characters and BG were both used by the photographer to combine for us, and the unintentional was often caught on screen. (I immediately loved those highlighted rings double-exposed around the characters in Moonbird, the brush strokes of The Hole, the transparency of the characters' paper in Of Stars and Men.) It added to the experience.
In a sense, I was brought out of the film but held in it and given the opportunity to love it even more.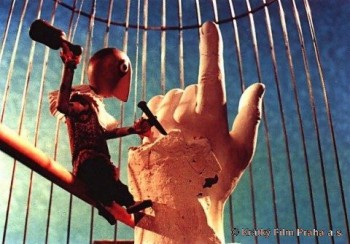 I've had this same sense with the best 3D animation. Though I was always there viewing it, I was also caught up in the emotions of the film. Trnka's masterful film, The Hand, had my understanding those tears and sweat on the little potter were moistened ink that had been his painted eyes. But the anguish I felt the first time I saw the film and that effect has never left me. The perfections of the Human Hand in that film forced the imperfections of the puppet potter to be revealed until it destroyed him.
Perhaps this is also what keeps me from embracing cgi animation. Despite the faked textures of the computer, it's so obvious that it is not real. At least not when the characters are cartoons.
A very small example of what I'm trying to communicate stands out for me in Cars. The paint job of newer cars has a flecking/speckling of glitter within the paint. In the right light, the main character, Lightning McQueen, had this paint job. Everytime I saw it, I was distracted and pulled out of the film. Like the real paint on a real car, that flecking was embedded within the paint, itself. It didn't feel like the byproduct of a human hand; it felt like a computer trick.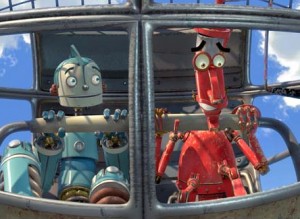 I am no more capable of coloring the computer skin of that computer hand than I am of painting a real car. It isn't tactile for me, it's just distracting.
It's just something I never feel I can reach out and touch. This is something that has been overcome, for me, in a couple of films. The Incredibles gets very close often. Moments of Robots, such excellent design for the medium. Some of Toy Story.
(Click on any image to enlarge and enjoy the textures.)
Of course, I recognize that this is my problem. However, I recognize it's a problem that other people probably have and wonder if there isn't a solution. In The Iron Giant, the Giant is animated by a computer. I was told that the animation had to be rigged to be animated on "two's" so that it wouldn't separate from the rest of the hand-drawn animation. Oddly, it felt totally acceptable to me; I saw no problem and accepted that robot. There has to be, in there, a way to resolve it – I'm just thinking here and don't expect anyone to try to follow what I'm saying. Perhaps if "human" problems, technical problems, were added to the animation. . . No this is even too stupid for me.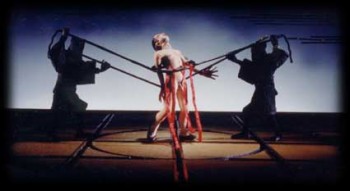 Barry Purves has made a number of absolutely beautiful films and has created in his own studio some masterfully realized pieces. His work has a discriminating taste, graceful and controlled movement with superb acting, and an intelligence that is rarely found in animation today.
He was nominated for the Academy Award for his film Screenplay, a virtuoso work which follows the rules of Kabuki theater and presents a double-layered story of a man watching and revealing a story from his past which eventually rips through the past and tears at the present. It's a work of animated puppetry, displayed as theater and a stunning film that should have won its Oscar.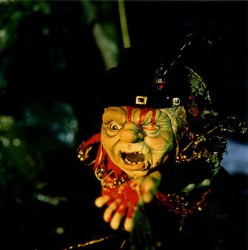 Rigoletto presents the opera in a condensed version that has been reduced for television. It's a packed half-hour which places you into the full opera and allows you to follow it without any confusion. It has a majesty in its sweeping and dynamic camera moves which whisk you along in the luscious music; they carry you along through the depths of the complex story. It's a wonderful film that certainly grows richer with each viewing.
Other works he's done include a wonderful film about Gilbert & Sullivan: The Very Models gives us the pair as seen through the eyes of D'Oyle Carte. A rich and entertaining diary into the making of this film can be found on AWN and a short clip of the film is available there as well.
As a matter of fact, I found his diary there so entertaining, I've also followed the diary he keeps on his own website.
You can get a small glimpse of Barry Purves' craft by viewing the clip reel at Acme Filmworks. But you're left without the full heft of his work until you've seen the complete storytelling ability he presents in the whole films.
Animation &repeated posts &Story & Storyboards 30 Apr 2013 06:38 am
My apologies, I should have included this page among those from the Sleeping Beauty battle which I'd posted yesterday. This concludes the dragon fight.
- This is the final photo/page of the Ken Anderson board for Sleeping Beauty. John Canemaker loaned me the series (which I'd posted in June of 2006) that includes Sequences 18 & 19 of the film. They're the climax of the film – Prince Phillip's battle with the thorns and the dragon, ultimately killing off Maleficent.
This is the whole photo as is: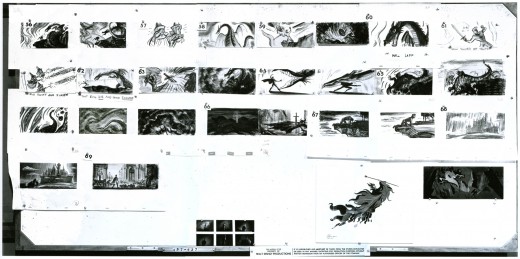 (Click any image to enlarge.
Here, I've broken the photo into rows cutting the rows in half. This way I can post them as large as possible for viewing.

1a

1b

2a

2b

3a

3b

4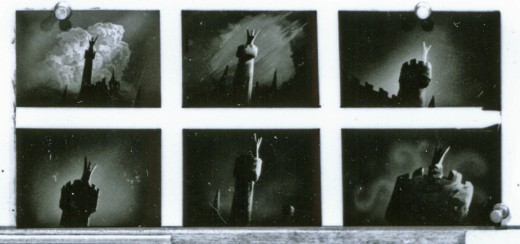 These last are tiny thumbnails at the base of the photo.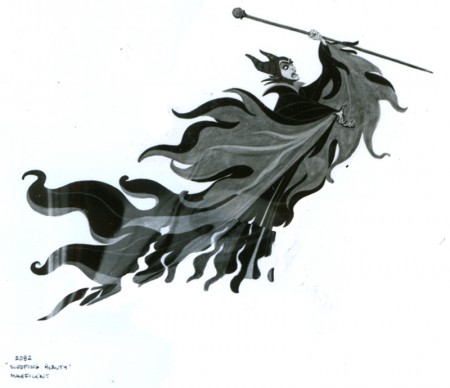 These two basic setups are also pinned to the board.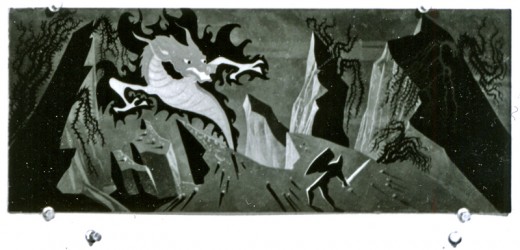 Here are the pages of the animator's draft to inform you as to who animated the scenes of sequence 19: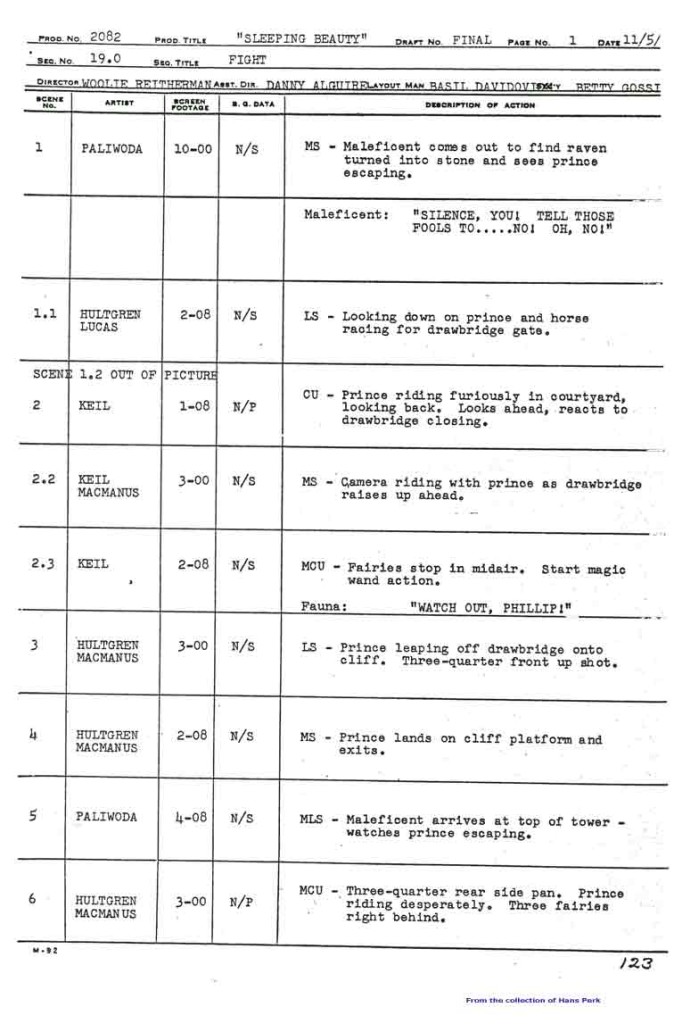 1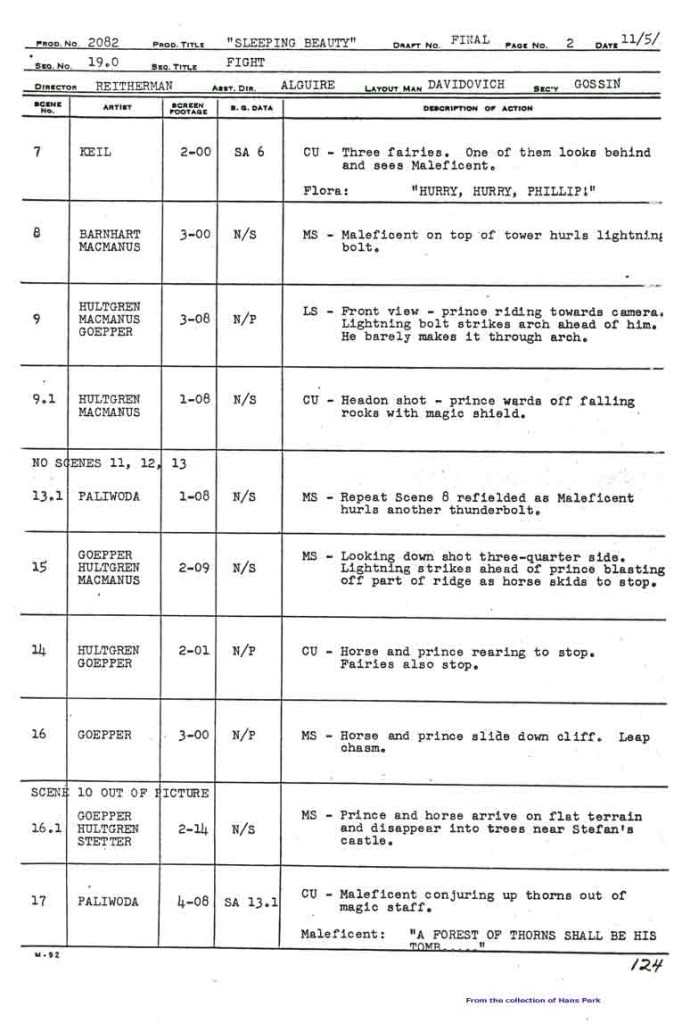 2
Many thanks also to Hans Perk who, on his blog A Film LA, has posted the animator drafts of this film (like so many others he's shared with his readers). None of this work could have been done without that reference.
Animation Artifacts &Disney &repeated posts &Story & Storyboards 22 Apr 2013 05:04 am
I've spent a lot of recent posts writing about the animation of some of the earlier features. I thought I'd give a little focus on the storyboard of Dumbo. The variety and styles of the images is impressive. I've culled a lot of storyboard drawings from various sources and present in somewhat chronological order.
This was the first feature Bill Peet worked on. You can see his entire "Dumbo washing" sequence storyboard here.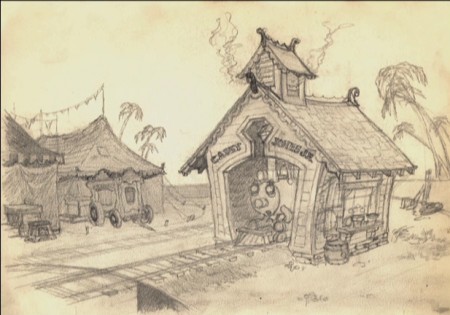 1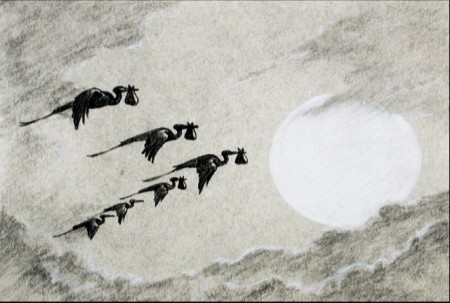 2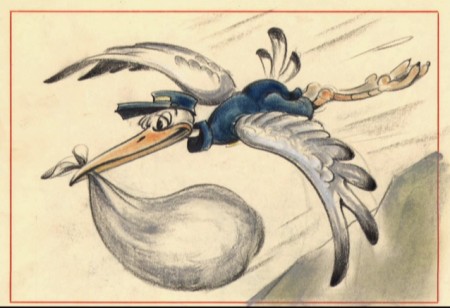 3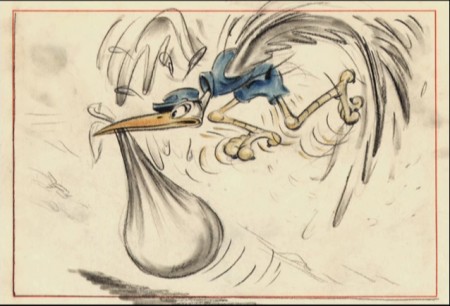 4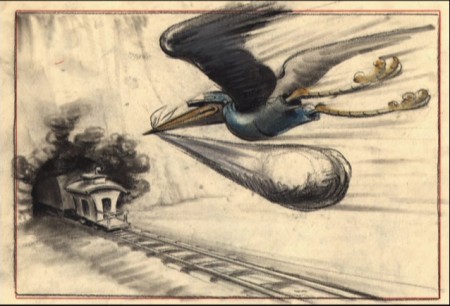 5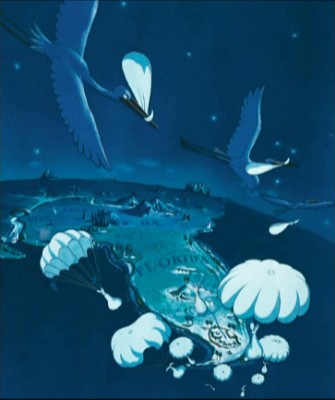 6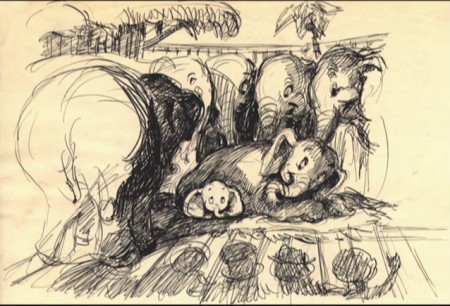 7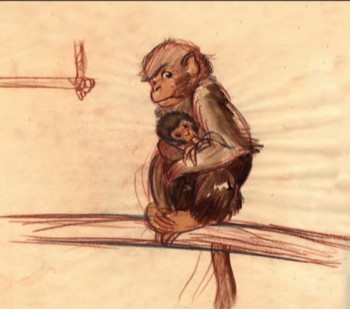 8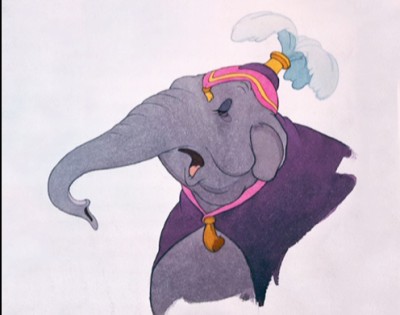 9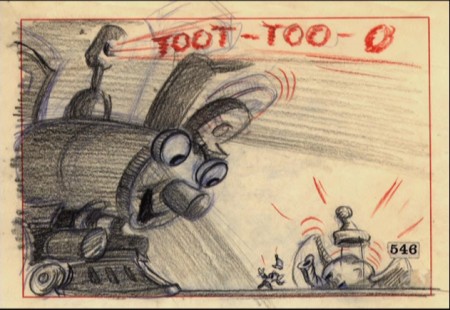 10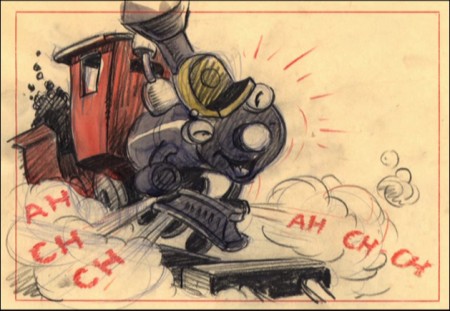 11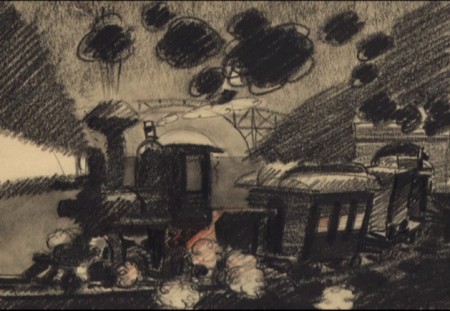 12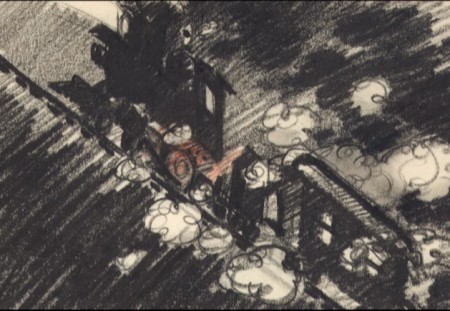 13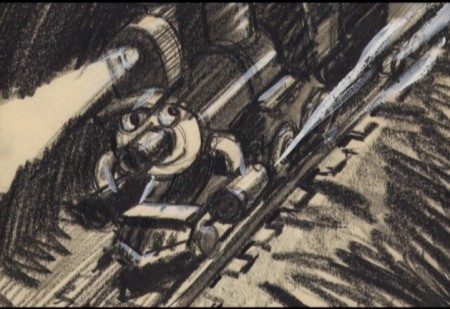 14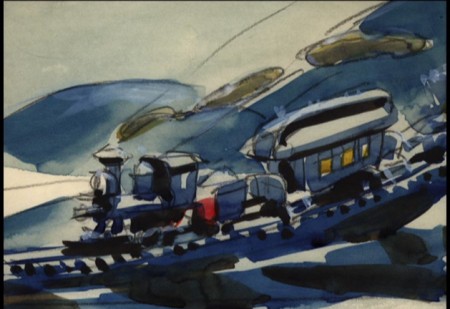 15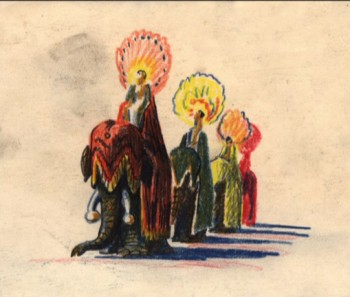 16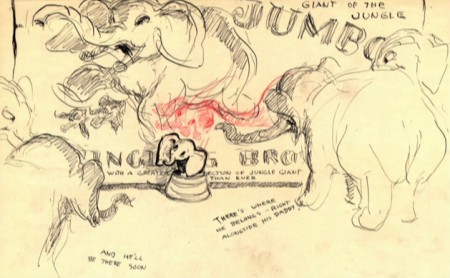 17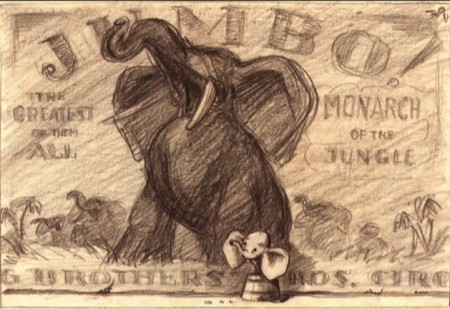 18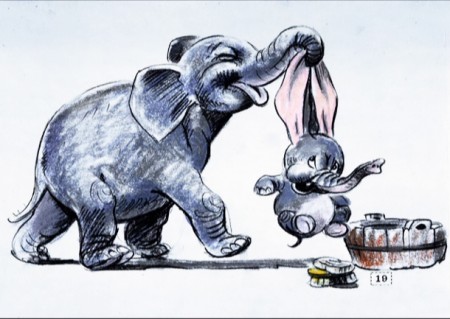 19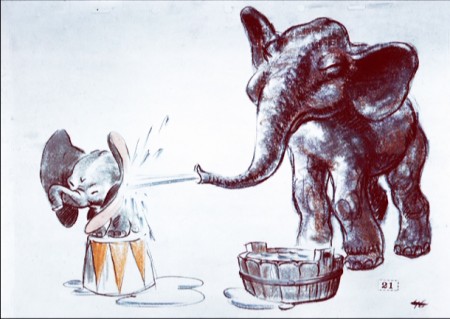 20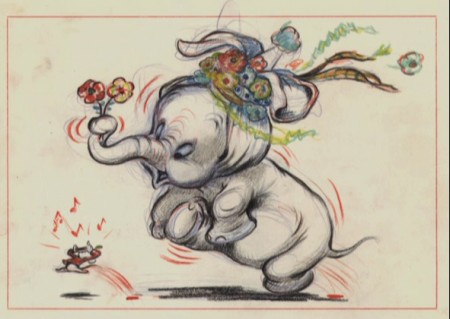 21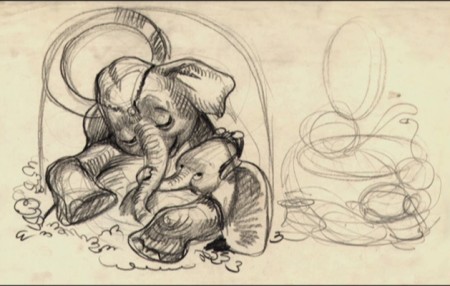 22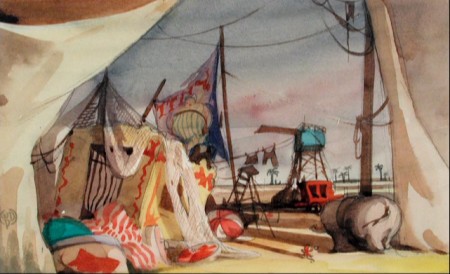 23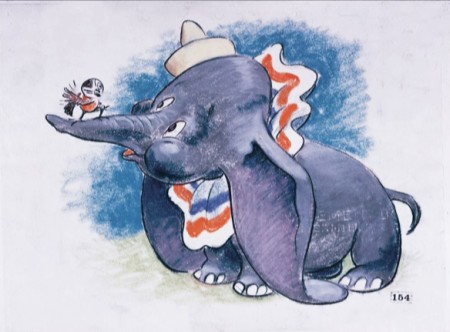 24
Yes, that's a bird on Dumbo's trunk – not Timothy.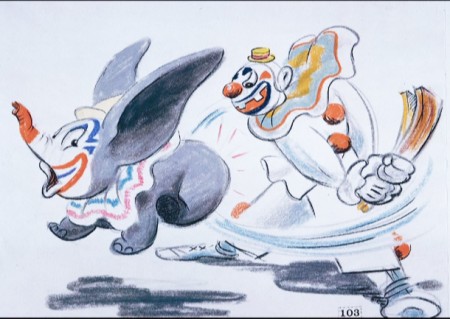 25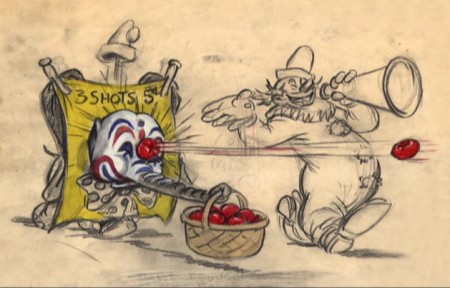 26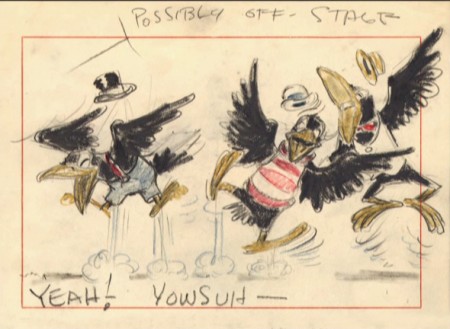 27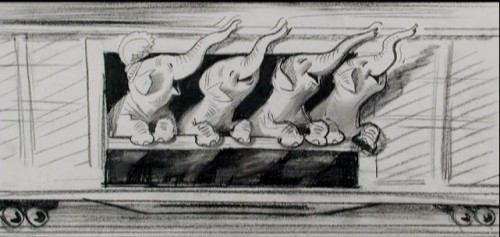 28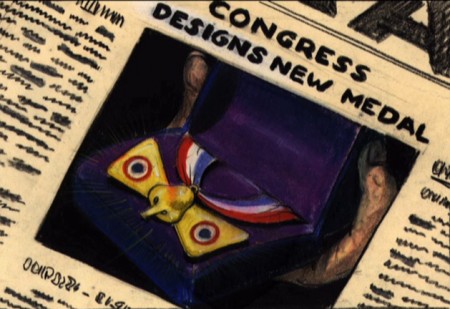 29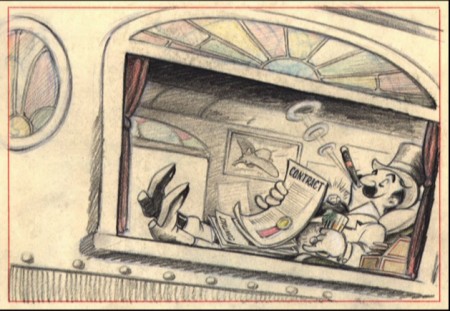 30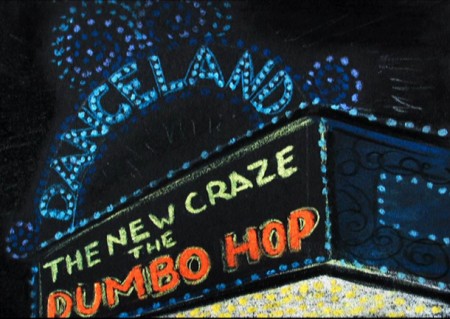 31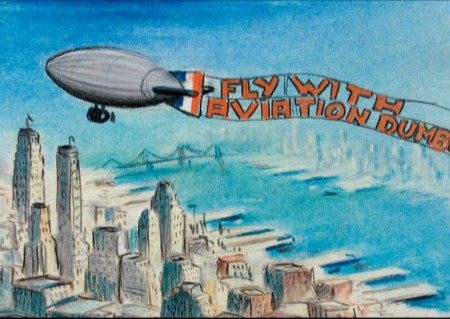 32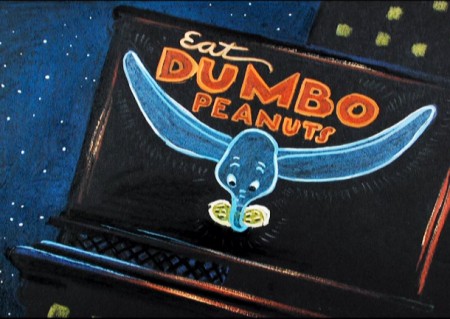 33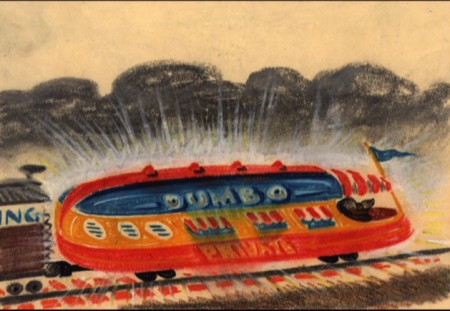 34

Events &Festivals &repeated posts 14 Apr 2013 05:21 am
- Today I'm posting a special issue of Top Cel, the NY animation guild's newspaper. Dated August 1967, it celebrates the Montreal Expo animation conference and exhibition held that summer. Obviously, this was the place to be that year if you were an animation lover.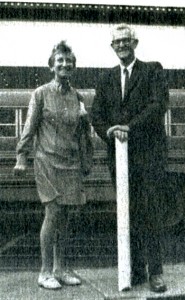 Just take a look at that list of signatures of attendees. Some of them are:
Chuck Jones, Peter Foldes, Manuel Otero, Edith Vernick, Abe Levitow, Don Bajus, Bill & Fini Littlejohn, John Halas, Ward Kimball, Ken Peterson, Shamus Culhane, Carl Bell, Pete Burness, Ub Iwerks, Gerald Baldwin, I. Klein, Gene Plotnick, Ian Popesco-Gopo, Carmen d'Avino, Bill Mathews, Len Lye, June Foray, Bill Hurtz, Spence Peel, Paul Frees, Steve Bosustow, Dave Hilberman, Stan Van der Beek, Les Goldman, Jimmy Murakami, Mike Lah, Robert Breer, Tom Roth, Art Babbitt, Feodor Khitruk, Fred Wolf, Ivan Ivanov-Vano, Paul Terry, J.R. Bray, Walter Lantz, Otto Messmer, Dave Fleischer, Ruth Kneitel, Bruno Bozzetto, Bob Clampett, Karel Zeman, Dusn Vukotic, Bretislav Pojar, Jean Image, Grim Natwick, Tissa David, Barrie Nelson, Andre Martin, Ed Smith, Dick Rauh, and John Whitney.
I guess they don't make Festivals like they used to. There doesn't seem to be much written about this event, and I wish some of those in attendance would write about it.
From the Wikepedia entry for Bill Tytla, there's the John Culhane quote: On August 13, 1967, the opening night of the Montreal Expo's World Exhibition of Animation Cinema, featured a screening of Dumbo as part of an Hommage Aux Pionniers. Tytla was invited, but worried if anyone would remember him. When the film finished, they announced the presence of "The Great Animator." When the spotlight finally found him, the audience erupted in "a huge outpouring of love. It may have been one of the great moments of his life," recalled John Culhane. I'm sure there were many such moments.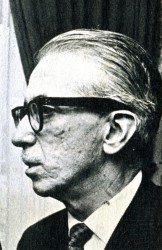 Just to make it all personal, let me tell you a story, although this has nothing to do with Montreal's Exhibit.
Pepe Ruiz was the u-nion's business manager. In 1966 – the year prior to this expo – I was a junior in college, determined to break into the animation industry. Of course, I knew the military was coming as soon as I graduated, but I called the u-nion to have a meeting with Pepe. I wanted to see what the likelihood of a "part time job" would be in animation. This took a lot of courage on my part to see what the u-nion was about. I pretty well knew part time jobs didn't exist. There was no such thing as interns back then.
Pepe was an odd guy who kept calling me "sweetheart" and "darling" and he told me that it was unlikely that I could get something part time in an animation studio.
However he did send me to Terrytoons to check it out.
I met with the production manager, at the time, Nick Alberti. It was obvious I was holding up Mr. Alberti's exit for a game of golf, but he was kind and said that part time work wasn't something they did. (He moved on to Technicolor film lab as an expediter after Terry's closed. I had contact with him frequently for years later, though I never brought up our meeting and doubt he would have remembered it.) Ultimately, I was pleased to have been inside Terrytoons' studio before it shut down shortly thereafter. A little adventure that let me feel as though I was getting closer to the world of animation.
The photos of the Expo are worth a good look. I've singled out those above to place around my text. The picture of Tissa and Grim is a nice one of the two of them together.
Ed Smith was the Top Cel editor at the time, and he put together a creative publication.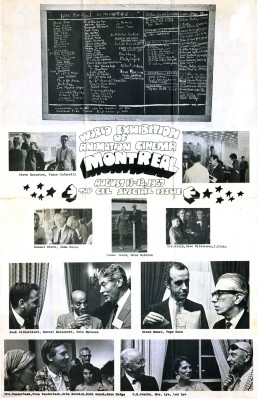 1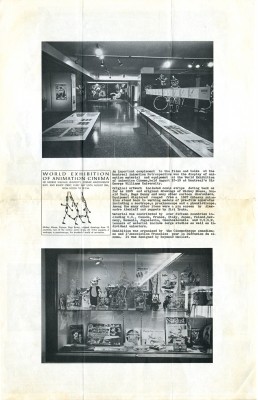 2
(Click on any image to enlarge.)
commercial animation &Errol Le Cain &Illustration &Independent Animation &repeated posts &Richard Williams &Rowland B. Wilson &Tissa David 10 Apr 2013 05:55 am
Richard Williams, when he had his own studio, was known for doing everything in a LARGE way. All of the commercials, title sequences, shorts were all done with a large, elaborate vision.
The Charge of the Light Brigade was a collection of 19th century graphics that are completely wrong, stylistically, for animating. All those cross-hatched lines. God bless the artists that pulled that off. The same was true for The Christmas Carol.
If the rendering style wasn't impossibly difficult, then the animation was complex. Think of any of the scenes from Dick's dream-feature, The Thief and the Cobbler. The many scenes where backgrounds were animated, with those backgrounds complete with complicated floor patterns or an entire city to be animated. Raggedy Ann was covered in polka dots and Andy was clothed in plaids. Both of the characters had twine for hair with every strand delineated. The commercial for Jovan featured a picture-perfect imitation of a Frank Frazetta illustration. Even the mountain on the background had to be animated and rendered.
Well, when it came to Christmas cards, Richard Williams was the same. Enormous and beautiful cards were printed and signed by anyone who knew the recipient of the card. You were lucky being on the receiving line for these stunning cards. Tissa David once gave me a number of these cards. I held onto my copies of the cards until my space was flooded and the cards were damaged. I thought I'd post a few.

Card #1 – Muybridge
With card #1, a take-off of Muybridge with frame grabs from several of the better Williams commercial spots from that year, capped off by a number of key staff personnel positioned to continue the Muybridge motif.

(Here, I first post the entire card, followed by a break up of the card into sections
so you can more ably see the details.)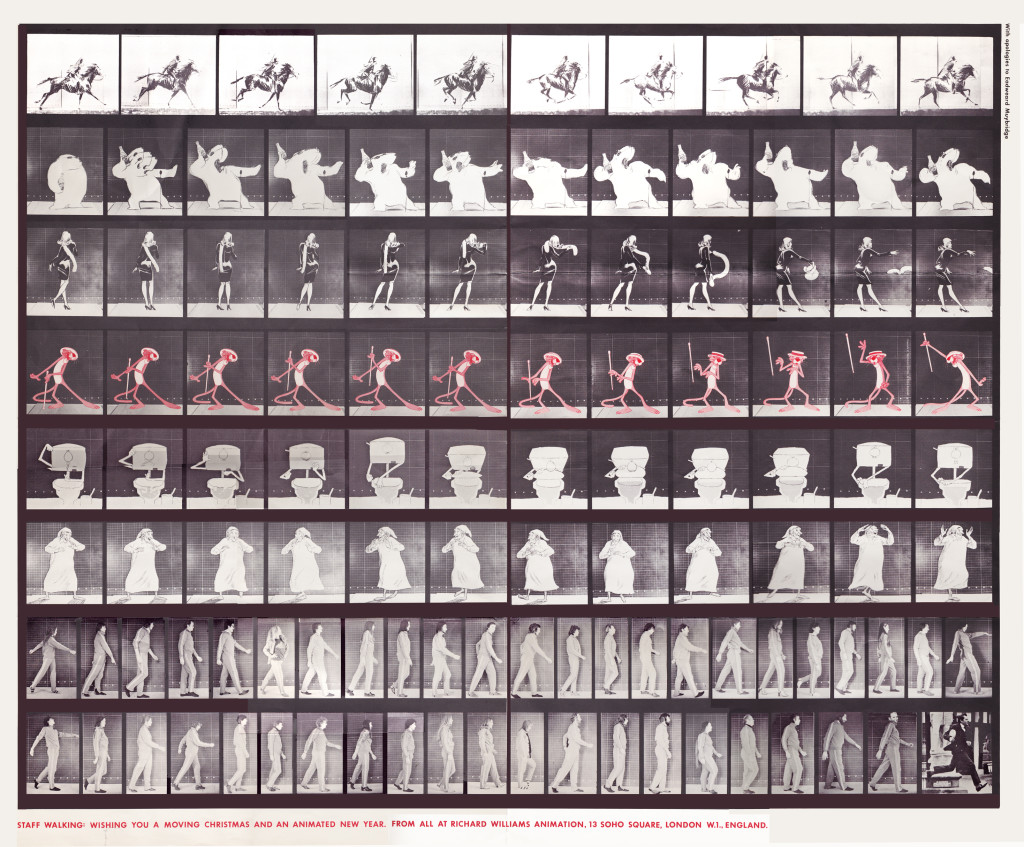 The entire card.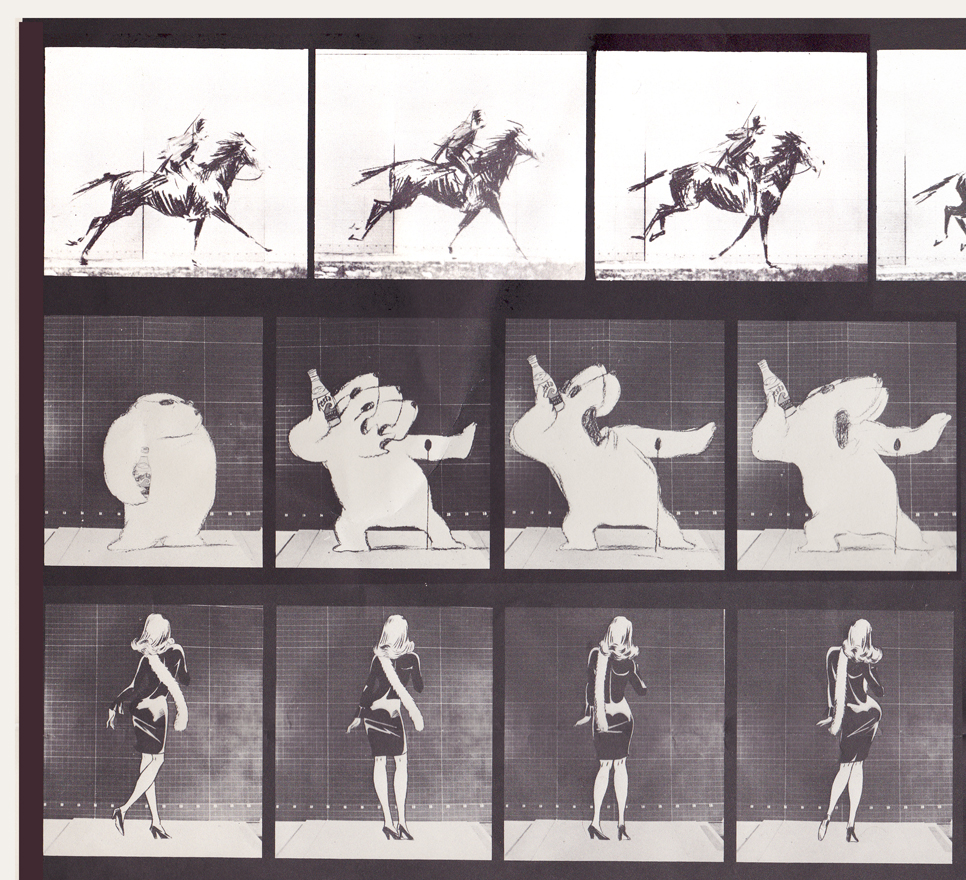 Top rows left side / Row 1: Pushkin Vodka ad
Row 2: Cresta Bear ad / Row 3. Tic Tac ad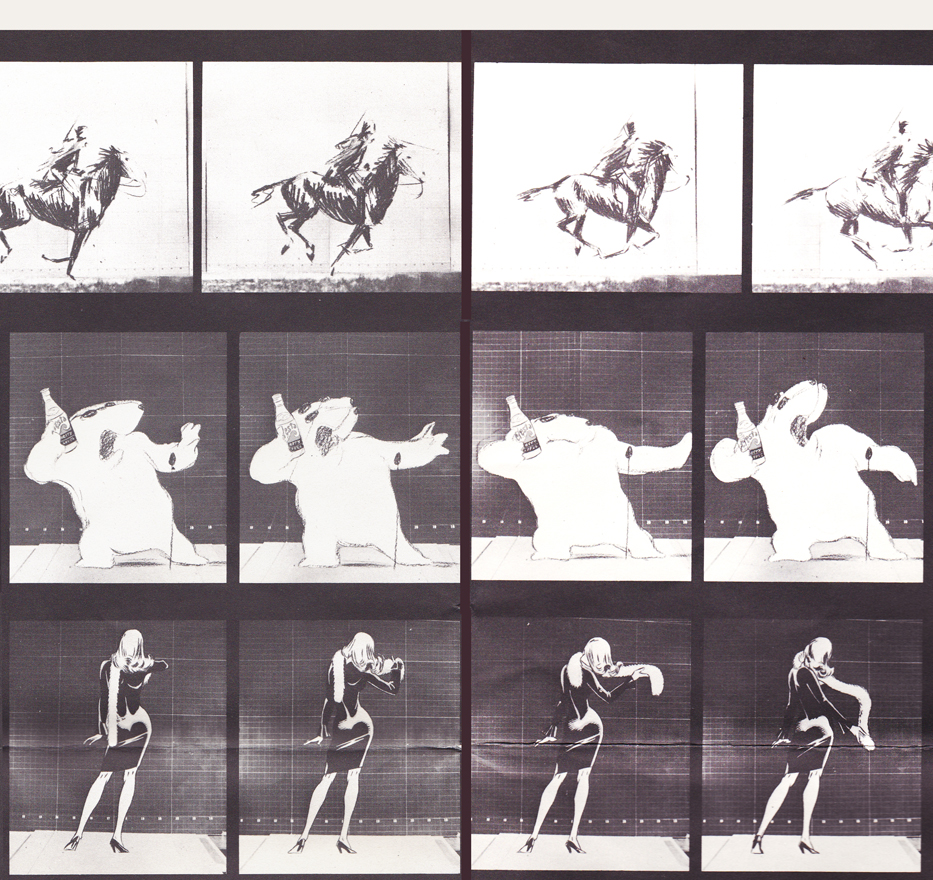 Top rows center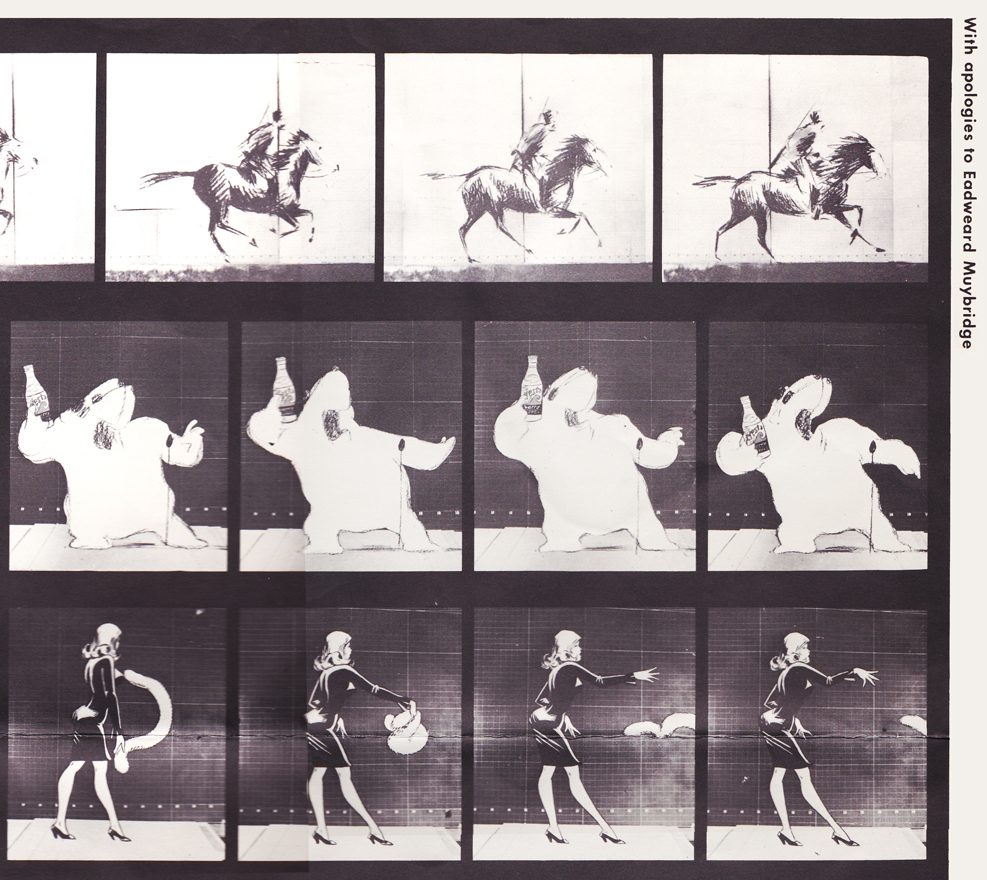 top rows right side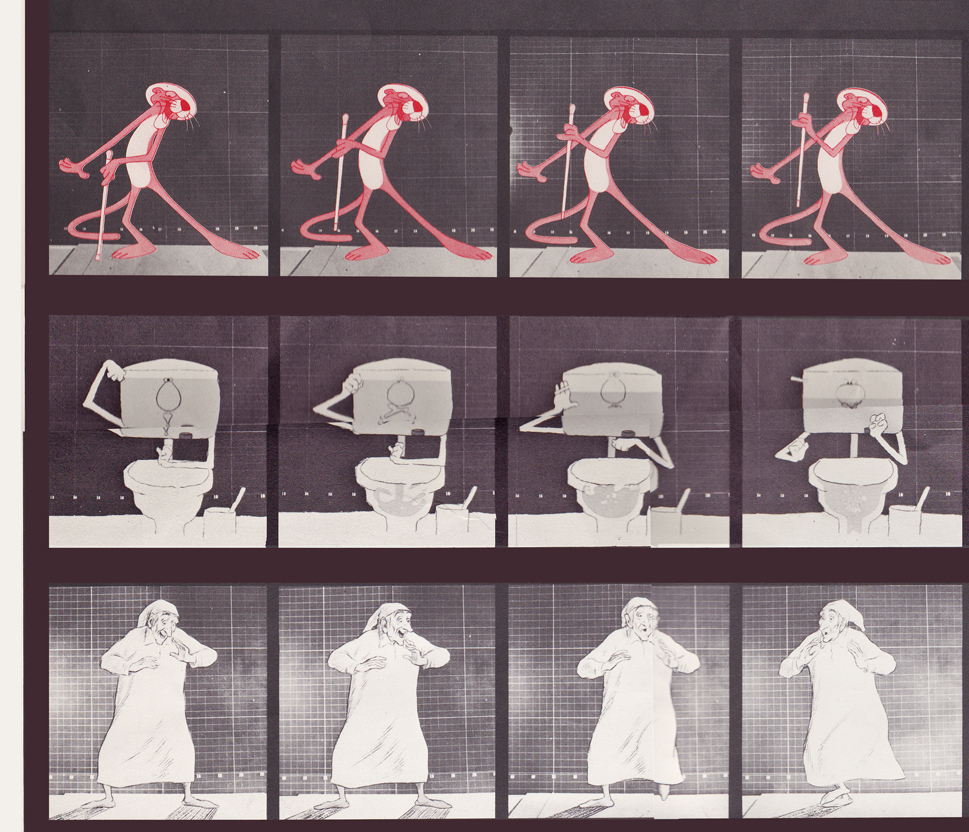 Middle rows left side / top row: Pink Panther titles
Middle row: Bloo toilet cleanser ad / Bot row: The Christmas Carol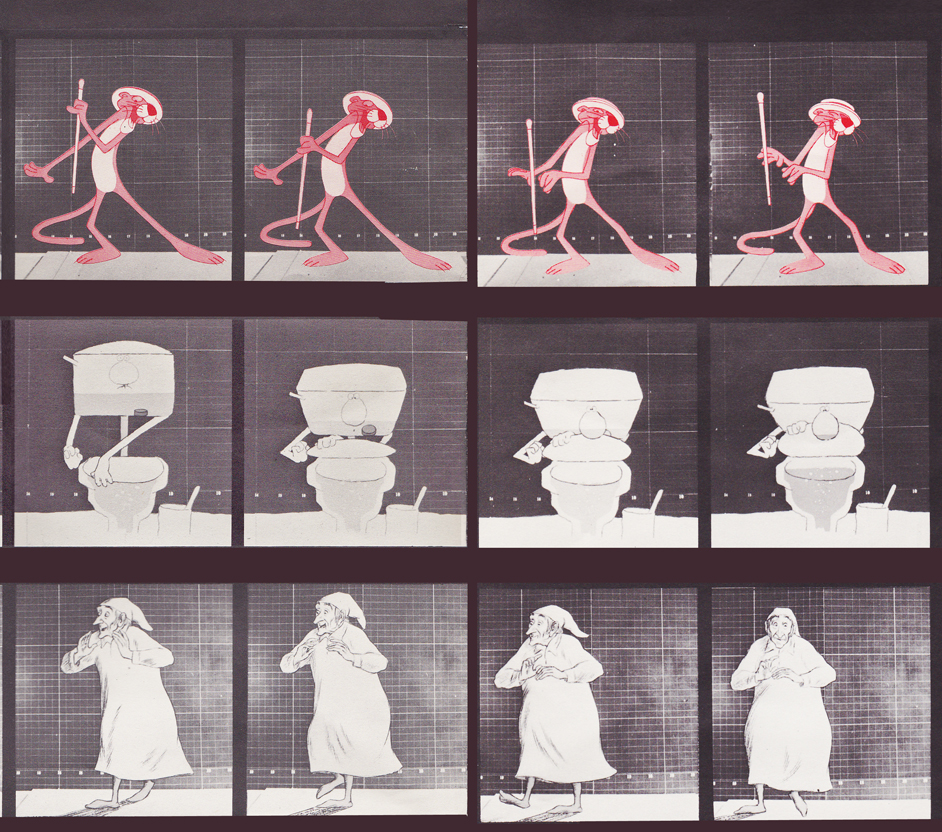 Middle rows center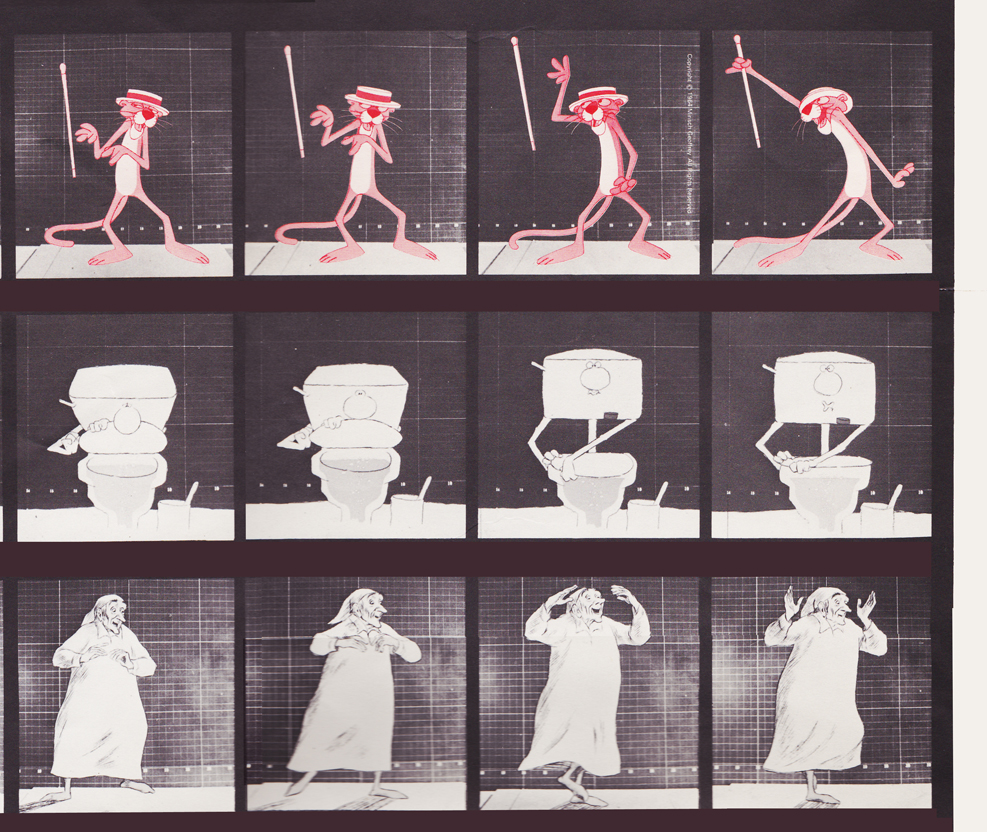 Middle rows right side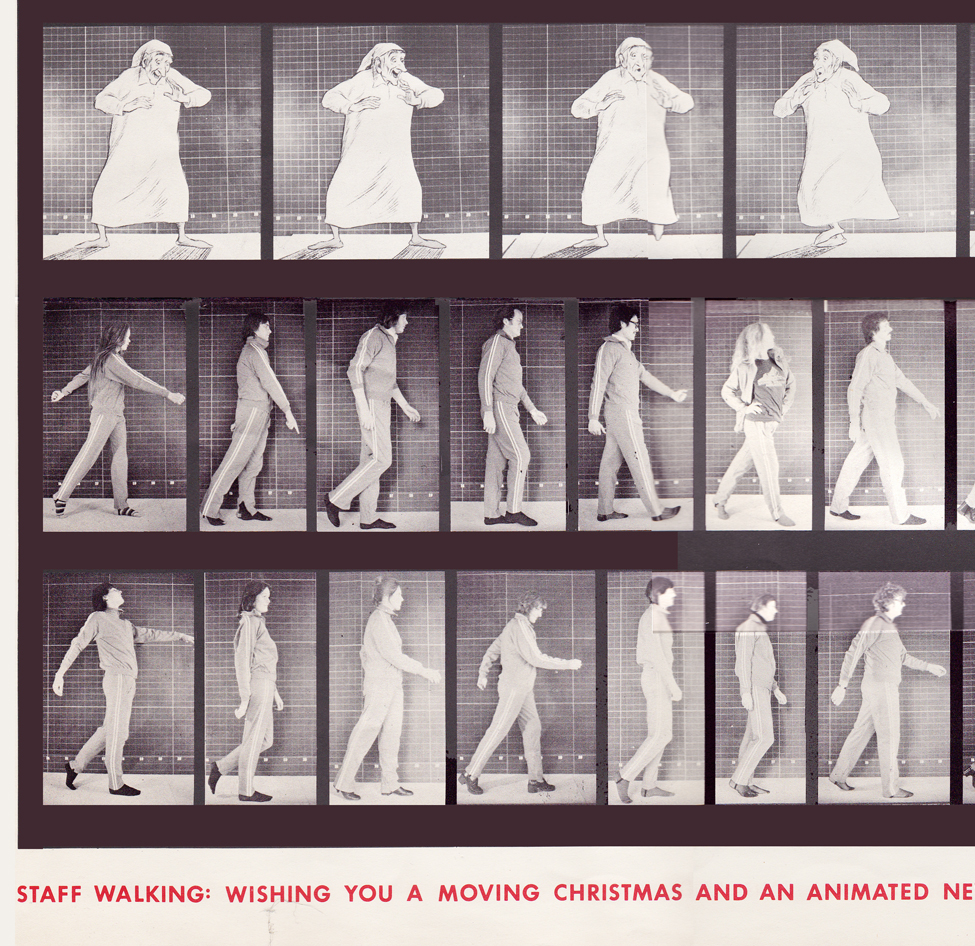 Bottom rows left side / top row: The Christmas Carol (repeated)
Middle row: staff / bottom row: more staff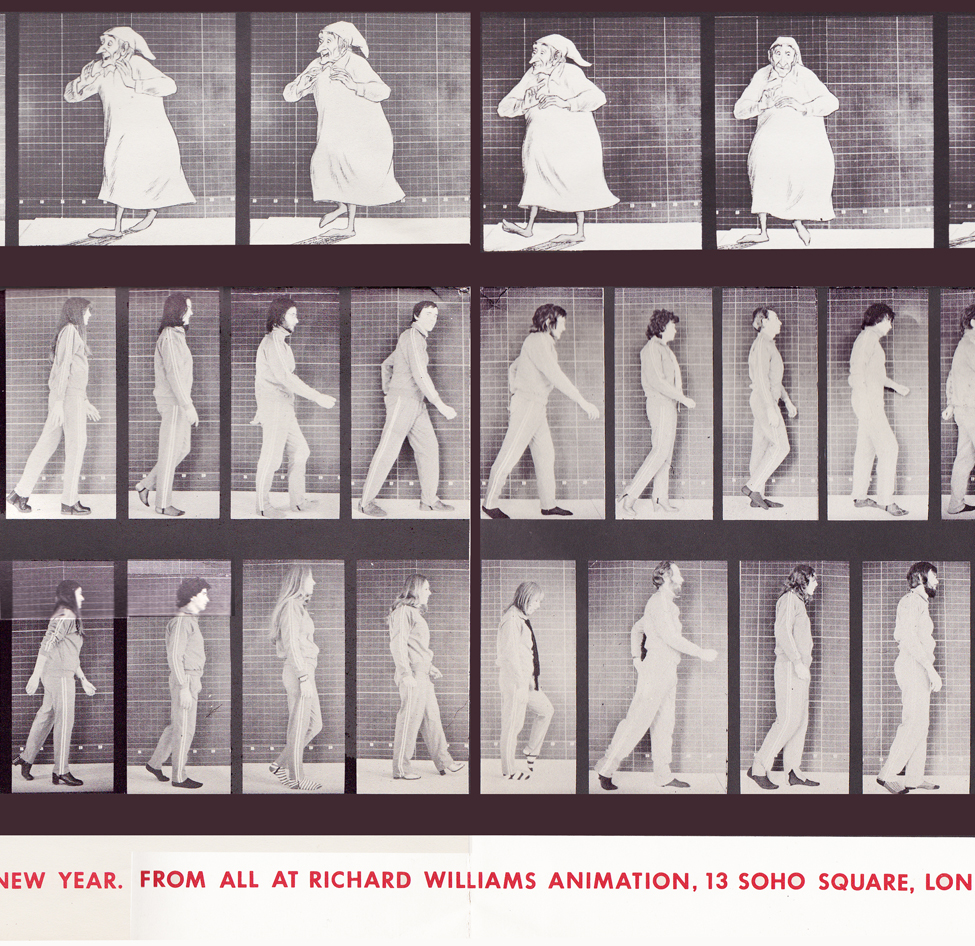 Bottom rows center
Card #2 – 13 Soho Sq.
With card #2 we see Soho Square. The green front door
marks the location of Dick's studio at 13 Soho Square.

(As with the first card, I posted the entire Christmas card,
followed by a sectional divide so you can enjoy the details.)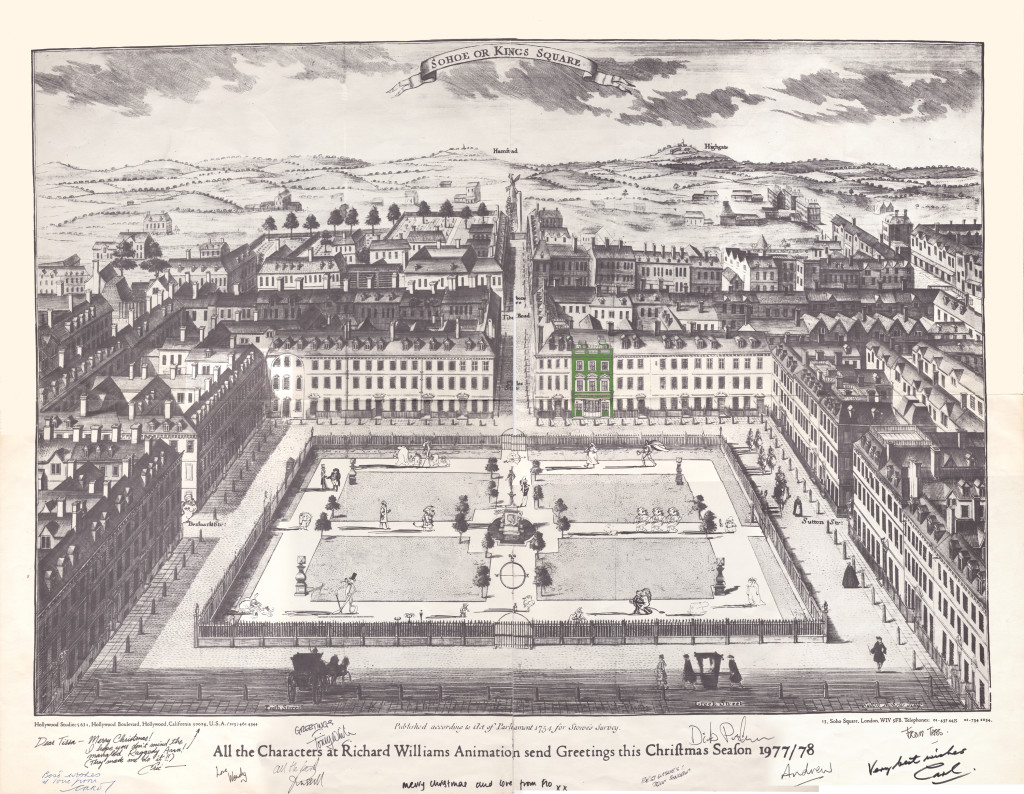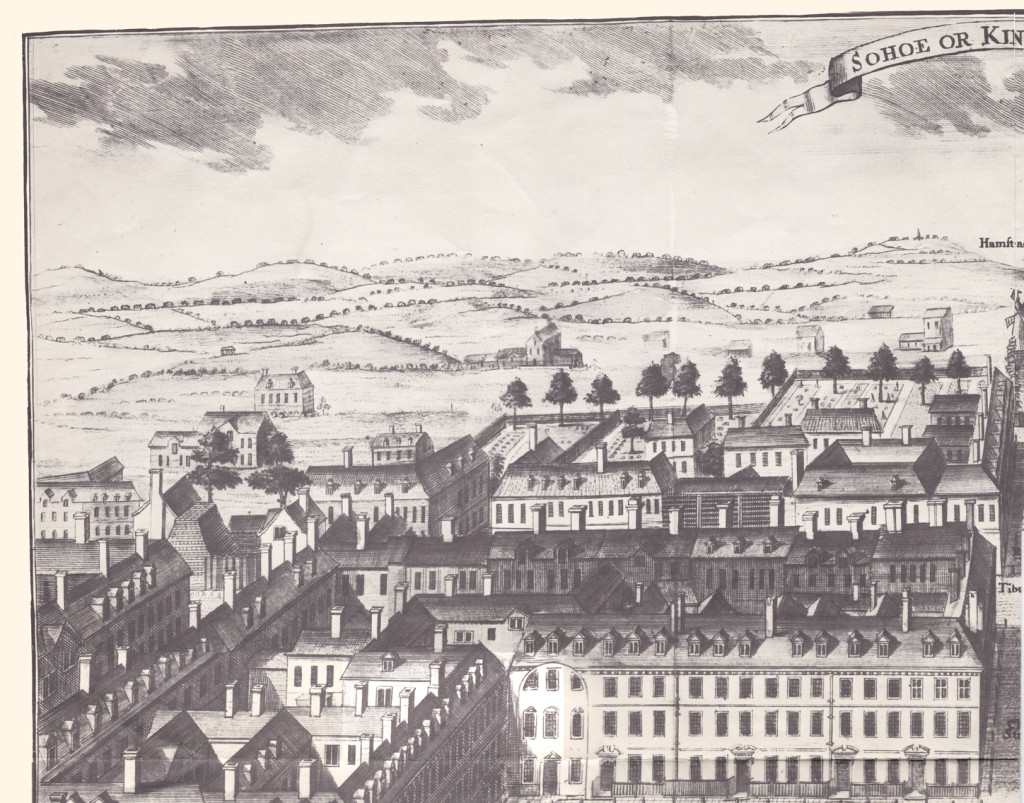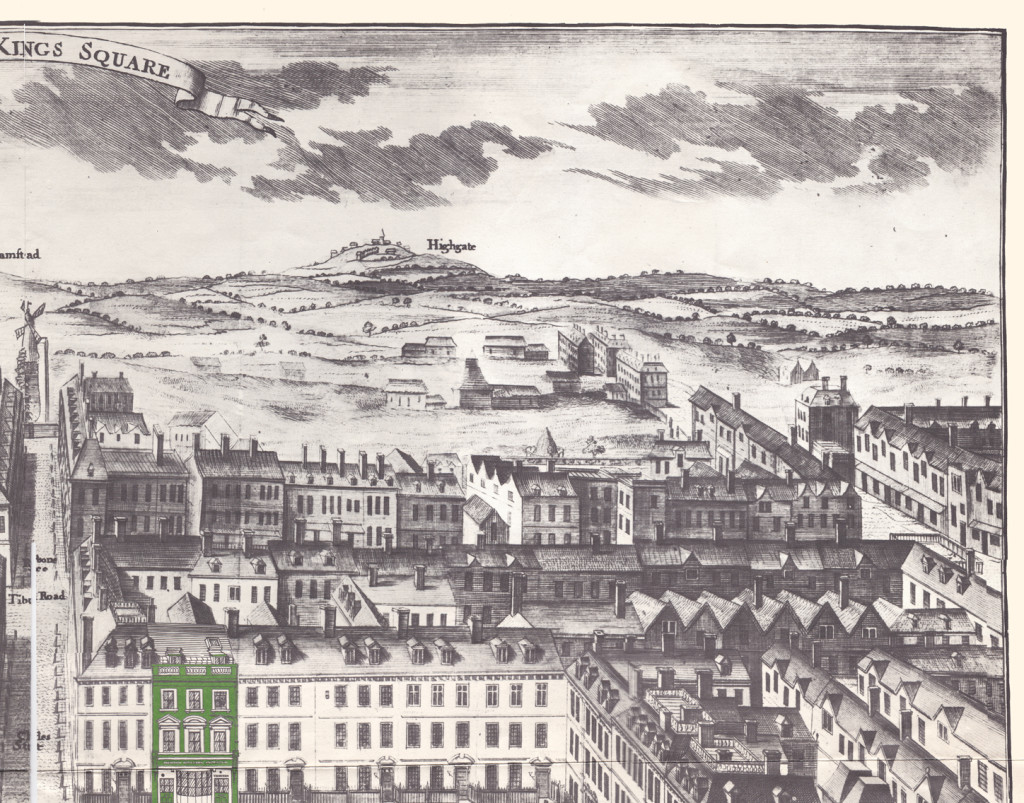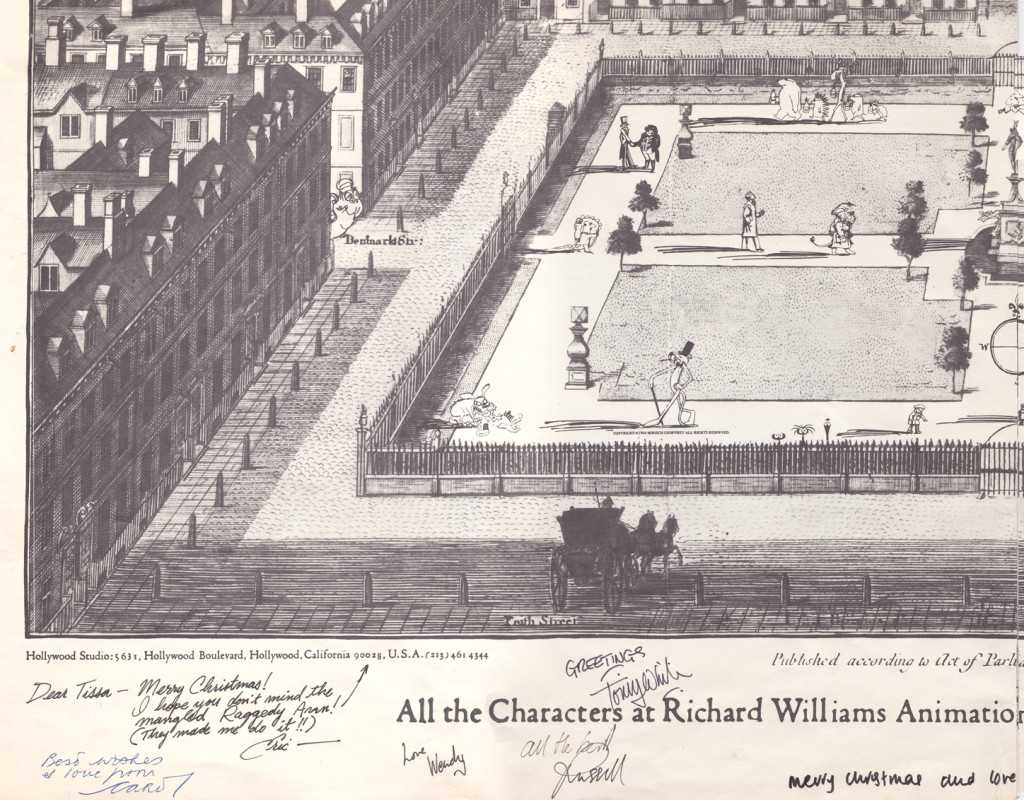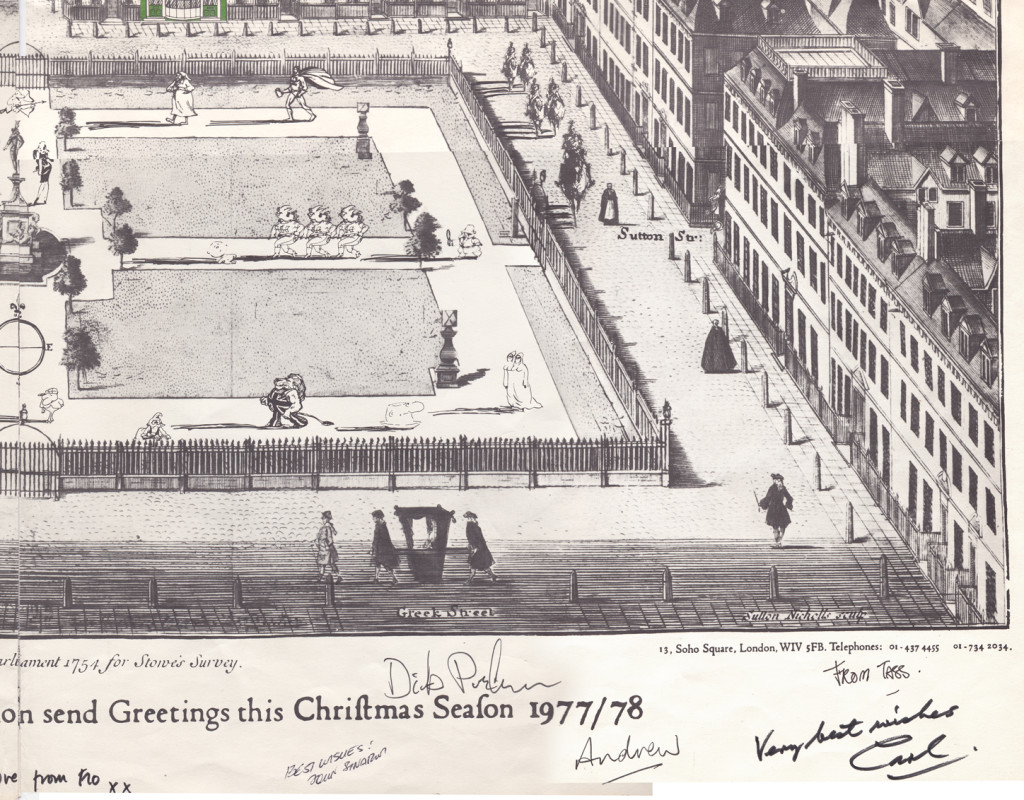 Varied Santas
This is a folding card.

It comes folded so that you see the far left of the card
revealing part of the far right.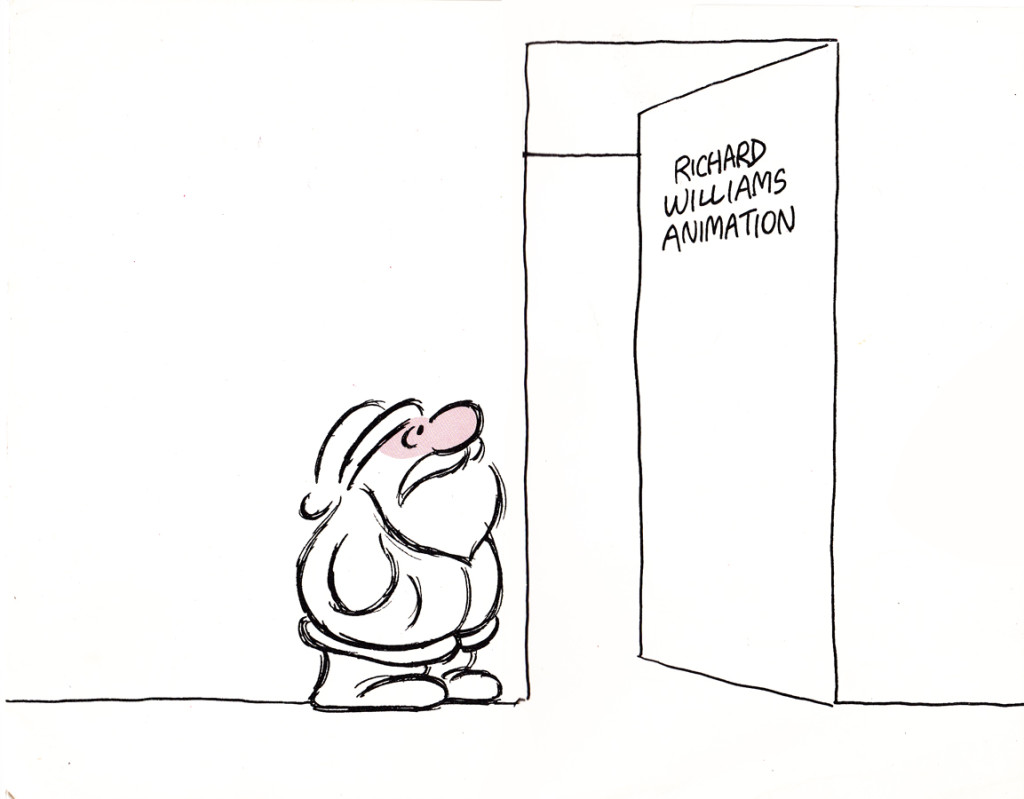 The card comes folded like this.
The left side (Santa up to doorway) is on the left side of the card.
The right side, on bottom, reveals the empty office.


It unfolds to reveal this long line of Santas.
Each Santa is in the style of the many illustrators' styles
of those who designed ads for the studio in the prior year.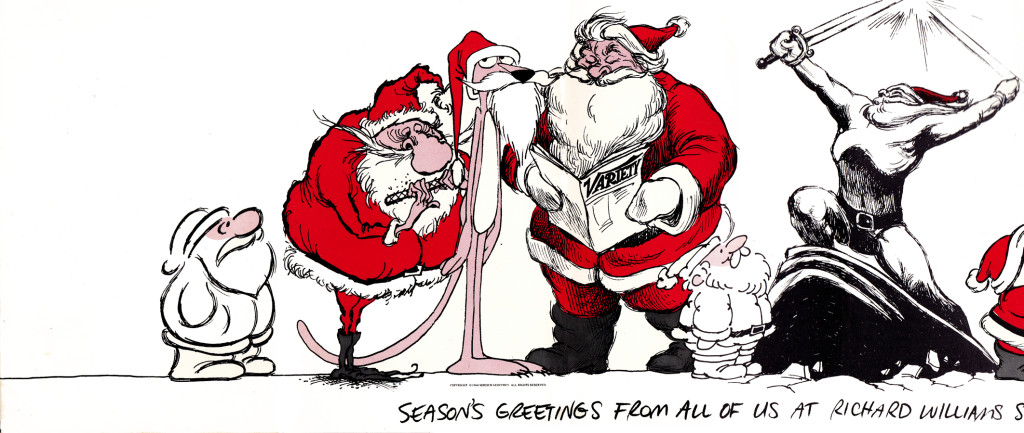 This is a closer view of the left side of the card.
Suzanne Wilson sent in a Pink Panther Chistmas card; it was drawn by her late husband Rowland Wilson: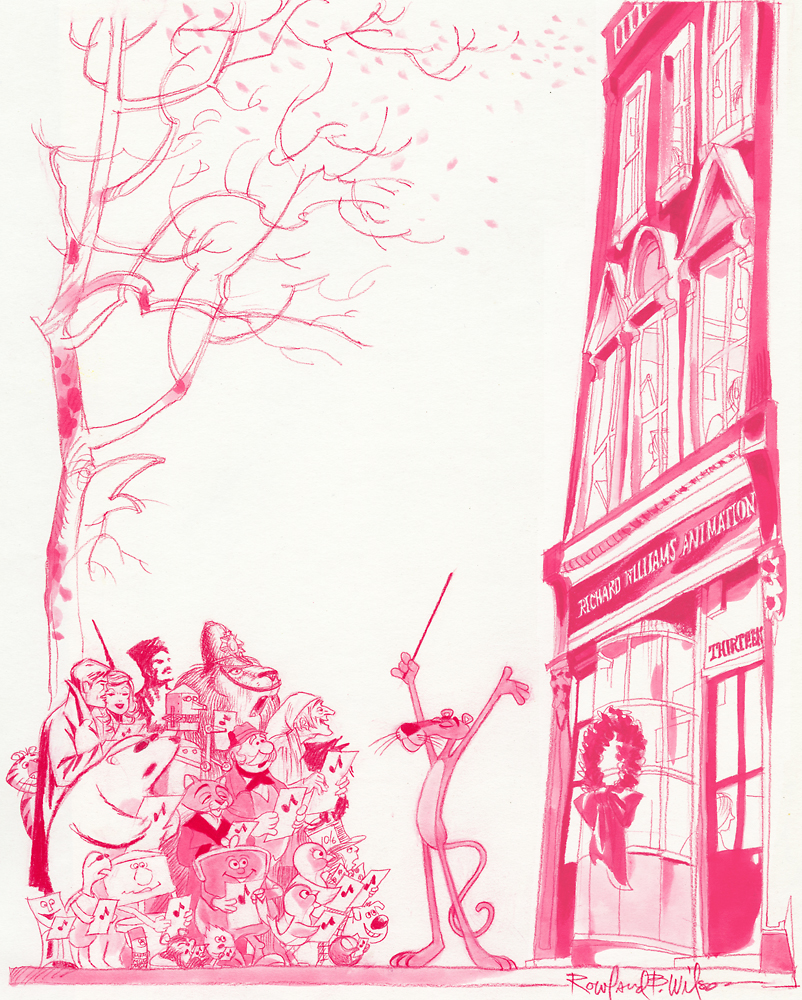 Below is a close up of that same card.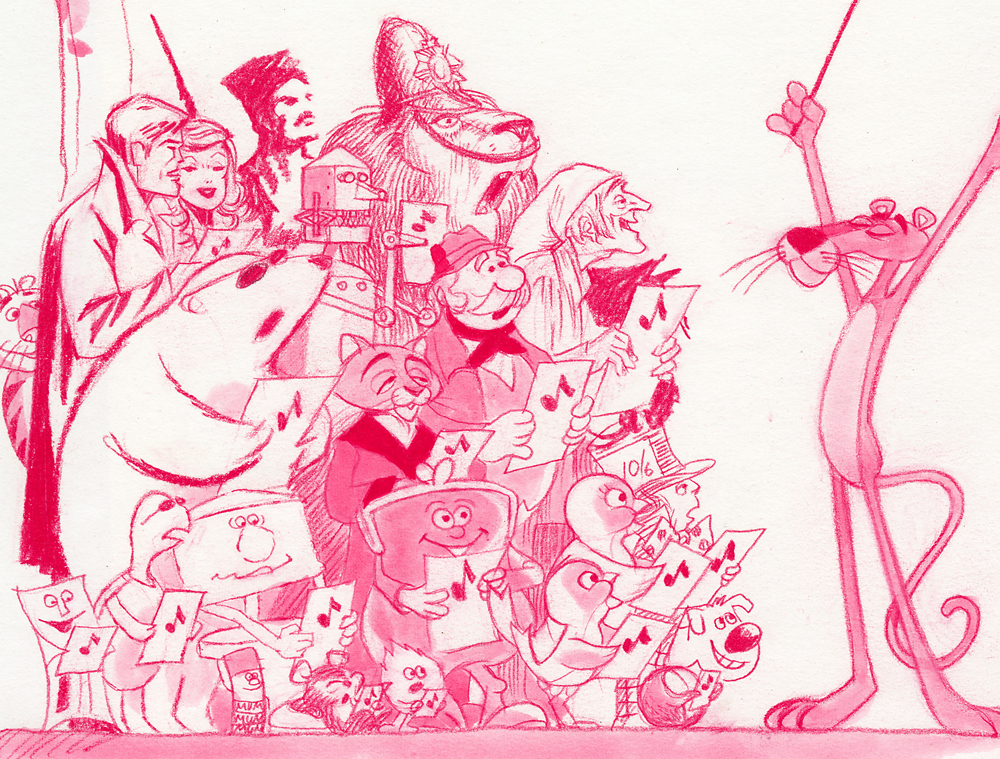 And this is the final card:
Golden Balls
Here's another full card.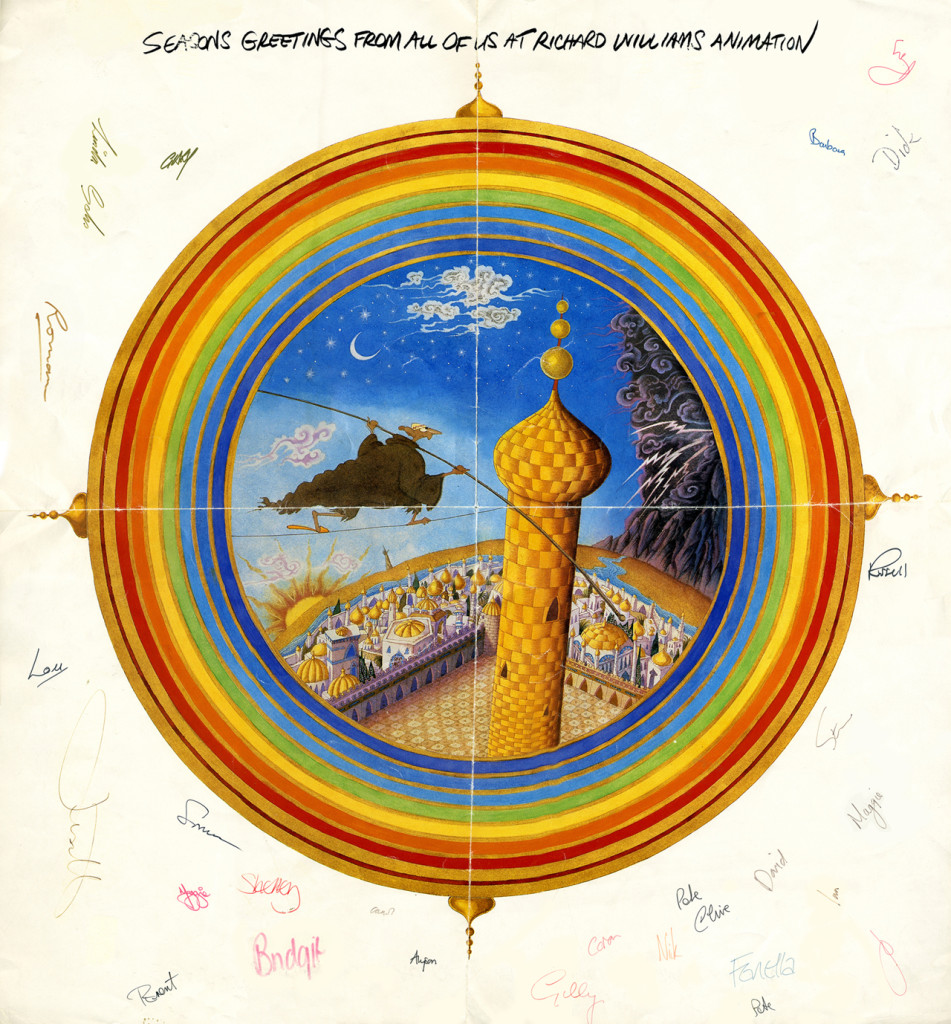 This one is designed after the McGuffin of Dick's feature,
three golden balls over the city.
from The Thief and the Cobbler.

Books &Illustration &Layout & Design &repeated posts 07 Apr 2013 05:01 am
- When the film Animal Farm was released, a tie-in book was published which republished George Orwell's novel with line drawings from the film by "Joy Batchelor and John Halas."
It's probable that Joy Batchelor did illustrate the book. On a recent post, Rudy Agresta remembered Vivien Halas discussing her mother's illustrating it in the book Halas & Batchelor Cartoons. I haven't found that passage in Vivien's book.
The animated film was produced by Louis D. Rochemont Associates in 1955 at a studio they set up in Stroud, Gloustershire in England. The studio was formerly the home of the Anson-Dyer company and GB Animation wherein ex-Disney veteran, David Hand, made his short films for Rank.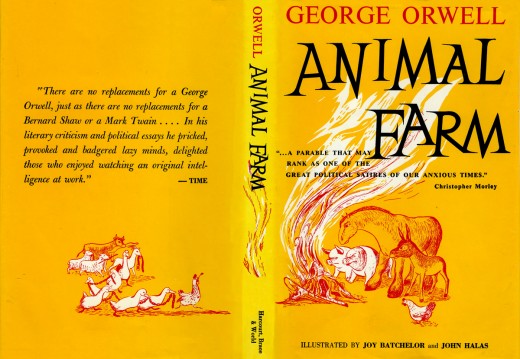 This is the book's dustcover._________________________ (Click any image to enlarge.)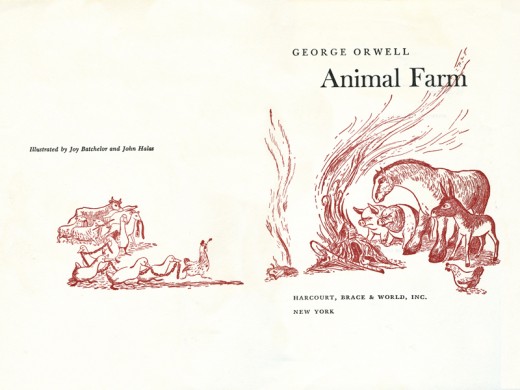 This is the double/title page.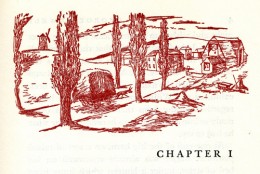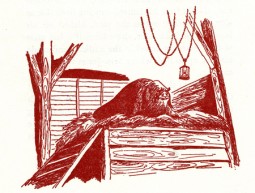 Each chapter has its own heading, and there are usually one to two stills within the body of each chapter.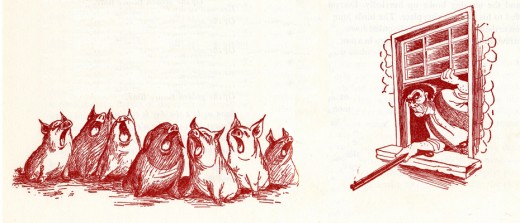 Some of the illustrations, like this one, spread across two pages under the type.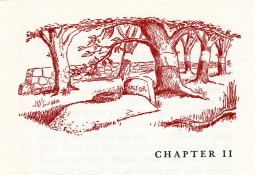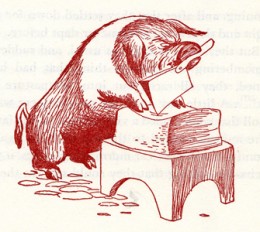 For those of you unfamiliar with this story, it tells the tale of a farm wherein the animals are mistreated.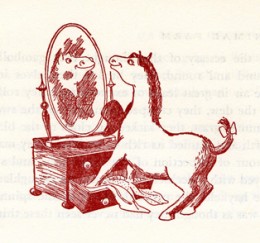 Under the guidance of the pigs, the animals take over the farm and create an animal collective.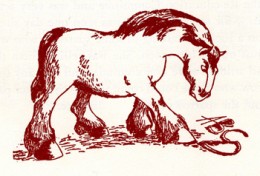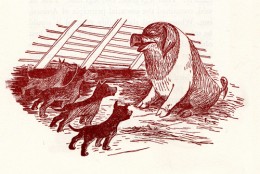 However, the pigs grow lazy and do less of the work as they take charge of the others.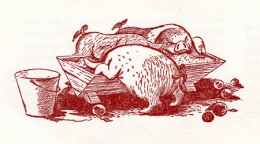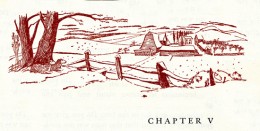 They eat more than their share of the food and mistreat the animals who do the greatest amount of work.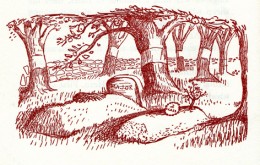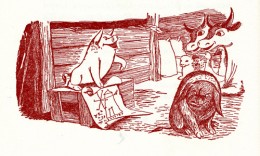 As animals begin to die under the guidance of the lazy pigs, there is some grumbling among the masses.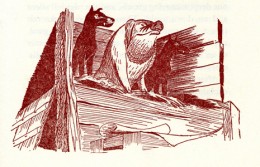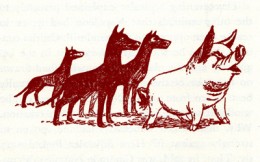 The pigs dominate and rule with a heavy hand.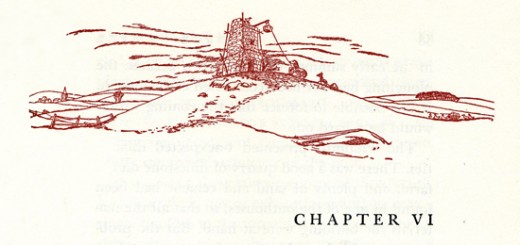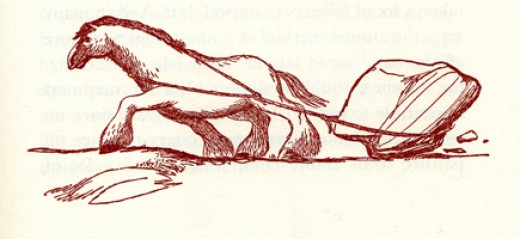 Boxer, the horse, is the figure of strength and symbolically the real leader of the animals.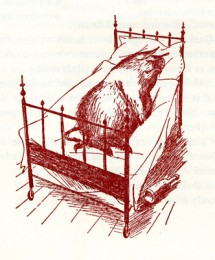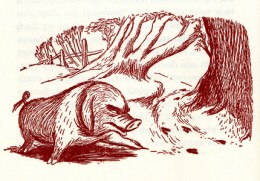 The pigs move into the farmer's house and become little more than a replacement for "man".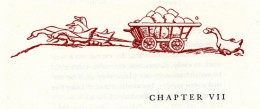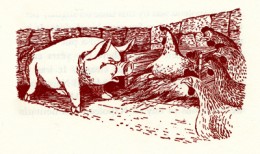 Many animals take the lead of Boxer and try to do their share, while the pigs fight for the lazy leadership.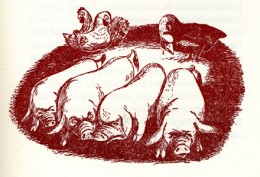 The pigs push Boxer to the limits and use the dogs as their personal guards and force their will on the others.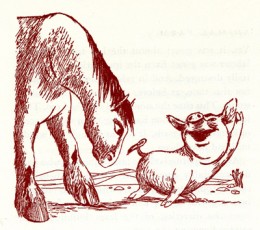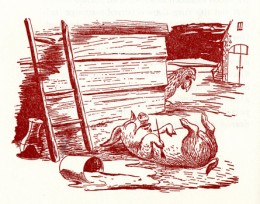 Boxer grows ill as the pigs grow lazier.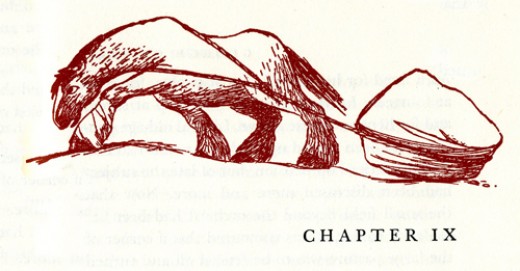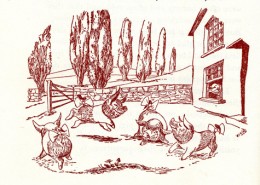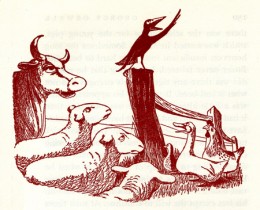 The lazy pigs celebrate their success. Animals hear gossip about the humans planning a charge to take back the farm.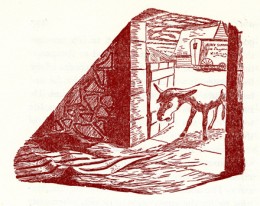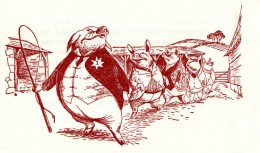 The weakened Boxer, no longer useful to the pigs, is sold for glue.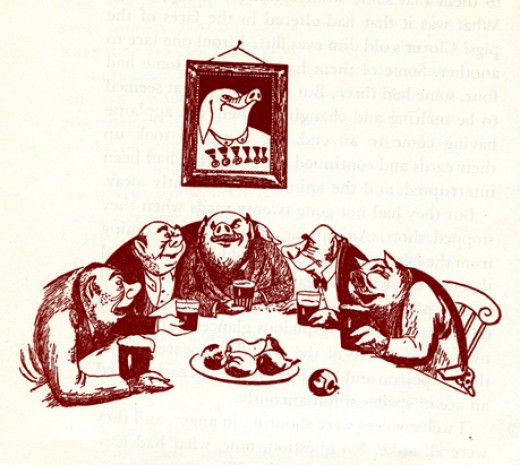 Eventually the humans return, and in some eyes of the animals they blend with the pigs.
The line illustrations do a nice job of representing the film. They're also quite consistent.
_________________________
You can watch Animal Farm on YouTube by going here.
Action Analysis &Animation &Animation Artifacts &repeated posts &Richard Williams &Tissa David 27 Mar 2013 04:26 am
- Yesterday I focused on a couple of scenes Grim Natwick animated in his early days at the Fleischer studio. He was obviously experimenting with distortions, breaking of the joints, the visibility of inbetween drawings and how much he could get away with in "Rough drawings."
This, of course, isn't the animator that Grim became, but gives us some light to understand what did make up that animator. The scene here today is something I'd posted on my blog once before, in 2010. It features a lot of Grim's ruffs as well as the clean ups by Richard Williams, himself.`
You can see Grim's drawings erased and cleaned up. (The semi-erased semblance of Grim's very large numbers remain on many of the drawings, as do Grim's notes. The inbetweens were all done by Dick. (It's Dick's writing in the lower right corner, and I remember him doing this overnight.)
The scene is all on twos. There are two holds which Dick changed to a trace back cycle of drawings for a moving hold. It actually looks better on ones, but there was a lip-synch that Grim had to follow. It is interesting that both Tissa David, one of the five key animators on this film, and Grim Natwick, who Tissa had assisted for at least 20 years, both shared the one assistant on key scenes in this film – Richard Williams. Eric Goldberg assisted on many of Tissa's other scenes.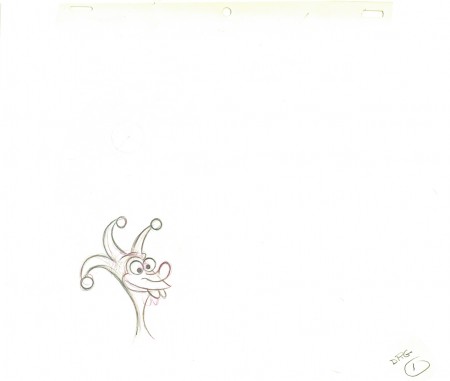 1
.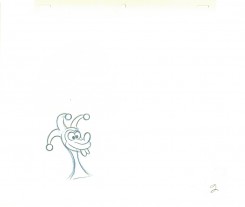 2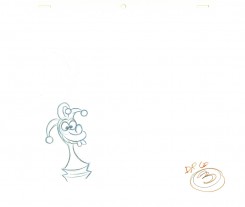 3
.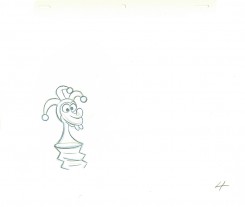 4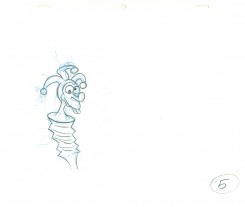 5
.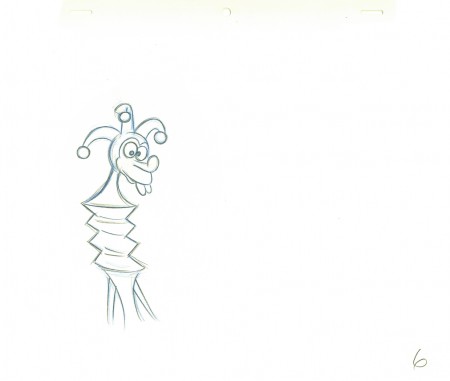 6
An inbetween by Dick Williams.
.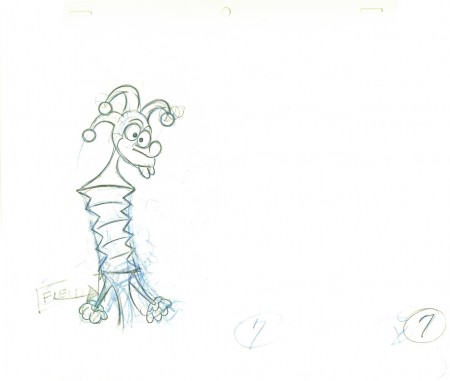 7
A cleaned-up extreme by Grim Natwick.
.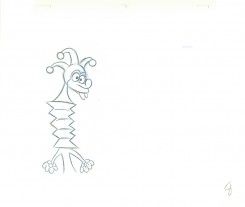 8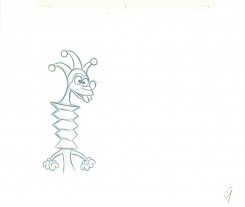 9
.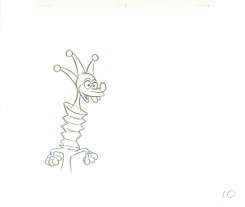 10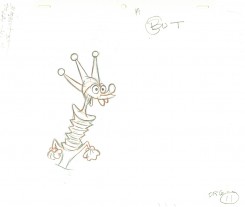 11
.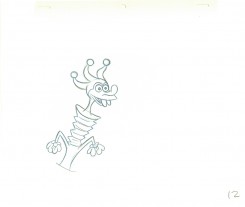 12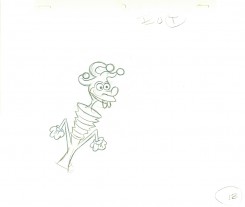 13
.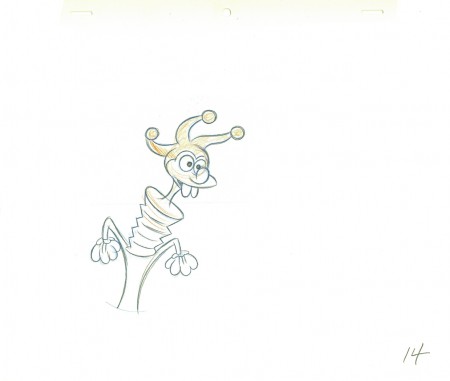 14
Dick Williams clean-up.
.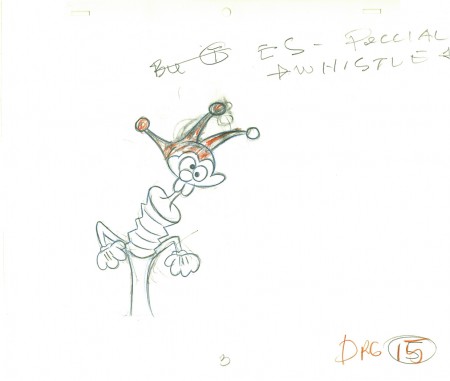 15
Grim Natwick (sorta) cleaned-up rough.
.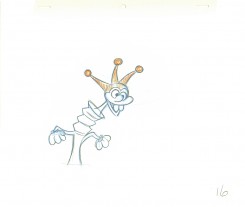 16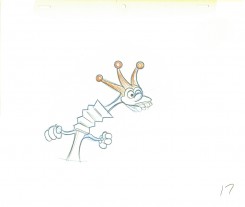 17
.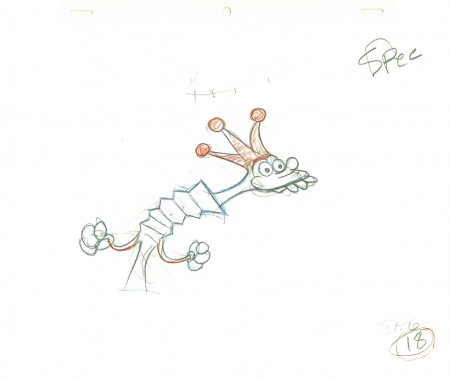 18
Grim Natwick rough.
.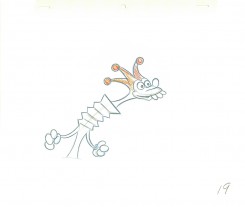 19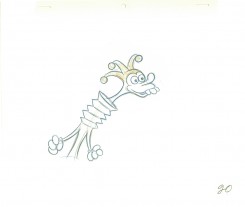 20
.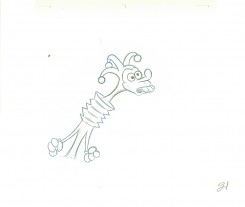 21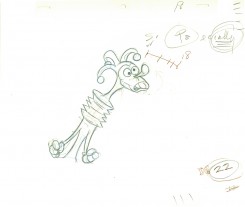 22
.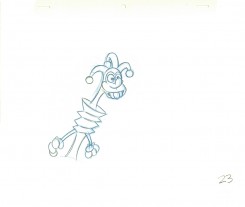 23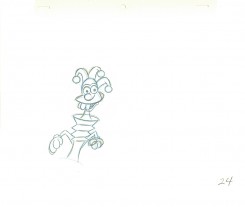 24
.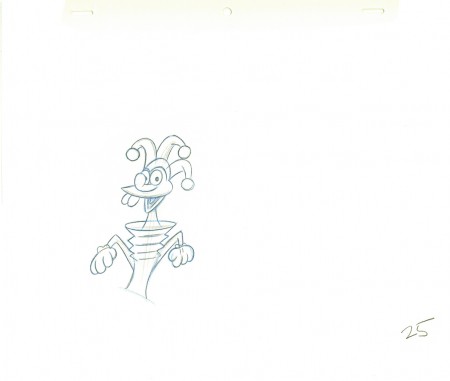 25
Williams inbetween.
.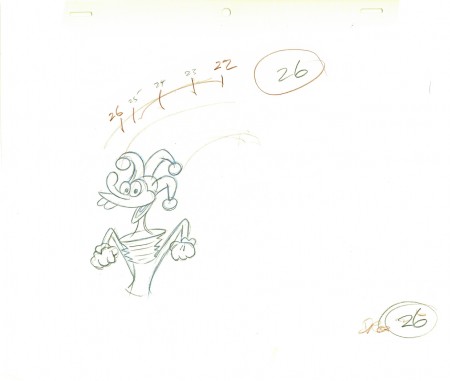 26
Natwick ruff, cleaned up.
.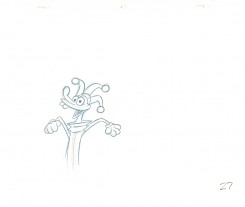 27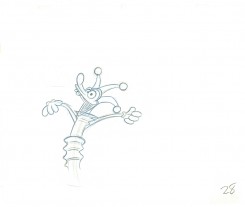 28
.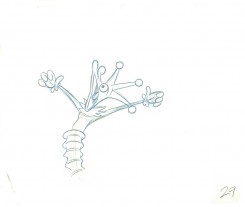 29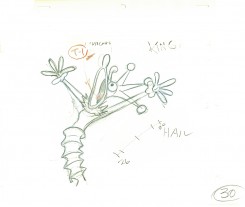 30
.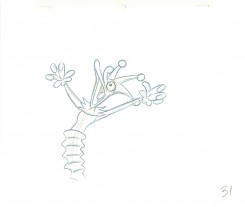 31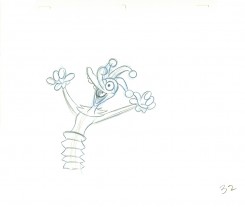 32
.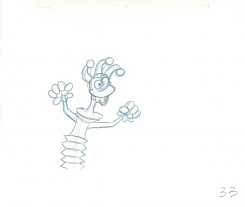 33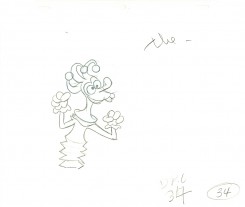 34
.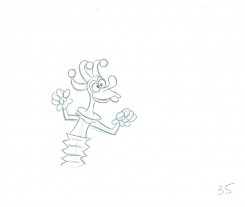 35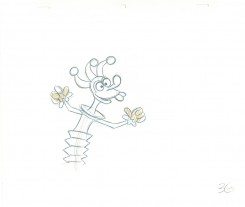 36
.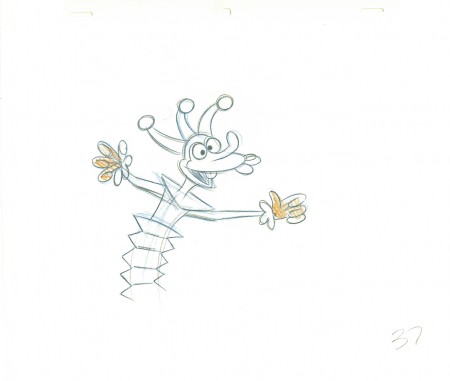 37
Dick's clean-up inbetween.
.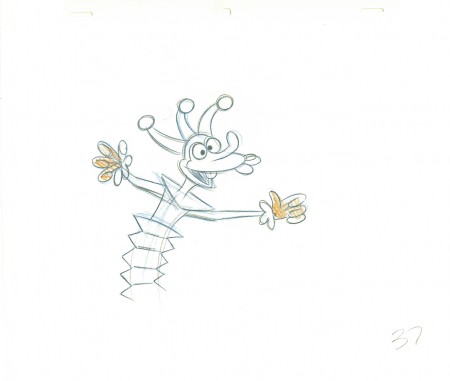 39
Definitely a Grim Natwick drawing – cleaned up by Dick (his handwriting).
.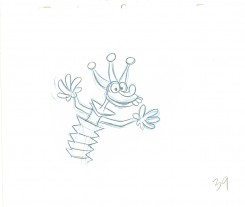 39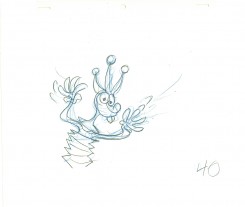 40
.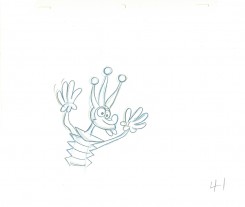 41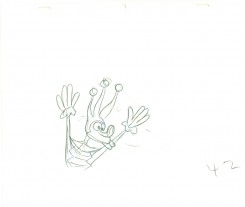 42
.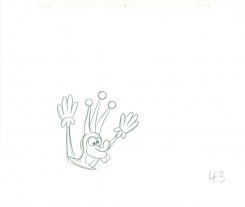 43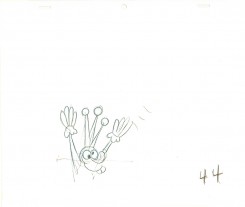 44
.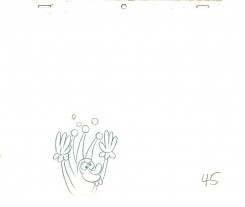 45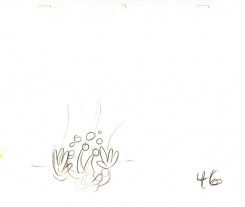 46
.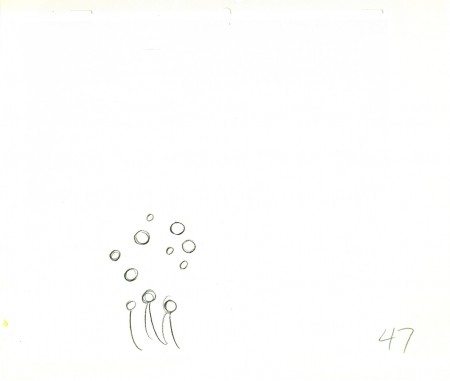 47
Drawings 44-47 are all Grim's roughs with minor CU.
.
_____________________________

Here's a QT movie of the complete action from the scene.
The scene is exposed on twos per exposure sheets.


_____________________________

Here are the folder in which the two exposure sheets
are stapled (so they don't get separated.)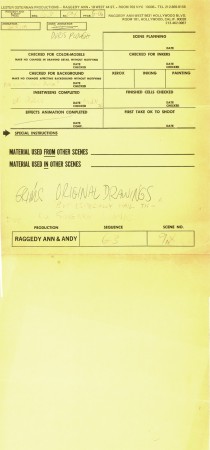 Folder
commercial animation &Frame Grabs &repeated posts &Richard Williams &Title sequences 19 Mar 2013 04:58 am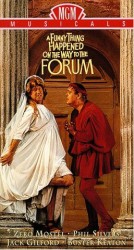 - Today marks the 80th birthday of RIchard Williams. To celebrate, I've chosen to post these images from the credit sequence of A Funny Thing Happened On The Way To The Forum. My first introduction to Richard Williams and his work came by way of a BBC documentary from 1965, The Creative Person: Richard Williams. It aired on WNDT's ch 13 in New York (PBS before PBS existed.) Within the sequence there is once scene of a girl smelling a flower. (The Annette Andre credit.) I remember this as part of that doc, and Richard said that at times you should slow down the animation of a character if you want it to seem more real. There's a dissolve animation going on here.
This is a great theatrical show and a mediocre movie. Despite the great cast, the brilliant people working behind the scenes (from Tony Walton's sets and costumes to Nicholas Roeg's extraordinary photography; from the incredible song score by Stephen Sondheim to Ken Thorne's excellent incidental music), somehow it all doesn't really work.
However, animation enthusiasts would be primarily interested in the animated credit sequence by Richard Williams' fine animation. This was a sequence that brought Williams out of the cartoon world and into the more serious fold. Suddenly, his studio grew up.
Since we didn't get to see his brilliant ads in the US, we had to seek out his title work. Credit sequences for future films such as The Charge of the Light Brigade, The Pink Panther sequels and What's New Pussycat easily demonstrated how he really lifted his studio into the big time.
I've made frame grabs of the sequence from my recording, and thought I'd post them for your amusement. Sorry that the copy I have isn't the most pristine and that the frames available are a bit soft. But I guess the idea comes across.
______________________________________(Images enlarge slightly by clicking them.)



The sequence starts at the end of the film. Buster Keaton runs on a circular treadmill, and dissolves to an animated version of himself.


He grows in the frames as some large-sized flies enter from the left.


Cut out to see a small Buster disappearing. The camera whips across to a picture of fruit. The flies zip over there and eat the picture. (This image of fruit was very dark on screen.)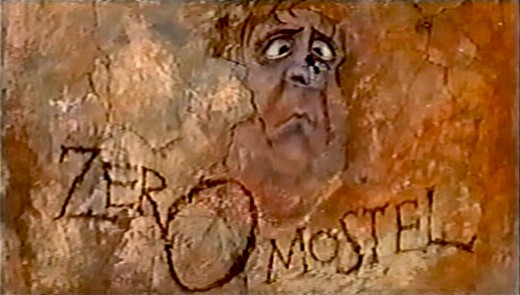 A fly lands on the nose of a CU caricature of Zero Mostel. His eyes cross watching the fly.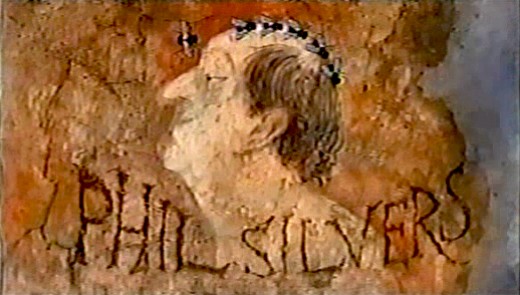 Flies land on Phil Silvers' bald head and march across.


Buster runs across a painted frieze on the way to a series of inlayed boxes.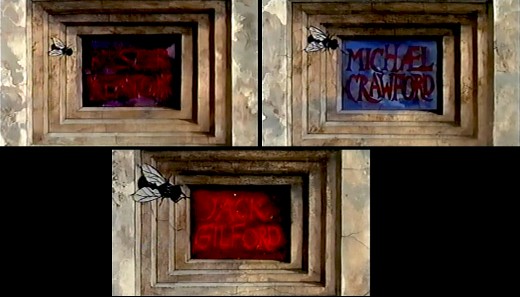 Zip to the second box credits Michael Crawford. Pan to the third box which features Jack Gilford's name.


Dick talked with me about this scene in the film. He felt that to create realistic
characters in animation one had to slow everything down. He did it with dissolves.
It's a technique he came back to often, quite noticeably in The Charge of
the Light Brigade.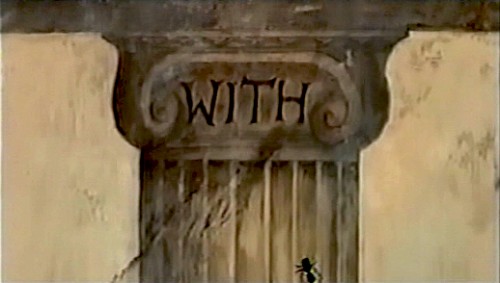 A fly crawls up a column.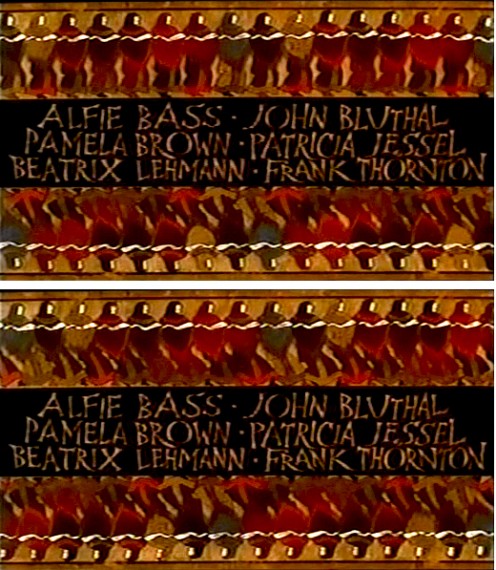 Errol LeCain's art seems to be featured in this elaborate scene. The entire group – top
and (upside down) bottom – dance.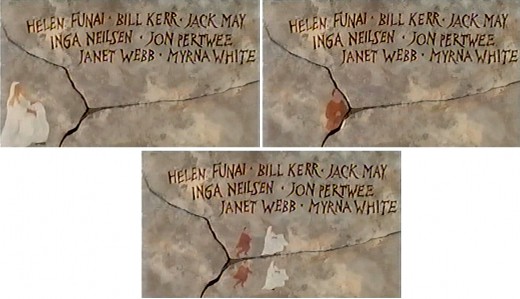 An animated version of Zero Mostel chases a female through and across a painted wall moving into and across the cracks.


The cornucopia of fruit starts in full color but goes to B&W before it's done, in honor of the great cinematographer.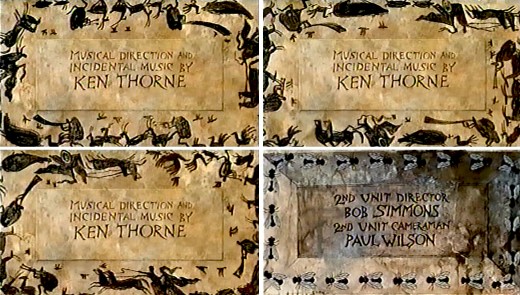 A very large cast of shilhouettes runs around this credit for Ken Thorne. There is no cycle here. This is a Dick Williams piece, so they're all fresh drawings. They turn into flies for the next credit.


A Roman version of an Escher wall painting animates, confusing the fly trying to walk across.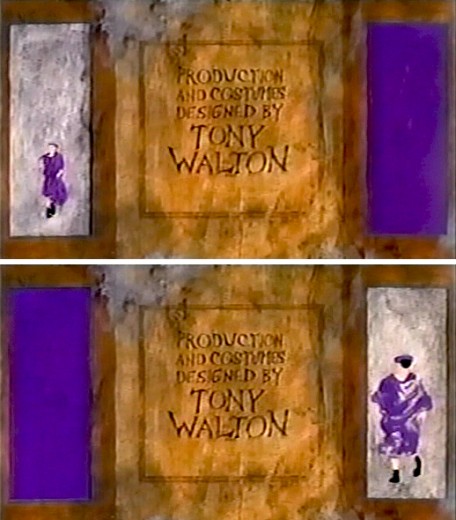 The animated Buster Keaton runs toward us on one side
and away from us on the other side.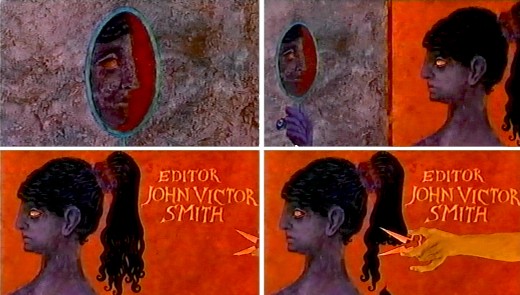 For the editor's credit, a female looks at herself in a mirror. A hand comes in and clips off her pony-tail.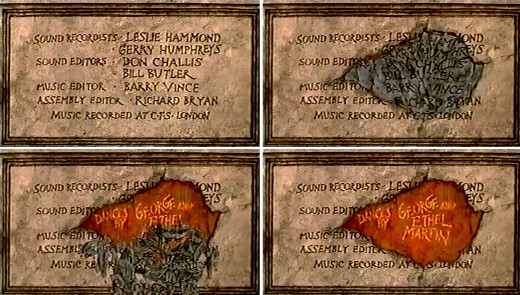 A slew of credits rots in one spot. This falls off revealing the choreographers' names.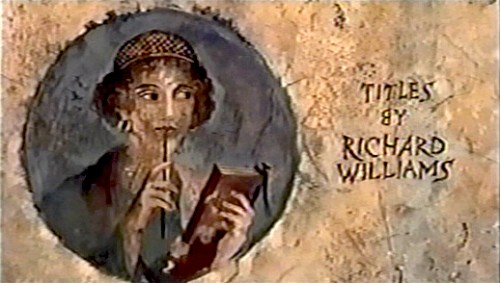 I'm always fascinated by the credit the designer gives himself. No sign of anyone else
who worked on this sequence. Titles have changed since then.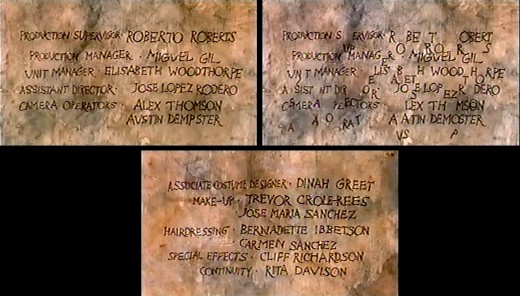 This is the first time I remember seeing letters from the type of one card falling down to match letters from the next card.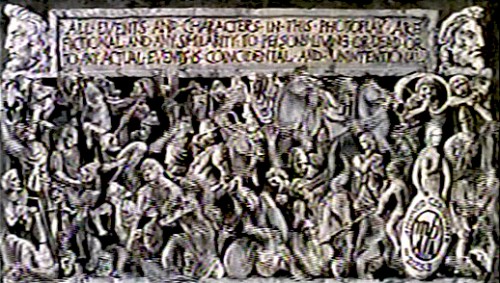 This card, the least significant one, comes back several times.
Of course it's overanimated though it looks like a cycle.


The camera moves in on a fly crossing a checker board.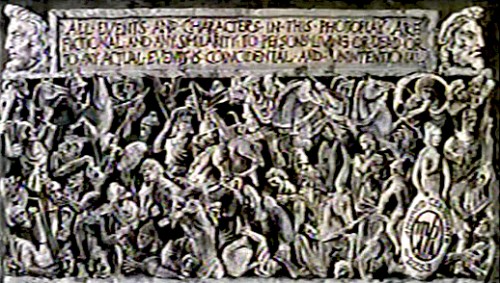 That legal card, again.


Truck in on the copyright card.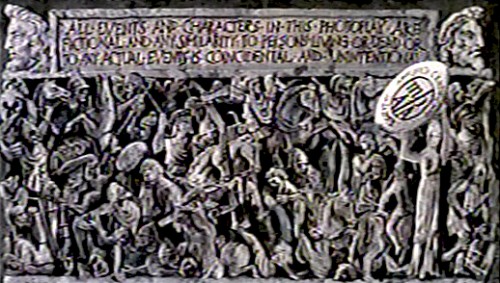 The legalese changes as the MPAA card is lifted.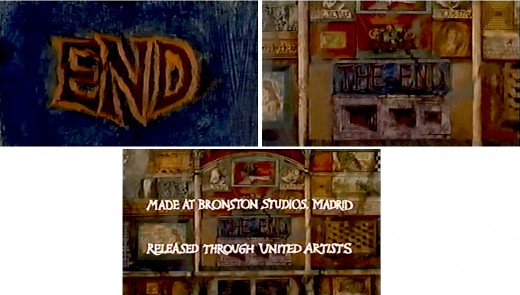 Truck out from "End" past "The End" to reveal several more boxes.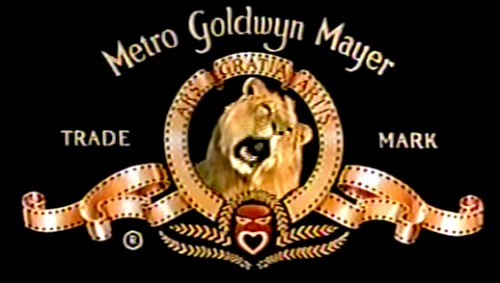 Finally, the MGM lion roars.
Happy Birthday, Richard. Thanks for all the wonderful gifts you gave animation, not the least being the obvious: a new respect for a medium that was dying when you stepped up to the plate. You restored its dignity at least once.
Commentary &Layout & Design &repeated posts 14 Mar 2013 04:38 am
Sometimes the bad films we work on leave the greater mark, and it's good to look back, infrequently, to assess the damages.
- I was reading the 1957 Disney Studio Directory posted on Joe Campana's site, Animation – Who & Where. when I came upon the name of Howard Diettrich. This threw me back to 1973 and Tubby The Tuba.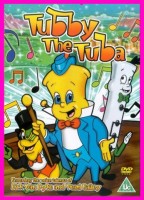 I'd just been layed off at the Hubley Studio, after completing the first 20 (of 60) episodes of Letterman. Officially, I had been categorized as an "inbetweener" in the u-nion. I'd done everything from animate to ink at Hubley's, but that was my category. I received a call from Johnny Gentilella. We'd met through Hubley, and he was now working for NY Institute of Technology. They were in the early stages of production on their feature, Tubby The Tuba, and I was offered the job of Assistant Animator, a categorical promotion.
NYIT was the school I'd graduated from and received my BFA; it was located in Old Westbury, Long Island – about an hour's drive from Manhattan. It'd be interesting, returning to my old school just to see how it had changed. By taking the Long Island Rail Road, I was able to cut down that ride by a few minutes and leave the driving to someone else. I was picked up at the station and driven to the animation building, a small cottage on the campus. Everyone was out to lunch except for Johnny Gent(ilella), and he drove me (about a couple hundred yards) to meet Sam Singer, the producer recently hired to do the film.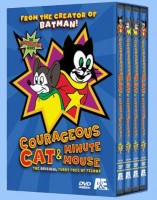 Singer had done all those Courageous Cat cartoons that had infested children's programming back in the late 60s/early 70s. Oddly, I enjoyed them; I always was a glutton for bad animation. Love those cel flares, shadows, scratches and cel edges.
I was directed to his office. In there was another producer, Barry Yellin, who had broken his ankle and was on crutches. I got to meet the two of them and listen to them kibbitz around me, virtually ignoring me for a few minutes. Singer was chewing on a cigar, and I couldn't take my eyes off the spittle that seemed to be moving down the cigar in his mouth. When I finally left to return to the animation building, I saw that Singer was also on crutches. He had a clubbed foot.
I sort of remembered that meeting as an omen of things to come. The entire place, while I was there, felt like it was on crutches.
I liked Johnny Gent a lot; we got along well at Hubley's; on Letterman I got to mangle quite a few scenes by him as I learned how to inbetween properly.
There were only about 8 others at NYIT at the time. Other people I met included Walt Kubiak, another assistant who I enjoyed talking to; animator, Chuck Harriton, who I'd met at Hubley's (and never really was crazy about); Lou Marcus who was filming the work on an Oxberry. Lou had gone back in animation for many years and had plenty of stories to tell. (See Andrew Marcus' comment below.)
The person I most associated with was the editor of the film, Phillip Schopper. He was a young guy who took the LIRR everyday from Brooklyn to Old Westbury. We'd meet daily on the train and laugh over the events of the days out there. I've stayed friends with Phillip, who has become a first-rate filmmaker; we rarely talk about those days at NYIT.
It was not a fun place to work. At the time, everyone chatted over their cubicle walls. I was in the front of the studio with full view of the front door. I was constantly getting notes from Chuck Harriton who persistently altered the models of the characters in ways that no one else was drawing. I was forced to work his scenes off-model. Johnny Gent always had a beautiful drawing style and made it easy for assistants to follow and inbetween. He and I spent most of our lunch hours alone together in the studio. We were able to have quite a few conversations; I loved that part.
Everyone seemed to back talk everyone else as they walked out the front door. I couldn't help wondering what they said about me when I left. Too much swiping makes for an unpleasant working condition.
At one point, Sam Singer brought in a number of his people from California. I'd already been there about four weeks so was glad to see some new blood. Many of the few people were ex-Disney people, so there was a lot for me to learn. Nino Carbe, was a good example of this. He had done some incredible work at Disney's on Fantasia and other films. He was an artistic force and a nice guy to meet.
Howard Diettrich was a virtuoso assistant who had worked on Sleeping Beauty. Unfortunately, he was an alcoholic who had a big problem. Sam Singer took him under his wing and had decided to cure him. Hypnotherapy came in, and Howard went through the mill for Singer. It made a soap opera of a story for all of us working there, and it was hard for me to watch.
I decided to leave. They wouldn't allow me to quit without going to Alexander Schure. He was the President of the school – yes, NYIT was still predominantly a school – and he was financing the whole thing. His idea, ultimately, was to introduce computer animation to the world, and he invested heavily there. Some of the brilliant people who grew out of this department moved on to develop Lucas and Pixar.
So I went to Alexander Schure, and he argued with me for about 30 minutes. I told him that the travel time was too much. He didn't accept that. He liked the fact that I was an art school grad from his school and was working there. He offered to have his son pick me up and drive me.
I knew that there was no solid directorial voice coming from the top, and the film could never be good. My artless tactic was to say as much. He told me that he was going to take over from Sam Singer, and he would be the voice of clarity. Now I knew I really had to get out. He finally surrendered, and I left. Happily.
I was back with Hubley within two weeks. Even better.

I didn't get to see the film until I borrowed a vhs copy from Dante Barbetta, who eventually joined their staff to animate when it got significantly larger.
That was not a good film, as a matter of fact it was incredibly bad. I'm not sorry I left, though I would have enjoyed more time with Johnny Gent; it was the last time I worked with him. I also still wonder what happened to Howard Diettrich.
Note: Last year, John Celestri wrote about the later period in the making of this film on Mark Mayerson's site. Part I and Part 2.