Monthly ArchiveMarch 2008
Books &Disney 31 Mar 2008 08:13 am
Having recently posted some pages from Bob Thomas' 1958 book, The Art of Animation, I couldn't resist thumbing through it casually and found some images I really like. These I'd like to share. Something about them all get me charged. Perhaps it's just that this book meant so much to me when I was young, or perhaps they just are as great photos.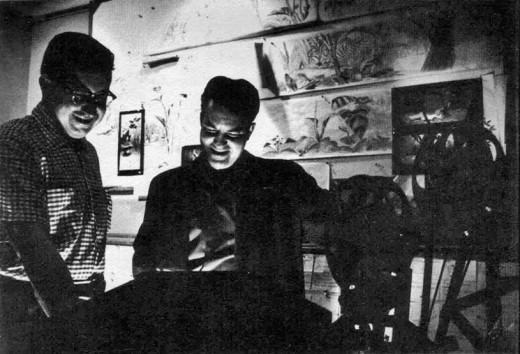 ________Xavier Atencio and Bill Justice check out a scene on the moviola.
________The artwork on the walls looks like Alice In Wonderland, to me.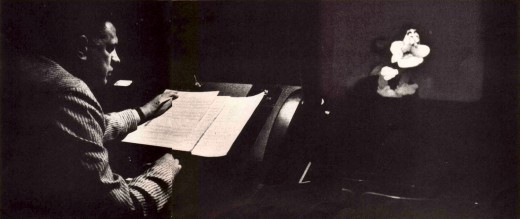 _____George Bruns watches Snow White while preparing the score for Sleeping Beauty.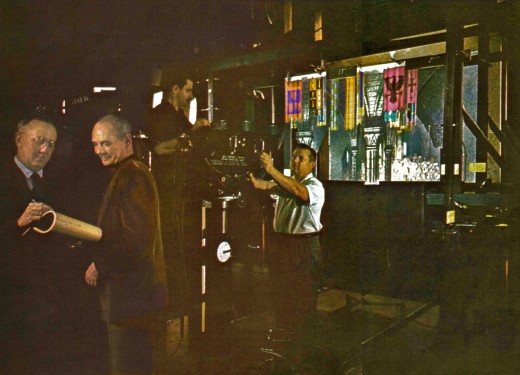 ___Ub Iwerks & Bob Ferguson talk on the left while Eustace Lycett and Jim Cook
___work at the horizontal multiplane camera, on the right.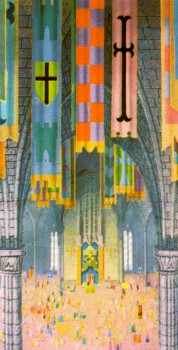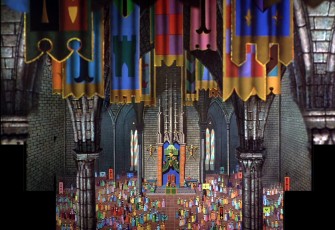 According to the book, this image to the left is the one they're shooting on the multiplane camera.
The image in the final film looks quite a bit different. Above is a frame grab construction I've done. (The cmra moves in on the different levels that continually grow, and I had to adjust in making a full still of the art.)
___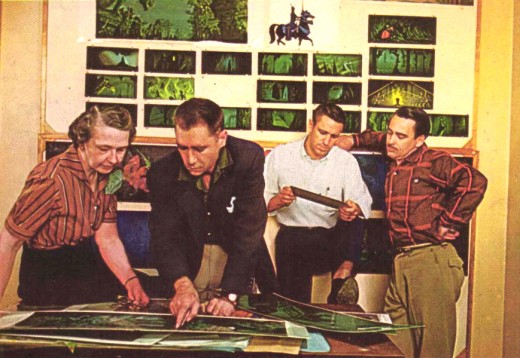 ________Thelma Witmer, Eyvind Earle, Frank Armitage and Walt Peregoy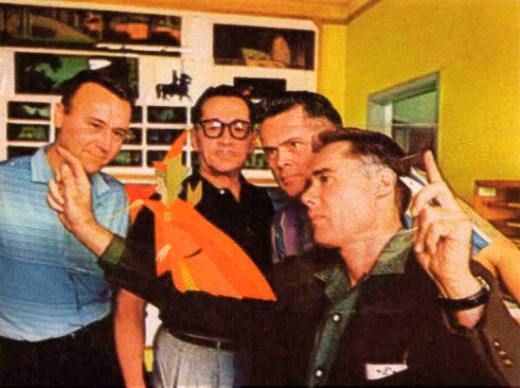 ________Al Dempster, Dick Anthony, Ralph Hulett and Eyvind Earle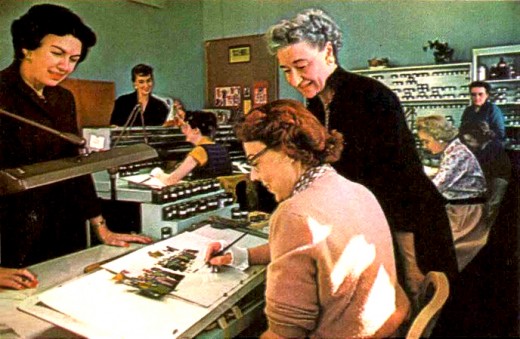 ________Grace Bailey supervises Mary Tebb and Jane Considine in the I&Pt dept.


________An Eyvind Earle design for London Bridge in The Truth About Mother Goose.


________A LayOut pan for Lady and the Tramp as Lady runs in traffic.
__________________
As he commented on my site last week, Ernesto Pfluger wrote that he has scanned the complete book in spañish, on his now defunct blog.
Photos 30 Mar 2008 08:54 am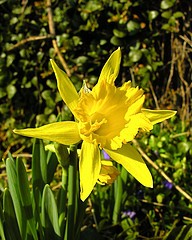 - Annulla has posted a number of fine photos of flowers on her site, Blather From Brooklyn. The daffodil to the left is one of these images which she photographed at the Brooklyn Botanical Garden.
I enjoyed looking at these pictures and found myself wanting to phtograph some flowers myself, however I thought it'd be interesting to shoot them in a more natural city environment. An environment not protected by a Botanical Garden.
I have to admit I was caught up sharp in my limited attempt, and I ended up with only a couple of pictures. I took these on the way to my studio one morning. It's obvious that the weather here, still rather cold and wet, has not quite helped the floral life of the city, and there doesn't seem to be much to highlight. The streets are still gray, and the parks aren't in full bloom. The city is still unusually cold for this time of year.
I did spot a couple of plants in Madison Square Park, but these looked to be having a bit of difficulty in surviving.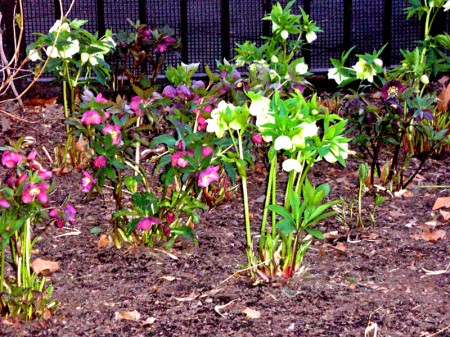 (Click any image to enlarge)____________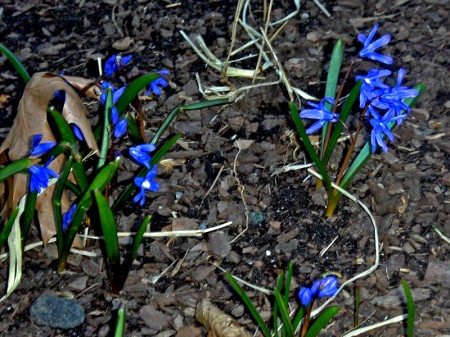 I then turned to the internet to see just what sort of flower photos were out there. Of course, I found an embarrassment of riches. It was a humbling trip with on the first couple of links I opened.
I looked at the site of Shoji Ikeda and was taken abock with his photos of flowers from Japan.
Likewise beautiful wer the photos at digital photo artistry.
Finally, when I got to Tony Howell's site, I quit. These images were just too beautiful, and I found myself trying to compete. Here are a couple of photos borrowed from these three sites.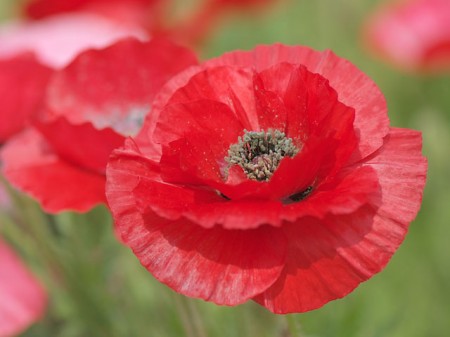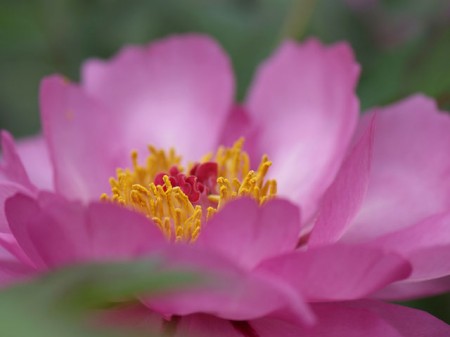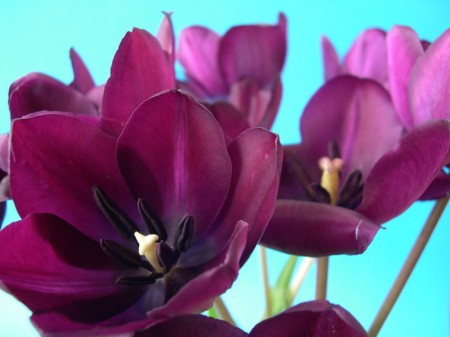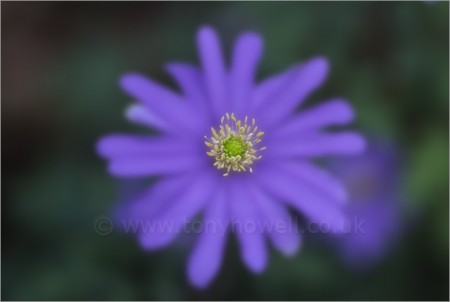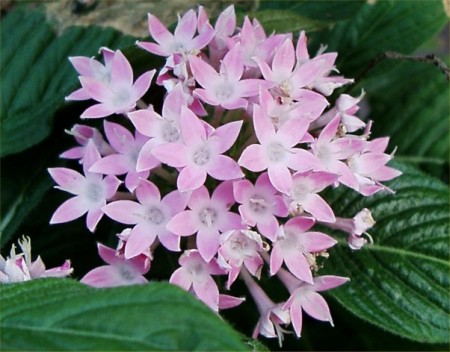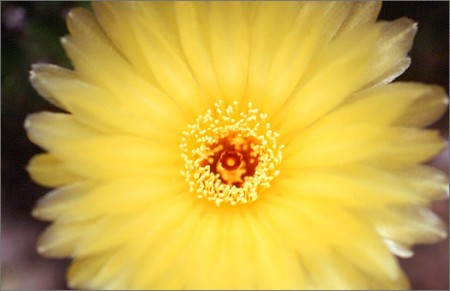 I guess, in the end, I realize that I am not in competition since I'm not a professional photographer. Nor am I trying to pose as one. I just wanted to gather a few bright moments of spring. The weather is obviously going to delay that, but I will make some attempts to showcase the more urban guerrilla grass and flower cracking through the concrete when they start to bloom. Until then, it's back to animation.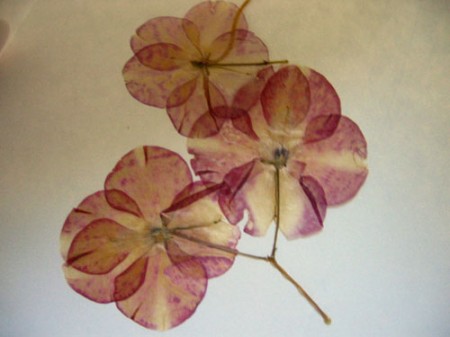 I did find one interesting craft site, Crafty Daisies, that shows you
how to press flowers.
Your vibrant living peony can end up looking like this before it dies.
Daily post 29 Mar 2008 08:42 am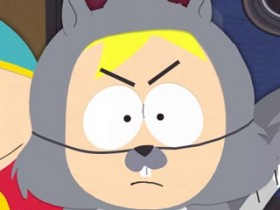 - I have to admit that I have almost zero interest in any animation that is made for television. It's virtually all worthless as far as its technical content, so all you can really judge it on is the writing. There, again, virtually all of the programming is pointlessly dreadful and completely banal. There's so little worth looking at that it makes it useless to even tune in.
The Simpsons has grown stale. Family Guy is good for one joke per show, but there's not much else there, and it's quite ugly to look at. If anything else is good, I haven't found it, and I can assure you I've looked. Thank god for the MGM shorts that are shown on Boomerang or the occasional feature that pops up.
There's only one program whose new season gets me charged. I won't miss any of the new episodes of South Park as they show on Comedy Central. The latest season is certainly up to the level of writing they've given in the past. It's not for the weak of heart, and it's certainly not for children.
Last week's show, Britney's New Look, interrupted the democratic debate between Obama and Clinton to present Britney watch.
It turns out Britney Spears was caught peeing in the woods of South Park. The photographer was paid several thousand dollars, and the boys are determined to get their own photo to make some easy money.

When they finally do lure Britney into one of their homes, she's devastated to learn that they just wanted her photo, and she tries to kill herself by shooting the top half of her head off.

At the hospital, it turns out she's going to live without 2/3 of her head, and her
manager drags Britney into a recording studio – with her crazy new look – to record a new album. The boys try to save her, but the photographers are growing greater.

In the end, we learn that she can't be saved because she is part of a ritual sacrifice, a necessary offering for the new harvest. Britney is photographed to her death, and the corn fields are ripe with product.

The program ends with the citizens eyeing Miley Cyrus on television – she'll be next.
This show starts off by blowing the viewers' heads off, then bringing it back to a responsible statement – we're killing these celebrities, and we have no justification whatsoever. Stop it!
Or the week before that, which had one of its most outrageous shows, Tonsil Trouble:
Cartman gets his tonsils removed and accidentally get a transfusion that gives him tainted blood and the AIDS virus. This bit of irony causes Kyle to laugh incessantly. Angering Cartman who decides to get even.

He sneaks into Kyle's bedroom late night and puts some of the infected blood into Kyle's mouth. Kyle gets AIDS and automatically knows that Cartman gave it to him. He decides to break every one of Cartman's toys and starts to do so. When he gets to the X Box, Cartman shouts for him to stop and says he knows how they can be cured.

The plan is to visit Magic Johnson, who obviously must have found the cure, since his HIV virus hasn't gotten worse over these many years. They visit Johnson, who admittedly doesn't know what has resolved the problem.

The answer ends up being cash. Cold hard cash. Johnson sleeps on it. They find that if they pulverize money into a serum and inject it into the body, AIDS is cured. The show ends with the announcement being made in Africa that they've found the cure; anyone with $180,000 can be cured.
Again a god awful shakeup for the viewer at the beginning of the show – AIDS for kids in South Park (played for laughs !) – followed by a reasonable statement – only money seems to be resolving the problem. Let's talk about pharmaceutical companies and insurance companies.
Not all of the shows are good. There was a weak one this week. Kenny gets high on life – or is it cat urine? A weak show, but who cares; there are too many great ones. If this show continues forever, I'll keep watching it.
_________________
Thanks to Animated News, I was drawn to the South Park official site. There you can watch all of the episodes in toto. (The new season currently airing on Comedy Central are being delayed several weeks but will be there soon.)
_________________
By the way, here's the schedule for this week's upcoming MGM program on Boomerang. (Note they don't have a show scheduled for Tuesday.) If you want to find future show schedules go here (they only post one week at a time.) I list the directors of the shorts. Originally, they screened older films, but lately they try to show all Avery (meaning:funny) all the time. Personally, I seek out the Harman and Ising films.
Sat 8pm Goose Goes South by Hanna and Barbera
_______ Jerky Turkey by Tex Avery
_______ Wayward Pups by Rudy Ising
_______ Good Little Monkeys by Hugh Harman
Sun 8pm Busybody Bear by Dick Lundy
_______ Little Wise Quacker by Dick Lundy
_______ Doggone Tired by Tex Avery
_______ Barney Bear's Victory Garden by Rudy Ising
Mon 8pm Lonesome Lenny
_______ Bottles by Hugh Harman
_______ One Droopy Knight by Michael Lah
Wed 8pm Little Johnny Jet by Tex Avery
_______ Blue Danube by Hugh Harman
_______ When the Cat's Away by Harman-Ising
Thurs 8pm Gallopin' Gals by Hanna & Barbera
_______ Daredevil Droopy by Tex Avery
_______ Slap-Happy Lion by Tex Avery
_______ Sleepy-Time Squirrel by Dick Lundy
Animation Artifacts &Models &repeated posts 28 Mar 2008 08:21 am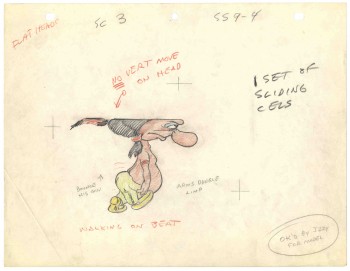 In celebration of the new season of baseball I have a couple of model sheets from a Paramount cartoon.
A story writer, Larry Riley, gave me these drawings back in 1972, but he never told me the film's title.
Thanks to Thad Komorowski and Bob Jaques, who left comments on the original post, we know the drawings come from Heap Hep Injuns (1950).
___________(Click images to enlarge.)
Larry Riley was a wild guy. On my first commercial job at Phil Kimmelman & Ass. he and I were the inbetweeners working side-by-side on some of the Multiplication Rock series. Larry had had a long and busy career in animation.
He had been an asst. animator at Fleischer's, a story writer at Paramount, an animator at many studios. Like many other older animators, he ended up doing anything – including inbetweening at Kimmelman's for the salary and the union benefits.
The stories Larry told me kept me laughing from start to finish. There was no doubt he had been a writer for years. In a not very exciting job, it made it a pure pleasure for me to go to work every day to hear those hilarious stories. I can't see Lucky 7 without thinking of laughing. It wasn't the stories per se that were funny, it was his take on it.
Larry told me of his years at Fleischer's in Florida where he was an assistant. He and Ellsworth Barthen shared a room, and, according to Larry, had lined one of the walls of their room with empty vodka bottles. Now, I've heard of frats doing this with beer cans, but doing it with vodka bottles requires some serious drinking. One of the many times I got to work with Ellsworth, I asked him about the story, and he reluctantly backed it up telling me what a wild guy Larry was.


________Forgive the racist pictures, but I guess they're a product of their times.
Larry also told of a 3D process he'd developed for Paramount in the 50′s when the movies were all going 3D. I believe there were two Paramount shorts done in this process: Popeye: The Ace of Space and Casper: Boo Man. Larry offered to give me the camera on which he shot these films – he had it stored in his basement. He was afraid it would get thrown out when he died. I didn't have room for it.
My regret; I still hear the sadness in Larry's voice.
(When I originally posted this in 2006, Larry's grandson, John, wrote to tell me that another collector took possession of the camera and kept it from destruction.)
The animator who drew these is Tom Johnson (he signs the second one), and they were approved by the director Isadore (Izzy) Sparber per the first one.
The drawings are deteriorating, obviously. The pan above uses a lot of glue to hold it together, and that's eating away at the paper.)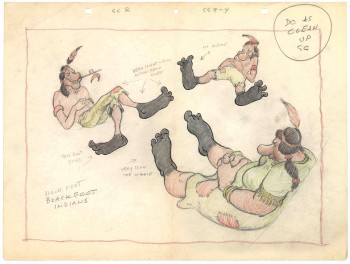 – This is the final model I have from Heap Hep Injuns a 1950 Paramount cartoon. Tom Johnson drew this image, prior to animating it, and Izzy Sparber directed the film. I'd heard some stories about I. Klein regarding this film, though he's not credited, so I suspect he may have had something to do with model approvals, as well. Actually, he may have been the "Izzy" referred to on the pan posted yesterday.
(click on image to enlarge.)
I was never a big fan of the Paramount cartoons. Growing up in New York, we'd always get Paramount or Terrytoons shorts playing with features in the theaters. Only rarely did a Warners cartoon or a Disney short show up. (I don't think I saw a Tom & Jerry cartoon until I was 17 when they started jamming the local TV kidshows with them.)
Saturdays there was always the placard outside the theater advertising "Ten Color Cartoons". A haughty child, I naturally wanted to know why they didn't show B&W cartoons – that's what we saw on television, and I usually liked them more. I must have been insufferable for my siblings to put up with me.
The starburst at the beginning of the Mighty Mouse cartoons always got an enormous cheer in the local theaters. I don't remember ever hearing that for Popeye or Harveytoons.
Daily post 27 Mar 2008 08:43 am
- I've become intrigued with websites devoted wholly to one film or studio. I'm not talking about studio paid sites that are designed to promote a film such as the Pixar sites or the Persepolis site (By the way, whatever happened to the English language version of this film? They recorded Sean Penn and Gena Rowlands acting the parts? Will it only be released as a dvd?)
I'm talking more of the sites established by fans or past employees who write about their collections and/or experiences.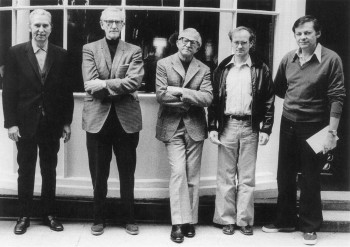 Richard Williams' film, The Thief and the Cobbler has The Thief. This is a blog by four former artists who have worked on the film. Holger Leihe,
Dietmar Kremer, Andreas Wessel-Therhorn, and Michael Schlingmann have all animated on the film, and they all have lots to tell. It's also open to others who have stories to share. Guests such as Producer, Carl Gover or cameraman, Brian Riley have contributed strong posts.___This photo of Ken Harris, Grim Natwick,
____________________________________Art Babbitt, Richard Purdum and Dick Williams
_____________________________________________comes from The Thief.
The end result is an informative site full of
interesting stories and technical details about this very complex movie. All of the animation seems to have created problems for its artists, and the stories on this blog really show how things were accomplished. From bipacking to static electricity to rotoscoping; technical achievements and problems are all detailed in a clear and entertaining way. It's not only informative; it's attractive, and it's filled with photos and artwork that can't be found elsewhere.
__________________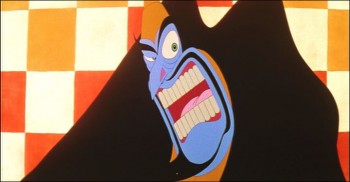 - Garrett Gilchrist has also devoted a lot of work in recreating this film to something close to Dick Williams' original version. He's taken the best quality copies of the rough cuts that were assembled – before they were taken away from Dick's hands.
He's posted a number of versions of this on YouTube and has an ongoing forum about the film. He recently posted The Little Island, an impossible-to-see film, on YouTube.
Garrett's extensive and admirable reconstruction work on Dick's films was probably the original inspiration for The Thief. I'd like to see a site by Garrett about Dick's films.
__________________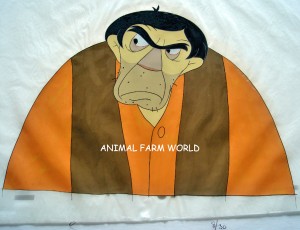 - Chris Rushworth's site focuses on another British film, Animal Farm. The site, Animalfarmworld, is designed solely to feature some of the interesting cels and art that Mr. Rushworth has collected, and there's quite a bit of it.
Since March 25th, he's added more than 100 drawings to the site including many of the handsome horse, Boxer.
Somehow the flavor of the pencil drawings, for the most part, seems to accurately depict the flavor of the film, itself. There's something tentative about them. Even in the loosest of drawings the dynamism of some of the great Disney animators is missing. They are beautiful in their own right and feel as though they are from another time.
__________________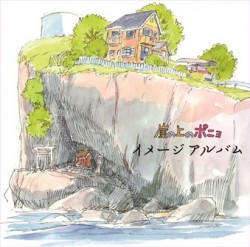 Daniel Thomas MacInnes is the proprietor of the excellent site, Conversations on Ghibli. This is a site, as its title would indicate, devoted to all things Ghibli, which of course is the studio that produces the films of Hayao Miyazaki. Daniel Thomas not only gives advance notices of the work in production, but he actually posts entire features done by Miyazaki. There are quite a few comments and discussions of lesser known films by this brilliant film maker.
The site is quite a resource for all of us who are looking for information about the artist and his work. One would like more frequent posts, but that seems to be a problem with many of the best sites – you always want more. _______A still from the soundtrack of
____________________________________________Ponyo on the Cliff, an upcoming
_____________________________________________________Miyazaki film.

__________________
- Finally, let me change the subject. I'm overwhelmed by today's post on Michael Barrier's site. There's no greater example of pure history in its discovery. Mike hones in on the hiring of Rudy Ising at Disney's Kay Cee studios in Kansas City, 1922. This is the premiere site out there for me. History is written and unique photos back it up.
Animation &Frame Grabs &Hubley 26 Mar 2008 08:23 am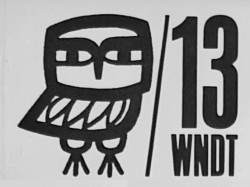 - One of my all time favorite pieces of Hubley animation was a station ID for WNDT-TV, New York's public service station back in the 60′s. I thought of this spot last week when I posted the piece about Stanley Kaufman's Art of Film for that station. It ultimately became WNET, NY's PBS channel 13.
This spot was undoubtedly animated by Bill Littlejohn, and I think it's one of his finest pieces. The timing is excellent. He obviously animated straight ahead; the characters distort and morph to the needs of the animation. It's a full 2mins: 40 secs, so it would qualify as a short film these days,
The piece ran in B&W. It employed the multiple exposure technique. The characters had black paint filling everything bu the animation drawing. This was double exposed over the BG, hence a see-through quality to the characters. This techniques was used on Moonbird, The Hole, Of Stars and Men and several other Hubley shorts.
Here are some frame grabs of the spot.


The two guys come out on to the stage and take a bow.


They greet each other, light up and sit down.


A little bored, they both turn on TV's. The little guy gets involved.


He takes out a book and takes notes comparing it with what's going on his TV.


He goes back to watching. The big guy laughs at something until he gets bored again.


The big guy practices some wrestling moves until that gets dull.


Little guy does some brush painting. Big guy laughs again.


Little guy practices Russian. The big guy gets annoyed.


The big guy takes out a comb and starts combing until . . .


.. he has grease all over his head. The little guy grows a plant.


The little guy takes out a cello and starts to play. This annoys the big guy.


He pulls up the little guys screen. Public Television !


Embarrassed, he bows to the "Arts" station.


He turns to it on his own TV. He's planning for something great.


They watch intently until the big guy makes sure little guy knows he's still watching.


"Brain food" They watch intently.


The big guy falls asleep while the little guy goes back to his book. Dissolve to station card.

I love how the shapes of the characters shift and distort and change throughout the piece always coming back to the original models. This is a sure sign of straight ahead animation, and it almost makes the acting feel like an improvisation exercise by two actors. It supercedes animation and becomes acting.
The obviously loose time of the piece shows that the animator was probably given a lot of leeway with his timing, and he took it. As I said, I have no proof that Bill Littlejohn animated it, but I've never doubted it for a moment. It's certainly as much his style as it is Hubley's.
That is the odd thing about working for a director with a strong personality. I remember the day that I looked at one of my drawings and realized that it looked like one of my drawings, but there was no doubt it was a Hubley. Something happens, and you just end up drawing in their style.
Daily post &Festivals &Independent Animation 25 Mar 2008 08:16 am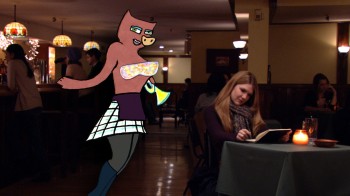 - It's nice to see some local talent get good press for their animation work. Currently, The New York Observer has a solid article about Emily Hubley in conjunction with the screening of her feature film, Toe Tactic, at the New Directors/New Films festival held at MOMA and Lincoln Center.
Here's a short quote from the informative article:
__ Originally, there wasn't going to be any animation at all in the film. But Ms. Hubley hand-
__ drew the dogs (with some help from animator Jeremiah Dickey) to help shepherd the
__ short poems about love, life and mortality into the movie. "At the beginning [of the
__ process] the dogs are just a joke, but then they nosed their way into the rest of the
__ story," she said. "Poetry is one thing that is very hard to put into movies… I just thought
__ that the only way to keep it fun, or keep people from glazing over, or I guess to keep it
__ from being too self-loving, would be turning it into something else completely."
__ All together, the result is a highly emotional fable. "I want [the audience] to feel full
__ when they walk away," she said. "It's really about personal art; it's not a factory
__ product."
As I reported last week the film's stars include: Lily Rabe, John Sayles, Marian Seldes, Eli Wallach, Andrea Martin, and Mary Kay Place. Ms. Place and Ms.Martin are two of my favorite performers; John Sayles is the father of Independent Cinema, and I love Eli Wallach. Lily Rabe was brilliant when I saw her in the play, Crimes of the Heart, now playing in New York. What more is there to say.
The film is scheduled to play:
__ Sat Mar 29: 6:00pm (Walter Reade Theater)
__ Mon Mar 31: 9:00pm (MoMA)
________________________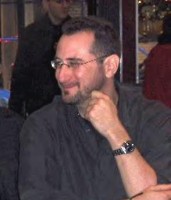 - I received some information from the Hiroshima 08 Festival, and was pleased to note that two ASIFA East members are featured.
Ray Kosarin is among the International Selection Committee Members. Along with Rao Heidmets from Estonia, Elena Chernova from Russia, Sophie Lodge of the UK, and Kiyoshi Nishimoto of Japan, Ray will represent the US in the selection of films for the festival to be held August 7-11. Add to that information, David Ehrlich, also of ASIFA East, will have a special exhibition and performance for his art. With Paul Driessen as the International Honorary President, the Festival sounds like a big one this year.
Congrats to Ray Kosarin and David Ehrlich.
Animation Artifacts &Books &Disney &Story & Storyboards 24 Mar 2008 08:07 am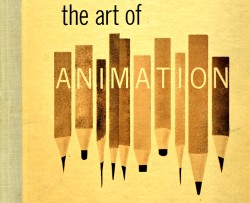 – One of my most treasured gift/memories was receiving a Christmas present of the newly published book, The Art of Animation by Bob Thomas. This came to me in 1958. Prior to receiving it, I had to scour my local public library, as a child, to read about animation. Here was this book that came awfully close to inventing the coffee table book for animated cartoons – which generally meant Disney in those days. Lots of beautifully colored photos of animation artists at work and plenty of Disney cartoon images. It even a filmography for about 100 people who'd worked at the studio, or at least a Disneyography for those people.
Don Graham was an art instructor at Chouinard (which eventually became CalArts) when Walt Disney brought him in to supervise night classes for his animators. He was enormously successful and a strong influence on all the young animators, and he continued at the studio until WWII broke out. Disney brought him back to the studio in 1950, and he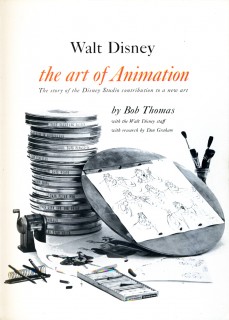 did research for a film on Art. This research was to be a book called "The Art of Animation," but it never quite gelled to Disney's satisfaction. (I have a xerox copy in storage and someday I'll post a bit of it.) He also wrote a book entitled Composing Pictures which instructs in methods of composition.
When Sleeping Beauty neared its release, Bob Thomas was brought in to write a book about animation that would also focus on Sleeping Beauty. Thomas used some of Graham's notes for the book he'd been preparing for Disney.
This is the book that was published in 1958.
I suspect that my receiving the book at such a young age made it all the more precious to me, and to this day it gives me positive feelings whenever I hit on certain pages and pictures in it. There's a photo of Eyvind Earle holding up a cel of one of the three faeries that ALWAYS sends a chill up my back. It strikes to the heart of something I love about animation, and it inspires me like little else can. I can't say what it is about this picture, but it speaks to me.
I thought it might be entertaining to post a couple of pages from the book. The opening chapter on "Story" seems pertinent since so many of our recent posts have been Bill Peet storyboards. Here's a bit of his board for Sleeping Beauty.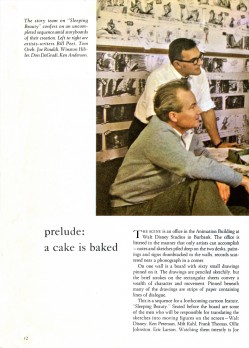 12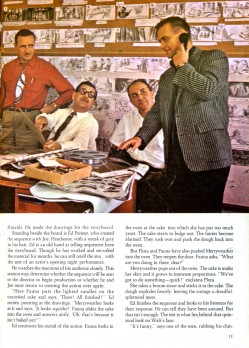 13
________(Click any image to enlarge so you can read it.)
Commentary &Photos 23 Mar 2008 09:06 am
Last week there was a crane accident in New York. A crane, tied to a building under construction, tore away from its ties and fell over. The crane hit a building and cantilevered onto another building totally demolishing a four story brownstone on 51st Street and Lexington Avenue. At least four were killed, several had to be dug out of the rubble. (Remembrance of Sept. 11th for all New Yorkers.)
All I could think last Saturday, was that you're sitting in your apartment on a Saturday afternoon, cleaning or watching the tv or just doing nothing. Suddenly, your life is over.
The chaos of it all just hasn't left me all week.
I was going to photograph a crane to dress the site last Sunday, but couldn't get up the drive to do it. I've decided to post these older pictures from last April (all of which are no longer there; the buildings are just about constructed.)

There was a woman interviewed on the day of the accident. She had been born in the building that was destroyed, and she spent her entire life living in the building. She left to go out and buy groceries and came home to devestation. She teared up when she mentioned her two cats left in the building and wondered if they would find them in the rubble. It was several hours later when she was being interviewed, and she was still holding two bags of groceries.
The crane to the left can be seen from many blocks away. It stood at 30th Street and Madison Ave for about six months. An enormous piece of equipment, from a block away it virtually looked as tall as the Empire State Building, behind it. The building they eventually built with the crane does block out the view of the Empire State Building for a good many people.
Interestingly enough, there's a second crane – albeit much shorter – half a block away which is working on another construction site. At times, traffic backs up for blocks. (See both in the image above to the right.)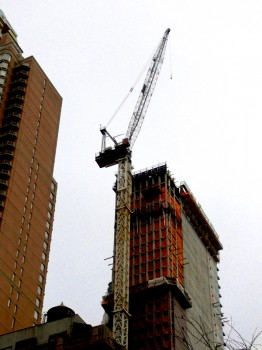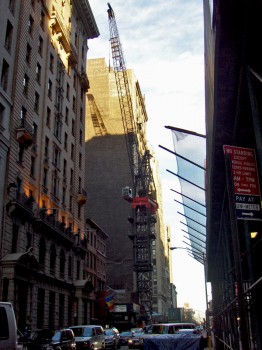 Here are two other views of the same two cranes. The tall one from a block away looking down over a couple of buildings. The image on the right is the short crane as seen from the base of the tall crane.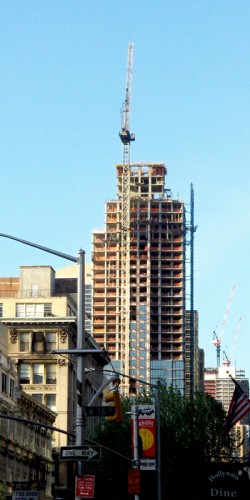 If you look up to 42nd St from 14th St, you see a mass of construction going on uptown. Even just out of the frame on both the left and right, there's more. The crane below is to the left at 18th Street. It's enormous when standing straight up and down. Here it's bent to pick up materials.
I like the color of the sky against all the cranes pushing into the sky at the right.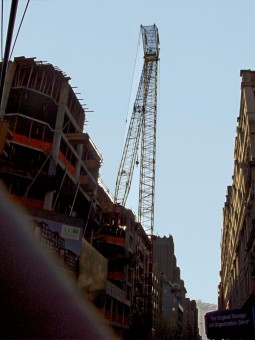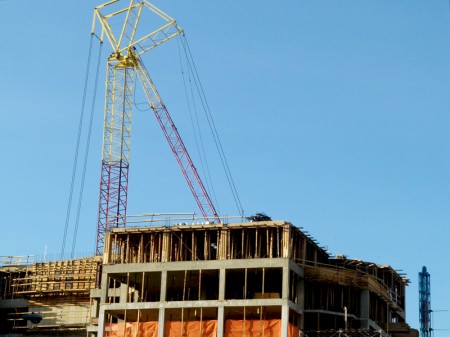 Here's another shot of the same crane from the other side of a building.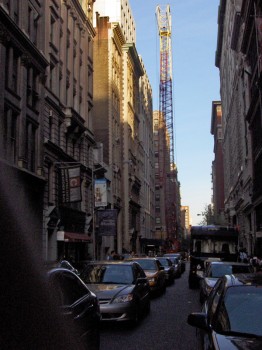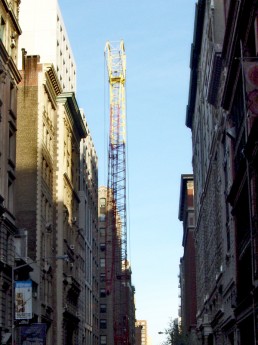 The crane above is on 19th Street just east of Broadway. Traffic seems to have learned how to maneuver around these things as it flows without too much difficulty.
Another person who was interviewed on NPR yesterday was the owner of a bar in the building on the street level. He decided that he wanted to see the Yankee spring training game. They've aired so few of them that he decided to stay home and go in a bit later so that he could enjoy the game. When he arrived his bar was no longer there. One of his employees was found in the rubble later. Another tenant of the building, a friend of his, had ridden down with the crash and was buried. He was also found alive and was just homeless. The owner of the bar just worried for all the newly displaced people.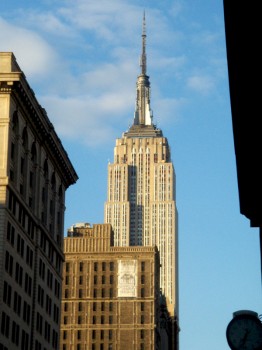 Here, to the left, is an image of the Empire State Building. Cranes were obviously key to the construction of this building and others equally beautiful. One can only hope that the construction under way will leave behind some glorious piece of architecture, though it always seems more likely that some rectangular box will be built to hide more of the view from the ground.
There always is this feeling of danger, though. One sees these monumentally tall machines and wonders if it fell over would I be in its range?
As usual, they immediately started searching for someone to blame for the incident that happened last week. At first, they told us innumerable times that an inspection had taken place recently so that wasn't the problem. Now we learn that the inspector hadn't done his job properly.
To me, it all comes down to deregulation. It started when Ronald Reagan deregulated the airlines, and it came to its zenith when Bill Clinton deregulated the airwaves. At first the airlines began to fold, then Disney bought ABC, Time Warner bought AOL, and it looks like the taxpayers just bought Bears Stearns for Chase. The pharmaceutical industry is pricing us all out of drugs, dog food is poisoned and our toys are covered in lead paint. It might be time for the Federal Government to begin to open its eye again.
Sorry for the rant; we live in chaos, and New York City seems to heighten the reality of that for us.
____________________

Happy Easter
Articles on Animation &Daily post &Disney 22 Mar 2008 09:22 am
- My favorite post of the last 24 hours has got to be the photo set on Michael Barrier's site. These are part of a series Mike calls, "A Day In The Life" in which he posts a number of photos all taken around the same time.
Here it is early 1930, and the animators at the studio are gathering in odd positions. I guess they needed some publicity photos, so they cranked them out. Who would have guessed that some of the expressions would be so hilarious. I couldn't help but frame two images of Walt Disney in these group photos.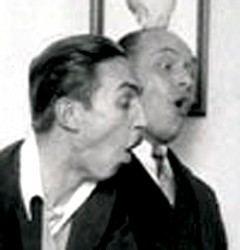 1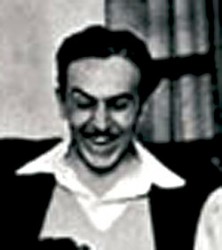 2
In the first he's singing as is everyone else in the first photo as they've gathered around Carl Stalling playing at the piano. A group sing for animators! Huh!
In the second Disney's obviously just broken up as the camera clicked. I doubt this photo ever saw publication prior to Mike's posting. I have to admit, again, I love his site. There's just always so much to take in.
_______________________

- Speaking of Disney, thanks to Alan Cook's excellent site, I found myself led to a great French site: The Art of Disney Animation. There you'll find a lot of Disney production art. Plenty of pre production art, designs and models. It's an enjoyable side trip with lots to view.
_______________________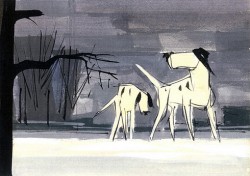 - And speaking of Dalmatians, the crème de la crème in the blogosphere, at least for me right now, has to be Hans Perk's A Film LA. There at the moment, you'll find a complete set of drafts for 101 Dalmatians. Hans is quickly posting all of these pages, and he has me studying this film, yet again. However, now I know who did what, and I don't have to guess.
The great news is that as with the posted drafts for Pinocchio, Mark Mayerson will build on Hans' drafts for 101 Dalmatians by creating Mosaics for this entire feature. It hasn't begun on Mark's site, but there's something worth waiting for. Mark's commentary is even more valuable than his extraordinary photo mosaics.
For the moment, Mark has an excellent essay on adapting children's picture books into animated features. It's another sharply written piece that you should check out, if you haven't already.
_______________________
- To take a completely different turn, let me say that I have become so involved in this Democratic race that it's become officially an addiction for me. It's so enormously entertaining, how could I not.
This past Thursday night, I came home a bit late from a movie. Prior to the film, I'd been completely absorbed in the events of the day – the back and forth of the mudslinging fired at Obama for having a pastor (or maybe because he is black.) In the two hours I was gone, all this news was reported:
- There was a break in at the State Dept where several people checked out Obama's passport data. Of course, they fired the two guys who were involved, so that now they can't now be interviewed to see what they were doing. A "low level" curiosity mission?

- John McCain has made an enormous number of gaffes in Iraq, England and Israel. He's mixed up Sunni's with Al Qaeda, and he's called the Jewish holiday of Purim a "local version of Halloween." He'd better pick Lieberman to run with him; he needs someone to hold him up. Then McCain fired someone for sharing an anti Obama/race YouTube video. No wait, he didn't fire him. The person was suspended. McCain does have a semblance of dignity though, regardless of how war-crazy he is.

- Hillary continues to rant, attacking Obama for not making Michigan vote again, yet it was the Michigan legislature that didn't make it work. She's starting to sound like a spoil sport and a little too desperate.
This was all in a two hours of reportage. Since then, Richardson decided to endorse Obama, Bill Clinton said the two people in the race who honored their country were Hillary and McCain (can the former president do anything that isn't devisive?). And now McCain and Hillary were also victims of investigation by contractors in the State Department.
Phew. it's a great soap opera. We did get a brilliant speech this past week, and after eight years of a President who is not capable of pronouncing the word "nuclear," I delight in these articulate speeches and hope for years more of them.
_______________________
- The caricature above is by Barry Blitt, and it's part of an excellent article that was in the NY Times this past week. The article discusses how cartoonists are caricaturing the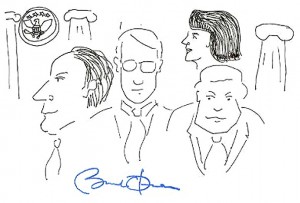 candidates. I have to admit I love Steve Brodner's work, so it was a pleasure to hear his thoughts.
If this interests you, you'll also enjoy seeing the caricatures of other senators done by Barack Obama. It was part of National Doodle Day, a charity drive which sold on ebay this past week. The drawing went for $2075. Gillian Anderson had the second highest bid price of $700 for her doodle.
________________________________________________(Click on images to enlarge.)