Category Archivecommercial animation
Bill Peckmann &Chuck Jones &Comic Art &Commentary &commercial animation 25 Oct 2013 10:39 pm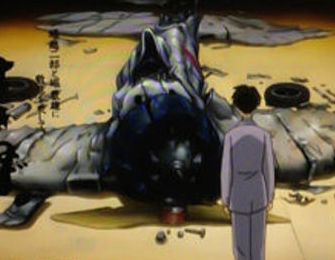 Jumping in to Miyaakii's most recent feature – to cross the seas, we find a very complex film with an aggressive approach to ward the telling of a love story. The architect of a bomb designed to destroy lives in fighting that war is the precise subject behind this longish film. It is not endearing (though that would be questionable in discussing these masters of violence for their country.
An horrendous look straight down the nose of a blistering work of nature, the Hurricane, as lovers are brought together afterward she gets ill and suffers from the pangs of war without having been near the font lines of the tumult wherever it is.
From therre to the end is a military mission wherein the architect shoots at the world. A scientist who accomplishes his mission while killing more people than the earthquake he met at the film's start. This is one fine movie from a thinking man. He's seen enough sorrow to want a peaceful ending for his children. It isn't coming.
Animation, you wait and beg to do it, but in your heart you want to do brave things with positive things to say. I want so desperately to do the good stuff. At this point I'll take the mediocre, with some sadness.

______________________
I wish . . . I wish . . . I wish . . .
Theree were only good and responsible pieces of animation anymore. But no they just grow Mickey and his private parts larger and larger in Flash until the money doesn't sow and then they blow them up.
Just like that SCTV show they blowed him up real good.
Noone knows what will happen. It hurts you know. Croods and Monsters and Incredible him. He was incredible; he made a big success and now the second one. Incredible Him. I guess those turkeys should be big too, a holiday out of Thanksgiving. What do you know? Maybe one or two of the shorts will be fun. Not umbrellas making eyes at each other. We need some Prince Valiant to come along and save us all. Maybe that's me.
Animation &commercial animation &Illustration &John Canemaker 19 Sep 2013 01:05 am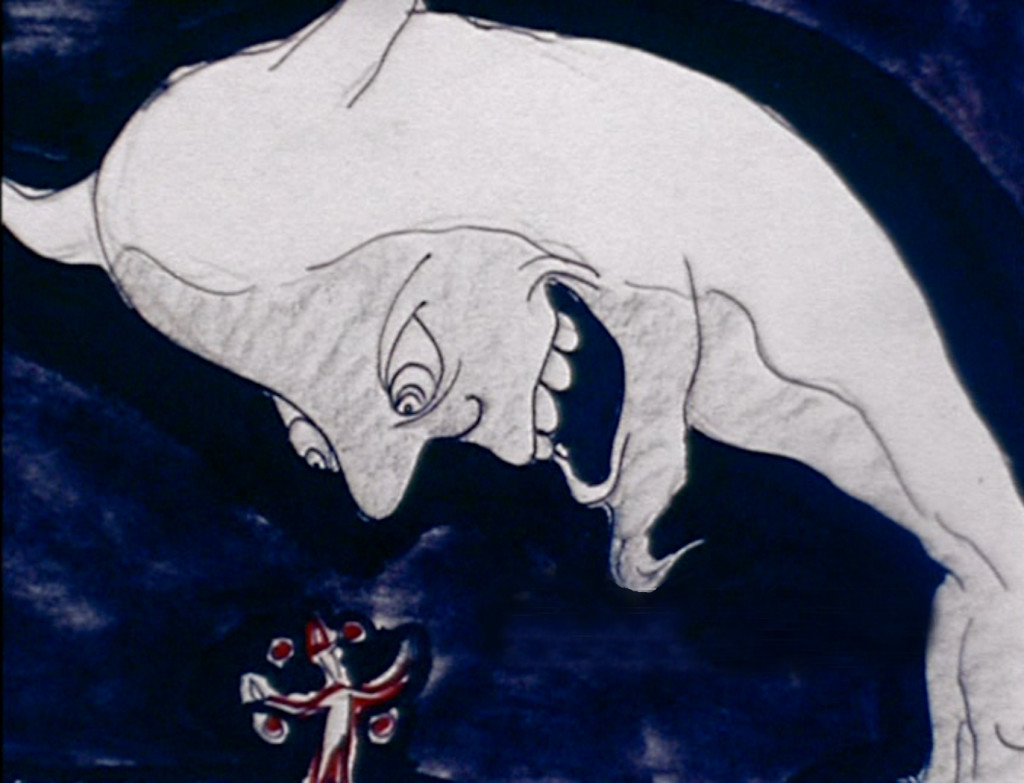 John Canemaker has been making animated movies for ever. I know because we both started at about the same time. Somewhere in the late Seventies we exchanged our early films to get a look at what each other was doing when we were younger. Leslie was tuning out a lot of footage imitating sequences I'd sen in the movies: a couple of dogs (certainly not Lady or Tramp) eating lunch, a limited animation vizier climbing pillars in imitation of 1001 Arabian Knight not with Mr. Magoo.
John didn't do much in the way of limited animation; he told me he wasn't able to figure it out. My own work was definitively derivative. I'd redone the Flintstones opening – my own version. Gay Purr-ee led to my attempt at animating the impressionists. I saw something in a theater or on TV and would immediately immitate it. I did a lot of live action/animation combinations. I was fascinated by the modern work. Title sequences to Saul Bass' films led to my versions. Once I'd seen UPA – the Gerald McBoing Boing Show, I did my own variant. There was a comedy album called The First Family.Vaughn Meador and other comedians impersonated the First family – the Kennedys – singing song parodies of the time. I did my parody of these sung-through albums that quickly lost synch. But you could see the effort that had been taken.
Whereas John worked only in 2D cel animation, I brought out lots of other wares. Clay was easy to animate and allowed me to turn out footage fast.
When we screened them for each other, we were both impressed even though we had to trade off the films and watch them privately. We both did great work; we both did horrible work. My father and brother-in-law constructed a multiplane set with about 16 levels of glass (easily 18″x24″) with about 8000 watts of light. I had my take on Fantasia to work out.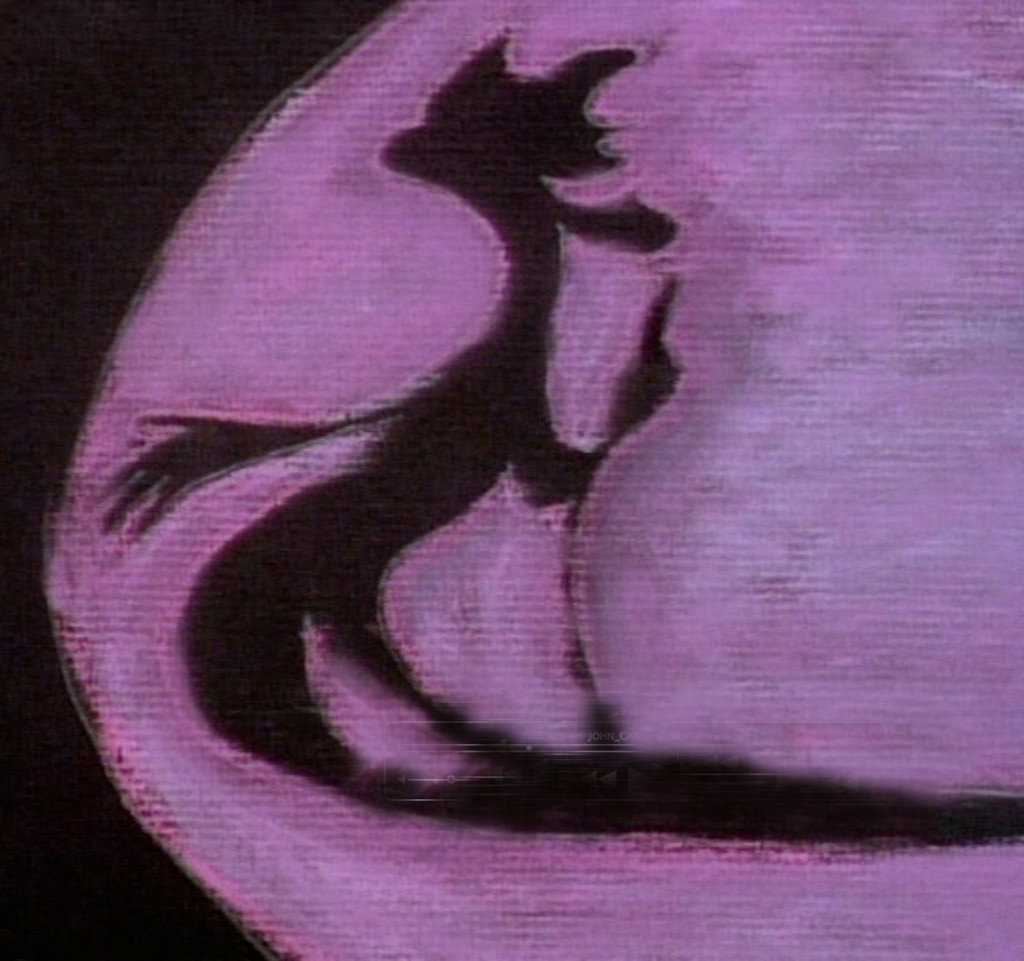 John's early films – not those we'd shared with each other, but his more professional work – now have a DVD all their own, and I'd
like to talk about these pieces. The DVD, John Canemaker – Marching to a Different Toon will permanently act as a good sampling of one artist's view of the world. It presents a multiplicity of styles with a wide range of subject matter.
Bottom's Dream feels like a sketch out of Fantasia as we see a short piece derived from Shakespeare's "Midsummer's Night Dream." Once Titania has turned Bottom into an ass there is a dance wherein he's trying to escape from the curse. Composer, Ross Care brings Mendelsohn's music to life as the film's backdrop.
Confessions of a Star Dreamer features the actress, Diane Gardner, expressing the problems and joys of becoming an Actress. Confessions of a Comic did the same for an aspiring young stand-up comic. Several sequences froom some of the excellent documentaries are also incuded:Break the Silence: Kids Against Child Abuse (TV Movie documentary) (animator), 1988 You Don't Have to Die (Documentary short), The World According to Garp's animated seqeunces are also included.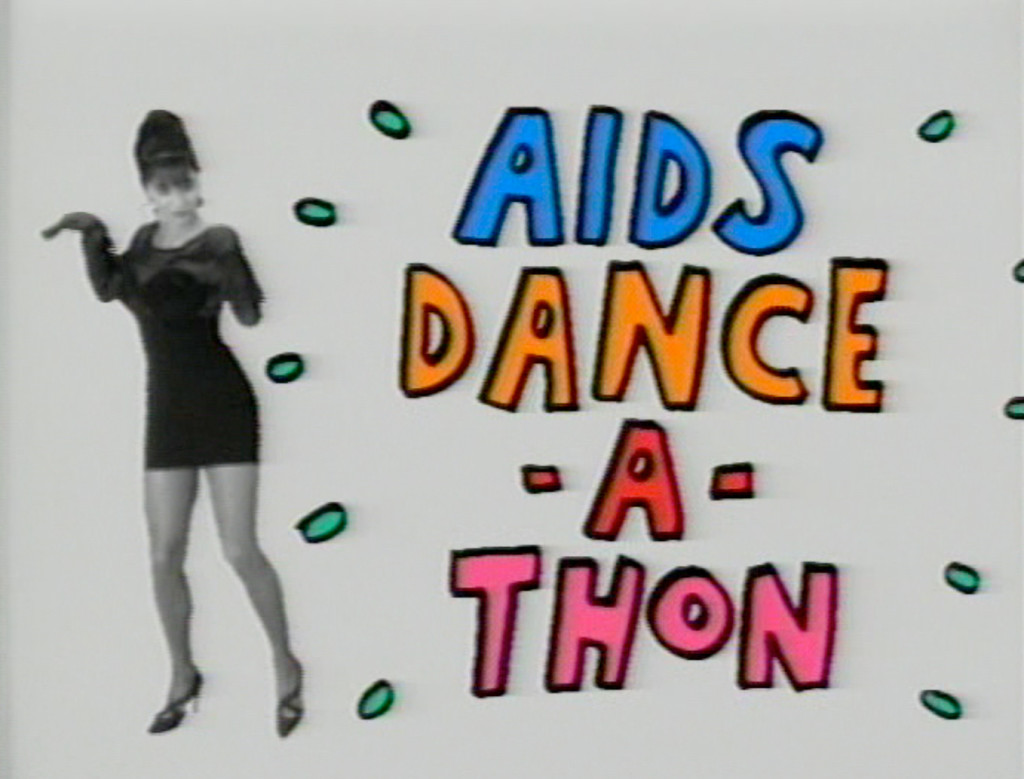 I love the short Bridgehampton, which animates the beautiful garden John and his companion Joe Kennedy, hae developed over the years (see some photos of the actual garden here.) It's a wonderful little spot on the earth and how joyful for John to make a film paying tribute to his own little bit of nature.
These films were all done just prior to John's Oscar winning short, The Moon and the Son: An Imagined Conversation, which is featured on its own DVD.
This is a rare collection of shorts and one you'll enjoy if you want to know more about the fame animation historian/animator.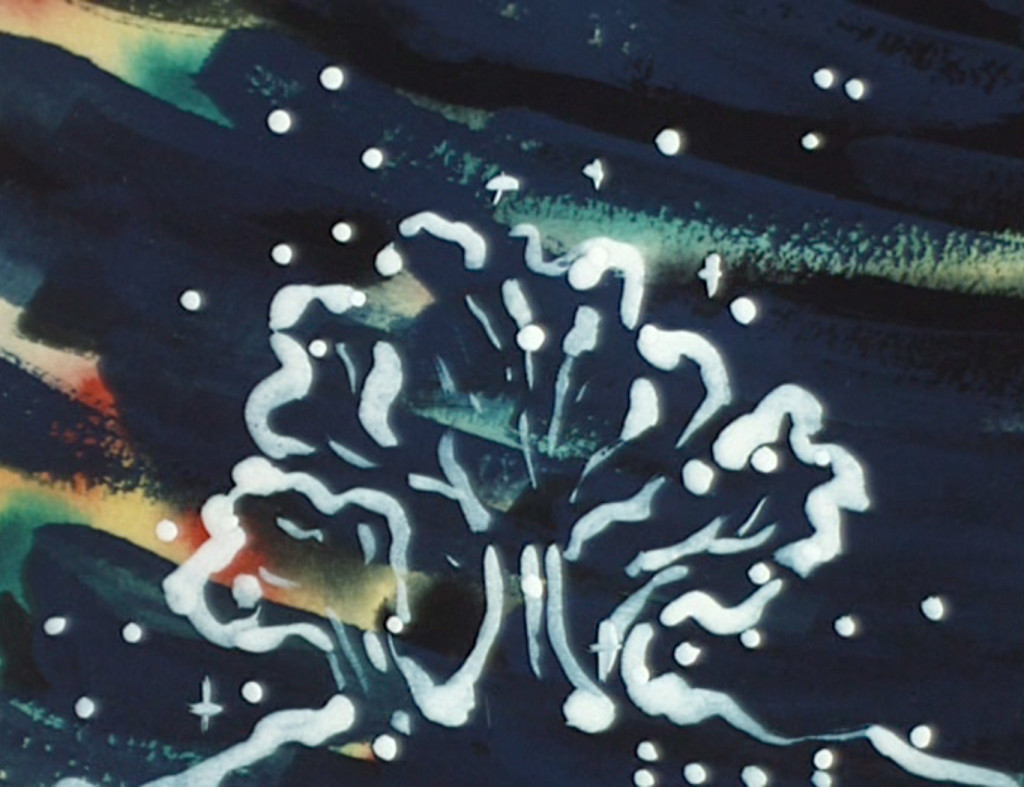 Commentary &commercial animation &Illustration &Layout & Design 30 Aug 2013 12:49 am
- Let me give some attention to a series of films we did for UNICEF back in the 90′s. There were four films which focussed on Child Development, trying to teach parents in the Third World how to take care of their children in the first eight years of development.
The animation proved crucial, but without a unique artistic style there'd be nothin but cute baby pictures. We were successful (or I wouldn't be talking about them.)
These films were brought to me by one, Cassie Landers. A well trained educator and an employee of Unicef where she promoted child development training and was hoping to use film to get the message across to the Third World.
Primary to these films was to get the point across that females deserved as much attention, including education, as the boys did. This is a major problem throughout the world, and UNICEF has done an entire series specifically for India about it.
Our aim was to encourage good diet, good behavioral practices and, again, the importance of a good education. The four films were ultimately combined with some live action footage of T. Berry Brazelton talking with children and introducing each of the four segments.
Hillary Rodham Clinton, as First Lady, introduced the entire 1/2 hr. show.
Here are some frame grabs from about 2/3 the scenes of the first film, Off To A Good Start.

1

2
After the UNICEF logo, the film started with a montage of children's faces.

3
I've compiled about a third of the faces.

4
The camera continually moves in on the faces while …

5
… constantly dissolving to the next setup.

6
This was the opening to all four of the films.

7
It was accompanied by narration by Celeste Holme describing the films.

8
The narration was written by UNICEF Producer/educator, Cassie Landers.
Sue Perotto drew all of the children's faces for the opening.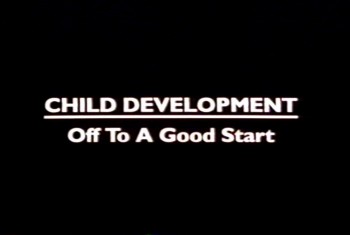 9
The main title.

10
The first film started with prenatal care.

11
Giving a very short the child in the womb.

12
Right through to the actual birth.

13
Then it jumps to the first year of development.

14
The art style was designed after Matisse's Moroccan paintings.

15
He had a very primitive set up colors with
earth-toned characters dominating their paintings.

16
We tried to reproduce the feel of these paintings
allowing the texture of the paintings to run and bleed.

18
This was all done pre-computer days, so all art was
painted on paper, then cut out and pasted to cels.

19
It was all shot on camera by Gary Becker at his FStop Studios.

20
The first year continues with similar setup.

21
After showing some advanced activity . . .

22
. . . we show how the brain has started to . . .

23
develop enormously in this first year.

24
The child learns to get up and crawl.

25
From here she learns to walk.

26

27
Then he learns to play more sophisticated games . . .

28
. . .utilizing tools that require more dexterity and thought.

29

Directed by Michael Sporn
Produced and Written by Cassie Landers EdD, MPH
Narrated by Celeste Holme
Music by David Evans
Production Coordinated by Masako Kanayama
Backgrounds by Jason McDonald
Edited by Ed Askinazi
Photography by FStop Studio – Gary Becker & Bob Bushell
Technical Consultant Marc Borstein Nat'l Inst of Health, Bethesda MD.
Office Manager Marilyn Rosado
Animation by Rodolfo Damaggio, Sue Perotto, Michael Sporn
Rendering by Christine O'Neill, Matt Sheridan, Stephen MacQuignon, Masako Kanayama
Special Thanks to Nigel Fisher, Deputy Regional Director,
UNICEF Regional Office for the Middle East and Africa
Animation &Animation Artifacts &Commentary &commercial animation &SpornFilms &Tissa David 26 Aug 2013 08:54 am
To celebrate Tissa David's last days, Ive chosen this title sequence she did for Garbo Talks. Her anmation is beautiful for it, and I enjoy looking at the film which has yet to be released on DVD.
The initial rough/cut screening for Garbo Talks was a bit peculiar. I sat down and a woman sat next to me; I sort of recognized her. We said hello when she sat down. Somewhere midway during the film I realized who the woman was – Betty Comden, that half of the Comden & Green writing team. I realized she was playing the part of the older Greta Garbo in the film, without receiving credit. It was brilliant casting, but you could say that about all of Sidney Lumet's movies.
When I left the screening room there was a tense meeting going on with four people. I caught Sidney's eye and waved goodbye. Going down in the elevator Burtt Harris, the producer, rushed in as the doors were closing. He asked what I thought of the film. Before I answered he said it wasn't working, and Elliott Kastner and MGM weren't very happy. A rough conversation in an elevator.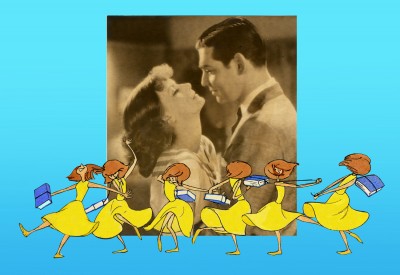 The next day, Sidney asked what I thought of the film, I said that I felt we didn't know enough of the back story of the Ann Bancroft character in the film. I suggested that I try to offer this in the opening credit sequence. Sidney loved the idea. He just made me promise that it wouldn't feel like the credits to "I Love Lucy" or "I Dream of Jeannie."
During the mix, we were talking about the music for Garbo Talks when we slipped off into discussing the music for some of Sidney's other films. I told him that the music by Richard Rodney Bennet for Murder on the Orient Express was one of the most brilliant film scores ever done. Sidney hesitated in responding finally saying he didn't get it at first, and it took a while for him to appreciate the music for that film. Sidney wasn't always perfect in selecting a composer for his films, although I do think that Johnny Mandel was a great choice for him on Deathtrap and The Verdict (or any film, actually).
Bob James had scored Garbo Talks. (He is an eminent jazz pianist, whose most famous piece is probably the theme to the tv show, Taxi.) Bob and I had to work together very closely. He wrote the score to the animatic I'd given him and would build the rest of the film's score from that. He hit many of the actions in that opening title, and Tissa David's animation hit them all. There was a very tight sync between music and title animation.
The preview screening was held on Long Island. I drove there and met the group of Sidney, editors and MGM execs, including Elliott Kastner. He was the leading producer on the film. They weren't happy at the end of the screening, and I was sure my titles were going to go. It took a week to hear that the titles were staying, but the score by Bob James was dropped. The composer took the hit, unfairly. A new score was being written by Cy Coleman. All that tight sync work!
Coleman wrote a lovely melody for the film, but just swept across the animation not hitting any points in particular. It's taken me a long time, but I've come to like the music he wrote. Tissa wouldn't watch the piece again with the new music.
In the film, the character played by Ann Bancroft has had a life that, in some small way, was shaped by Greta Garbo's feature films. This is a small bit of backstory in the live action film, until the end.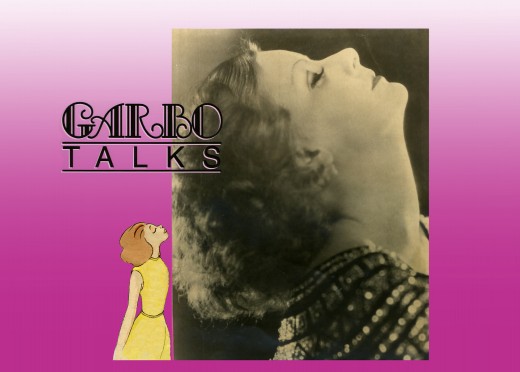 For the credits, I chose to develop this aspect of her story, and Sidney agreed on the approach. We told her life in a caricature of Ann Bancroft's character, growing up. The sequence ends with her at her current age, an elderly woman, and the live action begins. Hence, we were giving the life story of the film's lead character before the film started.
The idea was to use the device that had been developed for TV in the 50′s & 60′s of the caricatured characters whisking through the sitcom titles. (See Bewitched or The Carol Burnett Show.) However, it was our intent to treat it in a serious way.
Tissa David did a stunning, tour de force of a brilliant piece of animation. It was a dance that the character went through, and the credits played off the animation, which played off stills of Greta Garbo's films.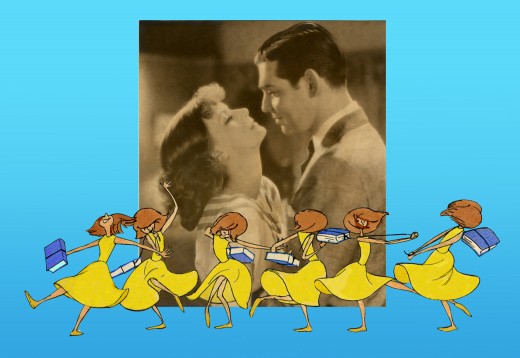 There was a small crew on the piece, which ran about 2 ½ minutes. Tissa animated, I did whatever clean up was left. Robert Marianetti single-handedly colored everything; Janet Benn and Christine O'Neill did additional I&P. Gary Becker filmed it, and Edith Hustead edited.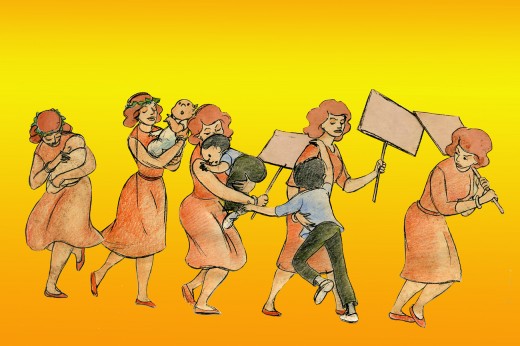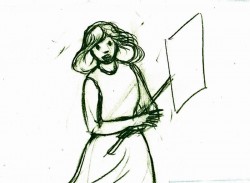 .
.
Tissa had about two weeks to animate about 2½ mins. of animation. I begged her to leave inbetweens for me, which she did, though only on close positions. I inked on paper, and Robert Marianetti colored directly from these rough-ish drawings. It was done with prismacolor pencils on paper. The paper drawings were then cut out and pasted to cels.
.

Animation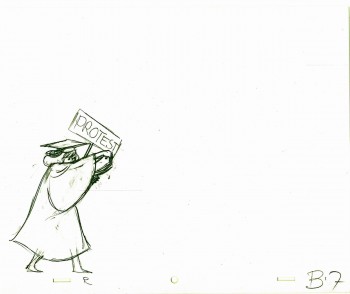 7
(Click any image to enlarge.)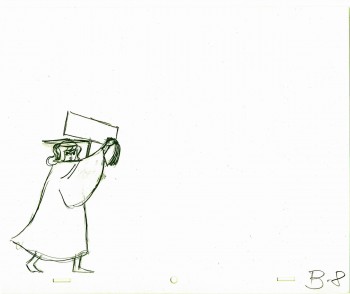 8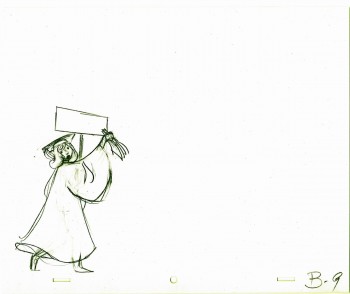 9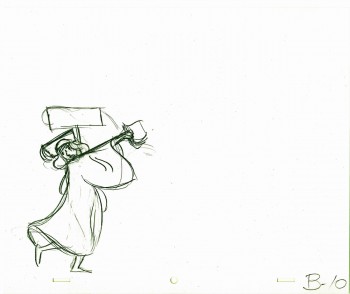 10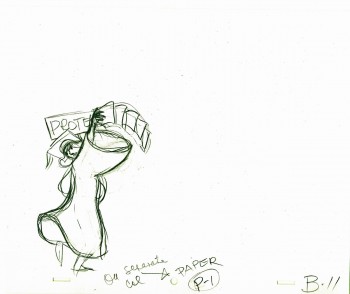 11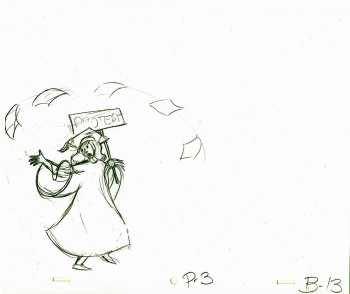 13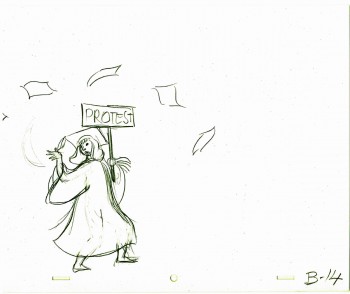 14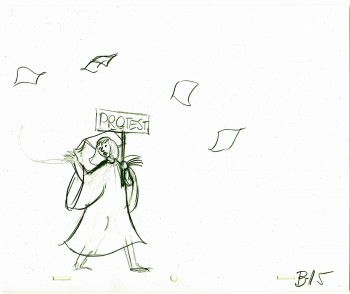 15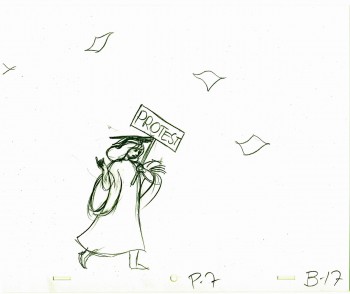 17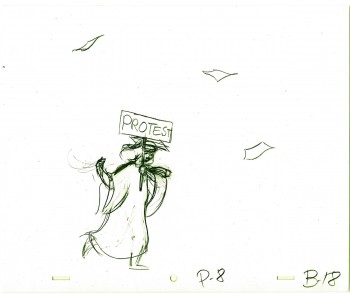 18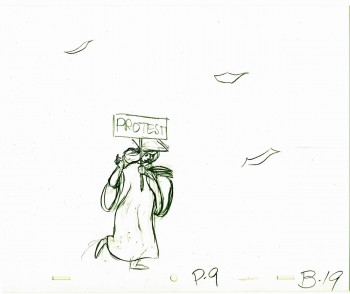 19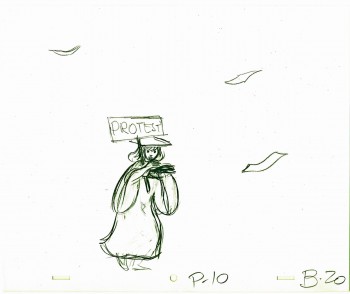 20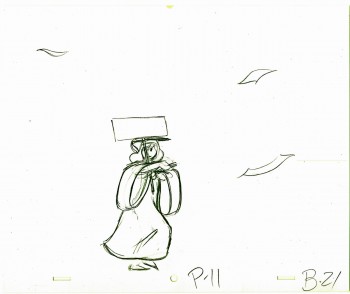 21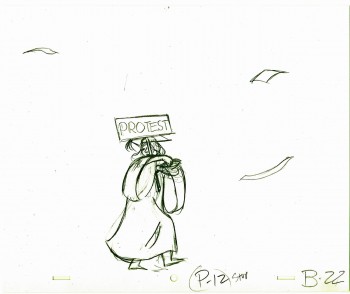 22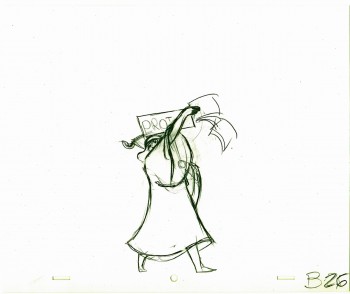 26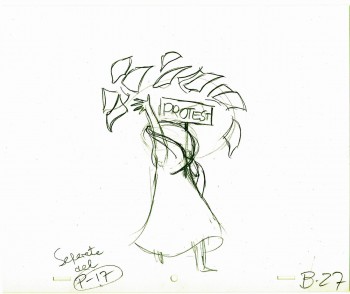 27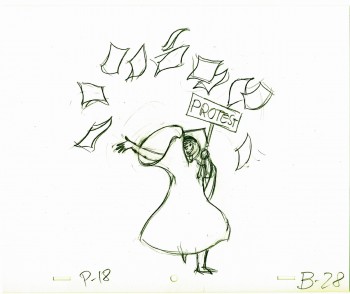 28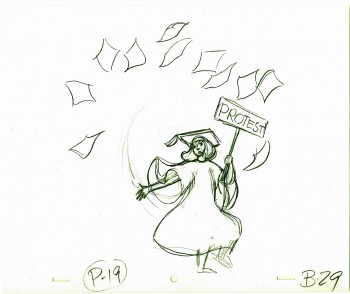 29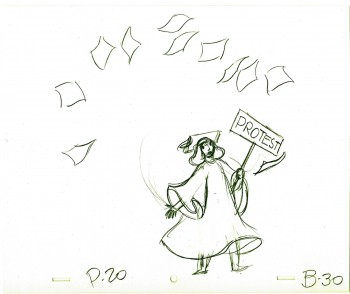 30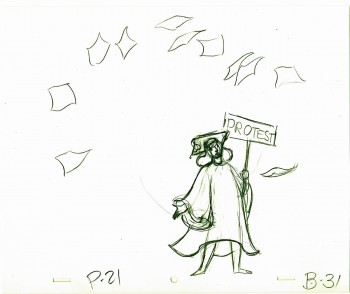 31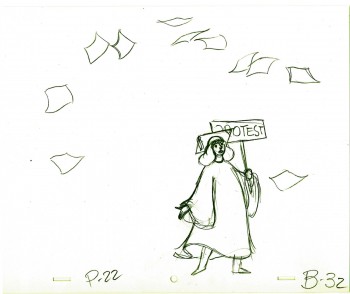 32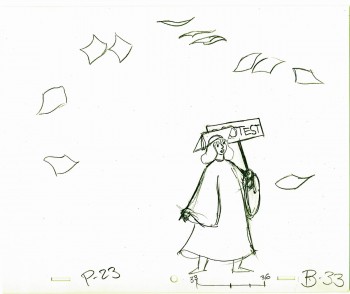 33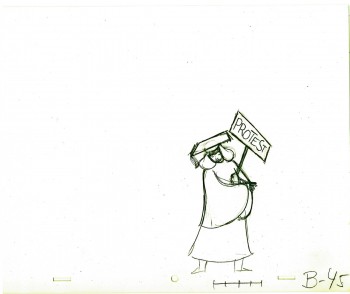 45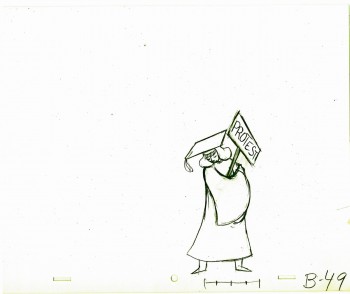 49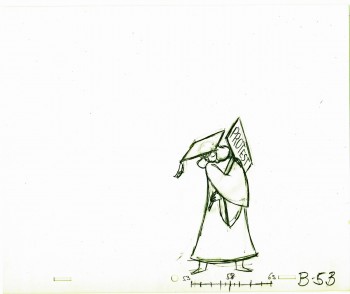 53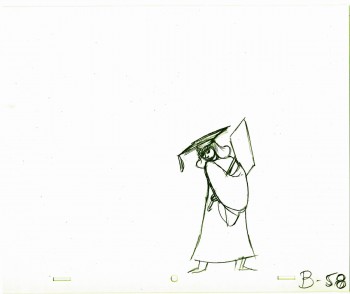 58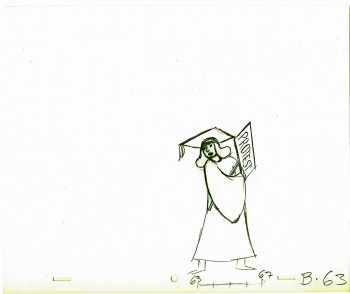 63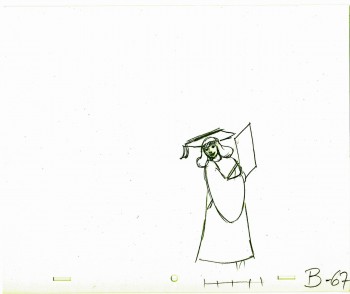 67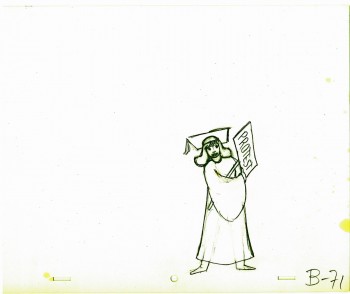 71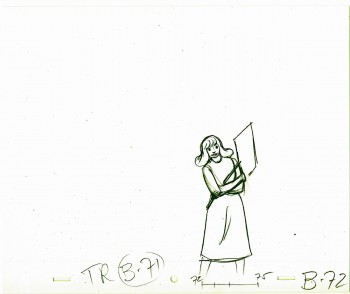 72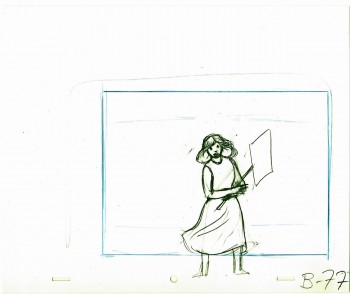 77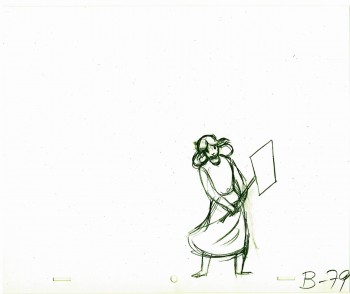 79
Below is a rough PT of the piece with its staccato rhythm since it's missing inbetweens.
Garbo Talks ruff PT On twos at 24FPS
Click left side of the black bar to play.
Right side to watch single frame.

The entire title sequence.
Thanks to Roger79 for uploading it.
Thanks to Stephen MacQuignon for finding it.
Bill Peckmann &Books &Comic Art &commercial animation &Disney &Illustration 12 Jul 2013 07:12 am
Ken Hultgren was an animator who worked for Disney during the height of the animal artistry that went on in the studio through the making of Bambi. Ken was a brilliant draftsman whose work was turned into a couple of beautiful drawing books after the finish of Bambi. It's certaily worth pursuing the couple of books he produced. They all vary enormously and show off his flagrant abilities as an anmal artist.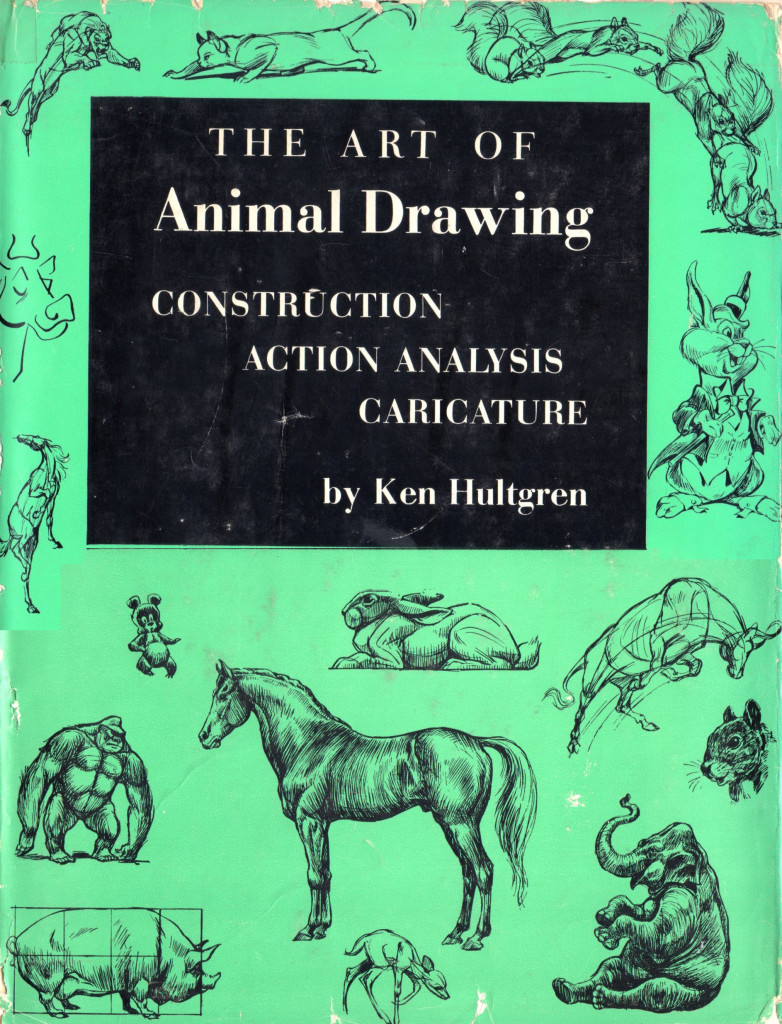 > 1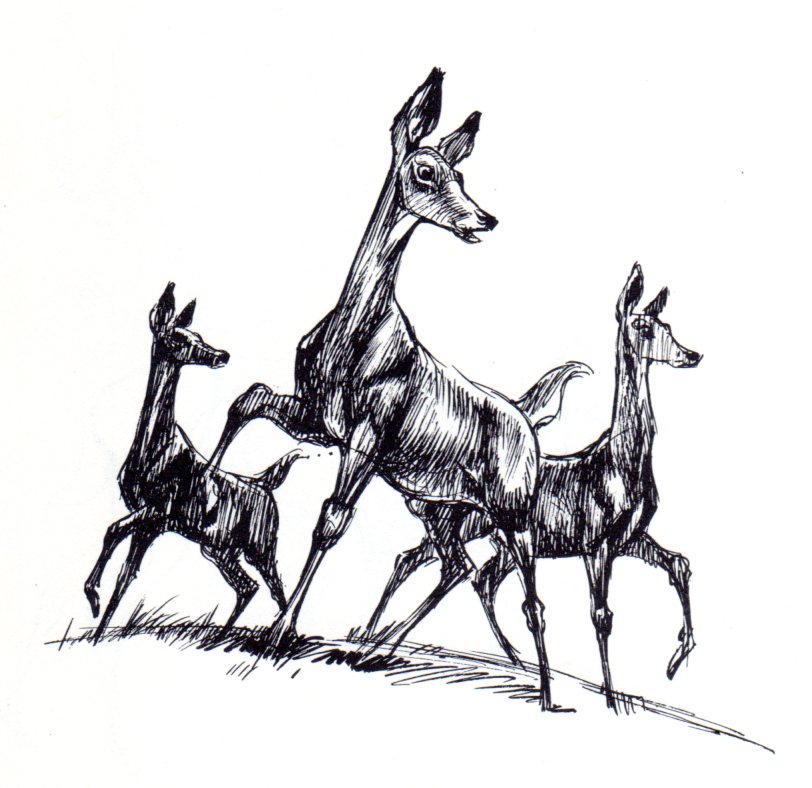 2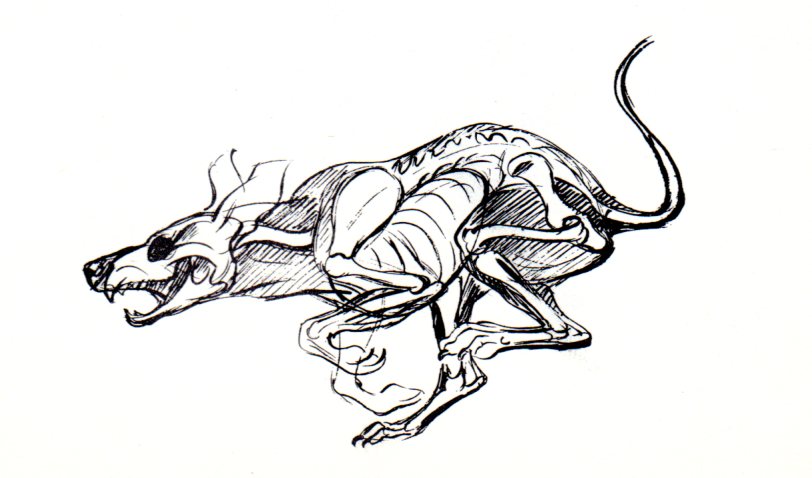 3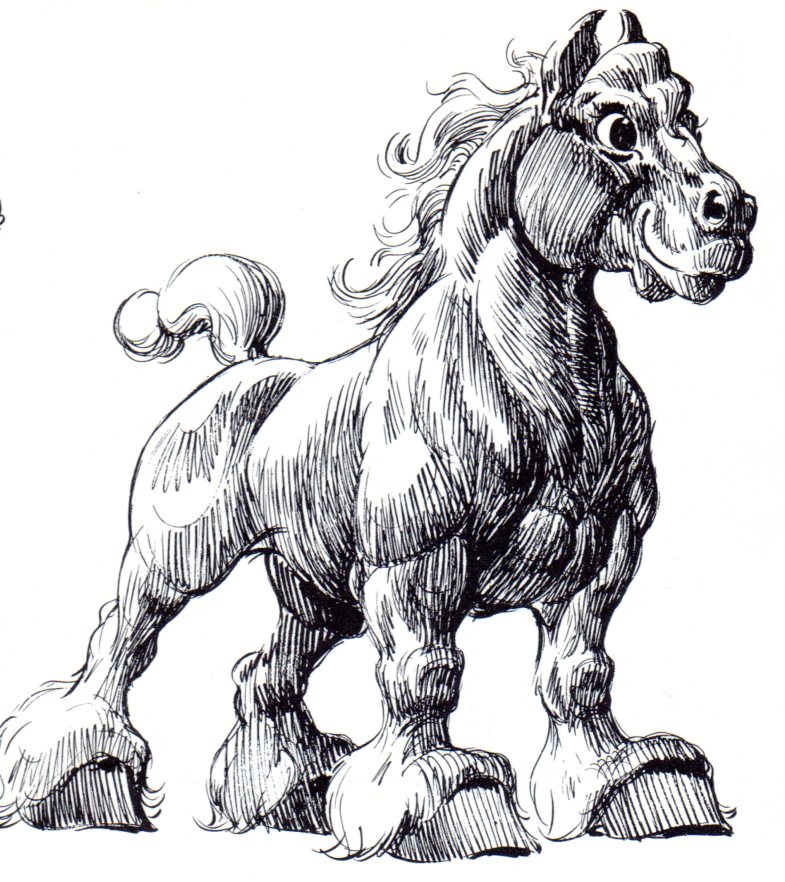 4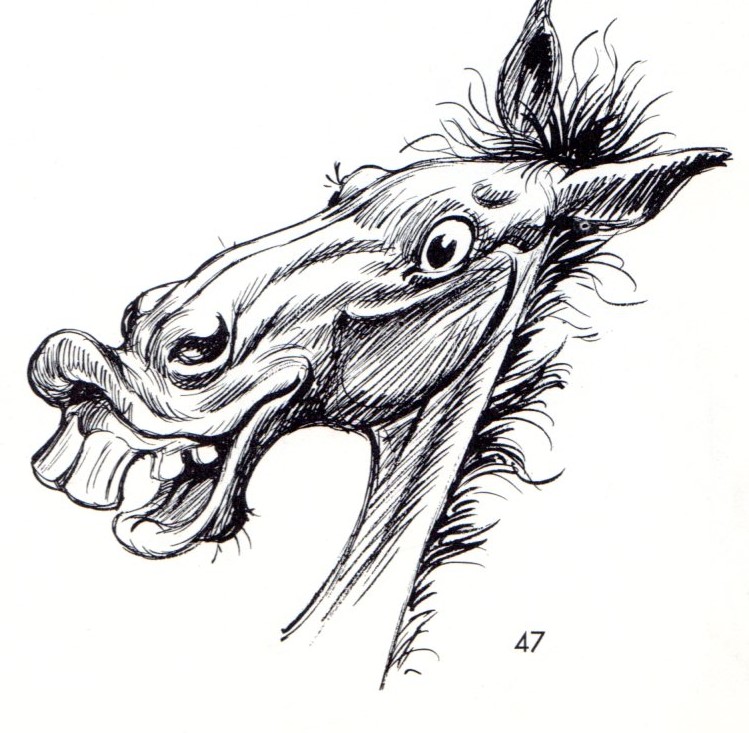 5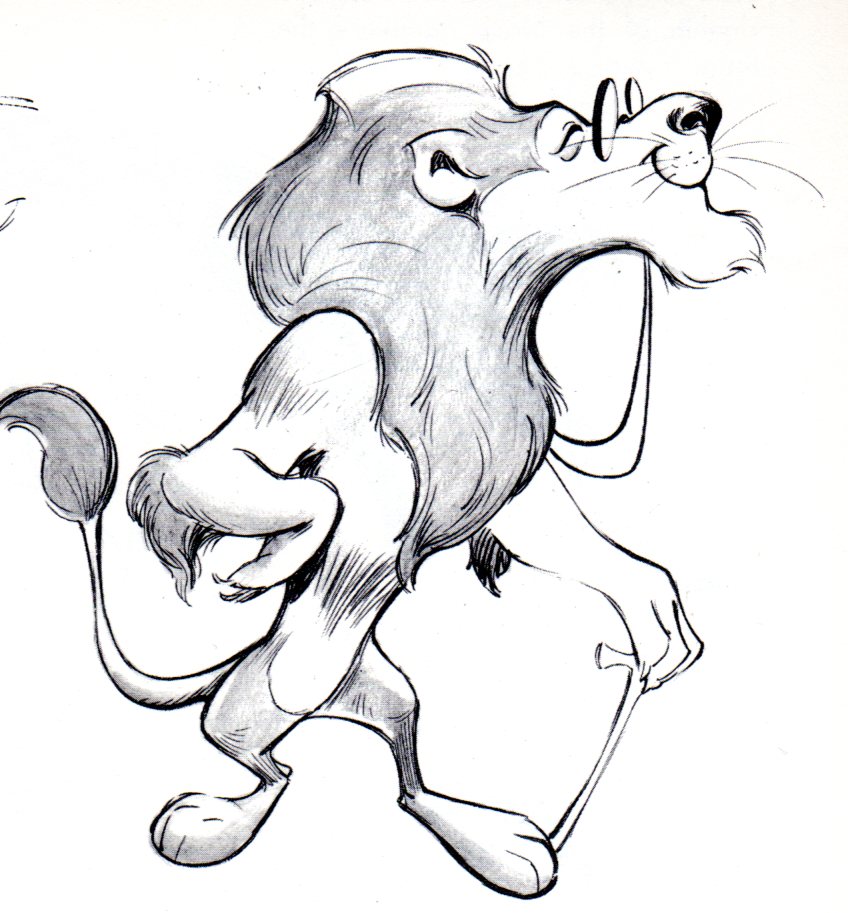 6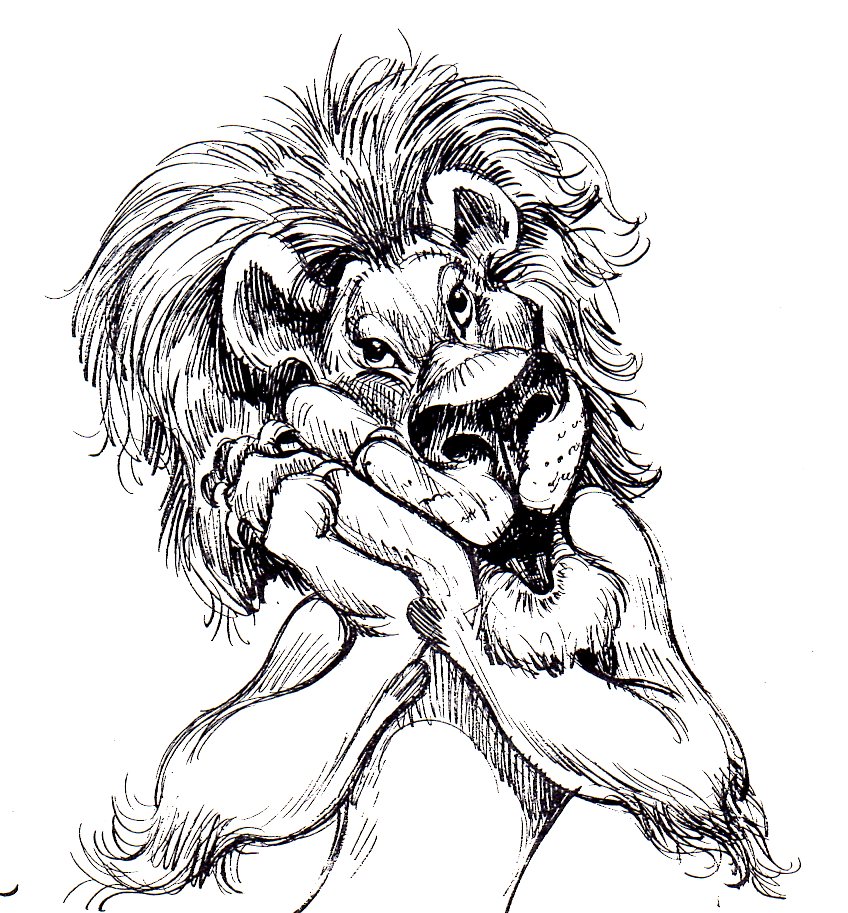 7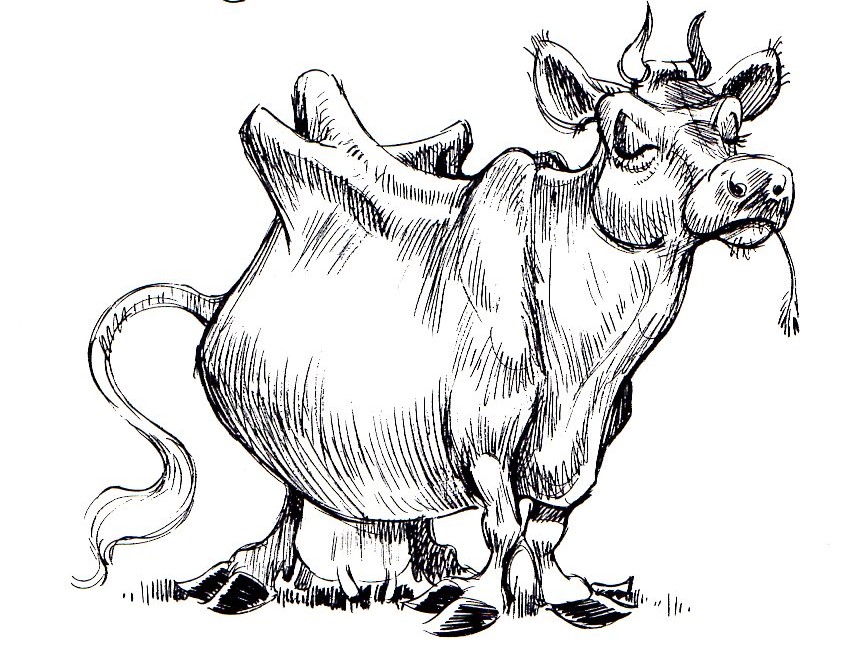 8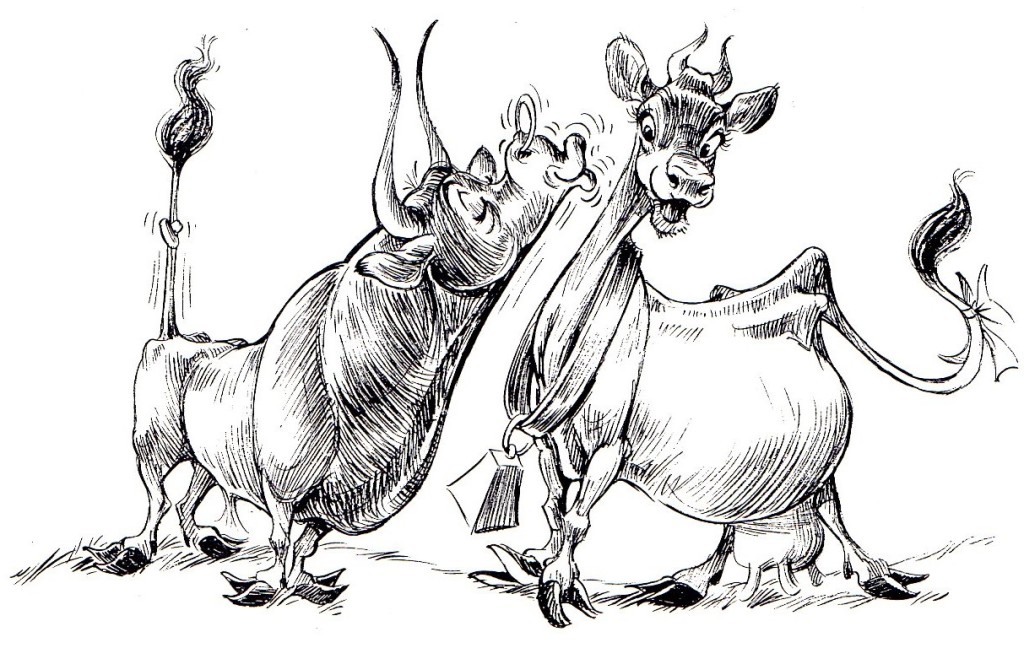 9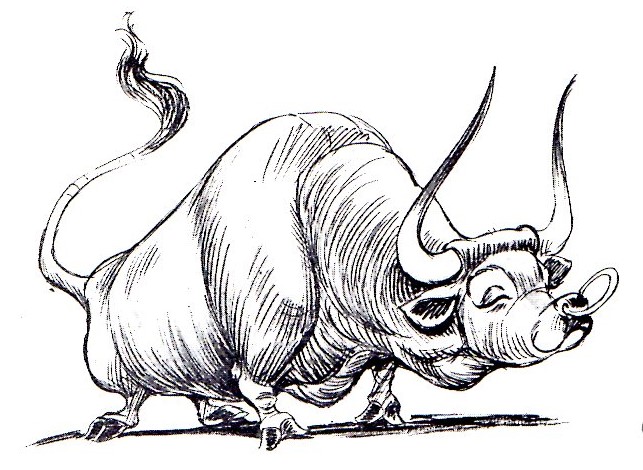 10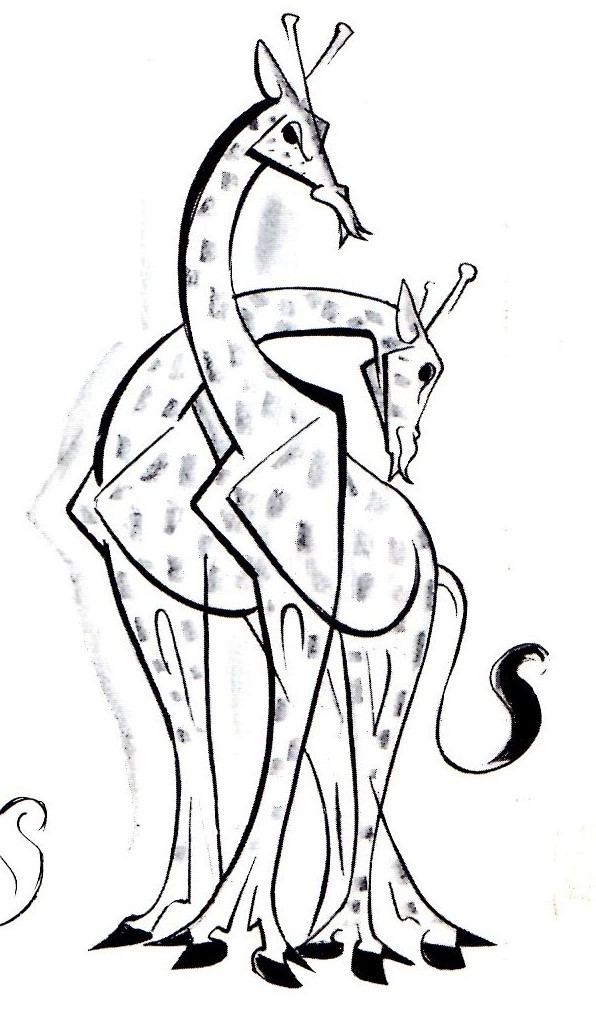 11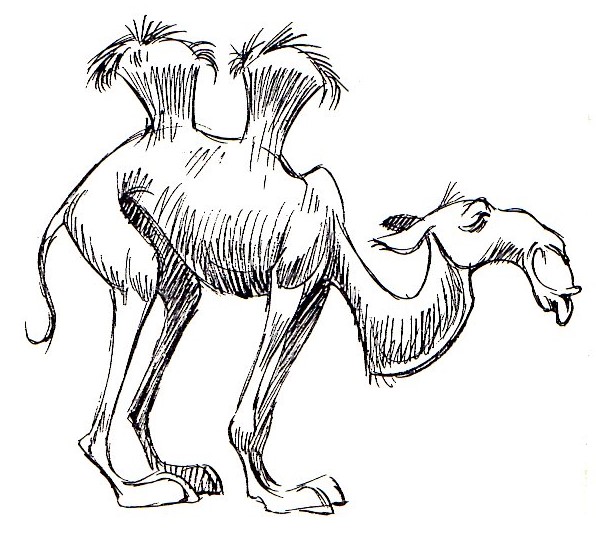 12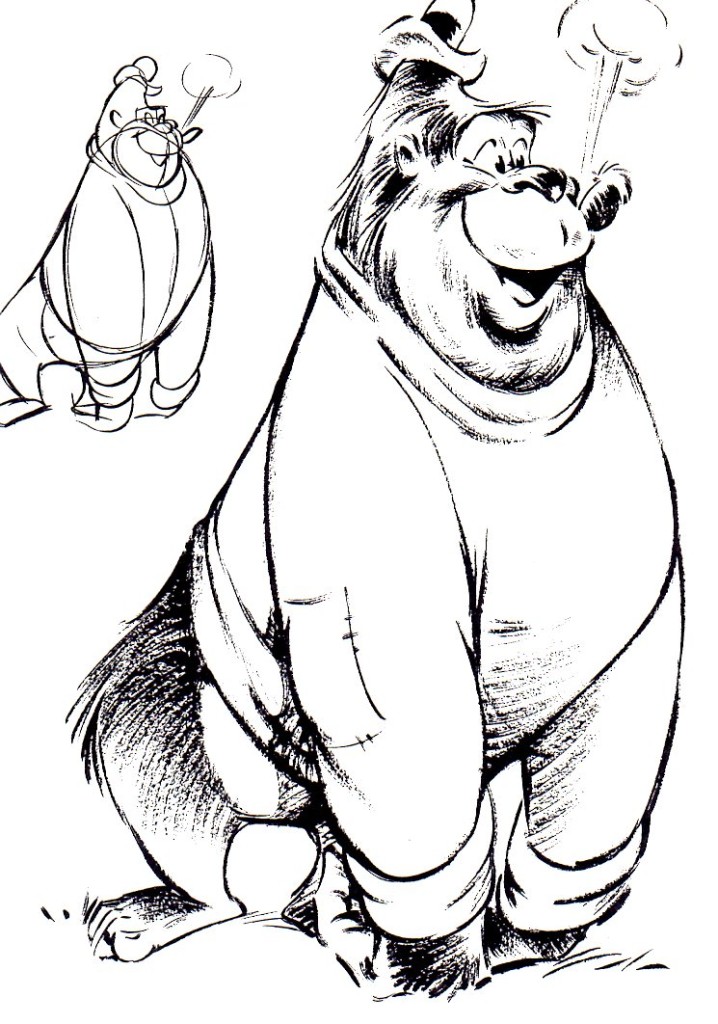 13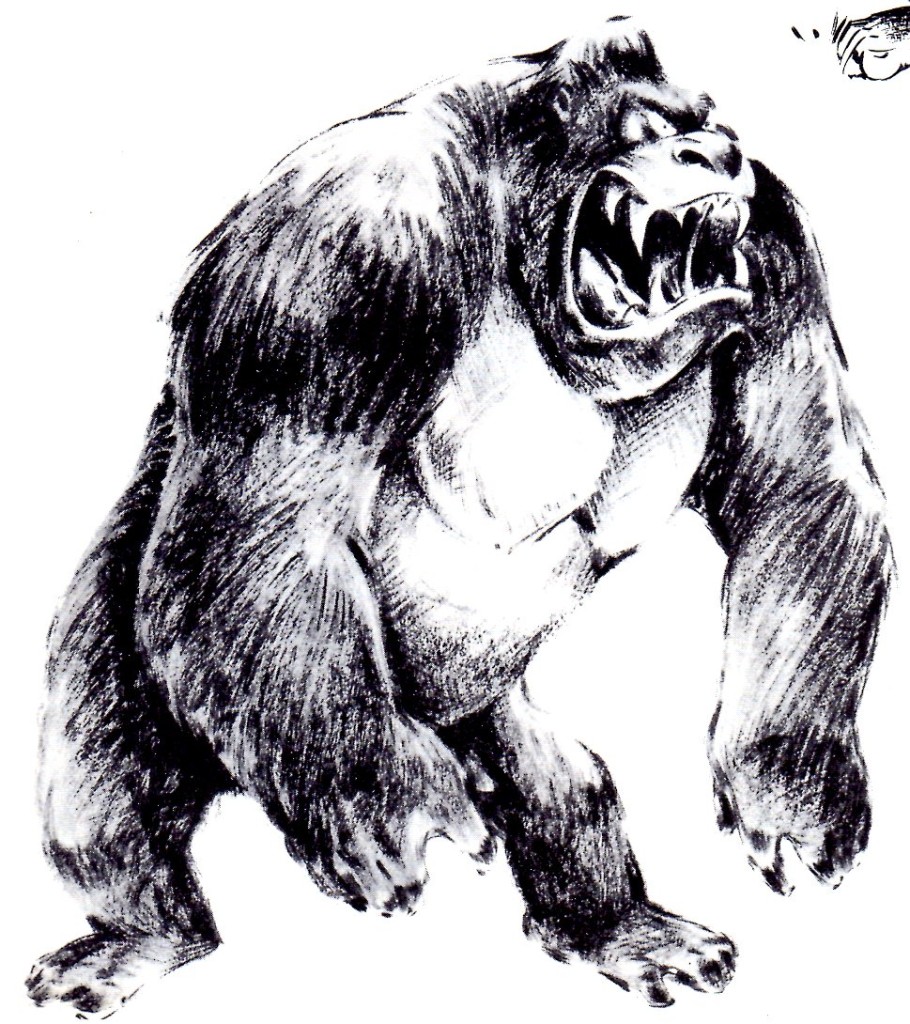 14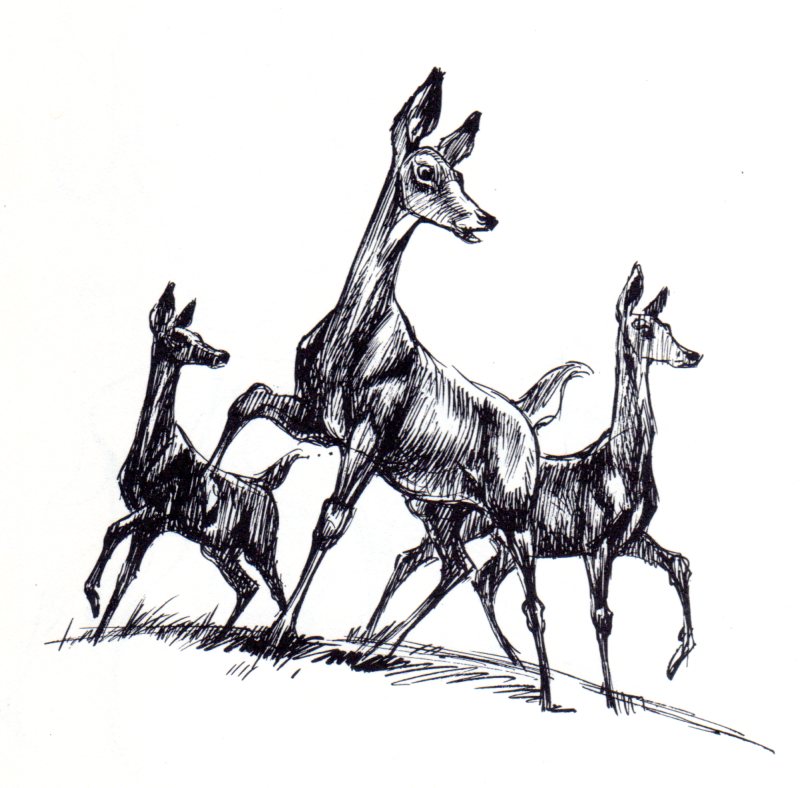 15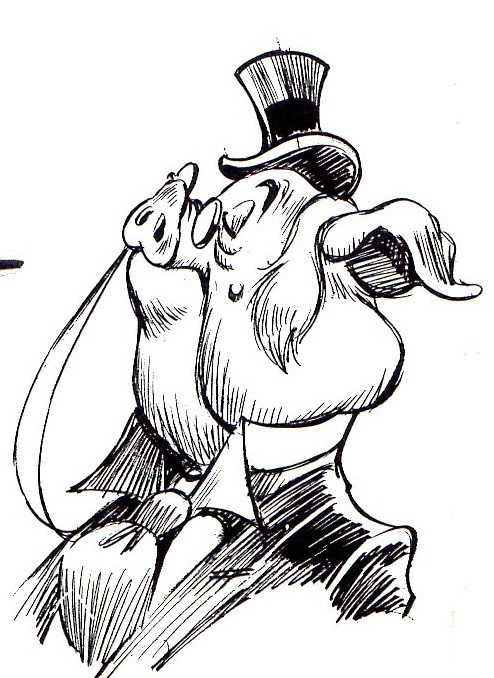 16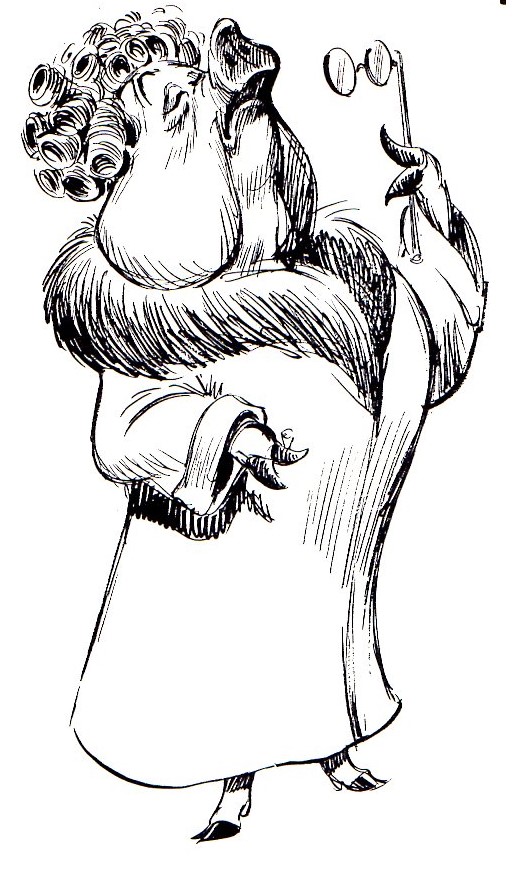 17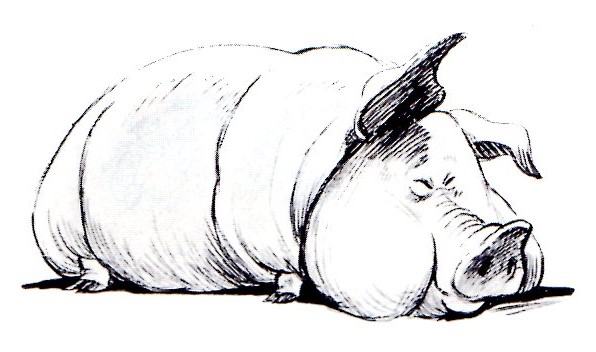 18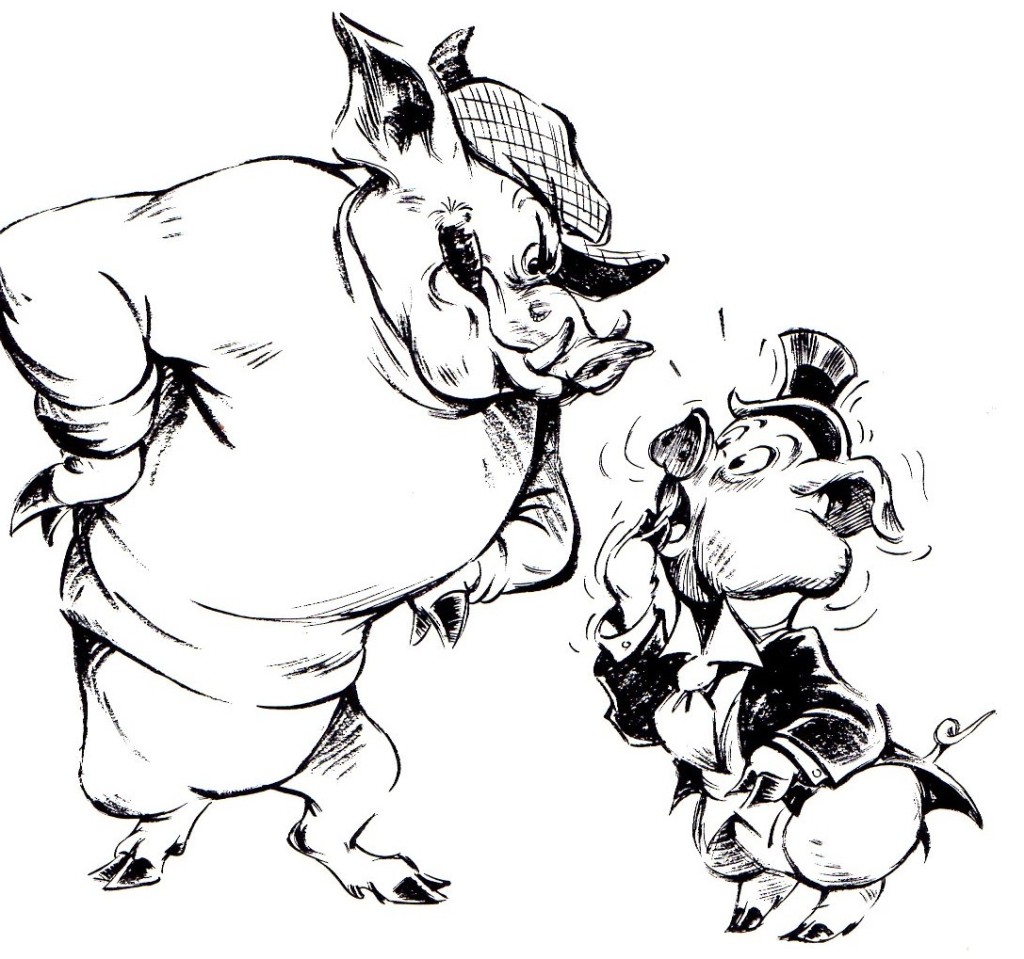 19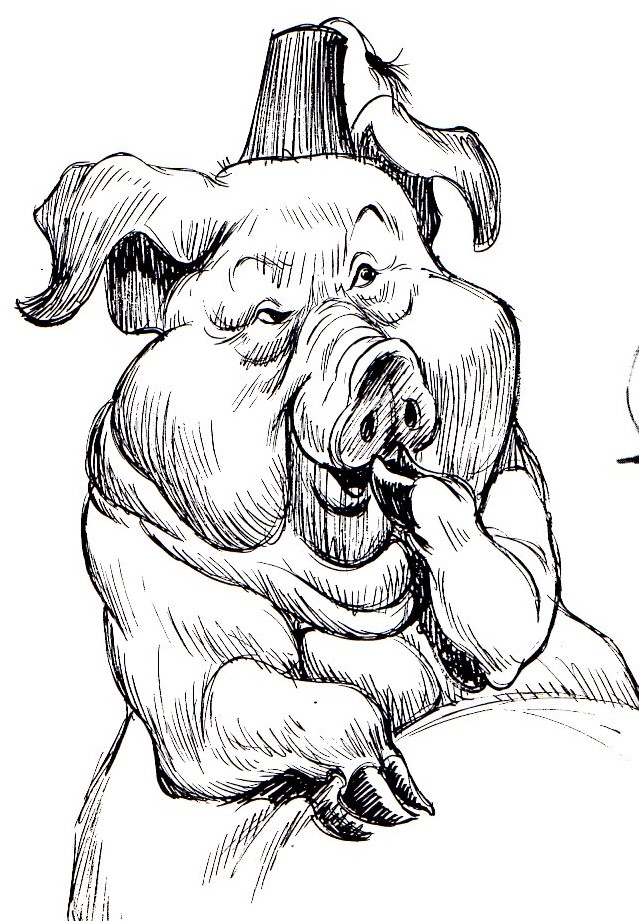 20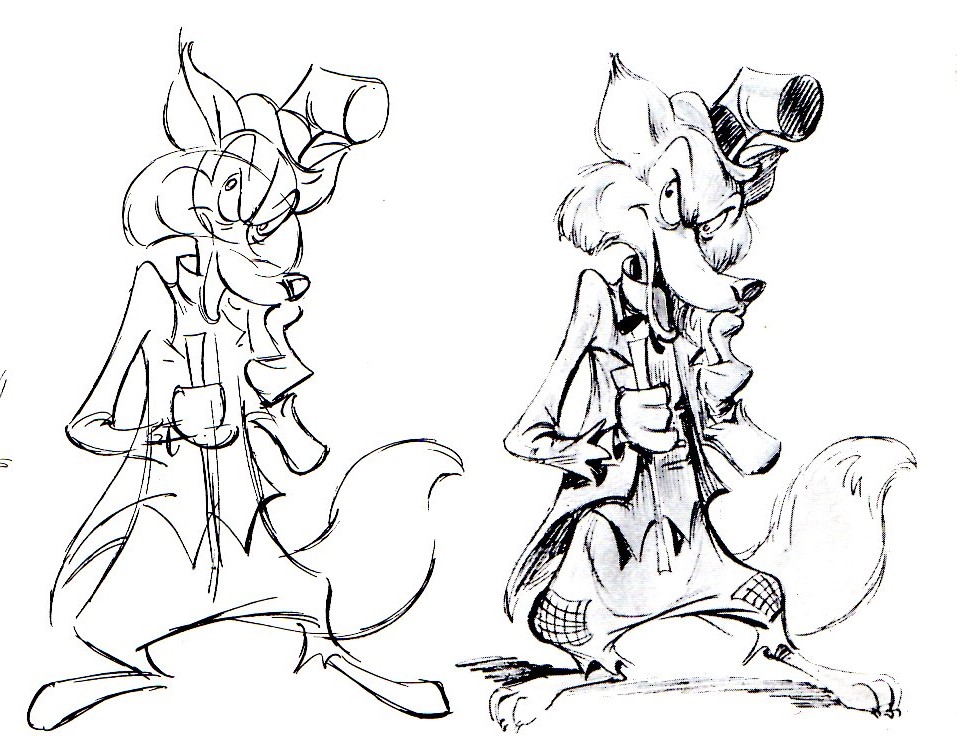 21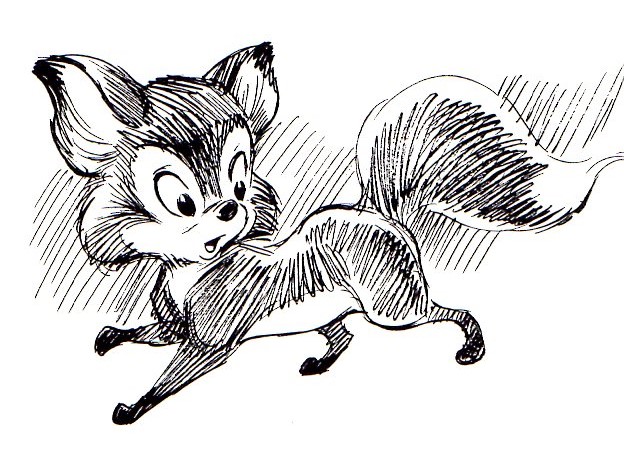 22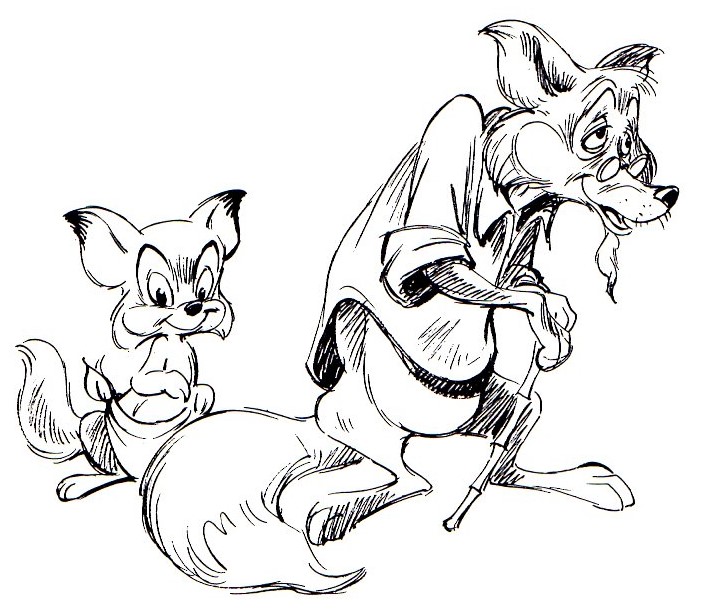 23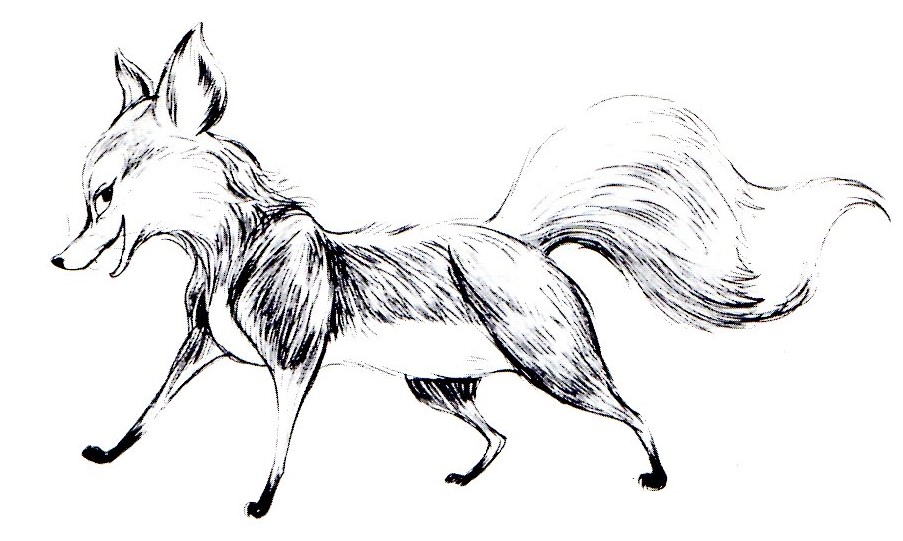 24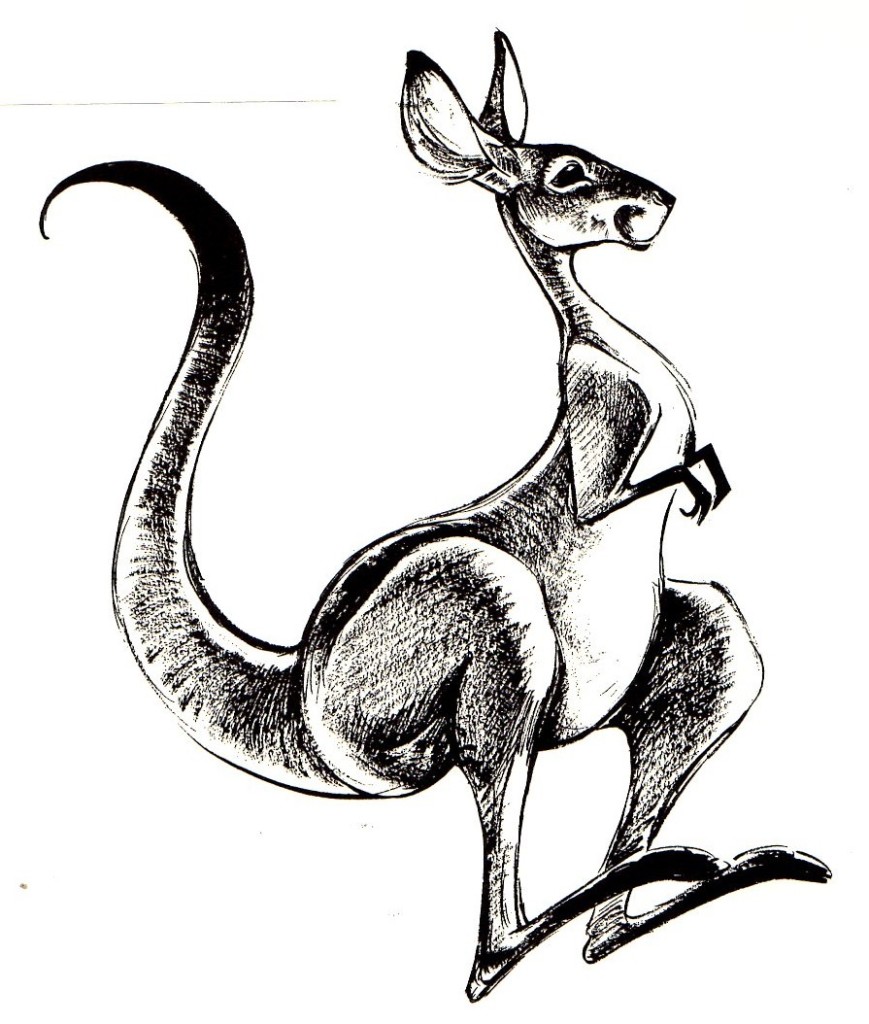 25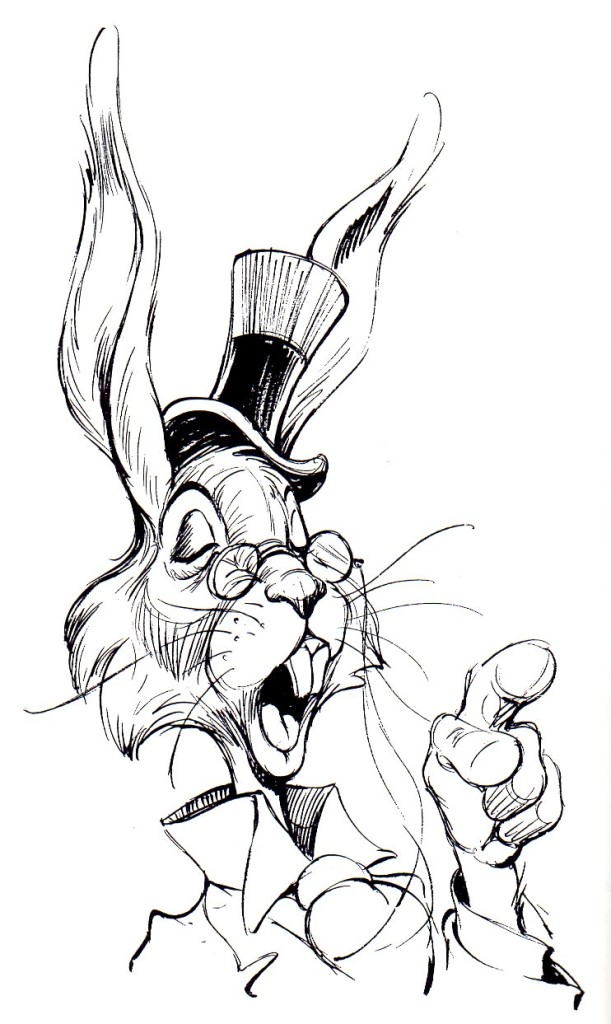 26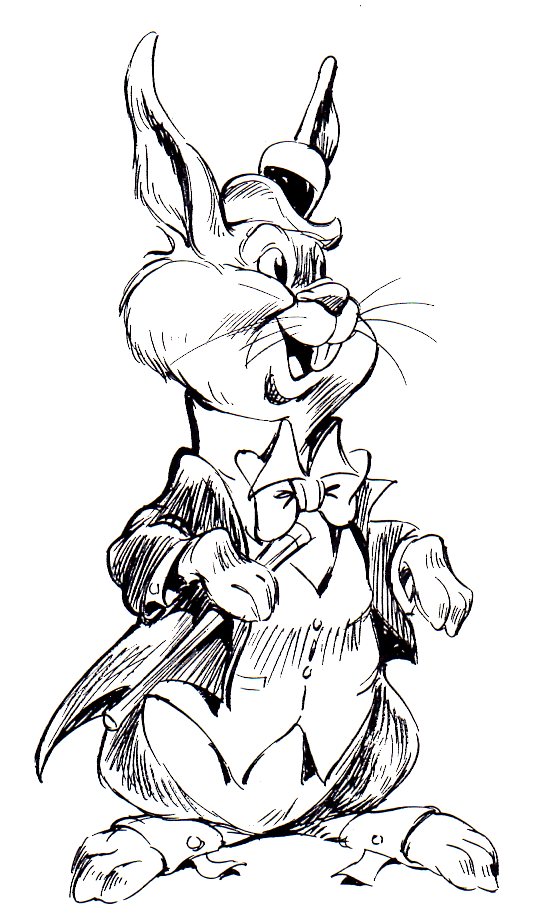 27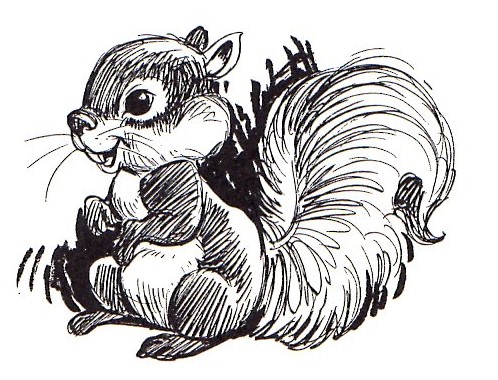 29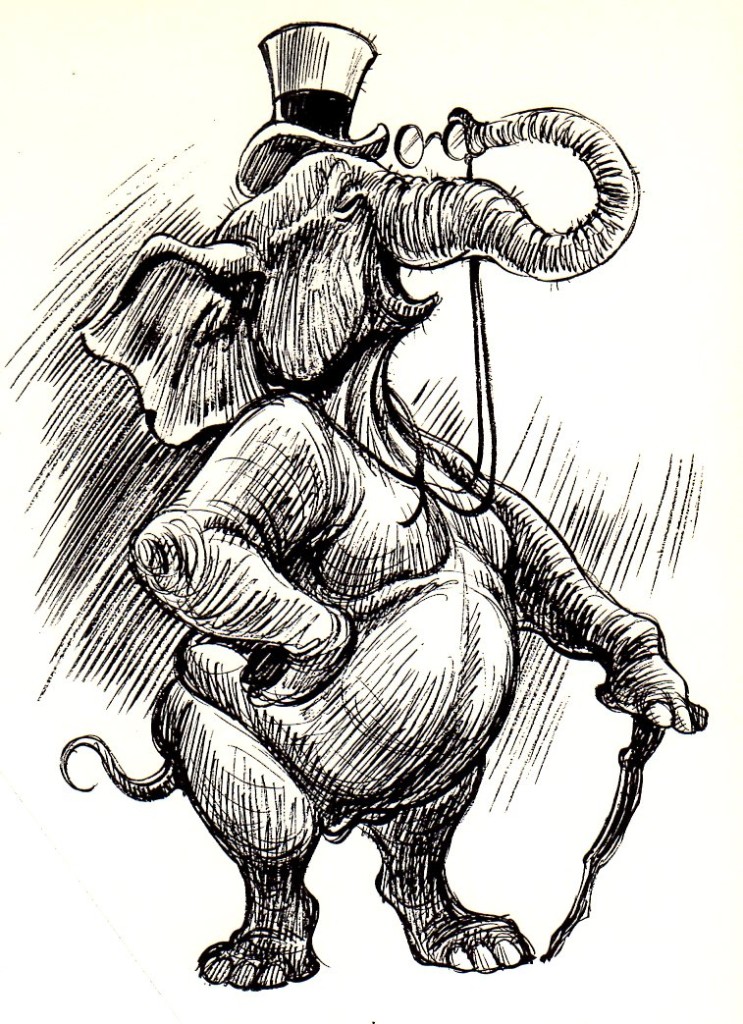 29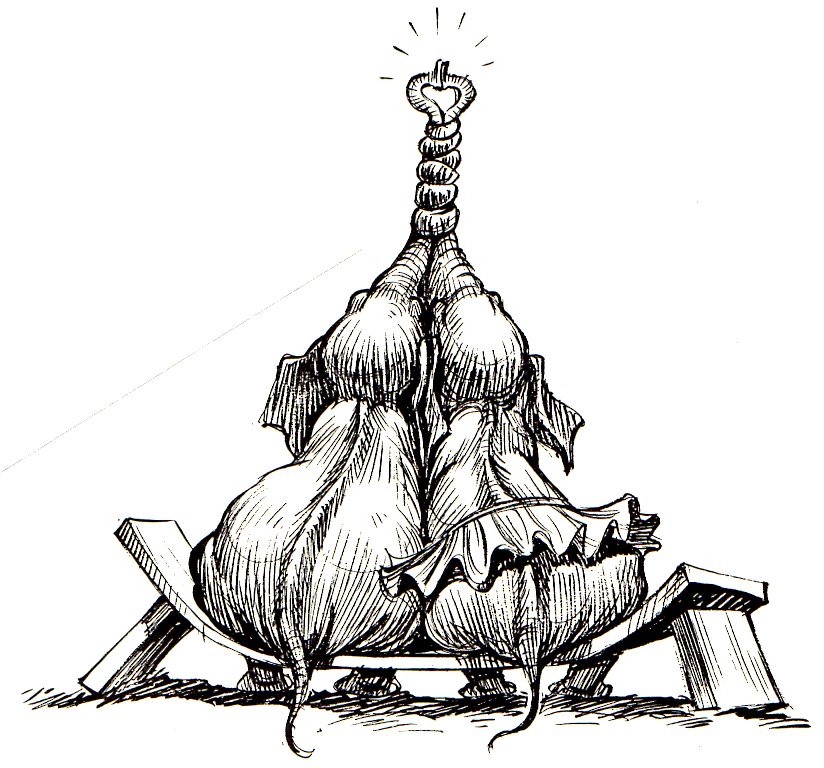 30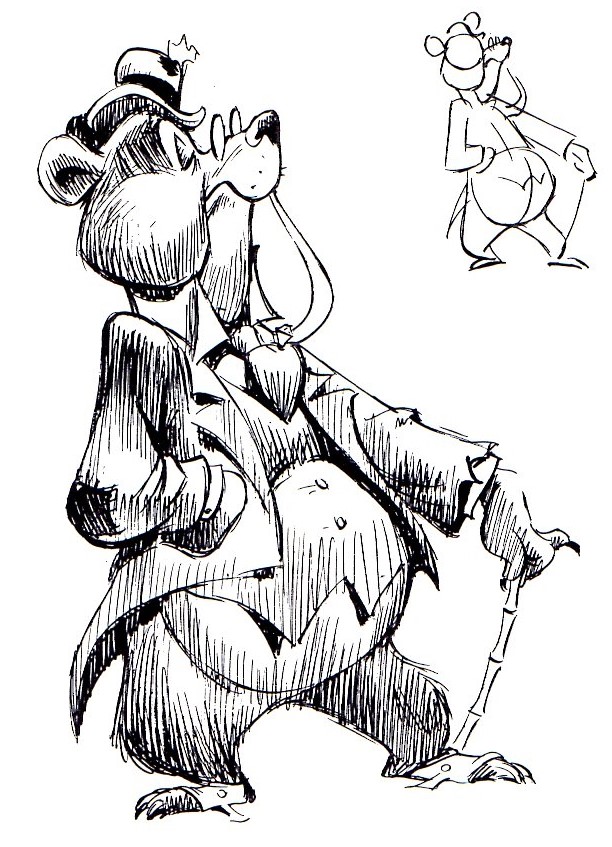 31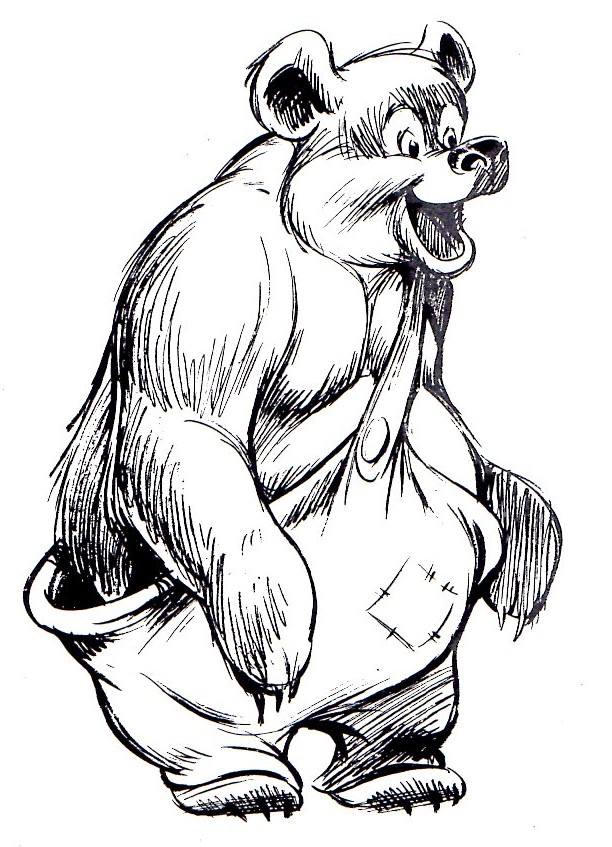 32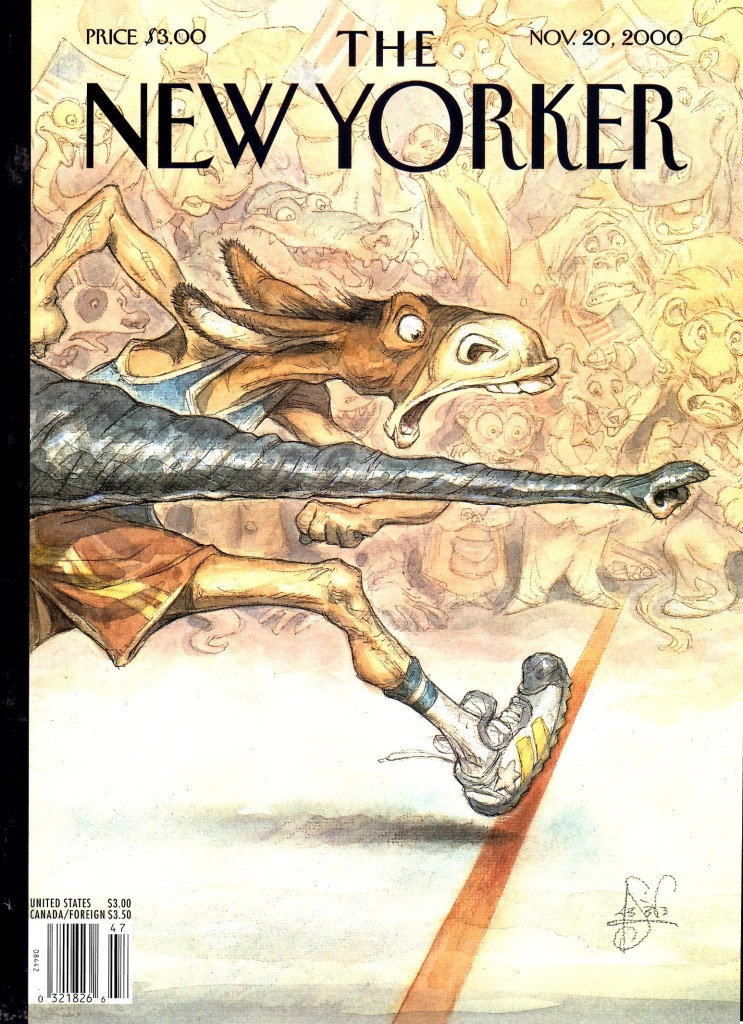 33
Animation &Animation Artifacts &Articles on Animation &Commentary &commercial animation &Independent Animation &Layout & Design 22 Jun 2013 05:13 am
A number of years ago I'd made a short trip to LA. During that visit, a man came up to introduce himself. It was John Wilson. He told me that he had just nominated me for an ASIFA Hollywood Award because he'd loved my work. I'd learned so much from watching Mr. Wilson's films that it was wonderful to see that the mutual admiration society ran both ways.
John Wilson died yesterday. His son, Andrew, wrote to tell me of it. My feelings go out to the family and am enormously sorry that animation loses another one of its masters.
He was a director, designer and animator about whom I'd done a series of posts on his career. Out of respect for Mr. Wilson, I'd like to post all of those articles together (and hold them there for the entire weekend.)
Hope you'll enjoy.
1.
Let me start by sharing some bio information about John Wilson and his company Fine Arts Films.
- John Wilson was born in Wimbledon in 1920. He attended the Royal College of Art and was working by age 18 as a commercial artist with Willings Press Service. In WWII he served with the London Rifle Brigade in African where he was seriously wounded. Recuperating in hospital, he drew many cartoons of which several were printed. Eventually he would recover and get work at Pinewood Studios in the art department where he worked on GREAT EXPECTATIONS and THE THIEF OF BAGHDAD, among other films.
By the time he was 25, he was working in animation at Gaumont-British Animation, a newly formed division of J. Arthur Rank's studio, working under the direction of David Hand on the "Animaland" series starring "Ginger Nut."
In 1950 he moved to the United States working in layout and animation at UPA. He found himself working with Bobe Cannon, Pete Burness, Jules Engel, and Paul Julian. Eventually he left for the Disney studio working in Les Clark's 'Tinkerbell' unit on PETER PAN and with Ward Kimball on TOOT WHISTLE PLUNK & BOOM.
He tried to sell Disney on the film Tara, the Stonecutter, but they weren't interested. He completed it himself in 1955 using a Japanese style to tell the story. Wilson was impressed with the UPA style of modern art in animation, and that's the route he took for his personal film. Thus his studio was born, called Fine Arts Films, in 1955. Tara had some success playing theatrically with the successful Japanese feature film, GATE OF HELL by Kinugasa (which had won the Oscar for Best Foreign Film.)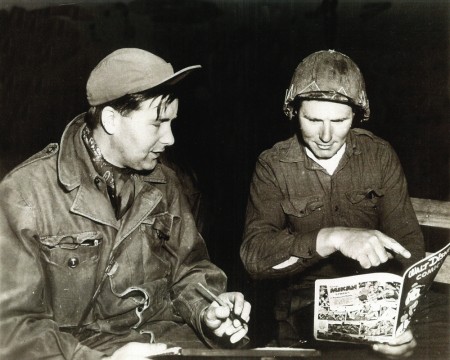 Wilson in Korea with the Bob Hope Tour to entertain the troops.
This film led to his producing a verion of Stravinsky's Petroushka for NBC which aired in 1956 as part of The Sol Hurok Music Hour. Notably, Stravinsky, himself, arranged and conducted the shortened version of the score suing the LA Philharmonic Orchestra. The film was designed by John Wilson and Dean Spille with anmation by Bill Littlejohn, Art Davis, and Phil Monroe. Chris Jenkyns, Dean Spille and Ed DeMattia designed the 16 minute show from Wilson's storyboard.
Fine Arts Films had produced 'Journey to the Stars', a project for the 1961 World's Fair, an animated voyage through space for NASA, which was seen in 70 mm Cinerama by ten million visitors to Seattle.
Billy Wilder employed Wilson to do the titles for Irma La Douce after which they did a six-minute trailer for this Jack Lemmon, Shirley McLaine feature. It was all about Parisian prostitutes romping about in Montmartre, and animation could apparently make it acceptable. Artists Ron Maidenberg, Sam Weiss, Sam Cornell and Bob Curtis caught the vivid nightlife of Paris in a sexually charged animated short. It was a huge success in promoting the feature.
In 1970 Wilson flew to Chicago to see Carol Channing and Eddie Bracken appearing in "archy and mehitabel in Shinbone Alley". On the basis of this theatrical musical, Wilson bought the screen rights to the book "archy and mehitabel" by George Herriman and began work on an animated feature which was released by Allied Artists in 1971.
Fine Arts Films was also responsible for many animated commercials as well as weekly music video segments for the weekly CBS-TV series "The Sonny and Cher Show." The songs included Joni Mitchell's "Big Yellow Taxi" and Jim Croce's "Leroy Brown."
Here are some storyboard sketches by John Wilson for his initial short film, Tara, the Stonecutter. This film started it all for Wilson.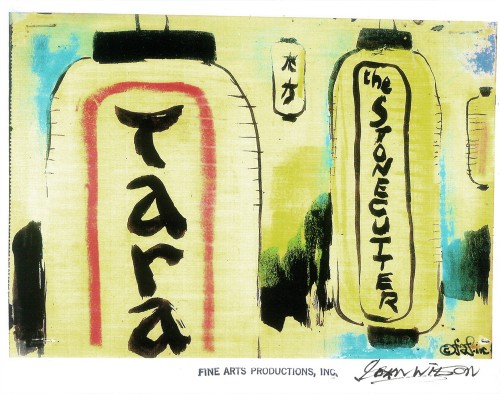 1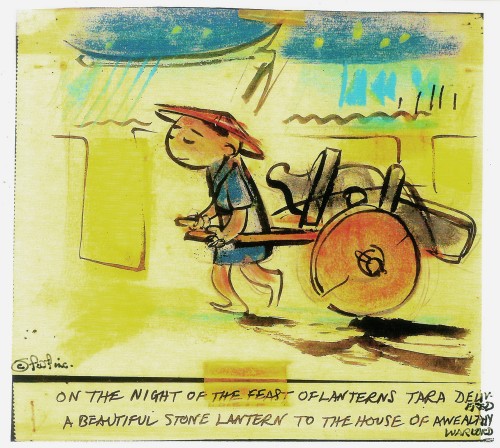 2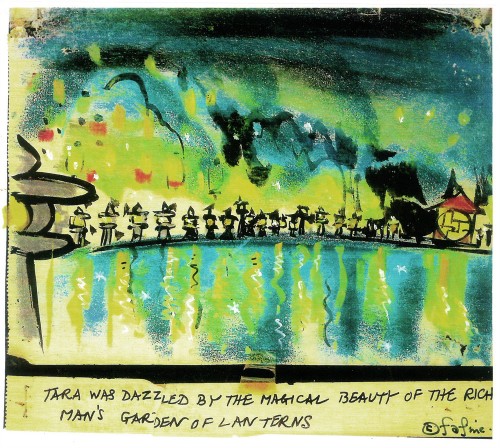 3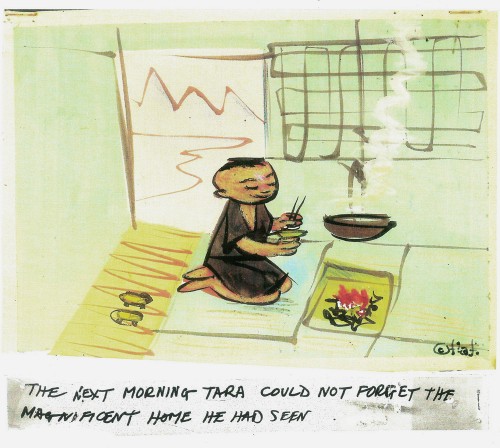 4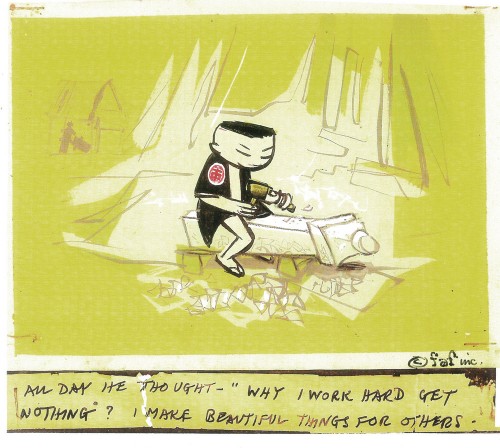 5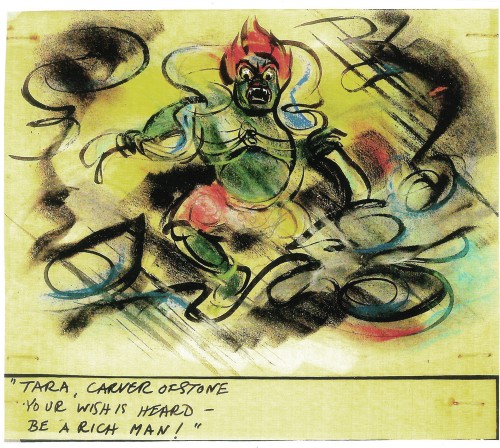 6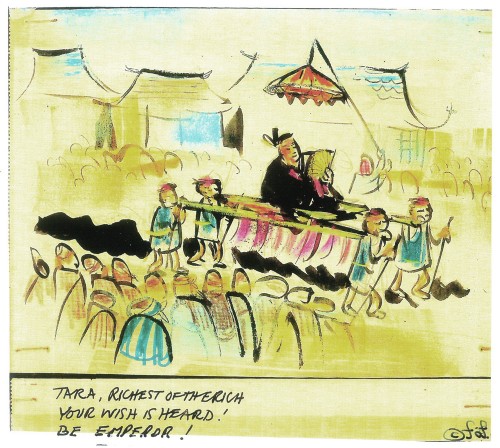 7

I haven't seen the finished film, but I understand that Japanese decorative papers were used in the backgrounds and costumes of the characters.
Here are two press clippings for this film from California papers.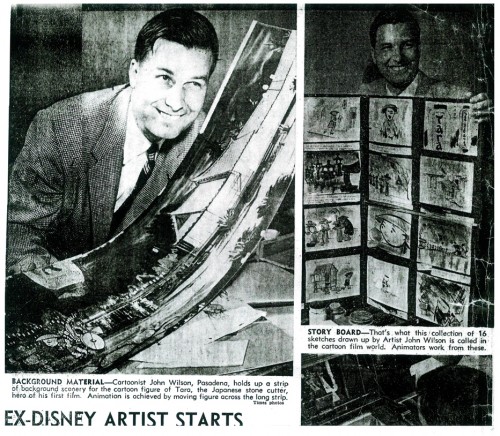 (Click any image to enlarge.)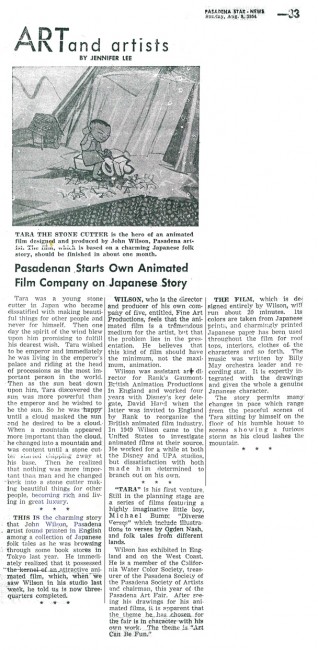 2.
- After completing the film, Tara the Stone Cutter in 1955, John Wilson and his newly formed company,Fine Arts Films, was able to sell the idea of an animated version of Stravinsky's Petroushka to NBC. They aired the 16 min. film in 1956 as part of The Sol Hurok Music Hour. Stravinsky, himself, arranged and conducted the shortened version of the score using the LA Philharmonic Orchestra.
The film was designed by John Wilson and Dean Spille; animation was done by Bill Littlejohn, Art Davis, and Phil Monroe. Chris Jenkyns, Dean Spille and Ed DeMattia designed the show from Wilson's storyboard. This is considered the first animated Special ever to air on TV.
Here are some stills from that film and its artwork.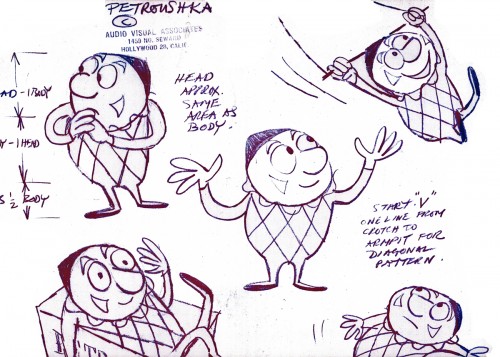 1
Petroushka – model 1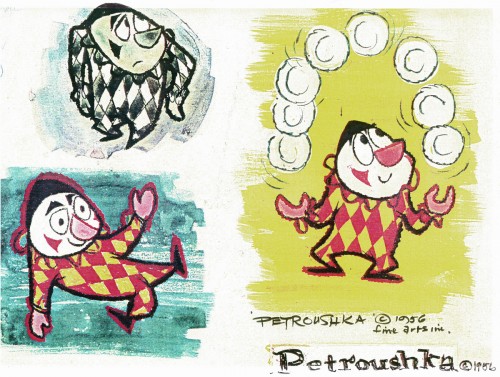 2
Petroushka – model 2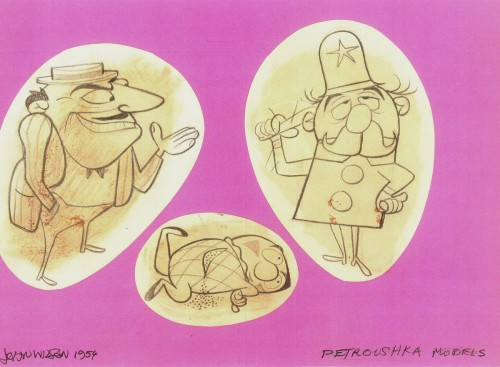 3
Petroushka – model 3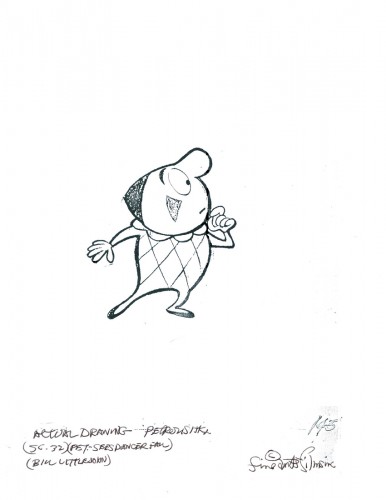 4
Bill Littlejohn drawing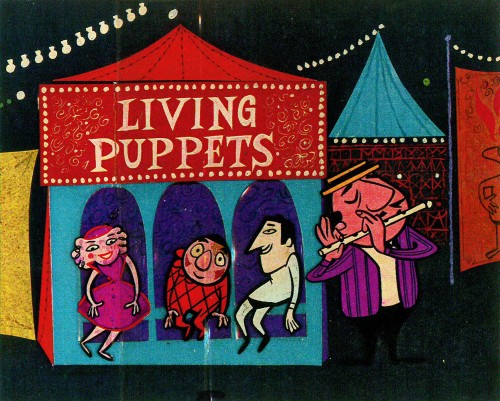 5
film still #1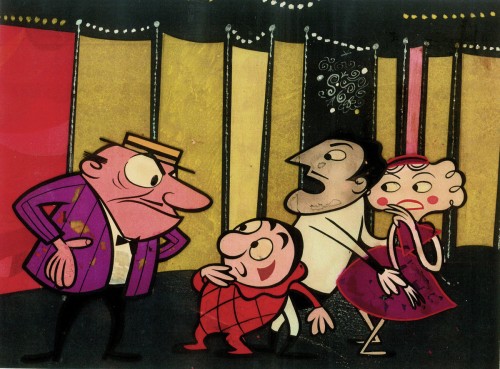 6
film still #2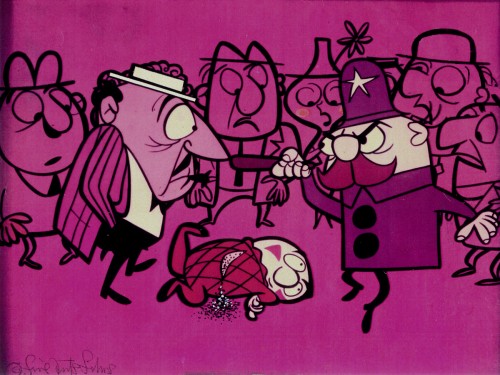 7
film still #3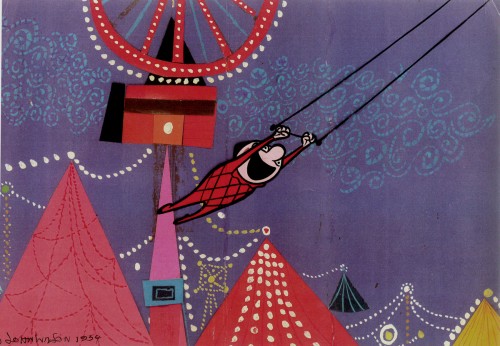 8
film still #4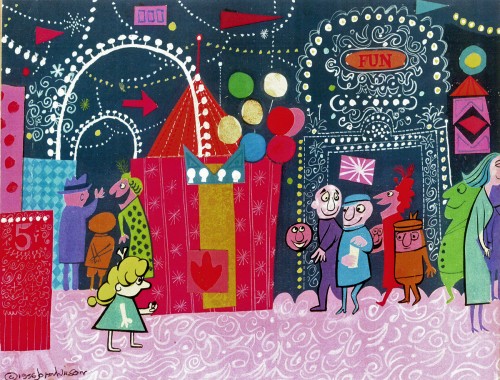 9
film still #5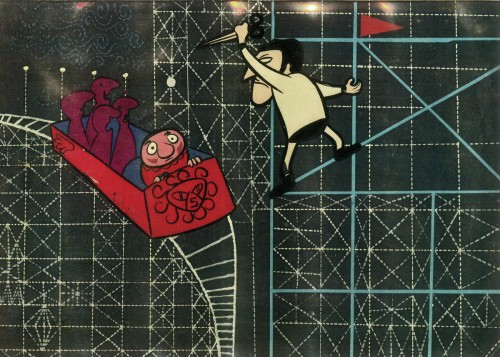 10
film still #6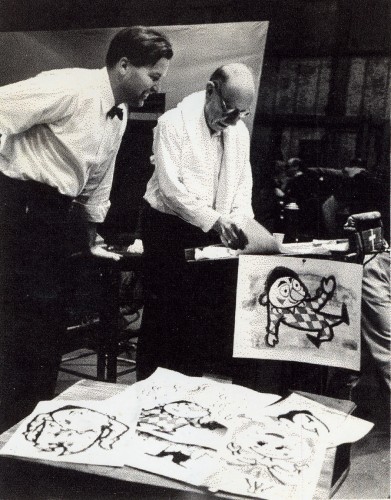 11
John Wilson and Igor Stravinsky preparing for recording of Petroushka
with the Los Angeles Philharmonic Orchestra (1955).

Here are copies of two reviews: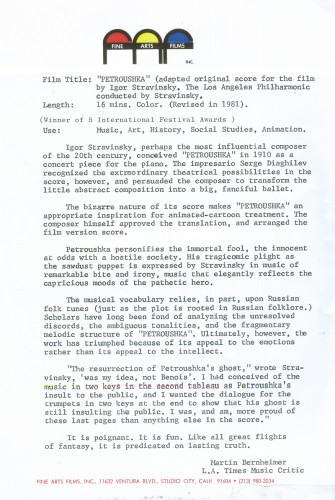 Los Angeles Time review (1956)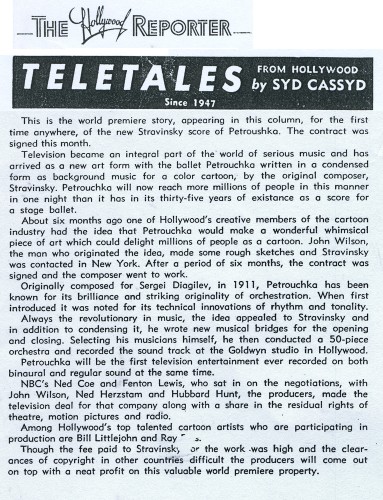 Hollywood Reporter review )1956)
(Click any image to enlarge.)

Petroushka was released on VHS tape combined with a number of the song pieces he did for the Sonny and Cher program. This tape, John Wilson's Fantastic All Electric Music Movie, can still be found on Amazon but is pricey.
Thanks to Amid Amidi for the loan of this material.
3.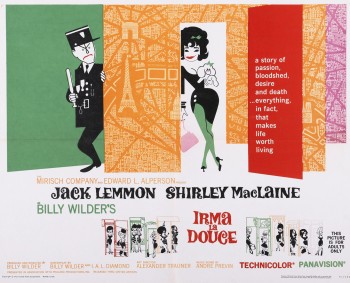 Irma La Douce was a racy film written and directed by Billy Wilder that starred Shirley MacLaine as a Parisian prostitute and Jack Lemmon as a French policeman who falls in love with Irma (Shirley MacLaine.) The film, for its time was daring, and came up with (heaven forbid) a "C" for Condemned rating from the Catholic church. This made it off limits for anyone under the age of 18. I was determined to go see the film, so I ignored the ban and went by myself. Naturally enough, no one tried to stop me. I wasn't jaded by the movie anymore than I had been disturbed by the violence in all the Warner Bros. cartoons I'd seen. Looking back on Irma La Douce, it really is an innocent film, hardly risqué in any way shape or form.
The film started with some nicely drawn animated credits which were done by John Wilson's studio. Until recently I hadn't known that Wilson also produced an animated short promoting the feature for the Mirisch Company. I have some preproduction art from that short as well as the color storyboard. The board is large enough that I've decided to break it into two parts. We'll see part one today and the second part next week.
Each section of three images is long enough that unless I post one drawing at a time, it'll be too tiny to see unless enlarged. I'd like to post each storyboard sketch a nice viewing size and still give you the option of enlarging it.
Let's start with some production and post production stills so you can see what it looked like.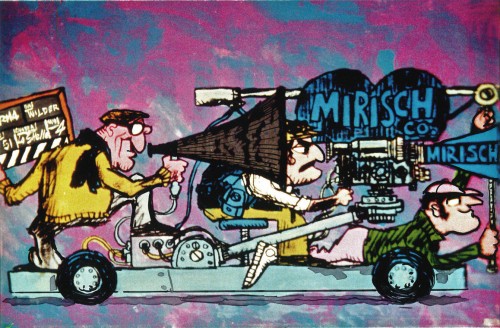 1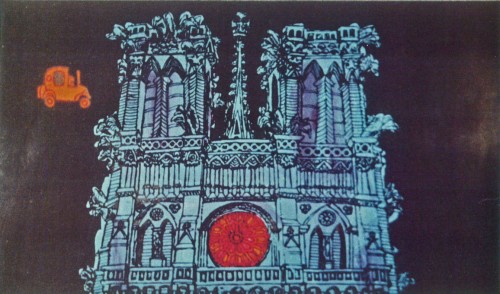 2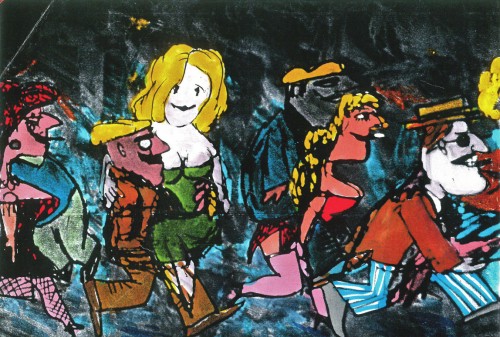 3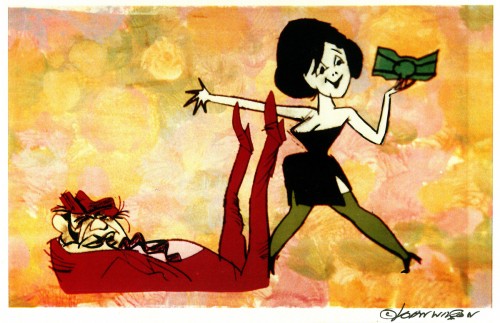 4
A couple of pre-production drawings: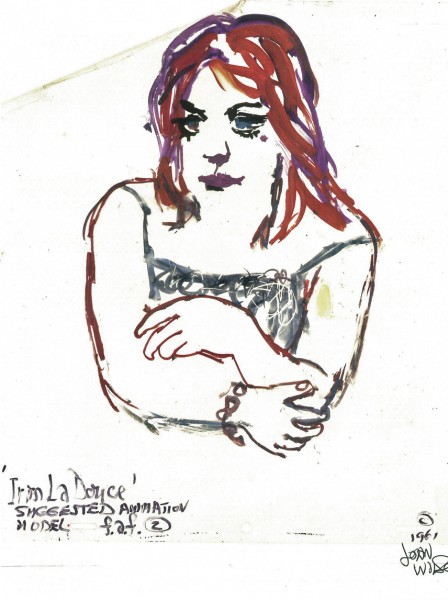 1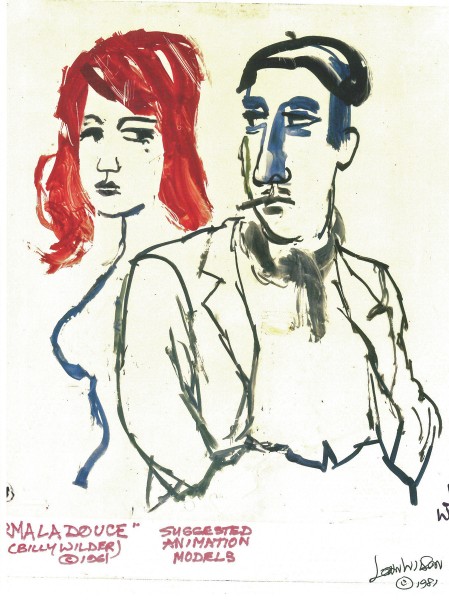 2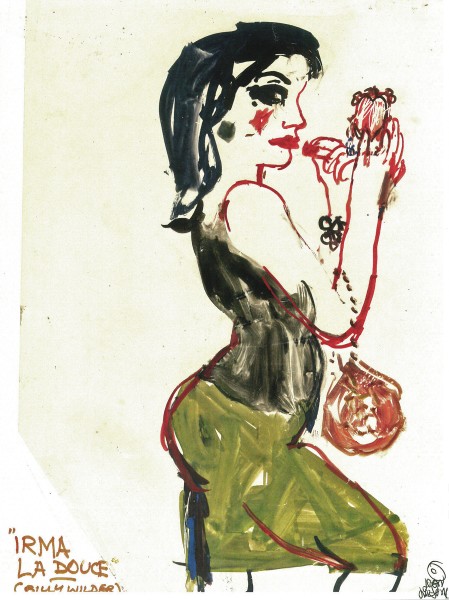 3

Then, there's the storyboard. I'll give an example of the three panel pull out and follow that with each individual image.


You can see why I've decided to enlarge the images.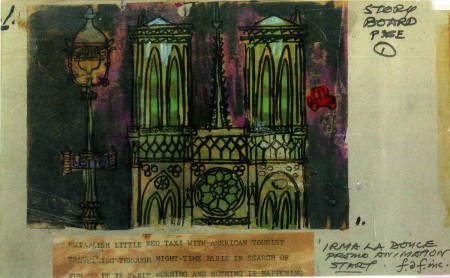 1a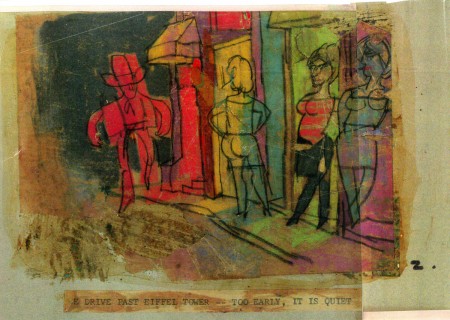 1b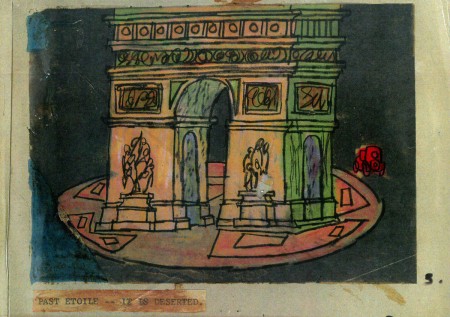 1c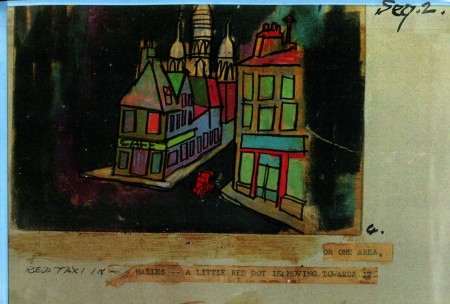 2a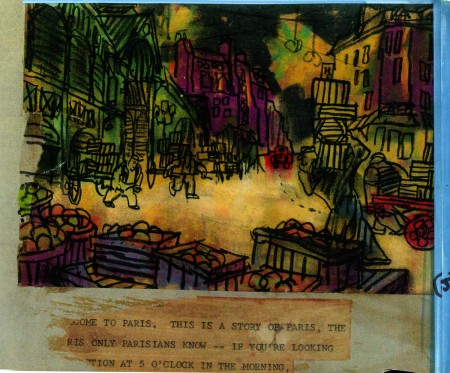 2b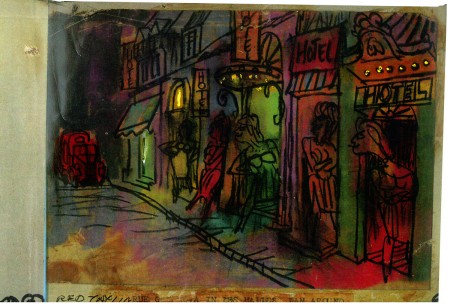 2c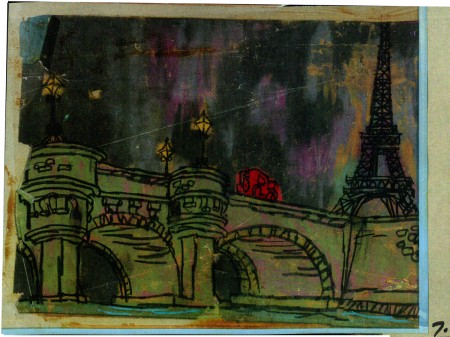 3a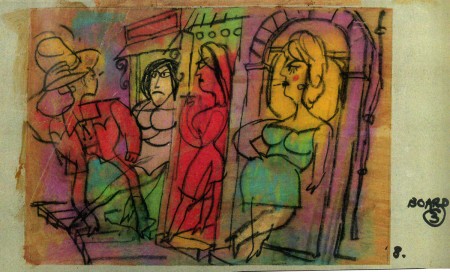 3b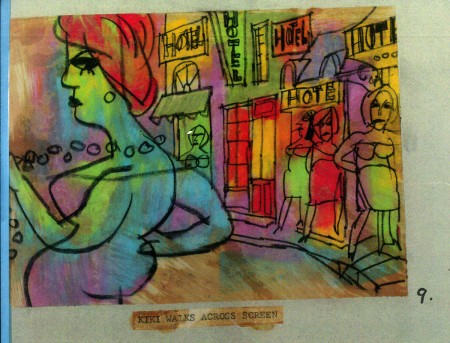 4a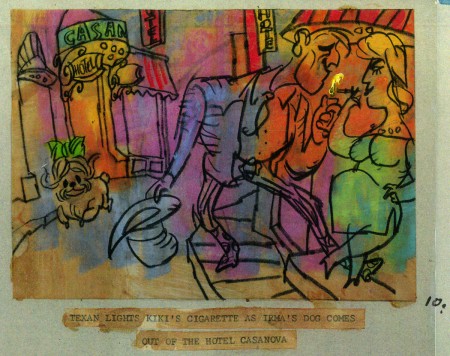 4b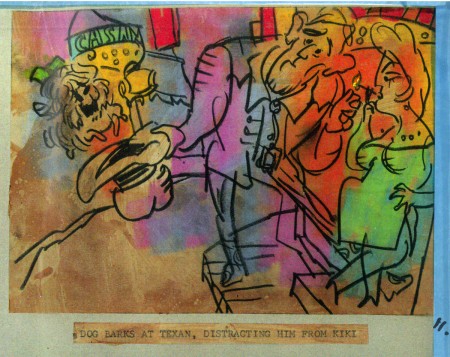 4c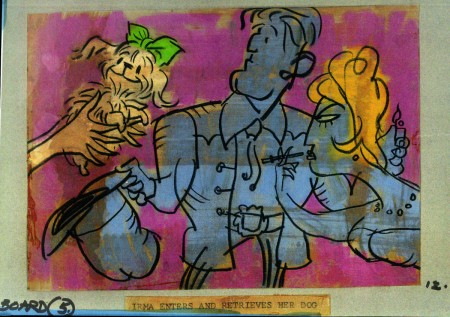 5a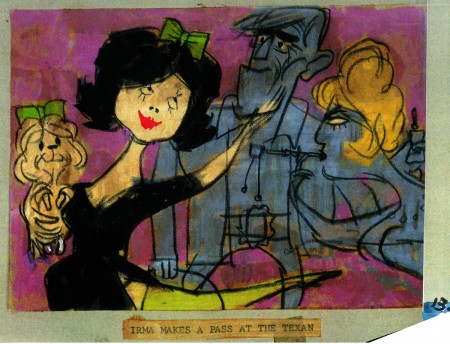 5b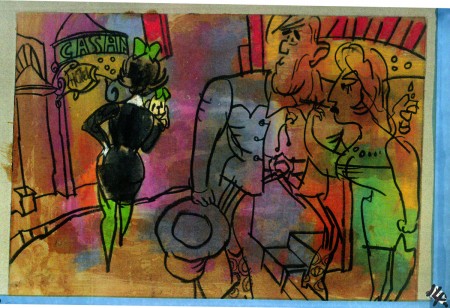 5c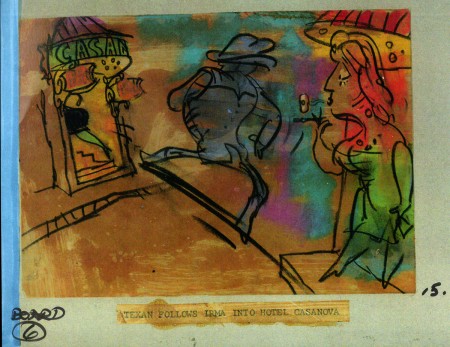 6a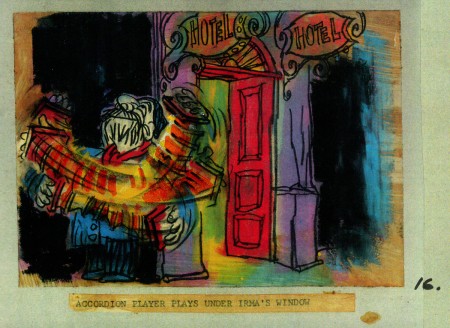 6b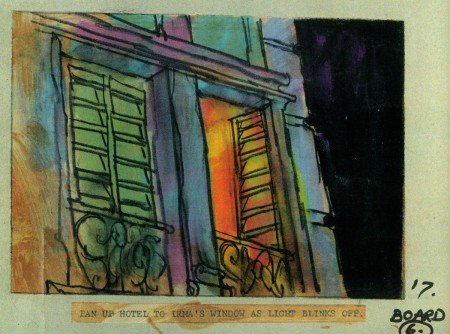 6c

4.
John Wilson created this storyboard for the Mirisch Corp. It was an animated trailer to promote Billy Wilder's coming film, Irma La Douce. The board comes in 18 pages of three storyboard drawings. Rather than post the sets of three images (and only being able to show them at a smallish size) I've taken each individual drawing and have blown them up to see them better on this blog.
Again, these were for a lengthy trailer for the film not the opening credits. The film's credits do not use animation.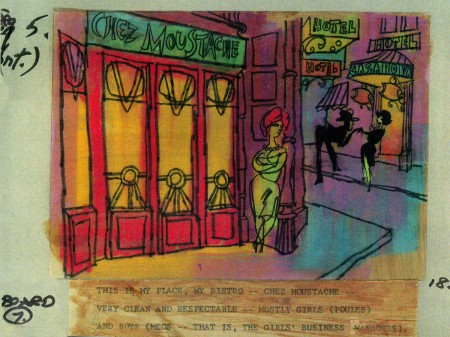 7a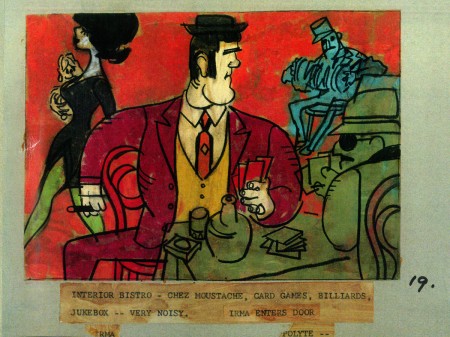 7b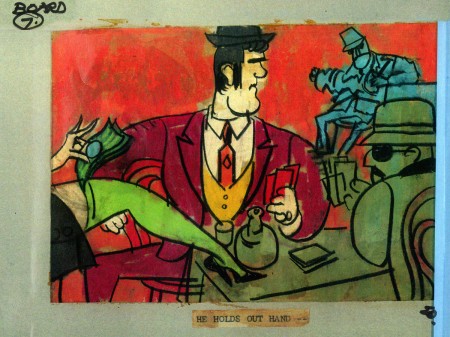 7c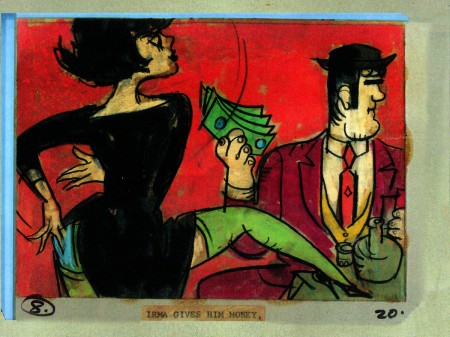 8a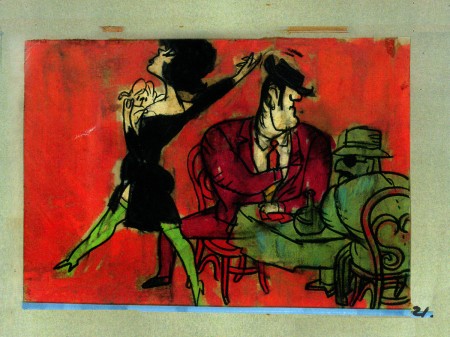 8b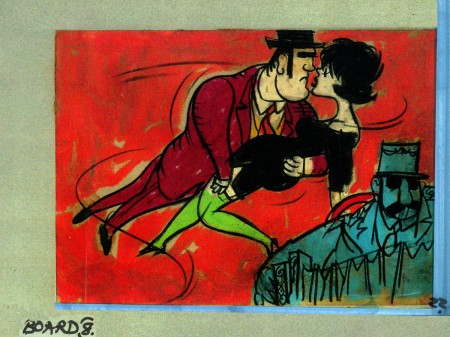 8c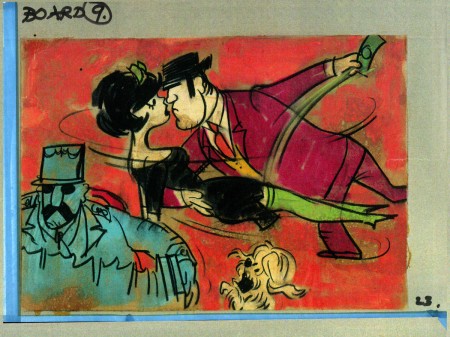 9a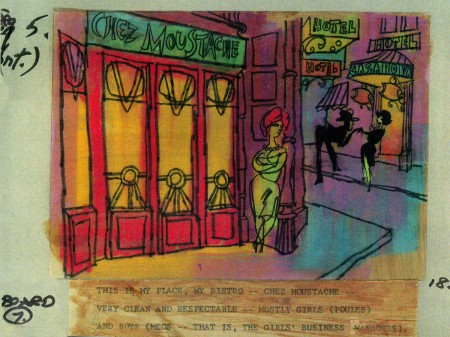 9b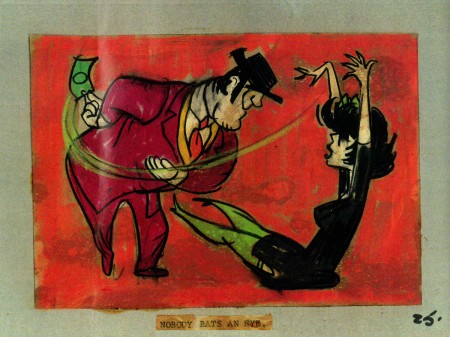 9c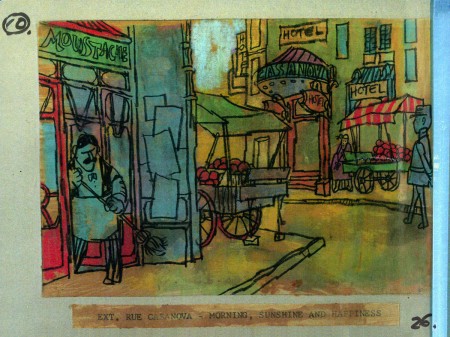 10a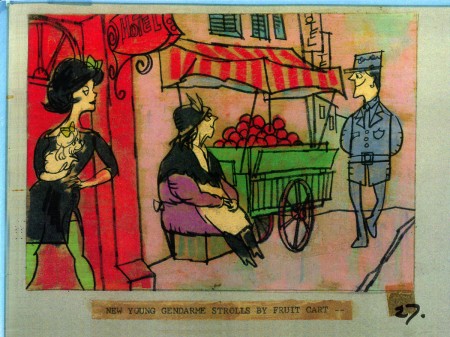 10b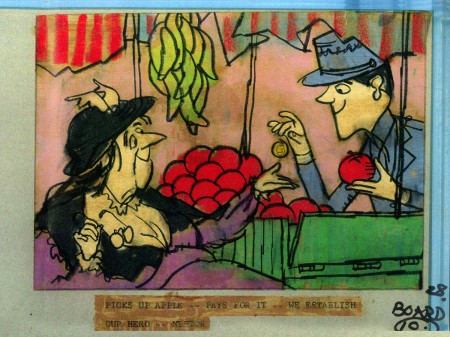 10c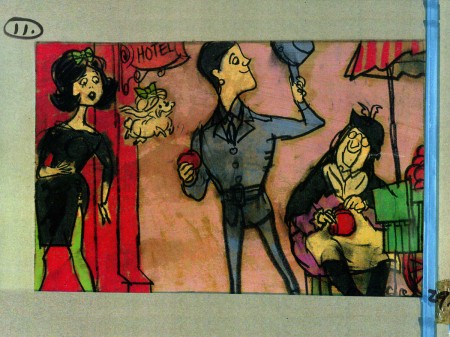 11a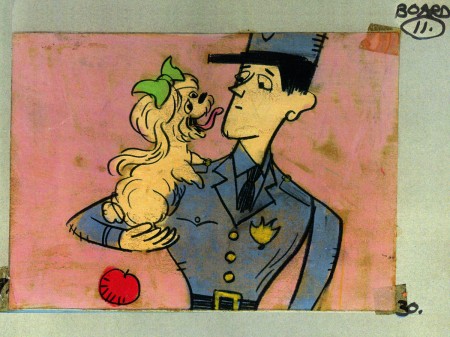 11b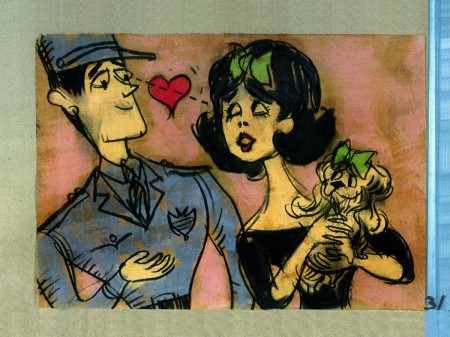 11c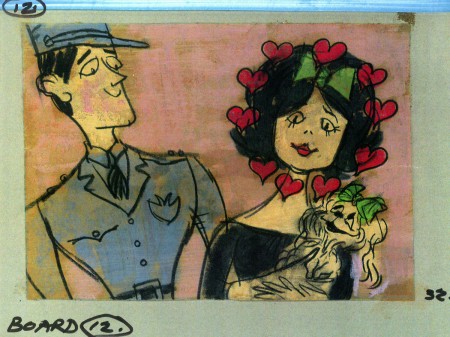 12a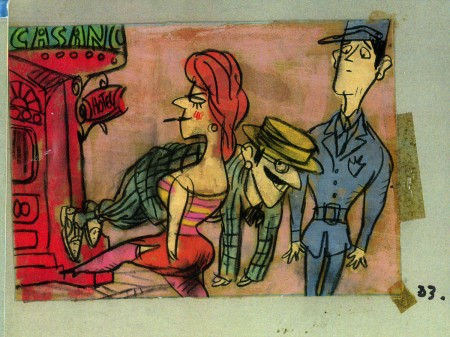 12b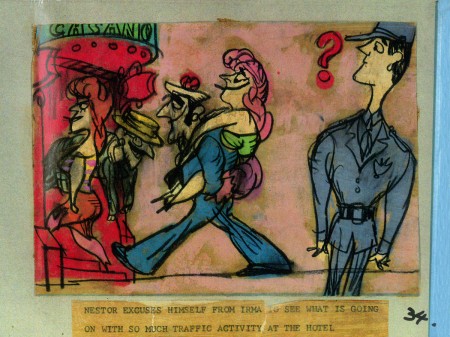 12c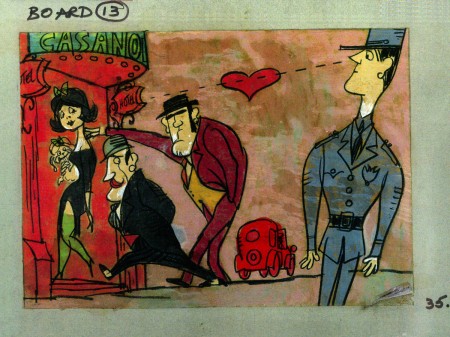 13a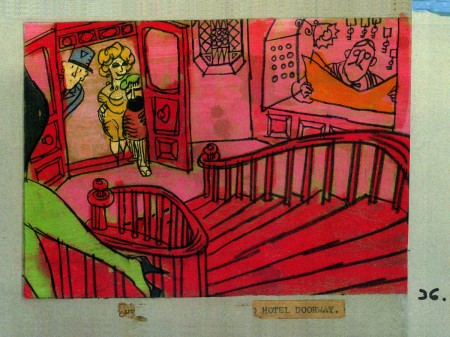 13b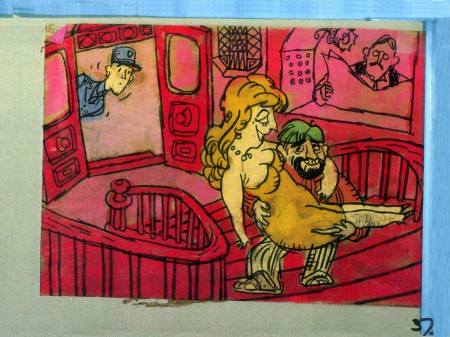 13c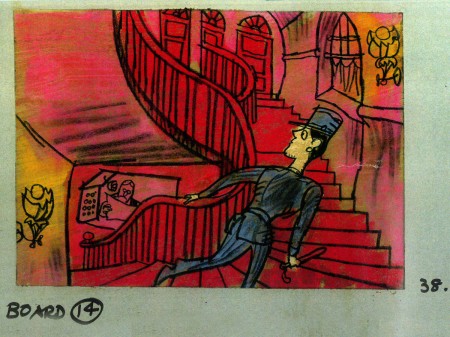 14a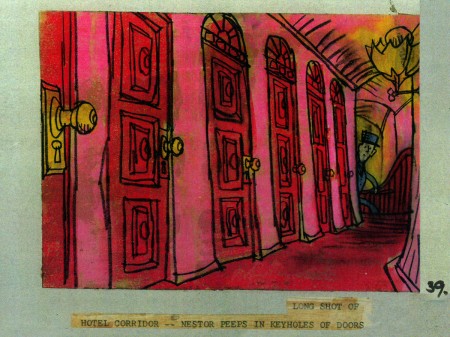 14b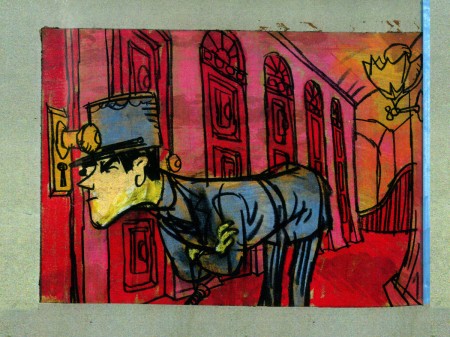 14c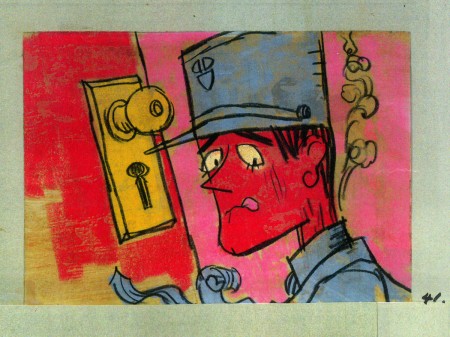 15a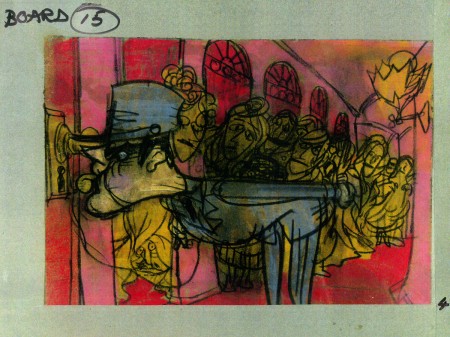 15b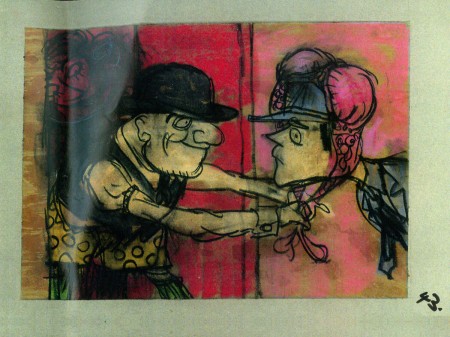 15c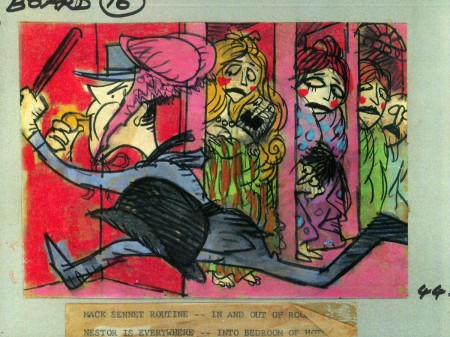 16a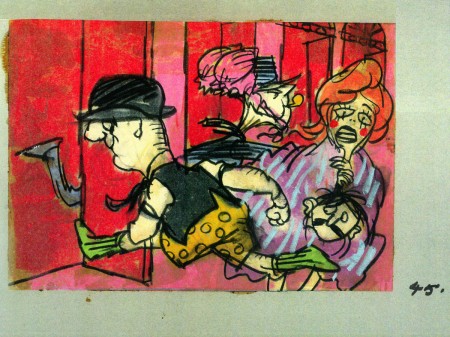 16b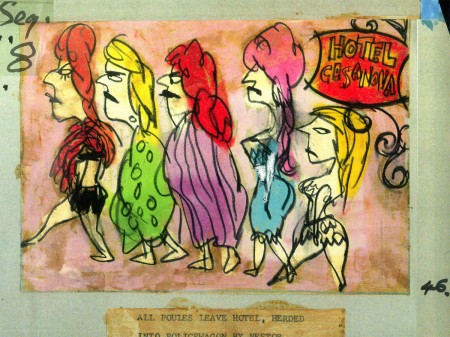 16c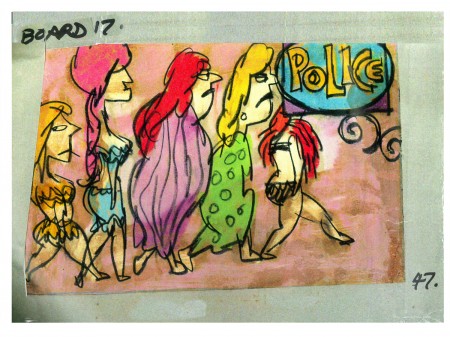 17a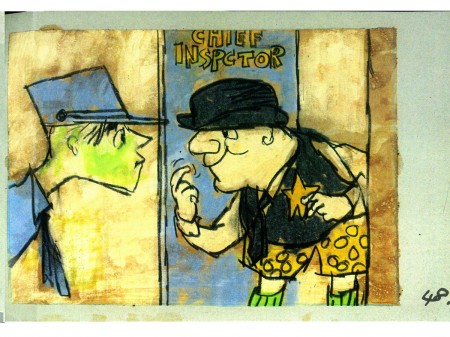 17b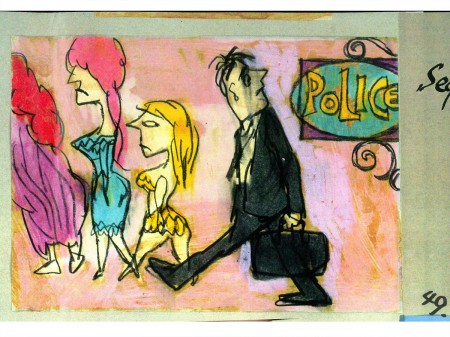 17c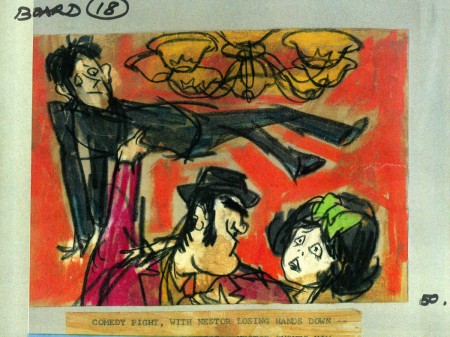 18a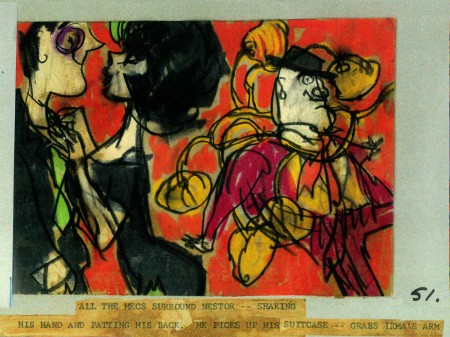 18b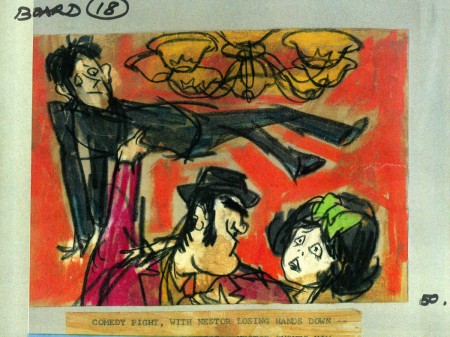 18c

___________________________


Here's a YouTube version of the trailer. Not the brightest quality, but you can see it.



5.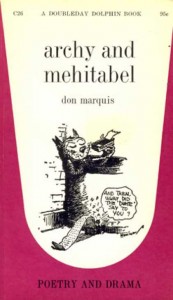 - Don Marquis' book, Archy and Mehitabel, garnered fame quickly and not least because of the extraordinary illustrations of George Herriman, the creator of Krazy Kat.
The first book was published in 1927 and others followed in 1933 and 1935. It wasn't until the third book that Herriman took over the characters created by Marquis in his book of short stories, developed mostly, in poetry. An on-again off-again love affair, the story had two principal characters: a cat, Mehitabel, and Archy, cockroach. (You can read these poems on line here.)
In 1953, writer Joe Darion along with composer George Kleinsinger (the creator of Tubby the Tuba) wrote a musical theater piece. Tenor Jonathan Anderson played Archy and soprano Mignon Dunn was Mehitabel. At about the same time a recording of the showtunes was recorded with Carol Channing as Mehitabel and Eddie Bracken as Archy. The record was a success.
With the help of the young writer, Mel Brooks, they were able to get their show to Broadway in 1957, but it was now named Shinbone Alley. After 49 performances, the show closed, but the original cast album was recorded that same year. The songs stayed in the permanent repetoire of Carol Channing and Eartha Kitt.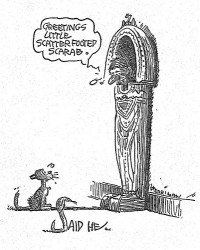 In 1971, John Wilson directed an animated feature starring the voices of Channing and Brackett and using the songs from the musical. The love affair between Archy and Mehitabel was penned by Archy, the cockroach; his poems tell their story.
The film suffers from its music. The songs are simple and sound as if they're written for children, but the lyrics pull from the poems which are definitely designed for adults. It gets a bit confusing, as a result, and is a bit picaresque; the poems are short and illustrating them in animation would take more adaptation than seen here.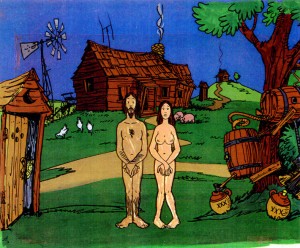 John Wilson had developed his studio, Fine Arts Films, on the back of the weekly, animated, music videos he did for The Sonny and Cher Show, an enormous hit in the early 70s.
These music videos were loose designs animated quickly and lively around the songs Sonny & Cher would schedule each week. There would always be one or two of these pieces, and they were highlights in the weekly one-hour musical/variety program.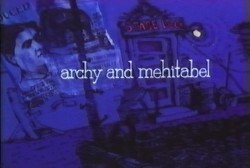 The graphics of Shinbone Alley aren't too far from these Sonny & Cher videos. Loose design and animation with a design style not too far from the Fred Wolf's made-for-ABC feature, The Point. This was the first feature made for television and featured the songs and story of Harry Nilsson, although Shinbone Alley featured a wilder color pallette.
Jules Engel, Corny Cole and Sam Cornell all worked in design on the film. The long list of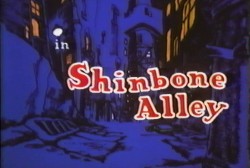 animators included Barrie Nelson, John Sparey, Spencer Peel, Eddie Rehberg and Jim Hiltz. Mark Kausler was an assistant on the show.
The film wasn't an enormous success, but that was probably explained much by the limited distribution and the poor marketing of the film. I saw the film when it came out; I was living in Washington DC at the time (in the Navy). I was very disappointed. The animation is very limited and the style was a real let-down having known the George Herriman illustrations from the Don Marquis book. We'd already seen those limited animation Krazy Kat cartoons from King Features, so I knew the style could be done adequately – even on a budget. The style in this film just seemed a little too Hollywood cute, at the time, and it felt dated when it came out. I don't feel too differently about it watching the VHS copy I own.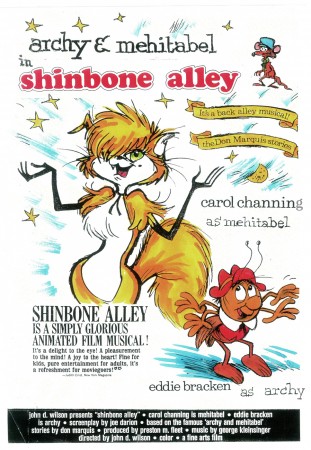 the film's poster
Here are some frame grabs from the first 1/4 of the film: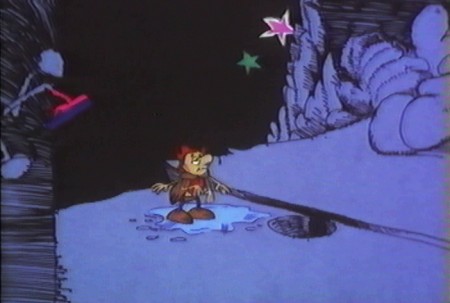 We're introduced to Archy right off the bat as he
flies out of the river onto the dock. He realizes that he,
the poet, tried to kill himself and was sent back as a cockroach.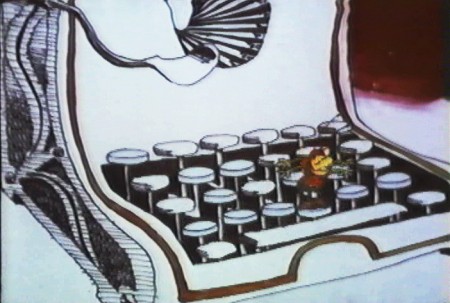 He soon finds a typewriter and goes straight back to work.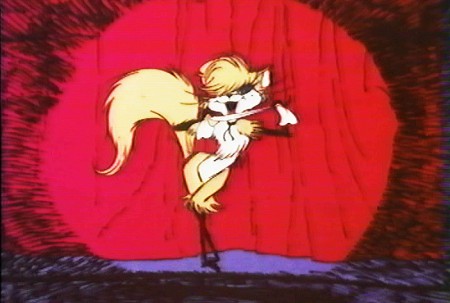 Mehitabel is a performer – with Carol Channing's voice.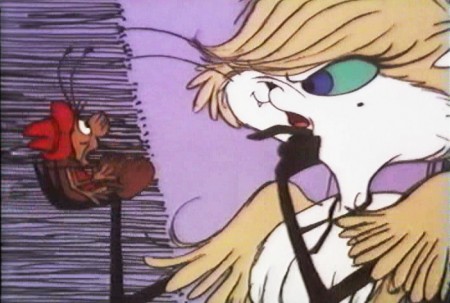 The two meet cute.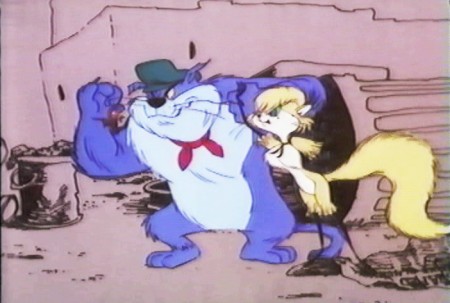 She has another boyfriend, voiced by Alan Reed,
who is also the voice of Fred Flintstone.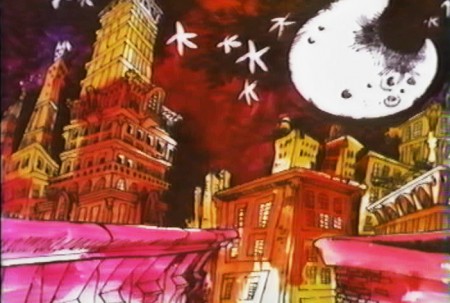 A song video takes us outside.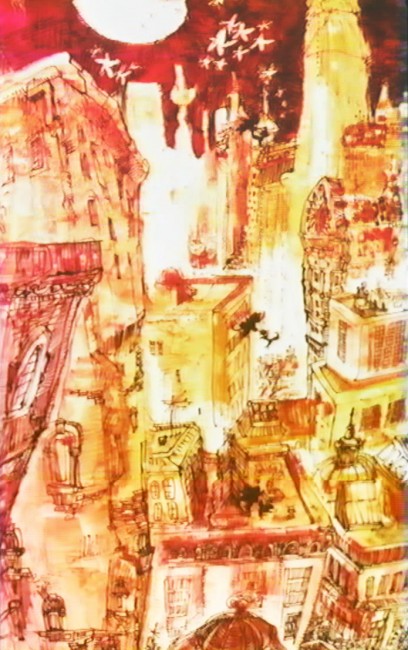 pan down.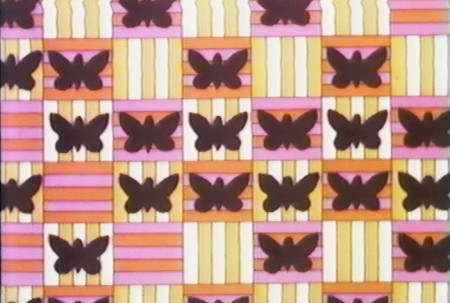 Another music video brings us into Peter Max's style.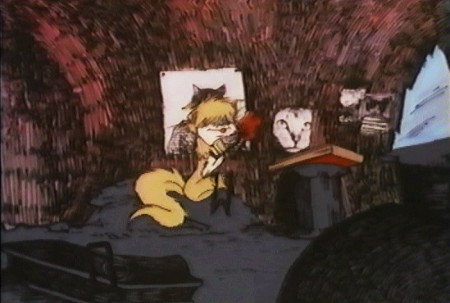 Life in Shinbone Alley.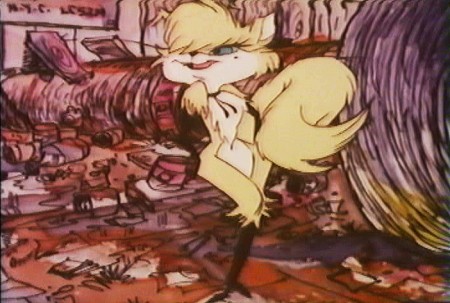 6.
- This final post featuring the work of John Wilson and his company, Fine Art Films, covers many varied film projects. Unfortunately, I found relatively few images available for posting especially considering the amount of film done.
The Sonny and Cher Show was a long running Variety program on television in the 70s. Most weeks featured an animated music video as done by John Wilson. Some examples of this include: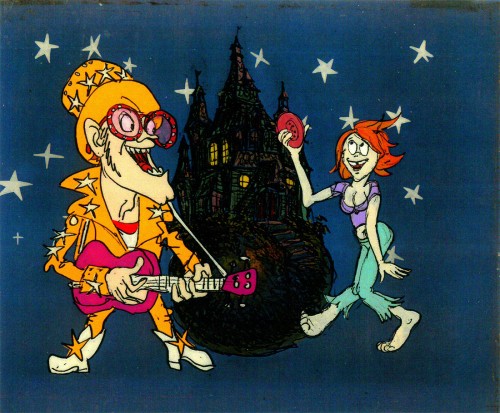 Helen Reddy's song "Angie Baby"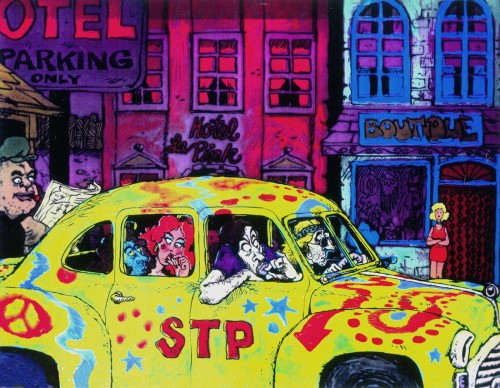 Joni Mitchell's "Big Yellow Taxi"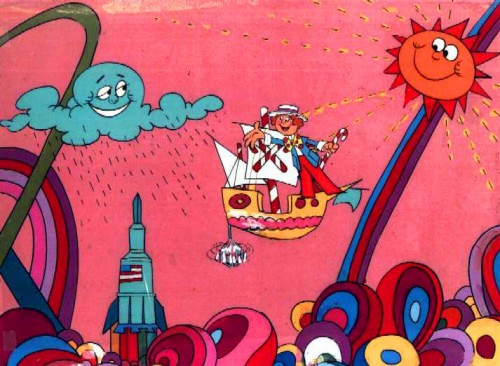 Sonny Bono's version of "The Candyman"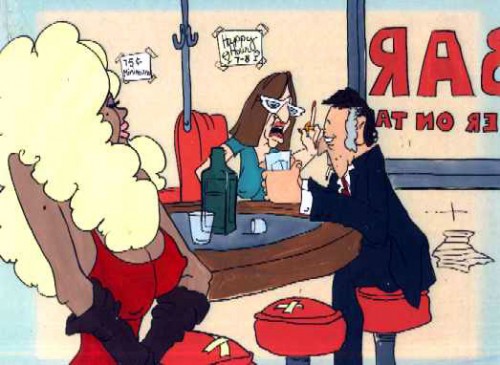 The Kinks song "Demon Alcohol"
Fine Arts Films
also did some movie titles and trailers. We saw, recently, the long theatrical trailer done for
Irma La Douce
. Here are a few stills done for the main title sequence for the 1978 musical,
Grease
.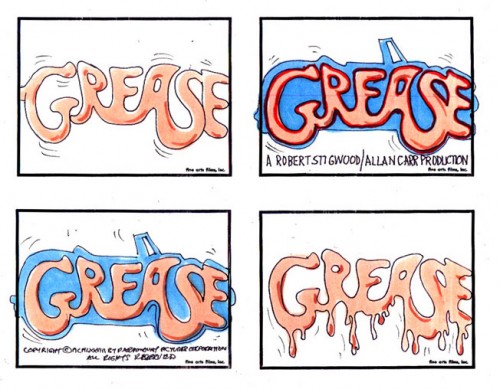 storyboard sketch for Grease.
Produced and Directed by John Wilson
Story and Layout by Chris Jenkyns
Music by Barry Gibb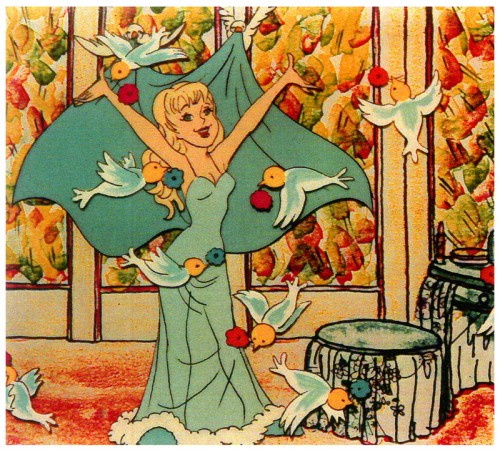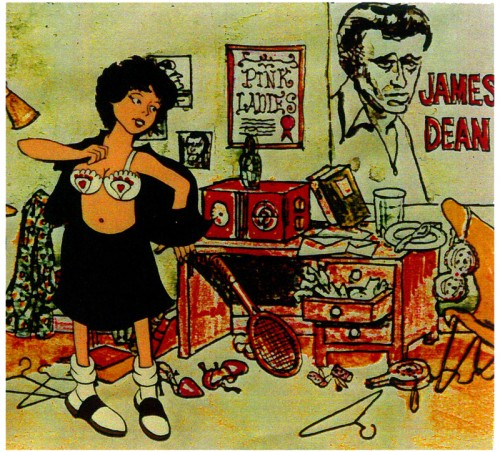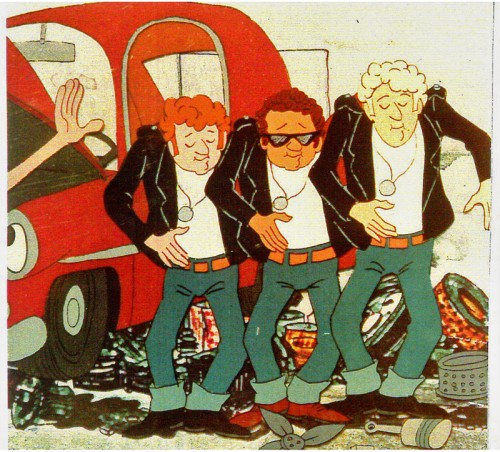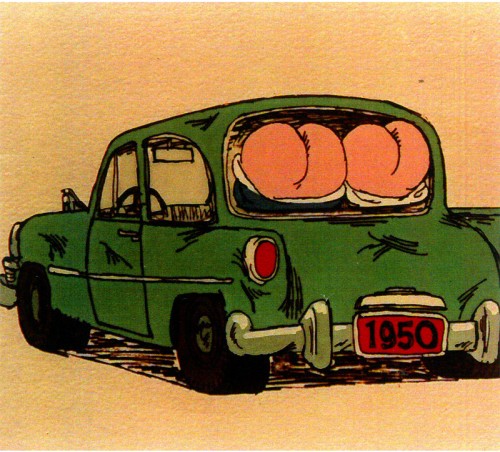 John Wilson also directed a number of short films which appeared on television on the NBC program, "Exploring" between 1964-1966.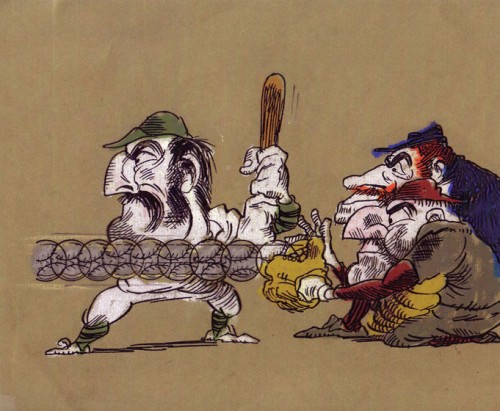 "Casey At the Bat"
Narrated by Paul Frees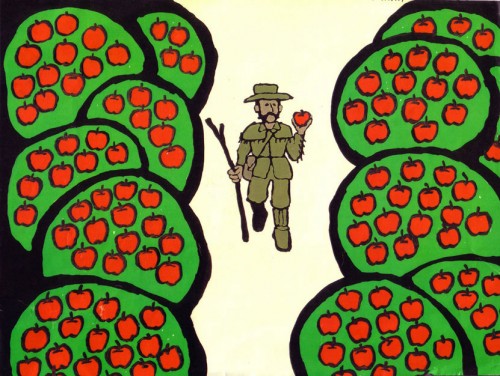 "Johnny Appleseed"
Narrated by Dan Blocker
Finally, for MTV's "Liquid Television" in 1992 John Wilson directed some of the 10 episodes of a series called "The Specialists."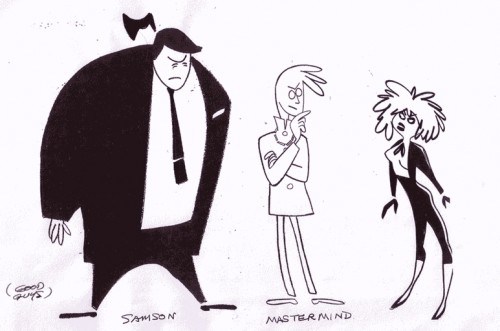 1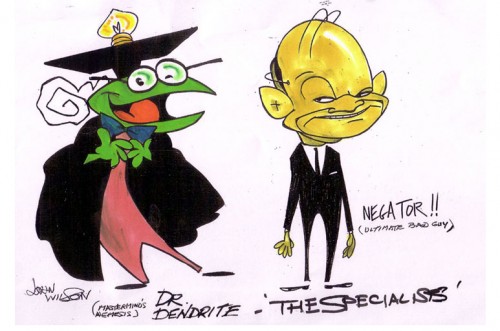 2
Go here to see other episodes.
Animation &Animation Artifacts &Commentary &commercial animation &Models &repeated posts 13 Jun 2013 09:07 am
- In November 2006 I posted the storyboard, workbook and final layouts for a Jax Beer spot which was directed by Mordicai Gerstein. I thought it interesting enough to recap the two posts, so here they are.
_______________________
- This is the material for a Jax Beer commercial. It was done by a NY studio named Pelican in 1962. There were about 75 people on staff at Pelican back then.
This spot was directed by Mordi (Mordicai) Gerstein. He left animation in th 70′s to write & illustrate children's books. (He won the Caldecott Medal for his book, The Man Who Walked Between The Towers. This was the book I adapted to animation in 2005.)
What follows is the storyboard and the director's workbook. (It appears to be an agency board, though it's drawn in a style that looks to be Mordi Gerstein's. Perhaps boards from the agency were drawn by the studios back in 1964; I'm not sure. The layouts were drawn by the same artist.)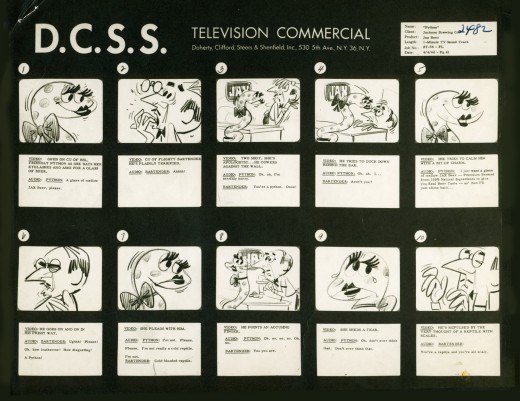 _____(Click any image to enlarge.)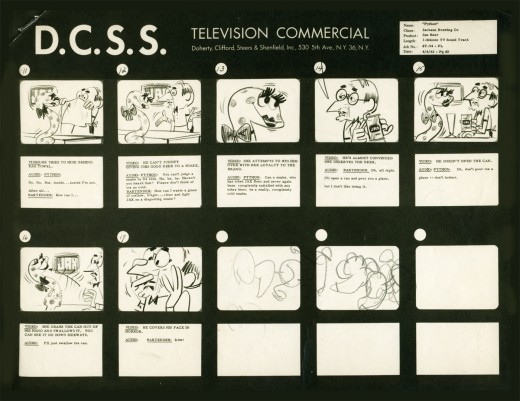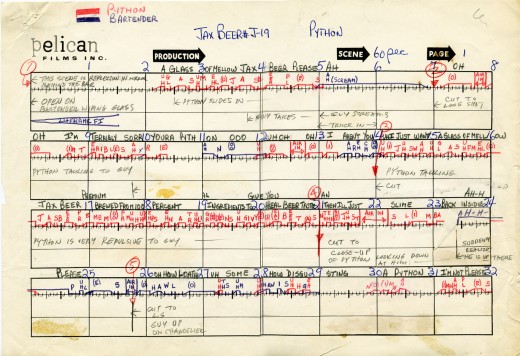 The workbook has several flaps on it that indicate changes in timings. There are also glue stains where I assume other flaps fell off. (See page one, last row, first column.) Each column represents 16 frames/one foot of film. Odd numbers are marked off.
Each row contains 8 feet of film/128 frames. Each page represents 32 feet/512 frames. It would have been smarter to keep to even numbers.
More modern exposure sheets generally have 80 frames/five feet per page. This also divides into two feet of 16mm film. (Handy.) The numbers add and divide smartly and easily. But then most people don't use exposure sheets anymore.
_______________________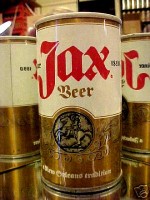 - Continuing with the above post, a Jax Beer commercial, I present some of the film's layouts. This represents about 2/3 of them.
The art was done by Mordi (Mordicai) Gerstein, who also directed the spot. Grim Natwick animated the spot and Tissa David assisted him. Of course, this was in the days before auido tapes could be handed out, so the animator would get a phonograph of the soundtrack. They could mark it with a white pencil to indicate key spots.
I thought that this in conjunction with yesterday's prep material gave a good indication of the preproduction that went into making a commercial back in 1962.
That said, here are the layouts: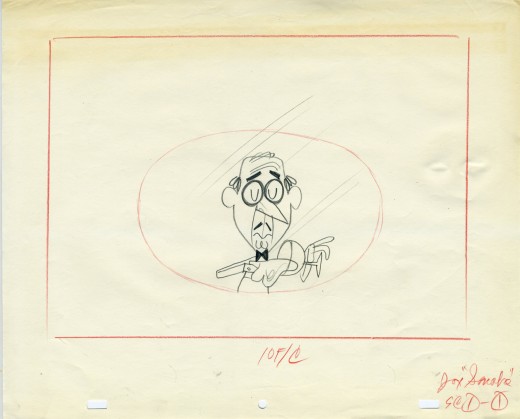 (Click on any image to enlarge.)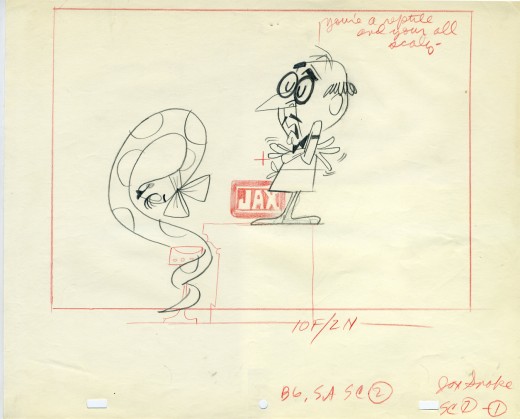 Articles on Animation &Commentary &commercial animation &Disney 22 May 2013 04:35 am
Among the remains of the material saved by Vince Cafarelli, there was this newspapaer, The News World, dated Tues. May 23, 1978. On the same page, there were two articles about animation.
Once was a piece about Disney's Jungle Book, which was just about to be released. The second was an article about Perpetual Motion Pictures. This, of course, was the company where Vinnie and Candy worked with Buzz Potamkin producing and Hal Silvermintz designing.
Below, I post first the two parts of the Disney article (I've also singled out just the type in case you want to read at a larger scale.)Then I follow with the two parts of the Perpetual Motion article.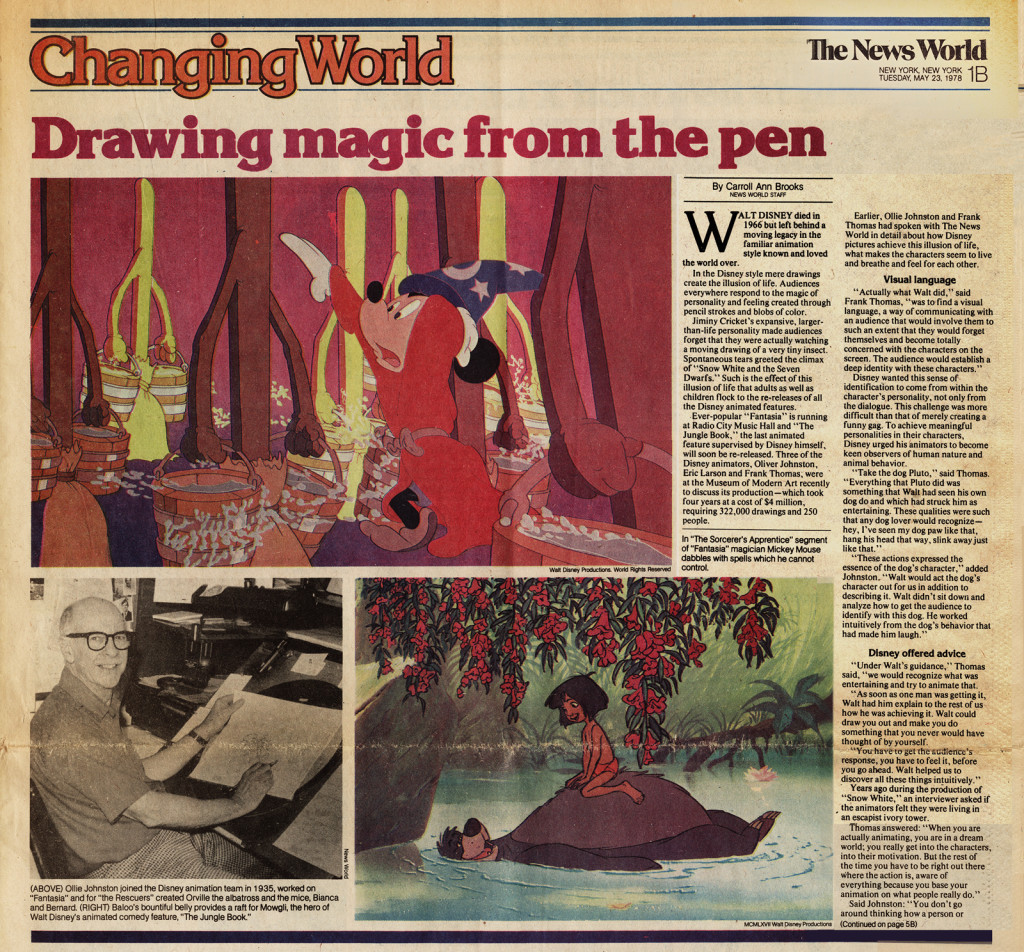 The Disney article (part 1)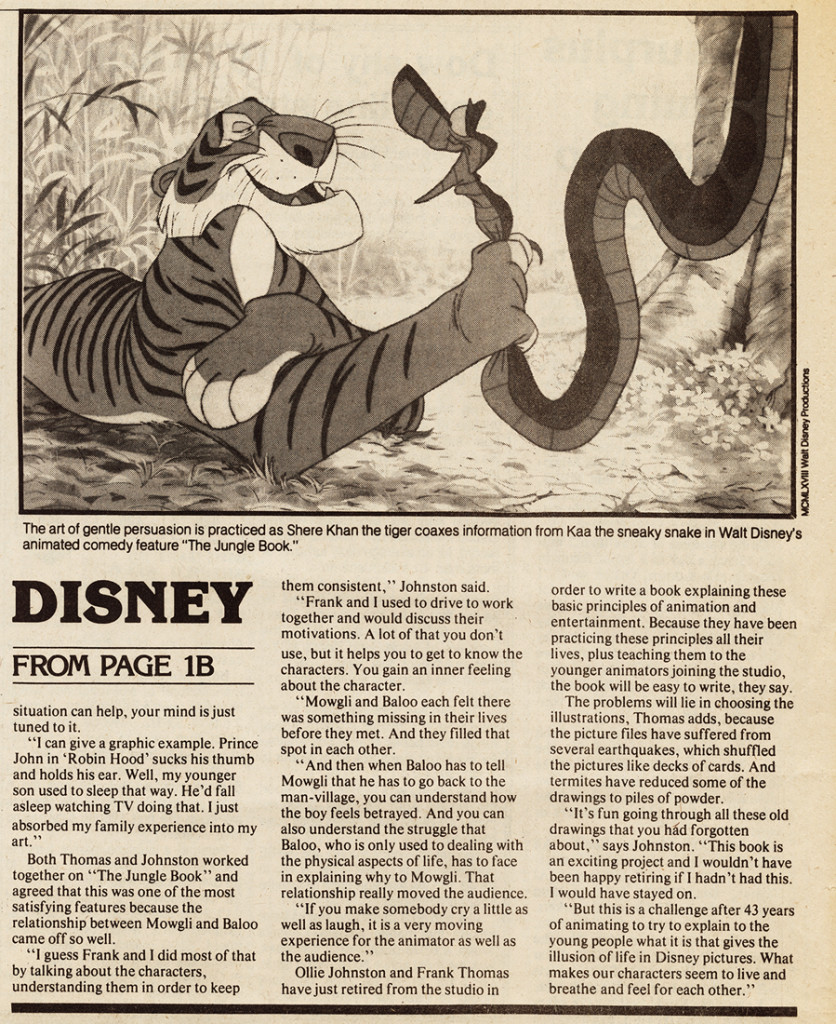 The Disney article (part 2)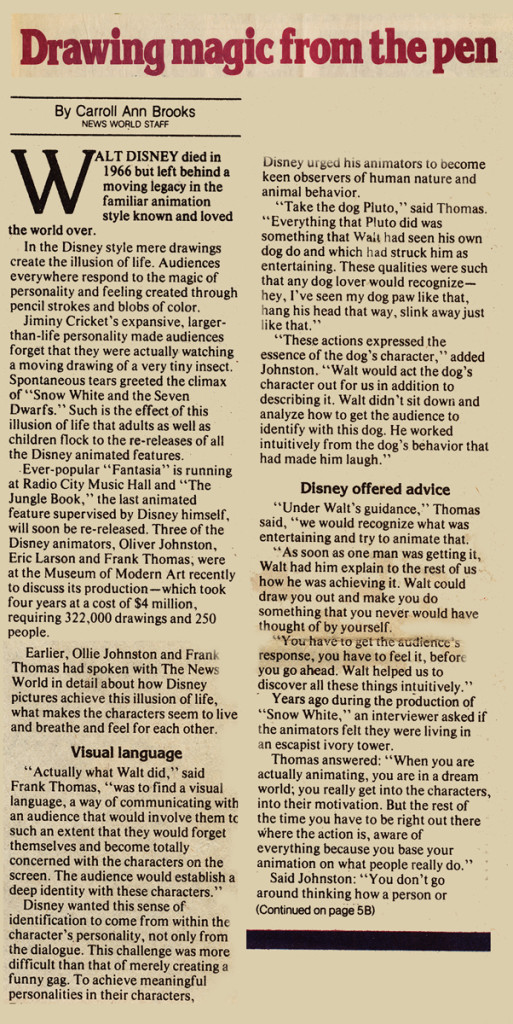 (The Disney article (Type only/part 1)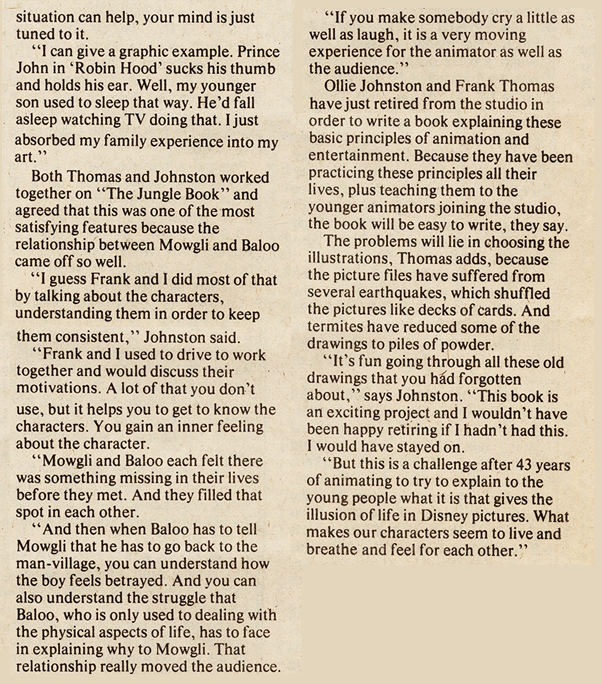 (The Disney article (Type only/part 2)
The following is the article about Perpetual Motion Pictures: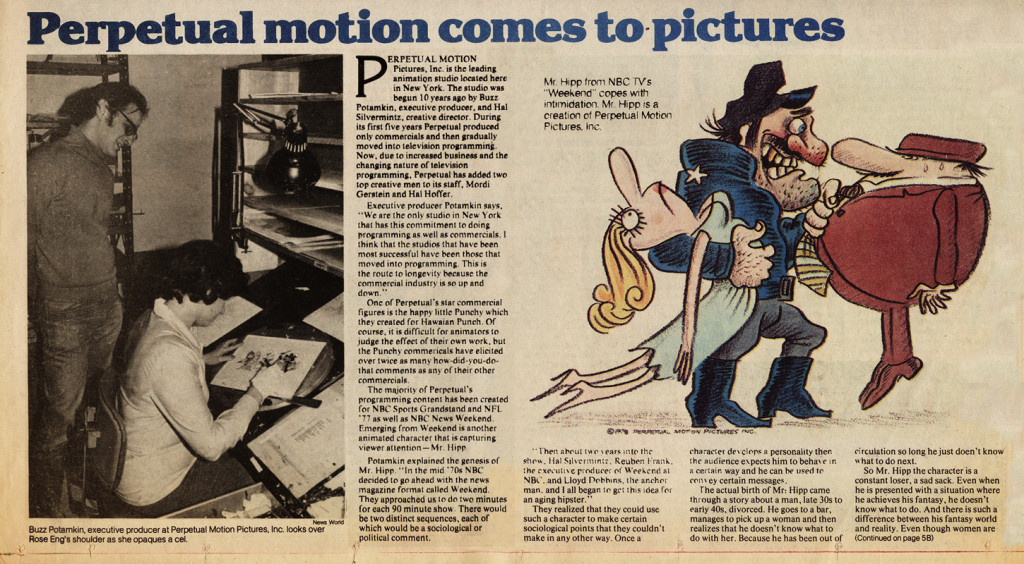 Perpetual article (Part 1)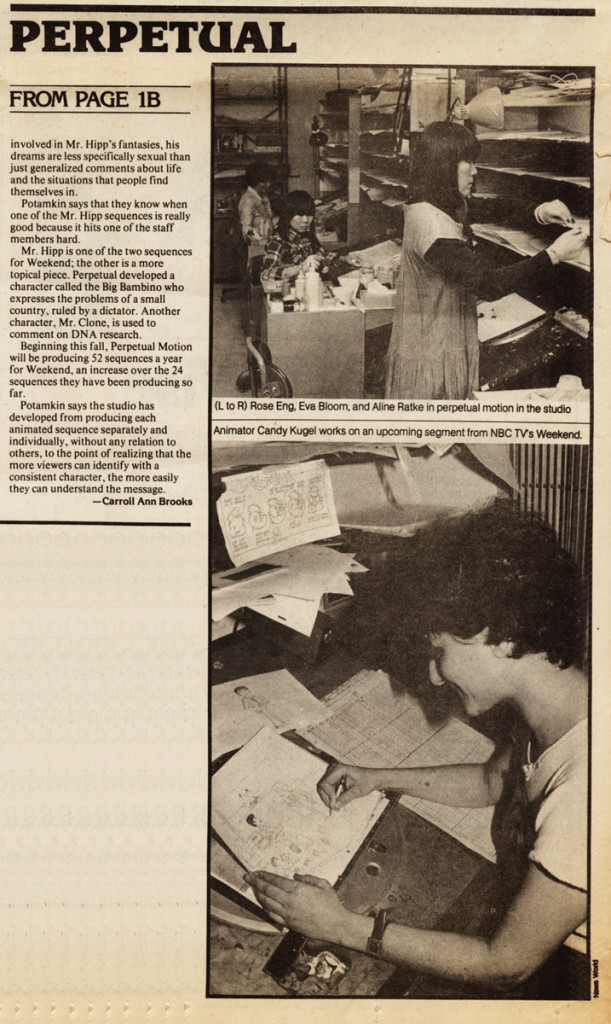 Perpetual article (Part 2)
Action Analysis &Animation &Animation Artifacts &commercial animation 24 Apr 2013 05:07 am
- Here's one of the scenes saved by Vince Cafarelli from a commercial he did while at Goulding-Elliott-Graham. The commercial was animated by Lu Guarnier, and Vinny was the assistant on it. Hence, he saved the rough drawings (instead of Bert Piels. (Sorry I don't know what he's saying, though I'm looking for the storyboard.)
So, here are Lu's rough drawings in this CU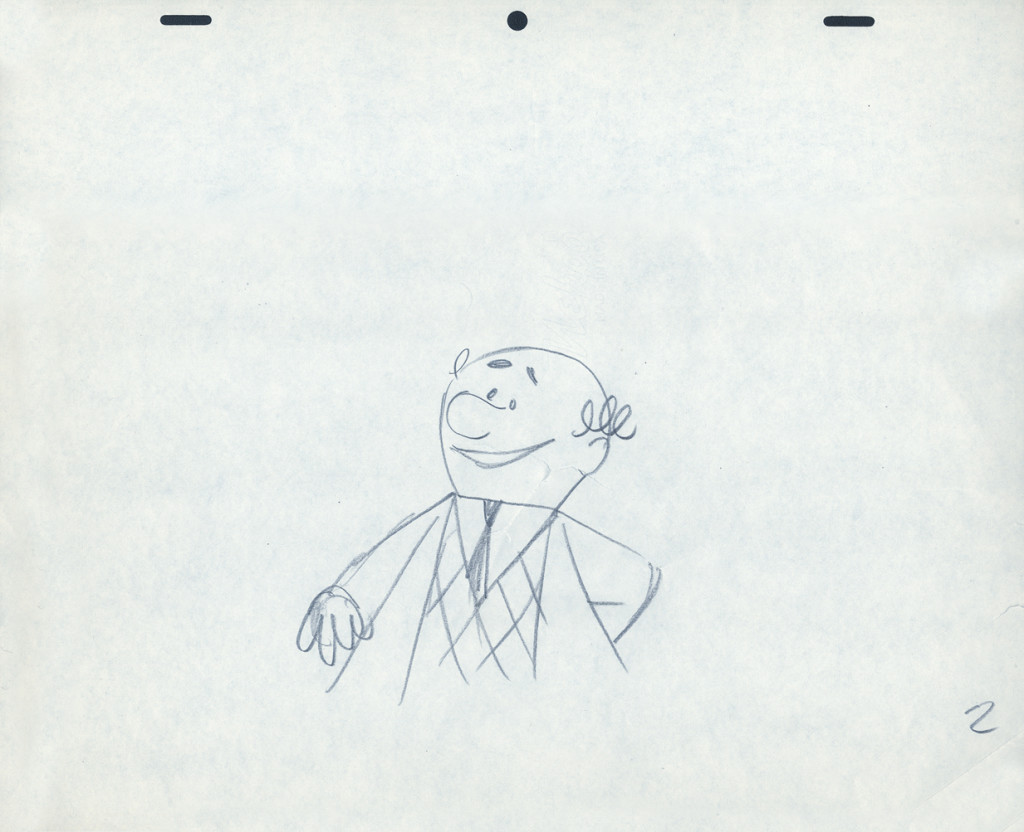 2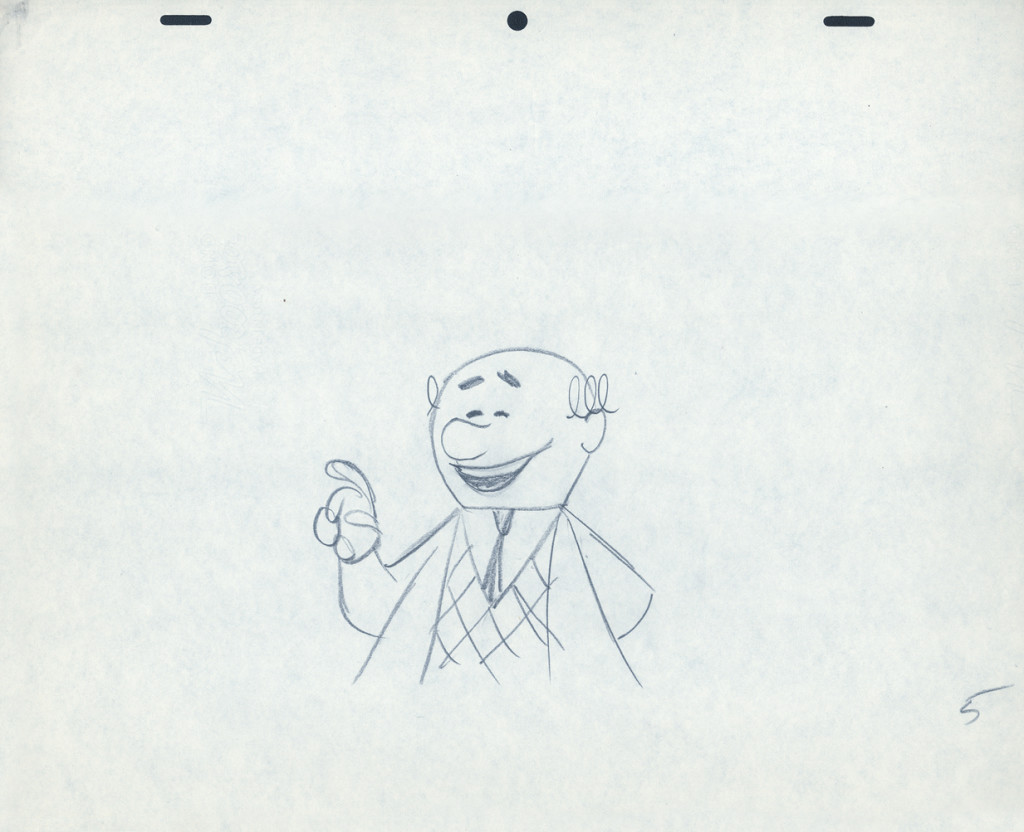 5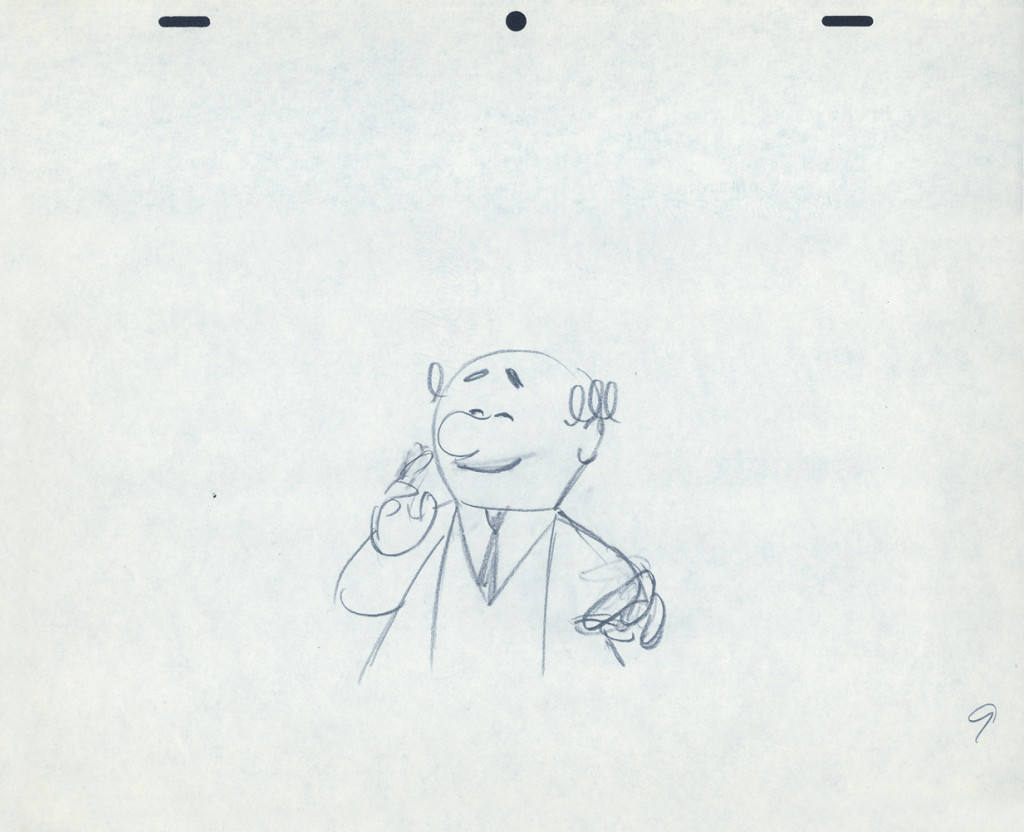 9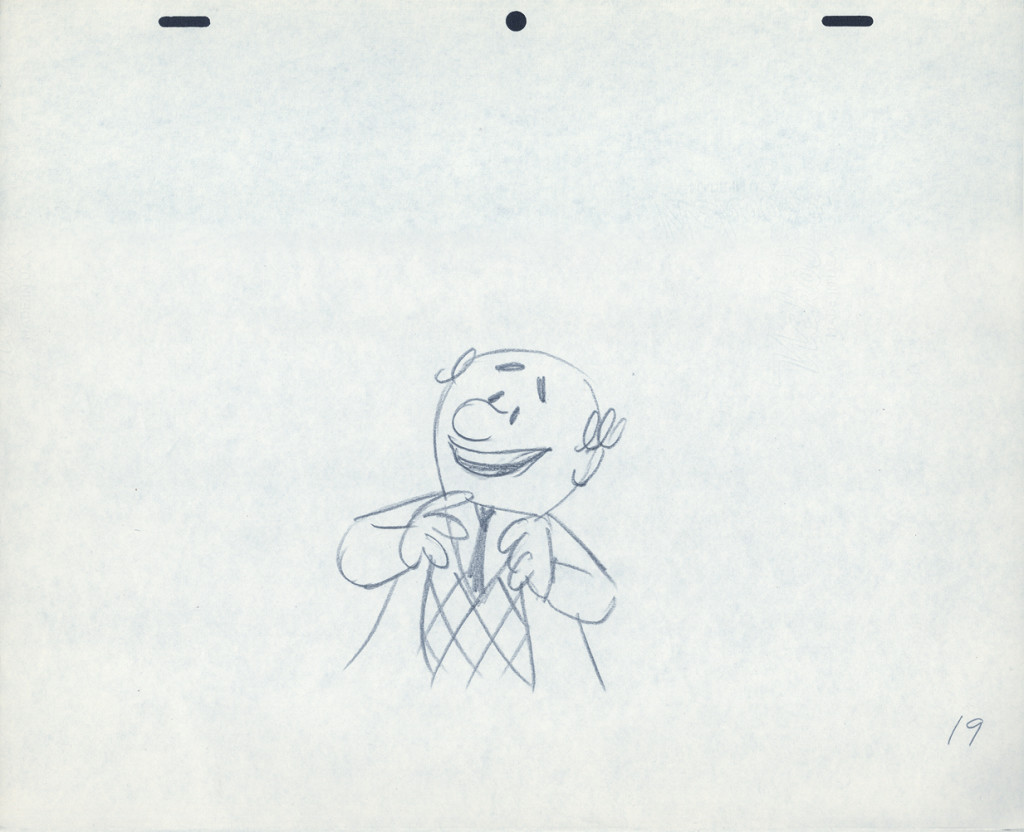 19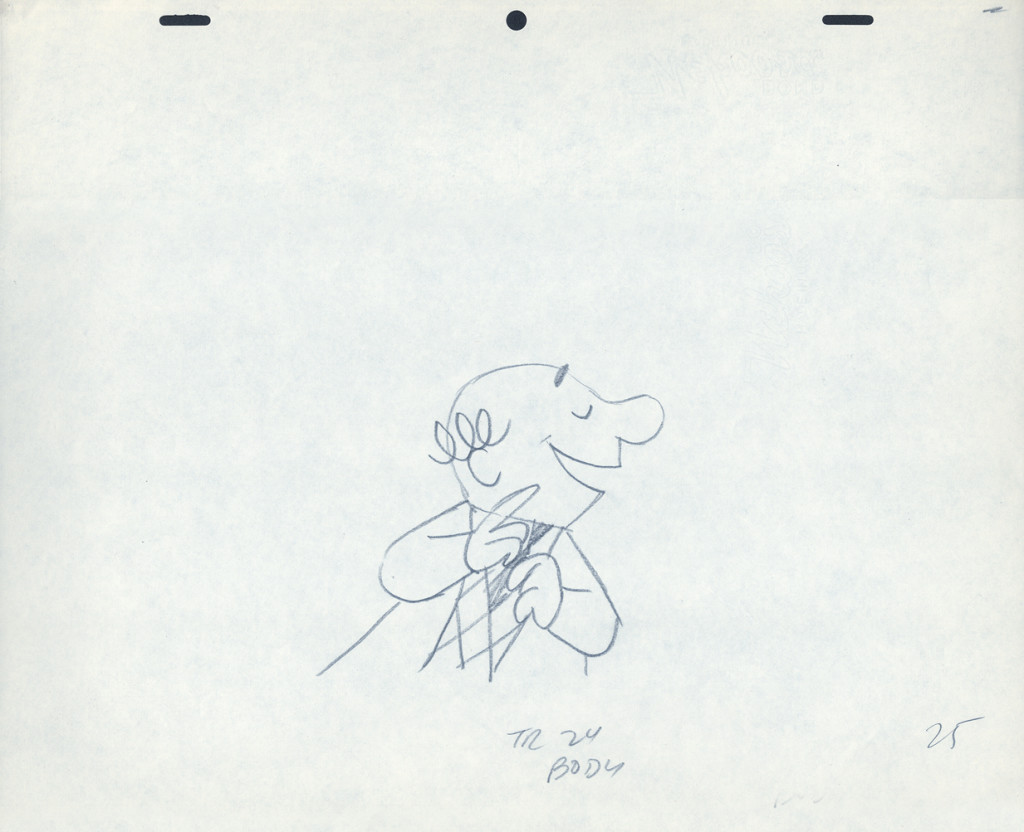 25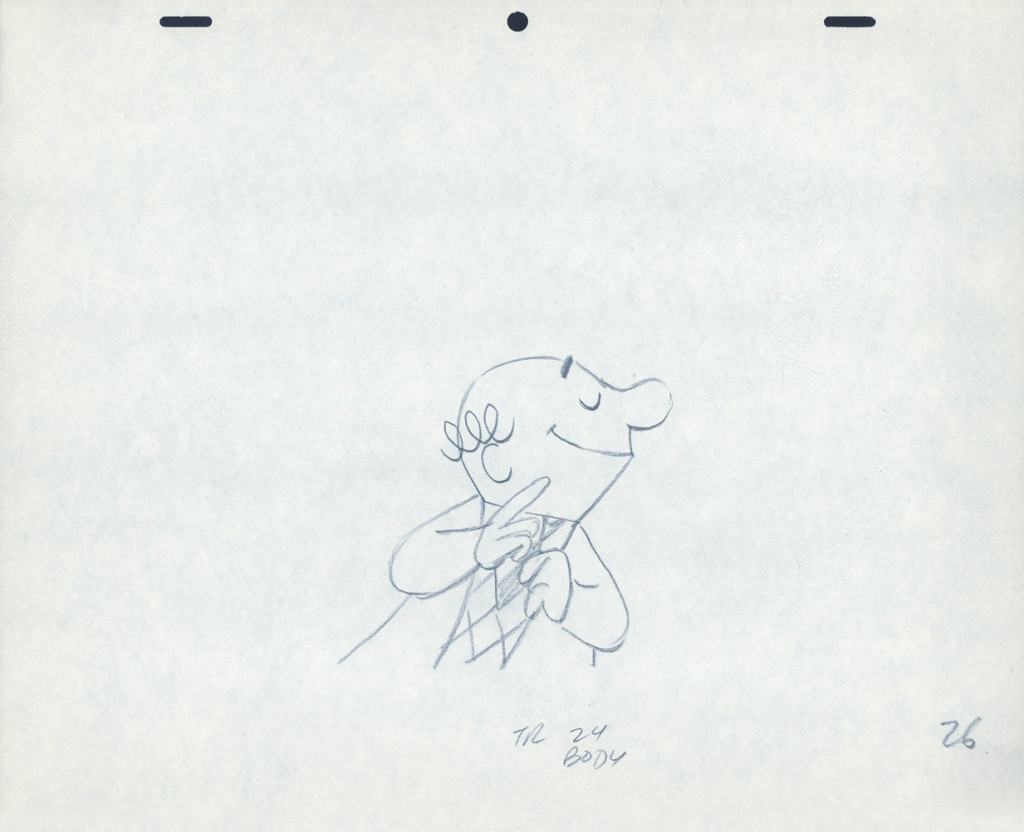 26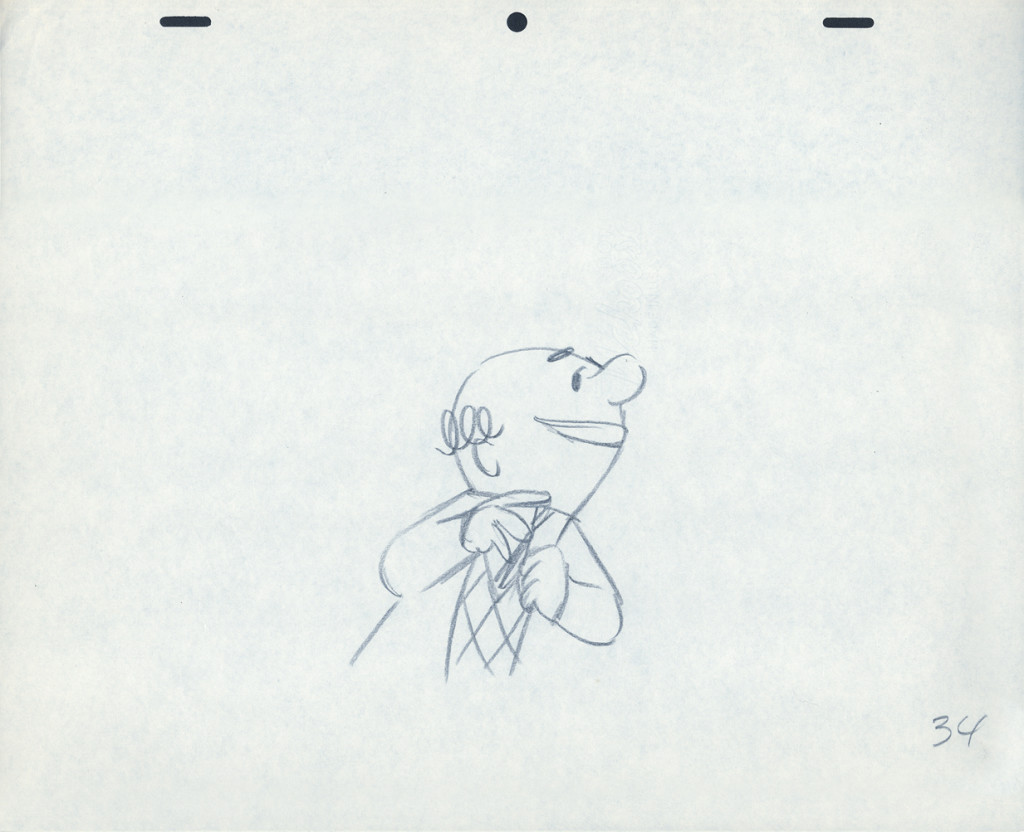 34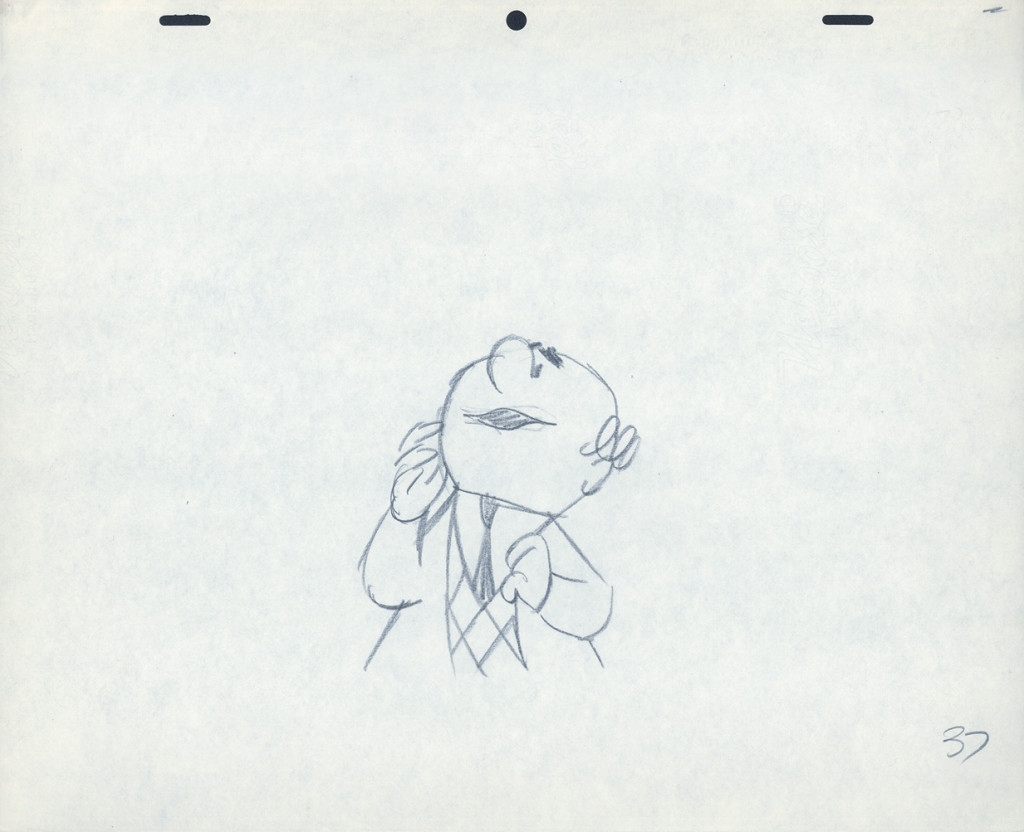 37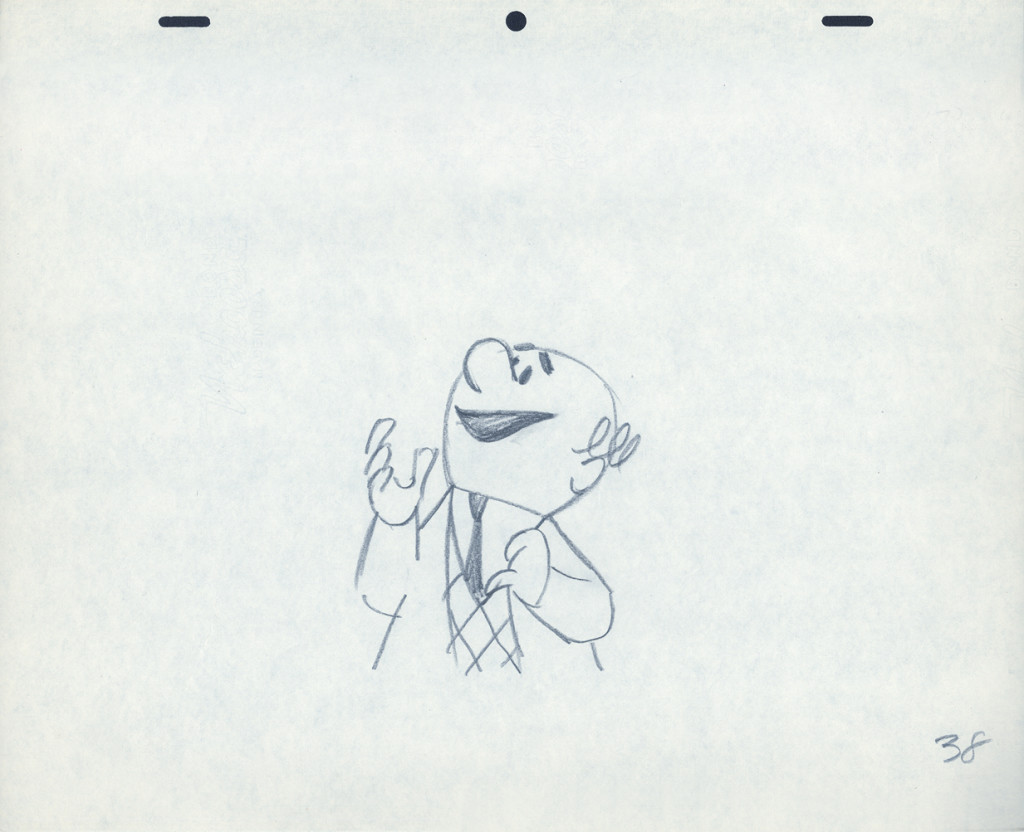 38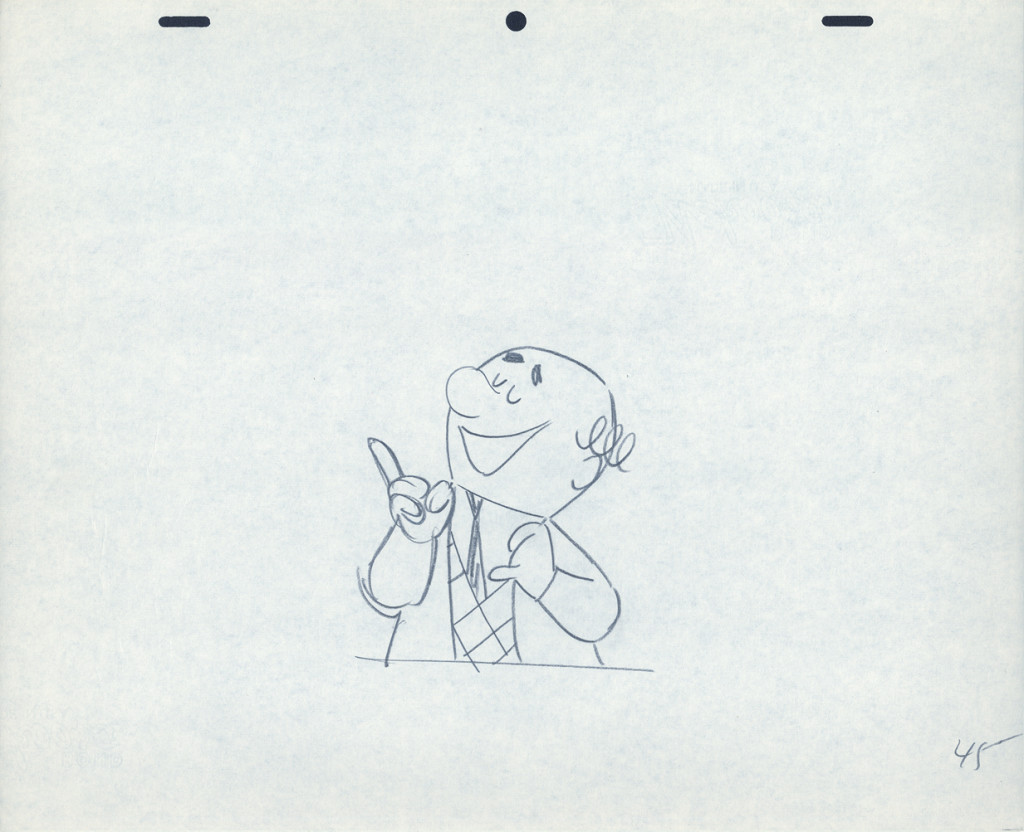 45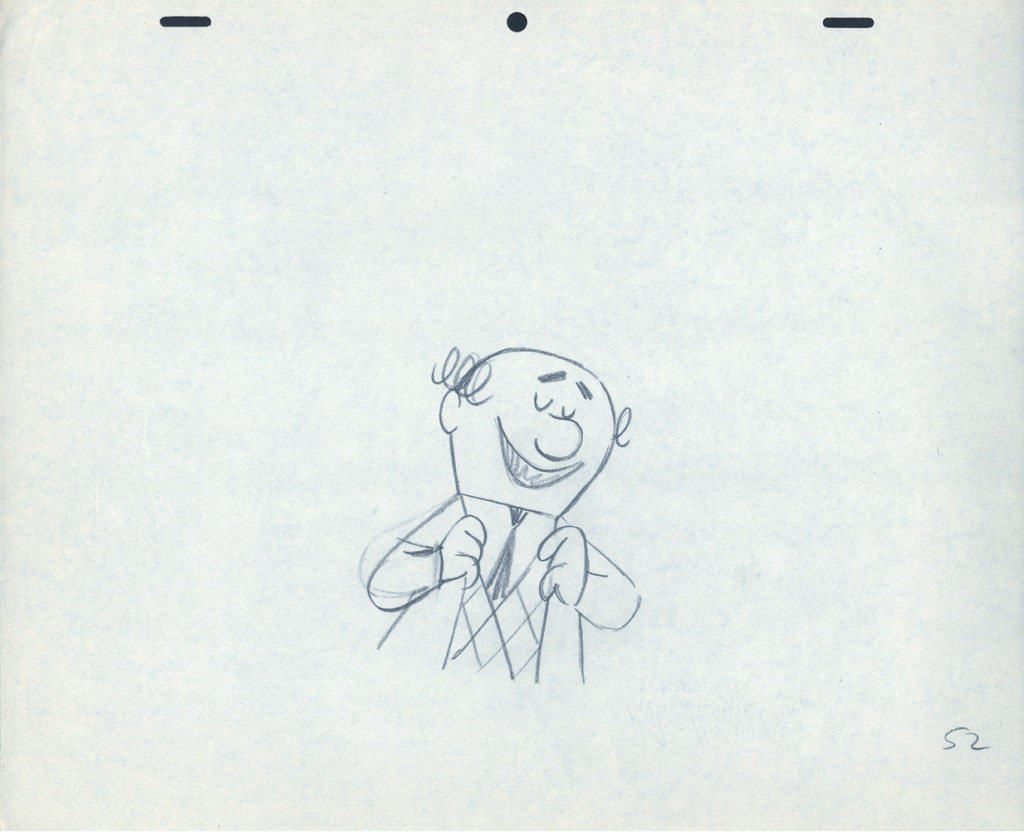 52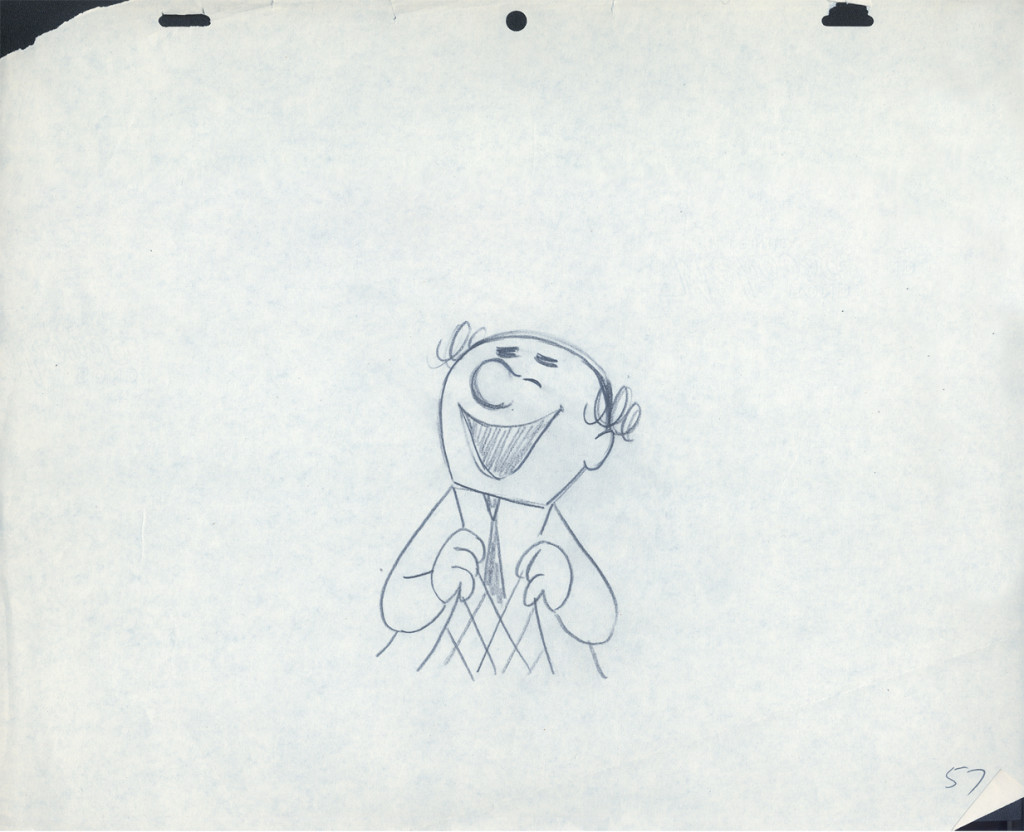 57

The following QT movie was made by exposing all drawings on twos
except for the extreme positions that were missing inbetweens.
For those, I dissolved from one extreme to the next.
It drove me crazy that Lu Guarnier always animated on top pegs.
Next week with the last of these three posts on this Piels Bros commercial, I'll talk about Lu's animation and some of my pet peeves.
Action Analysis &Animation &Animation Artifacts &commercial animation &Layout & Design 17 Apr 2013 05:51 am
Among Vince Cafarelli's remaining artifacts there are lots of bits and pieces from several Piels Bros. commercial spots. I decided to put some of it together – even though they're not really connected – into this one post.
There are animation drawings I'll try to post in other pieces.
Here, we have a storyboard for a spot; I believe this is an abbreviated spot promoting some contest Piels beer was running. I think this is from a shortened version of a one minute spot since there are animation drawings which are obviously from the same setup, but they're not part of this storyboard. (There's an unveiling of the barrel, which is upside down.)
Since the boards are dated 1957, and given the use of signal corps pegs, I believe these were done for UPA.
Regardless, the drawings are excellent. I presume they're hand outs to Lu Guarnier, animating, and Vince Cafarelli, assisting.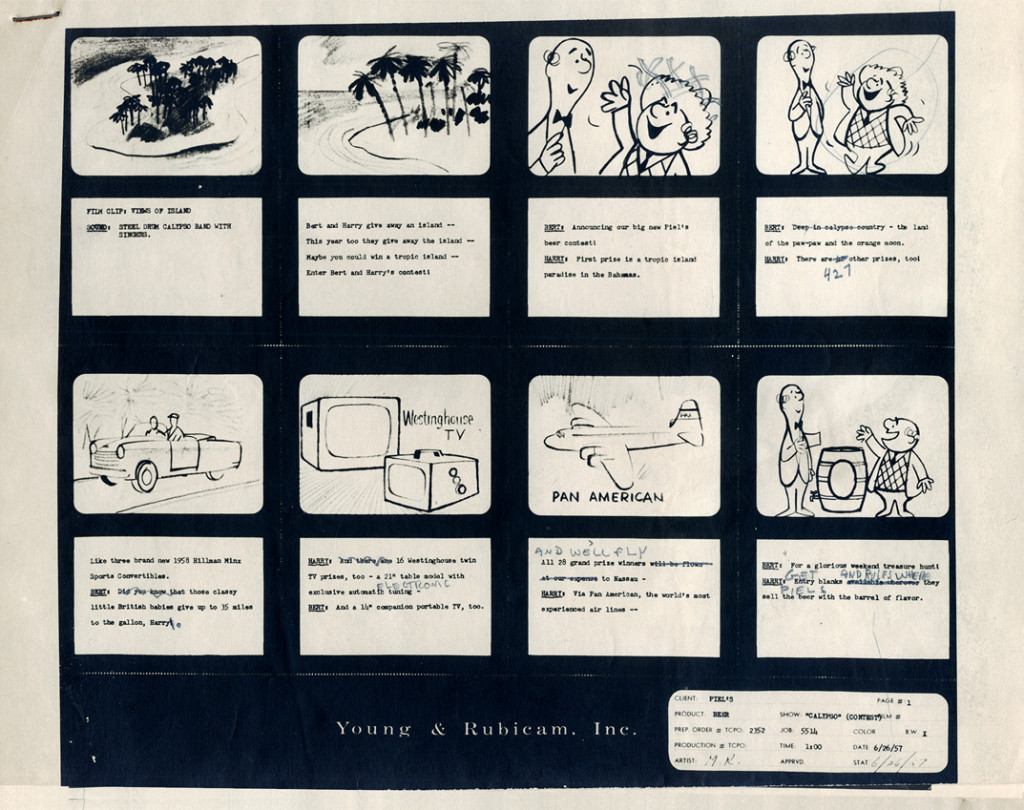 1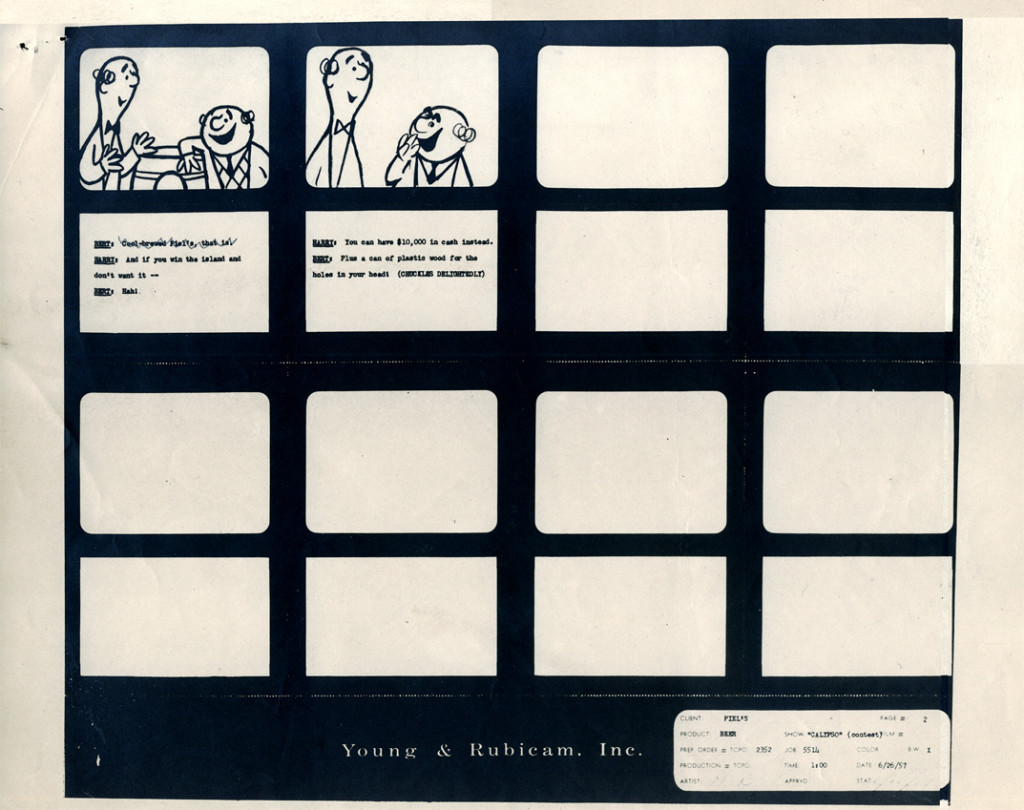 2

The following are three drawings from the opening scene of this storyboard. Others from this scene weren't saved.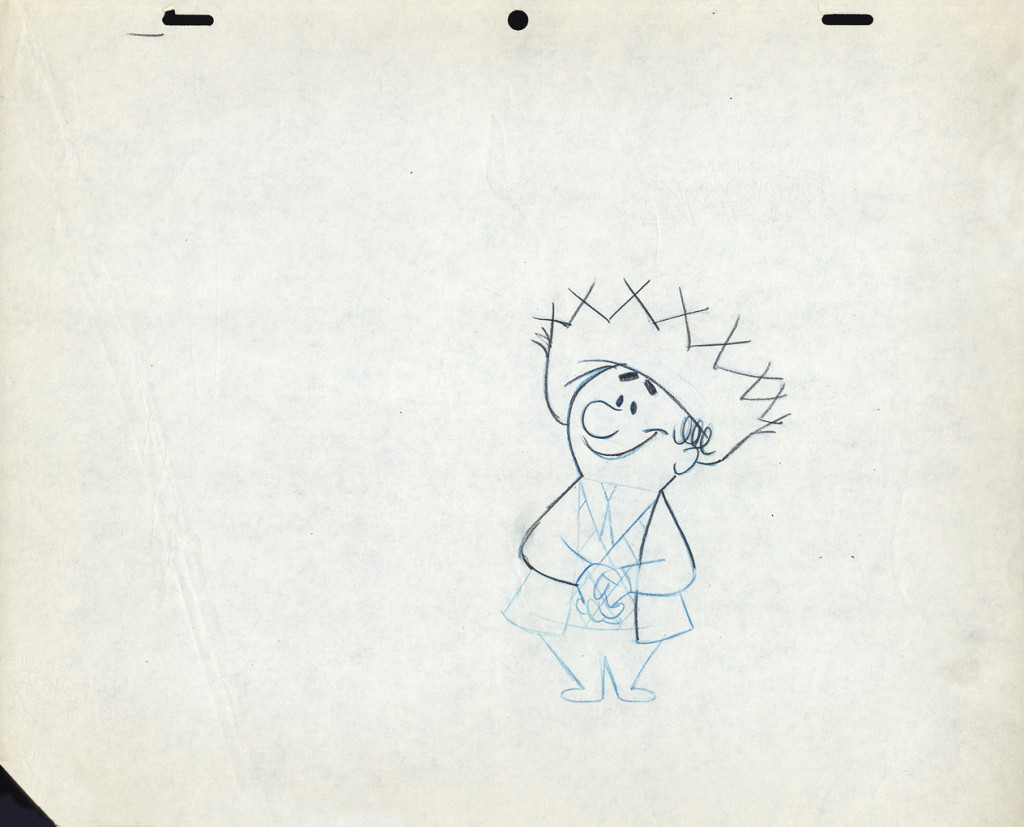 1
Here's Bert.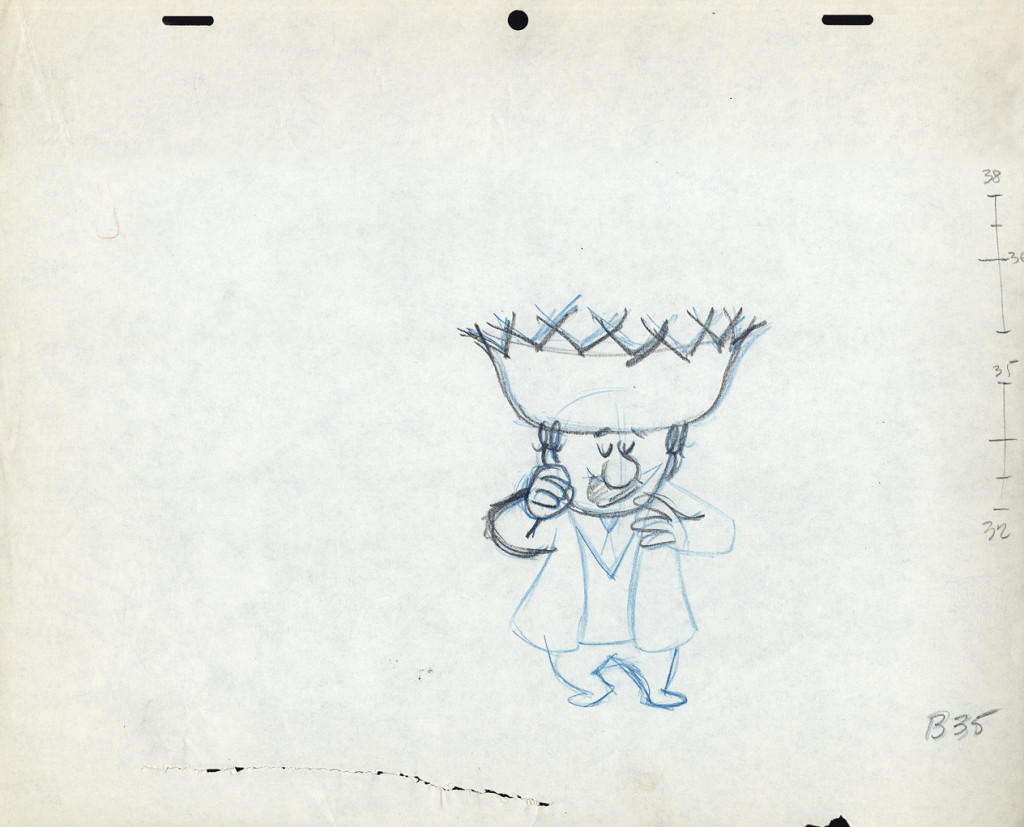 2
Let's follow that with layout drawings from two different spots. The first doesn't really offer much, but the quality of the clean-ups and the drawing is first rate. I'm pleased to post it: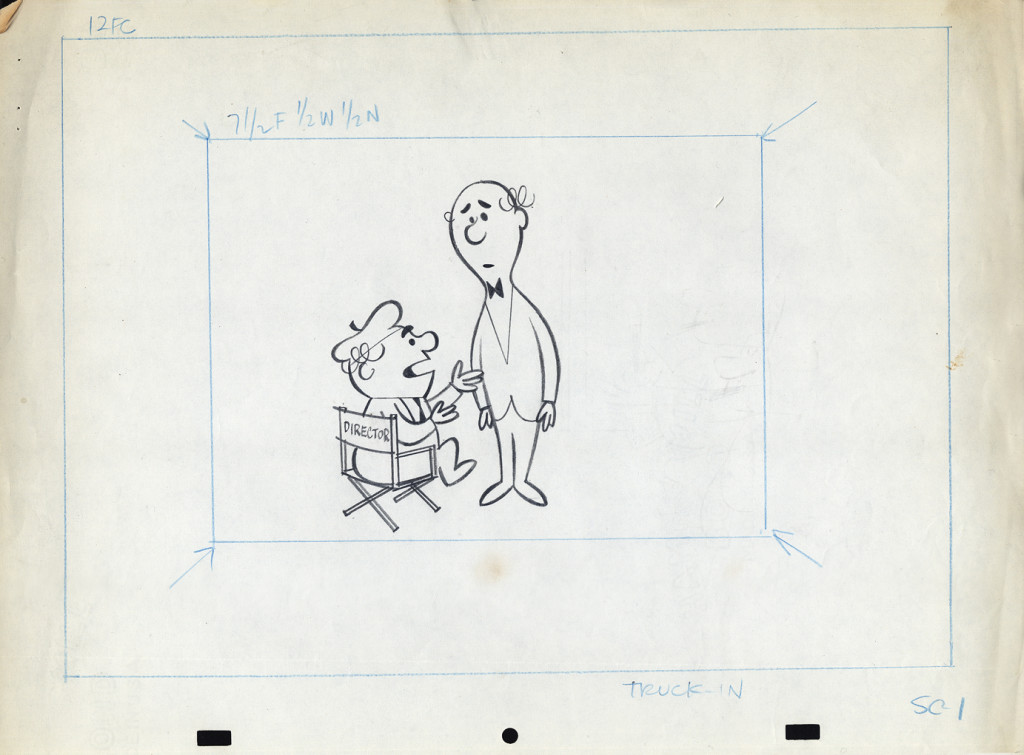 1a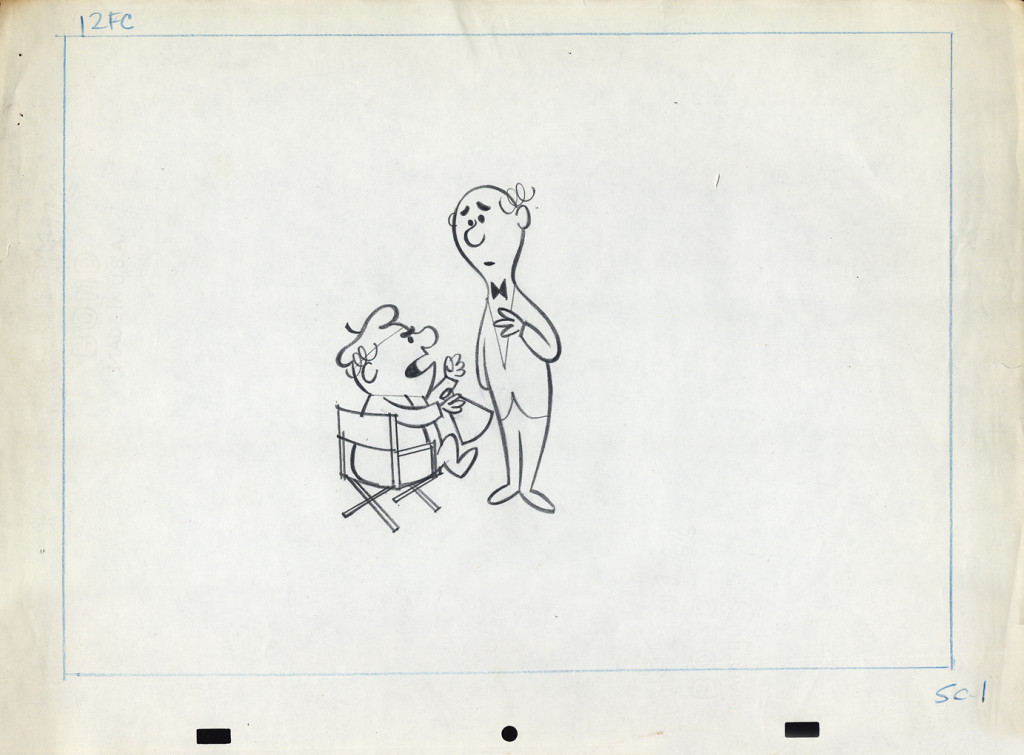 1b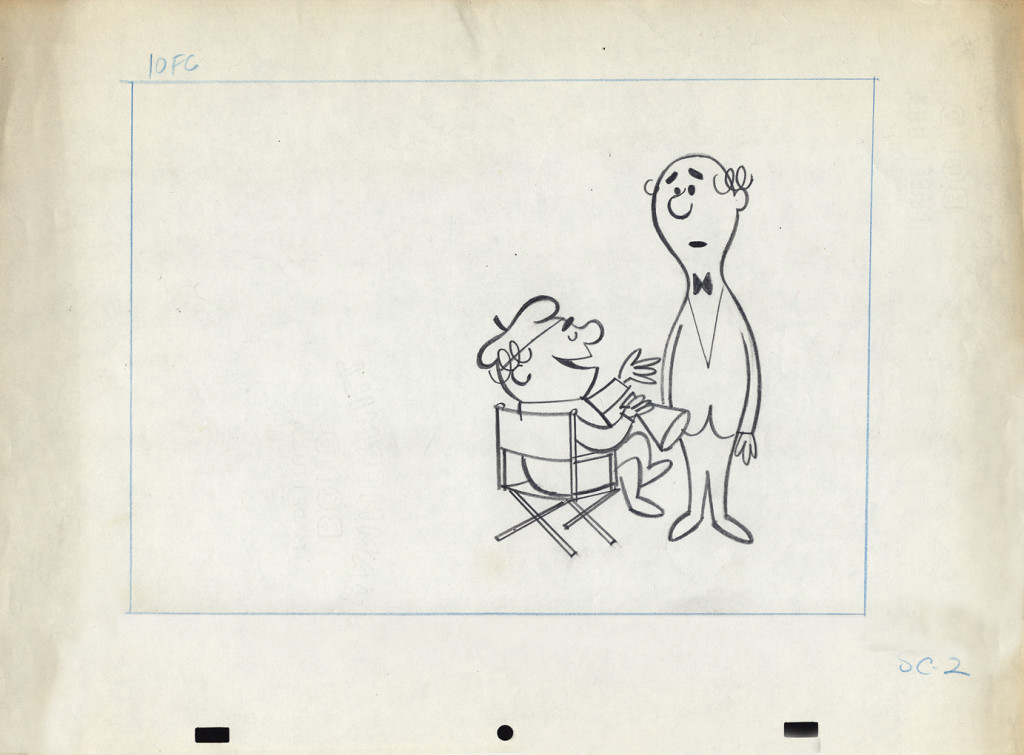 2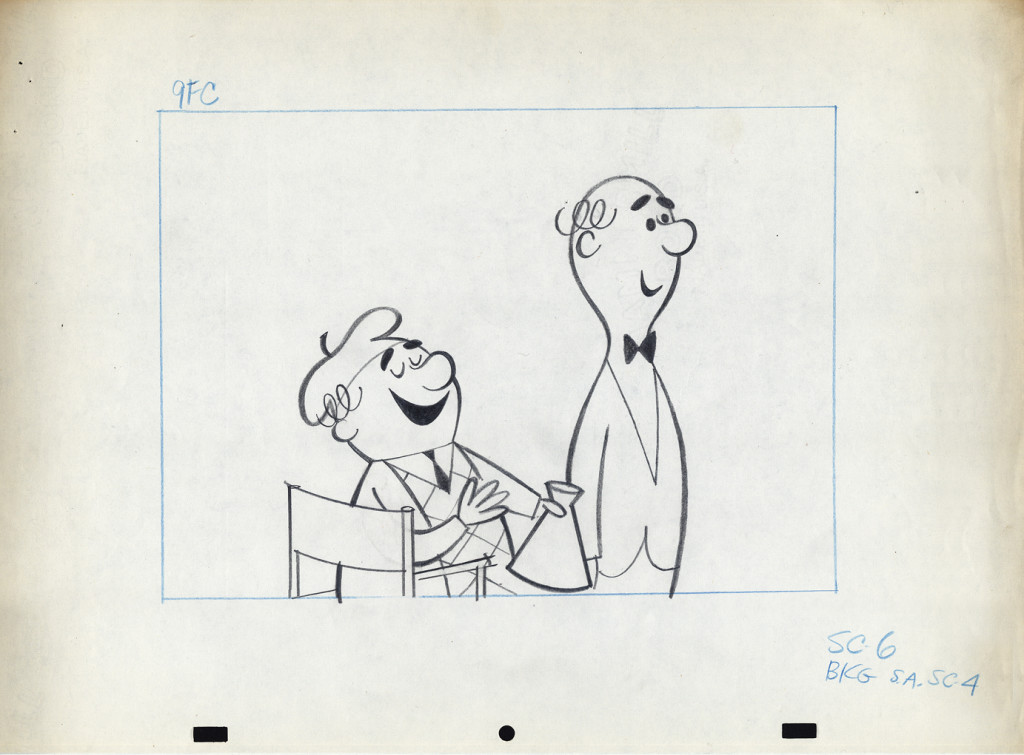 6

Here are layout drawings for the second of the two spots I have in hand. I presume this is also a spot promoting that contest.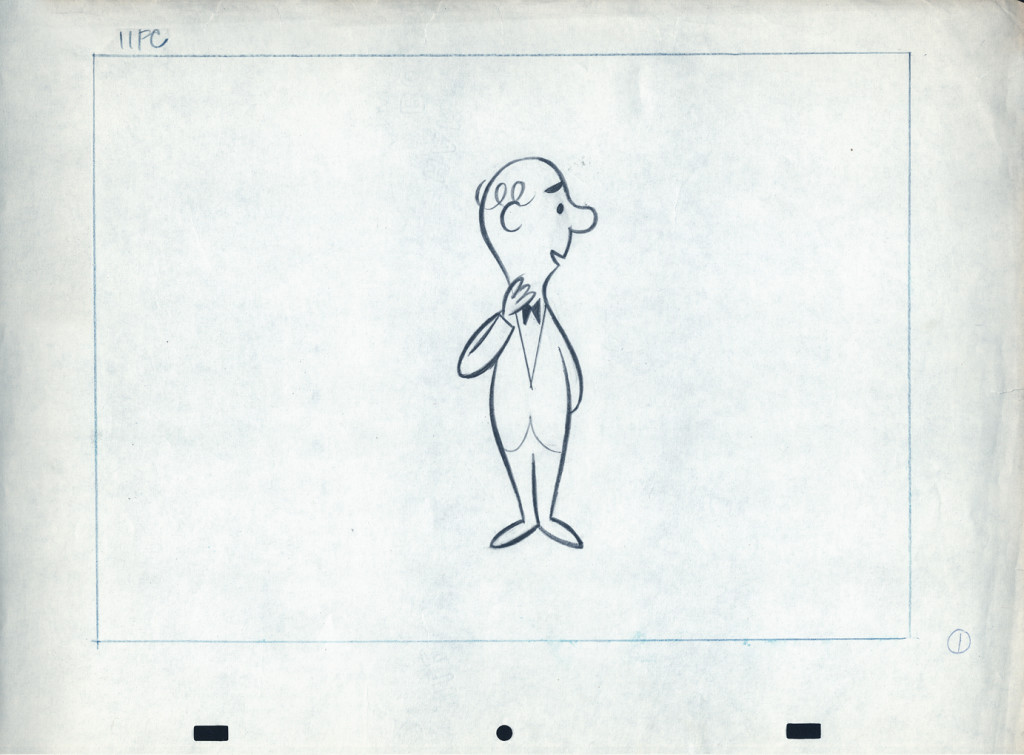 1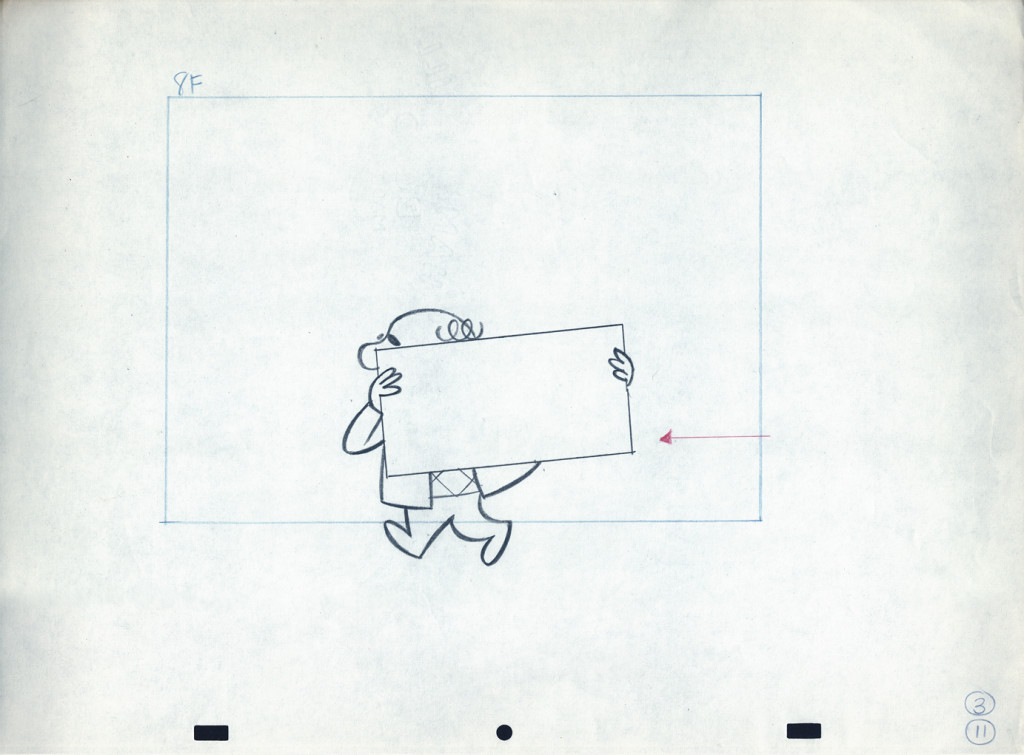 3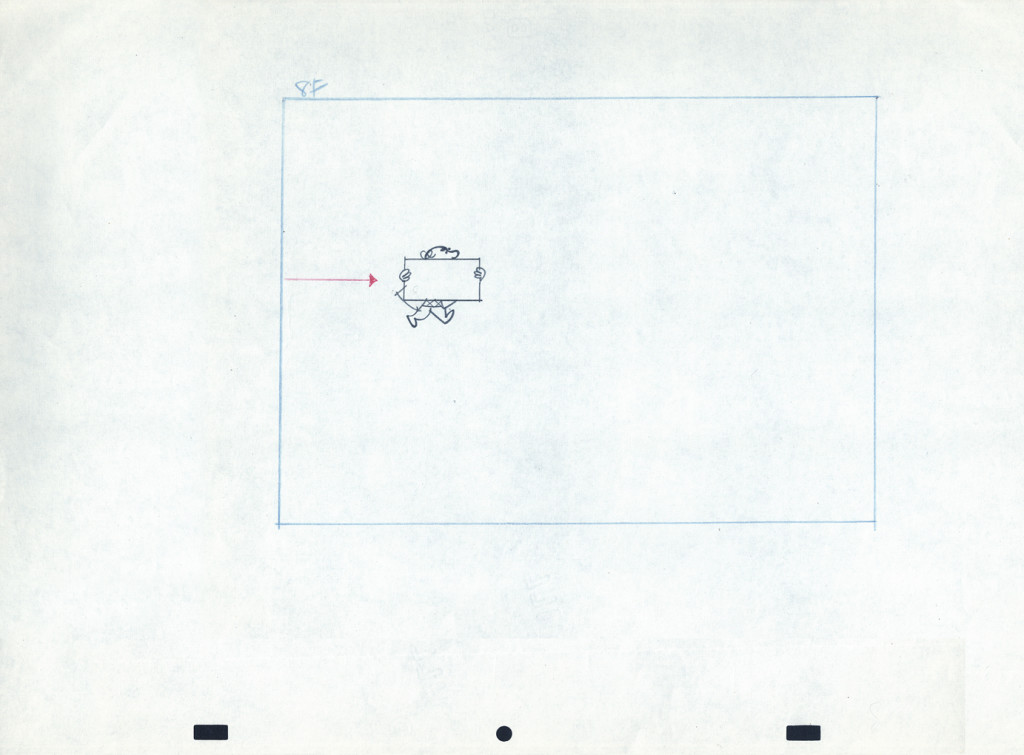 4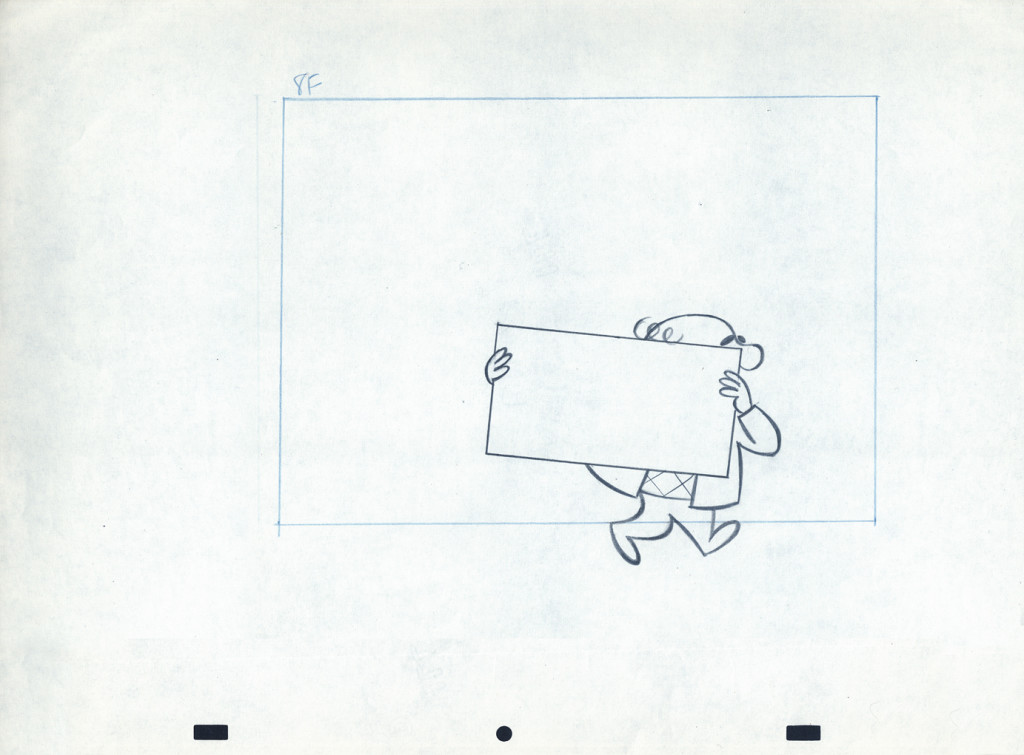 7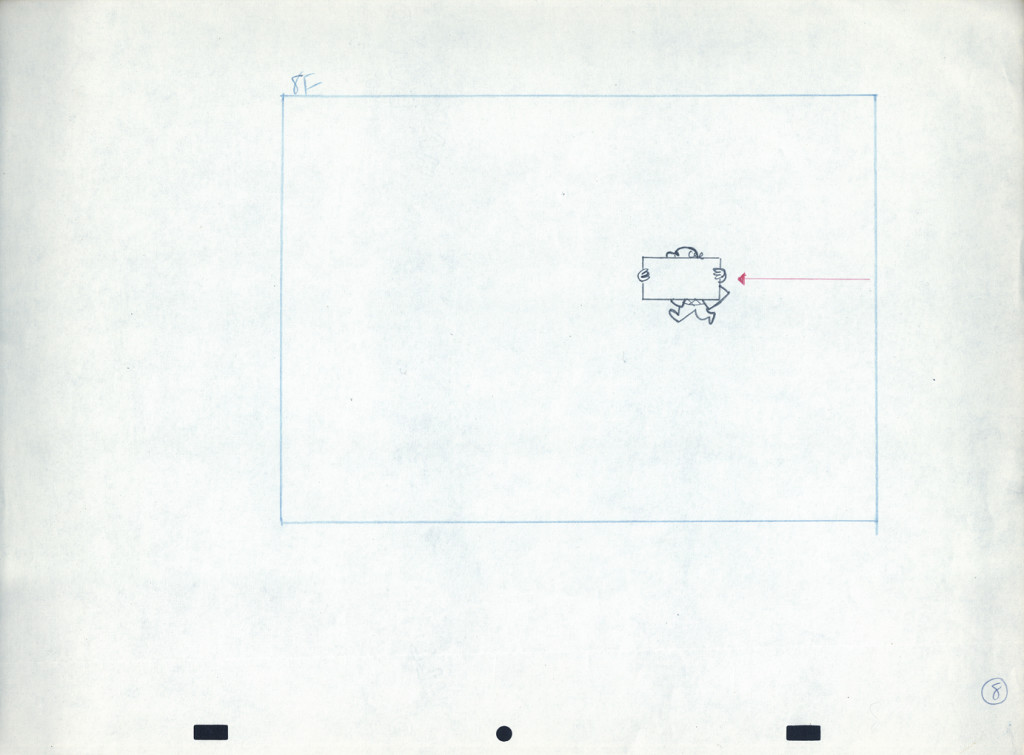 8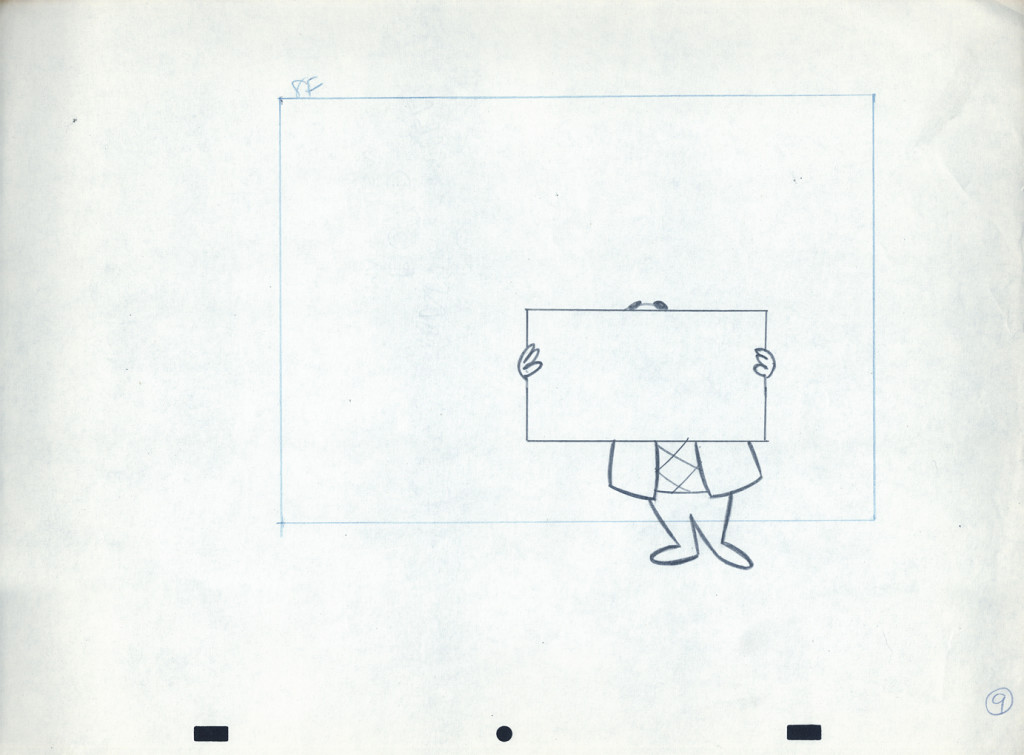 9
In the next week or two, I'll post some of the animation drawings left behind so you can get an idea of the movement and Lu Guarnier's animation. I'll probably have some to say about Lu's style of movement. It drove me crazy when I had to assist him. The movement always looked great on screen, but it took a lot for an assistant to get it there.