Monthly ArchiveFebruary 2013
Articles on Animation &Bill Peckmann &Books 28 Feb 2013 04:08 am
- One of Disney's early animators who left the studio before it went through its renaissance into the features, was Hardie Gramatky. He came to the studio from Chouinard and had been a brilliant watercolorist even when he entered the studio. While working at Disney by day, he continued to study art at Chouinard by night. After leaving Disney, he focused on his art acting as something of a force in developing the California School of Watercolor, At the same time he did children's books to earn money. His great claim to fame was the famous children's book, Little Toot, which, itself, was animated by the studio as part of the feature compilation, Melody Time. The short outlived the feature and has played often developing its own legacy.
Bill Peckmann had sent me this article from Watercolor Magazine, the Fall/2011 issue.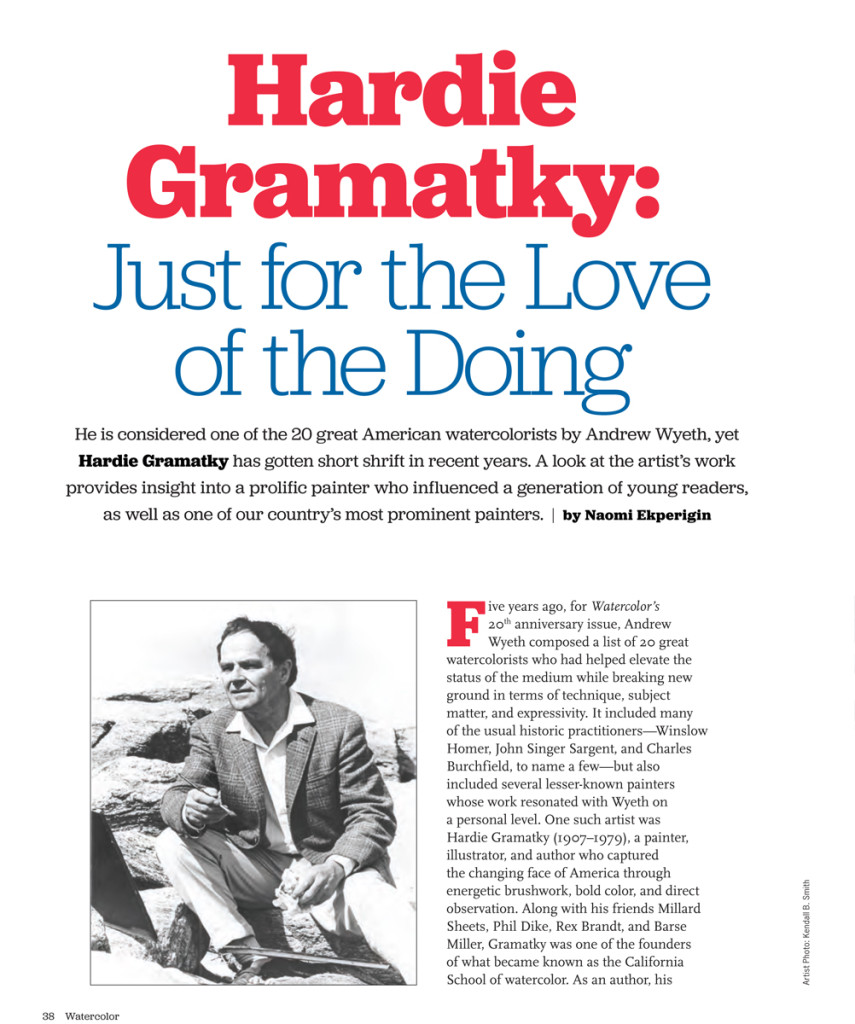 1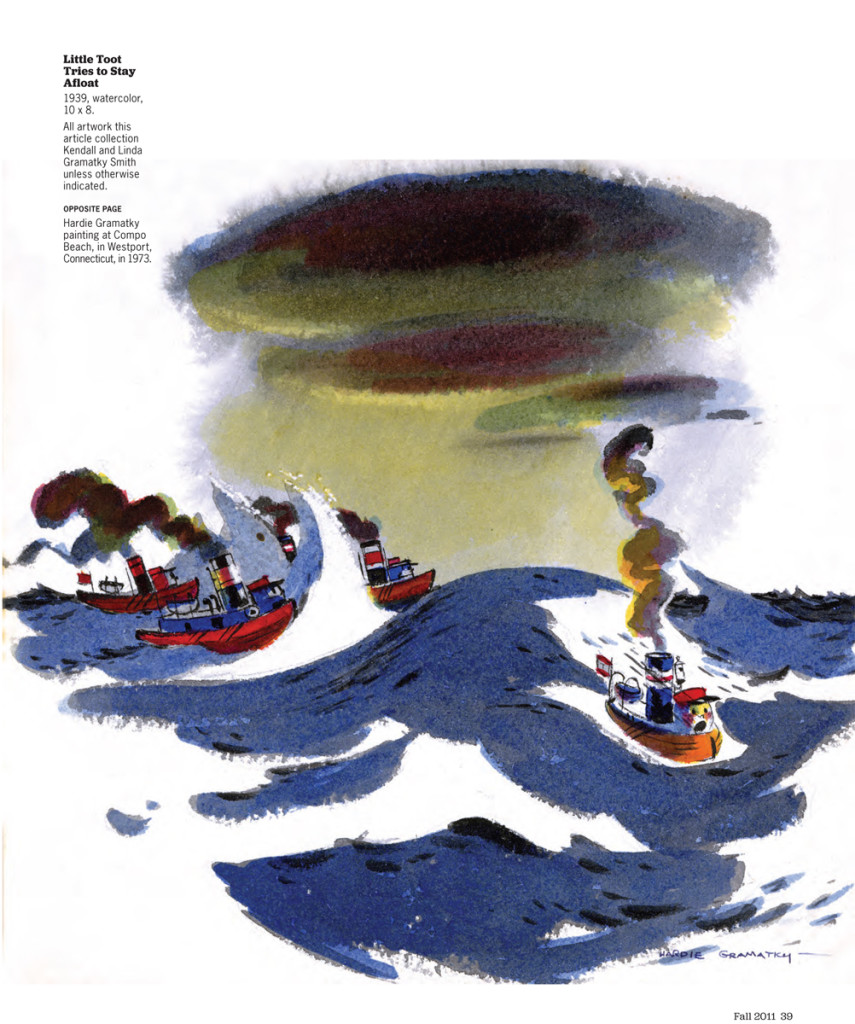 2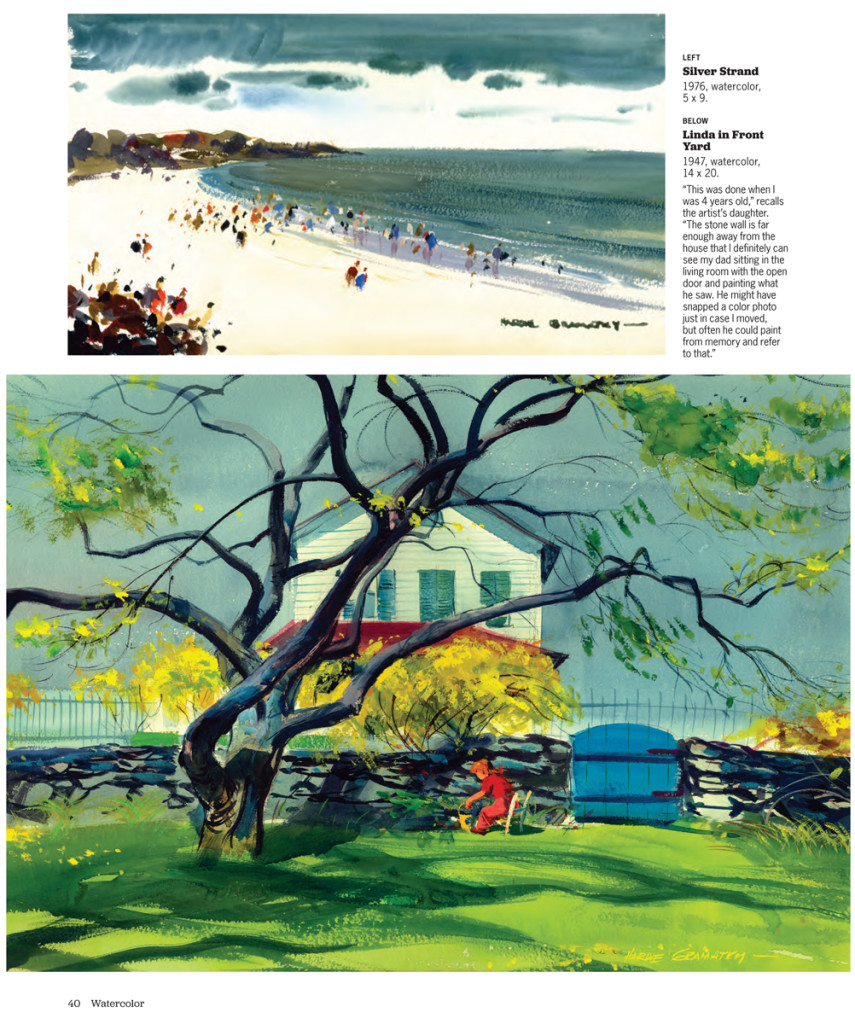 3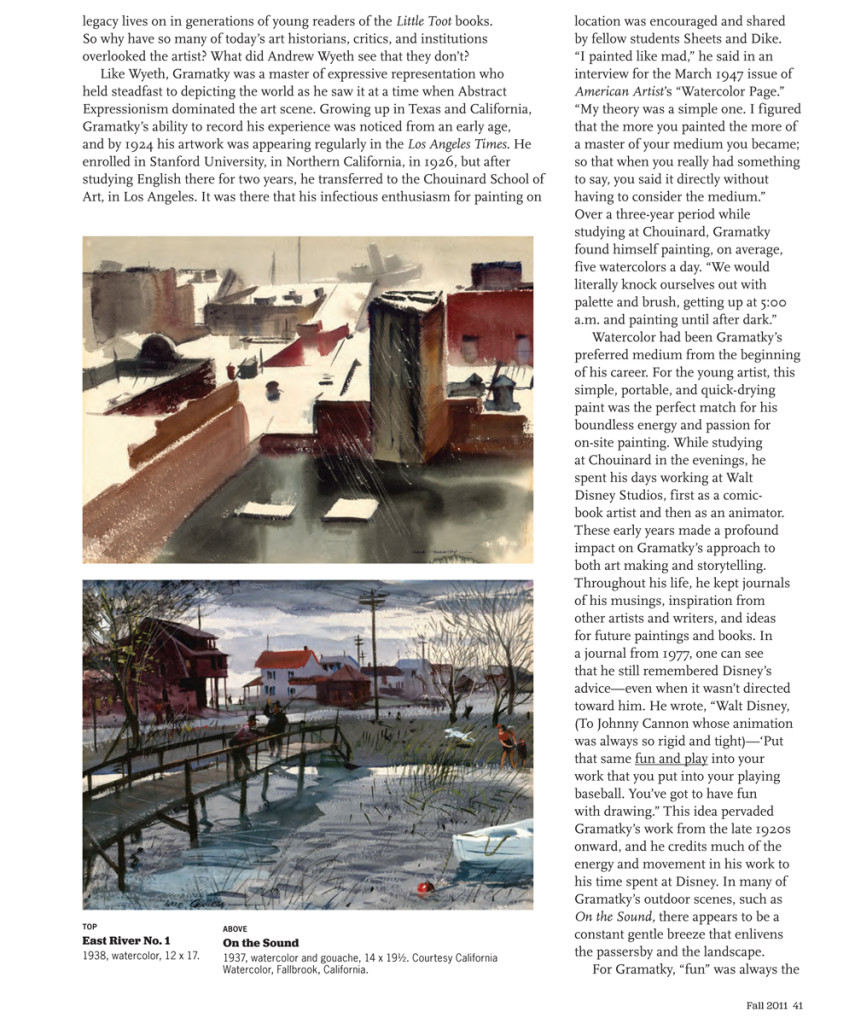 4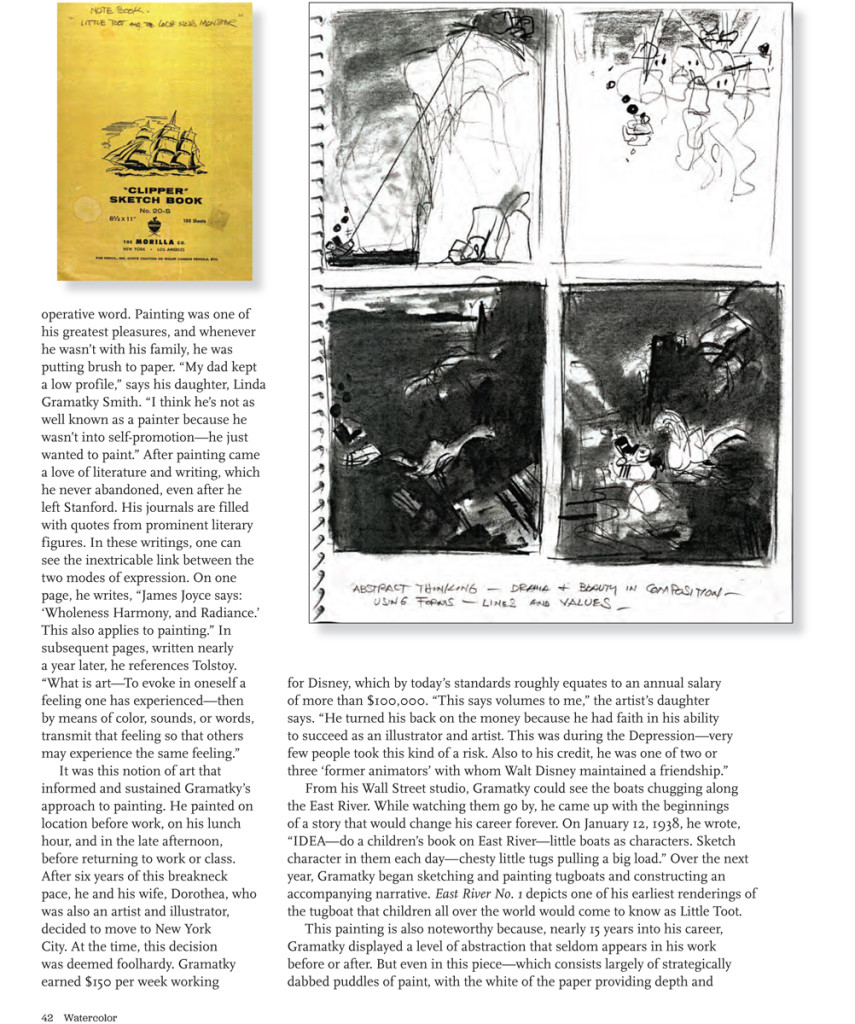 5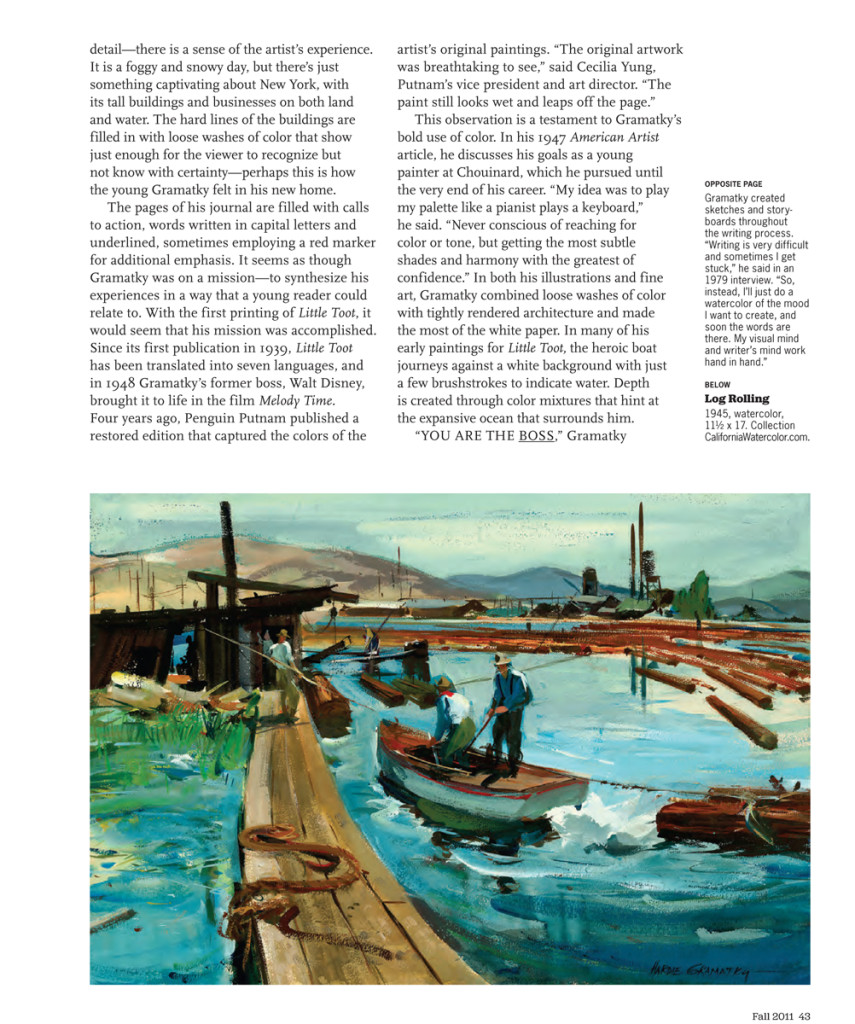 6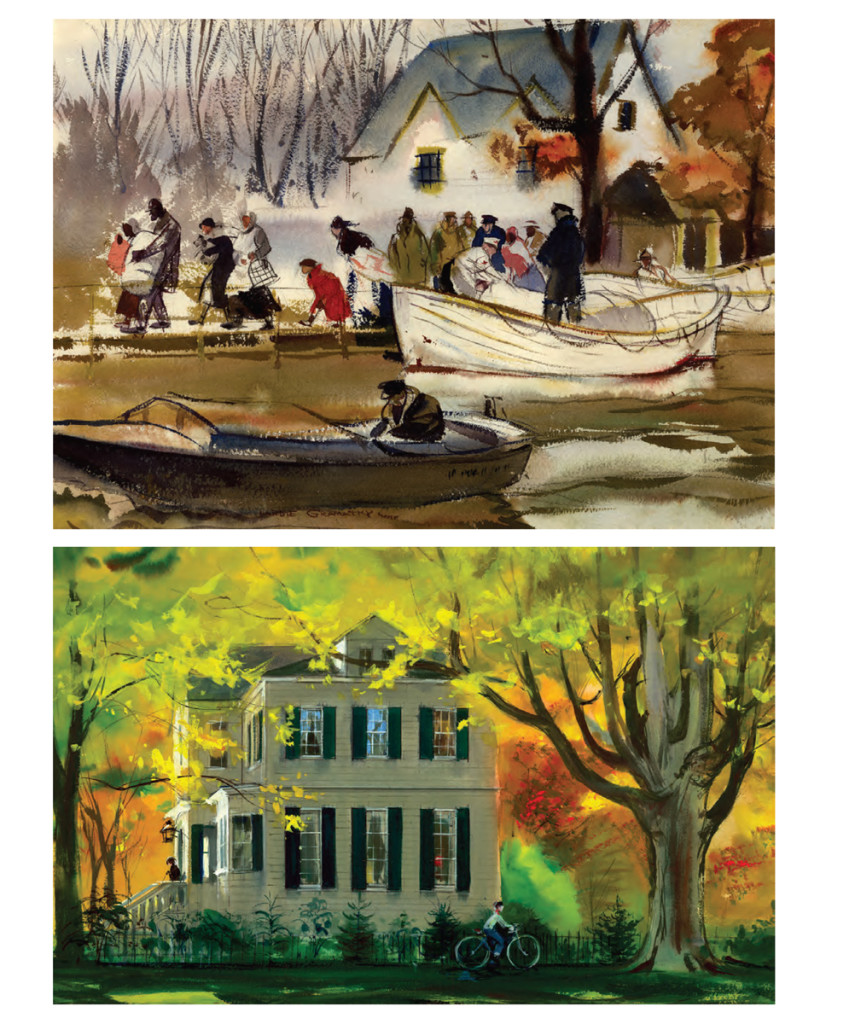 7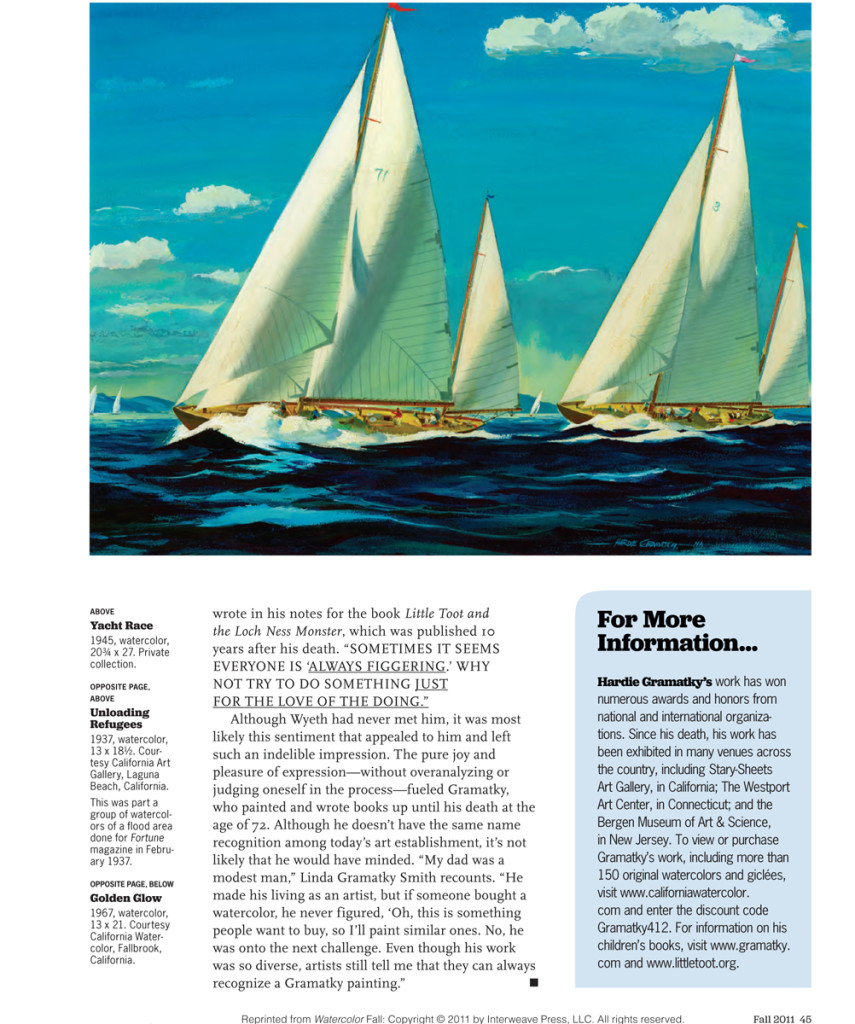 8
Bill Peckmann also included clips from this Society of Illustrators, Benefit Centennial Auction, which included the following pieces by Gramatky;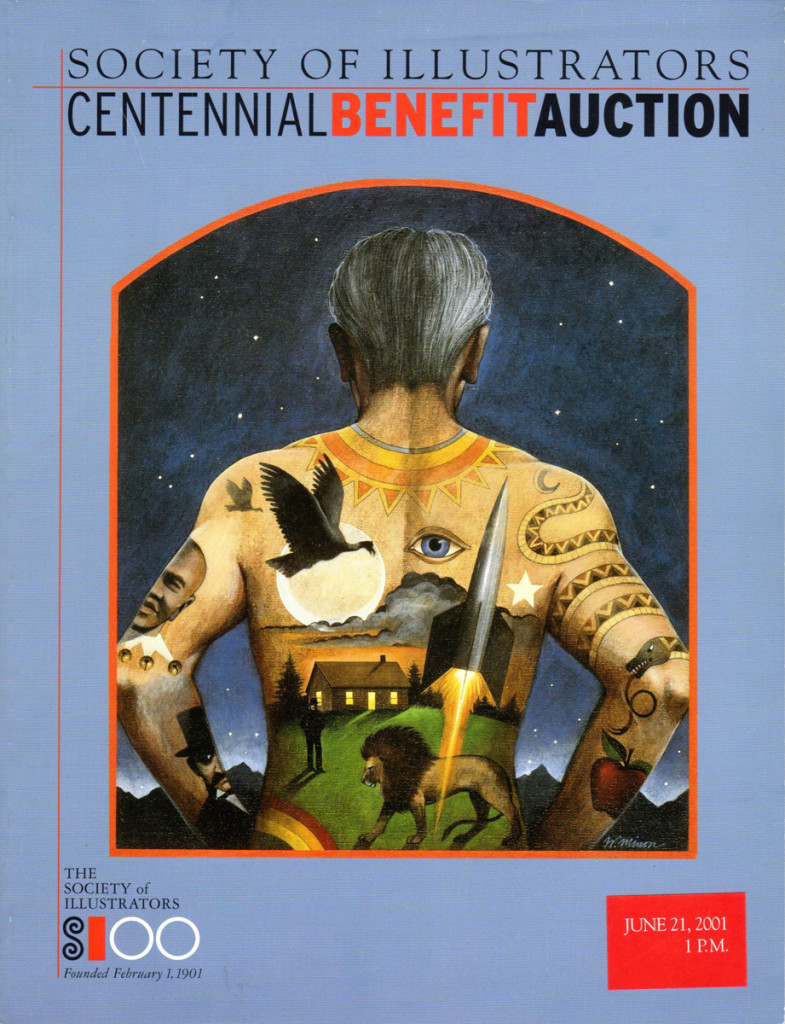 Magazine cover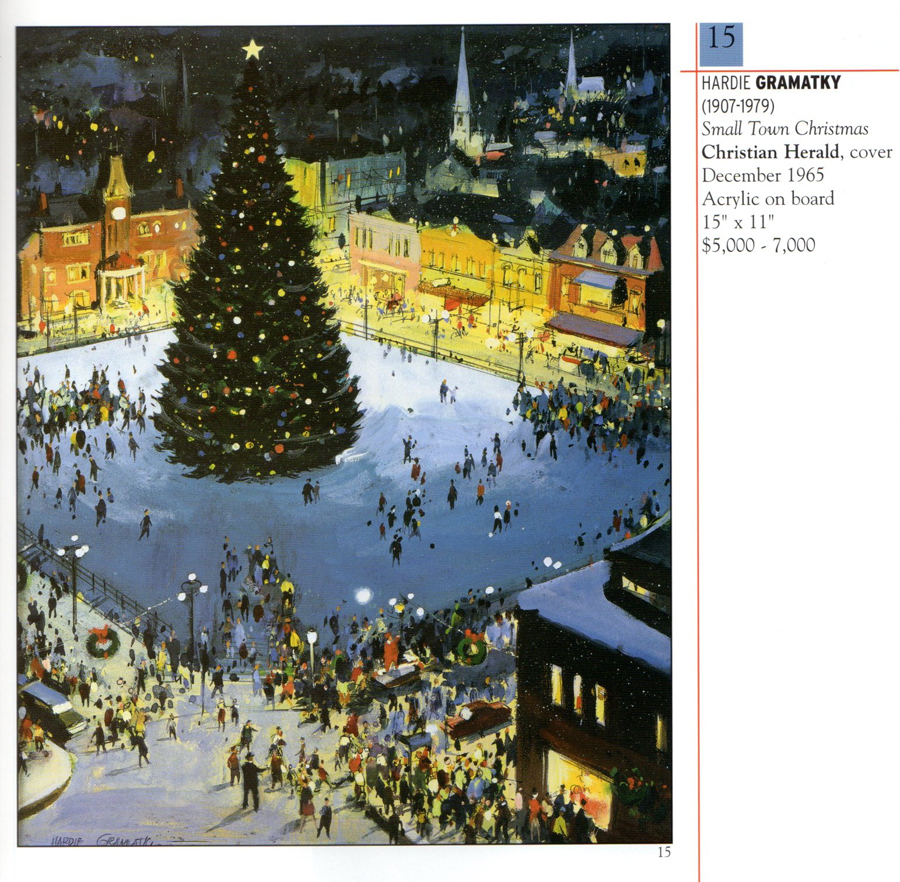 1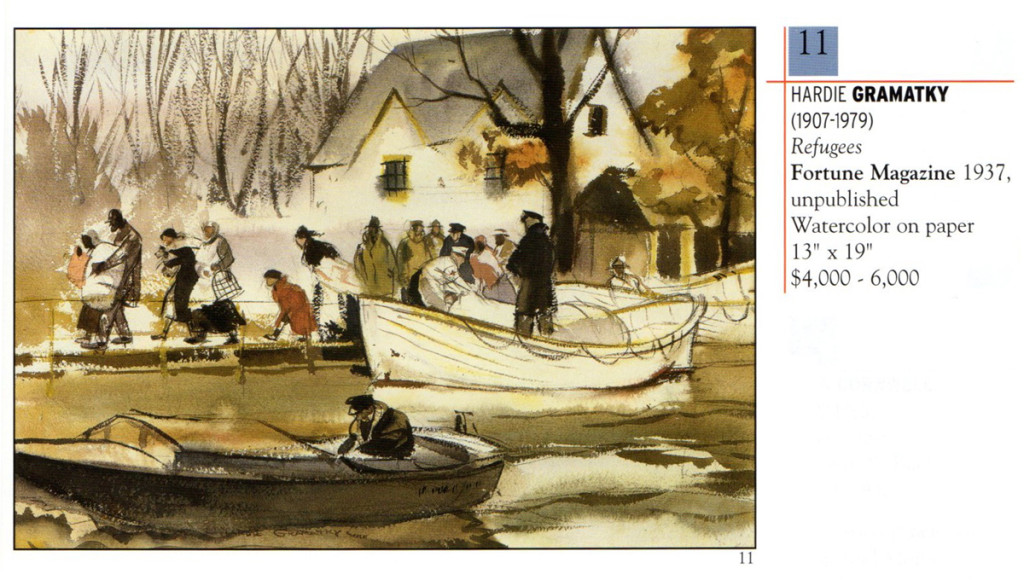 2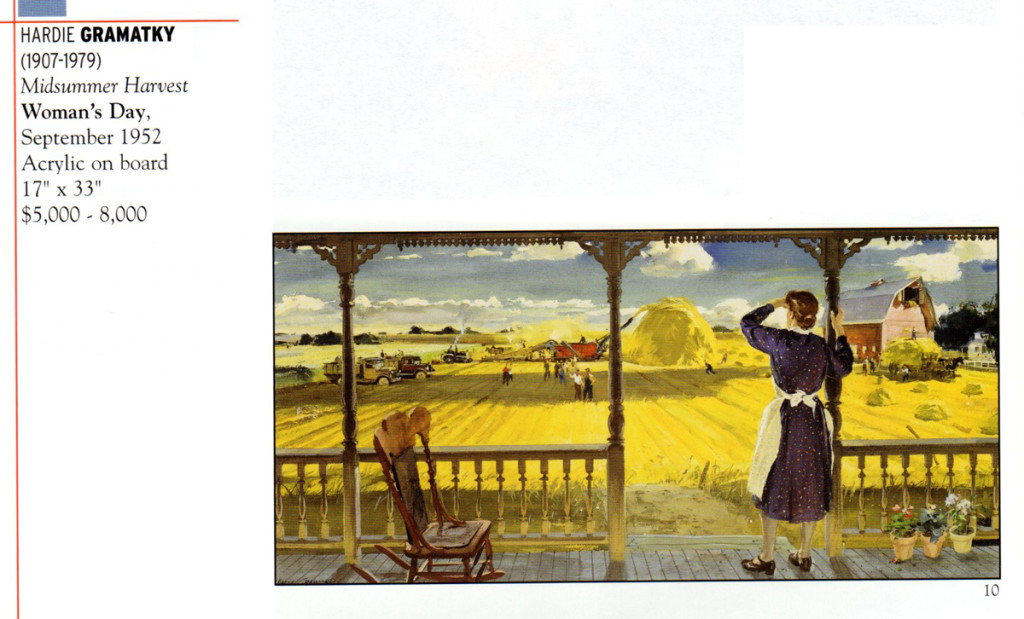 3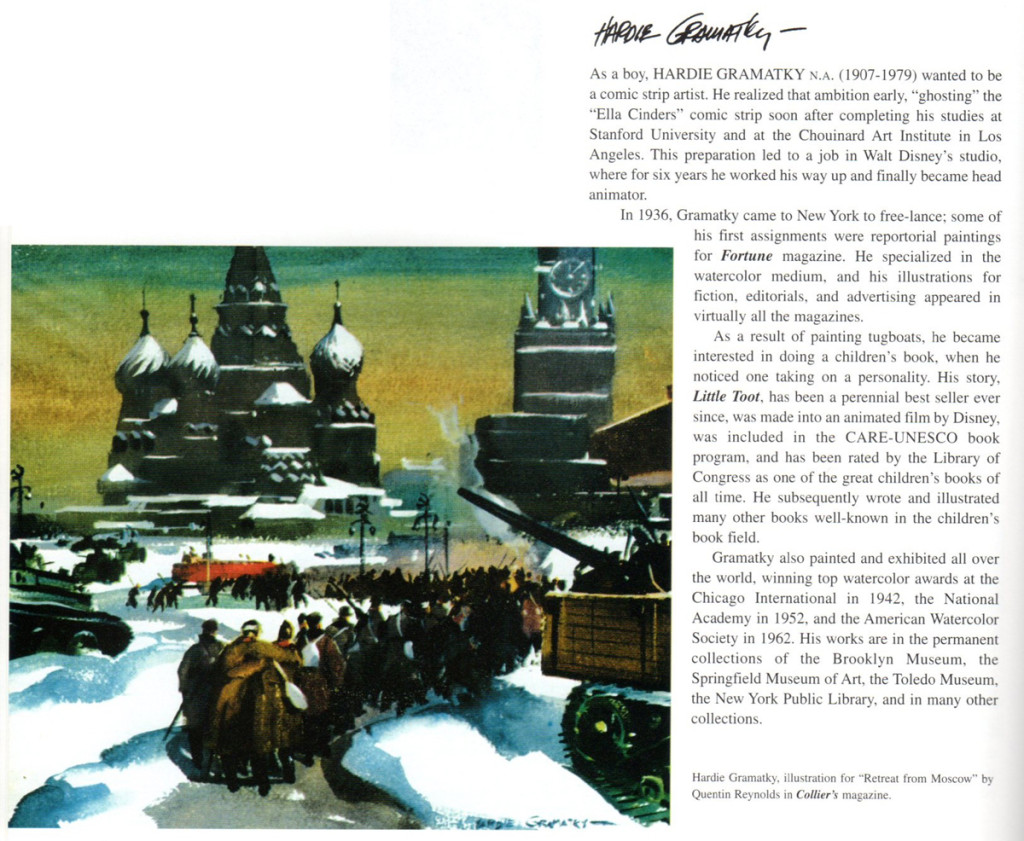 4

To get an idea of scenes Gramatky animated at Disney's here are links to some past drafts that I've posted:
Dognapper, The Whoopee Party, Mickey's Good Deed, The Robber Kitten
The children's book, Little Toot is large enough that it has its own website.
Animation Artifacts 27 Feb 2013 06:04 am
Here is the next installment of Top Cel issues. These are all that I have for 1966. Vince Cafarelli saved most of the collection of papers that were edited by Ed Smith for Local 841 of the MP Screen Cartoonists Guild. These all come from that collection.
As for who illustrated the covers, I only have the signatures to go by; they don't seem to have identified them elsewhere.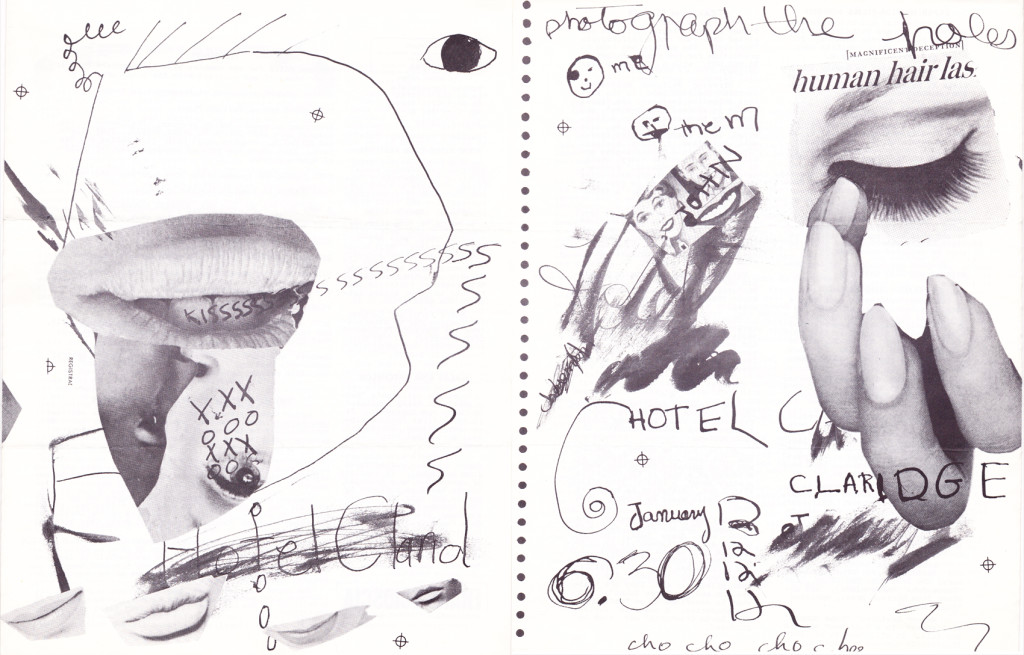 January 1966 pgs A & F
Designed & drawn by ?????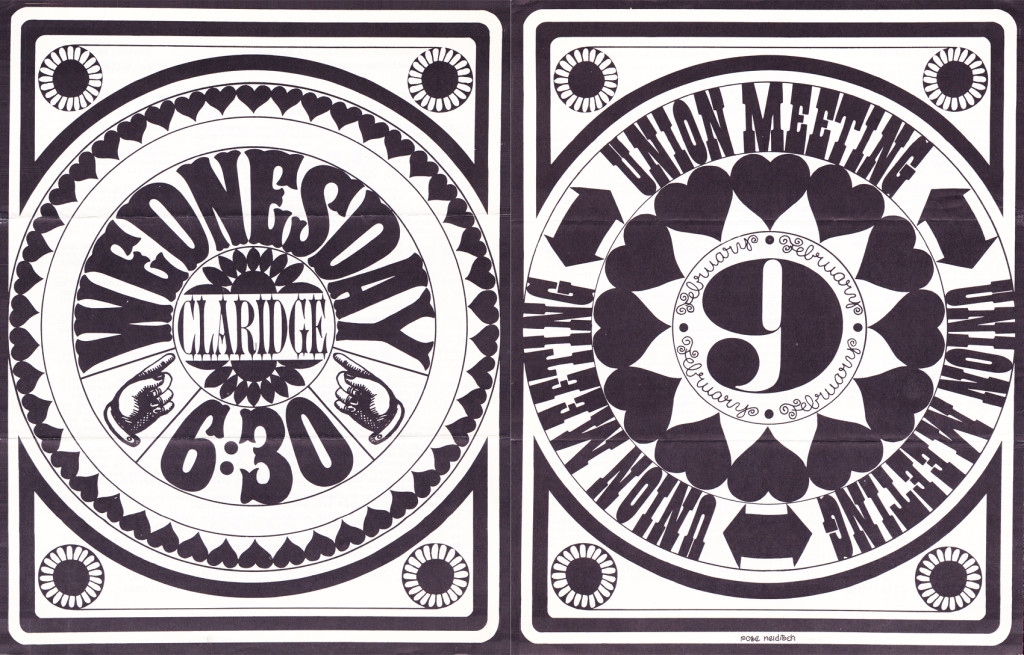 February 1966 pgs A & F
Designed & drawn by Pose Ziditech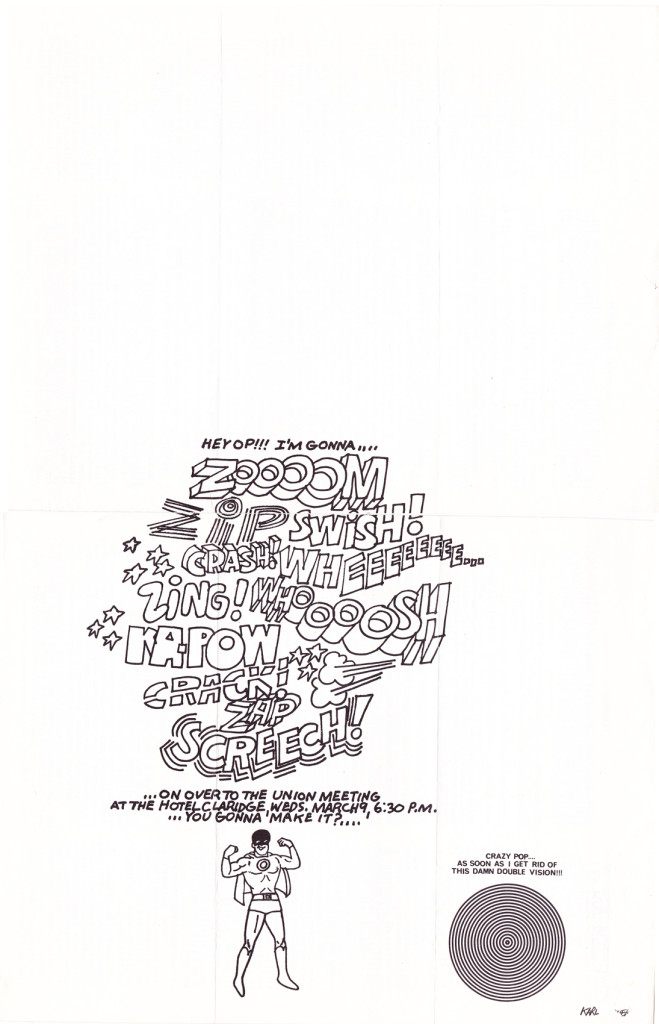 March 1966 pgs A & F
Designed & drawn by Karl Fischer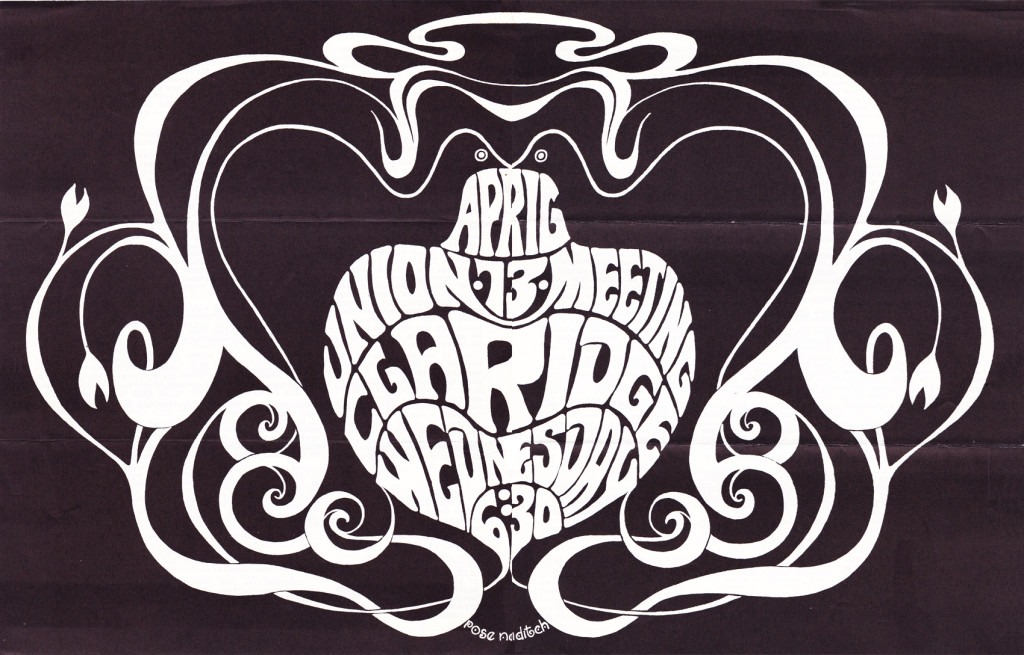 April 1966 pgs A & F
Designed & drawn by Pose Ziditech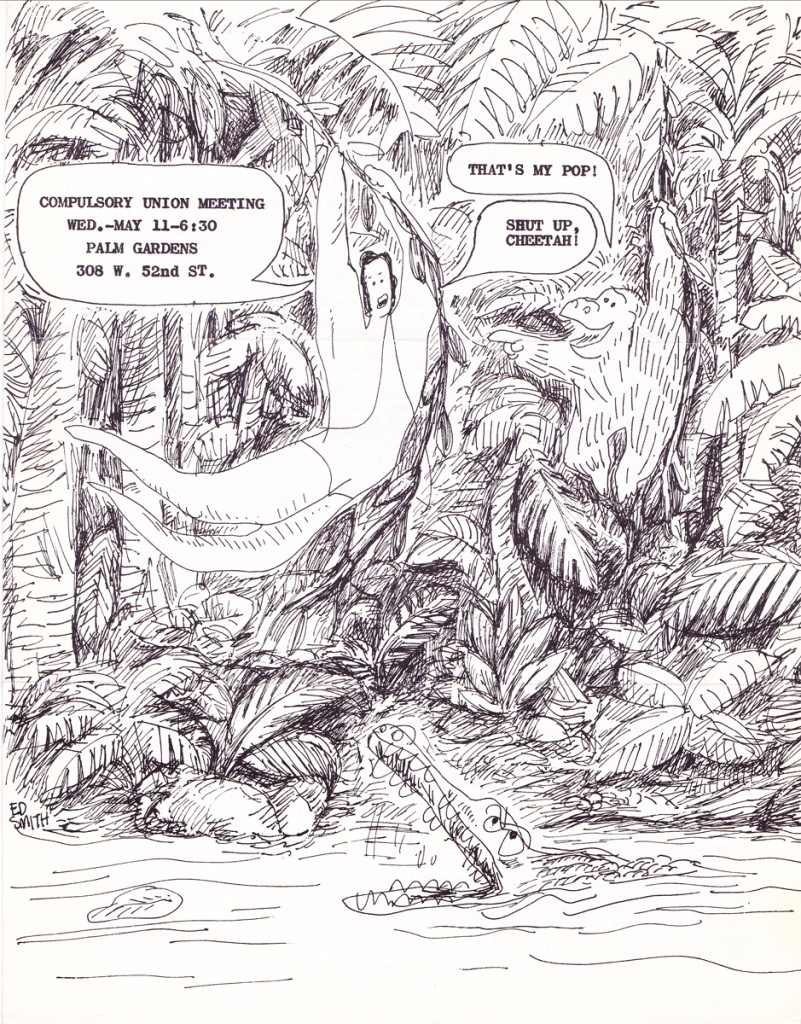 May 1966 pg A
Designed & drawn by Ed Smith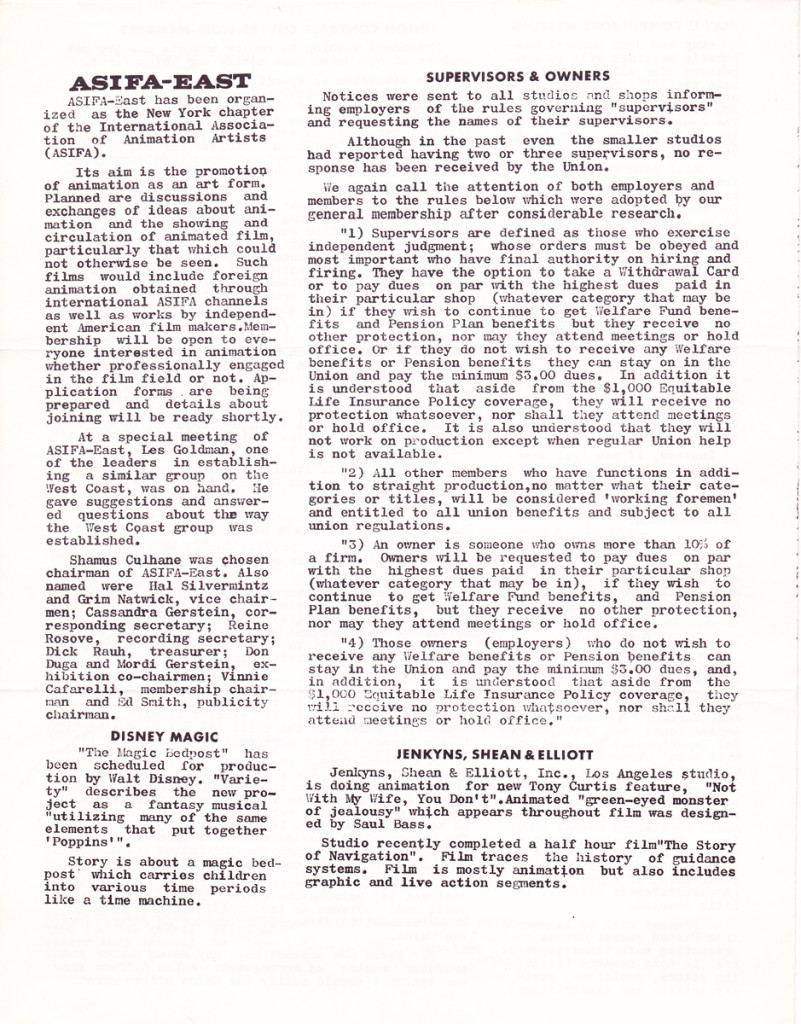 d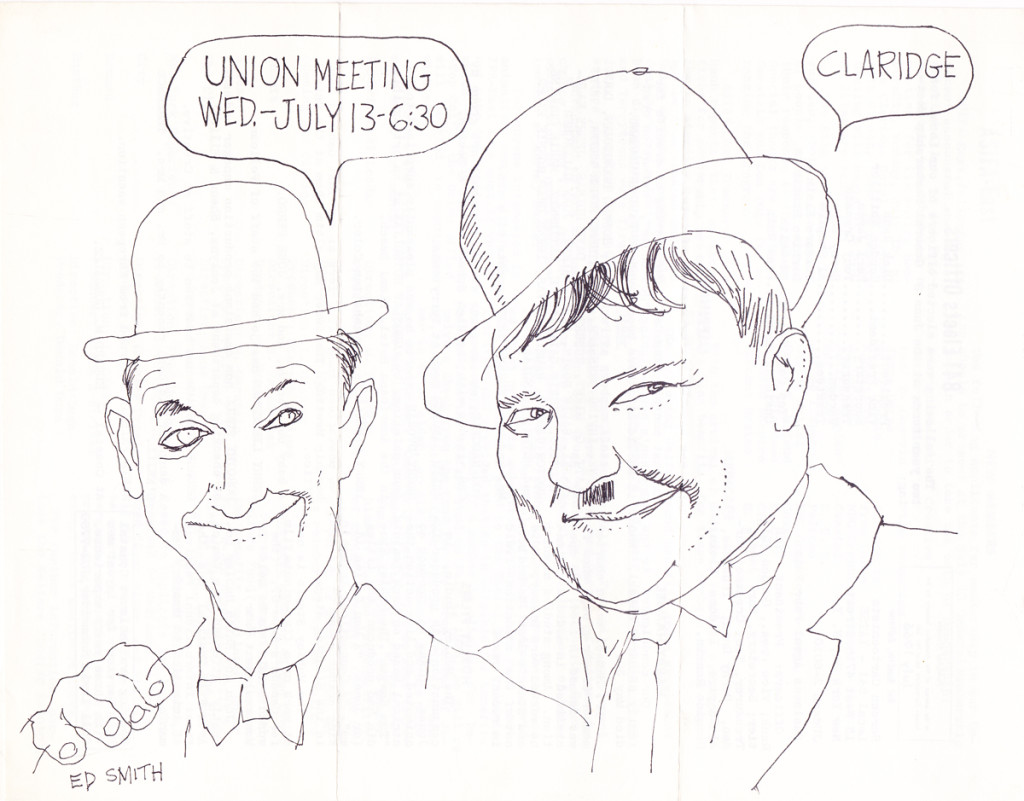 July 1966 pg A
Designed & drawn by Ed Smith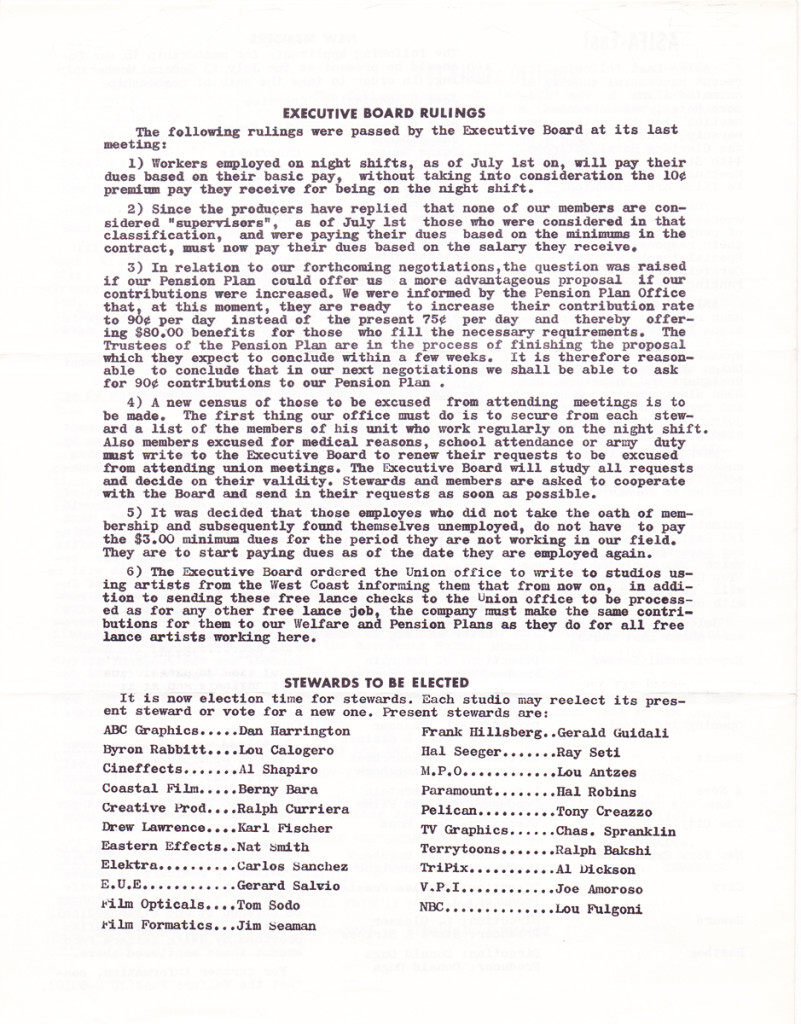 d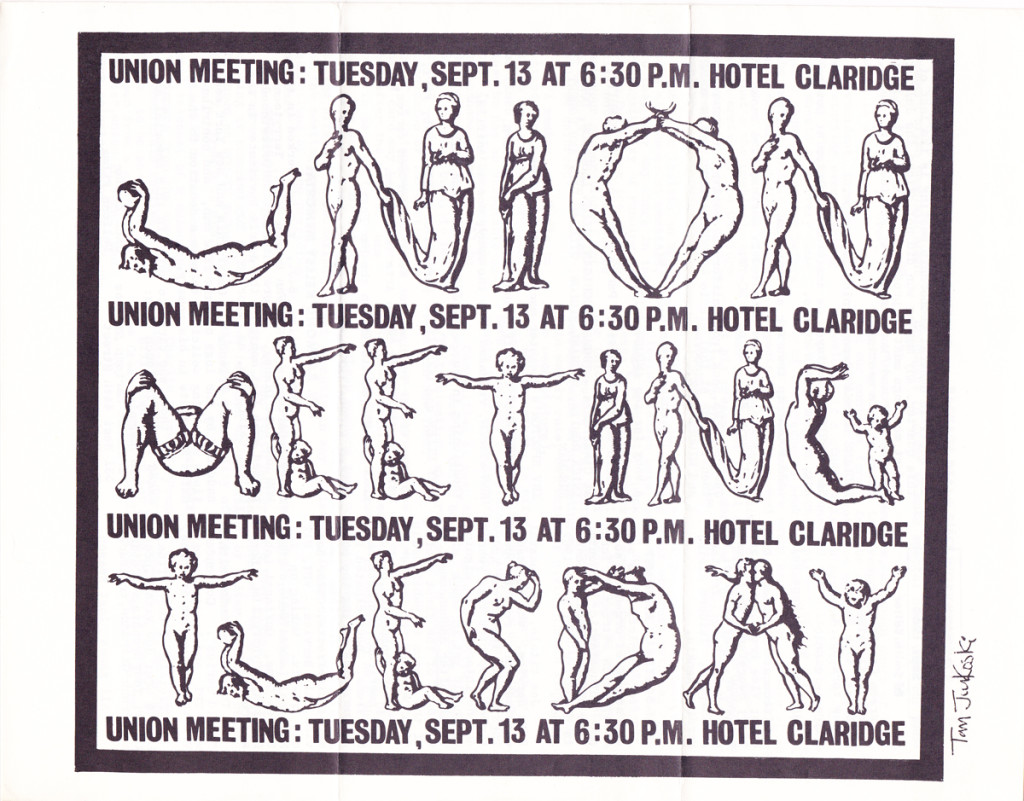 September 1966 pg A
Designed & drawn by Tom Jurkoski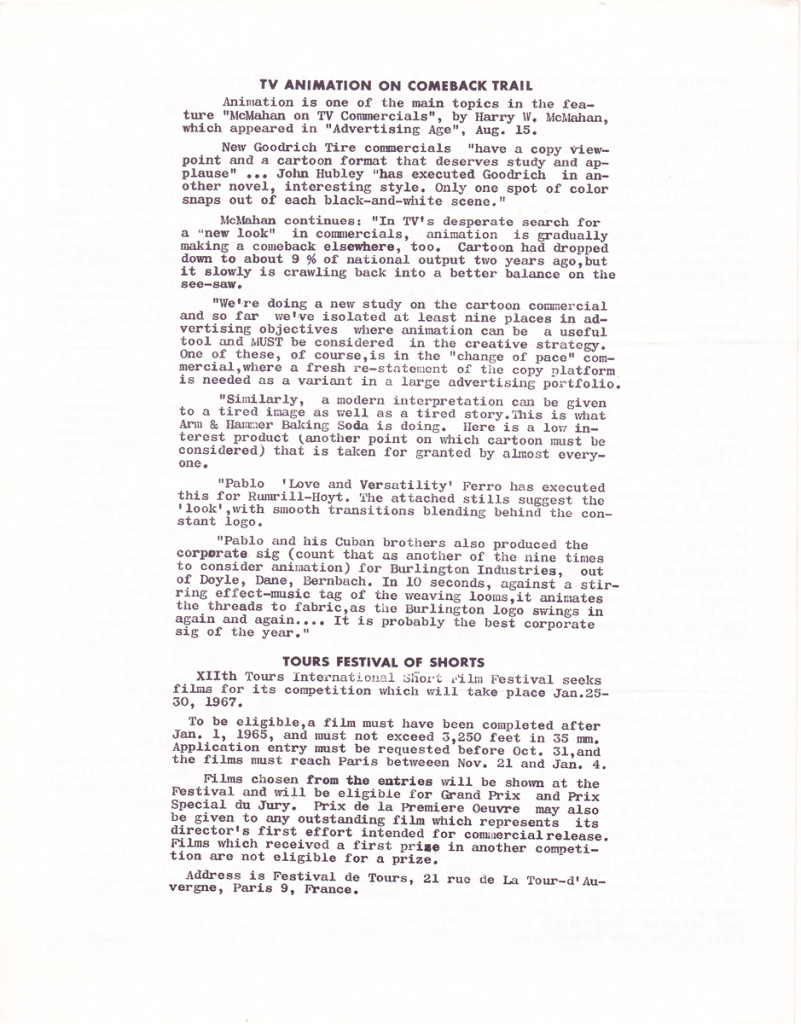 d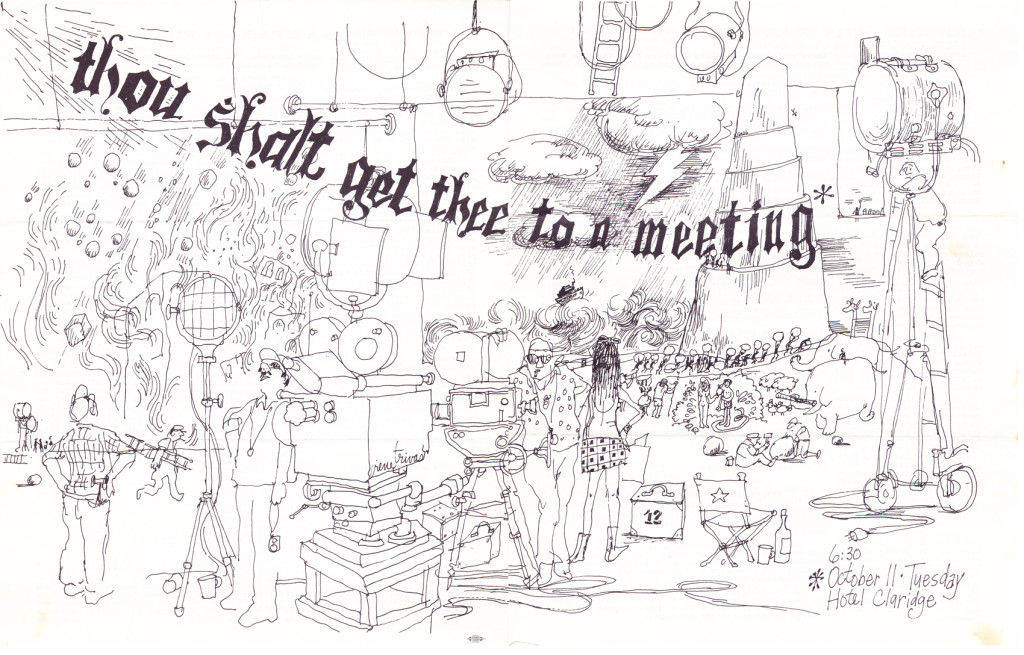 October 1966 pg A
Designed & drawn by Irene Trivas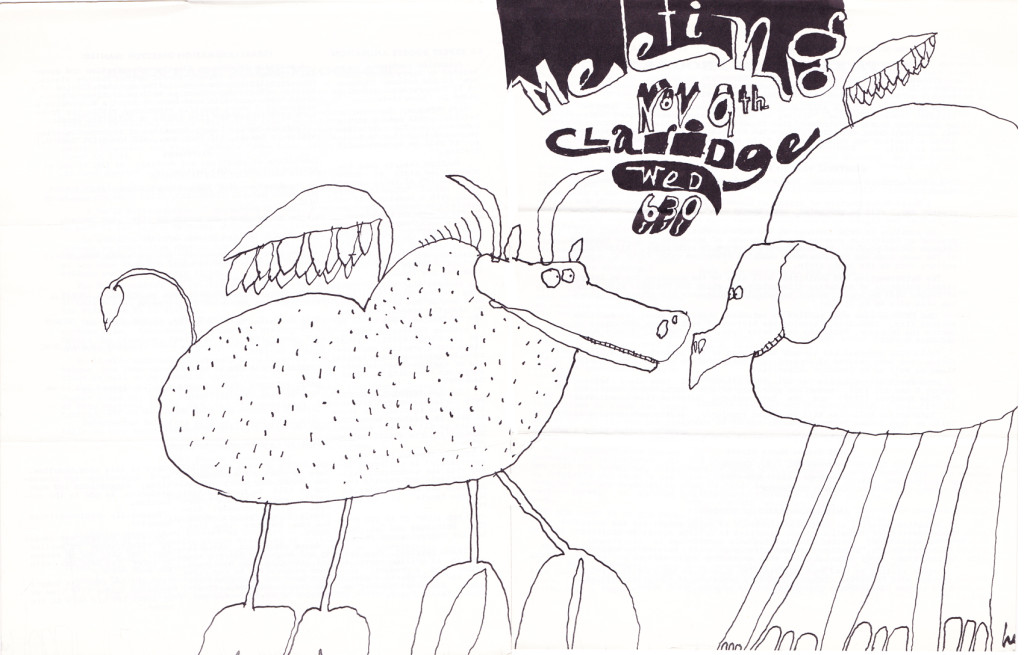 November 1966 pg A
Designed & drawn by ????
Animation &Bill Peckmann &Disney &Models 26 Feb 2013 05:54 am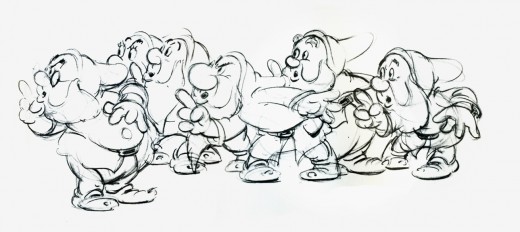 - Here, I continue with the recent outburst of model sheets. The following is a collection of Snow White and all seven dwarfs. I assume some of these can be found in print in one of the many collections of art from the film. I found two of the models in an old, expensive book I have which came via American Express.
The first two beautiful, original models come courtesy of Bill Peckmann's collection. The remainder of the group were Xerox copies I made years back. I've tried to clean them up a bit (lots of old grit from the ancient copies on glossy paper.)
(Click any image to enlarge.)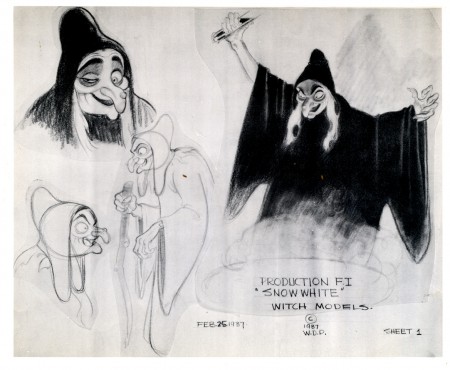 The Witch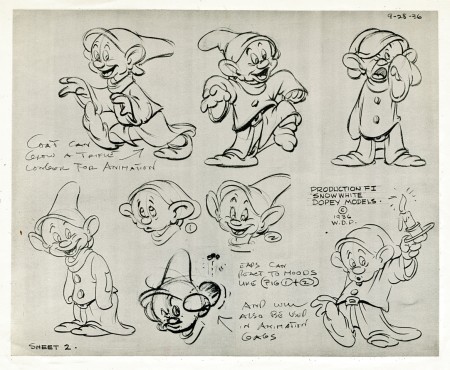 Dopey1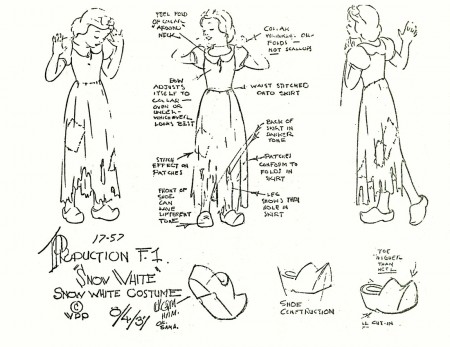 Snow White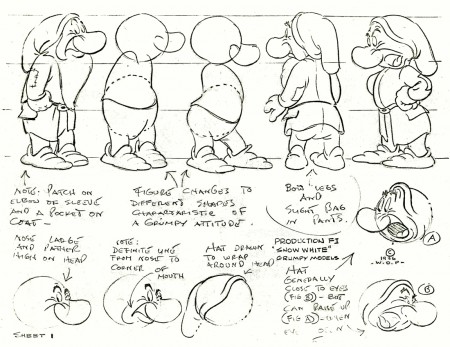 Grumpy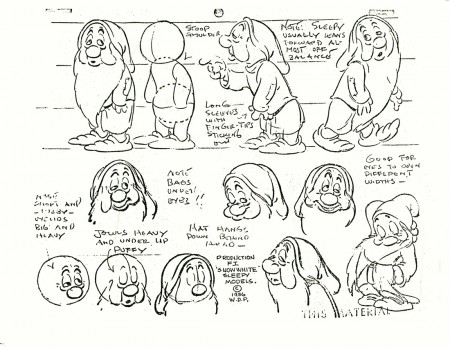 Sleepy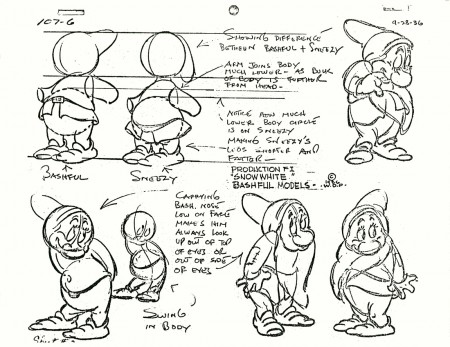 Bashful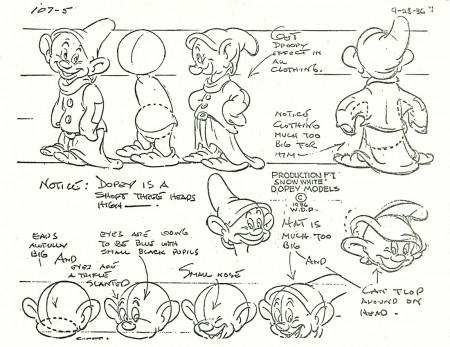 Dopey 2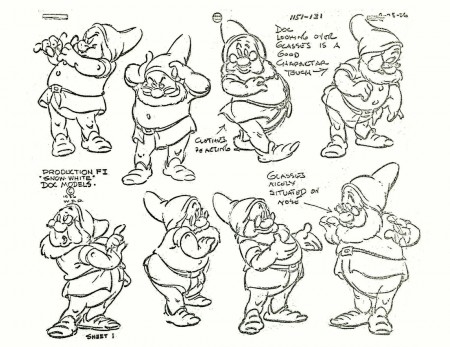 Doc 1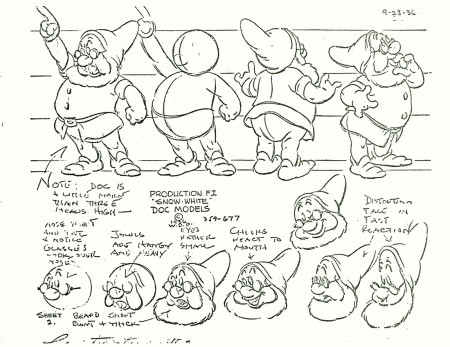 Doc 2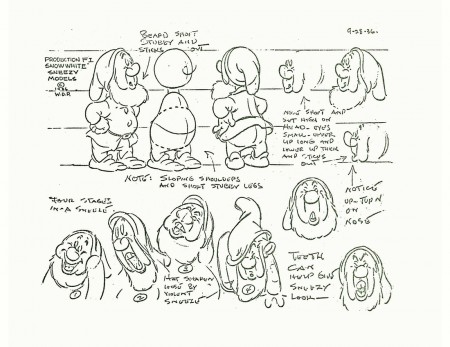 Sneezy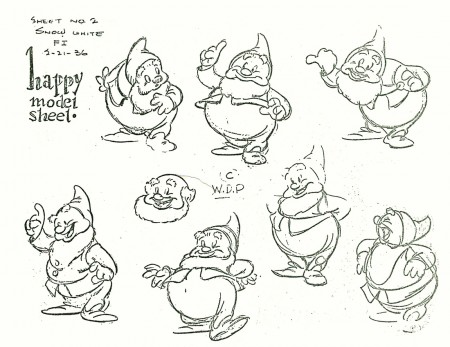 Happy 1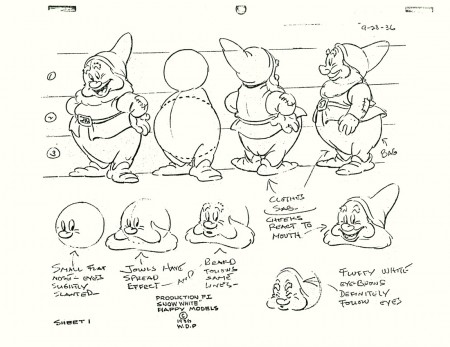 Happy 2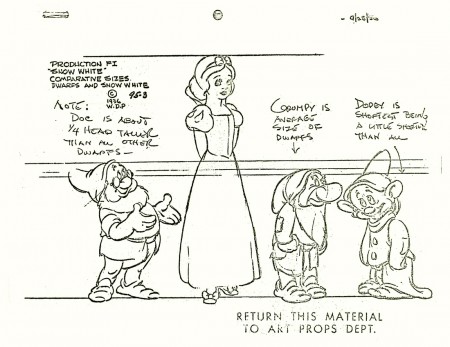 Snow White & dwarf comparative sizes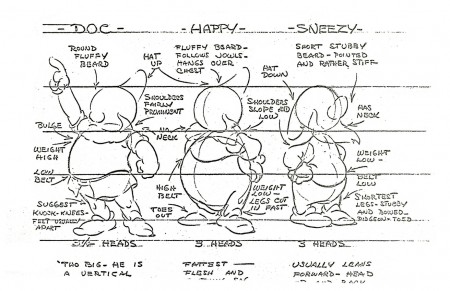 Dwarf comparative sizes 1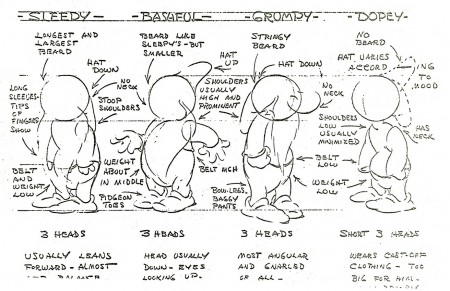 Dwarf comparative sizes 2
Animation &Commentary &Daily post &Errol Le Cain &Richard Williams 25 Feb 2013 05:28 am
The Richard Williams Mystique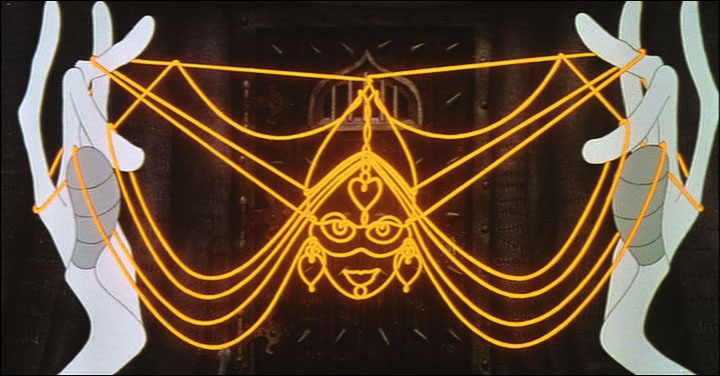 Next Friday, at the invitation of filmmaker-editor-director, Kevin Schreck, I'll have the pleasure of seeing his recently completed documentary, Persistence of Vision. This is the story of the making of Richard Williams' many-years-in-the -making animated feature, The Cobbler and the Thief. I'm not sure of the film maker's POV, but I somehow expect it to be wholly supportive of the insistent vision of Richard Williams in the making of this Escher-like version of an animated feature. A work of obsession.
It's the tale of an "artist", someone who sees himself as an artist, and continually pushes through the world with what would seem to be evident proof of such. After all, this man had single-handedly altered the face of 2D animation in a world that was about to throw it away with all its rich history and artistry and strengths. A medium that had developed through the years of Disney with giant, filmed classics such as Snow White, Pinocchio, Fantasia and even Sleeping Beauty. A medium that had drastically changed to 20th century graphics under the hands of people like John Hubley, Chuck Jones, George Dunning and many others and had just about reached a zenith where it was moving toward something wholly new, something adult.
Instead the medium took a turn in the wrong direction. The economics of television brought us back almost 100 years as films became more and more simplistic and simpleminded in the rush to be cheap. Even the Disney studio went for the poorest subject matter using cost-saving devices to sell their films. Films became shoddier and shoddier, and the economics ruled. The closest the medium would come to art was Ralph Bakshi's Fritz the Cat and Heavy Traffic, low budget movies that traded on racy material in exchange for an attempt at something adult, stories barely held together with editing tape. Animation was getting a bad name from every corner whether it was the sped-up graphics of Hanna-Barbera, the reach to the lowest common denominator with poor animation from Disney, or the shock and tell of Ralph Bakshi's filmed attempts at what he saw as art.
Williams took a different turn. He went back to the height of animation's golden era, inviting artists such as Grim Natwick, John Hubley, Ken Harris and Art Babbitt to his London studio to lecture on the rules and backbone of the animation. He brought some of these people to work on a feature that he'd decided to create within his studio on the profits of commercials. These very same commercials financed the training of Dick and his young staff.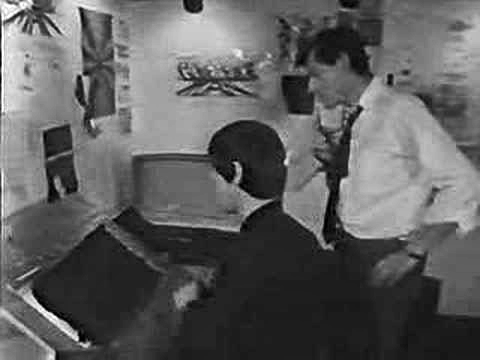 A documentary done in 1966, called The Creative Person: Richard Williams offers an excellent view of his studio. We see snippets of shorts Dick made with his own coin: Love Me Love Me Love Me (1962) or The Sailor and the Devil (1967) wherein we see the training of a young and brilliant illustrator named Errol le Cain. (Le Cain became known for his magnificent, glimmering children's book illustrations. He was doing most of the backgrounds for The Cobbler and the Thief, and had certainly had a large part in its design.)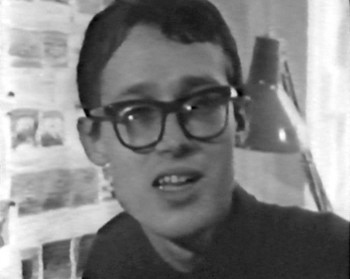 We see in this documentary the first hint of The Cobbler when it was called Nasruddin. It was based on a book of middle eastern tales of a wise fool whose every short story tells a new and positive anecdote. Dick had illustrated several books of these tales with many funny line drawings. The book was written by the Idres Shah who had undertaken a role within the Willams studio finding funds for the feature. Eventually, the two had a falling out, and Idres Shah left with his property. Williams took the work he had done as Nasruddin and reworked it into The Cobbler and the Thief. ________________________________Errol le Cain
Meanwhile the work within his studio continued to develop, growing more and more mature. The commercials became the highlight of the world's animation. Doing many feature film titles such as What's New Pussycat (1965), A Funny Thing Happened on the Way to the Forum (1966), The Charge of the Light Brigade (1968) led to Dick's directing a half-hour adaptation of The Christmas Carol (1971). Chuck Jones produced the ABC program, and it led to an Oscar as Best Animated Short.
Through all this The Cobbler and the Thief continued. Many screenplays changed the story and the stunning graphics that were being produced for that film were often shifted about to accommodate the new story.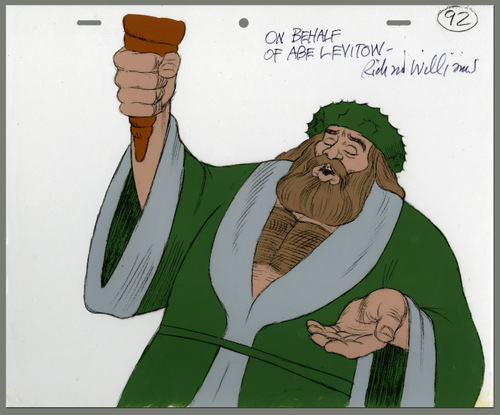 By this time, Williams had developed something of a name within the world of animation. Strong and important animation figures went to his studio to work for periods of time. Someone like Abe Levitow taught and animated for the studio. (His scenes for The Christmas Carol are among the most powerful.) Many of the Brits that worked in the studio and then left to start their own companies were now among the world's best animators.
Williams had the opportunity of doing a theatrical feature adaptation of the children's books The Adventures of Raggedy Ann and Andy and took it. A large staff of classically trained animation leaders such as Art Babbitt, Grim Natwick, Tissa David, Hal Ambro, Emery Hawkins and many others worked out of New York or LA as the company set up two studios to produce this film. Working for over two years, Dick's attention was diverted to work away from his London studio, where commercials and some small devotion was given to The Thief by a few of the key personnel working there. Dick spent a good amount of his time in the air flying from NY to LA to NY to London and back again and again. He concentrated his animation efforts on cleaning up animation by some of the masters, rather than allow proper assistants to do these tasks. By doing this he was able to reanimate some of the work he didn't wholly approve of. Entire song numbers were reworked by Dick as the film flew well behind its budget and schedule.
Eventually, the film finished in confusion and mismanagement, and Dick moved to his LA studio where he continued commercials and began Ziggy's Gift, a Christmas Special for ABC.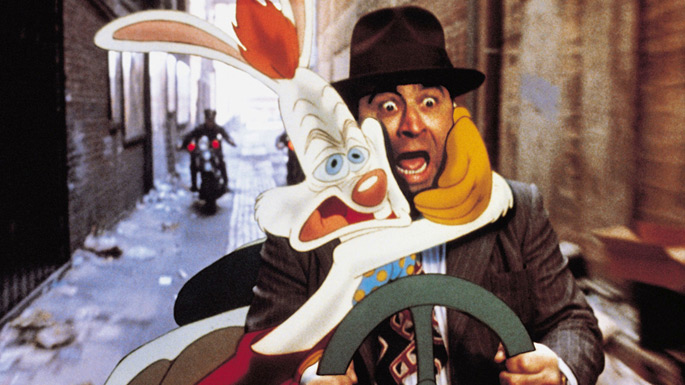 From this he went back to his London studio and did the animation for Who Framed Roger Rabbit for producer/director Robert Zemeckis. He hoped that work on this feature, which won three Academy Awards, including a special one for the animation, would be the triumph he needed to help him raise the funds for The Thief and the Cobbler. Now that he was safely back in his own studio in Soho Square he felt more focused.
A contract came from Warner Bros., and the work began in earnest.
Dick's history wasn't the best working on these long form films. Chuck Jones replaced him on The Christmas Carol to get it finished when work went overbudget and schedule. Dick was putting too much into it. Gerry Potterton finished Raggedy Ann when the budget went millions over with less than a third completed. Eric Goldberg took over Ziggy's Gift, the Christmas Special for ABC, to get it done on time. On Roger Rabbit, the live action director stayed intimately involved in the animation after his shoot was complete. When it became obvious that things weren't going well, he stepped in to complete that film.
In all cases of all of these films, Dick never left. He stayed on working separately on animation or assisting to try to keep a positive hand in the quality of the work that was done.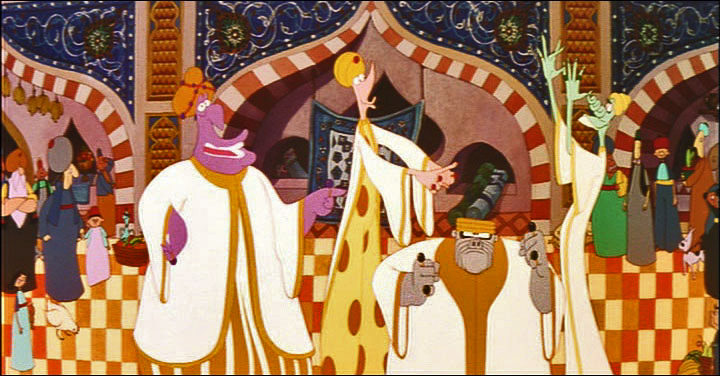 When The Cobbler and the Thief ran into very serious trouble, there was no secondary Director or Producer to come in and complete the work. Instead that job fell to the money men. The completion bond company, essentially an insurance company for Warner Bros. to make sure they wouldn't lose their money if things didn't go well, stepped in. They closed Dick's studio and removed Dick from the premises. The boxed up and carted off all animation work done or in progress. It was all moved back to Los Angeles.
The Weinsteins, through their company, Miramax bought the film at auction and completed it with a poor excuse of an animation outfit they set up in LA. Work was also sent to Taiwan. The script was reworked trying to capitalize on the success of Disney's Aladdin that had recently opened in the US. If Robin Williams' ad libbing could be such a success, imagine how well Jonathan Winters could do repeating that for a character who, in Dick's original version, had no voice. Now he didn't stop talking.
The new film failed miserably and deserved to do so. The primary audience, I would suspect, was the entire world animation community coming to look down on the artificially breathing corpse.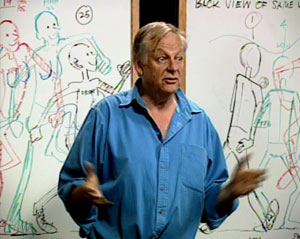 Richard Williams, himself, retired and moved far from the mainstream. He continues to work on small animation bits, but his primary work has been in making a series of DVD lectures revealing how animation should be done. This accompanies a well-received book he wrote and illustrated. Meanwhile, the animation community still hopes that something will emerge from that corner.
Dick turns 80 years old on March 19th. He's still an amazing forceful and exciting personality. I wish I had more access to him (as does most of those who knew him back then.) He's had probably the greatest effect on the animation industry of anyone since the late sixties. There are still studios thriving today on information they learned from Dick and his teaching.
If you're unfamiliar with the blog, The Thief, I suggest you take a look.
Commentary 25 Feb 2013 01:15 am
It was a long boring show. Seth McFarlane never got the appropriate timing for the joke telling and consequently blew every joke. He should stay behind the animation joke telling.
Congratulations to the makers of Brave and Paperman. Both are distinguished films, and now they're more distinguished. Both are solid performances.
Congratulations to the EFFX people who did Life of Pi. I'm embarrassed that the Academy treated you so poorly wen giving a not-very-long speech. Especially in the light of the words you were about to say re the labor problems Rhythm & Hues is having. I can't believe they shut off your mic. Such poor taste makes one wonder about the dignity of the show's producers. It didn't come off as very gracious, to say the least.
I won't say bad about Argo, I'll only think it. I'm pleased Ang Lee won Best Director and received a well deserved standing ovation.
On to 2013. Hopefully there will be more dignity in the end.
Commentary &SpornFilms 24 Feb 2013 04:39 am
- To me, Lewis Carroll's nonsense poem, Jabberwocky, is one of the most brilliant pieces ever written. It's always been important to me, and I've collected many versions of it in illustrated versions.
I'd like to post here a few of the images from my short adaptation of the Lewis Carroll poem, Jabberwocky. In doing the film, I tried to mimic a style I'd used in my oil paintings and felt it was a bit successful. I don't think the filmed version is all it could be – it was rushed to complete a package which included the 19 min. film, The Hunting of the Snark, as well as an animated documentary done about Lewis Carroll's nonsense poems. Of course, the video package wouldn't have made sense without including Jabberwocky.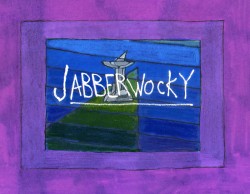 (click any image to enlarge.)
But I've scanned these images from the actual artwork and realize how well they've held up. I'd like to redo the film digitally someday and see where I can go with it.
Here are some of the images: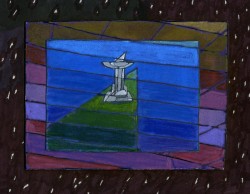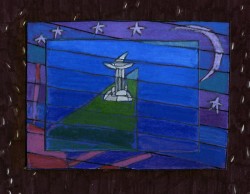 'Twas brillig and the slithy toves,
Did gyre and gimble in the wabe;
All mimsy were the borogoves,
And the mome raths outgrabe.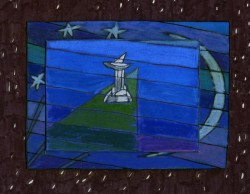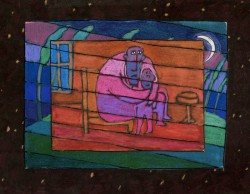 "Beware the Jabberwock, my son!
The jaws that bite, the claws that catch!"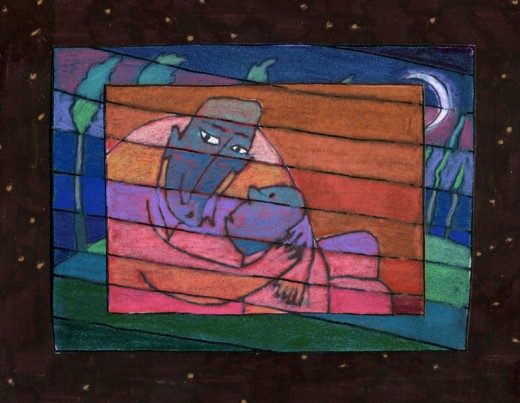 "Beware the Jubjub bird, and shun
The frumious Bandersnatch!"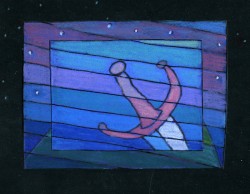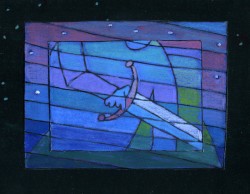 He took his vorpal sword in hand;
Long time the manxome foe he sought -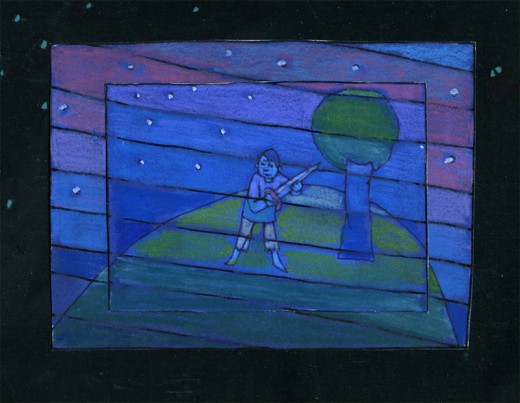 So rested he by the Tumtum tree
And stood awhile in thought.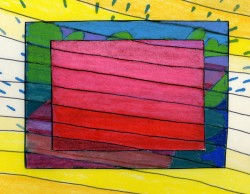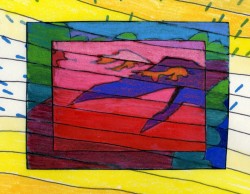 And as in uffish thought he stood,
The Jabberwock, with eyes of flame,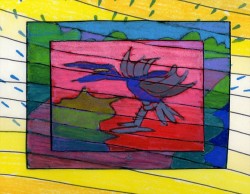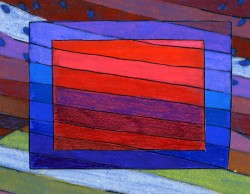 Came whiffling through the tulgey wood,
And burbled as it came!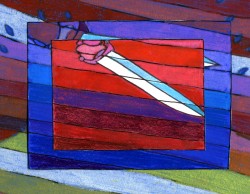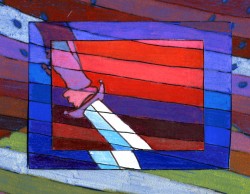 One, two! One, two! And through and through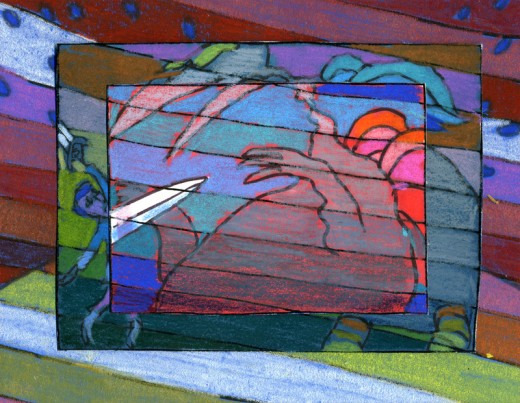 The vorpal blade went snicker-snack!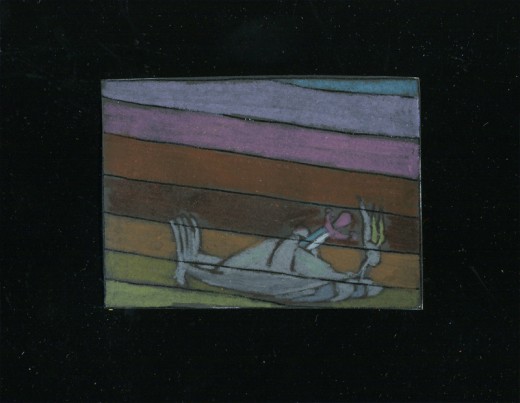 He left it dead, and with its head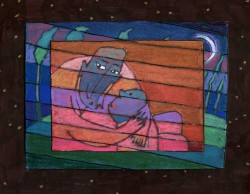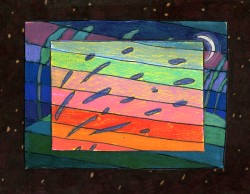 "And hast thou slain the Jabberwock?
Come to my arms, my beamish boy!
O frabjous day! Callooh! Callay!"
He chortled in his joy.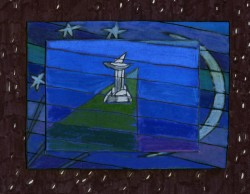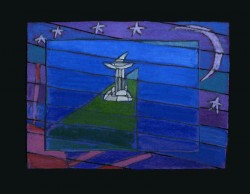 'Twas brillig and the slithy toves
Did gyre and gimble in the wabe;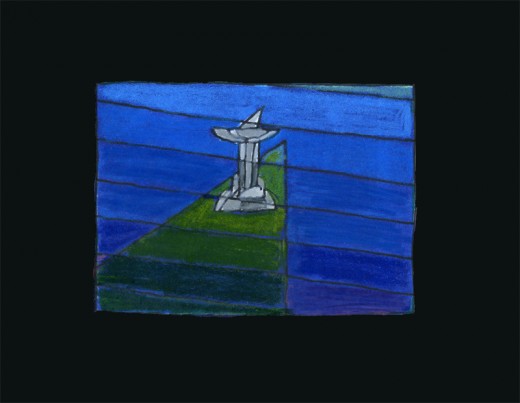 All mimsy were the borogoves,
And the mome raths outgrabe.
______________________
In other film versions, you have the one live action feature by Terry Gilliam; it's a good film with a clunky monster in the end. In animation, professionally, I know of only two versions completed. One was by Jan Svankmajer done in 1974. I did a version of it in 1989. Mine, of course, sticks closer to the poem even though it is pretty "arty".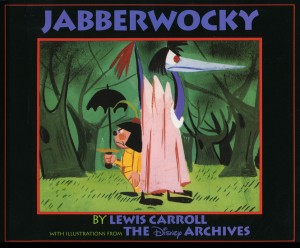 Apparently, there was also a version Disney was preparing as part of Alice In Wonderland. A book was published, credited to the "Disney Archives," with illustrations from the preparatory drawings of this sequence. It's obvious that the final versions of these drawings were done by one person, but there's no record in the book of who did the finals.
I'm not in love with the images in the book, and I know I would have hated the animated version (especially if it looked like this.) They're trying too hard to make sense of the poem. I find the images too cute, though, it's amazing how current they look.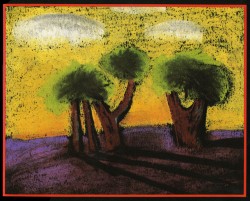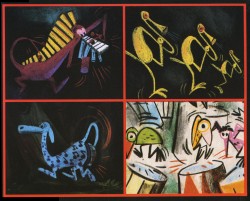 'Twas brillig and the slithy toves
Did gyre and gimble in the wabe;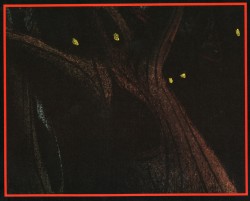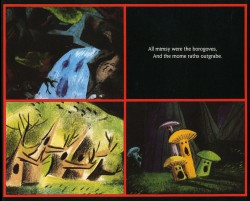 All mimsy were the borogoves,
And the mome raths outgrabe.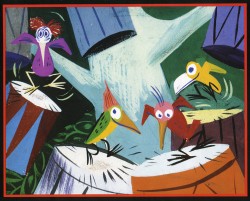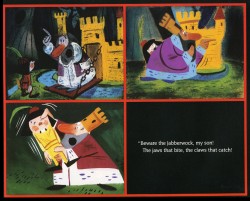 "Beware the Jabberwock, my son!
The jaws that bite, the claws that catch!"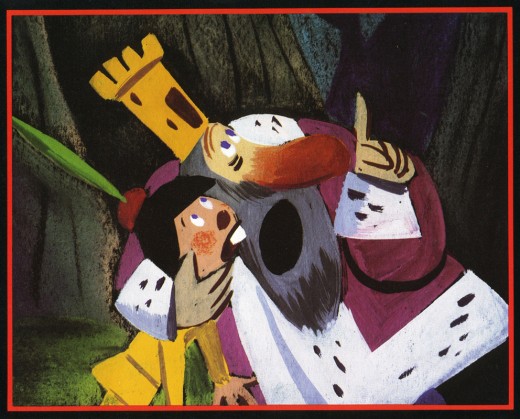 "Beware the Jubjub bird, and shun
The frumious Bandersnatch!"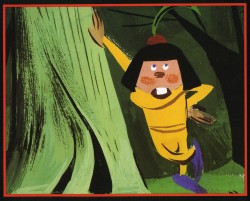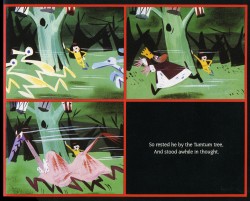 He took his vorpal sword in hand;
Long time the manxome foe he sought -
So rested he by the Tumtum tree
And stood awhile in thought.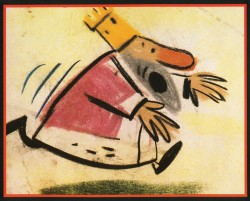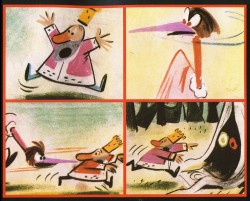 And as in uffish thought he stood,
The Jabberwock, with eyes of flame,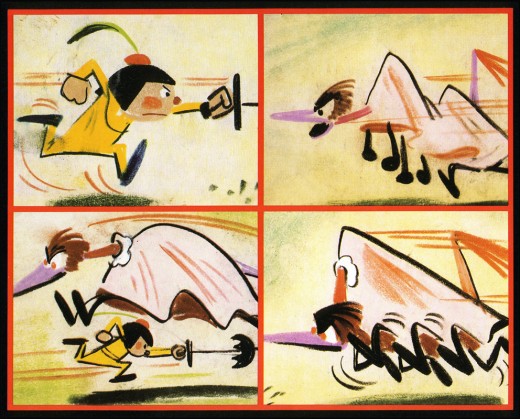 Came whiffling through the tulgey wood,
And burbled as it came!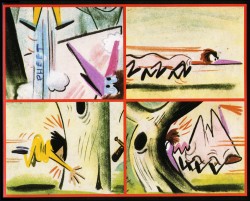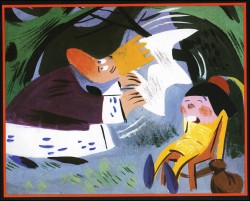 One, two! One, two! And through and through
The vorpal blade went snicker-snack!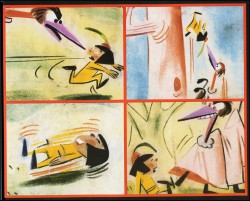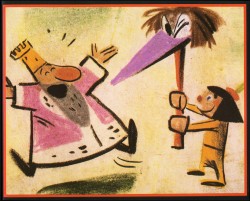 He left it dead, and with its head
He went galumphing back.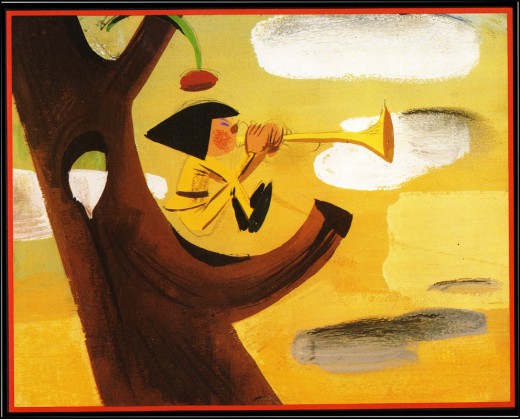 "And hast thou slain the Jabberwock?
Come to my arms, my beamish boy!
O frabjous day! Callooh! Callay!"
He chortled in his joy.
(Boy, do I like my version better! – MS)
Jim Hill writes a bit about this book on his site in a letter response. here. (Scroll down to middle of page.)
For amusement, you might check out this site for translations of this poem into 58 other languages, 23 parodies of the poem, and 10 explanations trying to define what Carroll meant by it.
Commentary 23 Feb 2013 04:58 am
Oscartime
– There wasn't a hell of a lot that happened in animation in the past week. True, we do have the Oscars coming up on Sunday, and it'll be interesting to see which of the features nominated will win. Though, I have to admit I'm not charged by any of the animated entrees this year. What I am excited by is the live action film Life of Pi. I will be watching closely to see how many awards this "live action" film will win. The politics of Argo may cause a mini-upset with that film winning the big award. That'd be disappointing, and I hope it won't be true. The film is not a great one; in fact, I'm not sure I'd even call it good. (It's a heightened film with TV type dramatics. That race through the airport with the Iranian olice driving on the airfield is particularly offensive.) I'd be happier if Lincoln won the award. At least the film is, for the most part, honest.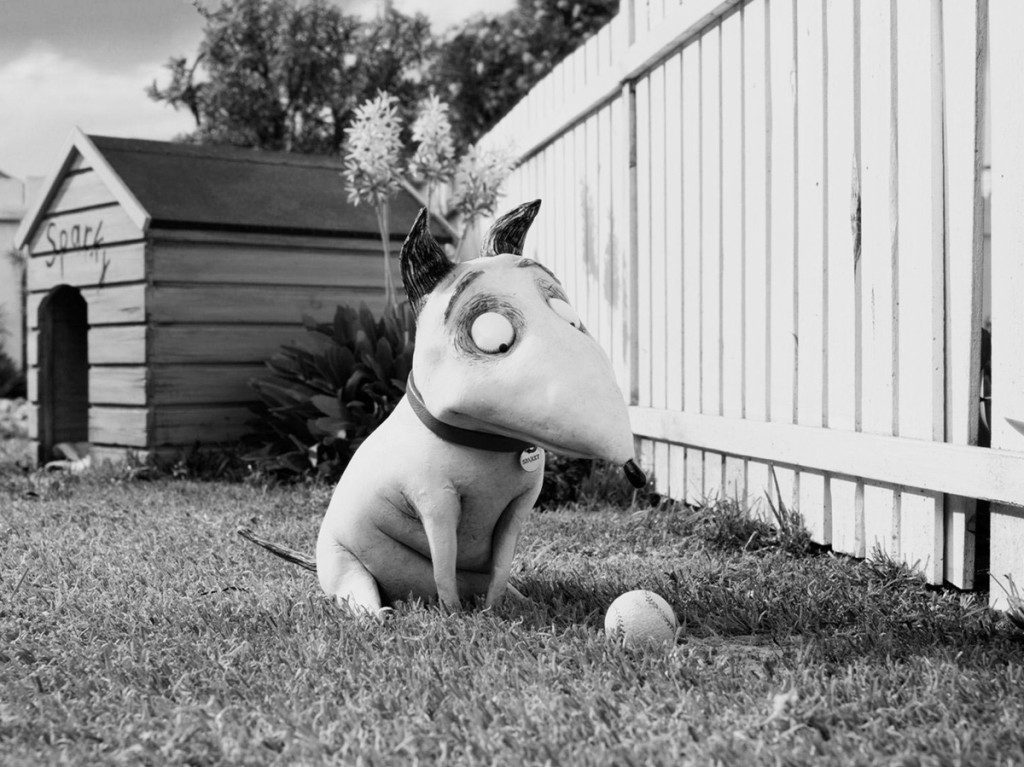 As for the animated feature films nominated, Wreck It Ralph seems to have more critics pushing for it; after about 20 minutes into the film, I felt like I wasn't going to get much more out of it – I was emotionally detached, to say the least. I've seen more promotional ads for ParaNorman than for the other films. I'd expected Brave to have been loudest searching for attention. Personally, I didn't find any of the films great, but felt closest to Frankenweenie even though I love Aardman's work on The Pirates!.
As for the shorts, there seems to be another toss-up going on. I kind of think that Paperman has an advantage over the others. It got started promoting itself long before the nominations, so everyone knows about it. Then there have been those many versions of the cgi film that have 2D drawings animating on top of them. I don't quite get the process. The videos make it look like only the hair and secondary bits were animated by 2D/hand. Is that the case? Why couldn't that have been done in cgi. Especially after we see how stunning the hair in Brave has been done? Just count me out on this as ignorant.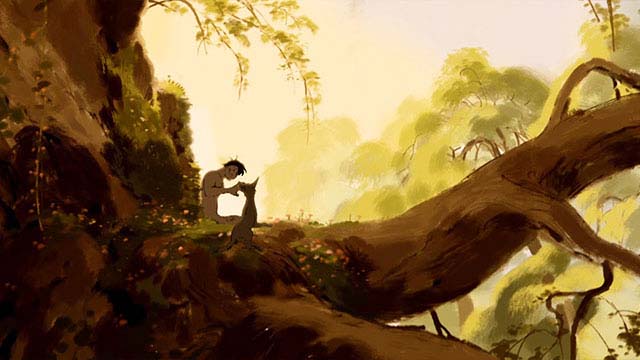 Adam and Dog has my favorite animation. More than half the animators I know are bothered by the "Christian" message in the film. I still miss that. Adam & Eve is such folklore that I can't even push it mentally into anything religious. Regardless,, the dog stays away from that story pretty much. We, the audience, have additional information than has the dog, so we understand why Adam leaves him for awhile and also why Adam returns "after the fall". This is all irrelevant to the dog, and I love that part of it. I'd vote for this just for the beautiful animation and graphics. Great backgrounds. It was a hard piece to pull off.
Head Over Heels is about a man and woman at odds with each other. One walks on the ceiling of their apartment, the other on the floor. They're always banging into each other and always in the way. For me, the metaphor also keeps getting in the way, and once I got the problem, I still had to get through the rest of the movie, while I waited for them to get over the problem.
Fresh Guacamole uses things like dice and golf balls and handgrenades to represent the makings of guacamole. This is like many other pieces PES has animated, and I sort of want something new.
The Longest Daycare, the Simpsons film is just that. It's no funnier than anything I've seen on the TV show (in a good week), so I don't understand what makes it a theatrical – except that they're showing it in theaters.
It's interesting that these shorts are tied together and released theatrically according to a story I've read on Yahoo. However, the shorts' filmmakers have all put them online for free. They've been asked by an "Academy affiliate" to take them down so that they don't compete with themselves for the theatrical tickets which are sold. I guess it's become a dilemma for the filmmakers. Personally, I'd keep my short off line for some time. You lose a lot of revenue if you're always competing with yourself. If you win the Oscar, you're losing a lot of cash and prestige.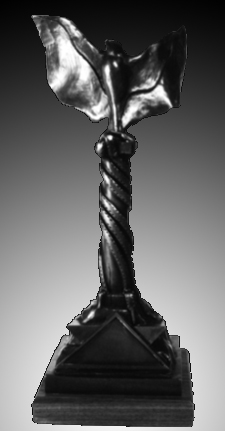 I've always found it curious that the Independent Spirit Awards, which take place one day earlier than the Oscars and are designed to celebrate Independent motion pictures rarely honor any animated films with a nomination. When Nina Paley distributed the self-financed Sita Sings the Blues, she won every major Independent Award at every Festival, yet she received the ONLY nomination, ever, from the Independent Spirit Awards that I can remember. "The Someone to Watch" nominaton. Not Best Film, not Best Animated Film or Best Direction. Not Best sound or score or . . . Only the "Someone to Watch" nomination.
Bill Plympton has done ten films that have all had budgets lower than the lowest (not that Independence has anything to do with the budget), have been distributed independently – out of Bill's apartment – and have been very limited in the scope they've been able to achieve. Yet not one nomination for anything. Persepolis – no nominations. Watching for Bahir – no nominatons. Rango – nothing. It would seem to me that the Independent Live Action Filmmakers are treating our medium with a good deal of disrespect.

_________________________

and They're Off . . .
Next year's awards already seem to be up and running animation-wise. At least as far as the features are concerned. Dreamworks' film, The Croods has been accepted into the 16th Holland Animation Film Festival, and will act as the closing night film. I'm not sure what that means since I haven't yet been to that Festival (although it always sounds like a good one.) The Fest runs from 20-24 March 2013 and will take place in Utrecht, a beautiful town.
For information in the Festival go here: 16th Holland Animation Film Festival.
Competing with The Croods, of course, is The Weinstein Company's Escape from Planet Earth which grossed a robust $21.1 million over the four-day President's Day holiday weekend. I'm sure the quality of this film is at least as good as was Hoodwinked.

_________________________

R.I.P. Bob Godfrey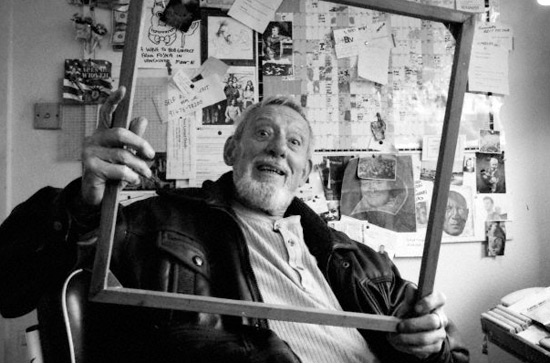 Amid Amidi reported today that Bob Godfrey had passed away last night, Thursday 21st February 2013, in his sleep. He was 91 years old. There's a nicely knowing piece about his early days in British animation printed in the Guardian.
My single memory of Bob in person goes back to the Ottawa Animation Festival in 1980. Bob, who often did slightly risque films, had brought a film called Dream Doll to the Festival, to which he was also a judge. You can imagine what Dream Doll was about, and I'll agree with you.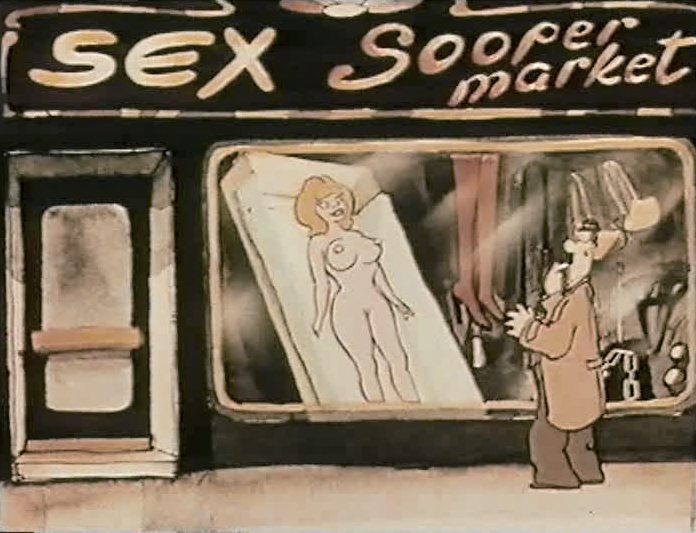 It was one of those slightly rainy Festivals, but it was fun just the same. At the picnic, we were right near a government building, as I remember. Someone surprised Bob with a real "Dream Doll." a female balloon, as naked as the one in the cartoon. There was, at first, lots of laughter; then there was screaming, shouting protests from those trying to protect females everywhere. We tried to explain the situation to the animator who hadn't seen the animation, but it ended with an ice pick. The naked balloon withered qucikly, as did the laughs.
It's funny, but I can't go to the Festival in Ottawa without remembering that Bob Godfrey story. It was five years earlier that he had won his Oscar for Great (a film I didn't enjoy as much as I did Dream Doll, but I was glad he had a trophy to take through the rest of his life.

Bob Godfrey was part of the Grasshopper Group, a short-lived movement in British animation in the late Fifties, early Sixties. It was named after an Anson Dyer character from the silent era. Norman McLaren was appointed President. Kenneth Clarke, teamed with John Daborne with Gerald Potterton and Godfrey. Over the years, Derek Hill, Jim Nicolson, John Kirby, Stuart Wynn Jones, Richard Horn, Kevin Brownlow were all members with comedian Peter Sellars eventually replacing McLaren as the group's President. Richard Williams also worked through the group for a short time as did Stan Hayward who wrote for Williams on a number of early shorts. Many of the group worked together for years and all remained friends for life.
Godfrey really got a name for himself in Britain after setting up his studio, Bob Godfrey Movie Emporium, and doing a very popular TV series, Roobarb.
There's an excellent obit for Godfrey in the Independent.

_________________________

Kickstarter Bakshi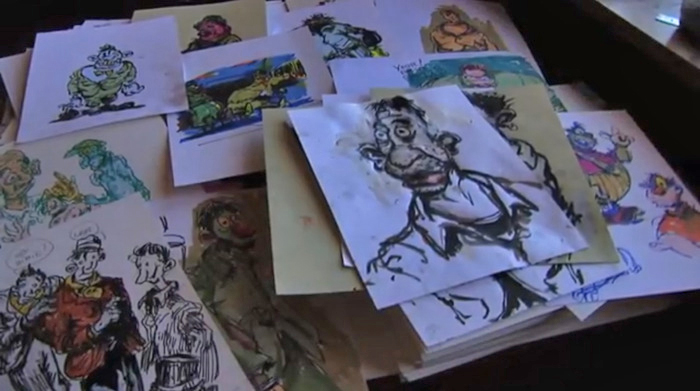 Things have gotten interesting for The Last Days of Coney Island, the Ralph Bakshi series of shorts for which he's trying to raise $165000. It's a Kickstarter campaign; with 8 more days to go, the producer/director has raised almost $127000, making it very possible. 8 more days to go. Please look into it and give if you have anything to offer.
The brilliant illustrator, Ian Miller has committed to the project as has the actor, Matthew Modine. A list of other future employees have been announced on the Kickstarter site. Only one more week for these guys to put together something interesting. Check it out.

_________________________

On the Mark and Back to the Blog
Mayerson on Animation. Finally one last thing to note. For those Mark Mayerson junkies out there, he's back to his blog. A bit more than a month ago, Mark broke his wrist and his blog had been on hiatus until yesterday. He's shed a cast and will probably come back to the site slowly. For my taste, he can be as slow as he needs to be. Any bit of Mark, reviews or commentary or reportage; it's all good, and I'm glad to keep checking in.
Bill Peckmann &Comic Art &Illustration 22 Feb 2013 03:59 am
Bill Peckmann put together a post of Jack Davis illustrations. It was an obviously difficult piece to assemble and I thank Bill for all the work. From here on, these are Bill's words:
The year 1963 was a big year for all of us Jack Davis fans, that's the year our favorite "Mad" cartoonist did the poster art for the movie 'It's A Mad, Mad, Mad, Mad World" and established himself as an art force to be reckoned with. It was probably also Jack's first foray into the world of animation, a trailer for the movie was produced at Elektra Films by doing animation camera moves over Davis' original movie art. (It was also my first year at the studio as an apprentice, fledgling go-fer, so I was able to sit and stare [and drool] at beautiful original JD art when no one was looking!)

Now, to a quick, short 10 year flashback to 1953, when Jack at age 29, was still cutting his comic art teeth, pen nibs and #3 red sable brushes at the hallowed halls and art tables of EC Comic Books. Even then, known for his speed at getting the job done and his agile ability to cover all of the genre bases, I thought it would be fun to see a sample of Jack's work from this time period in his life. By showing only the lead, splash panels of the many stories he did, you'll get a sense of how much work he turned out in an 8 month stretch. March to October 1953. This doesn't even include his cover art for the different EC titles.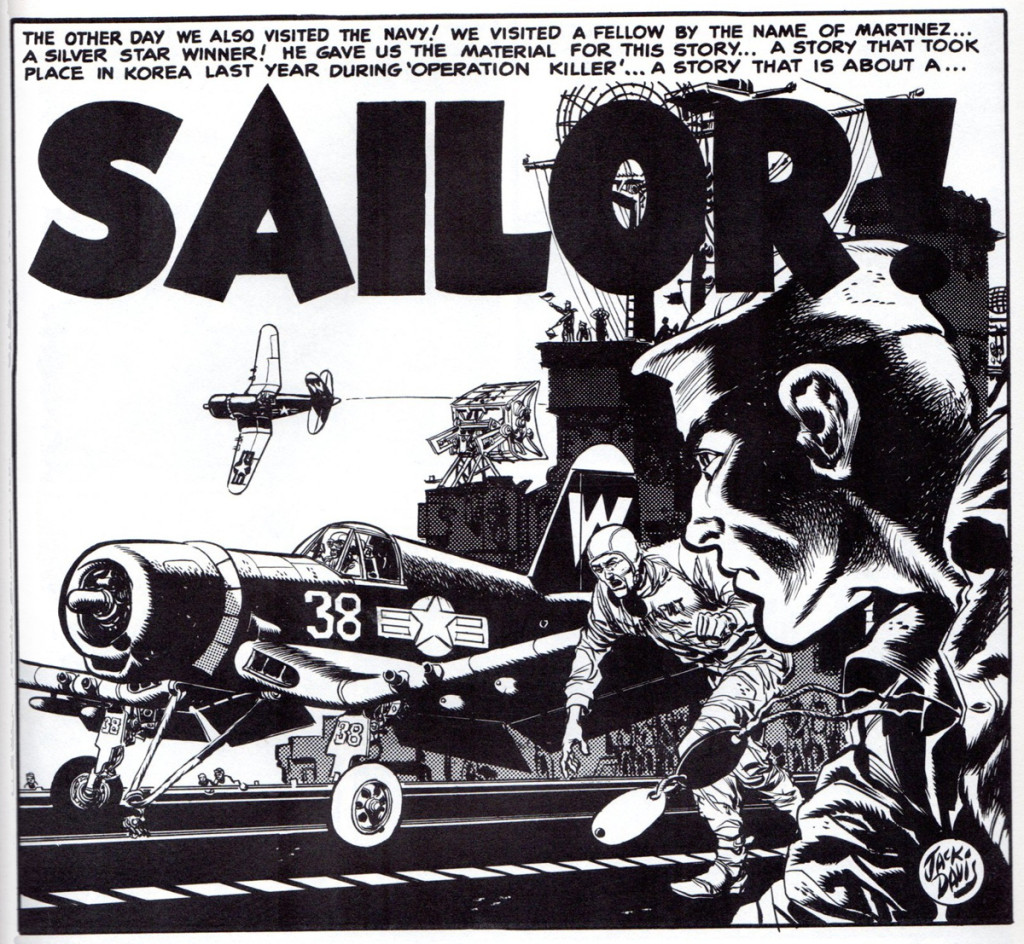 1
This story is from "Frontline Combat" no. 11.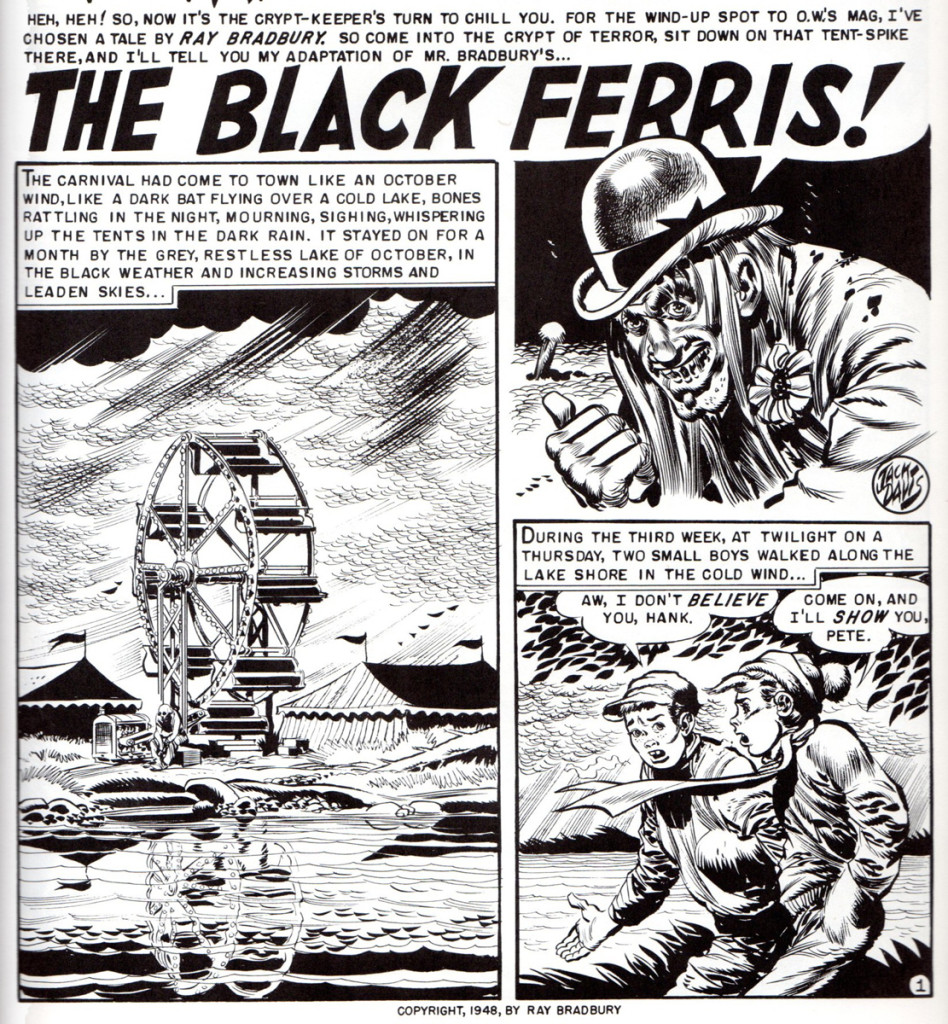 2
This panel is from "The Haunt of Fear" no. 18, horror comic.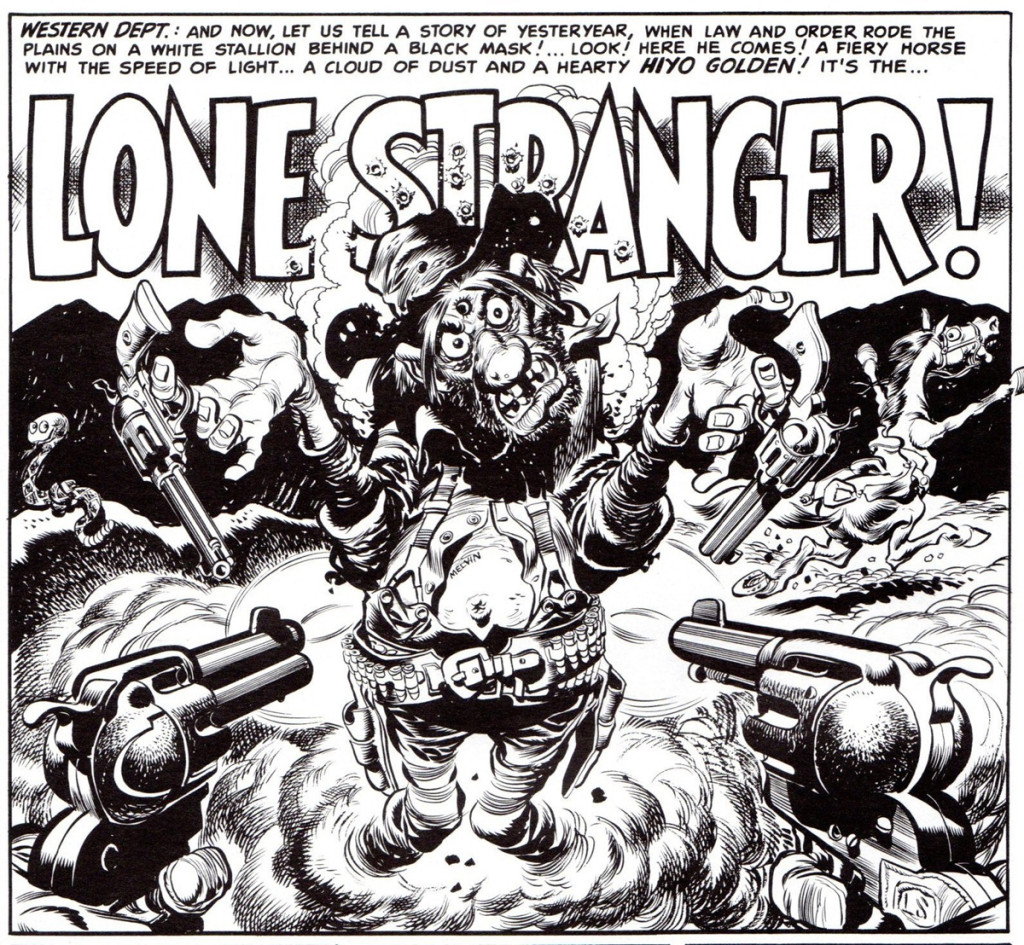 3
This panel is from "Mad" comic book no. 3.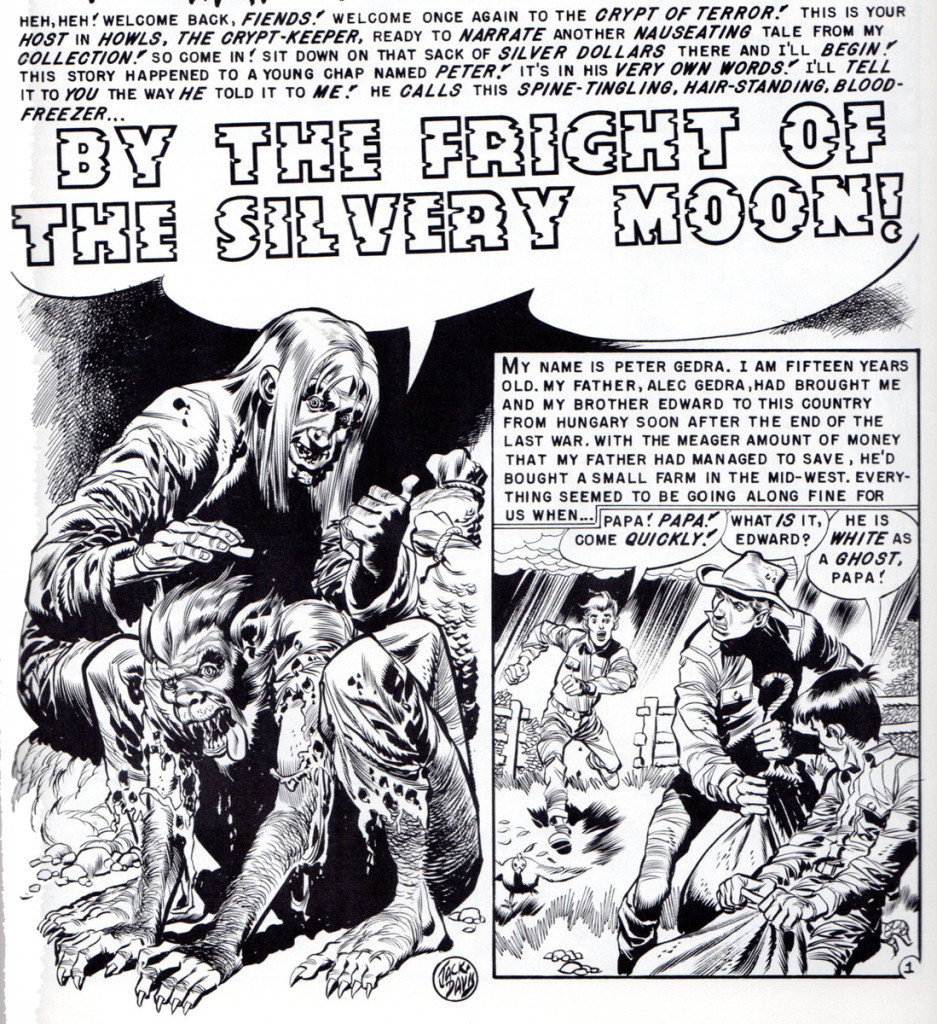 4
"Tales from the Crypt" no. 35.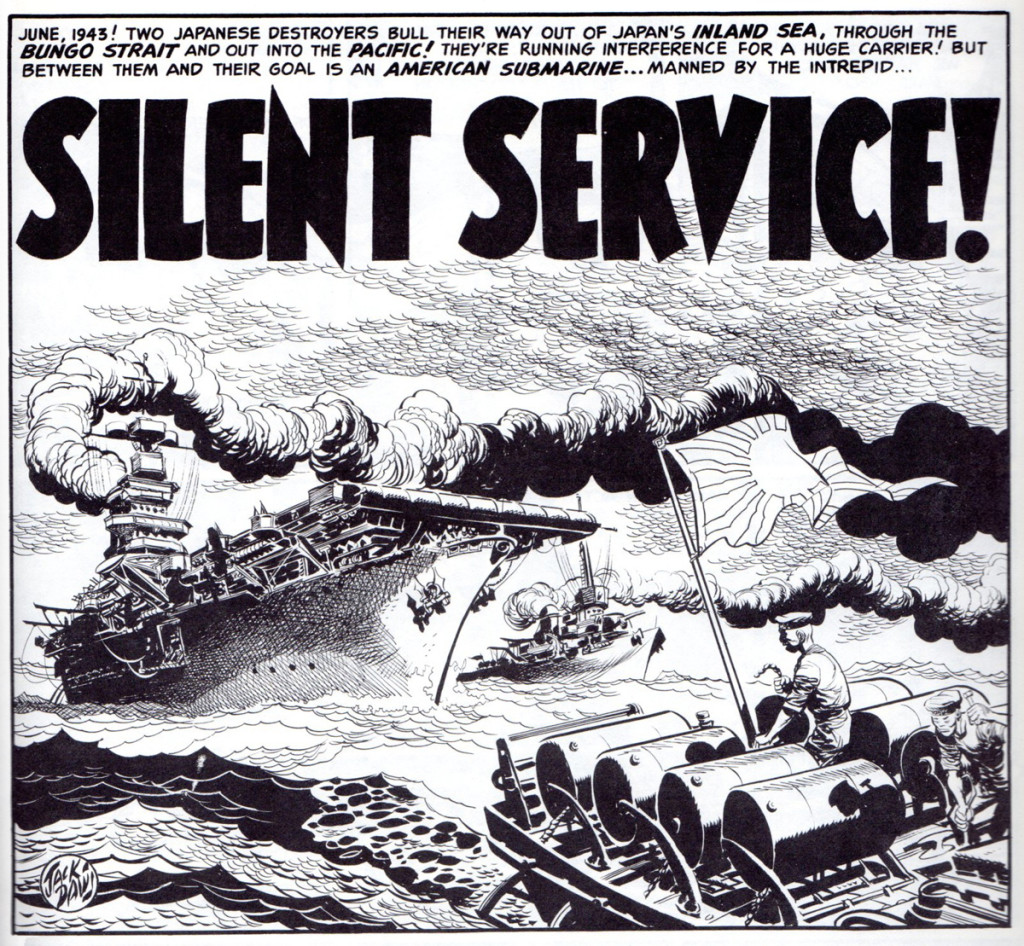 5
"Two-Fisted Tales" no.32.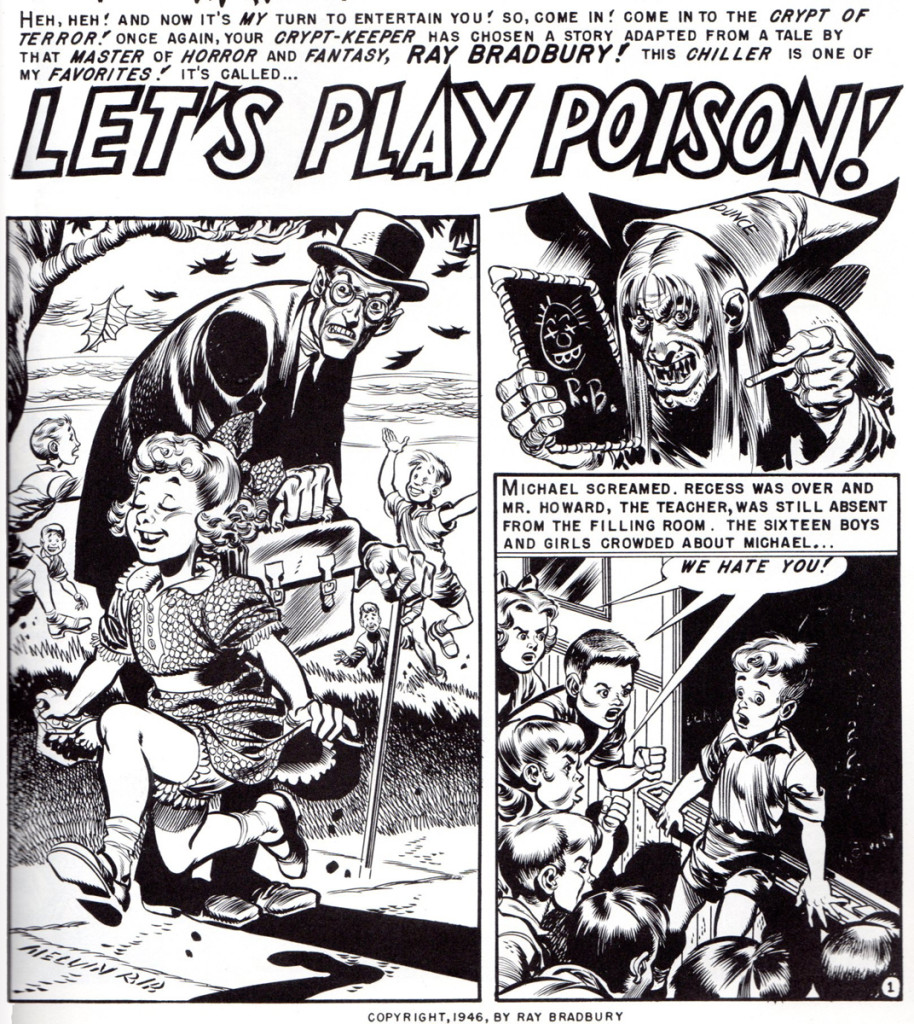 6
"Two-Fisted Tales" no.32.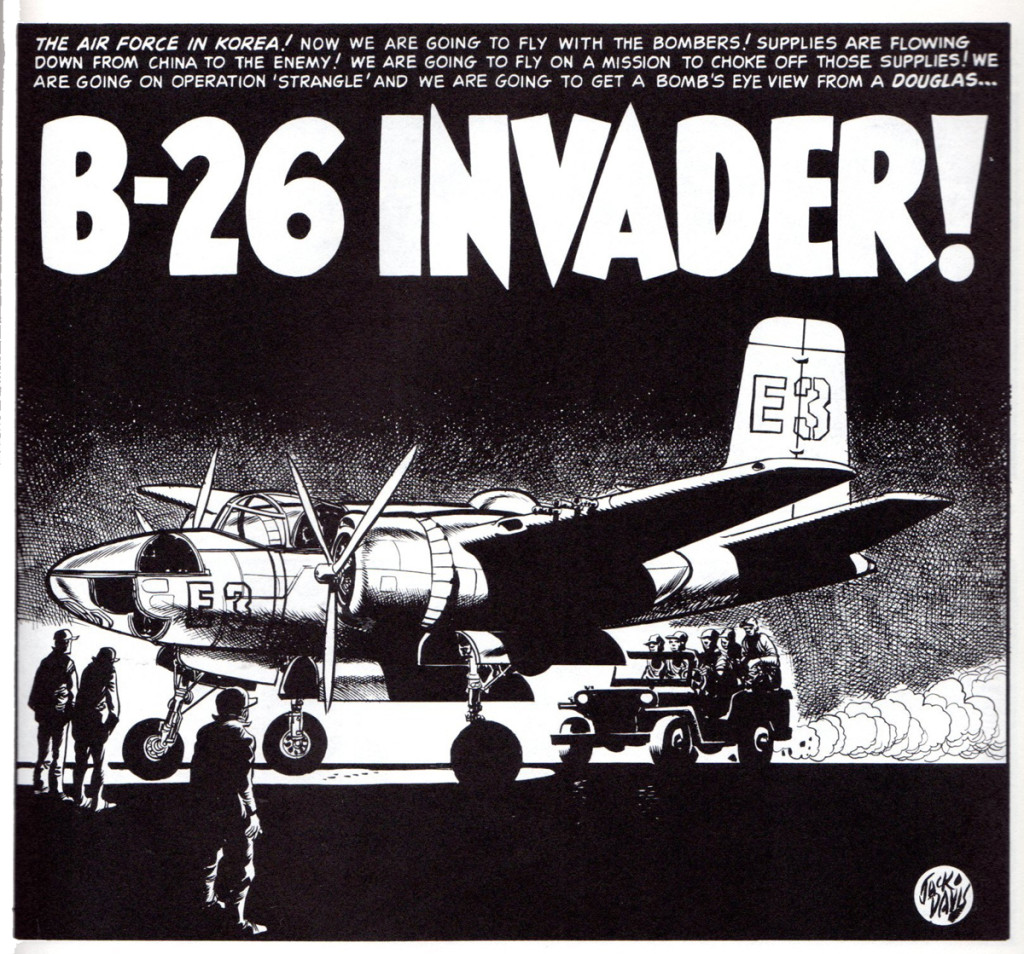 7
"Frontline Combat" no.12.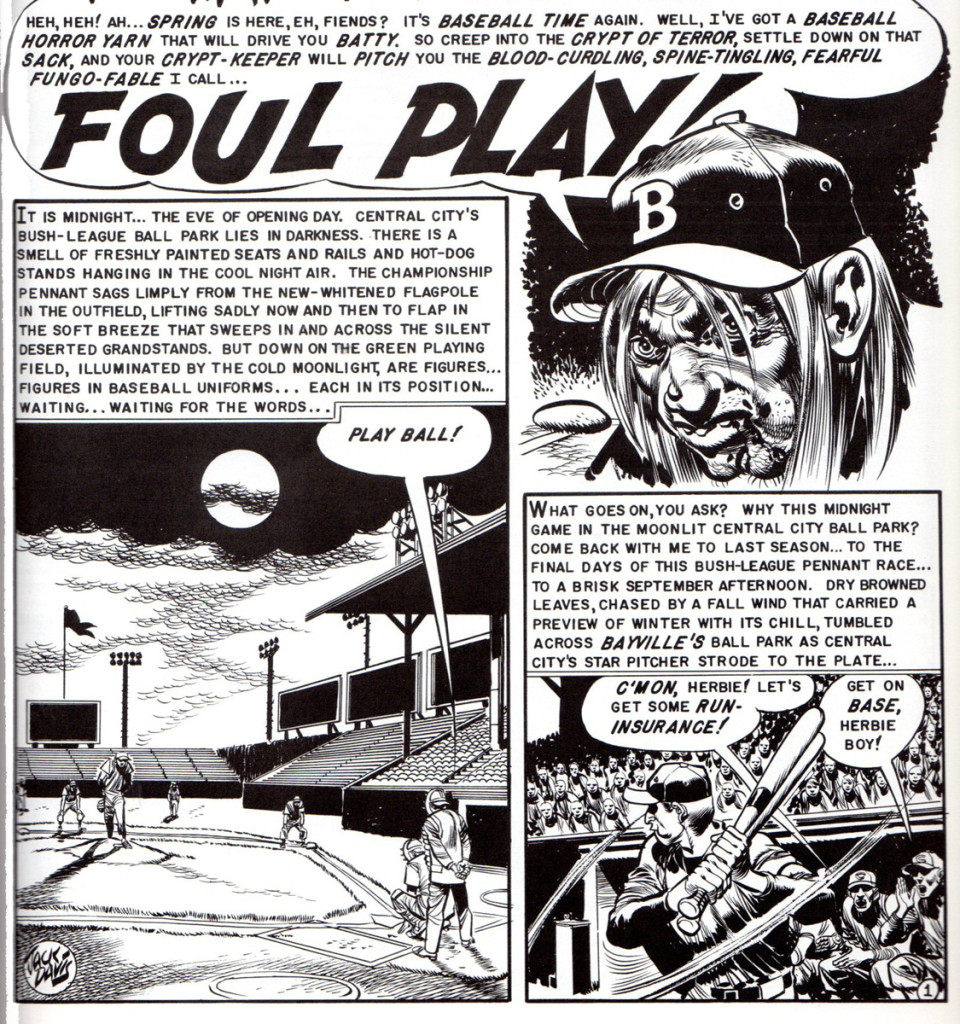 8
"Haunt of Fear" no. 19.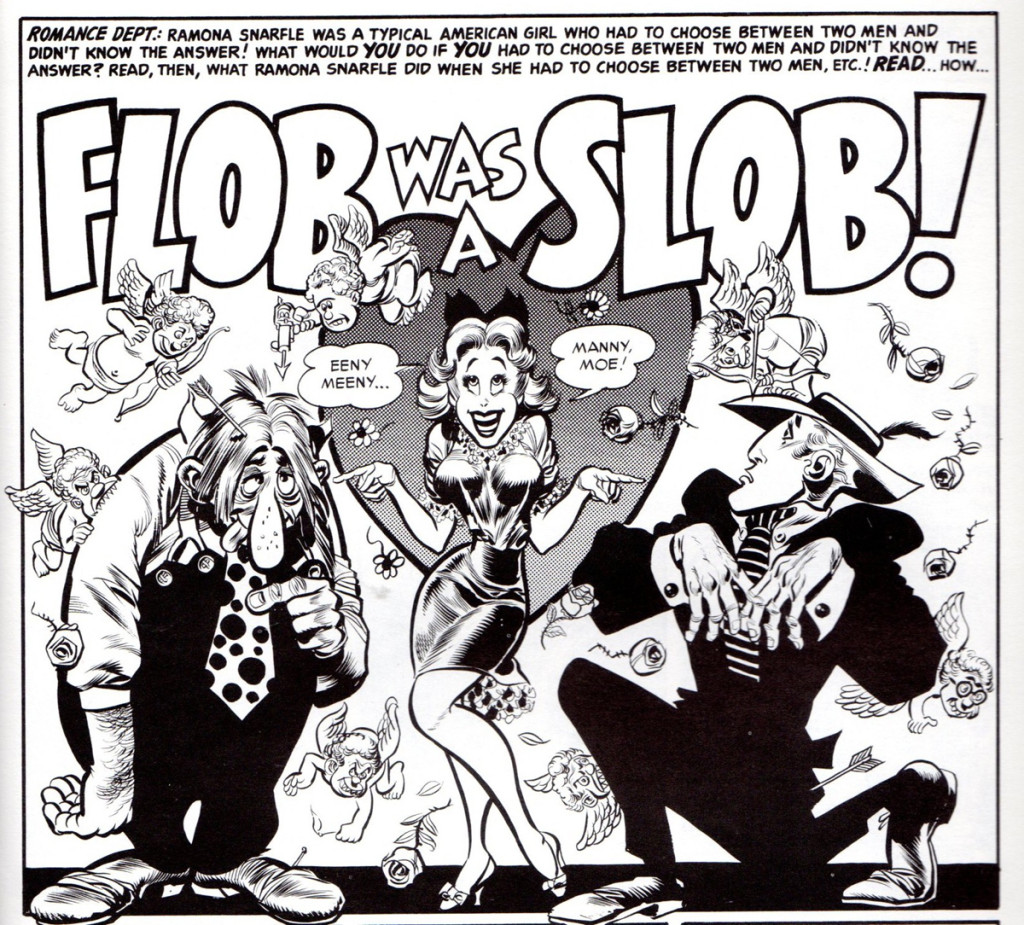 9
"Mad" no. 4.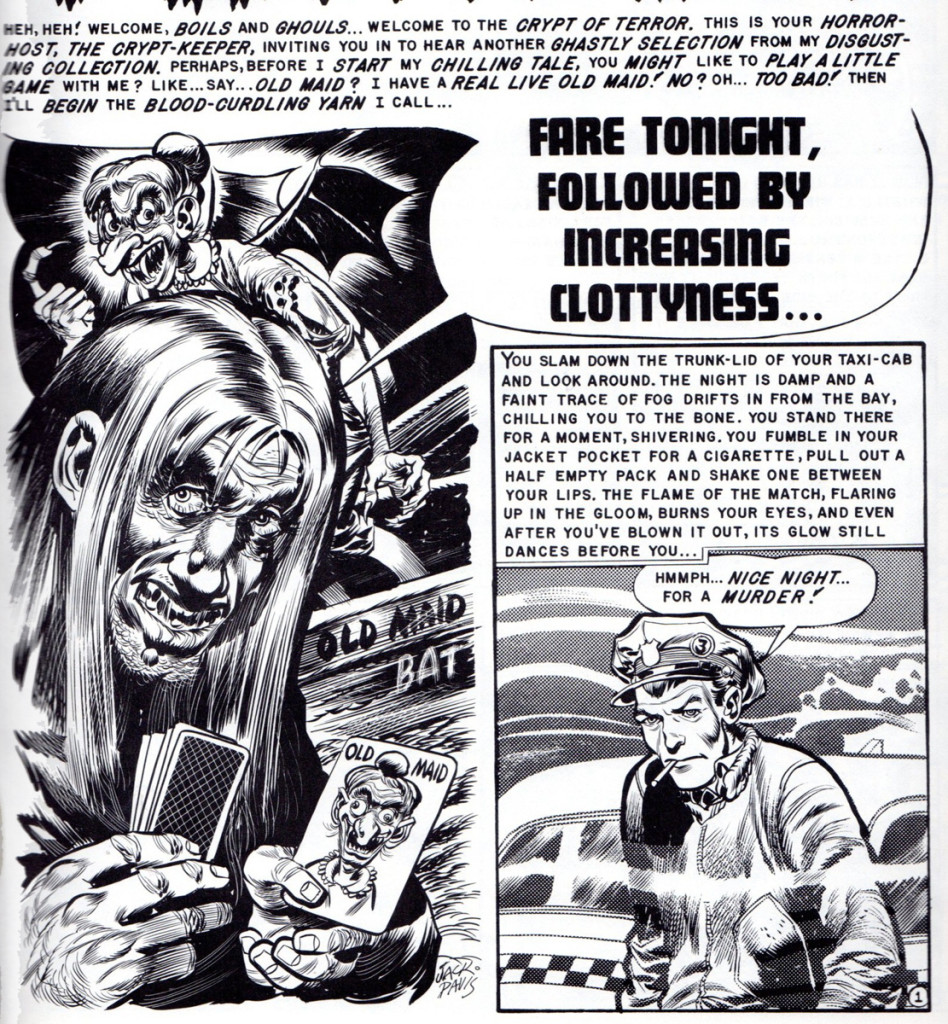 10
"Tales from the Crypt" # 36.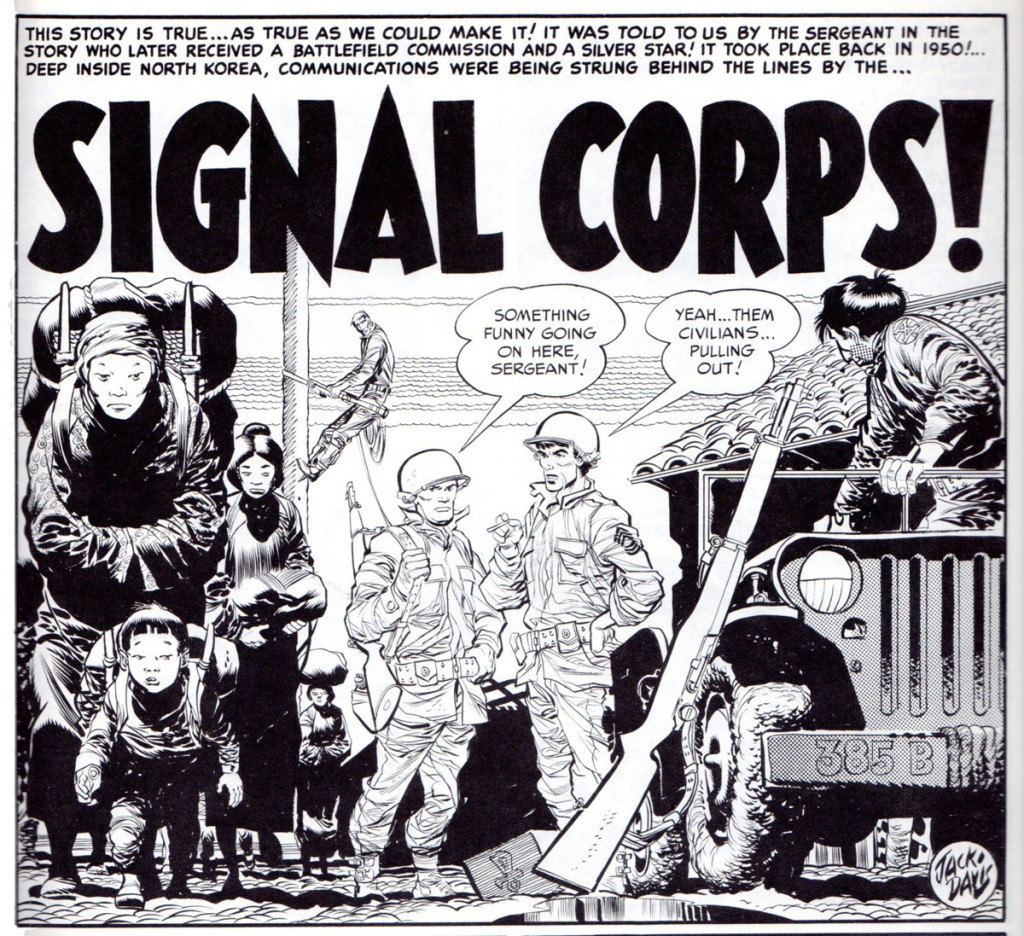 11
'Two-Fisted Tales" no. 33.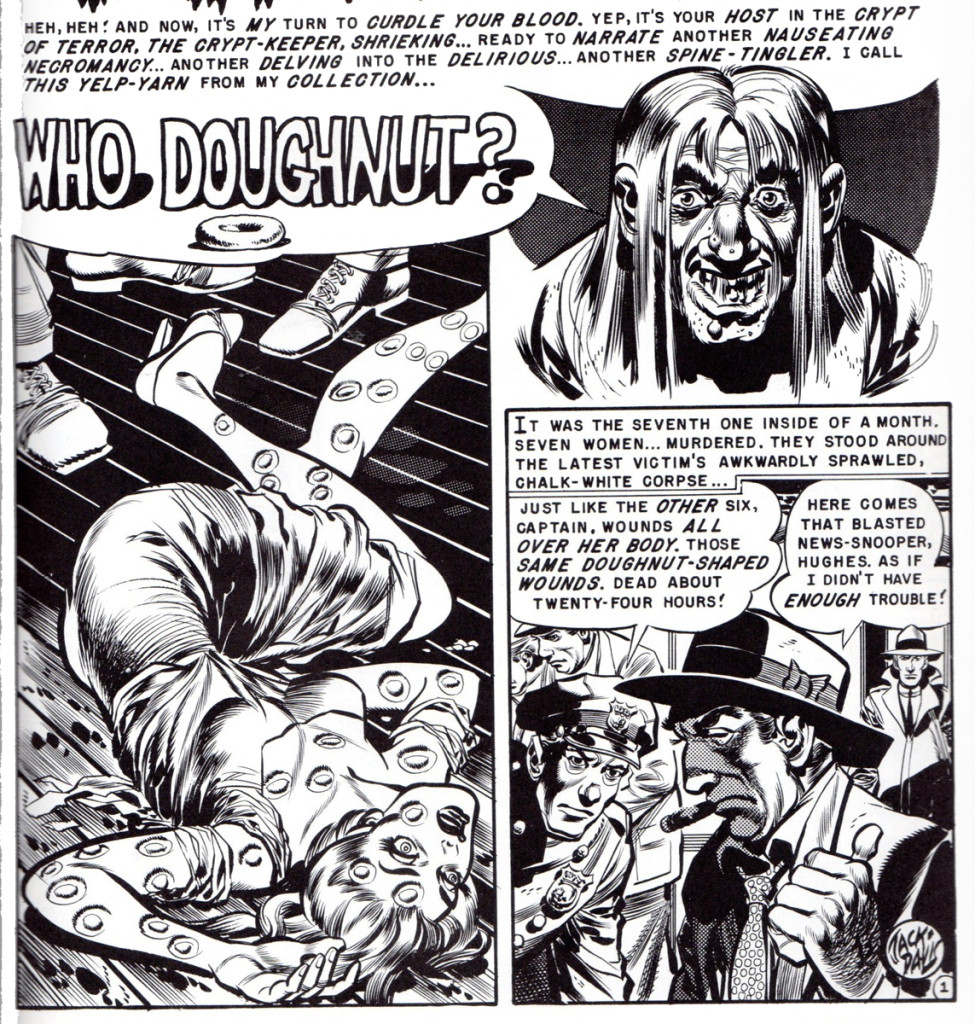 12
"The Vault of Horror" no. 30.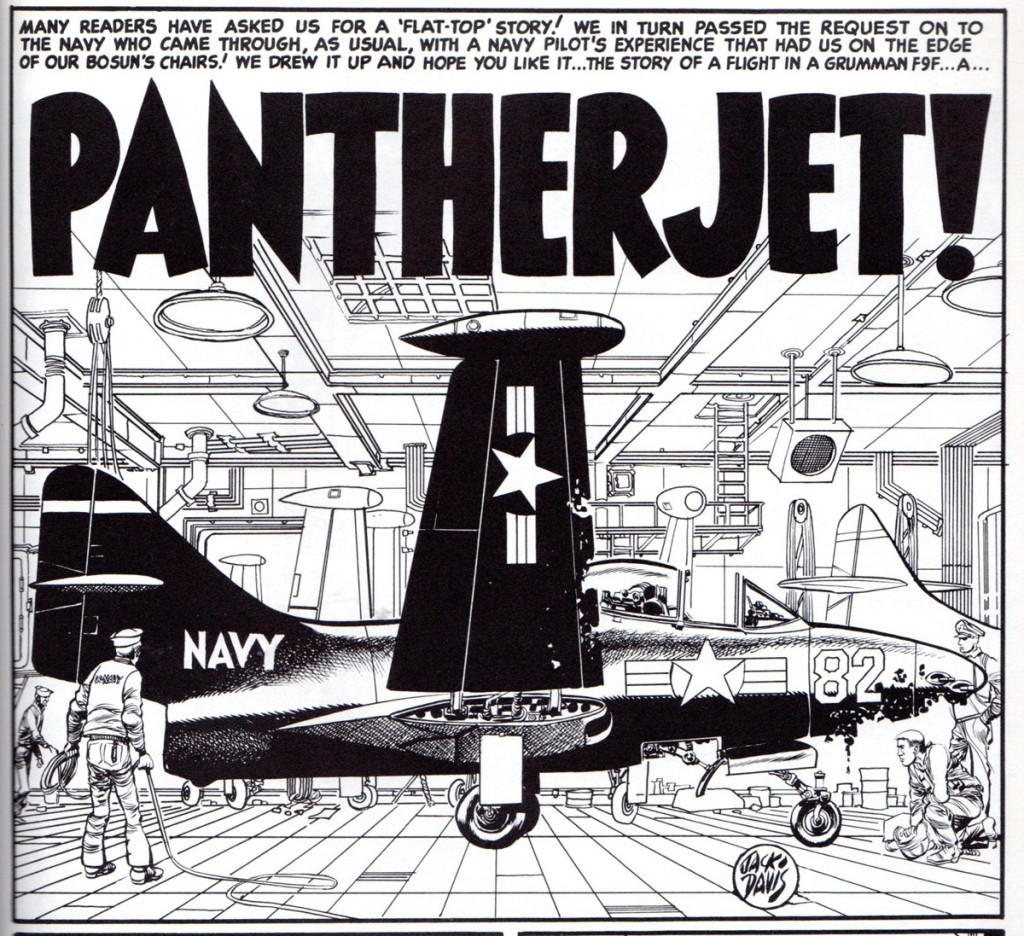 13
"Frontline Combat" no. 13.
14
"The Haunt of Fear" # 20.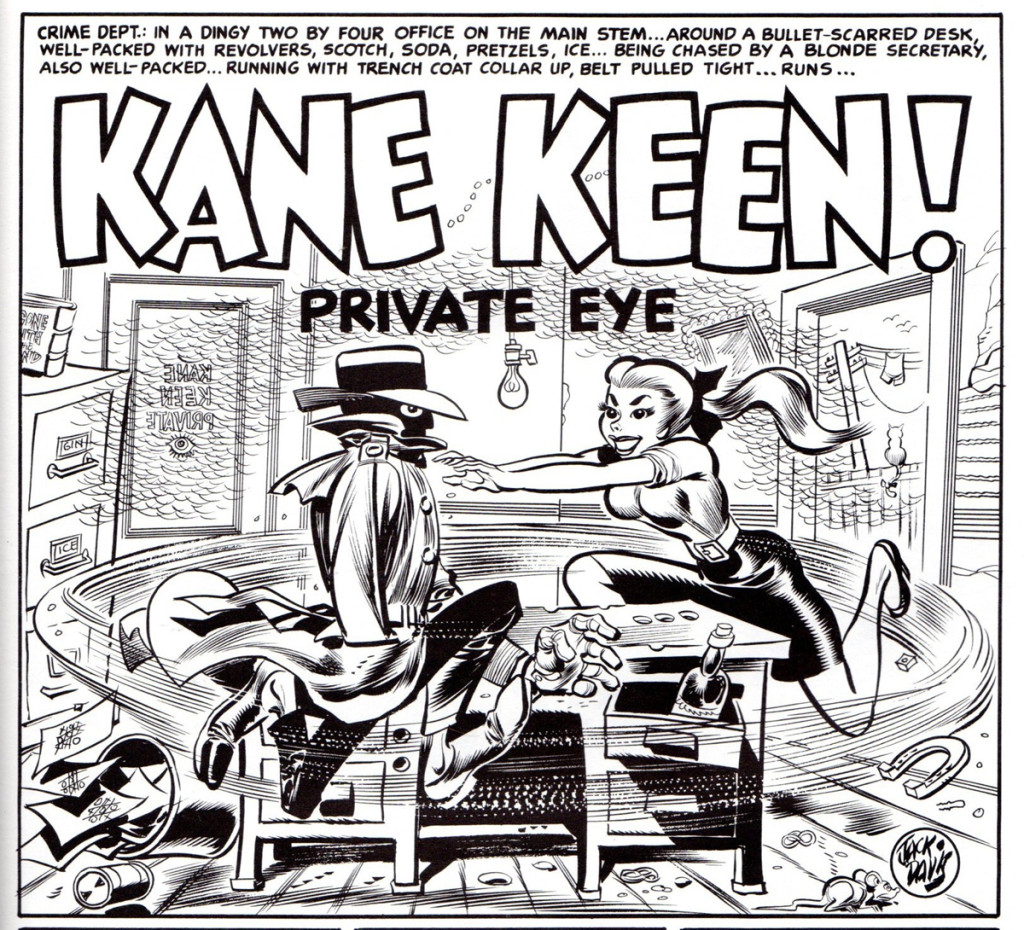 15
"Mad" no. # 5.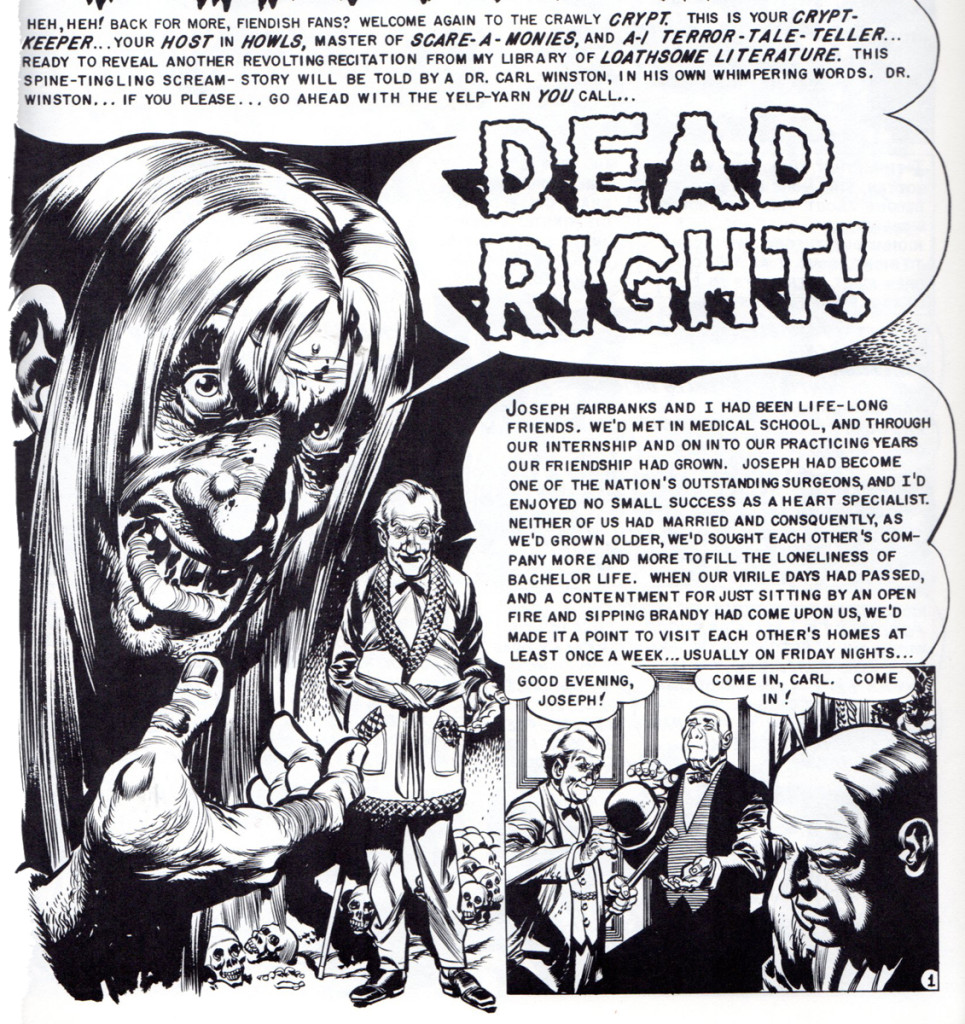 16
"Tales from the Crypt" no. 37.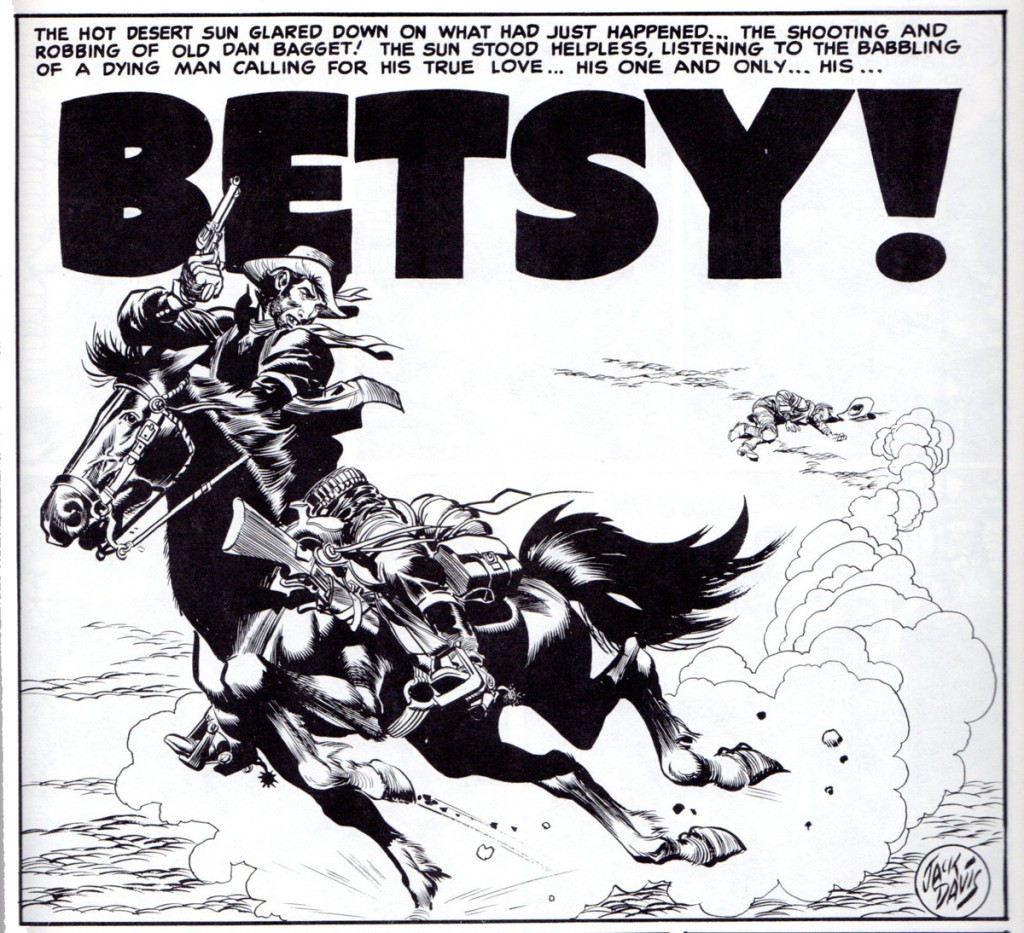 17
"Two-Fisted Tales" no. 34.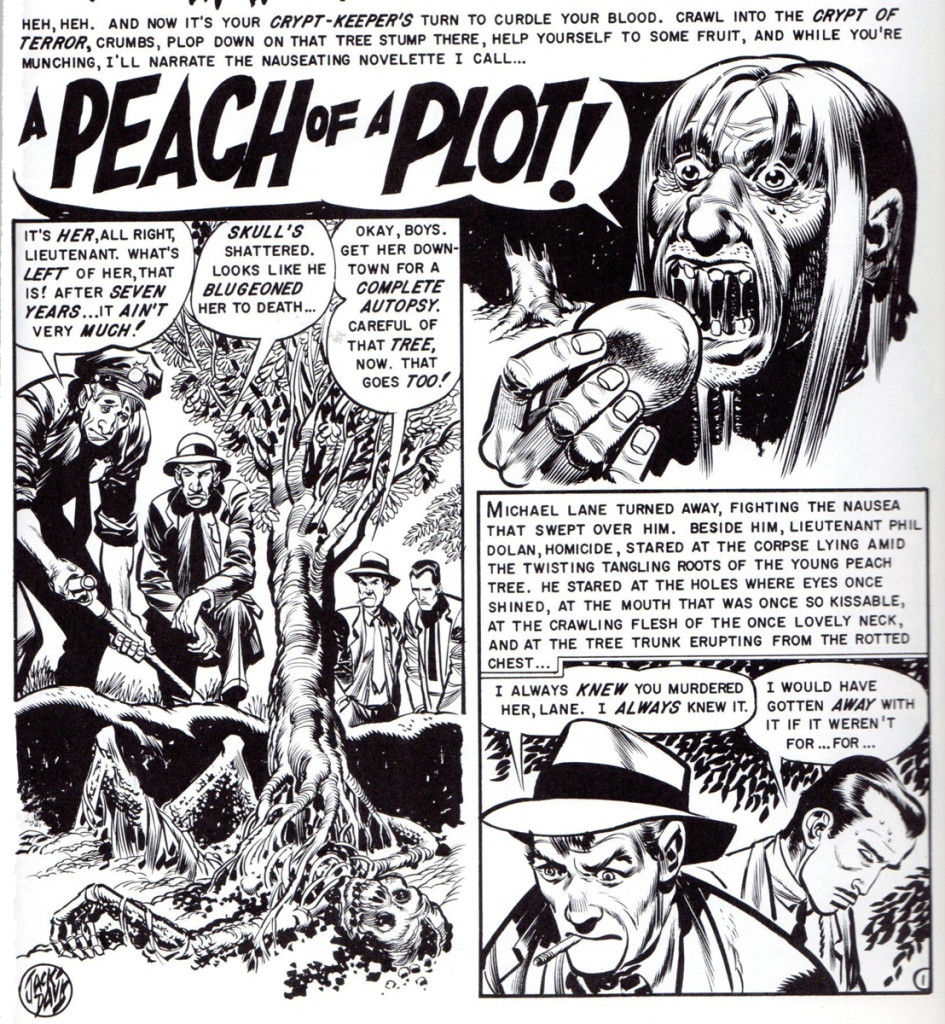 18
"Vault of Horror" no. 31.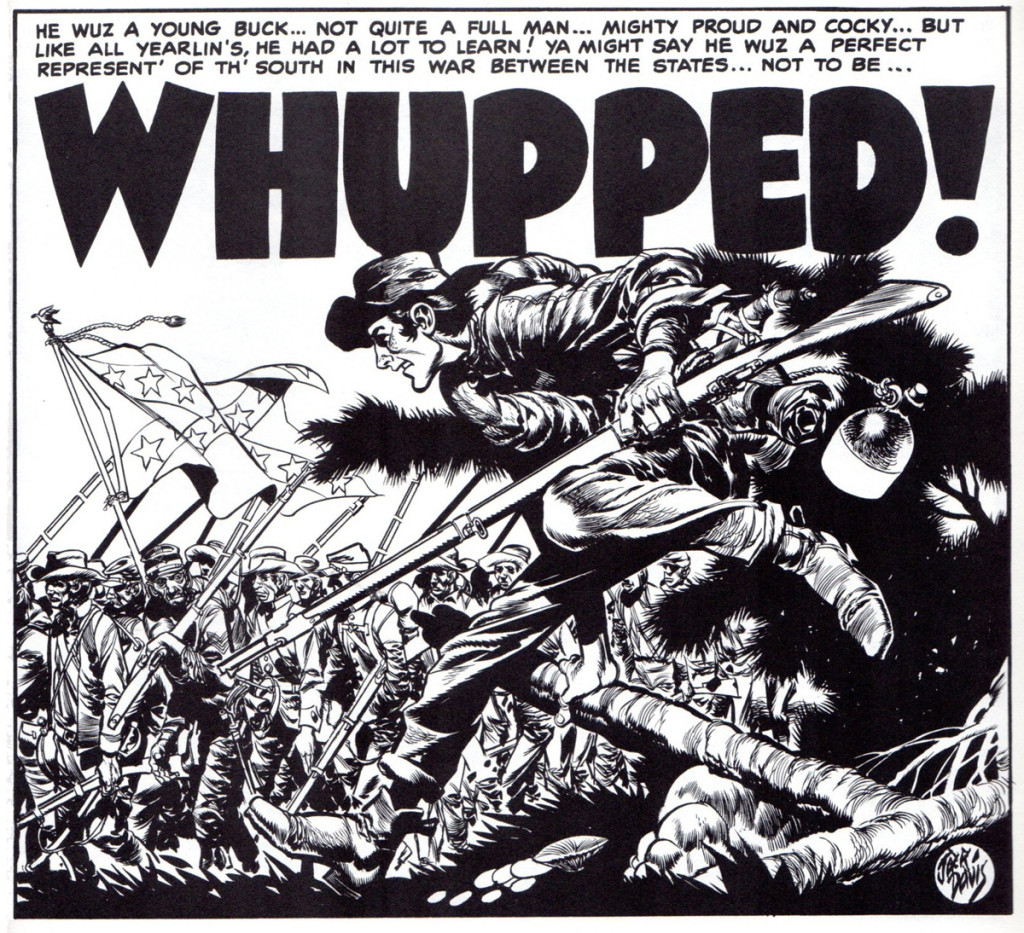 19
"Frontline Combat" no. 14.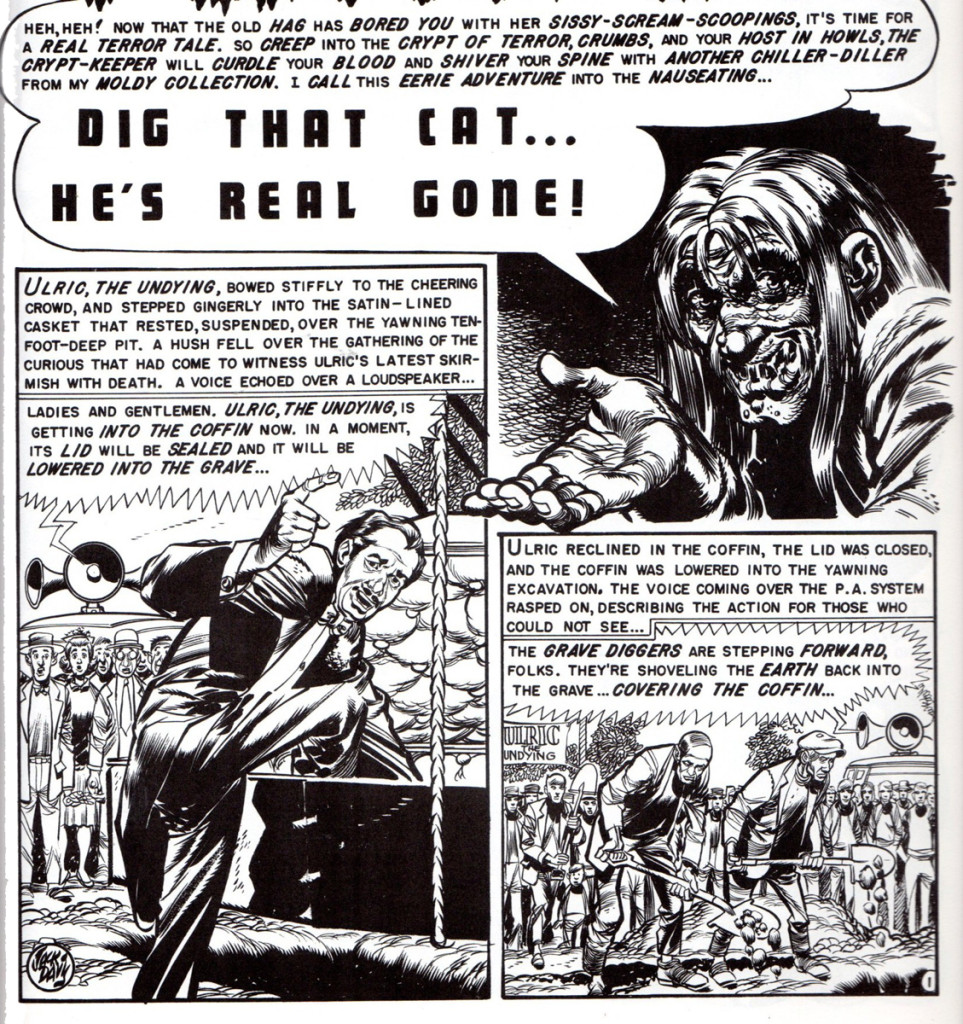 20
"Haunt of Fear" no. 21.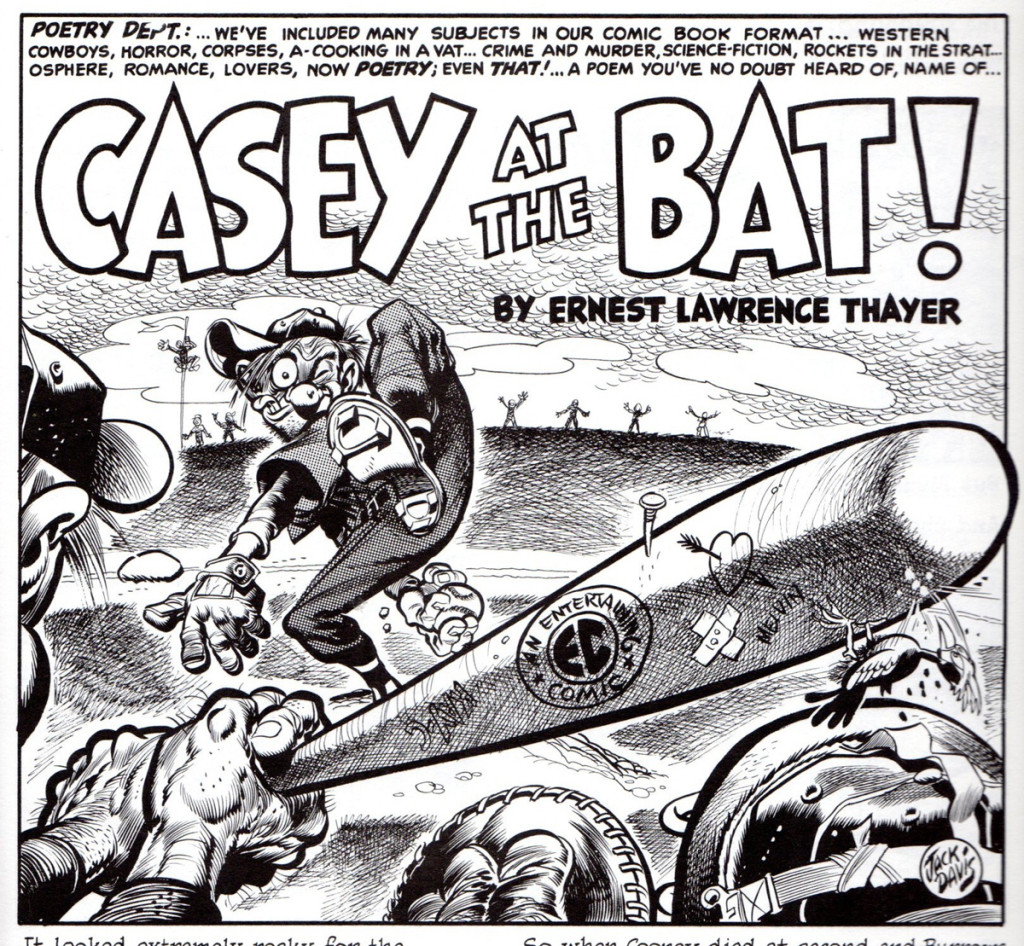 21
"Mad" no. 6.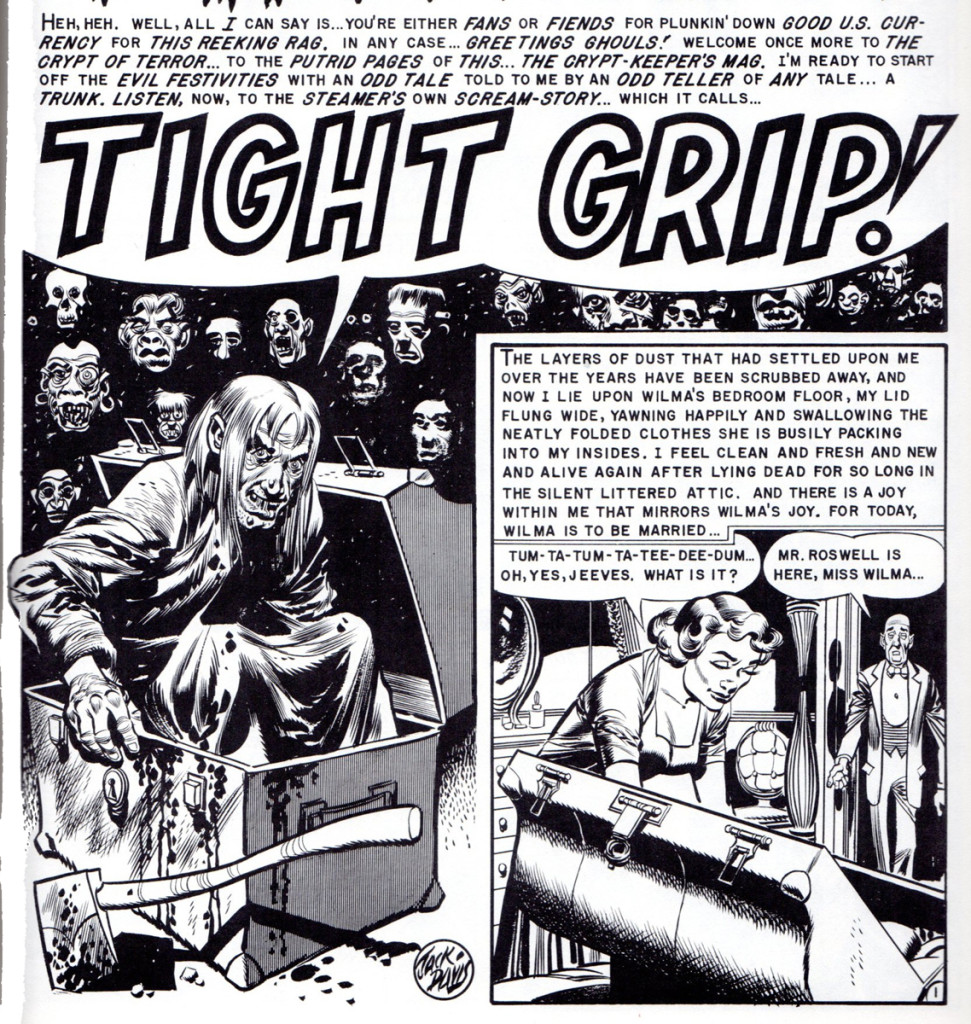 22
"Tales from the Crypt" no. 38.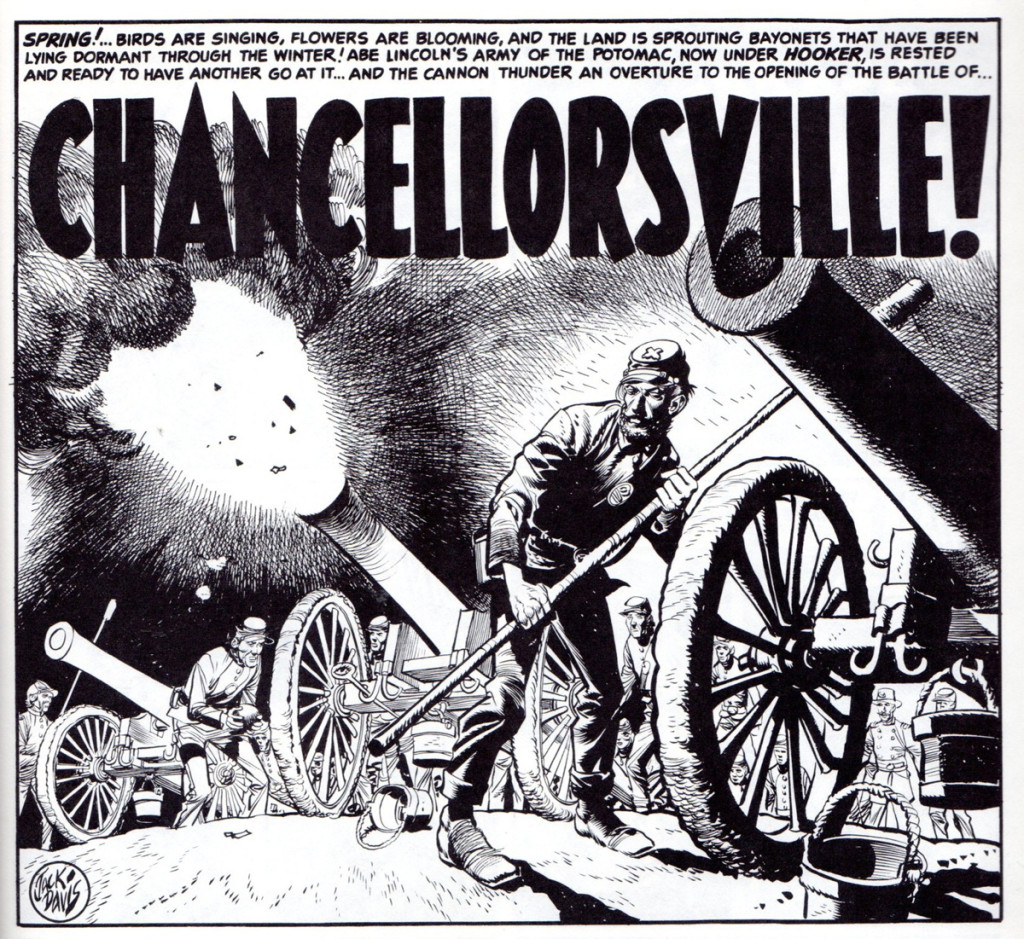 23
"Two-Fisted Tales" no. 35.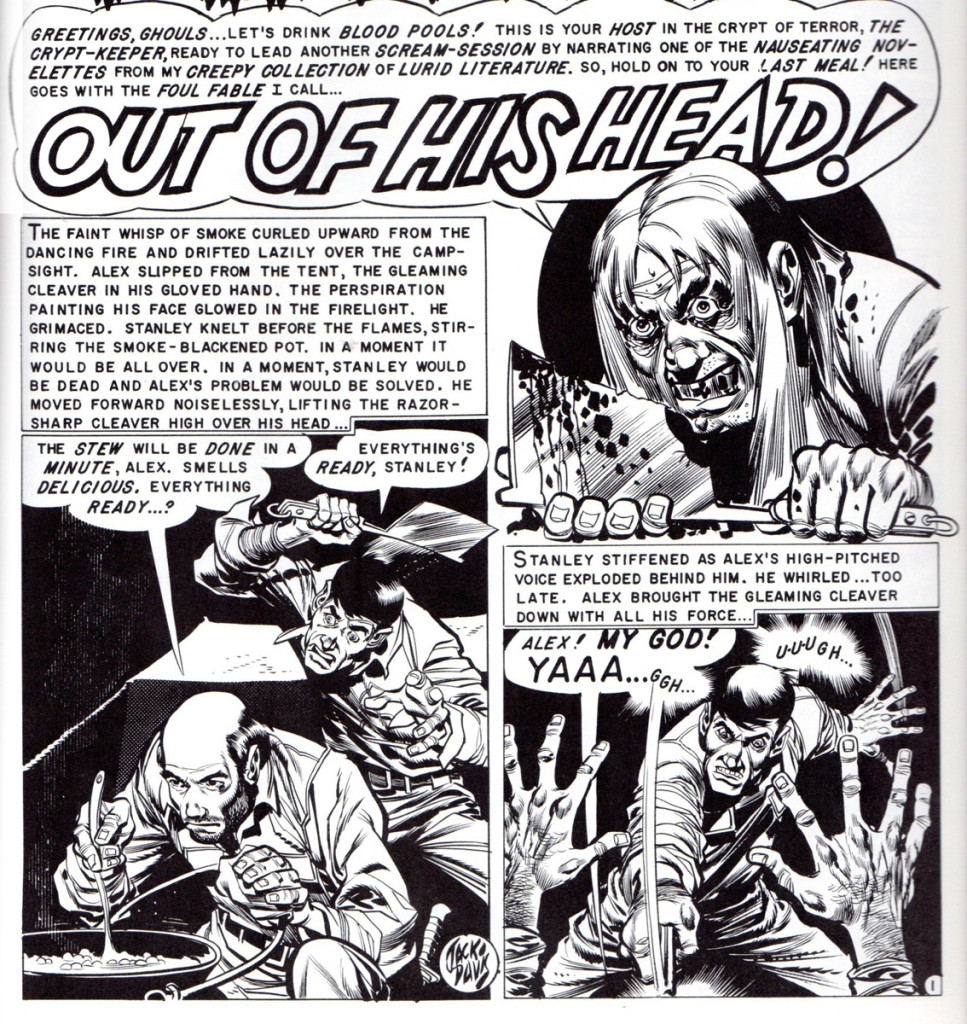 24
"The Vault of Horror" no. 32.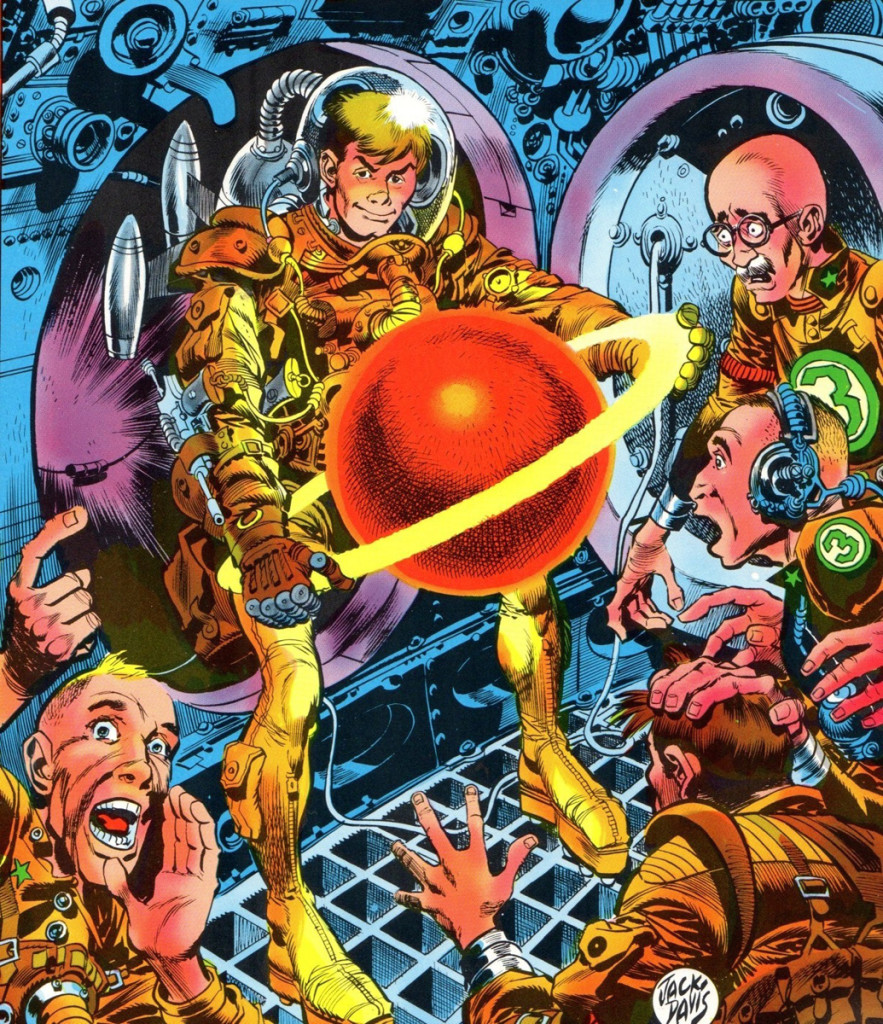 25
We'll end with a splash of color. These three covers,
colored by EC colorist Marie Severin, were some of
Jack's final pieces of art for the end run of EC comics
in 1955. They were done for their "Incredible Science
Fiction" title. With these covers and his stories inside
the books, meant that Jack worked on all of EC's titles,
crime, horror, humor, science fiction and war. Lucky for
us, he made all these genres his own!
Here is "Incredible Science Fiction" no. 30.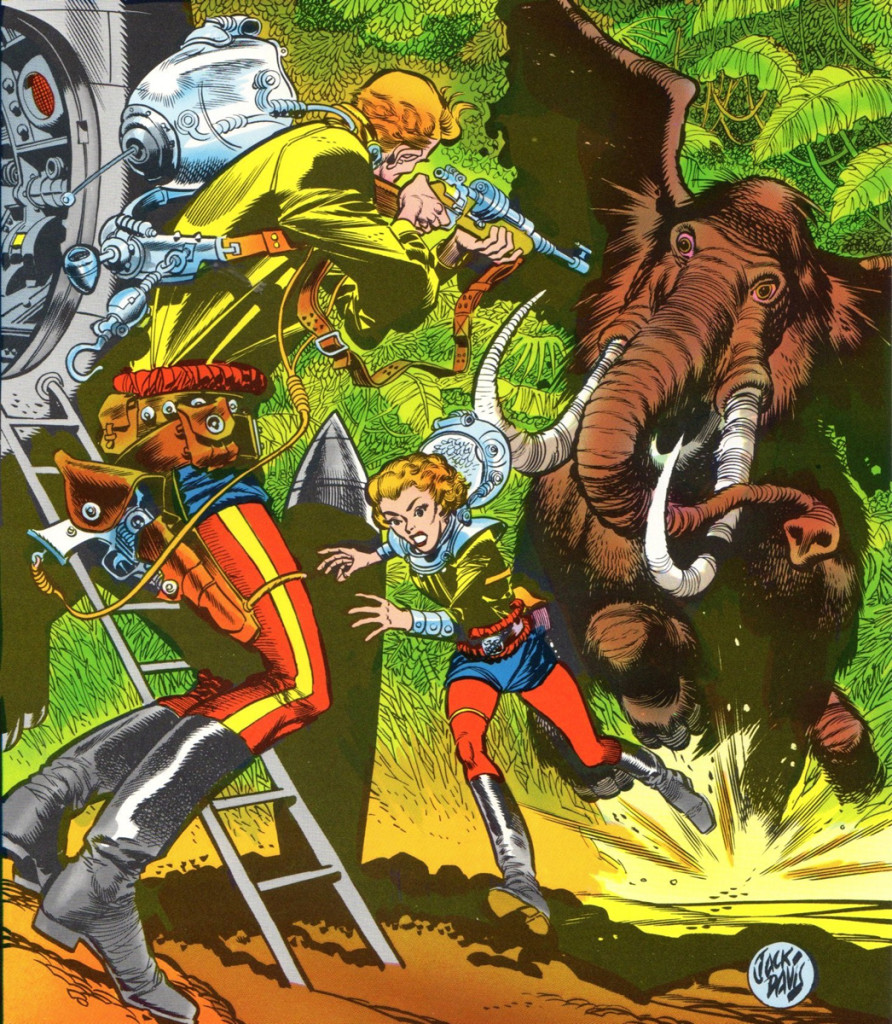 26
"Incredible Science Fiction" no. 31.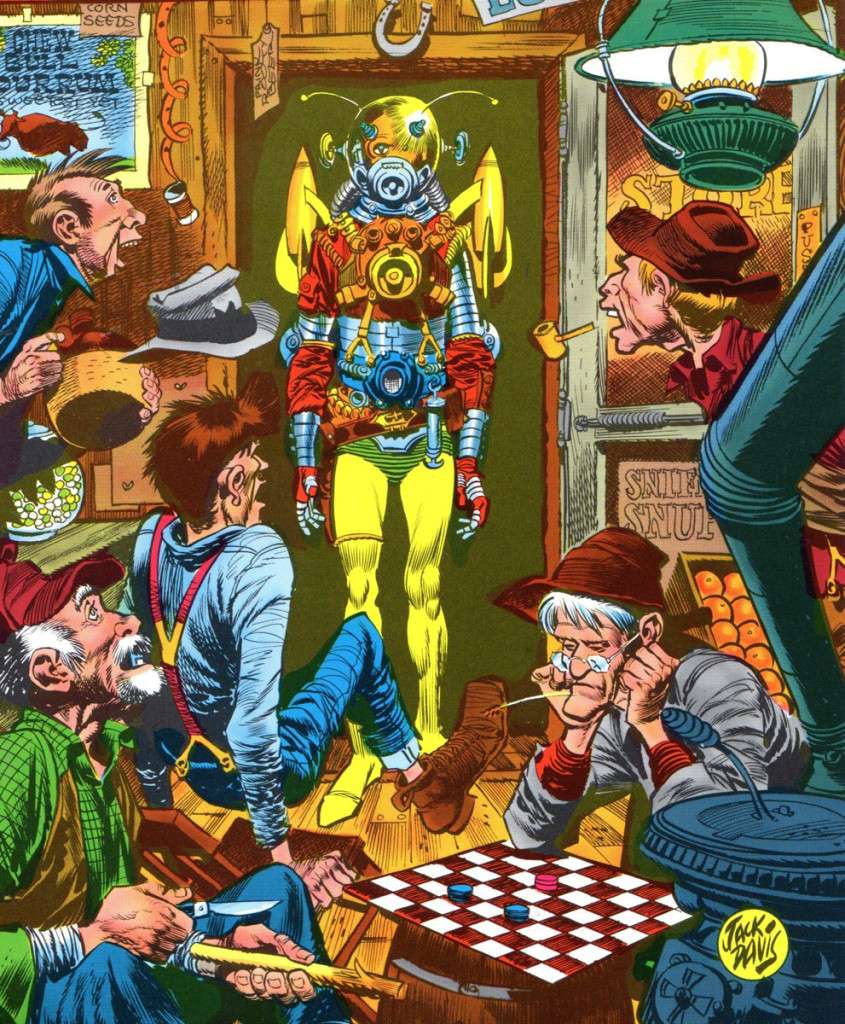 27
"Incredible Science Fiction" no. 32.
(One almost gets the sense that Jack had his idol
Albert Dorne egging him on with this cover. A nice
tribute to both those gents!)
Disney &Peet &Story & Storyboards 21 Feb 2013 06:46 am
- Back in Oct 2007, I posted Bill Peet's excellent storyboard for the Tar Baby sequence from Song of the South.
Given yesterday's post of color sketches and storyboard drawings from this film, and given that the original posting of these boards was done relatively small, I thought it time to put them up again, but I've taken the time to break them down and post them in a slightly larger form, making them a bit more legible.
As with other recent boards loaned me by John Canemaker, I first display them in the original size of the stats as they came to me.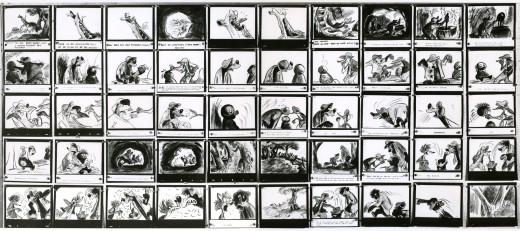 1
(Click to enlarge images so you can read them.)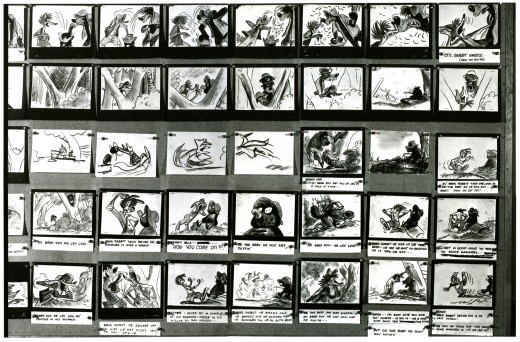 2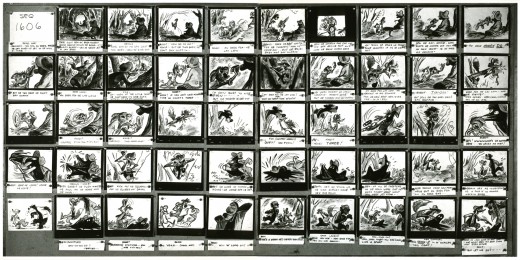 3

4
Here is my breakdown of the boards:

1a

1b

2a

2b

3a

3b

4a

4b

5a

5b

21a

21b

22a

22b

23a

23b

24a

24b

25a

25b

31a

31b

32a

32b

33a

33b

34a

34b

35a

35b

41a

41b

42a
I just love the drawings from this section.

42b

43a


There are another two pages of the storyboard
which I'll break down and post tomorrow.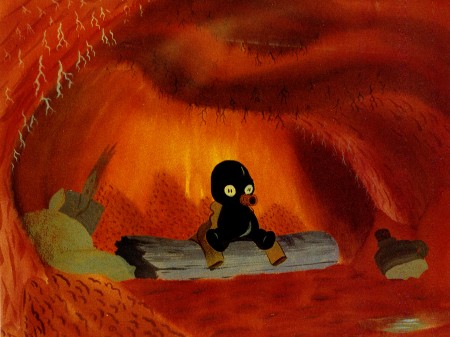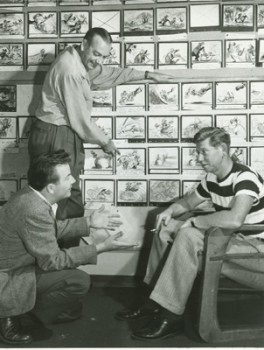 .
.- Here's the conclusion to the storyboard by Bill Peet that I began yesterday. It's the Tar Baby sequence from Song of the South.
I first posted this in October 2007, but I hadn't broken up the board so that it could be enlarged enough. I've done that.
Many thanks go to John Canemaker for initially lending this material for me to post.
.
.
.
This picture comes from the Bill Peet website, worth a visit.
Here are the two remaining original boards: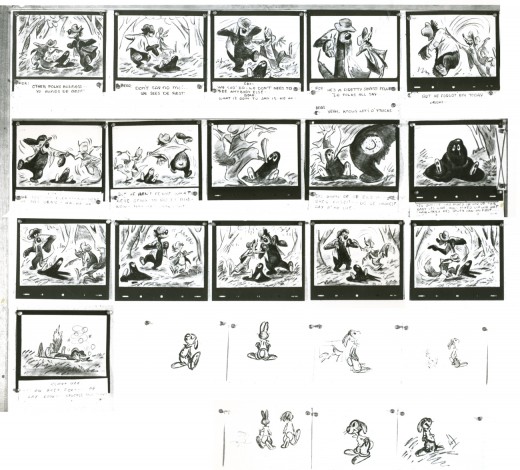 5
(Click images to enlarge.)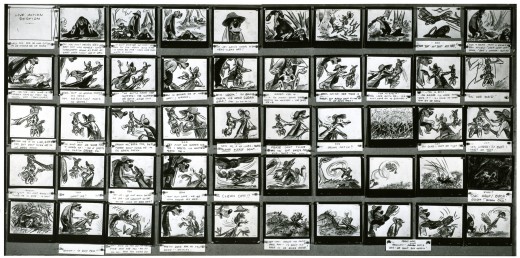 6
And here are the same two boards broken down by rows:

51

52

53

54

55

61a

61b

62a

62b

63a

63b

64a

64b

65a

65b

Daily post 20 Feb 2013 04:43 am
Top Cel was the u-nion newsletter, and for a while Ed Smith was the editor. Vince Caffarelli saved a number of these Ed Smith years worth of papers, and I'm posting them a year at a time. We're up to 1965. Four months are missing from this year.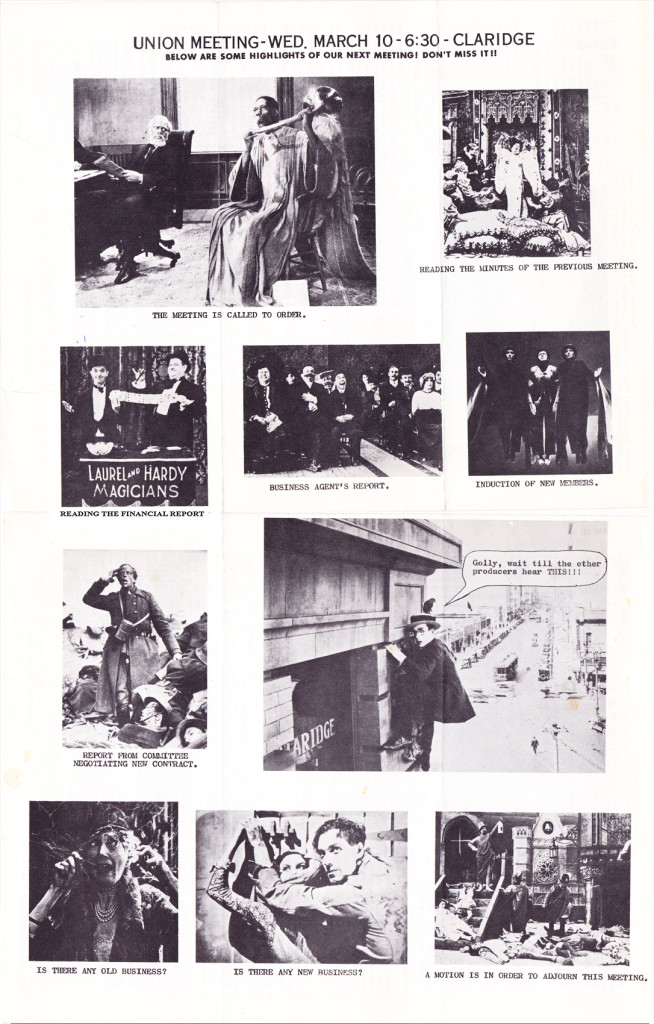 Mar 65 pgs 1&4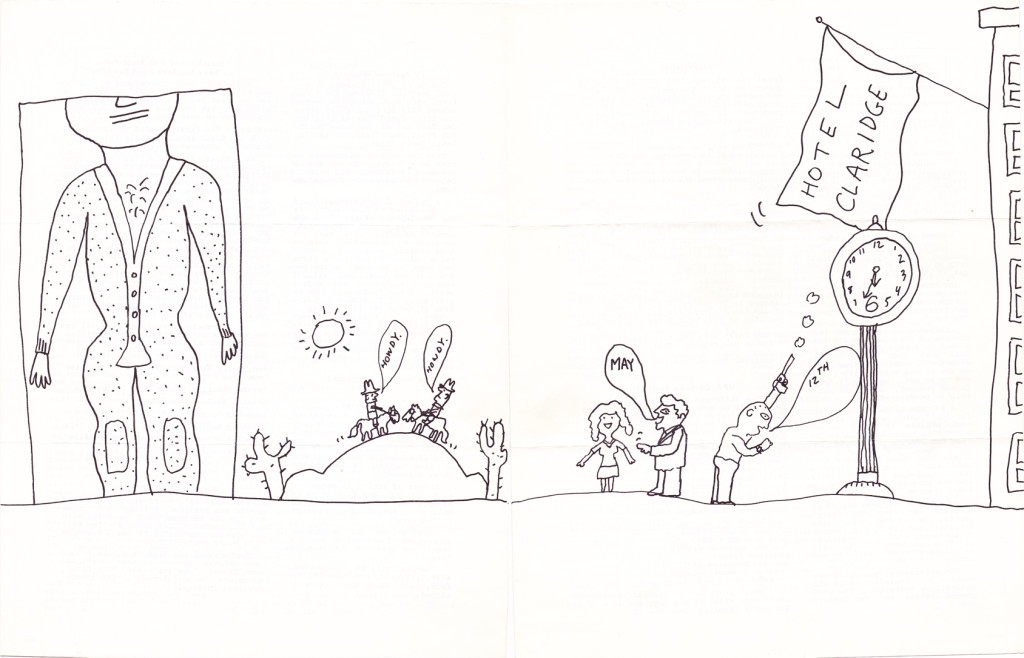 May 65 pgs 1&4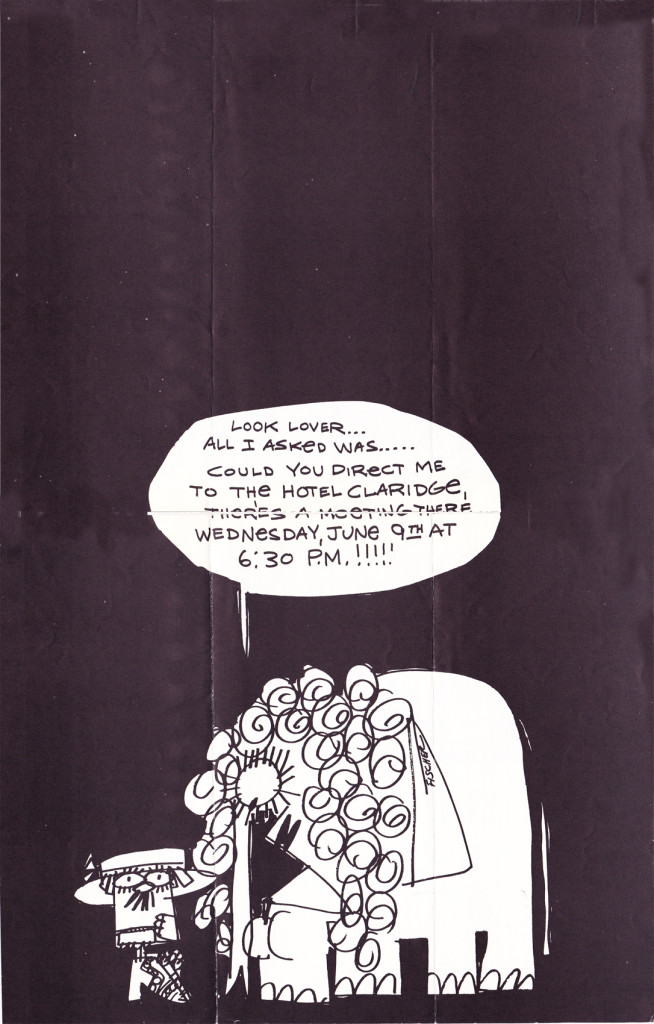 Jun 65 pgs 1&4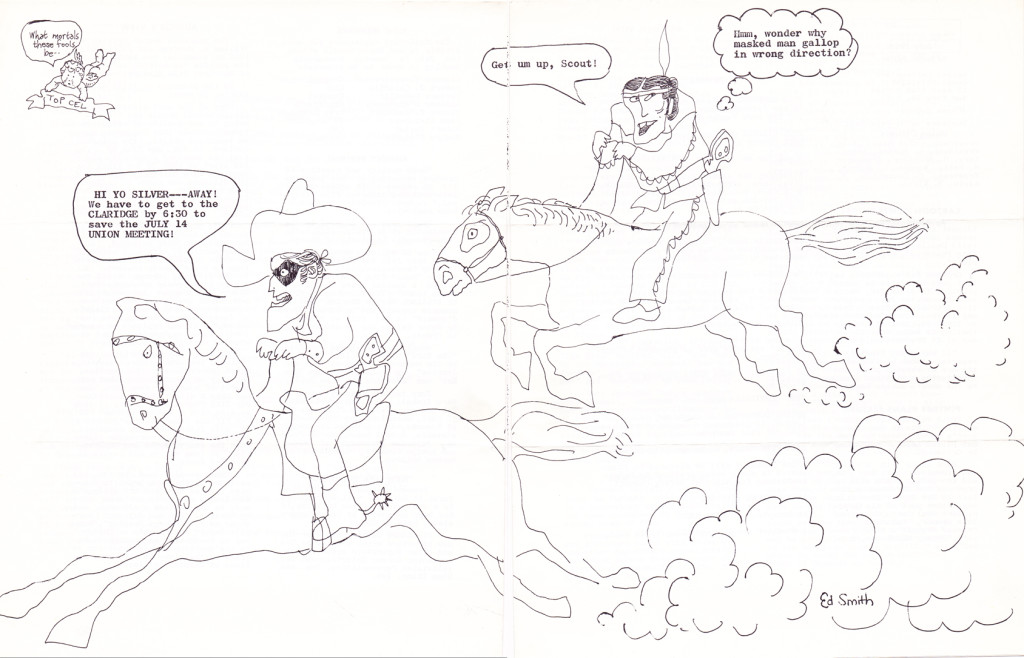 Jul 65 pgs 1&4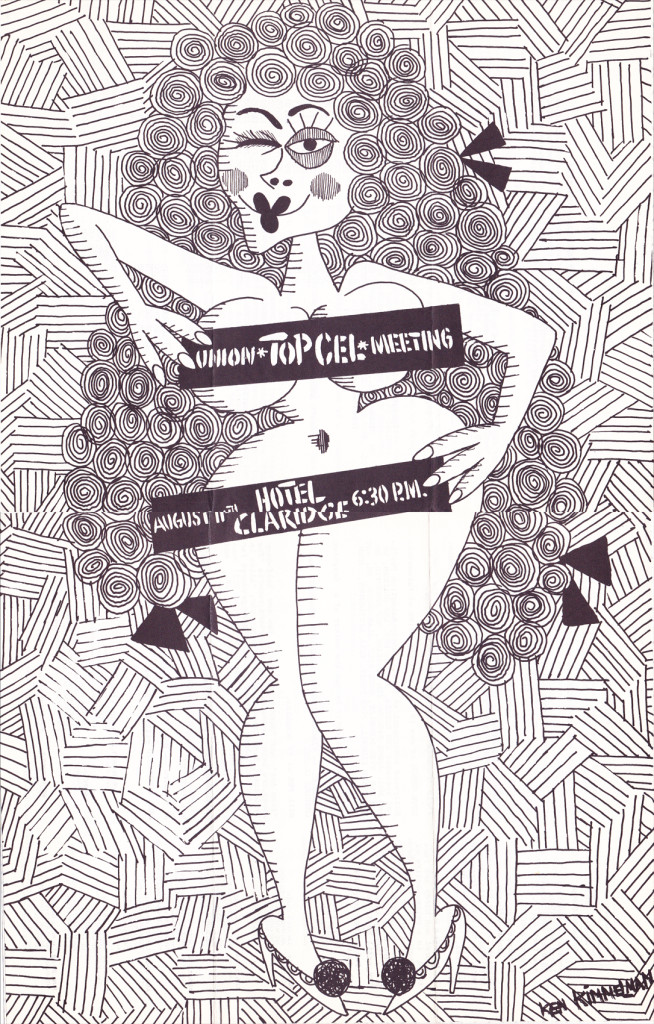 Aug 65 pgs 1&4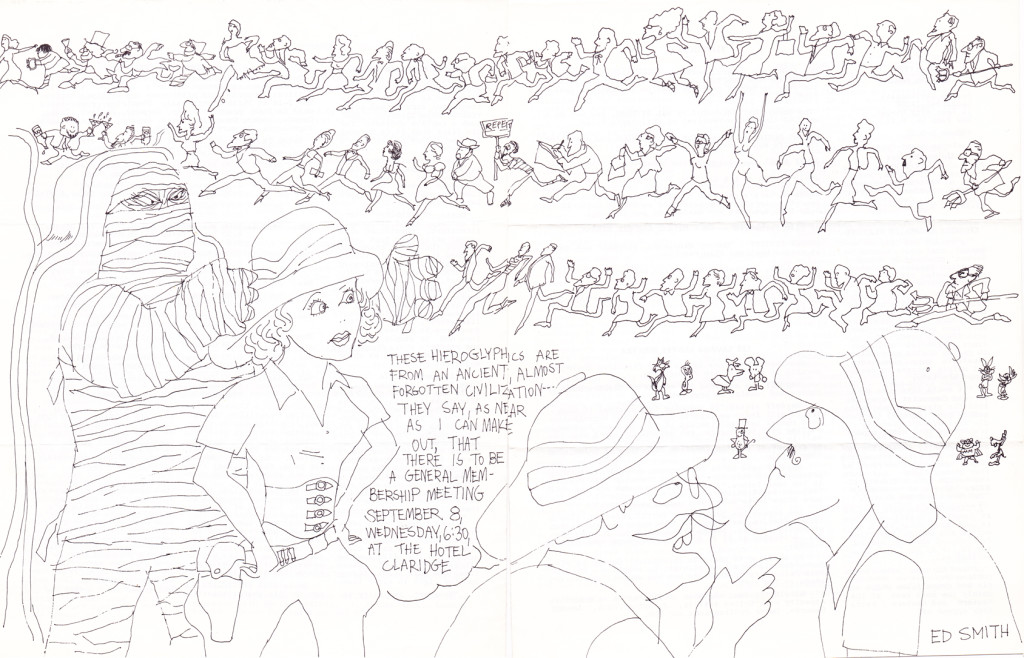 Sept 65 pgs 1&4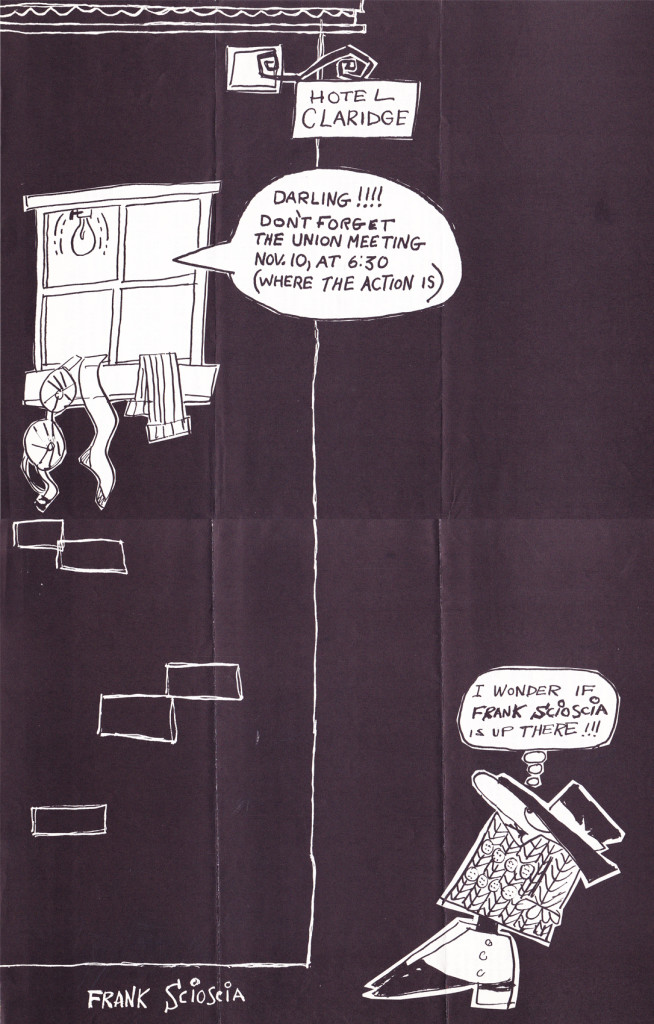 Nov 65 pgs 1&4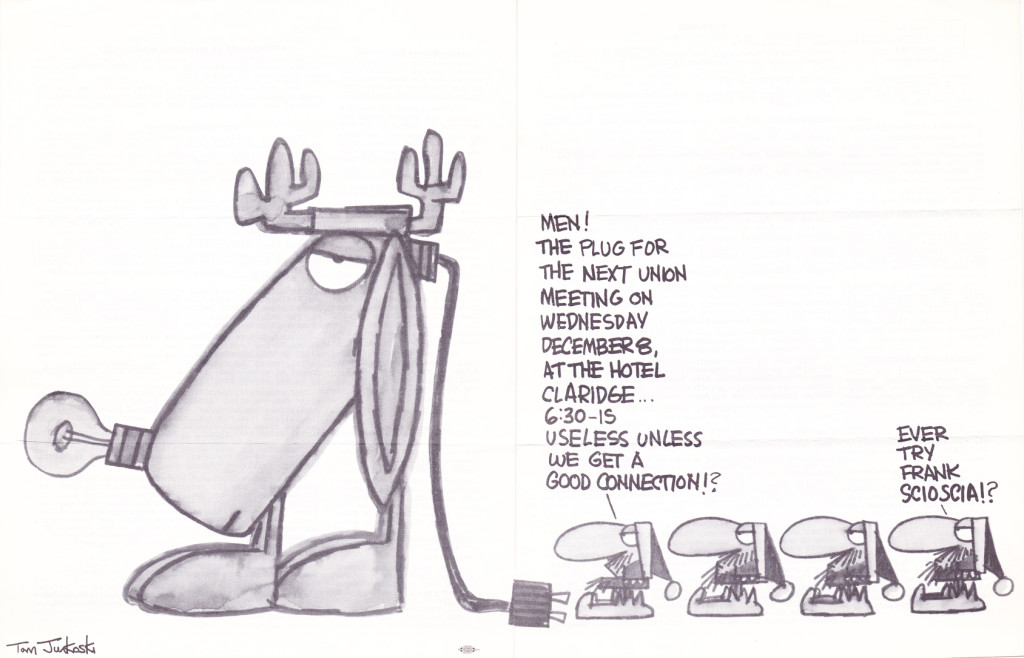 Dec 65 pgs 1&4