Monthly ArchiveJanuary 2007
Daily post &SpornFilms 31 Jan 2007 08:18 am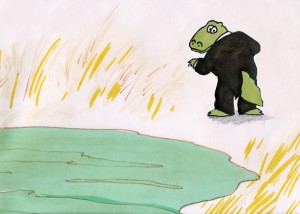 - Yesterday I pointed to some Casper shorts on line. I was amused to find two of my old Sesame Street spots on YouTube.
Chicken Crossing here.
Crocodile Smiles here.
I did both of these after just starting my company. These are two of the first three spots I produced for Sesame Street. I think they were done in 1982. Edith Zornow was the genius at Sesame Street who did magnificent work with all the different animators. For the longest time, I considered her my guardian angel. Just when business had gotten at its worst, she would call out of the blue with a half dozen spots to do. I had lots of freedom in all of them and really learned my business doing them. She died in 1991, and I still miss her.
Maxine Fisher wrote lyrics and stories for both of these spots (and about 30 more.)
Chicken Crossing has a funny soundtrack that Harrison Fisher put together for me.
Crocodile Smiles has a great score by Ernest Troost. He mimicked grand opera as if it were recorded in 1936, and it's hilarious. Ernest and I have teamed up many times; I'm a big fan.
___________________________________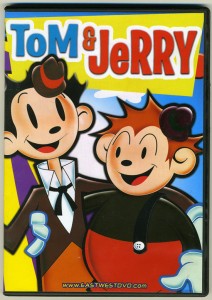 - Animator, Larry Ruppel brought an interesting little find to me last week. When we met after the panel session at the Museum of the Moving Image, he showed me three dvd's (one of them is pictured here.)
Apparently, some of the stores, called generically "99 cent stores," have been selling some interesting video finds. I'm going to quote Larry who sent me a follow-up letter:
you have to be careful and only get either the "Cartoon Craze" series from Digiview Productions (these are the best – they have a great Superman series as well), or from East West Entertainment.

It's quite a crappy minefield in the 99 cent DVD world, you really have to be careful. Felix and Popeye cartoons are most likely their 60′s TV incarnations – always check the titles.

I always treat my search as a treasure hunt. You never know what you'll
find.
There are two links with information that Larry sent me, and they're worth sharing. Accelerated Decripitude and Community Live Journal which gives titles.
If your local community doesn't have a "99 cent store," check out Walmart. Apparently a lot of these can also be found there.
Talk about Happy Feet. Here are some frame grabs from the first of the Van Buren shorts on this "Tom & Jerry" dvd:
Animation Artifacts &Daily post 30 Jan 2007 07:06 am
- There's a good British site called Skwigly which gives news from England & Europe. Its highlight is a good forum where they have live chats on Tuesday nights – 9-11pm GMT (check local times.)
______________________________

- A slew of Casper the Ghost cartoons are on line for those wacky folks out there who love Casper cartoons. (This same host, GUBA.com, also offers lots of other cartoons such as Popeye.)
I spent a lot of years watching Casper. In New York, before every channel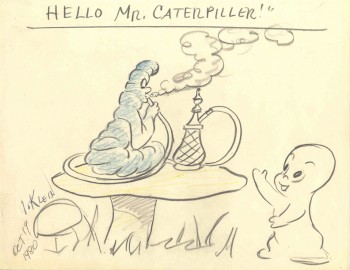 was a national network, we got a lot of locally-made animation. Terrytoons (Mighty Mouse) or Paramount (Casper, Popeye and Baby Huey) were the predominant fare of the NYDaily News owned Channel 11 or the even lower-rent Channel 9. The Warner shorts were the B&W ones on Channel 5. The same was true of theaters. It was infrequent that a Warners or Disney short played on those Saturday morning marathons where 10 color cartoons played with Francis the Talking Mule.
(Click images to enlarge.)
I didn't really choose Casper, and I never really liked the cartoons, but I was an animation addict and had to watch. Looking back at these shorts, it's amazing how good they are in comparison to the nonsense we're fed and make these days.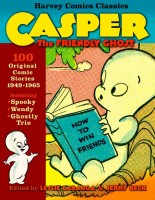 All that watching paid off years later when I worked alongside Johnny Gent, Izzy Klein, Marty Taras or Nick Tafuri. There are so many more: Bob Little, Cosmo Anzilotti, Gerry Dvorak, Jim Logan and others. I was able to talk intelligently about their work. I already knew their names before I met them.
Casper is also the focus of an upcoming book by Jerry Beck and Leslie Carbaga. This collects the Casper comic books in a 400 page tome. It's available from Dark Horse comics and can be ordered in advance of its April 2007 publication date.
It's amazing how many of these same artists did a good share of moonlighting on these comics. It was their night job.
__________________________________
The comic strip I do love is Polly and Her Pals. Cliff Sterrett never failed me; I love everything about his strip. Once again the ASIFA Hollywood Animation Archive comes through with some more first rate images. From Kent Butterworth's collection they have 5 beautiful Sunday pages newly posted.
__________________________________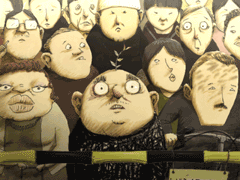 – Something else I love are the films of Japanese animator, Koji Yamamura. His short, Mt. Head, was nominated for the Oscar a couple of years back, and another, The Old Crocodile, was a hit on the festival circuit the past couple of years. Apparently, there's a recently released video collection of his work. I found this interesting review on the Senses of Cinema site.
Incidentally, if you're not familiar with this site, stay there and take a look around. It's one of those high-minded, intellectual magazine sites with lots of well written reviews and information. I can't get enough of them.
Commentary &Daily post 29 Jan 2007 07:46 am
The nominees for the BAFTA Awards were announced last week. This is the British equivalent of the Academy Awards. Generally, a great winner emerges in the animated categories, particularly the shorts. This year is no exception:
Two of the nominees for Best Animated Feature match the Oscars: Cars, Happy Feet.. Flushed Away replaces Monster House on their list – appropriately, since it's animated.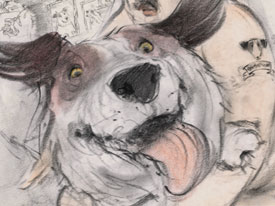 Nominees for Best Animated Short film are:
DREAMS AND DESIRES – FAMILY TIES – Les Mills/Joanna Quinn
GUY 101 – Ian Gouldstone
PETER AND THE WOLF – Hugh Welchman/Alan Dewhurst/Suzie Templeton
Peter and the Wolf by Suzie Templeton is a one hour animated film to the Prokofiev score. Click here to see a trailer.
Guy 101 by Ian Gouldstone is a short film about a man who hears a story about a hitchhiker from the other side of the Internet. The film was done as a student film for the Royal College of Art Animation. See it here.
Dreams and Desires: Family Ties by Joanna Quinn is a film about a woman and her home movies of a wedding. Brilliantly conceived and ridiculously skipped over by the US Oscar voters. It's certainly the best animated short of the last year. The film is part of Don Hertzfelt & Mike Judge's Animation Show which played in NY laste week.
_______________________________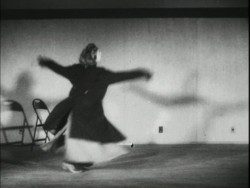 – A lot has been discussed in the past week about the validity of Motion Capture as a form of "Animation." This conversation was instigated by the Oscar nominations. Two of the three nominations for the Best Animated Feature were created using MoCap.
Mark Mayerson questioned if we shouldn't be deciding whether we're officially going to call Motion Capture animation. And if we shouldn't, then is Cars the only officially nominated animated feature?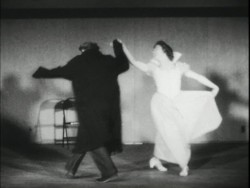 Now, of course, Motion Capture animators feel slighted. But they would have to agree that the soul, the impetus behind the movement does not come from them, but rather from the live action actor that was originally "captured"?
The comparison has been made that
traditional animation has often used Roto- scoping in creating animation. In fact, Disney's Cinderella became the first feature that was wholly filmed in live action prior to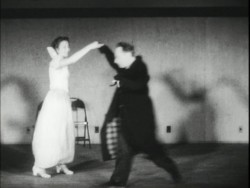 animation.
However, I'd like to make the point that the two methods are unrelated except in that live actors are involved. The difference to me, is that one is inspiration and the other is the heart of the animation.
When an animator is given live action reference material – the rotoscoped/traced drawings from the live action acting – he/she refers to it but animates to what is necessary for the scene. the animator is the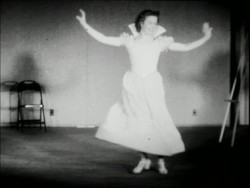 actor using the prerecorded voice, the physical rotoscoped reference, and anything available to help give the character a "soul."
Even in Bakshi's use of Rotoscoping in Lord of the Rings, the animators were allowed to push the drawings beyond the live action, alter the drawings to get them on character, and essentially produce the action.
When an "animator" gets the MoCap filmed live action, the actions are set. The actors have done the movement. What remains is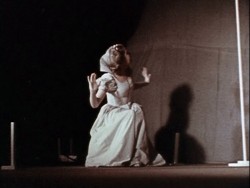 the proper positioning of the characters within the created scene, cleaning up the characters and constructing the scene. There's no real animation, as we've come to know it.
For years now, I've called this electronic puppetry, but that's not really accurate. The site Digital Puppetry seems to have labelled it correctly.
Younger animators seem to have less a problem with all of this labelling and irritation accrued by older veterans. In fact, the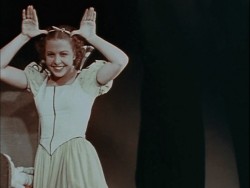 problem really is a threat to the "animator." Last week, I hyperbolically suggested that the days of the animator were a dead as the dodo. You see, animation has turned into a computer effect. Live Action directors are now directing "animated films" in greater numbers. Peter Jackson had his "Gollum," Robert Zemeckis had his "Polar Express" (and produced "Monster House"), Ang Lee had (and in fact acted) The Hulk. The "animators" have become interchangeable and almost irrelevant.
You aren't able to define anyone's animation style behind any of Tom Hanks' characters in Polar Express. You can only see Tom Hanks or Savion Glover in Happy Feet.

(All images except this one enlarge by clicking them.)
In Snow White, you can tell which scenes Grim Natwick animated; his style of animation comes across. It doesn't matter how many rotoscoped drawings were given to him as reference. Grim animated the scenes.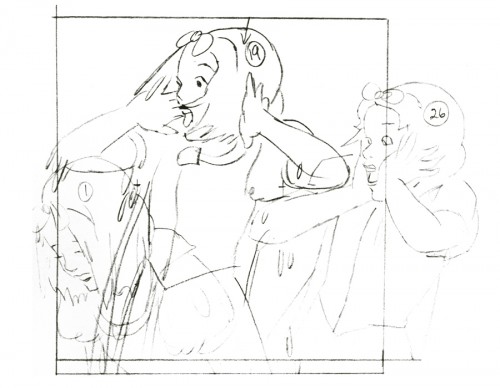 In the big picture what really does all this quibbling matter? I enjoyed Happy Feet more than I did Cars. Cars was a better constructed film, both were riddled with cliches. I was entertained by all that dance. I like Savion Glover (though I would have preferred watching Savion Glover.) The film also seemed to have some sort of misguided representation of a message. I appreciated that. Cars, to me, had only a lot of loud noisy reverberation. From the first frame, the film came screaming. The artistry behind the imagery was astounding, as expected from Lasseter, but the film was boring.
Of course, this is only my opinion based on my biases. You have your opinions based on your biases. However, as an Academy voter, I'll probably vote for Cars because I think technically it was a better "Animated" film. Isn't that the category?
If you haven't read Mark Mayerson or Keith Lango on this subject, you should.
Ward Jenkins reminded me that he had two interesting posts about Polar Express on his site. It gives an interesting look at how to correct the "Zombie Eyes" on the characters. #1 and #2. Check them out, if you haven't seen them.
Photos 28 Jan 2007 09:53 am
- I thought it'd be fun to put together some of the grouped staff shots we used to do a lot. For some reason we haven't done any in the past ten years; maybe it's because the numbers of people working here are quite a bit fewer. I guess it's still worth while for posterity's sake. We'll do it soon.
Some of these have appeared before, but it's a good retread for me; I love it.
All images enlarge by clicking them.
The Lyle crew, back in 1987: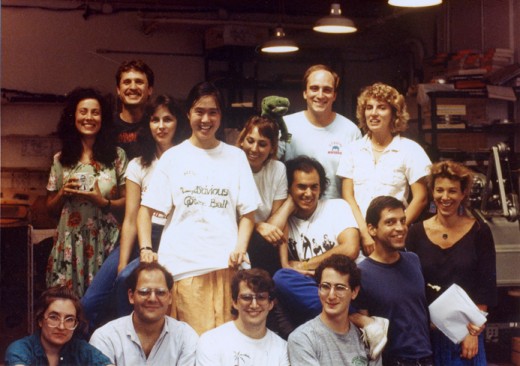 Front row, sitting, L to R: Caroline Zegart - coloring, Steven Dovas - animator, John Schnall - Prod. Coordinator/Animator, Ray Kosarin - Asst. Animator/coloring, Michael Zodorozny - Layout, Bridget Thorne - Art Director/Bgs.
The Abel's Island group, 1988: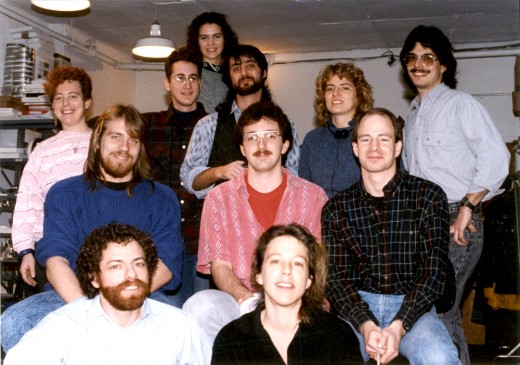 Back row (L to R): Betsy Bauer (colorist), Ray Kosarin (asst animator/colorist), Laura Bryson (behind Ray) (colorist), Robert Marianetti (Prod Mgr), Theresa Smythe (colorist), Mike Wisniewski (asst animator/colorist)
Center row (L to R): Steve MacQuignon (colorist), George McClements (asst animator/ colorist), Greg Perler (editor)
Bot Row (L to R): me, Bridget Thorne (Bg's)
Not pictured in the photos is Kit Hawkins, my assistant, who took them.
After the move to 632 Broadway a small group working on Baby's Storytime: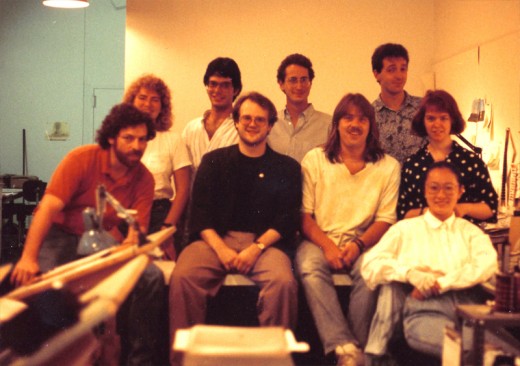 Sitting L to R: me, Jason McDonald, Steve MacQuignon, Mary Thorne, Masako Kanayama
Here's a birthday party in 1992: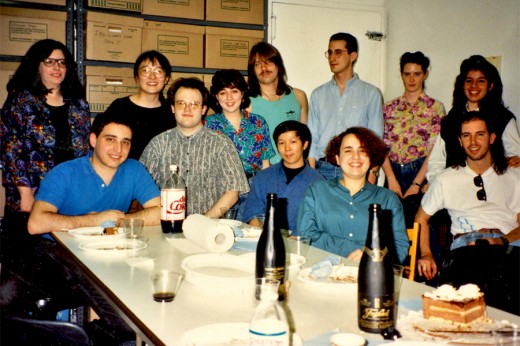 (Back row L to R) colorist - Christine O'Neill, Masako Kanayama, Sue Perrotto, Steve MacQuignon, Ray Kosarin, Liz Seidman, Marilyn Rosado
(Fron row L to R) Ed Askinazi, Jason McDonald, Xiaogang He, Denise Gonzalez, Rodolfo Damaggio. I'm probably off camera still looking at the picture, or else I'm taking the picture.
A Christmas party back in 1996: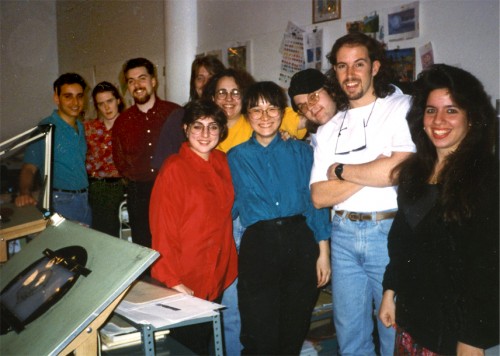 Back L to R: Ed Askinazi - editor, Liz Seidman - prod coord, Matthew Sheridan - asst, Stephen MacQuignon (hidden) - colorist, Denise Gonzalez (in yellow) - publicity/asst, Sue Perotto (in red) - animator, Jason McDonald's head - colorist, Masako Kanayama - production supervisor, Rodolfo Damaggio - animator, Marilyn Rosado - office manager.
This is the staff during the making of a pilot for Blackside Entertainment, The Land of the Four Winds. It's another birthday picture. Lots of color deterioration in the photo. The exposure isn't great – you can barely make out Champagne's face.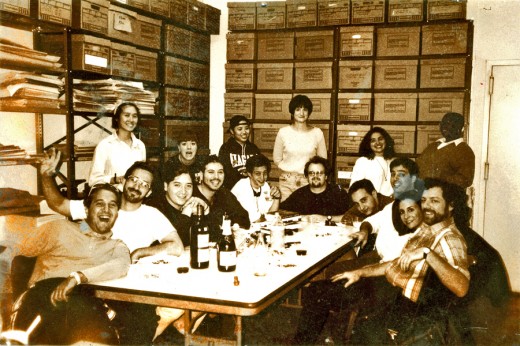 Sitting around the table L to R: Farid Zacariah (runner), Greg Duva (Asst Anim), Adrian Urquidez(I&Pt), David Levy (Asst Anim), John "Quack" Leard (Asst Anim), Jason McDonald (design, I&Pt), Ed Askinazi (Editor), Robert Marianetti (Prod Coord), Heidi Stallings (casting), me.
Here's one a couple of months later (a better photo by Kit Hawkins – who was also on staff then.) It celebrated Farid's last day – our all around guy.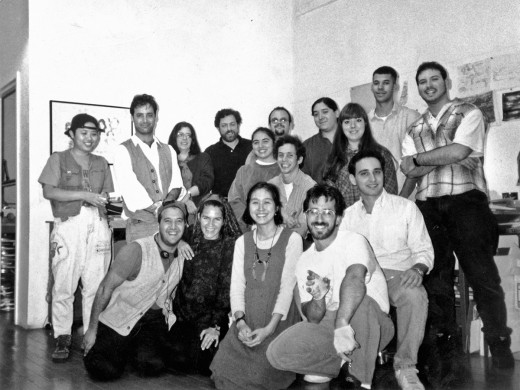 Front row kneeling L to R: Farid Zacariah (runner), Laura Bryson (Bg's), Madeline Fan (Asst Coord), Greg Duva (Asst Anim), Ed Askinazi (Editor)
I'm sure this is boring for a lot of you, but I had fun.
Daily post 27 Jan 2007 09:48 am
Last night at the Museum of the Moving Image, David Levy (NY animation director and ASIFA East President) moderated a panel to talk about general information about the business: from education to opportunities to business. The panel included: Dan Haskett (Bi-coastal animator supreme), Bill Plympton (NY Independent who doesn't need an introduction), Traci Paige Johnson (creator of Blue's Clues), me, and Ila Abramson
(i spy animation recruiter).
Dave's question were thoughtful, provocative and interesting. It instigated a lot of good conversation and kept us all on our toes. It was a really nice event. The house was full which was a surprise given the other event taking place in town.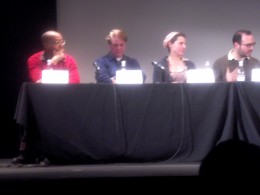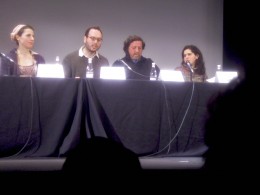 L to R: Dan Haskett, Bill Plympton, Traci Paige Johnson, David Levy, me, Ila Abramson
The Animation Show played at Roseland. According to Bill Plympton (who had to leave early to make that program – he had films being shown there) some 600 people had shown up on Thursday night. I'm glad they were able to see Don Hertzfeldt's Everything Will Be OK and Joanna Quinn's film, Dreams and Desires: Family Ties. I love hearing about the success of animated programming. Kudos to Don Hertfeldt and Mike Judge for putting The Animation Show together and making it such an enormous success.
And kudos to Dave Levy for doing such a great job moderating that panel.
__________________________________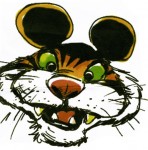 Nancy Bieman will be in town on Monday.
MOCCA, the Museum of Comic and Cartoon Art will present a program of animation from the students of the Rochester Institute of Technology. Nancy is the animation instructor for those lucky students.
The program begins at 6:30PM at
594 Broadway
Suite 401.
Admission is free.
__________________________________
Not too far off the subject is the 5th World Summit for Media and Children which is taking place Mar 24-28 in Johannesberg, South Africa. Their objectives, as ever, are good ones, in line with UNICEF:
- To raise the status of children's programming both around the world.
- To draw attention to the importance of children's media issues.
- To encourage International collaboration on the production of program content.
- To share expertise and ideas for future quality children's programming.
- To encourage media to actively focus on the social development of youth, HIV & AIDS.
- To unlock developmental potential and business opportunities.
- To initiate debate and discussions around children's media issues.
Animation Artifacts 26 Jan 2007 08:06 am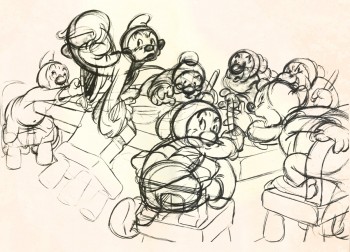 - What follows is a series of notes taken at a Disney story meeting discussing the seven dwarfs.
It's obvious that this was an important meeting. All of the Gods-as-animators were in attendance and participate in the open discussion: Bill Tytla, Dick Lundy, Dave Hand, Art Babbitt, Fred Moore, Ham Luske, Les Clark, Wilfred Jackson, Frank Thomas, and Ollie Johnson. The list goes on; just look at that first page.
(Click on any image to enlarge.)
You'll note that it goes from page 7 to page 9, but I'm pretty sure nothing is missing. There's also a little bit of distortion on the old copier used to copy this back in the 70′s. It's illustrated with images from a Snow White book AMEX offered years ago. I haven't seen it anywhere else since I bought a copy.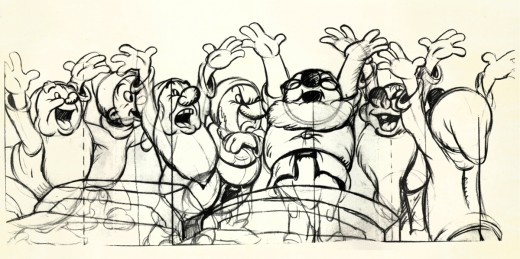 Errol Le Cain &Illustration 25 Jan 2007 08:15 am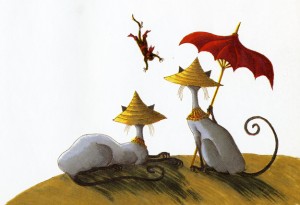 - As you probably know by now, I am an ardent fan of Errol Le Cain's artwork. He was a key to the design style of Richard Williams' Cobbler and the Thief and he was involved in the Williams Soho studio from its earliest days.
He was also the illustrator of many children's books. In the past, I've given samples of a number of his books and I still have a few more.
Two of his last books were illustrated adaptations of poems from T.S. Eliot's Old Possum's Book of Practical Cats. This is the same material that inspired Andrew Lloyd Webber & Trevor Nunn to write Cats, the Broadway musical.
Cats had its own history as an animated feature, and it currently rests in the hands of Universal Pictures, which owns the rights and has no plans of committing to production. (Perhaps, with Chris Meladandri moving to setup a studio at Universal will change that. See LA Times article.)
Tom Stoppard wrote the last of the scripts for that film. You can get a glimpse of what this film might have looked like from an entry on Hans Bacher's site.
Last week a new and useful website was launched to feature Le Cain's illustration work.
Here are a sampling of the illustrations from one of the two Le Cain books adapting Cats.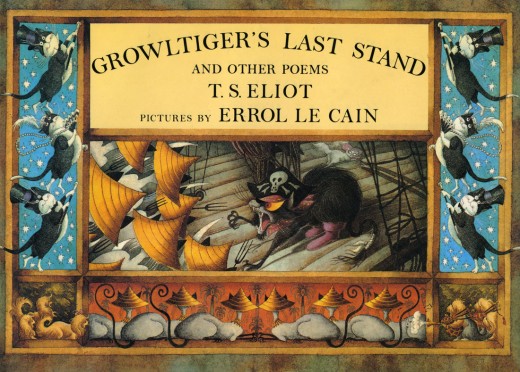 (Click on any image to enlarge.)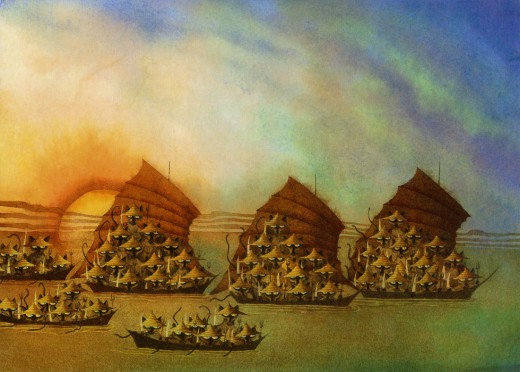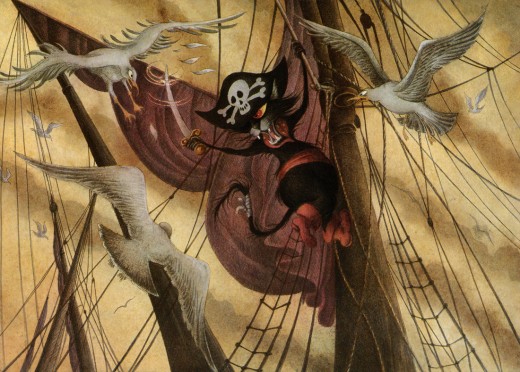 Growltiger was a Bravo Cat, who travelled on a barge;
In fact he was the largest cat that ever roamed at large.
From Gravesend up to Oxford he pursued his evil aims,
Rejoicing in his title of"The Terror of the Thames."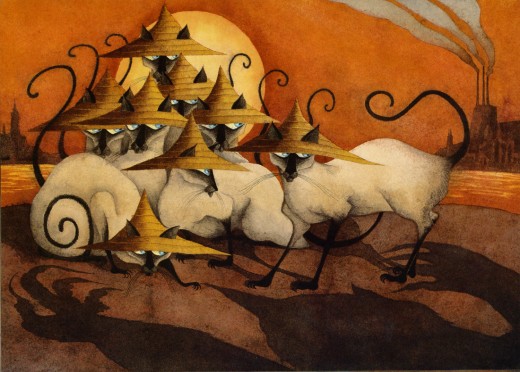 But most to Cats of foreign race his hatred had been vowed;
To Cats of foreign name and race no quarter was allowed.
The Persian and the Siamese regarded him with fear –
Because it was a Siamese had mauled his missing ear.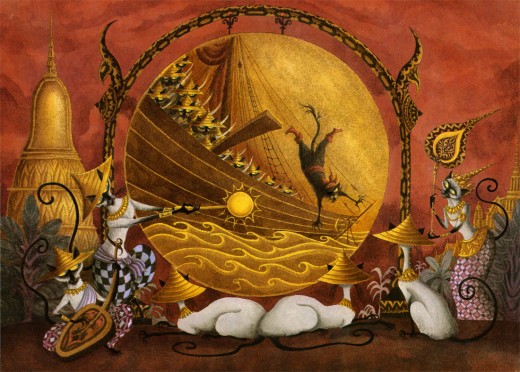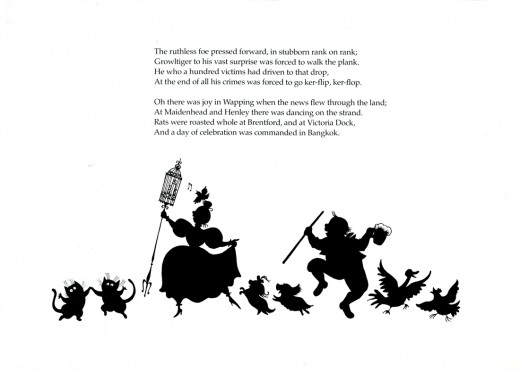 Commentary &Daily post 24 Jan 2007 08:48 am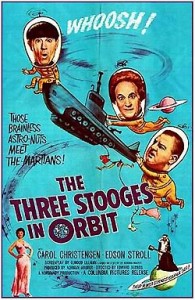 - In the film, The Three Stooges in Orbit, released in 1962, a machine is invented which enables the Stooges to film themselves, but on film they come out as animated cartoons in psychedelic flashing colors.
As a kid watching this in its initial run, I couldn't wait to see what the animation would look like and how the inventive producers would pull this idea off.
The Stooges dressed like chickens, filmed themselves and it ended up being rotoscoped images of the Stooges in chicken outfits. What a disappointment! However, at that film showing in the Bronx, the Stooges made a LIVE guest appearance. The disappointment of the movie didn't quite wear off even when up close I saw how tiny and old these three guys were. I did, after all, see the Stooges in person.
But ROTOSCOPED! Why! I never got over my irritation of the climax of that film. No one else really cared.
My comment on this site a couple of days ago indicates the irritation I've recently been carrying inside.
Dodos, Kentridge & Quays: This made me wonder if hand-drawn animation is going to go a similar way. Will they be able to find the bones a hundred years from now? Evidence seen in the past five years or so seems to give me little reason to doubt that it would be gone. MoCap will get better and the guise of animation will be front and center for the obvious future. There's a good chance tomorrow will show us two of three nominees for Oscar's Best Animated Feature will be Motion Capture. The animator as we knew it is virtually dead.
All that's left is Art.
I guess that irritation is starting to spill over. Yesterday's Feature Animation Oscar nominations had become obvious to me on Monday, and I said what I did because I meant it. I'm not deliberately trying to be provacative, but I am trying to encapsule how I view "Animation" that I grew up knowing and loving. It's almost completely gone. Every once in a while you get a glimmer of it, and a sign that it can even still grow.
Joanna Quinn's film, Dreams and Desires: Family Ties did that. It took a basic human ritual, a wedding, and combined it with all the trappings to make a hilarious animated piece that really comments on the human condition. All done with incredibly bold camera moves, juicy, lively animation and enormous wit. It's not a good film, it's a great film.
I was so certain that there could be no doubt that this would not only be nominated but win the Oscar. But this year the majority of the Academy members let me down. They also let down Animation. Once again, the medium looks dead to me. With these arbiters of taste in control, there's small hope that the commercial medium can move on.
Individuals are all we can hope for. Fortunately there's a Brad Bird or two out there to keep the tiny spark glowing, but I'm not sure how long that can last. The Crunch Bird is going to win again this year, and what can you say? Oh well. More rotoscoped Stooges.
__________________________
Obviously, the Oscar nominations got Mark Mayerson as angry. He writes a good piece about Motion Capture on his site.
Keith Lango has too consecutive posts: he talks about my Dodo comment and the Oscar nominations.
Burying my head in the past, I love the photo of the Disney animation camera (courtesy of David Lesjak) on the 2719 Hyperion site today. David's site, Toons At War, is also a good one.
__________________________
Fortunately New Yorkers can see Joanna Quinn's Dreams and Desires at The Animation Show. This compilation of animated shorts (which also includes: Run Wracke's Rabbit, Bill Plympton's Guide Dog and Don Hertzfeldt's Everything is OK) will be screened Jan. 25th, Thursday at 8pm and Jan. 26th, Friday at 6:30 & 9pm. The ticket Price is $12.50 at the Roseland Ballroom 239 W 52nd St.
Commentary &Daily post 23 Jan 2007 09:06 am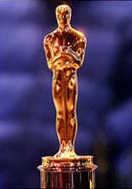 The nominations for the Academy Award were announced this morning.
Those for Best Animated short include:
. The Danish Poet
. Lifted
. The Little Match Girl
. Maestro
. No Time For Nuts
Those for Best Animated Feature include:
. Cars
. Happy Feet
. Monster House
Congratulations to all nominees, especially the East Coast guys, Chris Renaud and Mike Thurmeier, at Blue Sky.
However, I have to say that it's an enormous disappointment that Joanna Quinn's film Dreams and Desires: Family Ties wasn't nominated. This is far and away the best of the films screened for the Academy. It won grand prizes at Annecy, Ottawa and Zagreb, yet it's ignored by the Academy. It's upsetting.
This is the year of the BIG studio – time to make up for the past couple of years.
For a list of all other nominations go: here.
__________________________________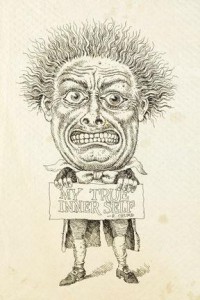 – From now through Feb 27, the Rosenwald-Wolf Gallery in Philadellphia will be hosting a show of R.Crumb's art. My True Inner Self features drawings and sculpture from 1960 through the present.
New York's Paul Morris Gallery and private collectors provided the show's works, which range from small sculptures to self portraits to notebooks full of observational sketches, all from the early 1960s through 2000.
The opening reception will be on Friday, Jan 26th.
Rosenwald-Wolf Gallery
333 South Broad Street
Philadelphia, PA 19102
Tel: 215.717.6480
Gallery hours: Weekday, 10-5 PM Wednesday, 10-8 PM Weekends, 12-5 PM
(Click on any image to enlarge.)
You can read about this show in the Philadelphia press:
. A story in the Philadelphia Daily News: here.
. A story in CityPaper.net has a good story: here.
__________________________________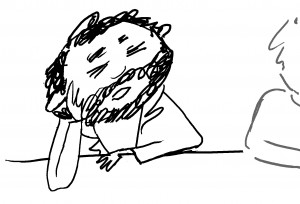 Also on Friday, Jan 26th at 7:30 pm the Museum of the Moving Image, in New York is hosting a panel moderated by David Levy (ASIFA-East president and author of the hit book Your Career In Animation). Guests include: Traci Paige Johnson (Blue's Clues co-creator), Alice Cahn (VP of Programming/Devt. at Cartoon Newtork), Ila Abramson (i spy recruiting), and Oscar Nominees Bill Plympton and me.
(Me on my last panel appearance.)
Admission: $10 per person (which includes admission to museum! Get there early to enjoy the whole day!)
The museum is also offering 2 admissions for the same price of $10 (so bring a friend and pay half price each!)
Museum of the Moving Image
35th Avenue at 36th Street, Astoria
(take the N or W subway)
Art Art &Commentary &Kentridge 22 Jan 2007 08:29 am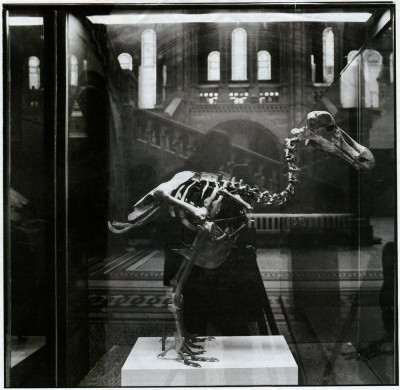 (A Dodo skeleton – Museum of Natural History, London)
Last week, The New Yorker featured an article about the dodo bird. It quite impressed me; I only wish I'd read it earlier. The online New Yorker site did not include the article, but it did feature a slideshow of paintings imagining the dodo in their natural habitat. (Not quite Bob Clampett.)
This made me wonder if hand-drawn animation is going to go a similar way. Will they be able to find the bones a hundred years from now? Evidence seen in the past five years or so seems to give me little reason to doubt that it would be gone. MoCap will get better and the guise of animation will be front and center for the obvious future. There's a good chance tomorrow will show us two of three nominees for Oscar's Best Animated Feature will be Motion Capture. The animator as we knew it is virtually dead.
All that's left is Art.
________________________________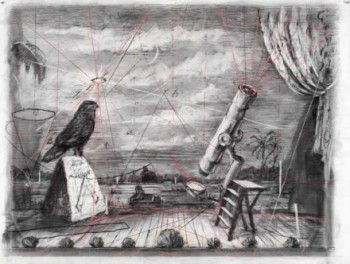 - South African artist and animator, William Kentridge, is going to be well represented at the Brooklyn Academy of Music this Spring. His production of The Magic Flute will be presented there April 9, 11, 13 and 14.
Now thru Feb 25, The Marian Goodman Gallery (24 W 57th St, 4th Fl, 212.977.7160) is showing some 50 working drawings and fragments the artist created for the visualization of this production. There are also an elaborate, preparatory theater-in-miniature which incorporates sound and projections that served as a study for a second work, Black Box/Chambre Noir (now at the Deutsche Guggenheim Berlin). "Through signature charcoal animations, Kentridge weaves his own concerns over the misplaced idealism of the colonial era into the Enlightenment masterpiece, championing fantasy as a corrective for unchecked authority.
The show at the Brooklyn Academy of Music has:
Scenery Kentridge and Sabine Theunissen, Costumes by Greta Goiris, and stars Jeremy Ovenden, Sophie Karthauser, and Stephan Loges.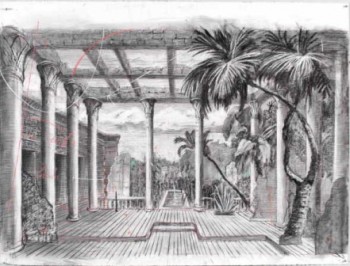 According to the program it's . . . a mesmerizing production originally staged at Belgium's acclaimed Royal Opera House, La Monnaie. Singers, dressed in 19th-century attire, enact a fairy tale set in an ancient Egypt populated by a high priest, a spiteful queen, a carefree bird catcher, and a heroic prince hoping to win the heart of a vulnerable princess.
Inspired by the brilliant libretto and Mozart's resplendent music (conducted here by Piers Maxim), Kentridge fills his panoramic projections with all manner of fanciful creatures, classical temples, and swirling celestial bodies, conjuring a magical and dangerous place where wisdom and love—and more than a little pluck—triumph over malice.
There's also a BAMDIALOGUE with William Kentridge scheduled for April 11 AT 6PM. For tickets to the opera or the BAMDIALOGUE go to their website here.
_________________________________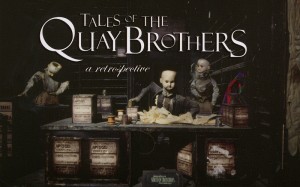 – A small reminder that the films of the Quay Brothers is screening at the Film Forum this week through January 25th. The program includes the following films:
In Absentia (2000)
Anamorphosis (1991)
The Comb (1991)
Are We Still Married? (1991)
Dramolet (1988)
Street of Crocodiles (1986)
The Epic of Gilgamesh (1985)
Rehearsals for Extinct Anatomies (1986)
The Cabinet of Jan Svankmajer (1984)
Tales from the Vienna Woods (Stille Nacht III) (1992)
Can't Go Wrong Without You (Stille Nacht IV) (1993)