Monthly ArchiveJanuary 2011
Animation &Animation Artifacts &Articles on Animation &Richard Williams 31 Jan 2011 08:24 am
- Continuing the drafts to Raggedy Ann & Andy, I'm posting two sequences today:
5 contains Emery Hawkin's taffy pit and
6 contains the meeting with the Looney Knight. (This is where the picture really goes off its wheels and takes a deep spin downhill.)
Seq. 5 employs these animators: Emery Hawkins. (A number of scenes were left blank for animator. At the end of the production they pushed this through pulling the sequence from Emery. Assistants became animators, and the animation looked shoddy.) Art Vitello, John Bruno, and Grim Natwick.
Seq. 6 is animated by: Willis Pyle, Art Babbitt, and John Kimball (Ward's son). Again, several other animators came on at the end: Jim Logan stepped up from assisting to animating the Looney Knight, since Dick felt he was handling it so well.

Sequence 5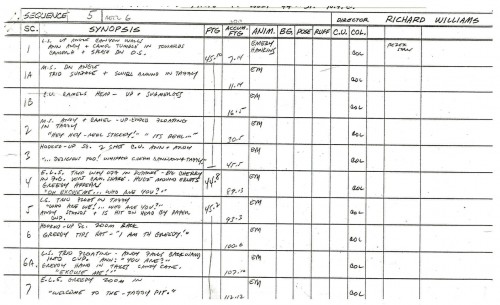 1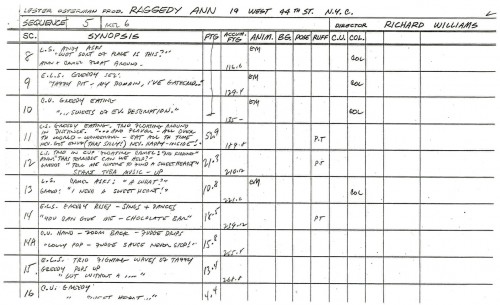 2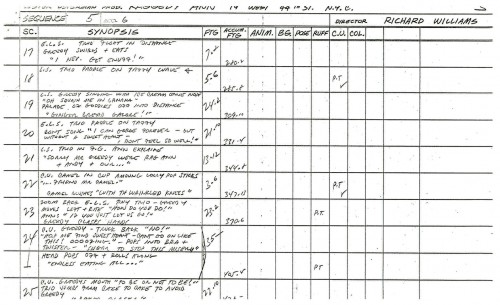 3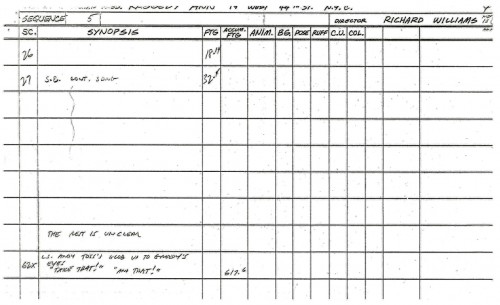 4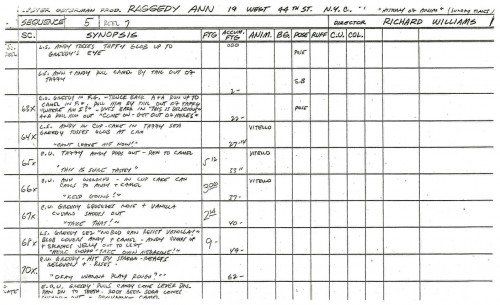 5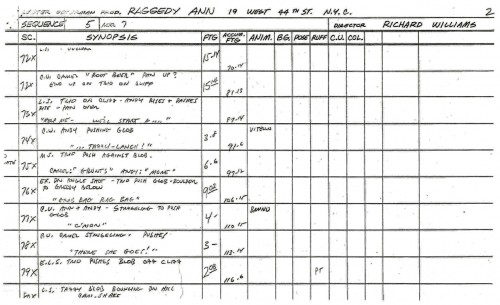 6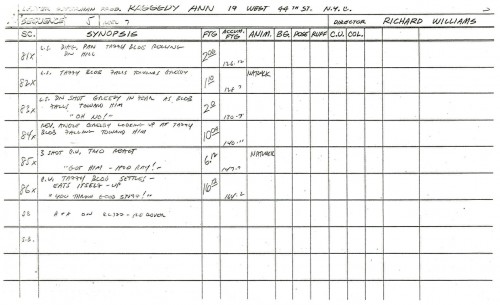 7
Here are some images from John Canemaker's excellent book, The Animated Raggedy Ann & Andy.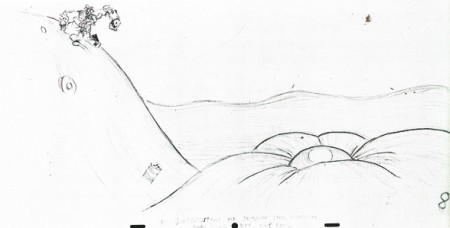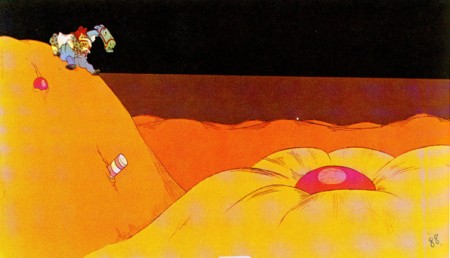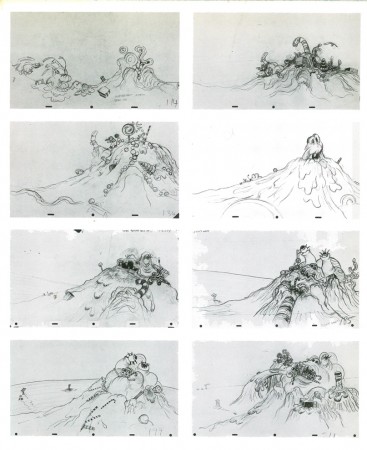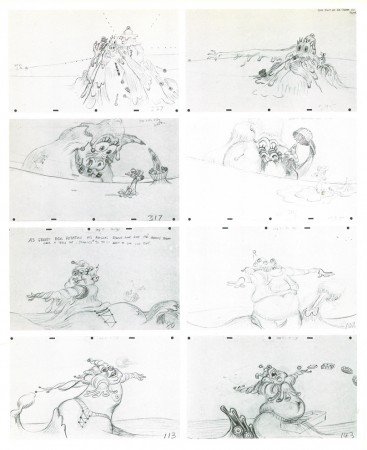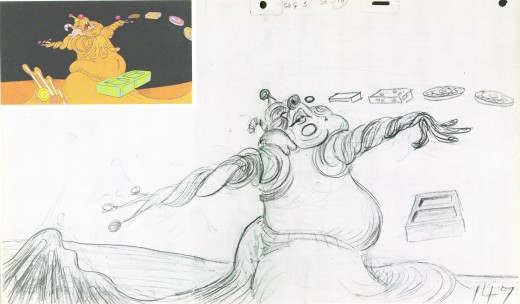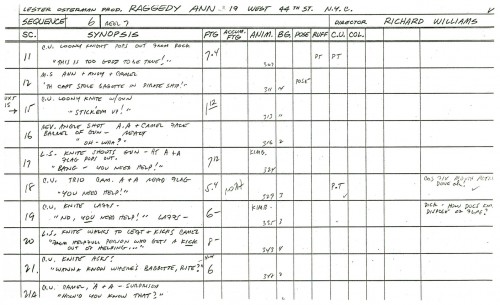 2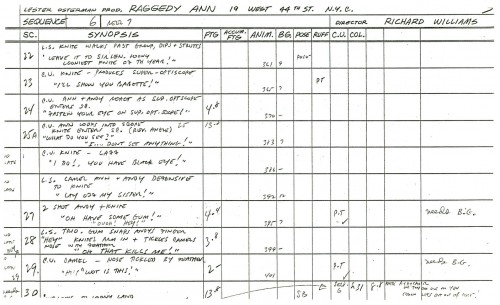 3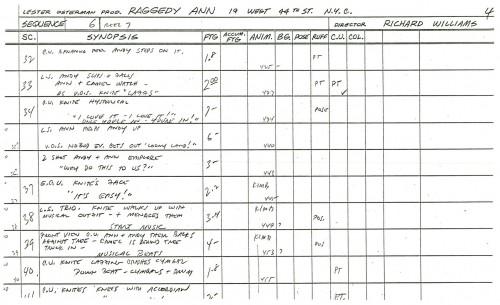 4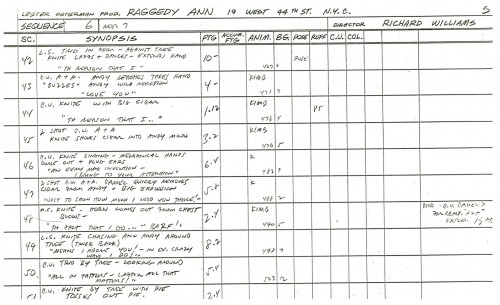 5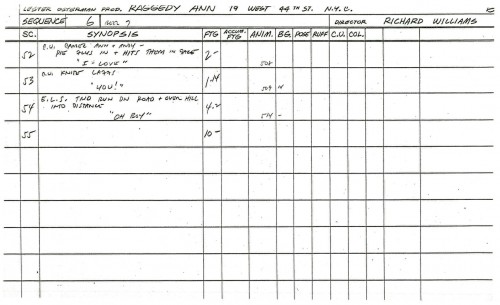 6
Photos &Steve Fisher 30 Jan 2011 08:20 am
- I've tried desperately to keep snow out of the photos for the past couple of weeks. I have had my fill of it. However, we were hit with another foot of snow this past week, and it's hard to avoid.
Steve Fisher has been sending in some brilliant photos, so I can't help but post them.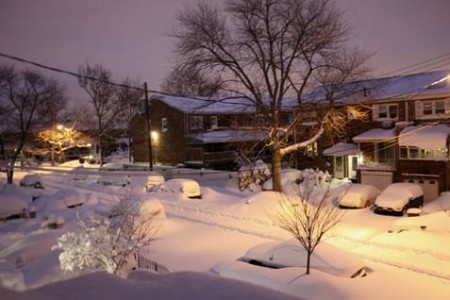 1
6:44am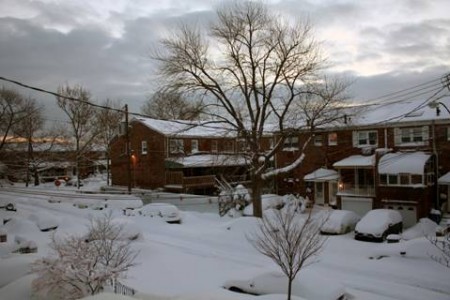 2
7:10am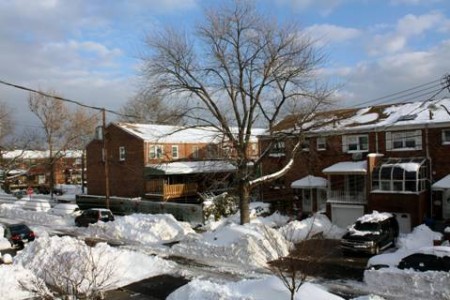 3
3:47pm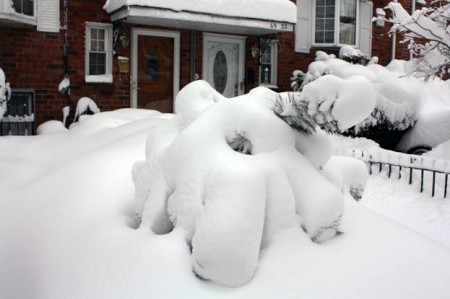 4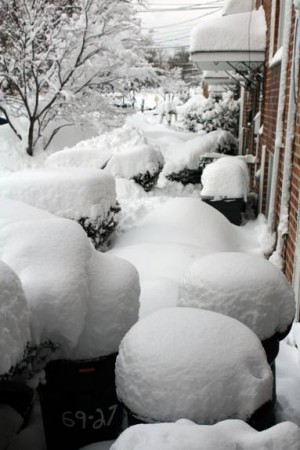 5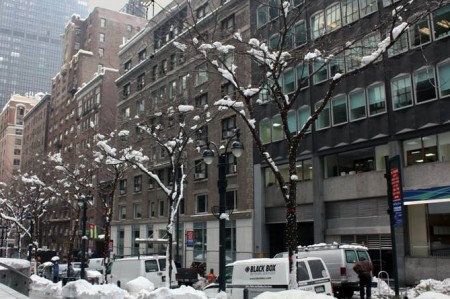 6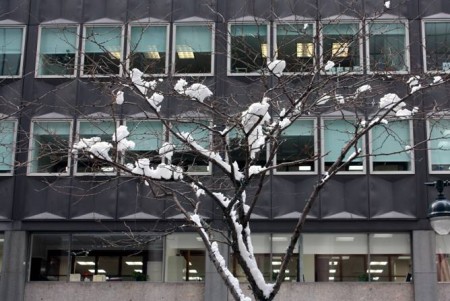 7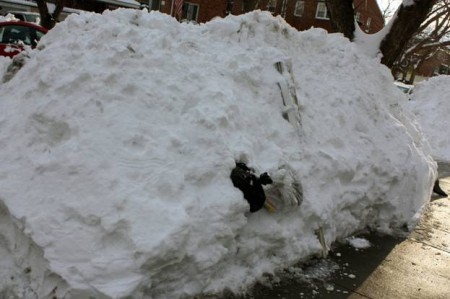 8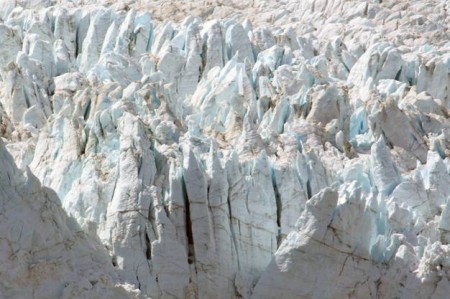 9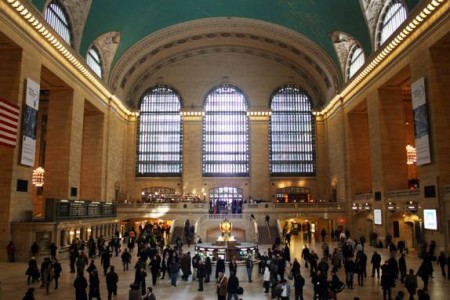 10
Inside Grand Central Terminal at high noon
while the snow comes to an end, outside.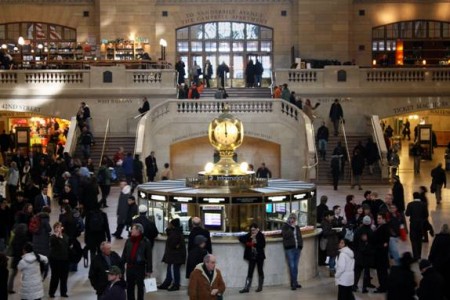 11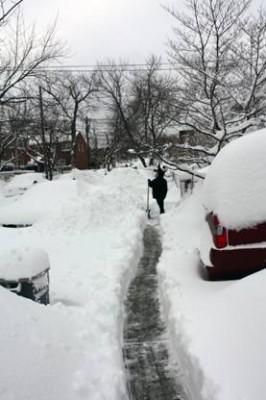 12
Commentary &Independent Animation 29 Jan 2011 09:05 am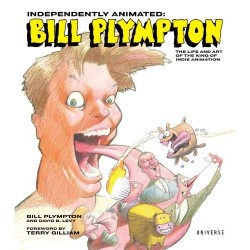 - Steve Heller's current article in Print Magazine is a promotion of three books dedicated to cartooning. Top of this list is the new Bill Plympton book, written by David Levy. Heller has a review copy even though the book won't hit the stands until April.
With a bona fide publisher, I'd assume the book has a better marketing budget than Bill had for his feature, Idiots and Angels. One wonders if there were five nominations for the animated feature this year is Bill's film might have been in the mix. Unfortunately, we'll never know. For now, I'm pleased that The Illusionist is there. I know it doesn't have a chance against the two dynamos against it, but it deserves to win.
___________________________
MOMA in New York is currently hosting a Drawing on Film exhibit in which many animated films are being shown. Most of them are abstract films that should be seen.
Today's schedule includes:
Technological Lines: Computer-Generated Drawing and Abstraction
(Dance Film: Computer Generated Ballet). ca.1965. USA. Directed by A. Michael Noll. Silent. Approx. 3 min.
Man and His World. ca. 1965. USA. Directed by Stan Vanderbeek, Ken Knowlton. 1 min.
Pixilation. 1969. USA. Directed by Ken Knowlton, Lillian Schwartz. 4 min.
Circles I. 1971. USA. Directed by Doris Chase. 6 min.
Arabesque. 1975. USA. Directed by John Whitney. 7 min.
Woody Anderson. 1971. USA. Directed by Stan Vanderbeek. Silent. 3 min.
Toronto-Computer. 1973. USA. Directed by Stan Vanderbeek. 9 min.
Euclidean Illusions. 1979. USA. Directed by Stan Vanderbeek. 9 min.
Linia. 1981. Poland. Directed by Grzegorz Rogala. 8 min.
Saturday, January 29, 2011, 6:30 p.m., Theater 3, mezzanine, Education and Research Building
Next Saturday:
Gestural Lines: Dance and Motion
Serpentine Dance by Annabelle. 1895. USA. Produced by the Edison Company. Silent. Approx. 1 min.
Serpentine Dance. 1896. USA. Produced by C. Francis Jenkins. Silent. Approx. 1 min.
Tarantella. 1940. USA. Directed by Mary Ellen Bute. 4 min.
Trio A. 1978. USA. Directed by Sally Banes. Silent. 10 min.
Pas de Deux. 1967. Canada. Directed by Norman McLaren. 14 min.
Skating. 1978. USA. Directed by Stuart Sherman. Silent. 3 min.
Elevator Dance. 1980. USA. Directed by Stuart Sherman. Silent. 3 min.
Priya. 2007–08. Great Britain. Directed by Alia Syed. Silent. 11 min.
Saturday, February 5, 2011, 6:30 p.m., Theater 3, mezzanine, Education and Research Building
Sunday:
Life Lines: Drawing Intersections
Blinkety Blank. 1985. Canada. Directed by Norman McLaren. 5 min.
The Toe Tactic. 2008. USA. Directed by Emily Hubley. 84 min.
Sunday, February 6, 2011, 5:00 p.m., Theater 3, mezzanine, Education and Research Building
This program has been on-going for the past month and quite a few classic films have been screened.
___________________________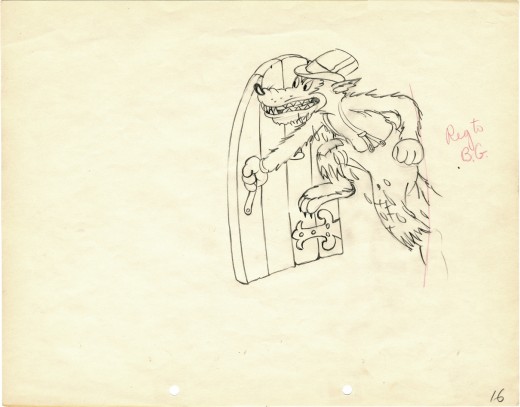 Just to fill out the post, I'm reprising one of my favorite drawings owned. It comes from The Big Bad Wolf (1934) a follow-up to The Three Little Pigs.
Art Art &Bill Peckmann &Illustration 28 Jan 2011 08:46 am
- There was such an interest in Ludwig Hohlwein's work, last week, that we're going forward with more. These come from two books, a 1926 edition of his work (see title page below) and
a 1994 German book, Ludwig Hohlwein, 1874-1949: Kunstgewerbe und Reklamekunst.
All the scans were done by Bill Peckmann, who owns both of these books. Many thanks to him for not only introducing me to thie wonderful artist but for sharing so many illustrations of his work.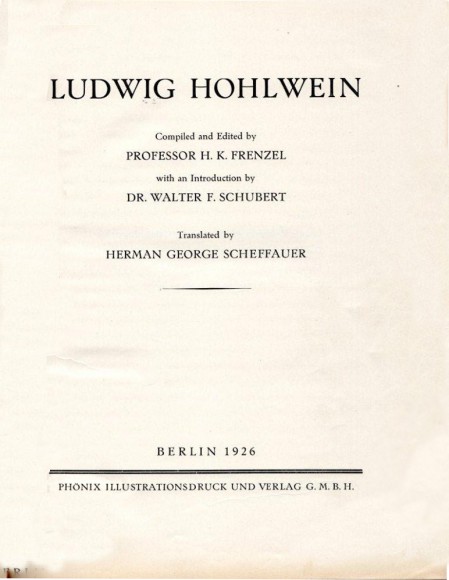 Title page from the 1926 book.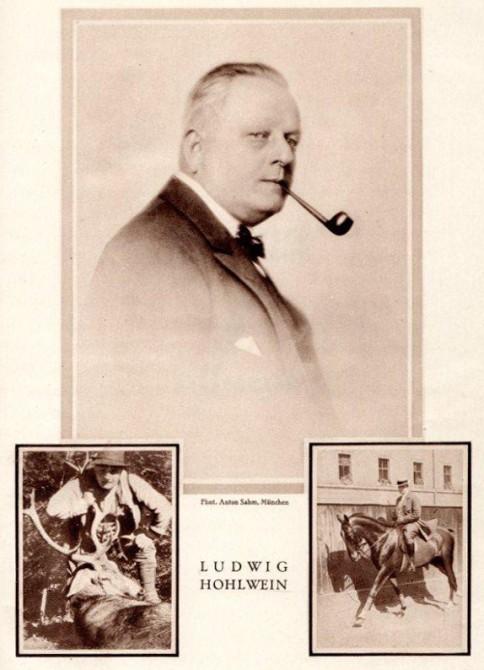 Here's a portrait of Hohlwein.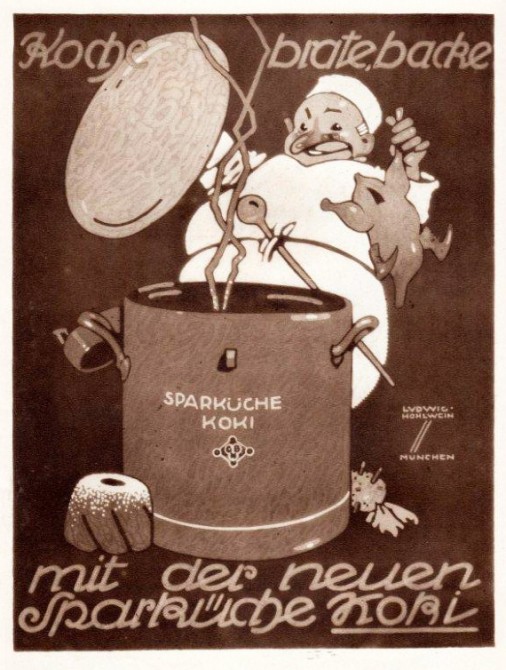 1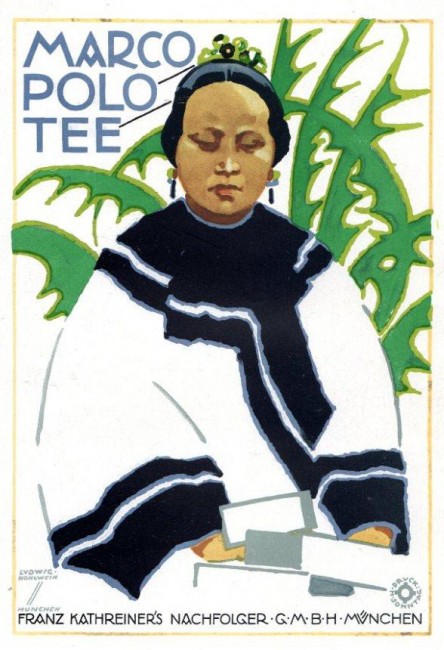 2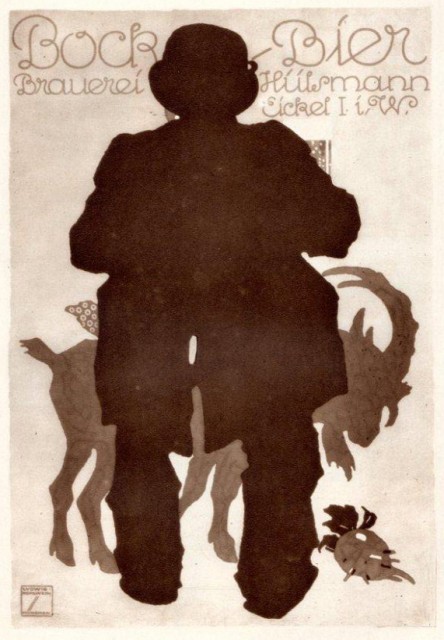 3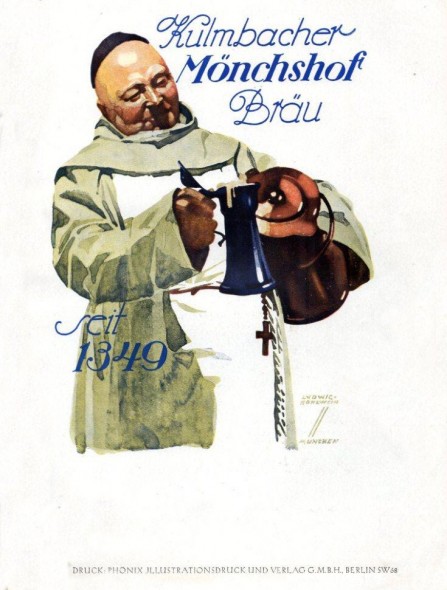 4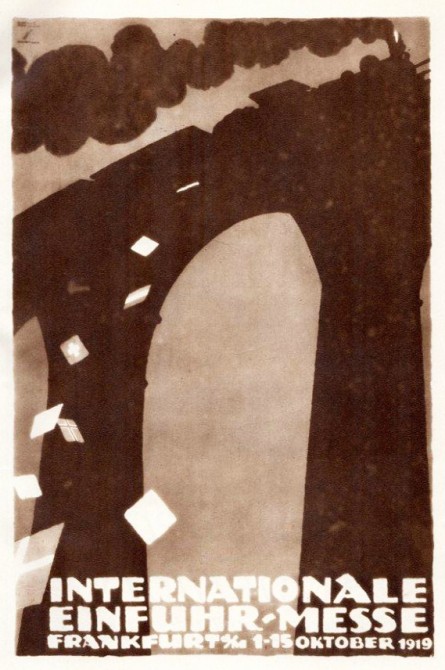 5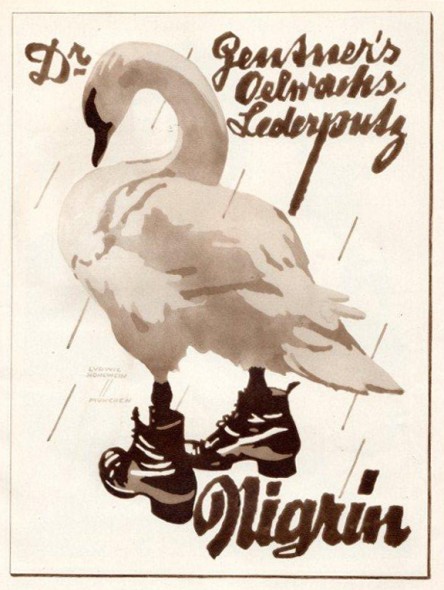 6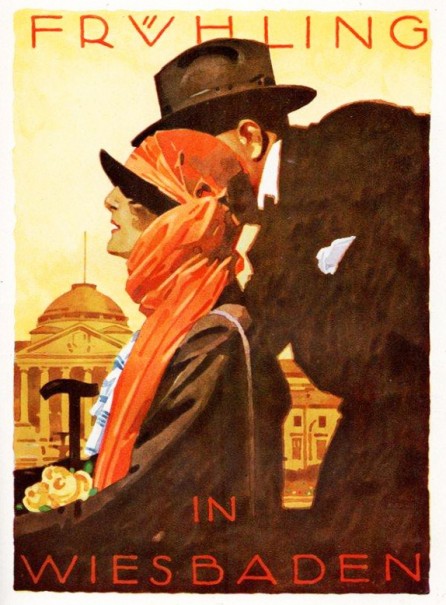 7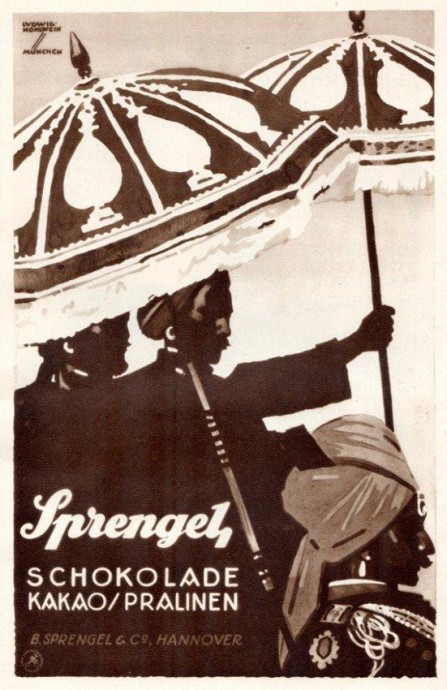 8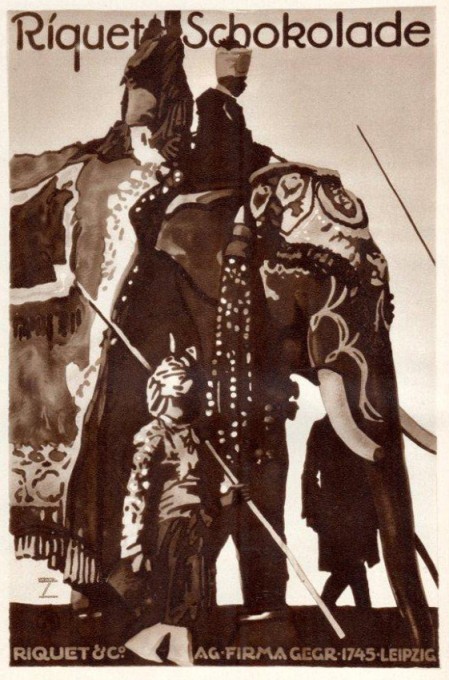 9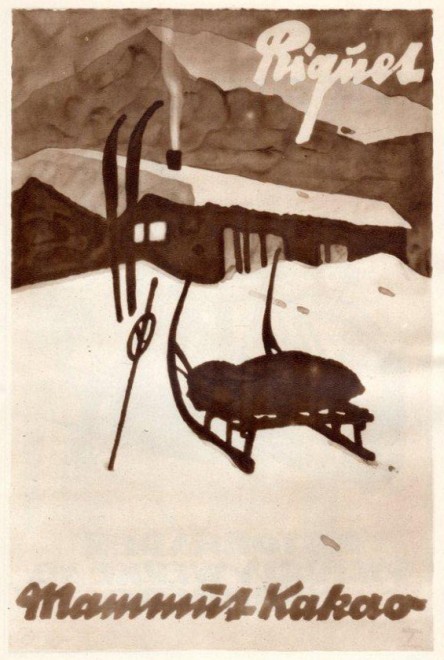 10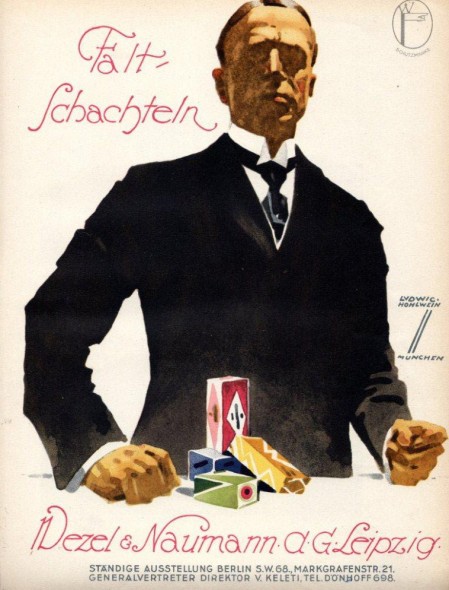 11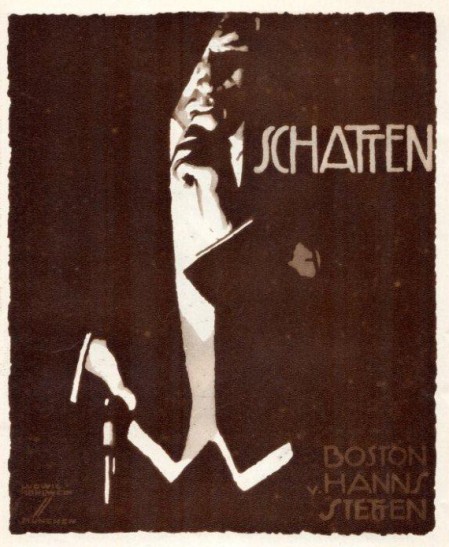 12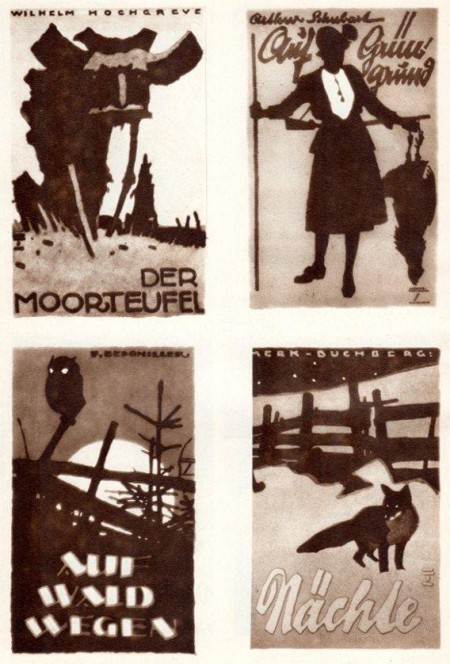 13
Illustrations 13 & 14 are book covers.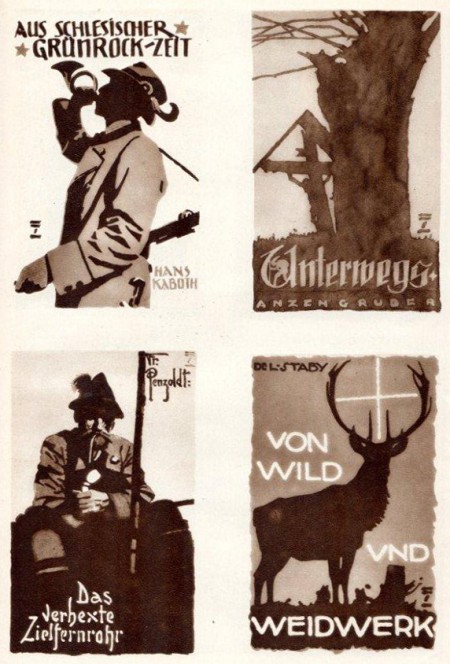 14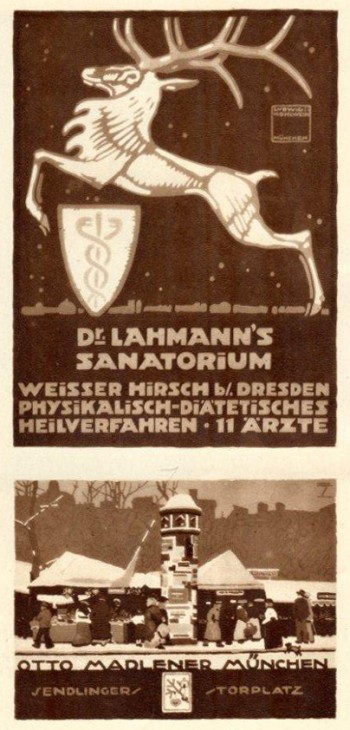 15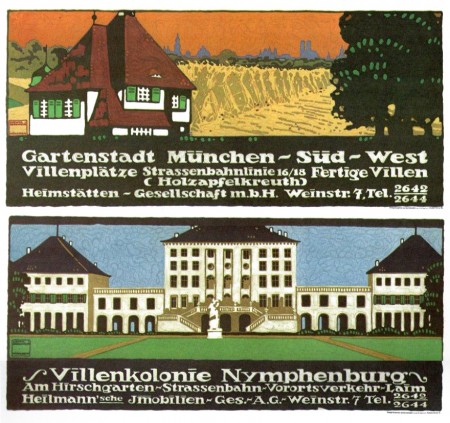 16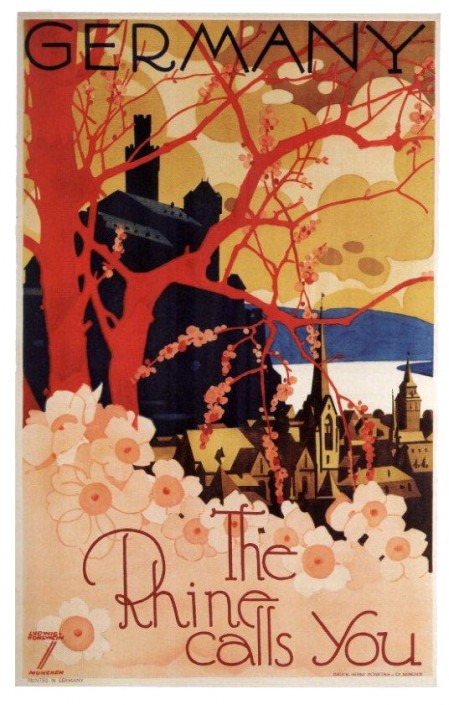 17
Commentary &Photos 27 Jan 2011 08:58 am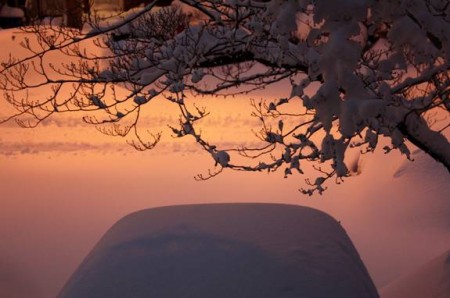 Photos by Steve Fisher
.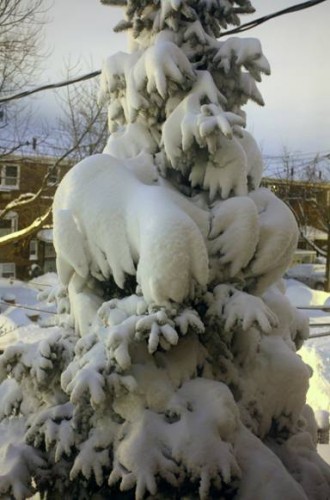 .
- A gigantor snow storm blew through New York overnight. The subway service was suspended for a half hour today, and it took a full 90 minutes to make the normal 20 min trip to the studio this morning. Global warming is on the march.
_______________________
.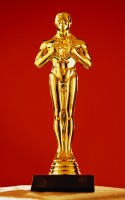 - The Oscar nominations come very late in a film season. Of the animated features nominated, two of them,
Toy Story 3
and
How to Train Your Dragon
have had full and complete DVD lives, The run is nearly done. Only
The Illusionist
is probable to gain a bit of a bump in theatrical sales from being nominated. It's video version has not been released yet, so it can take advantage of the Oscar nomination in its marketing.
Of the live-action theatrical features, they all seem old by the time the nominations are released, and it gets hard to generate excitement for any of them. But, of course, I can only speak from the point of someone who has to take in all of these films early, so that I can participate in the vote. More probably most viewers haven't come to the gate yet, so these films aren't as finished as they feel to me.
Only the Producer's Guild award, last week, to The King's Speech has given me pause in believing that The Social Network will take the Best Picture Award home. After all, it even won the Golden Globe. However, the old-timey feel of the Oscar voters gives me reason to believe that The King's Speech has a good chance. I don't really supposrt either of them since I felt that The Illusiionist was a better film than either.
_______________________
.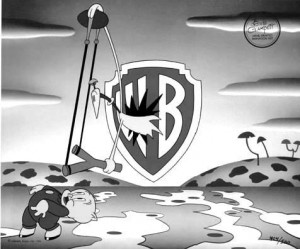 -
Bill Benzon
has old time thoughts on his mind about a film that never seems to grow old.
I told you, last week, about his writings on Porky in Wackyland. Well, he's back (Part 2) and (Part 3) with more to write more about this Bob Clampett classic.
It's an interesting approach to write about the structure of the looniest of all the Looney Tunes. It's almost like stepping into Wackyland yourself and trying to make sense of the surroundings. In a sense, you have to become Porky to be able to do that, and that doesn't seem to make sense.
These new comments are critical and also very much worth the read. I suspect there's going to be a Part 4.
_______________________
.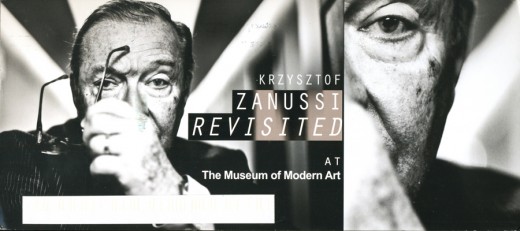 One of my two favorite film directors, Krzysztof Zanussi, is having a small retrospective at the Museum of Modern Art next week. Do yourself a favor and go see ANY of the films being screened.
The schedule is as follows:
Sat, Jan 29 6:00 pm THE CONSTANT FACTOR
8:15 pm REVISITED New York Premiere
(both introduced by Krzysztof Zanussi)
Sun, Jan 30 2:00 pm FAMILY LIFE
4:30 pm CAMOUFLAGE
Mon, Jan 31 4:00 pm FAMILY LIFE
Wed, Feb 2 4:00 pm CONSTANT FACTOR
7:00 pm CAMOUFLAGE
Thurs, Feb 3 6:45 pm REVISITED New York Premiere
The Museum of Modern Art is at 11 West 53rd Street, NYC 10018.
Animation &Animation Artifacts &Independent Animation 26 Jan 2011 08:18 am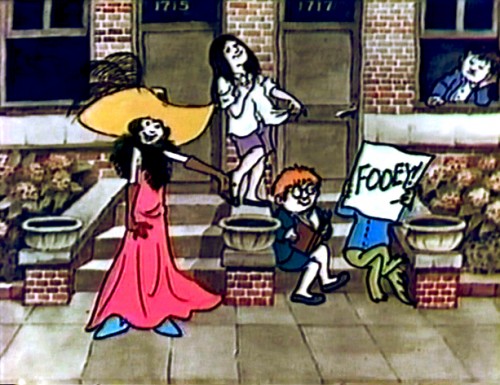 - Really Rosie was a special "directed by" Maurice Sendak from his miniature-sized children's books, The Nutshell Kids. The show in reality was overseen by Ron Fritz and Dan Hunn who received the credit of "Animation Director." It was done out of their studio, D&R Productions, for CBS television.
In 2007, I wrote: "The animation was good, but the composition always seemed off, to me. I remember back in 1975 (I was still in college at the time) thinking that the show looked like it was done in one long shot on 12 fld artwork. Then they seemed to move the camera in tight for all the poorly executed camera moves. The line work got unpleasantly large in close ups and the detail wasn't good. The film just isn't smooth."
Animation for the show is credited to:
Lu Guarnier, Marty Taras, Willis Pyle, Doug Crane, Jack Schnerk, Cosmo Anzilotti, and John Svochak.
Asst animators included:
Jim Logan, Gerry Dvorak, Helen Komar, and Joe Gray
Here's a scene animated by Lu Guarnier from the sequence pictured above. The pegholes atthe top are Oxberry. (You can see the 2007 post about this sequence, here.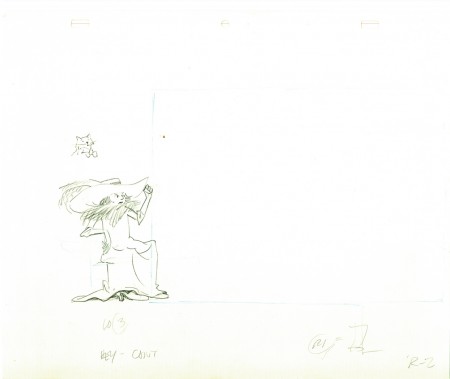 02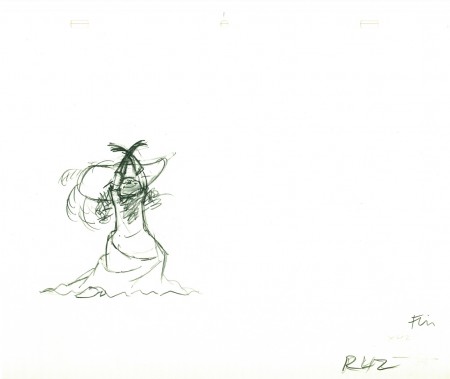 42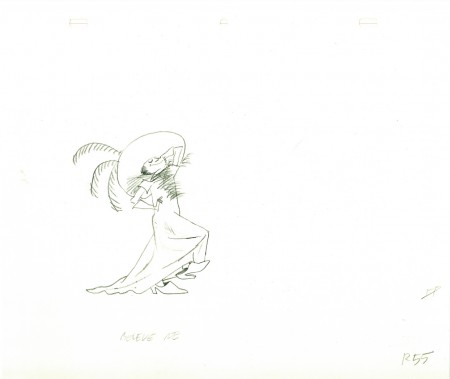 55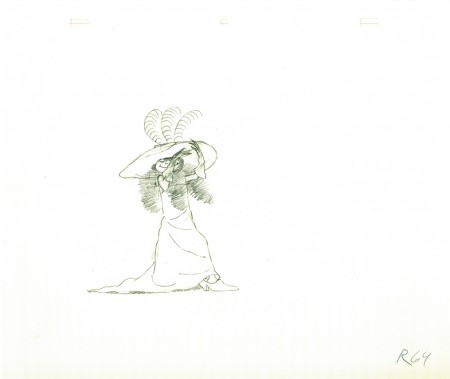 64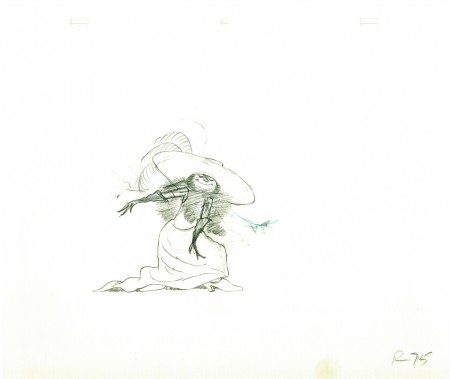 75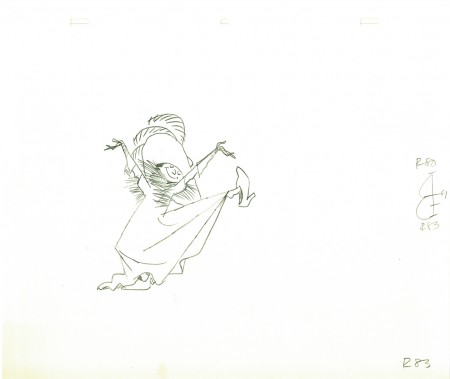 83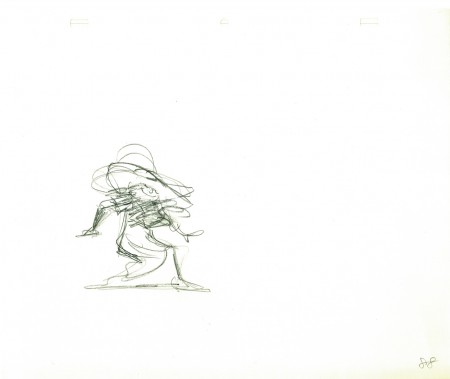 88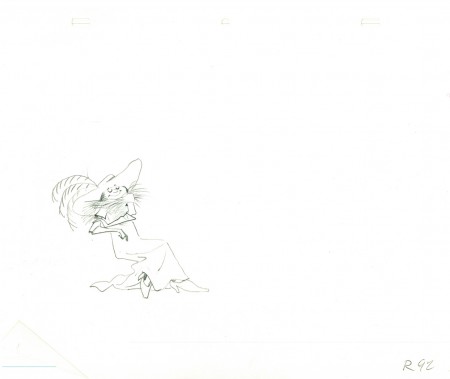 92

________________________

Here's a QT of the scene with drawings exposed to whata I think are
their appropriate frames. I don't have exposure sheets so I may be
missing a hold or two. Purely guesswork on my part.
Art Art &Comic Art &Illustration 25 Jan 2011 08:29 am
- I had planned to post some examples of Feininger's second comic strip, Wee Willie Winkie, this week. However, Bill Peckmann surprised me with more of his fine art. This is all from 1908, just two years after he left the strip behind. Most of these images are done with some form of crayon on paper, rather than oil on canvas.
The show was one that was held at the Achim Moeller Fine Art gallery in New York.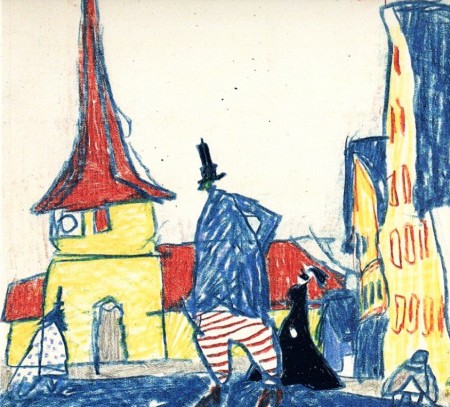 1
This is the catalogue's cover.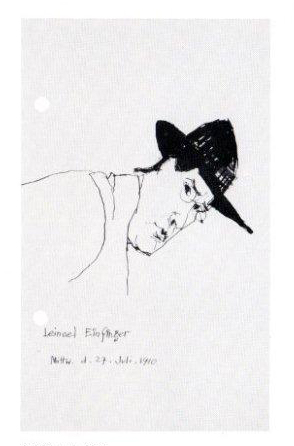 2
A self portrait opposite the title page.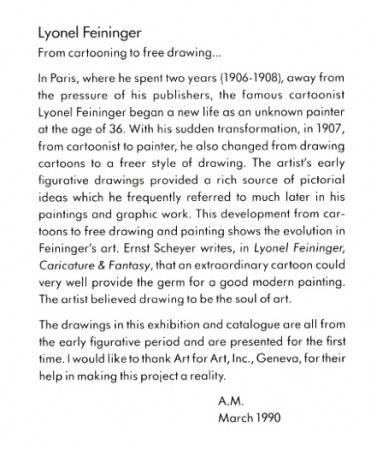 3
A foreward to the catalogue by gallery owner, Achim Moeller.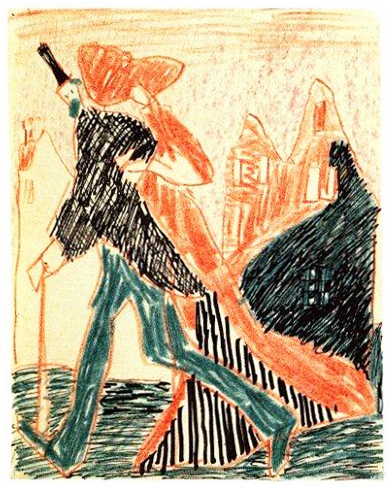 4
Two Figures, 1908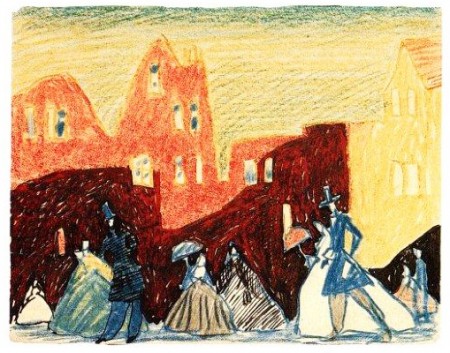 5
Promenade, 1908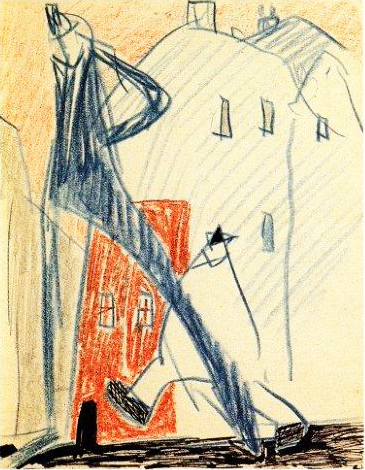 6
Two Figures, 1908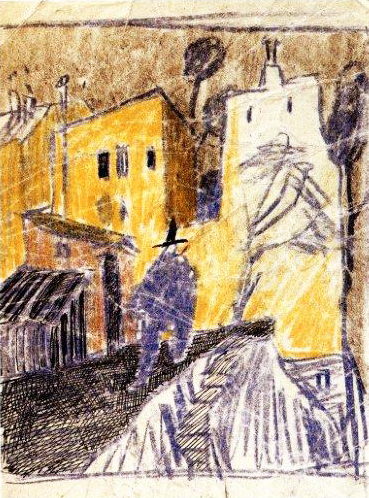 7
Street Scene, 1908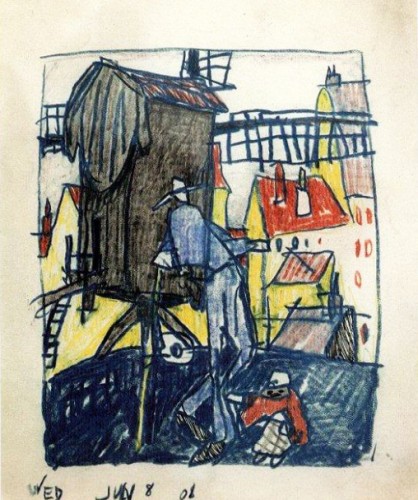 8
The Miller and His Child, Heringsdorf, 1908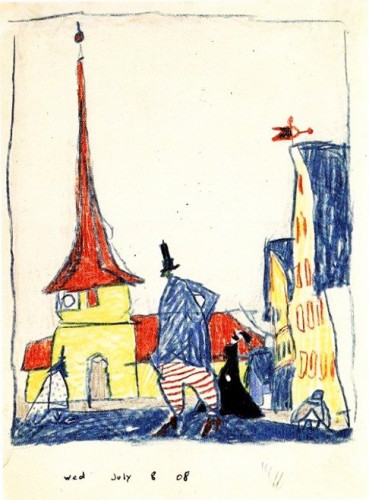 9
Masks, Gelmeroda, 1908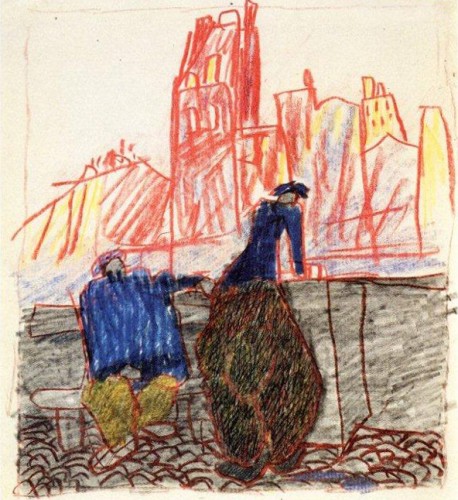 10
Figures Seated on Beach Overlooking Town, 1908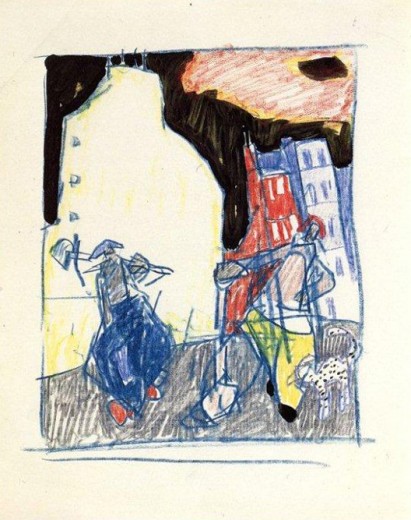 11
Workmen, 1908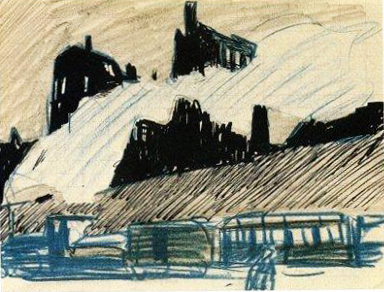 12
Railway 1909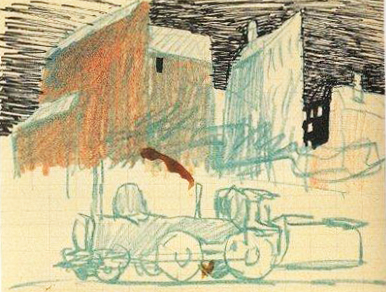 13
Train 1909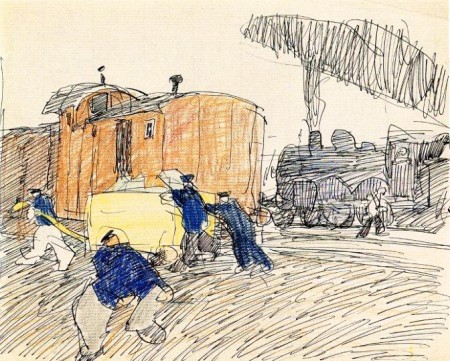 14
Railroad Men, Zehlendorf 1908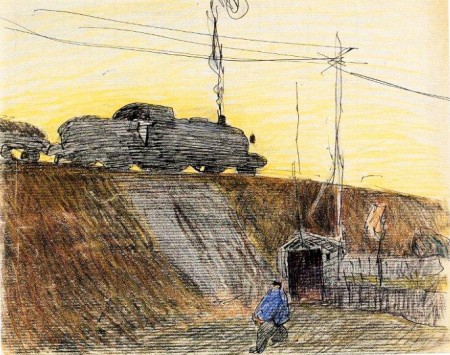 15
Railway Scene, 1908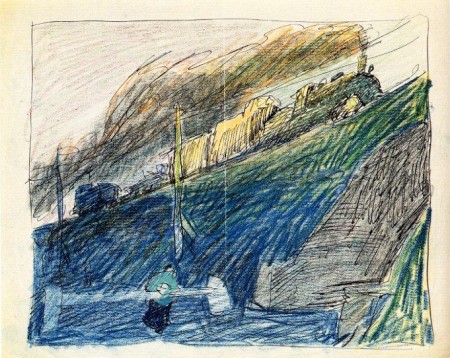 16
Steam Train, 1908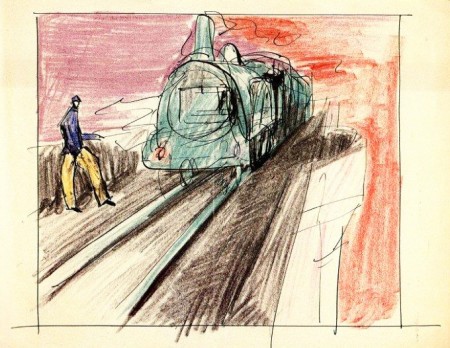 17
Railroad Scene, 1908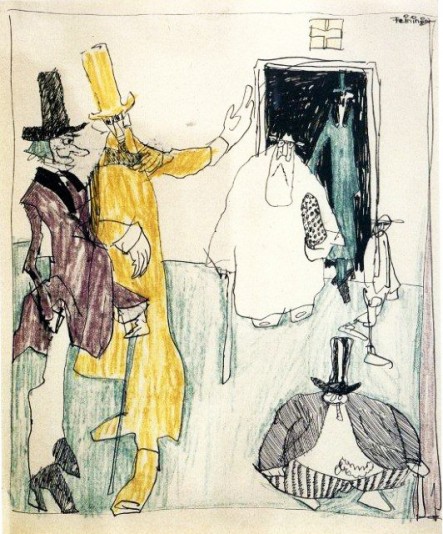 18
Grotesque Scene with Six Figures, 1908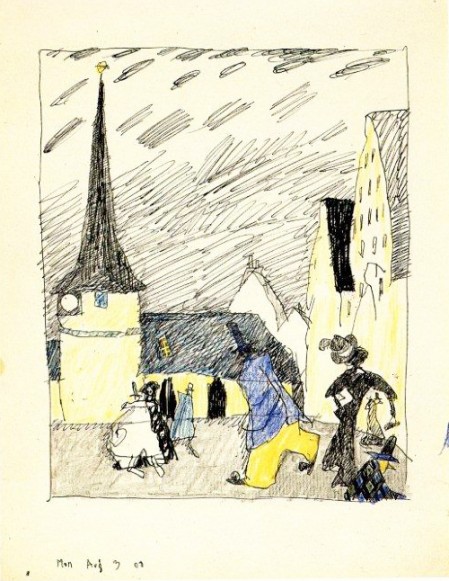 19
Study for Carnival in Gelmeroda, 1908



________________________________
The 2011 Oscar nominations were just revealed. The nominations for Best Animated Short include:
* "Day & Night" Teddy Newton
* "The Gruffalo" Jakob Schuh and Max Lang
* "Let's Pollute" Geefwee Boedoe
* "The Lost Thing" Shaun Tan and Andrew Ruhemann
* "Madagascar, carnet de voyage (Madagascar, a Journey Diary)" Bastien Dubois
I'm very sorry to see that Sensology Michel Gagné abstract short wasn't nominated. After all these years you would think ONE absract film could be included. But the Academy members are even more straight laced than in the past.
Animation &Animation Artifacts &Richard Williams &Tissa David 24 Jan 2011 08:55 am
- Here is the third installment of the drafts for the feature of Raggedy Ann & Andy. This was the Dick Williams directed feature done for Bobbs-Merrill (who owned the property – the books and wanted to create a long ad to make them popular again. It didn't work.) I'm not quite sure who I'm posting these charts for, but I was asked, so here they are.
If you haven't seen the film and want to, you can go here. A wonderful page on YouTube. The sequences worth viewing are this one – seq. 4 – and the taffy pit. Tissa David did some nice, emotional animation for the first; Emery Hawkins did the wildest sequence in the film for the second.
I keep reading strange rewirtes of the history of this film (by people who worked on it), so I'll talk about what I know in an upcoming post. I was involved from the first day Dick Williams came on board. The first animator he contacted was Tissa, and the two of them did a test pencil test.
Here is sequence 4 "The deep, dark woods." Part 1 was animated by Tissa – 876 feet. Part 4.1 & 4.1A was split between Tissa, Art Babbitt and John Kimball. Babbitt did the camel, and his Ann & Andy were so far off model that we had to keep Tissa's work away from Babbitt's. After all, his character was the Camel with the wrinkled knees. No attempt was made to bring his characters closer to the model sheets.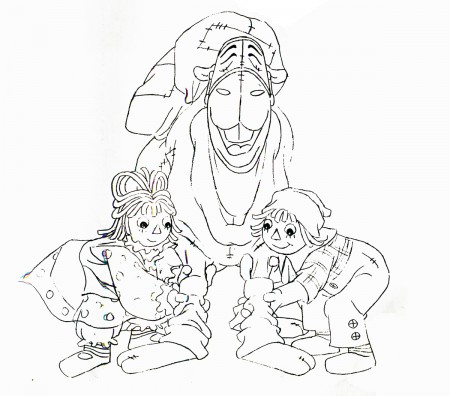 Art Babbitt's Ann & Andy
.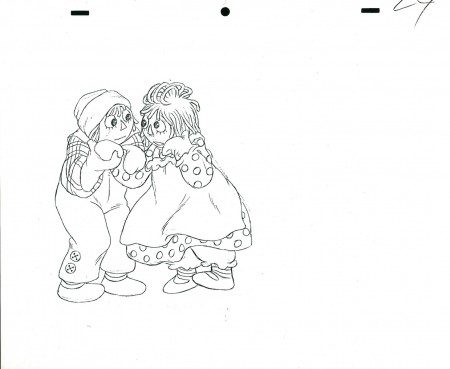 Dick Williams' cleanup of Tissa's Ann & Andy
.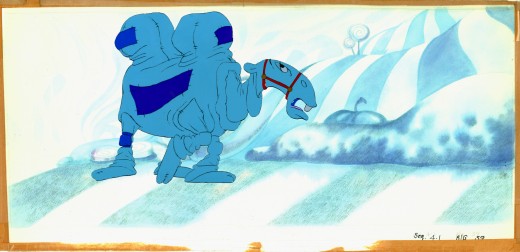 Babbitt's "Camel with the wrinkled knees"
.
The charts
.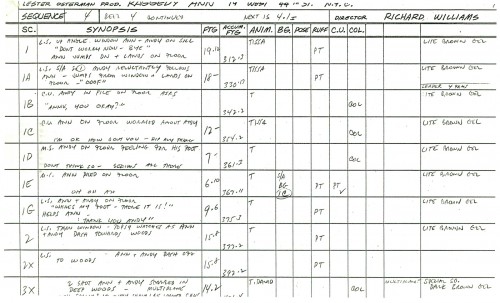 1
.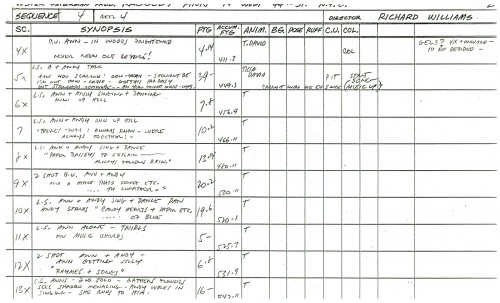 2
.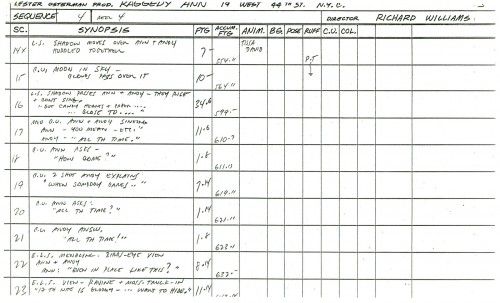 3
.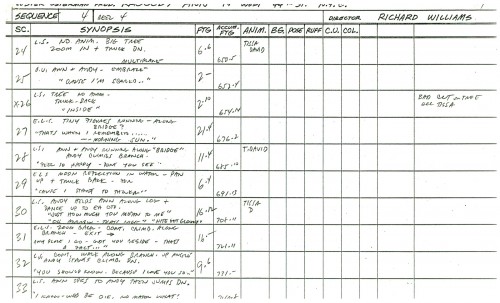 4
.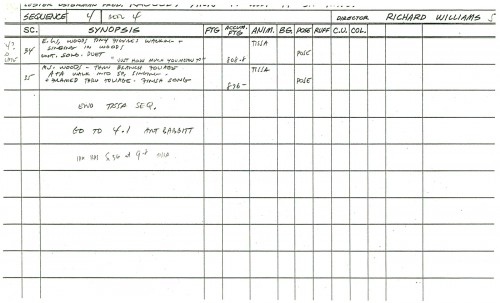 5
.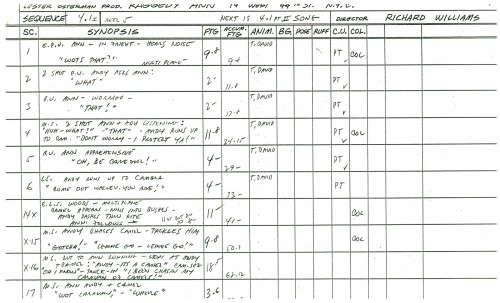 6
.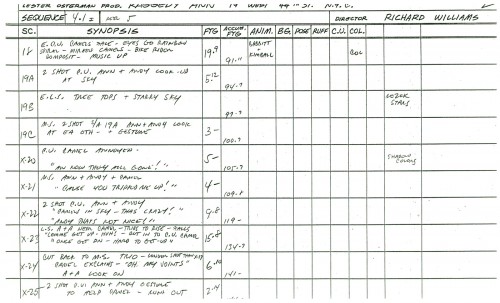 7
.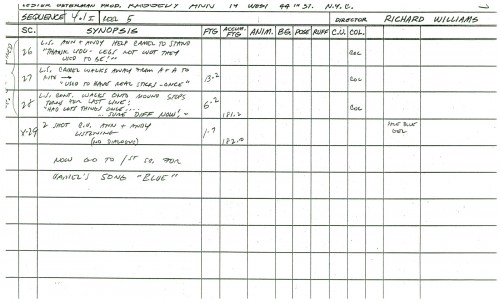 8
.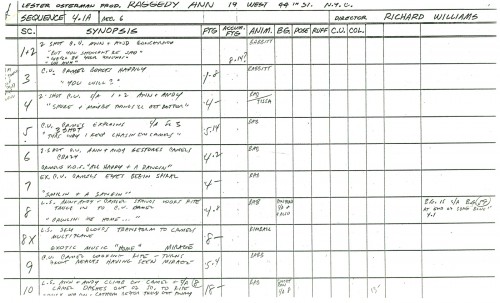 9
.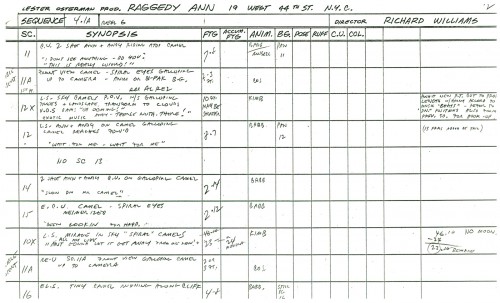 10
.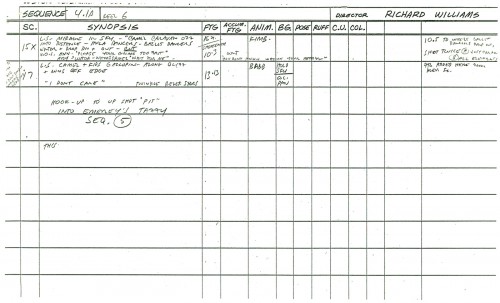 11
Photos &repeated posts 23 Jan 2011 08:39 am
Here's a recap of a photo spread I did back in January 2009. I like the way it turned out, and would like to post it anew.
- For some reason I have always loved the simple structure of a brick wall. I've often included them in the paintings I've done, and I've been fascinated by the many and varied differences you see in every structure made of brick. It was wonderful to hear Eyvind Earle discuss the architect's tricks he used in Sleeping Beauty to detail all the brickwork in the castle backgrounds. Just another reason I enjoyed his artwork in that film.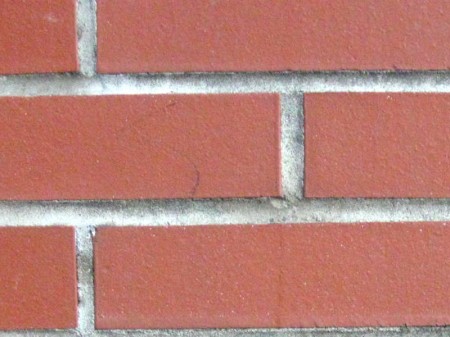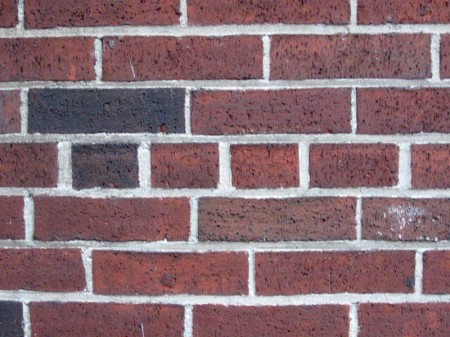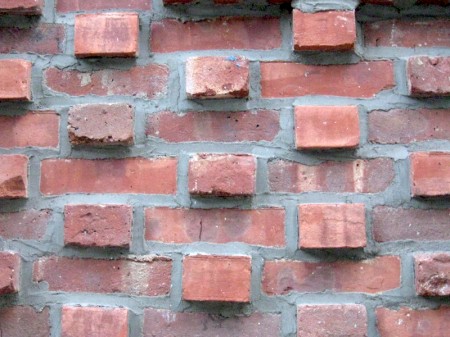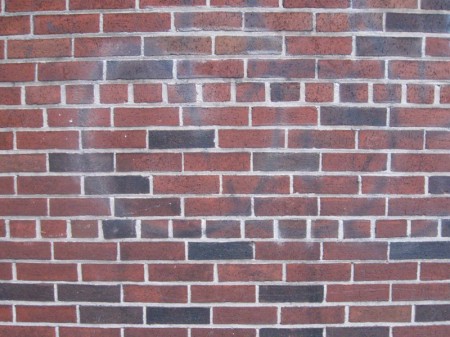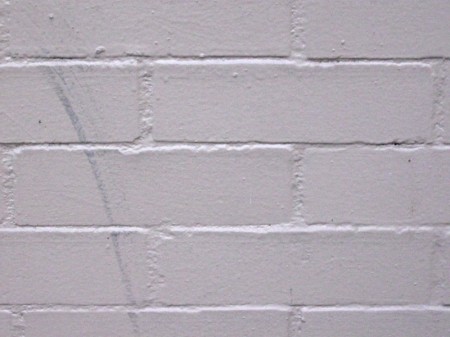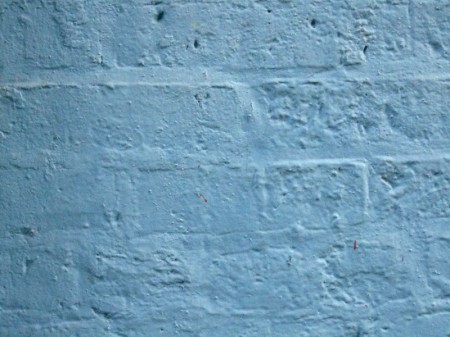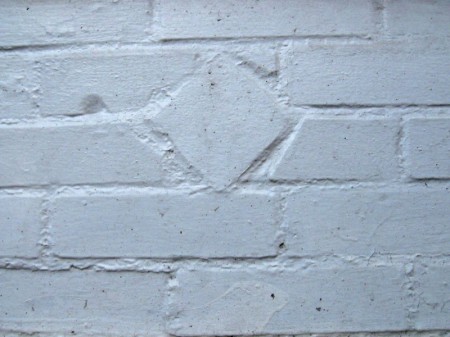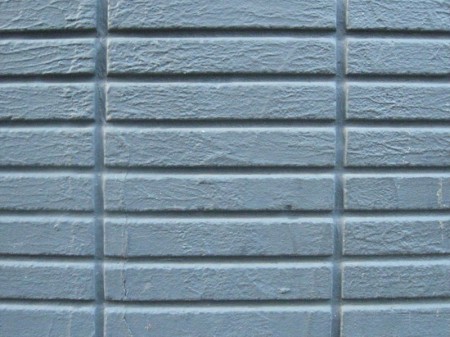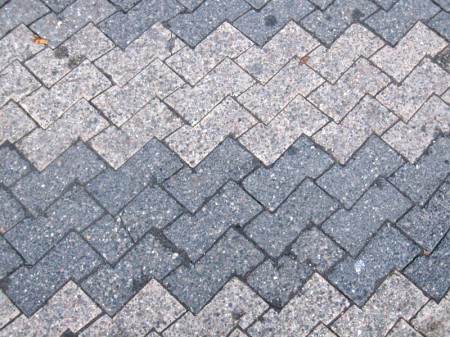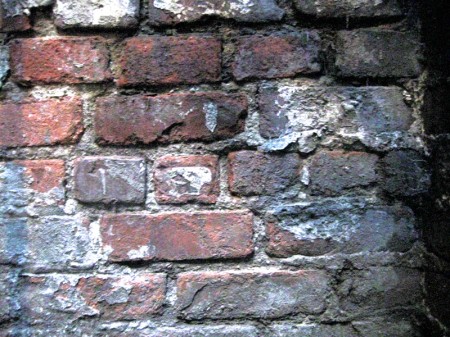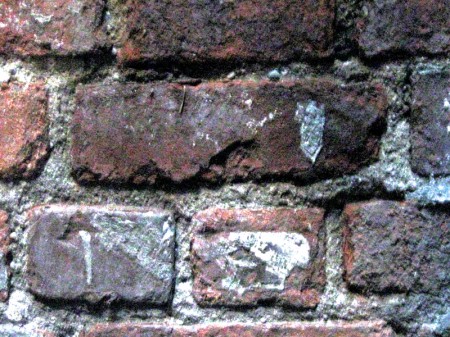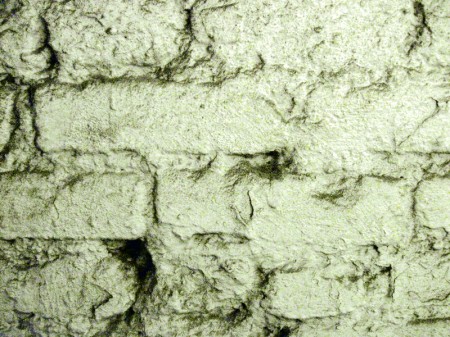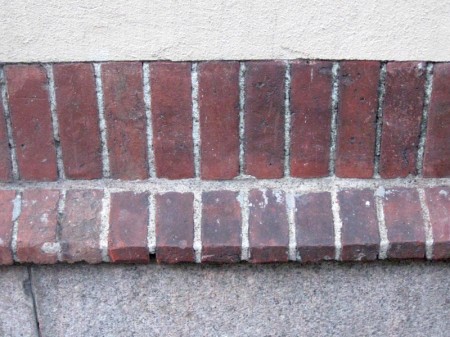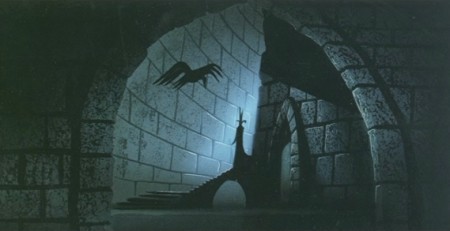 Bill Peckmann &Books &Comic Art &Illustration 22 Jan 2011 08:40 am
- Peter Arno had set out to be a musician in his earliest years, but the sale of a gag cartoon to the New Yorker (which ran June 20, 1925) started him on a long, industrious and extraordinary career. He appeared in the New Yorker almost every week of my life, so I got used to seeing his work. I also took for granted the absolute ease with which he sold his gags, something that's sorely missed today. The compositions, the use of grey tones (most of his cartoons were done in B&W&grey washes with black ink brush lines), and the use of angles all played perfectly to the service of the gag.
Bill Peckmann surprised me with these images from the book on Arno. Thanks, Bill.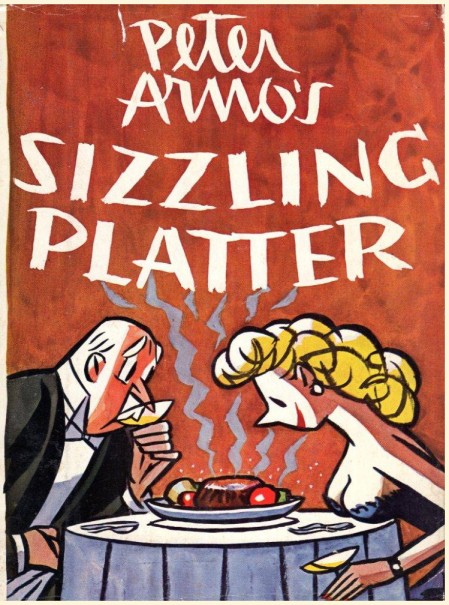 The book's cover.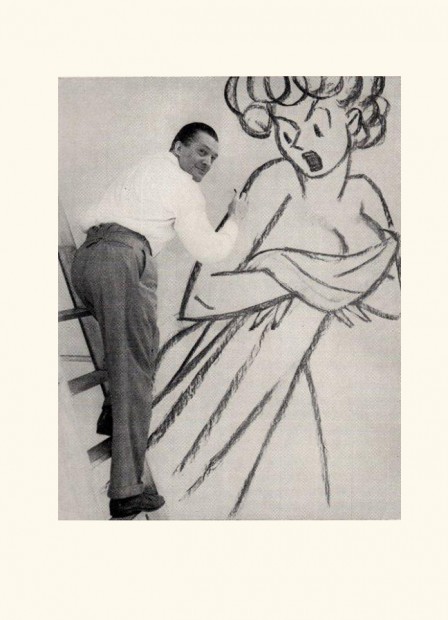 1
Arno drawing his muse.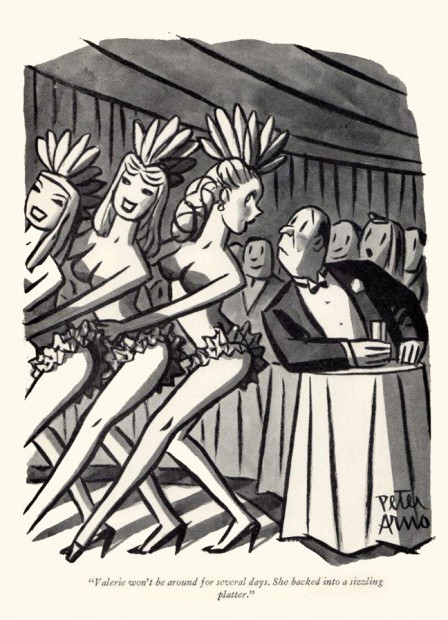 2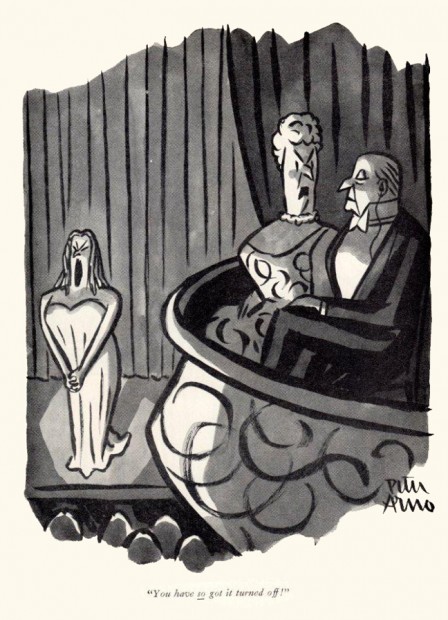 3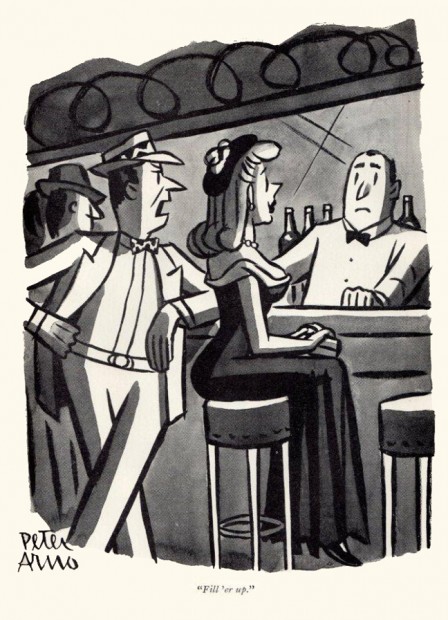 4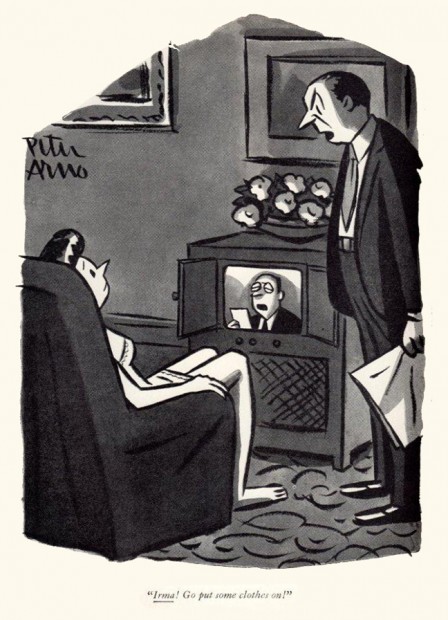 5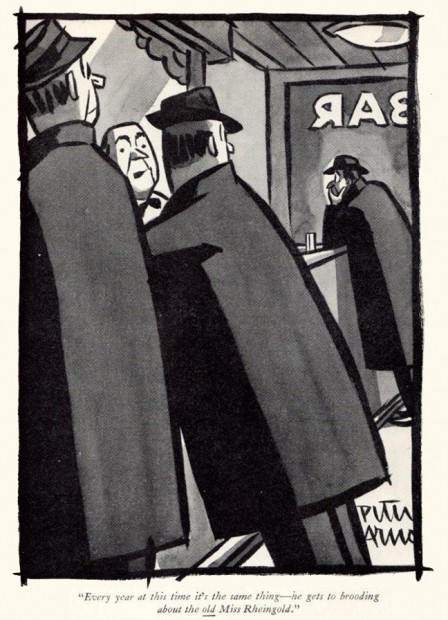 6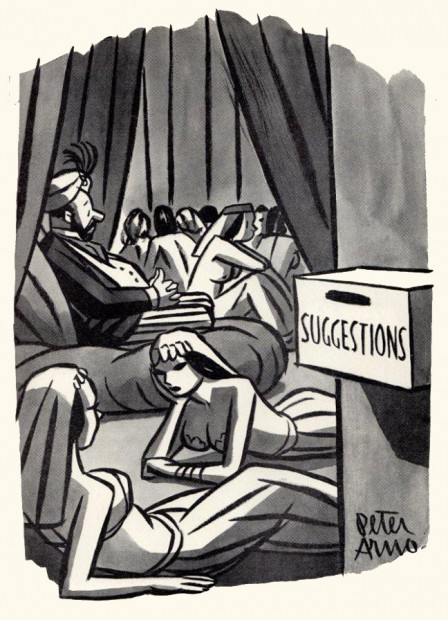 7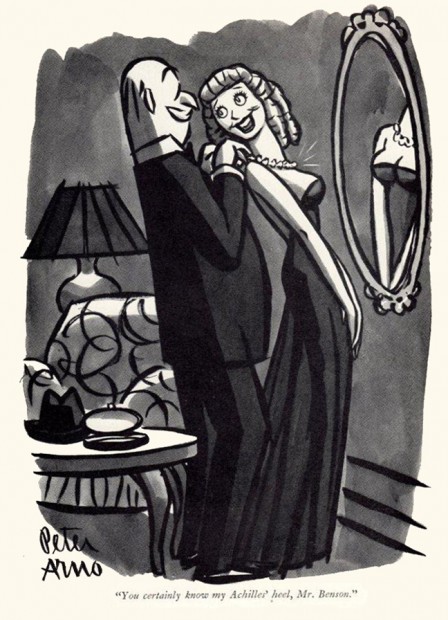 8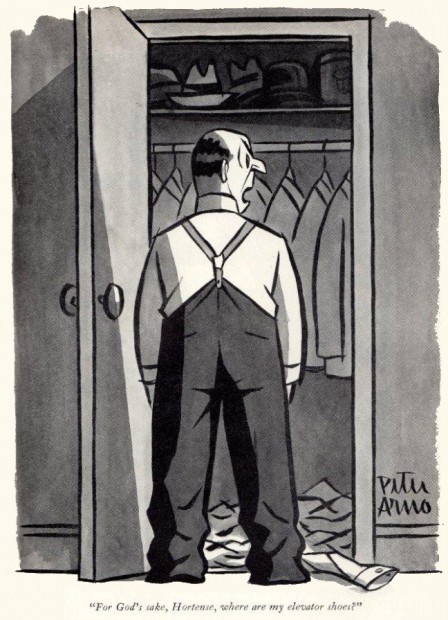 9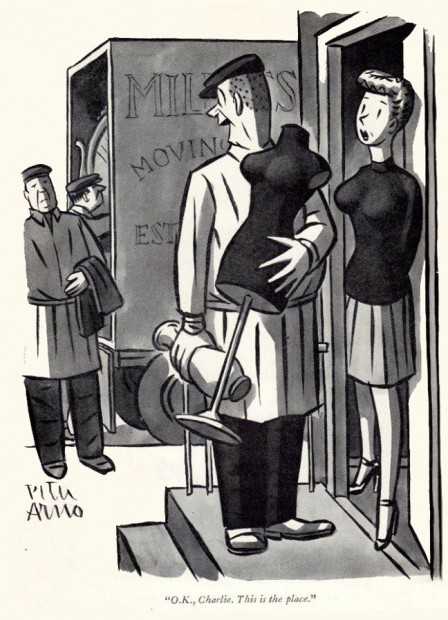 10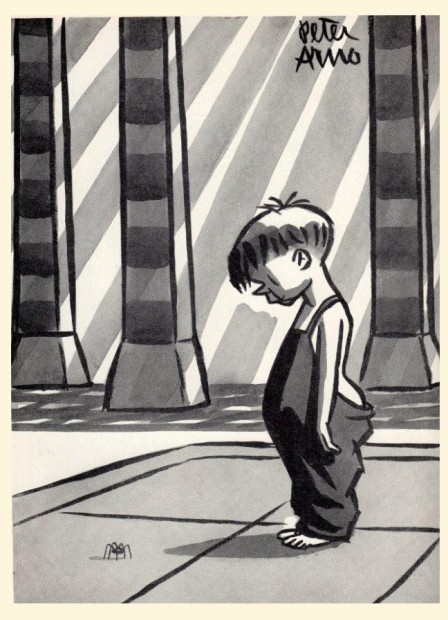 11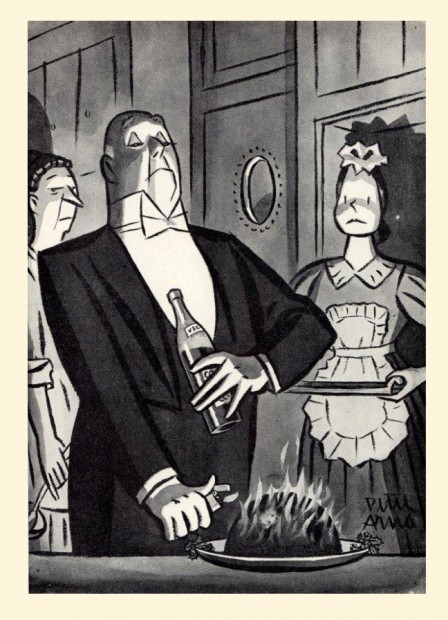 12