Disney &Peet &Story & Storyboards 15 May 2013 05:54 am
- In yesterday's post, we saw artwork that Bill Peet had done. It was obviously art that was prepared for a book. Whether he was doing this for himself or the studio I can't say. I do know for sure that it didn't become a book, but I do know it did develop as a film completed in 1951.
That film was directed by Clyde Geronomi.
The Layout was by Don Griffith and Hugh Hennesy.
The animation was by Bob Carlson, Ollie Johnston, Hal King and Cliff Nordberg.
The backgrounds were by Ralph Hulett.
The music was composed by Paul Smith.
Thanks again to John Canemaker, I have the storyboard by Peet for this short Disney film.
As in the past I've broken the board down so that I could post it as large as possible so that you can read it when the images are enlarged. Enjoy.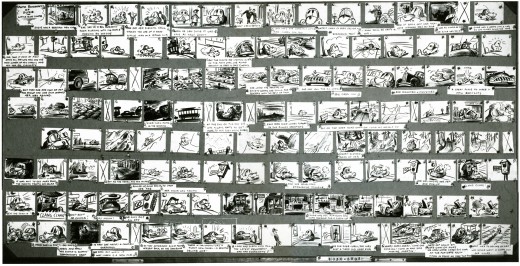 This is the complete board. I've broken up each individual row, they appear below.

A1a
(Click any image to enlarge.)

A1b

A2a

A2b

A3a

A3b

A4a

A4b

A5a

A5b

A6a

A6b

A7a

A7b

A8a

A8b

The following seem to be LO drawings and don't appear to be part of the storyboard. Perhaps it was prepared for a Leica reel? Regardless, the drawings are interesting, though I doubt Bill Peet did them all.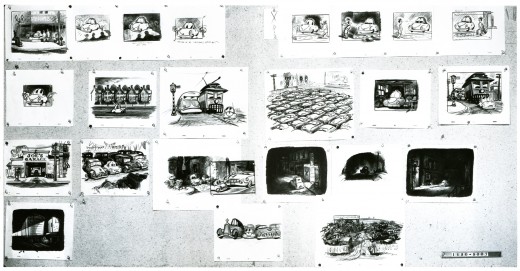 As with other recent posts of storyboard material, I've
broken it up and repositioned the images so that you can
enlarge them for better viewing. The above image represents
what the photo given me looks like.

1a

1b

2a

2b

3a

3b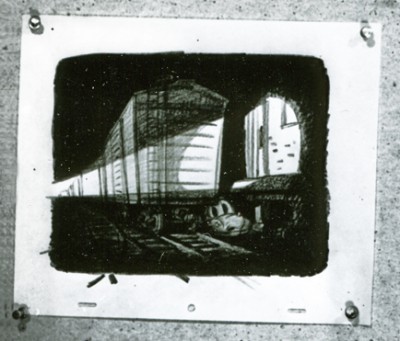 4a

4b
Finally, I wanted to give an indication of the film's color, so
I've gone back to John Canemaker's book,
The Art and Flair of Mary Blair,
and have taken this color sketch she did in styling
to represent the film as a whole.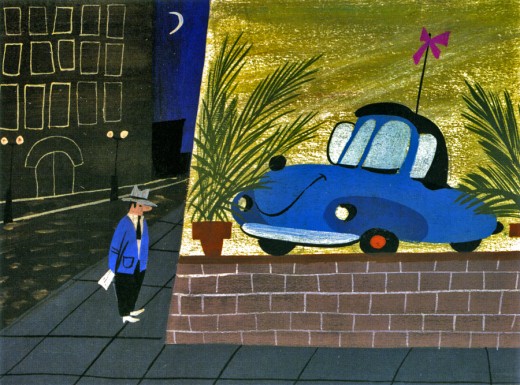 Bill Peckmann &Comic Art &Disney 09 May 2013 04:39 am
After all the versions of Disney's Peter Pan sent me by Peter Hale – all UK versions – Bill Peckmann surprised me with Al Hubbard's version for Dell comics. Here's the American comic book version by the very capable artist. And Bill Peckmann's comments:
Al Hubbard's take on the film, Peter Pan, is all his, he doesn't let you down. Those old timers had so much confidence in their abilities, as Sinatra sang, he did it his way. And it still holds up!




Comic book cover


Inner cover

1

2

3

4

5

6

7

8

9

10

11

12

13

14

15

16

17

18

19

20

21

22

23

24

25

26

27

28

29

30

31

32


Inner Back Cover
Books &Disney &Illustration 06 May 2013 04:28 am
Here is the third of the three adaptations of Peter Pan sent to my from the UK by Peter Hale. Since the original Barrie book is considered something of a national treasure by the Brits, and especially since I wasn't even award of these editions, it is valuable to see these British adaptations done at the time of the film's release. I couldn't be more grateful to Peter Hale for sharing these finds with us.
Here's Peter Hale's intro to this book:
These are the scans from the hard back book. The volume is small (5½" x 7½") as it is designed for children. It is the same size as the Hodder & Stoughton 'Peter Pan and Wendy' illustrated by Mabel Lucie Attwell, but the text layout is different (although the text itself is the same).

The copy I own has no dust jacket. I have included a scan of the dust jacket from a 1956 edition, as the front illustration, at least, is probably the same.

I hope this is of some interest, although I don't expect you will wish to post all of these scans.
Not all of the pages of the book are included here. The idea is to give you a feel for the book and to show how the illustrations were used for this edition. I think you can get that from this post. Many thanks to Peter Hale for sending them. (I doubt I'd even know that there were so many editions and varieties of text . But it makes perfect sense, and it probably was a political hassle for the Disney people to deal with in making this early adaptation.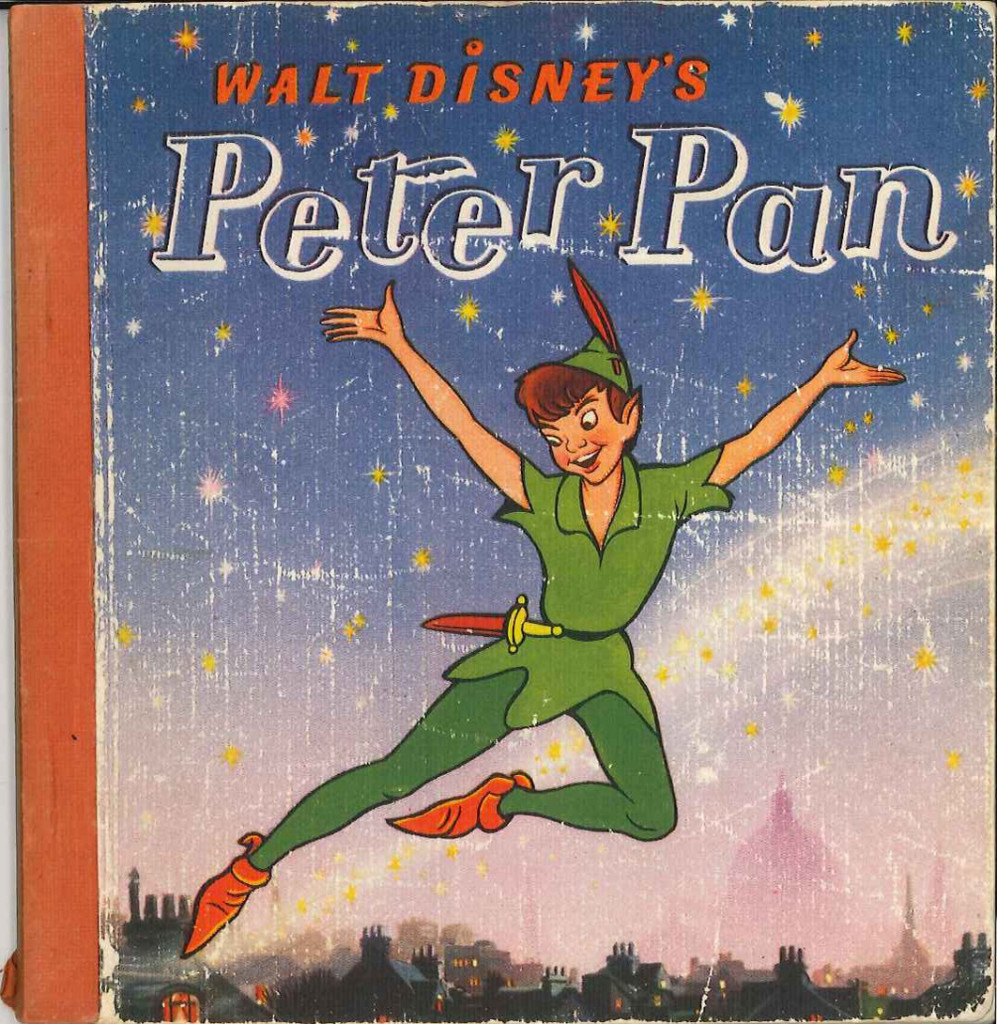 1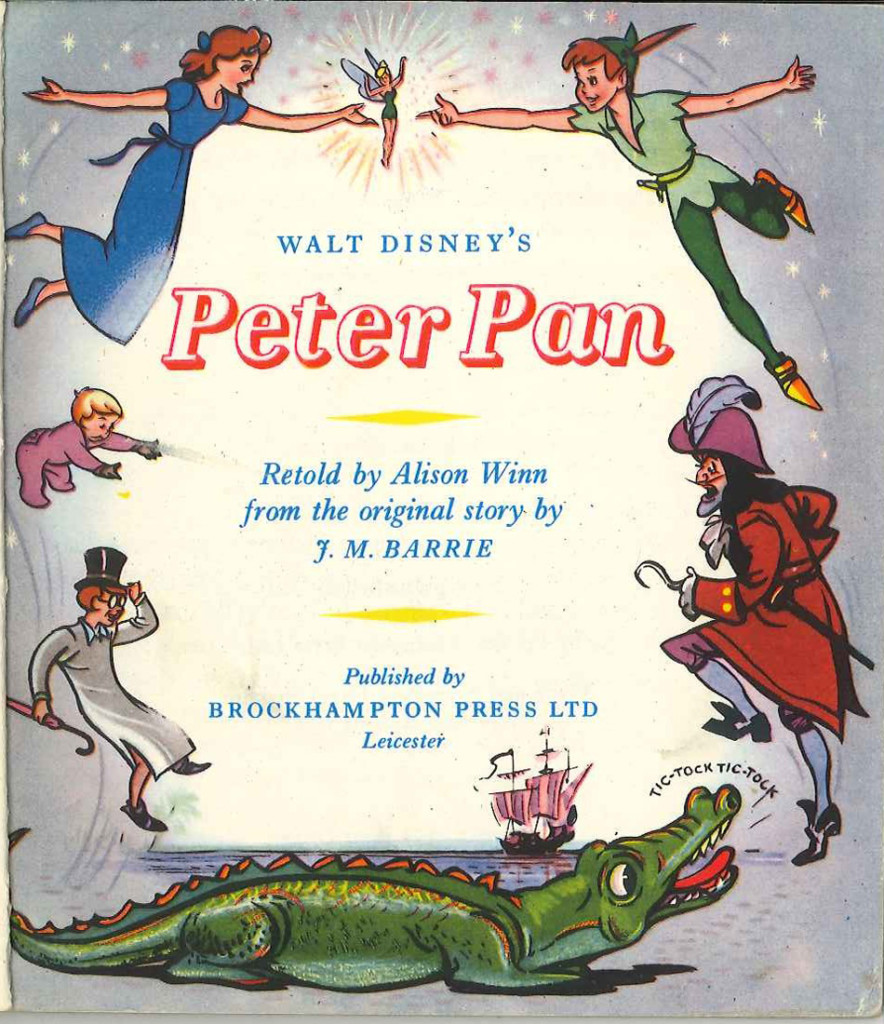 2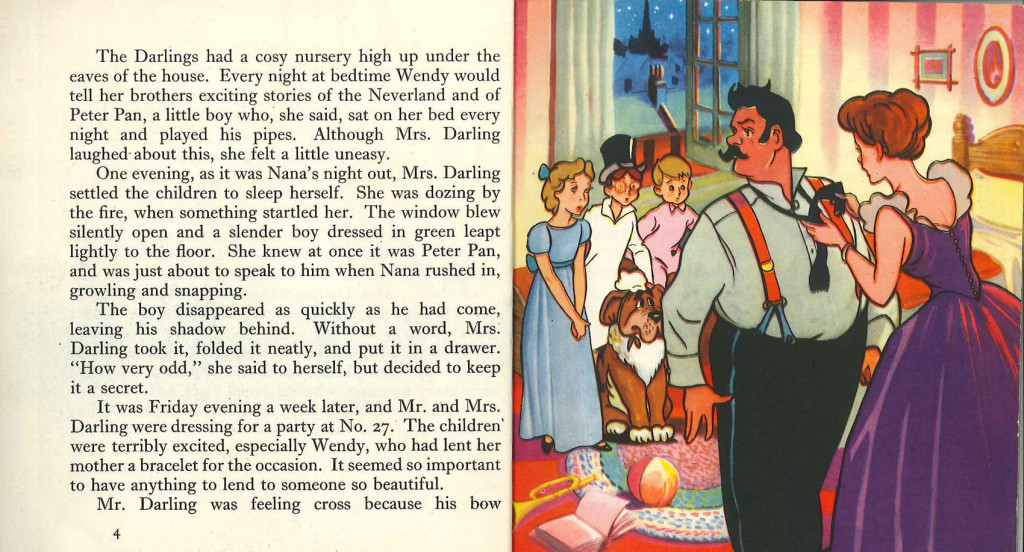 4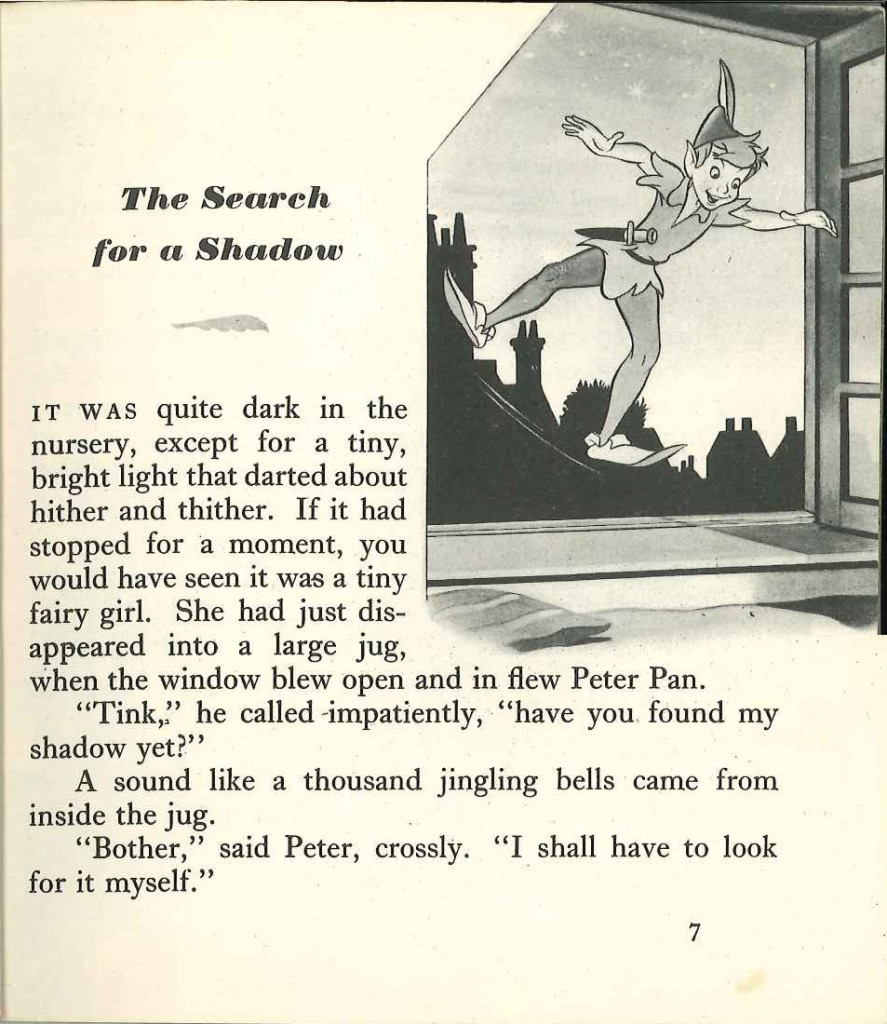 7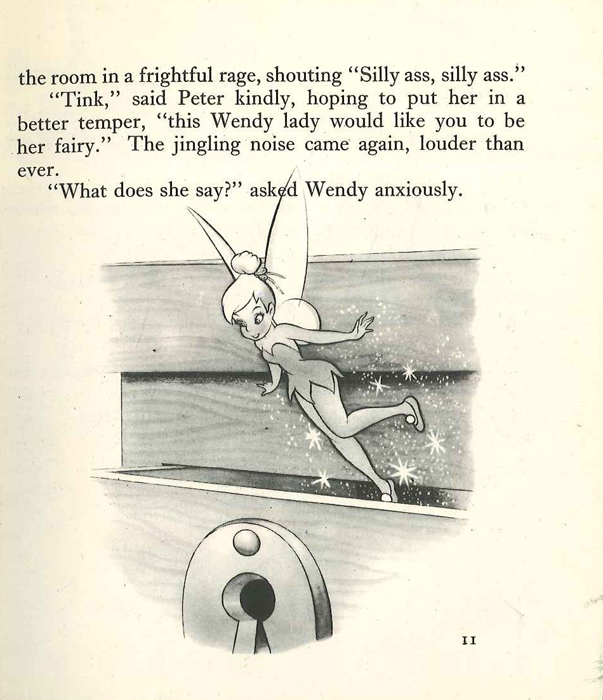 11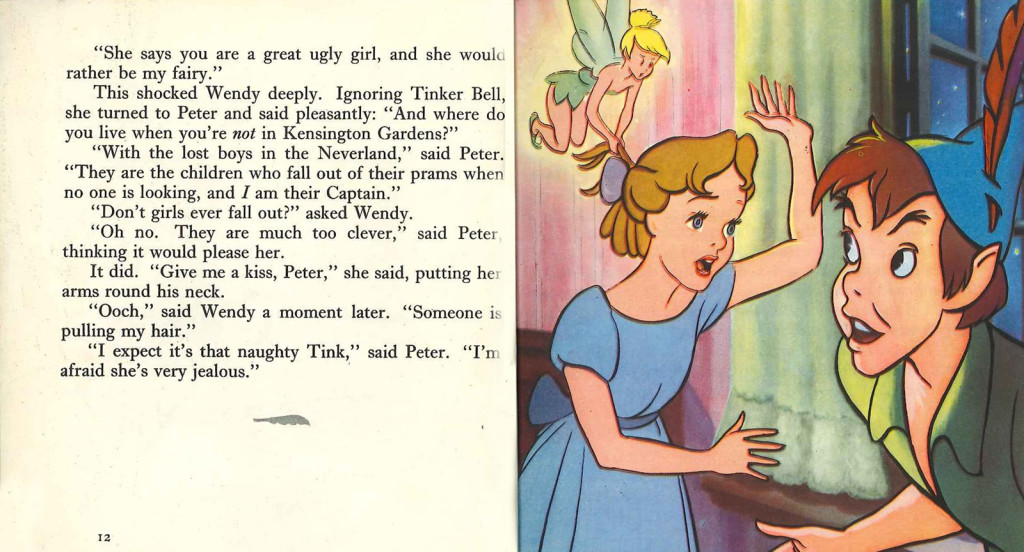 12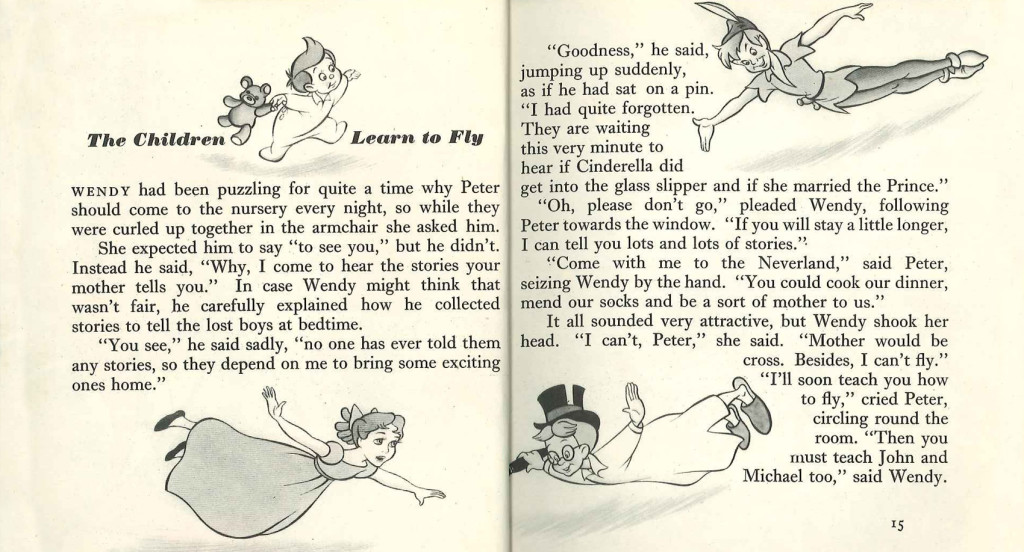 14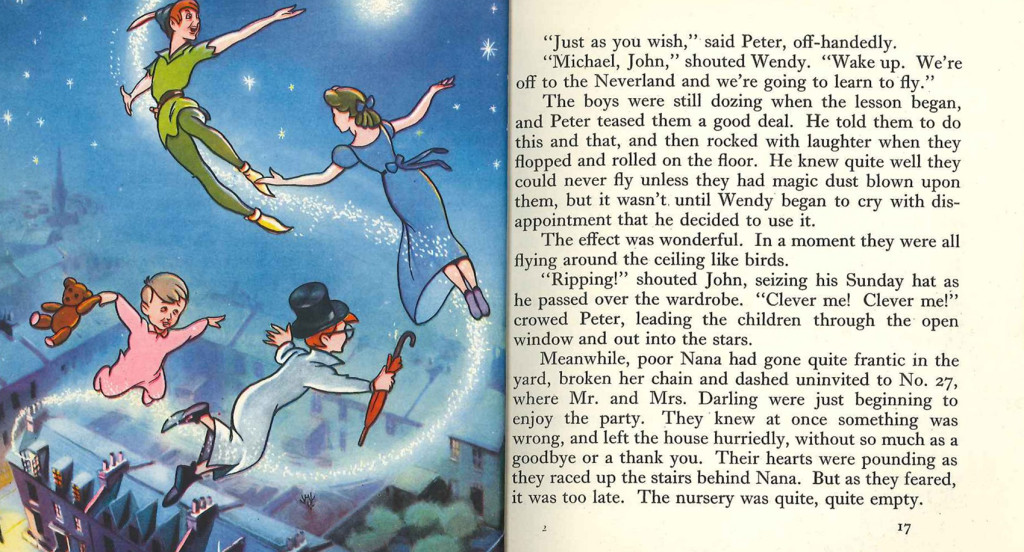 16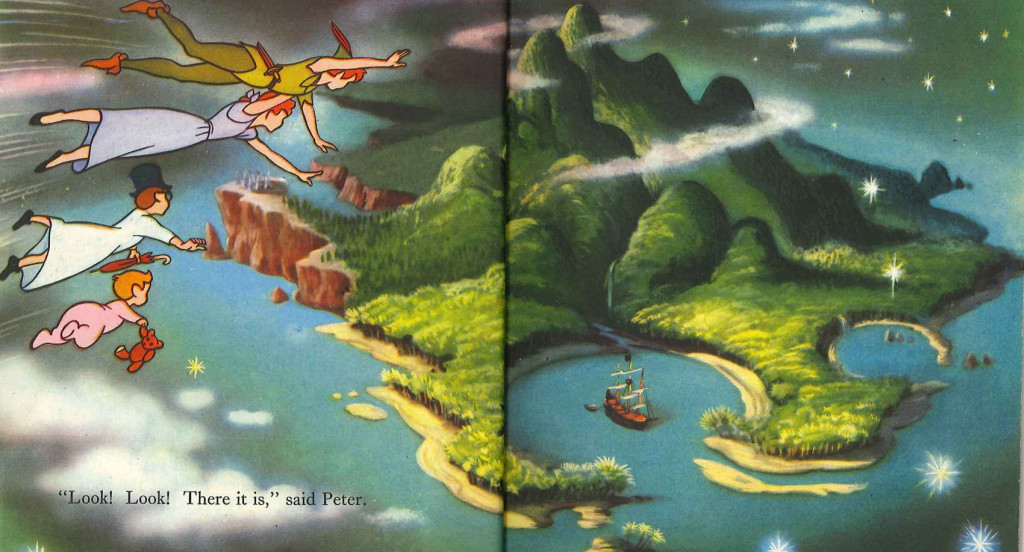 20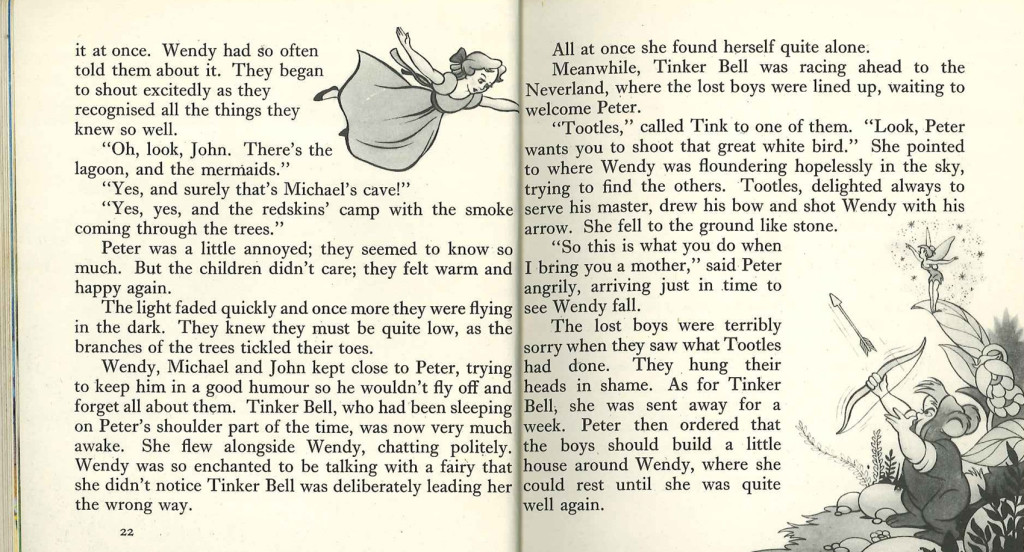 22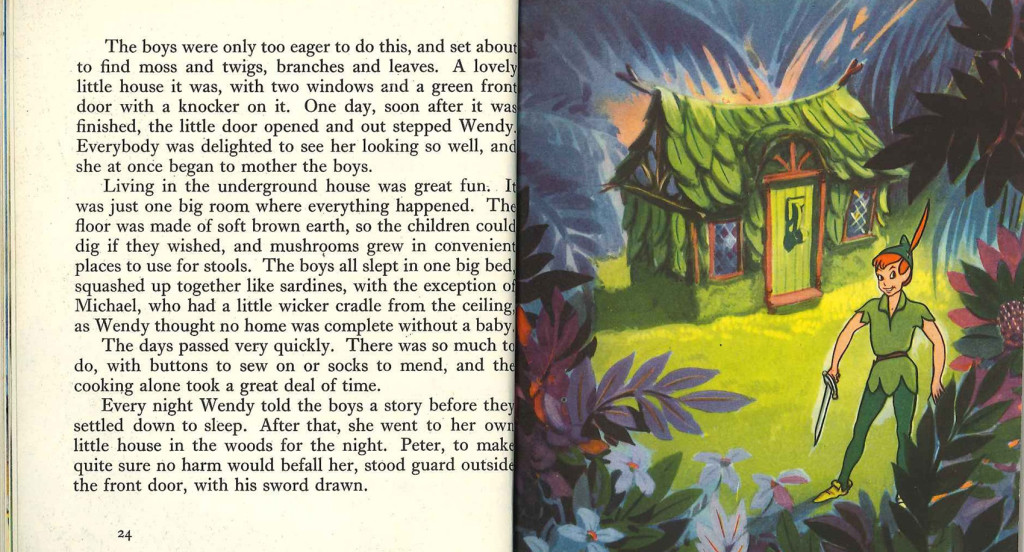 24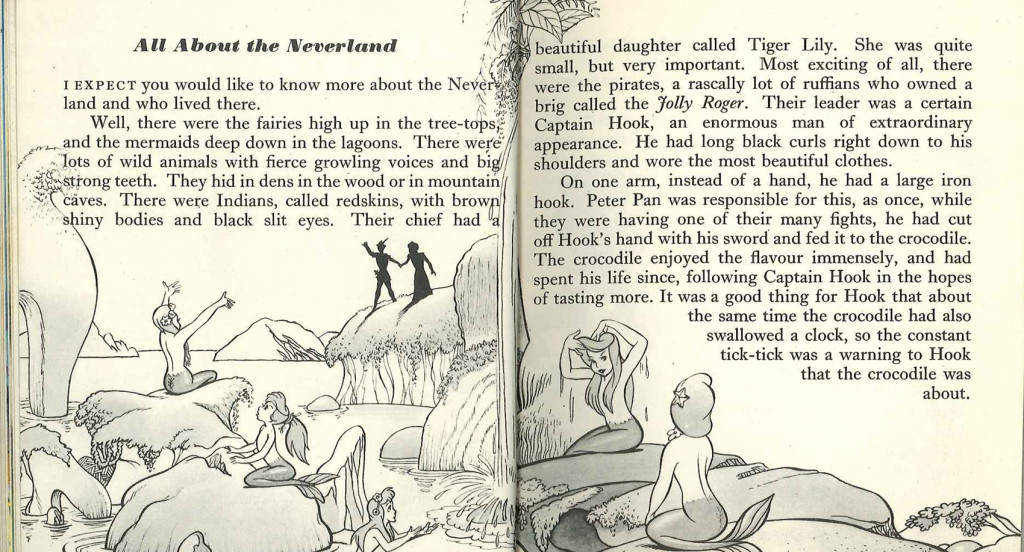 26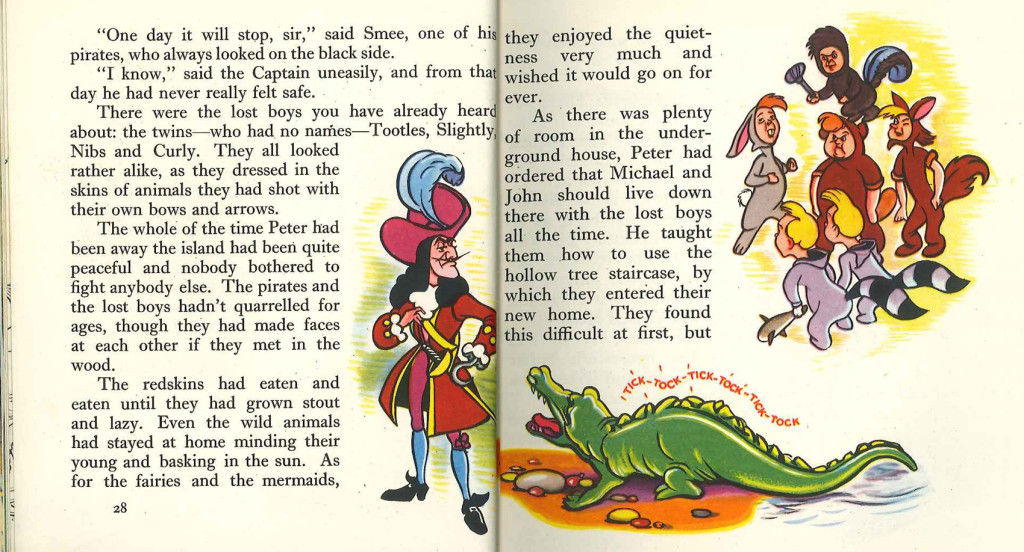 28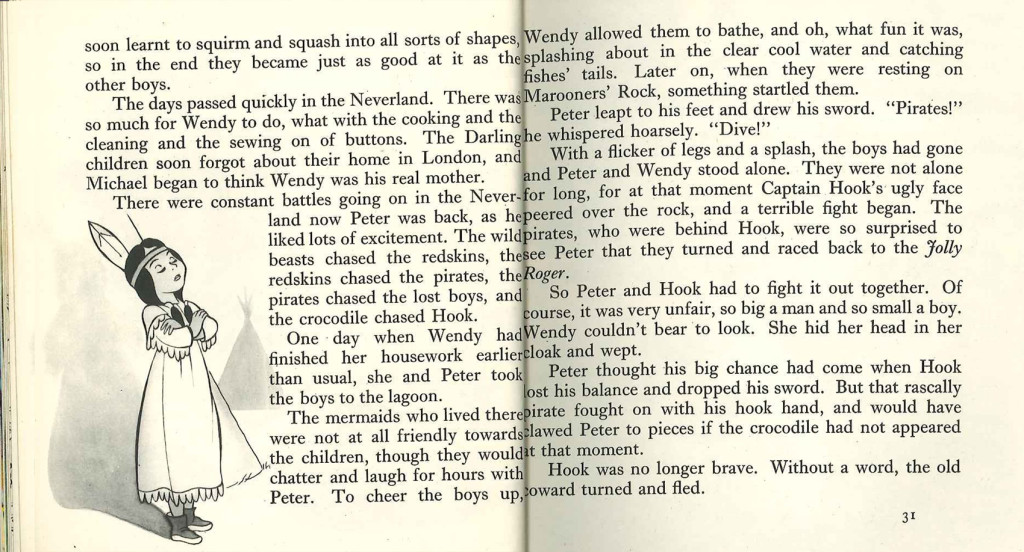 30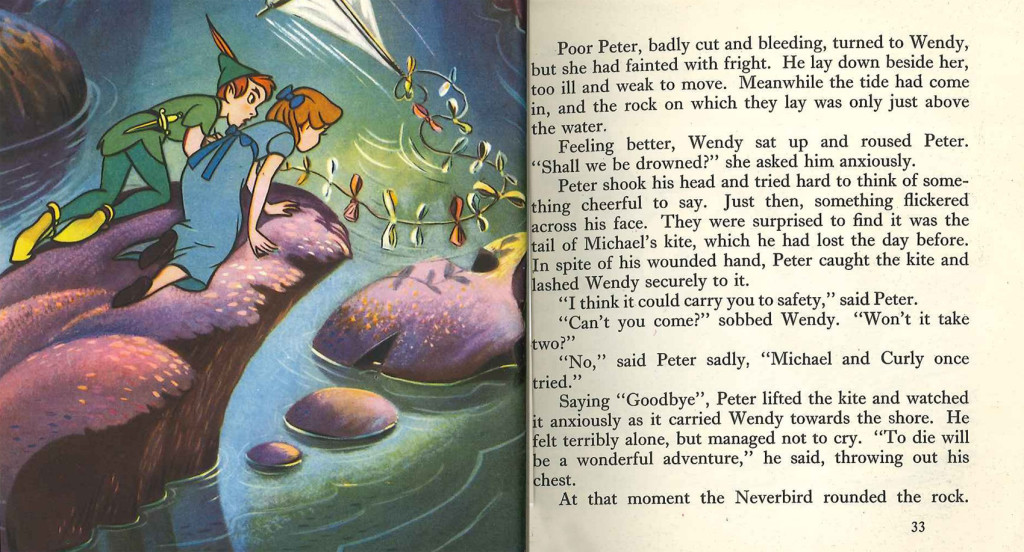 32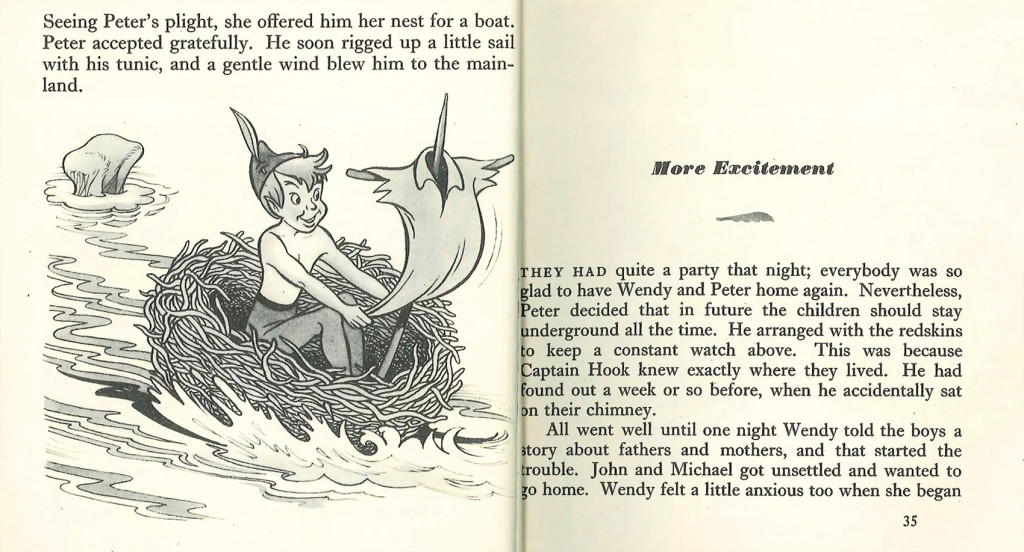 34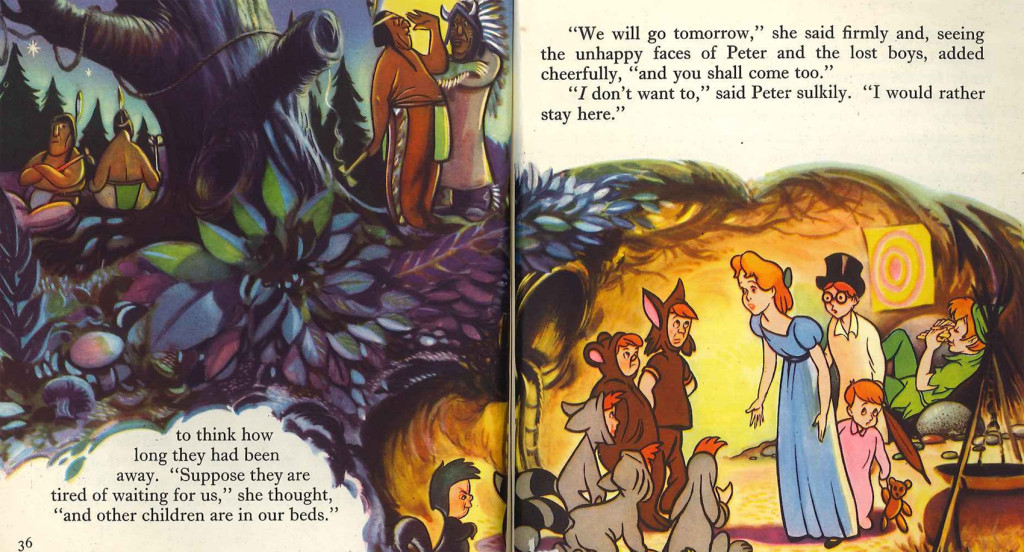 36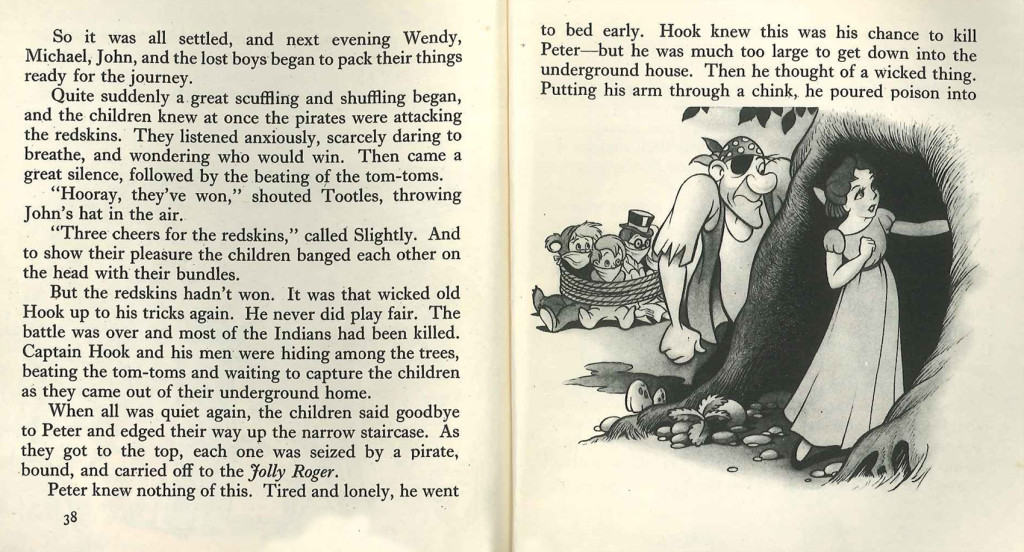 38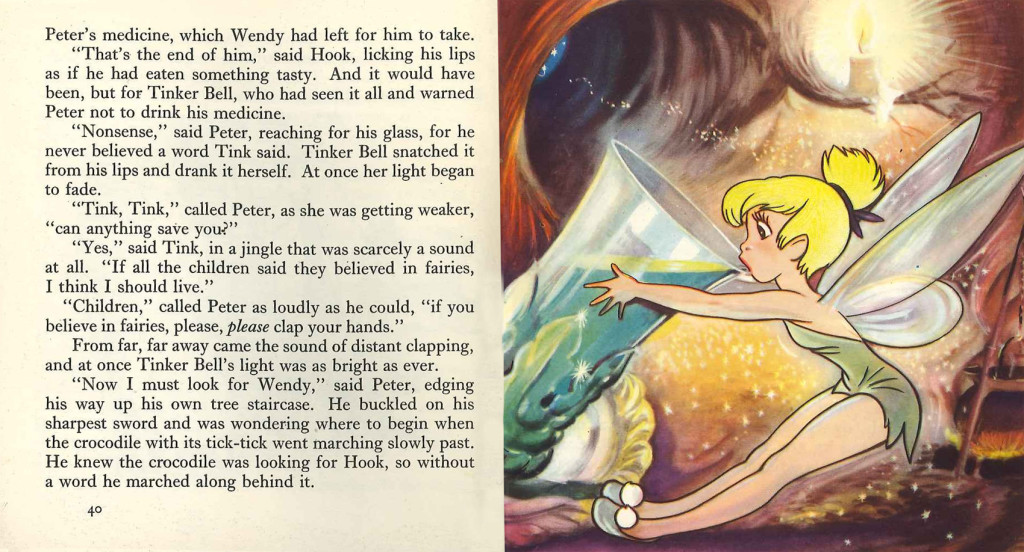 40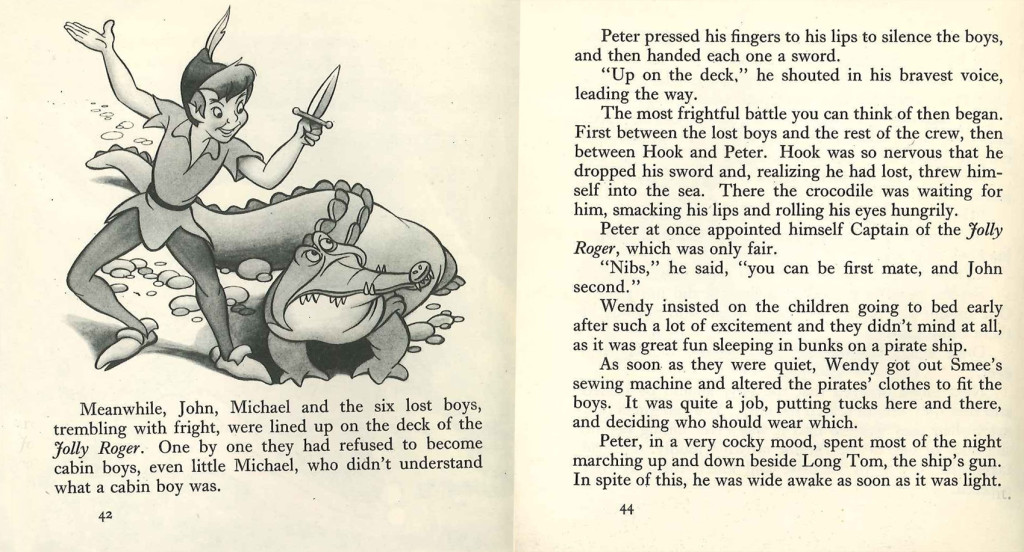 42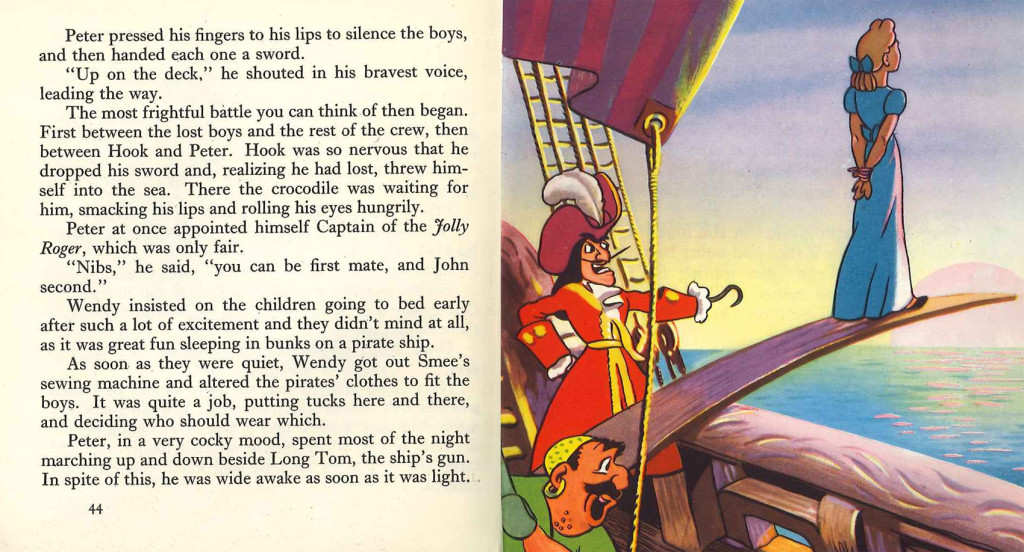 44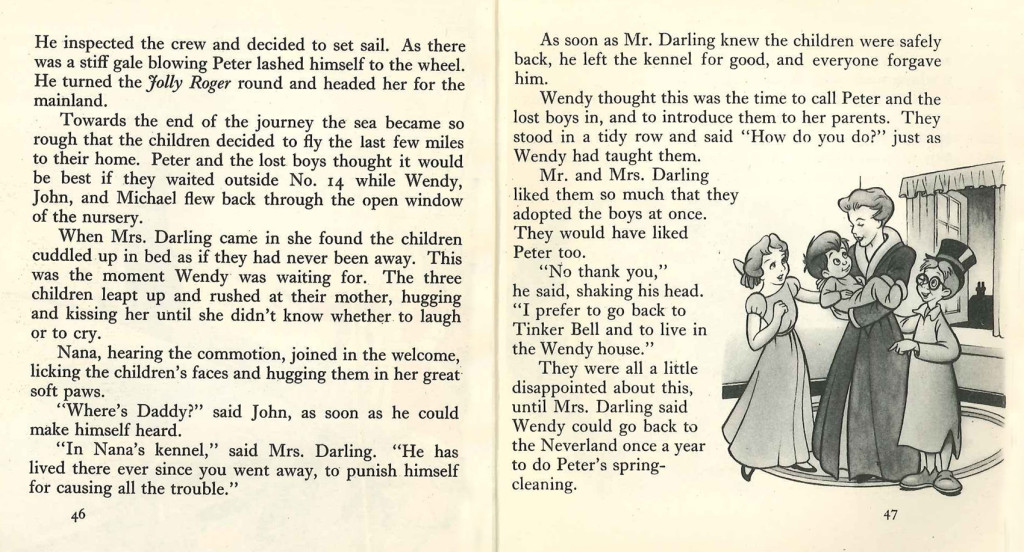 46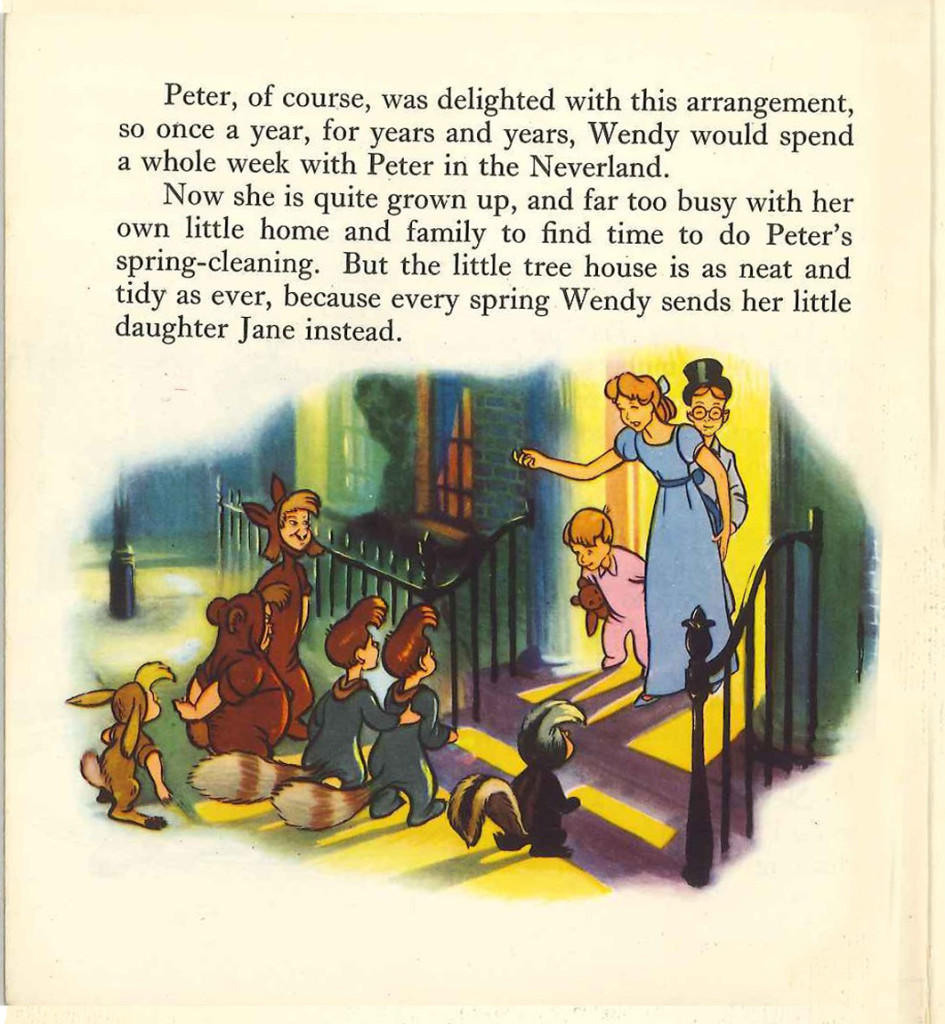 48
Animation Artifacts &Articles on Animation &Disney &Illustration &John Canemaker &Story & Storyboards 29 Apr 2013 06:19 am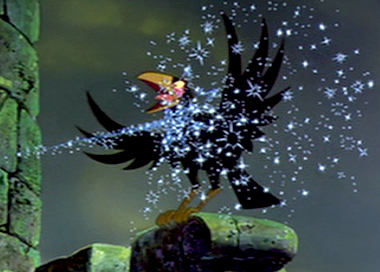 - John Canemaker had loaned me the final sequences of the storyboard to Sleeping Beauty, detailing the dragon fight and climax of the film. I originally posted this in three parts. I've combined them all here, making for one long post.
I'm not sure who did the artwork, but there's a good chance it's Ken Anderson's work.
As with past boards, I'll post the whole photograph as is, then take it apart row by row so that you can enlarge them as much as possible. Here's the storyboard sequence #19 from Sleeping Beauty.
The full board follows below: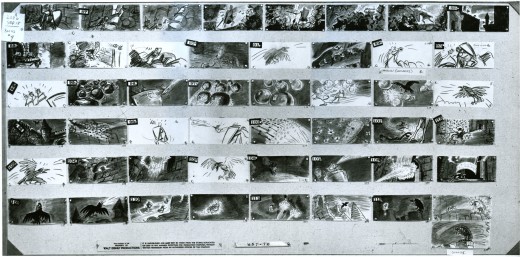 (Click any image to enlarge.)
The breakdown of that full board follows:


1a

1b

2a

2b

3a

3b

4a

4b

5a

5b

6a

6b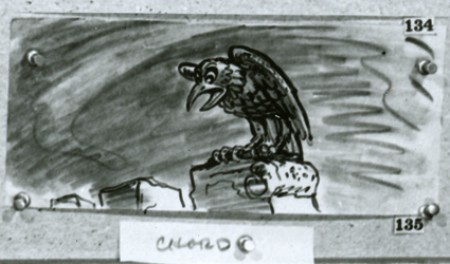 7
Here's the next full page of storyboard as is: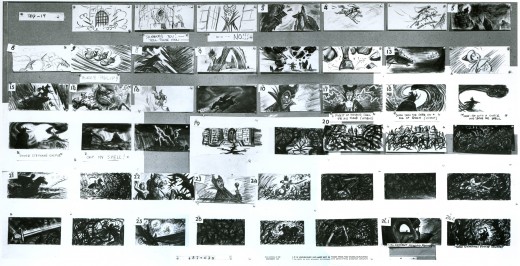 (Click any image on the page to enlarge.)
Again, I follow with the board broken up into segments, half a row at a time.


1a

1b

2a

2b

3a

3b

4a

4b

5a

5b

6a

6b
This is this photo of the next page of the board as it came to me: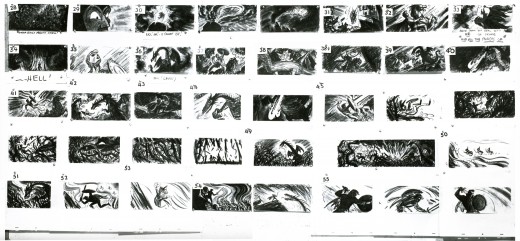 (Click any image to enlarge.)____________

Here are the rows of the board broken into two so that I can post them a bit larger.

1a

1b

2a

2b

3a

3b

4a

4b

5a

5b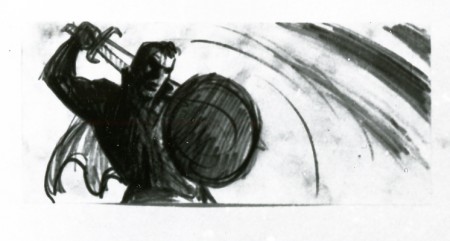 If only he knew what he was going to face next.
I've decided to get the frame grabs for the sequence and post them as well. I thought the comparison of board to actual film would be interesting.
__________
These images come from the "Special Edition" of the dvd, not the "Platinum Edition" now on the market. Using Hans Perk's posts of the drafts for these scenes, on his blog A Film LA, I was able to identify the animators' names.



sc 82 (L) Milt Kahl – sc 82.1 (R) Frank Thomas


sc 82.2 (L) Kahl & Thomas – sc 82.3 (R) George Nicholas & Jerry Hathcock


sc 82.4 (L) Nicholas – sc 82.5 (R) Nicholas & Hathcock


Nicholas & Hathcock (L) sc 82.6


Nicholas & Hathcock (L) sc 83


sc 84 (L) Ken Hultgren – sc 85 (R) Nicholas & Hathcock


sc 87 (L) Nicholas & Sibley – sc 88 (R) Nicholas & Hathcock


(L) Nicholas & Hathcock – sc 89.1 (R) Hultgren


sc 89 (L) Nicholas & Hathcock – sc 91 (R) Hathcock


sc 91 (L) Hathcock – sc 92 (R) SA sc 49 seq 8


sc 95 (L) Hathcock – sc 93 (R) Hathcock


sc 96 (L) Hathcock – sc 97 (R) Dan MacManus


(L) MacManus – sc 97.2 (R) Hathcock


sc 98 (L) Hathcock – sc 99 (R) Sibley


sc 100 MacManus


sc 100.1 (L) Hathcock – sc 101 (R) Les Clark & Fred Kopietz


sc 102 (L) Hultgren & Kopietz – sc 104 (R) Hathcock


sc 107 (L) Hathcock – sc 108 (R) Hultgren


(L) Hutlgren – sc 109 (R) Hathcock


sc 110 (L) Ollie Johnston & Blaine Gibson – sc 110.1 (R) Gibson


sc 110.2 (L) Johnston – sc 110.3 (R) Johnston & Gibson


sc 110.4 (L) Johnston – sc 111 (R) Johnston & Gibson


sc 112 Johnston & Gibson


sc 112 (cont) Johnston & Gibson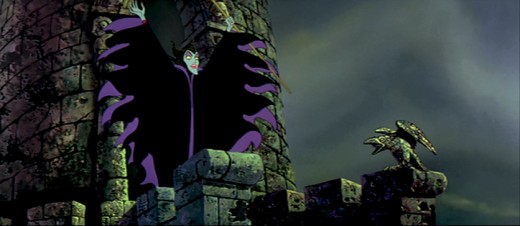 - Let's end this post from Sleeping Beauty by posting a couple of drawings I have for the "Skumps" sequence. Again, Hans Perk on his blog A Film LA, posted the animator drafts for this sequence and I was able to I.D. the animators. (I have to say I guessed correctly in three out of four shots, so I'm pleased with myself.)
I'm posting closeups of the drawings. By clicking on any of them you'll see the full sized animation paper. I'm also posting frame grabs beneath the drawings so you can see how they looked in the film.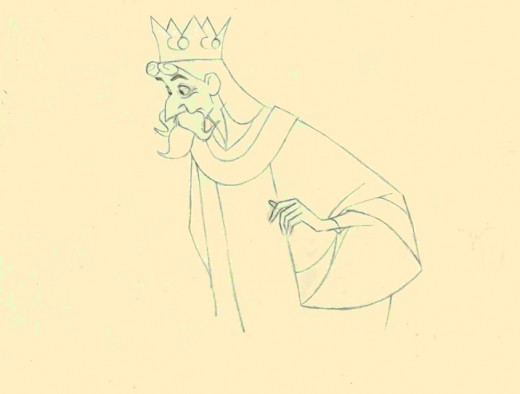 This is a Milt Kahl scene, seq 13 sc 8. This drawing is undoubtedly a clean up,
so it's not one of Kahl's drawings – just his pose. It's an extreme.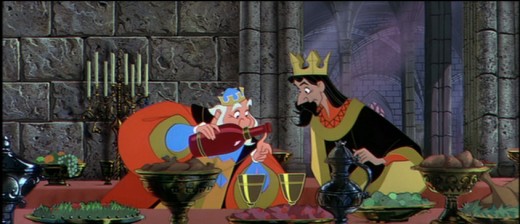 It is interesting that Kahl animated both characters.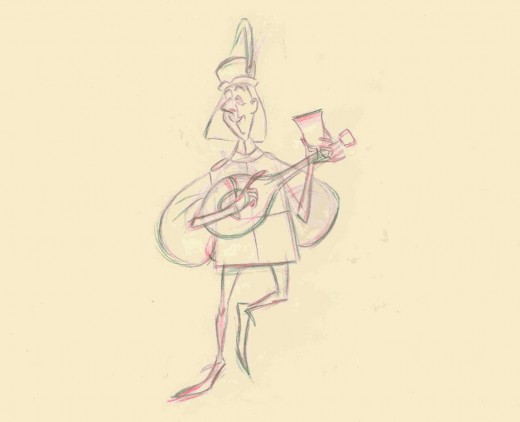 This is a John Sibley ruff. Seq 13 sc 17.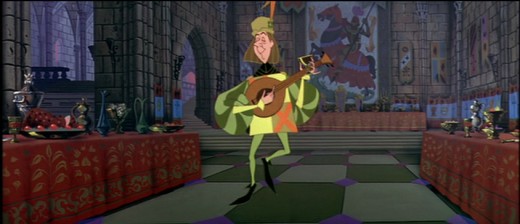 It's a very odd, uncoordinated dance number by the drunk lackey.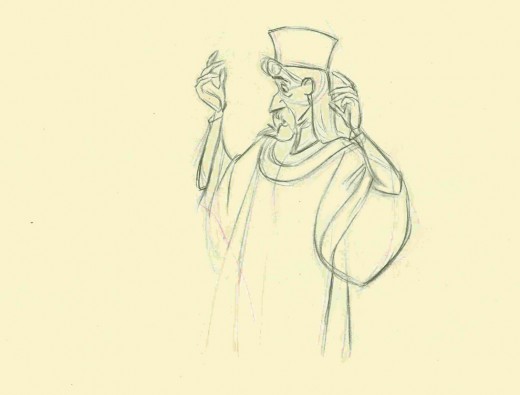 This is my favorite of these four. It's a John Lounsbery ruff of King Stefan.
Another extreme from seq 13 sc 26.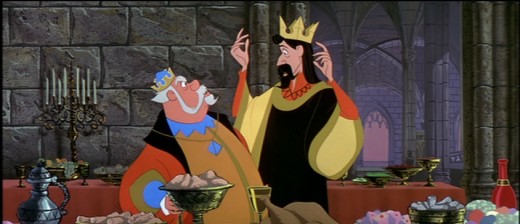 I like this character.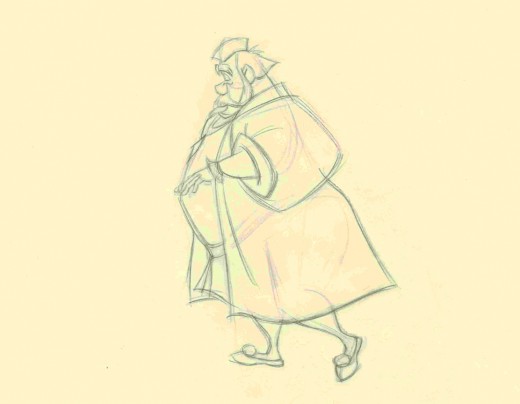 This is also another beautiful ruff by John Lounsbery. It's King Hubert in the
very last scene of seq 13, sc 57.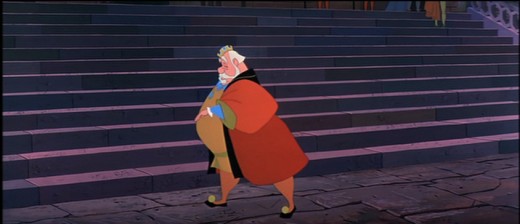 it comes just prior to Hubert's turning and sitting on the palace steps.


___________________
Books &Disney &Illustration 25 Apr 2013 05:53 am
You'll remember that Peter Hale sent several adaptations of Disney's Peter Pan in book form. This version is by May Byron.
Here are introductory comments by Mr. Hale:
Here are the scans from the hard back book by May Byron. The volume is small (51/2″ x 71/2″) as it is designed for children. It is the same size as the Hodder & Stoughton 'Peter Pan and Wendy' illustrated by Mabel Lucie Attwell, but the text layout is different (although the text itself is the same).

The copy I own has no dust jacket. I have included a scan of the dust jacket from a 1956 edition, as the front illustration, at least, is probably the same.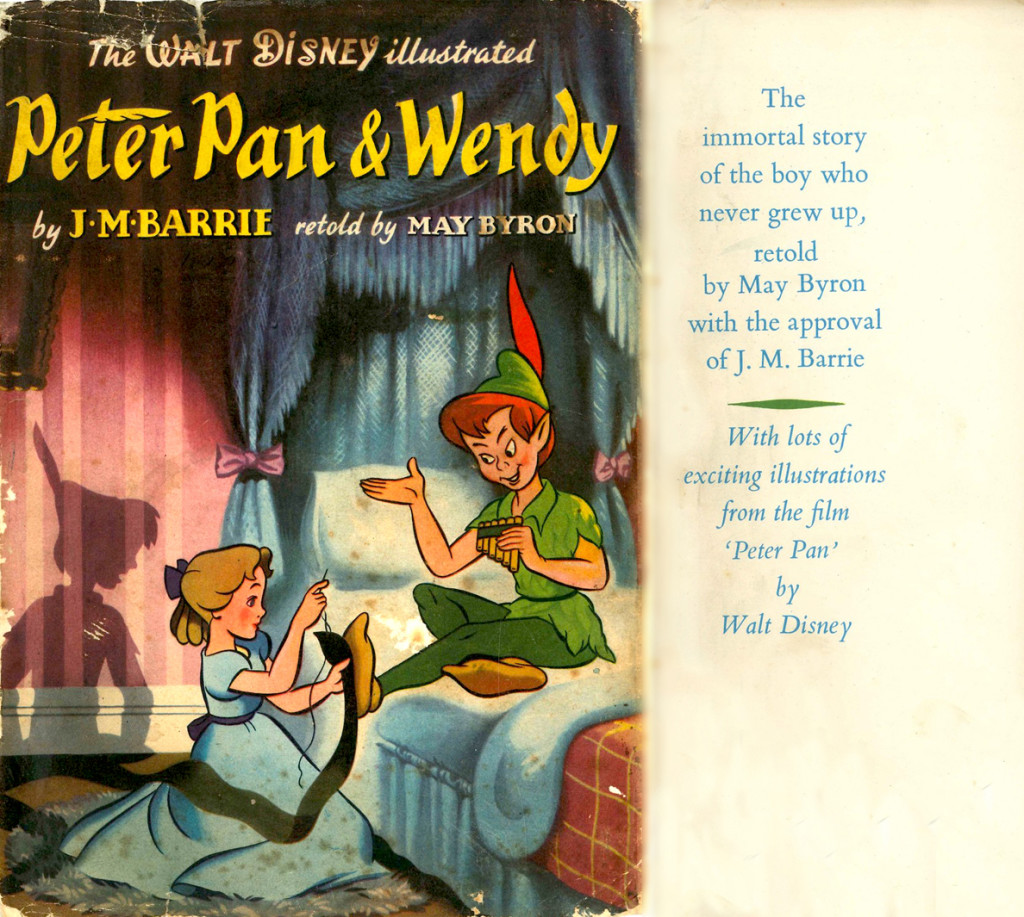 Front dust jacket cover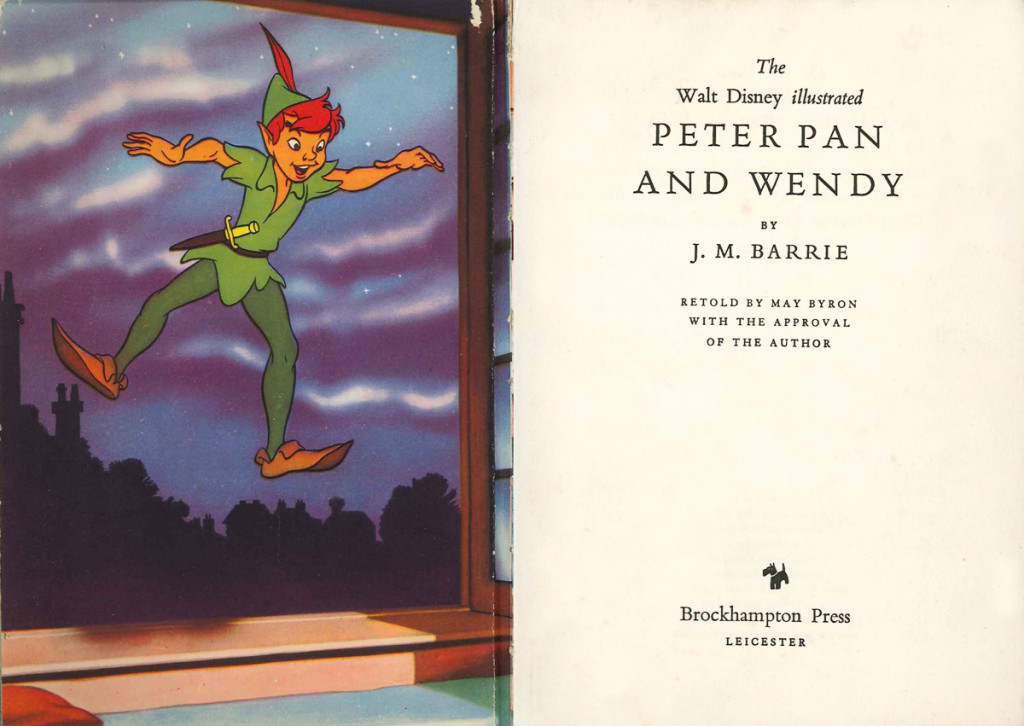 Frontispiece – Title page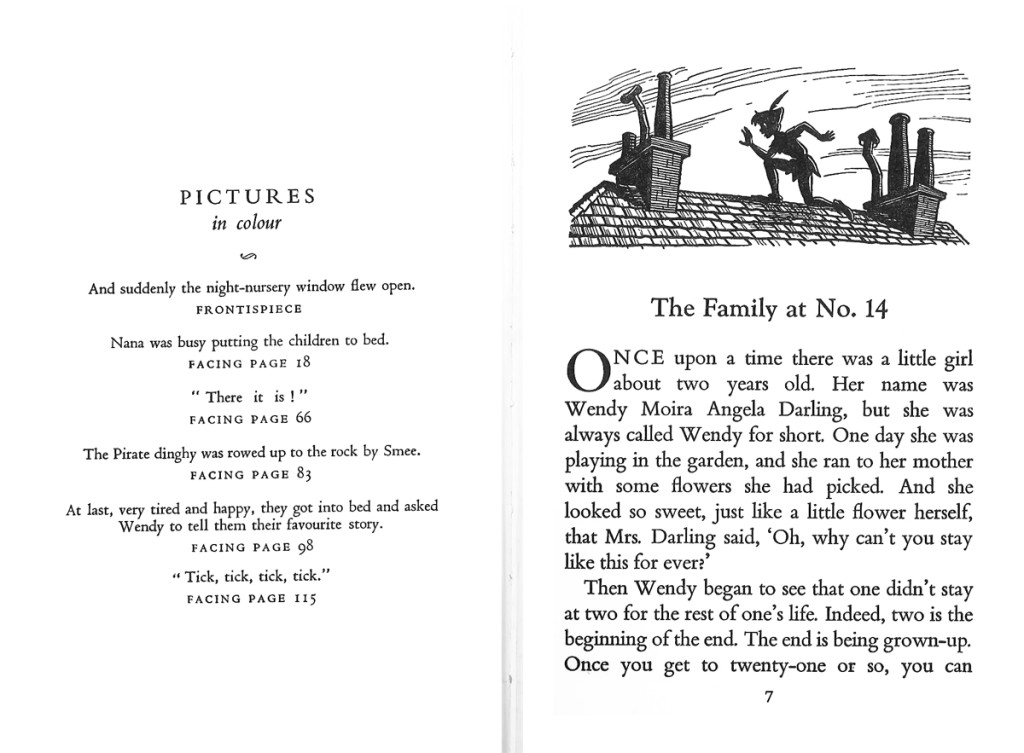 1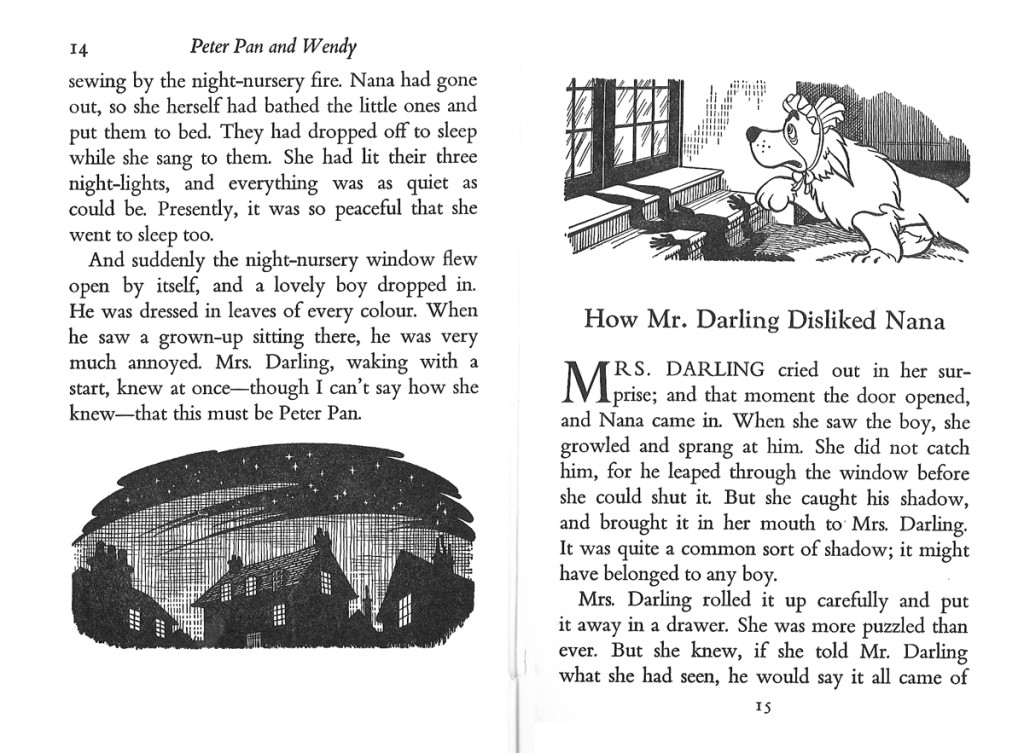 4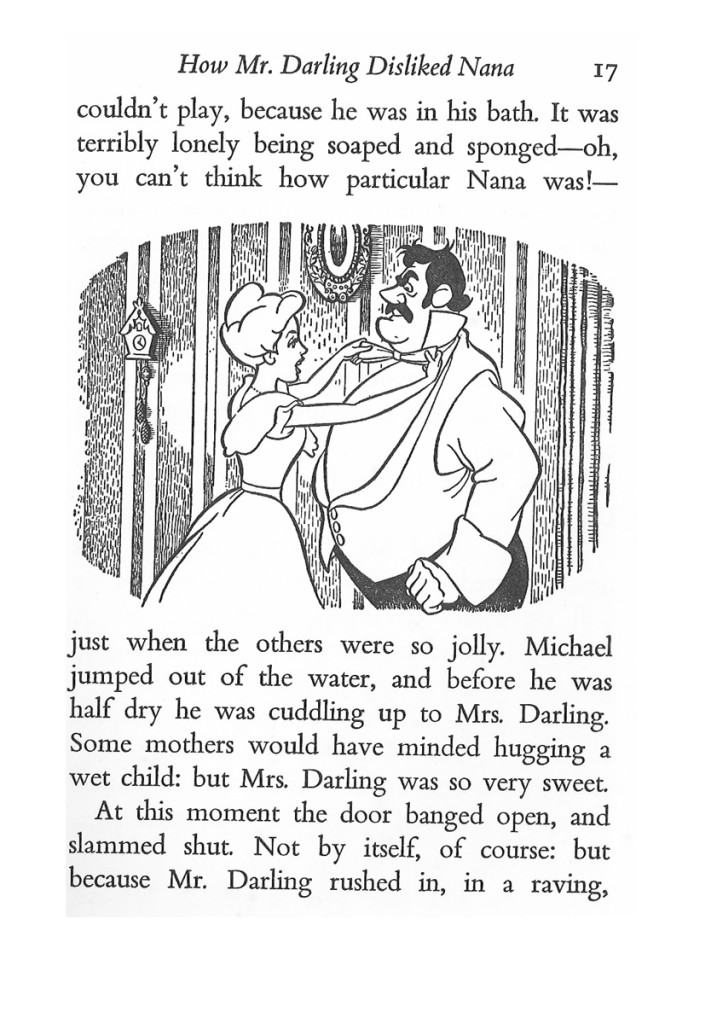 5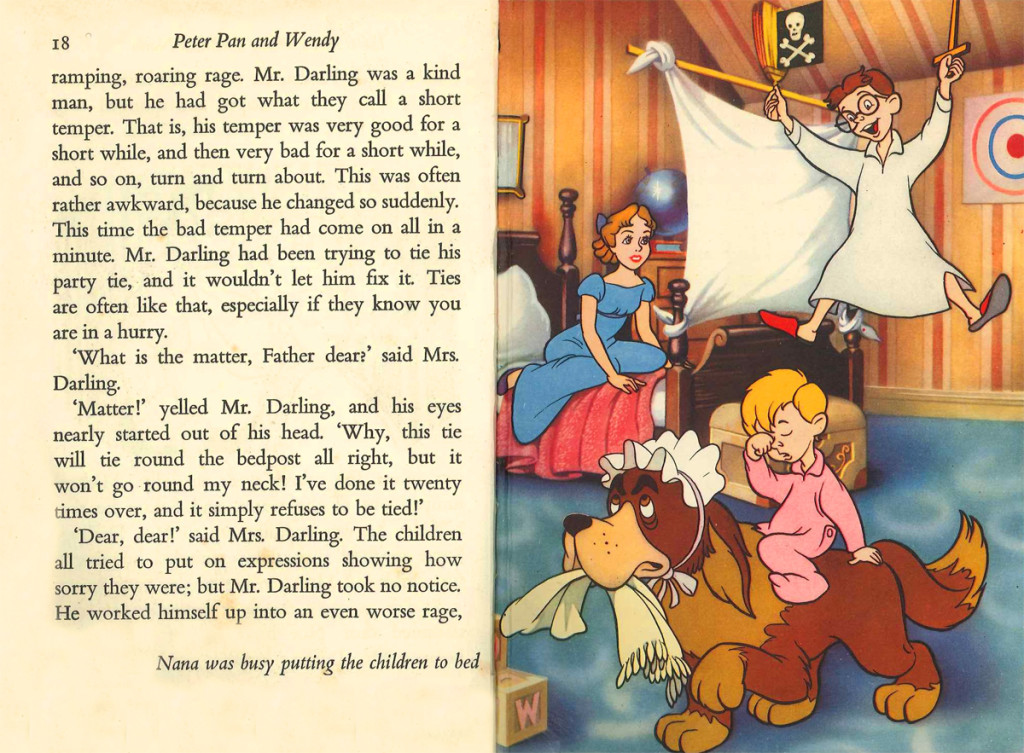 6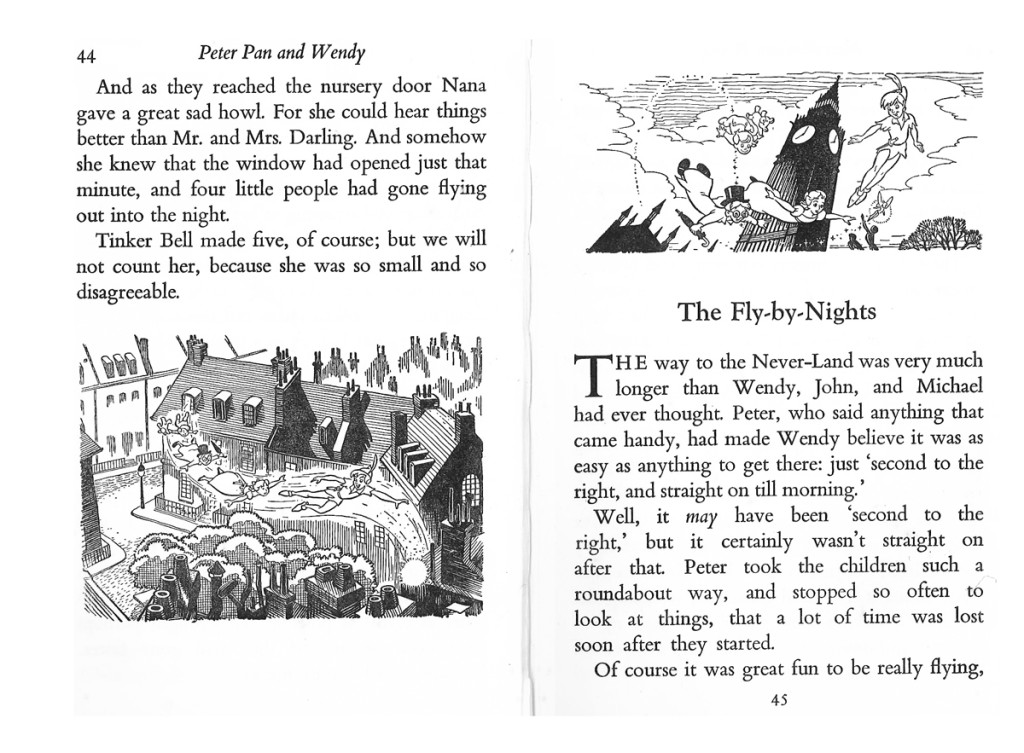 15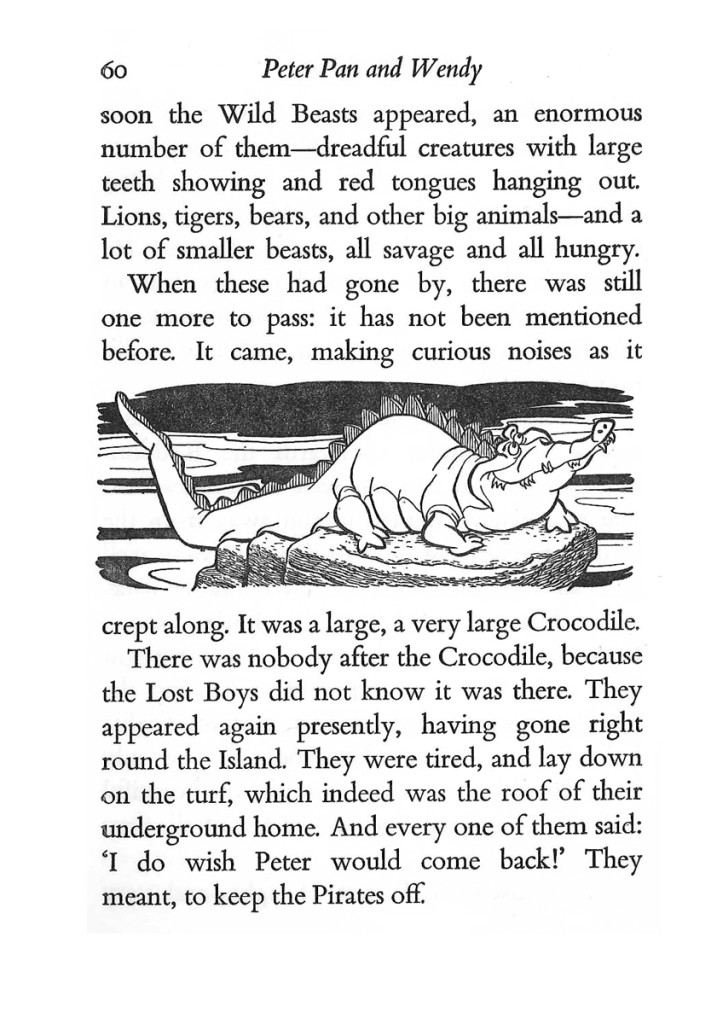 18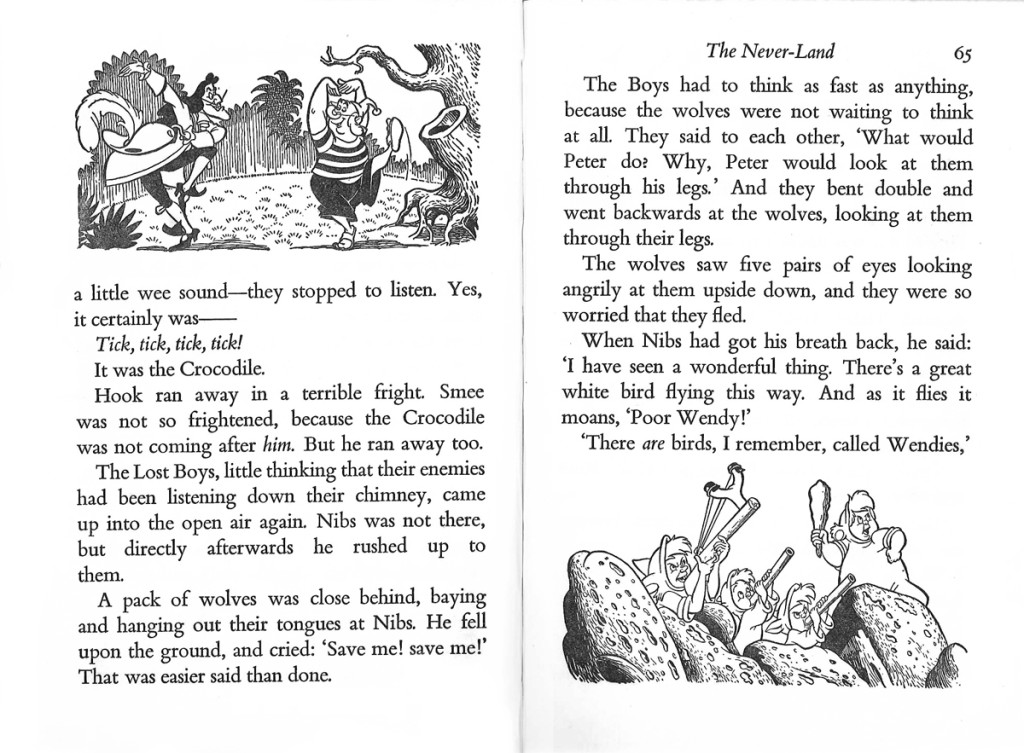 19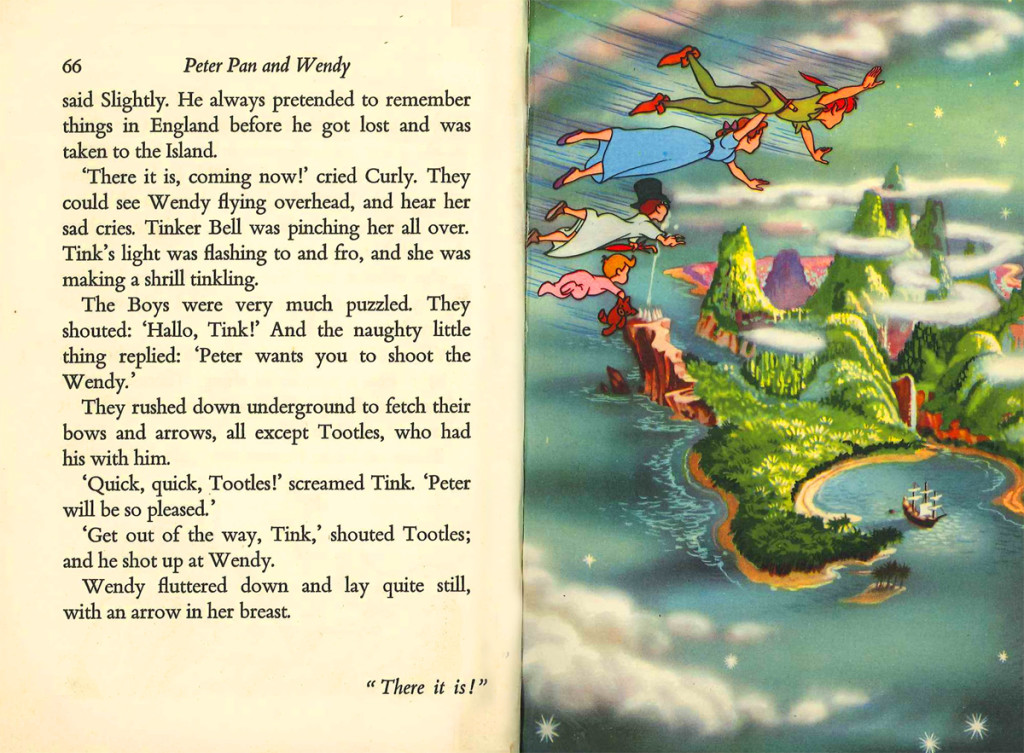 20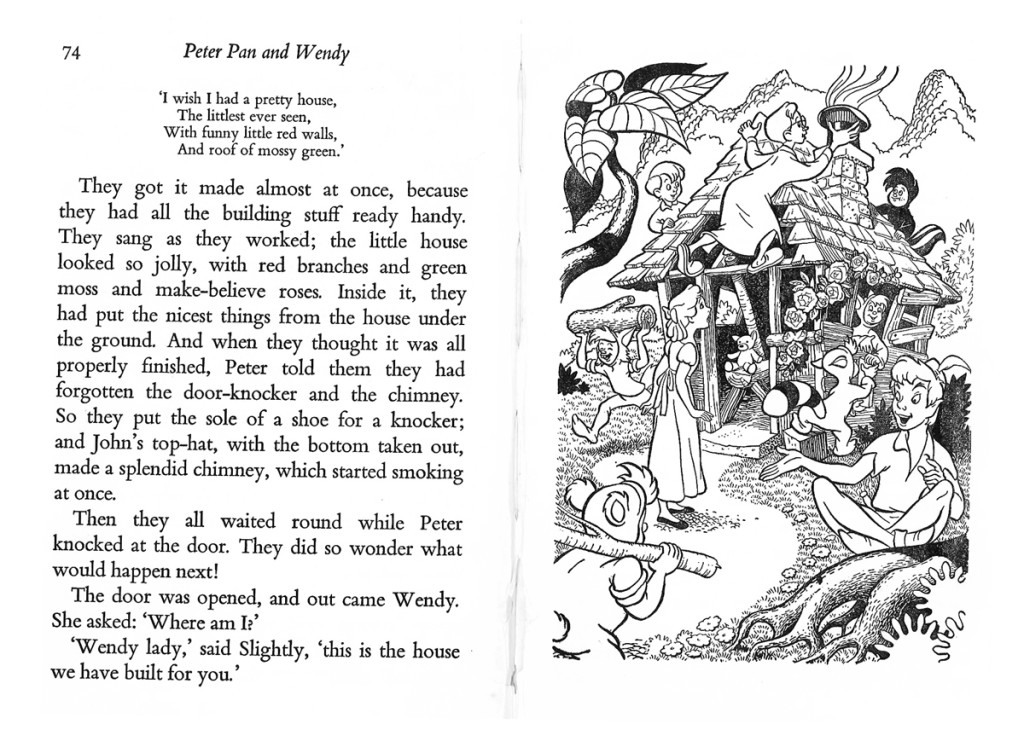 23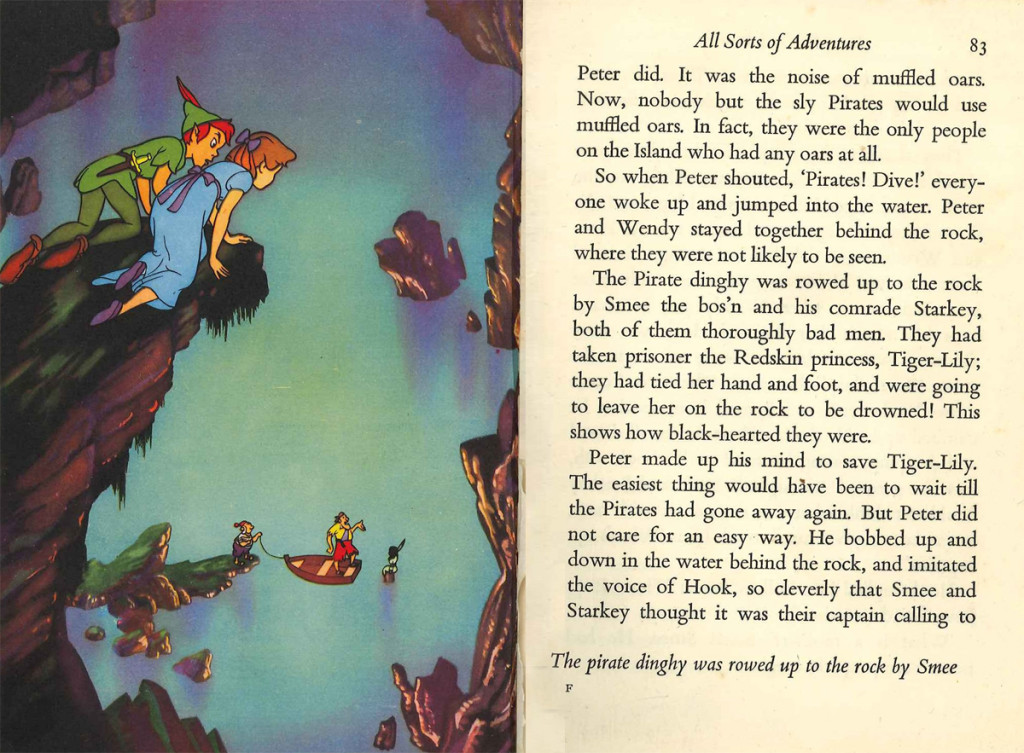 26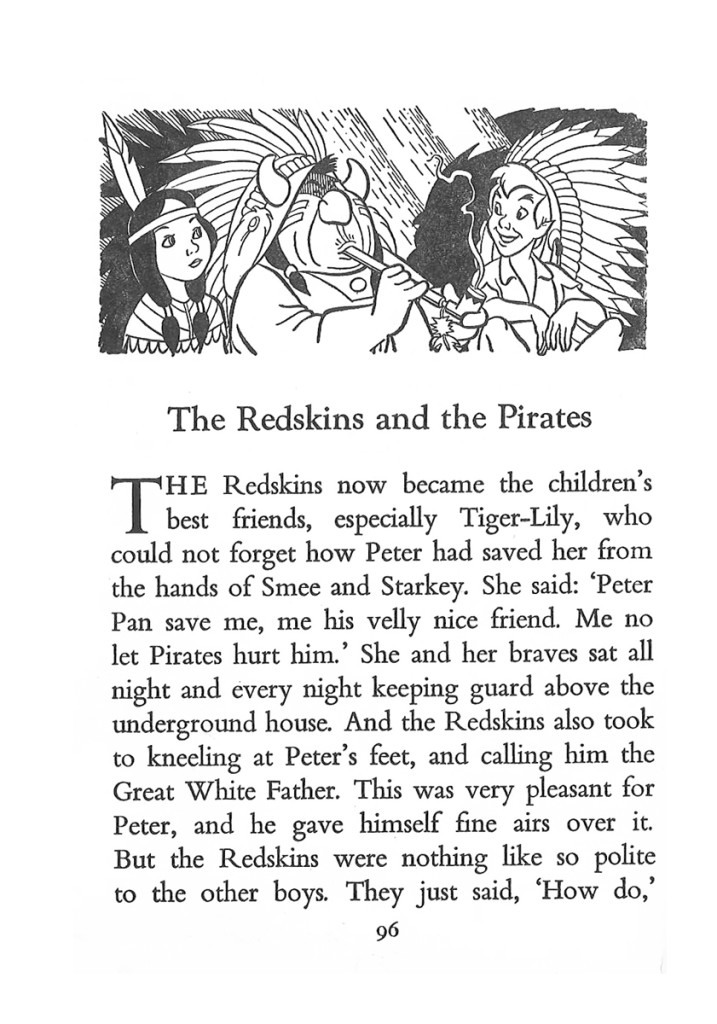 31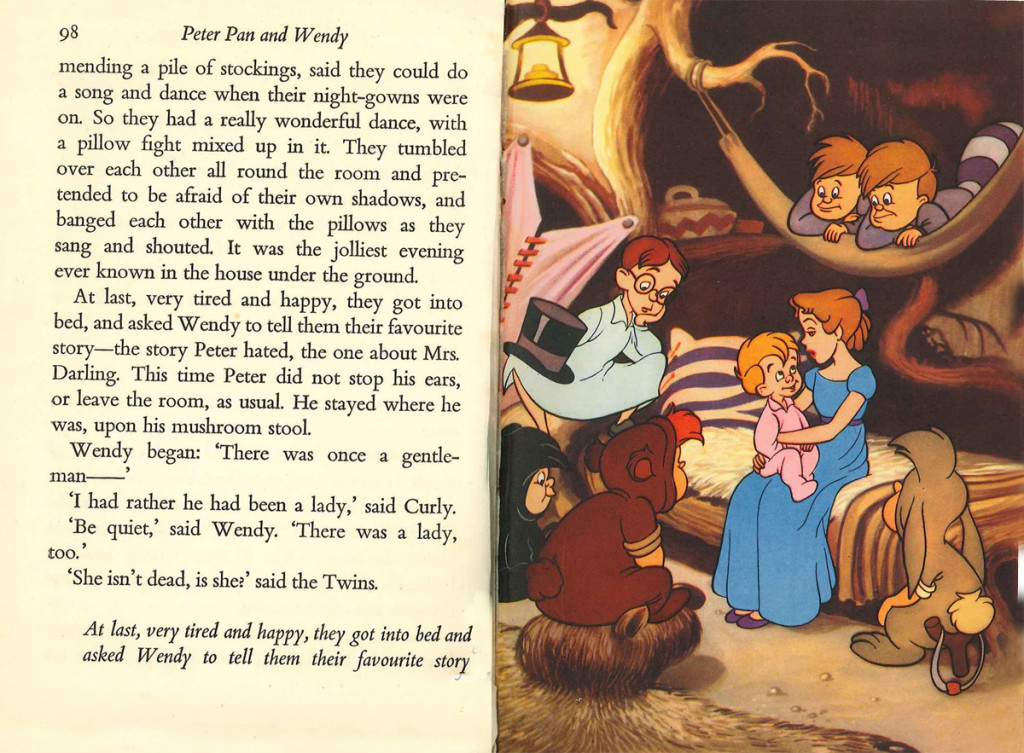 32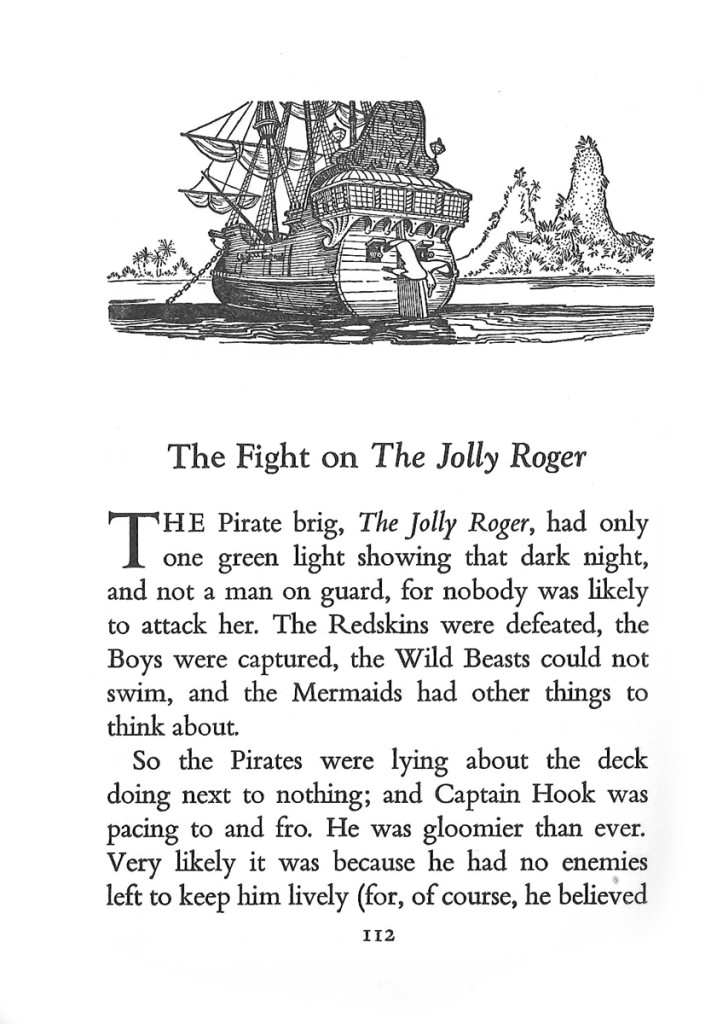 37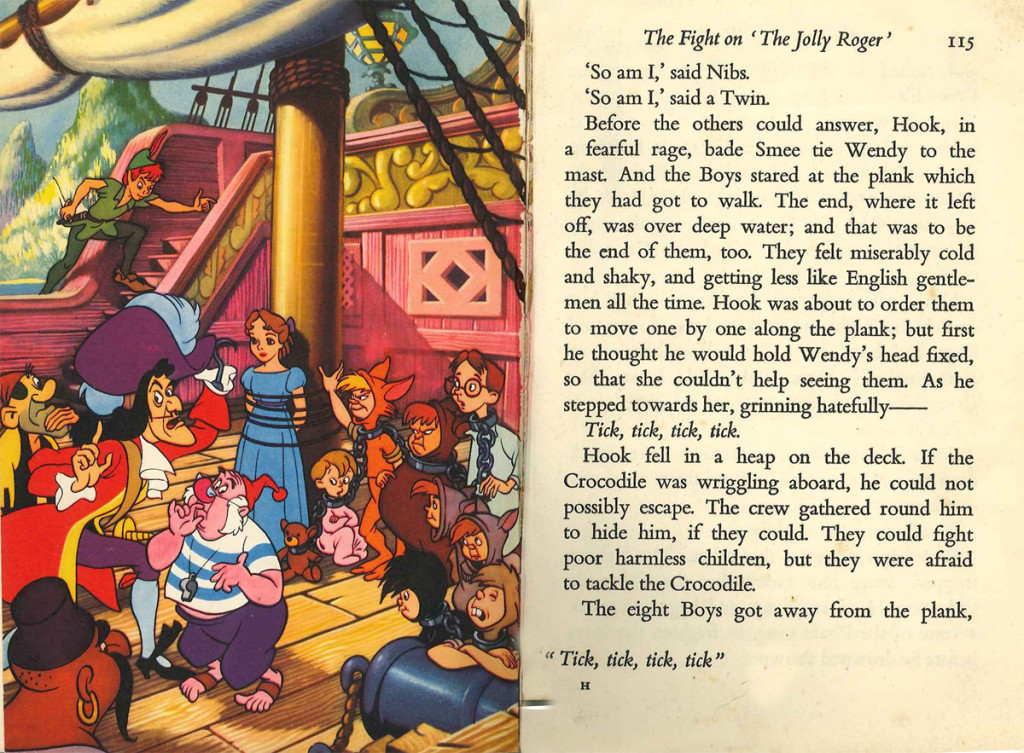 38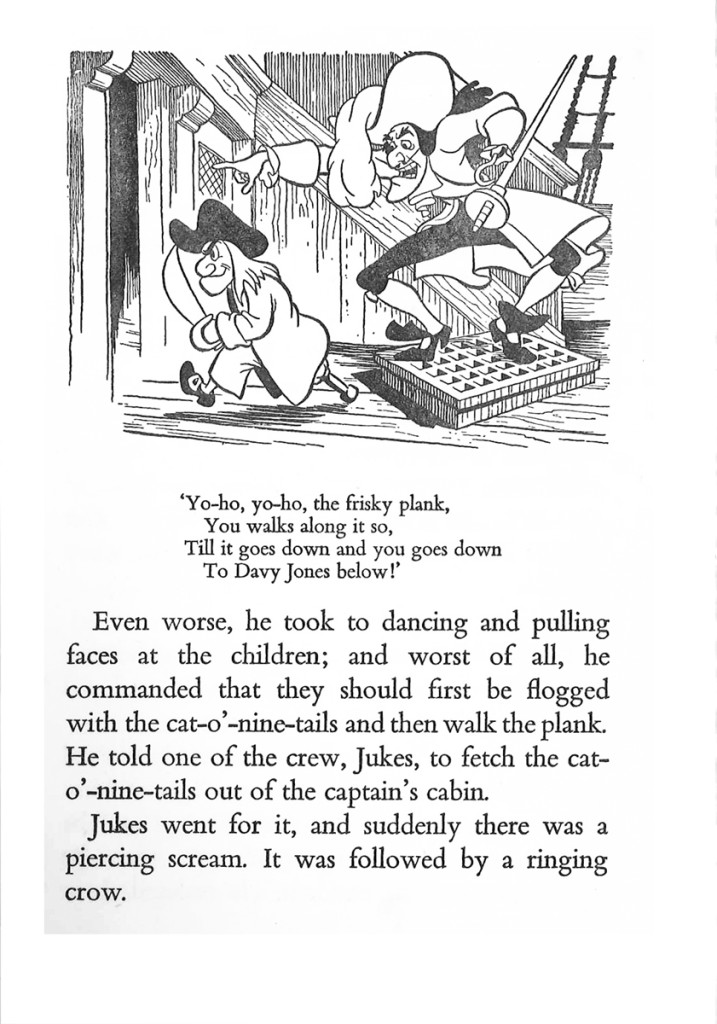 39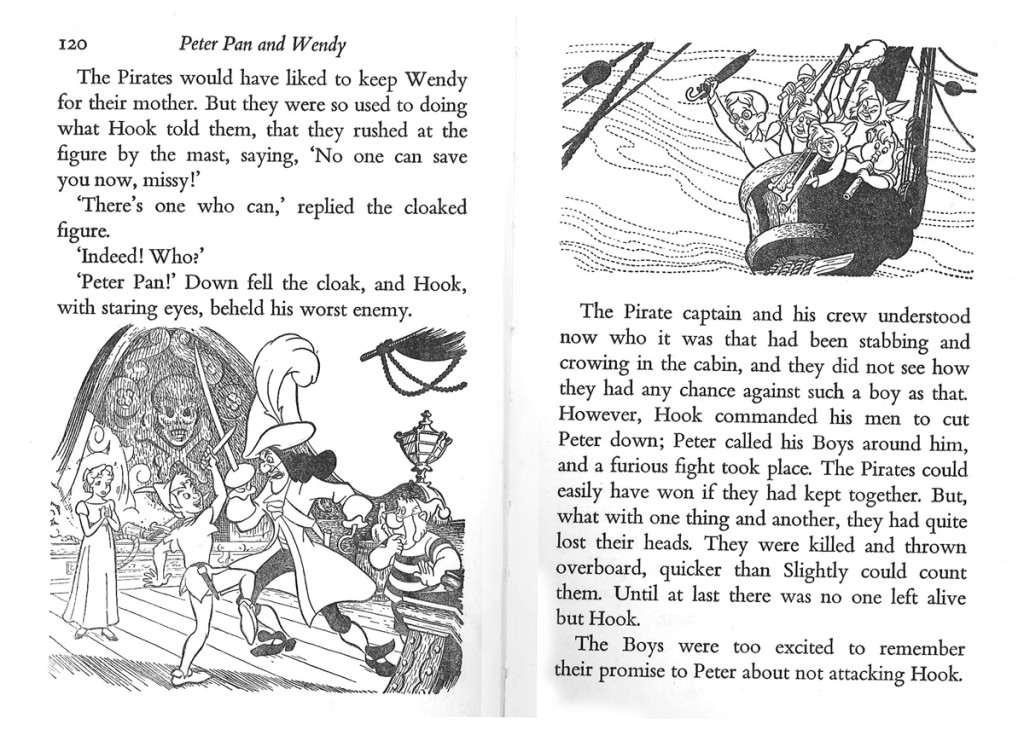 40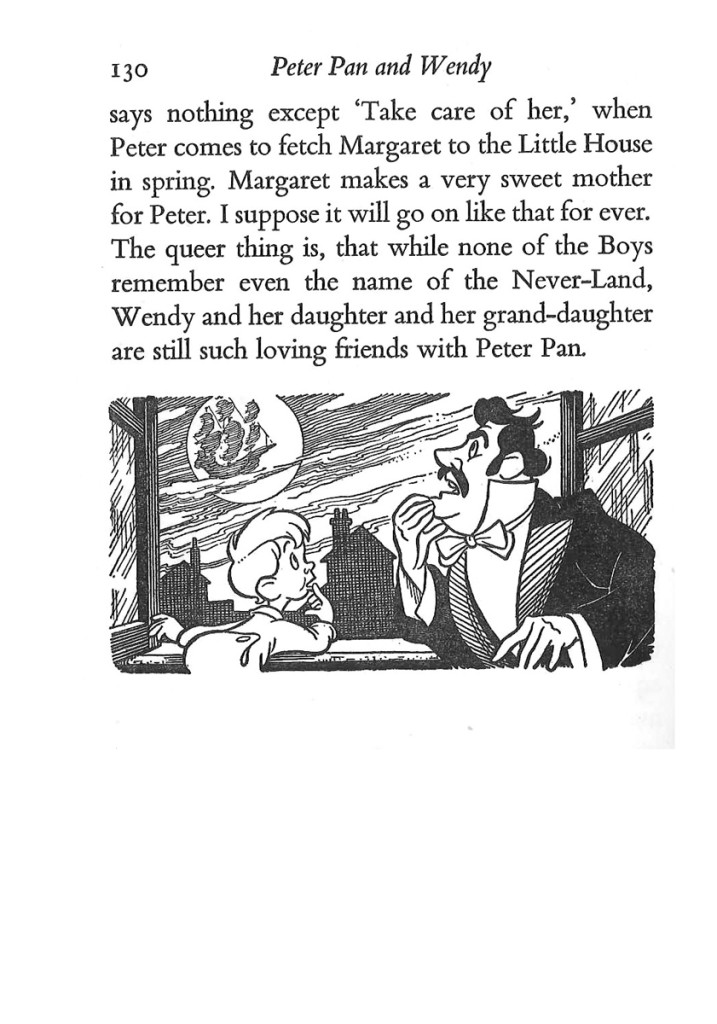 43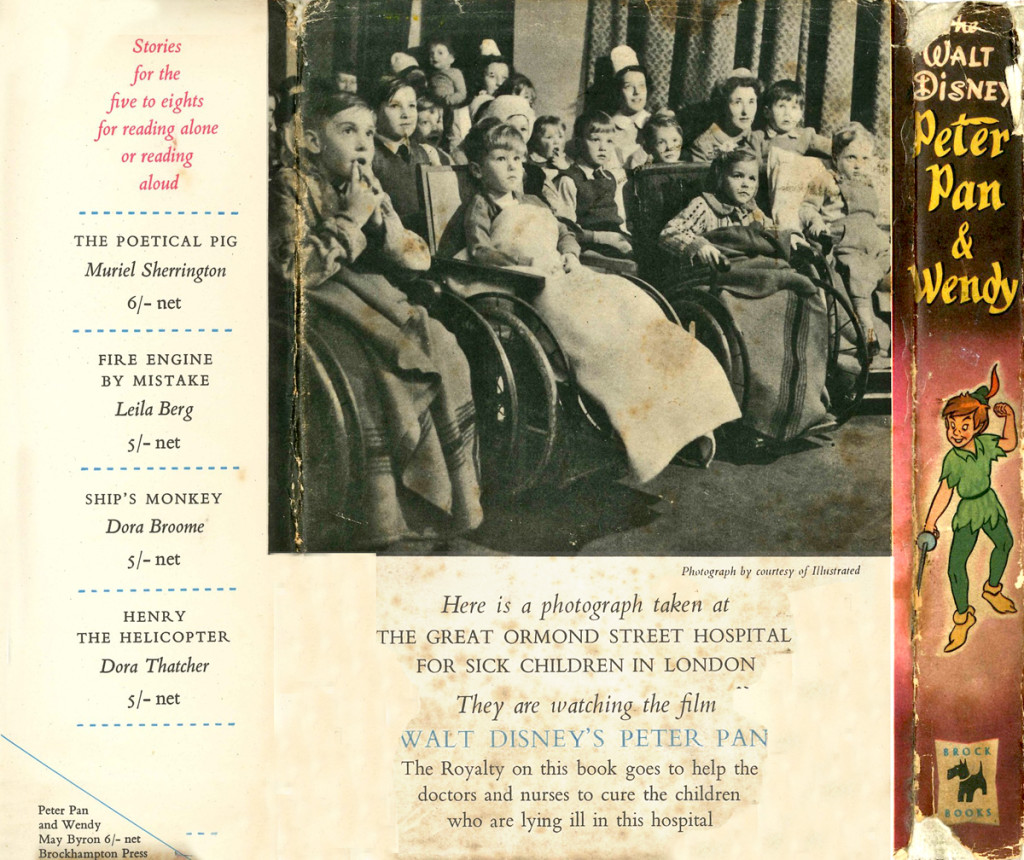 Rear dust jacket cover
(I notice that there are some mix-ups going from the sincgle to the double-pages sent. The text doesn't properly follow.) However, I did post these for viewing of the illustrations and the match to the page texts, so follow that.
Animation Artifacts &Disney &repeated posts &Story & Storyboards 22 Apr 2013 05:04 am
I've spent a lot of recent posts writing about the animation of some of the earlier features. I thought I'd give a little focus on the storyboard of Dumbo. The variety and styles of the images is impressive. I've culled a lot of storyboard drawings from various sources and present in somewhat chronological order.
This was the first feature Bill Peet worked on. You can see his entire "Dumbo washing" sequence storyboard here.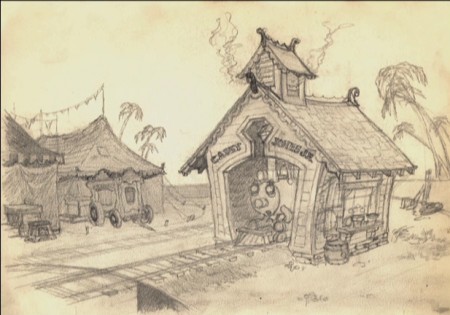 1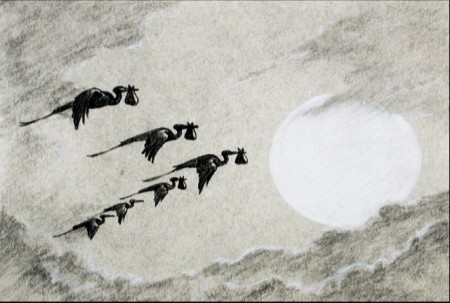 2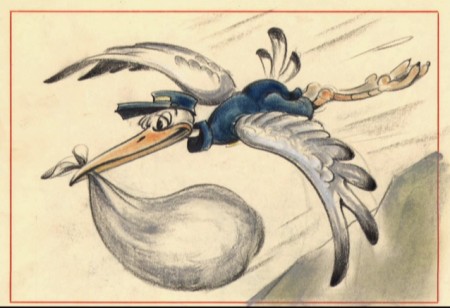 3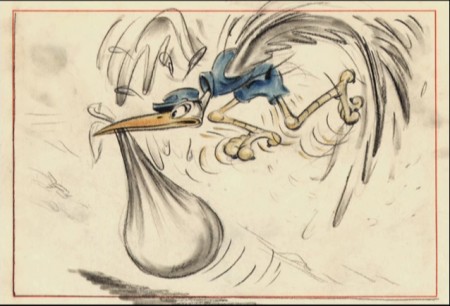 4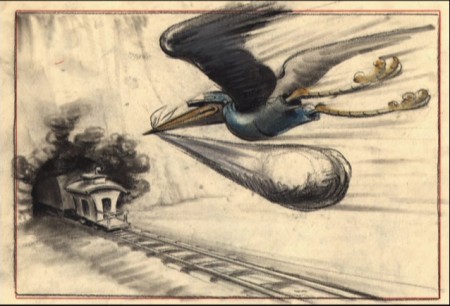 5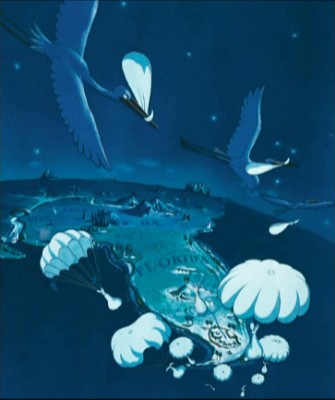 6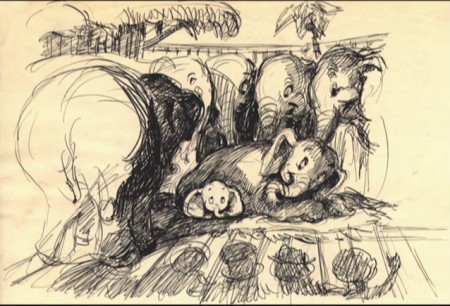 7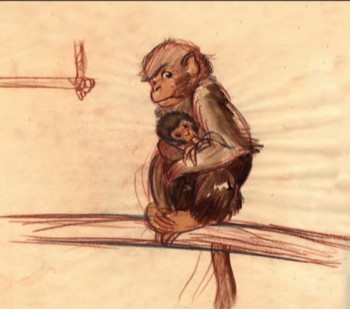 8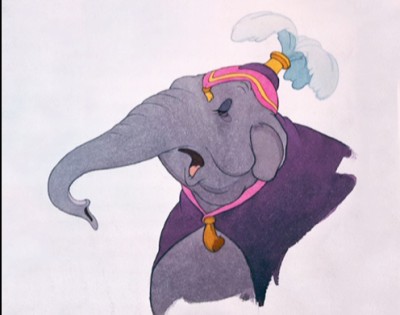 9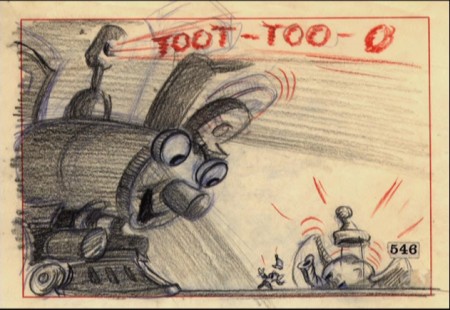 10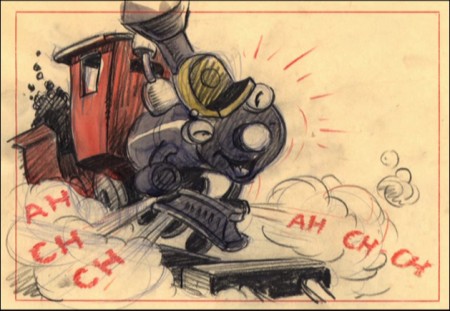 11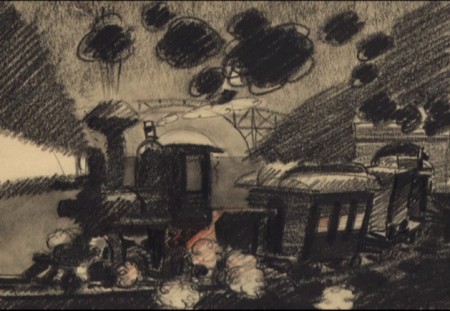 12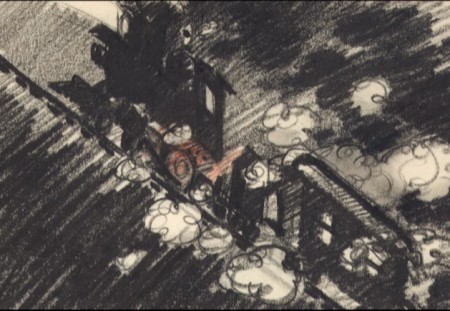 13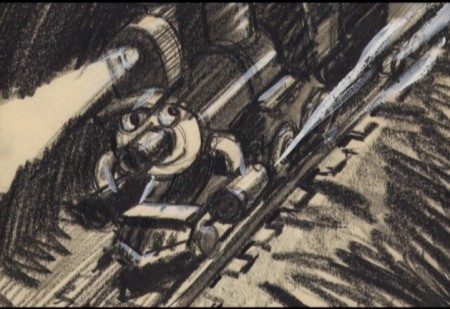 14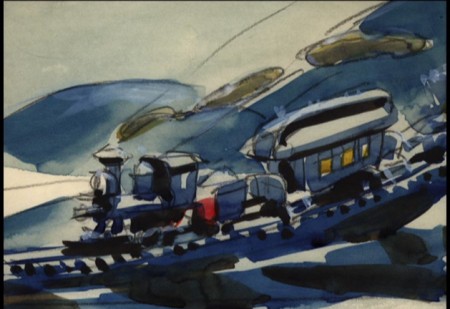 15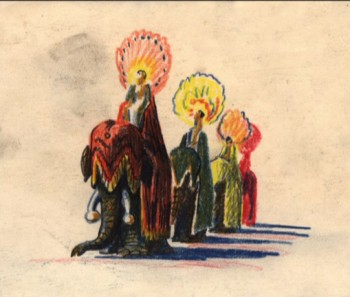 16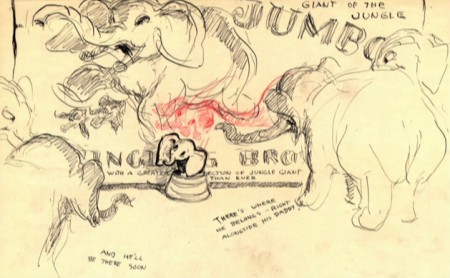 17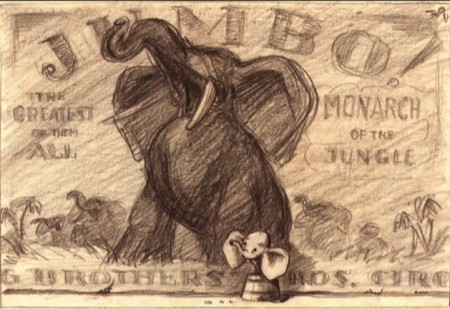 18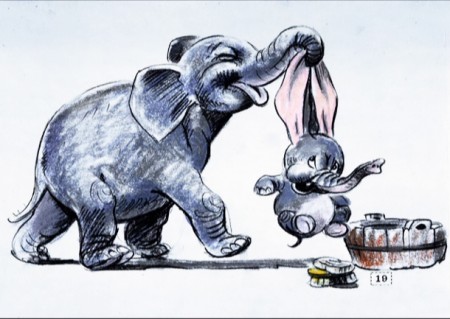 19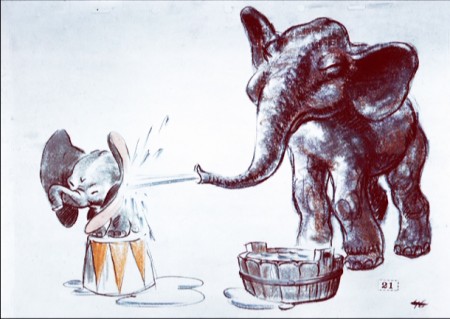 20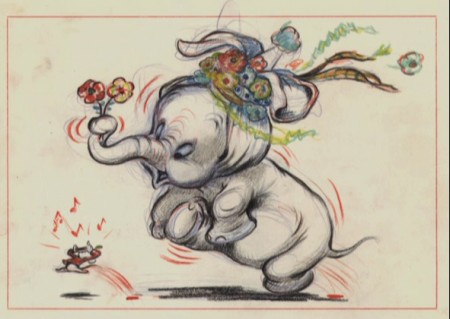 21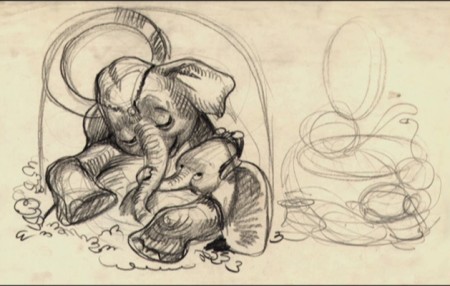 22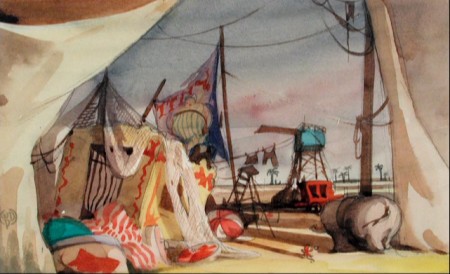 23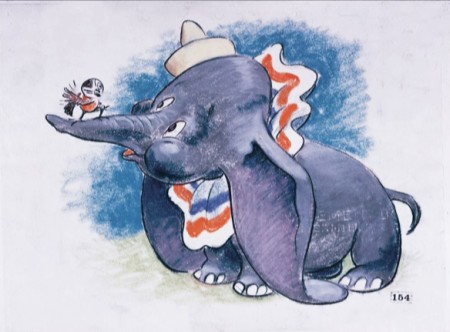 24
Yes, that's a bird on Dumbo's trunk – not Timothy.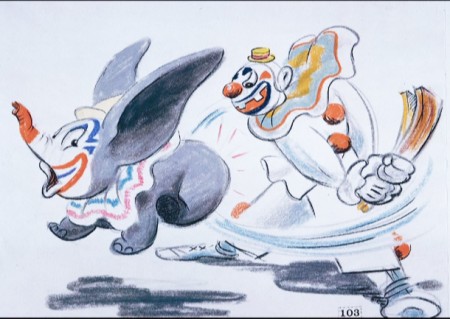 25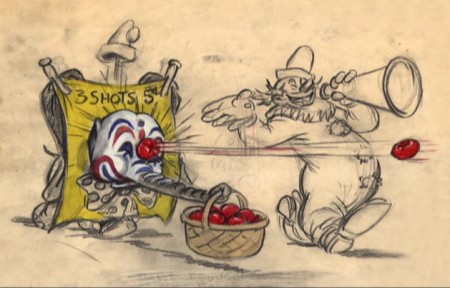 26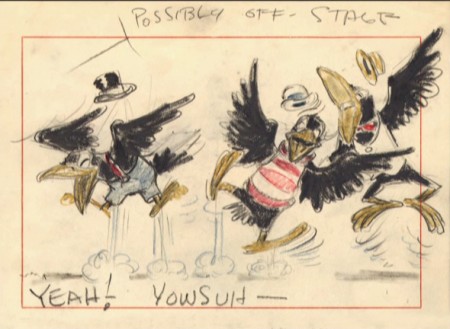 27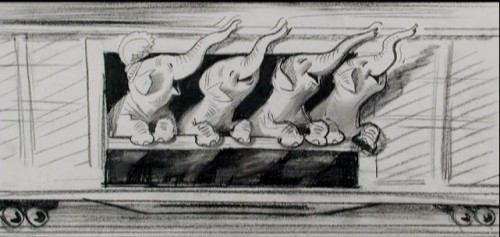 28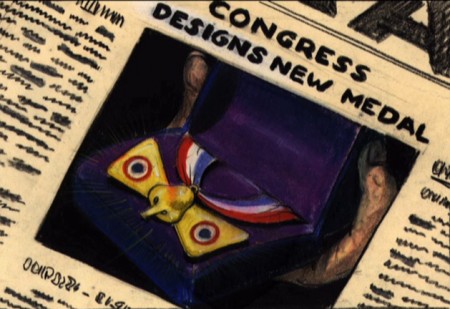 29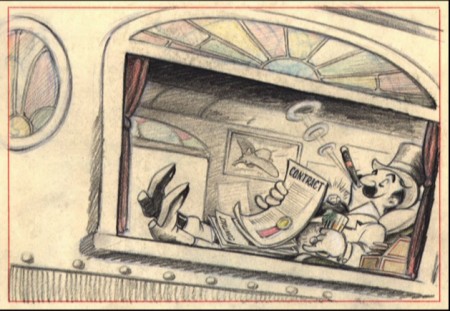 30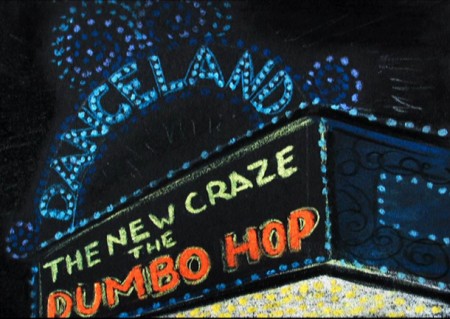 31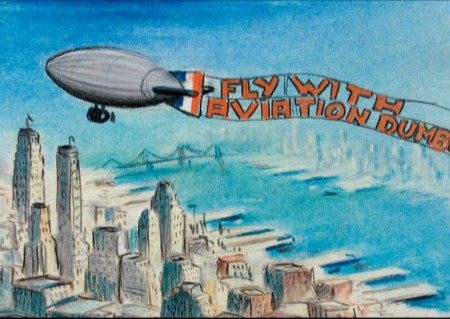 32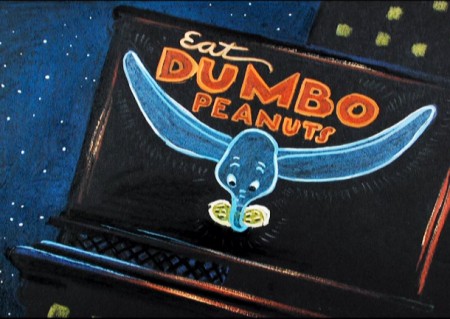 33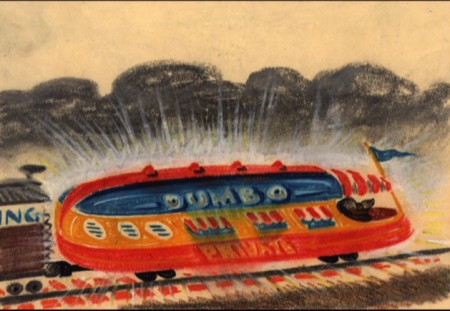 34

Books &Comic Art &Disney &Illustration 18 Apr 2013 05:57 am
As promised last week, I have this Peter Pan strip book to post. Peter Hale sent me three book adaptations of the Disney animated feature, and I plan on posting all three. Today we start with this strip book, and I think you'll appreciate it.
Peter writes:
I do not know who the artist was. This version does not appear to have been printed in any other form.

I originally had a copy of this book as a child, but although I kept it for a long
time it final got lost. I recently found another copy and have had the opportunity
to regain my childhood!
Here are the scans. You'll have to click the images to enlarge if you want to read them.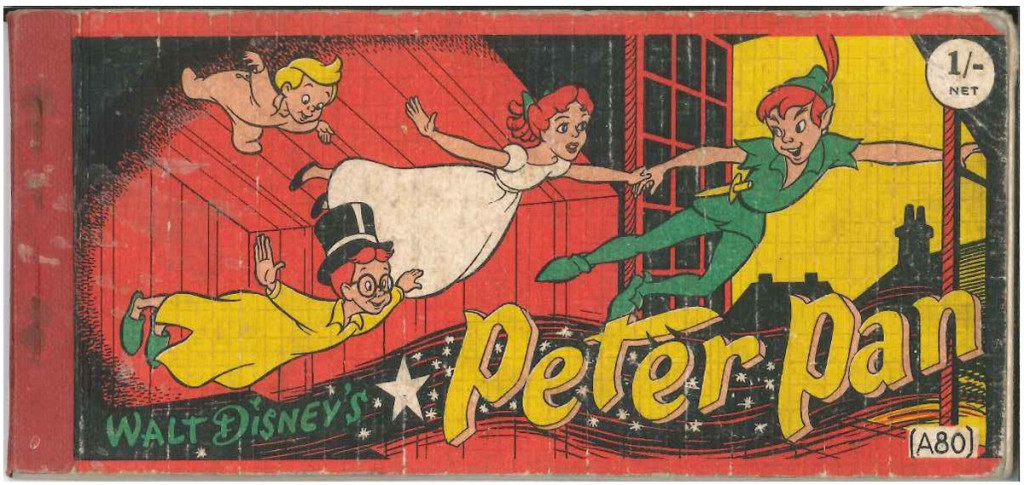 1

2

3

4

5

6

7

8

9

10

11

12

13

14

15

16

17

18

19

20

21

22

23

24

25

26

27

28

29

30

31

32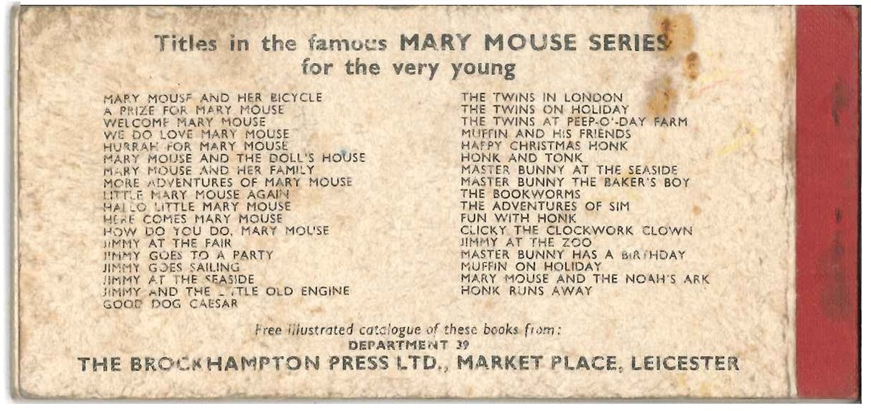 33
Many thanks to
Peter Hale
for sending this rare item.
Animation &Books &Comic Art &Disney &Guest writer &Illustration 11 Apr 2013 05:09 am
About six weeks ago, I was contacted by Peter Hale in the UK about a "strip book" of Peter Pan that was published in England to tie into the original release of the movie. Peter sent me some beautiful scans of the artwork in the book, and I posted it (here.)
Mr. Hale promised a second book that was also published at the time.
It turns out he has done some extensive research into the subject of the books in conjunction with the Disney film. This week, I received a complete breakdown of all the "Pan" books that were published in the UK, and the scans for another book. I've decided that I really have to post what Peter has written; it's that extensive. I'll follow up with another post of the books scanned.
Many thanks to Peter Hale for sharing this fine work with the "Splog" and its readers.
The rest of this post is over to Peter Hale who writes:
_________________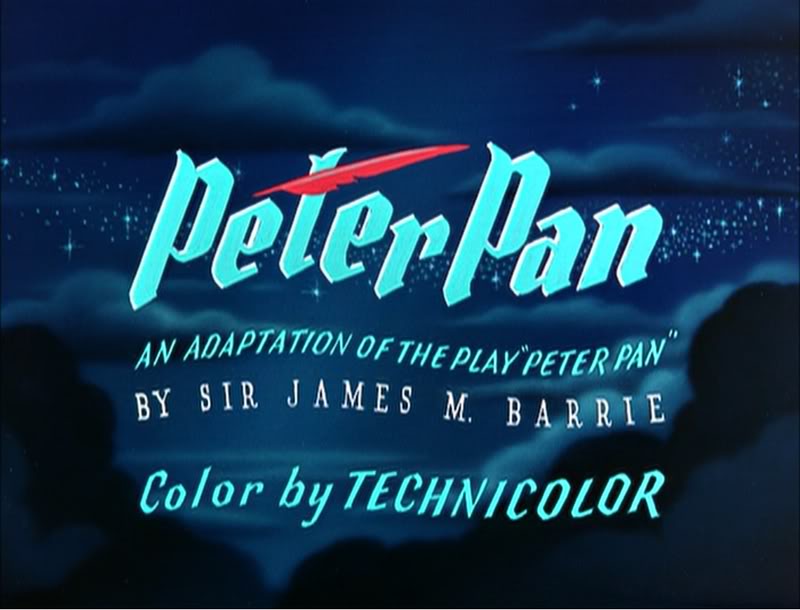 My (superficial) research into the Disney-illustrated books of Peter Pan published
in the UK in 1953 has wandered off on several tangents.
Firstly a rough chronology of the development of the original book, and the Disney
film:
1902 – Barrie's fantasy novel (for adults) The Little White Bird includes a sequence that
features Peter Pan, a 7-day-old baby who flies away from home so that he will never
grow up, and, after learning that he is not a bird, and therefore can't fly, is
adopted by the faries in Kensington Gardens.
1904 – Barrie expands the idea of Peter Pan into a play, to great success.
1905 – The chapters from The Little White Bird that feature Peter Pan are republished for
children as Peter Pan in Kensington Gardens by his publishers, Hodder & Stoughton,
to cash in on the play's popularity.
1911 – Because of the demand for Peter Pan products, Barrie publishes a novel based on the
play. He adds a coda wherein Peter promises to return each spring to take Wendy back
to Neverland to do the Spring Cleaning. But he starts to miss years, until he has
forgotten her altogether. Wendy grows up and has a daughter of her own. One day
Peter returns for her and is distressed to find that she is too old to fly away. But
he soon meets her daughter Jane and so takes her to Neverland, and when she grows
old, her daughter Margaret will take over – because he does need a mother.
1915 – Hodder & Stoughton publish an abridged version of Peter Pan for younger children,
written by May Byron with Barrie's approval. They title it Peter Pan & Wendy.
1921 – A version of May Byron's adaptation "retold for Little People" is published, with
illustrations by Mabel Lucie Attwell at Barrie's request. Her drawings of babylike
characters presumably matched Barrie's vision.
1929 – Barrie donates all the rights to 'Peter Pan' to the Great Ormond Street Hospital for
Children.
1935 – Walt Disney plans to follow Snow White with Peter Pan, but has difficulty securing
screen rights from Great Ormond St Hospital.
1939 – Having finally secured rights to make an animated film version, the Disney studios
schedule Peter Pan to follow Bambi and Pinocchio.
1941 – The entry of the US into WWII forces Disney to postpone productions.
1947 – The Disney Studios put Peter Pan back into production.
1953 – February 5th: Walt Disney's Peter Pan premieres at the Roxy Theater, New York.
1953 – April 16th: Walt Disney's Peter Pan has its UK premiere at the Leicester Square
Theatre, London.
1953 – May: Walt Disney's Peter Pan is shown at the 6th Cannes Festival.
1953 – July 27th: Walt Disney's Peter Pan goes on general release in the UK.]

During the 30s Mabel Lucie Attwell became famous for her drawings of cute children.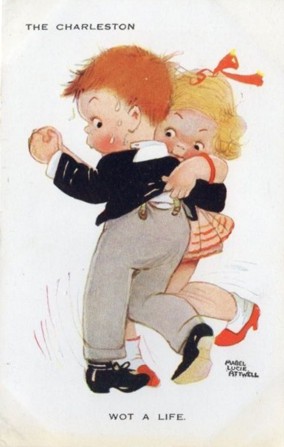 Through the 40s her characters became ever more chubby, stunted and stylised, but in 1915 she was still starting out as an illustrator.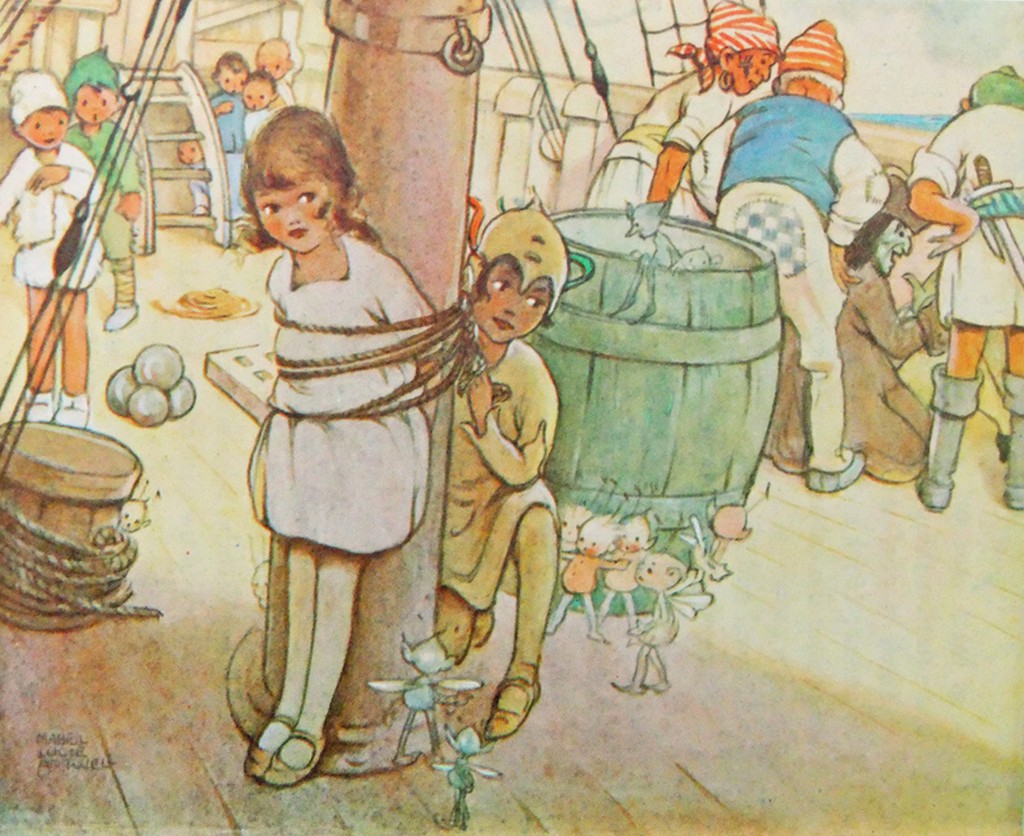 Here is her version of Peter freeing Wendy from the mast.
The illustrations she did then became almost as much part of the May Byron version of "Peter Pan and Wendy" as Tenniel's were part of "Alice", and it was still being published in 1980. A reprint of the 1921 edition was published in 2011.
Which brings us to the versions of Peter Pan published in the UK in 1953.
Jacqueline Rose, in her book "The Case of Peter Pan", lists the following six books published in the UK that year:
- Barrie, J. M. Peter Pan in Kensington Gardens, illustrated by Arthur Rackham, 'Peter Pan Books' (from 9 years) (London: Hodder and Stoughton, I953)
- Bedford, Annie N. Disney's Peter Pan and Wendy, 'Peter Pan Books' (London: Hodder and Stoughton, I953)
- Byron, May. Peter Pan in Kensington Gardens, illustrated by Arthur Rackham, 'Peter Pan Books' (for 6 to 8 year olds) (London: Hodder and Stoughton, I953)
- Byron, May. The Walt Disney Illustrated Peter Pan and Wendy, 'Peter Pan Books' (for 8 to 9 year olds) (Leicester: Brockhampton Press, I953)
- Pearl, Irene. Walt Disney's Peter Pan, retold from the original story by J. M. Barrie, 'Peter Pan Books' (for 3 to 6 year olds) (Leicester: Brockhampton Press, I953)
- Winn, Alison. Walt Disney's Peter Pan, retold from the original story by J. M. Barrie 'Peter Pan Books' (for 6 to 8 year olds) (Leicester: Brockhampton Press, I953)
as opposed to just one in 1952:
- Byron, May. Peter Pan, retold for the nursery, illustrated by Mabel Lucie Attwell, 'Peter Pan Books' for 3 to 6 year olds) (Leicester: Brockhampton Press, I952)
Two of these are versions of the Peter Pan in Kensington Gardens 'origin' story, which Disney had decided not to include in the film.
The remaining 4 are all "Illustrated by Walt Disney". The Irene Pearl version is the strip book already posted, and scans of the May Byron book and the Alison Winn "Little Book" will follow. These all follow the Barrie novel rather than the Disney film, although with different simplifications and omissions.
The Annie N. Bedford book is one I have not been able to trace – she is the American author who wrote the Golden Books version of the Disney film, so this could be a UK publication of that book. It is given as published by Hodder & Stoughton, Barrie's original publisher. The back cover of the Brockhampton 'Little Book' lists a different Hodder & Stoughton book.
"J. M. Barrie's original Peter Pan and Wendy for older Boys and Girls, with illustrations by Walt Disney". I have not been able to trace a copy of either book. These two books represent the two ends of the spectrum:
Barrie's original text and the story of the film.
Finally there is the complication of Dean & Son's Walt Disney's Peter Pan, from the motion picture, a book of the film. This has no publication date. The illustrations are given as copyright Walt Disney 1953, but this is not a guide to the publication date, as Disney did not own the publishing rights and so the illustrations were always copyrighted to 1953, the year of the film's release. It is probable that the Dean book was published later than 1953.
It is published 'by arrangement with Hodder & Stoughton', which either means it may be a reprint of the Bedford book, or just an acknowledgement that Hodder held the publication rights to Peter Pan.
In contrast I can only find one UK 'Disney's Alice in Wonderland' book that might have been published in 1951, and certainly no Carroll text with Disney illustrations.
So why so many Peter Pans? The UK's wartime paper rationing ended in 1950 so that would not be an issue.
Was it because Disney did not have the publishing rights, so this collaboration was necessary to promote the film?
Was it just, as I'd thought previously, that the British might object to tampering with the story? Or was Disney just trying to overcome the sort of criticism that his Alice had suffered in the UK (that it was too Americanised and not sufficiently true to the book) by linking his film to the original text?
Comparing the 3 Brockhampton books the illustrations are all different, and by different hands it would appear, but all show fidelity to the Disney style. I am assuming that these illustrations were done by British illustrators specially for the books, as where the illustrations differ from the film the artists seem to have consulted the particular text they are working with for details.
Hence the May Byron text describes the adding of a shoe as a knocker, and John's hat as a chimney, and the illustration shows the hat, although it also shows Wendy watching the building from outside, which is quite wrong!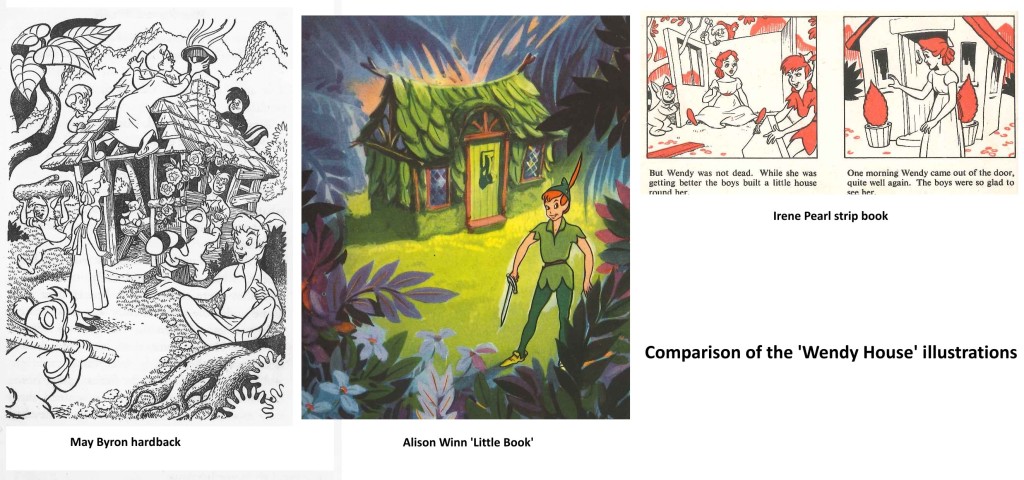 The illustration of the house in the Alison Winn book, which does not include those details, does not show them either, and the same is true of the Irene Pearl strip book.
The marooning of Tiger Lily is done in the book by two pirates, with Hook turning up
later.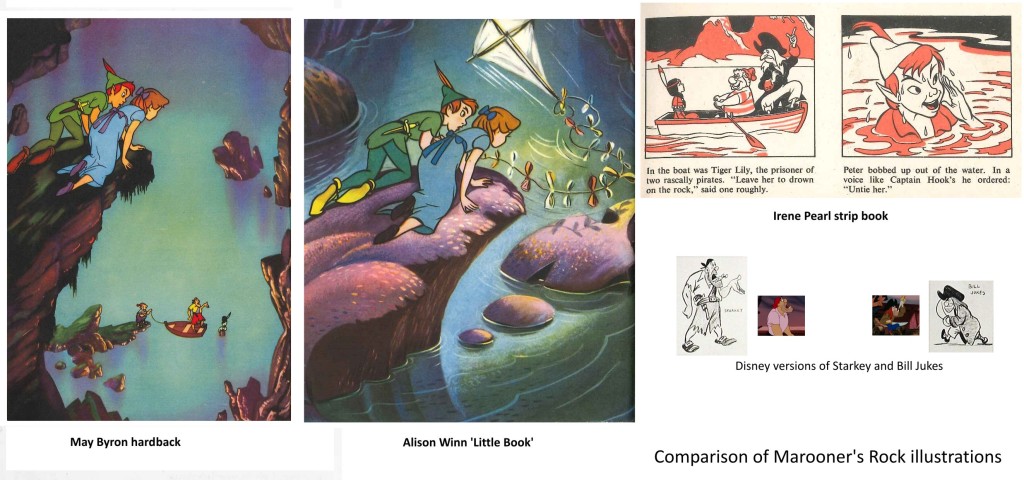 In the
May Byron
book they are named as Smee and Starkey, and the
illustration has Hook replaced by a likeness of the Disney Starkey (but with a
yellow shirt instead of pink). The strip book doesn't name the pirates and Hook is
here replaced by Bill Jukes. The
Alison Winn
version omits the marooning of Tiger Lily entirely and just has Hook turn up to attack Peter.
All three books have Wendy exhausted and Peter injured after the encounter – both
stranded on the rock unable to fly back. John's kite collects Wendy, while Peter is
rescued by the Never bird, whose floating nest serves as a boat. The Winn 'Little
Book' uses a version of the shot of Peter and Wendy watching Hook and Smee from on
high, but without the pirates, truncated to appear a low rock, and with a kite added
in.
This brought me to wonder how much Disney reference they were given, and what it
consisted of. Many of the scenes are close to shots from the film. But a look at the
Dean book, which seems to be taken directly from colour stills, shows that these are
not actually shots from the movie.
Anyone who has ever tried to put together presentation scenes from the cels of an
animated film knows that there are always problems – the best pose is poorly traced,
or one character is in an ungainly inbetween position – whatever, that perfect key
image from the storyboard just isn't there in the actual film, where, deliberately,
nothing hits a strong extreme at the same time.
Hence it appears that the lobby card stills or coloured transparencies that Disney
circulated in their press packs etc. had been specially recreated – a lead animator
had redrawn the characters from various key frames as they ought to have looked, and
these drawings had been traced and painted on cel with extra care, and combined with
a new version of the background to be photographed by a stills camera. (I presume
the composites then went up on someone's wall!) The same thing, of course, as the
re-posing of key scenes that is typically done by a stills photographer on the set
of a live action film after it has been shot.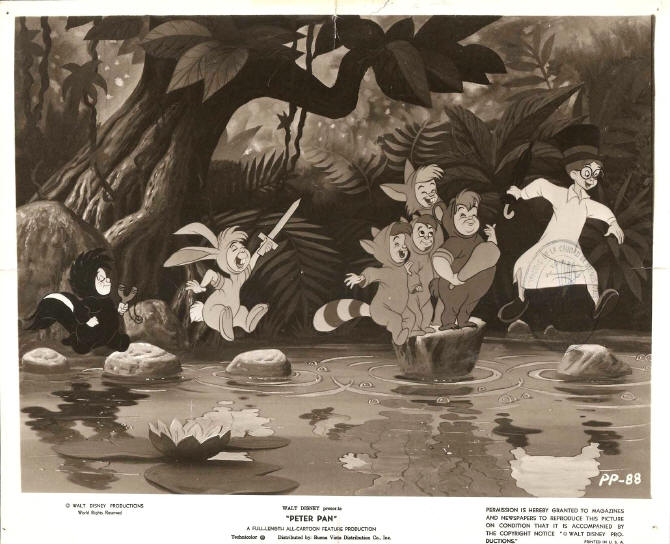 The illustrators appear to have had coloured stills and model sheets to work from.
Does anyone know how much reference was supplied? Walt Disney Studios had an office
in London specifically to deal with promotion, distribution, licensing artwork etc.
Did they do artwork for any of the books – or just supply references?
Lastly, the curator of the Great Ormond St. Children's Hospital Archives has kindly
sent me these scans relating to the London Premiere of Peter Pan on 16th April 1953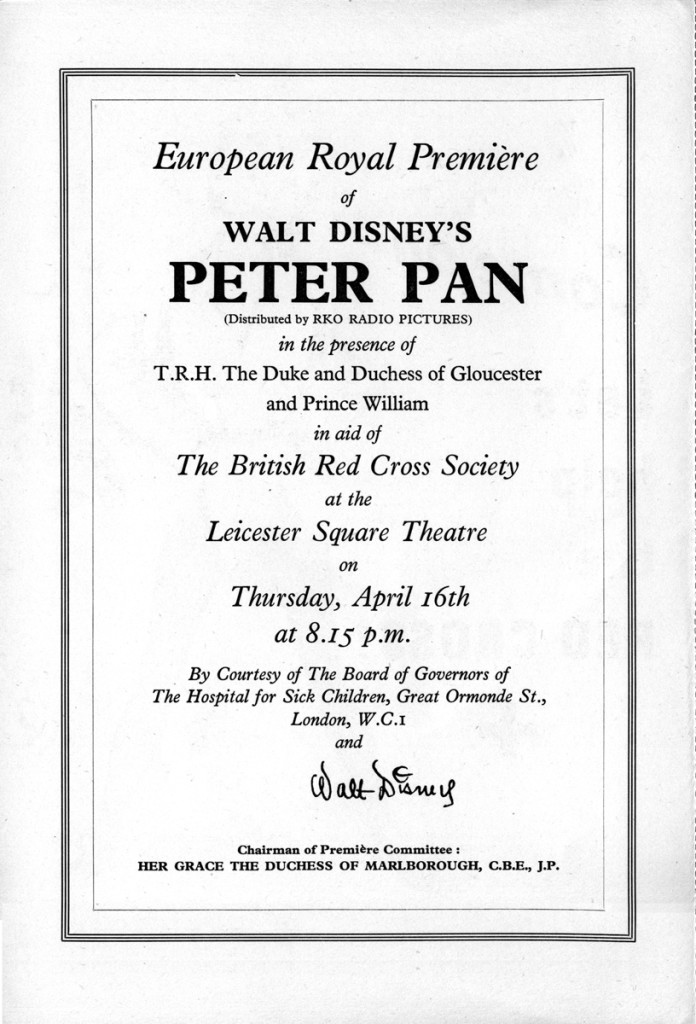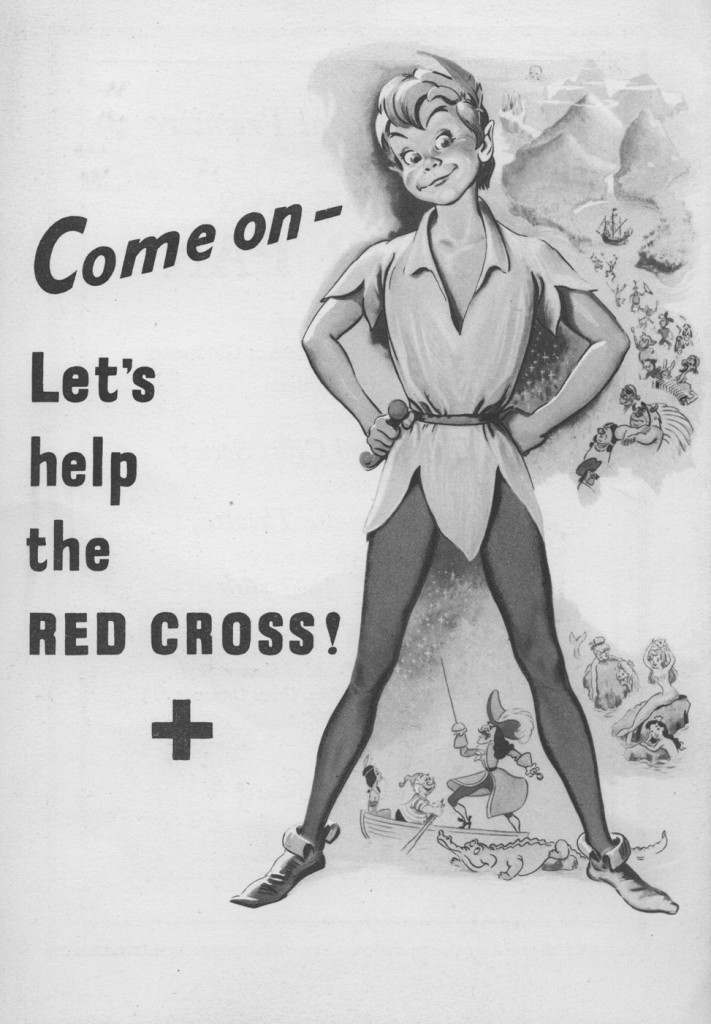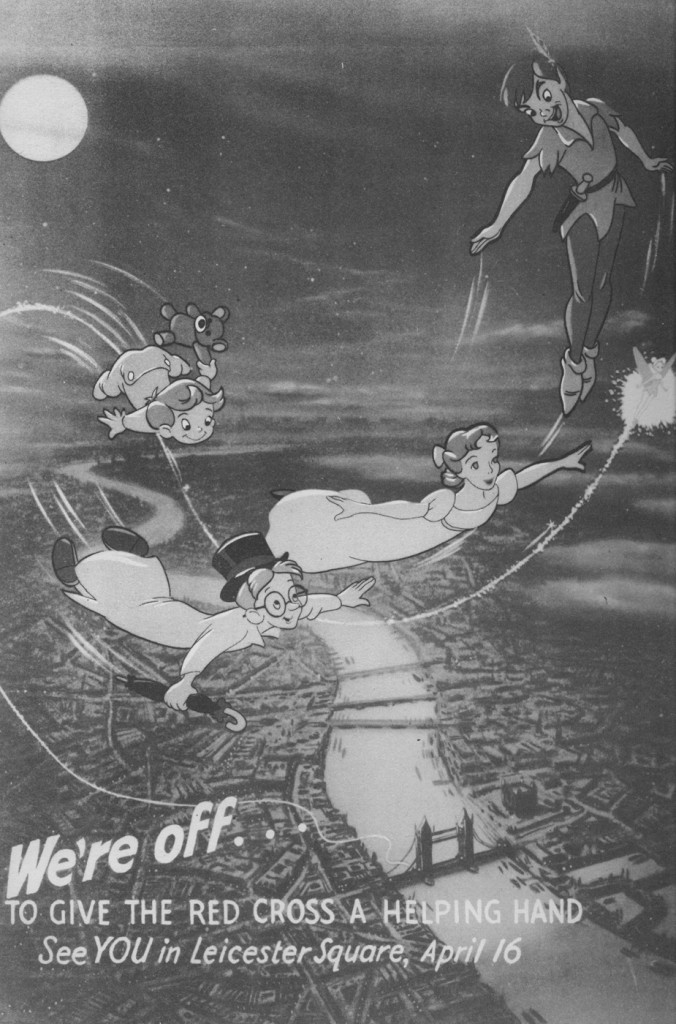 It's worth taking note that Hans Perk has recently posted the animators' drafts from the Disney film, Peter Pan. Go here to read and/or collect them.
Action Analysis &Animation &Animation Artifacts &Commentary &Disney &Peet &Tytla 08 Apr 2013 05:05 am
Boleslavski was a great admirer of Stanislavsky and his acting techniques. When he, Boleslavsky, came to the United States, he taught the Stanislavsky technique to his students. These included Lee Strasberg, Stella Adler and Harold Clurman; all were among the founding members of the Group Theater (1931–1940). The Group Theater was the first American acting ensemble to utilize Stanislavski's techniques, and its members all went off to espouse their own versions of the "method." American acting had taken some real turns into the creation and development of a true system for getting the best performance out of the actor.
In animation, there was animation technique and styles. These rarely had anything to do with acting. However, there were a number of animators at the Disney studio who wanted to put the focus on their acting and actually studied Stanislavsky and Boleslavsky so that their characters would give a great performance. Tytla was certainly a leader among the animators to do this.



Whereas in Pinocchio, while working with such a flamboyant and
eccentric character, Tytla stretched and distorted Stromboli to
get the necessary and sudden emotional mood shifts desired.



With Dumbo, Tytla modeled the character after his own son,
and he animated this scene wholly on the two characters
given to him on the strong storyboard by Bill Peet.



He didn't use distortion, because it wasn't the character he was animating.
Dumbo was gentle, all truth. The honest performance meant keeping everything
above board and on the table. That is undoubtedly the performance Tytla drew.



In my opinion, it has to be one of the greatest animation performances
ever drawn for a film. It's quite extraordinary and cannot be undercut
in any possible way.


(Click any image to enlarge.)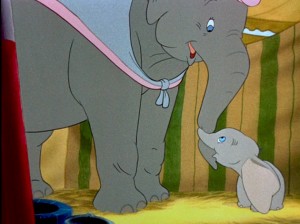 .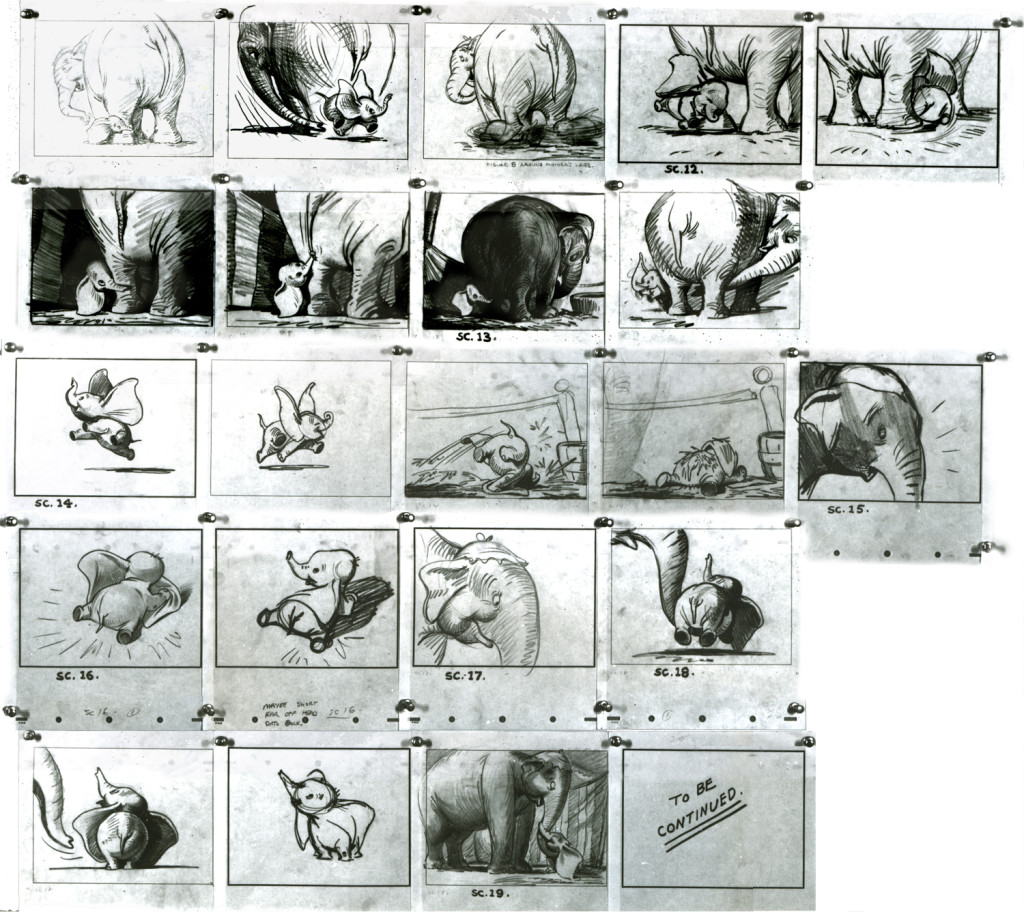 You can see that Bill Peet's storyboard was certainly an inspiration,
at the least, for Tytla to follow, if not to equal.

Let's move to another film. Fantasia.
Vladimir Tytla worked on the devil in Mussorgsky's – Night On Bald Mountain.
Here are some drawings for the scene. They're part Tytla and part clean up by his assistant.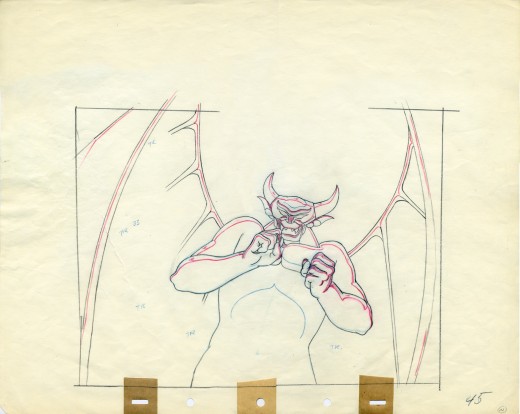 A good example of a Tytla drawing.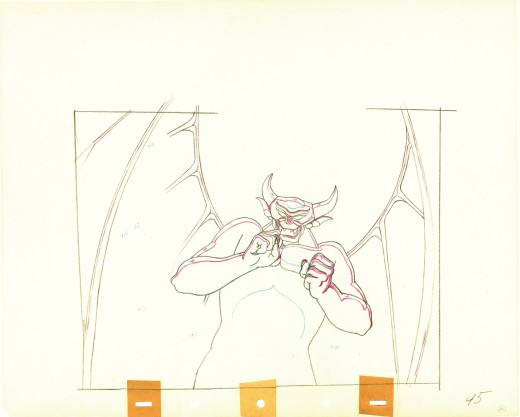 Here's the clean up of the same drawing.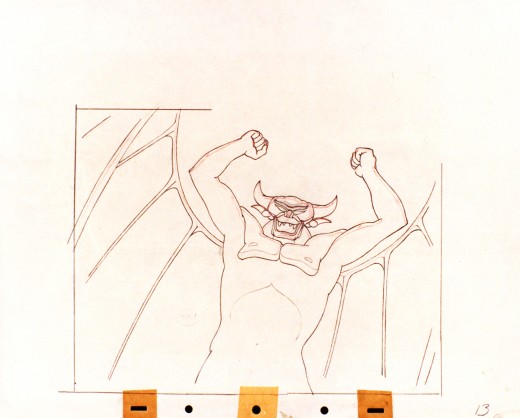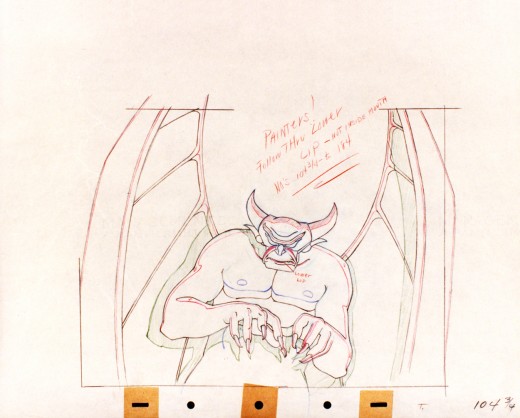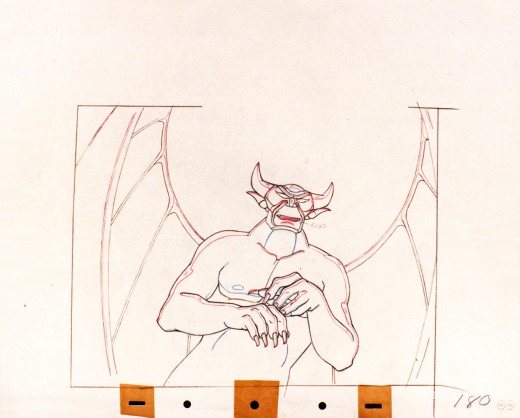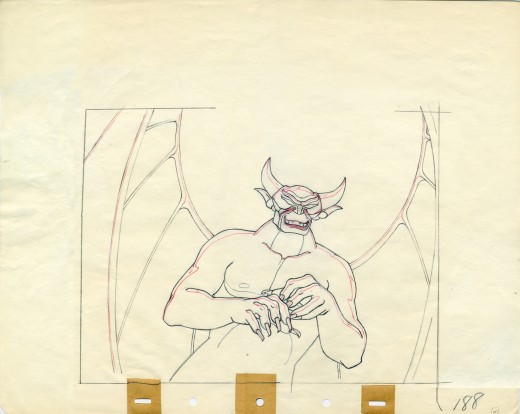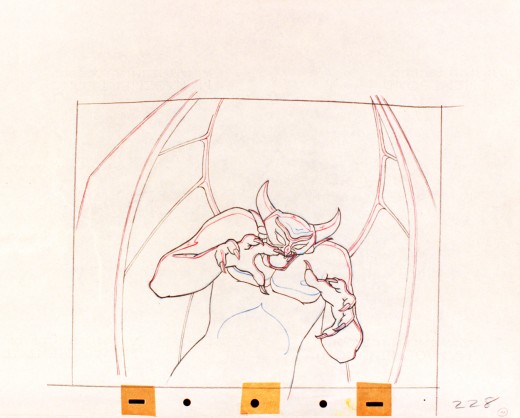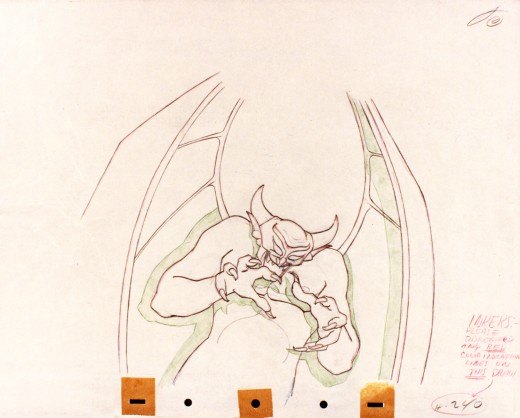 They're pretty damned impressive drawings. If there is any distortion,
it comes from making a body builder's shape stronger. There's no violent
flexing of those muscles, just the natural thing on display in the middle
of a dance sequence. Strong and forcefully beautiful drawings. The
distortion is done by the other spooks floating out of their graves on
the way up to their leader.

The devil's motion throughout this piece is very slow, tightly drawn images of the devil lyrically moving through the musical phases. It's pure dance. Any distortion is done via the tight editing that Tytla has constructed. Very close images of the hands with the flame shaped dancers moving about in tight close up as Chernobog's large face with searing eyes closely watching the fallen creatures dancing in his hands. It's distortion enough.
Tytla has constructed the most romantic sequence imaginable, and the emotion of the dance acts as the climax for all of Fantasia, and it succeeds in spades. All hoisted by the animation, itself. No loud crushing peak, just a dance done in a tightly choreographed number completely controlled by Tytla. It's the ultimate tour de force of animation, and we'll never see the likes of it again.
So essentially I'm pointing out that Tytla used distortion in the animation drawings to execute his acting theories, but as he grows, he not only uses his animation (and animation drawings) to "Act", he uses his abilities as an Animation Director. The cutting and the movement of the scenes is used for the Acting, as well.
Commentary &Disney &Frame Grabs 02 Apr 2013 03:29 am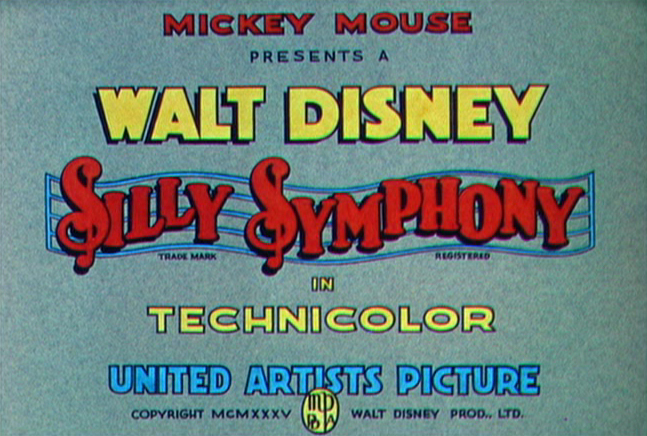 With Snow White in the back of his mind, Walt Disney placed close attention to what was going on at his studio. He had to be completely aware of his artists' abilities in how they'd be able to handle the task of creating strong emotions in animation, something that wasn't too risky on a Mickey Mouse cartoon, but might prove difficult when tackling tears for the climactic moments of a feature about a realistic looking princess and her prince.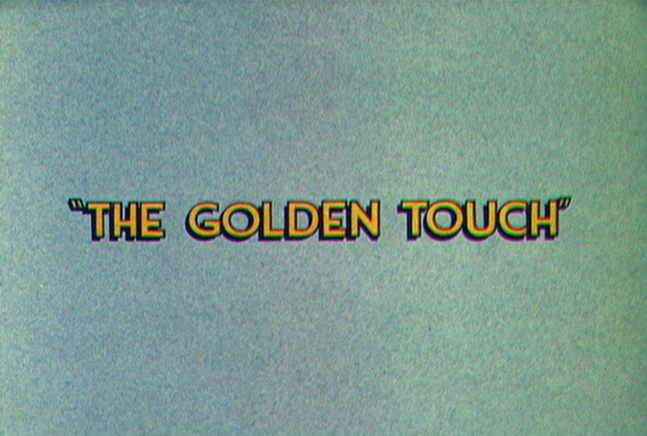 The Golden Touch was a task given to his two best animators, Fred Moore (who animated all of "Goldy", the elf who bestowed the magic touch on the king,) and Norm Ferguson (who animated all of the king and his black cat.)
Walt Disney gave himself the task of directing the film. This would be the last screen credit he would ever get for direction. After the film was completed, Walt admitted that the film was "a real stinker."
This film was the first to use extensive use of dialogue throughout. When Billy Bletcher was recorded as the voice of King Midas they filmed him reading the lines with his lips painted white so that the animator, Ferguson, could easily work with the frame by frame study. The film does get a bit talky.
Other critics have given it as negative a review as Disney gave himself. I actually like a lot of it. The animation throughout is interesting. Neither animator has found a positive character, but both bring a peculiar touch to the two protagonists. "Goldy" is one of the creepier characters ever in a Disney film. Fred Moore gave an indication of how odd the seven dwarfs could have been. The king is very similar to "Old King Cole" done only a year earlier in 1933. He looks and acts similar, although the animation is tighter and more experienced.
I think the backgrounds in "The Golden Touch" are spectacular and well designed, color-wise. The art direction is first rate, as might be expected. The watercolors of the castle and its surroundings are beautifully painted. Even though cross cutting between the king and "Goldy" the variation in backgrounds isn't jarring but firmly appropriate. "Goldy" has a bright gold color behind him, the king remains has gold behind hi until he returns to reality, now with Gold's magic touch. Then he gets the blueish-gray of the castle as his Bg color."
Artistically the film is very rich, as might be expected of any "Silly Symphony" of this period. Handsomely produced, of course.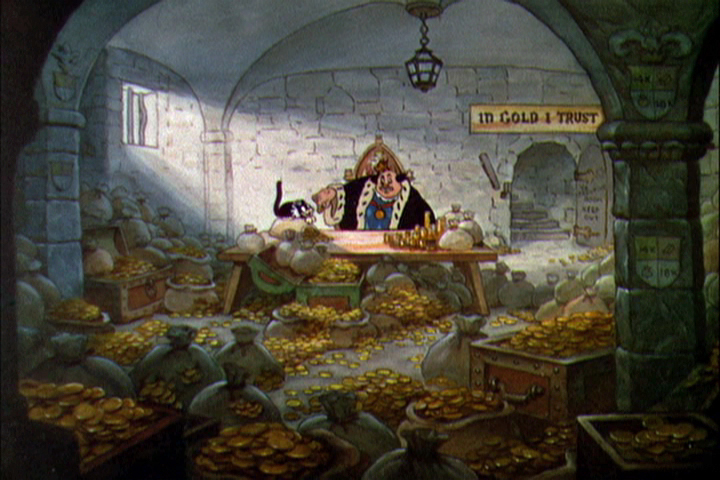 3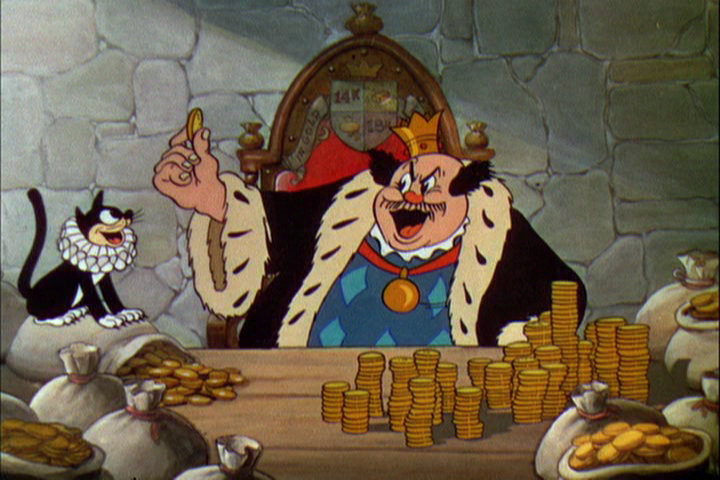 4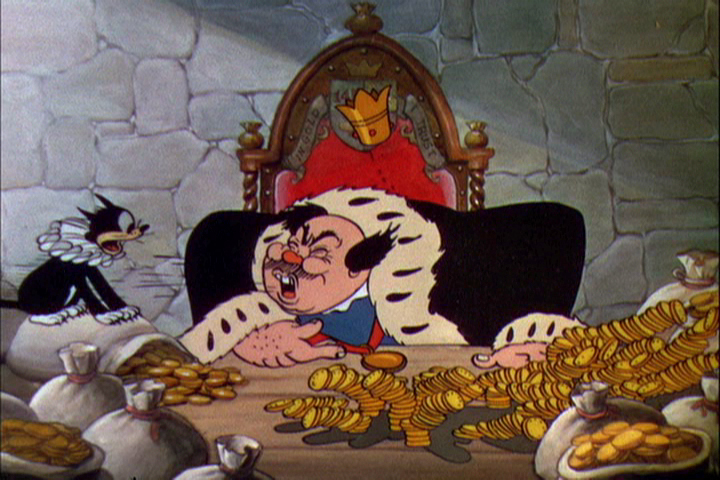 5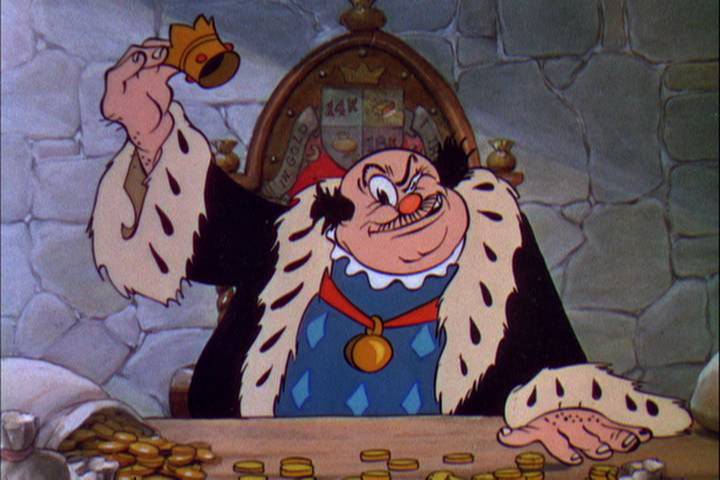 6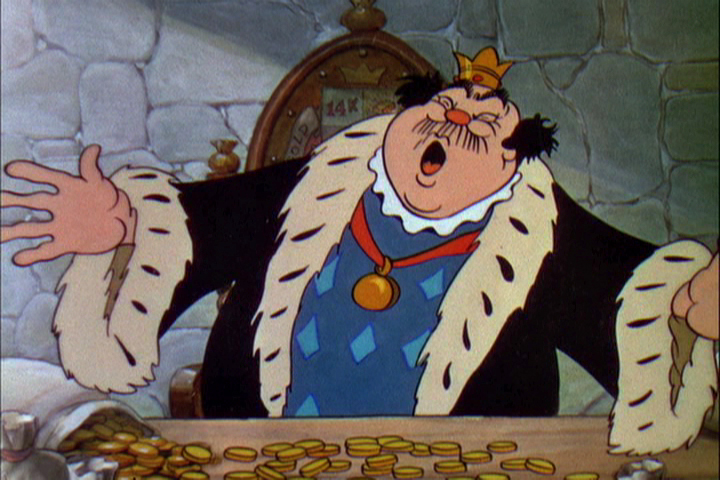 7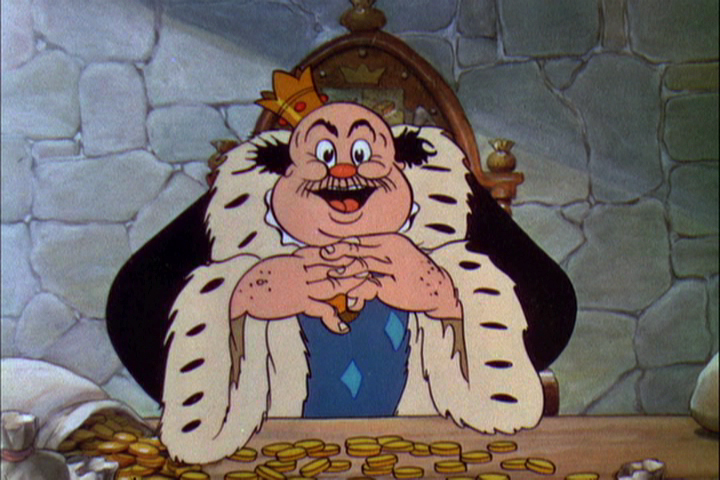 8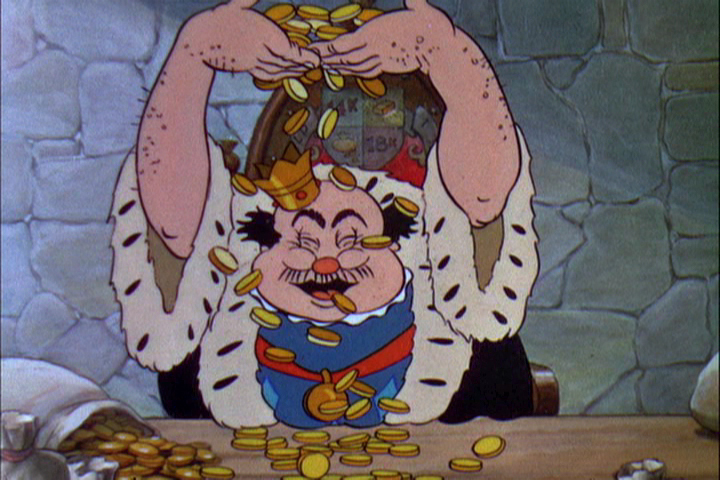 9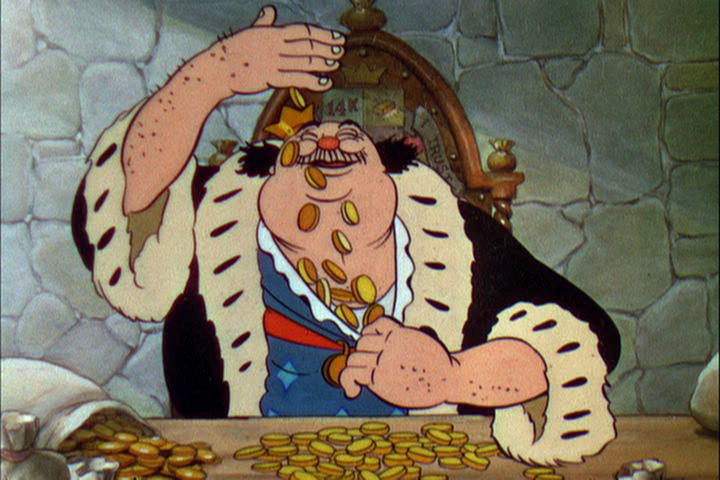 10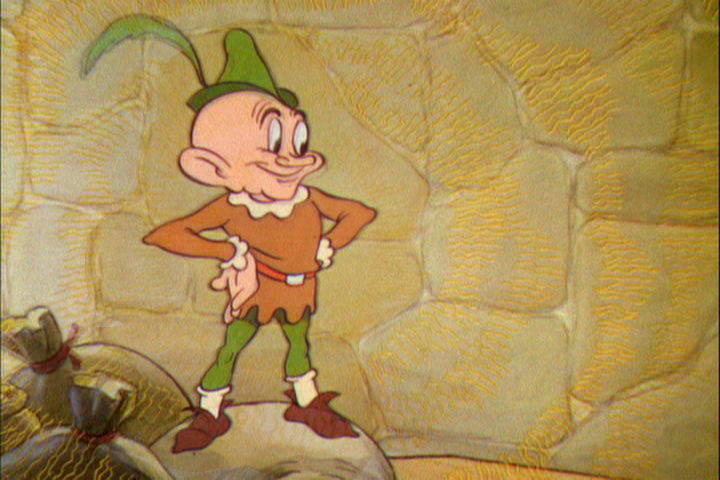 11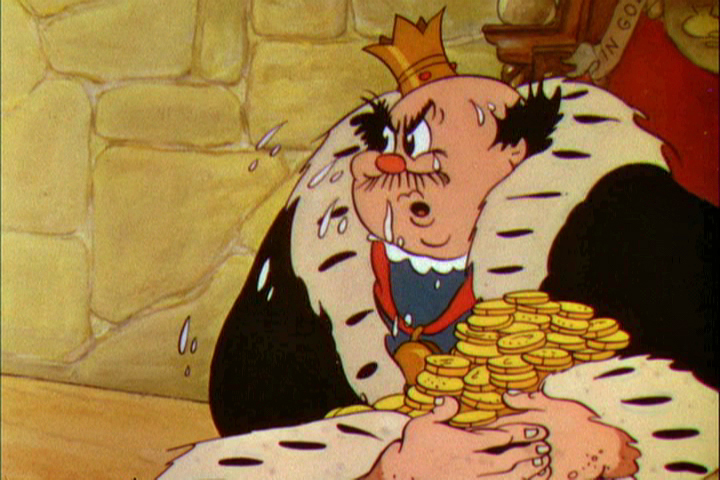 12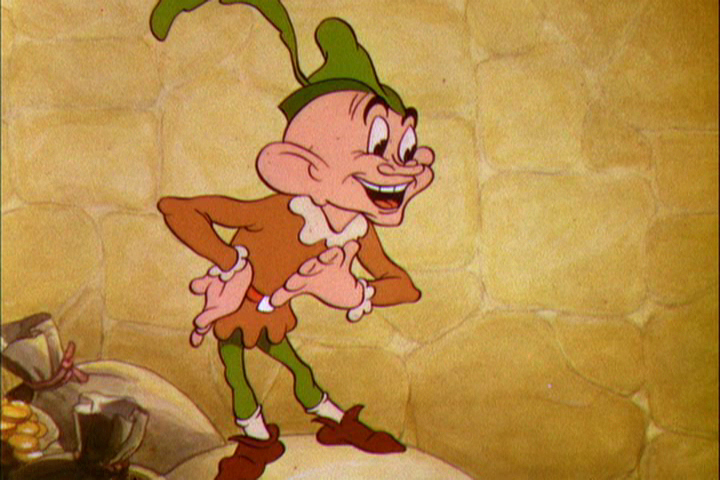 13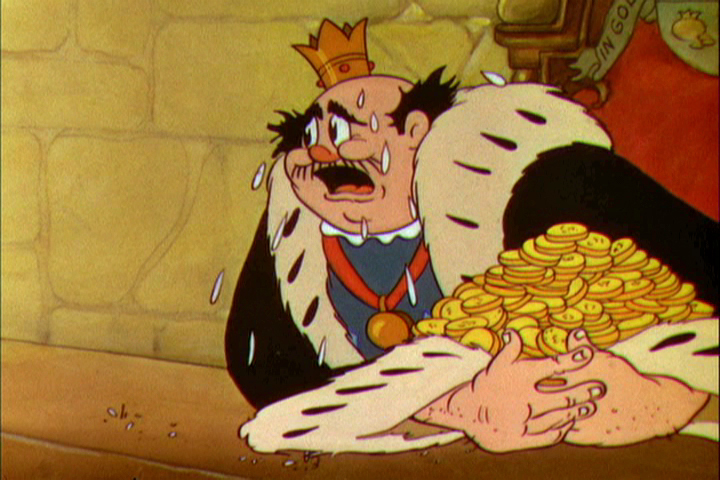 14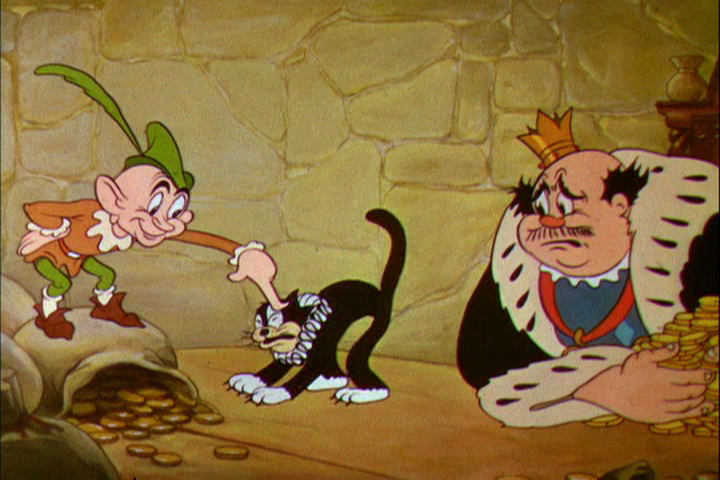 15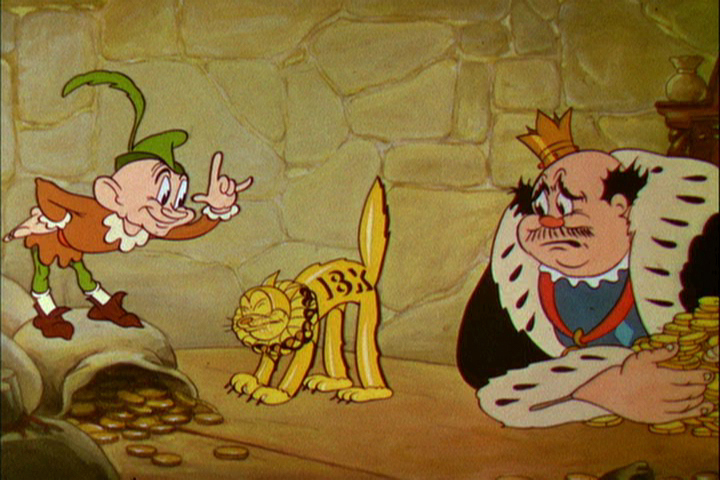 16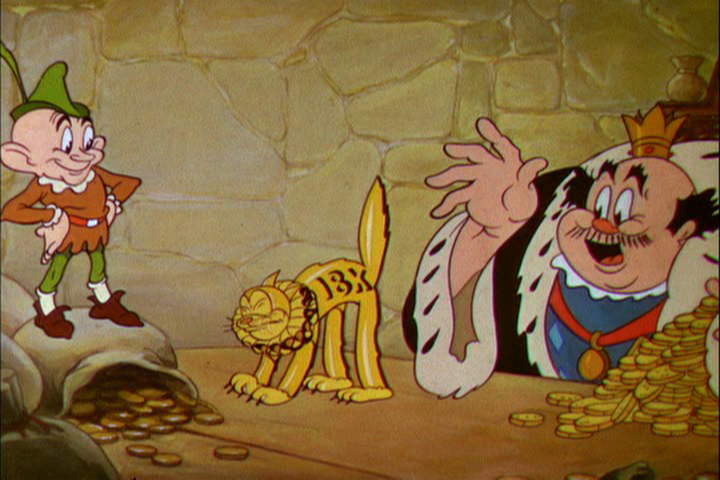 17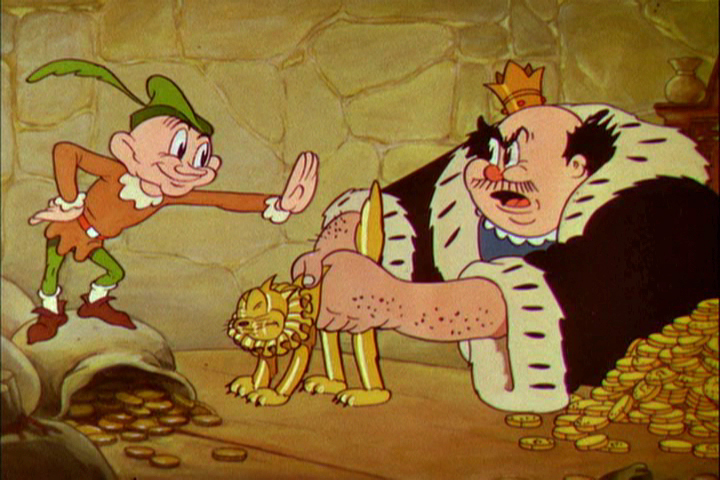 18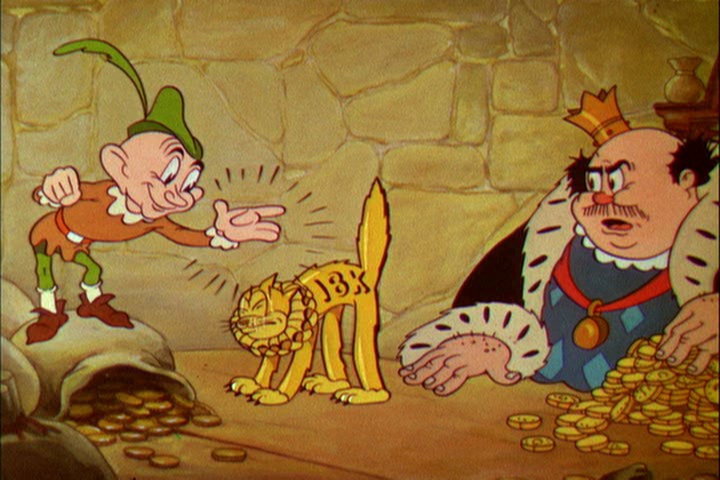 29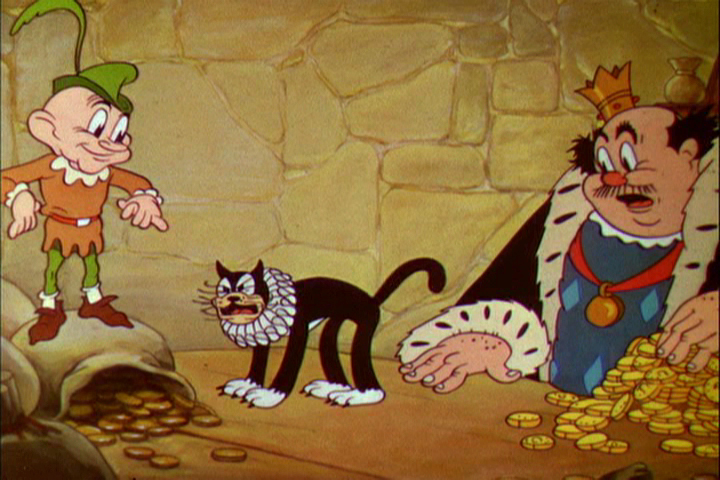 20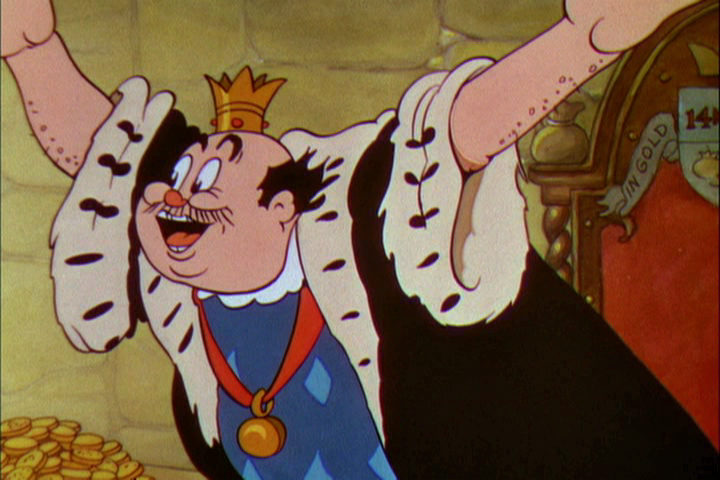 21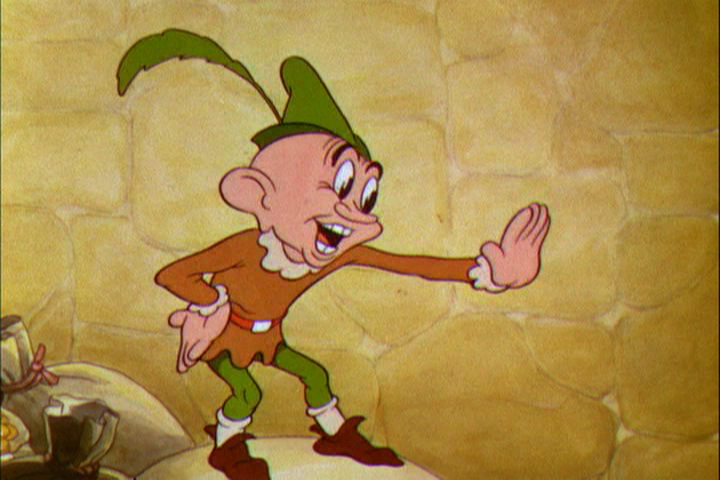 22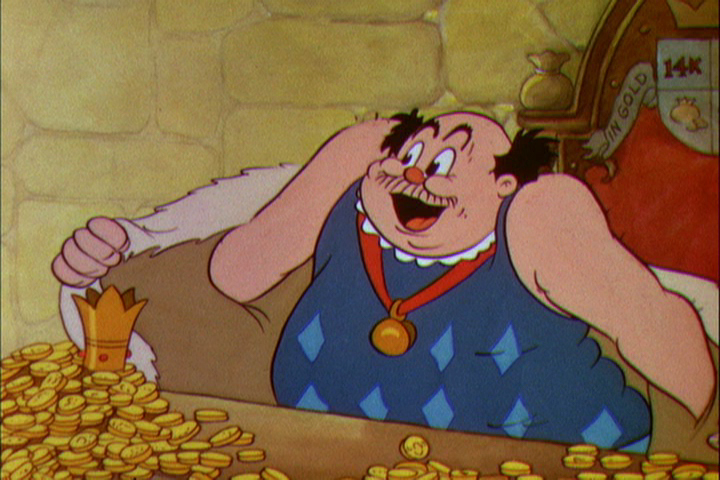 23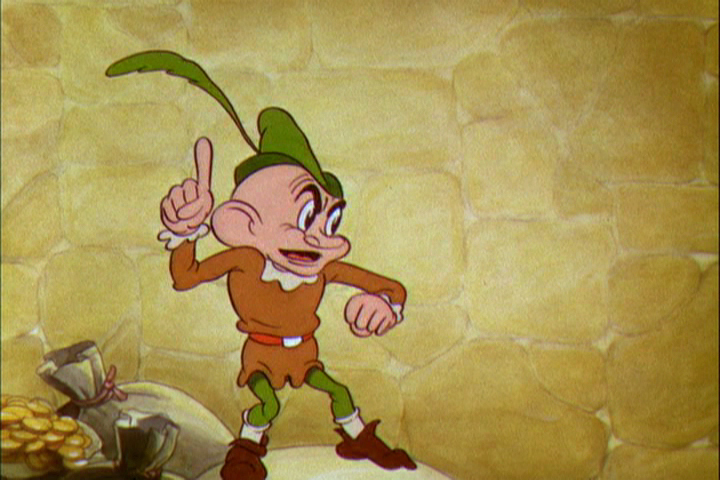 24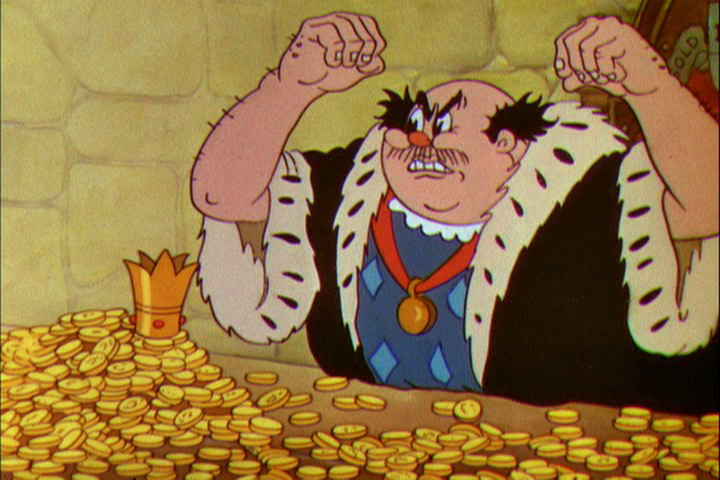 25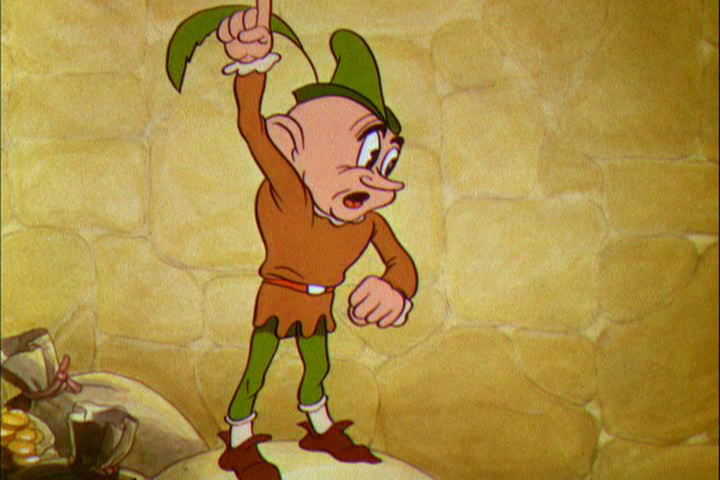 26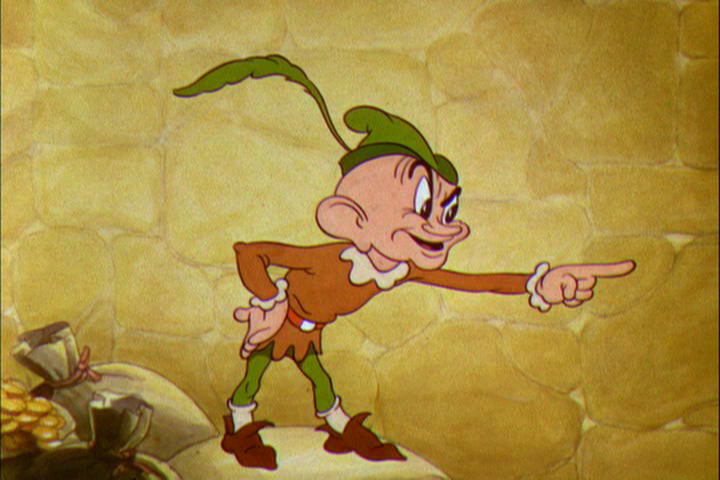 27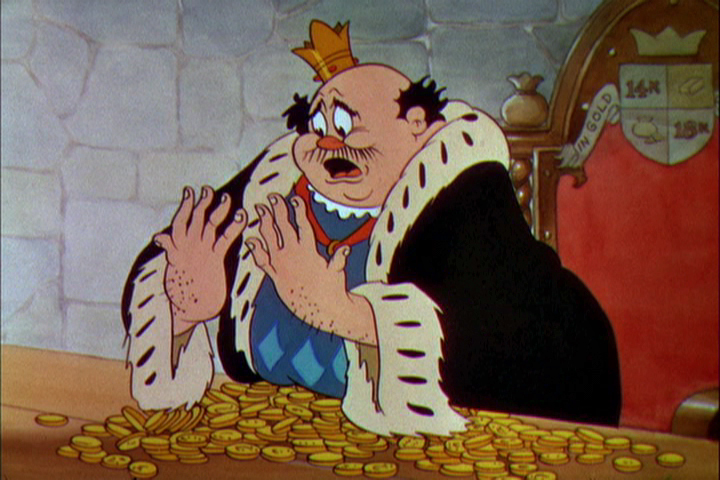 28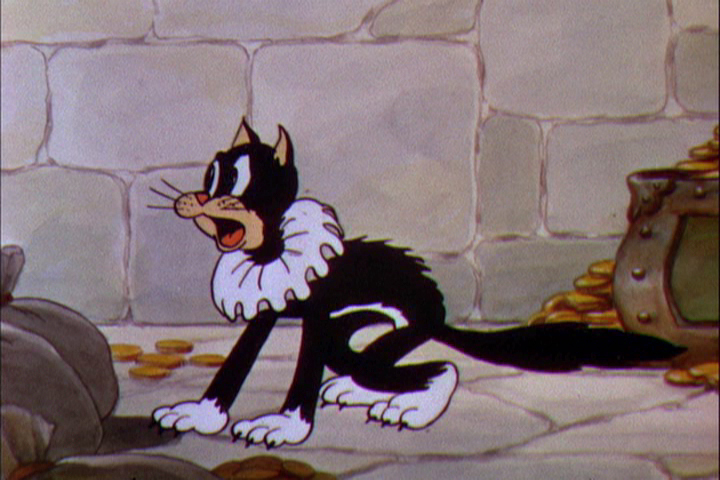 29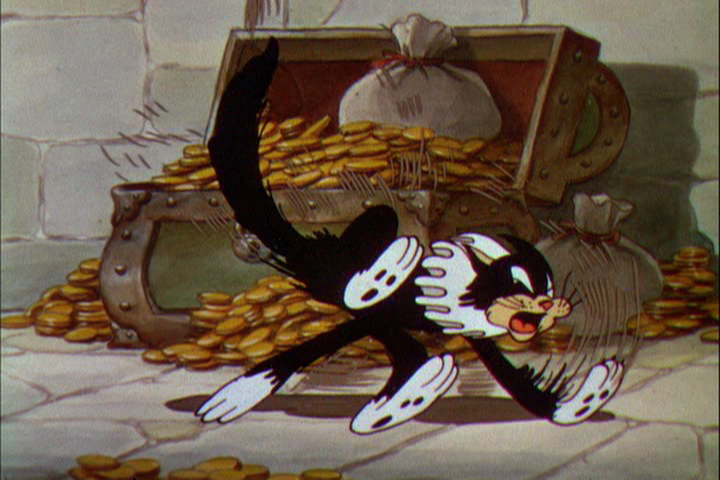 30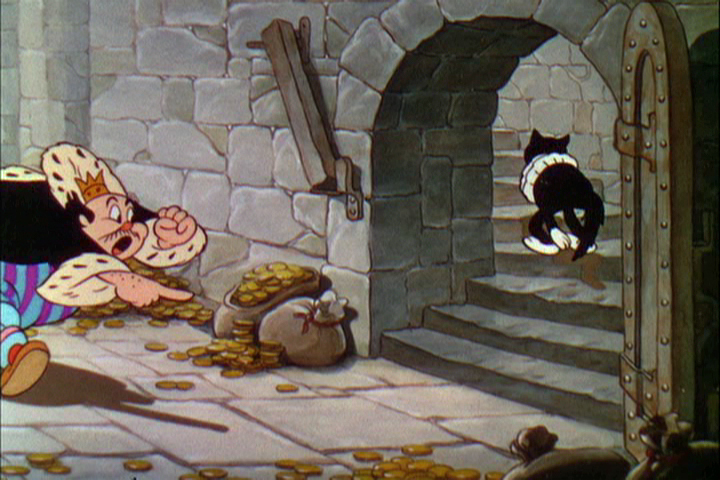 31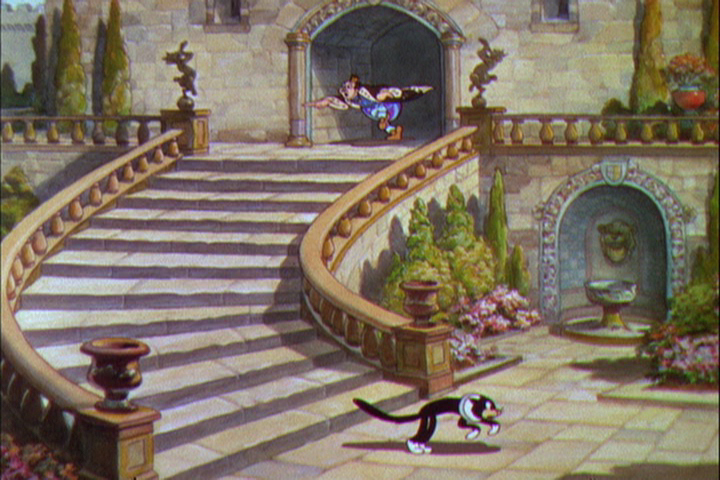 32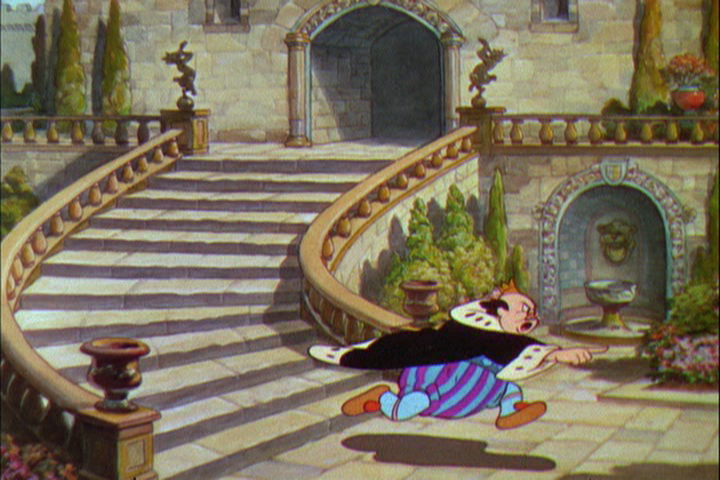 33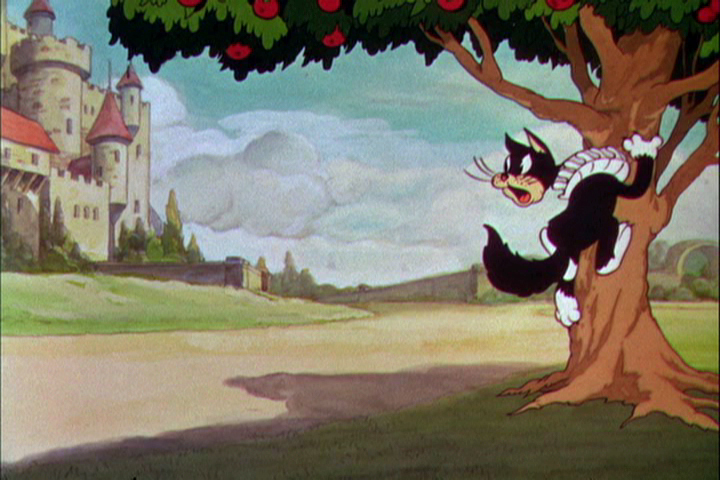 34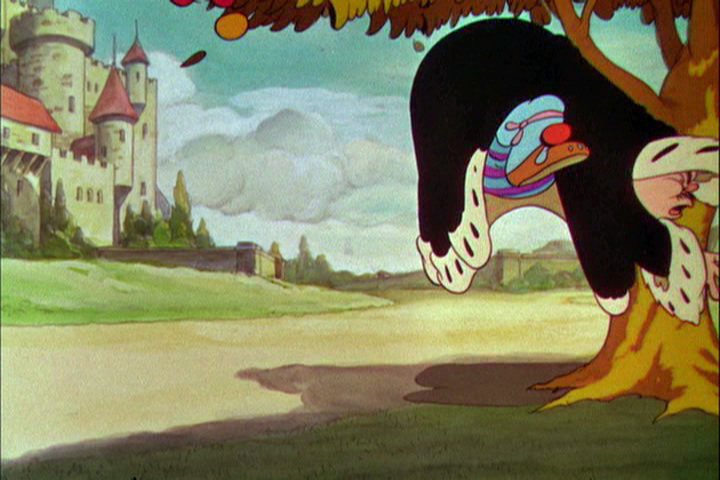 35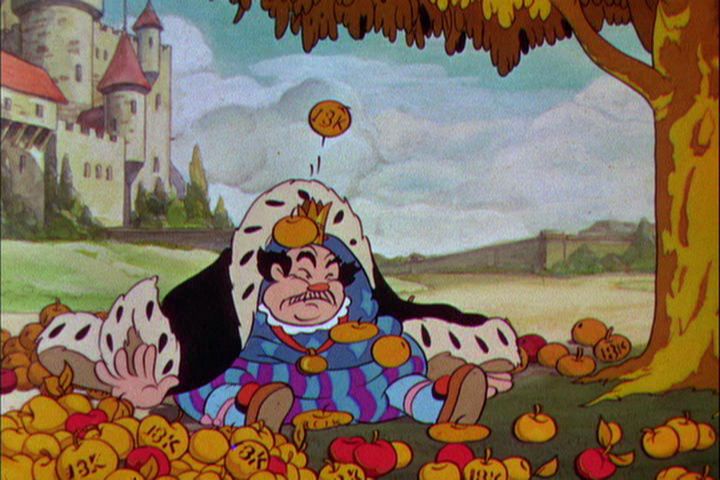 36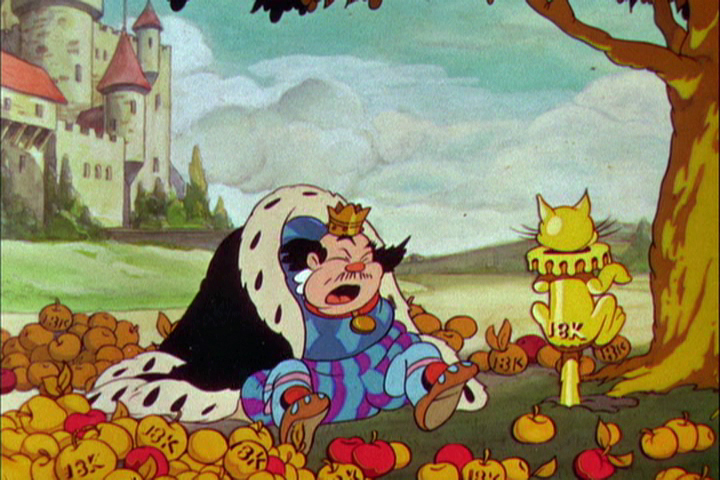 37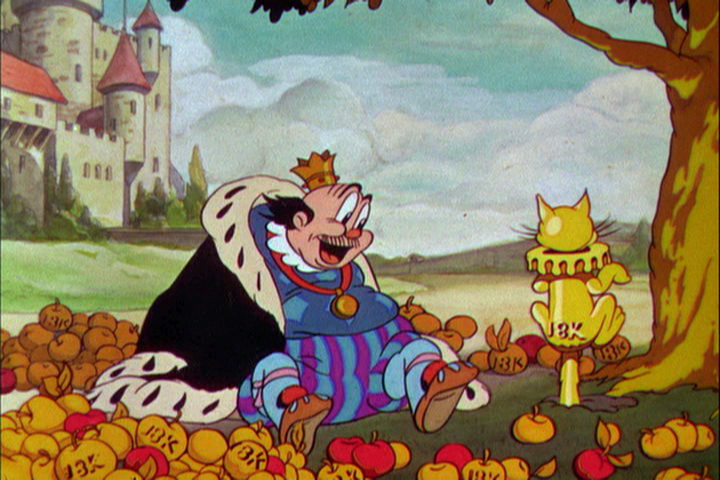 38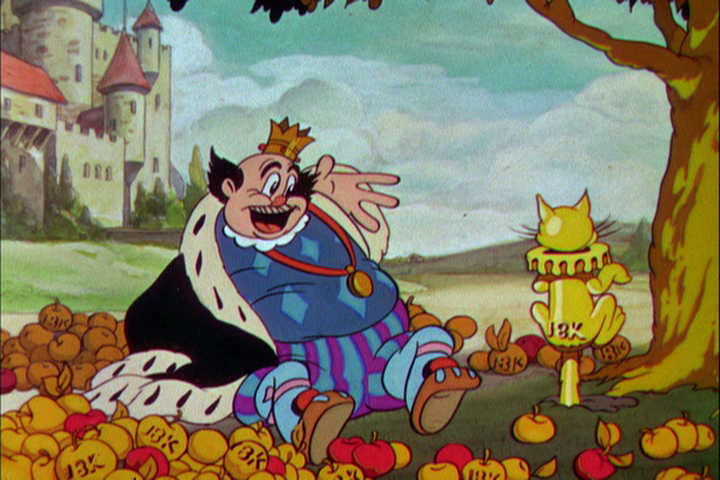 39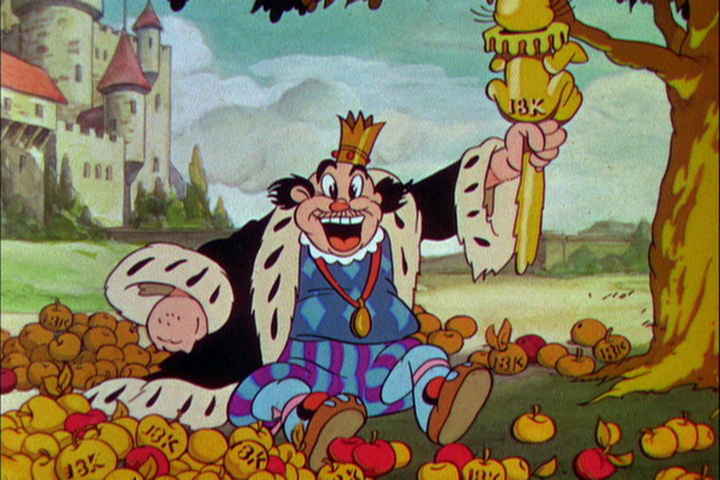 40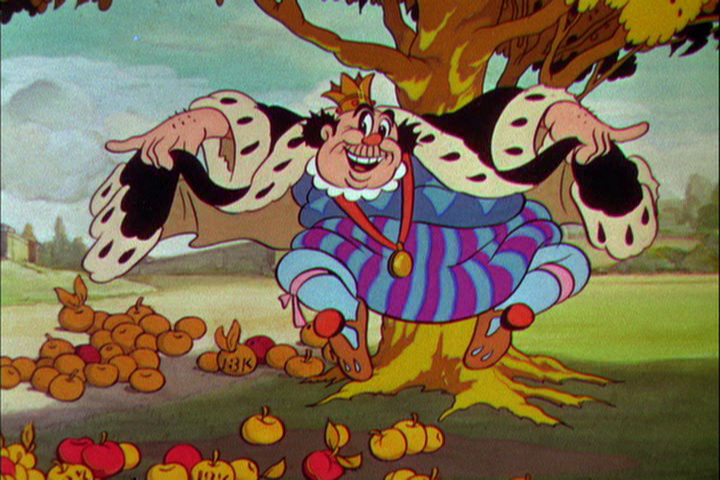 41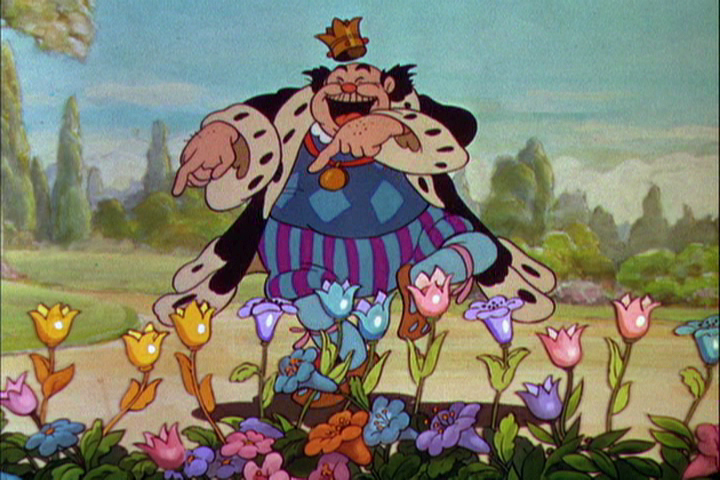 42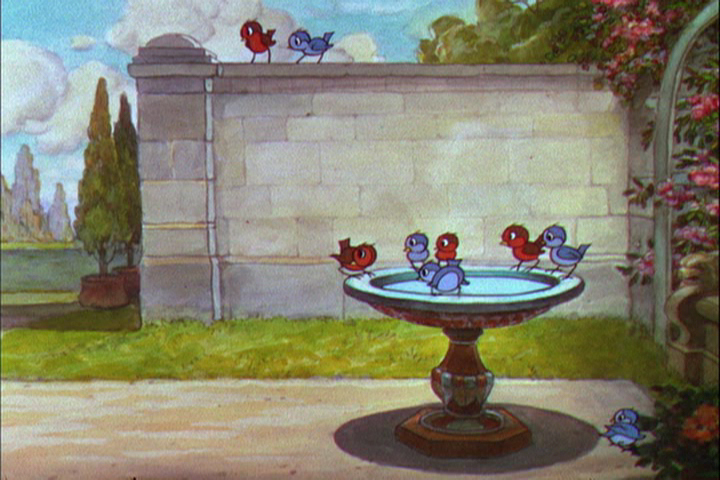 43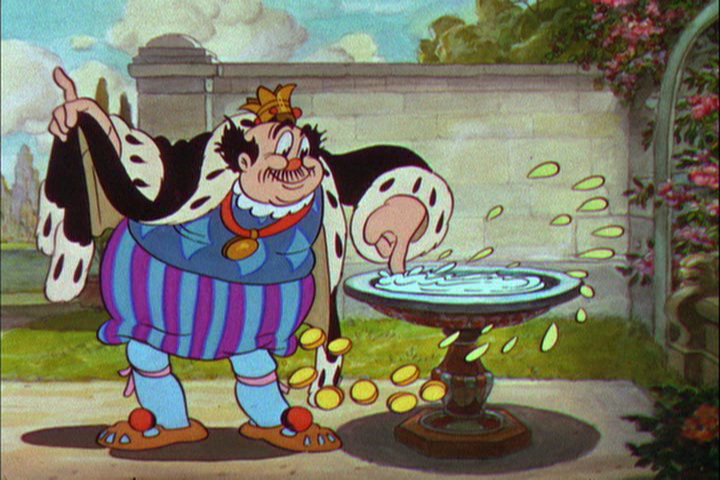 44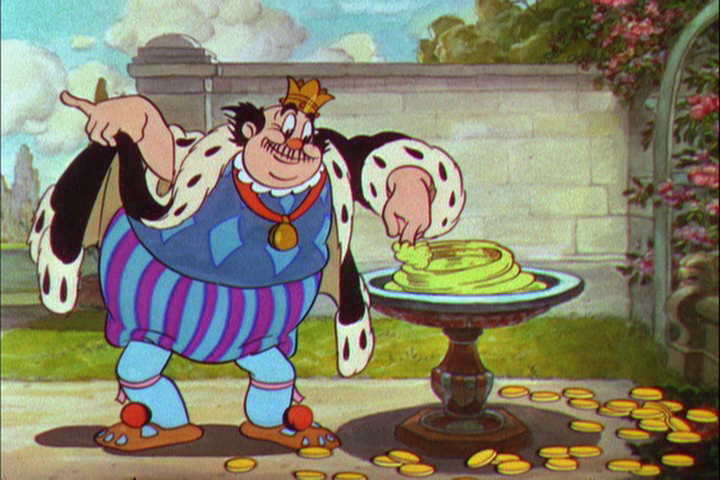 45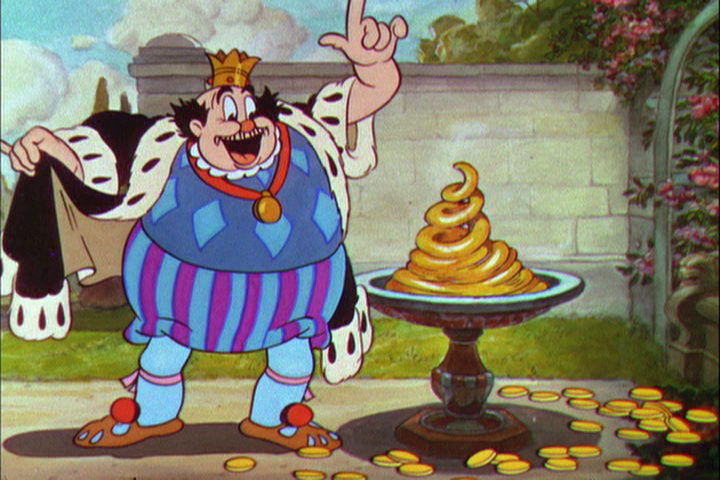 46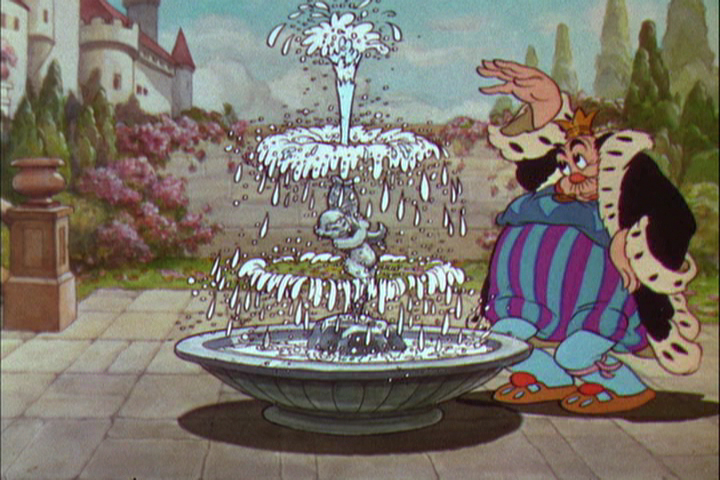 47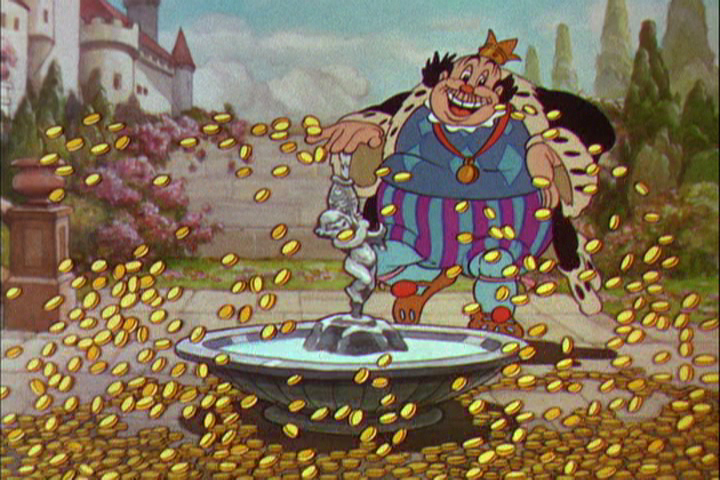 48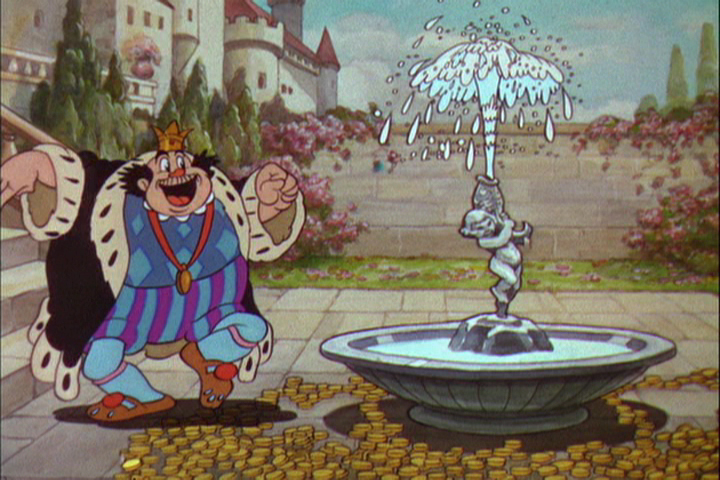 49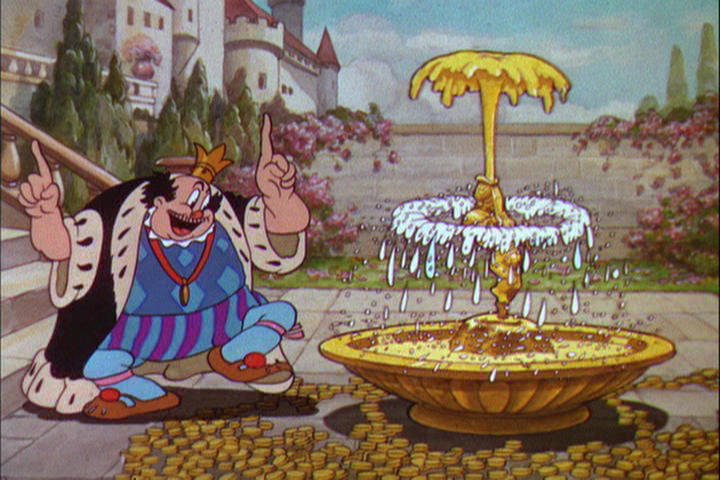 50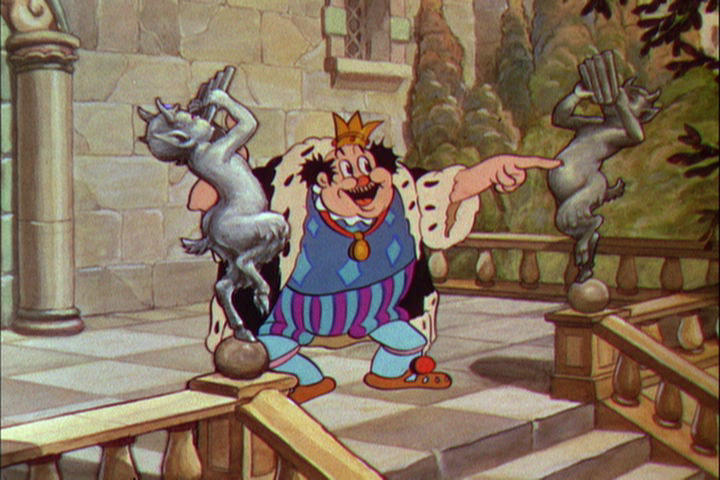 51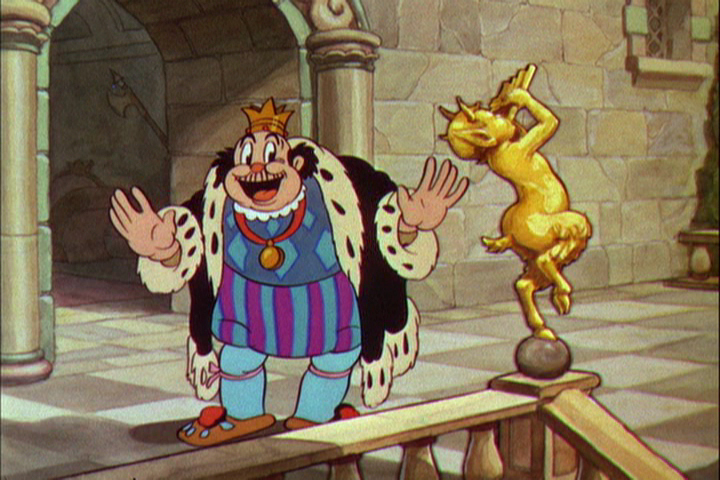 53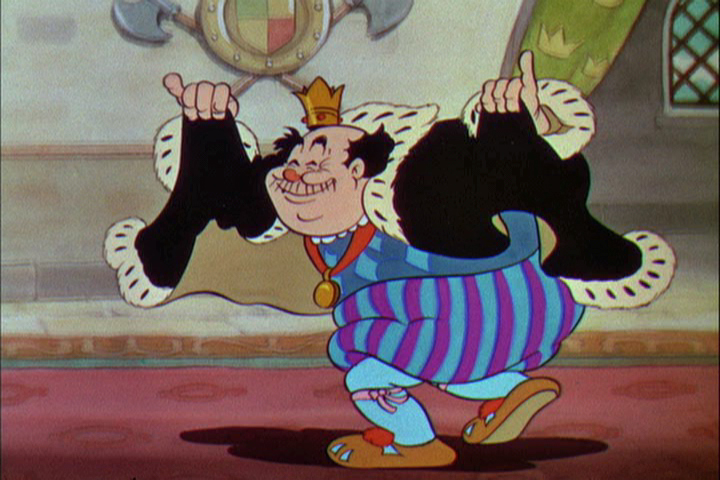 53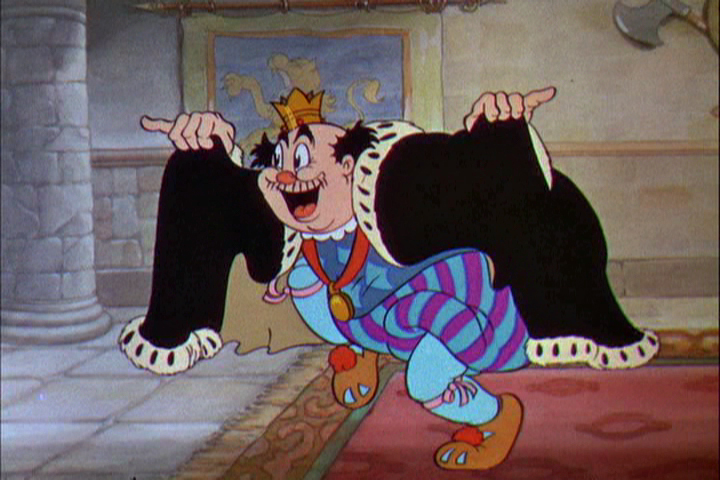 54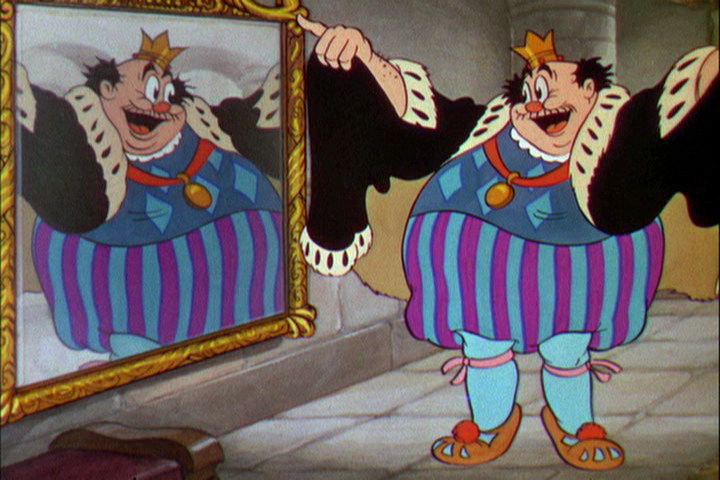 55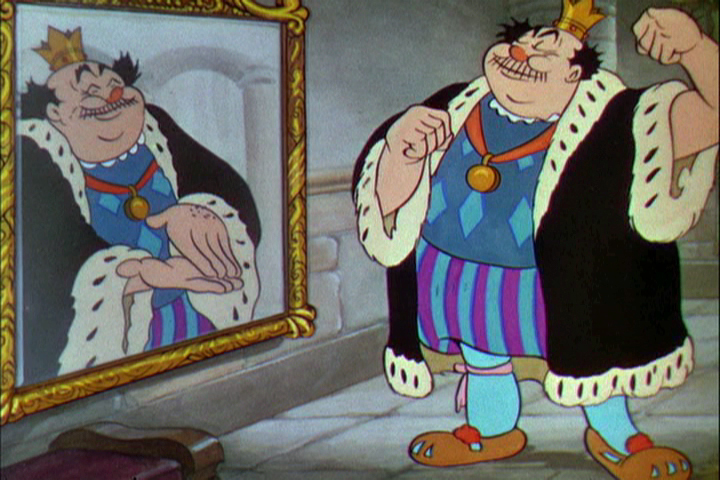 56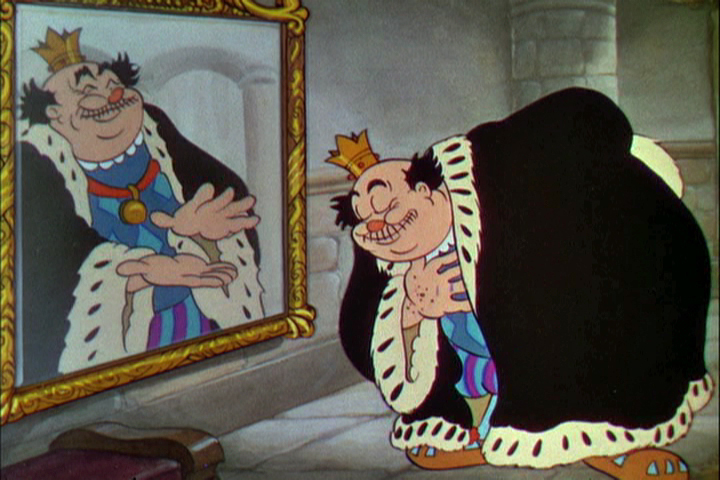 57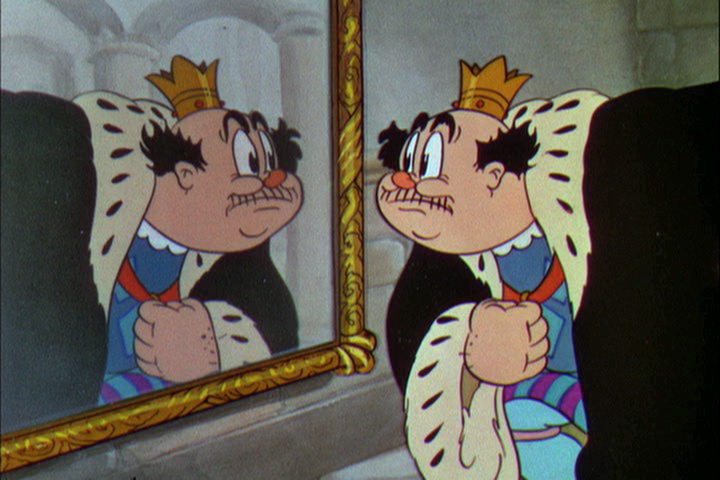 58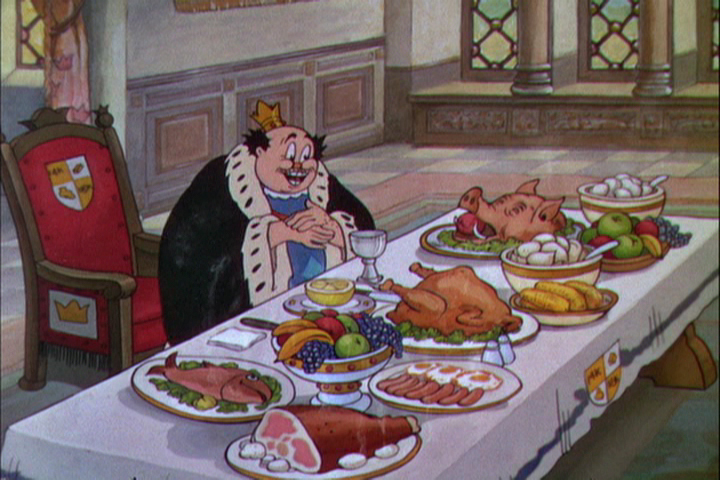 59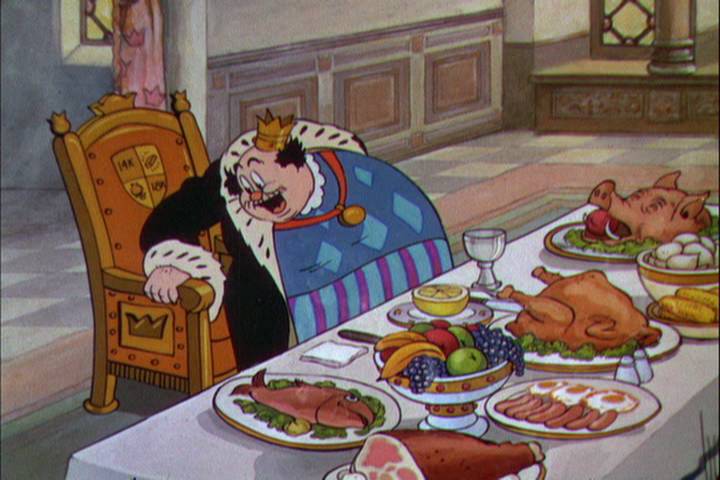 60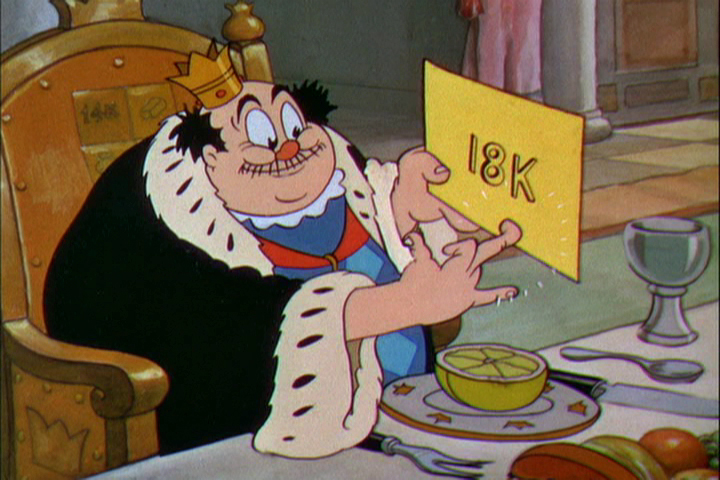 61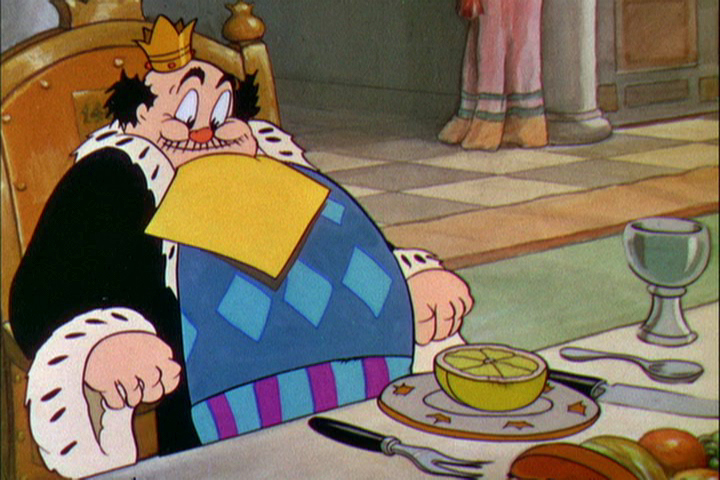 62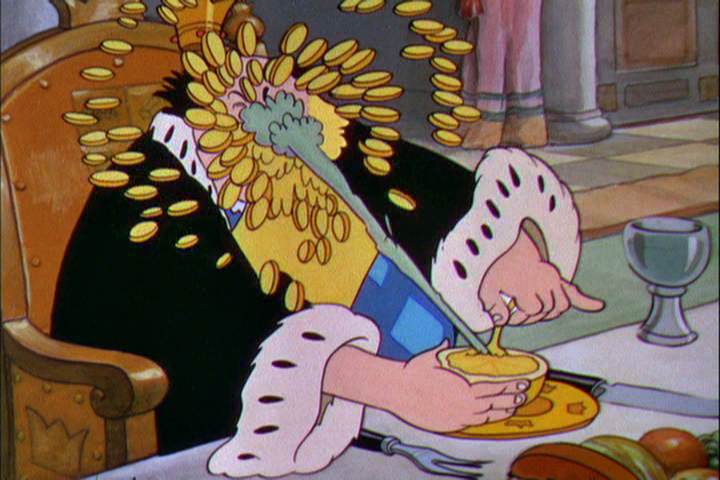 63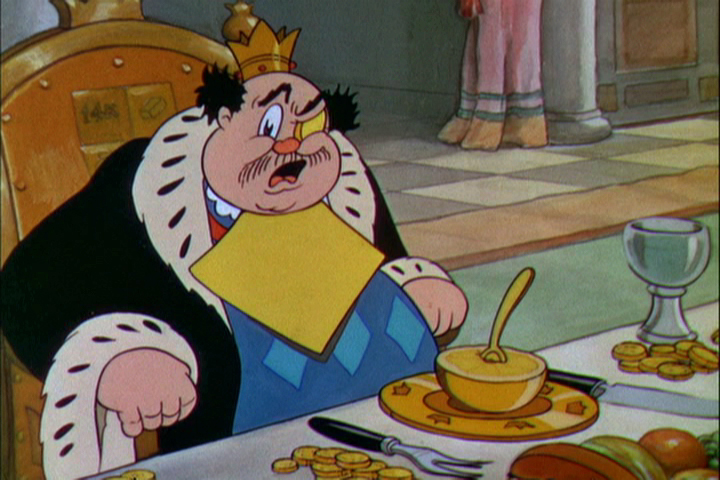 64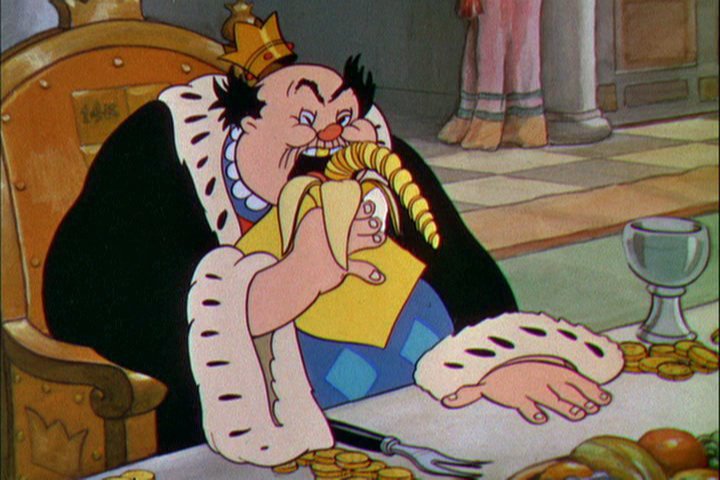 65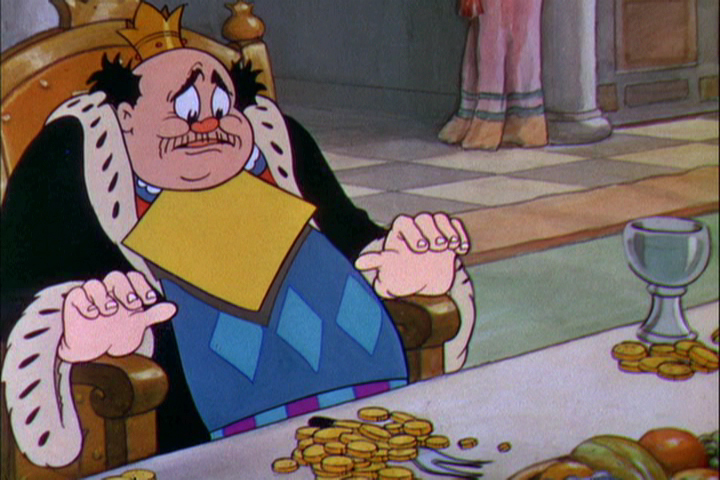 66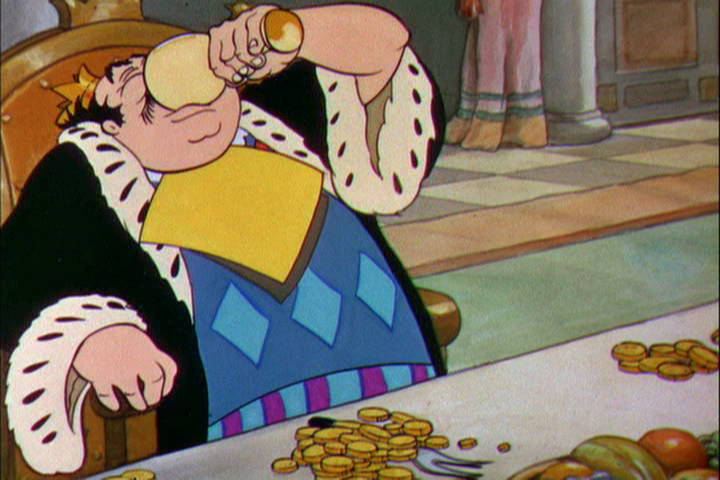 67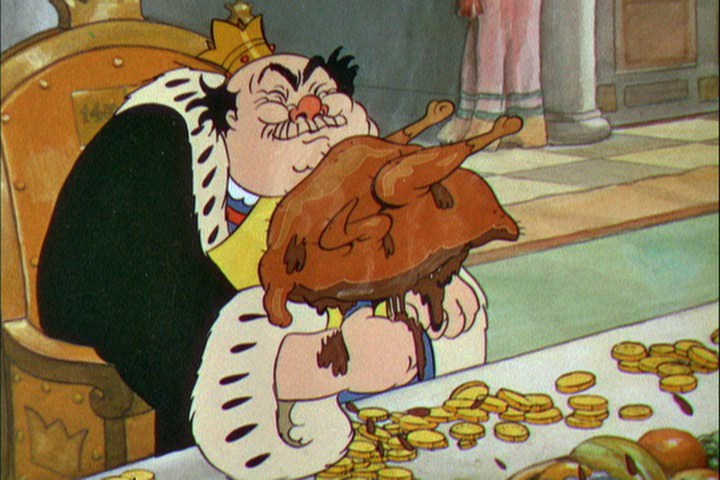 68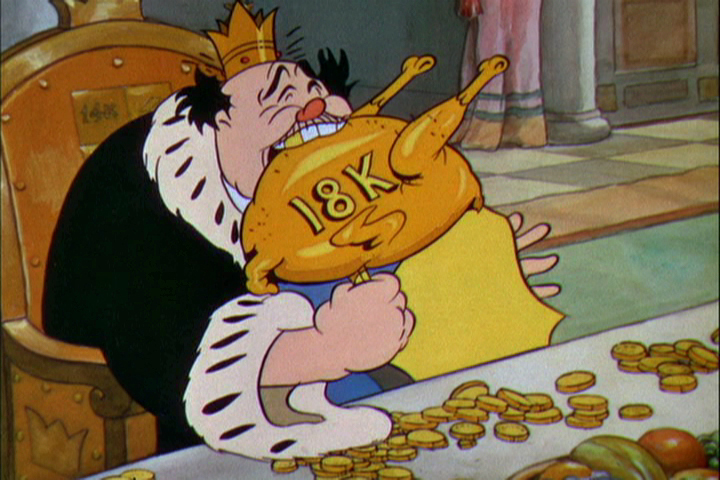 69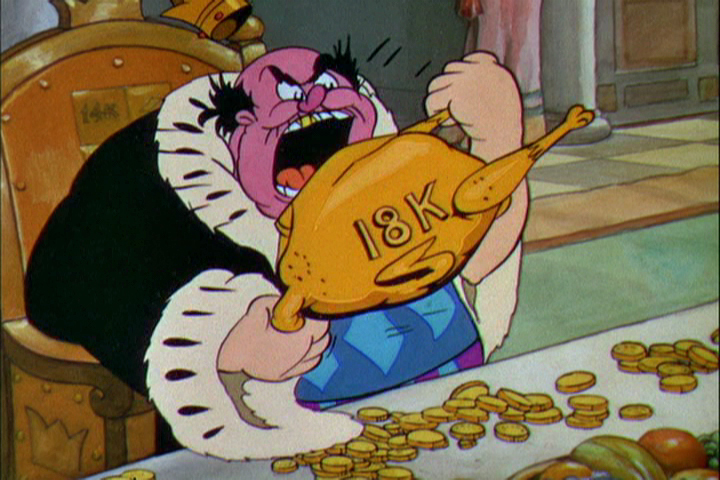 70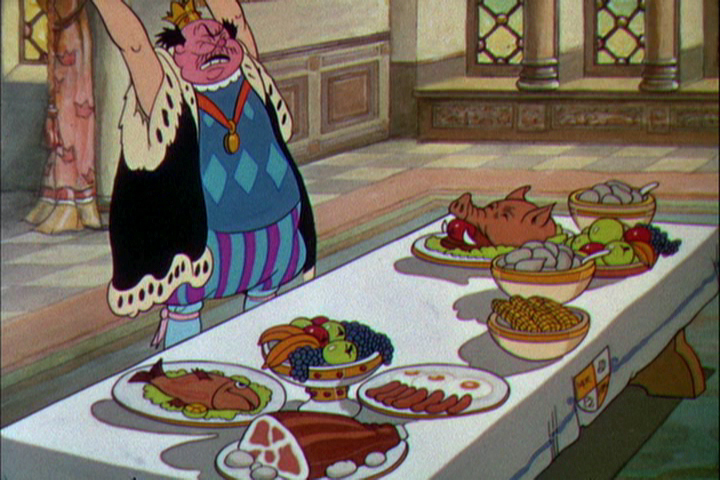 71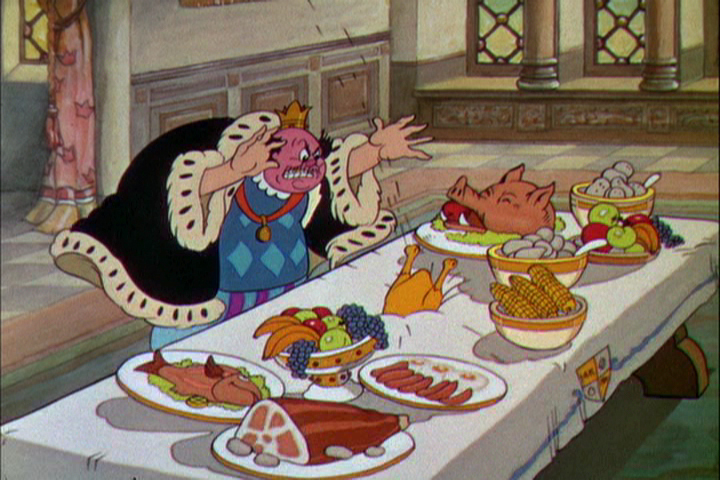 72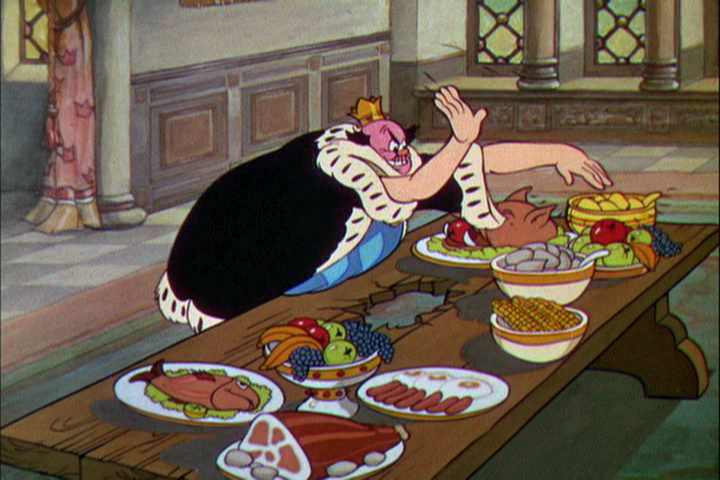 73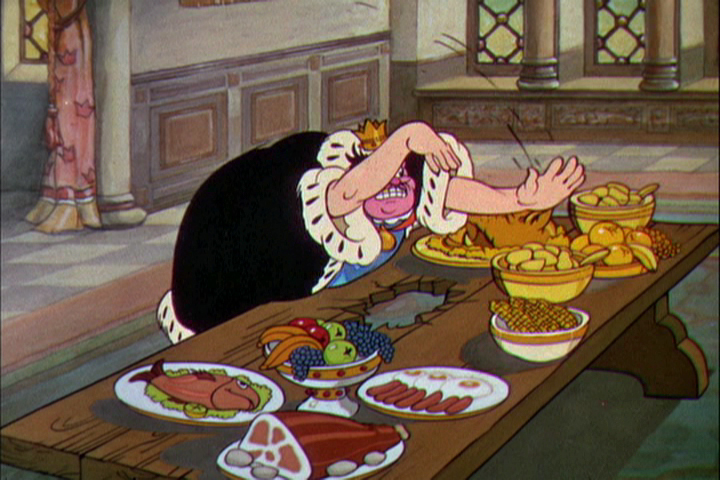 74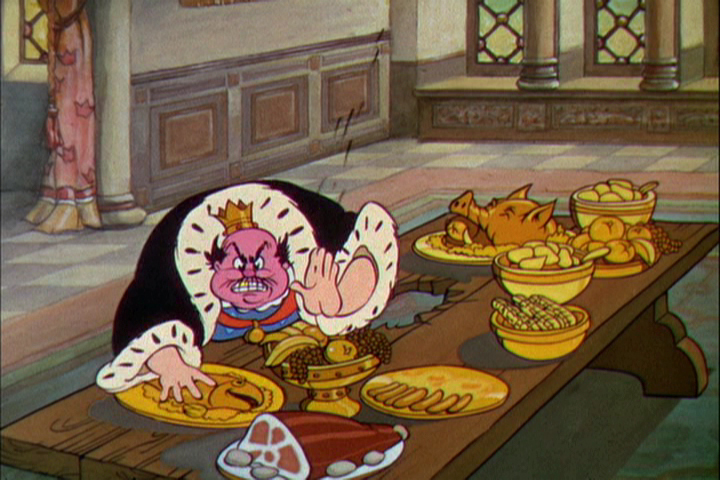 75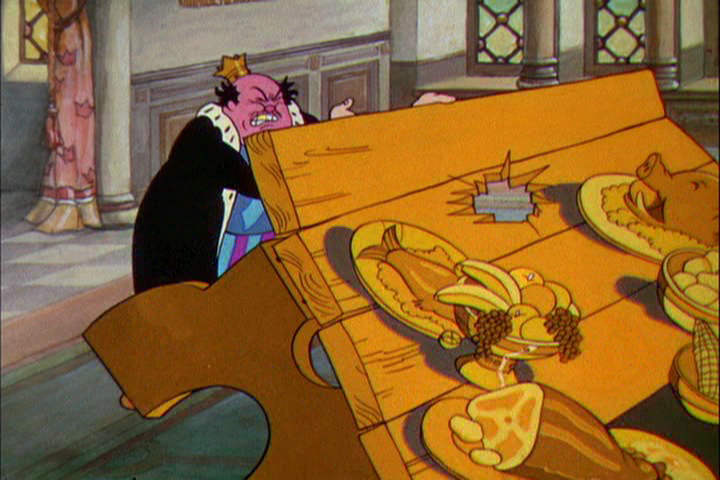 76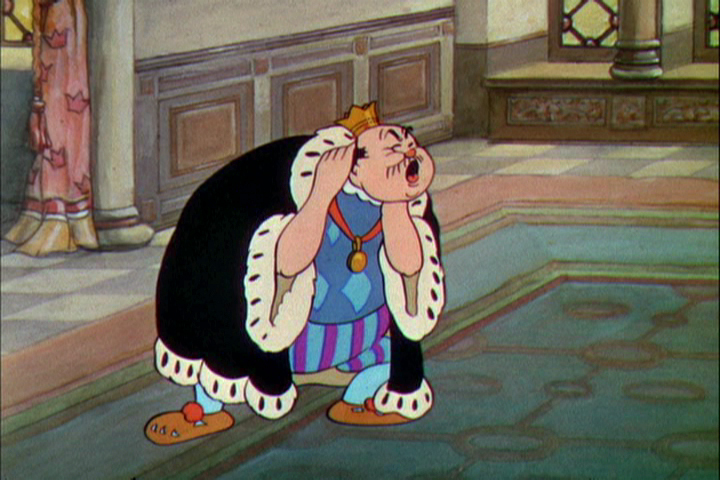 77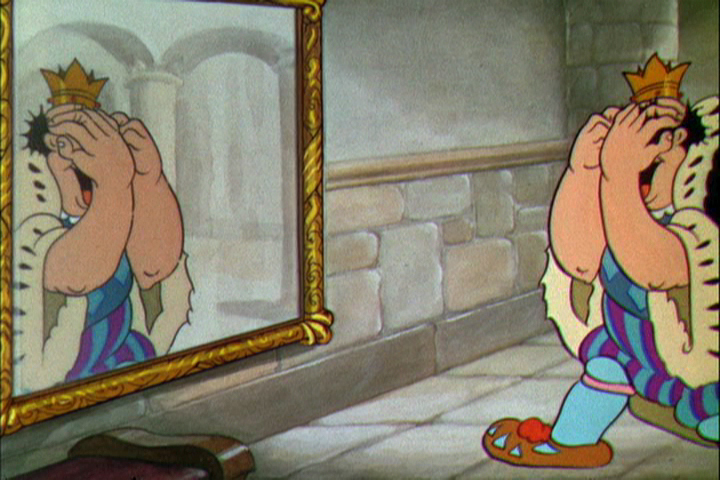 78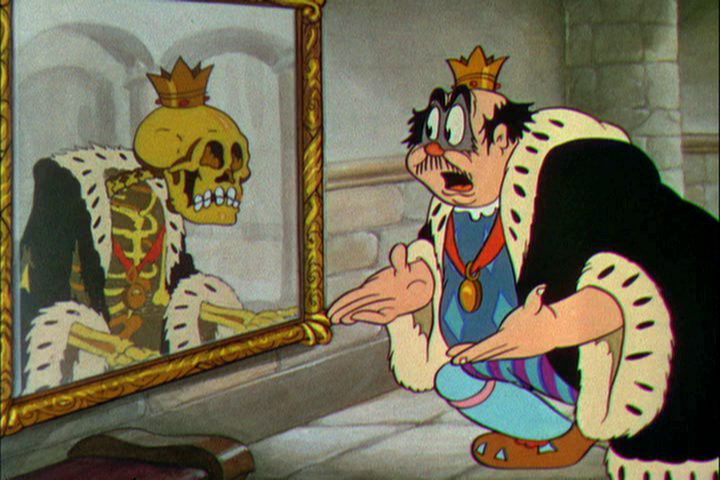 79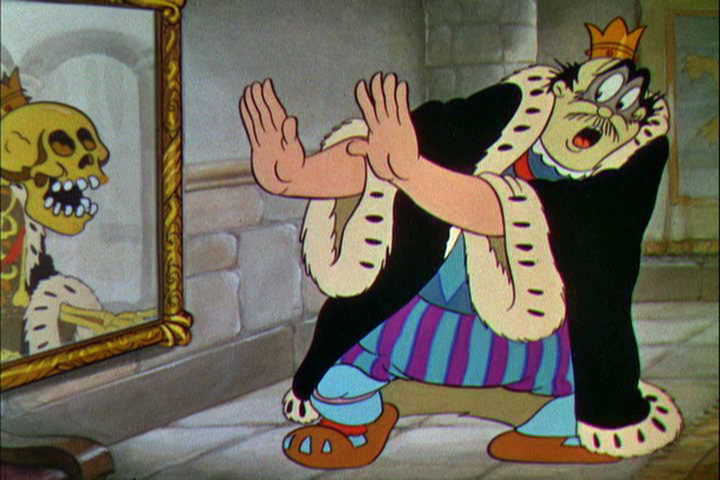 80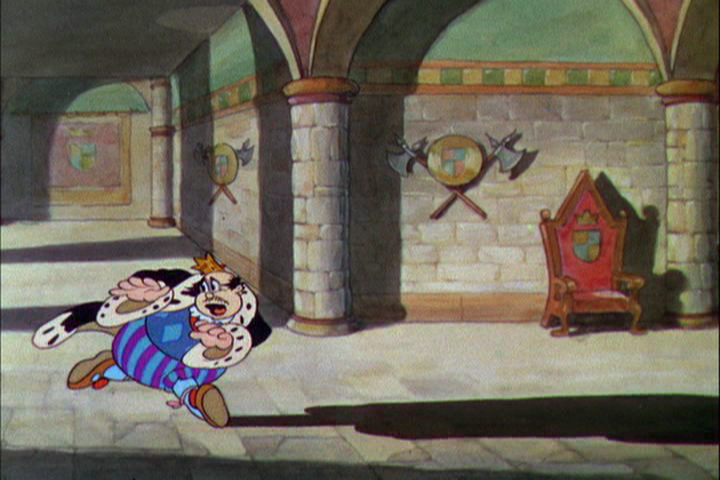 81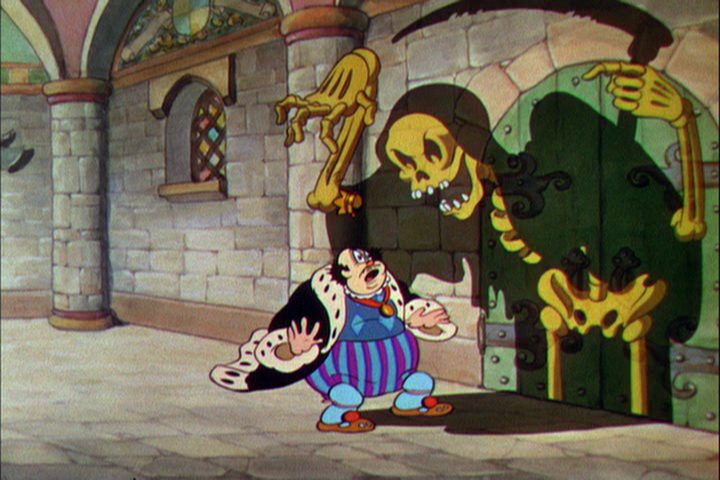 82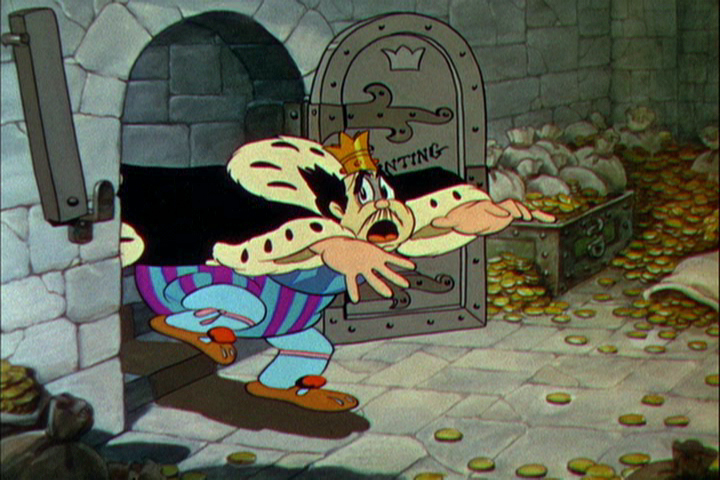 83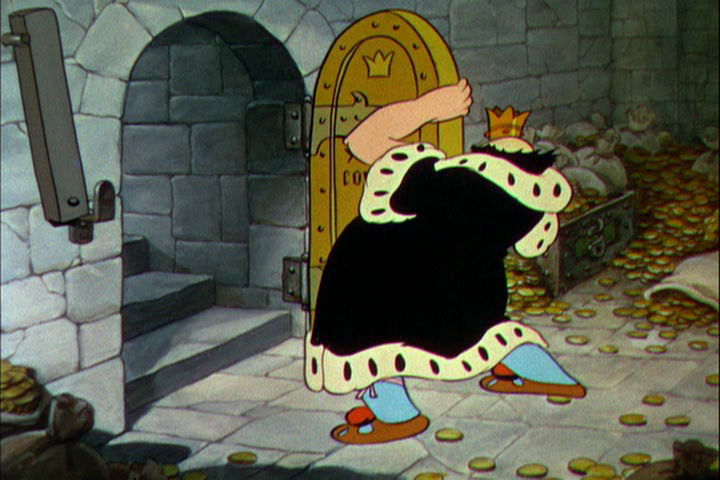 84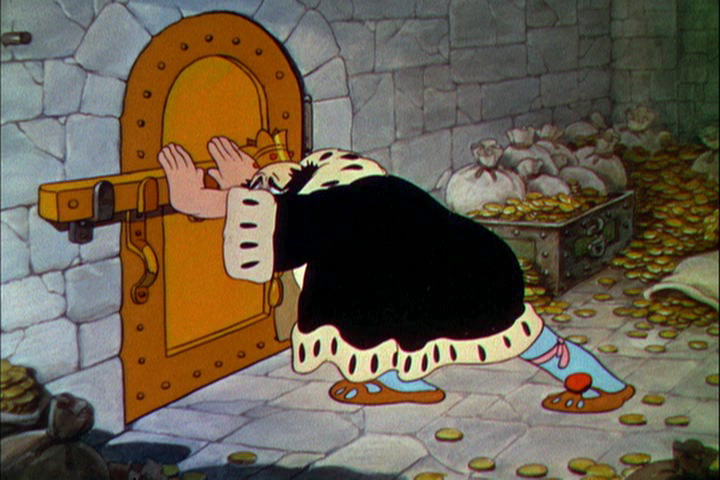 85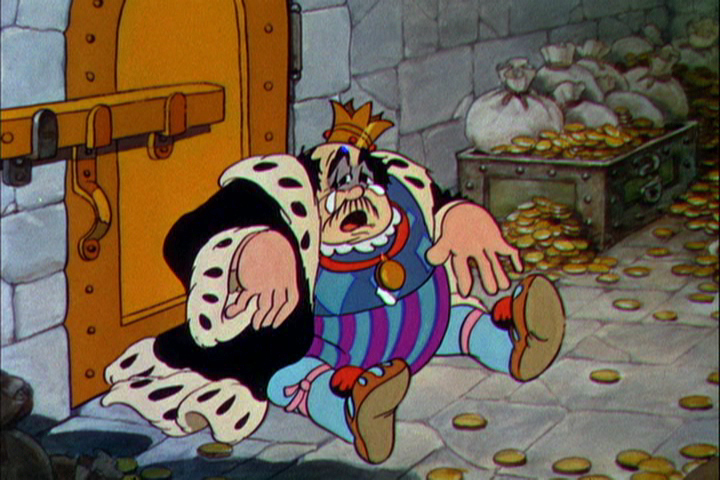 86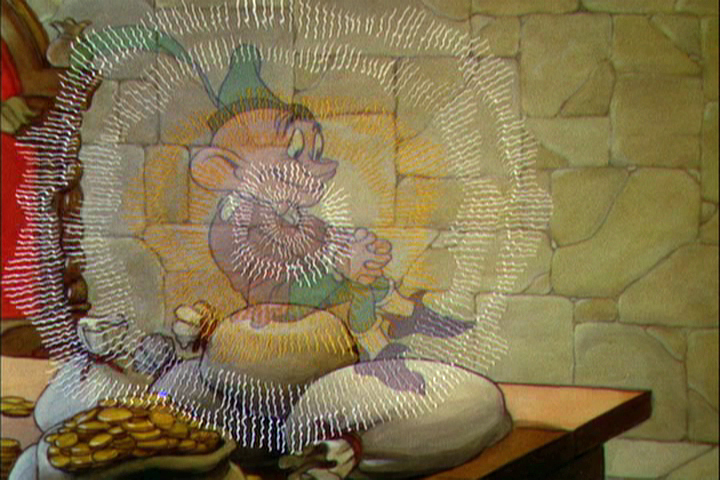 87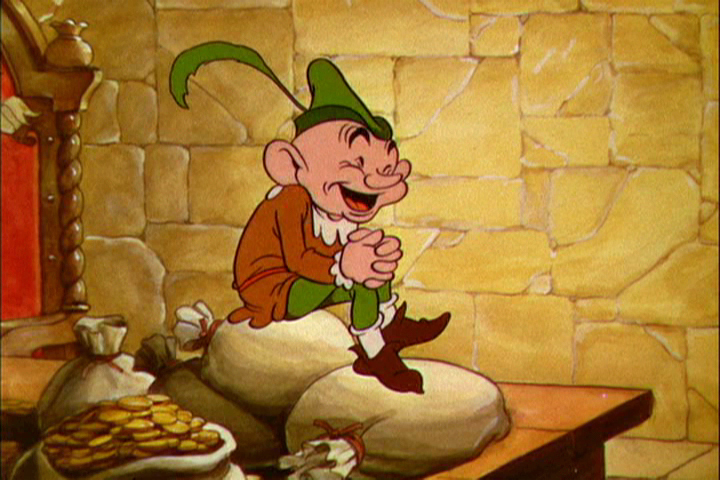 88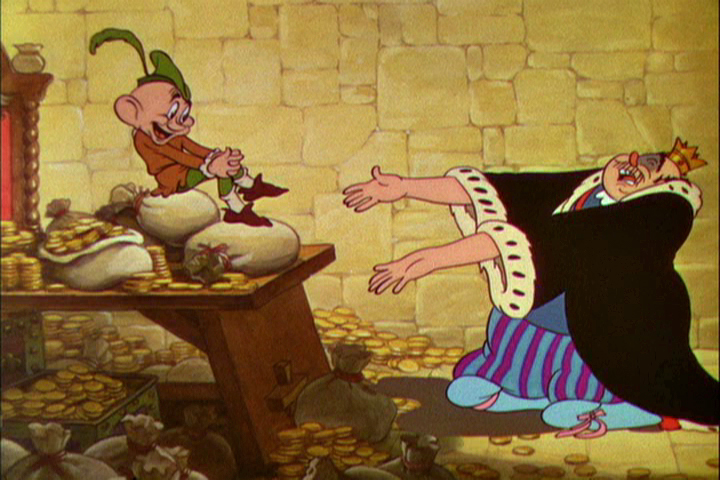 89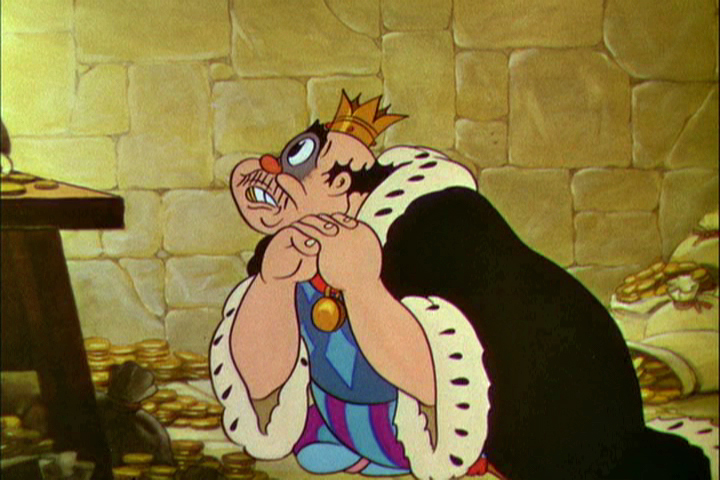 90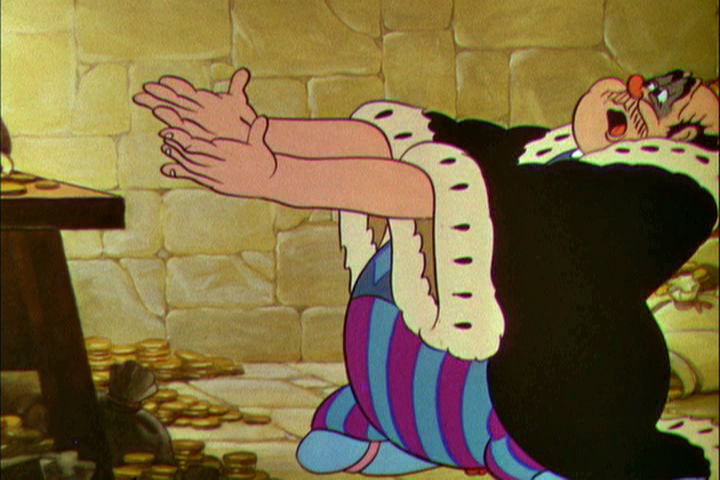 91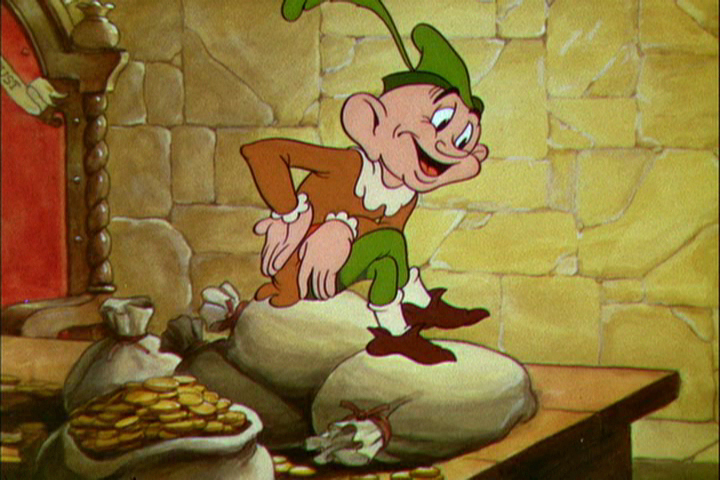 92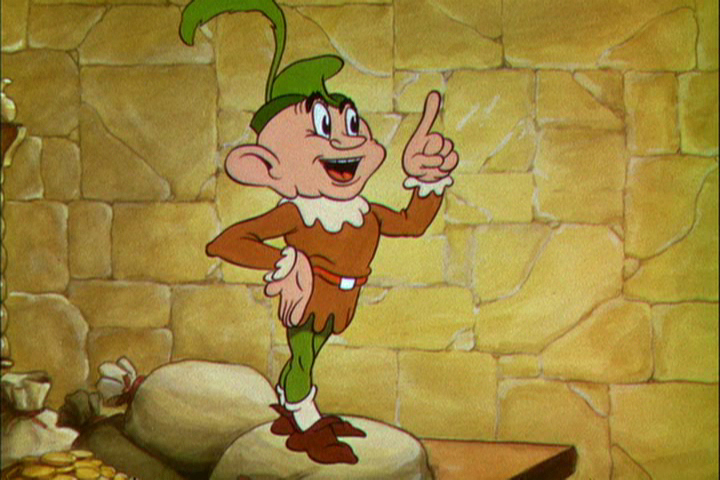 93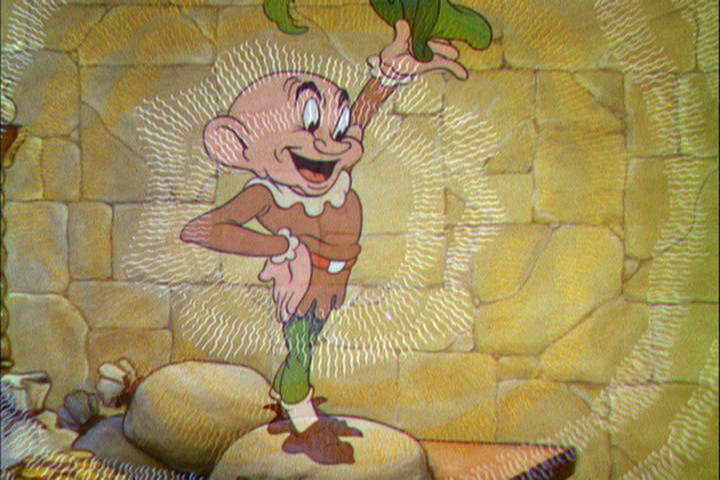 94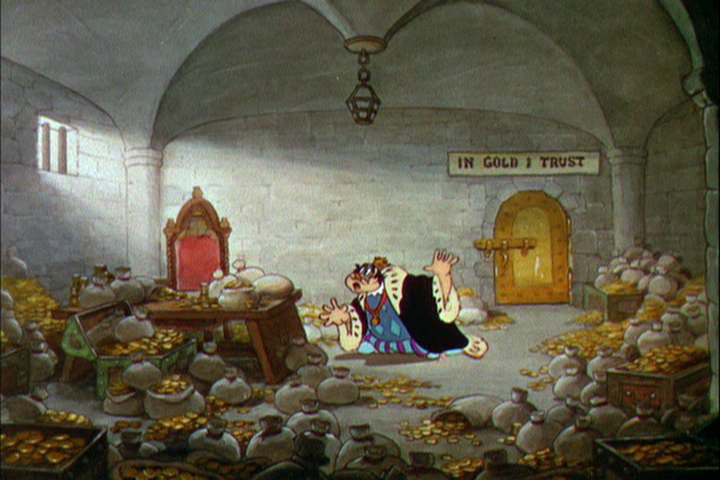 95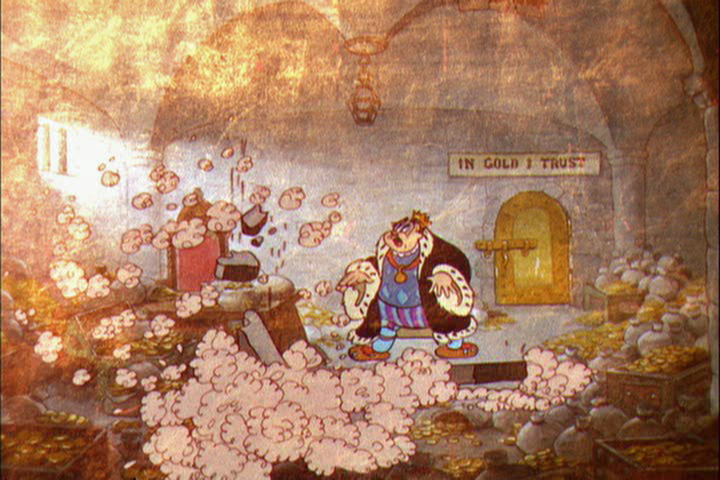 96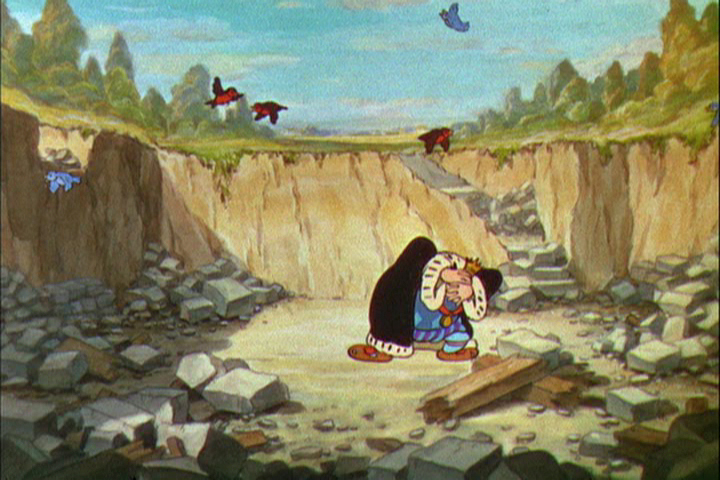 97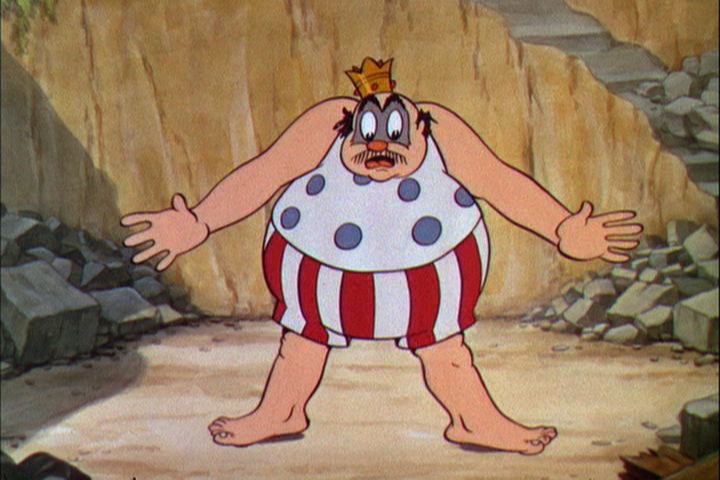 98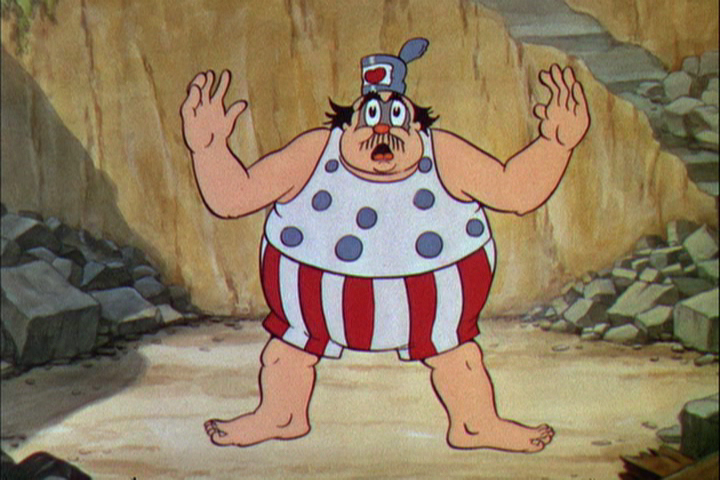 99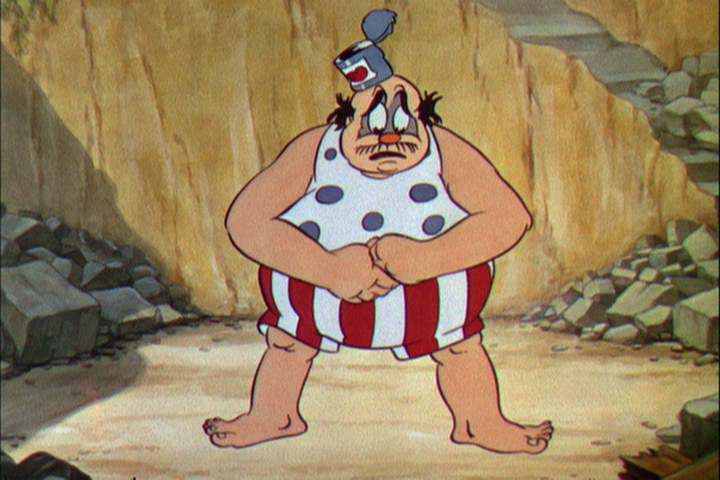 100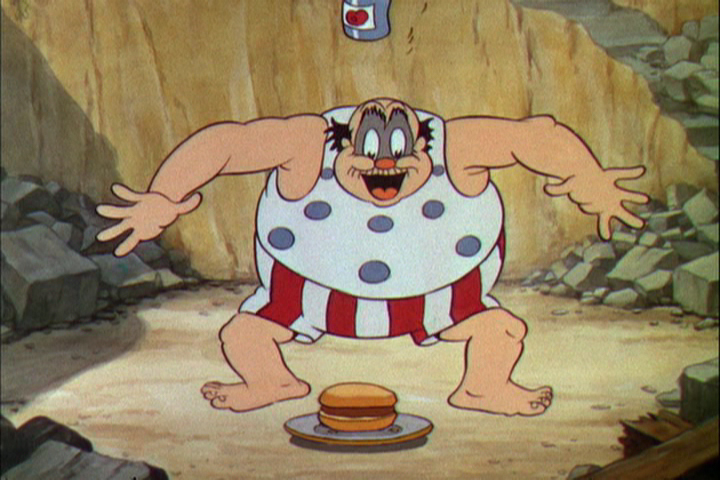 101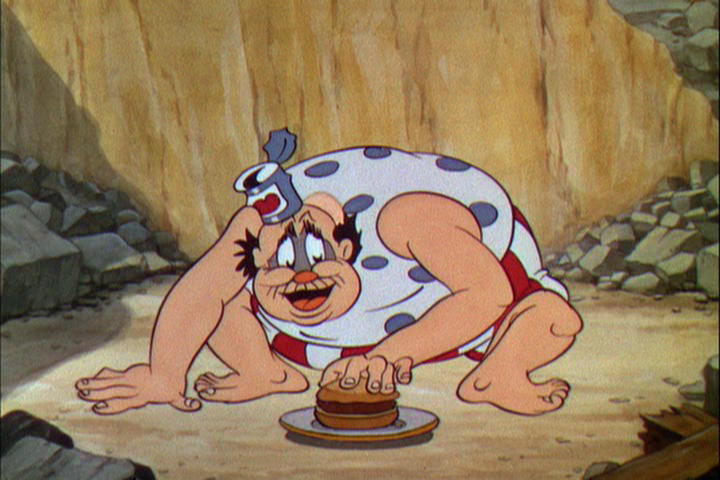 102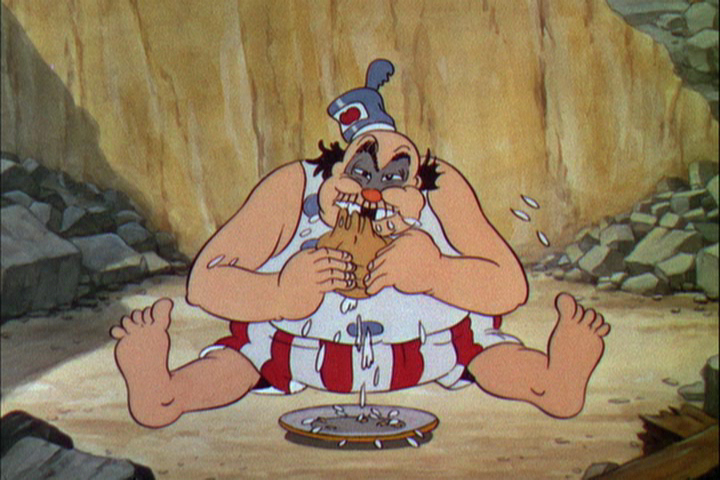 103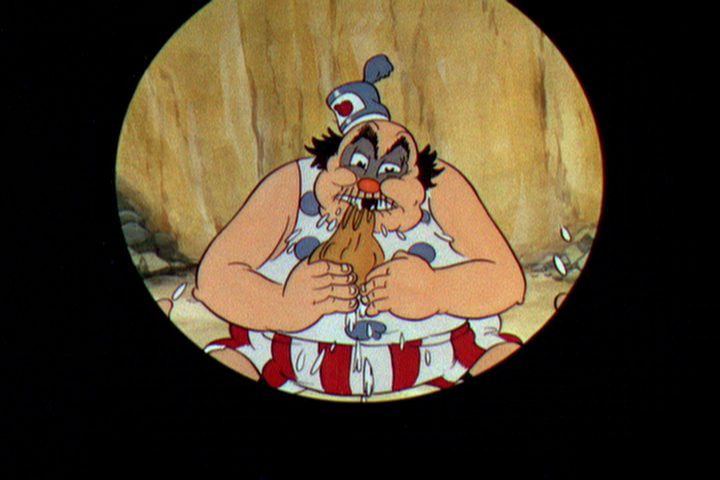 104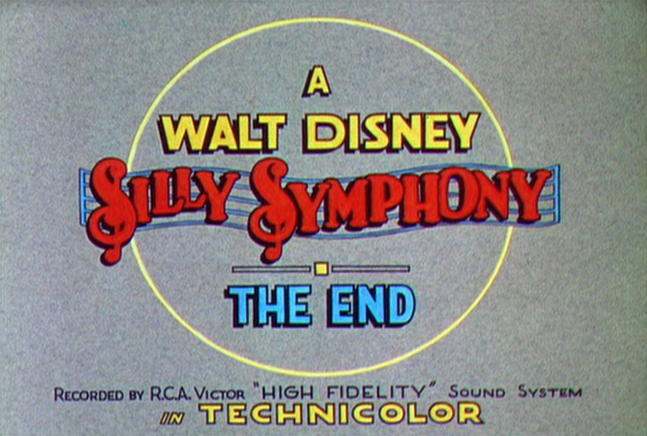 105
The End


Finally, here is a video representation of the Silly Symphony in motion.