Monthly ArchiveNovember 2009
Animation &walk cycle 30 Nov 2009 08:58 am
- Here is a small bit of Donald Duck animated by Les Clark for Mickey's Grand Opera. I've taken the bits I have and ran them through AfterEffects just because I like the drawings and wanted to see how they played out. I just love this Donald.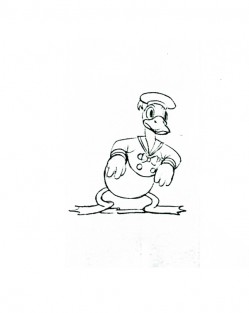 1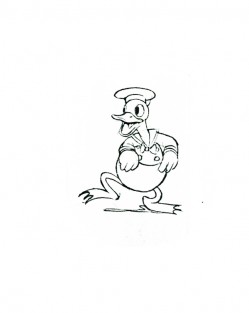 2
(Click any image to enlarge.)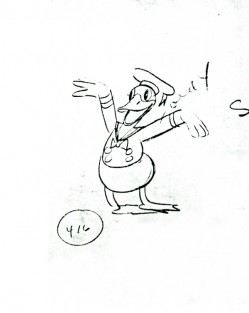 19
Donald's Dance

Click left side of the black bar to play.
Right side to watch single frame.
Photos 29 Nov 2009 09:08 am
- New York is an enormous spiderweb of parks and parklettes gathering within feet of each other. Of course you have the giants like Central Park or in Brooklyn Prospect Park or in Queens Forest Park or in the Bronx Van Cortlandt Park. But there are other, many other smaller parks. Some of them are a block or two large, like Bryant Park or Madison Square Park, but there are tinier ones. Many of them.
Within a two block radius from my studio, there are four of these tiny parks (and that doesn't include the three children's playgrounds or the basketball courts). Here are pictures of the four tiny parks: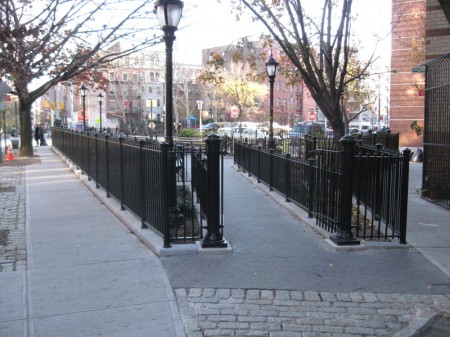 a1
(CLick any picture you'd like to see enlarged.)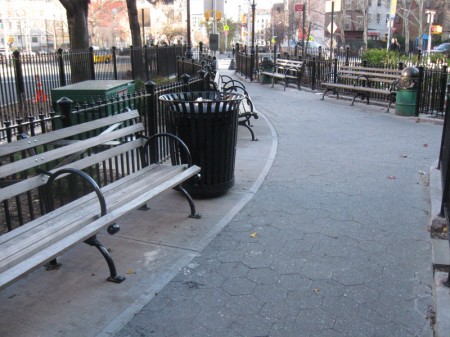 a2
The first of these parks is the newest. It's a triangle of a space
right at the intersection of Houston St. & Sixth Avenue.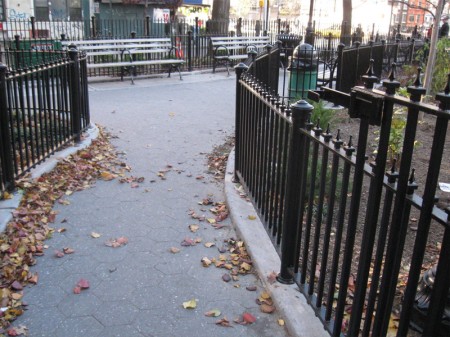 a3
It was originally fence-less. But then suddenly, ovenight,
it grew too many fences and not enough park.
Now, it's a strange space.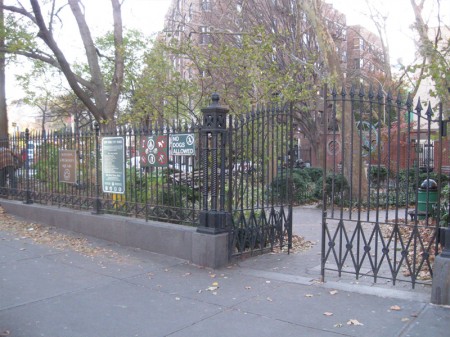 b1
Half a block away, right at the tip of
Bleecker & Sixth Ave., is Winston Churchill Square.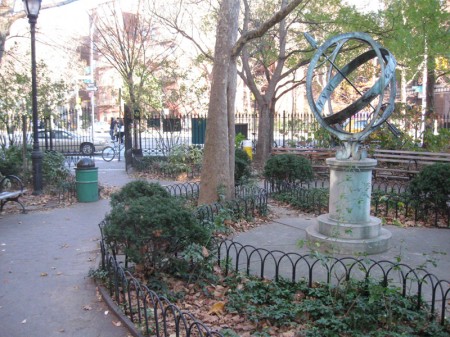 b2
It's a tiny little, tree congested space with a
beautiful orological statue in the center of it.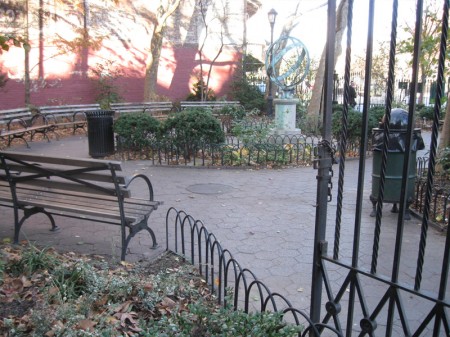 b3
This is probably the most peaceful of the parks and my favorite.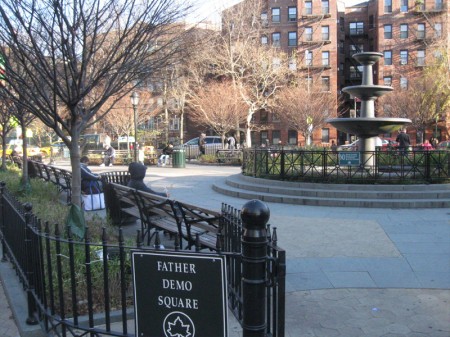 c1
The largest of the four and also relatively new
is Father Demo Square. This is right across the
street from Winston Churchill Square.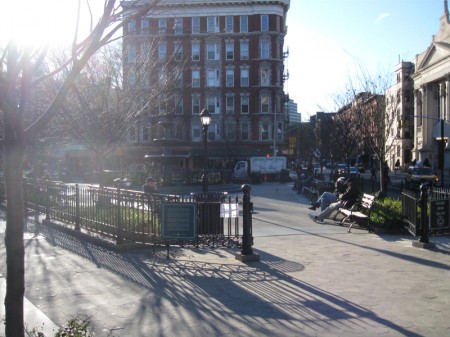 c2
This park seems the loneliest in that there's so much space
between benches and so little foliage planted around it.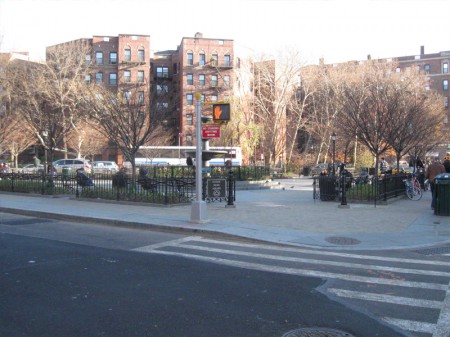 c3
It looks a bit better during the summer when the
fountain is going and the trees are green and in bloom.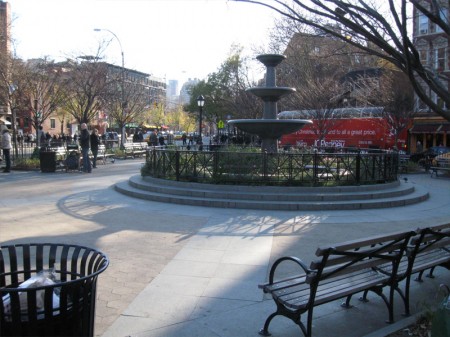 c4
The park features a brand new, usually operating fountain
made of some new material trying to look like marble.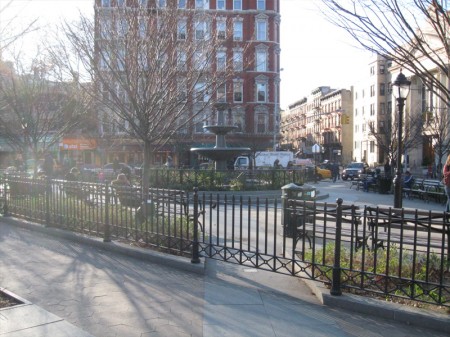 c5
This September, a local merchant told me I had just missed the
Yankees who been in this park. A few of the Yankees were out making
calls to a few NY neighborhoods to reach out and support some of the
local charities. Now I think of the Yankees when I think of this park.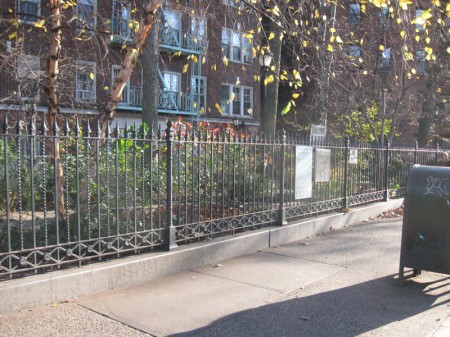 d1
There's a fenced in lot of greenery named Minetta Green (part of
Minetta Triangle.) I'm not sure if it is open to the public, though
I assume it must be.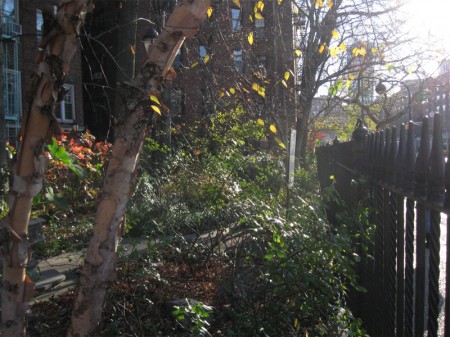 d2
I just never see anyone in there, and I don't see a gate. Although
I would guess there must be one. (I've just never looked hard enough.)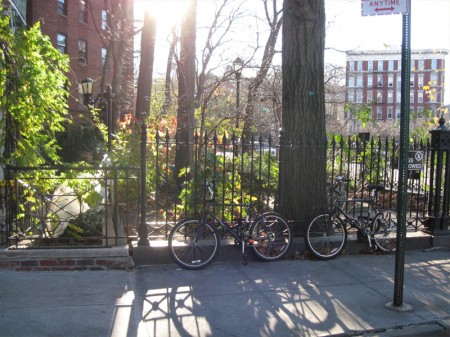 It's about 20 feet wide by about 120 feet long. Narrow.
It's right across the street from Father Demo Square.
All of them so close to each other.


- While out photographing I ran into Judy and Roberta Levitow.
I should have taken their picture. I'll see them Tuesday night for the event at The Paley Center, the panel devoted to Mr. Magoo's Christmas Carol. I hope NY turns out for this event. I'm looking forward to it and hope to snap plenty of photos.
Commentary &T.Hachtman 28 Nov 2009 08:51 am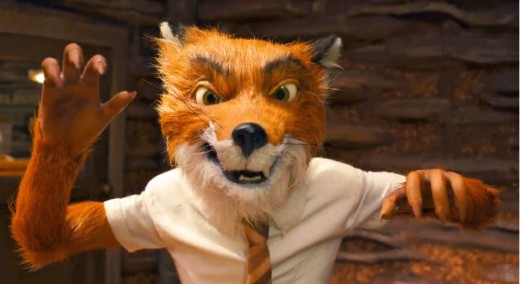 The Fantastic Mr. Fox – Did I tell you often enough that I really like this movie? One director – one voice. Independent spirit. Relatively low budget – $40 million. See it for fun.
________________________
- There's a solid interview with Wes Anderson on the always enjoyable Onion's AV CLub. His comments are worth reading, expecially if you've seen the film.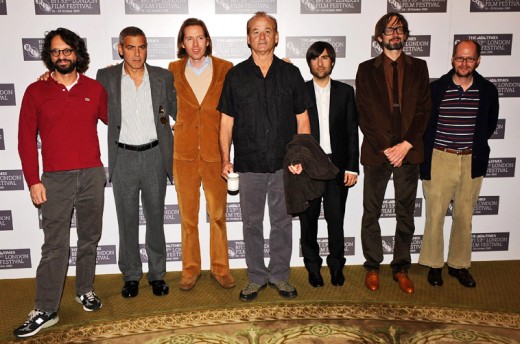 ______________
-
Rotten Tomatoes
, on the arrival of Disney's
The Princess and the Frog
, has created a listing of Disney animated features and organized them into a list of titles. The order of the list is determined by some shaky criteria. Per Rotten Tomatoes:
We used a weighted formula that takes into account the Tomatometer, number of reviews, and release year of every film included. We excluded all Disney subsidiaries and companies through which Disney has distribution deals hence, no films from Pixar, Studio Ghibli, or DisneyToon Studios are on the list.
Here's their listing. Each title is followed by the Tomatometer rating:
1. Pinocchio 100%
2. Snow White 98%
3. Fantasia (1940) 98%
4. 101 Dalmatians 97%
5. Dumbo 97%
6. Beauty & the Beast 93%
7. Lion King 92%
8. Aladdin 92%
9. Cinderella 92%
10. Sleeping Beauty 91%
11. The Little Mermaid 90%
12. Bambi 89%
13. The Jungle Book 89%
14. Bolt 88%
15. Tarzan 88%
16. Lady and the Tramp 87%
17. Mulan 86%
18. Emperor's New Groove 85%
19. Lilo and Stitch 85%
20. The Rescuers 84%
21. Fantasia 2000 82%
22. Hercules 83%
23. Peter Pan 83%
24. Alice In Wonderland 81%
25. The Hunchback of Notre Dame 72%
26. The Sword in the Stone 73%
27. Treasure Planet 70%
28. Meet the Robinsons 66%
29. Dinosaur 65%
30. The Aristocats 65%
31. The 3 Caballeros 87%
32. The Fox and the Hound 71%
33. Pocahontas 56%
34. Home on the Range 55%
35. Robin Hood. 55%
36. The Black Cauldron 58%
37. Atlantis: the Lost Continent 46%
38. Oliver and Company 44%
39. The Adventures of Ichabod & Mr. Toad 89%
40. The Rescuers Down Under 60%
41. The Many Adventures of Winnie the Pooh 91%
42. The Great Mouse Detective 79%
43. Brother Bear 38%
44. Chciken Little 36%
45. Saludos Amigos 70%
46. Melody Time 88%
47. Make Mine Music 67%
48. Fun and Fancy Free 67%
Just to amuse myself, I sought out all the Don Bluth films and compared their Tomatometer ratings to see which would be hightest. No surprises, except maybe that American Tale was rated so low. These aren't graded the same way the Disney films were, above. Some of Bluth's films weren't rated:
The Secret of NIMH 94%
Anastasia 85%
An American Tale 63%
Titan AE 51%
All Dogs Go to Heaven 44%
The Pebble and the Penguin 36%
Thumbelina 25%
Rock-A-Doodle 20%
Continuing the process let's look at Ralph Bakshi's films. He didn't fare as well as Bluth; some of Bakshi's films weren't reviewed either:
Heavy Traffic 88%
American Pop 56%
Fritz the Cat 53%
Wizards 53%
The Lord of the Rings 47%
Cool World 6%
________________________
- After posting Tom Hachtman's Renaissance Masters the past four weeks, I'm sort of out of sorts to not have any more of it. Let me post a couple of Gertrude & Alice cartoons to fill the void: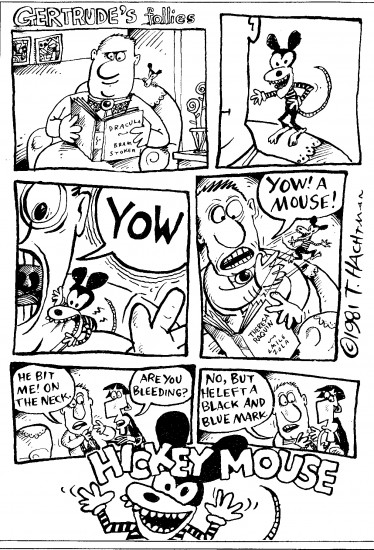 This one could be a comment on the "Twilight" experience.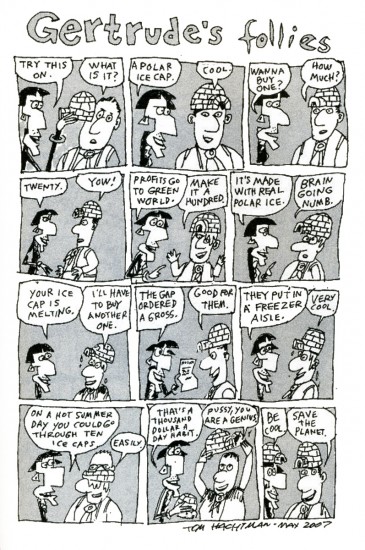 This week I heard about the after-show auction going on
at A Steady Rain's Broadway performances. Hugh Jackman &
Daniel Craig are raising cash for Broadway Cares by having
after-show auctions of their "sweaty" T-shirts.
Gert & Alice can do it for the environment.
And while I'm at it, let me post one of my favorite strips (which I'd posted once before.)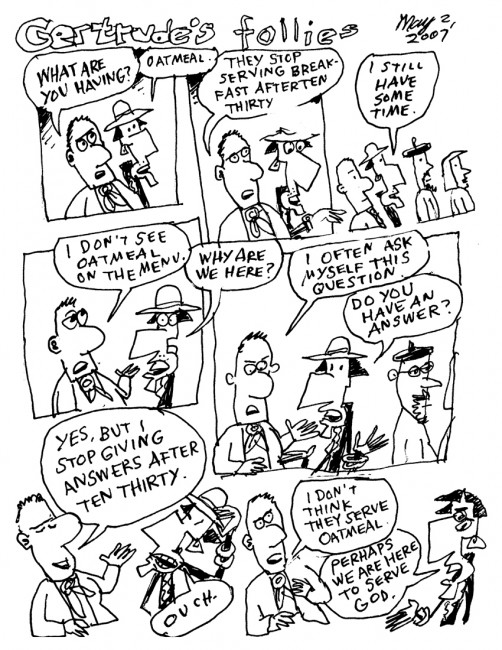 (Click any image to enlarge.)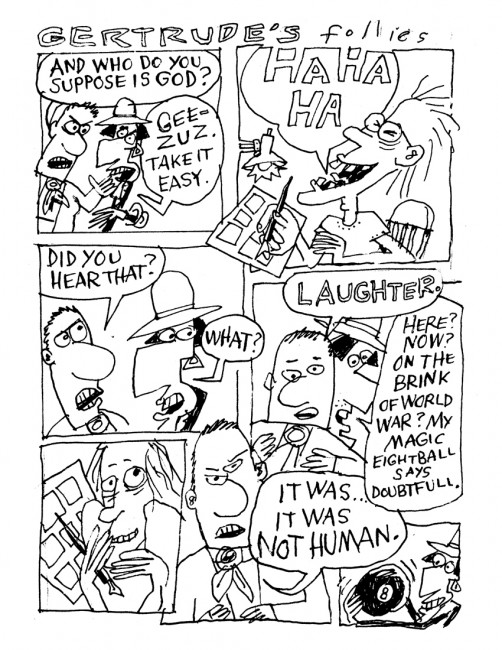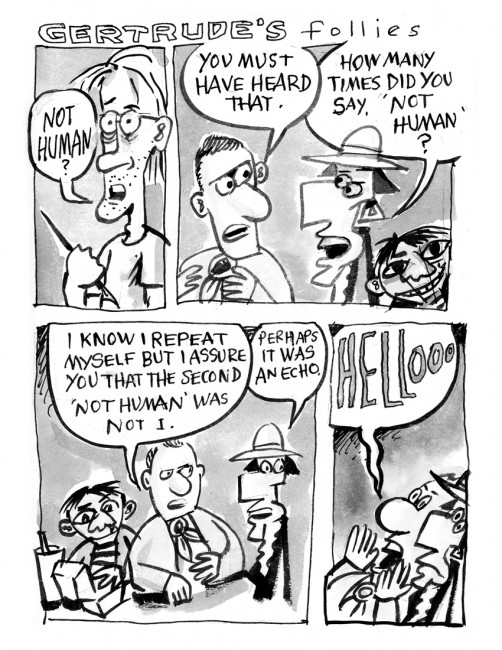 Daily post 27 Nov 2009 09:21 am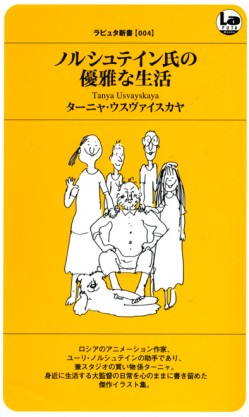 – I continue with the little book published in Japan which takes a number of cartoons drawn by an student working and learning in the studio with Yuri Norshtein and his small, close crew. Tanya Usvayskaya drew a sort-of diary featuring her boss as the primary character. This, of course, becomes treasure to those of us who relish any information about Mr. Norshtein.
As I wrote last time out in Part 1, the book was a surprise of a gift from Richard O'Connor Asterisk Animation .
Before getting into the cartoons, here's a foreward by Hiroko Kojima.
Yuri Norshtein's Studio

In Moscow city, in a section of an ordinary housing complex, there is Norshtein's studio. The entrance is a common wood door. There is no mention of a studio or the Norshtein Foundation. No nameplate, no signboard is hanging. You just push a button. When we approached the entrance a dog barks. According to the tone of barking, members in the studio can guess what type of guest is coming. Friends, strangers, new to the studio or not. It is the role of Pirat, the watchdog of the studio. If he barks sweetly and hovers around unable to wait for us to appear, it is apparent that he likes you. Norshtein is staying at the studio except on Saturdays, Sundays and holidays. There are rooms that serve as a kitchen and dining room, and a drawing room where everyone gathers. They drink tea, dine and take their rest. In the back, beyond a partition lays Norshtein's bed. It might have been an addition. This section seems to be protruding out of the whole studio. This section's roof is made of galvanized iron. When it rains, the sound makes music for the director. It is his favorite moment to listen to the sound of rain in this small area. Here all kind of works are performed. Telephone bells ring, a copy machine roars, Pirat barks and a nice smell of the soup for lunch cooked by Jina permeate the area.

In the basement, a shooting table invented by Norshtein and his late movie director Jukovskii is placed conspicuously. Parts of characters and sceneries of "The Overcoat" are crammed here. Lighting equipment is placed here, there and everywhere, but it is completely dark and we are thrilled to enter there as if we are going into a theater during rehearsals or immediately after an act. The shooting table set with scenery is illuminated by light and we get the feeling that we are wandering into the 19th century. Little by little, filming is going on.

Staff working at the studio contribute money for Jina to make meals. Tanya and Pirat take care of cleaning, shopping, etc. Staff are salaried by Norshtein. When disciples of Norshtein visit the studio holding a guitar and bringing wine, a banquet begins. Wonderful voices echo. Guests are Russian as well as foreigners from various countries. An Englishman lived in the studio and finished his manuscript "Tale How The Tale of Tales was made". But not all people are accepted. Once I happened to be present when there was a telephone call from a TV station. A request for an appearance. He declined immediately saying: "There is an important guest from Japan and I will not be available." I heard such requests declined several times. There is no need to worry that he cannot concentrate on his work when he accepts everyone. But 1 felt a bit guilty, as I am also a visitor who interferes his work. Anyway, Norshtein's studio is full of artistic atmosphere and joy. Oil paintings, sketches and storyboards fill the wall and colorful dry flowers somehow find their place there. Simply being in the studio make my heart swell. But I should not overstay any longer. Instead, let's enjoy Tanya's book.

Hiroko Kojima
____________________
Today's Chapter 2 follows Norshtein on a trip to Japan.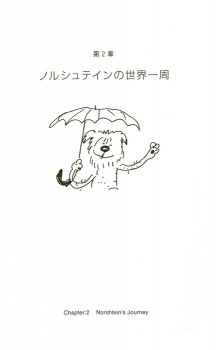 Chapter 2. Norshtein's Journey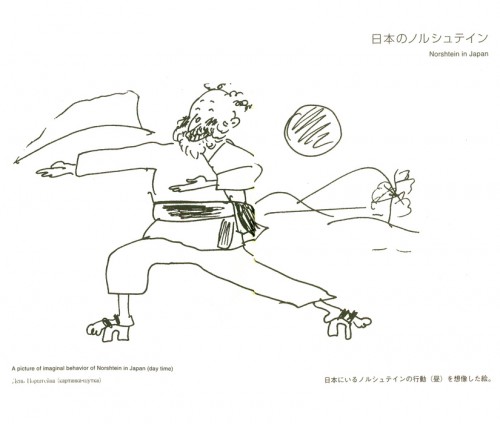 2
Norshtein in Japan
A picture of imaginal behavior of Norshtein in Japan – day time.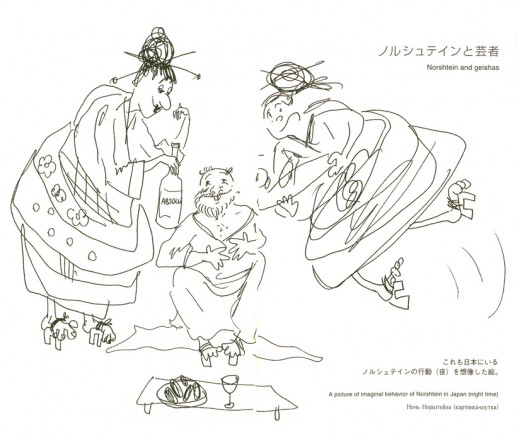 3
Norshtein and Geishas.
A picture of imaginal behavior of Norshtein in Japan – night time.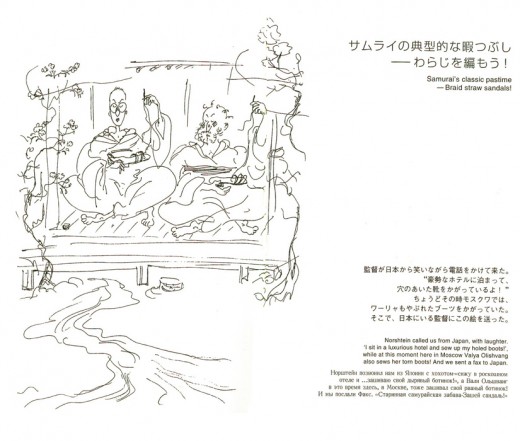 4
Samurai's classic pastime – Braid straw sandals!
Norshtein called us from Japan with laughter.
"I sit in a luxurious hotel and sew up my holed boots!"
while at this moment here in Moscow, Valya Olisvang ( a fellow director)
also sews his torn boots! And we sent a fax to Japan.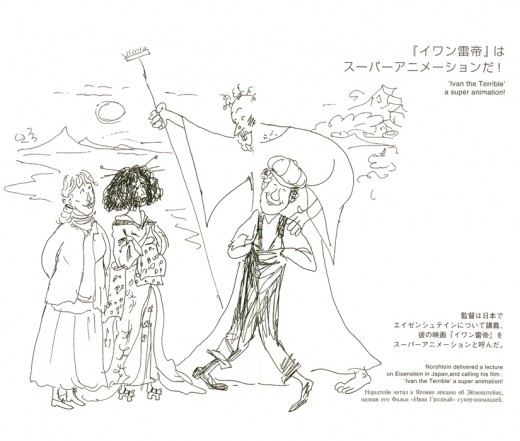 5
"Ivan the Terrible" a super animation!
Norshtein delivered a lecture on Eisenstein in Japan
and calling his film: Ivan the Terrible a super animation!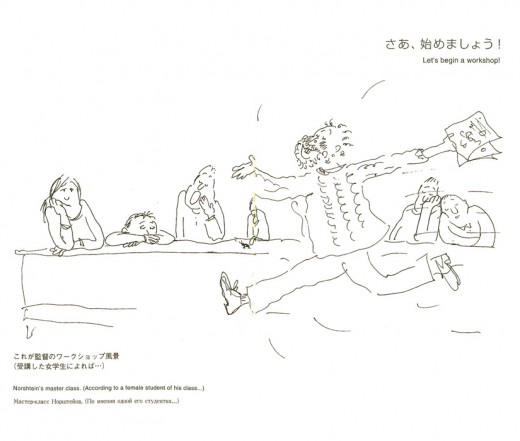 6
"Let's begin a workshop."
Norshtein's Master Class – according to a female student of his class.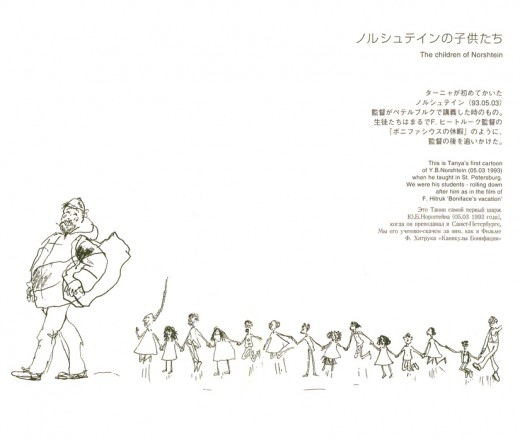 7
The children of Norshtein.
This is Tanya's first cartoon of Y.B.Norshtein (05/03/1993)
when he taught in St. Petersburg. We were his students – rolling
down after him as in the film of F. Hitruk, "Boniface's Vacation".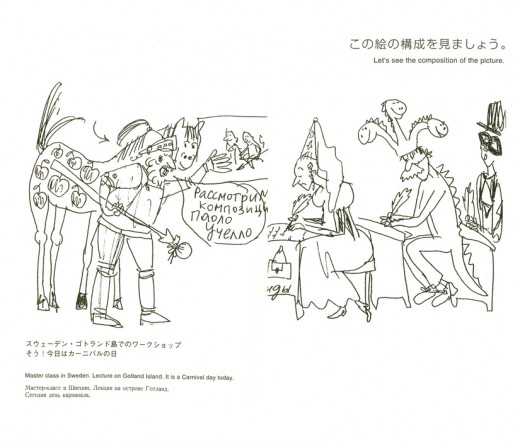 8
"Let's see the compostition of the picture."
Master class in Sweden. Lecture on Gottland Island.
It is Carnival day today.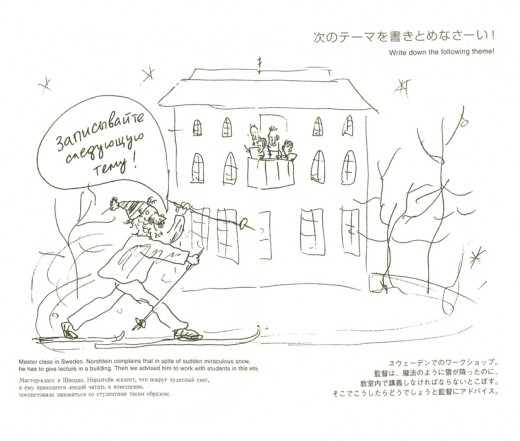 9
"Write down the following theme!"
Master class in Sweden. Norshtein complains that in spite of
sudden miraculous snow he has to give lecture in a building.
Then we advised him to work with students in this way.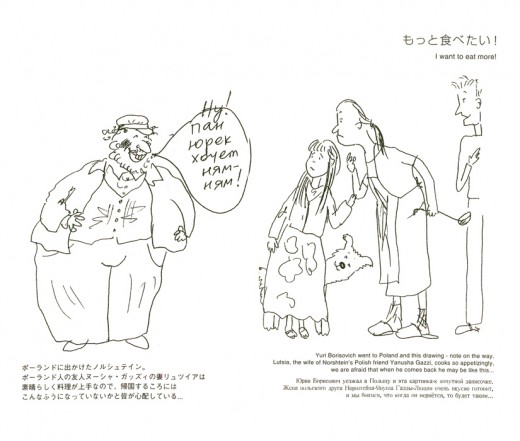 10
"I want to eat more!"
Yuri Borisovich went to Poland and this drawing – note on the way.
Lutsia, the wife of Norshtein's Polish friend, Yanusha Gazzi, cooks so
appetizingly we are afraid that when he comes back he may be like this.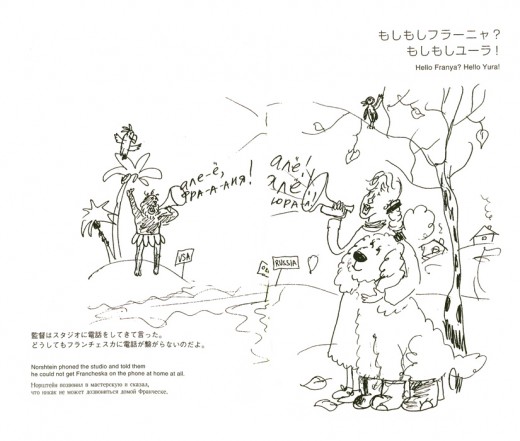 11
"Hello Franya? Hello Yura!"
Norshtein phoned the studio and told them
he could not get Francheska on the phone at all.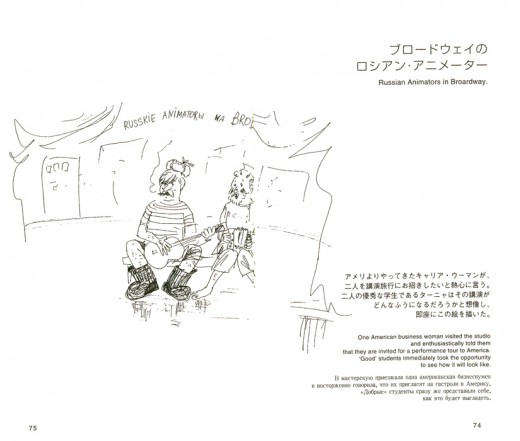 12
"Russian animators in Broardway."
One American business woman visited the studio and
enthusiastically told them that they are invited for a
performance tour to America. "Good" students immediately
took the opportunity to see how it will look like.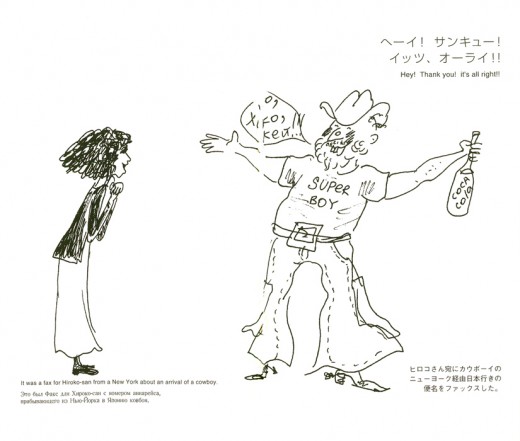 13
"Hey! Thank you! It's all right!"
It was a fax for Hiroko-san from New York
about an arrival of a cowboy.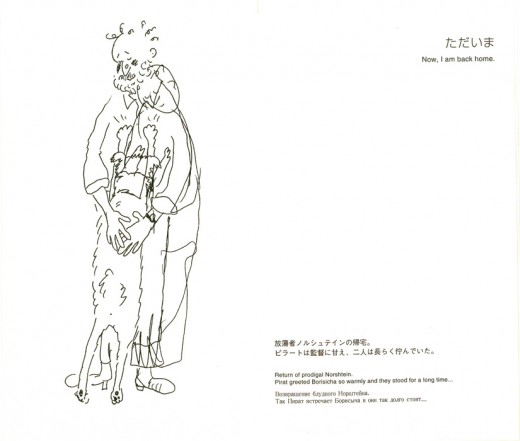 14
"Now, I am back home."
Return of prodigal Norshtein.
First greeted Borisicha so warmly
and they stood for a long time.

CDC3U2A2QVWN
Books &SpornFilms 26 Nov 2009 08:54 am
Happy Thanksgiving
- Here's a short film I'd like to share, about a minute long. It's a piece we did back in 1990 for Live Home Video and was part of a two-video project of nonsense poems. One tape contained poems by anonymous authors – Mother Goose and the like. The other tape contained poems by noted writers.
Russell Hoban is one of my favorite writers, so there are four of his poems included in the half-hour show. This was written by him and narrated by a young, non-actor girl who had a great voice. I'd worked with her previously on The Red Shoes.
Jason McDonald brilliantly designed and storyboarded the whole thing. He also did all the backgrounds for the two half hour tapes. This poem was animated by Sue Perrotto, who did some marvelous work for us.


Russell Hoban's
Jigsaw Puzzle
Click left side of the black bar to play.
Right side to watch single frame.
I'll put up a couple more bits of this show in the upcoming weeks.
________________
.
Animation &Books &Commentary 25 Nov 2009 09:07 am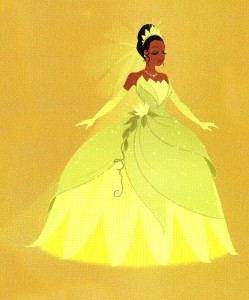 - Today's the day that The Princess and the Frog opens in two million theaters. It's being called 2D animation's last best chance of survival. Of course, that's ridiculous; I don't accept it for a minute. Just as I didn't accept it when Eisner at Disney or Katzenberg at Dreamworks proclaimed 2D animation dead, several years ago.
But I'm conflicted.
Certainly, I want it to do well – extremely well; I'd like it to make the road easier for the next non-Winnie-the-Pooh feature at Disney. But I don't think that this is going to be the best of the recent features – cgi, stop-motion OR hand drawn. I'm sure there'll be a couple of tour de force animation sequences. Yet, there's not much pulling me to any of those 2 million theaters.** I just don't have the highest of expectations. Looking at the "Art" in the book, The Art of The Princess and the Frog didn't warm me toward the film, either. There aren't many pictures in the book that remotely represent "Art" to me.
Yet, I am looking forward to seeing it. Because it IS 2D animation drawn by some of the most acclaimed animators in the industry. I am anxious for them and want it to supersede my trepidations and be a positive for animation. The truth is that I don't know what I'm going to see, and I want it to be better than the trailers and books promoting this film.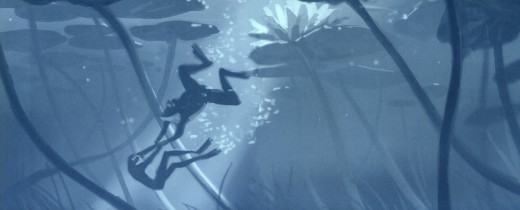 When I saw all the advance bits and pieces of The Fantastic Mr. Fox, I hated what I saw. I could imagine only negatives. The more I saw, however, the more I was being won over by the voice cast. When I saw the film, I loved it. I mean, I LOVED it. I'm looking forward to seeing it again . . . and again. Wes Anderson pulled together a brilliant film full of charm and wit and intelligence. It not only was one of my favorite animated films of the year, it was one of my favorite films . . . period.
Perhaps, that's what's in store for me with The Princess and the Frog. Perhaps the animators will overwhelm me, the directors will have a new vision, the artists will get to me. Perhaps, I'll see everything I hope for. But I'll have to wait.
I was set to see a screening on Dec 1st. But I can't. There's another more important event that evening. (Anytime live people are involved it wins hands-down over a filmed event.)
There's the celebration at the Paley center of Mr. Magoo's Christmas Carol, complete with a panel consisting of Darrell Van Citters, Animator and Author of Mister Magoo's Christmas Carol: The Making of the First Animated Christmas Special, Judy Levitow, Daughter of Magoo Director Abe Levitow and Marie Matthews, Voice of "Young Scrooge". I'll be at the Paley Center.
I've arranged to see The Princess and the Frog on Dec. 5th. That's Walt's birthday, so it seemed appropriate. It's two weeks after the opening, but I'll manage. Or if not, I'll do like everyone else and pay to see the film. The problem is that I've been seeing about five films a week (it's Academy screening time), and sticking another one in there is difficult. We'll see. Consequently, if I do give honest comments on this film (not that anyone is waiting) it'll have to hold until then.
** Jerry Beck in the comment section wrote: that the film opens in "one or two theatres today in NY and LA. It opens in "two million theatres" on December 11th." My mistake.
Regardless, the film got reviewed today. The race issue presented problems for some:
Manohla Dargis' NYTimes: Not quite glowing, she says the ". . . finale, like the story itself, represents progress of a kind, I suppose, even if this princess spends an uncommonly long time splashing around as a frog. A frog whose green hue suggests that, if nothing else, Disney finally recognizes that every little girl, no matter her color, represents a new marketing opportunity."
The NYDaily News: (3 stars)"The good news is that "P&F" quickly cruises past the fact that Tiana is Disney's first African-American heroine. Unfortunately, the story that surrounds her often finds itself stuck in the swamp."
The NYPost 3 stars) A generally positive review but says that the film isn't up to "Alladin", "The Little Mermaid" or Pixar.
The Village Voice: A not enthusiastic review: "Much ballyhooed as Disney's return to its tradition of 2-D "cel" animation after a five-year hiatus, The Princess and the Frog is pleasantly, if unmemorably, drawn. But the movie as a whole never approaches the wit, cleverness, and storytelling brio of the studio's early-1990s animation renaissance . . ."
_________________
.
- Today's also the day that
The Fantastic Mr. Fox
opens wide. Prior to this it played only four theaters in the US: two in NY and two in LA. It did exceptionally well at those four theaters; let's hope it continues at a couple of thousand.
Go see it. That's all I can say. This is a great film. Go see it.
_________________
.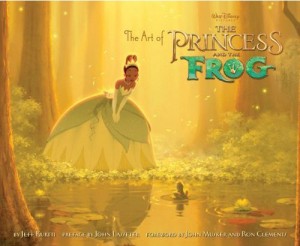 - Let's back up a bit and talk about that book –
The Art of The Princess and the Frog
. This is only one of about 16 books Disney's releasing on the film. I've read that they've been very successful with any merchandise featuring Princess Tiana. Everything from the Little Golden Book to a cookbook. The one that intrigues me most is the
Learn to Draw The Princess and the Frog
. (In the past, they would have called it "How to draw . . .")
But back to the one Chronicle sent me hoping for a review. I've been a fan of Chronicle's animation books. Amid Amidi's exceptionally well designed book, Cartoon Modern, was the first book of theirs that grabbed my attention. It did what other Art/Animation books should have imitated. Amid's follow-up, The Art of Pixar Short Films was equally attractive, though I didn't have much interest in the subject.
The book, The Art of the Princess and the Frog is also well designed, graphically, but the material is, for me, less than thrilling. I'm not sure I am in tune with writer, Jeff Kurtti's approach to structuring the book.
The book, itself, seems less about animation than about how to display the artwork offered. It breaks chapters into characters or settings and gives lots of models, storyboards and Bg examples. It makes for a very different format in the book and makes for a new way of organizing the material.


There are plenty of storyboard selections to view.
This sequence by Jeremy Spears.
.
There are a lot of quotes from many of the principal artists and animators involved, and the book plays out from those quotes. There are a lot of characters analyzed in the book, so I'm curious to see how they play in the film and how much screen time any of them get.
The end result, for me, is that there doesn't seem to be a strong focus in the book. I'm not sure what I should be looking for. Is it just a big scrapbook of artwork promoting the film? Or is there a larger focus that I missed? But then I get the feeling that the film is a mish-mash of styles, itself. The book doesn't help in this regard, but, of course, it's a gathering of a lot of preliminary art, so it's hard to tell.
Given the large number of art books on the subject of various animated films, I suppose there have to be other models for the "Artwork of . . ." series, but I'm not sure this is it.
There are some interesting bits about the film that were stated. For example, the chapter on Background design illustrates how the artists looked closely at Lady and the Tramp for "inspiration". Here's a breakdown in two illustrations that the book uses to discuss this inspiration.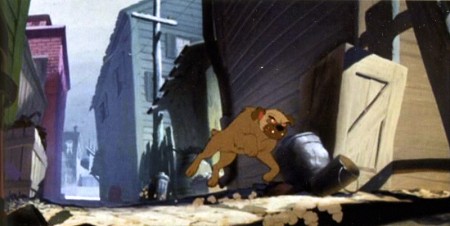 ". . . We looked at Lady and the Tramp not so much for the "application
of paint," but definitely the caricature of shapes, and the compositional
elements. Large foreground elements utilizing the screen shape, and then
space of depth, and pattern, and a nice balance and rhythm of light shapes."
.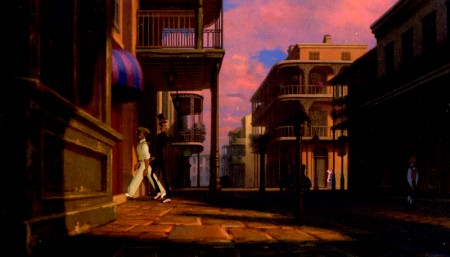 I wonder what Disney film the Art Directors of Lady and the Tramp
studied when they were preparing to design their film?
.



The Lady and the Tramp Bg as it appears in
Bob Thomas' The Art of Animation.
.



Bg for The Princess and the Frog by James Aaron Finch..
Should this be an inspiration for
me
or for future animation artists? The Thomas book was a model for me; for years I studied, memorized and pored over every picture of that book. I wonder how I would react to this if I were young and looking for something to keep me enthralled with the medium.
We need to redefine the art of "The Art of . . ." books. They have to be more than a promotional device> Throw enough pretty pictures at the audience and you'll make enough sales to cover cost and bring people to the theaters. Some creativity might be required.
Like all scrapbooks, there are some illustrations that were interesting to me.
Here are a few of them.
.



Two illustrations by James Aaron Finch. ."
.



Something lost. Something gained?."
.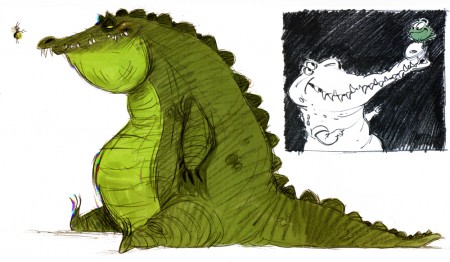 Bill Schwab on the left | Rik Maki on the right
.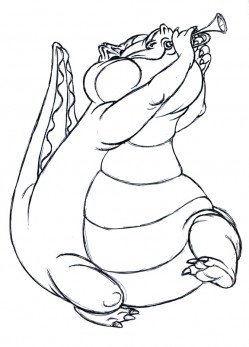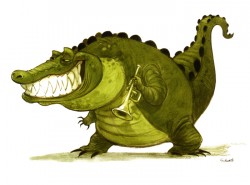 Eric Goldberg on the left | Bill Schwab on the right
.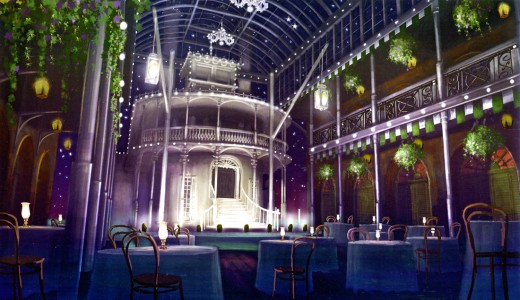 Bg by Doug Reggers. There are a lot of steamships in the book.

Articles on Animation 24 Nov 2009 08:46 am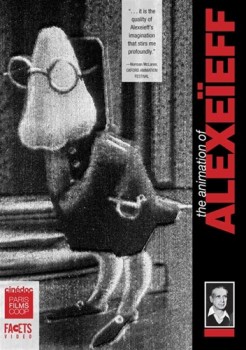 Svetlana Rockwell, the daughter of Alexandre Alexeieff has recently sent out a letter to several people worldwide. I was fortunate to have received a copy of this via Karl Cohen, the ASIFA-SF president.
I am very pleased to be able to let you know that my father Alexandre Alexeieff's DVD has been produced in this country by FACETS in Chicago.
The DVD was originally put together by my agent Dominique Willoughby ,CINEDOC in Paris. It took him two years to do it.
The result is excellent. It was a work of love!
Years ago, when I read and re-read the Halas/Mavell book Technique of Film Animation, I was particularly curious to see films by Alexeieff & Parker. They were hardly available – even in New York. The best I could do was to see the titles to the Orson Welles' film The Trial. I had to wait years to see others. These days, of course, like everything else they can be seen relatively easily thanks to such DVDs.
The disc includes their most important films including the renowned adaptation of Moussorgsky's tone poem, Night on Bald Mountain. Over 30 films are featured, including short animations, stop-motion animated advertisements made for French cinemas, and photographs of Alexeieff's still artwork.
It also includes The Pinscreen, a documentary by Norman McLaren; Mindscape, a film by Jacques Droulin; Alexeieff and Parker Making Three Moods, a documentary; and a gallery of photos and prints.
You can order the DVD directly from Facets in Chicago.
__________
To give more information about the noted duo, whose work is probably not as well known today as it was even 10 years ago, I post this article by Alexeieff written for Animafilm #3, Jan. 1980:
Creative art
as a profession
by Alexandre Alexeieff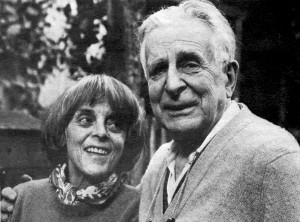 Does a country exist which would not seem to believe that it must possess a Museum, a School of Fine Arts teaching painting, sculpture, engraving and architecture, a Music Conservatory and an Opera House?
As if there were at any time and in every country great painters, sculptors and musicians… and yet History testifies that the reality is quite different: there are many countries which have never had any great painters, or else have had some, but for a limited time. ________________Claire Parker & Alexandre Alexeieff
For instance a country may have had a great poet hut never a great composer, and so on. A closer study of the history of culture shows that a period during which a given country enjoyed the flowering of one or several particular arts is hut of limited duration. Such a period is invariably followed by a gradual decline consisting of dreary routine due to an excessive respect for stereotyped rules imposed by the elders.
I am particularly impressed by the singular case of Russian classical literature, limited to the first decades of the 1 8th century. It so happened that before 1806 literate Russians spoke and wrote in French. The patriotic feeling engendered by the Napoleonic aggressions resulted in the new fashion of speaking and writing in the native tongue which, until then, had been used mainly by illiterate peasants. A handful of writers (among whom only Pushkin's name is familiar to the West) ' lacking any national tradition, had to create the very language itself, in which they were'to write. Rut never since has Russian literature attained such grandeur. One is tempted to remember the famous line of the French playwright Racine: ".. .qui d'un coup d'essai font un coup de maltre…" What seemed to Racine an exception – an apprentice succeeding as if he were a master – is it an exception or, perhaps, a general rule?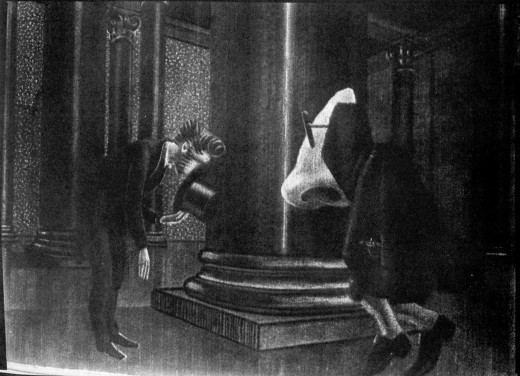 THE NOSE – (1963)
.
If I remember rightly, it happened around 1922, after the summer vacation was over, that the Cafe du Dome on Montparnasse, which by that time had supplanted the "Rotonde" as the meeting place of painters, opened its redecorated rooms. Its walls were ornate with new polychrome bas-reliefs of a most abominable design prevailing at that time on French banknotes. This discovery gave me immediately the strange certitude that French easel painting was dead for good. And indeed it so happened that after that year paintings of a frankly decorative character supplanted easel painting in everything but name.
I listened nevertheless to the teachings of the new masters with reverence. According to them the utmost care had to be bestowed upon COMPOSITION. Yet one had to care also about TEXTURE. Subsequently it was the preoccupation with texture, which I practised in my engravings, that resulted in the invention of the pinscreen (which is to my mind the purest example of what an engraved plate tends to be).
The year after that sad opening of the Cafe du Dome, when the pinscreen built by Claire and me empowered us to animate my engravings, I conceived that the forthcoming film of "animated engravings" was to show for the first time an image which would remain constantly composed in spite of its movement.
The very first screening of our first rush demonstrated that COMPOSITION was an affair of monumental painting and had nothing to do with movies.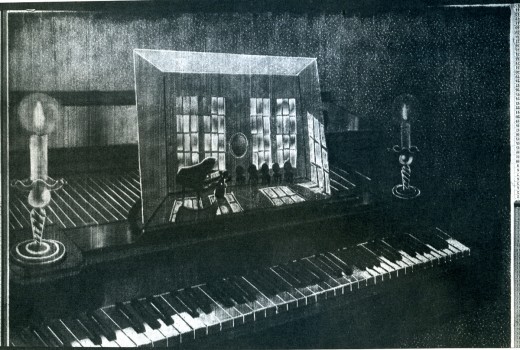 PICTURES AT AN EXHIBITION – (1972)
.
Forty-five years have elapsed. It no longer looks scandalous to read that easel painting exists no more. In private houses the SINGLE MOVING IMAGE tends to replace static paintings. The rich no longer buy bronze or marble, or paintings in their frozen frames: they buy instead trips to the inhabited inslands of the South Seas. As if humanity were discovering movement and time. As if the ephemeral, the transitory were taking the place of the eternal, the solid, the permanent. One no longer cares about the Seven , Wonders, one bids farewell to Antiquity.
Leaving the three-dimensional, humanity is entering into the fourth dimension.
One may suppose that animation's destiny is to take the place of painting. Whether decorative or easel painting, does not matter – painting being lost in a maze of sterile scholastic speculations.
Is animation going to live side by side with that sort of animated photography which people call the cinema? Probably – yes, and yet the cinema will have to make some room for animation.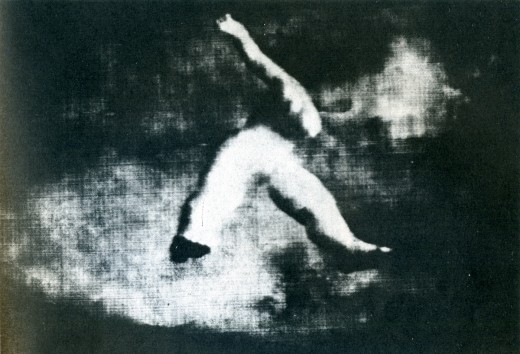 NIGHT ON BALD MOUNTAIN- (1933)
.
It was in the early 1930s that I saw Renoir's film showing a white horse galloping on a background of dishevelled clouds. Apparently it was a double print: there were two shots, one of a horse and one of clouds. One of the prints was printed over the other… but I wondered what Renoir's role was in all that. Dtdn't he have to accept both horse and clouds such as they were? Certainly it was Re'noir who decided to print the two shots one over the other… was this all he did? Was his part of creation no more than combining recorded real events?
After 45 years, as I understand it motion picture animation is an acceleration of images and events entirely created by the imagination of the artist. These he has to slow down during the step-by-step process of creating the film.
When it crossed my mind to count the days, weeks and months which Claire and me had to spend under the lens of our camera in order to cumulate that time into no more than eight and a half minutes of film, I realised that this was a ratio of about 30,000 to one; reciprocally it might be said that we slowed down an 8 minute long action to some 540 days. There were days when I lived only a fraction of a second during the whole 6 hours of work. This required a discipline yet unknown to me in spite of the pretty hard training I was familiar with as an engraver. The thing looks to me like a sort of slow motion, but now not applied to film hut to human life itself: my life. This had to he so drastically slowed down in order to endow with life an image conceived and made hy me – an image or images of things which (unlike Renoir's horse) never existed anywhere except in my mind.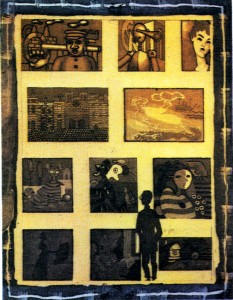 ACCELERATION? I had to examine that. From the start it occurred to me that ACCELERATION is the reverse of SLOW MOTION.
Who can remain indifferent hefore the grace of human and animal movements slowed down?
And yet, why does an acceleration (even a slight one, which is undergone by old films shot at 16 frames per second when screened at 24 f.p.sec.) -why does even so minimal an acceleration invariably look funny.
And more: are there other mechanical accelerations known among the arts? Yes, there are gramophone records of funeral marches which, if recorded at 33 revolutions per minute, sound like gay polkas when speeded up to 78 r.p.min. And in the reverse: a polka, recorded at 78 r.p.min, sounds grave and majestic if played at 33 r.p.min.
It is also illuminating to ponder over the instructions for the speed and character of the interpretation of musical scores: "moderato pesante" or "allargando" or "perdendosi" or "tranquillo", if not "scherzando" or "andante grave", even "con dolore" or "allegretto vivo" as well as "feroce" or "maestoso".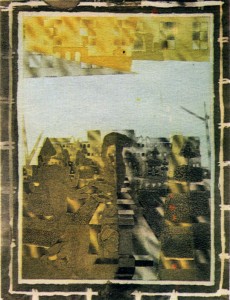 But how about "30,000 times faster"? This is much more than simply faster than "twice as fast"… Here the acceleration is so tremendously out of proportion -could quantity perhaps change the very quality? We cannot answer such a question, but we may note the general trend of animation to rush out of the control of the animator, who is invariably suprised on seeing his shot screened for the first time.
But let us admit also that it is monstrous to spend 18 months for 8 minutes of movement… And then there is that absence of slow motion, which animation ignores… that lack of gravity… that perpetual agitation… that compulsory burlesque… Is it possible that animation cannot do SOMETHING ELSE, as music can?
If I took the liberty to thus speak my mind, it is because I've been thinking along these lines for a very long time, I wonder whether some other people do not think like this as well. It is for them that I'm writing.
Doubtless I am not alone in wishing for an evolution. Others than me – Szczechura for instance – are revolutionizing animation admirably.
I also admit that serious subjects have never been well paid for, although burlesque brings in cash. But is big money so important? Impressionist painters did not make money during their lifetime.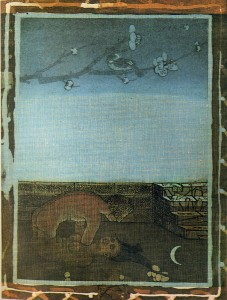 The history of the fine arts is like the card game named "patience". A solitary game where the cards open their faces one after the other. The future will show what animation can do.
By the way – is there an animator who wouldn't wish to speed up his production process? This implies the reduction of the ratio between production time and screening time (speeding up production spells out slowing down the acceleration). Therefore Claire and I are presently trying to reduce the speed of out animation to the tempo of slow motion, and I believe we can do it… at least sometimes. Last spring we succeeded in going 50-timcs slower. If we were shooting NIGHT ON BARE MOUNTAIN these days, we might reduce the ratio of 30,000 times to 600 which is almost tolerable.
English version corrected by Claire Parker
©1979, by Alexandre Alexeieff and "Animafilm"
ALEXANDRE ALEXEtEFF AND CLAIRE PARKER: BIO-FILMOGRAPHY
.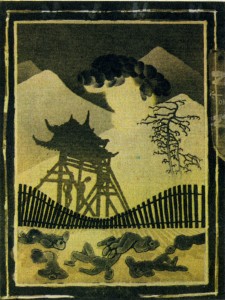 Claire Parker collaborated with Alexandre Alexe'ieff in the production of all his films made on pin screen. She took part in the animation of all his films, excluding three commercial films which he made in Berlin, and
LA PLUME DE F1N1ST – CLAIR FAUCON
, made in Rome. The film biography covers their joint work.
1931 – work on the first pin screen: 500,000 little rods sharpened at one end, with a diameter 0.9mm. Surface: I x 1.20m.
1933 – first film, UNE NUIT SUR LE MONT CHAUVE (The Night on Mount Bald). Extremely warm reception of audiences, but poor distribution; six weeks at Pantheon (Paris) and two weefcs at the Academy (London).
1934-LA BELLE AU BO1S DORMANT (The Sleeping Beauty), the first color puppet film starring puppets used for advertising "Nicolas" wines. Cooperation with Jean Aurenche and Francis Poulence. Alexe'ieff gives up puppets and script writing for professionals.
1935-1940 – commercial films (color) with object animation. Cooperation with top European composers. New effects included in ads films of up to three minutes. Friendship with Bartosch.
1937 – an attempt at making a smaller pin screen: 50×65 cm with a simplified structure – a failure.
1940 – A.A. and C.P. find refuge in the U.S.A. Friendships with Canadians, especially with N. McLaren.
1943 – second pin screen. Dimensions 1×1.70 m, 1,400,000 sharp-pointed rods. Diameter 0.45 mm. EN PASSANT (Incidentally) – a film commissioned by the National Film Board of Canada. Lack of interest in this film in the U.S.A. Walt Disney imitates "The Night on Mount Bald" and A.A.'s GRAND FEUX POUR ARTHUR MARTIN (Great Fire for Arthur Martin), but the Americans are somehow distrustful towards Continental artists.
1947-back to Europe; problems: shortages of paper and electricity.
1951-TOTALISATION(Totalization), fortheBel-gian producer Paul Delpire, originates. The film FUMEES (Smokes).
1956 – Films: SEVE DE LA TERRE (Earth Juices), MASQUERS (The Disguised), PURE BEAUTE (Pure Beauty). Admission to the Cineastes Associes.
1963-LE NEZ (The Nose).
1964 – last, 31st commercial advertising film, DE L'EAU (The Wafers,). The producer congratulates A.A. and C.P. on the film but fails to screen it.
1968 – new pin screen with a- more complicated construction. Dimensions: 45×55 cm., 250,000 sharp-ended rodlets. Diameter: 0.45 mm.
1972 – the film TABLEAUX D'UNE EXPOSITION (Pictures at an Exhibition), made on two pin screens. National Film Board of Canada purchases the new screen made by A.A. and C.P.
1975 – an exhibition at the Annecy Castle.
1977 – another pin screen completed. Dimensions: 50×60 cm.; 275,000 rodlets pointed at both ends. Diameter: 0.49 mm. A new film in store, TROIS THEMES (The Three Themes).
Color Images #5-#8: Graphics by Alexandre Alexeieff
Animation &Animation Artifacts &Hubley &Tissa David &walk cycle 23 Nov 2009 08:52 am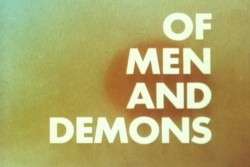 - Of Men and Demons, to me, has some of the finest artwork in any of the Hubley shorts. As I pointed out, once before, Tissa David told stories of reworking some animation by Art Babbitt, which was done on 12-15 levels and had to be reworked to come down to four levels. It was a monster of a puzzle for her and included reanimating some of the bits that were too complex to work properly in their reduced form. She then had to take over the sequence and complete the animation of it.
Here is a short piece that Tissa did of the little woman character seeding her front yard. There's so much grace in every one of these drawings and enormous information in the walk, itself.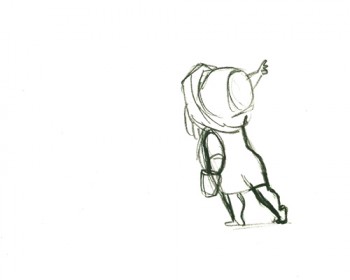 G47
(Click any image to enlarge to full animation sheet.)
.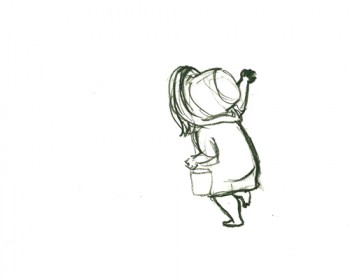 G49
.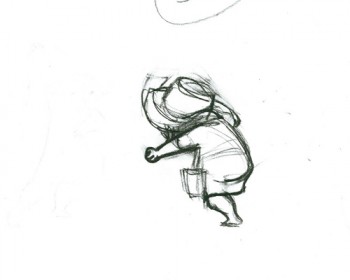 G51
.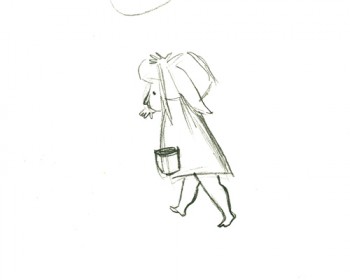 G53
.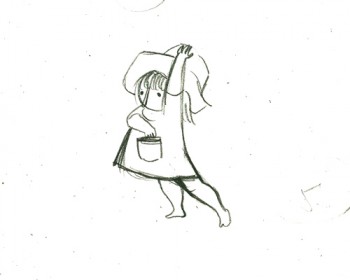 G55
.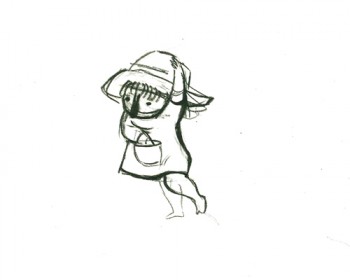 G57
.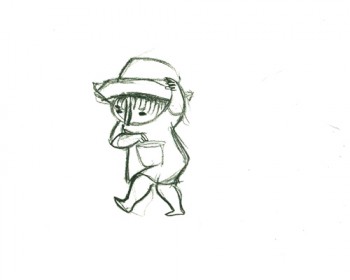 G59
.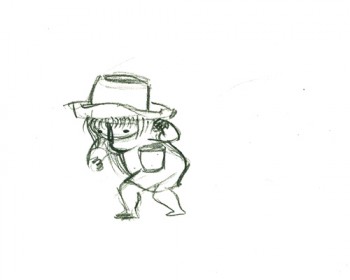 G61
.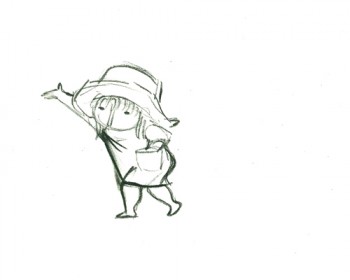 G63
.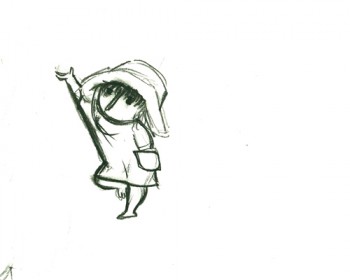 G65
.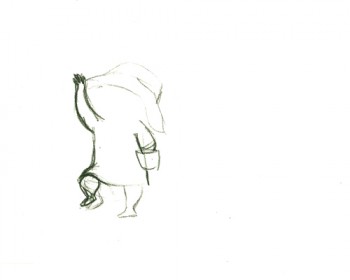 G67
.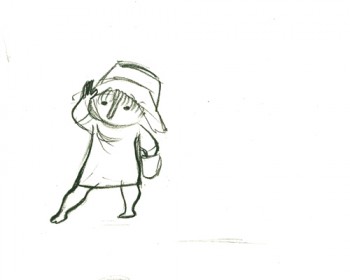 G69

And here are the matching frame grabs from the film.

Seeding crops PT & Final Color
Click left side of the black bar to play.
Right side to watch single frame.
Comic Art &T.Hachtman 22 Nov 2009 09:05 am
- Sunday, and here are more of Tom Hachtman's strip, The Renaissance Masters. It makes me sad to say that this is the last of four parts. The little green book has run out of pages. Perhaps Tom can be encouraged to draw up some more for us; after all, don't artists owe their non-paying public anything!
Here're the links to Part 1, Part 2, and Part 3 if you want to read previously posted cartoons.
Enjoy: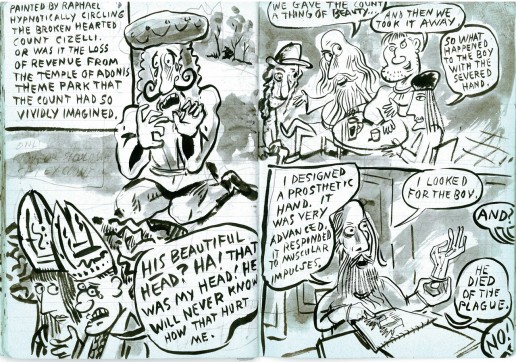 46
(Click any image to enlarge it and better enjoy the artwork.)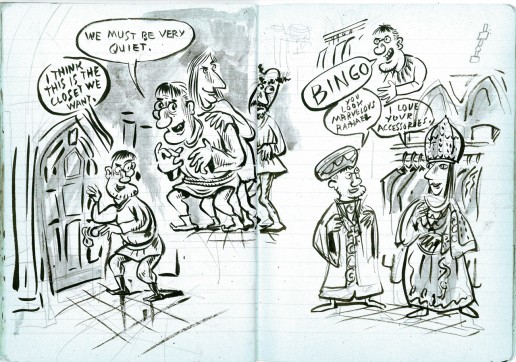 47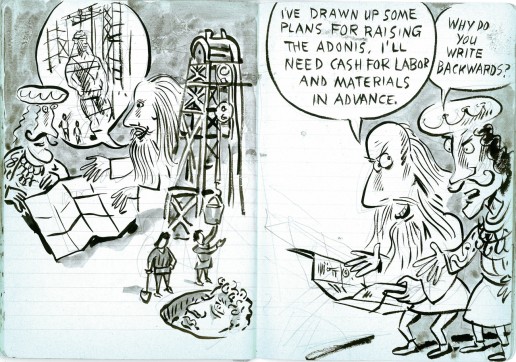 48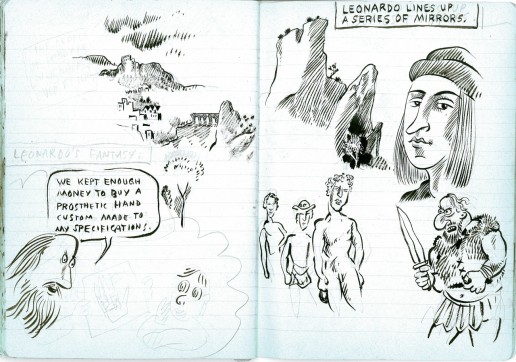 49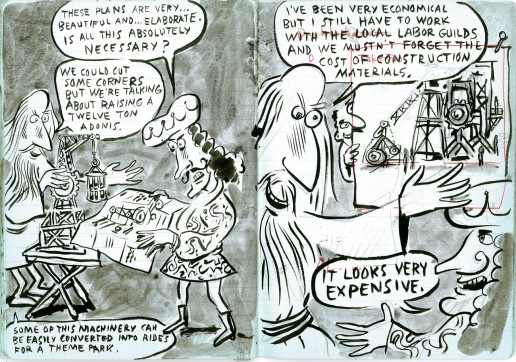 50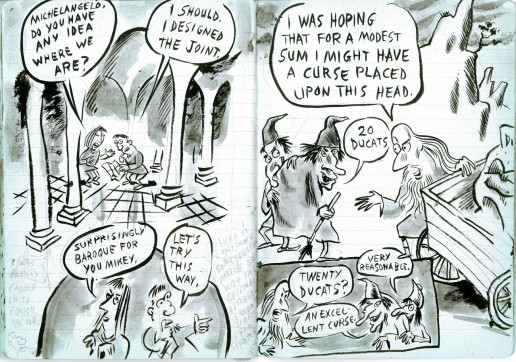 51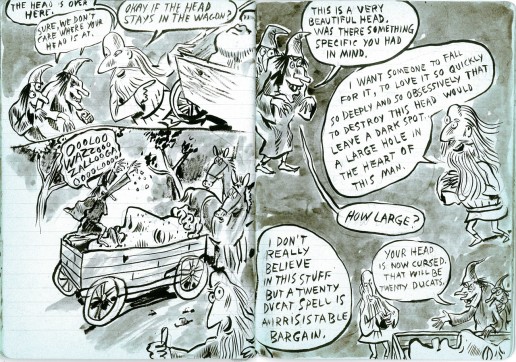 52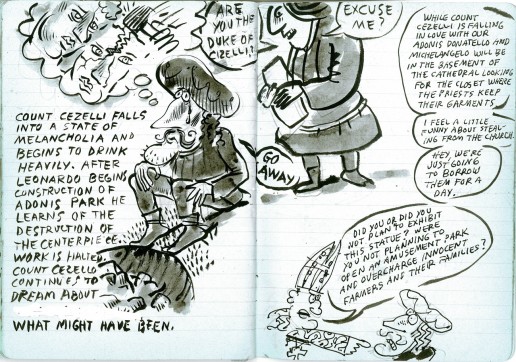 53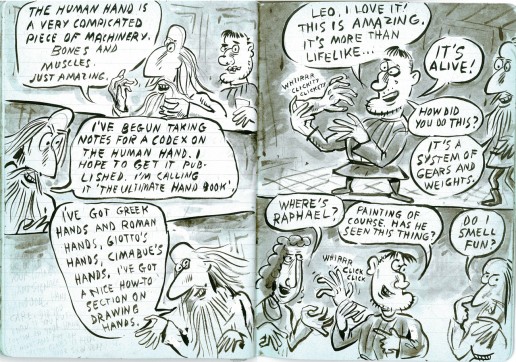 54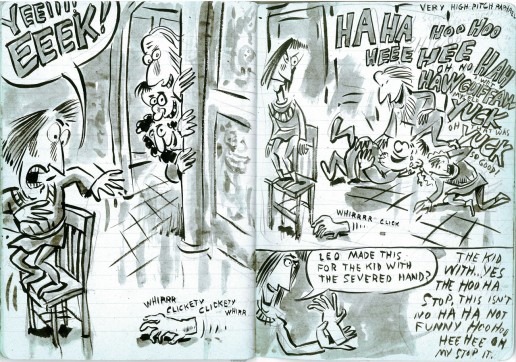 55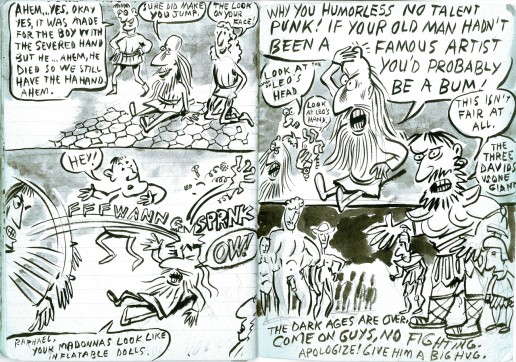 56
Daily post 21 Nov 2009 02:38 am
The Renaissance Masters – 4 will conclude tomorrow, Sunday.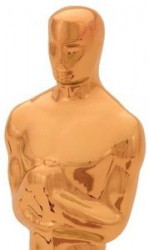 - There have been a number of newspaper articles about the released short list of Academy Award entrees for Best Documentary. Many of the more popular films – such as Michael Moore's Capitalism: a love story and The September Issue – have been left off the list. This has caused some feedback for the Academy.
The short list of entrees for the Best Animated Feature film has also gotten a lot of attention in newpapers and on blogs. A record 20 films have been entered and are probably eligible – meaning there may be as many as 5 nominees this year.
The Academy has never previously released the short list of the nominees for the Best Animated Short.
Until today.
These are the ten films vying for the Oscar nomination for that award. They're listed below in alphabetical order by title, with their director and production company:
The Cat Piano
Eddie White and Ari Gibson, directors (The People's Republic of Animation)
French Roast
Fabrice O. Joubert, director (Pumpkin Factory/Bibo Films)
Granny O'Grimm's Sleeping Beauty
Nicky Phelan, director, and Darragh O'Connell, producer (Brown Bag Films)
The Kinematograph
Tomek Baginski, director-producer (Platige Image)

The Lady and the Reaper (La Dama y la Muerte)
Javier Recio Gracia, director (Kandor Graphics and Green Moon)
Logorama
Nicolas Schmerkin, producer (Autour de Minuit)

A Matter of Loaf and Death
Nick Park, director (Aardman Animations Ltd.)
Partly Cloudy
Peter Sohn, director (Pixar Animation Studios)
Runaway
Cordell Barker, director (National Film Board of Canada)
Varieté
Roelof van den Bergh, director (il Luster Productions)
The following were all of the films that were eligible and competed for the short list. Congratulations to all for having produced films of such high calibre.
1. GETTING OVER HIM IN 8 SONGS OR LESS – 28mins – Debra Solomon
2. KANIZSA HILL – 8min – Evelyn Lee
3. ALICE'S ATTIC – 3mins – Robyn Yannoukos
4. HE'S BARACK OBAMA – 2mins – JibJab
5. SEBASTIAN'S VOODOO – 4mins – Joaquin Baldwin
6. THE KINEMATOGRAPH – 12ins – Tomek Bagiński
7. HORN DOG – 5mins – Bill Plympton
8. VARIETÉ – 5mins – Roelof van den Bergh
9. ALMA – 6mins – Rodrigo Blaas
10. BIRTH – 12mins – Signe Bauman
11. CAGES – 10mins – Juan Jose Medina
12. CHROMA CHAMELEON – 5mins – Marc F. Adler & Warren Grubb
13. ClKORJA AN' KAFE (Chicory 'n Coffee) – 8mins – Dusan Kastelic
14. ESTERHAZY – 23min – Izabela Plucinska
15. JACINTA – 9mins – Karla Castañeda
16. LA INCREJBLE HISTORIA DEL HOMBRE SIN SOMBRA – 9mins – José Esteban Alenda
17. LEONARDO -10mins – Jim Capobianco
18. LIVE MUSIC – 6mins – Hugh Hart
19. LOGORAMA – 17mins – H5, a French design collective,
20. A MATTER OF LOAF AN DEATH – 29mins – Nick Park
21. PARTLY CLOUDY – 6mins – Peter Sohn
22. PATIENCE OF THE MEMORY – 7mins – Vuk Jevremovic
23. PIGEON: IMPOSSIBLE – 6mins – Lucas Martell
24. RINKY DINK – 5mins – John Dilworth
26. RUNAWAY – 9mins – Cordell Barker
26. SLAVES – AN ANIMATED DOCUMENTARY – 15mins – David Aronowitsch & Hanna Heilborn
27. THE SPINE – 11mins – Chris Landreth
28. TABLE FELLOWSHIP – 2mins – Robert Colon
29. VALISE – 7mins – Isabelle Favez
30. VIVE LA ROSE -5mins – Bruce Alcock
31. WHEN APPLES ROLL -7mins – Reinis Kalnaellis
32, YOU'RE OUTA HERE – 3mins – George Griffin
33. THE BIRTHDAY GIFT – 8mins –
34. THE CAT PIANO – 8mins – Eddie White & Ari Gibson
35. FRENCH ROAST – 8mins – Fabrice O. Joubert
36. THE LADY AND THE REAPER (La Dama y La Muerte) – 8mins – Javier Recio
37. GRANNY O'GRIMM'S SLEEPING BEAUTY – 6 mins – Nicky Phelan
Short Films and Feature Animation Branch members will now select the five nominees from among the 10 titles on the shortlist. Branch screenings will be held in Los Angeles, New York and San Francisco in January 2010. The 82nd Academy Awards nominations will be announced on Tuesday, February 2, 2010, at 8:30 a.m. EST in the Academy's Samuel Goldwyn Theater.
Thanks to Karl Cohen for the information.