Errol Le Cain 31 May 2006 07:04 am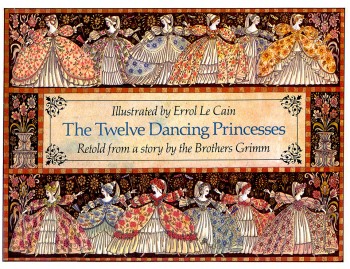 - Here are some of the illustrations from Errol Le Cain's book 12 Dancing Princesses. The book is a small beauty which I've treasured since its publication in 1978.
The illustrations are beautiful watercolors very much in Le Cain's style – full of style and character, rich in detail among the many characters depicted.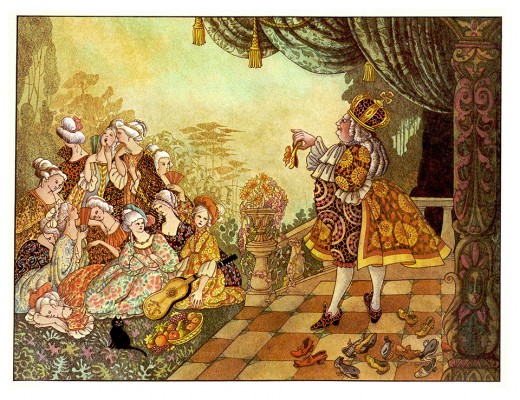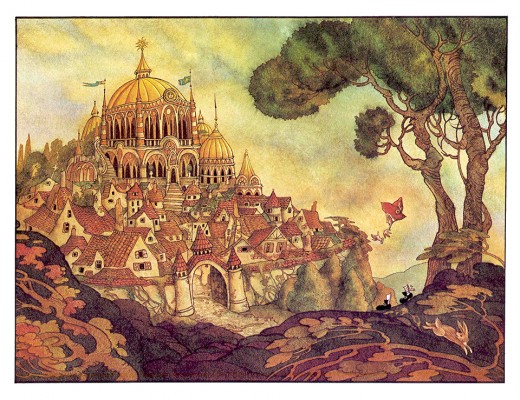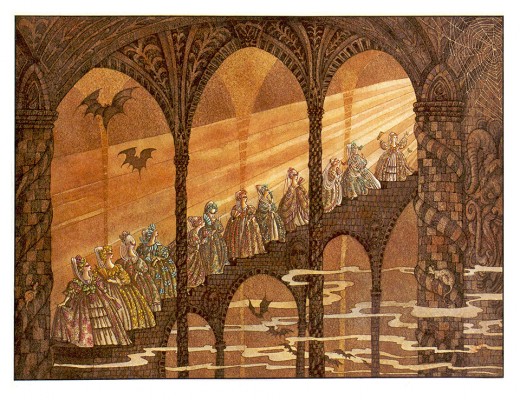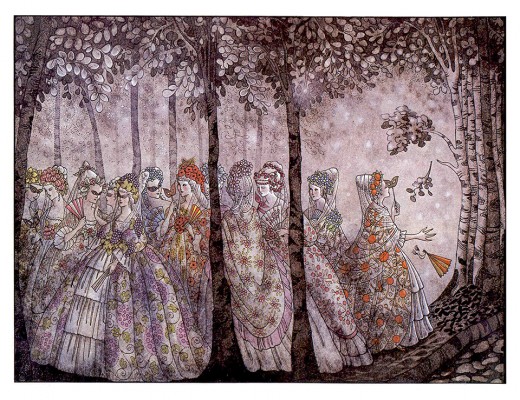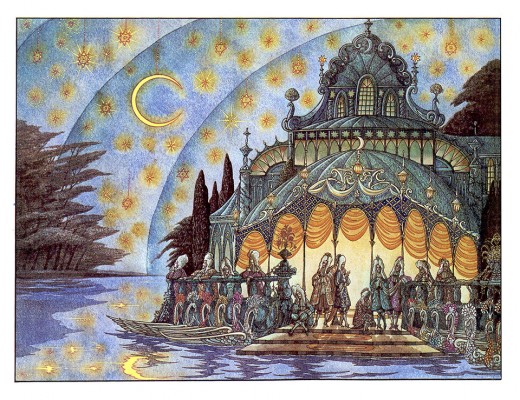 (Click on any image to enlarge.)
Animation 30 May 2006 06:51 am
– If Bruno Bozzeto has been called, the Disney of Italy, Guido Manuli is the Tex Avery. This, at least, has been the opinion of Giannalberto Bendazzi, Italy's foremost animation historian.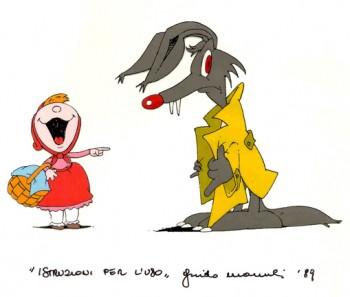 Manuli has been a master animator and director in Italy whose solo work has rarely been very successful in the United States.
He collaborated with Bruno Bozzetto on the Mr. Rossi series and was one of the key animation directors on the brilliant feature, Allegro Non Troppo before establishing his own studio in 1979. His collaboration with Maurizio Nichetti produced the animated/live-action mixed feature Volere Volare (To Want To Fly) in 1991.
(Click on image to enlarge.)
In his own films, Manuli tends to replay scenes from varied angles to get every bit of juice out of a gag. He has had a wild streak in his work that he has turned into laughs; he has often played for the "cartoon" in any situation. There's also a surreal bent in his work which provides for some outrageous ideas; it explains his enormous, deserved success in Europe. I'm curious as to why this doesn't translate to Americans, or at least American buyers.
This is a cel-setup from one of Guido Manuli's films, a randy take on Little Red Ridinghood. Even the cel set-ups are jokes.
Daily post 28 May 2006 07:46 am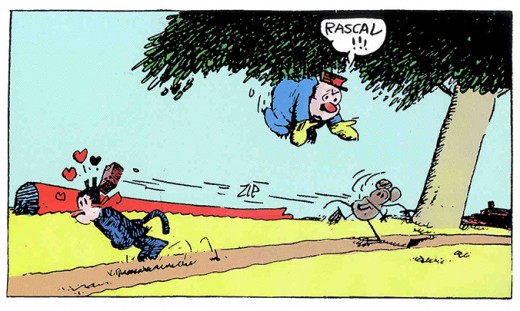 - Today's NY Times features yet another story about CARS. Charles Solomon writes this article, and the Dixney/Pixar machine is covering all the bases. How different than in past years when there was virtually no advertising for animated features.
There's another AP article in Newsday about the premiere.
- However, not all is right in movieland. An other NY Times article reports about planned cost-cutting at Disney and Touchstone. Will the newly reconstructed animation division have more cuts?
- For those who haven't read it, there's a wonderful recap of life at "Moor Hall". This is a short memoir by Bob Egby, who was a messenger on the premises of David Hand's British studio for J. Arthur Rank's Gaumant Productions. Names are named and jobs are detailed, including many who weren't credited on the film. It's a practically lost part of animation history.
There's a bit more to be gathered from the David Hand website, which offers everything from books to original art to lecture notes & models.
Animation Artifacts 27 May 2006 07:19 am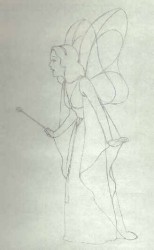 – These are the last of the drafts I have for Pinocchio.
They continue from the last sheet I had posted where Jiminy was getting the clocks to finally quiet down and preparing to go to sleep (posted back in April) , and these which represent the arrival of the Blue Fairy.
I'm curious about the design of the Blue Fairy in this film. She's markedly different than any other character in Pinocchio. They filmed the entire movie to use as a reference guide for the animators, but only the Blue Fairy is so tightly linked to the rotoscoped drawings. However, it seems quite appropriate for her to be different; the other-worldly quality is enhanced by the rotoscope and the effects glimmering off her dress and eyes and the glow around her body. It's beautiful.
However, her difference accents the difference that was starting to show up in acting styles among the animators. Tytla and Babbitt, roommates for a long while, couldn't have been more different in styles.
Geppetto is probably Babbitt's greatest animation; the character is complex in design and simple in spirit. He feels a bit like an older man being played by a masterful young actor.
Stromboli is an explosive temperament on display. The character even distorts between poses to accent that violence. Oddly, in small ways, this character reminds me of Grim Natwick's giant in the Iwerks film, Jack & The Beanstalk . Stromboli is much more complex, but his roots are still back there in that theatrical crudeness of the earlier 30′s.
The Disney studio was at the height of its sophistication, and they were beginning to be more demonstrative about it.
If anyone out there has more of the Pinocchio drafts, we'd all love to see them.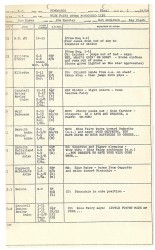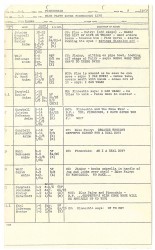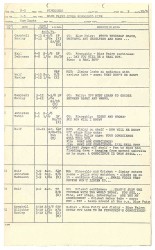 (Click on any image to enlarge.)
Pixar 26 May 2006 07:38 am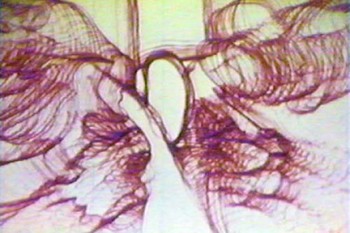 - Last night, the Museum of Modern Art opened their film celebration of the work of CalArts Film Makers.
The opening program included work by animators: Stephen Hillenburg, Adam Beckett, JJ Villard, and Naomi Uman. There were also a number of live action shorts by: Cy Kuckenbaker, Dane Davis, Danielle Ye, and Hyun Kyung Kim.
(Flesh Flows by Adam Beckett)
It was an unsettling program which I thought might have featured more animation – given the animation department brought most of the acclaim to the school. However, I suspect this was designed to be more of a tease of what other programs might feature.
Afterward, there was a party at the nearby restaurant, Bombay Palace. There we met with MOMA curator, Josh Siegel, Maureen Selwood completely in her element (it's been quite a long time since we last met) and a number of other animation folk: John Canemaker, Jeff Sher, Nancy Beiman, Doug Vitarelli, Bill Plympton, Matthew Clinton, and Kathy Rose.
- There's a good interview with Mo Willems on DRAWN. He talks about his last book, Knufflebunny, which was a Caledecott honor mention, and his newest book (and which we animated for Between The Lions), You Can Never Find a Rickshaw When It Monsoons.
- Hans Perk on his new A Film blog, has posted an intriguing series of lecture notes on "The Relation of Music to Animation" by Albert Hay Malotte a composer at Disney's from 1934 – 1939. This document combines my two loves: animation and film music. (I love the analysis of the music of Scott Bradley's music in Film Music, A Neglected Art by Roy M. Prendergast.)
By the way, the film drafts for the brilliant Mickey film, The Pointer, are also available on that site.
- A Scanner Darkly opened at the Cannes Film Festival to not the most positive of reviews. Here's the Variety review which compares it not favorably to Waking Life. Richard Linklater turns out to be the first director ever to have two films at Cannes at the same time. His Fast Food Nation is also playing there. He'll always be on my "A" list for the brilliant, Before Sunset.
Animation 25 May 2006 07:00 am
- Tonight's the official opening of MOMA's celebration of CalArts' influence on the film industry. I'm looking forward to the opening and after dinner party and will write about it tomorrow.
-Today, I want to continue my celebration of an unheralded CalArts grad who I think will have a significant effect on the animation industry.
Matthew Clinton came to my studio in 2003 and has done a resplendent job for me. When he got here from Michigan via LA, there was plenty of work for him to bite into, and he seemed to have no trouble doing it at all.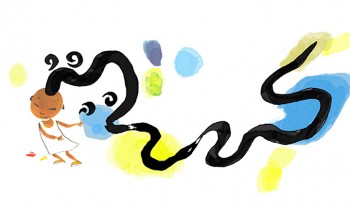 One of the first pieces he worked on was animation for an HBO special entitled HAPPY TO BE NAPPY AND OTHER TALES OF ME. As a new guy, Matt was supposed to be plugging in some animation bits to fill out the show. I gave him lots of pieces that ended up dancing around my less poetic animation. He helped define the art style to match illustrator Chris Raschka's beautiful, loose watercolors.
Then, for the same show, I gave him a number of more limited short films to animate, himself. In the end, the two of us did all of the animation for the half-hour show (about 17 mins) in 2½ months.
Things got quiet for a bit, and he helped define the style of my in-progress feature, POE. We wanted it to match the daring graphics Jason McDonald was putting into his storyboard pages. Matt found a solution once I defined the problem.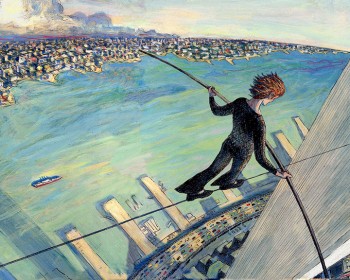 With The Man Who Walked Between The Towers, I dove into the meat & potatoes animation for the 10 min film and gave all the poetic pieces to Matt and Tissa David. By this time, I was aware of the talent I had working for me.
The scenes where Philippe Petit first steps onto the highwire were those done by Matt. Of course, I directed and coaxed elements I wanted from the scenes, but it was magic finding someone who so easily and quietly was able to give me what I sought and do it with such sublime grace and ease and so little fanfare.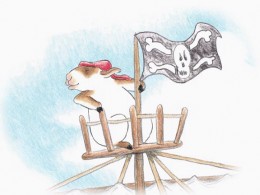 There were three films for PBS's Between The Lions.
Sheep On A Ship is almost completely Matt's. It was a delicate watercolor style from a best selling book that we had to match exactly. Needless to say, it did.
Here are stills from the PBS show,
Between the Lions:
Sheep On A Ship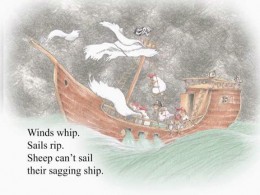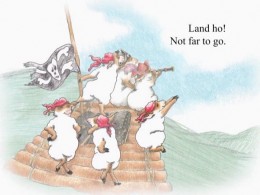 (Click any image on this page to enlarge.)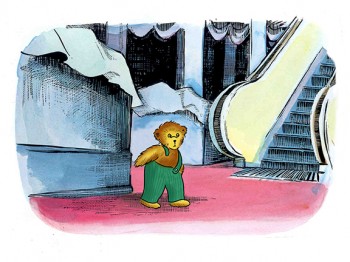 There were also five DVD's we did for Scholastic & Fisher-Price. Each featured a world class, famous children's book and included about 60 minutes of animation to illustrate the book and games included. Jumping over five different illustration styles in a few months and animating emotionally and delicately, Matt was able to always rise to the occasion and perform as a first rate actor with delicacy, grace and charm.
Corduroy for Scholastic/Fisher-Price
I obviously love this guy's work. No doubt he brought a lot of knowledge away from CalArts, but he also brings an inherent world of taste dignity and charm to everything he does; that wasn't learned in school. Matthew Clinton's a rare talent.
Animation 24 May 2006 07:07 am
- The Museum of Modern Art is about to celebrate the enormous number of graduates from CalArts who have quietly altered the face of the animation industry. Films will be screened by a prestigious list of artists including: Kathy Rose, Joyce Borenstein, Larry Cuba, Dennis Pies, Henry Selick, Nancy Beiman, John Lasseter, Joe Ranft, Pete Doctor, Brenda Chapman, Andrew Stanton, & Ralph Eggleston.
- There are, of course, numerous others who have done well after leaving the school whose work has not been highlighted by the museum. For this and tomorrow's post, I'd like to focus on one of those graduates NOT fêted by MOMA who is also quietly altering the animation business and is becoming part of its backbone.
Matthew Clinton came to my studio in 2003. After a years worth of correspondence between us and my viewing his senior film dozens of times in multiple versions – all of which I found totally enticing and absolutely compelling to watch , I offered Matt a job and did what little I could to support his arrival.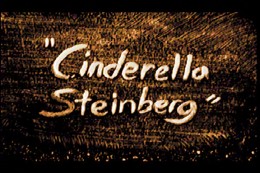 He came quietly into my studio and immediately took hold with his innate gift for masterful animation. What follows are hi-contrast frame grabs from his thesis film, Cinderella Steinberg. I interpret the film as an examination of the overwhelming power of art on the recipient, in this case poor Cinderella. Tomorrow, we'll look at some of Matt's work in the past three years. I urge you to enlarge some of the images; each frame of his film is a multimedia construction in itself. Leaves and dirt and straw and a Steingberg painting.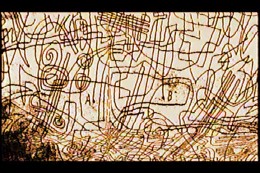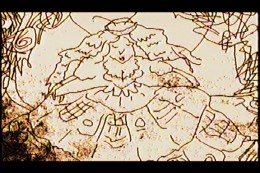 (Click on any image to enlarge.)
Animation Artifacts 23 May 2006 07:54 am
- Once again, Amid Amidi has sprinkled some real gold before us through his Cartoon Modern site. He talks in some depth about Dolores Cannata's work on the Charles Eames film, THE INFORMATION MACHINE: CREATIVE MAN AND THE DATA PROCESSOR. There's such a wealth in this short article that Amid leaves for us this morning.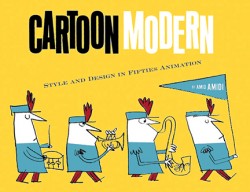 The underrated Cannata family gets some modest and well deserved attention here because of the one film, but what it really does is get me drooling to get my hands on Amid's new book, CARTOON MODERN: STYLE AND DESIGN IN FIFTIES ANIMATION due out in August.
This is one of the best sites available to us. I return often; when there are no new posts, I revisit some of the old. The artwork here is such an inspiration.
Back in the day, when I spent my lunch hours or after hours working at the Hal Seeger studio as an apprentice editor cum messenger, one of the first studios I visited to show my portfolio of drawings and cartoons in search of an animation job, was ECA, George Cannata's studio. George is the one who looked through my artwork, but I also got to meet Dolores briefly.
He's the one who told me that my work demonstrated that I shouldn't try to be an animator; it indicated too strongly that I'd be a good designer. There was no job there, but it sure made me feel good to get interesting and positive feedback. It wasn't the usual rejection from a stagnant NY animation industry in 1972. I held George Cannata close to my heart after that.
Daily post 22 May 2006 07:17 am
- Coming Wednesday, May 24th, the Jacob Burns Film Center is presenting the films that were nominated for the Academy Award this past year.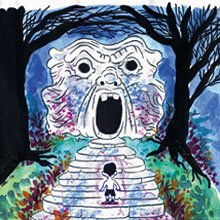 These include:
THE MOON AND THE SON: AN IMAGINED CONVERSATION (winner),
BADGERED,
9,
ONE MAN BAND, and
THE MYSTERIOUS GEOGRAPHIC EXPLORATIONS OF JASPER MORELLO,
Gary Becker, who photographed the winning film, John Canemaker's The Moon and The Sun: An Imagined Conversation, will be available to discuss the movie and its photography.
Go to the Jacob Burns Film Center's website for travel instructions.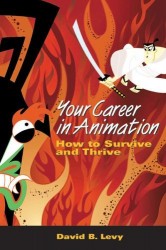 - David Levy, ASIFA East's President, has a new animation book about to hit the stands, and it can be preordered on Amazon for a discounted rate.
Your Career in Animation: How to Survive And Thrive is described as "an insider's guide to getting into that industry, staying there, and getting ahead."
David interviewed a number of animation professionals including: Al Brodax, Teddy Newton, Linda Simensky, Steven Hillenberg and 100 others (myself included).
It promises to be a handy guide to staying alive in a precarious industry. You'll have to check it out to see what I had to say.