Category ArchiveJohn Canemaker
Animation Artifacts &Books &John Canemaker 08 Oct 2013 02:17 pm
Aside from formulating the inventors of the storyboard for animation, the Disney studio had some amazing talent in their group of "funnymen." Most of the "gag writers" that took over the animation industry, came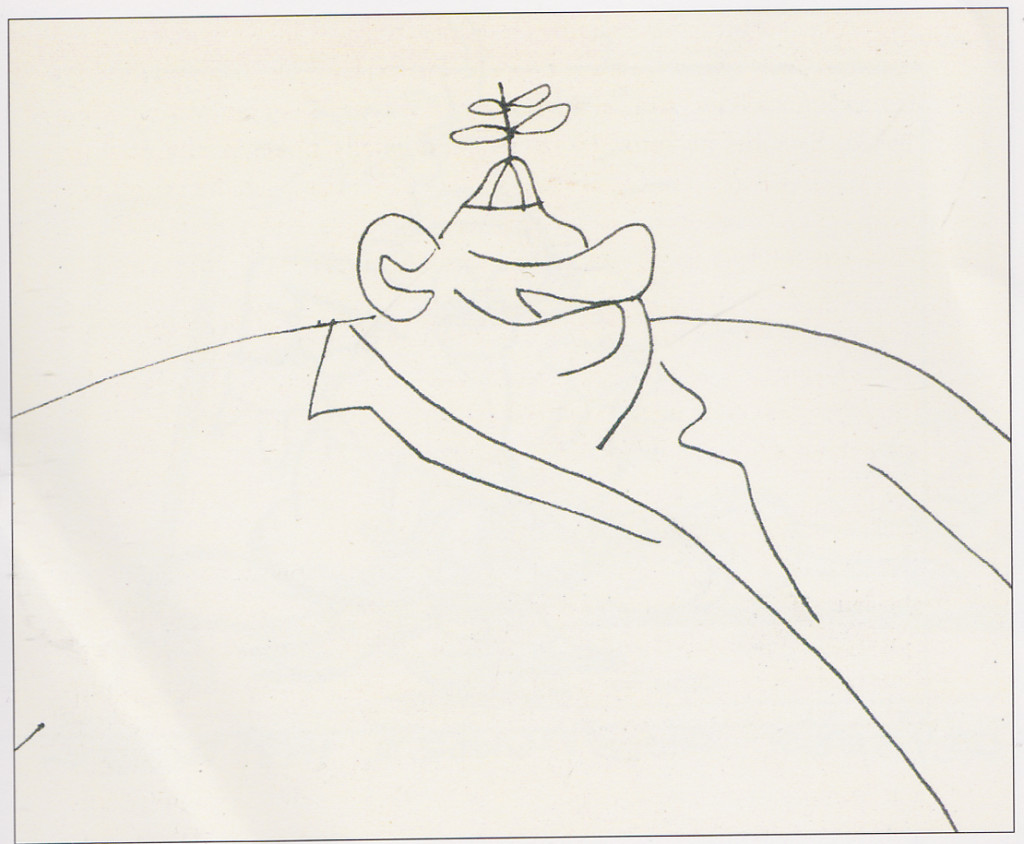 fresh from the Disney Bros. studio. You can start with Dick Huemer who virtually invented the form. There was Tedd Pierce who brought his own style and a rich sense of humor. Between him and Bill Peet there were a wild row of styles and intelligence from the Urbane to the Hayseed.
Here I'd like to show two of the richest and most colorful artists.
First we have one of the better "dwarf" writers – Roy Williams, Many of us know him as the oversized and goofy "Mousketeer," Uncle Roy. This is a small piece done for Snow White, trying to get a gag out while giving some personality to Dopey.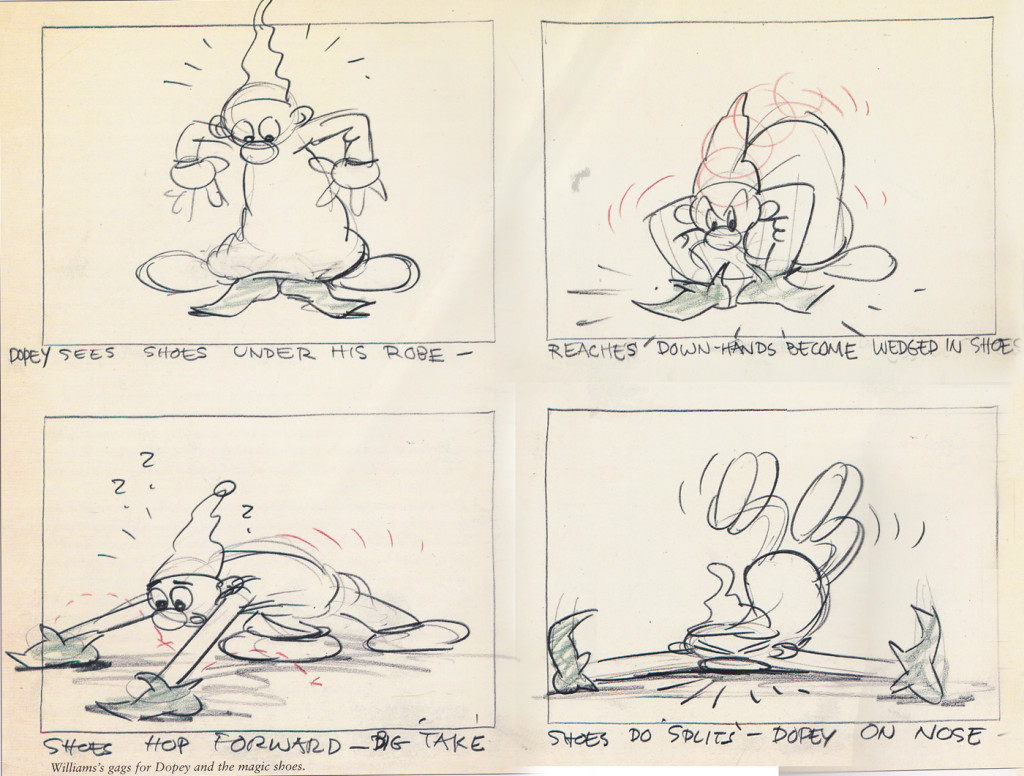 1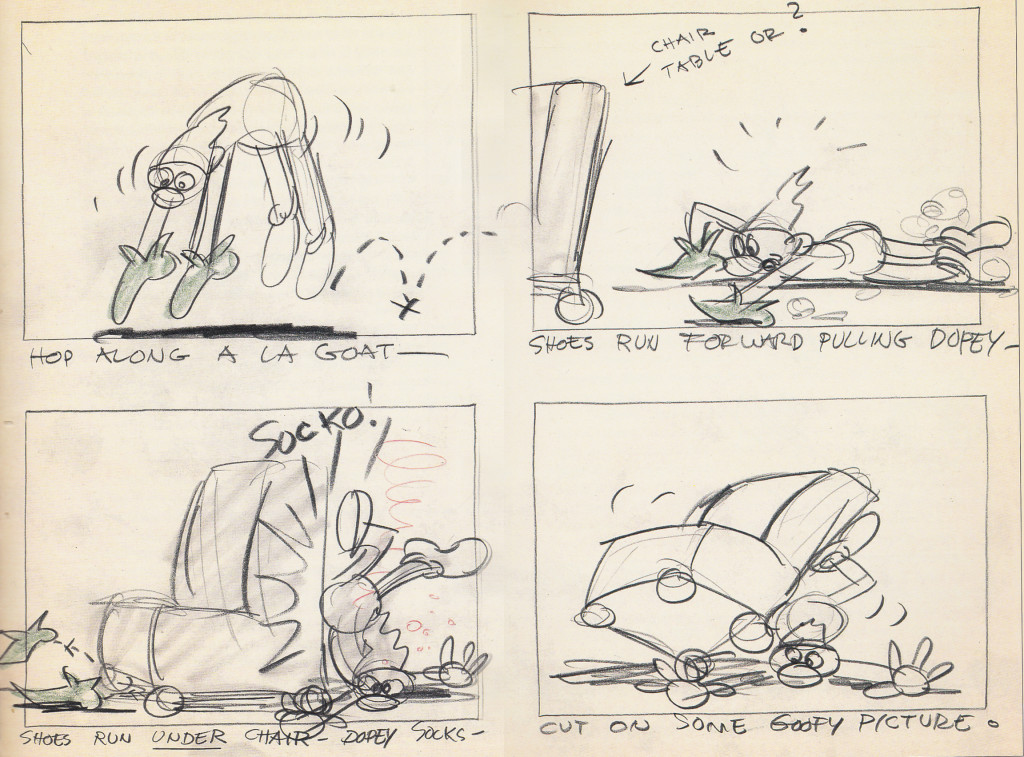 2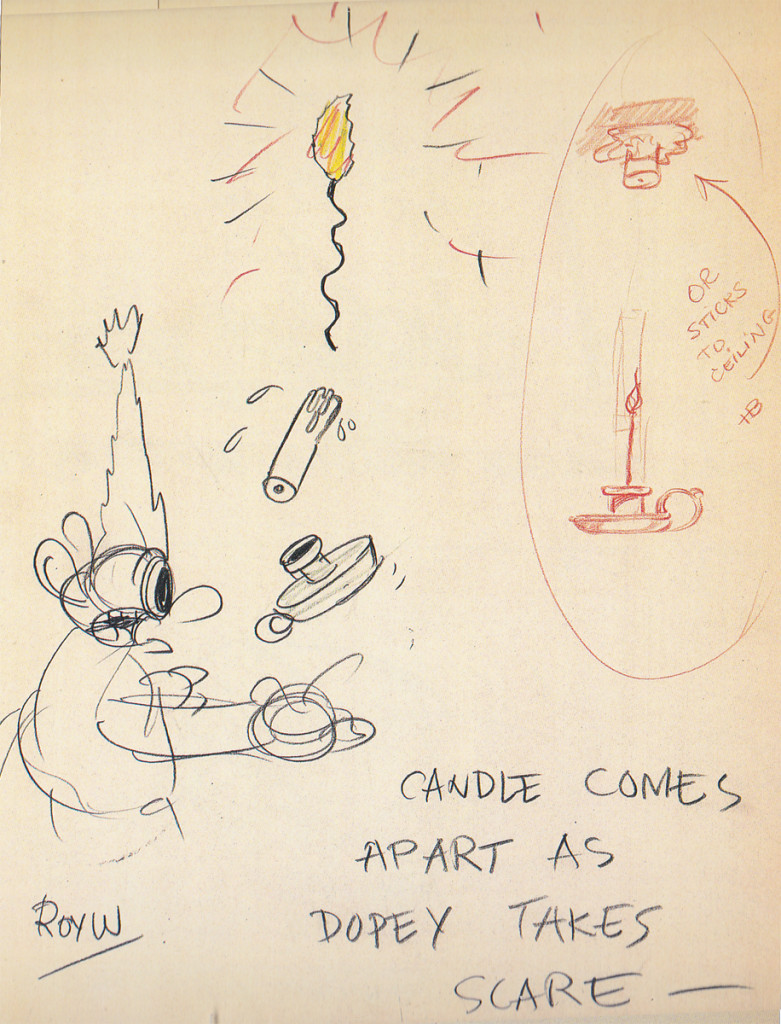 3
From "Unca Roy," we can go to one of the most identifiable artists from the studio. Just take a look at the last two images posted here. If you don't recognize the gag as one from the pen of foremost Donald cartoonist, Carl Barks. If not for some of the gags, here, the drawing style is dead giveaway. One can only sit back gawking at how great it is.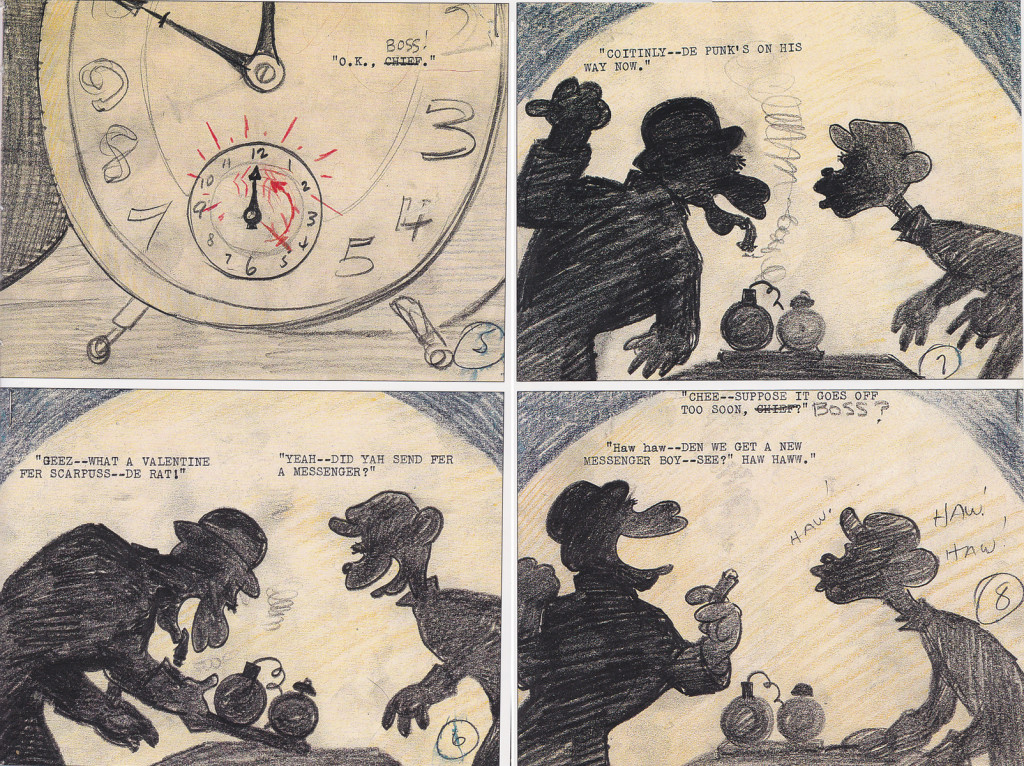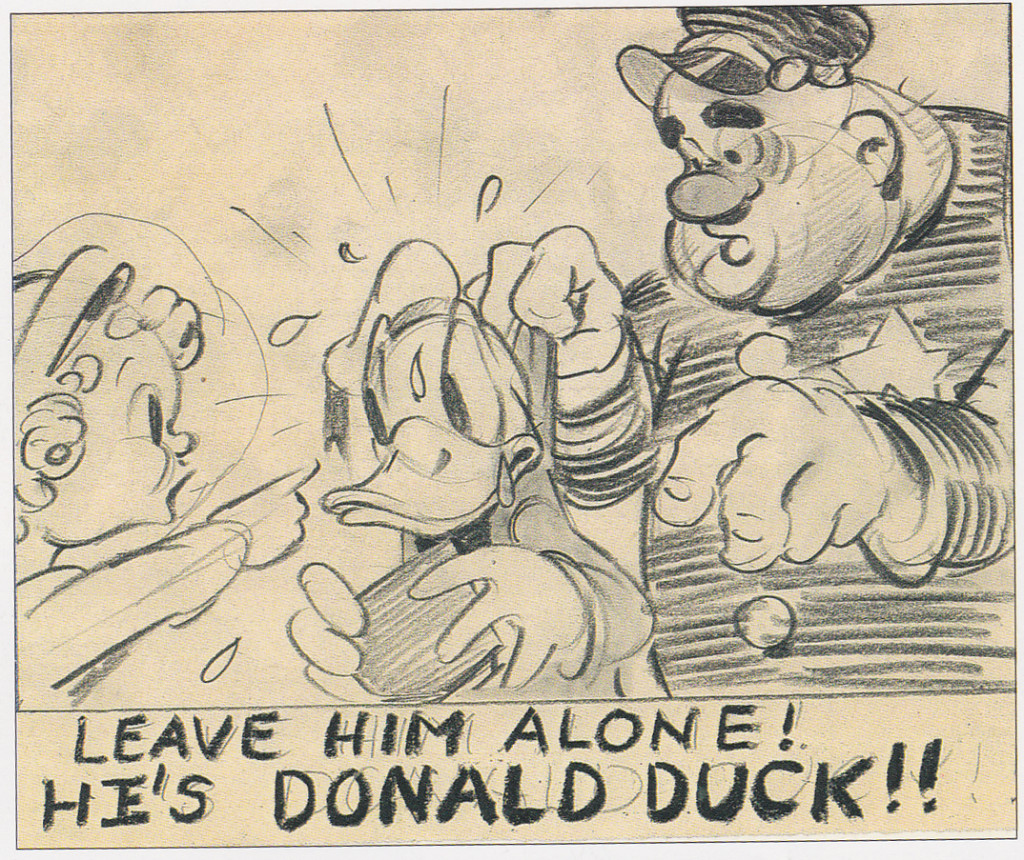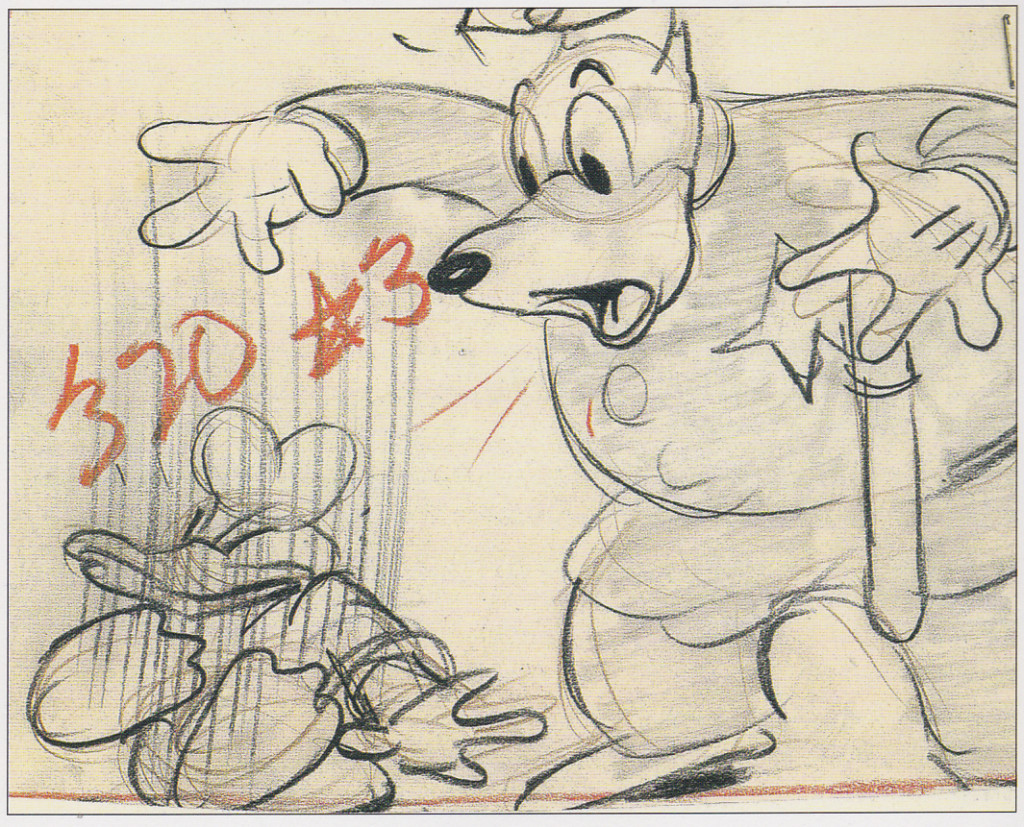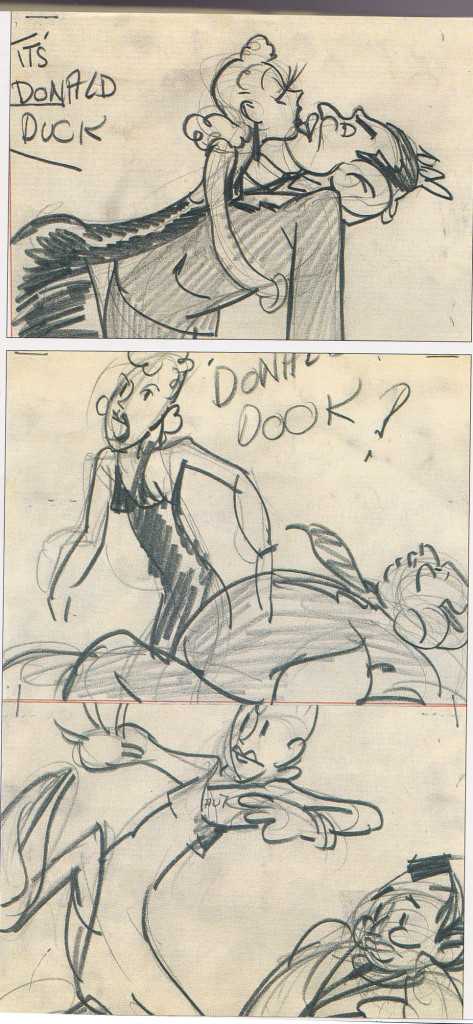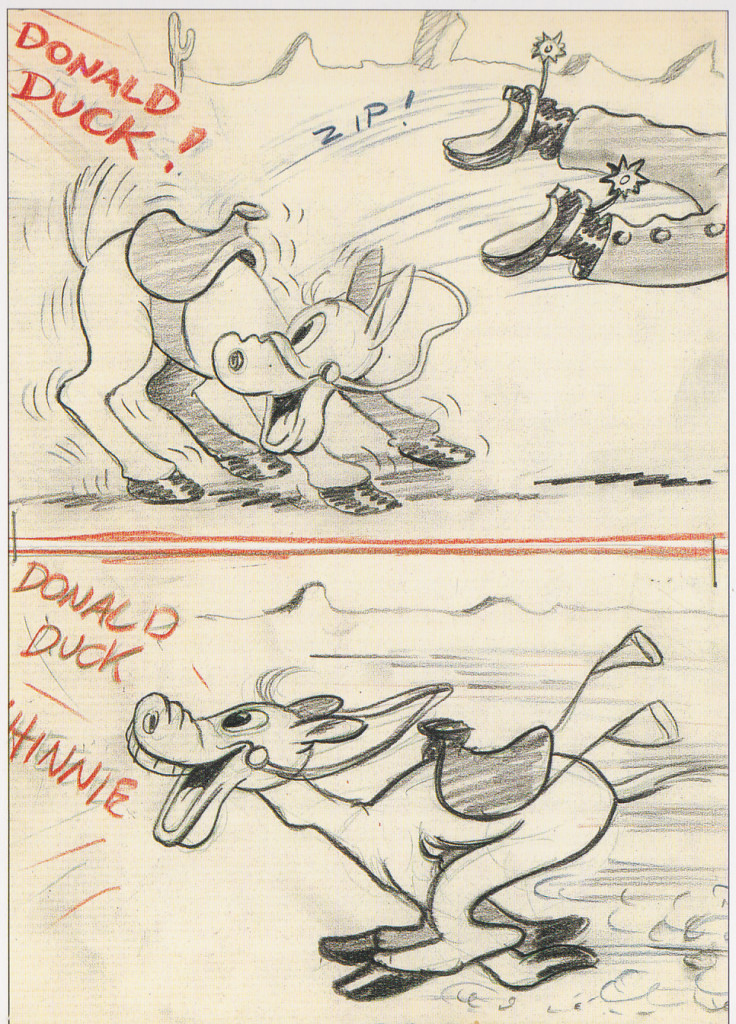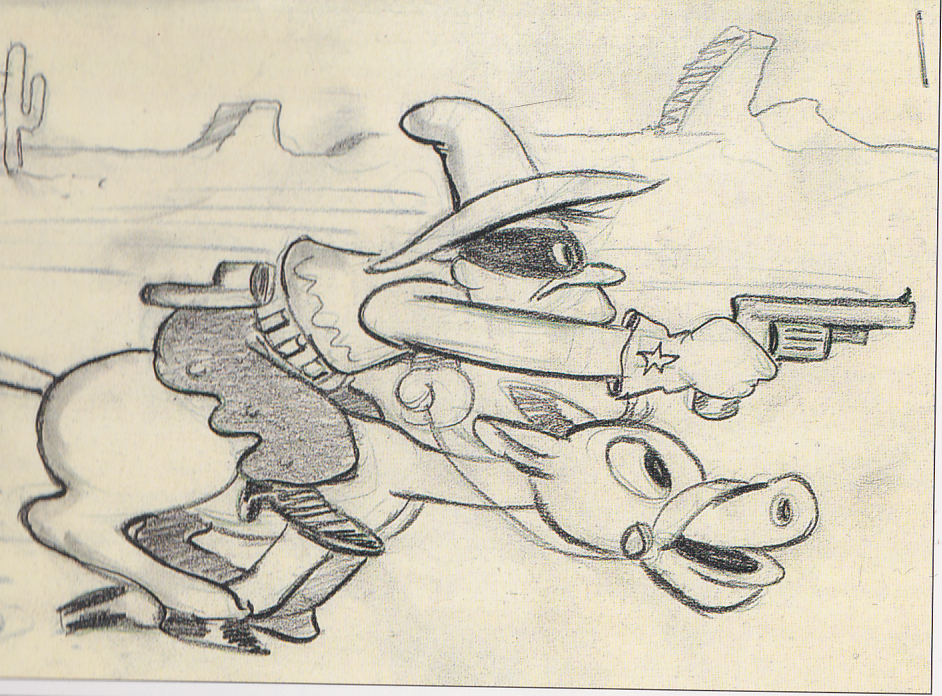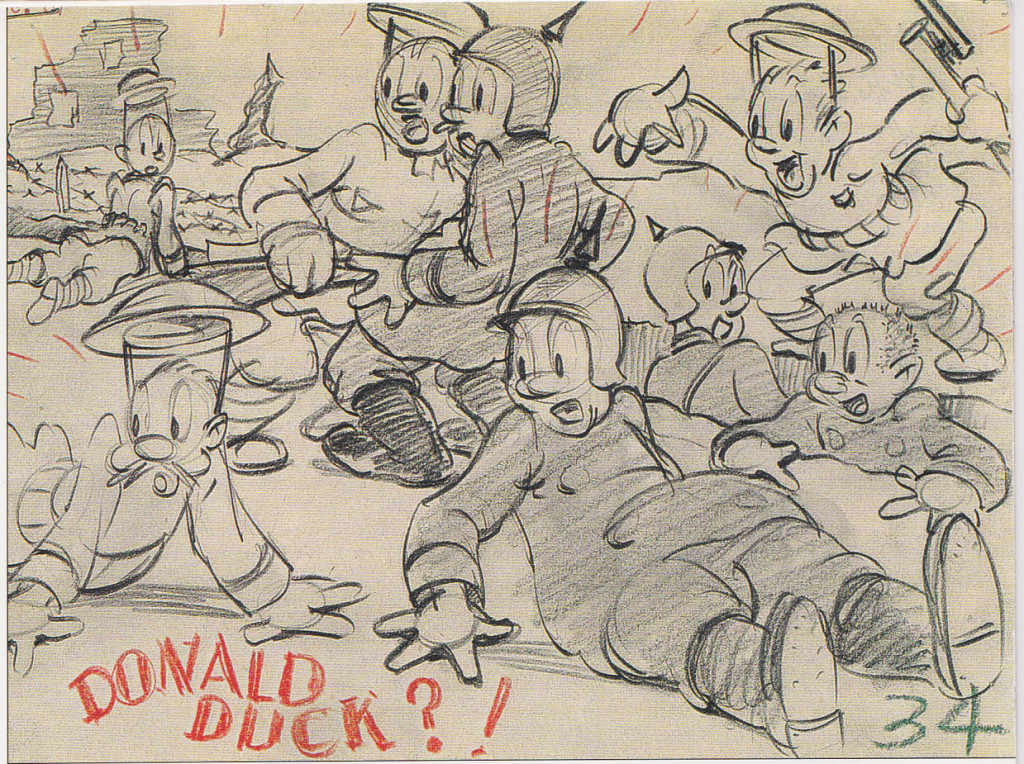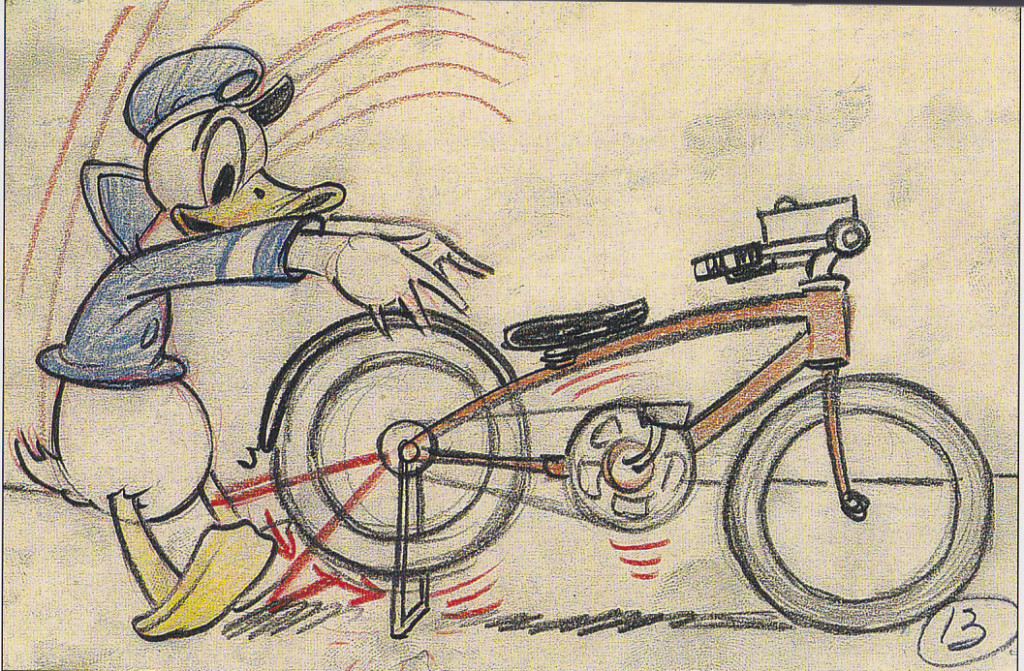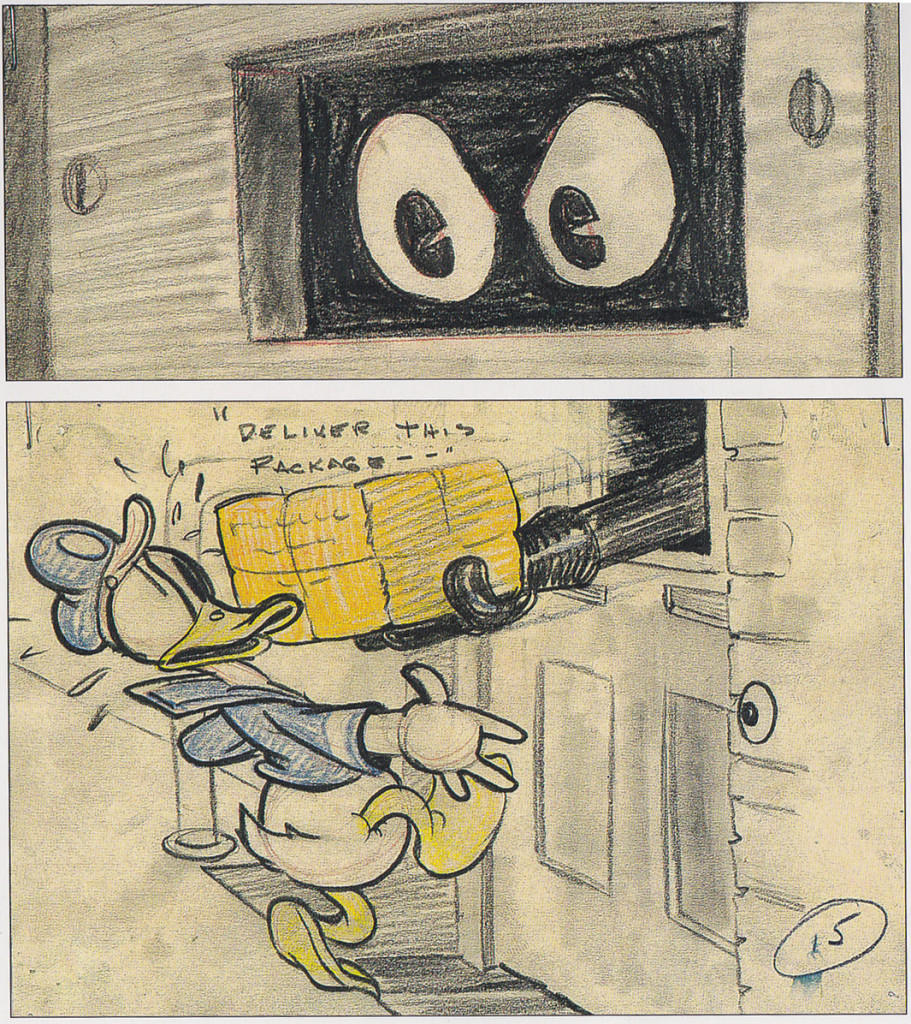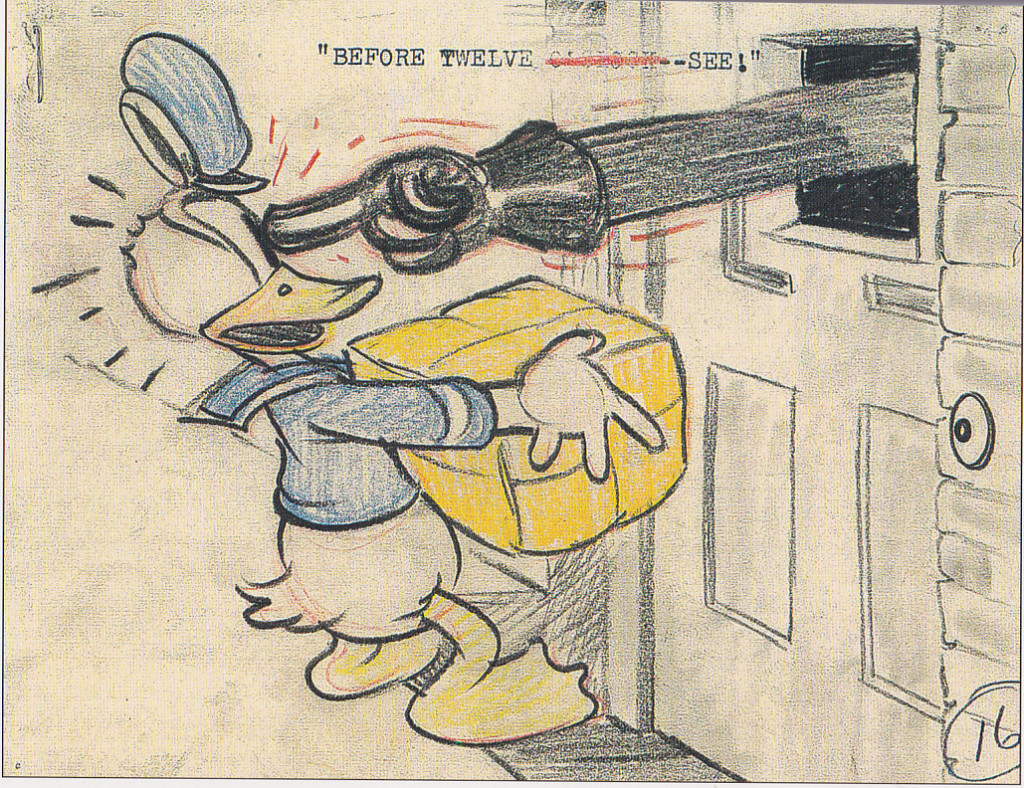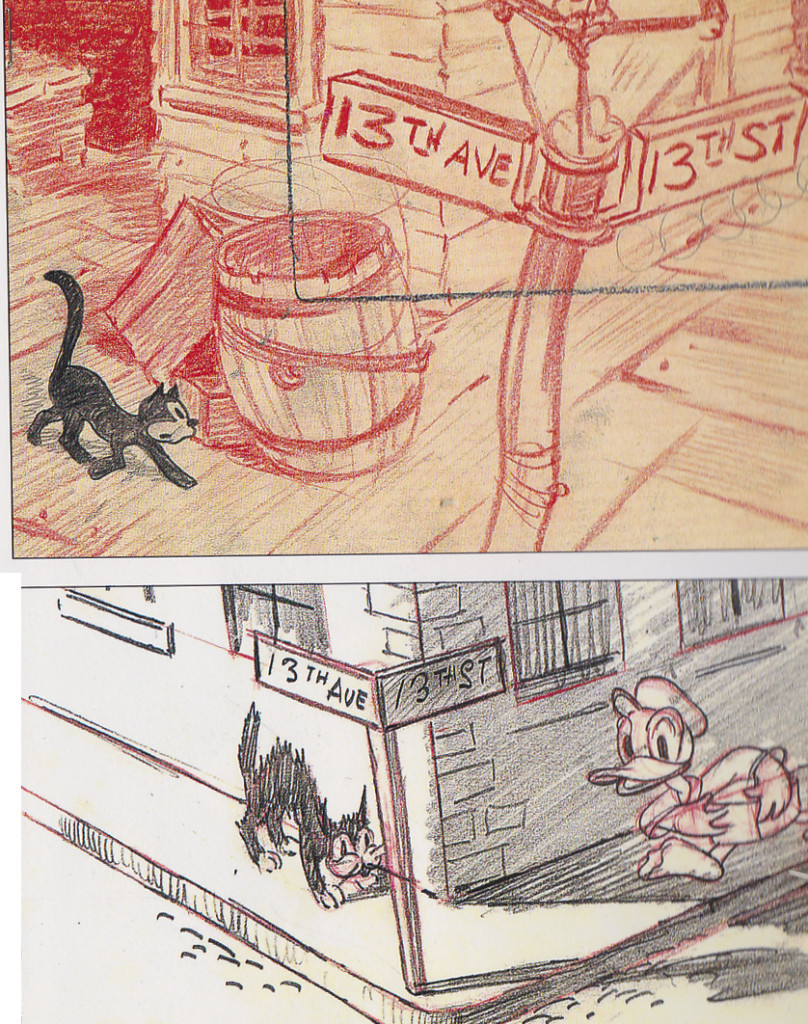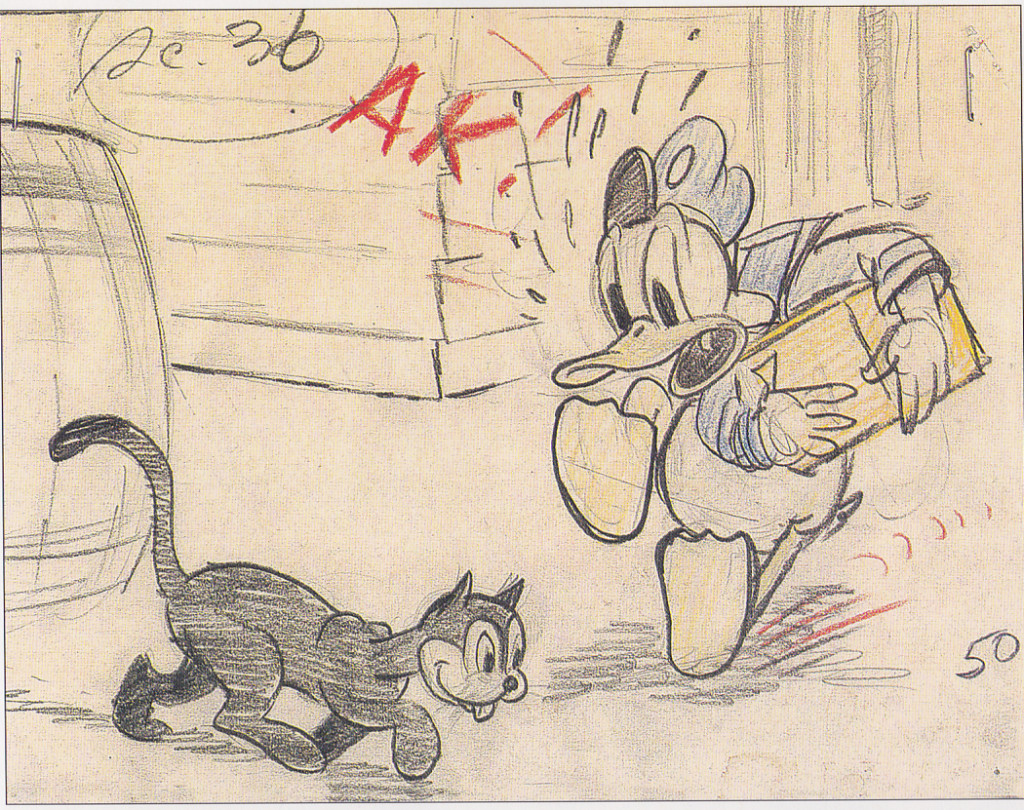 50-51
I will show off the work of a couple more of these great artists before I'm done. They keep me laughing all the while admiring them.
All material thanks to John Canemaker whose brilliant book, Paper Dreams, supplied just about everything for this post.
Animation &commercial animation &Illustration &John Canemaker 19 Sep 2013 01:05 am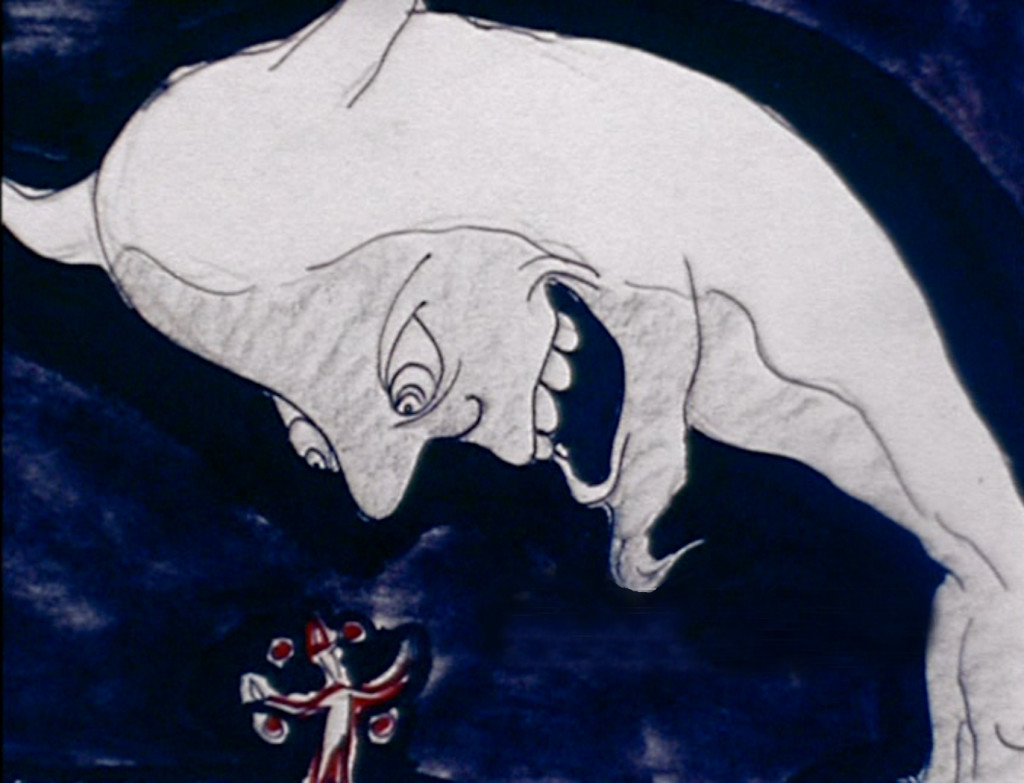 John Canemaker has been making animated movies for ever. I know because we both started at about the same time. Somewhere in the late Seventies we exchanged our early films to get a look at what each other was doing when we were younger. Leslie was tuning out a lot of footage imitating sequences I'd sen in the movies: a couple of dogs (certainly not Lady or Tramp) eating lunch, a limited animation vizier climbing pillars in imitation of 1001 Arabian Knight not with Mr. Magoo.
John didn't do much in the way of limited animation; he told me he wasn't able to figure it out. My own work was definitively derivative. I'd redone the Flintstones opening – my own version. Gay Purr-ee led to my attempt at animating the impressionists. I saw something in a theater or on TV and would immediately immitate it. I did a lot of live action/animation combinations. I was fascinated by the modern work. Title sequences to Saul Bass' films led to my versions. Once I'd seen UPA – the Gerald McBoing Boing Show, I did my own variant. There was a comedy album called The First Family.Vaughn Meador and other comedians impersonated the First family – the Kennedys – singing song parodies of the time. I did my parody of these sung-through albums that quickly lost synch. But you could see the effort that had been taken.
Whereas John worked only in 2D cel animation, I brought out lots of other wares. Clay was easy to animate and allowed me to turn out footage fast.
When we screened them for each other, we were both impressed even though we had to trade off the films and watch them privately. We both did great work; we both did horrible work. My father and brother-in-law constructed a multiplane set with about 16 levels of glass (easily 18″x24″) with about 8000 watts of light. I had my take on Fantasia to work out.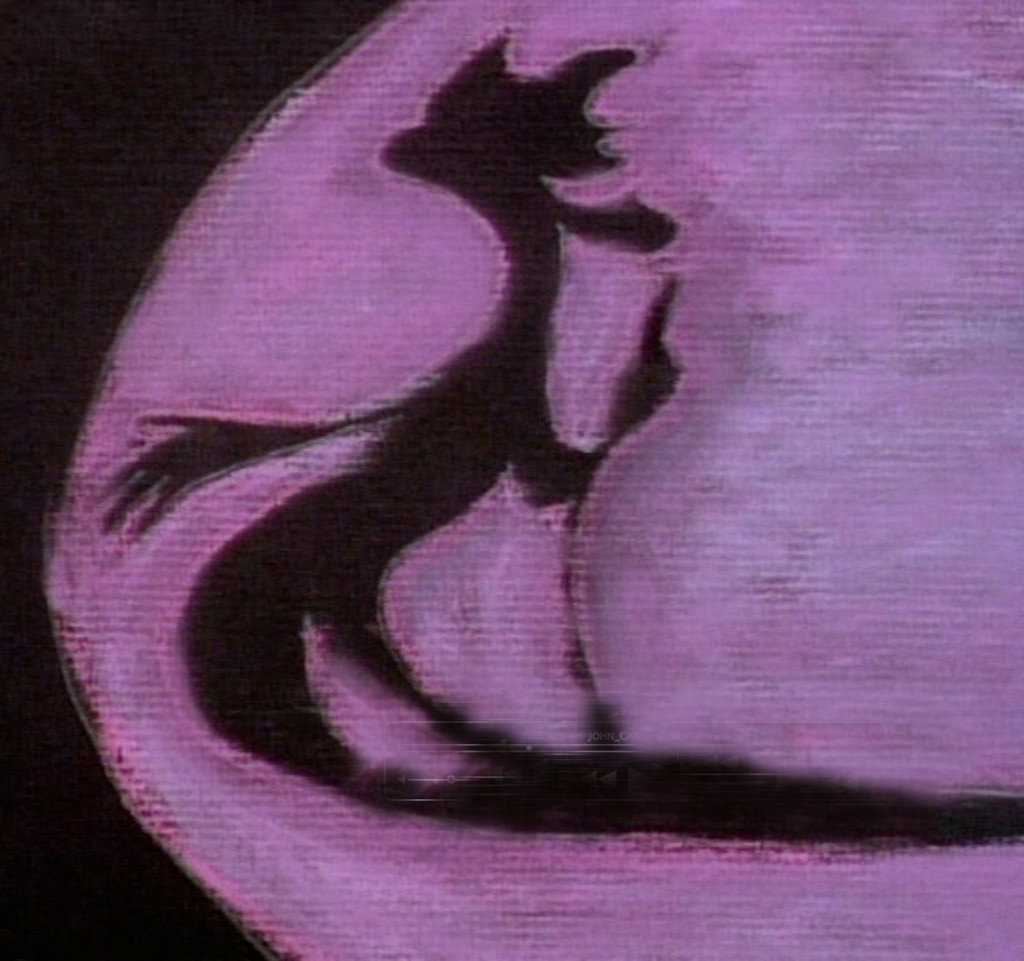 John's early films – not those we'd shared with each other, but his more professional work – now have a DVD all their own, and I'd
like to talk about these pieces. The DVD, John Canemaker – Marching to a Different Toon will permanently act as a good sampling of one artist's view of the world. It presents a multiplicity of styles with a wide range of subject matter.
Bottom's Dream feels like a sketch out of Fantasia as we see a short piece derived from Shakespeare's "Midsummer's Night Dream." Once Titania has turned Bottom into an ass there is a dance wherein he's trying to escape from the curse. Composer, Ross Care brings Mendelsohn's music to life as the film's backdrop.
Confessions of a Star Dreamer features the actress, Diane Gardner, expressing the problems and joys of becoming an Actress. Confessions of a Comic did the same for an aspiring young stand-up comic. Several sequences froom some of the excellent documentaries are also incuded:Break the Silence: Kids Against Child Abuse (TV Movie documentary) (animator), 1988 You Don't Have to Die (Documentary short), The World According to Garp's animated seqeunces are also included.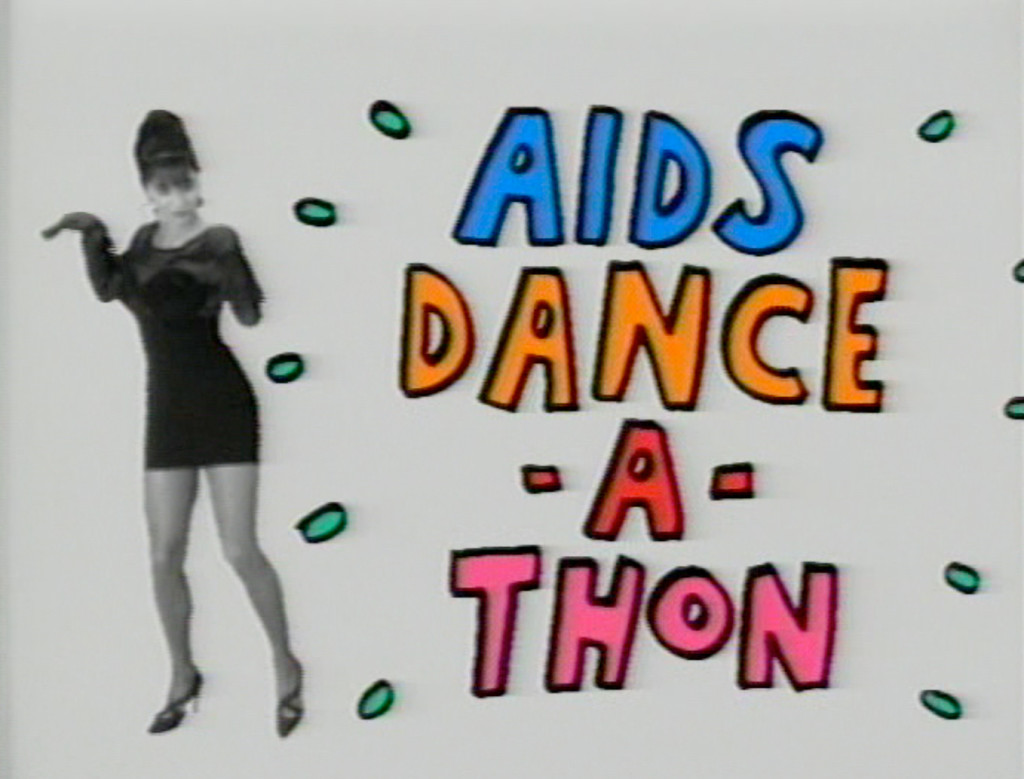 I love the short Bridgehampton, which animates the beautiful garden John and his companion Joe Kennedy, hae developed over the years (see some photos of the actual garden here.) It's a wonderful little spot on the earth and how joyful for John to make a film paying tribute to his own little bit of nature.
These films were all done just prior to John's Oscar winning short, The Moon and the Son: An Imagined Conversation, which is featured on its own DVD.
This is a rare collection of shorts and one you'll enjoy if you want to know more about the fame animation historian/animator.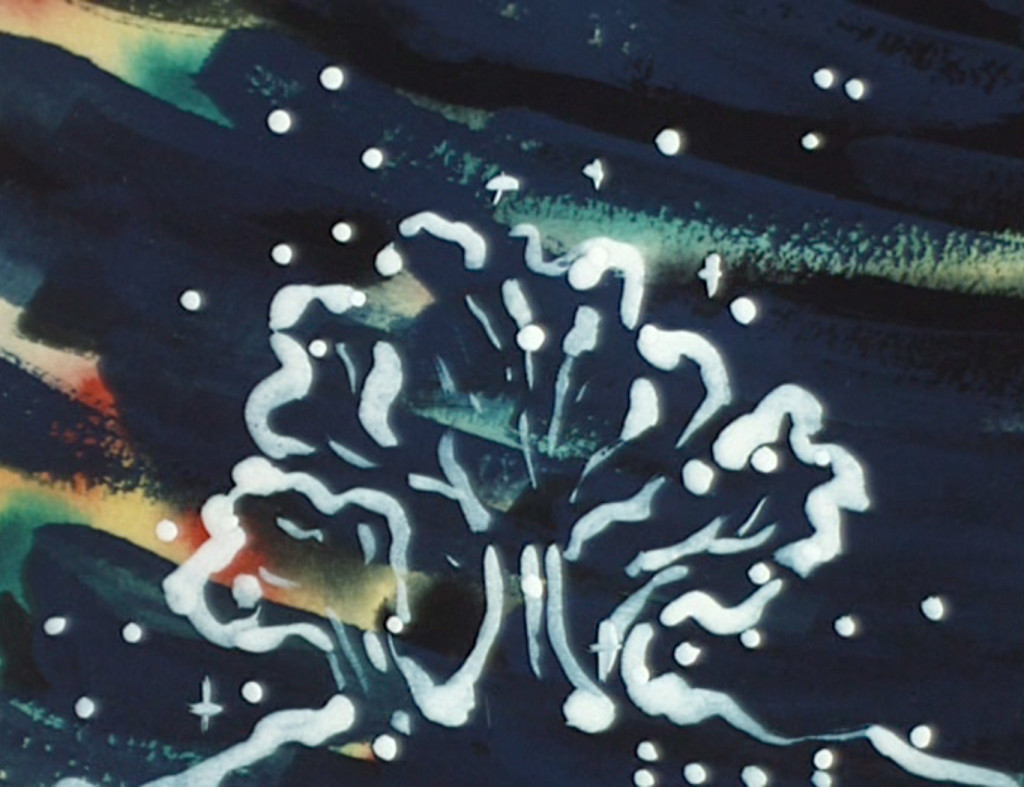 Action Analysis &Animation &Animation Artifacts &Disney &John Canemaker 21 Aug 2013 04:54 am
Today I'm going to re-post this scene between Mowgli and Kann. It was loaned to me by John Canemaker and stands out like the gem it is. THere are"75 drawings in all, and I'm going to post this whole right here, thoug I've put in two short breaks. Enjoy.
I'm not a fan of this film, however, I can't deny the animation is mostly excellent and sometimes brilliant. Needless to say, Frank Thomas delivered some beautiful work. This scene is a typical example of his work even though it's not one that calls attention to itself.
In studying the scene you might pay attention to what is on one's (1-12) as opposed to what is on two's (13-27) and figure out why.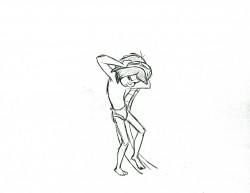 2
(Click any image to enlarge to full animation paper size.)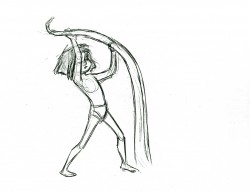 25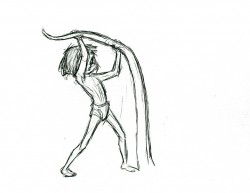 27
More to follow next Monday.
Here's the QT of all the drawings from this scene.
Mowgli & Kaa
Click left side of the black bar to play.
Right side to watch single frame.
Here is another, companion scene with the same two characters. (It comes in the film with only a closeup of Kaa separating the two.)
There are 103 drawings to the scene, so I can't possibly get them all into the one post. Consequently, I'll try to do it in three.
Once again, many thanks go to John Canemaker for sharing these on line.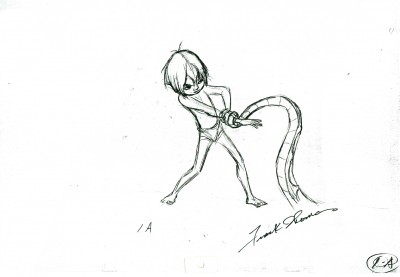 1a
(Click any image to enlarge.)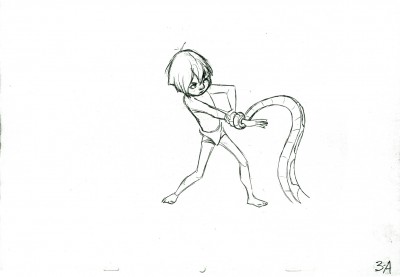 3a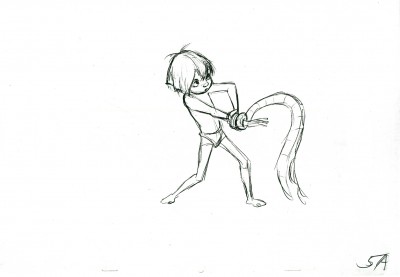 5a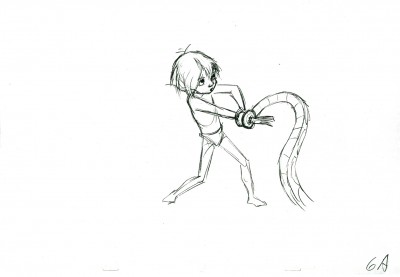 6a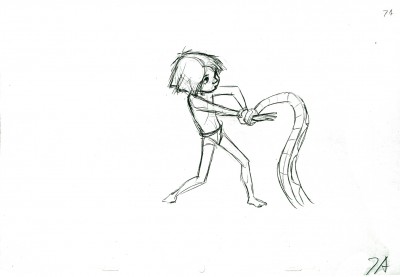 7a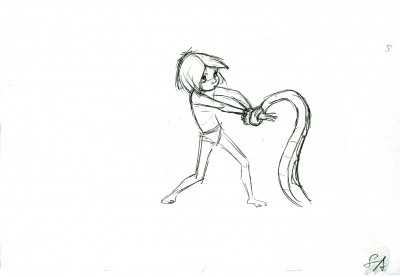 8a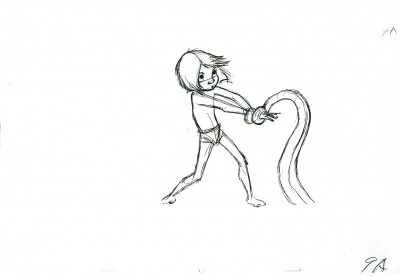 9a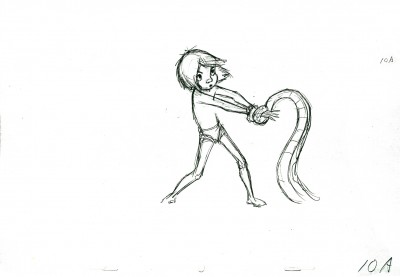 10a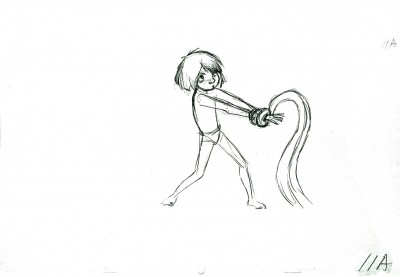 11a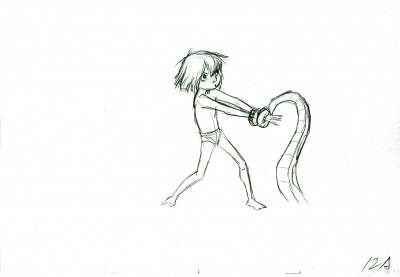 12a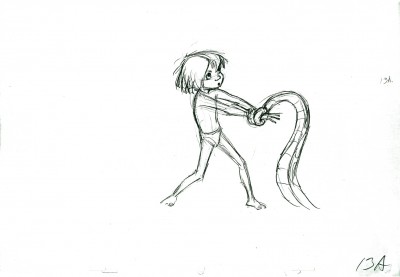 13a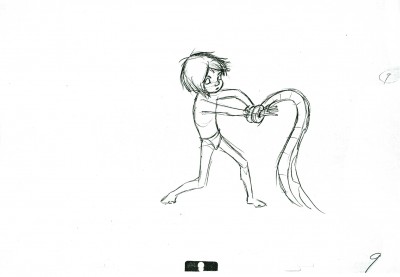 9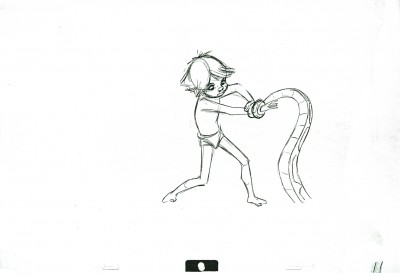 11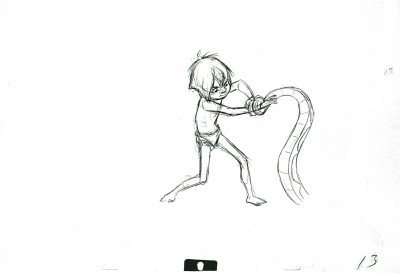 13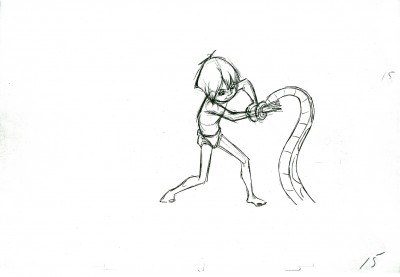 15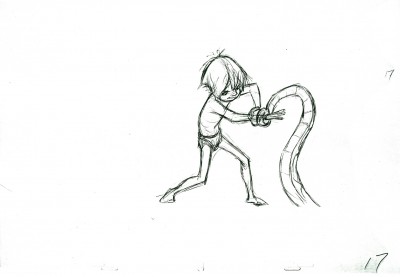 17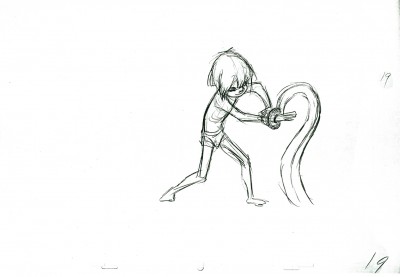 19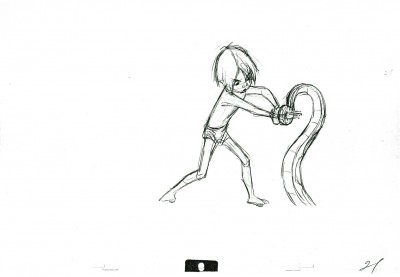 21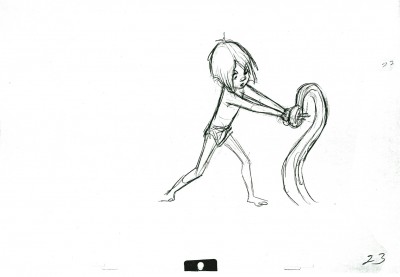 23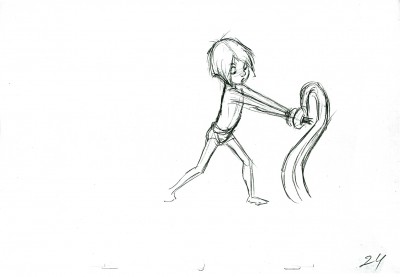 24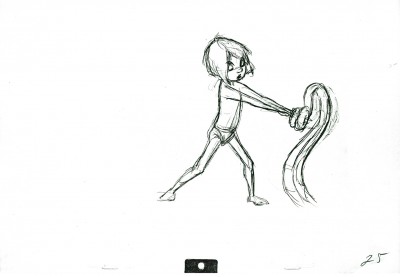 25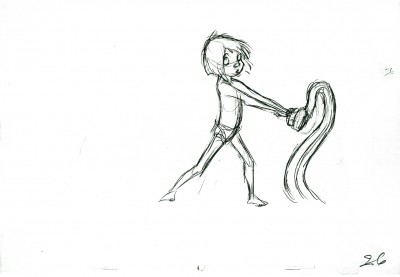 26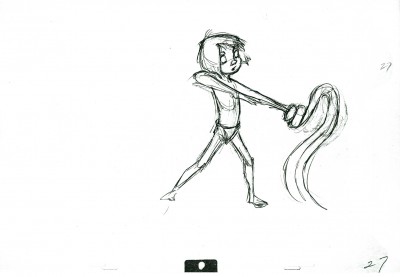 27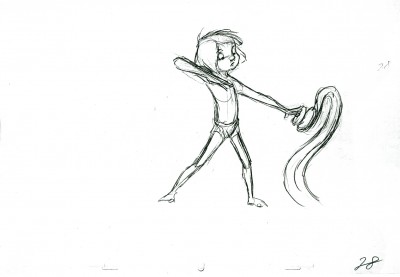 28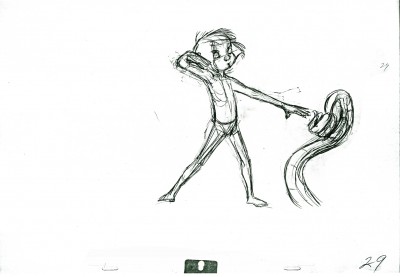 29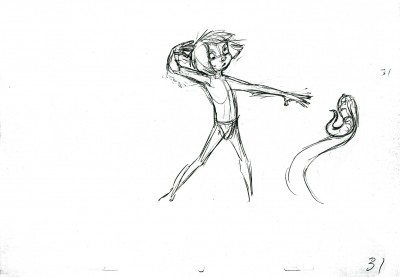 31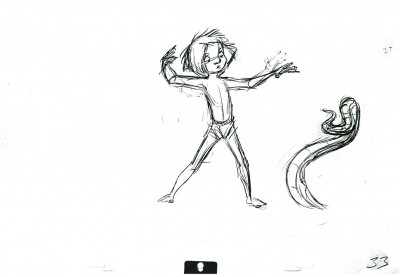 33
The Following QT movie is of the complete scene.
I love how he shakes his head and mouths the word "No"
just prior to wrenching his hand from Kaa's grip.
Click left side of the black bar to play.
Right side to watch single frame.
- Last week, I posted the first part of a scene Frank Thomas animated for The Jungle Book. This is the second scene offered that involved the boy, Mowgli, and Kaa, the snake.
This scene follows one I posted several months back. (The two come in the film with only a closeup of Kaa separating them.)
The 103 drawings in the scene will have to be broken into three parts, so you can expect the last third next week.
Once again, many thanks go to John Canemaker for allowing me to share these on line.
I begin with the last of the drawings up last week, #33: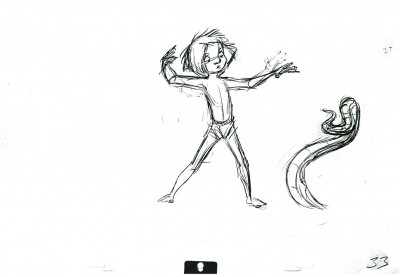 33
(Click any image to enlarge.)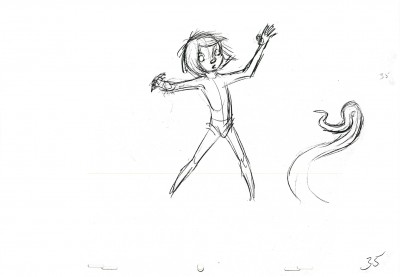 35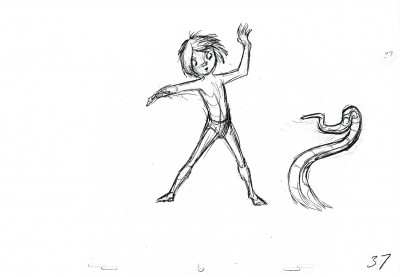 37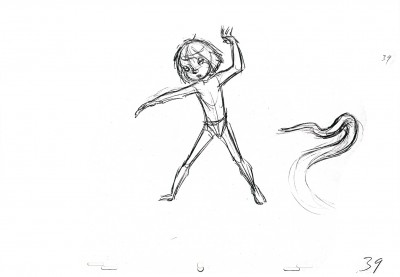 39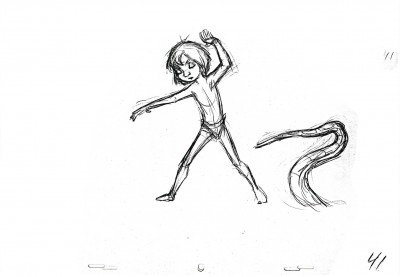 41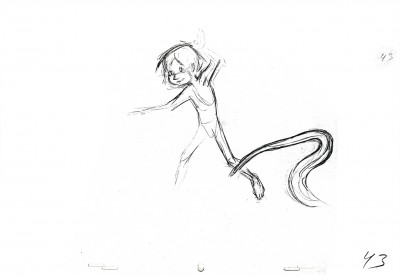 43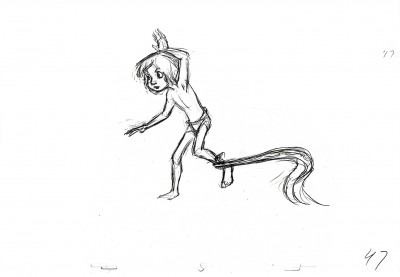 47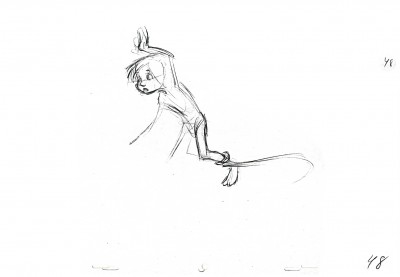 48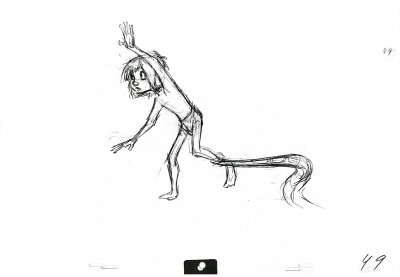 49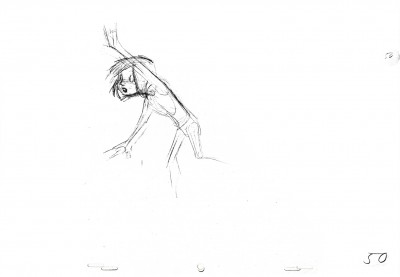 50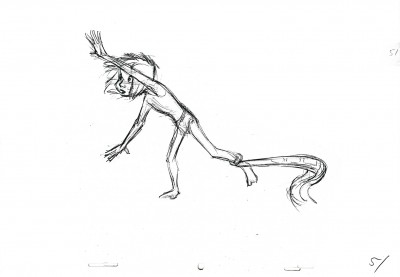 51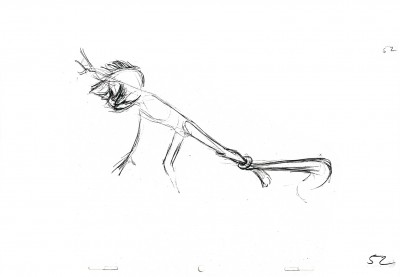 52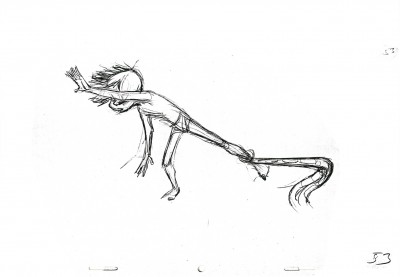 53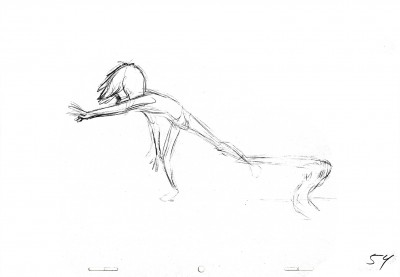 54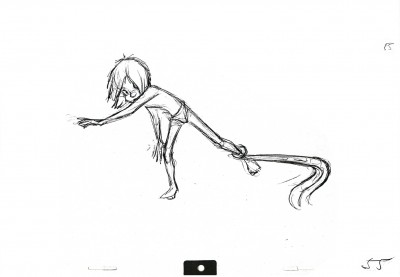 55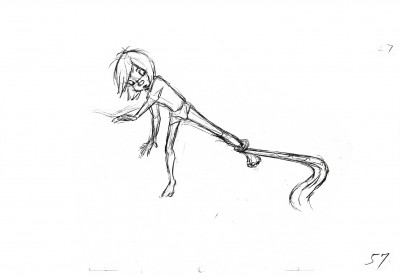 57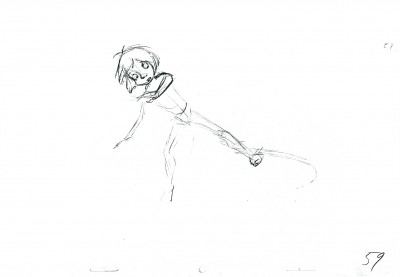 59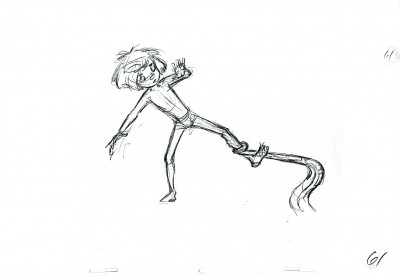 61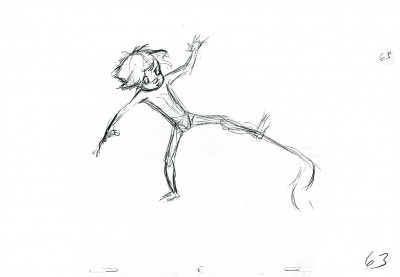 63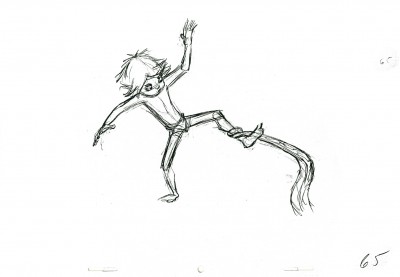 65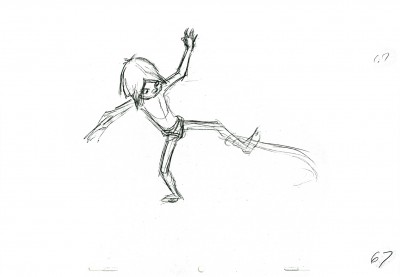 67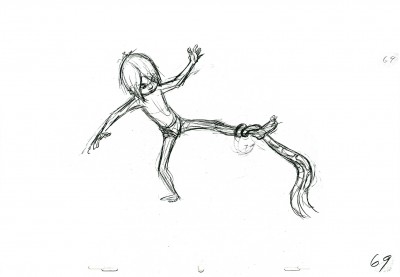 69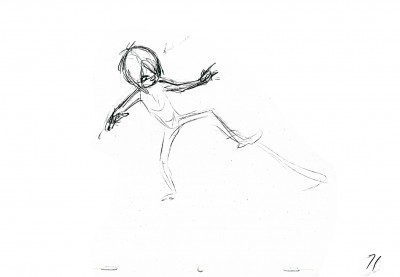 71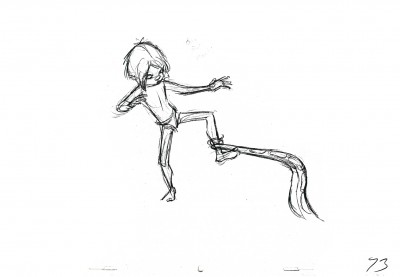 73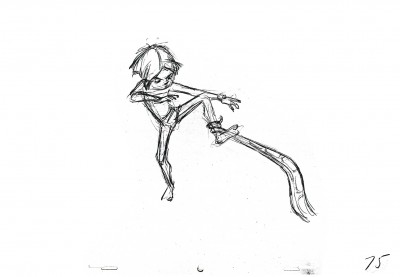 75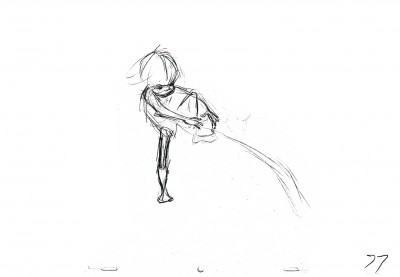 77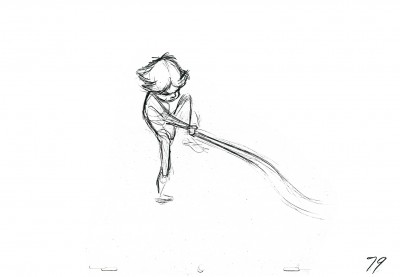 79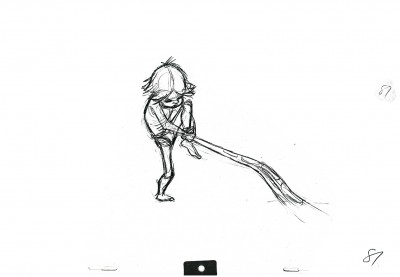 81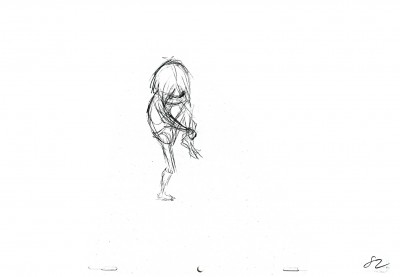 82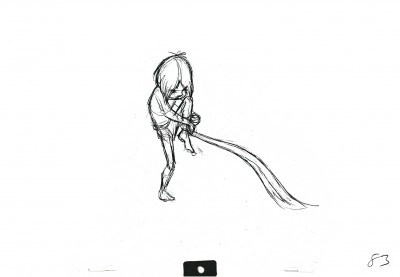 83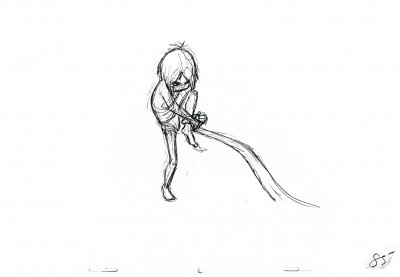 85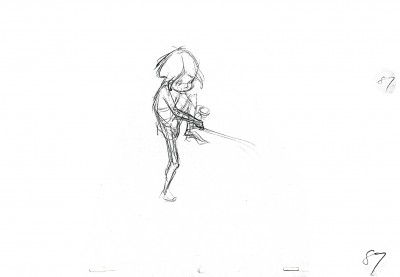 87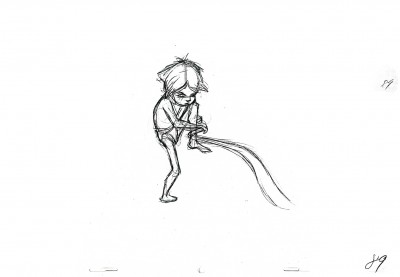 89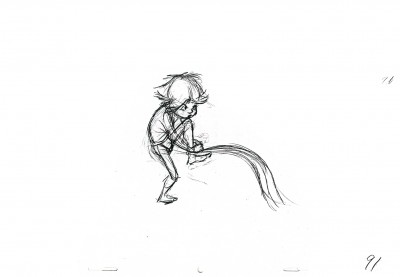 91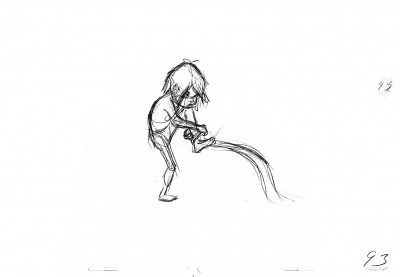 93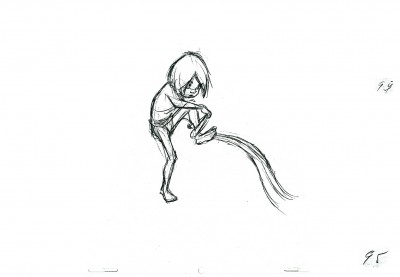 95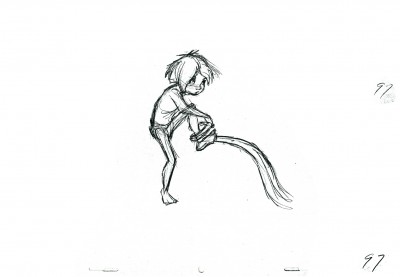 97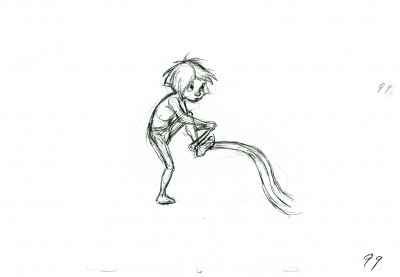 99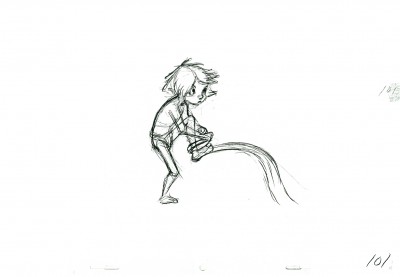 101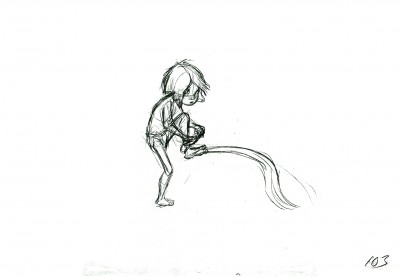 103
The Following QT movie is of the complete scene.
Click left side of the black bar to play.
Right side to watch single frame.

Articles on Animation &Disney &John Canemaker 05 Jul 2013 03:23 pm
This post will stay up Saturday as well – until Verizon gets its stuff together.

________________________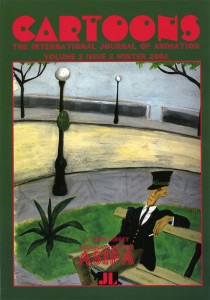 - John Canemaker contributed a two part article on J.P. Miller to Cartoons, the International Journal of Animation published by ASIFA Int'l. The two part article appeared in the Winter 2006 and Spring 2007 issues.
John Parr Miller was a designer who worked at the Disney studio from 1934 to 1942 as part of Joe Grant's elite Character Model Department. After his service in WWII, he became a children's book designer and author remaining in that field for the remainder of his life.
J.P. Miller's career at Disney's is not something we often hear about, and I think the information in John's extended article is so valuable that it has to get out there even further and be shared more openly. Consequently, with John's permission, I'm posting both parts.
This is part 1: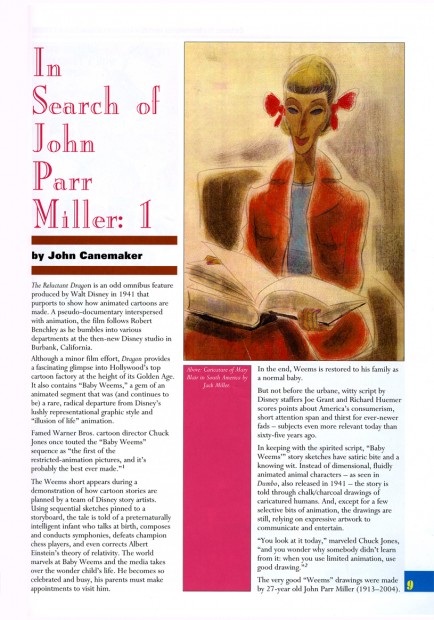 1
(Click any image to enlarge.)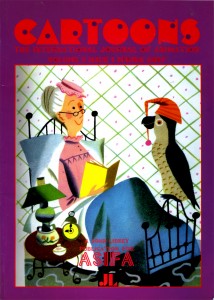 - Last week I posted the first part of a two-part article written by John Canemaker for the magazine, Cartoons, the International Journal of Animation published by ASIFA Int'l. The two part article appeared in the Winter 2006 and Spring 2007 issues. (See Part 1 here.)
John Parr Miller worked at the Disney studio from 1934 to 1942 as part of the Character Model Department run by Joe Grant. After Miller's service in WWII, he designed and illustrated many children's books and he continued in that field for the remainder of his life.
This is an extraordinarily well-researched article by John Canemaker, and I'm pleased to post it here for all those who don't have access to the magazine, Cartoons. Thanks go to John for his permission to post both parts of the article.
With more of a focus on his children's books, this is part 2: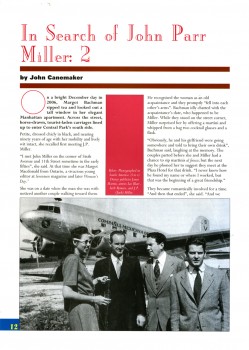 1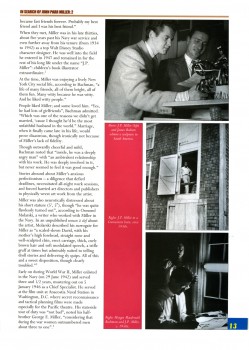 2
(Click any image to enlarge.)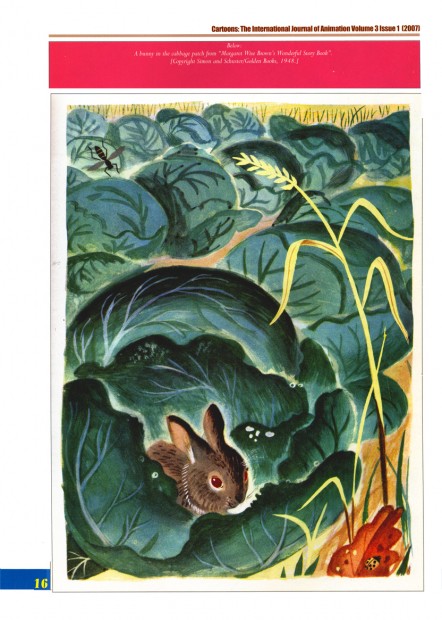 5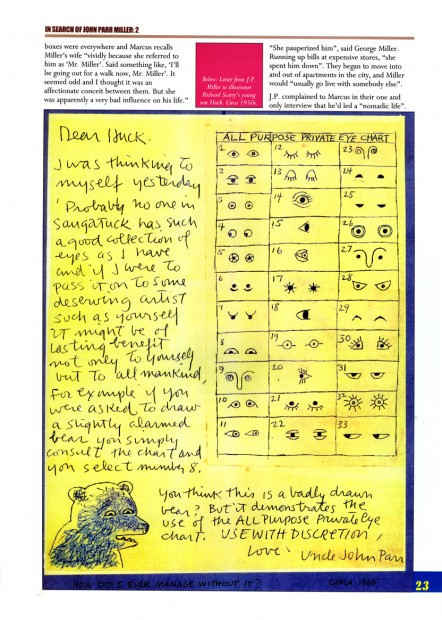 12
Articles on Animation &Books &Commentary &Disney &Illustration &John Canemaker &Layout & Design &Story & Storyboards 01 Jul 2013 07:29 am
John Canemaker's book Paper Dreams: The Art & Artists of Disney Storyboards, is a brilliant work. As an example, take a look at this short piece for Alice In Wonderland.
The animated feature went through a long, slow birth.
The first board, for this sequence, was by David Hall and was done in 1939, the late Thirties. Hall was originally a production artist for Cecil B. DeMille at Paramount Pictures; he worked as an illustrator who was called in to make many delicate watercolors. There was one sequence from the Carroll original which was kept for the final film. In it, Alice gets trapped within a house when, having bitten into a cracker, she suddenly starts getting larger and larger until she fills the white rabbit's home with her head and overgrown body parts. Many a creature try to pull her from the house.
Here are some of the Hall watercolor images: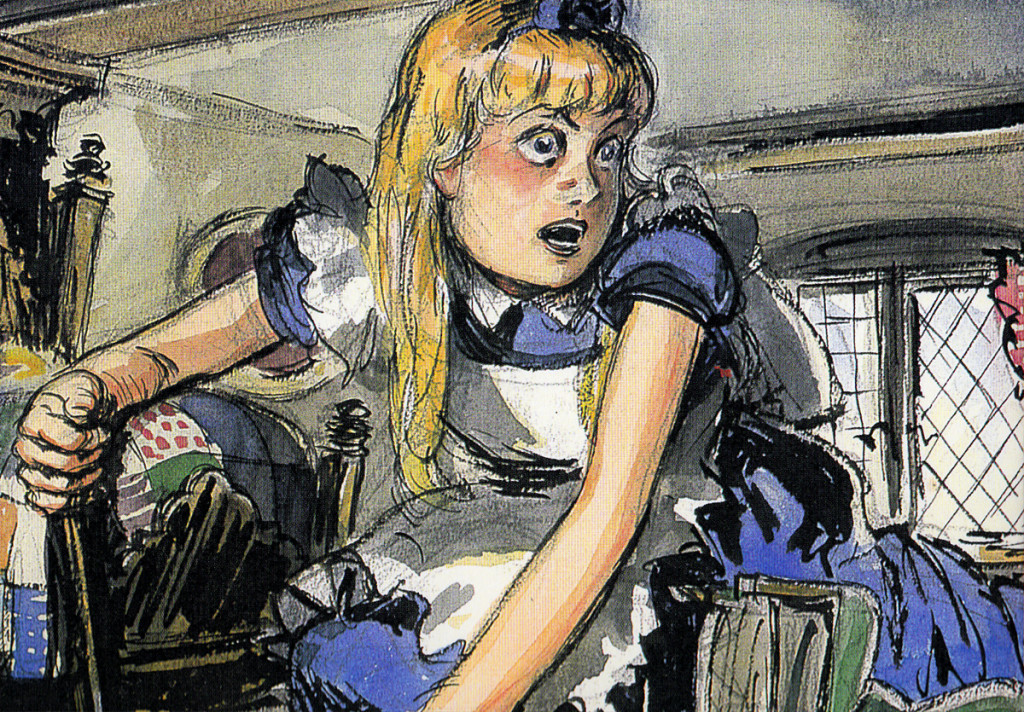 1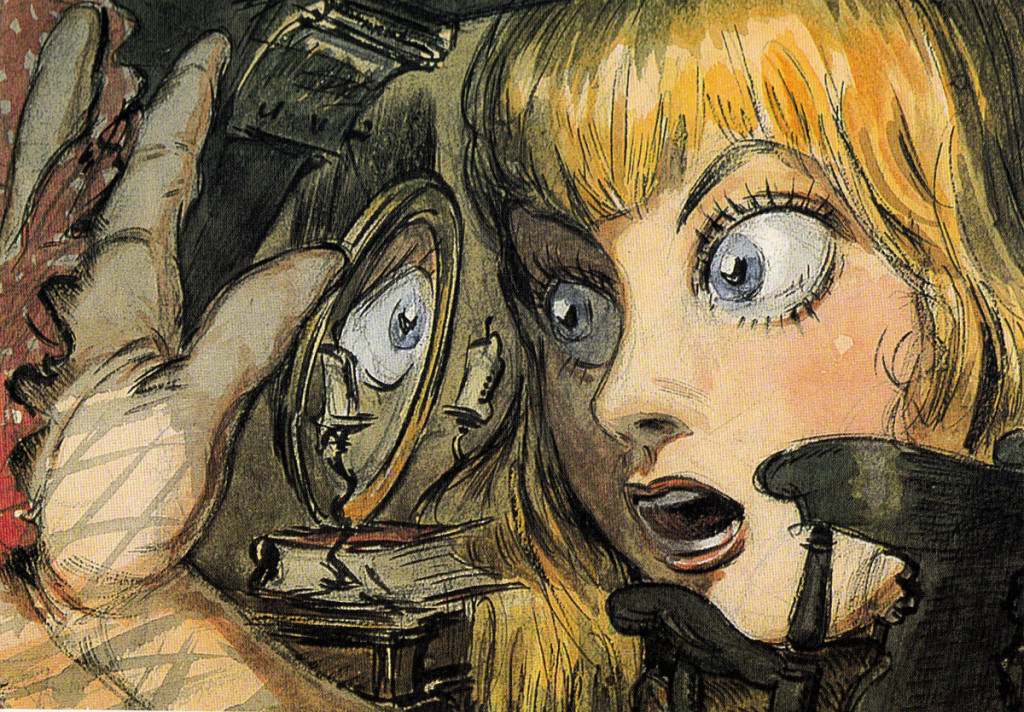 2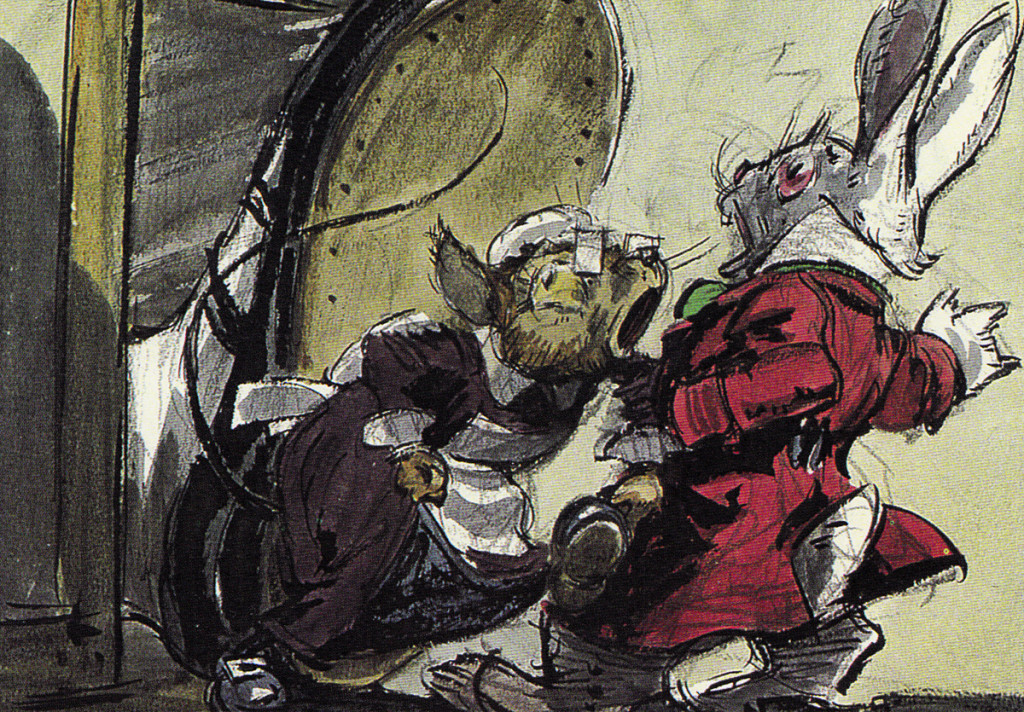 3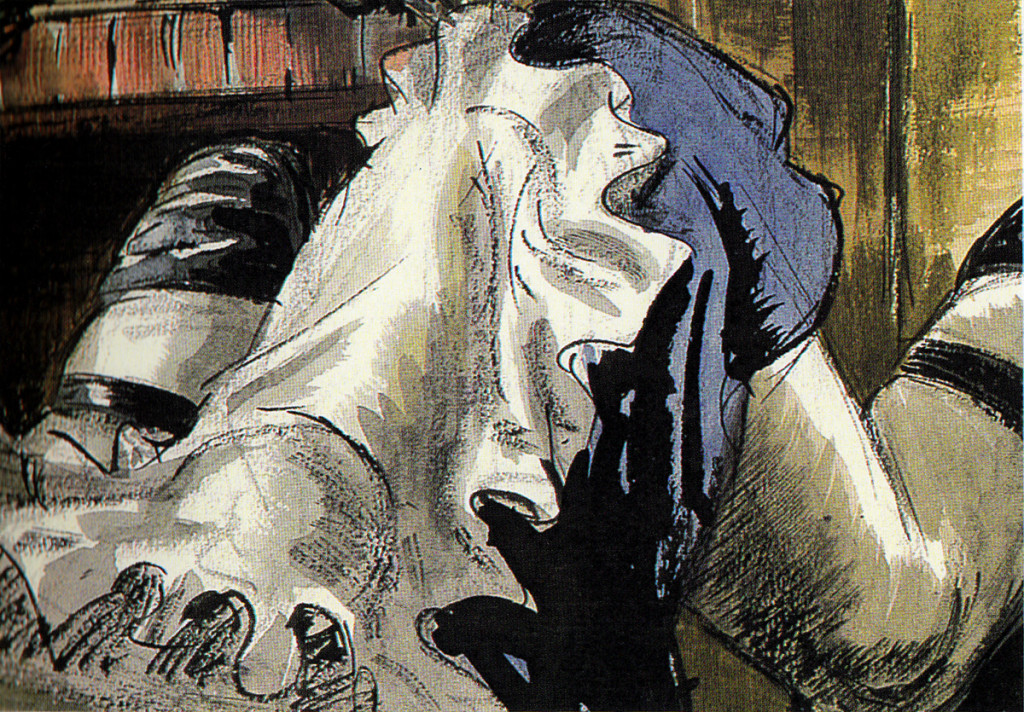 4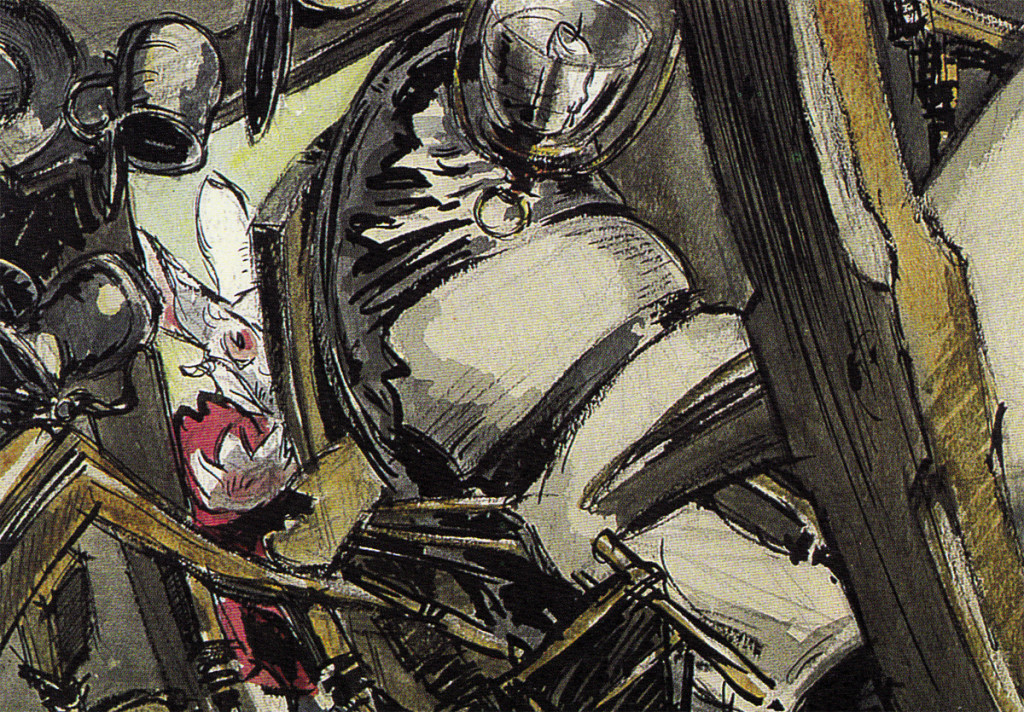 5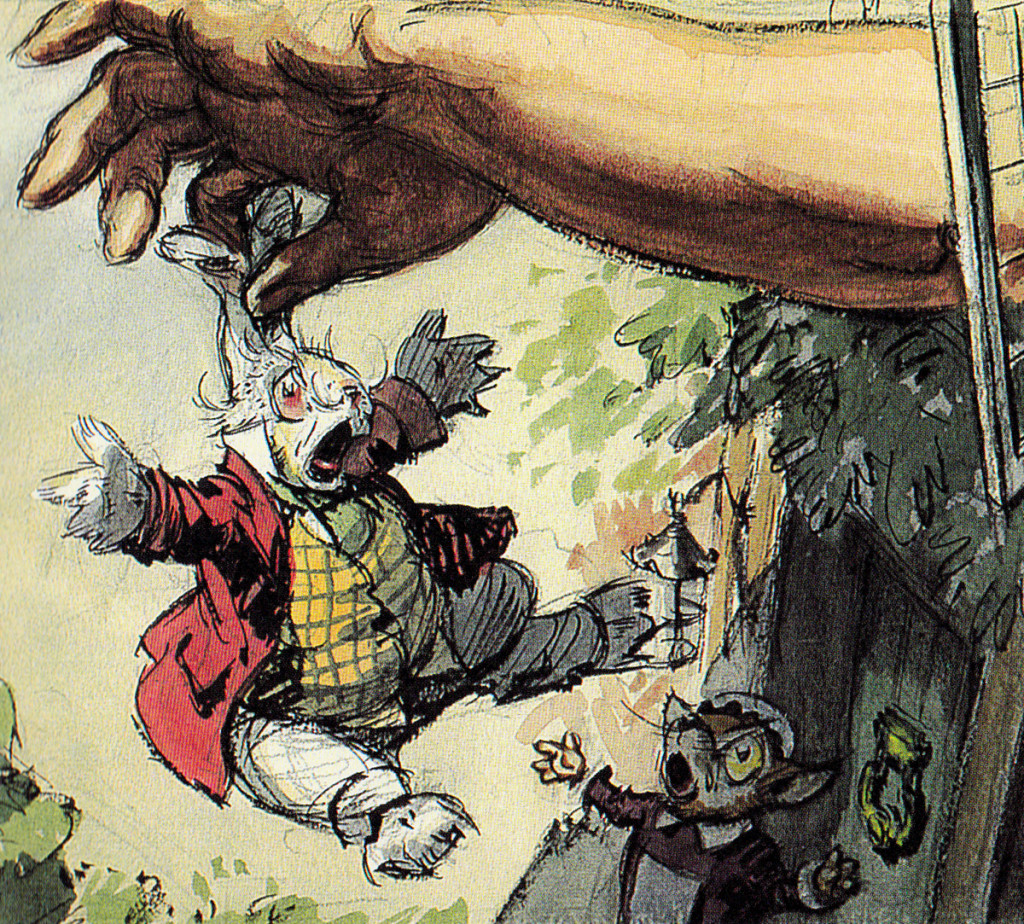 6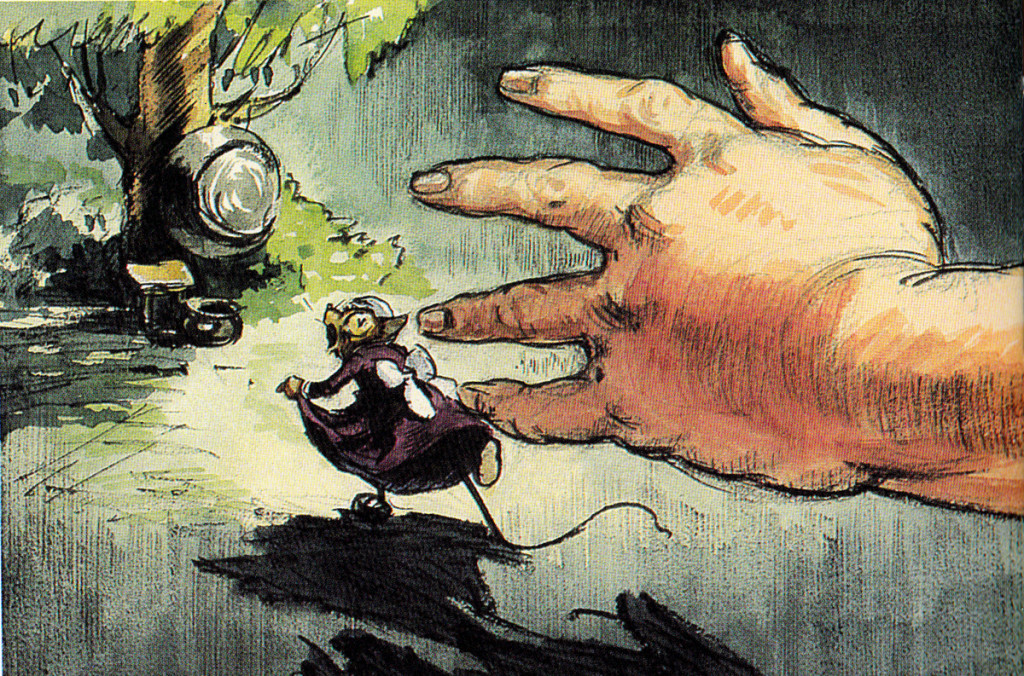 7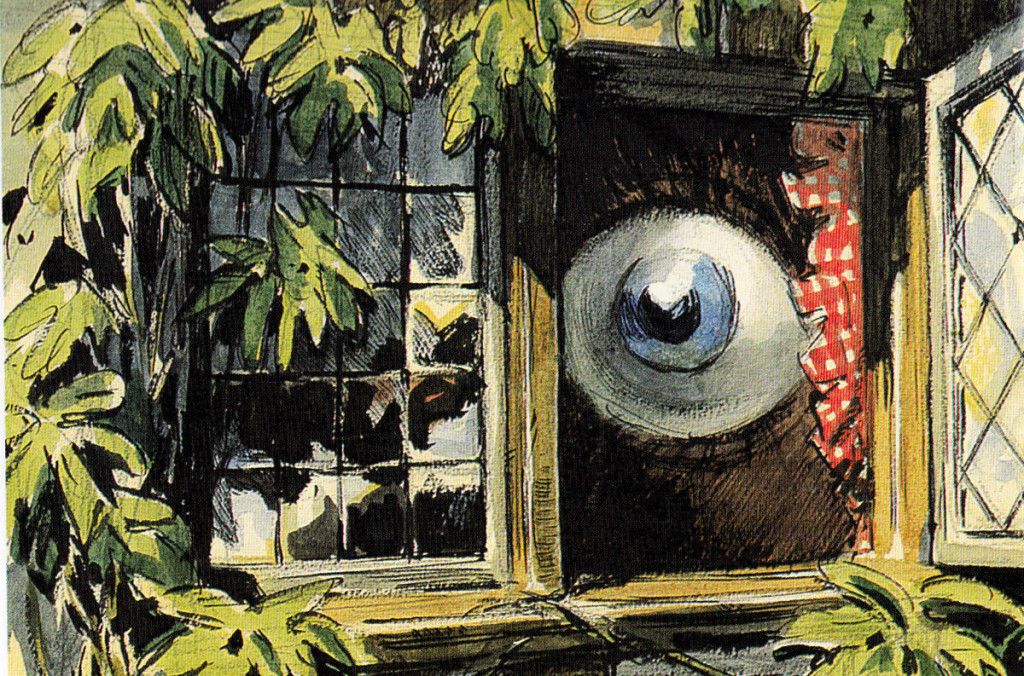 8
Following his version, there was an attempt at a script by novelist Aldous Huxley. Done in 1945, this was ultimately abandoned when storyboard continuity artist,
Joe RInaldi
, came in to make some more cohesive and funny drawings in 1950.
Here's the full sequence, Rinaldi's version.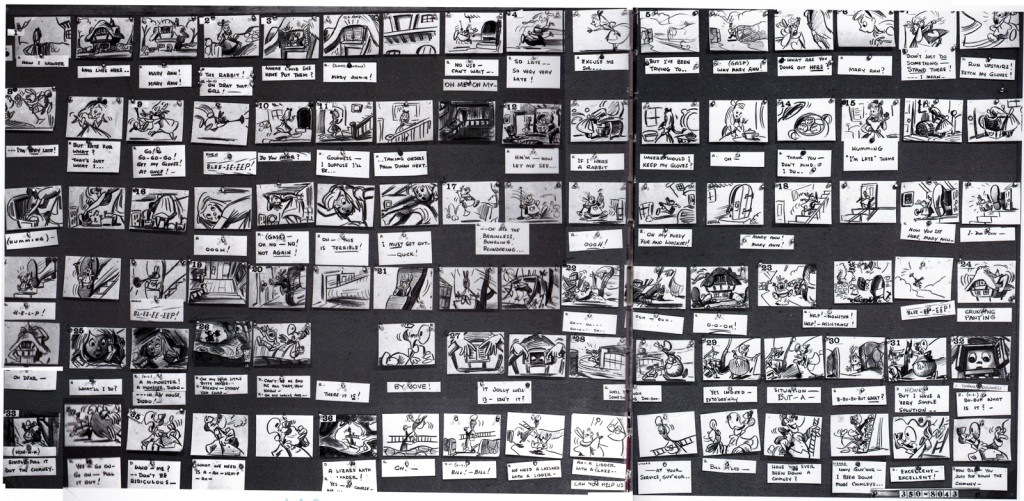 The following is Rinaldi's board enlarged for the sake of legibility:


1

2

3

4

5

6

7

8

9

10

11

12

13

14

15

16

17

18

19

20

21

22

23

24

25

I have to give John Canemaker many thanks for allowing me to post these images. His book is a treasure. to those who appreciate the storyboard.
Books &Disney &Illustration &John Canemaker &Layout & Design 19 Jun 2013 06:53 am
Gustaf Tenggren, of course, was the designer who worked at Disney's studio during the thirties creating art which became models for Snow White, Bambi, and Pinocchio. John Canemaker wrote extensively about Tenggren in his book, Before the Animation Begins.
The artist moved into publishing after work at the Disney studio where he created The Poky Little Puppy for Little Golden Books. The Tales of the Arabian Nights was another of the many books Tenggren did for them. While visiting John Canemaker I saw the book and photographed some of the illustrations. Hopefully, the quality will be good enough so that I can share them with you. They're completely original for Mr. Tenggren; not at all inspired by the many European-styled work he was known for. A true artist.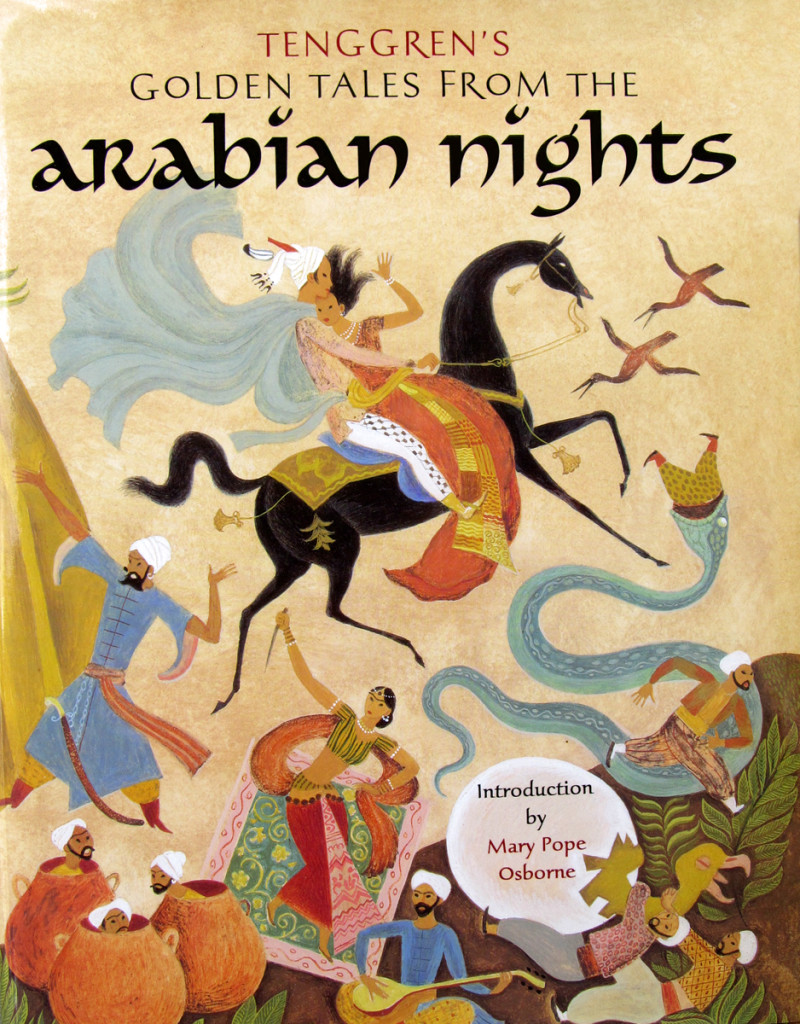 The book's cover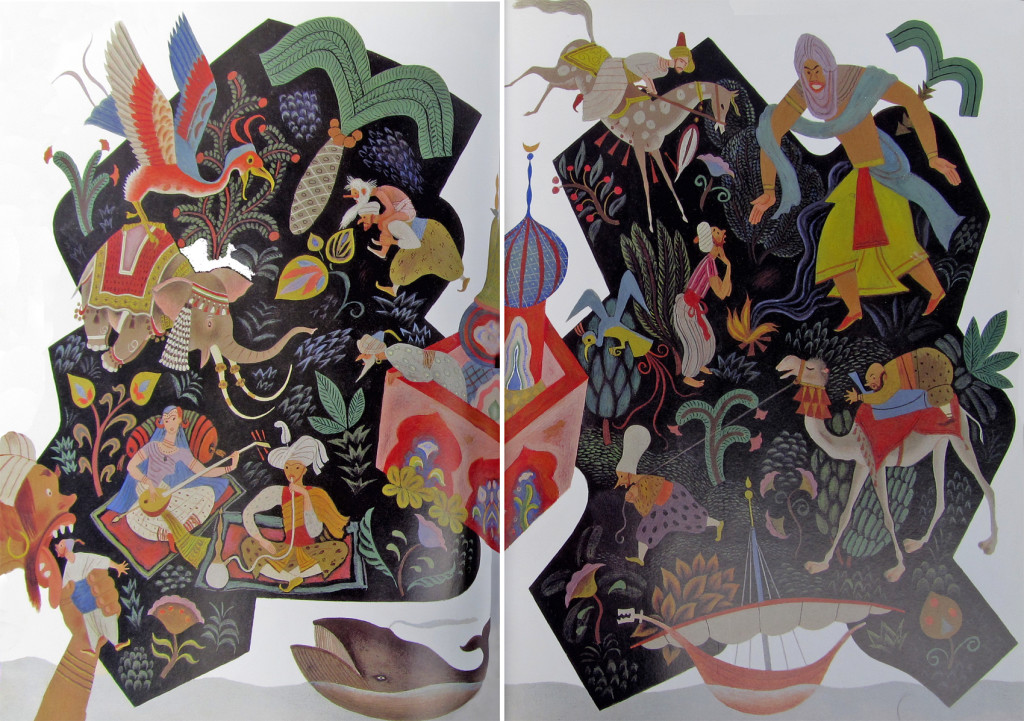 Inner covers / front and back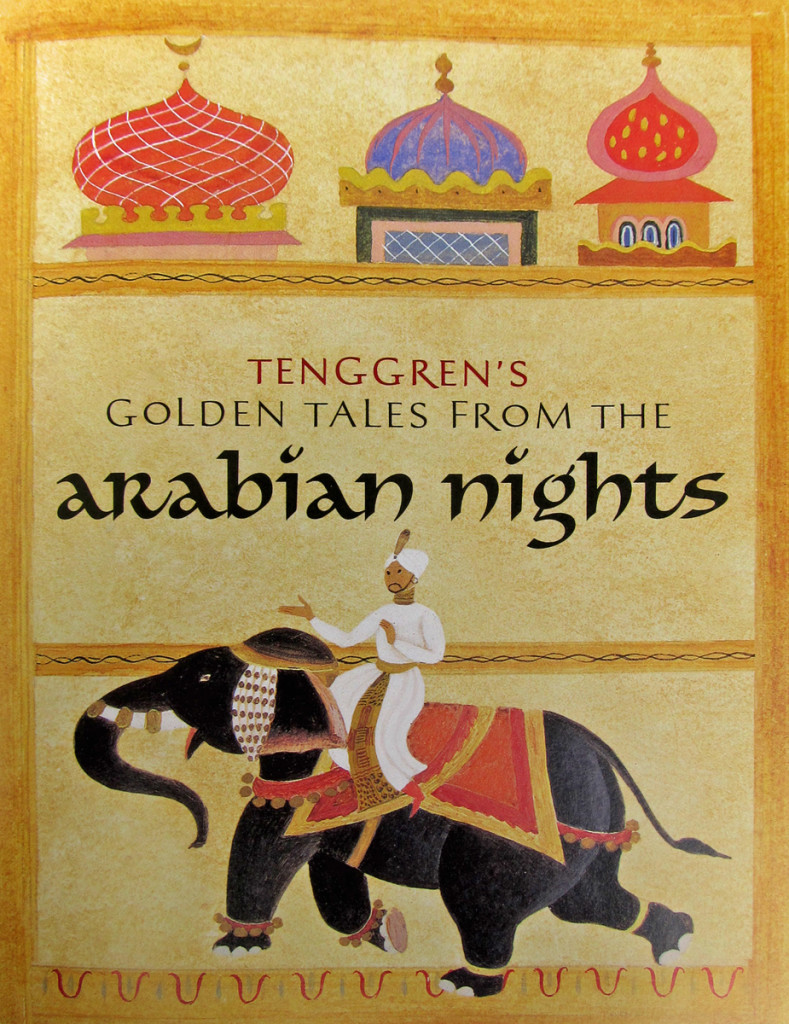 Thee Title Page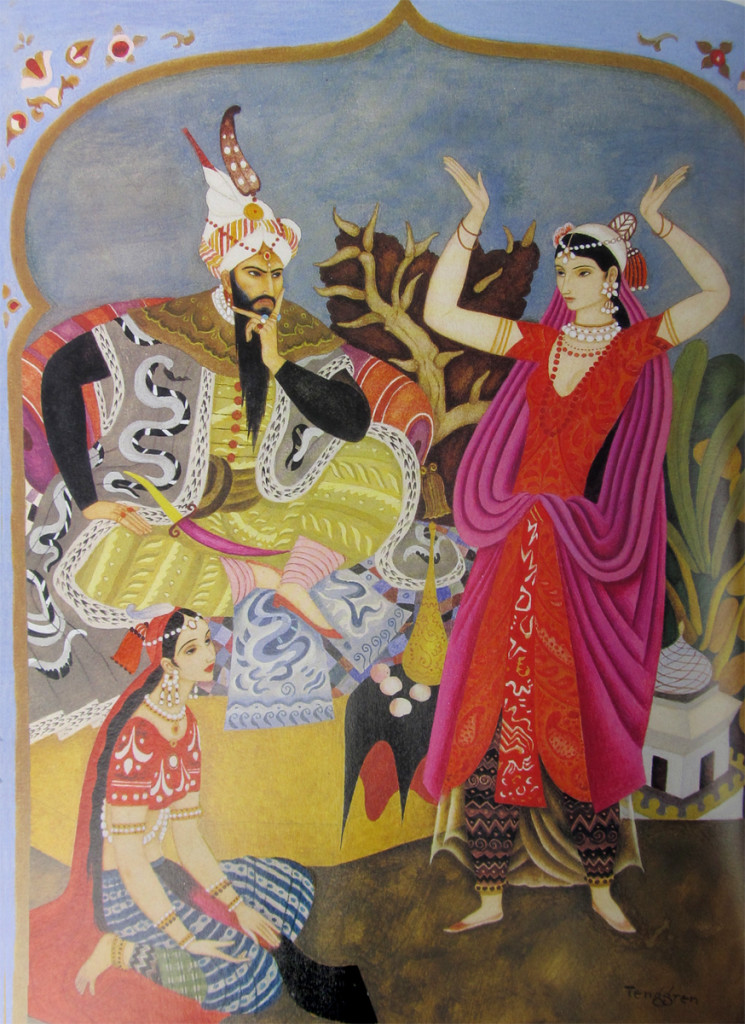 1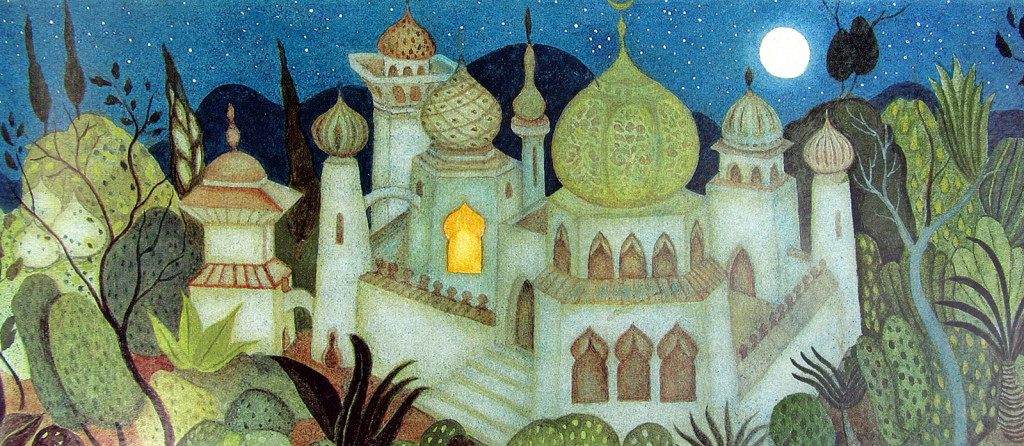 2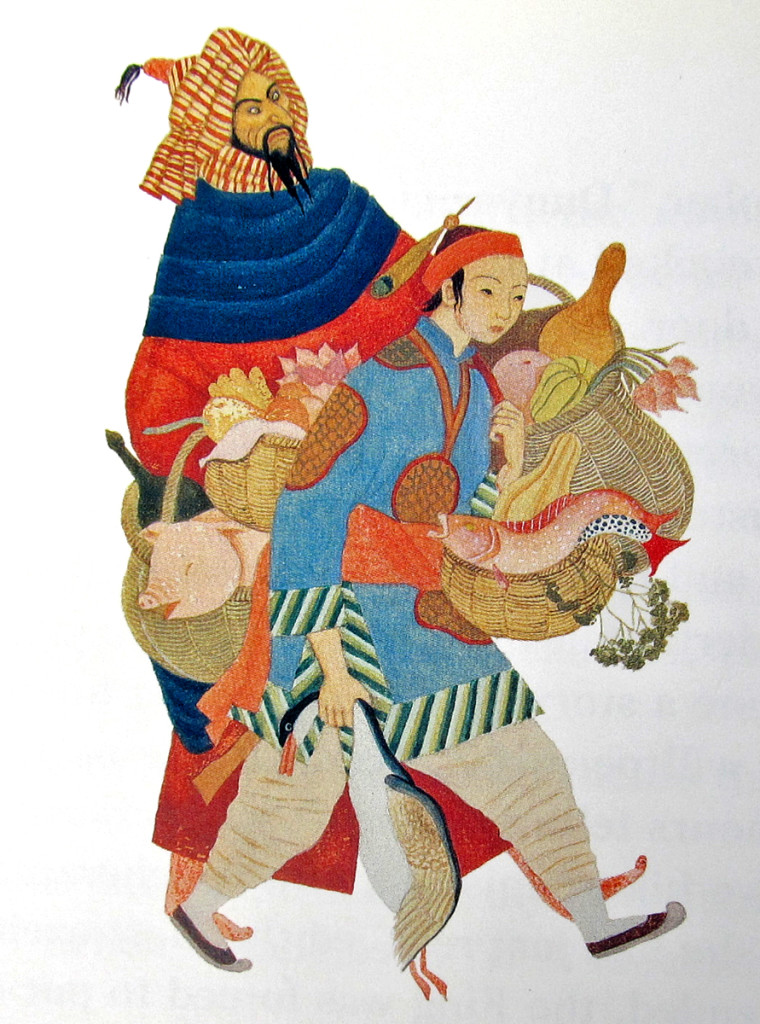 3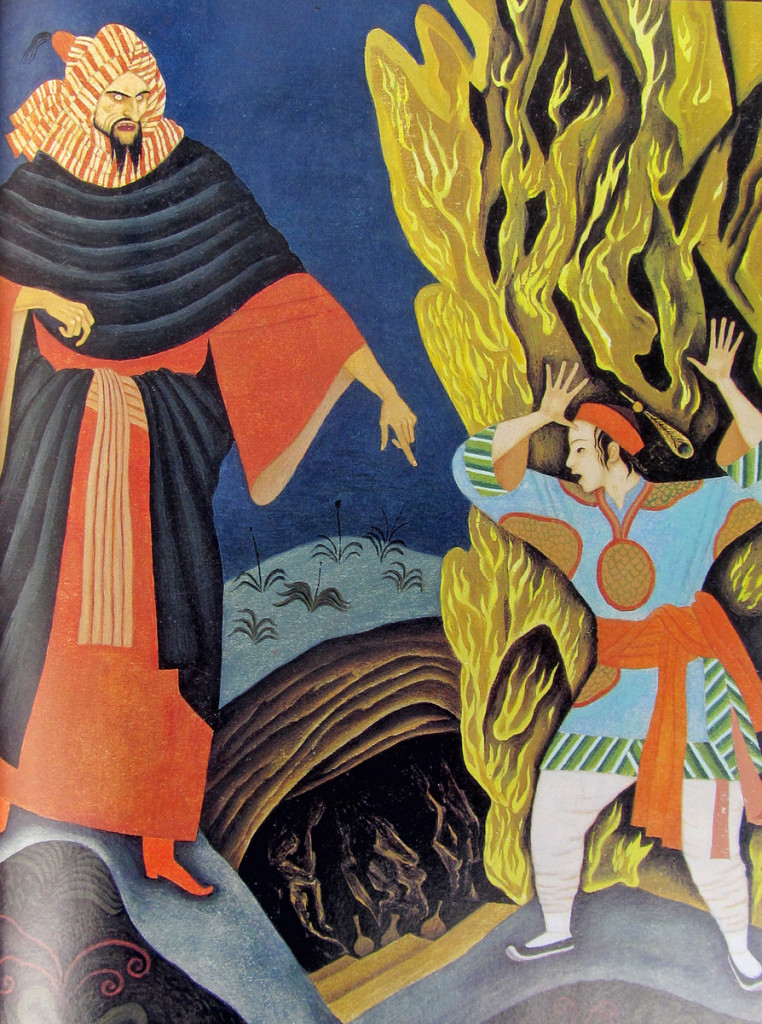 4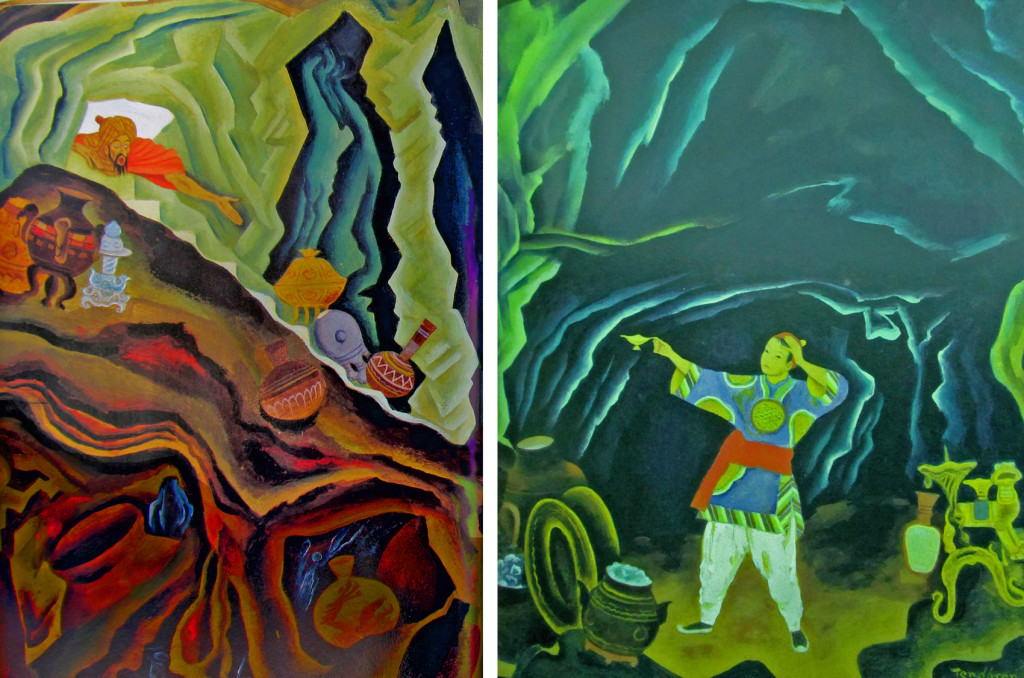 5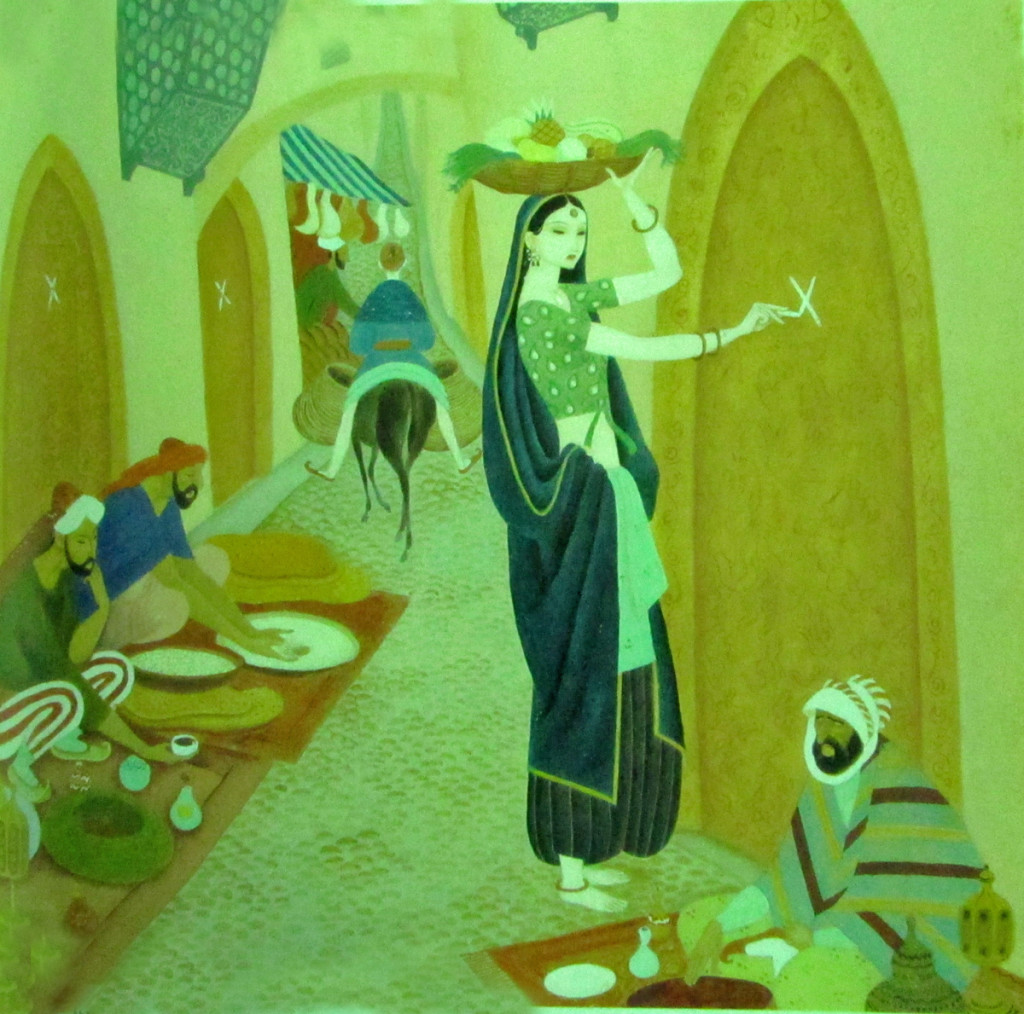 6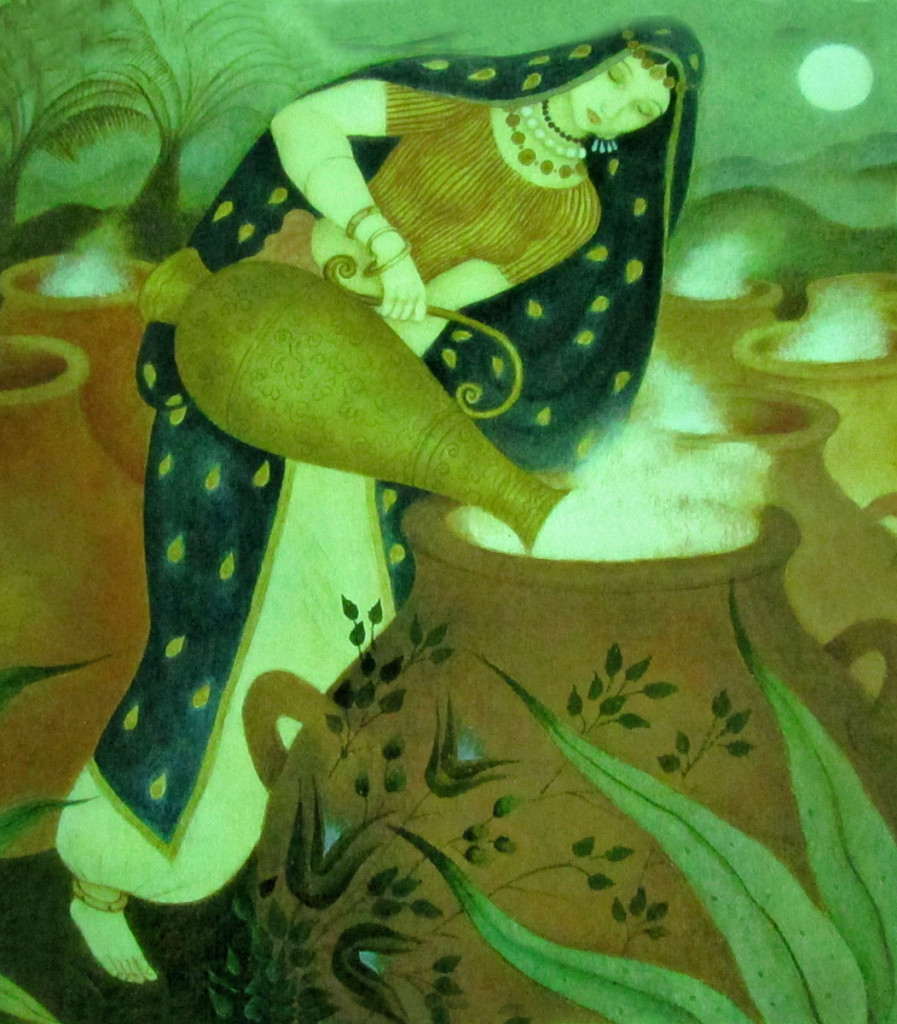 7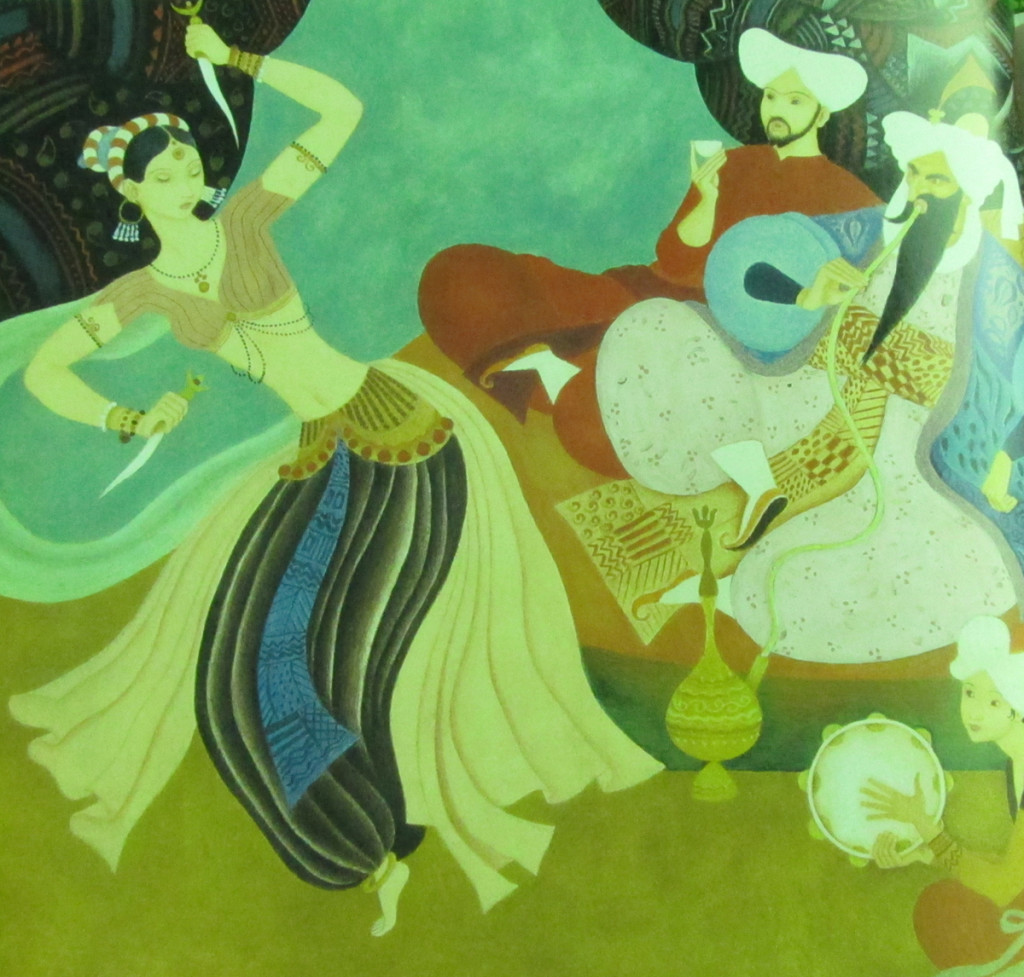 8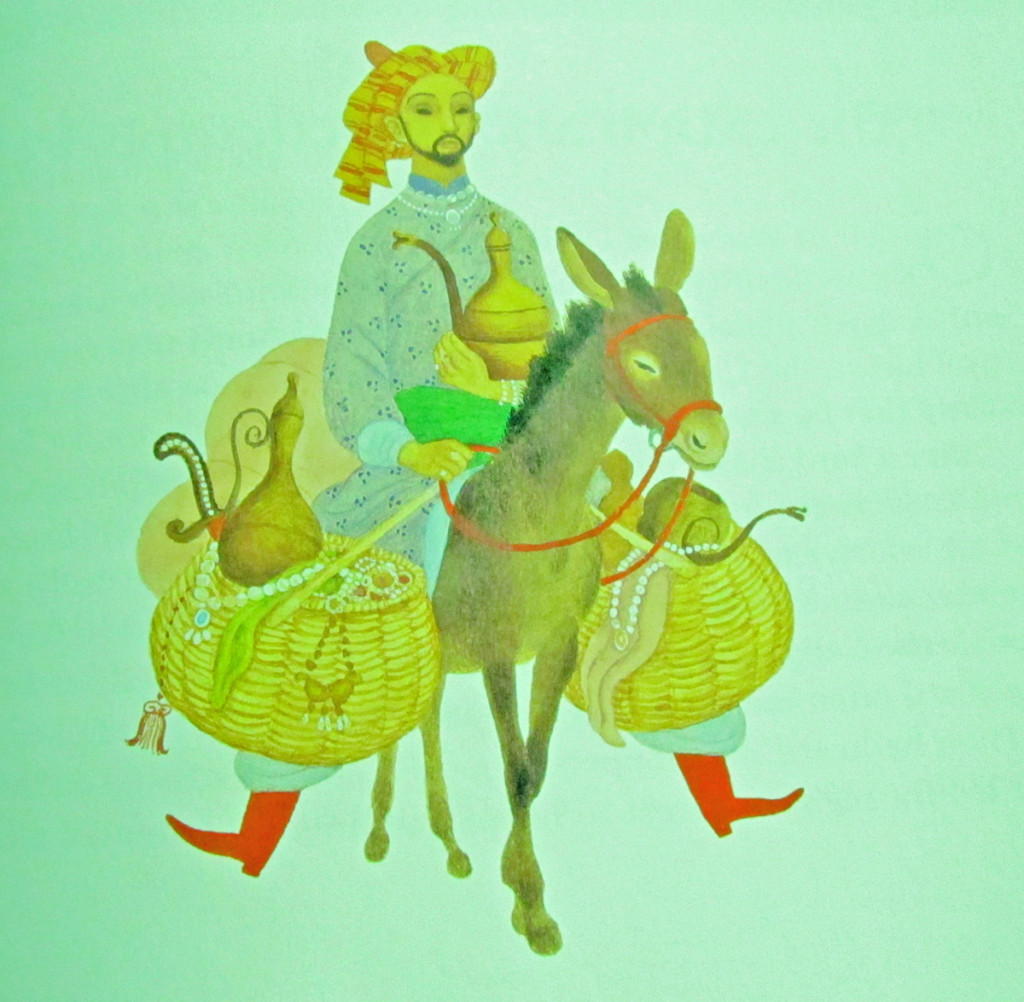 9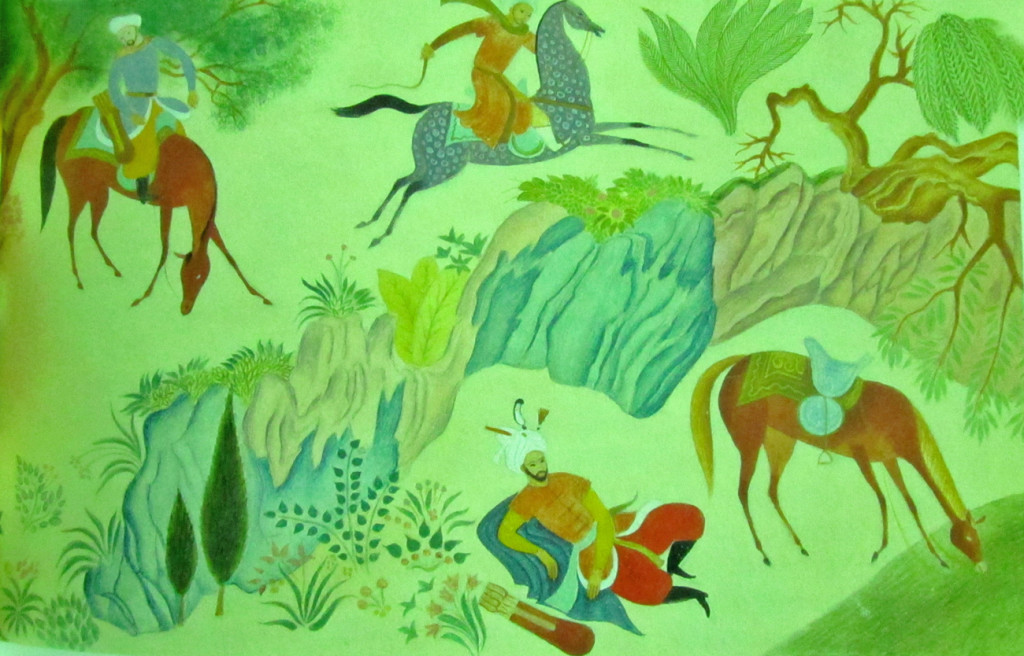 10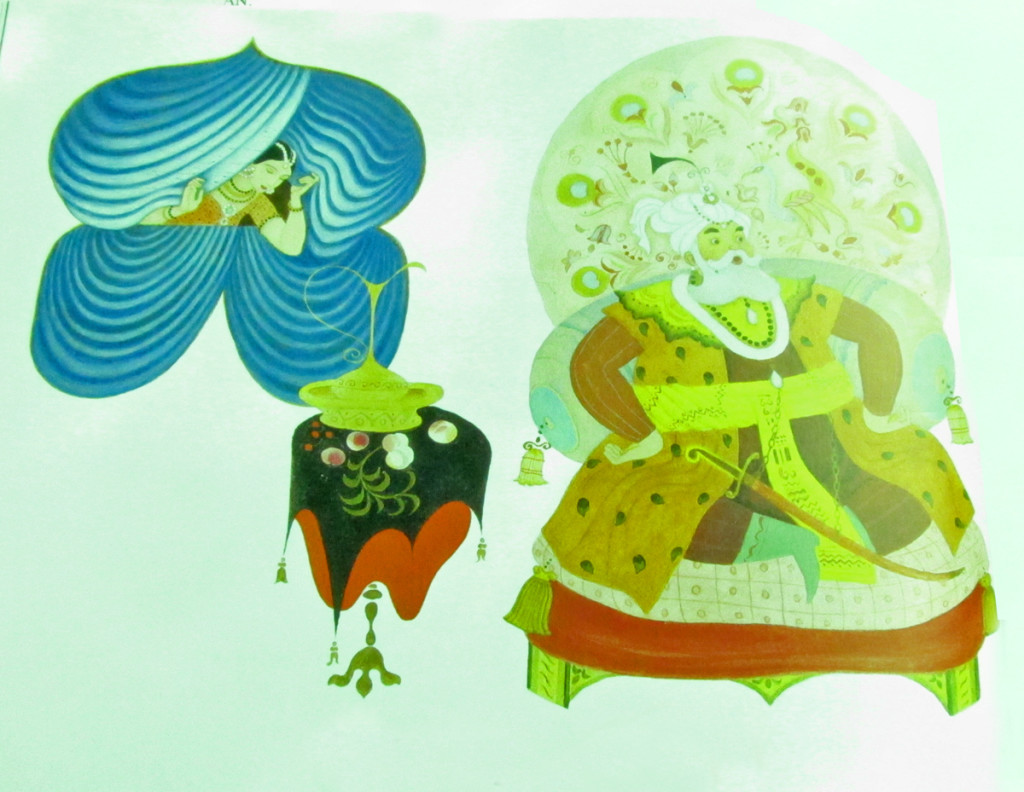 11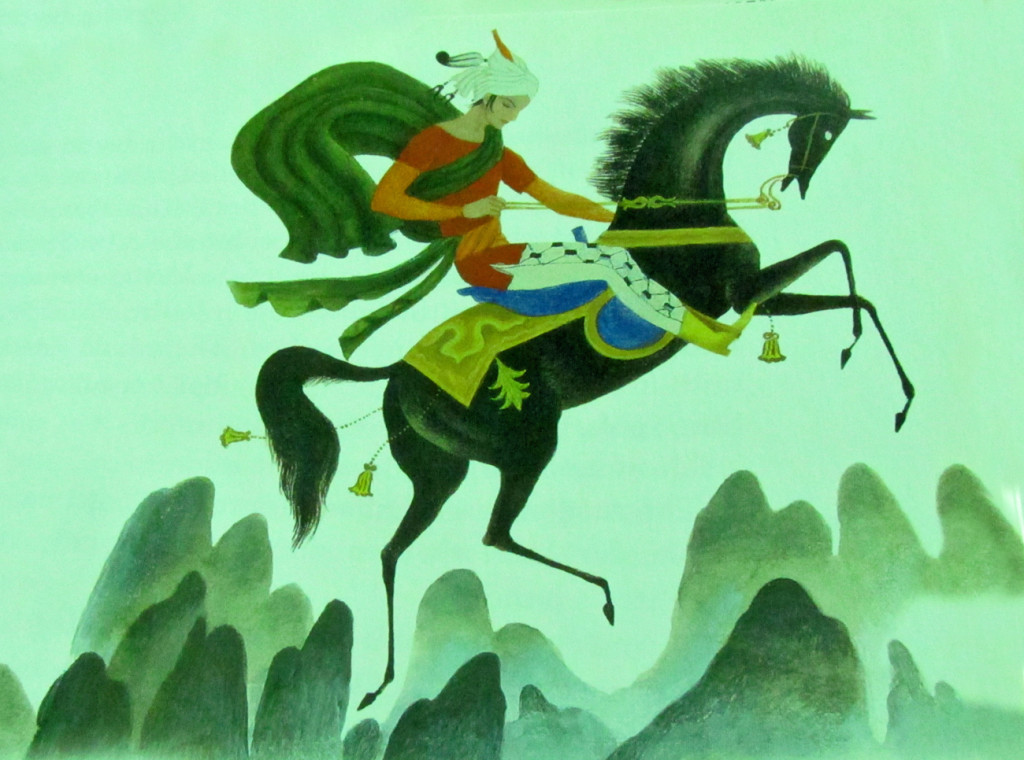 12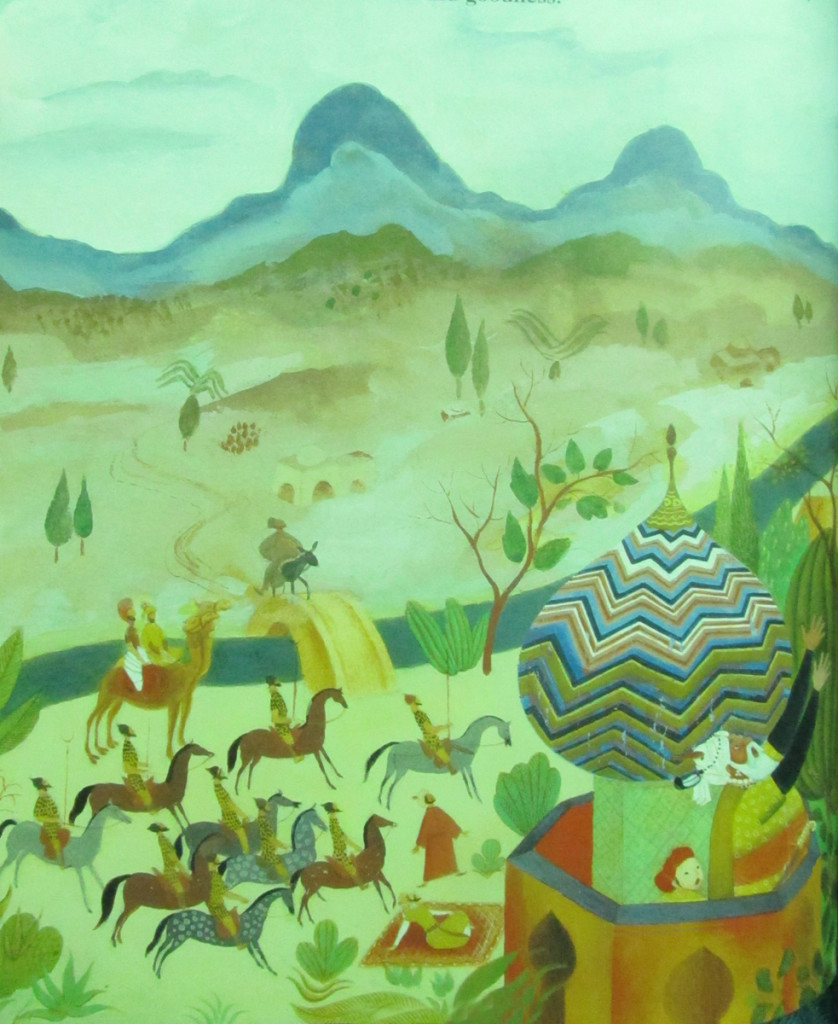 13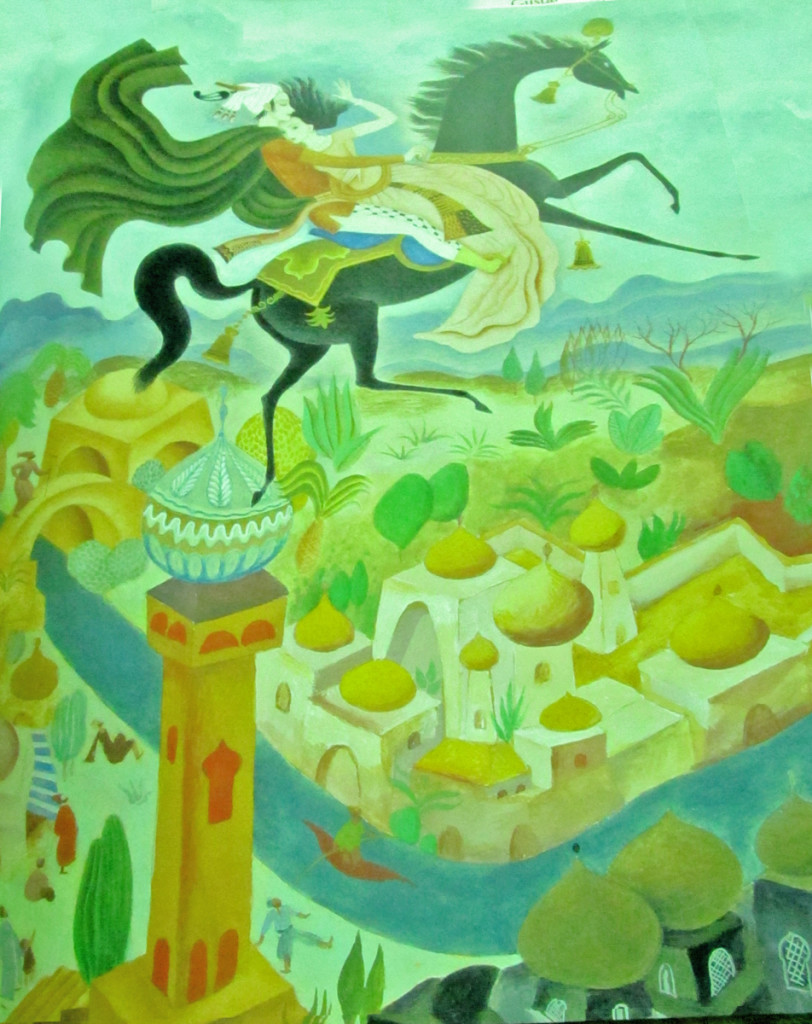 14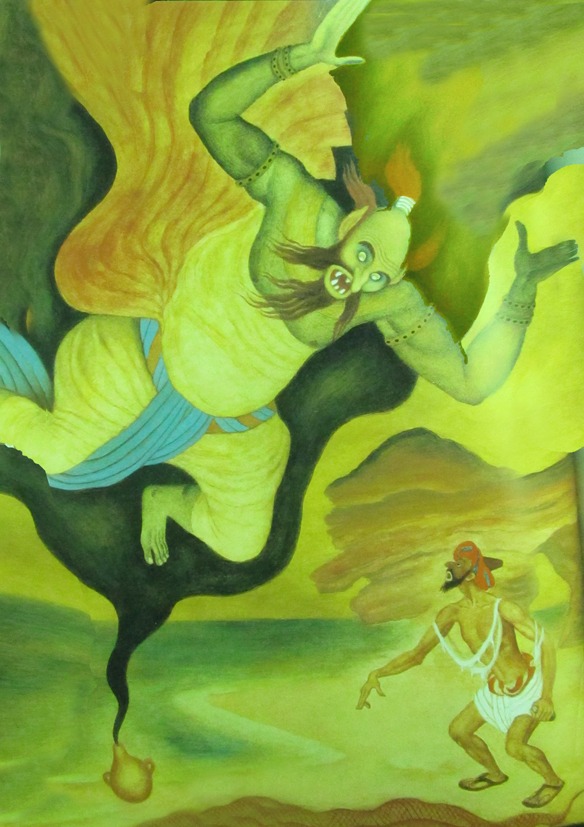 15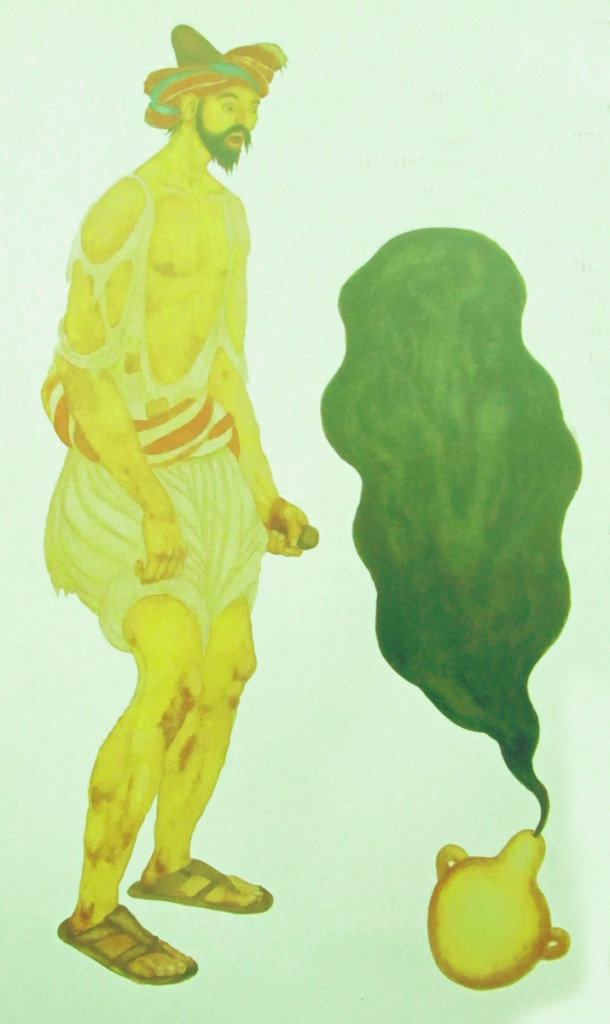 16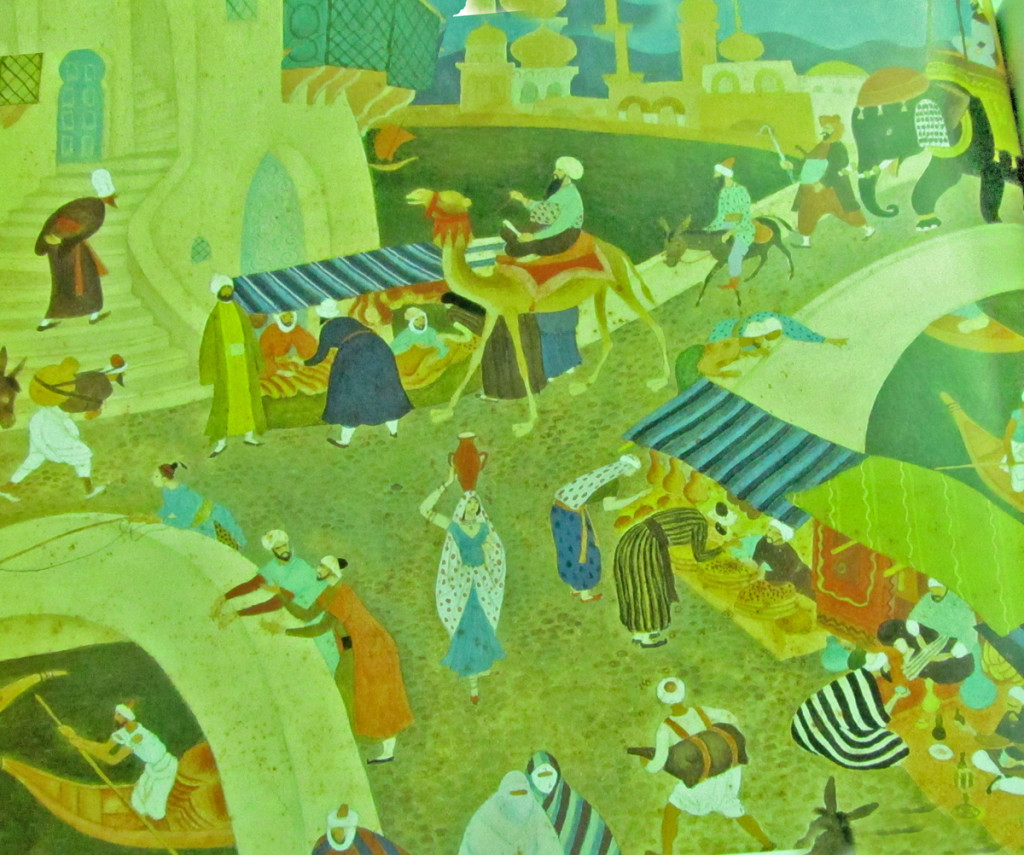 17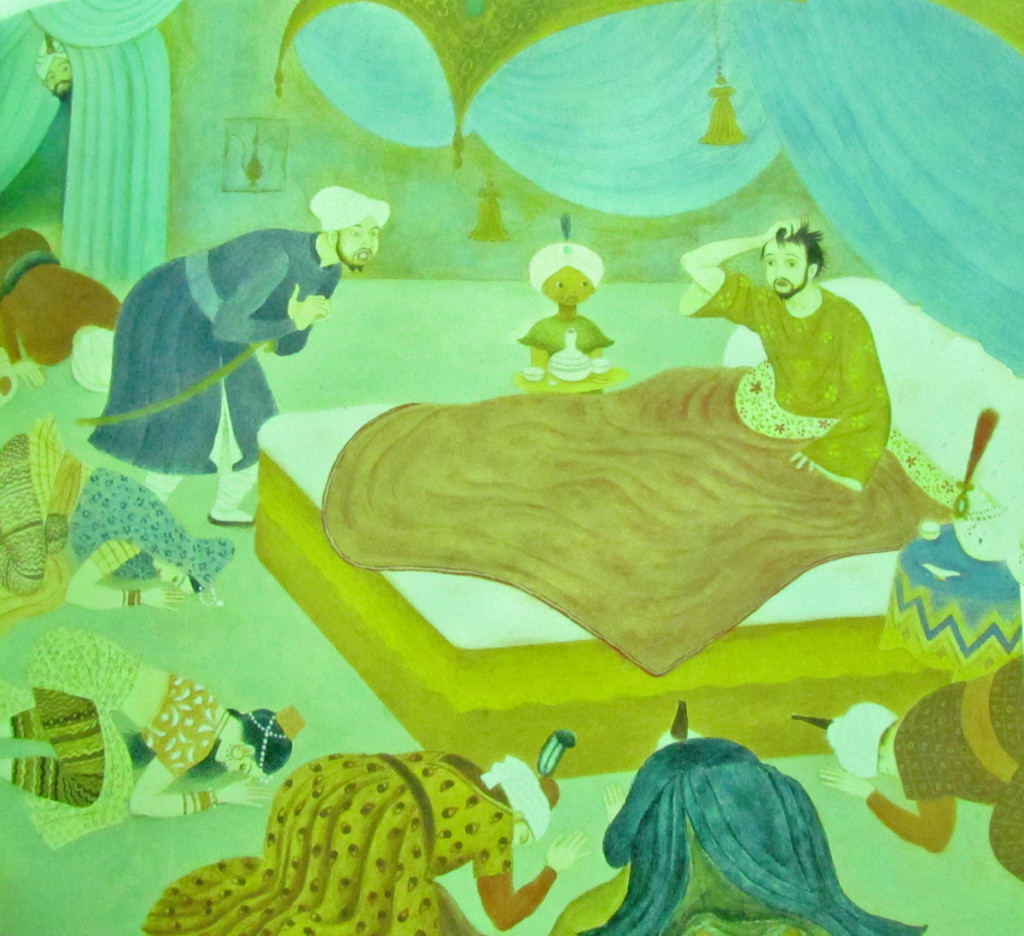 18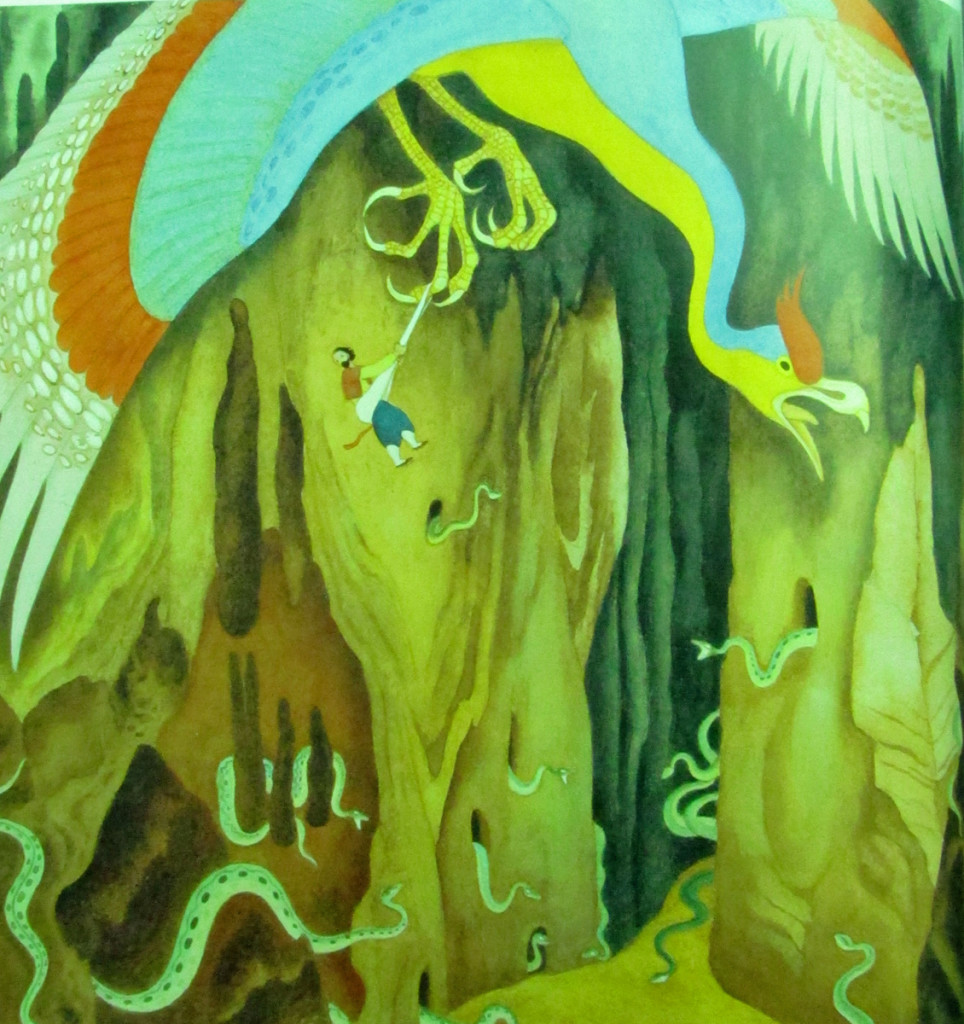 19
20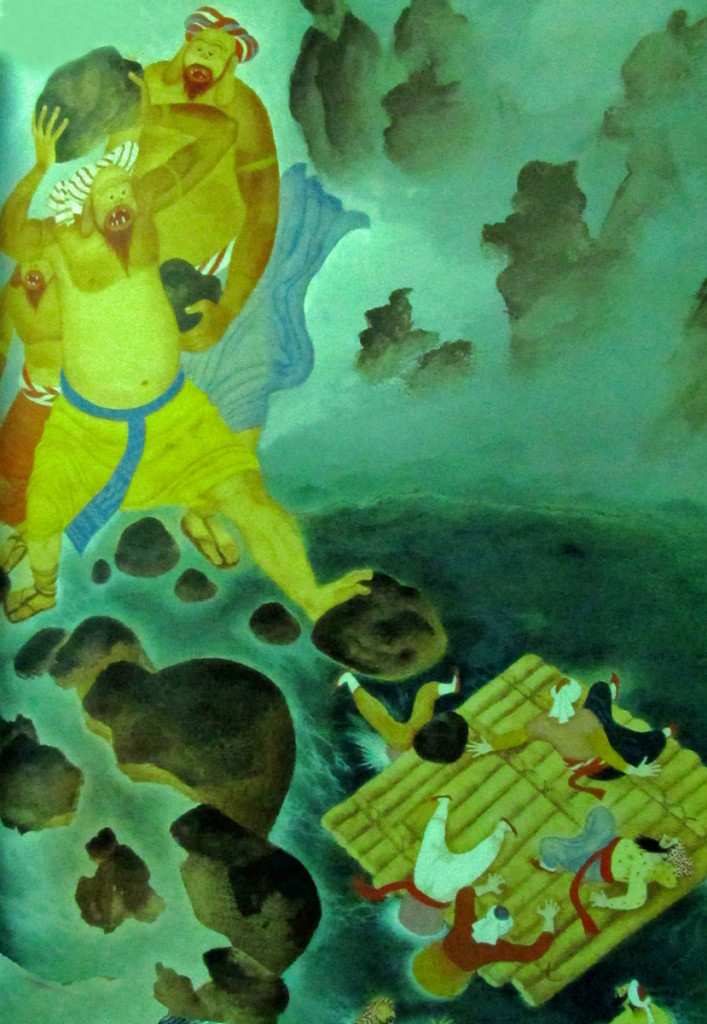 21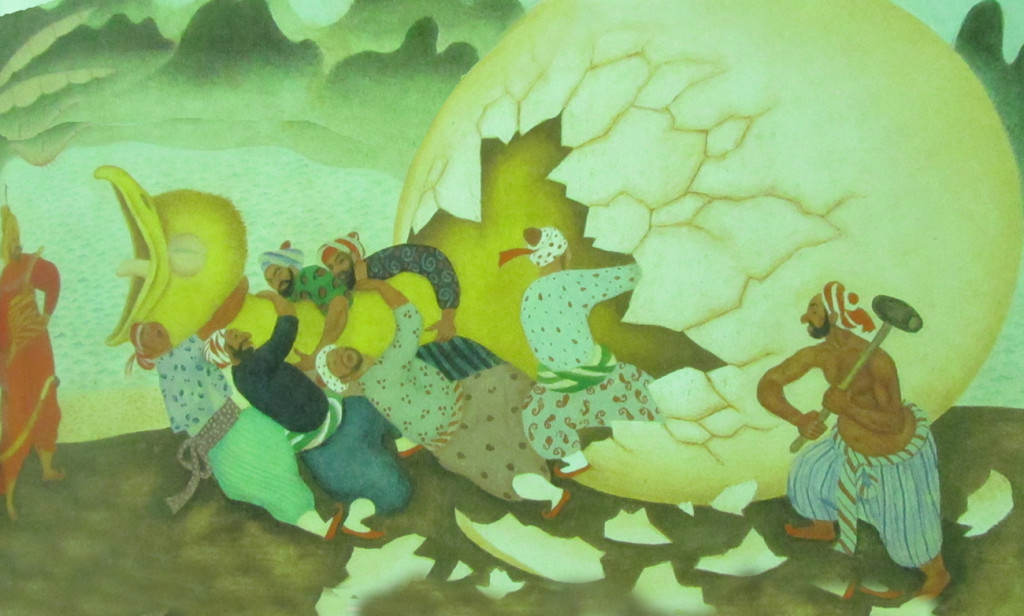 22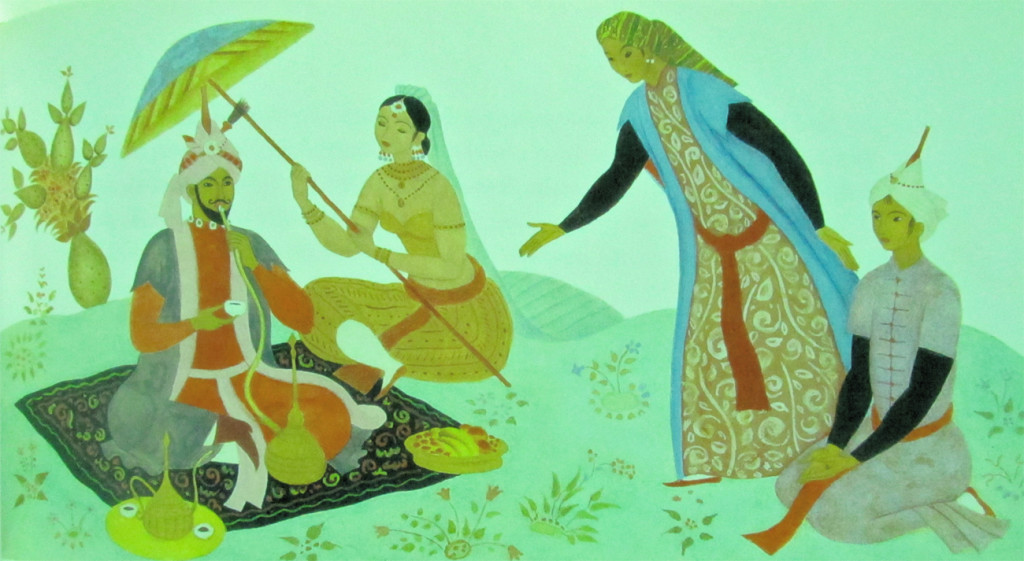 23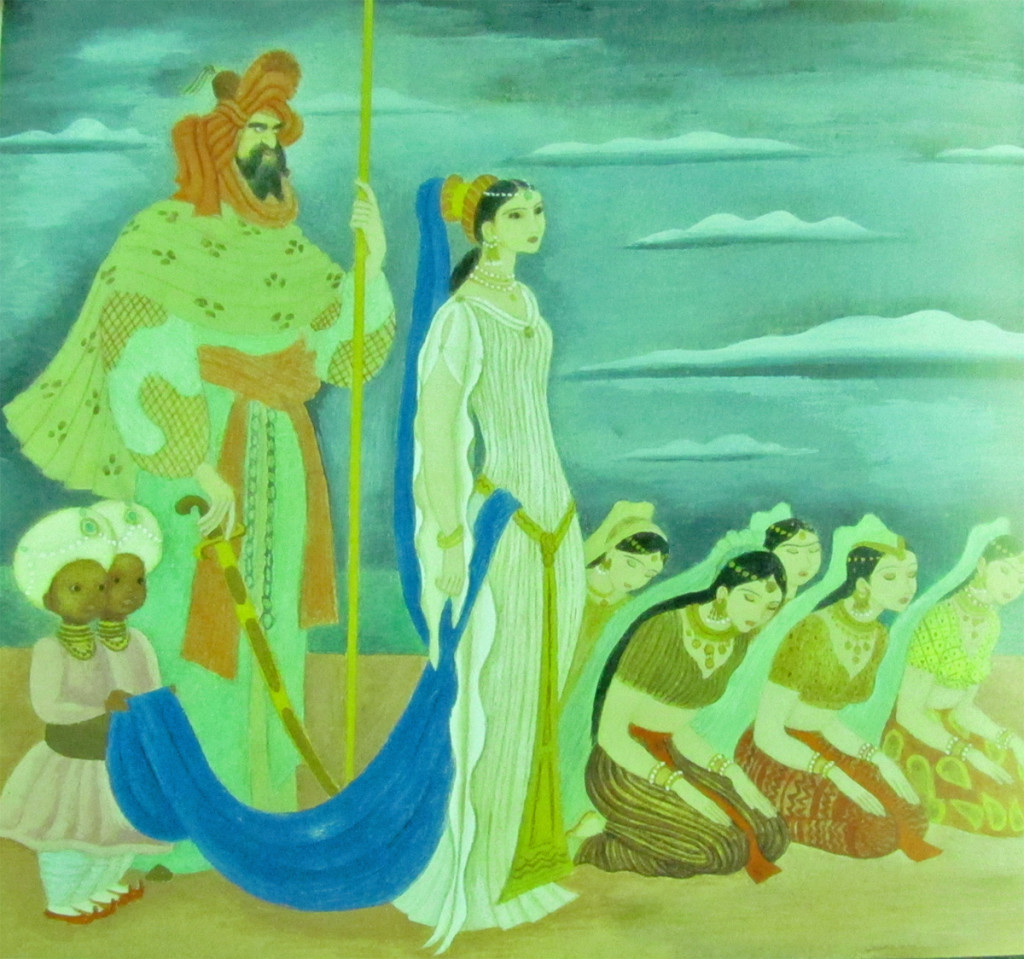 24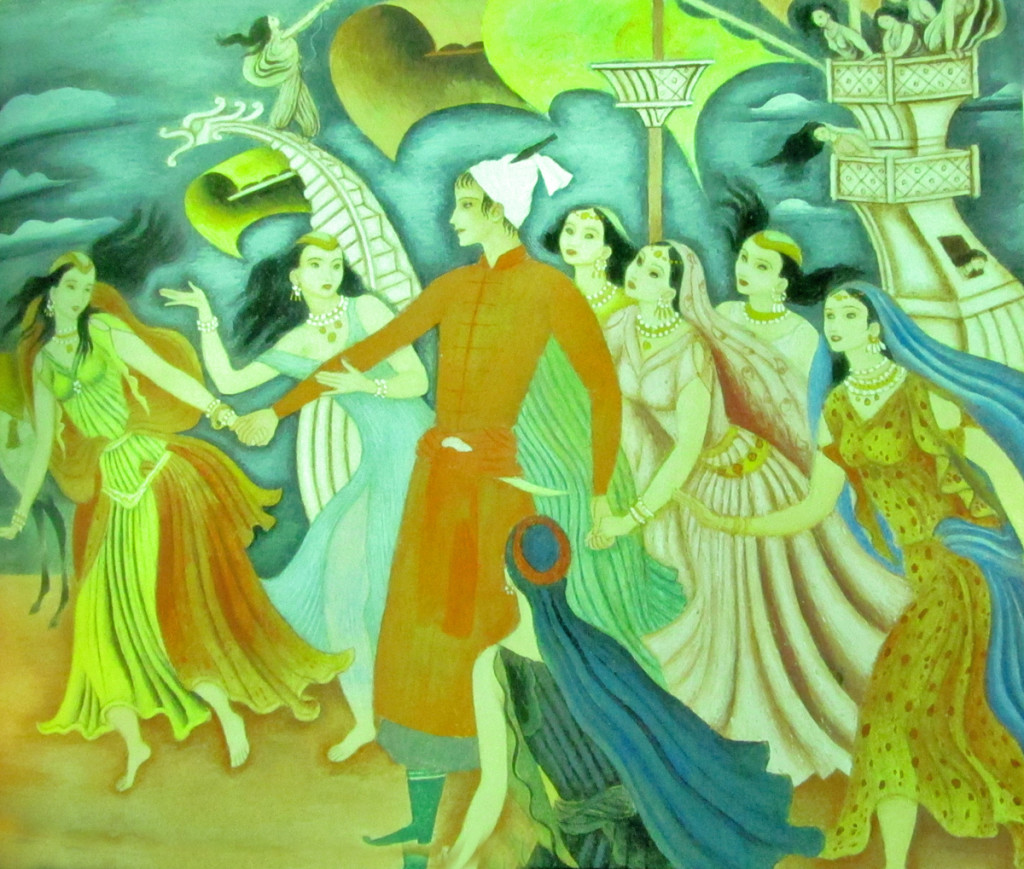 25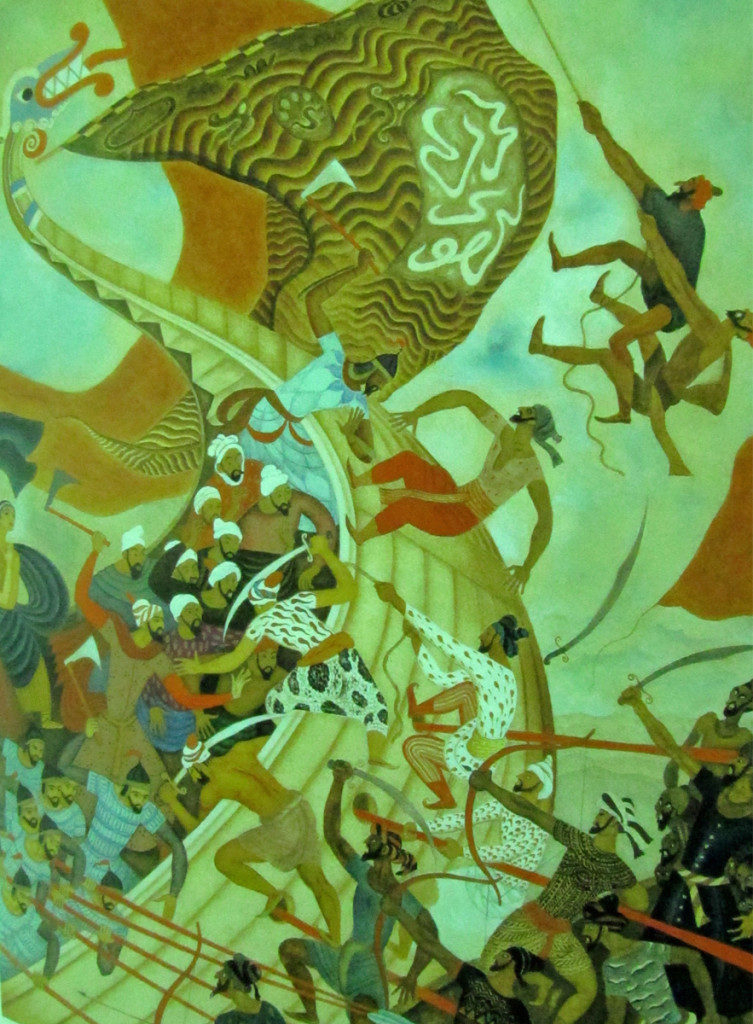 26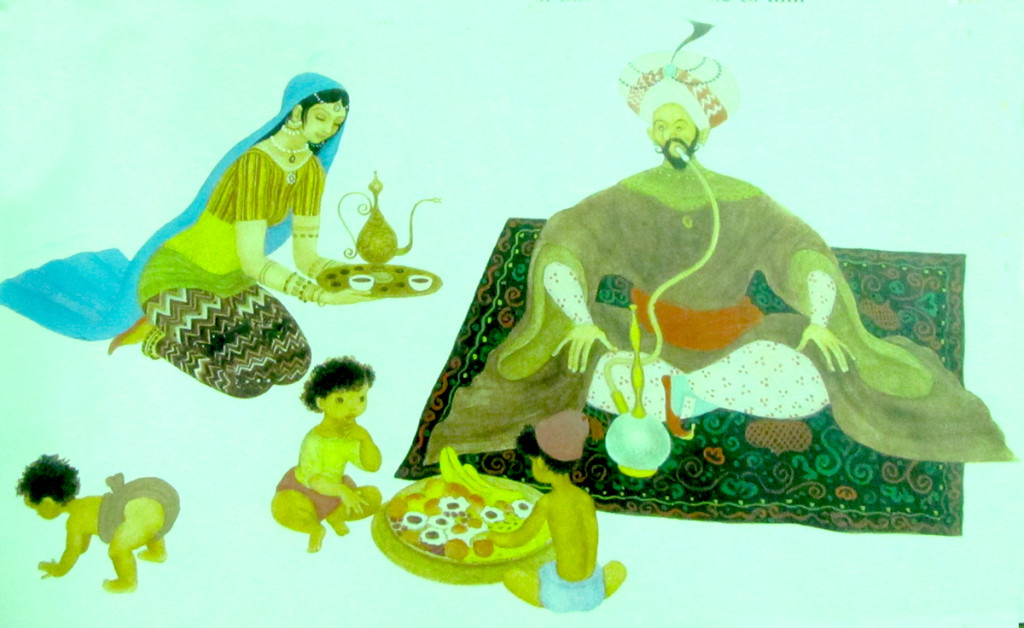 27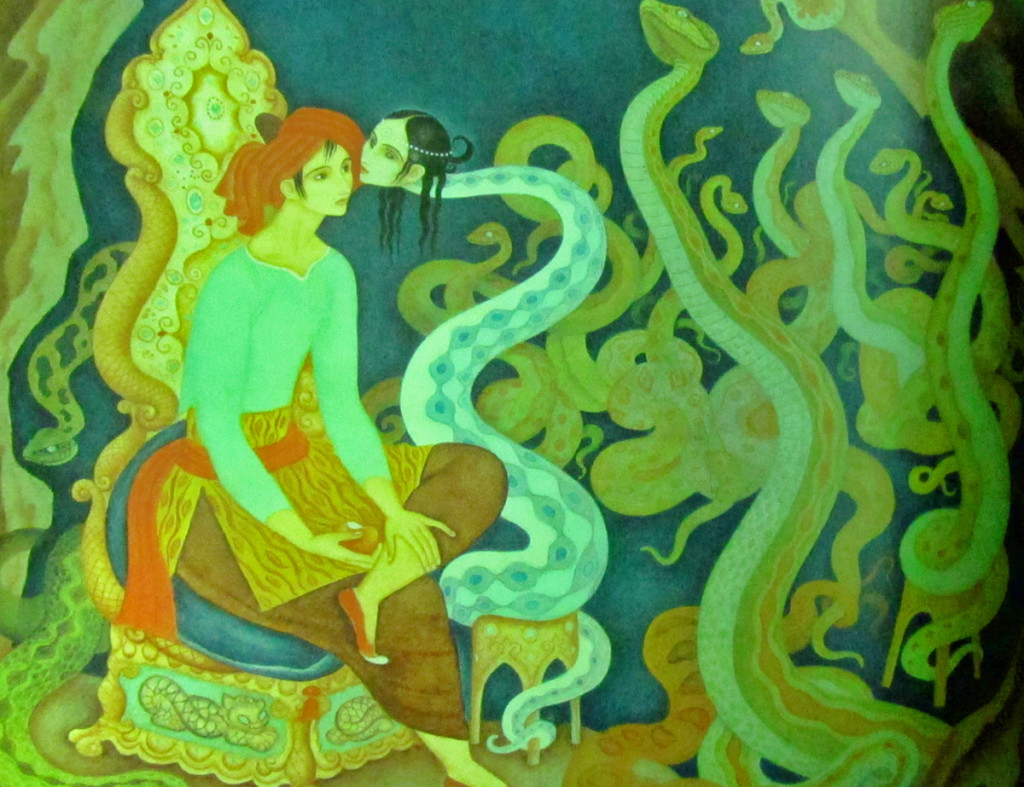 28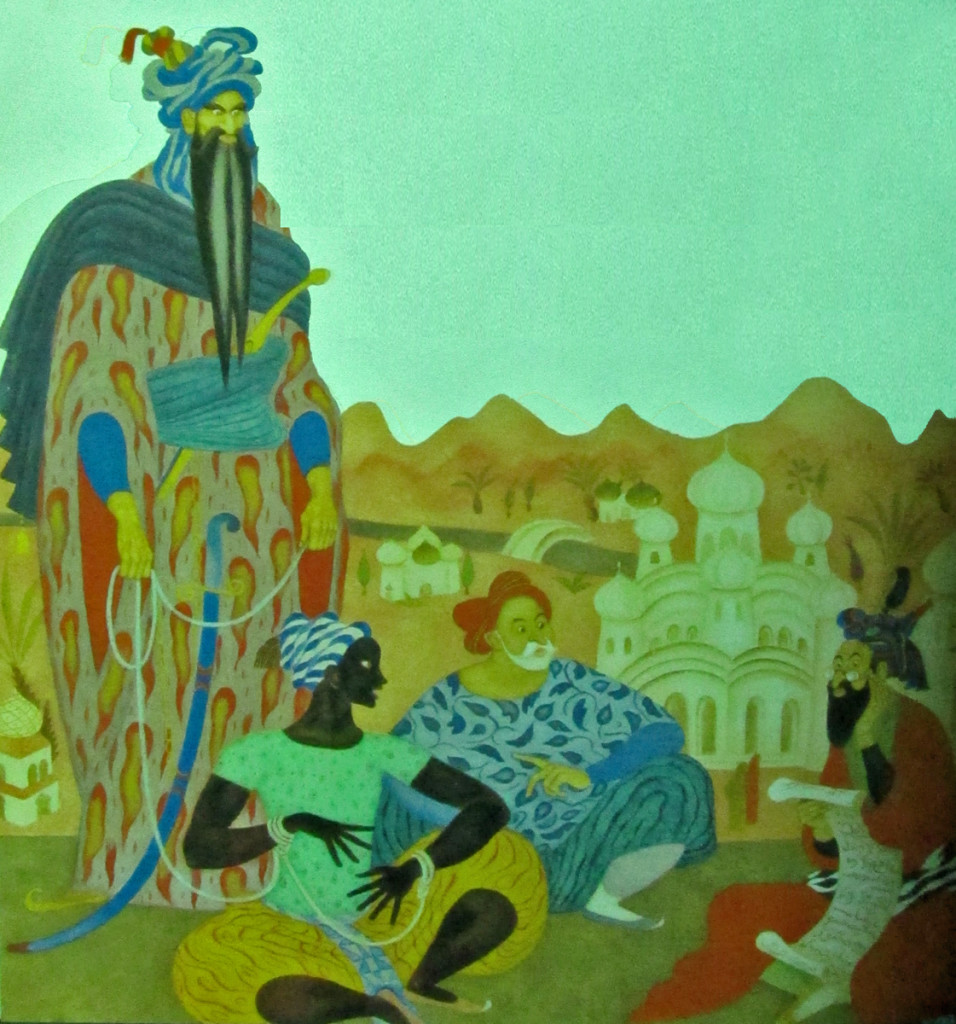 29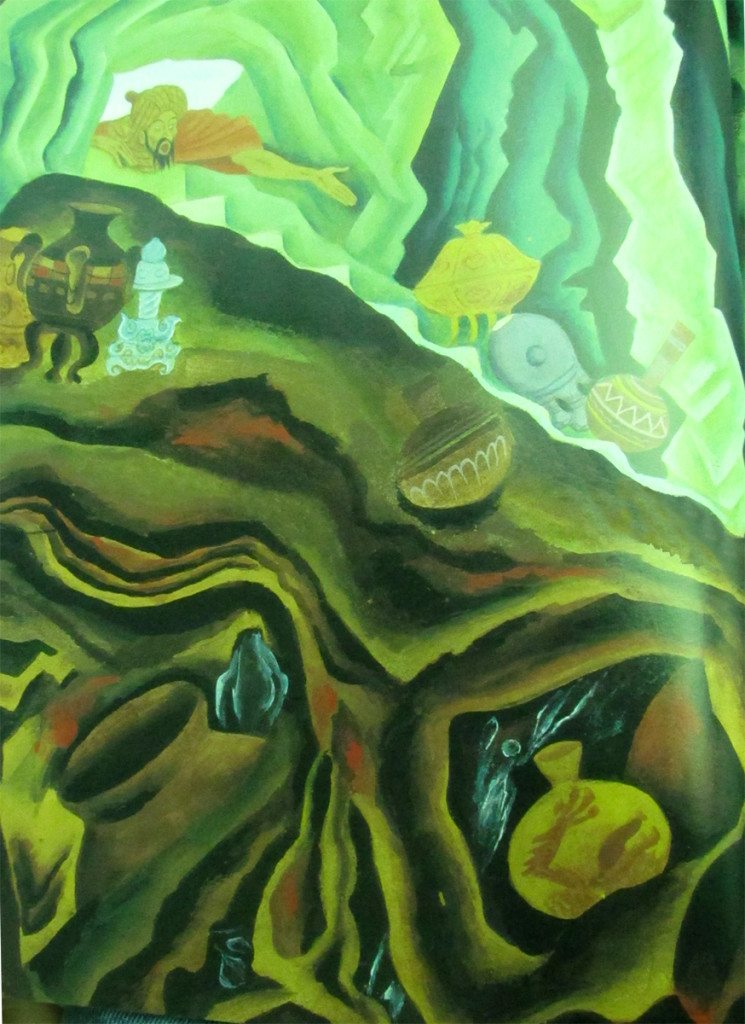 30
Animation Artifacts &Articles on Animation &Hubley &Independent Animation &John Canemaker 16 Jun 2013 04:53 am
This article by John Canemaker is, to me, one of the most important pieces I've ever posted. I want to continue to give it some fresh air time, and I think today's the day to post it anew. It's one of the great articles ever printed in Print Magazine and a brilliant piece of historic recreation by John Canemaker. I've read it a couple dozen times, and am about to read it again, now. (Yesterday, I heard Duke Ellington perform "Tenderly" on the radio and that was enough to prompt me to repost it. I'd intimately known the Oscar Peterson/Ella Fitzgerald version of the song. Here was Ellington's version which literally took the song apart and reconstructed it. Art was performed in front of me thanks to local radio.)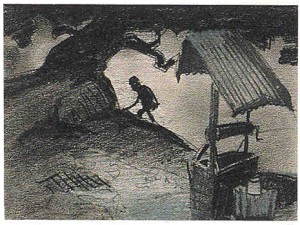 - A treasure of a piece, John Canemaker wrote an article for the March/April 1993 edition of Print magazine an article about Finian's Rainbow. This was an animated feature well under way in 1953 to be directed by John Hubley. It was to be an adaptation of the successful Broadway musical by Burton Lane and E.Y. Harburg. The film about racism twisted into a fantasy story about love and leprechauns would have been the first official adult film done by a team of brilliant animation artists. The soundtrack would have featured songs sung by Frank Sinatra, Ella Fitzgerald, Louis Armstrong, Oscar Peterson and Jim Backus.
I remember hearing stories about animation in production at the Bill Tytla studio, with Tytla animating on it. In Hollywood, Art Babbitt and Bill Littlejohn were animating, with Paul Julian, Aurelius Battaglia and Gregorio Prestipino art directing. Maurice Binder had assembled a LEICA reel.
Senator Joseph R McCarthy and the HUAC investigation brought the entire project down to ground and set back the history of animation some 30 years.
John Canemaker has generously allowed me to post this article again; I wanted to celebrate the artist and director,John Hubley.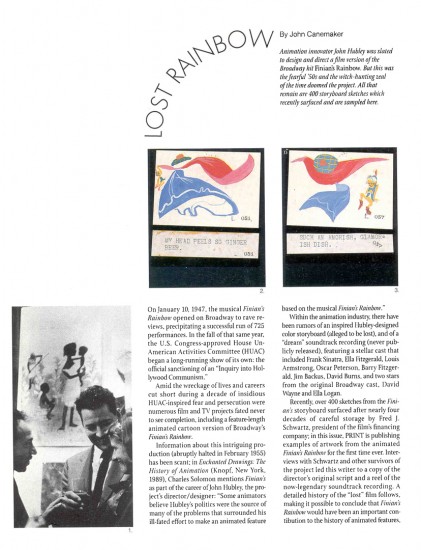 1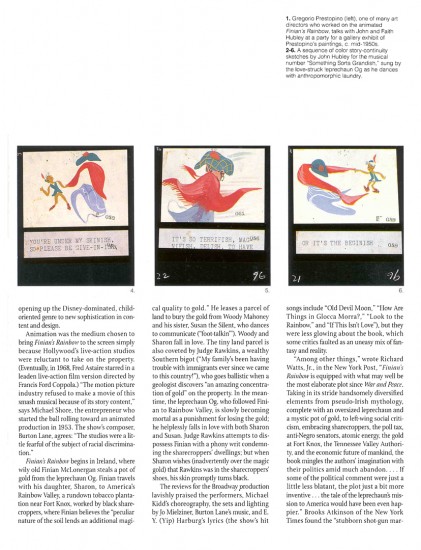 2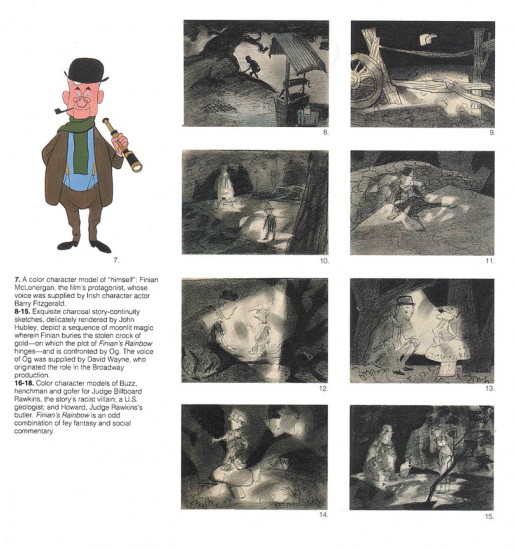 3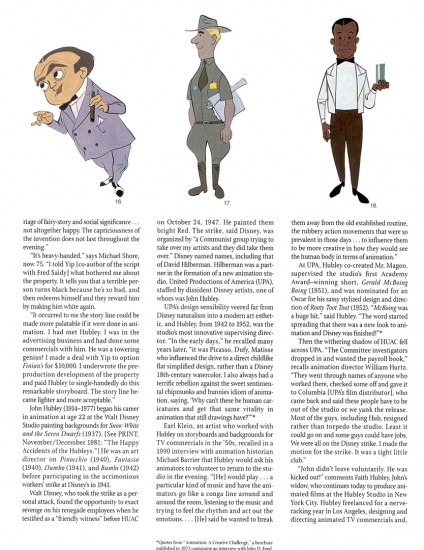 4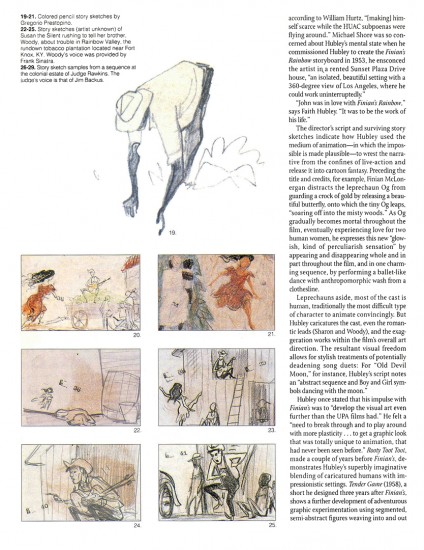 5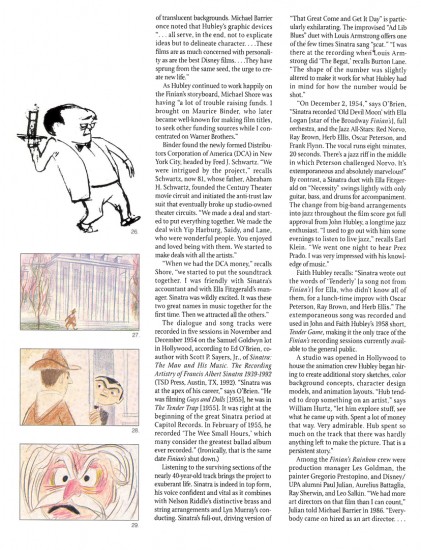 6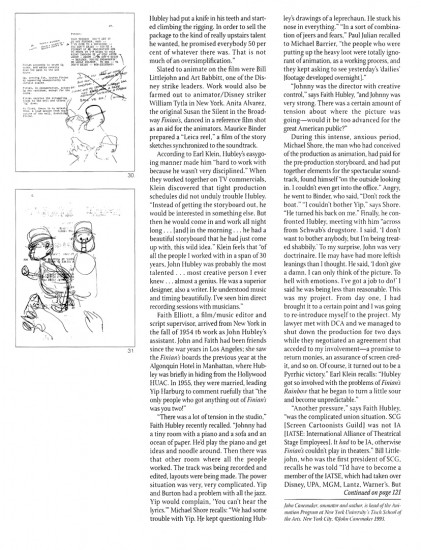 7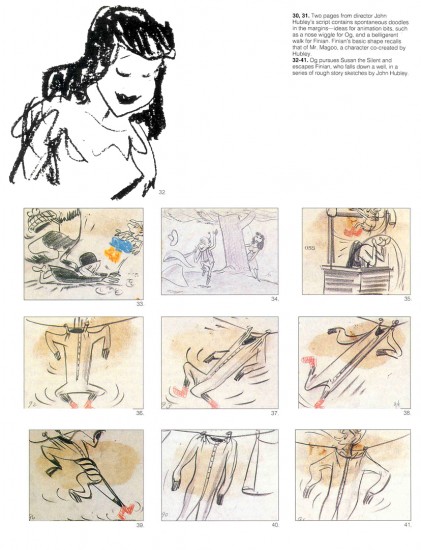 8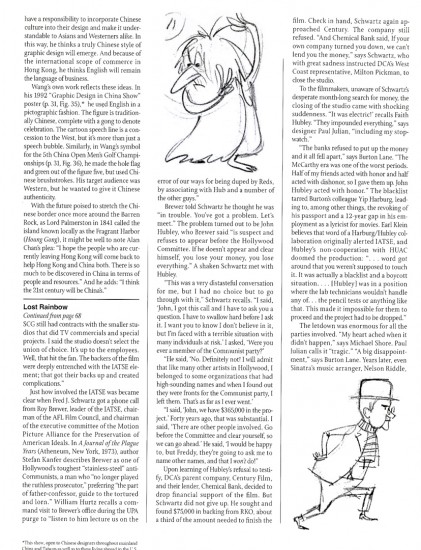 9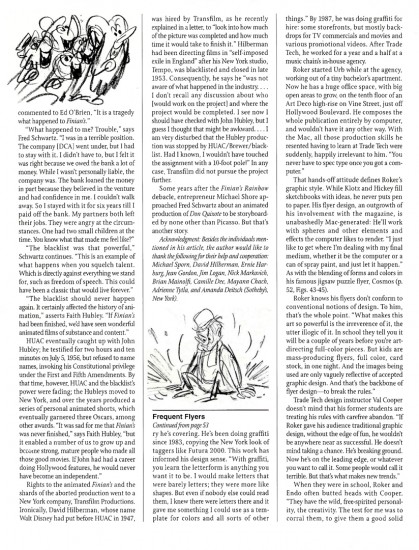 10

The story told to me by several people came most faithfully from Jim Logan, a long-time Asst. Animator working for Bill Tytla and sitting at a desk nearest Tytla's office. Within his office there was a wall of mirrors. Tytla was in the middle of a hand out of a scene from Finian's Rainbow. He was acting as an animation director for Hubley. He wanted the animator to practice the dance steps with him in front of the mirror. The animator was embarrassed to be asked to roll up his pants legs so he could better see how the move should animate.
Tytla was in his element. This was the first time since he'd left Disney's that he was really being asked to do animation, get animation out of his staff for this eccentric and thoroughly adult animated feature. It was about Racism in 1956, and it was a serious attempt to do something serious and political and funny – all at the same time. Within days the animated scene had been collected by the producers who lost all their financing because of a ridiculous anti-communist comment thrown Tytla's way. Tytla wasn't the only one who lost; Hubley did as well. As a matter of fact, the entire industry lost. A second rate journalist made easy accusations, and the only thing to be done was to shut the production down.
Years later a young Francis Ford Coppola directed a young Petulia Clark with another Brit, song and dance man, Tommy Steele, playing the mischievous leprechaun. Needless to say, that film is a minor effort from Coppola's resume.
John Canemaker &Layout & Design &Models &Photos &Rowland B. Wilson 05 May 2013 05:55 am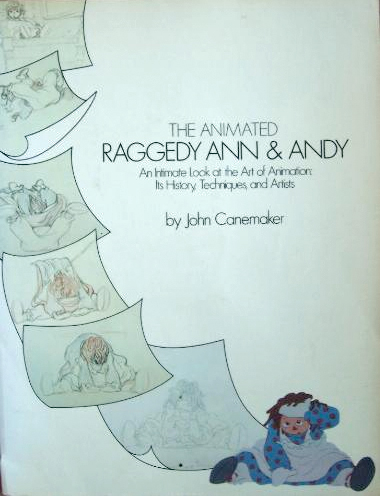 - Last week, I posted a stash of photos taken by John Canemaker for the book he wrote called, "The Animated Raggedy Ann and Andy."
John Canemaker took all the photos, himself, which led to a more intimate look at an animated film. There were no photo decisions by committee; it was decided to use a photo if it told the story John was trying to relay. For that reason, the book really is one of the best "Art of . . ." type books on the market. (I'm not just saying that because there were photos of me in there – though that would be a good reason, too.)
The book was as exciting – in the making – as was the film. Too bad at the last minute the train of a film ran wildly off the tracks. In a way, I wish the book were written after the film was completed so that we could read the true story of what happened in those last six months of chaos.
The decision was slow in growing and fast when it finally fell, that the movie was enormously over budget. I was in on all the morning production meetings where managers and supervisors and directors would all meet. Those had started off nicely, at the beginning of the film, and went insanely wrong before long. There was the time when I was ordered to fire – that day – two inbetweeners. I was told that we had to give the staff a lesson that they had to work harder. (That might have been hard to do since everyone was giving it their all.) It so happened that one new inbetweener, on her first scene, ignored my instructions (and her immediate supervisor's) by erasing all of Jack Schnerk's drawings. She felt she could animate the scene better, and she set out to prove that.
One down. The second person to fire was someone I was told (by Dick Williams, himself,) that I had to fire. It was obvious that there was a personality conflict since the guy was a great artist and definitely someone who should have stayed on. I was able to arrange for him to be switched to the BG department, thus fired by me from doing inbetweens and hired by them, in the same day, to do watercolors. He continues on, even today, working at a top position in design at Blue Sky. I don't know about the woman, but I hope she gained a little humility that day 30-something years ago. That story didn't make it into the book.
What there was in the production was a great first year of production where the art of animation was treated in its highest form. We were all out to make the greatest film of all time and bring it to the big screen. We had some of animation's finest animators gathered to work on it. Assistants and Inbetweeners in New York were offered classes, after hours, which tried to teach animation to the new. With teachers like Tissa David and Art Babbitt and more experienced Assistants; a lot was conveyed. I was usually too busy to make it to many of these classes, but I always kept a close eye on what was taught. It really was fun and incredibly valuable to many of us.
At some point along the way, the LA studio was closed and key people from there came here. All of our space was overcrowded and uncomfortable. The Xeroxing in NY, a sweet grey line that took a while to construct, was replaced by a thick back line, when management sent work to Hanna-Barbera to outsource the xerography and some of the painting. Shadows were eliminated. Color copiers were rented. Scenes that had been animated in a non-photo blue pencil on 16 fld paper were being copied and reduced, at the same time, in B&W so that they could use 12 fld cels to color the art. A penny saved is a penny gained; I guess. This meant that a number of my inbetweeners were used to put 4 sets of crosses on the animation drawings so that there'd be some form of registration on the reduced artwork. Certainly the registration went all to hell in the process, thus allowing the latter half of the film to have a lot of slippage on the big screen. Lots of weaving animation in scenes that were rushed.
Emery Hawkins' amazing taffy pit took a big hit when it was animated more like a limited animation movie. All that beautiful rolling motion Emery had created on the cinemascope screen suddenly hits the wall and stasis sets in. The film was never going to be a classic of he silver screen, but it should have been a hell of a lot better.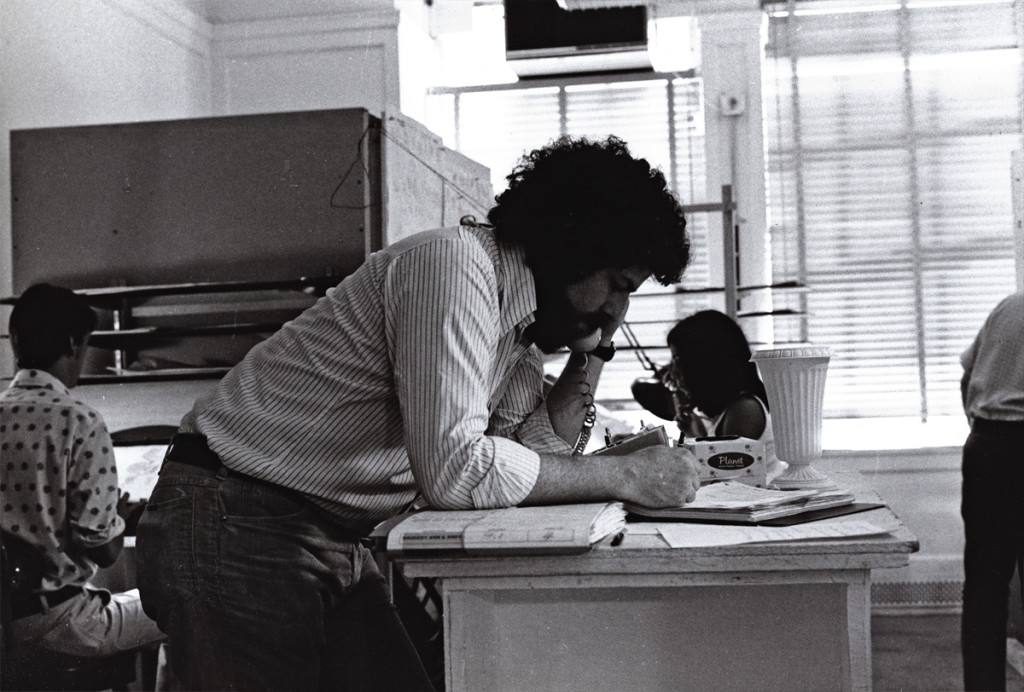 1
Here I am doing what I did most of the day.
I talked on the phone. Ennervating stuff.
A young Kevin Petrilak is in the rear left. He was an inbetweener
in the Taffy Pit. Dan Haskett ran that group of people.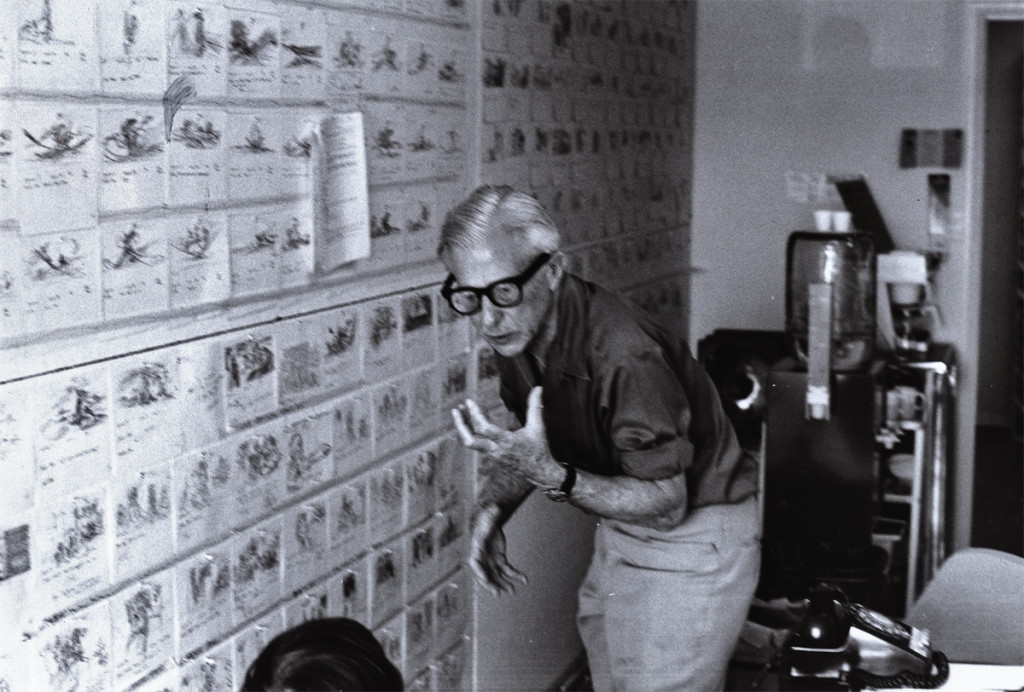 2
Here's Art Babbitt teaching. He loved doing that. Dick tried to
recreate the classes he'd had in London a couple of years earlier. We – all New York -
sure appreciated the two weeks of lessons. I have Dick's notes from these sessions.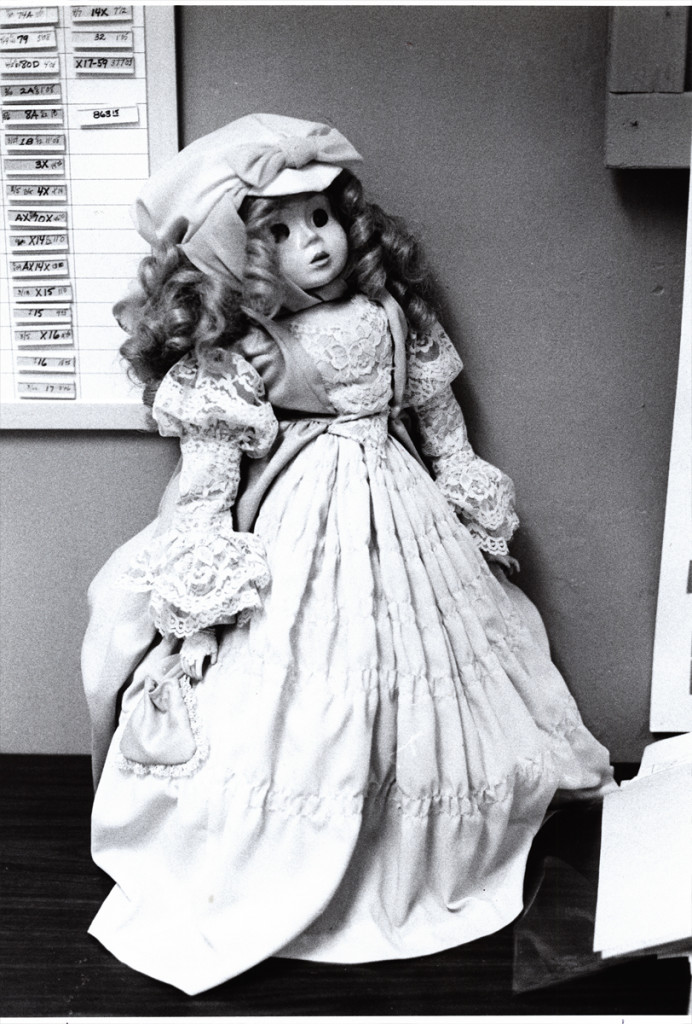 3
This is a beautiful doll. Babette. She was at the film's center.
The Pirate kidnaps her and takes her to sea. Raggedy Ann & Andy
take off in pursuit of her to bring her back to the playroom.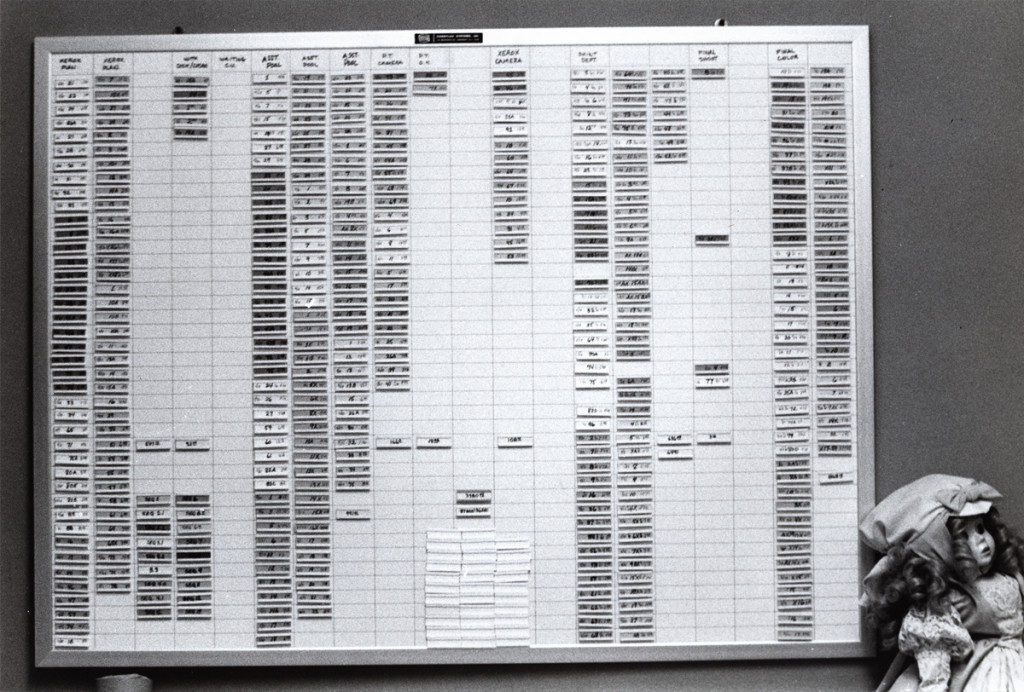 4
This is a wall of stats. It represents footage counts produced in
every department working on the film. This hung in Mike Sisson's office.
He was the production manager who tried to usurp the entire production.
A couple of weeks before everything changed, managerially, on Raggedy, Sissons
approached Cosmo Anzilotti and me at lunch. He saw us at the restaurant and came
over to us. He wanted to lead a take over cutting Dick out of the film and
putting Cosmo in to finish directing the film. I'd be made Cosmo's assistant.
I had no intentions of being another Iago, and said as much.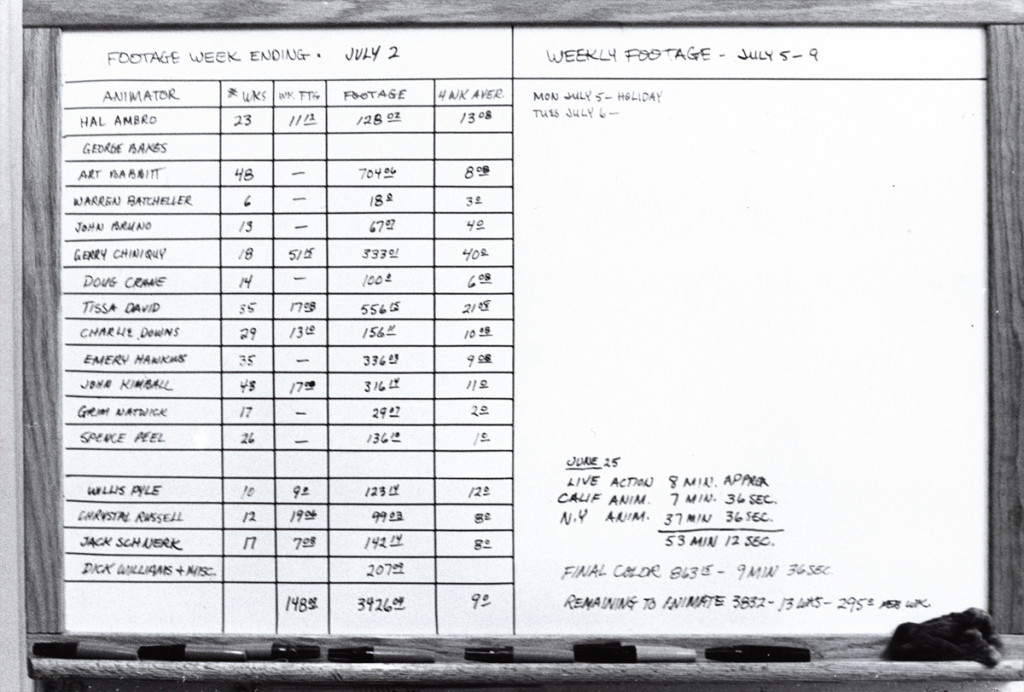 5
This chart covered the animators footage counts. A running record.
I told Cosmo that Dick had brought me onto the film, and I'd do anything for
him. If it meant leading a large group to quit the show, I'd do that. Cosmo
seemed relieved. He wanted to do the same and we both told Sissons how we
felt. He greeted our news with an ass' smile and thanked us. We were no
longer on the winners' side, and I watched closely to know when to exit.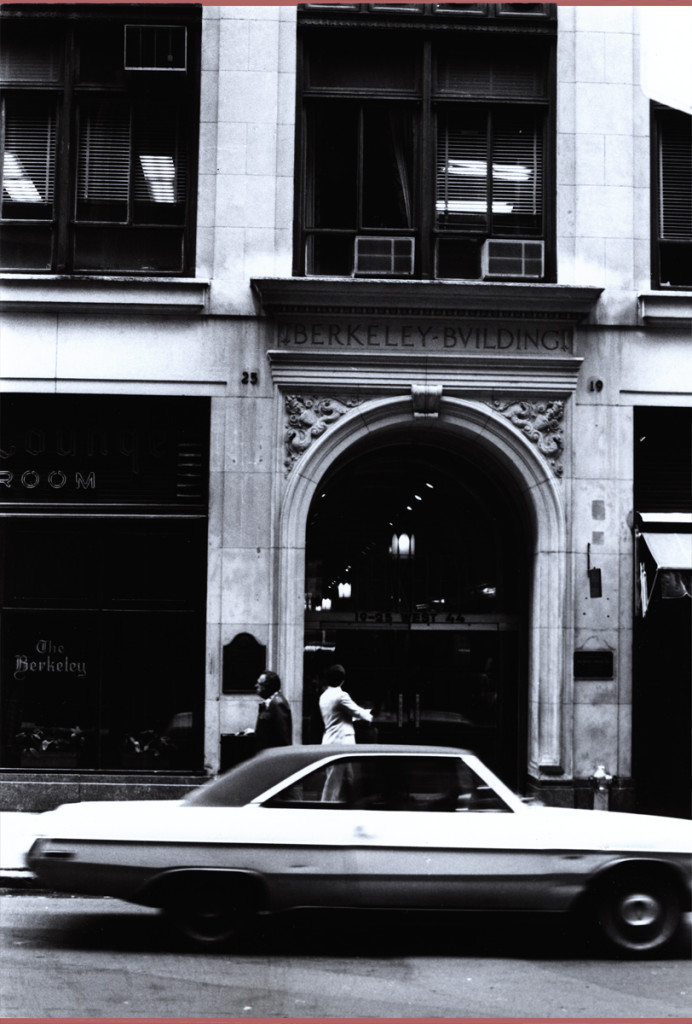 6
This was where the NY headquarters were planted. In the middle of 45th Street.
Most studios in the forties and fifties had places on 45th Street. Paramount,
Hal Seeger's studio, lots of other smaller studios such as Pablo Ferro or Ray Seti's.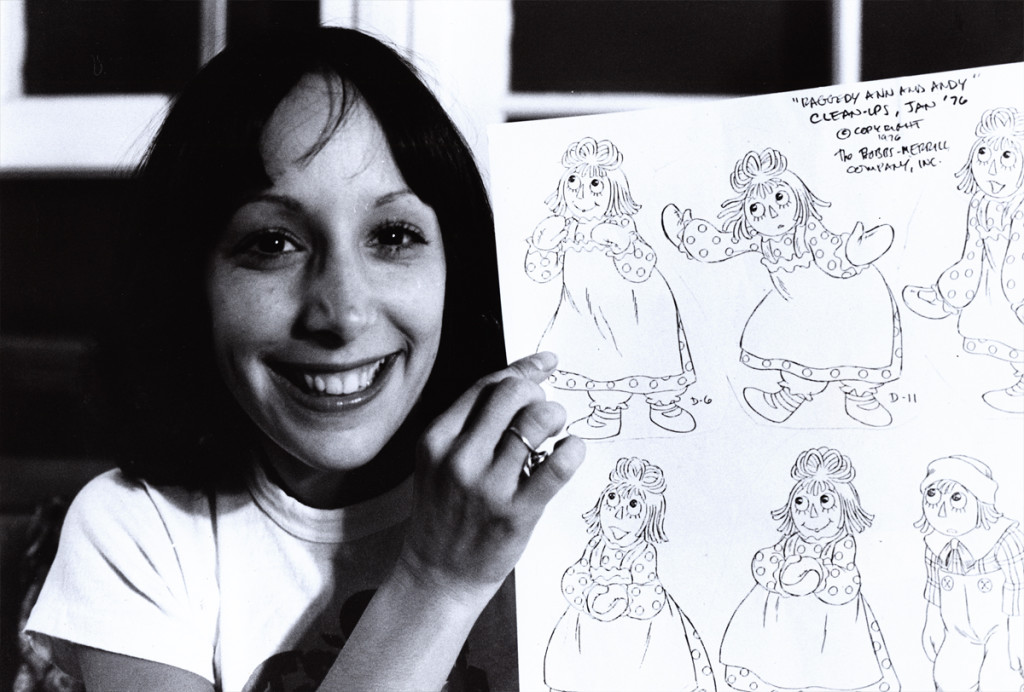 7
Didi Conn was the actress who voice Raggedy Ann. When the VOs were coming
to an end, Didi worked late and her mother was with her. They needed help
getting home (Long Island.) The mother was afraid to drive. I volunteered
and drove them home. I took the Long Island Rail Road back to the City.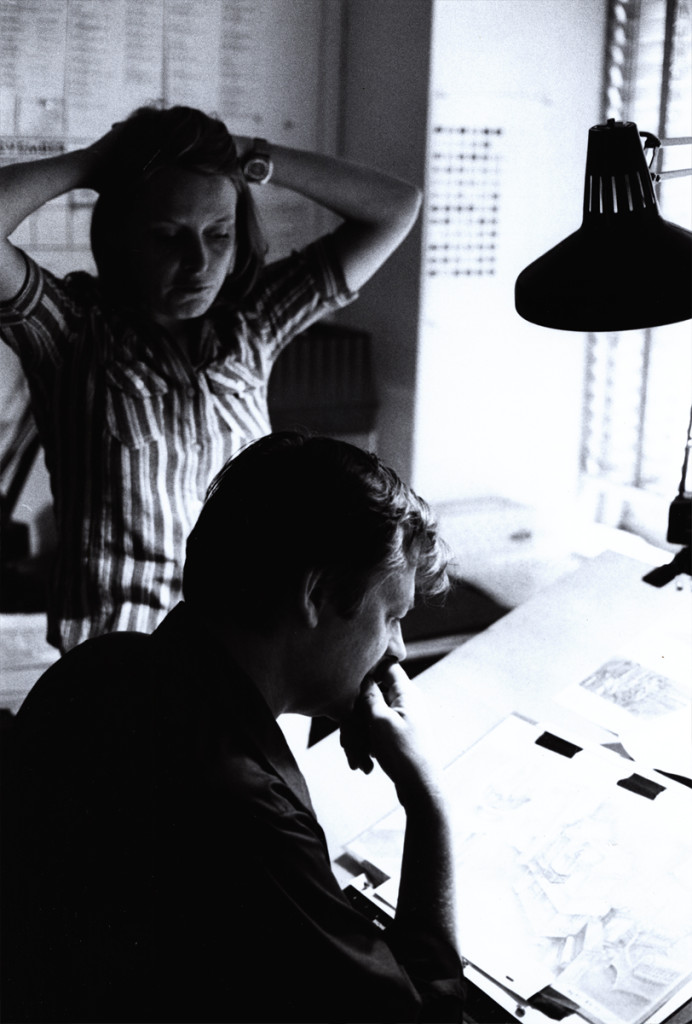 8
This is Sue Butterworth with Dick Williams. She was the watercolorist who
led the BG department and designed the wc style of the film. I thought her
work a bit inconsistent and often lacked the dynamic look good BGs require.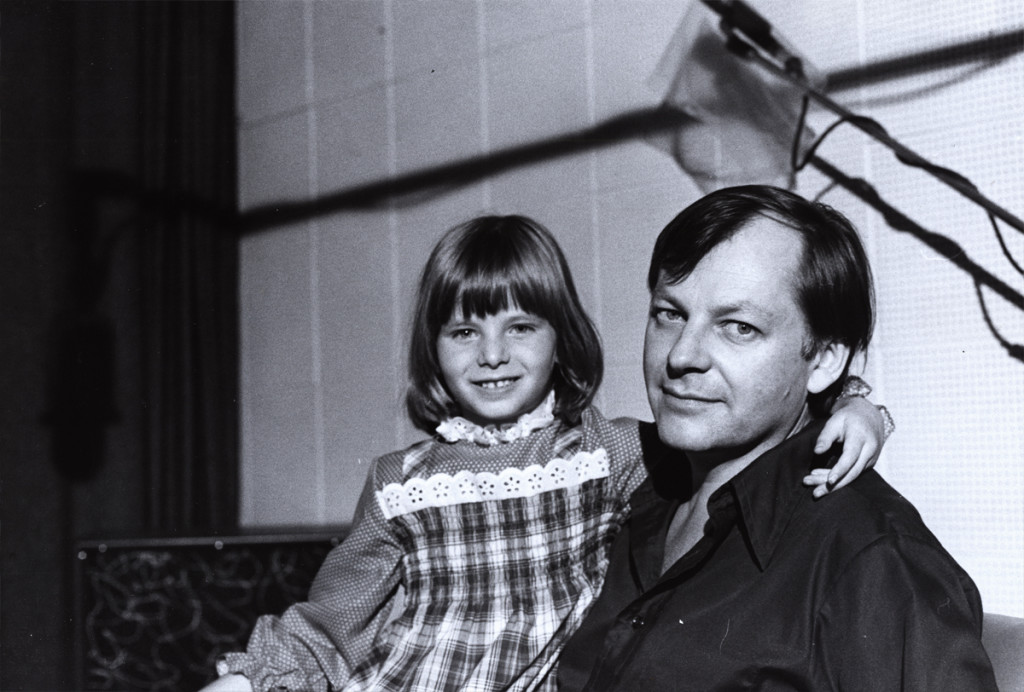 9
Here's a picture of Dick Williams with his daughter,Claire.
Claire played the part of Marcella, the little girl at the film's start.
They shot the live action in Boonton, NJ during the first days of the
production. All those hours they were out filming, I watched the shop.
Alone in an enormous darkened most of the time in the enormous office,
I could only spend time reading and rereading the script and sketching
my idea of some of the characters.Infrequently, the financial manager
of Lester Osterman Prods., the production company, would pass through.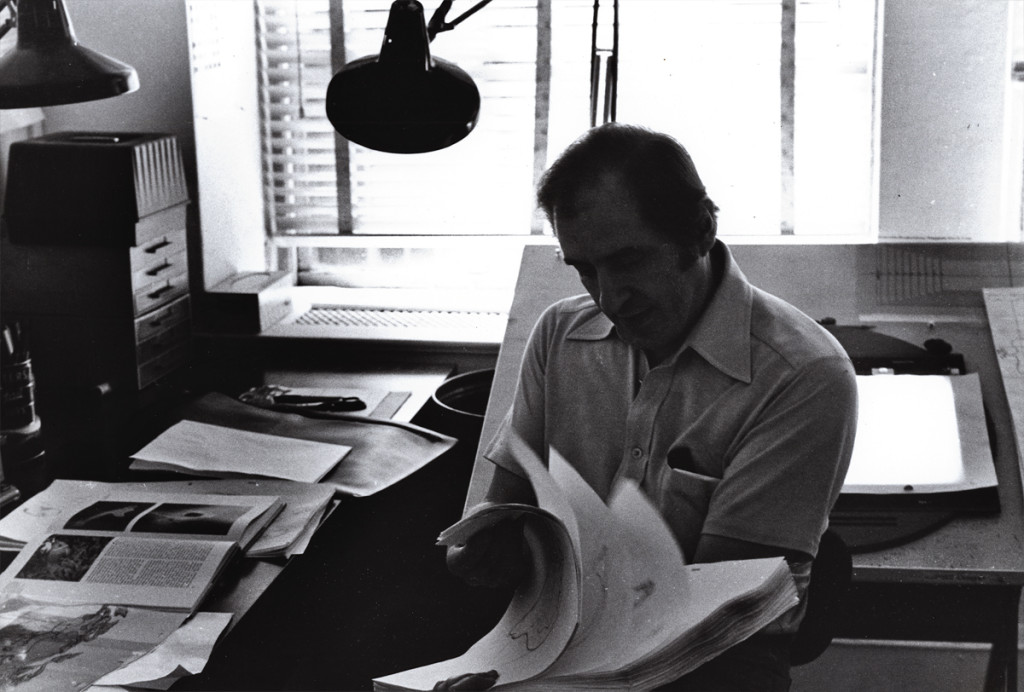 10
George Bakes was a fiercely independent animator who worked a short
while on the film. He must have started at Disney on Sleeping Beauty. He'd often
show a lot of Milt Kahl drawings he'd had from that film.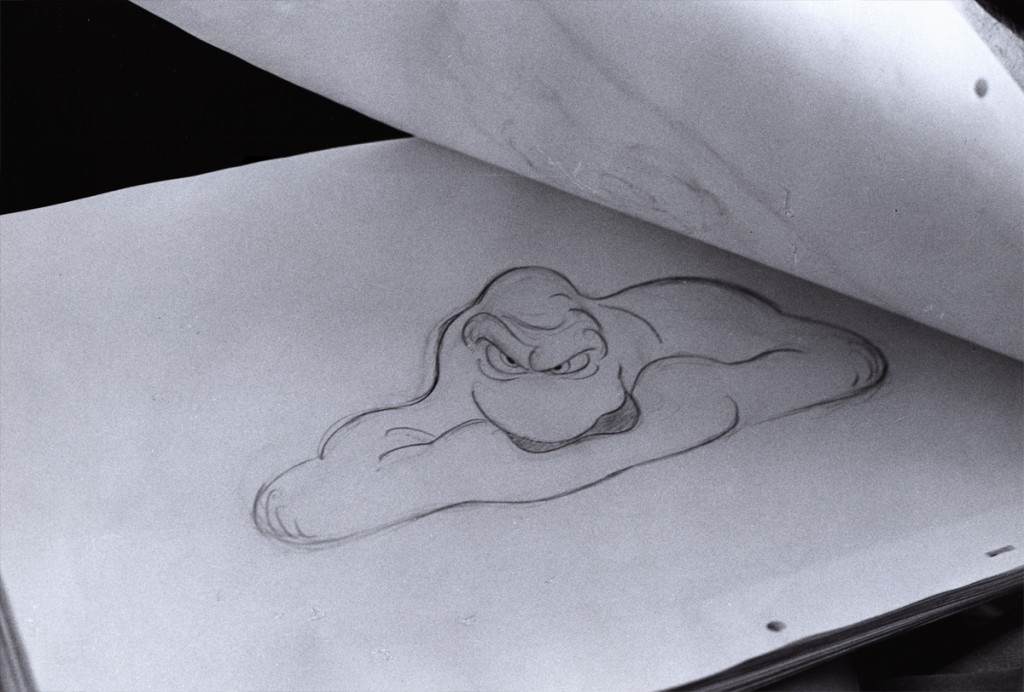 11
Baskes animated many of the cereal commercials of the day -
Trix, Honey Bee, Sugar Crisp bear, etc. For Raggedy he did the "gazooks."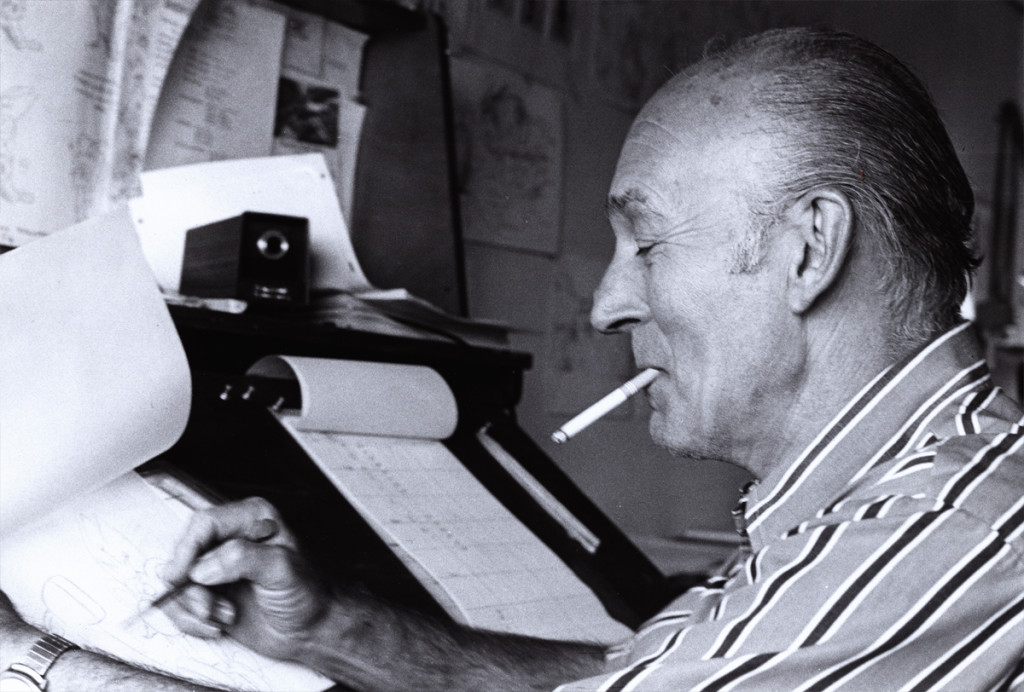 12
Gerry Chniquy was a brilliant animator straight out of WB.
He'd done a lot of Yosemite Sam animation for Friz Freleng.
It wasn't far to go to cast him as the blowhard of a King, King Coo Coo.
Marty Brill voiced the character. Gerry Chiniquy,of course, did a fine job,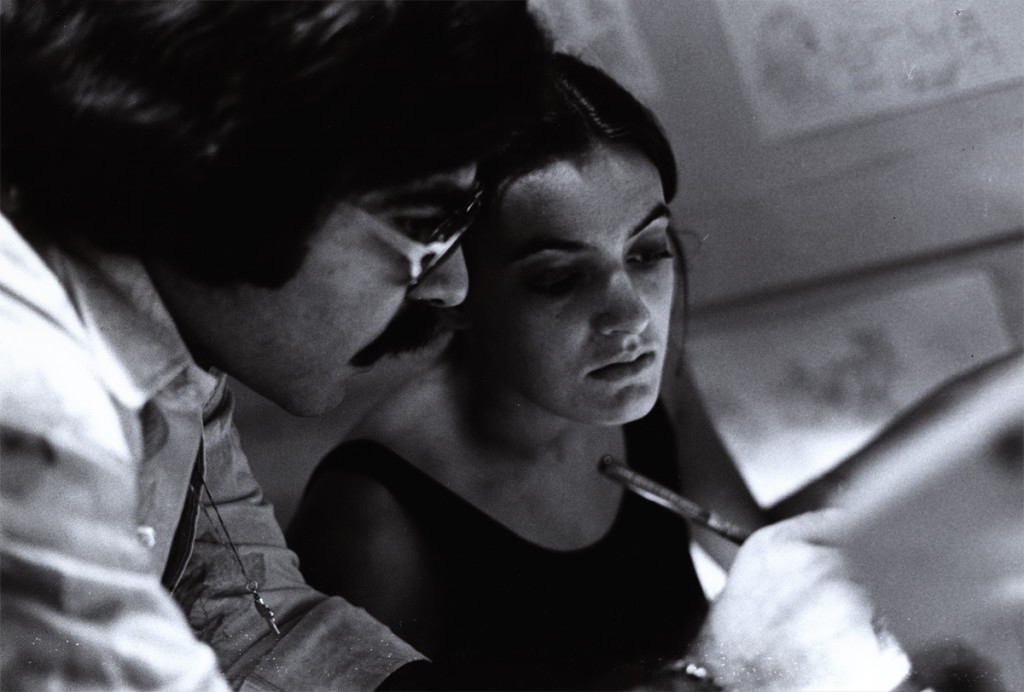 13
John Celestri had a style all his own although he idolized Bill Tytla.
Not a bad person to pick for a role model. John was an Assistant on
the film. Here he's working with inbetweener, Amanda Wilson. Amanda was
the daughter of the great cartoonist and animation designer, Rowland Wilson.
The last of these photos will come next week. Many thanks to John Canemaker for the loan of the images. Any opinions tossed about here, are all mine and John is not to blame for them.
Animation Artifacts &Articles on Animation &Disney &Illustration &John Canemaker &Story & Storyboards 29 Apr 2013 06:19 am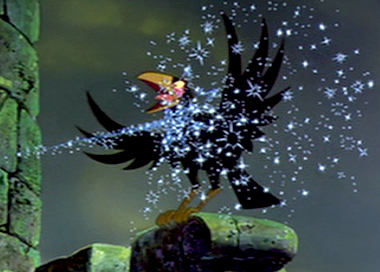 - John Canemaker had loaned me the final sequences of the storyboard to Sleeping Beauty, detailing the dragon fight and climax of the film. I originally posted this in three parts. I've combined them all here, making for one long post.
I'm not sure who did the artwork, but there's a good chance it's Ken Anderson's work.
As with past boards, I'll post the whole photograph as is, then take it apart row by row so that you can enlarge them as much as possible. Here's the storyboard sequence #19 from Sleeping Beauty.
The full board follows below: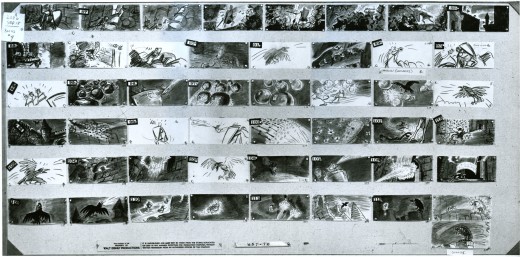 (Click any image to enlarge.)
The breakdown of that full board follows:


1a

1b

2a

2b

3a

3b

4a

4b

5a

5b

6a

6b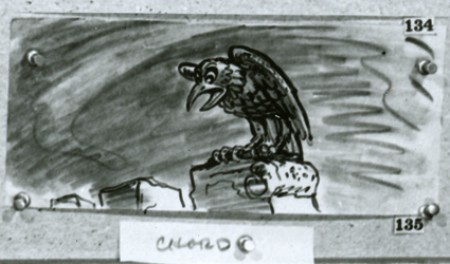 7
Here's the next full page of storyboard as is: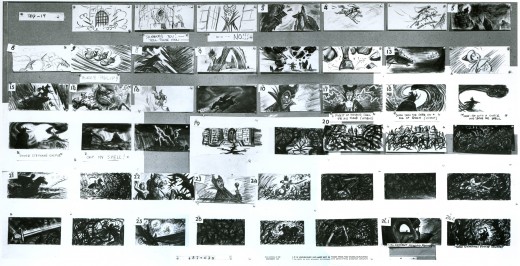 (Click any image on the page to enlarge.)
Again, I follow with the board broken up into segments, half a row at a time.


1a

1b

2a

2b

3a

3b

4a

4b

5a

5b

6a

6b
This is this photo of the next page of the board as it came to me: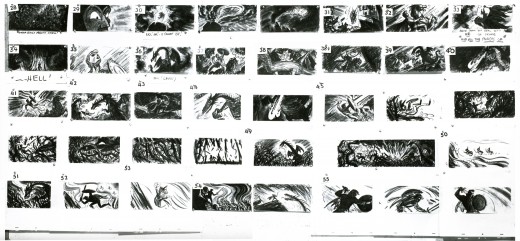 (Click any image to enlarge.)____________

Here are the rows of the board broken into two so that I can post them a bit larger.

1a

1b

2a

2b

3a

3b

4a

4b

5a

5b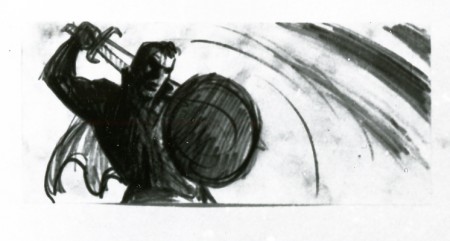 If only he knew what he was going to face next.
I've decided to get the frame grabs for the sequence and post them as well. I thought the comparison of board to actual film would be interesting.
__________
These images come from the "Special Edition" of the dvd, not the "Platinum Edition" now on the market. Using Hans Perk's posts of the drafts for these scenes, on his blog A Film LA, I was able to identify the animators' names.



sc 82 (L) Milt Kahl – sc 82.1 (R) Frank Thomas


sc 82.2 (L) Kahl & Thomas – sc 82.3 (R) George Nicholas & Jerry Hathcock


sc 82.4 (L) Nicholas – sc 82.5 (R) Nicholas & Hathcock


Nicholas & Hathcock (L) sc 82.6


Nicholas & Hathcock (L) sc 83


sc 84 (L) Ken Hultgren – sc 85 (R) Nicholas & Hathcock


sc 87 (L) Nicholas & Sibley – sc 88 (R) Nicholas & Hathcock


(L) Nicholas & Hathcock – sc 89.1 (R) Hultgren


sc 89 (L) Nicholas & Hathcock – sc 91 (R) Hathcock


sc 91 (L) Hathcock – sc 92 (R) SA sc 49 seq 8


sc 95 (L) Hathcock – sc 93 (R) Hathcock


sc 96 (L) Hathcock – sc 97 (R) Dan MacManus


(L) MacManus – sc 97.2 (R) Hathcock


sc 98 (L) Hathcock – sc 99 (R) Sibley


sc 100 MacManus


sc 100.1 (L) Hathcock – sc 101 (R) Les Clark & Fred Kopietz


sc 102 (L) Hultgren & Kopietz – sc 104 (R) Hathcock


sc 107 (L) Hathcock – sc 108 (R) Hultgren


(L) Hutlgren – sc 109 (R) Hathcock


sc 110 (L) Ollie Johnston & Blaine Gibson – sc 110.1 (R) Gibson


sc 110.2 (L) Johnston – sc 110.3 (R) Johnston & Gibson


sc 110.4 (L) Johnston – sc 111 (R) Johnston & Gibson


sc 112 Johnston & Gibson


sc 112 (cont) Johnston & Gibson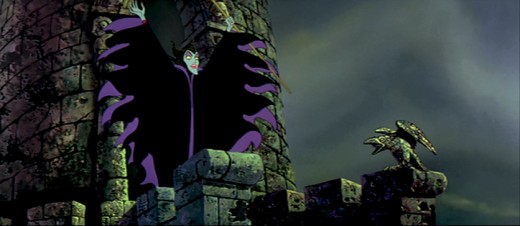 - Let's end this post from Sleeping Beauty by posting a couple of drawings I have for the "Skumps" sequence. Again, Hans Perk on his blog A Film LA, posted the animator drafts for this sequence and I was able to I.D. the animators. (I have to say I guessed correctly in three out of four shots, so I'm pleased with myself.)
I'm posting closeups of the drawings. By clicking on any of them you'll see the full sized animation paper. I'm also posting frame grabs beneath the drawings so you can see how they looked in the film.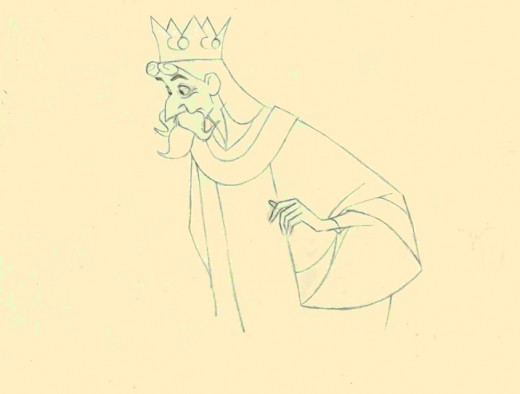 This is a Milt Kahl scene, seq 13 sc 8. This drawing is undoubtedly a clean up,
so it's not one of Kahl's drawings – just his pose. It's an extreme.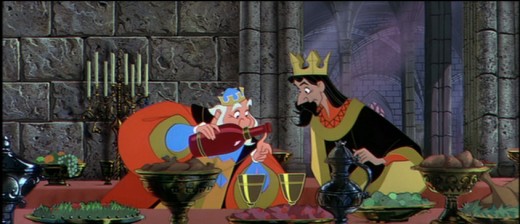 It is interesting that Kahl animated both characters.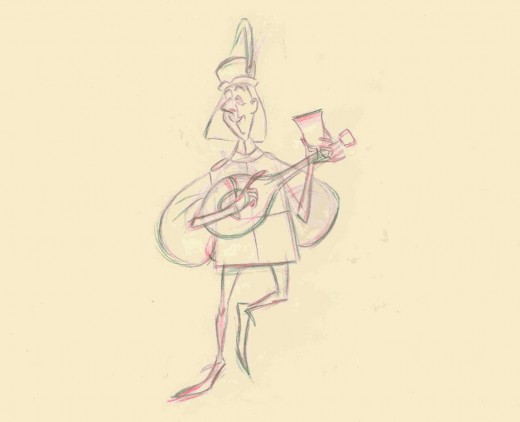 This is a John Sibley ruff. Seq 13 sc 17.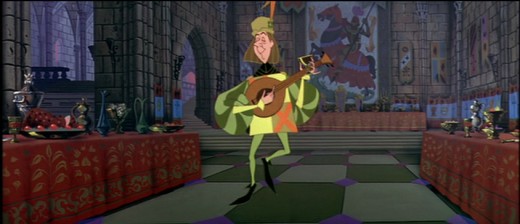 It's a very odd, uncoordinated dance number by the drunk lackey.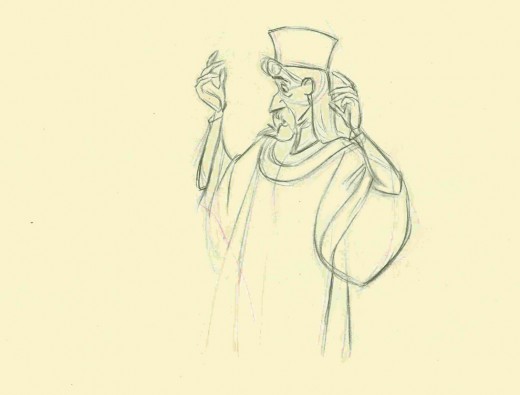 This is my favorite of these four. It's a John Lounsbery ruff of King Stefan.
Another extreme from seq 13 sc 26.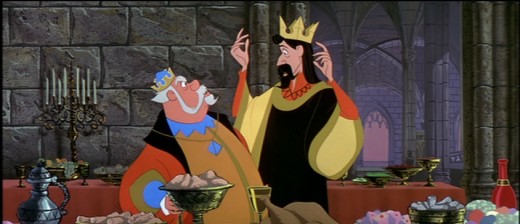 I like this character.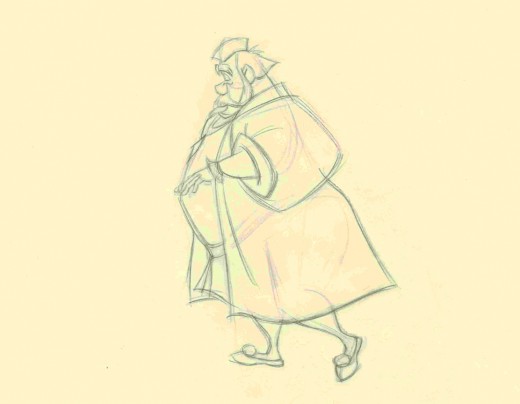 This is also another beautiful ruff by John Lounsbery. It's King Hubert in the
very last scene of seq 13, sc 57.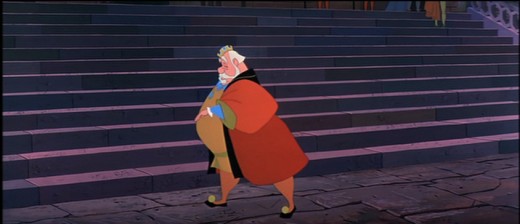 it comes just prior to Hubert's turning and sitting on the palace steps.


___________________
Books &Commentary &John Canemaker &Photos 28 Apr 2013 05:55 am
- John Canemaker recently loaned me a stash of photos of the Raggedy Ann crew. These were pictures that were used in his book on the "making of". It was a better book than movie (as they often are). There are also some photos that didn't make it to the book. John Canemaker shot all the photos, himself and all copyright belongs to him.
I thought I'd post the pictures and add some comments that pop off the top of my head. Hopefully, a couple of interesting stories will show up in my memories.
There are enough photos that it'll probably take about three posts to get them all in. The next two Sundays are booked, I'd guess.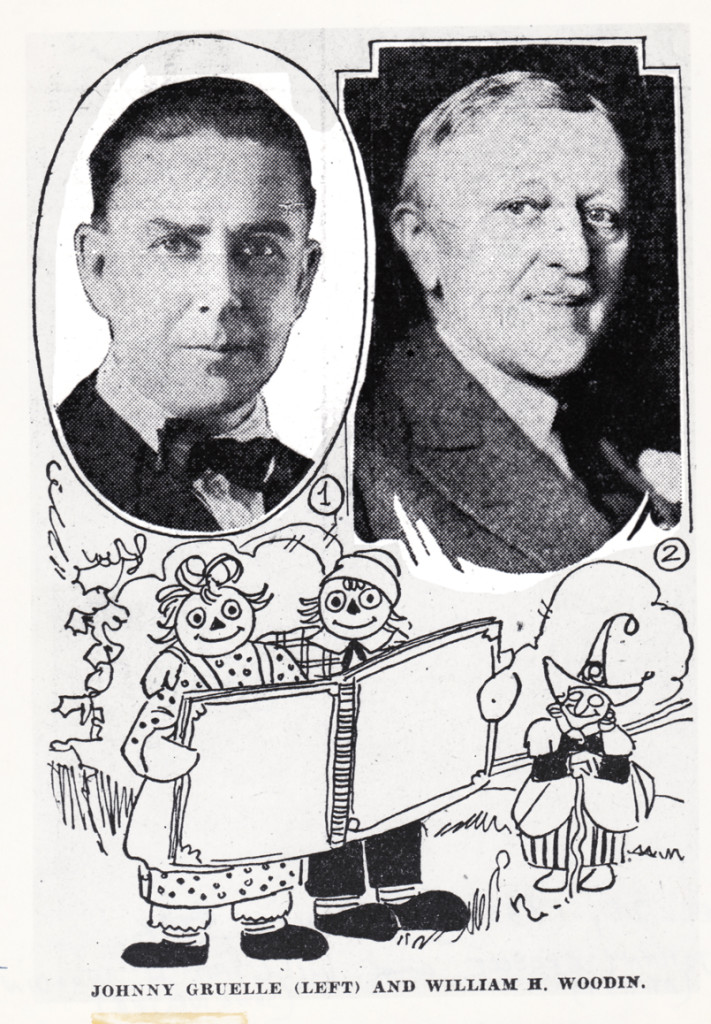 1
Johnny Gruelle (artist, writer) and William H. Woodin (song writer)
Dec.28, 1930 Indianapolis Star – "Raggedy Ann's Sunny Songs"
This was apparently a theatrical piece Johnny Gruelle
put together with his very successful characters.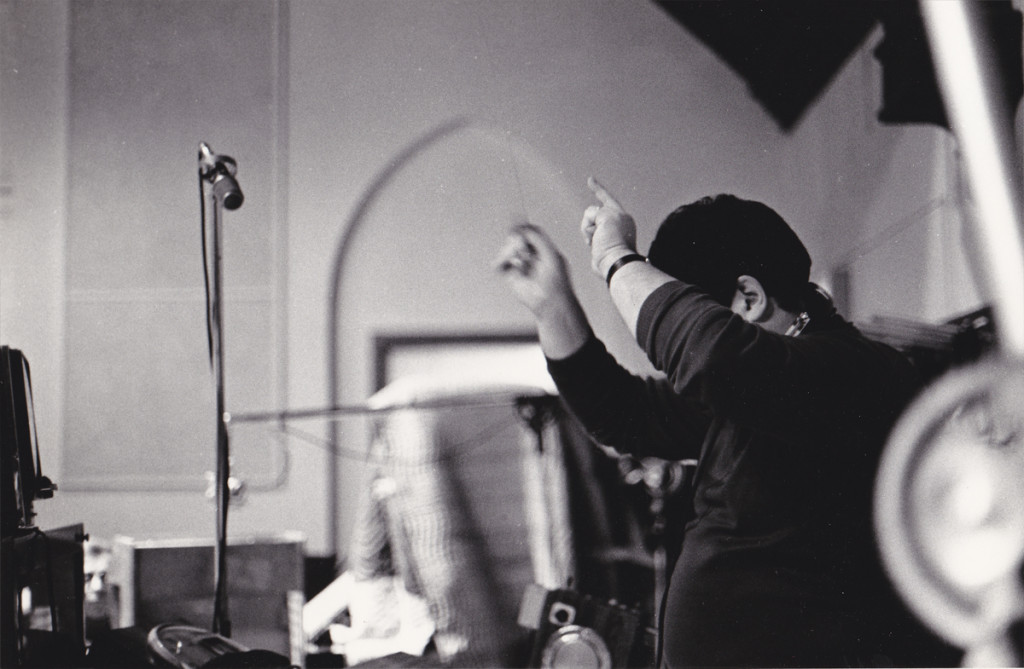 2
It all started with Joe Raposo, the composer of "Bein' Green"
and many other hit Sesame Street songs. He wrote a musical for "Raggedy Ann
and Andy" and was made to see that it would make a wonderful animated musical.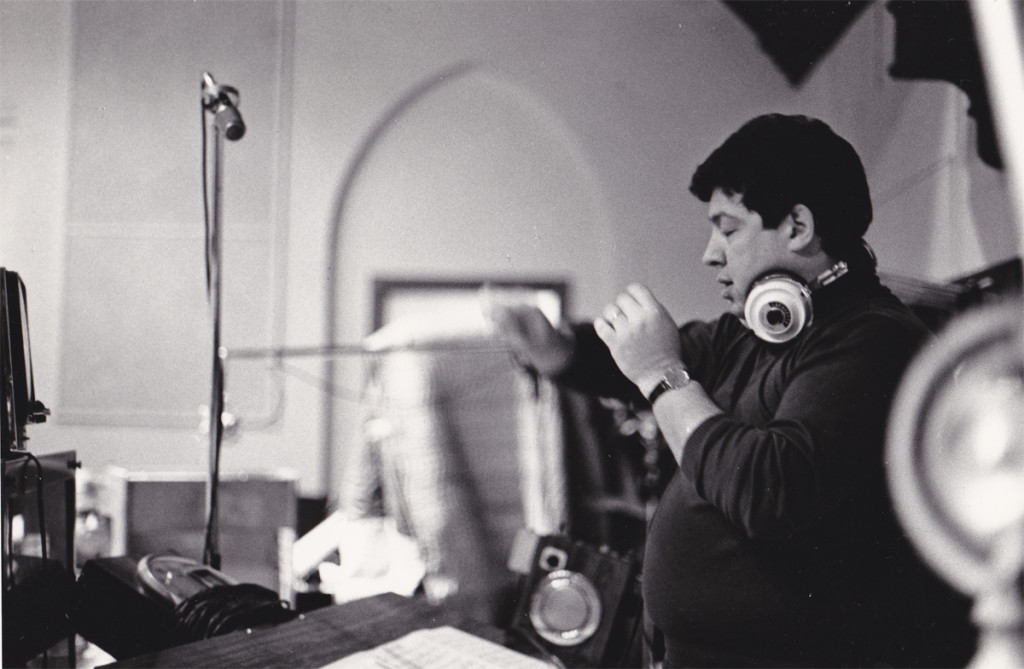 3
He wrote a lot of songs for the slim script and they prerecorded
the songs for the animation. We lived with a soundtrack of about
a dozen musicians playing this very nice score to the delicate voices
that sang the tuneful pieces.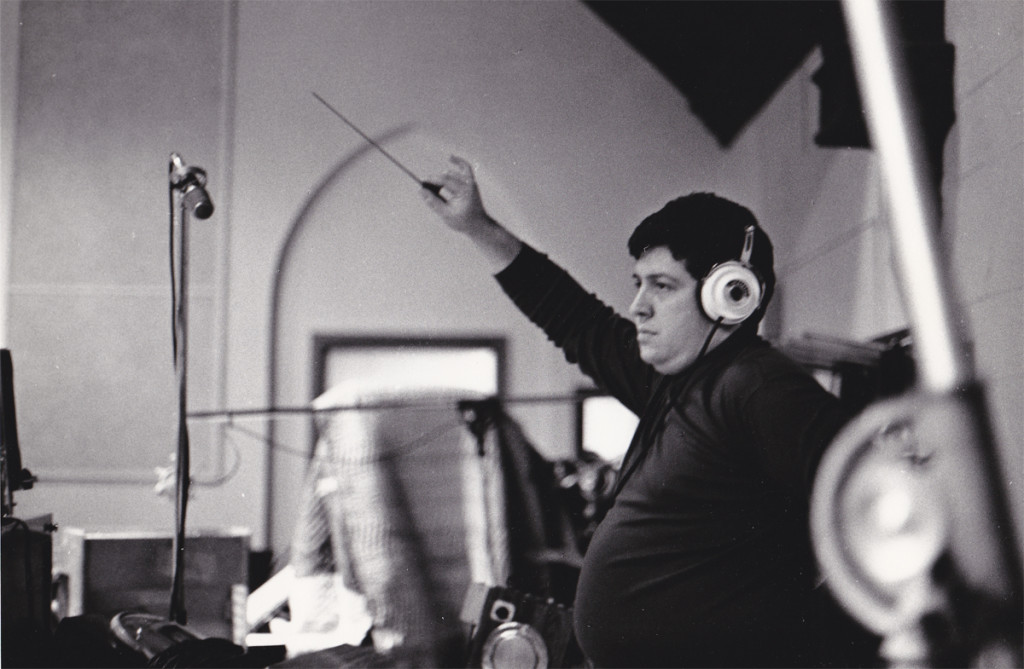 4
We heard this at least once a week as the animatic/story reel
grew into a full animated feature shot completely in Cinemascope.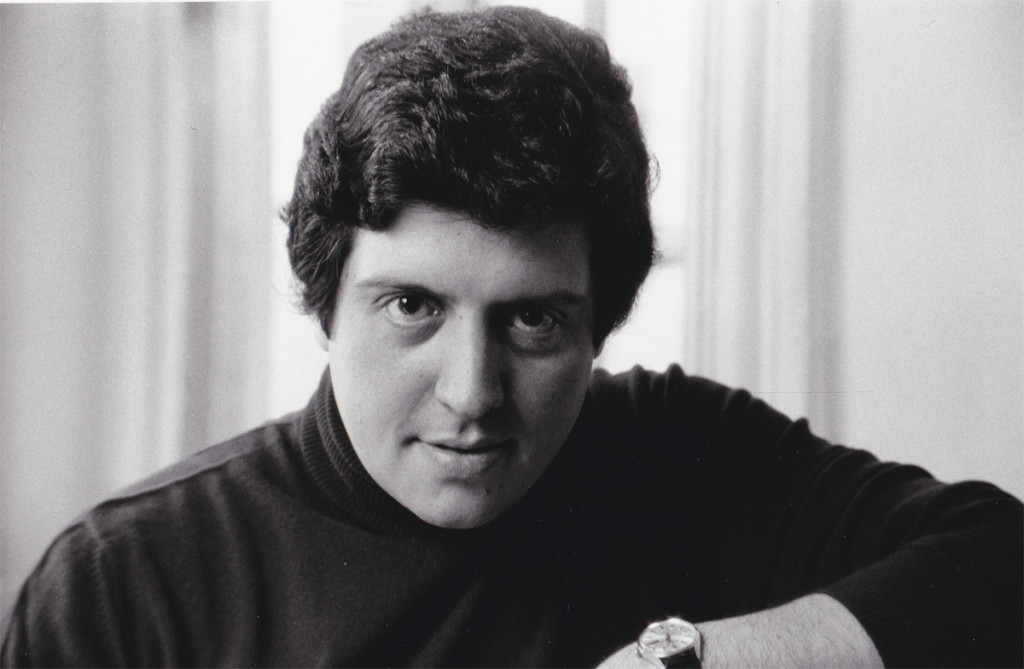 5
When the final film was released, that 12 person orchestra
became 101 strings and a big over-polished sound track.
No matter where you went the music was there and in the way.
It was too big, and the movie was too small. It was bad.
The track was incredibly amateurish. The composer had too much control.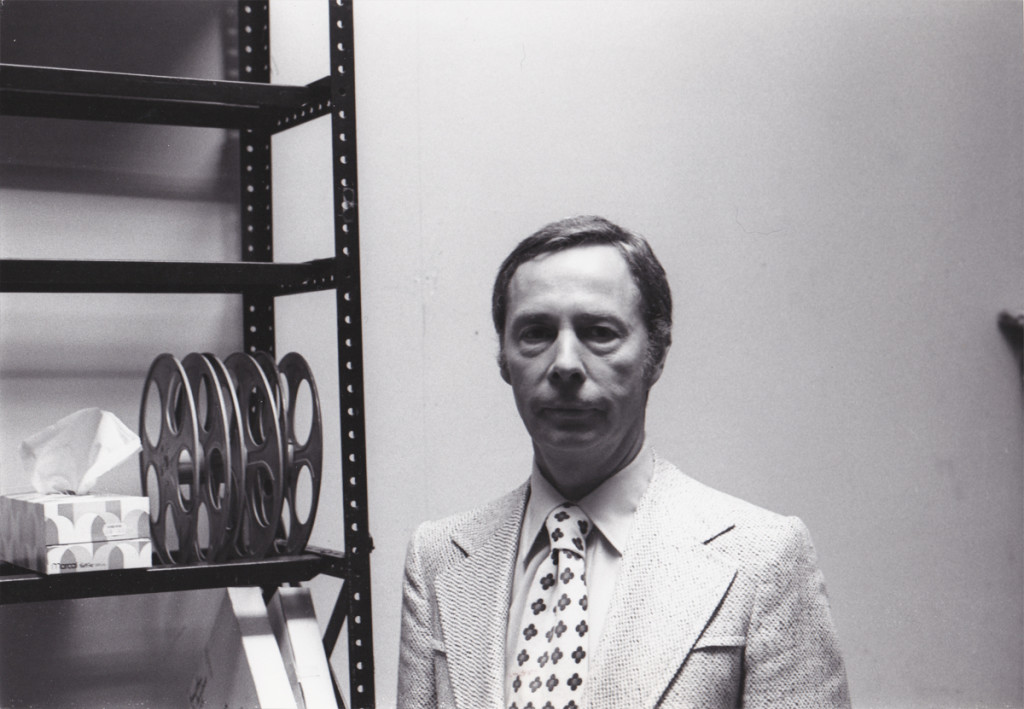 6
This was Richard Horner. He was one of the two producers of the film.
Stanley Sills (a Broadway producer and Beverly's brother) was the
other producer who didn't know what he was doing.
They represented Bobbs-Merrill who owned the property.
I really liked Mr. Horner. We met again a number of years later
when Raggedy Ann was distantly behind us. I'd offered to take Tissa to church,
one Easter Sunday; Richard Horner and wife were there. He asked to meet with me.
He sought advice on some videos of artists and their work that he was producing,
and hoped I could offer my help in leading him to some distributors.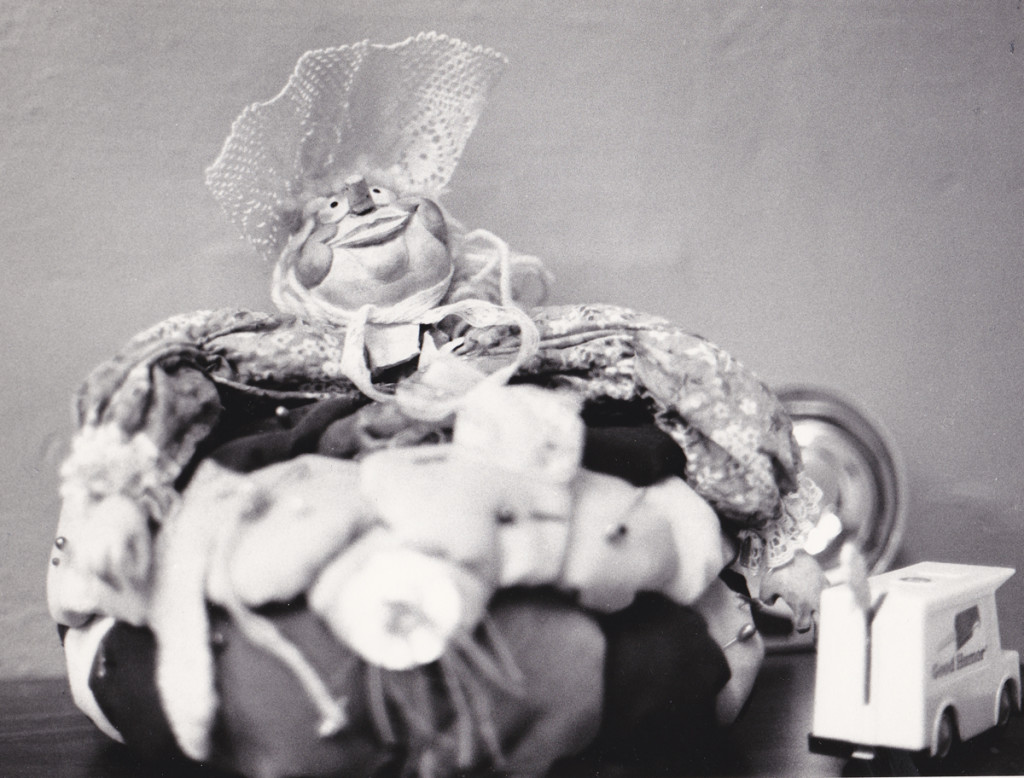 7
This is one of the dolls in the play room,
Susie Pincushion. She was charming.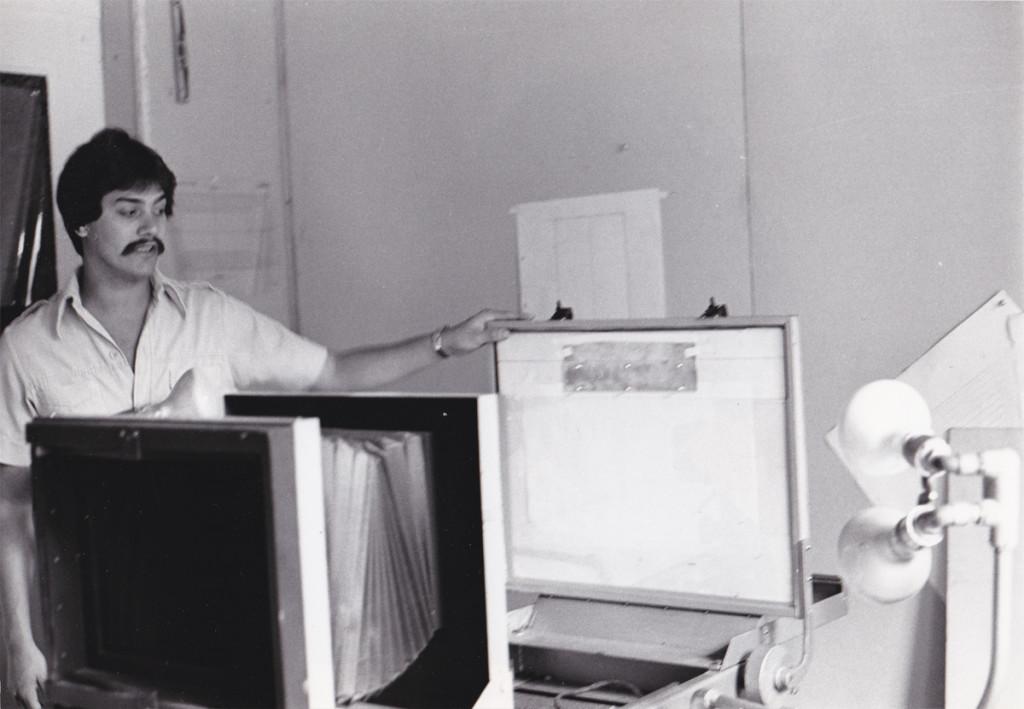 8
This is Cosmo Pepe; he was one of the leaders of the Xerox department.
It was Bill Kulhanek's department, but Cosmo really did great work.
They had this room-sized machine that they converted drawings into cels.
It was all new to NY, and the whole thing was so experimental.
Especially when Dick decided to do the film with grey toner rather than black.
The film always felt out of focus to me (even though it wasn't.)
In the end when they rushed out the last half of the film, Hanna Barbera
sub-contracted the Xeroxing, and it was done in a sloppy and poor black line.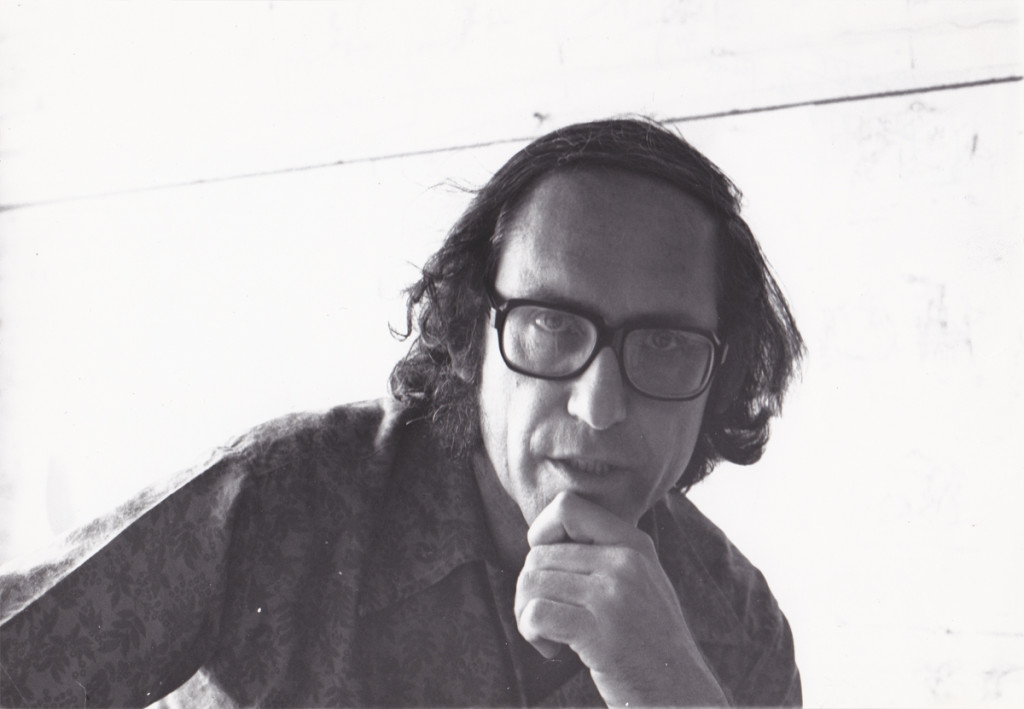 9
This is Corny Cole. He was the designer of the film, and all the great art
emanated out of his Mont Blanc pen nib. Or maybe it was a BIC pen.
Whatever, it was inspirational.
I wrote more about him here.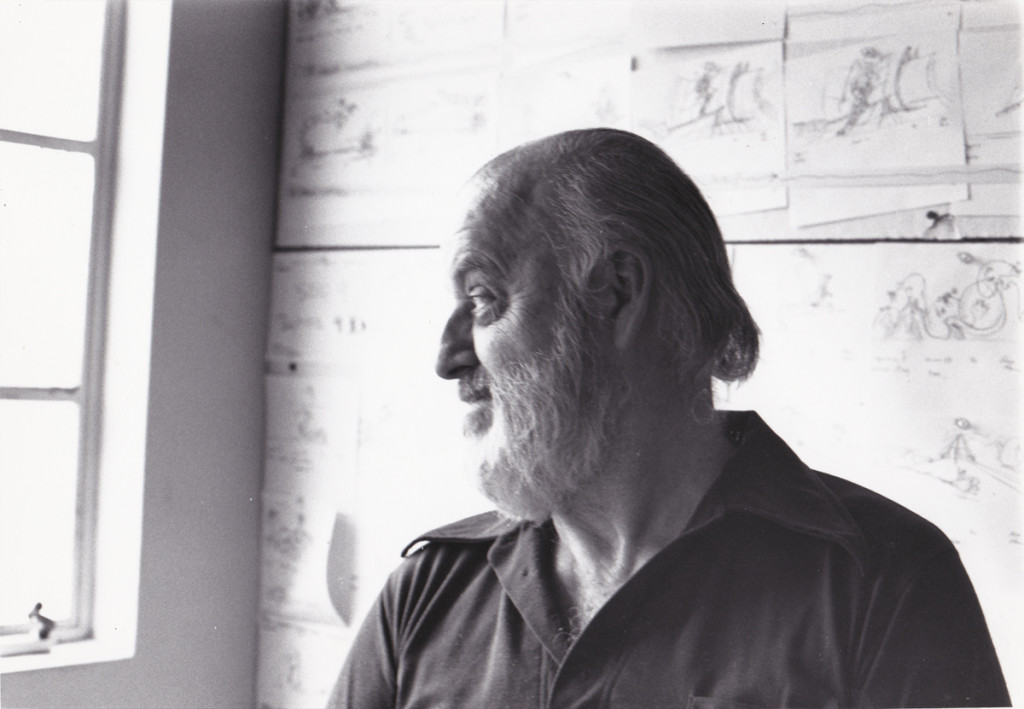 10
The gifted and brilliant animator, Hal Ambro. Can you tell that
I admired the man? I wanted badly to meet him during this production,
but that never was to happen. Now, I can only treasure his work.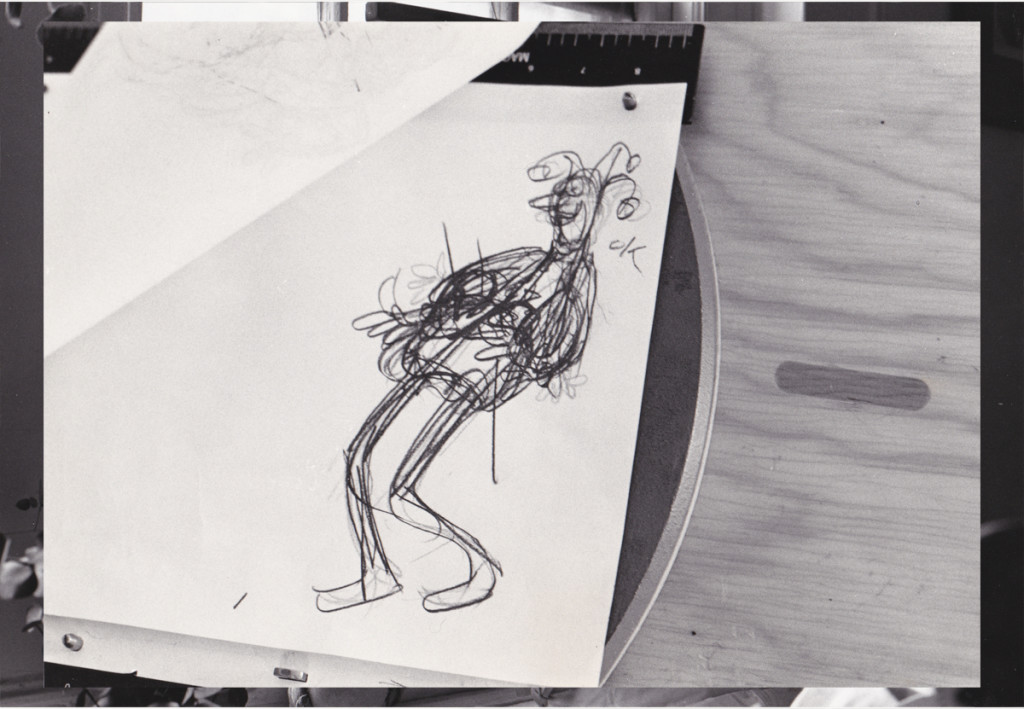 11
This is a very rough planning drawing that Grim Natwick did on
the Jack-in-the-Box he animated. See the scene here.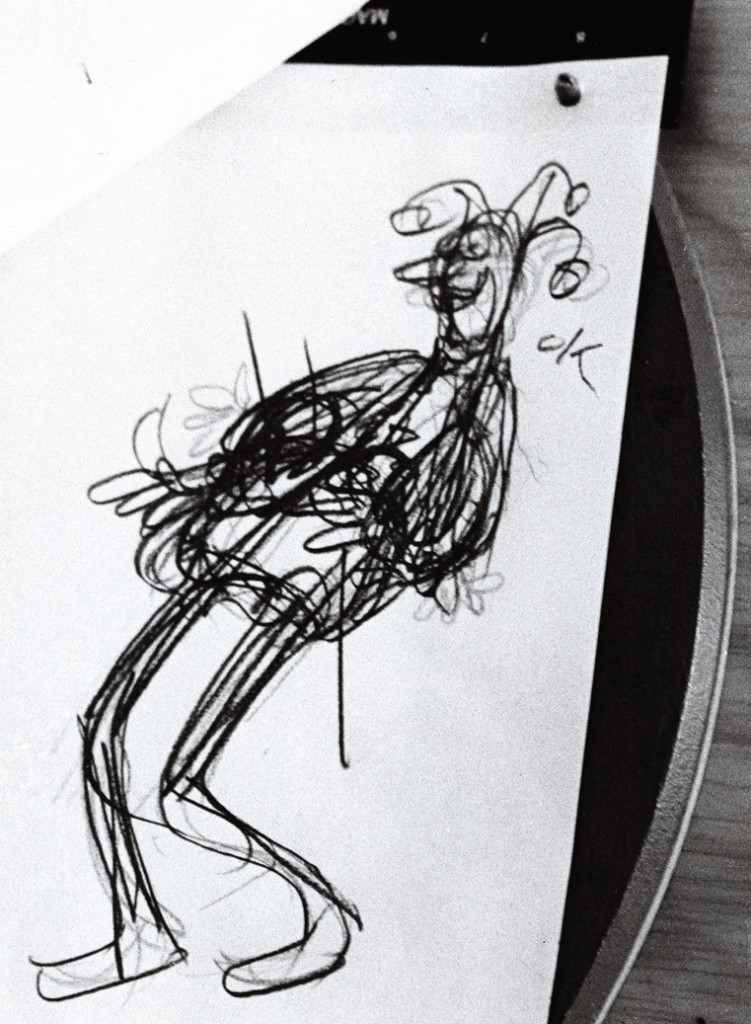 12
Here's a close up of that very same drawing.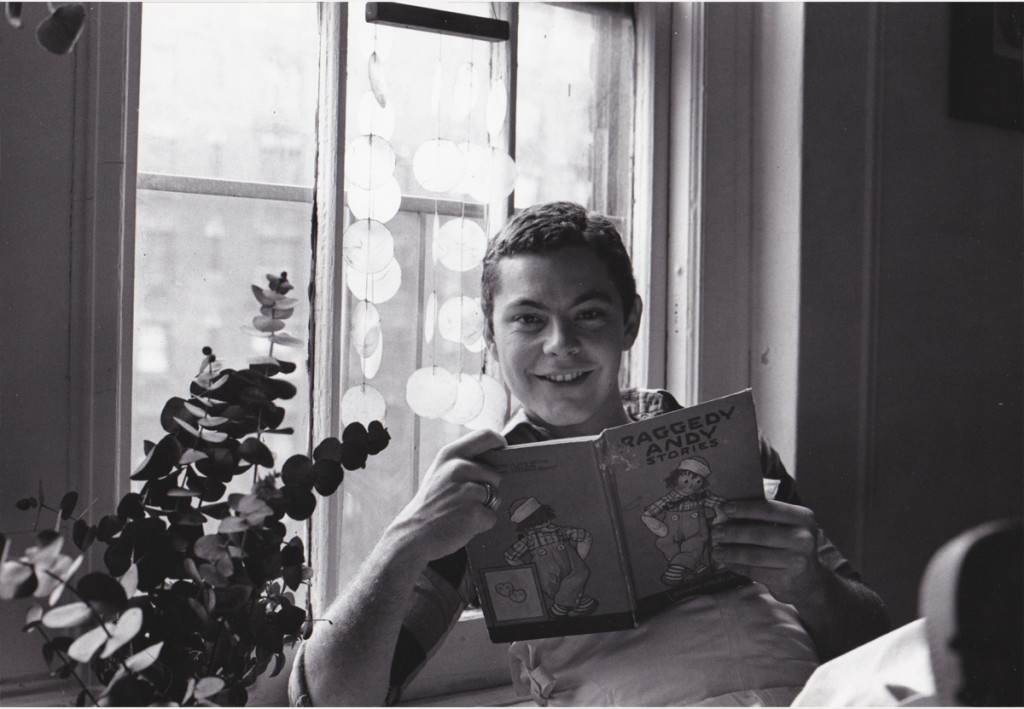 13
Mark Baker did the voice of Raggedy Andy.
He'd won the Tony Award as Best Featured Actor in the musical, Candide.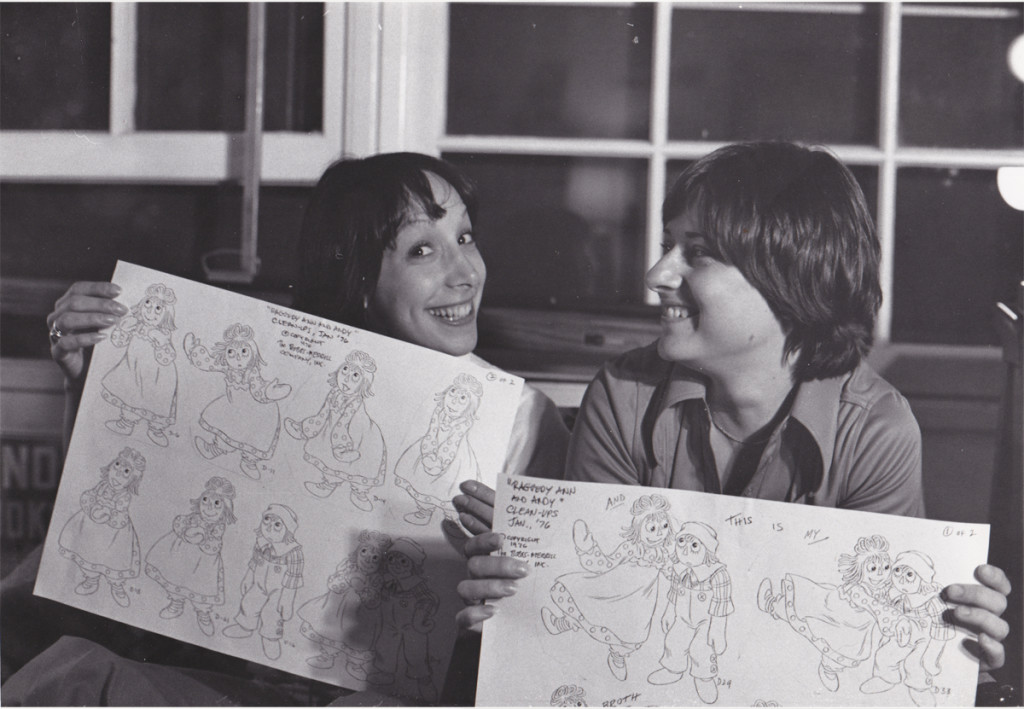 14
Didi Conn, the voice of Raggedy Ann, with Chrystal Russell, an animator
of Raggedy Ann. She backed up Tissa David who was the primary actor for
that character and did most of the film's first half. Chrystal did many
scenes in the first half and most of the second.
She had a rich identifiable style all her own.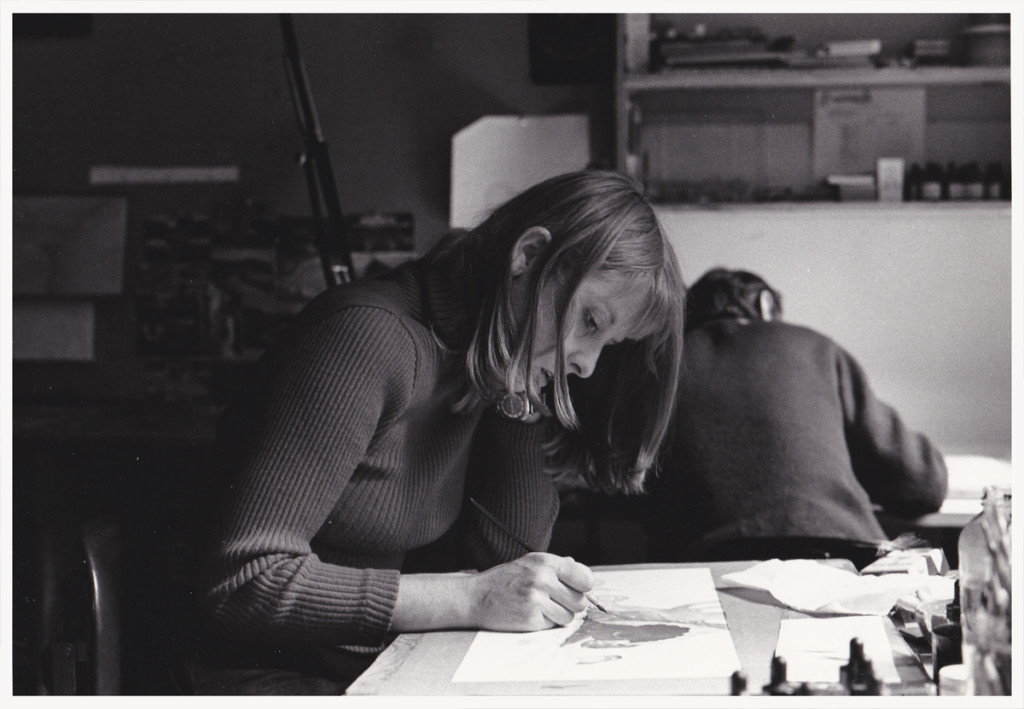 15
Sue Butterworth, head of the BG dept who designed the watercolor style
of the film. Michel Guerin, her assistant, can be seen in the rear.
Bill Frake was the third part of that BG department.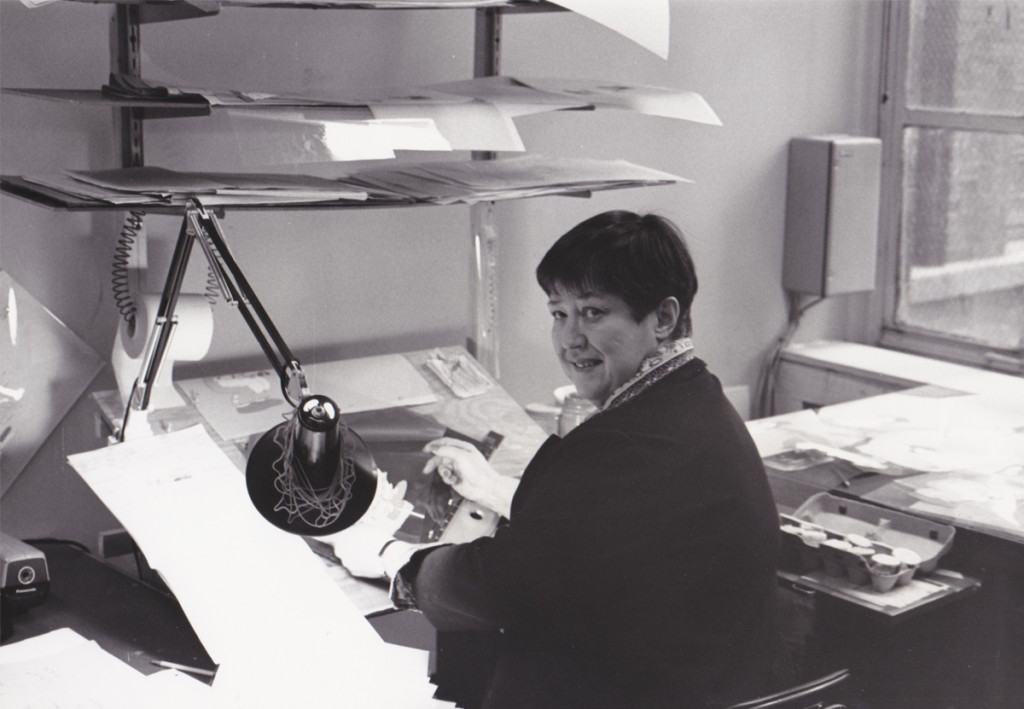 16
Painter, Nancy Massie. A strong and reg'lar person
in the NY animation industry. She'd been working forever for a reason.
On the average, I spent about an hour a day down in the Ink & Pt dept.
Often they had problems to resolve with some animator's work. Either the
exposure sheets were confusing or they didn't match the artwork, or there
was some question that they found confusing. My being available made it
helpful to them, and I did so without hesitation.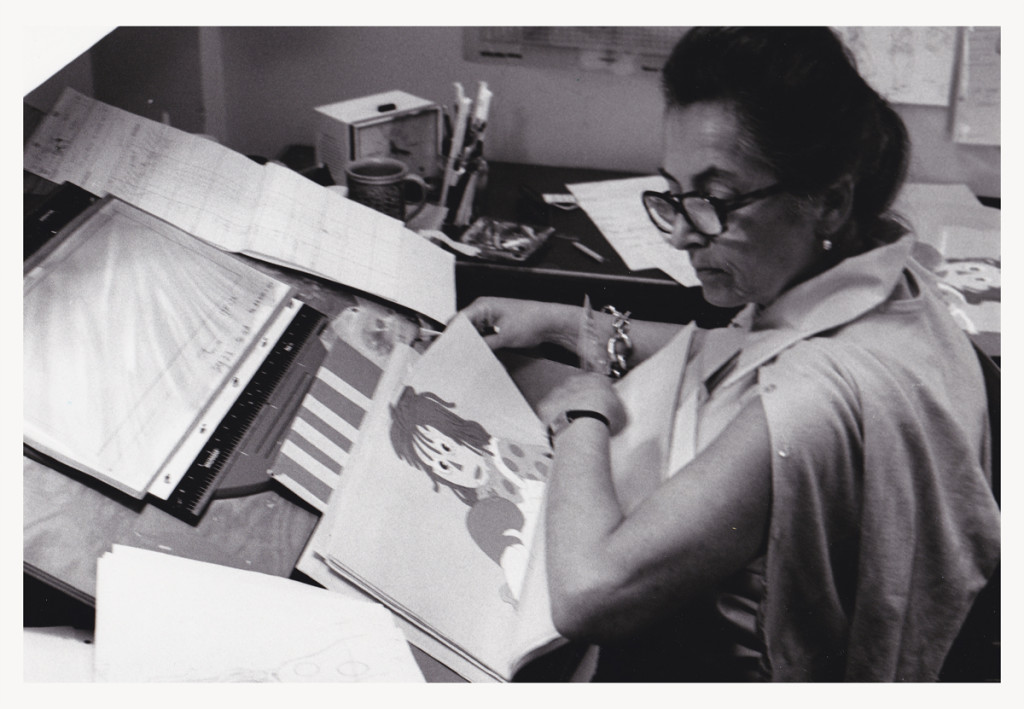 17
Checker, Klara Heder. Another solid person
within the NY industry.
Generally, before a scene left my department for the I&Pt dept., I'd
have studied the exposure sheets and felt I knew the scenes before
they were handed out to the Inbetweener or Assistant. It meant taking
a lot of time with the work in studio so that I was not only prepared
to answer questions of a checker but the Inbetweener as well.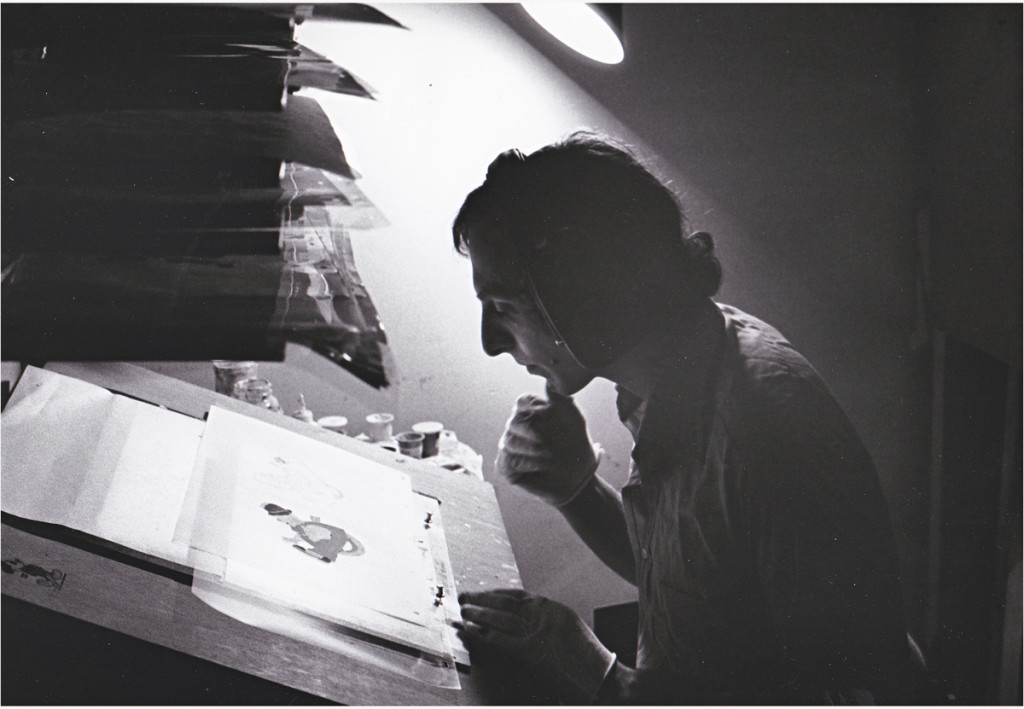 18
Sorry I don't know who this is. If you have info,
please leave it for me. For some reason, I'd thought
he was an inbetweener (which would've made it odd for
me not to recognize him by name.) Apparently he's a painter.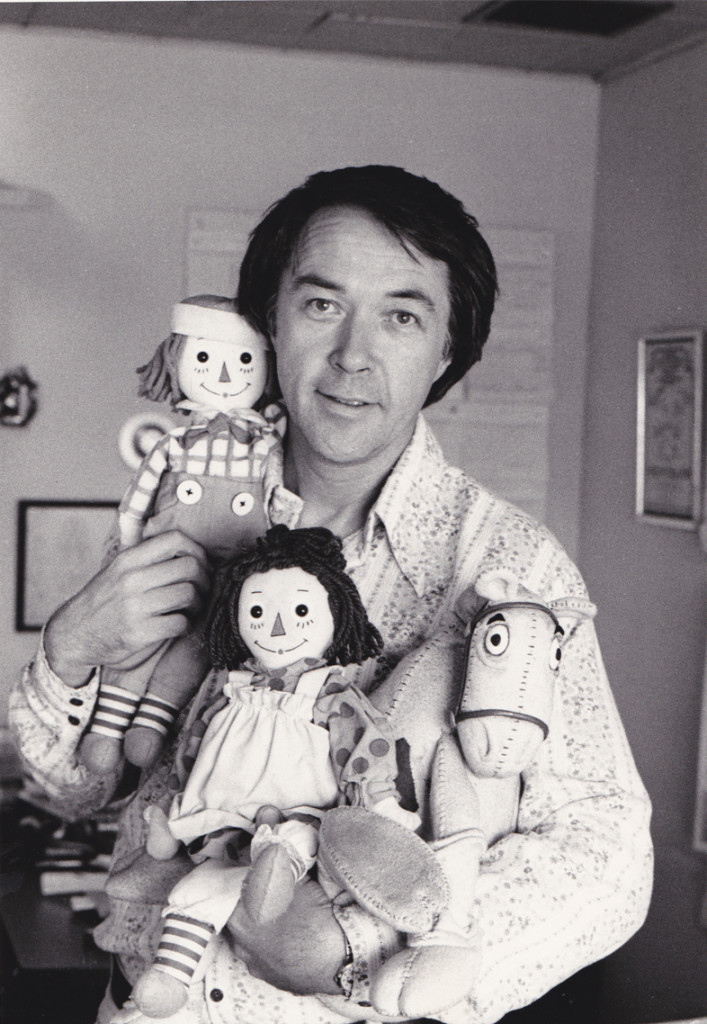 19
Carl Bell was the West Coast Production Coordinator.
We spoke frequently during the making of the show.
When I left the film, I went to LA for a couple of weeks.
Chrystal Russell threw a small party for me, and Carl came.
(I think he might have brought Art Babbitt, who was there.)
The group was small enough that we could have a talk that we all
participated in. We talked for some time (though not about
Raggedy Ann.) It was great for me.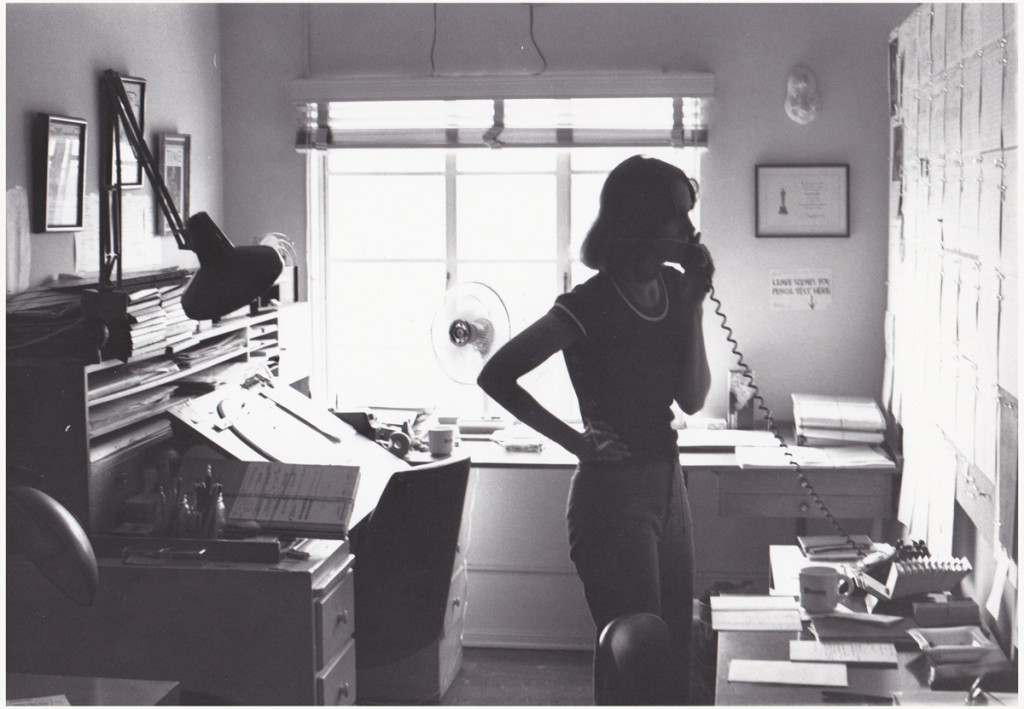 20
Jan Bell, Carl's wife, was the West Coast Office Manager.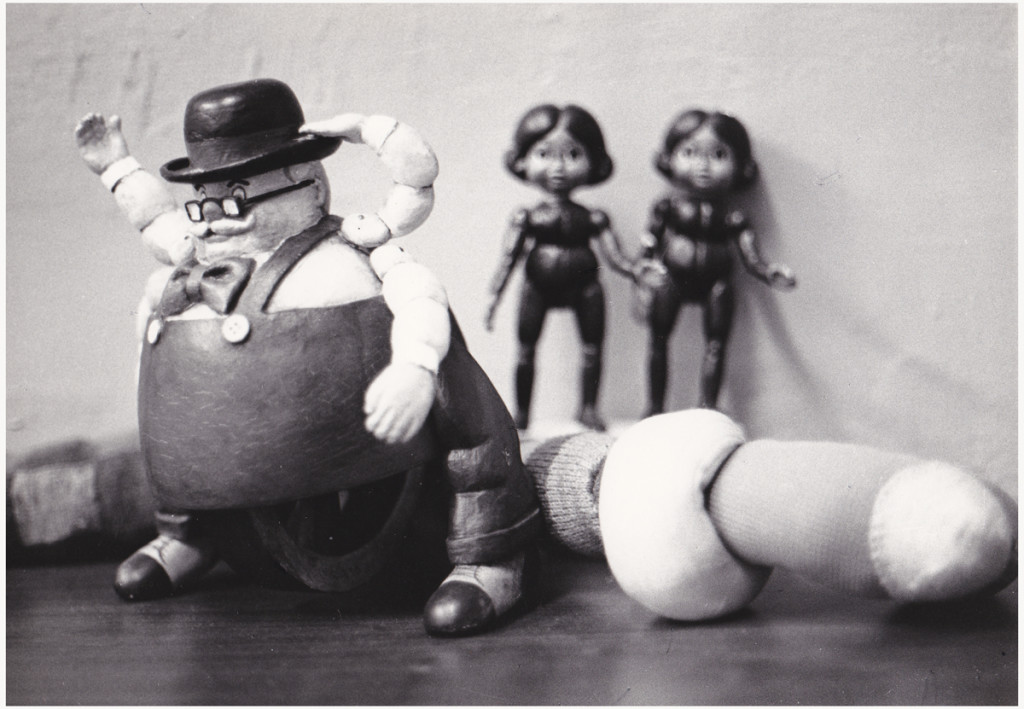 21
Maxie Fix-it. This was a great doll that wound up to get the legs going.
He rolled around the floor beautifully. The "Twins" in the back were animated
by Dan Haskett. though I'm not sure they gave him credit for it. I was a bit
embarrassed by these characters. They were just a naked bit of racism running
about our cartoon movie for very young children.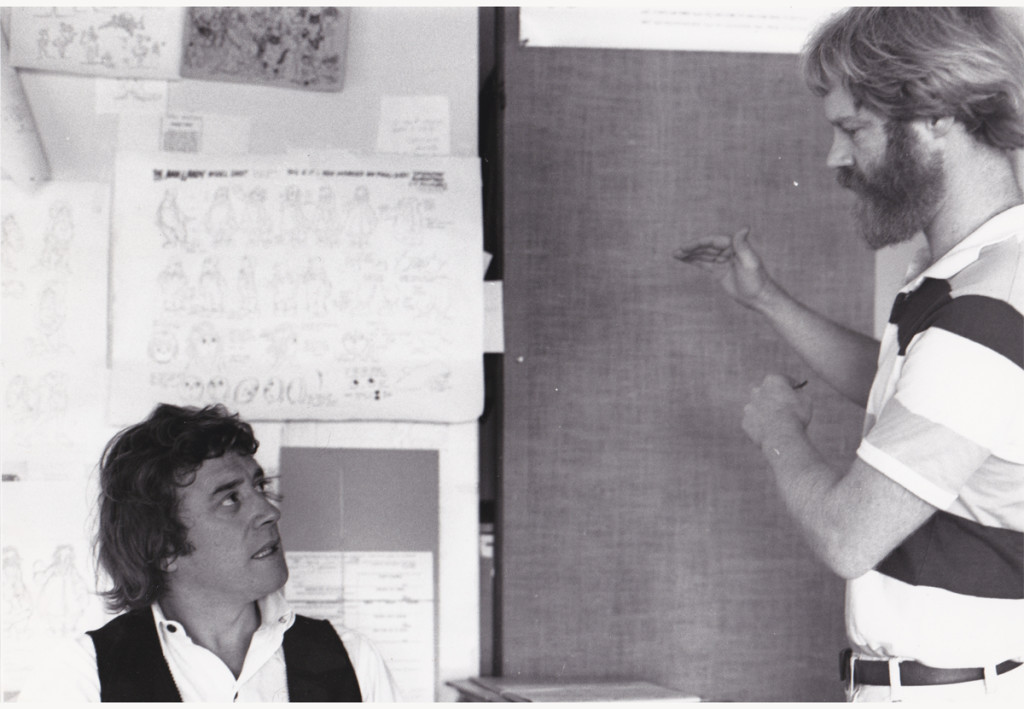 22
Gerry Potterton (left) and John Kimball (right).
Gerry was one wonderful person. I always enjoyed spending time with him.
He produced/directed a number of intelligent, adult animated films.
This includes an animated Harold Pinter's Pinter People.
After Raggedy, I tracked Gerry down to get to see Pinter's People. It was
rather limited but full of character. Gerry knew how to handle the money
he was given, unlike some other directors.
John Kimball was, at the time, not in the caliber of Babbitt or Ambro or
David or Hawkins or Chiniquy. However, he did some imaginative play
on a few scenes which were lifted whole from strong>McCay's Little Nemo
in Slumberland. One of these scenes I animated but was pulled
from it before I could finish it. I had too much else to do with the
tardy inbetweens of Raggedy Ann (an average of 12 drawings per day)
and the stasis of the taffy pit (an average of 1 inbetween per day).
Too many polka dots on Ann and too much of everything in the pit.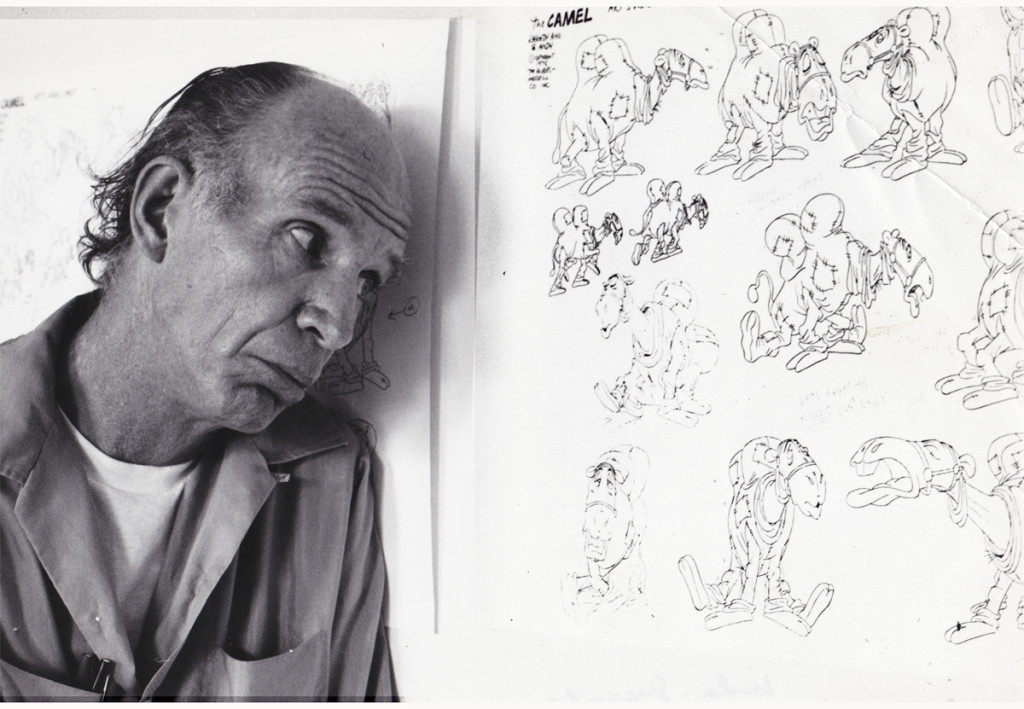 23
Fred Stuthman, the voice of the camel with the wrinkled knees.
He did add a great voice for the camel, though for some reason
I remember his being a dancer, predominantly.
All photos copyright ©1977 John Canemaker
.