Category ArchiveArticles on Animation
Animation Artifacts &Articles on Animation &Commentary &Puppet Animation &repeated posts 08 May 2013 12:49 am
- Greg Kelly, a good friend of this blog, wrote to tell me that Ray Harryhausen has died. You can read about it here, in Time Out or here in the NY Times or here at Jerry Beck's Animation Scoop.
Thanks, Greg, for the alert.
In honor of Mr. Harryhausen's brilliant career, I'm re-posting this article about Jason and the Argonauts which I once posted. The piece features Jason and the Argonauts. There was a chapter from Mr. Harryhausen's 1972 book, Film Fantasy Scrapbook, about that film. I'd like to show it again. The book is written in the first person singular and collects B&W images like a scrapbook.
Here it is:
____________
Of the 13 fantasy features I have been connected with I think Jason and the Argonauts pleases me the most. It had certain faults, but they are not worth detailing.
Its subject matter formed a natural storyline for the Dynamation medium and like The Seventh Voyage of Sinbad strayed far from the conventional path of the "dinosaur exploitation film" with which this medium seemed to be identified.
Taking about two years to make, it unfortunately came out on the American market near the end of a cycle of Italian-made dubbed epics based loosely on the Greek-Roman legends, which seldom visualized mythology from the purely fantasy point of view. But the exhibitors and the public seem to form a premature judgment based on the title and on the vogue. Again, like Sinbad, the subject brewed in the back of my rnind for years before it reached the light of day through producer Charles Schneer. It turned out to be one of our most expensive productions to date and probably the most lavish. In Great Britain it was among the top ten big money makers of the year.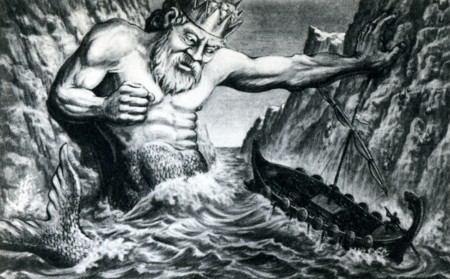 A preproduction drawing (above) compares favorably with a film still (below.)
The drawing is quite a bit more dynamic. (After all, it is Dynamation!)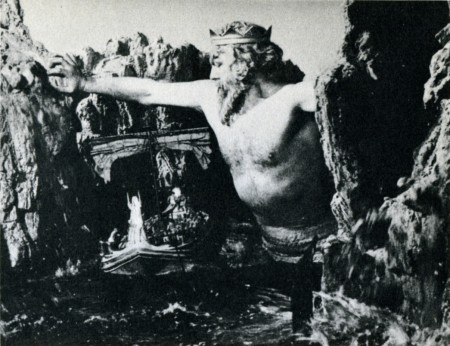 (Click any image to enlarge a bit.)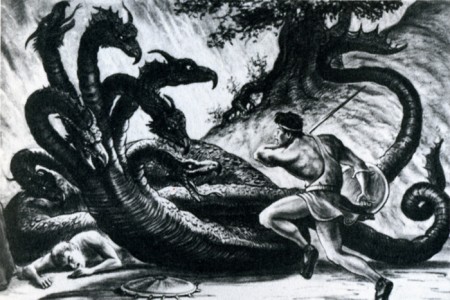 Likewise, a drawing of the hydra (above) film still (below.)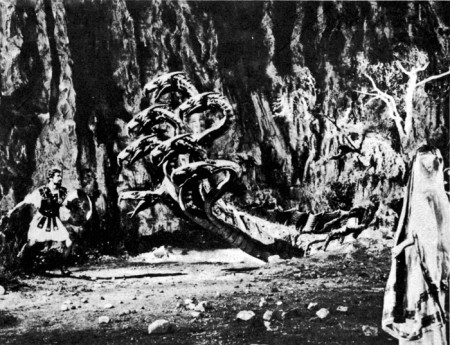 Harpies (Above & Below)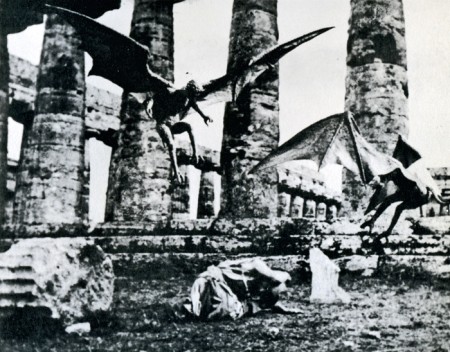 Some of the difference in basic composition between the pre-production sketches I made for Jason and the counterparts frames of the production is the direct result of compromising with available locations.
For example, the ancient temples in Paestum, southern Italy, finally served as the background for the "Harpy" sequence. Originally we were going to build the set when the production was scheduled for Yugoslavia. Wherever possible we try to use an actual location to add to the visual realism. To my mind, most overly designed sets one sees in some fantasy subjects can detract from, rather than add to the final presentation.
Again, it depends on the period in which it is made as well as on the basic subject matter. Korda's The Thief of Bagdad was the most tastefully produced and designed production of any film of this nature but unfortunately the budget that was required would be prohibitive with today's costs.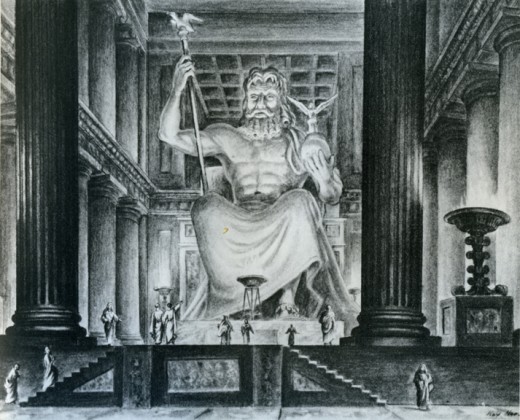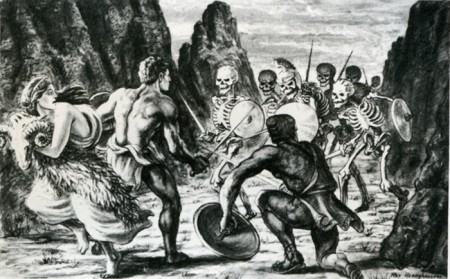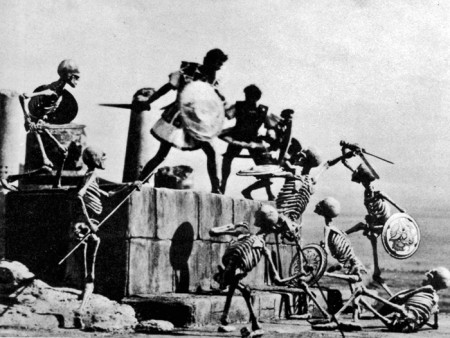 The Skeleton Sequence was the most talked-ahout part of Jason. Technically, it was unprecedented in the sphere of fantasy filming. When one pauses to think that there were seven skeletons fighting three men, with each skeleton having five appendages to move each frame of film, and keeping them all in synchronization with the three actors' movements, one can readily see why it took four and a half months to record the sequence for the screen.
My one regret is that this section of the picture did not take place at night.
Its effect would have been doubled.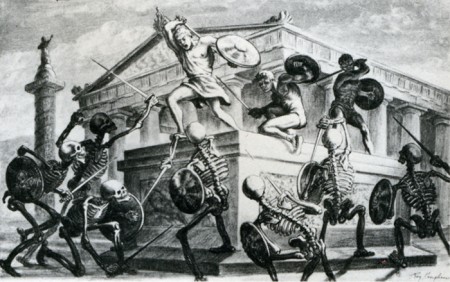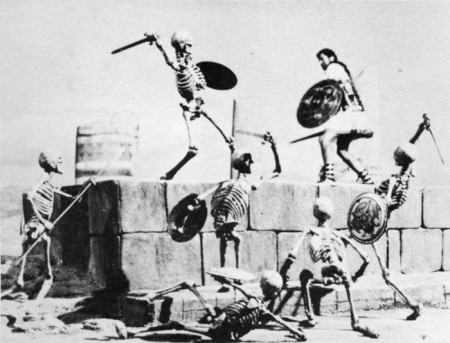 Certain other time-consuming technical "hocus-pocus" adjustments had to be done during shooting to create the illusion of the animated figures in actual contact with the live actors. Bernard Herrmann's original and suitably fantastic music score wrapped the scenes in an aura of almost nightmarish imagination.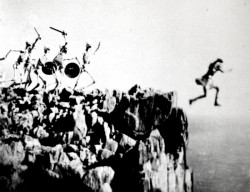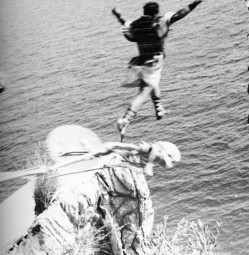 In the story, Jason's only way of escaping the wild battling sword wielding "children of Hydra's teeth" is to leap from a cliff into the sea. (Above left) A stuntman, portraying Jason for this shot, leaps from a 90-foot-high platform into the sea closely followed by seven plaster skeletons. It was a dangerous dive and required careful planning and great skill. It becomes an interesting speculation when dealing with skeletons in a film script. How many ways are there of killing off death?
(Above right) Another angle with the real Jason jumping off a wooden platform into a mattress a few feet below. The skeletons and the rocky cliff were put in afterwards while the mattress was blotted out by an overlay of sea.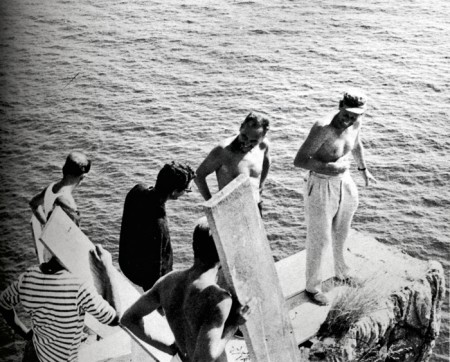 Director Don Chaffey and Ray Harryhausen discuss the leap
with Italian stunt director Fernando Poggi.
When transferring published material to the screen it is almost always necessary to take certain liberties in the work in order to present it in the most effective visual terms. Talos, the man of bronze, did exist in Jason legend, although not in the gigantic proportions that we portrayed him in the film. My pattern of thing in designing him on a very large scale stemmed from research on the Colossus of Rhodes.
The actor: his blocking the only entrance to the harbor stimulated many exciting possibilities. Then too, the idea of a gigantic metal statue coming to life has haunted me for years, but without story or situation to bring it to life. It was somewhat ironic when most of my career was spent in trying to perfect smooth and life-like action and in the Talos sequence, the longest animated sequence in the picture, it was necessary to make his movements deliberately stiff and mechanical.
Most of Jason and the Argonauts was shot in and around the little seaside village of Palinuro, just south Naples. The unusual rock formations, the wonderful white sandy beaches, and the natural harbor were within a few miles of each other, making the complete operation convenient and economical. Paestum, w its fine Greek temples, was just a short distance north. All interiors and special sets were photographed in a sm studio in Rome.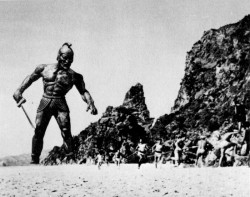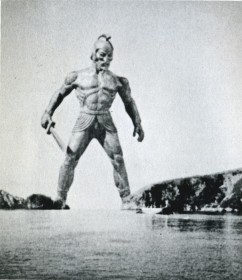 (Above left) Talos, the statue of bronze, pursues Jason's men.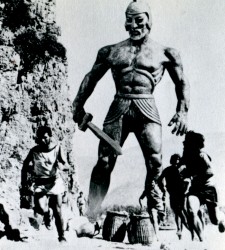 (Above right) Talos blocks the Argo
from the only exit of the bay.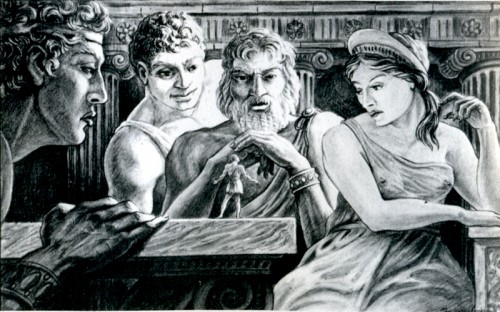 Pre-production drawing of Jason speaking to the Gods of Greece.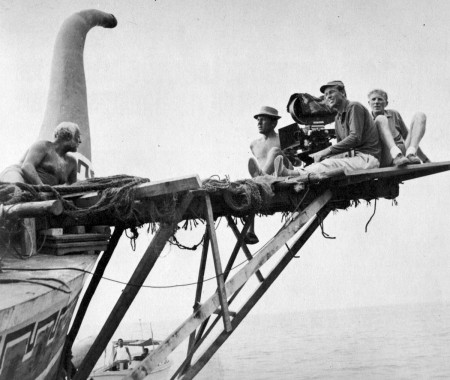 For the second unit operation a special platform had to be fitted to the Argo in order to achieve certain camera angles. Although it looks precarious it was far more convenient than using another boat for the shots.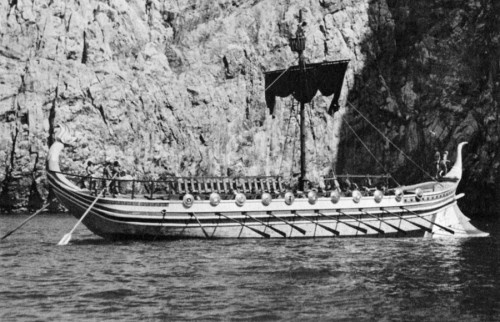 The Argo had to be, above all, practical in the sense that it must be seaworthy as well as impressive. It was specially constructed for the film over the existing framework of a fishing barge. There were twin engines for speed in maneuvering, which also made the ship easily manipulated into proper sunlight for each new set-up.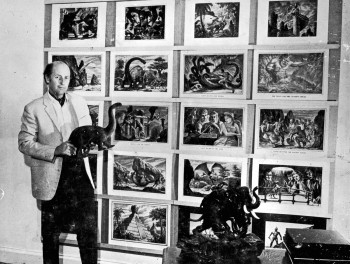 Harryhausen off the book's back cover
to give an idea of scale of drawing sizes.
Animation Artifacts &Articles on Animation &Disney &Illustration &John Canemaker &Story & Storyboards 29 Apr 2013 06:19 am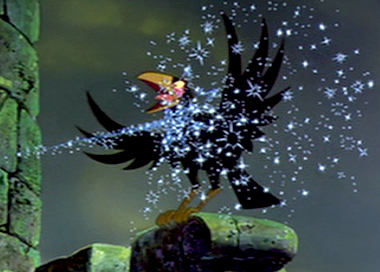 - John Canemaker had loaned me the final sequences of the storyboard to Sleeping Beauty, detailing the dragon fight and climax of the film. I originally posted this in three parts. I've combined them all here, making for one long post.
I'm not sure who did the artwork, but there's a good chance it's Ken Anderson's work.
As with past boards, I'll post the whole photograph as is, then take it apart row by row so that you can enlarge them as much as possible. Here's the storyboard sequence #19 from Sleeping Beauty.
The full board follows below: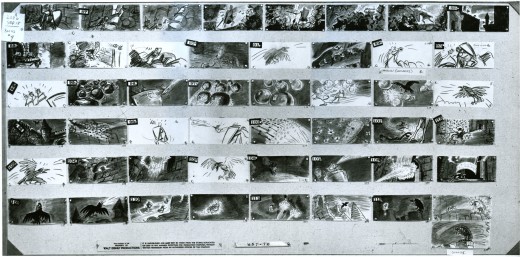 (Click any image to enlarge.)
The breakdown of that full board follows:


1a

1b

2a

2b

3a

3b

4a

4b

5a

5b

6a

6b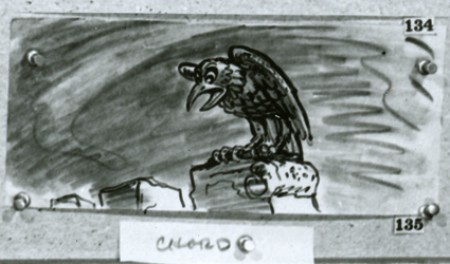 7
Here's the next full page of storyboard as is: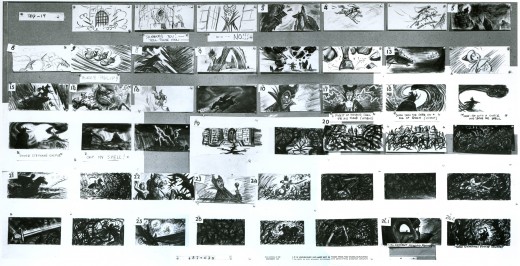 (Click any image on the page to enlarge.)
Again, I follow with the board broken up into segments, half a row at a time.


1a

1b

2a

2b

3a

3b

4a

4b

5a

5b

6a

6b
This is this photo of the next page of the board as it came to me: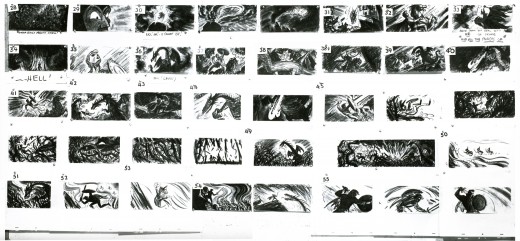 (Click any image to enlarge.)____________

Here are the rows of the board broken into two so that I can post them a bit larger.

1a

1b

2a

2b

3a

3b

4a

4b

5a

5b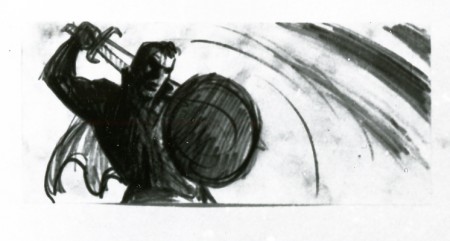 If only he knew what he was going to face next.
I've decided to get the frame grabs for the sequence and post them as well. I thought the comparison of board to actual film would be interesting.
__________
These images come from the "Special Edition" of the dvd, not the "Platinum Edition" now on the market. Using Hans Perk's posts of the drafts for these scenes, on his blog A Film LA, I was able to identify the animators' names.



sc 82 (L) Milt Kahl – sc 82.1 (R) Frank Thomas


sc 82.2 (L) Kahl & Thomas – sc 82.3 (R) George Nicholas & Jerry Hathcock


sc 82.4 (L) Nicholas – sc 82.5 (R) Nicholas & Hathcock


Nicholas & Hathcock (L) sc 82.6


Nicholas & Hathcock (L) sc 83


sc 84 (L) Ken Hultgren – sc 85 (R) Nicholas & Hathcock


sc 87 (L) Nicholas & Sibley – sc 88 (R) Nicholas & Hathcock


(L) Nicholas & Hathcock – sc 89.1 (R) Hultgren


sc 89 (L) Nicholas & Hathcock – sc 91 (R) Hathcock


sc 91 (L) Hathcock – sc 92 (R) SA sc 49 seq 8


sc 95 (L) Hathcock – sc 93 (R) Hathcock


sc 96 (L) Hathcock – sc 97 (R) Dan MacManus


(L) MacManus – sc 97.2 (R) Hathcock


sc 98 (L) Hathcock – sc 99 (R) Sibley


sc 100 MacManus


sc 100.1 (L) Hathcock – sc 101 (R) Les Clark & Fred Kopietz


sc 102 (L) Hultgren & Kopietz – sc 104 (R) Hathcock


sc 107 (L) Hathcock – sc 108 (R) Hultgren


(L) Hutlgren – sc 109 (R) Hathcock


sc 110 (L) Ollie Johnston & Blaine Gibson – sc 110.1 (R) Gibson


sc 110.2 (L) Johnston – sc 110.3 (R) Johnston & Gibson


sc 110.4 (L) Johnston – sc 111 (R) Johnston & Gibson


sc 112 Johnston & Gibson


sc 112 (cont) Johnston & Gibson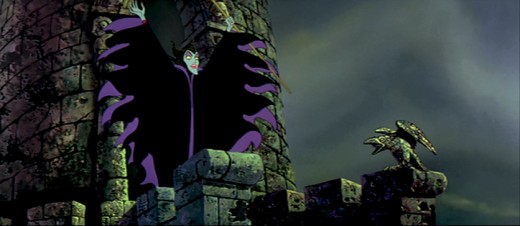 - Let's end this post from Sleeping Beauty by posting a couple of drawings I have for the "Skumps" sequence. Again, Hans Perk on his blog A Film LA, posted the animator drafts for this sequence and I was able to I.D. the animators. (I have to say I guessed correctly in three out of four shots, so I'm pleased with myself.)
I'm posting closeups of the drawings. By clicking on any of them you'll see the full sized animation paper. I'm also posting frame grabs beneath the drawings so you can see how they looked in the film.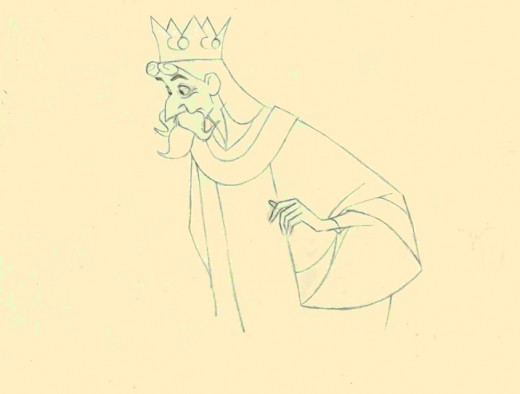 This is a Milt Kahl scene, seq 13 sc 8. This drawing is undoubtedly a clean up,
so it's not one of Kahl's drawings – just his pose. It's an extreme.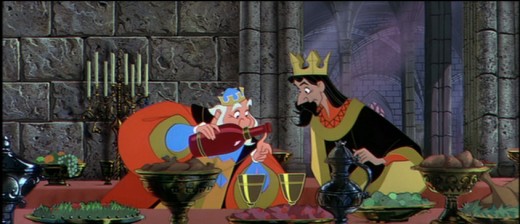 It is interesting that Kahl animated both characters.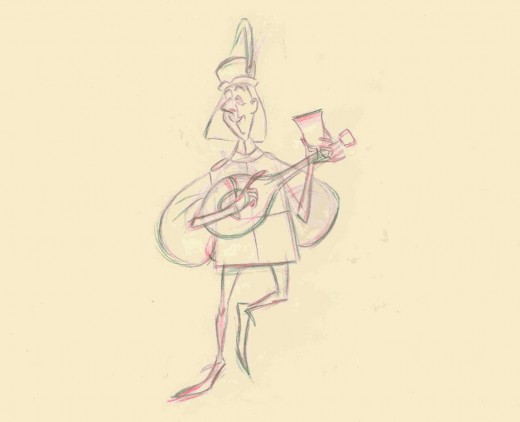 This is a John Sibley ruff. Seq 13 sc 17.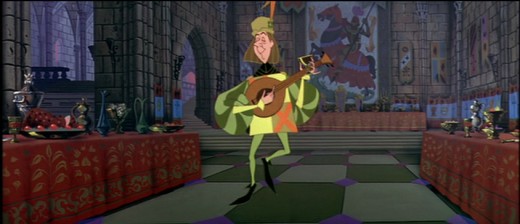 It's a very odd, uncoordinated dance number by the drunk lackey.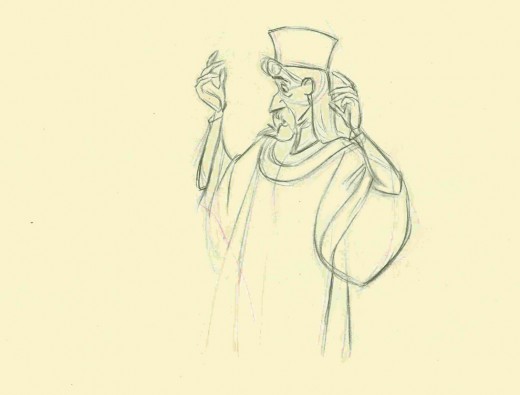 This is my favorite of these four. It's a John Lounsbery ruff of King Stefan.
Another extreme from seq 13 sc 26.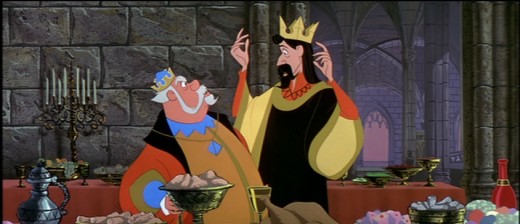 I like this character.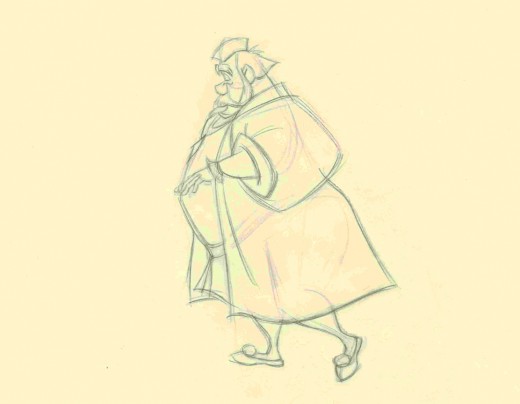 This is also another beautiful ruff by John Lounsbery. It's King Hubert in the
very last scene of seq 13, sc 57.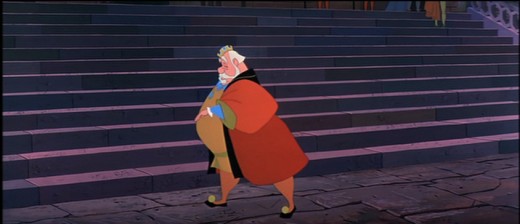 it comes just prior to Hubert's turning and sitting on the palace steps.


___________________
Animation &Animation Artifacts &Articles on Animation &Richard Williams 20 Mar 2013 05:29 am
- One of the better pluses of working on Raggedy Ann, back in 1977, was the information available to us. There was circulated, there, a book of notes Richard Williams had kept during the lectures Art Babbitt had given at is studio in Soho Square. These still act as a unique bible I have on my shelf. (Unfortunately, these days it's on a shelf in storage.)
There was also another set of notes. These weren't 8½ x 11, they were 14 x 17 sheets of paper, and only a few had access. As one of the bosses there, I had access. (Basically, we couldn't have everyone copying 14 x 17 sheets of paper; that got expensive.)
I think these were notes Dick was keeping for a potential book he'd write. They pulled from everywhere, whether it was Preston Blair's book or the Disney after-hours studio lecture notes. There were also notes Dick kept from other pros that had given lectures at his studio. Here's a good sampler of some of these pages. There's a Milt Kahl talk, a John Hubley talk, notes on an Ollie Johnston talk (typed by Jill, Dick's assistant as well as notes of different walks from Dick, himself.
I won't interpret them for you, but will just dump them on you. So here they are. Make sense of them, as you will: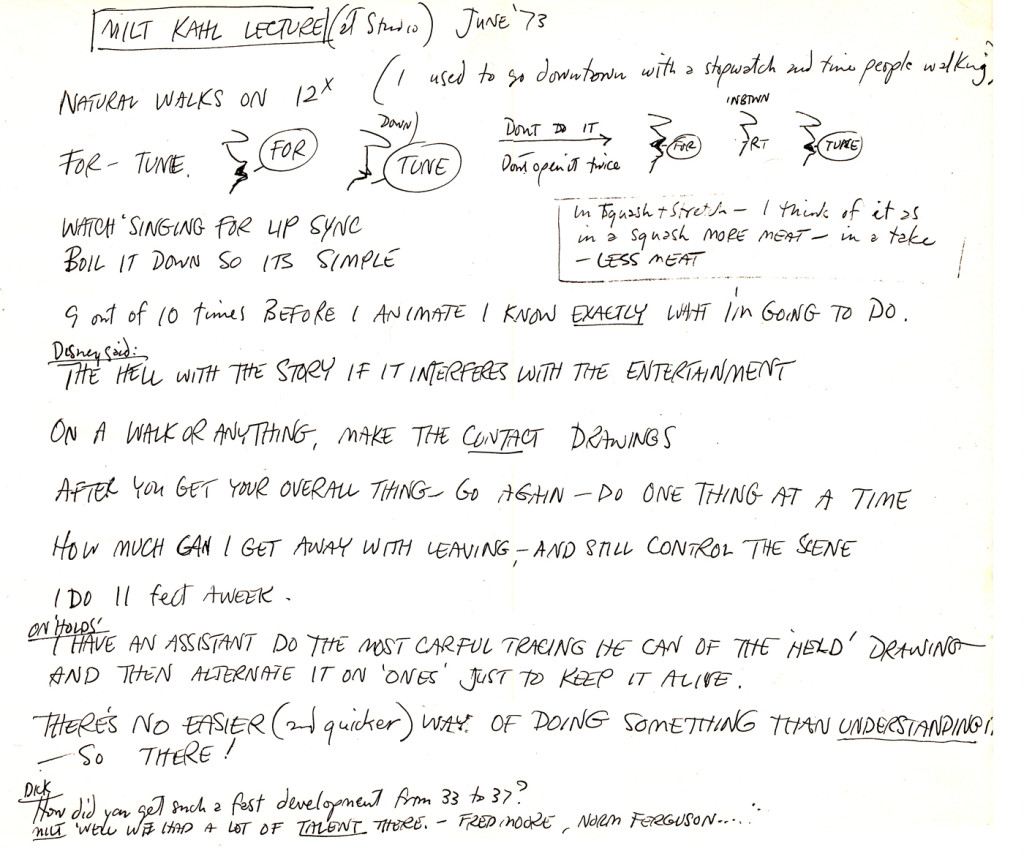 1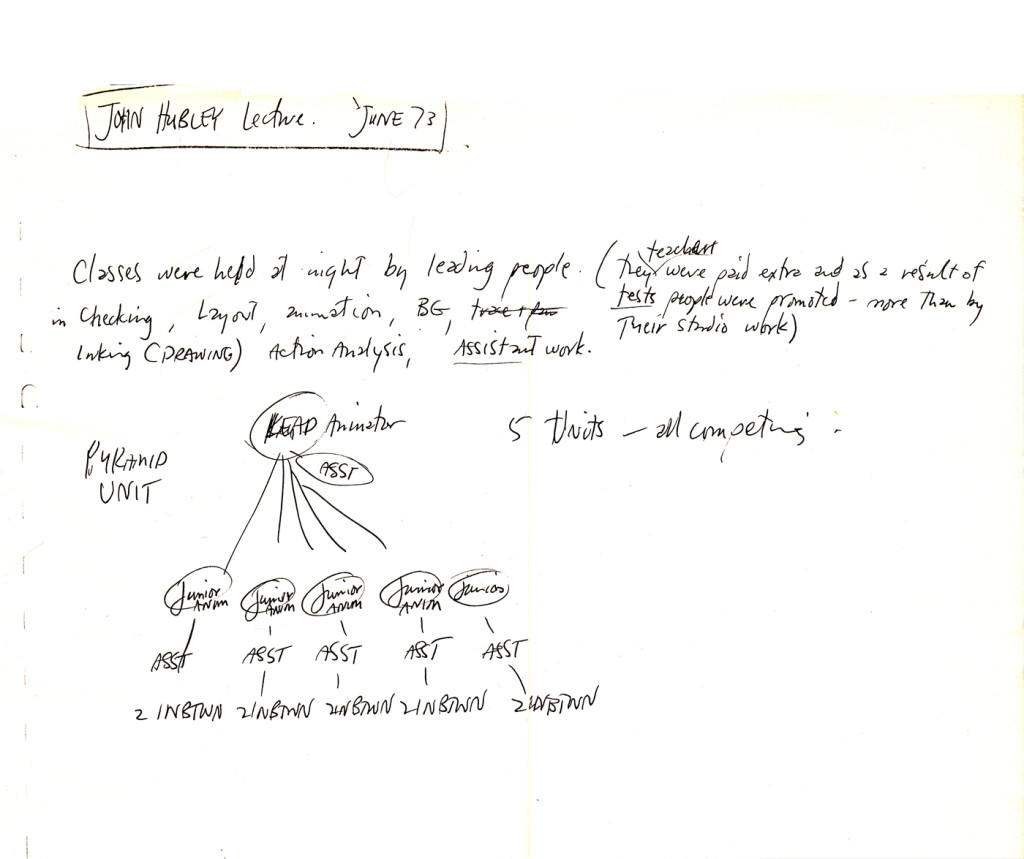 2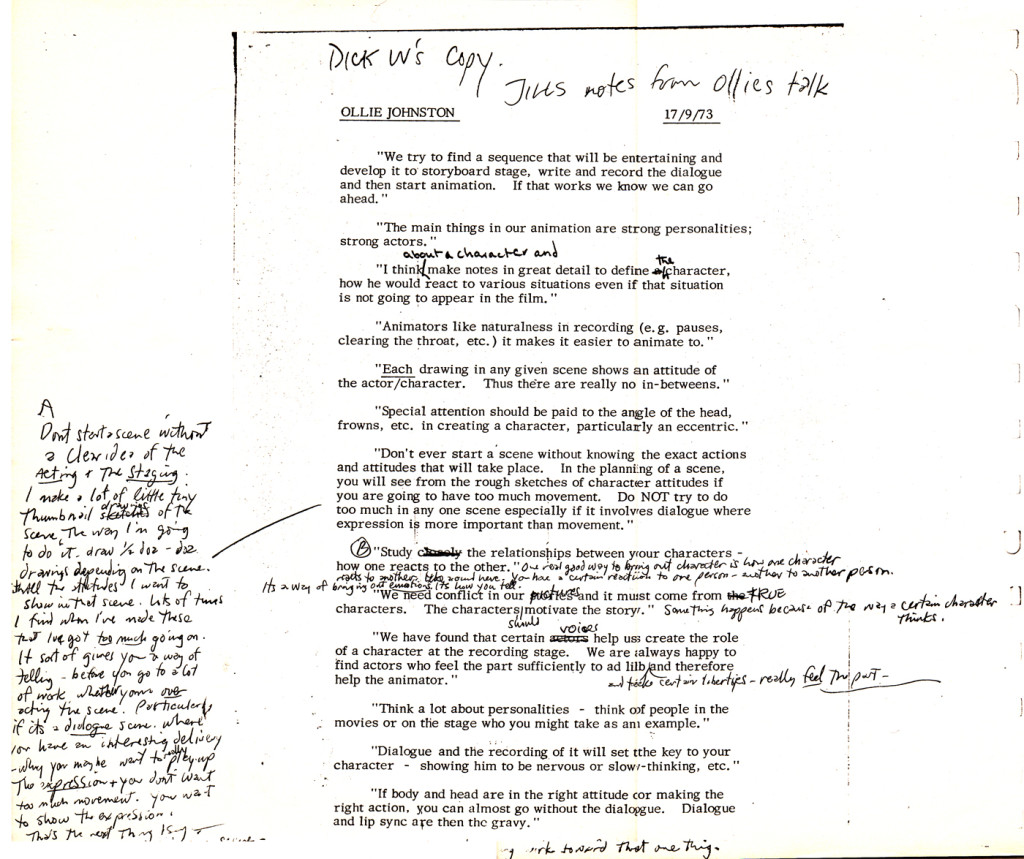 3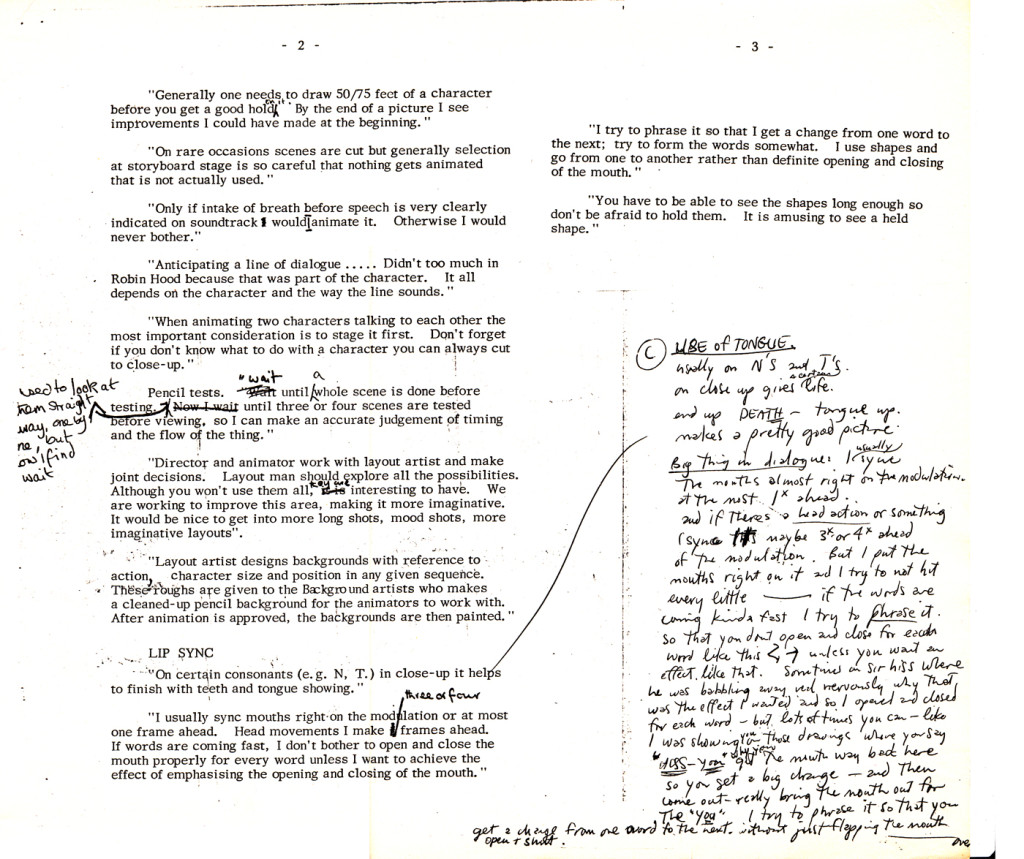 4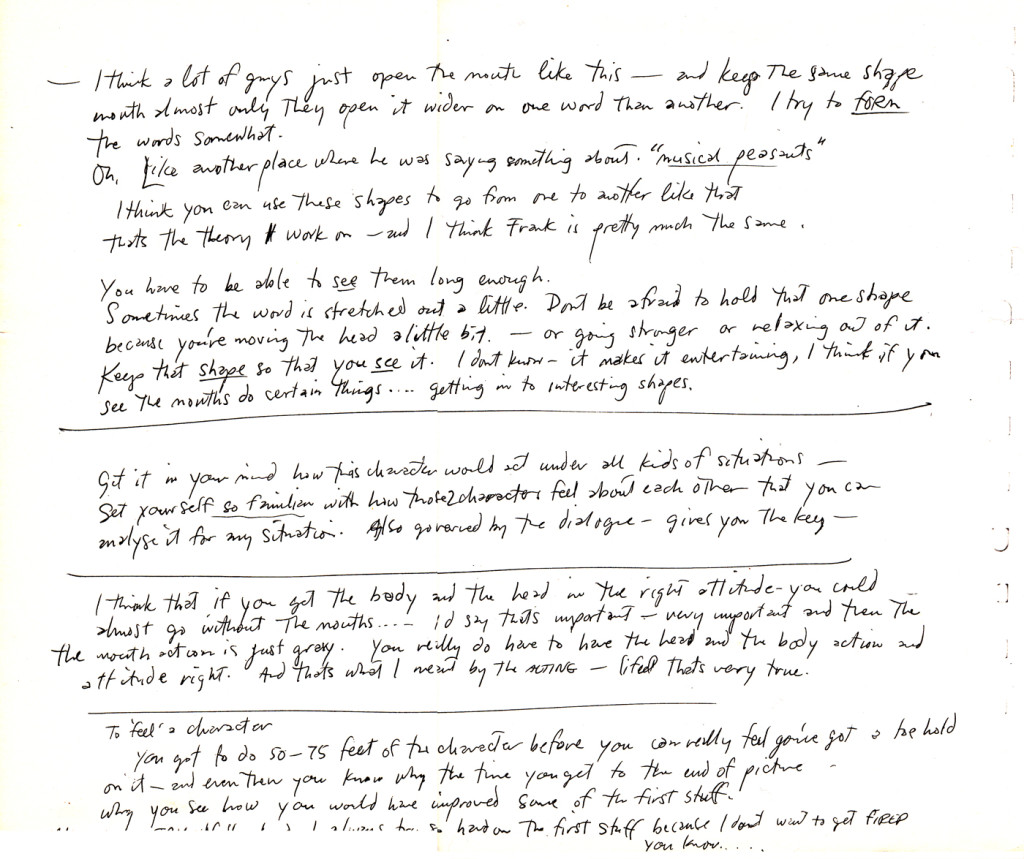 5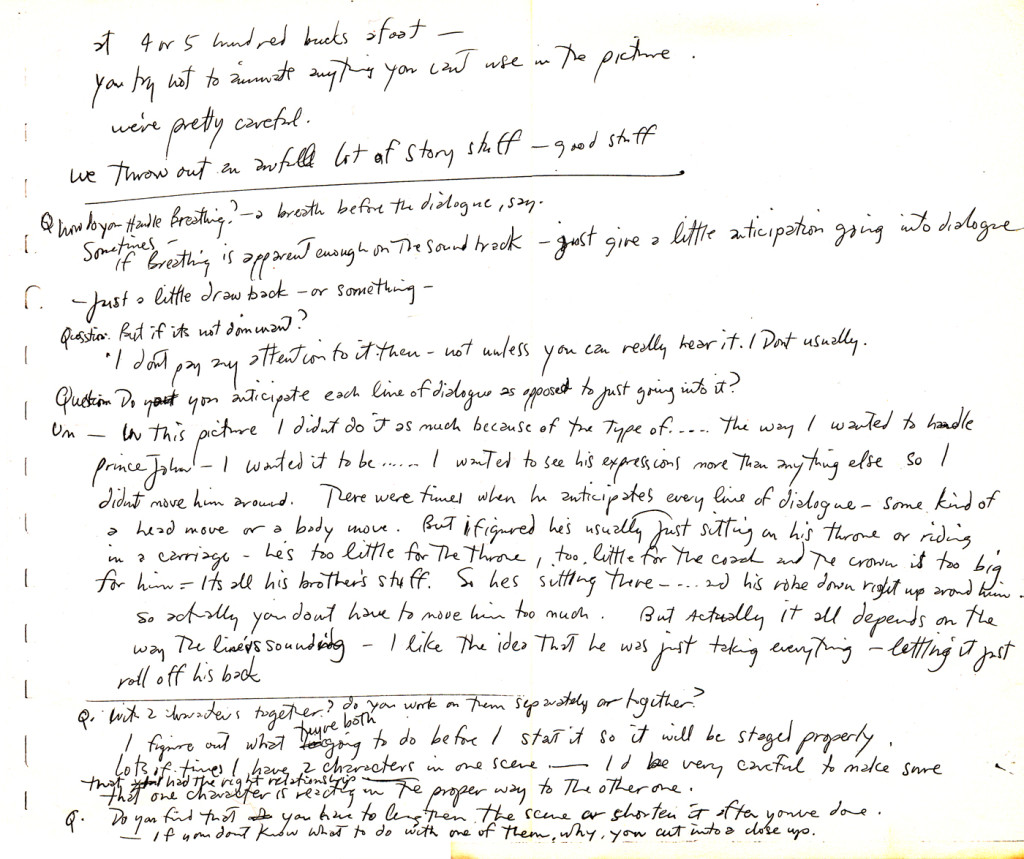 6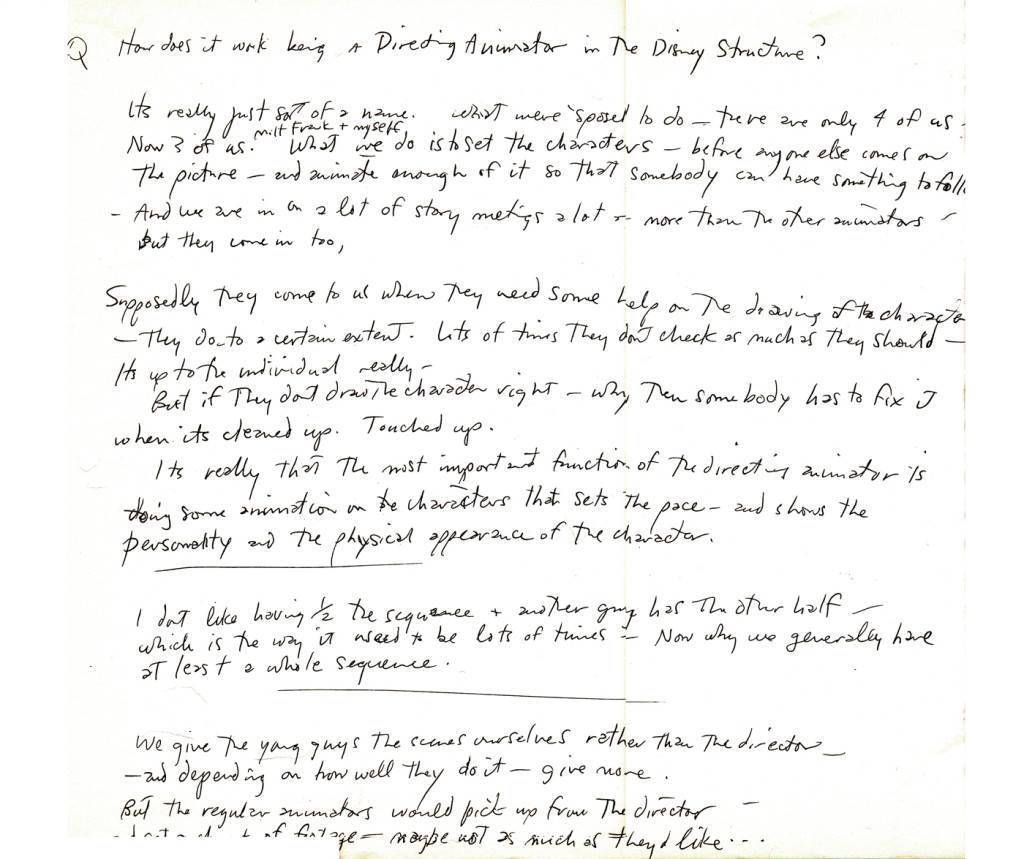 7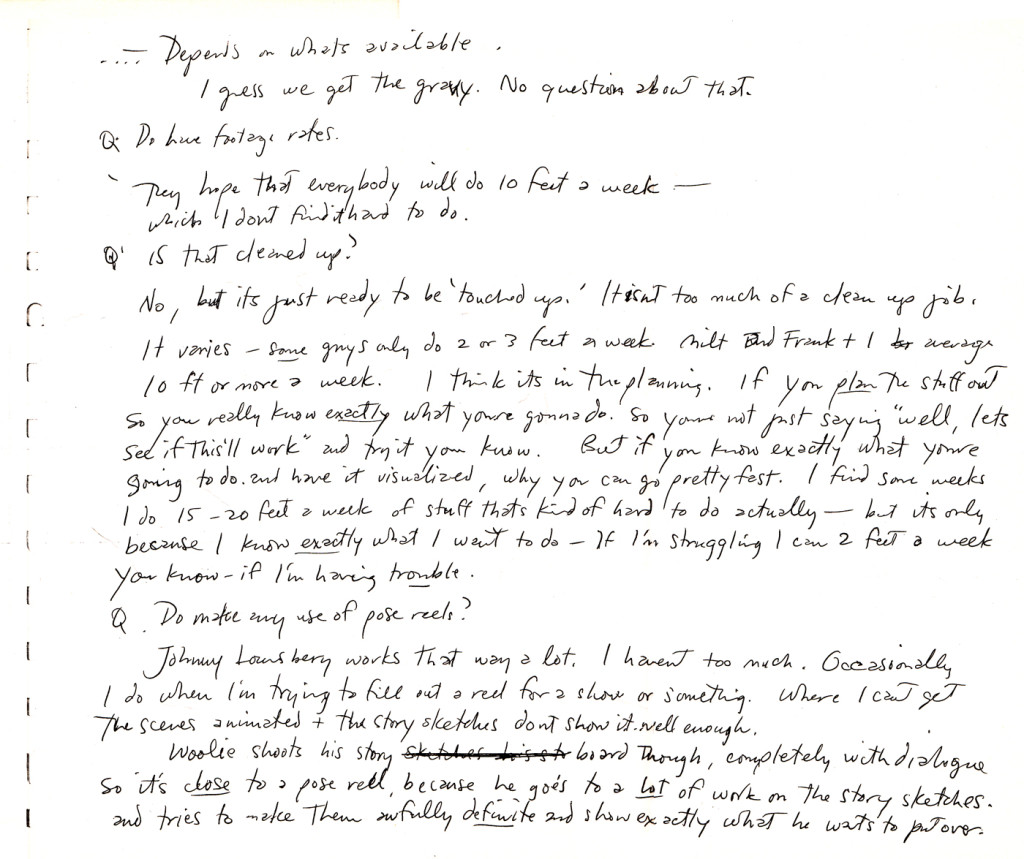 8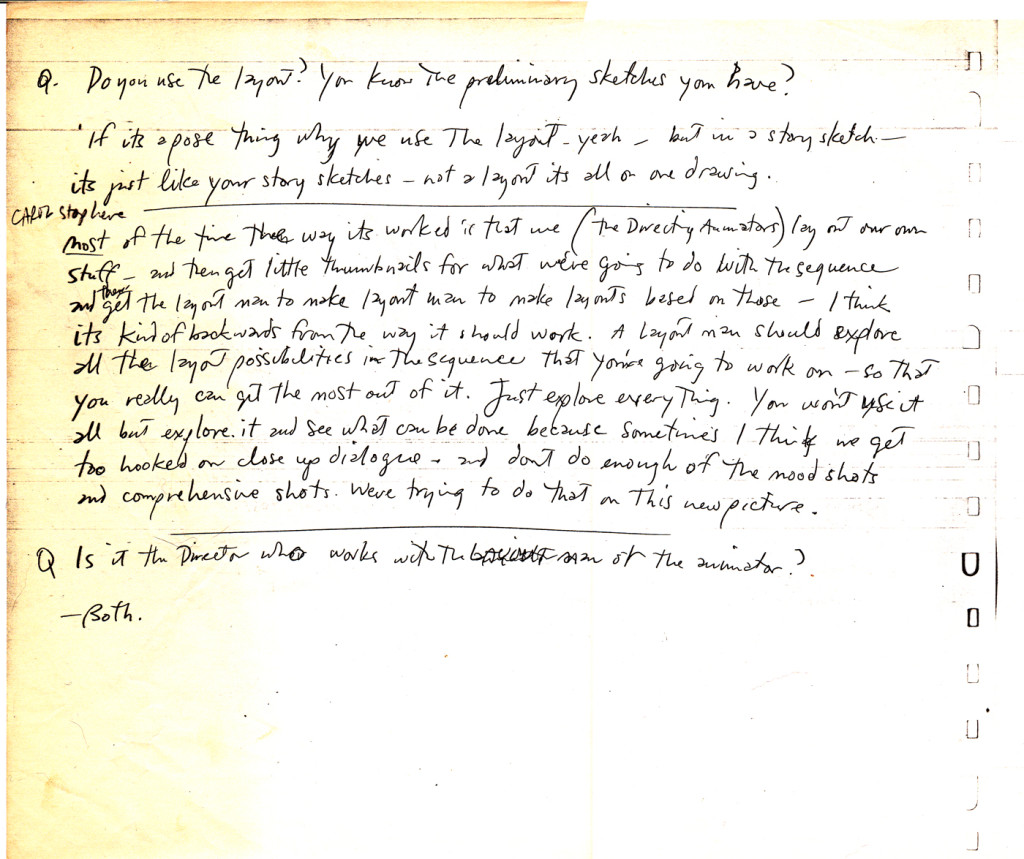 9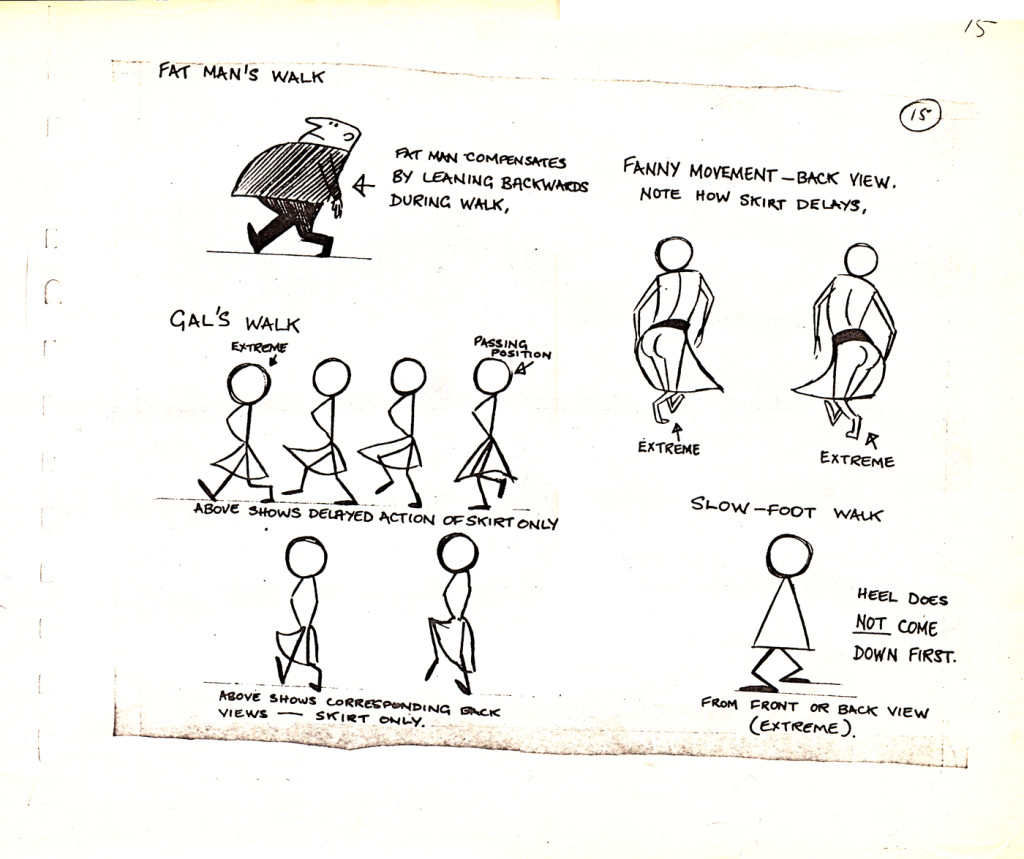 10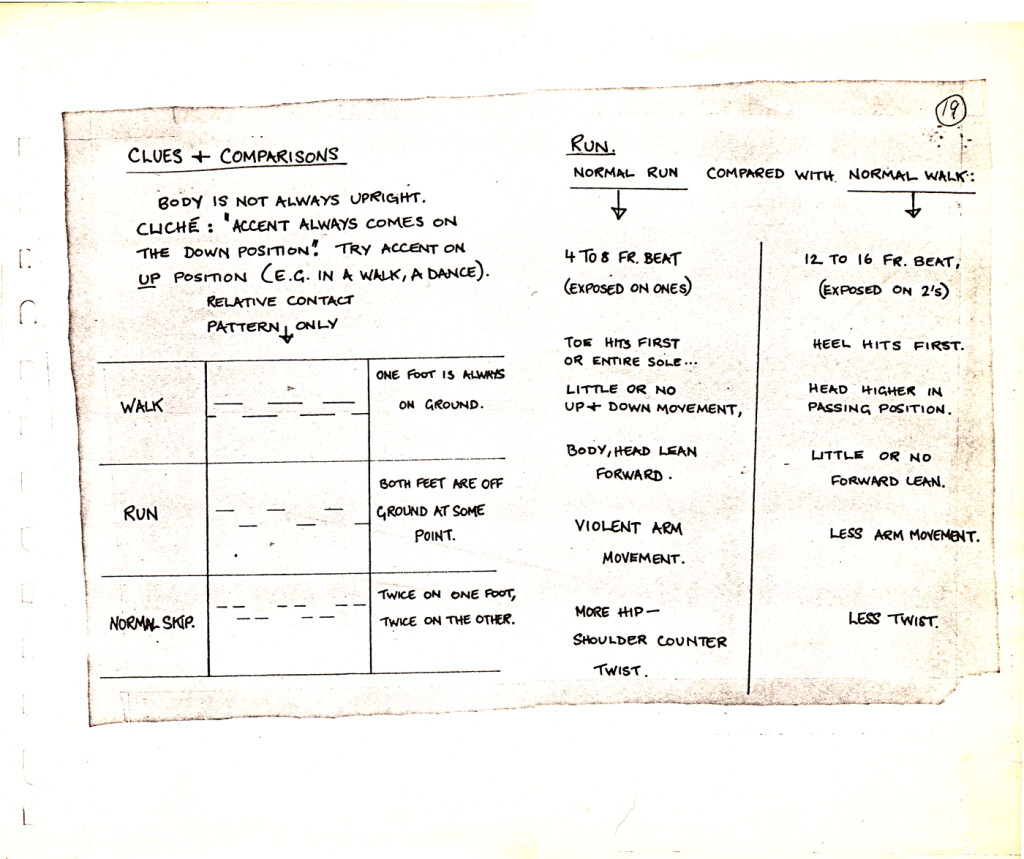 11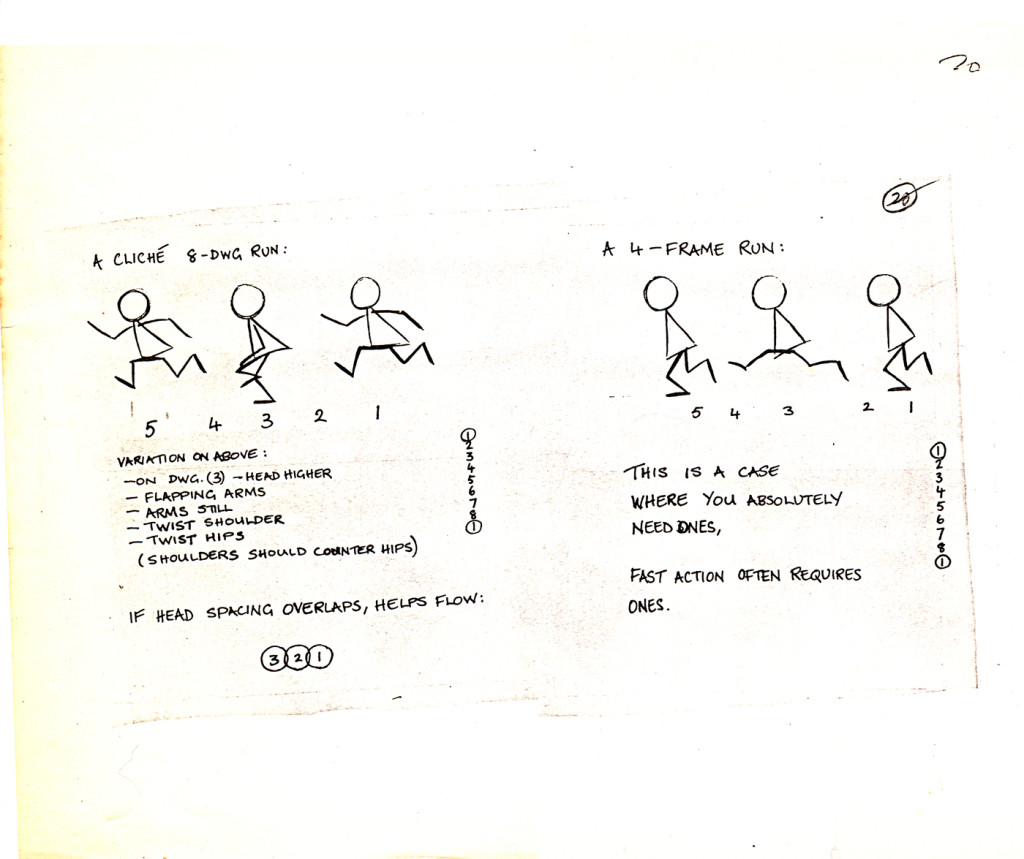 12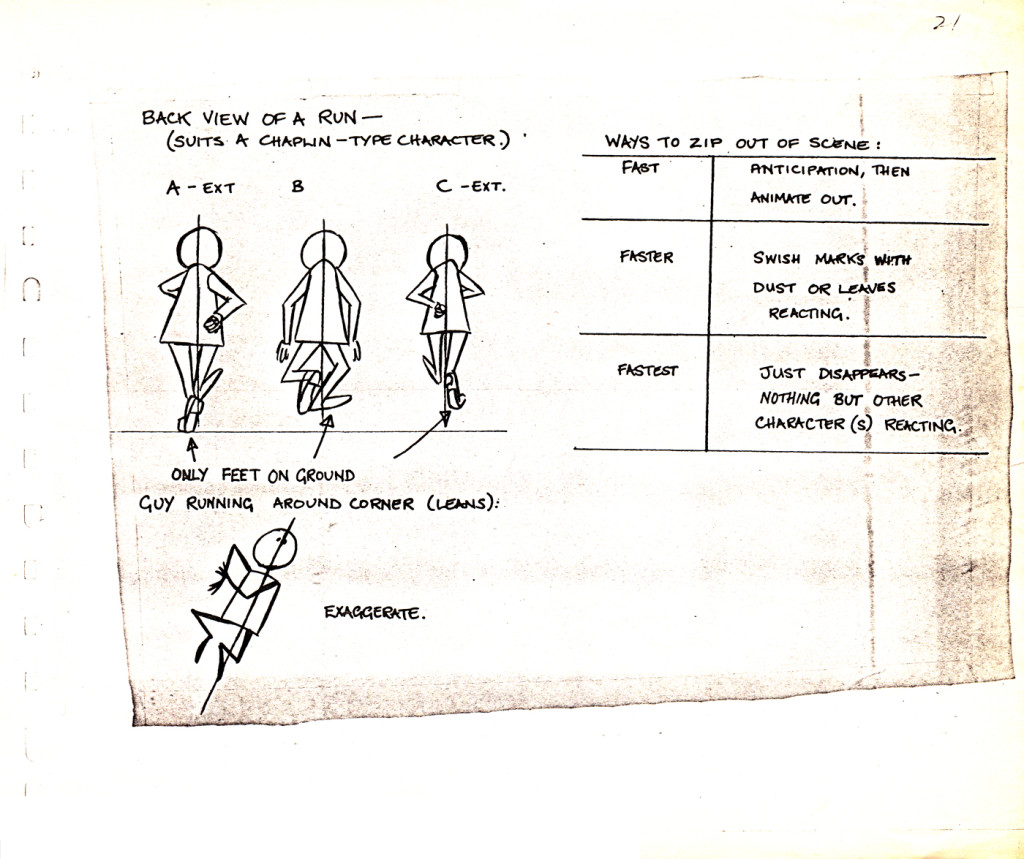 13
Articles on Animation &Hubley &Independent Animation 07 Mar 2013 05:24 am
This is an article that was published in the July, 1946 issue of The Hollywood Quarterly. I thought some might be interested

Animation Learns a New Language
by John Hubley & Zachary Schwartz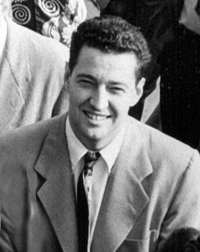 .
John Hubley is a director of cartoons at United Productions. He has worked as art director and director of Disney Studios, at Columbia, and in the First Motion Picture Unit of the Army Air Forces.
.
.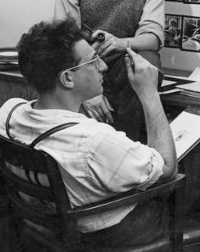 .
Zachary Schwartz was one of three organizers of United Productions, where he is now a director. He has worked on Disney productions and on wartime training films. He is now preparing a training film for State Department personnel.
.
.
__________________
Select any two animals, grind together, and stir into a plot. Add pratfalls, head and body blows, and slide whistle effects to taste. Garnish with Brooklyn accents. Slice into 600-foot lengths and release.
This was the standard recipe for the animated cartoon. That is, it was standard until Hollywood's fantasy makers were presented the task of teaching people how to fight.
Six months before America entered World War II, the animated motion picture industry of Hollywood was engaged in the production of the following films:
1 Feature-length cartoon about a deer
16 Short subjects about a duck
12 Short subjects about rabbits
7 Short subjects of a cat chasing a mouse
5 Short subjects with pigs
3 Short subjects with a demented woodpecker
10 Short subjects with assorted animals
1 Short technical subject on the process of flush riveting.
Since that time, the lone educational short, dubbed by the industry a "nuts and bolts" film, has been augmented by hundreds of thousands of feet of animated educational film. Because of wartime necessity, pigs and bunnies have collided with nuts and bolts.
Sudden change from peace to war presented to government agencies, the military services, and industrial organizations a fundamental problem. This was the necessity of teaching millions of people an understanding of objective information with which they were essentially unfamiliar. The thinking and mechanical skills of millions had either to be changed or developed. And fast. Thinking, that is, and understanding regarding international policies, the nature of the enemy, coöperative safety measures, the fight against disease, price control, taxes, motor skills involving the thousands of tactical details of warfare for fighting men, and the hundreds of new methods for unskilled workers.
Thus it also became necessary for the craftsman-animators of the motion picture industry to analyze and reëvaluate their medium; for visual education, or more specifically the motion picture, bore the burden of this tremendous orientation program. Previously, animation usage in the educational film had been singularly undeveloped. While the theatrical cartoon developed an ability to emphasize and exaggerate for comedy purposes, and perfected the techniques of dramatization, "nuts and bolts" animation remained static. It consisted of rigid charts, diagrams, mechanical operations, maps, and labels. Unlike its Hollywood counterpart, it contained no humor, no personalized or intensified image, no emotional impact, no imaginative association of ideas to enable one to retain its content.
It presented cold facts, and left its audiences in the same state. But because of the urgency of the war situation; because of the varied specialized groups to be taught; because of the attitudes to be formed or converted, new and more effective means were necessary. The collision of these two animation methods occurred because of the need to present objective information in human terms.
Film units in the Armed Forces, and many professional studios producing educational films of infinitely varied subjects, soon discovered that, within the medium of film, animation provided the only means of portraying many complex aspects of a complex society. Through animated drawings artists were able to visualize areas of life and thought which photography was incapable of showing.
Psychological tests and reaction studies conducted by the military indicate an exceptional popularity and response to animated technical and orientation films. The Signal Corps found that the reaction to the animated "Snafu series" was greater than the reaction to any of the live-action films. The Air Forces Psychological Test Film Unit undertook a study of how much was learned through use of an animated training film as compared with how much through oral and written instruction on the same subject matter. The superiority of the film, both for learning and retention, was particularly clear when full use was made of the unique possibilities inherent in the medium.[1]
What are these unique factors? To understand them we must examine the basic difference between animation and photographed action. Now a single drawing, especially the cartoon, has always been capable of expressing a great many ideas. A drawing of a man, for instance, can glorify him or ridicule him. Further, it can emphasize aspects of his physical form and subdue or eliminate others. It can combine ideas, such as a human face on a locomotive, an animal in a tuxedo, a skeleton with a cloak and scythe, etc. It can represent a specific object (a portrait, a landscape, a still life). Or it can represent a symbol of all men, all trees; the drawing of Uncle Sam representing America; the eye representing sight; the skull representing death: the single image can represent the general idea. The part can be interpreted as a symbol for the whole.
Thus a drawing's range of expression, its area of vision, is wider than that of the photograph, since the camera records but a particular aspect of reality in a single perspective from a fixed position. In short, while the film records what we see, the drawing can record also what we know. The photograph records a specific object; the drawing represents an object, specific or general.
Animated drawings are a series of single images drawn in the progressive stages of a motion, which, when photographed on film and projected, create a visual symbol of that motion. In this lies the significant element that creates the possibility of a new visual language.
Our general idea, our broadest observations of reality, can be visualized in terms of the personal emotional appeal of the specific idea. What does this mean in terms of the communication of ideas? It means that the mental process which the individual scientist has undergone to achieve a greater understanding of nature can now be visualized for millions of people.
For example, a scientist deduces that by grafting two plants a seed is produced that will bring forth a new type of plant. He then proves his deduction by experimentation and comparison. We can see the result. We can see the original plants; we can see the seed. But we only understand the process by means of a language whereby the scientist explains the development to us. He may use words, and is thereby limited to audio images. Or he may photograph the specific parts of his experiment in motion pictures and, by assembling the parts in conjunction with words, produce a segmentary progression of the process. Or, by using stop action or other camera devices, he may photograph the growing plant itself.
But were he to translate the process into animation, he could represent, by means of the dynamic graphic symbol, the entire process, each stage or degree of development; the entire growth, from the grafting, through the semination of the seed, to the resultant plant. This quality of compression, of continuous change in terms of visual images, supplies the scientist with a simple language and a means of representing his own process of observation to millions.
Since the artist controls the image of a drawing, he also has the ability to change its shape or form. He is able to change a tree to a stone, an egg to a chicken, in one continuous movement. And he can compress a process that would by nature take centuries, or days, into minutes, or seconds. Or he may extend a rapid movement, such as the release of atomic energy, from split seconds to minutes, that it may be more carefully observed. These aspects of natural movement, and simultaneous confiicts of opposite movements, such as physical action and reaction, positive and negative electricity, processes we know, we can now see.
We must be clear that the effectiveness of live-action photography is by no means reduced by animation. It is only necessary to understand photography's functions and capabilities in relation to animation. This may be stated as an ability to represent a specific aspect of reality in very real terms. We can photograph reality. Or we can create a synthesis of reality, and record it.
For instance, we may see the subtle shades of expression on the face of a resistance leader before a fascist firing squad. This may be actual (documentary) or enacted. We see his bodily aspect, his clothes, his hands, the barren wall behind him, the distance between the man and the guns, the sky, the trembling, the blood. Dramatically, we are made to feel the relationship between the victim and the firing squad, the emotional conflict, the tension, the fear, the hatred. We can understand these emotions because we have experienced similar emotions. The specific situation is the focal point that gives us the clue to the general situation. We see this victim of fascism shot, and we gain a better understanding of the general nature of fascism.
With animation, this process is reversed. Instead of an implied understanding resulting from the vicarious experience of a specific situation, animation represents the general idea directly. The audience experiences an understanding of the whole situation.
Dynamic symbols, images representing whole ideas, the flags, the skulls, the cartoon characters, can explain the nature of fascism in terms of its economic roots, the forces behind it, the necessity for its policies of aggression, its historical roots, its political structure. The dynamics of changing symbols—ballots turning into guns, books to poison, plowshares to swords, children changing to soldiers, soldiers to graves—can carry a visual potency as clear as the growth of a seed into a plant. Our understanding of the process as a whole is experienced directly and immediately.
The significance of the animated film as a means of communication is best realized in terms of its flexibility and scope of expression. It places no limitations upon ideas; the graphic representation grows out of the idea. The broadest abstract theory may be treated in a factual manner and made interesting, clear, and memorable through the use of movement and sound. All degrees of the general and particular are within its normal scope because anything that the brain can conceive can be expressed through the symbol. For instance, the subject might demand an extremely impressive statement of reality. It might then be advisable to use a combination of photography and animation, the photography to state the facts of outward appearance and the animation to illustrate the inner construction, or comments upon the subject, or to suggest emotional reactions of the subject. This kind of treatment creates a super-reality in which we are conscious of many aspects simultaneously.
In animation, the artist and writer have at their command all the traditional means of graphic expression and the new means which grew out of moving symbols and sound. One of these is the concept of explanation through change from an object as it is to the thing it signifies. For instance, in explaining the function of the liver the picture changes from a liver to a recognizable sugar bowl filled with cubes of sugar. The cubes hop out into the blood stream and bob away into the circulatory system. Or, we might wish to give graphic expression to an emotional reaction. One person is being protected by another, and for a moment the protector animates up into a proud knight and charger. We hear the clank of metal and stamp of horse's hoofs for just an instant, and then the whole image animates down again into its original form. Another example of this is the picturization of certain words in dialogue to stress a particular idea. A person is being taught a difficult mechanical technique involving rapid manipulation of buttons and levers, etc. He protests, "What do you think I am—an octopus?" At the moment the word is spoken the character changes to an octopus and then back again so quickly that the observer has just gotten a fleeting impression of the picture of the word. These examples indicate the kind of picture solution that can be evolved from an idea no matter how abstract.
We have found that the medium of animation has become a new language. It is no longer the vaudeville world of pigs and bunnies. Nor is it the mechanical diagram, the photographed charts of the old "training film." It has encompassed the whole field of visual images, including the photograph. We have found that line, shape, color, and symbols in movement can represent the essence of an idea, can express it humorously, with force, with clarity. The method is only dependent upon the idea to be expressed. And a suitable form can be found for any idea.
Articles on Animation &Books 04 Mar 2013 05:49 am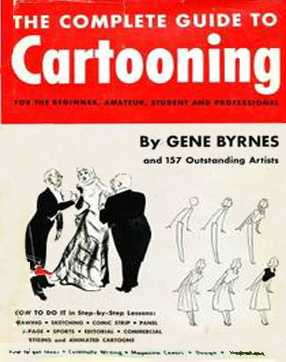 - When I was a kid the only animation books available were few and far between. Fortunately, I lived near a local library that stocked many of these books (6-10 of them, including the great book by R.D. Feild, Art of Walt Disney). One that I loved was this book by Gene Byrnes, The Complete Guide to Cartooning. It had a full chapter on the MGM cartoon studios and credits Fred Quimby as writer of the chapter. The book was a strong inspiration for me when back then, and it still sends a chill up my back and gets me wanting to animate when I look at a couple of those images.
The cartoon Cat Concerto is featured. Obviously the studio was pushing it for the Oscar, and a bit of publicity, appearing in this book, didn't hurt. It did win the Oscar. The other five nominees included:
Musical Moments from Chopin (Lantz, Dick Lundy dir)
Walky Talky Hawky (WB, Rob't McKimson dir)
Squatter's Rights (Disney, Jack Hannah dir)
John Henry and Inky-Poo (Par, Georg Pal)
3 cartoons featuring classical piano performances by the star cartoons character. Very interesting. This is the subject of the debate on-going at several sites.
Thad Komorowski brought up the controversy and discusses it n full. The debate of whether one short ripped off another actually started back in 1946.
Michael Barrier discusses the discussion adding some information.
Jerry Beck offers some historic material. just now. Watch the cartoon on Thad's site.
If you recognize anyone in the photos and can identify anyone , please leave a comment.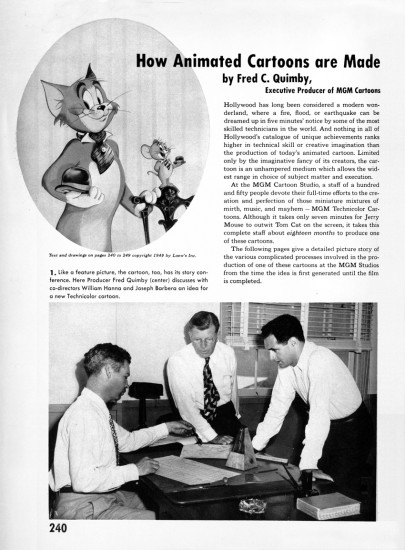 1
(Click any image to enlarge.)
Bill Hanna and Joe Barbera are on opposite sides of the table.
Producer, Fred Quimby is in the middle.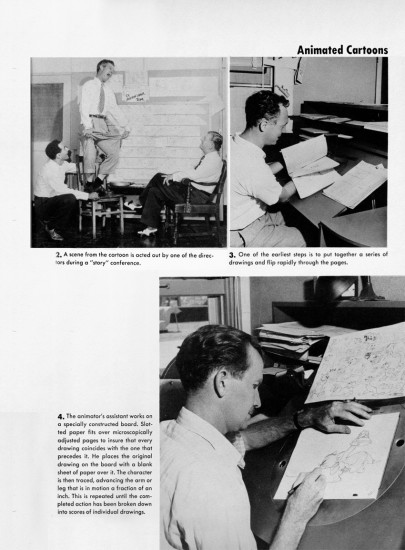 2
#3 Upper right: Preston Blair / #4 Bottom: Asst Animator Tom McDonald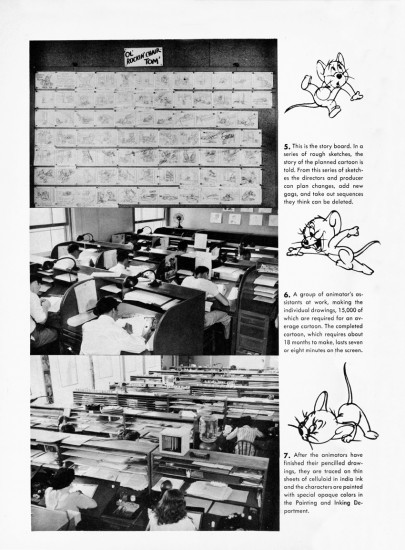 3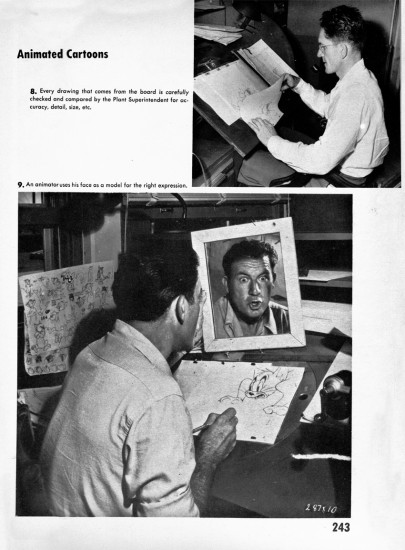 4
#8 Upper: Max Maxwell head of checking / #9 Bottom: Irv Spence, animator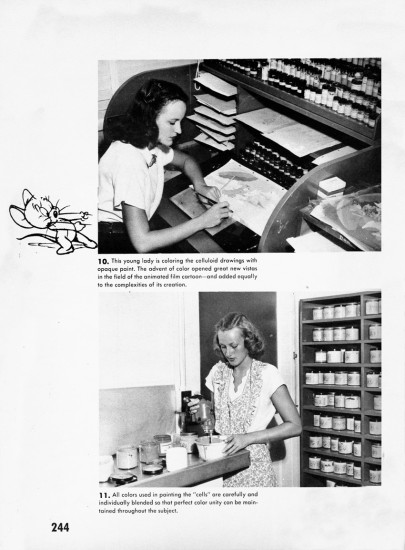 5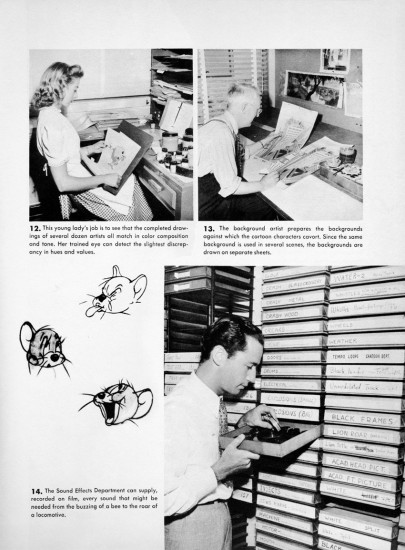 6
#13 is Johnny Johnson, BG painter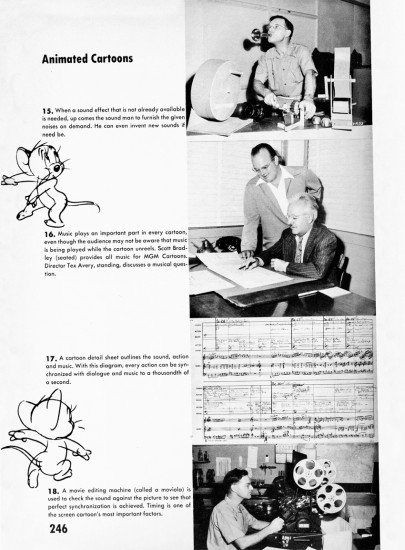 7
#16 Middle: (standing) Tex Avery with (seated> composer Scott Bradley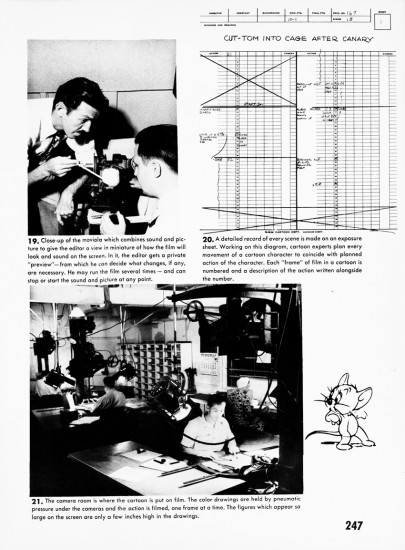 8
#19 Upper left: (standing) Animator, Mike Lah at movieola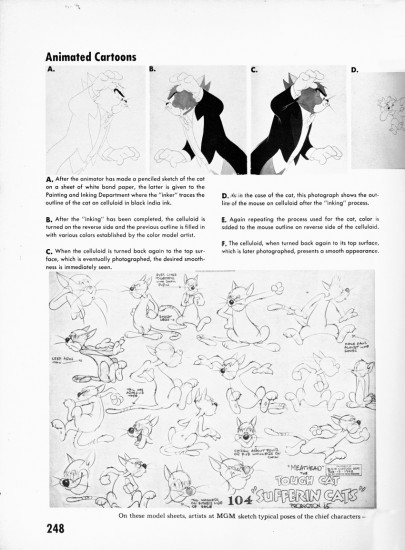 9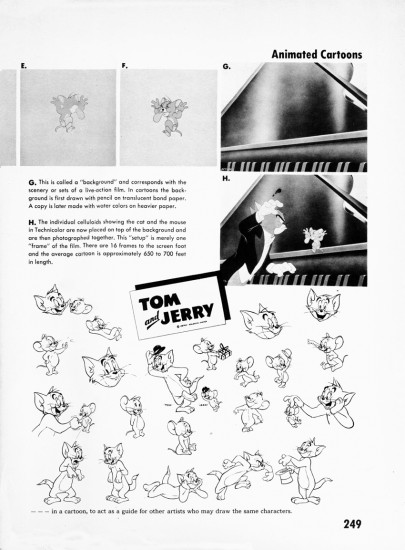 10

I'm enlarging the photo of the storyboard. Without the benday pattern and at a higher res, it's a little easier to read blown up.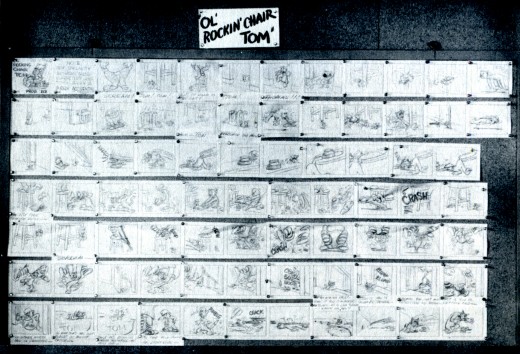 This book also includes some pretty great (non-animation) cartoonists. I still remember every page from my childhood when I borrowed this book countless times from my local public library.
Articles on Animation &Bill Peckmann &Books 28 Feb 2013 04:08 am
- One of Disney's early animators who left the studio before it went through its renaissance into the features, was Hardie Gramatky. He came to the studio from Chouinard and had been a brilliant watercolorist even when he entered the studio. While working at Disney by day, he continued to study art at Chouinard by night. After leaving Disney, he focused on his art acting as something of a force in developing the California School of Watercolor, At the same time he did children's books to earn money. His great claim to fame was the famous children's book, Little Toot, which, itself, was animated by the studio as part of the feature compilation, Melody Time. The short outlived the feature and has played often developing its own legacy.
Bill Peckmann had sent me this article from Watercolor Magazine, the Fall/2011 issue.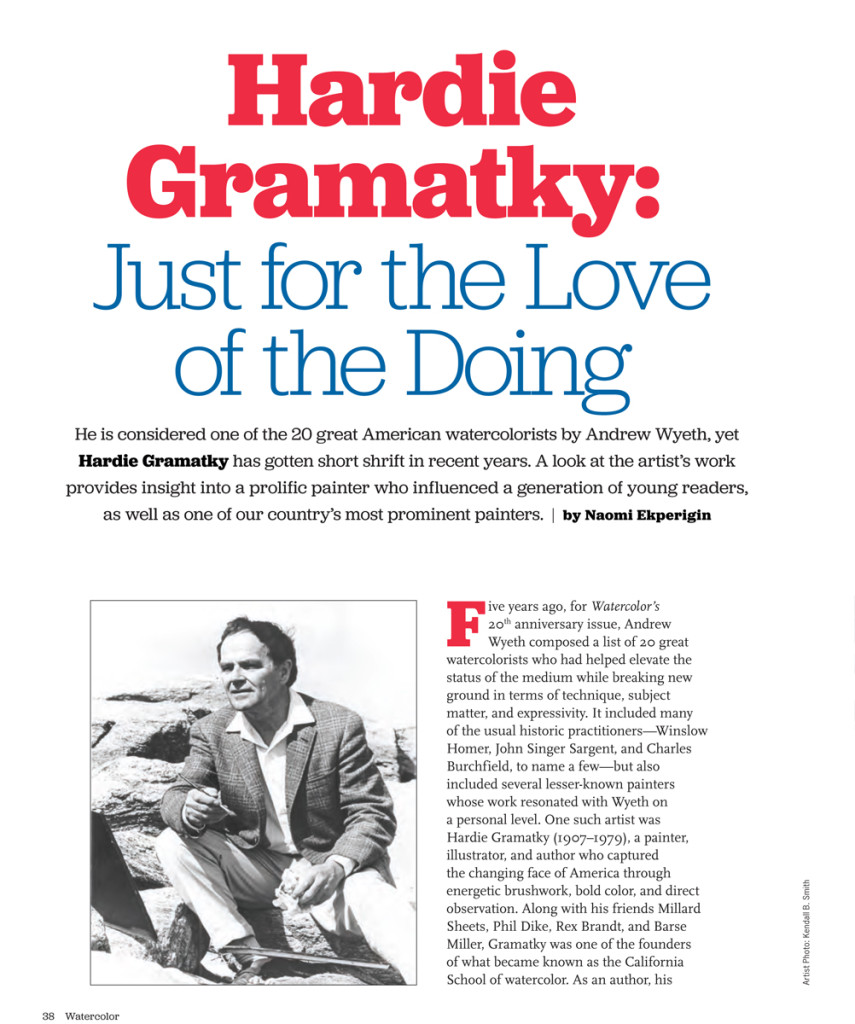 1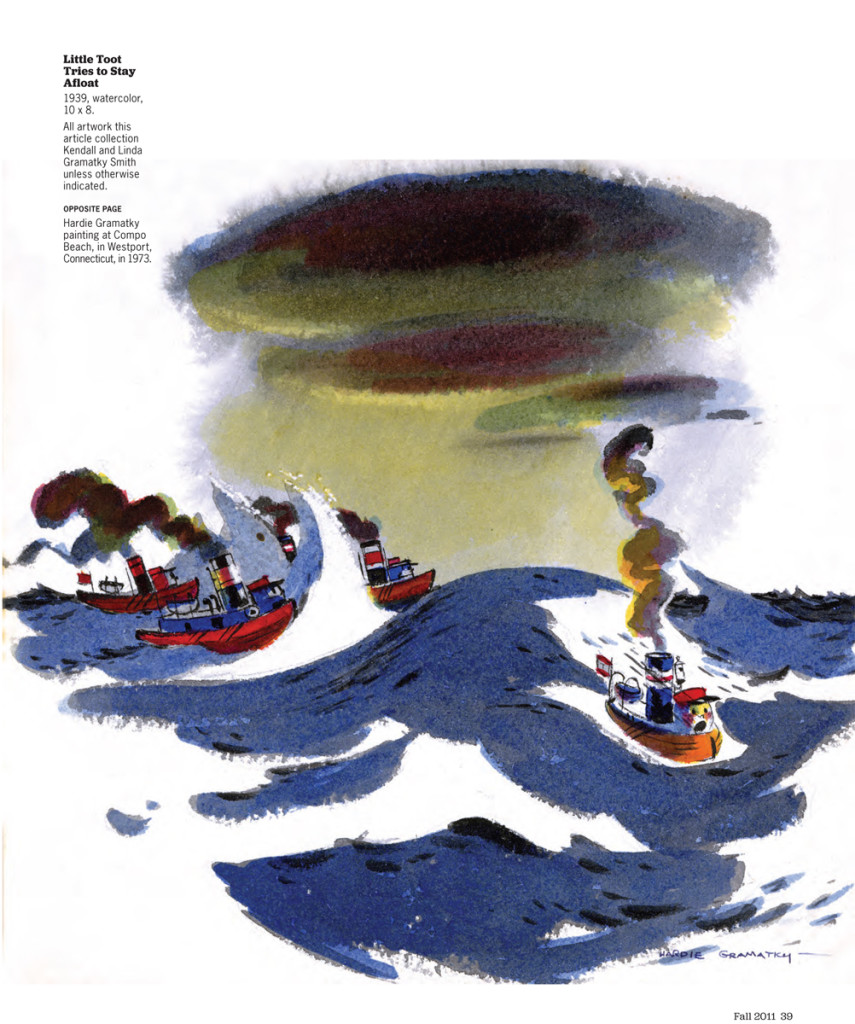 2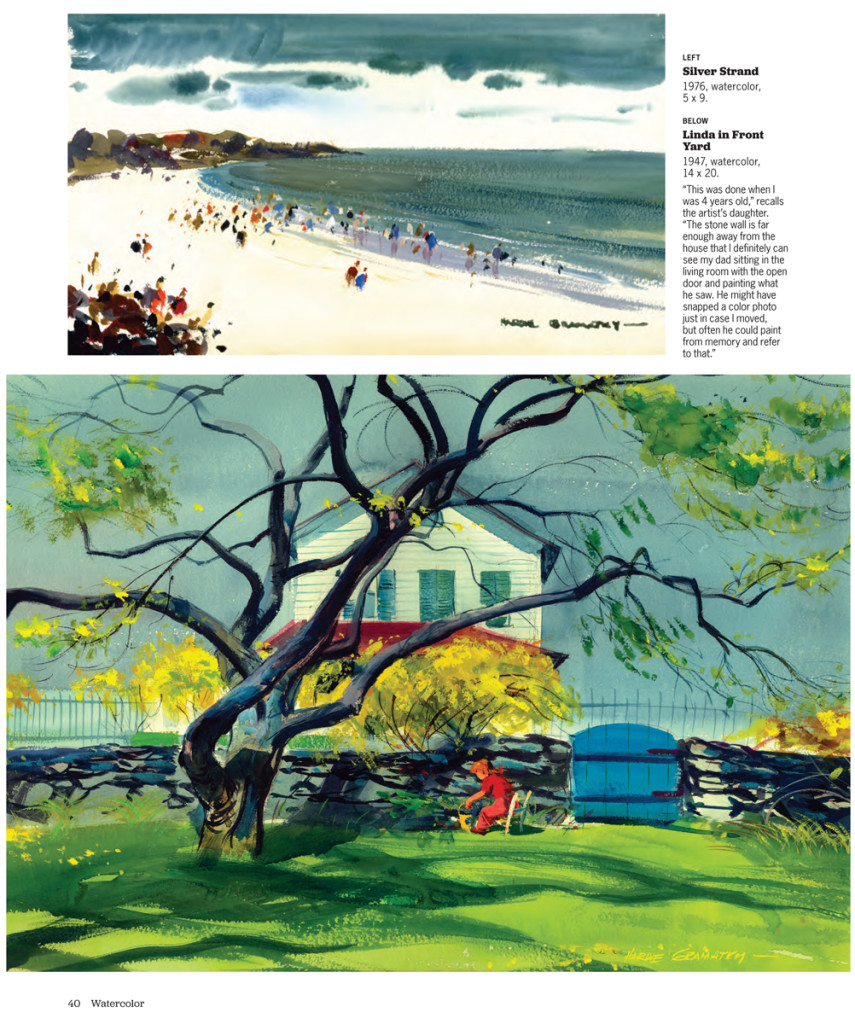 3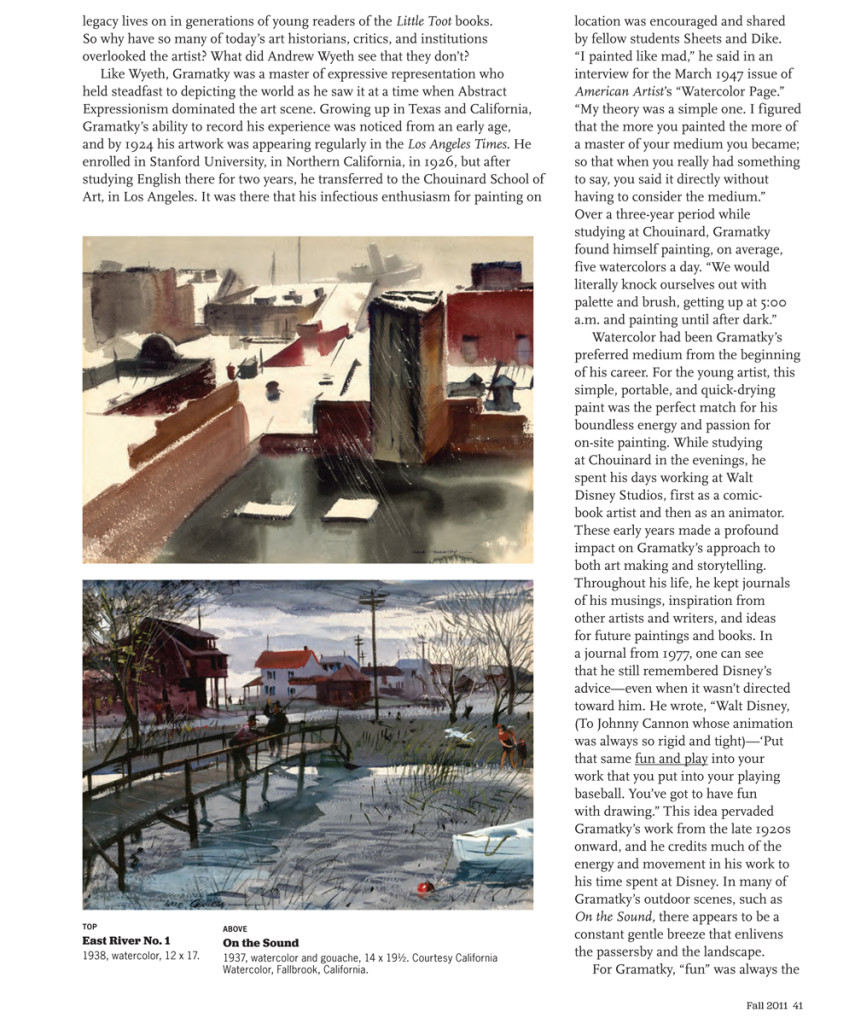 4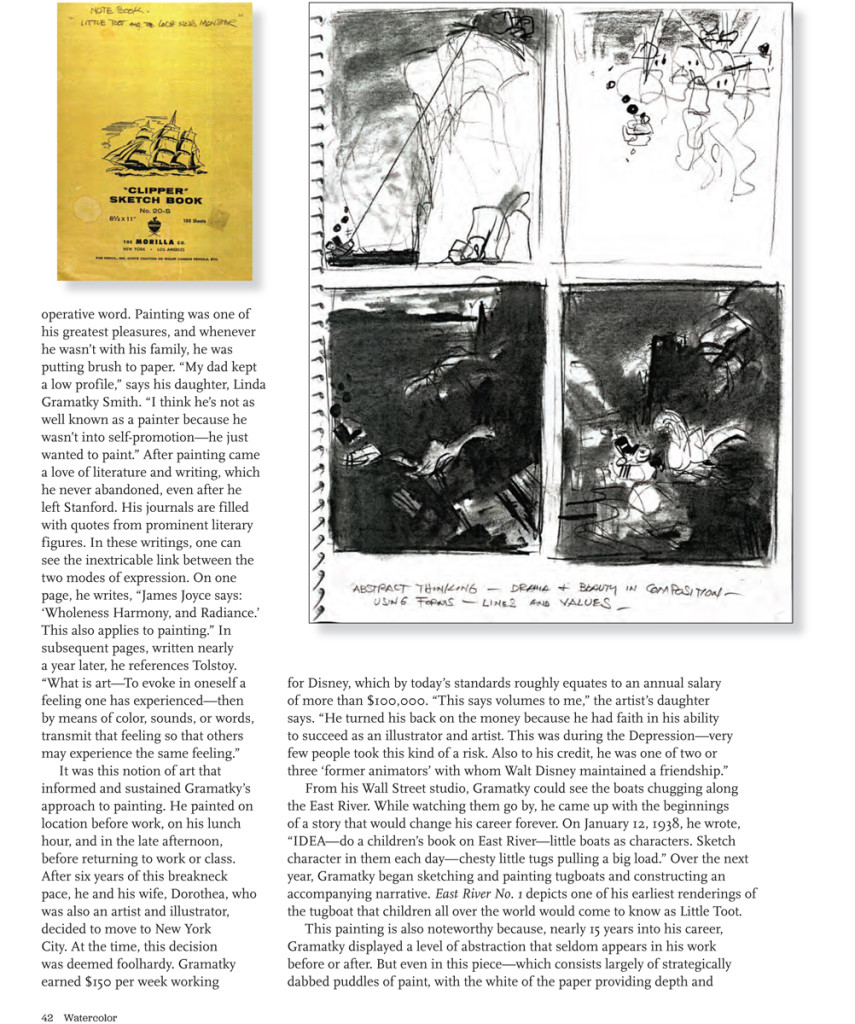 5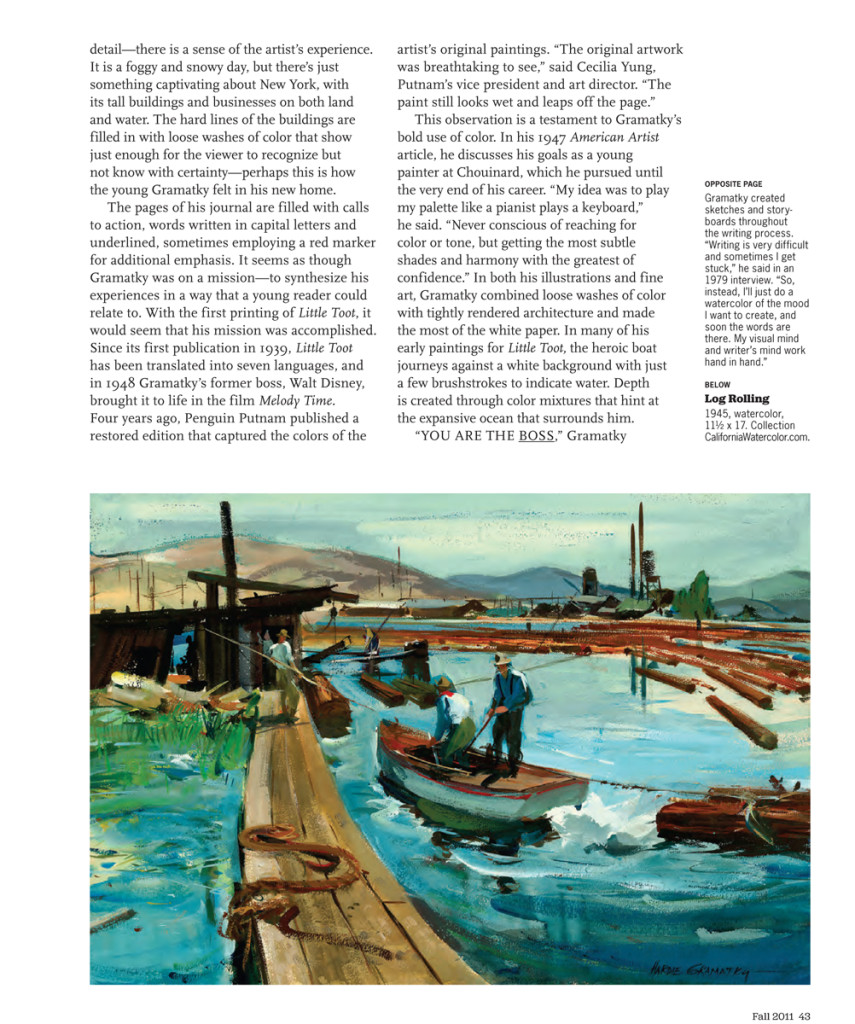 6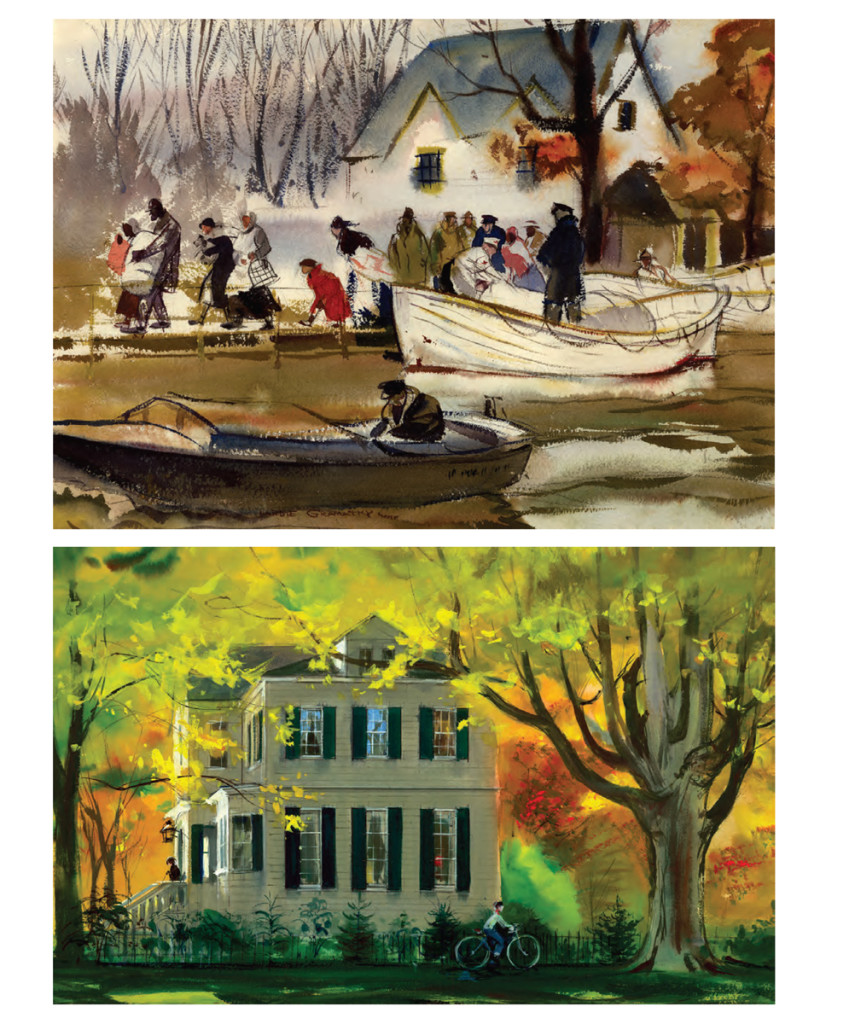 7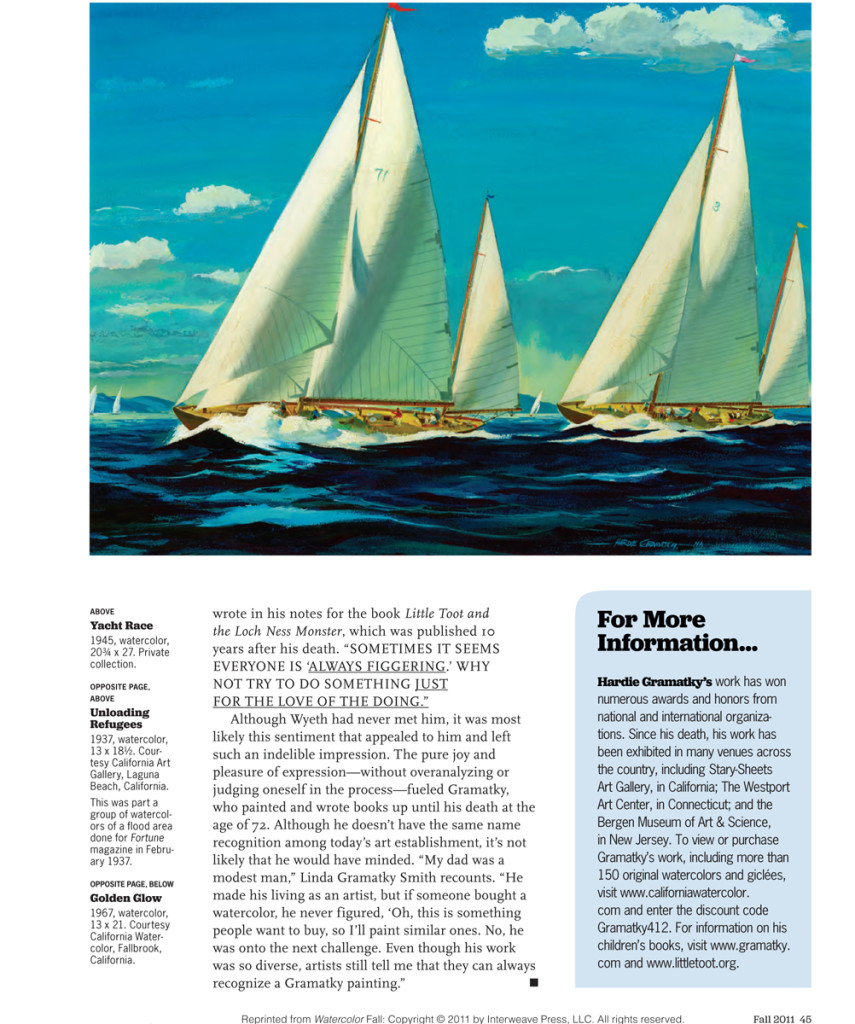 8
Bill Peckmann also included clips from this Society of Illustrators, Benefit Centennial Auction, which included the following pieces by Gramatky;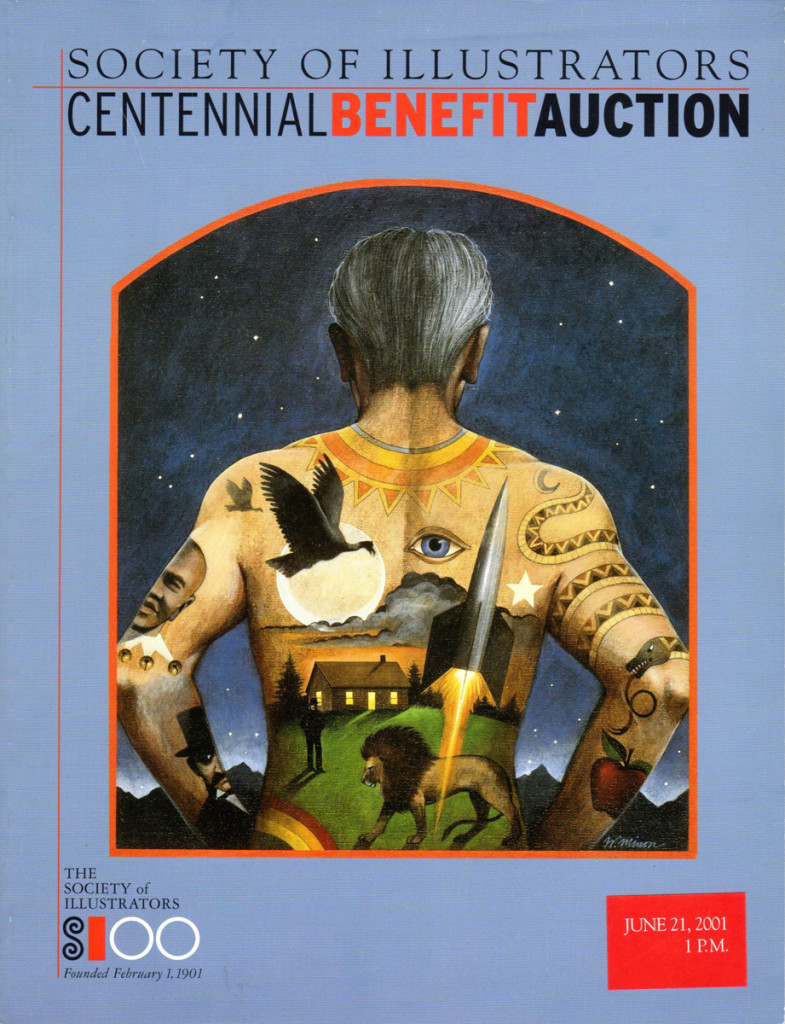 Magazine cover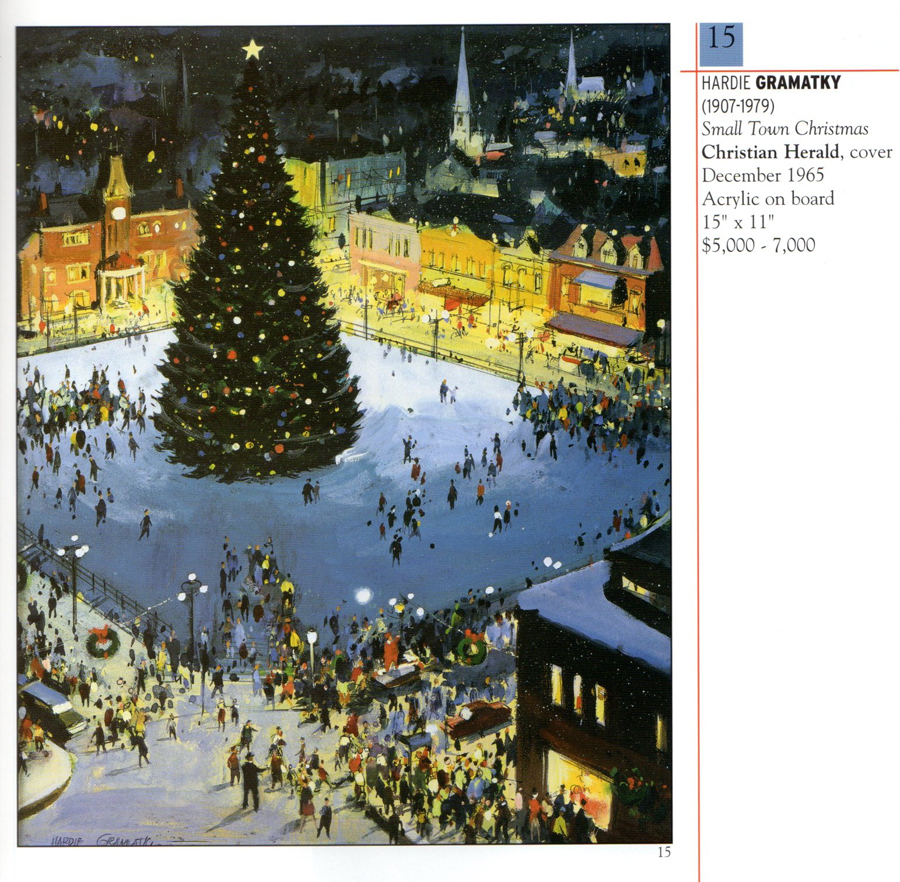 1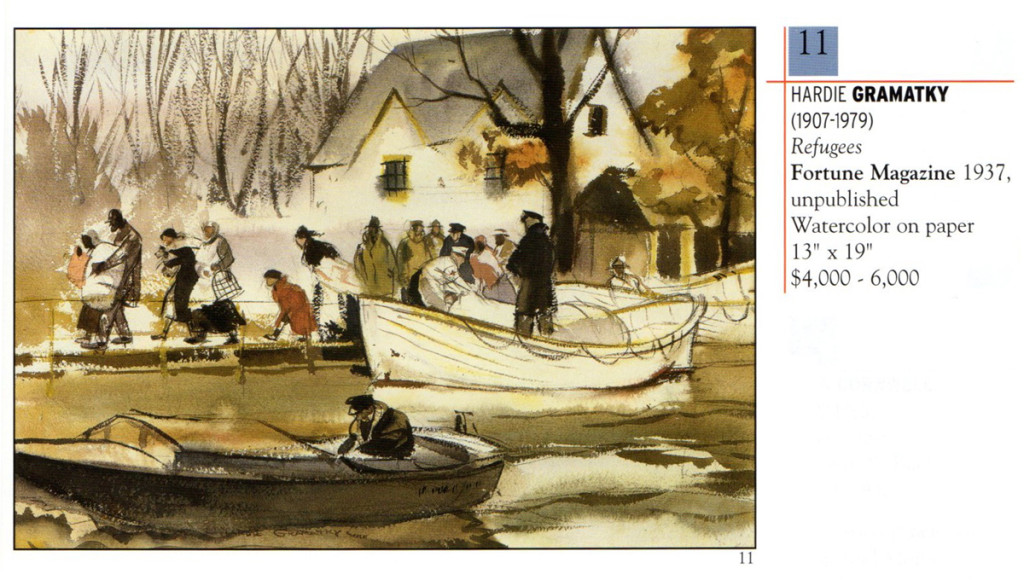 2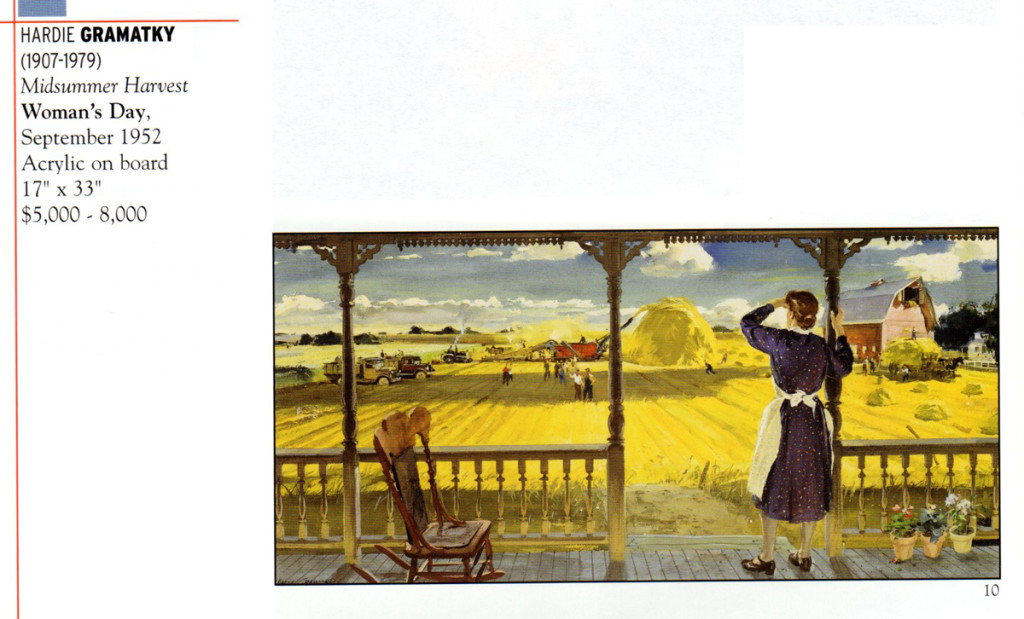 3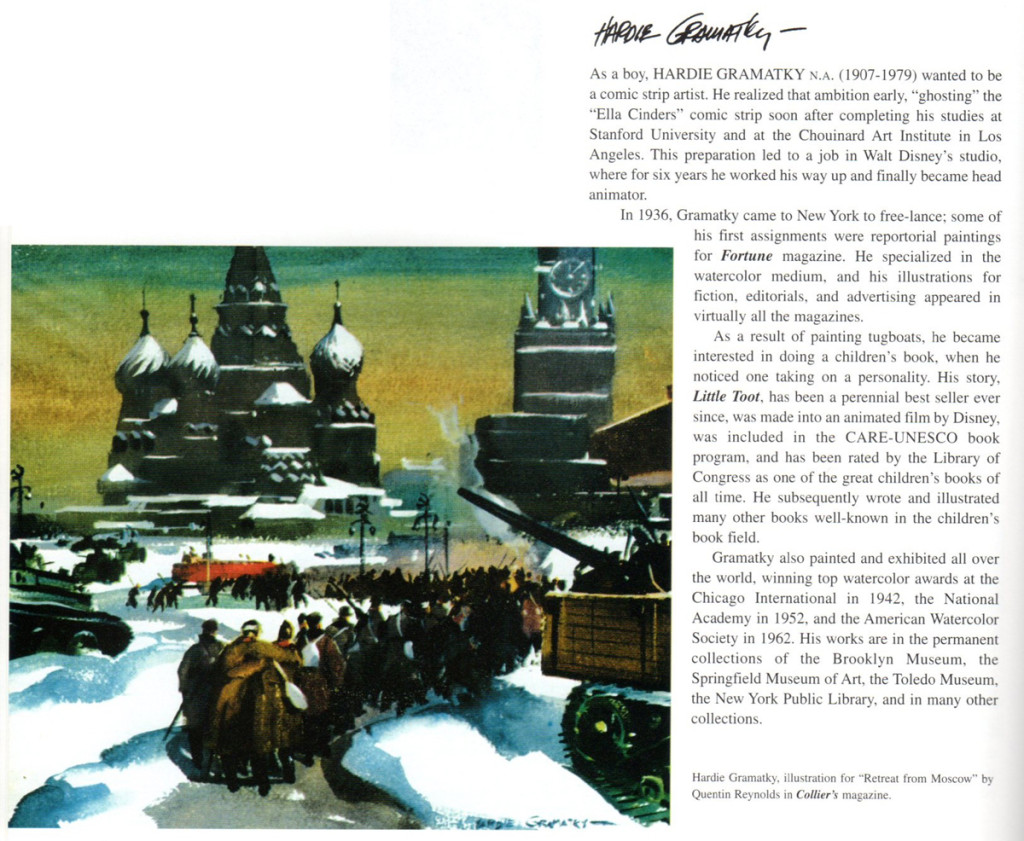 4

To get an idea of scenes Gramatky animated at Disney's here are links to some past drafts that I've posted:
Dognapper, The Whoopee Party, Mickey's Good Deed, The Robber Kitten
The children's book, Little Toot is large enough that it has its own website.
Articles on Animation &Books &Commentary 18 Feb 2013 04:59 am
The deeper you go, the deeper you go.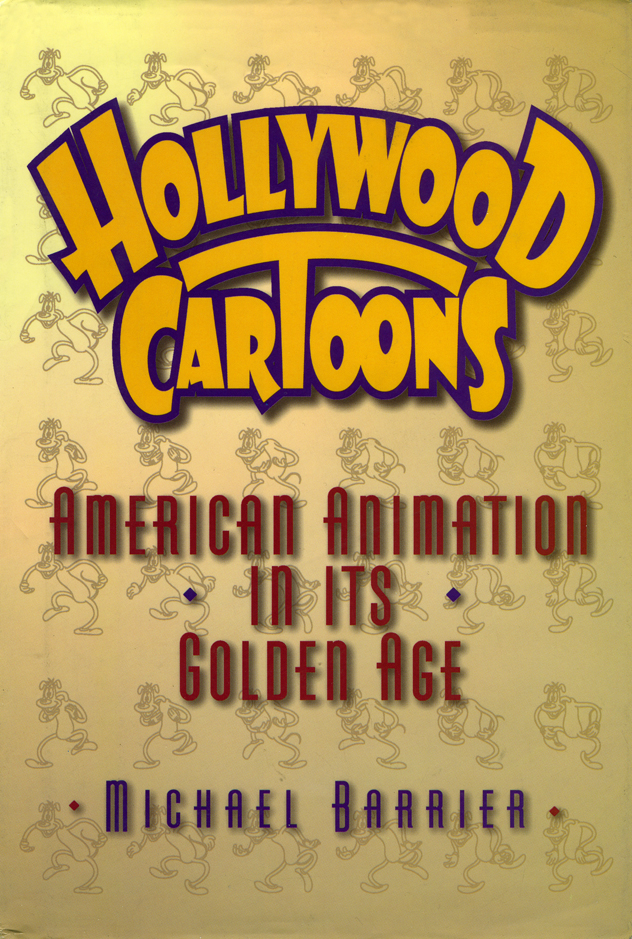 In reviewing the two J.B. Kaufman books on Snow White and the Seven Dwarfs, I found them impeccable in their attempt to reconstruct the making of this incredibly important movie. They followed a strict pattern of analyzing the film in a linear fashion going from scene one to the end.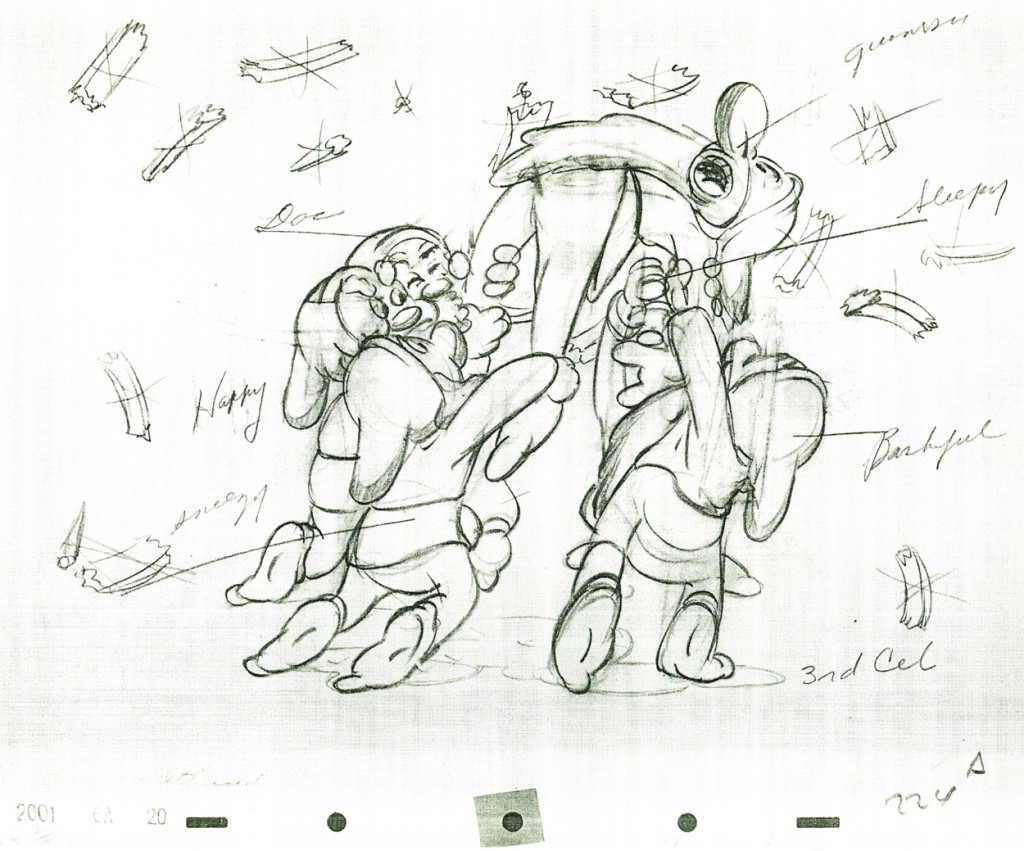 However, the analysis Kaufman offered brought me back to the bible, Mike Barrier's Hollywood Cartoons. Rereading his chapter on Snow White, you realize how much depth he offers in a far shorter amount of space. Of course, there are few illustrations in Barrier's book, but what writing is there is golden. He meticulously analyzes the work of different animators using a very strict code of principles. If you can agree with him, the book he's written opens up enormously.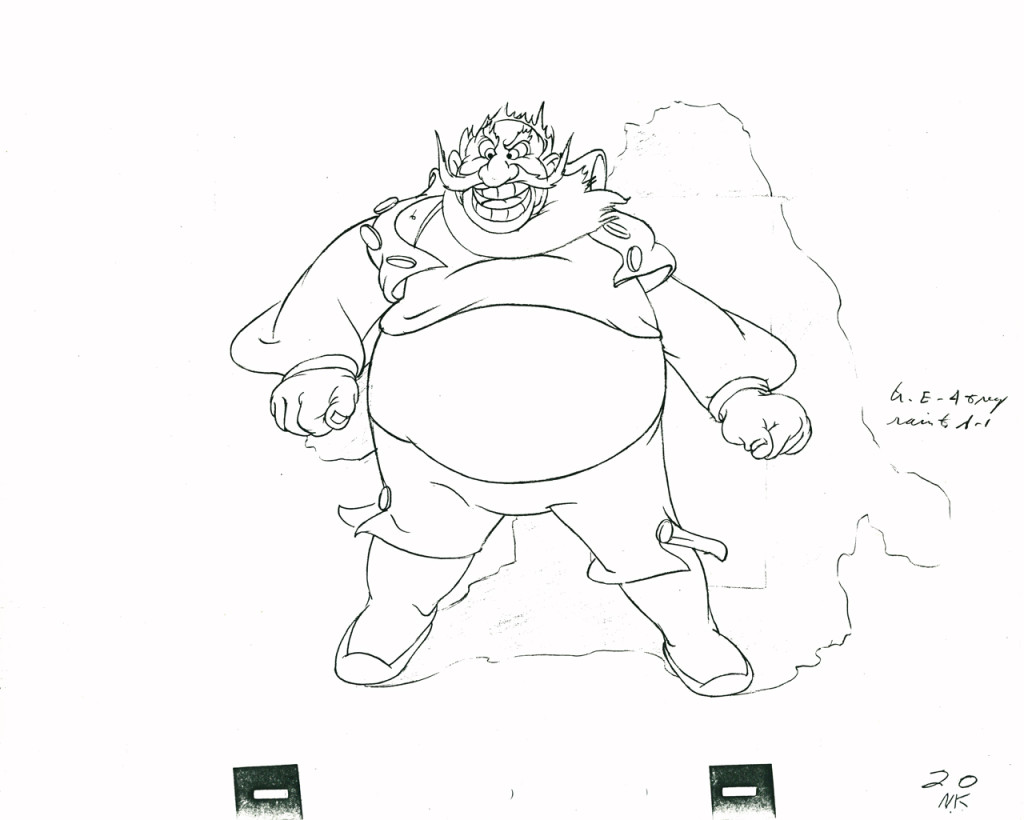 Once you get to the chapter, post-Snow White, which catalogues the making of Pinocchio, Fantasia, Bambi and Dumbo you are in the deep water. Mike pointedly criticizes some of the greatest animation ever done. His analysis of Bill Tytla's Stromboli is ruthless. Though I am an enormous fan of this animation, I cannot say I disagree with what he has to say. Though I think differently of the animation.
Here's a long excerpt from this chapter:
No animator suffered more in this changing environment than Tytla. His expertise is everywhere evident in his animation of Stromboli—in the sense of Stromboli's weight and in his highly mobile face—but however plausible Stromboli is as a flesh-and-blood creature, there is in him no cartoon acting on the order of what Tytla contributed to the dwarfs. At Pinocchio's Hollywood premiere, Frank Thomas said, W. C. Fields sat behind him, "and when Stromboli came on he muttered to whoever was with him, 'he moves too much, moves too much.'" Fields was right-although not for the reason Thomas advanced, that Stromboli "was too big and too powerful."
In the bare writing of his scenes, Stromboli, more than any of the film's other villains, deals with Pinocchio as if he were, indeed, a wooden puppet—suited to perform in a puppet show, and perhaps to feed a fire—rather than a little boy. But the chilling coldness implicit in the writing for Stromboli finds no echo in the Dutch actor Charles Judels's voice for the character. Judels': Stromboli speaks patronizingly to Pinocchio, as he would to a gullible child, and his threat to use Pinocchio as firewood sounds like a bully's bluster. As Tytla strained to bring this poorly conceived character to life, he lost the balance between feeling and expression. The Stromboli who emerges in Tytla's animation is too vehement, "moves too much"; his passion has no roots, and so he is not convincing as a menace to Pinocchio, except in the crudest physical sense. There is nothing in Stromboli of what could have made him truly terrifying: a calm dismissal of Pinocchio as, after all, no more than an object.
To some extent, Tytla may have been overcompensating for live action that even Ham Luske acknowledged was "underacted." But Luske defended the use of live action for Stromboli by arguing that it had kept Tytla on a leash: "If he had been sitting at his board animating, without any live action to study, he might have done too many things."
I agree, as Barrier says, that Stromboli is a flawed character, and I agree that the movement is broad and overstated. However, I think that this was Tytlas's only possible entrance into the material, into trying to further the characterization. No, it could not be as deep as the work he'd done on Grumpy in Snow White, but the character of Stromboli isn't as small as that name, "Grumpy". A lot more was offered and had to be circled to simplify as best as possible for the small amount of screen time he would have in Pinocchio. And, yes, he comes off like a blowhard with a lot of bluster. But that's not the way Pinocchio sees him. Pinocchio is made of wood, as Stromboli reminds us, but he is also an innocent, a child learning about the world.
Barrier's chapter, as I said, moves quickly through this material covering four of the greatest Disney films; no, four of the greatest animated features ever done. In relatively few pages you feel as though he's gotten it all in there and has even said more in depth than almost any historian about this period of Disney animation. I've read this chapter at least a dozen times, and it continues to grow richer for me. I think it's possible the greatest piece ever written about animation.
Barrier's writing, vocabulary, choice of phrase is all charged to keep the material tight. He's writing a large book, and he has to get a lot in.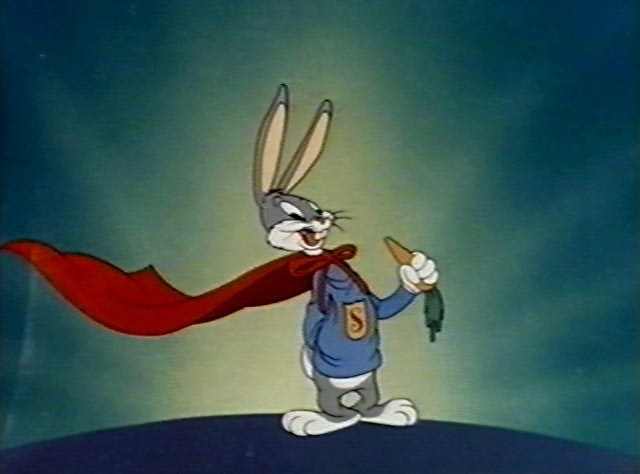 Perhaps some day he will have one of those big picture books to write where he will have the freedom to expound on the material. I did once read such a book. Mike Barrier had been employed to write a history of the Warner Bros. studio, and I got to read the first draft of the manuscript. I had a couple of hours and sat in a chair, thumbing pages. The images that were to be in the book were on large chromes. It was all an extraordinary experience for me, and I remember it somewhat hazily, as if remembering a golden afternoon. Of course that book was cancelled when management changed hands, and the world lost a great book.
Can there be any wonder that I go to the Barrier website daily, knowing full well that it's often months between posts? I just keep looking for new material from him, and will continue my daily routine hoping for the small brightly colored package on his site. It's almost important for there not to be frequent posts or the new ones wouldn't always shine as well. However, two or three times a year, there is something rich there, and my search has brought the golden fish. (Yes, I'm exaggerating somewhat like Tytla did in his animation of Stromboli. But the point gets made.)
Even if there's nothing new there, there's plenty old. Many old Funnyworld articles or interviews done with Milt Gray. It's a deep site full of deep writing.
Articles on Animation &Books &Chuck Jones &Independent Animation 15 Dec 2012 07:18 am
- Turn around, and it's the weekend again. I guess that's a good thing. But Christmas seems to be coming so quickly these days. It was only yesterday that I was complaining that they were pushing Christmas on us so soon after Thanksgiving. Christmas carols when we had hardly finished eating the turkey! Maybe they were right.
As we get closer to Christmas there are fewer and fewer Academy events. Things were mellowing out already this past week. I was so happy to not have had a dinner or a lunch or a screening to attend last Sunday. I stayed home and was quiet while the weather, outside, was pretty lousy. One of those days where the rain is light enough that you feel stupid opening an umbrella, but the wind and the temperature made it so bitter out that it was great to be indoors – anywhere.

_____________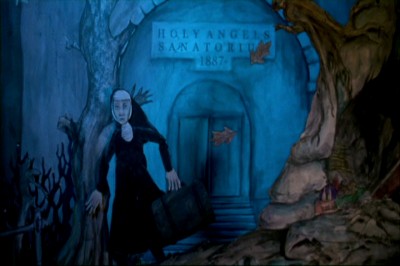 On Monday, I'd picked up a DVD for the animated feature, Consuming Spirits, at the Film Forum theater. The film should be seen on a big screen. It was shot in 16mm and looked pretty darn good in DVD. The story is complex, so I'm sure watching it focused in a theater would be better for the film. However, I loved it, just the same, and my review in the Splog on Tuesday was a foreshadowing of some of the reviews that appeared in the NY papers on Wednesday when it officially opened. This movie will be playing through Christmas Day; treat yourself.
It's very positive that A.O.Scott in the NYTimes chose his top ten flms of the year. As usual he adds another five or six which he call his "honorable mention" list of films that came close to being in his top ten. Consuming Spirits was one of these "honorable mention" movies that take on a nice prominence.Mind you that I don't always agree with Mr.Scott (e.g. my favorite movie of the year is not to be found on his list), but I do take pleasure when I see such a deserving, small film get the attention it deserves.
Read A.O. Scott's review for the NYTimes here.
Read the 3 star review by Farran Smith Nehme for the NYPOST here.

_____________
On Tuesday there was a luncheon at the Four Seasons for Les Misérables. Some of the cast – Anne Hathaway, Hugh Jackman, Eddie Redmayne, Amanda Seyfried and Samantha Barks were all there. We entered a different room this time; this one had a piano bar playing. Uh oh.
During the meal, director Tom Hooper announced that, even though they'd had a late night the night before – there was a lot of drinking, I guess, at the premiere – the cast was itching to sing for us. Samantha Banke, who did a lot of musical theater in England,sang "Summertimne". This was an odd choice given the temperature outside, but she did a great job. Hugh Jackman then sang a song to his wife which was a love letter to her. Anne Hathaway followed singing a Christmas carol with Eddie Redmayne, Amanda Seyfried and Hugh Jackman doing backup. Coffee was served and the lunch ended quickly. Tom Hooper didn't even recite a poem, but he did take photos of the crowd with his cel phone.

_____________
On Thursday I went to an Academy screening of The Hobbit. If it resembled any of the Lord of the Rings movies (with endless battles going on among millions of computerized creatures) I was prepared to walk out. The film felt as though it had been written by one of those geeks you meet at Comic Con. Completely amateurish dialogue with cliché following cliché while all this good stuff passed on screen visually. The near-three hour length was exhausting. The score is great and Ian McKellan is a blessing.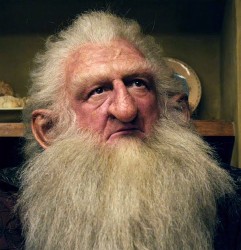 The film was shot at 48 frs per sec (and projected back at the same rate) which created a sharper more defined focus, closer in look to hi def video than film. There was one character, covered in hair, who I found extraordinary to watch without my 3D glasses. The focus on his skin was amazing, and I spent a lot of the first hour searching for shots of him without my glasses on. I later learned the character's name, Balin. I hate to say it, but that was really the height of the film for me.
I also have to agree that the animation of the gollum was quite amazing. Not as good as the tiger in Pi, but worth the cost of admission for an animator. If Andy Serkis has anything to do with it, I applaud him.

_____________
On Friday night I followed up an ad in Variety that indicated a screening in town of the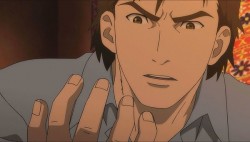 Japanese animated feature, The Mystical Laws, was showing for Academy members. In the end, I couldn't go; work finally got in the way.
I still want to see Goro Myazaki's film From Up on Poppy Hill. I know that Bill Plympton hated it, but he and I often disagree on movies. The film won the Japanese equivalent of the Oscar, and it did enormously well in Japan. Somebody liked it; there's got to be something good there. I'm going to keep my eyes open for it; usually GKids ' distributing it means there will be a chance of its eventually playing.

_____________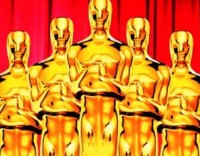 Today, Saturday, the Academy has its screening of animated and live action shorts. The short-list (ten animated and ten live-action) will screen so we can narrow the selection down to five films for each category. I can select the animated films from my home since I saw them all and remember the ones
I like. However, I haven't seen the live action shorts and want to vote for them. So we start with animated films at 10am, live-action at noon, and we continue through till about four or five. There's a lunch at 1pm. A long day of movies. Looking forward to it.

_____________
To add a bit of punch to this post, I'm placing an article Chuck Jones wrote in 1965 for an ASIFA International bulletin just prior to one of the early Annecy Animation Festivals.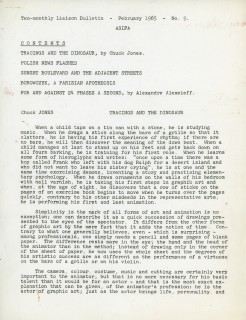 1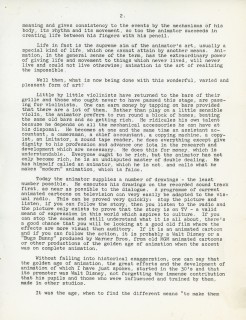 2
(Click any image to enlarge.)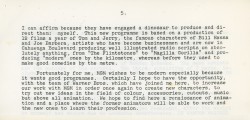 5
Animation &Articles on Animation &Books &commercial animation &Illustration 03 Dec 2012 07:55 am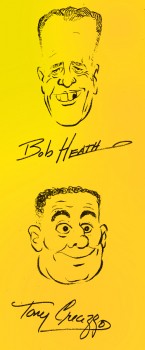 - Back in the days when animation books were a rarity and actual lessons in books were few and far between, there were Heath Books and equipment. This was a company, if I can remember correctly, which was situated in Florida. They had several books for sale, the most well known was "Animation In Twelve Hard Lessons". It was spiral bound book and over-sized like the Preston Blair book, it contained detailed instruction on the mechanics of animation.
Bob Heath, I believe, was a former cameraman in animation, and his partner in writing was Tony Creazzo, a former Assistant Animator. If I remember correctly, he was closely aligned with Vinnie Bell in New York. The two were always connected; if you wanted Vinnie to animate, you also hired Tony to assist.
Well, not only did Bob Heath sell How-to books on animation, but he also sold equipment. Paper, pencils, hole punches, even an Oxberry Jr. camera stand could be bought from the company. They had an original design of a light box for sale. Lots of things that could help you set up in the animation business if you had no idea who "Cartoon Colour" was.
I've decidded to post this relic of a book, Here in the first chapter is Bob Heath's "How to Animate in 12 Hard Lessons."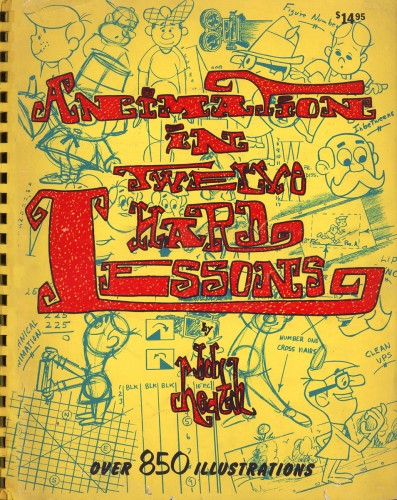 Front Cover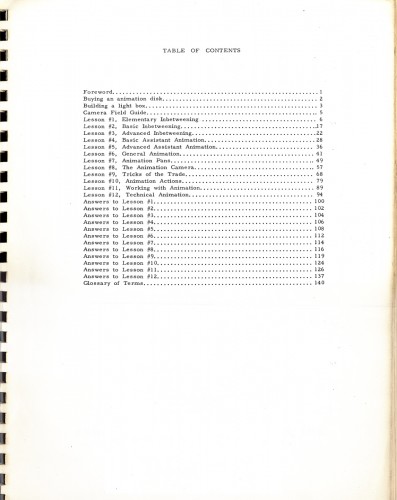 1
Chapter Index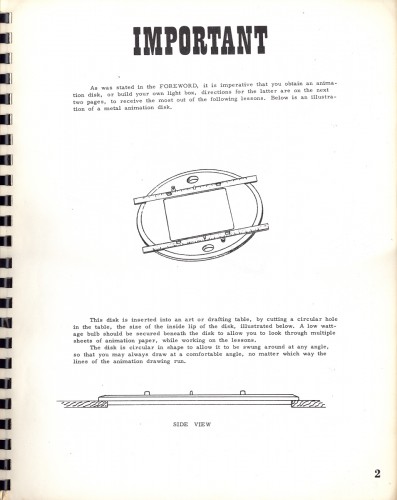 2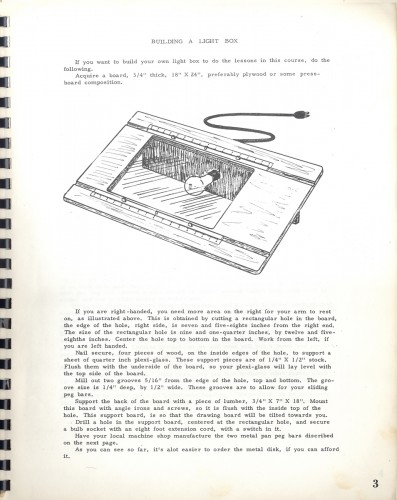 3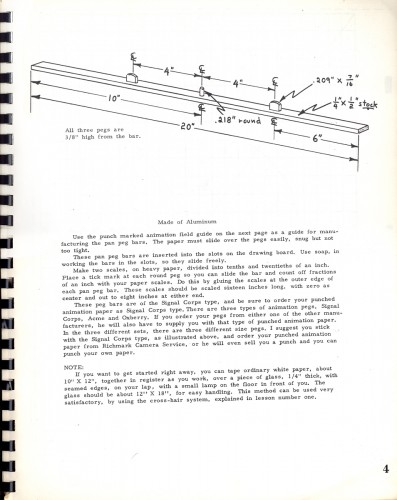 4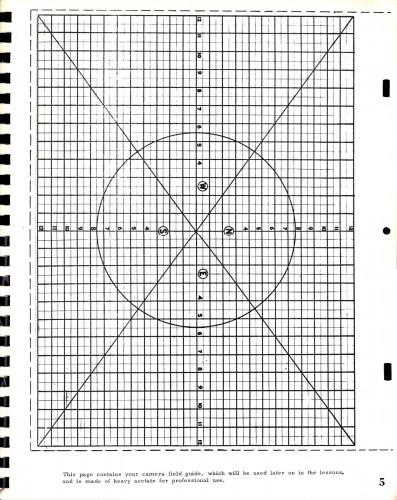 5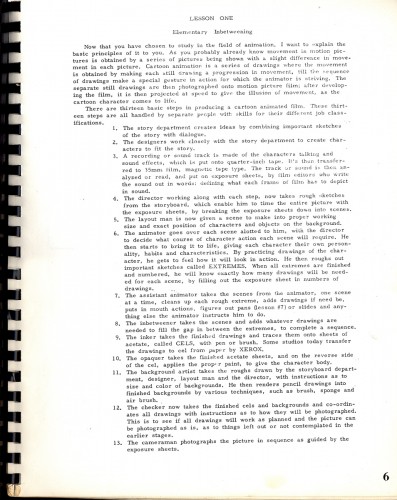 6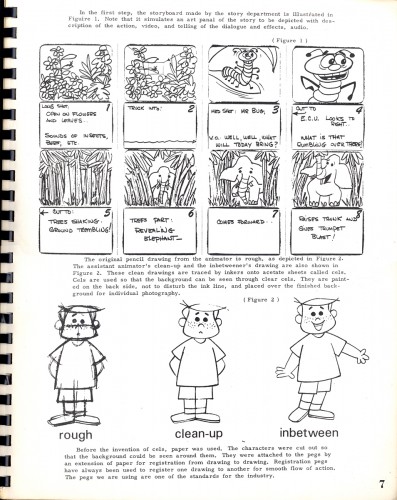 7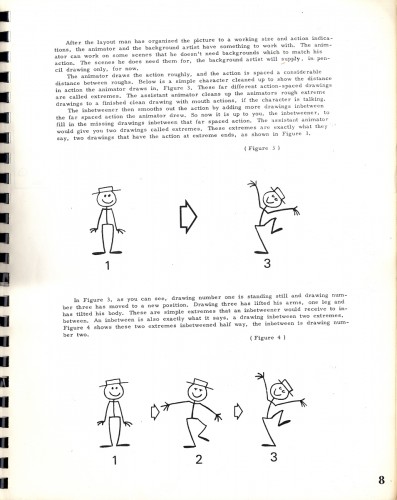 8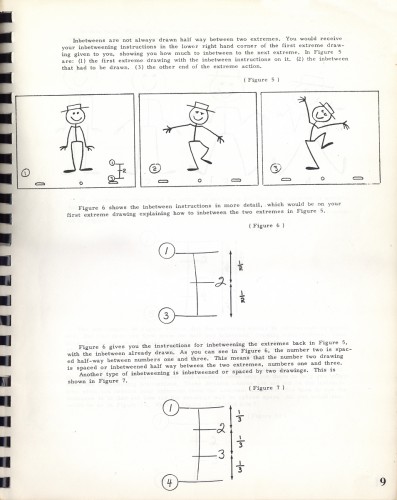 9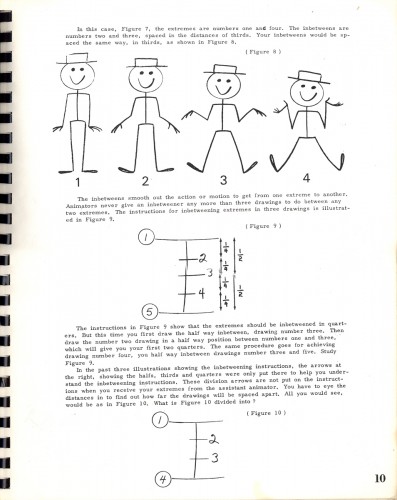 10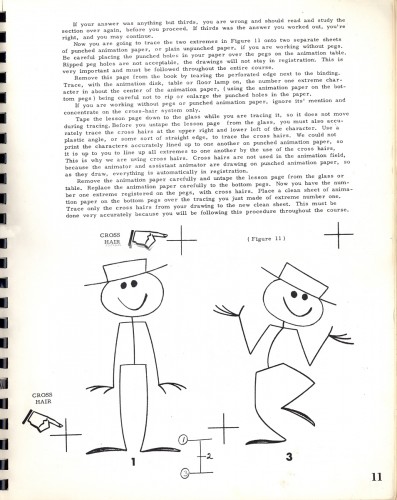 11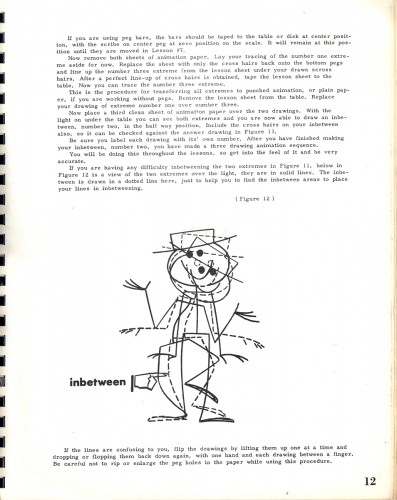 12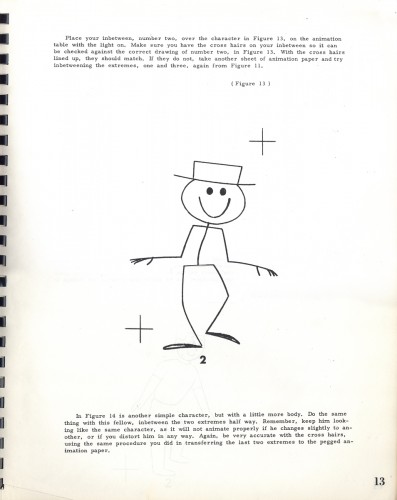 13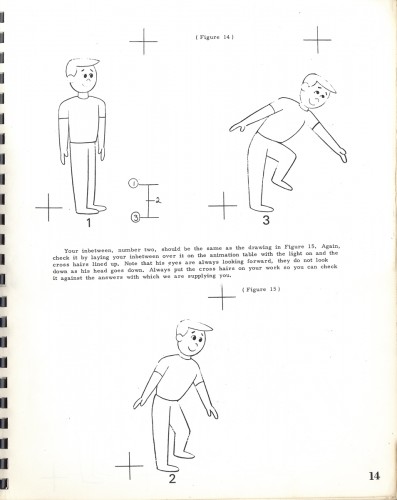 14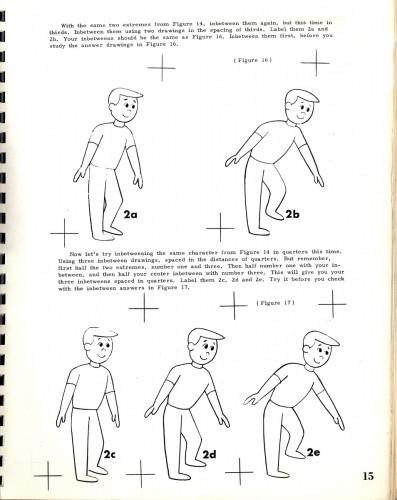 15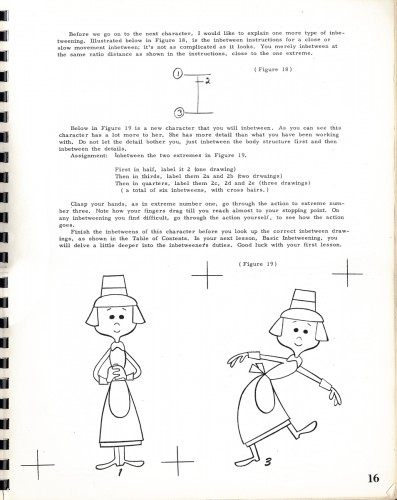 16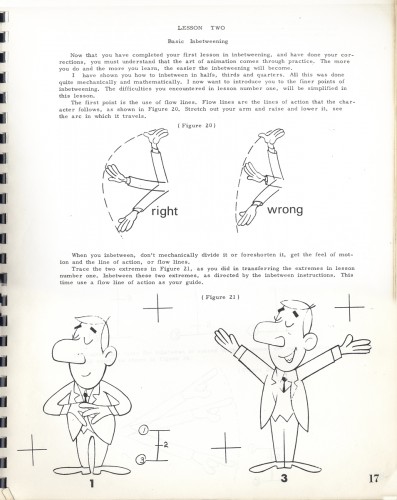 17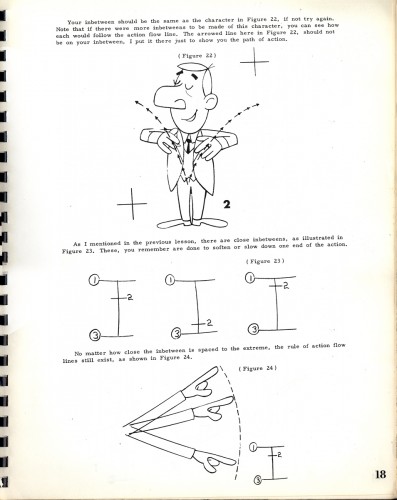 18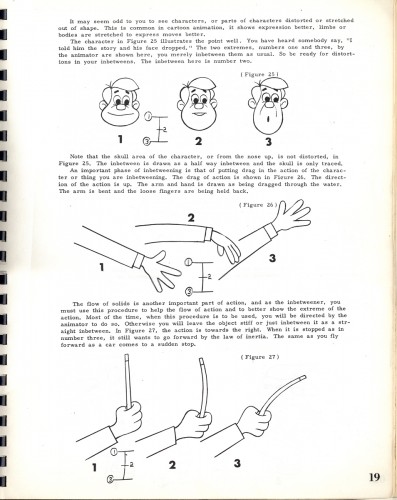 19
Animation Artifacts &Articles on Animation &Independent Animation &Tissa David 22 Nov 2012 07:15 am
Happy Thanksgiving
_____________________________
- For the past few Thursdays, I've been posting a notebook that animator, Eugene Salandra compiled. These were notes he'd taken of classes taught by Tissa David in New York during the late 1990s. These notes and the notebook, itself, were completed with last Thursday's post.
However, Eugene did one better. He reviewed the notes, typed them into a presentable form and revised them for the sake of clarity. Looking at these encapsulated and abbrieviated version of the noteboo, I feel it'd be remiss not to post them as well as the rough version that we'd already posted. So, thanks to Eugene's generosity, here is a labor of love he put together. We'll all benefit from them.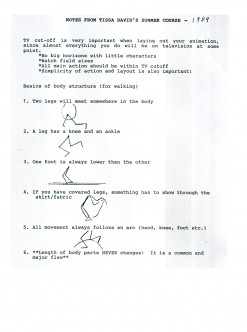 1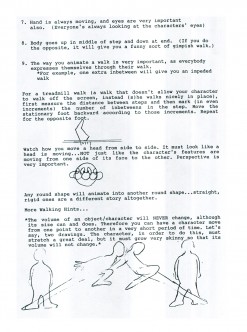 2
You can see the earlier parts by going to these links:
_______________part 1, part 2, part 3. part 4, and part 5, and finally, part 6.