Daily post &Hubley 31 May 2008 08:32 am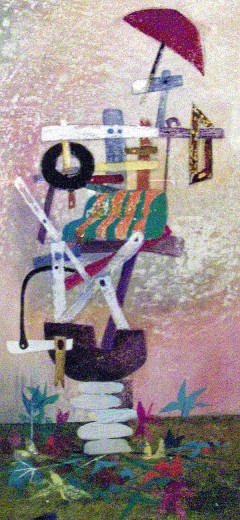 - On Monday, the Museum of Modern Art will continue its series of Jazz on Film (Jazz Score)with their first all animation program. This is a program of classic Hubley shorts. which feature jazz by such classic composers/musicians as Dizzy Gillespie, Quincy Jones, Benny Carter and others.
The program will be presented by Emily Hubley, Benny Carter's biographer Ed Berger, and Benny's widow Hilma.
The highlight of the program are MoMA's newly and beautifully preserved prints of Adventures of an * and The Tender Game. Having seen the print of Adventures of an *, I can tell you it's a treat. I saw the film originally projected back in 1963 when it was just seven years old, and this version is significantly better. I don't think I've ever seen Tender Game in a good copy in all the many times I've seen it, so this is what my Monday will be about.
The show will start at 6:30pm in Theater 1 (The Roy and Niuta Titus Theater 1). It'll run 100 mins.
Come to the theater a bit early and take a look at the exhibition in the lobby outside the theater. There's an enormous amount of art beautifully displayed for you to see. It's a treat, believe me. (I wrote about the opening of this exhibit and posted photos here.)
This is not the end of the animation in Jazz Score. These and other shorts will be screened with feature films:
Carmen D'Avino's Pianissimo – screening on June 5 and 9
John Canemaker's Bridgehampton – screening on July 2 and 5
Zbigniew Rybczynski's Plamuz (Music Art) – screening on August 7 and 9
Adam Beckett's Sausage City – screening in September
Pierre Hebert's Population Explosion – screening in September
You can check MOMA's calendar to find out exact times.
_________
_
- There are two sites I'd like to point out – again.
- I have to say that I'm just loving Mark Mayerson's breakdown of 101 Dalmatians. He has a lot of informed commentary to offer about the film giving some real statements about this excellent Disney feature. If you're not watching this site regularly, get to it.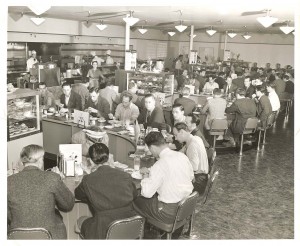 You should also check out Mark's post of the FMPU Motion Picture Unit. Wow!
- Then, we also have to promote, once more, the excellent site A Film LA, Hans Perk's blog. This is where the drafts for 101 Dalmatians orginally made it to the web, and there's plenty more there as well. The more you dig, the more you'll find. Where else could you find a photo of the Disney cafeteria shot in the 30′s? There's always a great surprise.
Animation Artifacts &Disney &Peet &repeated posts 30 May 2008 08:15 am
- John Canemaker has loaned me so many excellent pieces that I'm almost embarrassed at how quickly they've been eaten up by this blog. Many of them deserve as much attention as I can give.
Consequently, over the next few Fridays I'm going to re-post some of these gems. Let's start with the wizard's duel from Sword In The Stone. Here are some sketches Bill Peet did on yellow foolscap. I originally posted them in two days' worth of blogging, since it took a while to scan them all.
Here they are condensed into one: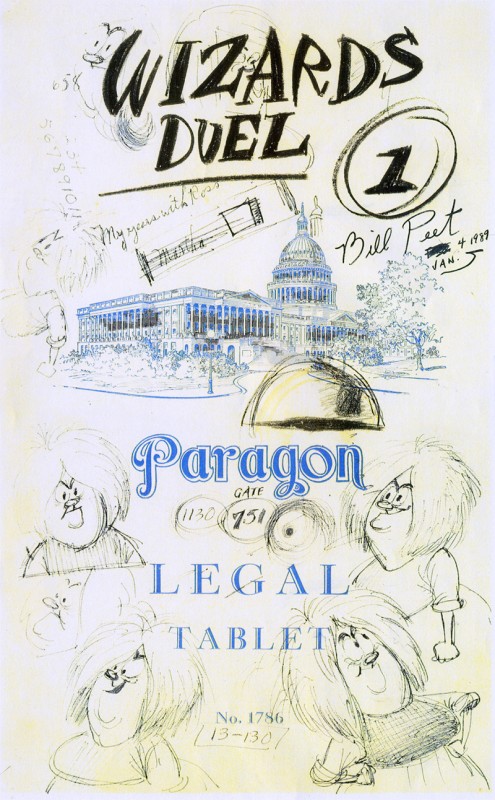 (Click on any image to enlarge.)
I love how Peet drew all over the cover (to the left) making his notes and sketches,
finally labelling the cover page. I think this is something we can all associate with, and
it helps to make the art less "Art" and more working drawings
to give the final film the life it has.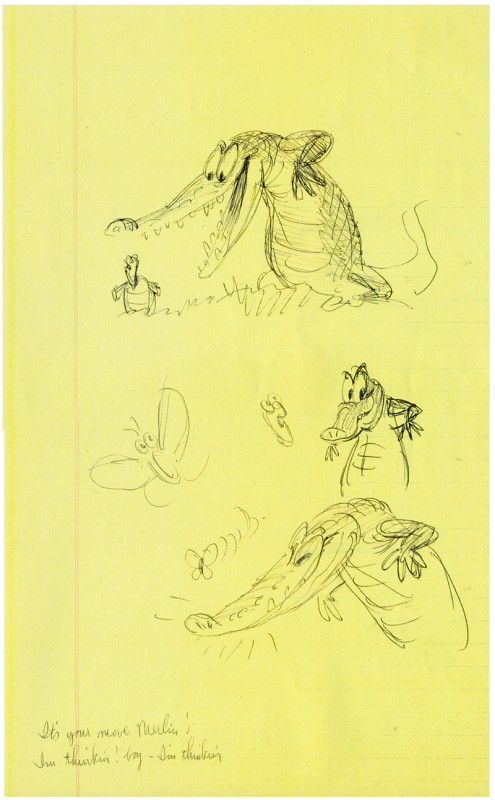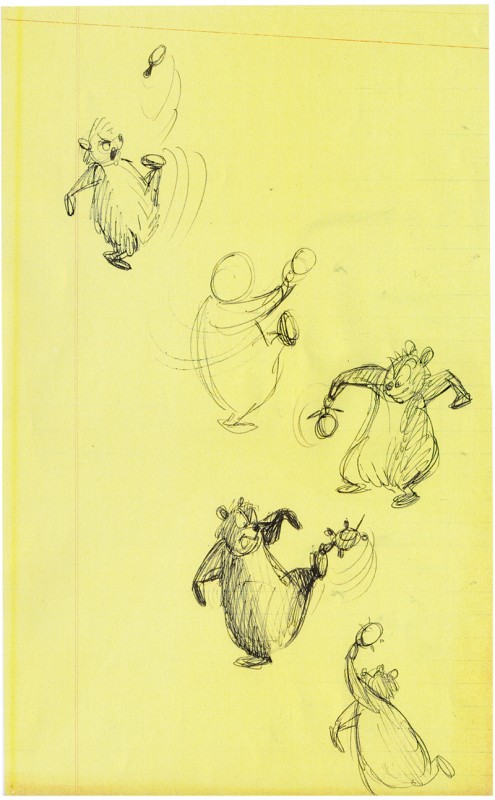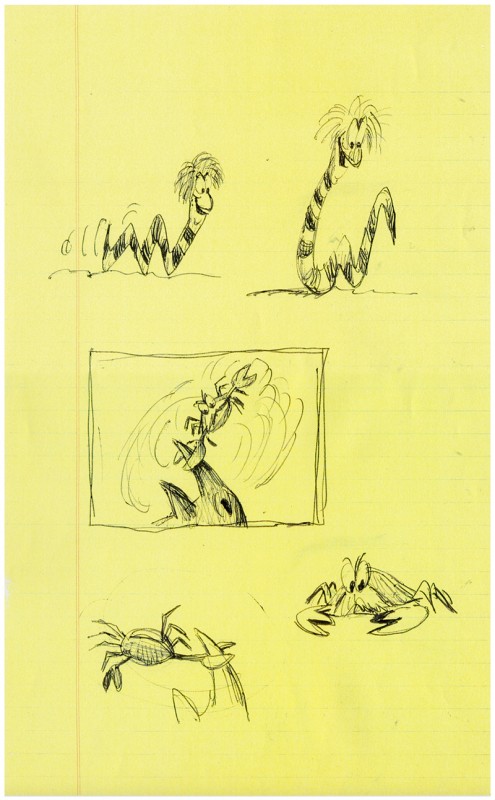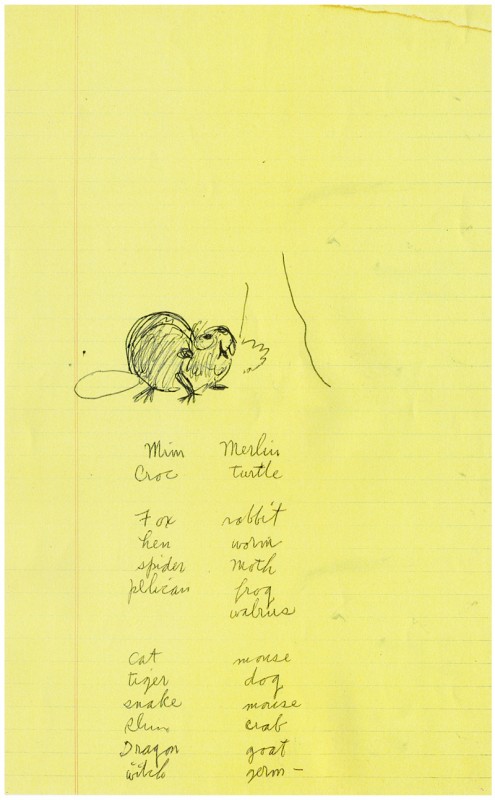 _____________________________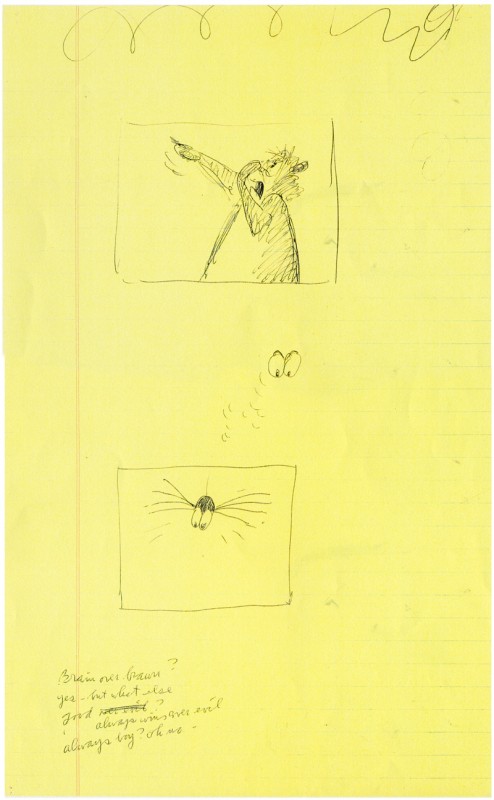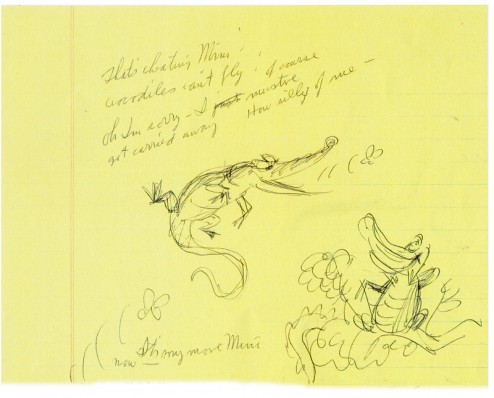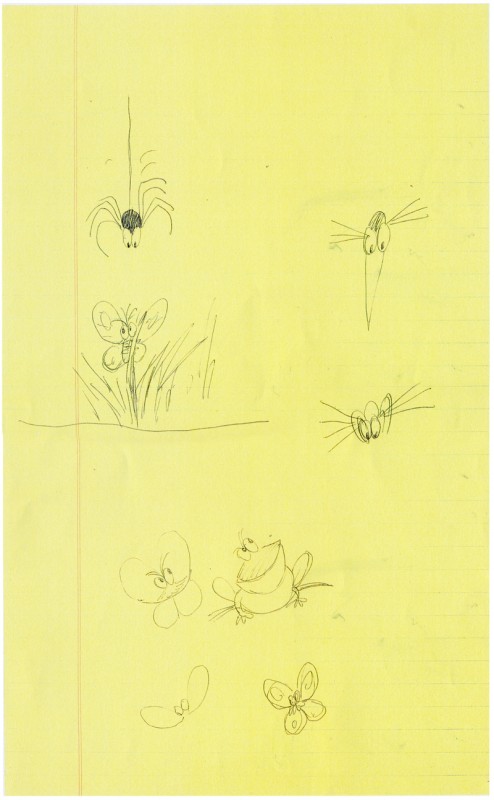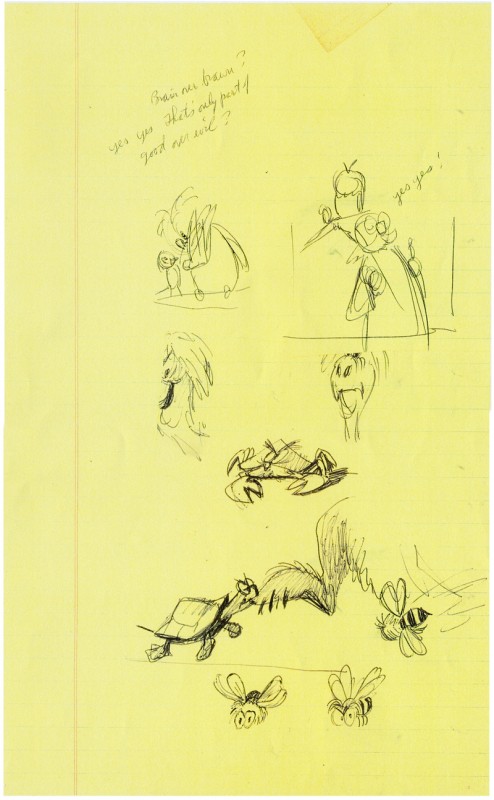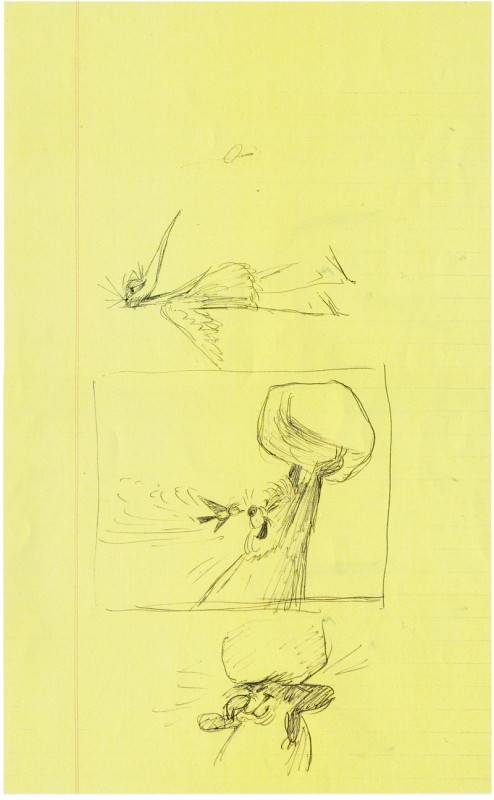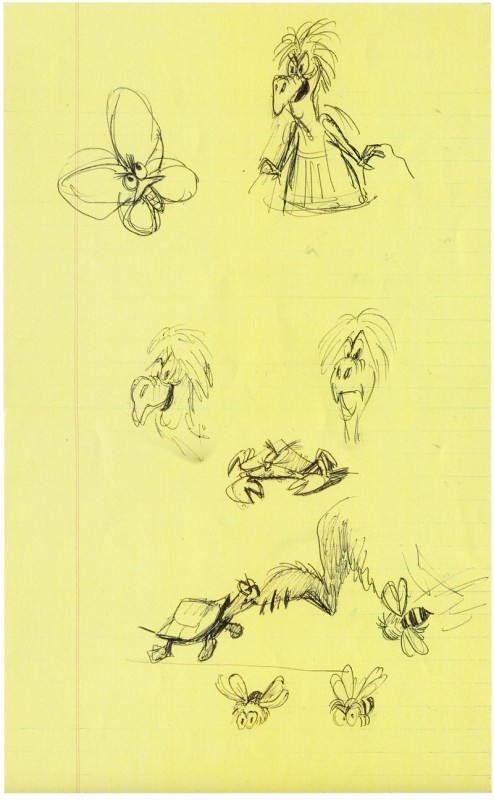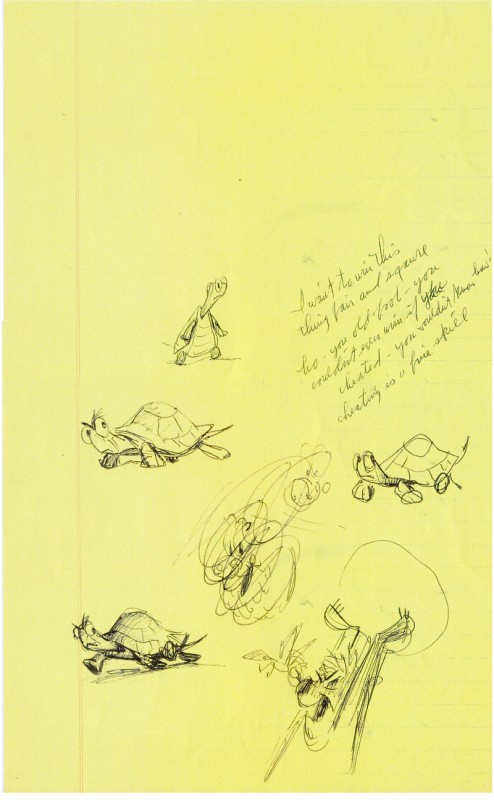 Animation &Tissa David 29 May 2008 08:53 am
- Continuing the post I offered last Tuesday, here's a display of some more of the artwork created for The Midsummer's Night Dream, directed and animated by Tissa David. The film features a live-action orchestra with Shakespeare's characters running wild over the footage. Eventually, the picture opens to an animated woods. It was photographed by Kalman Kozelka, color styled by Ida Kozelka-Mocsary, and Bg designs by Richard Fehsl.
The film aired on the BBC in 1983 and was released on VHS by Goodtimes Video.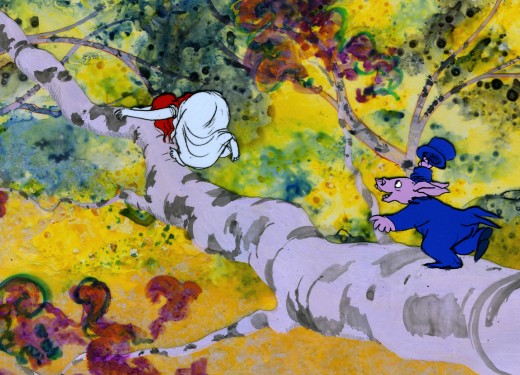 (click any image to enlarge.)
Bottom chases Titania in the woods.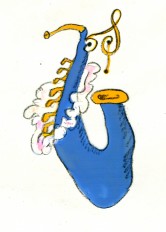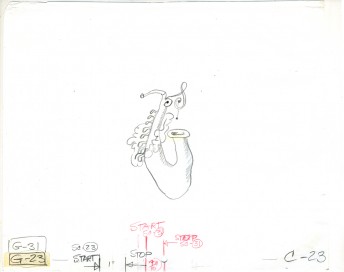 At one point the instruments of the orchestra take on an animated life of their own.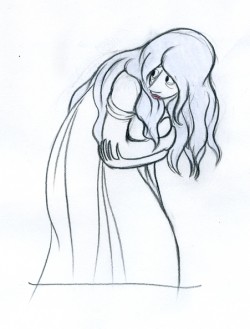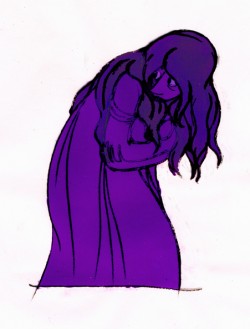 The dark coloring loses some of the emotional delicacy of the drawing,
but is appropriate within the context of the film.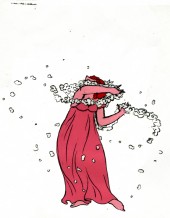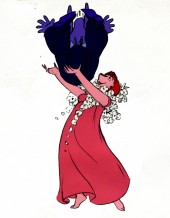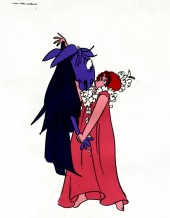 Titania catches Bottom in her arms.
Three cels from a sequence.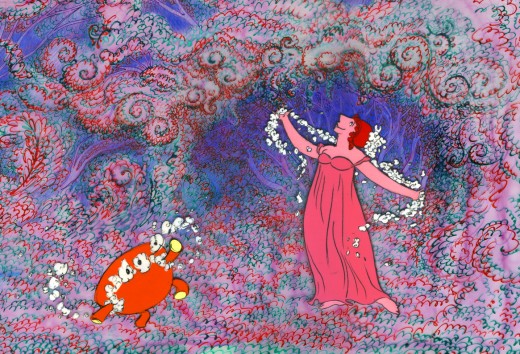 Titania dances with Bottom's stool. (He's brought it into the woods
when he transformed from the tympanist to the animated character.)
Animation &Animation Artifacts &Daily post &UPA 28 May 2008 08:09 am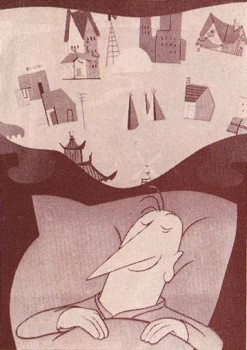 Tee Bosustow has been making podcasts of the many interviews he recorded for the documentary he has in progress. This is a history of the UPA studio. Slowly these interviews are appearing on his site.
You can hear Tee's interviews with the likes of Dave Hilberman, Barrie Nelson, Bill Melendez, Tissa David, Derek Lamb, Mark Kausler, Howard Beckerman and many others. Go here and pick your poison. More interviews are added weekly.
One he recorded with me has just gone up. I seem to speak at an enormous speed and giggle throughout. The recording was done as we'd just completed our film, The Man Who Walked Between the Towers. To hear it go here.
Tee is also selling, on this site, a good book edited by Amid Amidi, Inside UPA. If you're a fan, you have to search out a copy of the book. It's a beauty. The book is predominantly a collection of amazing photographs of the studio and artists of UPA in its heyday.
_____________
Just to fill out this post, here's a Grim Natwick drawing of Nellie Bly from Rooty Toot Toot (minus a face.) It seemed appropriate to match it with Tee Bosustow's site.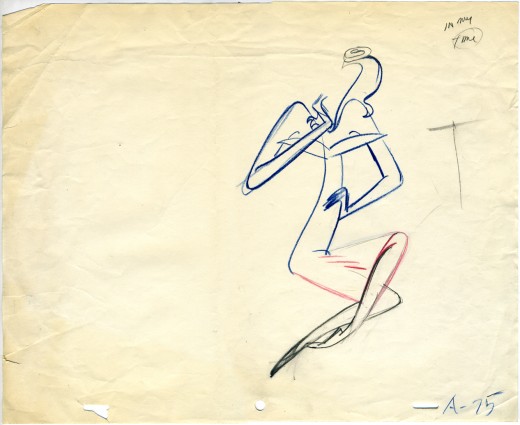 Animation &Animation Artifacts &Tissa David 27 May 2008 07:49 am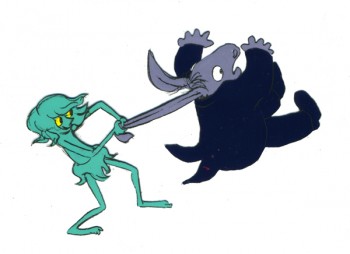 - From 1983-85, Tissa David teamed with three other friends in Holland to begin work on an animated version of Mendelssohn's Midsummer's Night Dream.
This film would introduce several animated characters from Shakespeare's play over a live action orchestral performance of Mendolssohn's music. These characters chased each other around the orchestra until, eventually, the animation took over, and the orchestra melted away. The tympanist, himself, melded into Bottom.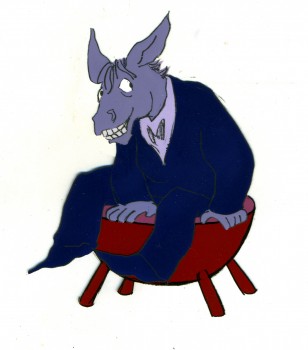 This film was completely animated by Tissa, including all inbetweens and layouts. She was the film's director, though in all the time she worked on this film, she never once described her role to me as such. She was just making a film she loved with several extraordinarily talented friends.
Kalman Kozelka was a brilliant cameraman who shot the entire film in a home built multiplane camera. It's unjust to call it simply photography, because every scene involved seven to ten exposures with mattes and special lighting. Half of the scenes combined live action with the animation, and all of the scenes involved multiple levels with back and front lighting.
Ida Kozelka-Mocsary, Kalman's wife, designed all the character coloring and colored all the cels . She worked closely in helping Kalman to prepare everything for the photography including mattes.
Richard Fehsl was the brilliant designer who colored and, in many cases, animated the Bg's. All of these Bg's were painted with dyes on frosted cels under rather delicate inking.
All four took story credit.
I have a good handful of the overlarge cels and artwork from the film. Here are a few of those cels along with a number of representative frame grabs from the film.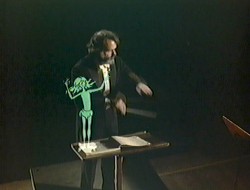 __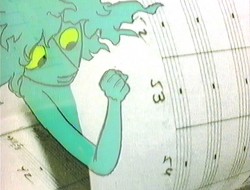 __________________(Click any image to enlarge.)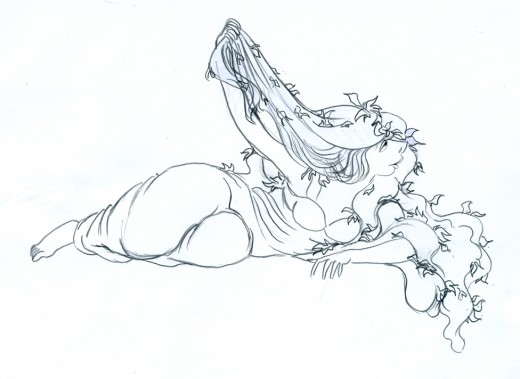 __________________Titania, the drawing and the cel.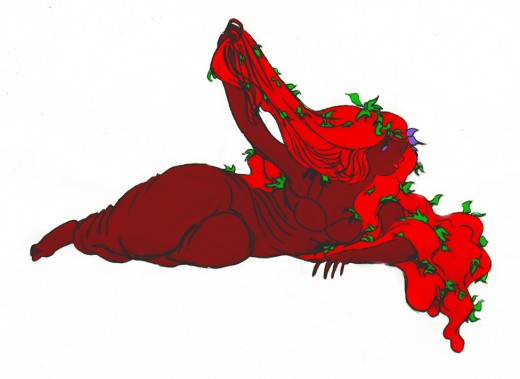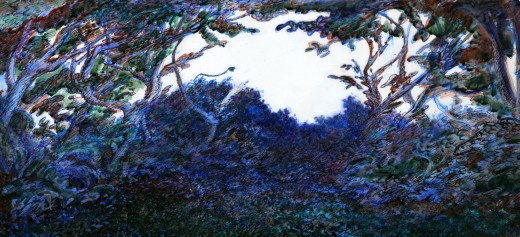 __________________Three of Richard Fehsl's Bg elements. These were back lit
__________________and front lit and combined with other Bg levels.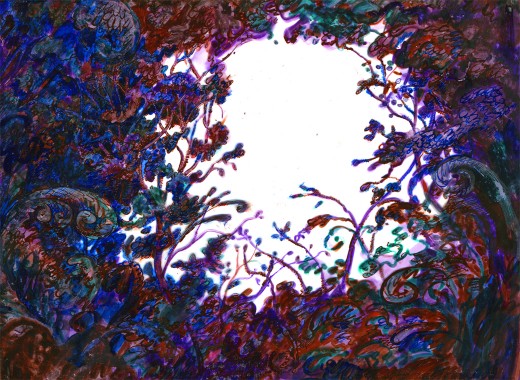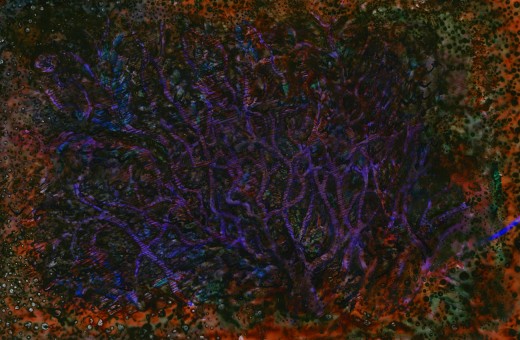 ___I have so much more art from this film, that there'll surely be more posts to come.
This video (vhs) can still be located – used copies – on Amazon here.
_
Animation Artifacts &Daily post 26 May 2008 09:40 am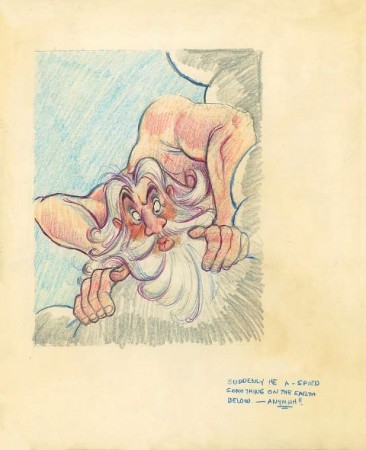 - After all the artwork from Fantasia that I posted in the past week or so, I received an email from Howard Penner. He had a beautiful sketch of Zeus looking down from the clouds.
Howard wondered whether it could have been drawn by James Bodrero, who did other storyboard sketches in a series I posted on loan from John Canemaker.
It looked somewhat different in style to me, so I asked John. He wasn't able to affirm that it was Bodrero's work, though he suggested it also might be by Martin Provenson or Jack Miller, both of whom also worked on this same sequence. It has more the cartoony look that I would expect from a Provenson drawing, so that's where I'm siding. Any other guesses?
Here are some closer scans: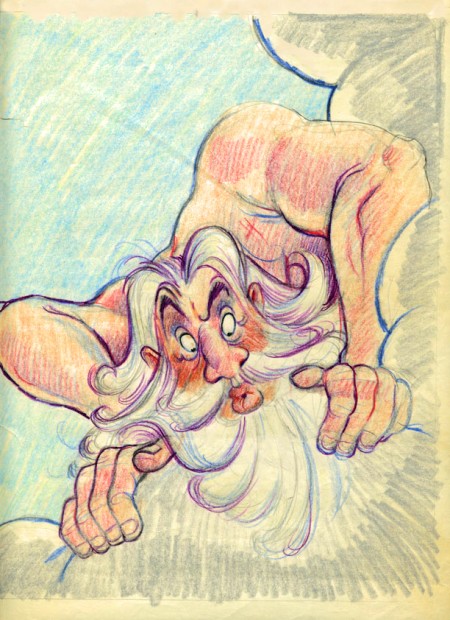 (Click any image to enlarge.)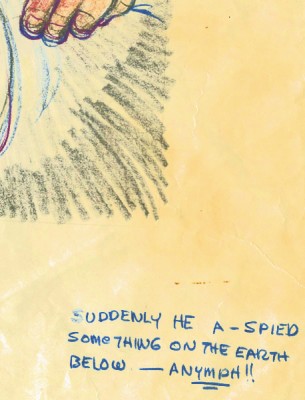 Having written "A-Spied" shouldn't
he have written "A-Nymph"?
__________________________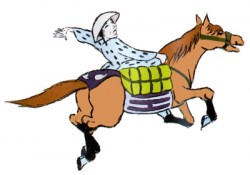 - Ken Priebe has written me to inform about the Vancouver Art Gallery's program called Krazy!. It's a show of original sketches, notes, concept drawings, animation cells, and 3-D models.
Ken writes in depth about it on his blog The Boundaries of Fantasia.
Ken also informed me that the brilliant animator, Tony White, has just posted a number of his films and reels on YouTube. Go here to see all of these short films. Don't miss Hokusai; it's a great film which won the BAFTA in 1978. Tony's commercial work can be seen here.
Ken Priebe is the author of The Art of Stop-Motion Animation.
Tony White has written Animation from Pencils to Pixels and the classic book The Animator's Workbook.
__________________________
- Sony Classic Pictures bought the distribution rights of Waltz with Bashir before the Cannes Festival closed yesterday. This assures that the film will eventually be released in the US. The film did not win any awards at the Festival as was predicted by a couple of reporters. Juror Natalie Portman commented on this, "I think it's a testament to the amazing selection (in the Festival) that a film as good as 'Waltz With Bashir' didn't win an award."
Books &Photos 25 May 2008 08:49 am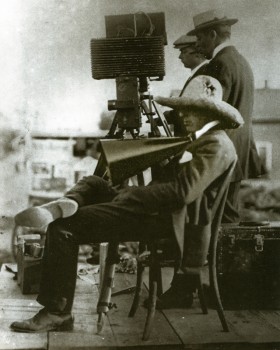 - I'm sure I've mentioned before that I love silent films. I particularly am a fan of D.W.Griffith's work. I think I've read just about every book about the man's career and biography.
If you're looking for a great one, read Adventures with D.W. Griffith by Karl Brown, who was an apprentice on Birth of a Nation and Intolerance. I thinnk often enough about Brown's story about his daily walks with D.W. It seems that they both lived near 14th Street, and their studio was on 125th St. when they worked in NY. They'd walk together to the studio in the morning and walk home at night. The young Karl Brown would use the opportunity to learn as much as he could from the master. He tells how Griffith, at one time, pulled out a big six shooter which surprised Brown. That's when he realized that most people carried guns. It was protection from criminals. ______Griffith filming Birth of a Nation.
I'm sure it was also protection from the patent
holders group who would beat up anyone making a film without paying for the use of a camera, whose operation was patented and owned by Thomas Edison.
Billy Bitzer, Griffith's brilliant camerman, reconstructed their camera so that it was different from the patent rights' group's cameras – therefore not in violation of the patent. This didn't stop the constant attacks on Griffith's sets.
I have a book by Kevin Brownlow that I love. Photographs from the sets of silent films. Hollywood, the Pioneers is a companion book to a series he produced. The photos are outstanding. Here are a few: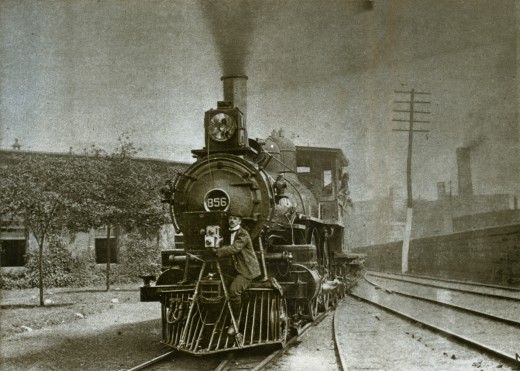 Billy Bitzer on the front of a train filming the movement
for a pre-Griffith film, a Hales Tour film.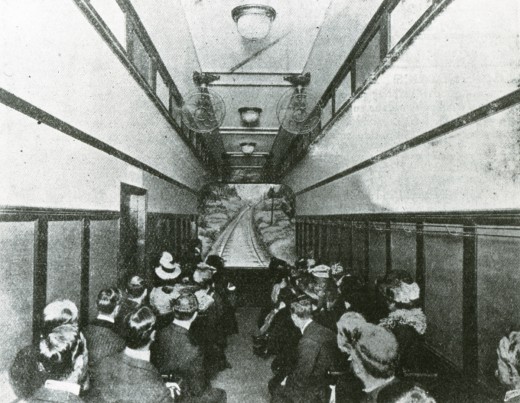 This is how the Hales tour films were screened. It's a duplicate of a railroad car, and you ride facing the screen where you got to watch the movement, as if you were on a train. Future director, Byron Haskin, talked about spending whole days in a theater
watching these tours since they were so spellbinding.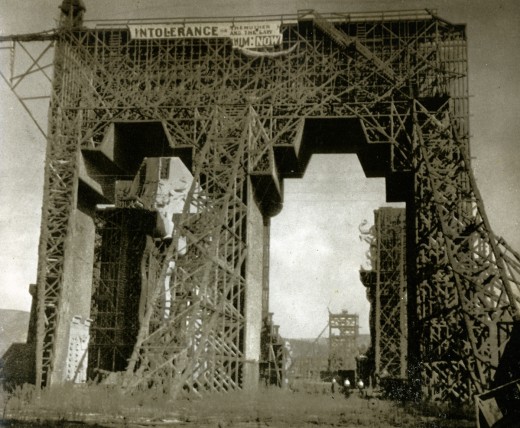 Here's a shot of the skeleton to the set of Babylonia in the film, Intolerance.
This film was shot in California. Film makers ran to the west coast
as much to escape the patent holders as to find all sun all the time.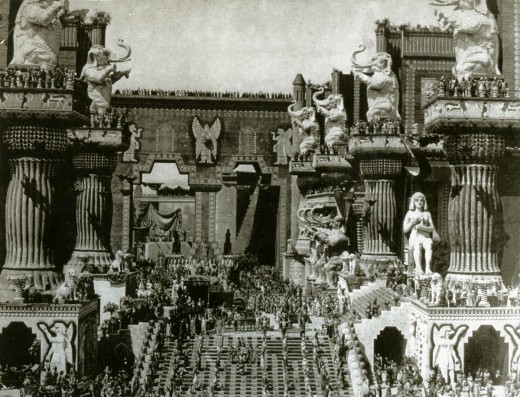 This is what the final set looked like for the film. (Those are
real people and elephants inhabiting the set, not computerized creations.)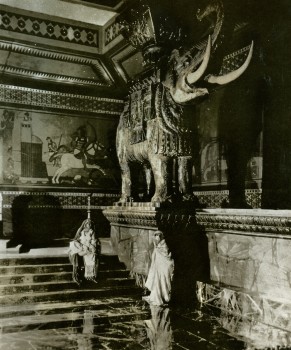 This is closer shot of one of the elephants that lined the walls. The care that was put into these films was amazing. Griffith loved recreating famous paintings and etchings that illustrated the stories he was filming. Quite often, the intertitle would tell you that you were watching such a recreation and show you the painting.
After the film was completed, the set remained standing for many years. If Roger Corman had been around at the time, there would have been another dozen films featuring it.
There's also a wonderful Italian film by the Taviani brothers called, Good Morning, Babylon. It's about two architect brothers who emigrate to the US and get work helping to build the set. It's worth hunting down for a look.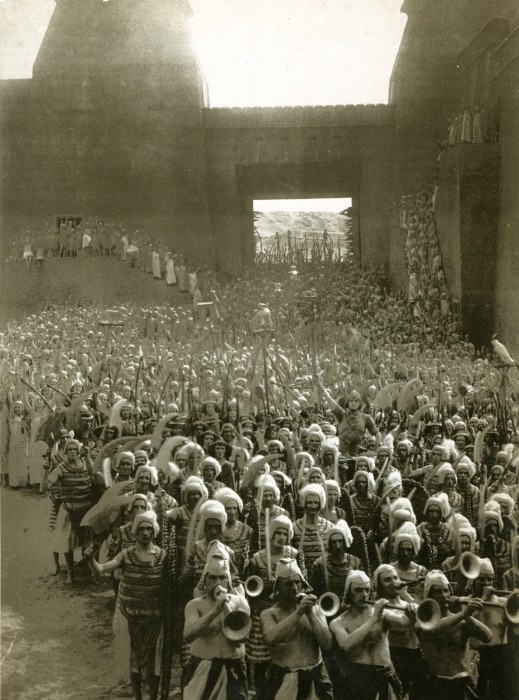 The Griffith film led to bigger and bigger sets.
This is Ernst Lubitsch's German film, Loves of a Pharoah.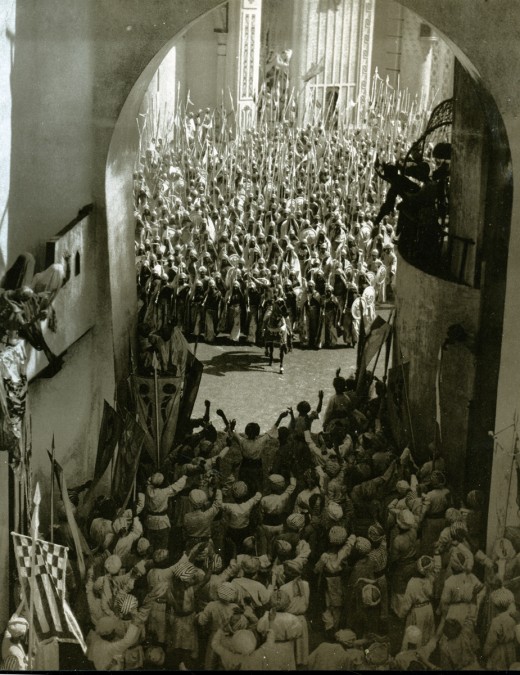 Douglas Fairbanks got even larger with his set for The Thief of Baghdad.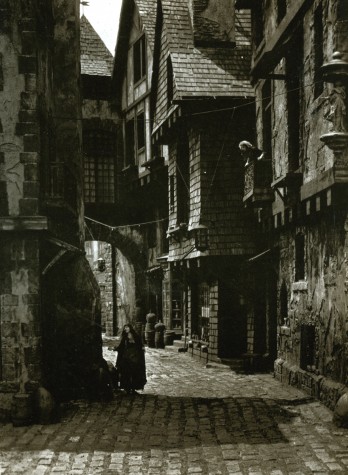 Years later, after a number of films had failed for him, Griffith tried to make one more special film. He bought some land in Mamaroneck, NY and built his own studio. There he had constructed Paris. This would be the set for Orphans of the Storm.
It was a film that featured the sisters, Dorothy and Lillian Gish. The girls are separated in the period melodrama. here, Dorothy, playing the blind sister, is searching the streets for her sister.
She isn't very successful and sinks lower and lower into the depths of revolutionary France. Needless to say, there's eventually a reunion.
Lillian took a very big part in the making of these films. During Intolerance she actually was an uncredited editor. Since she had a small role in the film, she would spend the days assemblilng footage to view with D.W. in the evenings and would rework the film to Griffith's instructions on the next day.
There was no script when they started this film. Griffith wrote it all and kept it in his head as he shot the film. This was quite a feat since it's four separate stories that are interwoven. (The first time this was done on film.)
Anita Loos was employed, early in her career, after the fact to help write the intertitles and offer suggested changes to the footage.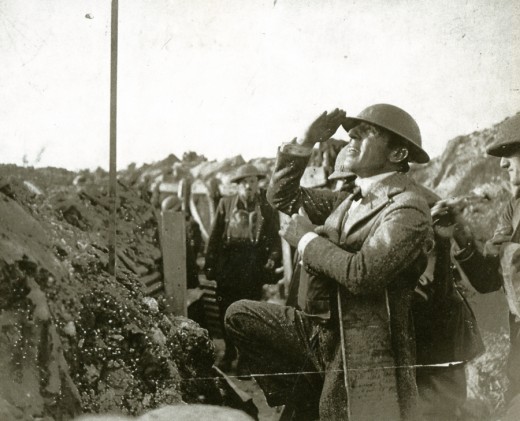 In 1917, during WW I, Griffith actually went to the French front to film his movie,
Hearts of the World. The film was financed with British money as
early propaganda. The footage shot in France wasn't all he'd hoped for,
so some of it was recreated back in the US when he returned.
Animation &Disney 24 May 2008 09:13 am
- The stag, young Bambi, hears something. He grows alert; then jumps. This is a fine piece animated by Milt Kahl. The drawing is brilliant, as usual, with fine acting in the animation. I had a bit of trouble properly registering the piece; it wasn't easy, and I'm sorry it isn't tighter, but it's close.
This is the final piece from the flipbook that came with the initial publication of the Frank Thomas/Ollie Johnston book, Bambi: The Story and the Film.

2
_____________________ (Click any image to enlarge.)

4

6

8

10

12

14

16

18

20

22

24

26

28

30

32

34

36

38

40

42

44

46
The stag hears something and bolts.
Daily post &Music 23 May 2008 08:31 am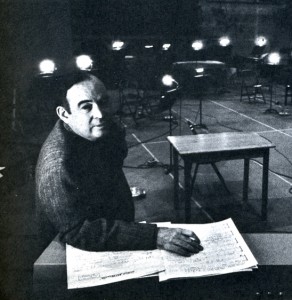 - This week, I enjoyed posting the article by Ross Care on the music of Bambi.
I have been a film music fan almost as long as I have been an animation enthusiast. When I was 12, I bought my first soundtrack, the score to To Kill A Mockingbird, by Elmer Bernstein. What a way to start! This was almosts immediately followed by Lillies of the Field by Jerry Goldsmith. I subsequently bought every score I could find by either of them and stayed a devotee of both. (Animation fans might recognize Goldsmith's brilliant score for The Secret of Nimh and Mulan or Bernstein's for The Black Cauldron and Heavy Metal.)
______Ed Plumb in a break between
______recording sessions on Fantasia.___________I have spent quite a bit of interest
__________________________.________________searching down any bits and pieces of information written about film scores and film musicians. I virtually absorbed Roy Pendergast's book, Film Music: A Neglected Art, with its interview with Scott Bradley and discussion wiht Gail Kubik (who wrote the score to Gerald McBoing Boing.) I subscribed to Film Score Monthly and Soundtrack Collector's Newsletter, and I belonged to collector's groups that would introduce Japanese versions of many scores that included cues that weren't included in US releases or offered records that weren't available here. In short, I was obsessed.
That obsession has quieted somewhat, though I still pay close attention to soundtracks and scores. Goldsmith and Bernstein are gone now, but there's still Tom Newman and James Horner and John Debney (who did the score for my film, Goodnight Moon.)
_______________________
_
Ross Care
, who wrote the article on Bambi and has written and performed much of his own music – concert as well as filmusic – wrote to tell me that he has a concert upcoming in LA.
Letter to the World – Poets to Song,
Original Songs by Ross Care
June 8, 2008 2pm
First United Methodist Church
1338 E. Santa Clara St.
Downtown Ventura
805-901-2697
Suggested Donation, $15
Featuring the poems of Lewis Carroll, Edward Lear, Christina Rossetti, Frank O'Hara, Emily Dickinson, James Joyce, William Blake and A.E. Housman
Ross Care, Composer/Pianist
Diana Burdick, Soprano
Molly Kohler Pei, Soprano
Steve Perren, Baritone
Philip Vaiman, Violin
Maksim Velichkin, Cello
Notes on the Music
Care has always been interested in the fusion of music and poetry in a somewhat
neglected form, the modern art song. "Letter To The World" draws from both classic
and modern texts. The settings in this concert are written for voice and piano and
voices with piano, violin, and cello.
_______________________
_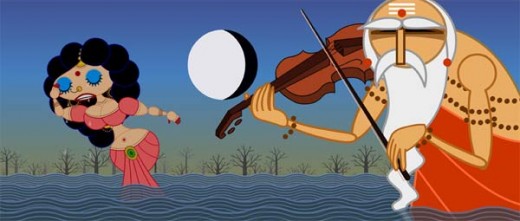 - Nina Paley is interviewed in depth on Film & Video's site. The subject is how she animated a feature length film, Sita Sings The Blues, in Flash. The film just recently finished playing in the Tribeca Film Festival and will soon show at Annecy.
You can read Variety's very positive review here.

_______________________
_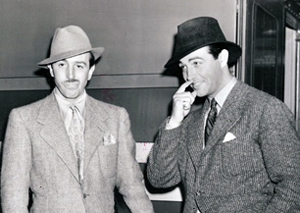 - I enjoy
Mike Barrier
's essays built around "A Day In The Life" of someone or some animation studio.
These are extraordinary little commentaries on moments in time. His most recent details a trip Walt and Lillian Disney made to New York in 1938 where they met a young Robert Taylor on the train.
Disney: June 20, 1938
These pieces really give you a feel for the time and place of the event. This is something too often left out of animation history and an aspect that I demand of good history (even if I have to supply it myself.)
_______________________
_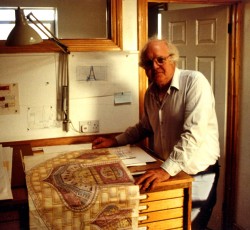 - The fine blog,
The Thief
, has two excellent pieces on
Roy Naisbitt
. Roy was one of the keys to the
Richard Williams Studio
. The two posts feature some of the elaborate and exceptional art Roy did for Dick's feature, The Cobbler and the Thief. Roy was probably the closest thing Dick had to a computer back in the '70′s. The post calls him a "certified genius," and I'd have to agree. For years I knew about Roy's work; The Thief gives us some of his drawings.
There's some amazing art here.
Roy Naisbitt pt 1
Roy Naisbitt pt 2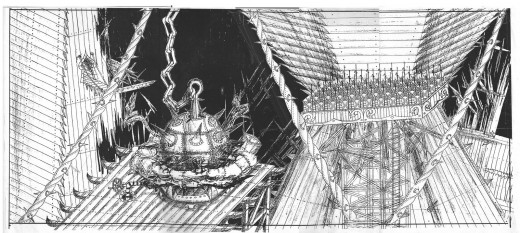 Articles on Animation &Disney 22 May 2008 08:20 am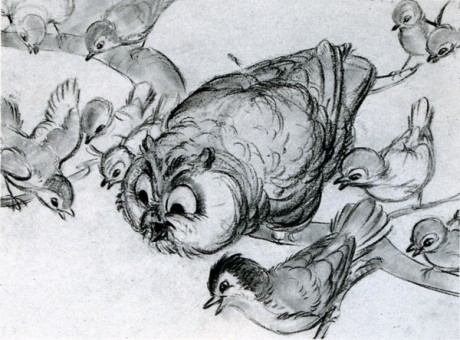 - This is the completion of Ross Care's article on the musical score for Bambi published in The Quarterly Journal of The Library of Congress, Spring 1983 issue.
This article is an extensive examination of the music for a film that has fewer than 100 words of dialogue heard on its soundtrack. The score was integral to the film and pushes it forward with delicacy and poetry. It's a beautiful and powerful score and was nominated in 1942 for the Academy Award. The song, "Love Is A Song" was also nominated.
Many thanks to Ross for allowing me to post this. You should go to his site to read other writings he's done on filmmusic.
The article gets into the details in this part. So much the better if you can read music.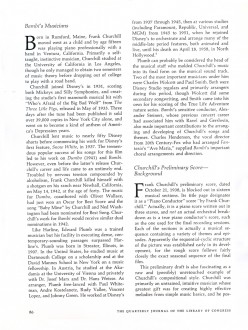 _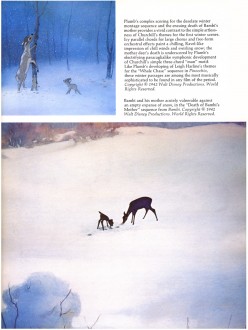 12
___________(Click any image to enlarge to a readable size.)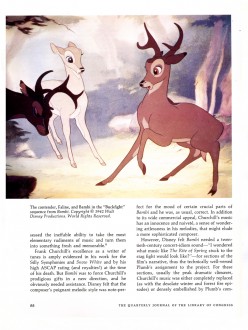 _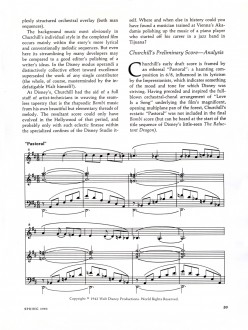 14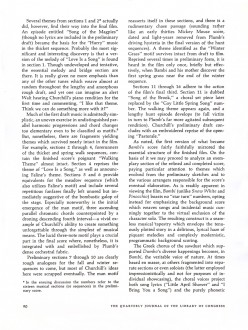 _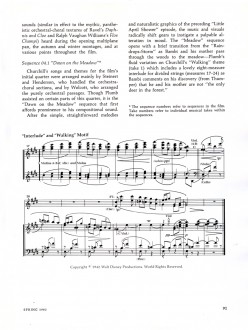 16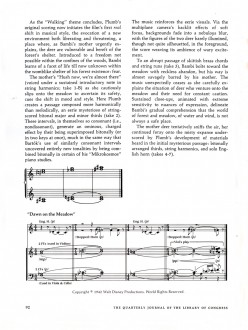 _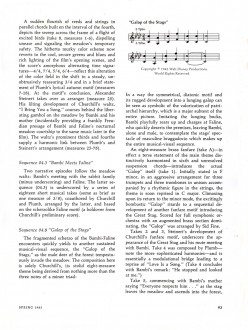 18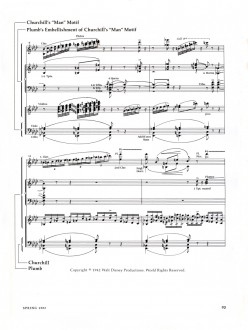 _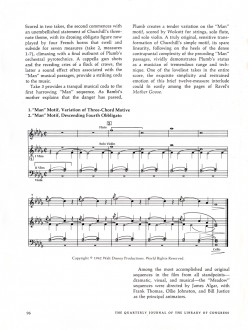 20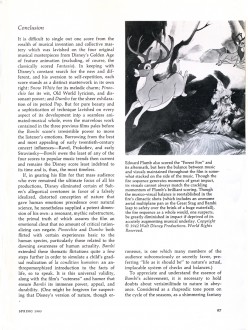 _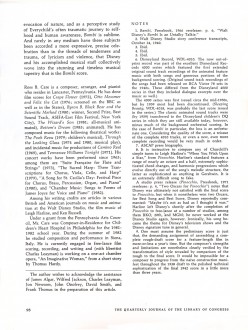 22
Article: Copyright © 1983 Ross B. Care