Category ArchiveAnimation Artifacts
Animation &Animation Artifacts &Commentary &SpornFilms &Theater 19 May 2013 06:09 am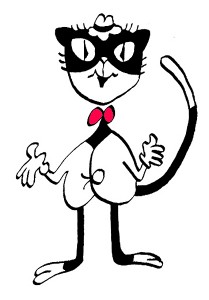 – I've posted a couple of pictures from Woman of the Year (called WOTY by those in the know) in the past but thought I go a touch deeper now.
Woman of the Year was a project that came to me in the very beginning of my studio's life – 1981. Tony Walton, the enormously talented and fine designer, had gone to Richard Williams in search of a potential animator for WOTY (as we got to call the name of the show.) Dick recommended me. But before doing WOTY, there were some title segments needed for Prince of the City, a Sidney Lumet film. (I'll discuss that film work some other day.)
Tony Walton designed the character, Katz, which would be the alter-ego of the show's cartoonist hero, played by Harry Guardino. Through Katz, we'd learn about the problems of a relationship with a media star, played by Lauren Bacall. (All images enlarge by clicking.)
.
It turned out to be a very intense production. Three minutes of animation turned into twelve as each segment was more successful than the last. There was no time for pencil tests. I had to run to Boston, where the show was in try-outs, to project different segments weekly;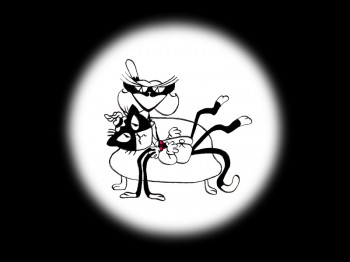 these went into the show that night – usually Wednesdays. I'd rush to the lab to get the dailies, speed to the editor, Sy Fried, to synch them up to a click track that was pre-recorded, then race to the airport to fly to the show for my first screening. Any animation blips would have to be corrected on Thursdays.
There was a small crew working out of a tiny east 32nd Street apartment. This was Dick Williams' apartment in NY after he;d finished Raggedy Ann. He was rarely there, and when he did stay in NY, he didn't stay at the apartment. He asked me to use it as my studio and to make sure the rent was paid on time and the mail was collected. Since we had to work crazy hours, it was a surprise one Saturday morning to find that I'd awakened elderly Jazz great, Max Kaminsky, who Dick had also loaned the apartment for a night. Embarrassed, at the awkward confrontation, I ultimately moved to a larger studio – my own – shortly thereafter. Dick was convinced I was upset at him and the two of us didn't talk for years afterward.
Here are a couple of photos of some of us working on WOTY: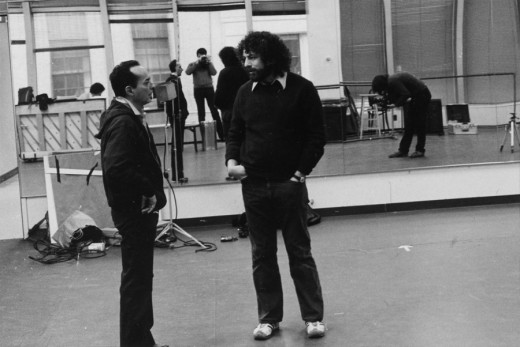 Tony Charmoli was the show's choreographer. He worked with me in plotting out the big dance number – a duet between Harry Guardino and our cartoon character. I think this is the only time on Broadway that a cartoon character spoke and sang and danced with a live actor on stage. John Canemaker is taking this photograph and Phillip Schopper is setting up the 16mm camera.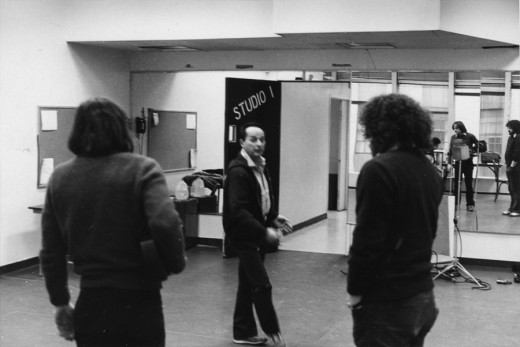 Here Tony Charmoli shows us how to do a dance step. Phillip Schopper, who is filming Tony, figures out how to set up his camera. We used Tony's dancing as reference, sooting Tony's dancing in 16mm, but our animation moves were too broad for anyone to have thought they might have been rotoscoped.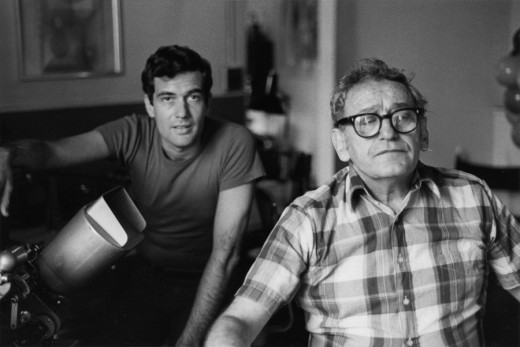 John Canemaker worked with Sy Fried, our editor. John did principal animation with me on this one big opening number. Here they're working with the click track and the live footage of Tony Charmoli to plot out the moves.
At one point I asked John to have the character, Katz, flick his tale at Harry Guardino, tripping the live actor mid-dance. It got a laugh at every performance.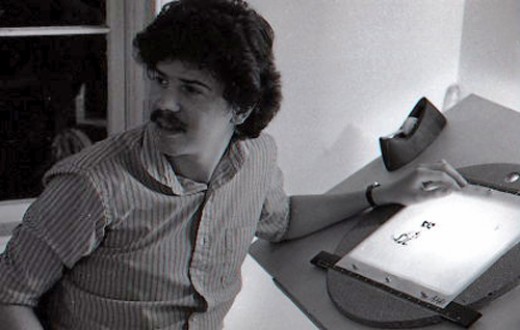 Steve Parton supervised the ink and paint. To get the sharpest lines, we inked on cels and didn't color the drawings. It was B&W with a bright red bow-tie. A spotlight matte over the character, was bottom-lit on camera by Gary Becker. It was shot almost like a pencil test with high contraxt to get those very sharp lines.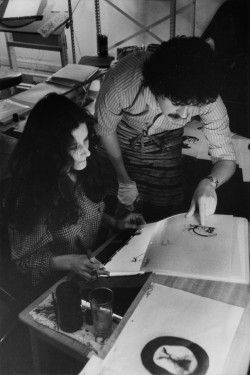 5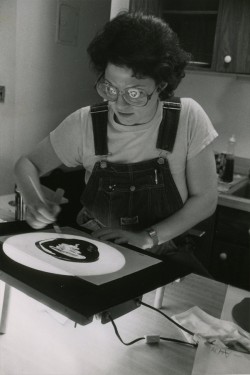 6
5. Steve Parton works with painter Barbara Samuels
6. Joey Epstein paints with fire in her eyes.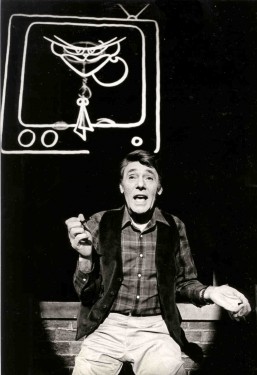 8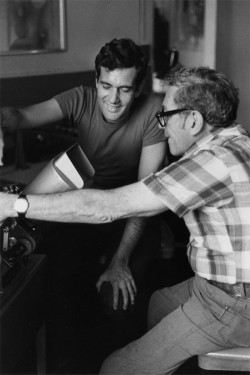 9
8. Harry Guardino on stage with the creation of "Tessie Kat" developing on screen behind him. This was Harry's first big solo.
The filmed segment was shot backwards so the matte would develop as the song sang on.
The entire seqeunce took about 2½ minutes.
9. John Canemaker gets to see some of his animation with Sy Fried, editor.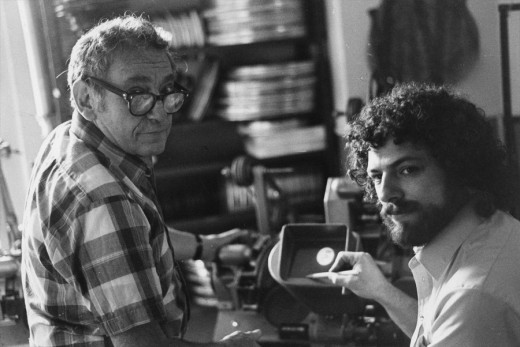 One of my quick stops from the lab on the way to Boston? No, I think this is a posed photo.
All together we had more than 12 minutes of animateion song duets between Harry Guardino and Katz. It was originally supposed to be three pieces totaling about five minutes. The animation was so successful in the tryouts in Boston that they kep adding more material. Finally the last song added – about 1½ minutes never made it to New York. Harry never properly learned it in Boston and he was too nervous for the Broadway opening to learn it for the big Opening. So the number was cut.
Lately there's been more animation on Broadway and off-Broadway. Things are done with digital screens, and the technical aspect has gotten easier. One version of Sunday In the Park with George had painted backgrounds developing via animation as the characters sang their songs. Too bad the show didn't offer the heart that was in the original Sondheim gem, when here wa no animation involved. Hopefully, eventually there will be something more. We did a show that was very successful (the show wasn't successful; the animation was.) I'd love to try again. The only other try I had was to do musical scenics for the Overture to Meet Me In St. Louis on Broadway. The producers were irritants and didn't help move things forward. I did get to meet the songwriter, Hugh Martin, before he passed away. That was my treat in that project.
Animation Artifacts &Articles on Animation &Commentary &Puppet Animation &repeated posts 08 May 2013 12:49 am
- Greg Kelly, a good friend of this blog, wrote to tell me that Ray Harryhausen has died. You can read about it here, in Time Out or here in the NY Times or here at Jerry Beck's Animation Scoop.
Thanks, Greg, for the alert.
In honor of Mr. Harryhausen's brilliant career, I'm re-posting this article about Jason and the Argonauts which I once posted. The piece features Jason and the Argonauts. There was a chapter from Mr. Harryhausen's 1972 book, Film Fantasy Scrapbook, about that film. I'd like to show it again. The book is written in the first person singular and collects B&W images like a scrapbook.
Here it is:
____________
Of the 13 fantasy features I have been connected with I think Jason and the Argonauts pleases me the most. It had certain faults, but they are not worth detailing.
Its subject matter formed a natural storyline for the Dynamation medium and like The Seventh Voyage of Sinbad strayed far from the conventional path of the "dinosaur exploitation film" with which this medium seemed to be identified.
Taking about two years to make, it unfortunately came out on the American market near the end of a cycle of Italian-made dubbed epics based loosely on the Greek-Roman legends, which seldom visualized mythology from the purely fantasy point of view. But the exhibitors and the public seem to form a premature judgment based on the title and on the vogue. Again, like Sinbad, the subject brewed in the back of my rnind for years before it reached the light of day through producer Charles Schneer. It turned out to be one of our most expensive productions to date and probably the most lavish. In Great Britain it was among the top ten big money makers of the year.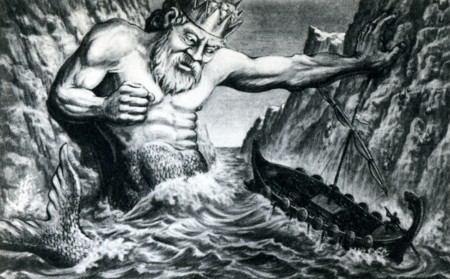 A preproduction drawing (above) compares favorably with a film still (below.)
The drawing is quite a bit more dynamic. (After all, it is Dynamation!)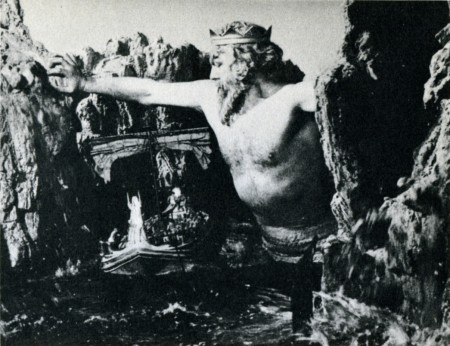 (Click any image to enlarge a bit.)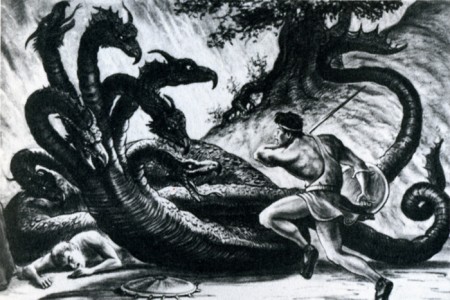 Likewise, a drawing of the hydra (above) film still (below.)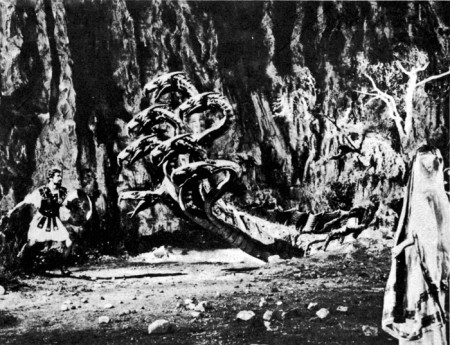 Harpies (Above & Below)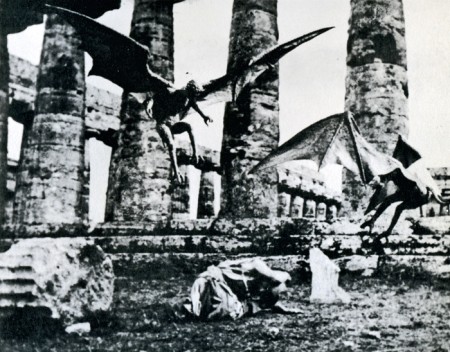 Some of the difference in basic composition between the pre-production sketches I made for Jason and the counterparts frames of the production is the direct result of compromising with available locations.
For example, the ancient temples in Paestum, southern Italy, finally served as the background for the "Harpy" sequence. Originally we were going to build the set when the production was scheduled for Yugoslavia. Wherever possible we try to use an actual location to add to the visual realism. To my mind, most overly designed sets one sees in some fantasy subjects can detract from, rather than add to the final presentation.
Again, it depends on the period in which it is made as well as on the basic subject matter. Korda's The Thief of Bagdad was the most tastefully produced and designed production of any film of this nature but unfortunately the budget that was required would be prohibitive with today's costs.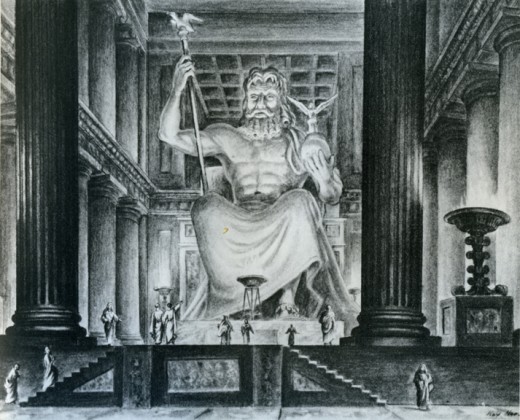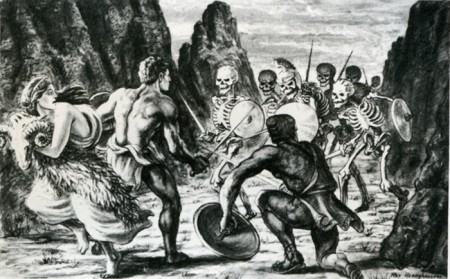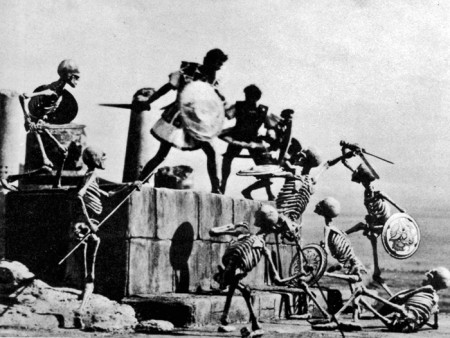 The Skeleton Sequence was the most talked-ahout part of Jason. Technically, it was unprecedented in the sphere of fantasy filming. When one pauses to think that there were seven skeletons fighting three men, with each skeleton having five appendages to move each frame of film, and keeping them all in synchronization with the three actors' movements, one can readily see why it took four and a half months to record the sequence for the screen.
My one regret is that this section of the picture did not take place at night.
Its effect would have been doubled.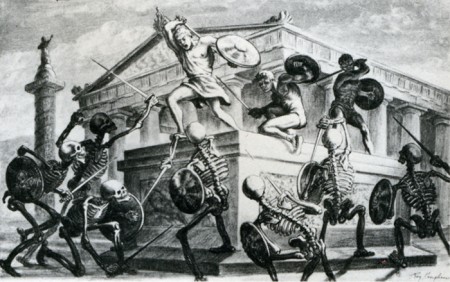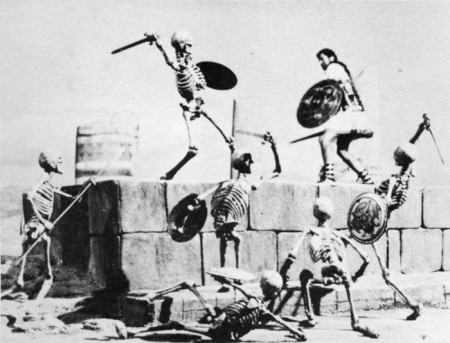 Certain other time-consuming technical "hocus-pocus" adjustments had to be done during shooting to create the illusion of the animated figures in actual contact with the live actors. Bernard Herrmann's original and suitably fantastic music score wrapped the scenes in an aura of almost nightmarish imagination.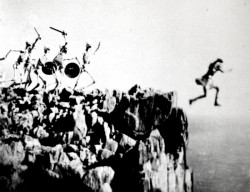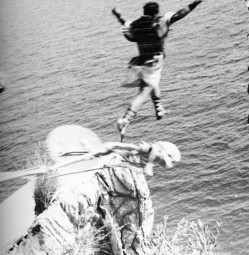 In the story, Jason's only way of escaping the wild battling sword wielding "children of Hydra's teeth" is to leap from a cliff into the sea. (Above left) A stuntman, portraying Jason for this shot, leaps from a 90-foot-high platform into the sea closely followed by seven plaster skeletons. It was a dangerous dive and required careful planning and great skill. It becomes an interesting speculation when dealing with skeletons in a film script. How many ways are there of killing off death?
(Above right) Another angle with the real Jason jumping off a wooden platform into a mattress a few feet below. The skeletons and the rocky cliff were put in afterwards while the mattress was blotted out by an overlay of sea.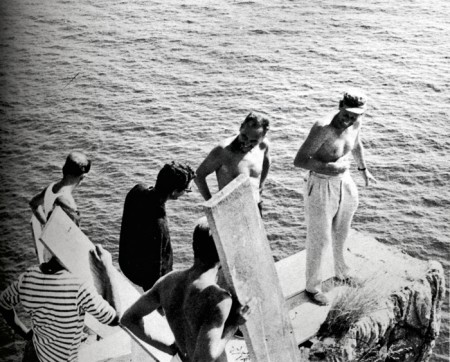 Director Don Chaffey and Ray Harryhausen discuss the leap
with Italian stunt director Fernando Poggi.
When transferring published material to the screen it is almost always necessary to take certain liberties in the work in order to present it in the most effective visual terms. Talos, the man of bronze, did exist in Jason legend, although not in the gigantic proportions that we portrayed him in the film. My pattern of thing in designing him on a very large scale stemmed from research on the Colossus of Rhodes.
The actor: his blocking the only entrance to the harbor stimulated many exciting possibilities. Then too, the idea of a gigantic metal statue coming to life has haunted me for years, but without story or situation to bring it to life. It was somewhat ironic when most of my career was spent in trying to perfect smooth and life-like action and in the Talos sequence, the longest animated sequence in the picture, it was necessary to make his movements deliberately stiff and mechanical.
Most of Jason and the Argonauts was shot in and around the little seaside village of Palinuro, just south Naples. The unusual rock formations, the wonderful white sandy beaches, and the natural harbor were within a few miles of each other, making the complete operation convenient and economical. Paestum, w its fine Greek temples, was just a short distance north. All interiors and special sets were photographed in a sm studio in Rome.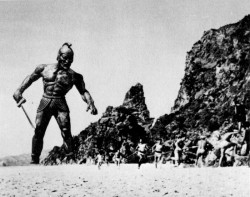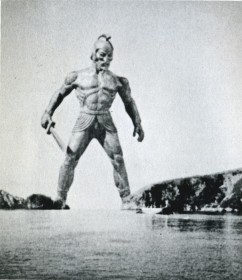 (Above left) Talos, the statue of bronze, pursues Jason's men.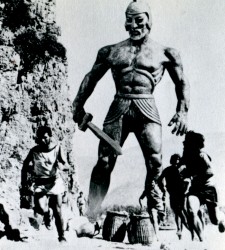 (Above right) Talos blocks the Argo
from the only exit of the bay.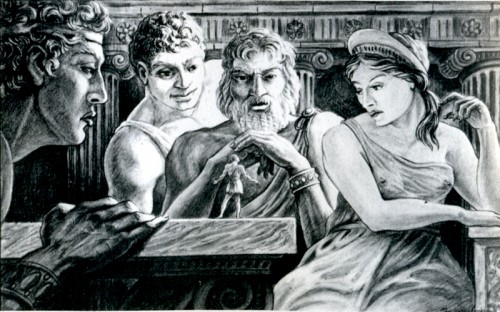 Pre-production drawing of Jason speaking to the Gods of Greece.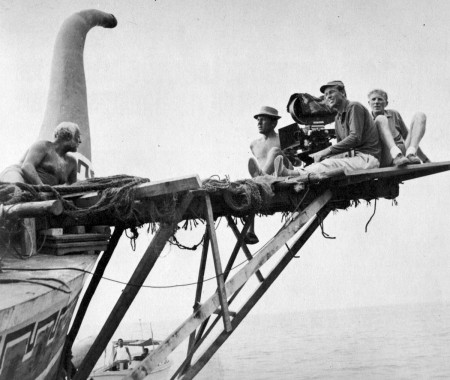 For the second unit operation a special platform had to be fitted to the Argo in order to achieve certain camera angles. Although it looks precarious it was far more convenient than using another boat for the shots.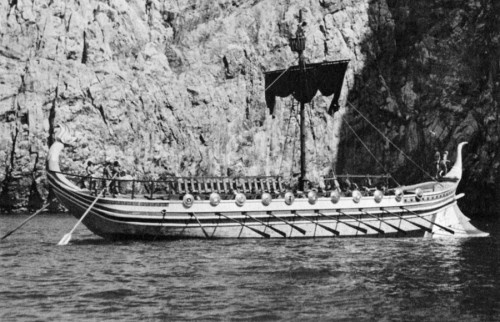 The Argo had to be, above all, practical in the sense that it must be seaworthy as well as impressive. It was specially constructed for the film over the existing framework of a fishing barge. There were twin engines for speed in maneuvering, which also made the ship easily manipulated into proper sunlight for each new set-up.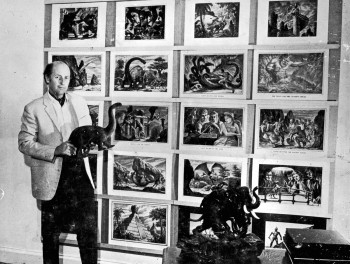 Harryhausen off the book's back cover
to give an idea of scale of drawing sizes.
Animation &Animation Artifacts &Commentary 01 May 2013 06:52 am
Here's the last of the three posts I've been able to cull from the drawings left behind in Vince Cafarelli's things. The 60 second spot was animated by Lu Guarnier and clean-up and assisting was by Vinnie.
Within this post there are drawings from two separate scenes. If you look at the storyboard (I'd posted the entire board in another post, but I've pulled the particular frames from the board to show again here), you can see what it is the characters are saying. I don't have all the drawings for these two scenes; just those I've posted.
I'm also going to use these drawings of Lu's to write about his style of animation. I was taught from the start that this was completely done in an incorrect way. I don't mean to say something negative about a good animator, but it is a lesson that should be learned for those who are going through the journeyman system of animation.

Right from the get-go I had some difficulty assisting Lu's scenes. He started in the old days (early-mid Thirties) at Warner Bros, in Clampett's unit, and moved from there to the Signal Corps (Army); then to New York working at a few studios before landing at UPA's commercial studio. After that, he free lanced most of his career, as had so many of the other New York animators. They'd work for six months to a year at one studio then would move on to another.
I suspect the problems in Lu's animation all generated from the training he'd gotten at WB. Lu worked in a very rough style. No problem there. An animator should work rough. These drawings posted aren't particularly rough, but in his later years (when I knew him) there was hardly a line you could aim for in doing the clean-up. His style was done in small sketchy dashes that molded the character. Rarely was it on model, and always it was done with a dark, soft leaded pencil. There were others who worked rougher, Jack Schnerk was one, but Lu's drawing was usually harder to clean up.
There was a rule that came out of the Disney studio, and, as both an animator and an assistant, I've followed it closely. When doing the breakdown charts (those ladders to the right of the drawing) all inbetween positions had to be exactly half way between drawing "A" and drawing "B". If the animation called for it to be 1/4 of the way, you'd indicate that half-way mark then indicate your 1/4. If a drawing had to be closer or farther away – say 1/3 or 1/5th of the way – the animator should do it himself. This, as I learned it, was the law of the land. However, Lu would rarely adhere to it, and an assistant's work became more complicated. The work was too easily hurt by a not-great inbetweener. I'll point out an example of Lu's breaking this rule as we come to it).

The First scene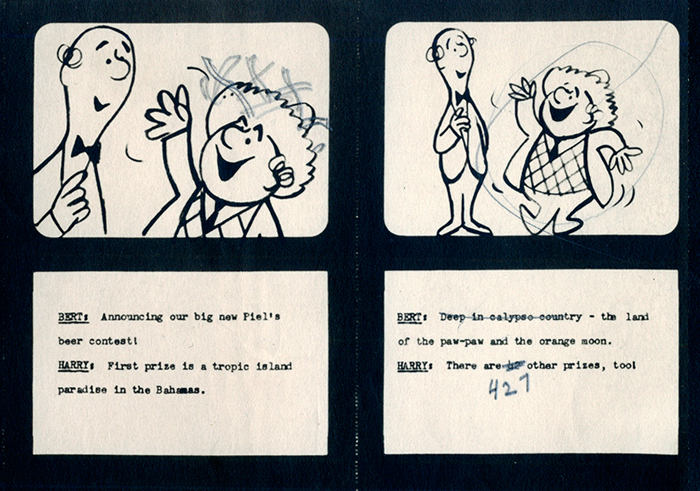 bd.1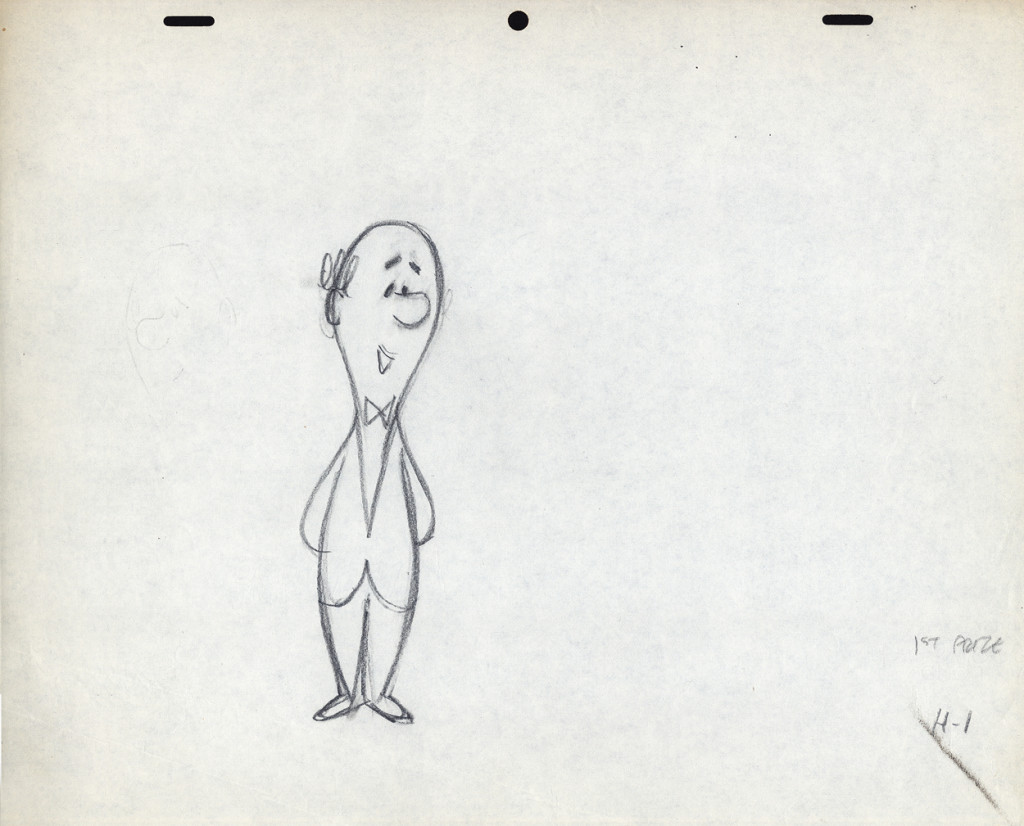 H1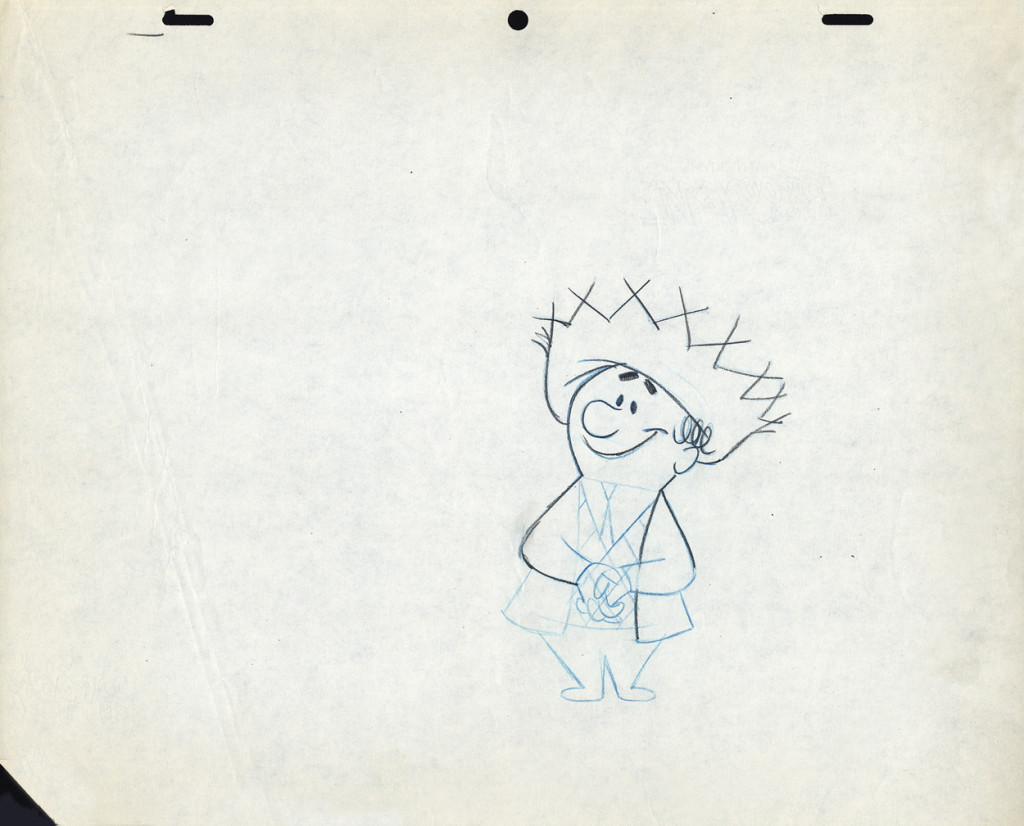 B7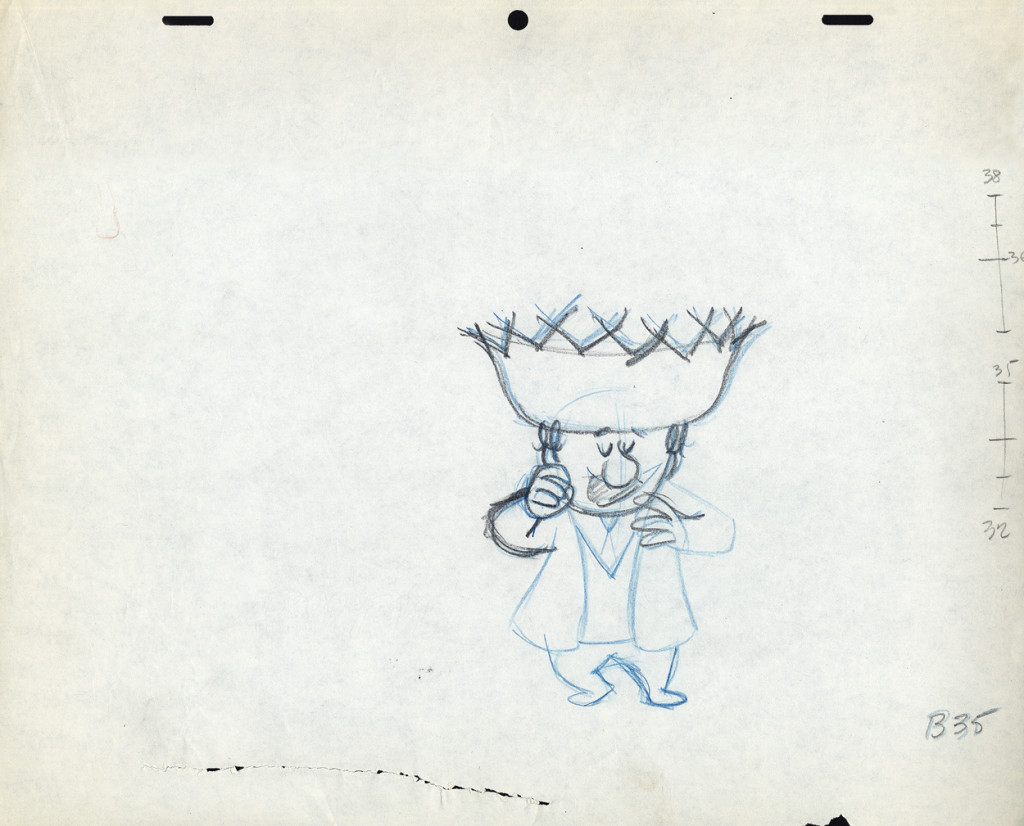 B35
These ladders are done correctly, per the Disney system.
#34 is half way between #32 & #35;
#33 is half way between #32 & #34.
#36 is half way between #35 & #38;
#37 (the 1/4 mark) is half way between #36 & #38.
However, Grim Natwick told me
- demanded of me –
that all ladders should appear on the lower numbered drawing.
The ladder here should be on drawing #32 for all art
going into the upcoming extreme, #38.
Lu never followed this rule, which means the
assistant generally had to search for the chart.
The Second scene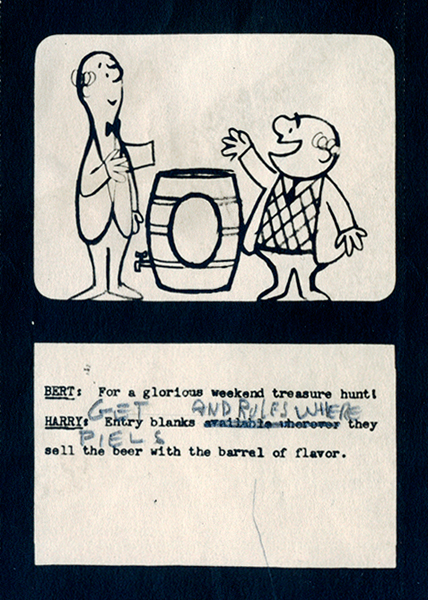 bd.2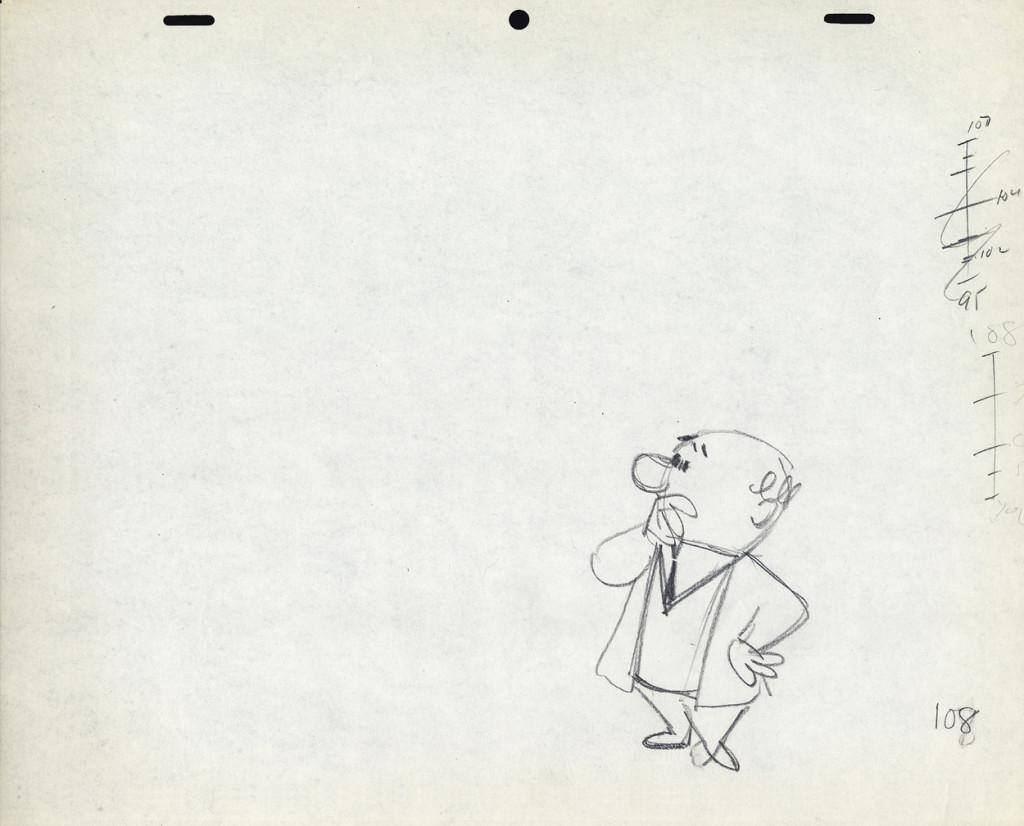 B108
This ladder is typical of Lu's animation.
It would seem that #106 is 1/3 of the way between #108
and #105 is half way between #106 and #109.
and it also looks like #107 is 2/3 of the way between #108 and #109.
Because the numbers come on the last of the extremes, here,
more confusion is allowed to settle in.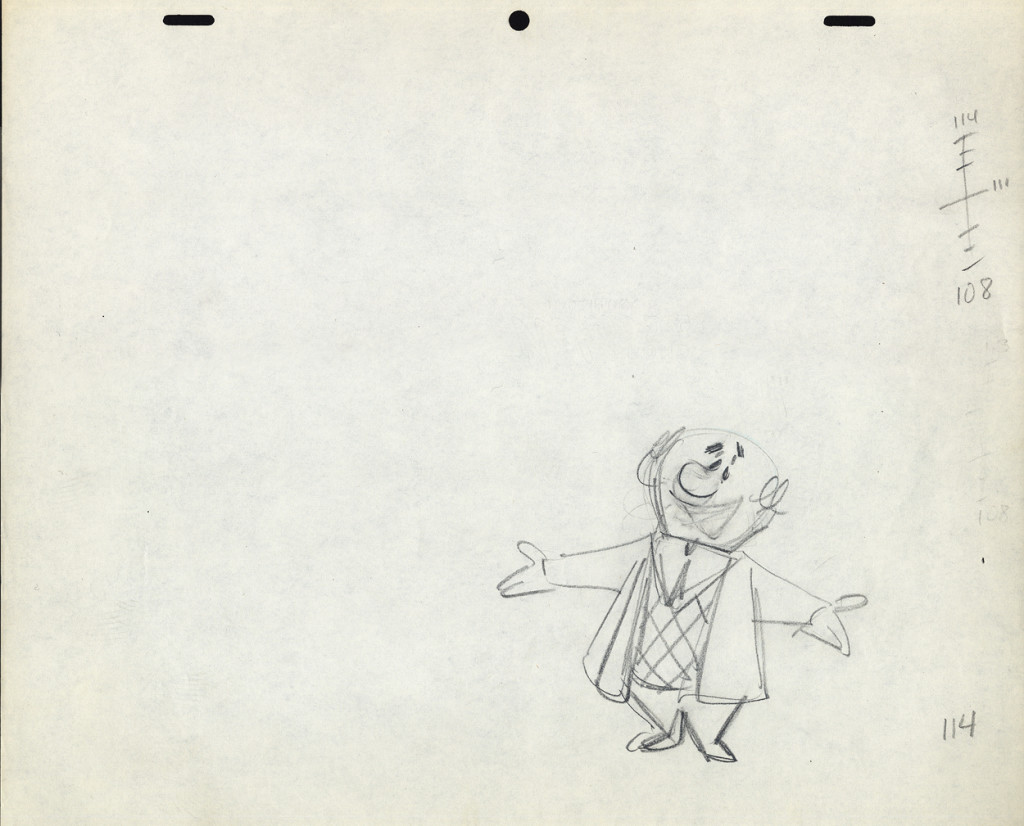 B114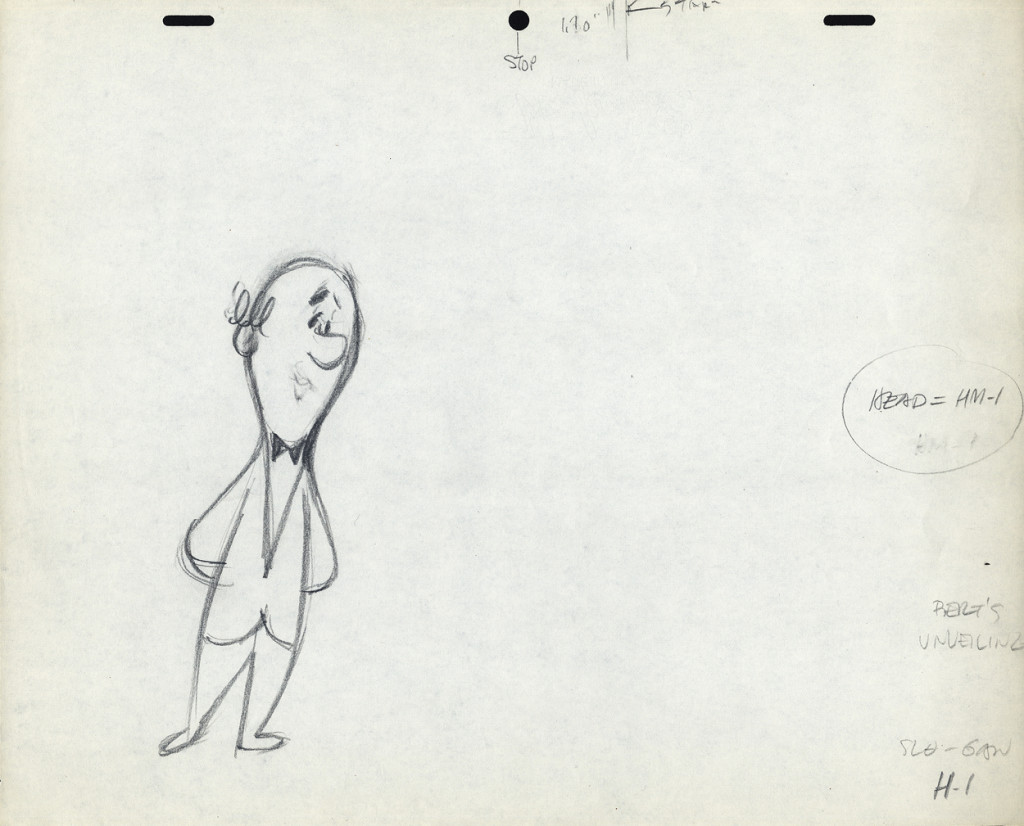 H1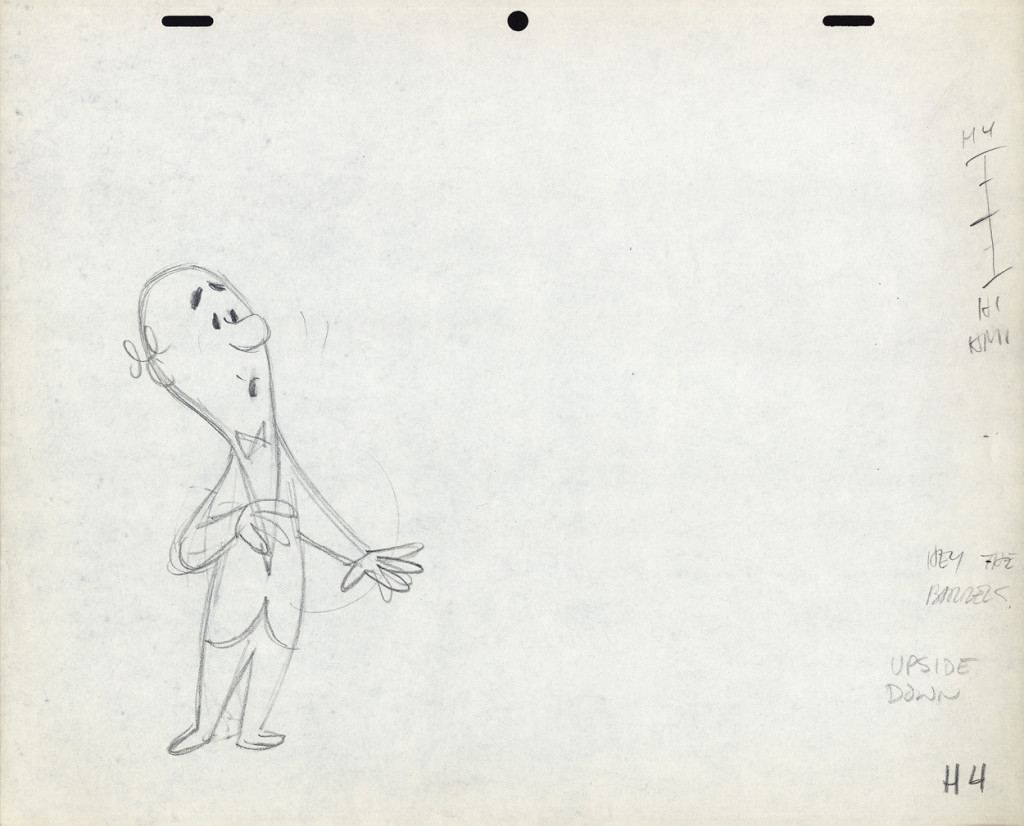 H4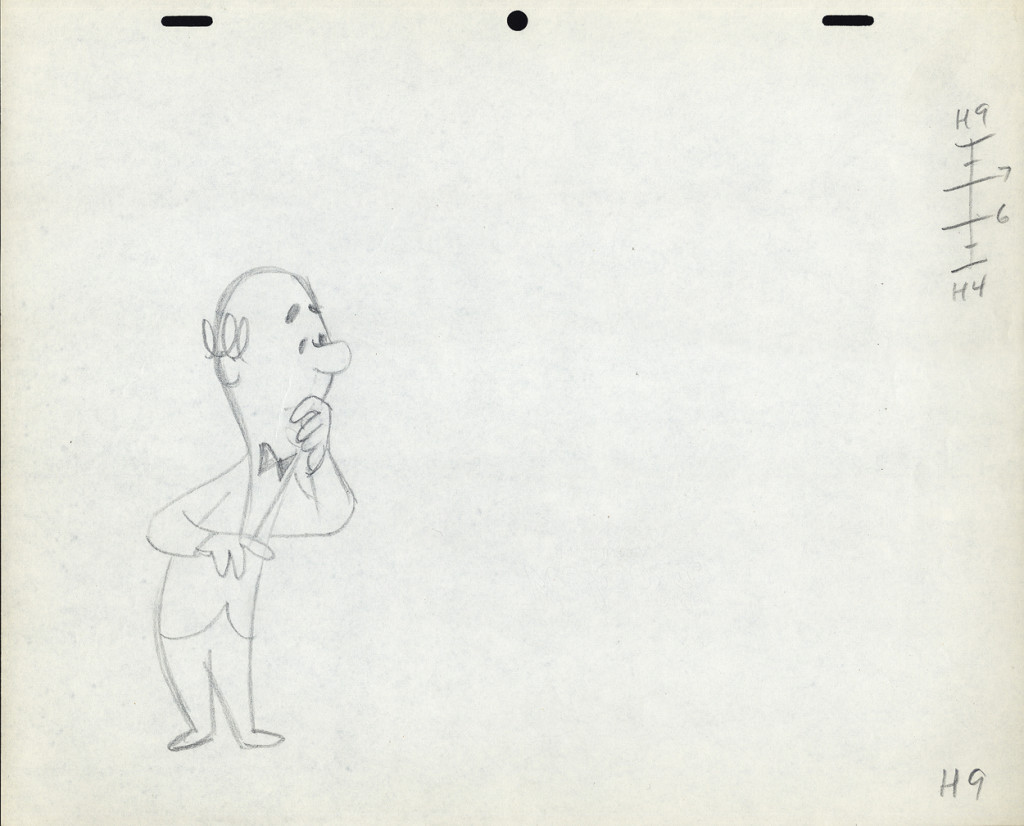 H9
Again, the ladder appears on the later extreme. The assistant
shouldn't have to go looking for it. The ladder should be on
the first drawing involved in the breakdown.
Again, the breakdown drawings are on 1/3′s, and
the inbetweens are 1/2′s of that. It makes it harder on the
people following up on the clean-up & inbetweens.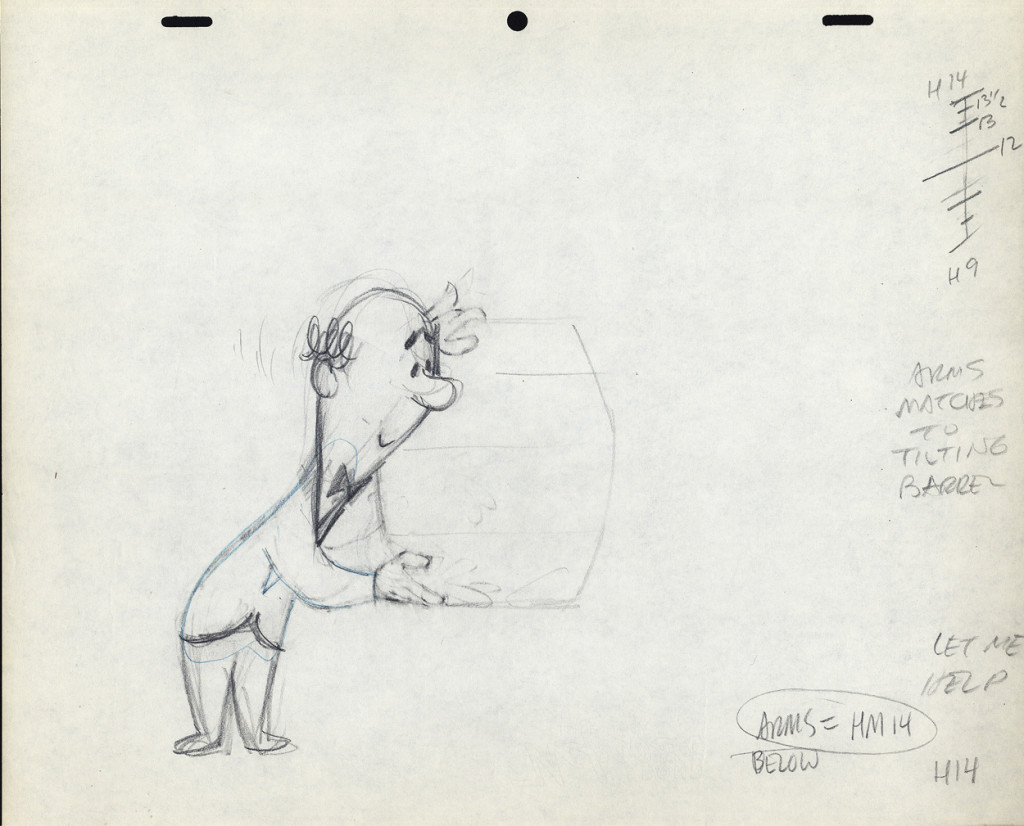 H14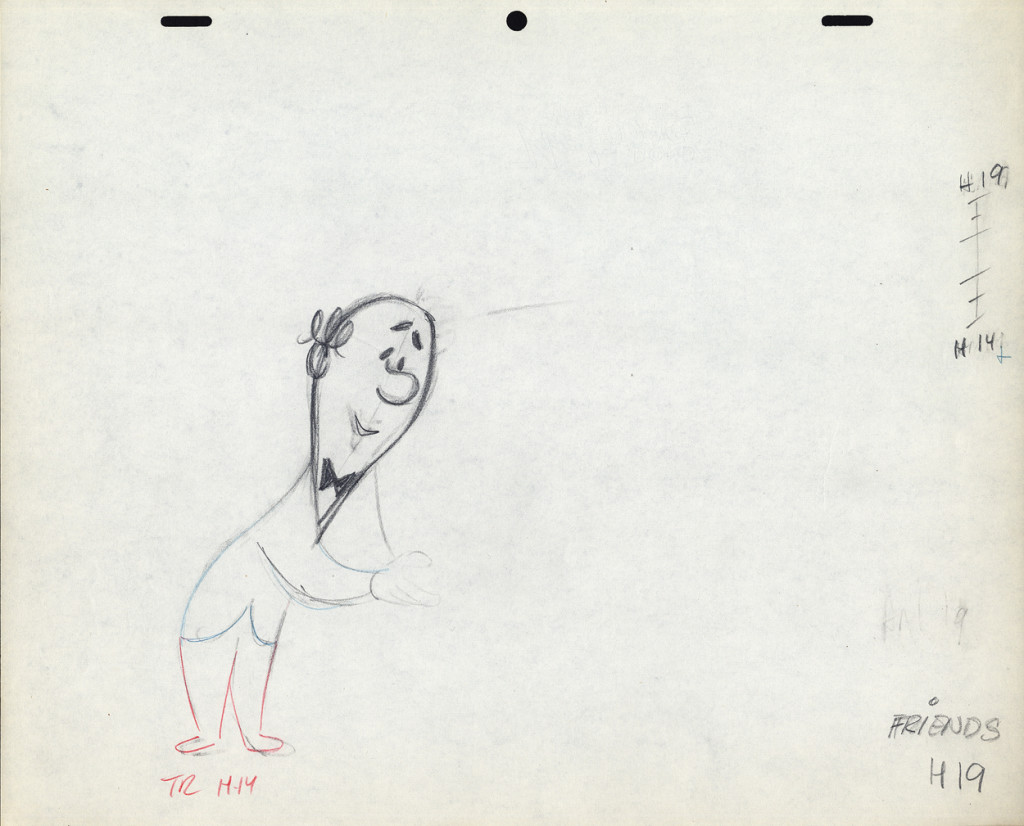 H19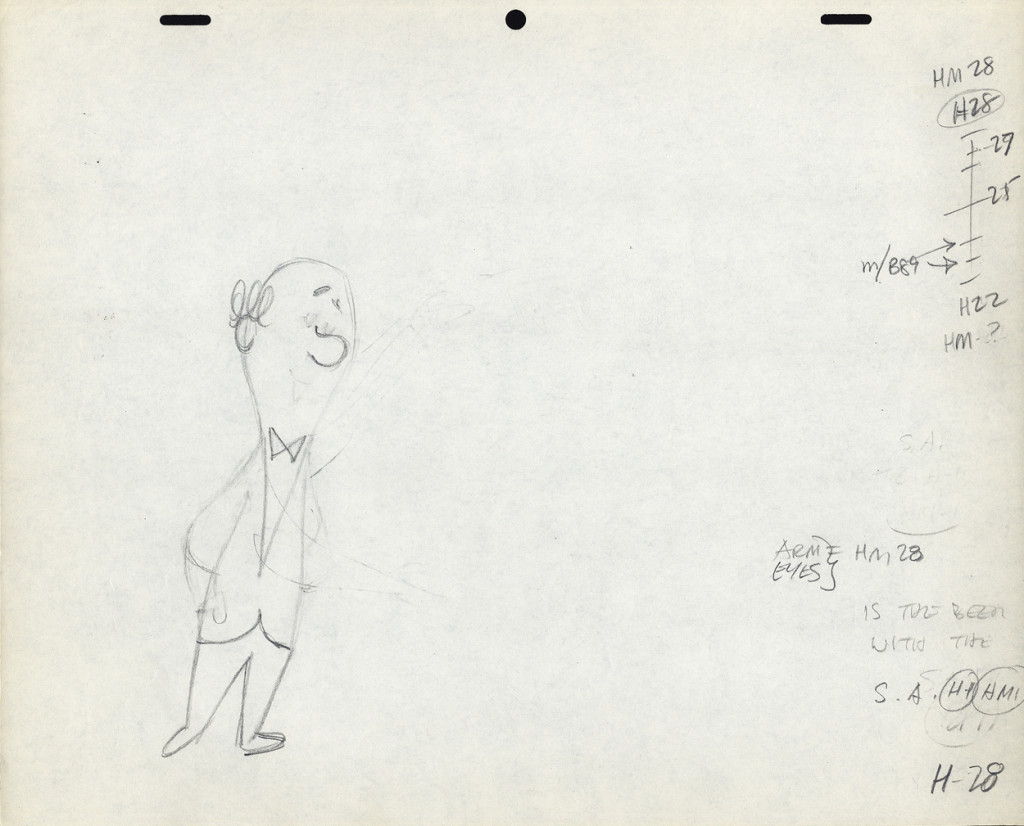 H28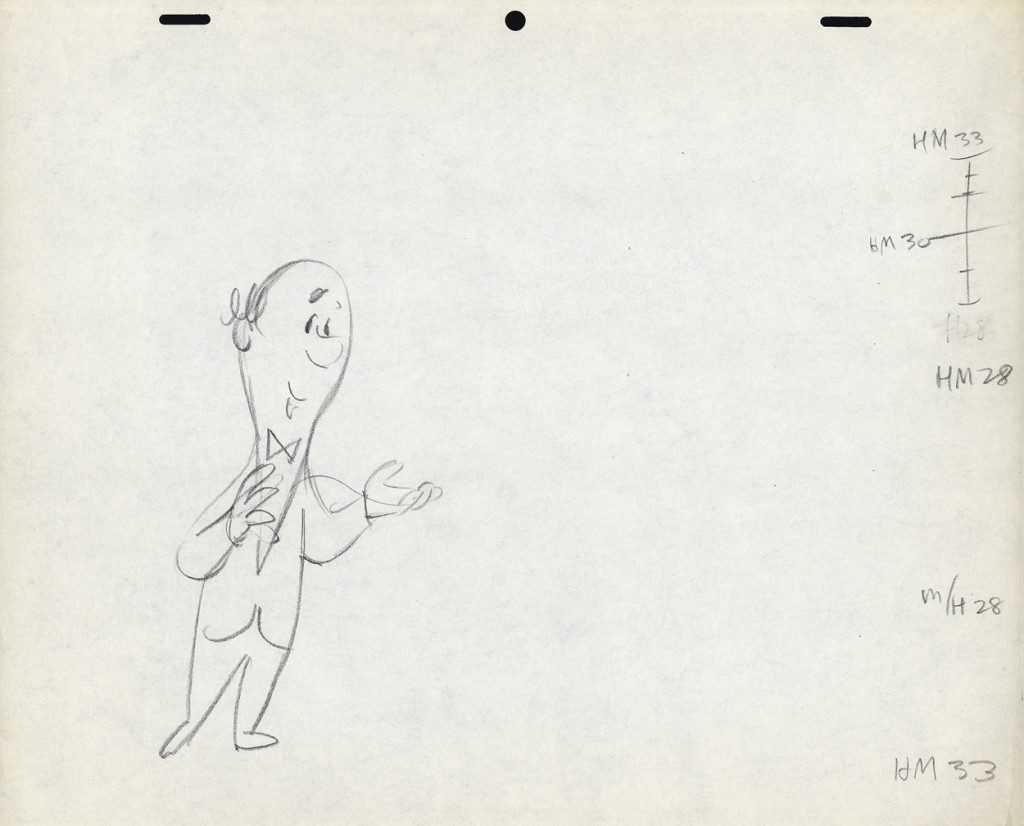 H33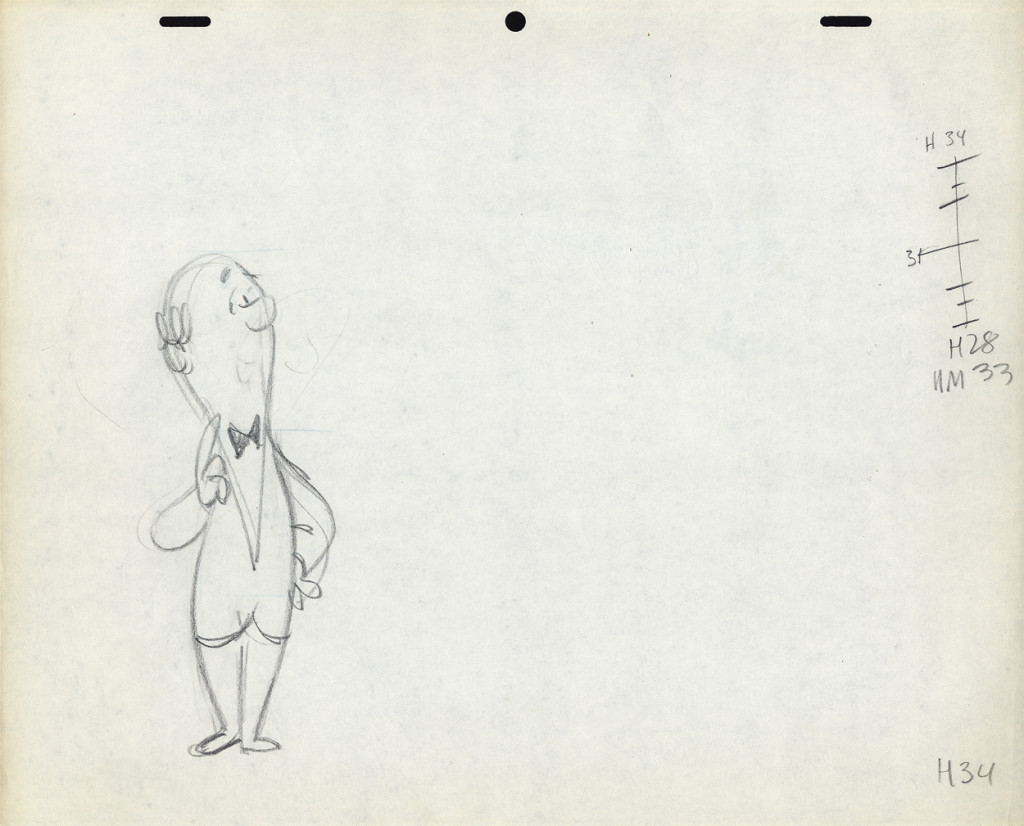 H34

I don't know if this style of Lu's was a product of where he learned to animate or not.
Jack Schnerk
, a comparable animator – whose work I loved (even though he had a rougher, harder to clean up drawing style) – always broke his timing in halves and halves again. There were times when his animation went to one's and he did most of all the drawings. I assumed he had an unusual timing, and he didn't want to burden the Assistant with his schema. He also always carried the breakdown charts on the earlier numbered drawing – per Grim Natwick's comment. In some way I felt that Lu was rushed to get on with the scene, and whatever method he used would be to get him there more quickly. (It was the assisting that was slowed down.) This may have been a product of his attempts to devise some type of improvisation in the animation. Lu's work, on screen, was usually excellent, so he didn't much hurt anything in his method.
It might also have been his method of trying to put SNAP into the animation. This was a WB trait from the mid-late Thirties. It was certainly in Lu's animation. No doubt a hold-over from Clampett's early days of directing.
The final thing to note is that Lu usually worked on Top Pegs. Animating on Top Pegs makes it impossible to "roll" the drawings and check on the movement of more than 3 drawings. You can only "flip" the three, checking the one inbetween, but it didn't give you a good indication of the flow of the animation. This is obviously necessary in animating on paper. It also made it difficult for the cameraman as well as those following behind the animator. If there were a held overlay, this would have to be on bottom pegs since the animation is on top pegs. That requires extra movement of the expensive cameraman to change all the animation cels after lifting the bottom pegged overlay. It also risks the possible jiggling of the overlay as it's continually moved for the animating cels.
Animation Artifacts &Articles on Animation &Disney &Illustration &John Canemaker &Story & Storyboards 29 Apr 2013 06:19 am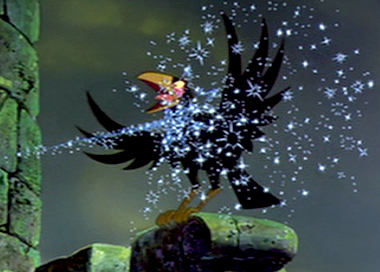 - John Canemaker had loaned me the final sequences of the storyboard to Sleeping Beauty, detailing the dragon fight and climax of the film. I originally posted this in three parts. I've combined them all here, making for one long post.
I'm not sure who did the artwork, but there's a good chance it's Ken Anderson's work.
As with past boards, I'll post the whole photograph as is, then take it apart row by row so that you can enlarge them as much as possible. Here's the storyboard sequence #19 from Sleeping Beauty.
The full board follows below: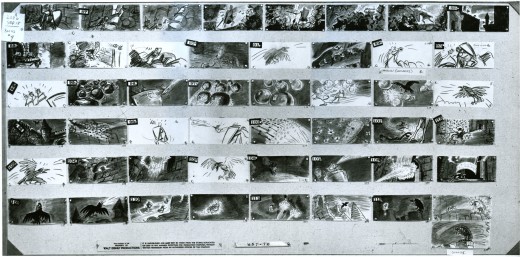 (Click any image to enlarge.)
The breakdown of that full board follows:


1a

1b

2a

2b

3a

3b

4a

4b

5a

5b

6a

6b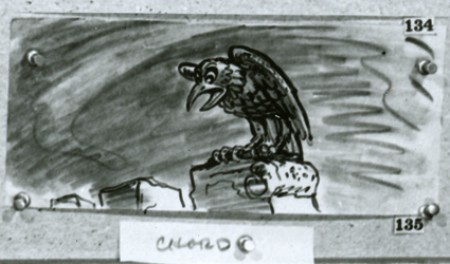 7
Here's the next full page of storyboard as is: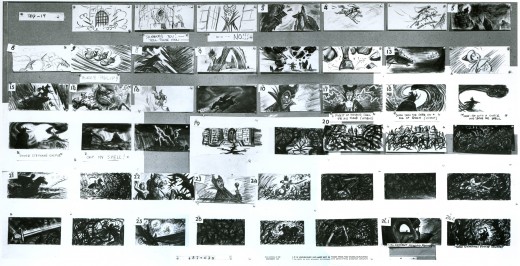 (Click any image on the page to enlarge.)
Again, I follow with the board broken up into segments, half a row at a time.


1a

1b

2a

2b

3a

3b

4a

4b

5a

5b

6a

6b
This is this photo of the next page of the board as it came to me: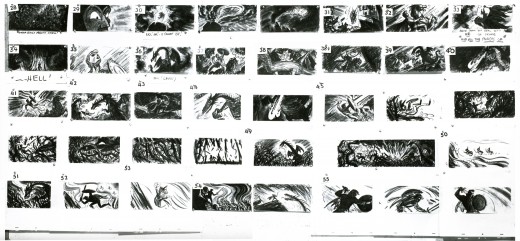 (Click any image to enlarge.)____________

Here are the rows of the board broken into two so that I can post them a bit larger.

1a

1b

2a

2b

3a

3b

4a

4b

5a

5b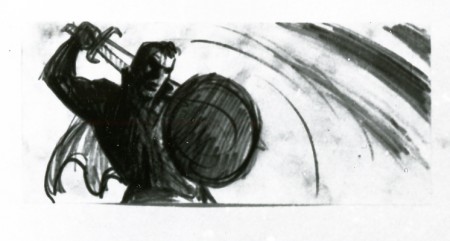 If only he knew what he was going to face next.
I've decided to get the frame grabs for the sequence and post them as well. I thought the comparison of board to actual film would be interesting.
__________
These images come from the "Special Edition" of the dvd, not the "Platinum Edition" now on the market. Using Hans Perk's posts of the drafts for these scenes, on his blog A Film LA, I was able to identify the animators' names.



sc 82 (L) Milt Kahl – sc 82.1 (R) Frank Thomas


sc 82.2 (L) Kahl & Thomas – sc 82.3 (R) George Nicholas & Jerry Hathcock


sc 82.4 (L) Nicholas – sc 82.5 (R) Nicholas & Hathcock


Nicholas & Hathcock (L) sc 82.6


Nicholas & Hathcock (L) sc 83


sc 84 (L) Ken Hultgren – sc 85 (R) Nicholas & Hathcock


sc 87 (L) Nicholas & Sibley – sc 88 (R) Nicholas & Hathcock


(L) Nicholas & Hathcock – sc 89.1 (R) Hultgren


sc 89 (L) Nicholas & Hathcock – sc 91 (R) Hathcock


sc 91 (L) Hathcock – sc 92 (R) SA sc 49 seq 8


sc 95 (L) Hathcock – sc 93 (R) Hathcock


sc 96 (L) Hathcock – sc 97 (R) Dan MacManus


(L) MacManus – sc 97.2 (R) Hathcock


sc 98 (L) Hathcock – sc 99 (R) Sibley


sc 100 MacManus


sc 100.1 (L) Hathcock – sc 101 (R) Les Clark & Fred Kopietz


sc 102 (L) Hultgren & Kopietz – sc 104 (R) Hathcock


sc 107 (L) Hathcock – sc 108 (R) Hultgren


(L) Hutlgren – sc 109 (R) Hathcock


sc 110 (L) Ollie Johnston & Blaine Gibson – sc 110.1 (R) Gibson


sc 110.2 (L) Johnston – sc 110.3 (R) Johnston & Gibson


sc 110.4 (L) Johnston – sc 111 (R) Johnston & Gibson


sc 112 Johnston & Gibson


sc 112 (cont) Johnston & Gibson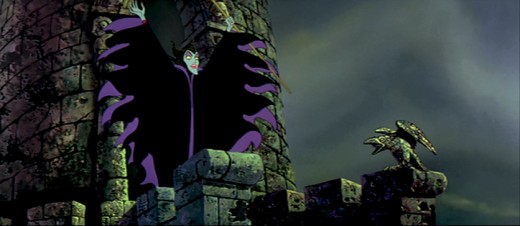 - Let's end this post from Sleeping Beauty by posting a couple of drawings I have for the "Skumps" sequence. Again, Hans Perk on his blog A Film LA, posted the animator drafts for this sequence and I was able to I.D. the animators. (I have to say I guessed correctly in three out of four shots, so I'm pleased with myself.)
I'm posting closeups of the drawings. By clicking on any of them you'll see the full sized animation paper. I'm also posting frame grabs beneath the drawings so you can see how they looked in the film.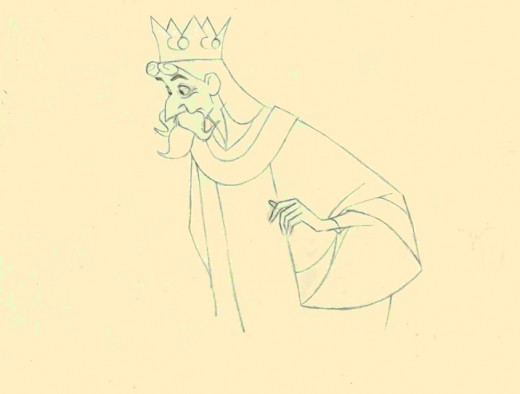 This is a Milt Kahl scene, seq 13 sc 8. This drawing is undoubtedly a clean up,
so it's not one of Kahl's drawings – just his pose. It's an extreme.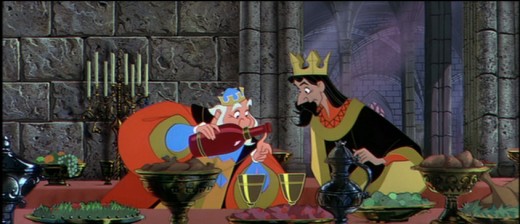 It is interesting that Kahl animated both characters.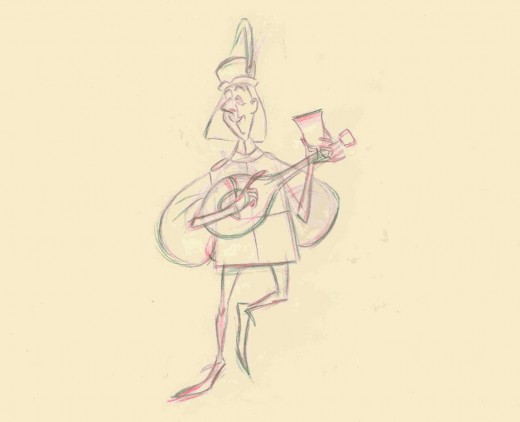 This is a John Sibley ruff. Seq 13 sc 17.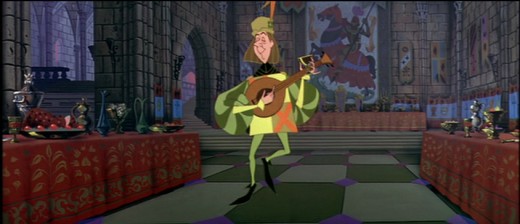 It's a very odd, uncoordinated dance number by the drunk lackey.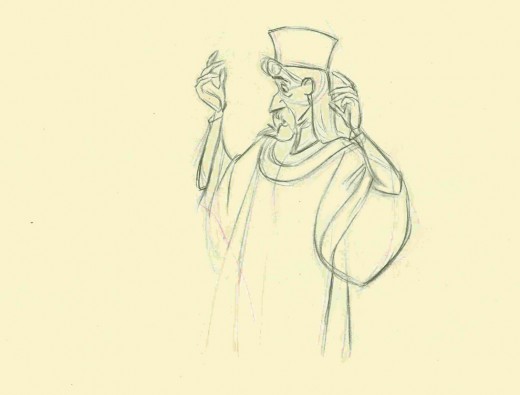 This is my favorite of these four. It's a John Lounsbery ruff of King Stefan.
Another extreme from seq 13 sc 26.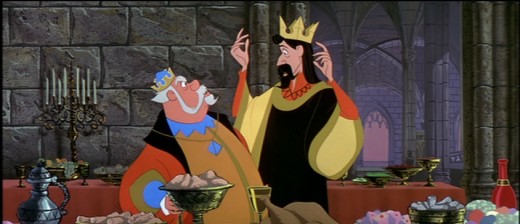 I like this character.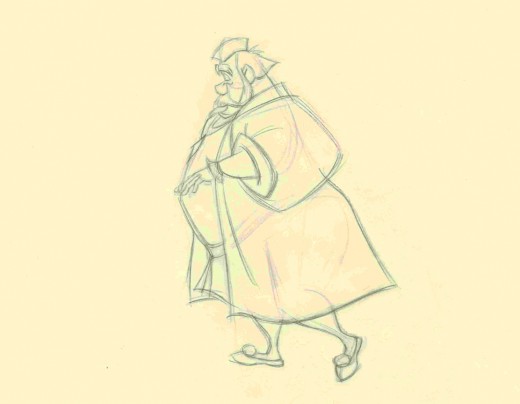 This is also another beautiful ruff by John Lounsbery. It's King Hubert in the
very last scene of seq 13, sc 57.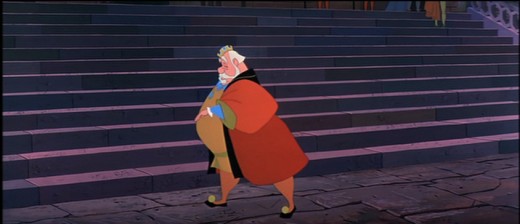 it comes just prior to Hubert's turning and sitting on the palace steps.


___________________
Action Analysis &Animation &Animation Artifacts &commercial animation 24 Apr 2013 05:07 am
- Here's one of the scenes saved by Vince Cafarelli from a commercial he did while at Goulding-Elliott-Graham. The commercial was animated by Lu Guarnier, and Vinny was the assistant on it. Hence, he saved the rough drawings (instead of Bert Piels. (Sorry I don't know what he's saying, though I'm looking for the storyboard.)
So, here are Lu's rough drawings in this CU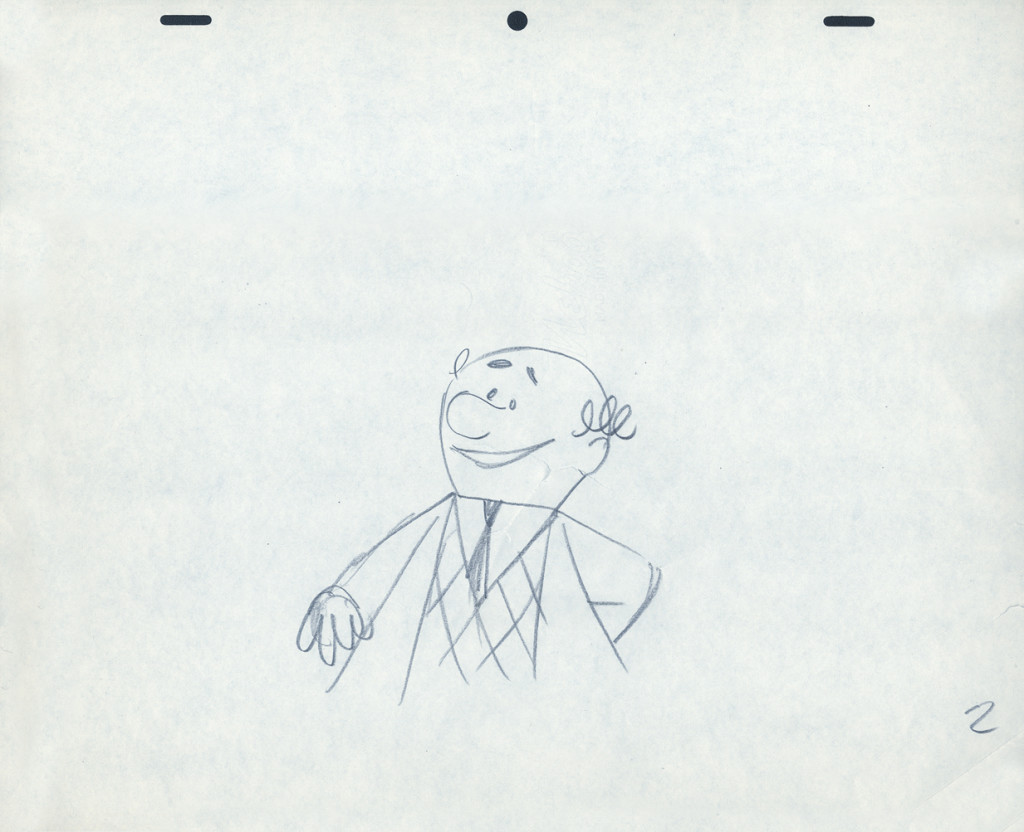 2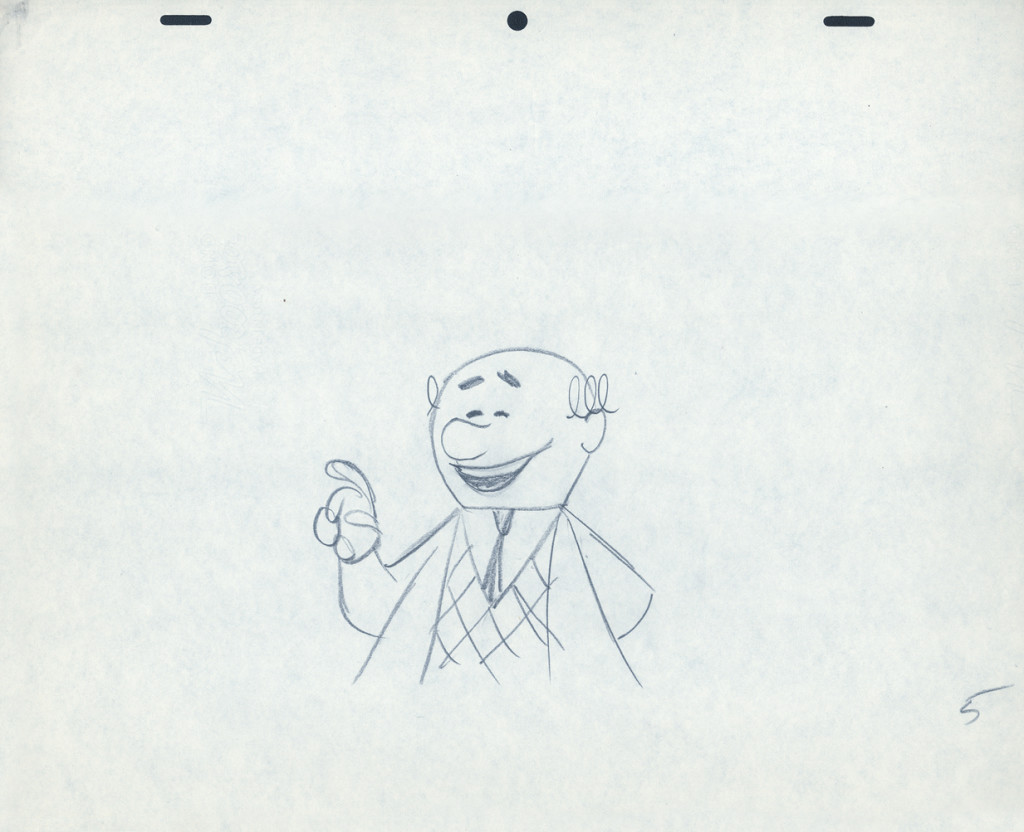 5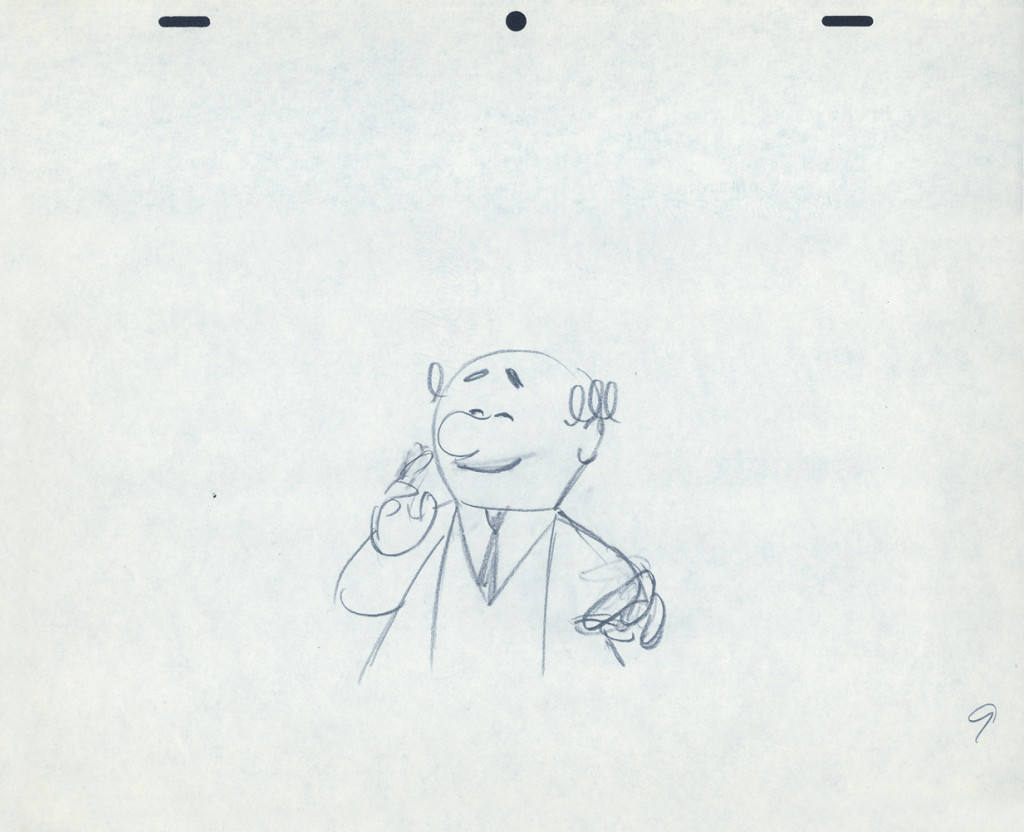 9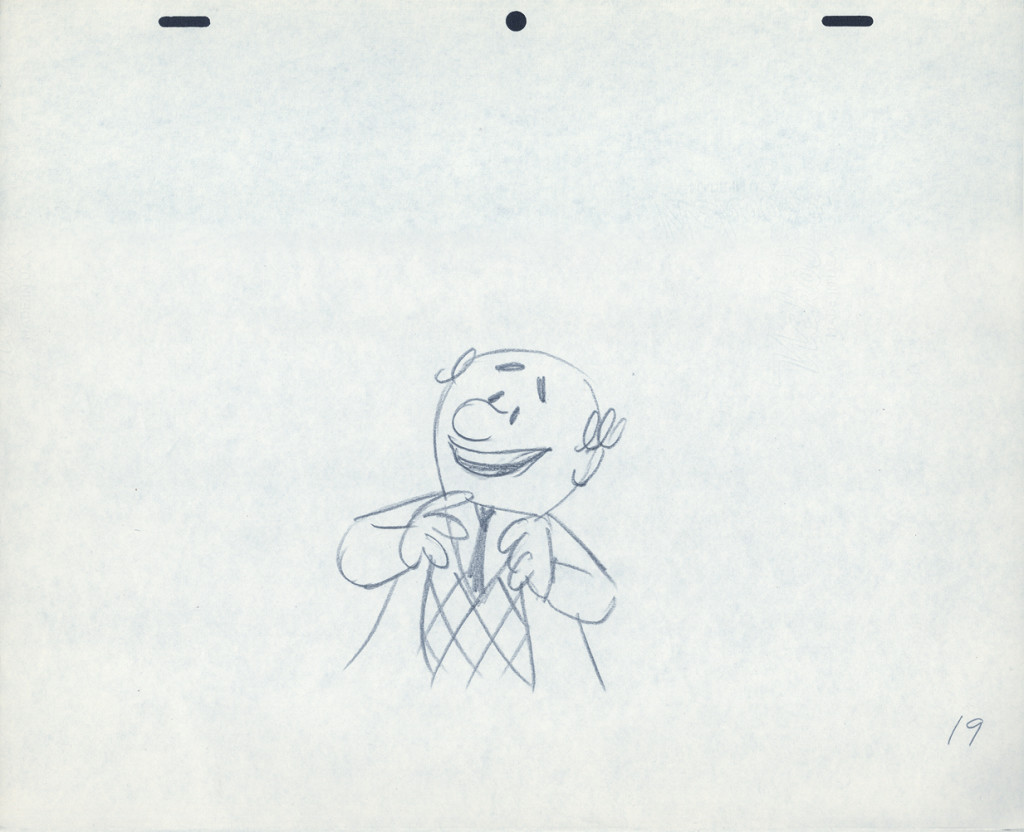 19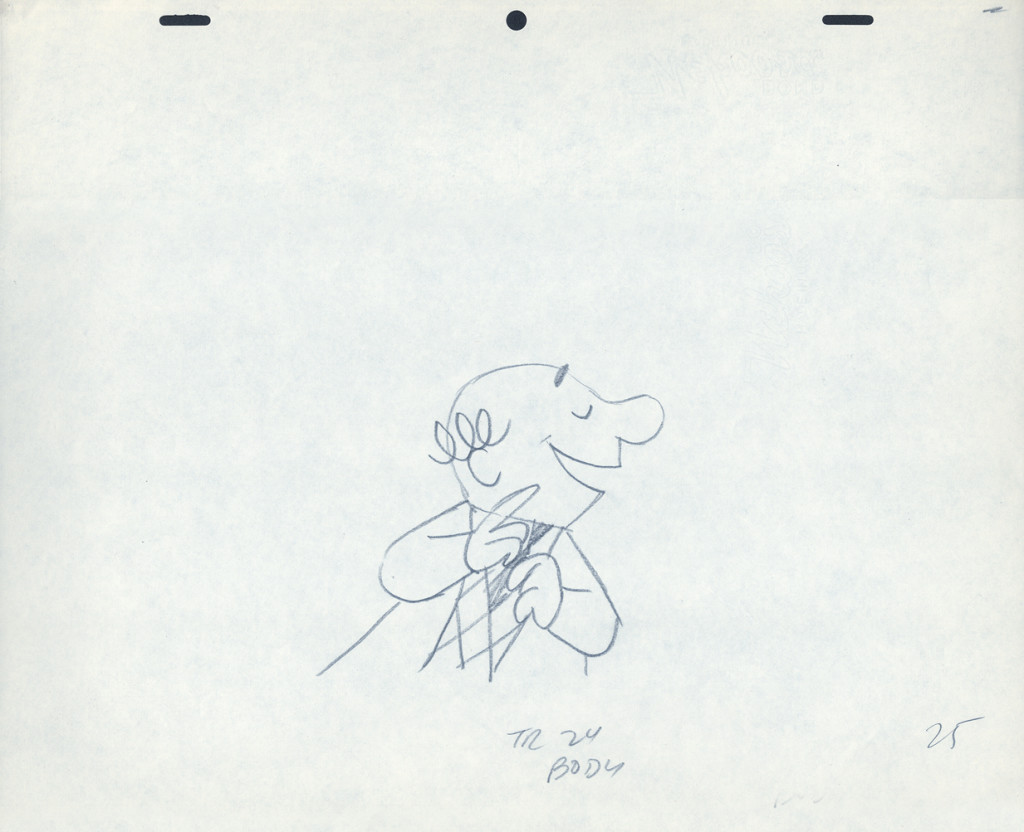 25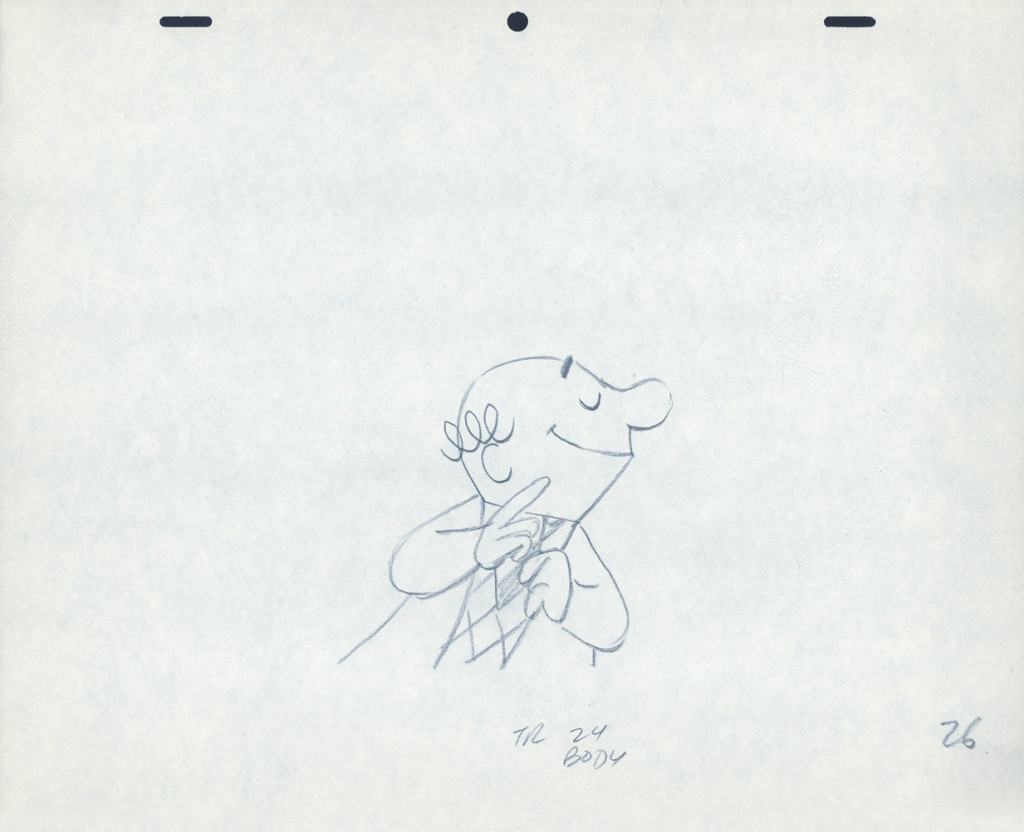 26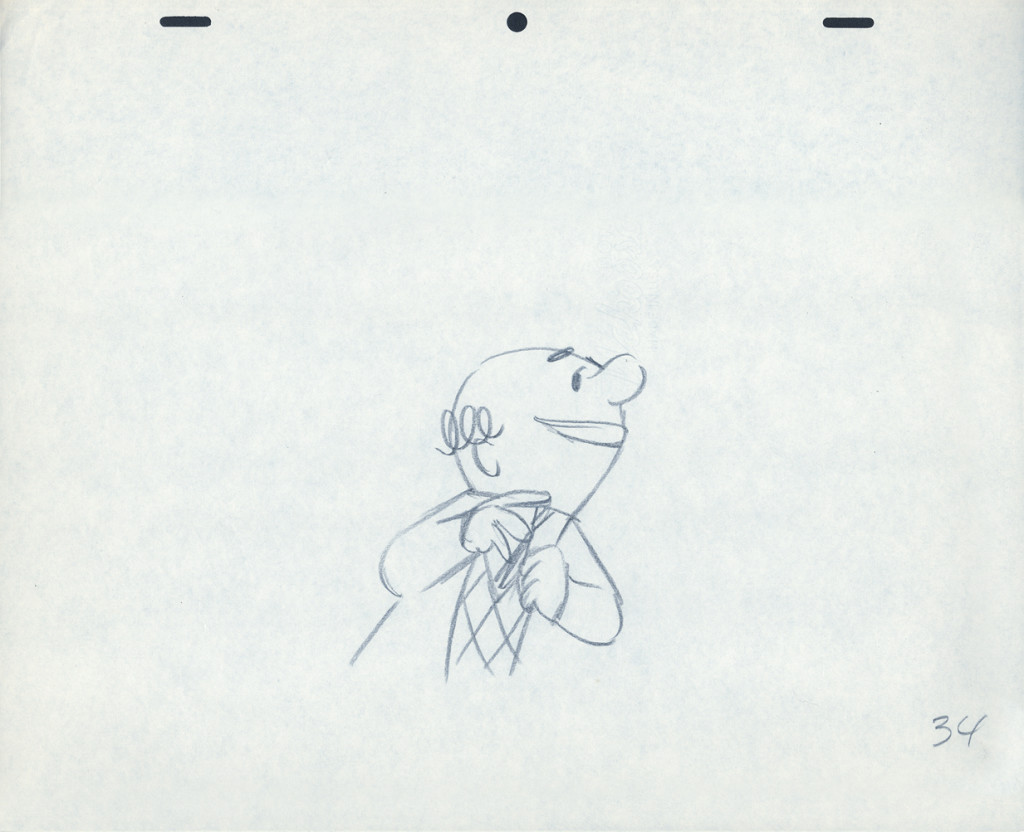 34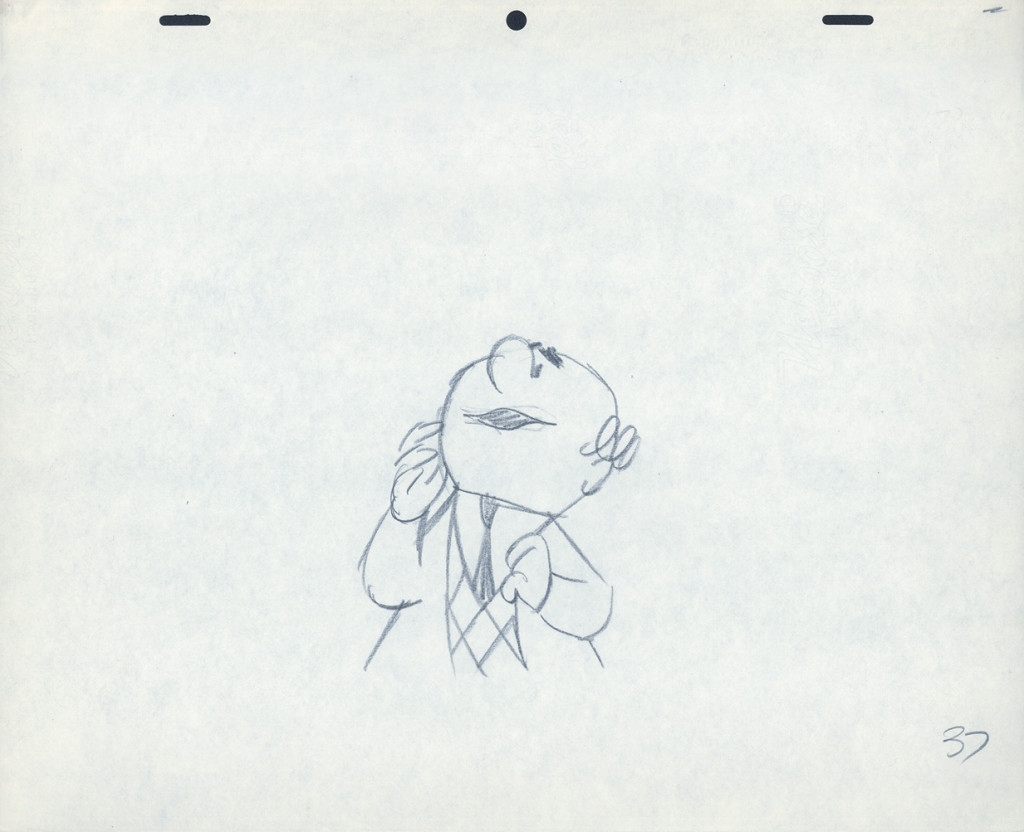 37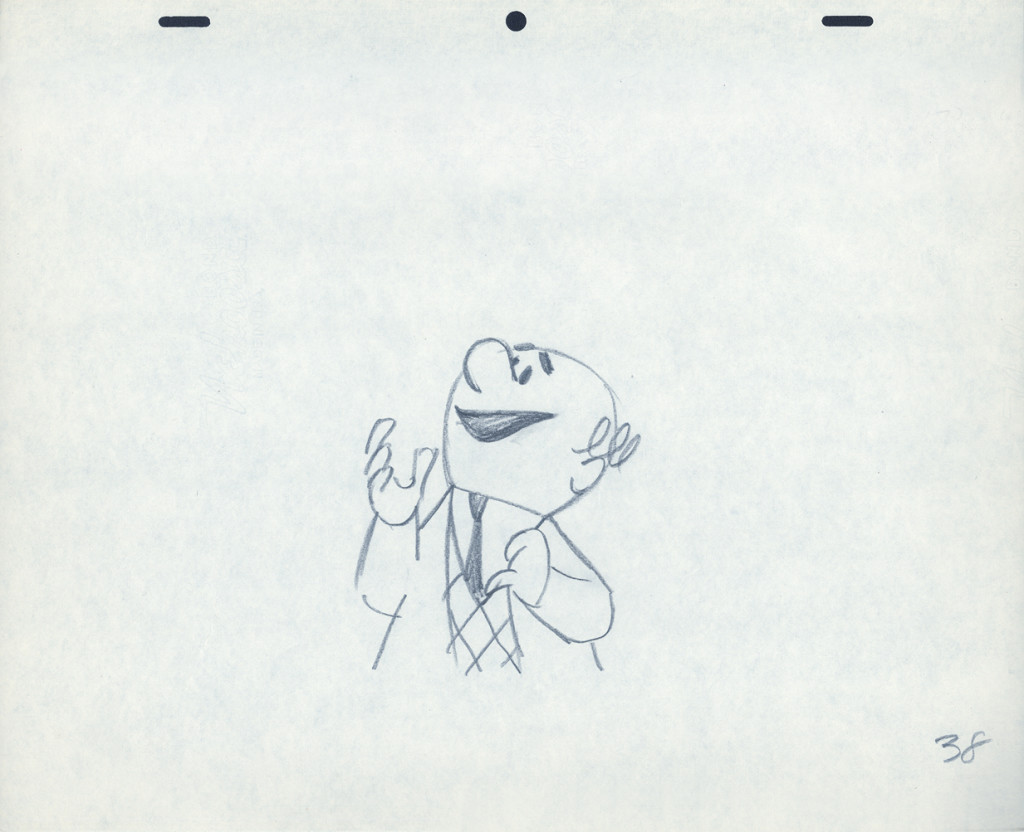 38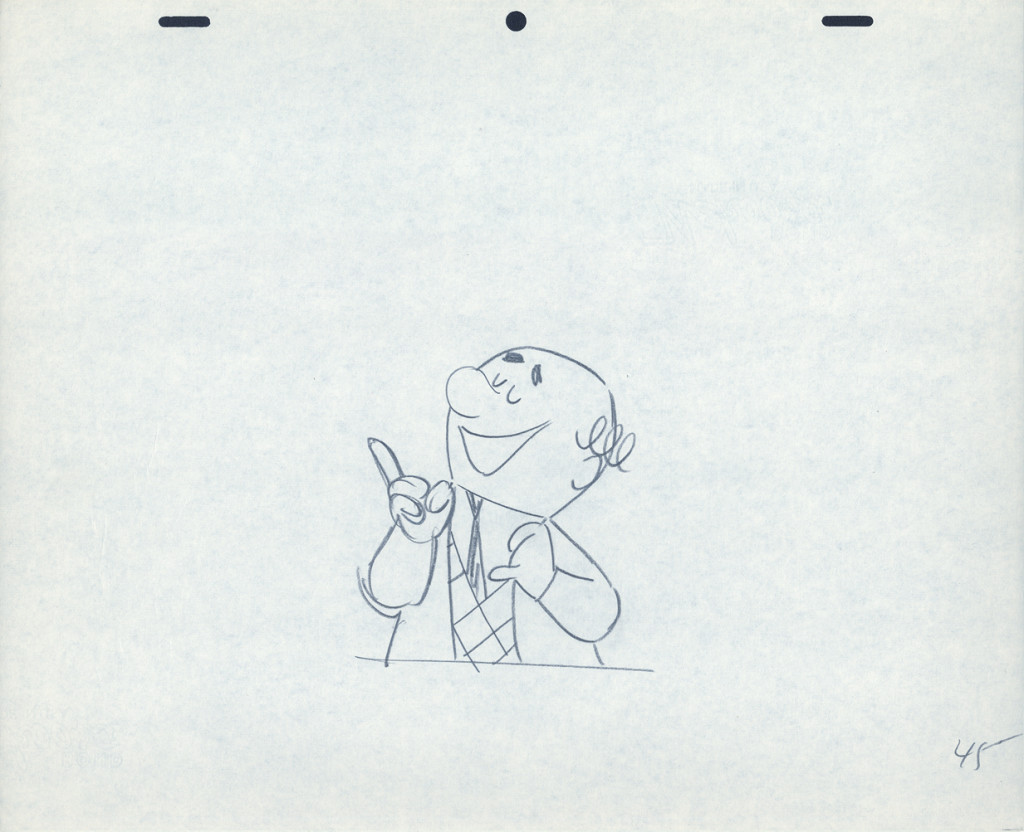 45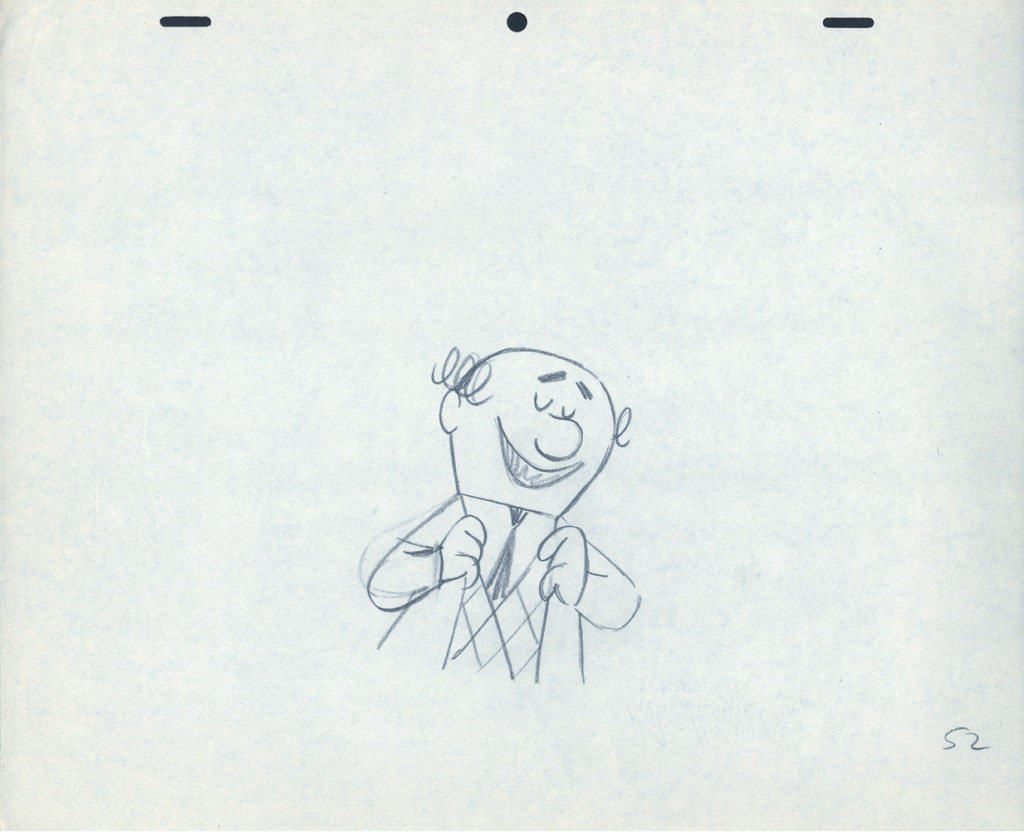 52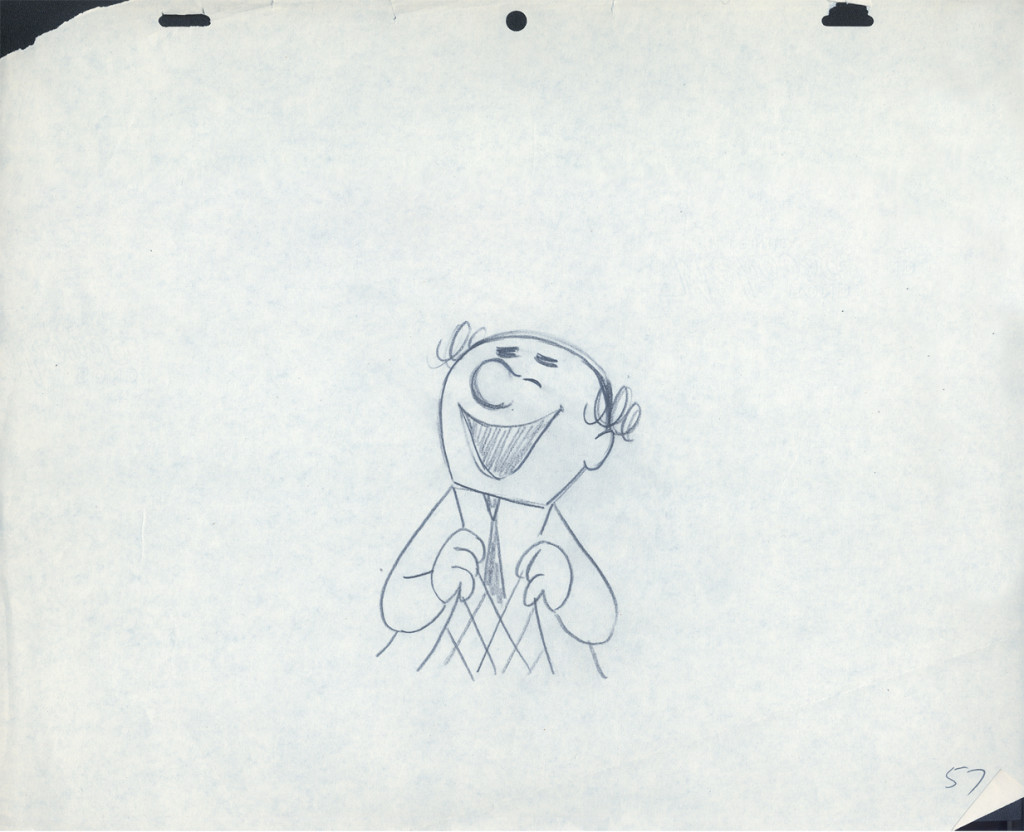 57

The following QT movie was made by exposing all drawings on twos
except for the extreme positions that were missing inbetweens.
For those, I dissolved from one extreme to the next.
It drove me crazy that Lu Guarnier always animated on top pegs.
Next week with the last of these three posts on this Piels Bros commercial, I'll talk about Lu's animation and some of my pet peeves.
Animation Artifacts &Disney &repeated posts &Story & Storyboards 22 Apr 2013 05:04 am
I've spent a lot of recent posts writing about the animation of some of the earlier features. I thought I'd give a little focus on the storyboard of Dumbo. The variety and styles of the images is impressive. I've culled a lot of storyboard drawings from various sources and present in somewhat chronological order.
This was the first feature Bill Peet worked on. You can see his entire "Dumbo washing" sequence storyboard here.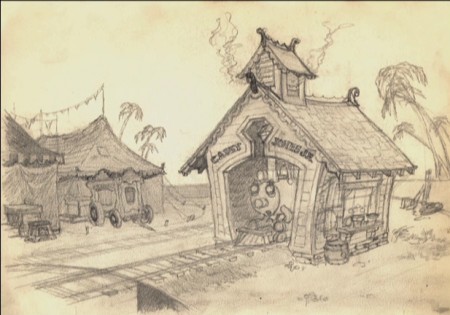 1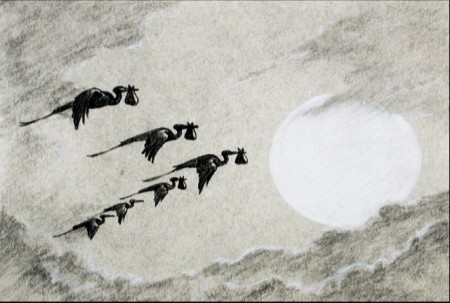 2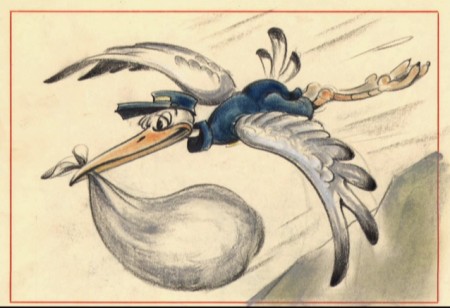 3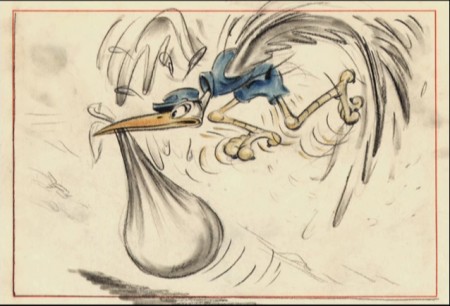 4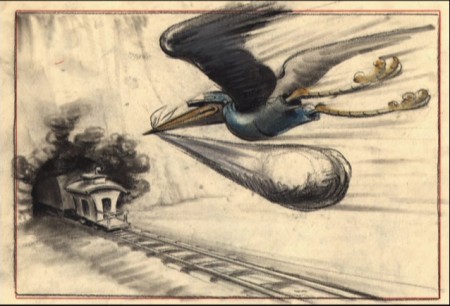 5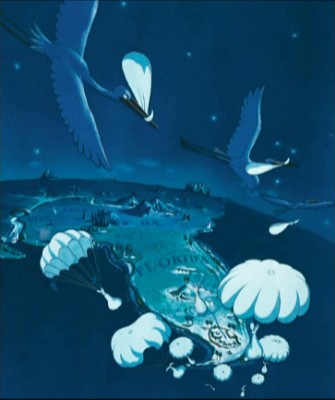 6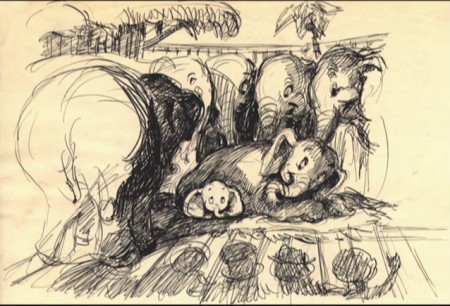 7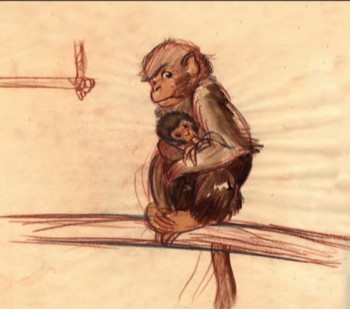 8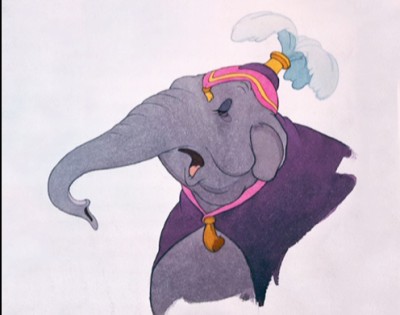 9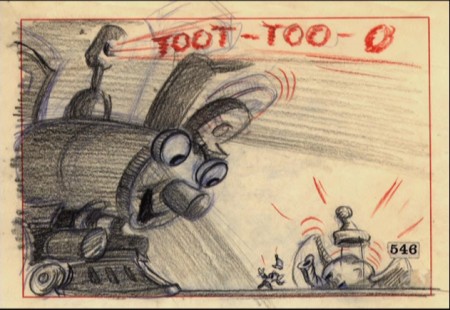 10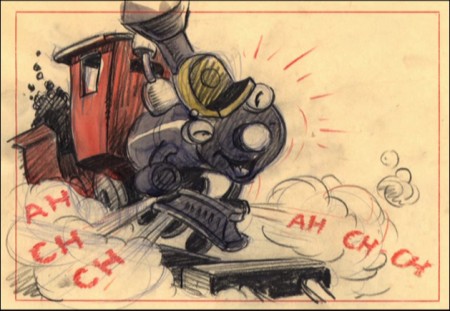 11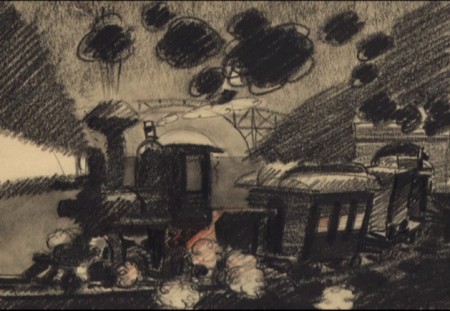 12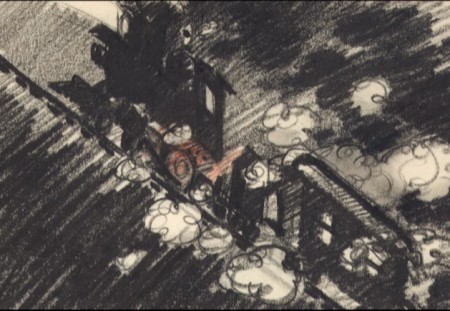 13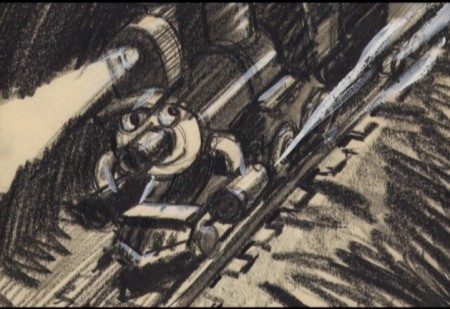 14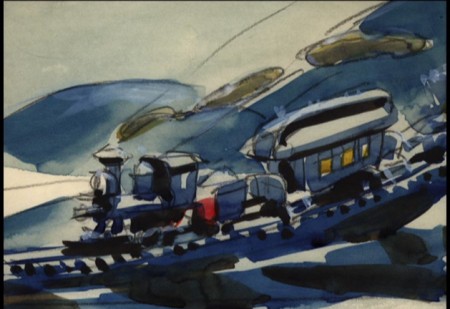 15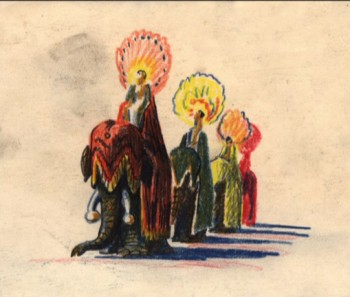 16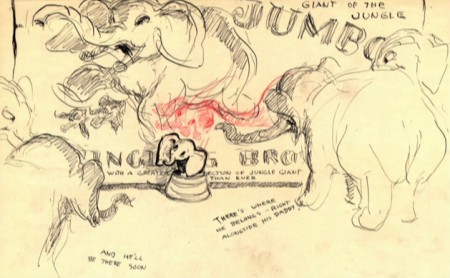 17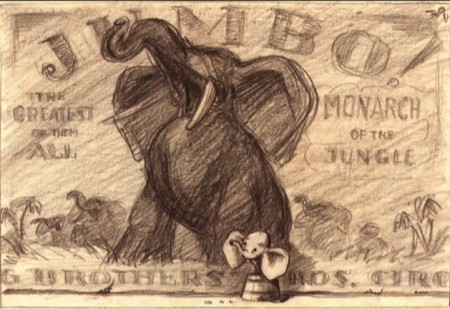 18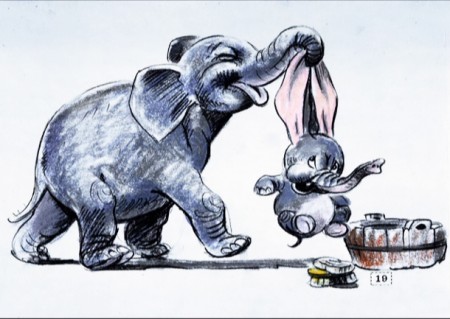 19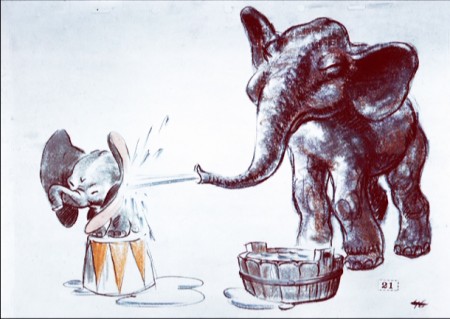 20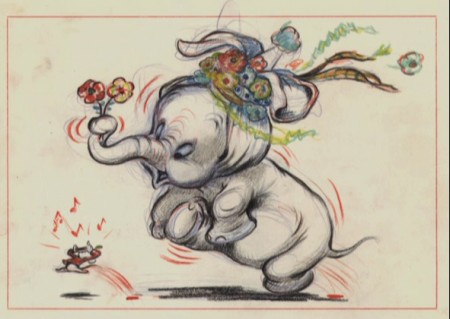 21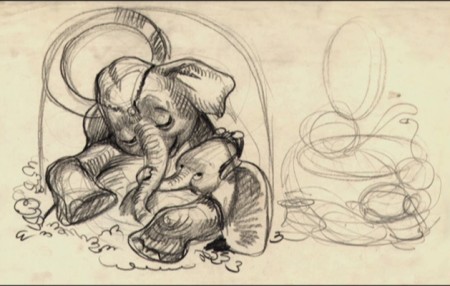 22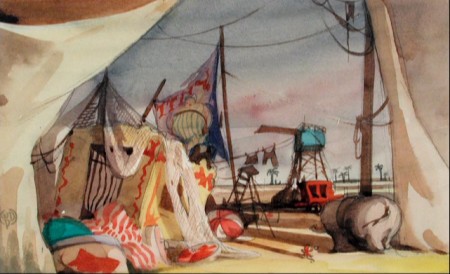 23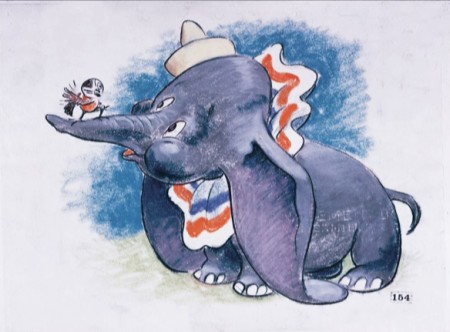 24
Yes, that's a bird on Dumbo's trunk – not Timothy.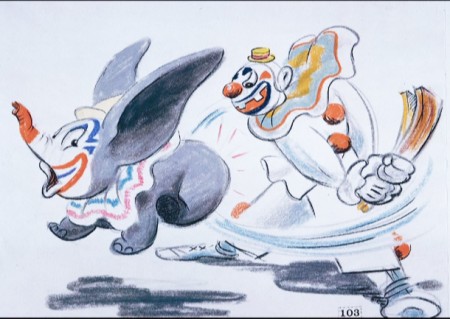 25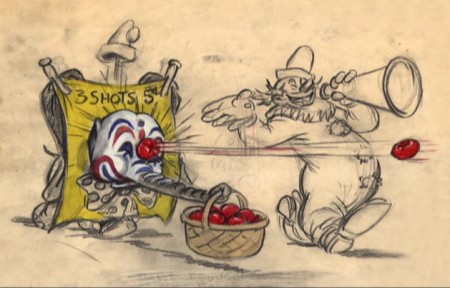 26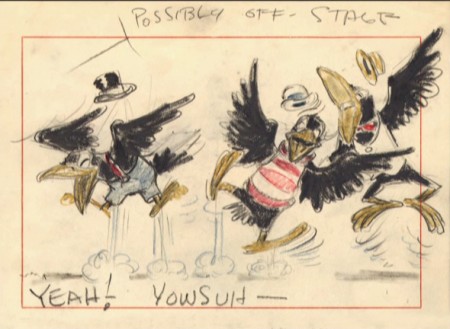 27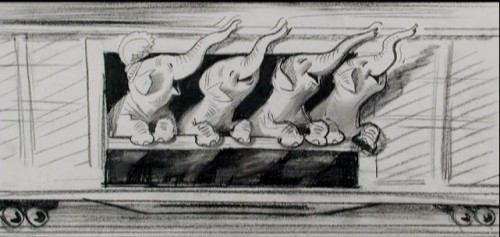 28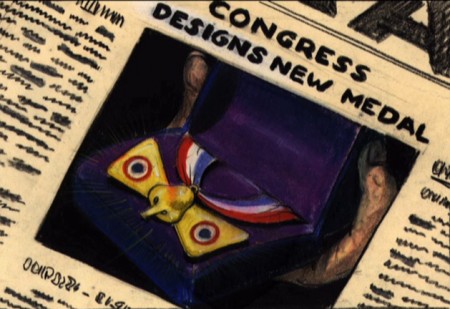 29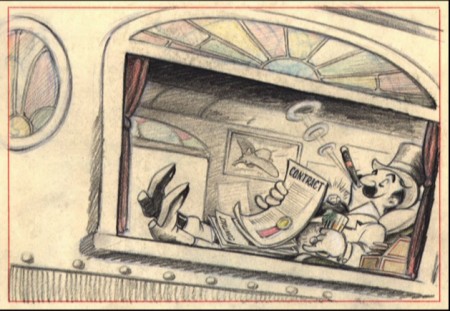 30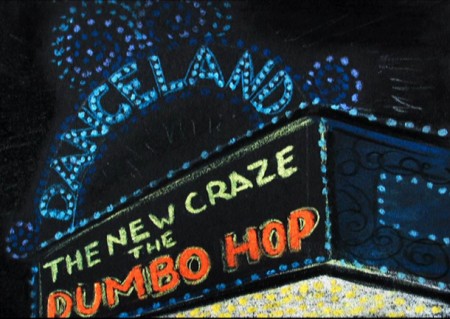 31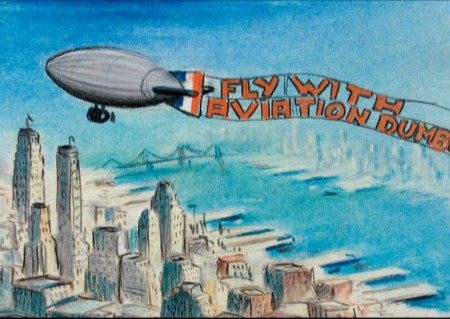 32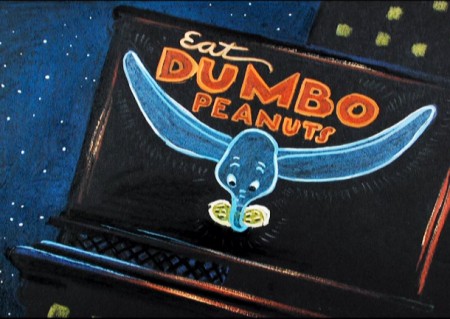 33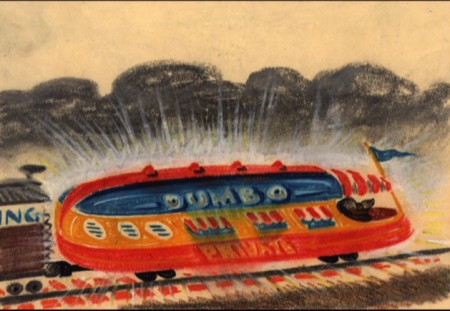 34

Action Analysis &Animation &Animation Artifacts &commercial animation &Layout & Design 17 Apr 2013 05:51 am
Among Vince Cafarelli's remaining artifacts there are lots of bits and pieces from several Piels Bros. commercial spots. I decided to put some of it together – even though they're not really connected – into this one post.
There are animation drawings I'll try to post in other pieces.
Here, we have a storyboard for a spot; I believe this is an abbreviated spot promoting some contest Piels beer was running. I think this is from a shortened version of a one minute spot since there are animation drawings which are obviously from the same setup, but they're not part of this storyboard. (There's an unveiling of the barrel, which is upside down.)
Since the boards are dated 1957, and given the use of signal corps pegs, I believe these were done for UPA.
Regardless, the drawings are excellent. I presume they're hand outs to Lu Guarnier, animating, and Vince Cafarelli, assisting.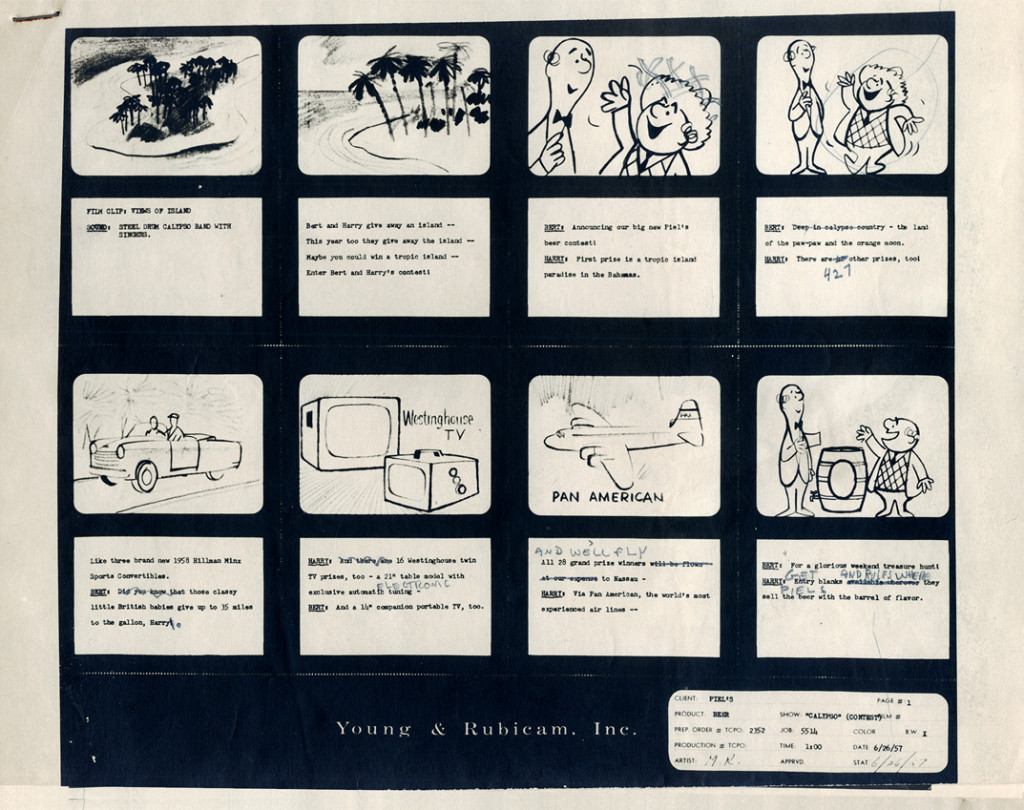 1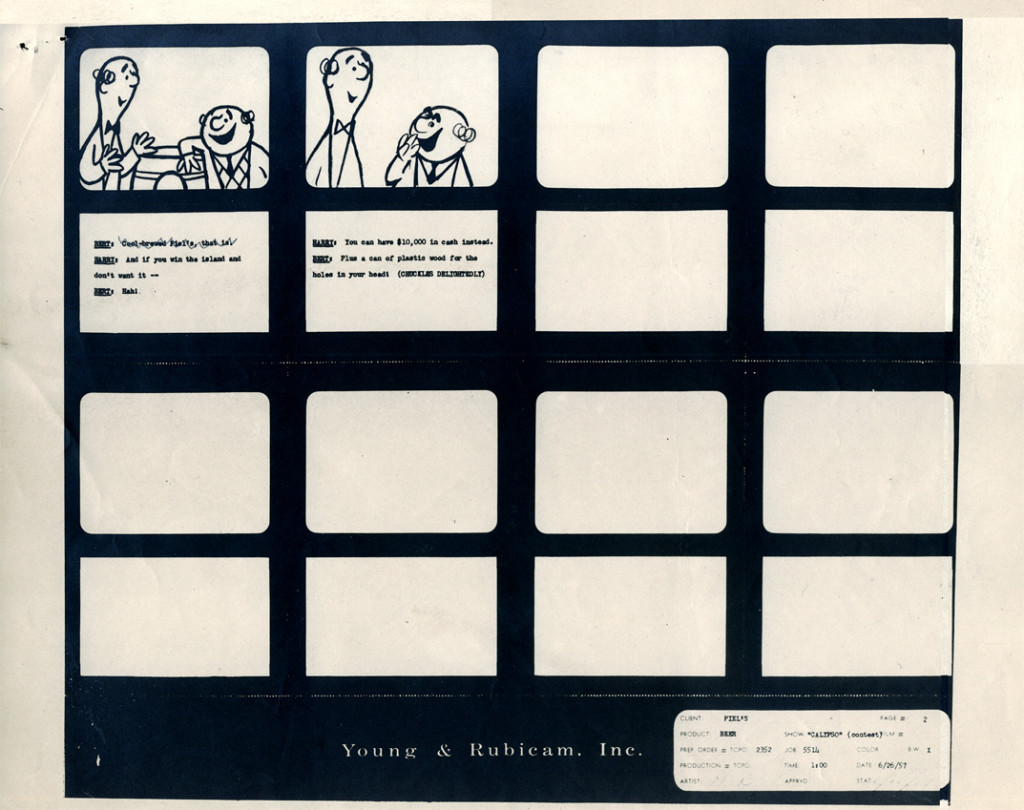 2

The following are three drawings from the opening scene of this storyboard. Others from this scene weren't saved.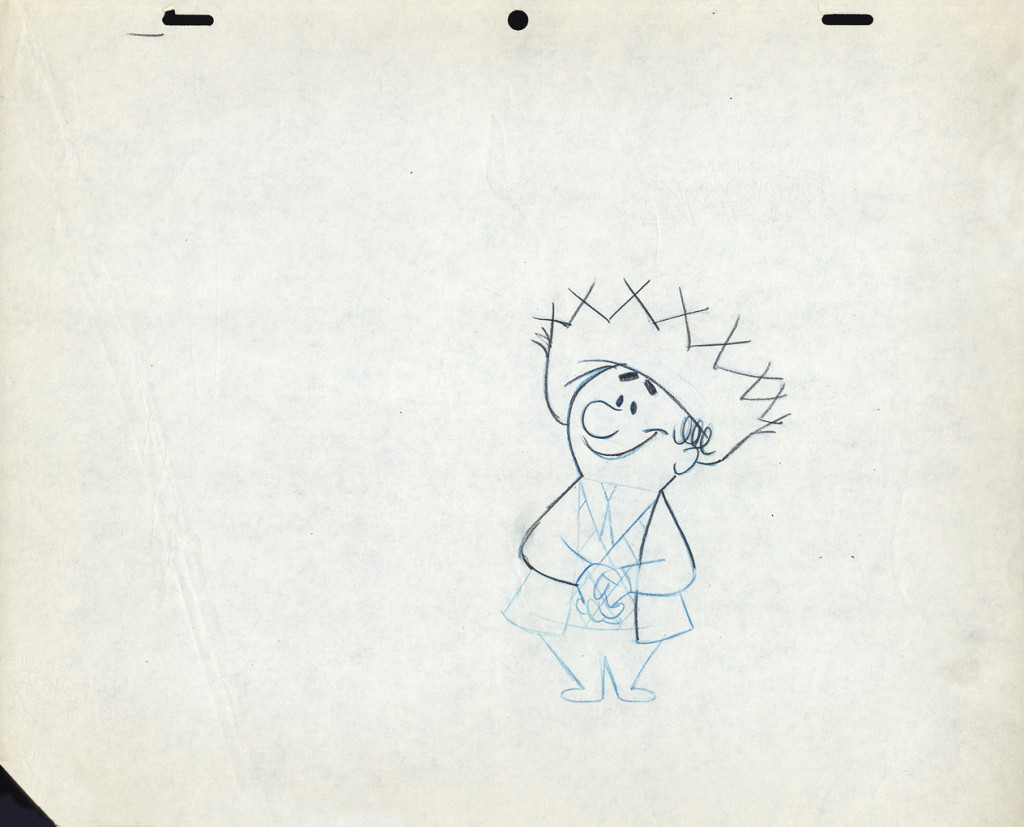 1
Here's Bert.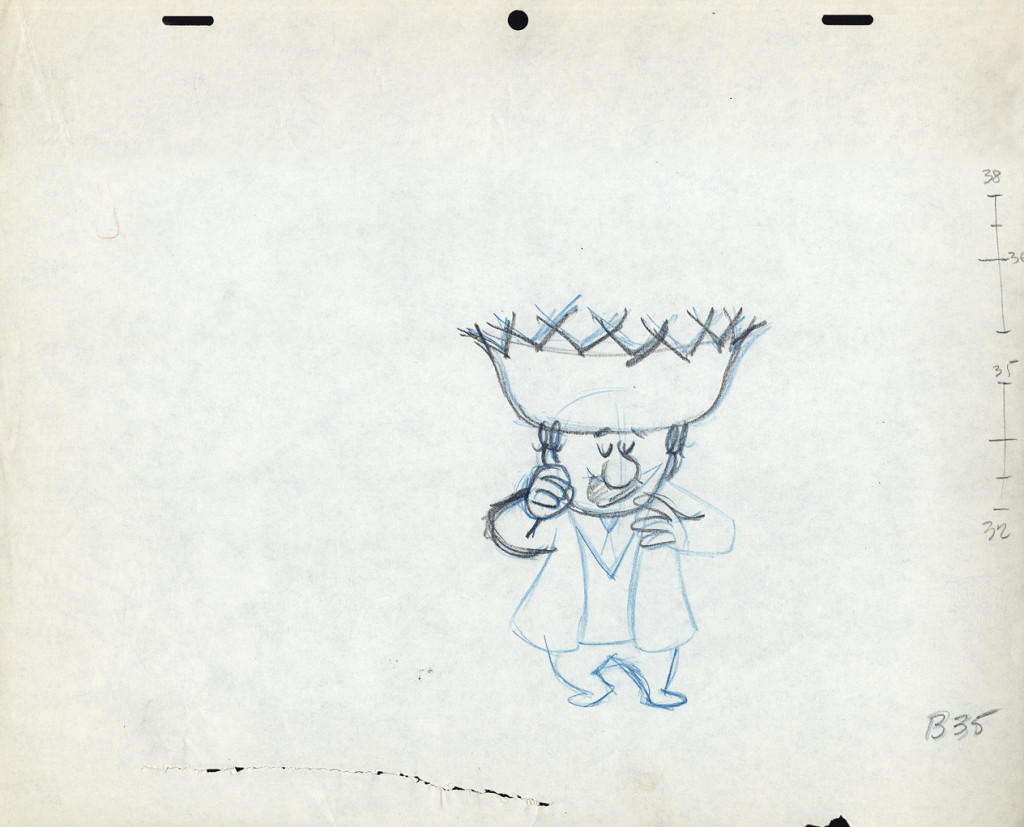 2
Let's follow that with layout drawings from two different spots. The first doesn't really offer much, but the quality of the clean-ups and the drawing is first rate. I'm pleased to post it: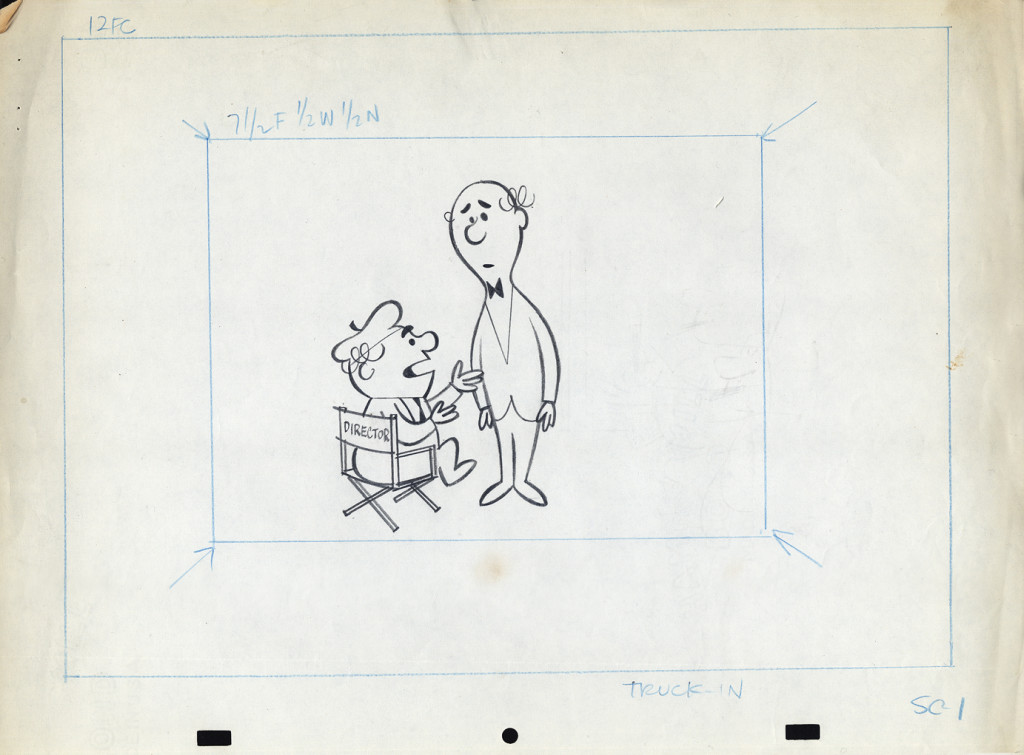 1a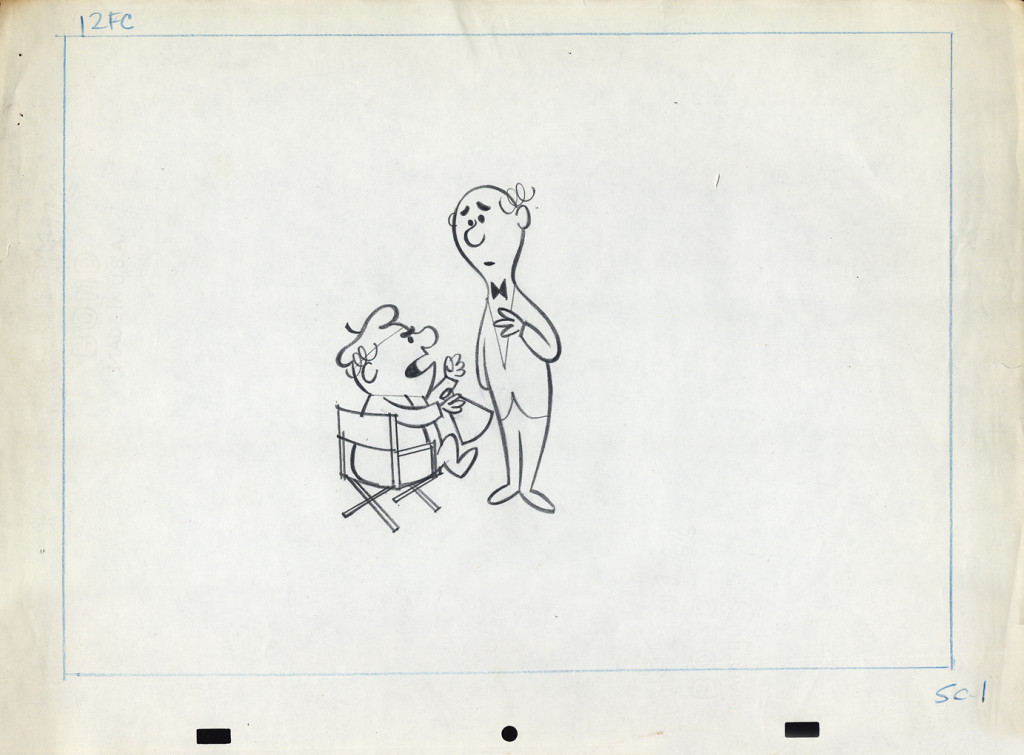 1b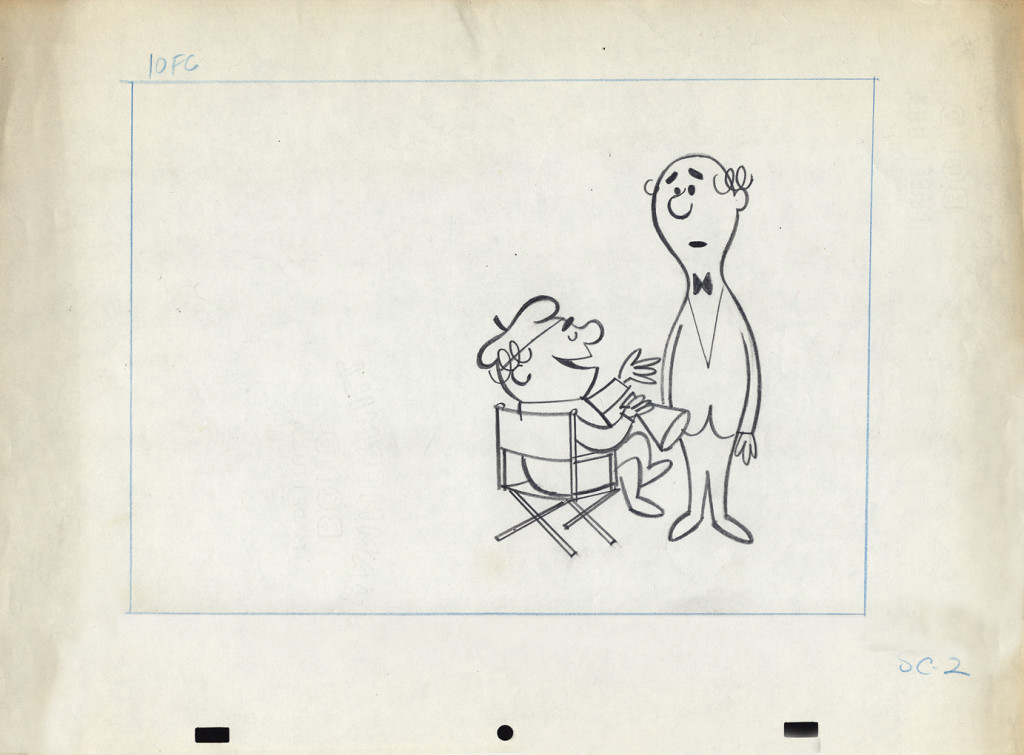 2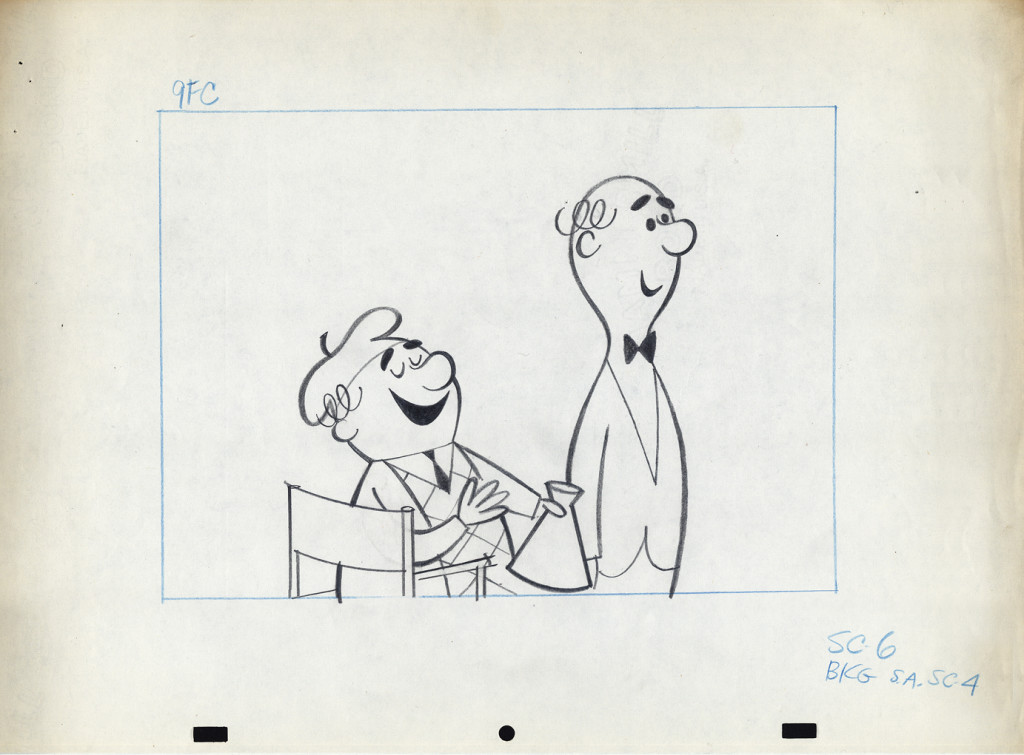 6

Here are layout drawings for the second of the two spots I have in hand. I presume this is also a spot promoting that contest.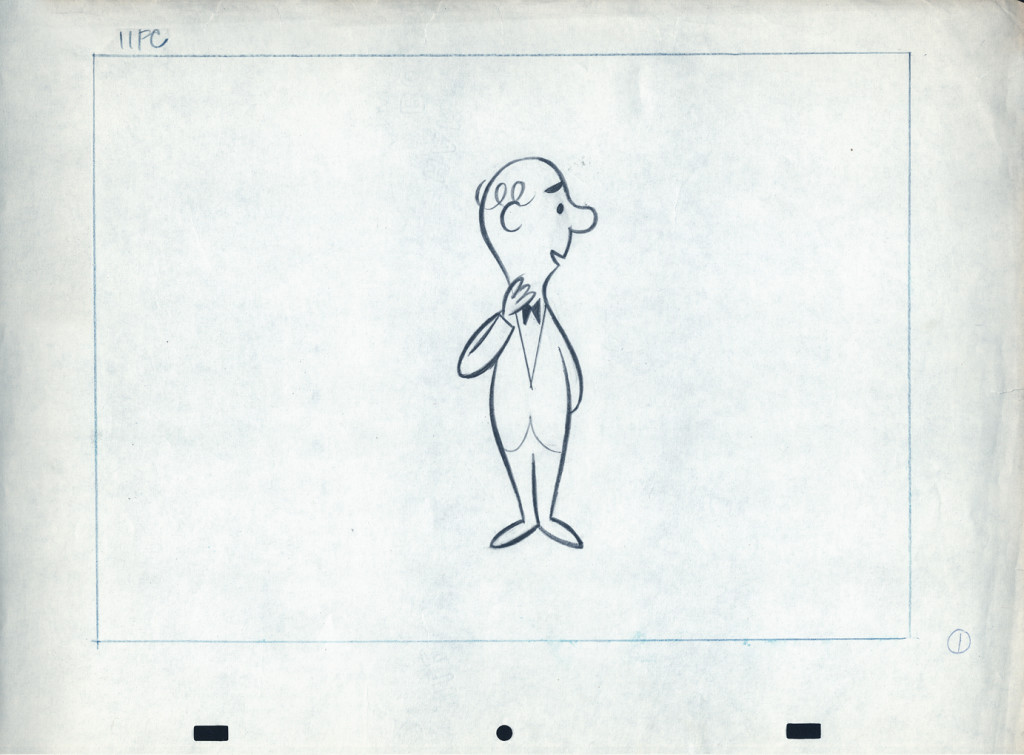 1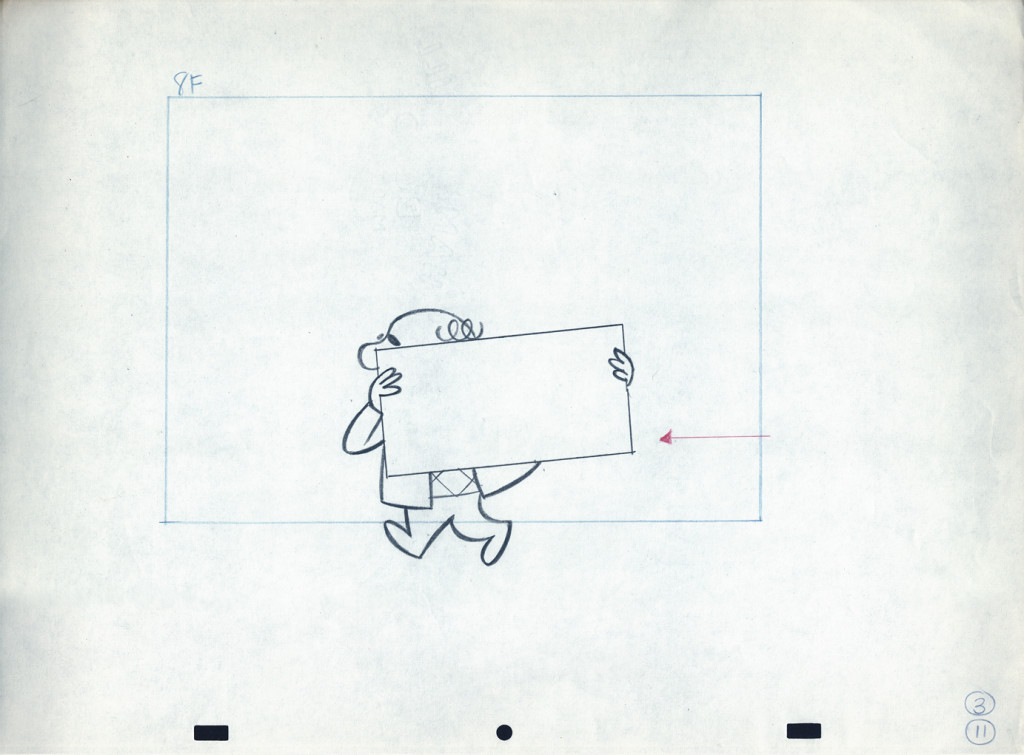 3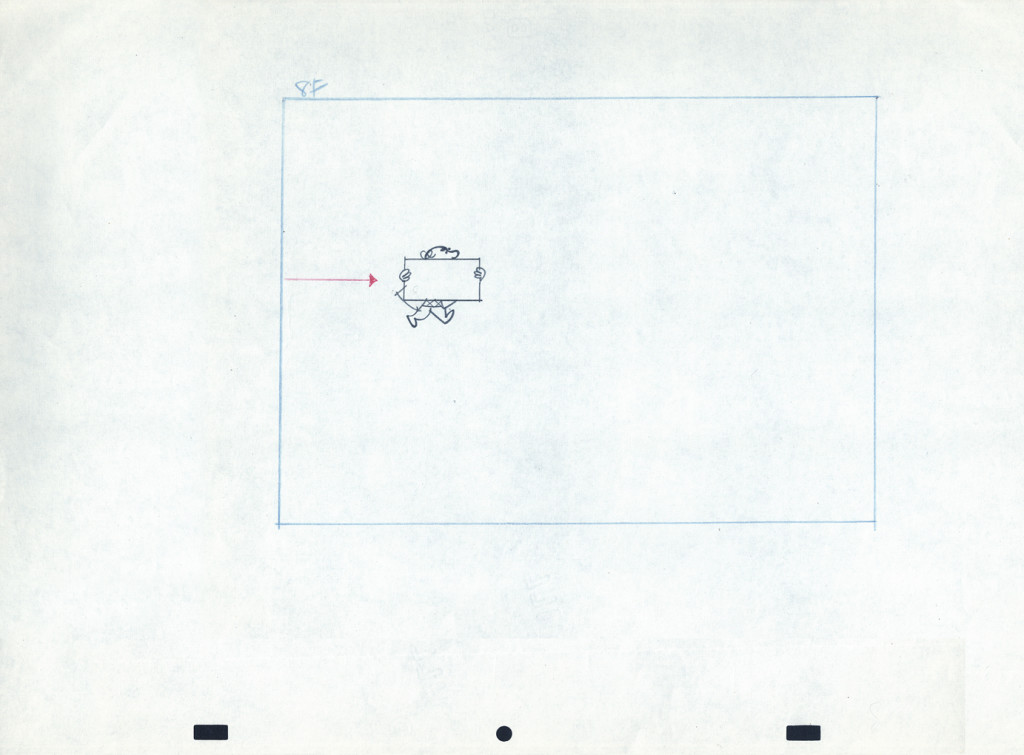 4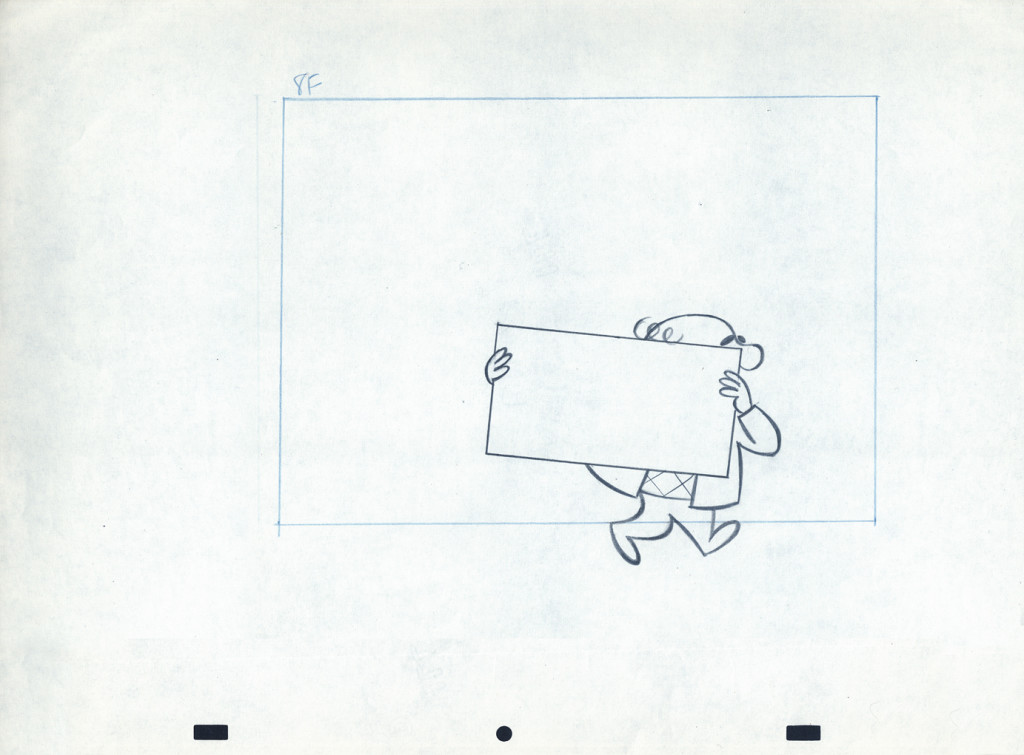 7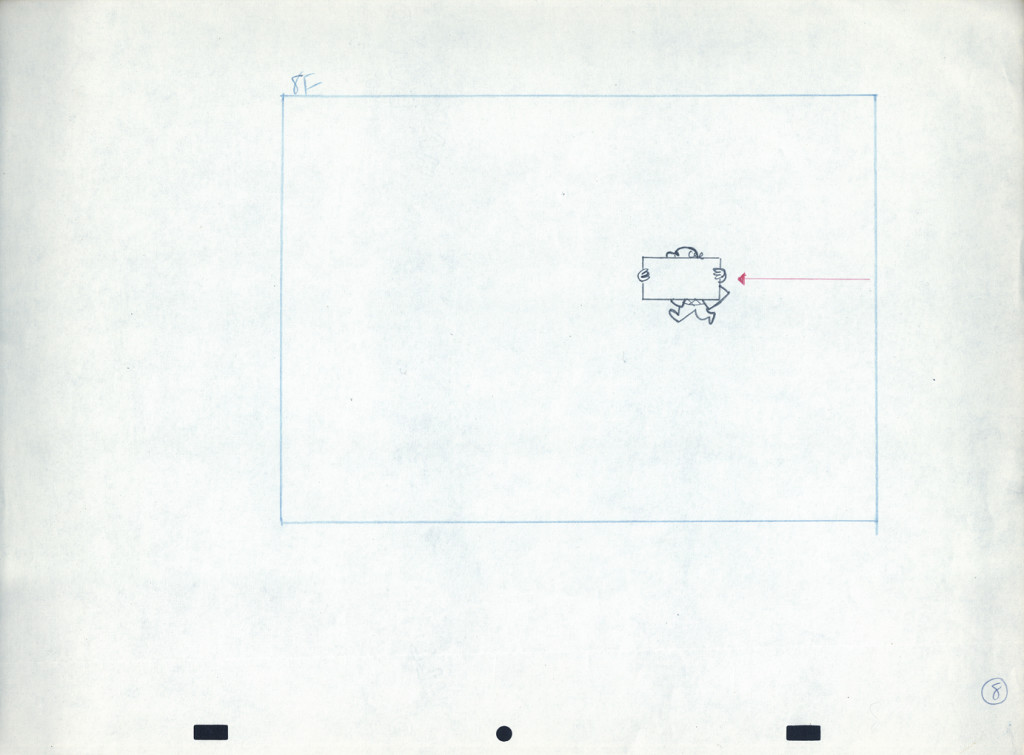 8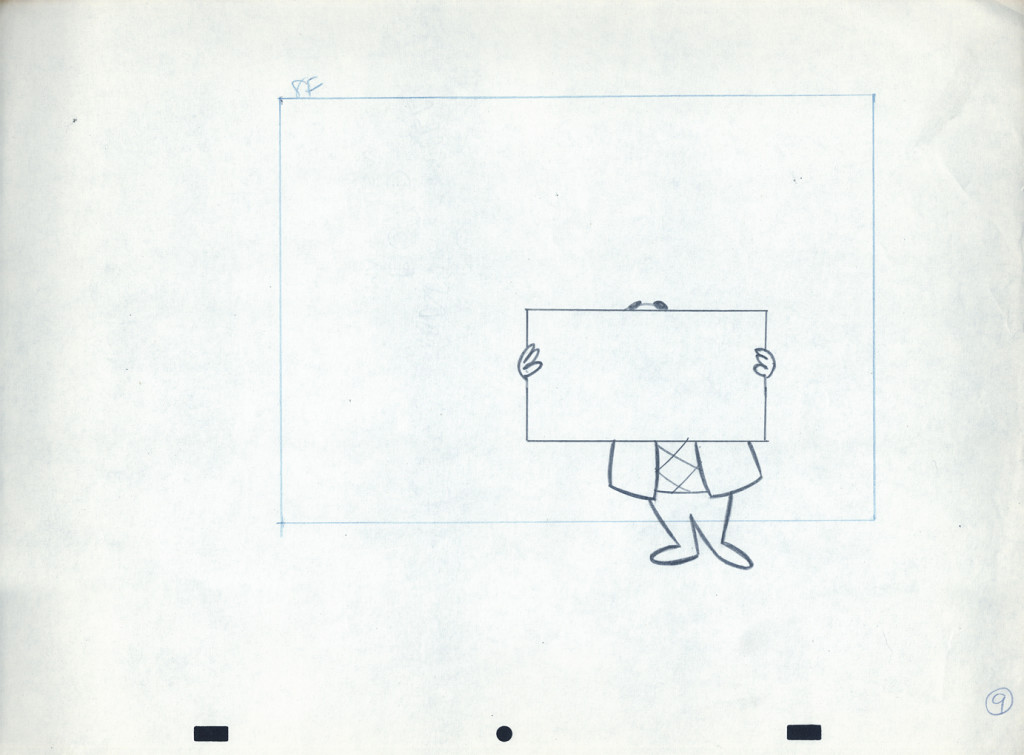 9
In the next week or two, I'll post some of the animation drawings left behind so you can get an idea of the movement and Lu Guarnier's animation. I'll probably have some to say about Lu's style of movement. It drove me crazy when I had to assist him. The movement always looked great on screen, but it took a lot for an assistant to get it there.
Action Analysis &Animation &Animation Artifacts &John Canemaker &Tytla 16 Apr 2013 05:12 am
- With all the recent thought and posts on Bill Tytla, I couldn't resist revisiting this artwork from the Harman-Ising short, The Hungry Wolf. So here it is.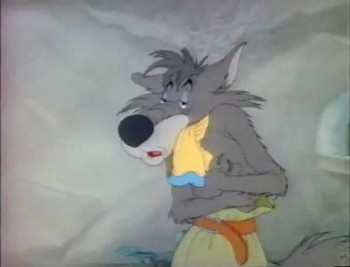 We've seen that Tytla veered his animation style completely toward the "Method" and there is no doubt that he carried that with him even after he left the Disney studio. Unfortunately, he went to the lowest of the low and couldn't survive any longer as an animator. He turned to direction and had to adapt his use of Stanislavsky to his directing technique.
Unfortunately, the "actors" he was given weren't up to the task. Those "actors" were the least of the animation industry, those who had learned a lot of bad techniques, ways of cheating and a lack of a deep interest in bringing the souls of his characters to life.
I was surprised to learn that Tytla had worked at a studio that was a bit better than Terrytoons or Paramount right after he'd left the haven of Disney. John Canemaker loaned me a cache of drawings for a Hugh Harman film, The Hungry Wolf, made in 1940 at MGM. It's not a very good film; the drawings are signed by Tytla, but they have no ladder indication for an Assistant to do the inbetweens. Most oddly, the wolves are shaded in by Tytla. Also take note of the table being animated into place. Are these animation drawings? Is it LayOut posing to give to someone else to animate? And greatest of all, what is Tytla doing at MGM?
Since this would have been completed in early 1942, I can only assume that it was during the strike at Disney that Tytla did some work for Harman in mid 1941. Most probably he was acting as an Animation Director and NOT animating the scene. He worked under Harman, who got credit for directing.
There's no attempt at distorting or stressing the drawings in any way. I assume the character wasn't designed by Tytla. It's similar to a character design that was used in other Harman films.
Here are all the drawings given me by John.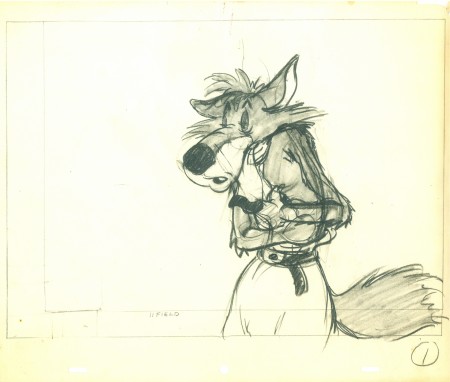 1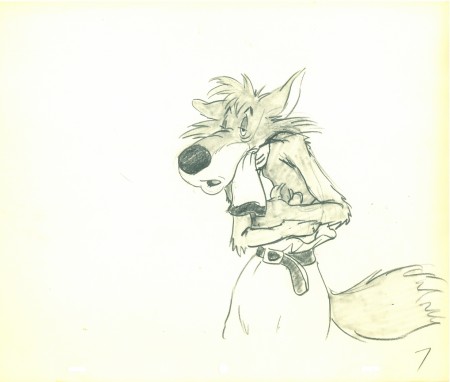 7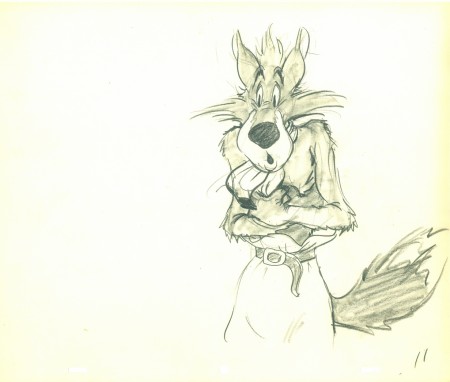 11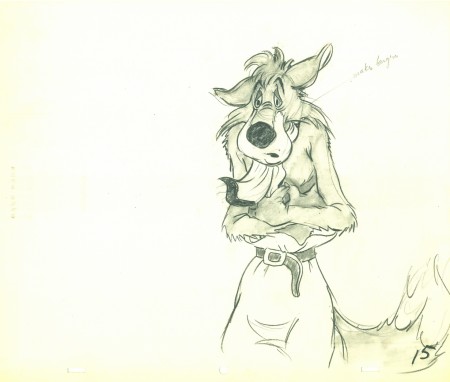 15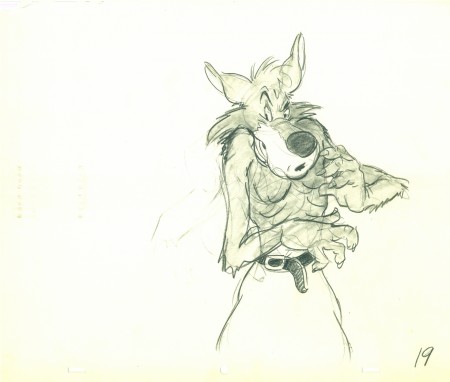 19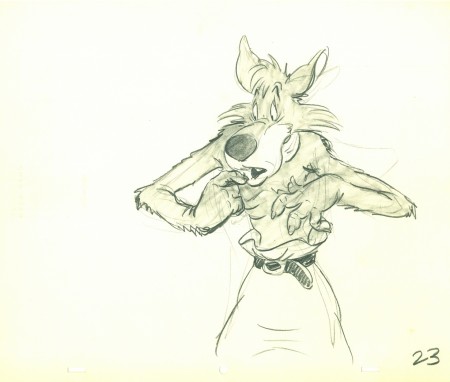 23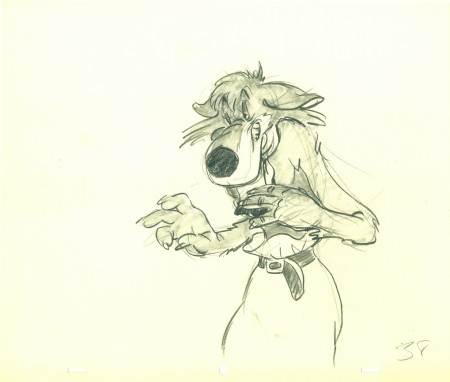 38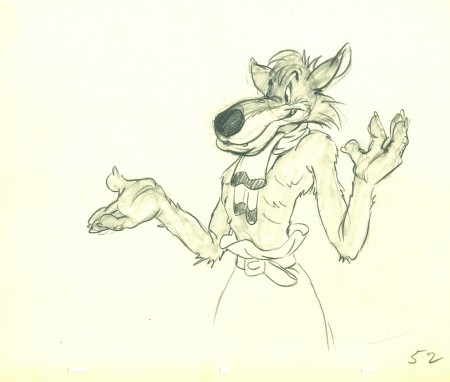 52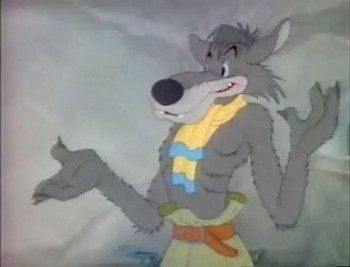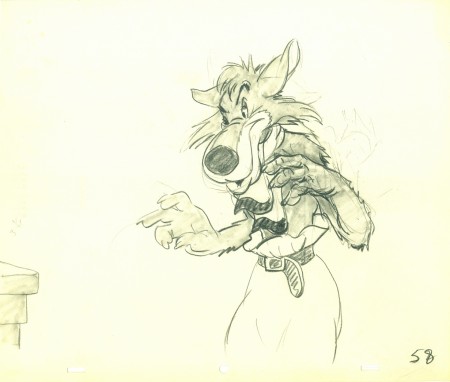 58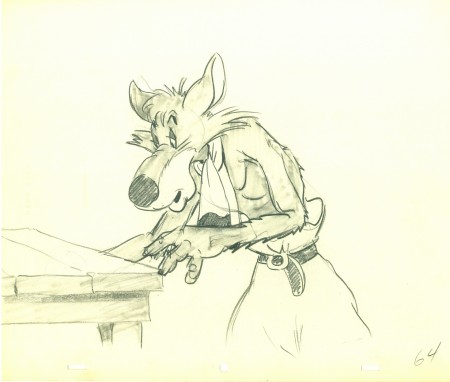 64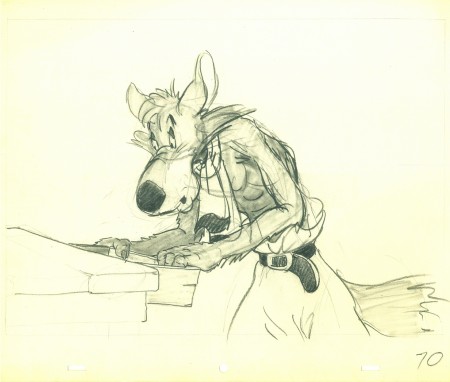 70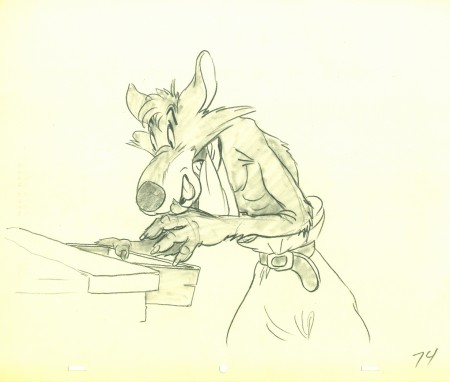 74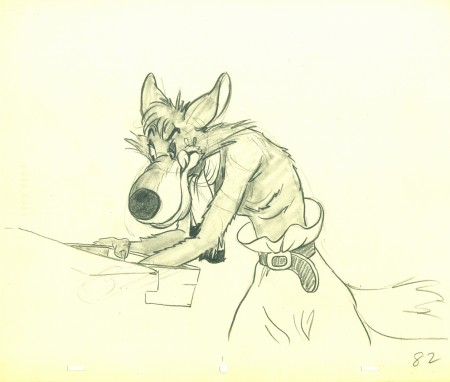 82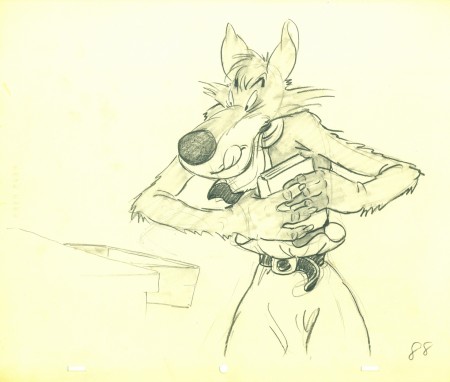 88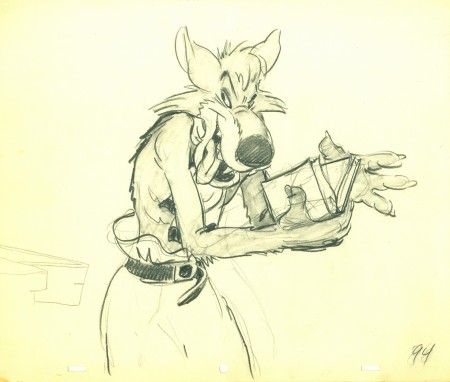 94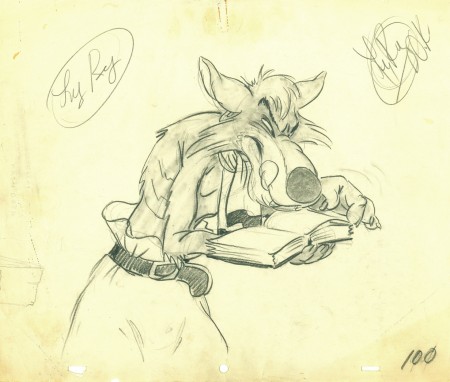 100


________________________
.
The following is a QT of the entire scene with all the drawings included.
Since I didn't have exposure sheets, I calculated everything on ones
(which seems to reflect the timing in the final film) and left however many drawings to the assistant and inbetweener.
Many thanks to John Canemaker for the loan of the drawings. It was great just touching them.
Action Analysis &Animation &Animation Artifacts &Commentary &Tytla 15 Apr 2013 05:25 am
- I thought it'd be a little fun to give a little showing of some of the distortion and stress Bill Tytla did on some of his drawings. He didn't feel the need in all of his characters to actually distort and stretch the character completely out of shape as he did in a character like Stromboli.
There were times when he could use the limbs of the character and the flexibility of the movement to provide the looseness that he was searching for. Cartoon characters like the seven dwarfs or Stromboli allowed a wildness that another, such as the devil in Night on Bald Mountain offered.
Let's just jump into it and take a look at some drawings.
Obviously, this first one is Doc from Snow White
as he drains some water from his face: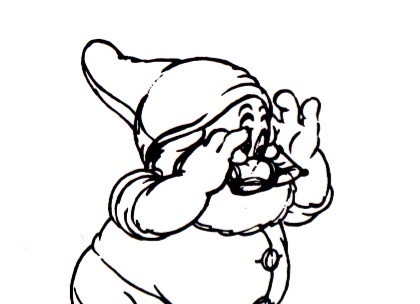 1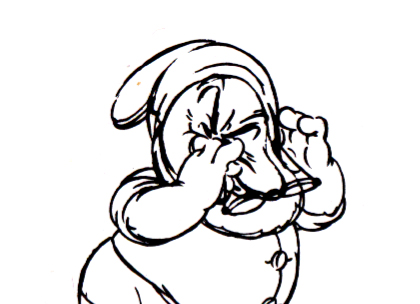 2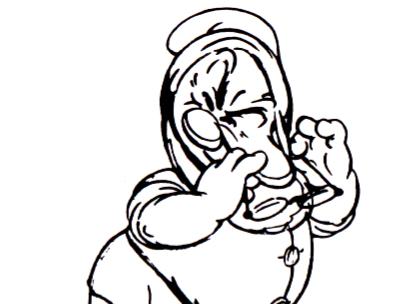 3
Immediately we can see a flexibility in the jowls of Doc's face,
and Tytla has plenty of fun with it.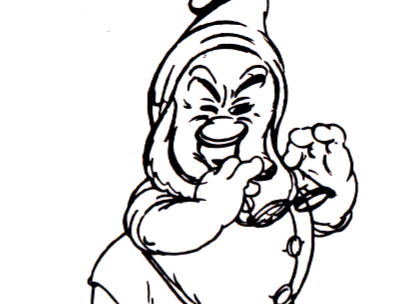 4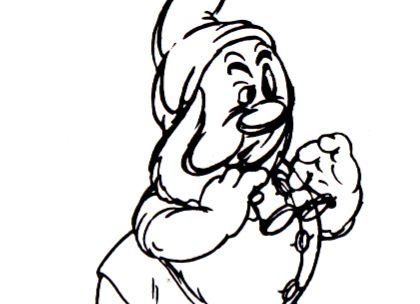 5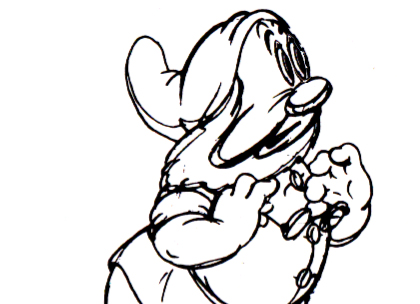 6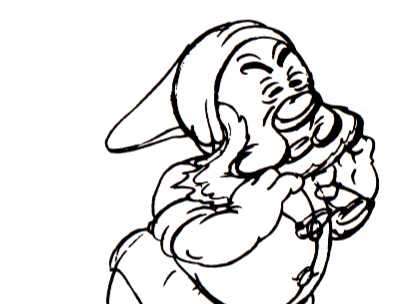 7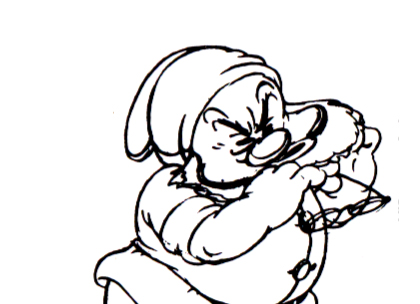 8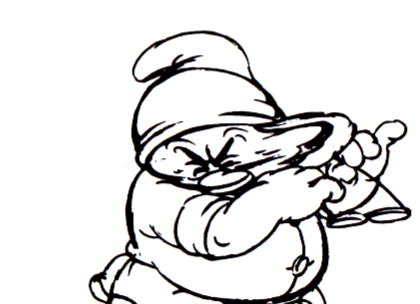 9
Tytla can take it very far out.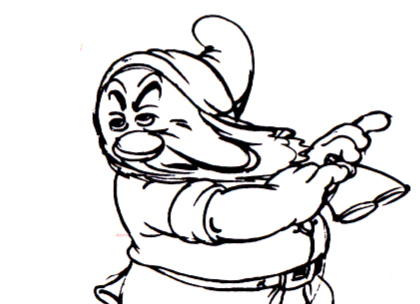 10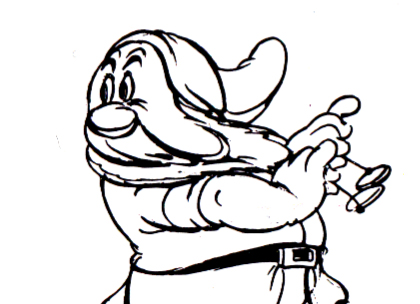 11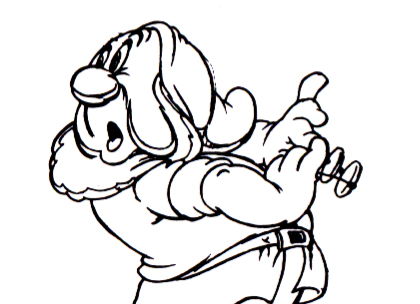 12

Now here's a similar thing with Dopey shaking the water out of his head.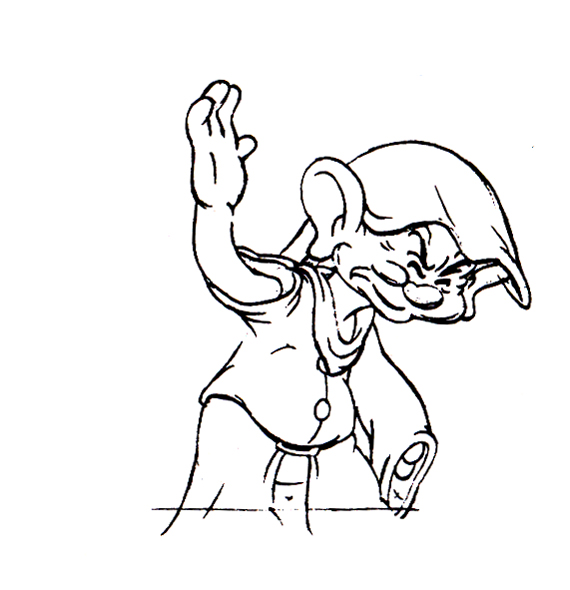 1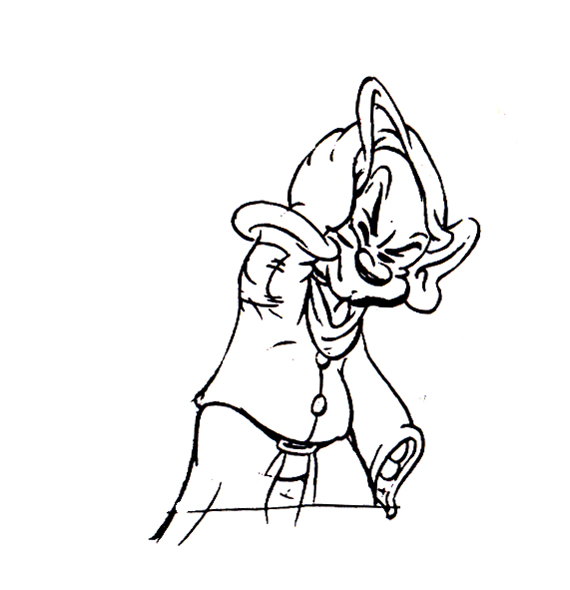 2
I also thought I'd pick out a nice frame grab or five of Tytla's animation for a Mighty Mouse cartoon when he later went to Terrytoons.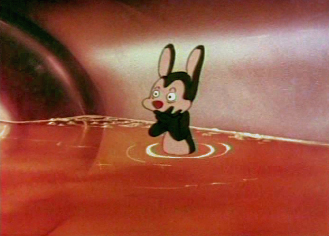 1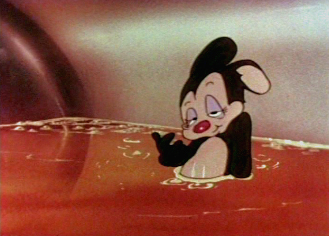 2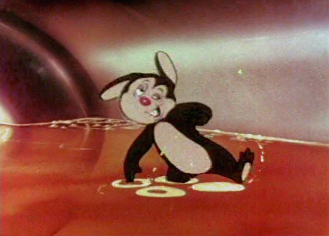 3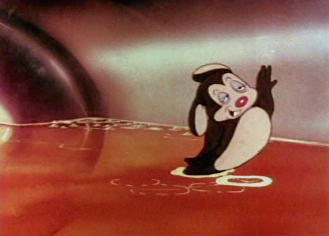 4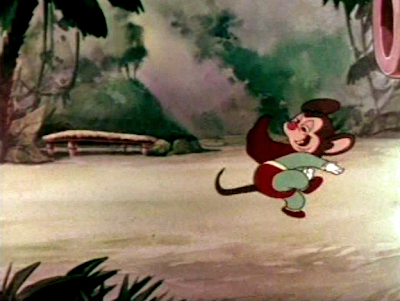 5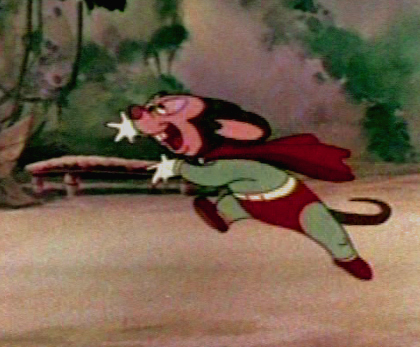 6
If we're going to look at Tytla's play on a drunk character, let's look at this beauty of a scene. It's from a film that was never completed, The Laughing Gauchito. This was one of the short pieces being developed during the period when the South American themed films, Saludos Amigos and Three Caballeros, were in production.
For this scene Tytla uses the rubbery feel for the face, but keeps the looseness in the character for the arms and legs. There's quite a bit of depth he writes into the scene. The character is drinking (and a little tipsy) loses his balance and tries to regain it without spilling his drink. There's a lot there, and it's beautifully developed, yet still not a finished scene.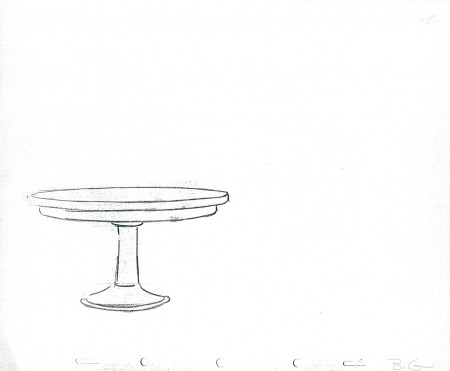 The Background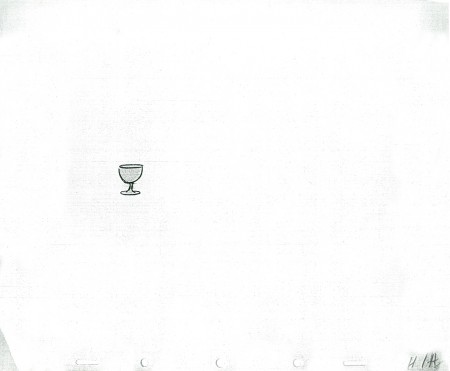 The wine glass overlay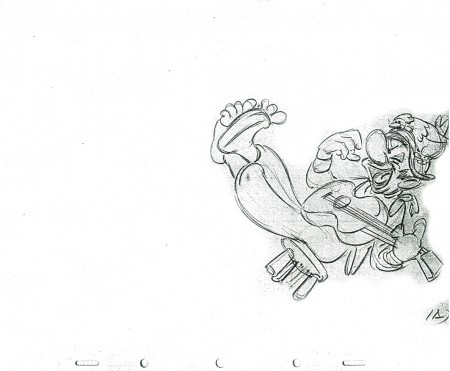 1A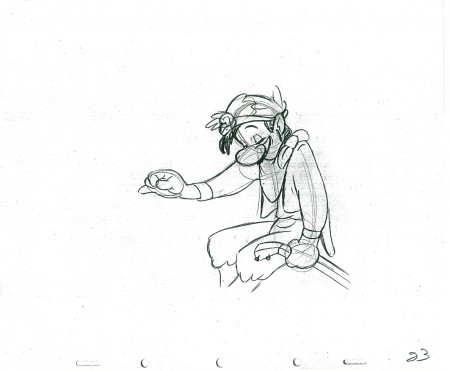 23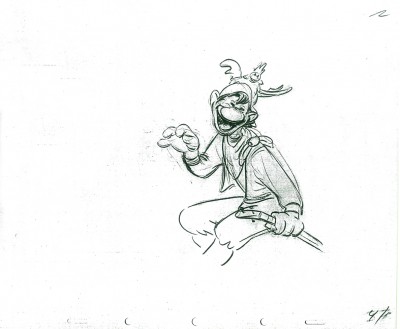 41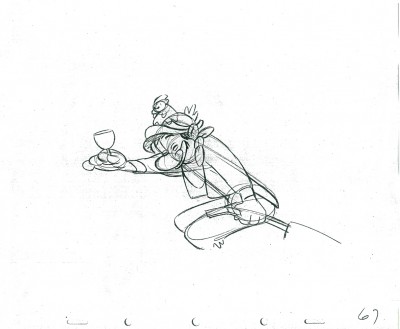 67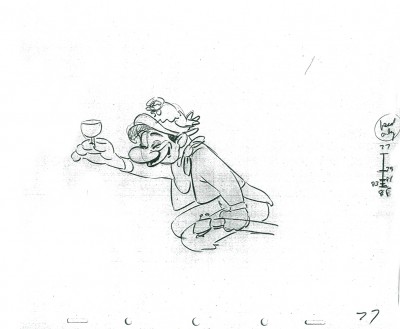 77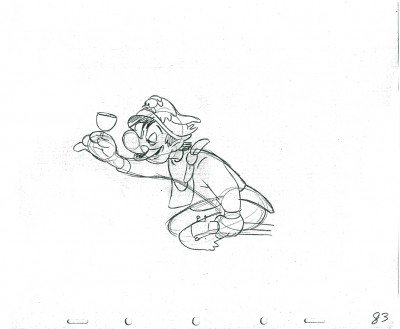 83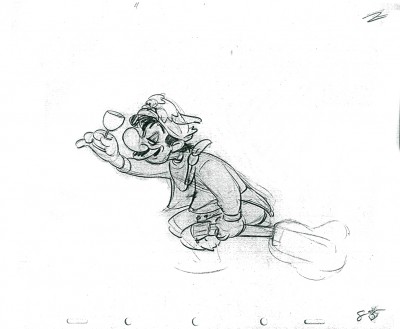 85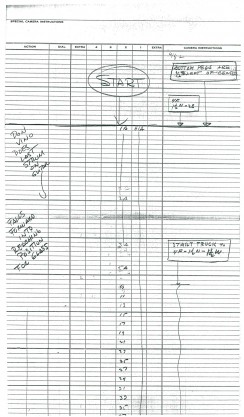 1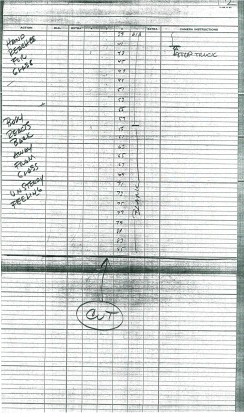 2
These are the X Sheets for the scene.

________________________

Here's a QT of the scene with all the drawings included.
I strongly suggest you take a look into
J.B. Kaufman
's excellent book,
South of the Border
; it gives a full accounting of this film and Disney's tour of the South American countries in preparation for the film.
Action Analysis &Animation &Animation Artifacts 09 Apr 2013 07:23 am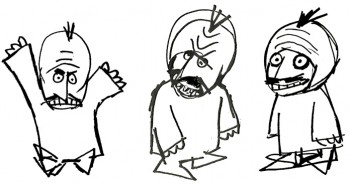 Johnny (Gentilella) Gent had the hardest time on the Letterman series done for the original Electric Company. He could never get the characters and kept trying to add 3D form to the 2D characters that John Hubley had created.
It was my first job, and I was in awe of every animator that walked through ________A very early John Hubley model of Spellbinder.
the door. We had 2½ months to do
all the artwork on the 20 spots that were 2½ mins each. A total of 50 mins in 10 weeks. (That's about right these days for a 30 second spot!)
I did all the assisting, inking and inbetweening and had to do it quickly. (I estimated about 18 secs. per drawing. The game I played with myself to keep up was to keep one eye on the drawing and another on the clock.)
As I said, it was my first animation job. What did I know! I had to take Johnny's drawings and reshape them into Hubley's characters, and I had to do it in ink. No pencil tests. Just do it. Whatever came out, was the final artwork (and I use that word loosely.) I felt, even while I was doing it, that I was killing Johnny's work, so it went as it did.
Here's a cycle of Johnny Gent's Spellbinder rowing a boat.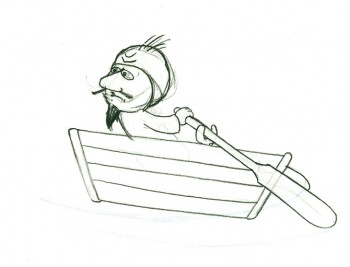 1
(If you click on any drawing it'll show you the full animation page.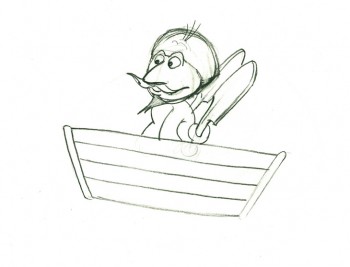 3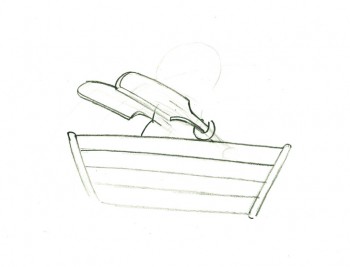 4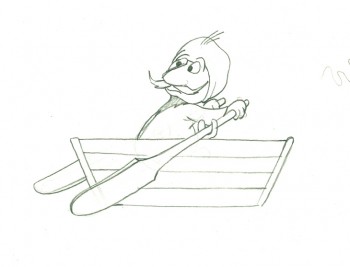 5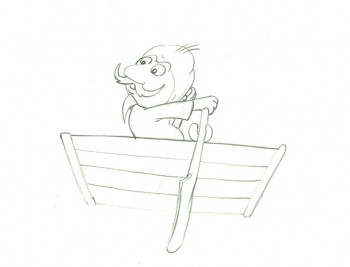 7


Johnny Gent's Spellbinder rows a boat
on two's per drawing indicated
Click left side of the black bar to play.
Right side to watch single frame.

Six months later, I was on a lay-off from the Hubley Studio in need of a job. At NY Institute of Technology, a school in Long Island, they were starting work on a feature animated film that the school's dean, Alexander Schure, was financing. He had decided to create the world's largest computer animation department, and they were just barely starting to get a reputation for the incredible people they were employing (Ed Catmull, Alvy Ray Smith and other pioneers among them), but first they were going to do this hand-drawn feature.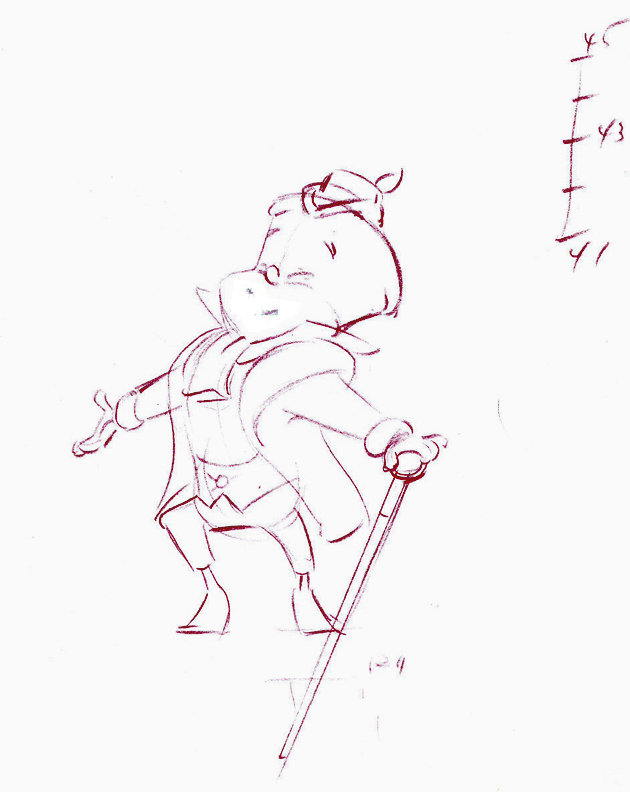 Out of the blue, I got a call from Johnny Gentilella. He was now the head of animation at Tubby the Tuba and was offering me a job as an Asst. Animator. NYIT was my alma mater, so I was curious to see what the place now looked like. Assistant was a promotion with a pay raise. I took the job right quick.
The staff included about ten people in those early days, and we worked in what seemed like a log cabin. I was given a seat directly across from the front door and handed a scene of Tubby the Tuba to clean-up and inbetween. I did it. Then another, then another, then another.
A few weeks later, at lunchtime, Johnny and I were alone in the space eating our sandwiches. I took the opportunity of apologizing to him for what I did at Hubley's studio. I was taking Johnny's sculpted drawings and flattening them. To make up time I skipped a step by not working in pencil. I'd clean up with a Sharpie on heavy paper. In the process flattening and taking all of the life out of the drawing. I apologized to John for what I felt was destroig his work. I was also only days into my first job and didn't really know what I was doing. But I did it anyway.
He said that he hadn't even noticed. Because of the schedule and the budget on the Letterman series, he knew I was doing what was best for the work. There was nothing I needed to apologize for. He appreciated how I felt but told me not to worry about it.
At the same time, I pointed out that I had just done a scene of Tubby the Tuba giving a speech at a lectern. It was identical, drawing for drawing, of a scene Johnny had done at Hubley's. There it was Spellbinder, here it was Tubby. How and why did John do that?
He explained that on films like Letterman they were done so fast that there was no time for Pencil Tests. Animators couldn't do as they did in the old days, animate a scene then see a PT of the scene and correct it if it needed the work. They had to knock out the scenes. If anything went wrong it was the animator's fault and he'd be out of a job and a future contact for further work. So animators did what they knew would work. Better to be stale and save face, keeping your job, than to be daring and without a job.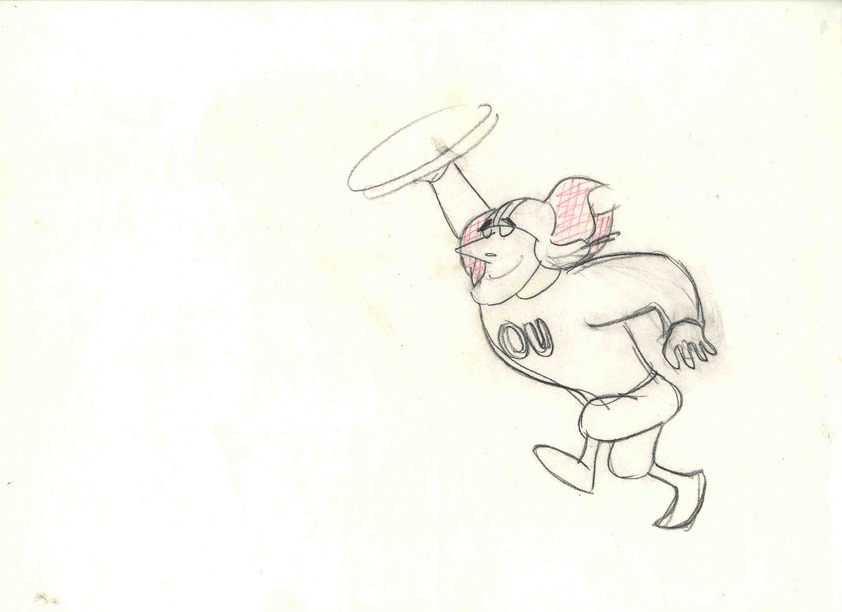 The following Saturday, I told Tissa David this story. She was giving me lessons in animation and inbetweening on Saturday mornings at her apartment. I let Tissa know about Johnny's cheating to make it work. Tissa's response – "How lucky Johnny is! I wish I had such luck!" She said she was unlucky to have a memory that couldn't remember how to do such a scene and to catalogue the work, math and all, in her memory. Obviously John could do that. Tissa, instead, had to approach every scene as wholly new. She had to ____________________Tissa's Letterman"
animate from scratch whereas John could
pull the scene from his memory.
I got Tissa's point.
.
.
Note: the drawing of Tubby, above, was done by the
animator, Ed DeMattia, many months later in the production.