Category ArchiveKentridge
Art Art &Commentary &Kentridge 22 Jan 2007 08:29 am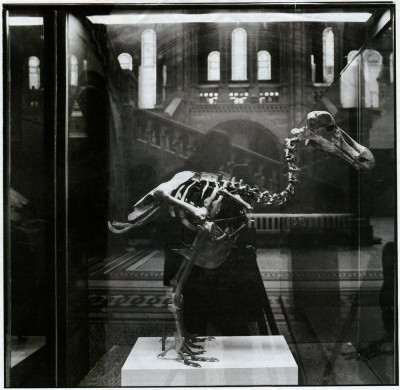 (A Dodo skeleton – Museum of Natural History, London)
Last week, The New Yorker featured an article about the dodo bird. It quite impressed me; I only wish I'd read it earlier. The online New Yorker site did not include the article, but it did feature a slideshow of paintings imagining the dodo in their natural habitat. (Not quite Bob Clampett.)
This made me wonder if hand-drawn animation is going to go a similar way. Will they be able to find the bones a hundred years from now? Evidence seen in the past five years or so seems to give me little reason to doubt that it would be gone. MoCap will get better and the guise of animation will be front and center for the obvious future. There's a good chance tomorrow will show us two of three nominees for Oscar's Best Animated Feature will be Motion Capture. The animator as we knew it is virtually dead.
All that's left is Art.
________________________________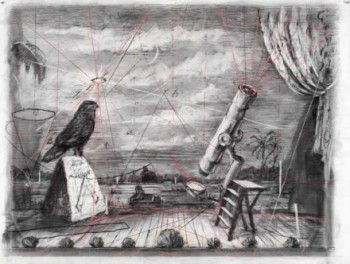 - South African artist and animator, William Kentridge, is going to be well represented at the Brooklyn Academy of Music this Spring. His production of The Magic Flute will be presented there April 9, 11, 13 and 14.
Now thru Feb 25, The Marian Goodman Gallery (24 W 57th St, 4th Fl, 212.977.7160) is showing some 50 working drawings and fragments the artist created for the visualization of this production. There are also an elaborate, preparatory theater-in-miniature which incorporates sound and projections that served as a study for a second work, Black Box/Chambre Noir (now at the Deutsche Guggenheim Berlin). "Through signature charcoal animations, Kentridge weaves his own concerns over the misplaced idealism of the colonial era into the Enlightenment masterpiece, championing fantasy as a corrective for unchecked authority.
The show at the Brooklyn Academy of Music has:
Scenery Kentridge and Sabine Theunissen, Costumes by Greta Goiris, and stars Jeremy Ovenden, Sophie Karthauser, and Stephan Loges.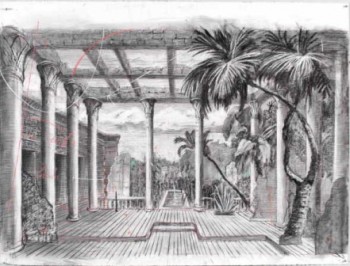 According to the program it's . . . a mesmerizing production originally staged at Belgium's acclaimed Royal Opera House, La Monnaie. Singers, dressed in 19th-century attire, enact a fairy tale set in an ancient Egypt populated by a high priest, a spiteful queen, a carefree bird catcher, and a heroic prince hoping to win the heart of a vulnerable princess.
Inspired by the brilliant libretto and Mozart's resplendent music (conducted here by Piers Maxim), Kentridge fills his panoramic projections with all manner of fanciful creatures, classical temples, and swirling celestial bodies, conjuring a magical and dangerous place where wisdom and love—and more than a little pluck—triumph over malice.
There's also a BAMDIALOGUE with William Kentridge scheduled for April 11 AT 6PM. For tickets to the opera or the BAMDIALOGUE go to their website here.
_________________________________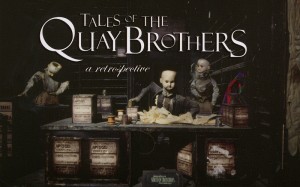 – A small reminder that the films of the Quay Brothers is screening at the Film Forum this week through January 25th. The program includes the following films:
In Absentia (2000)
Anamorphosis (1991)
The Comb (1991)
Are We Still Married? (1991)
Dramolet (1988)
Street of Crocodiles (1986)
The Epic of Gilgamesh (1985)
Rehearsals for Extinct Anatomies (1986)
The Cabinet of Jan Svankmajer (1984)
Tales from the Vienna Woods (Stille Nacht III) (1992)
Can't Go Wrong Without You (Stille Nacht IV) (1993)
Kentridge 24 Jun 2006 07:52 am
- There's a good interview at Cartoon Brew by Amid Amidi. Garrett Gilchrist has recently completed a compiled version of Richard Williams' film The Thief and The Cobbler: Recobbled Cut. Garrett had sent me a copy of this compilation, and it's the real deal. He's done some magnificent and laborious work getting it to the wonderful condition. It's like watching an excellent rough cut of the film. See it (in 17 parts) on You Tube. Garrett's website is OrangeCow.org.
- Thanks to Rhett Wickham at Laughing Place. There's a great article posted there about John Lasseter's guidance on future animation projects. It seems clear that 2D animation might not be dead after all.
- The South African artist, William Kentridge uses animation as part of his art. He's made a number of flip books that are stunning pieces. I'm posting a small part of one of these here to show the fingerprints of art. You'll note he used an existing book and just painted his images on the pages. Of course this proves we can make Art without expensive tools; we just have to do it.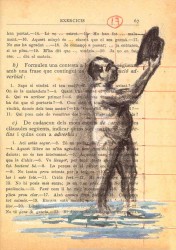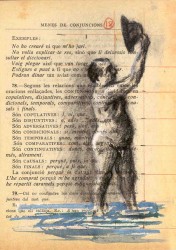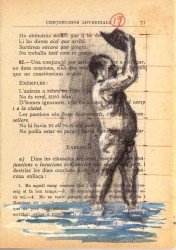 (Click on any image to enlarge.)
Kentridge 15 Feb 2006 08:15 am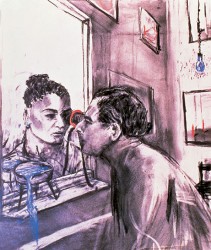 - I want to give a bit more of a showcase for
William Kentridge's art work.
I guess I've always been one to wear my political heart on my sleeve and have enjoyed it when other artists do similarly. Ben Shahn and Käthe Kollwitz were always an inspiration to me. Kentridge talks about apartheid in his work and uses animation as a force. It's urgent art.
I first came to his work at the New Musem show in 2001. I think it took a couple of hours to view everything there, and I went back several times.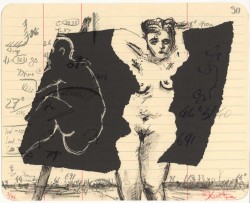 .
To repeat yesterdays posting, he has a new show of work at the Marian Goodman Gallery at 24 West 57th Street, NYC 10019.
The NY Times reviewed this work as a movie though usually his work is found in the Art pages. Recently, Tall Horse, a theater troupe that Kentridge works with was also reviewed in the Times.
It's encouraging to see his work given attention.
(Click on the stills to enlarge.)
.
Kentridge 14 Feb 2006 08:09 am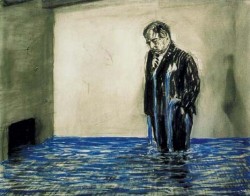 - This week New York Magazine is featuring an article on William Kentridge. For those who don't know, Kentridge is an artist who often uses animation as his medium of choice. Unlike most of us, his films don't play in theaters but art galleries. His work is quite unique and expressive. You can read the article on line here, but the printed magazine features a number of good illustrations.
The article is timed to coincide with the gallery show in New York of Mr. Kentridge's recent work. It's at the (Click on the stills to enlarge.)Marian Goodman Gallery at 24 West 57th Street, NYC 10019.
You can view 10 of William Kentridge's pieces on display at their site.

- I also would like to repeat mention of the show of art from The Corpse Bride. The gallery features puppets and art from the film until February 20. It's definitely worth a visit. It's at the Tribeca Cinemas Gallery at 13 Laight Street (at Canal Street) adjacent to the Tribeca Cinemas. Noon-8pm daily.
- Thanks to Cartoon Brew for notifying us about John Kricfalusi's new blog. His original Spumco website was worth the many visits, it'll be fun to see what he does with a blog.
- A depressing note: While watching Jeopardy last night, I was dumbstruck by one question. (I can't give the exact question, for you Jeopardy fanatics, but it's close enough.)
"The visionary behind 'Snow White & The 7 Dwarfs' which used the multiplane camera for the first time."
Here's the shocking part. No one buzzed in! The three college students didn't know that Walt Disney had done "Snow White" !?!
I'm sure it's just me. I'm going crazy!