Monthly ArchiveOctober 2009
Comic Art &T.Hachtman 31 Oct 2009 07:35 am
- Tom Hachtman, you'll remember, is the cartoonist whose comic strip, Gertrude's Follies, featured characters out the Americans and artists in Paris: Gertrude Stein, Pablo Picasso, Ernest Hemingway and others during the 20s – but set in modern day. The strip was a success, and I made a short or two out of it, trying to get interest in a feature.
Tom actually started to develop another strip. With this one he mined the Renaissance Masters, and that's what he called the strip. Michelangelo, Leonardo, Raphael and all the other biggies are in there.
He did this strip in a notebook (with blue lines), and he gave me the book to post on this site – at my request, of course. So for the next few weeks, I'll post all the double page panels done with India Ink and wash. At a good breaking point we'll continue it next week.
Here they are, the Renaissance Masters: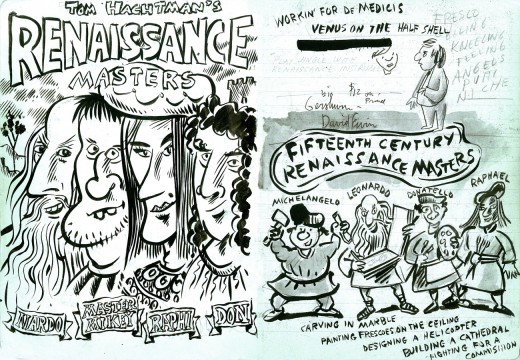 1
(Click any image to enlarge.)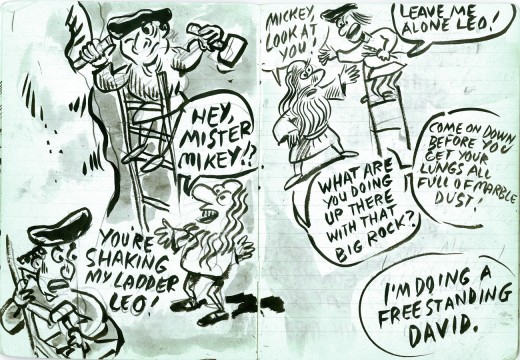 2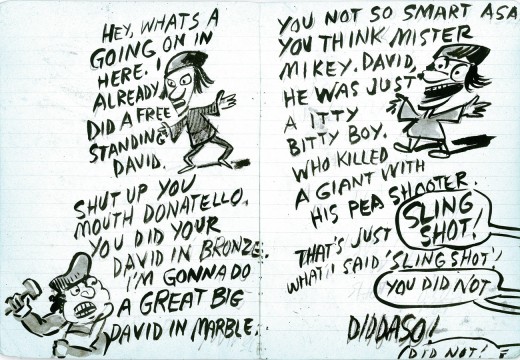 3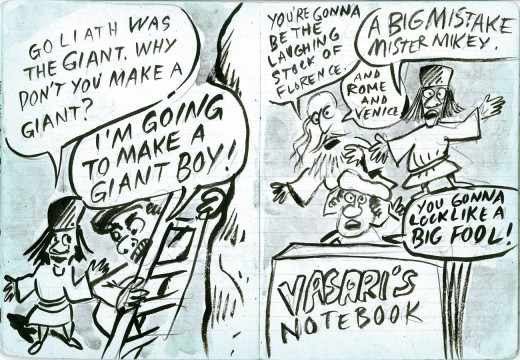 4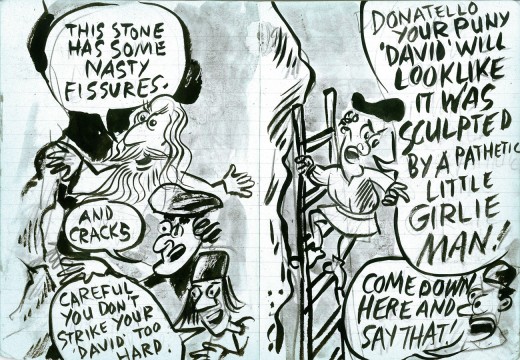 5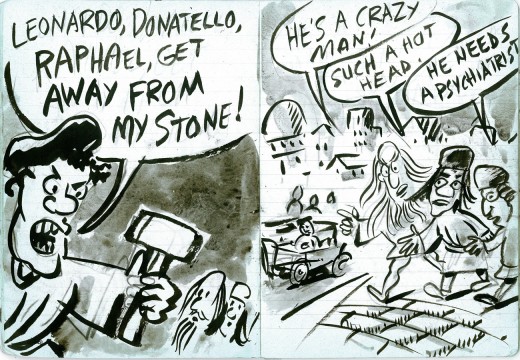 6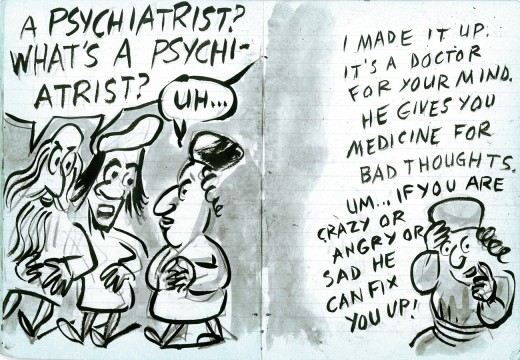 7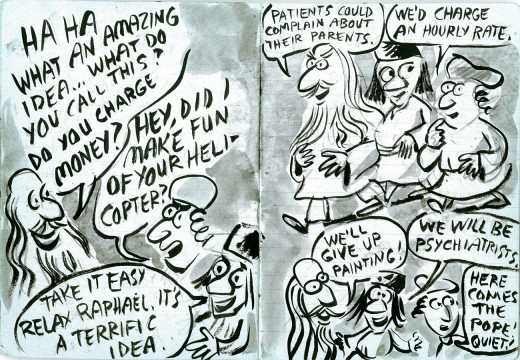 8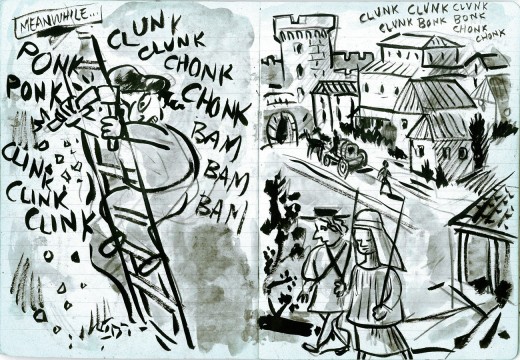 9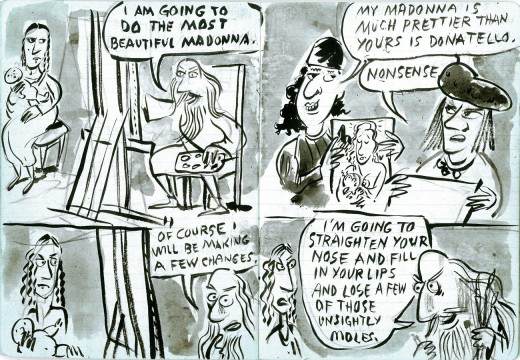 10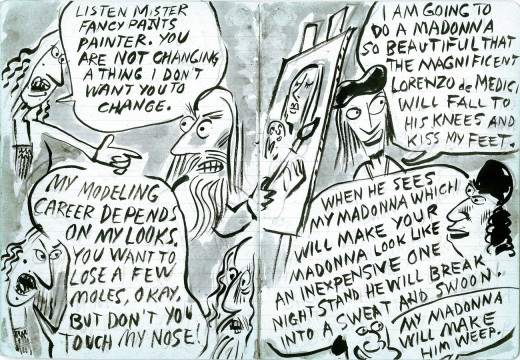 11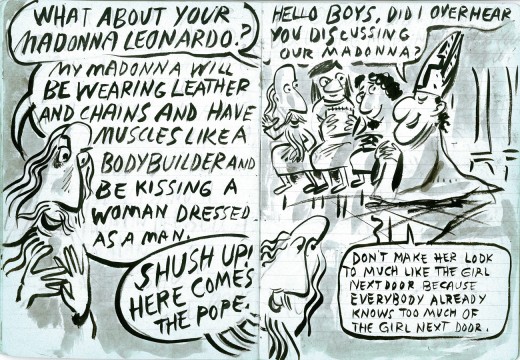 12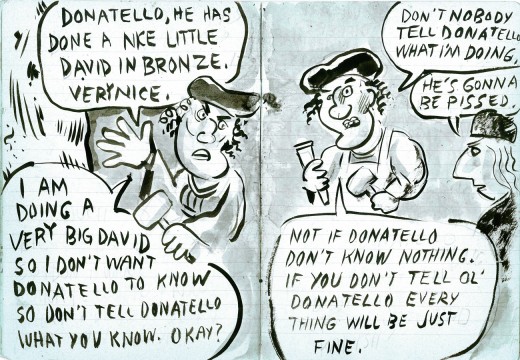 13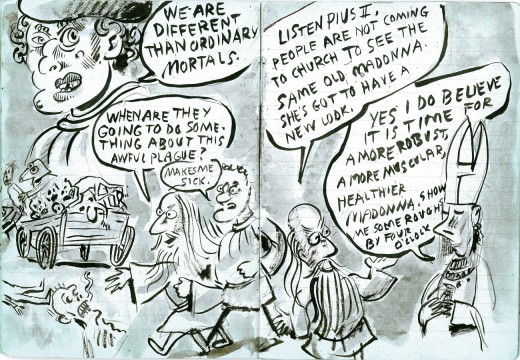 14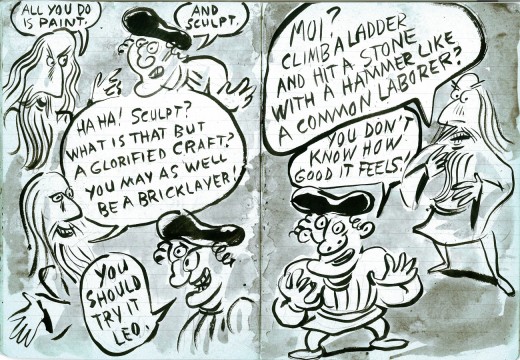 15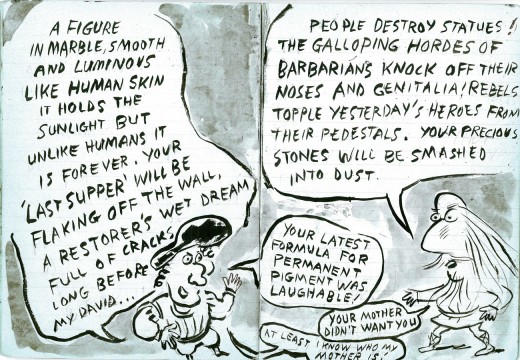 16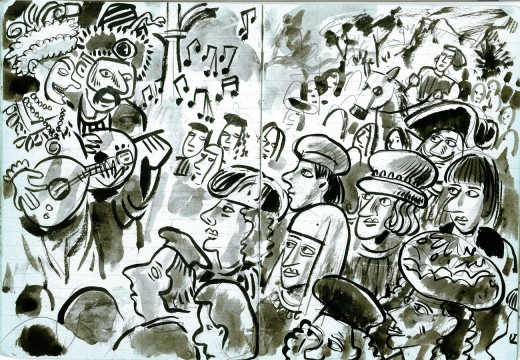 17

Articles on Animation &Commentary 30 Oct 2009 08:57 am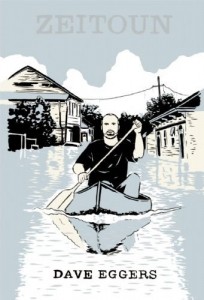 - The New York Times reported that Jonathan Demme is planning to make an animated feature of the book, Zeitoun by Dave Eggars.
The book is about the reconstruction efforts taking place in New Orleans done since the Katrina disaster effort.
Apparently Demme was taken by the illustration on the cover of the book and immediately saw it as animation. He's quoted as saying, "I was staring at the book, and there's this wonderful line drawing on the cover, the character of Zeitoun in his canoe, paddling through a submerged neighborhood. And I suddenly imagined, What if we could do an animated film and visualize the experiences of the Zeitoun family and all of New Orleans?"
They haven't decided what the style of the film will look like, but Demme favors a hand-drawn style for the film.
_____________________________
The New Yorker magazine has a profile of Wes Anderson. (I've given the link to the magazine, but it's open only to subscribers.) Anderson is the director of Rushmore, The Royal Tenanbaums and The Darjeeling Limited. He's also the director of the upcoming puppet film, The Fantastic Mr. Fox, which was based on the Roald Dahl book.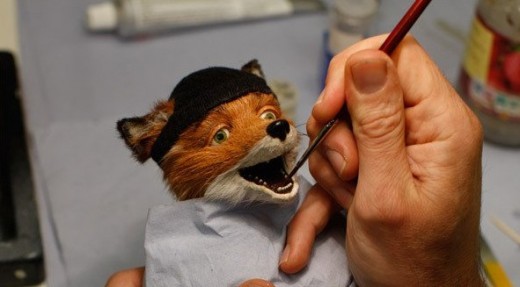 The article opens and closes with a couple of columns about the animated film, but primarily focuses on Anderson's bio and career.
In reading the article, a short bit popped out at me.
For stop-motion animation, the actors' voices must be recorded in advance, so that the figurines' mouths can be moved in synch with the dialogue. The recording is usually done in a sound studio. Anderson did things differently. In the fall of 2007, he took a handful of actors, including (George) Clooney and (Bill) Murray, to a friend's farm in Connecticut. In order to make the voices and the film's soundscape realistic, Anderson had his actors perform the motions—running, digging, and climbing—that the figurines would perform; he recorded the exterior scenes in the fields, and the interiors in the farmhouse.

Anderson's direction, with its protracted long takes and tight closeups, treats the figurines like actors, emphasizing their "performances." The production designer, Nelson Lowry, told me that Anderson's approach to animation was "very counterintuitive." He made, Lowry added, "unconventional choices, such as keeping characters still. Usually, animators keep characters constantly in motion; if they re doing nothing, they blink." Lowry calls Anderson's expressive stillness a "compression of character."
Let me repeat part of that last sentence: "Usually, animators keep characters constantly in motion; if they re doing nothing, they blink."
This is the notion that live-action directors (probably all live action film makers) have of acting in animation. And I can't argue too much with that. This is a good deal of acting in animated films: keep it moving, keep it moving, keep it moving regardless of the thought the characters are supposed to be having.
However, Anderson's notion of acting, "keep it still" isn't acting either. I remember Ralph Bakshi giving a talk after making Lord of the Rings, just prior to a screening. He said that humans stand still most of the time, but that if an animated character would sit still, it wouldn't be acceptable. It would look like poor limited animation. It's a problem good animators enjoy solving.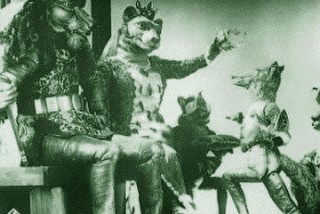 Unfortunately, what I've seen of The Fantastic Mr. Fox looks like poor limited animation in puppets – a bit like those old Rankin-Bass episodes of Pinocchio. The difference is that the characters, here, are covered with fur making them look more like an early Starevich film. (Regardless, I like Anderson's films so I'm still looking forward to seeing this – however it's animated.)
_____________________________
Getting back to some real animation, Hans Perk (in case you didn't know) has been posting the drafts from Snow White. What a resource his site is! Many thanks, Hans.
Animation &Tissa David 29 Oct 2009 08:00 am
- Continuing with yesterday's piece, I'm completing the posting of all the Tissa David's drawings for this scene from The Midsummer's Night Dream that she directed and animated with a few other Dutch animation friends.
I've backtracked a bit and include a couple of the drawings from yesterday so that the full movement is on display here.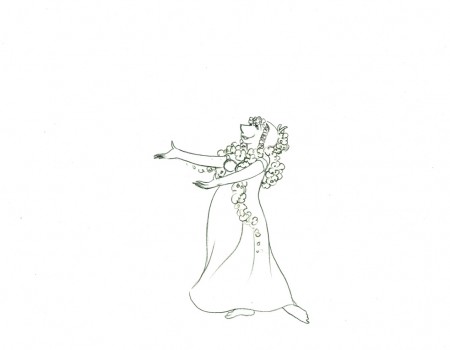 40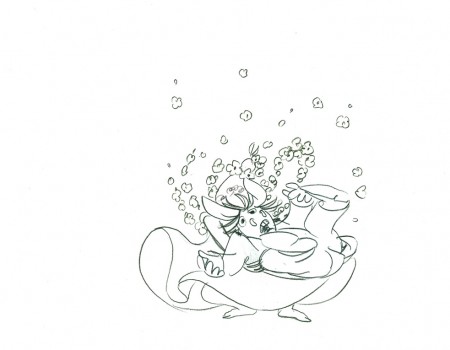 46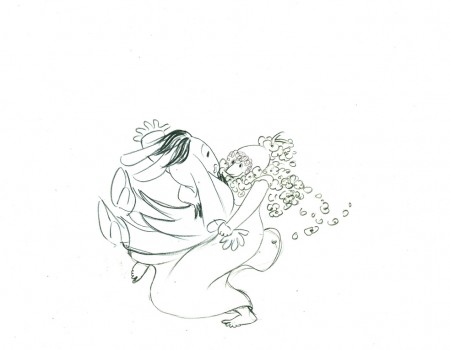 64
Titania Dances with Bottom
I took a guess at the timing of this putting the
action on three's and adding two short holds.
All drawings from this scene (both posts) are included in the QT. Click left side of the black bar to play.
Right side to watch single frame.
Animation &Tissa David 28 Oct 2009 07:23 am
- In the past, I've done a number of posts about Tissa David's work on The Midsummer Night's Dream. (see them here.) This was a film she directed and animated with three other people: Kalman Kozelka photographed, xeroxed the cels and coordinated it, Ida Kozelka-Mocsary color styled it and did most of the painting, and Richard Fehsl did the Bg designs and animated any of those Bgs.
The film aired on the BBC in 1983 and was released on VHS by Goodtimes Video
I'd previously posted a couple of the cels from a scene, and here I'm posting all the drawings. I do think the film looks better in pencil test, but then I'm partial to Tissa's beautiful drawing style. Here, again, are those cels: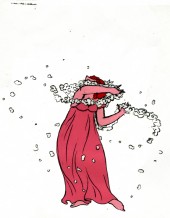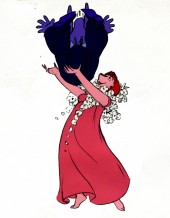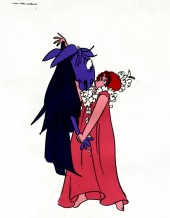 Titania catches Bottom in her arms.
Three cels from a sequence.
And Here are those drawings: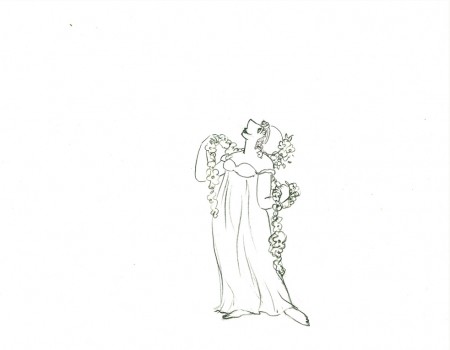 21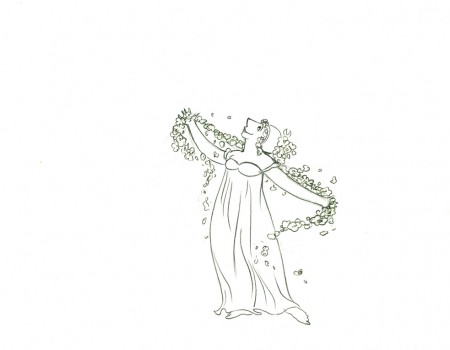 28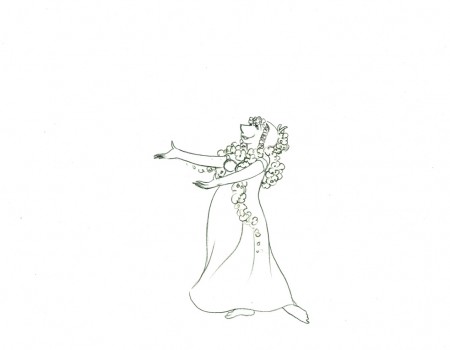 40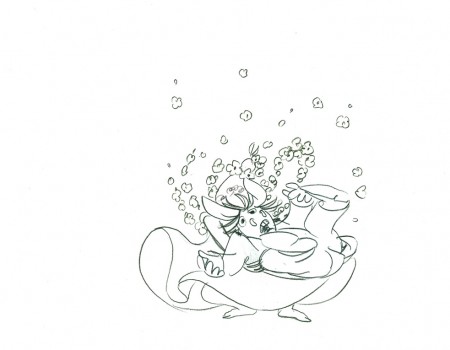 46
Titania Dances with Bottom
I took a guess at the timing of this putting the
action on three's and adding two short holds. Click left side of the black bar to play.
Right side to watch single frame.
All drawings from the scene (both posts) are in the QT.
Books &Illustration 27 Oct 2009 07:49 am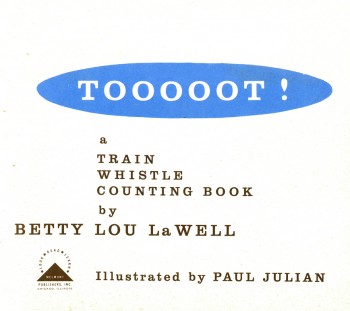 - Here are the illustrations for Tooooot! which is a book illustrated by Paul Julian in 1958 to a text by Betty lou LaWell.
It's a two color book (black and blue) as were many books of the period. I'm always amazed at how much illustrators of the time got out of the limited color printing. So many big books (by the likes of Dr. Seuss, Bernard Waber, Maurice Sendak among others) were published at the time with more imagination than many of the current books with full color.
The artwork, unlike his other book Piccoli, is composed of graceful and delicate line drawings with the simple, flat color. The work looks very much a part of the brilliant illustrations and art coming out of the 50s, influenced by Ben Shahn and Gregorio Prestopino.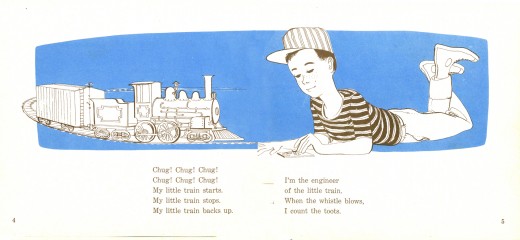 2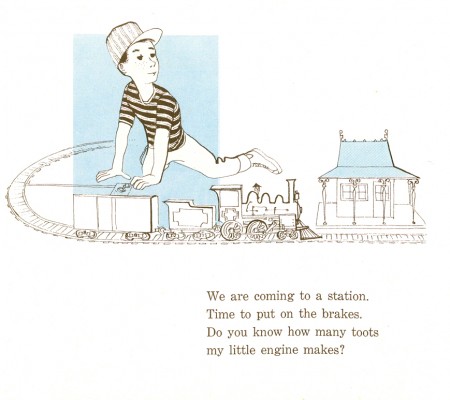 3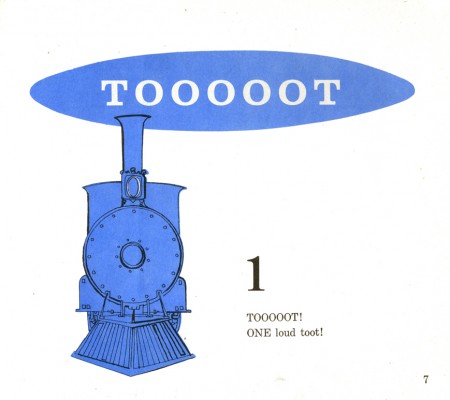 4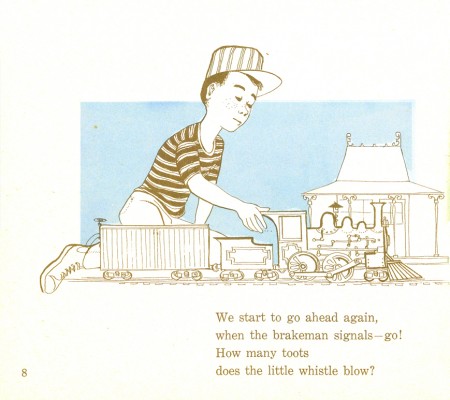 5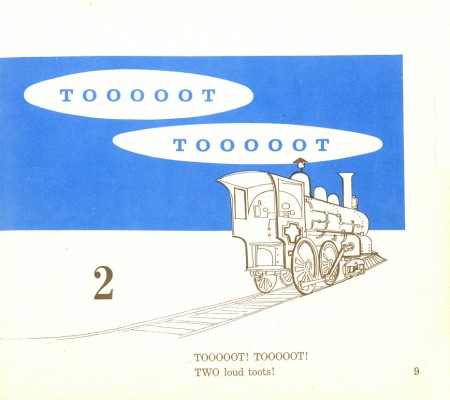 6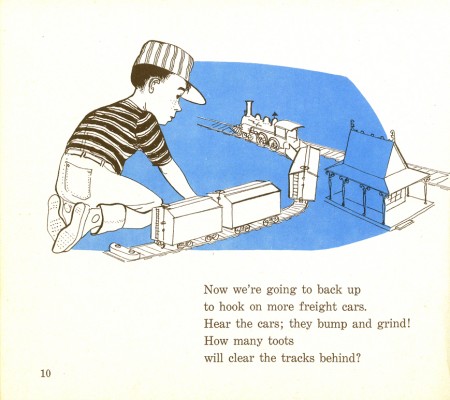 7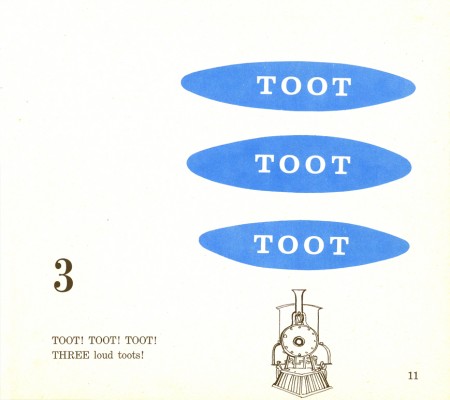 8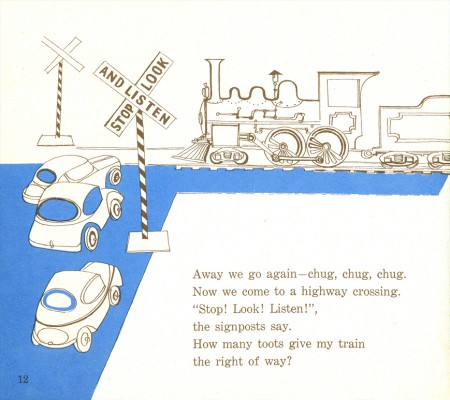 9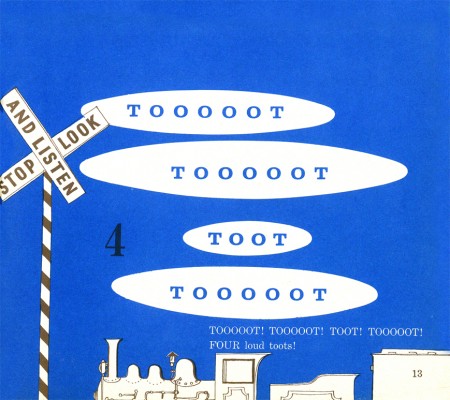 10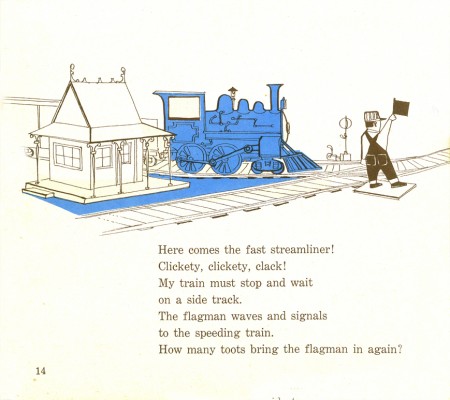 11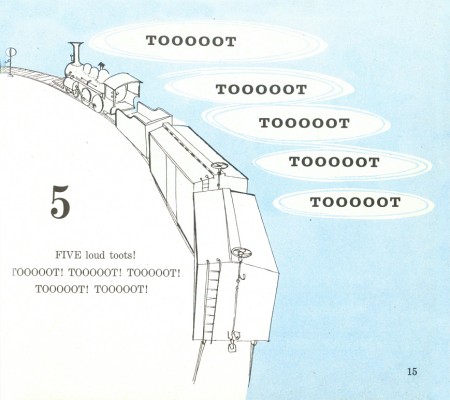 12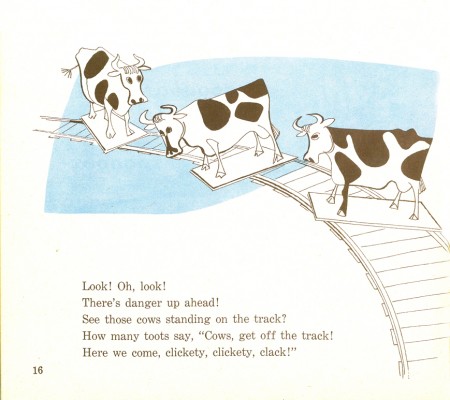 13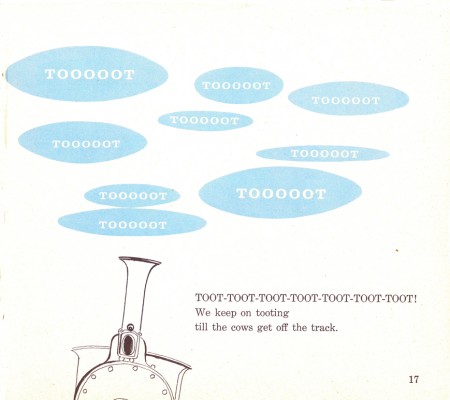 14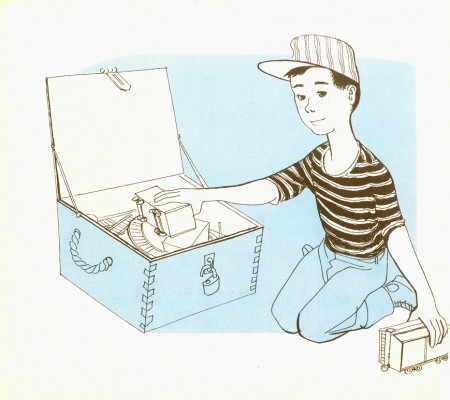 15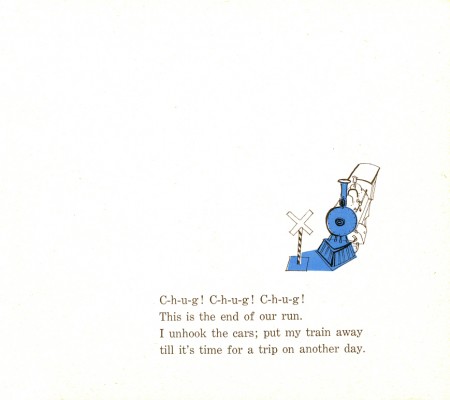 16
Frame Grabs &Layout & Design 26 Oct 2009 08:31 am
- Johnny Vita was a staple in the NY animation industry for some time. When Ralph Bakshi got Fritz the Cat as a feature, he brought Johnny Vita along as his Background designer and artist. This was arguably the best decision Bakshi made on the film.
Vita went out with the storyboard and photographed locations that actually existed. His camera was all over Greenwich Village and Harlem. Then he took these photos and did a linear tracing of the settings. Then he colored the images with Luma dyes under the lines that he had traced. These brilliant colors gave the gritty images a luminescent appearance. He manipulated the images and purposed them as the film's backgrounds. This gave the film a reality that it otherwise didn't have, and it made the bigger job easier for Bakshi to realize.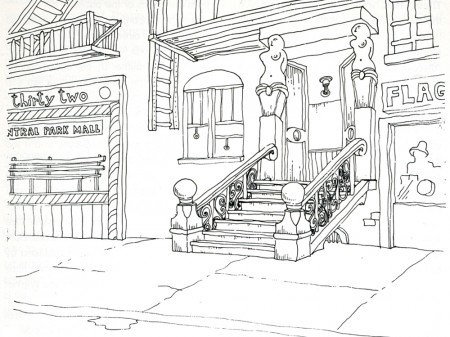 This drawing by Ira Turek was traced from a photograph and
Xeroxed onto a cel and background paper. The BG was painted
by Johnny Vita and the cel with lines was placed over the BG.
This is a similar process that was used in 101 Dalmatians.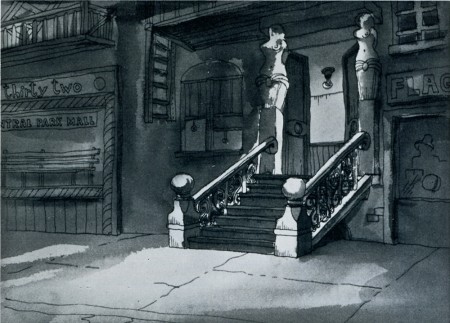 These photos were taken from a 1974 Print Magazine article
about Ralph Bakshi, whose Heavy Traffic had just been released.
The extra treat for New Yorkers was in seeing locations that were familiar to them. Oddly, all these years later, it still seems to work.
I've put together a number of these exterior background reconstructions from the first third of the film and present them as a sample of what Johnny Vita contributed to the film.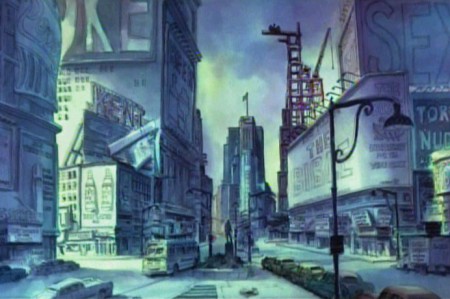 1
(Click any image to enlarge.)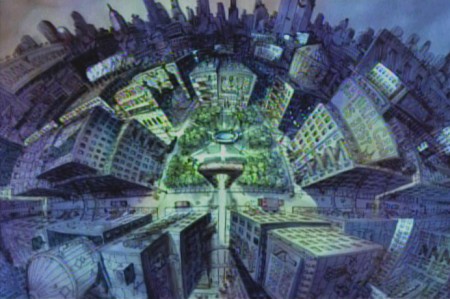 2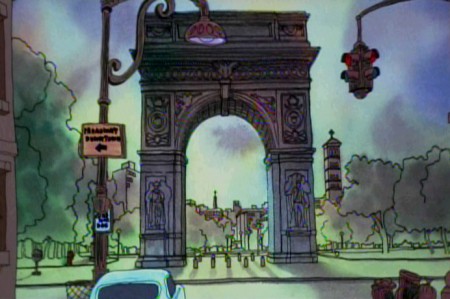 3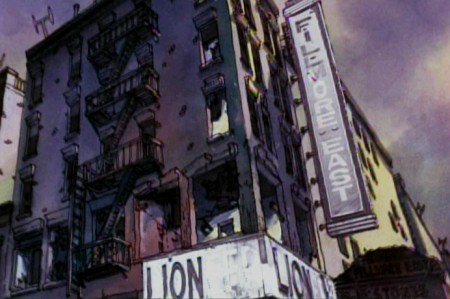 4

5

6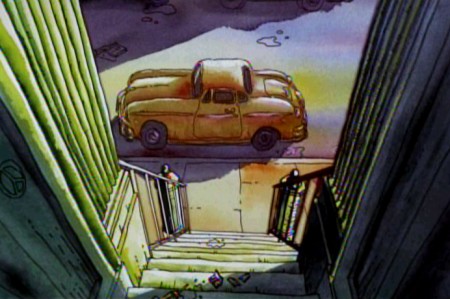 7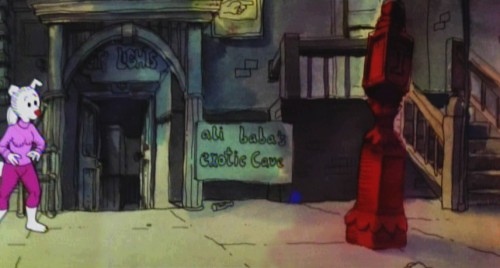 8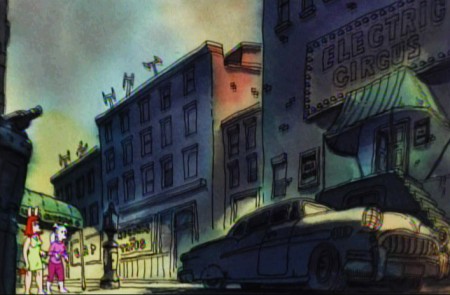 9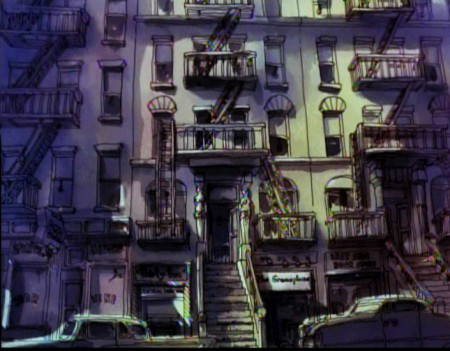 10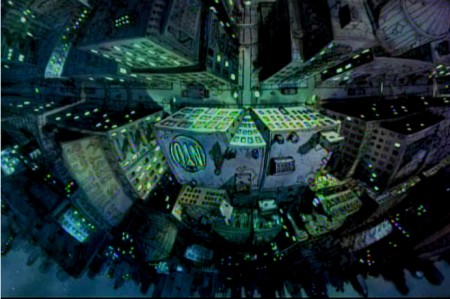 11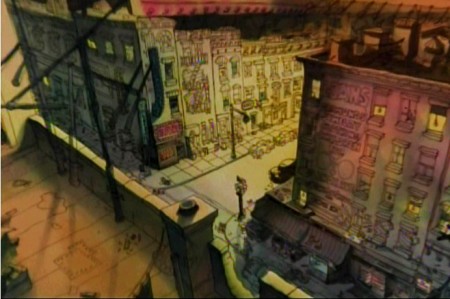 12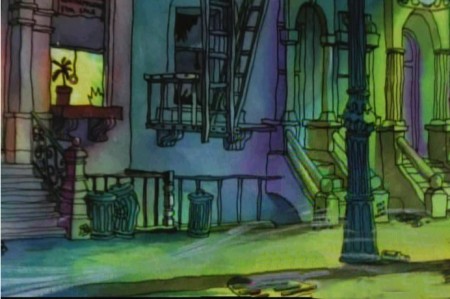 13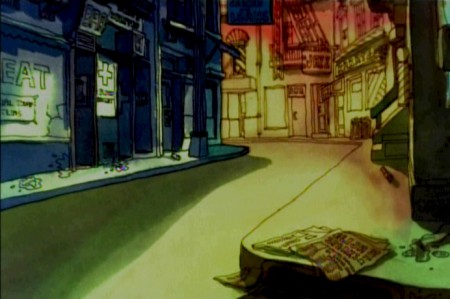 14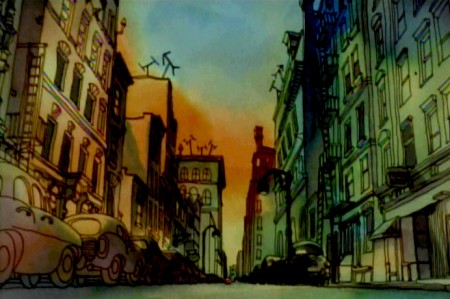 15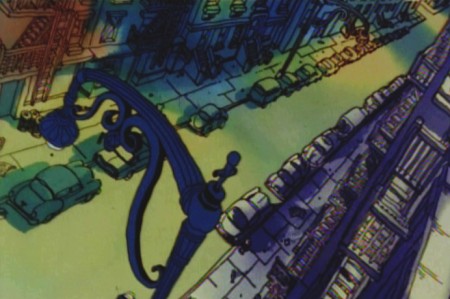 16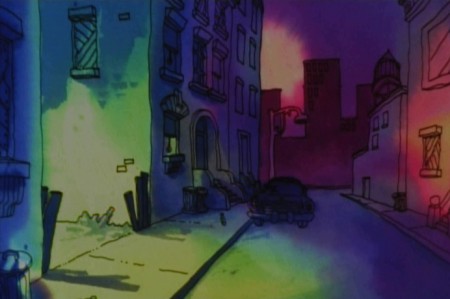 17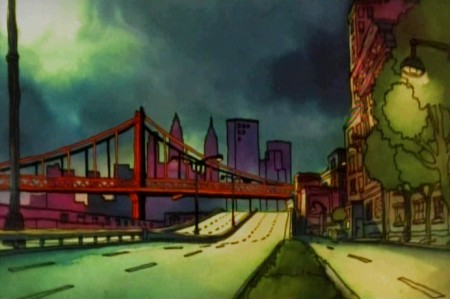 18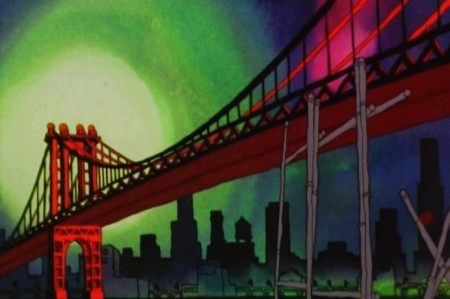 19

Photos 25 Oct 2009 08:04 am
- In advance of Halloween, I'd like to post a couple of photos Steven Fisher shot of very scary houses in Queens. They're all pretty amazing, and one has to believe that arts and crafts has risen to a new level in that borough.

(Click image to enlarge; you won't believe some of the detail.)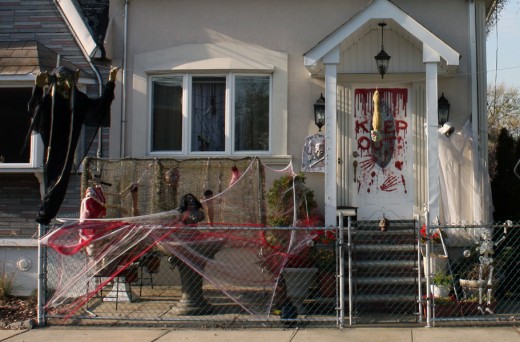 Here's a close-up of one small part of that photo.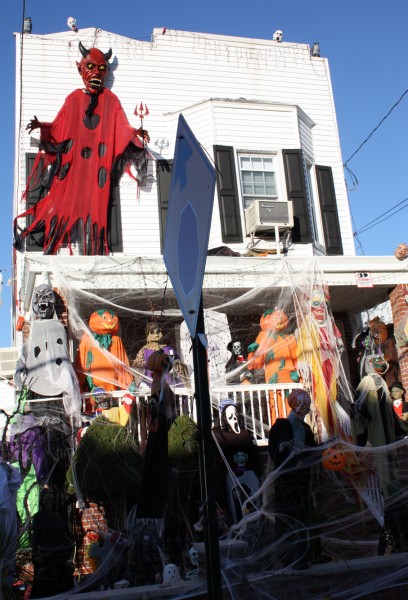 It must've been hell putting this one together.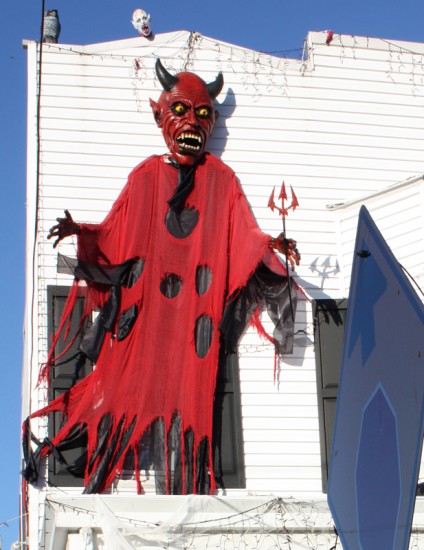 Here's a closer look at the devil. He's got to be big.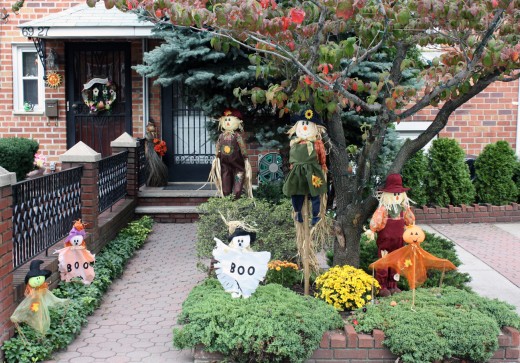 This one seems to have a more delicate touch.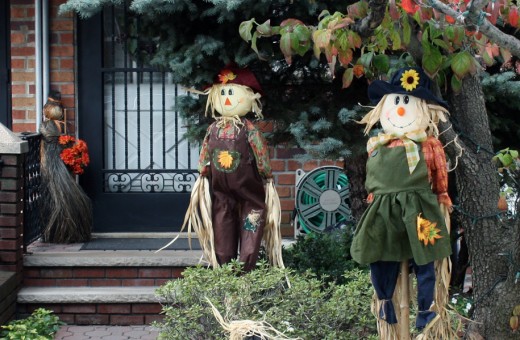 Still worthy of a closer look.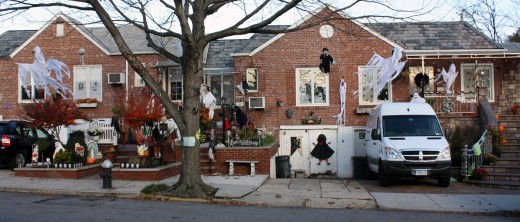 Of course there's the attempt to keep up with the Joneses.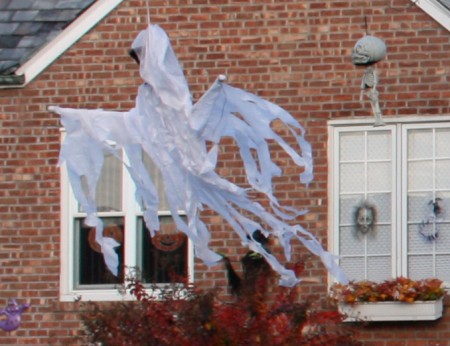 Still, worth a closer look.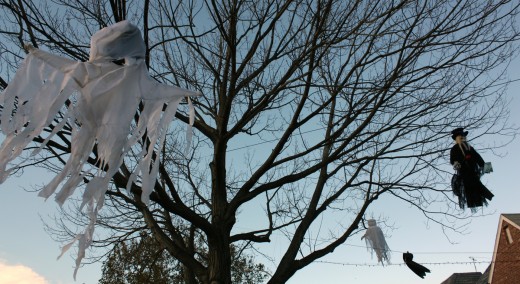 Sometimes, you just get a nice shot.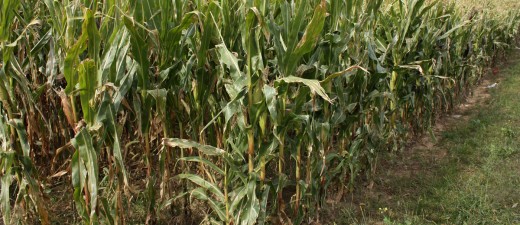 Halloween's not here yet, and I'm already thinking Thanksgiving.

Many thanks to Steven Fisher for the great pictures.
Commentary 24 Oct 2009 09:03 am
- I recently received this email via Facebook:
Hi

I'm a self-taught animator from Colombia, South America.
Today, I've found out that John K's blog is going private. I think he was tired of some comments, or dissappointed by the reaction to some of his posts when he speaks his heart out. Well, it is a shame and I hope he'll make it public again, or at least that he invites me to join.

Anyway, sometimes one takes for granted things, and your blog is one of my daily visits. It contains so much information, and I just want to thank you for sharing this knowledge, and to take your time to keep it active.

Well, if you wanna see some of the use I made with your info, check my practice blog: here. Also you can check a short film I made some time ago: here.

Bye and thanks again
Hasta Luego
I receive similar letters often as a result of my blog. It's humbling to get them, but, at the same time, it's part of the reason I keep doing this so enthusiastically. I enjoy sharing the bits and pieces that come my way, and I truly want to see 2D animation continue on a high road. Only by keeping the word out there and sharing the knowledge of those I revere can the stream stay alive.
I'm not quite sure why John K decided to make his blog Private, but I have no plans to follow suit. It is nice, once in a while, to hear that others enjoy it as well.
______________________
- Michael Barrier has a smart piece on his site. In Lost Illusions, he writes about the artist – in our case, the animation artist – who tries to stick to his sense of value and artistic integrity, but because of the way the medium is constructed, compromises set in and become an integral part of the "art" that the artist not only develops but defends.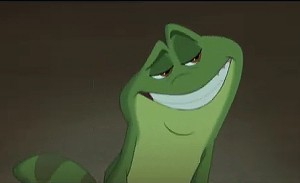 Mike's commentary is a buildup to carefully analyze the six minute opening of The Princess and the Frog. Unfortunately, I agree wholly with what he has to say. I haven't seen the six minute piece (apparently on the Snow White Blu-Ray disc), but I have seen various trailers. All contain scenes that are heavily affected by an unbearably unctuous frog, sarcastic and racy in the tedious way of all sitcom sensibilities. This isn't adult; it's just tawdry. Only 30 seconds, and I'm not sure I want to see more. But this is only a trailer, and I have to see the whole film.
I will see it – how can I avoid it, how can I not support 2D animation on a large scale. I hope that The Princess and the Frog will be better than I expect, but things don't bode well with scenes seen in the trailers.
______________________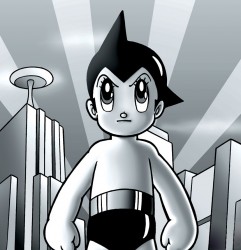 - Yesterday, this paragraph pretty much summed up the review Manohla Dargis gave to Astro Boy in the NY Times.
Like a lot of movies, "Astro Boy" has been designed to function on different levels and serve different audiences, but in this case these multiple meanings and points of address have created a confusion of tone. The story's undertow of darkness pulls you in one direction, while Astro Boy's insistent cheerfulness, which seems more commercially motivated than personality-driven, pulls you somewhere else. This jaggedness extends to the visual design, which at times intriguingly recalls the flat, graphic style of the 1950s, yet also often looks thinly conceived, sketchy, even cheap. Somewhat more rounded than the original character, Astro Boy, meanwhile, now brings to mind the chubby mascot for the restaurant chain Big Boy. Maybe the fuller figure is part of his Americanization.
Wouldn't it have been amazing if some industrious producer had stuck to the original look and feel of those cheap Astro Boy TV shows? 2D animation on fives and sixes with dialogue that sounded lip-synched even though it sort of worked. Cheap cartoons made to look like the high priced spread. Everything's getting to look alike.
Is this one of those 15 eligible for the Oscar?
NYDaily News – 2 stars
NY Post – 3 stars

______________________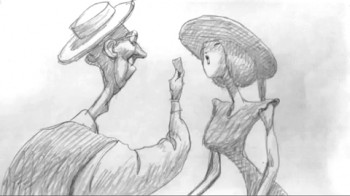 - Speaking of Independent films, Bill Plympton has a Pencil Test of his latest short, Cheatin', available on YouTube. It's a work still in progress so the usual disclaimers have to be attended to. However, I have to say that some of the drawing in this film is among the best I've seen from Bill. Very inspirational.
______________________
Animation &Independent Animation &Layout & Design 23 Oct 2009 07:47 am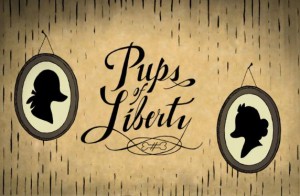 - Yesterday, I posted the first part of a look at a short film, Pups of Liberty. It included an interview with Bert & Jennifer Klein the Producer/Directors (and so much more).
Along with the interview response, they sent me a wealth of gorgeous artwork from various phases of the production, and I'll try to get most of it in today. The text descriptions, below, are written by their Production Designer, James Lopez.
You can view a trailer from their film here.
All images copyright © 2009 Picnic Productions

Pups of Liberty Color Script by James Lopez
For the colors, warm colors were chosen to represent the dogs'
surroundings and, in contrast, cool colors to represent the cats.
To start the film, the colors were to portray a pretty town but not
a vibrant one. Only as hope comes alive and tensions run high (The
Boston Tea Party & The Riot) are the more vibrant colors introduced.
Color influences came from some classic Disney films and a desire to
use natural lighting (direct & indirect) as opposed to "staged" lighting.
The story of the movie is left somewhat unconcluded so at the finale,
rather than going full-blown with color, there is a hint at what would be
to come (as the story's narration suggests).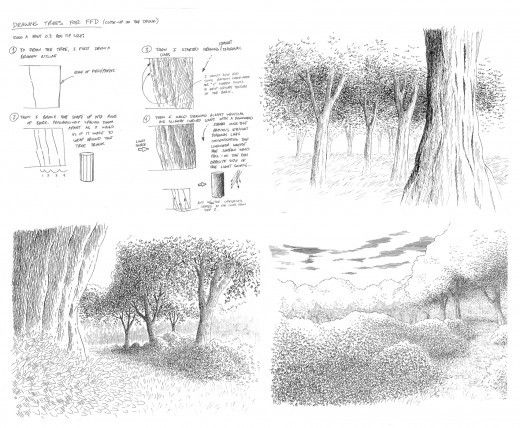 Pups of Liberty - Drawing Trees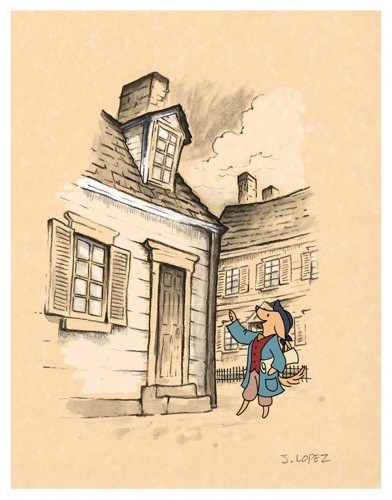 Pups of Liberty - In the style of Anton Pieck
Initally, the backgrounds were going to be influenced by the stylings
of Dutch artist Anton Pieck. Studies were made to see what the style
would look like with a Colonial theme.
A composite was made with the paint study and the character over
a parchment texture. We we were happy with the result of how the
drawn character married into the drawn environment.
It was a nice style but it involved a unique application that was a labor
to produce and proved to be impoprobable so we explored other, more
traditional styles.
We later settled for a pen and ink application on vellum paper in the
rough drawing style of the late Ken Anderson. It allowed us to stay
loose and if there were any mistakes or changes to be made, they
could still be done on paper.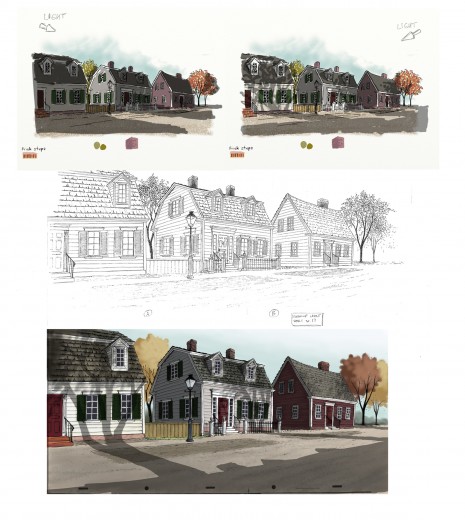 The top two illustrations are visual development for the color and
lighting treatment on the houses. The desired effect was trying to
capture the drama of the shadows cast from the trees by the sun
set low on the horizon.
The middle illustration is a clean-up layout by James Lopez
The bottom illustration is a Production Background painted by James Lopez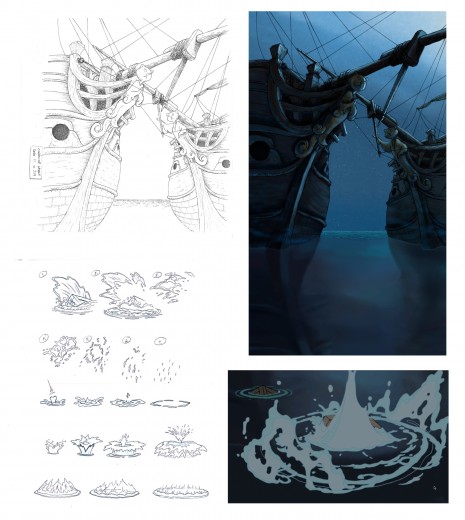 Pups of Liberty - Water Effects
Illustration (upper left) Clean-Up Layout by James Lopez
(upper right) Production Background by Barry Atkinson
(below left) water studies by James Lopez
(below right) Production still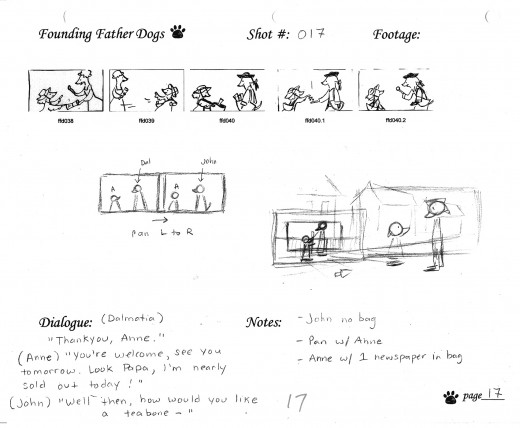 The above images represent a page from the Director's workbook
for Sc. 17. Storyboard drawings are by Jennifer Klein.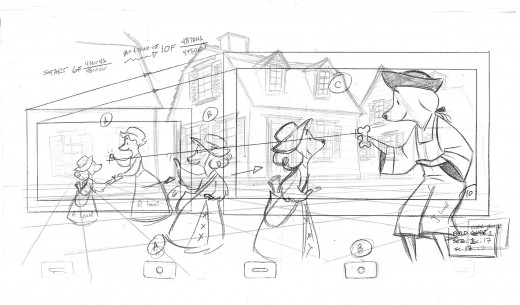 This is the Layout for Scene 17
done by James Lopez.
The QT movies below are Pencil Tests of scenes by
Mark Henn.
Click left side of the black bar to play.
Right side to watch single frame.
Animation &Independent Animation 22 Oct 2009 07:53 am
- I'm an Independent Director/Animator/Producer of animated films. As such I watch closely what else is going on independently in the world of animation. I try to keep up with most of the short films made and being made; I try to keep up with all the people involved in that world.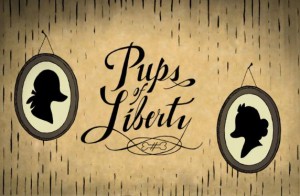 In the old days, one had to go to the Festivals around the world to see these films. ASIFA East often brought some of these films and filmmakers to our local meetings, but generally you had to travel to see the average film. The big, famous award winners would always show up somewhere. Nowadays, the Internet has brought more films and artists into my life, and I get to see more of the less than sterling flms from around the world. Ian Lumsden's Animation Blog has introduced me to many films I wouldn't have even known to look for including many gems. Niffiwan's Animatsiya in English brings Russian films that would otherwise escape my notice. There's a lot out there, and I keep looking.
The fortune of having a modestly successful blog is that some filmmakers actually approach me. Such was the case with Jennifer & Bert Klein's Pups of Liberty. They sent me a link to their site which offered a trailer for their short film, and they offered to send me a DVD of the entire film.
When I looked at their site and trailer, it was obvious this wasn't your average short. I saw the very full animation, beautiful backgrounds, and I looked deeper.
I saw the credit list and the names of James Lopez (Animator on Hercules, Emperor's New Groove, Flushed Away and Princess and the Frog), Eric Goldberg (Animator on Aladdin, Fantasia 2000, and Princess and the Frog), Barry Atkinson (BG artist on Prince of Egypt, American Tail and The Lion King), and Mark Henn (Animator Ariel, Belle, Jasmine, Mulan and Tiana) among others. I had to see this film.
I wasn't disappointed. The animation is sterling in the richest of full animation; the Bg's are beautifully styled to feel like the period (the Revolutionary War) they're meant to suggest, and the Direction couldn't be cleaner or clearer or more focused. The film doesn't waste a shot, but drives itself through the story in a very economical approach. Yet not a dollar seems to have been spared in making this the extraordinarily lush film it is.
I had to respond to Jennifer and Bert Klein to ask for a short interview and they responded with answers to any question I posed and plenty of supportive material. Hence, I'll post that Q&A today with some stills from the film, and tomorrow some amazingly attractive pre-production artwork. This film deserves a book of its own.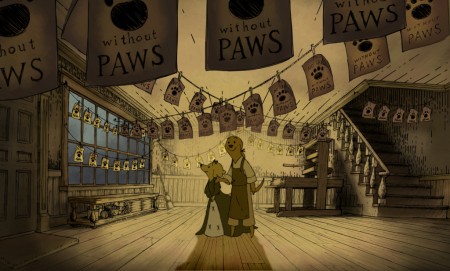 All images copyright © 2009 Picnic Productions

The Interview
.
Michael
–
What prompted you to develop this story? It reminds me a bit of Disney's Johnny Tremaine in the way that it focuses on a particular craftsman and his daughter, just as the live action film focused on a silversmith and his apprentice. Was there any inspiration from that film/book? Animation wise, it feels a bit like Ben & Me. Perhaps that's because of the subject.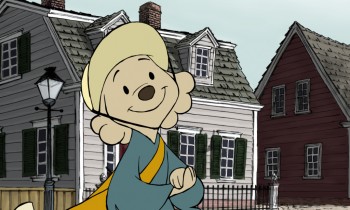 Jennifer – I have always loved this era of history (Colonial/Revolutionary America) so when I first began developing an idea for a new short it was the first setting that came to my mind. I wanted to make a story that was quality and that a viewer would feel good about watching; I was also very interested in how to teach people concepts (like taxation and representative government) with a media like animation.
The story of the Boston Tea Party seemed like an iconic event to start with, since most American school kids learn about it pretty early on. The more I researched the more I was drawn to the story of the printer who started the Sons of Liberty. I love the idea of a group of ordinary people getting together to motivate change in their world, and I liked that that is something that translates internationally, to everyone.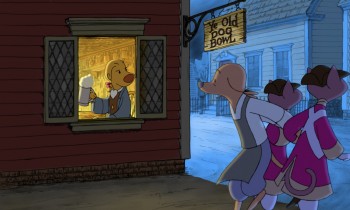 I grew up watching Robin Hood because it was the only Disney movie we had. At some point I saw Ben and Me and I have always liked that one a lot too. I like allegorical story telling, fables… so it seemed natural to tell the story with animals. In a way it lightens up the mood of it having a political bent- because really, they are talking dogs and cats.
Bert – We initially considered making a film about the first Thanksgiving with cats as pilgrims and birds as the native Americans. We moved ahead in time a bit and did the Boston Tea Party instead.
I'm sure you don't want to discuss your budget, but you must have gotten a lot of incredibly talented people to volunteer to help you make the film. (Eric Goldberg, Mark Henn et al). The expense easily looks quite high.
Michael - Was the budget completely out of pocket?
- How did you create such enthusiasm for the project to do so?
- Now that you've finished what is your hope for distribution or future development?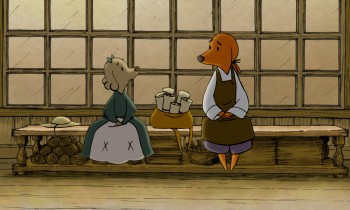 Jennifer – Our budget was all out of our own pocket. We might be a little crazy I guess, but this is what we do. It's our hobby. Bert and I are very passionate about making shorts, and when we began the project we were also very interested in keeping ourselves in practice for 2d animation at a time when there weren't any other 2d features being made at any of the studios. Our friends who worked traditionally started to hear about the film and we would have evenings with everyone over and do pencil tests and see them cut into the storyreel – and we'd always have pie, I would bake every night for the crew. The nights started to take on a family atmosphere, and I think everyone felt very comfortable to come and practice their art that they had been trained to do. Everyone was working at their highest skill level– Mark Henn was doing 20 feet a week, James Lopez stretched himself and all of our layouts, we had cleanup people doing the most beautiful work I had ever seen from them. I can't say how we "created" enthusiasm because you can't consciously create something like this. You're just darned lucky that it happens.
We are submitting the Pups to film festivals, so we will have about 2 years worth of that, and then we'll see what happens. My biggest hope would be for a series. I would also love to see it in the classroom one day.
Michael – It must have taken quite some time since I doubt you were able to work steadily on the film and had to fit it in between other jobs. (I've seen your resume and know you've been busy outside of this film.)
- How long did it take to make, given your work schedule?
- How were you able to maintain such a consistent (and consistently high level) look while working on it on a long, piecemeal schedule? (Assuming that was the case?)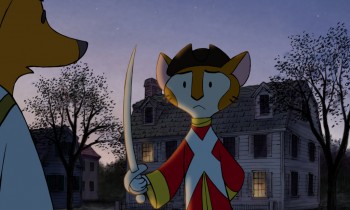 Bert – Most of the production took place during spare time over a two year period. The births of our two kids stretched out the last bits almost another two years.
One way we ensured consistency was having Jennifer do clean up keys over the different animators' drawings to maintain the style. Mark Henn did a lot of animation on the film and helped raise the bar for everyone else. One person (James Lopez who was a supervising animator at Disney for a decade) did all of the layouts. I animated a lot of it myself and just kept working on it until it was done. Our assistant director Hyun-Min Lee was invaluable to us in getting this done, tackling technical problems, organizing scenes and x-sheets, and trackreading amongst many other jobs.
Jennifer – I took some time off to work on the film, so I was able to dedicate all of my time to it. I did the boards, designed the characters, did reds for the cleanup keys. I think that the simplicity of the characters saved us a lot of line mileage and made it possible for the artists to get through the footage quickly. They also look best against the backgrounds, which are done in a hand drawn pen-and-ink style and required something simple to contrast with them. We looked at the printwork from the time for inspiration- Paul Revere's engravings especially really had a 'homemade' colonial feel, and you can see his personality in them and in the brush strokes of color used that we tried to invoke.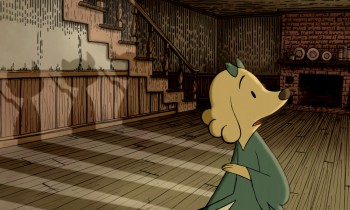 It is hard to sit down and work after you have worked a full day, but I always remembered something Bert would say- "Even if you just get one drawing done you are one drawing ahead." So I'd try and get one scene's worth of layouts done a night, or read a track, or just something, and we'd inch forward until we were done.
Michael – Just as American Tail was compared to MAUS, your film has already received a comment on Cartoon Brew comparing it. There are very obvious differences, but I wonder if you thought about this possibility?
- Or worried about it?
- Did you ever question the idea of doing it with humans?
- Or would that have made you focus even more on historical accuracy?
Bert – I heard of MAUS, but I've never read it. Our main reason to make this was purely a labor of love. I watched Jennifer do great work as a story artist on lots of feature projects for studios that never got made or changed radically from the first inception. She was one of the original story artists on Where the Wild Things Are when it was a fully animated feature back in 2001. I wanted to produce a film that was a showcase for her story sensibilities because I felt that it might be the only way to get that pure vision to the screen. We also hope that people and their kids can enjoy it.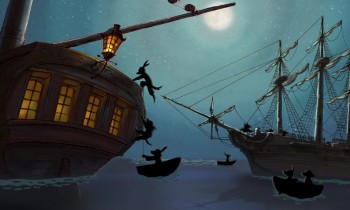 Jennifer – Honestly I never heard of Maus. Whatever subject matter you make a film about though, there will always be something to compare it to — how many films are there about aliens? Or zoo animals? A setting is just a setting- it's how you hook the audience in, how you make them really feel for and believe in your characters, and the experience that you give them that matters.
Doing a historical film with humans instantly makes it more serious- doing it with animals, you can't take it as seriously and you can have more fun with it. Why animate humans when you can animate talking dogs? It made us laugh. We did it this way so that we could have some fun, and do what we love to do.