Monthly ArchiveApril 2006
Festivals 30 Apr 2006 07:26 am
- Yesterday, I went to a screening of my film, Reading To Your Bunny, at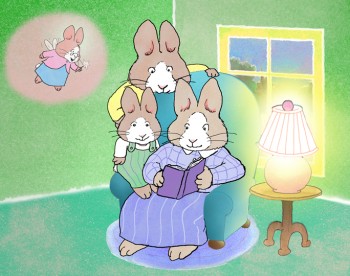 the Tribeca Film Festival. There are three more screenings to come in the next week.
I wasn't quite into this film at first, but was somewhat pleased with how it turned out.
Last year's screening was on a relatively small screen, but today we had an enormous screen. I actually was amazed at how well it played large, and it certainly was my favorite of the films screened. (Perhaps I'm biased.)
(Click on image to enlarge.)
Viewing it with the distance of two weeks, I thought Matt Clinton did some excellent, first rate animation in it – his animation has grown so enormously in the last two years here. Paul Carrillo's editing of the final music video to the Beatle-like song sung by Mary Chapin Carpenter is hilarious, and the Bg styling done by Adrian Urquidez really solidified the piece.
It was a family program. It was a beautiful day in New York so I wasn't surprised to see a relatively small audience of kids – about 20, with their parents. One thing I have to say is that the Tribeca Festival is treating me like royalty, and I love it.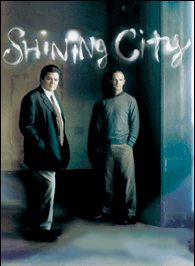 – And then last night, what turned out to be the inspiration for the day was a fabulous play about to open on Broadway, Shining City. Performances by Oliver Platt, Brían F. O'Byrne, Martha Plimpton, Peter Scanavino could not have been better – all of them, and the direction by Robert Falls was superb and artful. They mined the show for every ounce it had, and I soaked it in.
It's built around an extended monologue given brilliantly by Oliver Platt to his therapist, Brían F. O'Byrne. The play deals with that part of our lives where we're searching for something outside of ourselves to make things better, more exciting. Whether it's god or ghosts or just an erratic change, these extra ordinary bouts seem to make the ordinary more liveable.
It's an excellent production, done under the best possible circumstances. I encourage anyone near New York to seek it out. (Certainly the TKTS Booth must be offering half-price seats; no one seems to have heard of the show.) Go.
- Today's NYTimes features an article about a Jordanian animated cgi series. "Ben and Izzy," is about the sometimes-rocky friendship between two 11-year-old boys — one American, one Arab, and it is being shopped to the world. The NYTimes, apparently, is helping out.
Animation Artifacts 29 Apr 2006 08:54 am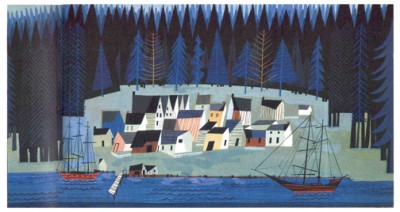 - On May 22,
the NY chapter of the MPAcademy will present their monthly screening, Monday nights with Oscar. This month they are showing The Defiant Ones, starring Sidney Poitier and Tony Curtis.
(Image scanned from Bob Thomas' 1959 Art of Animation)
Of more interest to animation enthusiasts is the short playing with that film: Paul Bunyan. This 17min short was nominated for the Oscar in 1958.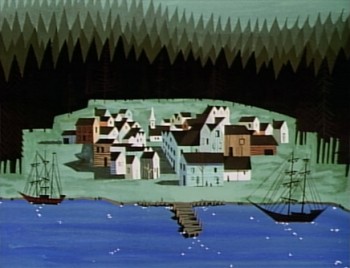 It's been shown on television often enough, and was recently included in the dvd collection, Disney Rarities – Celebrated Shorts, 1920s – 1960s. (I find the transfer on the DVD high contrast, and not the best quality.) This is the first time I can remember a theatrical screening of the film.
With strong designs by Tom Oreb and stunning backgrounds by Eyvind Earle, it's a chance to see one of the best animated theatrical films of the 50′s.
(Image taken from Disney Rarities DVD.
Click either image to enlarge.)
The 1958 Oscar winning live action short, Grand Canyon, also from Disney, is on the program as well.
May 22nd at 7pm, at the Academy Theater at Lighthouse International, 111 East 59th St. Tickets are $3 for Academy members and $5 for the general public. Call 1-888-778-7575 to buy tickets in advance.
Daily post 28 Apr 2006 11:25 am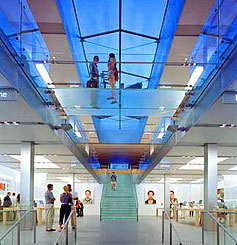 – Last night the Tribeca Film Festival had a filmmaker party at the Apple Store in NYC. The Apple Store is a two story affair that has a lot of hardware on display to play with and a lot of lucite and hip lighting.
It was the kind of party where a lots of young people, dressed in T-shirts and jeans mixed with well dressed older types. No one seemed to know anyone else, and a lot of elbow rubbing took place trying to avoid knocking over anyone's drink.
The store is expansive enough that there were large areas which no one occupied and other large areas that were overcrowded.
(The Apple Store during work hours.)
Last year's event (this is my 2nd time in two years to have a film being screened) had more star power. This year just felt "in" and pleasant.
On arrival, we met up with Patrick Smith, Nina Paley and Biljana Lubovic who all have films out of competition as part of the Animated NY group. We parted ways when Heidi and I went to look for the wine table and to scout out the rest of the party; we didn't meet up again.
The Bacon Brothers were scheduled to perform, and I looked forward to saying hi to Michael Bacon who scored my film, The Man Who Walked Between The Towers.
At 11:30 the excellent DJs were still making the music,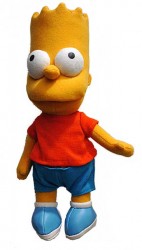 and there was no sign of the Bacon Brothers. I had to leave, so I missed them.
All in all, it was fun. A nice opening to the festival for me. I haven't been able to participate in any of the events till now, but I look forward to seeing my film in a movie theater tomorrow morning.
- The Onion has an entertaining interview with Matt Groening. They also have a list of quotes made famous from The Simpsons.
As you might expect, there's a bit of talk about the Simpson's feature, Futurama, Life In Hell and Tracey Ullman. The on line interview is more extensive than the one published in the paper.
Errol Le Cain 28 Apr 2006 07:19 am
- Continuing with more of Errol Le Cain's book illustrations, here are five images from The Pied Piper of Hamelin first published in 1989 (the year he died). The book is an adaptation of Browning's poem by Sara and Stephen Corrin.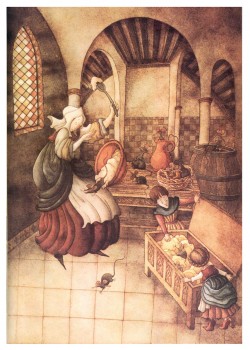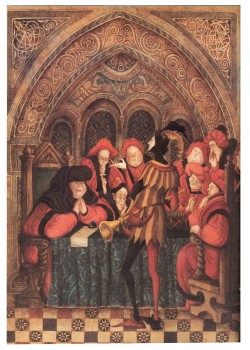 (Click on any image to enlarge.)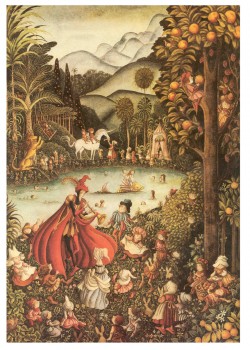 Errol Le Cain 27 Apr 2006 07:27 am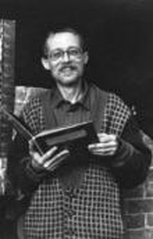 One of the most influential artists on Richard Williams' The Cobbler and The Thief was Errol Le Cain.
Errol came to the Williams studio in Soho, London early on. Dick took him under his wing and pushed him to complete, almost singlehandedly, the animated short The Sailor and The Devil (1967). The film is a very stylized piece animated in a very liquid and fluid fashion all on ones. The bacgrounds are predominantly black with large expanses of sea always in motion.
Having this artist do much of the film, himself, was how Dick felt would be the best way to teach him animation. In fact it is a good way, but one doesn't expect such films to be this exceptional. A good portion of the film is featured in a BBC documentary done about the Williams Studio in 1967.
Errol went on to set the style of Nasurudin, one of the original titles of Dick's dream feature. Over the years he became most prominently involved in doing the backgrounds for the feature.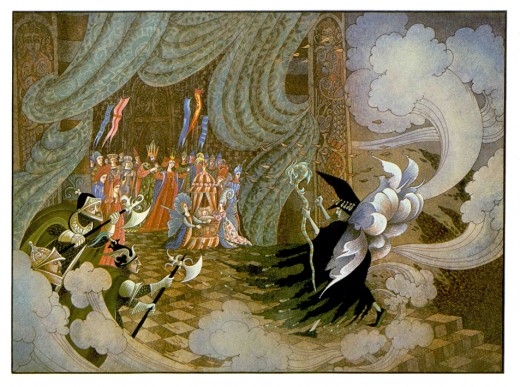 While working for Richard Williams, Errol Le Cain illustrated children's books. His illustration style is a meticulous one, often using a soaked parchment which he took weeks to prepare. The books took on a fame for the illustrator, and he received his greatest acclaim, deservedly so, for this art.
I have in my collection a number of these books, and starting with Thorn Rose, I'd like to post a couple of the book illustrations.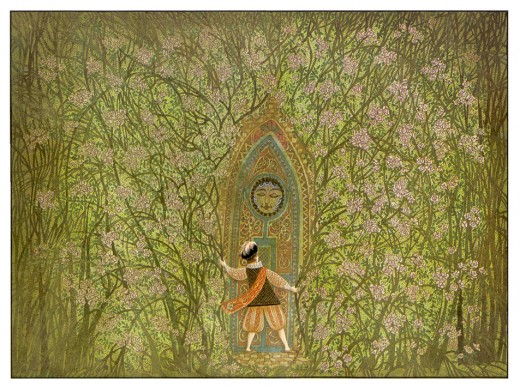 Animation 26 Apr 2006 07:36 am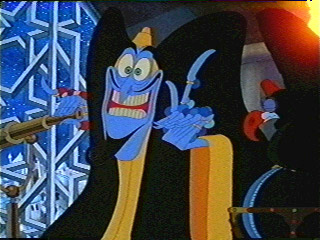 - It's been something of an open secret among animation enthusiasts that Garrett Gilchrist has been posting good quality reconstructed segments of Richard Williams' film, The Cobbler and The Thief.
It takes a little patience and interest, but you can go to YouTube to see a good number of the pieces of it re-formed as a viewable cut of some of Williams' work before it was snatched away and desecrated.
The film is stunning of course in its bits and well worth the effort for those with the time. There are amazingly viewable pencil tests mixed in with large doses of painted, completed scenes. This wasn't a completed film, and it doesn't completely play like one. However, the quality of the Pencil Test sections in this version is better quality than the third generation copy that I own.
The animation in the original film, of course, is brilliant in large sections, but I am always taken away by the majesty of Errol LeCain's priceless backgrounds. Somehow he seems to be the guy no one ever talks about in connection with this film. I'm going to feature a number of postings on Errol's beautifully illustrated children's books later this week.
Thanks to Garrett Gilchrist for his work here. His site is also a link to (mostly pencil drawn) art from The Cobbler and The Thief. Here and here.
- Over at ASIFA Hollywood Animation Archive Blog, they're posting some Sunday pages from Polly & Her Pals. I'm in pig heaven. Take a look.
Thanks to Kent Butterworth for letting the Archive scan them.
- I love the headlines they give the political articles at Buzzflash.com. The articles can be found on most other left-wing political sites, but these guys are usually funny.
(Spoiler alert: if you don't hate Bush, you'll hate this site.)
Daily post 25 Apr 2006 07:38 am
-The Tribeca Film Festival opens in NYC today. An enormous number of films is scheduled to appear at the festival, and I've tried to locate as much animation as I could.
It isn't always easy to find out where and when things are to be screened.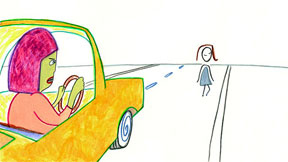 – Emily Hubley has a new short in competition:
"In Black and White and Living Color"
Octave
Directed By: Emily Hubley
Schedule:
Sun, Apr 30 / Noon
Tue, May 2 / 2:30 pm
Wed, May 3 / 9:00 pm
Museum of Jewish Heritage
In the same program is an abstract short:
Errata
Directed By: Alexander Stewart
There's a program of shorts by New Yorkers: Animated New York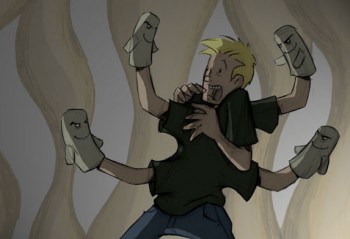 Puppet
Directed By Patrick Smith
Sita
Directed By Nina Paley
Bathtime at Clerkenwell
Directed By Alex Budovsky
Roof Sex
Directed By PES
Underbelly: Coffee
Directed By Rohitash Rao
She She She She's A Bombshell
Directed By Ben Levin
Bar Fight
Directed By Christy Karacas
The Backbrace Directed By Andy and Carolyn London
Sex Life of Robots- The Teaser Directed By Mike Sullivan
Soccer Time Directed By Edmond Hawkins
Santa Goes South Directed By Peter Wallach
Dentist Directed By Signe Baumane
Guide Dog Directed By Bill Plympton
Life in Transition Directed By John Dilworth
Schedule:
Mon, May 1 / 9:00 pm Museum of Jewish Heritage
Wed, May 3 / 12:30 pm AMC Loews Village VII 3
Thu, May 4 / 1:00 pm AMC Loews 34th Street 9
Sun, May 7 / 10:15 am AMC Loews Lincoln Sq 6
Flock of Dodos: The Evolution-Intelligent Design Circus
This is a documentary by ecologist-turned-filmmaker Dr. Randy Olson. It includes a number of animated sequences by the LA studio, Gang of 7.
Schedule is as follows:
Sun, Apr 30 / 8:30 pm AMC Loews Village VII 3
Mon, May 1 / 3:00 pm AMC Loews 34th Street 9
Fri, May 5 / 6:00 pm AMC Loews Lincoln Sq 1
Sun, May 7 / 4:00 pm AMC Loews Village VII 1
Of course, there's my recent film: Reading To Your Bunny. It's part of a program of shorts for children. The program is as follows: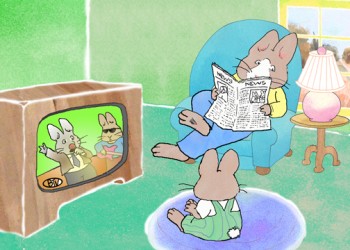 Tribeca Family Festival – Shorts
Reading to Your Bunny
Directed by Michael Sporn
Lon Po Po: A Red-Riding Hood Story From China
Directed by Kris Tercek
Emily's First 100 Days of School
Directed by Gene Deitch
Cinderella
Directed by Virginia Wilkos
Several of the following screenings are free.
Sat, Apr 29 / 10:45 am AMC Loews 34th Street 10
Sun, Apr 30 / 10:00 am AMC Loews Lincoln Sq 5
Sat, May 6 / 10:30 am // 1:45 pm // 5:00 pm Tribeca Film Center
Sun, May 7 / 11:15 am AMC Loews 34th Street 13
Daily post 24 Apr 2006 07:04 pm
- Well, following in the footsteps of Time Warner, Disney is now using Toon Disney to air their second rate live-action product.
Flubber aired late, this afternoon (it wasn't even the original, Absent Minded Professor).
Goodbye "Toon" anything.
Animation &Daily post &Illustration 24 Apr 2006 09:06 am
Looking at a number of sites out there, I found a couple of postings I thought worth sharing.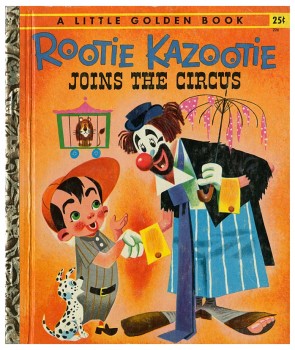 - Who is the boy that is filled with pep and joy?
He's Rootie Kazootie.
Who is the lad who'll make you feel so glad?
He's Rootie Kazootie.
The ASIFA-Hollywood Animation Archive gives us a complete look at the Little Golden Book, Rootie Kazootie Joins The Circus.
For those of you who don't know, or remember, Rootie Kazootie was a puppet who, with his sister Polka Dottie worked to foil the evil plots of Poison Zoomac on early 1950′s television. The puppet show was a craze that took hold of the entire country for a few years. Other similar shows included Bob Clampett's Time for Beany, and Burr Tillstrom's Kukla, Fran and Ollie. There was also the original superstar puppet show: Howdy Doody.
So devoted were many of the Baby Boomer fans, that all of these shows still have active websites. It's hard to think of them as cancelled. (Personally I think these shows were a diversion; a way of avoiding the ills foisted on the unsuspecting Americans fighting off the dull McCarthy-HUAC hearings. Oh, and fighting communists, too.)
How the dim, gray, constricted show, Rootie Kazootie, was able to inspire this brilliantly colored gem of a book is something only Mel Crawford can tell us. He was the illustrator of the book who now works out of New England. An ex-Disney artist, Mr. Crawford has a number of other successful books to his credit including Gerald McBoing Boing.
- Emru Townsend at FPS has an insightful commentary on the presentation and marketing of animated features in our dull, gray, constricted world.
- There's a short interview with the Quay Brothers at AWN.com which I found interesting.
- The publicity machine's in play. Yet another article about the Robert Smigel's animated pieces for Saturday Night Live. This one appeared in yesterday's NYTimes. At least the two studios that do the work got mentioned: J.J. Sedelmaier and Wachtenheim/Marianetti.

- At Jim Hill Media, we learn why Gnomeo & Juliet has moved off the defunkt list of Disney animated features (canned by John Lasseter and other incoming execs) and onto the Miramax release plans. Move over Hoodwinked II & III.
Jim Hill also lets us in on a plan expected for the distribution of Song of the South to computer/download fodder in a couple of years. Of course, we'd heard not-too-long-ago that this feature would be revived for dvd release, that is until Robert Iger came into power and canned it. The poor little feature-that-could has been the story of many soap-opera endings over a short time. Too bad I didn't buy a vhs copy when it was in release years ago. (Though there are enough sites on google that'll lead you to relatively inexpensive, illegal dvd's.)