Monthly ArchiveMarch 2009
Commentary 31 Mar 2009 07:52 am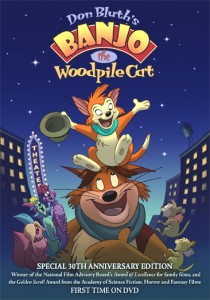 - Recently on the DVD market is the high quality version of Banjo, the Woodpile Cat. This film merits some attention as being a link from the stasis of animation in the 70s to the somewhat Golden period in the early 80s.
A small group of people, who were employed in the Disney animation system, began meeting after hours and weekends to develop their own talents to a greater extent than they felt they were achieving within the confines of the Disney system.
Led by Don Bluth, Gary Goldman and John Pomeroy, this small ever-mutating group connected with animation exercises for a film called "The Piper" based on a poem. However, the story for this piece kept growing, and they knew they'd never complete it unless it were a feature.
Changing course they came upon the story of Banjo, the Woodpile Cat, and the film slowly entered its development going into production in 1975. As this production started developing it became evident that the trio –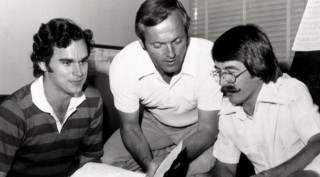 Bluth, Goldman and Pomeroy – would have to move off the Disney lot, and they quit. Immediately thereafter, a larger group joined them including animators: Lorna Pomeroy, Heidi Guedel, Linda Miller, Emily Juliano; assistant animators: Frank Jones, Dave Spafford, Vera Law and Sally Voorhees and Diane Landau.
This staff started working as a close knit team in the garage behind Don Bluth's home. Interest was ignited by a group called Aurora, composed of ex-Disney executives, in working together with the Bluth team. They also presold the forthcoming film to ABC, and there was talk of a feature.
They were a tight group working in cramped corners, but they used every resource they could. Without seeking outside help, they were able to add a number of key people who would help complete the project. It took almost five years for them to finish Banjo.
__________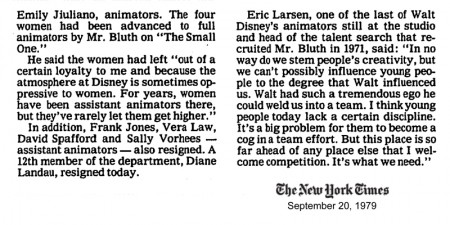 - This attention certainly caught the eye of those of us in New York. Animation back in the 70s was something of a wasteland. In New York there was Ralph Bakshi who had done a couple of features, ran into trouble with Coonskin and took off for LA to continue a spotty career. There was also the Hubley Studio doing their annual, stunning shorts and not much that grabbed widespread attention in the market. Disney was producing vapid charmless films.
Suddenly, there was this insurrection, and a new studio was born in love of the medium. I can't exaggerate the excitement this caused in the "young" animatorsat the time – even 3000 miles way. We couldn't have asked for more to watch in our gossip pipe lines.
We'd heard and read about Banjo the Woodpile Cat, but before too long, they were talking about Mrs. Frisby and the Secret of Nimh. I think I read every bit of PR I could find. Mind you, I had no interest in going to LA, so the studio wasn't a place where I might work; it was the hope that something, anything would put some pepper into the laconic industry.
I remember having just finished Morris's Disappearing Bag for Weston Woods and starting Doctor DeSoto when I had a conversation with my composer, Ernest Troost, about a publicity puff piece I'd read about all the methods the Bluth people were using to revitalize a dying medium.
It was exciting. Change was in the air.
To be concluded tomorrow.
.
All images come from the dvd and are
copyright © 2009 Don Bluth Films, All Rights Reserved.
.
Animation &Animation Artifacts &Hubley &walk cycle 30 Mar 2009 07:56 am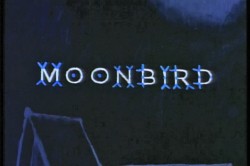 - If I had to choose who was my favorite animator, I'd have a tough time. Equal credit would probably have to go to three different people: Bobe Cannon, Tissa David and Bill Tytla. Jim Tyer and Ed Smith would fall just a smidgen below these three, for me. But there are none like them all, as far as I'm concerned.
I've posted a lot of drawings from Tissa and Bill Tytla, but have very few drawings by Bobe Cannon (nor have I seen many published anywhere.)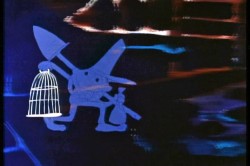 Here is a walk cycle from the beginning of Hubley's monumental short, Moonbird. The odd numbers are extremes by Cannon, and the inbetweens (even numbers) were done by Ed Smith. Three different sized papers were used for this, and you can view them full sized if you click the thumbnails.
You'll notice there's paint all over the drawings. The ink & paint involved tracing the drawing, then using oil paints to cover all of the clear area in black. Some of that paint seeped onto the originals. In one drawing even to coloring the hat accidentally.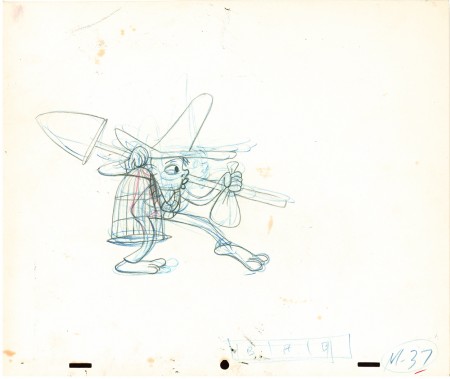 37
(Click any image to enlarge.)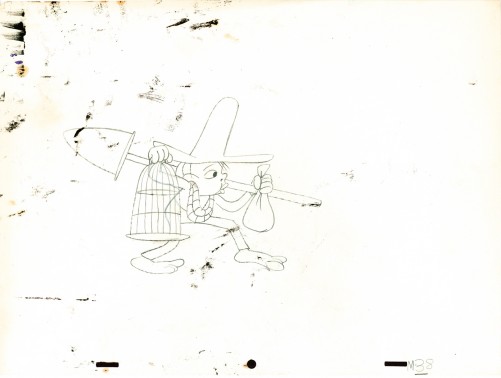 38

Moonbird
On twos at 24FPS
Click left side of the black bar to play.
Right side to watch single frame.

There's a lot more to this scene including several variants on the walk.
At some future time, I'll add the other drawings to show off the entire scene.
Commentary &Photos 29 Mar 2009 08:22 am
- Fire Escapes are among the obvious to anyone walking down the street and yet almost invisible to the everyday eyes that expect them to be there.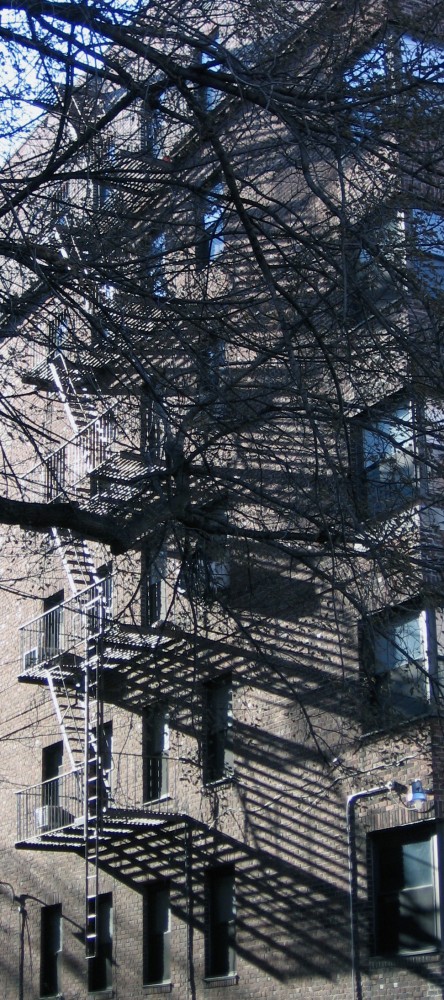 (Click any image you'd like to enlarge.)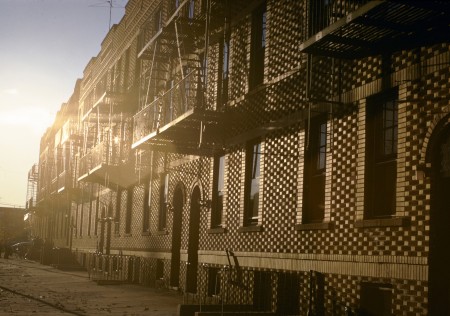 A couple of photos sent me by Steven Fisher showcasing fire escapes
among their own shadows inspired me to start looking anew for these
appendages to many older buildings. The two above are by Steve.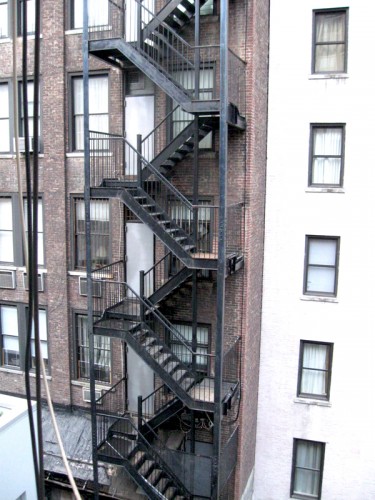 I used to believe that fire escapes were designed to be in the back
of buildings hiding from the public. Designed only to allow an alternate
escape from the building in case a fire arose.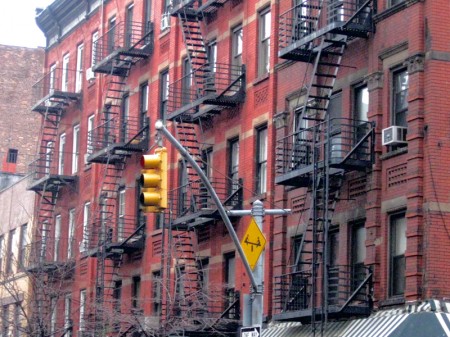 However, it's obvious this isn't true. Older buildings have
no shame in baring their exoskeletal escape route.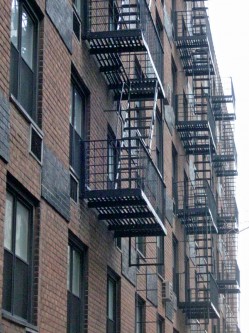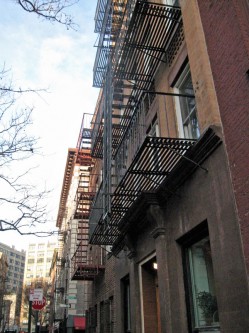 The brownstone just about features the fire escape as a design feature.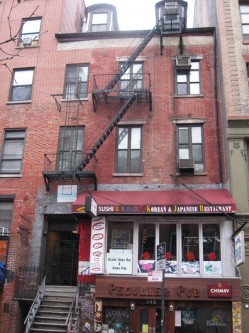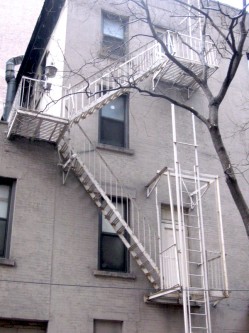 Smaller buildings use smaller fire escapes and
they're shaped for these buildings.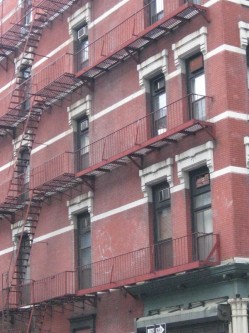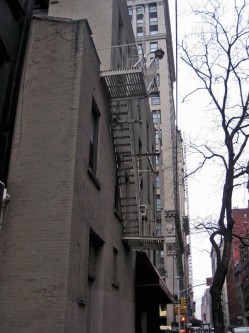 (L) Other buildings have long fire escapes that stretch over
several attached buildings.
(R) Some buldings have tiny shapes that cover small spaces.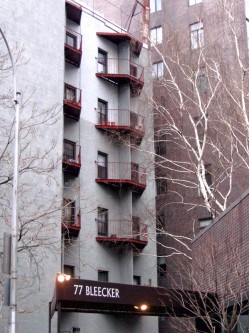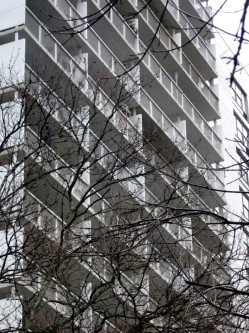 Yet, other buildings don't have fire escapes. They just
offer "patios" that, essentially, LOOK LIKE fire escapes.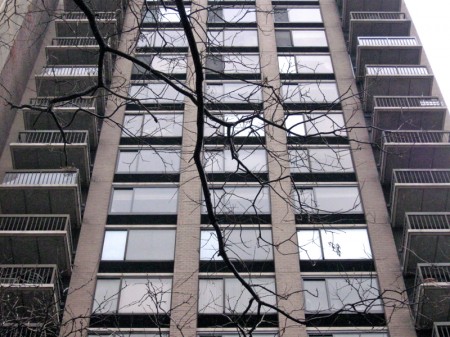 Plenty of patios.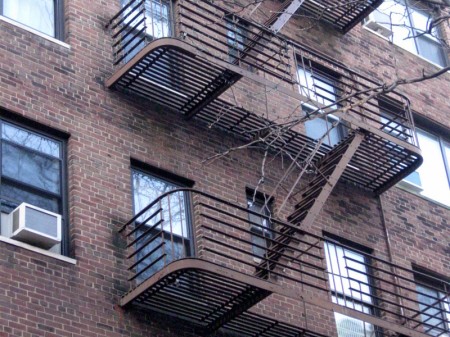 The structure, itself, takes on different shapes as designers
tried to cope with these required exits.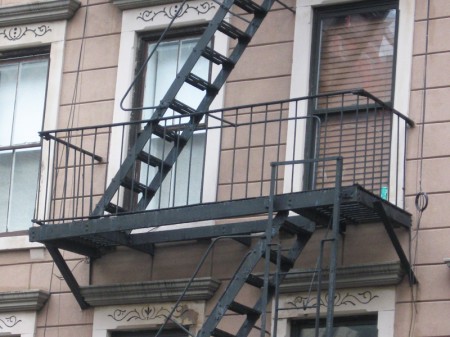 Even some thinner offered a style.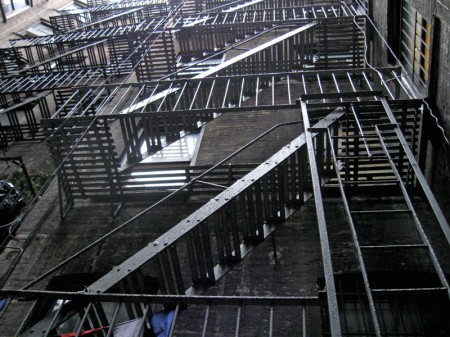 Fire escapes were a brilliant idea, but they don't look very nice.
If they offer an exeunt for escapees, they also offer a way in for burglars.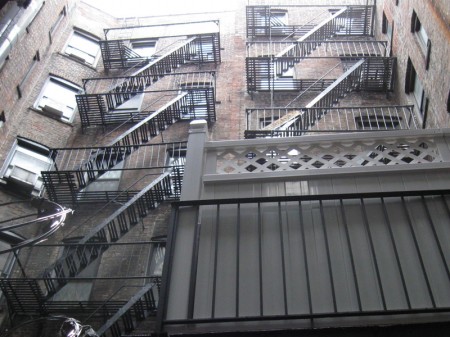 Hence the introduction of the gate guard which prevents intruders
from entering, but that also it makes it difficult for a fast exit.
You can't win.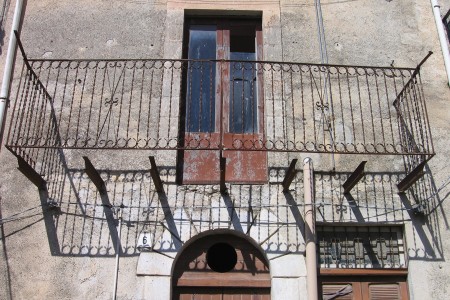 Finally, here's another picture from Steve Fisher.
It was taken in Caltabellotta. Sicily.
It's not a fire escape but what is it?
Commentary &Daily post 28 Mar 2009 08:17 am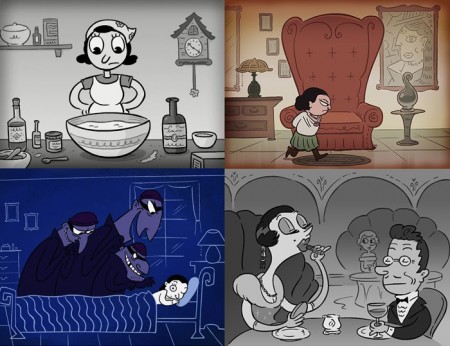 - Last Monday, PBS premiered a documentary on two women entrepreneurs — Elizabeth Arden and Helena Rubinstein. The Powder and the Glory features a number of different film clips and interviews and also several animated sequences done by Animator, Bob Flynn. He created several sequences for the film done with the help of those at Fablevision.
The program will air in New York on WNET, CHANNEL 13 today, Saturday, March 28, at 1:30pm.
You can see some of the animation here. It has a distinctive style and works well within the program. I particularly liked the sequence wherein Helena Rubenstein is robbed. The style is a bit reminiscent of James Thurber's art.
_________________ >

Hans Bacher has the post of the week that excited me most. On his site, Animation Treasures, he's taken some Background layouts for Bambi and has placed them alongside their finished Backgrounds. The comparison is amazing and deserves your attention.
How many times have we seen animation drawings compared to the finished cels? Here are some brilliant designs in execution. Hans also talks a bit about the painting of these stunning Backgrounds on glass.
By the way, if you don't own Hans' book Dream Worlds: Production Design for Animation, get out there an buy it or demand your local library carry it. The book is an essential for those interested in pursuing any career in animation. Or even those who have a strong interest in the medium.
_________________ >
- John Schnall sent a recent ad he did for Bzztrust, a business website. He asked that I post it, and it's expectedly funny. So why not!
_________________
- Brian Sibley, on his very entertaining and informative site, has posted several excellent pieces about Alice in Wonderland. One includes a history of Snap, Crackle and Pop (there is a connection) that deserves your reading. (If anyone can identify the studio that did the British Alice commercial, please let me know.)
Brian posts a clip from a Jonathan Miller version of the story that I was not familiar with. The fact that Alan Bennett appears as the Mouse was enough for me to order the film.


Yes, that's Peter Sellers as the king and Wilfred Brambell
(Paul's father in A Hard Day's Night), as the White Rabbit.

Other cast members include:
Michael Redgrave (Caterpillar), Leo McKern (Duchess),
Peter Cook (Hatter) and John Gielgud (Mock Turtle)
Animation Artifacts &Frame Grabs 27 Mar 2009 08:05 am
- Cable TV has changed and not for the better, just toward the more corporate. In the old days you could turn on the Disney channel and catch some Disney animated shorts – the classic kind, not the Flash kind. You could see some of the 60s Paramount cartoons on Nickelodeon. You could tune into TNT and see early MGM cartoons. Today, if you're lucky, you might see one of the more popular Harman-Ising shorts sandwiched in between two late-Droopy cartoons on Boomerang's MGM show.

(Click any image to enlarge.)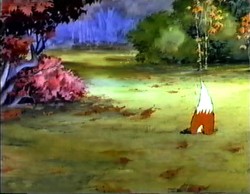 I was a big fan of those Harman-Ising MGM cartoons. The sheer opulence of the productions was staggering to watch. For over a year, I taped an early morning program on TNT trying to grab all of the Harman-Ising shorts they aired. I was able to capture about 90% of them. It's unfortunate that no DVD has been released of these gems so that collectors like me can feel satisfied. The Turner transfers were pretty good, and a simple DVD release of these would be worth a lot to me.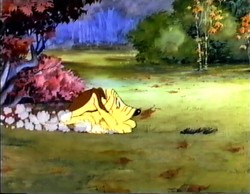 Not too long ago, I was able to buy a couple of drawings on ebay from the Harman-Ising shorts. There wasn't much competition for them, and I was able to afford them.
One drawing is from the odd series featuring the "two curious pups." I had an old Blackhawk 8mm copy of this short (in an edited version) and would run it back and forth still frame. I've captured some stills of this very scene to give you an idea of what's happening.
The Pups' Picnic (1936)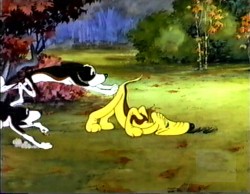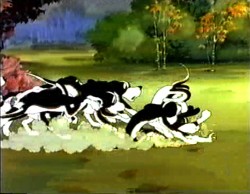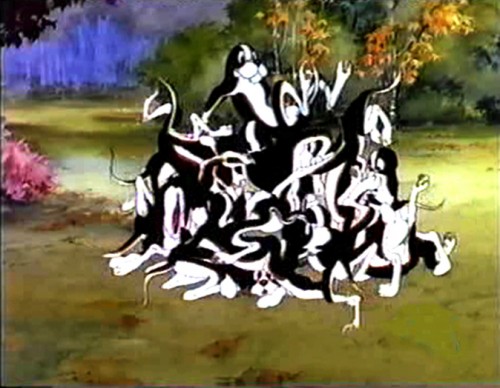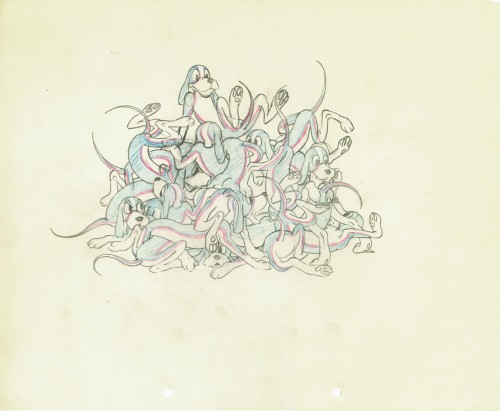 I don't know who animated this scene,
but the drawing is a beauty, as far as I'm concerned.
The paper siize is 9¾ x 12 w/two round holes.
Articles on Animation 26 Mar 2009 08:03 am
- I found a couple of articles about Terrytoons and thought I might share them. (Even Terrytoons had their share of PR.) The first talks about the films they're about to release in 1941.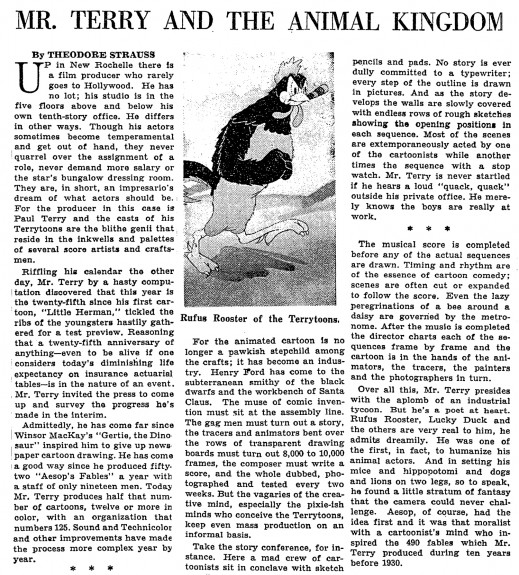 Click any image you'd like to enlarge to read.)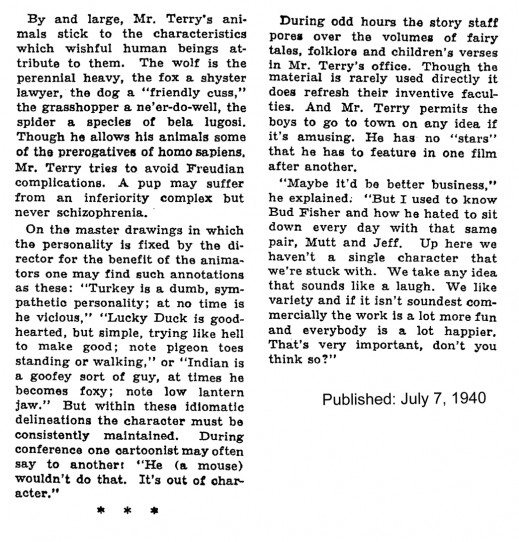 Many years later Terrytoons, having been sold to CBS, were about to premiere a prime time show (7:30 wednesday nights) that featured Dick Van Dyke (pre Dick Van Dyke show) talking to cartoon characters on a television set.
Even back then I thought it was a cheesy show but still tuned in for the few weeks it was on air. Eventually, after the show was pulled Terrytoon cartoons showed up on saturday morning with The Mighty Mouse Show. This was a big deal; it was the best show on Saturday mornings way back then – years before Bullwinkle, Huckleberry Hound and terrible terrible programming.
Here's a piece promoting the Dick Van Dyke hosted show: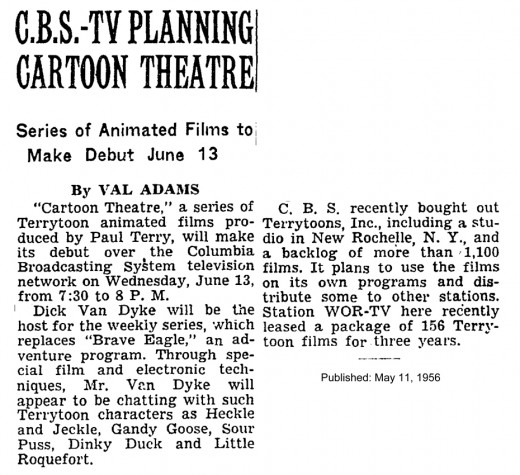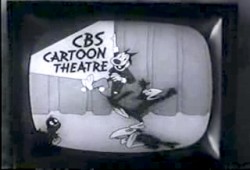 The cartoons leased to local WOR-TV included a lot of silent shorts with classical music backing and some early-30′s cartoons.
They started a show called Barker Bill's Cartoon Show. A ringmaster named Barker Bill introduced cartoons. He was a cartoon character that appeared in a couple of early 30′s cartoons. For this show a live actor impersonated him and introduced old time B&W cartoons.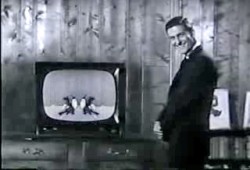 The show was later retitled Super Circus with Claude Kirschner, then Big Time Circus with Claude Kirschner. He was a local NY announcer who acted as the ringmaster (who was not Barker Bill.) He was apapropriately dressed as a ringmaster and chatted with a clown hand puppet named, "Clowny." (You can see the originality of the creation.)
When the Terrytoon deal ran out, they then showed foreign, dubbed cartoons.
Commentary 24 Mar 2009 11:21 pm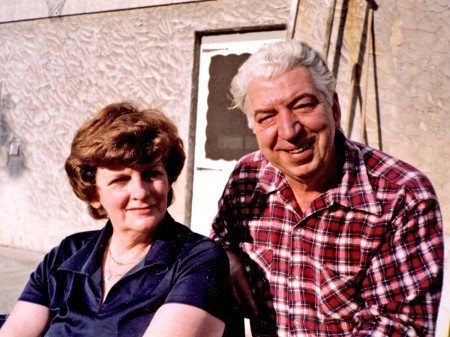 My first memory is of lying on a couch as it's hoisted through a window and placed on a truck. I remember, next, lying on that couch on the open backed truck as it drove across an expansion bridge at night. The stars in the sky blended with the lit beams of the bridge to provide a glorious memory. I was probably five or six, and my stepfather was moving my mother out of her Queens home and into their new home in upper Manhattan – or maybe it was the Bronx. I don't remember.
Those stars and lights of the bridge have stayed with me for a lot of years, and that's how I entered the new home and a new life. There were five of us – five siblings – and a loving home. Lots and lots of shouting and arguing, lots of running about and lots of energy.
All of our games were imaginary in those pre-computer game days. Cowboys and Indians, Johnny Tremaine, and Cindy. Cindy was our dog – a doberman pinscher. But more she was a cartoon character. We created "films" with the opaque projector we'd found in the trash and these rolled up drawings that slid under the projector told stories. We all had our own studios and made nightly premieres often with soundtracks designed on a reel to reel tape recorder that belonged to my father. With all these "movie studios" we also had newspapers so we could review and talk about each others films. The printing press set allowed us to print out these papers and scatter them about.
Our parents supported all this creativity by not being discouraging. I had the craziest dream of becoming an animator – the next Walt Disney – from the earliest age. I was good at math and english, but my parents didn't try too hard to get me to work at a career that might actually be profitable. They supported my crazy dream even to the point of helping me build a multiplane camera stand and giving me more than ample room to have my little "studio."
When I'd actually gotten into the world of animation and things were particularly difficult, it was my mother who did everything for me supporting me in every way possible to continue on in a difficult and complex profession and a small-time entrepeneur to boot. She did the same for all of her kids; she was the safety net if we needed it.
Somehow despite all the turmoil in our lives over the years, we've stayed a particularly close family. We don't all see each other every day – or even week – but we're ready to help each other out if need be. Whatever's necessary. This came from both of our parents but most particularly from my mother who was the strong matriarch of our family. She was very independent right to the end, and I think we all picked up some of that strength from her.
Now she's gone and I'm sorely missing that strength, that back-up support she gave.
Edgar Allan Poe wrote that he believed heaven was in and amongst the stars above us. When we died we moved to that world and shone down on those below. I can only keep my eyes on the stars and think that in some way she's still there for us. She's put these five kids out into the world, and now that we're turning into oldsters, we have the best of what she wanted for us. She's become the star watching over us, and that's probably all the support I'll need.
Chuck Jones &Commentary 24 Mar 2009 07:41 am
_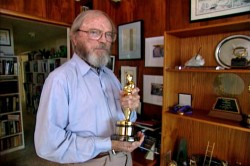 _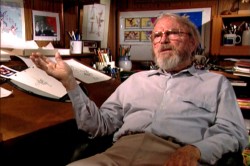 - Tonight on Turner Classic Movies there's going to be a Chuck Jones jamboree. This is all occasioned by the screening of Peggy Stern & John Canemaker's fine film,
Chuck Jones: Memories of Childhood at 8:00pm/10:30pm/2:30am EST.
Along with this film a number of Jones' works will air:
The Night Watchman____Prest-O, Change-O
Sniffles and the Bookworm____Elmer's Candid Camera
Scent-imental Over____You Haredevil Hare
Duck Amuck____One Froggy Evening
What's Opera Doc____The Dot and the Line
The Bear That Wasn't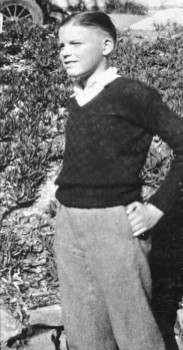 These shorts will be followed by two features on the late night schedule. (Go here to see a full schedule.)
The Phantom Tollbooth was the less-than-stellar feature Chuck Jones co directed with Abe Levitow and Dave Monahan.
1001 Arabian Nights with Mr. Magoo follows that. I'm not sure why since I don't remember Jones having any involvement on this film. Nevertheless, I'll be glad to see it again.
The Stern/Canemaker film is a delicate piece that quite nicely gives Jones the opportunity of relaying many of his memories from his pre-animation days. You get to see what a wonderful draftsman Jones was as he quickly draws from memory on-camera. There's one quick portrait he does of his uncle that impressed me very much.
John Canemaker has done a lot of good animation here which illustrates well some of the pieces Jones is remembering. The animation nominally attempts Jones' style, but John's own style is so pervasive that the animation comes off as much his. I guess this is probably appropriate for such an independent film. Audiences who aren't sophisticated about animation wouldn't notice a difference. Why should they?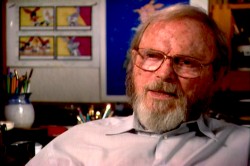 Much has been made about the "abuse" Chuck Jones' father layed on the son. This amounts to strong beatings. I suspect that this treatment was typical of most families in the 19-teens. "Spare the rod and spoil the child." One wonders how this may have affected Jones' art.
Thank heaven for our more "enlightened age."
The film moves quickly and informs quite gently. It deserves the attention TCM is giving it, and it also deserves the attention of the animation community, as it properly will receive.
Here's the four star review in today's NYDaily News.
Here's The Boston Globe review.
And here's The Cleveland Plain Dealer.
___________________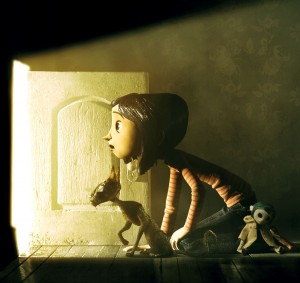 - I finally got to see Coraline over the weekend and have to complete some thoughts I gave prior to actually seeing the film. This is the first of the recent 3D films that I've seen in 3D. The effect worked well but, to me, was a complete hind-rance to the filmgoing experience.
When we filmed Raggedy Ann, there was a significant problem with cel flare because of the black backgrounds during the Greedy sequence. It was troubling. I'd recommended using polarized filters. This meant that the lights had to be filtered, and a second filter had to be placed on the lens to offset the lighting. The positive was that the flares were resolved. The negative was that there was a graying of all colors. On film, especially in animation, this problem can be rectified in the timing of the final print at the lab.
With Coraline we're wearing, essentially, the same polarized filters to interpret the 3D effect. We don't have built-in laboratories to adjust the colors in our head. We're viewing grayed-down colors, and I was totally annoyed by it. By lifting the glasses, the screen would often look normal in 2D. But the colors were excellent. This aspect of the design was completely lost in the polarized flters over our eyes.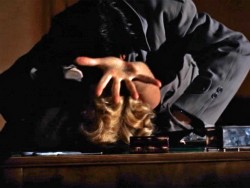 The 3D effects weren't principal or necessary to the whole, and the film would have been just as good in 2D. However, in 3D I was never able to enter the screen. The glasses were in the way and annoyed me. My eyes watered up often during the film, and I spent a lot of time wiping away tears. This is not the best way to watch a film.
But then, I once saw Hitchcock's Dial M For Murder in 3D. It's rarely projected that way, so it was fun to see how the master would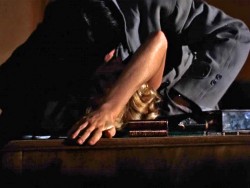 handle the effect. He used it to create a wall between us and the characters. The bar in the apartment, flowers, other furniture often stood between us and the characters in marked 3 dimensional separation.
Only once did he bring us into the film via 3D. A murderer has Grace Kelly bent back over a desk. We're watching from the back side of the desk as he strangles her. She reaches out of the screen searching for a pair of scissors to defend herself. However, the effect was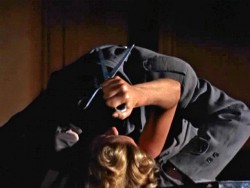 that the hand coming out into the theater seems to be imploring the helpless audience to get up and save her. It was frustrating and exhausting and completely involved us, the audience.
She eventually grabs the scissors and kills the guy. However, despite the red/green glasses we were totally drawn in. Much was added as part of the film's effect. I've seen the film numerous times in 2D and always remember the scene in 3D when I've seen it again.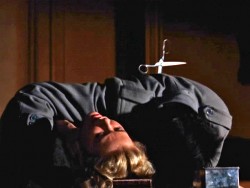 No such scene exists in Coraline nor is there any necessity to see it in 3D. I liked how Henry Selig created 3 dimensional differences between her real home and the "other" home. However, this is too subtle to be a necessity. Consequently, to me the 3D was little more than a gimmick.
The film, itself, seemed quite impressive technically, but I'm not sure the story was well told. I'd have to read the book, but I saw a lot of interesting fairy tale elements that were set up and violated before the film was over. I'm not sure that's a product of the original.
The story wants to talk about mothers and their black/white role in our lives, yet it ultimately doesn't work with the telling.
The story goes in and out of dreams, and for much of the film could have been a dream, yet the end gives us no opportunity to interpret the film for ourselves that way. Let's just say I was disappointed on many levels despite the technical agility on display.
Regardless of all my negative comments, this is an important animated film to see. It will probably be one of, if not THE best of this coming year. See it if you're at all involved in animation.
Monsters vs Aliens is about to open and a long trailer ran in 3D before Coraline. Obviously, the 3D effect is more dramatic in that film. However, on the basis of the trailer alone, it felt even more of a gimmick in that movie. I have to say that there's nothing there for me in the new Dreamworks product, and I'll save a viewing for Oscar time when I won't have to pay an additional $5 to have my eyes water and be annoyed.
(By the way the great Hitchcock stills come from a brilliant website:
1000 Frames of Hitchcock.
___________Mark Mayerson originally led me to this invaluable site.)
Animation &Animation Artifacts &Fleischer &Models &walk cycle 23 Mar 2009 07:59 am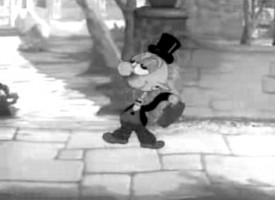 - Wifle Piffle was a character that the Fleischer studio tried to develop out of the Betty Boop series. The first appearance was in a Screen Song: I Feel Like A Feather In The Breeze released in 1936. He appears as a waiter in the opening. The animation of the character was by Tom Johnson (as was this model sheet.)
Two follow-up films were made with this side character in Betty Boop shorts.
The first, released in February 1937, was Whoops! I'm A Cowboy, and the second, in March 1937, The Hot Air Salesman. The opening scene features an expensive multiplane shot behind him.
He seems to have been an Egghead type character whose sole character trait was a silly walk. Needless to say, they couldn't find a joh for him.
The model sheet for the character was an 18 drawing walk cycle with a bit of a turnaround. Crosshairs keep the character in registration; only a couple of the pages were punched.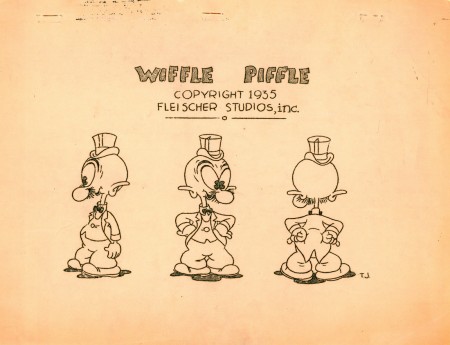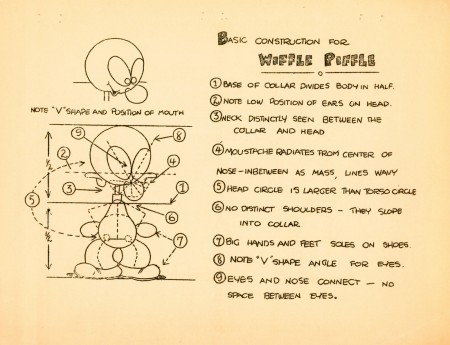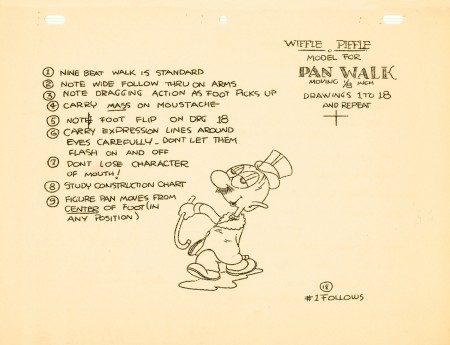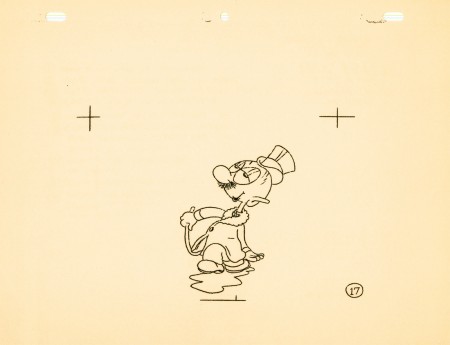 Wiffle Piffle walk cycle
On ones at 24FPS
Click left side of black bar to play.
Right side to watch single frame.
Photos 22 Mar 2009 08:08 am
This odd assortment of photos doesn't quite fit into any group so I'd like to post them together.
- You'll remember that a couple of weeks back I posted a photo of a building not far from my home which seems to be zooming up, several floors at a time. Within four months at least eight floors have been constructed.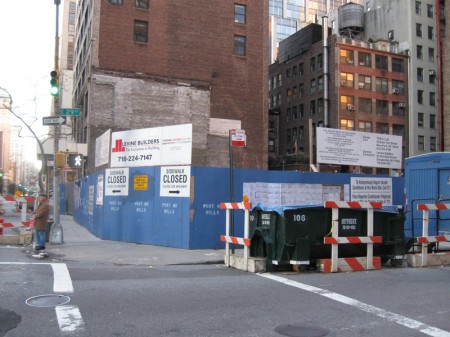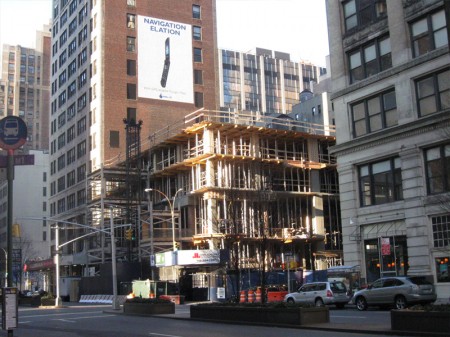 (Click any image to enlarge.)
The image above right shows the building in December 2009.
To the left, we see the building on February 22, 2009.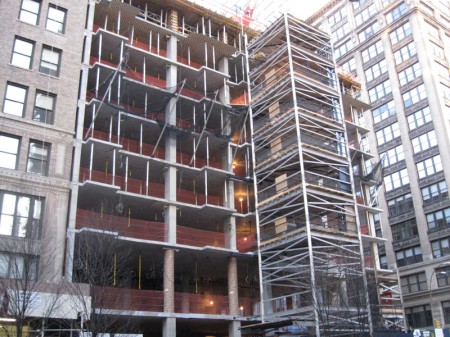 Here's the building today. Zoom.
The sign for the cel phone is completely covered.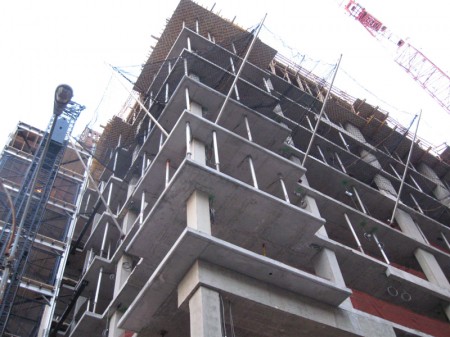 Well, perhaps they've worked TOO quickly.
This past week a man fell off a scaffold and died.
The building inspector then found some 15 violations, and
construction was shut down until that was corrected.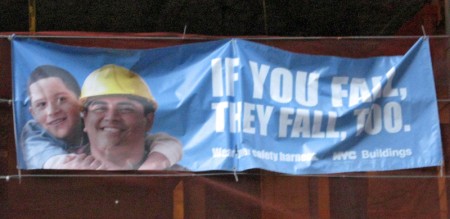 How ironic that this sign greets the passersby.
I guess management hasn't read it.
_____________________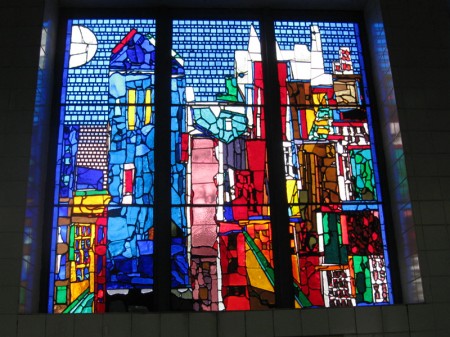 In the South Bronx, I came across this stained glass window
in the exit to the SUBWAY.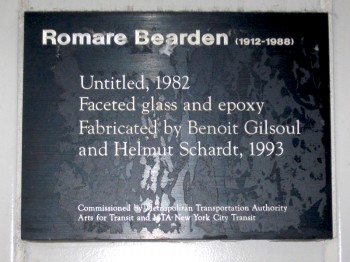 Credit goes to Romare Beardon, Benoit Gilsoul and Helmut Schardt.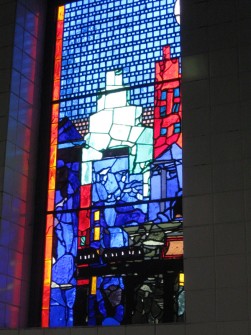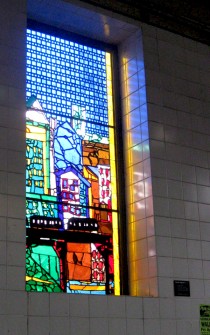 These two side windows make it a five window display.
I couldn't get back far enough to include all five at once.
_____________________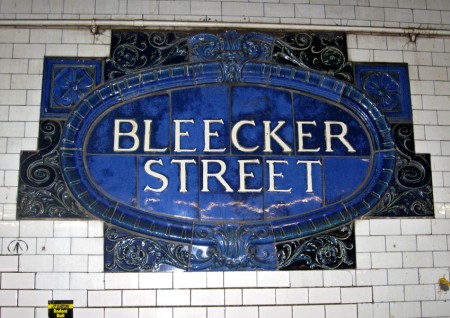 Finally, the Bleecker St. subway station is undergoing some construction work.
Just off to the side of the construction is this beautiful and old mosaic.
I'm a bit nervous that it may disappear, but I'm hoping that it's too
beautiful for even the dullest executive to eliminate.