Animation &Animation Artifacts &Art Art &Miyazaki 04 Sep 2013 07:05 pm
We're still in a fight-down with Verizon and our work isn't getting there. Hopefully it'll finally be resolved by Friaday, so don't be wurprised is anoternpost is missing.
It was good to read Mark Mayerson's article on Monday night. I was sure Hayao Miyazaki was planning to retire, so it felt positive knowing what was to happen. After the last few threats, it was somewhat expected. He did everything he could to line up Goro, his son, to take charge of one wing of the films in production. Now he can entertain the idea of running the studio's production.
Given that The Wind Rising, Hayao's most recent film, is doing well on the Festival circuit, the elder Miyazaki can go out with å bång. The film's also reaped very high grosses within Japan and seems †o be doing well at the Box Office,
The hard part is actually knowing he won't do more films. When you have someone of his caliber consistently turning out special work, it's a shame to see that product get lost.
Mark Mayerson had a nice analogy comparing John FOrd to animation. Once such a master stops working the vacuum left behind them is enormous. A space is left open, missing and ¨if left open and not-filled it surely becomes a hole in †he arc of the medium, it's noticeably missing.

There's certainly nothing in the world of cgi feature animation that compares. Everything on the market in the last year was so wholly vapid
we can only hope a surprise will take over for the younger artists and give a direction forward. Miyazaki will be missed in the world – he already is. There will be no other like him. At least we know he's alive and kicking so we can aontinue to honor him and his creatopns.
Comic Art &Illustration &Miyazaki 09 Jan 2013 06:39 am
- In 1981 and 1982, designer Len Glasser did a comic strip which appeared in the National Lampoon Magazine. This was a full page strip that appeared once a mnth. I'm not sure how many episodes there were of the strip, but I have copies of 17 of them. Mr. Glasser's style seems well suited for a strip, and the writing is a large part of it. I hope you enjoy, Rabbit Boy.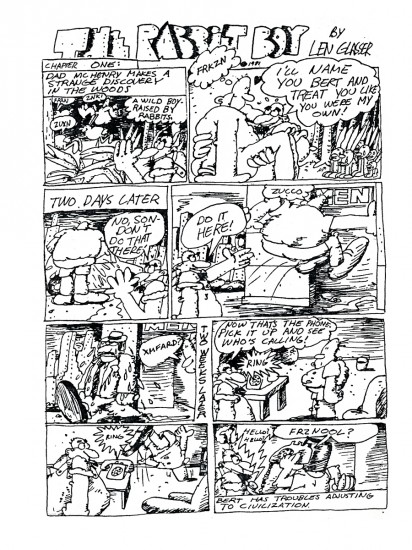 1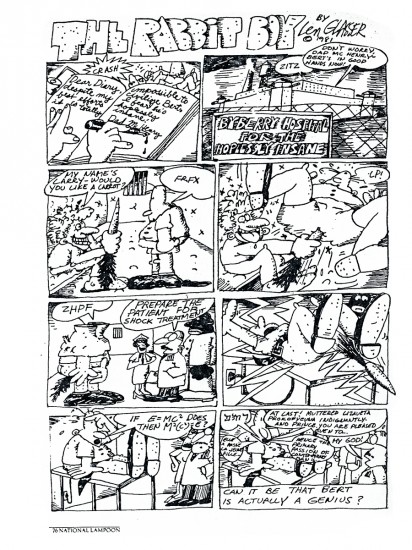 2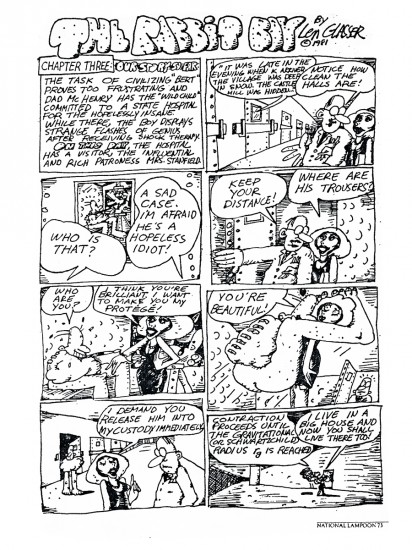 3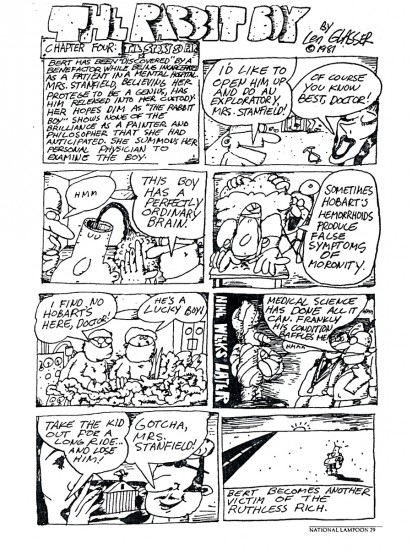 4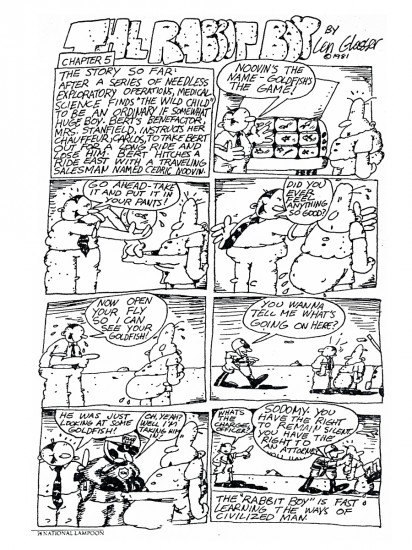 5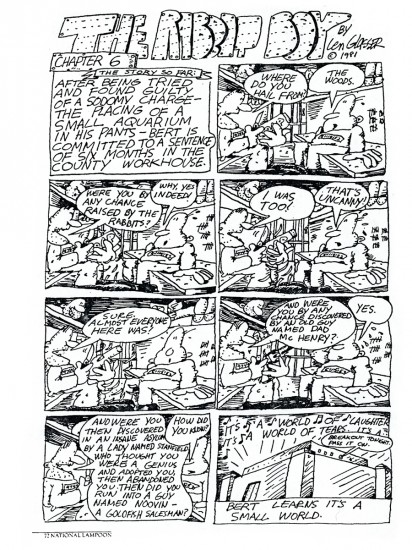 6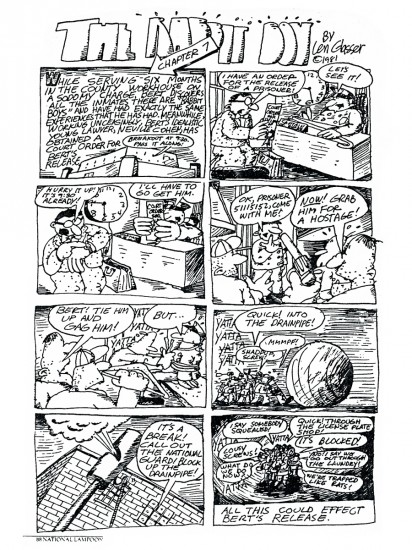 7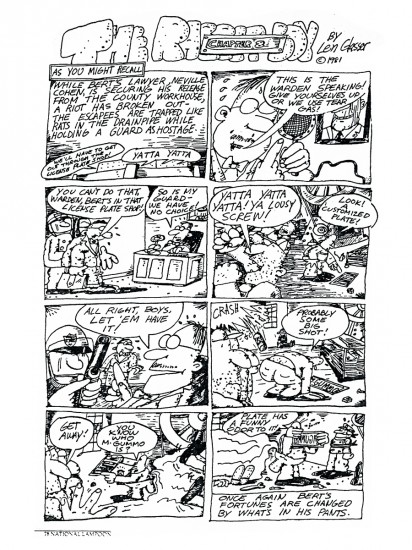 8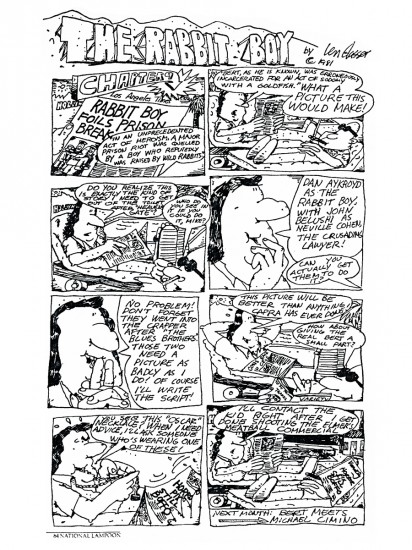 9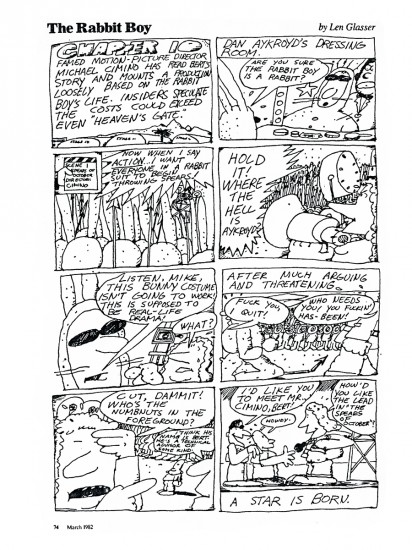 10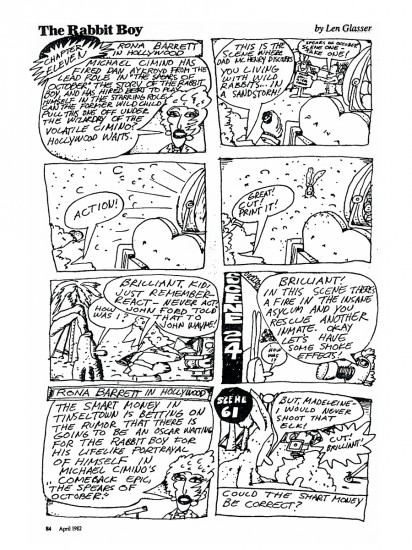 11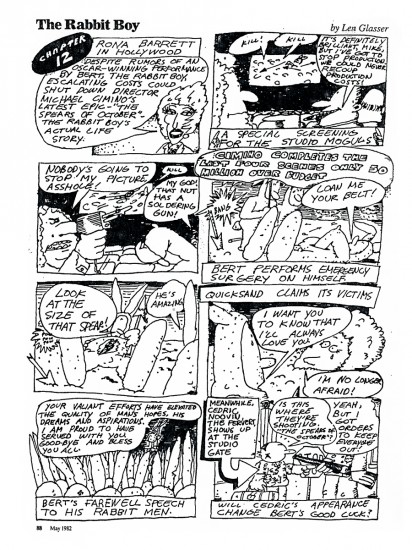 12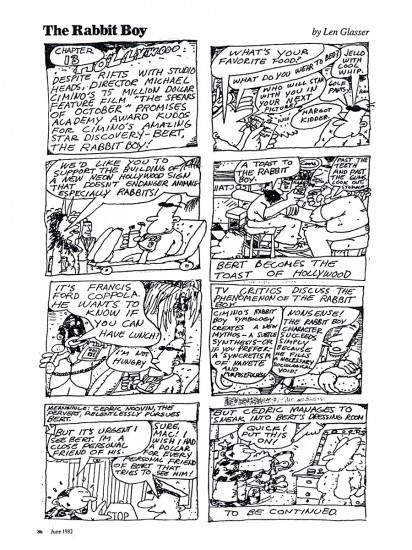 13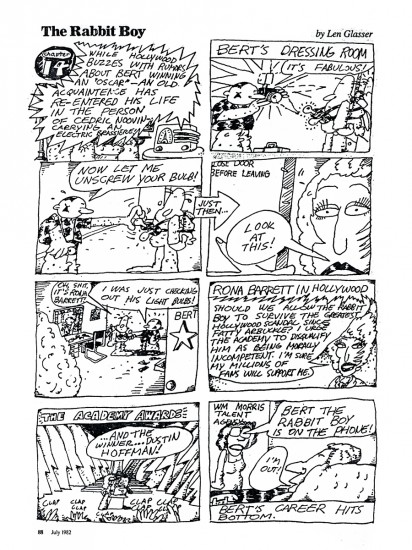 14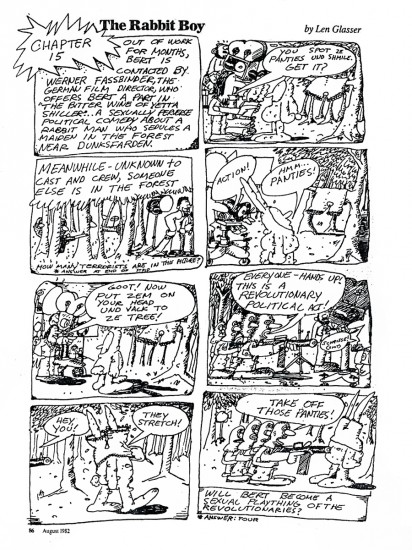 15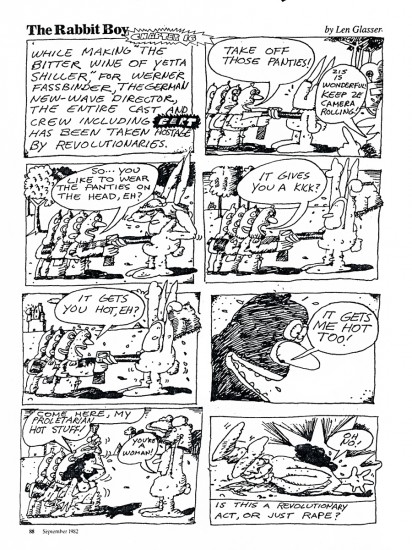 16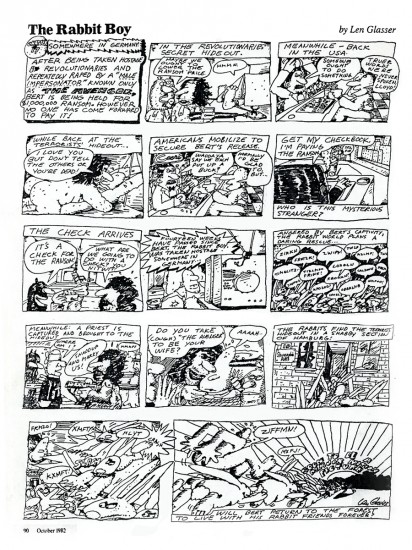 17
Commentary &Frame Grabs &Miyazaki 06 Jan 2013 07:02 am
- Yesterday was the 72nd birthday of Hayao Miyazaki. Most people found out through his Facebook page. He has a lot of friends. In celebration, I've chosen to post frame grabs from one of the most exhilarating film sequences ever made – animated or otherwise. It's from Ponyo, a film I absolutely love. The treat of seeing it in a theater a couple of times is just a veritable high when this sequence rolls around. Here. I cut it short a bit, since I felt I'd gotten the point across by the 100th frame grab, and it was also a perfect place to cut out.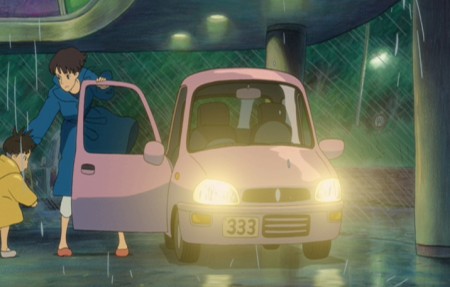 1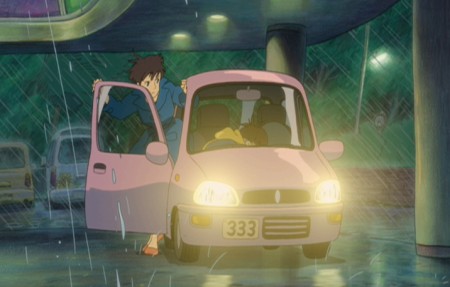 2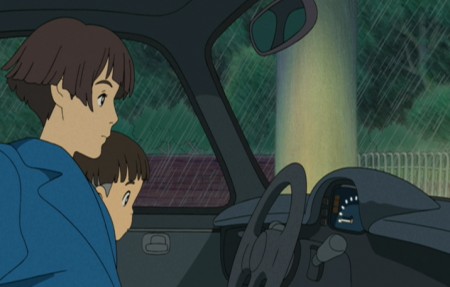 3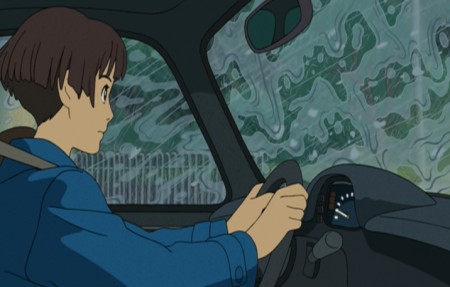 4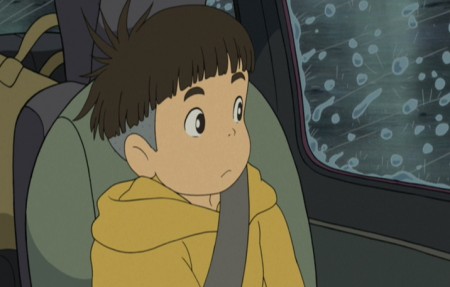 5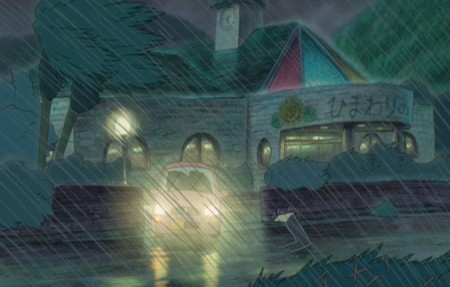 6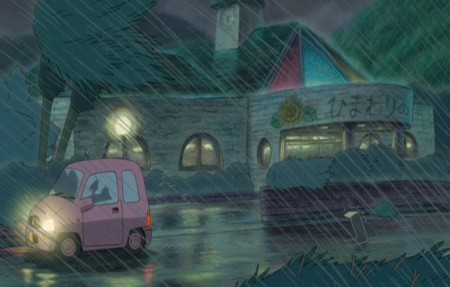 7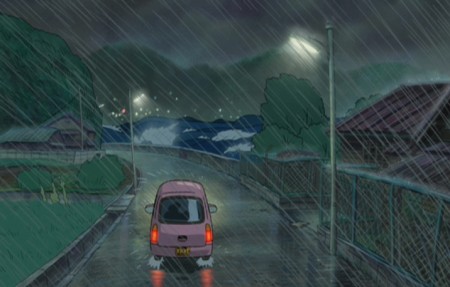 8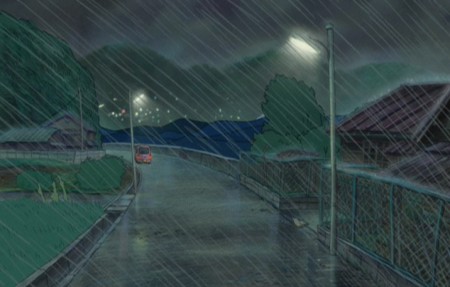 9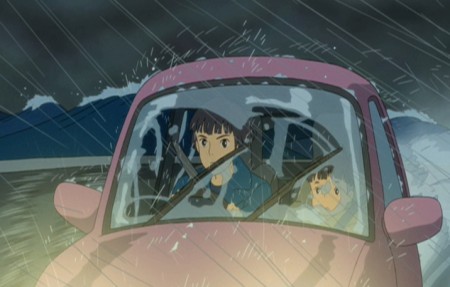 10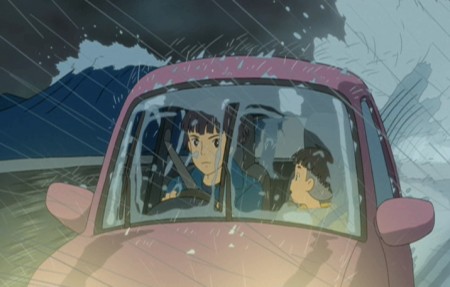 11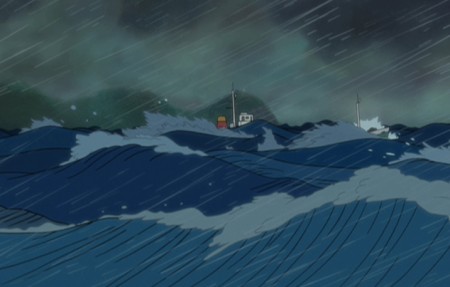 12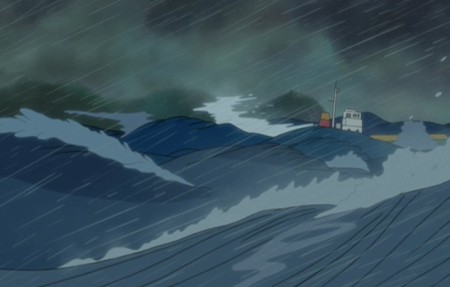 13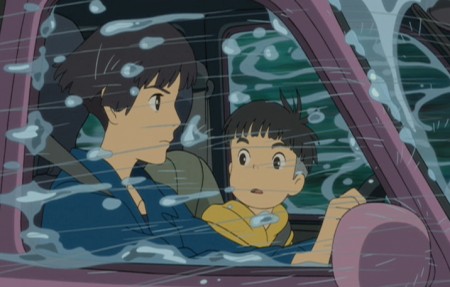 14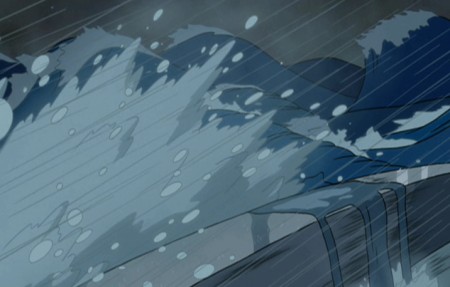 15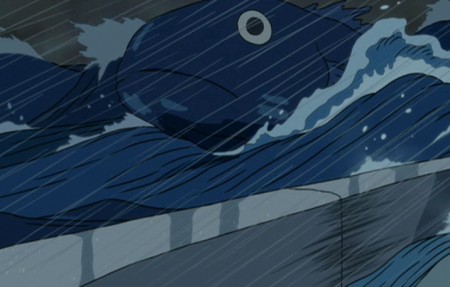 16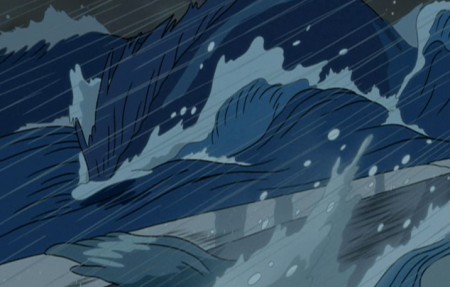 17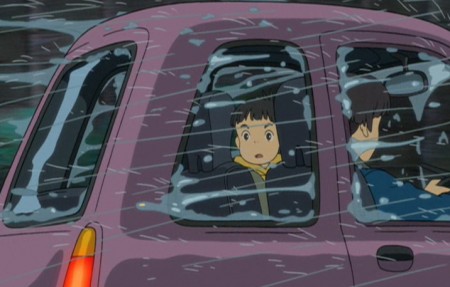 18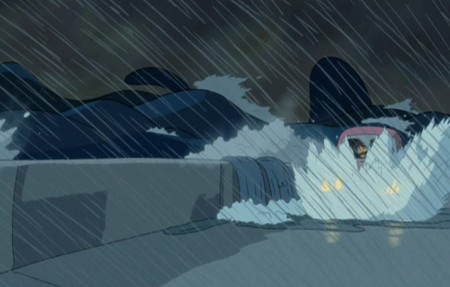 19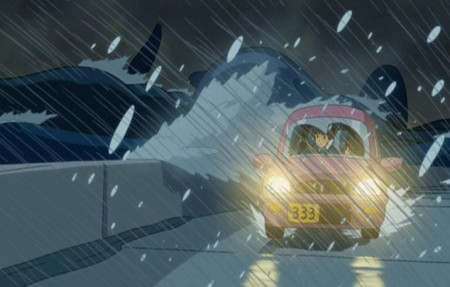 20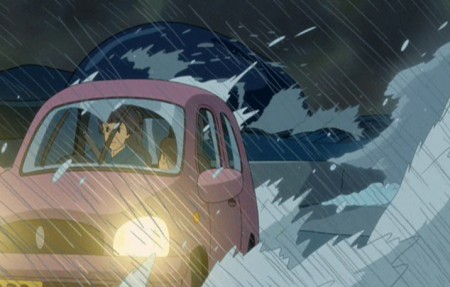 21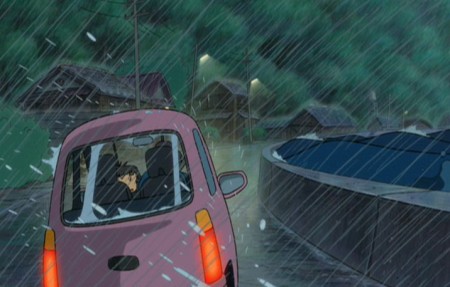 22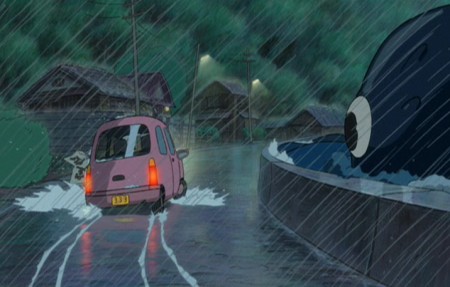 23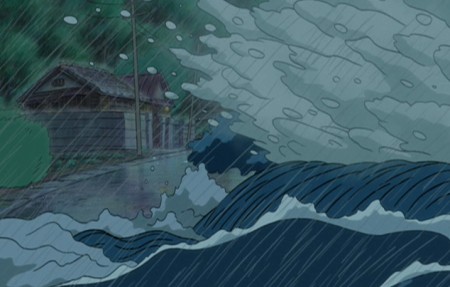 24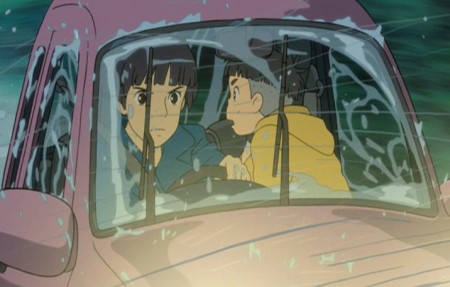 25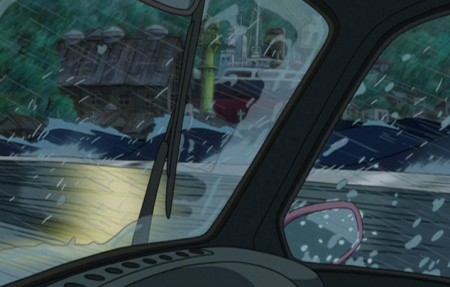 26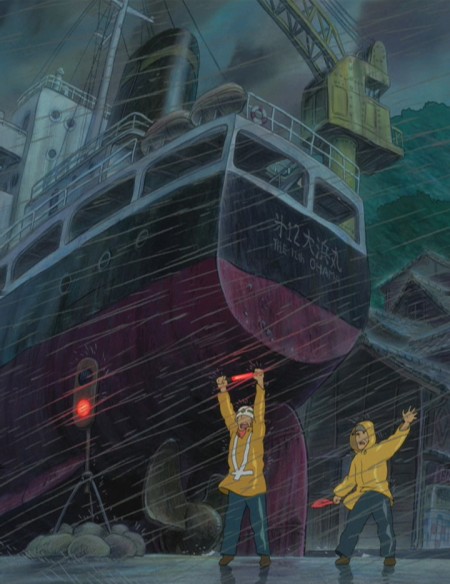 27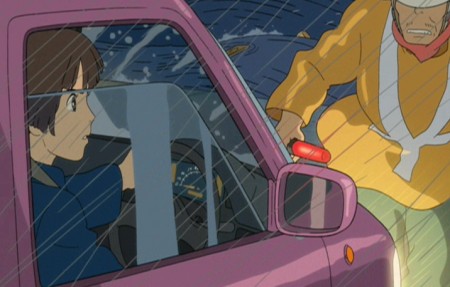 28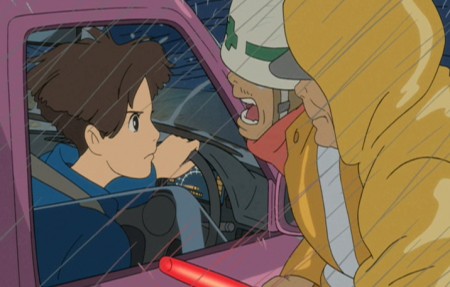 29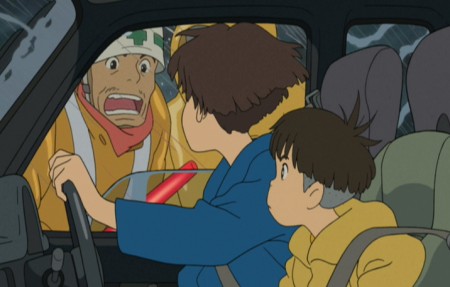 30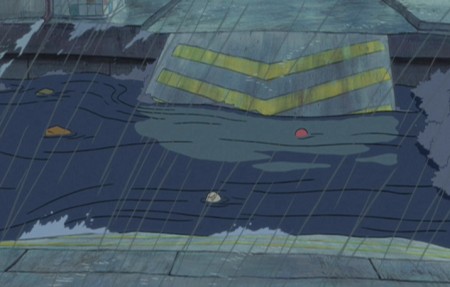 31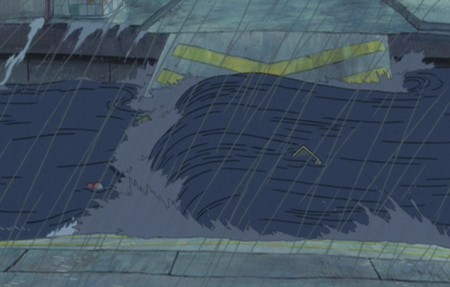 32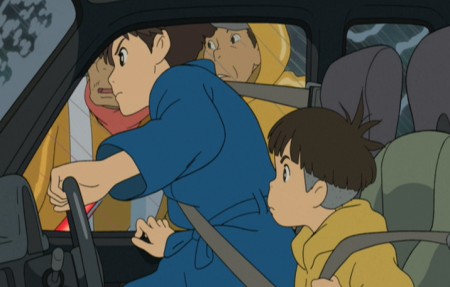 33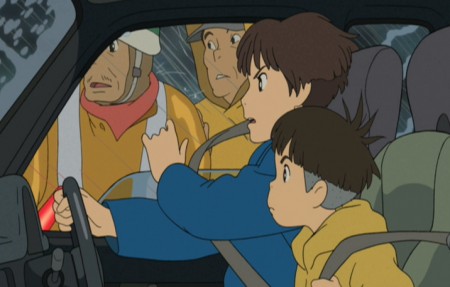 34
But you can't go that way . . .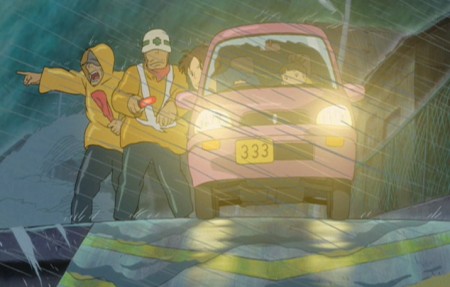 35
The bridge is out!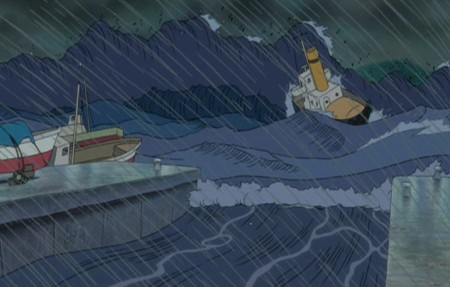 36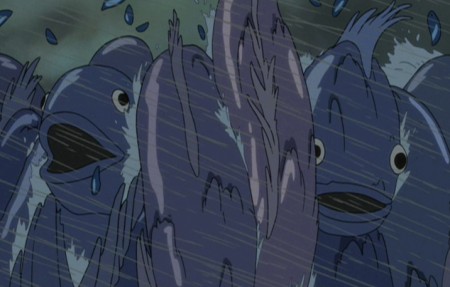 37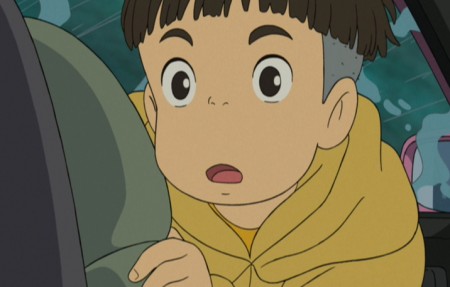 38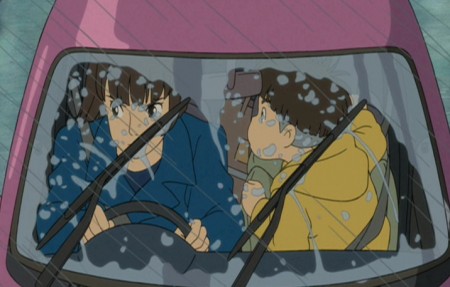 39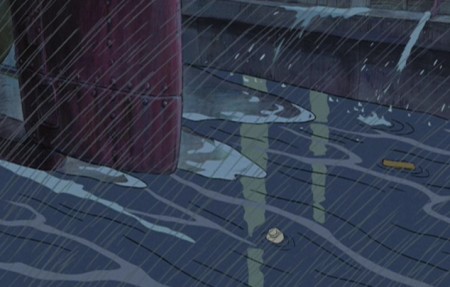 40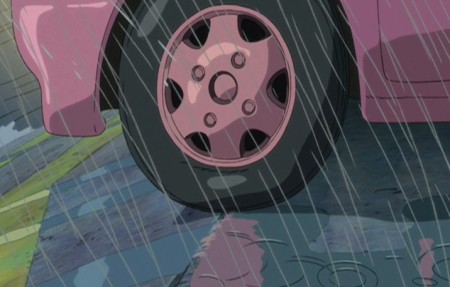 41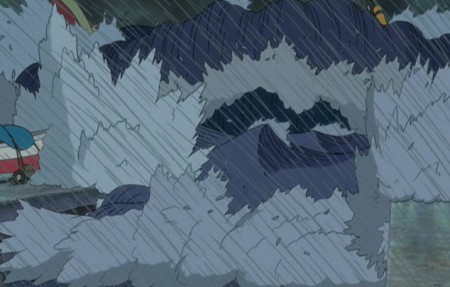 42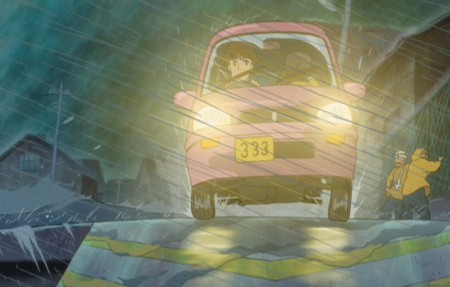 43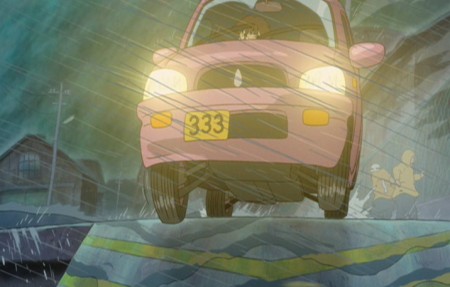 44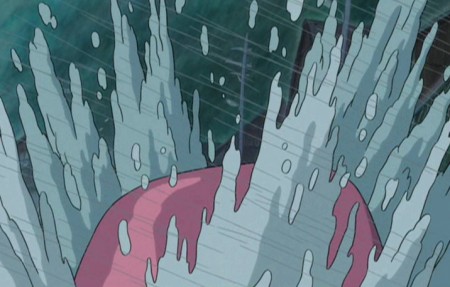 45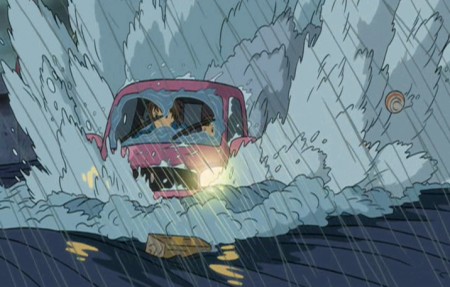 46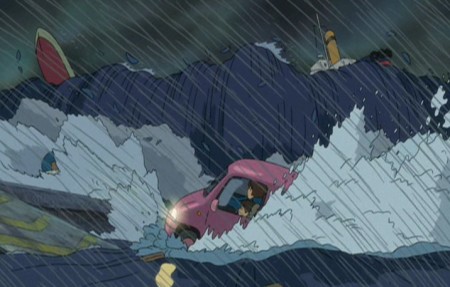 47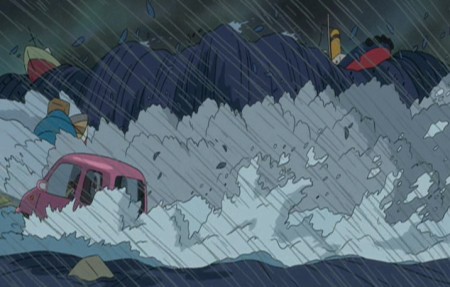 48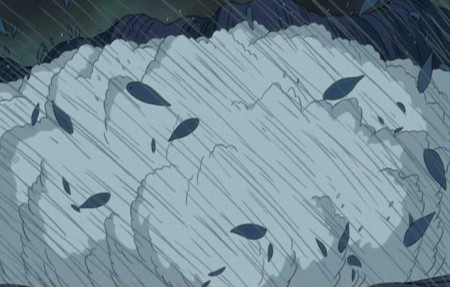 49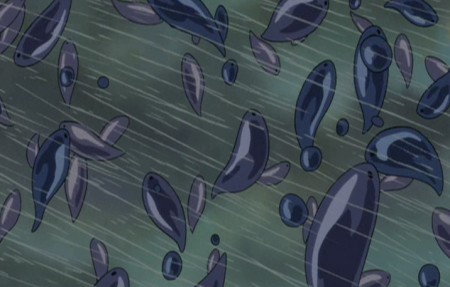 50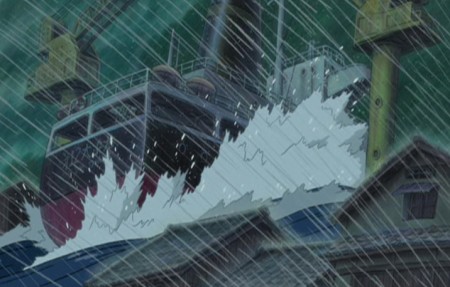 51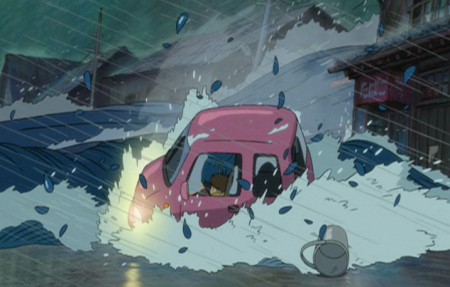 52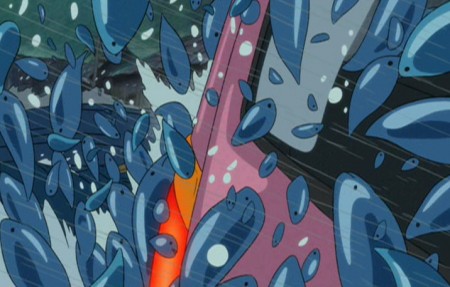 53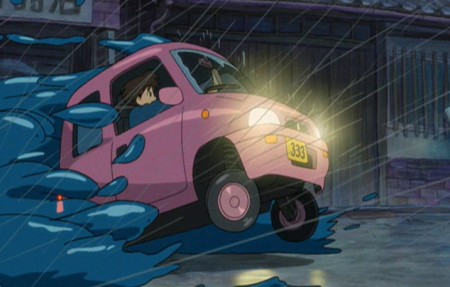 54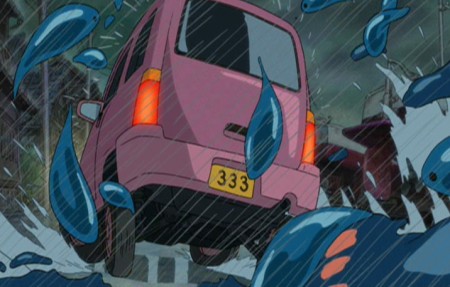 55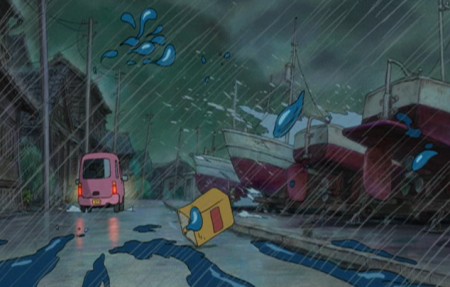 56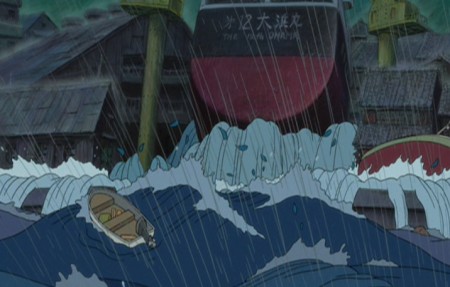 57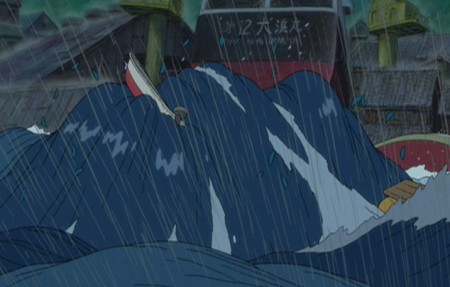 58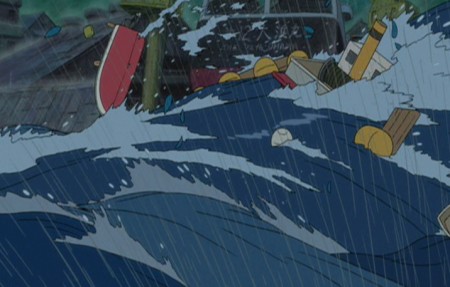 59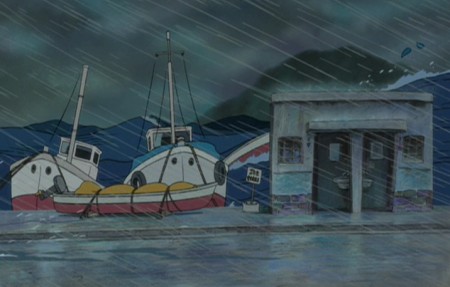 60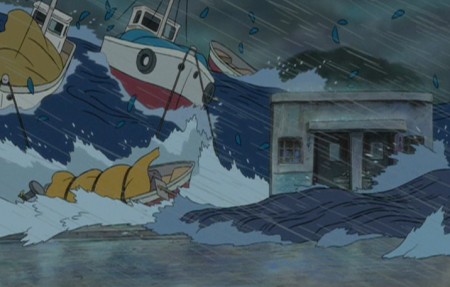 61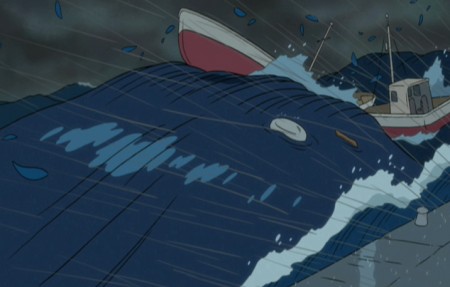 62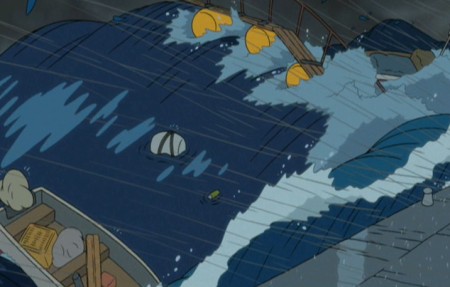 63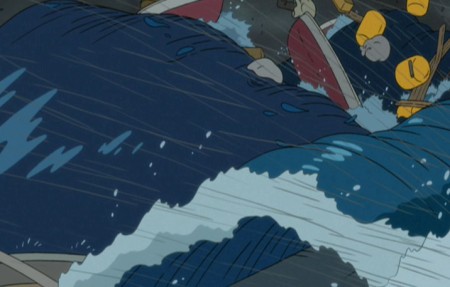 64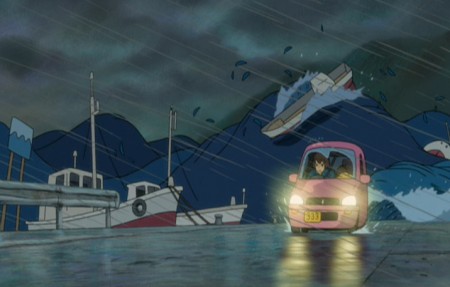 65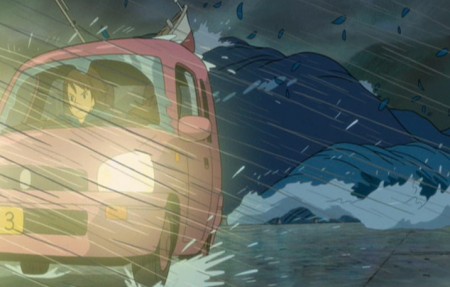 66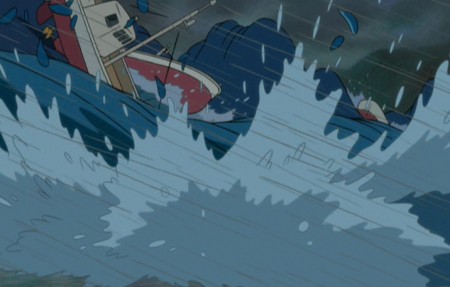 67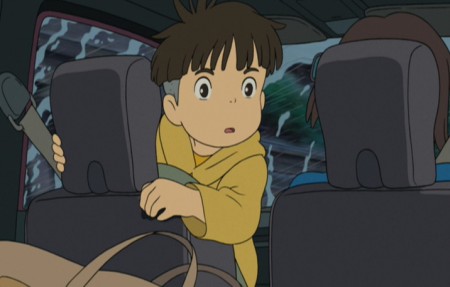 68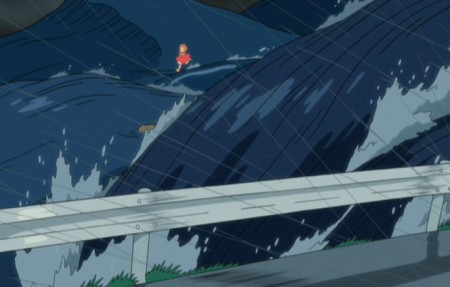 69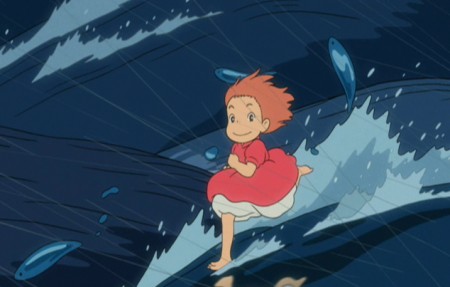 70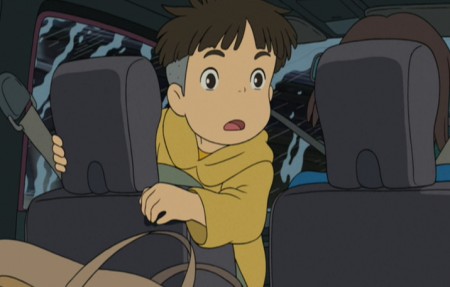 71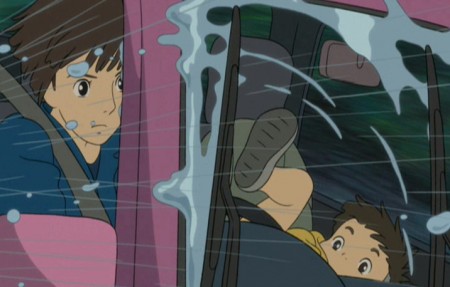 72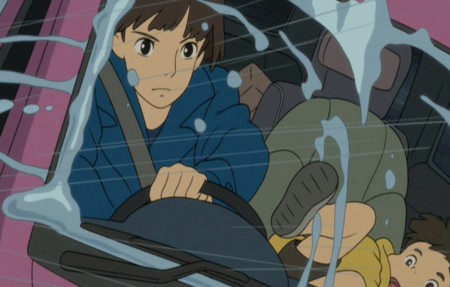 73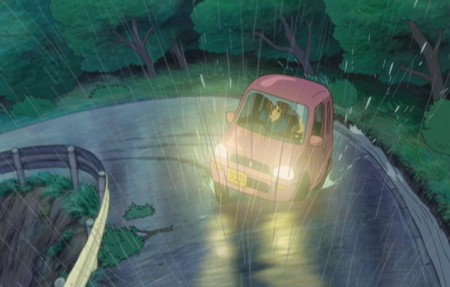 74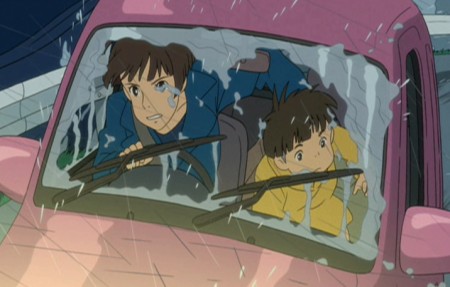 75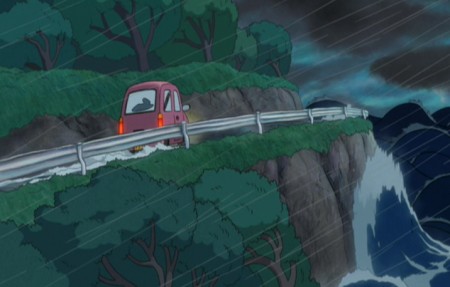 76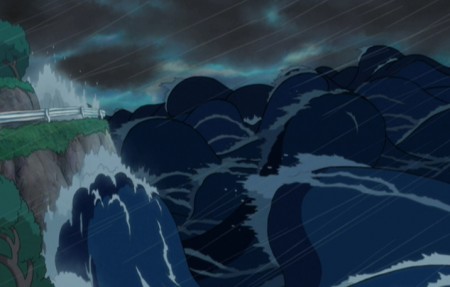 77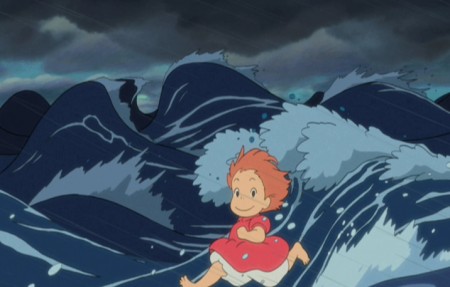 78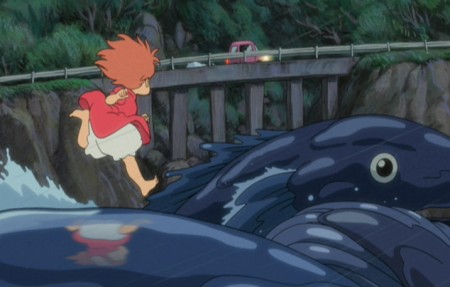 79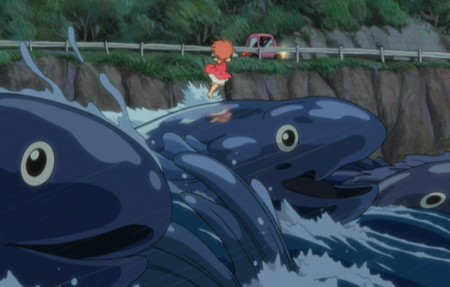 80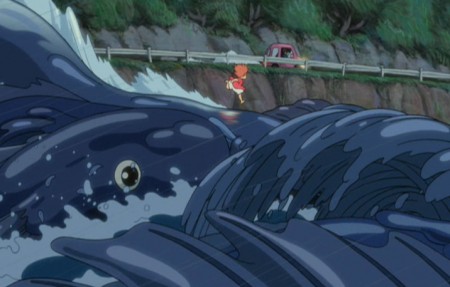 81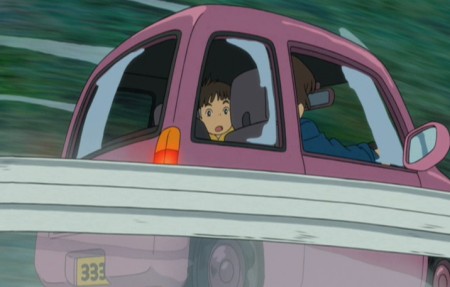 82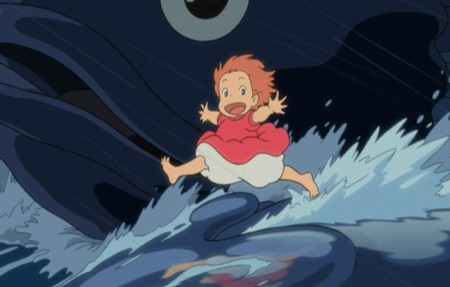 83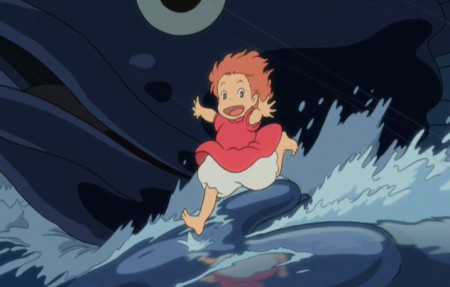 84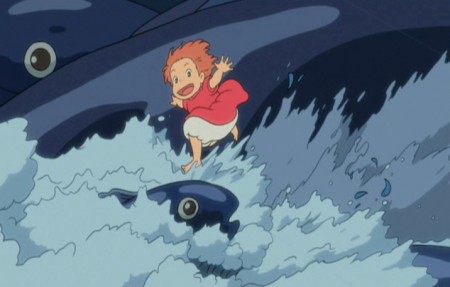 85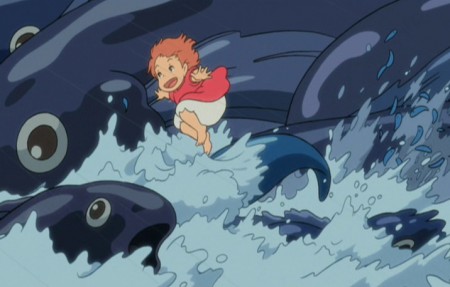 86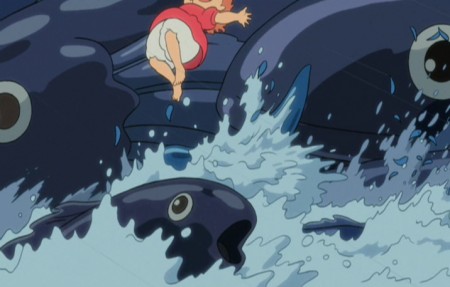 87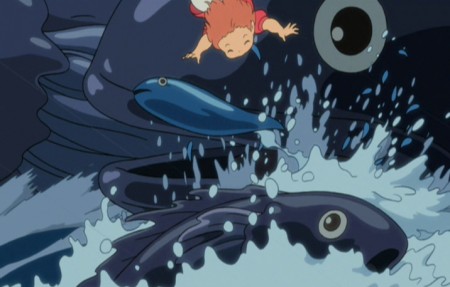 88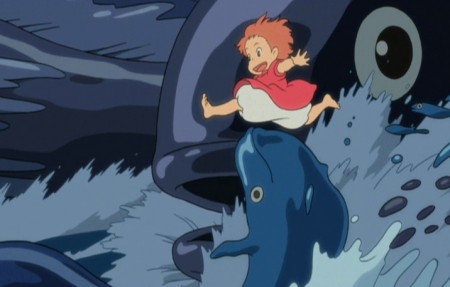 89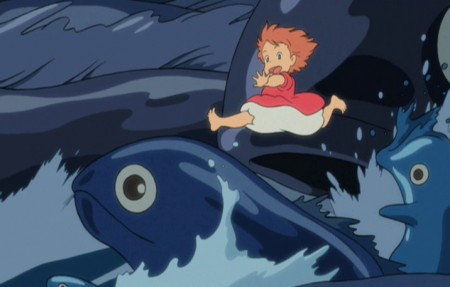 90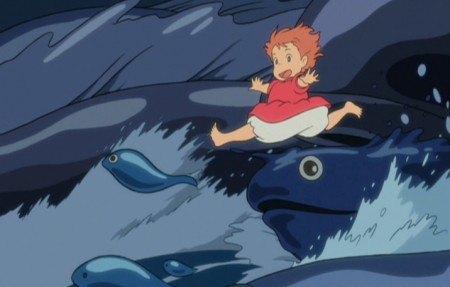 91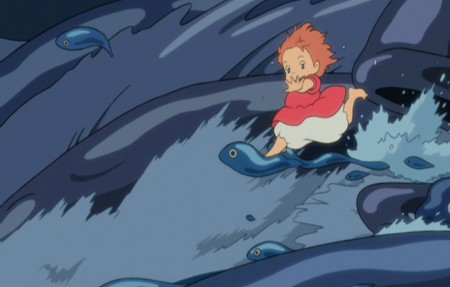 92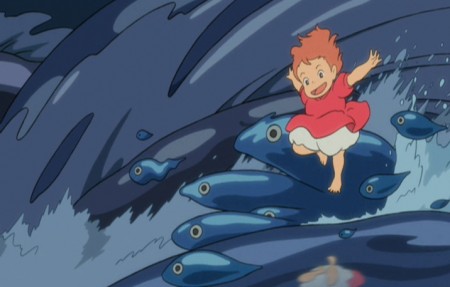 93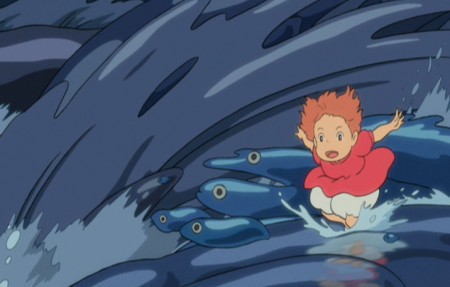 94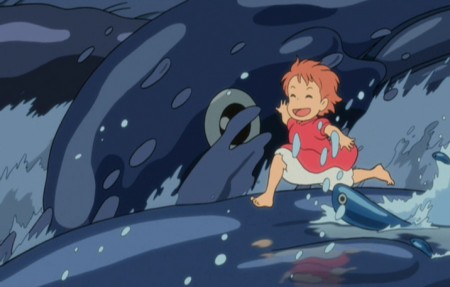 95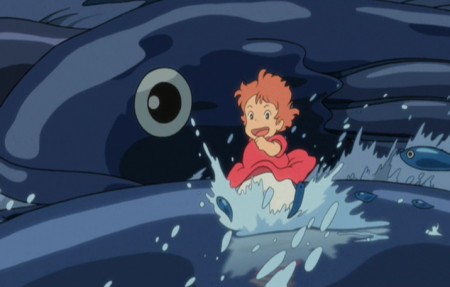 96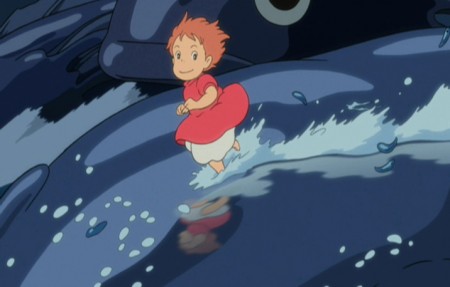 97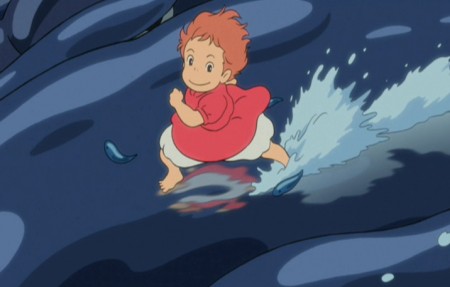 98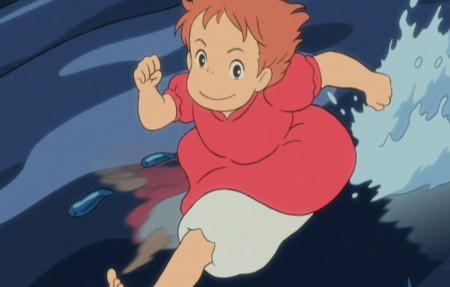 99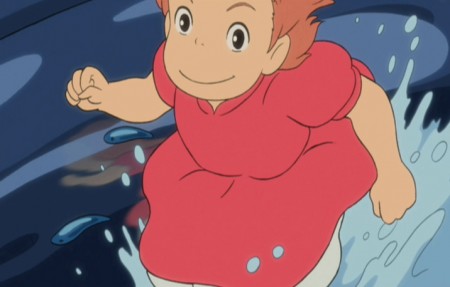 100
Happy Birthday, Hayao Miyazaki
Bill Peckmann &Comic Art &Disney &Miyazaki &Models 23 Nov 2012 08:28 am
Years before Dick Moores got near the smell of Gasoline Alley, he had a bulging career at Disney's doing books. Long before he ever thought of drawing Walt or Skeezix, he was a master of the Mouse. Bill Peckmann has sent me Goofy as the "Mechanical Wizard", and I've rushed to put it together so I could read it. Here's Bill's opening salvo:
Continuing with the posting of Dick Moores 'Disney' career, we have here one of the classic Mickey Mouse comic book stories of the early 1950′s. It's 'Goofy's Mechanical Wizard', written and drawn by Dick, the story gives us a little glimpse of what will be in store for us once he was to take over the complete reins of the 'Gasoline Alley' comic strip, approximately a decade and half in the future. Surprisingly, here in his Mickey Mouse stories, there are no famous, rickety, 'Gasoline Alley' type bridges or catwalks. They would come later, but they would have been perfect for the hi-jinks of Mickey and especially, Goofy, with that in mind, Moores' two MM stories would have made very enjoyable animated shorts.

Here then, is the cover and story of 'Goofy's Mechanical Wizard'.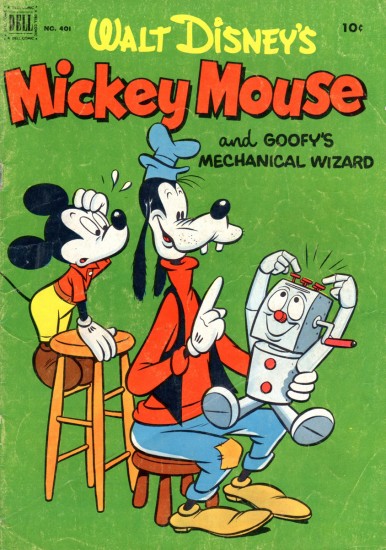 The book's Cover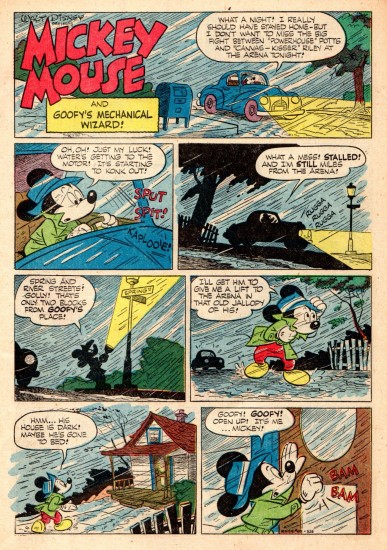 1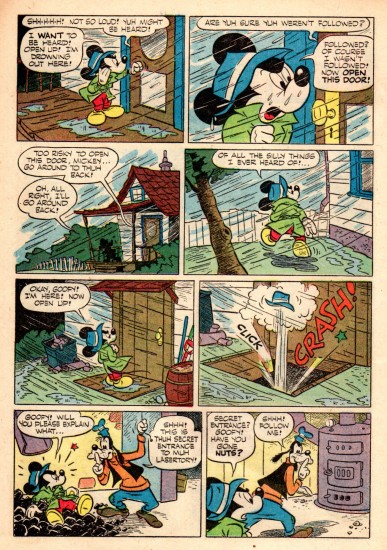 2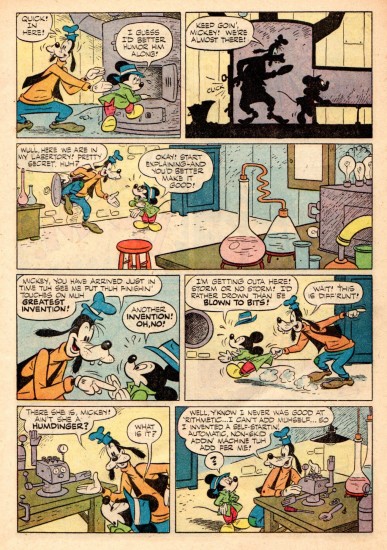 3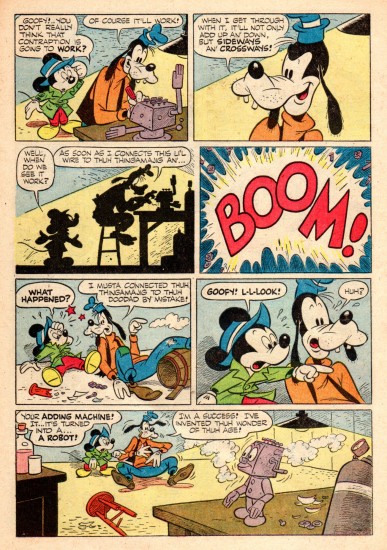 4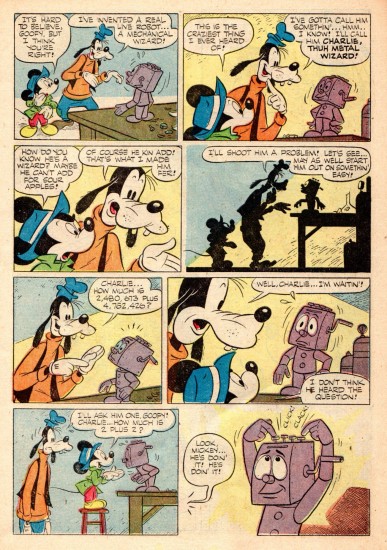 5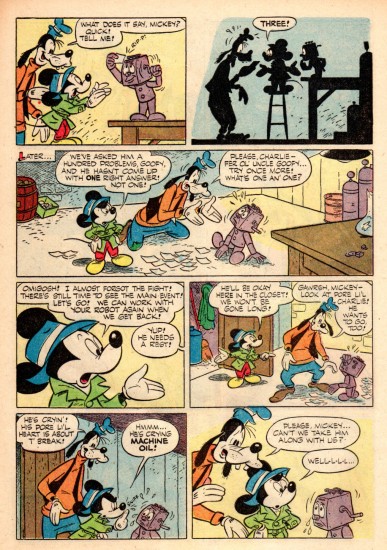 6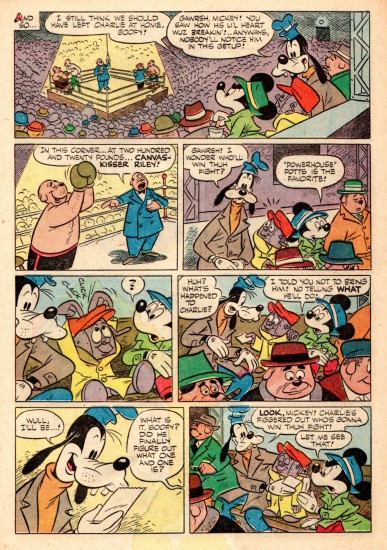 7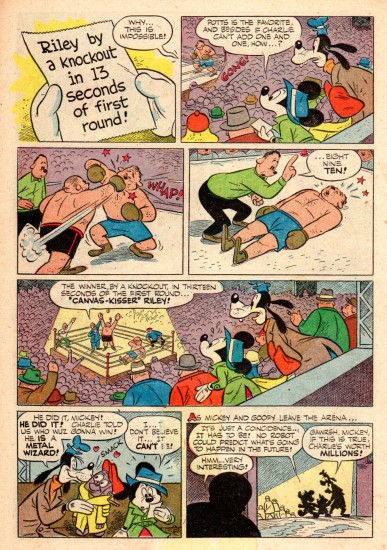 8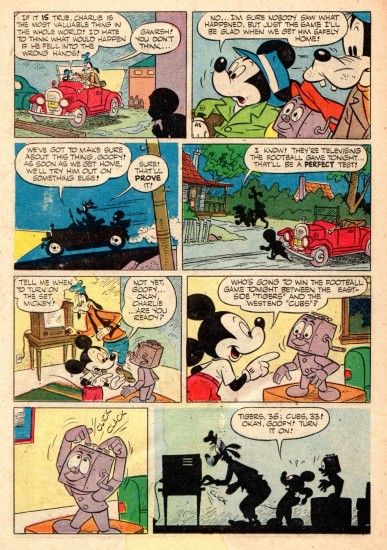 9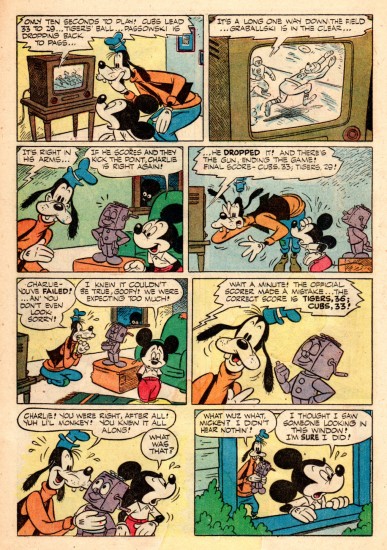 10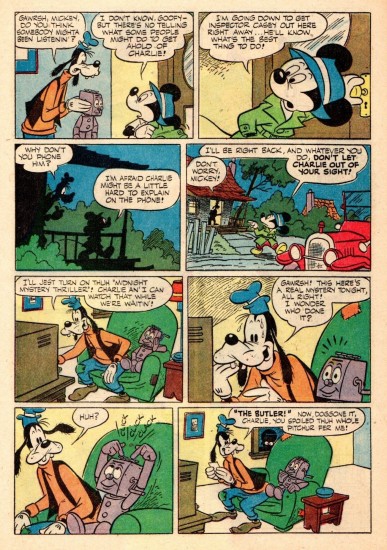 11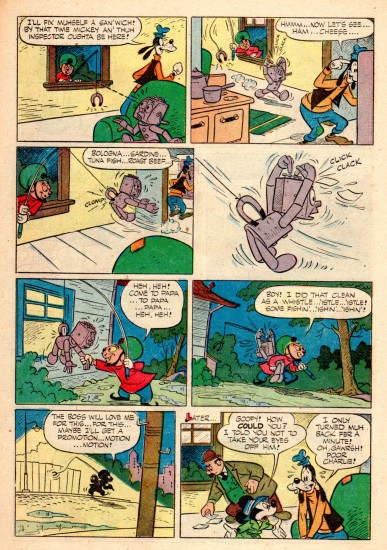 12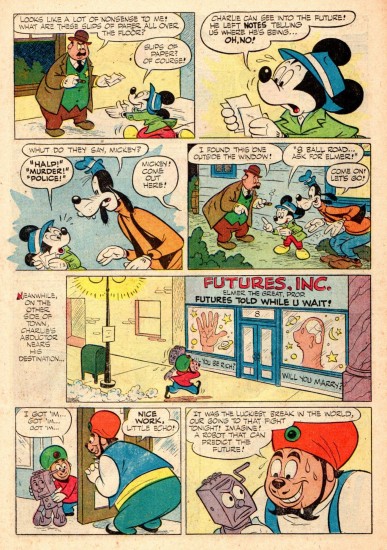 13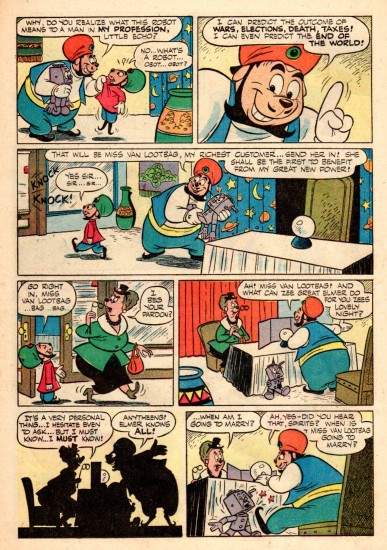 14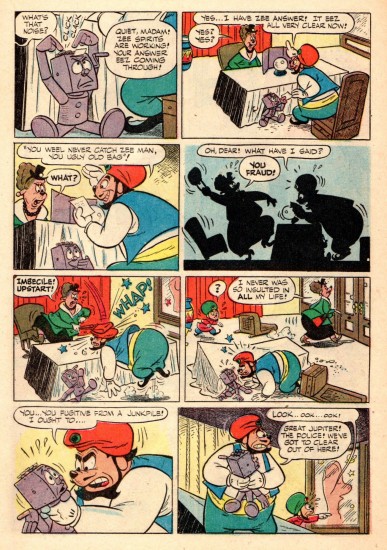 15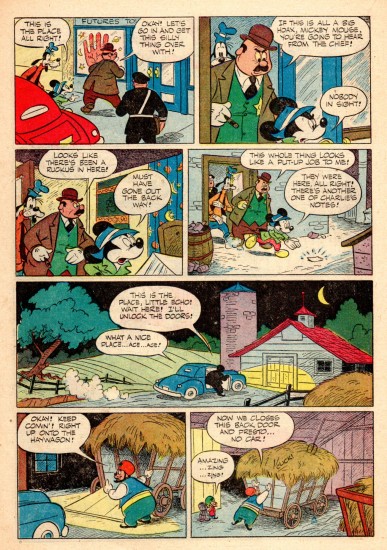 16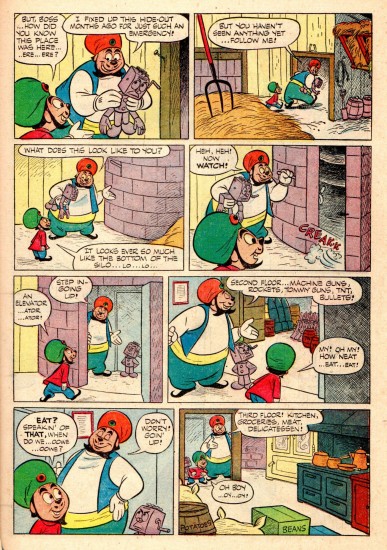 17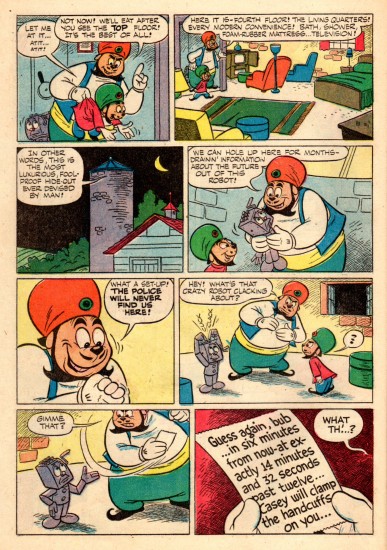 18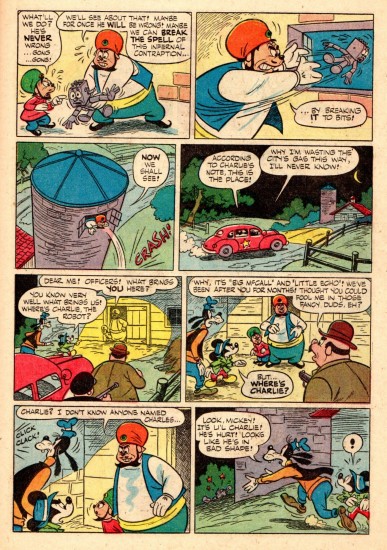 19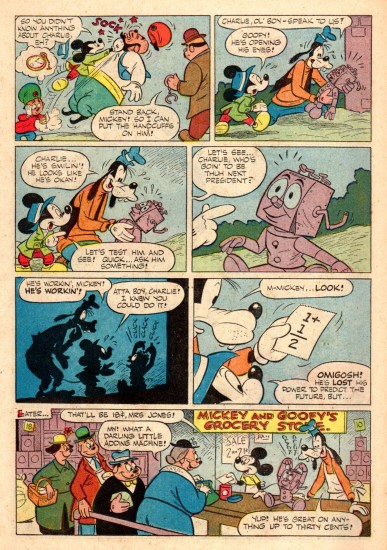 20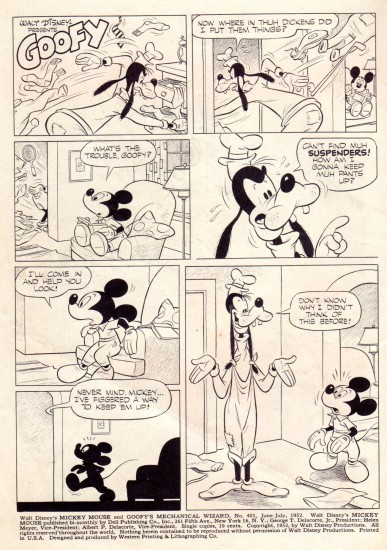 21
Inner covers of the magazine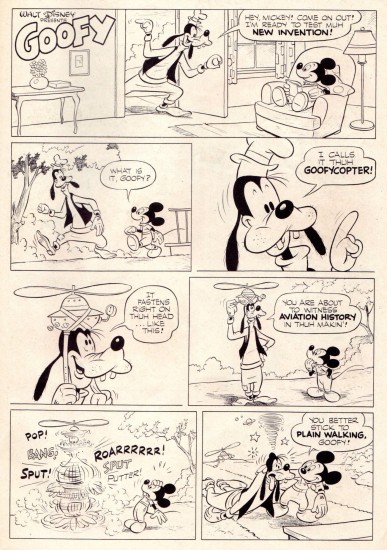 22
All three of these gags were written by Moores.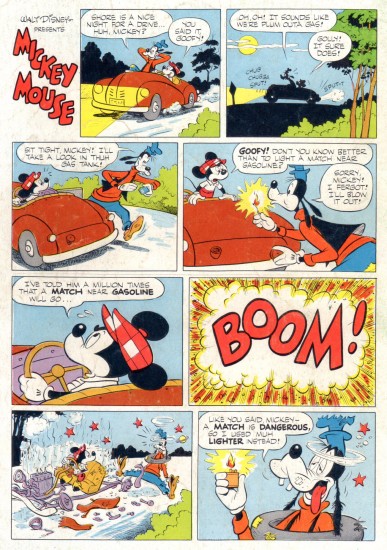 23
Back Cover
And coming to a future Splog from Dick Moores: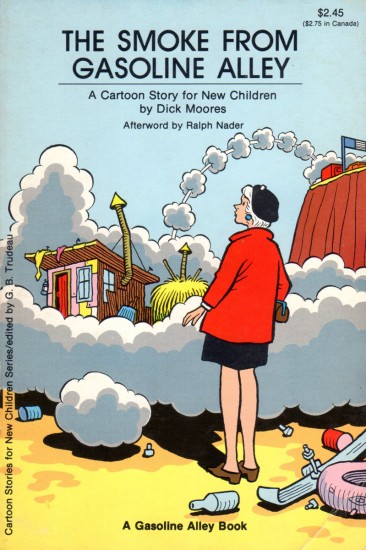 25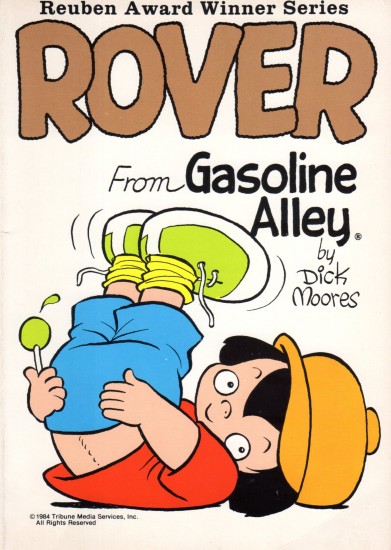 26
Articles on Animation &Commentary &Daily post &Miyazaki 04 Dec 2010 09:53 am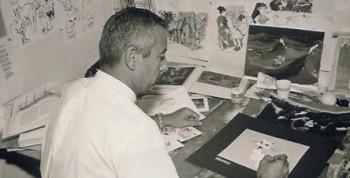 - There's a wonderful new blog post on Darrell Van Citters' Mr. Magoo's Christmas Carol blog. It features the story of Abe Levitow as told by his children, "REMEMBERING THE MOOSE" by Judy, Roberta and Jon Levitow. A great piece to read, I encourage you all to take a look.
This is a great site, by the way. Plenty of material about the artists who were involved in those changeover days at UPA. Great artists get their due, lots of artwork from the film and the period, and lots of info to learn.
________________________
.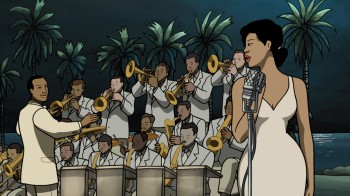 - According to
Variety
, Disney has picked up the distribution rights for the Spanish animated feature,
Chico and Rita
. This is director/producer,
Fernando Trueba
's first attempt at directing an animated film. Spanish graphic artist,
Javier Mariscal
, co-directed the film.
The film celebrates the Cuban jazz pianist, Chico, and his relationship with nightclub singer, Rita, as they leave Cuba to move to the jazz world of the New York in the late 40s.
Disney will release Chico and Rita Feb. 25 on more than 100 screens. (This, of course will allow Disney to enter it into next year's Oscar fest. in an attempt to get the number up to 16 for a five nominee ballot.)
The film won for best feature at the Holland Animation Film Festival in November. The animated movie continues Trueba's taste for Latin music, already reflected in three awarded musical docus ("Calle 54," "Blanco y negro" and "The Miracle of Candeal") and the creation of a Latin jazz record label.
It's unlikely they're expecting a wealth of cash from the distribution of the film except, perhaps, making something from the DVD, if it gets good reviews. I notice that they haven't picked up the TV rights.
________________________
.
– Meanwhile, writer/director, Geoff Marslett's animated feature, Mars, opened in New York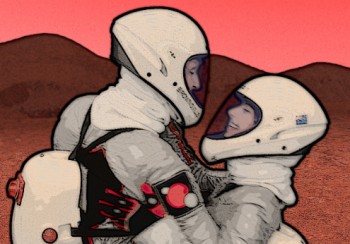 yesterday. The NYTimes review by Jeannette Catsoulis wasn't all that it might have been. She called it ". . . low key, low budget and low energy . . ." and pretty much left it at that. The film is another of those rotoscoped-animation type things not quite as energetic as "Waking Life" and "A Scanner Darkly."
Marslett, who teaches animation at the University of Texas at Austin. The film is playing at: the reRun Gastropub Theater, 147 Front Street, Dumbo, Brooklyn.
________________________
.
-
William Benzon
, again, has written several excellent pieces on animated films on the blog
New Savannah
. He has a two part article on
Miyazaki
's film
Porko Rosso
. The article intelligently argues the idea of a pig, the leading character, being the only non-human in a particular world where no one takes notice.
Part 1
and
Part 2
.
There's also a third recent article on thoughts generated by Miyazaki in his book, Starting Point, about how he constructs his films with an ever changing and growing storyboard that doesn't get done until the film is, usually, already being animated. Go here to read this piece.
________________________
.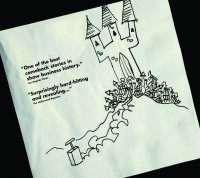 - I received a letter, accompanied by a Press Release, from Don Hahn re the video release of his documentary,
Waking Sleeping Beauty
. Here's part of the email letterL
After a yearlong trek though film festivals and art house cinemas, my documentary WAKING SLEEPING BEAUTY is coming out on DVD this week and I hope you'll get a chance to review it. WSB tracks the renaissance of Disney Animation from box office disappointments and the near closure of the studio, to great success with films like The Little Mermaid, Beauty and the Beast and The Lion King.

The positive response to the film has been bigger than I ever imagined. Not only has it appealed to the fans of animation, it's also struck a chord with corporations and organizations of all kinds that have gone through their own periods of declines and resurrections. We found that WAKING SLEEPING BEAUTY not only entertained, but touched people emotionally as well.

The DVD has over 80 minutes of bonus material with amazing footage of Howard Ashman working with Jodi Benson during the recording sessions for The Little Mermaid and Howard's priceless talk to the animation crew about musical theater and animation. I also put together an audio commentary track that features alternate narration from Peter Schneider and myself as well as new unheard material from Glen Keane, Mike Gabriel, Kirk Wise, Rob Minkoff, Jeffrey Katzenberg and Roy Disney.

I hope you'll get a chance to view the doc and announce to your readers that WAKING SLEEPING BEAUTY is out on DVD tomorrow, November 30th.
I wrote about this film and reviewed it when it was released theatrically back in March of this year. You can read that here.
Animation &Daily post &Miyazaki 12 Jan 2010 09:13 am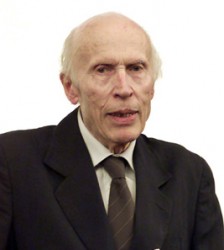 - One of my favorite directors died yesterday, Eric Rohmer was 89. He made 24 films over a period of 50 years with his principal work being his cycle of films entitled, Six Moral Tales.
The third in the series, My Night at Maud's (Ma Nuit Chez Maud) (1969), brought him international success and recognition. It was nominated for 2 Oscars, Best Foreign Language Film and Best Screenplay.
That film was seminal to my thoughts about filmmaking; I've seen it at least a dozen times. His film My Girlfriend's Boyfriend (1987) opened my eyes to a style of cutting that I used in my film Abel's Island.
There was a time when I would wait excitedly anticipating his latest annual film. Unfortunately, his work slowed down somewhat in recent years. His last film, The Romance of Astree and Celadon (2007), was poorly distributed in the US, playing briefly in NY at the Anthology Film Archives.
I met him, only to shake his hand, at the New York Film Festival back in the early 80s. I'll miss his presence in the world.
_____________________
.
- From one of my favorite directors to Robert Zemeckis. News is that he has his cast. The Beatles will be played by the all-star team of Cary Elwes, Dean Lennox Kelly, Peter Serafinowicz and Adam Campbell according to a story in The Hollywood Reporter. Of course, as with all Hollywood gossip they're still in negotiation.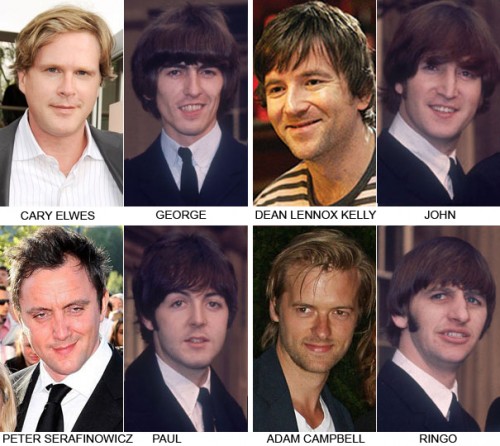 Did you notice . . . This time Ringo gets to be the most handsome.
We mustn't forget that Zemeckis wrote and directed the film I Want To Hold Your Hand as one of his earlier movies. He obviously has a thing for the Fab Four. Too bad he doesn't have a thing for animation.
_____________________
.
This morning's NYTimes has an article about The Fantastic Mr. Fox and the run that's being made against Up for the Best Animated Feature Oscar. Read this article to find out what Jerry Beck has to say about it. This has gotten to be BIG Business. The $40 million film against the $175 million film.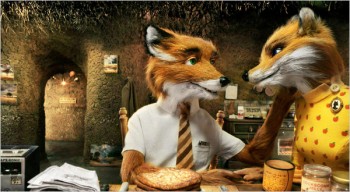 _____________________
.
The New York Times, on Monday, had an extiensive article on Blue Sky studios in Greenwich, Conn. The article addresses the fact that Blue Sky last year outgrossed the International box office of Pixar and Dreamworks with their very successful film, Ice Age 3: The Dawn of the Dinosaurs. The article may have been missed since it's in the Media & Advertising section, not the Film section of the Times.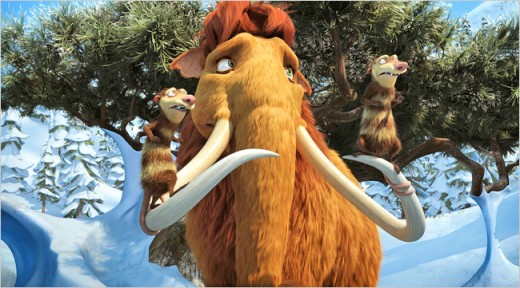 _____________________
.
- This past weekend I watched Miyazaki's Princess Mononoke for about the fifth time. What a gorgeous, intelligent, adult animated film. This, to me, is the very highest of the canon of his films possibly tied with My Neighbor Totoro as my favorites. I love the open spirituality of the film, the conflict between those who want to preserve the earth vs those who want to exploit it. Neither side is a villain; both sides have their points. This, despite the fact, that the director so blatantly supports those who look to preserve the planet and its environs. It's a film that just gets better, for me, with each viewing.
I could only wish that one day something as responsible as this comes from the US without our obviously commercializing and diminishing such a story. Soon, I hope to pull some frame grabs from this movie to take a closer look at some of the animation and background work.
Miyazaki 26 Sep 2008 08:30 am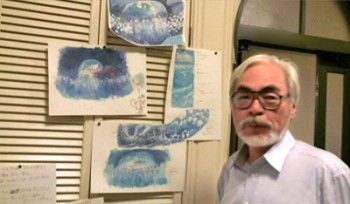 - Ponyo On the Cliff By the Sea is the most recent feature by Hayao Mayazaki. It has been garnering excellent reviews and has done extraordinarily well in Japan. There's currently an interesting article about it in the current issue of Time Magazine. If you haven't seen it, you should take a look.
The film took in some $150 million in its first 50 days in Japan. Only Spirited Away has done better there.
The Variety review, published when the film played the Venice Film Festival, was very positive.
Here's the Sept. 1st Times OnLine, **** British, review.
You can see the Japanese trailer for this here.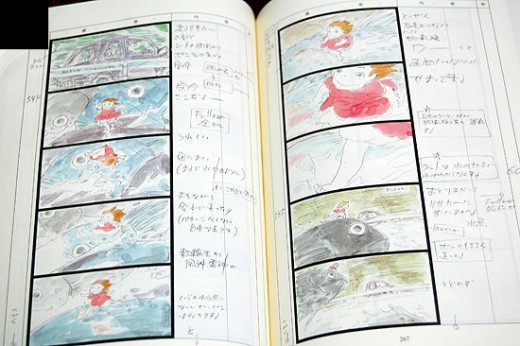 There's also a book of storyboards available; you can see a healthy sample on the blog, halcyon realms. The example, above, comes from this site. The color sample, below, also comes from this site which features a book on The Art of Ponyo.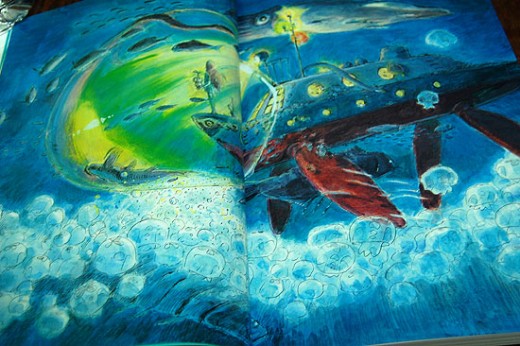 The film seems to be scheduled for a 2009 release in the US (probably June). Disney has the distribution rights; Frank Marshall & Kathleen Kennedy will be producing this version. The film is reportedly a kind-of reworked version of The Little Mermaid. Myazaki takes pride in the fact that no cgi was used in the making of the film.
______________________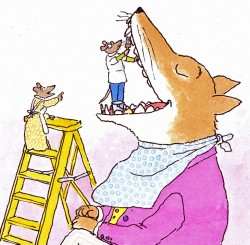 - To switch the subject back to me, there's a post on GEEKDAD which was written by Kathy Ceceri. The article talks about adapting books to film.
Kathy was originally an Asst. on my short, Doctor DeSoto when she was known as Kathryn Gradner. Kathy was a student at NYU (as was Robert Marianetti and Seven Dovas) who I met through John Canemaker. I was pleased to be able to work with them on this short.
I met up with her last year at an art gallery in Chelsea when she was preparing for an upcoming show of her work. She's left animation, had written and illustrated some children's books, and now she's written this excellent article. Take a look. (Included is a link to a site that shows how to make flipbooks.)
Animation &Daily post &Miyazaki 05 Apr 2006 06:48 am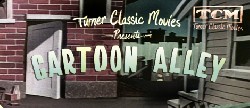 - This is a short reminder that Turner Classic Movies airs some older animated shorts with excellent prints on Saturday mornings at 11:30am. (Naughty But Mice is Chuck Jones' first short starring Sniffles.)
The schedule for April is as follows:
April 8 11:30 AM Cartoon Alley #13
Features three Sniffles the Mouse cartoons: Naughty But Mice (1939), Little Brother Rat (1939) and Sniffles and the Bookworm (1939).
April 15 11:30am Cartoon Alley #14
Features three Droopy Dog cartoons: Dumb Hounded (1943), Shooting of Dan McGoo (1945) and Wild and Woolfy (1945).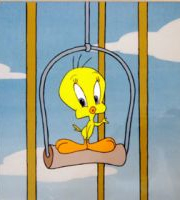 April 22 11:30am Cartoon Alley #15
Features three Tweety Bird cartoons: A Tale of Two Kitties (1942), Birdy and the Beast (1944) and A Gruesome Twosome (1945).
Apil 29 11:30am Cartoon Alley #16
Features three MGM Cinemascope Cartoons: Millionaire Droopy (1956), The Cat's Meow (1957), Tops With Pops (1957).
- For those desperate for their monthly Miyazaki hit, May will offer a rerun of the Miyazaki films in the late night schedule on TCM (with dubbed English versions). The schedule is as follows:
May 5 – 2:00am Castle in the Sky (1986)
A boy and girl race pirates to find a legendary floating castle.
Cast: Voices of James Van Der Beek, Anna Paquin, Mark Hamill. Dir: Hayao Miyazaki
4:15am Porco Rosso (1992)
An airplane pilot with a pig's head devotes his life to rescuing others.
Cast: Voices of Michael Keaton, Cary Elwes, Kimberly Williams. Dir: Hayao Miyazaki
May 12 - 2:00am Princess Mononoke (1999)
A woman raised by wolves leads forest animals in a fight to save their homes.
Cast: Voices of Billy Crudup, Claire Danes, Minnie Driver. Dir: Hayao Miyazaki.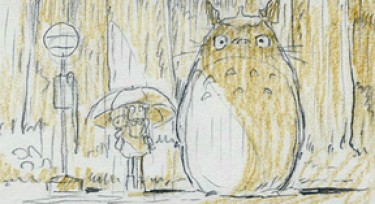 4:30am My Neighbor Totoro (1993)
Two girls with a sick mother find escape with the spirits of the forest.
Cast: Voices of Dakota Fanning, Timothy Daly, Lea Salonga. Dir: Hayao Miyazaki.
May 19 - 2:00am Whisper of the Heart (1995)
A young girl goes looking for the boy who has checked out all the same library books as she.
Cast: Voices of Brittany Snow, Cary Elwes, Harold Gould. Dir: Yoshifumi Kondo.
4:00am Pom Poko (1994)
A group of magic raccoons use their shape shifting powers to save their forest home.
Cast: Voices of Jonathan Taylor Thomas, Clancy Brown, J.K. Simmons. Dir: Isao Takahata
Commentary &Miyazaki 20 Jan 2006 09:16 am
Notes:
The difference between animating from pose to pose and animating straight ahead is an enormous one. They are what they sound like:
- In one you create poses, key drawings, and you put drawings inbetween the poses. Tex Avery was all about his poses, as was Bob Clampett. In animating this way, you plan out every motion and submotion. It's all organized and ready for an inbetweener to complete. The animator is in absolute control.
- In animating straight ahead, an animator starts at the beginning and gets where (s)he has to – one drawing at a time. It's hard to control the shape of the character: they start small and grow large or start with a bigger head than they end with. It's hard to control the exact placement of the character, and it's hard to figure out how to have an inbetweener help you. But, for some animators, with straight ahead animation the character lives and breathes on its own. A life form starts to exist, and a singular relationship can form between animator and animation. This process was part of the reason Ub Iwerks left Disney's studio – he did not want to be forced to use an inbetweener.
Last night I watched My Neighbor Totoro for the umpteenth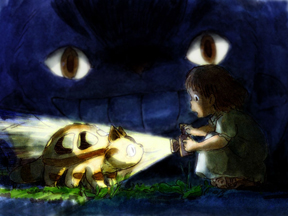 time on Turner Classic Movies. The new voices were sterling. Dakota Fanning is alway beyond professional; she has nuances in her voice that can't be taught by an acting coach. Elle Fanning, Dakota's younger sister, was the surprise. She brought such joy to this little animated girl, everything Miyazaki could have hoped for in the animation was there , echoed in the voice. A brilliant choice and brilliant voice production by Rick Dempsey. The kids are an enormous part of this film.
In last week's screening of Laputa, Castle In The Sky, John Lasseter suggested that Miyazaki does the storyboards completely, himself. In this way he can control the shaping of the film. He works in chronological order and builds his story. In fact, Lasseter told the story of Miyazaki getting lost at one point, in that he didn't know where his storyboard was going to take him.
Putting this in animation terms, it's the equivalent of animating straight ahead. He knows where he has started; I'm sure he has a pretty good idea of where he wants to go, but he's letting the story take him there on its own.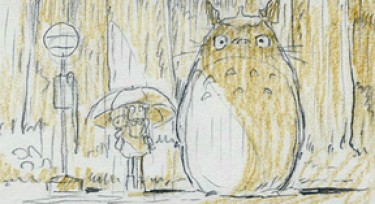 Suddenly, I realized all of Miyazaki's works were composed of set-pieces. In the best of his films, like Totoro, these set-pieces are ingeniously controlled to build to an enormous whole, delicate and human. In Princess Mononoke, the set-pieces intertwine in a complicated web to create an epic vision of all of nature and human interaction with it.
Now, I had a small insight into why and how they were structured this way.
This is not unlike Disney's Bambi or Pinocchio. The adaptations of these two books forced this structure on the final films, but the enormous skill with which they were devised into final films is extraordinary. (Animators usually talk about the excellence of the visual aspects of these two films, but the story is just as wonderful.
In films I like less, such as Laputa, these set pieces – to me – feel episodic. There's always the stunning visual imagery; the individual parts can be magnificent (such as the chase in this film with the railroad tracks and bridges collapsing behind the vehicles), but in the end it can get tiresome.
All of Miyazaki's films, however, have a singular vision – an auteur at the height of his craft. We know a lot about him, just by viewing his films. It is miraculous that one person (with an army behind him) could have done so many great works in animation and, at the same time, have had such success in the marketplace.
It's a pleasure to have been given a small insight into his process and to see that it has such an enormous effect on the final film. Thank you John Lasseter for your introduction.
Miyazaki 19 Jan 2006 07:31 am
Tonight the the Miyazaki films to be scheduled on the Turner Classic Movies will air. All versions screened are the newly dubbed English language versions. (Though the late night screenings are the subtitled Japanese versions.) These two films are: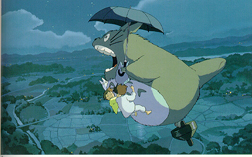 My Neighbor Totoro (1993) (This film is a newer dubbing featuring the Fanning sisters, Dakota and Elle. (It was originally released in a version by Troma Entertainment.)
19 Thursday 8:00 PM & 20 Friday 1:15 AM
Two girls with a sick mother find escape with the spirits of the forest.
Cast: Voices of Dakota & Elle Fanning, Timothy Daly, Lea Salonga and Frank Welker.
C-88 mins, Letterbox Format
Porco Rosso (1992)
19 Thursday 9:30 PM & 20 Friday 2:45 AM
An airplane pilot with a pig's head devotes his life to rescuing others.
Cast: Voices of Michael Keaton, Cary Elwes, Kimberly Williams
C-102 mins, Letterbox Format
Also tonight is the debut of Whisper of The Heart.
19 Thursday 11:15 PM
The film is scripted by Miyazaki and directed by Yoshifumi Kondo.
Cast: Brittany Snow, David Gallagher, Cary Elwes, Harold Gould, Abigail Mavity.
C-111m. Letterboxed.
Note: Watching these Miyazaki features all in a short period have had me thinking a lot more about the process of storyboards in the development of animated films. John Lasseter's comments last week, prior to Laputa: Castle In The Sky, gave us some small insight into Miyazaki's process, and it's made me think of the films in a wholly different light. After I see Totoro, I'll probably express my thoughts in a bit more depth; it's one of my three favorite films from the brilliant director.