Monthly ArchiveDecember 2008
Books &Fleischer &Illustration 31 Dec 2008 09:01 am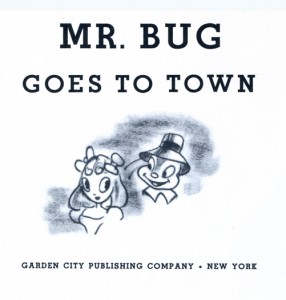 - Back in Feb 2006, I posted a couple of pages from a book I had in my collection, Mr. Bug Goes To Town, published in 1941. The drawings of the book are every bit as gorgeous as the film. The publisher listed is Garden City Publishing Co., but it's a division of Western Publishing which also published some of the excellent Disney books.
Currently, at NY's Film Forum (through Thurs. Jan.1) there are 1pm matinees of this film, so it gives me an occasion to post the entire book this time.
I saw a beautiful 35mm print of this film at MOMA last year. I'd been invited to a "press screening" which had only one member of the press in attendance. He, I and Matt Clinton, my animator on staff, were the only ones in the room. It was a private screening, indeed.
Here are the Back and Front covers of the book: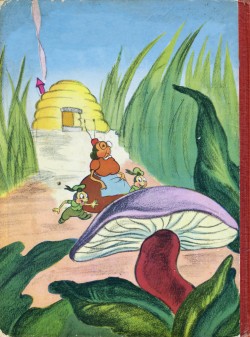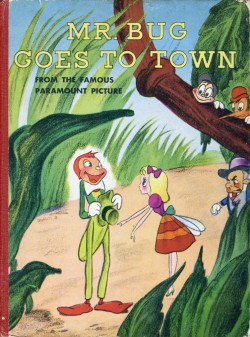 (Click any image to enlarge.)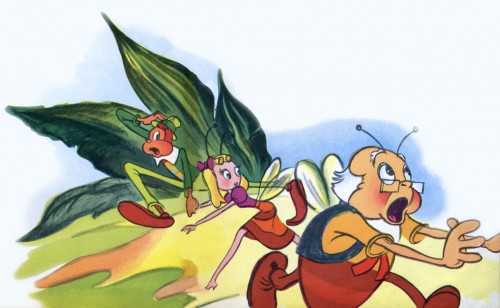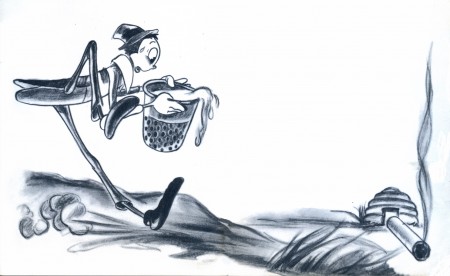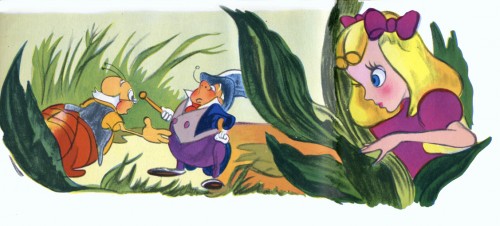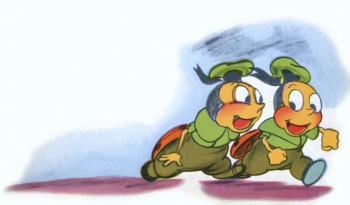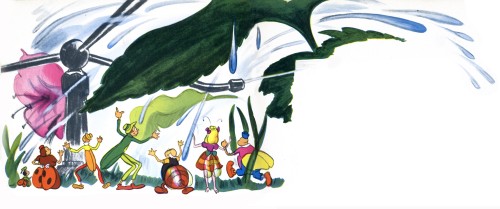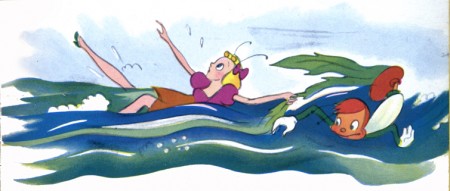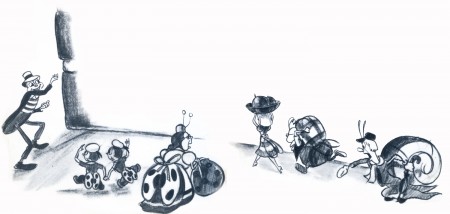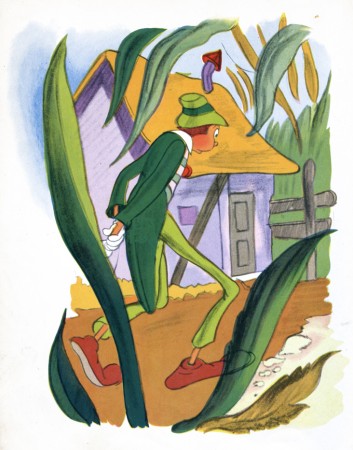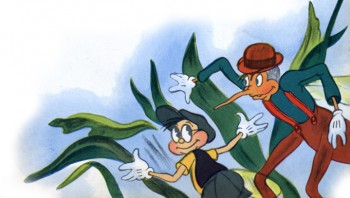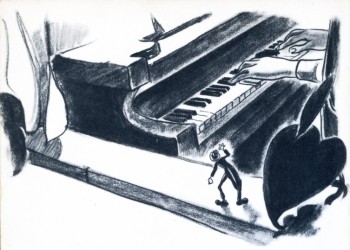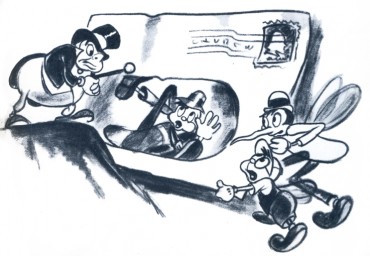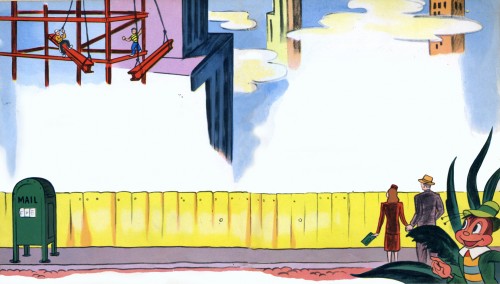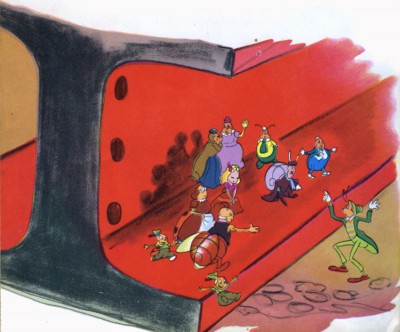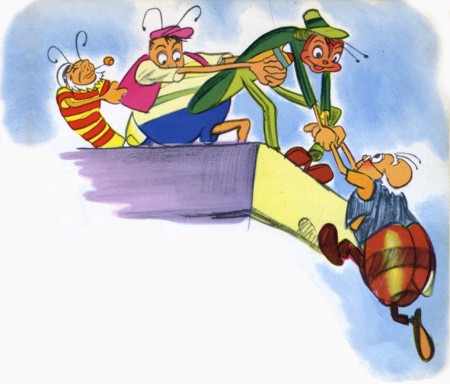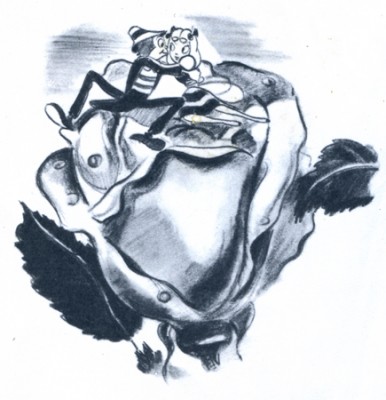 Articles on Animation &Puppet Animation &Trnka 30 Dec 2008 09:11 am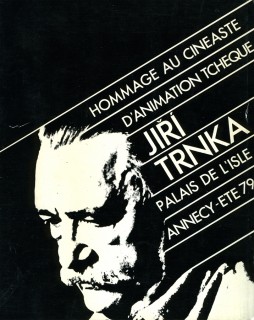 - In 1979, the Annecy animation festival celebrated the work of Jiri Trnka.
They produced a companion booklet for the film program and art exhibition. I'd long ago managed to get my hands on a copy of this booklet and am posting it here for any Trnka fanatics out there.
The artwork in the booklet is somewhat hard to find elsewhere, and the stills from the films are quite nicely chosen. There's also a comprehensive biography and filmography that was included on very orange paper stock.
There aren't too many chances to see the films anymore (other than the scattered, poor-quality YouTube pieces) except for the dvd produced by Jon Snyder. The Puppet Films of Jiri Trnka
The booklet is in French, but that shouldn't be too much of a problem; it's fairly self-explanatory.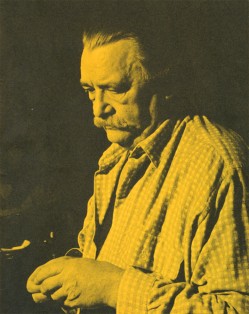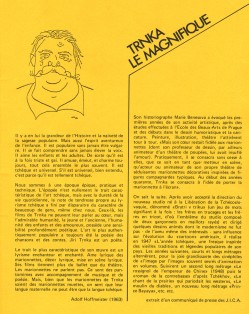 (Click any image to enlarge.)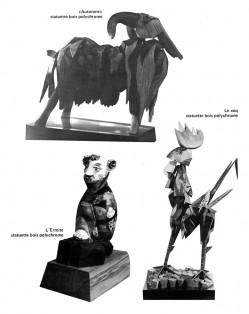 Frame Grabs &Tissa David 29 Dec 2008 09:02 am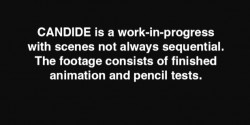 - For some time, after Bob Blechman completed his PBS special, A Soldier's Tale, he tried to develop several ideas as animated features. He worked hard to produce some exquisite animated samples for potential projects.
Candide was one that took the most energy and a fine piece of film was produced to showcase what he and his studio would do with this famous tale. Unfortunately, there were no takers, and this project was shelved along with some other classic ideas.
For this pilot, about ten mins. long, Tissa David and Ed Smith did most of the animation – Tissa took the lion's share of the piece.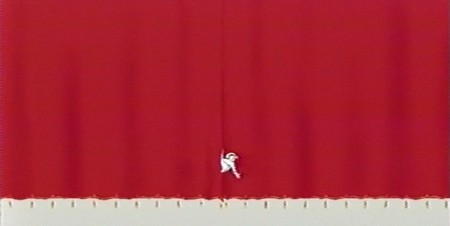 1
.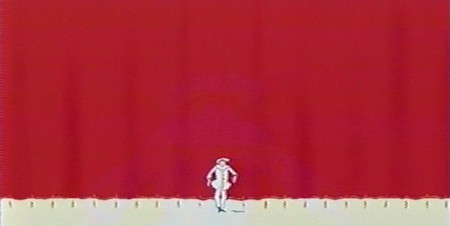 2
I have a copy of the pilot and thought it'd be worth posting some of the frame grabs from the piece to give you an idea of it. The entire film uses lengthy scenes and fluidly moving camera – no doubt an addition of Tissa David's work. As the title card reads, these sequences aren't presented to tell a story; they're designed to highlight the animated fare.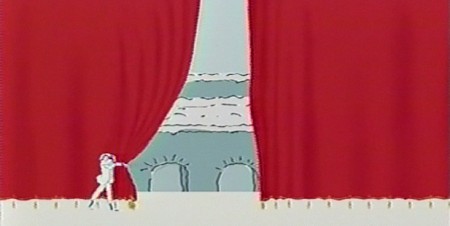 3
(Click any image to enlarge.)
.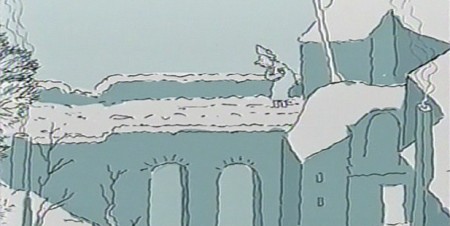 4
.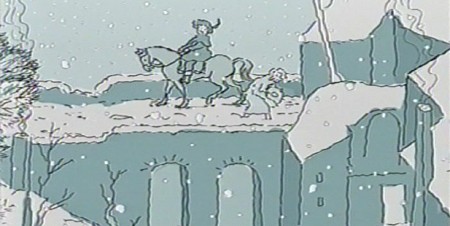 5
.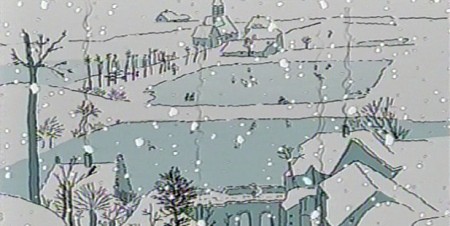 6
.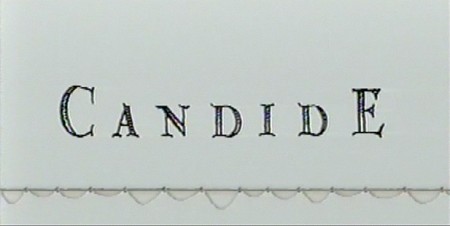 7
The title acts like a theatrical canvas wherein . . .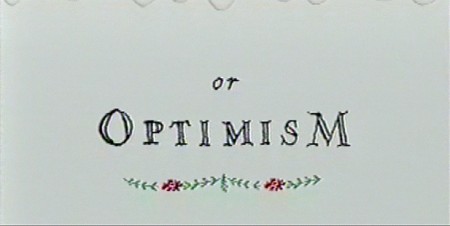 8
. . . one, "Optimism", overrides the other, "Candide".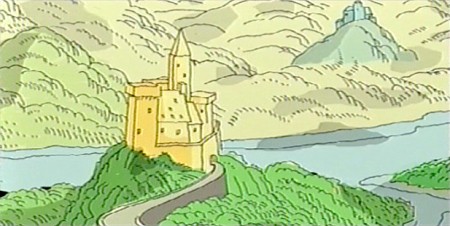 9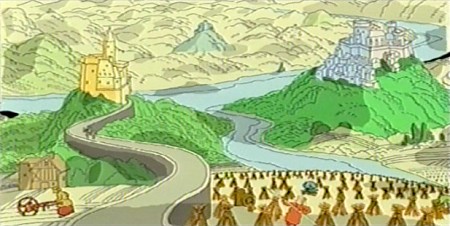 10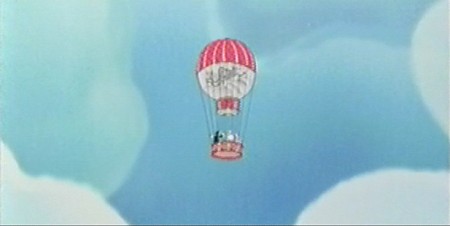 11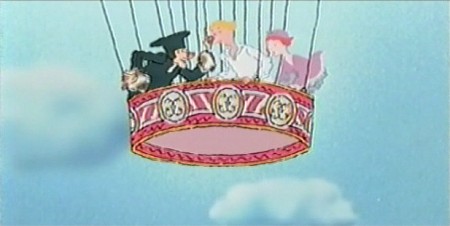 12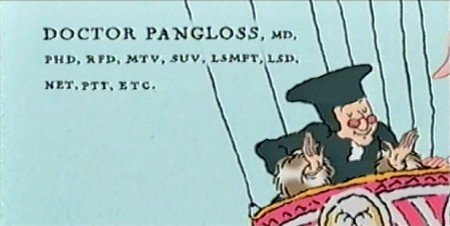 13
Theatrically, all of the characters are introduced in CU cards.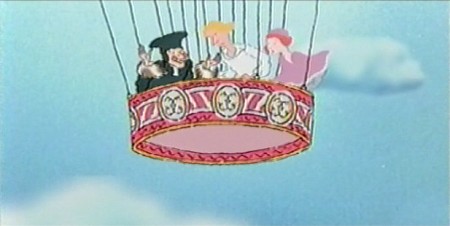 14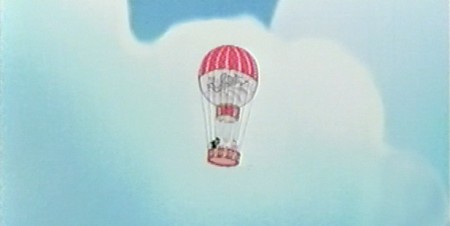 15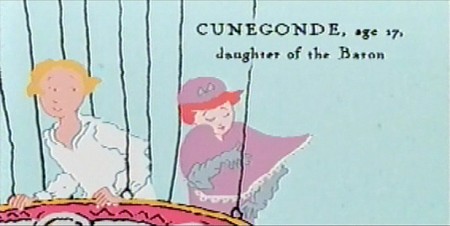 16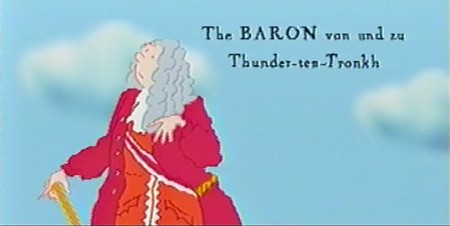 17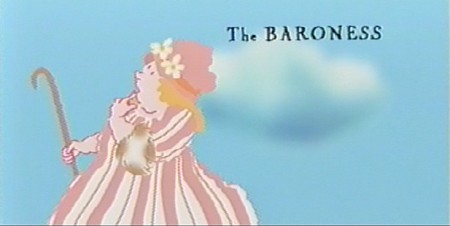 18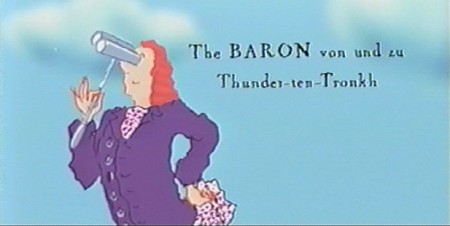 19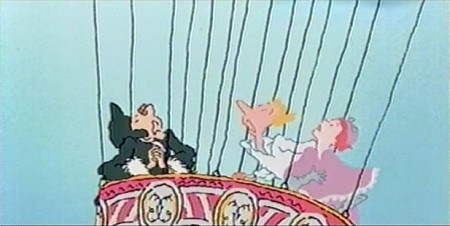 20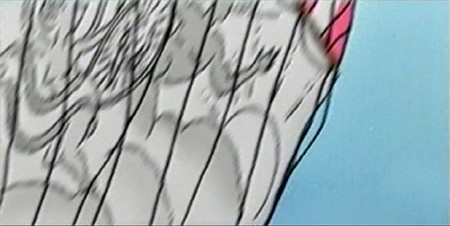 21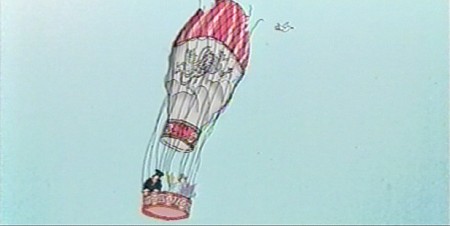 22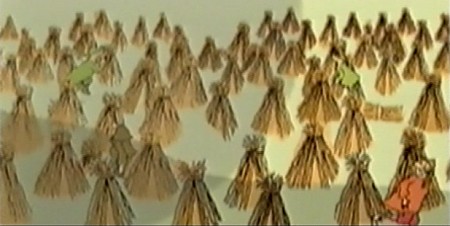 23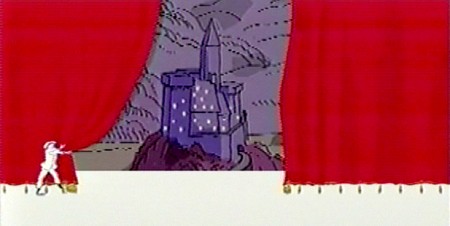 24
Part II is introduced with another opened curtain.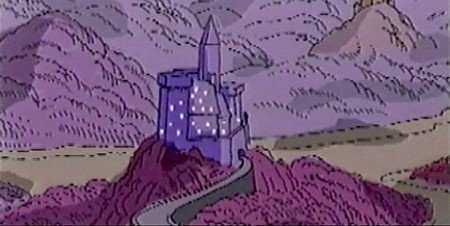 25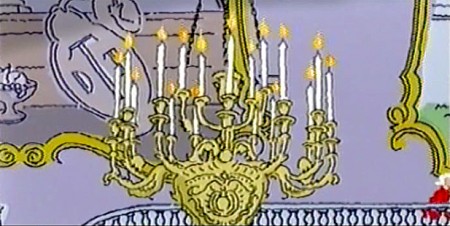 26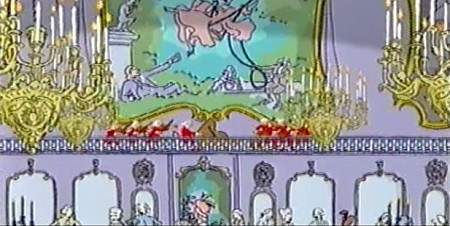 27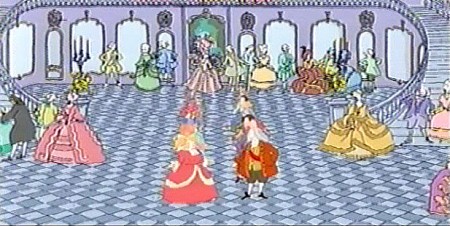 28
Here the color runs out with well groomed P.T. by Tissa.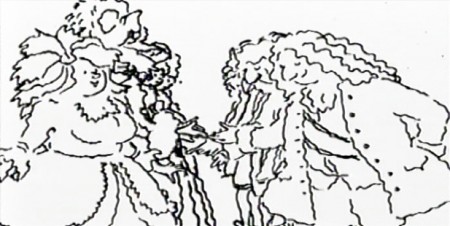 29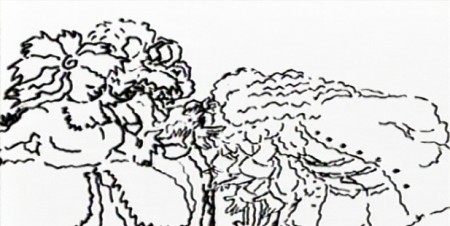 30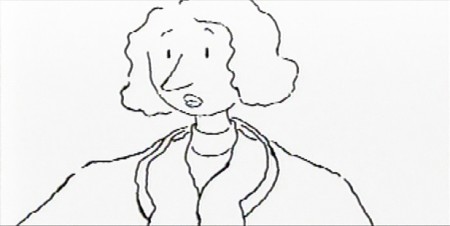 31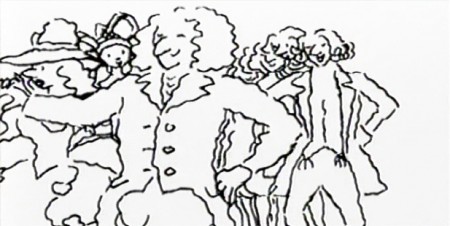 32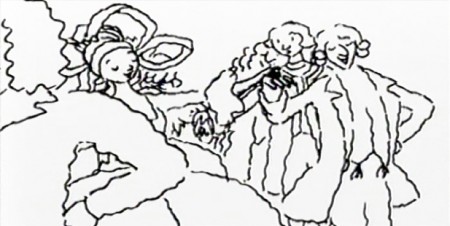 33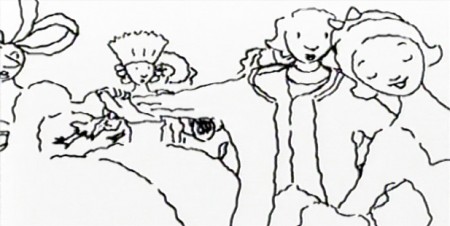 34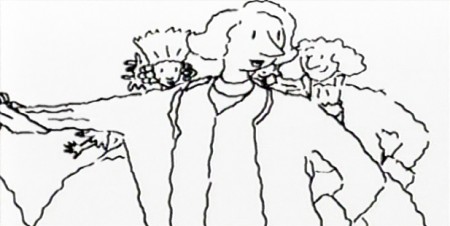 35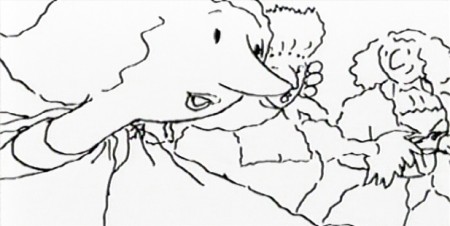 36

37
This long pan leads to another sequence end.
More to come, soon.
Photos 28 Dec 2008 09:06 am

- The other day, to escape the rain, I found myself in the 8th Street subway station heading downtown. It was a BMT station which features a number of artist images done in tiles. Called Broadway Diary some 40 mosaics are featured on this subway platform's walls. The art was created by Tim Snell who specializes in mosaics and murals.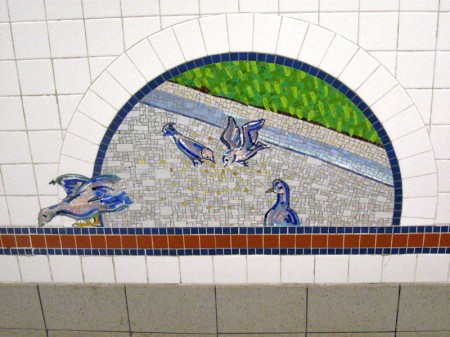 (Click any image to enlarge.)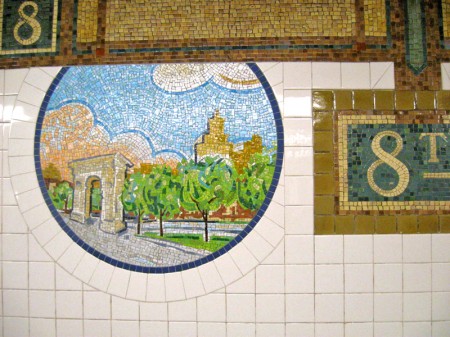 A number of themes appear in the grouped images. NYU is part of the
neighborhood, so it's prominantly featured in many of the pictures.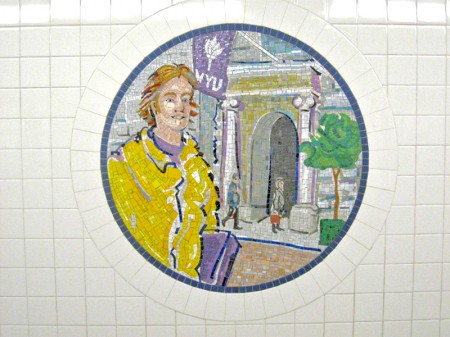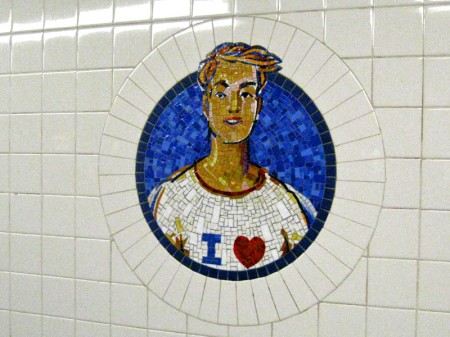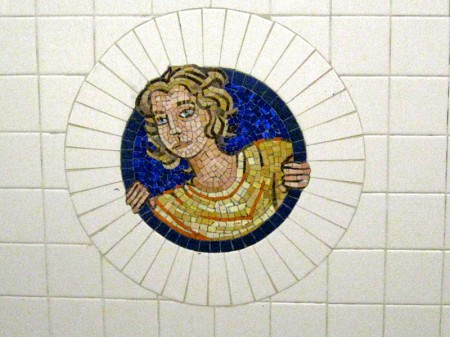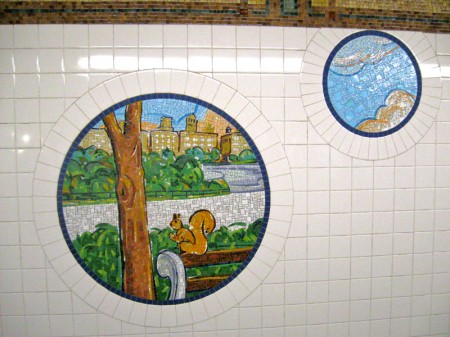 A lot of the animal life of the area also appears prominently.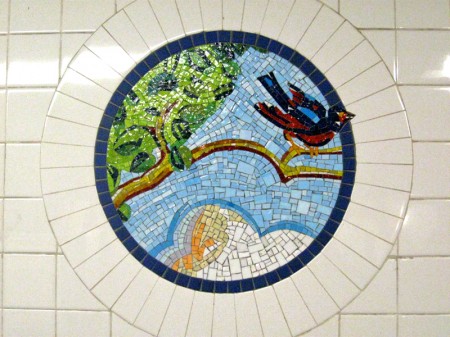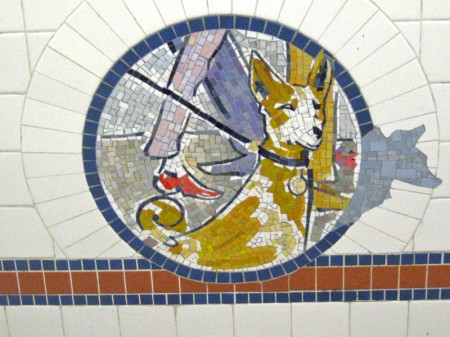 Some of the animals appear on a leash.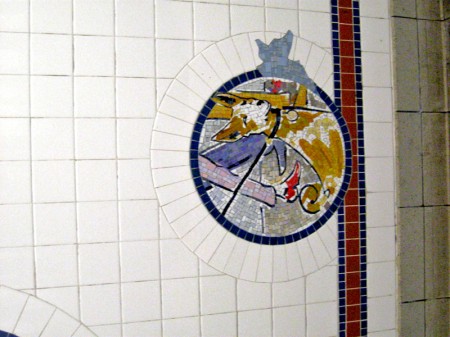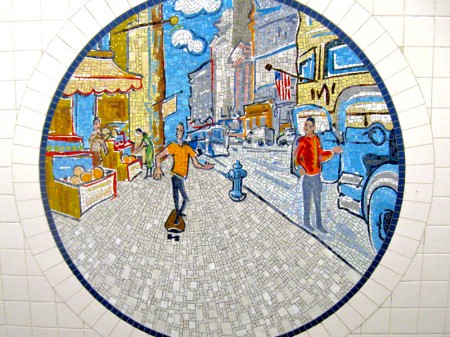 The busy shopping area of 8th Street is prominent.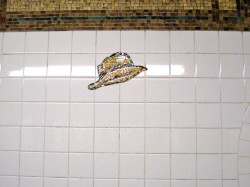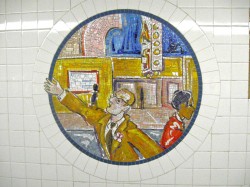 The free flying hat makes me think of the 23rd St. station
and its murals by Keith Godard of free flying hats.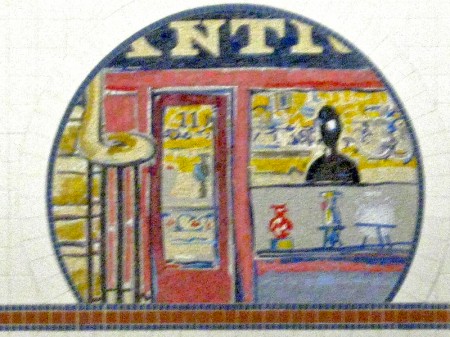 Many of the local shops are also featured.
This one was on the other side of the station.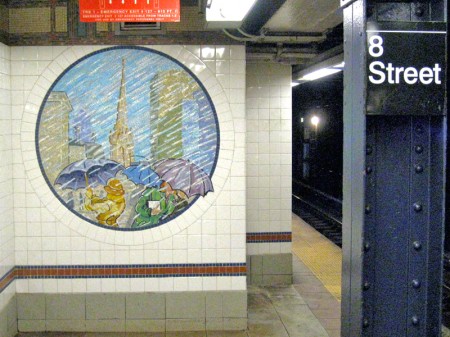 Rain seems to play a part in a number of the pictures.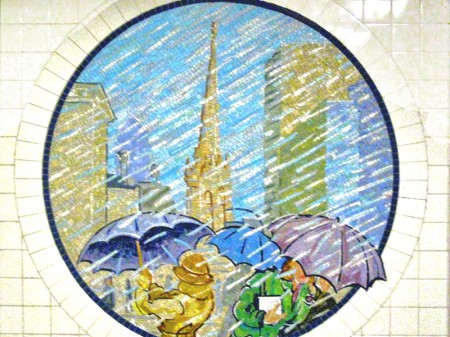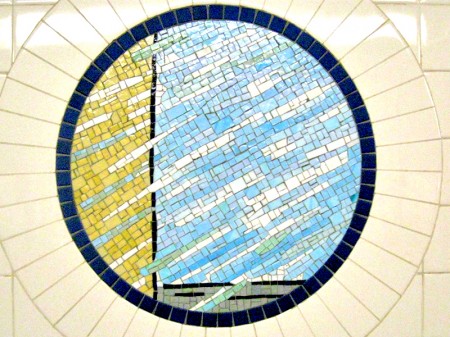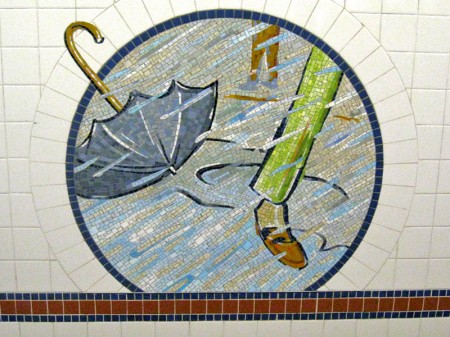 It's a delight to be able to see this work while waiting for a train. (I was able to snap all these pictures before the next train arrived.) It's a bit like the 20th century's answer to WPA art. (These were all done before 2000.)
Let's hope Obama initiates art projects to keep some artists alive while giving us some positive artwork.
Daily post 27 Dec 2008 09:21 am
The New York critics gave unanimously favorable reviews to Ari Folman's animated feature, Waltz with Bashir.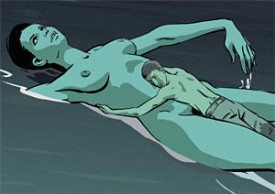 In his review in the NYTimes, A.O. Scott, wrote:
__"Waltz With Bashir" is a memoir, a
__history lesson, a combat picture,
__a piece of investigative journalism and
__an altogether amazing film.
The Daily News reviewer, Elizabeth Weitzman, giving the film four stars, wrote:
__There happen to be an unusual number
__of movies about war out right now.
__Few, if any, have the power of this __one.
Giving the film 3 1/2 stars, Lou Leminick in the NY Post wrote:
__"Waltz With Bashir" once again demonstrates that animation is not a genre but an
__increasingly artistic way to tell all kinds of stories.
J.Hoberman in the Village Voice wrote:
__Ari Folman's broodingly original Waltz With Bashir is a documentary that seems only
__possible, not to mention bearable, as an animated feature.
I saw Waltz with Bashir in Ottawa this past September. I did enjoy it – mostly for its story. I wasn't so enthralled with the artwork or the animation (flash, for the most part), but the presentation was strong enough to keep me from getting bored. There were some inspirational moments and some dull moments as well. It was a strong effort to use animation for something wholly different, and I appreciated that enormously. I guess I would have preferred it about 15 minutes shorter.
I saw The Tale of Despereaux this weekend and thought it was quite good. I thought the story was somewhat convoluted but felt the animation, graphics and, particularly the voice work, was excellent. The film kept me involved, interested and satisfied with the animation work. All of the characters felt attached to their surroundings and didn't float, as is too often the case in cgi work. Nor did the characters pop form position to position as you see in other successful animated features this year. As a matter of fact, they handled the human ones nicely. Princesses, dragons and the like were certainly superior to anything in the Shrek canon. This film is certainly worth a look. Well done.
_______________________
I enjoyed seeing some of the animators' cards on the various websites.
- Mike Barrier treated us to some of the earliest exchanges among the notables: Tex Avery, Hugh Harman, Rudy Ising, Friz Freleng, and Dave Fleischer's card to Paul Terry.
- Pete Emslie showcased a number of the many cards Ollie Johnston sent to him over the years.
- Bob Jaques offered a card Eddie Nolan sent out, and he reminds us of the link to the Dick Huemer site where many cards are on display
- The ASIFA H'wood Animation Archive gave us a batch of Disney cards from the late 40′s-early 50′s. (Look for the Peter Pan/Robin Hood card.)
- Steve Hulett Has posted a number of the stunning cards by his father, Ralph Hulett at the Animation Guild Blog.
- And, finally, Thad Komorowski has an early christmas card from Jim Tyer posted. He's also been posting some vinatage Carl Barks Christmas stories from Donald Duck comics.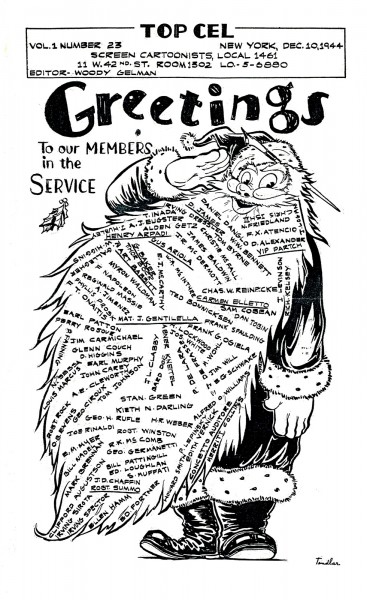 (Click on image to enlarge.)
I didn't post any old christmas cards this year, but would like to display, again, this Top Cel drawing done by Dave Tendlar to honor all the animation artists serving the country during WWII. To my knowledge, the only animator to die in combat was Willard Bowsky.
I originally offered it in Dec. 2006.
Animation &Fleischer &Frame Grabs 26 Dec 2008 09:23 am
- One of the oddest animation walks appears in Popeye meets Rip Van Winkle. It's the only Popeye cartoon that Myron Waldman animated (he actually directed the animation). I'm not sure if he animated this walk, which starts the film, but I'd say it was a pretty good bet.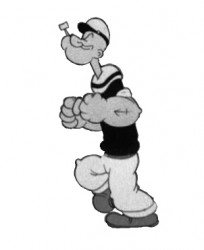 1__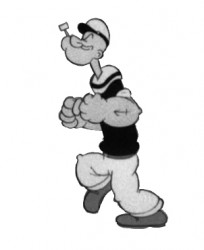 2
(Click any image to enlarge.)
Animation Artifacts &Hubley &Layout & Design &Tissa David 24 Dec 2008 08:59 am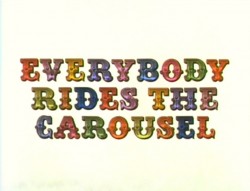 - Continuing last week's posts of the babies of The Carousel (Everybody Rides the Carousel), I have more drawings by John Hubley to offer. The baby is getting older, and visitors want to pick him up. The sequence is shown from the baby's POV.
The final three drawings are from the sequence wherein the baby turns one year old and is being propped up to celebrate his first birthday cake.
These drawings were given to Tissa David to animated the sequence. They accompanied a long conversation over the soundtrack. Tissa returned with her first samplings of what the final babies would look like, and then they were altered in the I&P room. Soemtimes for the good.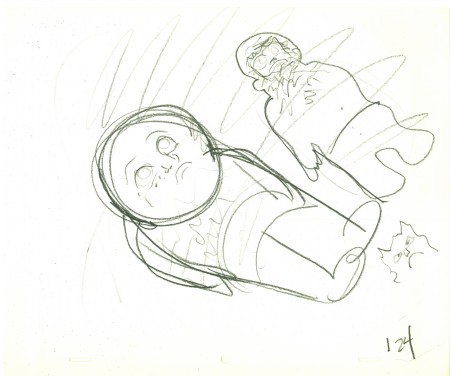 (Click any image to enlarge.)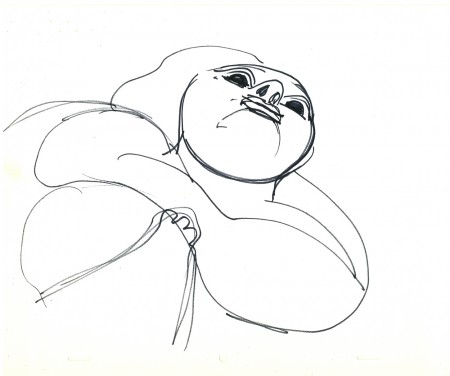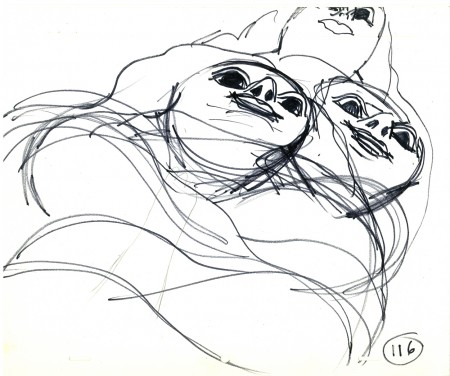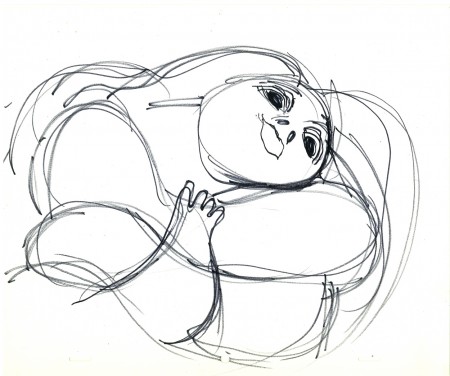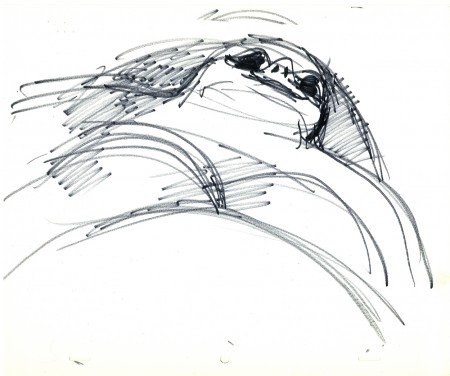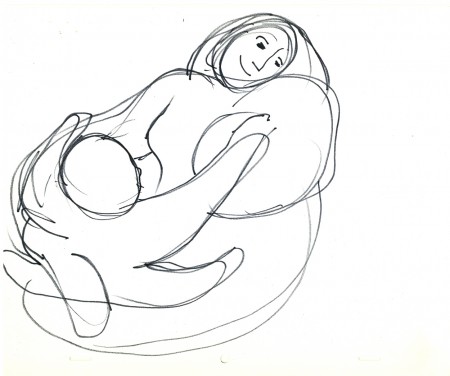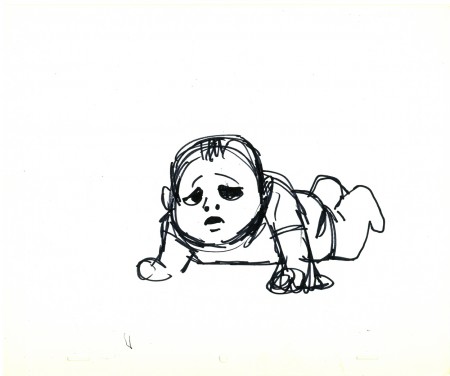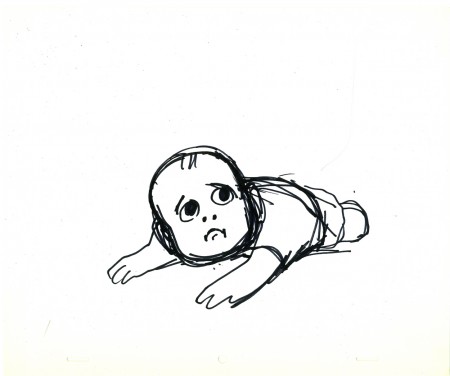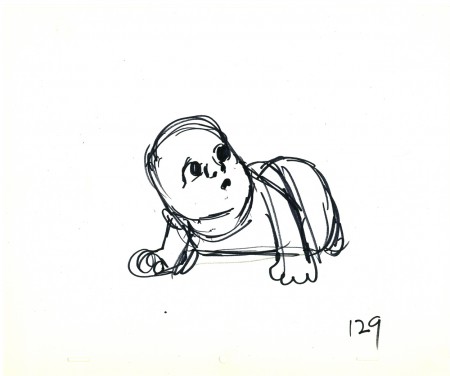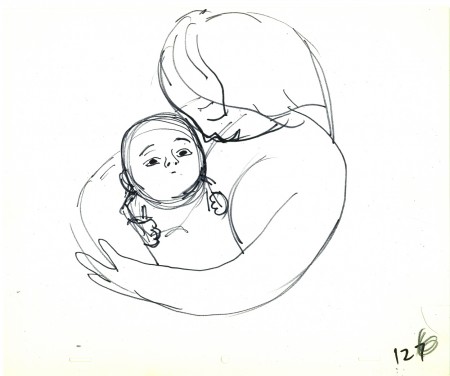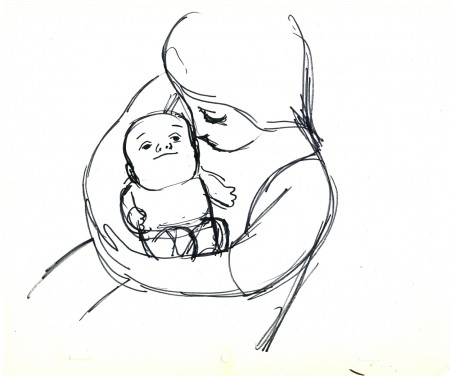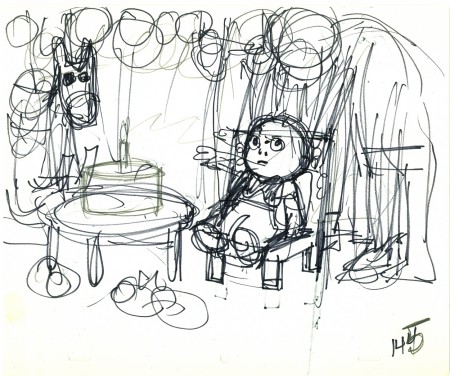 These three drawings with the birthday cake look as though they might
have been done by Tissa. The writing is hers.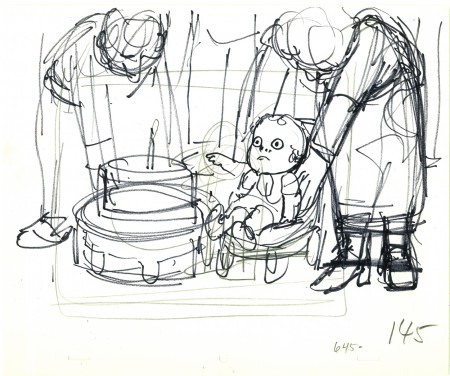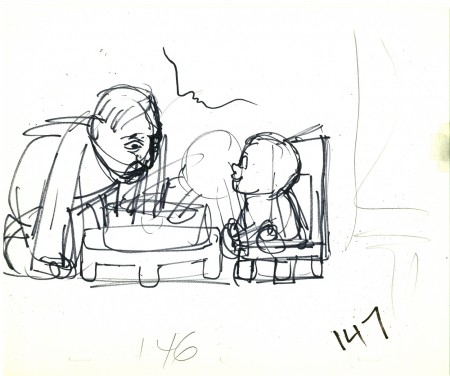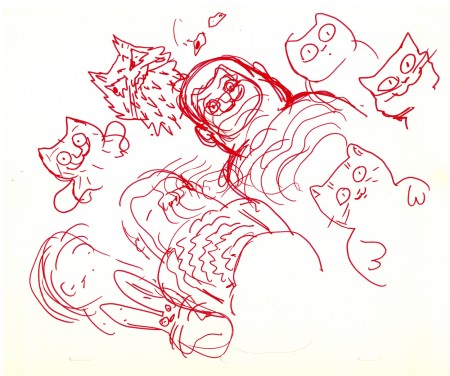 Daily post 23 Dec 2008 09:22 am
- Looking back on yesterday's images from Norstein/Ivanov-Vano's Battle of Kerzhenets, made me go back to earlier posts I'd done on Norstein. I came upon some photos we took a long time ago when Feodor Khitruk and Norstein came to my studio for breakfast. This is a bit of a rehash: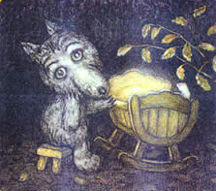 – Back in 1985, master Russian director, Feodor Khitruk, escorted the brilliant animator/director, Yurij Norstein, on a trip to New York.
My friend, Charles Samu, who was playing host to them on the trip, asked if I'd like them to visit my studio. I suggested a breakfast meeting so that I could call in a couple of additional people who would like to attend. Specifically, I was thinking of Tissa David who was an enormous fan of Norstein's film, Tale of Tales.
I must admit I was over the top since Norstein was nothing short of a hero to me. His film had completely changed my thoughts on animation and its importance in the world. I find his film the answer to anyone who questions whether animation can live up to what live action can do. The answer now is, YES. (Of course, I haven't seen anything remotely comparable to this 1978 film since seeing it – despite the invention of the computer.)
In short, I think it's a GREAT film of the highest order.
So they came, and here are some photos of the meeting.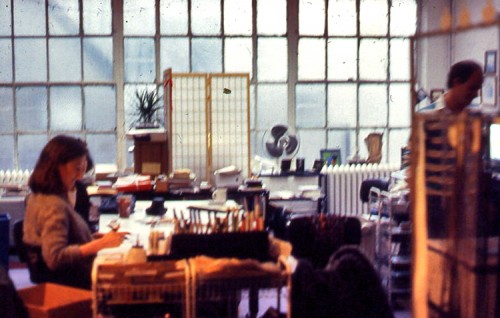 My studio, at the time, was on 38th Street off Fifth Avenue. This is facing a windowed
wall we had that looked out onto the rear of the building. (You could see the Empire State Building from there.) The studio also had a large skylight overhead. Liz Seidman works to the Left and Greg Perler, my editor, works to the Right (far in front of Liz.)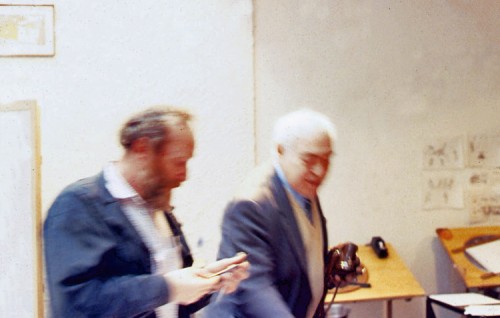 Norstein (L) and Khitruk (R) arrived on time with Charles (taking the picture.)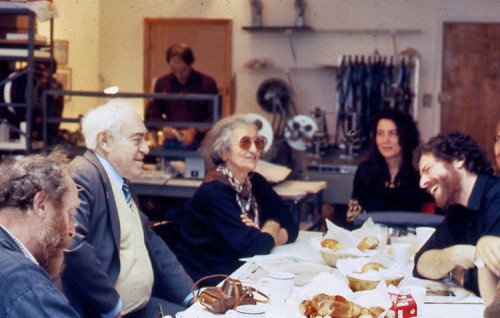 We set a table full of lots of food, but I don't think any of us were interested in eating.
L to R:Norstein, Khitruk, Tissa David, Greg Perler (standing in the back, editing), Lisa Crafts, me, Bridget Thorne (hands visible). Charles Samu sat opposite Lisa and took the pictures. Others were there but didn't make Charles' camera lens.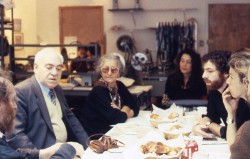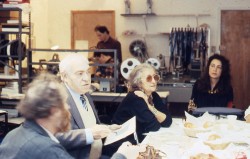 I had plenty of questions about Norstein's style and production methods. He tried to respond, and Khitruk acted as the interpreter and had to draw his answer at one point.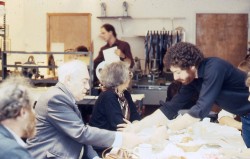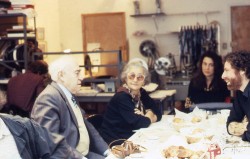 I followed up by drawing my next question.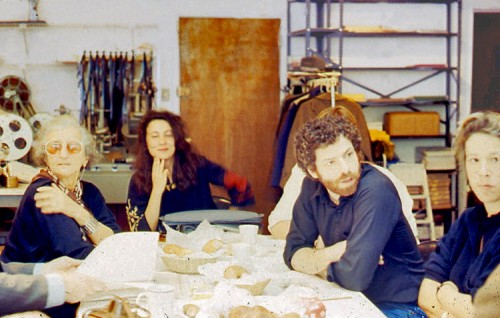 There was quite a conversation despite the fact that we were speaking two languages.
(And I don't remember a word of what was said.)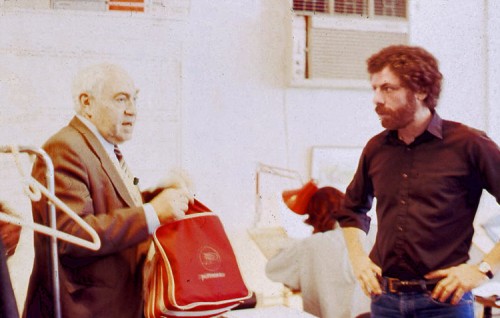 Khitruk packs up as they prepare to leave.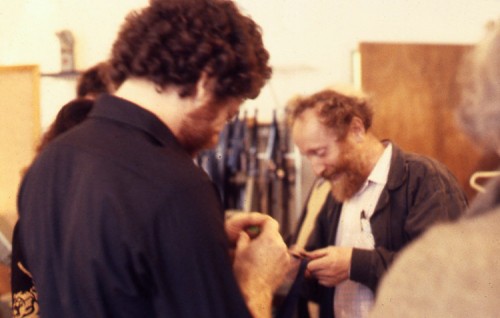 Norstein and I exchanged little souvenirs of the meeting.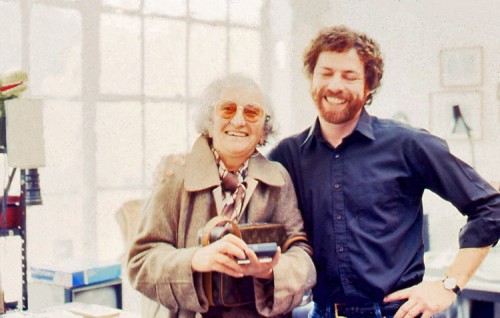 Tissa and I posed for a picture before the break up.
After everybody left, we got back to work. Bridget Thorne (left) had to run an errand and Liz Seidman (who was supervising) & Mary Thorne went back to work on Lyle Lyle Crocodile.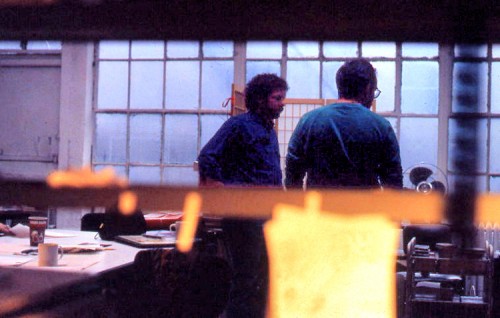 Immediately after, I had an in-house meeting with Mark Sottnick (above), one of the producers of Santa Bear, which was also in production, and one of the producers of Rabbit Ears videos.
Frame Grabs &Norshtein 22 Dec 2008 09:23 am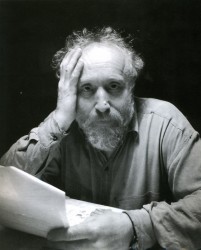 - As any long-time reader of this blog might guess, my favorite living animator is Yurij Norstein. To me, his Tale of Tales reigns far and above other animated films. He first made a splash in Russia on the film, The Battle of Kurzhenets (1971), when he assisted legendary animation director, Ivan Ivanov-Vano. His work on that film was so strong that Ivanov-Vano shared a co-direction credit with the young animator. Other films such as the Hedgehog in the Fog (1975) and The Heron and the Crane (1974) attest to his brilliance.
Here's Claire Kitson's comments from her brilliant book Yurij Norstein and Tale of Tales: An Animator's Journey:
Battle by the Kerzhenets (Secha pri Kerzhentse, 1971), this one co-directed with Ivanov-Vano, was a far more significant piece of work, and of more importance in Norstein's development. In this film, Russian icons, mini atures and frescoes of the 14th to 16th centuries were animated to Rirnsky-Korsakov's Legend of the Invisible City ofKitezh (Skazaniye o nevidimomgtA Kitezhe i deve Fevronii). Norstein was responsible for all technical aspects, Tyurin was again in the group, as co-art director, and Yarbusova also workeJ in the design department – her first project together with her husband. Though the design was based on Byzantine art, Norstein again introduced elements from Russia's post-revolutionary flowering. This time it is Ma-levich, whose painting Red Cavalry is borrowed in the scene where the Tatar cavalry storms across the steppes to meet the Russian defenders.

Norstein: "That film was very important to me. It gave me a sense of the resonance, the musicality of forms, the musicality of action. This is nothing to do with the superficial musical rhythm, but a feeling for I internal structure."

The film went on to win the Grand Prix at the Zagreb Animation Festival.
I've chosed to pull some frame grabs from the The Battle of Kurzhenets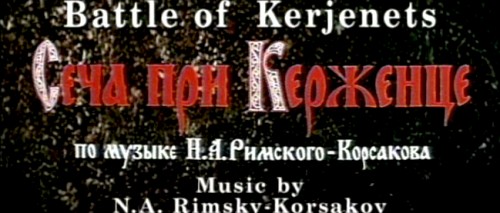 (Click any image to enlarge.)