Monthly ArchiveAugust 2007
Animation Artifacts &Books &Models 31 Aug 2007 08:11 am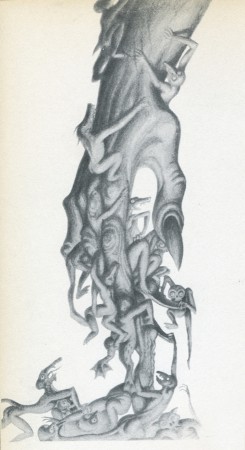 – Continuing to post some of the sketches from the Deems Taylor Fantasia book published by Simon & Schuster in 1940, I want to put the focus on the sketches from Night On Bald Mountain. It's obvious that these are all paintings by Kay Nielsen. His style is uniquely distinctive.
The artwork is beautiful and powerful in its own oddly delicate way. The style became a bit more circular in the hands of Bill Tytla, but it never lost the power of its origins. It just became more emotional.
Hans Perk at A Film LA descibes the exhibit at the GL. Holtegaard museum near Copenhagen. Some of the Nielsen art for this sequence was displayed.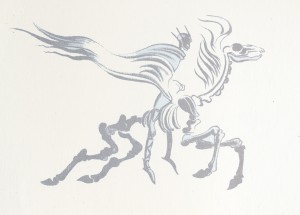 Here, then, are some of these images: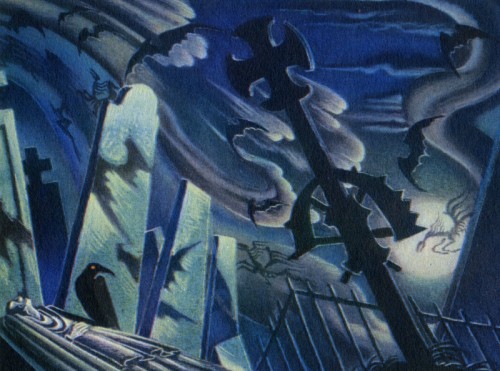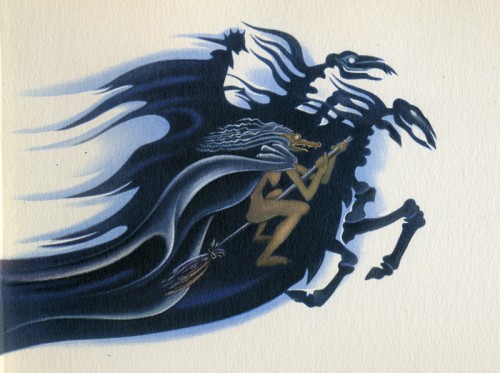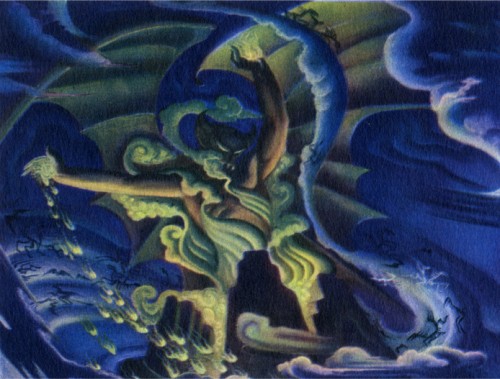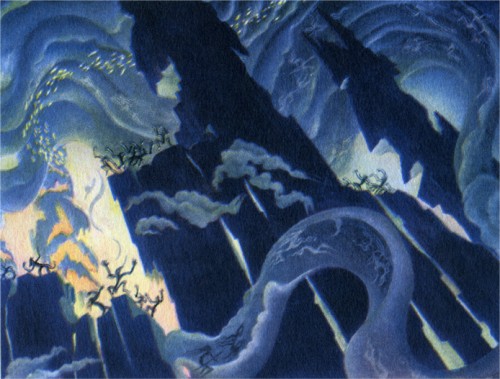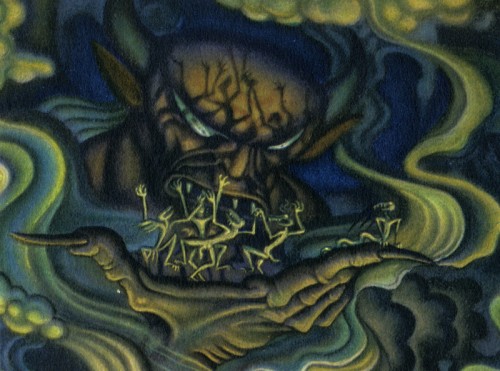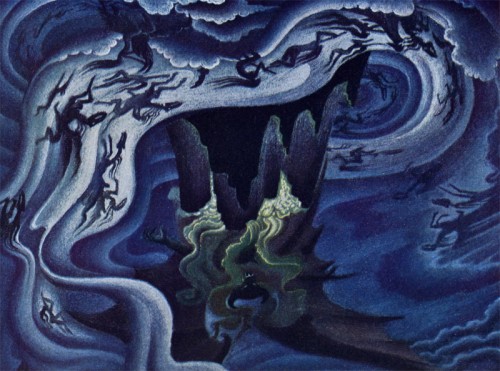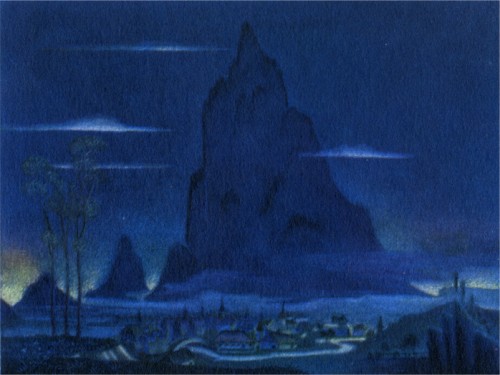 Animation &Articles on Animation &Hubley 30 Aug 2007 07:49 am
- Bill Littlejohn is an animation "God" who doesn't get the attention he deserves. Let me call your attention to an excellent and extensive interview Tom Sito conducted with Bill which is posted on AWN.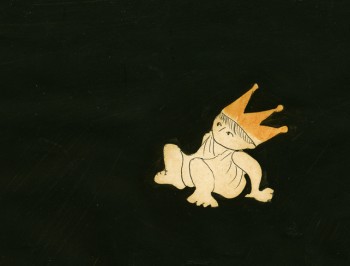 Bill was one of the first animators whose work I could identify opn screen. I studied the Hubley films in my early years, and I watched The Hole and Of Stars and Men every chance I could in the days before vhs tapes when you had to go to a theater to see these films.
Bill's work on Of Stars and Men has completely entered my vocabulary of great animation. The walk cycles for the many animals are just so magestic and regal that I watch them over and over.
That film employed the Hubley technique in which the animation drawings were painted black (using oil paint so that the paper wouldn't buckle) all about the exterior of the character and were then double-exposed over the backgrounds. A lot of hit and miss was part of the process as characters had to avoid each other or create a multiple exposure; you could see through each of the levels. With each run through the camera, the density of the image kept thinning out, as well. It's amazing how stunning this film is given the inherent problems in the technique. And it was made for a budget of $90,000 – a feature film!
I have a lot of Bill's animation drawings I saved while working at Hubley's. I'll try to scan some soon.
____________________________________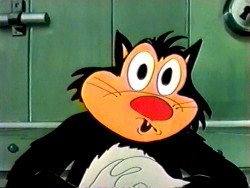 - There's an enormous Jim Tyer post which celebrated his brithday back in February. there's not much new information here, just a lot – and I mean lots – of links to videos and other writings. If you've a mania for Jim Tyer, this is the first stop.
There are quite a few sites which break down Tyer films in a frame by frame analysis. His animation is good for this; the distortions are so entertaining. However, I sometimes wish there were more of a critical analysis by someone who is truly knowledgeable about animation. It'd be fun to see an informative comparison between some of Rod Scribner and Jim Tyer, but truly discuss their work in relation to animation technique. Less show-and-tell and more commentary with illustrations supporting the thesis. Maybe someday when I'm in a ponderous state, I'll offer my thoughts. However, until then, it's still fun to look at the wacky drawings.
A couple of these sites are:
Animation I.D. Tyer-How Does It Work
Classic Cartoons "How To Relax"
Classic Cartoons "Foiling the Fox"
Inspiration GrabBag More Jim Tyer
Animation Artifacts &Books &Models 29 Aug 2007 07:40 am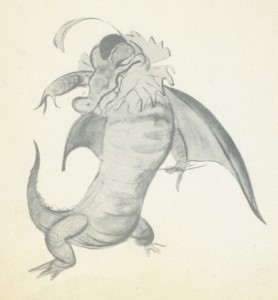 – I thought I'd scan some of the drawings from the Deems Taylor Fantasia book published in 1940.
This is basically a storybook of the film with a lot of beautiful illustrations from the artwork done for the film. The only other Disney feature that I can think of which has a similar type book, richly and beautifully produced, is a limited edition American Express edition of Snow White produced for the fiftieth anniversary.
I assume many of these illustrations were on the dvds as part of the extras, but I haven't attempted to find out.
I've scanned the images illustrating The Dance of the Hours segment and have eliminated the text and illustrative borders to put a complete focus on the sketches. If anyone knows who did the art, please don't hesitate to share the information.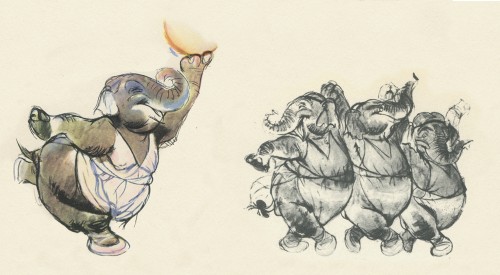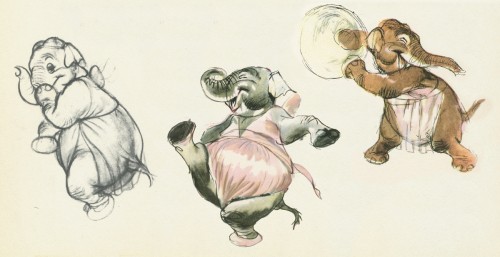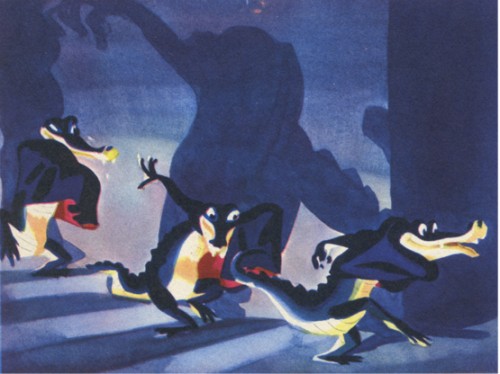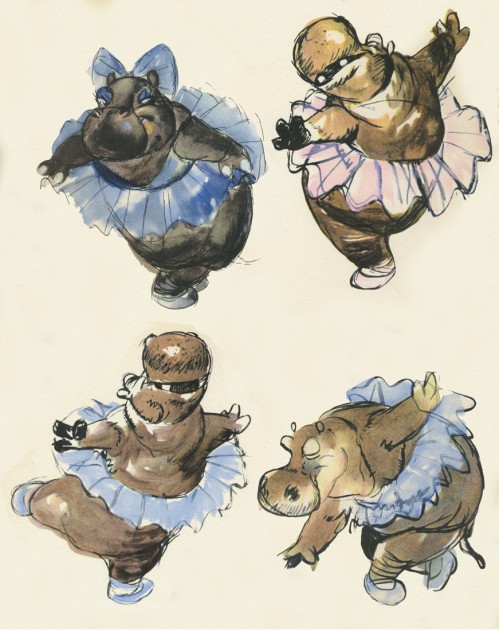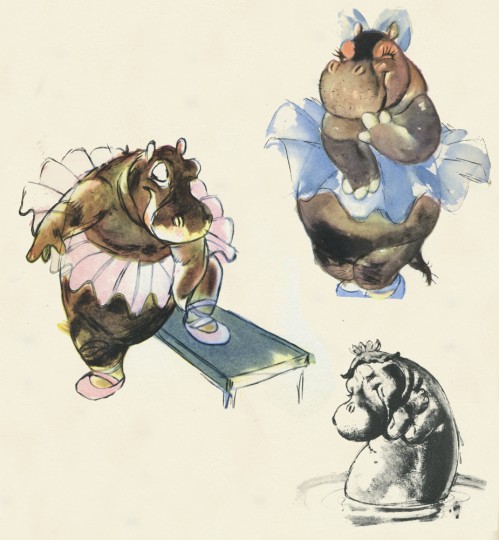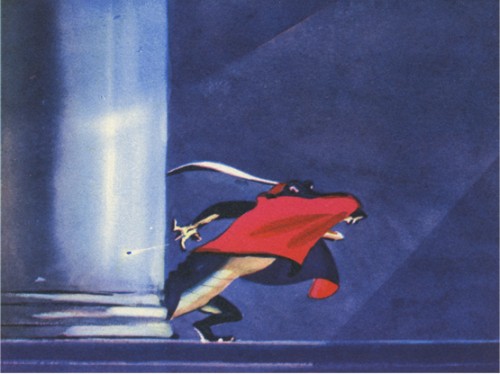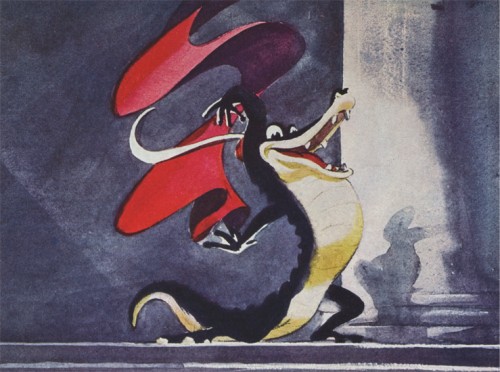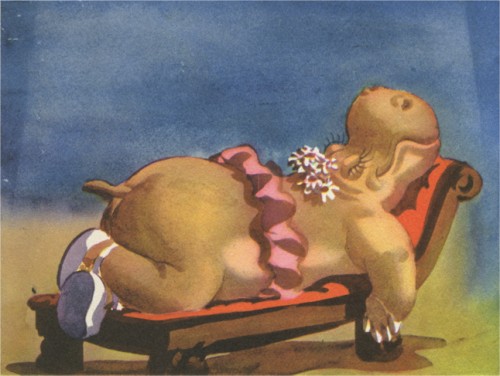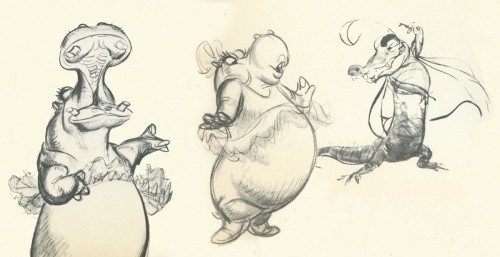 Books &Trnka 28 Aug 2007 07:47 am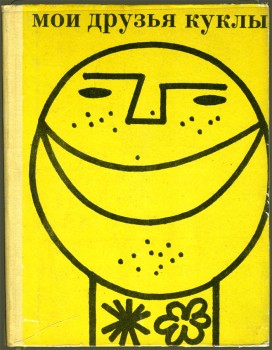 – I have a book I love even though I can't read it. It's a Russian history of 3D puppet animation. Of course, 90% of the book features Russian animators; however, even they weren't able to avoid discussing Jiri Trnka's work.
The book, titled "My Puppet Friends," was published in Moscow in 1971.
I'm able to pick out words here and there that I can translate, but for the most part I look at the pictures and try to translate the captions. (Basically, I'm saying I'm too lazy to really try to translate it with my kindergarten Russian knowledge. I may as well put it through Babelfish and get their gibberish-translations.)
Today I thought I'd post a couple of images which are in the book. The photos look like they were taken in the 30′s even though the book was published in the 70′s. I like seeing shots of animators really going at it working the puppets. Needless to say, none of the films are familiar to me. "Peter and the Wolf" is the only familiar title, though I don't know this Russian version.
There's a section which features a bit of storyboard and that same section from the director's workbook. It's interesting to see how they're layed out. Let's start with those images.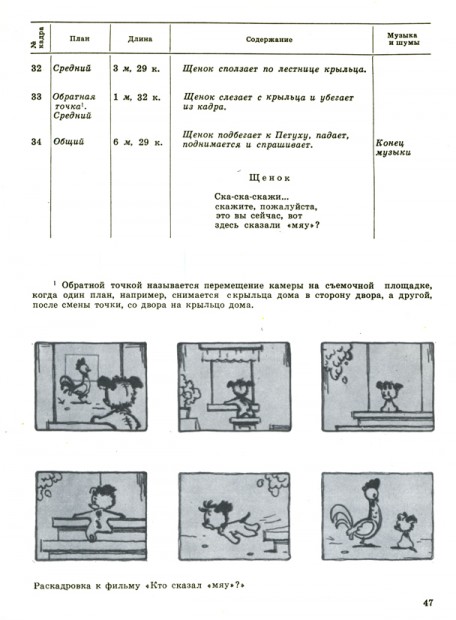 Obviously the storyboard sits on the bottom of these pages. The film's title is "Who said 'Mine'?" I haven't heard of it or seen it.
The workbook section is broken into several columns reading:
____Number of the sequence / Plan / Length / Content / Music & Effx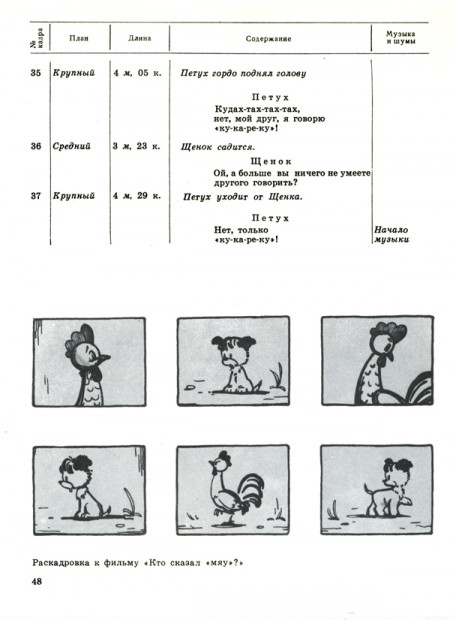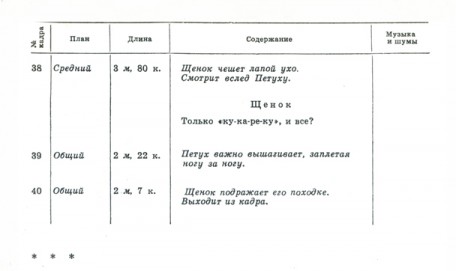 Here are a couple of photographs I find interesting: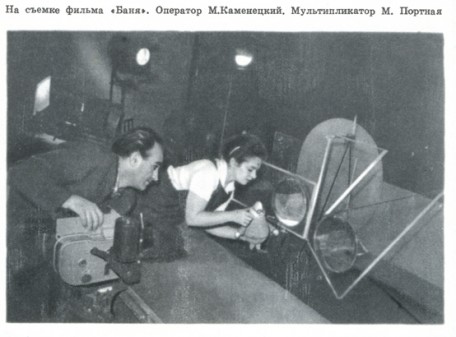 The caption under this photo reads:
On filming "Vanya". Cameraman M.Kamenetskiy. Animator M. Portnaya.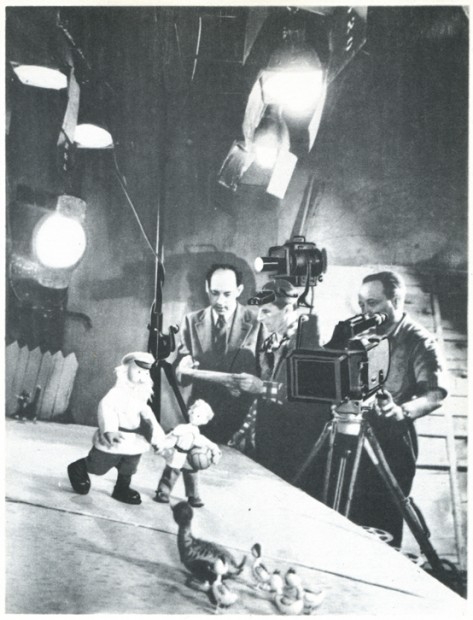 This picture is captioned: On filming "Peter and the Wolf". Director A. Karanovich,
Animator P. Zhdanov, Cameraman T. Bunimovich.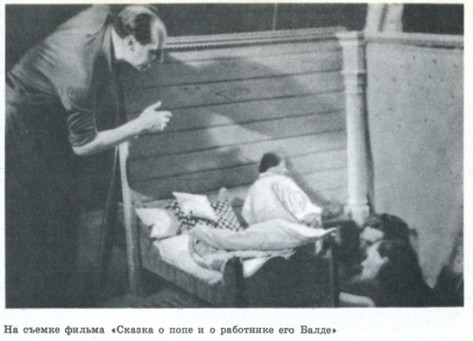 This caption reads: On filming the fairy tale of "The Priest and the Worker Baldes."
Obviously, this is the famous tale we all know by heart.
The book goes into some detail on a couple of cut-out animators. In the near future
I'll post some of those images. Enough fuzzy photos for now, though.
Daily post 27 Aug 2007 08:03 am
- I was surprised and pleased to see the editorial in yesterday's NY Times. It was written in support of Jack Kirby, who shaped Marvel comics with many creations and has been given short shrift as Stan Lee takes much of the credit for the success. To quote the editorial:
Marvel took his talents for granted and denied him the credit and compensation he clearly deserved. Worse, he was overshadowed by his loquacious and photogenic collaborator, Stan Lee, who became the public face of an enterprise that depended heavily on Mr. Kirby's skills.

Mr. Kirby eventually quit, leaving behind characters like the Hulk, the Fantastic Four, the X-Men and the Silver Surfer, and ending what was easily the most fruitful collaboration in comic book history. His long and ugly battle with Marvel over the rights to his original artwork galvanized the artistic community and raised his public profile.
The Amazing Adventures of Kavalier and Clay by Michael Chabon obviously was a fantasy novel shaped around the partnership of Joe Simon and Jack Kirby. Mr. Chabon's continued support of him as well as an editorial such as this may help give Mr. Kirby his due. With the enormous financial success of his creations, it's certainly appropriate that Marvel should at least give him some credit for characters he created.
____________________________________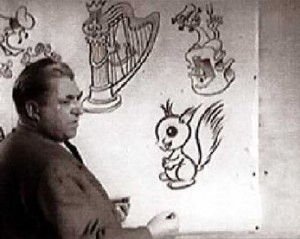 As for overlooked cartoonists, Hans Bacher, on his site Animation Treasures 1 gave us some screen grabs of the German animator Hans Fischerkoesen's two films Weather-beaten Melody (1942) and The Snowman (1943).
David Nethery picked up Hans' thread and posted part of the video Weather-beaten Melody. The film employs unique 3D set ups (one assumes these are multiplane camera shots though it looks at time like the Fleischer 3D sets) for long sections, and David's focus is on these shots. Hans Bacher tells us that these were done in Prague. If you want to see many of the best shots of the film without watching the full thing, go to David's site.
The character animation, itself, is typical of 40′s Europe, very mechanical work done, for the most part, on ones. They follow the Disney mold and are technically elaborate. Walks and character animation is often rotoscoped, however well done.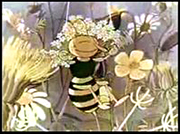 Once WWII broke out, the Germans realized they couldn't get the films from the West. They financed elaborate animation studios to produce work that they expected to equal Disney. Fischerkoesen was one of the key producers of these films.
William Moritz wrote a valuable thesis on Fischerkoesen, Resistance and Subversion In Animated Films of the Nazi Era. You can read an abbreviated version of this on AWN.
Naturally, Fischerkoesen's films are readily available for the YouTube world. Including the two films above, some earlier works and several ads.
. Weather-beaten Melody
. The Snowman
. One an elaborate ad for Philips light bulbs that gives The Sunshine Makers a run for its money.
. Another, a very creative cigarette ad with dancing smoke done for Schall and Rauch in 1933.
. Das Blaue Wunder is another 1935 cigarette ad that seems to have more in common with Fleischer than Disney.
Thanks to Hans Bacher and David Nethery for pointing the way to this artist. And, of course, the amazing William Moritz had done the in depth analysis that's so informative.
Photos 26 Aug 2007 08:35 am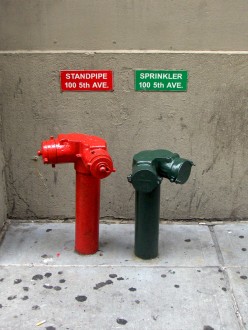 - A necessary accessory to a high rise building in a city is the standpipe and fire sprinkler systems. These are evidenced outside of most of these buildings as odd pipes and valves that attach near the front doors of most buildings.
The standpipe is a pipe that runs vertically through an entire building. It allows the fire department to attach to the standpipe and get water within a fire. Wet standpipes have water always running throughout these pipes. Dry standpipes require water to be pumped into the pipes.
Last weekend there was a fire in a building in NY in which two firefighters died. This building was a remnant of 9/11 in that it was ultimately gutted and asbestos was being cleared from the site. A fire broke out, and one of the reasons for the death of the two men was the dry standpipe. It hadn't been properly maintained, _________(Click any image to enlarge.)
and water pumped into the pipe burst out and
flooded the stairwells. Thus becoming a problem rather than an aid. The firemen had to use ropes to try to lift hoses to the higher floors.
I find these constructions outside buildings quite interesting. We pass by them, sometimes even sit on them when waiting, without really taking notice of them.
So I decided to photograph some of them.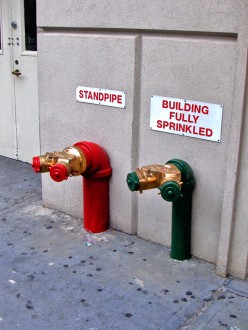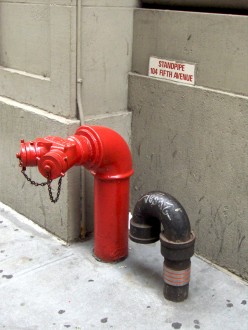 Traditionally, the pipes look like these. The photo on the left gives a good shot of the
norm. The red pipe indicates a standpipe, and the right pipe indicates a sprinkler system. The fire department can tap into either. I like how they've left some of the beautiful brass pipe showing. In the photo on the right, the shapes start to get a bit more wonky.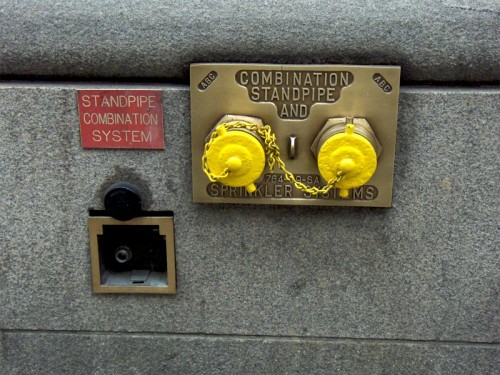 Valve systems maintain the color schemes of red and green, indicating standpipes and sprinkler. Here we have a yellow one which tells us it's a combination system.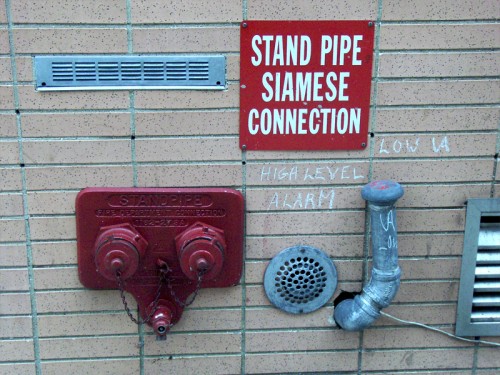 The signage starts to go crazy on some of them. I'm not sure what "high level alarm" indicates, but it's scary.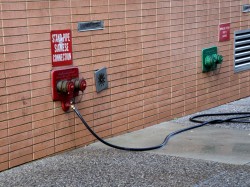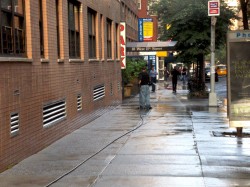 I've noticed that most of the superintendents use the water in the standpipe to hose down their sidewalks in the early mornings. I've often wondered about this practice of washing
the concrete. They do it even on days it's going to rain.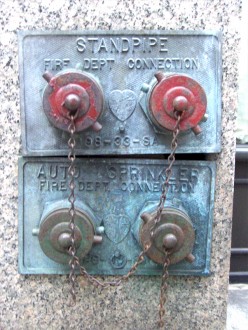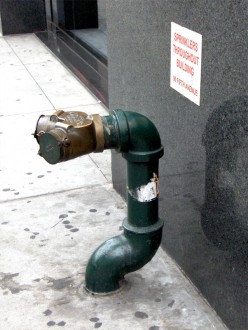 The paint job to the valves on the left might soon need a touch up. No pipes other than these valves extend outside of this building. Whereas the pipe on the right has developed
a bit of character.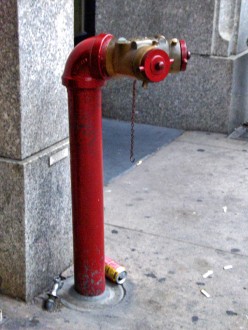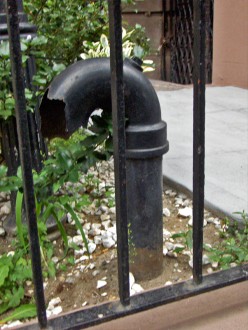 The standpipe on the left is rather high. I suppose this means the firemen won't have to bend as much. This pipe (broken at its mouth) hides in the grass behind a fence.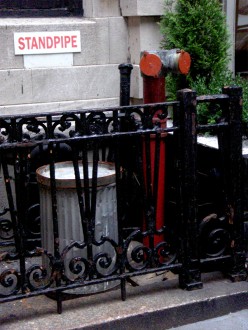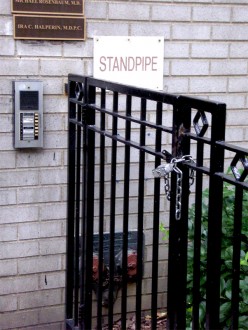 The sign behind this fence leaves no doubt that there's a standpipe, but then the pipe is higher than the sign. Just one house down the valves hide at ground level, but they keep the sign high enough to see. It'd be interesting to see the firemen cut through the
chain lock to get to it.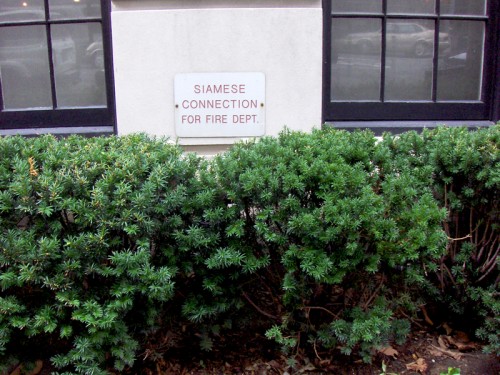 Thank goodnesss for the signage. There's a long shrub circling this building and only the sign lets you know where to find the standpipe. I can imagine firemen hunting.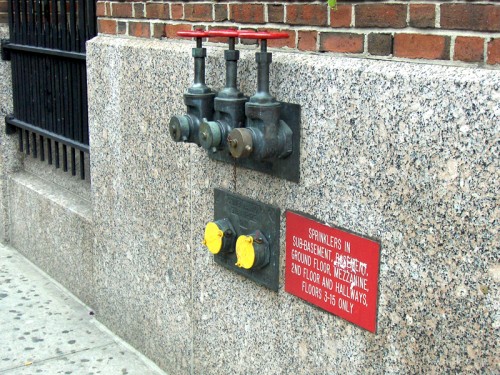 I love this system. Lotsa valves to play with.
Daily post 25 Aug 2007 08:11 am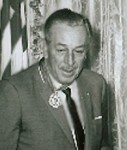 Did Walt Disney wear a Goldwater for President button on his lapel when he received the Medal of Freedom from President Lyndon B. Johnson in 1964?
The question seems to have provided lots of speculation and gossip among those who don't know and like to say they did. Michael Barrier has the answer today on his site, and it makes for a good read about a complex individual, Walt Disney.
I'm sort of sorry that this debate had to end.
________________________________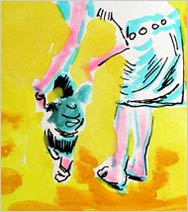 – Jeff Scher has his latest film segment posted on the NYTimes Opinion page. "You Won't Remember This" is a portrait of his son, Buster, from the age of a few weeks until he was four years old. As Jeff writes, "The film came from the notion that Buster wouldn't remember these years, as, indeed, he doesn't seem to, but the more I drew the more I realized that I didn't remember them as clearly as I thought I would, either.
There is something about the omnivorous now in parenting, and the constantly shifting challenges and demands of the moment, that creates a kind of rolling amnesia for everything yesterday. This film is an attempt to hold onto some of these moments and also to share them with Buster, who is now an articulate, opinionated, sugar-and-movie-obsessed seven year old."
________________________________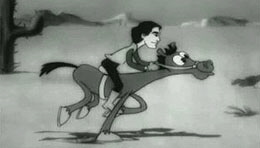 Larry Ruppel's web site features an ad for which he animated a short bit. It's mostly a long live advertisement for Motorola, and it's so interesting that I thought I should draw your attention to it today.
For some reason I've thought a lot about it since viewing it yesterday. Great music.
You can see that spot by clicking here.

________________________________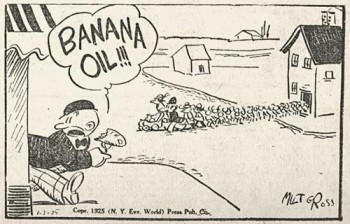 - This past week the ASIFA-Hollywood Animation Archive posted more of their Milt Gross strips.
This batch includes Banana Oil Dailies from 1924 and Count Screwloose & Dave's Delicatessen Sunday Pages from the early thirties. These strips are pure gold and you should be studying them all (for good hard laughs).
The post also links to a lot of past Milt Gross strips. What a treasure lode.
Animation Artifacts &Models 24 Aug 2007 08:26 am
- Here are some basic character models by Tom Johnson for Miceniks (1960), a Harvey "Modern Madcap" cartoon. It was directed by Seymour Kneitel and animated by Johnson and Bill Henning.
These drawings were folded in three and were probably mailed by Johnson from his home. He does ask Kneitel to mail the changes back to him. Obviously, the days of the free lance animator had started by 1959.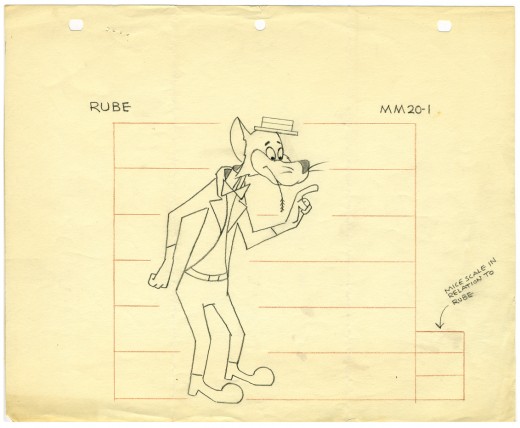 (Click on any image you'd like to enlarge.)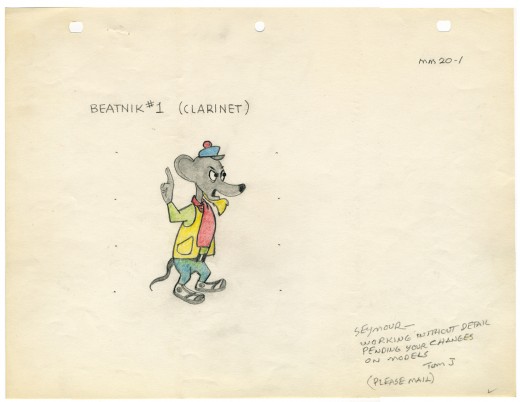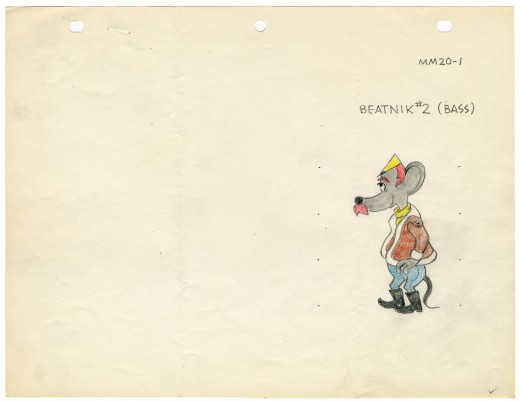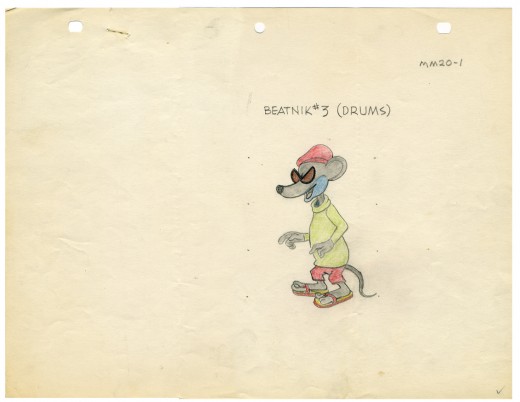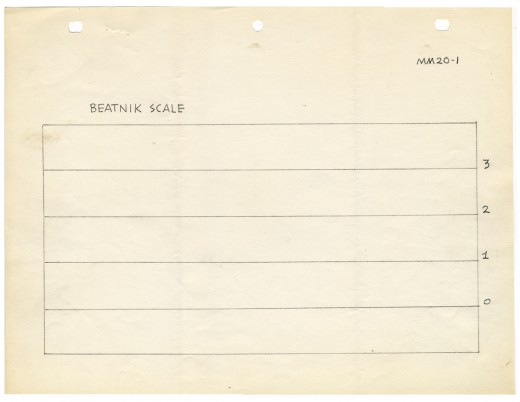 This scale chart overlaps the models "Beatnik 1,2 & 3″ for size comparison. The end result would look something like this: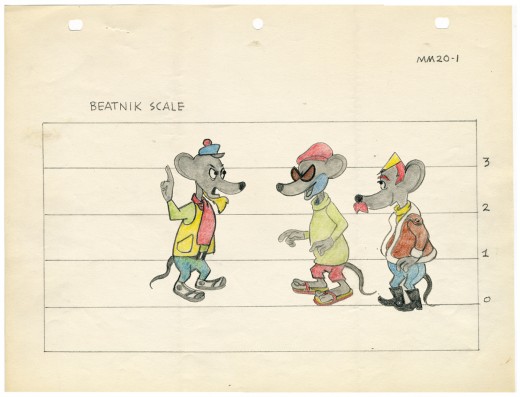 ____________________
In Feb 2006 I posted a 1939 bio of Tom Johnson from the Fleischer Animated News. This gives an indication of his importance to that studio. Since I'm posting some of his artwork, I thought it'd be appropriate to rerun this piece about the artist.
Books &Photos 23 Aug 2007 08:36 am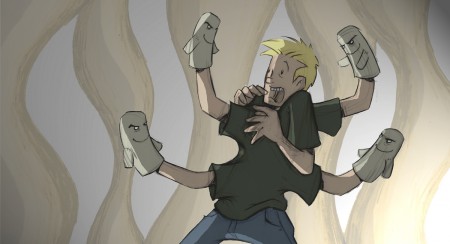 Pat Smith's film, Puppet, will have its TV premiere
tonight on Nicktoons, 10pm EST.

This is an interesting film which, I think, shows the fight between the artist and his creation. Somehow, I've never had this much difficulty with my creations, but I suppose others have.
Pat's done an excellent job of producing this film; its score is lush and rich. I'm glad that Nickelodeon will be airing it.

In case you haven't checked out Pat's blog, you should have a look there, as well.
_____________________________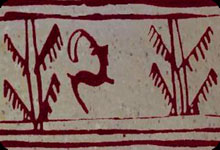 The Iranian animator, Nouroddin Zarrinkelk, is producing a documentary on a 5,000-year-old cup discovered in Iran's Burnt City. The cup is believed to bear the world's first animation.
The carving on the cup surface illustrates a goat moving toward a tree in five consecutive images, which is believed to be a primitive form of animation. Zarrinkelk's documentary will be presented to the International Association of Animation Films, and the goat is to become the symbol for the Association of Iranian Animation Films (their chapter of ASIFA).
_____________________________
An now for more recent animation history: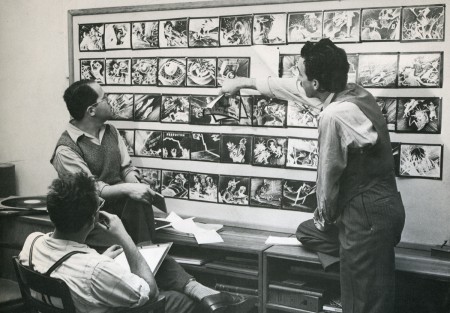 Dave Hilberman and Zach Schwartz present a storyboard to Steve Bosustow
Recently, Karl Cohen, of ASIFA San Francisco, sent me an excellent and extensive tribute to the late David Hilberman, one of the co-founders of UPA, a victim of the blacklist, and a leader in the Disney strike. Hilberman also founded one of the largest commercial studios in NYC, Tempo, and taught for years at San Freancisco State University.
Karl asked that I not publish his piece for a while, but his article inspired me to search for some stills of Hilberman's work. I found a few that represented work from the studio that became UPA, Industrial Films and Poster Service. However these were tiny. The best images I found within a book were in Charles Solomon's The History of Animation.
I decided to post some cleaner, higher res scans of these pictures.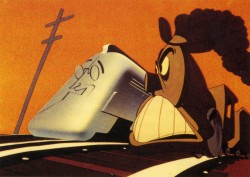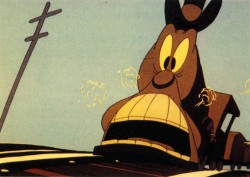 __________________ Two stills from Hell Bent For Election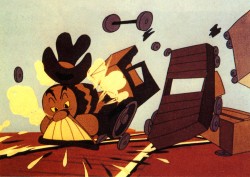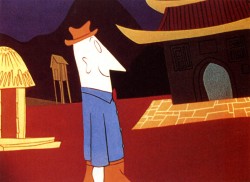 Left, a still from Hell Bent For Election____ right, a still from Brotherhood of Man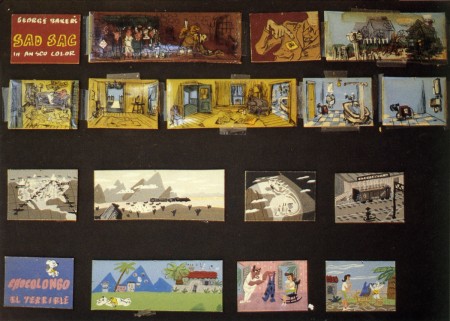 Part of a storyboard for an animated version of
George Baker's comic strip Sad Sac(k)
Animation Artifacts &Richard Williams 22 Aug 2007 08:41 am
- Aside from the usual models that came my way on Raggedy Ann and Andy: A Musical Adventure, I was privy to a lot of private notes, cartoons and comments by some of the upper echelon, and I have all the production charts and drafts (which I'll spare you) so that I can verify any info I'm sharing. I've chosen a couple of items to post today just as curiosity pieces.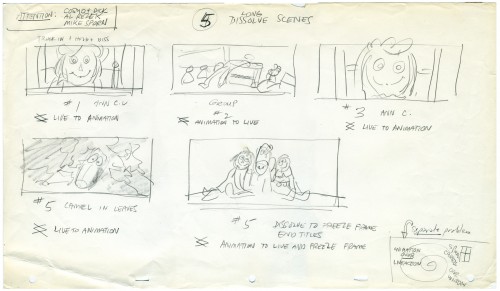 Part of my job on the film was overseeing special effects (shadows, stars, etc.).
Dick gave an improvised storyboard, during one of our meetings, in which he detailed
all the combination live action/animation shots. Listed to receive this item are Al Rezek,
our camera supervisor, and Cosmo Anzilotti, the Asst. Director of the film.
About six months into animation, crisis mode started to set into the production. It was w a y behind schedule, and they were constantly searching for ways to move things along. At one point it was decided that more clarification was essential so that everyone would share in the same knowledge. Dick Williams prepared the following document to define what the animators would be doing for the remainder of the project.
Needless to say things changed from this plan.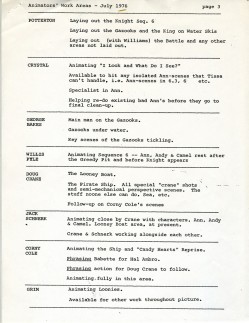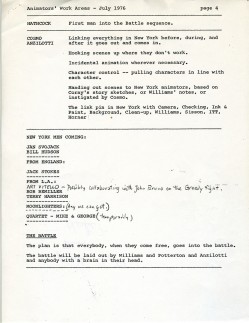 The animators listed in order are:
Tissa David, Art Babbitt, Spencer Peel, Hal Ambro, Charlie Downs, Gerry Chiniquy, John Kimball, Warren Batchelder, Tom Roth, Dick Williams, Emery Hawkins, John Bruno, Gerry Potterton, Crystal Russell, George Bakes, Willis Pyle, Doug Crane, Jack Schnerk, Corny Cole, Grim Natwick, Cosmo Anzilotti, and Art Vitello.
To my knowledge, Jerry Hathcock, Jan Svochak, Bill Hudson, Jack Stokes, Terry Harrison, and Michael Lah didn't work on the film even though they were all approached.
Not listed here is Irv Spence who did quite a bit of animation.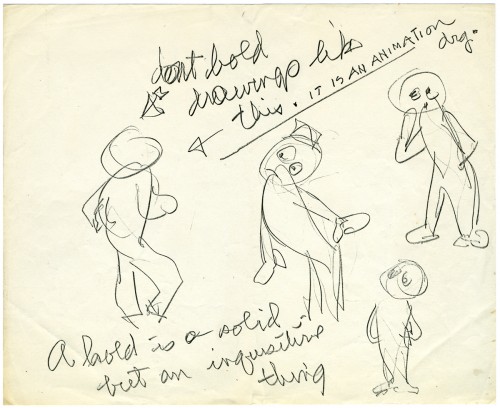 Grim Natwick wrote a note to Dick a couple of months after the start of animation commenting on some of the animation problems he saw. It was done very large on
16 fld animation paper. (Grim always seemed to write LARGE.)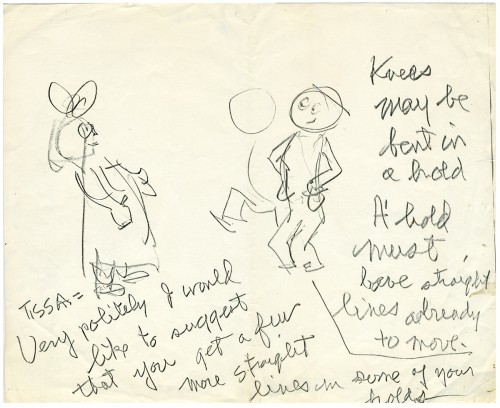 Grim's note ends with a personal comment to Tissa David. A note from mentor to student.
It just goes to show you can always get animation lessons no matter how old or important you are.
Stay humble.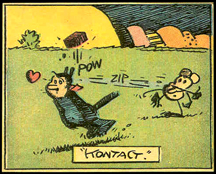 Happy Birthday, George Herriman