Category ArchiveChuck Jones
Bill Peckmann &Books &Chuck Jones &Illustration 07 May 2013 03:39 am
- I have always been aware of Frank Tashlin's book, "The Bear That Wasn't," and I have never liked it. Well, Bill Peckmann sent me a copy of scans of the book, and I realize that I've disliked it because of CHuck Jones' insipid animated adaptation. When you look at the actual book and the beautiful illustrations, you realize how sensitive the material is and how beautifully handled it is. The illustrations are, in a word, great.
I'm so pleased Bill sent these scns to me, and I almost disgrace the post by ending with the Jones cartoon. It's no wonder Tashlin disliked Chuck's work. Take a look. First a lead-in by Bill:
Grim Natwick was an admirer of Frank Tashlin, and all I can say to that is… it takes a renaissance man to know a renaissance man.

Here is the 1962 Dover reprint of Frank Tashlin's 1946 book, "The Bear That Wasn't"

Enjoy!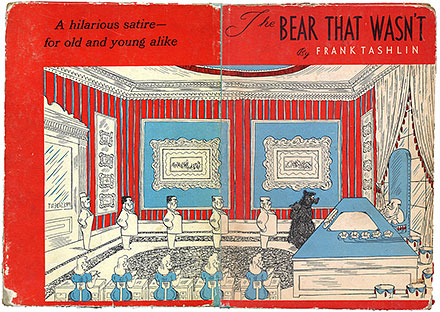 1
The original cover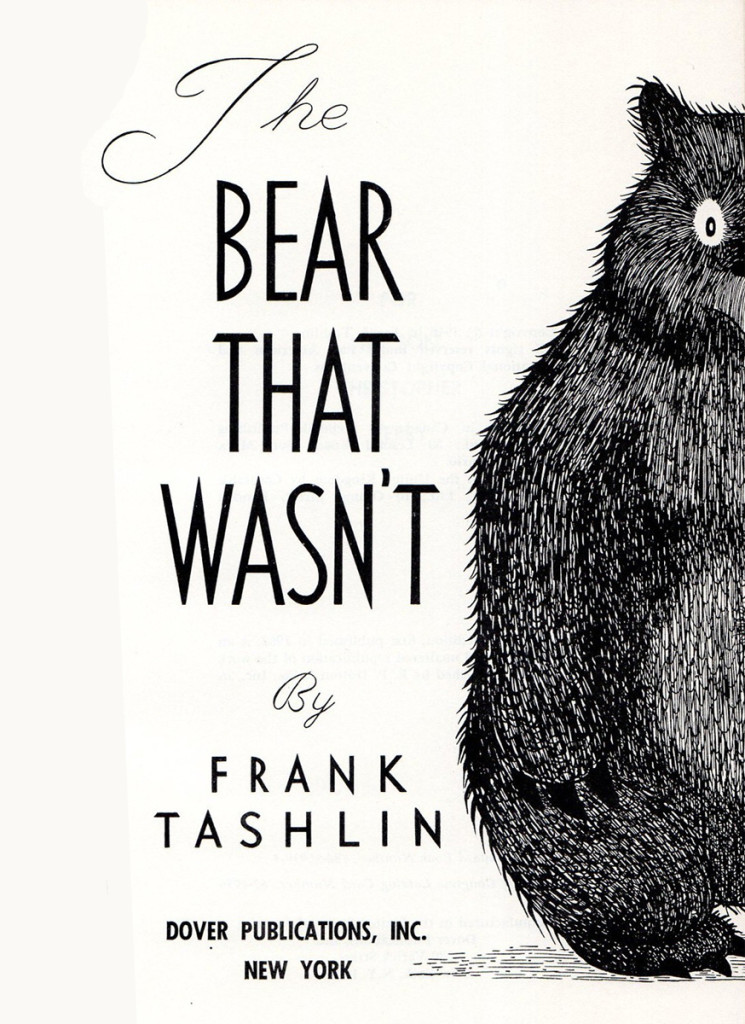 2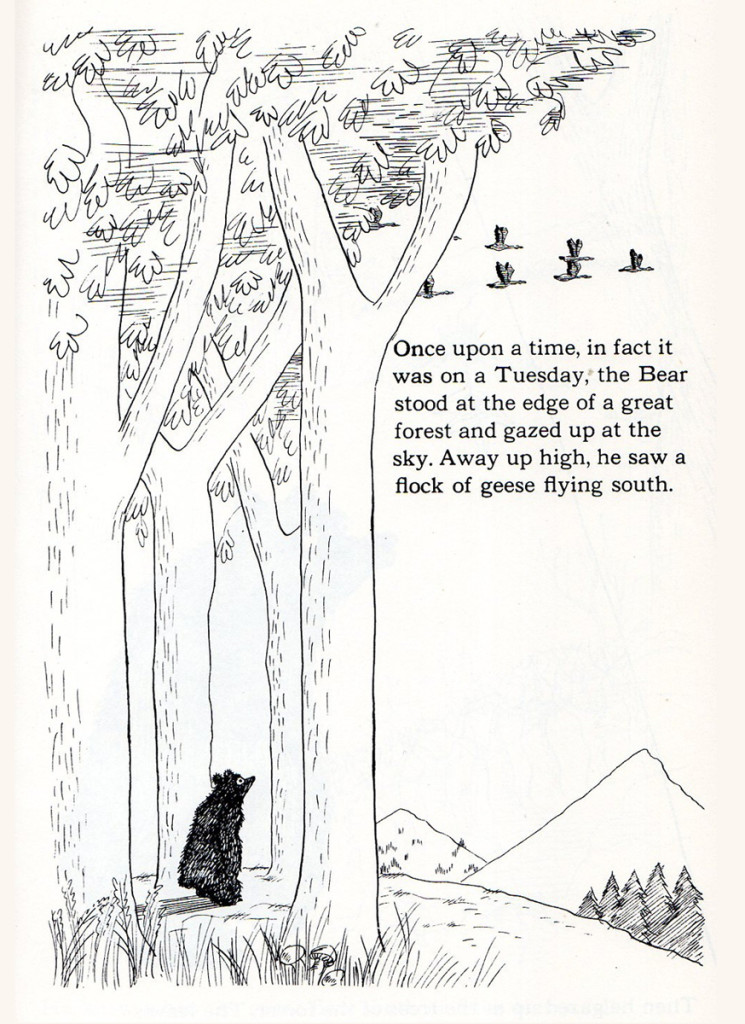 3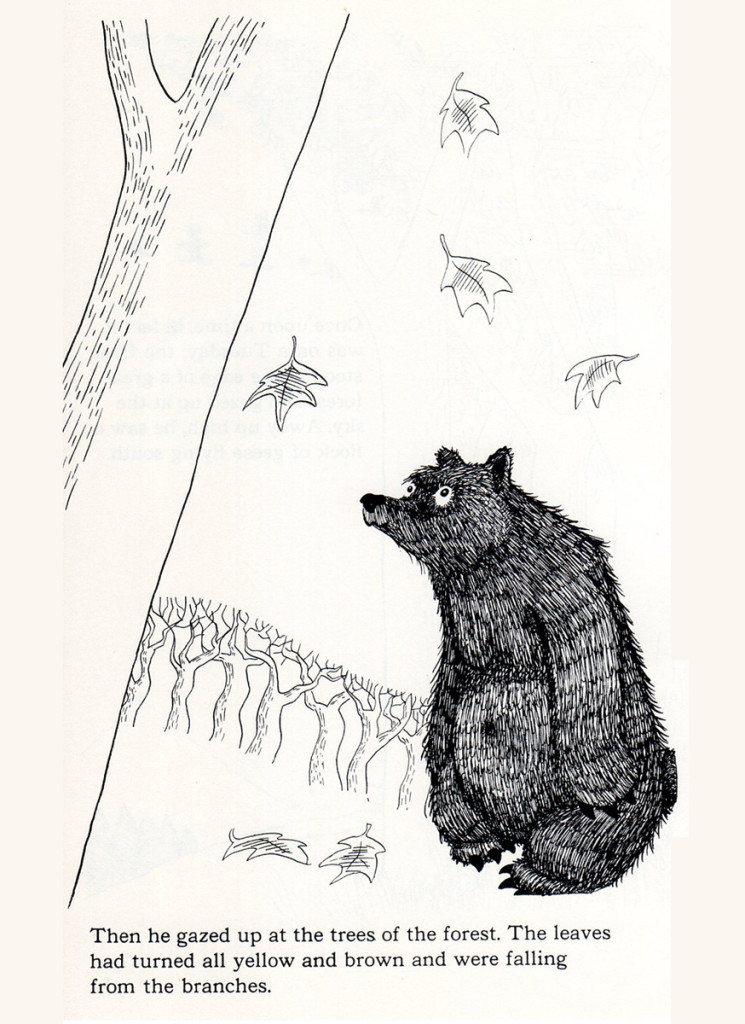 4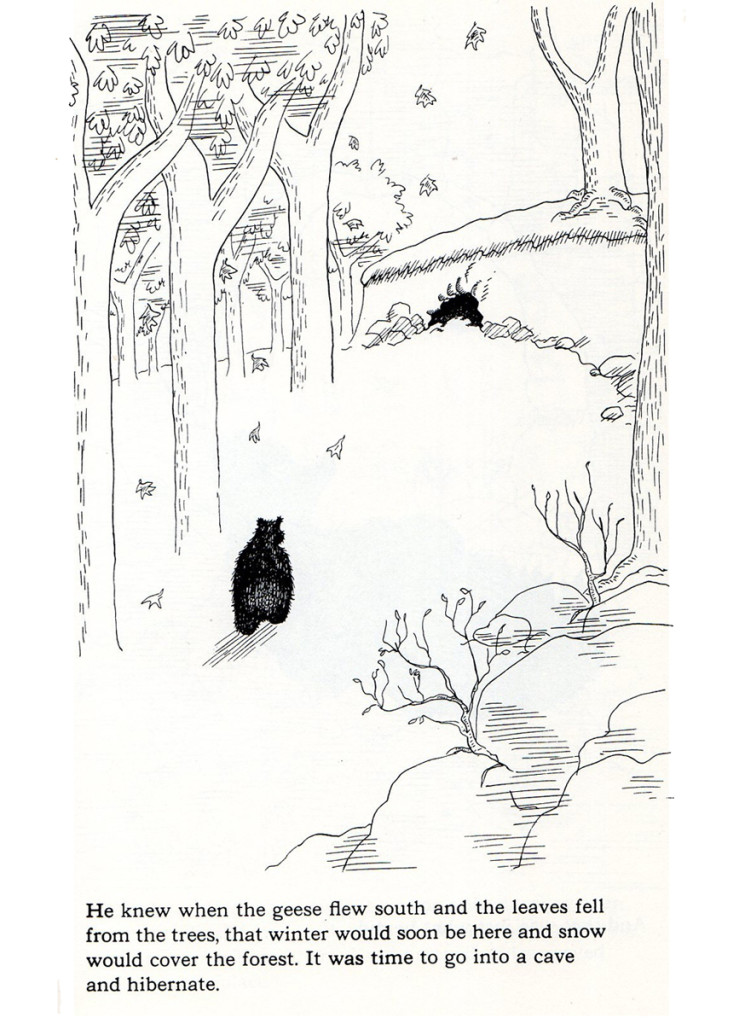 5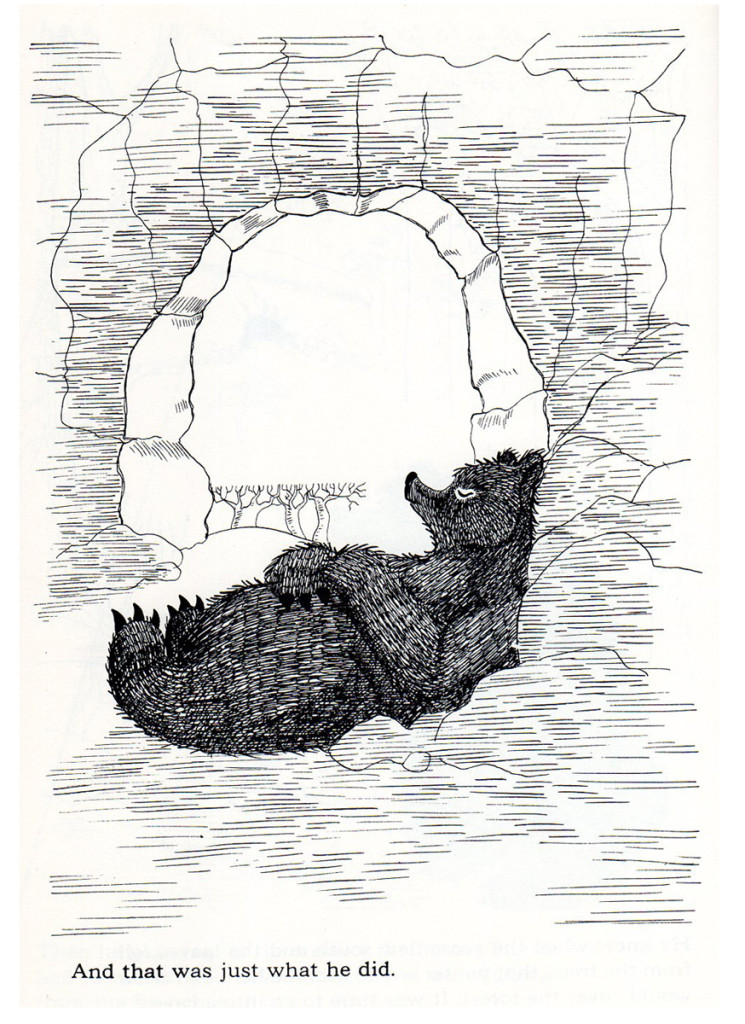 6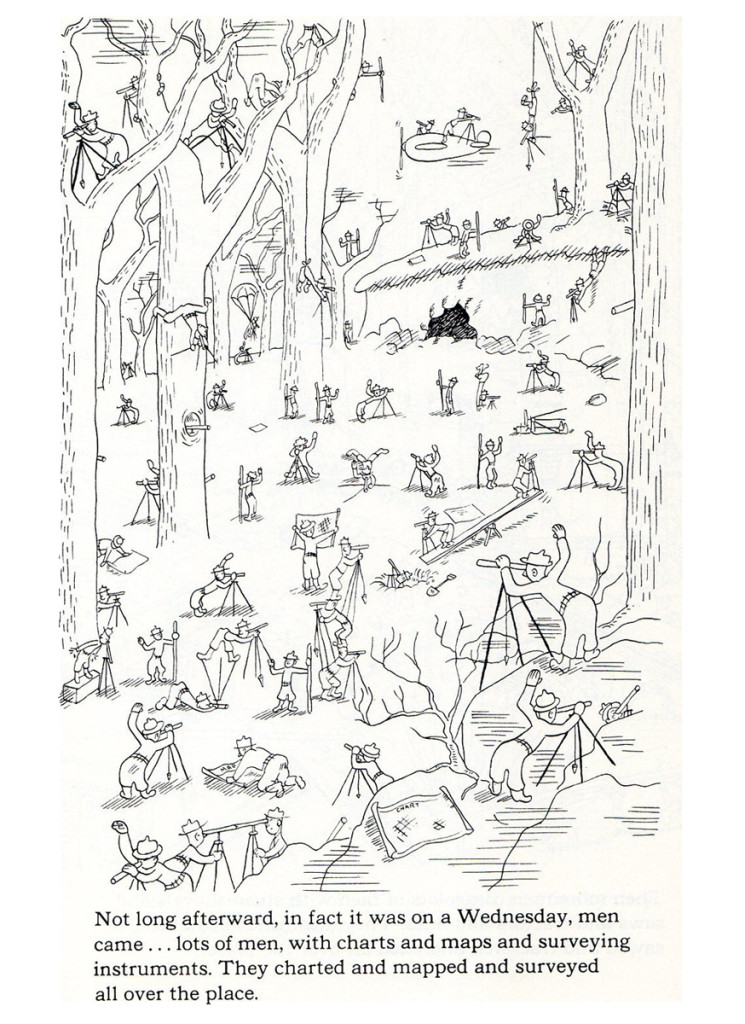 7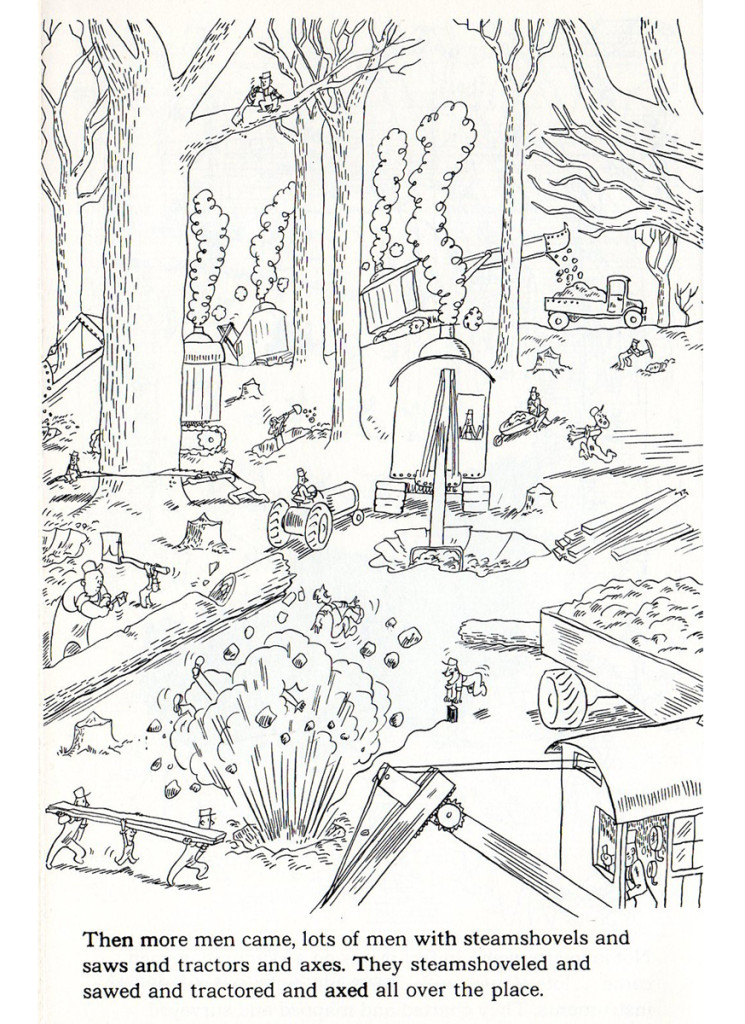 8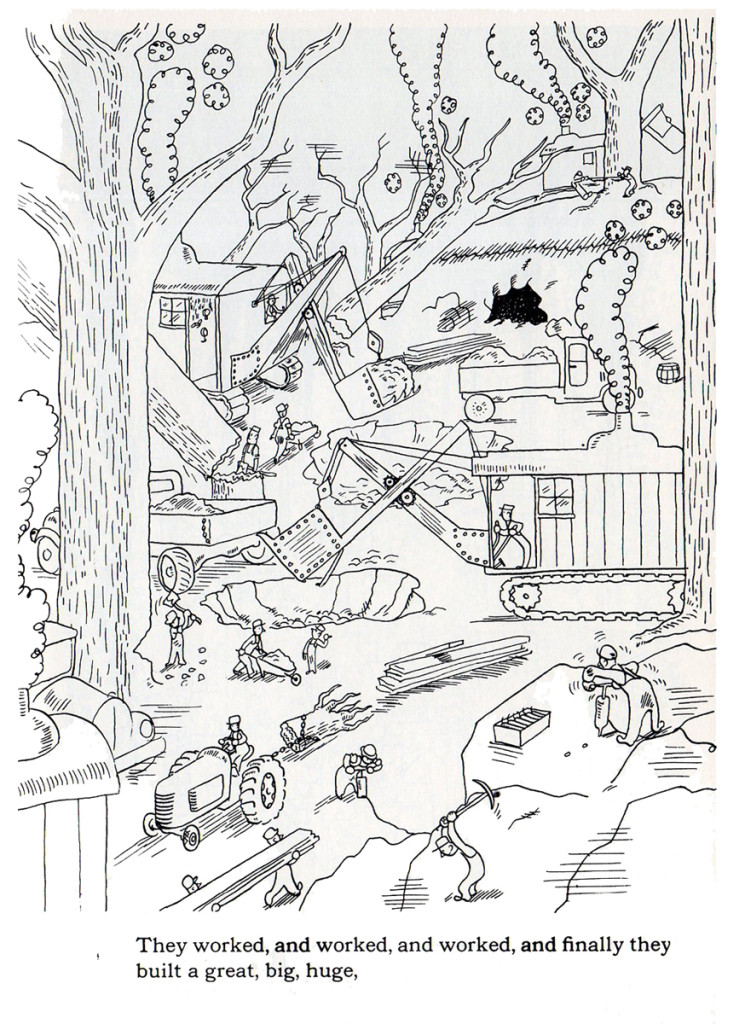 9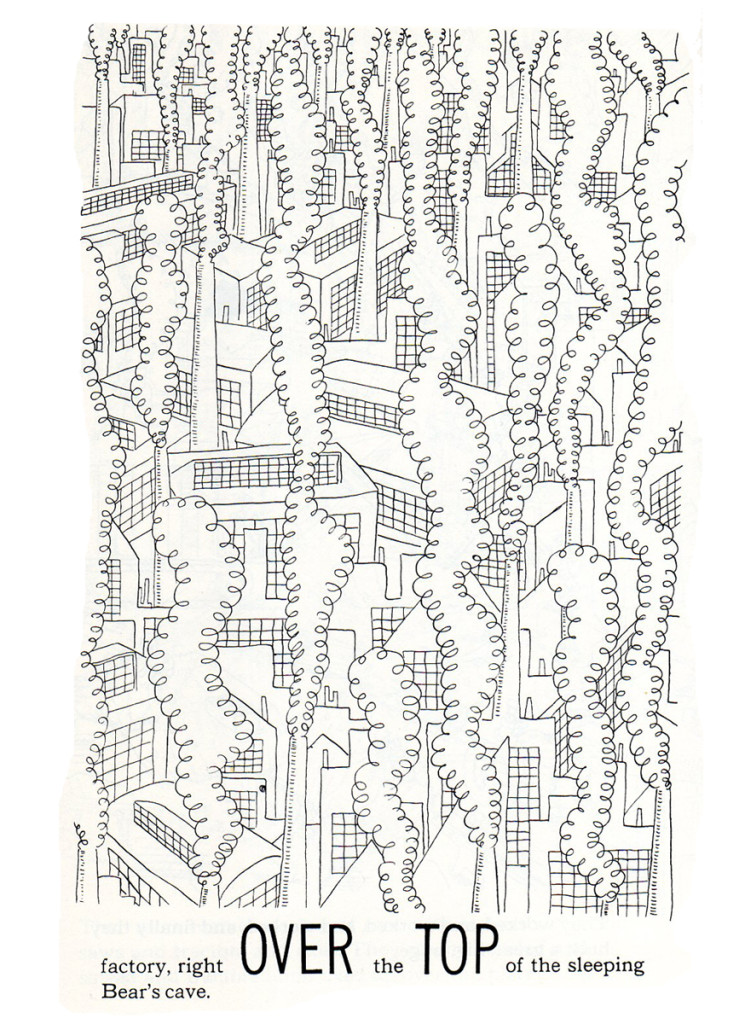 10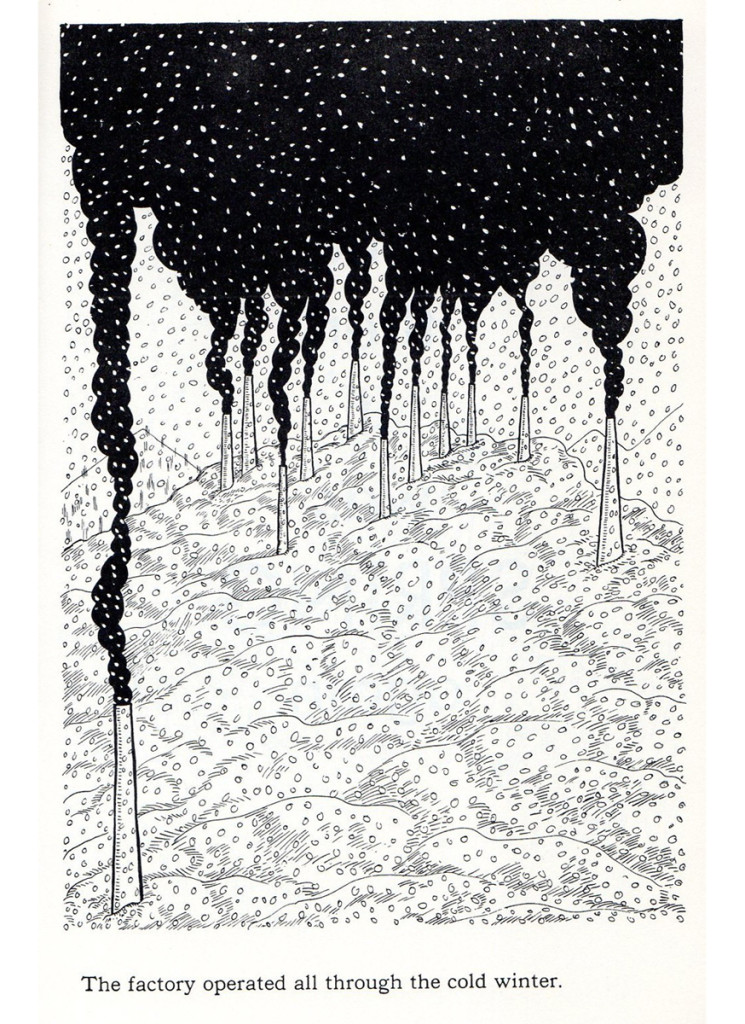 11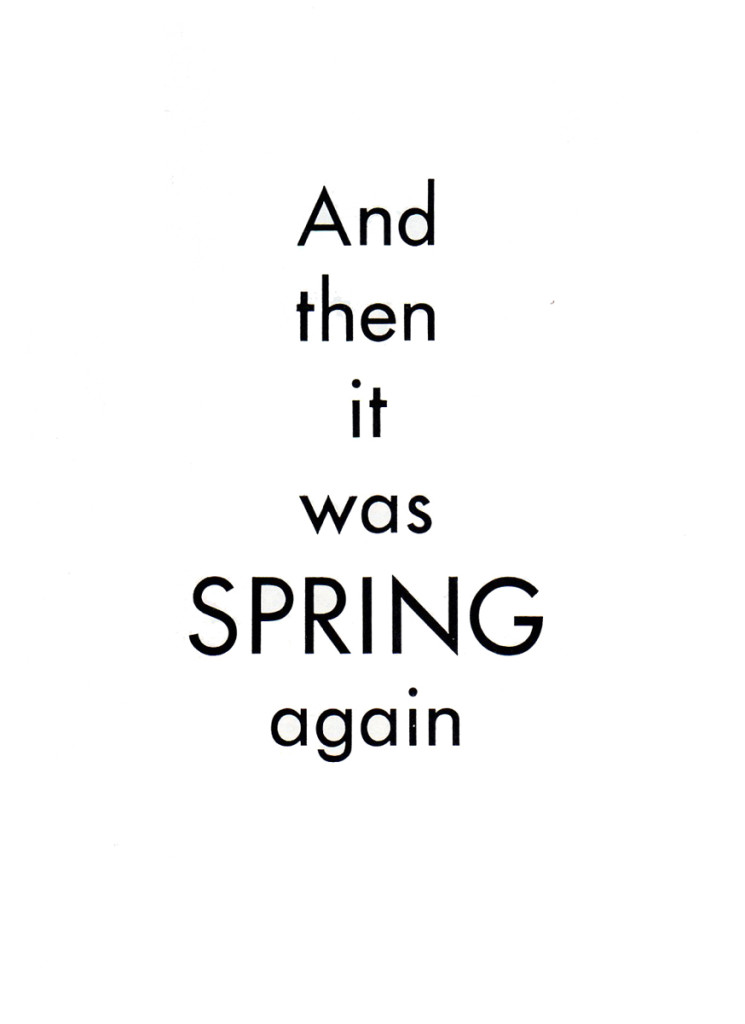 12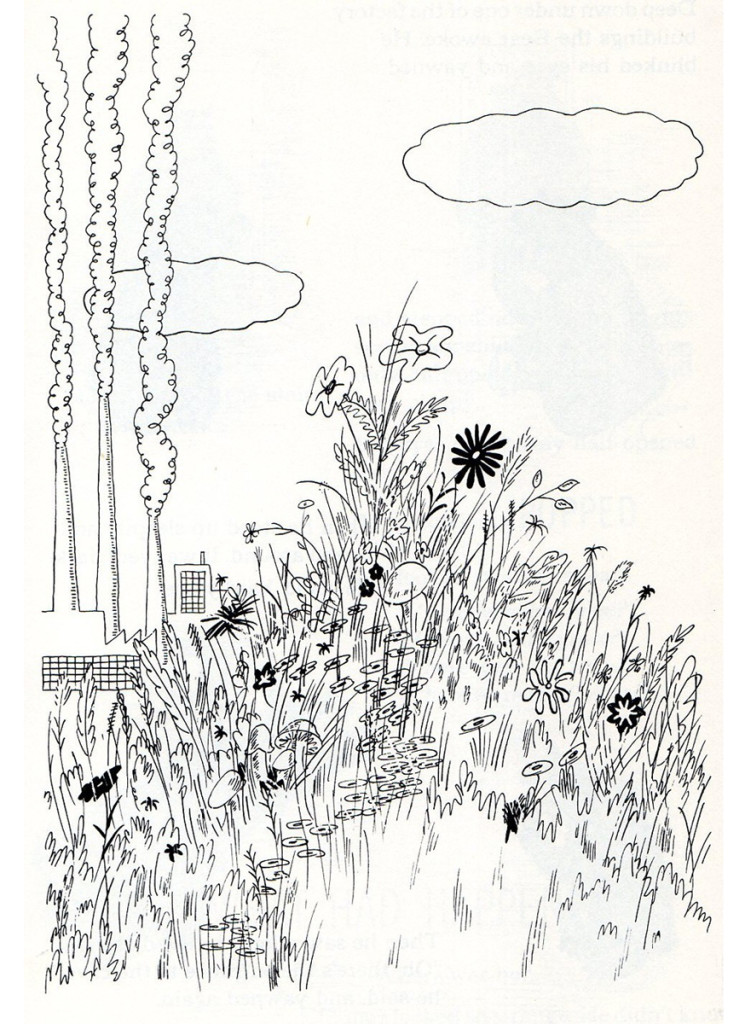 13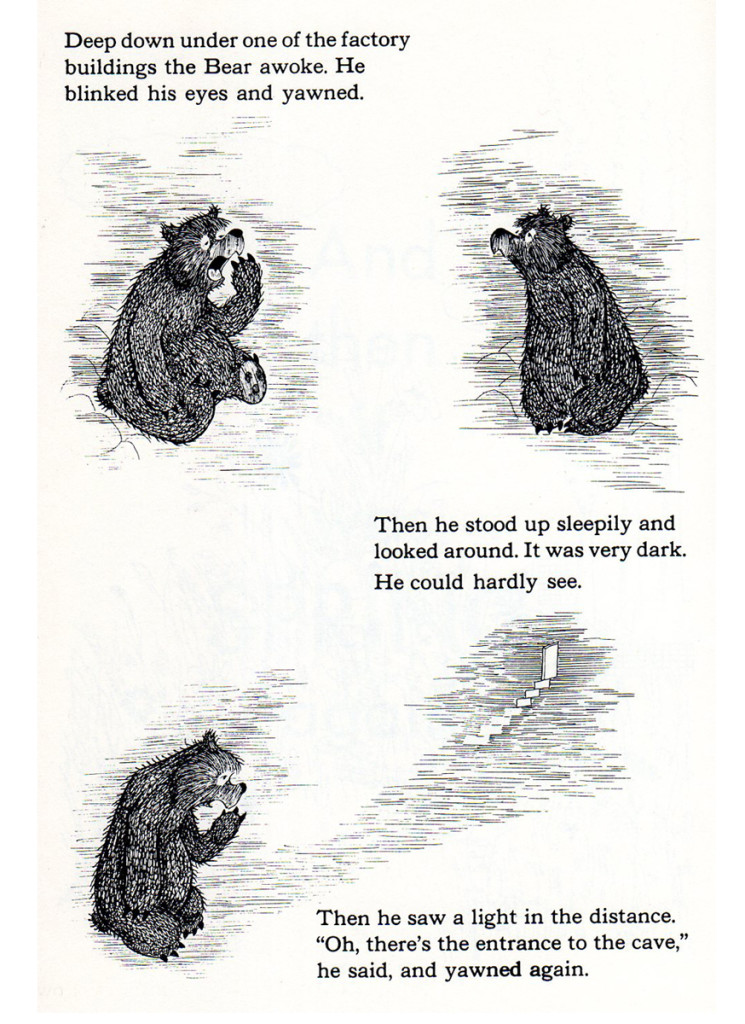 14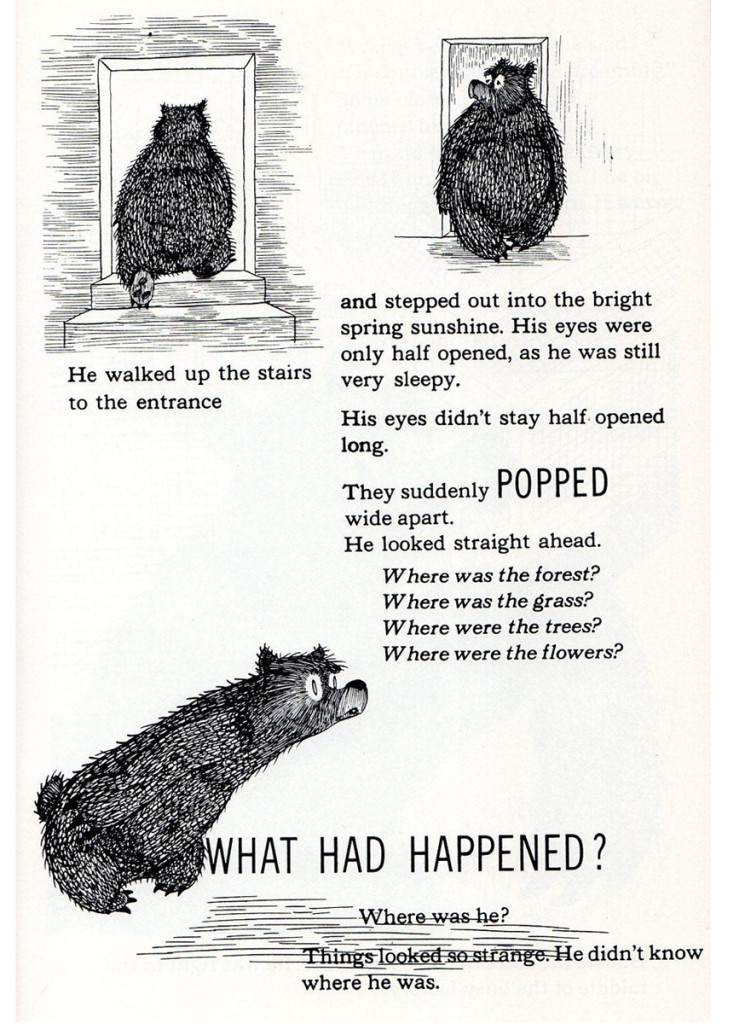 15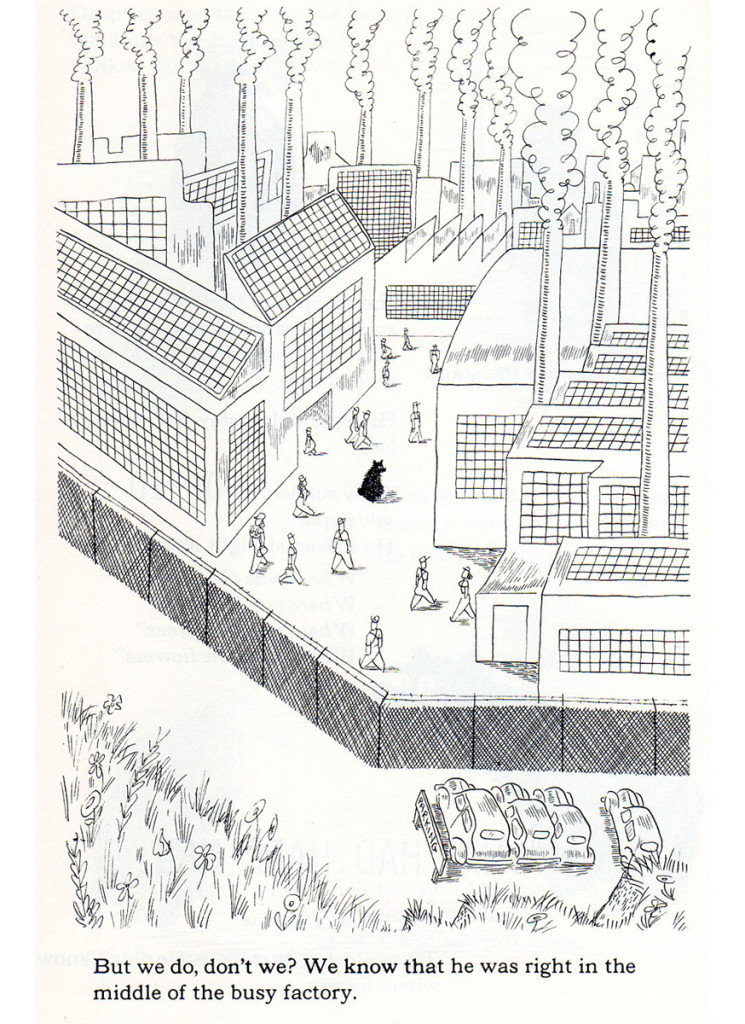 16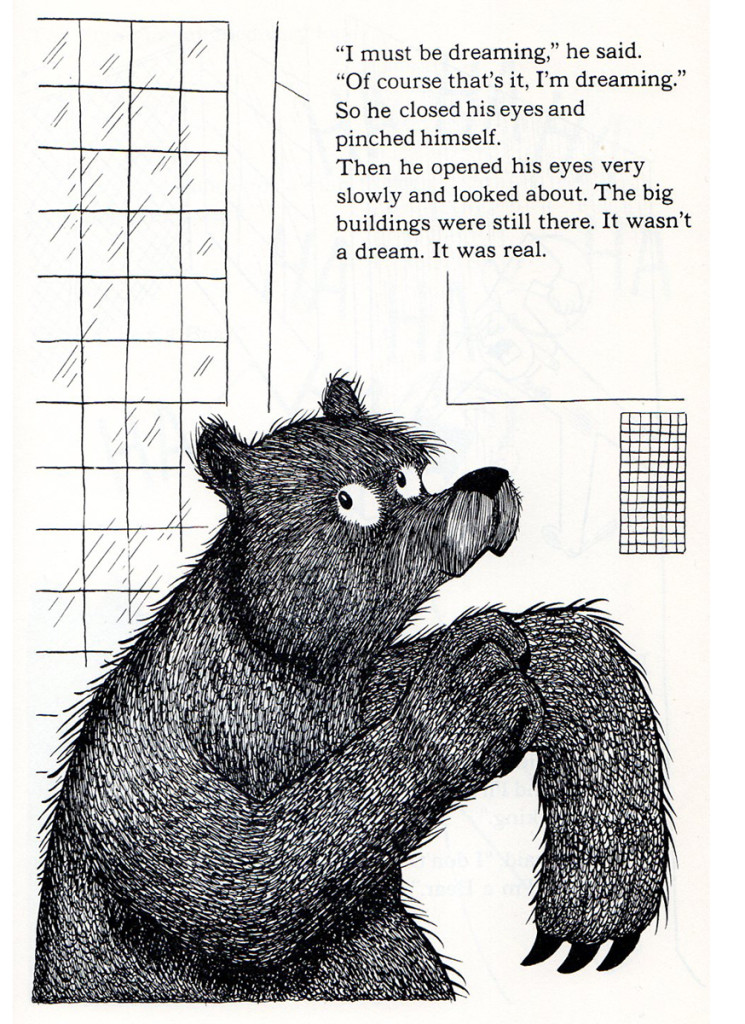 17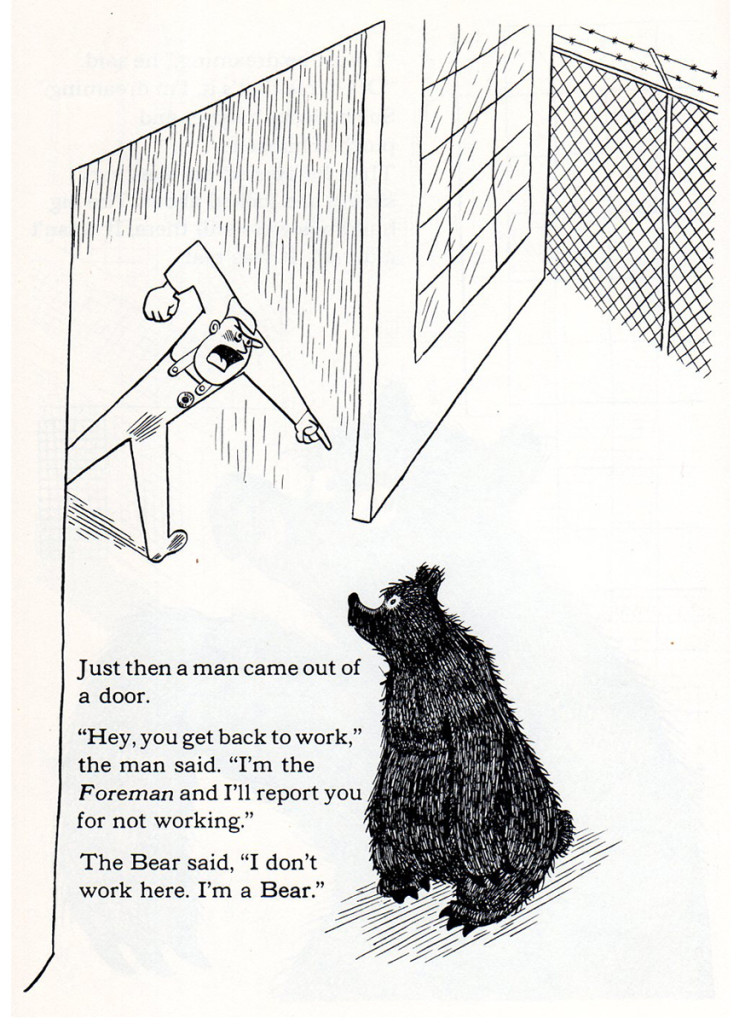 18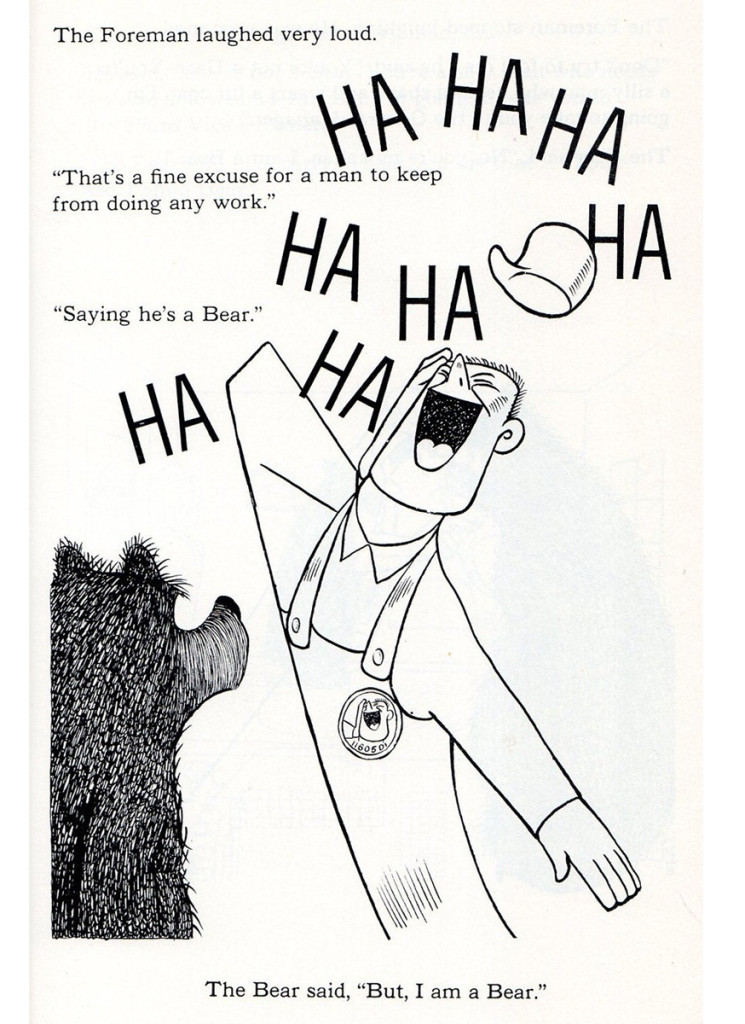 19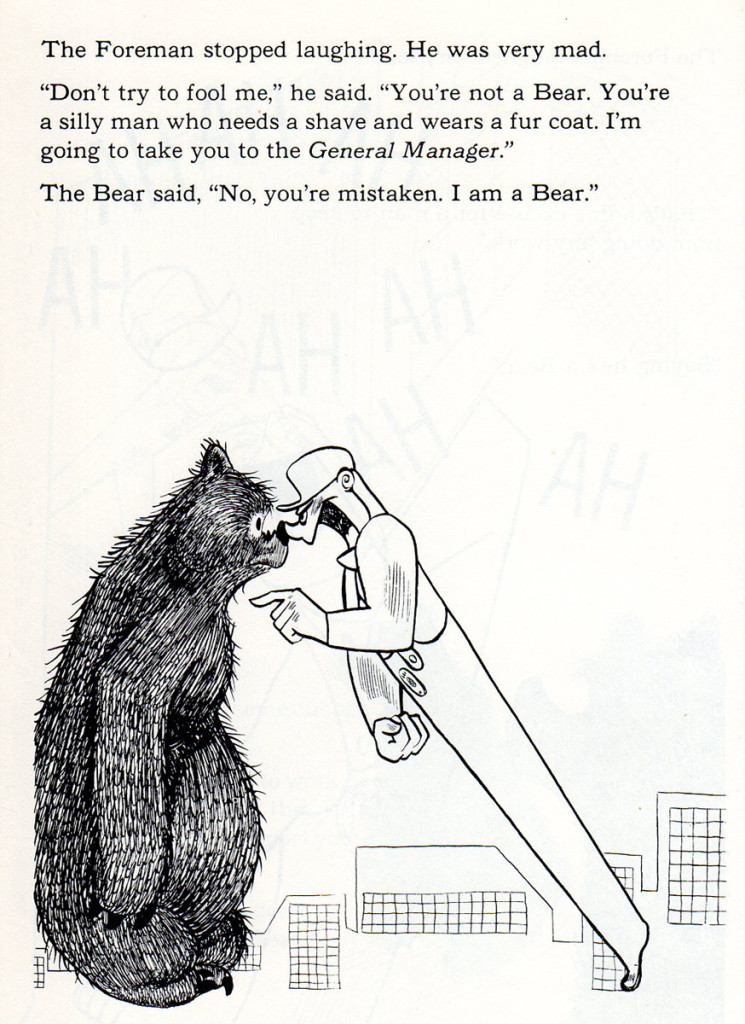 20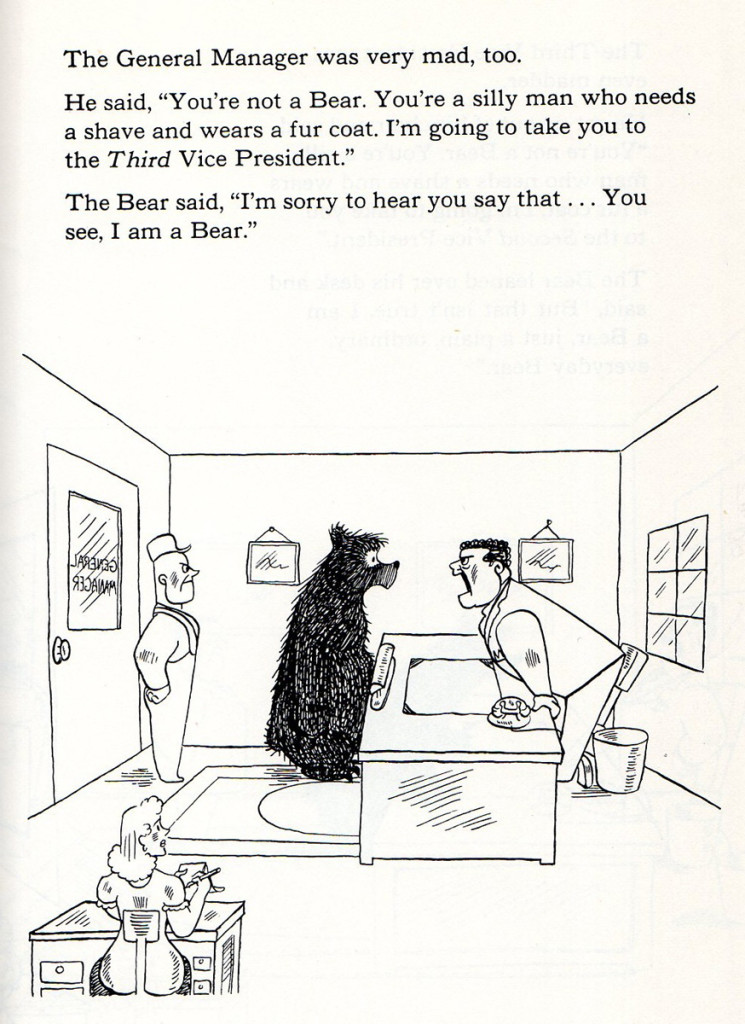 21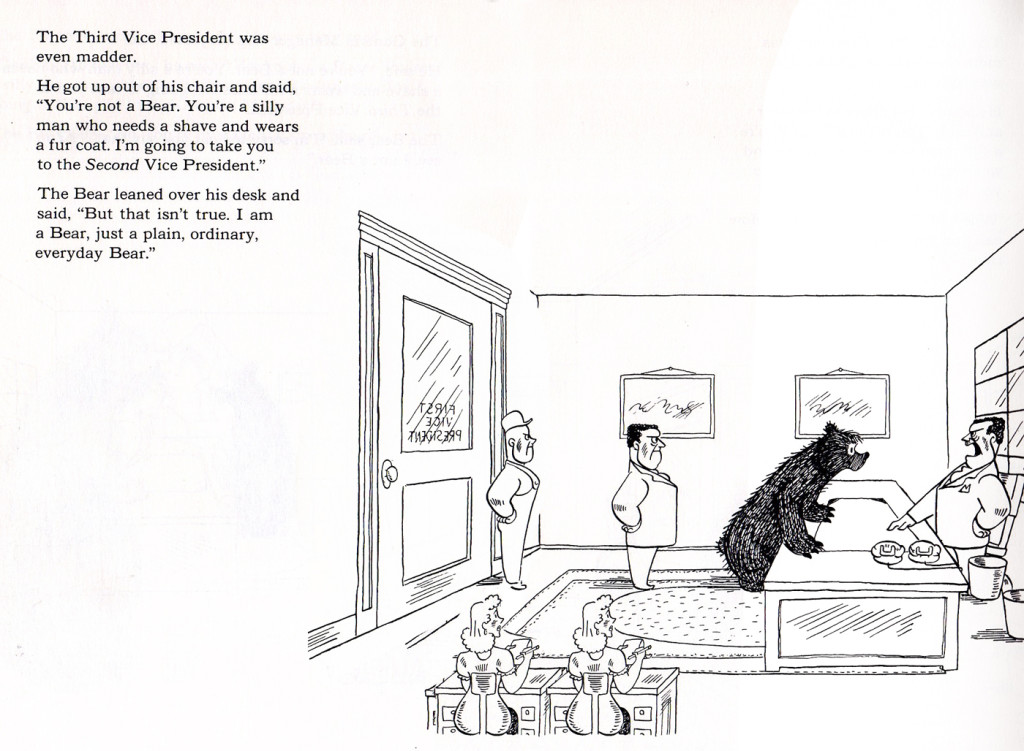 22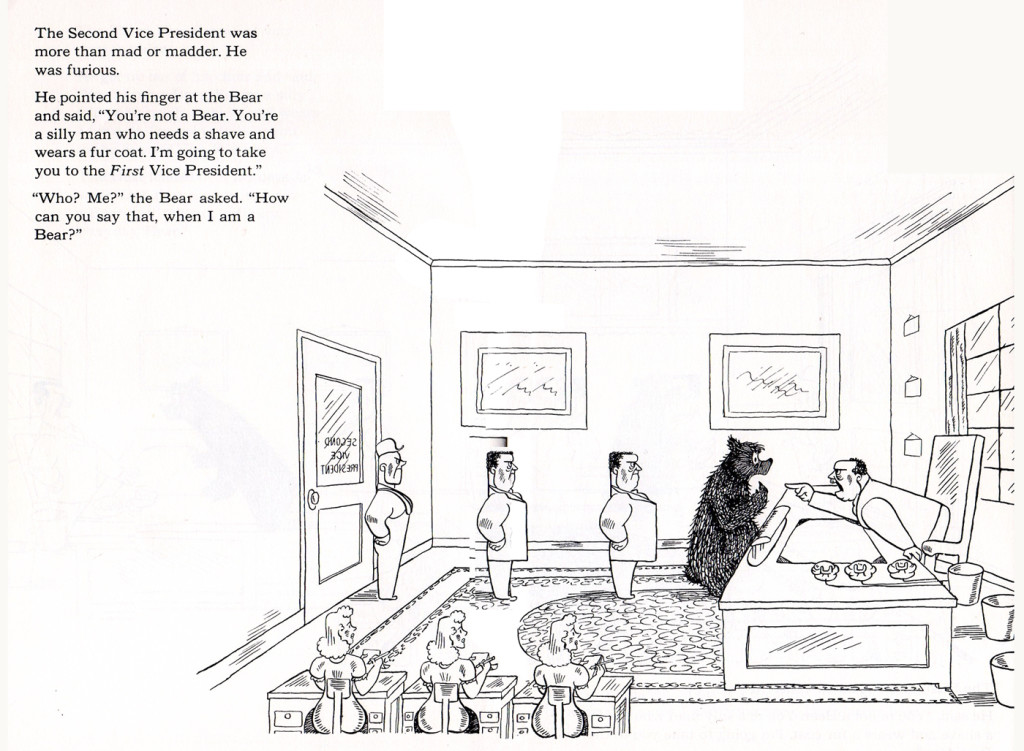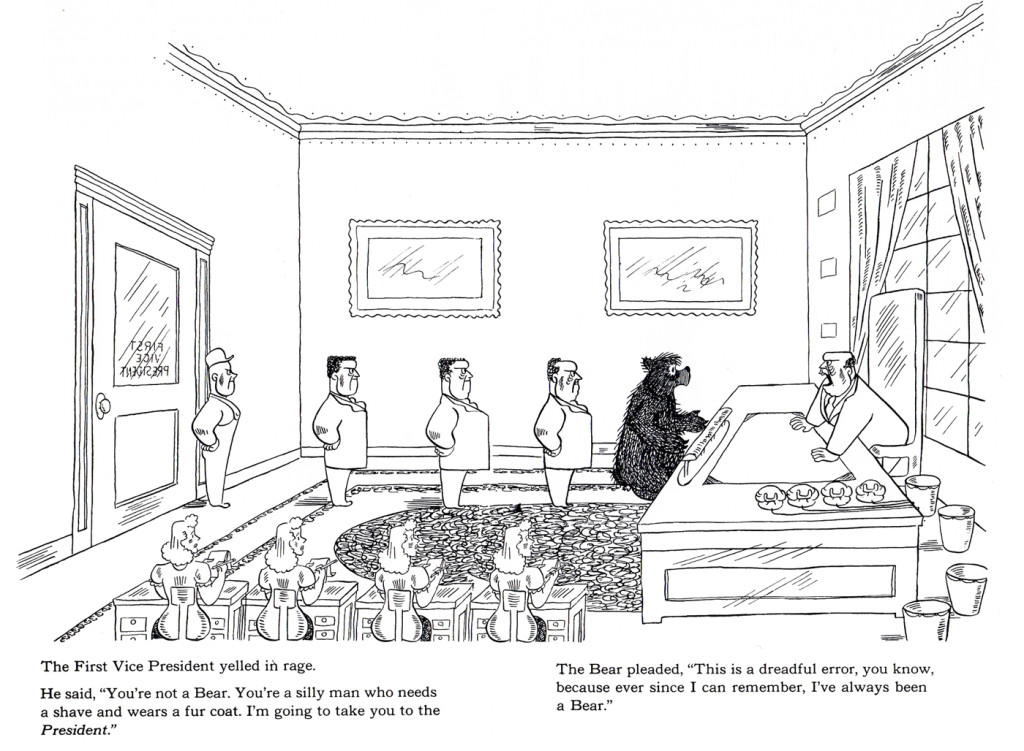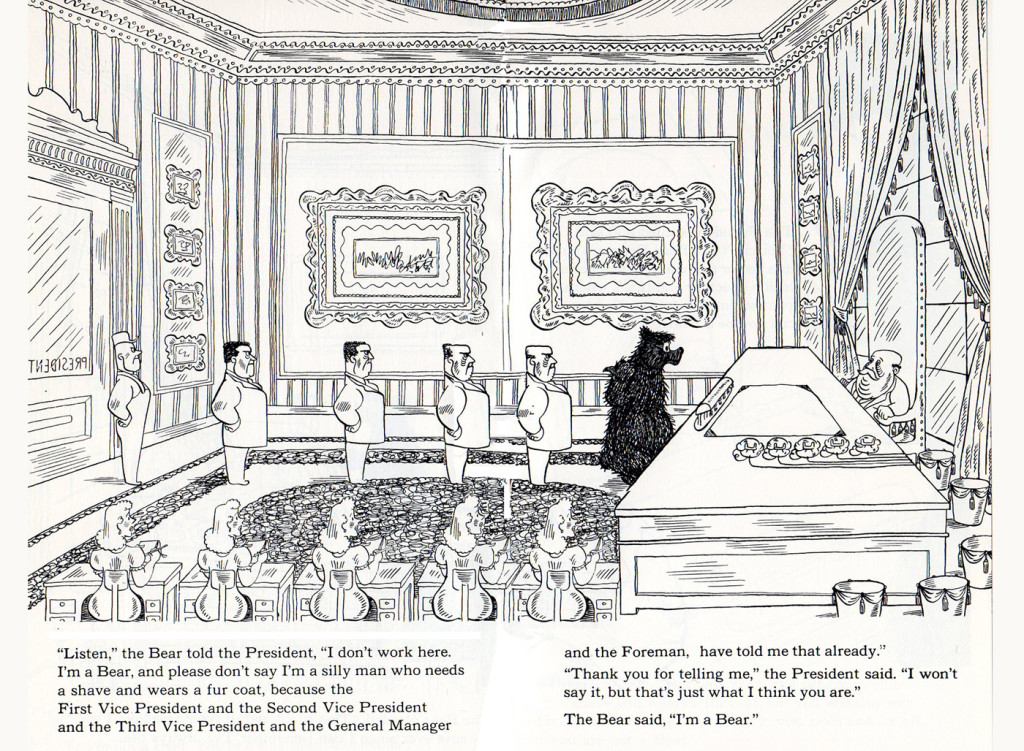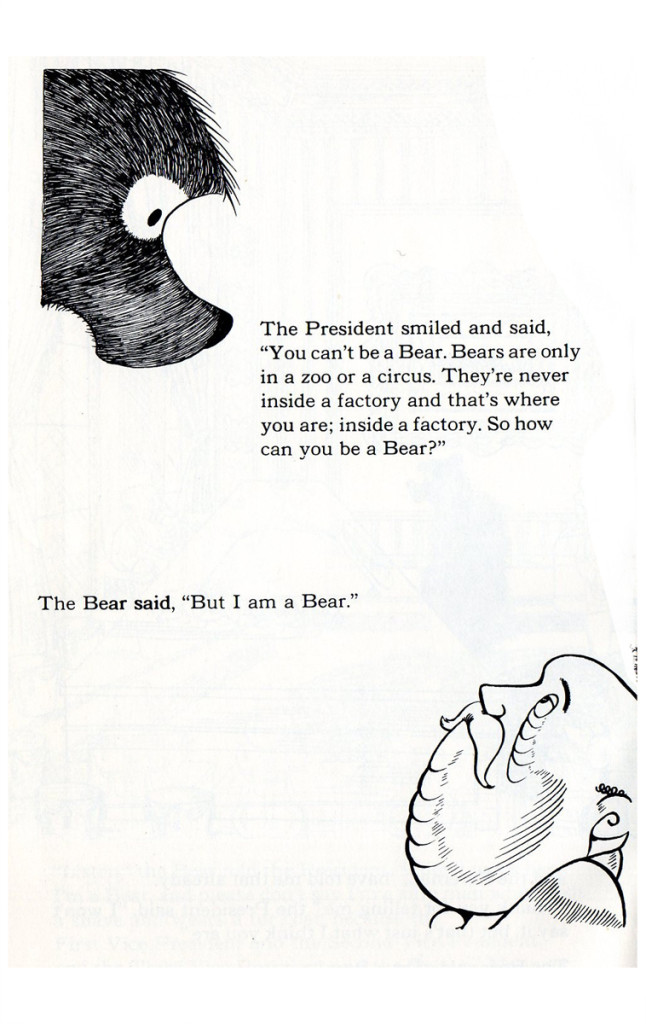 26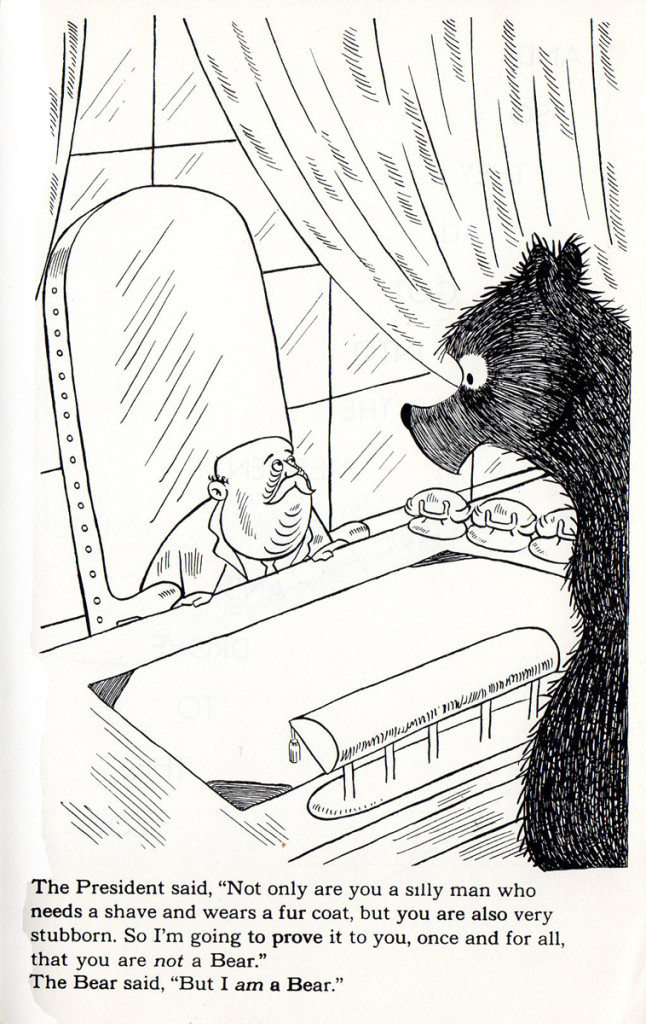 27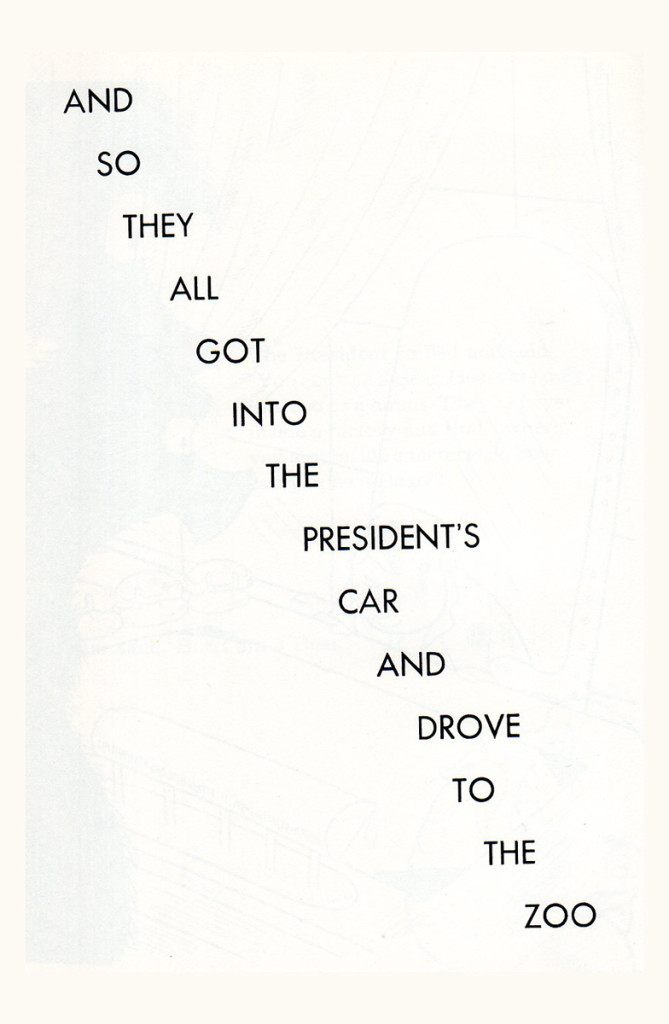 28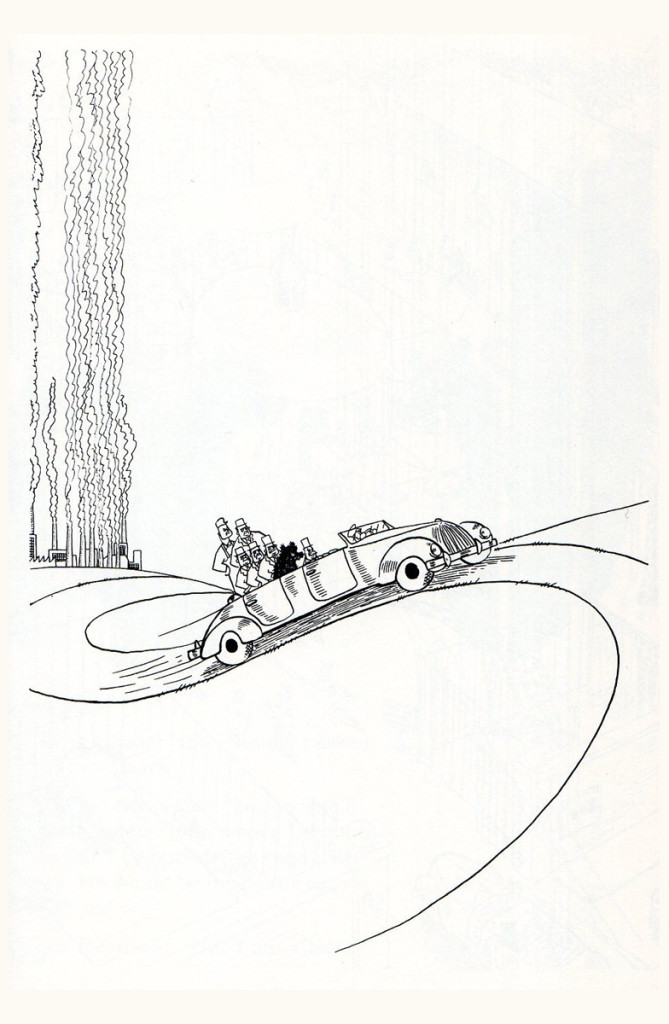 29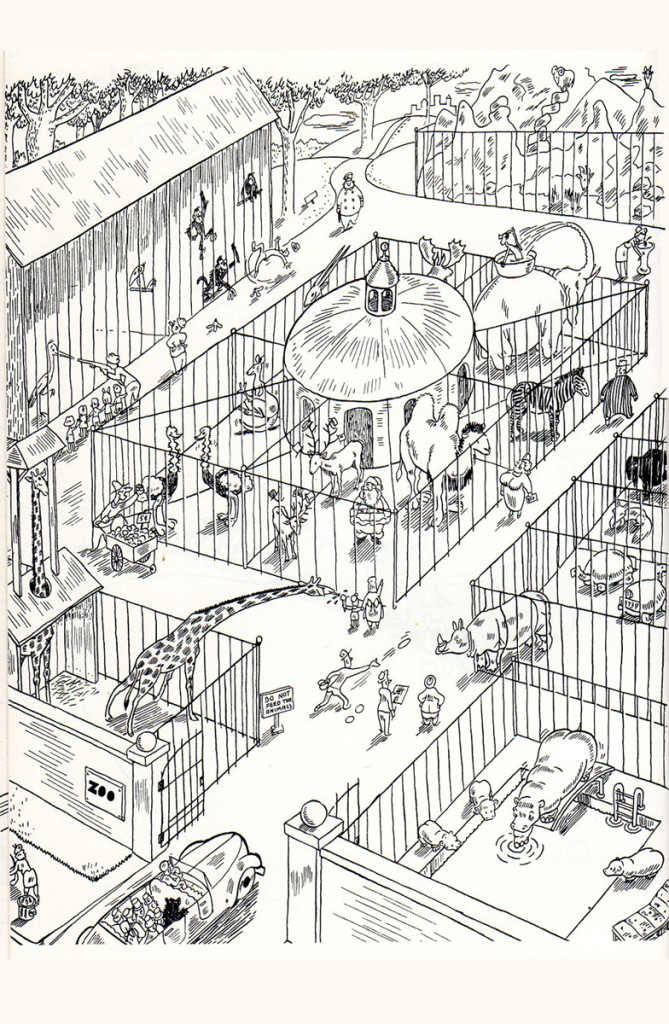 30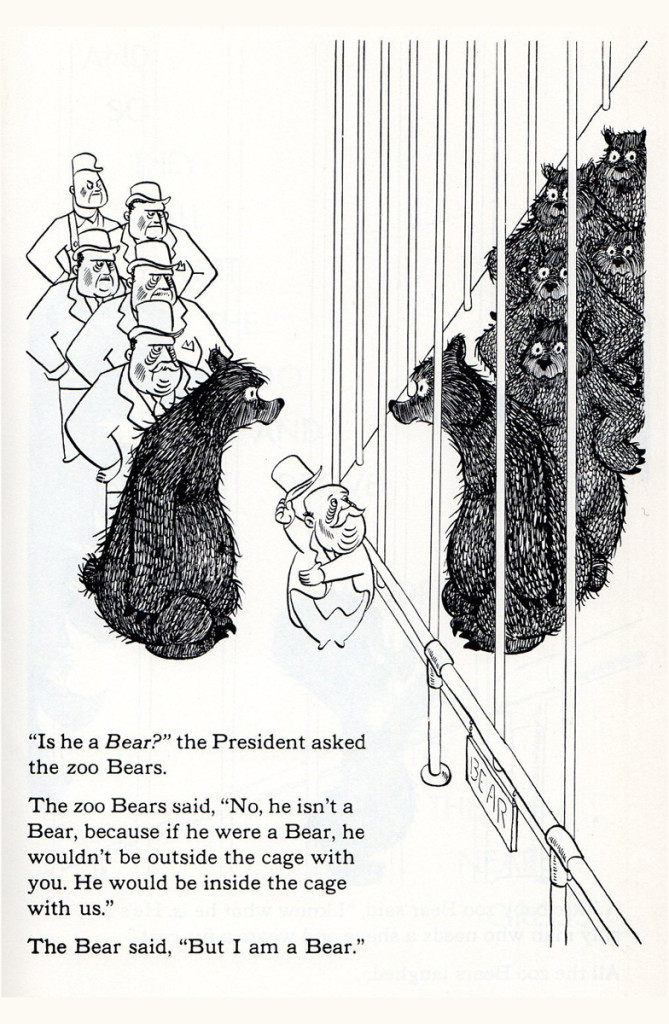 31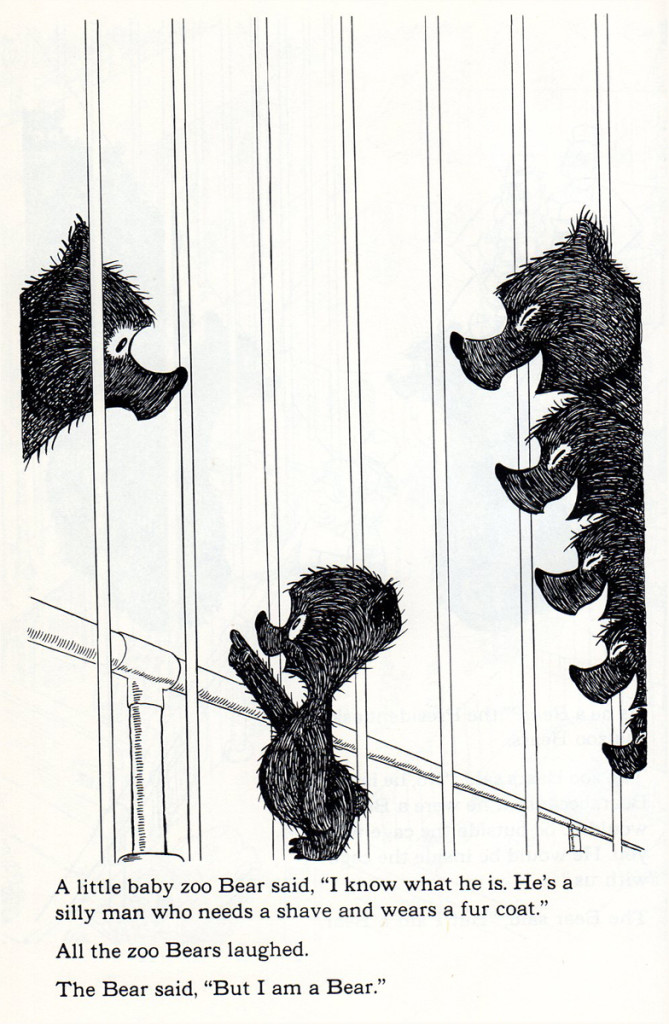 32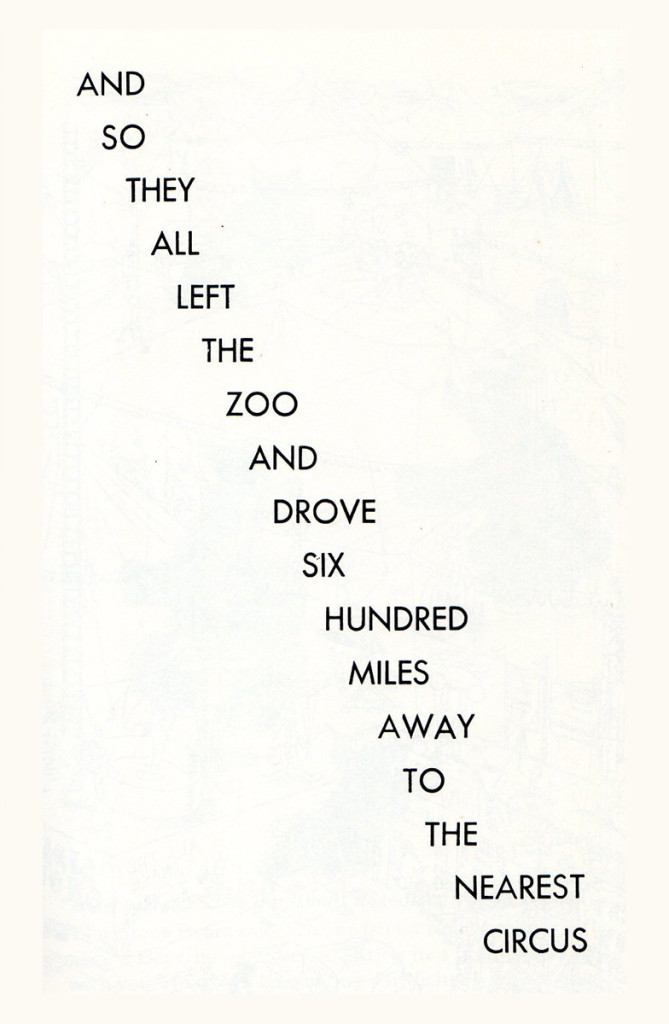 33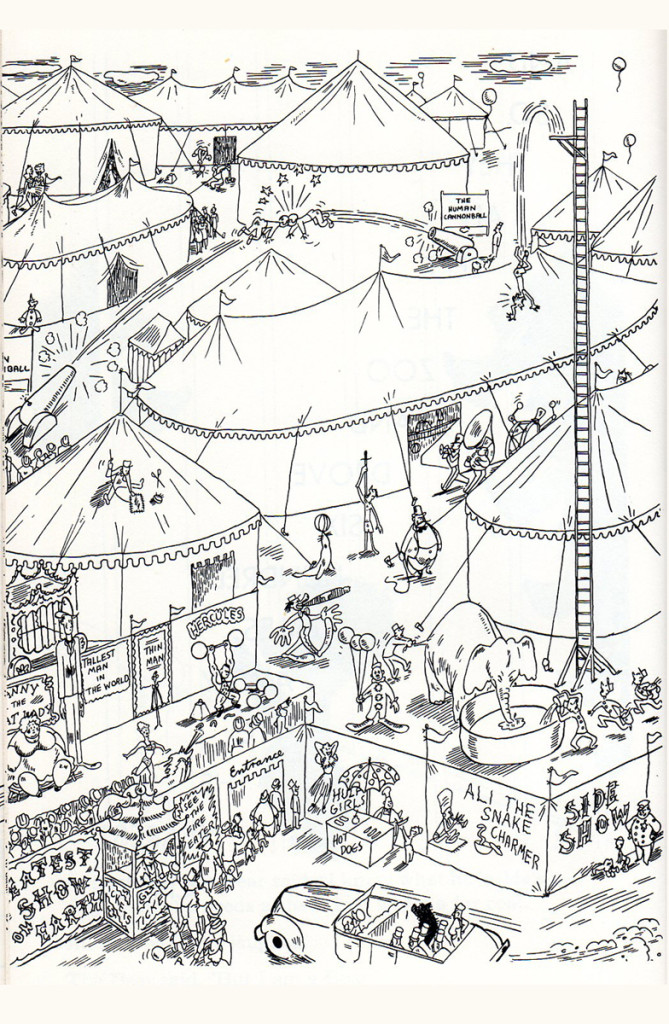 34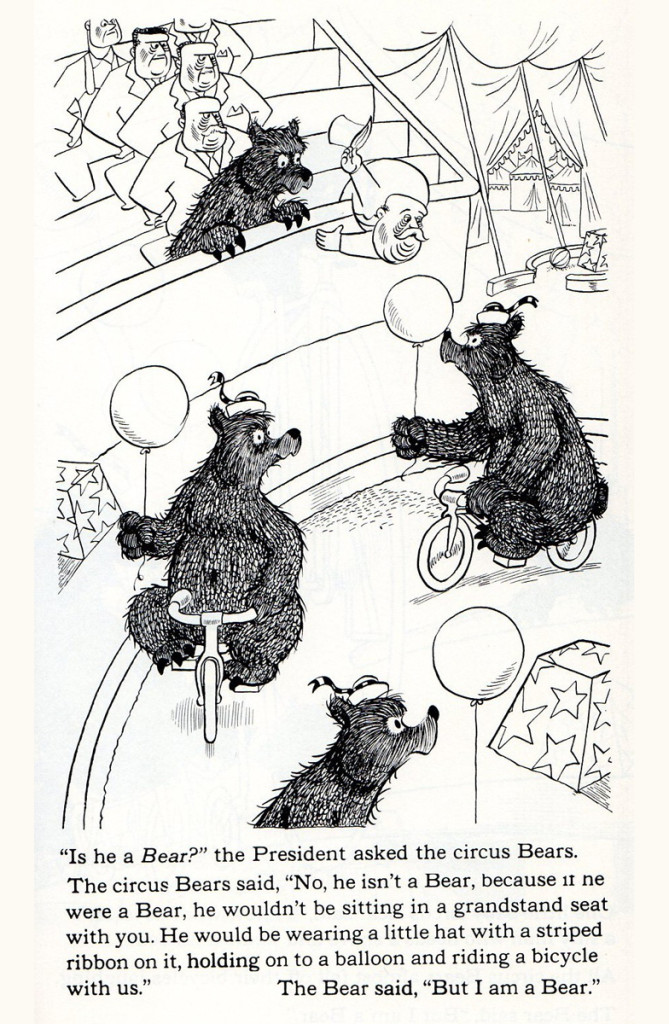 35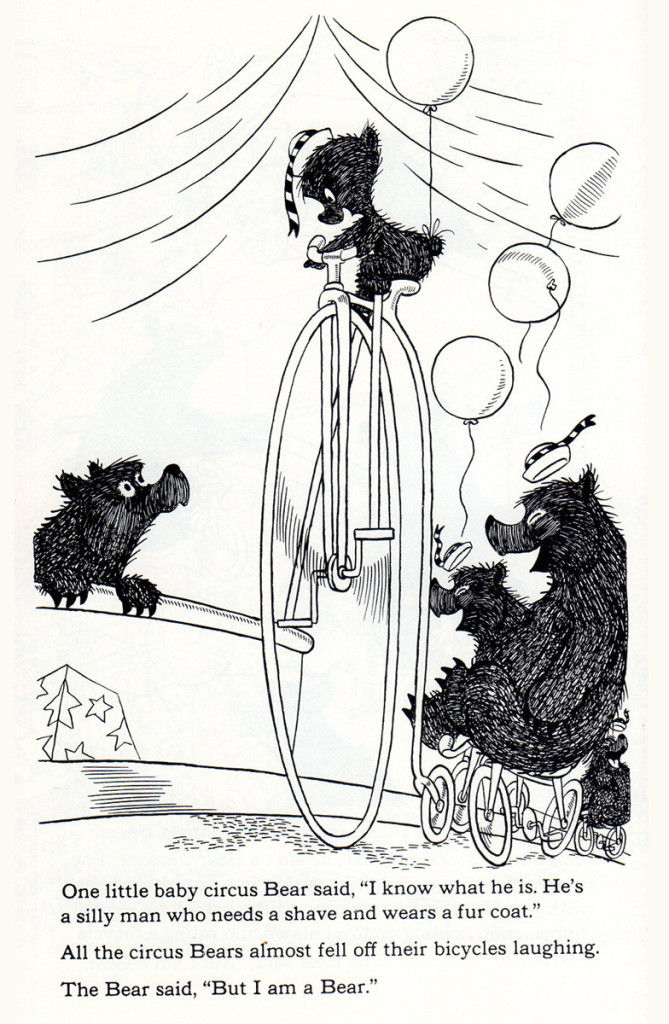 36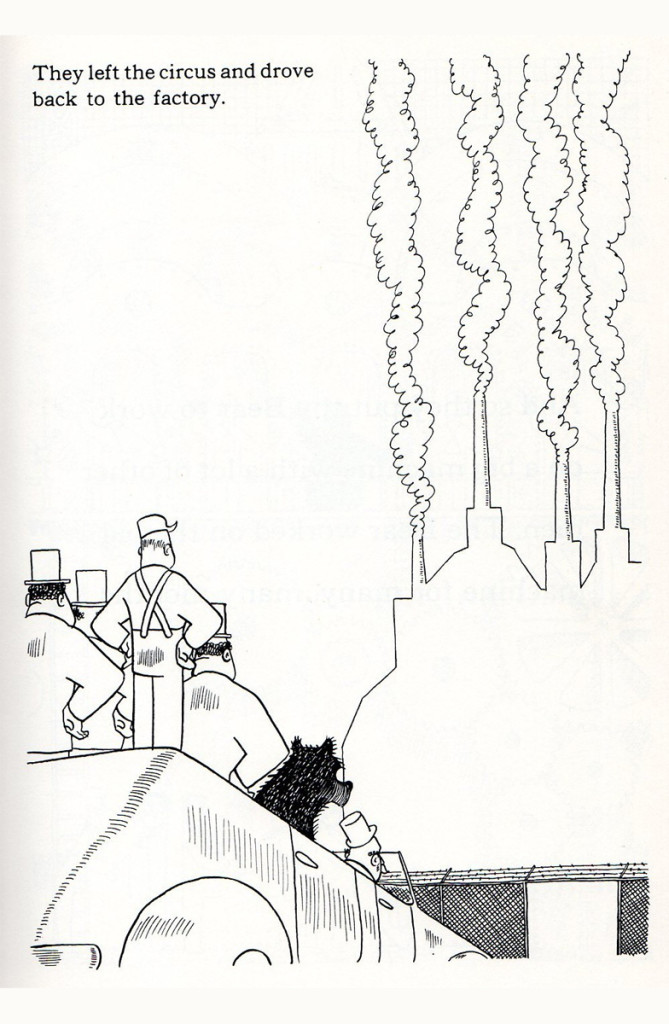 37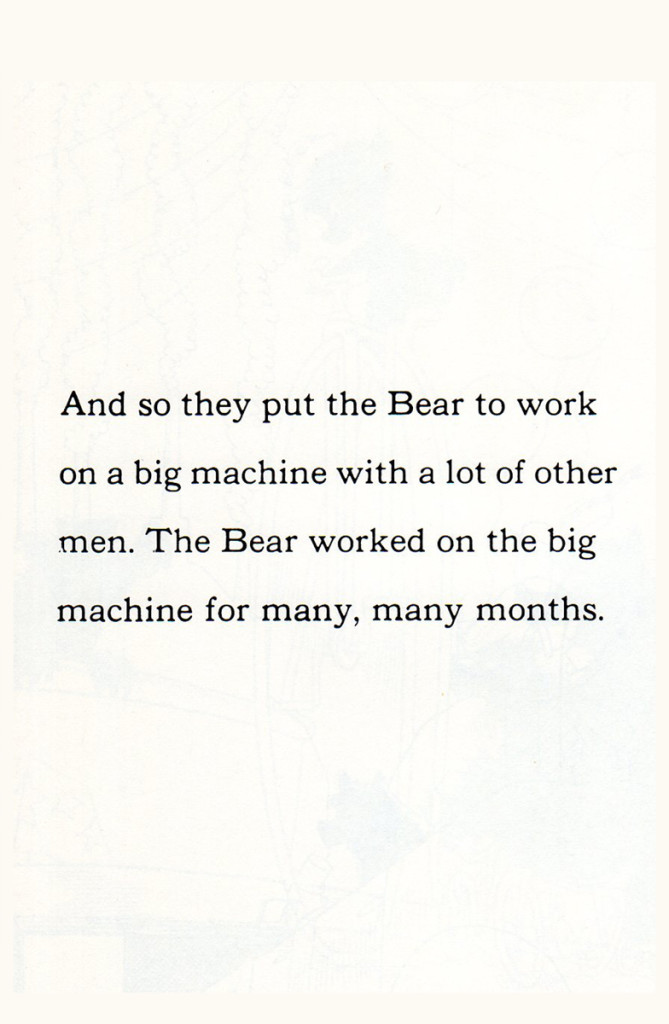 38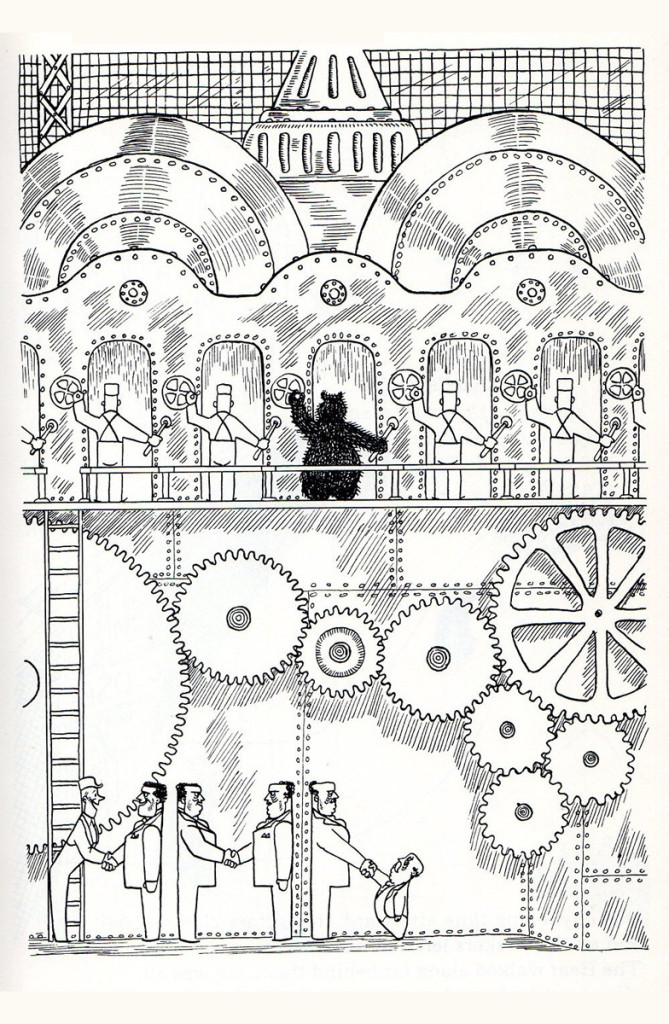 39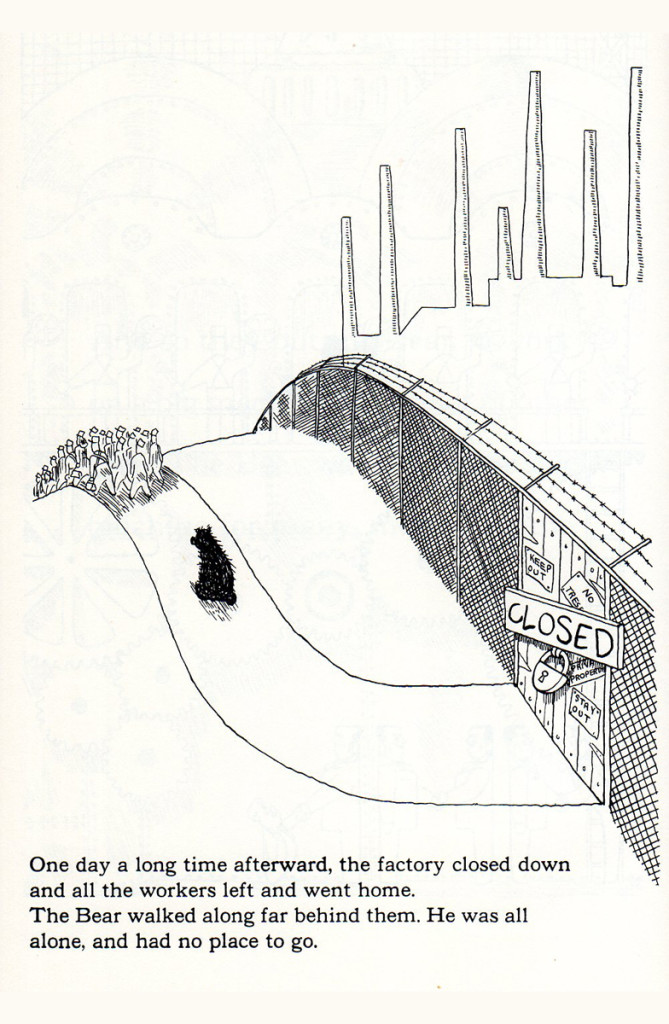 40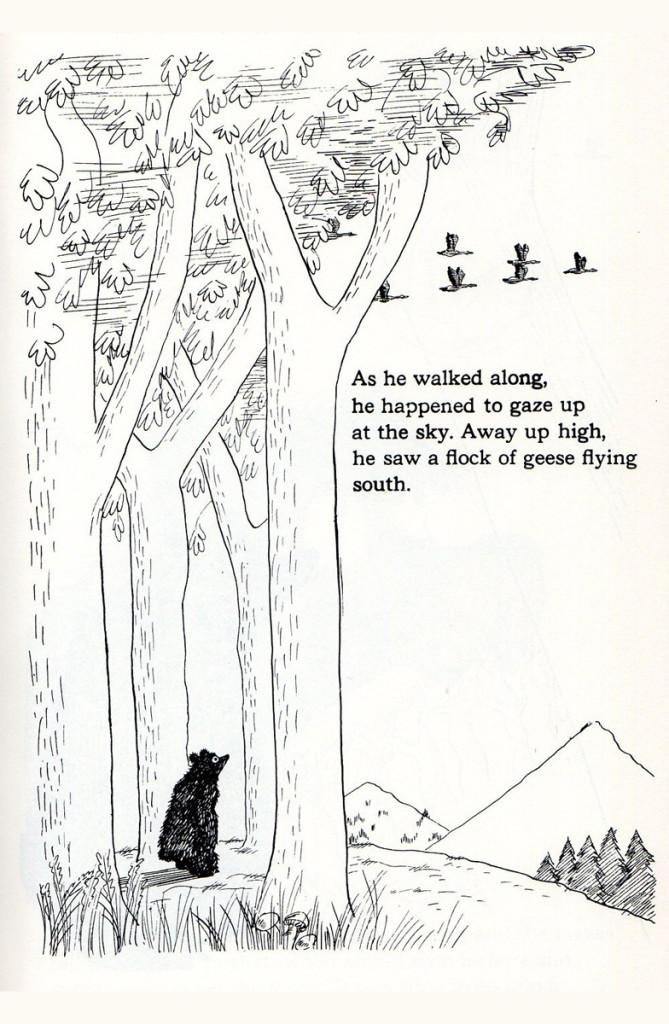 41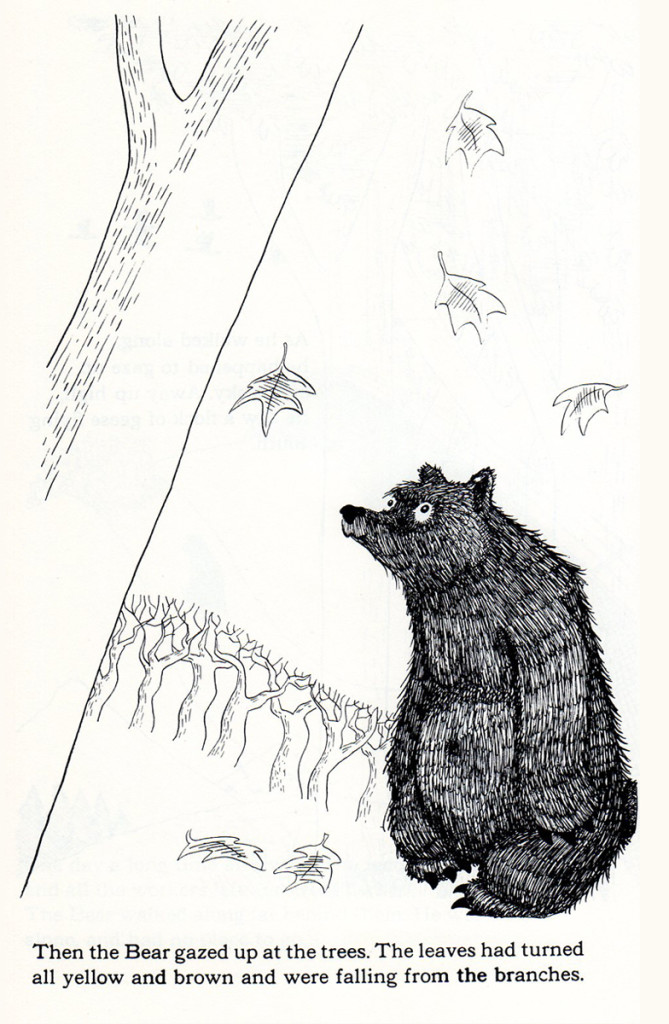 42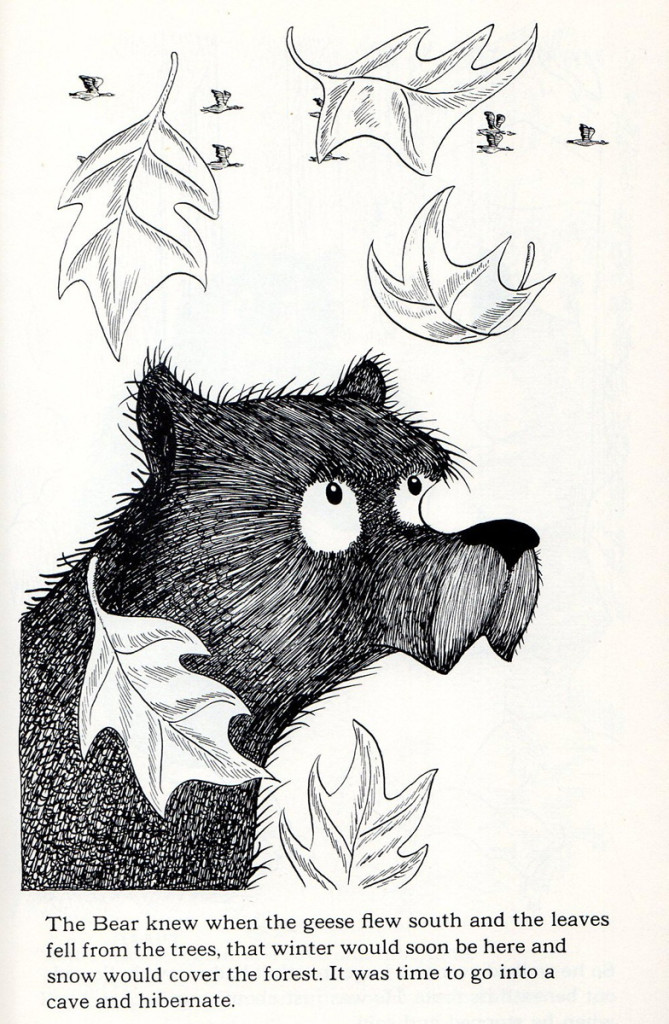 43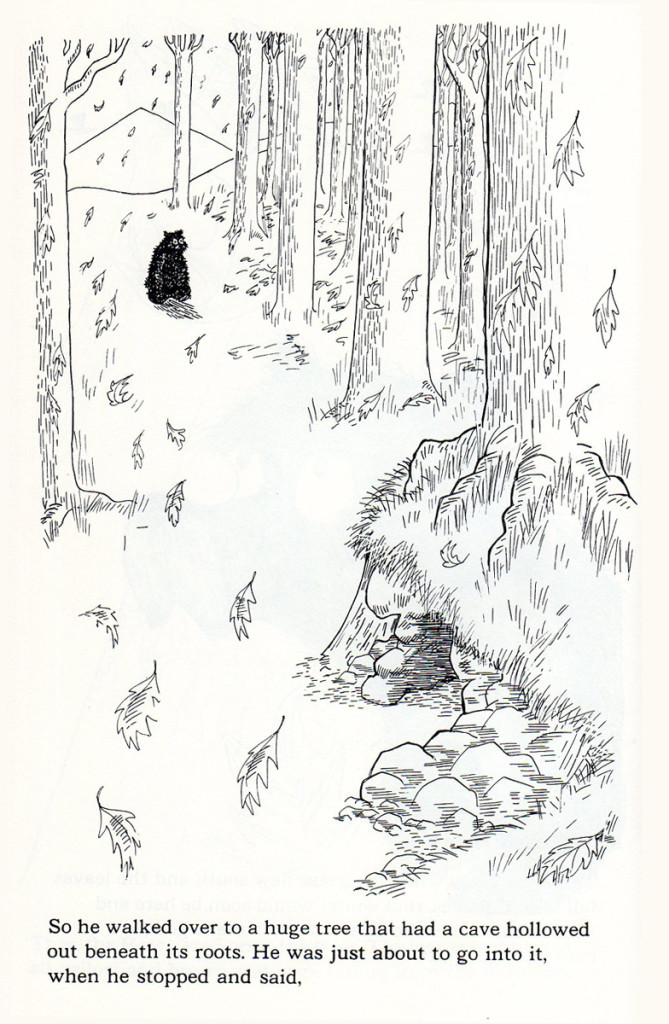 44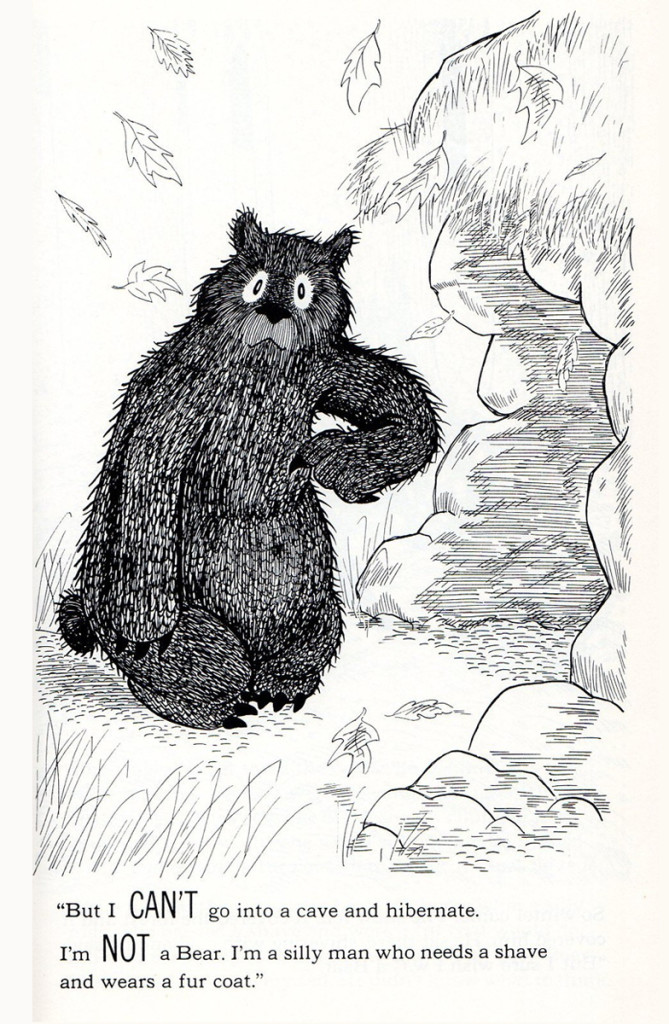 45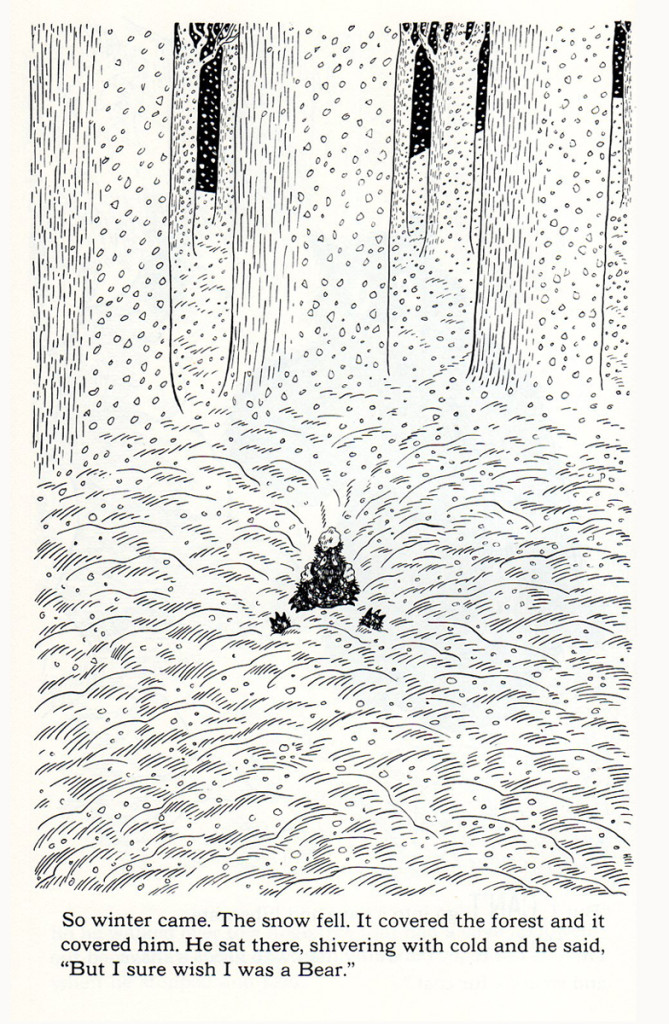 46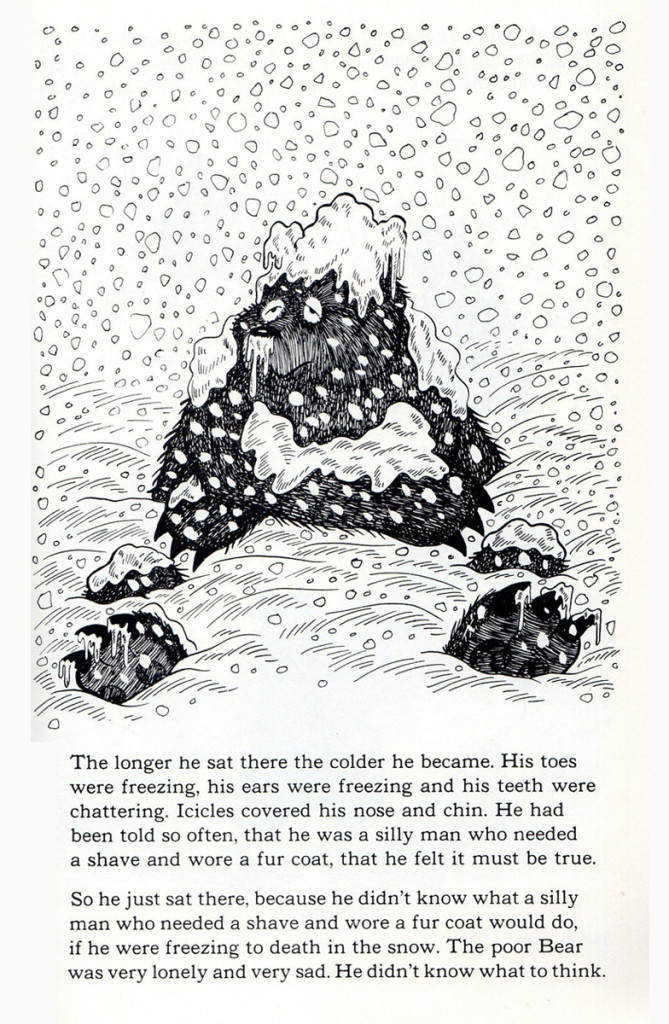 47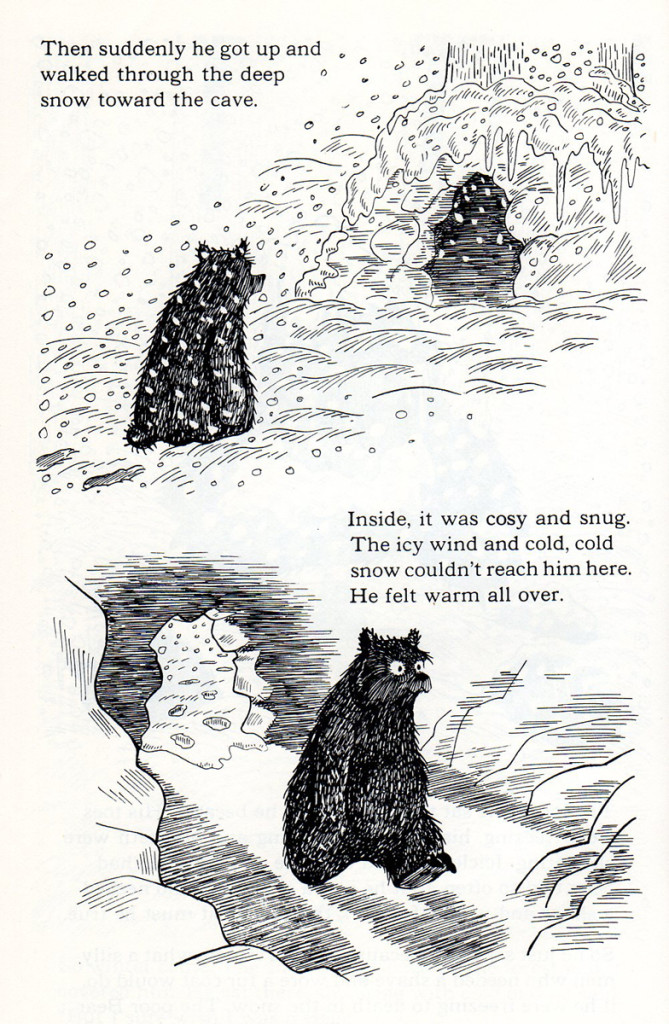 48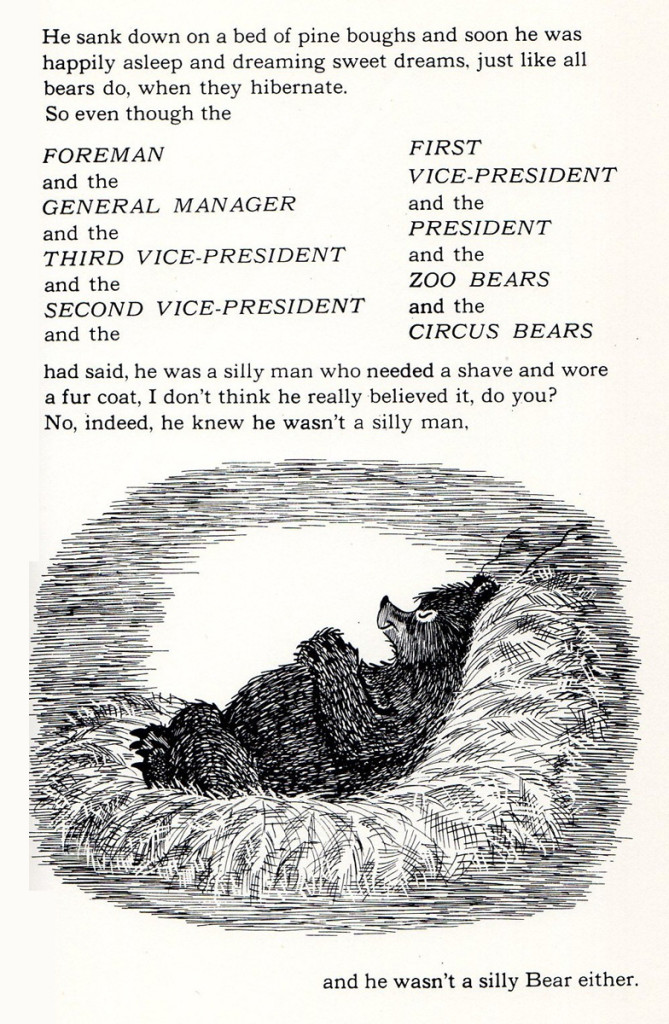 49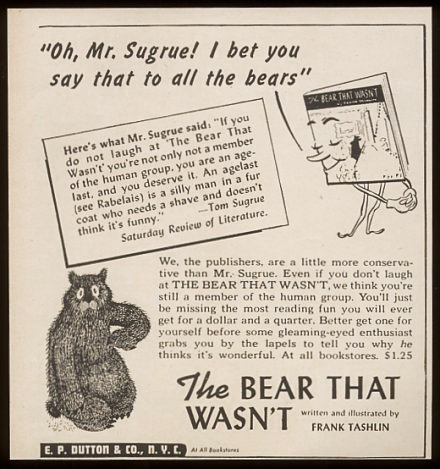 This was a publisher's ad to booksellers
that came out when the book did.

Here's the Chuck Jones cartoon as released by MGM.
It's got problems that weren't in the book.
They mostly come from Chuck Jones.
Articles on Animation &Books &Chuck Jones &Independent Animation 15 Dec 2012 07:18 am
- Turn around, and it's the weekend again. I guess that's a good thing. But Christmas seems to be coming so quickly these days. It was only yesterday that I was complaining that they were pushing Christmas on us so soon after Thanksgiving. Christmas carols when we had hardly finished eating the turkey! Maybe they were right.
As we get closer to Christmas there are fewer and fewer Academy events. Things were mellowing out already this past week. I was so happy to not have had a dinner or a lunch or a screening to attend last Sunday. I stayed home and was quiet while the weather, outside, was pretty lousy. One of those days where the rain is light enough that you feel stupid opening an umbrella, but the wind and the temperature made it so bitter out that it was great to be indoors – anywhere.

_____________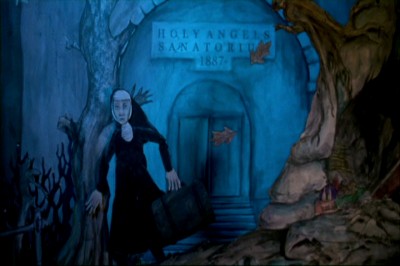 On Monday, I'd picked up a DVD for the animated feature, Consuming Spirits, at the Film Forum theater. The film should be seen on a big screen. It was shot in 16mm and looked pretty darn good in DVD. The story is complex, so I'm sure watching it focused in a theater would be better for the film. However, I loved it, just the same, and my review in the Splog on Tuesday was a foreshadowing of some of the reviews that appeared in the NY papers on Wednesday when it officially opened. This movie will be playing through Christmas Day; treat yourself.
It's very positive that A.O.Scott in the NYTimes chose his top ten flms of the year. As usual he adds another five or six which he call his "honorable mention" list of films that came close to being in his top ten. Consuming Spirits was one of these "honorable mention" movies that take on a nice prominence.Mind you that I don't always agree with Mr.Scott (e.g. my favorite movie of the year is not to be found on his list), but I do take pleasure when I see such a deserving, small film get the attention it deserves.
Read A.O. Scott's review for the NYTimes here.
Read the 3 star review by Farran Smith Nehme for the NYPOST here.

_____________
On Tuesday there was a luncheon at the Four Seasons for Les Misérables. Some of the cast – Anne Hathaway, Hugh Jackman, Eddie Redmayne, Amanda Seyfried and Samantha Barks were all there. We entered a different room this time; this one had a piano bar playing. Uh oh.
During the meal, director Tom Hooper announced that, even though they'd had a late night the night before – there was a lot of drinking, I guess, at the premiere – the cast was itching to sing for us. Samantha Banke, who did a lot of musical theater in England,sang "Summertimne". This was an odd choice given the temperature outside, but she did a great job. Hugh Jackman then sang a song to his wife which was a love letter to her. Anne Hathaway followed singing a Christmas carol with Eddie Redmayne, Amanda Seyfried and Hugh Jackman doing backup. Coffee was served and the lunch ended quickly. Tom Hooper didn't even recite a poem, but he did take photos of the crowd with his cel phone.

_____________
On Thursday I went to an Academy screening of The Hobbit. If it resembled any of the Lord of the Rings movies (with endless battles going on among millions of computerized creatures) I was prepared to walk out. The film felt as though it had been written by one of those geeks you meet at Comic Con. Completely amateurish dialogue with cliché following cliché while all this good stuff passed on screen visually. The near-three hour length was exhausting. The score is great and Ian McKellan is a blessing.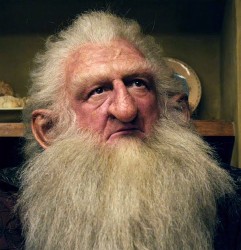 The film was shot at 48 frs per sec (and projected back at the same rate) which created a sharper more defined focus, closer in look to hi def video than film. There was one character, covered in hair, who I found extraordinary to watch without my 3D glasses. The focus on his skin was amazing, and I spent a lot of the first hour searching for shots of him without my glasses on. I later learned the character's name, Balin. I hate to say it, but that was really the height of the film for me.
I also have to agree that the animation of the gollum was quite amazing. Not as good as the tiger in Pi, but worth the cost of admission for an animator. If Andy Serkis has anything to do with it, I applaud him.

_____________
On Friday night I followed up an ad in Variety that indicated a screening in town of the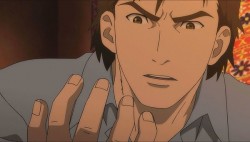 Japanese animated feature, The Mystical Laws, was showing for Academy members. In the end, I couldn't go; work finally got in the way.
I still want to see Goro Myazaki's film From Up on Poppy Hill. I know that Bill Plympton hated it, but he and I often disagree on movies. The film won the Japanese equivalent of the Oscar, and it did enormously well in Japan. Somebody liked it; there's got to be something good there. I'm going to keep my eyes open for it; usually GKids ' distributing it means there will be a chance of its eventually playing.

_____________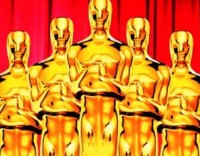 Today, Saturday, the Academy has its screening of animated and live action shorts. The short-list (ten animated and ten live-action) will screen so we can narrow the selection down to five films for each category. I can select the animated films from my home since I saw them all and remember the ones
I like. However, I haven't seen the live action shorts and want to vote for them. So we start with animated films at 10am, live-action at noon, and we continue through till about four or five. There's a lunch at 1pm. A long day of movies. Looking forward to it.

_____________
To add a bit of punch to this post, I'm placing an article Chuck Jones wrote in 1965 for an ASIFA International bulletin just prior to one of the early Annecy Animation Festivals.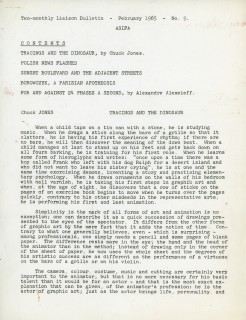 1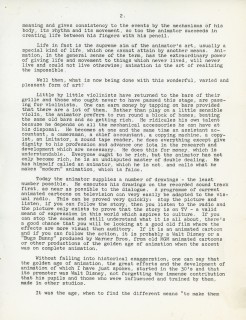 2
(Click any image to enlarge.)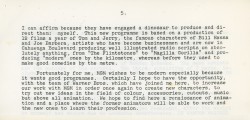 5
Animation &Animation Artifacts &Chuck Jones &Frame Grabs &Layout & Design &repeated posts 06 Aug 2012 06:38 am
I repeat this post for good reason. This is one of the prime films John McGrew planned for Chuck Jones, and the work is just dazzling. However, to our eyes it hardly looks unusual. Many of the tricks here were done for the first time, and others are so seamlessly done that we hardly notice them. It just looks like another War cartoon from WB. It ain't.
It's special.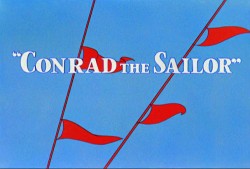 - Regulars to my blog know that I'm a big fan of the work of John McGrew. He was a designer/Layout Artist working in Chuck Jones' crew at Warner Bros. in the late Thirties/early Forties. His work was daring beyond compare, and, I think, with support from Jones, he changed the look of modern animation backgrounds.
He designed the seminal film The Dover Boys as well as amazing pieces like Aristo-Cat, Inki and the Lion and Conrad the Sailor.
In an interview conducted by Greg Ford and RIchard Thompson, Chuck Jones was asked about McGrew's style: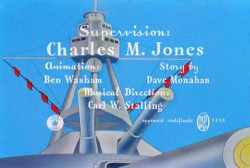 Q: What about John McGrew's style and approach, as compared with Noble's?

A: John McGrew didn't really have a style; he was experimenting all the time. Maurice does have a style. John McGrew, you might say, was more of an intellectual. You could be intellectual, and get away with it— but if you're solely intellectual as a director, you weren't going to get away with it. The result was, however, that he goosed me into thinking that it might be worthwhile to try some different things with backgrounds and so forth. And later on, I would find this kind of thing very useful, in that often it would make your gag work, and sometimes you wouldn't even know why. Like that little abstract background at the end of Duck Amuck, with the sharply angled lines going off.
Today I'd like to feature some frame grabs from Conrad the Sailor. Where I could, I separated the characters from the backgrounds to just feature the Bgs. My guess is that the Bgs were painted by Paul Julian, but they were planned by McGrew.
The one scene I don't illustrate is the most original in the film. Daffy is shot into the air with a bullet. (illus #18) The camera does a 360° turn to head back to the ship. The Bgs don't hold up on their own. Lots of blue sky and wisps of cloud. It works in motion.
Of this short & McGrew, Jones says:
. . . we used a lot of overlapping graphics on that particular cartoon so that one scene would have the same graphic shape as an earlier scene, even though it would be a different object: first we'd show a gun pointing up in the air, then in the next shot, there'd be a cloud in exactly the same shape. It gave a certain stability which we used in many of the cartoons after that. John McGrew was the artist responsible for that sort of thing. Conrad was also the one where we used the first complete 360° turn, when the characters went up through the air.
For more information read Mike Barrier's excellent interview with John McGrew.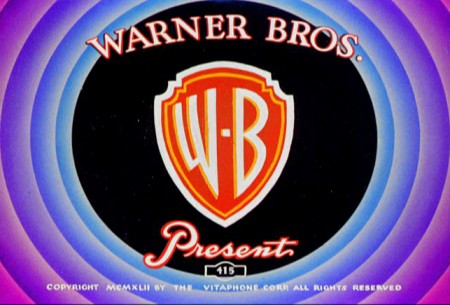 1
(Click any image to enlarge.)

4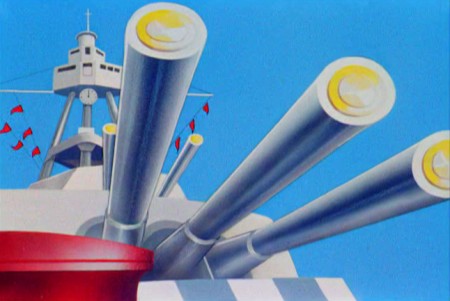 5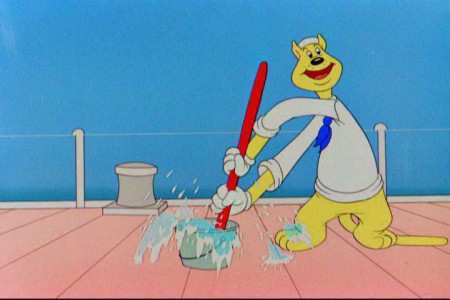 6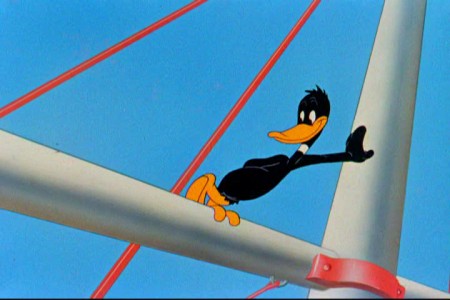 7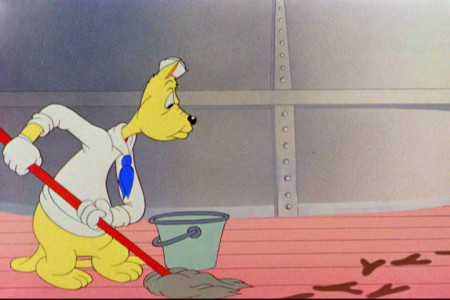 8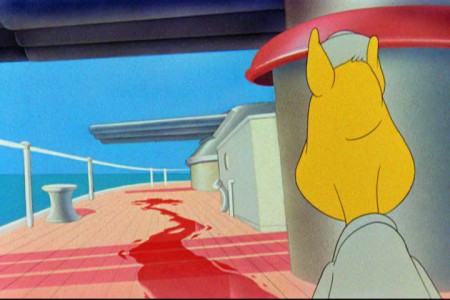 9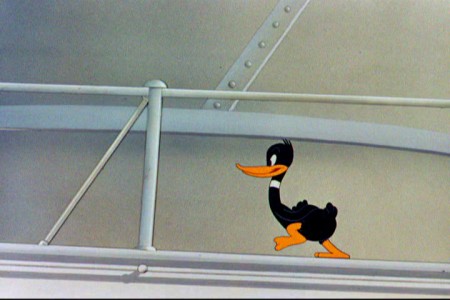 10

11

12
The following BG pan can be seen in full to the left. I've broken it into three parts for a closer look.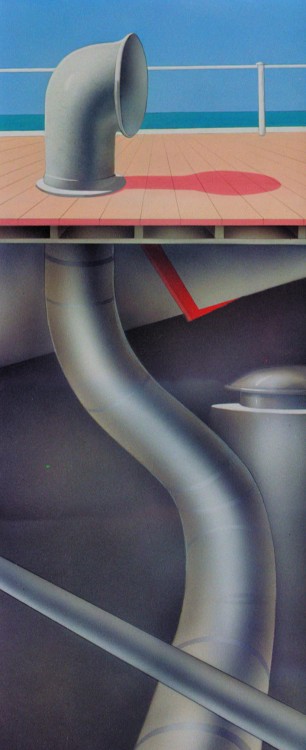 12a
.
.
———-(Continue scrolling down.)
.
.
.
.
.
.
.
.
.
.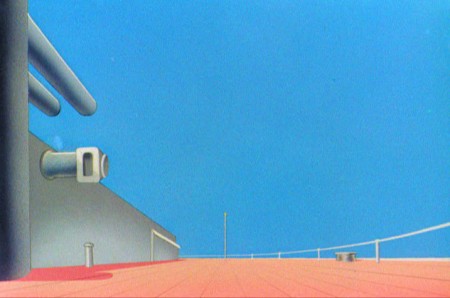 13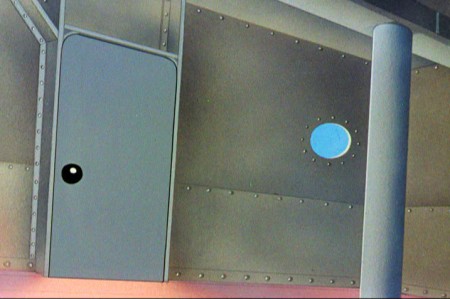 14

15
A bicycle pan that keeps moving to the left.

16
Continue moving right to left.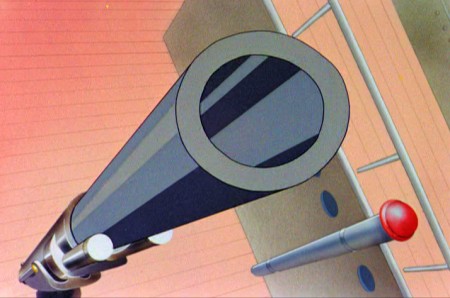 17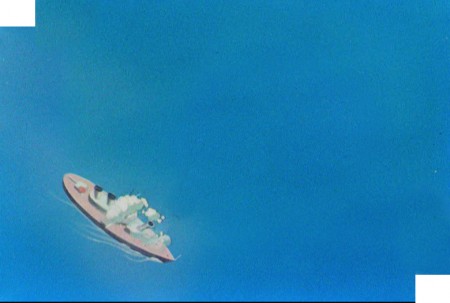 18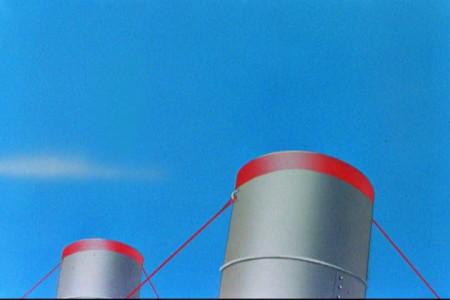 19

20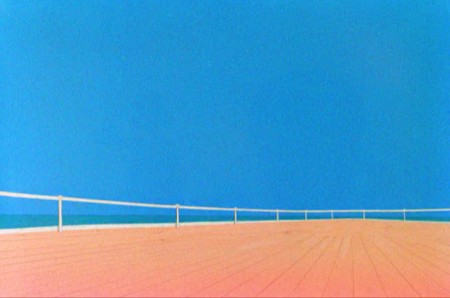 21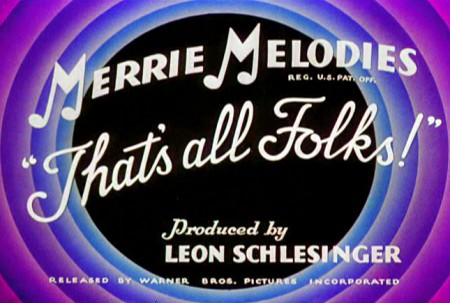 22
And here's the cartoon.
Pay attention to the Layout in the sky from 6'25″ to the end.
It's amazing.
Animation &Chuck Jones &Frame Grabs &Layout & Design 19 Aug 2010 07:48 am
- I've always loved this sequence of layout poses Chuck Jones did for his short, Feed the Kitty. This, to me, was when Jones was at his greatest. All those Claude Cat shorts were just spectacular animation/layout/design. Here, Marc Antony falls in love with a kitty.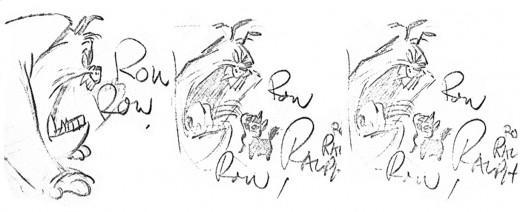 1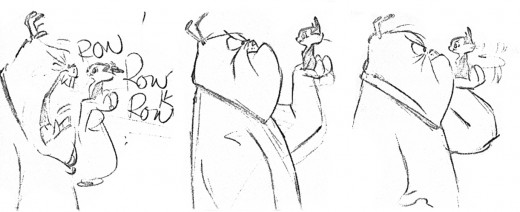 2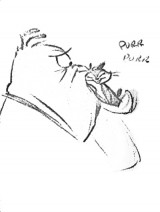 3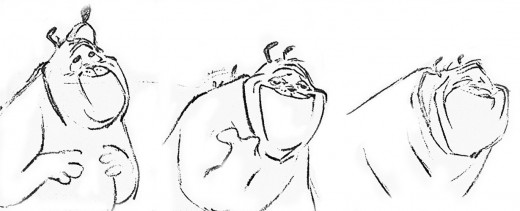 4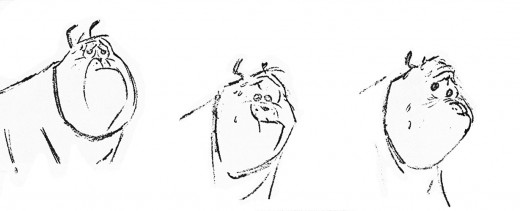 5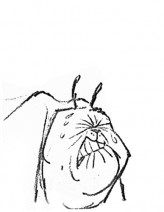 This is how it looked in the final film as animated by the great Ken Harris. They broke it into a couple of scenes.


1

2

3

4

5

6

7

8

9

10

11

12

Animation Artifacts &Bill Peckmann &Chuck Jones &Models 27 Jan 2010 09:47 am
- As I've said in the past, I just love model sheets. And here are a stash of them on loan from Bill Peckmann's collection. Some good, some not-so-good, and some great.
Let's start off with something great.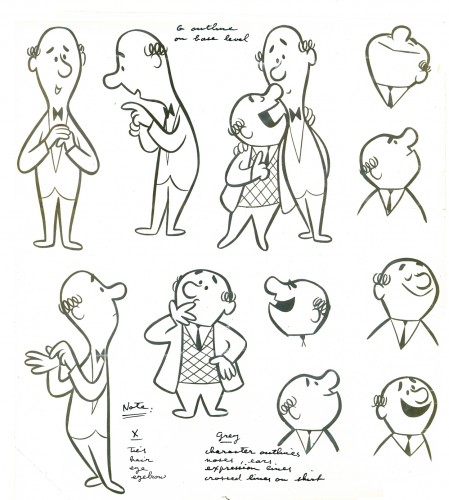 Bert and Harry Piels in a photostat
from the UPA studio.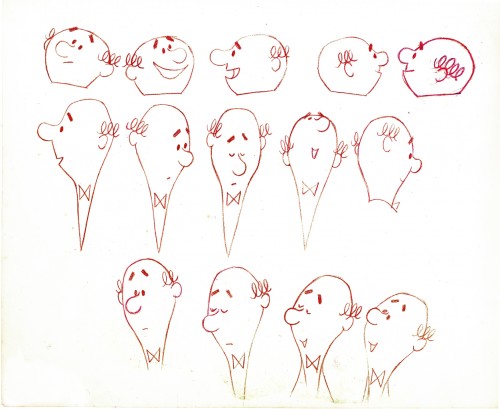 Here's a head model for the Piels brothers
drawn in red colerase on animation bond.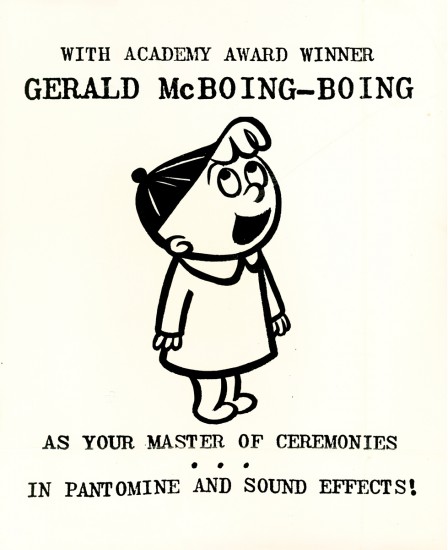 Here's a B&W fading photostat of an announcement
for the Gerald McBoing Boing Show direct from UPA.
The following are some models from Chuck Jones' not-so-good tv film
A Connecticut Rabbit in King Arthur's Court.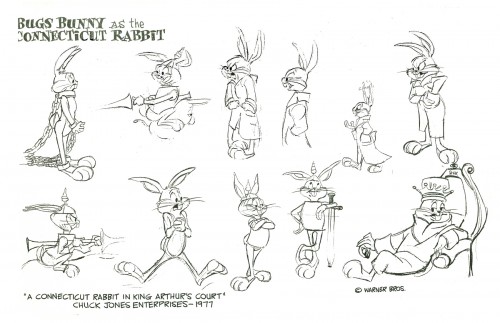 Bugs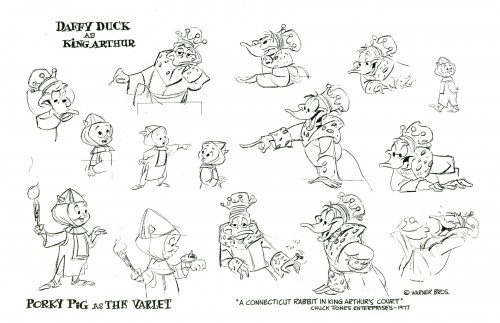 Daffy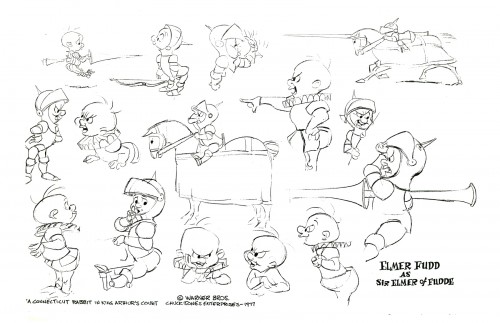 Elmer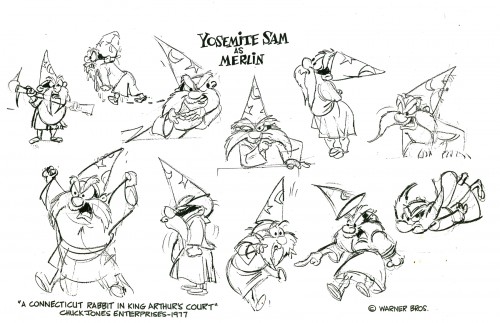 Yosemite Sam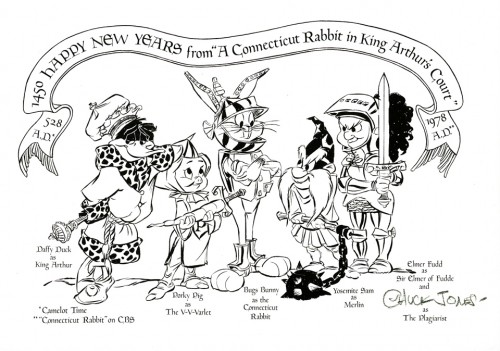 Here's a HAPPY NEW YEAR card from 1978.
Finally the bottom of the barrel of a couple of models
from Chuck Jones' RAGGEDY ANN & ANDY in
The Great Christmas Caper.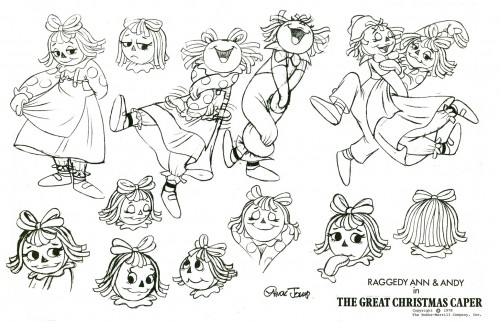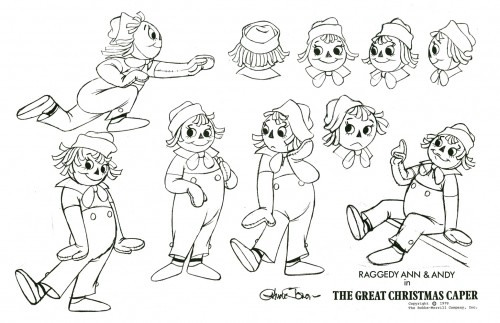 The characters never looked worse.
In his later years, Chuck reworked the WB characters into something
godawful, and here he takes Raggedy Ann and Andy way over that
cute/corny/ugly line. Too bad he didn't pull Corny Cole into it.

Chuck Jones &Commentary &Daily post 22 Jan 2010 08:55 am
- The BAFTA Award nominations were revealed yesterday. The nominees for
Best Short Animated Film are:
THE GRUFFALO Michael Rose, Martin Pope, Jakob Schuh, Max Lang
a half hour tv special for BBC1. It features the voices of Helena Bonham Carter, John Hurt and Tom Wilkinson. More info here.
THE HAPPY DUCKLING Gili Dolev – View a clip at their website here.
MOTHER OF MANY Sally Arthur, Emma Lazenby A 5 min short. Info here. View a clip here.
The nominees for
Best Animated Feature are:
Coraline
Fantastic Mr. Fox
UP
_________________
.
-
Screen Daily
magazine has an excellent encapsulation of Eric Rohmer's life work and accomplishments.
Within the article I was reminded that Rohmer did a film, The Lady and the Duke, which made extensive use of cg work for a period piece. The film's exteriors were shot on blue-screen backgrounds with 18th-century paintings superimposed during the editing process. I didn't get to see this film (with a very limited release in the US) but Slant Magazine's review states:
His exteriors recall Zbigniew Rybczynski's famous Tango and forces the spectator to question that which is most visually important in the frame. Rohmer's interiors are considerably less evocative though they're the perfect setting for what plays out like 18th-century Jacobin pornography. The effect is disorienting, mildly humorous, and sometimes taut
And J.Hoberman in his Village Voice review wrote:
The movie's look is authentic, but—as suits an epoch that predates photography—in no way naturalistic. Commissioning a series of paintings based on period engravings, Rohmer has contrived a glorious Méliès effect: Once they leave their drawing rooms, his actors are keyed into these virtual locations as though they were moving through 18th-century panoramas and tableaux.
This will be my next Netflix selection, and I'll undoubtedly post something about it after I see it. I remember being impressed back in 2006 when I'd read about it.
_________________
.
- As I, and probably you, learned this week from
Cartoon Brew
,
Pat Smith
and
Bill Plympton
are now collaborating on a new blog called
Scribble Junkies
.
Pat, on the site, writes of the blog's purpose:
This is where Bill and I will share our opinions, techniques, photos, drawings, and films.

.
I'm looking forward to seeing how this will vary from the sites each of them already hosts:
Pat Smith Blend Films
(Pat states that he is phasing out his personal blog for the new one) and
Bill Plympton Plymptoons
.
_________________
.
- The publicist,
Yana Walton
, sent me a link to a new animated piece done by
Oxfam America
to question the big bucks going into big oil. Oxfam turned to
Talking Eyes Media
to produce the piece which seems to be a sterling and masterful collage of AfterEffects moves.
I found it interesting enough to share. Their agenda is front and forward, but I have no complaint about that. Perhaps in the future they'll go a step further and use real animation to get the message across more forcefully. Perusing the Talking Eyes site, I found myself curious about some of the documentaries they've made.
_________________
.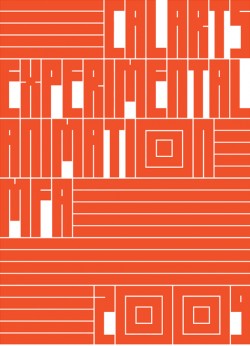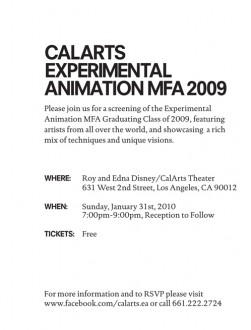 (Click any image to enlarge.)
_________________
.
- The
Tempe Center for the Arts
in Tempe, Arizona will host an exhibition celebrating the work of
Chuck Jones
. The show, called "Chuck
Amuck, a Legacy of Laughter," will open February 26 with a free-to-the-public opening event. The show will run through June 18th. The opening night reception will be held from 7 to 9:30 PM in the TCA Gallery. It will be hosted by Jones' grandson
Craig Kausen
and will include a screening of some of his cartoons. Seating is limited.
Their press release states:
This exhibition of original sketches, paintings and animation production art highlights the life and art of legendary artist, animator and director Chuck Jones who not only helped bring to life famous cartoon characters such as Bugs Bunny and Daffy Duck, but also created the iconic Wile E. Coyote and Road Runner, along with many more. This exhibit will be the largest and most comprehensive exhibit of art by Jones since his retrospective held at the Capitol Children's Museum, Washington, D.C. in 1988.
The Tempe Center for the Arts is located at 700 W. Rio Salado Parkway, Tempe, Arizona. For more info go here.
By the way, if you're at all a fan of Mr. Jones' work you should be regularly visiting the blog established which has been posting many of the letters and illustrations Chuck sent to his daughter, Linda. There's some spectacular material here.
Chuck Jones &Frame Grabs &Layout & Design 21 Jul 2009 07:13 am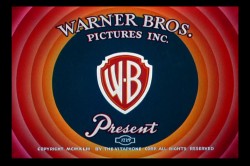 – John McGrew is certainly one of my favorite LO and Background designers in animation. His Dover Boys work in 1942 set new goals for the remainder of 20th Century animation. He followed it with the daring work of Conrad the Sailor, Inki and the Minah Bird, The Case of the Missing Hare and others all for Chuck Jones, who was no slouch, himself, in encouraging exciting innovation in design and film cutting.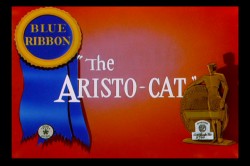 The Aristo-cat was probably the first of McGrew's works that I saw when I was a kid. It made my eyes pop, even though I watched it originally in B&W. The dynamic design of wallpaper decoration combined with outrageous pans and camera work took me by force. The violently repeating patterns reach to the forefront of this short. All of this exuberant design completely acted to support the character's state of mind. Anxiety, fear and terror jumped from the backgrounds to the fine character animation of Ken Harris, Rudy Larriva and Bobe Cannon.
Working with Jones and painter Gene Fleury, he surefootedly set the way for UPA and all the others that followed. Toot Whistle Plunk & Boom and Ward Kimball's other Disney TV work, Maurice Noble and other thinking designers of the Fifties couldn't have broken through if McGrew hadn't been there first supporting and pushing Chuck Jones.
Go here for Mike Barrier's excellent interview with him.
I've done some Bg recreations from the film, which meant assembling some exceptionally long pans that twist and turn. Unfortunately, I don't think there's a good quality copy of the film available. All of the grain in the DVD leads me to believe they copied a 16mm print.
As stills, they don't come across as quite so daring, but they are within the moving short. It took some courage to do such work and enormous talent to be able to pull it off so successfully.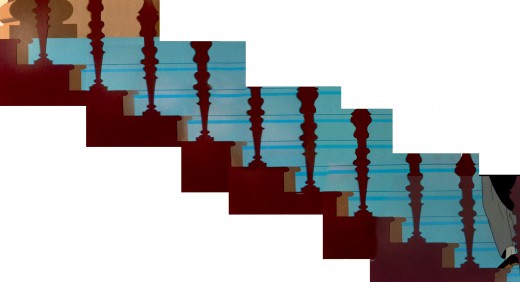 The butler walks upstairs.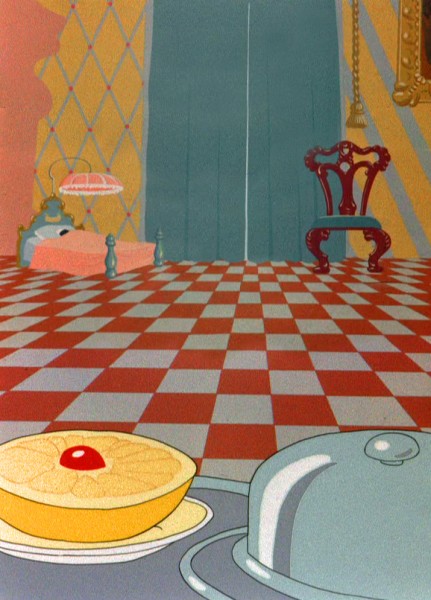 He carries a breakfast tray into the bedroom.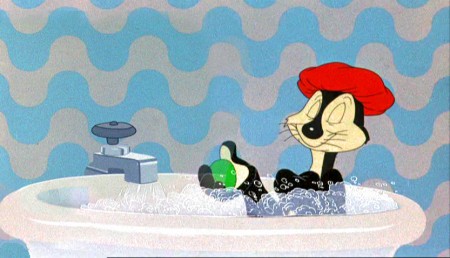 Taking a bath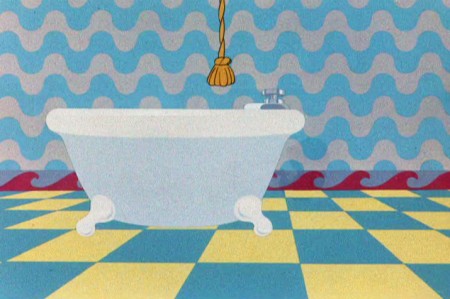 Releasing a bar of soap to trip the butler.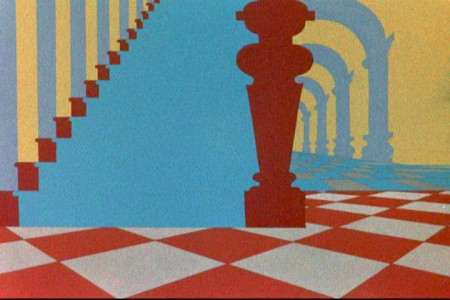 Downstairs to find the butler.


A note on the door.


Alone in the house.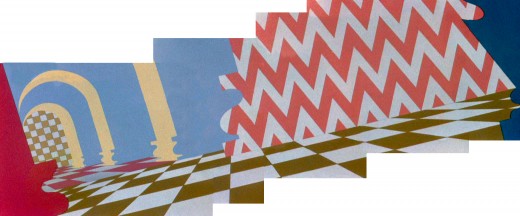 Fear.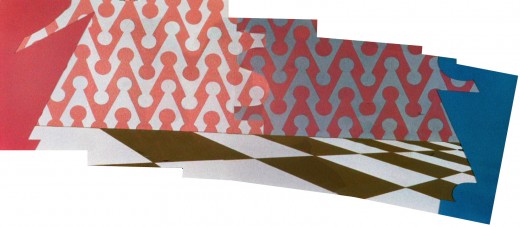 Danger.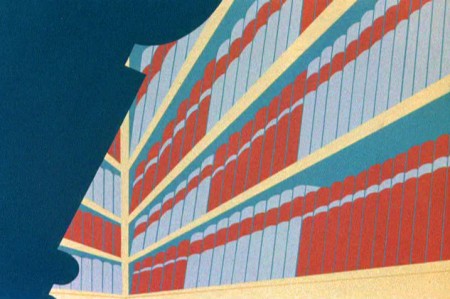 Panic in the library.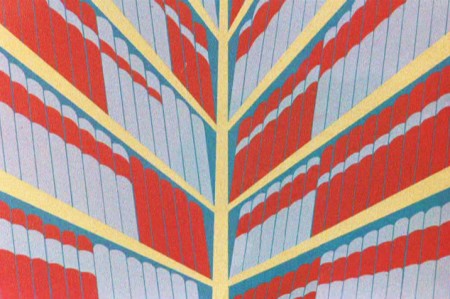 A book hits him on the head.


Running away from a mouse.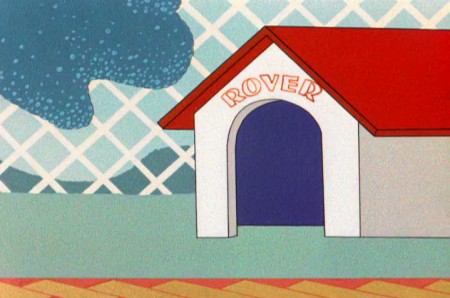 The dog in the doghouse. Repeated diamonds outside.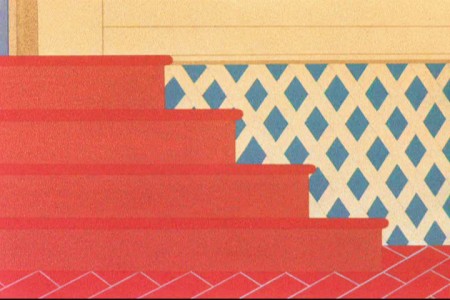 Back indoors. Still more diamonds.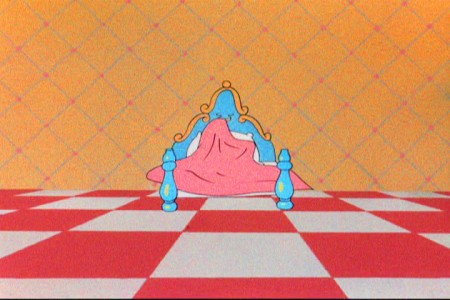 Safe in bed with diamonds and a checkered floor.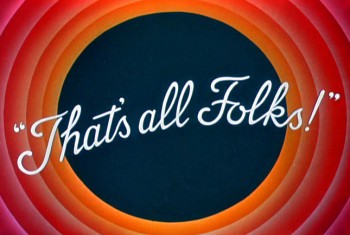 Animation &Animation Artifacts &Chuck Jones &UPA 02 Jul 2009 08:01 am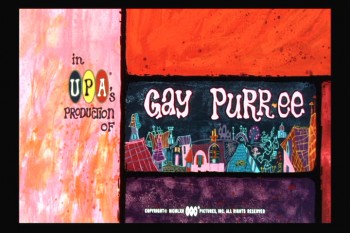 - I remember in 1962 going to the movies to see Gay Purr-ee, the very first showing – a late morning matinee. It was a bus ride away, but I was a fan big fan of UPA at the time. A 15 year old child who knew a bit about the impressionists and had read a lot about the early incarnation of this animation studio. The only shorts I'd seen were on the original Gerald McBoing Boing show, back in the fifties (when I was much younger.)
1001 Arabian Nights with Mr. Magoo had impressed me in some of its parts, but the notion of animating in impressionist art was more exciting to me.
I remember being impressed with the voice cast and soundtrack (which I quickly bought), some of the imagery and some bits of the animation. I loved the thick/thin outlines of the characters. I went back the next day to see the film again at a closer theater. This time I went late afternoon, which was a mistake. The kiddee matinee had brought a glob of ice cream melting down the center of the theater's screen. It was hard to enjoy the beautiful painting with this dark, moving scar gracing the middle of the screen.
Despite seeing the film another half dozen times, since then, I didn't really know much about the film's production other than the credits I was able to view on screen. The Abe Levitow site offers a number of background paintings by the original designer, Victor Haboush, as well as Corny Cole and Bob Inman.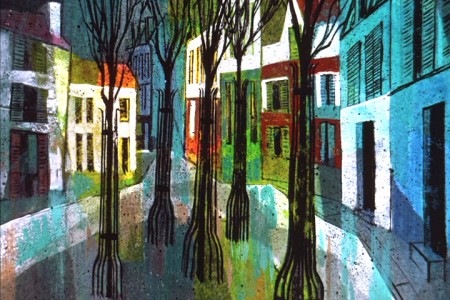 Here are two by bg's Victor Haboush that are featured on the Levitow site.
I just earned from Tom Sito's blog that Mr. Haboush died on May 24th at 85.
He was a gifted designer and artist.
.


.The paragraph written on that site tells about the layoffs at Disney after
Sleeping Beauty
and how this brought an influx of talent to
UPA
. Many had worked on the Dick Tracy and Mr. Magoo tv cartoons that were produced but the feature better utilized their talents.
This isn't much different than the story Jack Kinney tells in his book, Walt Disney and Other Assorted Characters. After he was pushed out of Disney, he ended up directing Magoo's Arabian Nights. (He talks so little of it that he gives the impression he didn't enjoy the experience.)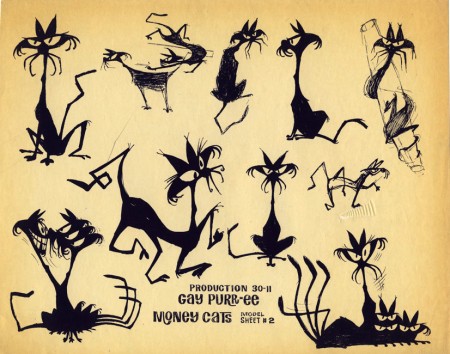 This is a Corny Cole model of the "Money Cats" from the film.
.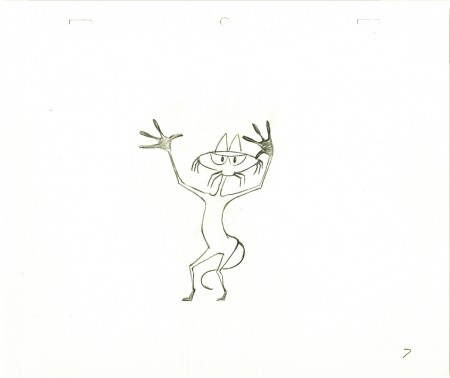 This is an animation drawing I have of one of them.
It's not as angular or graceful as Corny's drawing, but I still like it.
.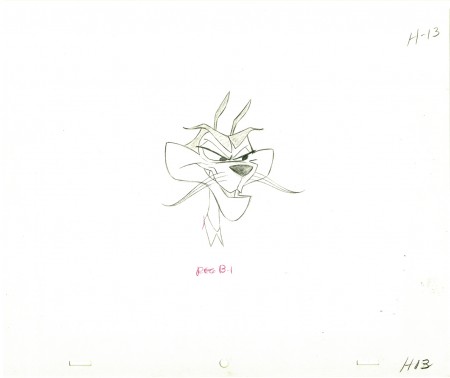 And this is an animation drawing I have of
Meowrice, the film's villain.
.
I have lots of the press material from the period stuffed into a scrapbook I have in storage. Not much of this is available on line, but I did find these two pieces in the NYTimes: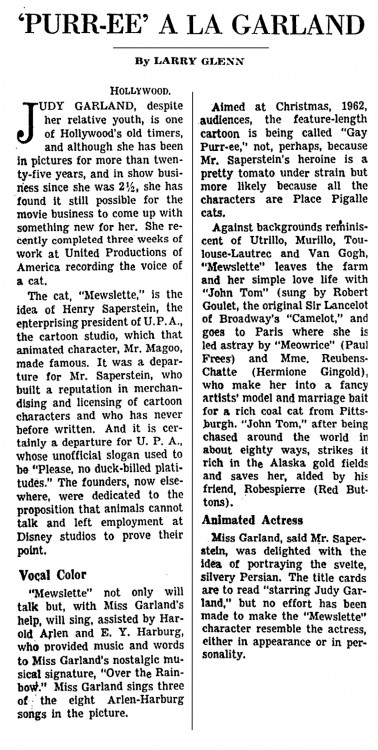 (Click any image to enlarge.)
Here's the review that was published in the NYTIMES
GAY PURR-EE
By BOSLEY CROWTHER
December 6, 1962

MOVING (for the second time) into the animated feature domain created by Walt Disney, U.P.A. Productions has contributed a pretty, pleasant, seasonal package for family audiences called "Gay Purr-ee." The contents of this Warner release, which opened yesterday in neighborhood theaters, should make anybody's mouth water, including Mr. Disney's.

Consider: Judy Garland, no less, and Robert Goulet providing the singing and speaking voice tracks for the leading cartoon roles in a cute fable about a little country cat who goes to Paris. Add a battery of technical wizards who create a fetching color canvas that blends some truly lovely pastels with classical works by art masters. Add also eight new tunes by Harold Arlen, including one knockout. But the picture, hélas, is not.

At the risk of sounding like Scrooge, one U.P.A. fan feels that the film has everything but real wit. And what an opportunity, especially with Mewsette, the dainty little fugitive from Provence (Miss Garland), naïvely involved with some purring city slickers before being rescued by hel stalwart country swain, a champion mouser named Juane-Tom (Mr. Goulet).

Now, with all due respect to the film's good-natured tone and diverting backgrounds, the first half is rather studied and even familiar, as directed by Abe Levitow and written by Dorothy and Chuck Jones. In contrast to the pictorial wizardry—rearranged Von Gogh landscapes and a tilted, spangled City of Light flavored with Toulouse-Lautrec, Modigliani, Matisse, Cézanne and others—the characters almost pale by contrast.

Mewsette, a nice enough little lady cat, is most interesting when Miss Garland is warbling — superbly — such ballads as "Roses Red" and "Take My Hand, Paree." The same goes for the villainous Meowrice (Paul Frees), a fairly standard menace with a fine, jazzy theme song, "The Money Cat." Furthermore, the snug, simple plot is needlessly stretched. Even with little Mewsette pining away in Paris, her would-be rescuer and his sassy, furry sidekick Robespierre (Red Buttons) are way off in Alaska.

The nearest thing to spice is the heroine's jowly, pink "chaperone," a shady lady named Mme. Rubens-Chatte (drolly spoken by Hermione Gingold). Even with the songs and the brilliantly stylized backgrounds, one can't help wondering what a Disney crew would have concocted in earthy slyness and spontaneity.

In the final reel, though, things hit high gear in an old-fashioned chase scramble, against a superbly imaginative panorama of Paris, while the cats prowl the quays and the Notre Dame gargoyles toward a final, funny free-for-all. This portion also contains the film's visual highlight, as Miss Garland sings one of Mr. Arlen's great blues numbers written for the screen, "Paris Is a Lonely Town."

So who needs eggnog for Christmas? "Gay Purr-ee" is a nice, soft drink for all the family.

'Gay Purr-ee' Cartoon , screenplay by Dorothy and Chuck Jones; directed by Abe Levitow; produced by Henry G. Saperstein for U. P. A. Productions; presented by Warner Brothers.

At neighborhood theaters. Running time: 86 minutes.
Voice of:
Mewsette . . . . . . . . . . . Judy Garland
Juane-Tom . . . . . . . . . . Robert Goulet
Meowrice . . . . . . . . . . . Paul Frees
Robespierre . . . . . . . . . Red Buttons
Mme. Ruben-Chatte . . . . Hermione Gingold
Chuck Jones &Commentary 24 Mar 2009 07:41 am
_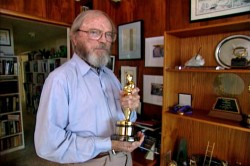 _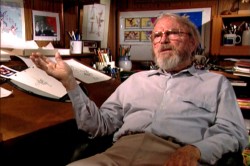 - Tonight on Turner Classic Movies there's going to be a Chuck Jones jamboree. This is all occasioned by the screening of Peggy Stern & John Canemaker's fine film,
Chuck Jones: Memories of Childhood at 8:00pm/10:30pm/2:30am EST.
Along with this film a number of Jones' works will air:
The Night Watchman____Prest-O, Change-O
Sniffles and the Bookworm____Elmer's Candid Camera
Scent-imental Over____You Haredevil Hare
Duck Amuck____One Froggy Evening
What's Opera Doc____The Dot and the Line
The Bear That Wasn't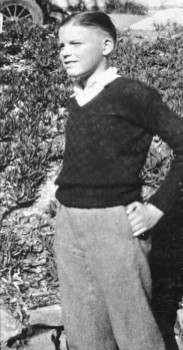 These shorts will be followed by two features on the late night schedule. (Go here to see a full schedule.)
The Phantom Tollbooth was the less-than-stellar feature Chuck Jones co directed with Abe Levitow and Dave Monahan.
1001 Arabian Nights with Mr. Magoo follows that. I'm not sure why since I don't remember Jones having any involvement on this film. Nevertheless, I'll be glad to see it again.
The Stern/Canemaker film is a delicate piece that quite nicely gives Jones the opportunity of relaying many of his memories from his pre-animation days. You get to see what a wonderful draftsman Jones was as he quickly draws from memory on-camera. There's one quick portrait he does of his uncle that impressed me very much.
John Canemaker has done a lot of good animation here which illustrates well some of the pieces Jones is remembering. The animation nominally attempts Jones' style, but John's own style is so pervasive that the animation comes off as much his. I guess this is probably appropriate for such an independent film. Audiences who aren't sophisticated about animation wouldn't notice a difference. Why should they?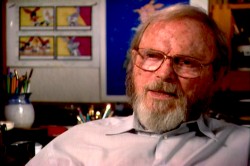 Much has been made about the "abuse" Chuck Jones' father layed on the son. This amounts to strong beatings. I suspect that this treatment was typical of most families in the 19-teens. "Spare the rod and spoil the child." One wonders how this may have affected Jones' art.
Thank heaven for our more "enlightened age."
The film moves quickly and informs quite gently. It deserves the attention TCM is giving it, and it also deserves the attention of the animation community, as it properly will receive.
Here's the four star review in today's NYDaily News.
Here's The Boston Globe review.
And here's The Cleveland Plain Dealer.
___________________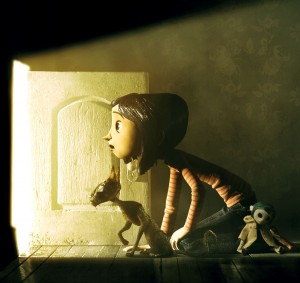 - I finally got to see Coraline over the weekend and have to complete some thoughts I gave prior to actually seeing the film. This is the first of the recent 3D films that I've seen in 3D. The effect worked well but, to me, was a complete hind-rance to the filmgoing experience.
When we filmed Raggedy Ann, there was a significant problem with cel flare because of the black backgrounds during the Greedy sequence. It was troubling. I'd recommended using polarized filters. This meant that the lights had to be filtered, and a second filter had to be placed on the lens to offset the lighting. The positive was that the flares were resolved. The negative was that there was a graying of all colors. On film, especially in animation, this problem can be rectified in the timing of the final print at the lab.
With Coraline we're wearing, essentially, the same polarized filters to interpret the 3D effect. We don't have built-in laboratories to adjust the colors in our head. We're viewing grayed-down colors, and I was totally annoyed by it. By lifting the glasses, the screen would often look normal in 2D. But the colors were excellent. This aspect of the design was completely lost in the polarized flters over our eyes.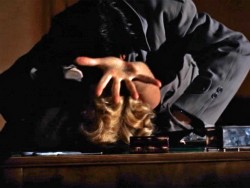 The 3D effects weren't principal or necessary to the whole, and the film would have been just as good in 2D. However, in 3D I was never able to enter the screen. The glasses were in the way and annoyed me. My eyes watered up often during the film, and I spent a lot of time wiping away tears. This is not the best way to watch a film.
But then, I once saw Hitchcock's Dial M For Murder in 3D. It's rarely projected that way, so it was fun to see how the master would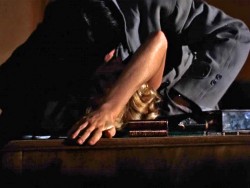 handle the effect. He used it to create a wall between us and the characters. The bar in the apartment, flowers, other furniture often stood between us and the characters in marked 3 dimensional separation.
Only once did he bring us into the film via 3D. A murderer has Grace Kelly bent back over a desk. We're watching from the back side of the desk as he strangles her. She reaches out of the screen searching for a pair of scissors to defend herself. However, the effect was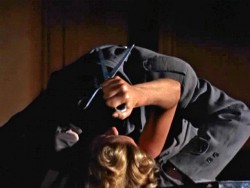 that the hand coming out into the theater seems to be imploring the helpless audience to get up and save her. It was frustrating and exhausting and completely involved us, the audience.
She eventually grabs the scissors and kills the guy. However, despite the red/green glasses we were totally drawn in. Much was added as part of the film's effect. I've seen the film numerous times in 2D and always remember the scene in 3D when I've seen it again.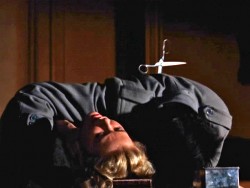 No such scene exists in Coraline nor is there any necessity to see it in 3D. I liked how Henry Selig created 3 dimensional differences between her real home and the "other" home. However, this is too subtle to be a necessity. Consequently, to me the 3D was little more than a gimmick.
The film, itself, seemed quite impressive technically, but I'm not sure the story was well told. I'd have to read the book, but I saw a lot of interesting fairy tale elements that were set up and violated before the film was over. I'm not sure that's a product of the original.
The story wants to talk about mothers and their black/white role in our lives, yet it ultimately doesn't work with the telling.
The story goes in and out of dreams, and for much of the film could have been a dream, yet the end gives us no opportunity to interpret the film for ourselves that way. Let's just say I was disappointed on many levels despite the technical agility on display.
Regardless of all my negative comments, this is an important animated film to see. It will probably be one of, if not THE best of this coming year. See it if you're at all involved in animation.
Monsters vs Aliens is about to open and a long trailer ran in 3D before Coraline. Obviously, the 3D effect is more dramatic in that film. However, on the basis of the trailer alone, it felt even more of a gimmick in that movie. I have to say that there's nothing there for me in the new Dreamworks product, and I'll save a viewing for Oscar time when I won't have to pay an additional $5 to have my eyes water and be annoyed.
(By the way the great Hitchcock stills come from a brilliant website:
1000 Frames of Hitchcock.
___________Mark Mayerson originally led me to this invaluable site.)
Chuck Jones &Daily post 13 Mar 2009 08:01 am
- Chuck Jones: Memories of Chldhood is a film by Peggy Stern. John Canemaker also served as producer and director of animation.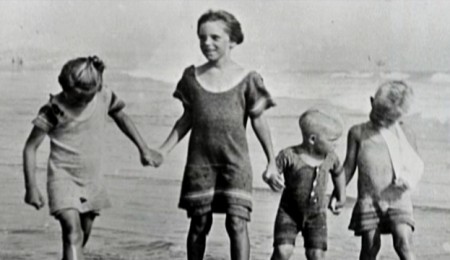 In 1997, John brought Peggy Stern and Chuck Jones together for a series of interviews that became the basis of this film. Jones often sketched his boyhood self as he related his memories. These sketches later inspired the documentary's animated sequences, which Canemaker directed.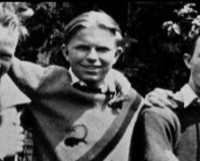 Just prior to his death Jones saw a rough version of the film and was delighted. His family sunsequently provided Ms. stern with additional archival material. The end result is an intimate film about the early years of Chuck Jones' life.
This film is going to air on Turner Classic Movies Tuesday, March 24th at 8 p.m, and it will be followed by three classic Jones shorts: Duck Amuck, One Froggy Evening and What's Opera Doc.
___________________
- An exhibit celebrating Manga and Anime is opening tomorrow, March 14th, at the Japan Society in New York. has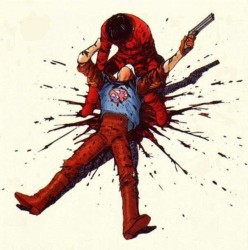 The films that will be shown include:
___ Katsuhiro Otomo's classic, Akira (1988)
___ Masaaki Yuasa's Mind Game (2004)
___ Satoshi Kon's, Paprika (2006)
___ Patlabor 2: The Movie, by Mamoru Oshii _____ (1993)
___ The Place Promised in Our Early Days _____ (2004), by Makoto Shinkai
and
___ Super Dimension Fortress Macross:
_____ Episode 9, 17, 18, and 27 (1982-83),
_____ designed by Ichiro Itano.
Screenings will begin Saturday, March 14 and will continue until June 14, 2009.
The exact Anime screening schedule in the auditorium is here
A listing of Manga on display is here.
The NYTimes has a review of this show in today's paper.