Category ArchiveT.Hachtman
Comic Art &Illustration &Photos &T.Hachtman 18 Nov 2012 07:08 am
- Tom Hachtman, who you may remember is the friend who does Gertrude's Follies and sometimes contributes to this Splog, (see this post about that) and his wife, Joey Hachtman, who you'll remember has a business painting murals on the big houses at the Jersey Shore. (See this post as an example.) That's where they live, in a house at the Jersey Shore. Point Pleasant is just a little bit of paradise with one of the rowdiest boardwalks at the shore. It's a fun place, at least when the weather's warm enough.
Well, Tom took some pictures. Sandy visited the shore a few weeks back, and things have been a bit different. They still don't have heat or electric. So here's the first of some photos of their back yard.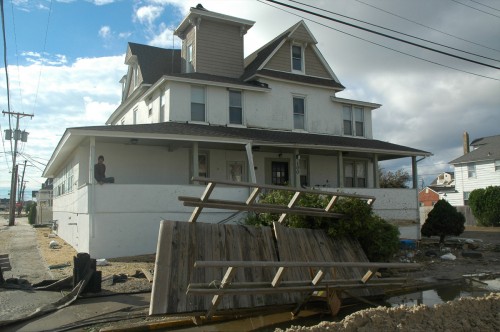 1
Some of the boardwalk on Atlantic Avenue.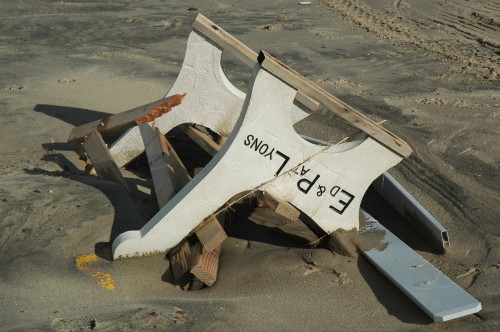 2
A bench from the boardwalk.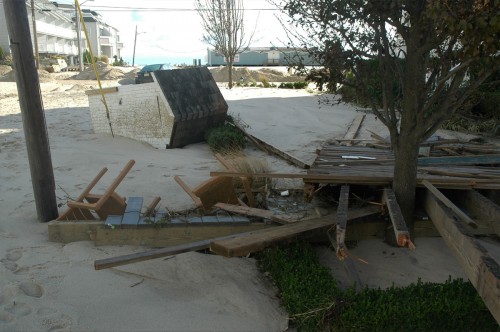 3
Boardwalk booth.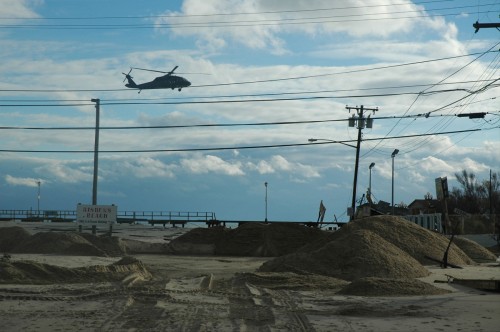 4
Copters all day long.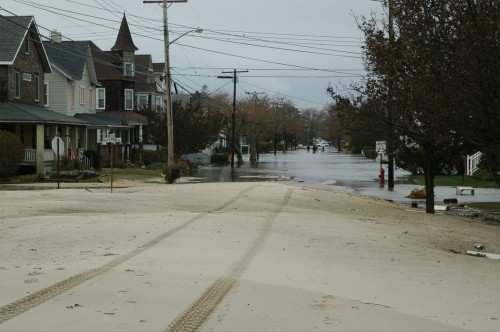 5
Our house with the peak – looking west on Forman Avenue.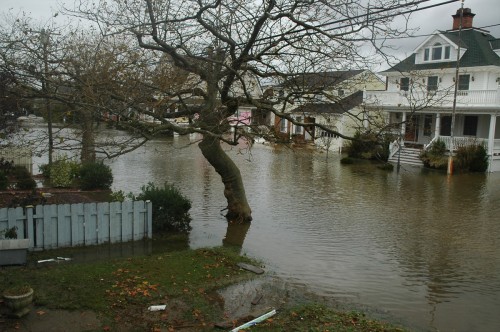 6
Our street, after Sandy, looking West.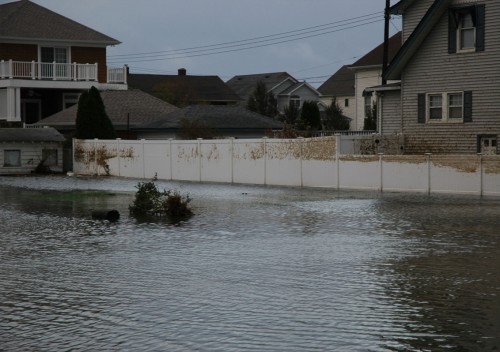 7
White fence shows high water mark.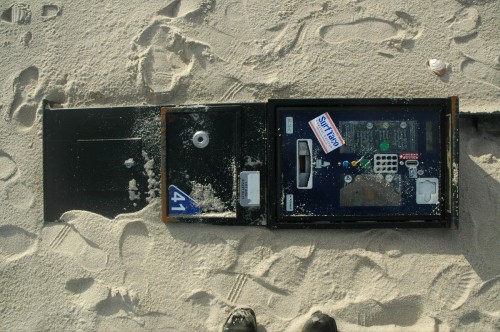 8
No parking today.
A parking pay station.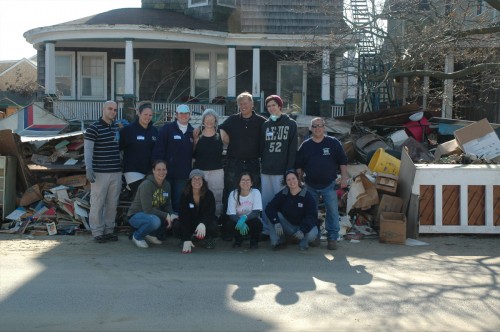 9
Northern NJ clean-up crew – did the basement.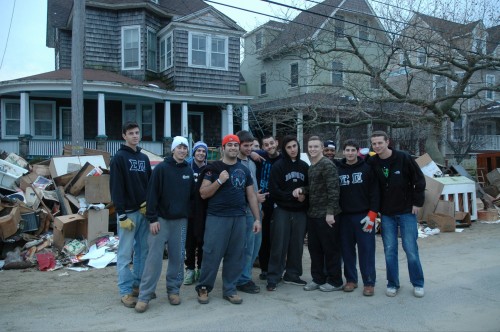 10
Seton Hall's Sigma Pi boys – cleaned out the garage.
(They found a possum playing dead convincingly.)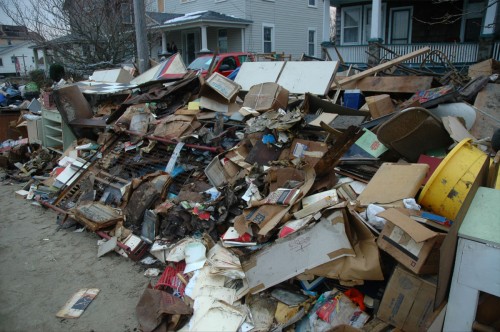 11
Soggy collectibles.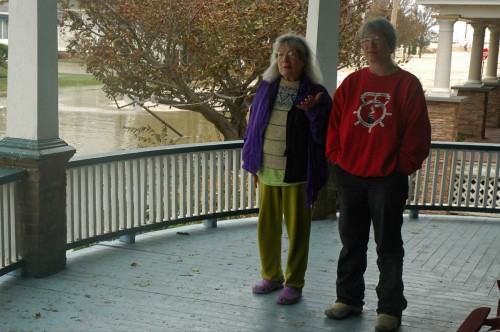 12
Myrna and Joey on the porch.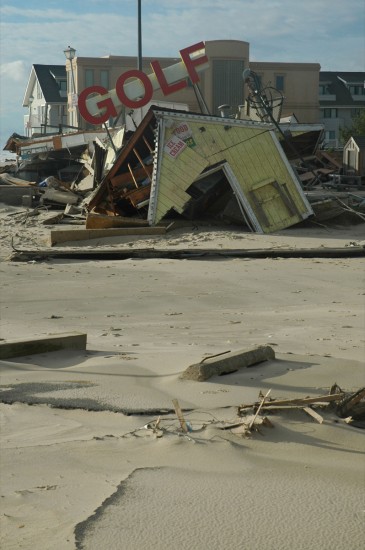 13
No mini-golf today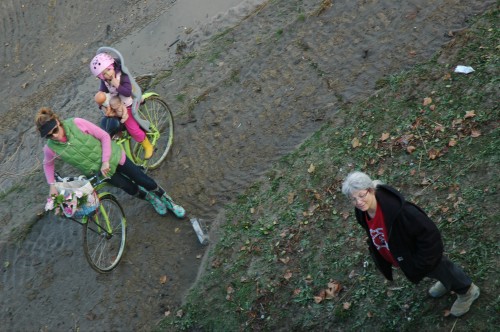 14
Kitty and Olive stop by visiting Joey (right)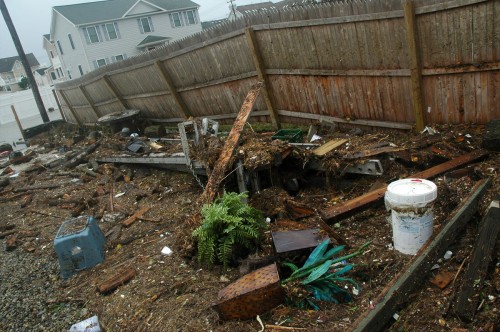 15
Debris in Rick's driveway.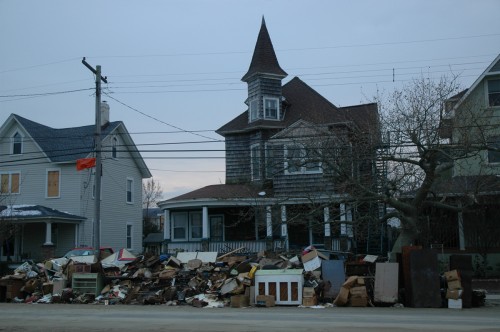 16
Our house after some housecleaning.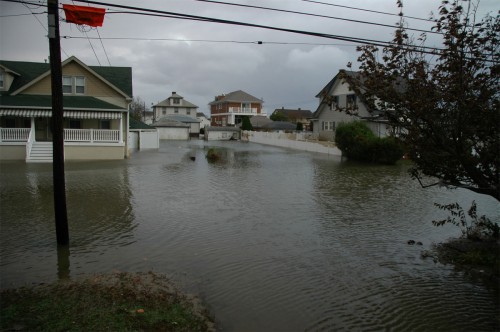 17
Across the street – high water mark on white fence.
And of course, turning to stored artwork that the family did over the many years, things weren't so good.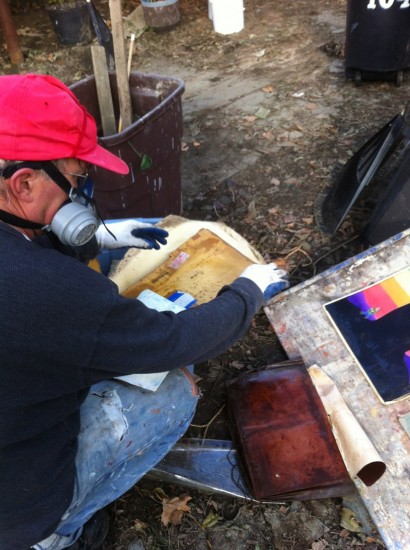 18
Here's Tom going through some of the debris
to find anything that can be saved.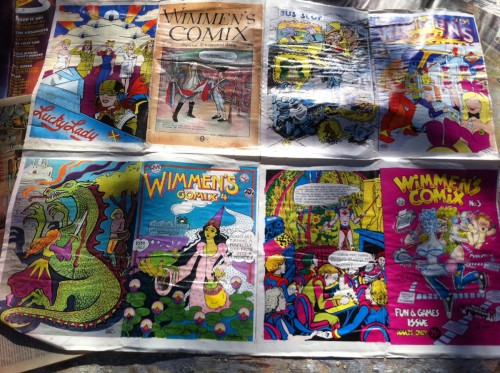 19
Here are some of the comics that Joey had done cartoons for.
It's doubtful that the issues can be replaced.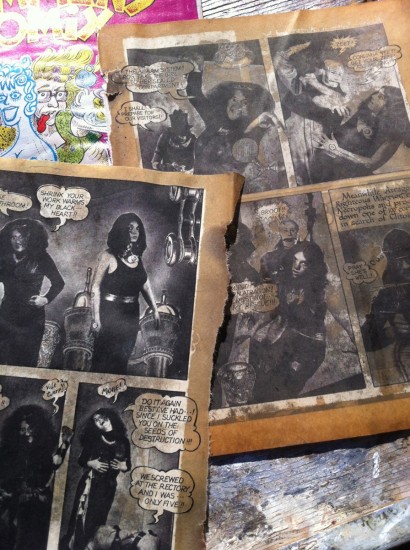 20
More of those comics. Do you hold onto them?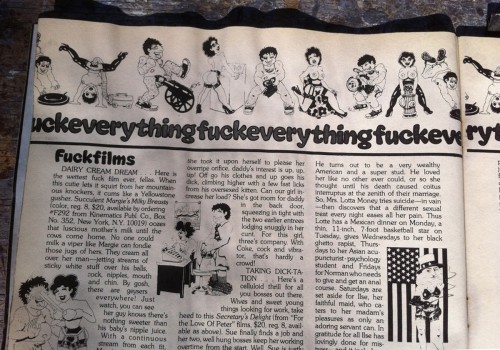 21
Here are some of the many cartoons she did for Screw Magazine.
Gone.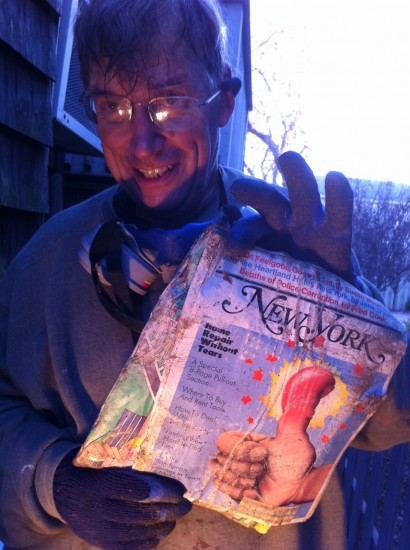 22
A cover for New York Magazine
that Tom had saved.
It was done by Bob Grossman a few years ago.
Art Art &T.Hachtman 03 Jul 2012 07:03 am
- I received a full email from friend, Tom Hachtman, this week. He had sent something that got me smiling. I've often seen his sketchbooks, and they're usually some old book that he's drawn or painted over the type within. This gives him the opportunity of ignoring the type or including it in the picture. This fascinates me, and makes me wonder what an animated film on such pages would look like. (I will try that some time as an exercise.)
Now he's sent me a series of envelopes which he's used as his sketchpad. Some were started or inspired by his wife, Joey, or his niece, April. It's really all self explanatory, though Tom sent this note:
i did a few new envelopes – or, actually, coloring some old envelopes…thought you might enjoy seeing them…the one that is not an envelope? The cute redheaded nude is out of one of Joey's sketchbook from thirty years ago. The ugly guy is from one of April's sketchbooks done I'm not sure when – could be recent or ten years ago…and the background is out of a Thomas Kinkade book. Joey draws the cutest gals and April draws the ugliest guys – I can't resist putting them together.
Feel free to post any of these – but maybe remove any addresses…thanks.

t
Here are the envelopes.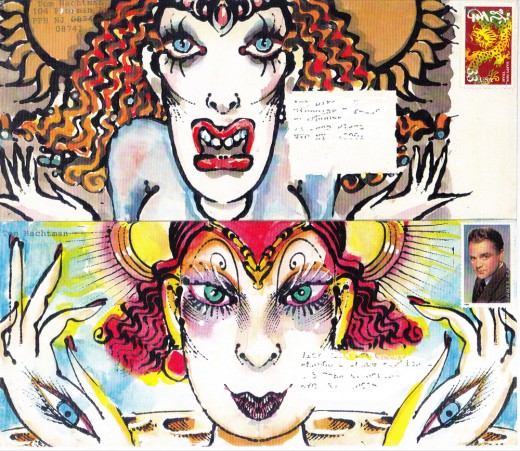 Two Envelopes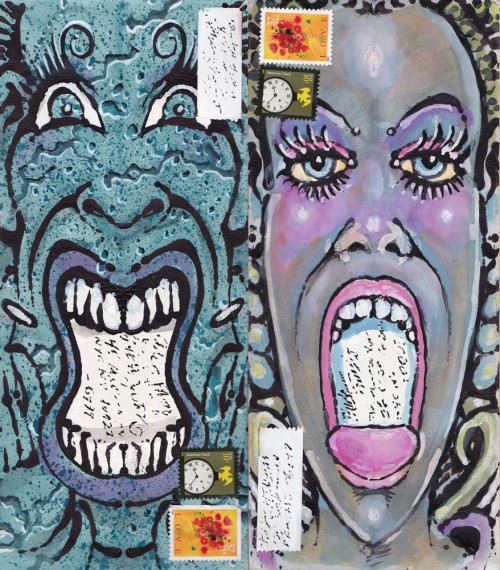 "Mail Art"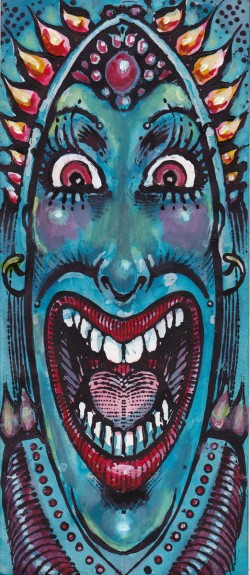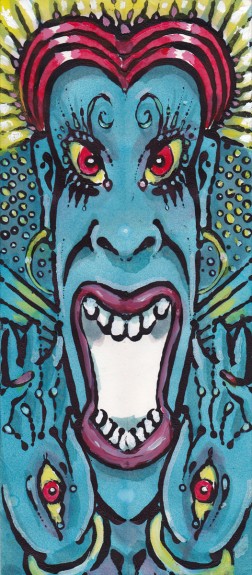 "Blue Scream" | "Blue Scream A"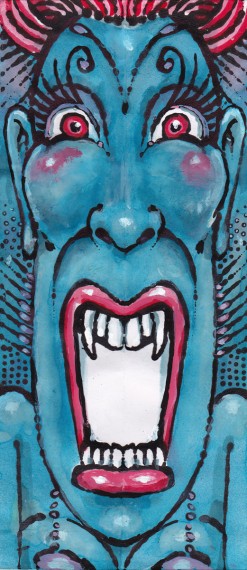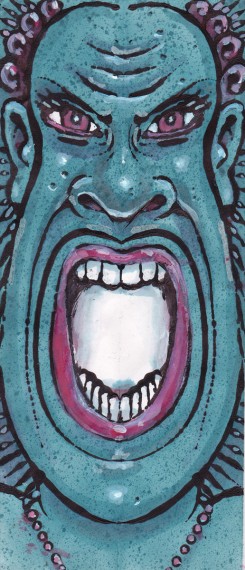 "Blue Scream B" | "Blue Scream C"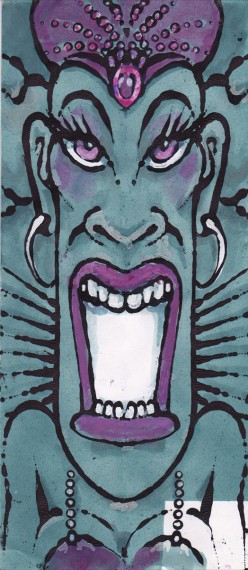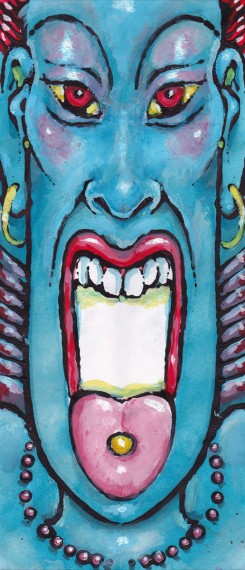 "Blue Scream D" | "Blue Scream E"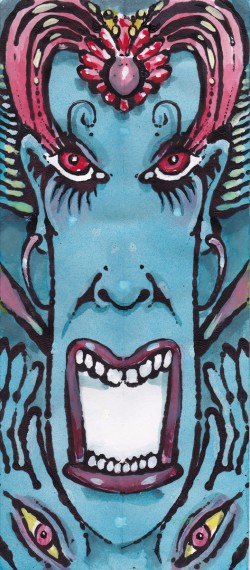 "Blue Scream F"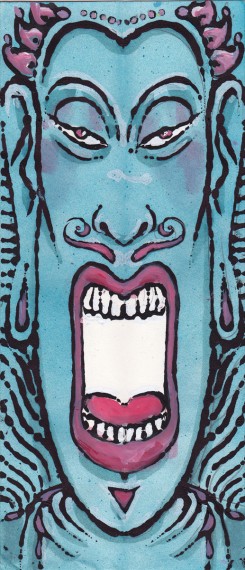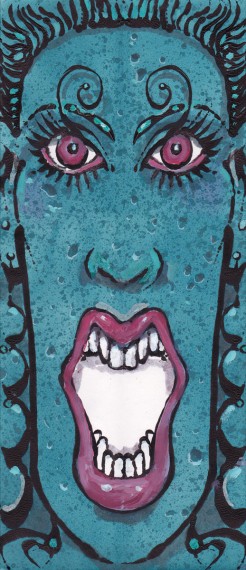 "Blue Scream G" | "Blue Scream G-01″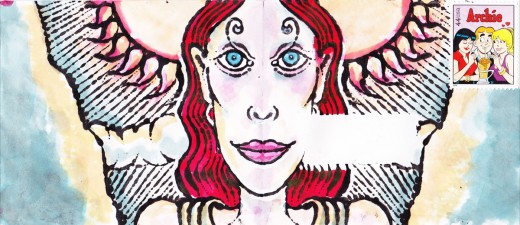 "Not Screamng"
Comic Art &Illustration &T.Hachtman 05 Jun 2012 04:52 am
- A while back Tom Hachtman sent me a calendar illustrated by the sports cartoonist, Feg Murray.
Tom wrote: Here's a "'treasure' I found in the basement today. They're mildewed and have been through floods but they are still great art."
Sorry I don't have all twelve – there are golf lessons from Walter Hagen on the backs if you're interested."
The calendar dates back to 1930.
Not being the golfer, I wasn't really interested in the lessons. Here are the extant calendar pages.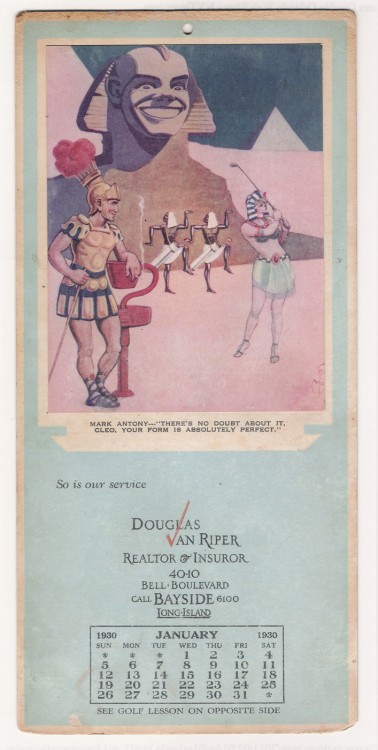 January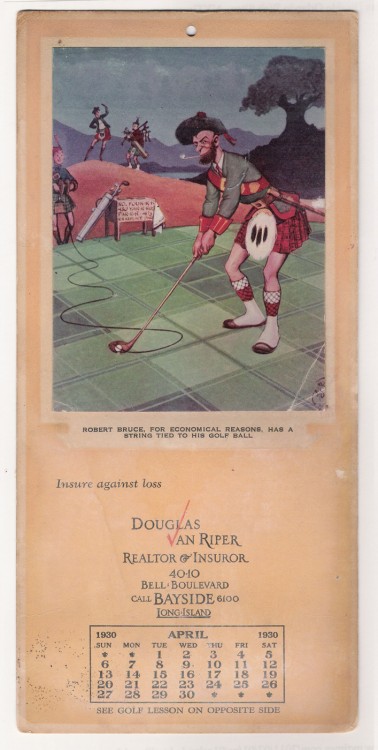 April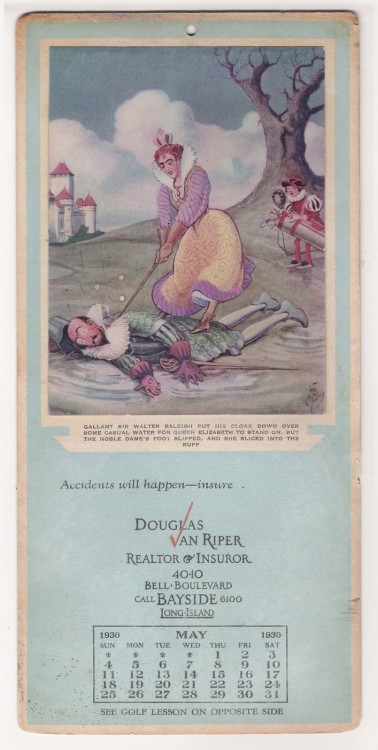 May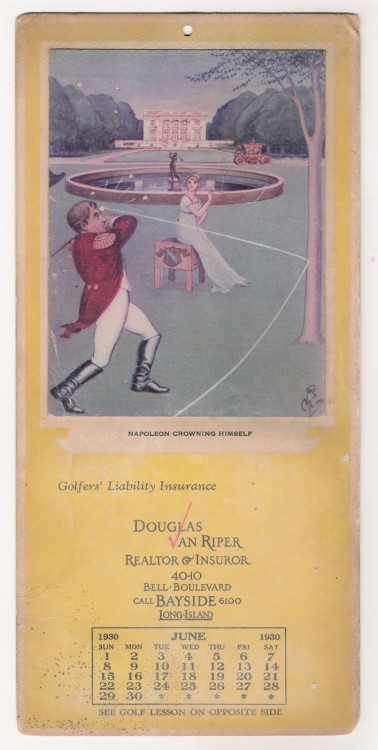 June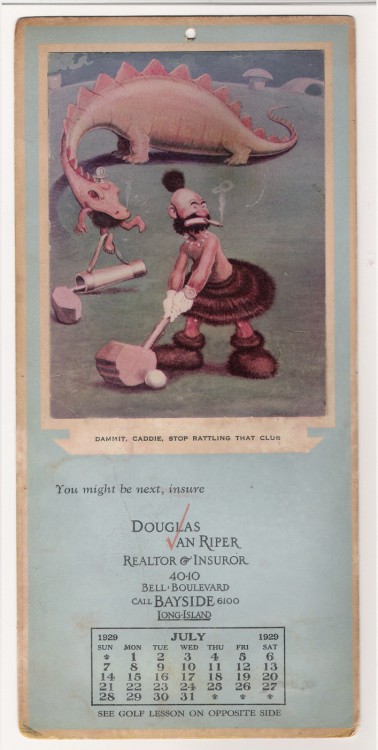 July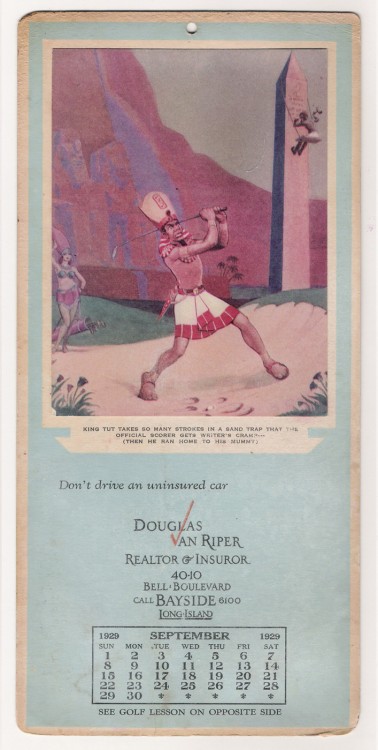 September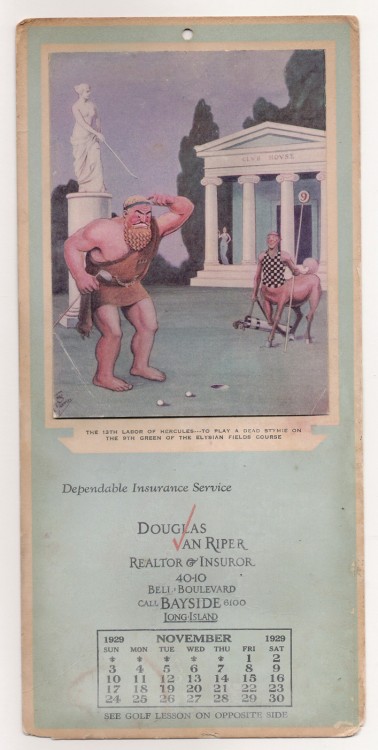 November
Here are some examples of the comic strips that Feg Murray had in syndication.
He was considered, primarily, a sports cartoonist, and this strip is a good example of what he did.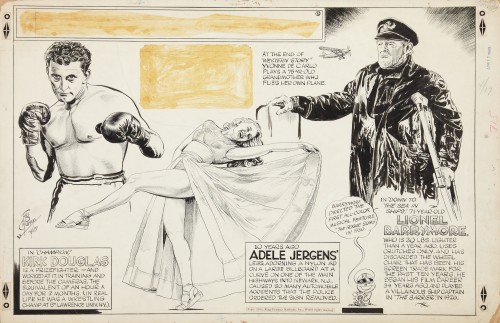 1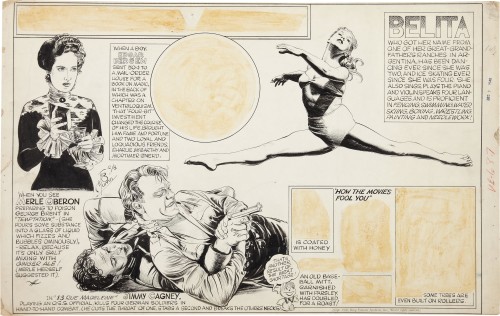 2
He also had a strip called "Seeing Stars" which focused on celebrities.'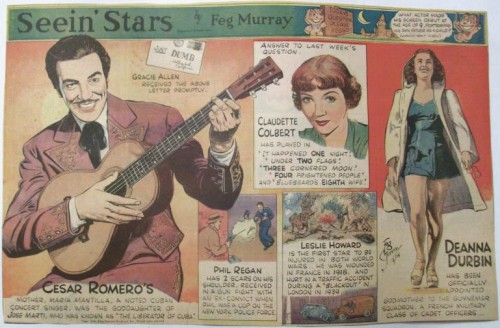 Finally, here's a Christmas card he did while working through King Features Syndicate.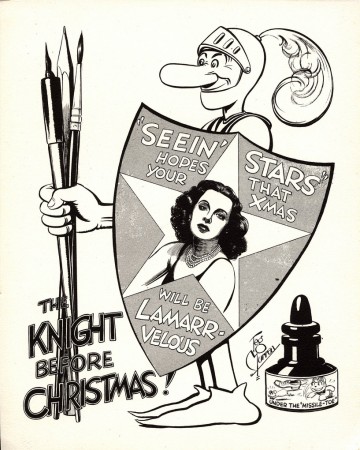 commercial animation &SpornFilms &T.Hachtman 20 Feb 2012 07:17 am
Happy President's Day
- Since it's President's Day, I thought I'd give you a small bit of the show I did this past year for HBO, I Can Be President.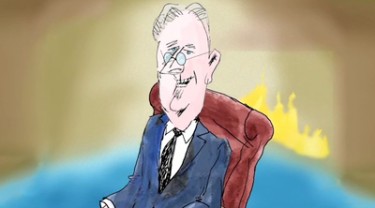 Actually, this is a rough animatic for a sequence that was cut out of the show. Had it been approved, we would have animated it and properly finished it. We did about ten segments like this when we were forming the material, and it turns out we were taking the show in a direction that was not desired.
Sheila Nevins, HBO's VP of programming wanted the show to not focus on the past (rightfully so as it turns out), and we had to dump any but a small part of the history of the Presidents. This show had a long history which took quite some time to get through the production. It was also done for a very low budget, but turned out quite well. Special thanks go to Matthew Clinton and Katrina Gregorius for their tireless and charming work.
We had sequences on John Adams and his son John Quincy Adams making a disastrous sea trip to Paris; there was another section on the animals kept by various Presidents at the White House (J.Q. Adams, himself, had a pet alligator at the headquarters. Coolidge had dozens of dogs, cats, birds, a wallaby, a baby hippo, a donkey and many other animals. He basically made a zoo of the White House.)
The sequence below shows a couple of actual stories about Franklin Delanor Roosevelt in a time before he caught polio and was crippled by the disease. He came from a wealthy family, and had more access to the world than your average would-be-President.
The bad temporary Voice Over is mine, the cheapest actor I could find. The plan was to replace mine with a celebrity voice.

Animatic version of sequence cut out of I CAN BE PRESIDENT.

The DVD, when it comes out, will have a whole slew of these eliminated animation pieces.
The gifted cartoonist, Tom Hachtman, did a number of caricatures of the Presidents for these sequences. It would have been nice to have used the material he delivered, but such is this type of production.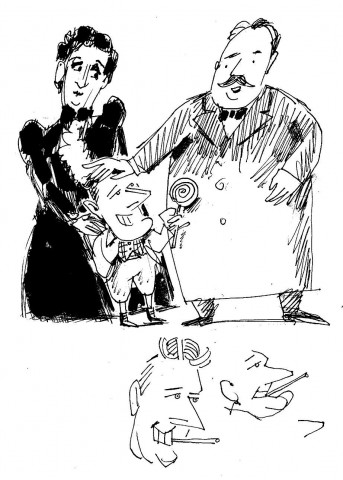 1
Here are Tom's sketches of FDR for the animatic.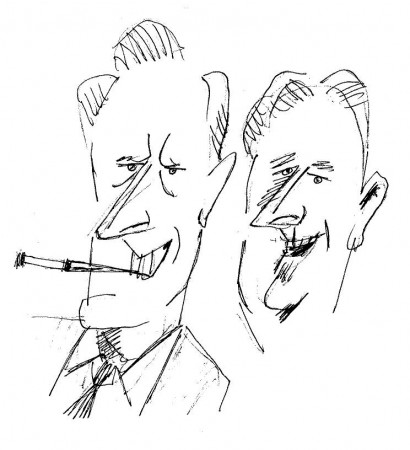 2
FDR narrates it as if it were a "Fireside Chat".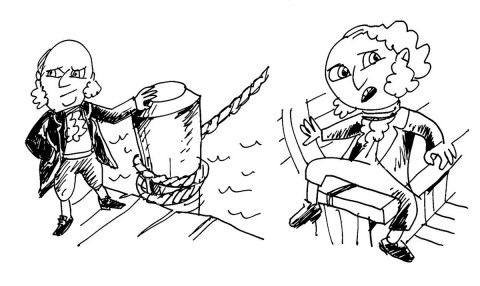 3
These drawings were for the animatic on John Adams and son, John Quicy Adams,
crossing the Atlantic to go to France – where they stayed for more than a year.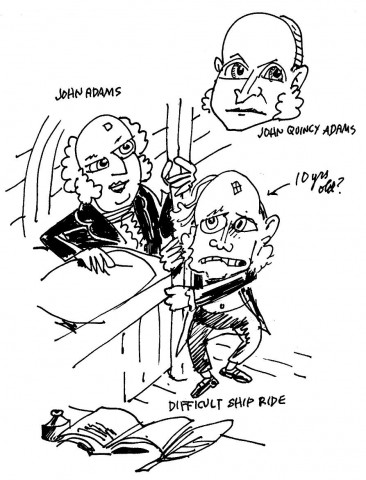 4
It was a tough voyage. Storms, invading British ships and seasickness.

The show will air numerous times in March:
Sun March 4, 06:00 AM – HBO – EAST
Sun March 4, 09:00 AM – HBO – WEST
Mon March 12, 06:00 AM – HBO – EAST
Mon March 12, 09:00 AM HBO – WEST
Sat March 24, 06:05 AM HBO – EAST
Sat March 24, 09:05 AM HBO – WEST
Fri March 30, 06:45 AM HBO – EAST
Fri March 30, 09:45 AM HBO – WEST
Art Art &Books &Comic Art &Illustration &John Canemaker &T.Hachtman 03 Dec 2011 07:45 am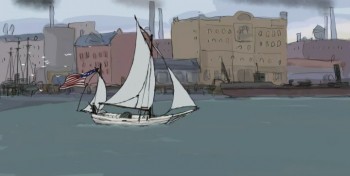 - This past Thursday night, Paul and Sandra Fierlinger presented an hour's worth of their latest project at Parson's School. The film, Slocum at Sea with Himself, tells the story of the first person to have sailed SOLO around the world.
The film was a work in progress in every sense of the phrase. It started in full color, included scenes over final Bgs that weren't colored and had other scenes that were pure pencil test. The sound was predominantly music composed and performed by the brilliant Shay Lynch. (You may know his music from the many films he did for Jeff Scher.) Yet, it all stood with a great dignity as a strong piece.
The film was full of potential to be even greater than their last feature, My Dog Tulip. Imagery was stunning and beautifully designed and animated (as usual from this team). It was a real treat seeing the work in progress, and it was easy to fill in the gaps. The movie takes place almost completely on water, and it's amazing the effects they've achieved in animating such a difficult project. I was wholly taken by it.
As monumental as the screening was – truly inspirational, the talk Paul gave in advance was thought provoking. They are making the film with their own money and planning to release it online in short segments. All told the feed would take about six months to receive the entire feature. To buy these feeds, which will be built into a website that would constantly change for each segment, will cost about $30 in total. They're hoping for a built-in audience of boaters and leisure craft enthusiasts around the world. Slocum is a well-known story to these folk, and the likelihood that they'd have interest in the subject is great.
Theirs is a provocative idea for distributing the film, and the business model Paul presented seemed original and probably a successful one. It will take some time before the feature is finished, but I'll be watching closely to see how successful they'll be. I'd bet on them, too.
There is no doubt of the love they're pouring into this project. Take a look at these stills: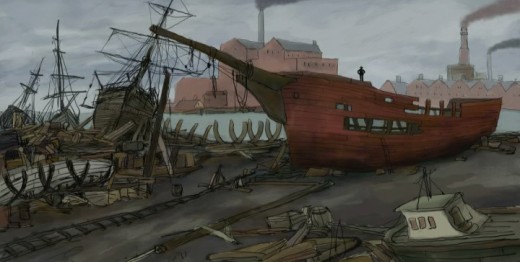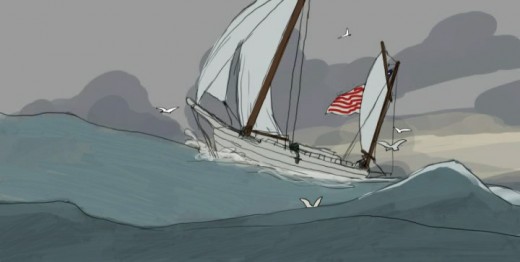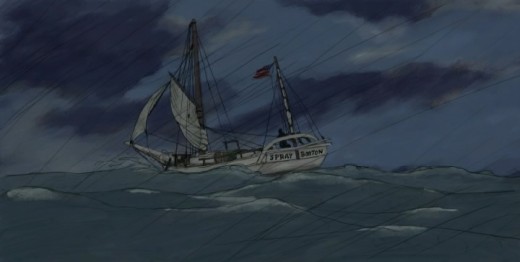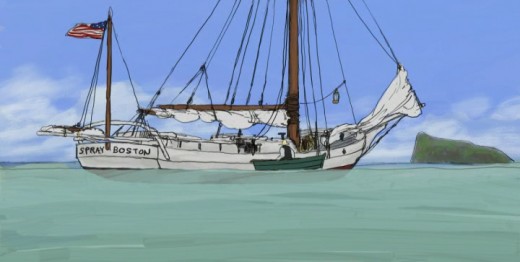 ____________________________________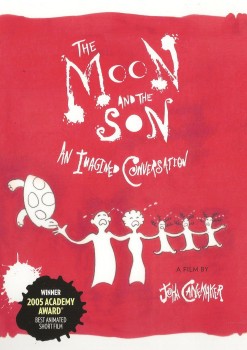 - The Moon and the Son: An Imagined Conversation, John Canemaker's animated short, is now available in a special edition DVD. This powerful and moving film, which has won both the Academy Award and the Emmy Award, explores the difficult emotional terrain of father/son relationships as seen through Canemaker's own turbulent relationship with his father.
The Moon and the Son combines many different elements from John's remembered versions of the facts, to the actual evidence of the life on screen: the trial transcripts, audio recordings, home movies, and photos. The original and stylized animation tells the true story of an Italian immigrant's troubled life and the consequences of his actions on his family. The film features the voices of noted actors Eli Wallach and John Turturro in the roles of father and son.
The DVD includes the complete 28-minute film and the following bonus materials:
- A new documentary detailing the film's creative evolution, influences and reception, with animation director/designer John Canemaker and producer Peggy Stern.
- The first rough cut (working title: "Confessions of my Father") with original soundtrack
- A Photo gallery of production sketches, preliminary artwork and storyboards
I enjoyed thumbing through all the extras on this DVD. When the film was being made, John shared its progress with me at several stages. I'm intrigued with how much material was there in the development. As a long time friend with John, I felt I'd known some of the story over the years. But the film, and now the new material, give me larger insight to the full story. Spending time reading the storyboard (one of the extras) again – having seen the film several times – allowed me to see some of the background which shaped John's quest to tell this story.
The DVD is available now on Amazon.

Some samples of the art work on the new disc.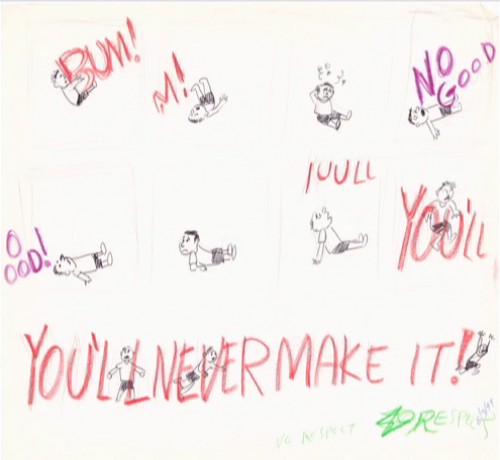 A somewhat Feiffer-like page within the storyboard.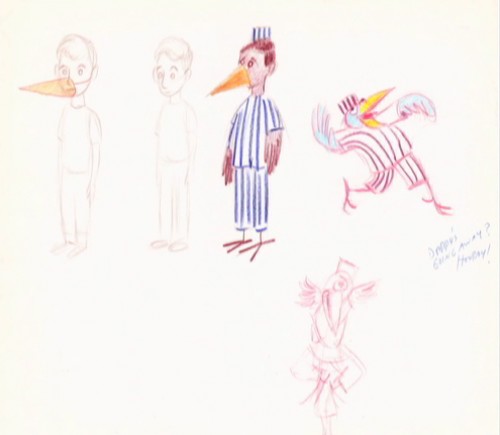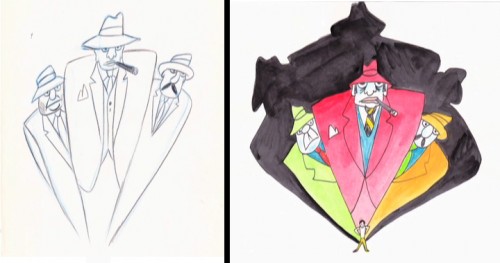 Smart sketches grow in color.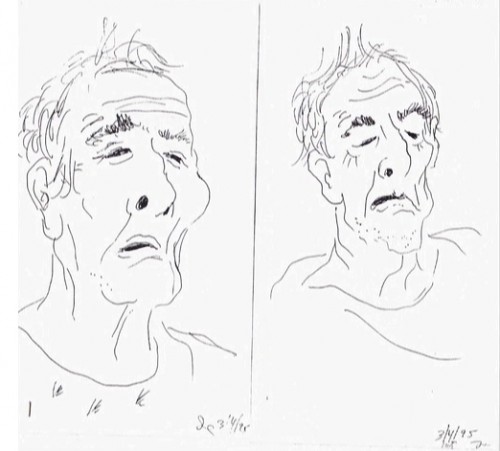 A very "Canemaker" sketch that reminds me a bit of a Picasso sketch.
There's lots more on the DVD.
____________________________________
- Tom Hachtman has seen an unusual turn with his Gertrude and Alice characters. You'll remember that he'd developed a comic strip, Gertrude's Follies, built around Gertrude Stein and Alice B. Toklas. A friend and admirer of the strip, Hans Gallas, has written a children's book around Tom's characters, and Tom illustrated the book. Now that book's been published, and can be purchased from their site. Gertrude and Alice and Fritz and Tom is a charming account of what happens when Gertrude and Alice have to take care of a couple of young boys during their stay in Paris.
Here are some of the book's exuberant illustrations.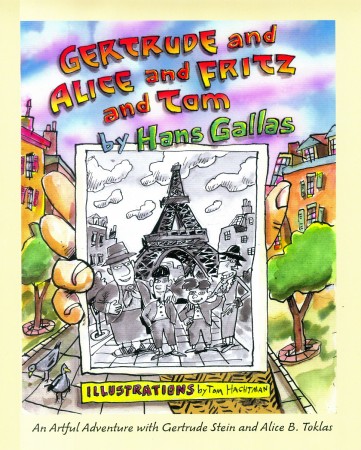 The book's cover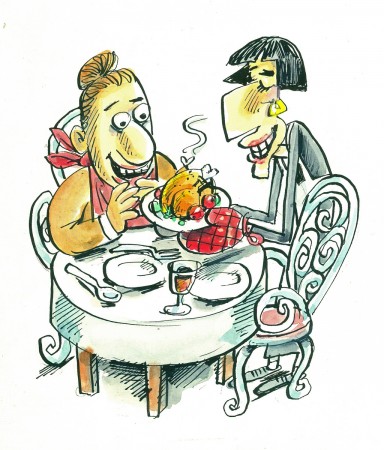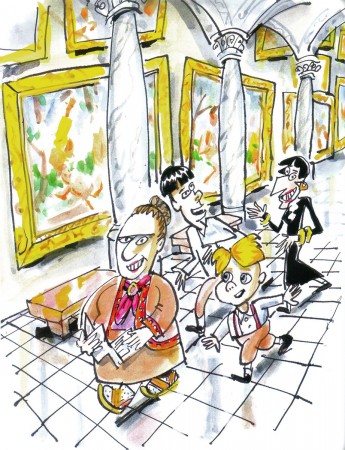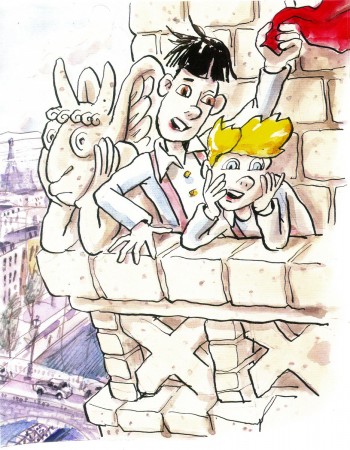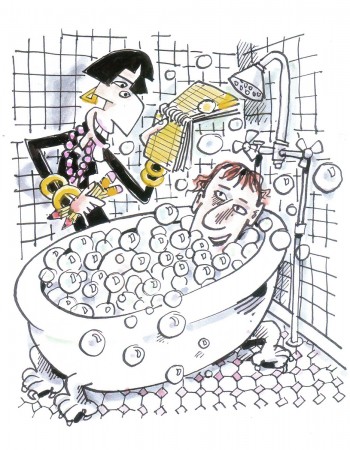 And here are some of Tom's original sketches for the book.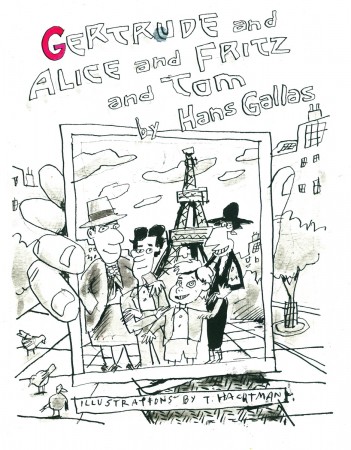 Original sketch for the cover.
Très different from the final.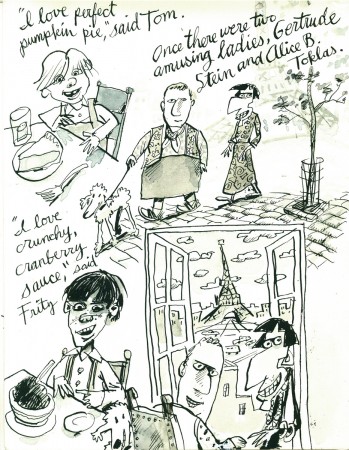 A preliminary sketch for a lot of pages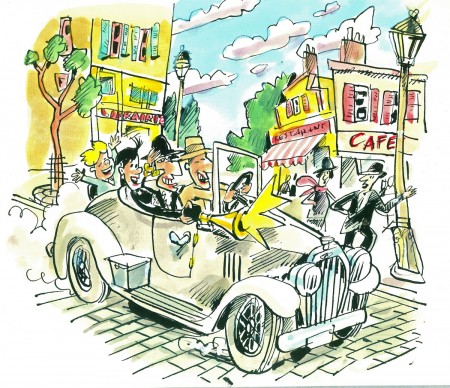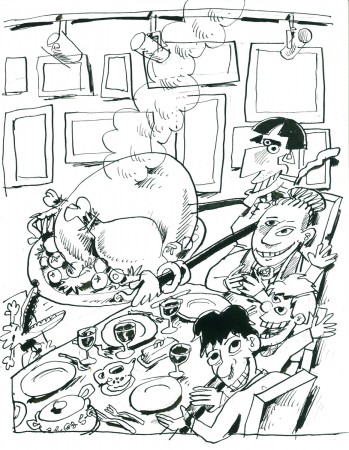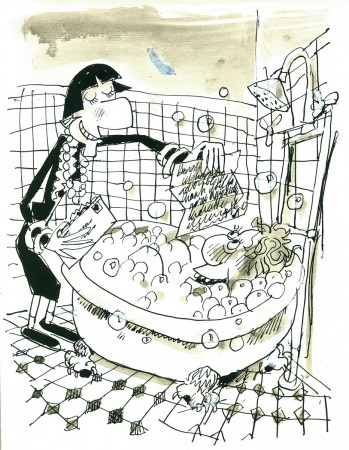 _____________________________________________________________________
_____________________________________________________________________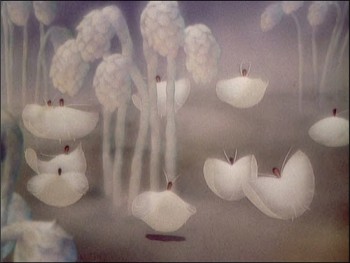 - Bill Benzon, on his blog New Savannah, has finally completed his treatise on Fantasia and has published it in a PDF form. You can download this here for a great read. 96 pages of intelligent discourse on the feature. This document contains his original, and shorter commentary on the Pastoral sequence. For his longer take on that sequence download this document.
Animation &Independent Animation &SpornFilms &T.Hachtman 16 Oct 2011 06:29 am
With the opening of the Gertrude show in Washington D.C. at the National Portrait Gallery, I thought it worth celebrating our relationship with Tom Hachtman, the cartoonist who has developed the strip Gertrude and Alice and who has some pieces in this D.C. exhibit. Hence, I'm re-posting the tale of our animated journey.

- Back in the late '70s, there was a local newspaper that competed with the Village Voice for the alternative audience. The Soho News was smaller and thinner, but had its own treasures. Some good writing and listings, and many excellent alternative comic strips. (Bill Plympton had a weekly strip in this paper before he started animating.)
I fell in love with one comic strip called Gertrude's Follies to the point where I waited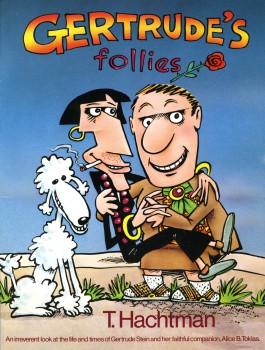 each week for the new issue and the new strip to hit to market. It was about Gertrude Stein and Alice B. Toklas and all the crazies that came into their lives – particularly Picasso, Hemingway and other iconic art types. It didn't matter that Matisse and Capote didn't meet; they were both available for the strip – as was everyone else.
Finally, after enjoying it for so long, I decided to locate the cartoonist behind it, and see whether he was interested in developing a storyboard and script for a feature. Maybe we could get some low-budget financing.
Tom Hachtman was the cartoonist, and he was a brilliant artist. His wife, Joey Epstein, was another fine artist. The two entered my life at this point, and some interesting things developed.
Gertrude's Follies was an ongoing project. Tom worked with Maxine Fisher, who has been my writing partner through all the years of my studio. The two of them developed a couple of themes from the mass of strips that had been done and started to weave a storyboard. Tom left 4 or 5 panels of each 6 panel page empty, and I constructed and reconstructed story around them. Sometimes I would draw more material, sometimes I would take some away. It was real fun.
The Soho News folded, and no one really picked up the strip. It ran for a short time in The Advocate. Tom was able to publish a collected book (see the cover above.) You can still locate a rare copy on line.
Some newer, color copies of the strip can be found on line here.
Tom also does some political cartoons for the site here.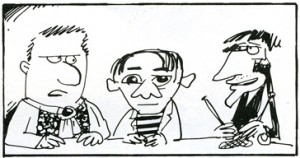 The movie never went into production. I couldn't raise the funds – my inexperience. We did make one short segment – a two minute piece that was the most hilarious strip. Sheldon Cohen, an animator I met at the Ottawa 76 festival, came to NY when I offered him a job on Raggedy Ann. Sheldon, ultimately, did a number of films for the National Film Board which you can watch on-line if you click on his name.
Sheldon animated this particularly funny strip. It took a while for him to animate it, and by the time he was finished, the feature had died and I had lost some interest. Years later I inked and painted it and had it shot. The short piece was never finished, though I still think about doing that.
Tom also recently gave me a funny strip about Pablo Picasso sculpture for which I've finished a storyboard and animatic. Hopefully, I'll get the energy to animate it.
Aside from Gertrude, both Tom & Joey worked on a number of my films and still infrequently do. The two have painted many murals on the Jersey Coast, where they currently live. Tom has been a political cartoonist for the NY Daily News, has done lots of airbrush work for Bob Blechman when the Ink Tank was in operation. He also has done quite a few cartoons for The New Yorker magazine.
Here are a few of the strips to give you the flavor. Perhaps next week I'll give a sample of our storyboard, comparing it with some of the actual strips. Enjoy.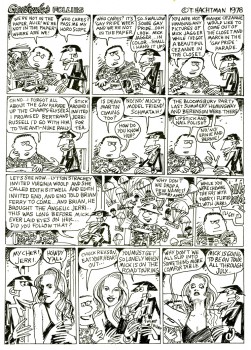 1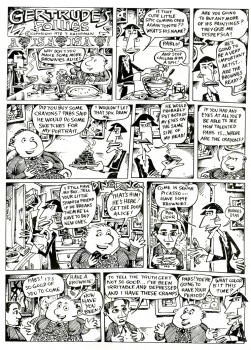 2
(Click on any image to enlarge so that you can read the strips.)
_____________________
.
We did ultimately complete the short film, called "Pabs' First Burger."
Tom Hachtman
did the backgrounds and
Matthew Clinton
did the animation.
Here's a small QT view of that short:
Photos &T.Hachtman 27 Mar 2011 07:14 am
Tom Hachtman and his wife, Joey, as I've written before, produce murals for people primarily in Southern New Jersey. They do this work through Joey's company, Three Designing Women Studios.
Infrequently they send me some photos so I can see what they're up to. Here are a recent few photos sent my way. Tom describes the photos.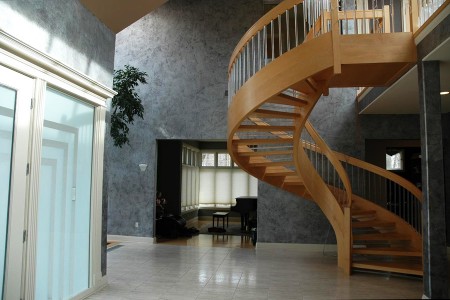 1
This job is in Colt's Neck, New Jersey.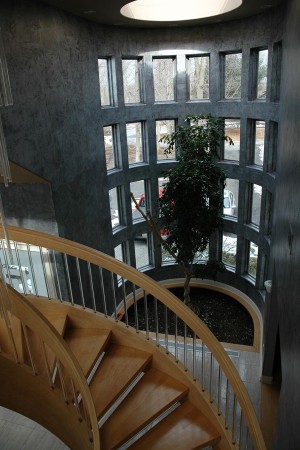 2
We had to build a floor over the pit
so we could paint around that tree.
Joey said, "It looks like a Gehry house."
Katie Mae, our coworker, said, "Yeah – inside out."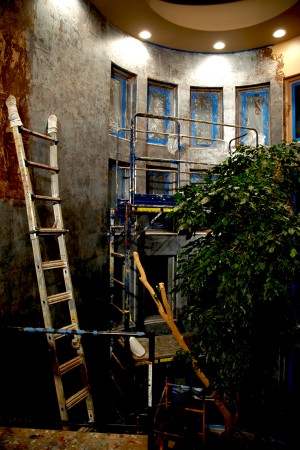 3
It is a faux finish – layers of silver and platinum metallic paints and
it really should be seen in person as it changes with the light every
time you move around. Katie Mott and Christine Myshka worked with us
and we couldn't have done it without them. This sort of work makes me
feel more like a Flying Wallenda than a Michelangelo. I do think of
Philippe Petit now and then for further inspiration.
The Hazlet mural is nearly finished – I'll send photos when it is.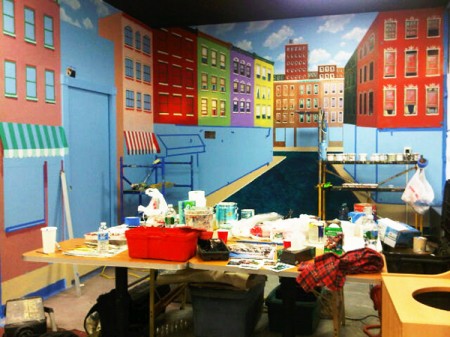 4
A mural in progress at Gem's House of Bagels in Hazlet, NJ.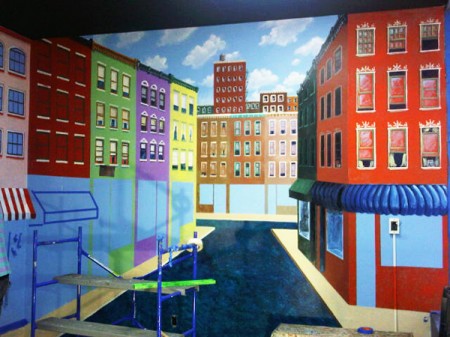 5
This is our third Gem's House of Bagels mural.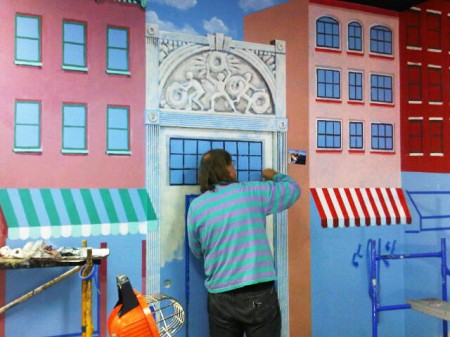 6
Here I am working on our third Gem's House of Bagels mural.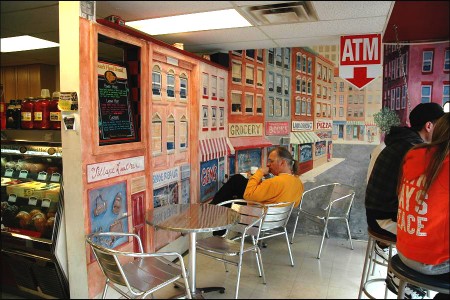 7
I'm sitting in front of the first Gem's mural – smaller store – smaller mural.
Bill Peckmann &Comic Art &Illustration &T.Hachtman 08 Mar 2011 09:15 am
- This is the comic book FRONTLINE COMBAT (#12). It was sent to me by Bill Peckmann, and he best delineates what makes this issue so important. In Bill's words:
Here's the worn, torn cover and imperfect pages* of FRONTLINE COMBAT (#12) comic book from 1953.

Harvey Kurtzman (Age 29) – Editor, writer and lay-out artist.

Jack Davis (Age 29) – Cover (Before he was famous for his TV Guide & Time covers.) and one story.

Alex Toth (Age 25) – One story.

It doesn't get much better than this. Would be hard to find a bunch of comic book artists from this time period who could do a better job at setting mood, time and place. And, look at those ages, WOW… them, there young whipper snappers!

Alex's graphic design of those pages is a wonder. At that period in his early career the story is really something to behold. He and Harvey battled (neither one had pleasant memories of this) over how this story should be done/told and unfortunately they never worked together again. If you look at AT's other aviation stories (not done with Harvey) at this time, they're good, but do not reach the level of great art that "F-86″ breached. So, even though they couldn't/didn't agree, without their collaboration, we would never have had this keeper of a story!

-Bill

ps: Pages are a little off register and some of the ink bleeds through from the other side of the page but there's still a wonderful softness that's there, kinda like 4 strip Technicolor movies.
I couldn't agree more. Here're the scans: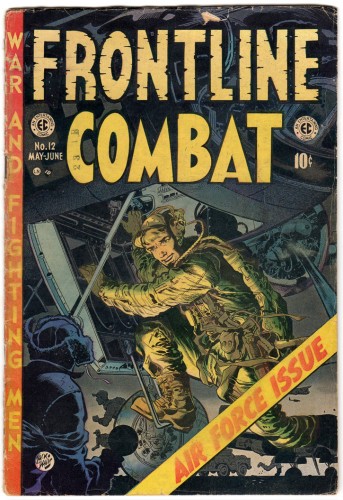 1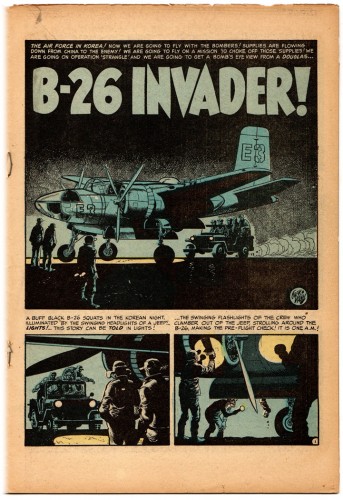 2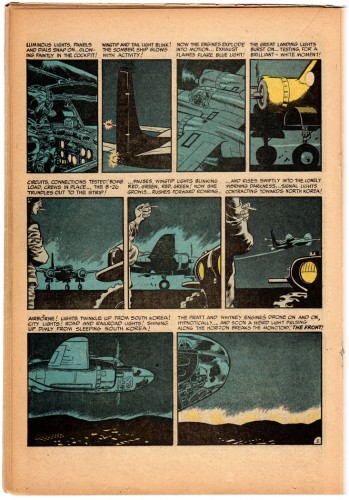 3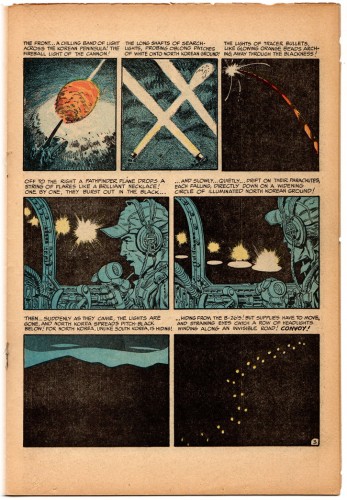 4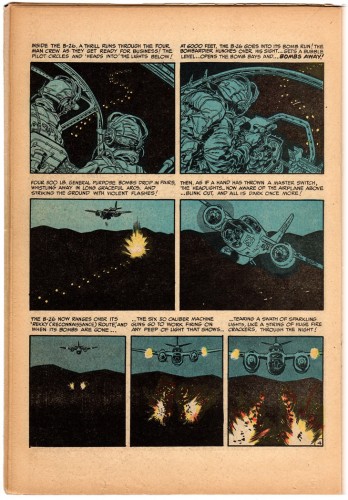 5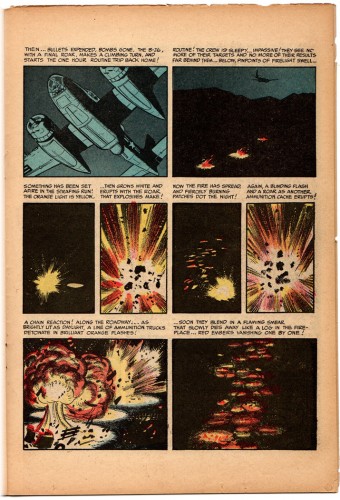 6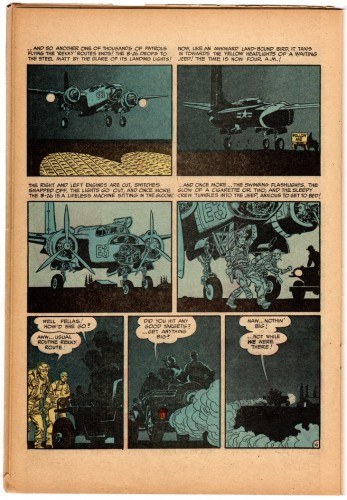 7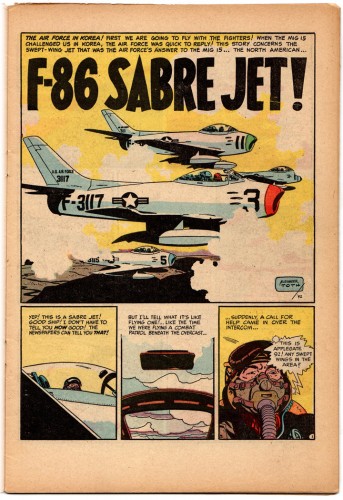 8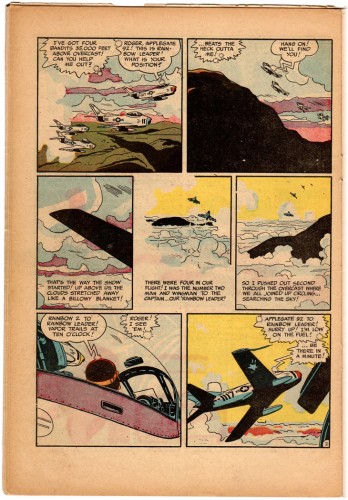 9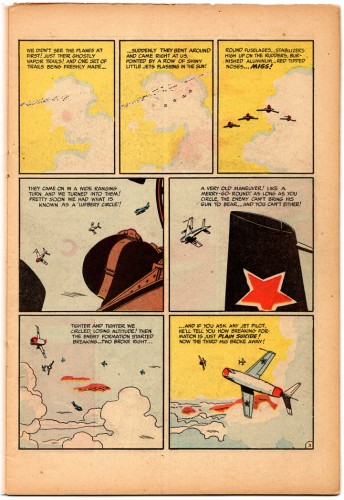 10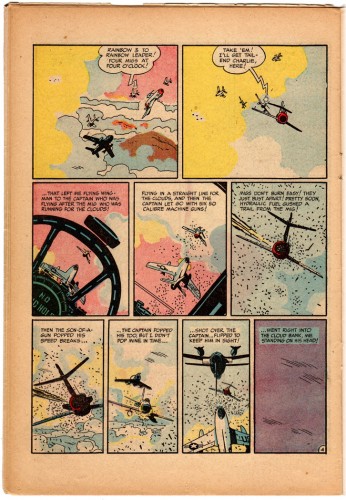 11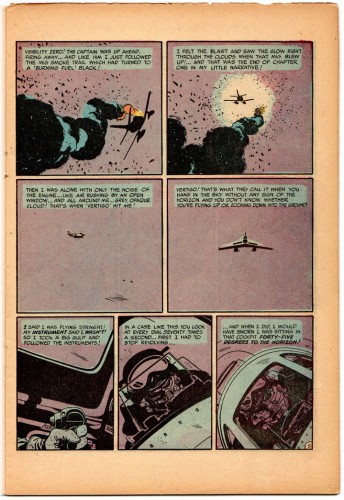 12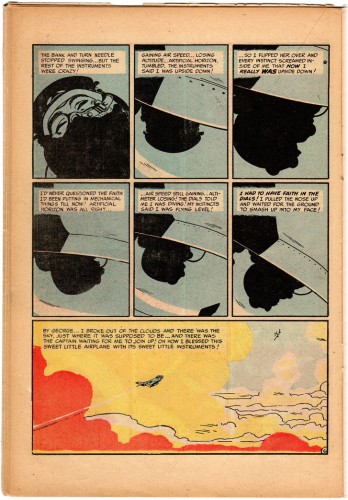 13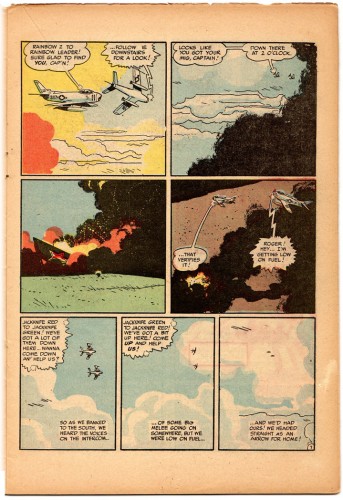 14

It just so happens that I received an email from Tom Hachtman today, and I thought I'd post it here since it's somewhat appropriate:
I just got a copy of 'The Art of Harvey Kurtzman' – because I am an artist and a humorist and not much of a musician I find Harvey more important than the Beatles and Harry Shearer, in an intro, says, '…no Harvey no Simpsons' and 'no Harvey no SNL'.
I'd like to add ' no Blazing Saddles or Young Frankenstein' and probably no David Letterman – hard to say – ALSO – I think it is in 'A Hard Day's Night' that there is a scene where John Lennon is reading a MAD paperback and those were all Harvey – so, maybe NO HARVEY NO BEATLES haha – and I think it was George at a press conference when they arrived in the USA, when asked what they call their haircut responded, 'Arthur!' – 'Arthur' was the name of the potted plant mascot that often appeared in the early MAD.

And of course 'no Harvey no Crumb' and if no Crumb – well, "NO HARVEY NO ME?"

I guess I am trying to say, "Thank you Harvey!"
Yet again, many thanks to Bill Peckmann for this treasure.
Commentary &Independent Animation &SpornFilms &T.Hachtman 21 Feb 2011 08:08 am
- Happy President's Day. This gives me the chance to talk about a show I've been doing for HBO. It feels like I've been working the last ten years on it, but it's really only 2½. The show is scheduled to air next year on President's Day, and we're in the throes of completing it now.
This is basically a program where we've asked some kids to tell us what they would do if they were President. The kids gave us some funny ideas and brought a lot to the table.
However, the show took a wrong turn somewhere in the beginning, and we went down a path that wasn't what Sheila Nevins, the head of Family Programming, was looking for. We'd done a half hour of finished-looking animatic to sell our work, and a lot of it went out the window.
I tried to make some small QT movies of a couple of the outtakes, but I couldn't get the files down far enough, and they took forever to load. So forget that. Instead, let me show off some of the great caricatures Tom Hachtman did for me.
We were going to tell some quirky stories about some of the Presidents, when they were kids. And we'd assembled some interesting ones. So Tom had to give me drawings of the Presidents as adults AND as kids.
Here's some of the art that went out the window: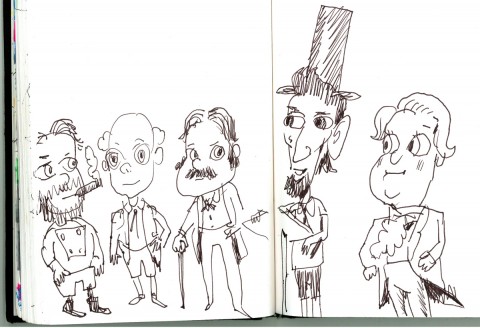 1
At first, Tom did a lot of scketches in his notebook to see
what I was looking for. He hit it on the mark first time out.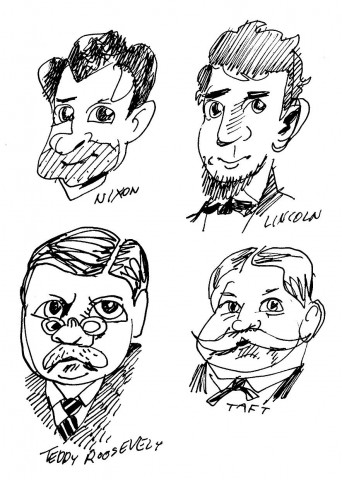 2
Then he produced a bunch of portraits of
random Presidents that might inspire something.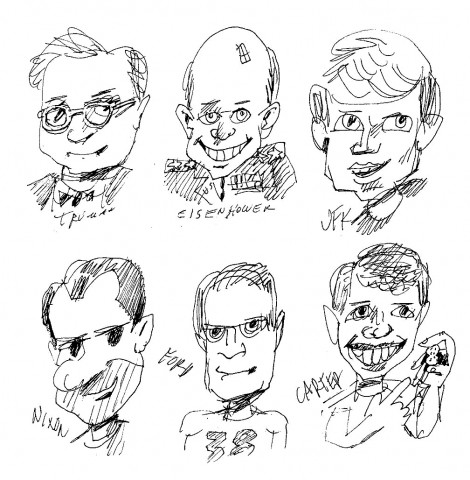 3
And more.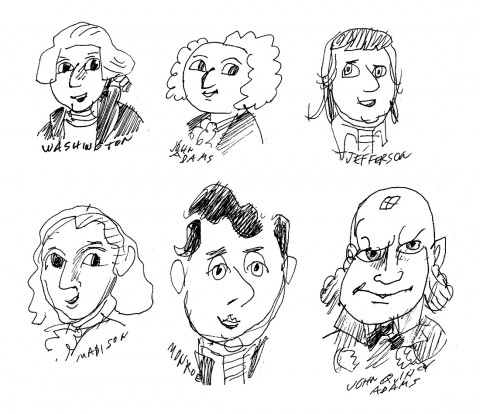 4
And more.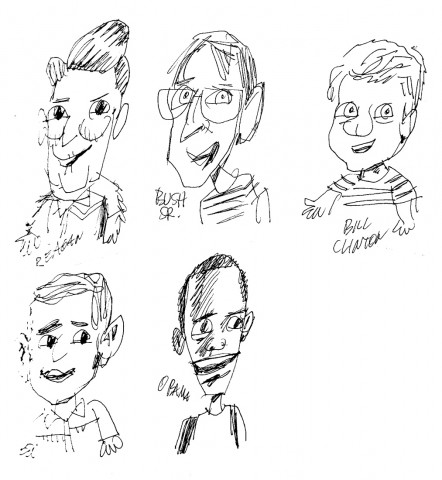 5
And as kids.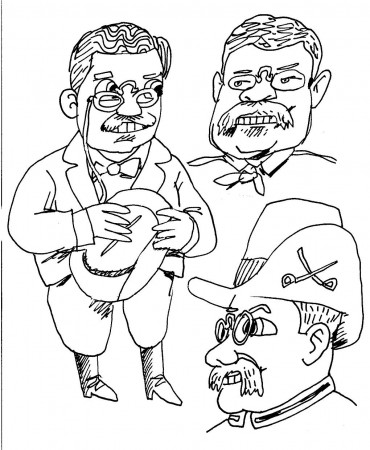 6
Teddy Roosevelt was heating up for us,
so Tom did quite a few sketches.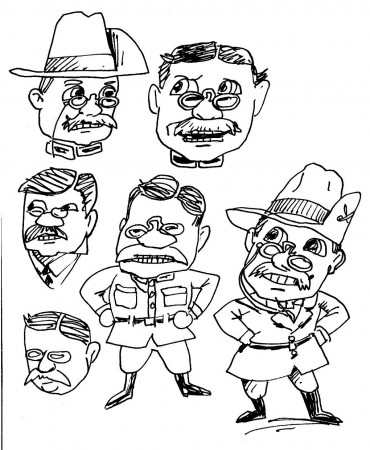 7
And more.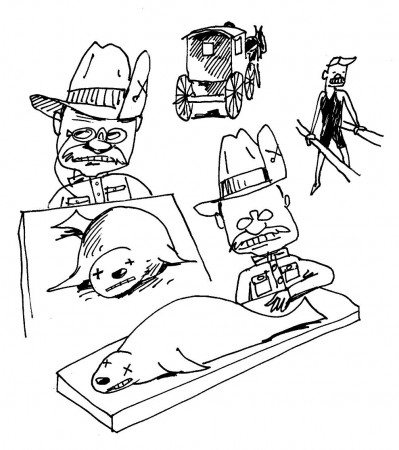 8
We had this story about Teddy, as a kid, finding
a dead seal. He took it home and performed an
autopsy, bisecting it to analyze its contents.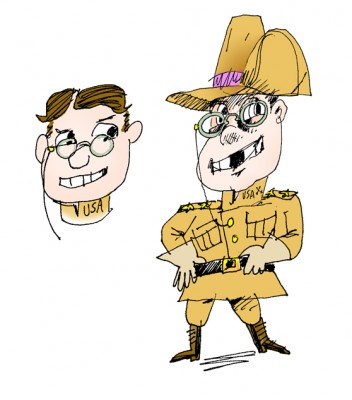 9
I colored one for presentation.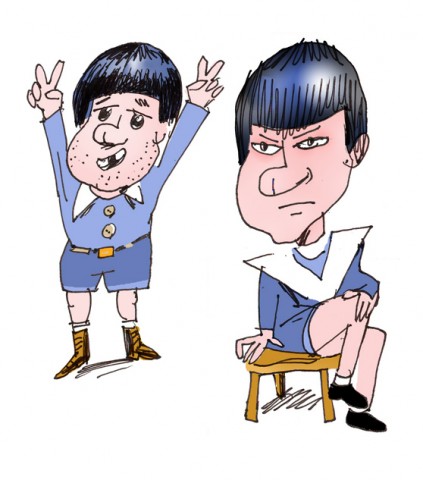 10
I also liked the idea of doing a story about Nixon,
especially after Tom came in with a funny drawing
that I colored strictly for presentation.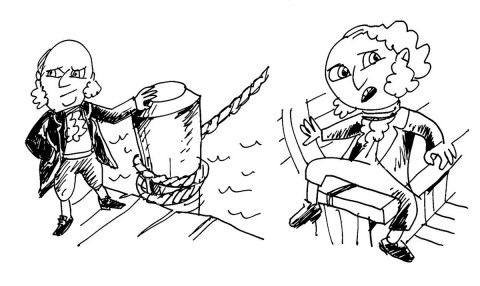 11
We did do an animatic on John Adams and his son, John Quicy Adams,
crossing the Atlantic to go to France – where they stayed for more than a year.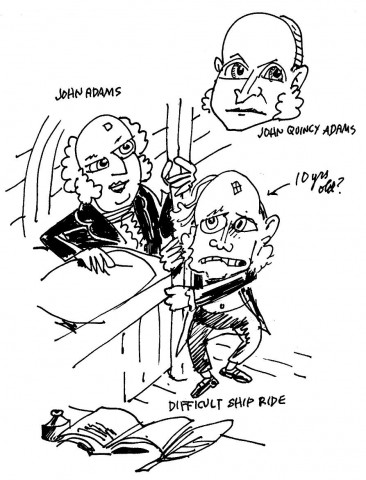 12
It was a tough voyage. Storms,
invading British ships and seasickness.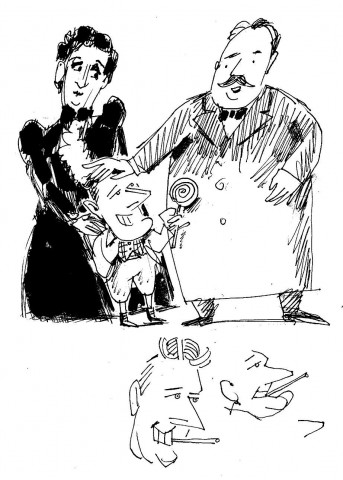 13
We also did a piece on FDR going to White House
as a child where he met Grover Cleveland and
was advised never to run for President.
But all this work was for naught. It was removed from the show. We didn't talk about past Presidents (with few small exceptions to comment on the conversations the kids have.)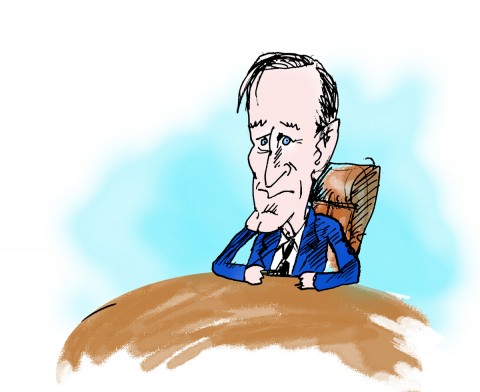 15
The one full piece that did make the show was
George H.W. Bush angry about eating broccoli.

The show's taken its own shape and I'm really proud of it. Matt Clinton and Katrina Gregorius did a magnificent job in handling a lot of the animation. It's really funny and poignant, too.
Look for it next year.
Photos &T.Hachtman 22 Aug 2010 07:27 am
- Tom and Joey Hachtman continue to create murals for homes up and down the Eastern seaboard. And I enjoy posting the photos of these paintings.
You'll remember that I posted some info about Tom's wife, Joey, who has a business painting murals locally (go here: 1, 2, 3).
Her business is called Three Designing Women Studios, and you can read about them in this article published, this week, at APP.com. There's also another recent article here.
This is the most recent mural they did for a children's room at Retro-Fitness in the Potomac Mills Mall, Woodbridge, VA.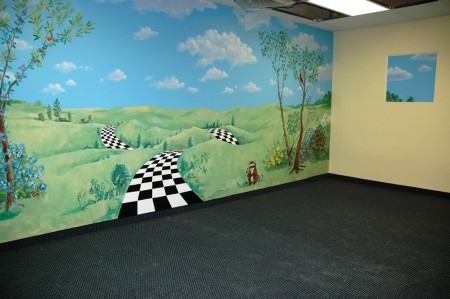 1
(Click any image to enlarge.)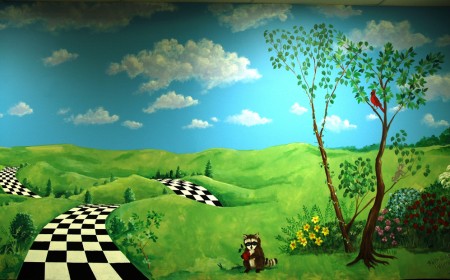 2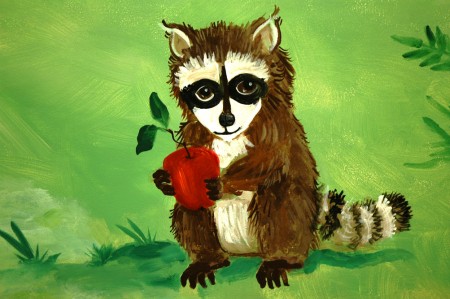 3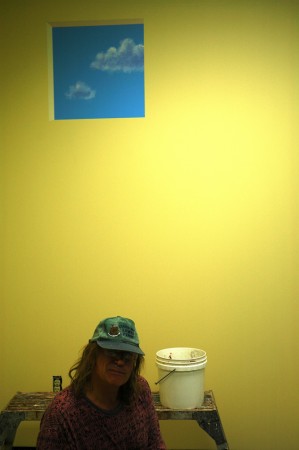 4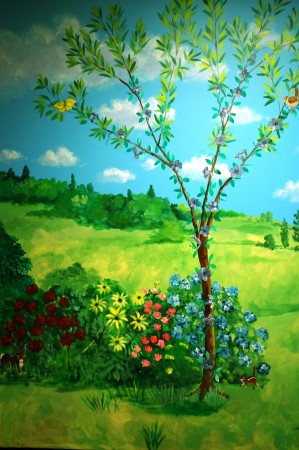 5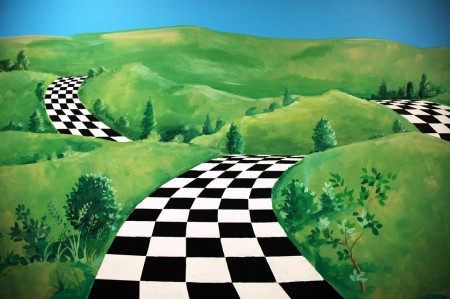 6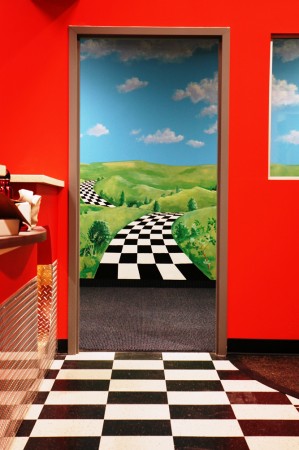 7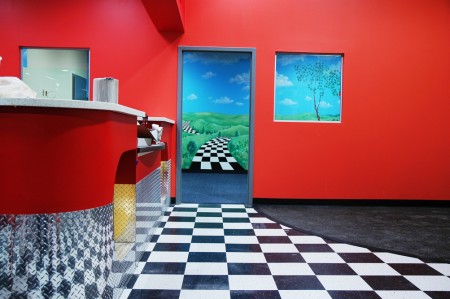 8