Animation Artifacts &Story & Storyboards 29 Mar 2007 08:00 am
- The next section of the storyboard I have available to post, shows Gepetto in the belly of the whale and his reunion with Pinocchio.
Unfortunately, here, the type is almost illegible on the originals. I've tried to goose it a bit in Photoshop, but I don't think I had much success, unless I want to destroy the images.
There are actually three pages here. Two worked lateral to each other, so I've attached them so that you can view it more easily. Boards I've marked 5b and 5c are longer than the past boards (and look smaller as thumbnails.) I hope they don't take too long for you to enlarge and download.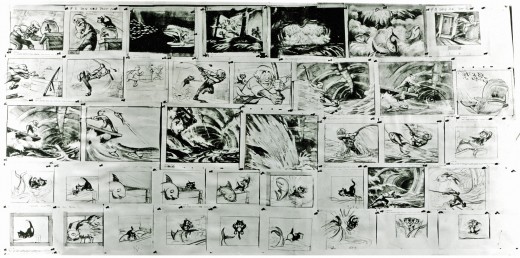 5a
(Click on any image to enlarge.)
Thanks, again, to John Canemaker for lending the boards to me for posting; thanks to Borge Ring for giving them to John, and Dave Hand for giving them to Borge.
One Response to "More Monstro"
on 29 Mar 2007 at 8:58 pm 1.Mark Sonntag said …

These scans have been great to see, thank you very much. As a board artist myself it is so refreshing to such fantastic stuff. Thanks for the inspiration.
Leave a Reply