Articles on Animation &Daily post 28 Mar 2007 08:12 am
I guess the big news today comes from a report in Variety that Chris Sanders who left (or was ousted) at Disney, a couple of months ago, has arrived at Dreamworks to direct "Crood Awakenings." (You can't invent a title like that, can you?) It's a caveman story that was being developed with Aardman in mind – before Aardman broke with Dreamworks.
It's all too incestuous. He's directed one solid movie but makes the lead on the front page of Variety. Slow story day.
Let's hope a good film develops out of it, but the title doesn't give me a lot of hope. Check out the Reuters headline: "Lilo" director shooting "Crood" cartoon.
_____________________________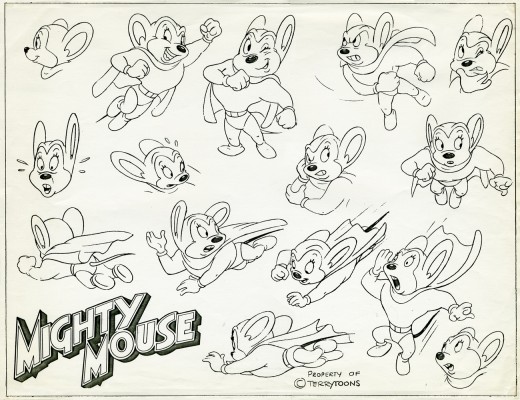 – Here's an I. Klein article published in the Dec. 73 issue of Cartoonist Profiles. Ostensibly, it tells how Izzy klein created Mighty Mouse without getting credit for it. However, more pertinent and interesting to me, and the reason I'm posting it, is that the article details how the Terry story team worked. (Not together, is the answer to that one.) It's a wonder that their stories are so good.
Without the bangup sound effects their films just wouldn't have been as good.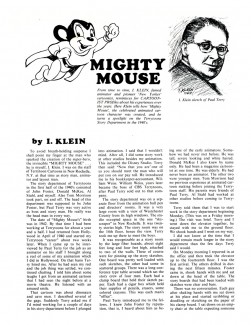 1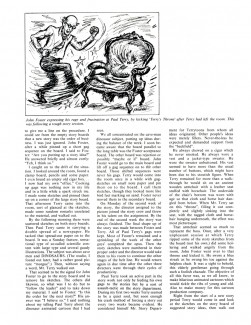 2
(Click any image to enlarge.)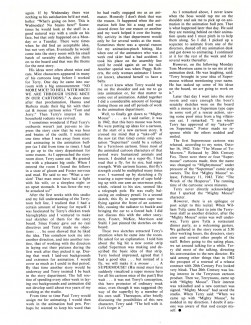 I find it interesting that this story by Klein details how he created a super bug which Terry pushed to become a super mouse. It obviously took Terry a bit of time to mull the idea over before putting it into action.
Of course, the way Klein tells it there seems to be no doubt that he came up with the core idea, but he had no hand in developing it – even beyond its origin as a bug. He says that in this article.
Yet, if you look anywhere on the interenet, it's Klein that gets all credit for the creation of Mighty Mouse. We talked once before about sloppy and slippery history appearing on the internet, and this seems to be another good case of it. Klein was a true talent whose work I respected enormously and who, as a person, was very genial and warm.
I also take on face value this story he tells. To be honest, I don't much care who created Mighty Mouse (though I loved that character as a kid and still have a fondness for the shorts), but I find the heart of this article by Klein to be about the workings of the Terry story department, such that it was. It's an interesting article that has a lot more than meets-the-eye within it.
_____________________________
To continue this theme to a more modern era, check out today's ASIFA Hollywood Animation Blog. Stephen Worth has posted a Yogi Bear storyboard by Warren Foster, the former Warner Bros. story writer.
4 Responses to "Super Mouse"
Leave a Reply