Articles on Animation &Commentary 31 Mar 2007 08:23 am
Meet The Robinsons opened yesterday to largely negative reviews in NYC. The NYTimes critic, A.O.Scott, started his review with these two paragraphs:
At the end of "Meet the Robinsons," a new 3-D computer-animated Disney film (loosely based on a popular children's book by William Joyce), the screen is filled with an inspiring quotation from Walt Disney himself. The gist of it is that "around here" — meaning at Disney's entertainment workshop — not a lot of time is spent looking backward. Instead, the motto is, as it is for some of the characters in the film, "Keep moving forward."

In other words, learn from your mistakes. And it seems appropriate that this great man's words appear at the end of this movie, since they implicitly invite you to forget what you have just seen and may even serve as a sort of apology. Whether or not it counts as a mistake — movies tend to be made on purpose — "Meet the Robinsons" is surely one of the worst theatrically released animated features issued under the Disney label in quite some time.
Most of the reviewers I've read came to the same conclusion about that bit of text at the end of the film. I wonder if anyone out there knows the story as to why the decision was made to place this quote at the tail of the movie. If you do, I'd appreciate hearing it.
____________________________________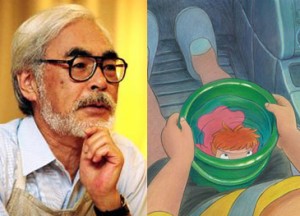 – Of course, there's nothing like an old master to bring us back to the basics.
News was revealed this last week that Miyazaki is at work on his next feature film, Ponyo On a Cliff. This is the story of a five year old boy, Soskue, and the goldfish princess, Ponyo. The film is set for a Summer 2008 release in Japan. Miyazaki is doing the storyboard with watercolors and pastels. I wouldn't mind if they released the animatic version of his films. His storyboards are the heart of the movies. A Variety article had this to report:
Instead of incorporating ever more CG cuts into 2-D animation, as Studio Ghibli has done in recent pics, Miyazaki intends to make "Ponyo" with a pastel watercolor, hand-painted look.

Miyazaki will "go back to his origins and use not any CG," Studio Ghibli prexy Toshio Suzuki told reporters at Monday's press conference announcing the toon. "Instead he will use simple, childlike drawings. He intends to make something different from his previous films."
Daniel Thomas MacInnes, naturally, posts one of the best pieces about this film on his site, Conversations on Ghibli.
Not far from the same subject, there's an interesting post at AniPages Daily. It places the focus squarely on the female animators working at Ghibli. It's nice to see some bios of these lesser known Japanese animators, and I thank Ben Ettinger for the post.
____________________________________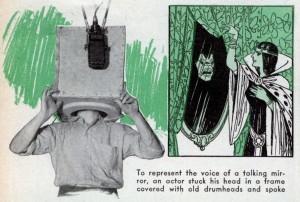 - Just in case you missed it, Cory Doctorow brought to the attention of Boing Boing an article in Popular Mechanix on the making of Snow White. It's worth a look; some of the graphics are beautiful. the article is five pages long.
The illustrations for the article (e.g. the one on the left) seem to use early production art. There isn't much resembling the final film, despite the magazine's 1938 publication date.
____________________________________
- A couple of sites have appeared on my horizon that I'd like to point out to you:
Mike Matei has a site, Classic Animation, which features a lot of animated shorts of the YouTube style. However, many of them are hard to see Van Buren films. It's good to see a lot of the B&W Tom and Jerry cartoons (the Mutt & Jeff impersonators not the cat and mouse). It's a good way to spend some time if you have it.
I found this site through Tom Stathes' Cartoons on Film blog. This site pays a lot of attention to the silent and early sound cartoons. Many of them can be bought on dvd through there.
A post about the two Amos and Andy animated shorts brought Mike Matei to comment with posted versions of both shorts. I last saw these in silent 8mm versions I'd owned (I bought them for $.99 way back when), so it was interesting seeing them again.
5 Responses to "New Guys and Old"
Leave a Reply