Action Analysis &Animation &Articles on Animation &Commentary 07 Jul 2013 05:00 am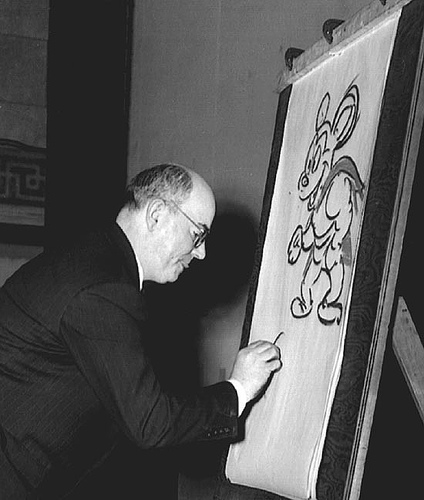 – Somehow always touching in the back corners of the recesses of my mind is the work of Jim Tyer. He's possibly the most well-known animator in the medium's short history. The guy has done such eccentric work that it's impossible to find someone comparable. Even to those who don't realize they're mimicking his work, they would be surprised to learn that they're doing Jim Tyre and not Tex Avery or Bob Clampett and Rod Scribner.
A number of things have been written about Jim Tyer. Interestingly, it's predominantly the same few people that seem to be writing and usually the same bits are repeated.
Chief among sites that offers bits and comics among their offerings, is Kevin Langley's Cartoons Comics and Model Sheets. This blog first caught my attention with plenty of Mr. Tyer's imaginative drawing. Not quite rough, not quite gesture drawing, and certainly not rendering. The best one could say was Wacko.
You see I'd been an ardent enthusiast of Mr. Tyer's work for years, and here they were – stills. Plenty of them. So there were lots and lots of links. You can't really write lots of words when processing Jim Tyer's material. As a matter of fact, I can only think of one pwerson who did that job and did an impeccable turn of it. Mark Mayerson.
As a matter of fact, you might want to stop reading here and go to Mark's comments, now. He had two key things to say and no one else has had much more to say to me. It's a paper he wrote in 1990 and with it he had more to say about Jim Tyer's work than had anyone else to that date.
____________________________
____________________________
I meant for this piece to be much more exhaustive, but the problems I'm having with my internet are annoying. Unfinished pieces have been thrown up as complete. This is one of them, the Provenson piece (though that's much more finished) made it to post, and others as well. I may quit writing at all until Verizon finally comes to my door to correct my phone service. (I still don't have an operating phone number after three weeks and my internet is intermittently up and down based on its own whim.)
I apologize for the sloppiness of the whole thing.
4 Responses to "Two Tier Tyre"
Leave a Reply