Luzzati & Gianini 04 Apr 2007 08:18 am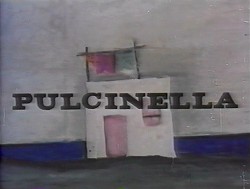 – I received a call from The Guardian in London. The newspaper was doing an obituary for Emanele Luzzati, and they couldn't find any illustrations to color their report. They'd found some on my blog and wanted to know if they could use them.
(Go here to see all Luzzati/Gianini posts.)
Of course, I directed them to Luzzati's distributor who could give the clearances they needed.
But I found it all depressing.
This was one of the world's greatest designers of Operas and Animation. His brilliant animated version of The Magic Flute is a feature that should be in theaters now. Unfortunately, it never made it to theaters (at least, not in the US), and his designs for the opera are equally as stunning.
Years of amazing art he's produced, and there's so little – even on-line – that could be readily found for his obituary. I find it confusing. This was the original reason I had for putting so much attention on his work, and the call from the paper pushes me back to do another post. Unfortunately, all I have are frame grabs.
Here is Pulcinella. It is a short that was nominated for the Oscar in 1973. Another cut-out animated film, Frank Film by Frank and Caroline Mouris won the award. The Legend of John Henry by Sam Weiss, produced by Nick Busustow was also nominated.
Like other Luzzati/Gianini films, the score is taken from an opera overture, Rossini's The Turk in Italy.
The animated film is an abbreviated, caricatured version of the opera.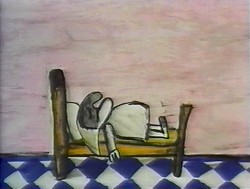 Pulcinella (Punch, as in Punch & Judy) is the principal character who dreams himself into a wild nightmare of a dream that leads us through an abstract world. It's nice to see how the animators/designers play off the puppet character as well as the opera.
I'm just going to post the images without detailing the story. I like it better that way.
There are some 90 images, so it takes some attention to graphics.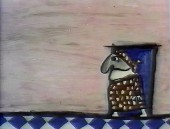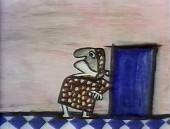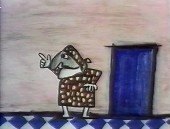 (Click any image on the page to enlarge.)
4 Responses to "Pulcinella"
Leave a Reply