Animation Artifacts &Peet &Story & Storyboards 13 Apr 2007 07:38 am
- Before going directly into The second installment of The Wind In The Willows storyboard, I'd like to say a couple of words about the passing of Kurt Vonnegut. It was a bit of a surprise.
My lawyer was the representative of Mr. Vonnegut and I heard that he was a collector of owl drawings. I had illustrated a book by John Gardner, Gudgekin the Thistle Girl, and the fairy tale featured a witch who changed into an owl. I was asked to trade the original illustration for a signed copy of one of Mr. Vonnegut's books. Needless to say, I jumped at it. His autographed copy was a cartoon for me in the frontispiece of the book. Unfortunately, the book is in storage or I'd post the image.
I met Kurt Vonnegut a couple of years later and we had a very nice conversation. I'm sad to hear of his accident and the complications that ensued, and I'm even sadder to hear of his death. My condolences to his family and friends and to the world who is now deprived of his intellignece.
____________________________________
- Here are the next three pages of
The Wind In The Willows
board. As suggested by
Michael Barrier
in the comment section of
part 1
. this board was probably assembled to produce a preliminary Leika reel. The giveaway is the lack of dialogue and commentary underneath the drawings. The assembly was made to be photographed.
Fortunate for us it worked its way out of Disney, past many years and many owners into the hands of John Canemaker, who has loaned them to me. There's some great drawing here.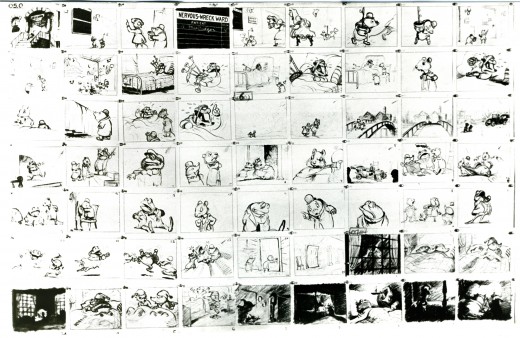 4
(Click any image to enlarge for viewing.)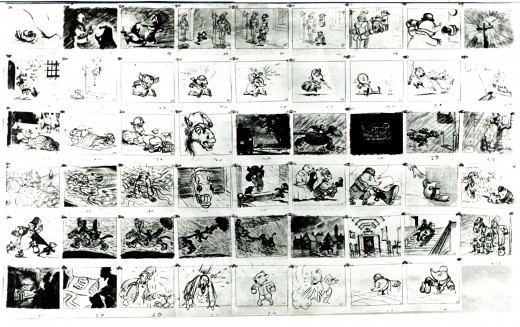 5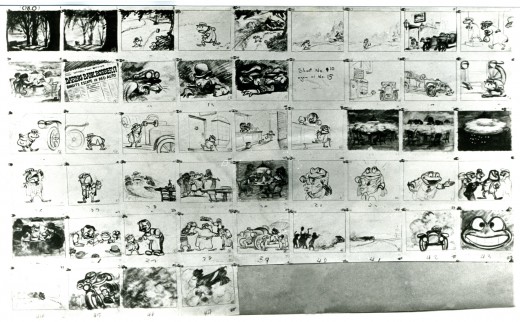 6
______________________________
Speaking of Mike Barrier he has some excellent commentary on "Who Killed Cock Robin?" the Silly Symphony short. Mike suggests, appropriately that all the divers elements floating out there – storyboards, drafts, production charts, etc. – can give us a view of a film's making only when they're culled together and viewed as a whole. This is what he's trying to do with the one short. Lots of scouting is necessary to get a bigger picture, otherwise they're just drawings that don't tell the larger story.
2 Responses to "Wind In The Willows part deux"
on 14 Apr 2007 at 7:45 am 1.Stephen said …

I love the feeling of movement throughout the boards. The detail of the characters' expressions are priceless.

on 17 Mar 2012 at 11:03 am 2.Andrew Pelt said …

great thank you
Leave a Reply