Animation &Music &SpornFilms 08 May 2007 07:32 am
- I think music is as important to animation as any of the drawing. (Even the lack of music, to me, is a musical choice in film.)
I've been very lucky to have worked with some incredibly fine composers in the films I've done. To that end I've come back to work again and again with the same few composers.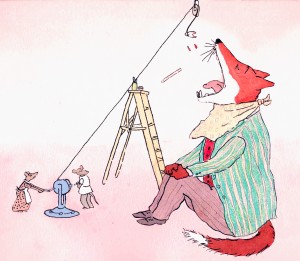 The first of those who seemed indispensible to the films we did together was Ernest Troost. We met way back on my first short film for Weston Woods. Ernest was on staff there, and we quickly became good friends.
That first score he did for me was the delicate Rosemary Wells Morris' Disappearing Bag. This quiet little film was successful, but it wasn't until our second collaboration that things took off – Doctor DeSoto.
Doctor DeSoto was an Oscar nominee in 1984, and I think it was as much for the music as it was the William Steig story, or Ian Thompson's droll reading, or any of our artwork. The film was a hit and won a lot of awards and, to this day, still gets a lot of exposure.
As we were about to go into this film, Ernest had to write a score for an slide version of the book which Weston Woods was going to distribute. I suggested he listen to Stephen Sondheim's score for the film, Stavisky. It was built around an infectious waltz and had a peculiar arrangement.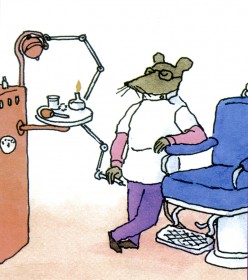 Ernest came up with something that took me by surprise. It was built off Stavisky but was so totally original in its sound that I had the first little shock that I've always gotten when music I didn't expect but was excited and challenged with comes into my hands. This moment is always a great surprise and one of the pure delights, for me, of filmmaking. The only other experience it resembles is when an actor gives you a line reading that is totally unexpected, one you never would hear in your own head when reading the line. This is usually the best possible reading because it indicates pure character.
Ernest's orchestral arrangements for this music reminded me of some small cartoon cabaret in Vienna in the early 1920′s. It worked perfectly for the cartoon Brooklyn in my mind for the film's setting.
This is the pure character of a good composer scoring your piece.
Having the luxury of this original score prior ot the animation isn't always a luxury an Independent filmmaker is given. It costs too much. But Weston had their score for the slide film, and I saw that this was going to be a great score for my animation. I worked with that waltz tempo.
When the fox was off screen, the camera moved in time with the waltz tempo and the limited animation also hit those beats. When the villain was onscreen, there was little to no camera movement cutting the picture to the tempos. Paul Gagne, editing, certainly helped out here.
The music not only was allowed to dominate the overall film, it was enhanced by this decision.
To hear the opening theme to Dr. DeSoto click here.
____________________________________
Ernest Troost also wrote about a dozen Sesame Street spots for me. Many of them were songs which he wrote with Maxine Fisher who did the lyrics. Two of these spots are featured on YouTube. I like the Crocodile Smiles spot which played at Annecy and is in the MOMA collection. Pirate Plan is a good song but my graphics don't quite work.
Here's another spot that is built around the music. For the very low budget, it was a big track for us, but Ernest pulled it off brilliantly. Obviously, he was parodying the John Williams' scores for Indiana Jones.

Play Adventure above.
One Response to "Ernest Does DeSoto"
on 11 May 2007 at 8:25 pm 1.Ali said …

I loved this film since I was a kid. Great voice acting and music. The story was brilliantly told. I Still have it on tape.
Leave a Reply