Miyazaki 19 Jan 2006 07:31 am
Tonight the the Miyazaki films to be scheduled on the Turner Classic Movies will air. All versions screened are the newly dubbed English language versions. (Though the late night screenings are the subtitled Japanese versions.) These two films are: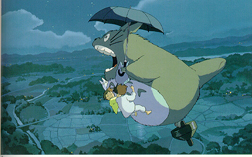 My Neighbor Totoro (1993) (This film is a newer dubbing featuring the Fanning sisters, Dakota and Elle. (It was originally released in a version by Troma Entertainment.)
19 Thursday 8:00 PM & 20 Friday 1:15 AM
Two girls with a sick mother find escape with the spirits of the forest.
Cast: Voices of Dakota & Elle Fanning, Timothy Daly, Lea Salonga and Frank Welker.
C-88 mins, Letterbox Format
Porco Rosso (1992)
19 Thursday 9:30 PM & 20 Friday 2:45 AM
An airplane pilot with a pig's head devotes his life to rescuing others.
Cast: Voices of Michael Keaton, Cary Elwes, Kimberly Williams
C-102 mins, Letterbox Format
Also tonight is the debut of Whisper of The Heart.
19 Thursday 11:15 PM
The film is scripted by Miyazaki and directed by Yoshifumi Kondo.
Cast: Brittany Snow, David Gallagher, Cary Elwes, Harold Gould, Abigail Mavity.
C-111m. Letterboxed.
Note: Watching these Miyazaki features all in a short period have had me thinking a lot more about the process of storyboards in the development of animated films. John Lasseter's comments last week, prior to Laputa: Castle In The Sky, gave us some small insight into Miyazaki's process, and it's made me think of the films in a wholly different light. After I see Totoro, I'll probably express my thoughts in a bit more depth; it's one of my three favorite films from the brilliant director.
Leave a Reply