Daily post 28 May 2007 08:41 am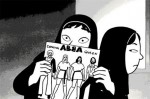 – Congratulations to Marjane Satrapi and co-director Vincent Parranaud for winning the Jury Prize at the Cannes Film Festival for their film Persepolis. Read more about it here.
The stop motion film, Madame Tutli-Putli, by Chris Lavis and Maciek Szczerbowski won the Petit Rail d'Or as Best Short. Congratulations to them as well.
______________________________
- We have a program of our films screening this coming week in Los Angeles.
The Redcat International Children's Film Festival will present a program of our films on June 3, 9, 16, and 23.
Included in this program will be four of my favorites: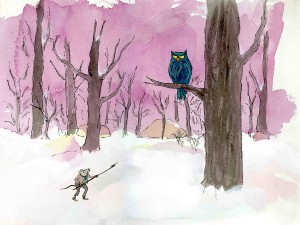 Dr. Desoto (1984)
The Red Shoes (1990)
Abel's Island (1988)
The Man Who Walked Between . . . . the Towers (2005)
The program will screen in the Walt Disney Concert Hall.
It's 70 mins. long and the admission is just $5.
I suggest you look into the overall program to see what other excellent children's films are screening.
______________________________
- There are a couple of items on line that I wanted to point out. For animation readers there are the usual reg'lars:
- Michael Barrier has a stunning studio photograph of Harry Reichenbach on display. His timing couldn't have been more perfect. I've been reading and rereading The Animated Man, Barrier's biography of Disney, slowly – very slowly. He gives enormous detail to a lot of the key shorts and the workings behind them. We get detail such as the invention of the storyboard or the first use of moving holds as a matter of course. No fanfare is called to this information – information that doesn't really appear elsewhere. It's an enormous book which I can't recommend too highly to anyone interested in animation and/or Disney.

Anyway, Reichenbach was the Press Agent running the Colony Theater which first screened Steamboat Willie for Disney and allowed the film to reap its success.
I had just devoured this section when the photo appeared on line, and I appreciated the timing.

Back in 1978, for the 50th Anniversary of Mickey's first appearance, the Disney studio arranged a screening of Mickey in Steamboat Willie. It took place in that very same Colony Theater (which is now called the Broadway Theater, across the street from David Letterman's theater) for all the geeks of the world who wanted to celebrate the date. I remember it clearly – of course, I was there to celebrate the event.

Barrier also has an extremely interesting essay on his site about the flypaper sequence Norm Ferguson animated in Playful Pluto.
- Mark Mayerson continues two important threads:

Pinocchio Part 10 has just gone up, and it's a beauty. Forget the information these "Mosaics" relay; just look at the beauty of the images. It's stunning. I almost wish Mark would take his time completing this survey of the Disney's most stunning film; I want to treaure it for a long time, and the longer it takes to post, the longer I'll have to look forward to it. Mark's thoughts, of course, are the real treasure.

Mark is posting his thesis on animation acting in parts. It's tremendously interesting reading, and a book in the making. Animators should always be thinking about this subject, and I'm not sure anyone has ever been more eloquent about it.

- Cartoon on Film, Tom Stathes' site which gives a lot of attention to silent film animation (something which has always interested me), has an interesting post about some older silent film collections that were available on 8mm and 16mm.
For those just looking for something non-animation related but entertaining to read:
- Annulla at Blather from Brooklyn offfers a couple of great posts.

She gives a great account of visiting two television shows from an audience's pov. The View and Montel Williams couldn't be more different, and the differences couldn't be more interesting. I caught myself smiling throughout this read. It comes complete with photos.

Then there's the post of the pony rides offered to a bunch of rich kids on the Upper East Side on Manhattan. It's amazing!
One Response to "Redcat Screening"
on 28 May 2007 at 6:45 pm 1.Stephen Worth said …

The Pluto sketches are pre-board story sketches. I've seen a lot of "dollar gags" done on regular writing paper like that. They wouldn't be Ferguson's, ruffs because the layout artist would have already worked a lot of that stuff out for him, and an animator would work at full size to ruff out his action.

Nice drawings!

See ya
Steve
Leave a Reply