Animation &Commentary 27 May 2007 08:21 am
- I tend to stay away from John Krisfalusi's site because I often come away angry. John is one of the most knowledgeable, articulate and intelligent animation writers out there. His "course" in animation, built on the back of the Preston Blair primer, is priceless. I've followed that myself knowing full well that I still have a lot to learn about the medium.
However, John likes to taunt the world beyond his little box of fans and followers.
As promoted by Stephen Worth's AHAA blog (the link that led me to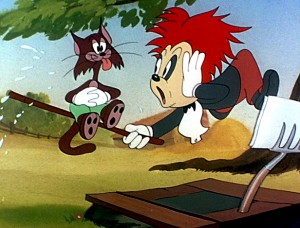 John K), a recent post had John espousing the positive "creative freedom" in 1940′s studios such as Terrytoons and Walter Lantz.
. . . . S p i t. . t a k e !. . (WHAT!!!)
As if that weren't enough, he then posts UPA's Unicorn In The Garden and calls it: "depressing downbeat dreary, creatively stifled drizzle." I repeat, he's just compared the UPA classic negatively to Terrytoons and Walter Lantz' cartoons. (A better place, I think, to look for "dreary drizzle".)(Dick Lundy's creative freedom!)
. .
In later postings, atop a rough sketch from UPA he writes: "If it's bland and sterile, it's design." Or he says "… and the other UPA guys decided to abandon animation, fun and lush movement and instead focus on 'design'." Then he praises Bill Tytla's insipid animation and direction at Terrytoons in an ugly little short that has its own immature charm – but little else praiseworthy. There's no lush movement or fun anywhere to be found in that short. There's only a boxed-in, brillliant artist, Tytla, unable to work at the top of his game.
Of course all this derisive goading prompts his sycophantic fans to comment of Unicorn In The Garden:
"It's painful to look at."
"Upa did destroy the cartoon world."
"… it was just a big "fuck you" to the audience."
"Even with the better examples, there's no denying that most of their flat designs are quite ugly. UPA sorta made it okay to do ugly animation."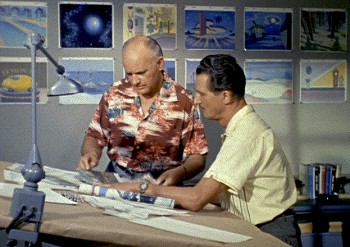 The problem is that John Krisfalusi knows full well how important the UPA break was to animation.
He knows that unless a group of artists broke from the 19th Century style of illustration animation would have remained a world of cute kittens and fairies, princesses and witches. History exists and we have to look at all of the influences to understand why it changed as it did.
(Beware: designers exercising creative freedom at the Lantz studio.).
Without UPA, 101 Dalmatians, Heavy Traffic, and Ward Kimball's late success wouldn't have existed. Without UPA, Maurice Noble's brilliant work for Chuck Jones, Ralph Bakshi's classic early films or Ren and Stimpy wouldn't have existed. There had to be a break with the past – design wise – to enable other talents to take it to another level.
Milt Gross' style was squeezed at pre-UPA MGM, and good as his shorts were, they don't equal the insanity of his strips. Today that can be done thanks to UPA.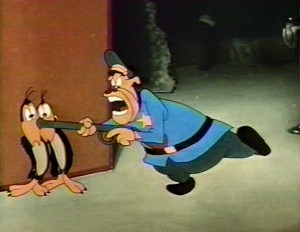 John goes into some detail about the art of Jim Tyer (but doesn't really say why his work is great.)
Mind you I think Jim Tyer was brilliantly well ahead of his time, and I've studied his work endlessly.
I also recognize that his animation was a GRAPHIC (read: DESIGN) distortion of his characters to pull out any inner spirit. You feel as though his pencil rushed to get out these drawings. The result is endlessly hilarious, but it also works in a larger, more subconscious way.
(Jim Tyer, free from Paul Terry's low budgets.). . . . . .
Without the graphic changes brought about by UPA, Tyer's work would not have been accepted by even the cheap producers at Terry's or Famous. Tyer was endlessly put down by the animators around him at those studios, but he continued to do what he did.
Johnny Gent told me, "Jim could never hold a character." Two of Terry's best known assistants told me that he "couldn't stay on model." Thank god Bakshi appreciated Tyer's work. Baksi also appreciated Hubley's work. He stole from him in putting together his first feature.
Artists like Jules Engel, Bill Hurtz and Paul Julian; animators like Bobe Cannon, Grim Natwick and Art Babbitt had real creative freedom at UPA, and changed the world of animation for the better.
You don't have to like The Yellow Submarine to recognize that it was a breakthrough, and you don't have to like UPA's films to recognize that it was a breakthrough. You don't have to attack one of the great animation shorts, Rooty Toot Toot, to make your point. Especially when you're aware of the brilliant animation and design – yes, design – in that film. It all comes together perfectly.
My gosh! Isn't it time to have to stop defending Picasso as an artist. Michelangelo was great, but so was Pablo in his own way.
You do have to be honest, John K. You want to make a point, and you go so far over the edge thinking it'll help your case, but it doesn't. You're speaking to new generations of animators, and perhaps they don't fully understand or appreciate the history as you do. Take smaller steps in your criticism, please. And keep writing but don't think you have to incite the world to get your point across. It's just annoying and dishonest.
128 Responses to "Aaargh!"
Leave a Reply