Books &Puppet Animation &Trnka 29 May 2007 08:05 am
I've written about a lot of books on 2D animation, but I also love 3D puppet animation and have a small collection of books on the subject.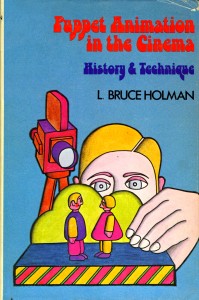 – Bruce L. Holman's book, Puppet Animation in the Cinema: History and Technique was originally published in 1975 and can only be located today in old book bins (meaning Amazon or ebay). It's a real primer on the medium, and when it was published was the only one of its kind.
The book does exactly what its title says, it gives a history of the form and tells how the films are made. There are photos of a lot of European puppetmakers and stills from their films. I think David Allen is the only important American who makes it into the book. But then, at the time, that's pretty much what the landscape described. Loving Jiri Trnka, as I do, I was quite pleased to see quite a bit of space devoted to him, and, of course, that's as it should have been at the time.
The book stood on its own for quite some time, and those of us who love puppet films loved this book.
_____________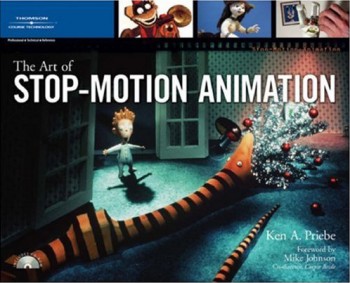 – Another book that you CAN get your hands on is Ken Priebe's The Art of Stop-Motion Animation. It brings things more current clearly explaining how puppet films are made, how to construct puppets of your own and how to make films of these puppets. There's also a chapter on the history of the medium.
It's a real nuts-and-bolts book that gives a clear demonstration of the process and a commendable how-to approach.
It's obvious that Priebe loves puppetry and invests that love in the writing. This is a good book for anyone thinking of trying the medium and/or making a living of it.
_____________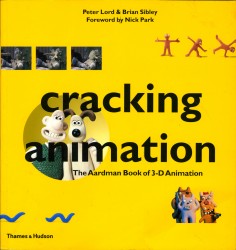 – Because the market for this medium is slim, there are a number of excellent books about the medium which exist to promote filmmakers. One such book is Cracking Animation by Peter Lord and Brian Sibley; it's the story of Aardman and the making of their 3D animation. It's amazing how many animation books Sibley has been connected to.
The book goes into nice depth in illustrating the history of 3D animation and moves from there to show how the Aardman puppet films are made. Nice illustrations show all of the phases with lots of stills of armatures, walk cycles, sets and animators. It's a solid book with a lot of information. I believe later editions of the book have been updated to feature more recent films.
Of course, it's Aardman-centric, but that's not such a bad thing.
_____________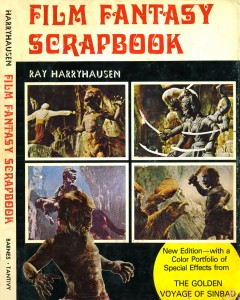 – Another book that puts its focus on one individual is this Film Fantasy Scrapbook by Ray Harryhausen.
Of course, Harryhausen is the "auteur" who created all those stop motion monsters and sci-fantasy films. (Anyone who has seen Jason and the Argonauts can only remember those incredible fighting skeletons.) This book is literally a scrapbook of stills and posters and illustrations showing off Harryhausen's career up to 1972, when the book was published.
It's all in B&W and one wishes there were more back stage imagery as you see in the Aardman book. It's really more of a "fanzine" type book, but if you're at all a Harryhausen fan, you'd love owning the book.
Harryhausen has written a number of other books about his film work. I don't own any, but The Art of Ray Harryhausen looks like it might be good. Unfortunately I was never a wildly enthusiastic fan of this type of special effects animation, so I haven't gone wild over his books. The only reason I include this book here is that you can't mention 3D animation without referencing Harryhausen.
_____________
- Finally, let me showcase the book The Corpse Bride: An Invitation to the Wedding by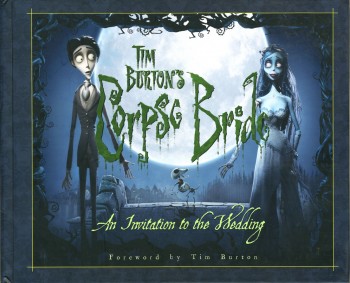 Mark Salisbury.
This is an out-and-out promotional book for the film. However, it really gives a state-of-the-art demo to show how studio puppet films are made. The book includes lots of backstage photos which go into detail about how certain scenes were created. This is a variant on the excellent book done to promote The Nightmare Before Christmas.
We're shown how some scenes combined 3D puppets with 3D cgi (a technique all puppet animation films include these days.) The details of the odd digital photography are explained fully and illustrated in detail.
Considering the obvious devotion Tim Burton seems to have for 3D puppet animation, it's worth watching closely. Having made Vincent, Nightmare Before Christmas, The Corpse Bride and, now in production, 9 Burton has become one of the most important advocates of the medium.
4 Responses to "3D Puppet Book Corner"
Leave a Reply