Commentary &Daily post 30 May 2007 09:39 am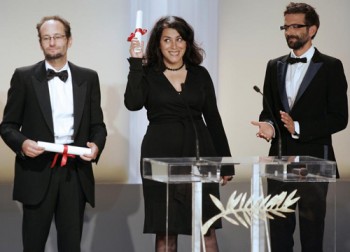 – As I mentioned on Monday, Marjane Satrapi and co-director Vincent Paronnaud is to be congratulated for their film, Persepolis having won the Jury Prize at the Cannes Film Festival. However, the film seems to be on a real hate list in Iran. An advisor to Iran's President was furious over the prize saying that the movie promoted "Islamophobia."
Mehdi Kalhor, a cultural adviser to President Mahmoud Ahmadinejad said, "Islamophobia in Western drama started in France and producing and highlighting the anti-Iranian film Persepolis in Cannes falls in line with this Islamophobia."
Iranian authorities had already protested to France over the Cannes screening of the film co-directed by Satrapi, who insisted that her comic-memoir was about family and not politically oriented. Reacting to the complaint from Iran, France's Foreign Ministry Tuesday defended the Cannes Film Festival's decision to screen a movie that paints a bleak portrait of life after the Iranian revolution.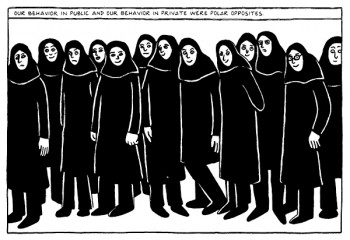 "Iranian authorities must understand that France is very attached to freedom of expression and freedom of creation," French Foreign Ministry spokesman Jean-Baptiste Mattei said in Paris. "The festival chose the film … It was nothing to do with politics."
Marjane Satrapi, on stage to receive her award, Sunday, said: "I'll speak for both directors. We want to express our thanks Gilles Jacob and Thierry Frémaux for having selected our film. We thank the Jury for having awarded the Prize to us. We thank the whole crew of ninety people who worked with us for two years. Personally, although this film is universal, I wish to dedicate the prize to all Iranians."
The story made yesterday's NYTimes and today's Variety.
The film will open in the US this coming November.
__________________________________
Boy, say one thing to criticise John Krisfalusi and you may as well have offended the Iranian government. I think Stephen Worth may have finished his doctoral thesis on my website for all the fury I aroused in him.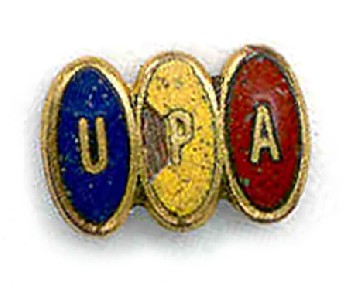 In defending, UPA on Saturday against the barbs of John Krisfalusi and his ignoble
stance against these masterful films, I began to wonder if appreciation of these films was purely generational.
Was the generation before me, who had made these films, and mine, who appreciate them, wrong?
Was my enjoyment of many of these shorts a sign of my growing obsolescence.
N a h !
I know better. Just because there are still a lot of Picasso-haters out there, modern art isn't wrong. Those who dislike Picasso are wrong.
Of course, UPA, like Picasso, produced a lot of swill. It was expected that any studio that wants to keep rolling has to make a lot of commmercial trash, and I think somewhere around 1953 UPA lost it, and their cartoons became mawkish.
However, even the worst of these UPA films is still interesting to me, just as I still enjoy many Terrytoons or Paramount films. I'm not going to rant about either, though.
However I do recognize the classics, and I give them their due diligence.
The mass of vehement comments wasn't completely surprising to me. I'd once stepped in the goo of John K. before and found my mailbox full. Thank goodness I don't live in LA or I might have had death threats. (Just joking.)
Interesting that John, who I think is a very shy guy (I don't know him), stays behind his theories at his blog. I'll keep checking in there, but promise not to fill up his comment box with long winded rants. I'll use my own blog for that.
By the way, John has a good report today on the interesting interviews conducted this past weekend in Chicago. John interviewed Bill Plympton one night and Bill interviewed John the next night. Amusing.
9 Responses to "Kudos and Dodos"
Leave a Reply