Animation Artifacts &Story & Storyboards 11 Jun 2007 07:47 am
- Once again, John Canemaker offered, and I jumped.
From his collection we have some of the Leica reels for Fantasia.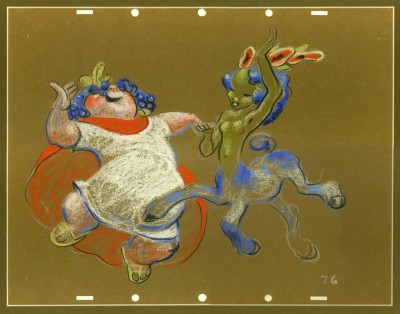 The Leica reel was virtually a slide show that timed out the drawings to the soundtrack. It gave an inexpensive indication of the film's timings, and it could be easily adjusted for further screenings.
(To get a more complete explanation of Leica reel projections Hans Perk on his site, A Film LA, has an excellent post about this – here.)
(Click on any image to enlarge.)
There are quite a few pages of these, so it'll take a couple of weeks before I'll be able to post them all. (They also take a lot of time to scan and prepare for posting.) They're all equally beautiful.
Many of the sections loaned me by John are from the Nutcracker section. However, I'm going to start with this section from the Pastoral symphony. The drawings are by James Bodrero. I start with this section because I wanted to give an indication of what the actual drawings look like, and John had this one from this sequence (not used in this version of the animatic), and I'm posting it to the left.
7 Responses to "Fantasia Leica I"
Leave a Reply