Daily post 22 Jun 2007 07:56 am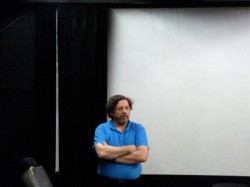 – The ASIFA East show, this past Wednesday, that centered on my two newly released dvds was thoroughly enjoyable (for me.) A nice crowd of animators and students and friends turned out to see clips from the four half-hour films featured. In between the clips I brought up four of the people who worked on staff for me, Jason McDonald, Stephen MacQuignon, Masako Kanayama and Ray Kosarin. In the audience were two animators who each worked on at least two of the films, Mark Mayerson and John Dilworth.
(Me, babbling in the front of the room.)
The evening was filled with interesting questions that compared working on film to working digitally, that discussed the method of control I exercised (or didn't) while directing, the stylization of the films, and the wild differences all the films had in their construction. There were also the questions about schedule and budget (basically the same question) and production methods.
It was one of those evenings where no one left and it was hard to get people out of there an hour after the program had ended. I want to thank Dave Levy and all who helped put this program together. I enjoyed it immensely.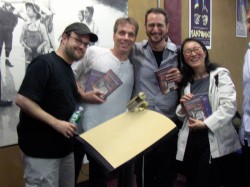 A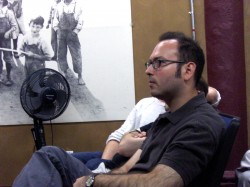 B
Jason, Stephen, Ray and Masako ——————-Dave Levy watches a intently.
A couple of other reports on this event were nicely posted by Jeaux Janovsky on the Frederator Blog and by Mark Mayerson on his blog.

____________________________

Buy tickets here.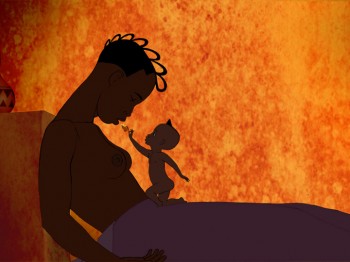 - An article in
Variety
gives us the news that the French animator,
Michel Ocelot
, is turning his
Kirikou
character into a theatrical musical show.
The $6 million production, is due to begin rehearsals next month. It is being produced by theater impresario Victor Bosch and Didier Brunner, the producer of the two "Kirikou" films. The show is scheduled to open on October 3rd.
Ocelot wrote the script (libretto) and the lyrics to the songs. The music for the songs, as was the music for the films, is written by the likes of Youssou N'Dour and Malian songstress Rokia Traoure. The musical is choreographed and directed by Wayne McGregor.
The show will try out in the French city of Lyon before moving to Paris where it's big competition will be The Lion King, about to open there shortly. Apparently Paris will soon be besieged by African theatrical reproductions.
____________________________
Tee Bosustow, who is currently putting together an all-encompassing documentary on the history and art of UPA, has produced a book of rare photos that Amid Amidi helped edit. The book's sale will help Tee raise money to complete the documentary.
He sent me an email about it, and I thought I'd post it to share the good news. Here's what he had to say:
Announcing a limited edition book of rare UPA photographs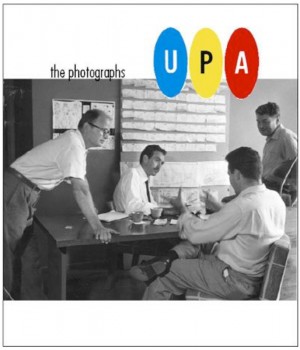 Published in a numbered edition of 1000, this hardbound book is a photographic celebration of one of animation history's most innovative and experimental animation studios, UPA Pictures.
The volume contains dozens of rare and unpublished photographs, most of which have never been seen outside of the personal scrapbooks of UPA artists.
The book is designed and written by historian Amid Amidi, whose recent Cartoon Modern: Style and Design in Fifties Animation won the prestigious Theatre Library Association Award for best film or television book of 2006.
Mr. Amidi has personally selected the photos from the collections of UPA artists including Robert Cannon, Stephen Bosustow, Howard Beckerman, Fred Crippen, Sam Clayberger and Joe Messerli.
The book will debut at the Ottawa International Animation Festivalin September. But, you can reserve your advanced book(s) now…
Pre-sale orders are now open for the thousand copies printed.
50 copies, signed by UPA veterans, are available at $150
Numbered, but unsigned, editions will be sold at a special pre-order price of $35 (valid through Sept. 15)
After September 15 (according to post-mark on envelope), the price for unsigned editions will increase to $45
(All proceeds will go to the production of the feature documentary, UPA: Magoo, McBoing Boing & Modern Art.)
Send a check or money order, made out to: "Artist in Me L.L.C."
Artist in Me
UPA Photo Book
6311 Van Nuys Blvd., #406
Van Nuys, CA, 91401
Include your Name, Address, Email and/or phone
Include S&H (shipping & handling) in total price
S&H for Single (or first) Book via Priority Mail – $10
S&H for each additional Book via Priority Mail – $4 S
&H for Single (or first) Book via Express Mail – $20
S&H for each additional Book via Express Mail – $9
3 Responses to "Sing Kirikou Sing & UPA book"
on 22 Jun 2007 at 11:32 pm 2.Tim Rauch said …

Your event on Wednesday was another classic ASIFA gathering. Thanks again for sharing; these are the kinds of things that make living in New York such a rich experience. Had I but known the party would continue on! Shoulda stuck around!

on 23 Jun 2007 at 6:57 am 3.Stephen said …

It was alot of fun and I would be more than happy to do it all over again.
Leave a Reply